7 Tips For Traveling To Japan
Planning a trip to Japan is no simple task. From logistics to attractions and plenty in between there is a lot to prepare for before and during your trip. Here are 7 tips for traveling to Japan that can better guide you along the way. Be sure to check out the other Japan itineraries and guides as well for any additional help.
Tip #1: The Japan Rail (JR) Pass
​One of the top questions that is asked while planning a trip to Japan is whether or not one should buy a JR Pass. For the most part if you will be in the country for more than a few days and plan on starting and ending in Tokyo then purchasing a JR Pass will help you greatly as you travel around. You will not only save some money but you will also be able to use a JR Pass to get from city to city and to an extent within cities as well. On the other hand if you are starting your trip by flying into Tokyo and flying out of Osaka for example, it is possible that a JR Pass will not be worth the cost. It all depends on how many trains you decide to take and where you want to go.
To know for certain whether or not you will be saving money head on over to Hyperdia (the Japan rail site) and use the search box on the left hand side of the page to understand the costs for each leg of your trip (when doing so uncheck the "Nozomi / Mizuo / Hayabusa (Shinkansan)" box under more options as those trains are not part of the JR network).
Here is a quick example – I searched for the route from Tokyo to Kyoto and came up with the below results. As you can see circled in blue is the price for a one way ticket in Standard Class (Green Class is the first class option) – 13,600 JPY, meaning a round trip is 27,200 JPY. A 7 day JR Pass in Standard Class is 29,110 JPY. So just with that round trip alone you are nearly at the price of a JR Pass ticket.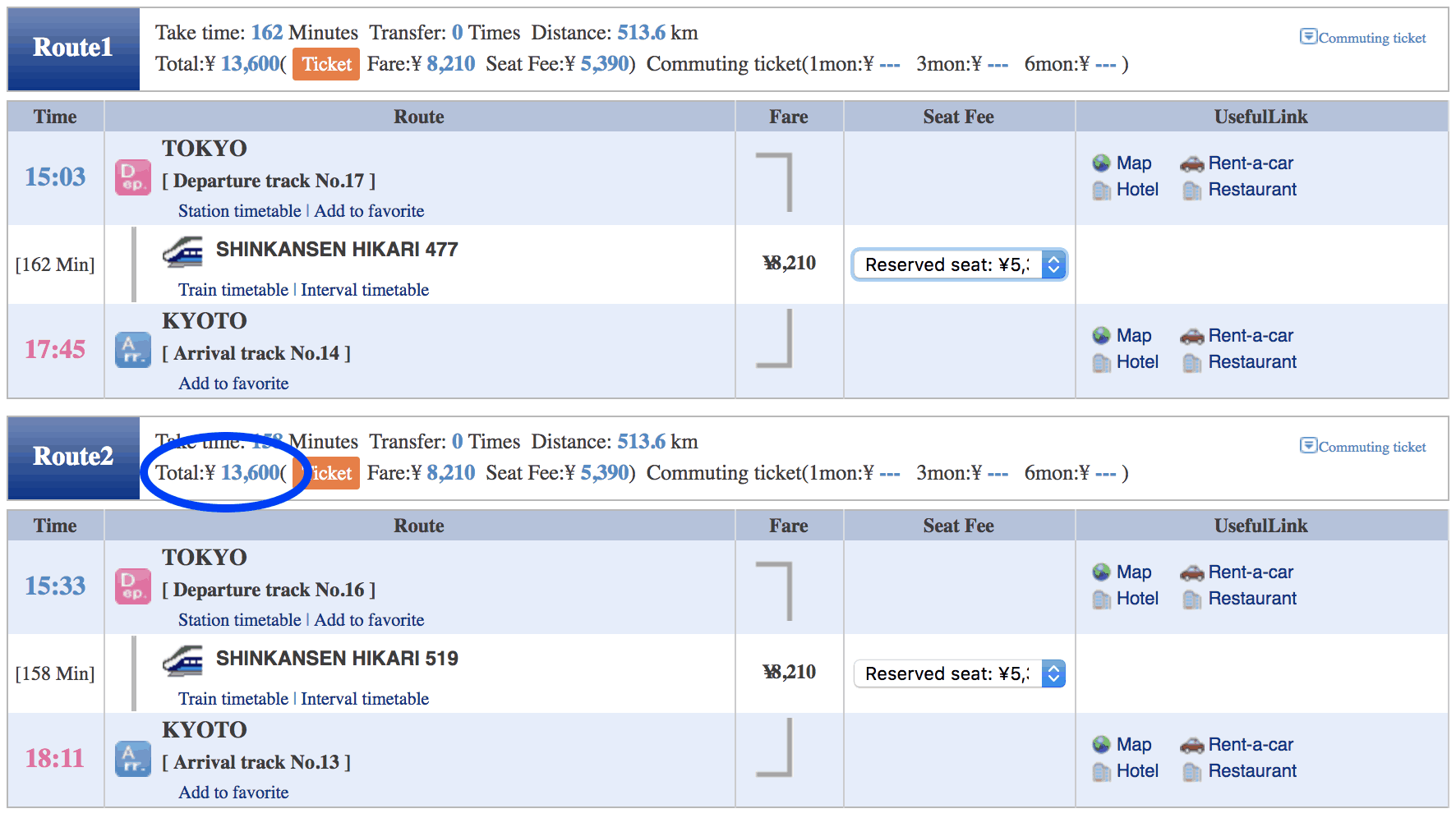 So if you figure out a JR Pass is worth it here is some more helpful info all about the pass…
​BEFORE you go on your trip you must purchase the JR Pass. You can choose options such as a 7, 14, or 21 day unlimited use pass. You can order through an official online vendor and will soon receive a voucher in the mail. Once you arrive in Japan you can then go to any JR counter, which are in nearly every station and the airport, and exchange the voucher for the actual JR Pass.
JR Pass Prices (Green First Class in parentheses):
7 Day: $263 ($351)
14 Day: $418 ($567)
21 Day: $535 ($738)
Reserving Seats
The idea of reserving seats on trains can get a bit confusing. For longer trips between major cities on a Shinkansen for example (Tokyo to Kyoto – same search as the one above), there will be an option for a reserved seat and unreserved seat – drop down under "seat fee" in the image above. ​For the reserved seats you will have to get tickets beforehand. This will guarantee you a seat on the train and you will not have to worry about finding seats in the unreserved section (especially good if you are with several people and want to sit together). On other shorter trains such as Kyoto to Osaka there will be some train options where you can reserve a seat and others where reserving a seat is not an option at all.
So if you do want to get a reserved seat, once you know which train/date/time you will be taking, just head on over to a JR station, show them your pass, and let them know what reservation you will like to make. If you know all of these ahead of time, you can easily get these tickets when you first pick up your JR pass. This way you will not have to worry about picking up tickets during your trip. If you are taking a train without a reserved seat, you can just board the train (unreserved section) and find any available seat. If there are none available you can stand or get on the next one.
Lastly a quick note – as mentioned earlier you must uncheck the "Nozomi / Mizuo / Hayabusa (Shinkansan)" box when searching for trains on Hypderdia. When traveling within a city and looking at timetables/schedules/Google Maps, make sure you are looking at a JR specified route. Odds are there will be routes within cities not covered and you will have to buy separate local train/subway tickets to get around.

Tip #2: Other Transportation
Now that you read through a bunch of info about the JR Pass, here is a bit more information about traveling within cities on non JR Pass transportation.
​If you get a JR Pass, it will mainly be used for your longer train rides from city to city. However, the pass is also accepted at numerous trains, busses, and ferries within a city. There will be situations within a city though, where you will not be able to use the pass. In these types of situations you will have to buy a bus/subway/train ticket from one of the machines within the station for your journey. Usually routes within a city will cost you around $2 a trip.
​To make life a bit easier you can also go ahead and buy an IC card such as Pasmo, Suica, or ICOCA, which are prepaid cards that you can load up and use time and time again instead of buying separate tickets for each ride. This is usually advised if you think you will be taking a lot of public transportation within a city.
Lastly, taxis are also always an option but they are on the expensive side and given the vast reach of the subway systems in Japan, you should probably stay away from taxis when you can, especially in rush hour.
Tip #3: Luggage Delivery
One very convenient option that Japan offers is a door to door luggage delivery service called Takuhaibin. While prices to send luggage from one destination to the next might cost a bit of money (around $20 a piece), it can make life much simpler when constantly on the move from city to city. By speaking with your hotel's concierge, they will be able to set up a pickup directly from the hotel and once you arrive at your next destination your luggage will already be waiting for you. So for example if you are traveling from Tokyo to Kyoto in the morning and don't want to waste time checking into your hotel and dropping off luggage, you can easily just get your day started once you get off the train. It can also be helpful if you are just staying in one a place for a night (Hakone for example) and do not want to bring all your luggage with you – rather just send through your luggage to the next city after Hakone.
Tip #4: Cash is King
​The local currency in Japan is the Japanese Yen ($1 USD = 108 JPY). One thing you might notice right away is that there are a lot of merchants that do not accept credit cards. Due to this you will be using cash a lot in Japan so make sure that you always have plenty of Yen on you. Many hotels and some restaurants will accept credit cards so no need to worry about those types of situations.

​
Tip #5: 7-11 is Not Just A Convenience Store
In Japan you are bound to see 7-11 stores all over the place. When you think of a 7-11 you probably just think of a place to grab some water or snacks. However, the 7-11's in Japan are used for much more than that. You can find an array of different hot/cold breakfast and lunch meals throughout the store that are actually good! If you are in a rush or just do not want to have a sit down meal, 7-11 has you covered. It is also great because for the most part Japan is an expensive place to visit. Having a $5 meal from a 7-11 can definitely save you some cash while still giving you a pretty solid meal.
On top of that you can try some very interesting looking Japanese snacks, buy any needed clothing essentials, purchase tickets to baseball games and get free wifi!
Tip #6: Language
​The official language of Japan is of course Japanese. You will definitely feel the language barrier at times but there is English around Japan to help tourists. The train/subway stations have English options on ticket machines and English signs all around to direct you in the right direction. Be sure to brush up on some simple Japanese though to greet and thank the locals and help you when buying any goods or food.
Another way to get around the language barrier that I have found helpful while traveling is using the Google Translate app on your phone. Simply point your phone at a sign or menu and the words will be translated (to an extent) to English.
Take a look at some Japan travel guides to better prepare you for your trip:
Tip #7: Japanese Etiquette
Here are a few helpful tips combined into one section that can help you better prepare from an etiquette standpoint:
(1) Bowing: Throughout Japan you will see people bowing slightly to one another – if it is saying hello, goodbye, or thanking someone, it is something that every Japanese person does. So to show respect and politeness, try your best to do the same when you are there.
(2) Remove Your Shoes: If it is in a teahouse, restaurant or business you will come across many places that ask you to take off your shoes before entering. It is not something you might think of on a daily basis so just be mindful of this of when you enter, as each establishment will have different rules.
(3) Tipping: ​It is not customary to tip while in Japan. If you try to do so you will probably come across situations where the tip will be refused.
(4) Cleanliness: Japan is a very clean country however you will find a surprisingly low amount of garbage cans around the country. Always clean up after yourself and get used to holding on to your trash before finding the next trash can.
That about does it for 7 tips for traveling to Japan to get you all prepared for your trip. If you have any questions, comments or have a tip idea to add feel free to write them in below. Have fun out there and safe travels!