Kyoto 3 Day Itinerary | Best Things To Do in Kyoto
You cannot go to Japan without spending a few days in Kyoto. This Kyoto 3 day itinerary will go over it all. During your visit you will be able to visit plenty of temples, get lost in a bamboo grove, walk through thousands of torii gates, and maybe even see a Geisha. The city has so much to offer and this guide will just scratch the surface with the best things to do in Kyoto, Japan.
1. Introduction to Kyoto
Whether it be the architecture, the culture, the food, or the nature, Kyoto has all of that and more. There is so much to do and see throughout this city, and spending a few days here will give you a bit of everything that Kyoto has to offer. This guide will go over some key points to know when visiting the city as well as walk you through a Kyoto 3 day itinerary. From figuring out logistics within the city to laying out the best things to do in Kyoto, I am hoping this can be a great starting point as you plan your trip to Japan. With that said lets get into it!
2. Getting to Kyoto
The great thing about Japan in general is that all the major cities are connected by a very efficient railway system and Kyoto is no exception. No matter what major city you might be coming from, you should be easily be able to access Kyoto by train. The city is located pretty much in the center of the country so getting there should be no problem at all (unless coming from far up north). To give you a sense of how long it will take from major cities – from Tokyo about 3 hours, Osaka 45 minutes, and Hiroshima a bit less than 2 hours.
You can check the Hyperdia website for the latest schedules and if using your JR Pass be sure to uncheck the "Nozomi/Mizuho/Hayabusa (Shinkansen)" box as those are not included with the pass.
I go over the JR Pass and transportation in much more detail in the Japan tips section of the website, so take a look at that as well if interested.
3. Getting Around Kyoto
Kyoto is filled with a vast train/subway system, a bus system and a lot of taxis to get you from place to place. Depending on where your start and end points are, it might make sense to use one mode of transportation vs. another, or a combo of a few.
Subway/Trains
There are two subway lines in the city – the Karasuma Line, which runs north to south and the Tozai Line, which runs east to west. On top of those two there are many other private train lines that you could take around as well. You can take a look at the complete subway/train map to get a better idea. Many of these are not included in the JR Pass so you will need to purchase separate tickets. There are a few JR lines that do pass through the city. If you happen to use any of these then of course you will be able to use your JR Pass.
Busses
On top of the subways and trains, the bus system goes everywhere around Kyoto. A single bus fare runs 230 JPY but you can also buy a one day pass for 600 JPY (note this is only valid inside Kyoto city; therefore will need to pay an extra fee to use at such sites like Arashiyama). There are also some JR buses that operate in Kyoto that will be covered by the JR Pass.
Kyoto Tourist Pass
You can also purchase a Kyoto tourist pass (900 JPY for a one day, 1700 JPY for a two day). This gives you unlimited access to the two subway lines and all busses, as well as discounts to some attractions.
Taxis
At times if you are looking to get from one point to another and the trains and busses seem inconvenient then you could find taxis all over the place to take you to your next attraction.
ICOCA
You can also look into buying an ICOCA card – a prepaid reloadable card that can get you onto trains, subways, and busses without needing to constantly purchase new tickets each time.
Need a place to stay in Kyoto? Browse through some top rated hotels:
4. Location / Map
Below you can find a map of Kyoto with the three days of attractions and their designated color coded pins. Feel free to move the days around as you see fit. You can also skip or add any attraction that you are interested in and don't forget to spend some time just wandering and enjoying the streets of Kyoto! There is plenty to do around the city and the below is just one example what a Kyoto 3 day itinerary can look like.
Day 1:
(1) Nijo Castle
(2) Imperial Palace
(3) Ginkaku-ji
(4) Philosopher's Path
Day 2:
(1) Fushimi Inari
(2) Kiyomizu-dera
(3) Ninen-zaka / Sannen-zaka / Gion
Day 3:
(1) Kinkaku-ji
(2) Ryoanji
(3) Tenryu-ji
(4) Arashiyama Bamboo Grove
(5) Arashiyama cont'd
If you are interested in a private or guided tour, there are plenty of highly rated ones that can take you all throughout the city and give you more insight into Kyoto and its culture
5. Kyoto Day 1
A) Nijo Castle​
Hours: 8:45AM – 4:00PM
Closed on Tuesdays in Jan, Jul, Aug, Dec
Cost: 600 JPY
​The first stop will be Nijo Castle. There is a whole vast complex that includes gardens, moats and different types of structures. Be sure to make your way to the Ninomaru area that comprises of five buildings, and where you will find the famous nightingale floors (squeaking floors that acted as a security system). You should also take some time to walk around and enjoy the beautiful gardens within the complex.
B) Imperial Palace
Hours: 9:00AM – 5:00PM (April to August); 4:30PM September & March; 4:00PM October to February
Closed on Mondays
Cost: Free
Not too far away from Nijo Castle lies the massive Imperial Palace complex of Kyoto. This is where the Imperial family used to live until the capital of Japan was moved from Kyoto to Tokyo. The complex is filled with various gardens, halls, and structures to explore. Although you will not be able to enter the buildings themselves, just taking them in from the outside will be a site to see.
C) Ginkaku-ji
Hours: 8:30AM – 5:00PM
Cost: 500 JPY
​After Nijo head northbound to the Ginkaku-ji Temple and nearby Philosophers Path. Ginkaku-ji is also known as the Silver Pavilion, although it is not silver in color. Once you arrive there you can make your way to the main temple area and take some pics of the few different buildings that are part of the temple. Then continue along the path up the hill and get some great views from behind the complex.
D) Philosopher's Path​
​Right outside of Ginkaku-ji is the start of the Philosopher's Path. This path continues down south towards the Kumano Nyakuoji Shrine along a small canal. During cherry blossom season (~March to April) the path is even more so of a site to see with the pink flowers blossoming in every which direction. The whole walk should take about 30 or so minutes but along the way you can stop by any more shrines or art galleries.
Take a look at some Japan travel guides to better prepare you for your trip:
6. Kyoto Day 2
A) Fushimi Inari​
Hours: Always Open
Cost: Free
​Fushimi Inari is a shrine dedicated to the god of rice and is famous for its torii gates. First you can check out the shrine itself but once complete it is time to make your way behind the shrine to the path of the thousands of torii gates. The path itself is quite long up the hill (2.5 – 3 miles) through these gates but feel free to hike up as much as you would like before heading back down. A good turnaround point would be the Yotsutsuji Intersection, which is about half way up. Here you will get a great view of the city below.
B) Kiyo​mizu-dera
Hours: 6:00AM – 6:00PM
Cost: 400 JPY
​Kiyomizu-dera is another very well known temple, most famous for its wooden balcony hanging over a cliff. Here you will find a complex full of pagodas, halls and waterfalls. Walk past the orange colored gates and pagodas until you arrive at the main hall. You will come across great views from the wooden outdoor space alongside the mountain. You can then head down to Otowa Waterfall that has three streams of water coming from the hills above.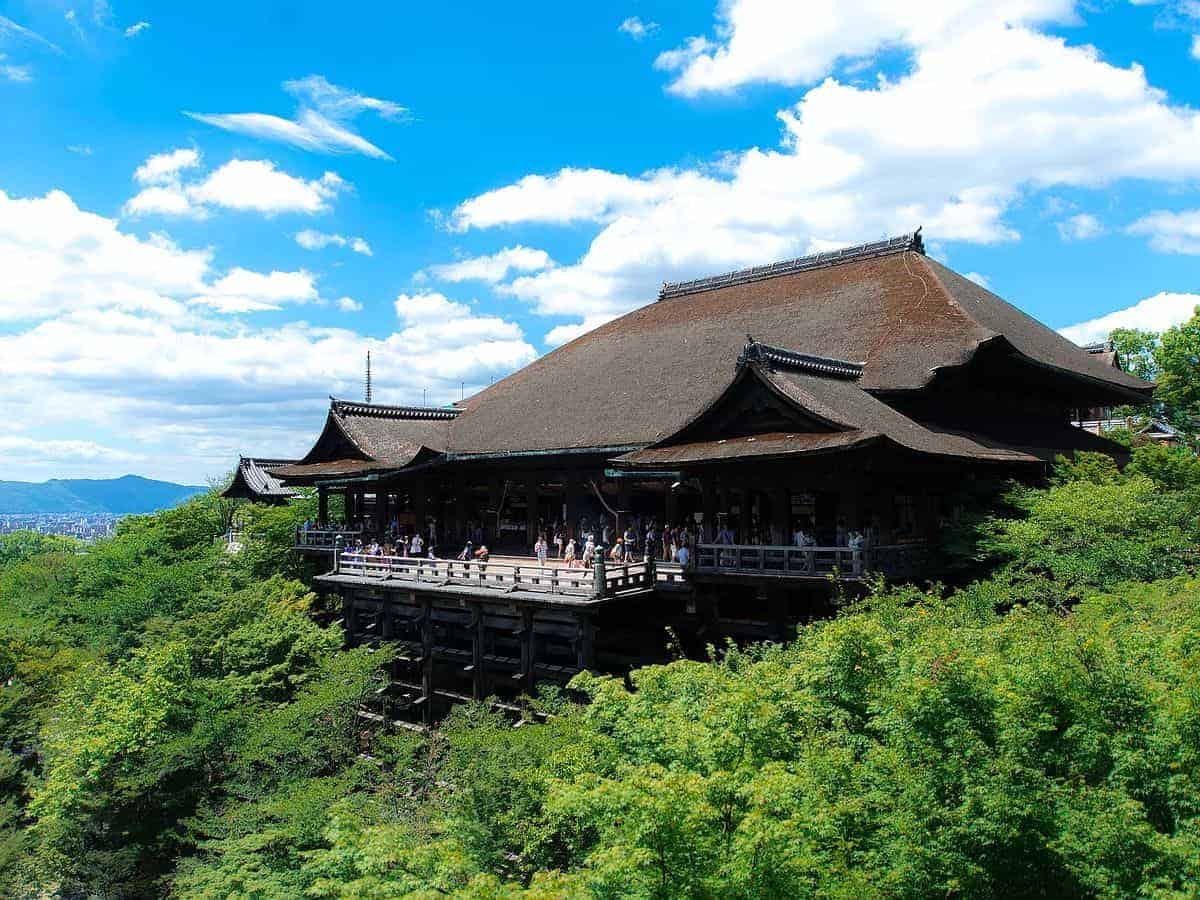 C) Ninen-zaka / Sannen-zaka / Gion
​A short walk from Kiyomizu-dera are two well known pedestrian streets – Ninen-zaka and Sannen-zaka. These streets will be filled with wooden houses, teahouses and souvenir shops. Take some time to explore these streets before ending your day in Gion – the entertainment and geisha district of Kyoto. You will find different types of performing arts shows, plenty of restaurants to have some dinner, and more teahouses. You might also catch a glimpse of a geisha walking the streets to their engagements.
7. Kyoto Day 3
A) Kinkaku-ji
Hours: 9:00AM – 5:00PM
Cost: 400 JPY
​First up is the Kinkakuji Temple also known as the Golden Pavilion. Make your way by cab or train/bus to the northern side of the city where you will find this one of kind place. When you enter the complex you will pass by a variety of temples, shrines and gardens as you make your way to the main attraction. The golden temple sits overlooking the lake and you will be able to snap some photos from up close or from across the way.
B) Ryoan-ji
Hours: 8:00AM – 5:00PM
Cost: 500 JPY
​A short drive away from here you will find another temple – Ryoanji. At this temple you will find Kyoto's most famous zen rock garden. There are 15 rocks laid upon small patches of moss throughout the area. An interesting note here is that wherever you look, you will never be able to see all 15 rocks from the same vantage point.
C) Tenryu-ji
Hours: 8:30AM – 5:30PM (5:00PM Oct – Mar)
Cost: 500 JPY + 300 JPY to enter temple area
​Make your way all the to the west side of the city to the Tenryu-ji Temple. Not only will you find a great temple here but also some incredible gardens surrounding the area.
D) Arashiyama Bamboo Grove​
Hours: Always Open
Cost: Free
​Once complete with the temple you can head close by to the Arashiyama Bamboo Grove. If you have seen pictures of this site you were probably in awe at the time. Now you get to see firsthand this forest filled with sky-high bamboo surrounding you in every direction. You can walk the paths throughout the grove and take some quality pictures of this incredible place.
E) Monkey Park / Comorant Fishing​
​If you would like you can just stay in Arashiyama and explore the others temples around the area and/or head to the Iwatayama Monkey Park for a while before heading back to your hotel. If you end up staying in the area until evening time head to Togetsukyo Bridge and get a glimpse of cormorant fishing.
8. Where to Stay in Kyoto
Below are some highly rated and good value hotel options throughout the city. You really cannot go wrong with any of them and depending in your budget you may have more flexibility with the top rated options. Wherever you do end up staying, it is always important in Japan to try and be in walking distance to a subway/train station as those will be your main mode of transport around the city. Feel free to check out Booking.com for many more highly reviewed options to choose from as well.
2) Citadines Karasuma-Gojo Kyoto
3) The Royal Park Hotel Kyoto Sanjo
That about wraps up the Kyoto 3 day itinerary and the best things to do in the city. Take a look at our other Japan itineraries and guides to help out with any other trip planning. If you have any questions about the trip please feel free to comment below!