Planning a trip around the world is no easy task. There are tons of aspects to consider when putting together a long-term travel plan to countries in different corners of the world.
One of the main considerations to think of, is what an around the world packing list should look like. Backpacks, gear, clothing, electronics, the list goes on.
During my year long trip around the world, I was able to learn a lot about what I needed, what I didn't need, and what I wish I had. I have been able to take everything I learned to put together this wholistic around the world packing list to help you prepare for a trip of your own.
* Affiliate Disclosure: This post may contain affiliate links, which means I may receive a commission if you make a purchase through the links provided, at no additional cost to you. Thanks for supporting the work I put into TripTins!
Packing List Considerations
Before I just jump into what my packing list includes, I did want to mention a few important points when it comes to long term around the world travel.
♦ Whether you are traveling for one month or one year, a packing list should not change too much. Just because you are traveling for longer, does not mean you need more items to carry around.
I always came in with the mindset that I would be able to do laundry once every 7-10 days. Never did I have an issue with this is any country I visited and I usually was able to get laundry back within a one day time period.
♦ Everyone is different and everyone has their own needs. While this packing list works well for me, you may need to make some adjustments that make sense for you.
For example, I hiked frequently on my trip so I brought along hiking shoes and socks. If you aren't a hiker and don't plan on hiking, then it probably makes sense to not bring hiking gear.
♦ This list is going to be a balance between weight and efficiency. My goal was to always bring my bags as carry on throughout the trip. It would save me time at the airport both before the flight and when I landed. I also would save on my budget as checking bags can cost money. And most importantly, I never had to worry about losing anything.
♦ When thinking about your packing list, be aware of items that you need vs items that you want. To save weight and unnecessary packing, think strongly of the items that fall under that "want" category. Think to yourself if you really will benefit from bringing those items.
♦ With that said, you can buy things along the way too. Don't feel that whatever you bring is what you are stuck with for your entire trip. Your packing list can change throughout a trip too (as it did with mine!).
♦ The clothing side of the packing list will be geared towards a male packing list, however it certainly can be used as a good guide for a similar female packing list too.
→ Feel free to take a look at my Around the World Itinerary to get a better idea of where this packing list took me, as well as how much it costs to travel around the world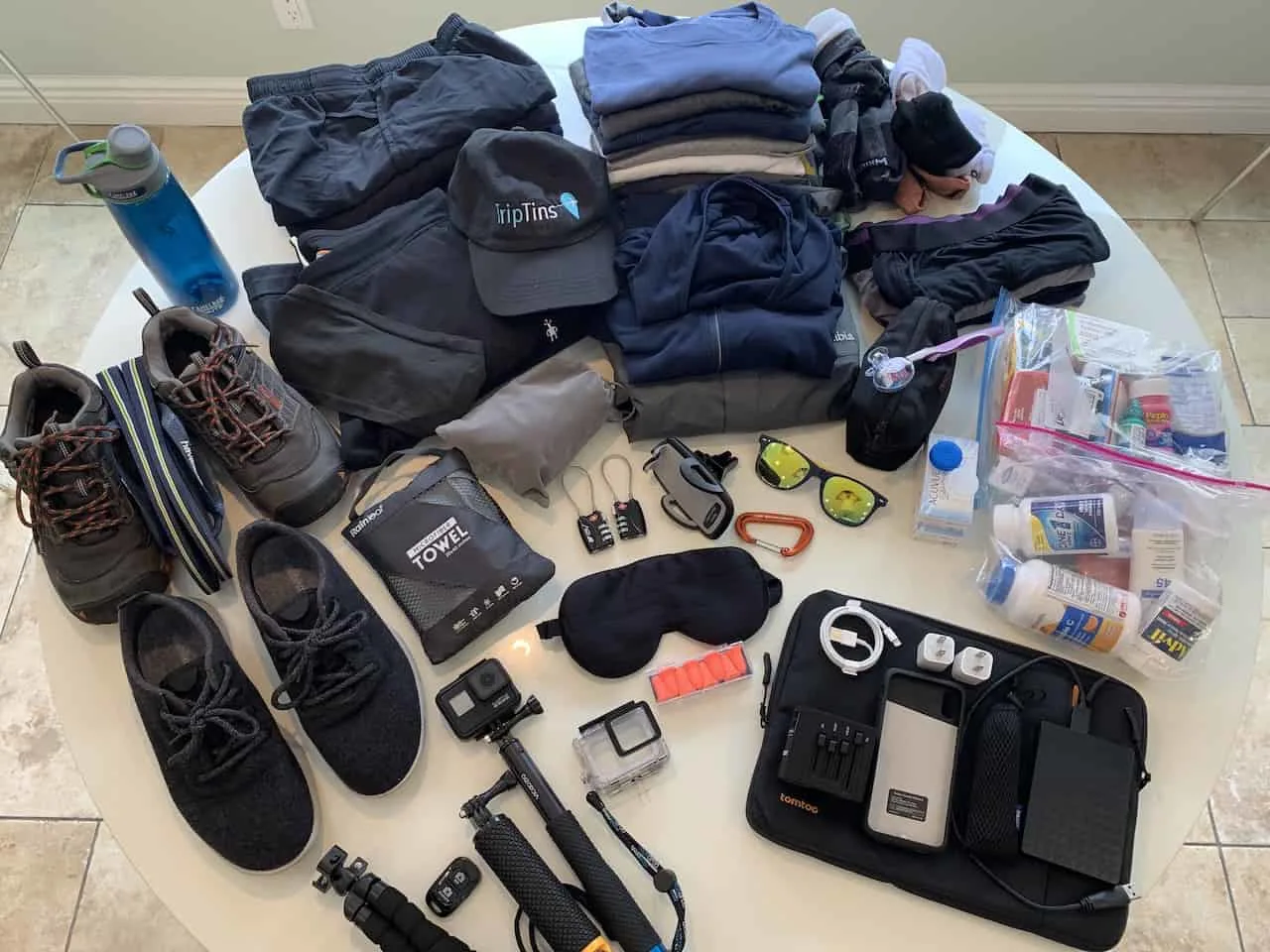 Around the World Packing List
With that said, let's now get into this around the world packing list that I put together. I will break it out by category to better help you organize.
For many items on this list I had included direct links to purchase this gear.
Feel free to check those out if you want to get starting on building out the list on your own.
Backpacks
Let's start off with what is actually going to be holding all of your belongings. As I mentioned earlier, traveling lightweight and prioritizing carry ons is how I travel. I also didn't want to be wheeling suitcases around.
I ended up going with two different backpacks. One to carry my clothes, hiking shoes, toiletries, and some miscellaneous items, and the second to carry my electronics and items that I always wanted on me (packable rain jacket, cash, passport, water bottle, etc).
Main Backpack (40L+)
I did a ton of research on what backpack would be best for long term travel and that is small enough to be considered a carry on. The Osprey Porter 46L is the one backpack that continuously came up in my research.
The bag as one main compartment that zips all around, a couple internal zippers, and one external zipper pocket. I found it to be the perfect size for my packing list and never had issues with it all the way through. I was always able to throw the bag in the overhead bin with no issues, even on some pretty small planes.
→ Purchase the Osprey Porter 46L Backpack here
Everyday Backpack
For my second backpack, I wanted to choose something that would work both as an everyday backpack and a hiking backpack. While the bag I bought is geared towards that everyday use, I still was able to use it for hikes.
It may be difficult to find a perfect bag out there that is good for everyday use and more active use, but there are certainly plenty of bags that could work.
Although I went with the Osprey Nebula 34L, I never filled it up to that type of capacity. Going smaller than that should be just fine too. This was more so just trying out various bags at the local REI at the time.
For my everyday bag, I also wanted to make sure there were compartments, internal and external zippers.
There is a laptop sleeve in one zippered compartment along with an internal zippered pocket, where I put important documents, passport, etc. In some of the external pockets, I put things that I wanted to access quickly such as sunglasses and a portable charger.
At the end of the day, having organization in an everyday backpack is one of the top things to consider when going through options.
→ Purchase the Osprey Nebula Backpack here
→ Don't forget a backpack rain cover to go along with your bag as well. I just brought one for my daypack, as that was the bag I was always taking when going on hikes or longer days outside when there is more risk of rain. Check out the Joy Walker Waterproof Backpack Rain Cover for your travels.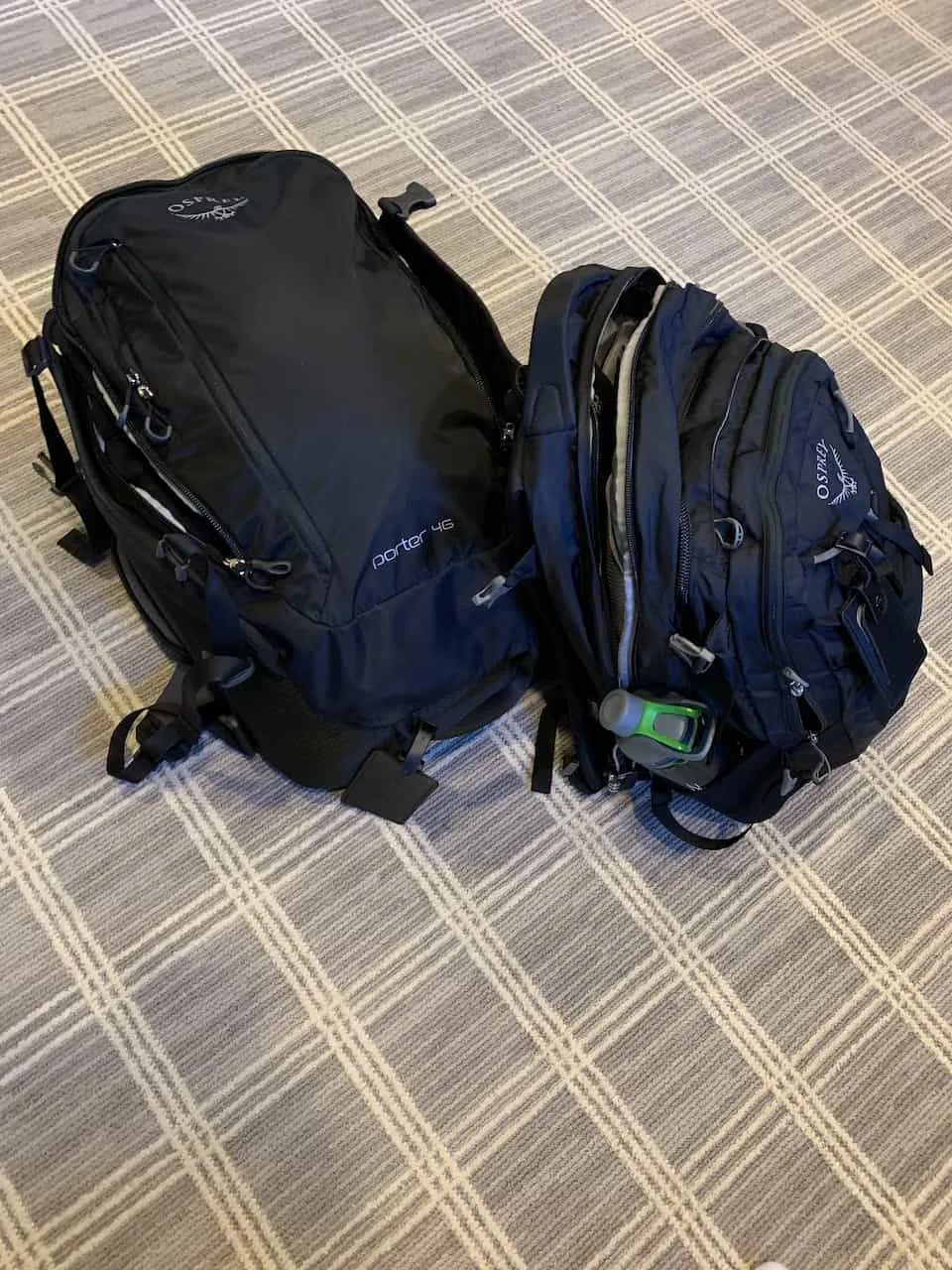 Clothing
Essentially the entirety of my trip was outside of the winter months with temperatures ranging from ~40 degree at nighttime to ~100F degree during the daytime (think Patagonia vs. Philippines).
The goal for me was to find a good balance between the weather spectrum so I could be prepared in these various weather conditions. And like I said – you can do laundry! So, the clothing packing list below will look like what is needed for a week's worth of traveling.
Short Sleeve Shirts (7)
I brought along 7 short sleeve shirts with 4 of them being cotton and 3 of them being polyester. I would recommend leaning towards most of your clothing being polyester or another moisture wicking material.
Cotton is a material that soaks up sweat when it gets wet, while a fabric like polyester is able to wick off the sweat and keep you dry. Certainly, whenever I was hiking, I was wearing the polyester shirts, but at night or when exploring a city, I would wear a cotton one.
Tank Tops (1)
I also brought along one tank top to wear when the weather was just too hot. This mostly happened in places like Israel, Indonesia and the Philippines when those temperatures got way up there.
Long Sleeve Shirts (2)
In addition to the short sleeve shirts, I also brought a couple long sleeve shirts. One of these long sleeve shirts was a dri fit polyester shirt (more so for those cooler outdoor days), and the second was a lightweight henley.
I wore the henley at night more often than not when going to restaurants or walking around town. It was nice to have something a little more formal than just a t-shirt.
Pants (2)
Moving on to the lower body, I brought along two pairs of pants – one dri fit jogger and one more of an athleisure pant that can be worn in various types of situations.
Between these two pairs of pants, I was good to go – whether it be hiking, nightlife, airplanes, city walking or anything in between.
There are plenty of brands that make both these types of pants. For my dri fit pants, brands such as Nike, Under Armour, Smartwool or Adidas, can be good options. On the athleisure side of things, brands like Lululemon, Rhone, and Birddogs all make very comfortable all-around use pants to look into.
Shorts (4)
I also packed four lightweight shorts. Since for the most part I was going to be in shorts weather, I did want to be sure to bring more shorts than pants.
Three of the shorts I brought were lightweight and moisture wicking athletic type of shorts. I went with brands such as Birddogs, Rhone and Under Armour here.
I opted to bring just one athleisure short (similar to the pants option), when I wanted to be just a bit more casual. These look like khaki shorts but are made out of a more comfortable polyester material.
One of my main considerations when purchasing the shorts were having zippered pockets. This removes the chance that your phone or wallet will slip out as you are traveling around.
Helpful tip: if there are no usable zippered pockets for phones/wallets, you can get a tailor to put them in. I did that with two pairs of shorts that I brought along.
Boxers (7)
Let's not forget about some underwear. Pretty self explanatory here but I had 7 pairs of boxers that I put on the packing list. All of these boxers were made out of moisture wicking materials.
Socks (5)
For my feet, I had 5 pairs of normal polyester or acrylic types of socks. I brought just 5 pairs because I also had some hiking socks that I will talk about next.
Hiking Socks (3)
Since I knew I would be hiking on my trip quite frequently (or at least spending long days on my feet), I brought three pairs of hiking socks too. These were all thin breathable socks that I could wear on hikes and out on a regular day if needed.
→ Check out some Smartwool socks and Darn Tough socks for both normal socks and socks geared towards hiking
Half Zip Hoodie
One of my most worn pieces of clothing was a half zip lightweight hoodie. This was perfect for cooler nights, airplane rides, or even some hikes.
I went with a hoodie from Lululemon for this one, knowing it was a high quality moisture wicking material. There are certainly many options here to choose from. This layer could be full zip, half zip, with a hoodie or without a hoodie. Anything that is just a bit warmer than your other layers should do just fine here.
Outerwear
The heaviest piece of clothing I brought along was a Patagonia full zip technical jacket. This was my go to for those cooler weather times (Japan in April, Patagonia hiking, New Zealand mountains).
If your trip is really just going to be geared towards hot weather, I do not think a layer like this would be necessary. But when the temperatures are around that 50 F degree mark give or take, having a layer like this can go a long way.
Rain Jacket
To wrap up the main clothing side of things, bringing a packable rain jacket is a must. You never know when the weather will turn for the worse. Having a small packable rain jacket that can keep you dry is going to be a key part of your packing list.
I always brought this along on my hikes too. Even if I knew the weather would be dry, a jacket like this can also help with wind resistance.
→ I loved this Columbia packable rain jacket that worked well throughout (check out a Women's version too!)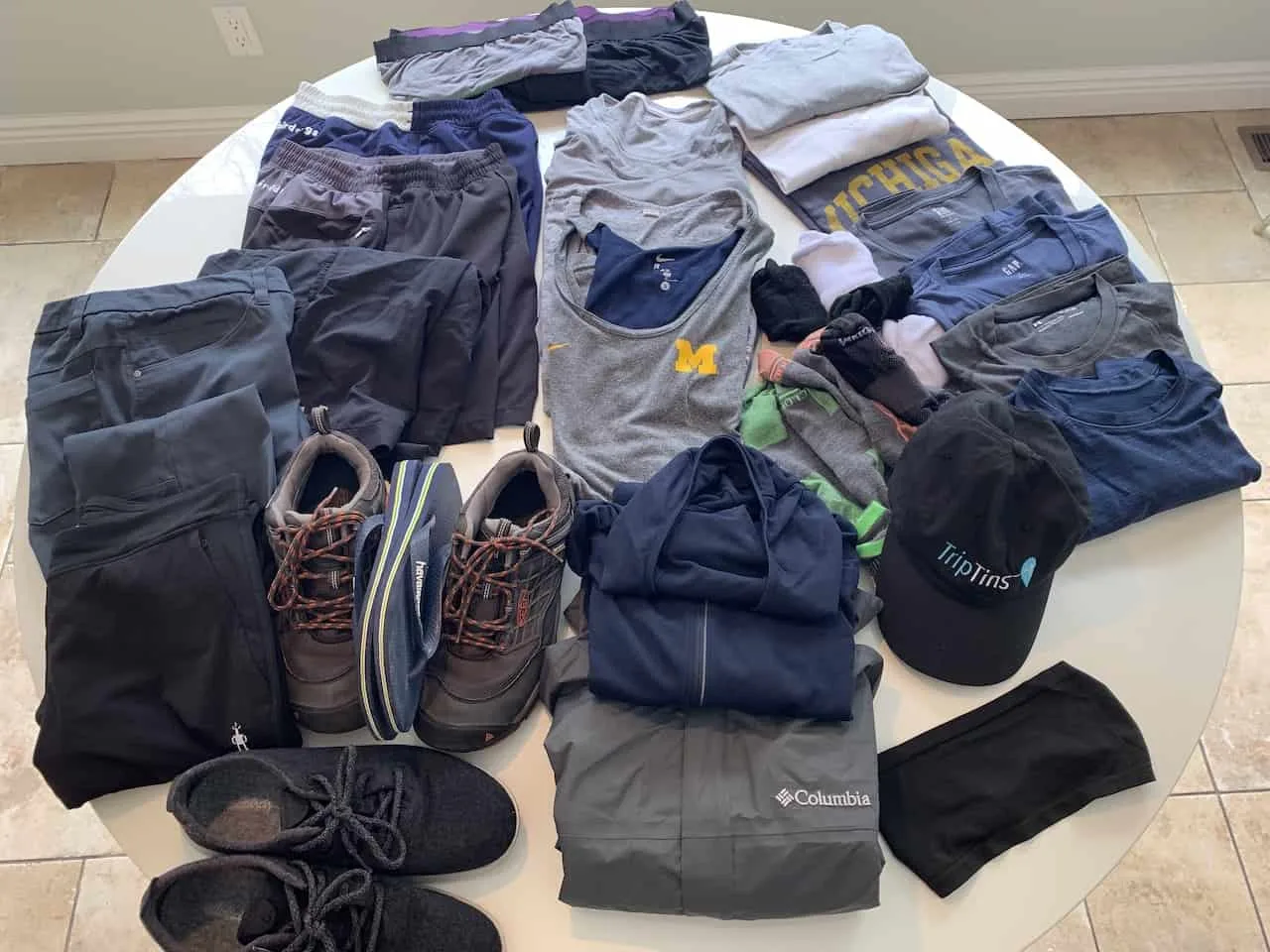 Footwear
Moving onto footwear now. This is where your pack can take on some weight if you are not careful with your footwear choices. I decided to go with three types of shoes – an everyday walking shoe, a hiking shoe, and a pair of flip flops.
Everyday Walking Shoe
There are thousands of walking shoes out there that could work. You just want to make sure it is comfortable enough to take on miles of walking a day. I wore these shoes for the majority of my trip so be sure to pick a shoe that works for you.
Hiking Shoes
Since hiking was going to be a frequent activity, I needed to make sure to bring along a comfortable pair of hiking shoes. At first, I started with my Keen Targhees, which lasted a long ways for me.
However, the hiking shoes can really take up room in your backpack and weigh you down. I have moved on from hiking shoes and have taken on trail running shoes moving forward. These are lightweight, take up less space, and have very good grip.
The downside to trail running shoes is that they do not have ankle support. This is certainly a compromise so I would only recommend bringing trail running shoes if you already have plenty of experience with them.
→ If you want a more solid hiking shoe check out the Keen Targhee Mens & Keen Targhee Womens
Flip Flops
Lastly, I brought a pair of Havianas flip flops that I wore constantly through the beach/water portions of my trip. These also worked well for taking showers in shared bathrooms at hostels.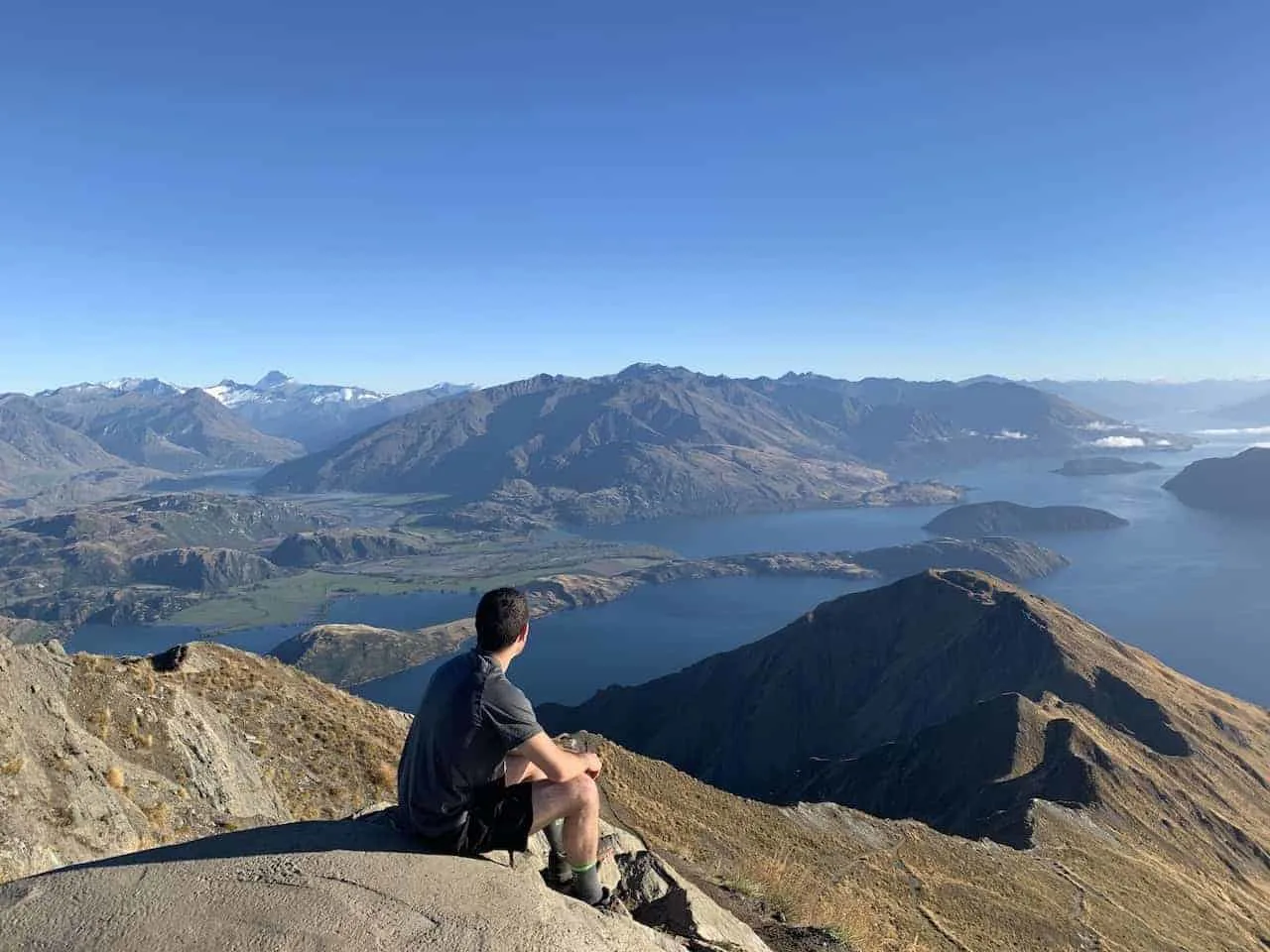 Miscellaneous Essentials
Now that you have a better idea about the clothing and footwear, let's talk about other miscellaneous essentials to bring along.
Sunglasses
Sunglasses are a super important piece of gear to bring with you. As a traveler, you will be outside a ton, and protecting your eyes is going to be essential. They can also go a long way when driving a car and keeping the sun out of your eyes.
Baseball Hat
Speaking of protecting your eyes and face, a regular baseball type of hat should also be brought along. Again, being outside in the sun all day will expose your face to the light. Having a hat to help protect you against the sun is definitely needed.
Microfiber Towel
Another vital piece of gear that needs to be on your around the world packing list is a quick dry microfiber towel. Whether you are heading to the beach, going on a boat trip, taking a shower somewhere with no towels, having a microfiber towel available is going to go a long way.
After using it, simply hang it up somewhere and it should dry out nice and quickly.
→ This Rainleaf Microfiber Towel has been my go to from the start
Drawstring Bag
I ended up bringing along a drawstring bag that I mostly used to keep my hiking shoes in so they wouldn't mix with my clothing. I also used it when going on boat trips out in the water or short hikes when I didn't want to bring my whole backpack with me.
Packing Cubes
Having packing cubes to organize my clothing was also super helpful to have during the trip. Instead of just having a pile of clothing in my backpack, I had a few packing cubes that would each store a different type of clothing.
→ I went with these Shacke Pak Packing Cubes that come in a variety of sizes
Laundry Bag
A small lightweight laundry bag will be needed to put your dirty clothes in at the end of the day. Remember, you can do laundry anywhere you go!
Eye Mask & Ear Plugs
Whether it is on a flight or in a hostel dorm room, sometimes it can just be hard to sleep with the noise and the light. Bring along an eye mask and a set of ear plugs to help you catch up on some sleep.
Bag Locks
Keeping my belongings safe was always top of mind for me. That is one reason why I always wanted to go carry on only. But I also wanted to keep my stuff safe when I was on the move or when I was in a dorm room.
I had two TSA approved bag locks that I would put around the zippers of my backpacks to secure them throughout the trip.
Water Bottle
Staying hydrated is a key component of traveling and keeping healthy. I would always fill up my bottle at the beginning of the day, before hikes, or in airports.
While I started off with a normal Camelbak water bottle, I later learned of filtered water bottles. I now also use a collapsible filter water bottle that is very lightweight and can guarantee water safety no matter where I am in the world.
→ This CamelBak insulated water bottle is my latest regular bottle I have been using. But I also purchased the Katadyn Filter Water Bottle that I will be using more often moving forward.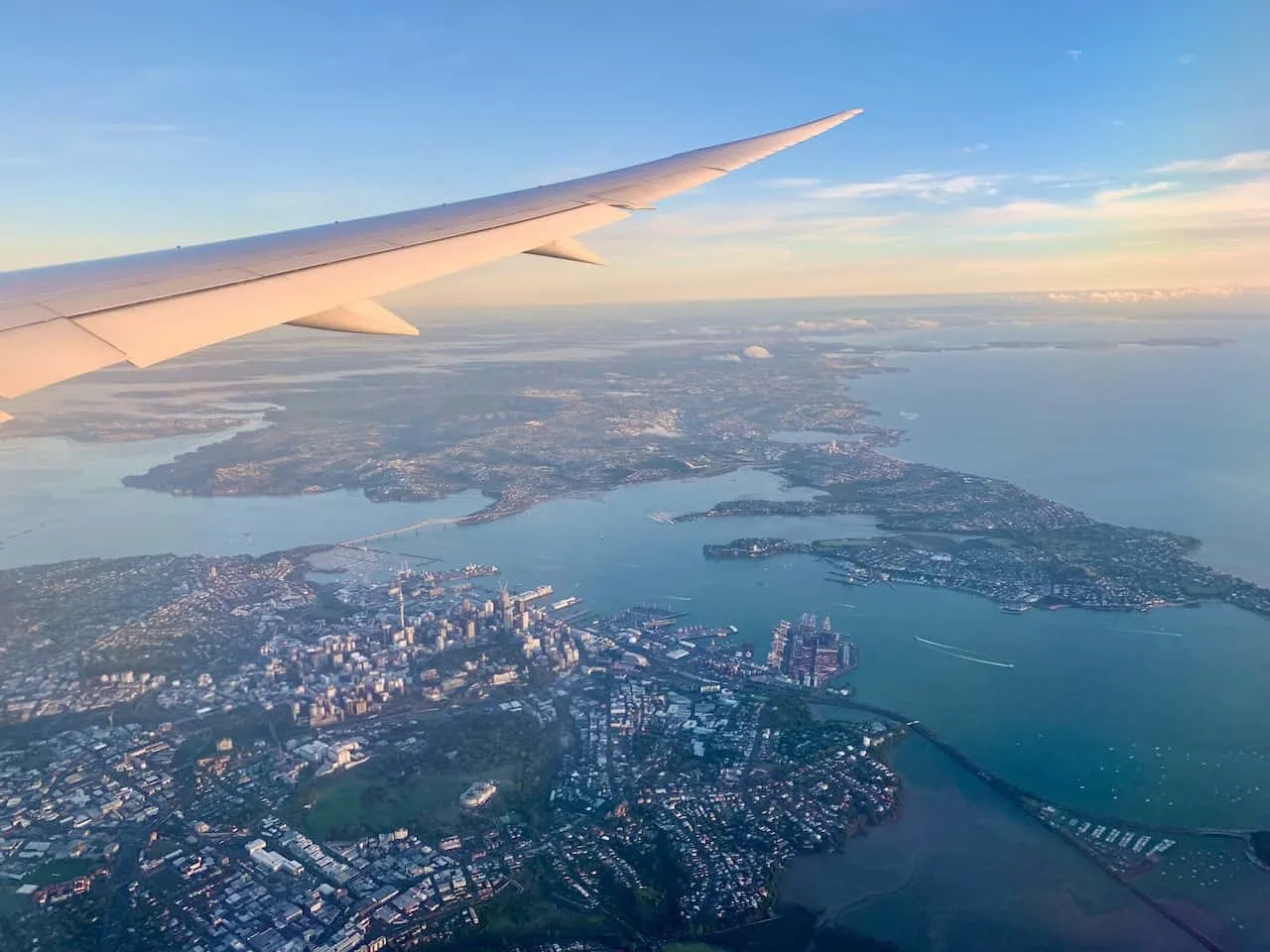 Mandatory Items
Below is just a quick list of items that you need to have on you no matter where you are traveling.
→ Wallet
→ Passport (be sure it expires well into the future)
→ Copies of Passport
→ Credit Card / Debit Card
→ Extra US Dollars (emergency)
→ ID & Old ID: I found it useful to have my normal driver's license on me as well as an older expired ID. I used this expired ID in situations that required me to put down a form of identification when renting something.
Whether that be mountain gear, scooters, jetskis, etc., many of these places may require an ID as collateral. Instead of handing off the ID I needed, I gave them an old expired ID that wouldn't matter as much if it happens to get lost.
Check out some other helpful travel tips to better help you plan your trip around the world.
→ International Driver's License: This is not 100% necessary, but if you are renting a car in other countries, some of them do require an international driver's license. These are easy to get and just cost a small fee.
Electronics
The list of electronics will certainly change from person to person depending on what is necessary for an individual's trip. Below is what I included on my around the world packing list.
Laptop
• MacBook Pro
• MacBook Charger
• Laptop Case
Phone
• iPhone (make sure it is unlocked)
• iPhone Charger
• Car Phone Holder (if planning on renting cars)
• Car Phone Adapter (if planning on renting cars)
• SIM Card Removers (just in case you need to put your original SIM card back in at some point)
GoPro
• GoPro & Extra Batteries
• GoPro Stick
• GoPro Battery Charger
• GoPro Waterproof Case
Mirrorless Camera
• Sony A6600 Camera
• Sony 18-135 Lens
• Camera Charger
• Camera Cleaning Kit
Miscellaneous Electronics
• Earphones
• Universal Adapter (can be used in 150+ countries!)
• Power Bank / Portable Charger
• External Hard Drive
Photography Gear: Check out my latest travel photography gear list to see what is my camera bag these days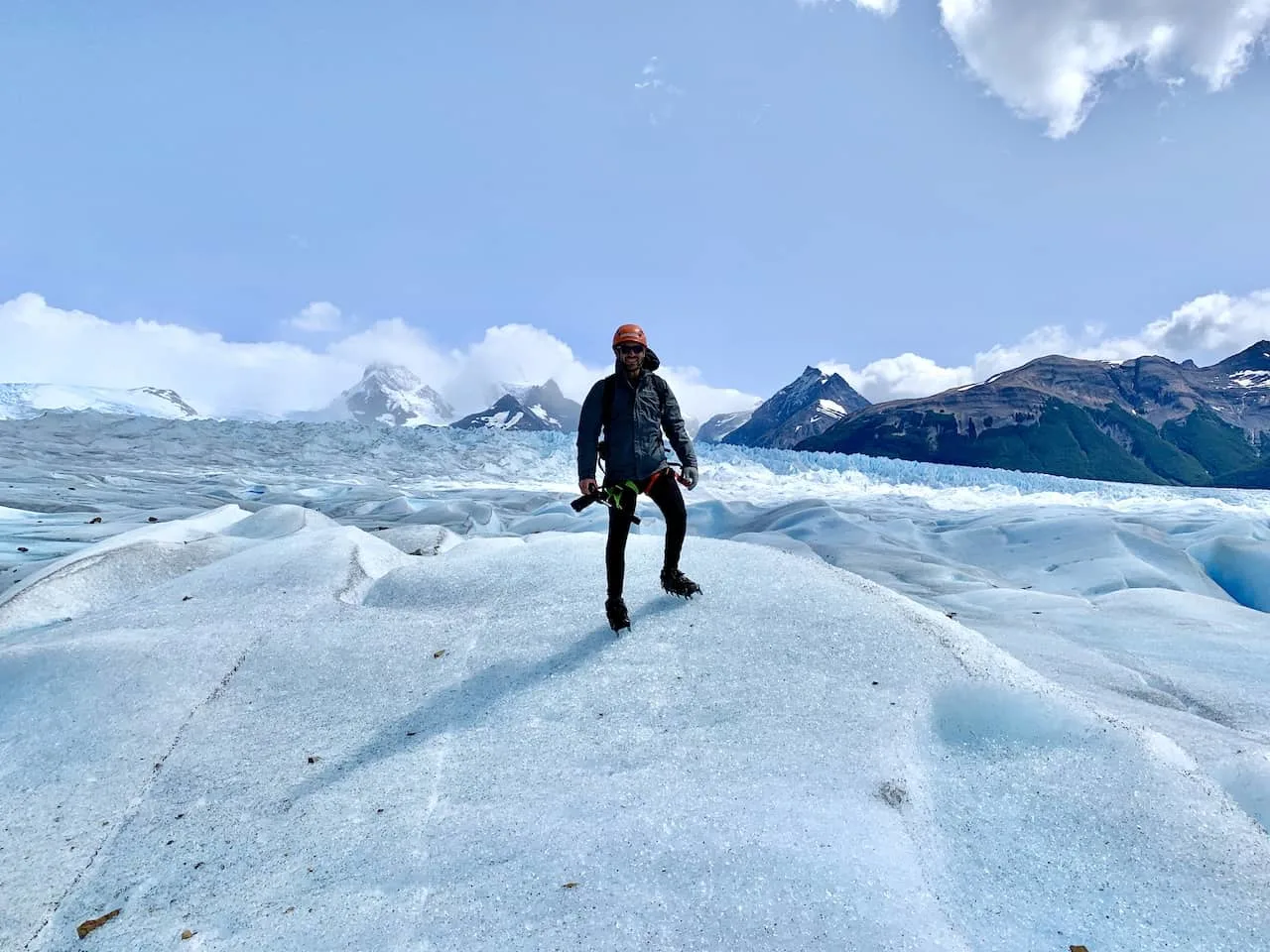 Toiletries / Healthcare
Here is a list of all the toiletries and healthcare products I brought along. Similar to the electronics, this will surely be different person to person.
Hygiene / Health
• Shampoo
• Body Wash
• Moisturizer
• Hand Sanitizer
• Deodorant
• Sunscreen
• Bug Spray
• Tissues
• Nail Clippers
• Vitamin C Pills
• Apple Cider Vinegar Pills
Eyes
• Contact Lenses
• Contact Solution & Case
• Eye Drops
• Eye Glasses
Emergency Care
• Bandaids
• Neosporin
• Advil & Advil PM
• Tylenol Cold & Flu
• Pepto Bismal
• Cough Drops
• Tums
• Malaria Pills (prescription needed)
• Z-Pak (prescription needed)
• Cipro (prescription needed)
• Amoxicillin (prescription needed)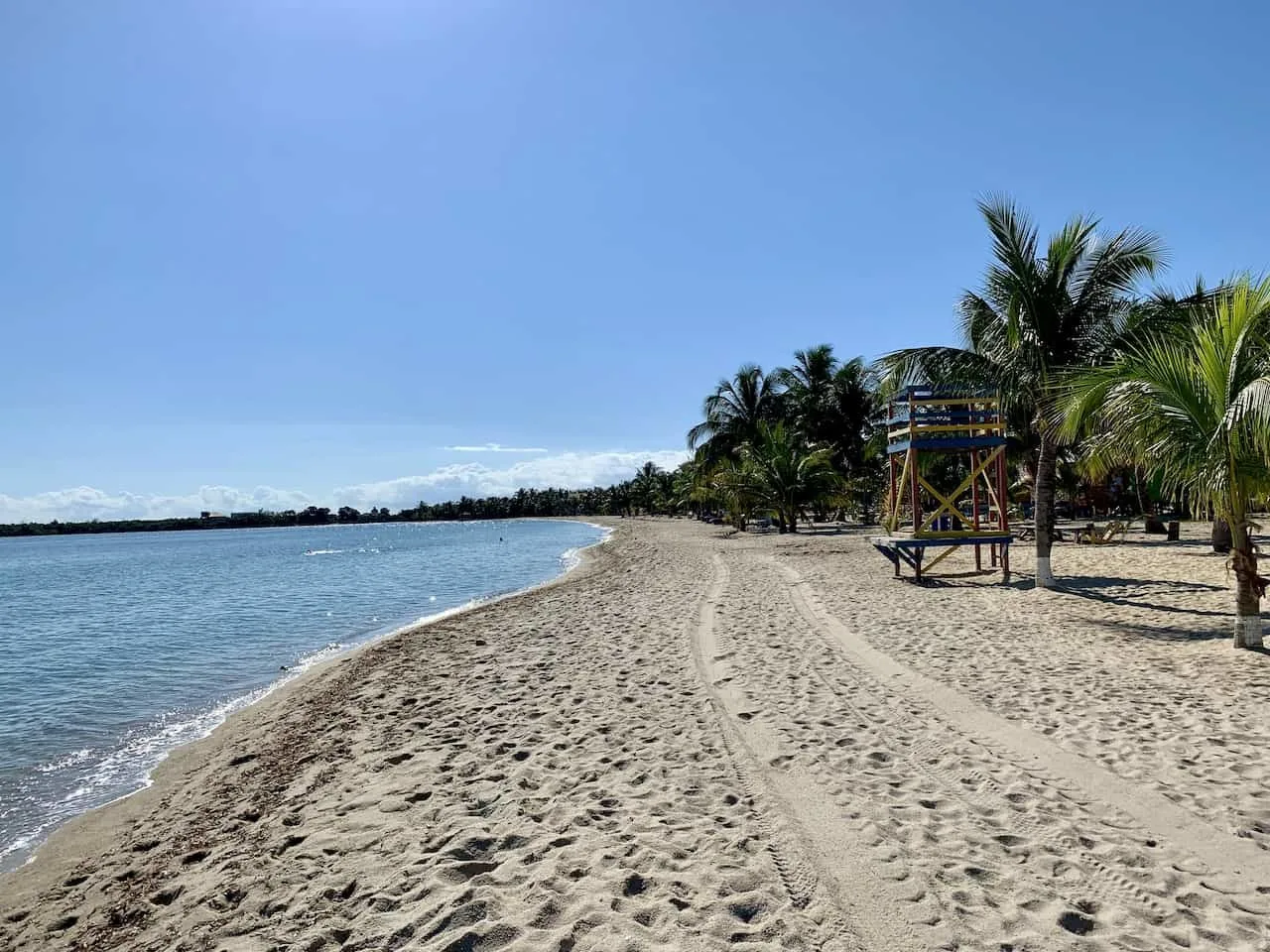 Around the World Packing List Recap
Here is the packing list in image form so you can see everything laid out in one spot together. It can be something you save down and print out for yourself to help start checking things off.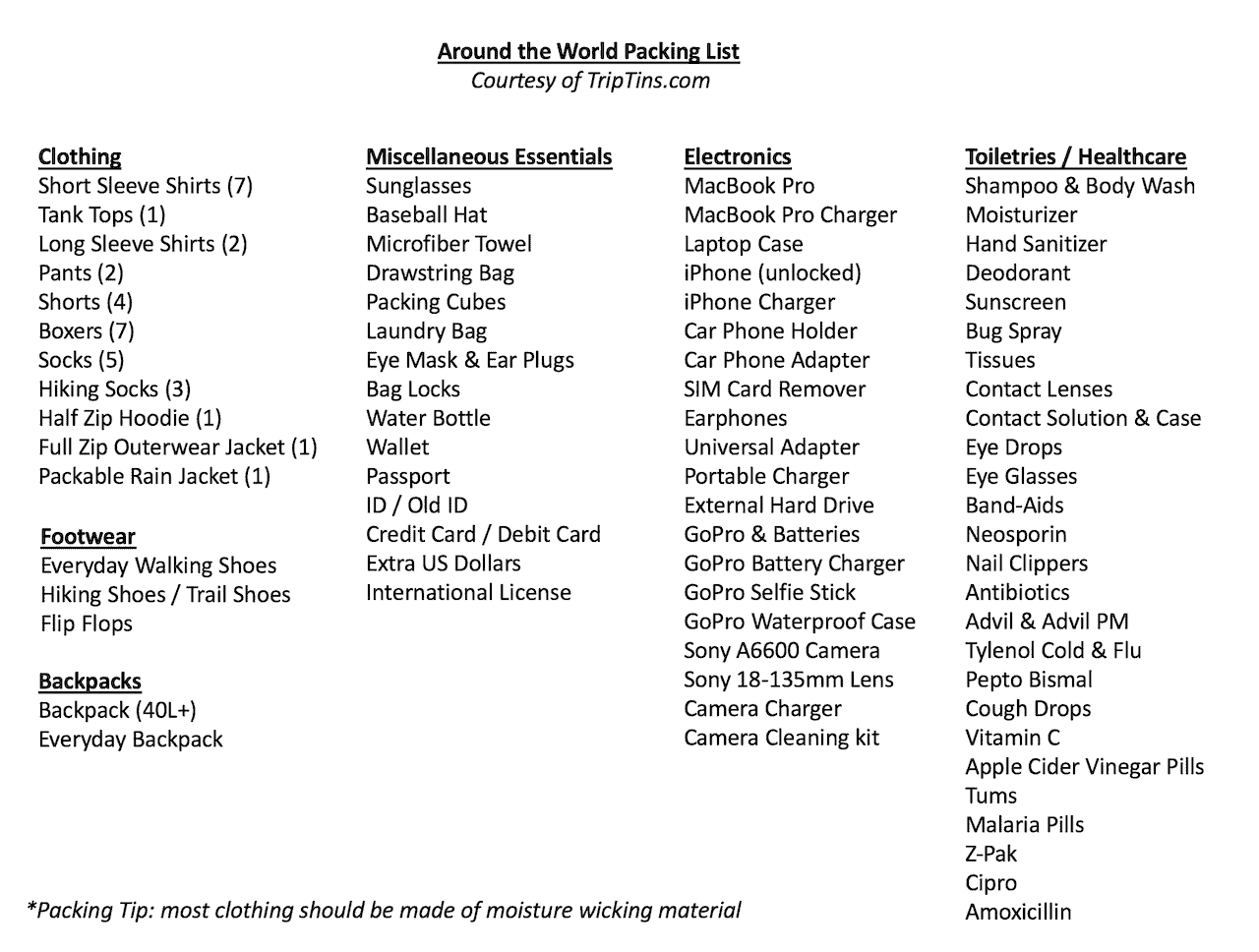 Well, there you have it! A complete around the world packing list for your next adventure.
Like I said at the start, everyone is going to have different wants and needs. But at least this packing list can give you a solid baseline to build off of.
If you have any questions or comments about the list, feel free to add them in below.
Have fun out there and safe travels!