Do you want to see the Alps from above, including sweeping views of the Eiger, Monch and Jungfrau? Well if you head up to Schilthorn above the Lauterbrunnen Valley you will get to experience just that.
With 360 degree views of snow capped mountains in every direction, this is one experience you will not want to miss out on when visiting Switzerland.
This guide will walk you through everything you need to know to take part of a trip to Schilthorn. From logistics and costs to attractions and things to do, it covers it all. So let's get into it!
* Affiliate Disclosure: This post may contain affiliate links, which means I may receive a commission if you make a purchase through the links provided, at no additional cost to you. Thanks for supporting the work I put into TripTins!
1) Introduction to Schilthorn
One of the top things to experience in the Alps is getting up to some of the highest points to take in the views. Schilthorn gives you that exact opportunity and it makes for one incredible half or full day trip (depending on where you are coming from).
At 2,970 meters / 9,744 feet, Schilthorn is one of the tallest peaks you can visit in the region and heading on up by cable car to the top of the mountain will give you the chance to enjoy views that are just not possible from other places.
Not only will you take in the vast landscape but you will also have the opportunity to have some drinks or lunch at a rotating restaurant that was featured in the James Bond film 'On Her Majesty's Secret Service', enjoy the Birg Thrill Walk, and end your day in the mountainside town of Murren.
There is just so much to experience when visiting Schilthorn and I am hoping this guide helps you better understand how to take part of a trip there for yourself.
Construction Note: There is currently a major cable car renovation project in the works that is set to last until 2026. Schilthorn will still be open for the majority of this time, but do expect some areas / viewing platforms to be closed.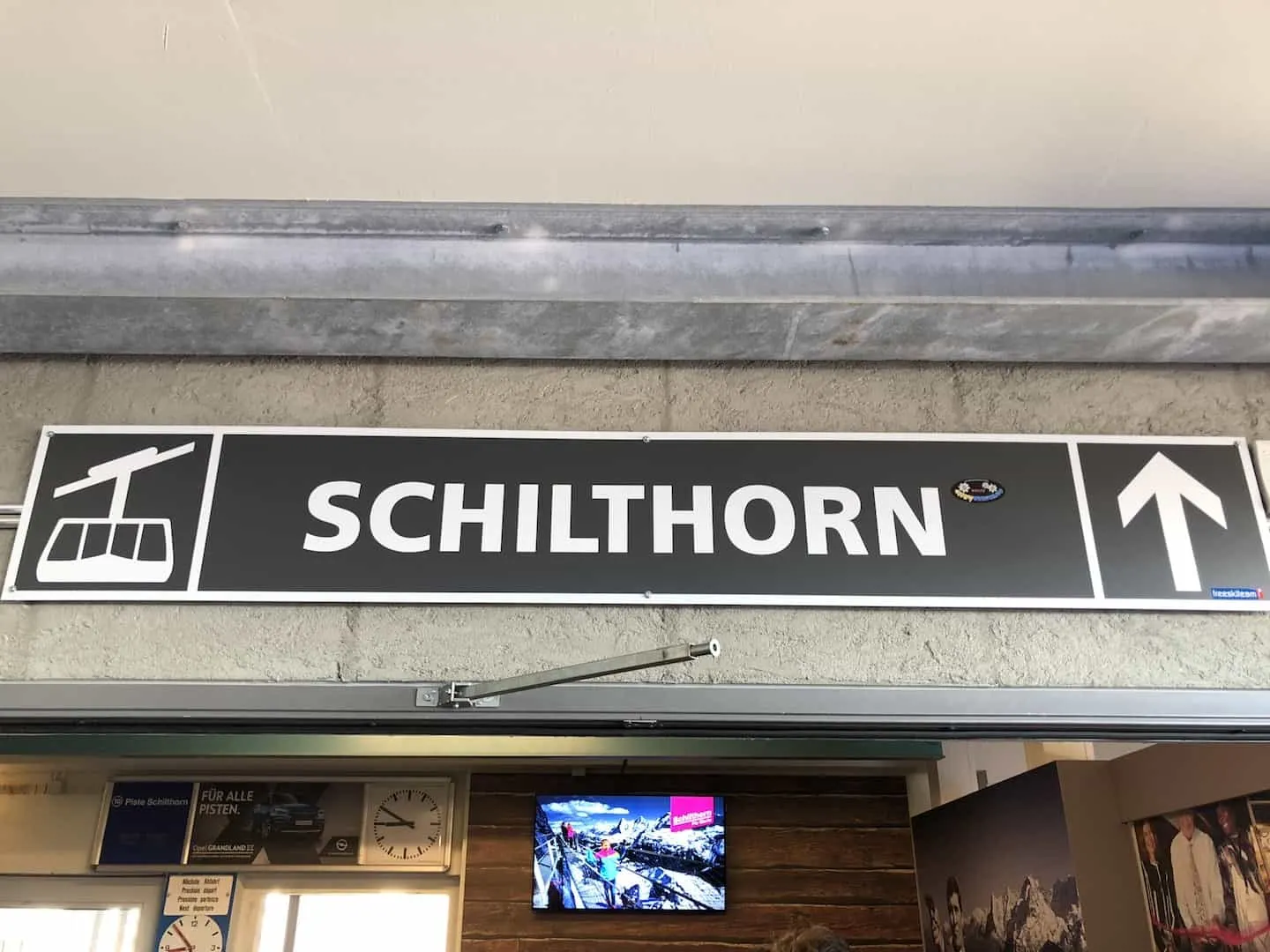 2) How to Get to Schilthorn
Getting to Schilthorn can involve a bit of logistics depending on where you are coming from in Switzerland. Trains, busses, and multiple cable cars will be involved so I will try and break down each part of the process so you can easily be on your way.
There are two route options to choose from that I will walk through below, and you can decide between the two based on time or travel preference.
To make logistics as easy as can be, you can download the SBB mobile app that will give you up to date schedules and show you all the connections needed during the trip.
Nearly all routes up to Schilthorn will go through the valley town of Lauterbrunnen. So if you are coming from Interlaken, Wengen, Grindelwald, etc. you will need to first make your way to Lauterbrunnen.
Because of this the map below shows the two options starting in Lauterbrunnen and making their way up to Schilthorn from there.
Essentially Option 1 via Grutschalp will take you up alongside the valley and Option 2 via Stechelberg will take you through the valley. The below goes into more detail about each one.
As a base I will start out in Interlaken but that can easily be tailored to wherever you may be staying.
Option 1 – via Grutschalp
Step 1: Interlaken Ost Station to Lauterbrunnen (Train / 30 minutes)
The first part of the trip will consist of a 30 minute train ride from Interlaken to Lauterbrunnen. These trains run pretty consistently (every half hour or so) and will bring you to the base of the valley, where you will continue your trip.
Note that if you aren't staying directly near the main town of Interlaken, it might be easier and faster to first hop on a bus to Wilderswil and take the train from Winderswil to Lauterbrunnen.
Step 2: Lauterbrunnen to Grutschalp (Cable Car / 5 minutes)
The first option for step 2 is to take a 5 minute cable car up from Lauterbrunnen to Grutschalp. The cable car station is right outside of the train station and can't be missed.
Step 3: Grutschalp to Murren (Mountain Railway / 15 minutes)
Once off of the quick cable car up above the valley, you can hop on the mountain train from Grutschalp to Murren. This mountain train will be timed up pretty nicely with the cable car and will take about 15 minutes to get to the lovely car free town of Murren.
Once in Murren you will need to walk through the town to get to the cable car station.
Step 4: Murren to Schilthorn via Birg (2 Cable Cars / 20 minutes)
Now that you are in Murren, it is time to make your way all the way up to Schilthorn. To do so you will take a cable car from Murren to Birg, and then switch cable cars from Birg to Schilthorn.
Option 2 – via Stechelberg
Step 1: Same as above
Step 2: Lauterbrunnen to Stechelberg (Bus / 15 minutes)
Instead of opting for the cable car and train to get to Murren, you can also take the 141 bus down the valley from Lauterbrunnen all the way to Stechelberg.
This 15 minute bus ride will be incredible as you drive through the valley with waterfalls coming off the side of the mountains and the Alps out ahead in front of you.
Step 3: Stechelberg to Gimmelwald and onto Murren (2 Cable Cars / 10 minutes)
Once you reach Stechelberg you will have to take a series of 2 cable cars to reach Murren. First you will head up to Gimmelwald and after a short ride you will switch into a cable car that will take you up to Murren.
Step 4: Murren to Schilthorn via Birg (2 Cable Cars / 20 minutes) – Same as above
After getting off the the second cable car from Gimmelwald, you will then head up another two cable cars from Murren to Schilthorn (Murren to Birg and then Birg to Schilthorn)
As you can tell it is not that simple to get all the way up to Schilthorn from Interlaken. But with the precise transportation system of Switzerland, it should not be too difficult to complete the journey. The whole thing from Interlaken to Schilthorn should take a little less than 90 minutes.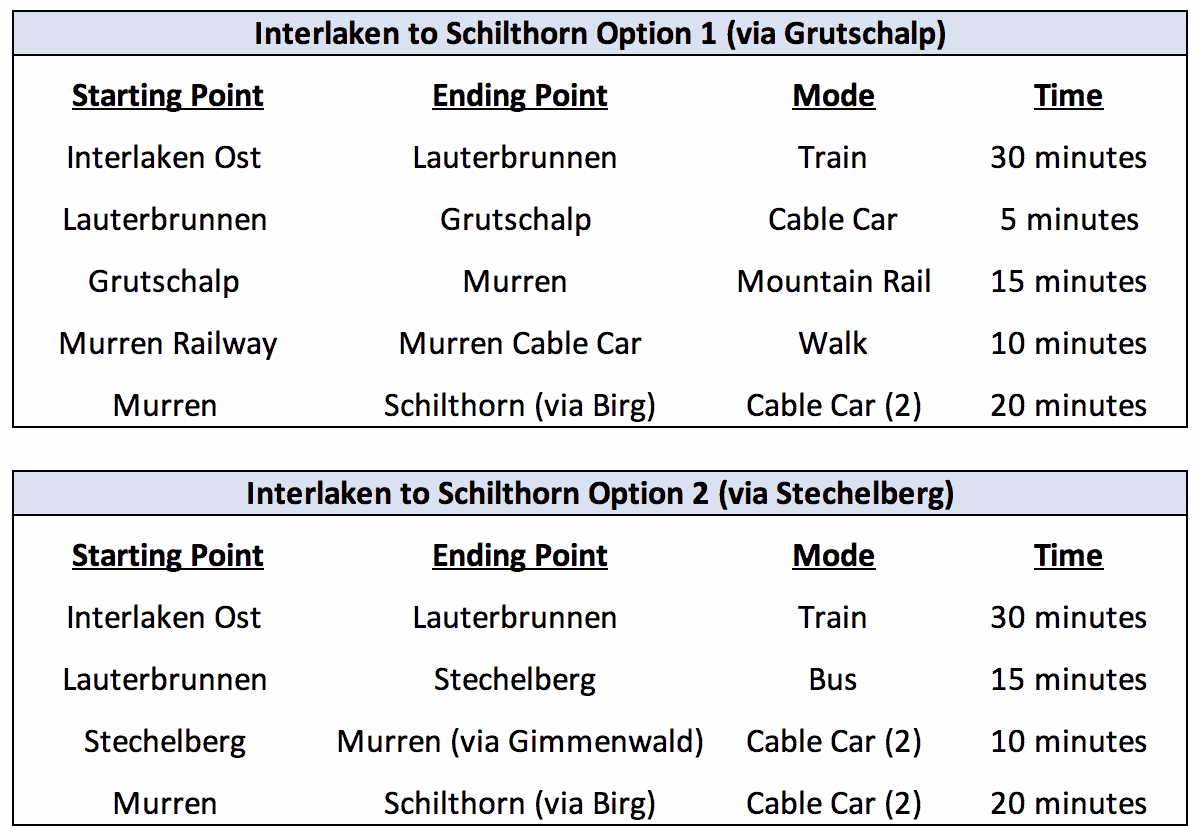 If coming from a town like Wengen or Grindelwald, you can easily use the above logistics after step 1. At the end of the day you just need to get to Lauterbrunnen, where you can follow the directions from there.
Both Wengen and Grindelwald have trains that will take you to Lauterbrunnen where you can then begin your journey. If staying in Murren, well then you are in luck as it will just require taking the two cable cars up to the top.
3) Map of Schilthorn Transportation
Here is a visual look at the map of the Lauterbrunnen Valley and the journey up to Schilthorn via the two different options to get you better oriented.
Lauterbrunnen is on the bottom right hand side of the image, and from there you will either go up (Option 1) or across to the left (Option 2).
4) Ticket and Transportation Costs
Next, we can talk about the cost to go up to Schilthorn. This will depend on a few things – first where you are staying, secondly if you have any sort of Switzerland travel pass, and lastly which route/s you would like to take up and down.
To learn more about transportation in Switzerland and the various travel passes, check out the Switzerland Train Travel Guide.
Below is the latest price list to Schilthorn. As you can see the round trip (letter D) starting in Interlaken going up with Option 1 above, and down with Option 2 costs 127.60 CHF (63.80 CHF with Swiss Travel Pass or Half Fare Card).
You can also check out a few other prices they have up there such as letter A for 108 CHF, which is simply the round trip price of the cable car from Stechelberg to Schilthorn (does not include roundtrip to get from Interlaken to Stechelberg).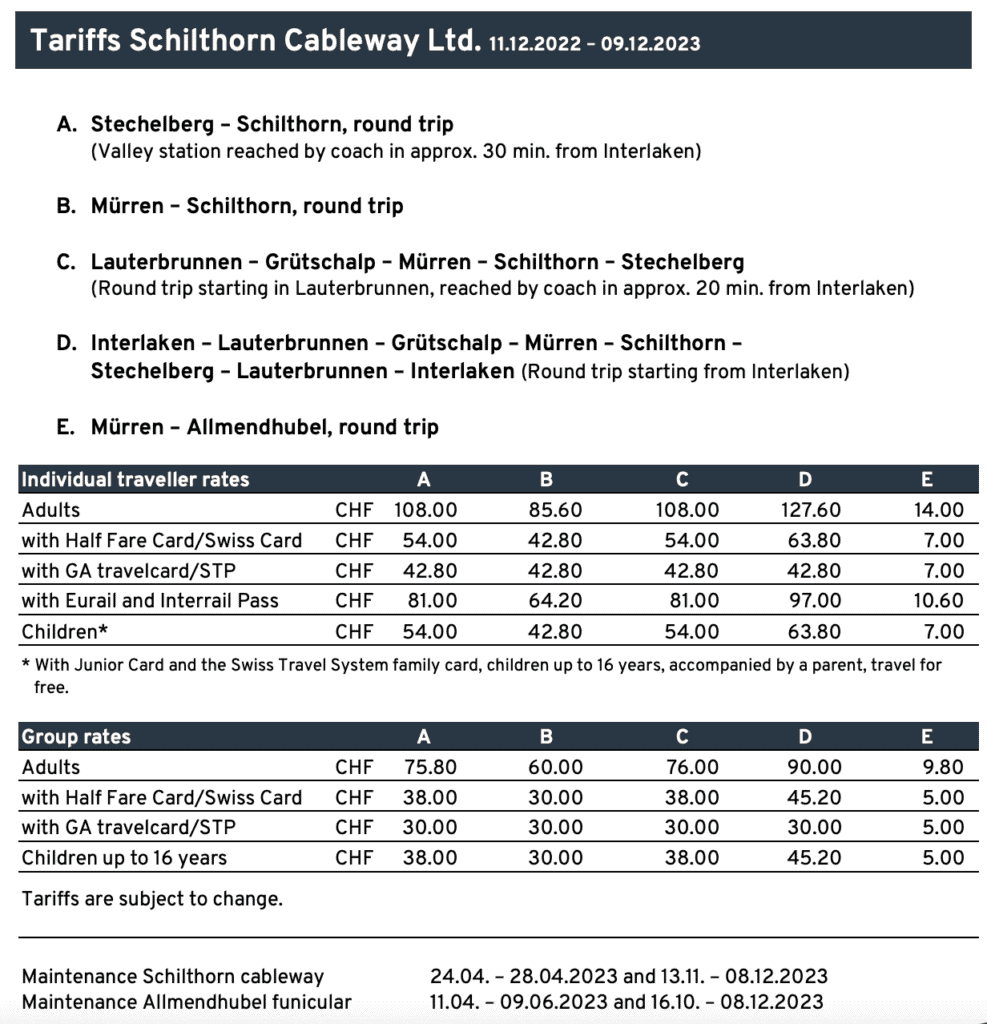 Swiss Travel Pass: While this chart doesn't have every itinerary/combination available, it does give you a good idea about prices.
With that said if you have the Swiss Travel Pass everything mentioned up to Murren is free. This is a big change from previous years when everything up to Schilthorn was free.
So the trains, busses, cable cars from Interlaken all the way to Murren are all free. Once in Murren the Swiss Travel Pass will give you a 50% discount and you will need to pay the 42.80 CHF for the round trip from Murren to Schilthorn (second line, letter B)
Schilthorn Boarding Pass: Recently the Schilthorn boarding pass was introduced. For an extra 5 CHF (must be purchased ahead of time online or at a ticket booth), you can have a guaranteed cable car departure time.
Instead of waiting in line for the cable cars, you can go through a separate entrance and be guaranteed a spot for the time of your choosing.
Swiss Travel Pass: Are you planning on traveling frequently throughout Switzerland during your trip? Consider purchasing a Swiss Travel Pass to save some money!
5) Schilthorn Webcam & Weather
Schilthorn is open year round so no matter what season you happen to be around the area, you will be able to head up top to enjoy the view.
Note that Schilthorn has two closure maintenance periods: April 24 – April 28 2023 and November 11 – December 8 2023.
With that said though, do not plan on spending the money and time to head all the way up to Schilthorn if the weather is not cooperating.
The last thing you want to happen is to get up to the top and be covered in clouds with no views. There are two ways to make sure that does not happen to you.
First you will want to check the Schilthorn weather on meteoblue.com starting a few days ahead of time. Here you will be able to see whether it will be sunny, rainy, cloudy, etc. Meteoblue is known for its accuracy around the area so make sure to check them out instead of a weather.com site for example.
The second thing you will want to check is the all important Schilthorn webcam. These webcams – stationed at Allmendhubel, Birg and Schilthorn will give you a good idea how cloud coverage will look like.
Just because the weather forecast says partly sunny does not mean there are no clouds at all. There is definitely a chance that those clouds are hovering around the top of the mountain and taking away the view, so be sure to check the webcams before heading out.
Lastly take a look at the weather in Switzerland guide I put together that will go more in depth about these helpful weather tips.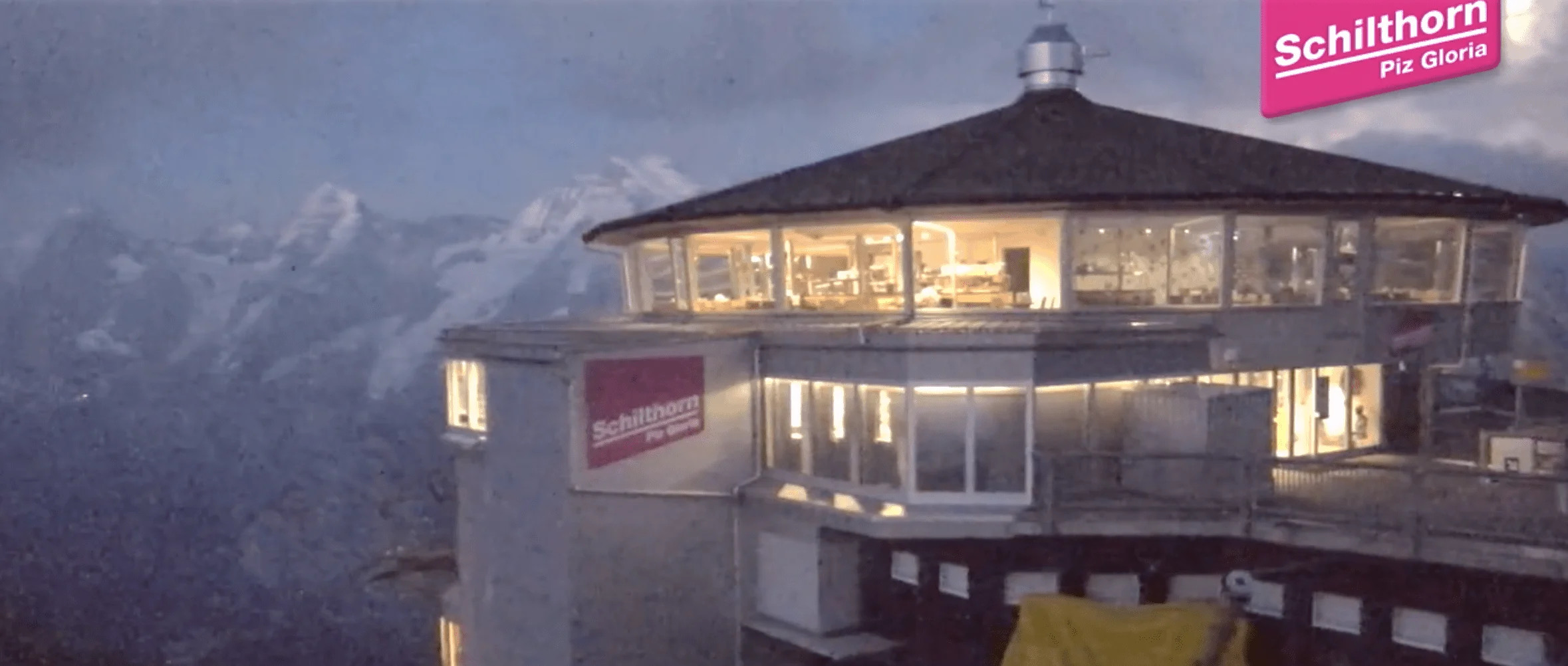 6) What to Wear
At 9,744 feet (2,970 meters), the top of Schilthorn can get a bit chilly no matter what time of year. Because of this you should bring layers for the day as I am sure once you head down back into the valley, it will start to be much warmer.
Pants and a sweatshirt / pullover will be essential to keep warm (especially earlier in the morning) and then you can stow them away in a backpack as the day goes on.
Similar to above – when looking at what the temperature will be like for the day, make sure to input "Schilthorn", and not Interlaken or Murren or wherever else you may be staying as the weather on top of the mountain will be much cooler.
You can also take a look at the Hiking Packing List I put together to give you a better idea of what to bring along for the day.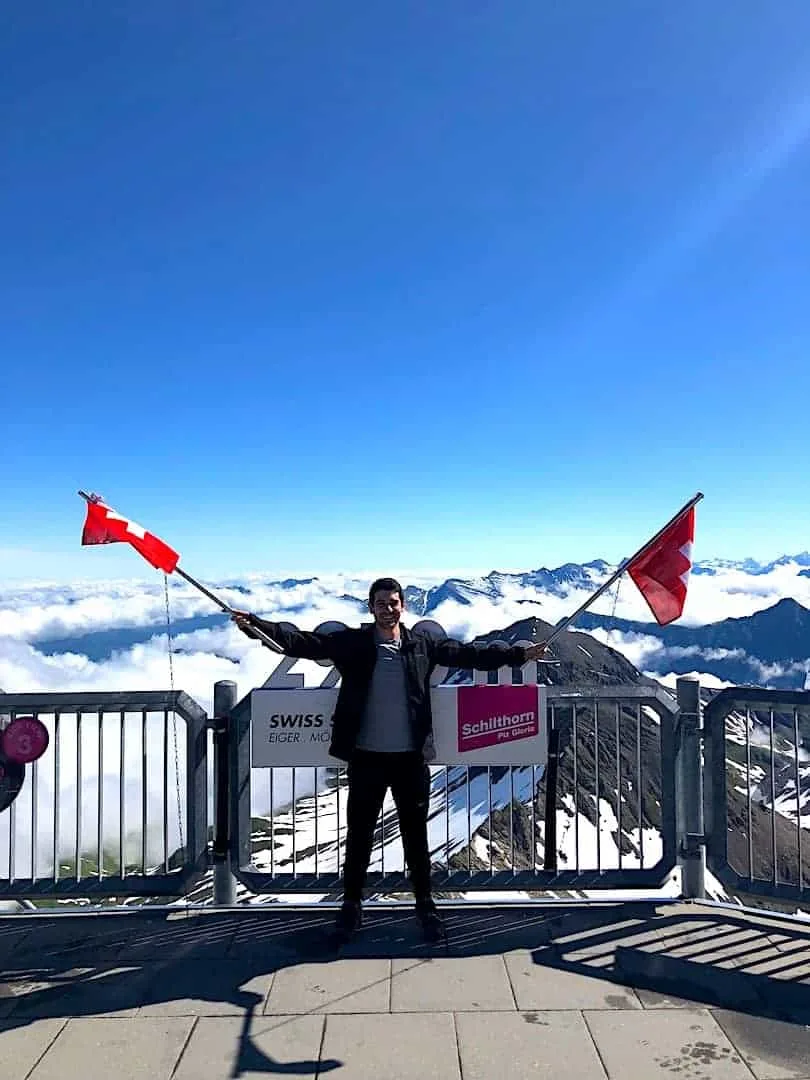 7) A Trip to Schilthorn
Now that we have gone over everything you need to know before and during your journey, lets move on to the attraction itself.
There a few different stops / activities that you can take part of during your time around the area, as you make your way up and down the mountain.
A) Schilthorn Views
We will start off at the main attraction itself – Schilthorn. Once you arrive all the way up top you will be welcomed by incredible views all around you.
The snow capped peaks will be in every which direction and the views go on for miles and miles. You can make your way all the way around the top of Schilthorn in order to get your pictures and videos from all different angles.
I would spend at least 45 minutes, walking the outside, heading out to the variety of lookout points and just taking it all in. Believe me, on a clear day the views of the Eiger, Monch and Jungfrau all lined up is one of the best there is to offer.
As you make your way around the area you will come across the main viewing platform, the 007 Walk of Fame, and the Piz Gloria Viewpoint (a short walk below the viewing platform).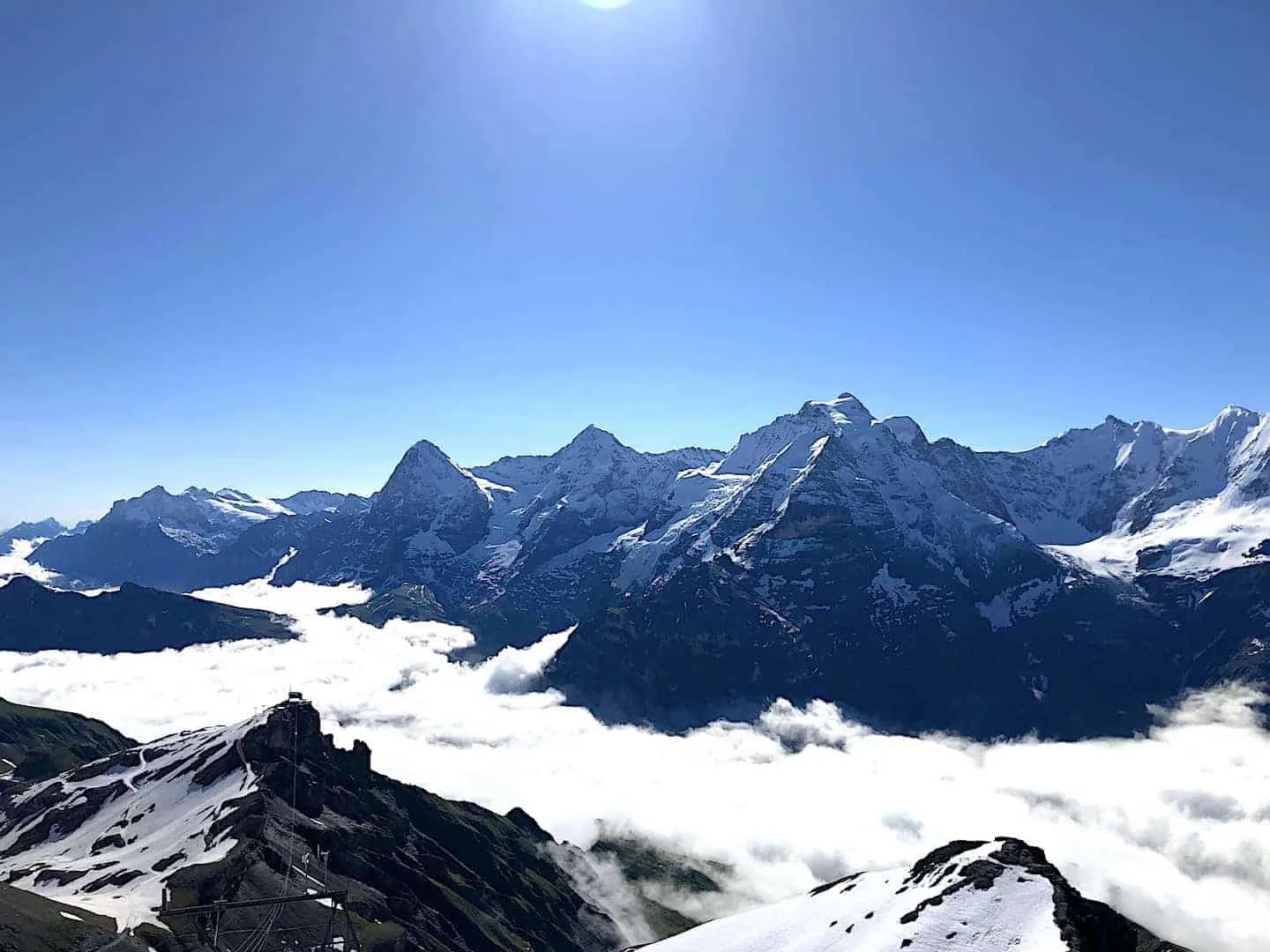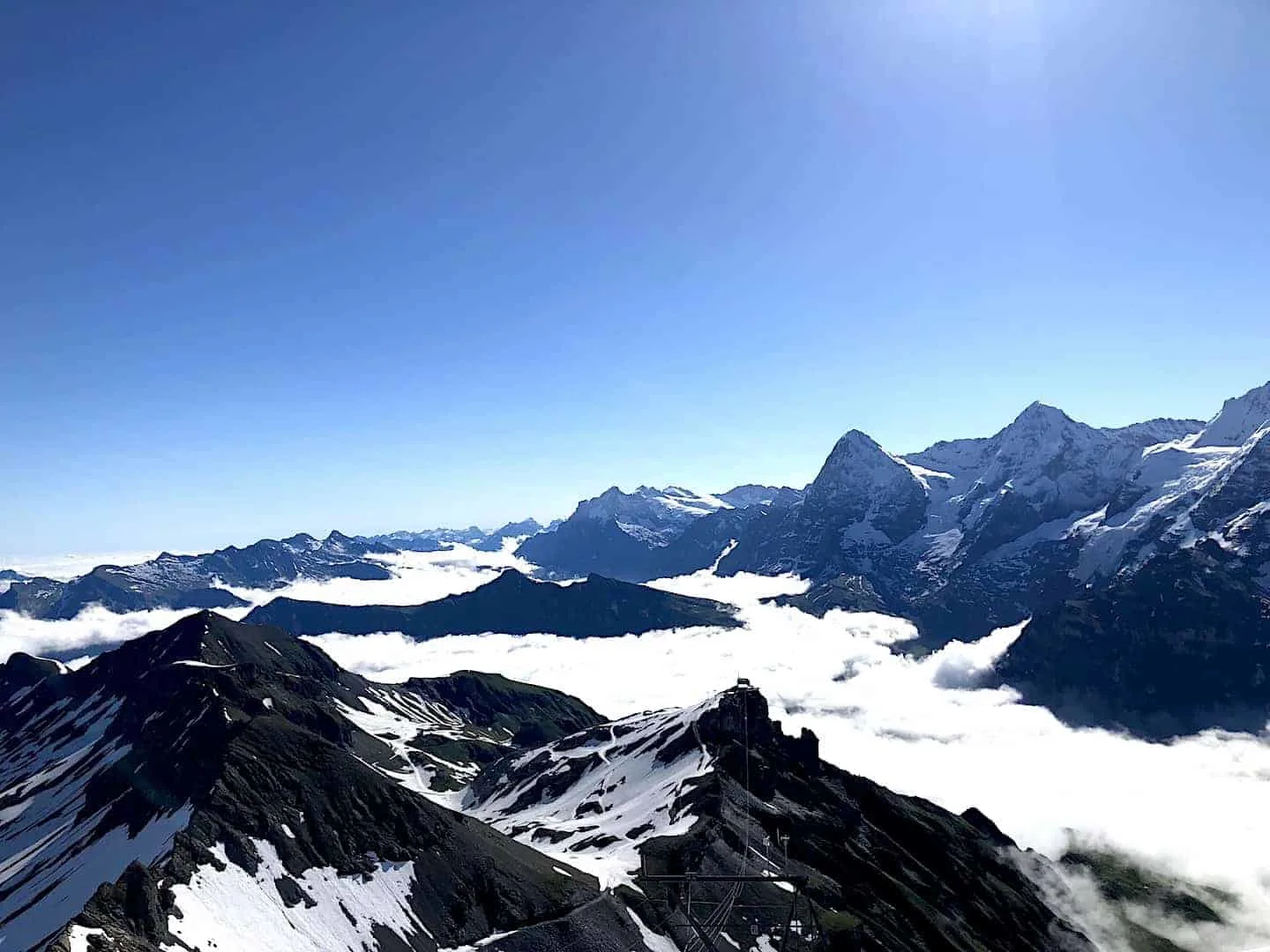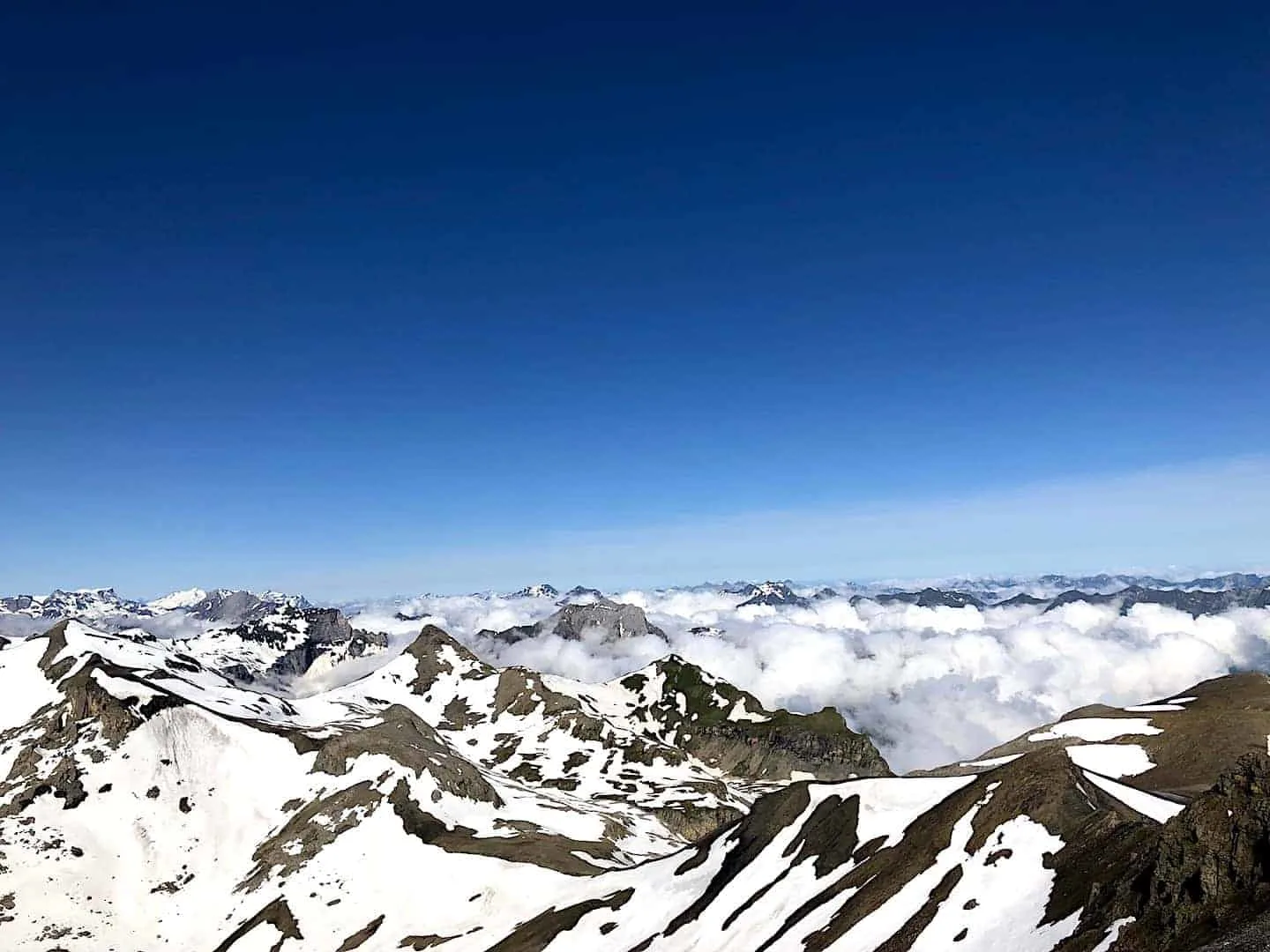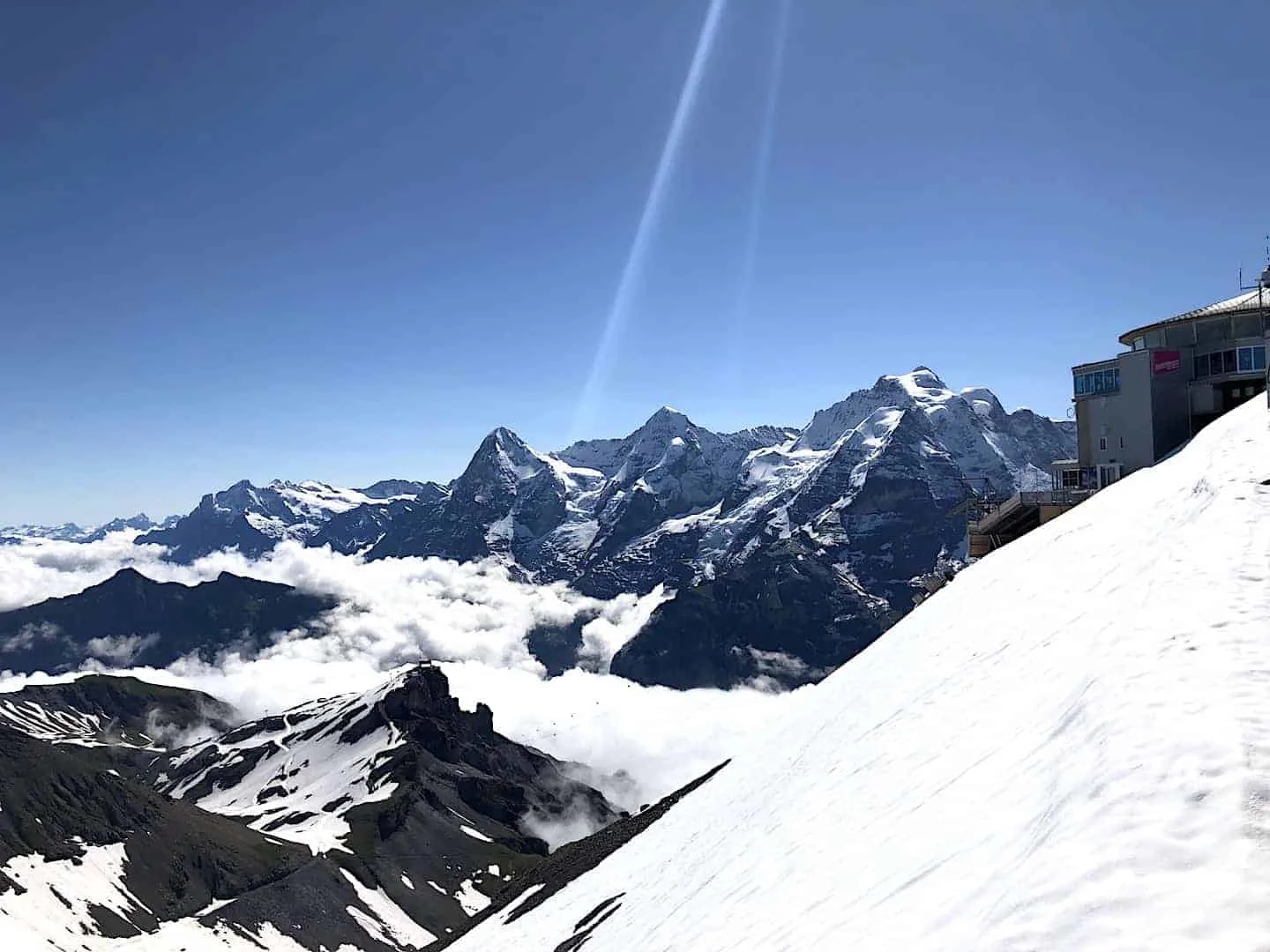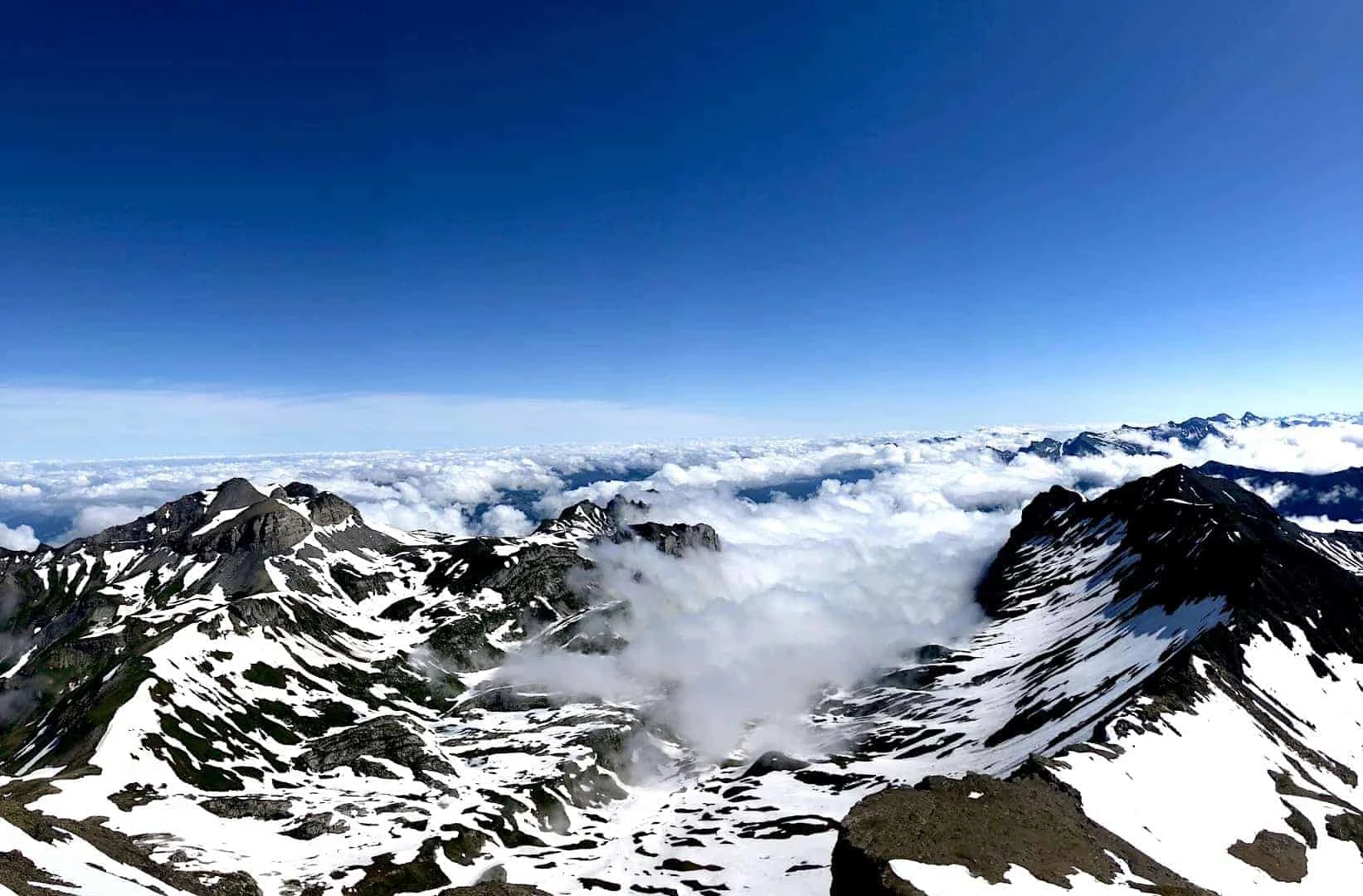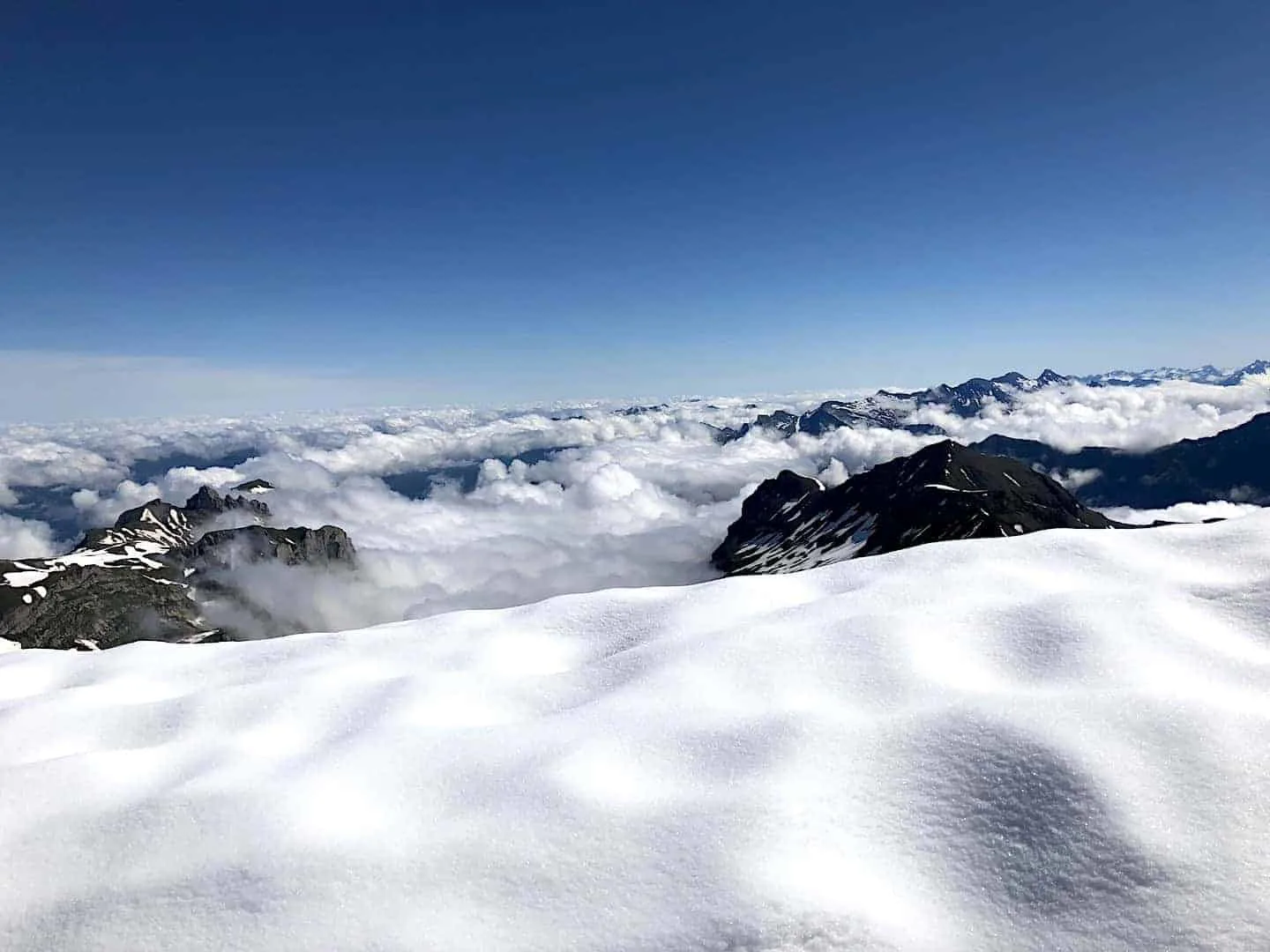 B) Piz Gloria
Once done with the views from the outside, you can head inside to warm up a bit and have a drink or even lunch. The restaurant inside (which was featured in the James Bond film) has a rotating floor.
As you sit in one spot, you will slowly make your way 360 degrees around and get to see all sorts of views. Note that it does go quite slowly so it does take quite some time for you to make one full rotation.
In the restaurant they offer a James Bond brunch. Although I did not order it, the buffet brunch had a lot of options and looked as if it is worth the money. If you don't opt for the brunch you can still grab a beer, coffee or a variety of food options and relax and enjoy the views.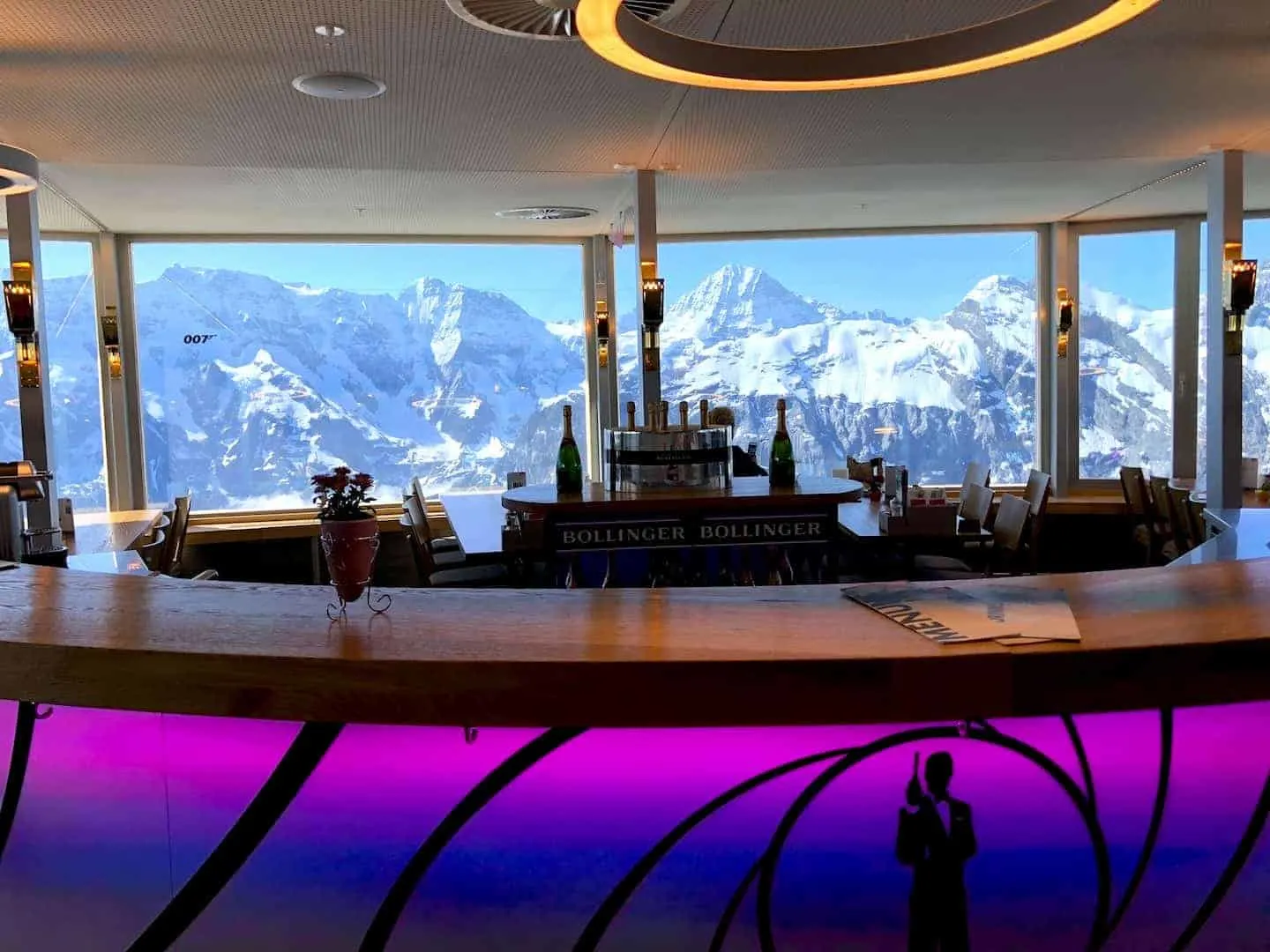 C) Bond World
Now that you have taken in all the views from the inside and outside, it is time to make your way downstairs to the James Bond museum – Bond World.
Here you will get to play a bunch of interactive games and read up on James Bond and On Her Majesty's Secret Service.
Other things available at the top of Schilthorn include a small food/drink takeaway stand (if you don't want to eat at the restaurant), and a gift shop with all sorts of souvenirs to buy.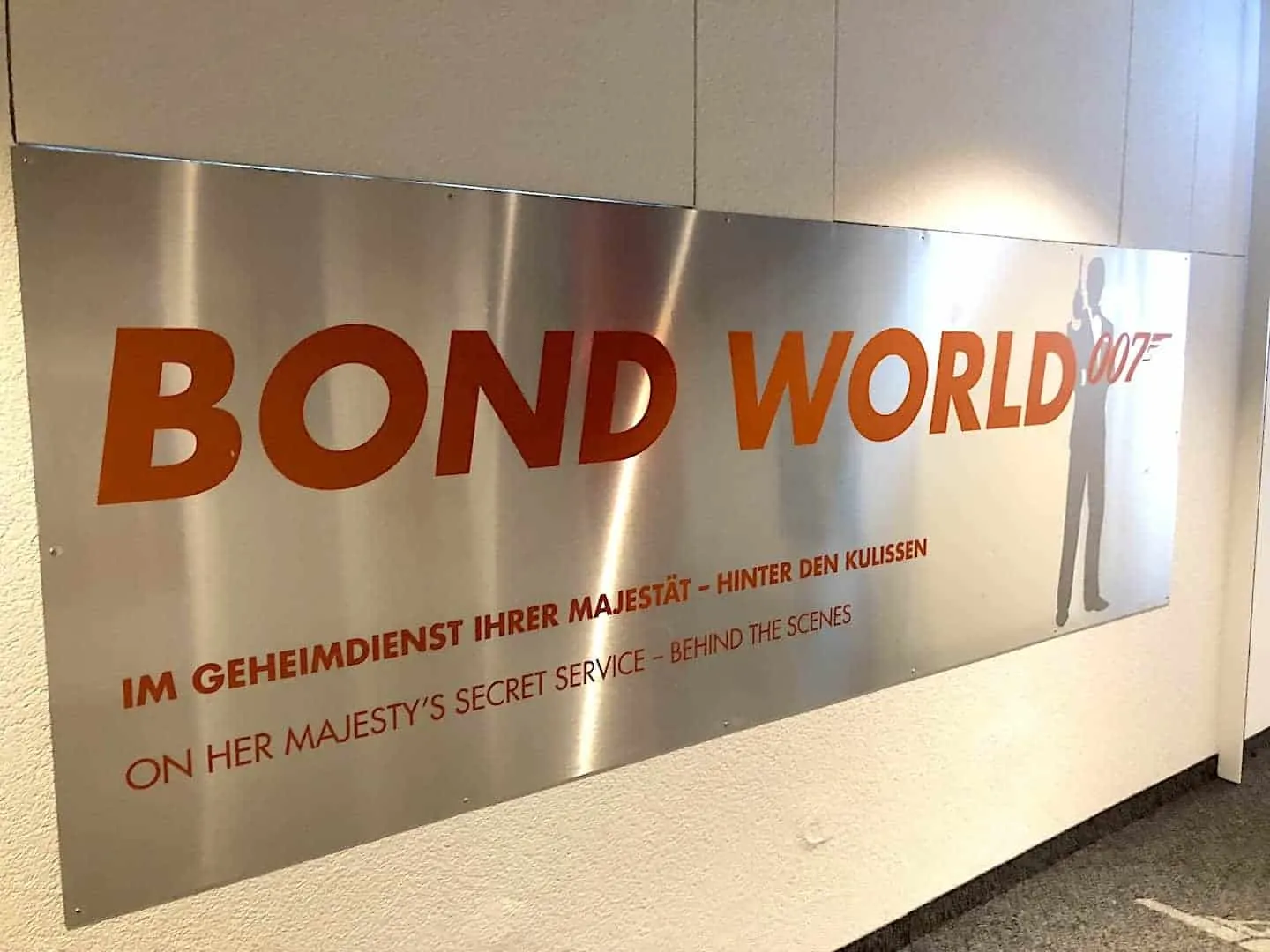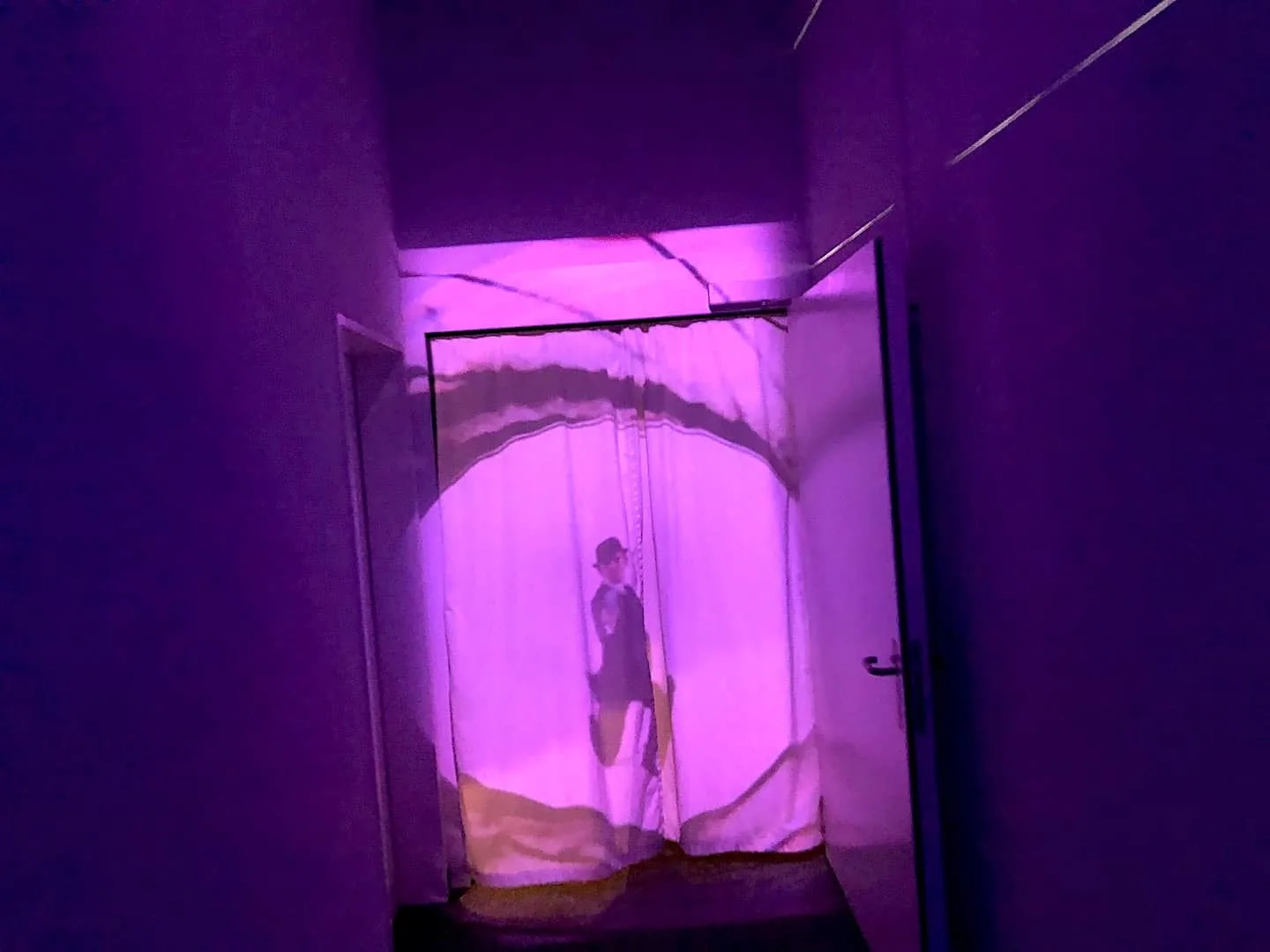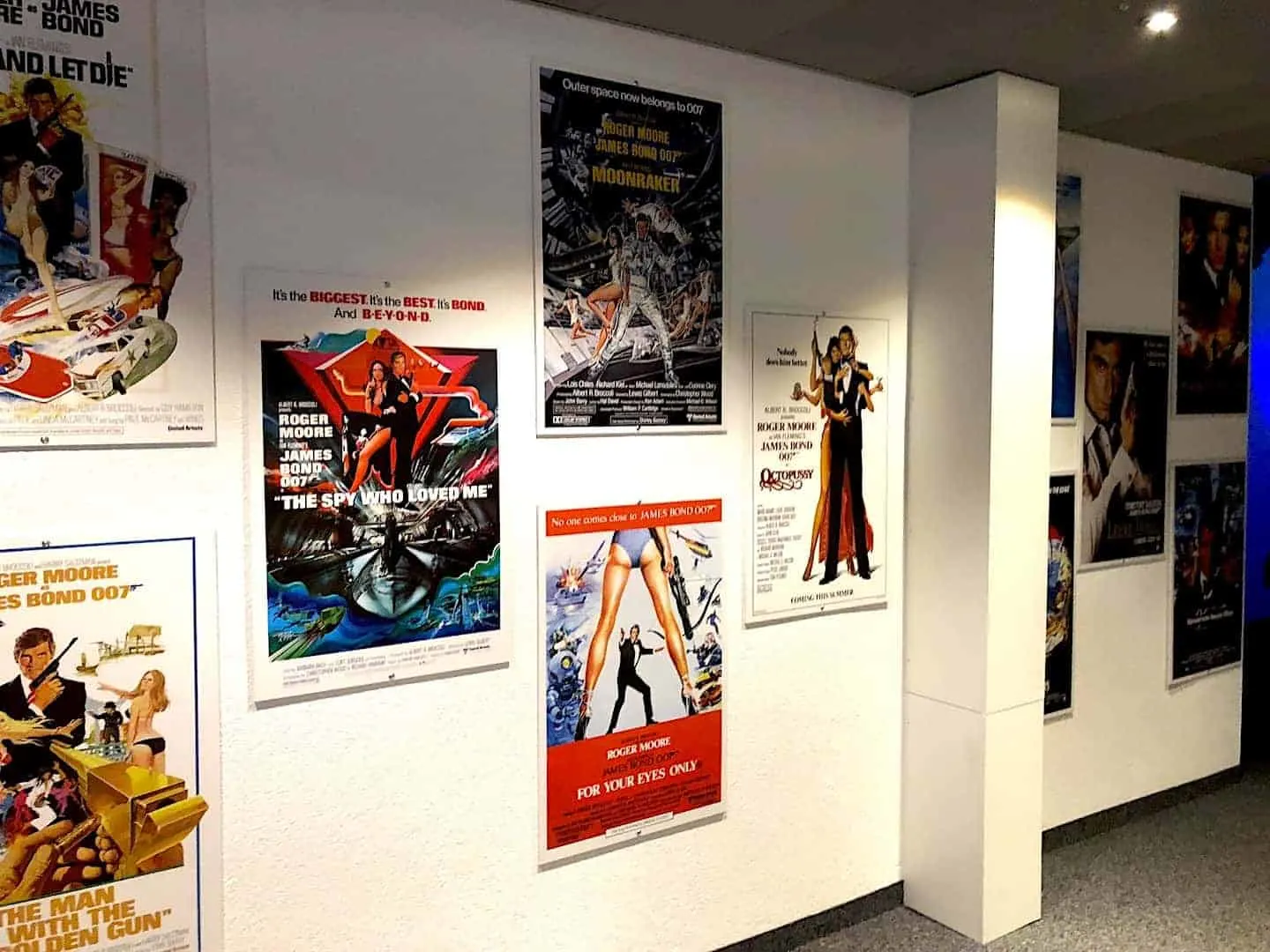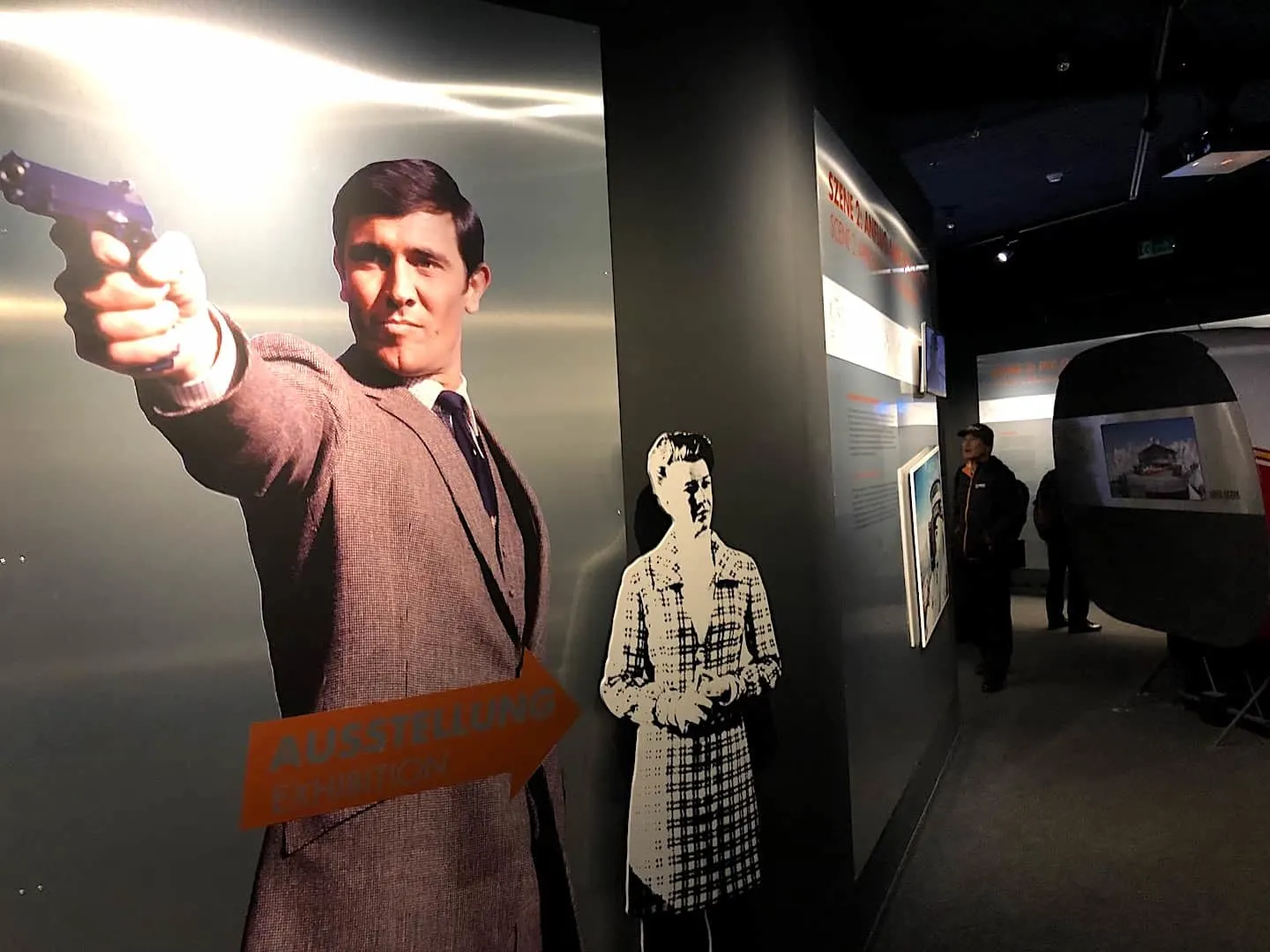 Take a look at some Switzerland itineraries and guides to better prepare you for your trip:
D) Birg
Once you have had enough time exploring the ins and outs of Schilthorn, and taking in all the views from up top, it is time to head down one cable car stop to Birg.
The cable cars leave pretty frequently and you will see a countdown clock for when the next car is set to depart down. After a quick ride you will arrive in Birg at 8,783 feet.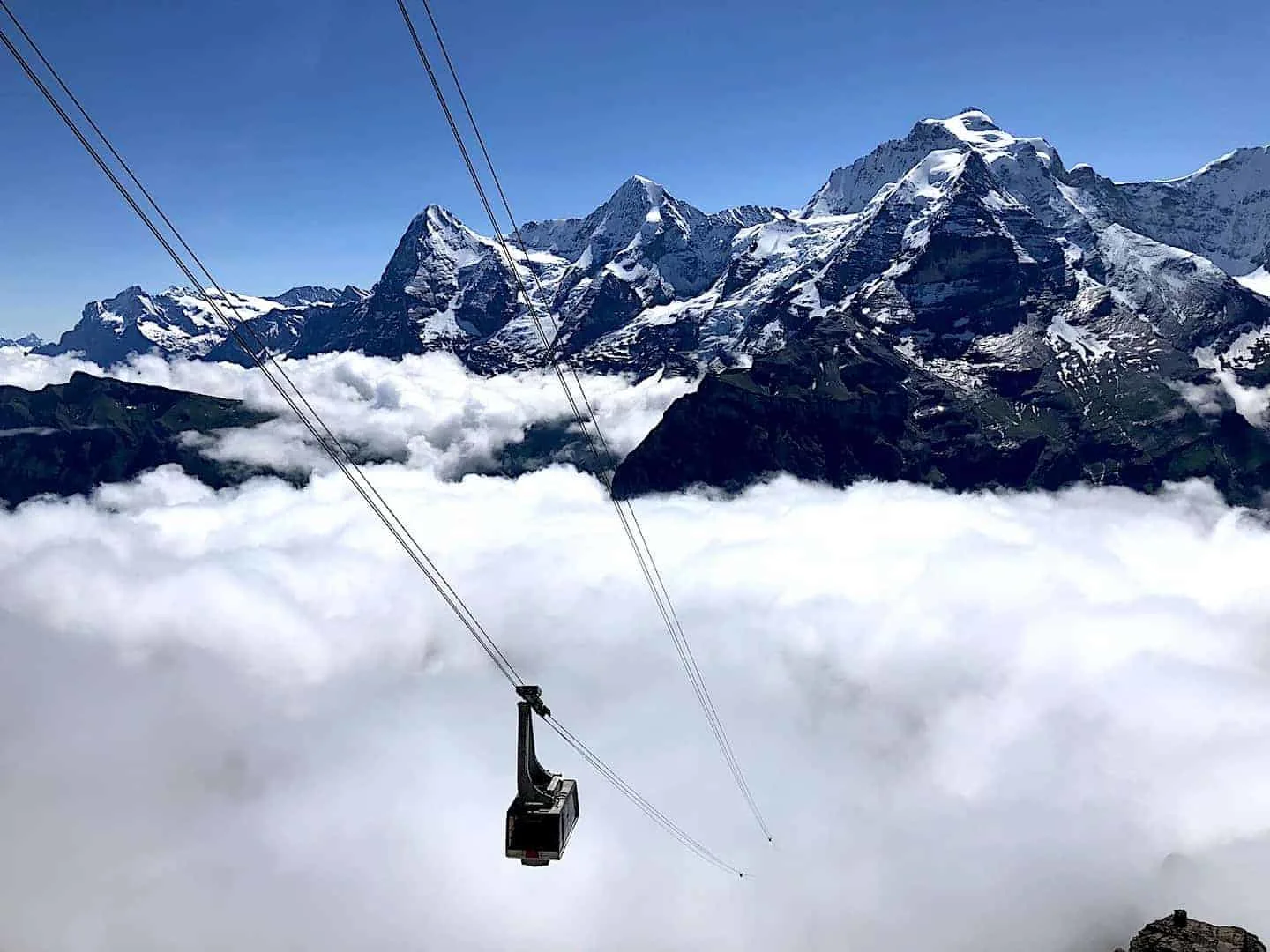 The best part for me about Birg was the riveting Birg Thrill Walk around the mountain. Once you go outside you will see signs pointing you downwards towards the walk.
During this walk you will get to experience a few different unique and "thrilling" things.
Most of the walk itself (around 200 meters) is on a steel platform. However throughout the walk you will get to walk on a wire, crawl through a cage, and stare directly down through a see through glass floor.
For each of these experiences, you will also have the option to pass them off to the side on the steel platform.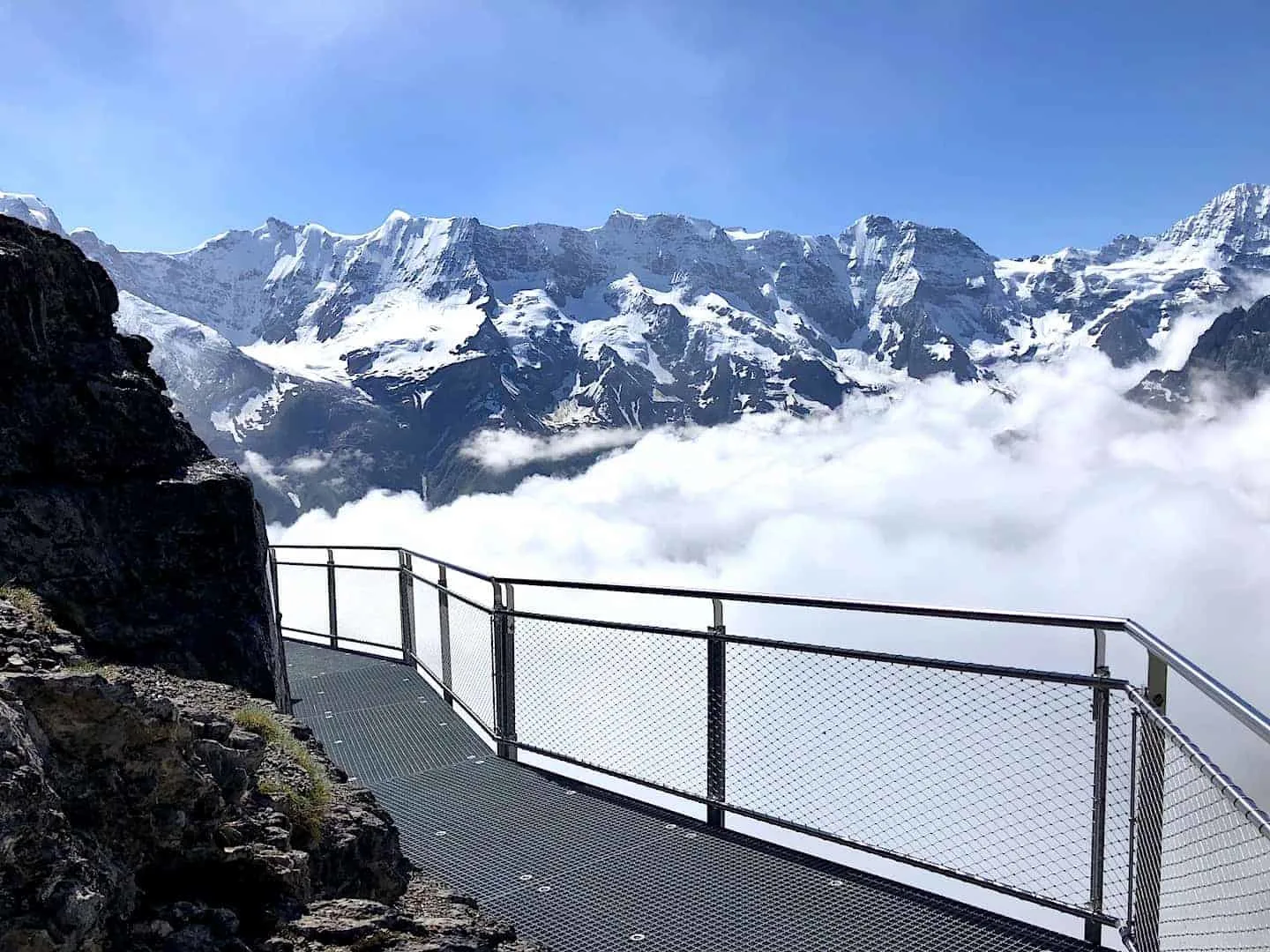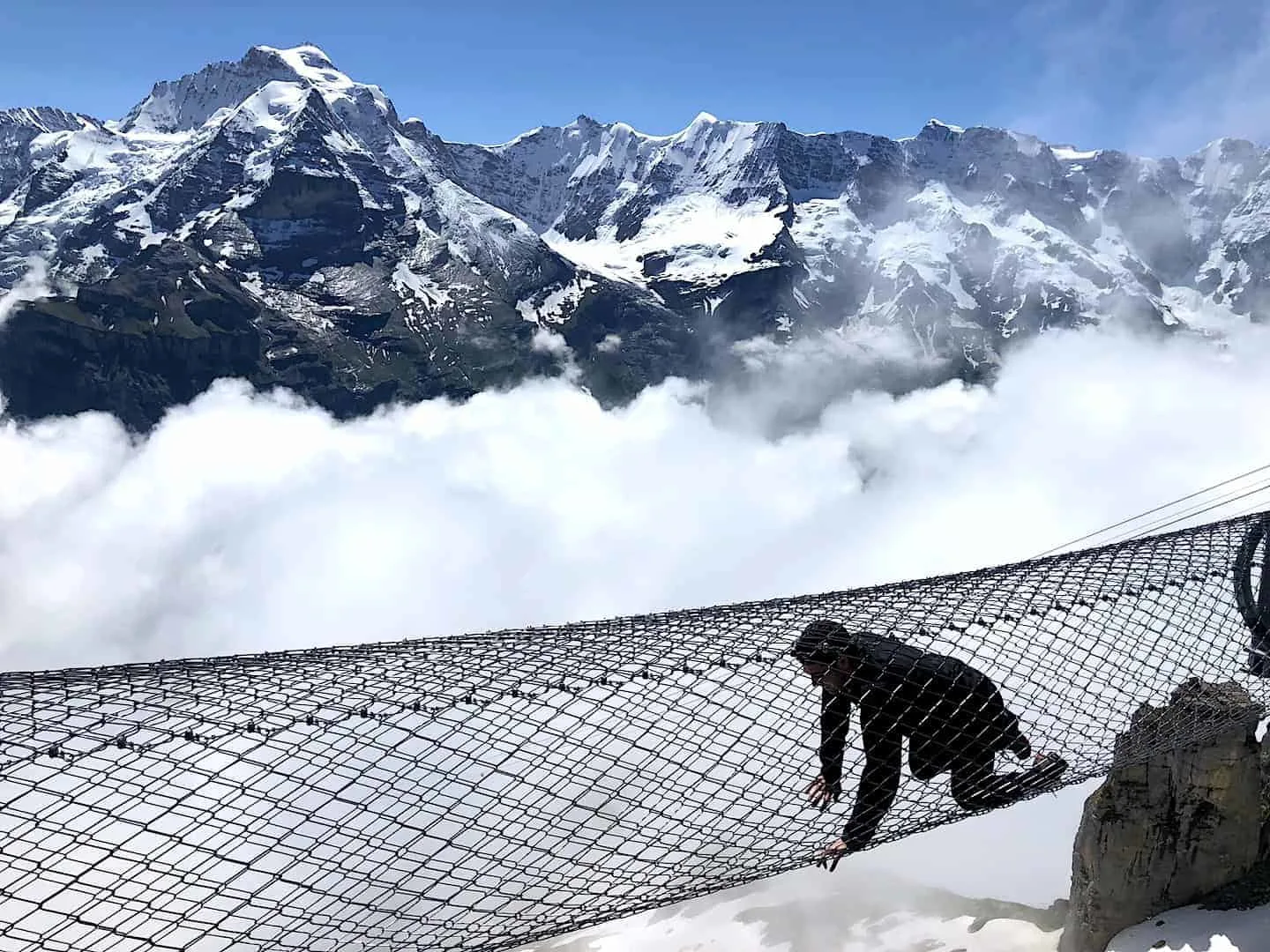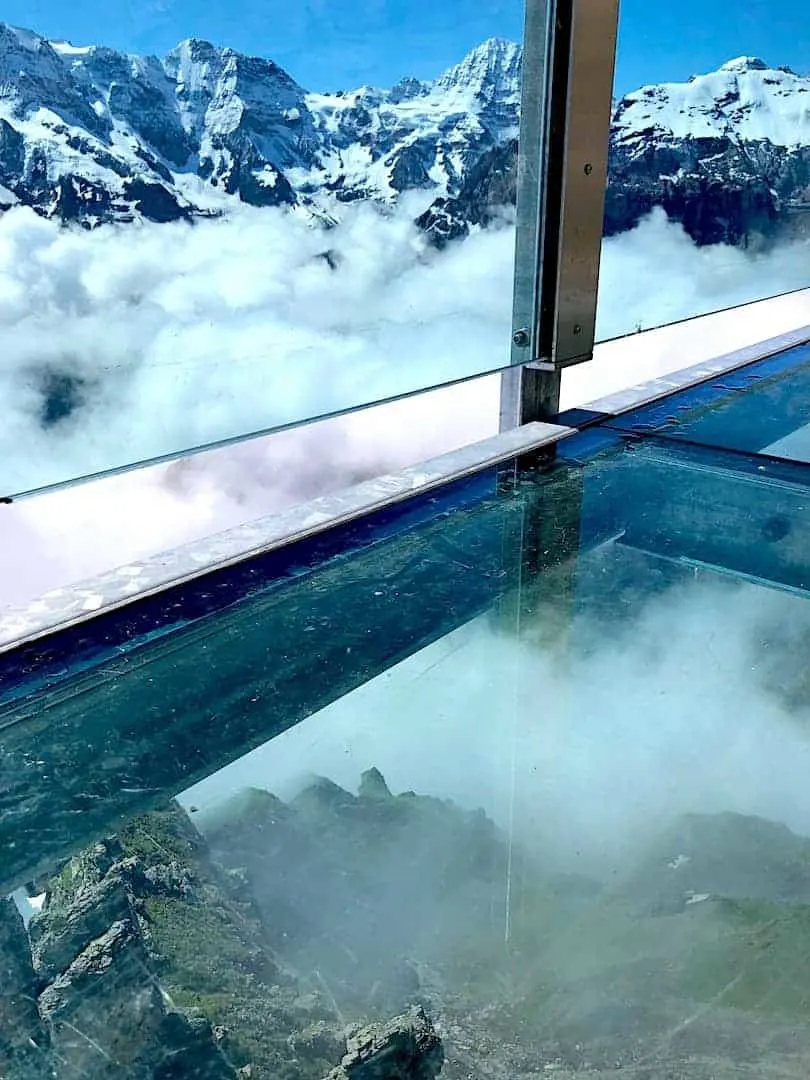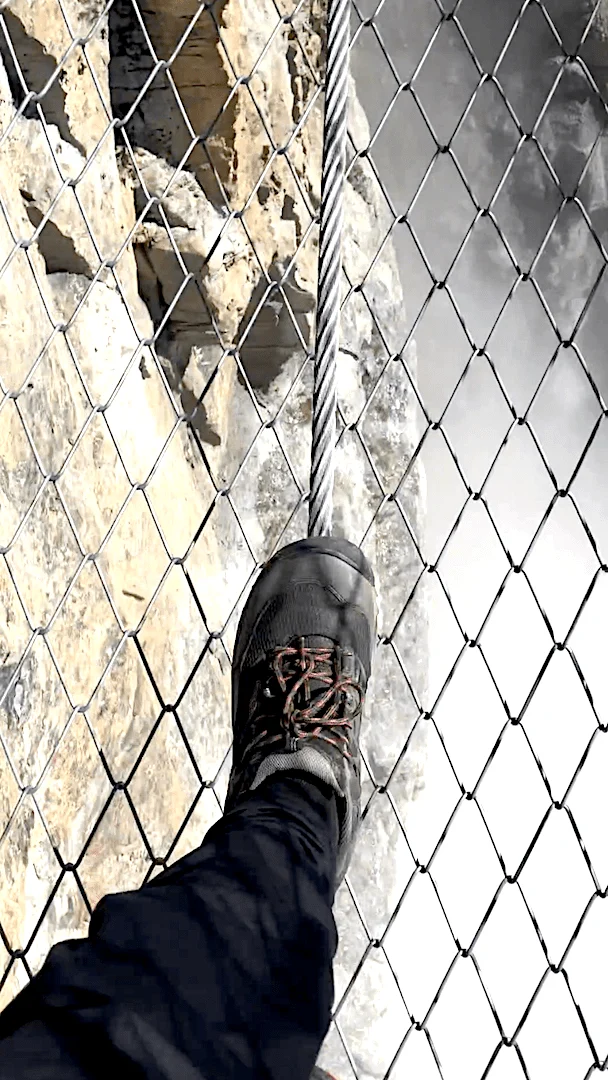 Also to note – if you have not eaten yet, there is a restaurant at Birg as well – the Bistro Birg. Up top near the restaurant patio you will also find the Skyline Walk, which is a great viewpoint to see the unobstructed alps laid out in front of you.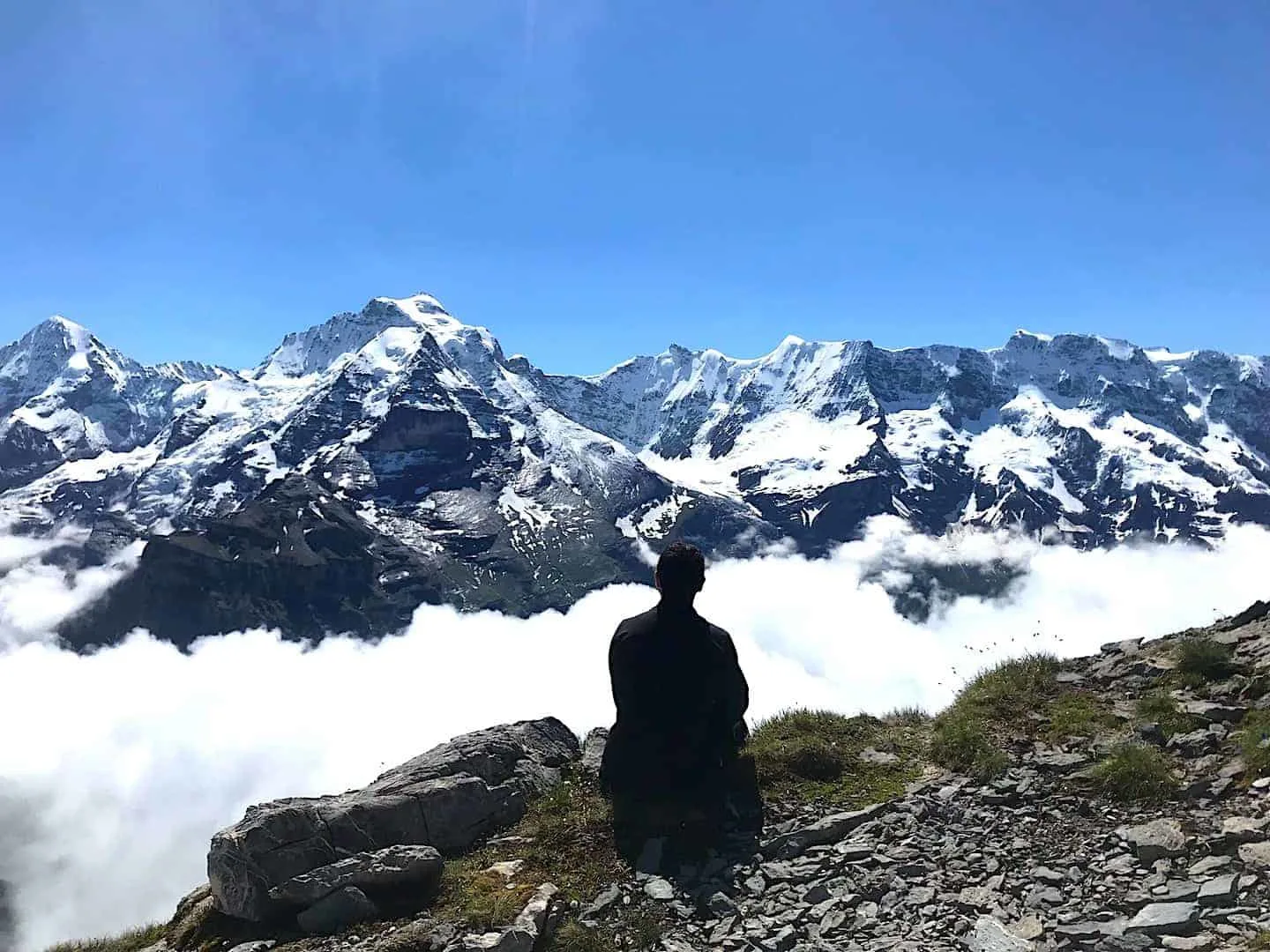 E) Back Down to Murren
Now that you have explored both Schilthorn and Birg, it is time to continue on the next cable car down to Murren.
Once in Murren you can opt to walk around the area, have lunch, and just explore this quaint mountainside village. The views down into the valley are some of the best you can ask for.
If you have the time you can take the mountainside funicular to Allmendhubel. Around the area you will find a great playground for children and some nice easy flower hikes with more incredible views.
You can also continue all the way back down to the valley on the next two cable cars (Murren to Gimmelwald and Gimmelwald to Stechelberg).
Once at the bottom you can then decide what else you might want to do around the area, such as a hike through the Lauterbrunnen Valley and a visit to Trummelbach Falls, or just make your way back to your hotel.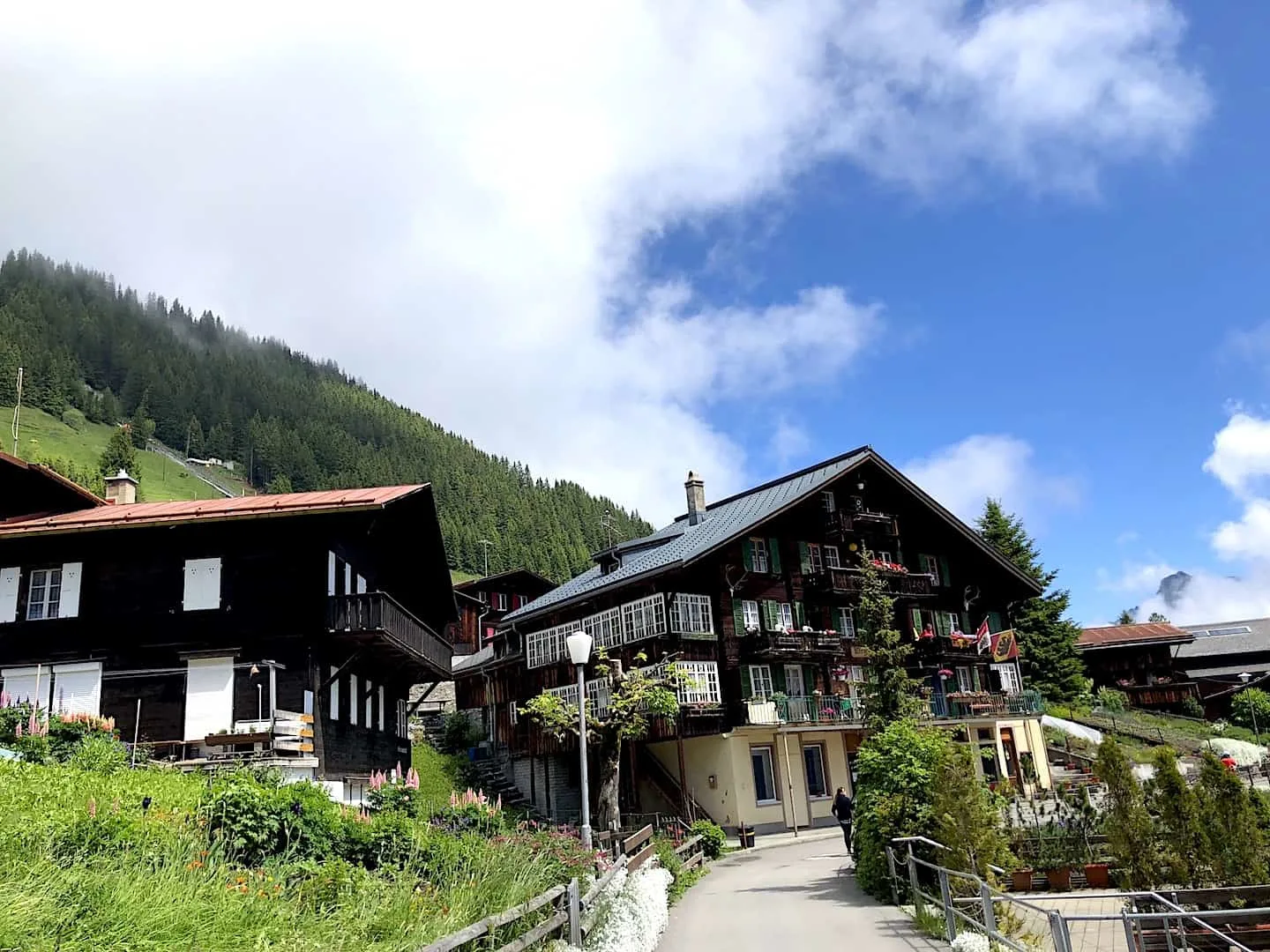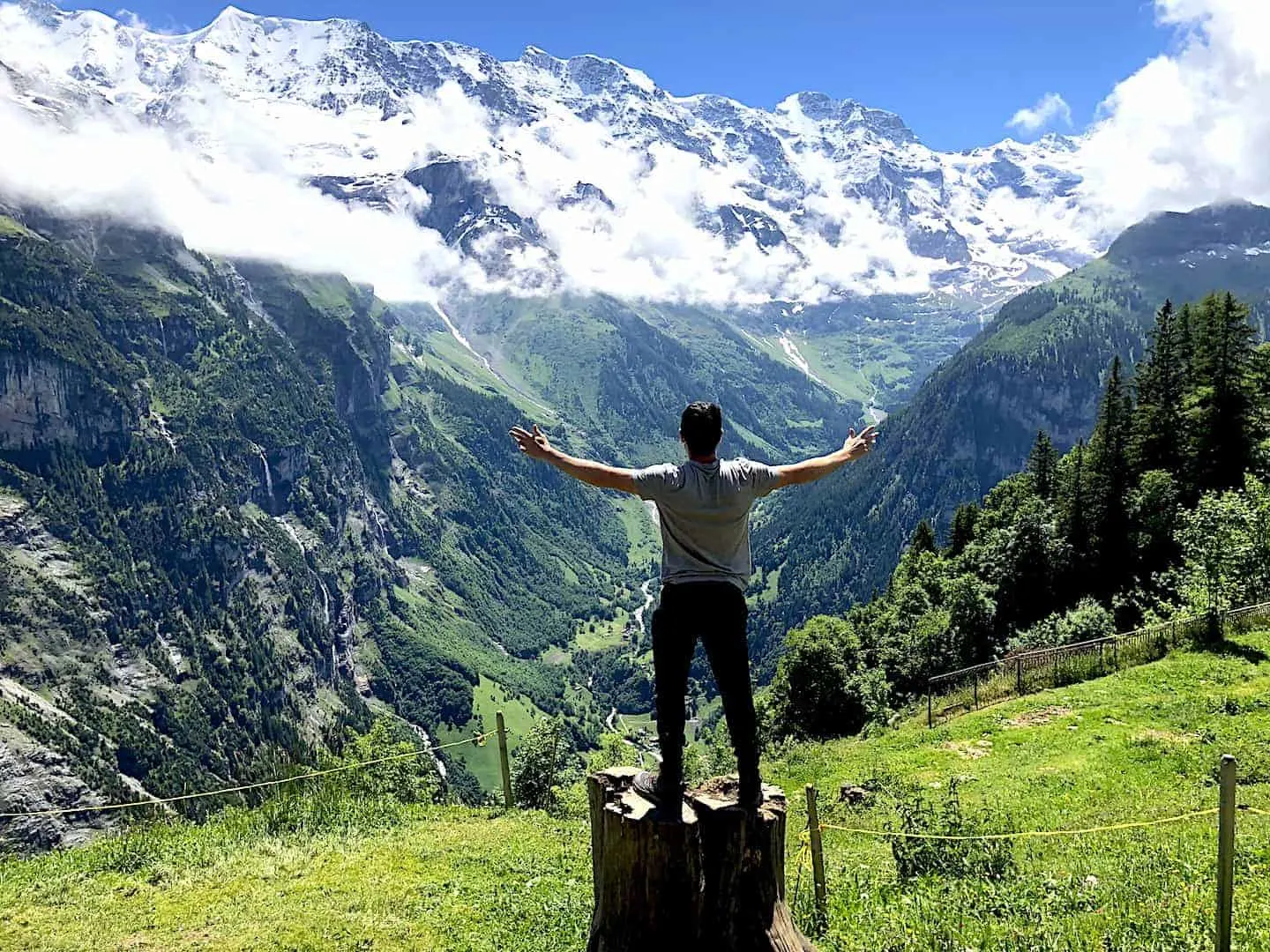 8) Where to Stay in the Jungfrau
As mentioned earlier there are a lot of different options to where to stay around the area.
The easiest spot will be Murren, the tourist hub would be Interlaken, or you could stay in nearby towns such as Lauterbrunnen, Wengen or Grindelwald.
I put together a guide to Where to Stay in the Jungfrau – Murren, Wengen or Grindelwald, if you want to go more in depth about each one.
Some of my recommendations would be:
Murren Hotels
Interlaken Hotels
Wengen Hotels
Grindelwald Hotels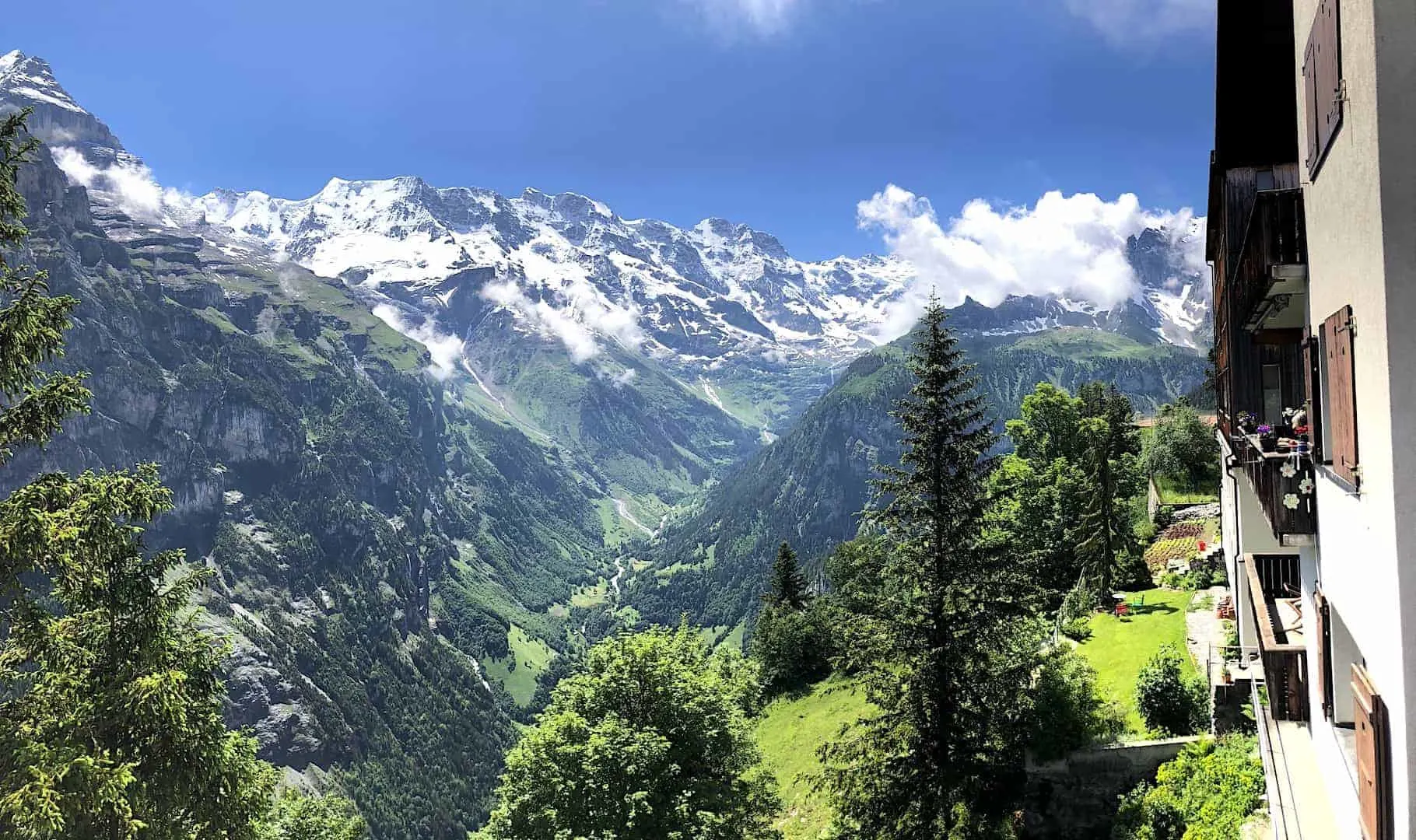 That about does it for an all in guide to exploring everything that Schilthorn has to offer.
For more helpful info about the area check out the best things to do near Interlaken and the other Switzerland itineraries and guides up on the site.
Hope you have fun out there and feel free to ask any questions below!