Lauterbrunnen, Switzerland is a small village located in the heart of the Jungfrau Region of the country. The village sits right in the middle of the stunning waterfall filled Lauterbrunnen Valley.
There are so many various things to do in Lauterbrunnen and its nearby towns. All around the area you will find plenty of hiking trails, views, mountains, waterfalls & much more to enjoy during a trip.
This guide will go over many of the top things to do in Lauterbrunnen, as well as in places like Murren, Wengen, and Grindelwald. These are all easily accessible from Lauterbrunnen and make for perfect day trips outside of the village itself.
* Affiliate Disclosure: This post may contain affiliate links, which means I may receive a commission if you make a purchase through the links provided, at no additional cost to you. Thanks for supporting the work I put into TripTins!
1) How to Get to Lauterbrunnen
Before diving deeper into this guide, I thought it may be helpful to explain where Lauterbrunnen is and how to get there. Getting to Lauterbrunnen is quite easy no matter where you may be coming from in Switzerland. There are two main ways to get there – either by train or by car.
It is important to note that while there are things to do in Lauterbrunnen itself, most of the attractions and activities will actually be found outside of the village center.
The village of Lauterbrunnen is quite small. However, in each direction you go in from town, you will find plenty more to see and do.
Train Travel
Traveling by train (and other public transport) in Switzerland is going to be one of the best public transportation experiences you will have. Everything in Switzerland is well connected and nearly always on time.
The transportation system is vast and you are sure to get from point A to point B without much worry. I would start out by downloading the SBB app, which will help with transport schedules around Switzerland. You can also take a look at this Switzerland train travel guide that I had put together.
Before you get to Lauterbrunnen, you will most likely be coming into Interlaken Ost station. Interlaken is the town located just outside the valley and is the main hub when visiting the Jungfrau.
The town is well connected by train to many other major cities in Switzerland such as Geneva (3 hours), Zurich (2 hours), Basel (2 hours), and Bern (1 hour).
Once you have made it into Interlaken it is then just a quick 20 minute train ride into the Lauterbrunnen Valley, stopping at the Lauterbrunnen train station.
Swiss Travel Pass: Are you planning on traveling frequently throughout Switzerland during your trip? Consider purchasing a Swiss Travel Pass to save some money!
Driving a Car
Whether you have your own car or renting a car, you can also drive into Lauterbrunnen if that happens to be easier for your type of trip. Lauterbrunnen is one of the towns in the region, where cars are allowed. You will come across other towns such as Wengen and Murren, that are car free.
However, in Lauterbrunnen there are several parking lots right nearby the main train station. It is easy enough to park there or at your hotel if they have parking.
Driving times may be a bit quicker than trains depending on schedules and traffic. Here are some normal driving times from major cities: Geneva (2.5 hours), Zurich (2 hours), Basel (2 hours), and Bern (1 hour). Of course, with a car you will not need to switch trains in Interlaken, and instead head straight to Lauterbrunnen.
Do You Need a Car in Lauterbrunnen?
Once you are in Lauterbrunnen, there is no need for a car to get yourself around.
All of the top things to do car be reached by foot or by leveraging the local transportation system. Busses, trains, and cable cars leave from Lauterbrunnen, making it a super central and ideal place to base oneself.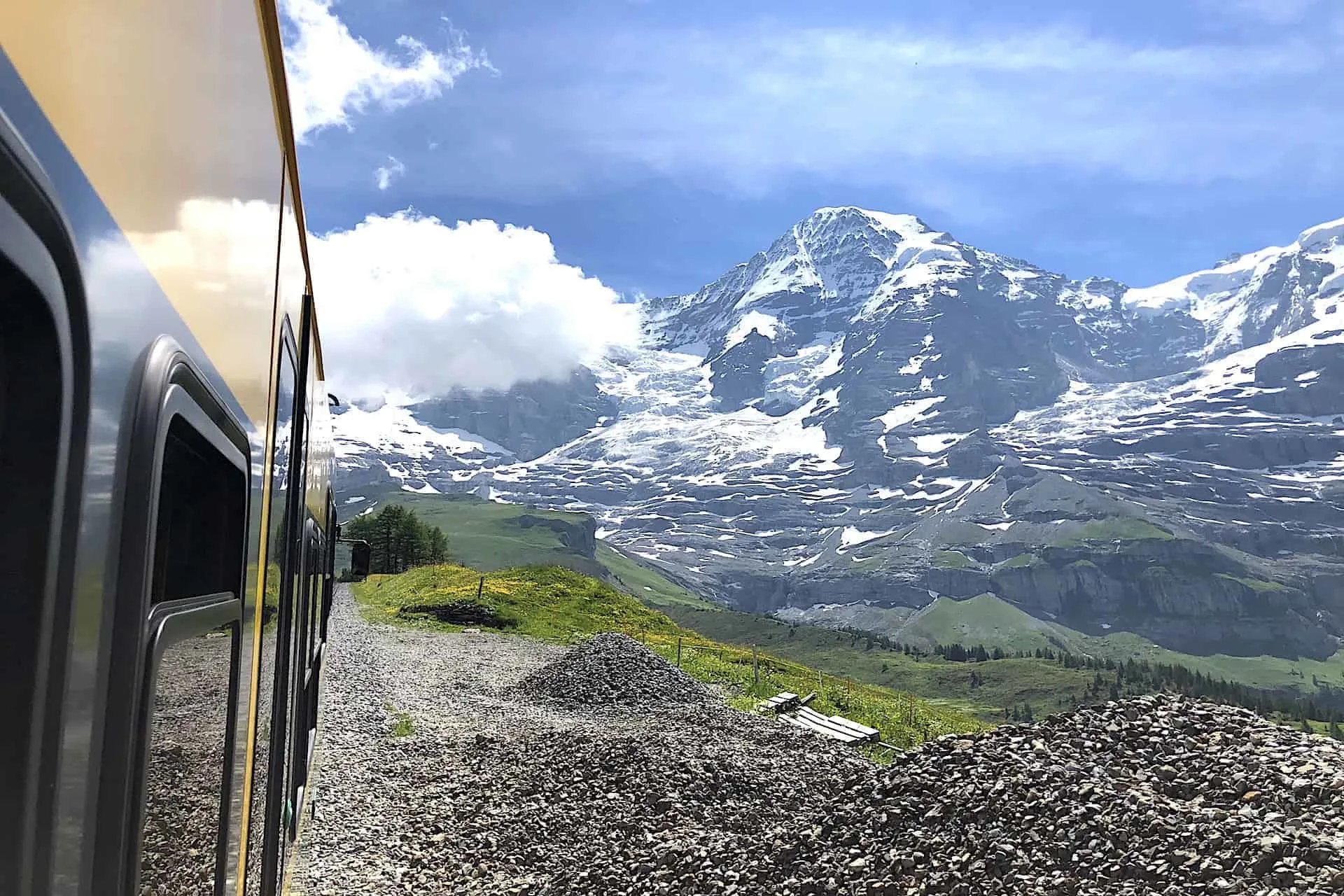 2) Where to Stay in Lauterbrunnen
Once you make it into Lauterbrunnen, you will need to head on over to your hotel. Although Lauterbrunnen is not the biggest of towns, you will still find plenty of variety when it comes to accommodation options.
Below are my top recommendations when it comes to where to stay in Lauterbrunnen itself.
Learn More | Where to Stay in Lauterbrunnen
Lauterbrunnen Camping
In addition to hotel & guesthouse accommodation, camping is also a popular option for those visiting the area. Since hotels can be on the more expensive side when visiting the Jungfrau, camping is a great affordable alternative.
There are a couple camping options I would recommend looking into if you are interested in that instead. Camping Jungfrau is located just 15 minutes by foot from the Lauterbrunnen train station.
If you would like to head further into the valley, then take a look at Camping Breithorn (around 4km from the town center). Since it is a bit of a walk, you can hop on the quick bus to get there instead.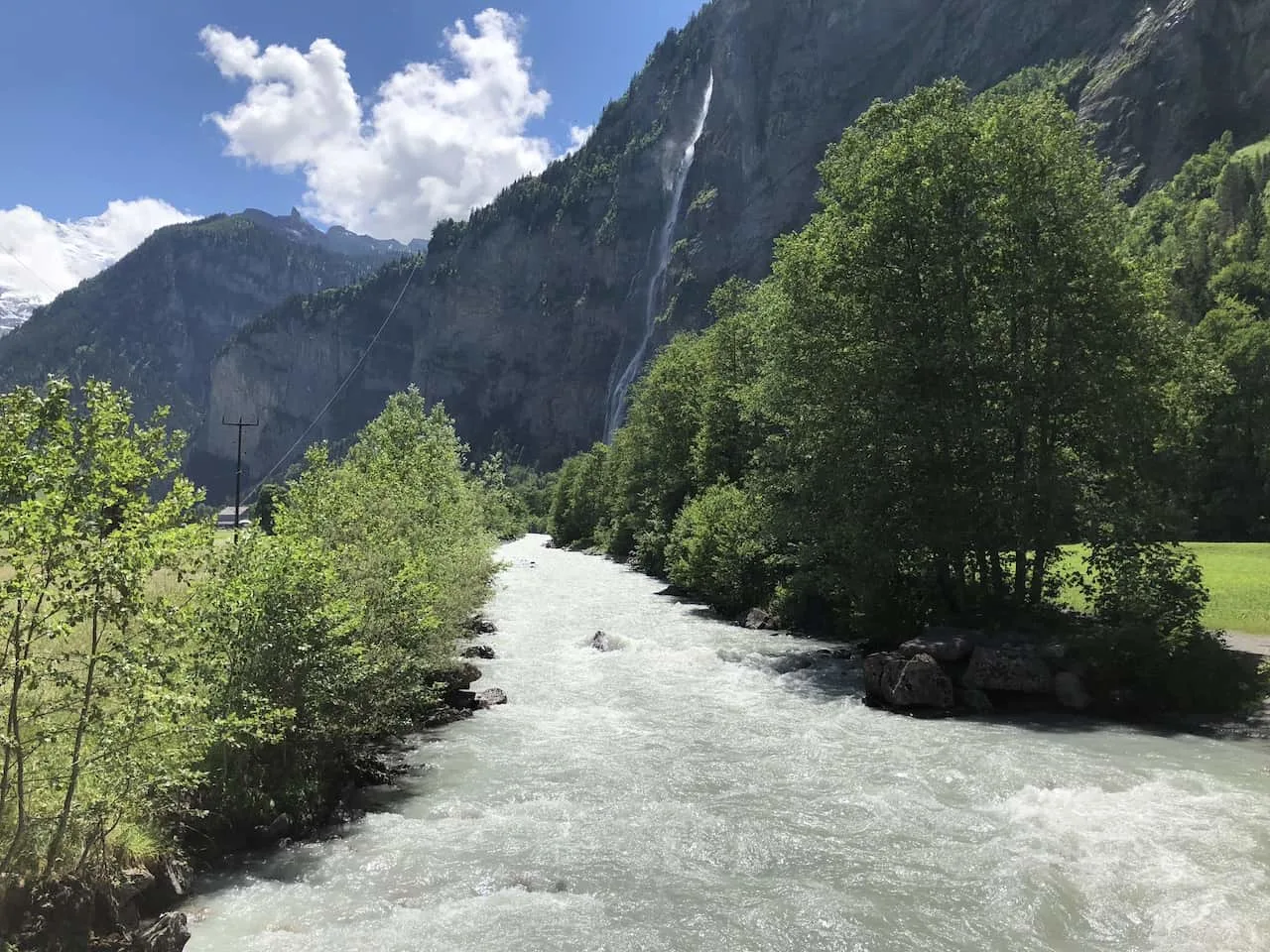 Other Jungfrau Alternatives
Of course, you can also decide to stay in other nearby places instead of Lauterbrunnen. These include Murren, Wengen, Grindelwald, and Interlaken.
I won't list out those options here, but do feel free to check out the guide to Where to Stay in the Jungfrau Region for more!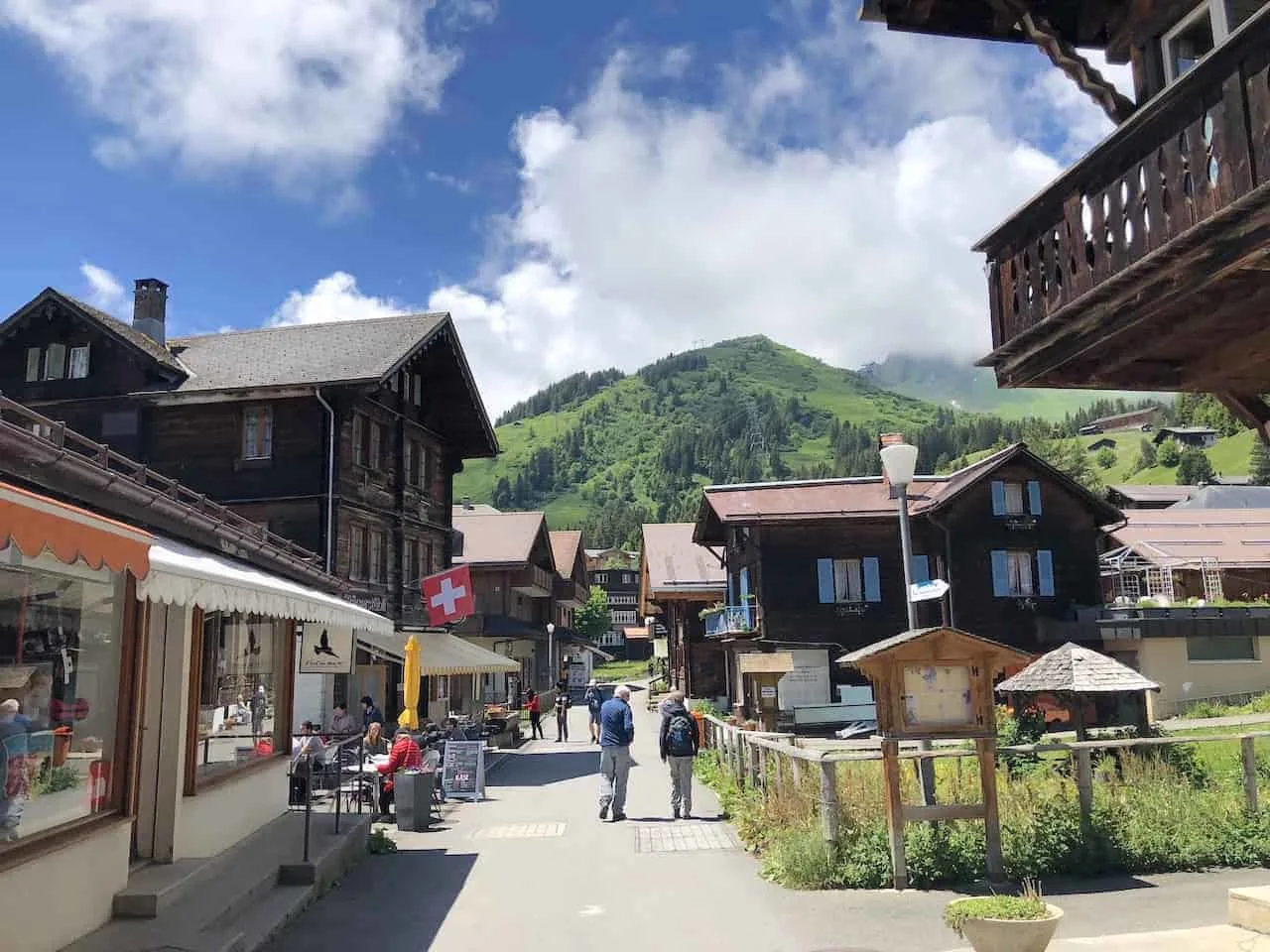 3) What is the Best Time to Visit Lauterbrunnen
Now that you know how to get to Lauterbrunnen and where to stay in the village, you will also need to decide when to visit.
In my opinion, the best time to visit Lauterbrunnen is between May/June and September due to a variety of reasons including weather, hiking, and waterfalls.
One of the main draws to Lauterbrunnen and the surrounding areas is to enjoy the various hiking opportunities up in the mountains. Since there is significant snowfall in the Jungfrau at higher elevations, many hiking trails don't open up until mid-June onwards.
With that said though, Lauterbrunnen is located within a valley at a lower elevation. If you are just looking for lower elevation hikes, then visiting in May or early June is also a great time to visit. The snow will melt in the valley earlier than in the mountains, so you should still be able to enjoy some safe hiking trails.
In addition to the weather and hiking opportunities, I also wanted to touch upon the waterfalls. The Lauterbrunnen Valley is also known as the valley of 72 waterfalls. On either side, you will find many large and small waterfalls making their way off the cliffsides.
These waterfalls are usually at their strongest once the snow begins to melt from the mountains up top.
So if you are visiting in the Fall and Winter months, you won't get much water flow from those picturesque waterfalls. However, by visiting in May/June Lauterbrunnen will come to life. As you make it further into the summer and fall, some of those waterfalls may slowly lose their strength.
4) How Much Time Do You Need in Lauterbrunnen
Spending around 3 days in Lauterbrunnen will give you the chance to explore the village itself in addition to the larger Lauterbrunnen Valley & nearby villages. But even if you only had a day to spend in Lauterbrunnen, I would still recommend you adding it into your itinerary.
A day would have you exploring just Lauterbrunnen and the valley itself. Having 2-3+ days will give you the chance to visit nearby places like Murren, Wengen, and Grindelwald.
In this guide I will be talking about 24 things to do, which very well take a week or more of time to complete. But don't worry about checking everything off of the list. Instead, focus on the top things that you are most interested in doing during your time in Lauterbrunnen.
You may also want to consider that the weather in the Swiss Alps can be quite unpredictable. Having an extra day just to plan for poor weather is a great idea when going about a trip to the region.
The nice thing though about Lauterbrunnen in particular is that you can still take part of some activities even in poorer weather. Since the village is within a valley, you won't really find yourself getting lost in the clouds, which can happen further up in the mountains.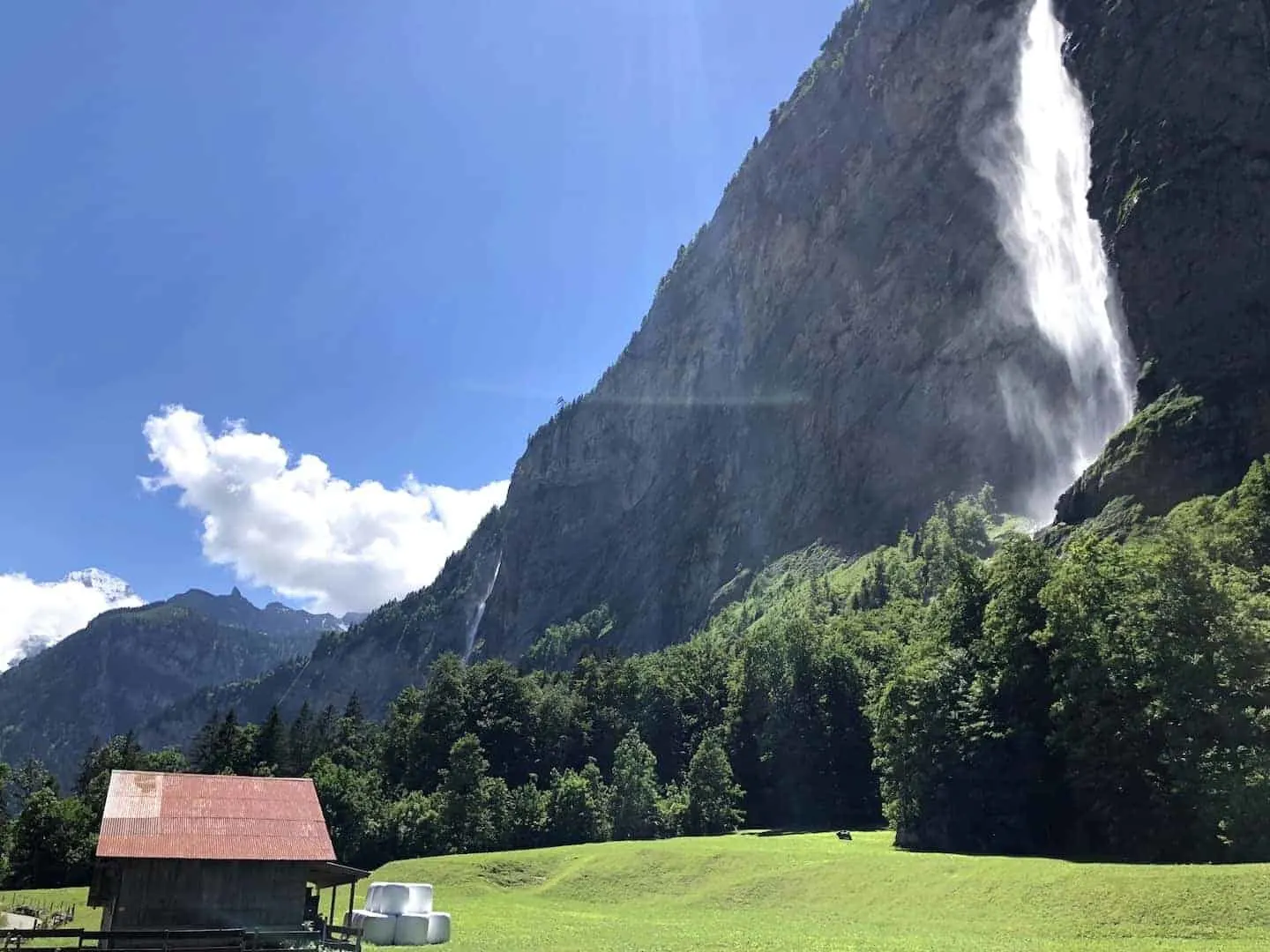 5) The Top 24 Things To Do in Lauterbrunnen
Let's now get into the list of the top things to do in Lauterbrunnen. Remember, what I mentioned earlier on – most attractions are not within Lauterbrunnen itself. Rather, you will need to make your way out of the village to take part.
I will break up the list by location, so you can get a better idea of what activities and attractions are within a specific area. We will start off with Lauterbrunnen and move on from there.
1) Stabbauch Falls
The most awe-inspiring waterfall of the Lauterbrunnen Valley can be found right in the village of Lauterbrunnen itself.
The Staubbach Falls comes in at a height of nearly 300 meters / 1,000 feet as it comes right off of the cliffside.
There are many places to take in a view of the waterfall. Whether that be from town, the train up to Wengen, the cable car up to Grutschalp, or from further down the valley. You can also hike up a short trail to get closer up to the waterfall.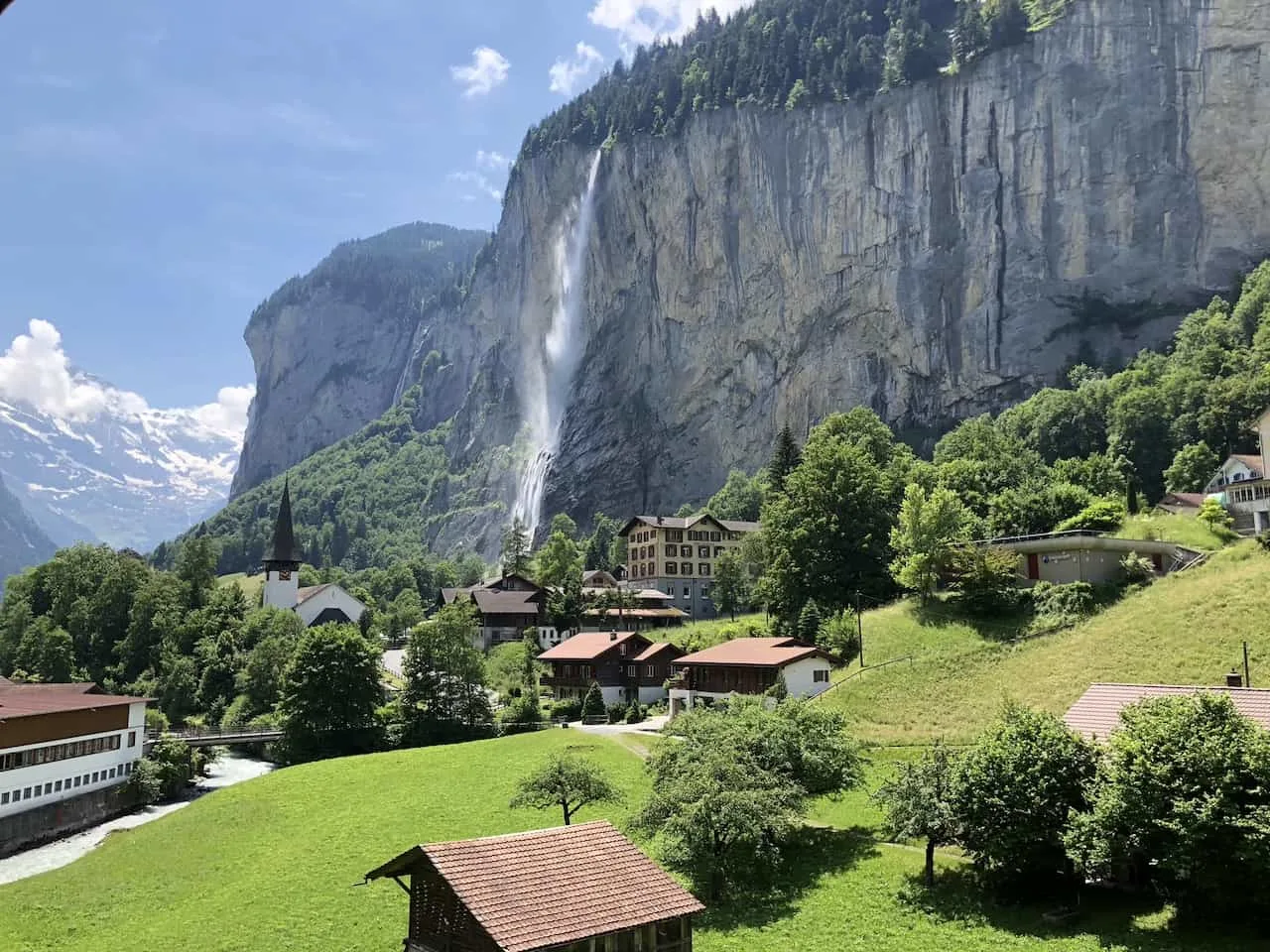 2) Hike from Lauterbrunnen to Stechelberg
One of the fan favorite hiking trails in the region starts right in Lauterbrunnen and heads straight down the valley to Stechelberg.
Along the way you will be able to take in views of the surrounding waterfalls, the greenery filled valley, the flowing river, and the Swiss mountains out in the distance.
The trail all the way through is relatively flat and comes in at 6 km / 3.7 miles. If you hike the trail one way, you can easily just hop on a bus back to Lauterbrunnen once you are all finished up. Note that this trail can also be done in the opposite direction depending on your itinerary for the day.
» Learn more in the Lauterbrunnen Valley Guide that goes into detail about all there is to see in the valley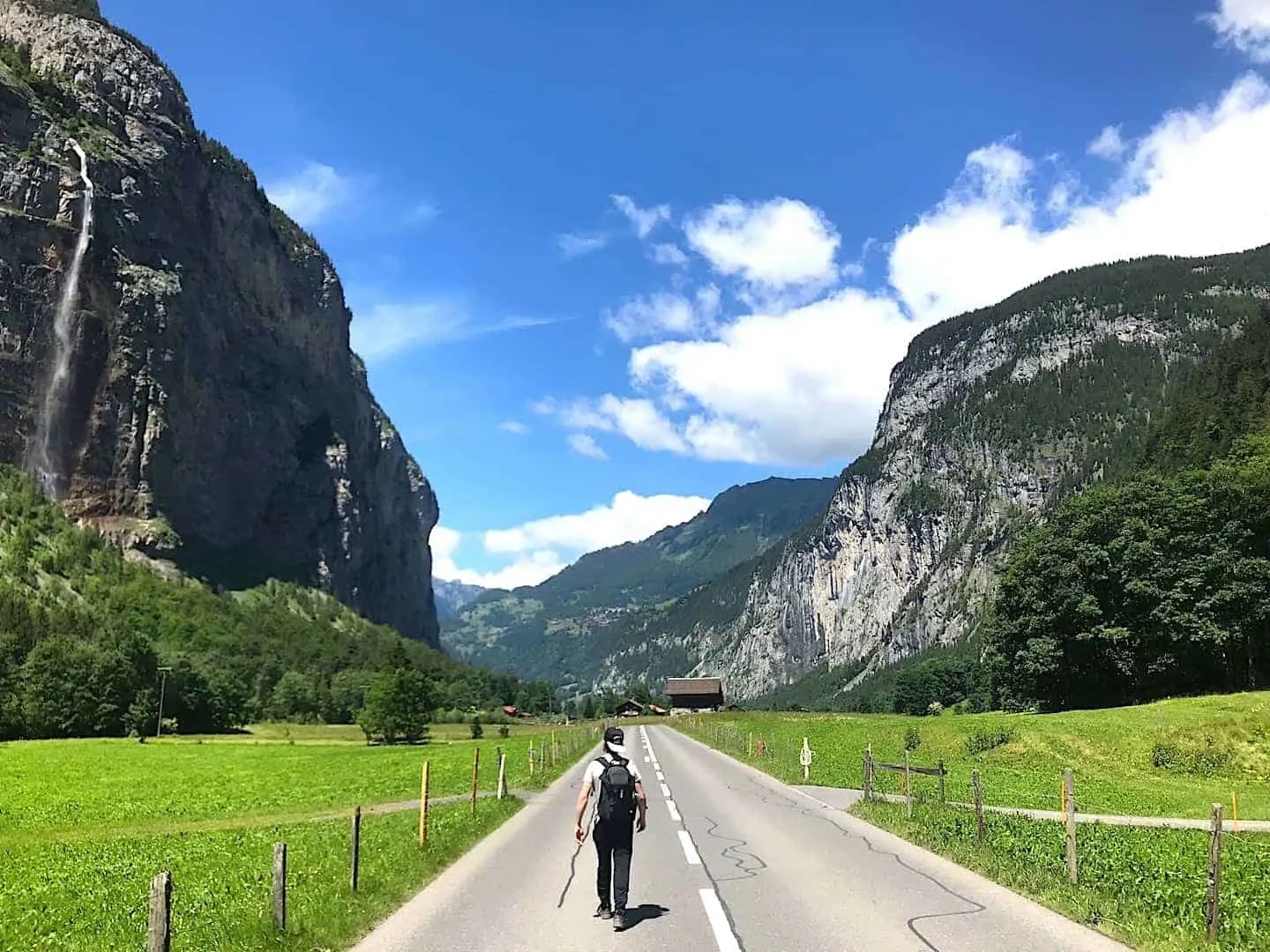 3) Trummelbach Falls
As you are making your way through the Lauterbrunnen Valley, one of the highlights is Trummelbach Falls. Now this waterfall can't be seen from the valley.
Rather you will head inside the valley's walls, where you will come across the thunderous water flowing down the mountainside.
To get there, you can either walk from the Lauterbrunnen train station (45 minutes as part of the trail above) or hop on a quick bus (10 minutes).
» Learn more in the Trummelbach Falls guide for everything to know about the waterfall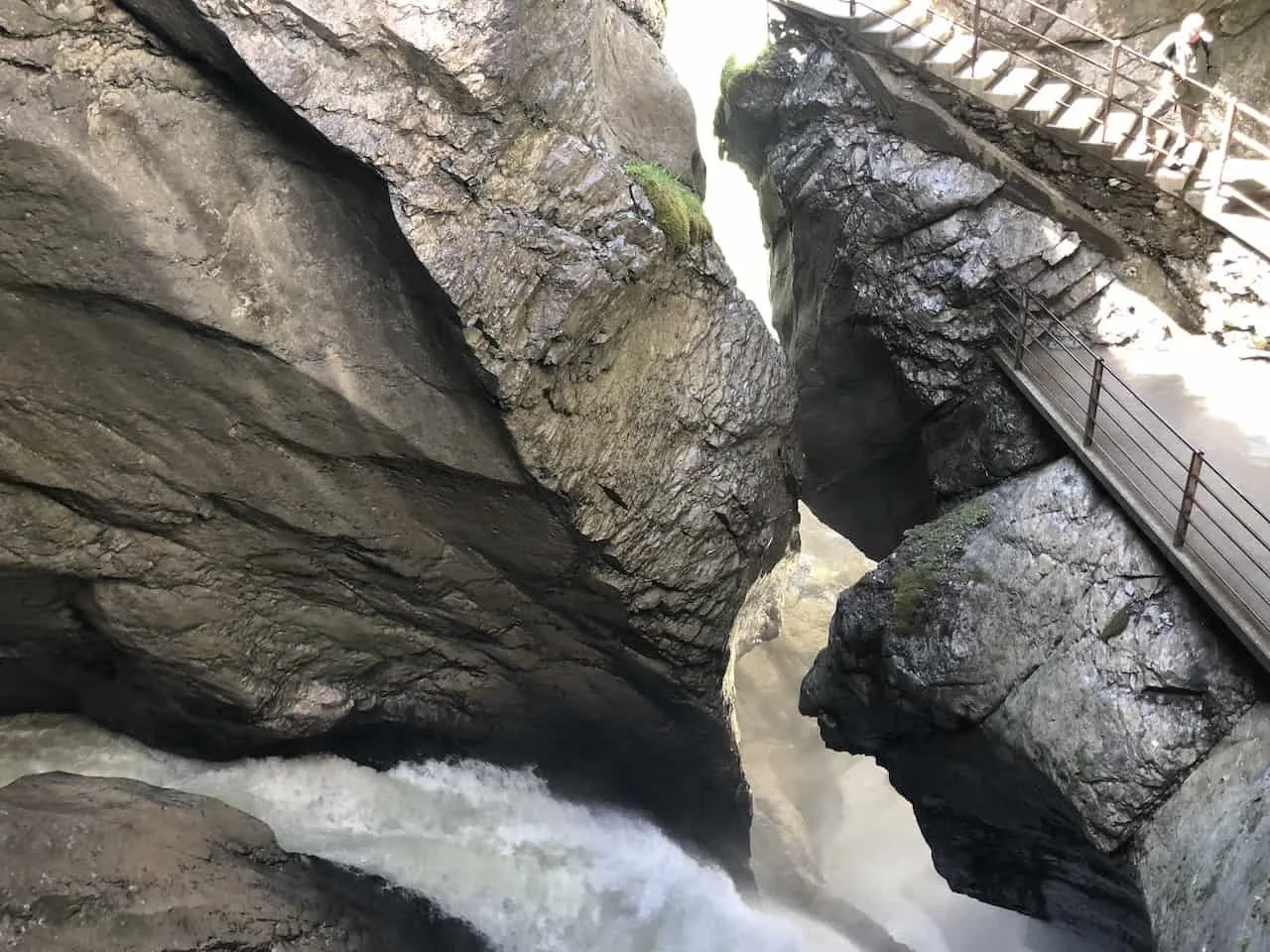 4) Lauterbrunnen to Grutschalp Cable Car
From the center of Lauterbrunnen, just outside the train station, there is a cable car that takes visitors up to the top of the valley walls. Here lays Grutschalp, which can be used as a jumping off point for other activities above the valley.
From Grutschalp, you can hike the trail onwards to Murren or take the scenic mountain railway ride into the town. Either way though, the cable car ride itself is an exciting activity to take part of.
While the ride is just a few minutes, you will get that rare elevated view straight down the Lauterbrunnen Valley. Right next to the cable car is Staubbach Falls, making the landscape even that more impressive.
Note: the first photo pictured above of Staubbach Falls is taken from the cable car
5) Lauterbrunnen to Wengen Train Ride
While Grutschalp is one direction, Wengen is in the other direction. And the only way to get from Lauterbrunnen to Wengen is by train (or a nice uphill hike). Wengen is one of those mountains towns that is car free, so the train is going to be your go to option.
The train is just another beautiful ride to take in as it wraps around the mountain. The views down into the Lauterbrunnen Valley are just spectacular as you get a wider panorama of the whole region.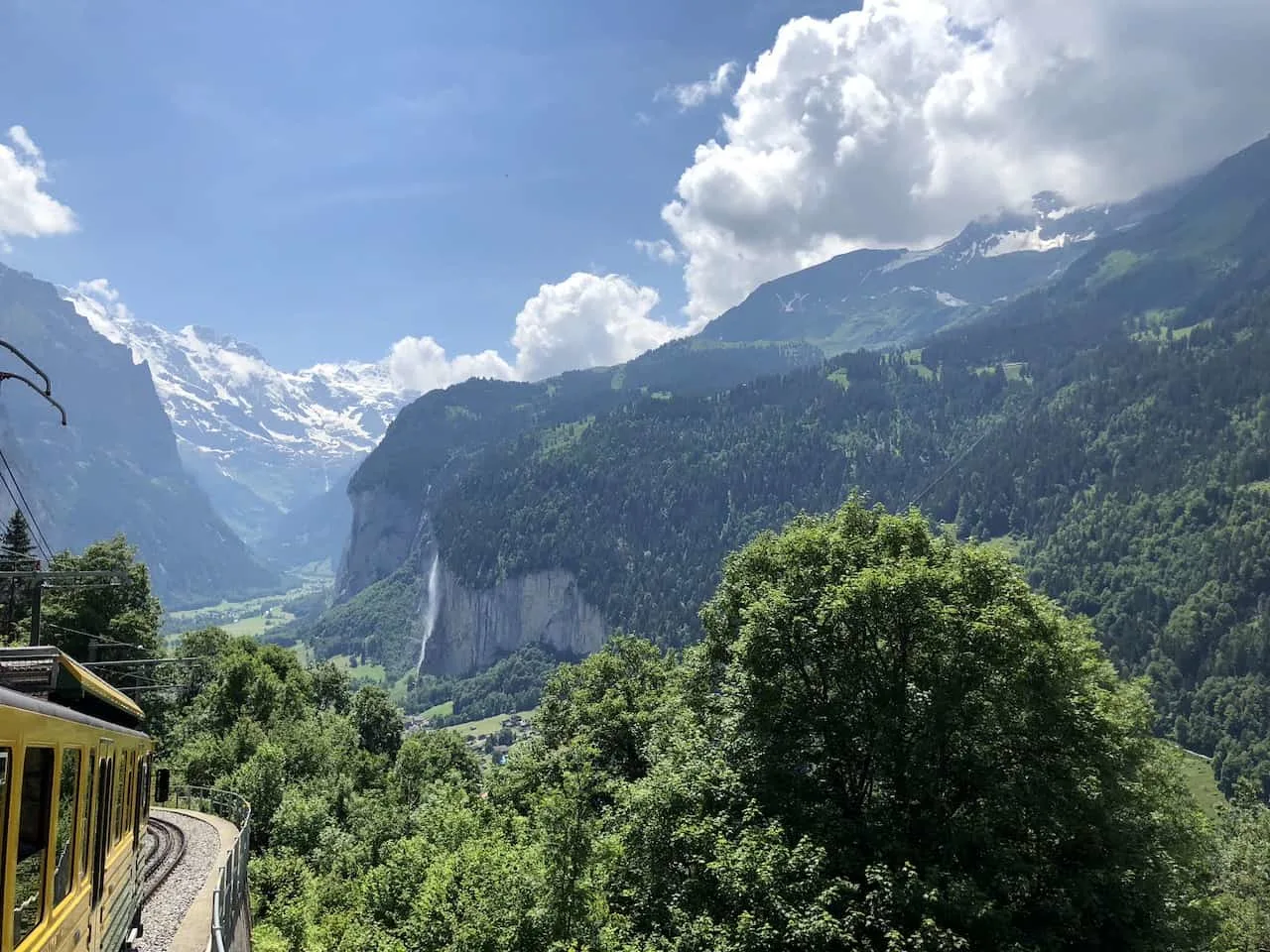 6) Explore Murren
I know I just mentioned the towns of Murren and Wengen, so let's now move onto Murren and what to do around the area.
Getting to Murren from Lauterbrunnen is quick but does require a few different modes of transportation. You can get there by doing either of the following:
1a) Lauterbrunnen to Grutshcalp Cable Car
1b) Grutshcalp to Murren Mountain Railway
2a) Lauterbrunnen to Stechelberg Bus
2b) Stechelberg to Murren Cable Cars (switch in Gimmelwald)
Once in Murren, you can take the time to stroll around this car free town and just enjoy the various views you will consistently get of your surroundings.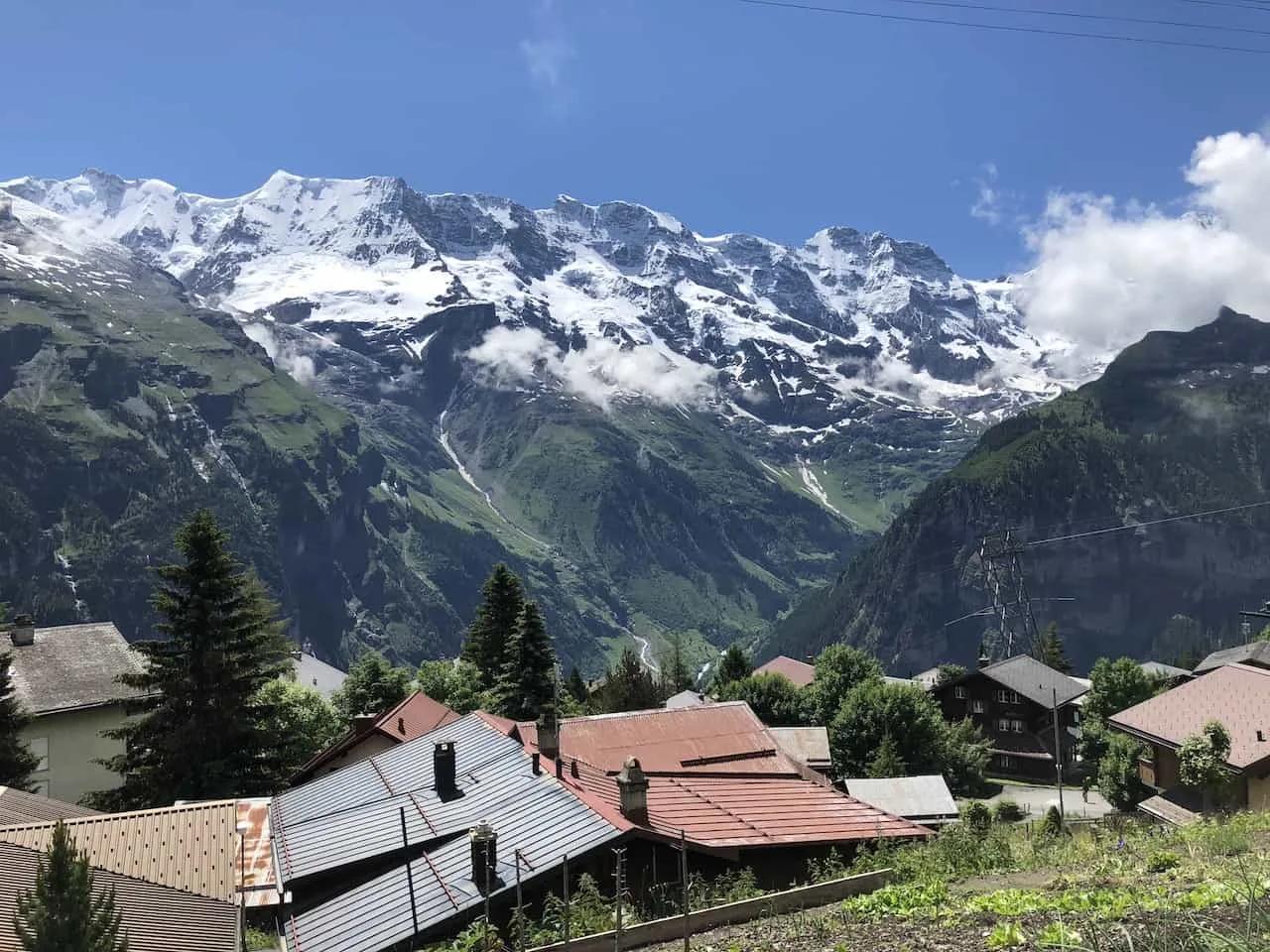 7) Lauterbrunnen Lunch View from Murren
Since Murren is elevated above the valley walls, you can get some great views down below of the Lauterbrunnen Valley.
I would recommend finding a place to eat right alongside the cliffside, which offers some of the best views in the region.
My go to is a place called Hotel Edelweiss, where you enjoy an outdoor lunch overlooking the valley down below.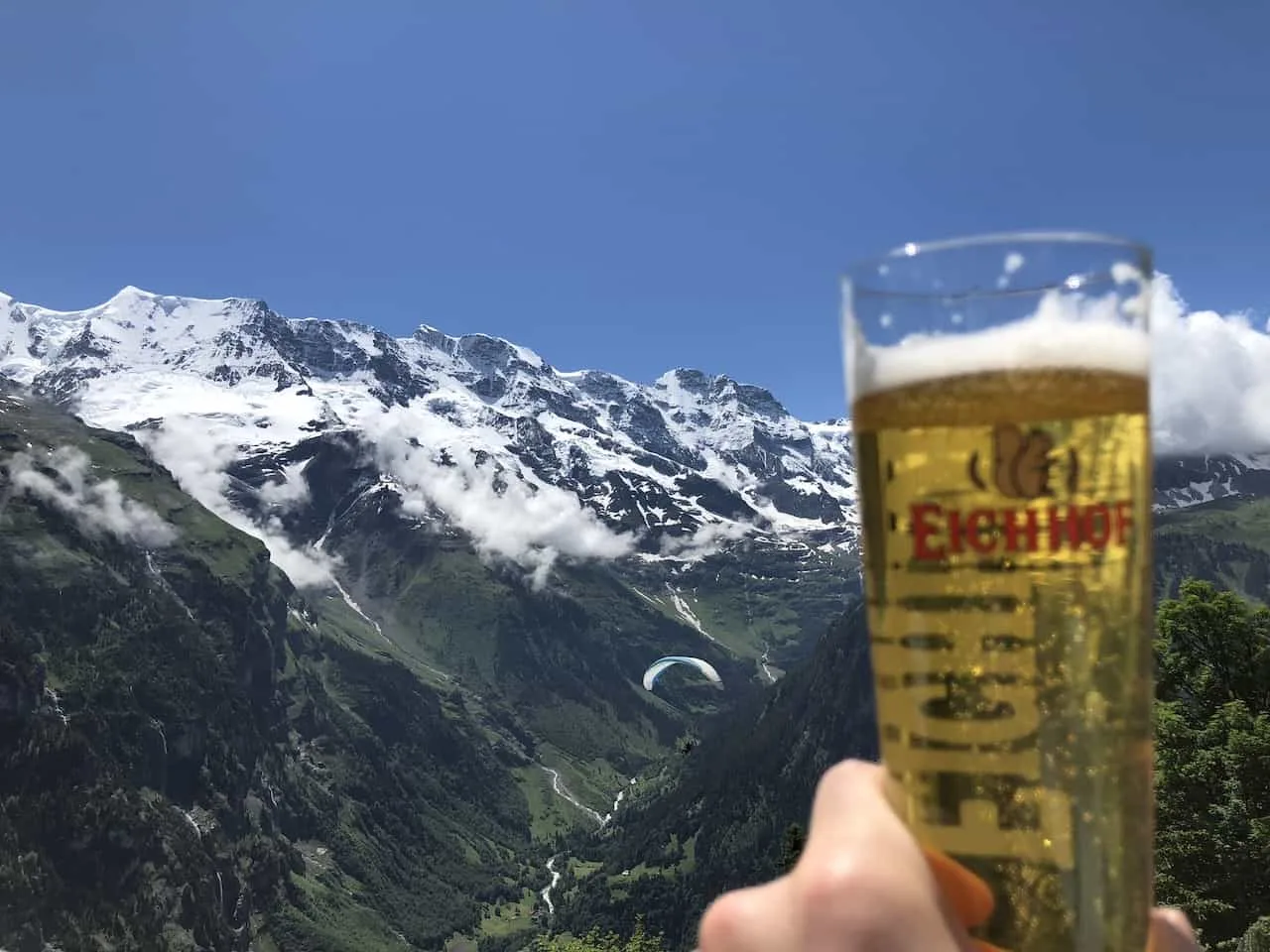 8) Paragliding
While eating lunch outside at Hotel Edelweiss in Murren, every few minutes there are paragliders making their way right past the town.
While seeing these paragliders is a unique experience, taking part of it can be one of the best there is.
Most paragliding takes place down the Lauterbrunnen Valley as you get to enjoy the waterfalls, mountains, and the valley itself from above. If interested in this feel free to book a Paragliding experience ahead of time.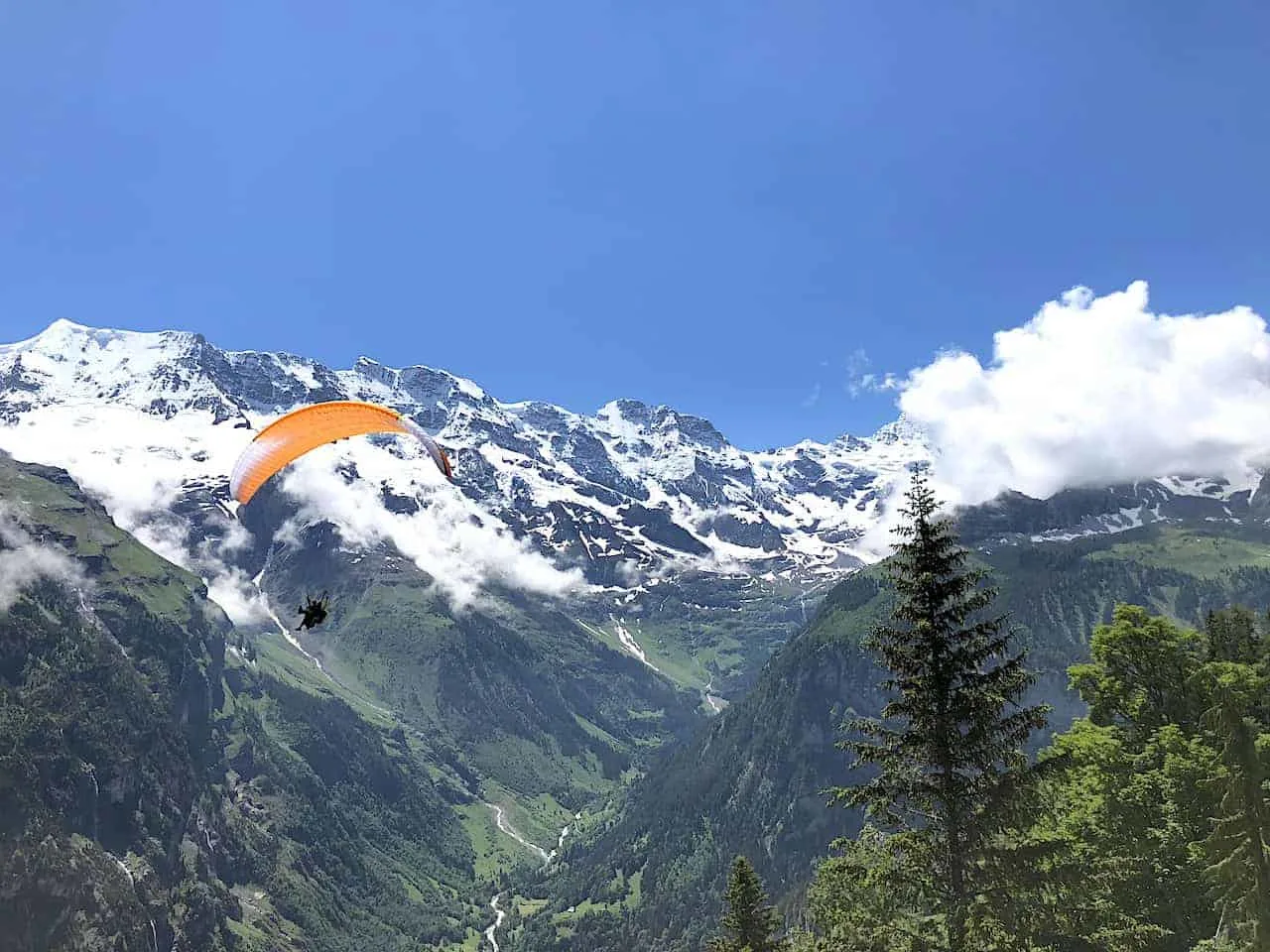 9) Schilthorn
One of the highest accessible viewpoints near Lauterbrunnen is found on the top of Schilthorn mountain. To get there, you will just need to take a set of two cable cars from Murren.
Once there you will have vast views of the surrounding landscape including the famous Eiger, Monch and Jungfrau mountains out in front of you.
Schilthorn offers various viewpoints, a rotating restaurant, a James Bond museum, among other offerings.
» Learn more in the Schilthorn Switzerland guide up on the site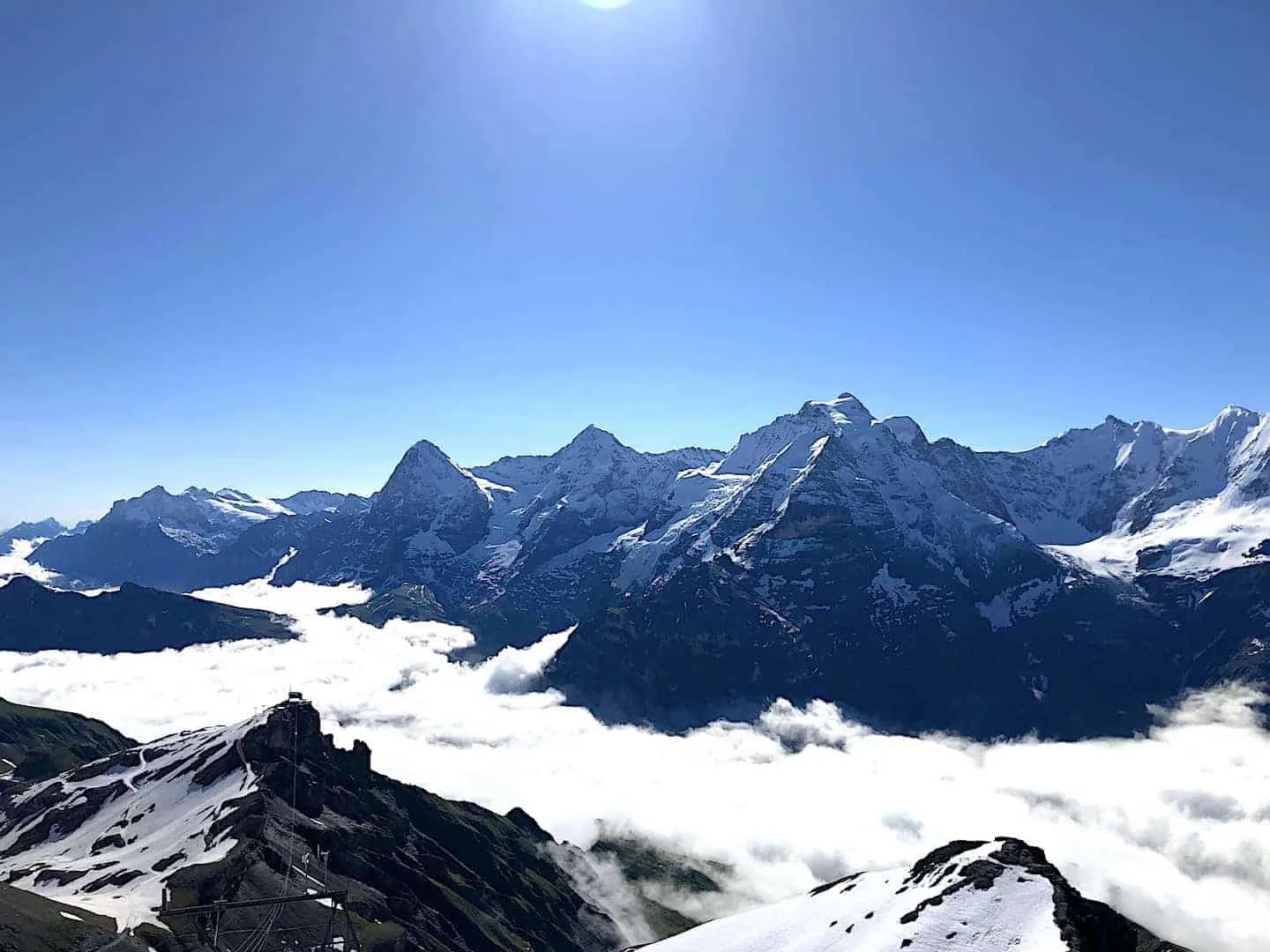 10) Birg Thrill Walk
After visiting the Schilthorn summit, take the cable car one stop down to Birg (you would have passed this on the way up). Here you will find the famous Birg Thrill Walk.
This short walk takes you along the side of the mountain's wall as you walk along wires, peek through glass bottom floors and crawl through wire cages.
» Learn more in the Birg Thrill Walk guide up on the site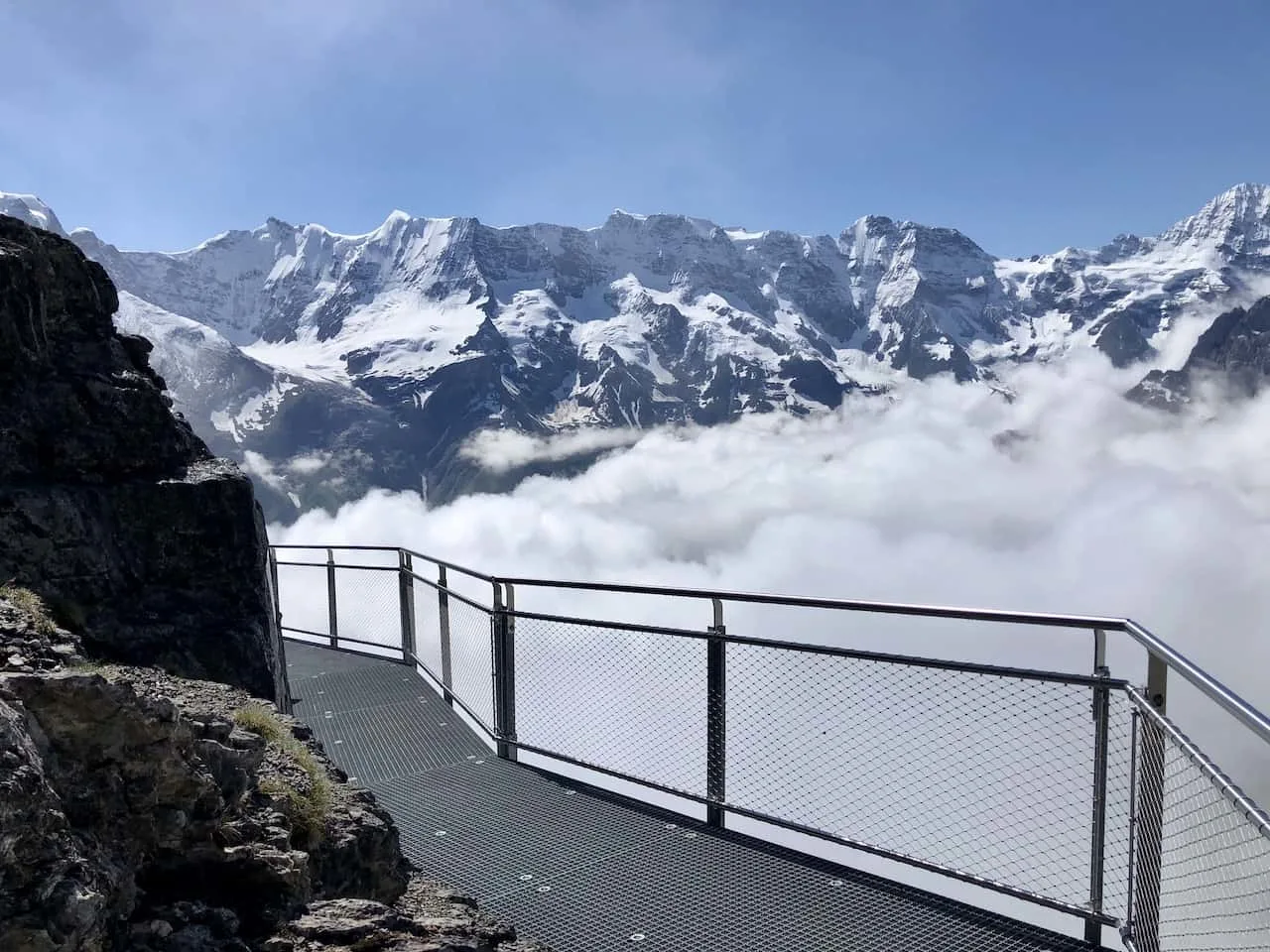 11) Murren to Gimmelwald Trail
While a visit to Murren is an activity within its own right, you can add to that experience by hiking the easy trail from Murren to Gimmelwald.
This trail is paved all throughout with consistent views of the Lauterbrunnen Valley and surrounding mountains during the walk down.
» Learn more in the Murren to Gimmelwald Trail guide that goes over what to expect on the hike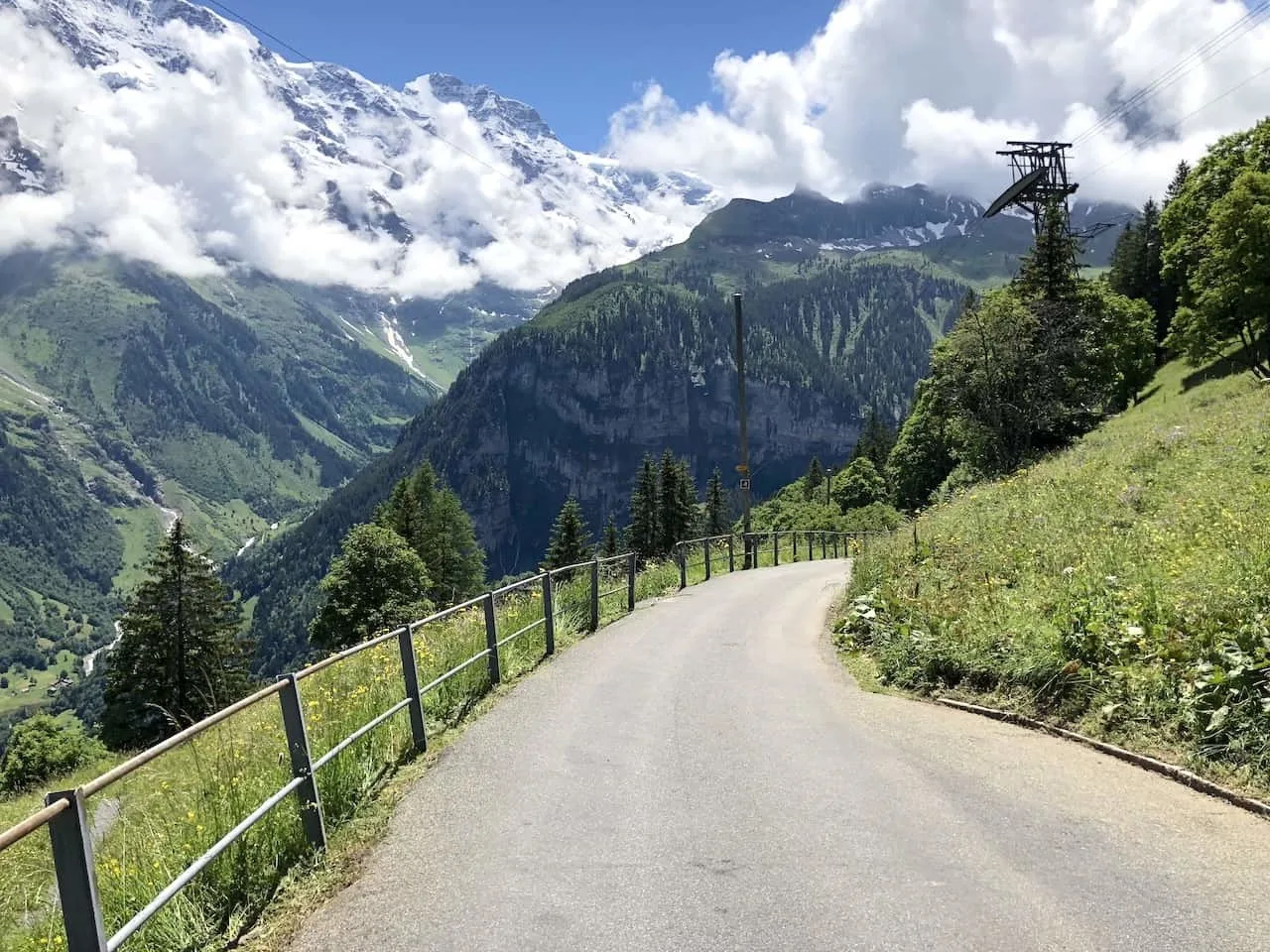 12) Murren Via Ferrata
If you are looking for a more exhilarating route between Murren and Gimmelwald, why not try out the Murren Via Ferrata.
This protected climbing route requires certain equipment to be used so you can safely maneuver your way along the walls of the Lauterbrunnen Valley between the two towns.
It is not an activity for everyone so be sure to read up on it before you commit!
» Learn more in the Murren Via Ferrata guide up on the site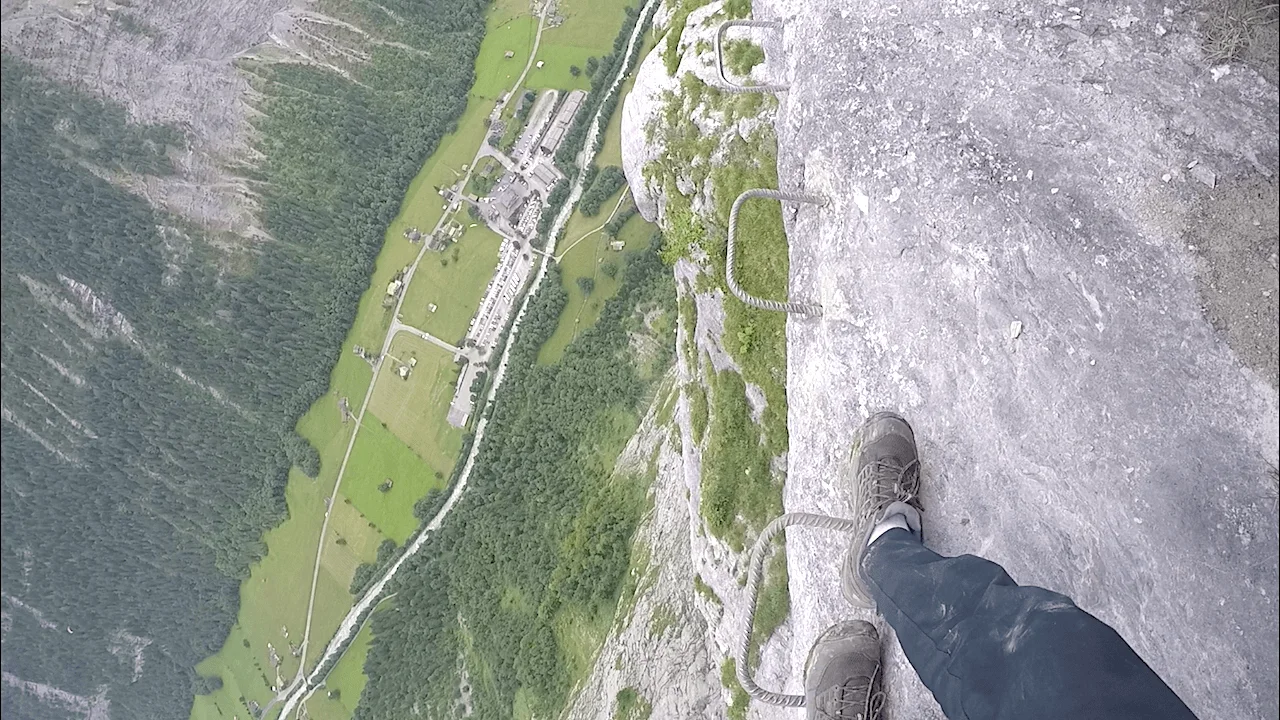 13) Explore Wengen
Moving onto the other side of Lauterbrunnen is the town of Wengen. Getting to Wengen will just require that train ride I mentioned earlier. It is just a 12 minute ride up the valley walls until you reach this car free town.
Even if you do not plan on taking part of any additional hiking around Wengen, just strolling through town and enjoying the views is an activity on its own. It is great to get the perspective of Lauterbrunnen from another angle and see the valley down below.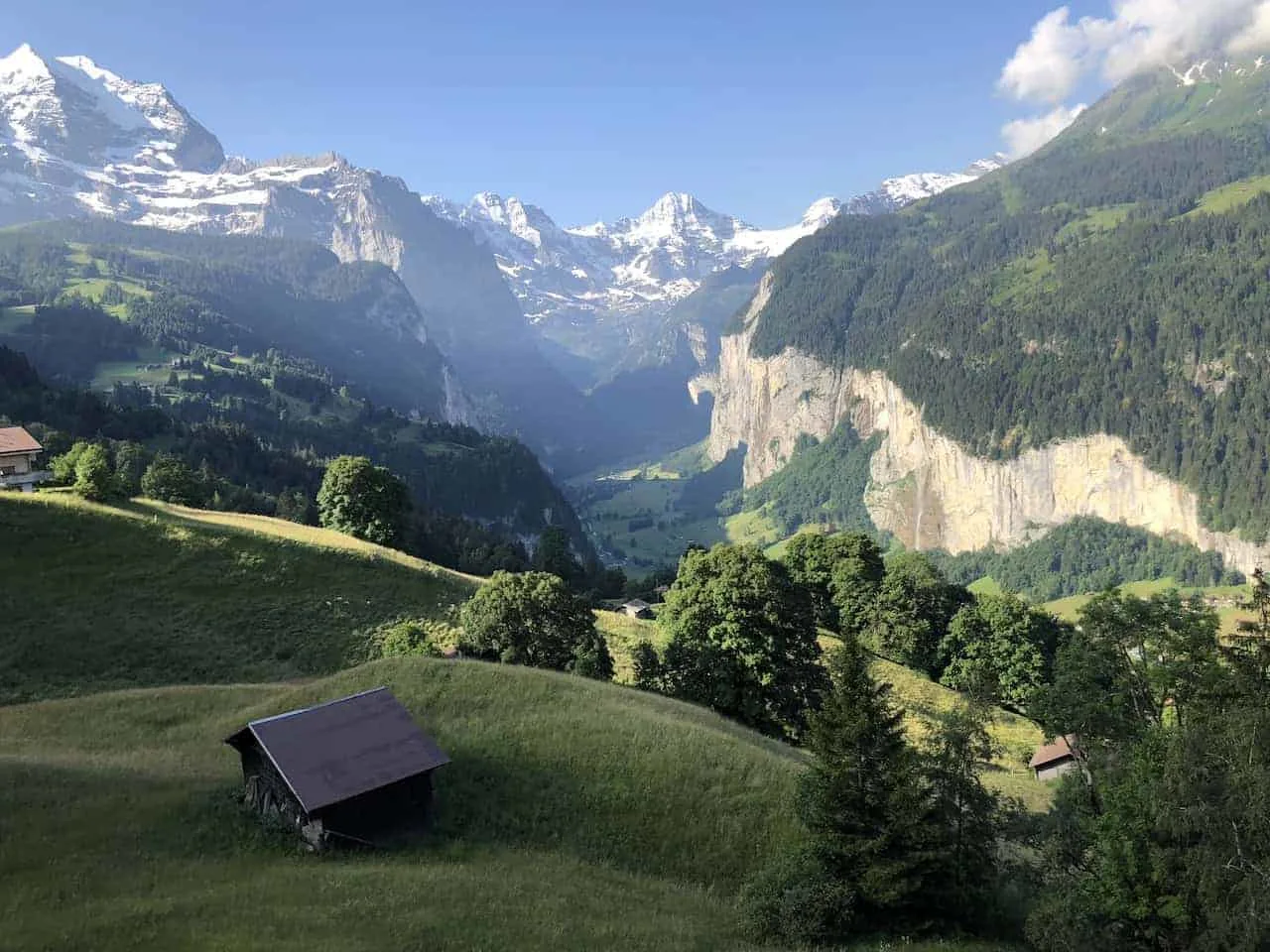 14) The Royal Walk
From Wengen, you can hop on the cable car that takes you up to Mannlichen.
From there, you can head up the short Royal Walk, which gives you some great views of the surrounding landscape, with views of the Lauterbrunnen Valley, Grindelwald, and the mountain ranges in every which direction.
» Learn more in the Mannlichen Royal Walk guide up on the site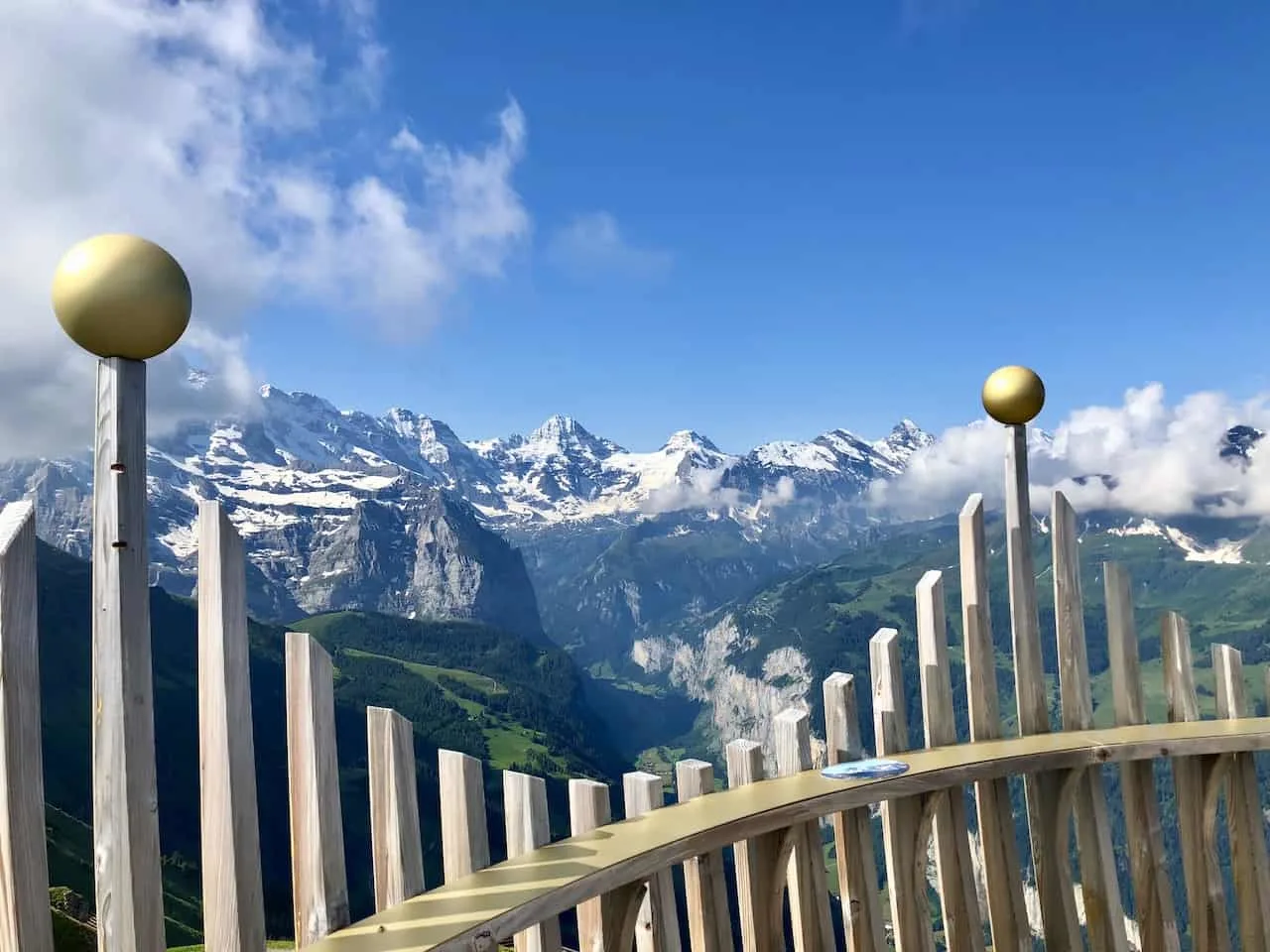 15) Mannlichen to Kleine Scheidegg Panorama Trail
Once done with the Royal Walk, it is time to enjoy a true highlight of the Jungfrau region.
The trail between Mannlichen and Kleine Scheidegg, also known as the Panorama Trail, is one of the most beautiful hikes of the region and is easy enough for anyone to take part of.
» Learn more in the Mannlichen to Kleine Scheidegg Panorama Trail hiking guide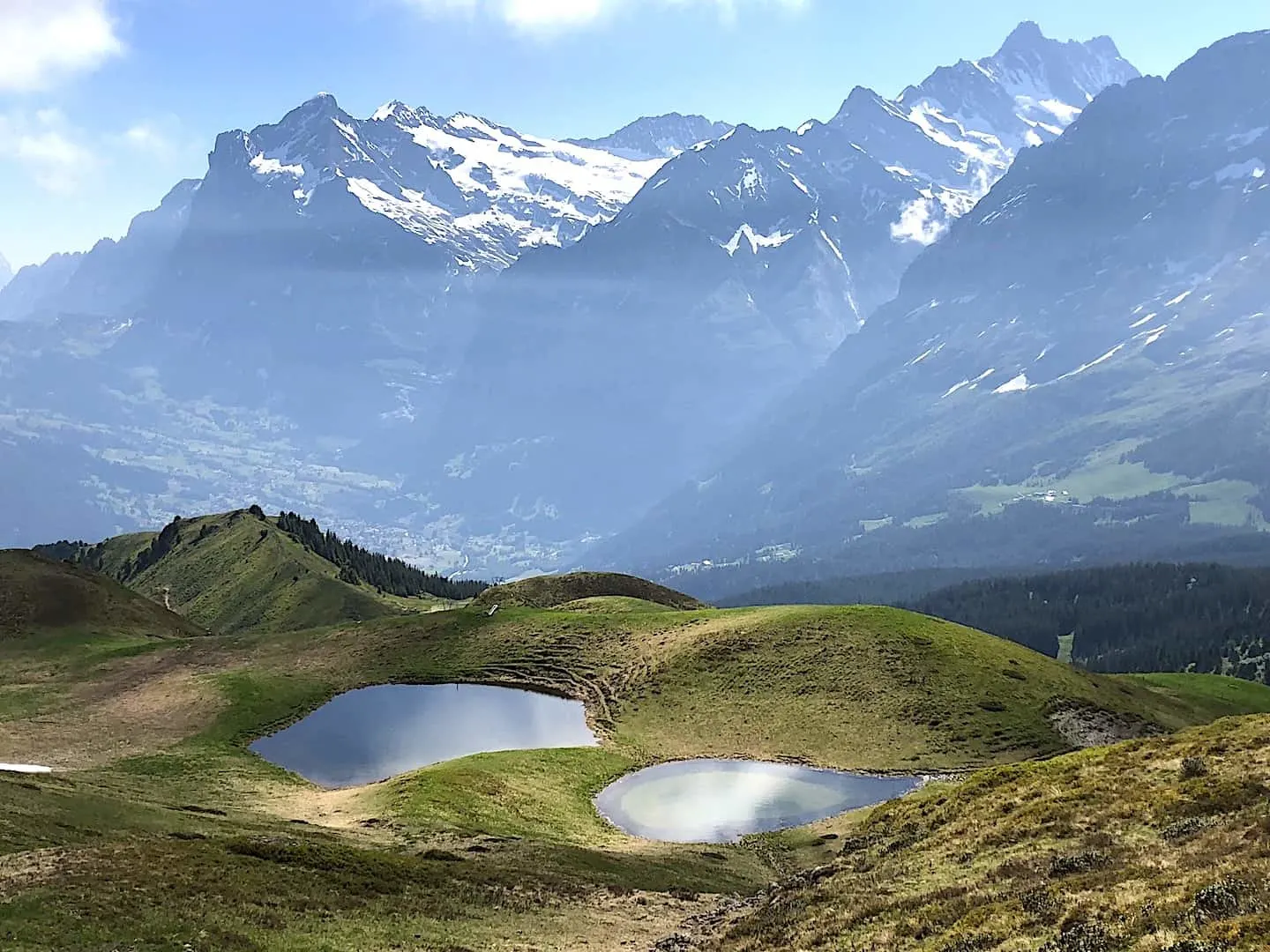 16) Jungfraujoch
High above Wengen, you will find what is known as the Jungfraujoch or the Top of Europe. A mountain railway takes you up into the mountainside, and to a station located near the summit of the Jungfrau mountain.
From here you will get views of glaciers, mountains, valleys, and the rest of the Jungfrau region. The trip up top doesn't come cheap but the views are some of the best you can ask for.
Book Your Ticket: If you are interested in a visit, be sure to book your Jungfraujoch ticket for your trip up!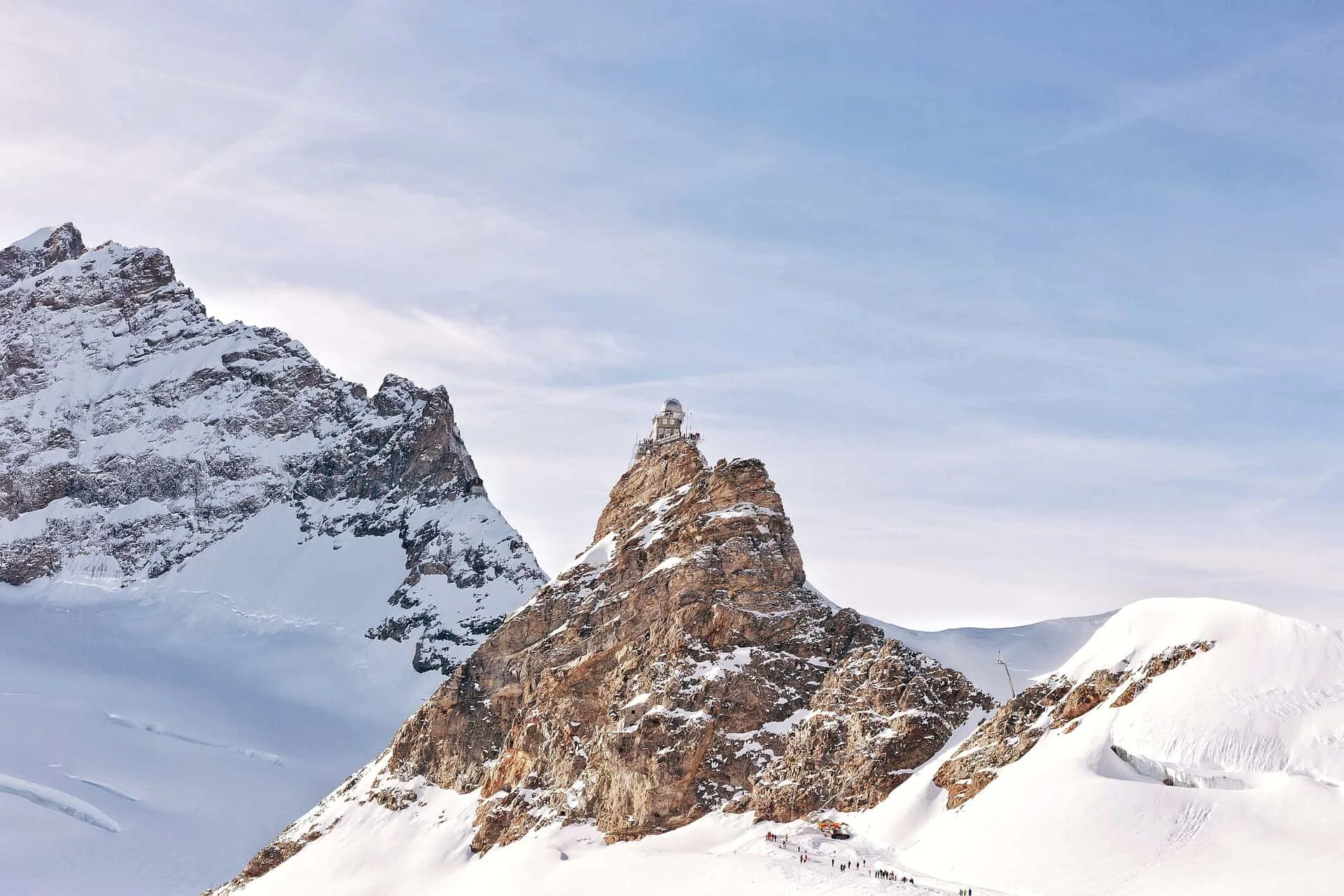 17) The Eiger Trail
While you may have taken in the views of the Eiger throughout your time in the region, why not hike right alongside it as well. The Eiger Trail runs between Eigergletscher and Alpiglen, and for the better part of 3 hours, you can enjoy those views of the surrounding landscape and the Eiger up above.
18) Bachalpsee Lake
In the neighboring valley to Lauterbrunnen is the village of Grindelwald. This is another popular spot to base yourself in if visiting the Jungfrau. From Grindelwald there is a whole variety of activities to take part of.
Getting to Grindelwald from Lauterbrunnen is pretty easy altogether. There is a train between the two, that requires one switch and takes around 40 minutes of travel time. If you did have a car, driving the 20 minute route is also possible.
Once in Grindelwald, make your way to the cable car station, where you can head up into the mountains to First. From First you can enjoy the easy hike to Bachalpsee Lake. Throughout the trail and once you reach the lake itself, you will have some stunning views of the Eiger, making it one of the top hikes in the area.
» The Bachalpsee Lake guide up on the site gives a great overview of the area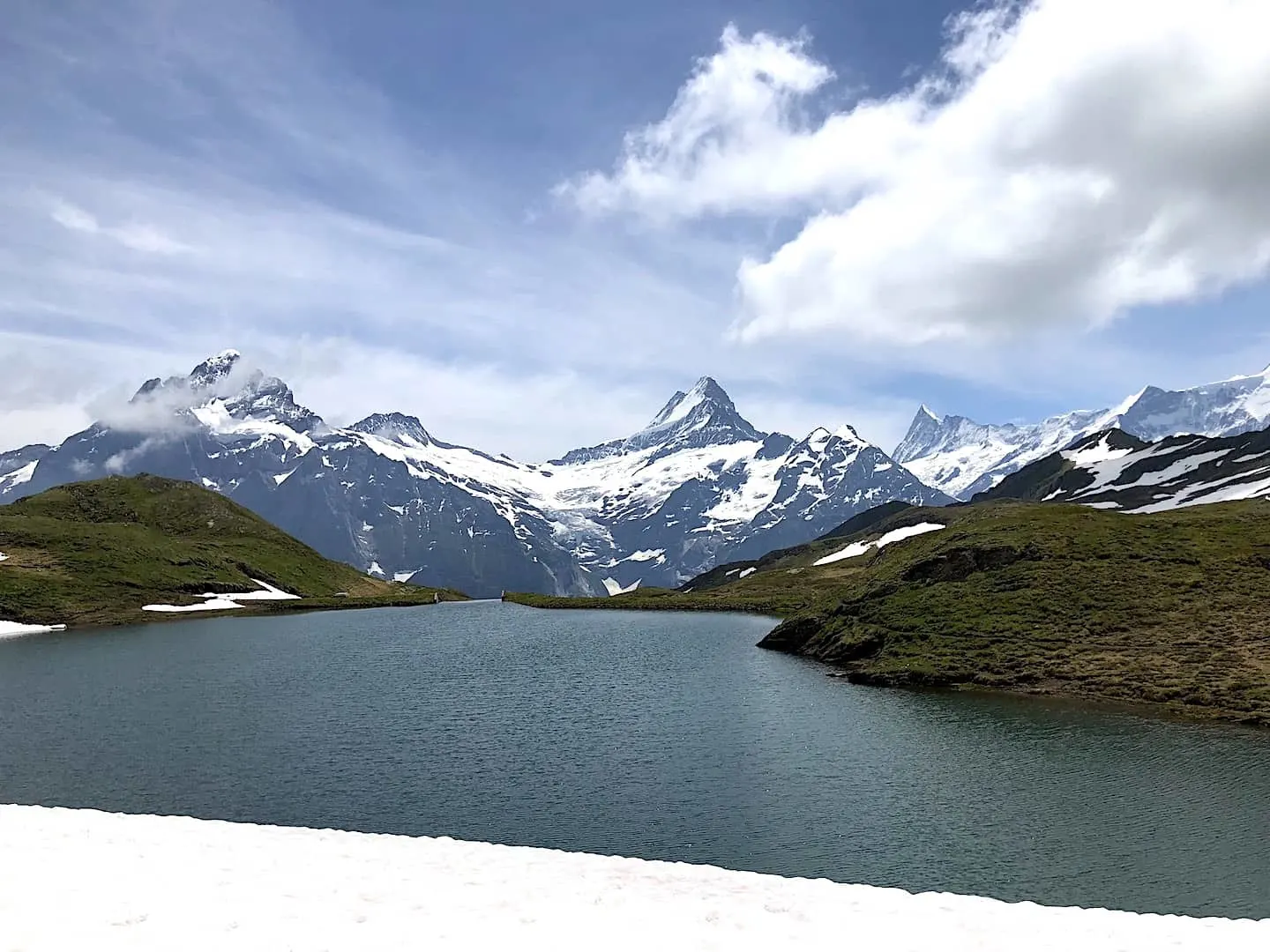 19) First Cliff Walk
After finishing up your time near Bachalpsee and heading back to First, you can make the stop at the First Cliff Walk. Here you will find a steel platform wrapped along the mountainside as you enjoy views of the Alps and the Eiger out in the distance.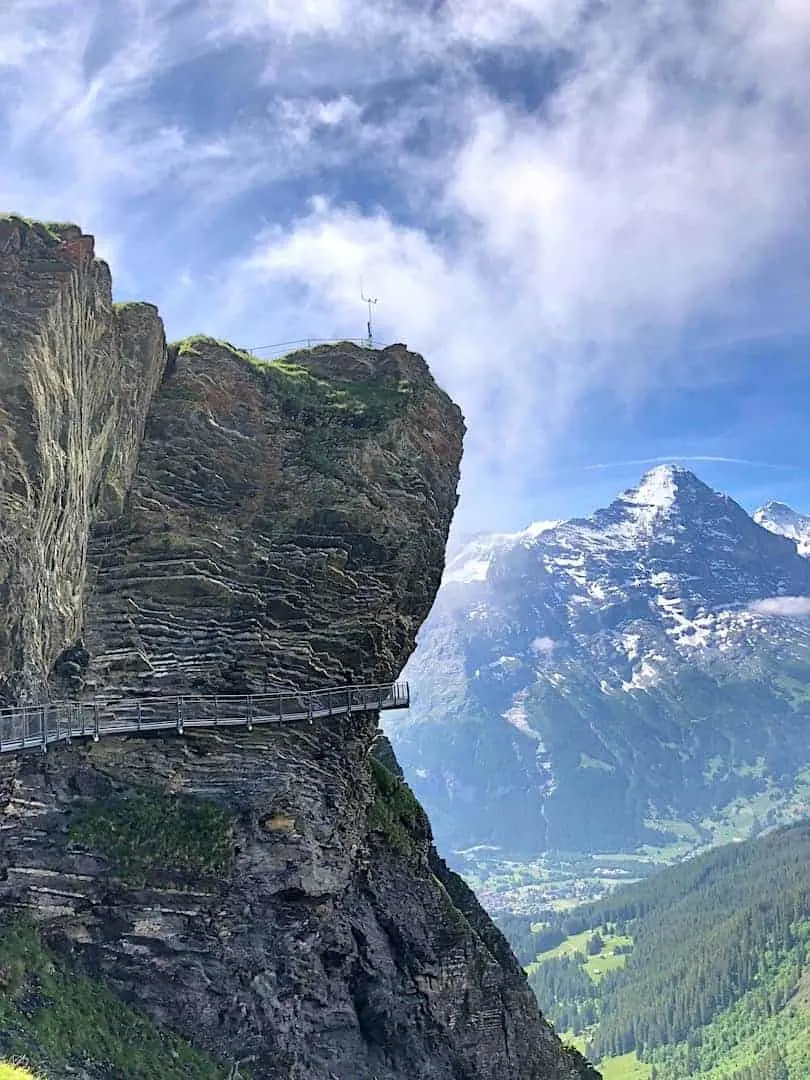 20) First Activities
A popular option around First is to take part of some or all of the 4 various activities that are offered to visitors.
You can head on the First Glider, First Flyer, First Mountain Cart and Trottibike Scooter as you slowly make your way down in style from First to Grindelwald.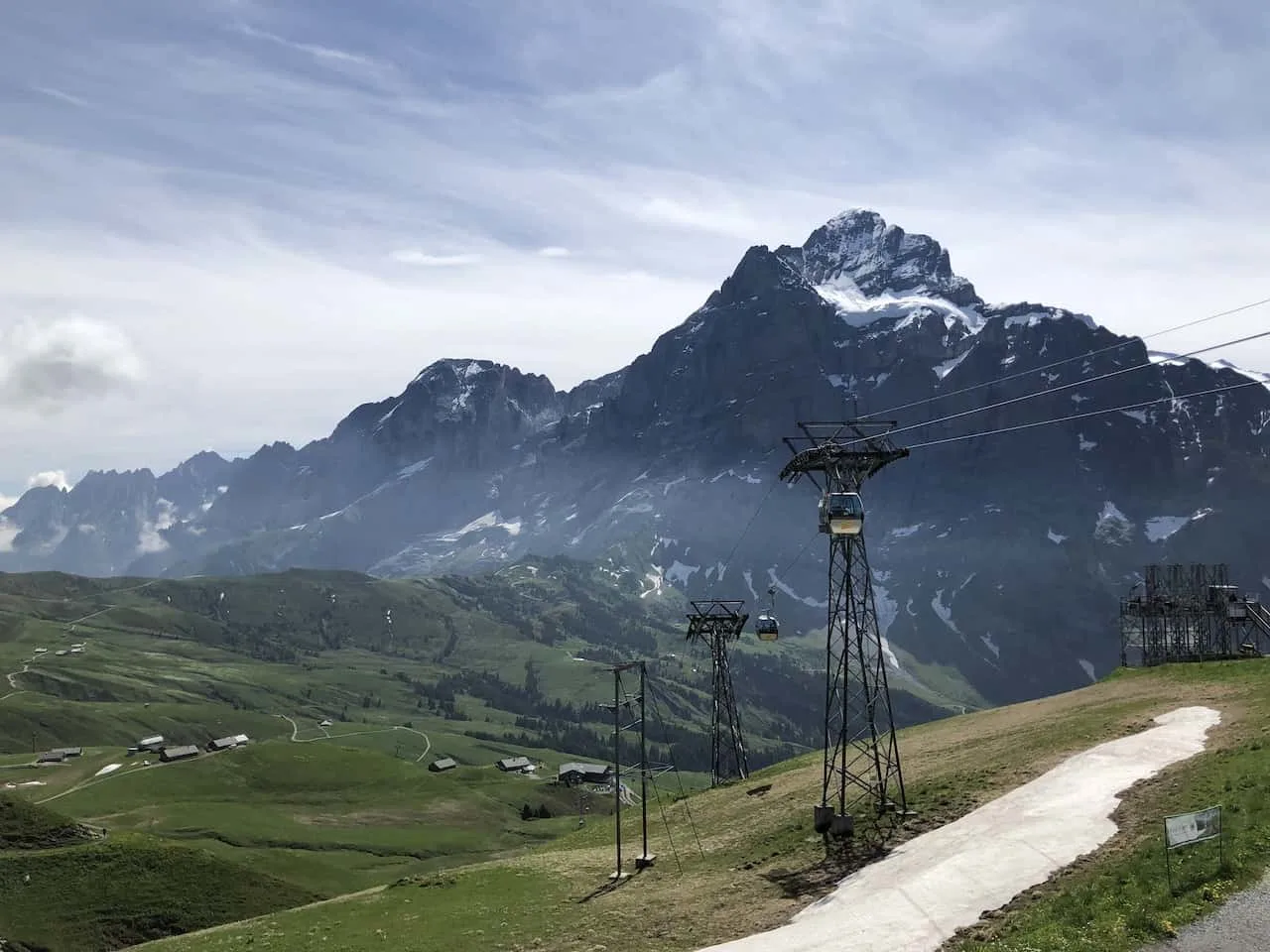 21) Pfinstegg to Baregg
An underrated trail near Grindelwald is the one that goes between Pfinstegg and the Baregg Hut. You simply will need to take the quick ride up from Grindelwald to Pfinstegg, and from there start your journey towards the hut.
The trail winds its way further into the mountainside valley as you enjoy waterfalls, mountains, and glaciers throughout.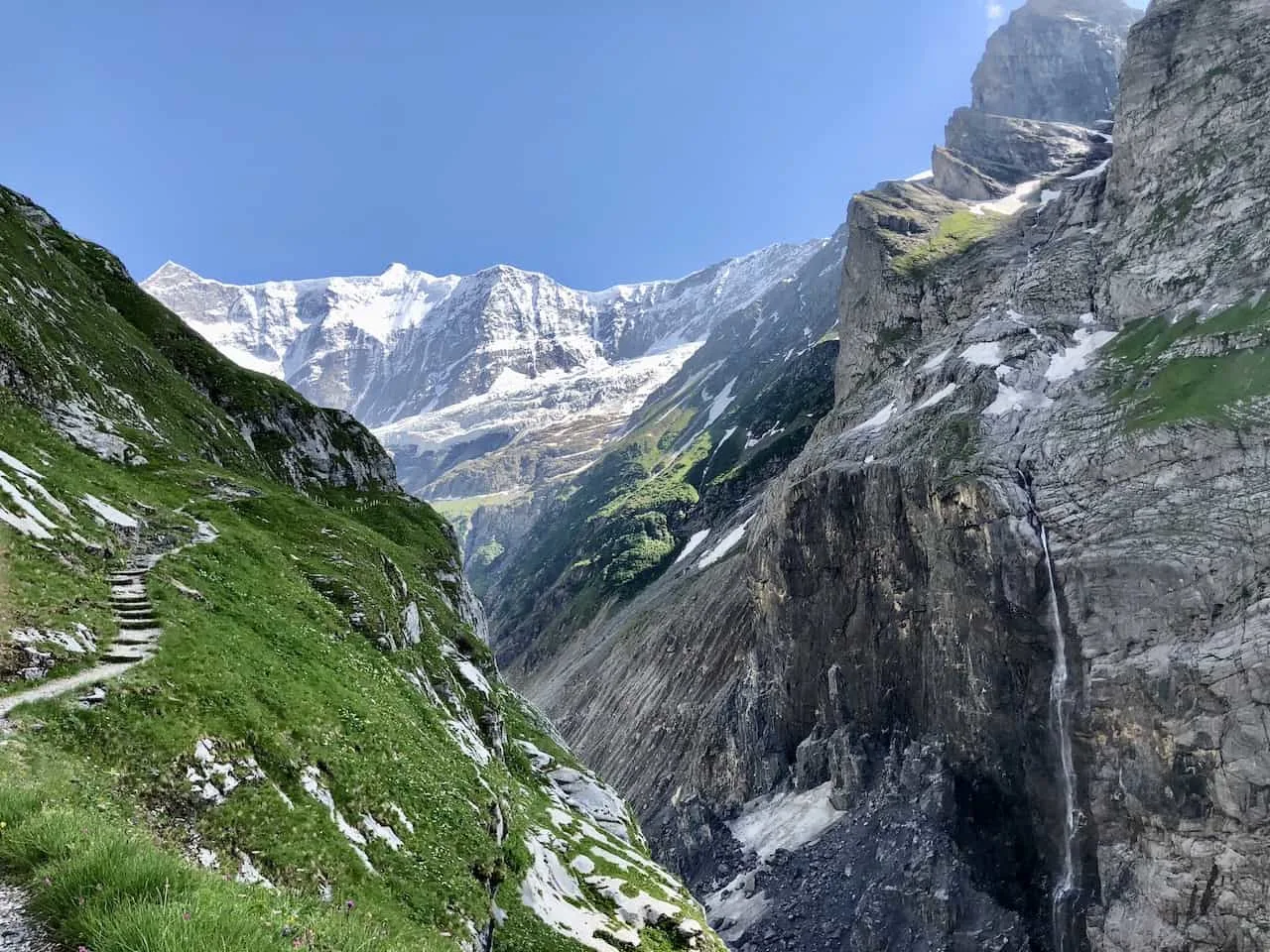 22) Interlaken & Lake Thunersee and Brienzersee
The last main area near Lauterbrunnen that is worth the visit is Interlaken. Here is where you will most likely be coming through on the way to Lauterbrunnen (just a 20 minute train ride between the two). Around town you can find plenty of great activities to take part.
As Interlaken is situated right in between the two lakes of Thunersee and Brienzersee, you can imagine heading out to do some lake activities is a popular option here.
You can choose to just enjoy the lakes from various viewpoint spots, head on the public ferries that make their way across the lakes, take part of a boat cruise, or even join a thrilling jet boat experience.
→ Check out some of the top Interlaken hotels to choose from during a visit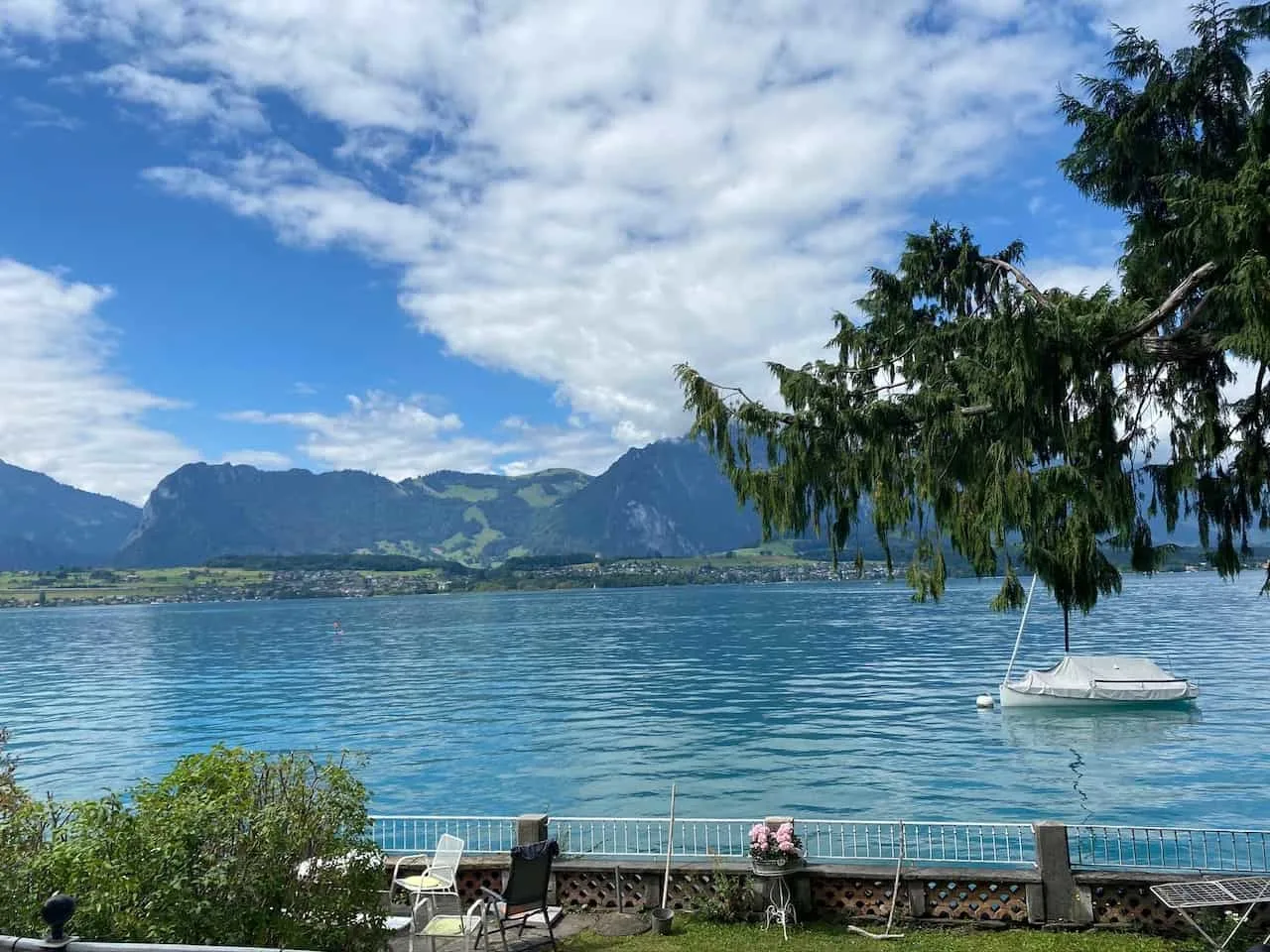 23) Harder Kulm
Situated just across the Aare River is the Harder Kulm lookout point that overlooks Interlaken, the lakes, and the surrounding mountainsides.
While hiking is one option to get to the top, you can also take the super quick Harderbahn cable car, that will bring you up the mountain in no time.
24) Schynige Platte
On the opposite side of the Interlaken valley across from Harder Kulm you will find Schynige Platte. You simply will need to take a quick train/bus from Interlaken to Wilderswil and from there, hop on the mountain railway to Schynige Platte.
Up top you can enjoy those views, take in some short or long hikes, and relax up in the mountains.
6) Things To Do in Lauterbrunnen When it Rains
While the above talks about things to do, not everything listed can be done during rainy weather. Since the mountainous region can bring its fair share of poorer weather, visitors won't always be able to take part of everything they want to do during a trip.
However, even if there is rainy weather in Lauterbrunnen, you can still take part of some of the things to do mentioned above. These include:
Walking the Valley from Lauterbrunnen to Stechelberg
Enjoying the View of Stabbauch Falls
Visiting the Trummelbach Waterfall
Taking the Train to Wengen
Boat Rides on Lake Thunersee and Lake Brienzersee
And if it is light rain, you may still be able to take part of some additional hikes and views if there isn't low cloud cover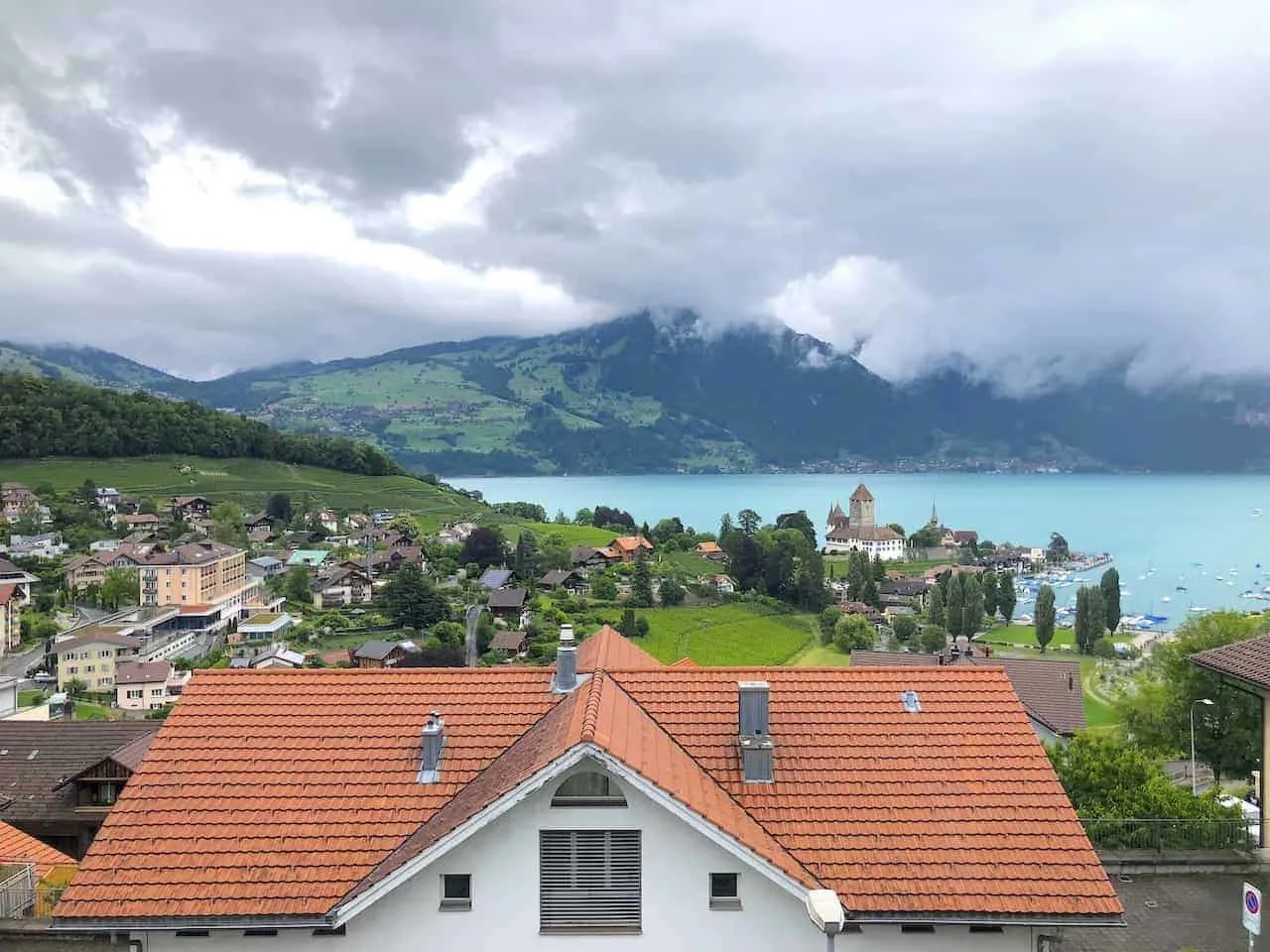 7) One Day in Lauterbrunnen (& 2-3 Days)
If you are looking for a Lauterbrunnen itinerary for 1-3 days in the area, I created a few examples of what they could look like (you can even add these as part of a longer 5 days in Switzerland).
1 Day Itinerary
Lauterbrunnen to Grutschalp Cable Car
Grutschalp to Murren Mountain Railway
Visit Schilthorn & Birg
Lunch with a View in Murren
Murren to Gimmelwald Walking Trail
Gimmelwald to Stechelberg Cable Car
Lauterbrunnen Valley Hike
Stop at Trummelbach Falls on the Way
2 Day Itinerary
The first day can look the same as above. On the second day, you can explore the Wengen area:
Train from Lauterbrunnen to Wengen
Cable Car from Wengen to Mannlichen
Royal Walk
Panorama Trail to Kleine Scheidegg
Train to Wengen
Explore Wengen
Train Down to Lauterbrunnen
3 Day Itinerary
The first two days can be taken from the 2 day itinerary, with the third day exploring Grindelwald:
Train from Lauterbrunnen to Grindelwald
Cable Car from Grindelwald to First
First Cliff Walk
Bachalpsee Lake Hike
First Activities
Train Back to Lauterbrunnen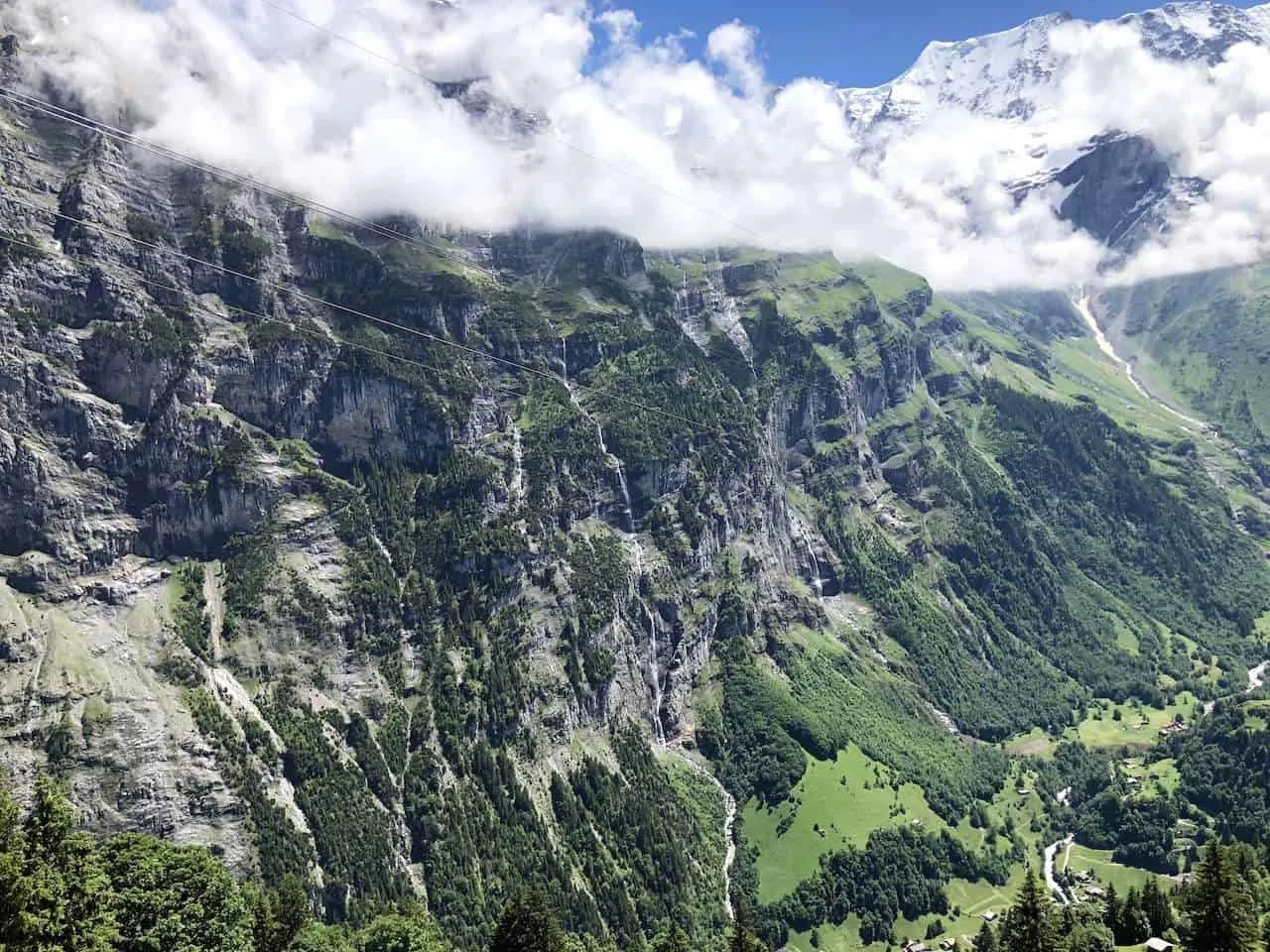 8) Is Lauterbrunnen Worth Visiting
Without a doubt, Lauterbrunnen is worth visiting. The valley that encompasses the village is truly one of the best in the world. The views are spectacular and the experience is one of a kind.
During a visit you don't need to spend your entire time in Lauterbrunnen itself. Instead, use Lauterbrunnen as a base to explore the immediate area and also the surrounding areas.
It is a great little village to stay in for a few nights as you get to take in the overall Jungfrau Region.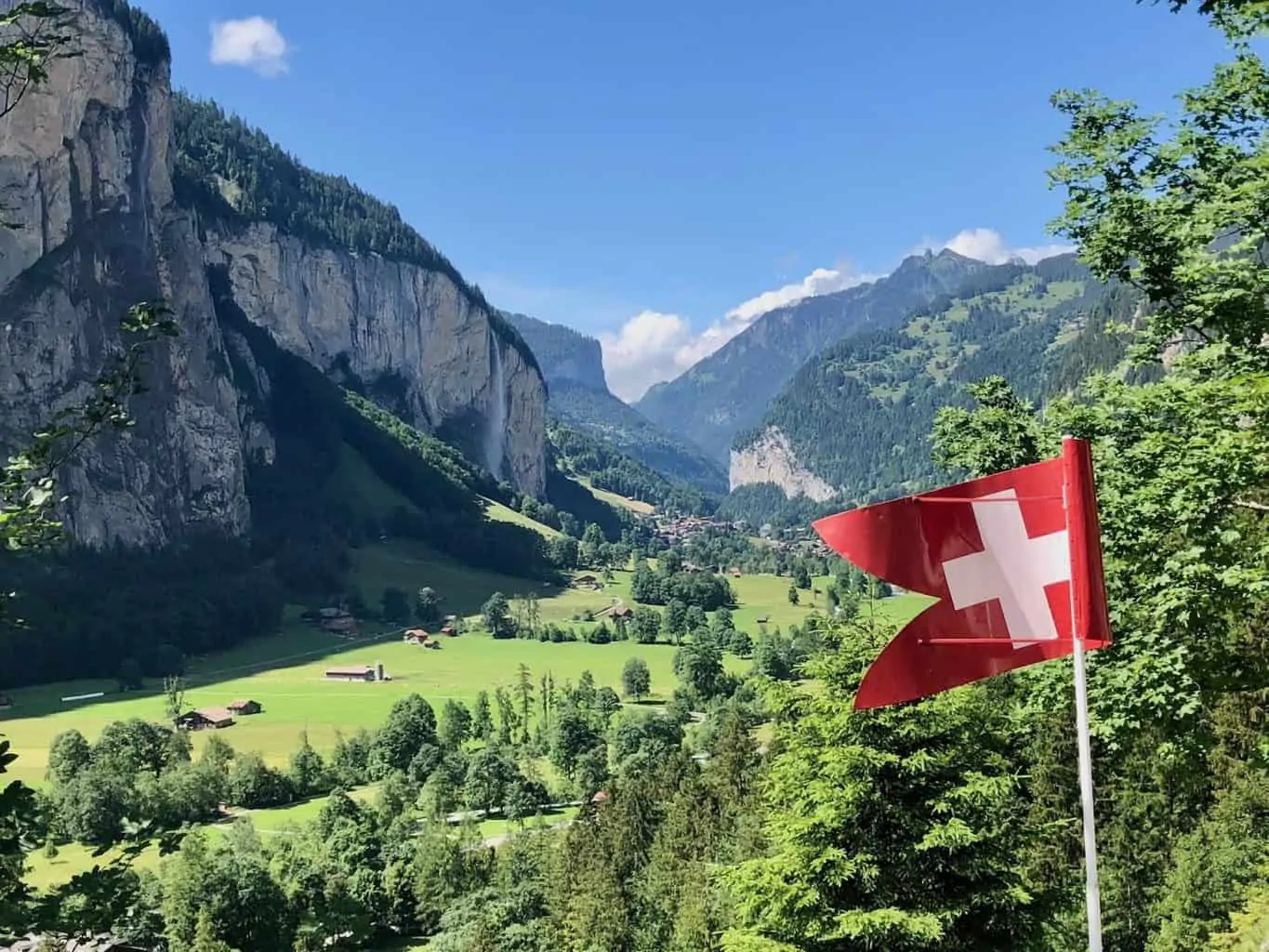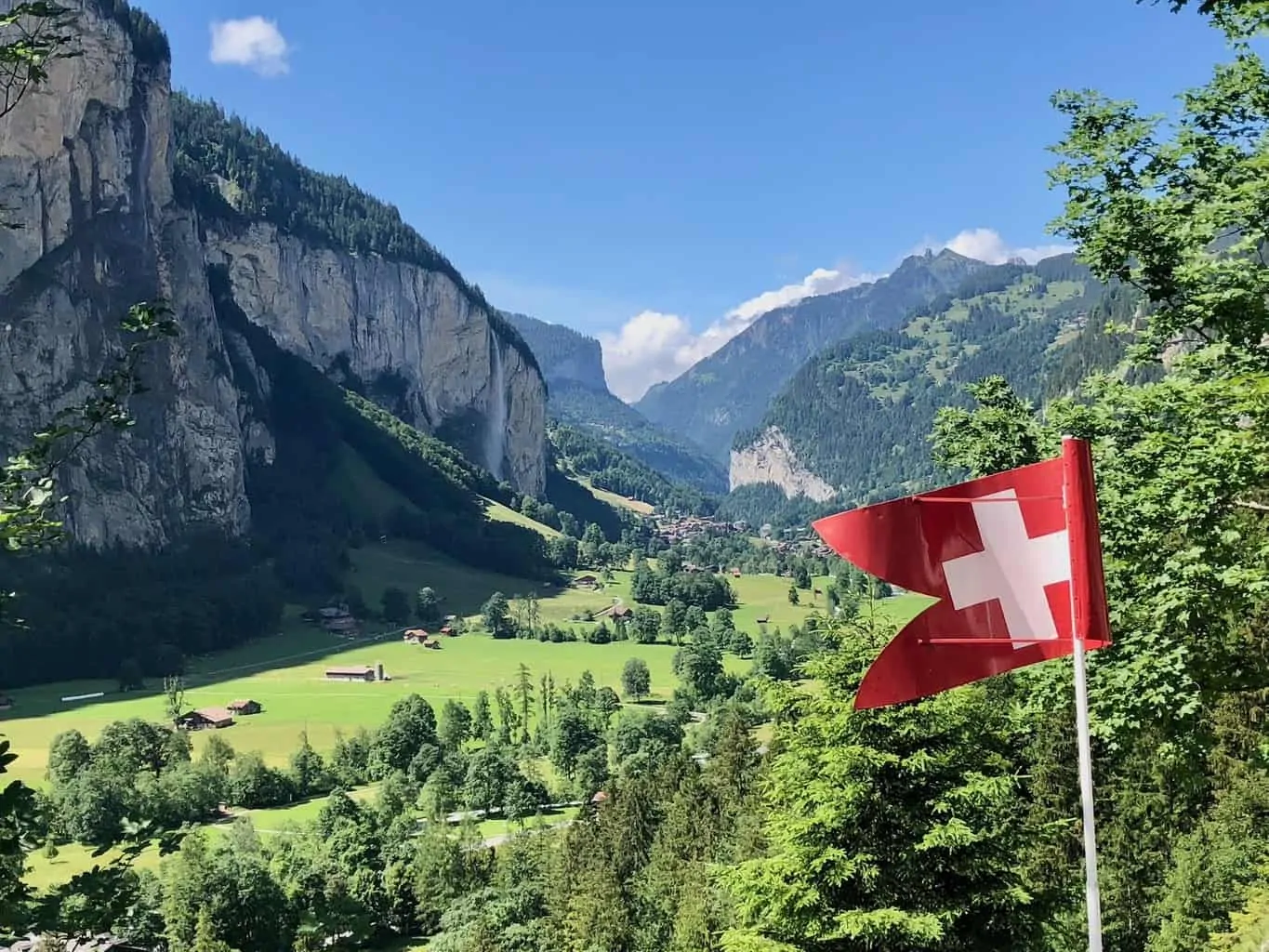 When it comes to things to do in Lauterbrunnen & its surrounding areas, there really is no shortage of experiences. I hope this list has given you a better sense of what is out there for you to choose from for your trip to Switzerland.
If you have any questions or comments, feel free to add them in below.
Also, don't forget to check out the other Switzerland itineraries and guides up on the site like this 10 Day Switzerland Itinerary or 14 Day Switzerland Itinerary. Have fun out there and safe travels!