If you are planning a trip to the Jungfrau Region, one question I am sure you have is where you would like to base yourself for your trip. There are three main places to stay within the region itself – Murren, Wengen, and Grindelwald, and it can be tough deciding on which one to choose from.
While I have not stayed in each one myself, I can speak a bit more in detail on the pros and cons of each and hopefully help you out a bit when making your decision. At the end of the day, I have a hard time believing you won't have a fantastic time in the Jungfrau no matter which area you choose from.
* Affiliate Disclosure: This post may contain affiliate links, which means I may receive a commission if you make a purchase through the links provided, at no additional cost to you. Thanks for supporting the work I put into TripTins!
I want to say this from the start – there is no right answer!! It will all depend on PERSONAL PREFERENCE. This guide will go over logistics, views, hikes, activities, accommodation and more – and based on your personal preferences you should be able to arrive at a better answer for yourself! This guide is not going to give you an answer but it will give you a direction.
1) What is the Jungfrau Region
Before diving into each town, I thought it may be beneficial to actually show you where the Jungfrau Region is.
The Jungfrau is actually part of the larger Bernese Oberland region which makes up a large part of the mountain ranges in central(ish) Switzerland. The Jungfrau expands from Grindelwald in the east to Murren in the west with Wengen right in between the two.
The way the towns are situated in the Jungfrau can be better explained by looking at the second map below. Starting on the right-hand side (which is actually west from a directions standpoint), is the town of Murren.
Directly to the left of that is the valley town of Lauterbrunnen (Murren is situated above the Lauterbrunnen Valley).
After Lauterbrunnen comes Wengen, which sits in the middle of the Jungfrau, followed by the valley town of Grindelwald on the far-left hand side of the map.
Lastly you also have Interlaken, which is actually outside of the mountain area and is based between the two lakes of Thun and Brienz.
So, to recap you have Murren (mountain town), Lauterbrunnen (valley town), Wengen (mountain town), Grindelwald (valley town), and Interlaken at the base of the Jungfrau.
2) Access to the Jungfrau Region
If you haven't traveled to Switzerland in the past, you are in for a treat when it comes to the public transportation system in the country. It is quite incredible how interconnected and efficient the transportation is.
You can get from any one point to another using a multitude of different transport options and everything will be perfectly on time to get you from point A to point B. The same goes for getting to the Jungfrau.
All you need to do is take a look at the Swiss transportation website – SBB.CH or the very friendly mobile app, type in your starting and ending points, and you should be on your way in no time.
I won't go into detail about the train system here but do head on over to the Train Travel in Switzerland Guide to learn more.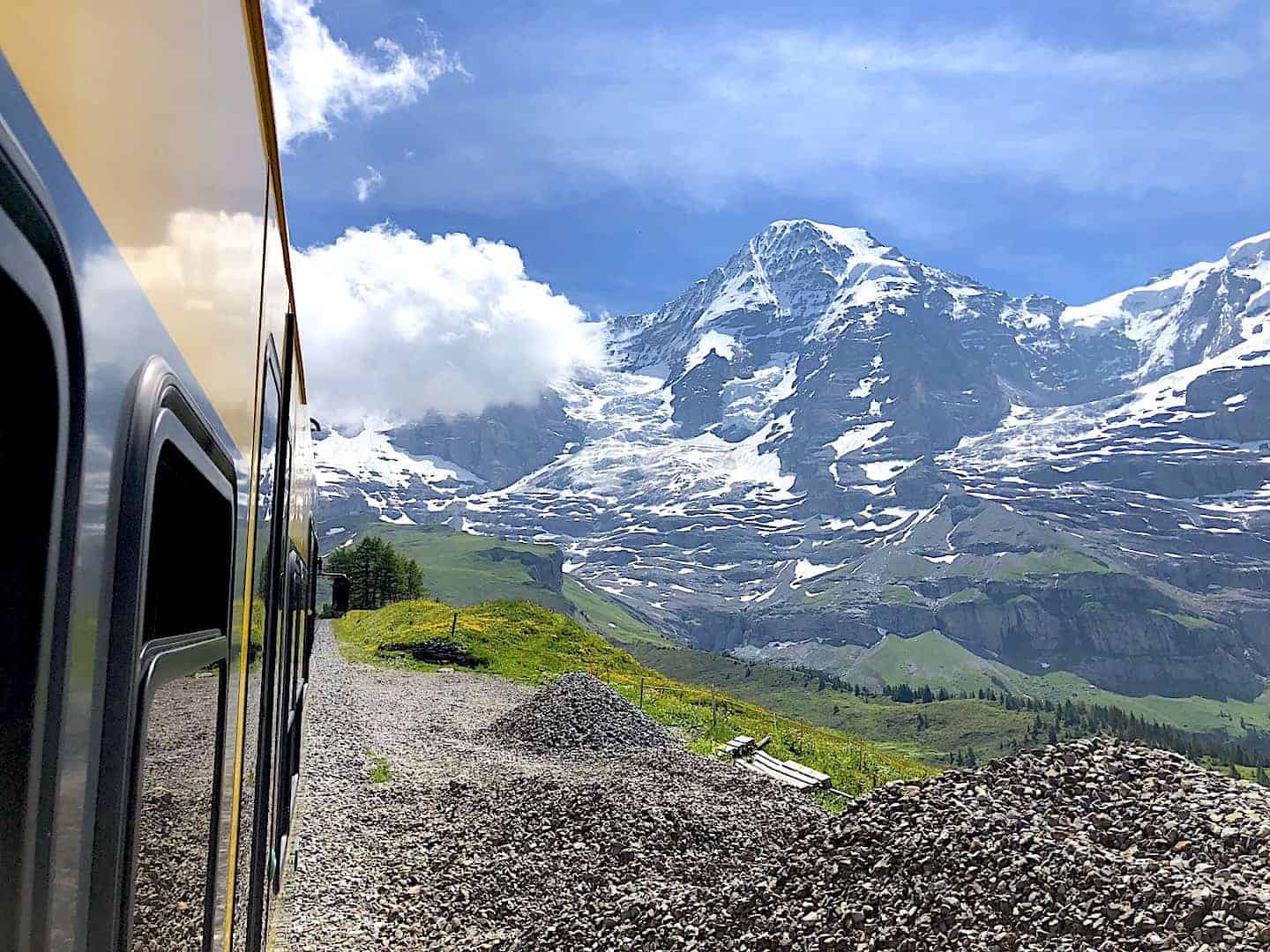 As an example, I will put in a starting point of Interlaken to get to each of Murren, Wengen and Grindelwald. I am starting off with Interlaken simply because no matter where you go in the Jungfrau, you will first need to make your way through Interlaken.
Getting to Interlaken from Zurich, Geneva, or another Swiss city is simple enough as there are trains that run constantly through Bern, where you can then connect to Interlaken.
Once you arrive in Interlaken from anywhere you may have been coming from, it is time to make your way into the Jungfrau Region. Below are the three different routes:
Interlaken to Murren
You can get to Murren by two different ways from Interlaken. Both options take a similar amount of time and would more so be based on transport schedules. You can either:
1) Train from Interlaken to Lauterbrunnen, Bus from Lauterbrunnen to Stechelberg, and Cable Car x 2 from Stechelberg to Murren (via Gimmelwald) OR
2) Train from Interlaken to Lauterbrunnen, Cable Car from Lauterbrunnen to Grutschalp, Mountain Train from Grutschalp to Murren.
Option 1: 60 Minutes / 23.20 CHF
Option 2: 53 Minutes / 18.80 CHF
Interlaken to Wengen
Getting to Wengen is a bit simpler. All you need to do is hop on a train towards Lauterbrunnen, switch trains there, and transfer up to Wengen.
44 Minutes / 14.40 CHF
Interlaken to Grindelwald
Getting to Grindelwald is the simplest of all options as all you need is one direct train to get you there from Interlaken.
33 Minutes / 11.20 CHF
So, as you can see from the above, getting to Murren is the most complicated and longest of options while Wengen comes with one train transfer and Grindelwald with a non stop route.
Note 1: If you are driving on your own, you are only able to drive to Grindelwald. Both Murren and Wengen are car free towns and you would need to leave your car in Lauterbrunnen most likely before making your way up to either.
Note 2: If you have the Swiss Travel Pass (more on that in the article above), all transport would be included in any of these options. If you have the Half Fare Card, all prices above would just simply be cut in half.
3) Getting Between Towns
Now that you know how to get to the three towns from Interlaken let's go into how to get from one to another. If you are looking to visit all three areas during your visit then this can be helpful regarding all logistics you need to know about. Below are the three potential routes you will be taking (or vice versa).
From Murren to Wengen
If staying in Murren (or visiting Murren from Wengen/Grindelwald) you will need to utilize the most variety of transportation options.
Similarly, to above, to get out of Murren you will first need to either 1) take the mountain train to Grutschalp and then cable car down to Lauterbrunnen or 2) two cable cars down to Stechelberg (via Gimmelwald) and then bus to Lauterbrunnen. Once in Lauterbrunnen to you can then hop on the train that will get you right to Wengen station.
If going from Wengen to Murren all you need to do is the opposite – train to Lauterbrunnen and then one of the two options up to Murren.
Time: 36 Minutes (via Grutschalp) / 54 Minutes (via Stechelberg) – may be shorter depending on transfer times
Cost: 18 CHF (via Grutschalp) / 22.40 CHF (via Stechelberg)
From Murren to Grindelwald
If going to Grindelwald from Murren you will first use one of the two options to get down to Lauterbrunnen mentioned above and then hop on a train to Grindelwald with a transfer at Zweilutschinen.
If going from Grindelwald to Murren well then just hop on the train first to Lauterbrunnen (via Zweilutschinen) and then choose one of the two options to get you to on top of the valley to Murren.
Time: 70 Minutes (via Grutschalp) / 73 Minutes (via Stechelberg)
Cost: 20.20 CHF (via Grutschalp) / 24.60 CHF (via Stechelberg)
From Wengen to Grindelwald
Lastly if staying in Wengen or Grindelwald and want to get to one another, you will need to make two train transfers to get there. You will first go from Wengen to Lauterbrunnen, then transfer trains to Zweilutschinen, and head to Grindelwald from there.
Time: 65 Minutes
Cost: 15.80 CHF
Alternatively, you could go via Kleine Scheidegg but that would be a more expensive route (55 CHF) and would only receive a discount if you have a Swiss Travel Pass.
So, what did we learn from this – well it may not be the most convenient to get between the towns but it is all very well connected at the end of the day. There are some longer potential routes out there so just be prepared when going about your days.
4) The Jungfrau Pass
If you are just spending most of your time in the Jungfrau Region and are not planning on getting the Swiss Travel Pass, you may want to look into getting the Jungfrau Pass to save some money.
Essentially by buying the pass you will have nearly unlimited transport around the Jungfrau (anywhere from 3-8 days) and you will not need to pay for individual train or cable car tickets each and every time.
Below are the main routes that are included in with the purchase of the Jungfrau Pass:
» Jungfrau Railway: Kleine Scheidegg to Eigergletscher
» Discount: Train from Eigergletscher (one stop above Kleine Scheidegg) to Jungfraujoch Top of Europe (63 CHF – 75 CHF depending on season)
» Bernese Oberland Railway: Interlaken Ost to Lauterbrunnen / Grindelwald
» Harder Railway: Interlaken to Harder Kulm
» Schynige Platte Railway: Wilderswil to Schynige Platte
» Wengernalp Railway: Lauterbrunnen – Kleine Scheidegg – Grindelwald
» Lauterbrunnen Murren Railway: Lauterbrunnen to Grutschalp to Winteregg to Murren
» Mountain Railway from Grindelwald to First
» Mannlichen: Grindelwald to Mannlichen Aerial Gondola & Wengen to Mannlichen Aerial Cableway
» Railway: Interlaken Ost to Interlaken West & Interlaken Ost to Brienz
» Boat rides on Lake Brienz and Thun
5) The Views
Let's move on from transport and onto the towns themselves. If you decide to stay in one of the three towns odds are you are looking for some nice views to wake up to each day. Below are some quick descriptions along with some pictures to show you what they offer.
Grindelwald
As mentioned earlier, Grindelwald is the one town that is actually down in the valley. Because of this you will not get vast views from the town itself. To get those views you will need to hike or cable car above the valley.
Some of the best views would just require some rides up to the First region or up to Pfinstegg. You can also head up to Mannlichen from Grindelwald but that would require getting to Grindelwald Grund cable car station (about a 15 minute walk from town).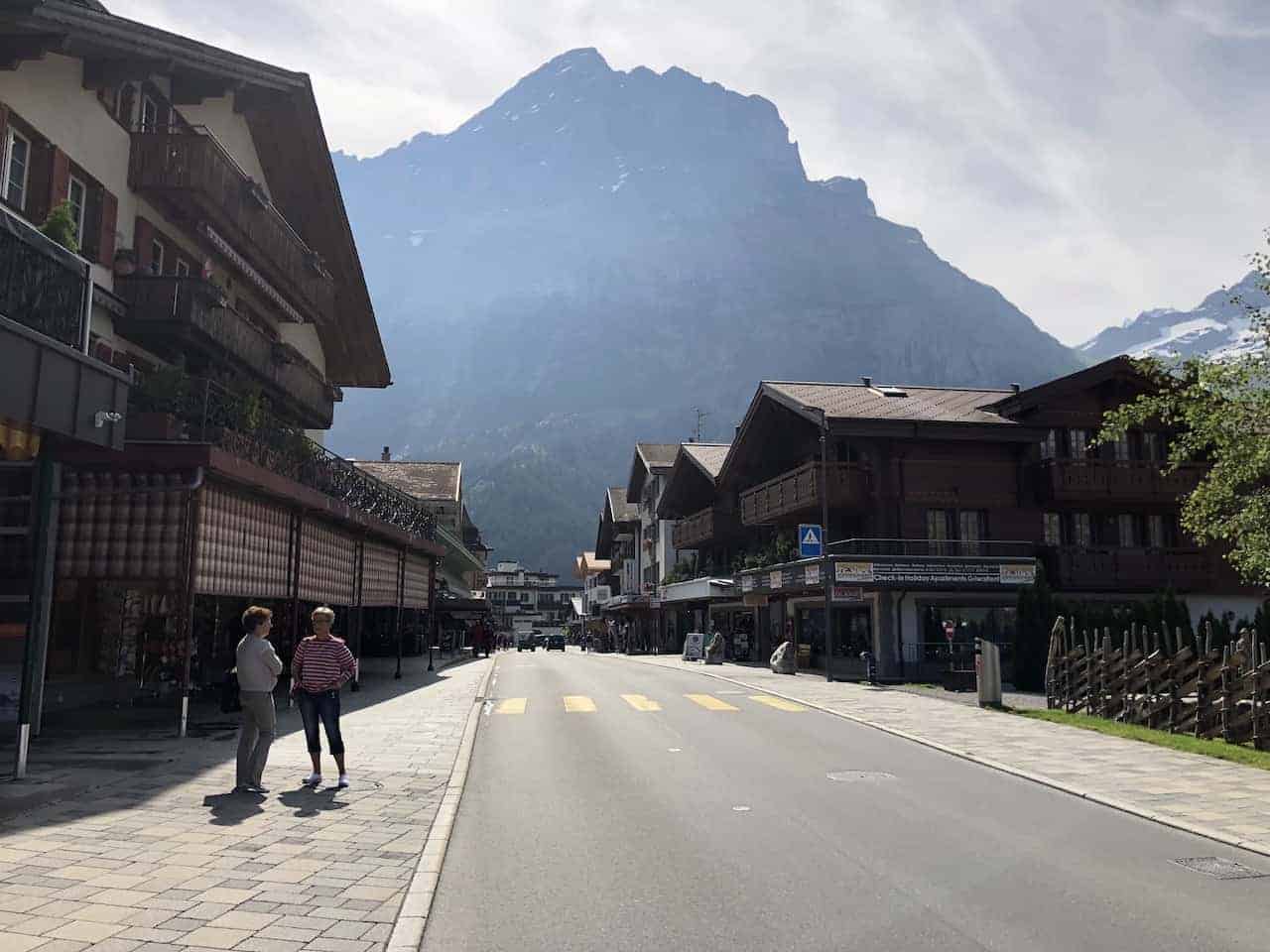 Wengen
Wengen is located on the east side of the Lauterbrunnen valley up top on the mountainside. You can easily get some great views of the surrounding mountains by just heading out your front door and into town.
You will also have easy access to Mannlichen as the cable car is right in town and from there the views will just get better and better.
» Check out this guide to some of the best hotels in Wengen to choose from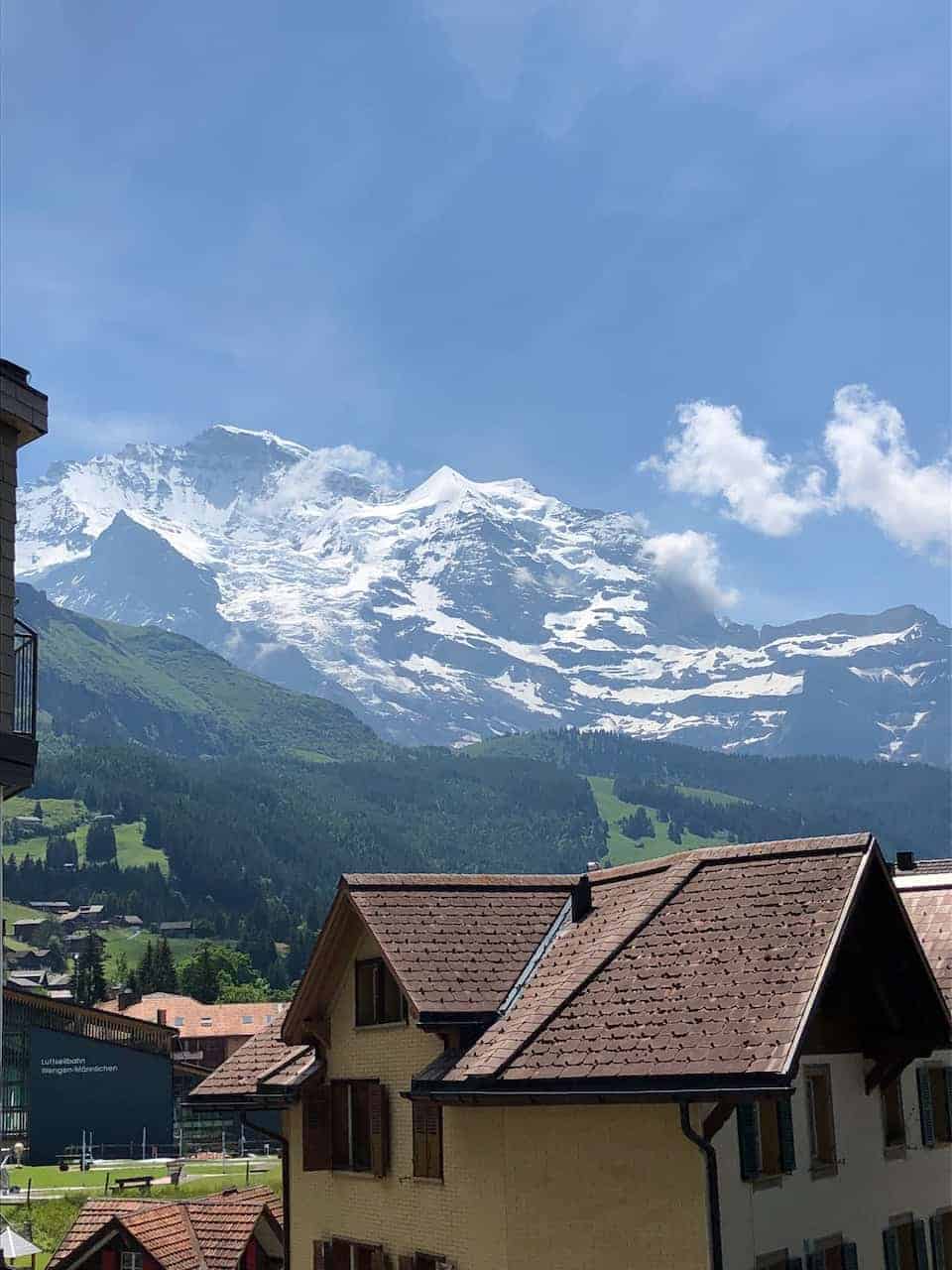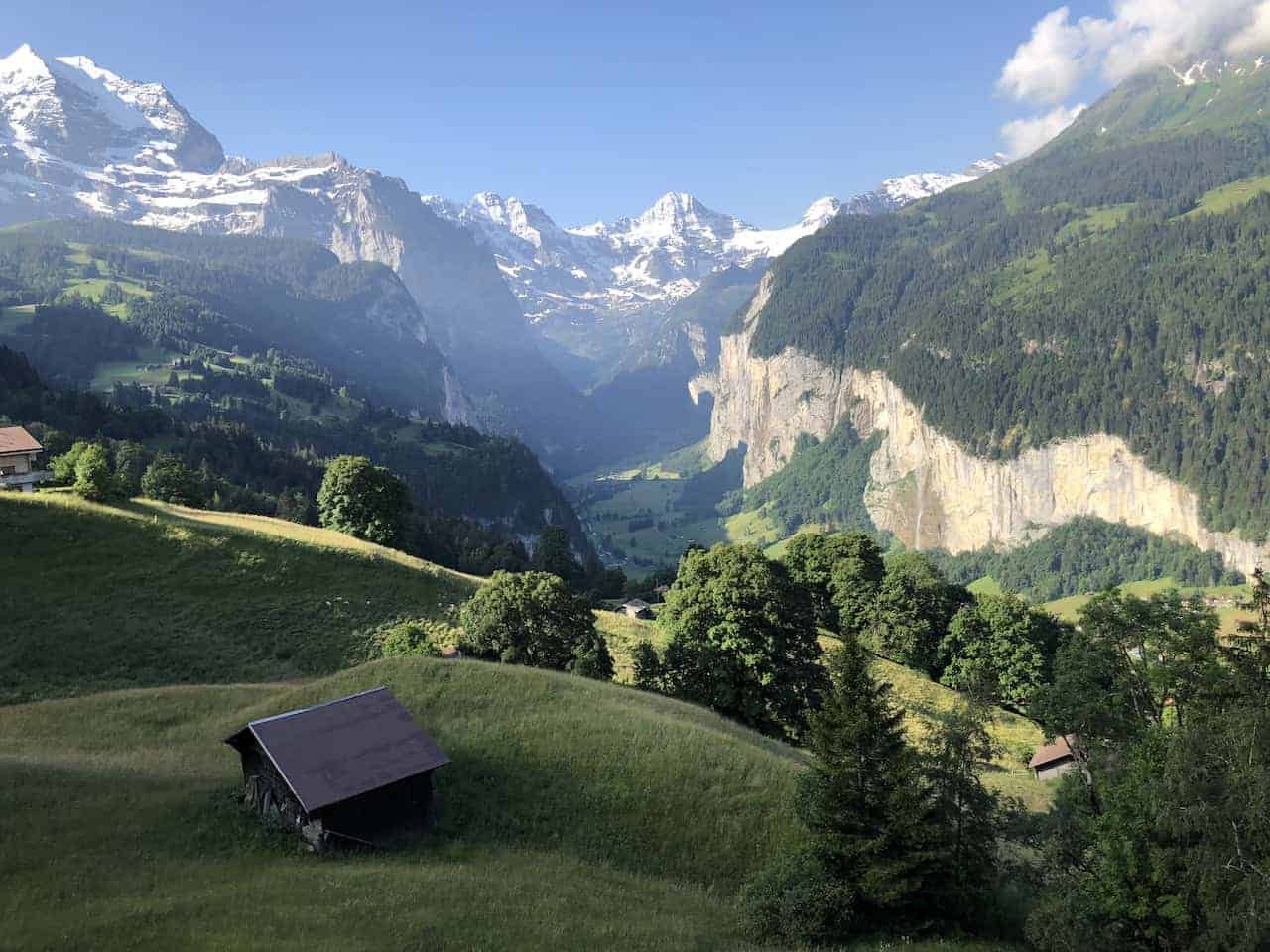 Murren
Lastly lets get to Murren. Located on the west side of the Lauterbrunnen Valley you are welcomed to incredible views of the valley walls alongside the Alps out in the background.
Just walking through town or having lunch outside will be an activity in its own right. When it comes to views it won't get much better than that.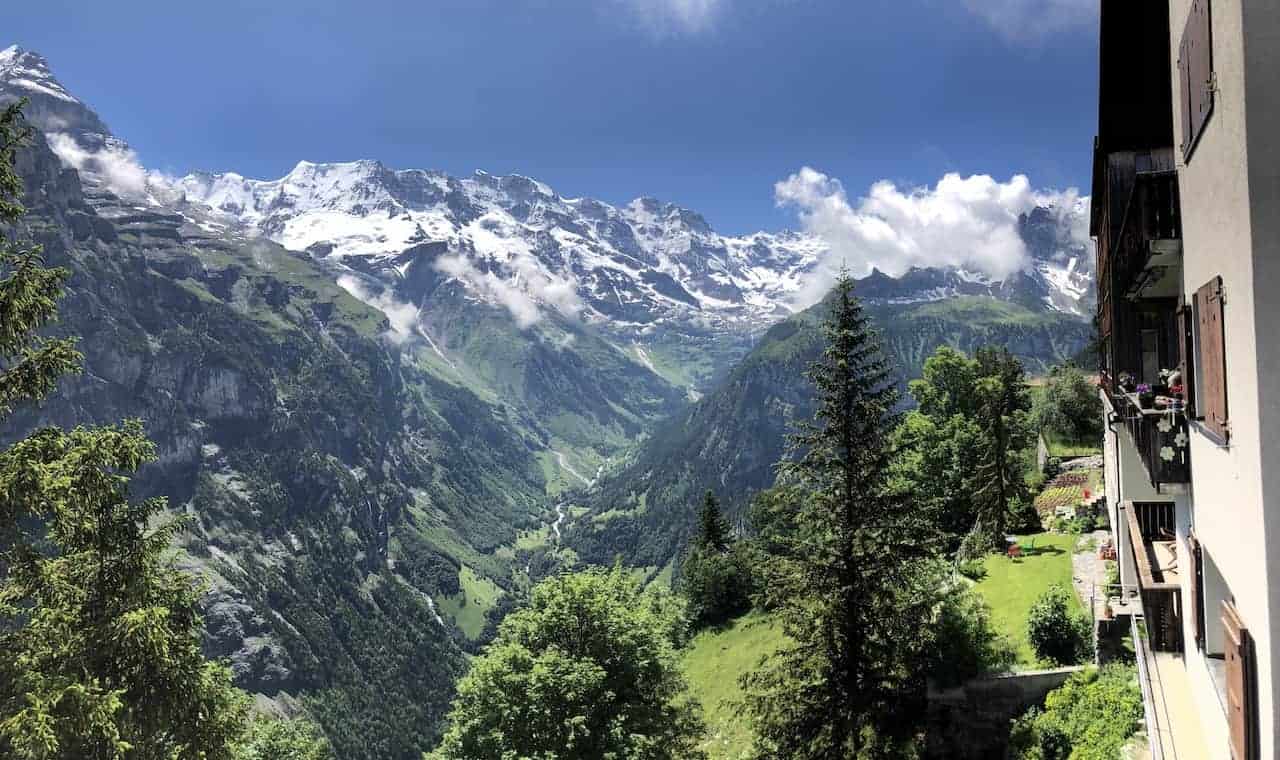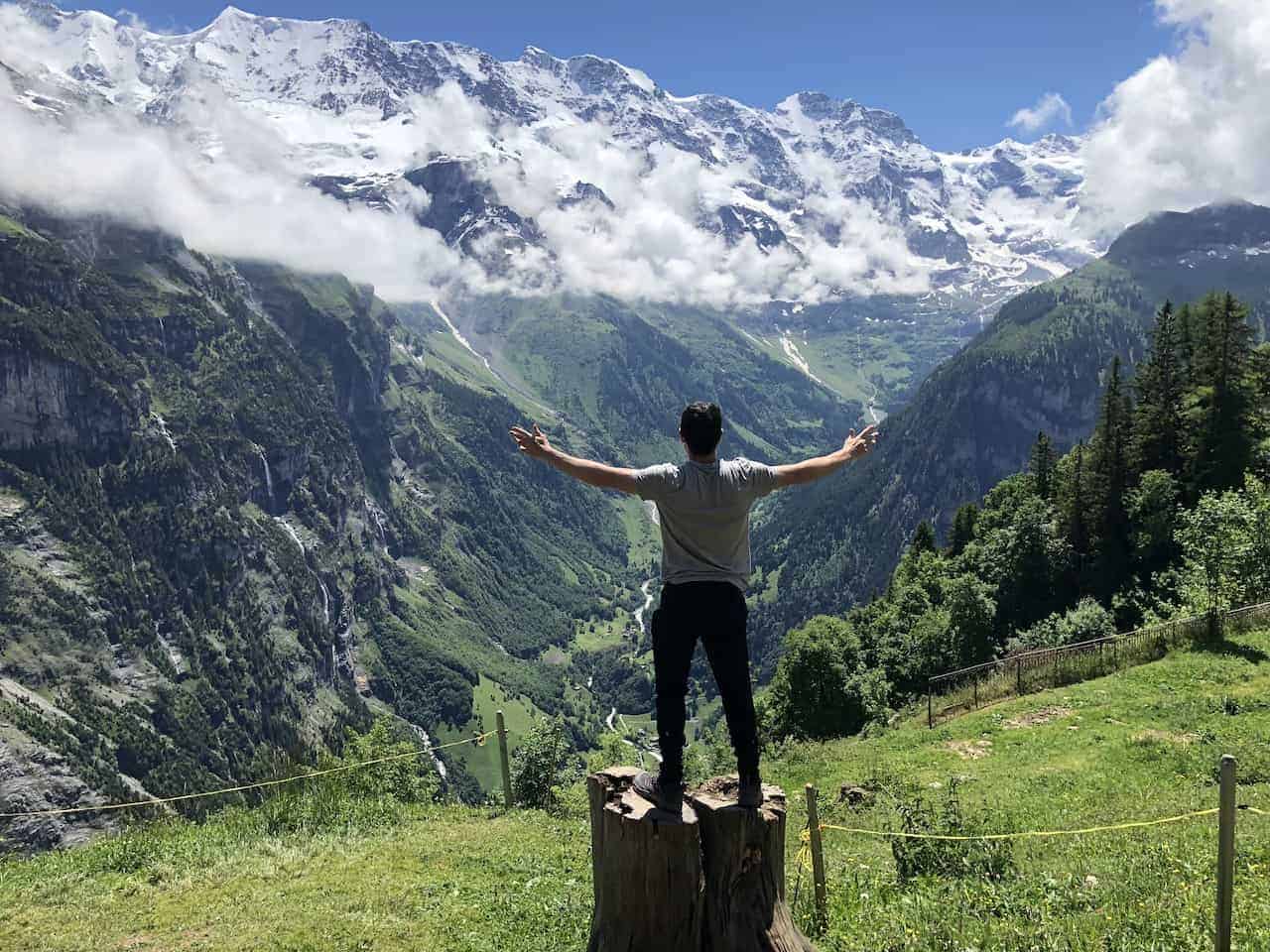 6) Hiking the Jungfrau
You just cannot visit the Jungfrau region without getting some hiking in. Now there are hiking options everywhere you go in the region so it will just depend on preference when it comes to which type of trails you would like to take part of.
Below is a pretty detailed map of the region with many of the hiking trails highlighted (courtesy of Jungfrau.ch). You can also take a look at this Jungfrau hiking website and dive a bit deeper into some of the trails (scroll to the bottom of the page where you toggle between the regions).
Grindelwald
Grindelwald offers easiest access to the most amount of trails in the region. You can get to both the First and Pfinstegg areas, train to the start of the Eiger Trail, and cable car to the Mannlichen to Kleine Scheidegg trail.
From First you have access to a whole variety of trails with great views of the Eiger out in the distance. The views over the valley with the mountains out in the background were some of my favorite during my time in Switzerland.
You can also take the Pfinstegg cable car up over the valley and be able to hike to Baregg from there. Finally if you head to Grindelwald Grund, you can easily cable car up to Mannlichen to the start of the Panorama Trail.
There are just so many hiking options to choose from and you could spend days hiking the area.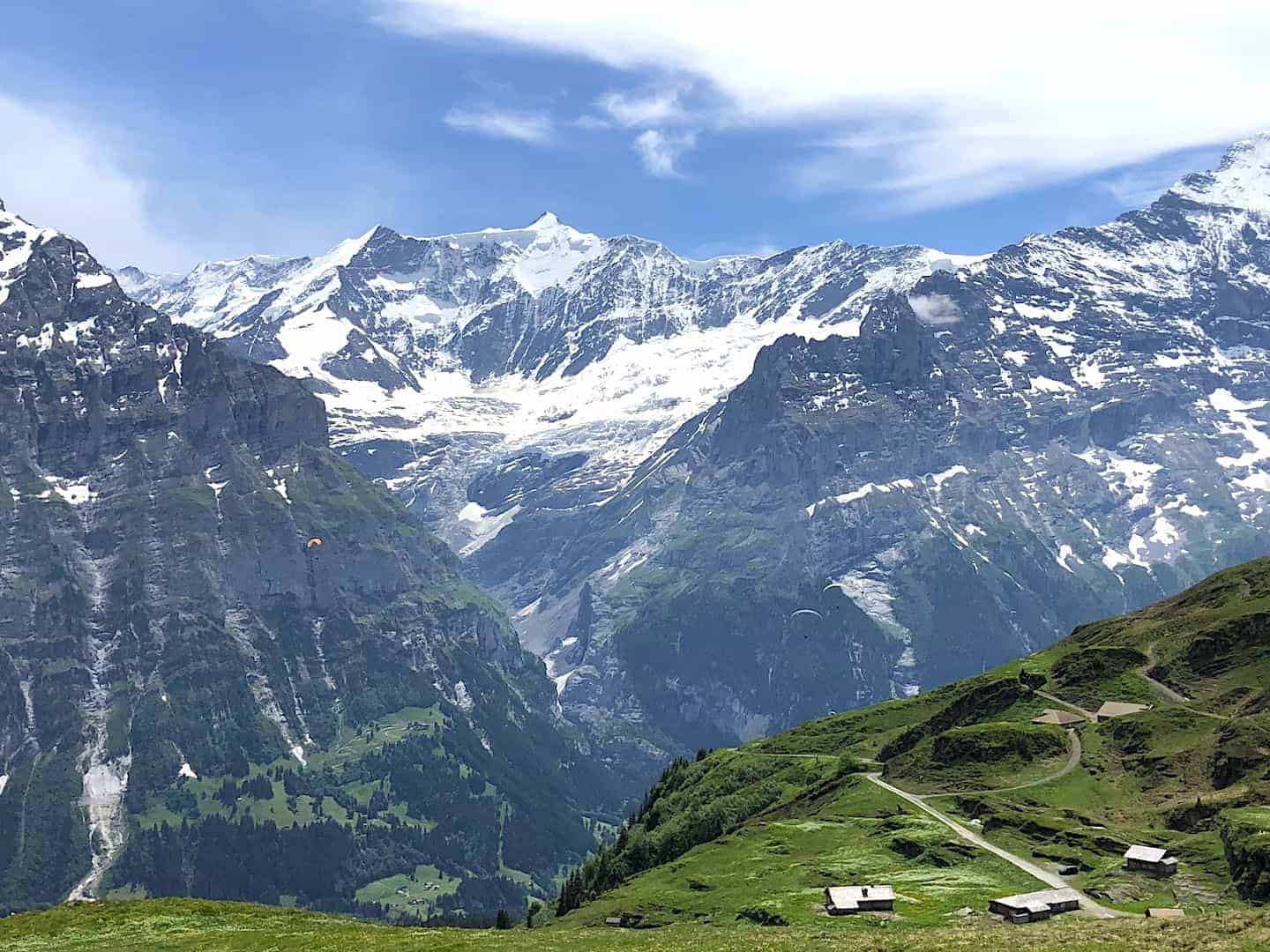 Wengen
From Wengen you have easy access to two popular trails in the region – the Mannlichen to Kleine Scheidegg Trail as well as the Eiger Trail.
Beyond those two there are a variety of other trails that start in either Wengen or Mannlichen that will take you down to Grindelwald or Lauterbrunnen. Below you can see a zoomed in map of this region and the trails that are offered.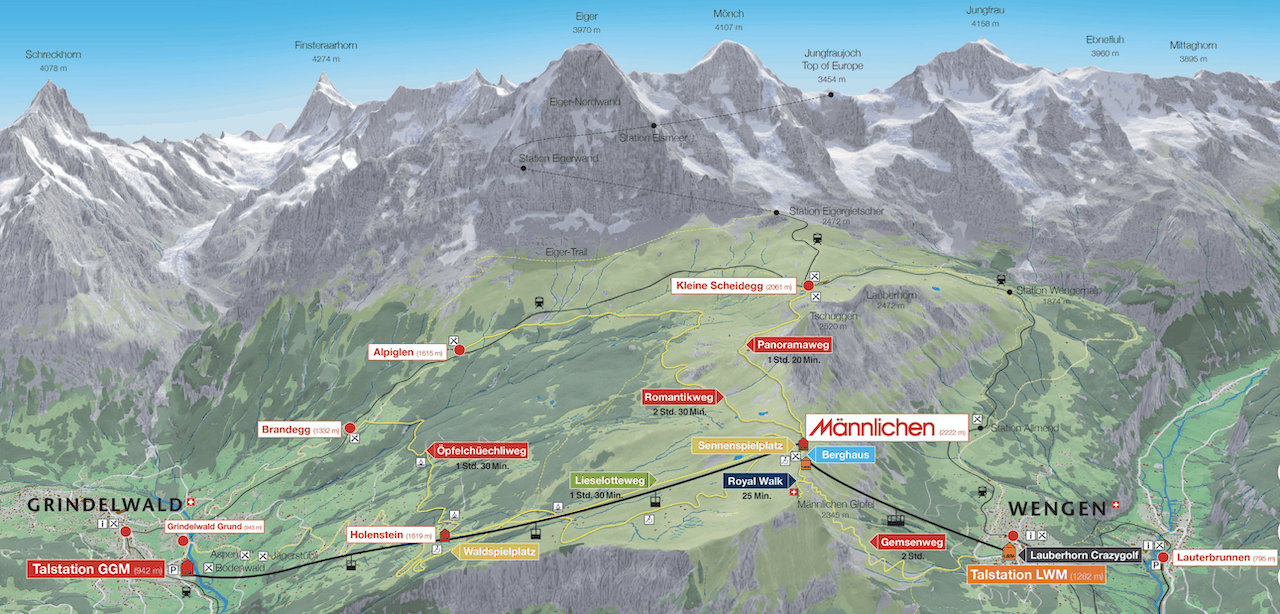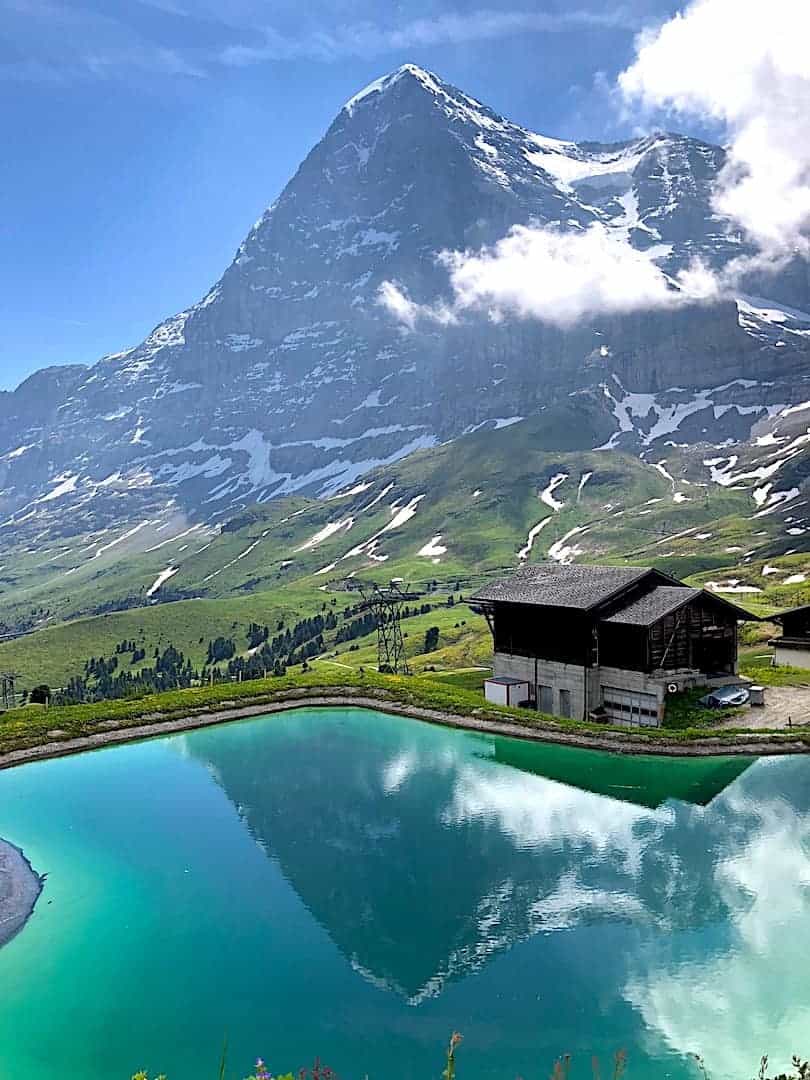 Murren
Murren also offers its fair share of hiking options in the Jungfrau. A couple include hiking all the way up to Schilthorn or the scenic Blumental trail by Allmendhubel.
One of my favorites though is the trail in the Lauterbrunnen Valley. While you can get to Lauterbrunnen pretty easily from all three, it is probably fastest from Murren.
Walking the valley with the waterfalls coming off the walls and the Alps all around makes it a fan favorite. You can also take advantage of the Murren to Gimmelwald trail. While just less than an hour in length it offers some incredible views of the valley and mountains.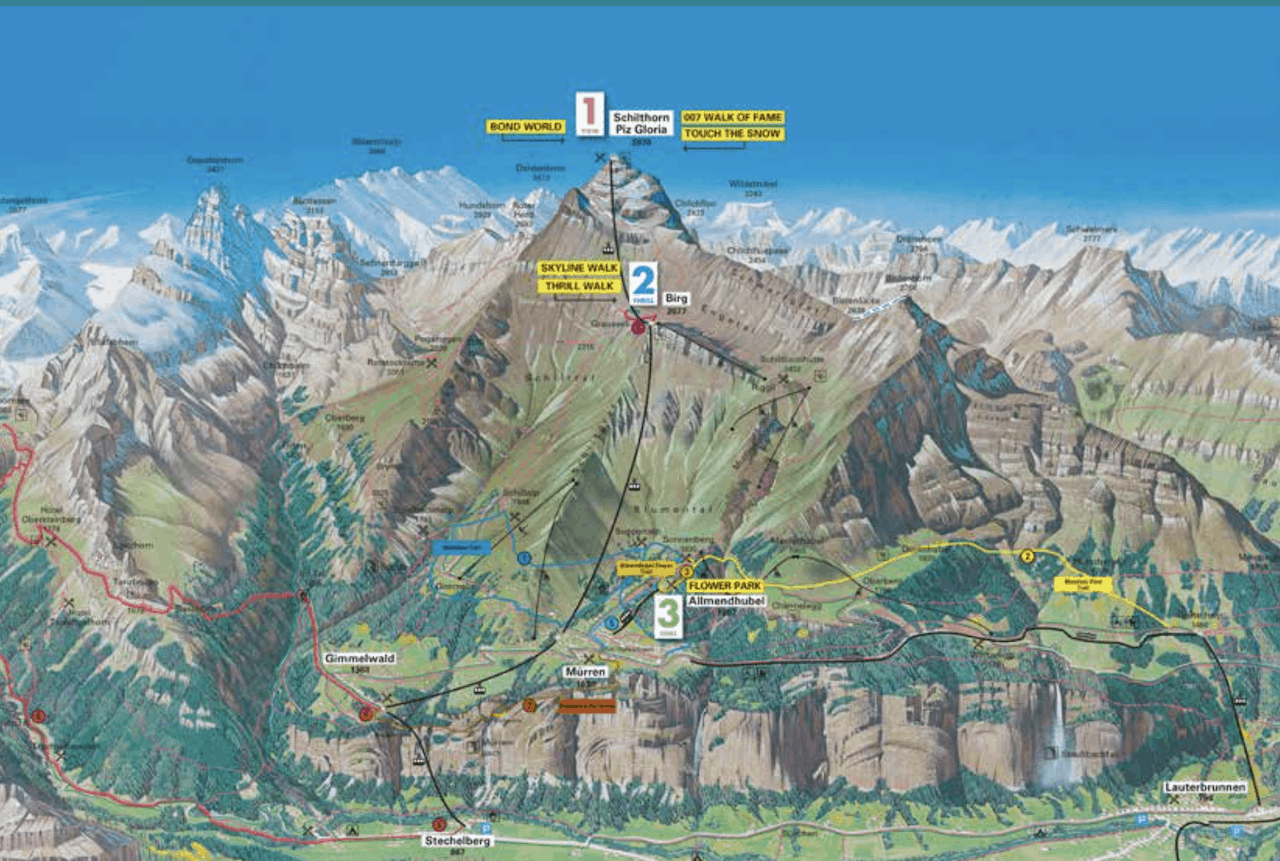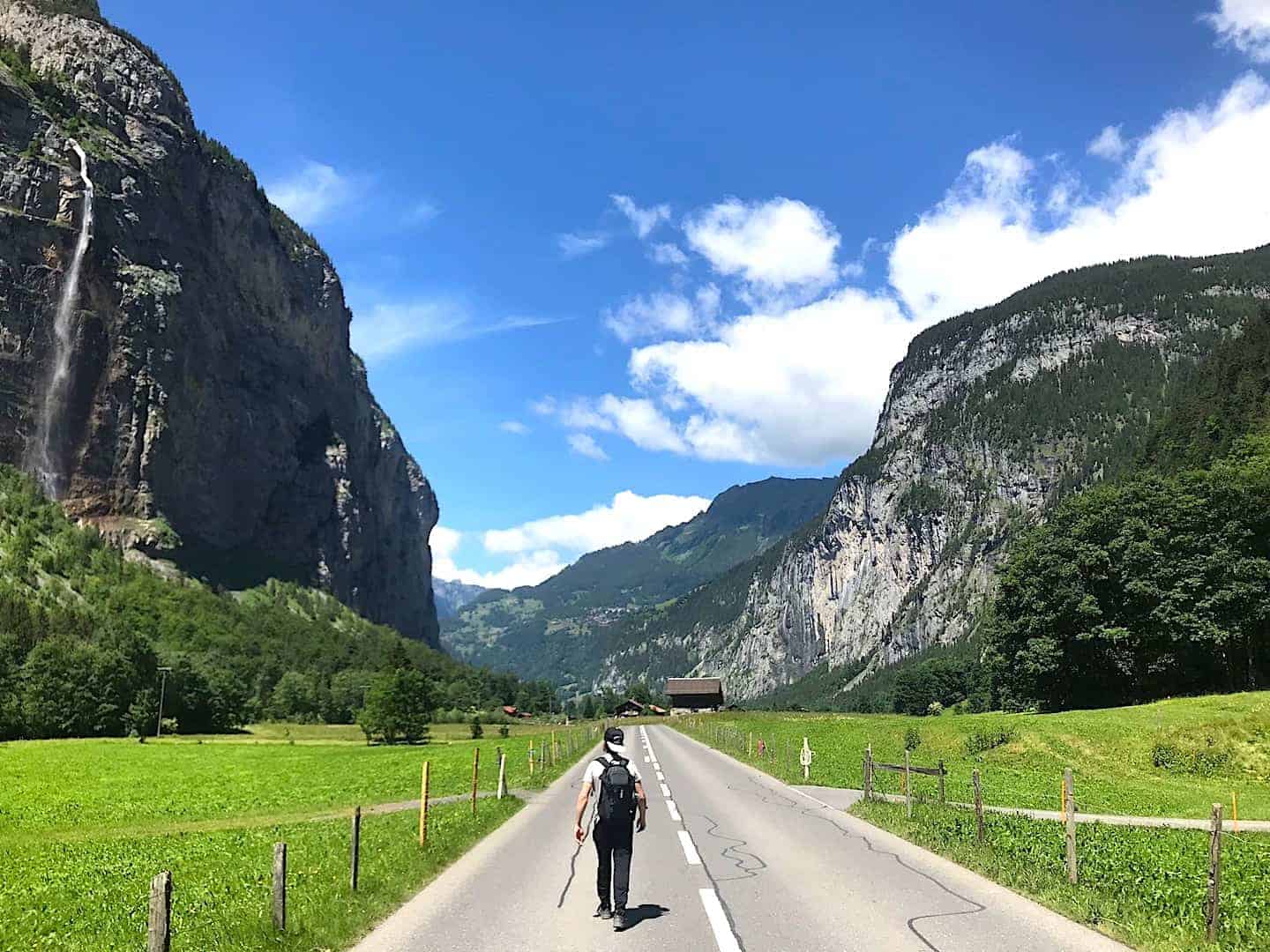 And if you are up for some adrenaline then don't look further than the Via Ferrata from Murren to Gimmelwald. It is an action packed hike but it includes some additional skills and equipment.
Want to learn more about some of these trails? Take a look at the guides to:
The Mannlichen to Kleine Scheidegg Panorama Trail
The Murren to Gimmelwald Via Ferrata
7) Other Activities
Within the Jungfrau Region there is much more to do and see beyond hiking and walking around the towns. There is everything from mountain viewpoints to boat cruises to some adrenaline options that you can choose from. These can be found all over the region and below I go into a bit more detail on each.
Schilthorn
One of my favorite places in the region is up top of the Schilthorn. Once up there you will he welcomed to vast views of the famous three mountains the Eiger, Monch and the Jungfrau. You will also have the chance to grab a meal or drink at a rotating restaurant, visit Bond World, and take part of the Thrill Walk (one cable car station down in Birg).
It will be a fun filled few hours experiencing it all. Getting to Schilthorn is by far the easiest from Murren as all it requires is a couple cable cars up. Getting there from Wengen or Grindelwald will require a bit more work.
Learn more about what a day at Schilthorn entails in the comprehensive Schilthorn Switzerland Guide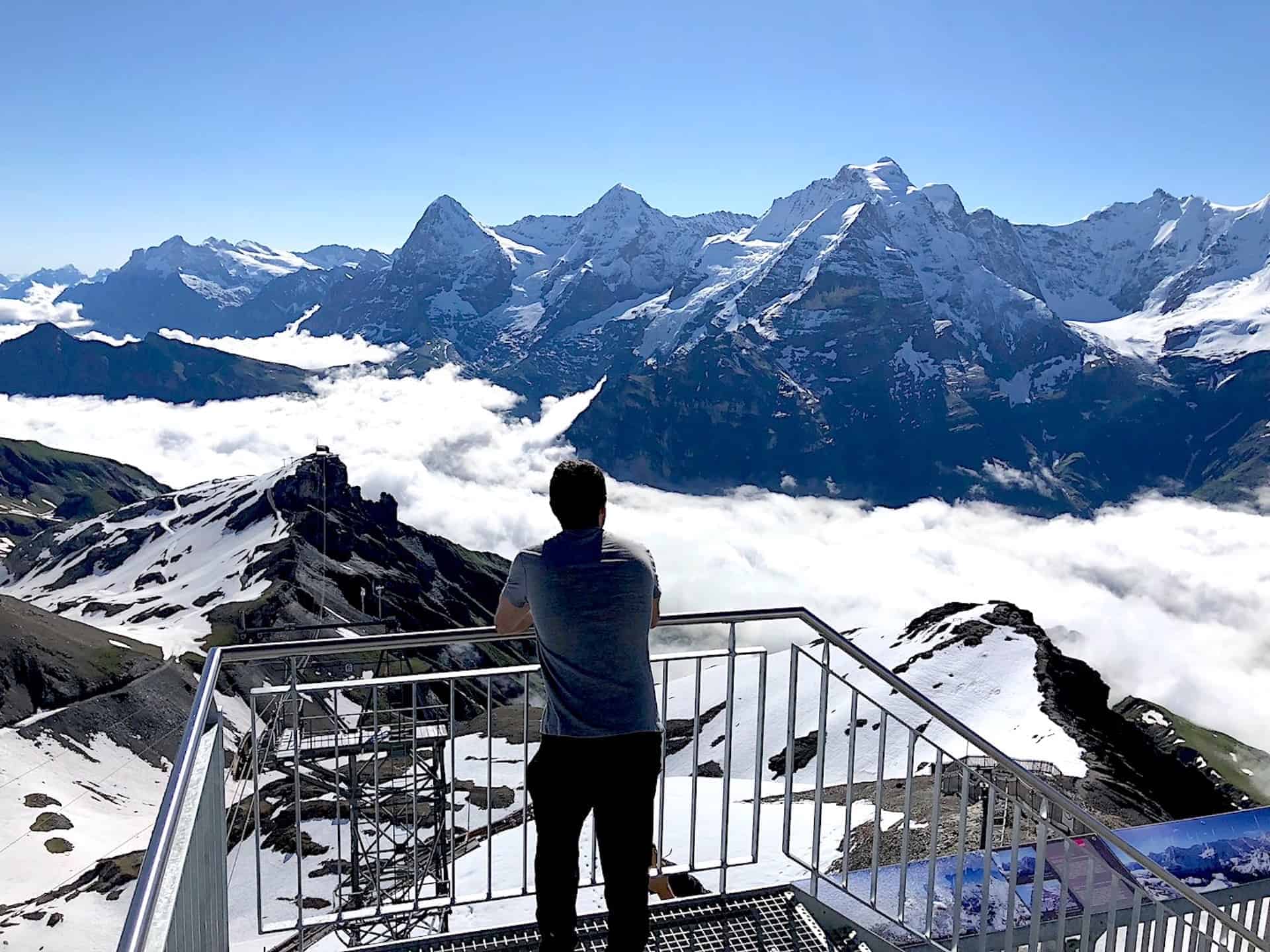 Jungfraujoch – Top of Europe
Your second mountain excursion option is to the Top of Europe – Jungfraujoch. On top you will he welcomed to vast views of the glacier with some absolutely breathtaking mountains all around you.
The easiest route is from Wengen and Grindelwald as they both have direct connections to Kleine Scheidegg – where you catch the train all the way up.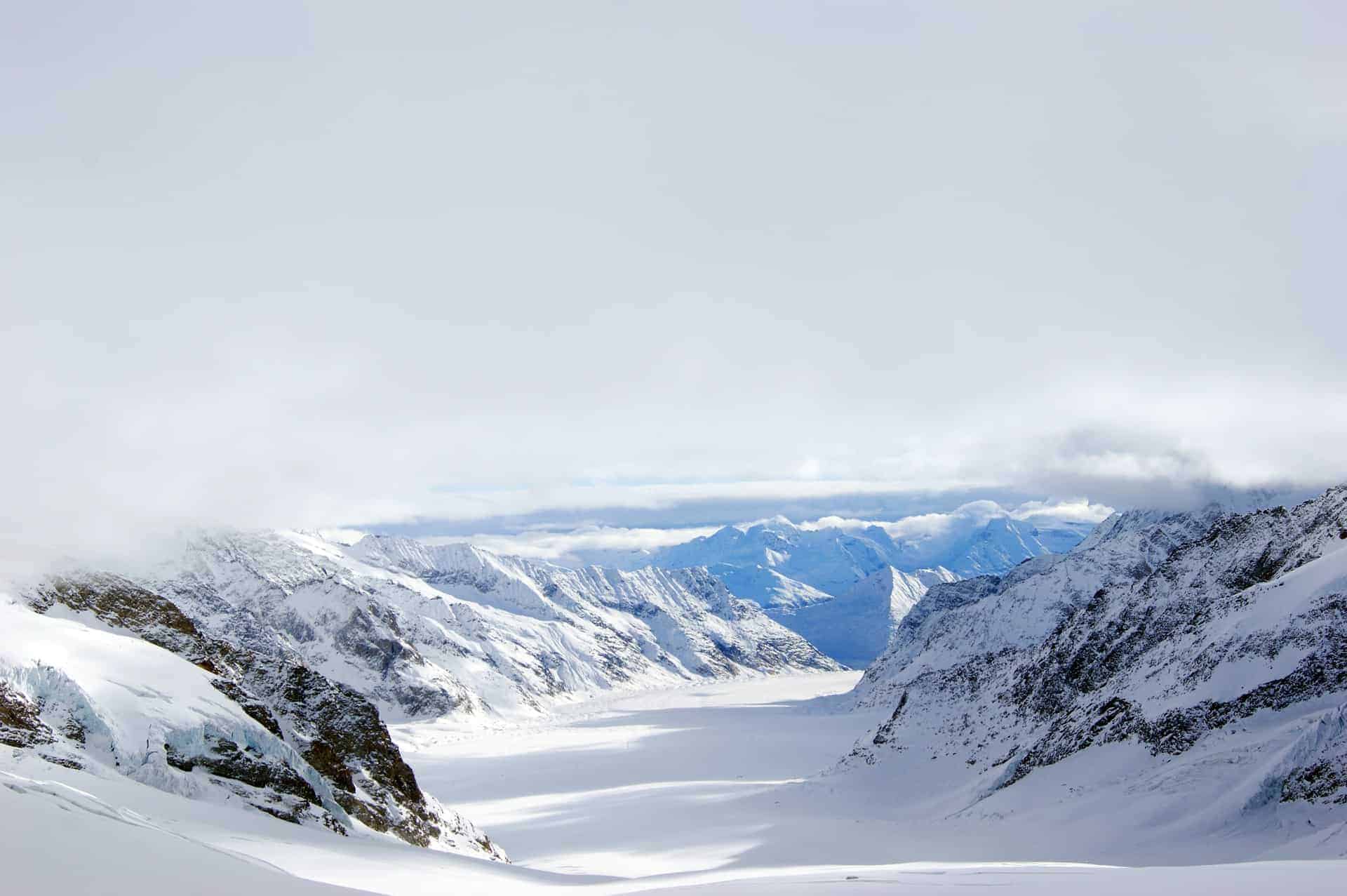 First Activities
Around the area of First there are four unique activities to take part of – the First Glider, First Flyer, First Mountain Cart and Trottibike Scooter. You can decide to take part of one or you can decide to take part of all four.
You also have the Cliff Walk, which is free walk around a steel platform. You will have some great views from up top with the Eiger right up front and center.
Getting to the First area will require a cable car or hike up from Grindelwald. So if those are something you are interested in then Grindelwald would be your most convenient option.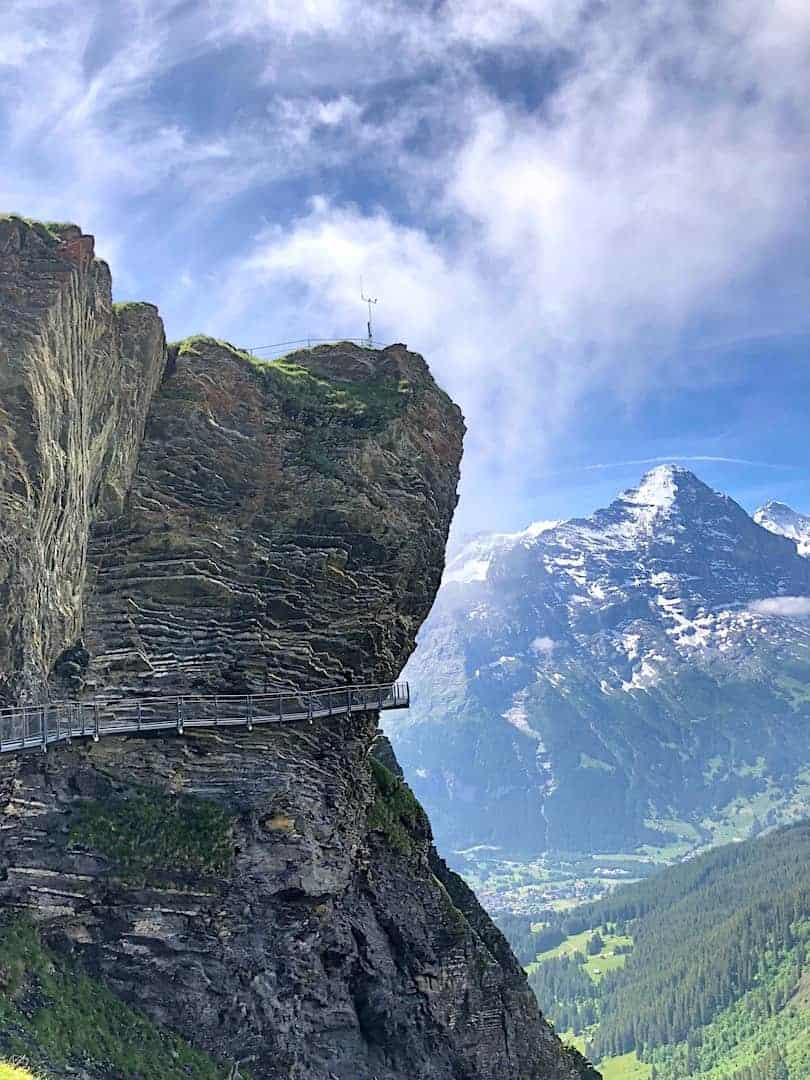 Boat Rides on Lake Thun or Brienz
If you want to hit the water then make your way to Lake Thun or Lake Brienz. The lakes are located right on either side of Interlaken so you will need to get there first. You can revert back to the first section of the guide that went over how to make your way between the towns and Interlaken.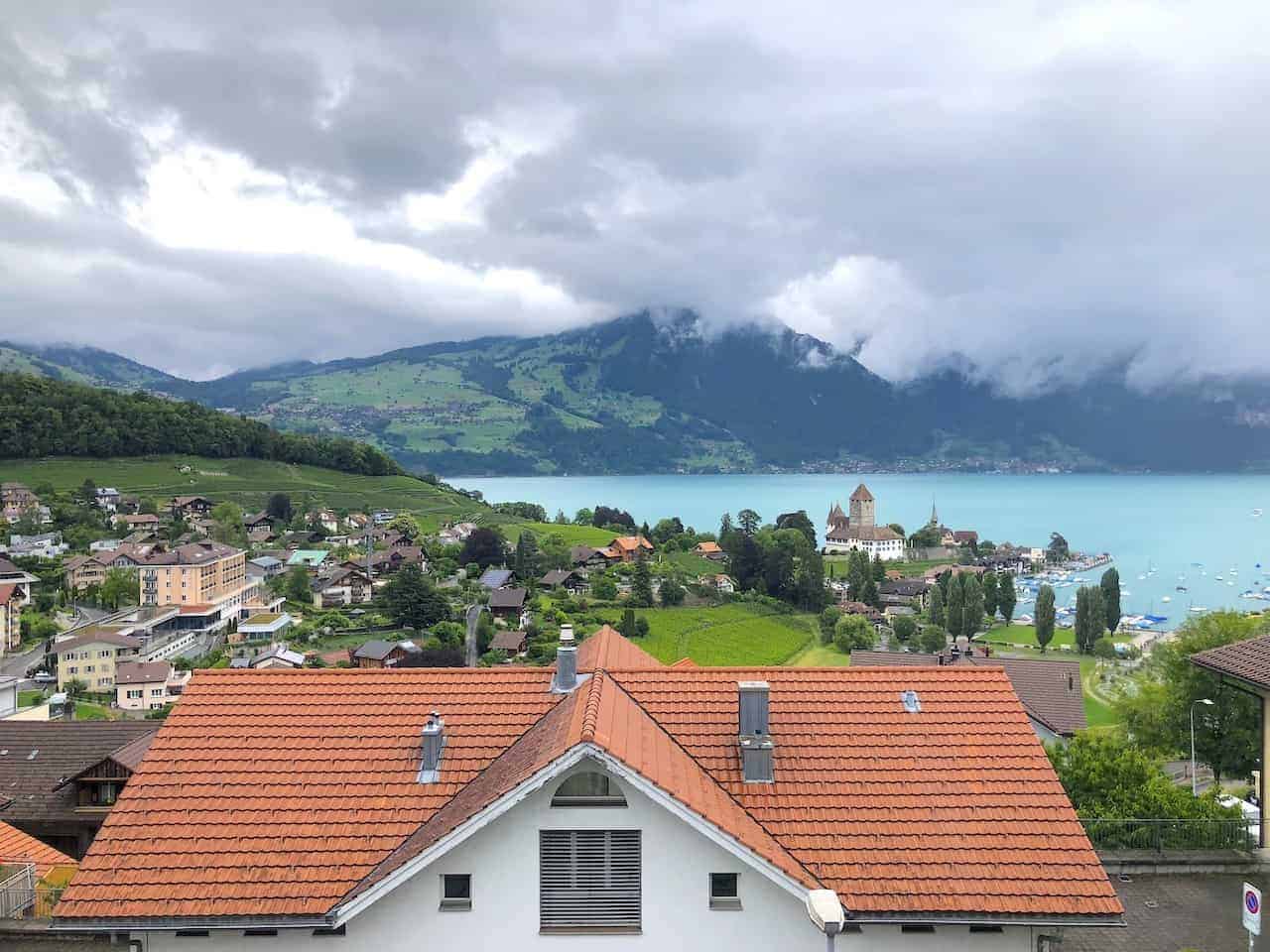 Adrenaline Activities
All around the Jungfrau you will find some adrenaline activities to take part of too. These include everything from skydiving to paragliding to bungee jumping to canyoning. If you are looking to get that heart pumping a bit then you are sure to find some options in the region.
Note: depending on the activity you are interested in, pickup may be in Interlaken, Lauterbrunnen or Grindelwald.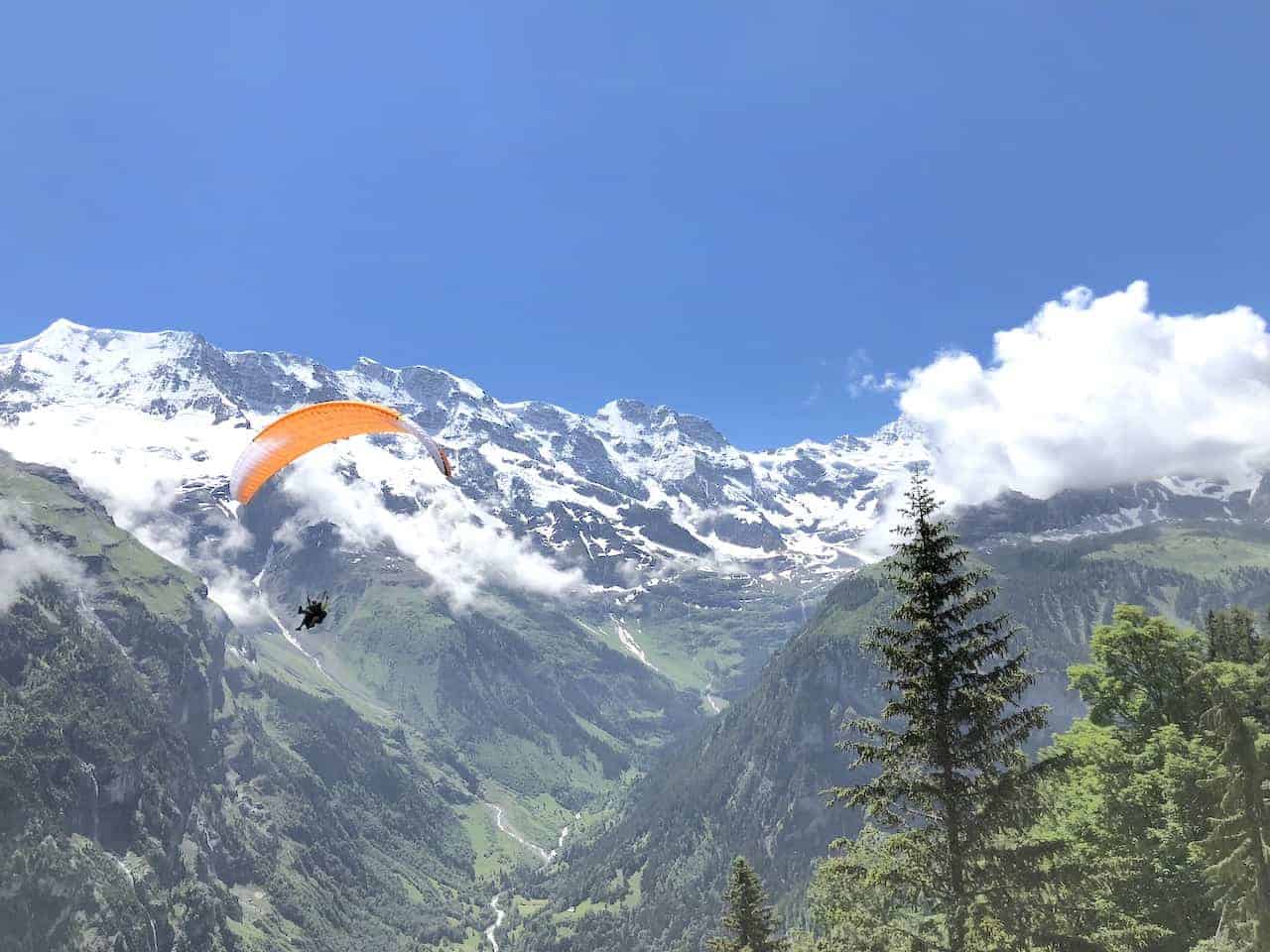 8) Accommodation in the Jungfrau
There are several accommodation options to choose from in each one of Murren, Wengen and Grindelwald. Below are some different options to browse through when deciding what is best for you and your budget. I have also included some options for Interlaken if you are looking to stay outside of the mountain area.
Hotels in the Jungfrau Region do sell out! Be sure to book your rooms sooner rather than later. I have included links below that will take you directly to each hotel's booking page for your convenience.
Murren
The family-run 3-star superior Hotel Edelweiss in car-free Mürren enjoys a scenic location on the edge of the Mürrenfluh rock face, offering panoramic views of the Eiger, Mönch and Jungfrau mountains and over the Lauterbrunnen valley.
Every morning you can enjoy a rich buffet breakfast. Half board is available as well and the à-la-carte-Restaurant offers traditional Swiss cuisine and home-made pizza.
In the car-free resort of Mürren in the Bernese Oberland, the chalet-style Hotel Alpenruh offers wonderful views of the Eiger, the Mönch and the Jungfrau mountains.
A sauna is at your disposal free of charge for relaxing after a day out in the mountains and several massages can be booked as well. The beautiful panorama restaurant invites you to taste excellent Swiss cuisine while enjoying magnificent mountain views.
Cozy and relaxed Eiger Guest house is located opposite the BLM train station in Mürren, with a splendid view of the Eiger, Mönch and Jungfrau Mountains. The Eiger Guest house also offers a great restaurant, a bar/pub and a games room.
The tourist office and the Alpine sports center are just 650 feet away. You have free access to the 100 feet indoor pool (summer and winter) and the ice rink.
→ Check out some of best places to stay in Murren for more options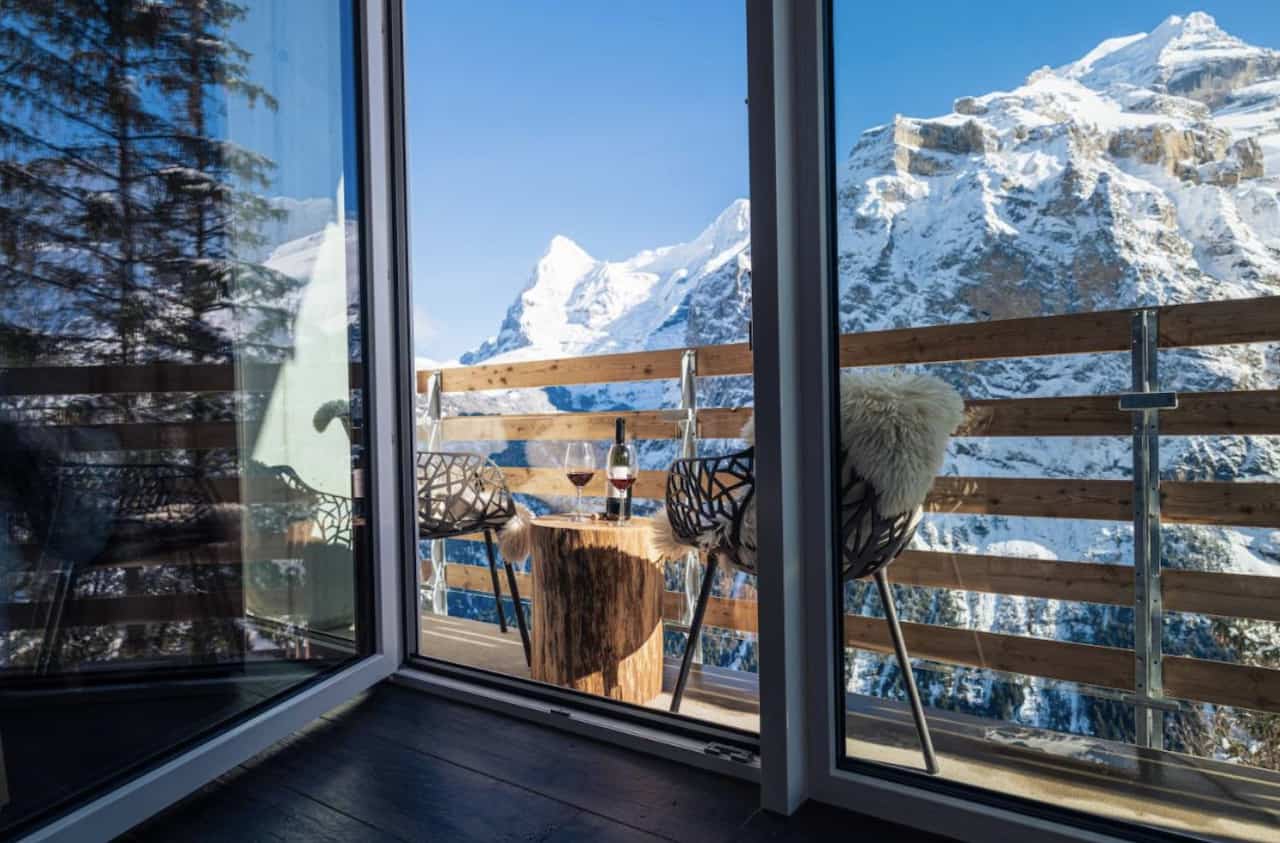 Wengen
The Edelweiss hotel can be found in calm surroundings, a 4-minute walk away from the train station in the car-free village of Wengen. All of the south-facing rooms have balconies, boasting superb views of the Jungfrau mountain range.
Make use of the cozy lounges featuring ping pong tables and table football, a children's play corner and a sauna. The kitchen chef creates tasty 4-course set menus for dinner from market-fresh ingredients.
Hotel Bären enjoys a quiet location in the car-free Wengen, just 1,150 feet from the Train Station, offering views of the Jungfrau Mountain and the Lauterbrunnen Valley. The restaurant serves seasonal cuisine, and free WiFi is available.
There is a playground, a playroom and a ping-pong table. You can also make use of tablet computers, and there is a vending machine for drinks at the Bären Hotel. Breakfast is served every morning and you can enjoy seasonal dishes made from locally sourced products in the restaurant and on the summer terrace.
The Arenas Resort Victoria-Lauberhorn, built in 1897, is centrally located next to the train and cable car station of the car-free Wengen and features up-to-date spa facilities including a swimming pool.
The Alpine Spa provides various treatments and includes the swimming pool, a sauna, a steam bath, a gym and a salt-water bath (33°) with massage showers.
→ Check out some of best places to stay in Wengen for more options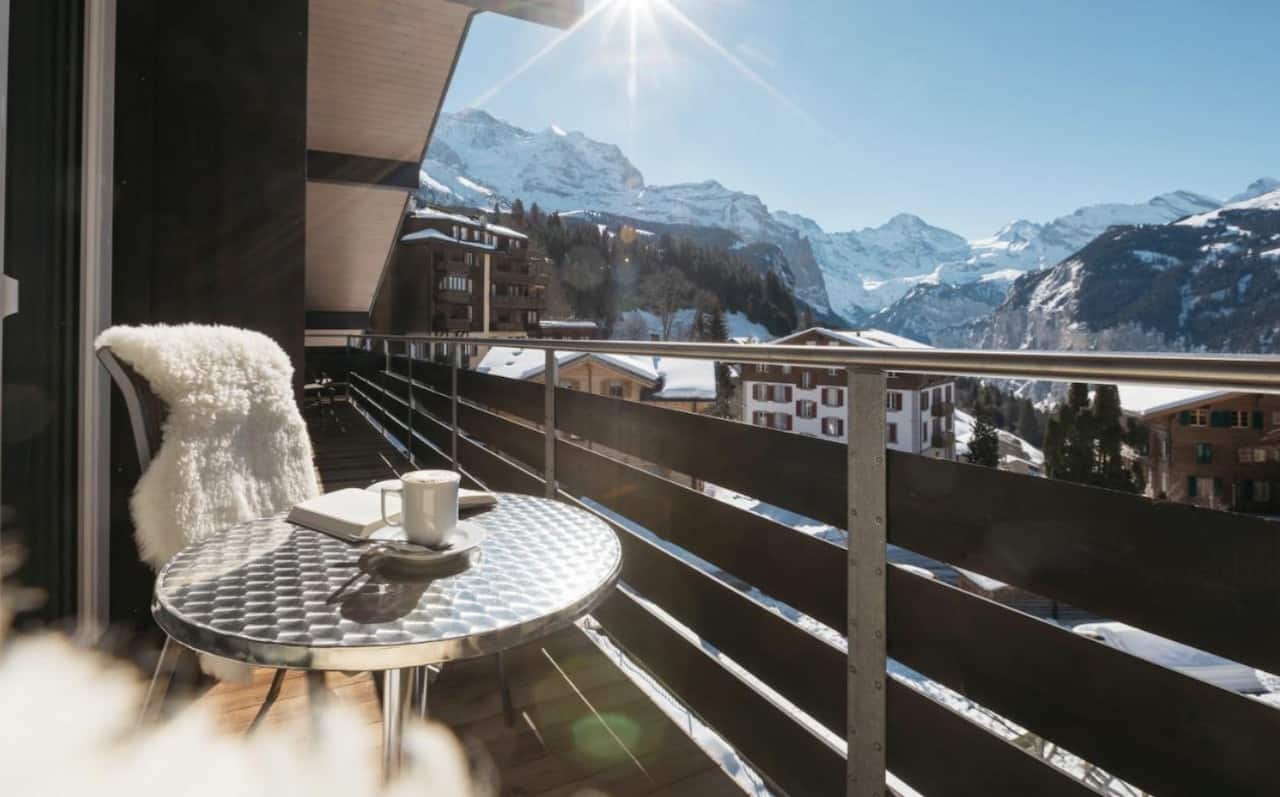 Grindelwald
Offering views of the North Face of the Eiger and direct access to ski slopes, hiking and mountain bike trails, Hotel Lauberhorn – Home for Outdoor Activities is a 15-minute walk from the Firstbahn Cable Car and the center of Grindelwald.
You can dine à la carte in one of the partner restaurants next to the property. All rooms have a balcony. The south-facing rooms offer views of the North Face of the Eiger. The daily breakfast includes fresh local products and is available in the breakfast room which offers panoramic views of the surrounding mountains.
Offering panoramic views of the North Face of the Eiger and the Bernese Alps, this family-run 4-star superior hotel is just a 5-minute walk from the center of Grindelwald. It features a gourmet restaurant open in the winter and summer seasons, free WiFi, and a spa area with an indoor pool.
Spa facilities at Belvedere Swiss Quality Hotel include a hot tub, a Finnish sauna, a heat mine gallery, a steam bath, and an outdoor saltwater hot tub in the garden.
Over 115 years old, the traditional family-run Hotel Gletschergarten in Grindelwald offers you panoramic mountain views, free WiFi and a free internet terminal. Breakfast is served every morning. After a day outside you can relax at the fireplace in the lounge. Half board, including a 4-course dinner, is available on request.
→ Be sure to also check out the most unique hotels in Switzerland & the best hotels in Switzerland with infinity pools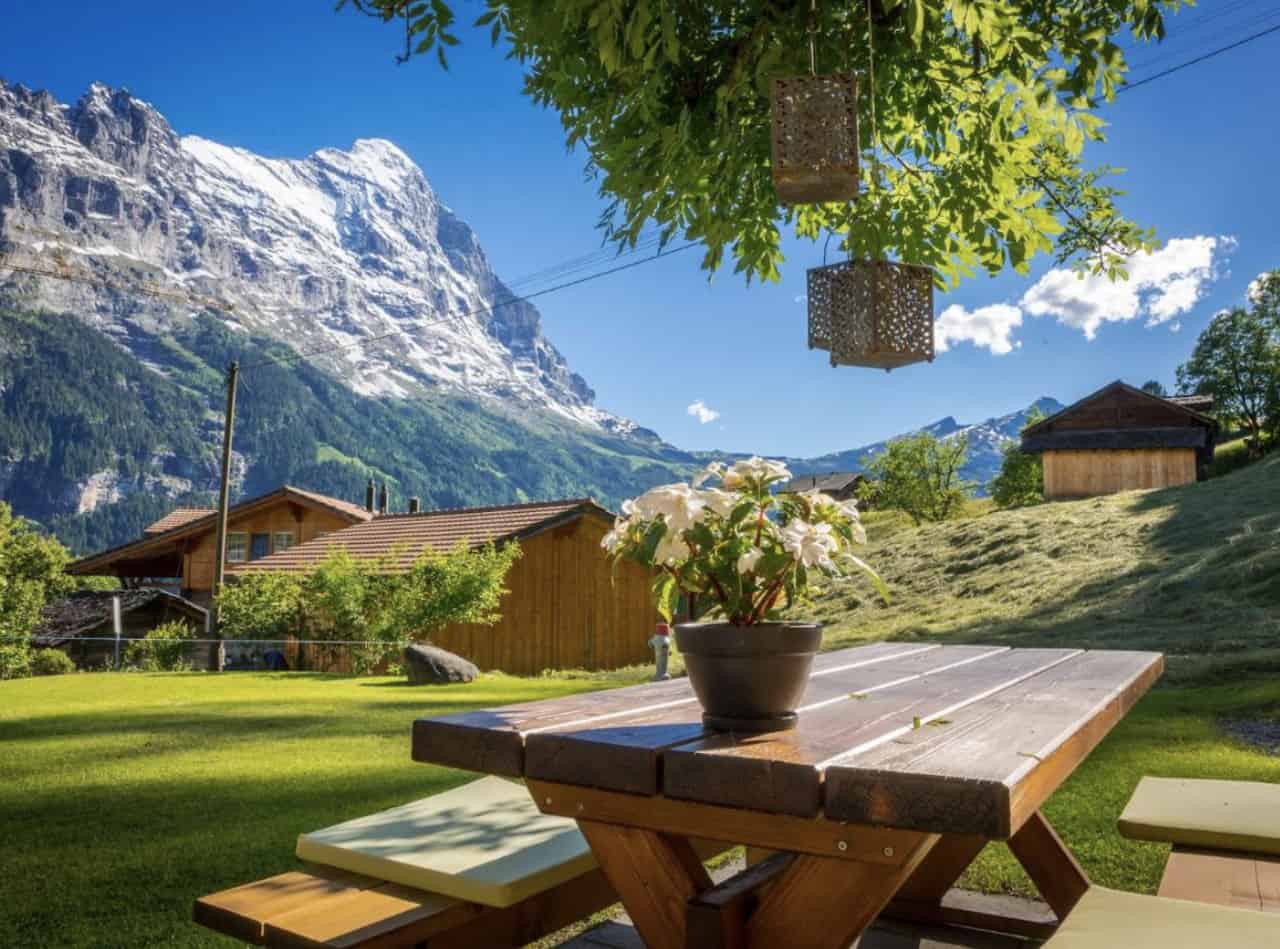 Interlaken
The Boutique Hotel Bellevue on the river Aare is located near the Interlaken-West train station in the center of the city, but enjoys a quiet location near the water. All rooms have balconies and a wonderful view of the river and the surrounding mountains.
Various restaurants and shops, as well as a jewelry and watches store can be found in the immediate vicinity of Boutique Hotel Bellevue.
The Rössli is a cozy, comfortably furnished hotel enjoying a quiet but central location with a magnificent view of the Jungfrau massif. Among the hotel's facilities are a garden terrace, a sunbathing area and a cozy lounge, where you can enjoy a drink in a relaxed atmosphere.
Hotel Rössli offers a varied breakfast buffet and also features a dining room for guests on a half-board arrangement.
Come to Balmers and stay in the oldest private hostel in Switzerland! The hostel is located in three traditional Swiss wooden chalets that surround a courtyard, terrace and garden. The look and feel of the accommodations can best be described as playful, comfy and unique.
Balmers cater to active travelers that come to Interlaken to explore the Alps. After a day in the mountains, come home to the hostel where you can clean the equipment and store it away safely. In the guest kitchen, you'll find all the amenities needed to cook yourself a nutritious meal.
→ Check out some of best places to stay in Interlaken for more options
9) Decisions, Decisions
At the beginning of this guide I said there really is no right answer to give to you. It really will all come down to personal preference on your end. If for example you are interested in doing the Bachalpsee Lake hike, the activities around First, and are driving a car then I would say Grindelwald is best for you.
On the other hand if you want to head up to Schilthorn, take part of the Via Ferrata, and walk the Lauterbrunnen Valley, well then Murren may be for you. If you want to do a combo of anything and everything well then why not Wengen?
At the end of the day here, you really cannot go wrong with Wengen, Murren or Grindelwald. They all have their strengths and you are sure to enjoy any one of them. I hope though by going through this article a bit, you have a better sense of what each one of these towns offer and you now can go ahead make that decision!
I hope you enjoy every minute of your time in the Jungfrau Region. Feel free to ask any questions below and safe travels out there! For plenty more helpful info check out the rest of the Switzerland itineraries and guides up on the site, some of which include:
How to Prepare for Switzerland Weather