When planning a trip out to Switzerland there may be a lot of different questions you may come across. From train passes and weather to language and money, there is a lot to go over.
I put together this list of helpful Switzerland travel tips that can better prepare you for your vacation and help answer any questions you may have.
* Affiliate Disclosure: This post may contain affiliate links, which means I may receive a commission if you make a purchase through the links provided, at no additional cost to you. Thanks for supporting the work I put into TripTins!
Switzerland Tip #1 – Train Travel
There is just so much to know when trying to understand the whole train situation in Switzerland and how everything works. For that I put together this guide to train travel in Switzerland. So have a look at that for a more in depth focus on the topic.
Trains (and all other public transportation) are by far the most convenient and easy way to get from one place to the next within the country so you will definitely want to have a good sense of it before you go.
As a quick recap though of the guide:
Travel Passes
Check out different travel pass options to figure what will be best for you. Swiss Travel Pass, Swiss Travel Pass Flex, and Half Fare Card are all good value depending on what your itinerary will look like.
SBB App & Website
Use the SBB app and the SBB website when figuring out logistics for your day. They are simple to use, give you detailed directions and will make sure you get from point A to point B no matter how many forms of transportation you have to use in between.
Train Prices
If you do not opt for one of the travel passes, note that the prices on the SBB website are usually auto selected to the Half Fare (since many Swiss have passes that give them half off transportation).
So if you do not have any sort of pass and are buying full fare tickets, note that the price you see on the website may actually be only half of what you will end up paying.
First vs Second Class
You can decide to purchase first or second class tickets for train travel. Although much more expensive, first class does have it perks such as wider and more comfortable seats as well as much quieter train cars.
If you want some peace and quiet while traveling in comfort than first class may be for you. If you have no preference and are on more of a budget then second class will be more than fine.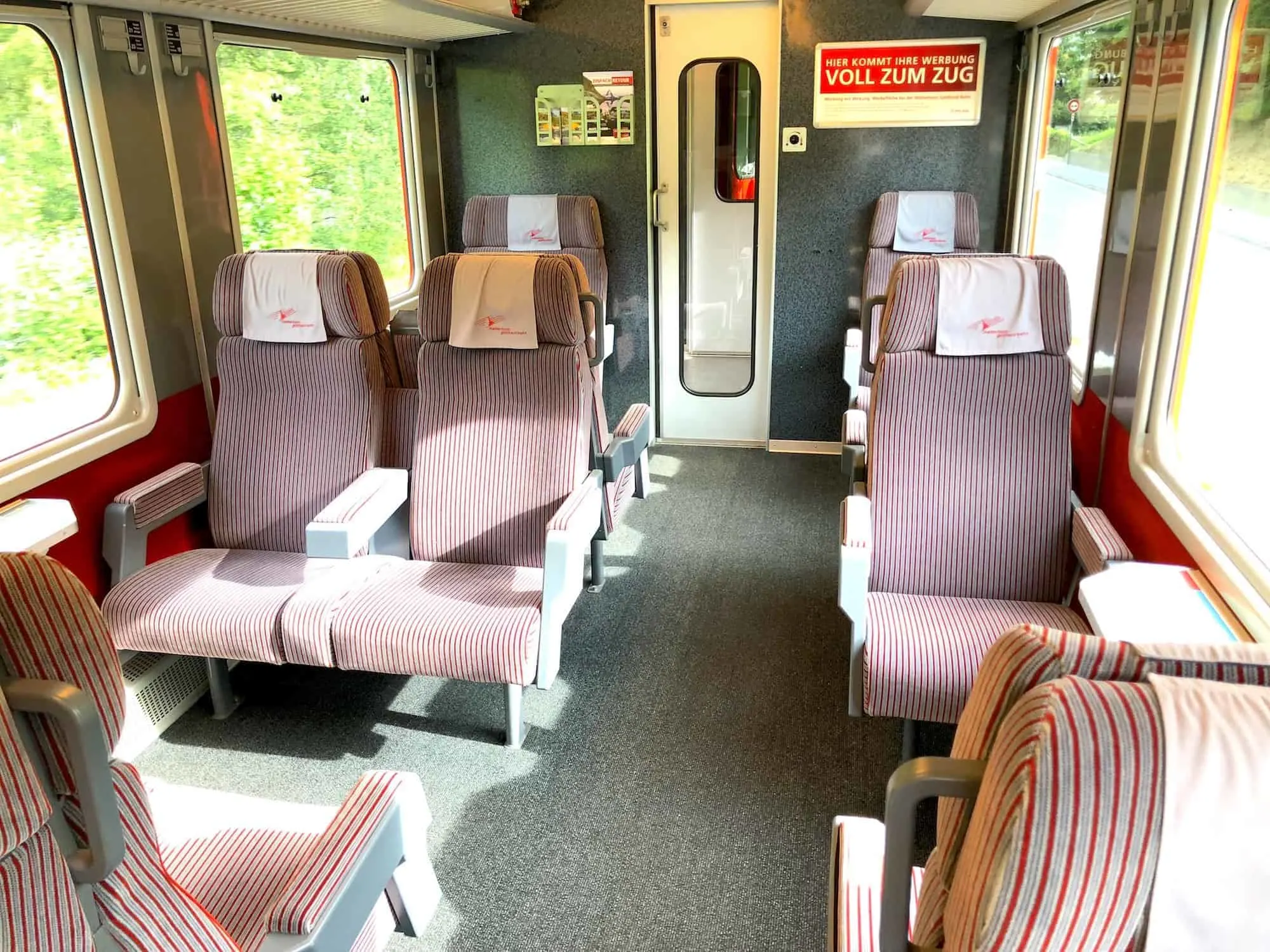 Mountain Transport
Be aware even if you do have an unlimited travel pass, there are still certain forms of transportation that you do need to pay for (although many are up to 50% off).
This usually pertains to mountain transport such as certain mountain railways, gondolas, and cable cars. So do not just expect to jump on any train and ride for free. Check out the train coverage map for more info.
For more helpful info be sure to check out the guide mentioned above.
Switzerland Tip #2 – Weather
Another very important topic is the weather situation in Switzerland – most notably around the alps. For that I also put together an all in Switzerland weather guide to better prepare you all things weather related. To hit on some of the major points:
Use Meteoblue
For the most accurate weather forecasts check out meteoblue.com, a Swiss based meteorology site that is locally known for its reliability around the alps.
Sites like weather.com and accuweather.com do not have the accuracy that meteoblue provides.
Check Webcams
If you are planning on heading to some hikes, viewpoints or excursions at high altitude be sure to check the webcams before you go.
Nearly every major attraction will have a website that will have a dedicated page to just webcams. These can give you a good idea whether or not it will be cloudy up top and if you will be able to actually enjoy the view.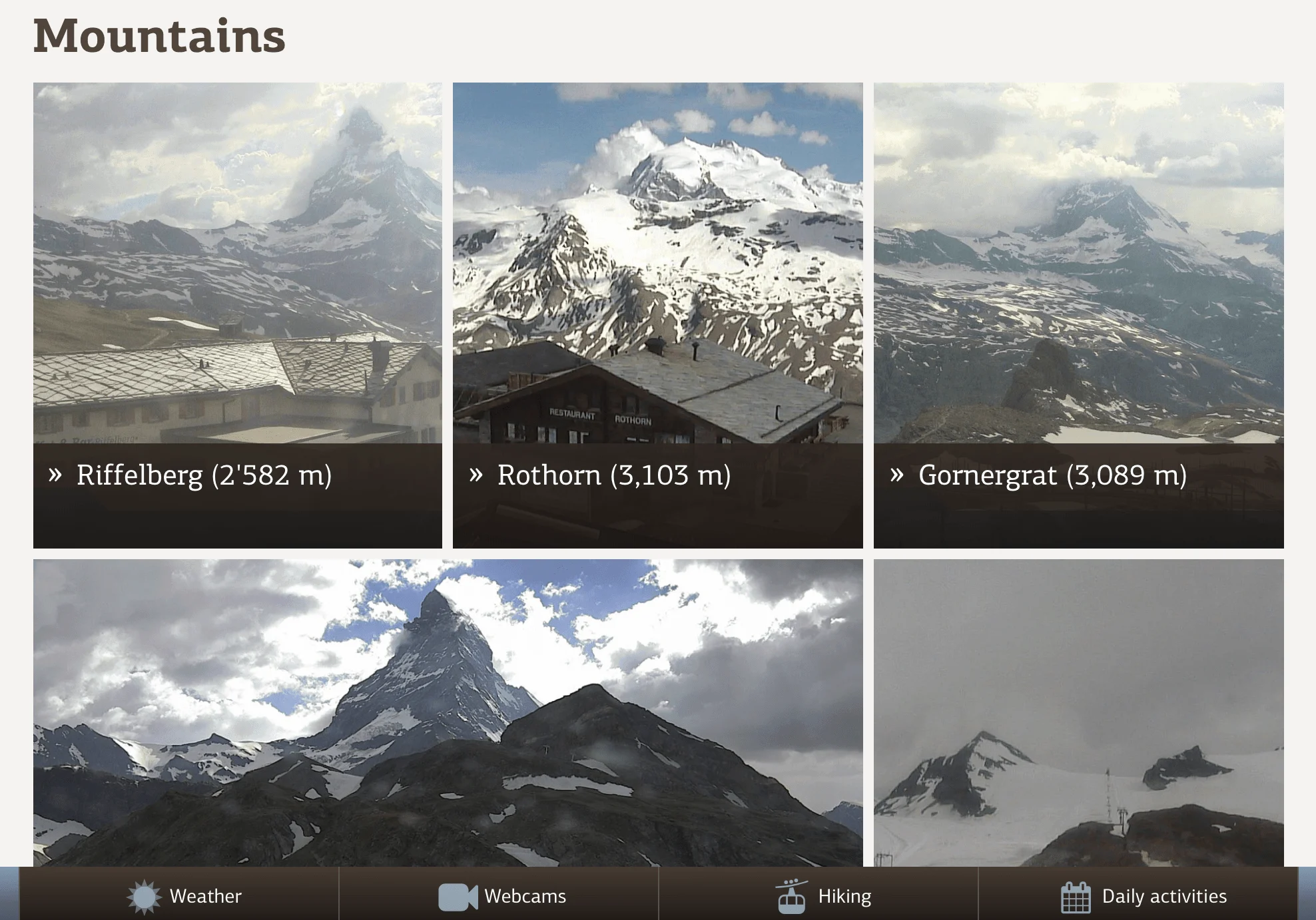 Be Flexible
Always have flexibility built into your itinerary. Since weather is one thing you cannot control, it may be the case that you cannot do a certain activity on a certain day.
So rather than having every day mapped up to a tee, you should have a few things listed that you would like to do in a given area, which can be interchanged between days.
The last thing you want to do is waste a day in poor weather when you could have just switched a day or two around to fit all your activities in.
Have Alternatives
Going along with that, you should always have alternatives as well. There may very well be some days in the mountains where you really will not be able to do any sort of activity.
In these cases, you can always take a 1-2 hour train ride to a nearby city instead.
Since weather can be drastically different between the mountains and cities, this can give you the chance to explore another city that may have not been on your original itinerary instead of just staying in your hotel all day.
Switzerland Tip #3 – When To Go
After deciding that you want to visit Switzerland, the next question will be when to actually visit. That answer will really depend on what you want to do.
If visiting cities only, then that can be done at any time of year obviously with the winter months being much cooler.
If you want a ski vacation then you should aim to go in the December to March time period for best conditions and trail coverage (you can ski year round in Zermatt, but summer conditions will not be anything like winter ones).
Lastly if your main objectives are to both see cities and take part of hikes in Switzerland, then the best time period would be June to September.
I just wanted to touch upon that last option a bit more. If hiking is a priority, you might be surprised how late some of the trails open up.
Since most of the hiking is done at higher altitudes, it does take time for snow to melt in order for trails to be safe to get through. Due to this, most trails will open up by late June.
With that said, it all depends on how much snow the area got during the winter and whether or not there were late season snow falls or not. Some trails will open up earlier than that while some later.
Once it gets around mid fall, snow and ice might start to become an issue and that is when trails will start to close down again.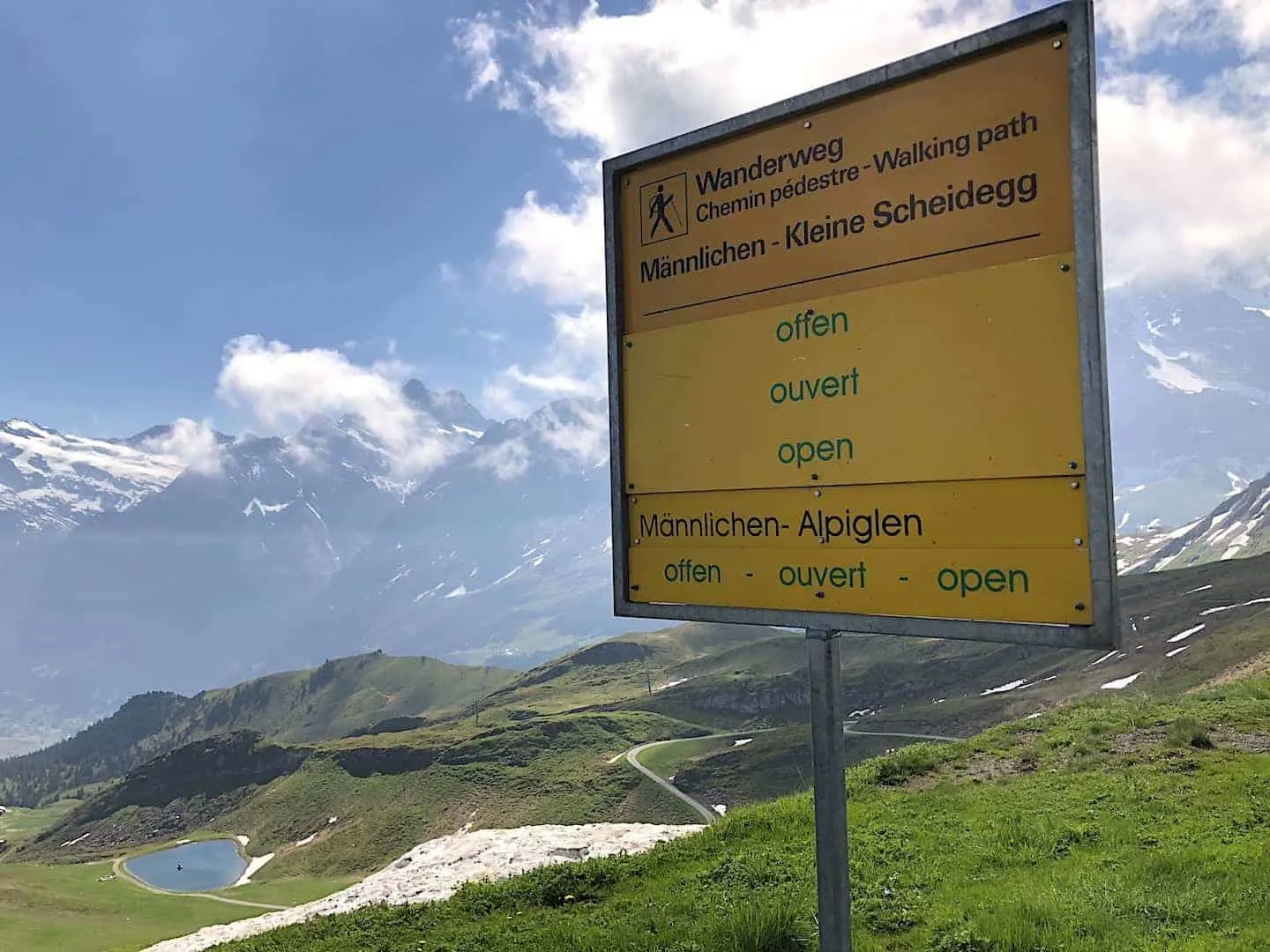 A final recommendation here – if you want the best hiking conditions without the large summer months crowds and warm weather, I would recommend either a late June or month of September trip to Switzerland.
Learn More: Take part of this Switzerland road trip I put together that will take you all around the country!
Switzerland Tip #4 – What to Wear
Just because the town of Interlaken may be 70 degrees one day does not mean the mountains near Interlaken will be 70 degrees too.
In mid June when I went up to Schilthorn, it was just around 35 degrees on top of the mountain, much different than the Lauterbrunnen Valley below which I visited later on in the day.
Because of this I would highly recommend to dress in layers, with the option to add or remove pieces of clothing throughout the day depending on temperature.
I usually always went out with comfortable hiking pants (shorts in my backpack), a t-shirt and some sort of lighter jacket/pullover.
If it then got hotter later on in the day or I went to a different area, I would take off the jacket, put it in my backpack and then change my pants into shorts. By doing so I never had to worry about being too hot or too cold on a particular day.
Now of course if you are in a city, there will probably be no need for layers or changing clothes since you should have a pretty solid idea what the weather for the day will be like.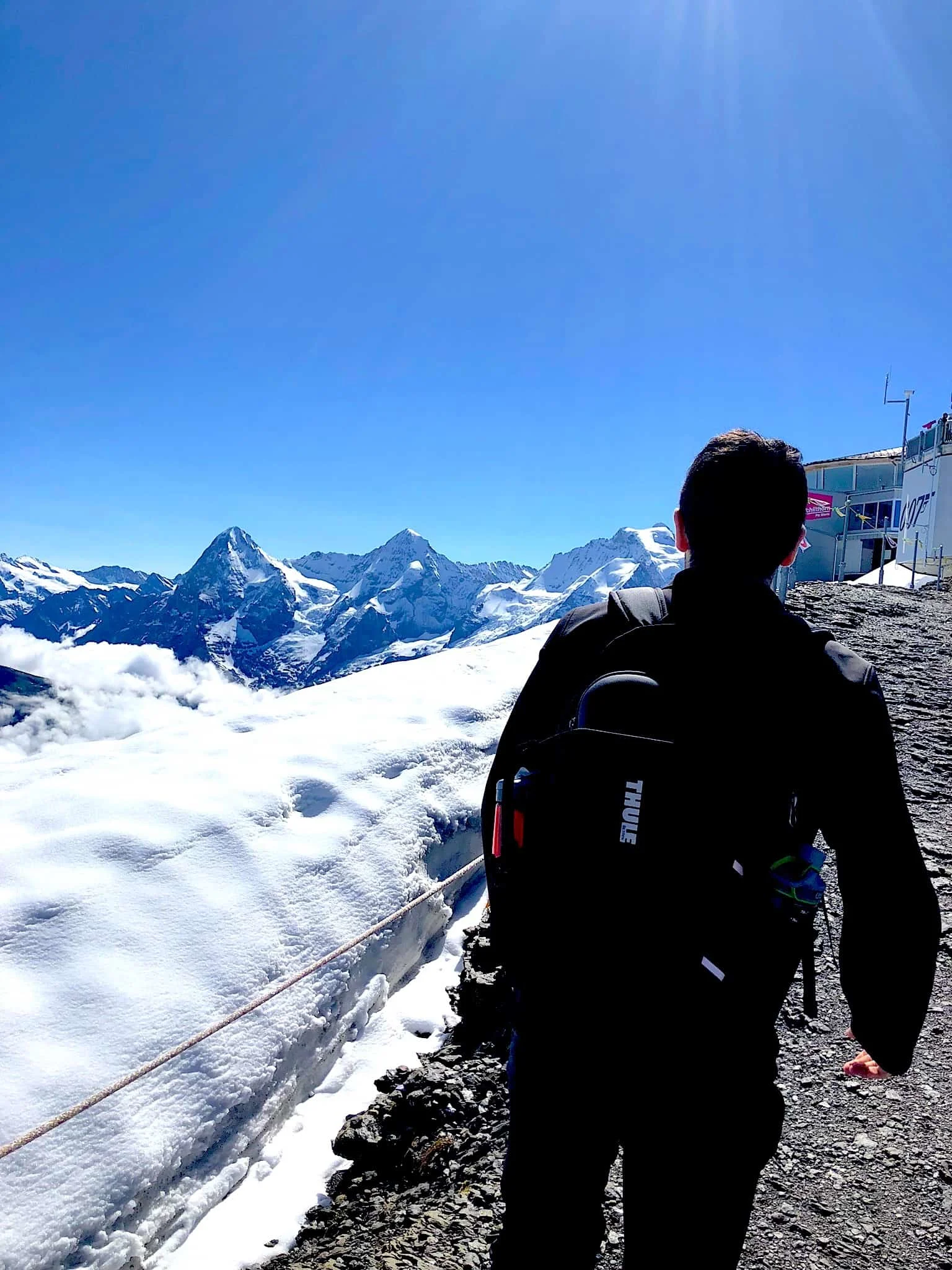 On the topic though of what to wear, you should also think about what else you should bring along if spending your days out in the mountains.
I would recommend you also bring a solid 750ML – 1L water bottle that you can fill up throughout the day – either at restaurants or straight from the streams in the mountains.
On top of that a few energy bars / snacks can be a good idea as there might not be too many food options to choose from while on a hike. Both sunscreen and sunglasses are also very important to bring as the sun can get strong even though the temperature might not be too hot.
Switzerland Tip #5 – Pack Lightly
Going off of that last point with what to pack for a trip to Switzerland, you should also consider packing as lightly as possible. If you are staying solely in one or two places throughout your trip you probably do not need to heed that advice.
However, if you plan on heading all around Switzerland to various cities and taking trains often, then packing lightly will work well for you.
There is not that much room on trains for everyone to bring a large suitcase on board and you do not want to be in a situation where you have nowhere to put your luggage.
Instead, if you opt for a smaller sized piece of luggage, you can always put it above the seat or right next to you as well. From hotel to train to hotel, there can be a lot of moving around and the more you have with you, the more inconvenient it will be. So pack lightly and efficiently!
You can also always do laundry if need be sometime in the middle of your trip to keep everything clean as can be.
Switzerland Tip #6 – Travel on a Budget
Even though Switzerland is one of the more expensive countries in the world to visit, it can be done on a budget (to an extent). Your main three costs once in the country will be trains, accommodations and food.
Trains & Transport
Regarding trains, I mentioned some ways above to save some money. Although the travel passes can get a bit pricey, they are your best bet when traveling around Switzerland.
Don't forget that travel passes also include all other types of transportation from busses to trams to boats. There is no need to waste money on a taxi when you can get to your destination just as fast with your travel pass.
Accommodations
For accommodations, there are two main ways to save some cash. Either stay a bit further outside the city, where you can easily hop on a quick train or bus to get you to the city center, or stay in hostels.
Understandably not everyone wants to share rooms at hostels but you can also find some private rooms with shared bathrooms for example that can save you some money compared to completely private rooms at hotels.
Food
Lastly for food – meals can get very pricey. I had a hard time finding any main course at any type of sit down restaurant for less than ~$25 or so. And even at that price, the portions were usually not large enough to keep me satisfied.
Luckily, there are plenty of supermarkets around each major city, Migros and Coop being the most popular. If you book a hotel or hostel with a shared or private kitchenette, you can buy food at the supermarket to cook yourself.
So instead of spending upwards of $30 per meal for dinner, I usually went to the market and bought everything from pasta to salmon to cook myself at less than half the cost.
Don't have access to a kitchen? Well the supermarkets also have ready to eat sandwich and salad options that make for a solid meal as well. Although a bit more of an effort, supermarket shopping is a great alternative for saving money.
Switzerland Tip #7 – Language
Switzerland is an interesting country when it comes to language. Instead of there being one major language spoken throughout the country, there are actually four!
French and German are the main two, however Italian and Romansh are also spoken in select areas. Below is a map showing language by region (courtesy of ontheworldmap).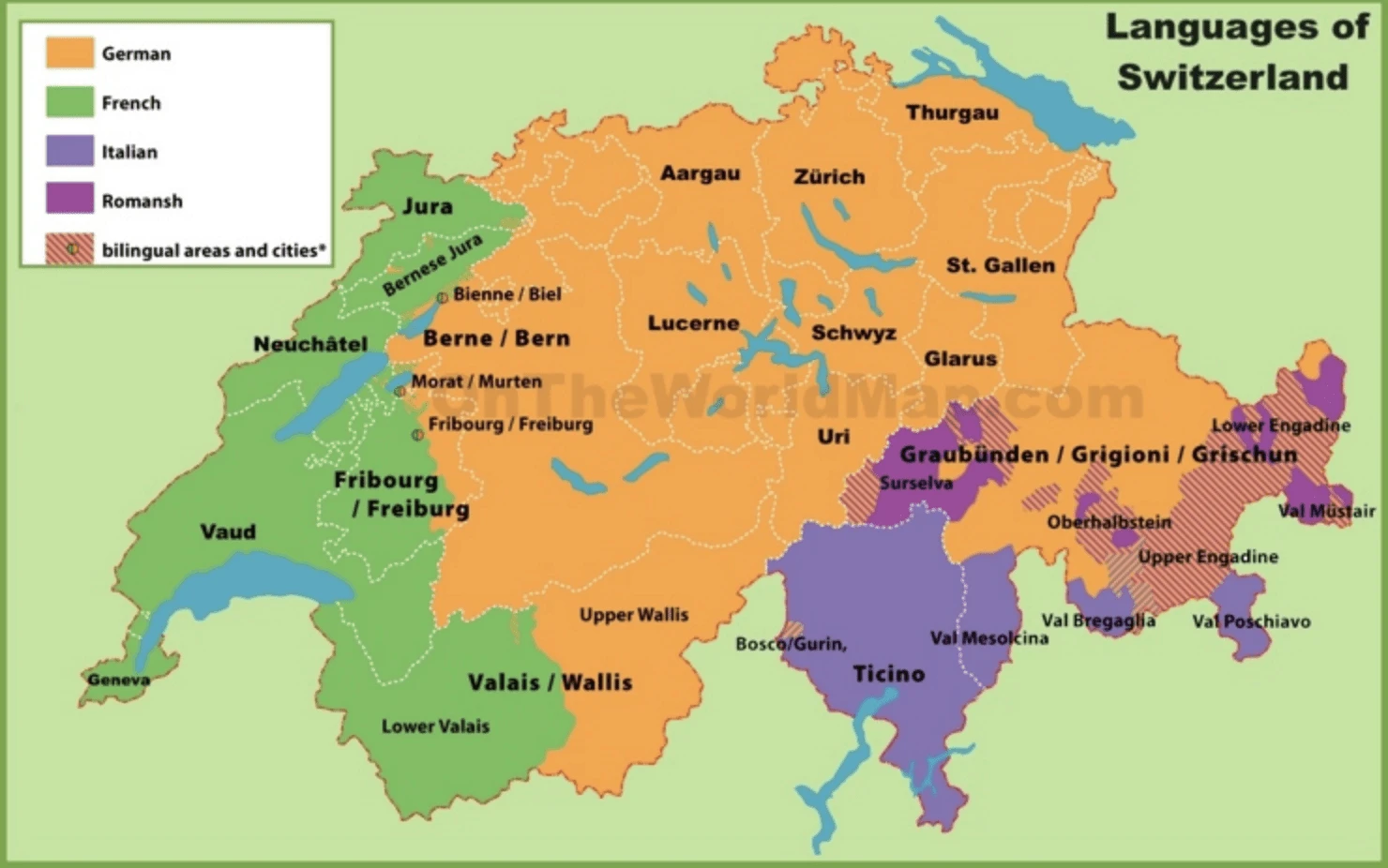 As you can see on the map most of the western side of the country speaks French, while the vast majority of the remainder speaks German.
There are some areas in the south, near Italy where Italian is the main language and then near the canton of Graubünden, a romance language called Romansh is spoken.
As you go from Geneva to Zurich for example, you will slowly see everything start to change from French to German. The streets signs, menus, train signage – all will now be German. So do not be surprised when visiting the country if you start hearing and seeing multiple languages throughout.
Switzerland Tip #8 – Money
The local currency in Switzerland is the Swiss Franc (not the Euro), and it is pretty in line with the US Dollar. I found that during my time in Switzerland, nearly every restaurant, hotel, and activity always accepted credit cards.
Even though I took out a couple hundred Franc when starting my trip, I am pretty sure I would have been able to get by with minimal local currency. Now if you plan on taking taxis and shopping at markets for example, then yes you will need to pay cash. For the most part however, most merchants do accept credit cards.
Another money tip I should point out is tipping itself. I was told during my trip that tipping at restaurants is not something that needs to be done.
The service charge is usually built into the price of a meal and it is not expected to leave an additional tip on top of that.
There were some situations however when I inserted my credit card into their handheld machines and was prompted to add gratuity. In these cases, I added a few extra Franc but nothing close to the 15%-20% you might come across in the U.S.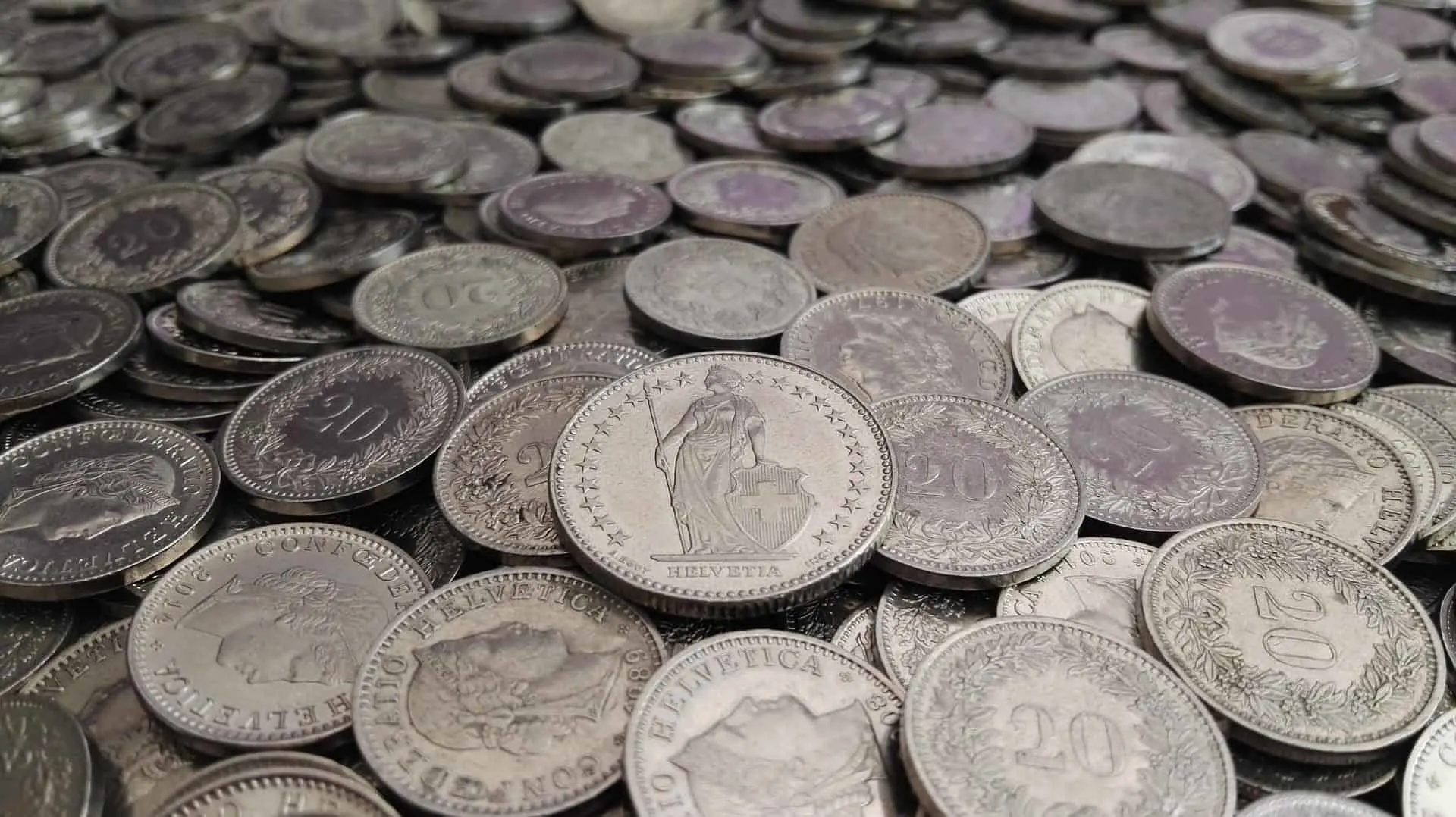 Hope you enjoyed reading those 8 helpful tips to better prepare you for your trip to Switzerland. If you have any questions or comments feel free to write them in below.
You can also check out the other Switzerland guides I wrote up to help you out with any other travel planning. Have fun out there and safe travels!