Switzerland is a country full of beautiful landscapes and sceneries no matter where you travel to. There is no better way to advantage and experience these than taking part of hikes in Switzerland.
Cities all around the country offer easy access to the mountainsides and valleys, where you can find some of the most stunning hiking opportunities in the world. Whether you are a novice or an expert, there will be something out there for you.
This guide will go over some of the best hikes in Switzerland to take part of, as well as provide some helpful tips and tricks for your time out in the mountains.
* Affiliate Disclosure: This post may contain affiliate links, which means I may receive a commission if you make a purchase through the links provided, at no additional cost to you. Thanks for supporting the work I put into TripTins!
1) Swiss Alps Tips & Things to Know
Before talking about specific hikes in Switzerland to take part of, I wanted to start off with some helpful general hiking tips and some more specific Swiss hiking tips.
Swiss Alps Weather
Since many of the best hikes in Switzerland are on or around the mountainside, the weather can be a major factor when hiking. Weather can change quickly in the Swiss Alps and you don't want to be stuck on a hike if the weather turns for the worse.
I would recommend always taking a look at Meteoblue and Mountain-Weather which are both known for its mountain weather forecasting.
Do not put the weather in for the closest town if you are heading into the mountains. The weather on top of a 3,000+ meter peak can be very different than the valley town you may be staying in.
» Learn more in the Switzerland Weather guide and Hiking Weather Forecast overview up on the site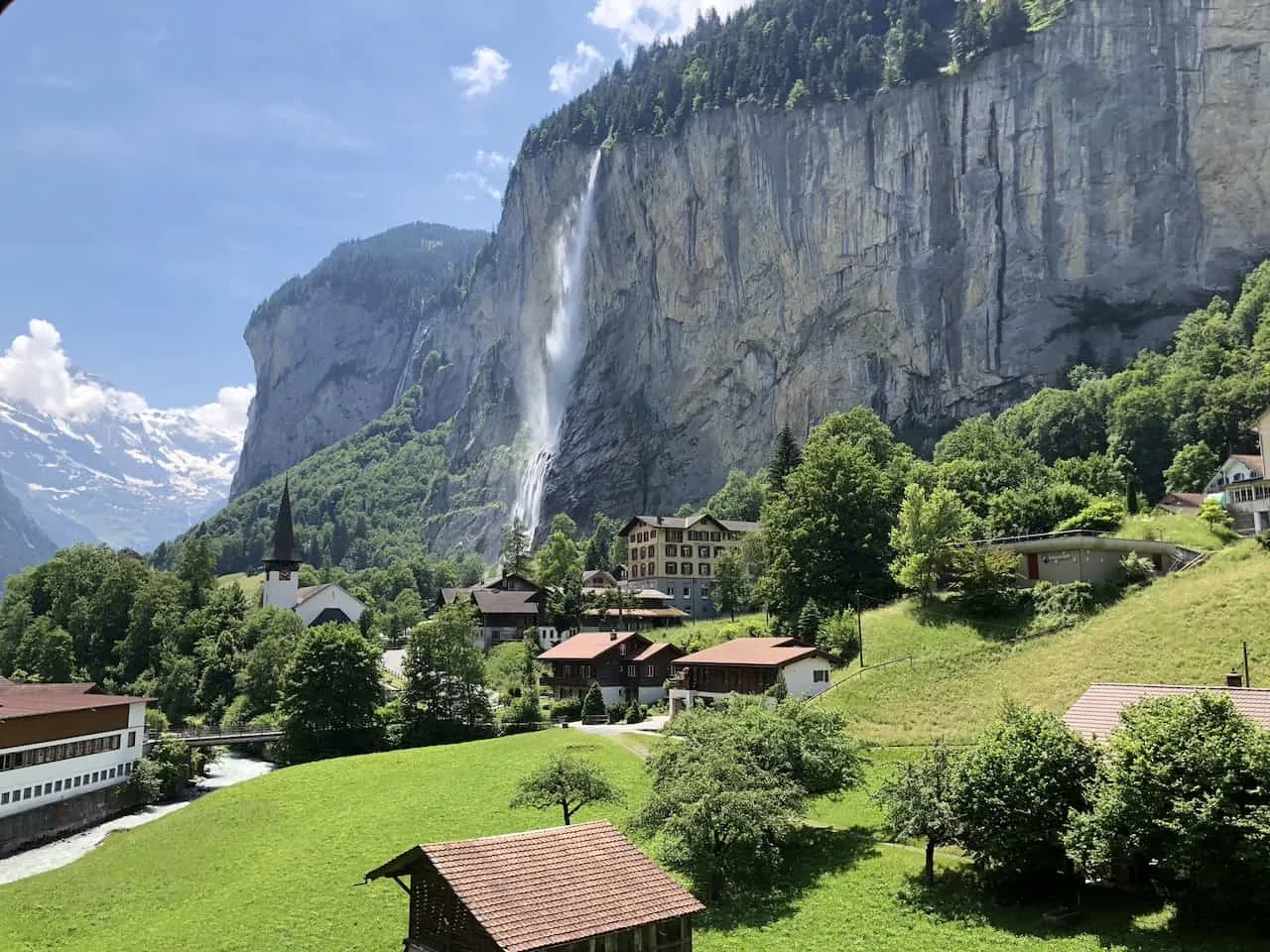 Transport Around Switzerland
The easiest way to get around Switzerland will be by the vast and efficient transportation network. Whether it is busses, trains, cable cars, or mountain railways, the country is very well connected.
During you time in the country, you should leverage this great transportation network to get yourself from one place to another. The SBB.CH website and app will be super helpful as you plan your trip.
Although the network is efficient, it is also quite expensive. To help with the costs, you can opt for one of the travel pass offerings. The two most common would be the Swiss Travel Pass and the Swiss Half Fare Card.
Essentially the Swiss Travel Pass will give you unlimited travel for one flat rate, with some exclusions on mountain transport. The Half Fare Card will give you half off of every ticket you purchase (also some mountain transport exclusions).
Depending on your itinerary and the amount of travel you are planning, you can do some calculations to decide between the two.
Note: there are also regional travel pass options if you decide to stay longer in one specific area.
» Learn more in the Switzerland Train guide up on the site
→ If you happen to want to rent a car in Switzerland, be sure to check out Rentalcars.com to browse through some of the top options for a trip.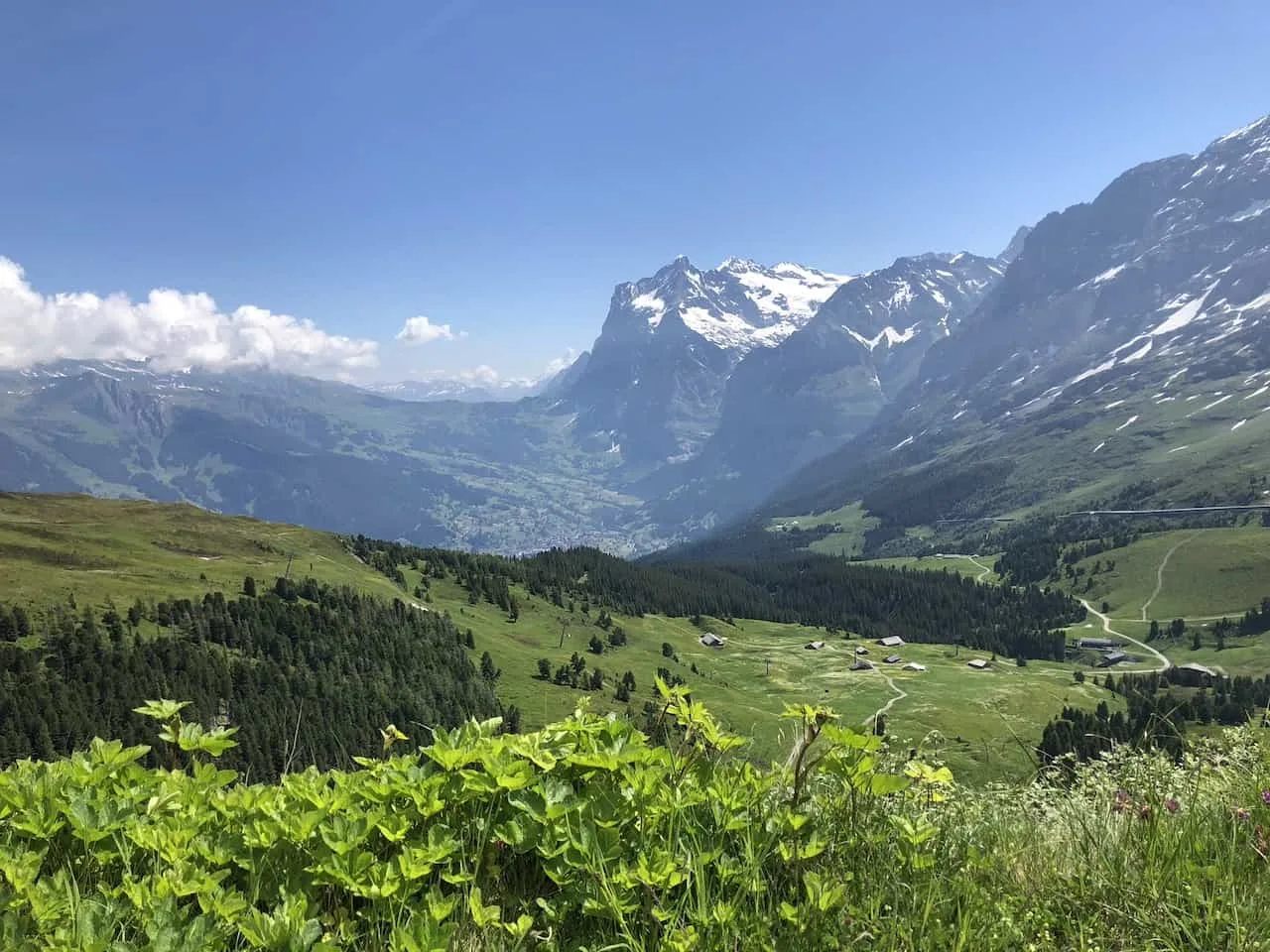 Swiss Travel Pass: Are you planning on traveling frequently throughout Switzerland during your trip? Consider purchasing a Swiss Travel Pass to save some money!
Hiking Navigation
Staying on course is always a priority when hiking around the world. Thankfully there are many hiking apps that help with navigating trails even when your phone is offline.
My go to apps have been Maps.me and AllTrails. In Switzerland there is also the SwitzerlandMobility App that has a network of over 60,000 km of hiking trails.
On the hiking trails themselves, Switzerland has done a very good job of signposting throughout the routes. You should see yellow signs at various intersections pointing hikers in certain directions with distance/times.
When to Hike in Switzerland
Due to the fact that many hikes around the country are situated in the mountains, safe hiking can only be done at certain times of year. This starts usually sometime around mid-June and ends in mid-October.
The main reason here is the snowfall. Hiking in the snow can be quite dangerous and many routes are closed until the snow is cleared from the route. With that said though, there are still many other hikes at lower elevations that would be quite safe earlier on, and winter hiking is also possible depending on routes.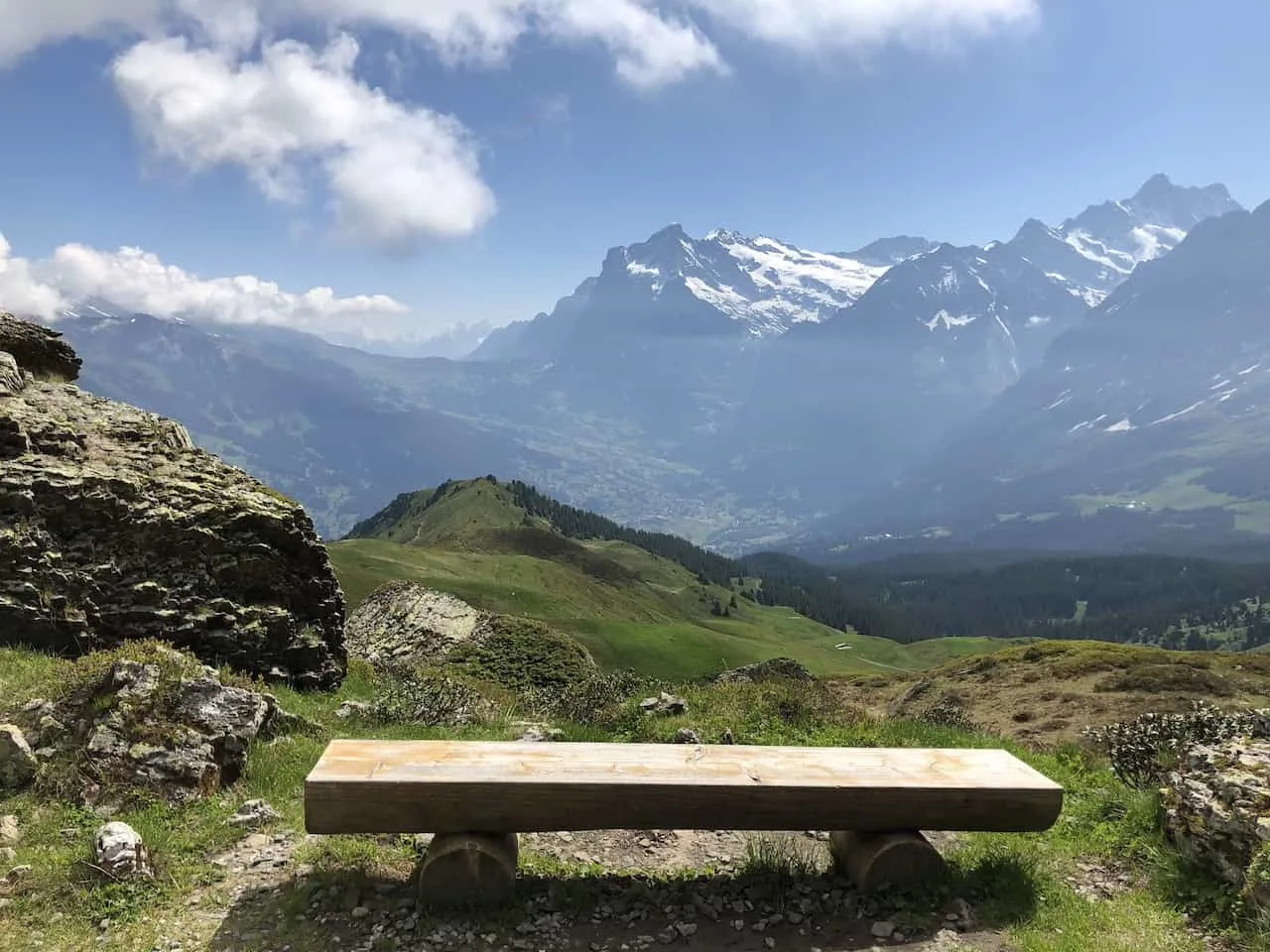 Hiking Resources & Checklist

Before heading out for the trails, be sure to read up on some of the hiking resources up on the site. These are here to better prepare you for all types of outdoor adventure.
2) The Best Hikes in Switzerland
Now that you have some helpful tips to get yourself started, let's talk about some of the best hikes in Switzerland and what they entail. For each one I will give some helpful stats for the route as well as a short overview with photos.
All of the hikes mentioned in this guide are quite safe and will not require technical climbing or exposure (besides for the last via ferrata mentioned).
These are meant for the everyday hiker in mind, so I hope you get to enjoy some or all of them during your trip to Switzerland!
Zermatt Five Lakes Hike
A trip to the car free village of Zermatt will have you enjoying the beautiful Matterhorn hovering up above. One of the best ways to enjoy those Matterhorn views, and the views of the surrounding mountains is to take part of the 5 Lakes Trail.
This 6 mile loop trail will take you from Blauherd and onwards to five different pristine lakes before ending in Sunnegga. It is a nice and easy trail to follow with some great Matterhorn views all around.
Starting Point: Blauherd
Ending Point: Sunnegga
Distance: 6.1 miles / 9.8 km
Elevation Gain: +541 feet / +165 meters | (-1,490 feet / -454 meters loss)
Duration: 3-5 hours
Learn More: Check out the Zermatt 5 Lakes hiking guide for more info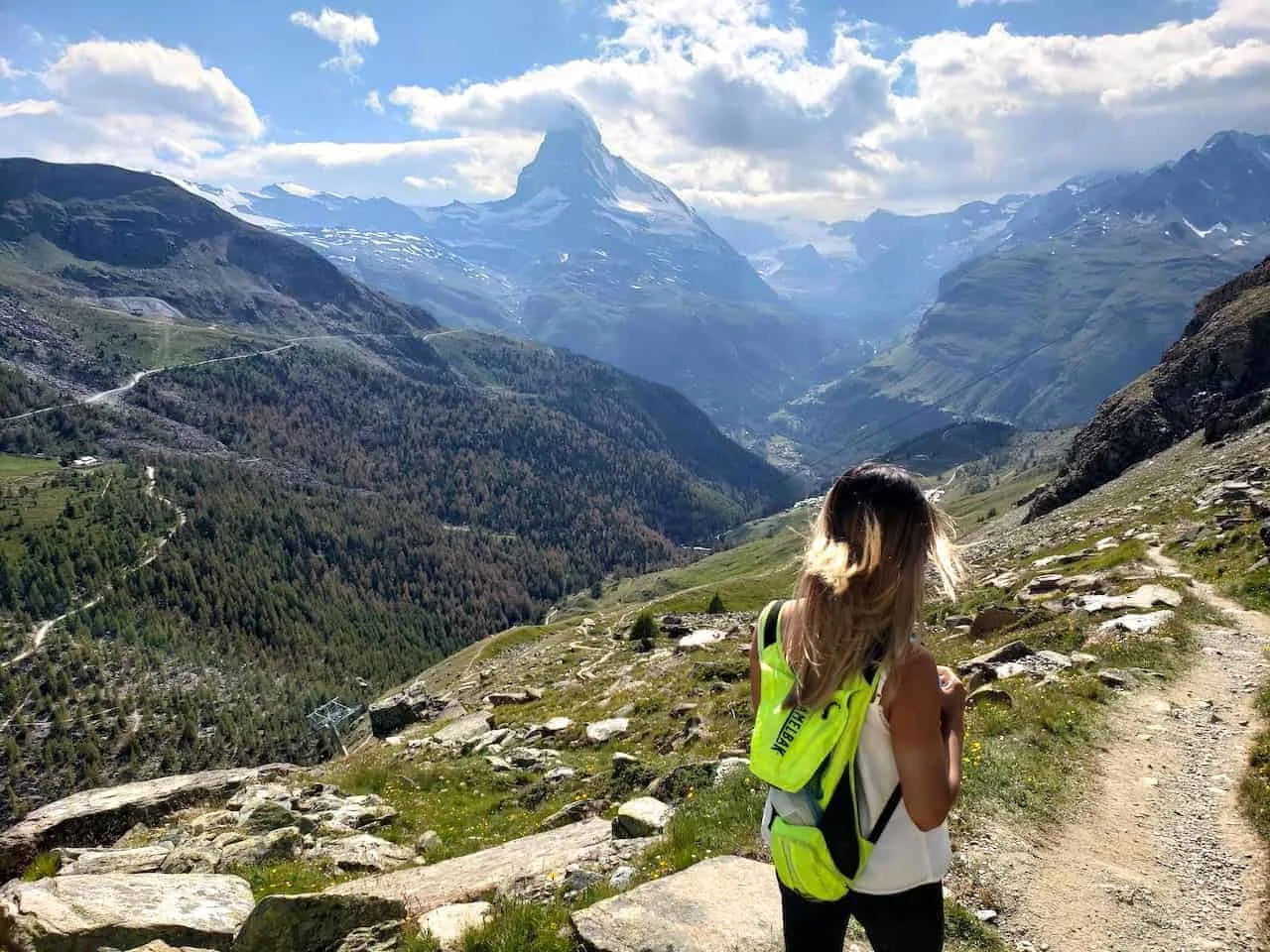 Charles Kuonen Suspension Bridge Hike
Just outside of Zermatt is the small town of Randa. Here you will find the starting point of the Charles Kuonen Suspension Bridge hike. From the train station, the path continues up through town and then further into the forest.
After a couple hours of hiking, you will reach one of the longest pedestrian suspension bridges in the world! Crossing the bridge is a pretty thrilling experience to take in as you get views of the mountains out in the distance while suspended over the valley down below.
The loop continues around the bridge and then back down to Randa, where you can head back to Zermatt for the night.
Starting & Ending Point: Randa Train Station
Mid Point: Charles Kuonen Suspension Bridge
Distance: 5.3 miles / 8.5 km
Elevation Gain: 3,215 feet / 980 meters
Duration: 4-5 hours
Learn More: Charles Kuonen Suspension Bridge Hiking Guide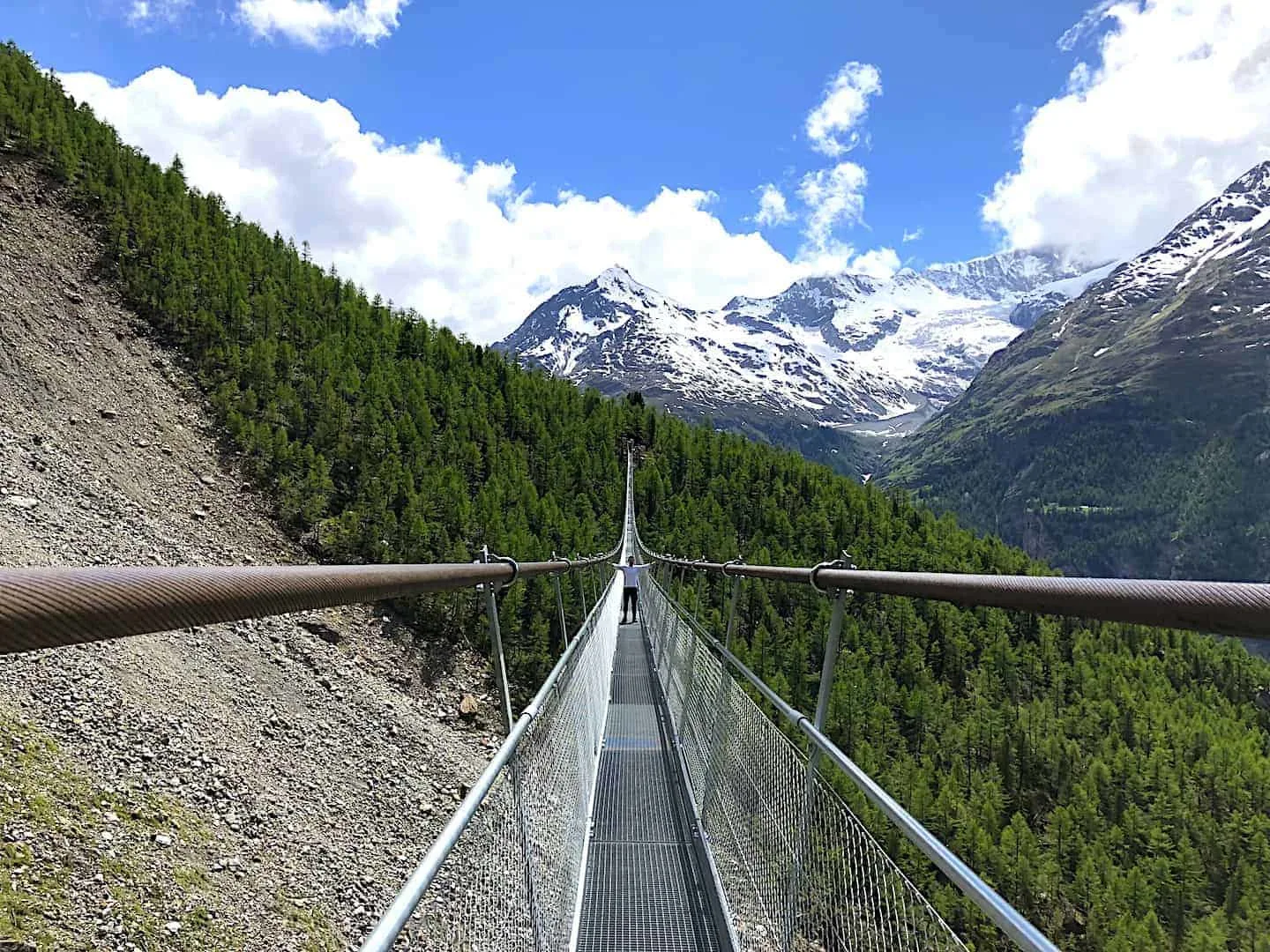 Lauterbrunnen Valley Hike
Hiking through the Lauterbrunnen Valley is something that can be done year round. With the vast valley walls on either side and 72 waterfalls coming down off the side of the walls, it makes for one memorable experience.
It is a pretty much flat trail between the villages of Lauterbrunnen and Stechelberg as you take in all the scenery along the way. Another great addition to the trail is stopping at Trummelbach Falls – a multi leveled waterfall within the mountainside.
Starting Point: Lauterbrunnen
Ending Point: Stechelberg
Distance: 4.3 miles / 6.9 km
Elevation Gain: 400 feet / 122 meters
Duration: 1.5-2 hours
Learn More: Check out the Lauterbrunnen Valley guide to learn more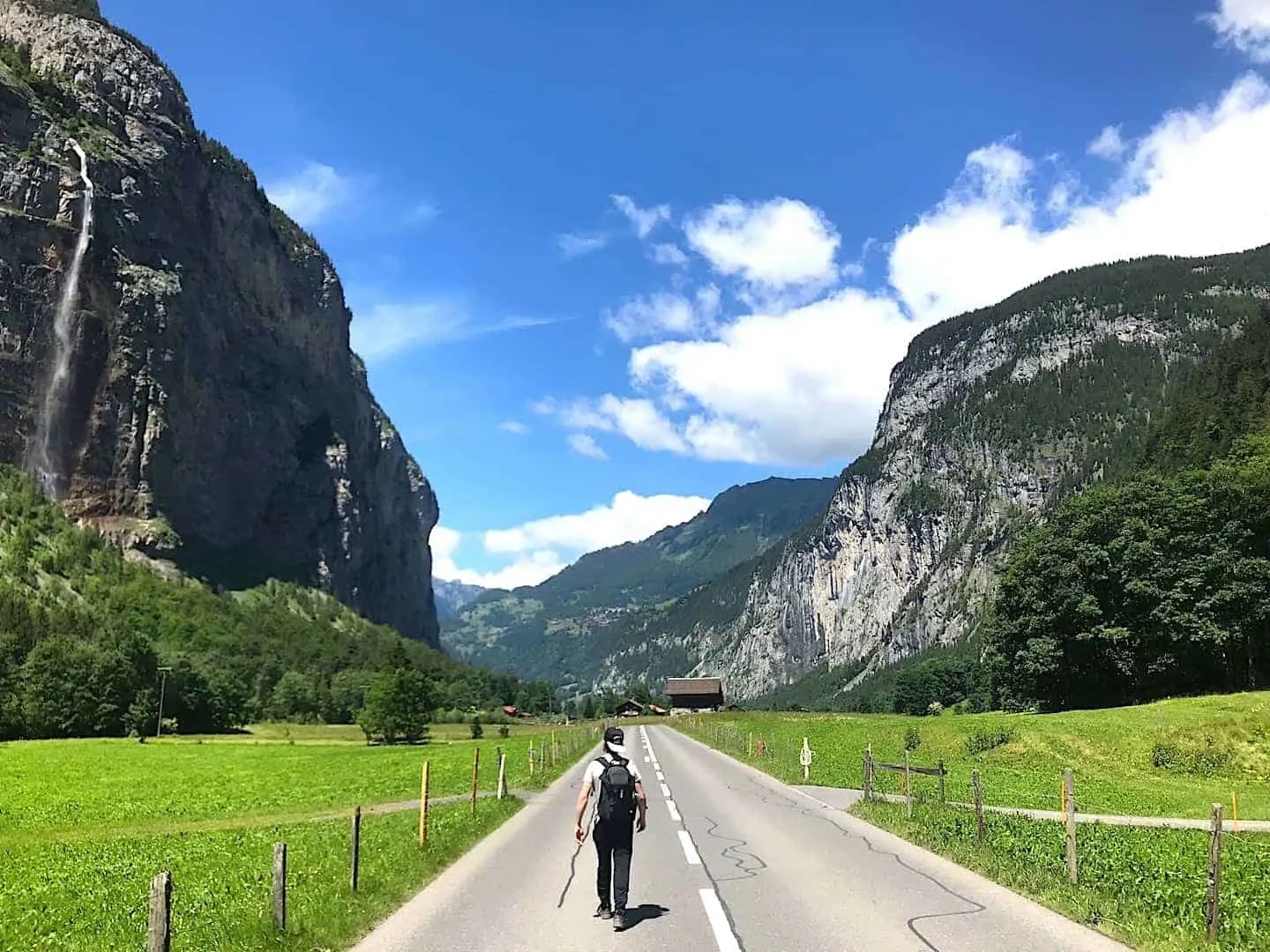 Murren to Gimmelwald Hike
Another short and easy trail is the route between Murren and Gimmelwald. While you can take a quick cable car between the two villages, the walk between the two is definitely worth the effort.
You will enjoy the valley views from up above as you take in those waterfalls and surrounding mountains throughout the trail. This is truly one of the top things to do around Lauterbrunnen!
Starting Point: Murren
Ending Point: Gimmelwald
Distance: 1.2 miles / 2 km
Elevation Gain: downhill 1,000 foot elevation loss
Duration: 45 minutes
Learn More: Check out the Murren to Gimmelwald hiking guide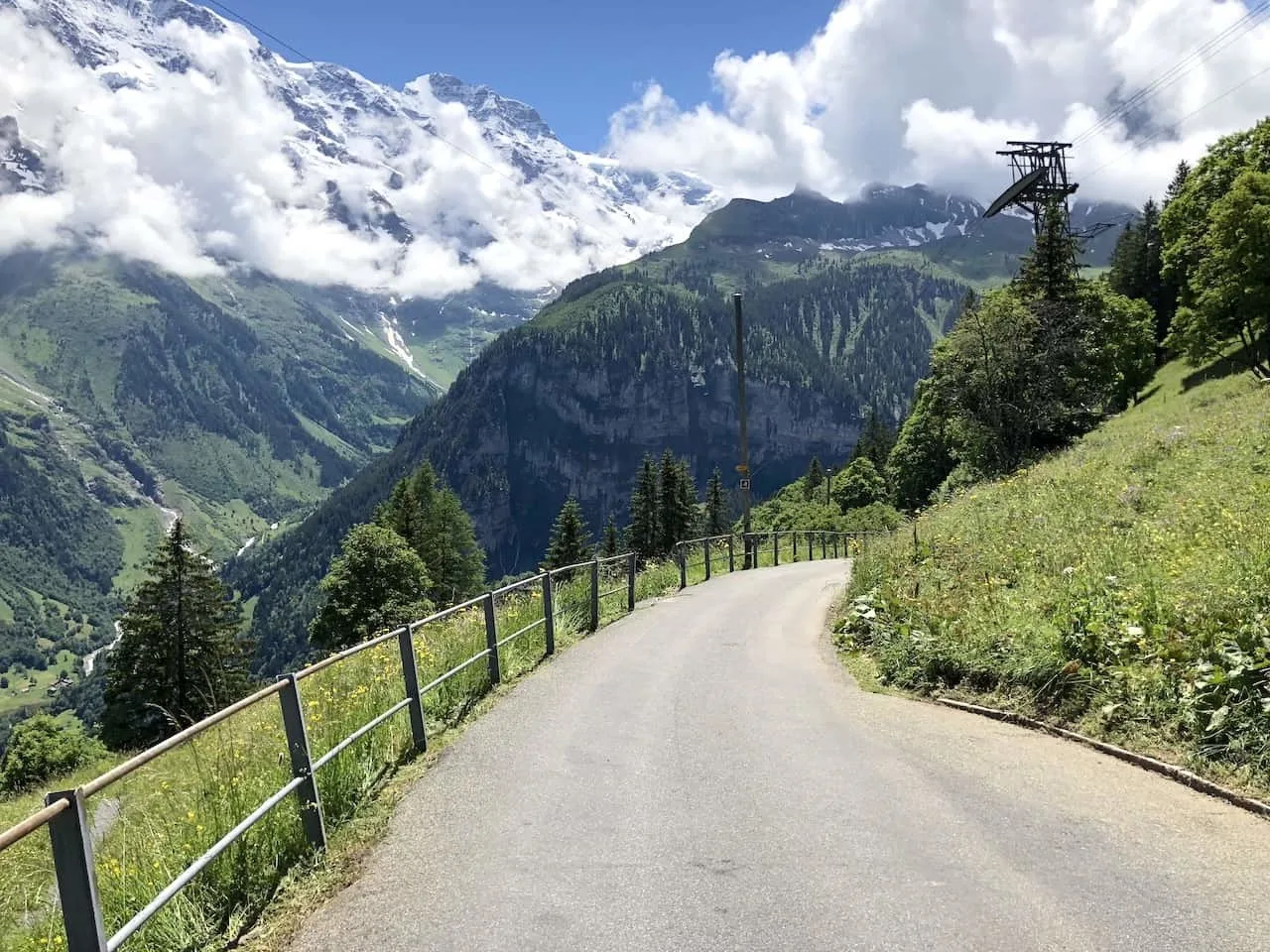 Bachalpsee Lake Hike
Located above the town of Grindelwald, you will find one of the most beautiful lakes in the country. The Bachalpsee Lake hike begins on top of the First cable car and winds its way towards the lake itself.
As you continue along the trail, you will get to enjoy the greenery of the countryside down below with the vast mountains out in the distance. Standing tall will be the Eiger, one of the most famous mountains in the country.
From the lake, you have multiple options to get yourself back. A simple out and back is one option, but you can also extend the hike by heading up behind the lake to the Faulhorn summit, and/or looping down the valley back to First.
Starting & Ending Point: First Cable Car Station
Mid Point: Bachalpsee Lake
Distance: 3.7 miles / 6 km
Elevation Gain: 492 feet / 150 meters
Duration: 2 hours
Learn More: Check out the Bachalpsee Lake hiking guide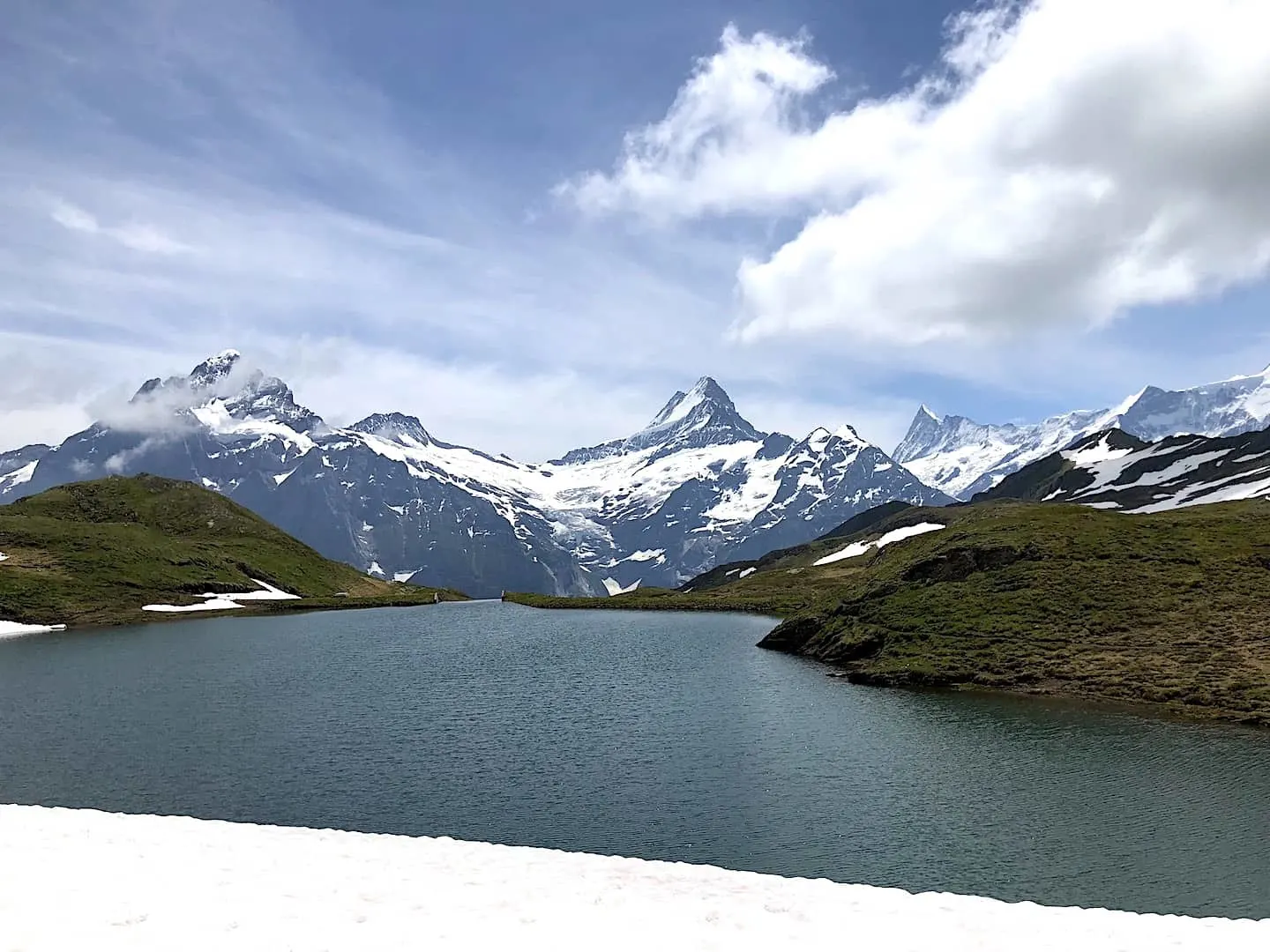 Pfingstegg to Baregg Hut
Just over Grindelwald is the Pfingstegg cable car station, which is home to a restaurant, toboggan run, and zipline. This is also the starting point of the hike to the Baregg mountain hut.
Along this hike you will we walking alongside a narrow canyon with glaciers, mountains, and waterfalls out in the distance.
Once at the Baregg Hut you will get a fantastic panorama of the Ischmer Glacier. Here you can sit back, relax and enjoy the view before heading back to the cable car station.
If you are up for it and have the necessary skillset, there is another trail from the hut to the Schreckhornhutte that takes you further into the mountains.
Starting & Ending Point: Pfingstegg Cable Car Station
Mid Point: Baregg Hut
Distance: 3.4 miles / 5.5 km
Elevation Gain: 2,200 feet / 670 meters
Duration: 3 hours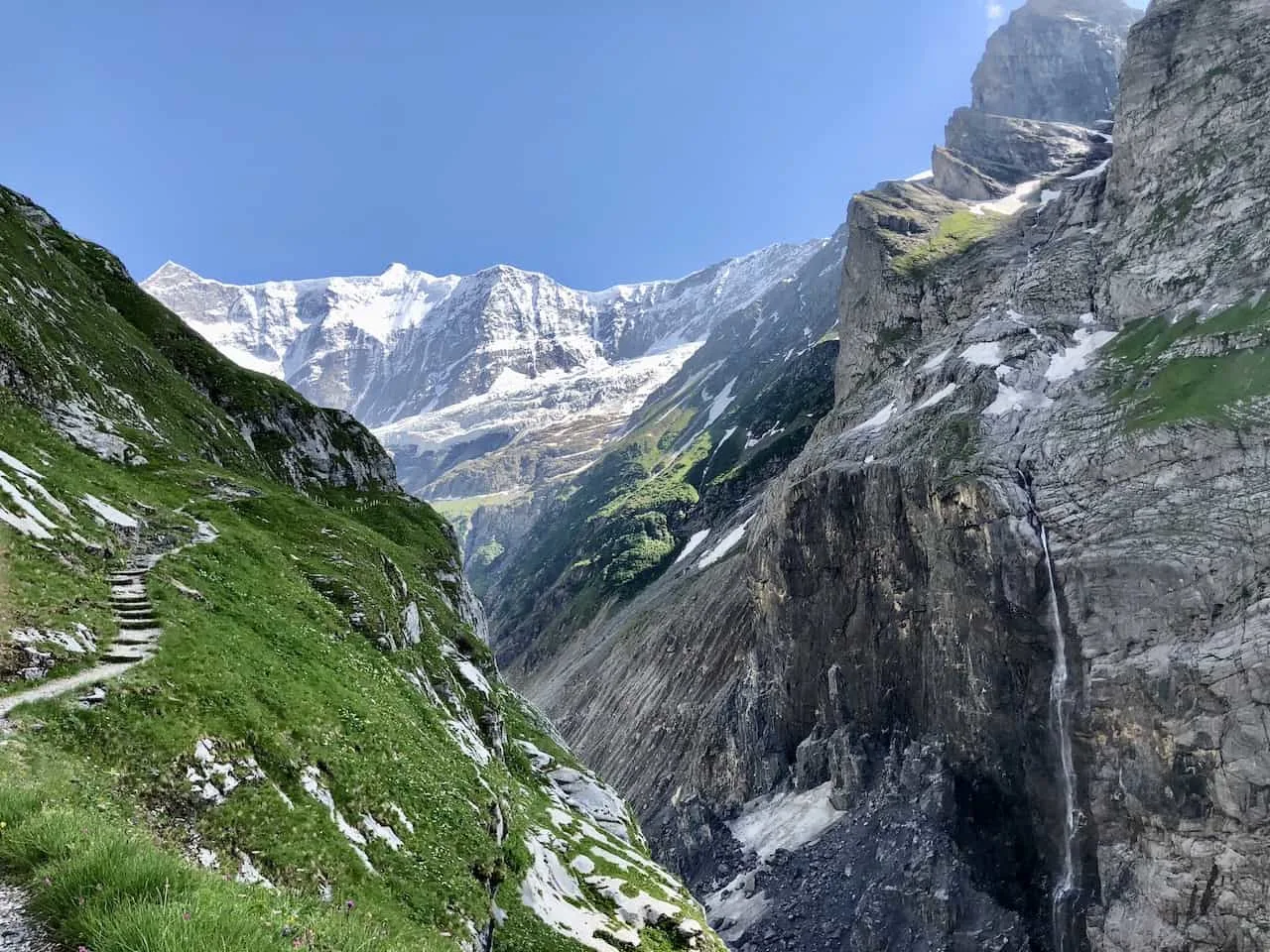 Royal Walk
The car free town of Wengen is a perfect place to base yourself when visiting the Jungfrau Region. From town, you also have easy access to some of the best hikes in the area.
One of these is an easy 30-45 minutes loop from the top of Mannlichen station to the Mannlichen Peak via the Royal Walk trail.
From up top you get views of the Lauterbrunnen Valley down on one side, and the three peaks of the Jungfrau, Monch and Eiger in the other direction.
Starting & Ending Point: Mannlichen Cable Car Station
Mid Point: Mannlichen Summit
Distance: 0.8 miles / 1.3 km
Elevation Gain: 262 feet / 80 meters
Duration: 30-45 minutes
Learn More: Read the Royal Walk hiking guide for more info on the trail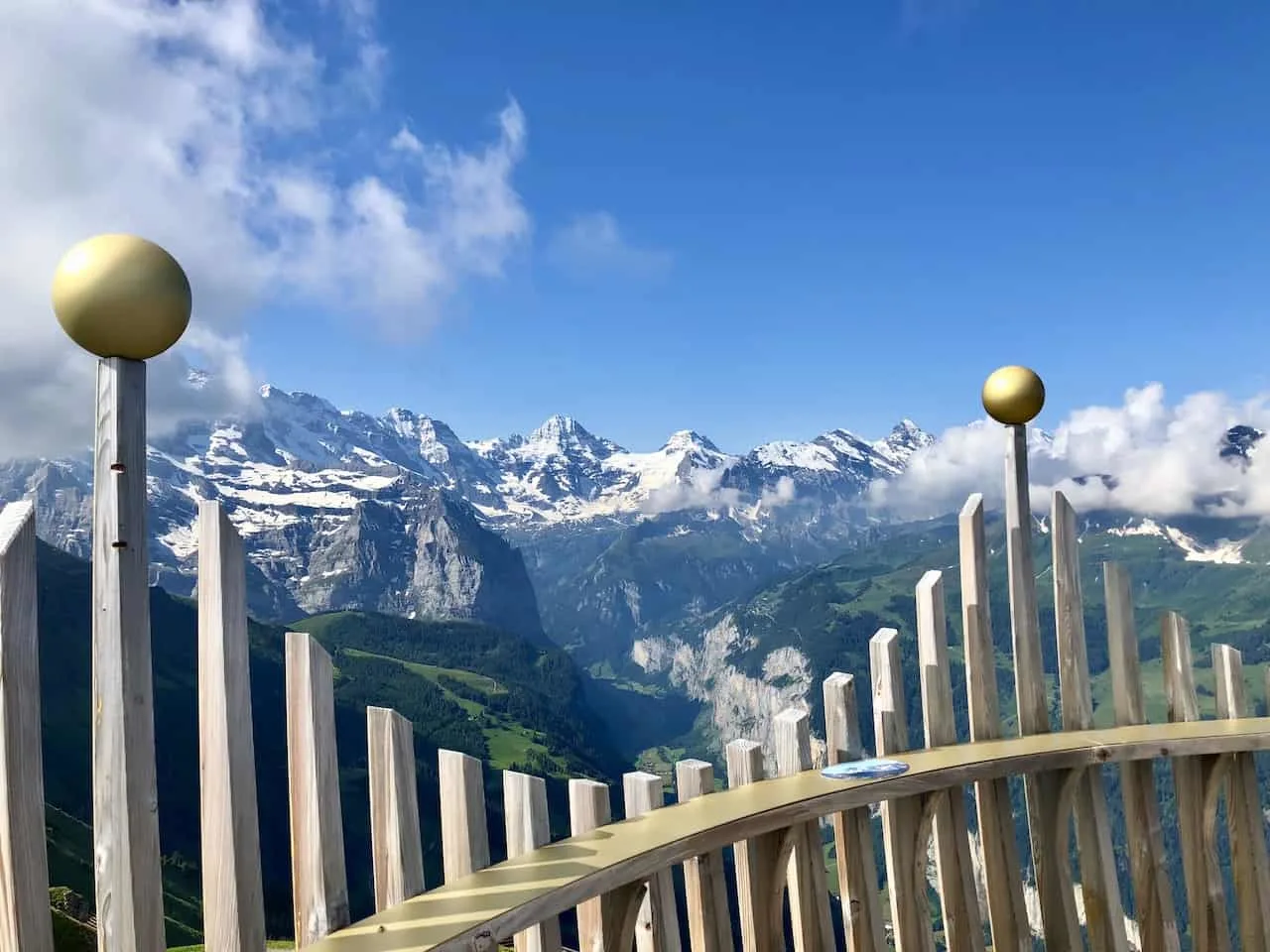 Mannlichen to Kleine Scheidegg Panorama Trail
The Panorama Trail between Mannlichen to Kleine Scheidegg is one of the most popular hiking trails in Switzerland. Throughout this scenic walk you will have the giant Jungfru, Monch and Eiger mountains hovering right out in front of you.
Coupled with the fact that you will get immense lake and valley views all throughout, it really is a tough trail to beat.
Once you finish up in Kleine Scheidegg, you also have the chance to take the mountain rail all the way up to the Jungfraujoch for some even vaster views.
Starting Point: Mannlichen
Ending Point: Kleine Scheidegg
Distance: 3.5 miles / 5.6 km
Elevation Gain: downhill 500 foot elevation loss
Duration: 1.5 -2 hours
Learn More: Check out the Mannlichen to Kleine Scheidegg Panorama Trail guide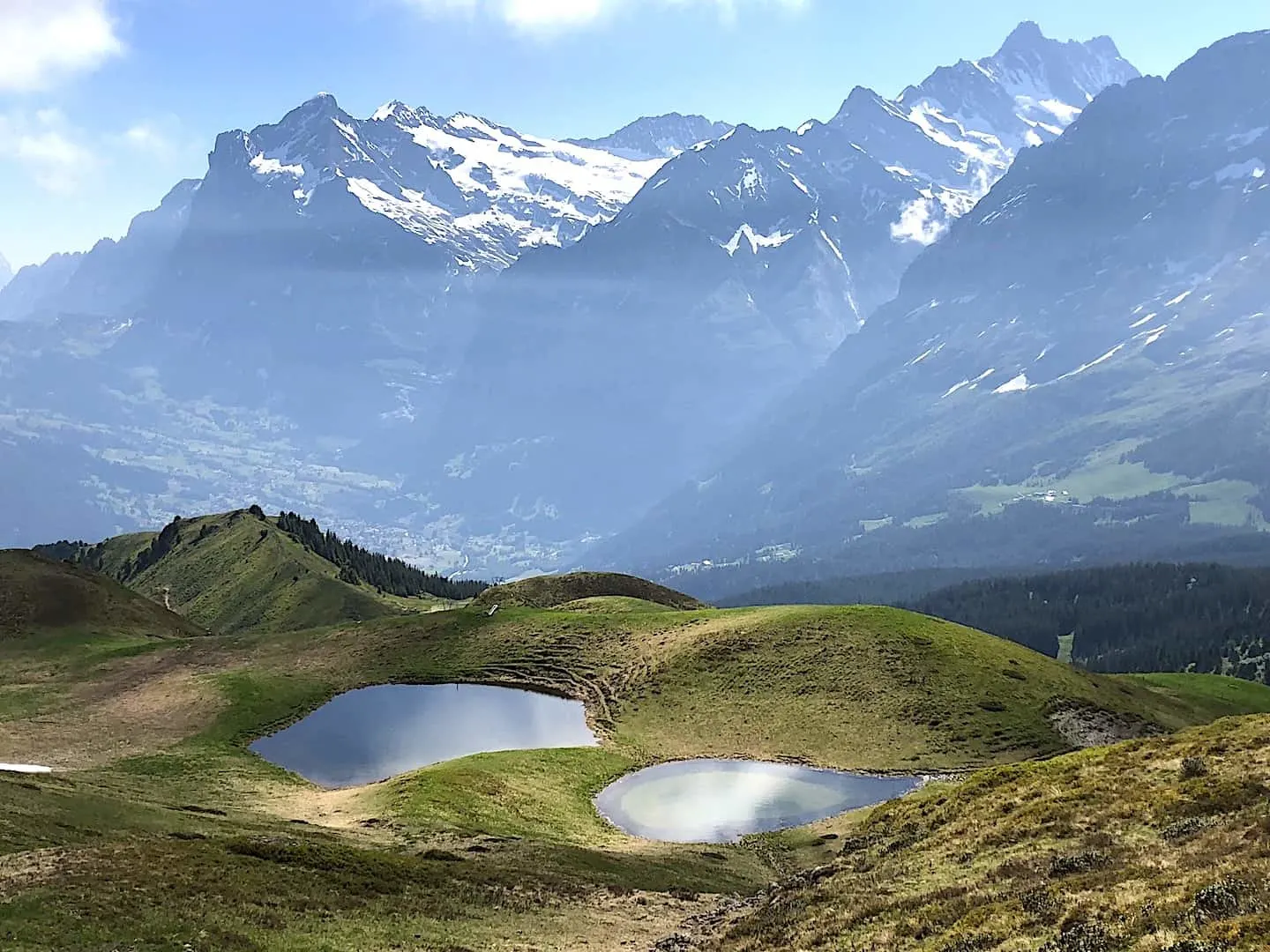 Murren to Gimmelwald Via Ferrata
While all the previous trails are meant for the everyday hiker in mind, I did want to add one more technical alternative to the list.
Instead of just walking from Murren to Gimmelwald, there is also the chance to take a via ferrata between the two villages. A via ferrata is a fixed route along the mountainside that requires special equipment to keep you safe.
This should not be attempted by those that are not comfortable / don't have the experience for these types of routes.
Starting Point: Murren (Sportchalet)
Ending Point: Gimmelwald
Distance: 1.4 miles / 2.2 km
Via Ferrata Difficulty: K3
Duration: 3 hours
Learn More: Check out the Murren to Gimmewald Via Ferrata guide for more info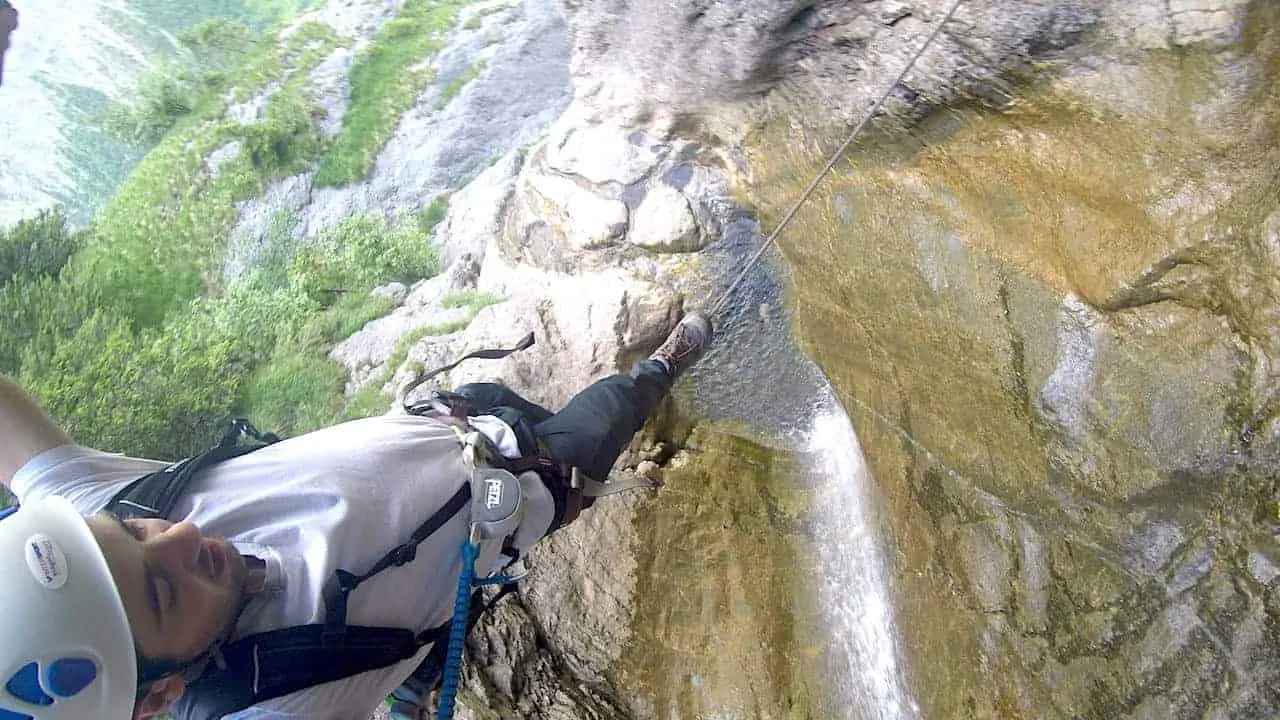 I wanted to wrap up the guide with some of the most frequently asked questions when it comes to hikes in Switzerland.
3) Is it Easy to Hike in Switzerland?
This question can have a few different answers to it. For example, from a logistical standpoint it is quite easy to hike in Switzerland. Trains, busses, and cable cars can get hikers to the starting points to so many trails around the country.
However, there is a large variety of trails in Switzerland. Some of these trails are easy to hike while others can be quite difficult. The nice thing is though, that the Swiss Alps offers a little bit of everything.
So, if you are just looking for an easy hiking trail in the area you are visiting, there is surely something for you. On the other hand, I am sure you will find much more difficult trails out there too if you are looking for more of a challenge.
At the end of the day, you must understand what type of hiking trail you are getting yourself into before heading out on the trail.
4) Can You Hike Anywhere in Switzerland?
There are over 60,000 kilometers of hiking trails all around the country, so yes you can basically hike anywhere in Switzerland.
Of course, you must be sure that you are hiking on officially marked trails though. While there are plenty of places in Switzerland to hike around, you cannot just hike anywhere you please. You must stick to those official hiking paths for safety reasons.
Whether you do some online research through blogs, official Switzerland websites, or with the tourism office once you are in a town, you will surely find a list of hikes that are suitable for you.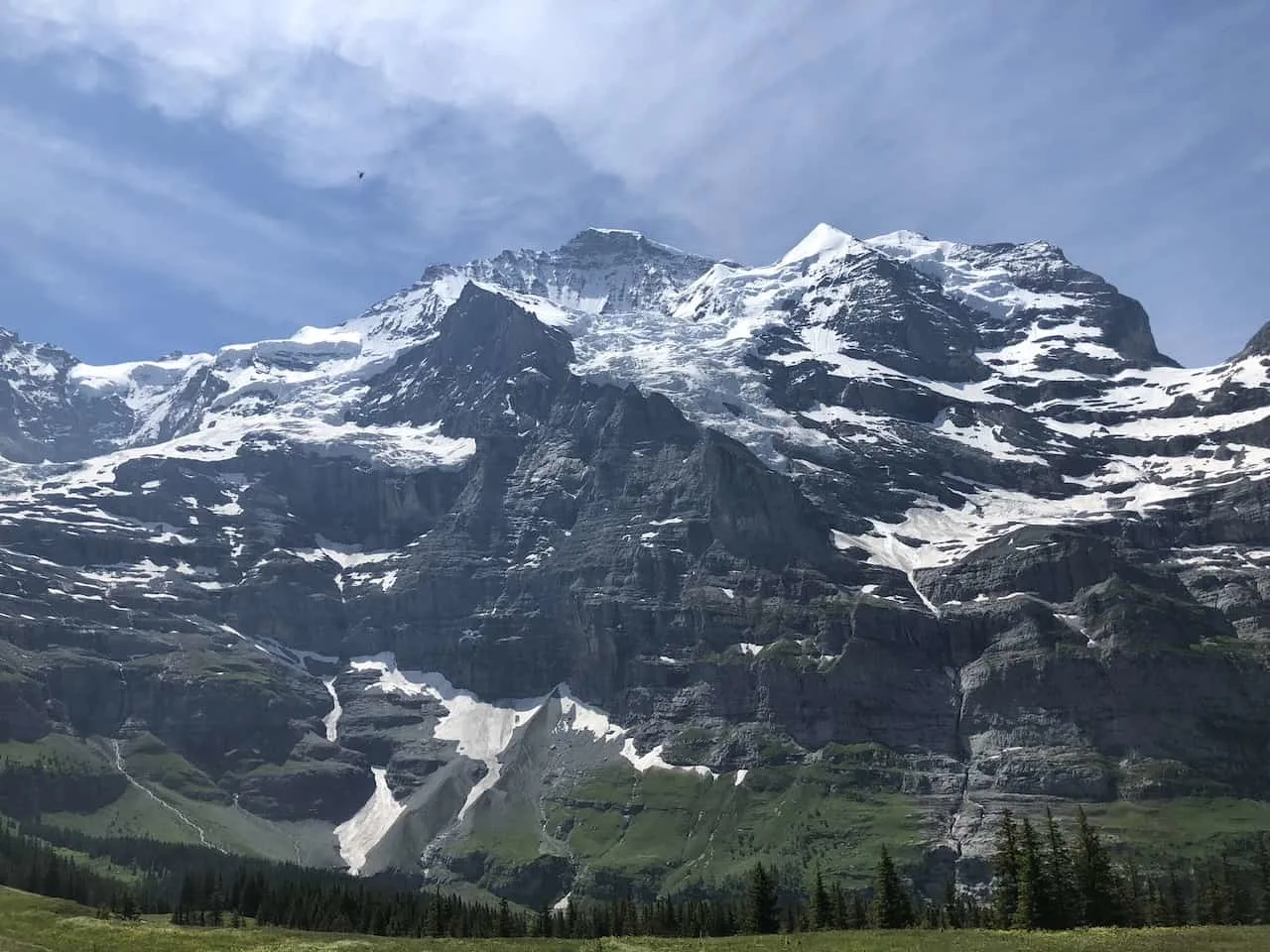 5) Is Hiking in Switzerland Free?
The great thing about the country is that hiking in Switzerland is free! You can make your way to the starting point of a trail and just be on your way.
However, there is one big caveat here. The transportation to get yourself to the starting points of a trail is not going to be free. Whether it is a cable car, bus or mountain railway, odds are there will be some sort of transportation option to get you nearby the starting point of a hike.
With that said though, there will probably also be an option to avoid some of the public transportation by hiking to the starting point as well.
As an example from above, the Pfingstegg to Baregg Hut hike starts at the top of the Pfingstegg cable car station. If you did not want to take that cable car up, you could also hike the trail from Grindelwald up to Pfingstegg, adding a couple hours of hiking to the trip.
6) When Should I Hike in Switzerland?
In order to take advantage of most of the trails, you should plan to hike in Switzerland from mid June to mid October. This is when the majority of hiking trails will be open and clear of snow.
In my opinion, the best time of year to hike in Switzerland is in September. During this time there is still great weather, and you will have fewer crowds compared to the summer months.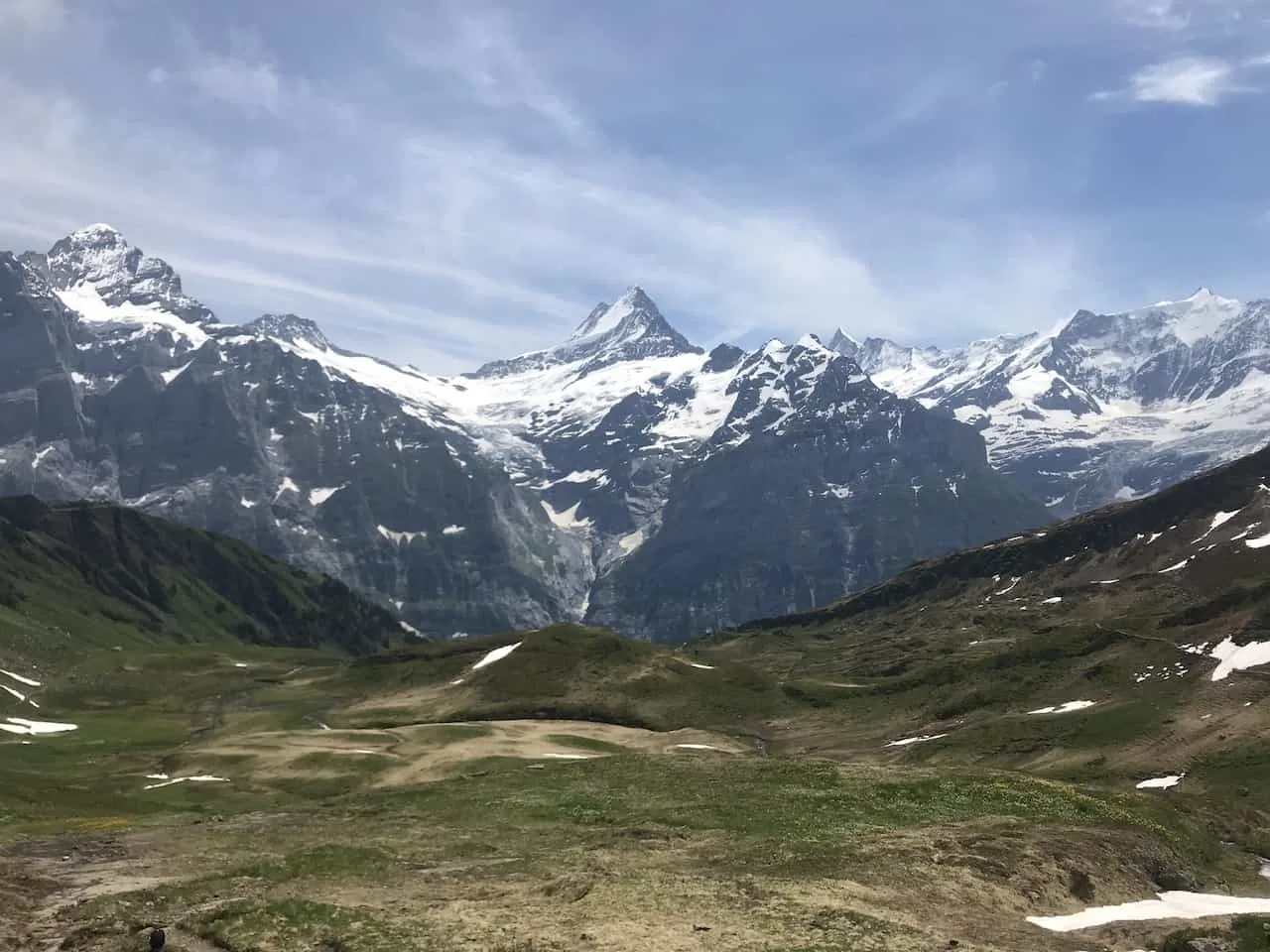 I hope by now you have a better idea of what some of the best hikes in Switzerland are all about. If you have any additional questions or comments, be sure to add them in below.
Also don't forget to check out the remaining Switzerland itineraries and guides up on the site like this incredible Switzerland road trip or 5 day Switzerland itinerary.
Have fun out there and safe travels!