When it comes to planning a 5-day Switzerland itinerary, there are so many various places to choose from in the country. You have everything from beautiful cities to awe inspiring mountains, and plenty in between.
After visiting Switzerland several times over the years, I have gained a good understanding on how to fit in the most variety in a short period of time.
This Switzerland itinerary of 5 days will have you seeing the best of the best that the country has to offer (whether that be in the summer or the winter!).
Read on to learn more about visiting Switzerland and how to put together the best itinerary for your trip.
* Affiliate Disclosure: This post may contain affiliate links, which means I may receive a commission if you make a purchase through the links provided, at no additional cost to you. Thanks for supporting the work I put into TripTins!
5 Day Switzerland Itinerary Overview
To start, let's breakdown what a 5 day in Switzerland itinerary will look like. The purpose of this itinerary is to give you a glimpse of what this country has to offer. While 5 days will have you just scratching the surface, you are sure to enjoy it from beginning to end.
Day 1 – Zurich
Day 2 – Lucerne & Mountain Excursion
Day 3 – Lauterbrunnen, Murren & Schilthorn
Day 4 – Wengen & Mannlichen
Day 5 – Grindelwald & First
One important logistical aspect to consider for the itinerary:
This itinerary accounts for 5 full days in the country. This means arriving on day 0 or early on day 1 in Zurich, and leaving late on day 5 or on day 6. So, altogether you will need to account for travel days in addition to the 5 days mentioned above.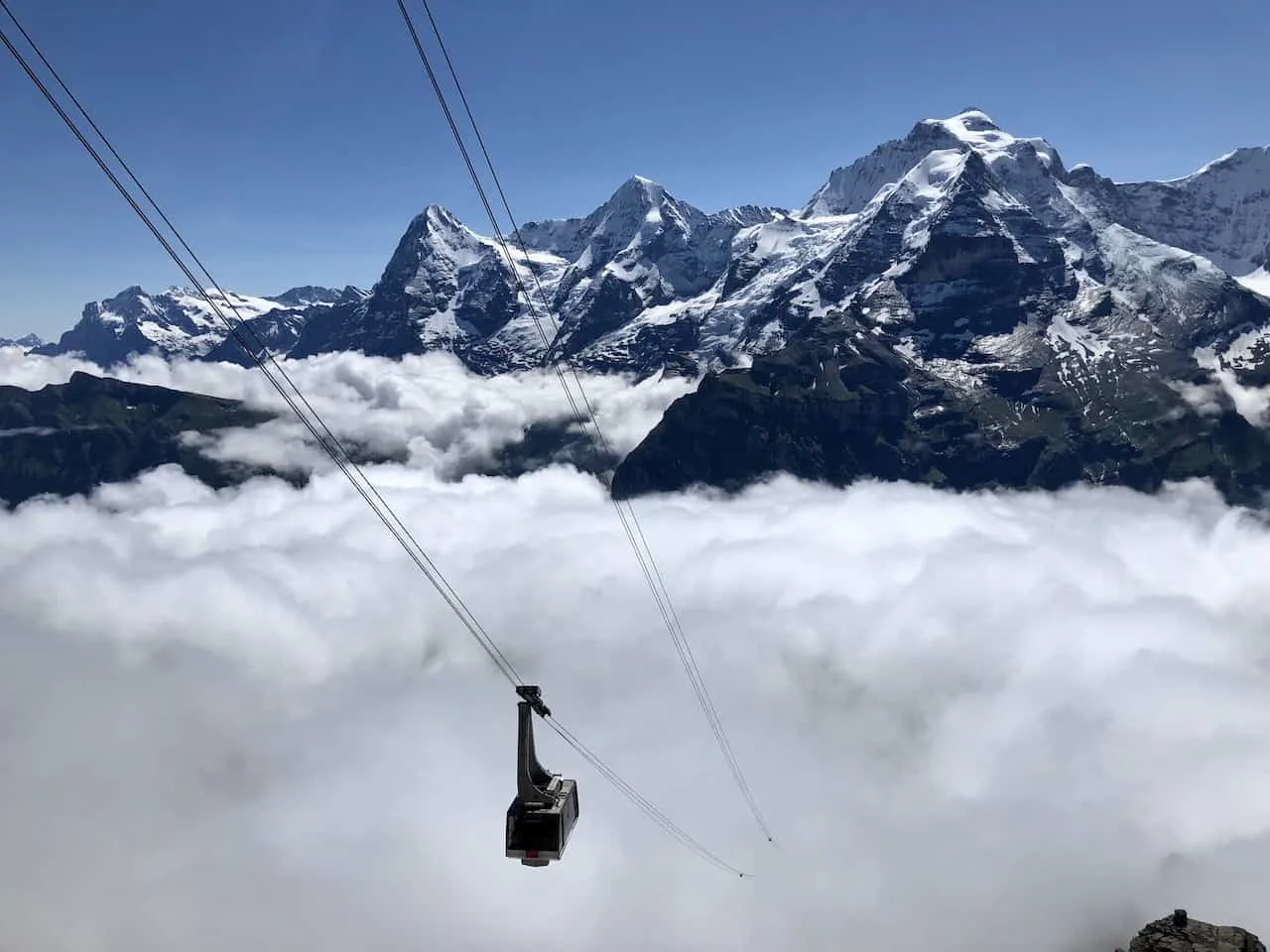 Switzerland Itinerary Breakdown
To better visualize this 5-day Switzerland itinerary, I have included a day by day breakdown. This breakdown shows the types of activities and attractions you will get to enjoy throughout your time in the country.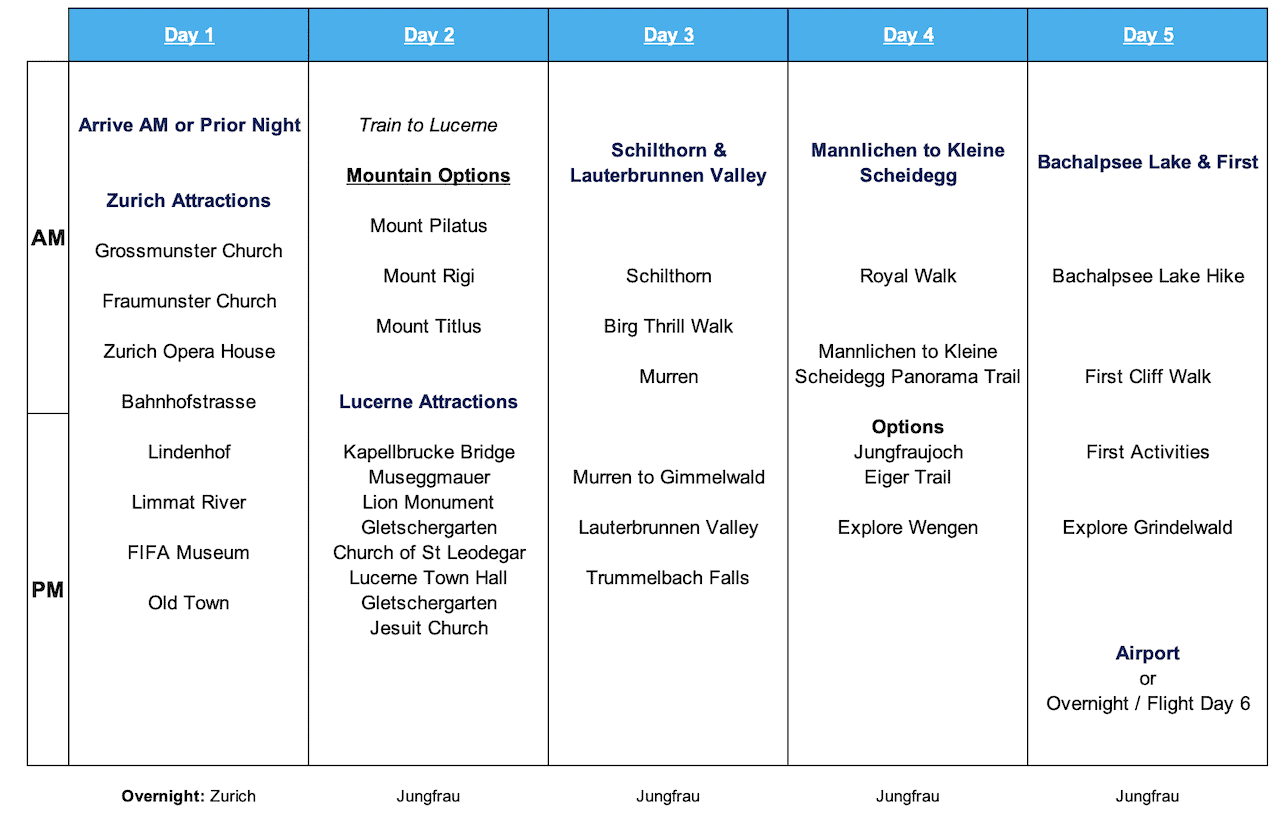 How to Get Around Switzerland
Now, you may be wondering how you will be getting around from place to place throughout the trip. Thankfully, Switzerland has one of the most efficient public transportation networks in the world.
Whether it is trains, busses, cable cars, or mountain railways, Switzerland has it all. Better yet, they are all efficiently well connected and punctually on time.
Since you can easily rely on the public transportation network, renting a car is really not needed. While some may want to rent a car to have a bit more freedom on their schedule, most will simply opt for the trains.
If you do want to rent a car check out Rentalcars.com for the best car rental deals out there.
Switzerland Travel Passes
When going about traveling around the country, you do have the option to purchase different types of travel passes. These travel passes can help you save some money vs. purchasing full fare tickets for each leg of your journey.
Swiss Travel Pass – this will give you unlimited travel throughout the country without the need to purchase tickets. Simply hop on a train, show your pass, and be on your way. The one exception here is mountain transport, where you will get discounted prices (25%-50% off). Purchase ahead of time -> Swiss Travel Pass.
Half Fare Card – this will give you 50% off of all transport throughout the country. With the card you will need to buy individual tickets for each leg of your journey, but will end up only paying 50% of the regular fare.
Swiss Family Card – if a parent has either a Swiss Travel Pass or Half Fare Card, then any children under 16 can travel for free. The card itself is free – you just need to receive one when purchasing your Swiss Travel Pass or Half Fare Card.
Learn more in the Swiss Travel Pass vs Half Fare Card overview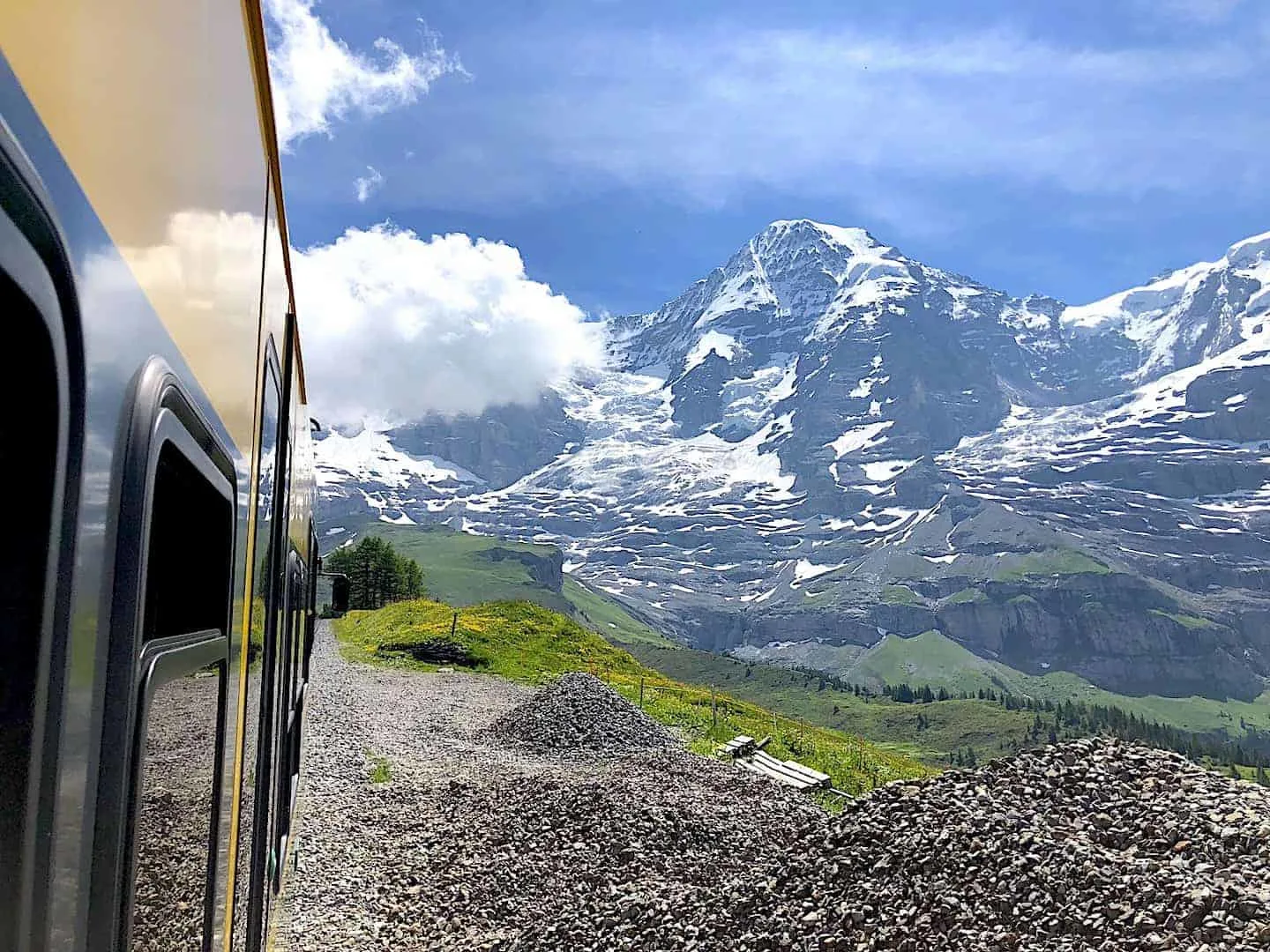 Switzerland Train Travel Things to Know
→ Switzerland has a transportation website called SBB.CH. This website will show you all routes, schedules and fares. They also have a mobile app, which I would recommend to download.
→ Trains cannot sell out, so do not worry about missing out on a particular connection. The one caveat is on some panoramic train rides, where seat reservations may be required.
→ On Swiss trains, you will find a first class and second class. If you would like to have some more comfort, more space, and less crowds, then a first class ticket may be right for you.
→ I will mention this once more, but trains run punctually on time. Do not expect there to be a buffer period between the time mentioned on the schedule and when the train leaves. Be sure to be ready on the platform well before the train time.
→ Learn about all of this and more in the Switzerland Train Travel overview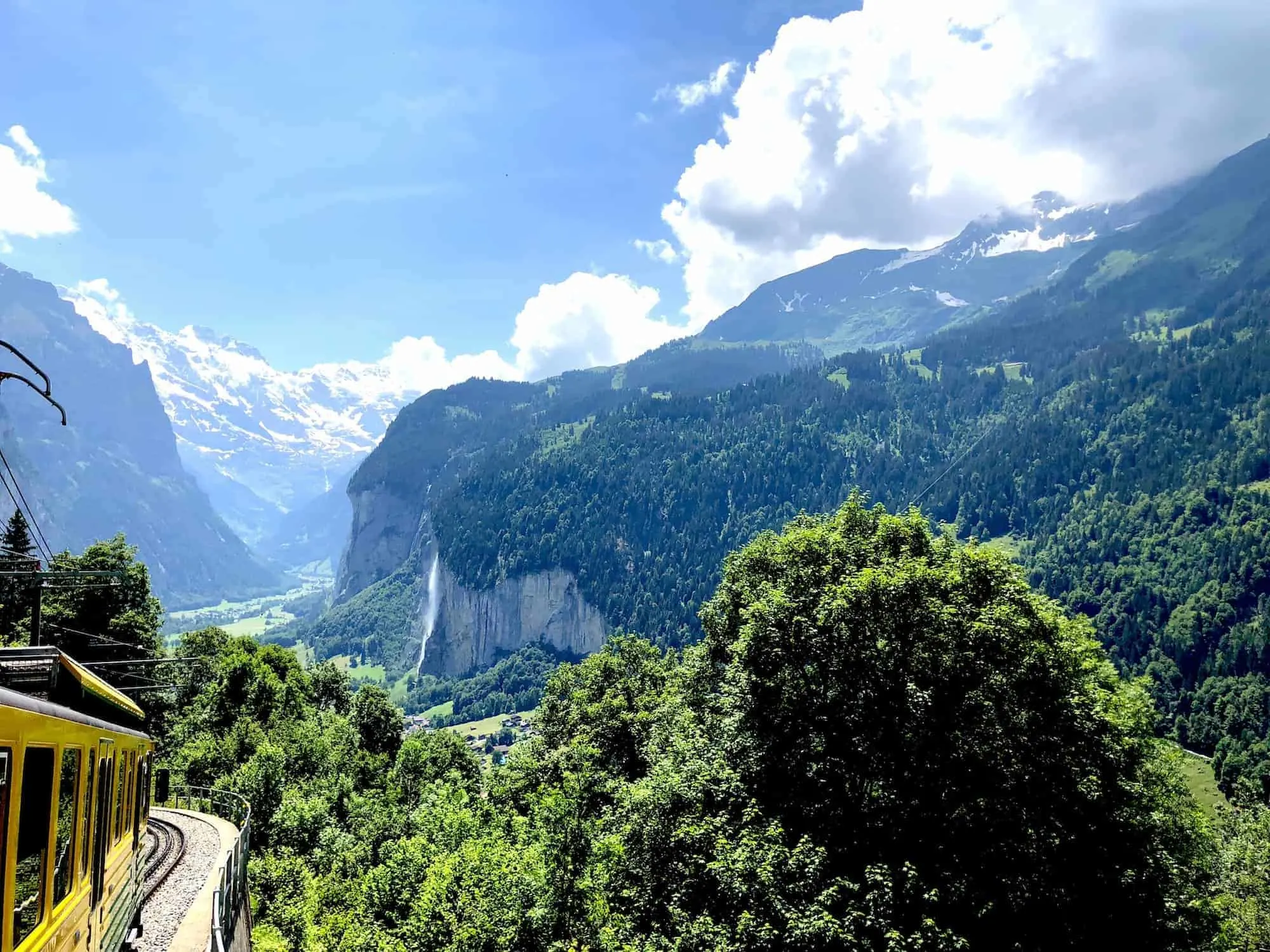 5 Days in Switzerland Cost
You may be wondering "how much money do I need for 5 days in Switzerland?" Well, if you have not heard, Switzerland is one of the most expensive countries in the world.
Although it is one of the most expensive, does not mean it can't be done on a budget though if need be.
Below is a breakdown of how much money an average traveler spends over a 5-day trip in Switzerland in USD:
Hotels: $150-$200 per night
Swiss Travel Pass: $375 (6 day)
Other Transport: $100 – $200 (discounted with Swiss Travel Pass)
Food: $50 – $75 per day
Activities: Varies
In total you are looking at around $200 – $300 per person per day. If traveling with someone else, then hotel costs will inherently be cheaper.
With that said, you can easily spend half (or even less than half) of that number if going on a budget. This means cheaper hotel rooms, not eating out, and opting out of some activities.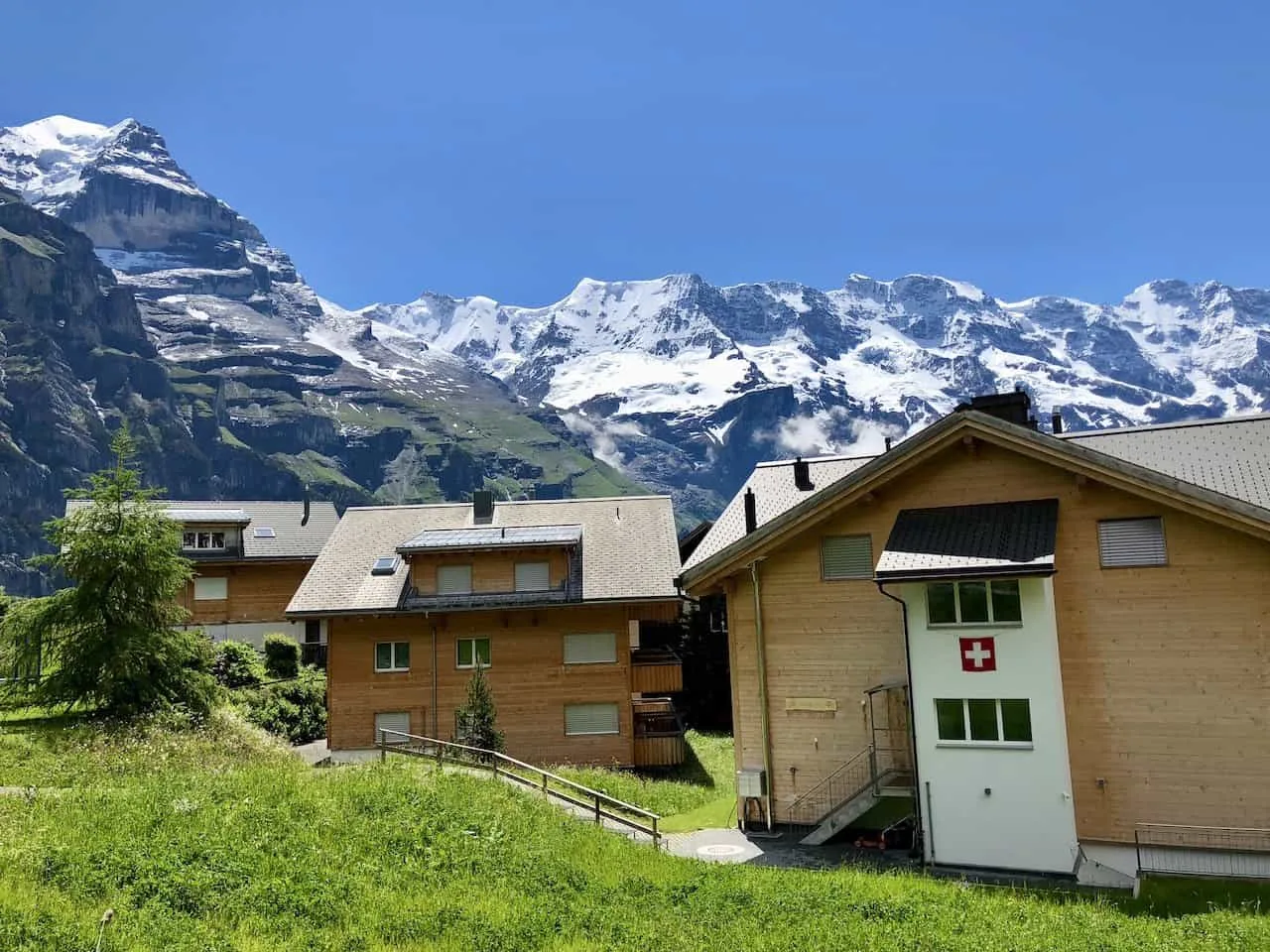 Where to Stay
To make logistics simple, this itinerary will focus on 2 main overnight locations – Zurich & the Jungfrau Region. Instead of jumping around from place to place, this gives you a chance to have that home base and then take your day trips from there.
Zurich Hotels
For your first night on this itinerary you can stay right in the city of Zurich. There will be plenty of options to choose from in the city center. Some recommendations include:
Jungfrau Region Hotels
Now for the Jungfrau Region (nights 2-5) is does get a little bit more complicated. That is because there are several different towns to choose from throughout the region.
The idea here is to stay in one place and then you can visit the other parts of the Jungfrau Region on each one of your days there.
In general, there are 5 main options to choose from when it comes to the Jungfrau Region:
• Interlaken: main tourist hub outside the mountains
• Murren: mountain town
• Wengen: mountain town
• Grindelwald: valley town
• Lauterbrunnen: valley town
→ If you are looking for the most well-connected town with the most amount of options and the most affordable of options, then Interlaken is for you. The downside of Interlaken, is that you are not waking up to the mountains. Rather the town sits just outside the mountainous region.
→ For those that want to enjoy small car free villages, and wake up to some of the best views in the Jungfrau region, then Murren and Wengen are for you. These two towns sit atop the mountainsides on either side of the Lauterbrunnen Valley.
→ Lastly, instead of staying higher up in elevation, you can opt for the valley towns of Grindelwald and Lauterbrunnen. These two towns still offer immense beautiful scenery and are a bit more affordable than the mountain towns.
→ Feel free to read through Where to Stay in the Jungfrau to learn more (and check out some of the best hotels in Switzerland with a view)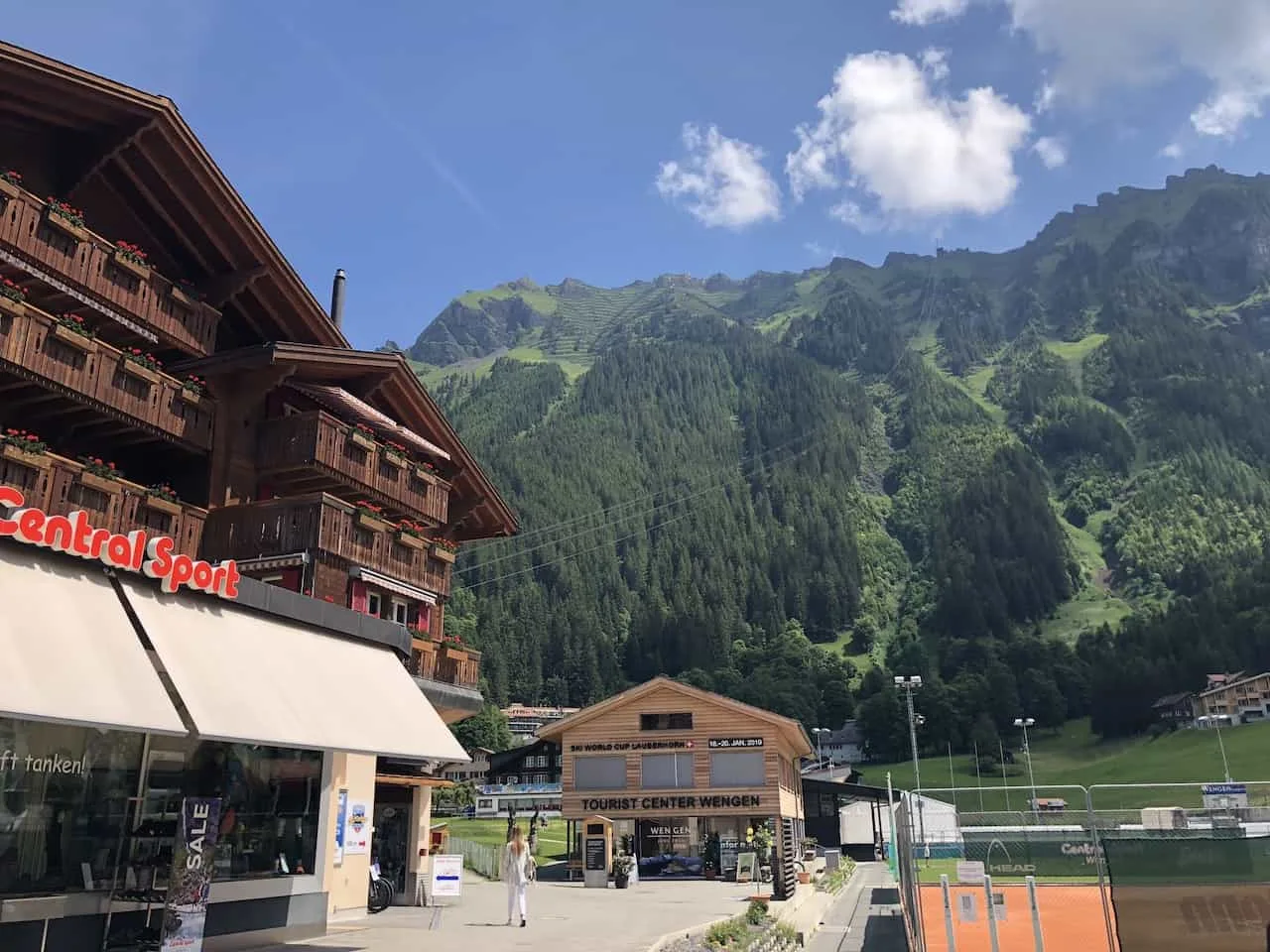 Interlaken Hotels
Murren Hotels
Wengen Hotels
Grindelwald Hotels
Lauterbrunnen Hotels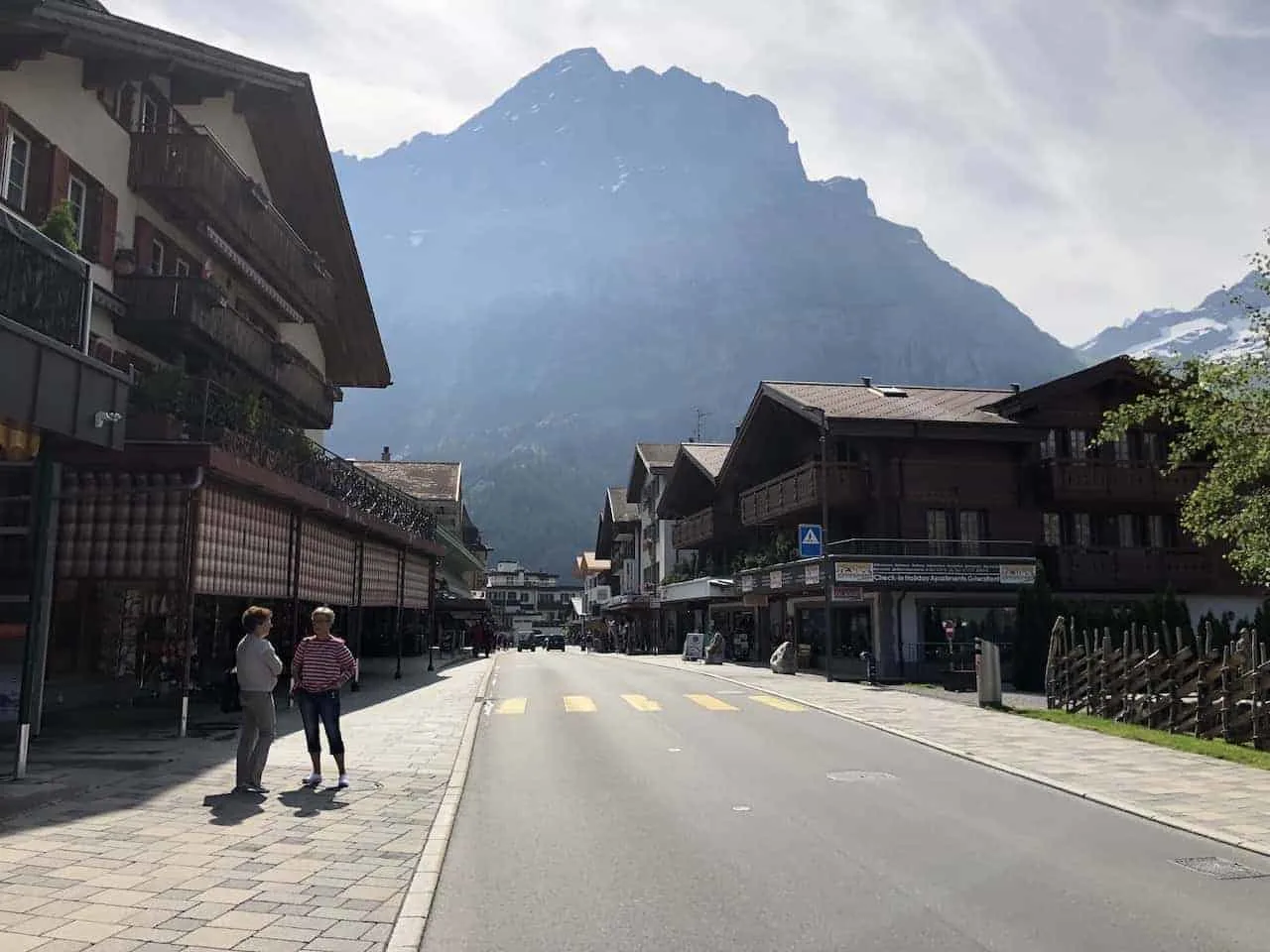 Switzerland Weather
When it comes to weather in Switzerland, there are some considerations to keep in mind. This itinerary will be visiting some cities but will also take you up into the mountains.
If you are not aware already, mountain weather is where things can get tricky. While it may be nice and sunny down in the city or on the valley floor, up in the mountains may be covered with clouds and rain.
If going on a hike in the mountains for example, you certainly will not want to only look at the city weather. Rather you will want to look at the mountain weather in particular.
There are two main ways I would recommend staying on top of mountain weather:
Meteoblue: for weather forecasting purposes, I would recommend Meteoblue instead of your standard weather site. This is because you can actually search for particular mountain weather and get a better understanding what the forecast will be higher up in elevation.
Webcams: before heading up to higher elevations, you can also take a look at the regional webcams. All throughout the Jungfrau, you will find webcams that will give you a live look at what is going on higher up.
So, for example, if you want to head up to Schilthorn (more on that soon), but the webcam is showing a just complete fog, maybe opt to spend time down in the valley instead.
There is no reason to waste time and money by heading up to higher elevations if the weather is not cooperating. There will be other alternative activities to do, where weather will be less of an obstacle.
Flexibility: Going off of that last point, one more weather tip I will mention is to be as flexible as possible when it comes to your 5 days in Switzerland. I would not advise to stick to an absolute schedule.
Instead, I would recommend building in the necessary flexibility to move things around based on weather considerations. And luckily, it is quite easy to move days around in the mountains.
While you may be booking certain activities (i.e. paragliding), much of the itinerary is more so based on views, walks, and hikes. So, it does give you some more freedom to move around days/activities based on the weather.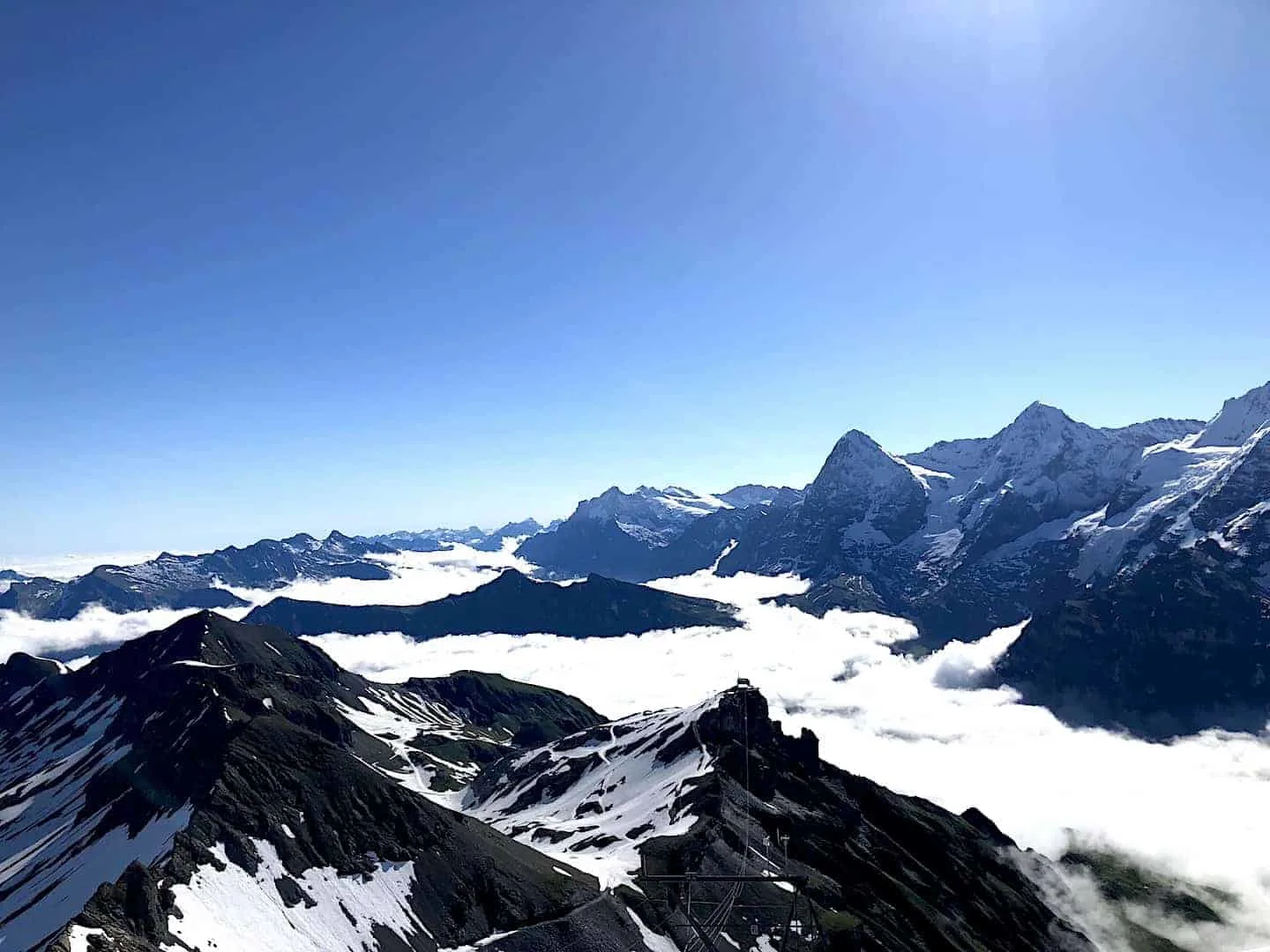 Language & Money
Believe it or not, there are actually four local languages that are spoken in Switzerland – French, Swiss German, Romansch & Italian. Now, these three languages aren't spoken everywhere. Rather they are spoken regionally.
While traveling through Switzerland you will come across plenty of people who know English as well. Whether you are walking through a train station or looking at a menu, you will find English throughout.
The Swiss Franc (CHF), is the local currency in Switzerland. During my time in the country, I used CHF very sparingly as I found credit cards to be accepted in most locations.
I would still recommend taking out CHF from an ATM on arrival to have some local currency just in case.
5 Days in Switzerland Map
From a map perspective, you can see where everything on the itinerary lays in the country. Each color on the map represents a different day on the itinerary. This should give you a good sense of the layout of each day in Switzerland.
As you read through the itinerary, feel free to reference the map to better understand where various places are located.
Switzerland 5 Day Itinerary (Summer)
Now it is time to dive into this Switzerland itinerary with more in-depth explanations of what each day will entail.
This itinerary will be more geared towards the summer months given the hiking opportunities. However, in the following section I will also talk through how to make this just as an exciting winter itinerary to take part of.
Throughout the itinerary you will find links to travel guides that will go into more thorough detail about a particular activity. Feel free to check those out to learn more!
After arriving in Zurich on day 0 or day 1, it is time to explore what this historic city has to offer.
First, you will need to make it to your hotel in the city center. While taxis can be an option from the airport, I would recommend just hopping on the train. These trains leave pretty consistently and take just 12 minutes to get to the main Zurich train station.
Day 1 – Zurich
After some time of traveling, your first day in Switzerland will just be focused on the city of Zurich. When it comes to Swiss cities, Zurich is up there as one of the most beautiful and scenic ones to enjoy.
The main city center is known as the Old Town or the Altstadt. Surrounding the Old Town you will have plenty of streets to stroll along that can be an activity on its own.
However, throughout the streets you will also come across plenty more attractions to enjoy. Churches, town squares, museums, and more historic sites make up the cityscape. And during a day in the city, you can spend your time enjoying it all.
Best of all is that the Old Town also has a beautiful river called the Limmat that runs right through it. The river starts at the nearby Lake Zurichsee and continues northbound from there.
Throughout a day exploring the city, you are sure to cross over the Limmat several times as you get to take in some views from various angles.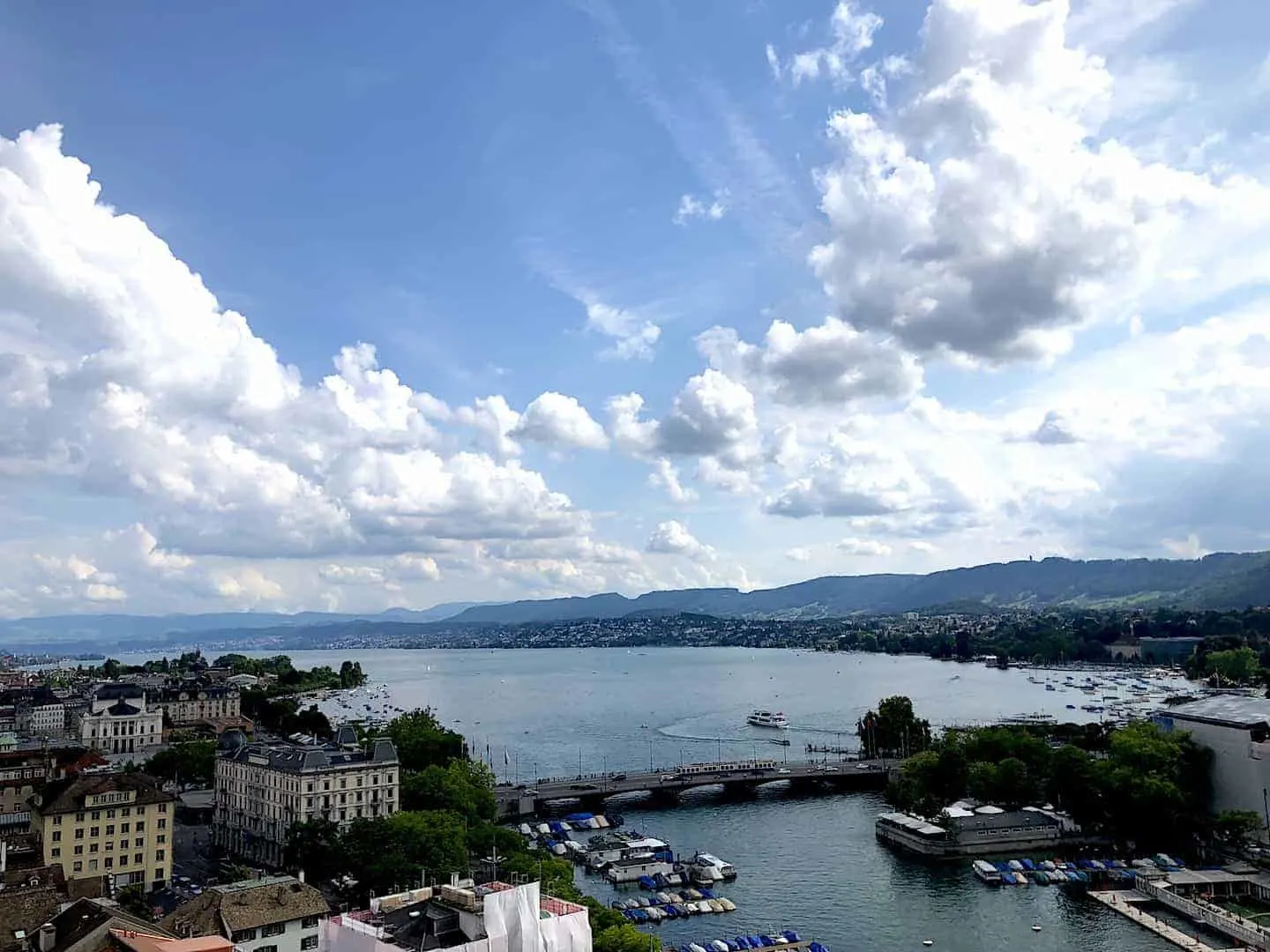 While there is plenty to see and do around the Zurich city center, below are just some of the main highlights that you can consider visiting during your first day.
You can build out your day's itinerary depending on what you are most interested in. Everything mentioned below is within walking distance from one another. So, there really is no need to take public or private transport unless you want to.
1) Grossmunster Church
One of the most famous churches in Zurich is the twin towered Grossmunster Church. The church was constructed all the way back around the year 1,100 and has since been renovated over time.
While the church itself is quite beautiful, it also offers the opportunity to climb to the top for a small fee. A 187-step staircase takes you up to a vantage point overlooking much of the city
When it comes to views of Zurich, it does not get much better than those from atop Grossmunster.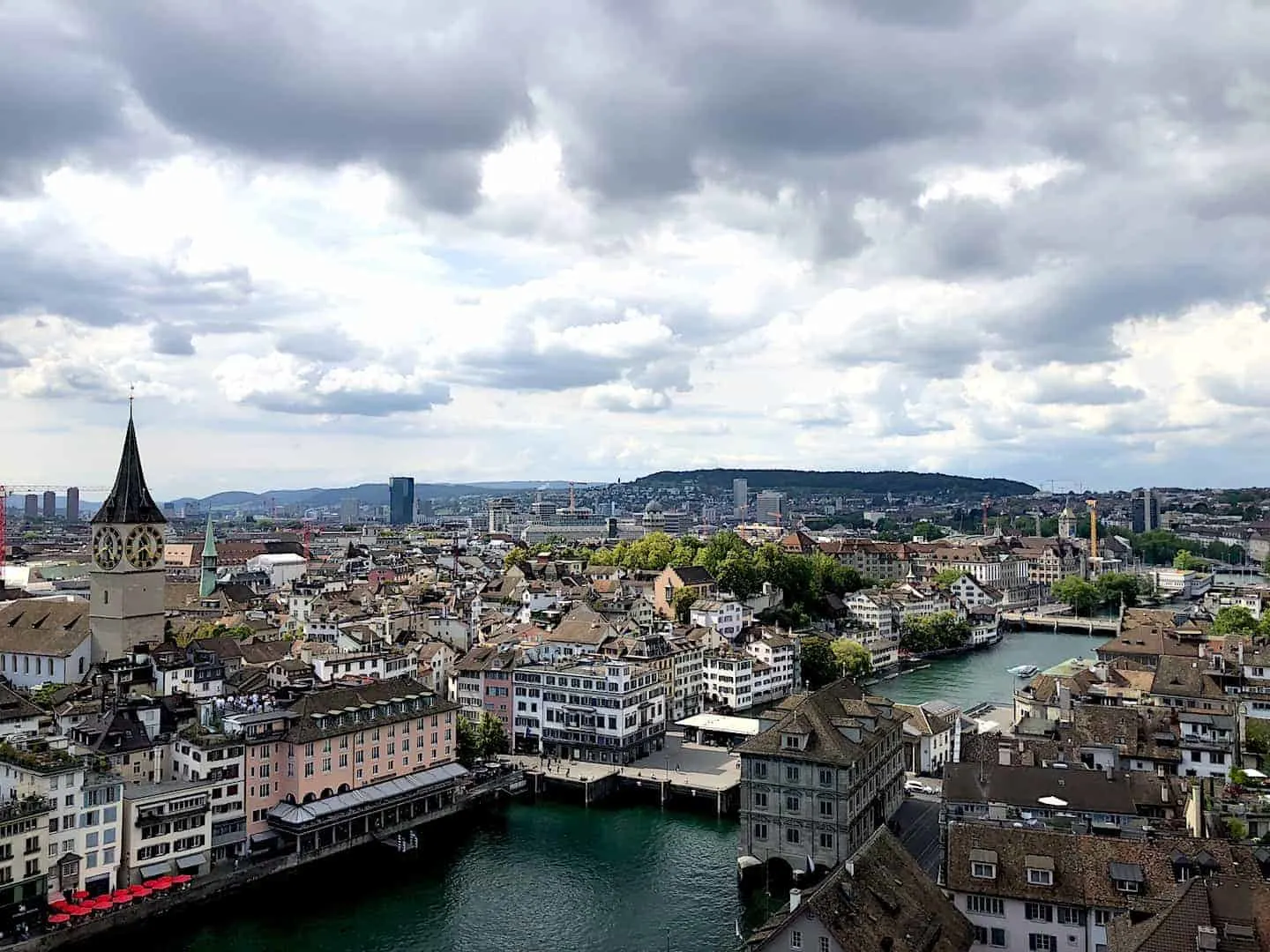 2) Fraumunster Church
Another one of Zurich's iconic churches is the Fraumunster Church, located just across the river from Grossmunster.
You can see Fraumunster as you are walking throughout the city with its large green steeple sticking up among the Zurich skyline. The church was built back in the 9th century and features some beautiful glass stained windows by Marc Chagall.
Just outside of the church you will find the vibrant Munsterhof Square with many medieval buildings surrounding it.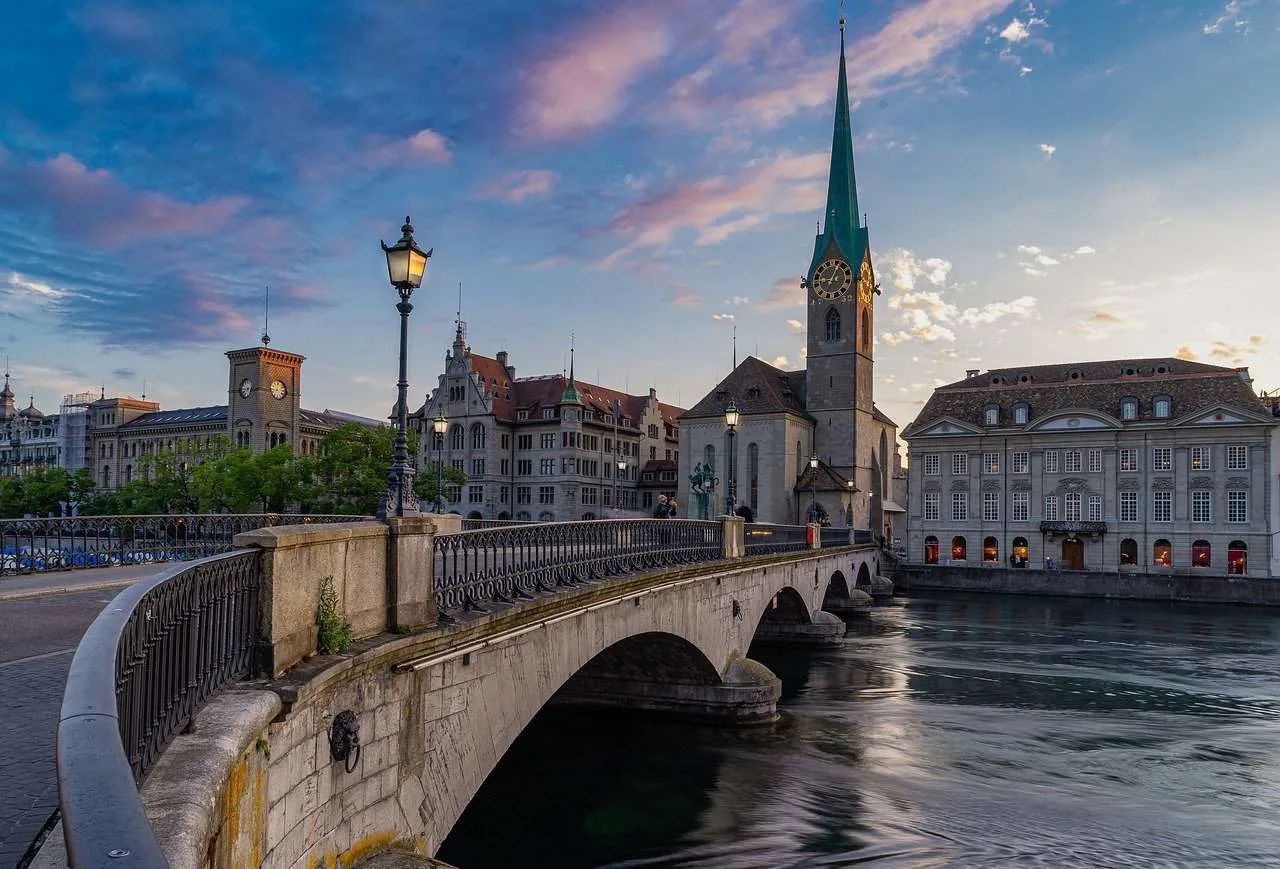 3) Zurich Opera House
If you walk along the eastern side of the Limmat river and head south, you will come across the Zurich Opera House. The Opera House sits just at the meeting point of the river and the lake.
The Opera House is home to many different productions including operas, ballets, concerts, and other events. If you are interested, feel free to check out their latest schedule of events.
Offered ~1 time per week are guided behind the scene tours of the Zurich Opera House. If you happen to be there during one of those days, you can book your spot for the 1.5-hour tour to see the building from a new perspective.
If you don't want to head into the building, just taking in the beautiful architecture from the outside is an incredible site to see.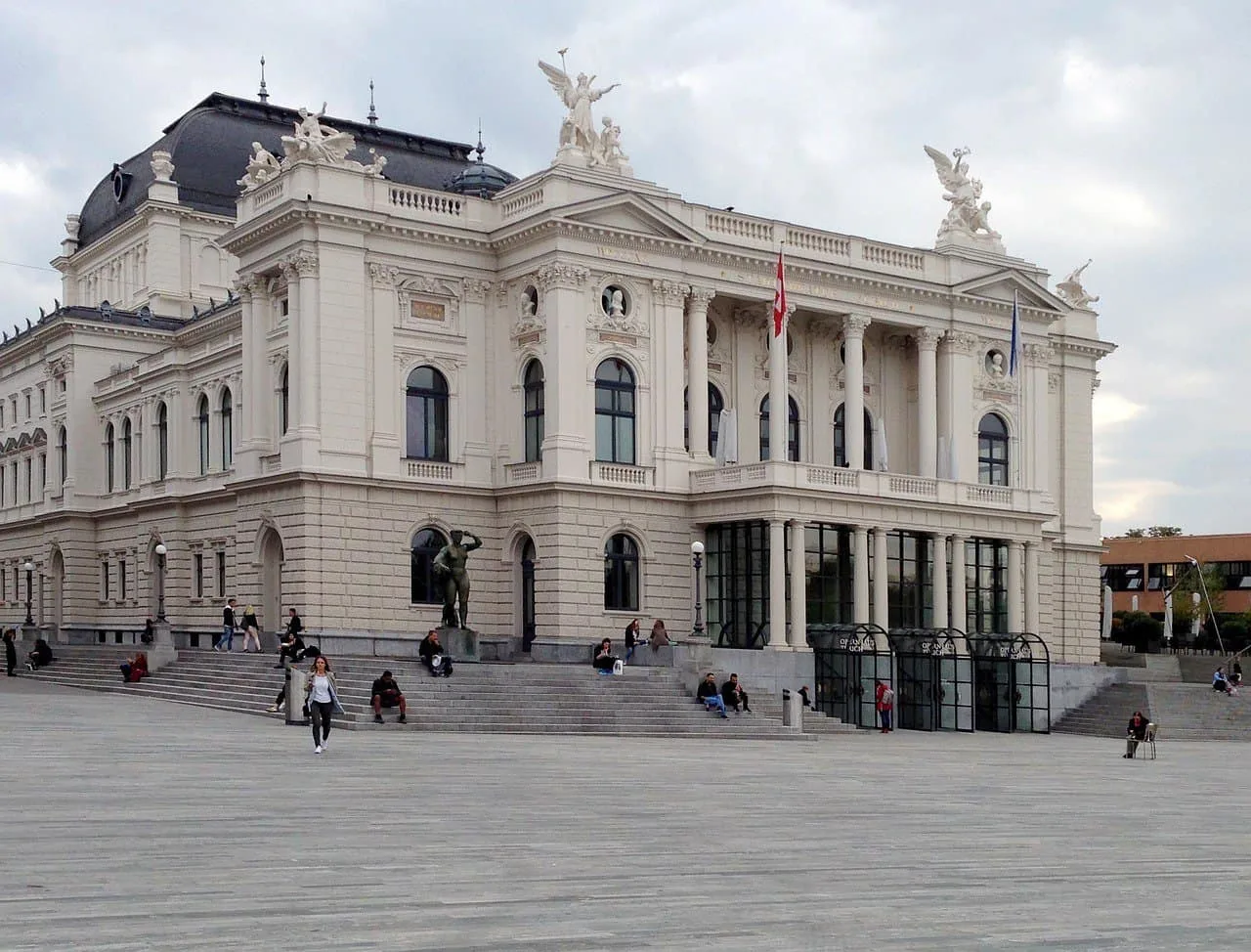 4) Bahnhofstrasse
The most popular and renowned shopping streets in Zurich (and all of Switzerland) is the Bahnhofstrasse. The street makes up just around 1.5 km (1 mile) of prime real estate through the Zurich center.
You will find a little bit of everything while walking along Bahnhofstrasse. Whether looking for high end fashion, local boutiques, or anything in between, this shopping street should have it all for you.
While the street is car free, be on the lookout for those trams that make their way through in both directions!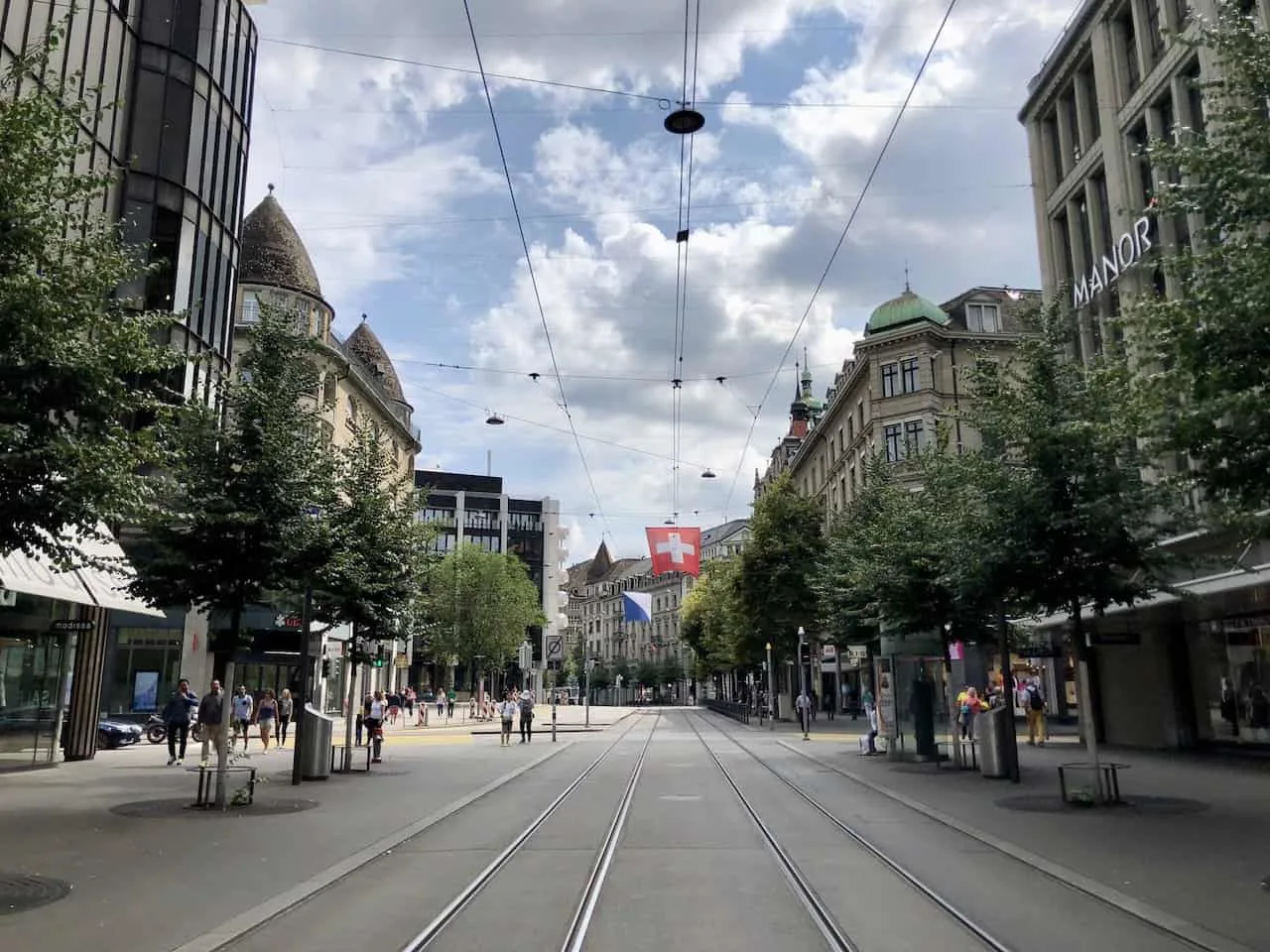 5) Lindenhof
While the Grossmunster Church offers a paid vantage point over Zurich, Lindenhof offers a free one. From the small square you will get some great views of the Limmat River, Zurich architecture, Grossmunster Church, among several other highlights.
At one point in its history the Lindenhof was home to a Roman Fort and a residential palace. Today, it is a peaceful spot to enjoy a view and maybe take part of the frequent chess matches the occur there.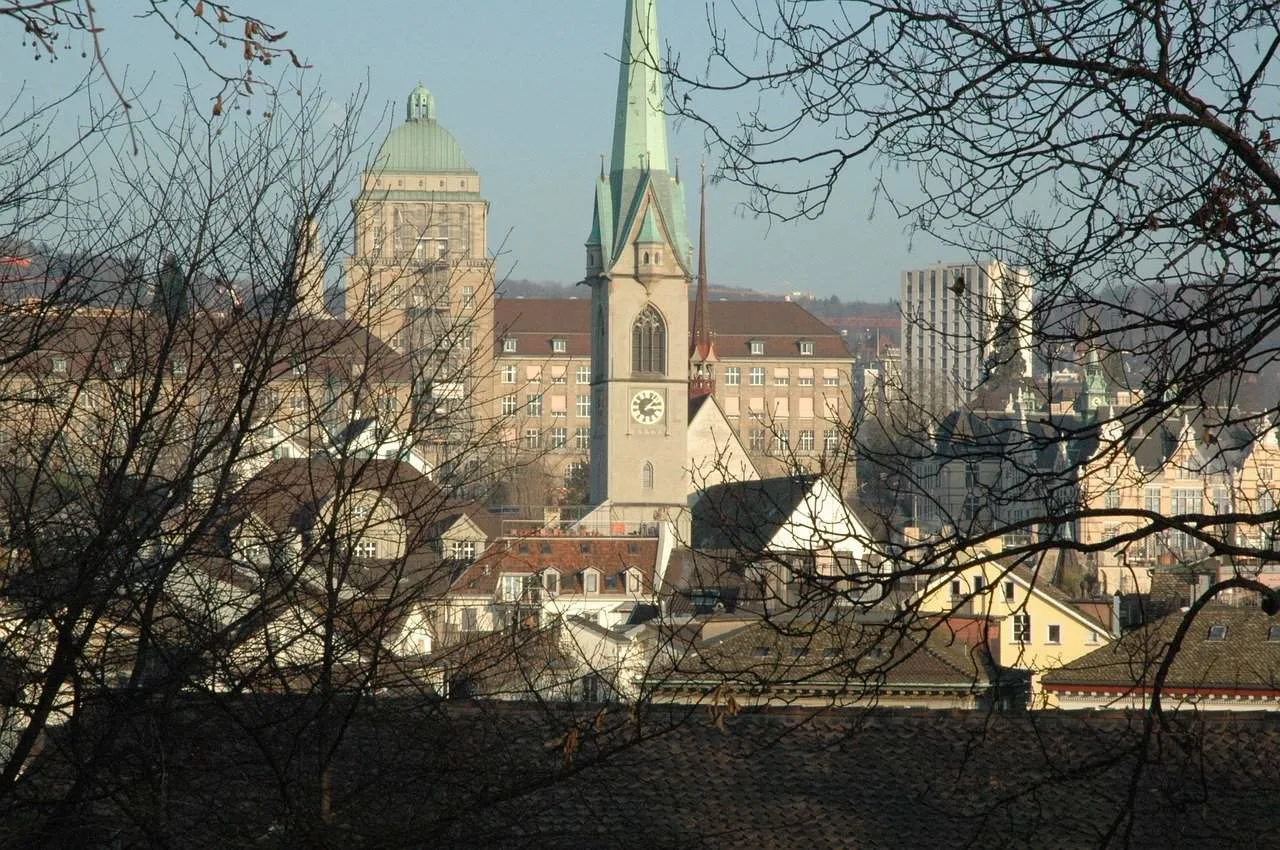 6) Walk the Limmat to Zurichsee
All along the Limmat river you will find walking paths to take a stroll along. One of my favorite things to do in Zurich is to walk along the river towards Zurichsee, while crossing over some bridges along the way.
It makes for a peaceful and enjoyable stroll as you walk just beside the historical buildings on either side of the river.
If you end up visiting any of the above attractions, odds are you will be walking along the Limmat at one point or another.
7) Limmat River Cruise
Another way to experience the Limmat is to take a river cruise along its waters. These glass covered boats give visitors the chance to see the city from a whole other perspective.
You will get to see many of Zurich's highlights right from the water as you head from the National Museum down to Zurichsee and back.
The round-trip cruise takes around an hour altogether and costs a little less than 5 CHF, making it a fun & affordable activity.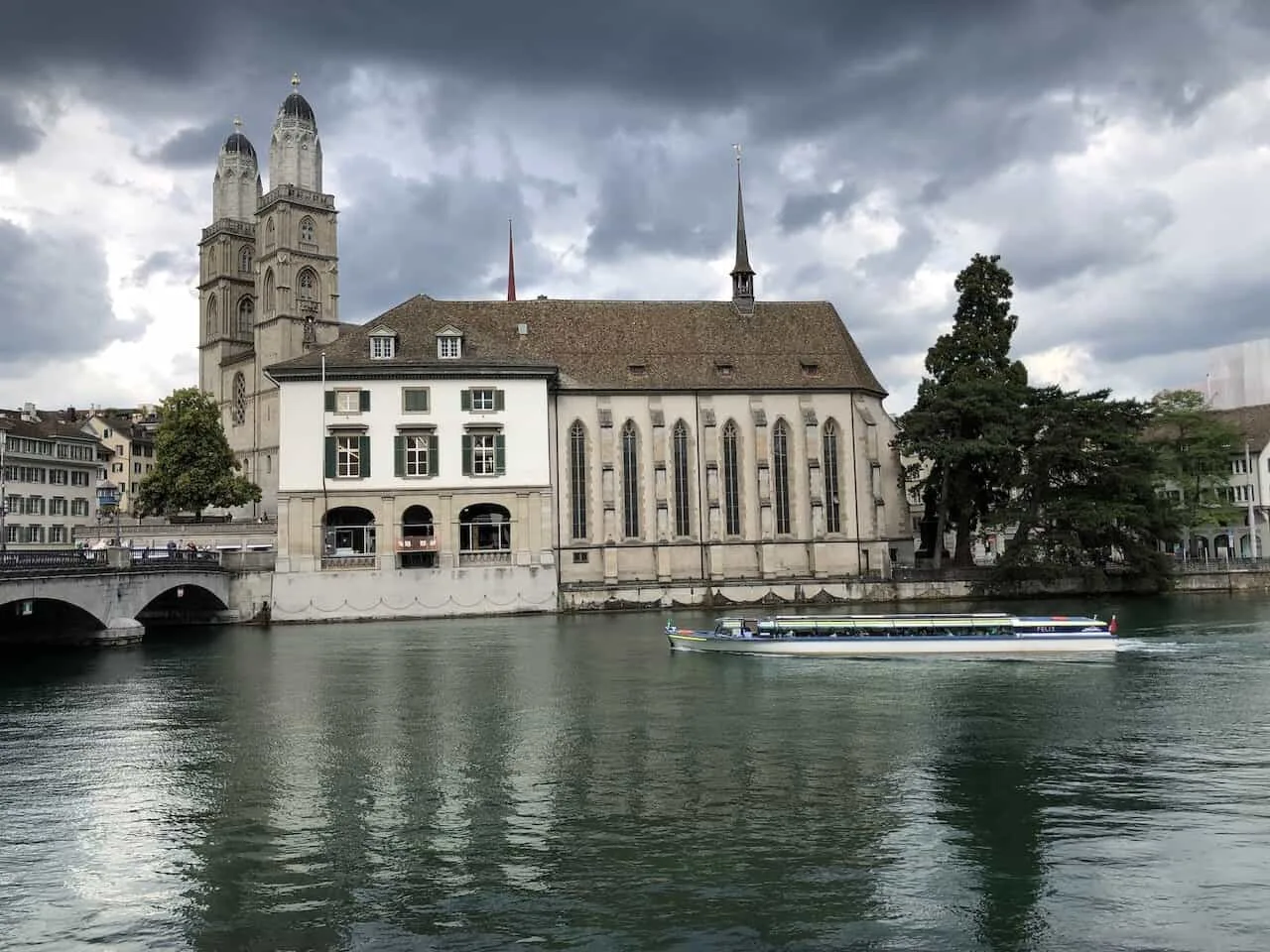 8) FIFA Museum
If you are a soccer fan, there is no better museum to visit than the FIFA Museum of Zurich. This huge complex has hundreds of various soccer exhibitions sprawled throughout its 3 floors.
During a visit you can learn all about the history of soccer and FIFA, see plenty of unique soccer memorabilia, and enjoy some interactive exhibits.
Before, during and after exploring all of the above, you are sure to just enjoy more of what the Old Town has to offer. Just walking the streets and enjoying your surroundings will be an enjoyable experience to take part of.
After a fun filled city experience on day 1, get some rest for a day out of Zurich on day 2.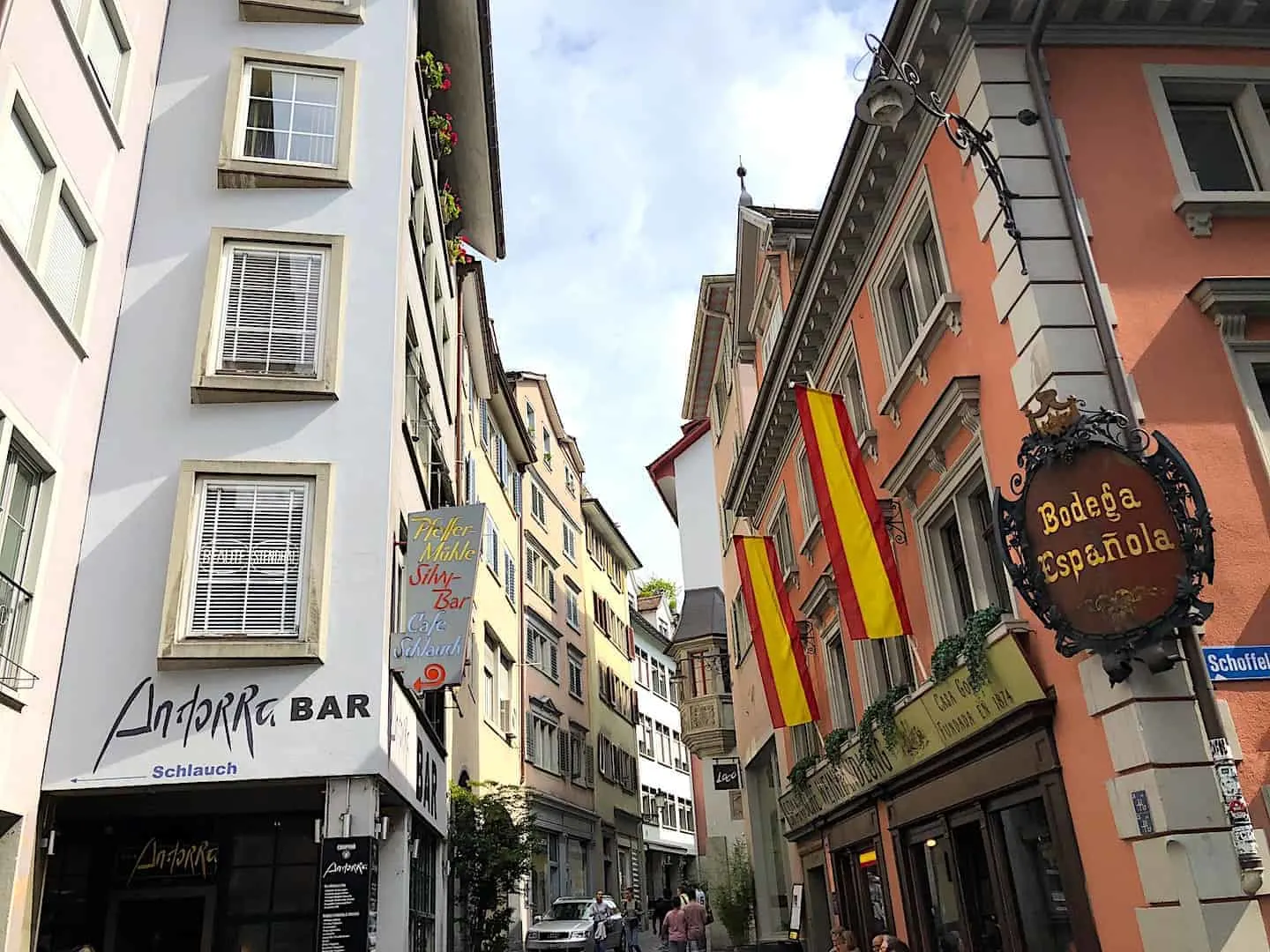 Day 2 – Lucerne & Mountain Excursion
Your second day in Switzerland will have you leaving early from Zurich and visiting the town of Lucerne / taking part of a mountain excursion experience.
Now in order to take full advantage of your 5 days in Switzerland, there will be some logistics here to consider.
The first portion of the day will entail a quick 45-minute train ride from Zurich to Lucerne. Once you arrive in Lucerne, you will want to leave your luggage in one of the many lockers around the train station. If you have larger luggage, there is also a luggage storage office that can hold your bags for the day.
Be sure to have CHF coins for the lockers (around 5-10 CHF).
Once you have secured your luggage you can make your way on one of three mountain excursions around Lucerne – Mount Pilatus, Mount Rigi, or Mount Titlus.
Each one of these excursions will entail various modes of transportation. Trains, boats, mountain rails, and more will make up the logistics for the day.
During my time in Switzerland I headed up Mount Pilatus for the day as part of the Golden Round Trip. Below I will dive into some more detail about this experience.
Mount Pilatus Golden Round Trip
If you opt for the Golden Round Trip, you are in for a treat. From Lucerne, the first part of your day will entail a quick 15-minute bus ride to Kriens.
Once in Kriens you can head on a series of two cable cars to the Pilatus summit (the cable car opens around 8:30/9:00AM and I would recommend timing your day to get there around then).
This gondola offers some beautiful views as you slowly gain that elevation from Kriens to Frankmuntegg. Here you can get off and explore if you would like. From Frankmuntegg you can hop on the quick Dragon Ride cable car to the summit.
Once you reach the summit, you will be welcomed to some of the best panoramic views you could ask for. Feel free to roam around to take in the landscape, head to the mountainside restaurant, and make your way along some trails.
After some time up top, it is time to complete the circuit. Instead of taking the cable car down, you can head along the steepest cogway in the world. This 40-minute ride will be a true highlight on its own as you slowly make your way down to the town of Alpnachstad.
The final part of the day will entail a boat ride on Lake Lucerne from Alpnachstad to Lucerne. The boat trip will give you the chance to enjoy the town and surrounding landscape from the water for around an hour.
Note that you can do this Golden Round Trip in reverse. However, by starting with the bus and ending with the boat, you will be able to get an earlier start to the day. Since it is a long day of traveling, that is what I would recommend.
Pilatus Tickets: You can also purchase tickets for Mt Pilatus ahead of time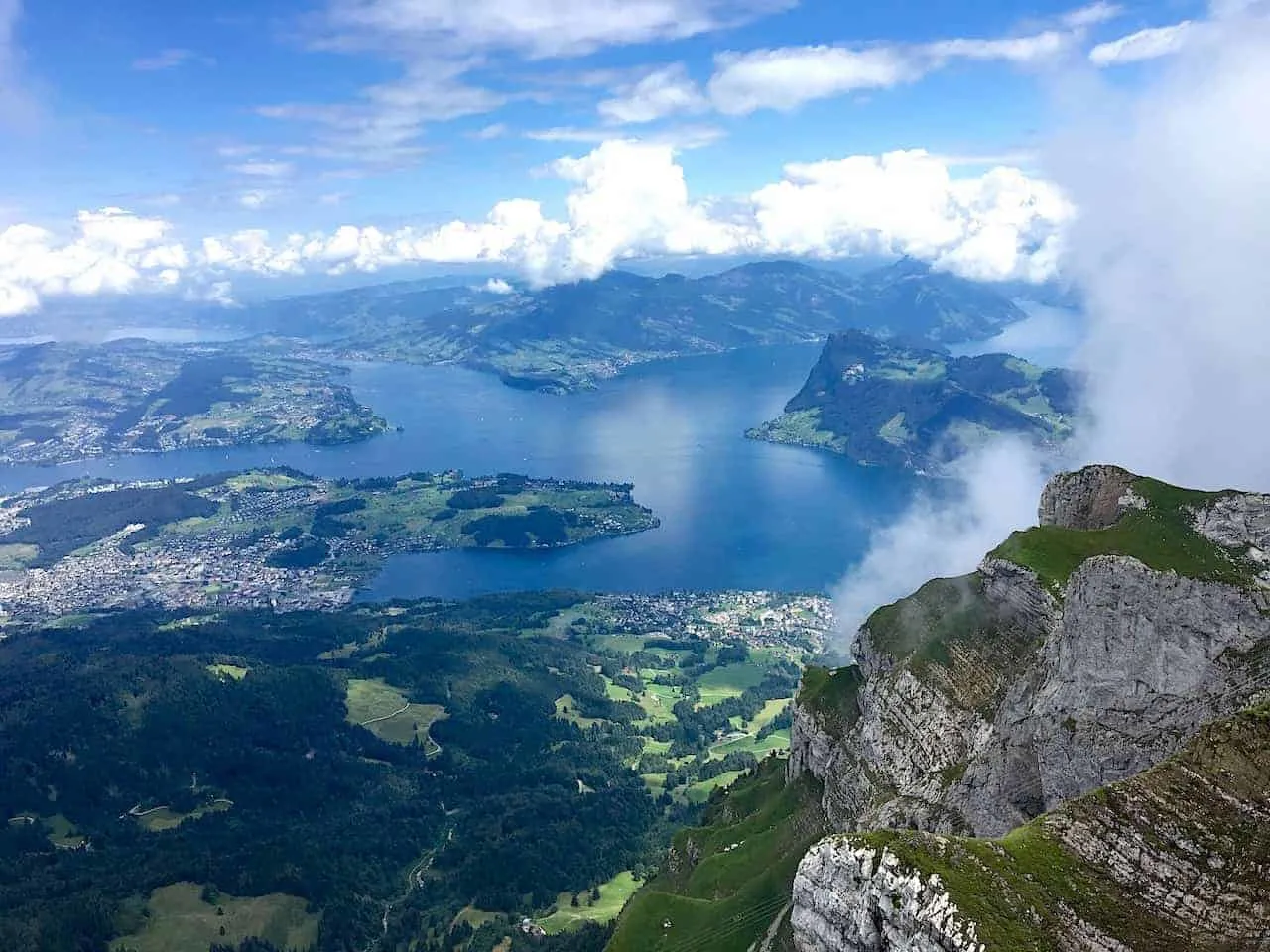 Explore Lucerne
If you have additional time to spend in the afternoon after Pilatus (or another day trip) OR you would rather not take part of an excursion, then you can also explore the town of Lucerne.
Kapellbrücke Bridge & Water Tower
Museggmauer
The Lion Monument
Gletschergarten (Glacier Garden)
Church of St. Leodegar
Lucerne Town Hall
Jesuit Church
Learn More | One Day in Lucerne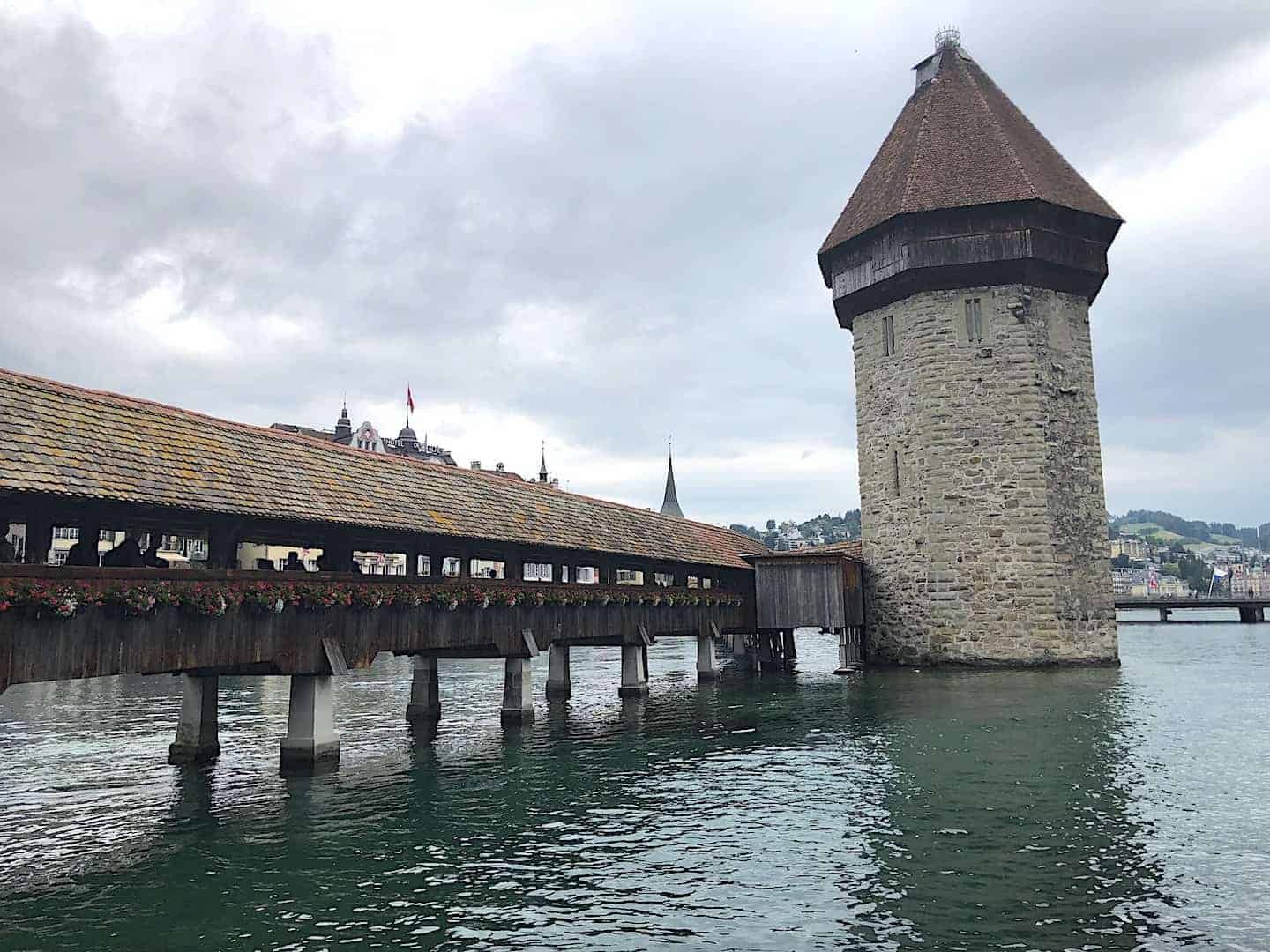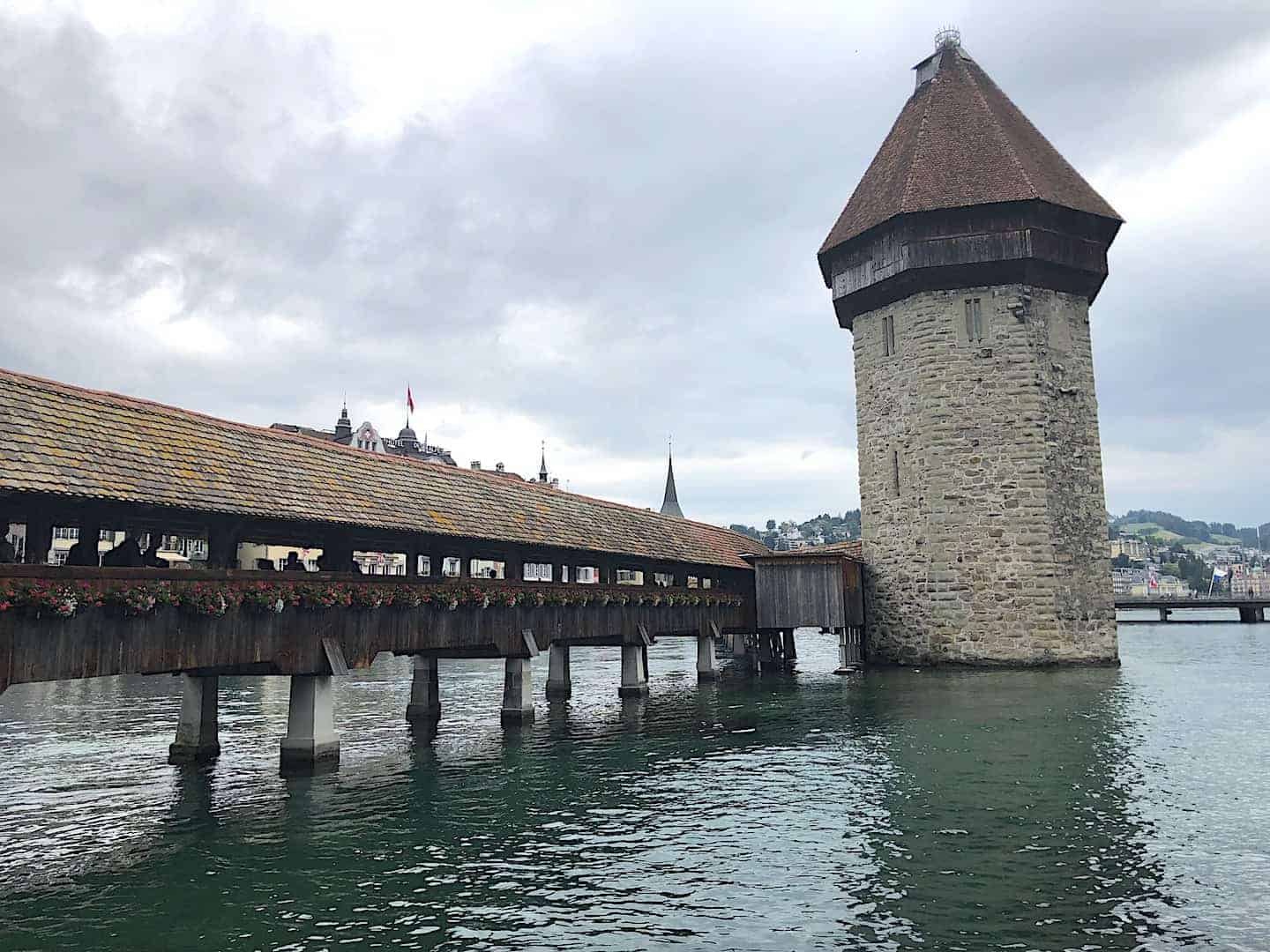 It is then back to the Lucerne train station, where you can get your bags and head onto the Jungfrau Region! As mentioned earlier, there are few different options to choose from in the region – Interlaken, Murren, Wengen, Lauterbrunnen, & Grindelwald are all possibilities.
Once you have arrived in the evening, rest up and get ready for three astounding days yet to come.
Each of the next three days will focus on one section of the Jungfrau. So, some days will require more transport than others given where you are staying.
Day 3 – Schilthorn, Murren & the Lauterbrunnen Valley
The first day in the Jungfrau will have you exploring the Murren & Lauterbrunnen side of the region. This will be a fun filled and action-packed day as you experience some top highlights along the way.
Schilthorn
The first stop of the day will be heading up to one of the highest accessible points at the Schilthorn mountain. Logistics will really all depend on where you are staying, but generally there are two main ways to get there from Lauterbrunnen (all routes run through Lauterbrunnen unless you are staying in Murren already)
Route 1
1) Lauterbrunnen to Grutschalp Cable Car
2) Grutschalp to Murren Mountain Railway
3) Murren to Schilthorn Cable Cars (switch in Birg)
Route 2
1) Lauterbrunnen to Stechelberg Bus
2) Stechelberg to Murren Cable Cars (switch in Gimmelwald)
3) Murren to Schilthorn Cable Cars (switch in Birg)
Once on top of Schilthorn, you will find several viewing platforms, an indoor rotating restaurant, and a James Bond museum. When it comes to panoramic viewpoints, it really does not get much better than this.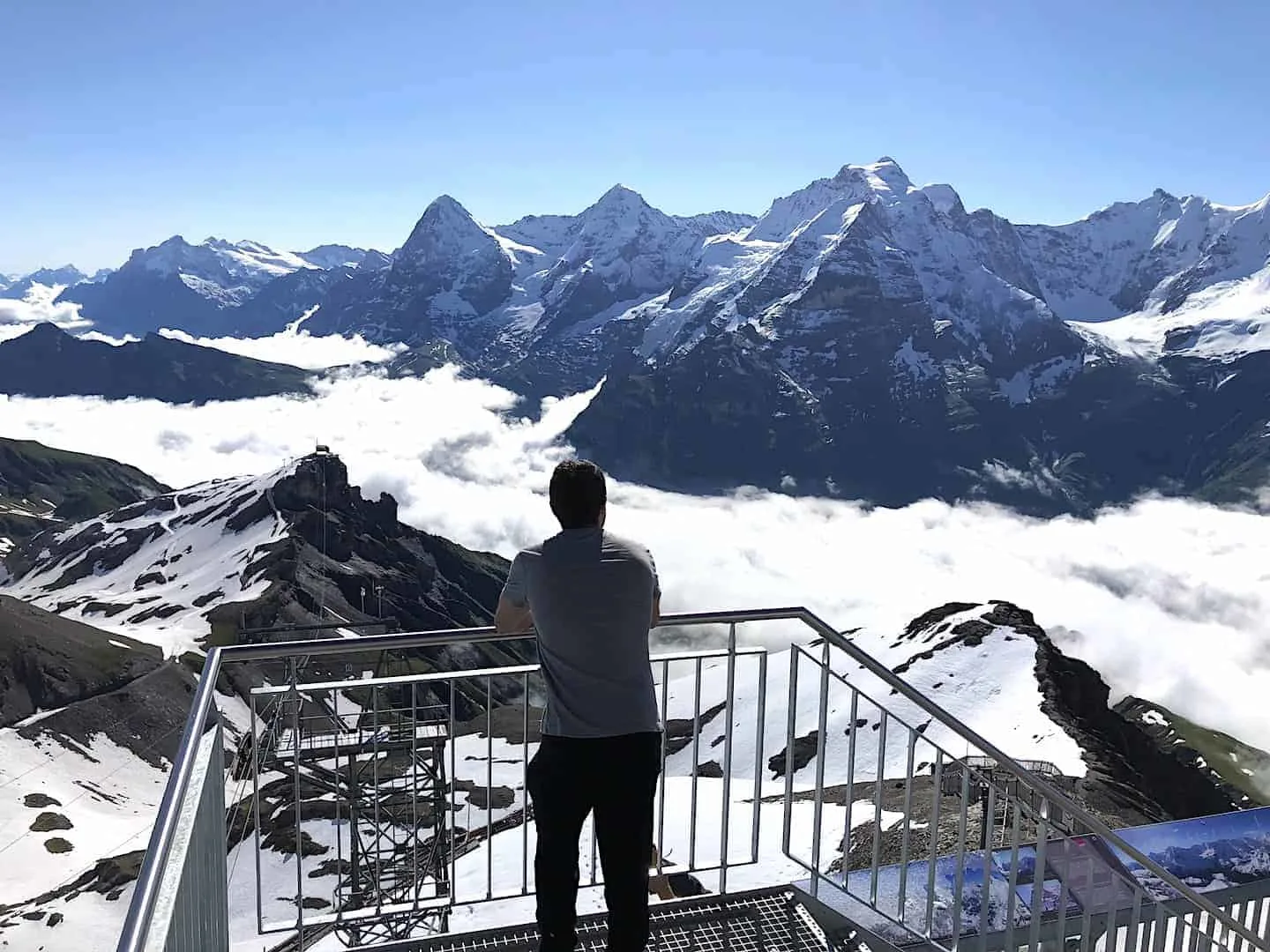 Birg Thrill Walk
After finishing up your time on top of Schilthorn, take the cable car one stop down to Birg. Once you arrive in Birg, follow the signs to Birg Thrill Walk.
This short walk makes its way around the side of the mountain and is full of some thrilling sections. These include, glass bottom floors, walking on a cable, and crawling through a tunnel. Don't worry – all of these can be bypassed as well.
Once done with the Thrill Walk, head back up to the main platform, take in some last views, and then hop on the cable car down to Murren.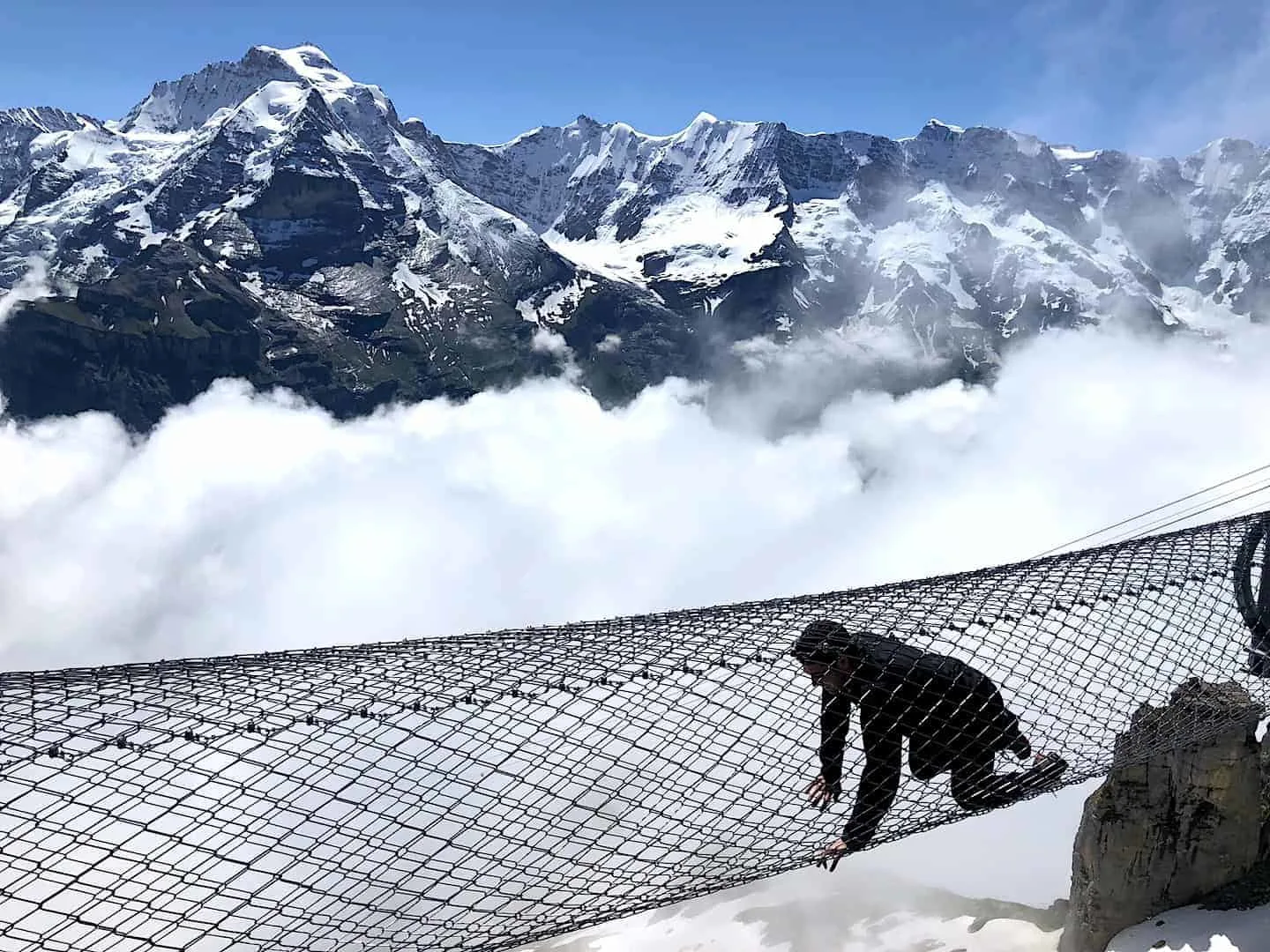 Murren
The car free town of Murren is just a serene place to walk around and explore. Make your way through town, taking in the views, and the photo ops.
You can find a place to have a nice Swiss meal and get yourself ready for the second part of the day. I would recommend checking out Hotel Edelweiss, which has a beautiful outdoor seating area overlooking the Lauterbrunnen Valley and surrounding mountains.
After finishing up your meal, take the cable car back down to Stechelberg to the base of the Lauterbrunnen Valley or opt for the Murren to Gimmelwald trail (and take the cable car down from there).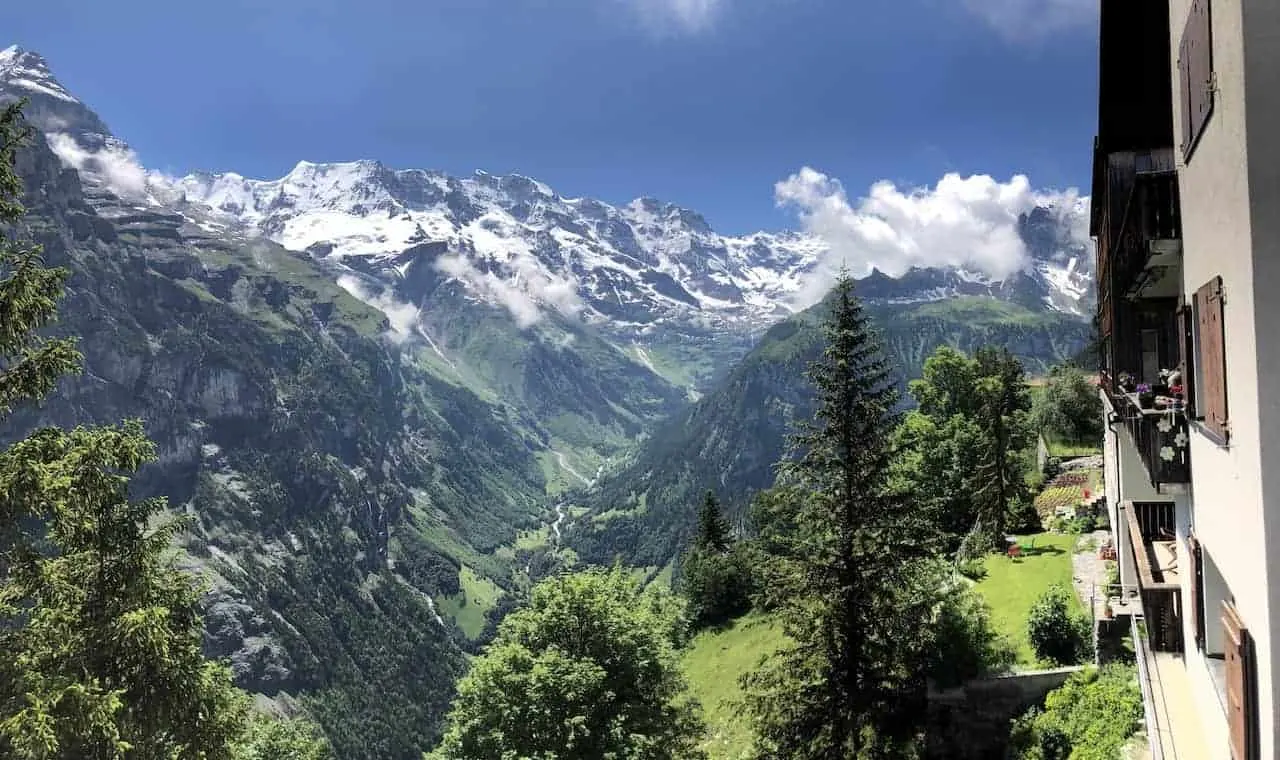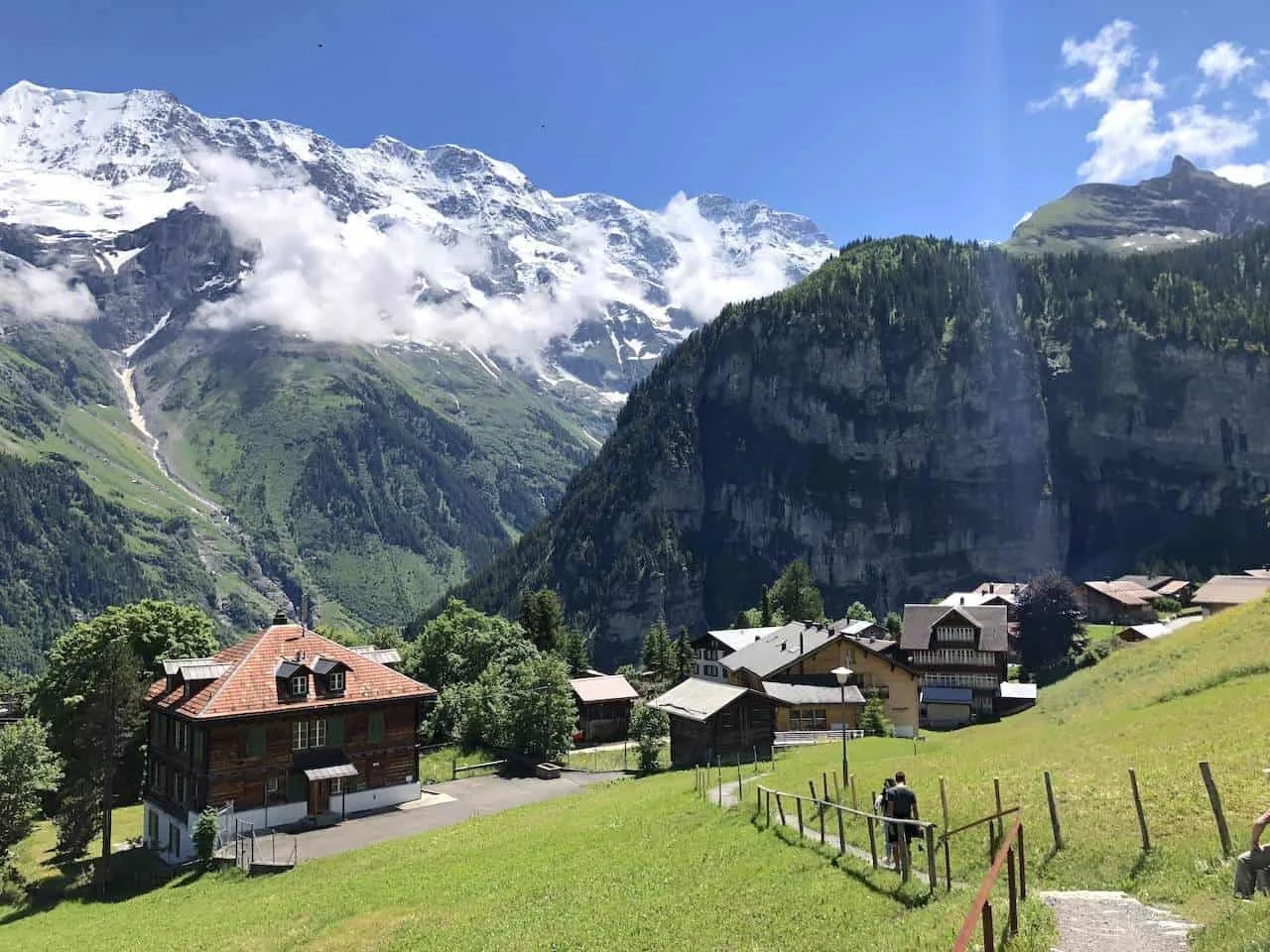 Lauterbrunnen Valley Walk
The Lauterbrunnen Valley is known as the Valley of 72 Waterfalls. On both side of the valley you will find majestic waterfalls plunging off the side of the walls.
Just walking through the valley with these waterfalls on either side will be a true highlight of your time there.
Around 30 minutes into your walk you will come across one of the famous but hidden waterfalls of the valley – Trummelbach Falls.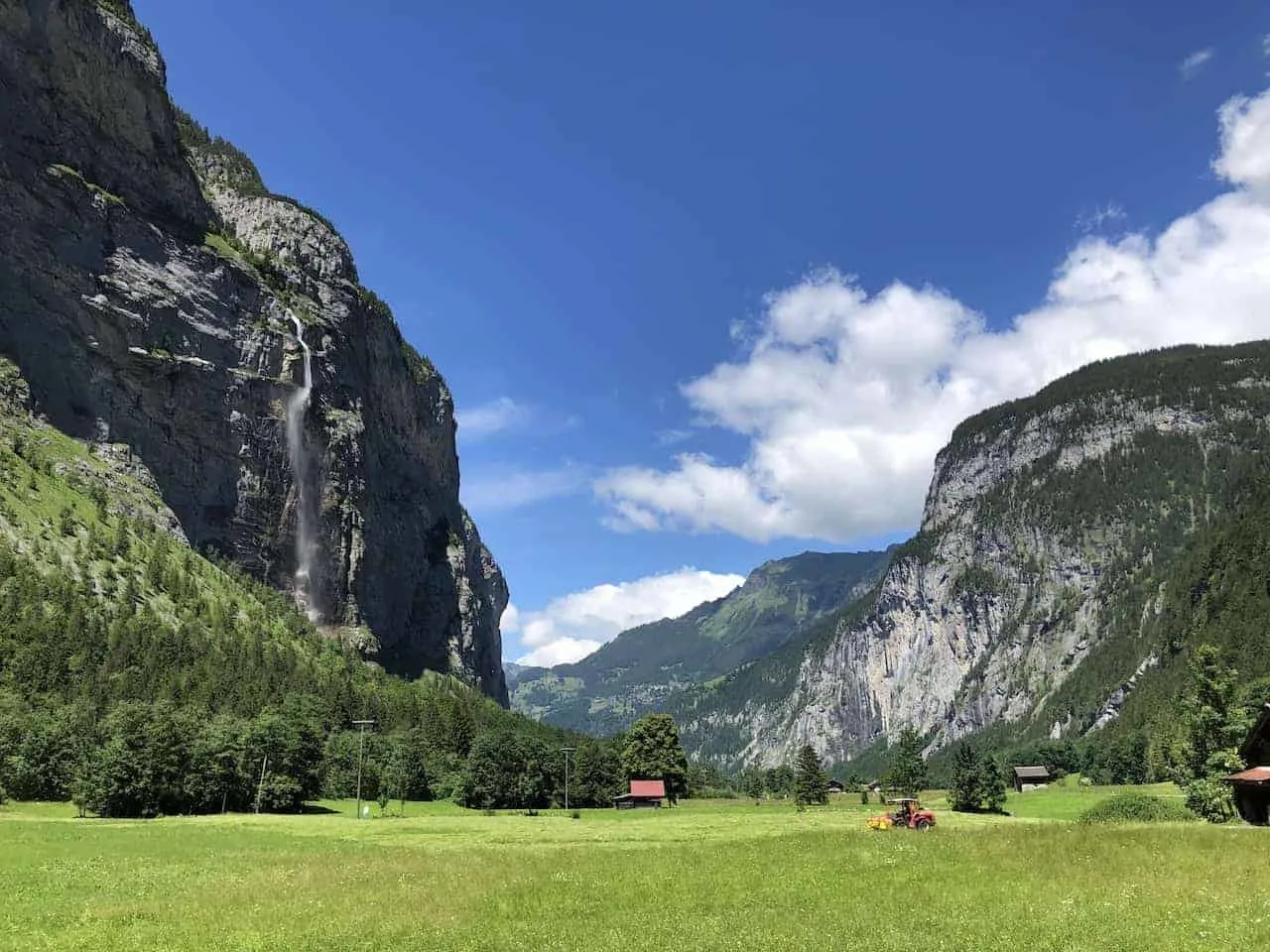 Trummelbach Falls
Unlike the other waterfalls that you will get to enjoy from the valley, Trummelbach Falls is located within the valley walls.
During a visit the Falls, you can either follow the steps up to the top or take the lift. It is then visiting various platforms along the way that will give you different perspectives of the rapid waterfall making its way through the rock.
After finishing up with Trummelbach, you can either continue back to Lauterbrunnen by foot or hop on the bus to end your day on this side of the Jungfrau Region.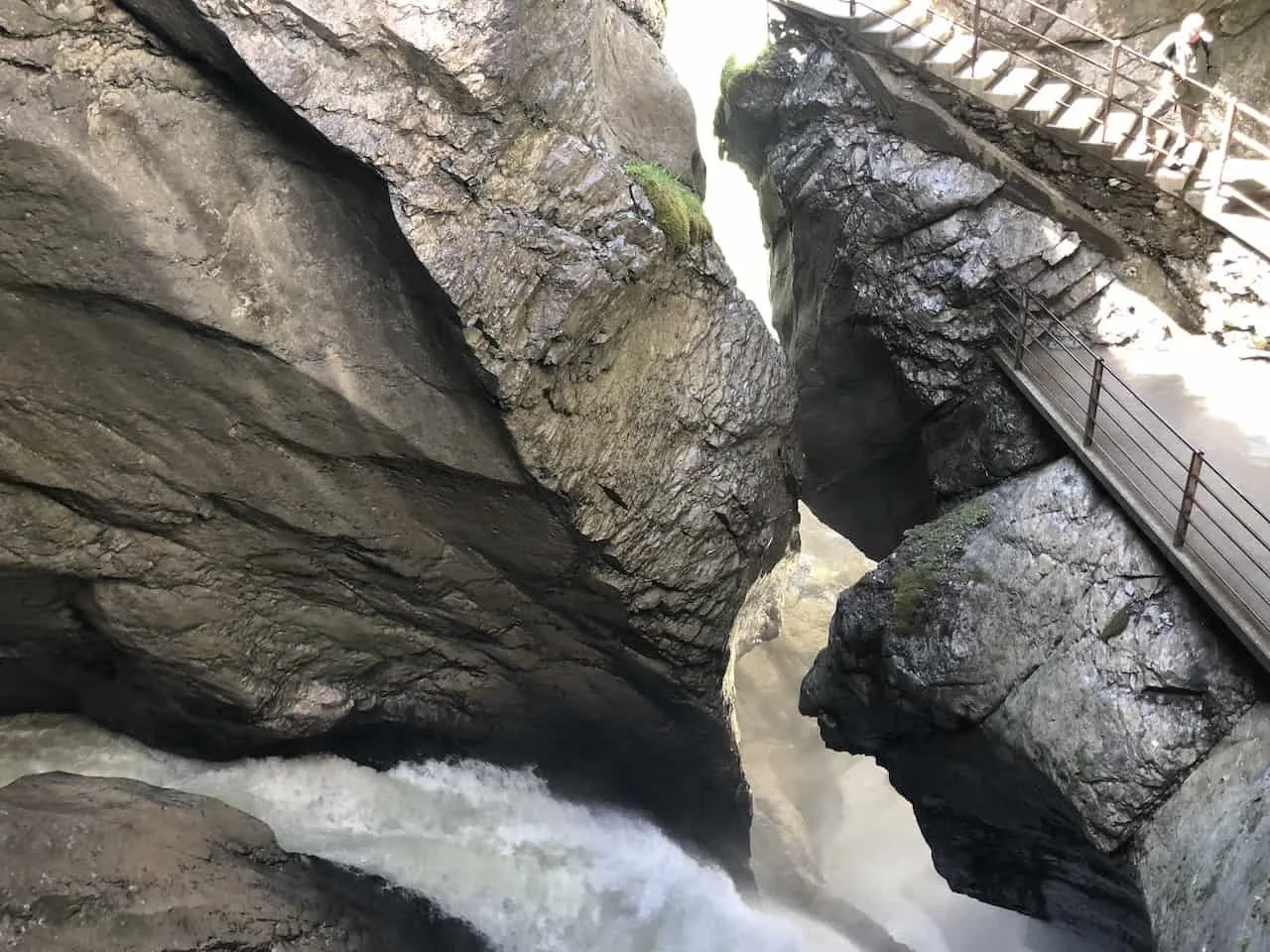 Day 4 – Wengen & Mannlichen
Located in the center of the Jungfrau Region is the mountain village of Wengen. Similarly to Murren, Wengen is also car free and boasts some of the best views you can ask for. Situated just above Wengen is Mannlichen, and where you will be starting your day.
If coming from Grindelwald, you can take a cableway directly from there up to Mannlichen. The other option is to first get to Wengen via a train from Lauterbrunnen, and then a cable car from Wengen to Mannlichen.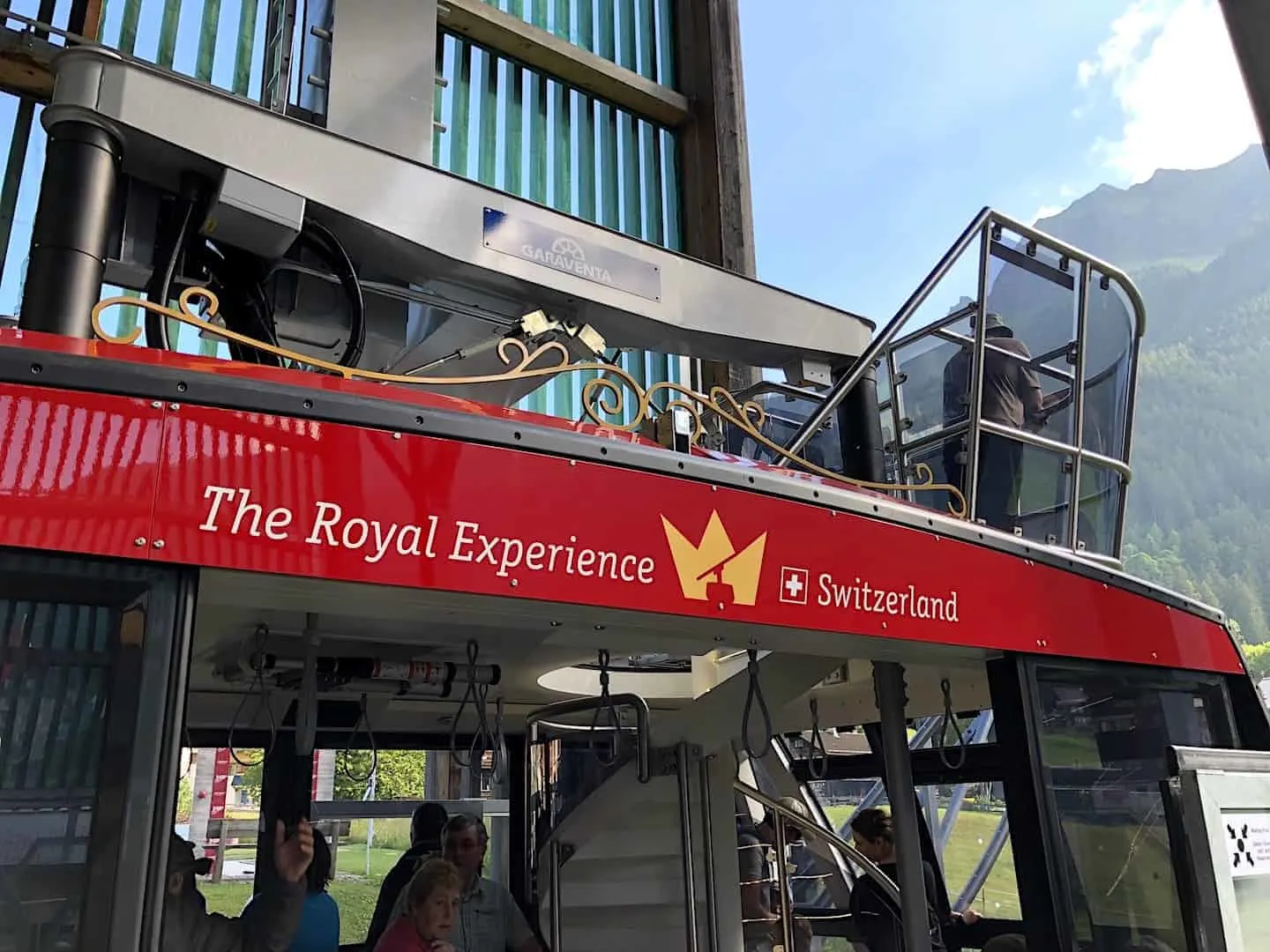 Royal Walk
Once up top Mannlichen, you will see the true peak of the mountain just a bit further up in the distance. There is a short trail called the Royal Walk that will take you up to the peak, where you are sure to get some beautiful views.
Out in front of you will be the famous Eiger, Monch and Jungfrau mountains. Take some time to enjoy the view and the rest of the surrounding landscape.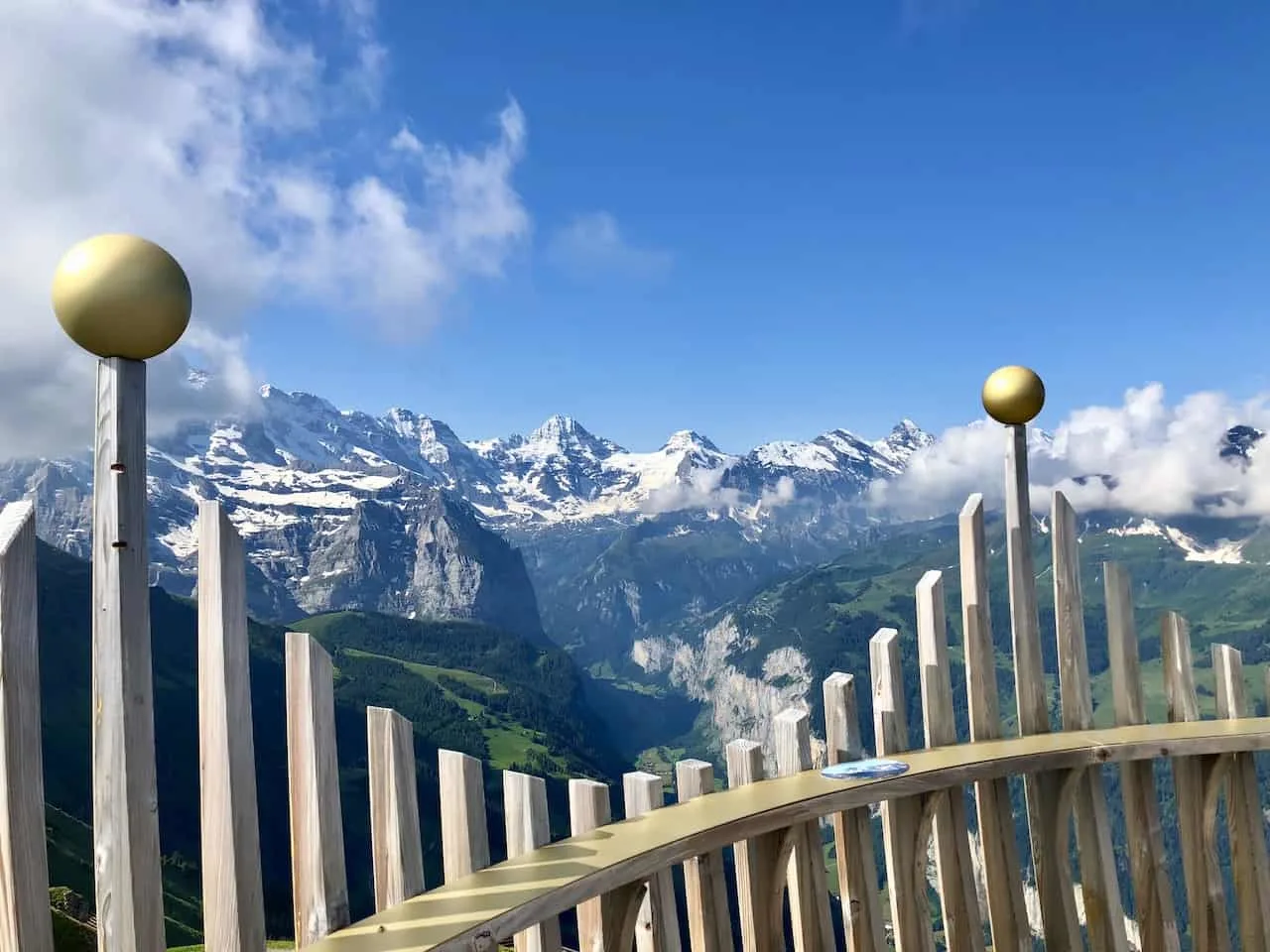 Mannlichen to Kleine Scheidegg Panorama Trail
One of the most popular of trails in the region is the one that takes you from Mannlichen to Kleine Scheidegg.
The trail is relatively flat throughout and takes around 90 minutes to make your way along. Out in front will be the Eiger, and off to the side you will get some views of Grindelwald and more Swiss scenery.
Take your time to fully enjoy those views during this hike as it doesn't get much better than this!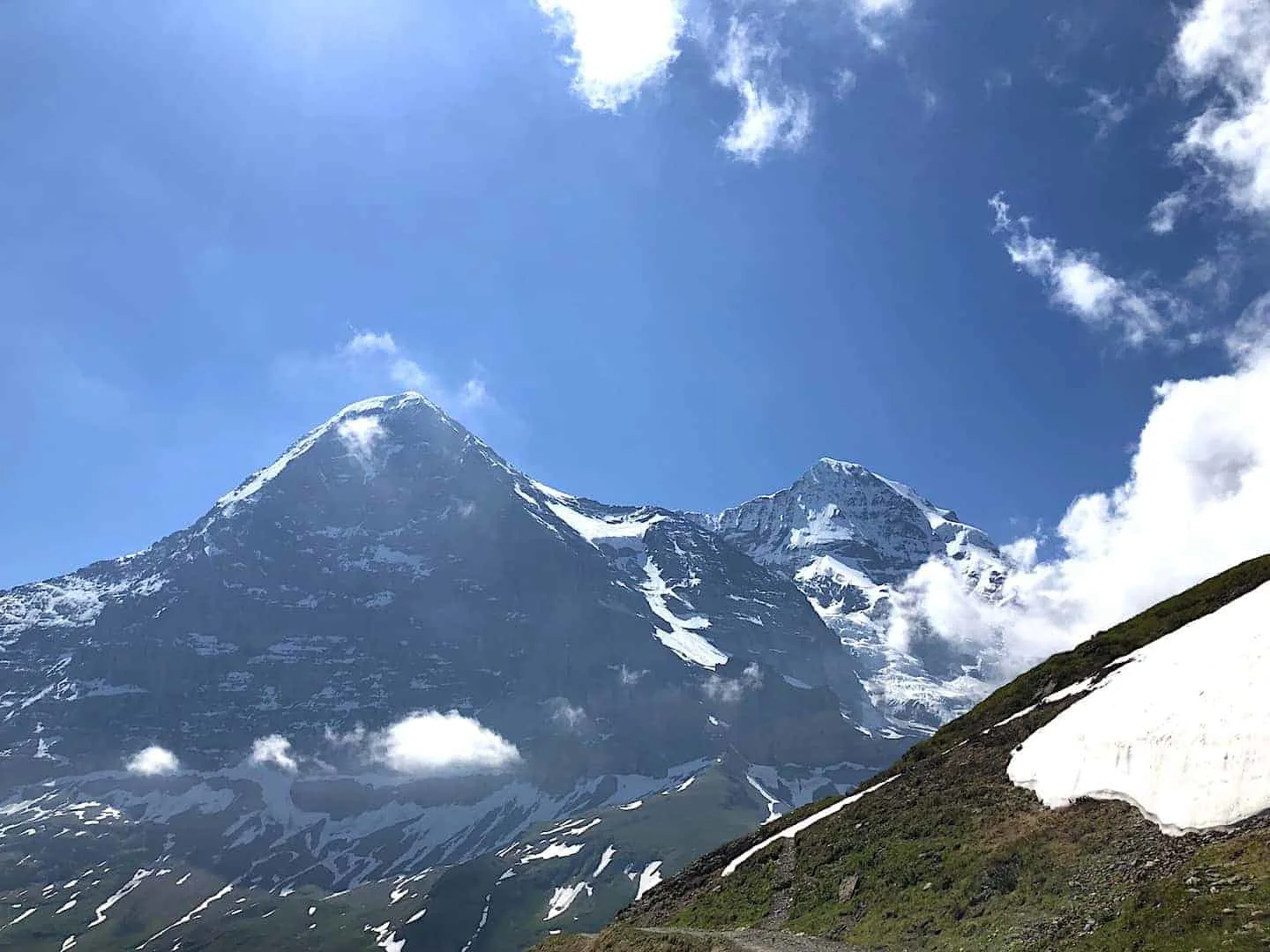 Wengen & More
Once at Kleine Scheidegg, you can decide between a few different options depending on what you are most interested in.
Wengen – firstly, you can just decide to head back down to Wengen by train from Kleine Scheidegg. It is a very scenic train ride as you make your way down and around back into town.
Once in town, you can stroll around, check out some shops, enjoy the views, and make your way to a lunch spot.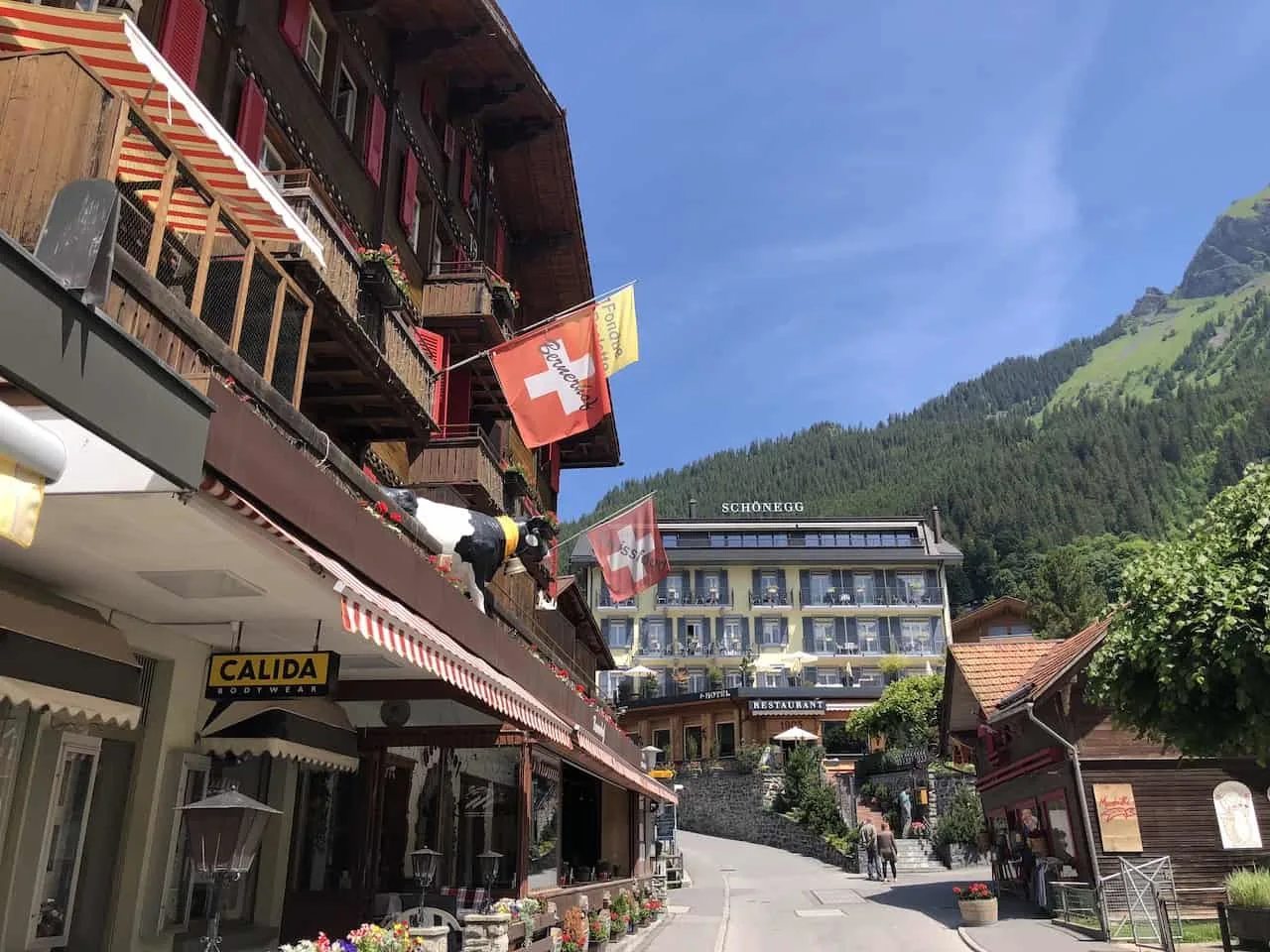 Jungfraujoch – while Schilthorn would have been visited the previous day, you can also decide to head to an even higher point at Jungfraujoch. There are trains that head from Kleine Scheidegg to Jungfraujoch via Eigergletscher.
Jungfraujoch, also known as the Top of Europe will boast views of the Jungfrau and the Aletsch Glacier. While an expensive activity to take part of, it does come with quite the reward (on a clear day at least). Once all done with the Jungfraujoch, you can head back down to Wengen to finish up your day.
Eiger Trail – the last option I will mention is the Eiger Trail. If one hike wasn't enough for you, then why not take part of another classic. The trail starts in Eigergletscher (a quick train or short hike from Kleine Scheidegg) and ends in Alpiglen.
By doing the hike this way you will be heading downhill for the most part and it should take around 2 hours altogether. It will have you hiking right alongside the Eiger, with plenty of views to go around.
Once complete with the hike you can continue back to your home base either via Grindelwald or Wengen.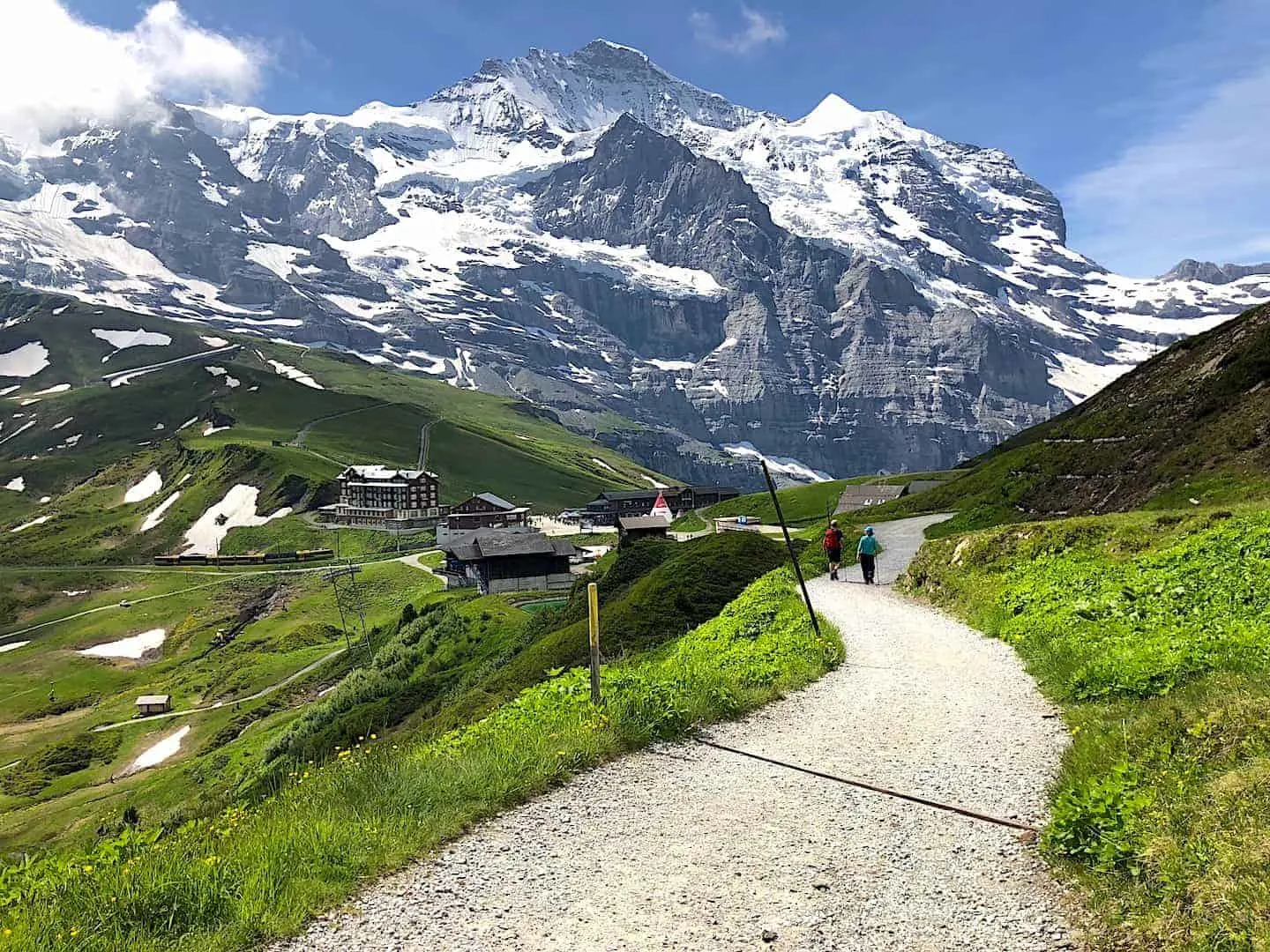 Day 5 – Grindelwald & First
To finish up your final day of this 5-day Switzerland itinerary, you can make your way to the Grindelwald side of the region. While not a mountain town or car free, Grindelwald still has the views and the landscape.
From Grindelwald, make the walk through town until you reach the First Cable Car. The cable car takes nearly 30 minutes to get all the way to First but believe me it is worth it.
The ride itself is going to be a highlight of the day as you quickly get higher and higher above Grindelwald. This in turn will have you consistently taking in more and more views along the way.
While there are a couple stops on the cable car (Bort and Schreckfeld), you can just take it all the way up to First.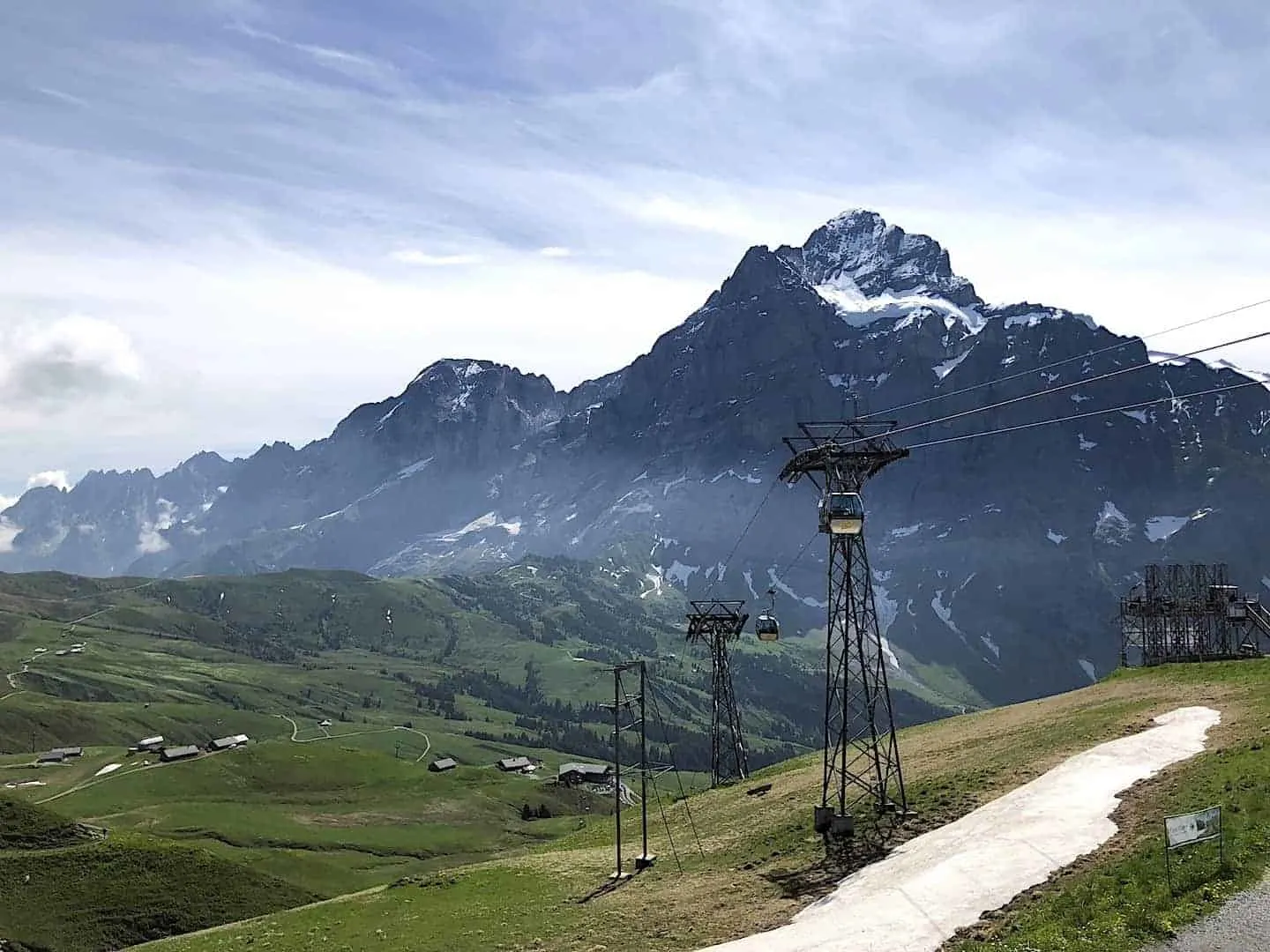 Once at First, it is time for another classic yet beautiful hike to enjoy in the Jungfrau Region. This time it is the trail to Bachalpsee Lake.
The hike to the lake from First is going to be relatively flat as you enjoy an elevated view over the region and the Eiger mountain in the distance.
Once you arrive at the lake, you will be welcomed to more views of the Eiger and the scenic Swiss Alps.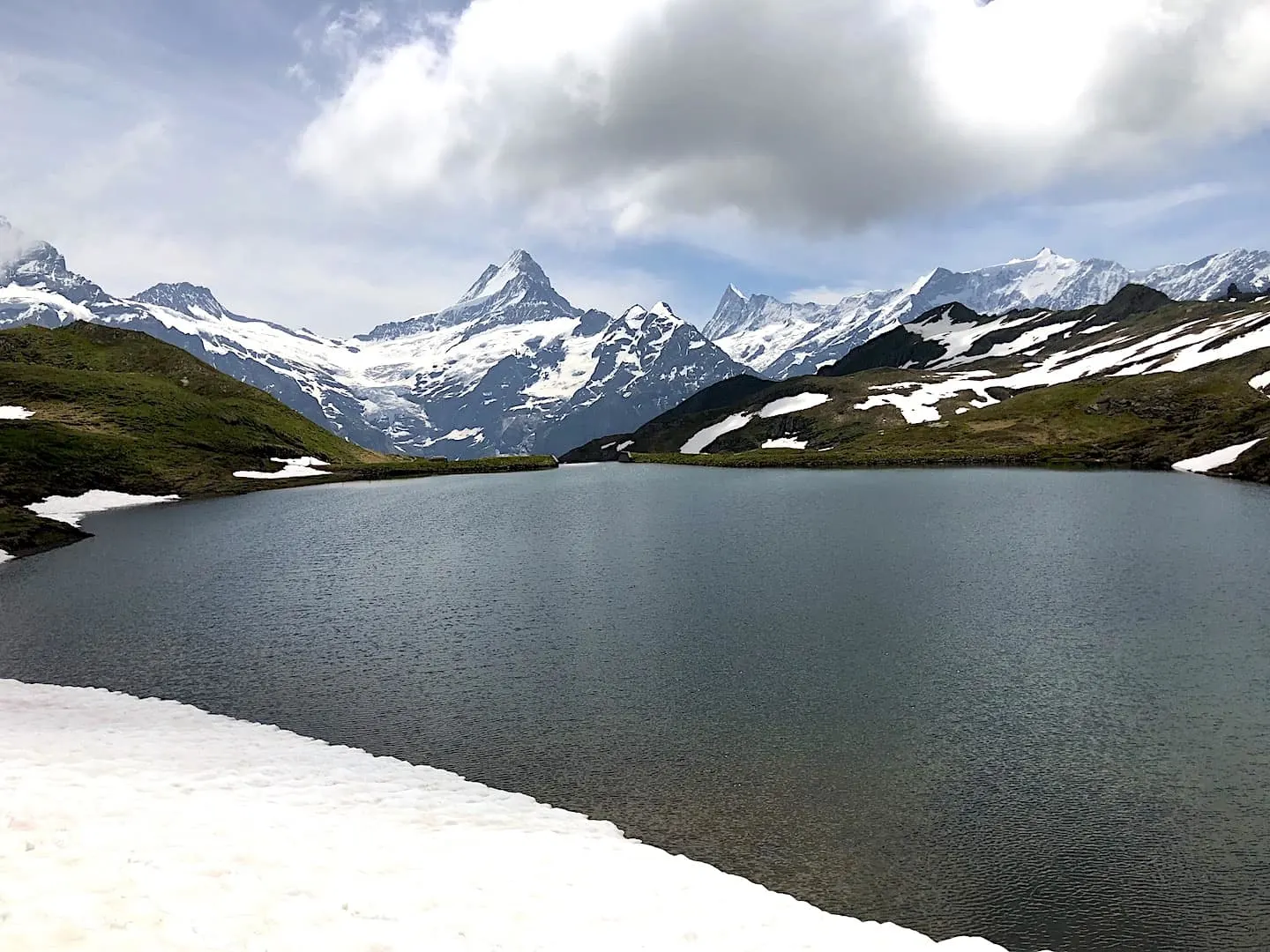 There will be several hiking options to consider of the way back including:
Heading back on the same path to First
Circular loop via Bachlager to First
Head up to Faulhorn and then down to Grindelwald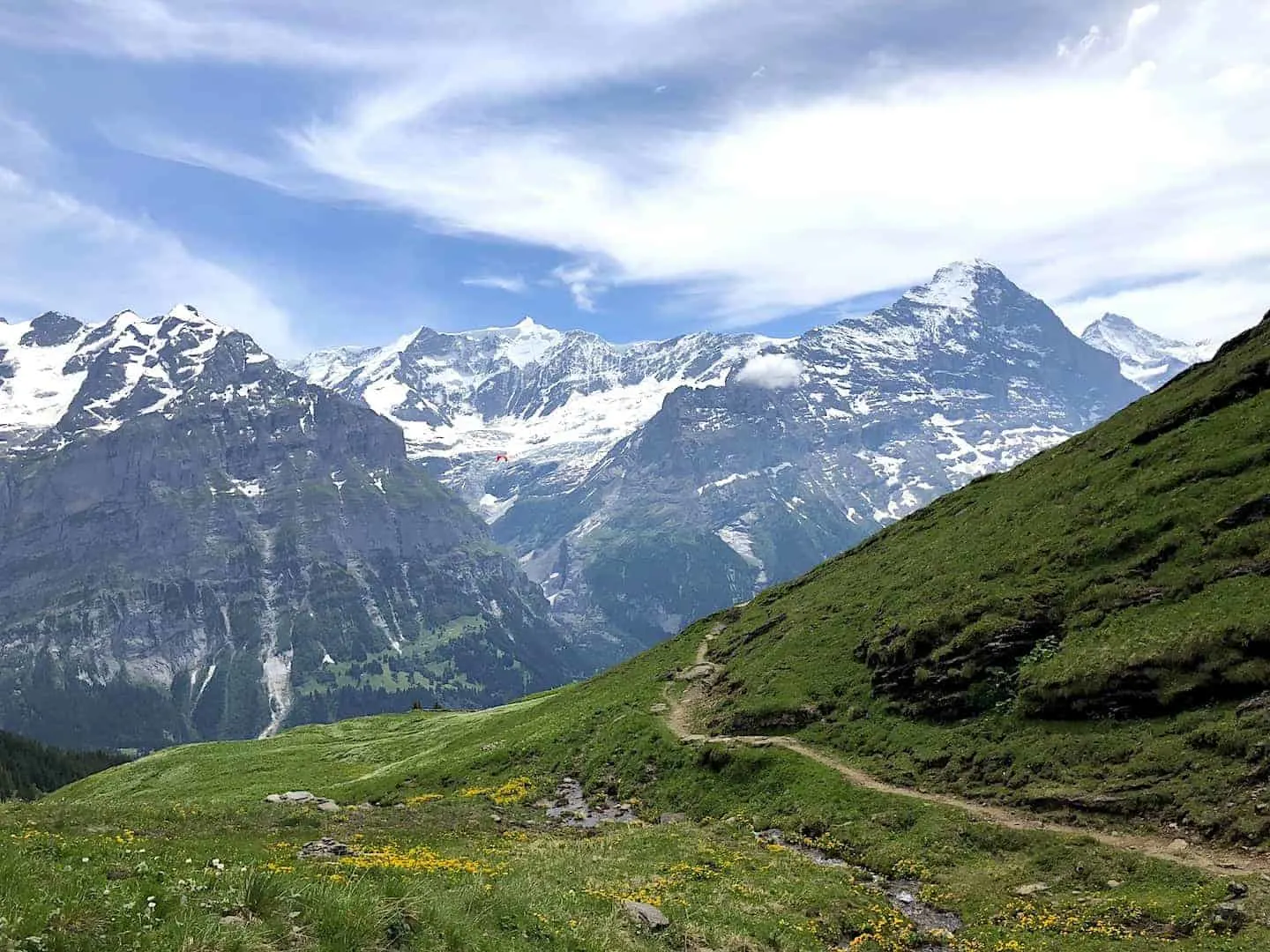 Once back in First you can head on the First Cliff Walk (you can also opt for this prior to the hike). This short walk takes you along the side of the cliffside with the Eiger looming in the distance.
It is a popular and crowded photo opt spot but it is still well worth the effort to take part.
After finishing up, you can head back down to Grindelwald via cable car or you can take part of some various modes of transport. These include the First Flyer, First Glider, Mountain Cart, and Trottibike.
→ You can learn all about this day in the Bachalpsee Lake guide up on the site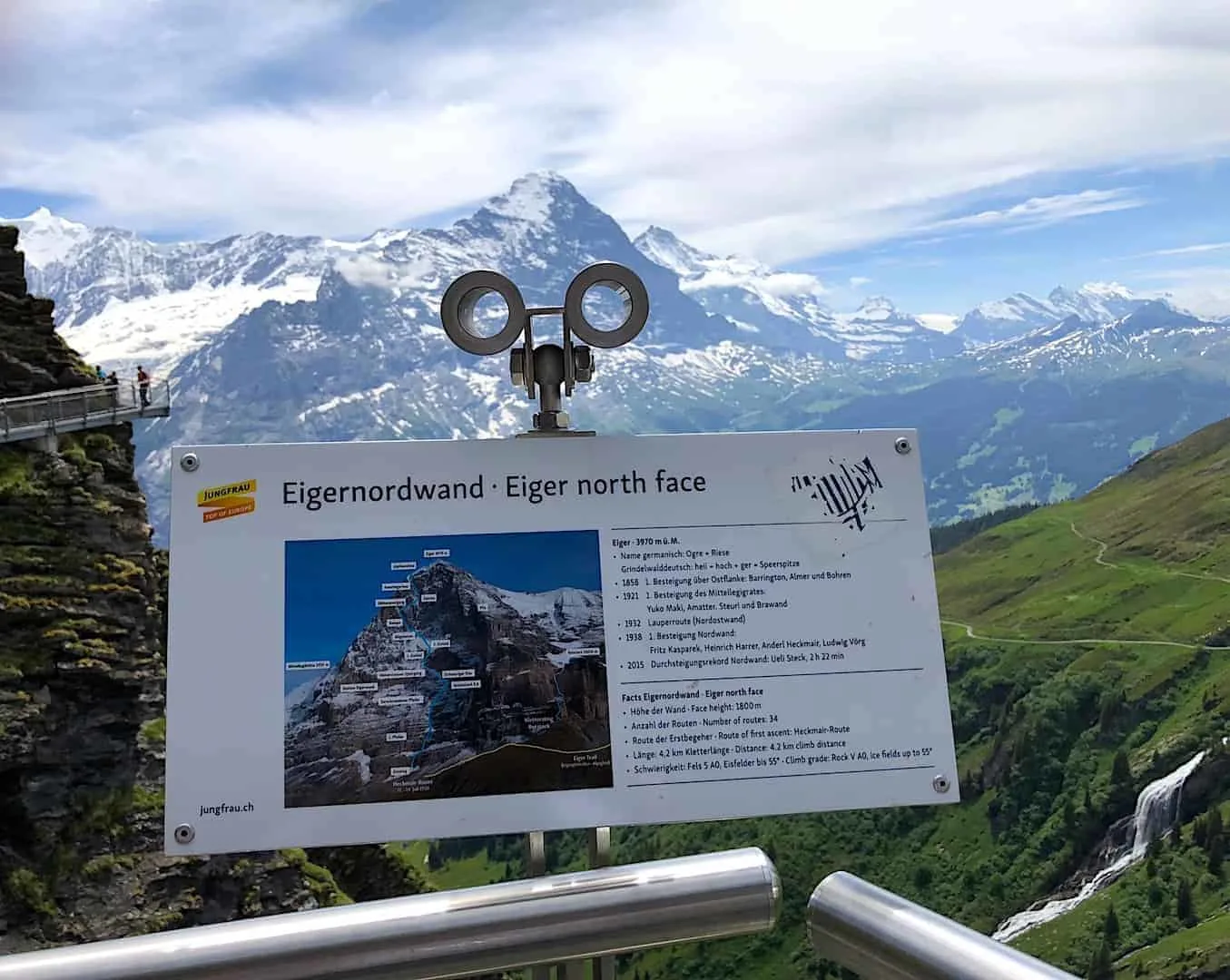 That will then wrap up your 5 days in Switzerland. Depending on your flight/itinerary, you can either make your way back to Zurich later on day 5 or first thing on day 6 to catch your flight out of the country.
Overall, you will get to enjoy some of the best that Switzerland has to offer. I have a hard time believing you that you won't want to come back again to enjoy even more of it.
Switzerland Itinerary 5 Days Winter
As you may imagine the itinerary mentioned above is going to be geared more towards those summer months given the amount of hiking involved.
However, even with that said, you can still enjoy 5 days in Switzerland during the winter. You just will need to change some things around on the itinerary a bit.
Day 1
The first day of the itinerary does not need to change. You can still enjoy Zurich the same way you would in the summertime. It will surely be chillier and a different overall atmosphere but spending a day in Zurich at the beginning of the trip will be a perfect way to get started.
Day 2
On day two, you can still make your way to Lucerne and take part of a mountain excursion. However, it is important to note that some modes of transportation will not be running outside the summer seasonal months.
So, for example on the Mt Pilatus round trip excursion I walked through, the cogwheel train and boat are closed in the winter time. This just means you will need to head up and down to the summit via cable car instead.
Getting to see Lucerne and the surrounding Swiss Alps blanketed with snow is going to be just a once in a lifetime type of view to enjoy.
Day 3
Once you reach the Jungfrau Region, many activities mentioned prior just wont be possible. This is due to the fact that the snow will cover hiking trails and just make the overall landscape more dangerous.
No worries though, as there will be workarounds to take advantage of during the winter.
On day three, the itinerary entails heading up to Schilthorn, enjoying Murren, and walking through the Lauterbrunnen Valley. The great thing is that all of this can be equally enjoyed during the winter time too.
The one place that won't be open during the winter is Trummelbach Falls since there just won't be much water flow during that time. You will still get some waterfalls through the valley, but just not as noticeable as during the summer.
Day 4
Unfortunately, most of the hiking on day 4 just won't be possible due to the snowfall. Usually the Mannlichen to Kleine Scheidegg trail and Eiger Trail don't open up to mid/late June and then close down around October time.
However, you can still spend time exploring Wengen and all the beautiful views that it has to offer. Better yet, you can also head up to the Jungfraujoch during the winter. Getting to see the vast Swiss Alps covered in snow from the "Top of Europe" is going to be a perfect spot to enjoy.
Day 5
Similarly to the other hikes, the Bachalpsee Lake hike will also be closed down in the wintertime. However, Grindelwald and First do offer some great winter activities.
You can still head up the cable cars to First and enjoy the surrounding views. Once off the cable cars, the First Cliff Walk will be open to experience as well.
All around the Jungfrau you will come across "sledging" experiences. This is essentially a more intense way of sledding. There are plenty of sledging runs to enjoy as you sit down and fly down the mountainside.
This can be the perfect activity for those that want to have a unique winter experience that just can't be done in the summer months.
Of course, if you are a skier, there are plenty of skiing opportunities in the Jungfrau Region as well. You can decide to swap out a day or two to head on the ski slopes of the Swiss Alps.
Is 5 Days Enough in Switzerland
You may be asking yourself is 5 days in Switzerland enough. Like I always say, is it ever really enough? No matter if you have 5, 7, 10 or 20 days in Switzerland, there will always be more to see.
5 days is certainly a short amount of time. But if that is all you have to spare, then you will still be able to experience some of the best that this country has to offer.
You may not have the chance to travel all throughout the country or spend more time in certain places, but you still will be able to take advantage of your time there.
One of the most important things is just to fully enjoy each and every day you have in Switzerland.
This itinerary is packed with so many great aspects of the country. By the end of your 5 days in Switzerland, you will just be excited to plan another trip there to other cities in the future.
If you are looking for some longer Switzerland itineraries, feel free to check out the other three trips up on the site including: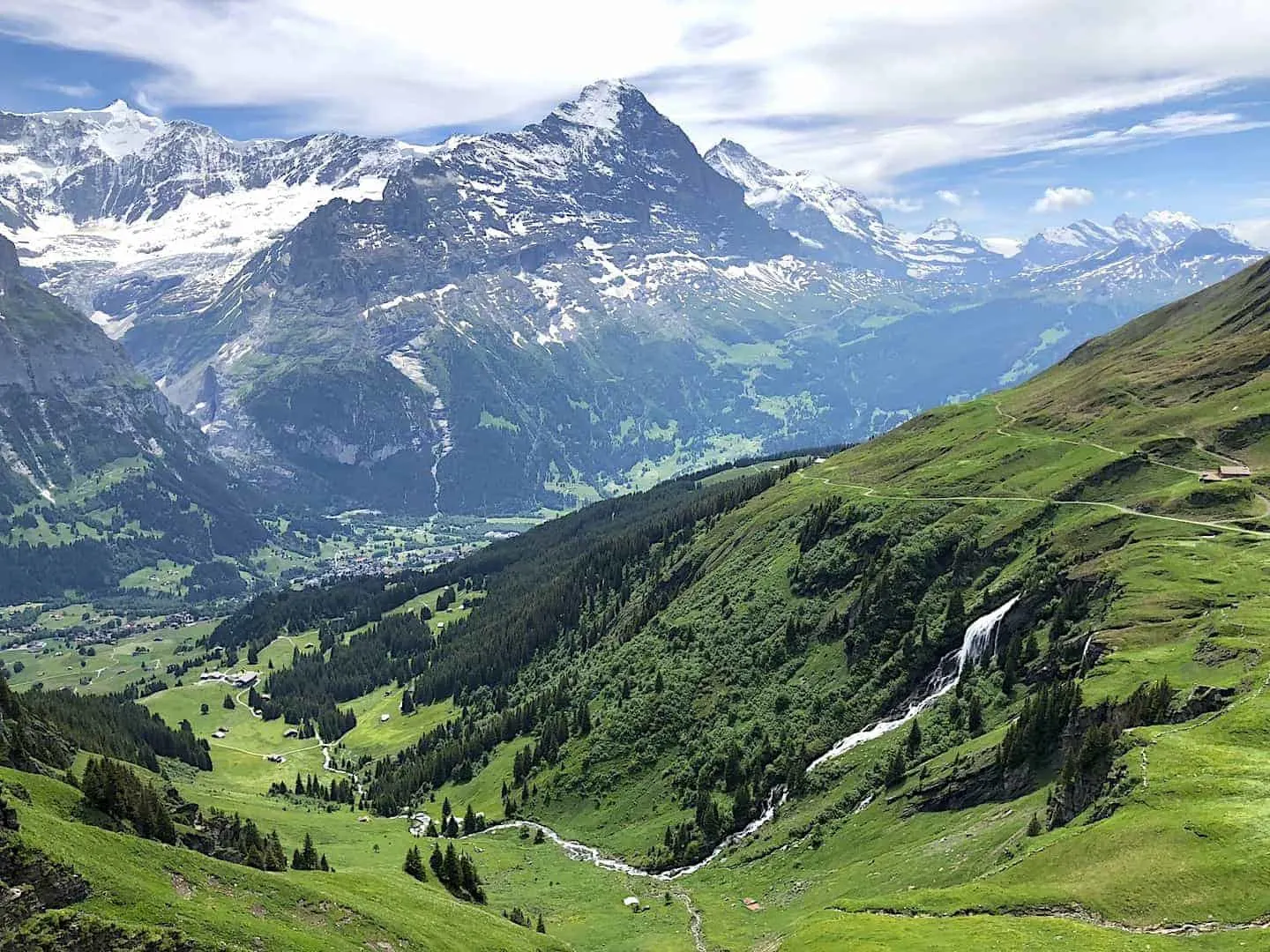 That about wraps up a 5 day Switzerland itinerary. Feel free to check out even more helpful Switzerland itineraries and guides up on the site to help with your travels.
If you have any questions or comments about the itinerary, you can write them in below.
Have fun out there and safe travels!