The Jungfrau region is filled with beautiful viewpoints, incredible scenery, and some of the best hiking out there. One hiking option that will give you all of that and more is the Bachalpsee Lake Hike located in First.
Since it is relatively a shorter hike, lasting about 90 minutes round trip (plus amount of time spent at the lake), it can easily be combined with other activities around the area. Believe me this is one hike you will not want to miss out on!
* Affiliate Disclosure: This post may contain affiliate links, which means I may receive a commission if you make a purchase through the links provided, at no additional cost to you. Thanks for supporting the work I put into TripTins!
1) Introduction to the Bachalpsee Lake Hike
If you are headed to the Alps, the Bachalpsee Lake Hike is a must do when spending a few days exploring the area. It is one of the more popular hiking options in the Jungfrau region and is suitable for people of all ages.
Due to its shorter length, low difficulty level, and top notch views of the Eiger North Face, it is on many people's hiking bucket list.
This guide will go over logistics, routes, and other things to do in First, that should better prepare you for this one of a kind hike to Bachalpsee.
Hike Name: Bachalpsee Lake
Location: First (via Grindelwald)
Length: 3KM / 1.9 Miles One Way (6KM / 3.7 Miles Round Trip)
Time: 45 minutes One Way (1.5 hours Round Trip)
Open: June to October (depending on weather)
Difficulty: Easy
Hiking Resources & Checklist

Before heading out for the trails, be sure to read up on some of the hiking resources up on the site. These are here to better prepare you for all types of outdoor adventure.
2) When To Go To Bachalpsee
Unfortunately, making the hike to Bachalpsee Lake is not possible year round. Due to its elevation at 2,265 meters, it does get quite a good amount of snow starting later in the year. Once winter ends, it also takes some time for all the snow to melt in order for the paths to be clear.
This usually happens somewhere around the early to mid June time period. Once the path is clear and deemed safe for hikers, they will "officially" open up the trail.
» You can check the hiking status at the Jungfrau Region Website.
I have heard of people who do hike the trails around the area before they are officially open but if you do opt to do so you might encounter deep snow in some parts along with muddy paths.
I would say the best time to go for best weather and lowest crowds would be either late June or during the month of September, but anytime during the summer should work as well even though it might be more crowded.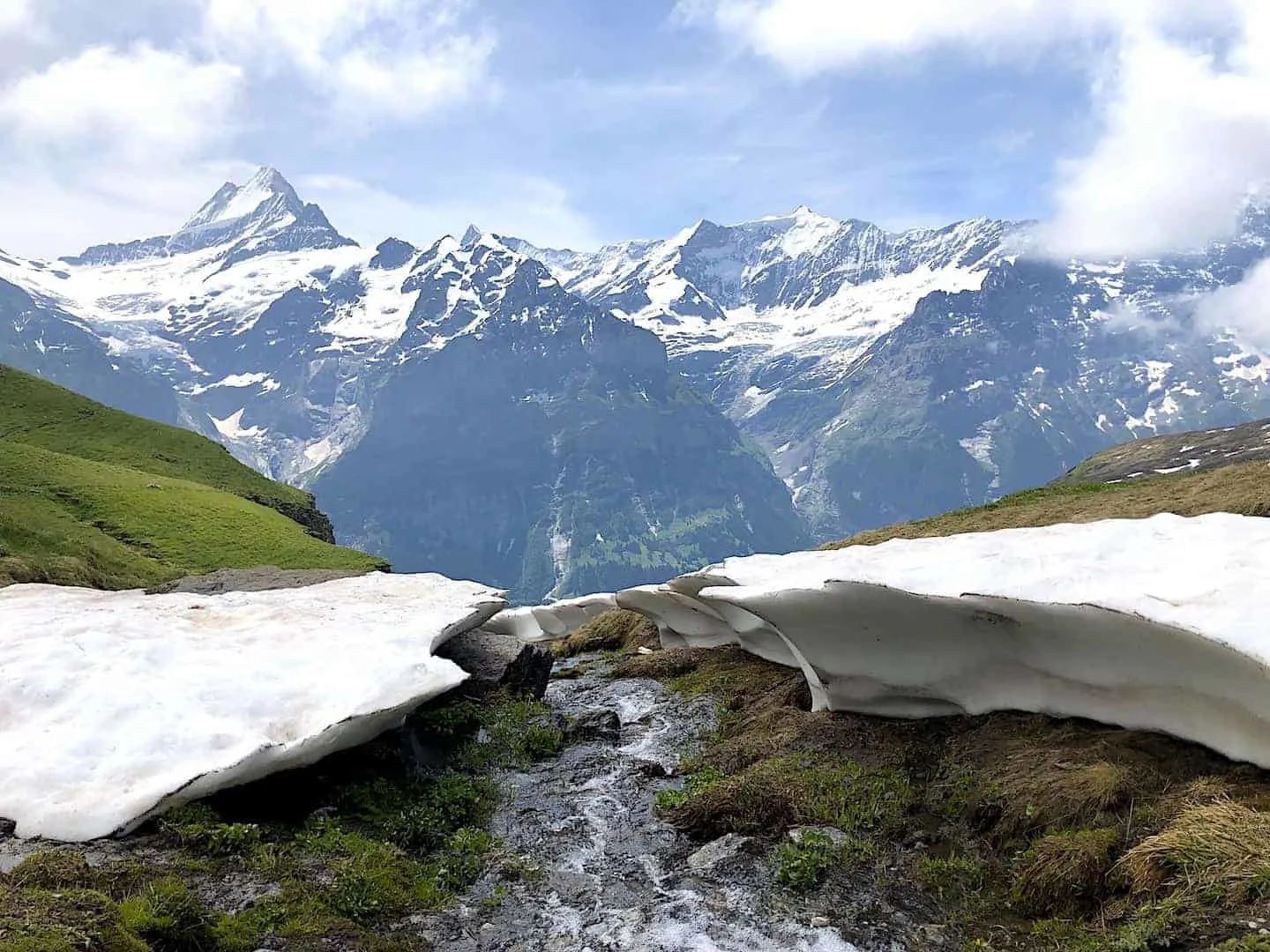 Another thing to think of is the weather for the particular day you are trying to visit. Yes, the hike can be done in rain, shine, or cloudy weather but if you have options for when to complete the hike, you will want as clear as a day as possible to take in all the views.
A few days before you can start checking the weather around First on Meteoblue, a much more reliable weather website for the area.
When you reach the day of the hike you can also check how the webcams are looking in First. The last thing you want is paying money to get up there and getting stuck in terrible weather with no views.
Take a look at the Weather in Switzerland Guide I put together to better help you out with trip planning.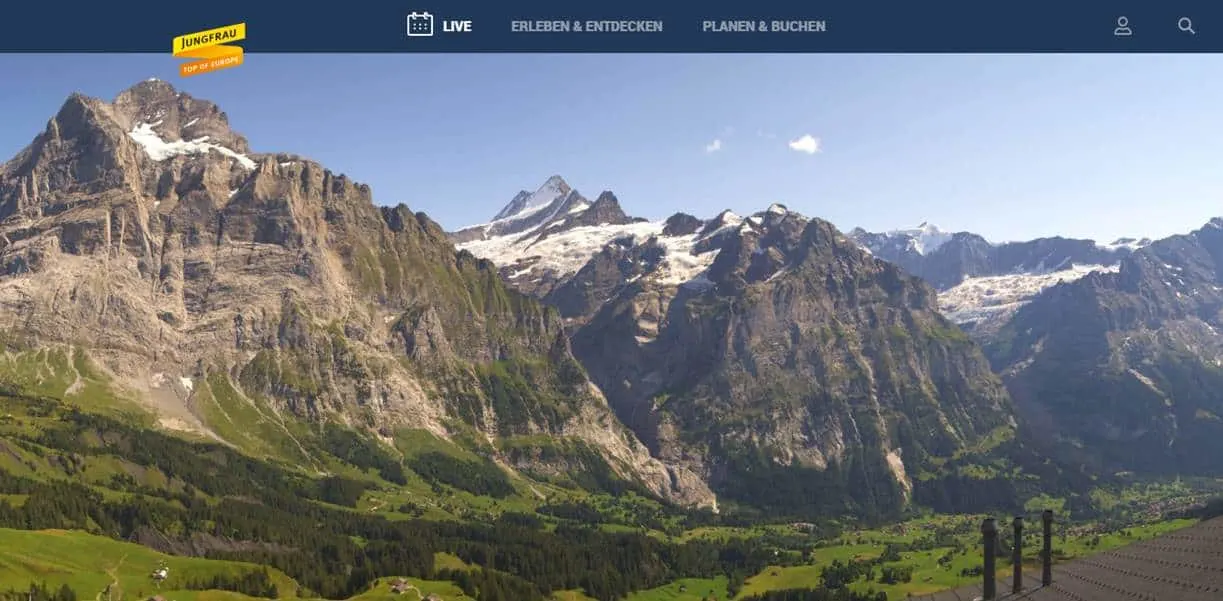 3) How To Get To First
Getting to the start of the hike requires you to get to First; and to get to First you must get to Grindelwald. Figuring out how to get to Grindelwald / First, and how long it will take, will depend on where you are staying.
I will list out a few different places that you may be coming from below, such as Interlaken, Wengen and Murren.
From Interlaken
1) Train: Interlaken Ost to Grindelwald
2) Walk: Grindelwald Station to Cable Car Station
3) Cable Car: Grindelwald to First
Note depending on where you are staying in Interlaken it may be easier to bus to Winderswil Station and take the train to Grindelwald from there.
From Wengen
1) Train: Wengen to Lauterbrunnen
2) Train: Lauterbrunnen to Zweilutschinen
3) Train: Zweilutschinen to Grindelwald
4) Walk: Grindelwald Station to Cable Car Station
5) Cable Car: Grindelwald to First
There are two alternate scenic options from Wengen to Grindewald (via Mannlichen or via Kleine Scheidegg) however it will cost much more to take those cable cars / trains.
From Murren
1) Train: Murren to Grutschalp
2) Cable Car: Grutschalp to Lauterbrunnen
3) Train: Lauterbrunnen to Zweilutschinen
4) Train: Zweilutschinen to Grindelwald
5) Walk: Grindelwald Station to Cable Car Station
6) Cable Car: Grindelwald to First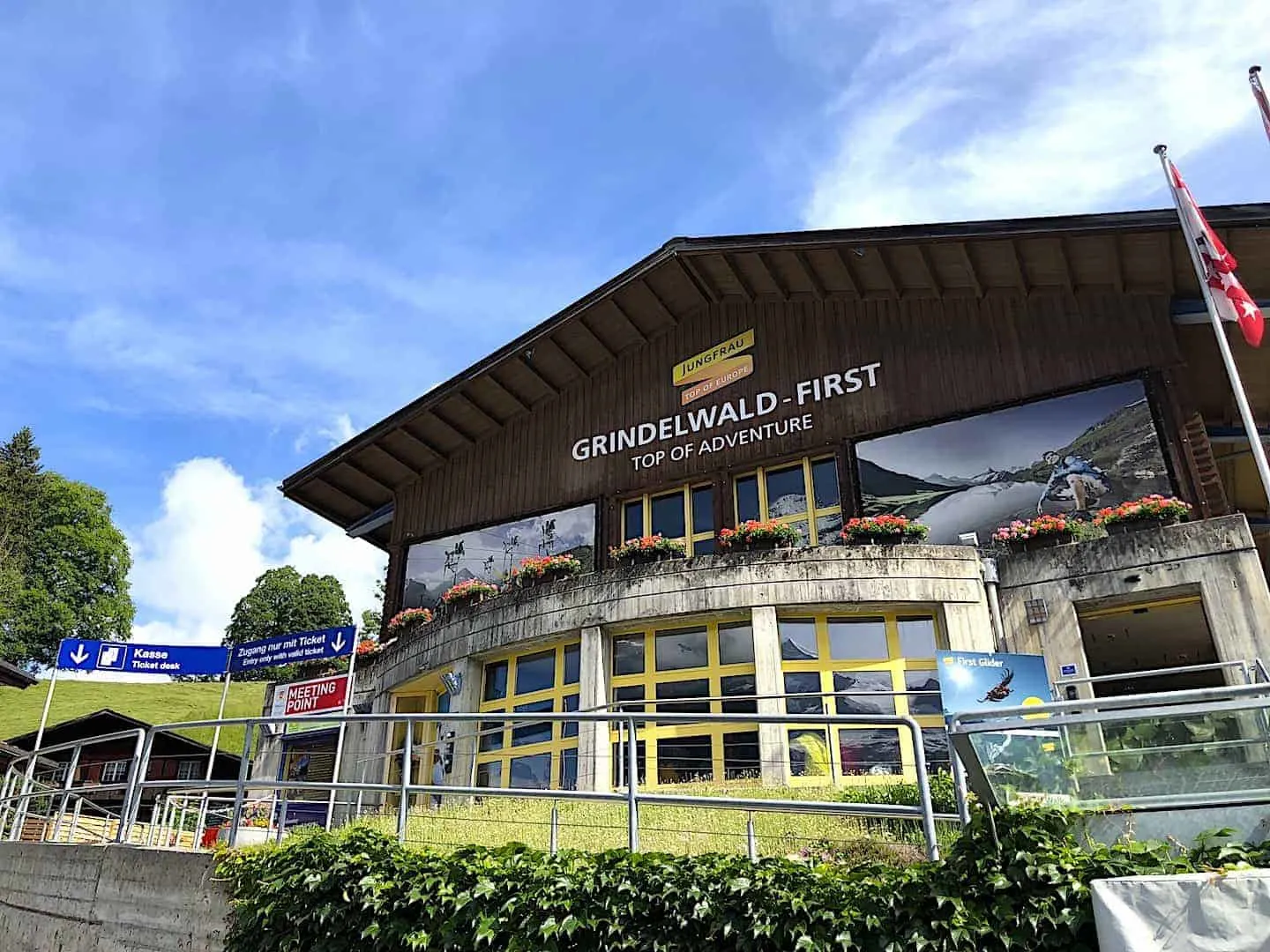 The goal here is to get Grindelwald as your base.
Once you are there you can simply walk on over to the Grindelwald – First cable car, buy your tickets, and head up from there.
Note this cable car is not like some others in Switzerland that are on a timetable. They are the ones that fit ~6 people and constantly come and go (and the views aren't too bad either – check them out below!).
Along the 25 minute journey from Grindelwald to First, the cable car will open up at Bort and Schrekfeld. You do not need to leave the cable car during this time unless you want to explore those areas before heading up to First.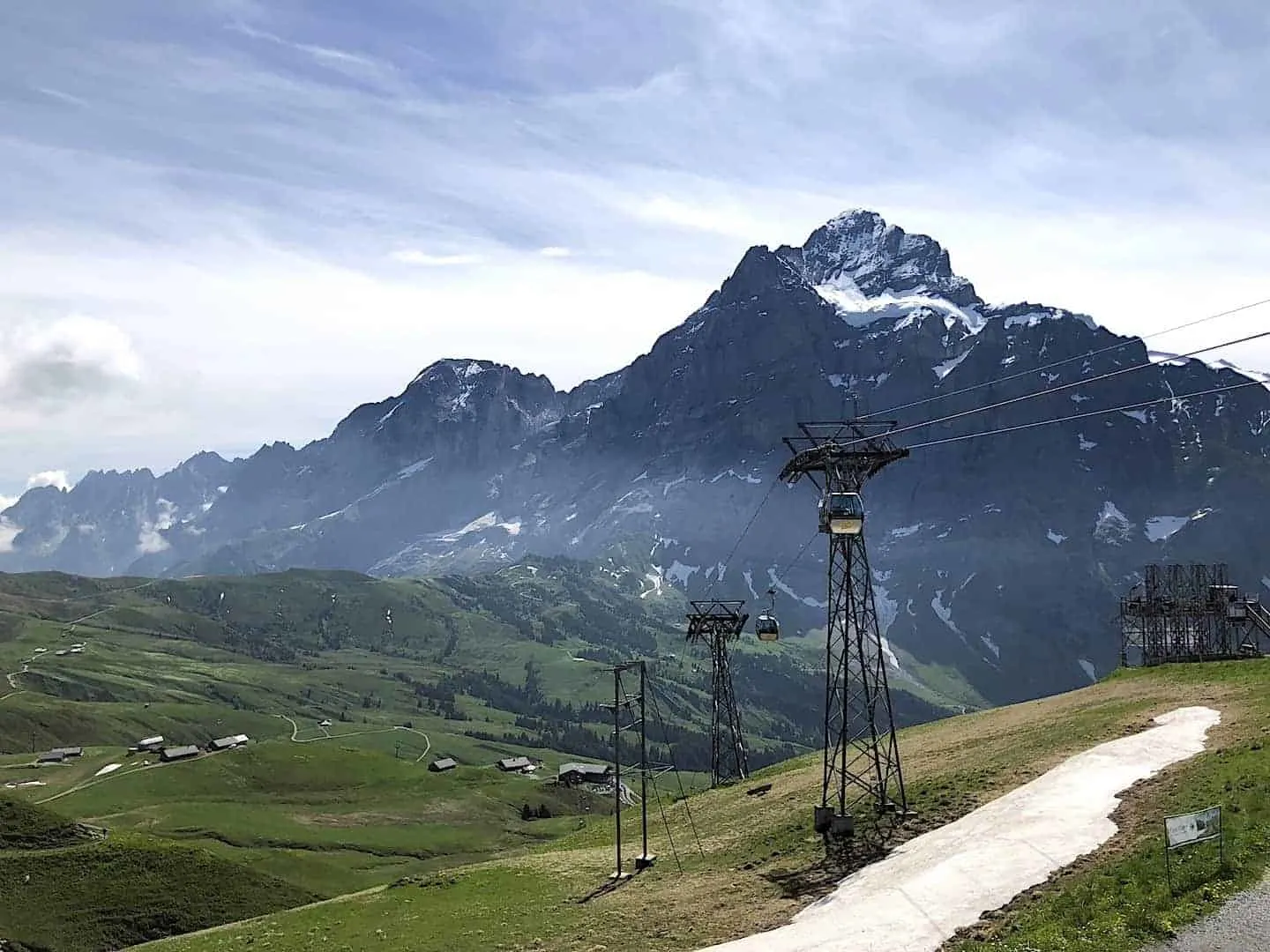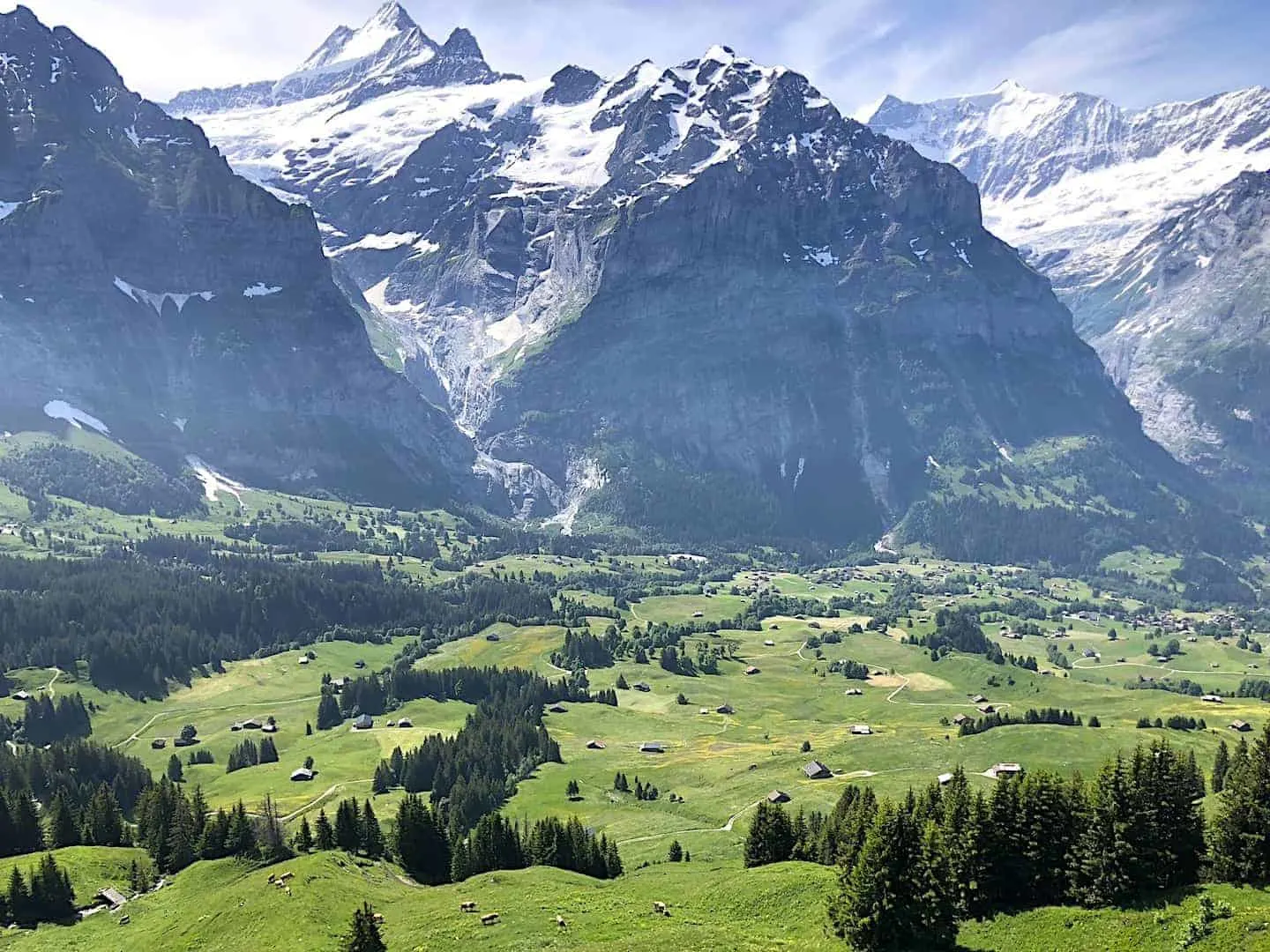 4) How Much Does It Cost
The hike itself does not cost any money, however getting to its starting point does (unless you hike all the way up from Grindelwald!). There are two costs you must take into account:
Price to get from your base (Interlaken, Wengen, Murren) to Grindelwald
Price to take the cable car from Grindelwald to First
Take a look at the price graph below that will show you the different costs by route (updated 2023):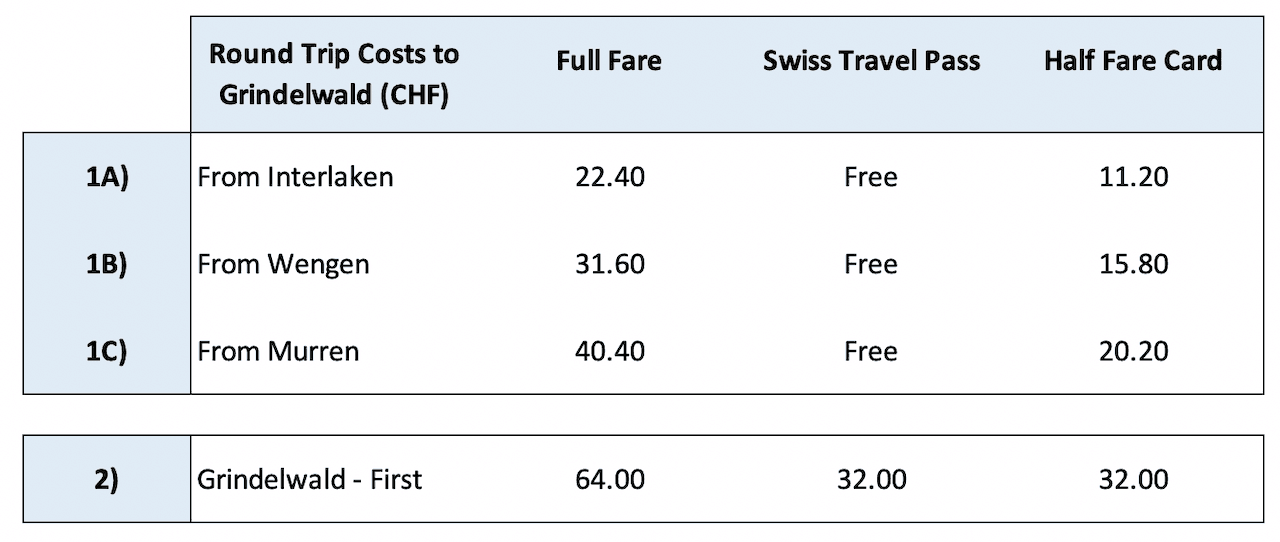 The round-trip cable car costs in 2023 is now 68 CHF or just 34 CHF with a Swiss Travel Pass or Half Fare Card (the Swiss Travel Pass gives you a 50% discount here, not 100%).
5) Map of the Bachalpsee Lake Hike
You can see on the map below the location of First and the trail to Bachalpsee (in blue). You can also see my attempt at drawing in the path down the valley and back up to First that you can take on the way back (in red – more on that later).
---
Whenever heading off on longer day hikes, I always recommend being adequately prepared when it comes to the type of gear to bring along.
Check out the below packing list to get you ready for this hike and other hikes in Switzerland.
Hiking Packing List

In general when it comes to hiking, there are a few main aspects to consider. These includes clothing layers, hiking shoes, hydration & fuel, electronics, and other essentials.

Below in a breakdown of some of the top items, but be sure to check out the Hiking Packing List for a more comprehensive view.

Clothing Layers

Layering is going to be a top consideration when hiking. You will want to be prepared for all sorts of weather so you can be comfortable in different situations. Some items may include:

→ Hiking Shorts
→ Hiking Pants
→ Short Sleeve Shirt
→ Long Sleeve Shirt / Sun Hoodie
→ Mid Layer Fleece
→ Puff Jacket (not always needed)
→ Packable Rain Jacket (Columbia Watertight II)

Note that your layers should be made of moisture wicking material as they are breathable and quick drying.

Footwear

Having appropriate footwear will also be very important. You will want to have shoes with the necessary grip and support to keep you safe on the trail.

→ Hiking Shoes (Keen Targhee)
→ Hiking Socks (Darn Tough)

Other Essentials

Whether it is hiking gear, electronics, or just some miscellaneous items, here are some other essentials to bring along on hikes.

→ Hiking Backpack (Osprey Talon 22) & Rain Cover (Joy Walker Cover)
→ Hiking Poles (Black Diamond Trekking Poles)
→ Water Bottle (CamelBak Chute or Katadyn Filter Bottle)
→ Portable Charger (Anker PowerCore 5000mAh)
→ Action Camera (GoPro Hero)
→ Energy Bars & Snacks
→ Hat & Sunglasses
→ Sunscreen & Bug Spray
---
6) Hiking to Bachalpsee Lake
Once you have made it up the scenic 25 minute cable car ride up to First, it is time to begin the hike out to Bachalpsee lake.
As you exit to your left you will see the beginning of the trail, which is pretty well marked and hard to miss.
It is also one of the more popular hikes in the area so you will see a bunch of people heading that way too.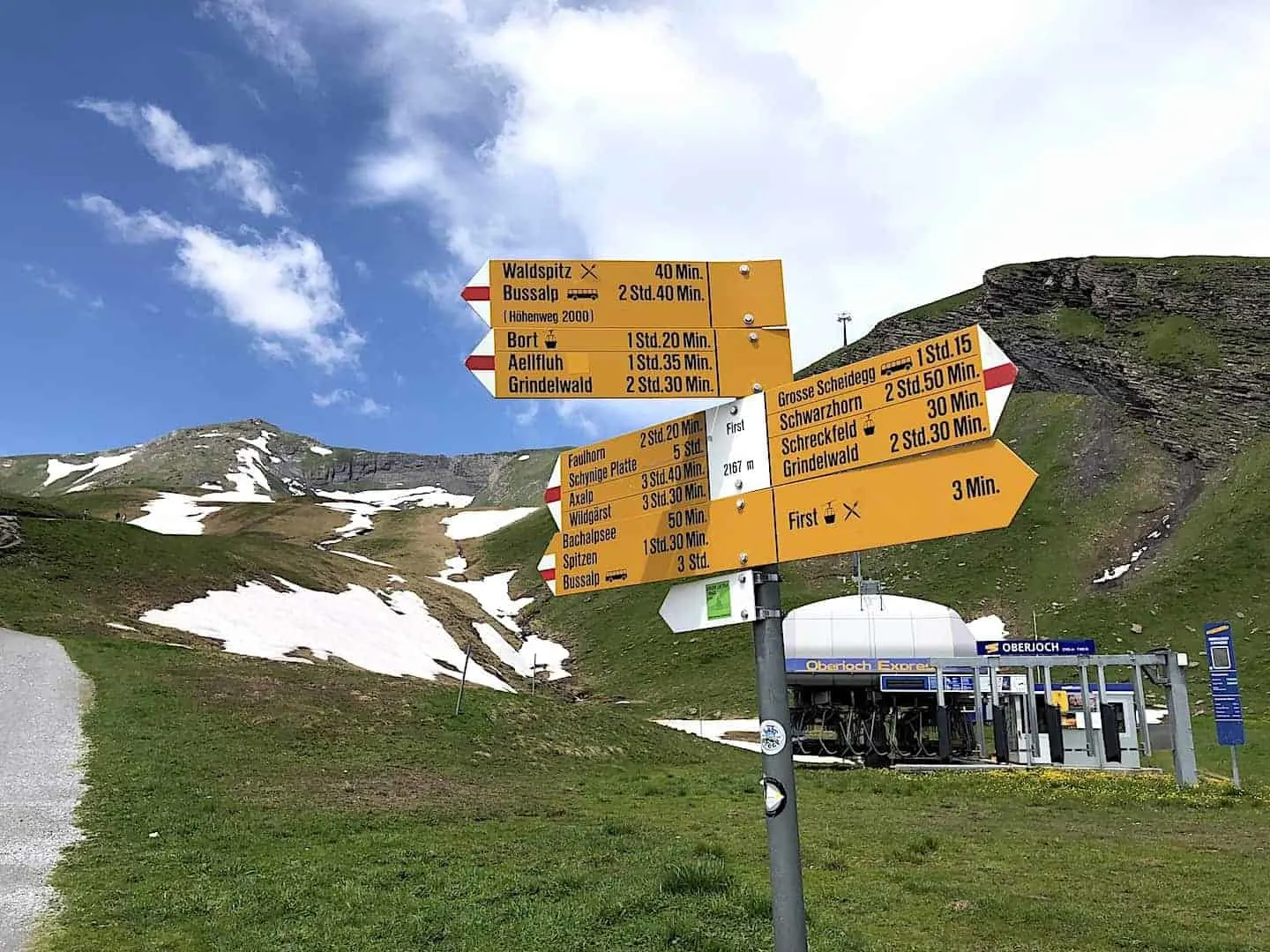 Overall the hike is relatively easy but does have a few steeper short uphill sections. As you continue onwards you will continuously see the famous Eiger to your left alongside the rest of the Swiss Alps. It really does make for one picturesque trail.
After about 45 minutes or so you will soon come across Bachalpsee with the Eiger lined up straight along the way. There are benches around the area to relax and enjoy the serenity of the lake and the views of the Eiger.
Spend some time taking it all in as it really was one of the best viewpoints and moments of my trip to Switzerland.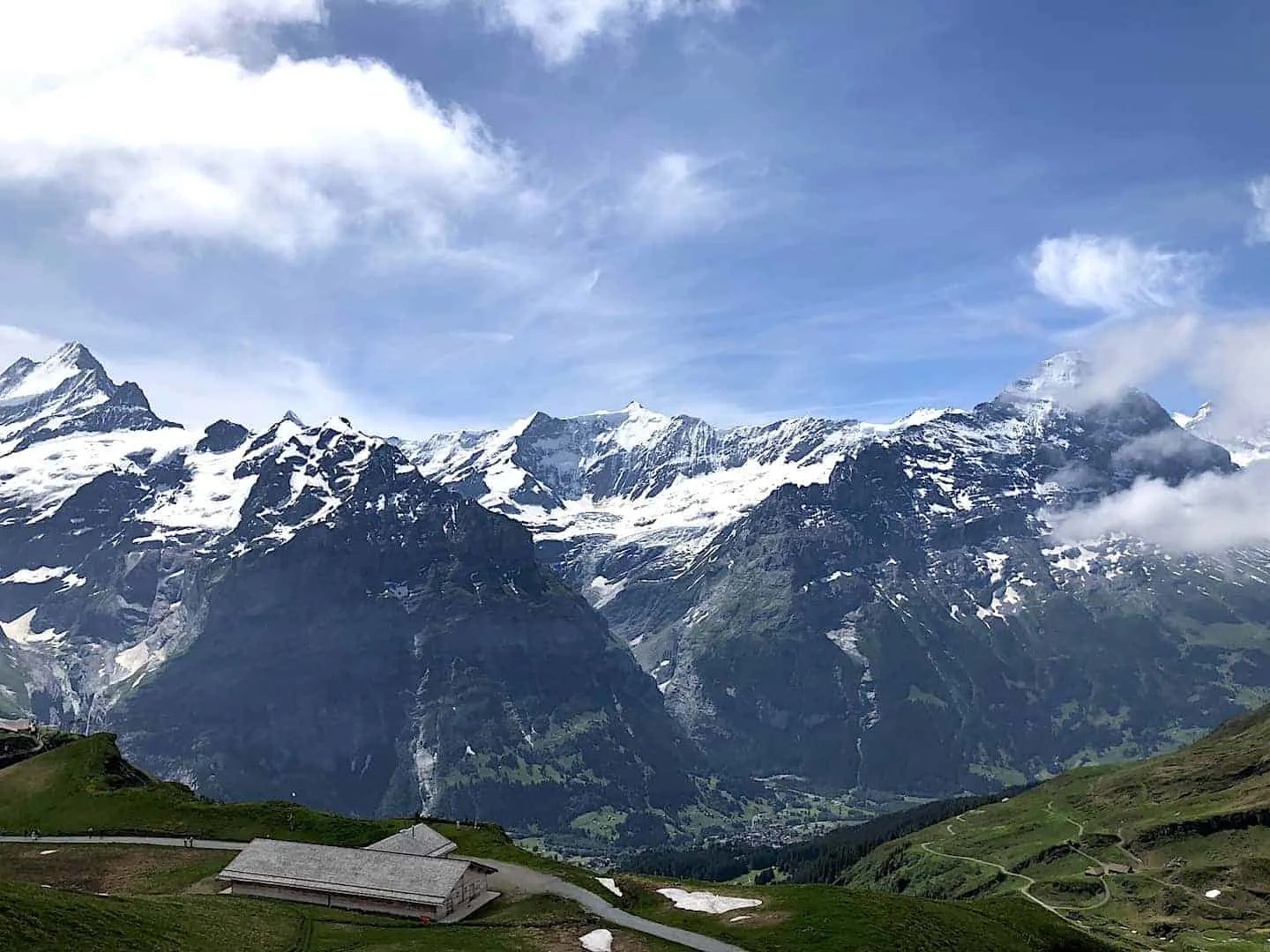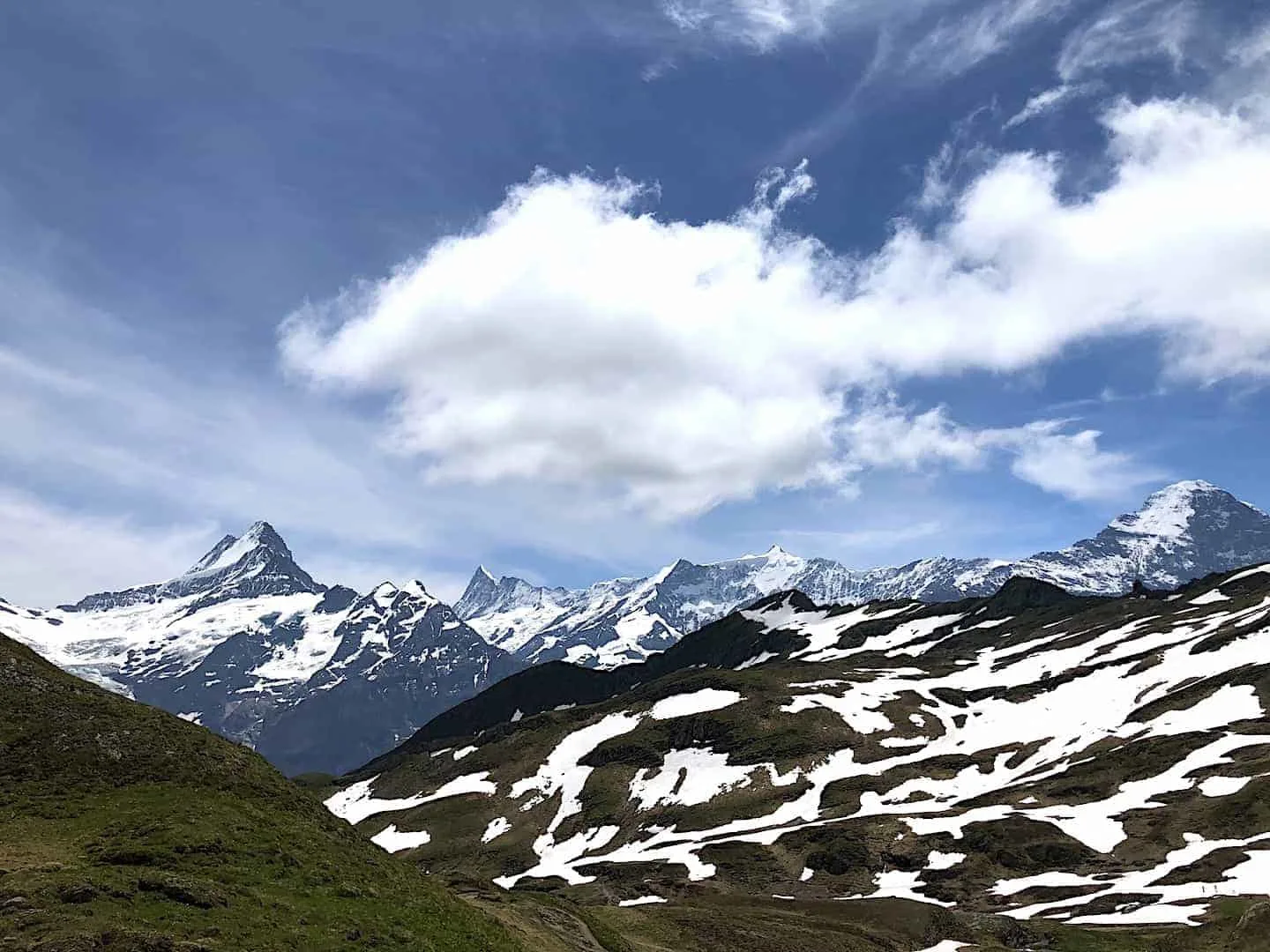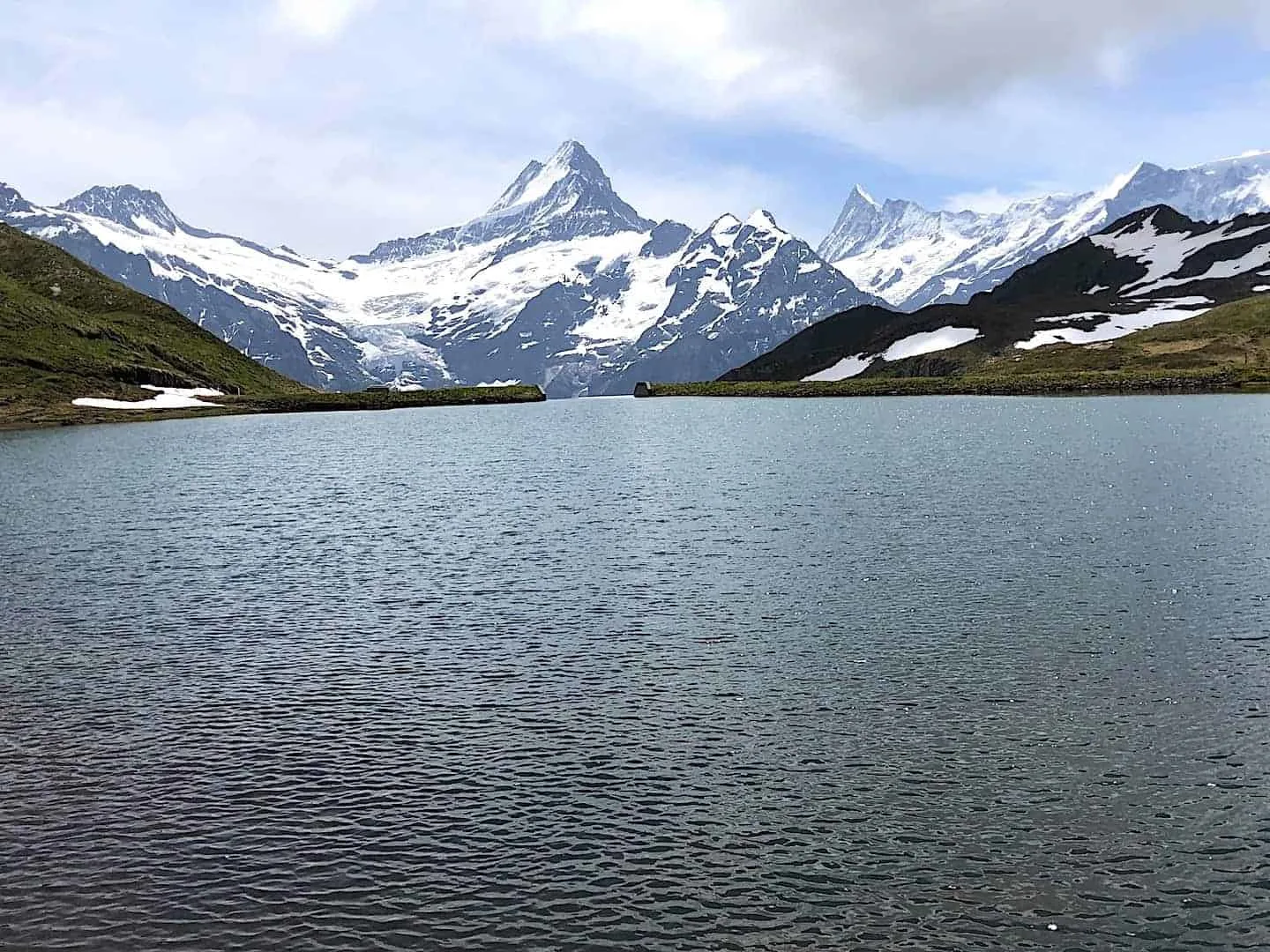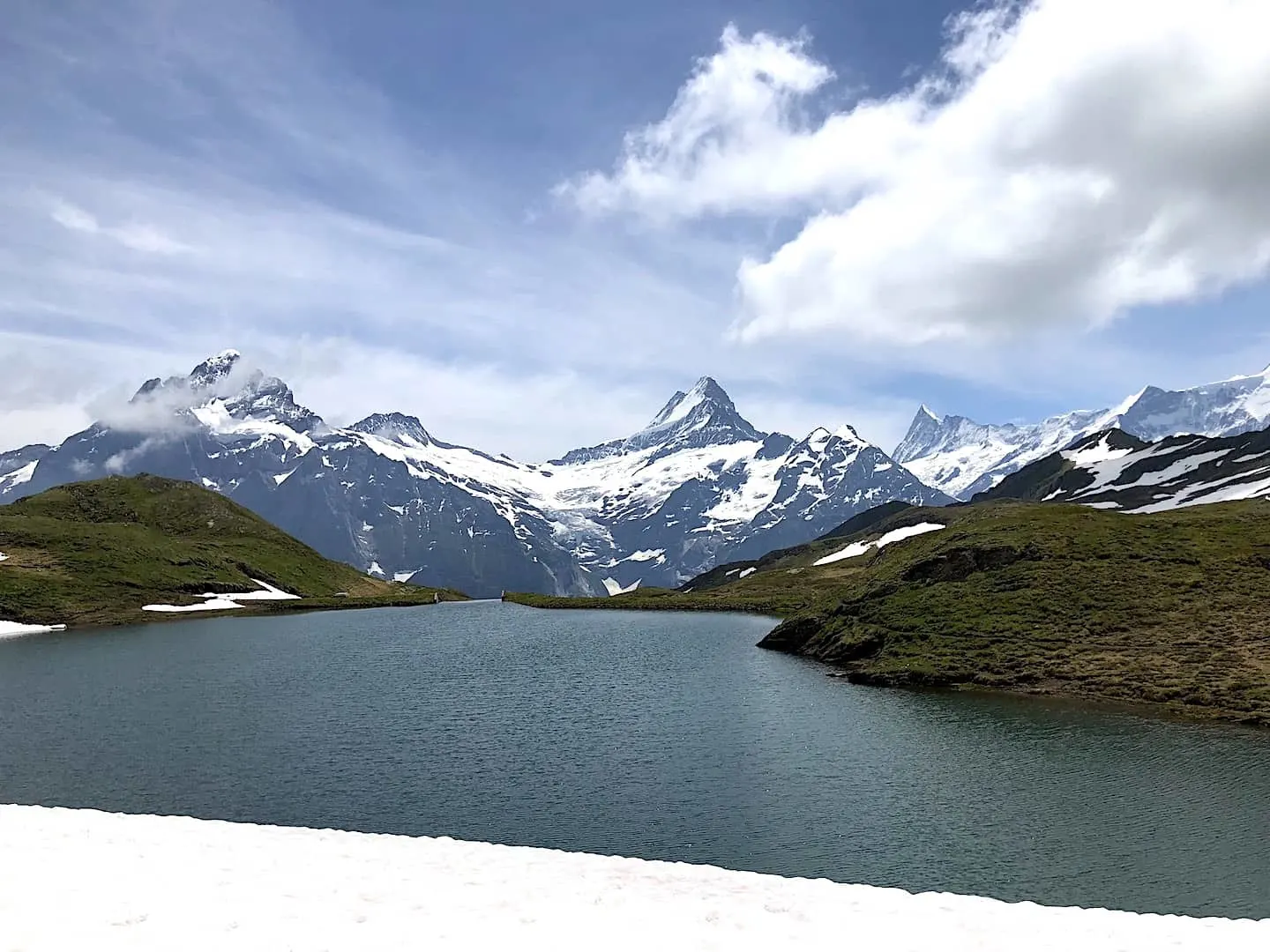 7) Hiking Back From Bachalpsee Lake
Here is where you can switch things up a bit. You can either head back on the same trail you took to get to the lake or you can take a different path down the valley and back up to the starting point. A third option is to extend the hike to other areas (more on that in the next section).
If you opt for the first option, all good. The one downside is that you will be hiking the same trail that you took out (another 45 minutes or so back).
The trail I opted for actually went down into the valley towards Bachlager (pinned on the map above), before cutting back up top to First.
The reason I recommend doing so is because the views in the valley are much different than those that you get up top. You can see the Alps from different angles, pass by small rivers and take in an amazing waterfall.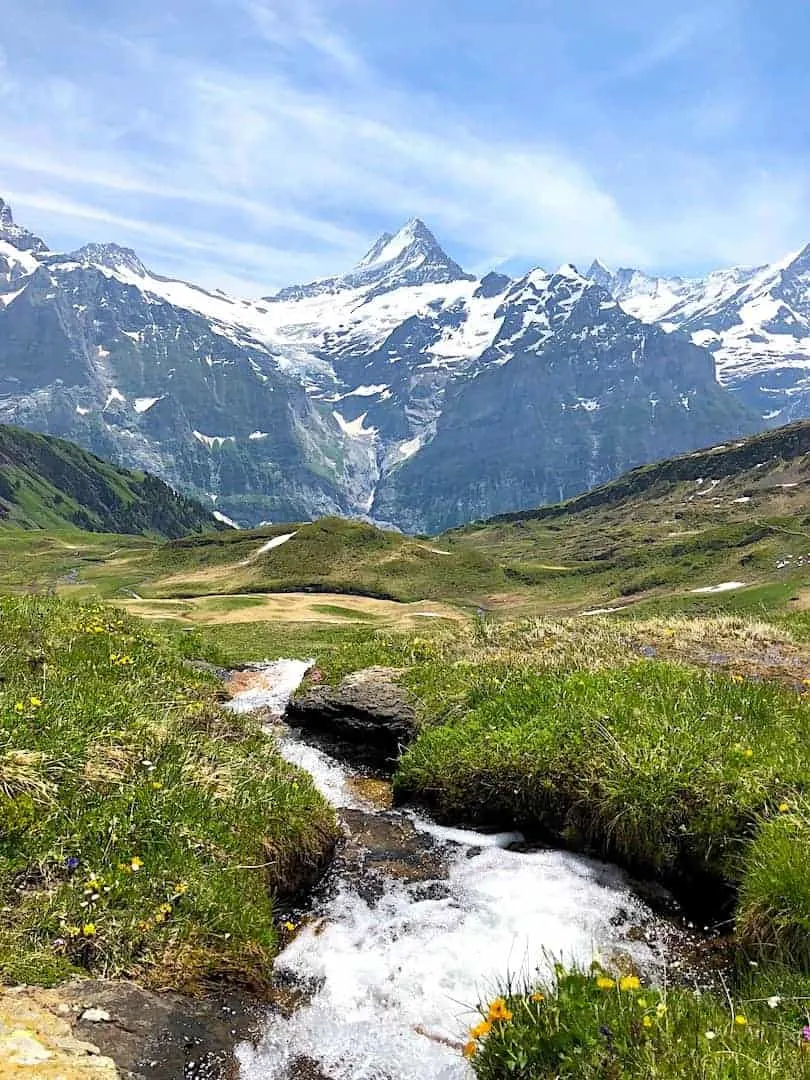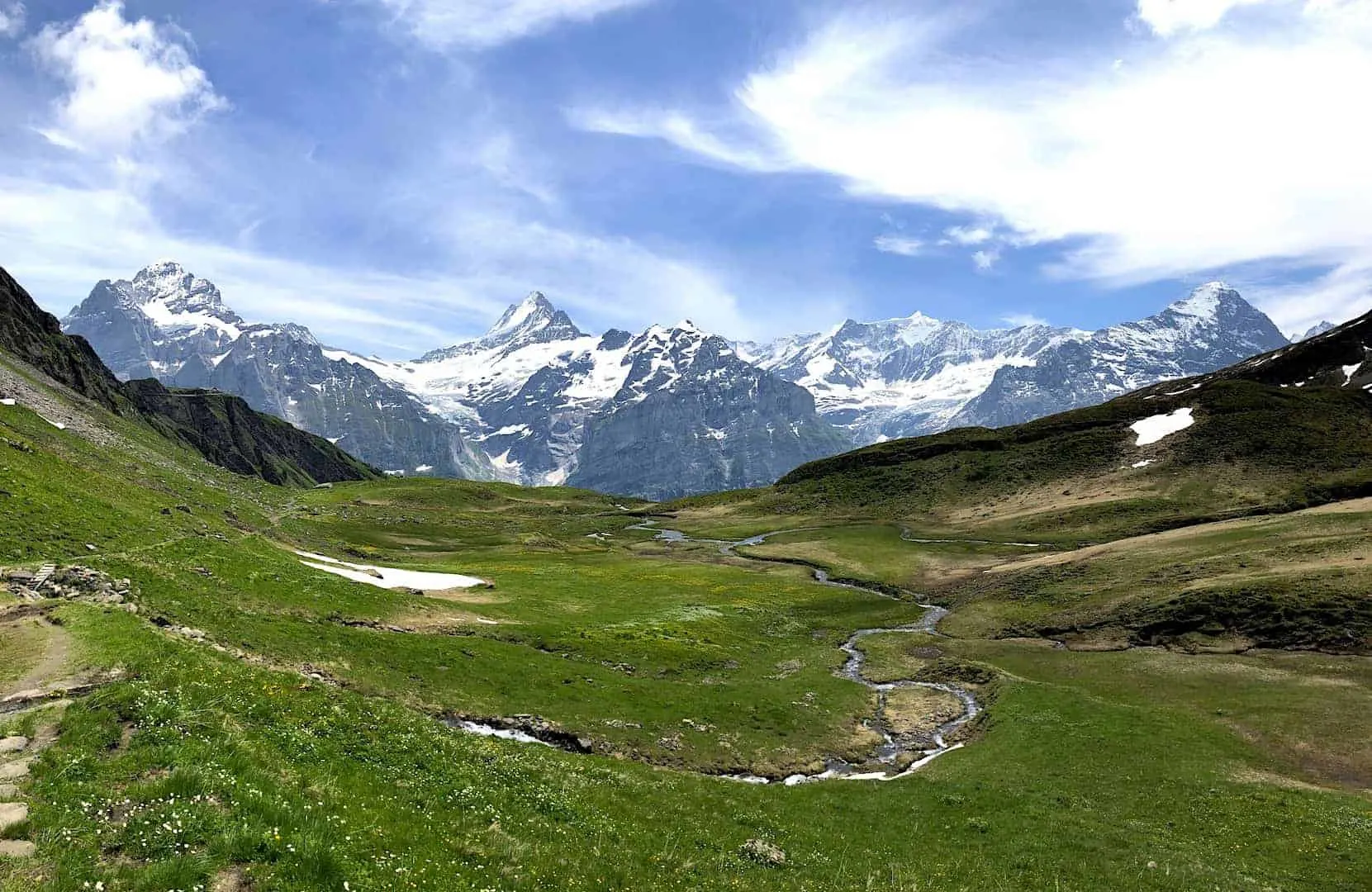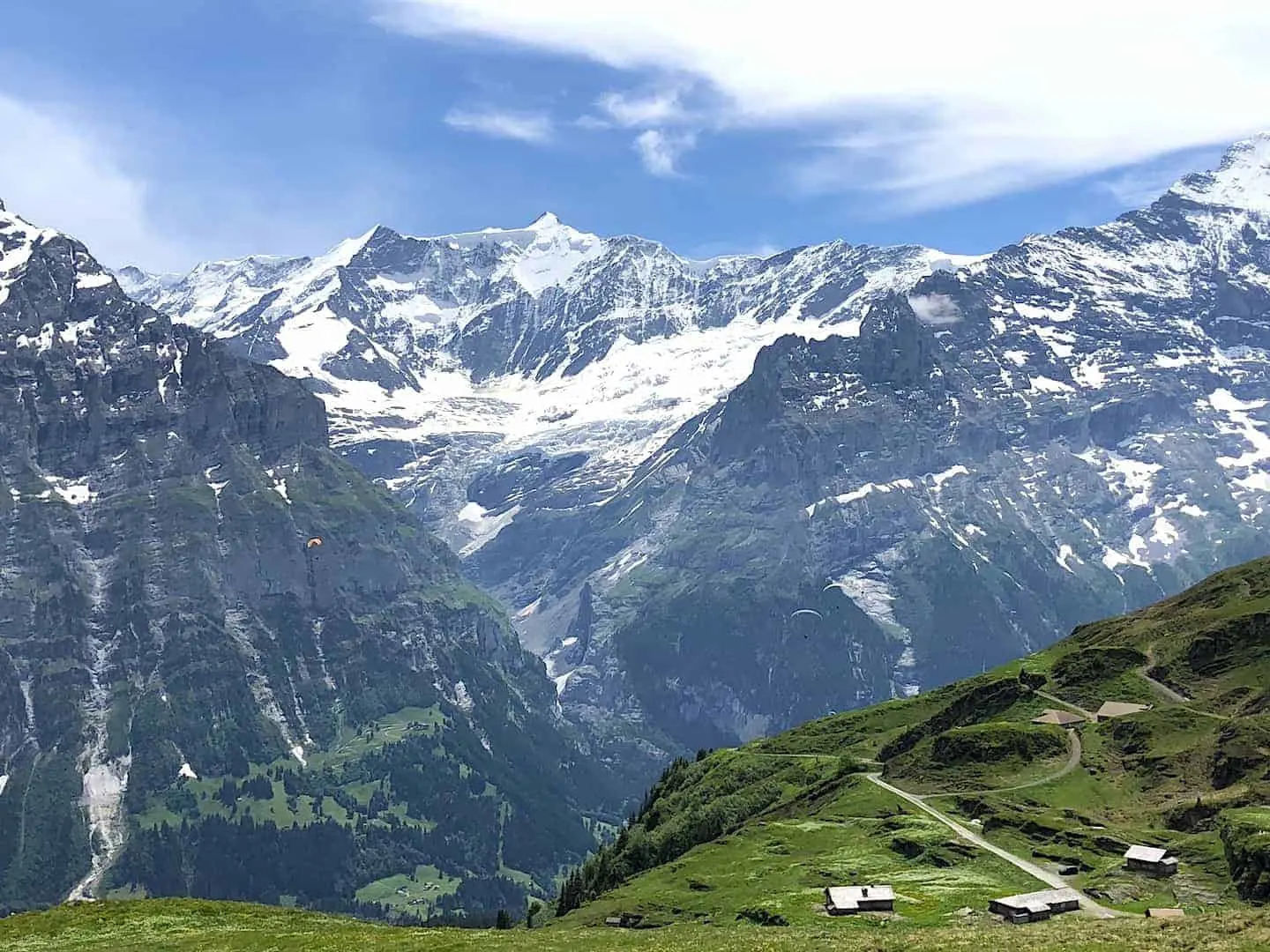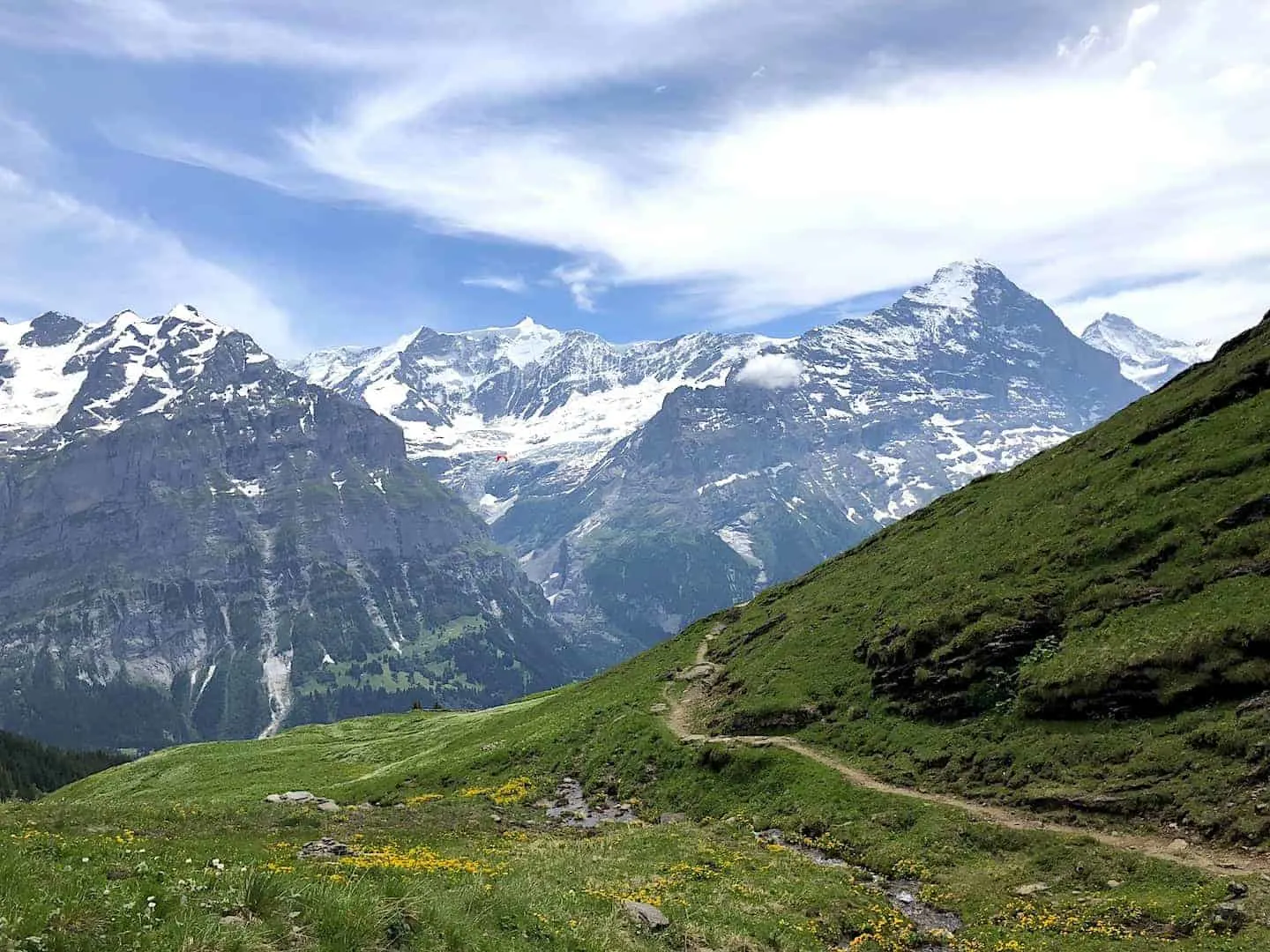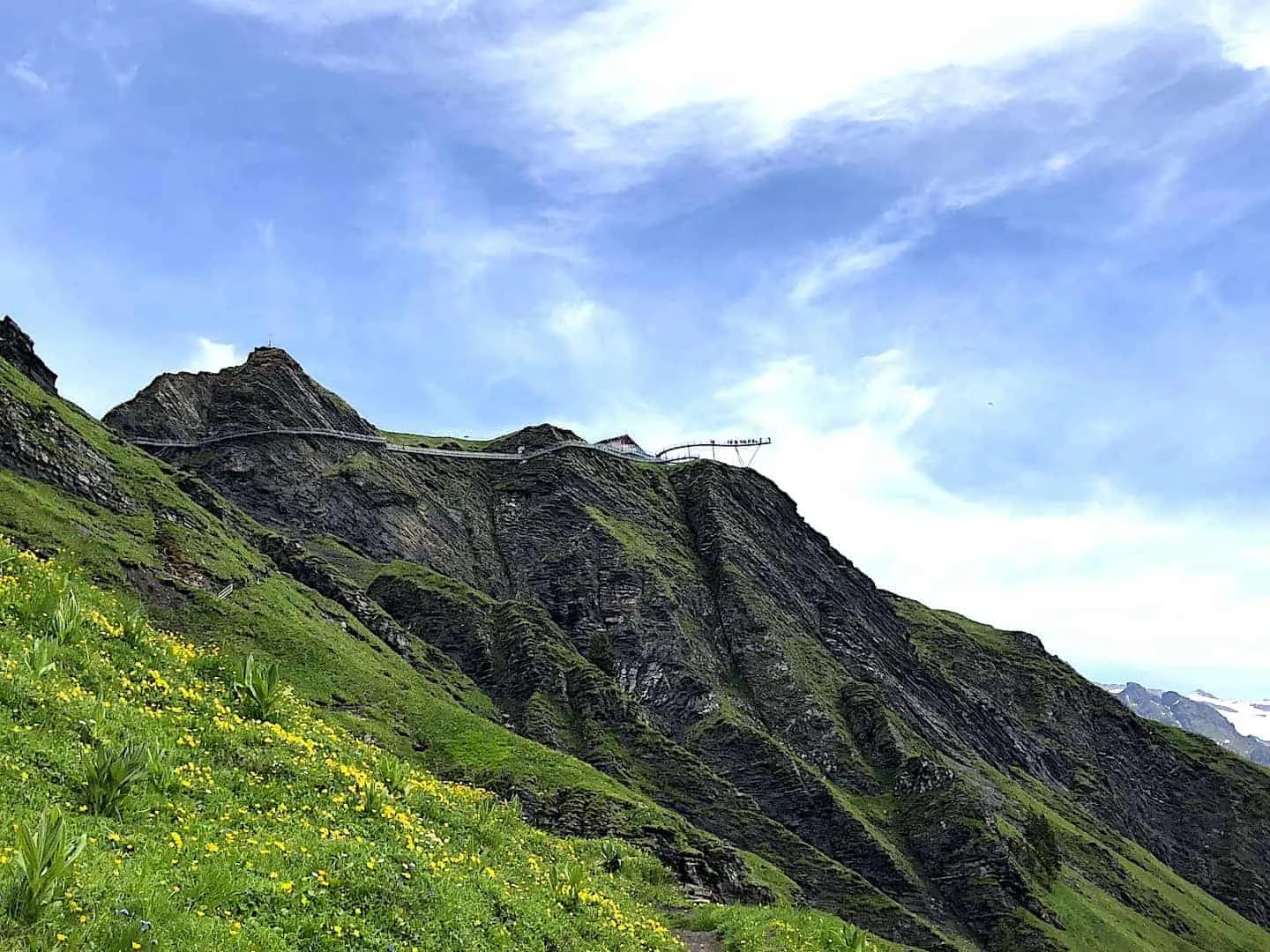 This trail would take a bit longer as you are not going directly back on the path but altogether would be around 75 minutes instead of the 45 minutes.
It also is a bit more of a technical trail and towards the end you will have to walk up the steps back to First.
8) Alternative Hiking Additions
Instead of ending your hike in First, there are a few other hiking alternatives that you can do:
1) If you opt for the valley trail back to First, you can continue the trail to the right from Bachlager down to Waldspitz and then to Bort (first stop on the cable car). You can then cable car down to Grindelwald from there or even hike all the way down.
2) Once you make it to Bachalpsee, you can continue onwards to Faulhorn and either turnaround from there or continue back down to Bussalp and Grindelwald.
3) There are plenty of other hiking options in the area you can opt for. It all just depends on how long you want to be on your feet and how much you want to see around the area. One thing is for certain – there will be no shortage of views to see and trails to be hiked!
9) First Activities
The First Cliff Walk
Located right near the cable car station you can take part of the free cliff walk that goes around the side of the mountain. You will walk on a steel frame as you get views of the Alps and the Eiger out in front of you.
If you are afraid of heights this option might not be the best for you!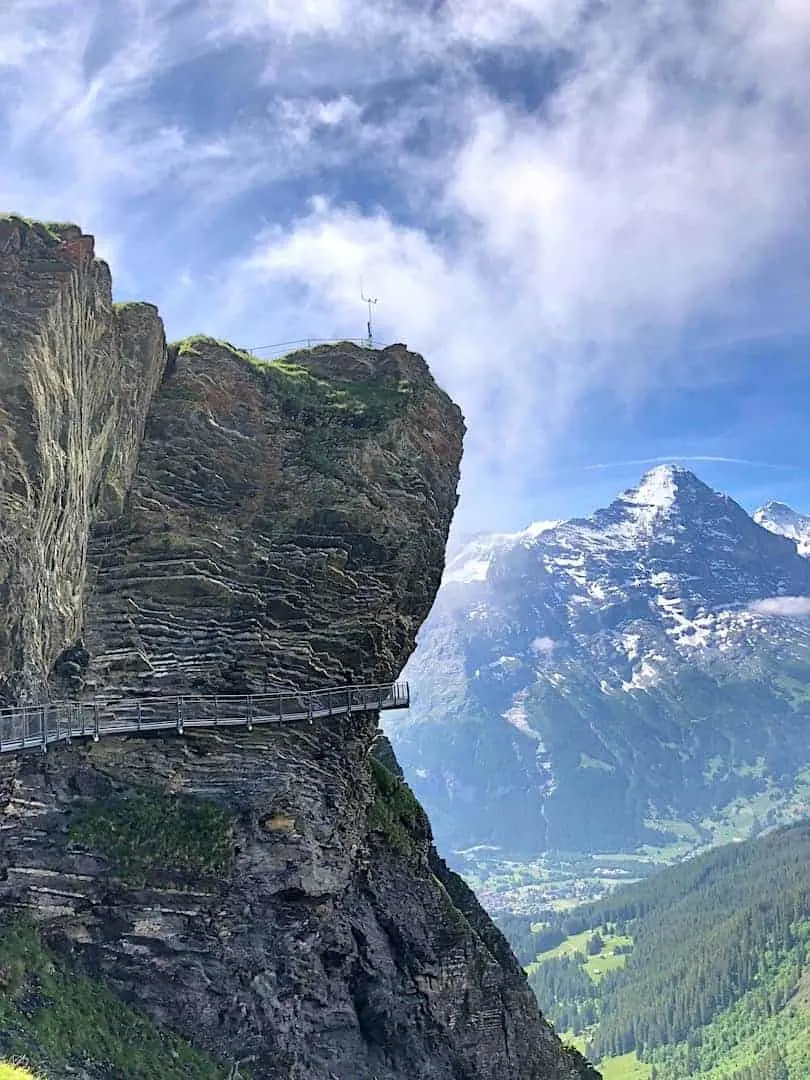 First Mountain Restaurant
There is also a great indoor / outdoor restaurant where you can grab some lunch or drinks. The restaurant has both a sit down menu option or a more fast food option. Sitting outside overlooking the Eiger is quite the lunch spot.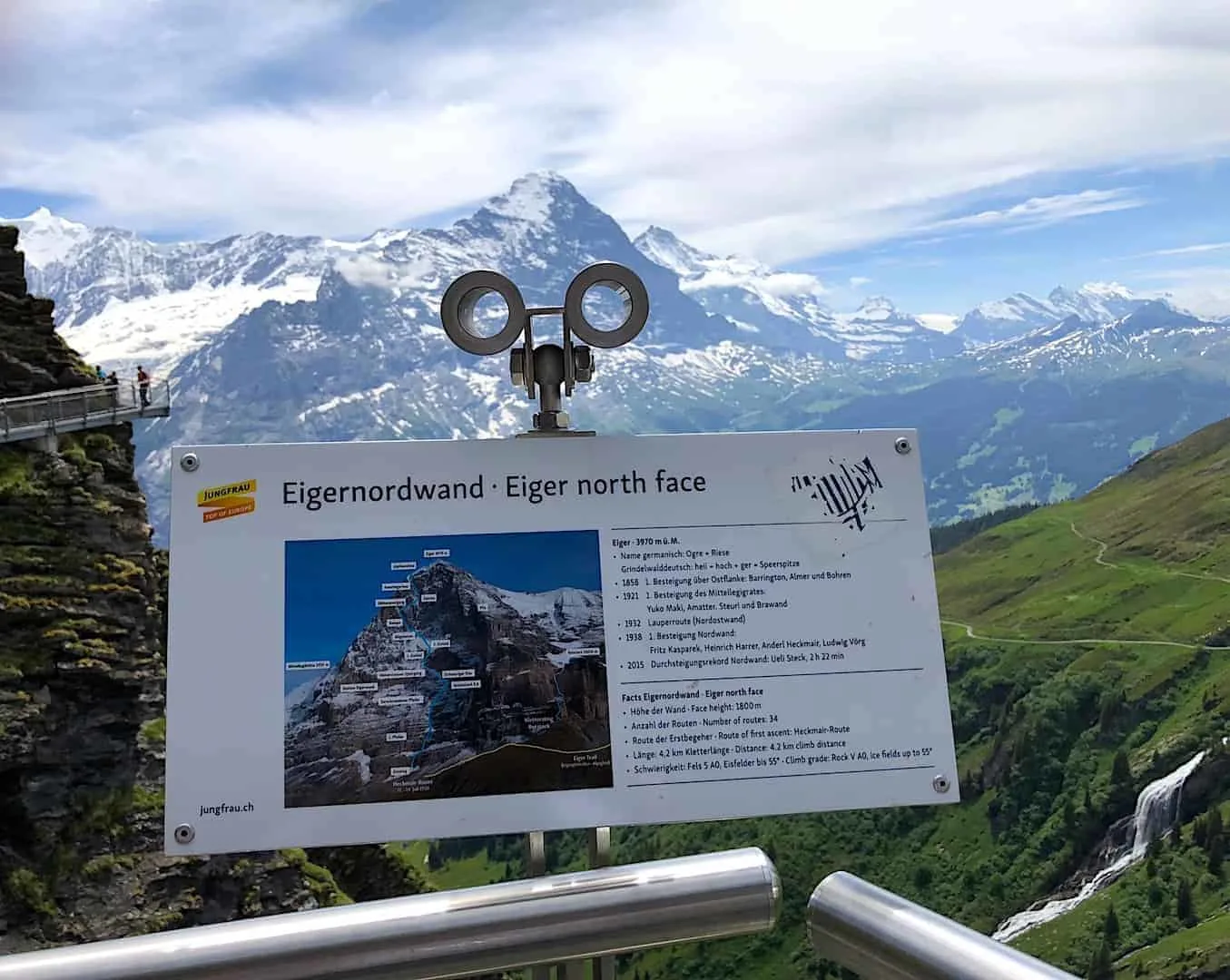 First Activities
After heading to Bachalpsee Lake you can take part of some of the other (paid) activities around First. Altogether there are 4 different options to take part of and you can choose to do 1 or all 4.
If you do choose to do all four, you will actually end up all the way down in Grindelwald and will not be taking the cable car down at all.
Of course, you do not need to do all four and could take the cable car down from either Schrekfeld or Bort after completing your chosen activities.
The First Flyer: An 800 meter seated zipline that takes zips from First to Schrekfeld
The First Glider: A bit different than the Flyer, the Glider is a 4 person contraption, where you go head first down the mountain. The Glider actually starts in Schrekfeld and is slowly pulled up towards First before zipping back down to Schrekfeld.
Mountain Cart: Next up is the mountain cart from Schrekfeld down to Bort. It is basically a mix between a go cart and a sled (called sledging). The zig zagging path is about 3KM before arriving in Bort.
Trottibike: After arriving in Bort you can hop on the trottibike all the way back down to Grindelwald. It is similar to a bike but you will be standing upright and gliding right down the mountain.
Check out the descriptions and prices below for these activities which include cable car prices: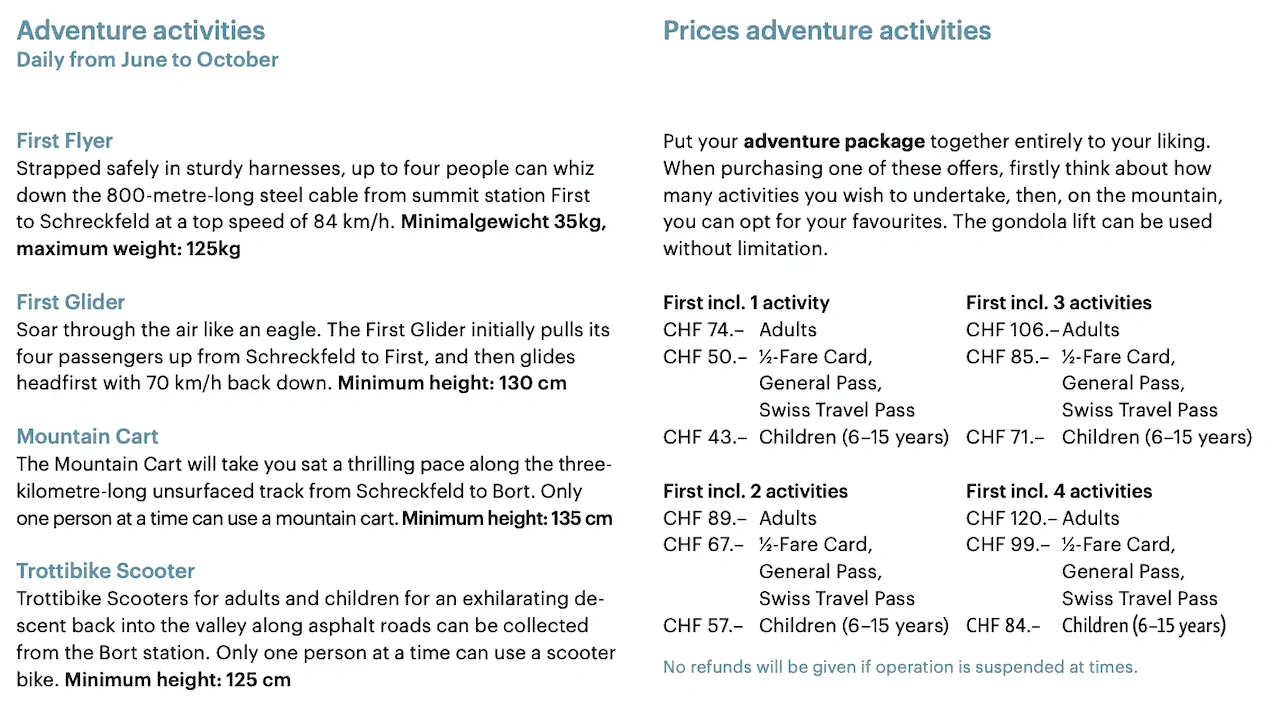 10) Where to Stay in the Jungfrau
There are a lot of different options to where to stay around the area. The easiest spot will be Grindelwald, the tourist hub would be Interlaken, or you could stay in nearby towns such as Grindelwald, Wengen or Murren.
I put together a guide comparing Wengen, Murren and Grindelwald if you would like to learn more about each one.
Below are some recommendations by town:
Murren
Interlaken
Wengen
Grindelwald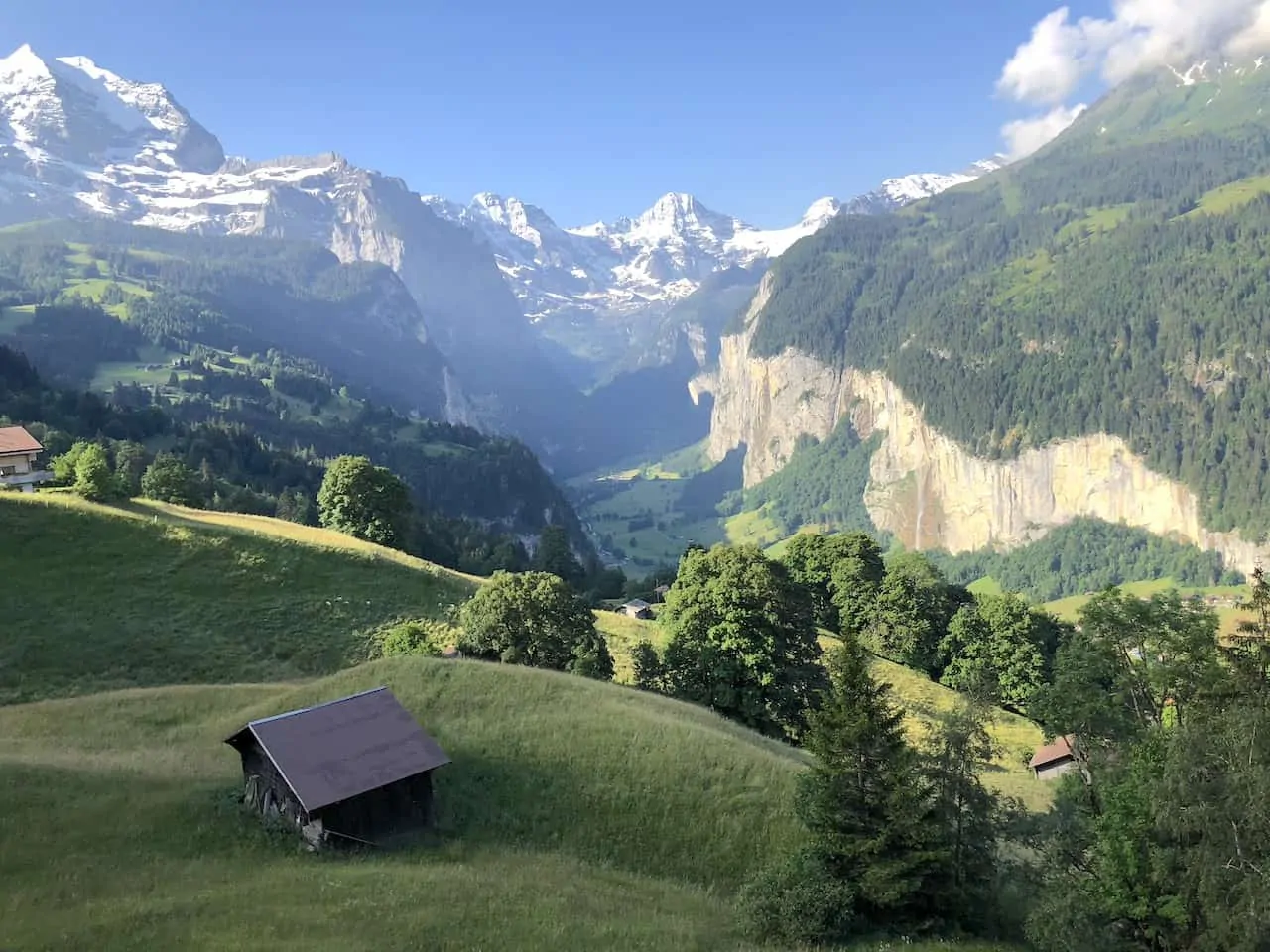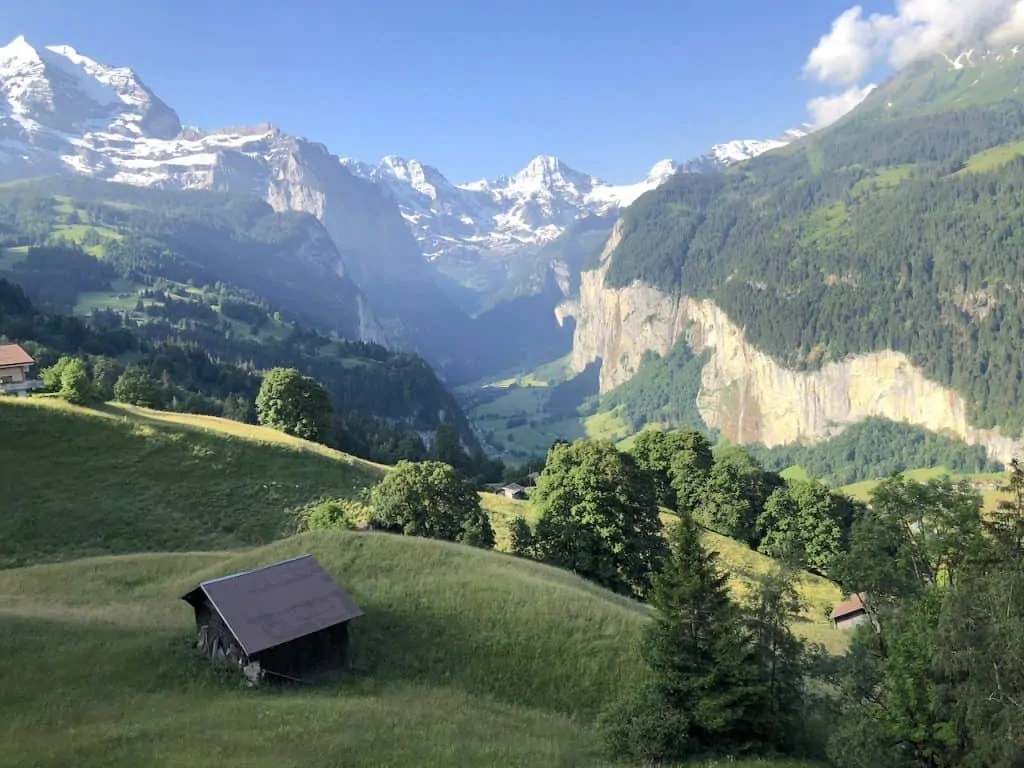 You are now set to make your way to Bachalpsee Lake in First, Switzerland. For more helpful info about the area check out the Switzerland itineraries and guides up on the site.
Hope you have fun out there and feel free to ask any questions below!