If you are a hiker and are wondering how to best plan for a hike from a weather perspective, then this overview is for you.
As someone who has been on countless of trails throughout the years, I have continuously learned how to understand weather forecasts and which apps & websites are most accurate for different situations.
I am hoping you can take away some key findings and use these weather tips to better help plan your next hike!
* Affiliate Disclosure: This post may contain affiliate links, which means I may receive a commission if you make a purchase through the links provided, at no additional cost to you. Thanks for supporting the work I put into TripTins!
1) Hiking Weather Overview
As an avid hiker, I am always looking to add some trails to an upcoming trip. The issue that can come up with hiking though is that the weather can stop you from actually partaking on a hike (or at least have a negative effect on the overall experience).
If it is in the form of low clouds, rainfall, high winds, dangerously hot/cold temperatures – there can be a whole variety of factors that can get in the way of a hike.
This is certainly a frustrating feeling when looking forward to hitting the trail as you really never know what the weather can bring.
Over the years I have learned more and more about understanding weather forecasts, and which websites & apps are most suitable for the trail. These have helped me better understand if it is safe to take part of hikes, and how to move around my schedule if need be.
These are the four main sources that I have used:
Meteoblue
Mountain-Forecast
NOAA
Windguru
I have found that these websites are more accurate when it comes to hiking weather forecasts, particularly when dealing with mountains & higher elevations.
I do want to note that detailed weather preparation is not meant for all hikes. If you are going on a short trail at low elevation or just walking through the woods, weather forecasts will not be as important. But anytime you are dealing with the mountains, longer hikes (especially multi day), or more complex terrain, weather forecasts will be that much more important to understand.
2) Hiking Tips
Below are several helpful hiking tips when it comes to the weather and how to get the most out of your trip.
Hiking Packing List
There are some situations where you may be hiking in hot and sunny weather at one moment, before the clouds & rain roll in the next. Temperatures & conditions can rapidly change, and you need to be prepared for it all.
As you go about day hikes (especially those at elevation or that are more exposed), be sure to come with an appropriate packing list.
Layers, food, gear, electronics – whatever it may be that can keep you safe & ready.
I would recommend checking out this day hiking packing list to get you going in the right direction
Be Flexible
When putting together an itinerary, you may be keen on doing a hike on a particular day. However, in reality, that may not always be feasible. Since you cannot control the weather, it is possible that the day you wanted to hike is one where the conditions are not right.
So, instead of building an itinerary in a way that you must do a hike on a certain day, try and give yourself some flexibility with your trip. Maybe you can swap around activities that don't require optimal weather and still be able to take part of everything on your list.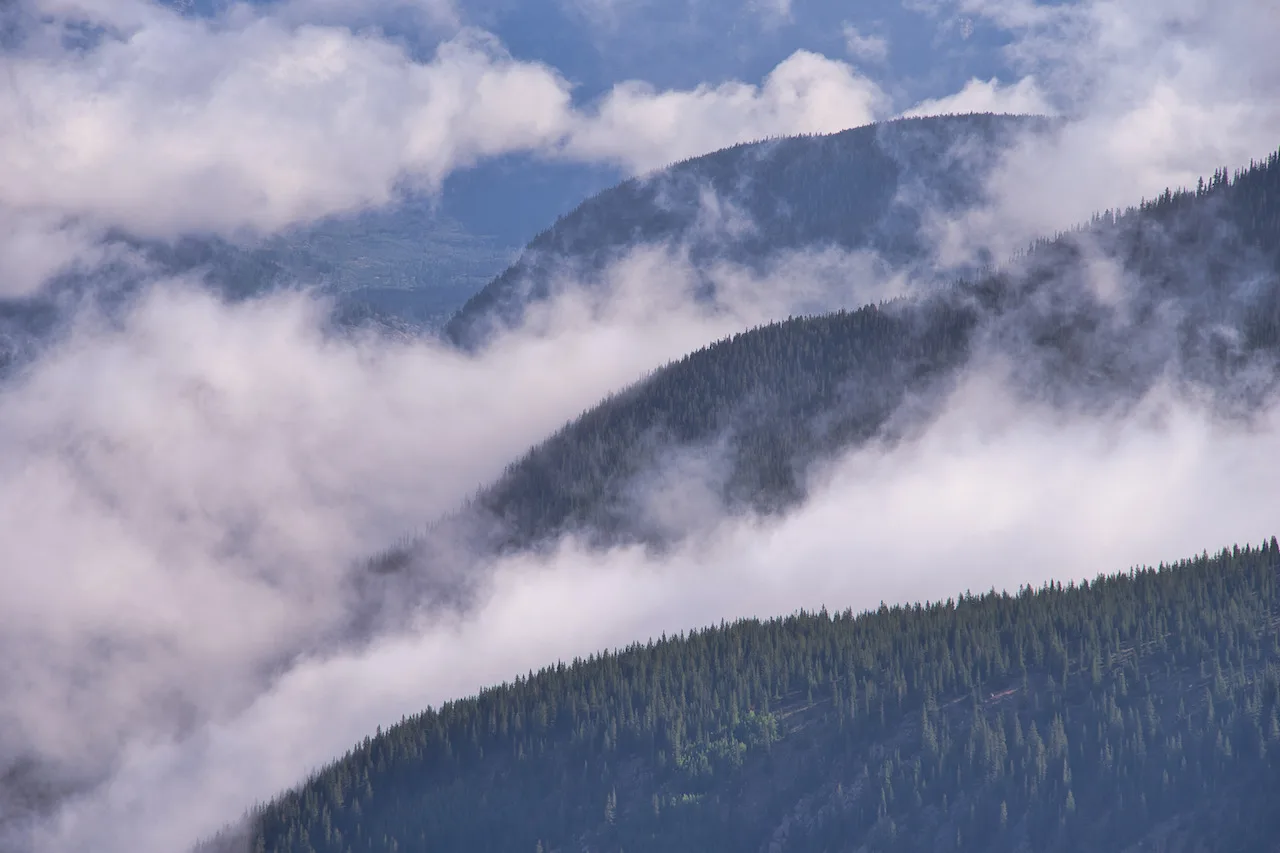 Have Alternate Plans
In the case where only hiking is on the itinerary, try and figure out alternate plan options if the weather turns for the worse.
For example, maybe you can research some indoor activities in the town you are in, or maybe you can join a river rafting type of tour that doesn't require good weather.
Just having some sort of backup will at least give you the chance to still have a fulfilling trip without the hiking.
Make Smart Decisions
It is not uncommon for people to set out for a hike knowing the weather is not on their side. But don't allow the end goal get in the way of making the smart decision.
The hike or mountain will always be there, and sometimes it is just not worth the risk.
A similar situation holds true when you are on the mountain – if the weather starts to turn for the worse, don't be afraid to turn back and save it for another day.
While it may be a hit to your ego, your safety out in the wild is more important than anything.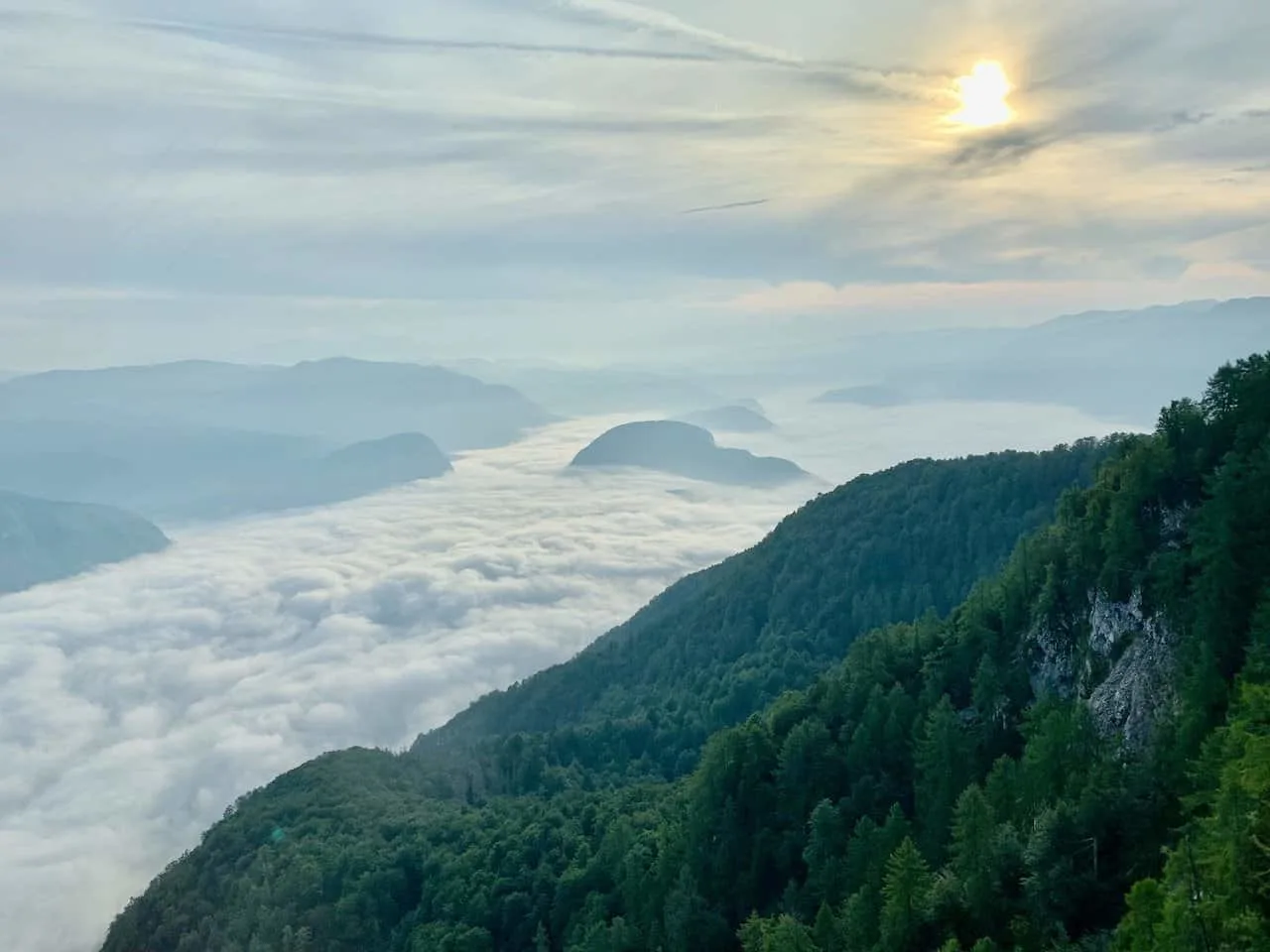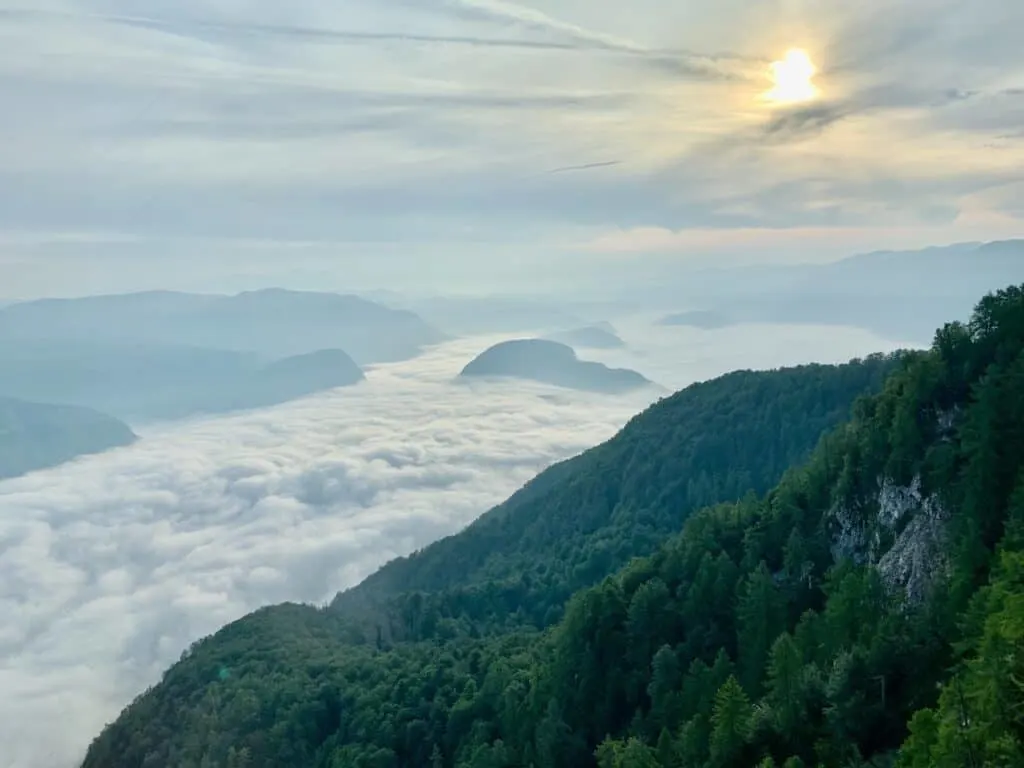 Garmin inReach
The last helpful tip I will recommend here is purchasing a Garmin inReach (or similar device). This is more so important for those trails that don't have cellular service, especially multi day routes.
It is important that someone back home always knows where you are. Having a Garmin will allow your family/friends to track you and understand if you are on course.
In the situations where something turns for the worse, the emergency locator can save your life.
A device like the Garmin also gives you the chance to send/receive text messages. So, if you are looking for an updated weather forecast, someone back home can send it to you. This was common during my time on the Huayhuash Circuit, when I spent over 10 days out in the mountains.
Take a look at some other hiking navigation & GPS tips as you plan for your hikes.
Buy a Garmin inReach to keep you safe out on the trail
Don't Look Too Far Out
Most weather services include forecasts as far as 2 weeks out in the future. And while it may feel like you need to check the forecast as soon as it is available, there is a strong chance that those forecasts are too far out to be accurate.
I would advise not to make decisions on taking part of hikes until you are within a 3-5 day time period (sometimes even shorter). While you can certainly look and track the weather forecasts further out, don't get too focused on them.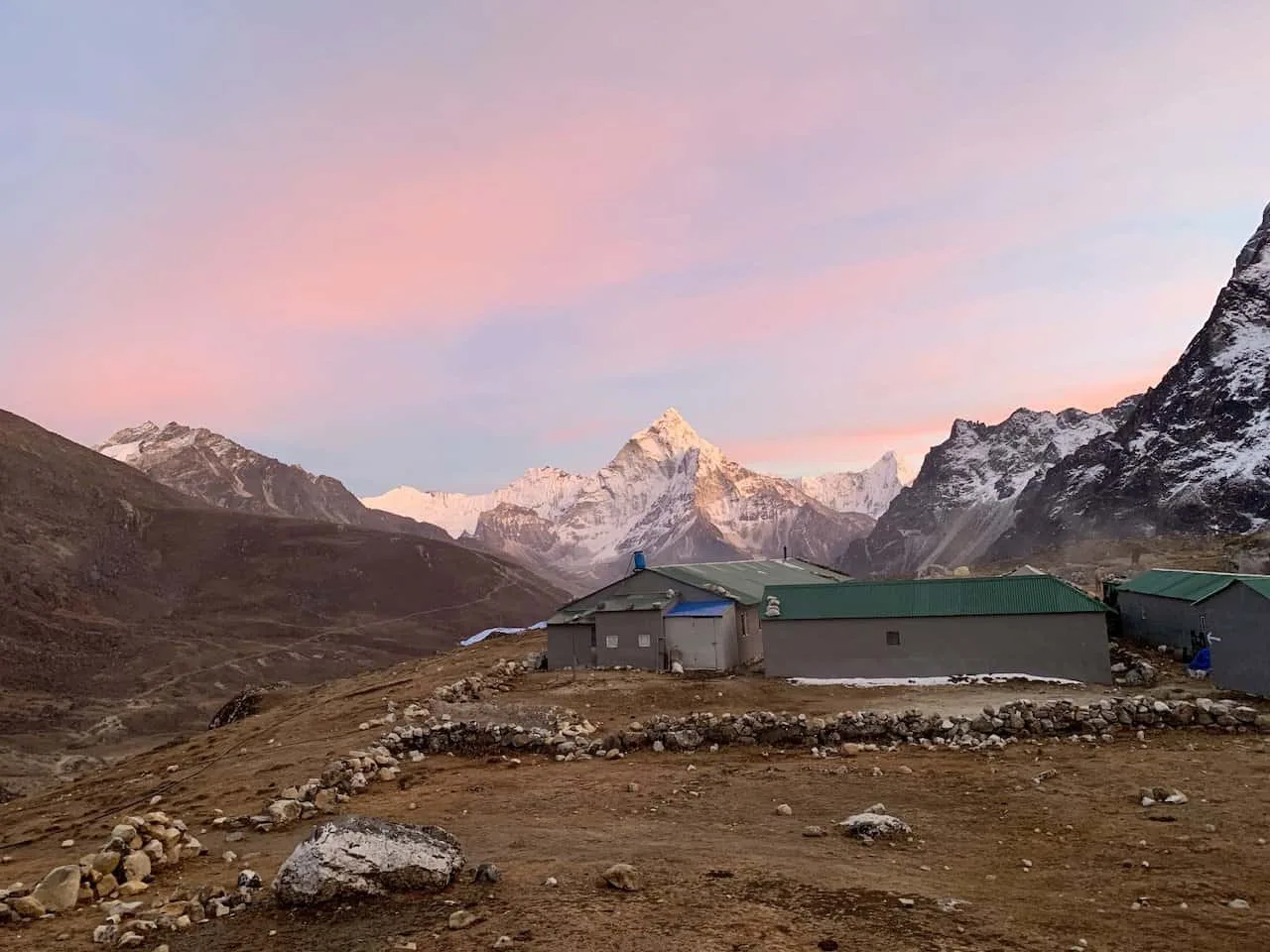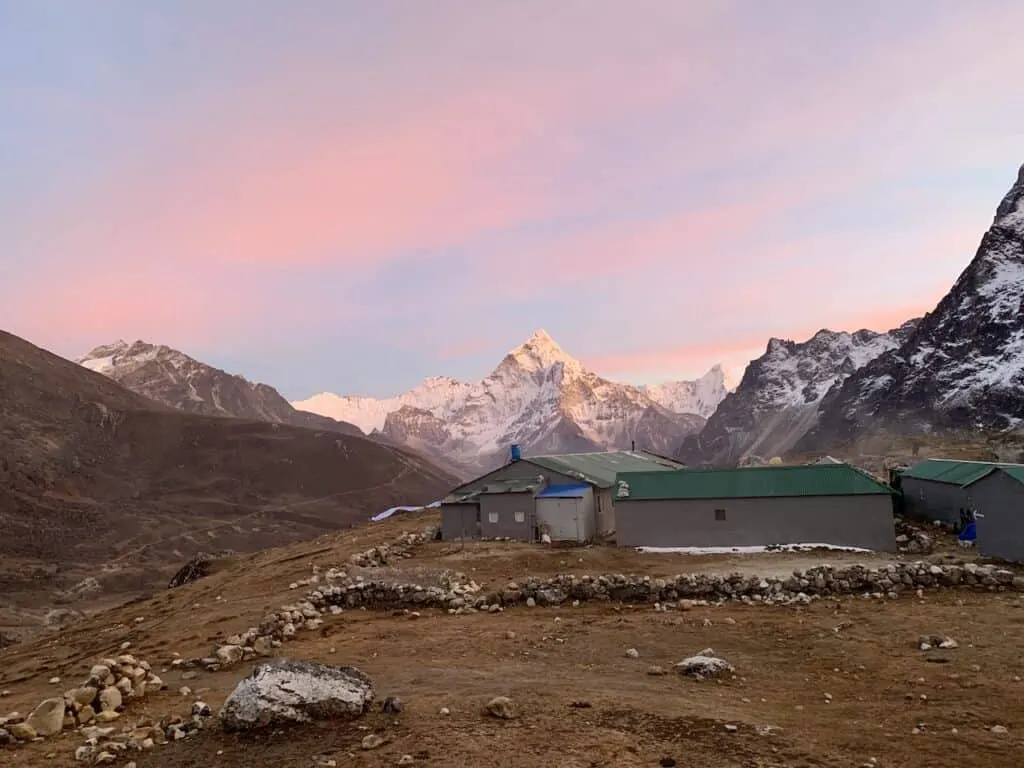 3) Hiking Weather Apps & Websites
Here is an overview of the four hiking weather apps & websites that I have used most frequently through the years. Each one is a bit different than the next, and they should help better prepare you for that next hike!
It is important to note that weather forecasts are "forecasts". There is never a guarantee on what the weather will actually be. The idea is to make the best decision possible for yourself given the information that you have from these types weather forecast websites. There is no doubt you will come across situations where forecasts may say one thing but the actual weather says another. That is why it is always important to be ready for anything.
Meteoblue
I first found out about Meteoblue during my hiking trip to Switzerland. As I was focusing in on more mountain type of hikes, I soon realized that standard weather websites did not give accurate forecasts.
Many people recommended Meteoblue as it is a weather service site that is actually based in Switzerland. But it is not only a great forecasting application for Switzerland – it also can be used worldwide.
Since that trip, Meteoblue has been my main source of weather forecasts. You are able to either use their online website or you can download their free mobile app (with a paid subscription to remove ads).
Here are some of the highlights and key metrics that you can find on Meteoblue:
Altitude/Mountain Forecasting
This is especially helpful for those people that are taking part of hikes on particular mountains or at certain altitudes. If you type in a mountain that you plan to hike, the forecast gives you the weather forecast for the altitude of that mountain.
This is important due to the fact that weather in a nearby town may be very different from the weather on top of the mountain that overlooks the town. By paying attention to the actual mountain weather, you will have a better overall sense of what to expect during the hike.
Hours of Sun
I always found it frustrating when looking at standard weather forecasts, when it just has an icon of sunny/partly cloudy/etc.
While you will find those sorts of icons on Meteoblue, they also include a metric for "Sunshine Hours". I use this metric a lot to better understand what the overall conditions of the day will be.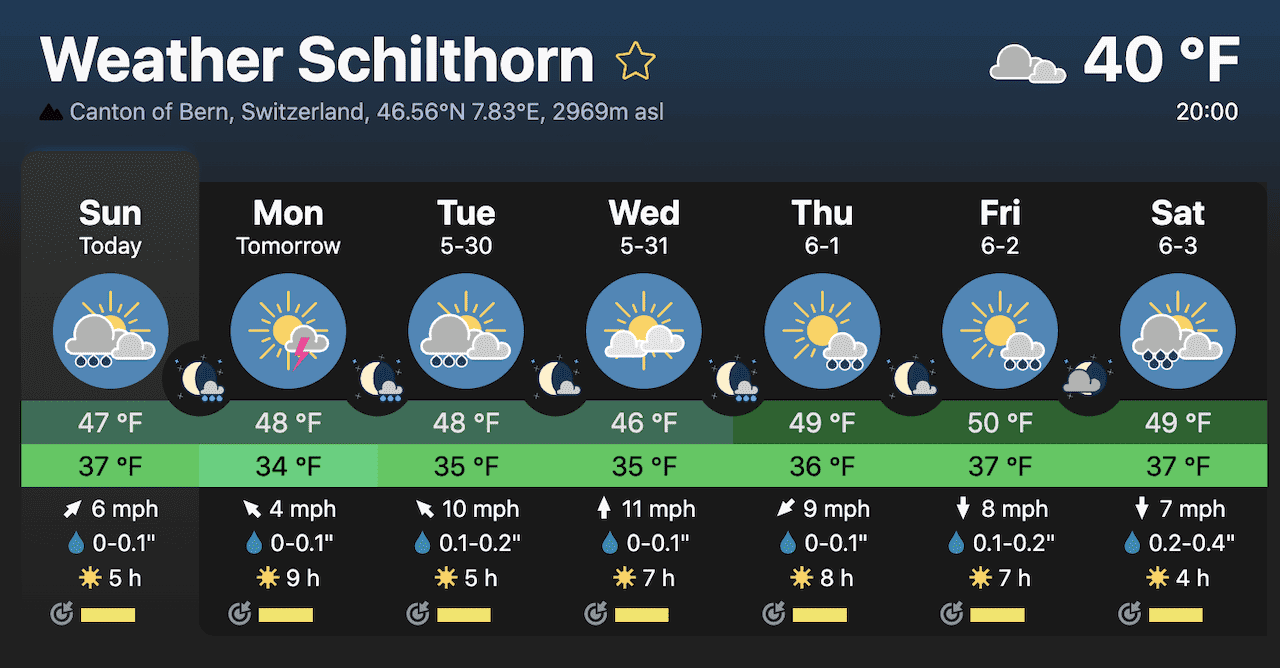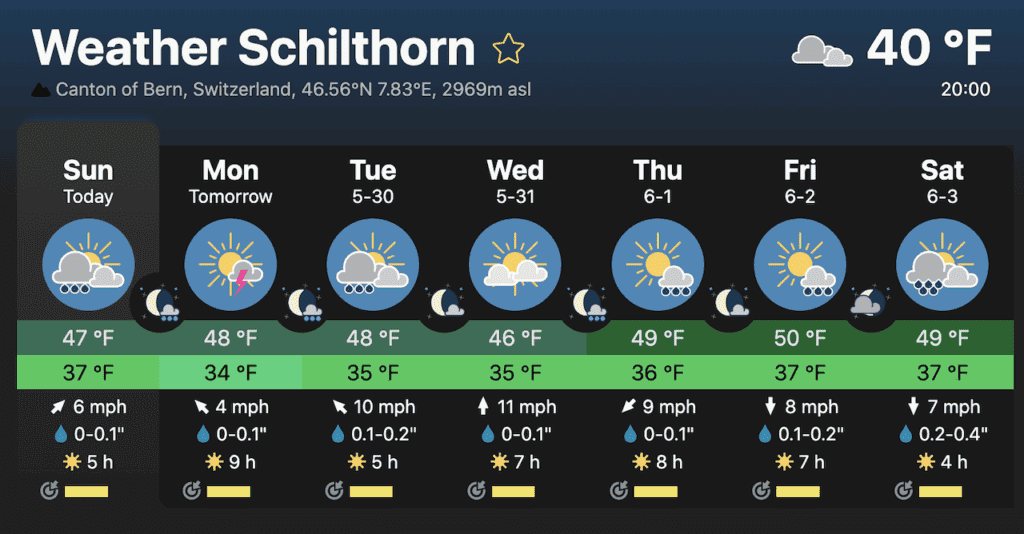 Cloud Altitude
While it can sometimes be helpful to understand whether or not there will be clouds up in the sky, it can be even more helpful to understand at what altitude those clouds will be.
If you are dealing with a forecast of low lying clouds, that may equate to not having a view once on top of the mountain.
However, if those clouds are higher in elevation than the mountain itself, then you will be in luck. The meteogram model better shows this in addition to the cloud cover (% of sky that will be covered with clouds).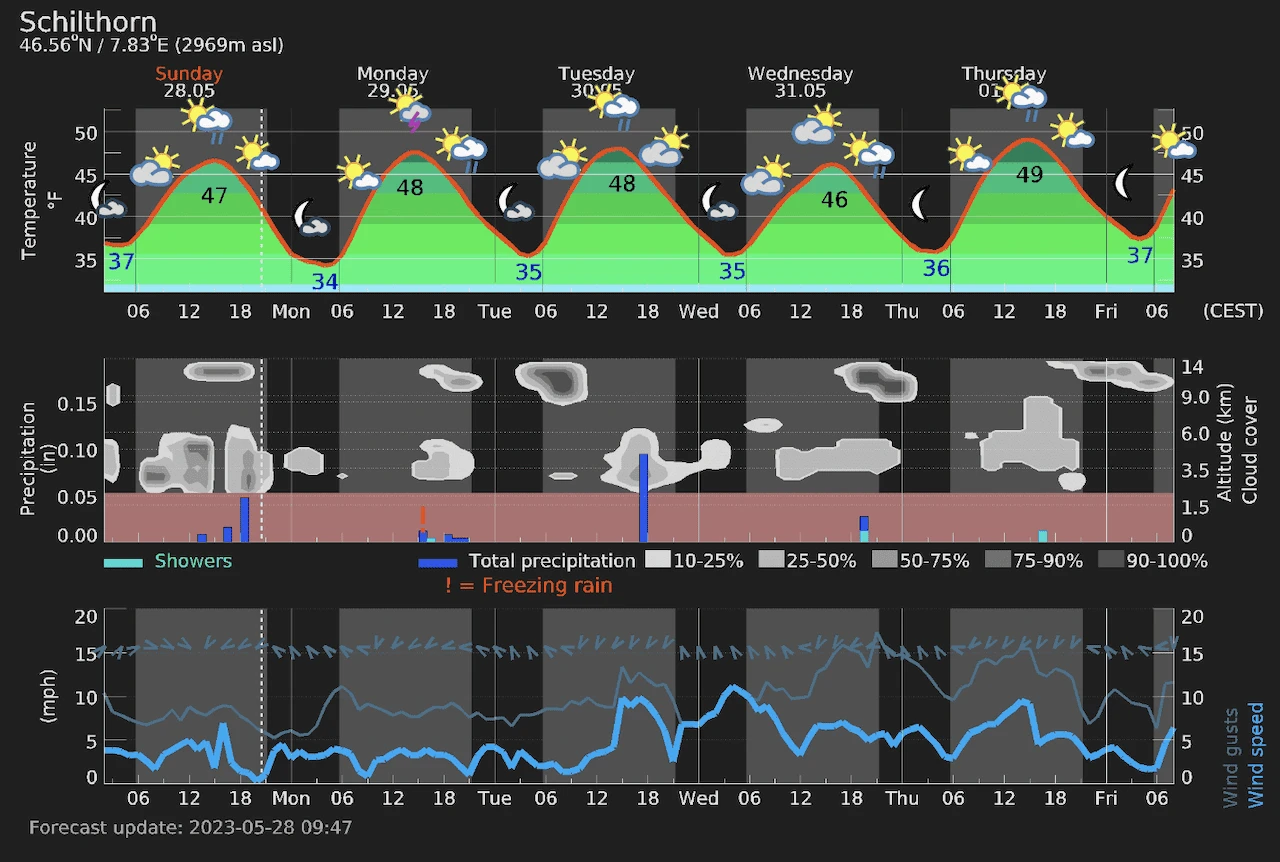 MultiModel
While meteoblue does have its own weather models, there are instances when other 3rd party weather models will be more accurate. Meteoblue describes a multimodel as follows:
"To produce a MultiModel, we compare and contrast data from over 30 different weather models (both our own and 3rd party), and allow our proprietary artificial intelligence to combine them into the most likely forecast."
If you would like to see these all of these various models on their own, you can head on over to the MultiModel page, where you can see how different forecasts relate to one another.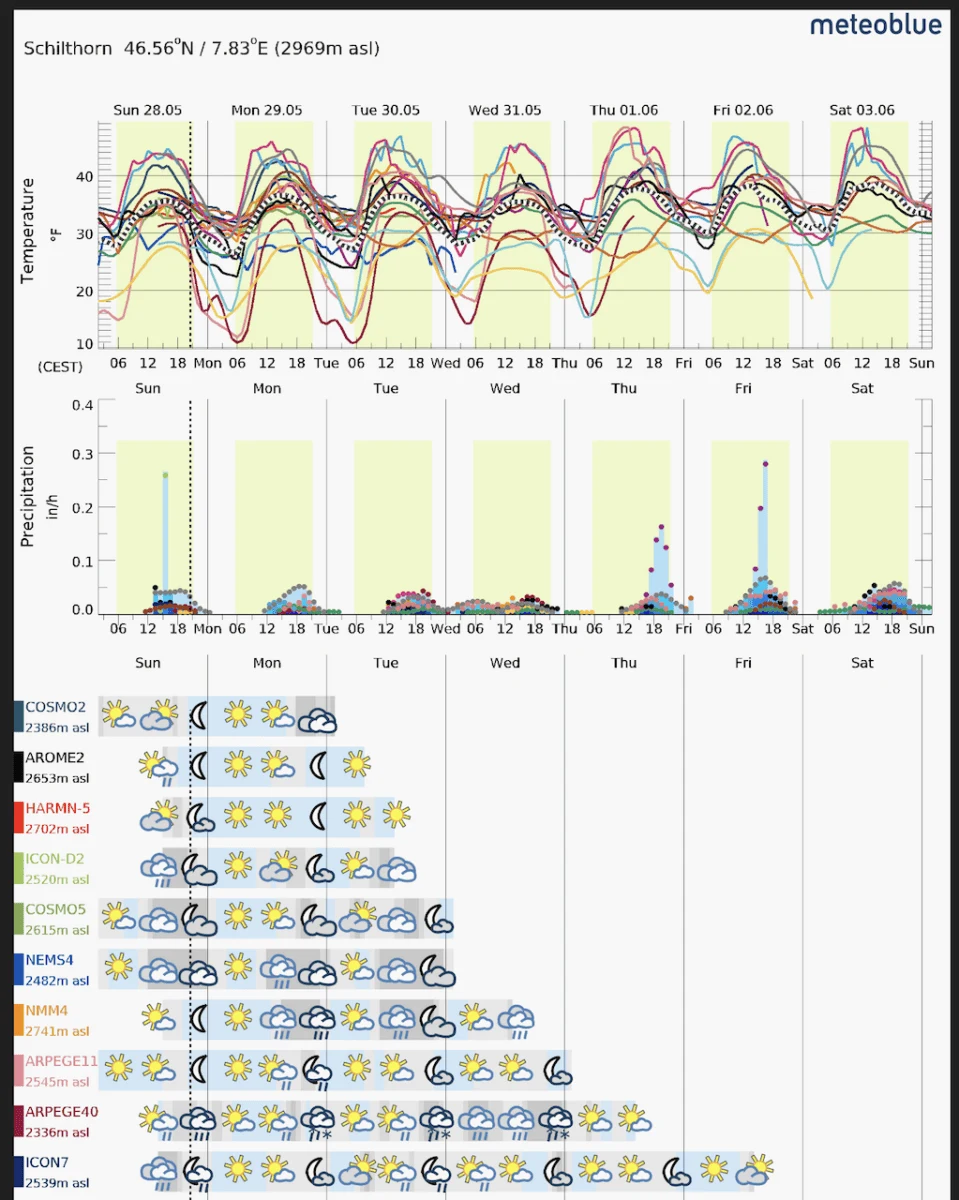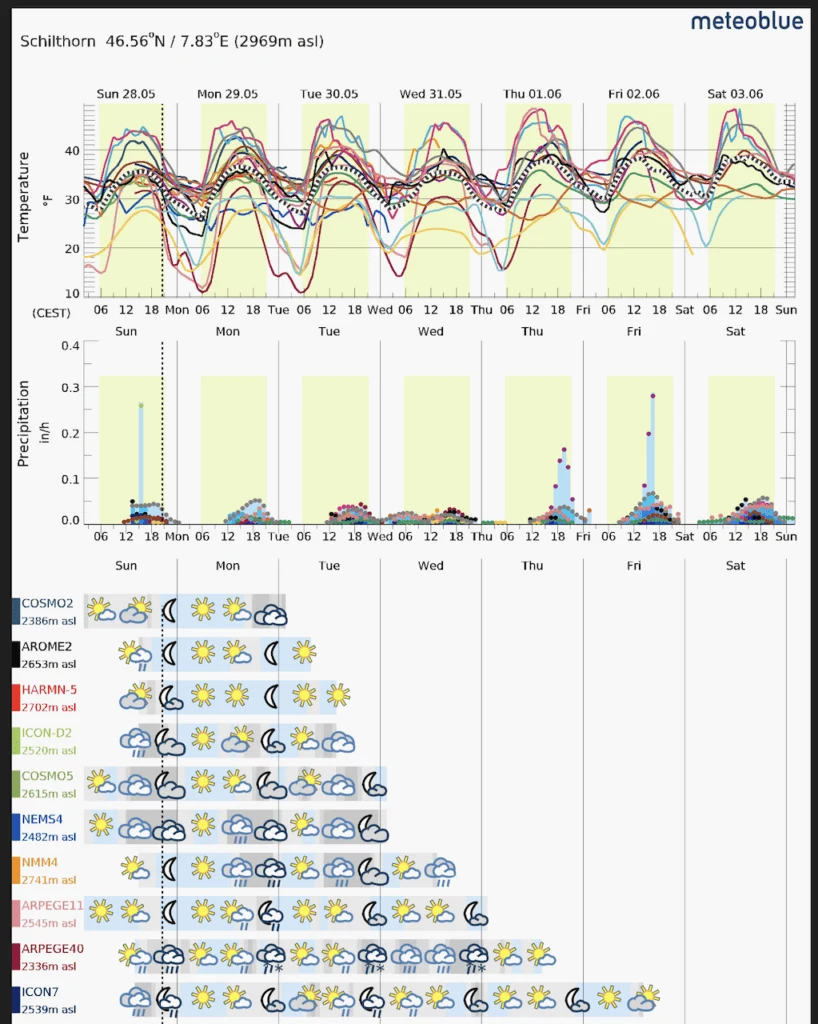 Webcams
A relatively new addition to Meteoblue is its webcam tab. Now, instead of going to various websites to see the weather of an area you are searching for, simply click the webcam link.
This will show you what the live weather looks like, and it can give you a better idea how the forecast relates to reality.
I found these helpful to use at a moment's notice as well. For example, right before I went up the cable car to Schilthorn, I checked the webcam. It showed nice and clear skies, and I went for it.
However, if the mountain was covered in clouds with no views, then I would've known to hold out until the weather cleared up.
In one of the photos I included earlier on, you can see the low valley clouds. In these cases, you may wake up, go outside, and think that everything is overtaken by clouds.

If webcams are available, these are so helpful with understanding the idea that the clouds are just in the valley and you should still head up into the mountains.
All of these highlights are in addition to your standard metrics (that you will find on most websites), such as temperature, wind speed, and precipitation.
There are also many other tools you can find on the site that are sure to be helpful in your hike planning.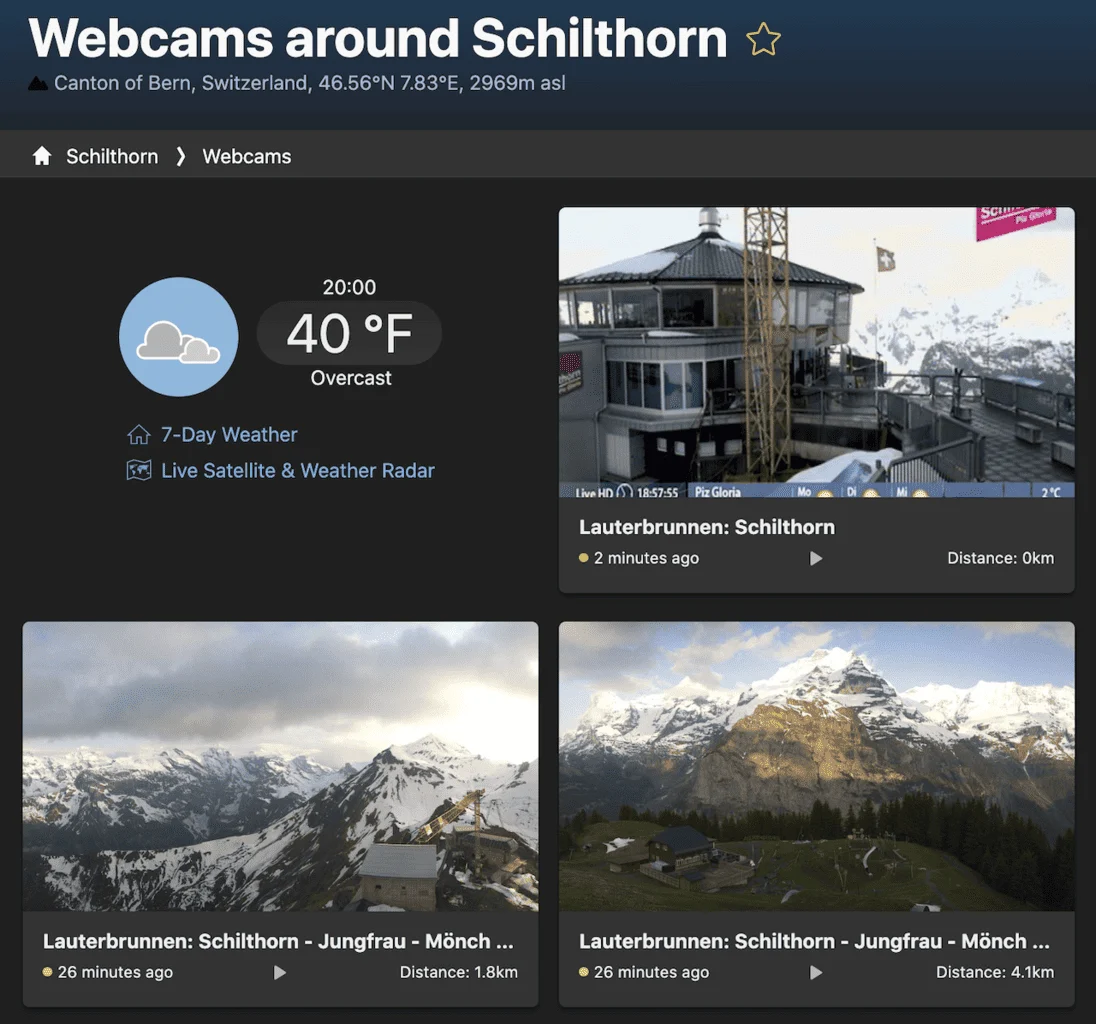 Mountain-Forecast
While I do use Meteoblue in most situations when traveling, I always also open up Mountain-Forecast.com when dealing particularly with mountains.
As the name says, this is more specifically a mountain forecast website (while a site like Meteoblue is for all weather – mountains, cities, etc.).
Mountain-Forecast is a bit simpler with its offerings but is highly used throughout the hiking & climbing community.
After putting in your mountain name, you will be shown a 5-10 day forecast of the weather.
On the left hand side, you will see various elevations of the mountain. These are usually "Peak", "Mid", and "Base", which refer to different spots on the mountain.
The idea here is that you may come across different weather throughout the mountain. These forecasts better help you understand those differences.
Most of the forecast output is pretty straightforward to understand with metrics including weather icons, wind speed, precipitation, and temperature.
Note: initially the weather will be shown as simply "AM", "PM", and "Night". But you can expand these all the way to get to hourly forecasts by clicking the arrows a couple of times.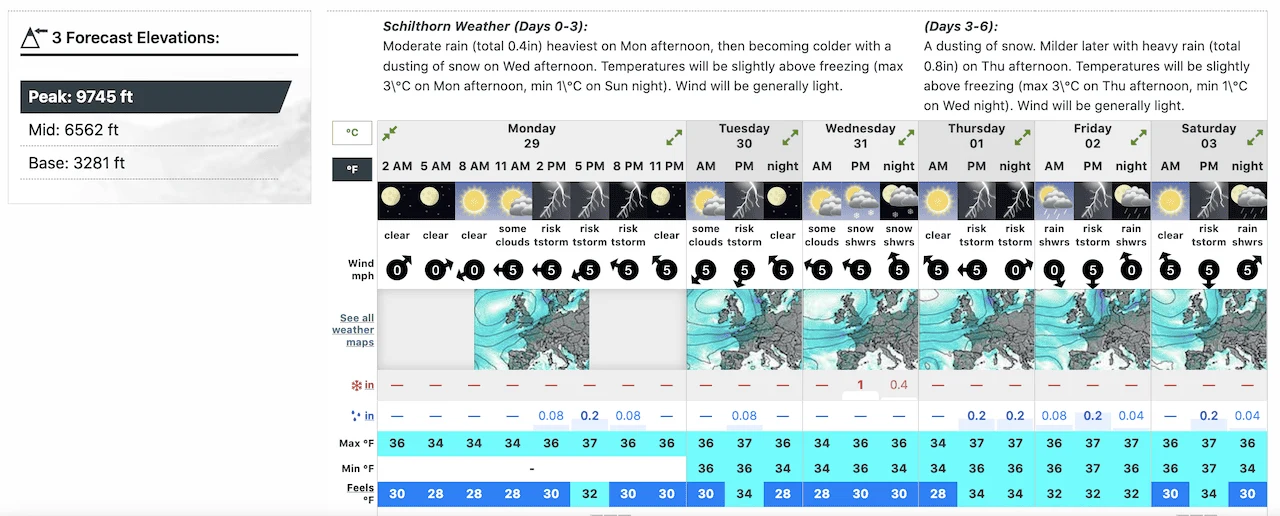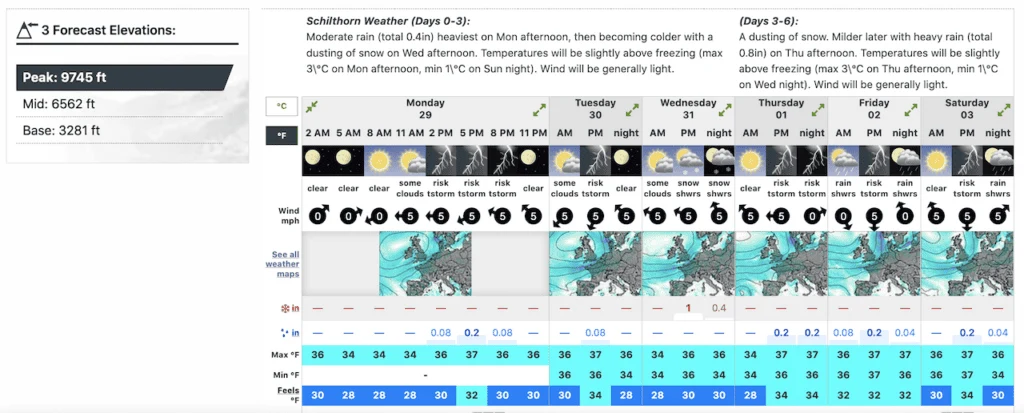 NOAA / NWS
Meteoblue and Mountain-Forecast are what I use in most situations. However, when hiking mountain trails in the USA (such as in Colorado), I sometimes use NOAA as well.
NOAA is the National Oceanic and Atmospheric Administration, which includes the National Weather Services (NWS).
As a US government-based agency, NWS provides forecasts that help identify floods, tornadoes, hurricanes, and other significant climate events.
I usually use NOAA as just another source to be sure it is in line with Meteoblue/Mountain-Forecast. The forecast tool here is a bit more high level, but it should still help steer you in the right direction.
While you can type in a city/mountain, it will usually show the conditions for the nearby area. So sometimes, it is not specific to a certain elevation.
You can also use the map on the right hand side to pinpoint an exact location and it will provide the closest weather forecast it has.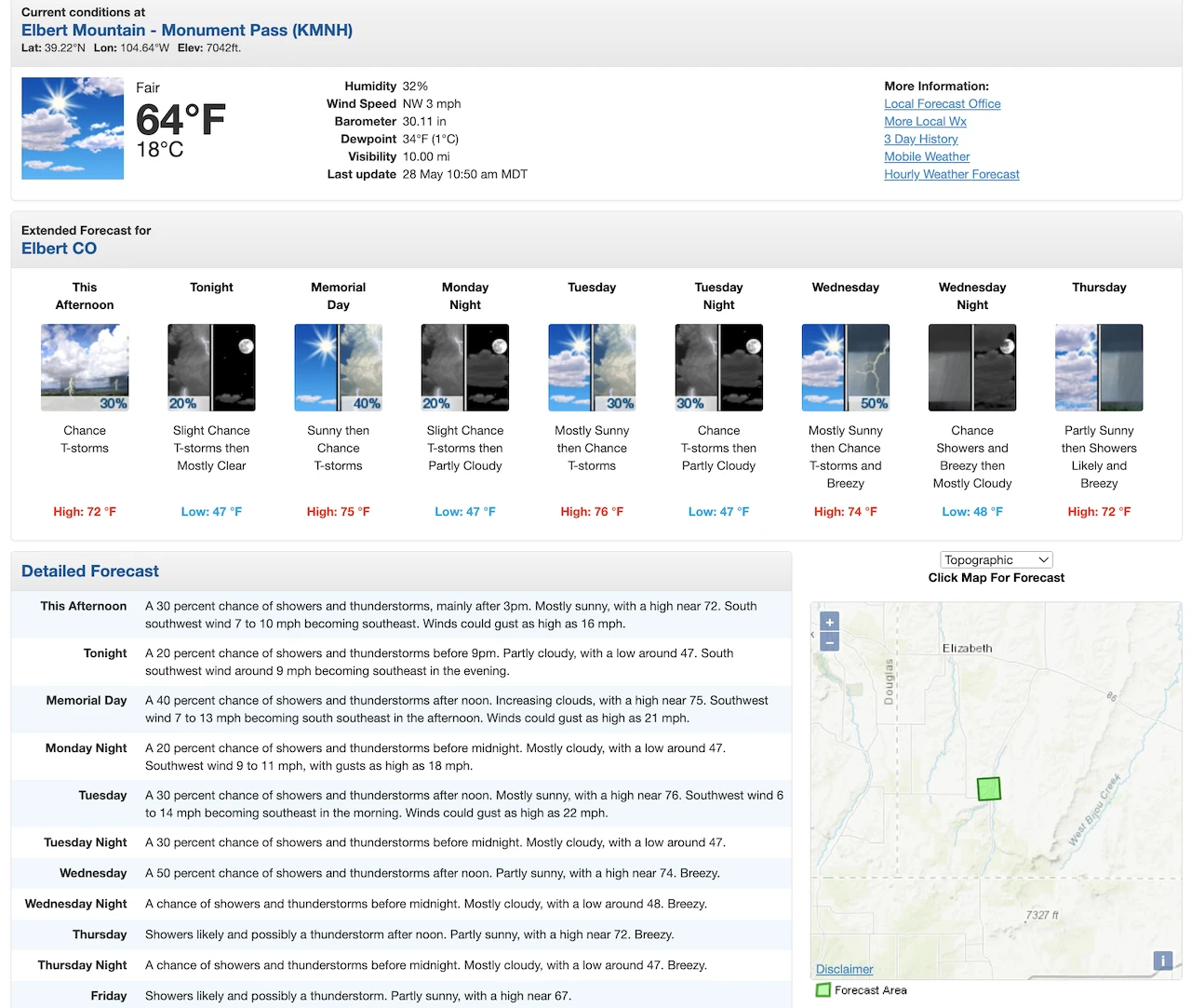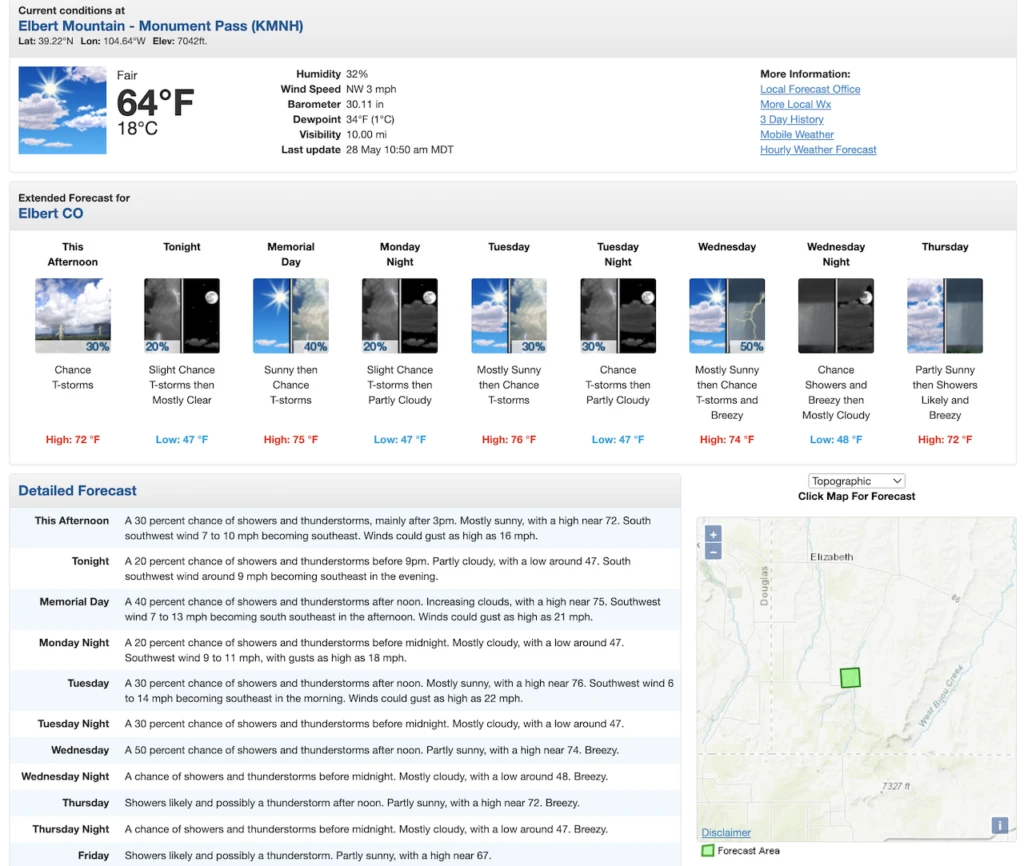 Windguru
The final weather forecasting tool I have used through the years is Windguru. Now, Windguru is actually a more wind specific sort of website. Particularly, it is used a lot for windsurfing, kitesurfing and other wind related sports.
With that said though, it still does include several metrics other than wind.
I got introduced to Windguru while in Patagonia, as the locals used it as their main weather forecasting source. It did seem to be the most accurate tool at least when in that region (which is known for its highly unpredictable weather including lots of wind).
On Windguru, you will find a combo forecast model (WG), followed by three other models (GFS 13, ICON 13, GDPS 13). Similar models are also used by Meteoblue in their multimodel calculations.
Forecasts on Windguru are shown on two hour intervals, and usually go out for around one week.
While I do pay attention to the wind metrics (especially for those mountain hikes), I also pay close attention to the cloud cover % and precipitation.
The cloud cover % is particularly helpful as it shows the high / mid / low clouds along with the % cover for those levels.
One downside of the free version of Windguru however, is that you cannot search for all locations. Rather just the locations that are already loaded in.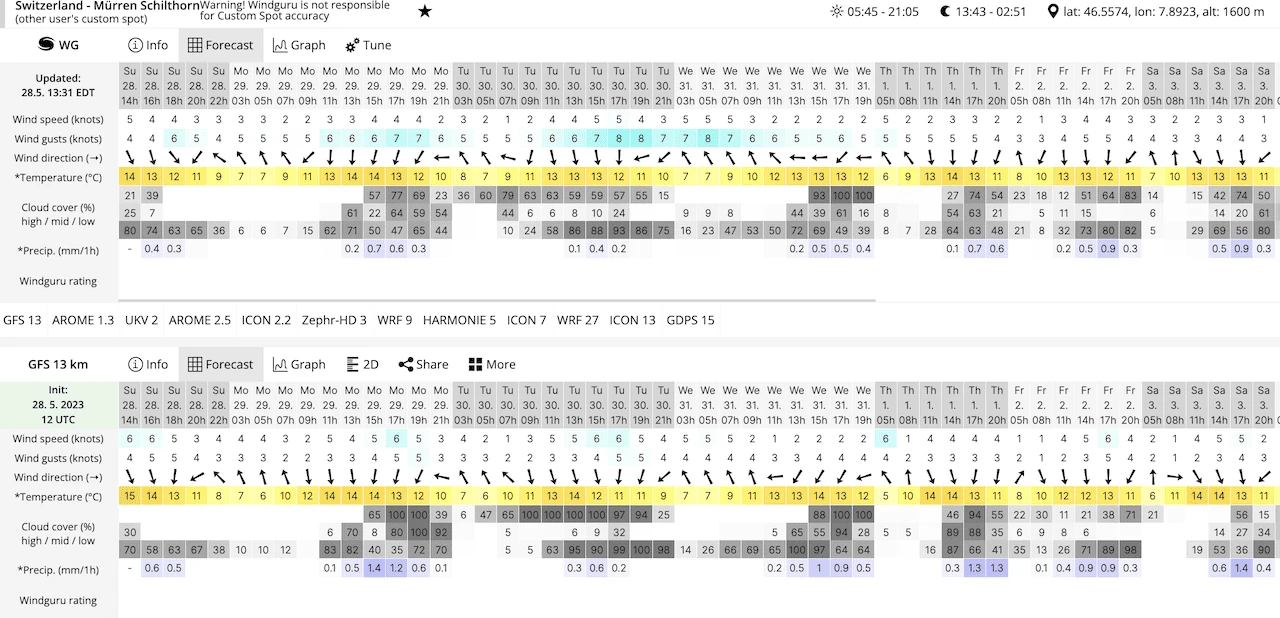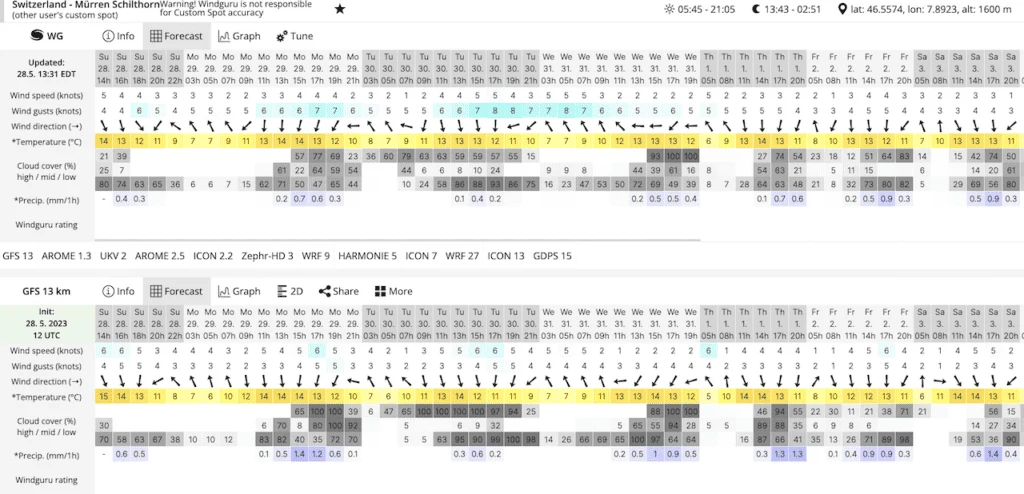 4) Hiking Weather Summary
By now you should be able to see that there are a lot of resources to help you out with preparing for weather while hiking.
There are many different websites and apps out there that I am sure can also be used. However, I have found these four to be the most useful to me over the years.
If you have another recommendation, please do let me know in the comments below!
Remember, weather can be very unpredictable (especially in the mountains). While the forecasts will give you a sense of what to expect, they are never perfect.
With that in mind, always be prepared for various weather situations and be ready to go to a backup plan in case hiking is just not feasible.
Also, take a look at some other hiking tips to better prepare you for your time on the trail.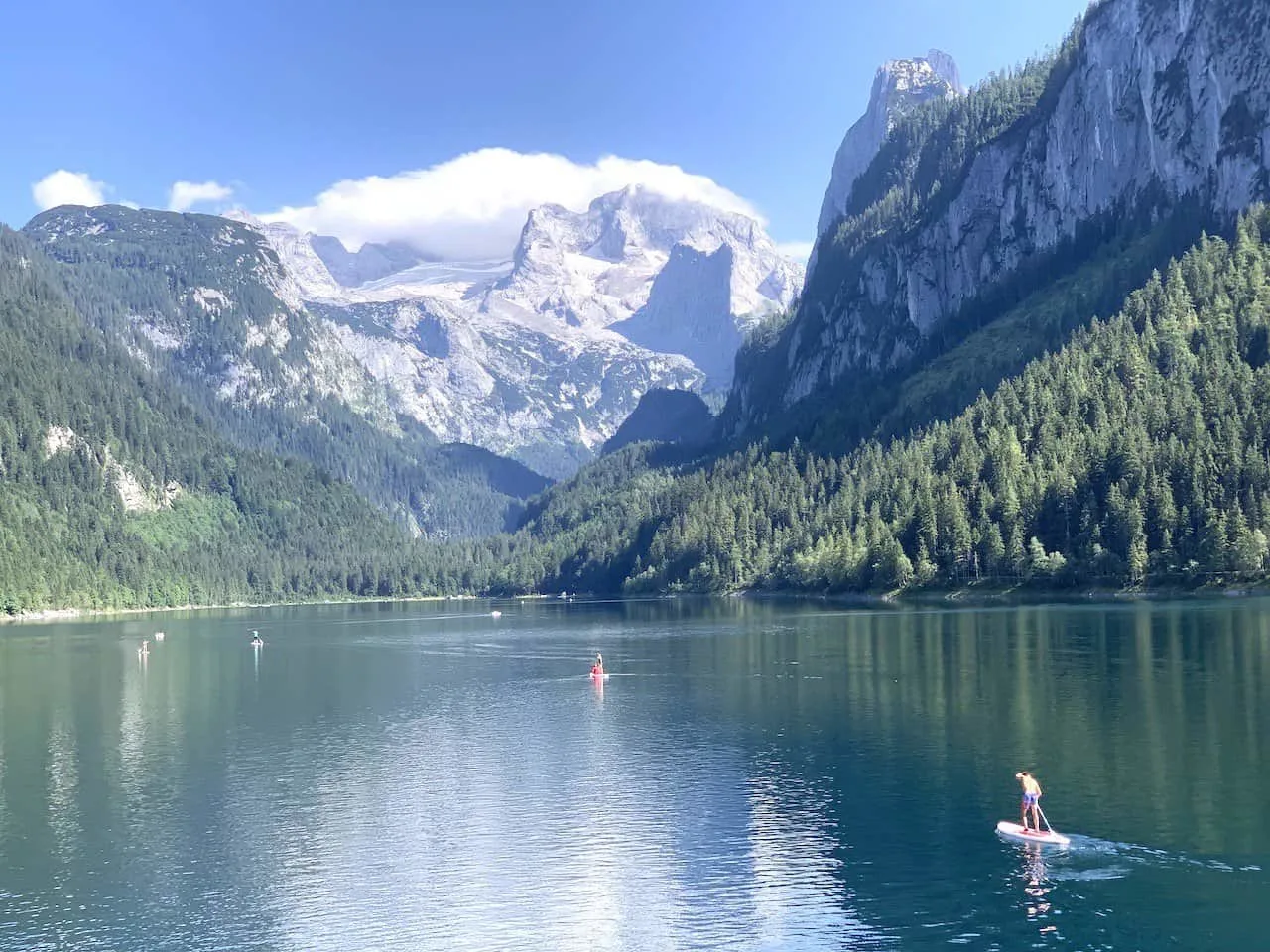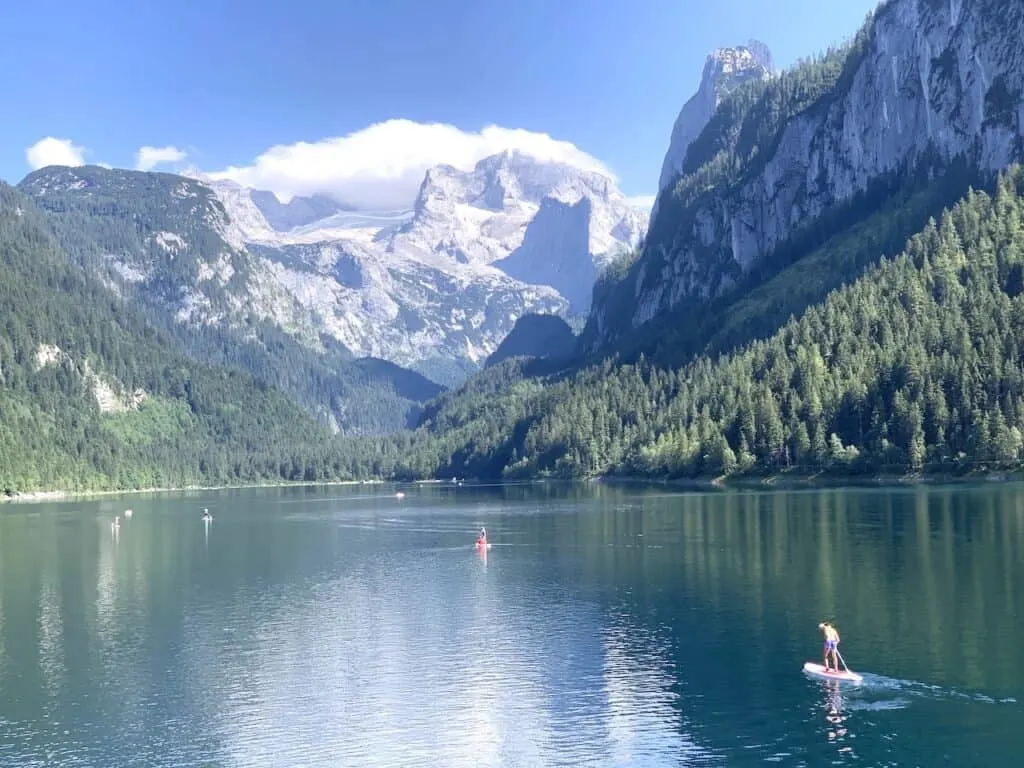 I hope this hiking weather overview has helped! If you do have any questions or comments, be sure to add them in below.
Also, feel free to check out the other hiking resources up on the site.
Have fun out there and safe travels!