When it comes to transport around Switzerland, it does not get much better than the country's train network. The Swiss trains are known to be some of the most convenient and dependable trains in the world. During a trip to the country, you will get to experience exactly that for yourself.
There are many important things to understand about the Swiss trains to better prepare yourself for your time there. From travel passes and discounts, to scenic trains and mountain railways, the Switzerland train network has a lot to take into consideration.
Read on to learn everything there is to know about train travel in Switzerland for your trip to this beautiful country.
* Affiliate Disclosure: This post may contain affiliate links, which means I may receive a commission if you make a purchase through the links provided, at no additional cost to you. Thanks for supporting the work I put into TripTins!
1) Introduction to Train Travel in Switzerland
Without a doubt the most convenient, cost effective and easy way to travel around Switzerland is by train. From east to west and north to south, trains run anywhere and everywhere.
Not only are trains prevalent throughout the country, they are also extremely timely and rarely run off schedule. Switzerland has logistics figured out to a tee, so even if there are only a few minutes between train connections, no worries at all.
Now while trains are the main way to get from one city to the next in Switzerland, they are intertwined with other modes of transportation within cities.
Busses, trams, mountain rails, boats and cable cars, among others are also vastly used. All these examples are just as efficient as the train system and are an integral part of getting around a certain city or mountain range.
As a tourist visiting Switzerland, odds are you will be utilizing the transportation system quite often. Instead of paying for full priced tickets for each and every route, Switzerland has different train passes to offer its visitors. I will go over the options in the next section of the guide to explain the pros and cons of each offering.
On top of train passes, the guide will cover many more topics regarding train travel such as understanding different train classes, buying individual tickets, learning more about the Swiss train app, among plenty other topics. So, read on for everything you need to know about train travel in Switzerland!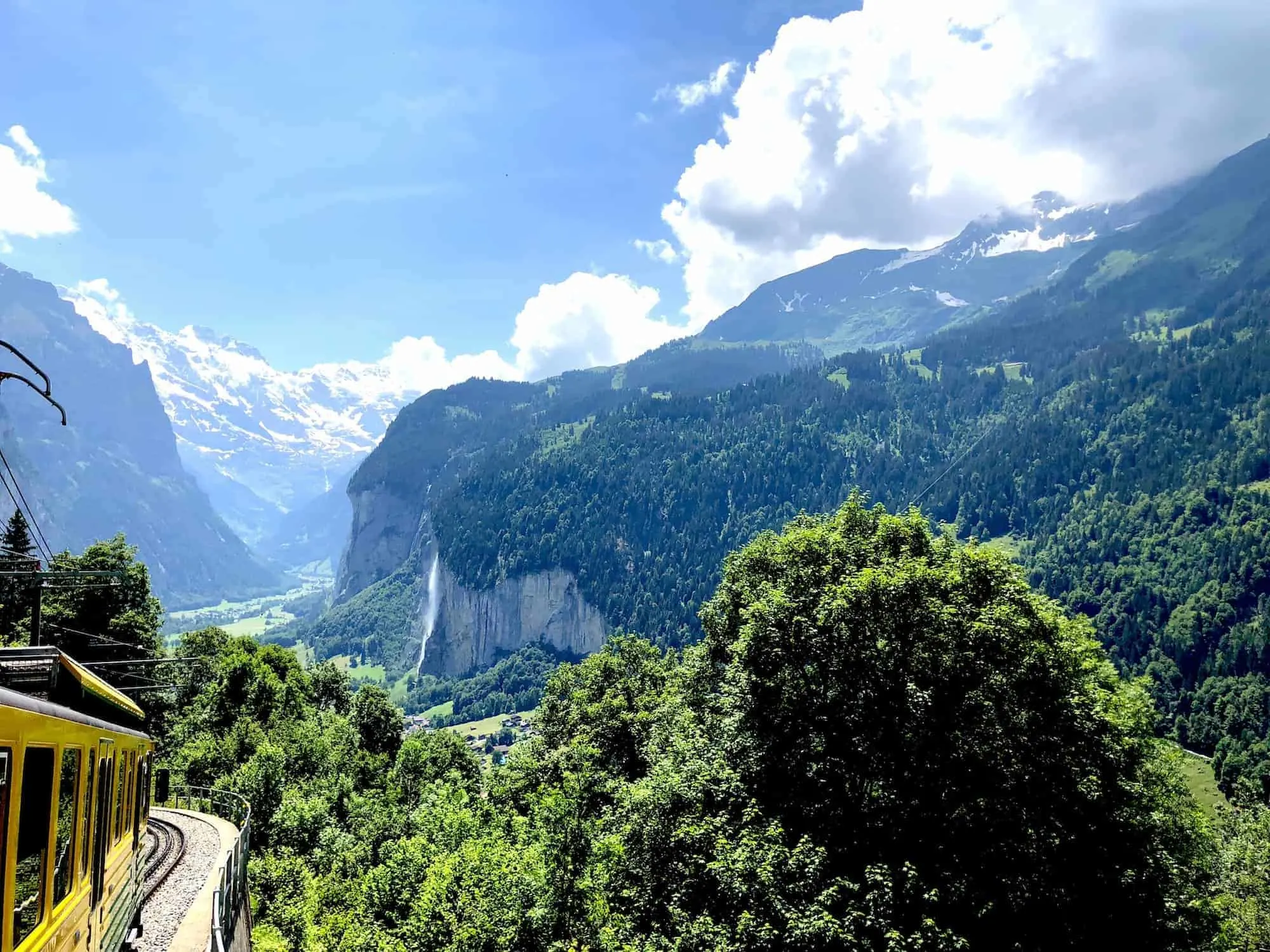 2) Switzerland Travel Pass Options
Probably the most talked about topic regarding Switzerland trains is travel passes. There are a few different options to go over to figure out which one will be best for your trip.
Now, if you only plan on taking a train or two during your stay, then travel passes will most likely not be for you.
However, if you plan on hitting numerous cities and traveling frequently within cities, then travel passes are sure to save you some cash. The following are the main options to choose from:
A) Swiss Travel Pass
The Swiss Travel Pass will get you unlimited travel on nearly every form of transportation throughout the country for one flat rate. You can choose from a 3, 4, 6, 8, or 15 day pass.
The great thing about the Travel Pass is that besides for some mountain transport (25% – 50% off), you will not have to pre-purchase tickets from the ticket machines, rather you will just be able to walk onto a train or bus and show your travel pass when asked by the conductor.
Another positive is that the Travel Pass includes some free/discounted excursions such as the cable cars up to the Schilthorn from Murren (50% off), the route up to Jungfraujoch (25% off) and the Mount Rigi excursion outside of Lucerne (100% off), among many others.
You will also be able to get into hundreds of museums for free. Below is a price table of how much it costs for the two different classes.
A few notes about the prices in general:
Adults between the ages of 16-25 get a 30% discount on the below prices
Children between the ages of 6-16 travel free if accompanied by a parent (with a Swiss Family Card – more on that soon)
Children under 6 are always free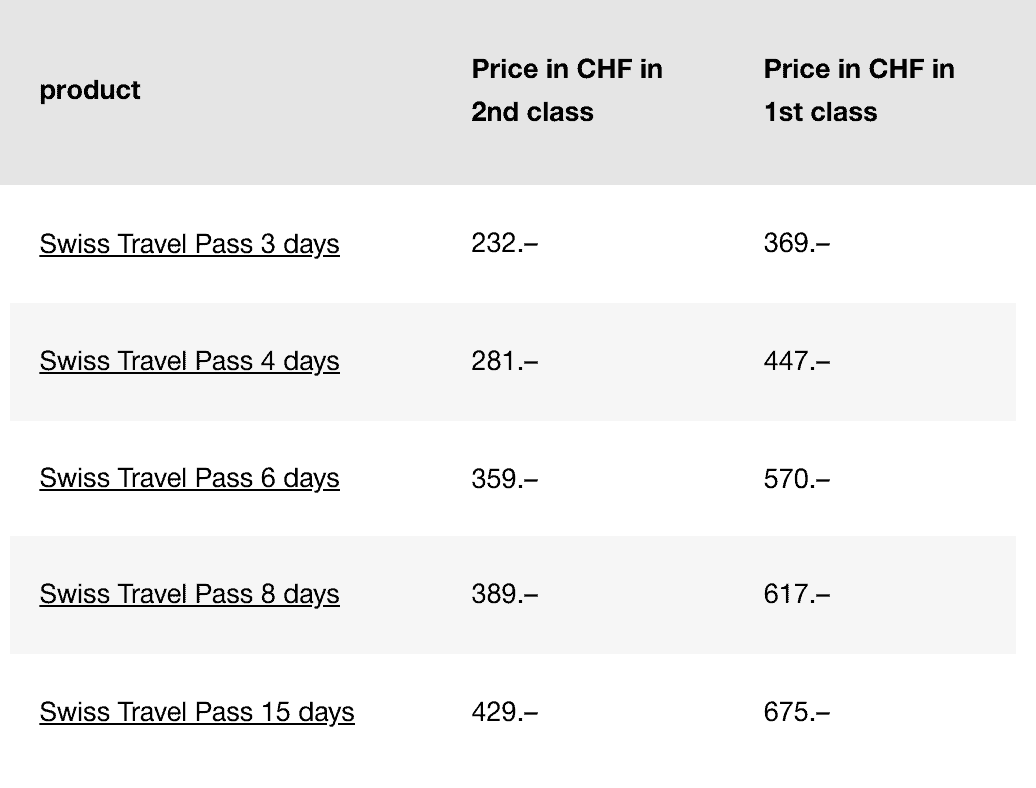 So to quickly recap, the Swiss Travel Pass offers:
One flat all included price for all transportation (extra cost for some mountain railways and Panorama train reservations)
Certain excursions 100% included (i.e. Mount Rigi, Lake Boat Tours), while others discounted (i.e. Jungfraujoch 25% off, Pilatus & Schilthorn 50% off)
No need to buy separate tickets each time (besides some mountain transport) – just get right onto the train and show the conductor your pass
Hundreds of museums throughout the country included in the pass
B) Swiss Travel Pass Flex
Very similar to the prior mentioned Travel Pass, the Swiss Travel Pass Flex offers the same type of benefits, however instead of it being active for 3, 4, 6, 8, or 15 days in a row, it can be used on non consecutive days and is valid for a month.
So, if you will be in Switzerland for 8 days but will only be using public transportation on days 1, 5 and 7, you can purchase the 3 day Travel Pass Flex instead of a 8 day Travel Pass as an example.
The downside though, compared to the regular Travel Pass it will cost more due to the flexibility aspect of it. All other benefits from the Swiss Travel Pass apply (including the age discounts).
C) Swiss Half Fare Card
The Half Fare Card is also a very popular choice for train travel in Switzerland. There are some important things to note regarding the Half Fare Card. For one it is a flat rate at 120 CHF and lasts 30 days.
So more likely than not, the card will last you your full trip rather than worrying about when to start/end your full travel pass.
As you might imagine by purchasing the Half Fare Card, everything you purchase will be half off – trains, busses, boats, & mountain transport – all 50% off (with some mountain transport at 25% off).
With the Half Fare Card you are also required to actually purchase tickets before you get onto the train (be sure to select half fare when making the purchase). When the conductor comes by you will have to show both your ticket and the card.
» Check out this map of the Switzerland rail network that goes into detail on what is included with the three passes mentioned above.
D) Saver Day Pass & 1 Day Travelpass
There are two options for those that are looking for unlimited one day travel in Switzerland – the Saver Day Pass and 1 Day Travelpass.
The Saver Day Pass gives you free unlimited travel on trains and busses but just for one single day. However, there is no discount on mountain transport or free museums like the Swiss Travel Pass would give you (beyond a few exceptions).
Similarly, the 1 Day Travelpass can be purchased but only if you already have a Swiss Half Fare Card.
The thought here is if you have one big day of travel with some expensive routes, purchasing one of these passes will end up being more economical for you if you have a Half Fare Card or no type of travel pass at all.
E) Swiss Family Pass
One of the great things about train travel in Switzerland is that the prices for children are much more reasonable and, in some cases, even free!
If a parent has any of the aforementioned Swiss passes (Swiss Travel Pass, Swiss Travel Pass Flex, Swiss Half Fare Card, etc) then any child under the age of 16 can travel for free.
The Family Pass is completely free of charge as along as the children are traveling with someone who has one of the passes.
You can add the Family Pass as part of your purchase if buying beforehand or just pick one up at a station ticket counter.
Purchasing Travel Passes
If you would like to have everything set prior to your trip (which I would recommend), you can purchase your Swiss Travel Pass or Swiss Travel Pass Flex online ahead of time.
You will have the option of choosing 3, 4, 6, 8, & 15 day options in either Second Class or First Class.
Alternatively, you can check out the SBB website for the other options. Click the link, scroll down to "Guests from abroad", and choose the travel pass that is right for you. You can also buy these tickets at train station ticket offices throughout Switzerland (besides for the Saver Day Pass which must be purchased online beforehand).
Learn More: Are you deciding which travel pass is best for you? Be sure to read through this overview that dives deeper into the differences of the Swiss Travel Pass and the Half Fare Card.
3) Tickets Without A Travel Pass
I am sure there are also travelers who are only taking a couple quick train rides within the country and therefore will have no need for a travel pass. In this case you will have to buy individual full fare tickets.
On the SBB website you can take a look at different at different routes. After inputting your route and date, you can then click on a certain route time and you will then see the price come up.
Here is the important part to note – the price shown will reflect half of the actual cost of the train!
Since many Swiss citizens have passes that give them half off transportation, the default setting on the website will show the half fare.
This is a very important detail to note as you do not want to arrive in Switzerland and expect one price when purchasing tickets and then a price double what you thought pops up.
So if buying individual tickets and want to know how much tickets will cost always take a look if the half fare price is showing.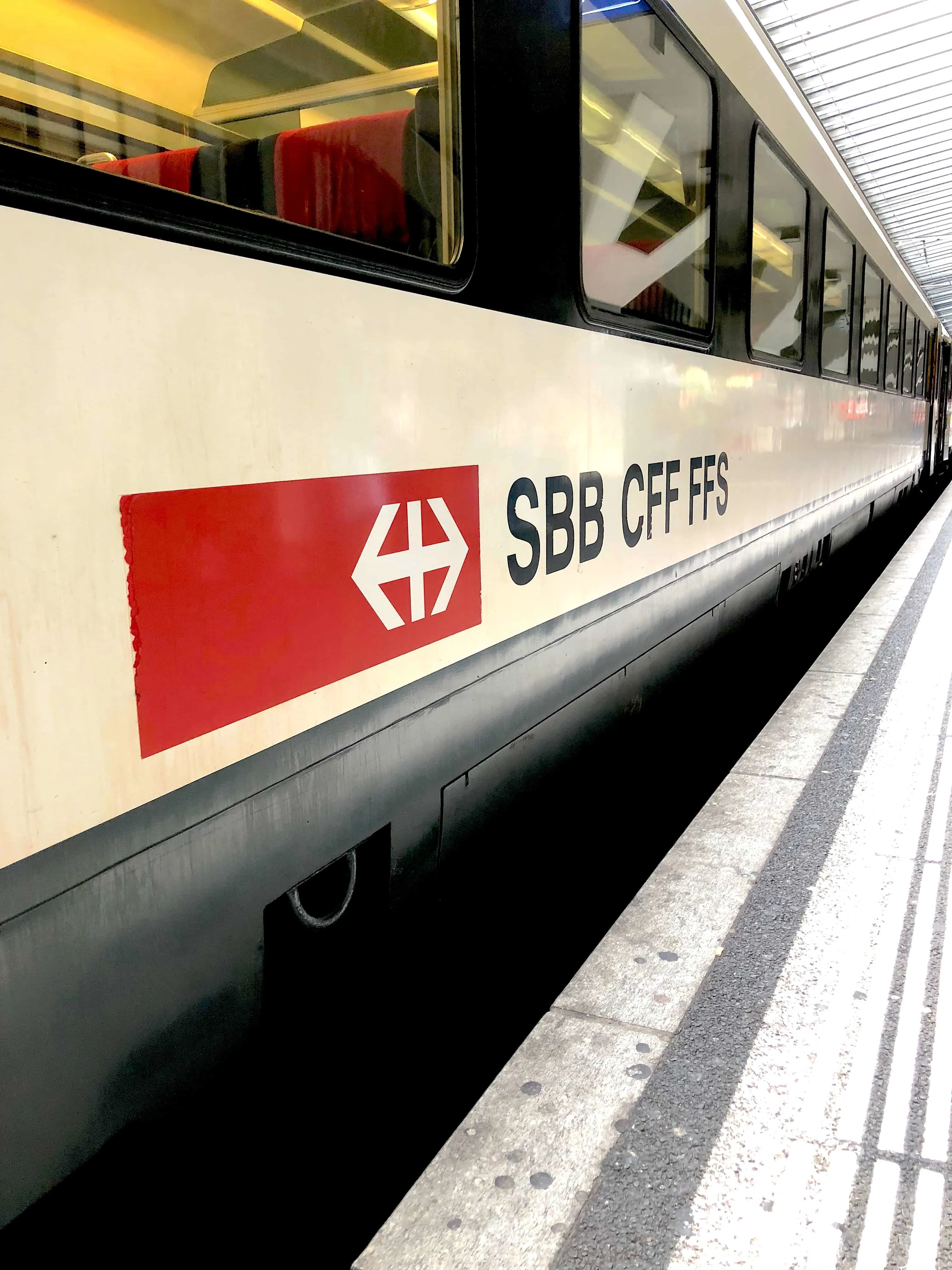 A second thing to note here is that some prices you see online may have a small "%" symbol.
This means that particular train has a discounted price and you can go ahead and purchase cheaper tickets than regular fare if you know you want to travel that exact route/time.

4) SBB App
You may now ask, how am I supposed to understand the logistics between all of these different modes of transportation.
Well for that, Switzerland offers what is one of the most convenient phone apps there is – SBB Mobile.
SBB or Swiss Federal Railways is the national railway of Switzerland. You will see on many of the trains the letters "SBB CFF FFS" (Schweizerische Bundesbahnen – Chemins de fer Federaux Suisses – Ferrovie Federali Svizzere) – German – French – Italian – the three main languages that can be found throughout Switzerland.
Similar to the website, on the app, you can either select your destination and where you will be coming from, as well as the time and date, and you will be able to see a complete logistical schedule of how to get from point A to point B.
It will list out different options, length of travel, platform numbers and show exactly what types of transportation you will have to take along your journey. Here are a few screenshot from the app to get from Zurich to Geneva.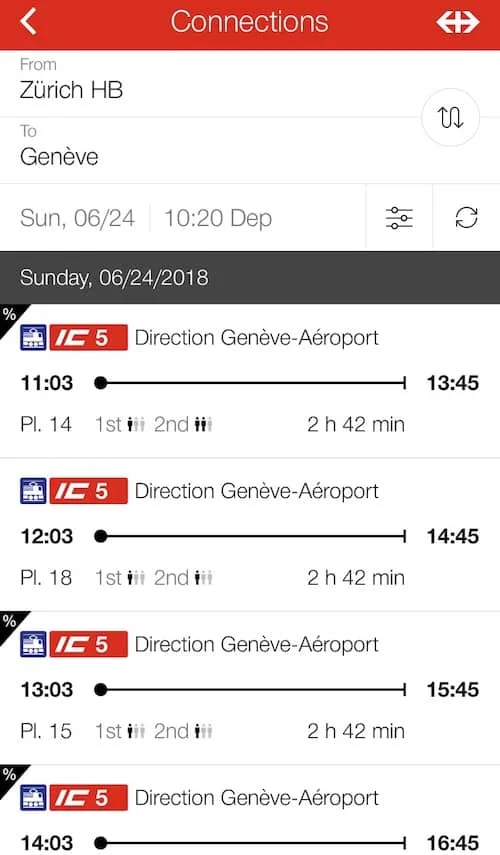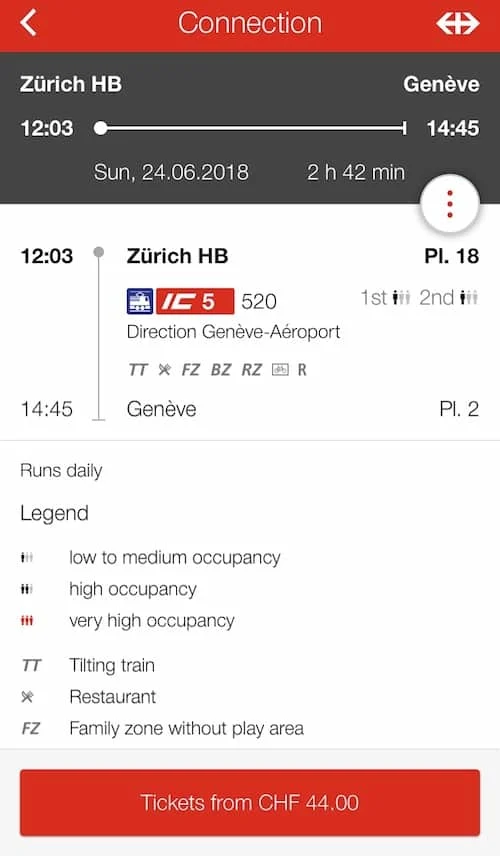 5) Buying tickets
If you do not purchase a Swiss Travel Pass (or flex), then you will have to go to the ticket machines or counter prior to each train ride and buy a ticket for that particular ride.
Below are a set of screenshots that walk you through the process of buying a ticket from these machines (note: I did not include every single step but for the most part it is pretty simple to operate).
Also, if you are a holder of the Half Fare Card make sure you purchase a half fare ticket!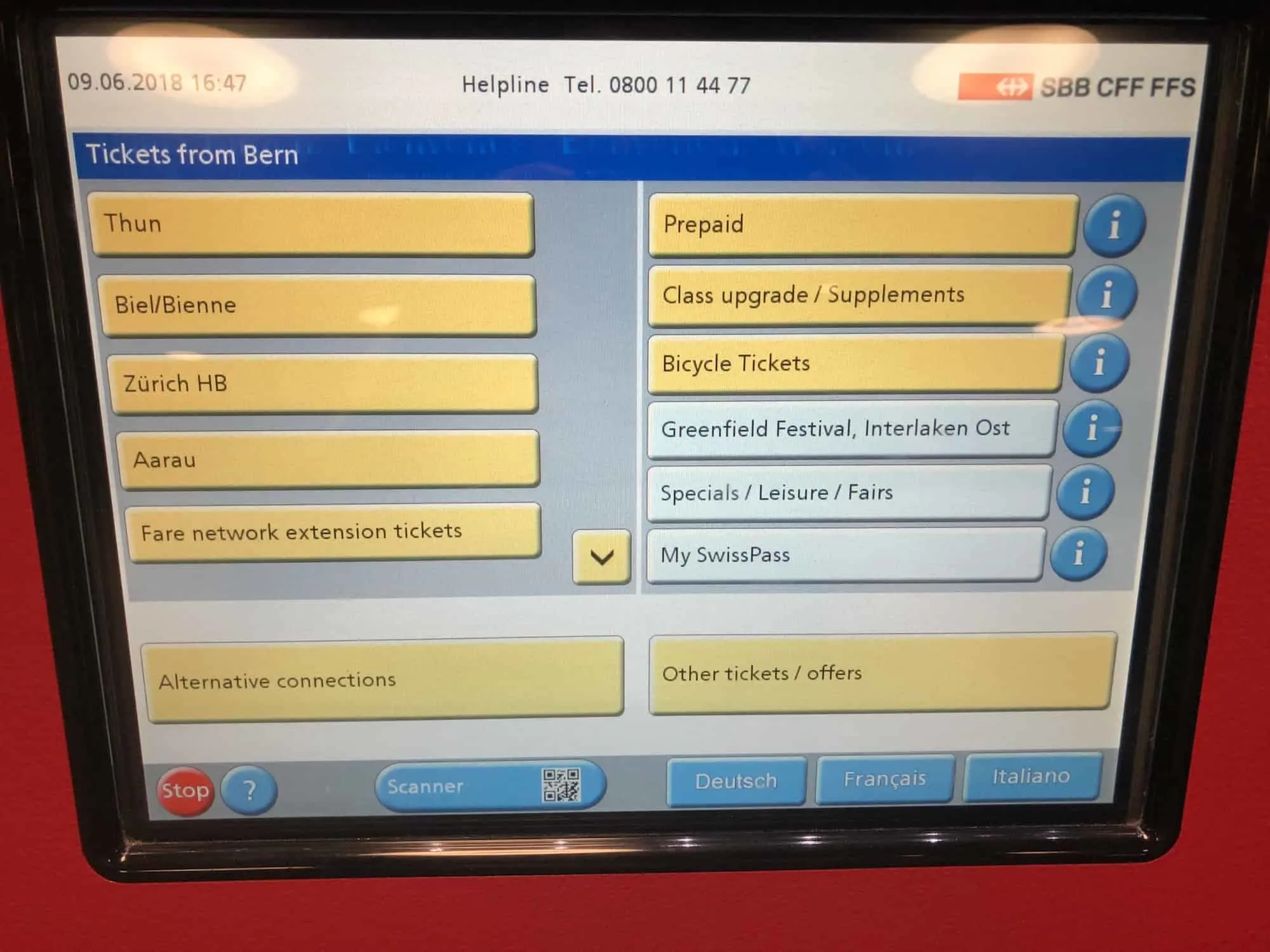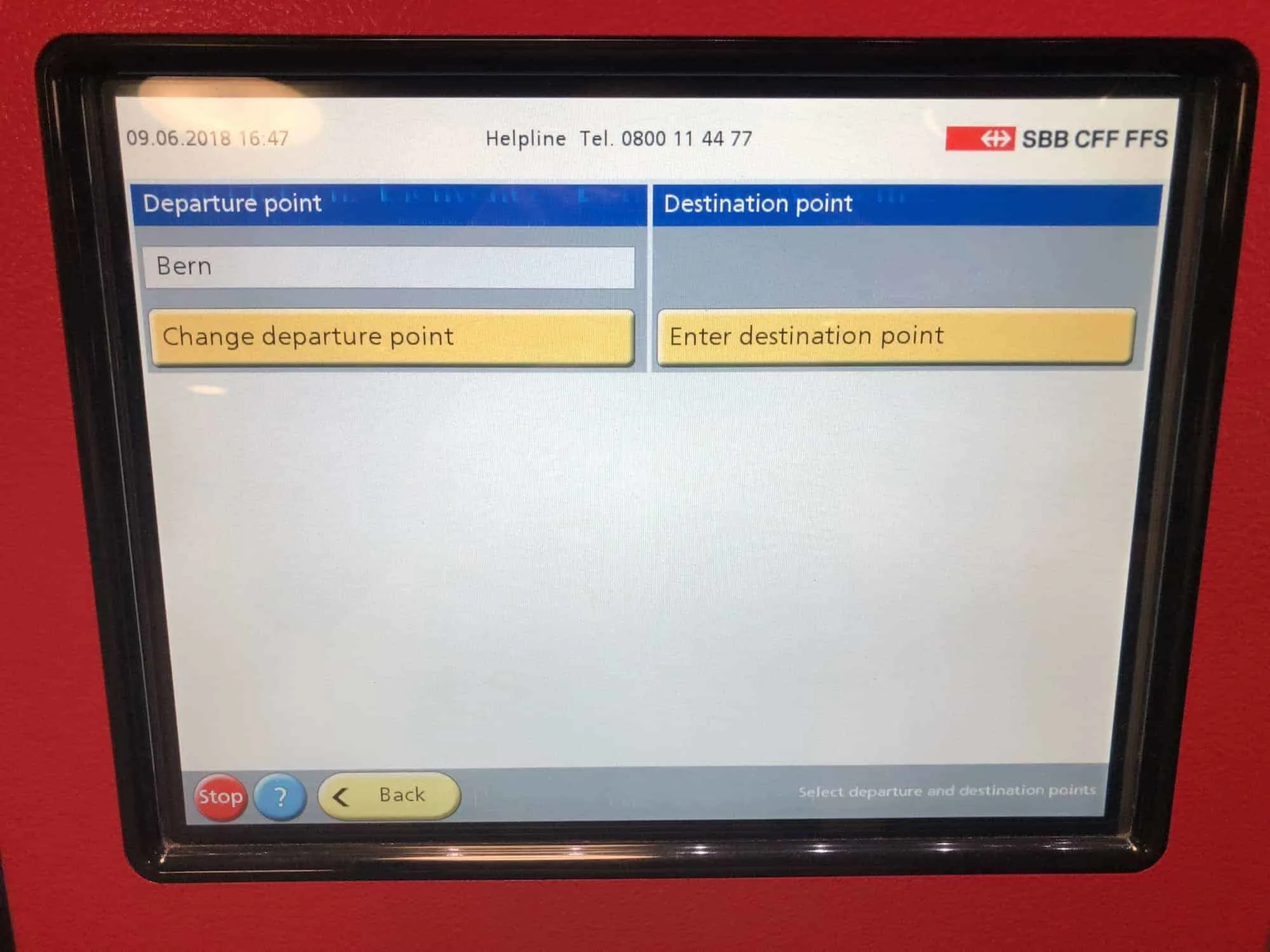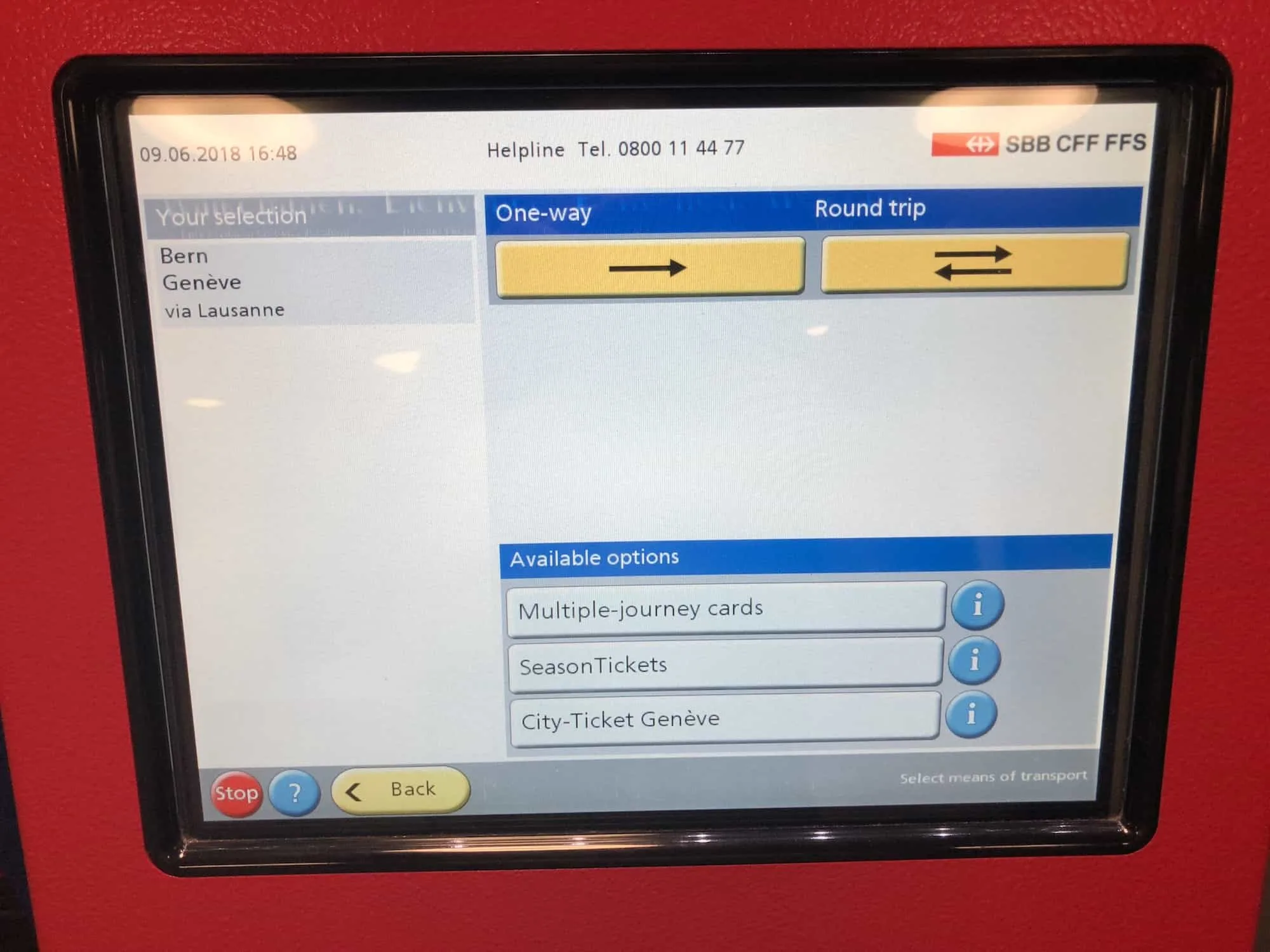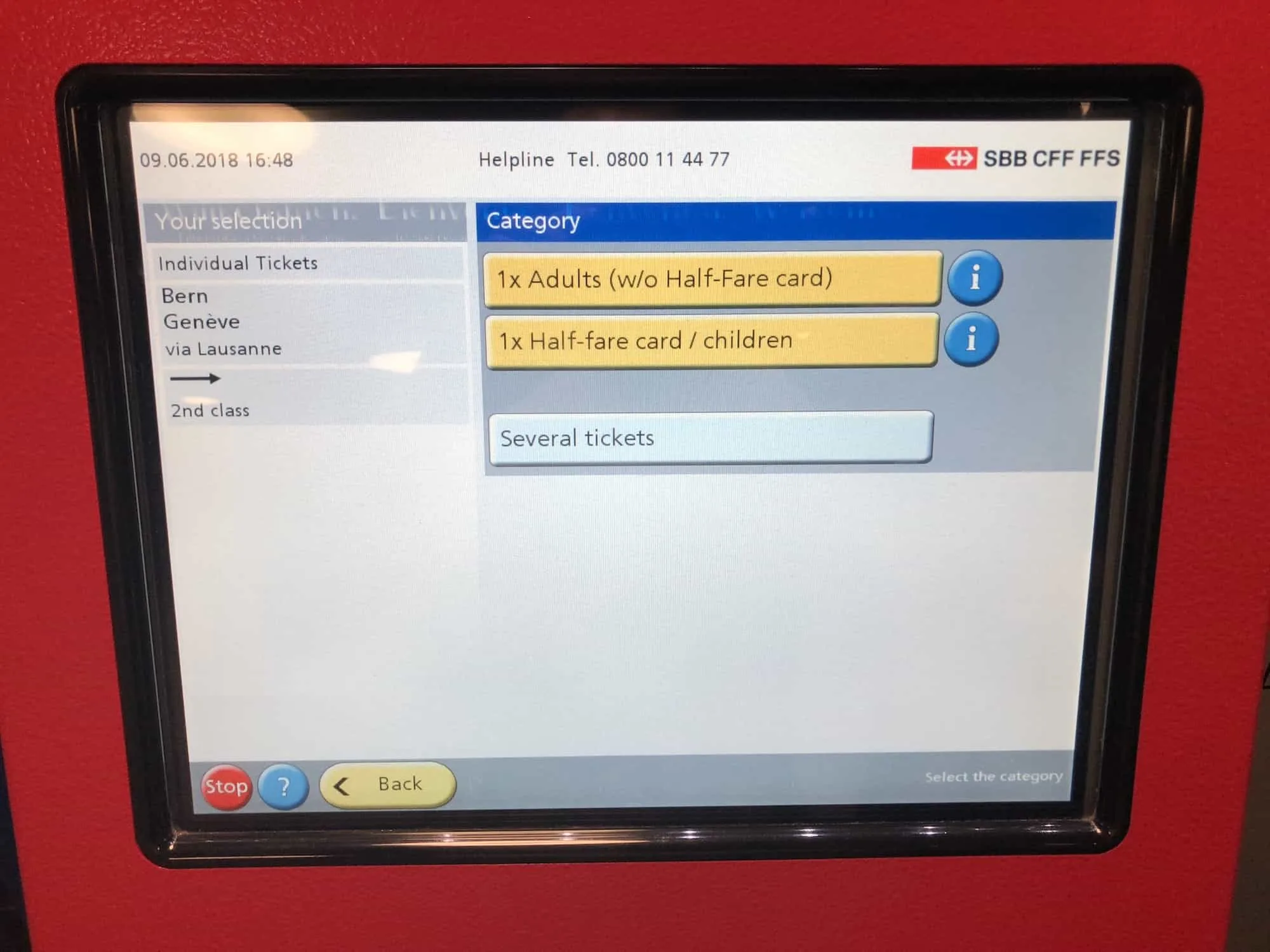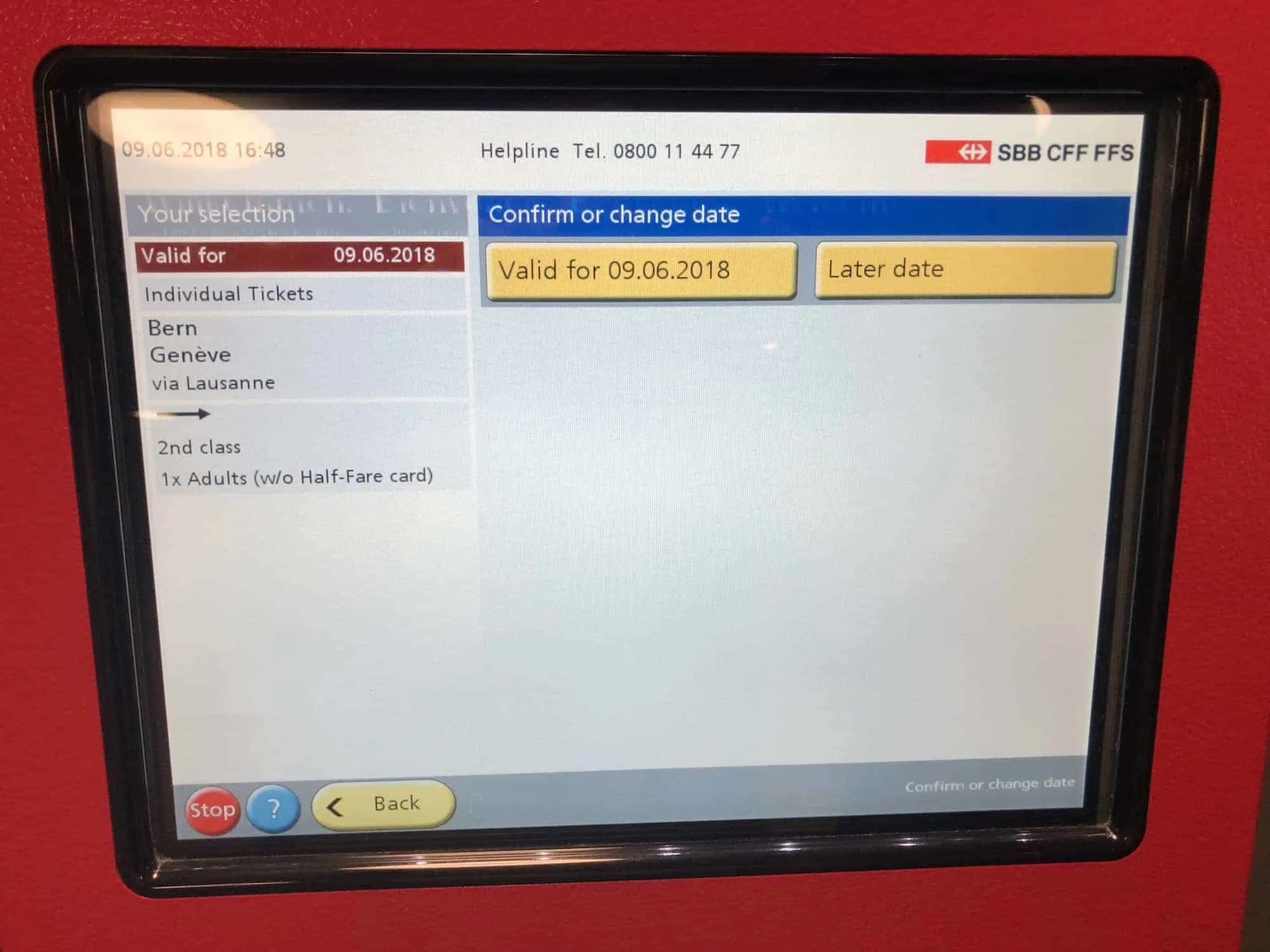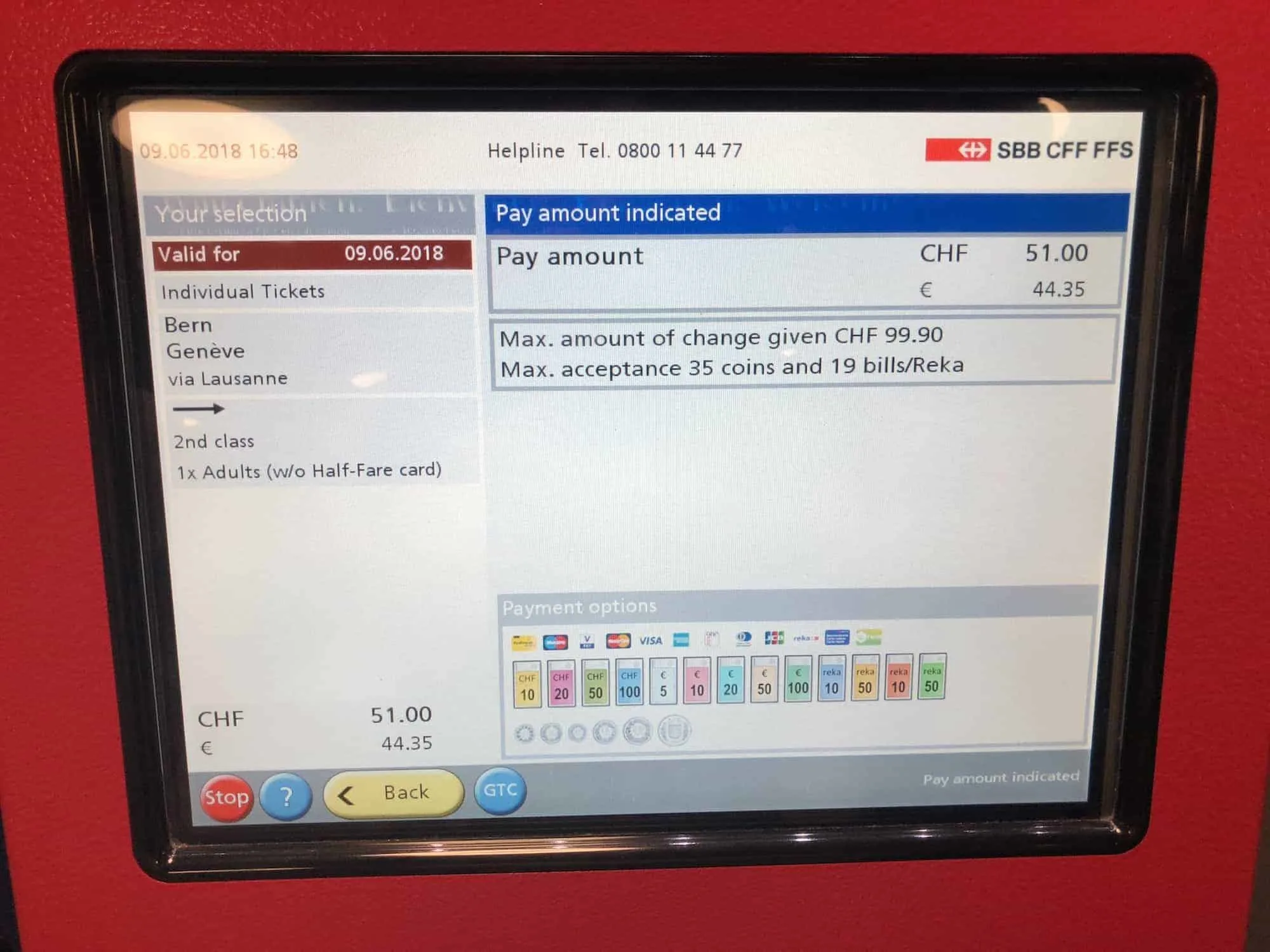 Swiss Travel Pass: Are you planning on traveling frequently throughout Switzerland during your trip? Consider purchasing a Swiss Travel Pass to save some money!
6) First vs. Second Class
One of the decisions you will have to make regarding train travel in Switzerland is whether to get a first or second class train ticket. First class tickets cost quite a bit more money than second class and depending on what type of traveler you are, it may be worth it.
The main two differences between 1st and 2nd would be comfort and quiet.
First class seats are wider and more comfortable than second class seats. You can definitely tell the difference but that is not to say that second class seats are uncomfortable.
I also want to point out that every train can be different, with some first classes being very high class and others not as much.
The second difference to point out is that first class is noticeably quieter and at times less hectic than second class. Especially when you get to some of the more touristy areas (around Interlaken for example) there are a large number of tourists getting onto these trains.
So many at times that people are standing and sitting on the stairs. It also can get very loud in these situations.
In first class, it is much more relaxed and quiet. There are not as many people in the cabin and you (probably) won't have to worry about seating arrangements throughout your trip.
Below are some pictures showing the difference between 1st and 2nd class. The first two pictures are 1st class and you can see they have some wider seats, an armrest and are generally more comfortable.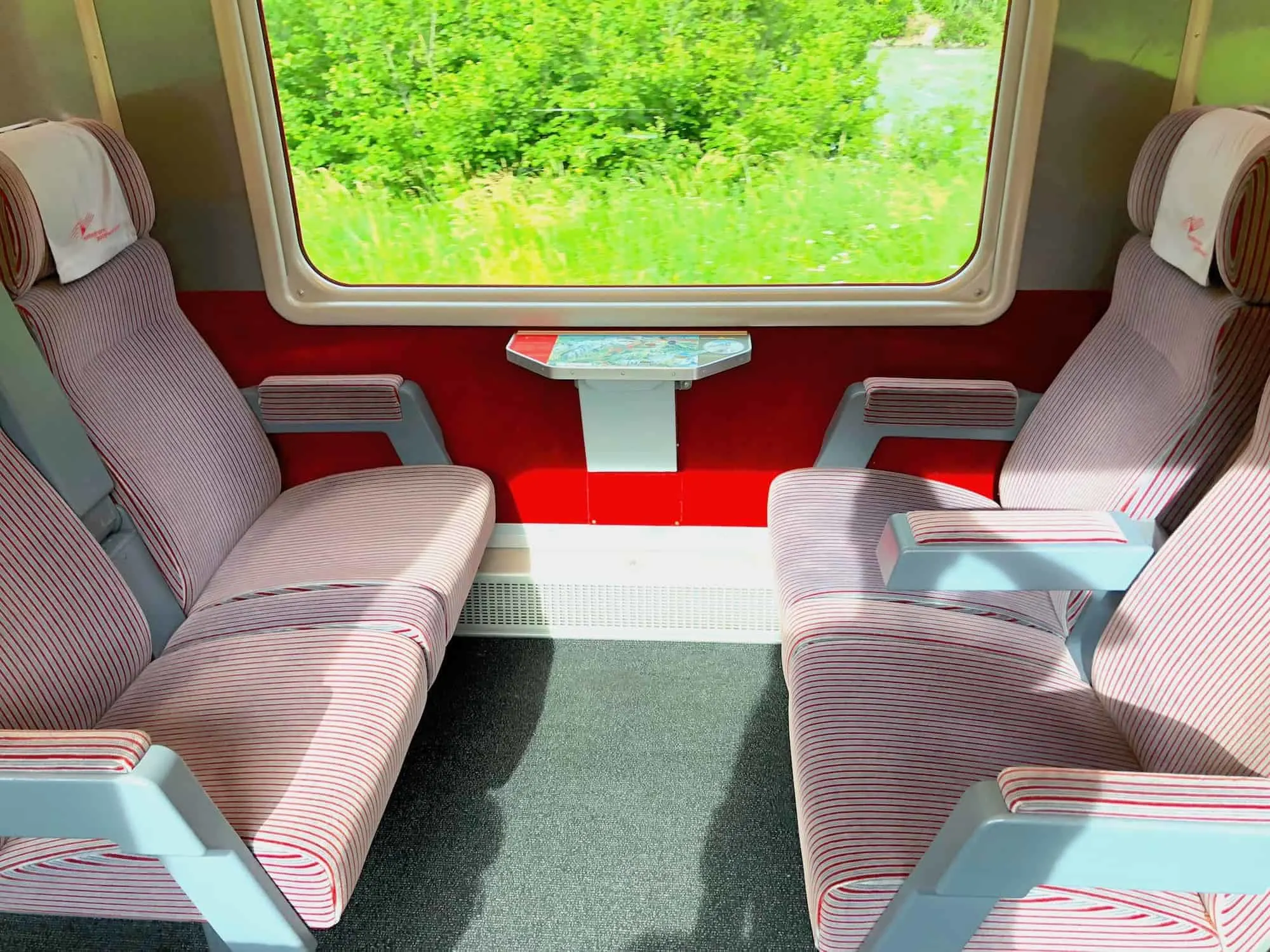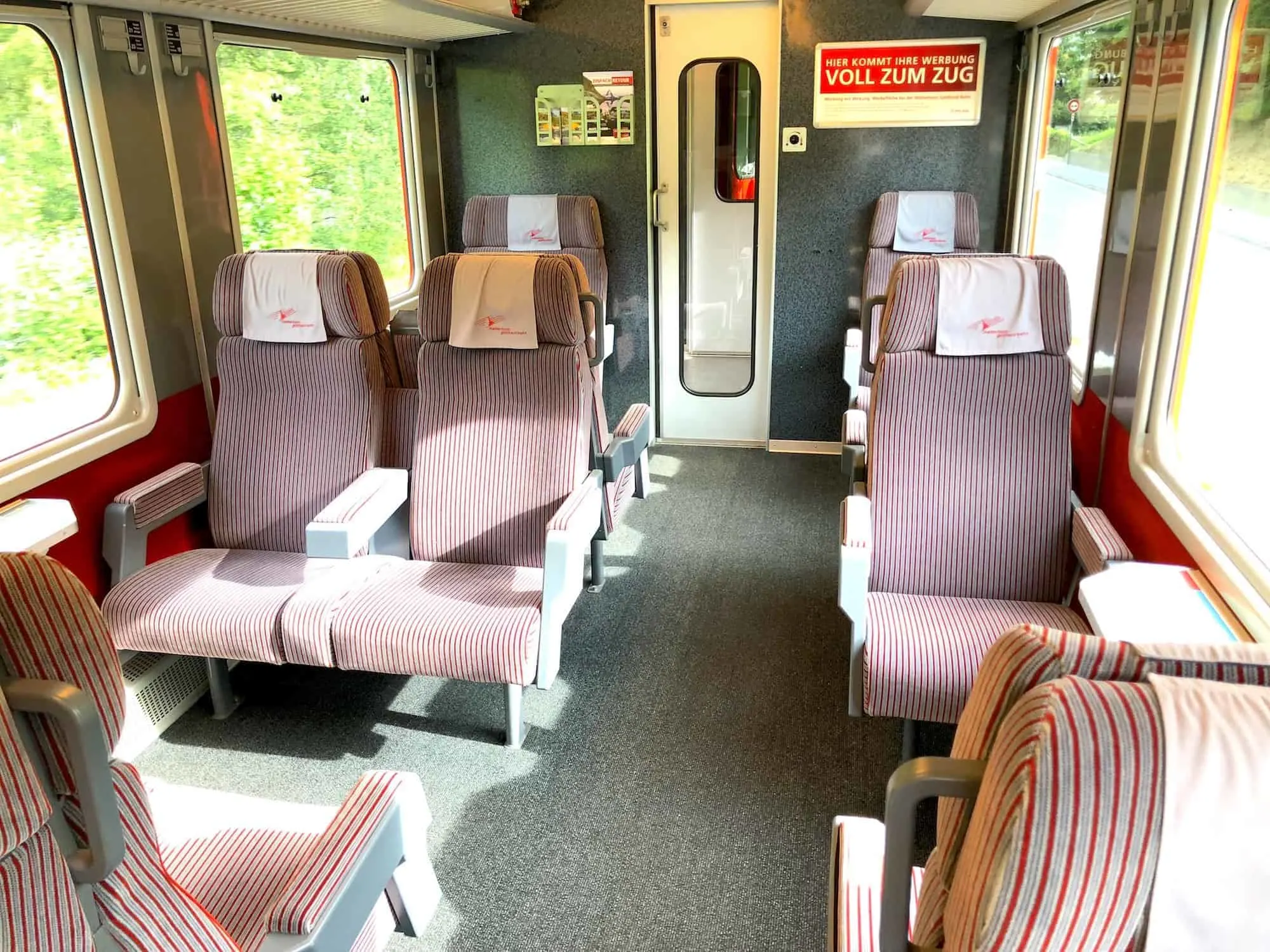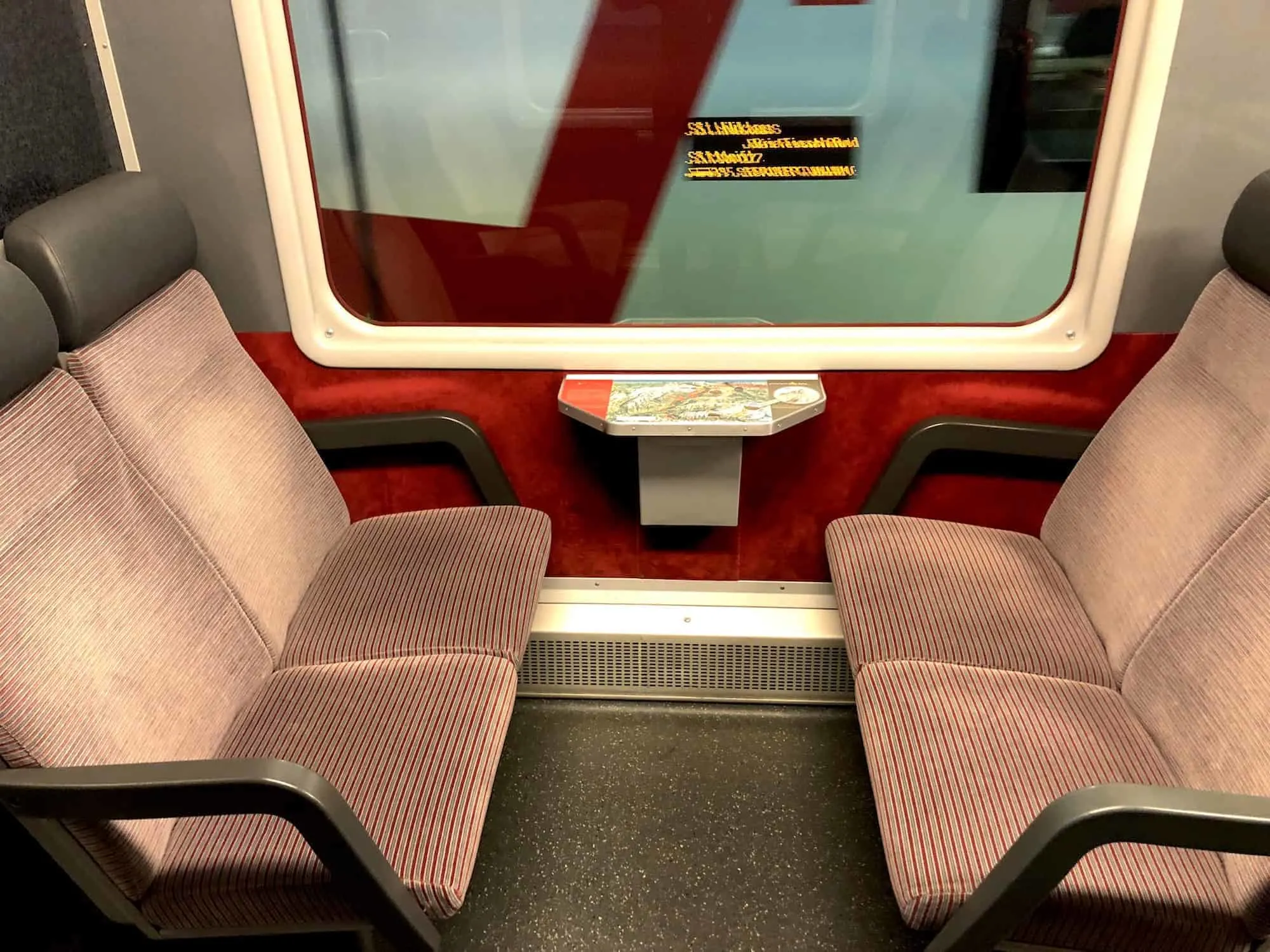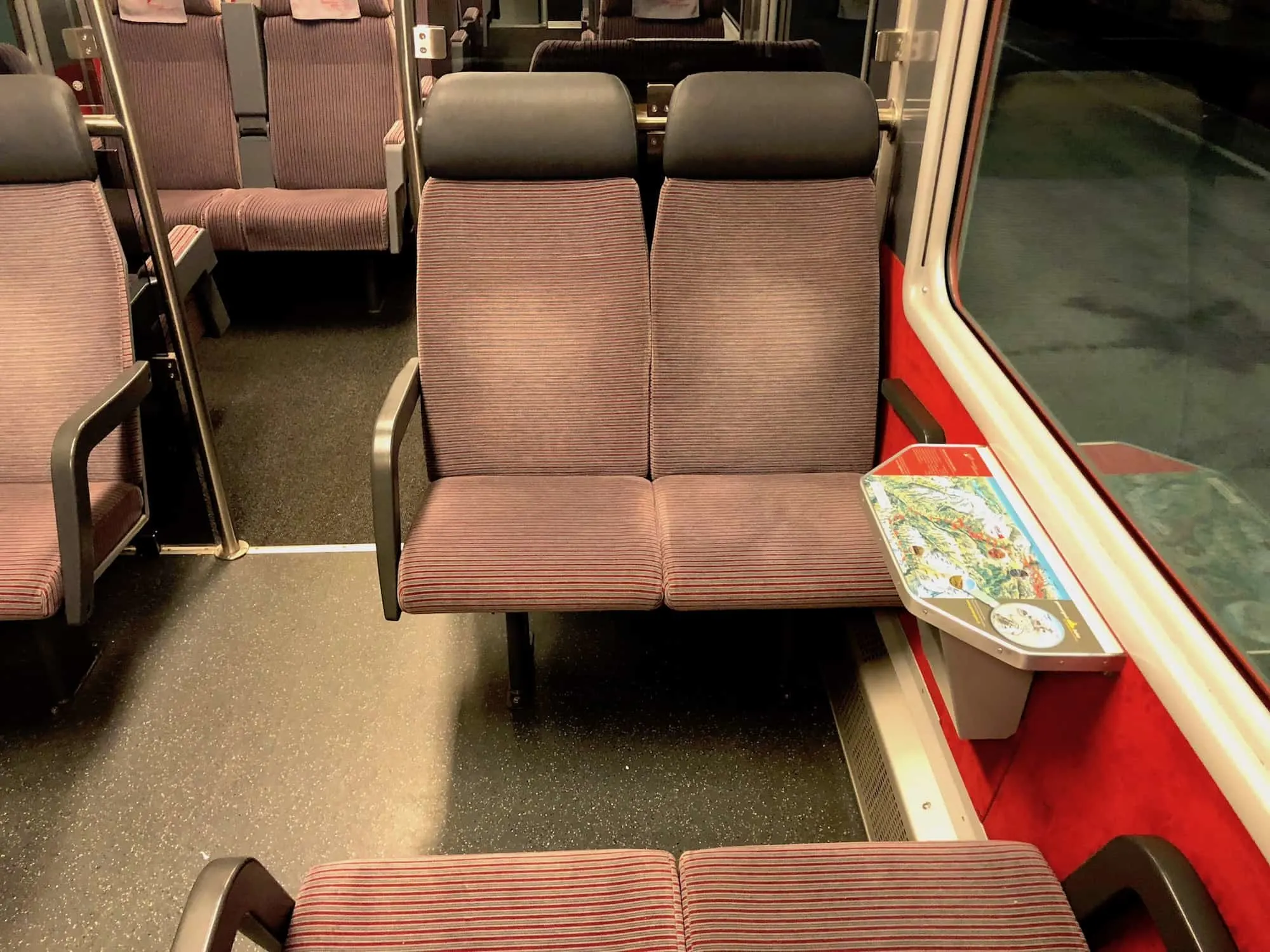 Note in this last picture, the train car is actually split into two (1st class one section and 2nd class another). In the background you can see those 1st class seats and how they compare to those in the forefront of the picture.
Another last thing to note about 1st and 2nd class is that before you actually get on the train, most platforms have sections (A, B, C, D, etc) and on the electronic screens it will show you which section you should stand next to for each class.
If you do end up getting onto a first class section with a second class ticket, you will just have to walk forward/backward depending on where the second class train cars are.
7) Mountain Transport
Throughout the article I had mentioned a few times that some mountain transport options are not fully included in the travel passes.
To give you a better sense of what that means I have listed out a few of the main mountain transport routes that you may take while visiting the Jungfrau region.
Of course there are more mountain transport options beyond this area, but the below can give you a sense of what is and is not fully covered under the travel passes.
Interlaken to Wengen (via Lauterbrunnen) – 100% covered by Swiss Pass
Wengen to Mannlichen (via cable car) – 50% covered by Swiss Pass
Wengen to Kleine Scheidegg (mountain train) – 25% covered by Swiss Pass
Interlaken to Murren (either via Lauterbrunnen valley bus or Grutschalp cable car) – 100% covered by Swiss Pass
Interlaken to Grindelwald (train) – 100% covered by Swiss Pass
Grindelwald to First (cable car) – 50% covered by Swiss Pass
As a general way to think about it, once you start taking cable cars, cogwheels, and some higher up trains, you will pay 25% – 50% of the cost with the travel pass (or course the half fare card will give you the 50% off of everything).
For the Jungfrau region you can take a look at the ticket prices for different routes to get a better idea on how much certain trains cost.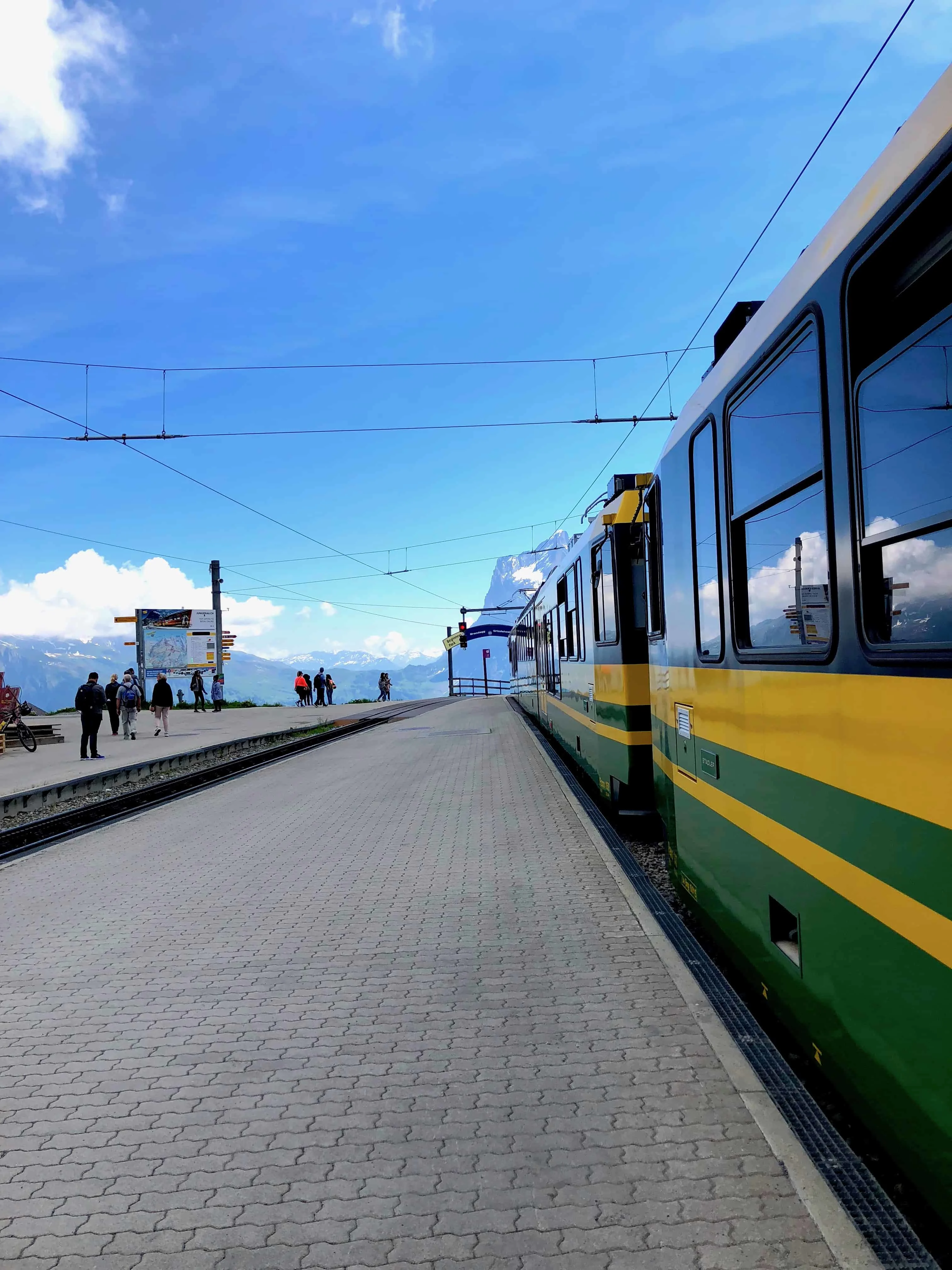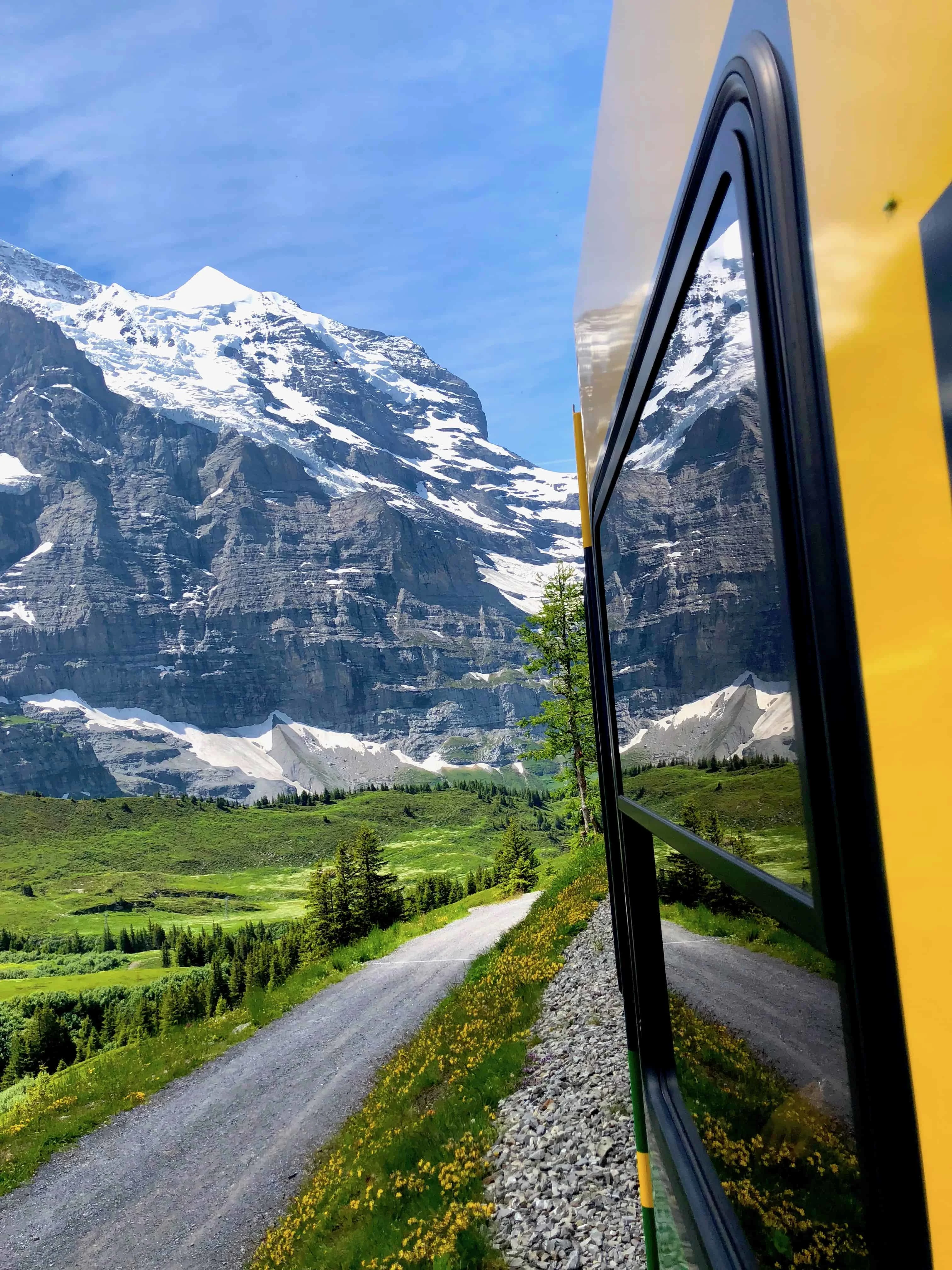 8) Panoramic / Scenic Trains
In Switzerland there are certain routes that are considered Panoramic or Scenic Train Rides.
While there are a variety of routes, four of the main ones include the Glacier Express, Bernina Express, GoldenPass, and Gotthard Panorama Express.
These trains are known to have some of the most spectacular of views throughout a journey. It is not uncommon for a full day's activity to just be taking a train from one city to the next.
It is important to note that on some of these routes you may be able to book special trains or seats that are far more unique than a normal train ride.
Whether that be more luxurious options, full panoramic windows, or even seats that face the front window of the train.
While these may be options to consider, there are normal trains on the routes as well if you don't need the full experience (i.e. you don't need to book the actual Glacier Express trains).
Below is just a quick overview of the scenic trains mentioned above:
Glacier Express
Route: Zermatt to St Moritz
Duration: 8 hours
Highlights: Panoramic Windows & Optional "Excellence Class"
Reservation: Required
Normal Train Option: Yes, but not direct (4 different trains)
Bernina Express
Route: Chur to Tirano
Duration: 4 hours
Highlights: Panoramic Windows
Reservation: Required
Normal Train Option: Yes, but not direct
GoldenPass
Route: Lucerne to Montreux
Duration: 5.5 hours
Highlights: Three different train rides connecting the route
Reservation: Not required for first two legs; recommended for third leg
Normal Train Option: Yes
Gotthard Panorama Express
Route: Lucerne to Lugano
Duration: 5.5 hours
Highlights: Boat Ride & Train Ride
Reservation: Required
Normal Train Option: Yes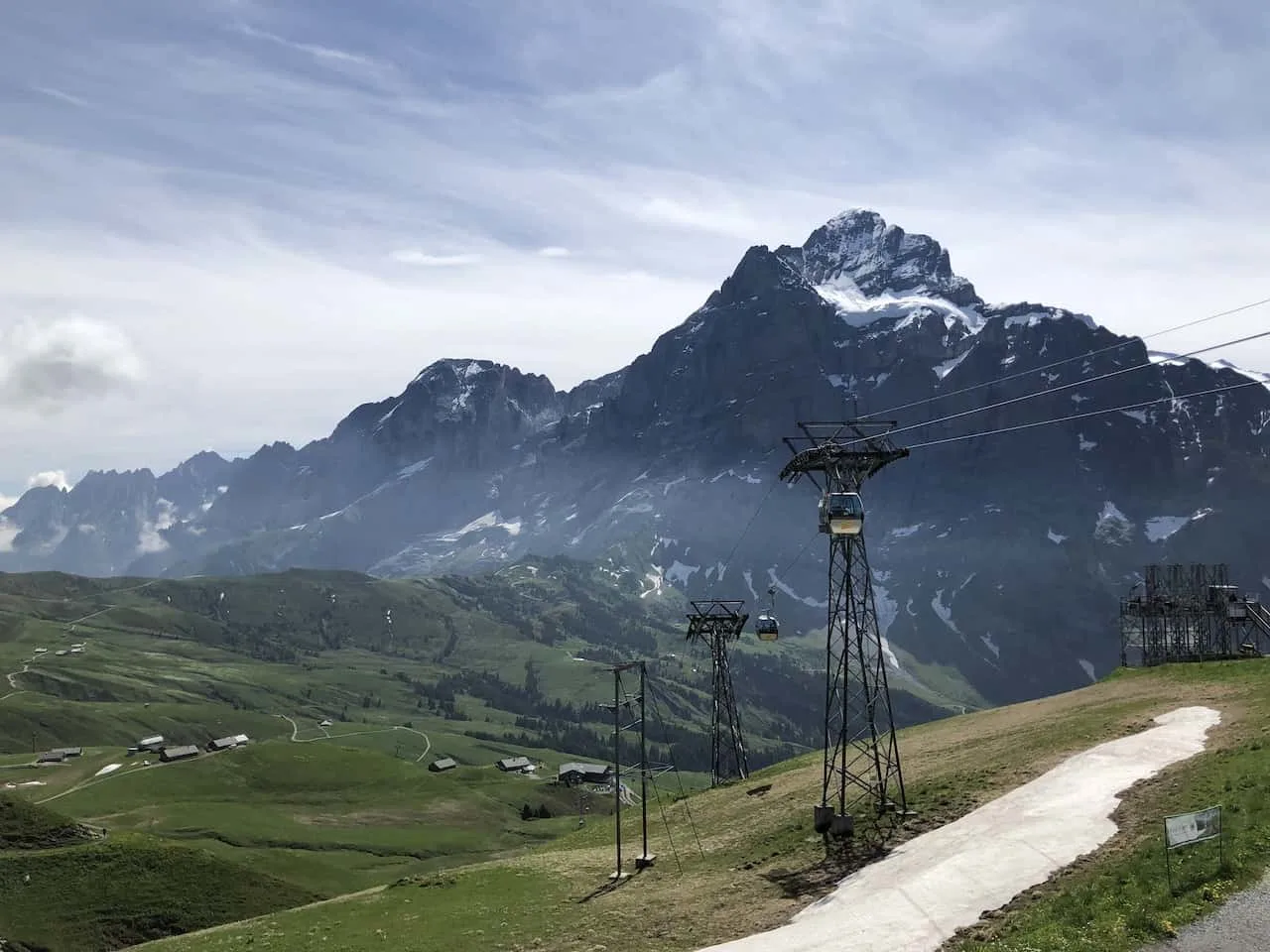 9) Quick Tidbits
1. While you can reserve seats on certain normal trains (non scenic/panorama trains) for a small fee (5 CHF), it is not necessary and tickets do not run out. If it is a very popular time and the train is crowded, worse comes to worse you might have to stand (or catch the next train).
2. The one time you do have to purchase a reservation and book a seat would be on some of the Panorama train rides (i.e. Glacier Express).
3. There are lockers at nearly every main station. If you are making a pitstop in a city for a day when going from one place to the next, you can leave your luggage in lockers at the station. Large lockers are usually in the 7 CHF range.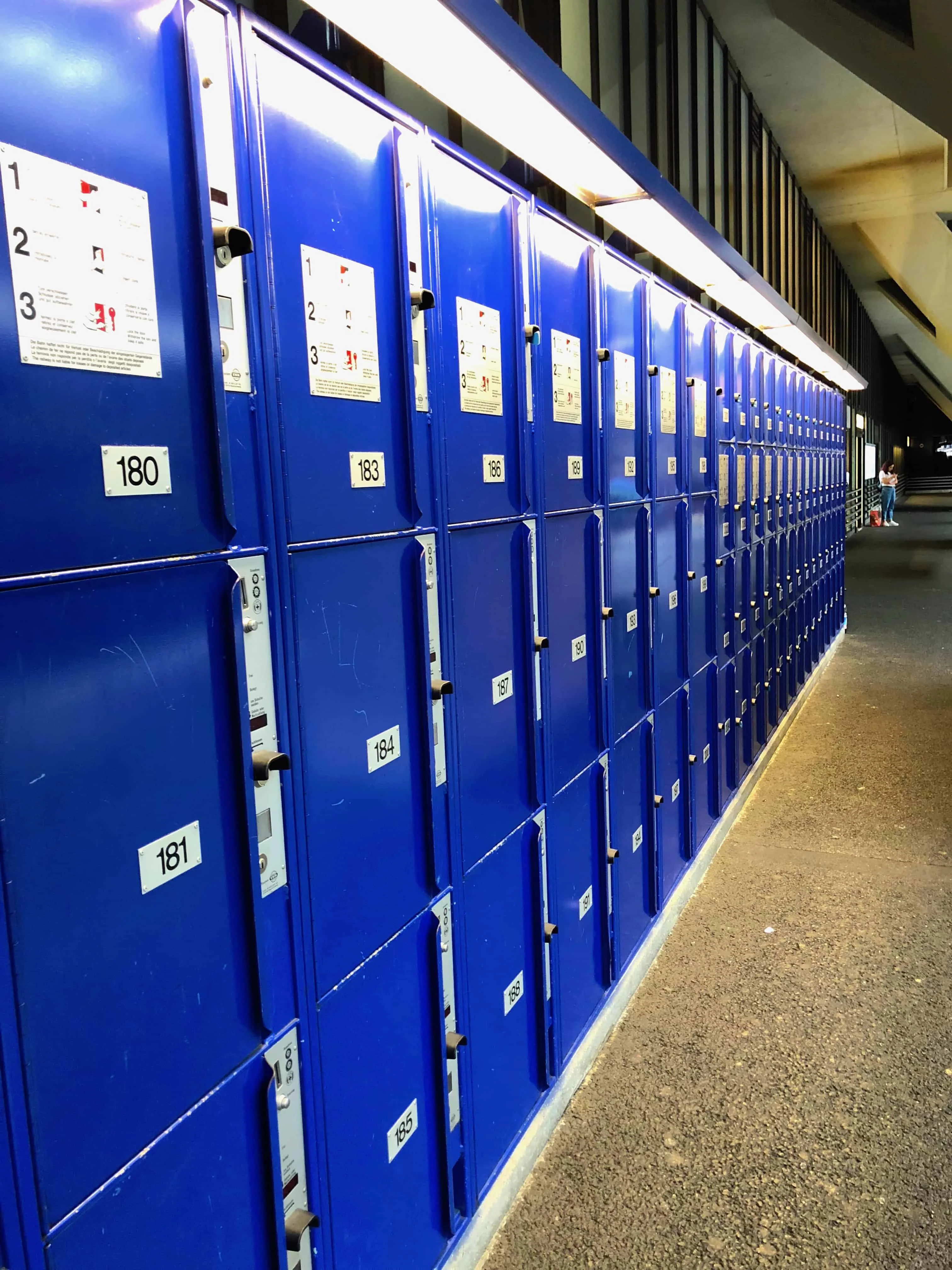 4. Do not forget to keep your tickets if you are on a multi leg route. If you are switching trains you will have to show your tickets on each leg of the trip.
5. Not all doors open by themselves on a train. You will see buttons on both the outside and inside of trains (and busses) that will open the doors. It can get confusing at times when you are stopped at a station and the doors do not open so you might have to be a bit proactive here and open them yourself.
6. As mentioned earlier, before you get on a train the board will tell you which sections of the platform are for first vs second class. However it is also important to note that at certain stations, different sections of the platform will take you to different stations! So be careful in these instances – on the SBB app it tells you pretty clearly what section to stand at if the train does split up at some point.
7. I will mention this again – trains run on time! When a train says it will depart at 9:52 it will nearly always depart at 9:52. So give yourself time beforehand to get to the station, buy tickets (if needed) and make your way to the platform.
8. Last but not least – look outside! The scenery on some of these train rides are just incredible. From lakes to valleys to mountains, the trains travel through all types of landscapes. So instead of opting for that nap, take a look through the window and enjoy the surroundings.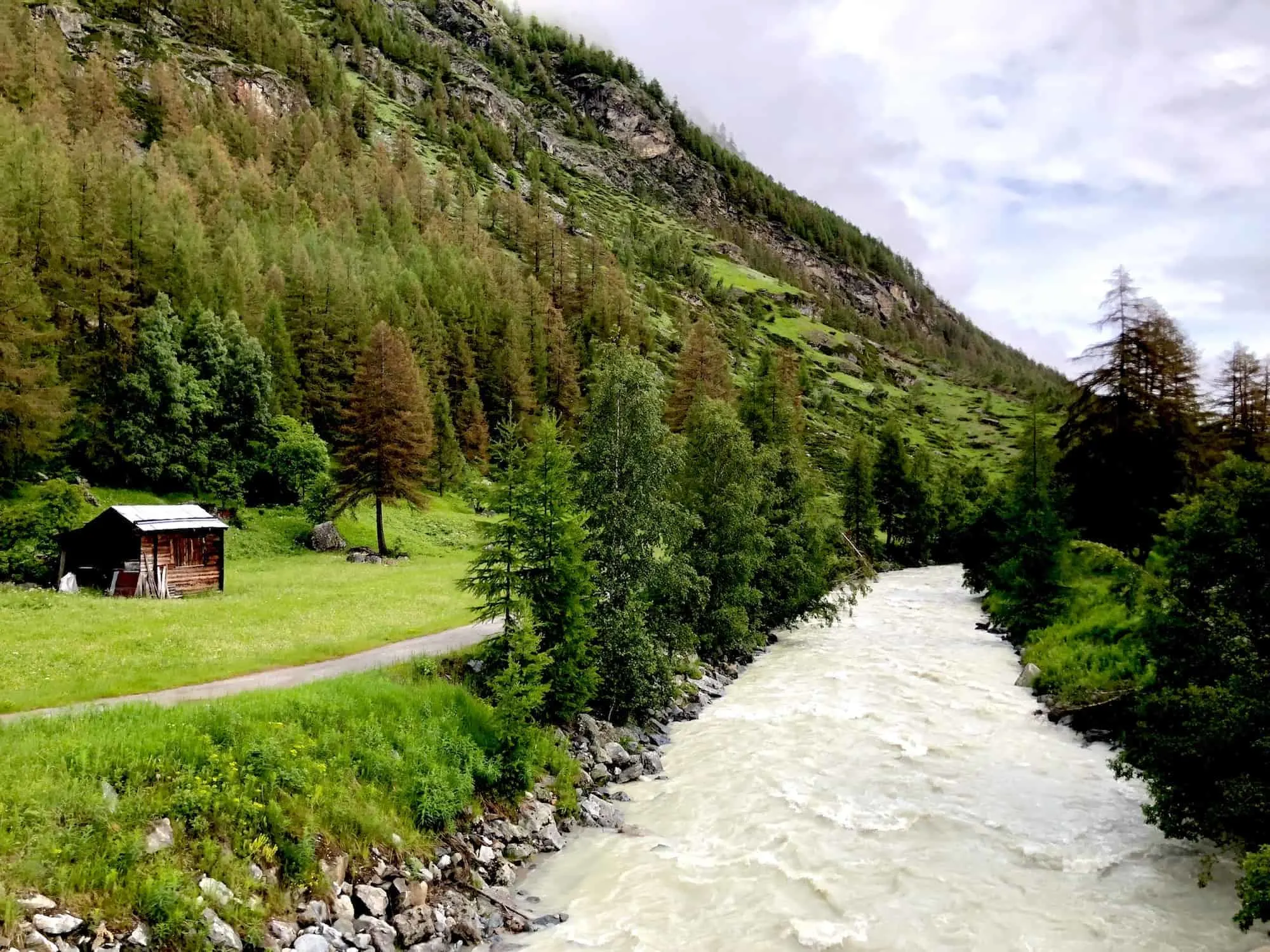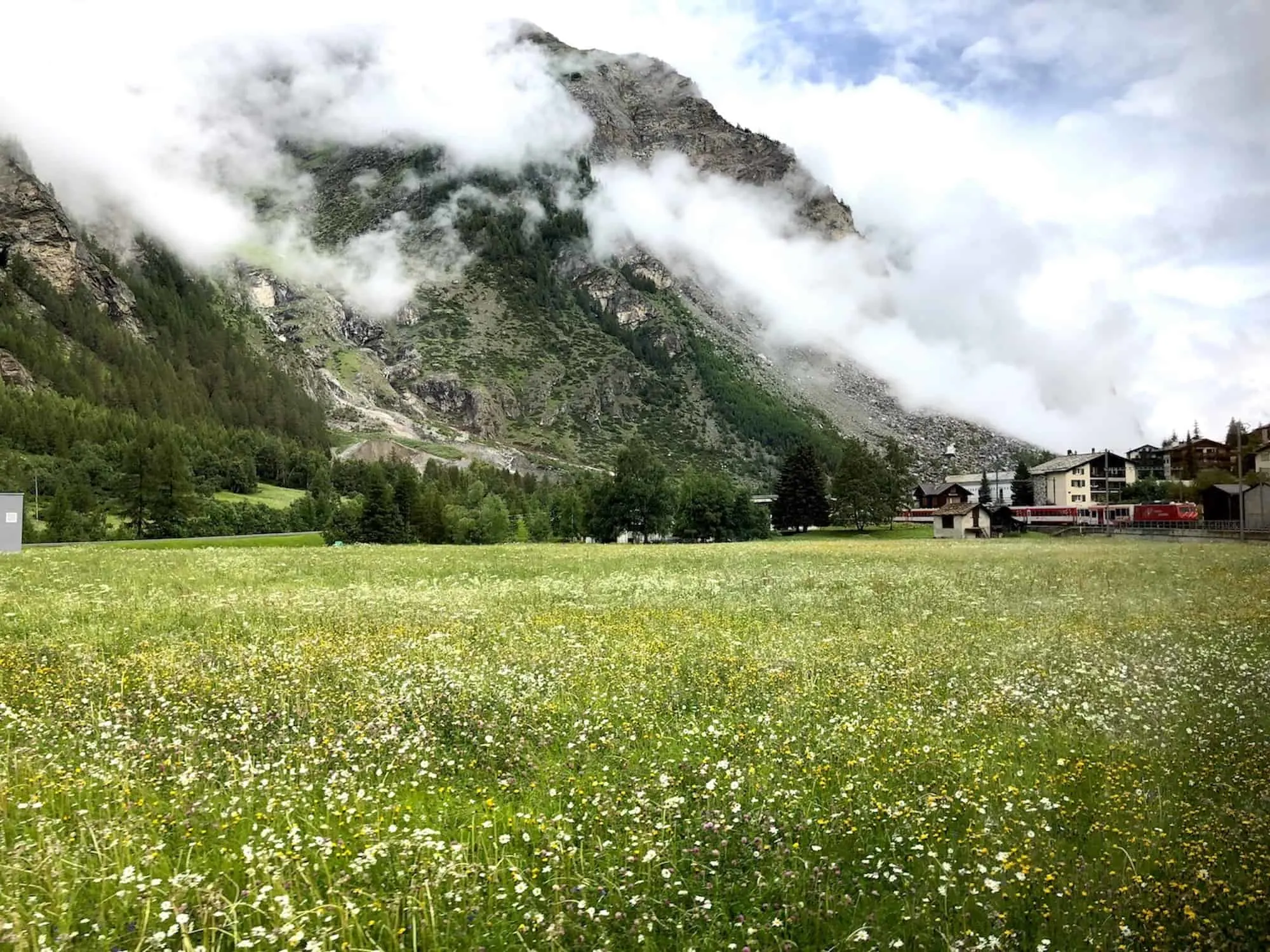 That is your full recap for train travel in Switzerland. I know it if a lot of info and I don't think I even covered all of it but the guide should be a great starting point for you to better understand how to prepare yourself for the train aspect of your trip.
Swiss Travel Pass: Are you planning on traveling frequently throughout Switzerland during your trip? Consider purchasing a Swiss Travel Pass to save some money!
As always if you have any questions or comments please feel free to write them in below and I will get back to you as soon as possible.
Check out the other Switzerland itineraries and guides up on the site like the guide to hiking in Switzerland. Thanks for reading and safe travels out there!