Exhilarating. Terrifying. Adrenaline Flowing.
I can go on and on with adjectives but nothing will do it justice until you are actually standing on the vertical face of a mountain with a 2,000 foot drop below you. The Via Ferrata from Murren to Gimmelwald was by far the most adventurous activity I took part of in Switzerland and is one that you will not forget.
This guide will go over everything you need to know to take part of this epic trail and show you some great pictures and videos I was able to capture along the way. Hope you enjoy it!
* Affiliate Disclosure: This post may contain affiliate links, which means I may receive a commission if you make a purchase through the links provided, at no additional cost to you. Thanks for supporting the work I put into TripTins!
1) What is a Via Ferrata
A Via Ferrata (or Klettersteig in German) is a term used in the climbing community that translates to 'Iron Path'.
It is different from a regular hiking trail, in that it is a protected climbing route with a steel cable wire attached to the rock from beginning to end.
In order to use the steel cable, you will need a climbing belt with two carabiners to hook on and off the cable along the way. Depending on the Via Ferrata, you will come across metal rungs, ladders, tightrope wire crossings, suspension bridges, or even a Tyrolean traverse.
You can find Via Ferratas all throughout the world, with many top ones in the mountains of Europe – whether it be Switzerland, Austria, Italy, Germany, or plenty of others. If you are interested in a testing one out, you are sure to come across one eventually as you make your way around Europe.
This guide will walk you through the Via Ferrata from Murren to Grindelwald above the Lauterbrunnen Valley in the Bernese Oberland region of Switzerland.
Learn More: The Via Ferrata Overview is a must read for those who are new to the world of Via Ferratas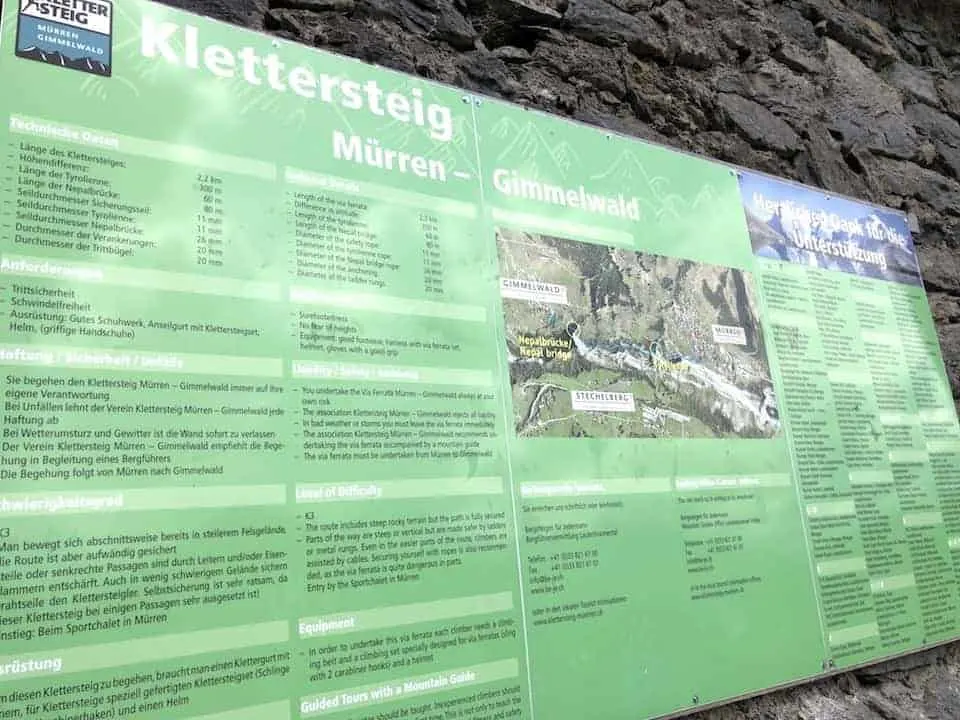 2) Via Ferrata Murren – Gimmelwald Summary
Now that you have a better sense of what a Via Ferrata is, lets dive into the details of the Via Ferrata from Murren to Gimmelwald.
Starting Point: Murren (Sportchalet)
Ending Point: Gimmelwald
Length: 2.2 KM / 1.4 Miles
Duration: 3 Hours
Difficulty: K3 (moderate on a scale from K1 – K6) | Read more about the difficulty scale
Cost: Free (besides required equipment – more on that next)
Optional Guide: You are not required to have a guide to take part of the Via Ferrata. Anyone can head into Intersport, rent the equipment and be on their way.
If you do not feel comfortable going alone and/or are inexperienced you can opt for a guide. It will cost 159 Euro per person based on a four person group. You can contact the official Via Ferrata association with any questions.
Watch the video below to get a better sense of what to expect on the Murren to Gimmelwald via ferrata:
3) Equipment / What to Bring
When going on the Via Ferrata you MUST have a hiking harness with a two carabiner lanyard cable kit, and a helmet.
Odds are you will not have your own but no worries at all as the Intersport Stäger store has them for you (located right across from the starting point of the Via Ferrata).
For just 30 Euro you can rent the belt, cable kit, and helmet from the store and then return them once your day is done on the Via Ferrata.
They will also offer to rent you gloves (4 Euro), which can come in handy since your hands will be on the metal wire throughout the hike.
I also will recommend solid hiking shoes as you will be able to get a good grip on the metal rungs, ladders, and ropes. If you do not have hiking shoes you can rent for an additional 20 Euro from the shop.
» If you do want to buy your own equipment and plan on taking on more via ferratas around the world, I highly recommend purchasing a Via Ferrata Kit that includes the hiking harness, two carabiner lanyard, and helmet.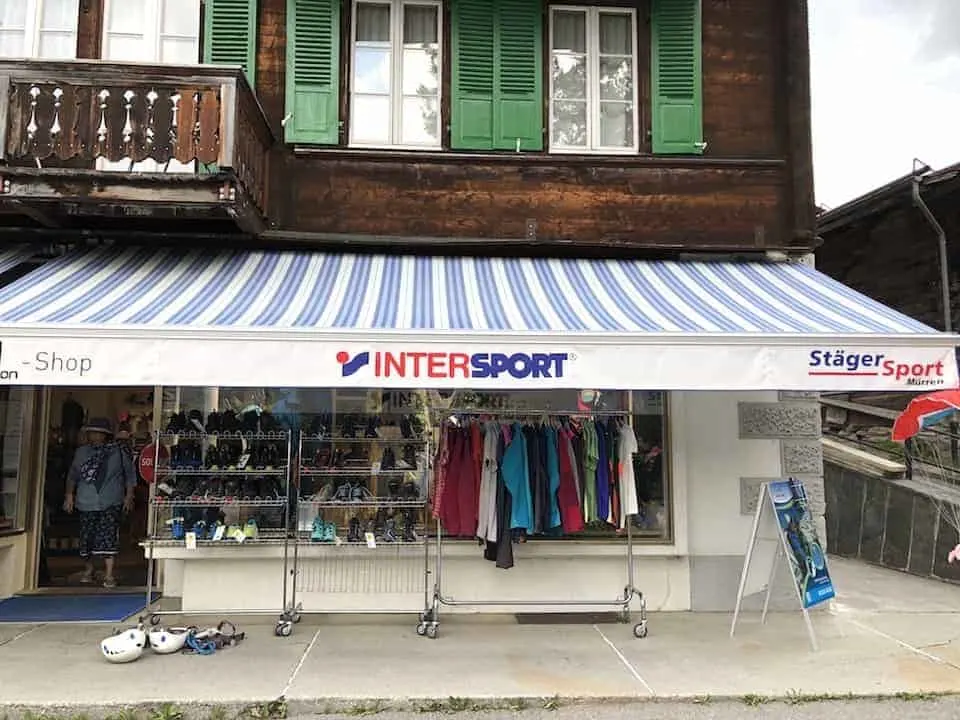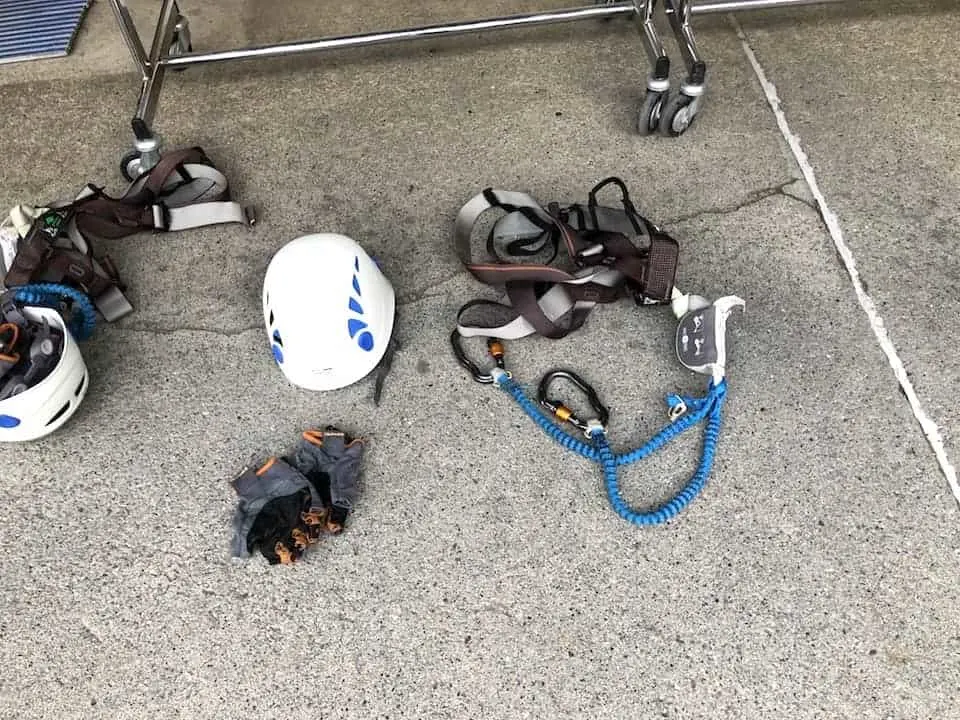 Whenever heading off on longer day hikes, I always recommend being adequately prepared when it comes to the type of gear to bring along.
Check out the below packing list to get you ready for this hike and other hikes in Switzerland.
Hiking Packing List

In general when it comes to hiking, there are a few main aspects to consider. These includes clothing layers, hiking shoes, hydration & fuel, electronics, and other essentials.

Below in a breakdown of some of the top items, but be sure to check out the Hiking Packing List for a more comprehensive view.

Clothing Layers

Layering is going to be a top consideration when hiking. You will want to be prepared for all sorts of weather so you can be comfortable in different situations. Some items may include:

→ Hiking Shorts
→ Hiking Pants
→ Short Sleeve Shirt
→ Long Sleeve Shirt / Sun Hoodie
→ Mid Layer Fleece
→ Puff Jacket (not always needed)
→ Packable Rain Jacket (Columbia Watertight II)

Note that your layers should be made of moisture wicking material as they are breathable and quick drying.

Footwear

Having appropriate footwear will also be very important. You will want to have shoes with the necessary grip and support to keep you safe on the trail.

→ Hiking Shoes (Keen Targhee)
→ Hiking Socks (Darn Tough)

Other Essentials

Whether it is hiking gear, electronics, or just some miscellaneous items, here are some other essentials to bring along on hikes.

→ Hiking Backpack (Osprey Talon 22) & Rain Cover (Joy Walker Cover)
→ Hiking Poles (Black Diamond Trekking Poles)
→ Water Bottle (CamelBak Chute or Katadyn Filter Bottle)
→ Portable Charger (Anker PowerCore 5000mAh)
→ Action Camera (GoPro Hero)
→ Energy Bars & Snacks
→ Hat & Sunglasses
→ Sunscreen & Bug Spray
4) Murren Via Ferrata Opening Times
The Via Ferrata from Murren to Gimmelwald is not open year round.
The opening dates are listed as June 1 until the end of October.
You can check the official site for more info depending on the year. It is not open year round both to protect the route and wildlife around it, and also for safety concerns during the hiking offseason.
When they say June 1 (or whatever day they might have up in the years to come), they really do mean that specific date. I actually was in Murren on the day it opened and was not able to rent the required equipment from Intersport the day before.
Also note that you cannot hike the trail during or after rainy weather. A lot of the Via Ferrata is on metal rungs. Once those get wet it will be even harder and more dangerous to take part of.
Intersport will not rent you equipment if they feel the route is not safe to climb. You can read up on the weather in Switzerland guide I have up to help you a bit more with understanding the climate in the area.
» If the Via Ferrata is closed, you can opt for the Murren to Gimmelwald hike instead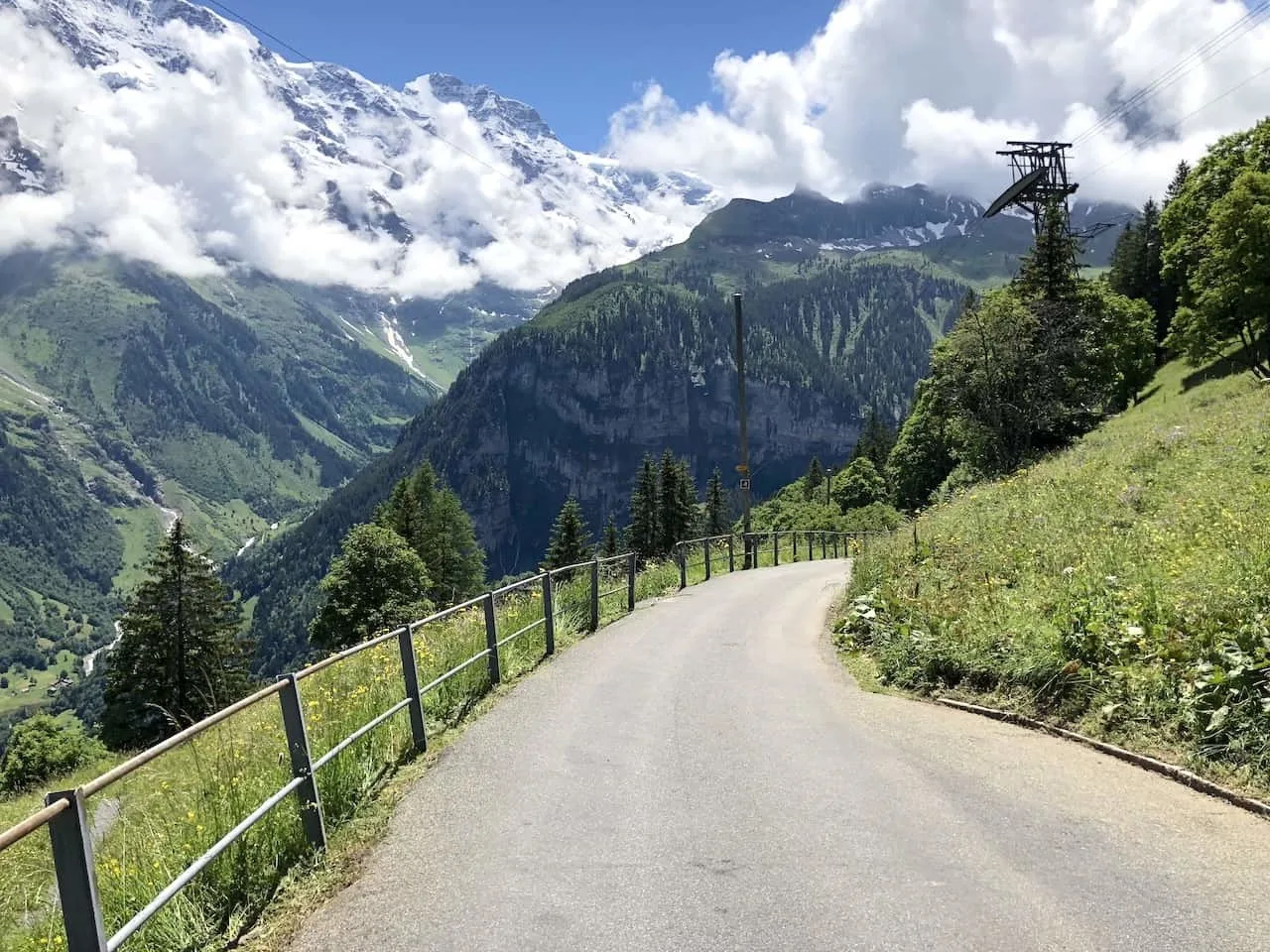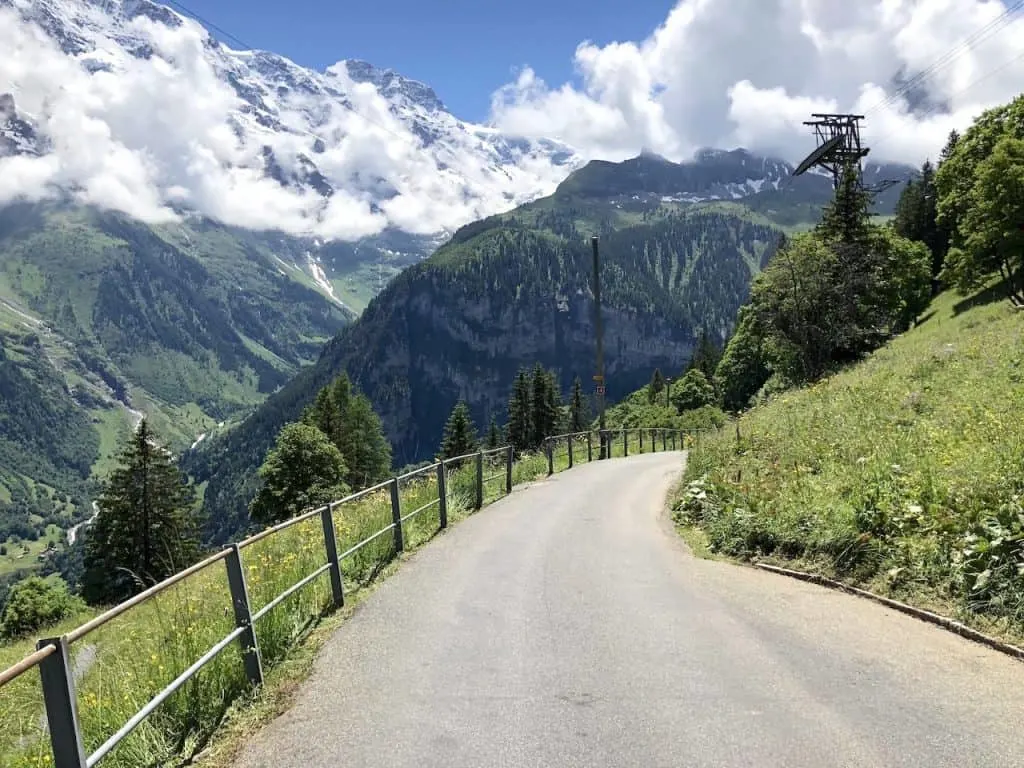 5) Via Ferrata Murren – Gimmelwald Logistics
To get to the starting point of the Via Ferrata, you first must make your way to the small car free mountain town of Murren.
Getting to Murren will depend on where you are coming from, but as an example I will show you how to get there from Interlaken.
If you have a Swiss Travel Pass, you will be able to get Murren without any additional cost. You can purchase the Swiss Travel Pass ahead of time so you will be all prepared for your trip.
Step 1: Interlaken Ost Station to Lauterbrunnen (Train / 30 minutes)
The first part of the trip will consist of a 30 minute train ride from Interlaken to Lauterbrunnen. These trains run pretty consistently (every half hour or so) and will bring you to the base of the valley, where you will continue your trip.
Note that if you aren't staying directly near the main town of Interlaken, it might be easier and faster to first hop on a bus to Wilderswil and take the train from Winderswil to Lauterbrunnen.
Step 2: Lauterbrunnen to Grutschalp (Cable Car / 5 minutes)
You will then walk right on over to the cable car station and take a 5 minute cable car up from Lauterbrunnen to Grutschalp. The cable car station is right outside of the train station and can't be missed.
Step 3: Grutschalp to Murren (Mountain Railway / 15 minutes)
Once off of the quick cable car up above the valley, you can hop on the mountain train from Grutschalp to Murren. This mountain train will be timed up pretty nicely with the cable car and will take about 15 minutes to get to the lovely car free town of Murren.
Note: You can also make your way from Lauterbrunnen to Murren by first taking a bus down the valley to Stechelberg, and from there taking two cable cars to Murren (Stechelberg – Gimmelwald & Gimmelwald – Murren). Take a look at the Train Travel in Switzerland guide to help answer any questions you may have.
After you have arrived at the Murren railway station (or cable car station), you will walk through the town to the Intersport Stager store to pick up your equipment.
Once all geared up, walk right across the street to Sportschalet, which will be your starting point. Everything is shown on the map below.
6) What to Expect
As mentioned, this is not your normal hiking route.
From the start of the trail to the end of the trail there will be a metal guide rope, where you will hook BOTH of your carabiners to.
Every so often, there will be a point where you must unhook your carabiners to get to the next section of rope. To do this, you must first unhook ONE carabiner, hook it onto the next section, and only then will you unhook your second carabiner and hook it onto the next section.
This way there will always be at least one carabiner hooked onto the rope at all times in case you slip off the trail/rungs.
Besides for the metal guide rope that will be there throughout the entirety of the trail, there are also some pretty thrilling sections to take part of. In order (and in more detail later on):
Metal Rungs on the vertical face of the mountain with a 600 meter (2,000 foot) drop below your feet
Wire Bridge #1 – single metal rope as you put one foot in front of the next
Wire Bridge #2 – same as the first but just about half the length
Suspension Bridge – narrow platform right before the end of the trail
If you go with a guide you also have the chance to take part of a zip line at one point to get from one side to the next. You cannot take part of the zip line without a guide.
7) The Via Ferrata Murren – Gimmelwald Route
Now lets get onto the Via Ferrata route itself. Starting right across the street from Intersport is the Sportschalet. You will just simply follow the signs towards the "Klettersteig" before heading through a door and beginning the hike.
As you start the hike, you will simply clip in both of your carabiners and be on your way.
The beginning of the trail is not too difficult and is a great introduction to what a Via Ferrata is all about.
You will get used to clipping in and out of the metal wire, walk up/down/across some metal rungs and take in some incredible views of the valley down below.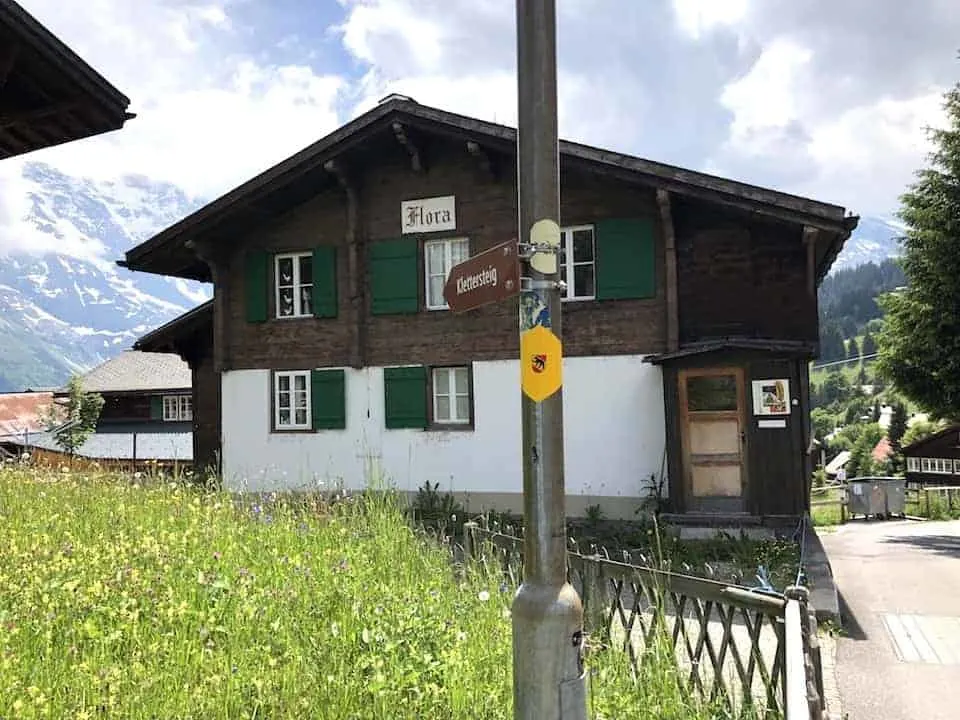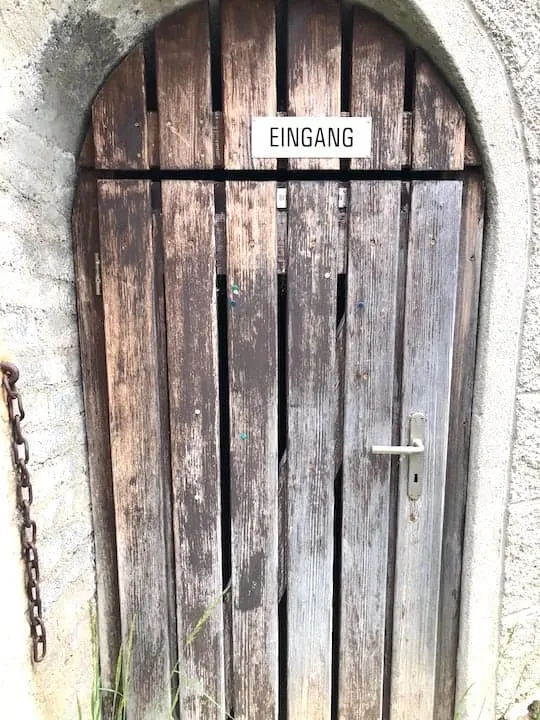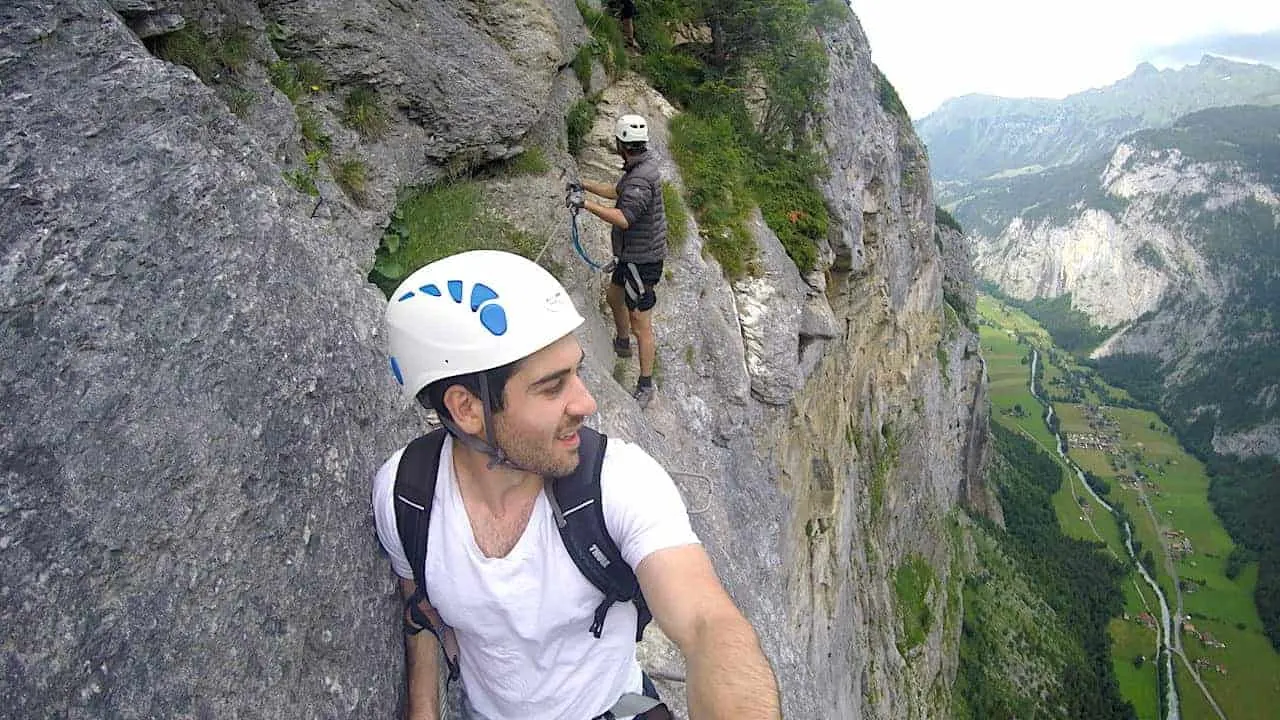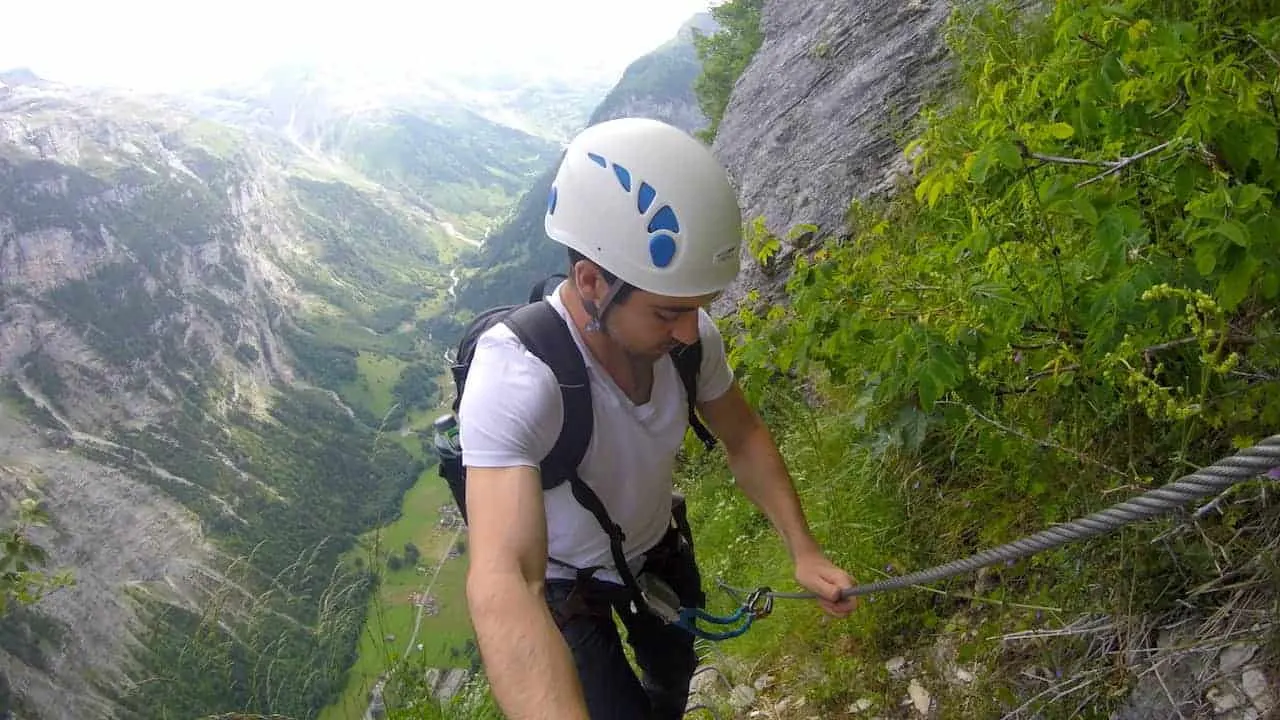 After some time you will soon come across what I thought was the most exhilarating (and scary) part of the entire Via Ferrata.
For about 5-10 minutes, you will be on the side of the vertical face of the mountain, as you walk from one rung to the next.
This section requires a lot of focus and making sure you take it one step at a time. As you unhook and hook your carabiners, you must be super cautious to not accidentally unhook both at the same time. Just pay attention every step of the way!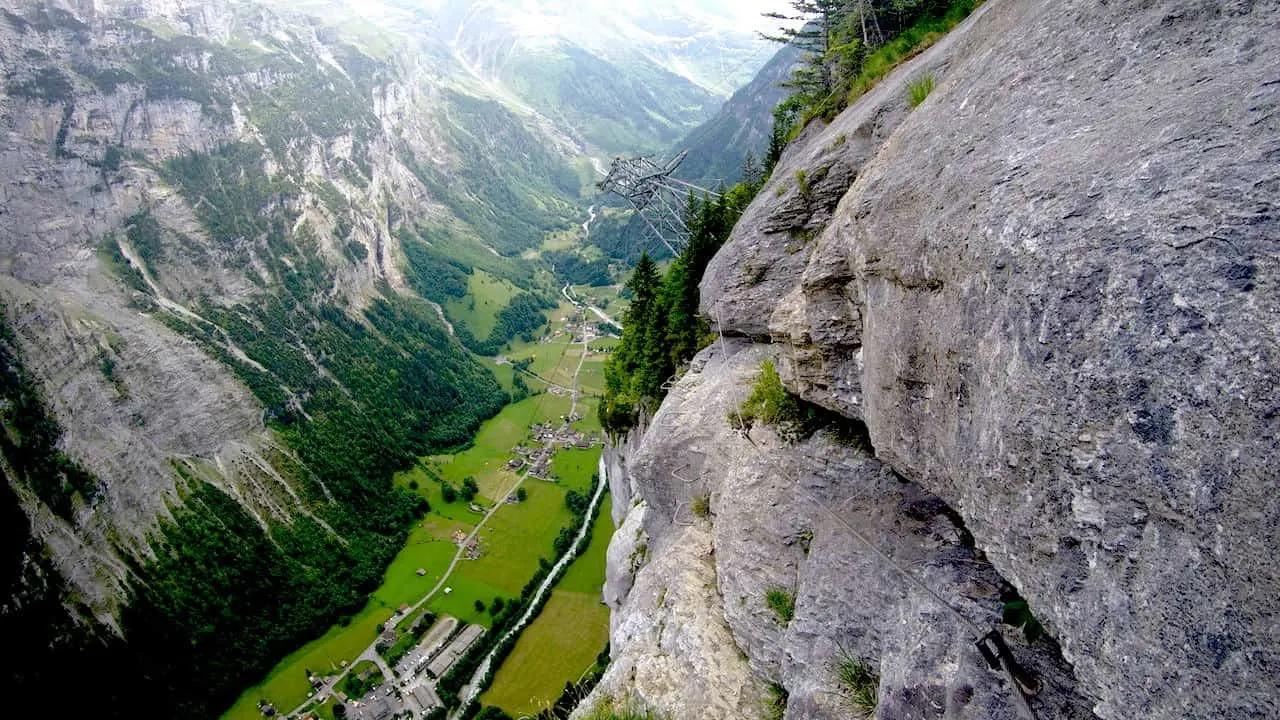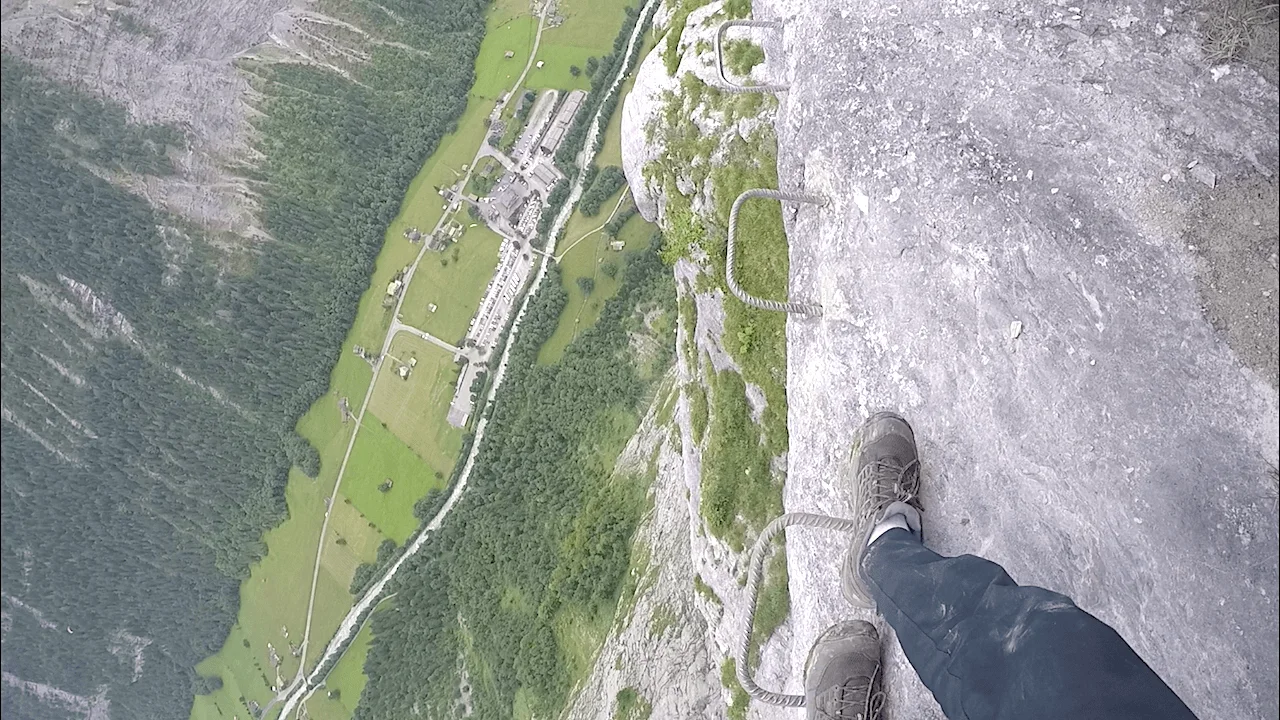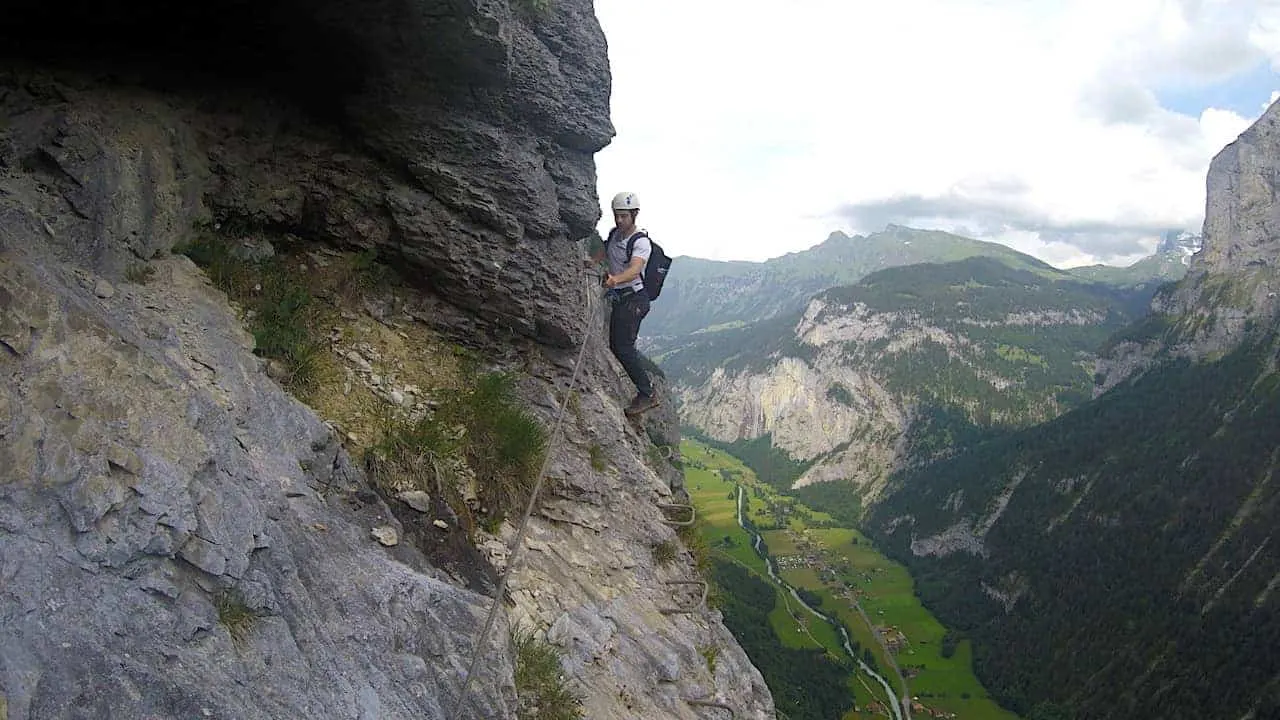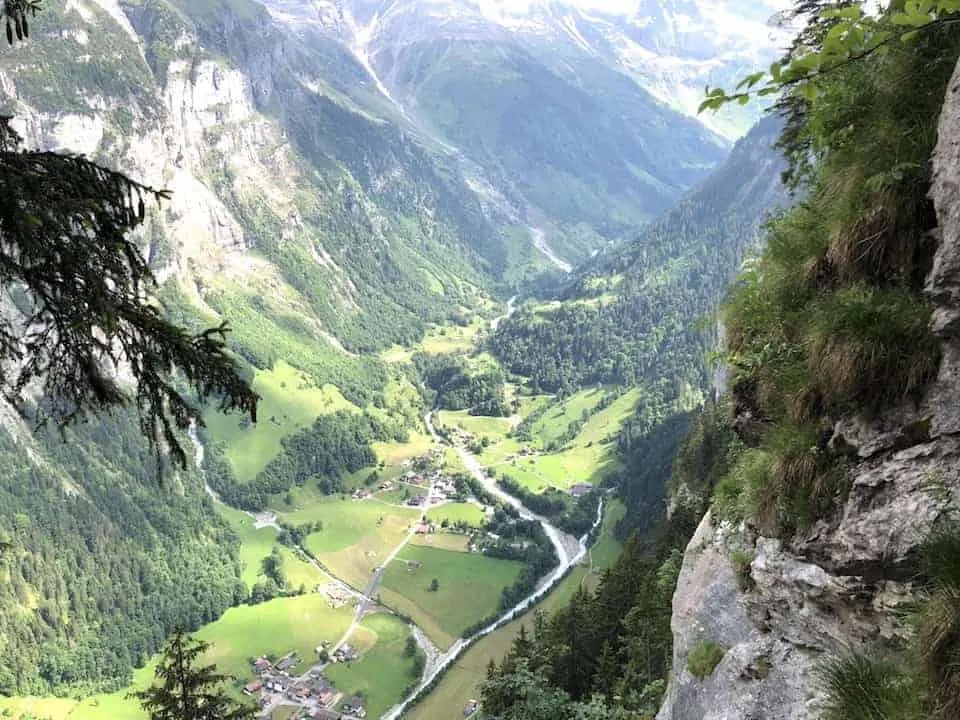 Once you are done with the exposed section, it is time to relax for a bit as you continue your way through the trees and around the mountain. You will come across at points some very long ladders to walk down to get from one section to the next.
Next up is the first metal wire bridge. It is simply just a thin piece of wire that you will need to tightrope across.
On either side of you there will be a metal wire to rest your hands and clip your carabiners onto.
A short while after the first metal wire bridge, you will come across a shorter second one. As usual, just stay focused and make sure you are putting one foot in front of the next.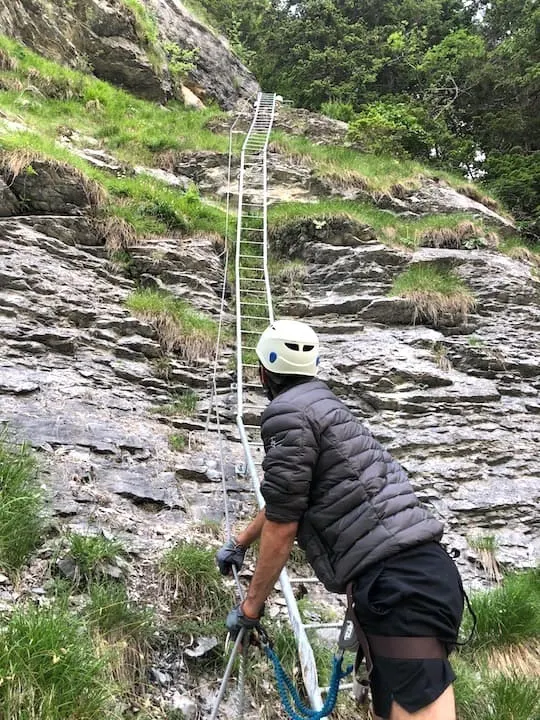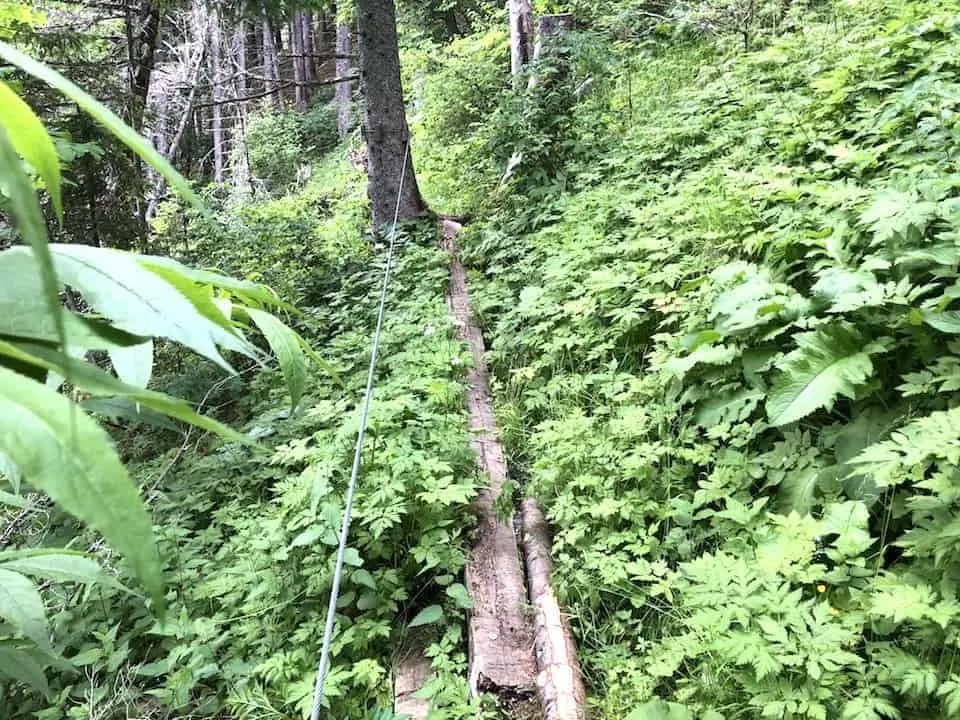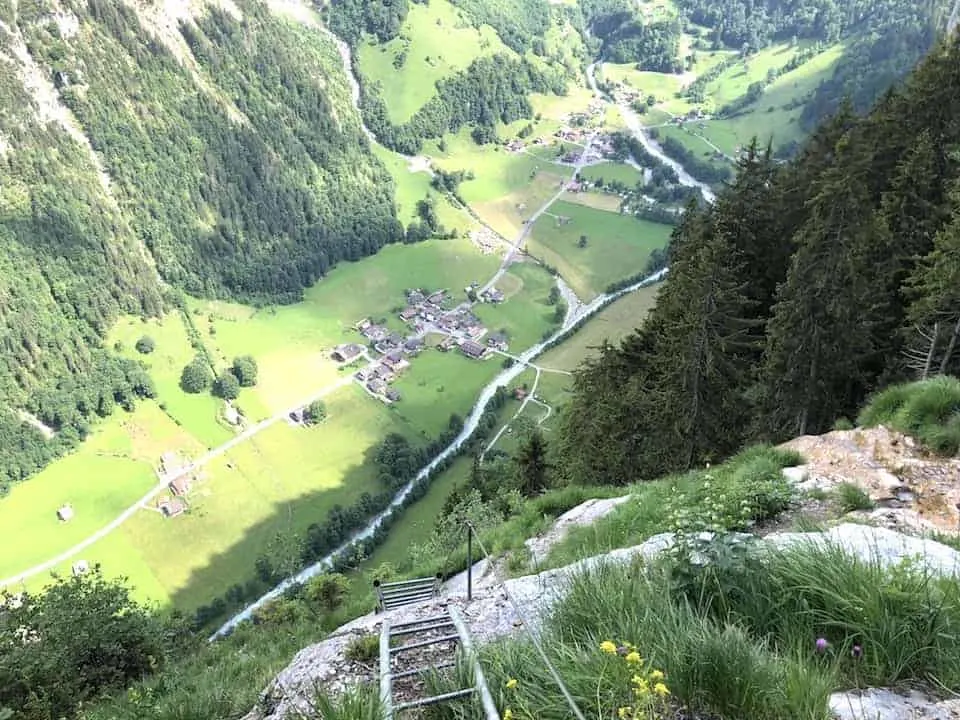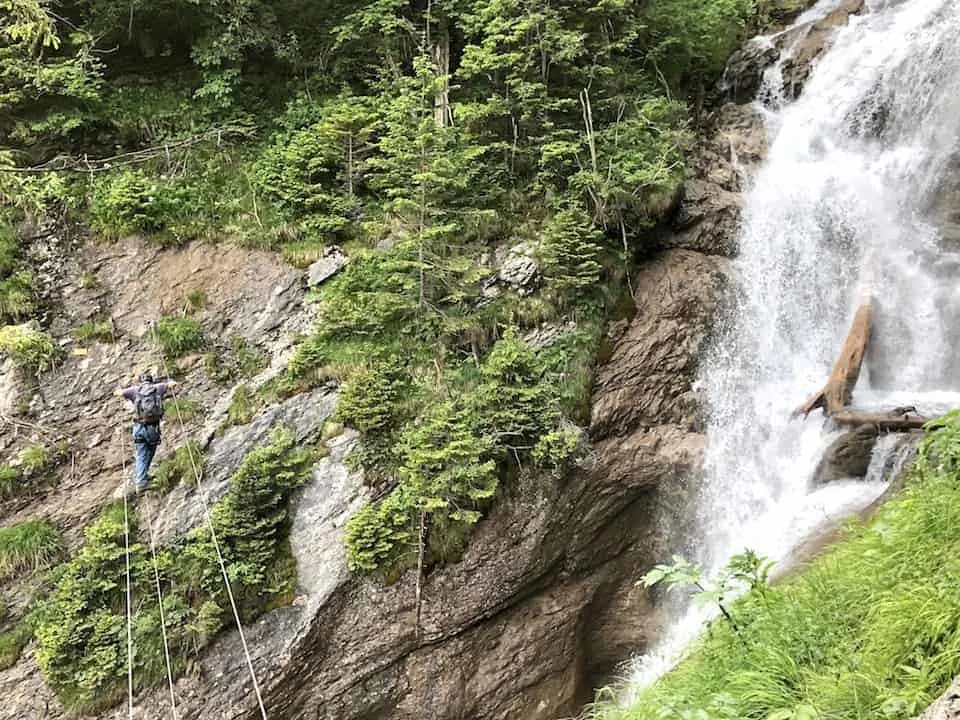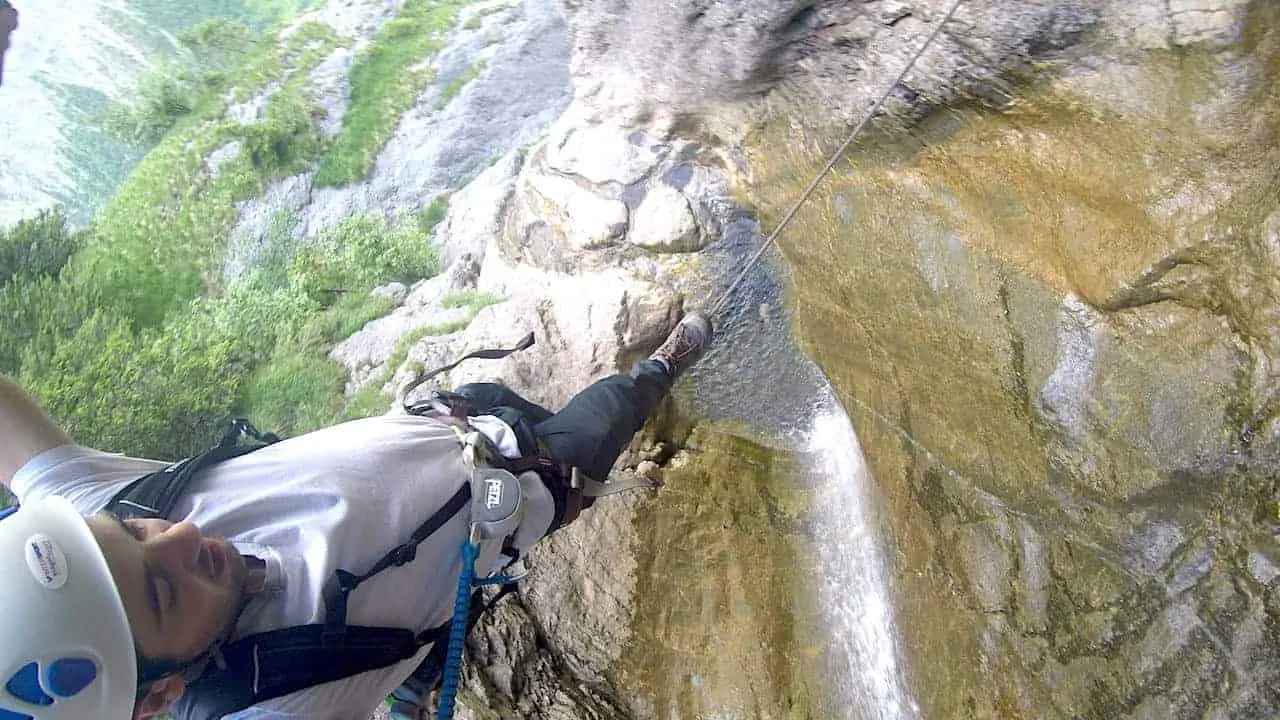 After a little bit more of walking the trail, you will come across the last main element to cross – the suspension bridge.
Instead of just having the tightrope wire to go across, you will instead have a narrow platform to balance on. It can sway just a bit so don't be too frightened. As long as you are hooked in and make your way carefully across, you should be good to go.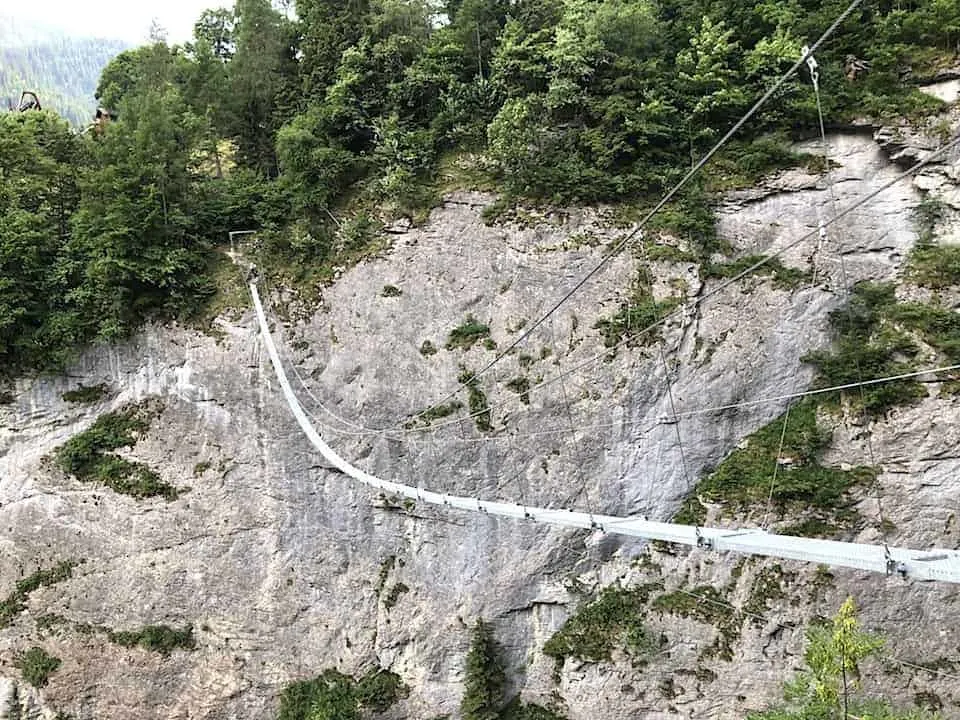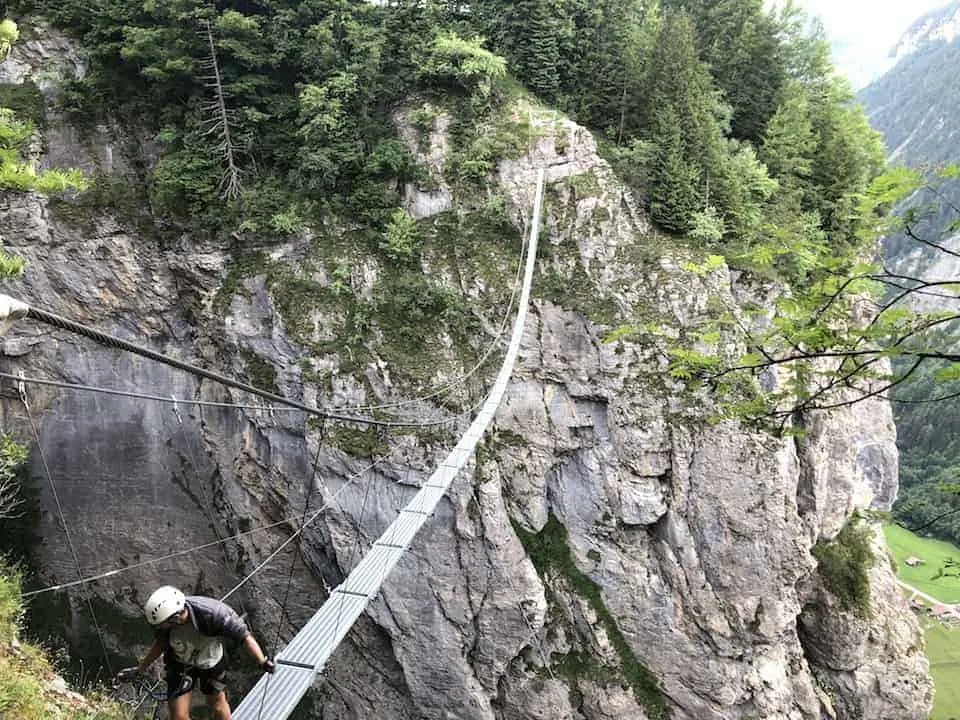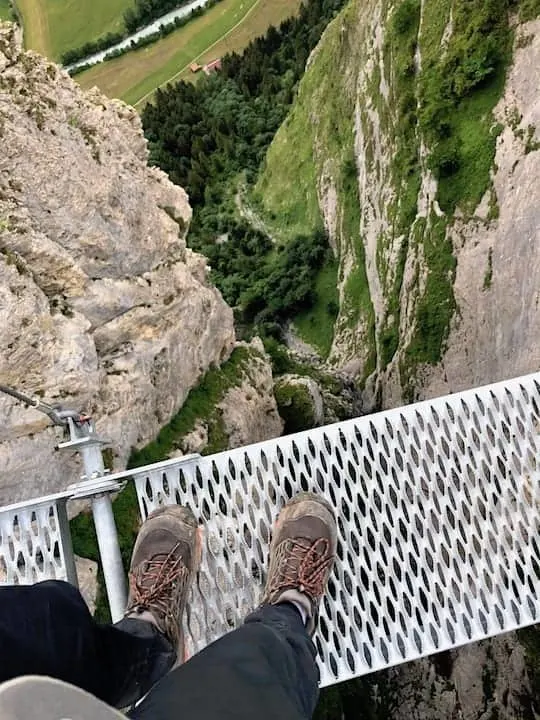 Once complete with the suspension bridge it is just another 5 minutes or so to the town of Gimmelwald. You can choose to spend some time walking around the small village if you would like before hopping on the quick cablecar back to Murren.
Once in Murren, walk through the town back to the Intersport store to give back your equipment. You can decide to head back to Interlaken (or wherever else you may be staying) or explore Murren a bit before heading out.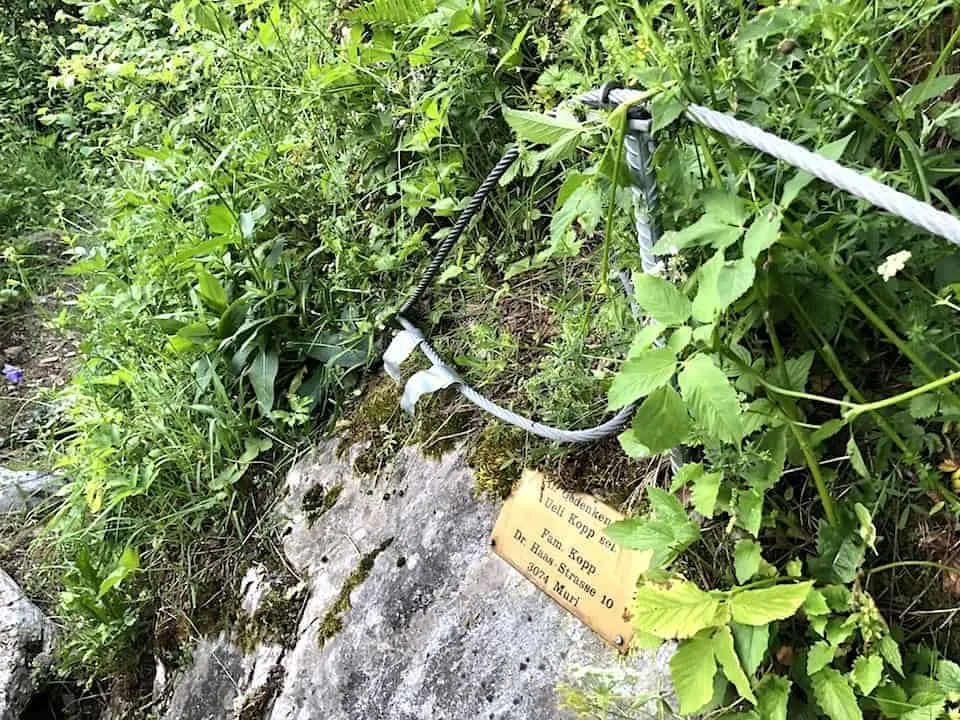 8) Where to Stay in the Jungfrau
There are a lot of different towns to choose from around the area. Here are a few top hotels in each one of these towns.
You can also take a look at the guide I put together comparing the towns of Murren, Wengen and Grindelwald to make your choice.
Some of my top recommendations would be:
Murren Hotels
Interlaken Hotels
Wengen Hotels
Grindelwald Hotels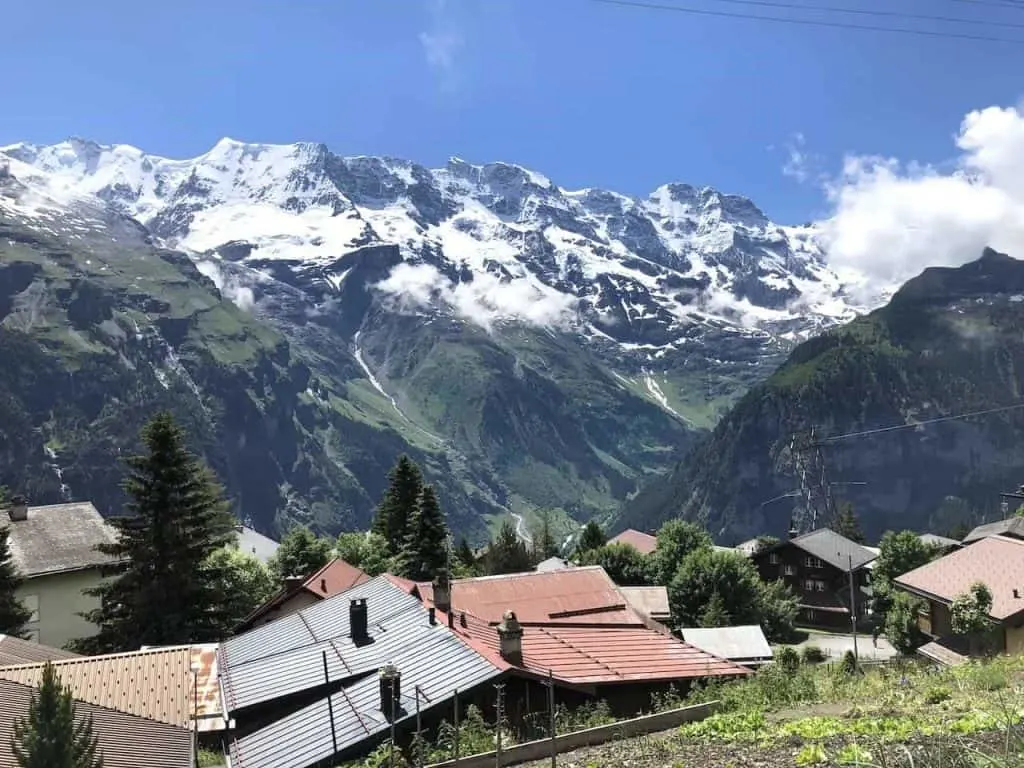 That about wraps up a fun and exhilarating day climbing the Via Ferrata from Murren to Gimmelwald. I hope this guide helped answer any questions you may have had and gave you a good idea on what to expect.
For more helpful info about the area check out the Switzerland itineraries and guides up on the site.
Feel free to add any comments or questions below. Have fun out there and safe travels!