A trip to Switzerland can be filled with an immense variety of activities, attractions and landscapes. During your vacation, you can also choose to stay at some of the most unique hotels in Switzerland.
Whether you are looking for infinity pools overlooking the Swiss Alps or a castle like estate, Switzerland has plenty of cool & unusual hotels to choose from.
Read on to learn more about some of these hotels and what makes each one of them a unique place to stay.
* Affiliate Disclosure: This post may contain affiliate links, which means I may receive a commission if you make a purchase through the links provided, at no additional cost to you. Thanks for supporting the work I put into TripTins!
Unique Hotels in Switzerland
Switzerland is one of Europe's most beautiful yet less visited countries. Nestled in the Alps between France, Italy, Germany, Austria and Liechtenstein, this picturesque and quaint landlocked European country immediately evokes thoughts of rolling Alpine meadows, crystal-clear lakes and charming rustic hamlets.
With no shortage of majestic sights both natural and man-made, as well as some amazing skiing opportunities, Switzerland ought to be visited by everyone at least once.
And any trip to Switzerland wouldn't be fully realized without staying in one of the country's many unique and wonderful hotels.
From Europe's only stilted hotel to converted army bunkers and even hotels overlooking the Matterhorn, Switzerland is home to some of the most interesting and unique hotels to be found anywhere in the world.
Let's run down 15 of the most unique hotels in Switzerland.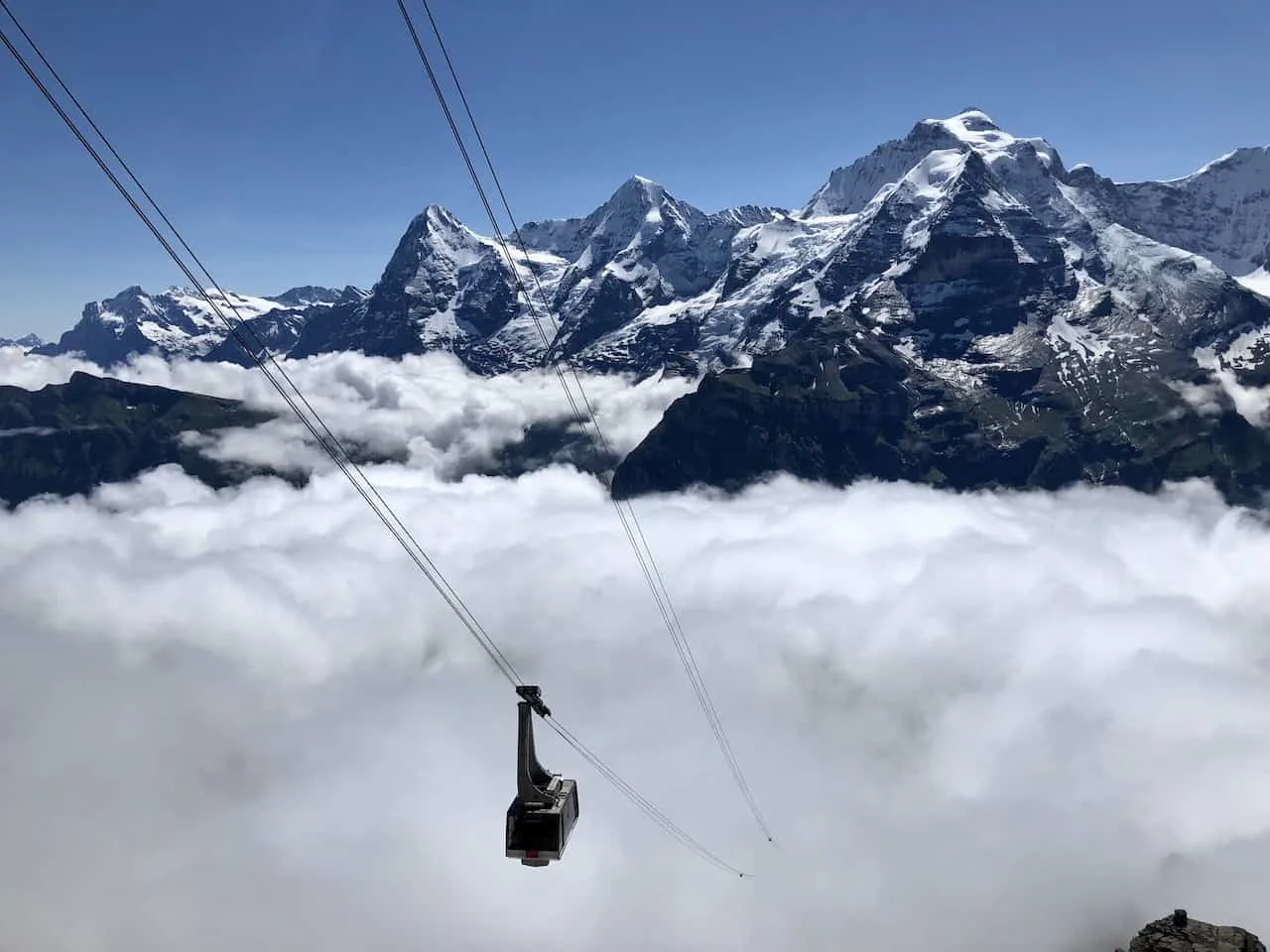 Unique Switzerland Hotels Summary
To summarize, below you can find a list of the 15 unique hotels in Switzerland that are covered in this guide. As you plan your trip, be sure to see where you can add one of them onto your Switzerland itinerary!
The Cambrian -> infinity pool over the Alps
Gstaad Palace -> luxury castle estate
Felsenhotel La Claustra -> former army base
Hotel Palafitte -> stilted rooms on Lake Neuchatel
3100 Kulmhotel Gornergrat -> overlooking the Matterhorn
Igludorf -> igloo like accommodation
Panorama Jurte -> luxury yurt
Schlaf Fass -> sleeping in a wine barrel
Whitepod Eco Luxury Hotel-> pods overlooking the Alps
Grand Hotel Kronenhof -> Best of the Best Award
Bergwerksilo Herznach -> abandoned mining silo
Morosani Fiftyone -> fully automated hotel
Barabas Luzern-> converted prison
B2 Boutique Hotel and Spa -> library hotel
Hotel Pilatus Kulm -> sits atop Mt Pilatus
→ If you enjoy this list of hotels, be sure to check out some other top hotels in Switzerland with a view and best luxury hotels in Switzerland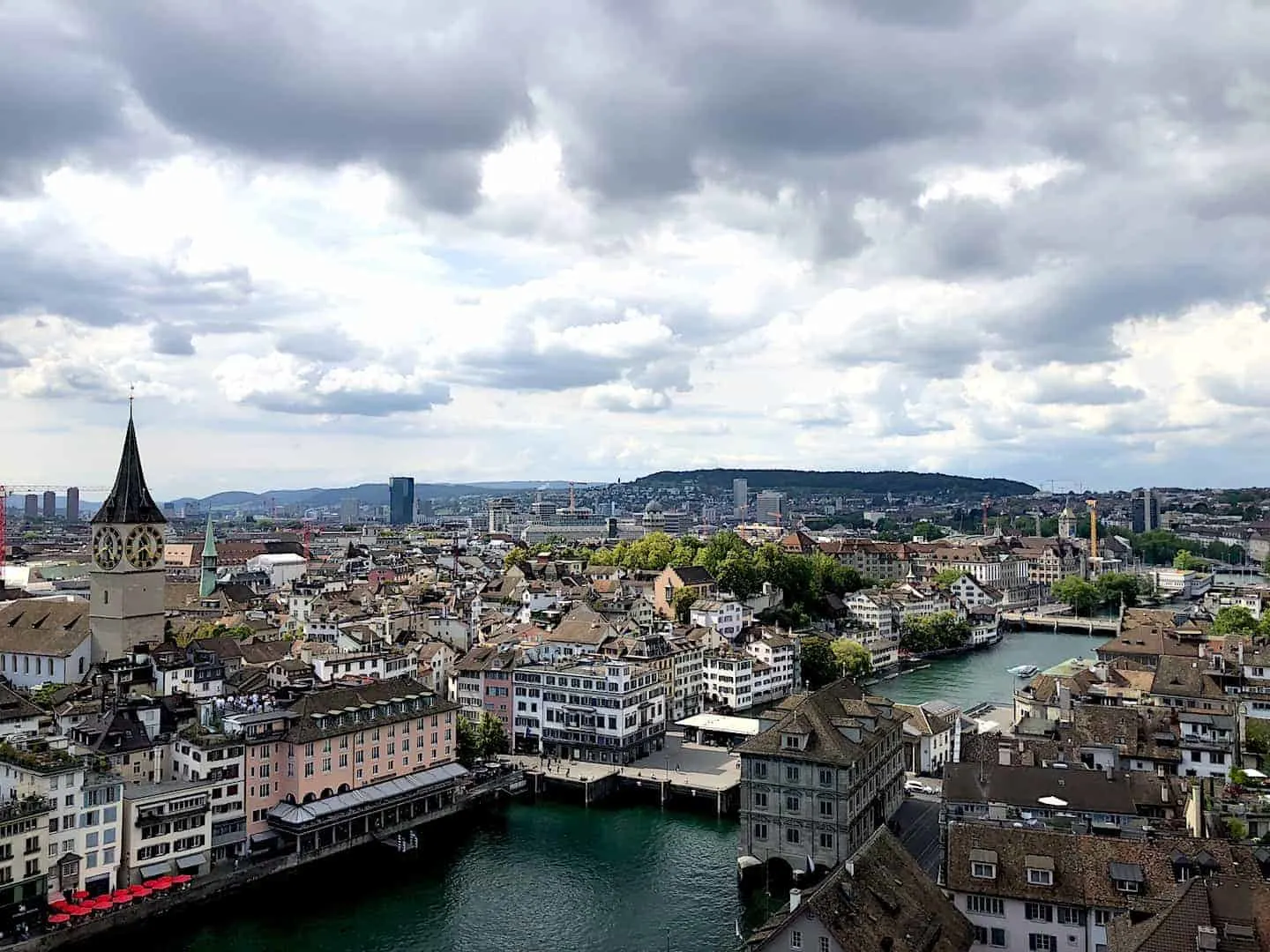 1) The Cambrian Hotel
Located in the center of the Alpine village of Adelboden, The Cambrian offers spectacular 360-degree panoramic views of the Alps and one of the finest infinity pools to be found in Switzerland.
It is this intimate yet stunning infinity pool that is undoubtedly the highlight of any stay here. Its cleverly concealed lip makes guests feel as if they are nestled among the peaks of the Alps (but in heated water, of course).
Those feeling the bite of the outdoors a bit too much can make use of the indoor pool and its adjoining sauna.
The Cambrian cannot be beaten for its cozy ambiance, warm furnishings and excellent location at the foot of one of Switzerland's most stunning views. If you're ever in Adelboden, it is quite simply a must!
Book Today -> The Cambrian
Location -> Adelboden
The Cambrian is also one of the top choices when it comes to Switzerland hotels for a honeymoon.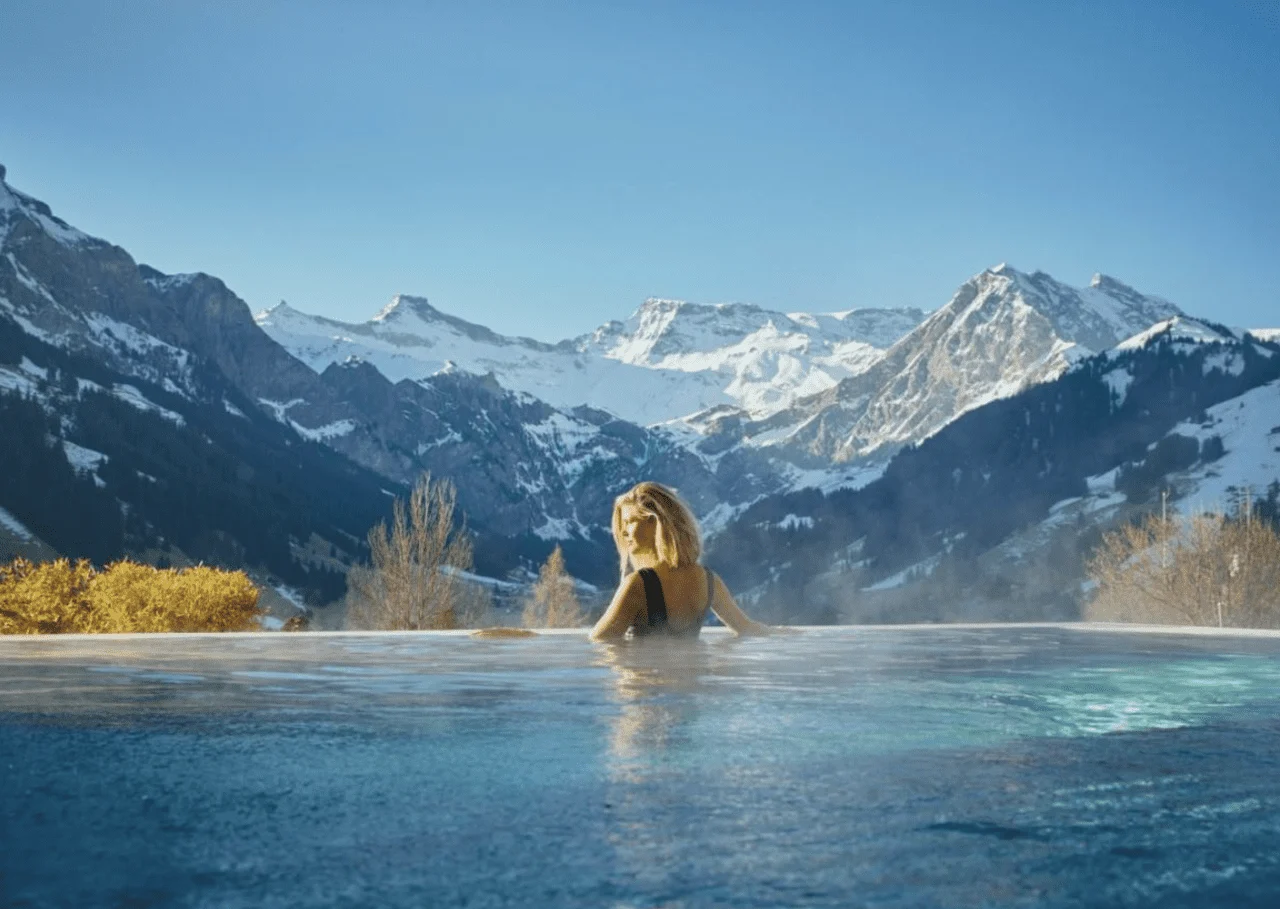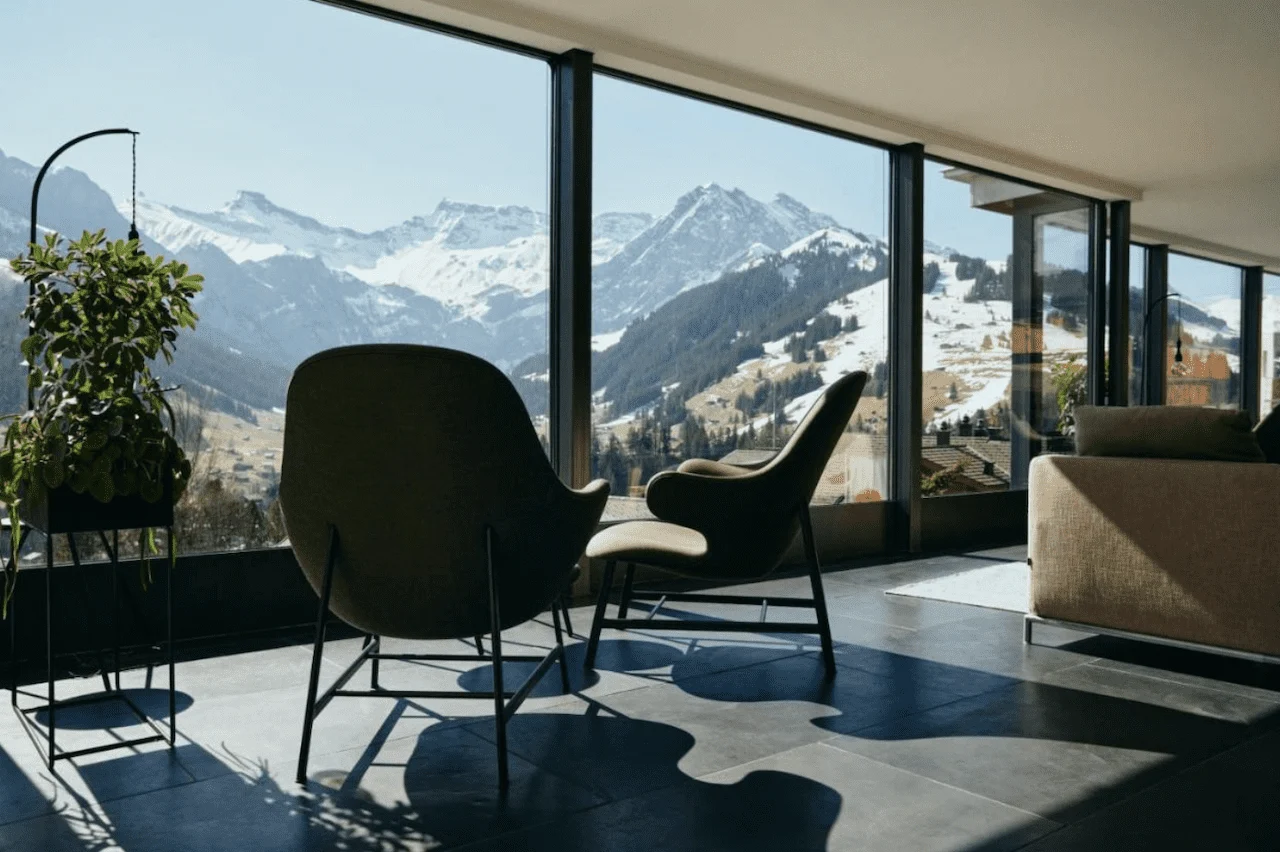 2) Gstaad Palace
The opulent, fairytale Gstaad Palace has long been a noted destination for celebrity guests wishing to sample the delights of rural Switzerland.
As one of the most unique hotels in Switzerland, in fact, it's enticed more than a few big names to engage in residencies there – such titans as Louis Armstrong and Marlene Dietrich have graced its rooms!
Gstaad Palace – which resembles a turreted Bavarian castle – sits on a hill in the middle of the scenic village that shares its name.
This allows guests to have unobstructed views of the surrounding mountains, whether enjoying a cocktail in the Palace's cozy bar or relaxing in their lavishly appointed rooms.
It goes without saying that a stay at the Gstaad is not exactly cheap – this hotel is the epitome of high-end Swiss luxury – but if you have the funds to stay here while in the area, it cannot come more highly recommended.
Book Today -> Gstaad Palace
Location -> Gstaad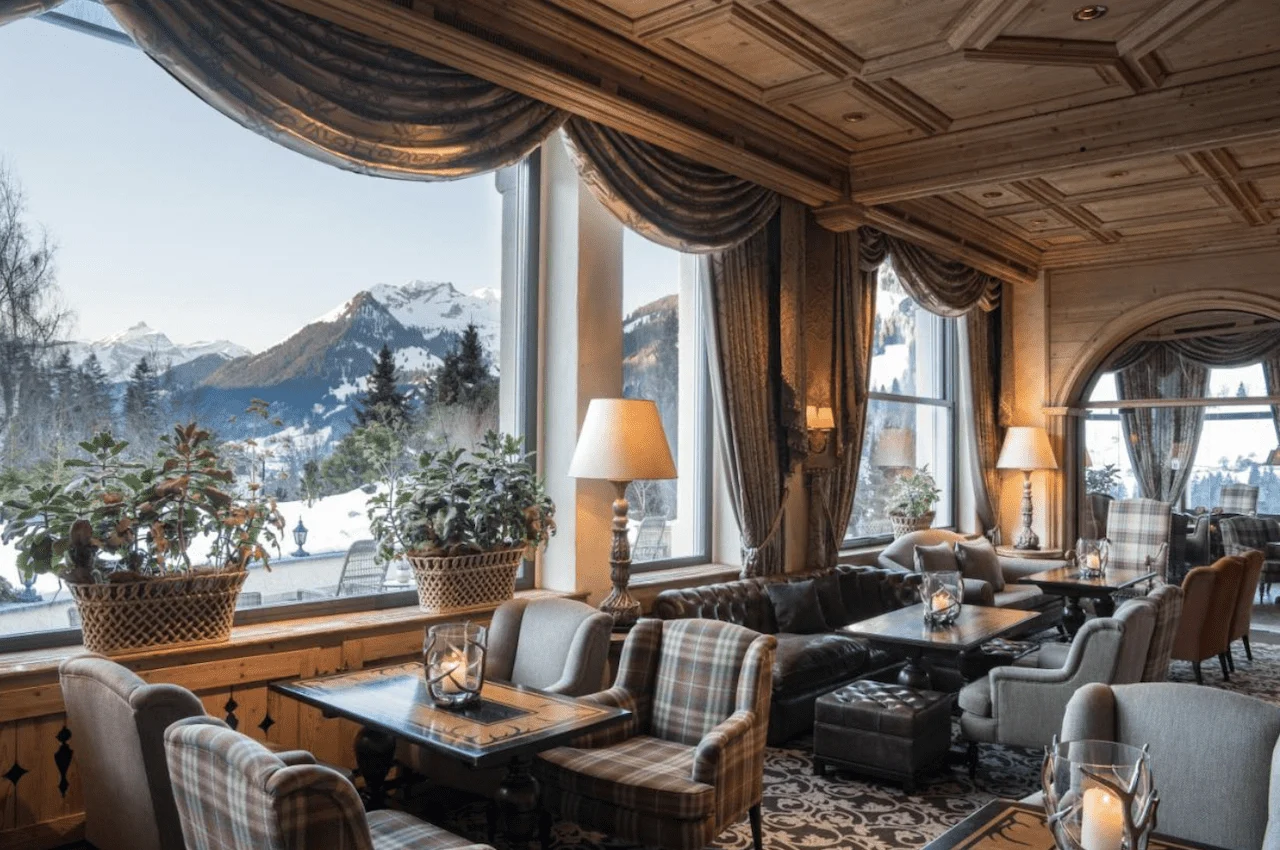 3) Felsenhotel La Claustra
When it comes to cool hotels in Switzerland, Felsenhotel La Claustra cannot be beaten.
One for military or survivalist enthusiasts, La Claustra is a former army base that has been converted into a unique hotel experience for any visitors to the Swiss-Italian border.
As its name suggests, this is not a destination for the claustrophobic. But those who don't mind staying underground will find stylish, minimalistic rooms, delicious Swiss-Italian cuisine, and stunning views of the surrounding mountains (if venturing above ground).
But it's really below ground that makes this idiosyncratic hotel what it is. Heated spa pools sit mere feet below the cave walls, and the hotel's 17 rooms each sport a different design. Each room is also supplied with hot and cold mineral water, sourced directly from the surrounding mountains.
Its one-of-a-kind atmosphere may not be for everyone, but if you're looking for something a little different, you cannot beat Felsenhotel La Claustra – one of Switzerland's coolest hotels!
Location -> Airolo
4) Hotel Palafitte
Though a common sight in tropical and swampy regions, stilted buildings are not really a mainstay of any country in Europe – and certainly not when it comes to hotels.
Hotel Palafitte is the first hotel in Europe to challenge this, offering a unique experience on the shores of Lake Neuchâtel.
Most of the hotel's 37 pavilions allow guests to take their morning coffee on terraces that jut out over the lake, affording the sort of unparalleled views that are only possible from a stilted building. Many of the pavilions even have ladders that lead directly into the water, making a morning dip easy and convenient.
The hotel's restaurant offers delicious meals made from locally sourced ingredients, and offers an outdoors terrace for those who wish to take in the full splendor of the lake with their meal.
There's also a fully-furnished conference room at Hotel Palafitte, for those who like to conduct business in style. All of this adds up to what is most certainly one of the most unusual (yet coolest) hotels in Switzerland.
Book Today -> Hotel Palafitte
Location -> Neuchatel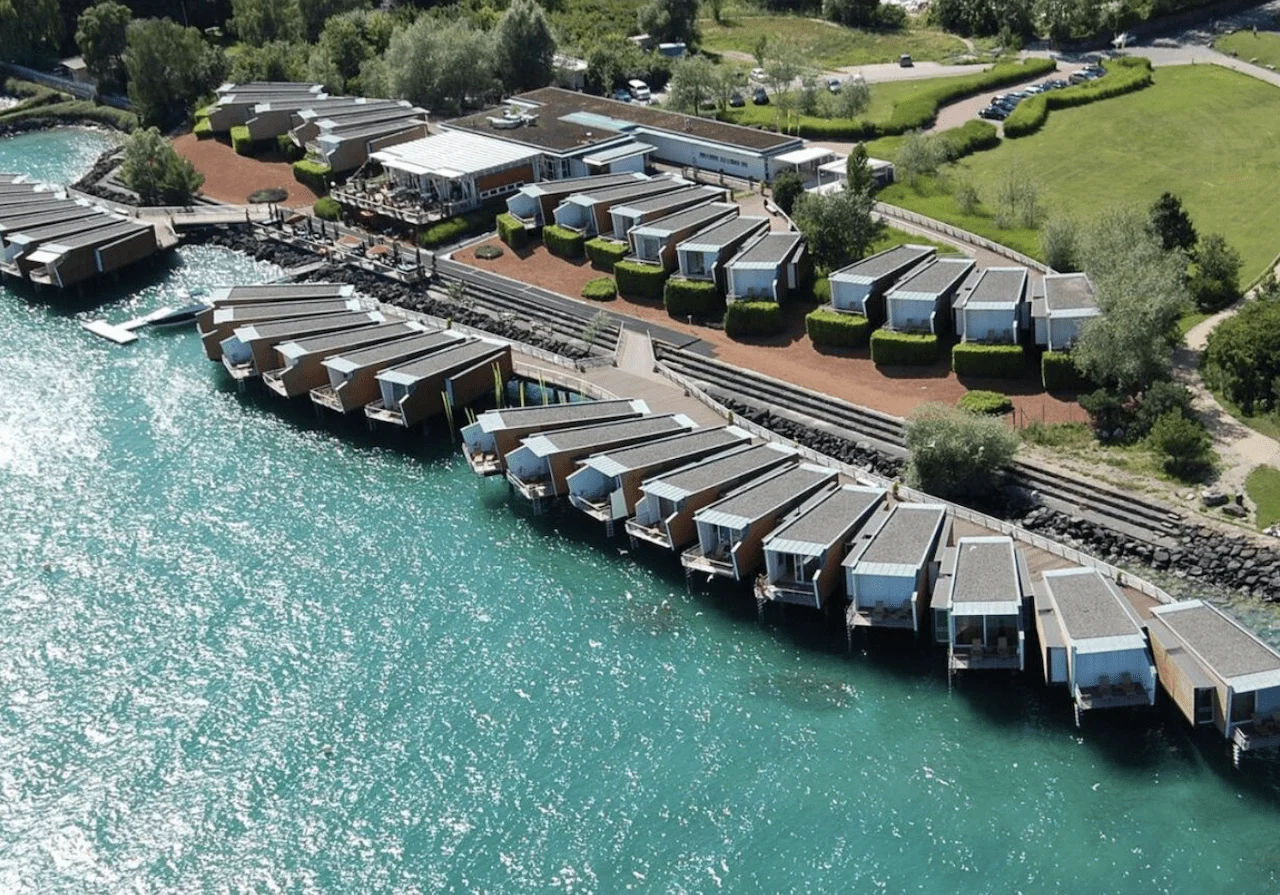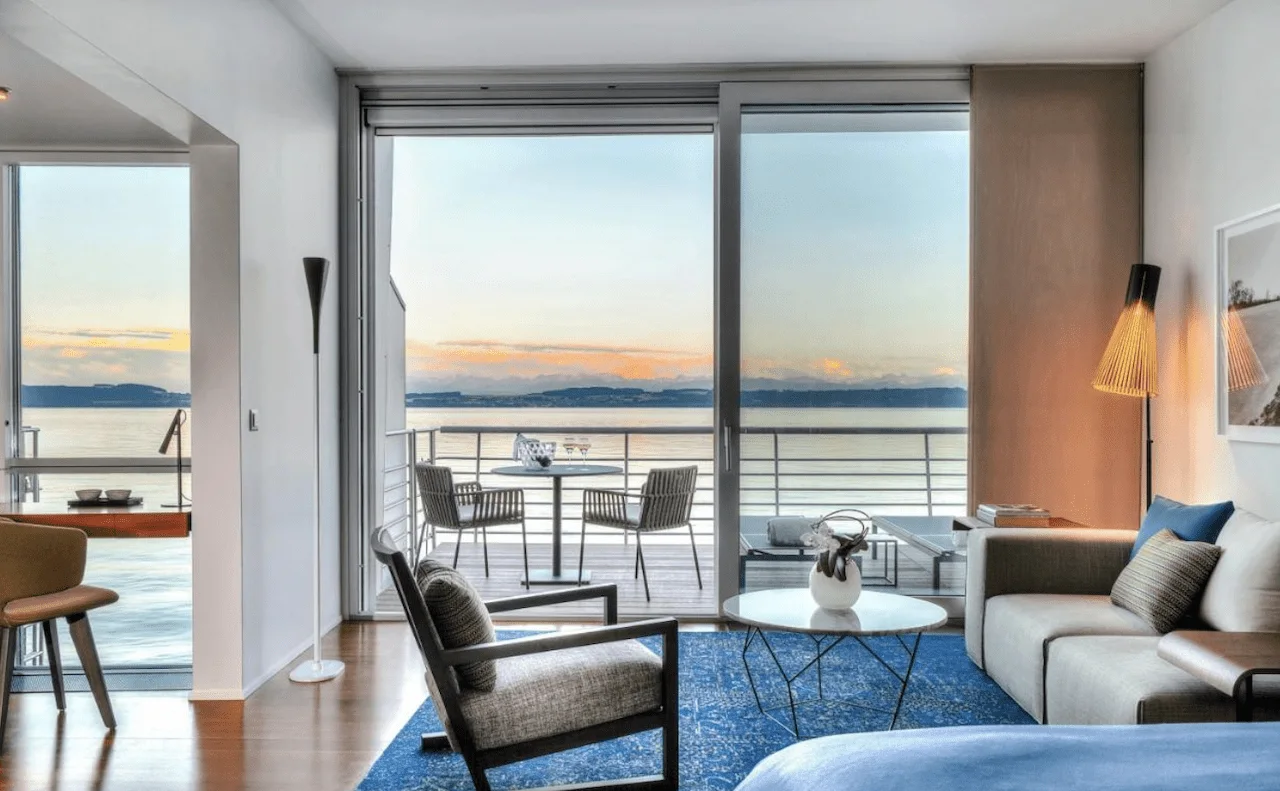 5) 3100 Kulmhotel Gornergrat
The very embodiment of the Alpine ski hotel, 3100 Kulmhotel Gornergrat is the highest-located hotel in Switzerland at 3048 meters above sea level (hence the name). Its lofty location also makes it a great location for stargazing, and two observatories have been constructed here to facilitate that very activity.
But stars are far from the only thing to see when staying at this hotel. Switzerland's iconic Matterhorn is visible from Kulmhotel, and many of the rooms are designed to offer the best views possible of the mountain.
The untouched Alpine peaks are home to an abundance of wildlife, making hiking an exciting (if demanding) venture, and it goes without saying that the skiing opportunities are second to none.
At first glance, Kulmhotel Gornergrat may strike the average visitor as just another ski resort, and not one of the more unique hotels in Switzerland. But that would be doing it a great disservice – its observatories alone distinguish it – and it should be checked out by anyone in the area.
Book Today -> Kulmhotel Gornergrat
Location -> Zermatt
→ Be sure to check out some of the other hotels in Zermatt with views of the The Matterhorn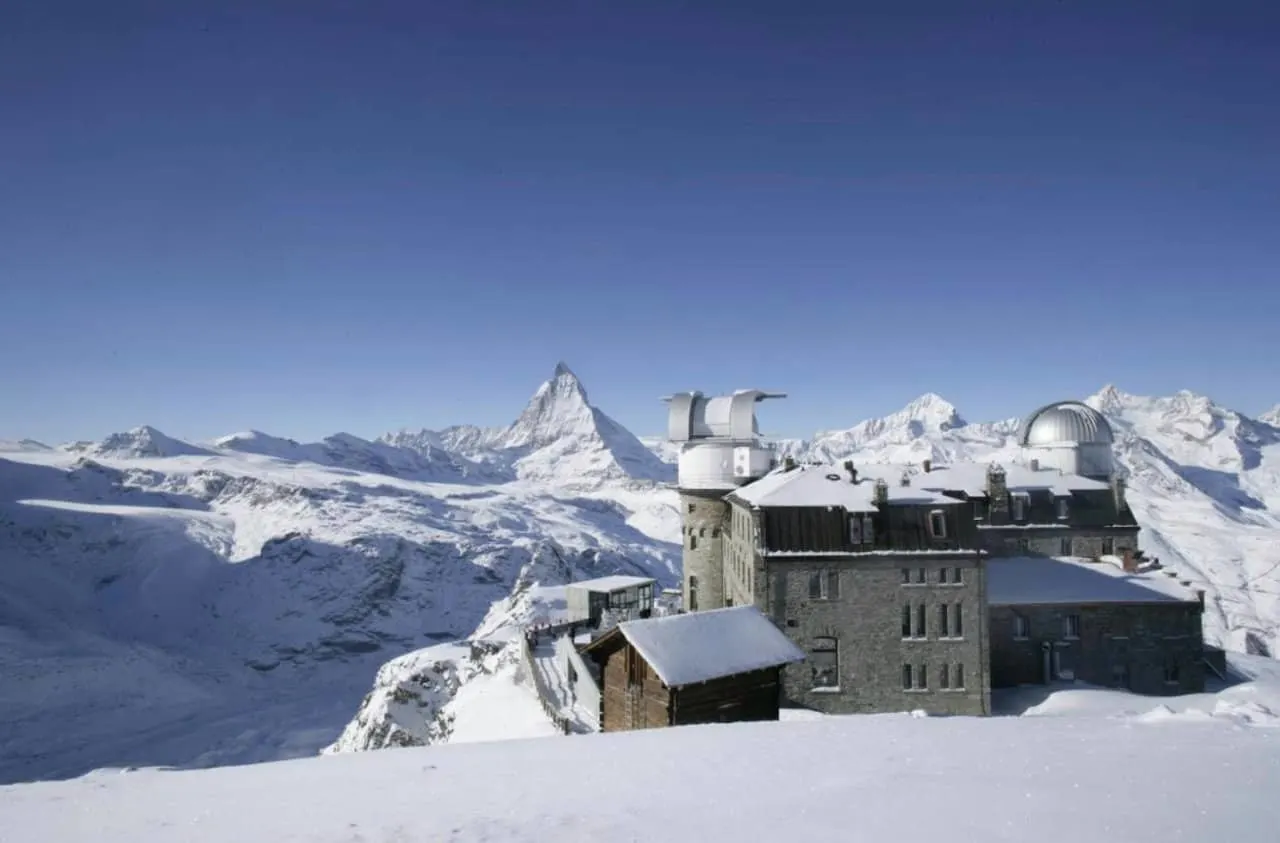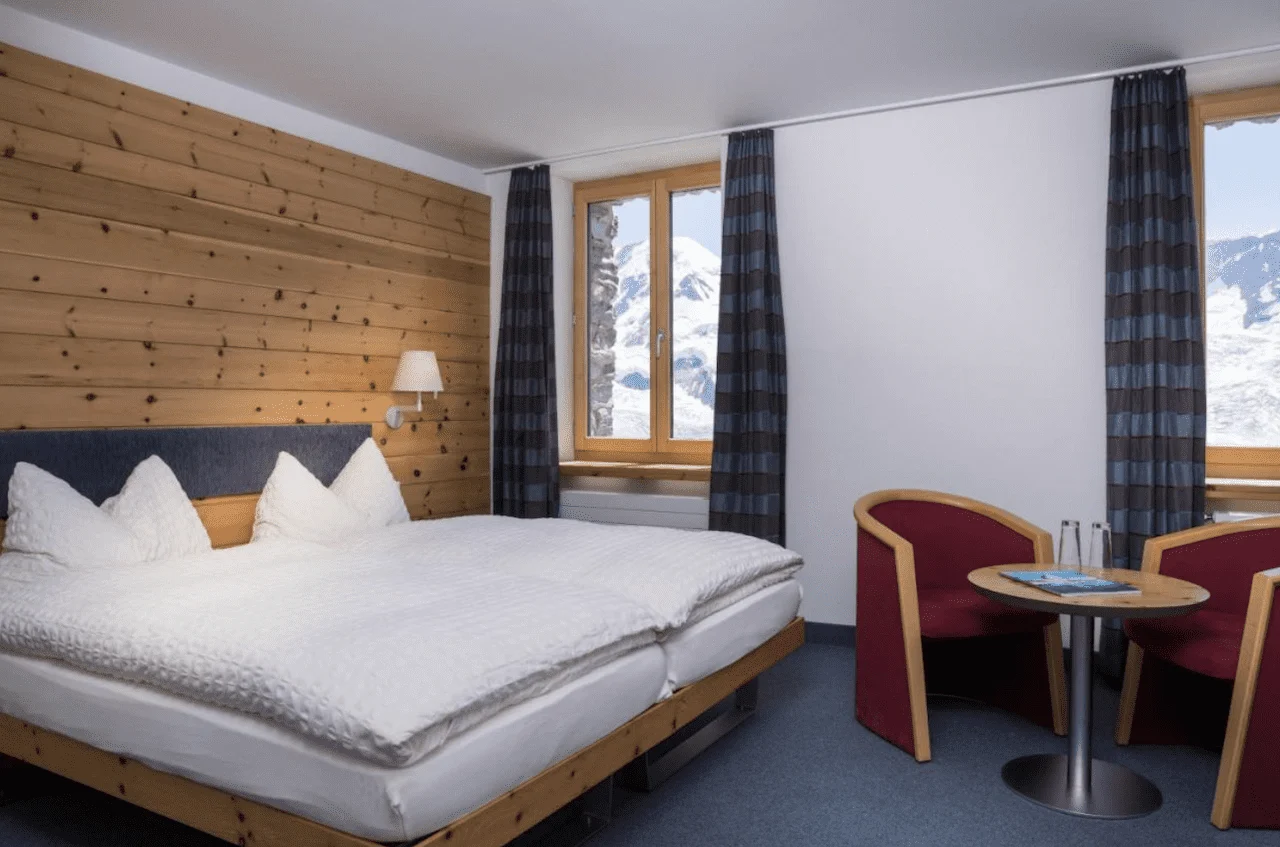 6) Igludorf
Igludorf is the brainchild of a veteran snowboarder who wanted to sleep somewhere closer to the slopes. It is a complex of specially constructed igloos that are made by putting snow and ice over large inflatable balloons in order to create a cozy, intimate room – complete with furniture sculpted from ice!
If that sounds like it might be a little cold, there's no need to worry – insulated sleeping bags are laid over fur-covered mattresses to create a very comfortable night's sleep. For those looking to further warm up, look no further than the indoor saunas or sip a glass of mulled wine in the complex's iconic bar.
Best experienced at Christmas due to its unbeatable winter-wonderland vibe, Igludorf is a truly unusual place to stay in Switzerland that's unmissable for skiers and casual holiday makers alike!
You can find Igludorf locations in Zermatt, Davos, and Gstaad.
7) Panorama Jurte Uber Dem Uri-See
One of the many locations to take advantage of the 'glamping' phenomenon, Panorama Jurte offers a high-end camping experience in luxury yurts. The yurts afford all the excitement and tranquillity of being in the midst of nature, while sacrificing none of the comforts of a good hotel.
Enjoy your breakfast (which can be ordered or cooked yourself in one of the complex's shared kitchens) from the patio overlooking the lake, and make the most of the area's incredible hiking trails.
The yurt itself is fully furnished with everything you might need – from a plush double bed to a kettle for your morning coffee and a small fridge for keeping your food (or drink) supplies cool. There's even a heater – not that you're likely to need it, given how warm the yurt naturally stays.
For an alfresco holiday experience with stunning views and tranquil surroundings, it's hard to beat Panorama Jurte.
Book Today -> Panorama Jurte Uber Dem Uri-See
Location -> Morschach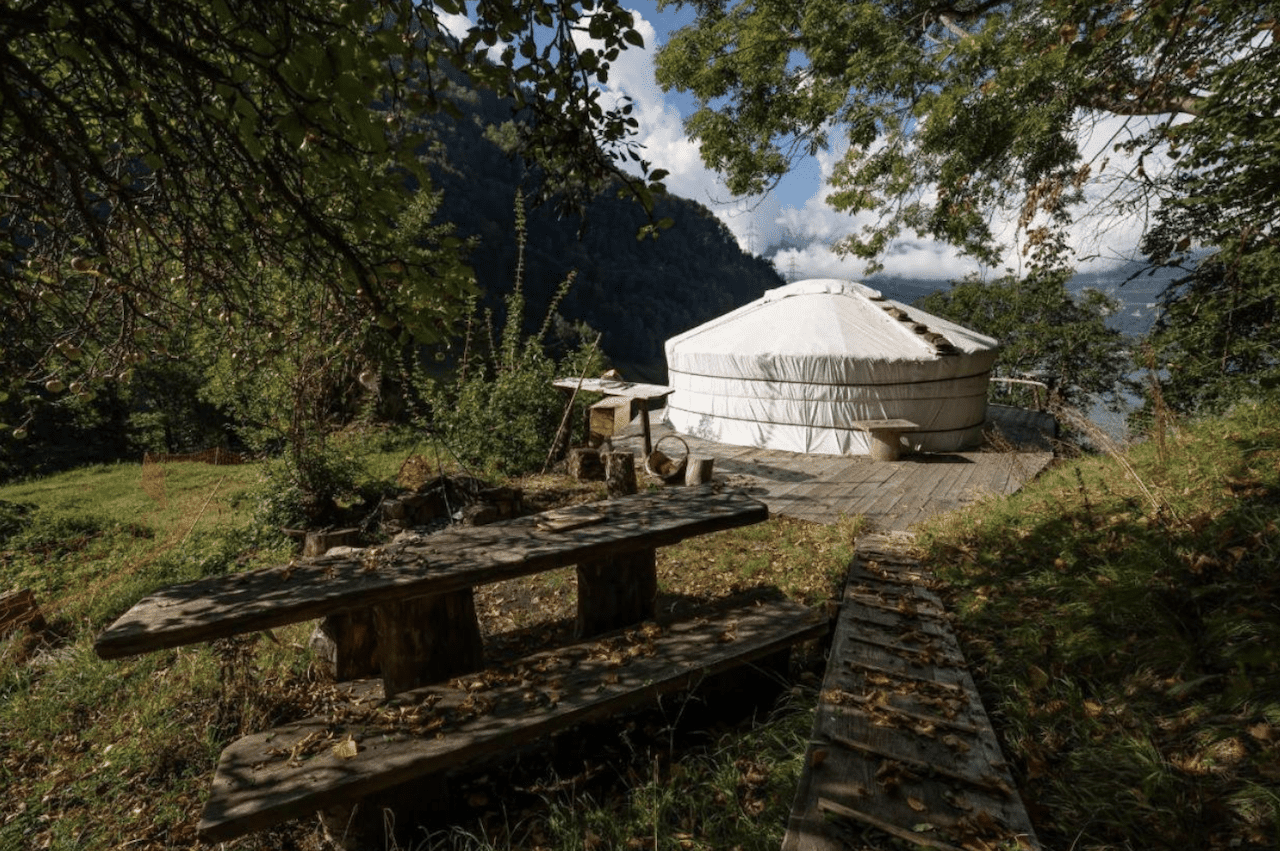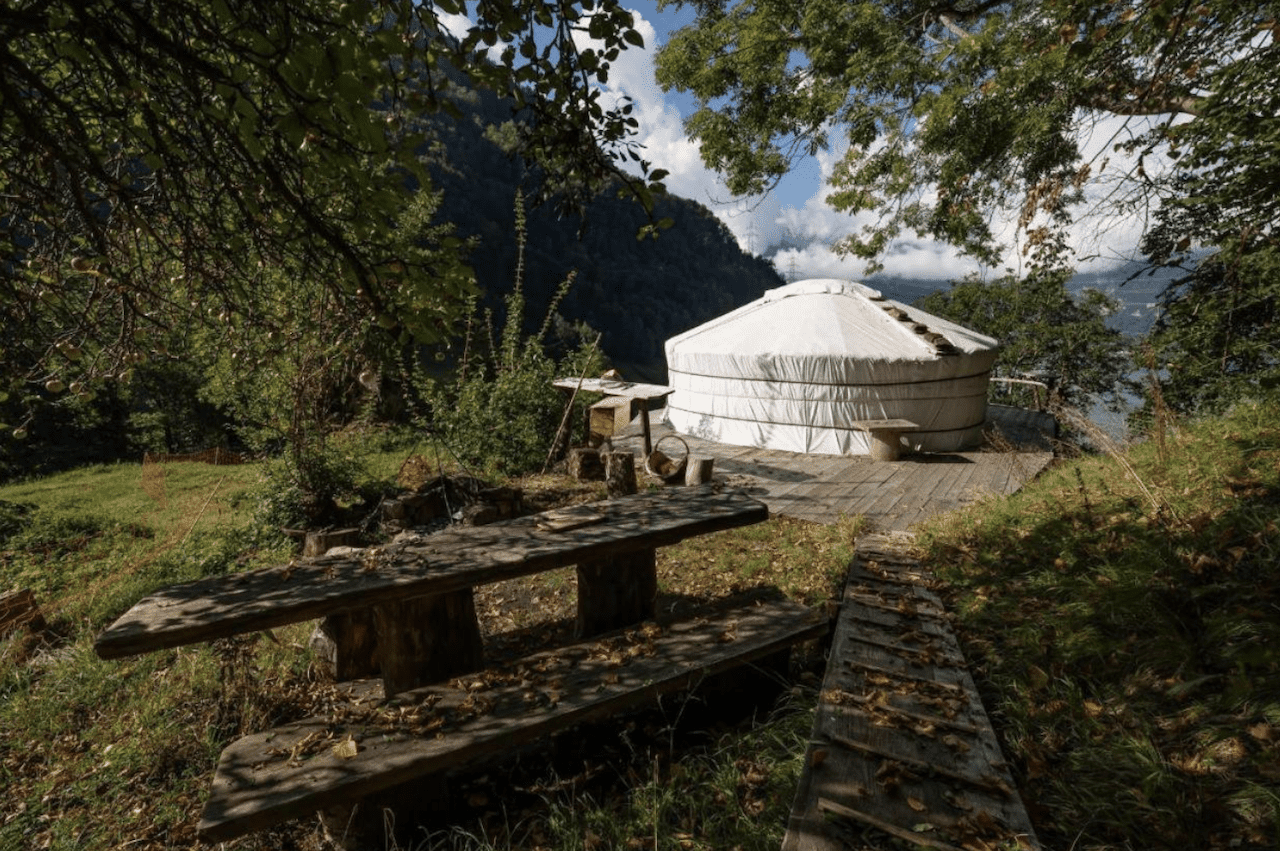 8) Schlaf Fass
Sometimes, sleeping in a hotel room (or even an igloo) can get a little boring. Instead you may want to try something a little different. And if it can be themed to the area you're visiting, all the better.
This is where the geniuses at Schlaf Fass come in, affording visitors to the wine-making region of Jenins and Maienfeld the opportunity to not only sample wine, but sleep in a giant wine barrel.
Each plot comes with two giant barrels – one for dining and one for sleeping – and it's possible to upgrade your package to include an indulgent Swiss fondue dinner, which is a perfect way to warm up on chilly winter nights. A bottle of the region's finest white wine is included with the latter option, making it the only real way to experience a stay at this one-of-a-kind resort.
For those who wish to venture further, a number of scenic hiking and cycling routes pass through the grounds of Schlaf Fass, and skiers will find a ski-lift located less than five kilometers from the property.
When it comes to cool hotels in Switzerland, Schlaf Fass certainly cannot be beaten – how many people, after all, can say they've slept in a wine barrel?
Book Today -> Schlaf Fass
Location -> Jenins / Maienfeld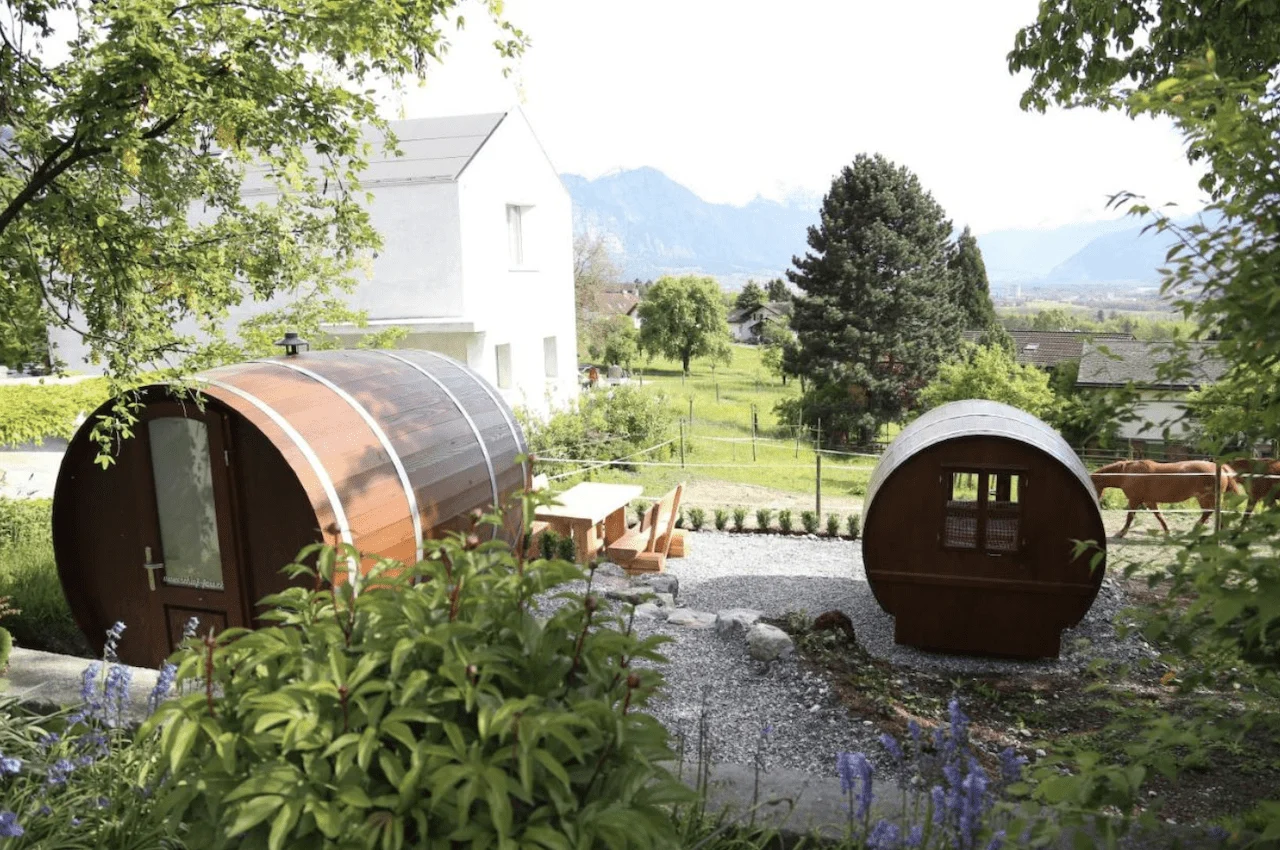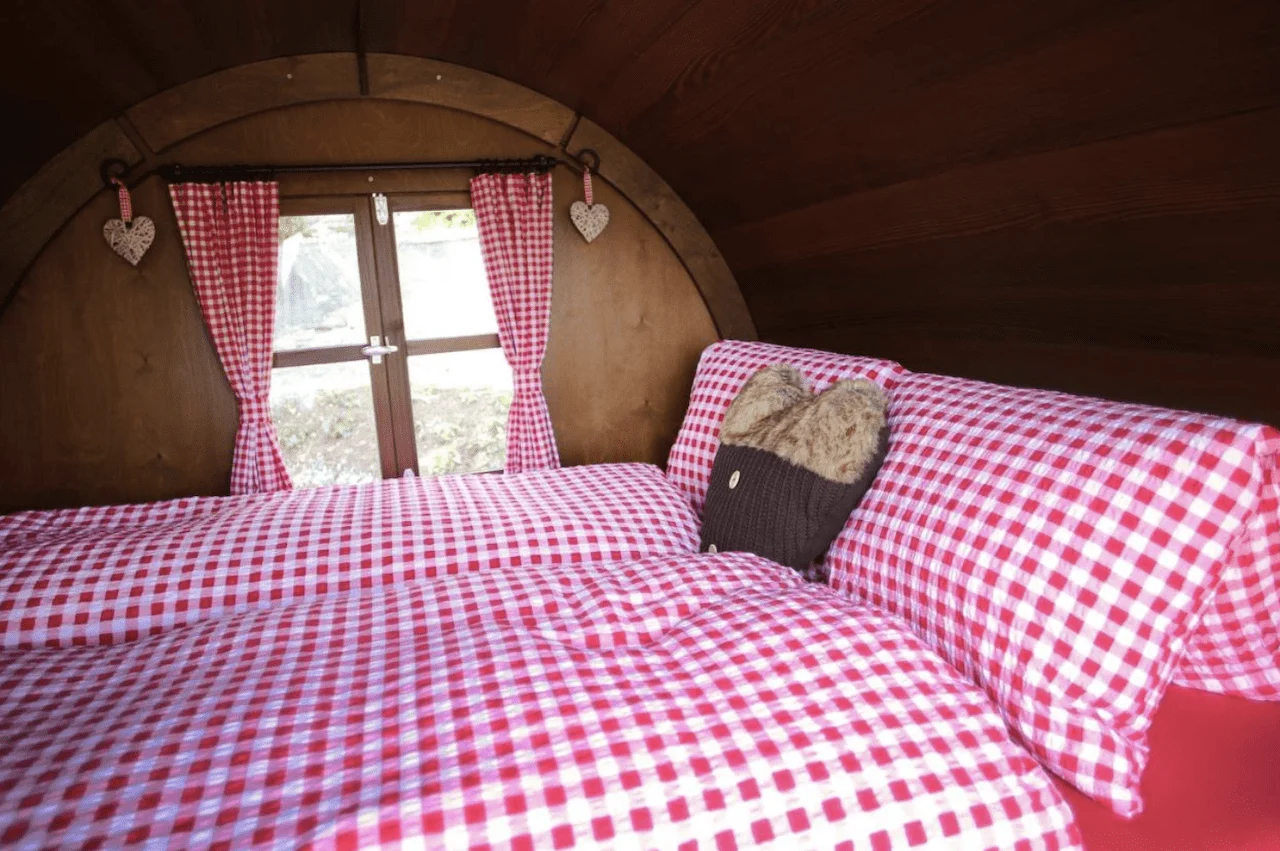 9) Whitepod Eco-Luxury Hotel
If you're looking for an eco-friendly option, you'll find much to love in the igloo-esque eco-pods of Whitepod Eco Luxury Hotel.
Located in the heart of the Swiss Alps at 1400 meters above sea level, there's simply no better way to experience the untouched wilderness of the peaks while comfortable in your very own pod.
If you're looking for unique places to stay in Switzerland, Whitepod should be right at the top of your list.
There's no end of winter activities to pass the time, from sledding with huskies to snow-hiking or skiing/snowboarding. Whitepod's restaurant is one that simply must be experienced to be believed. The world-renowned chefs cook locally sourced, 100% wild ingredients that make their dishes truly unique.
Those with a taste for the finer things in life can opt for a deluxe pod, relaxing in style with an outdoor Nordic bath and private sauna. It's even easy to kid the kids entertained – each deluxe pod at Whitepod comes with an iPad and Netflix account, on the off-chance they tire of looking out over the sweeping Alpine views!
Book Today -> Whitepod Eco Luxury Hotel
Location -> Monthey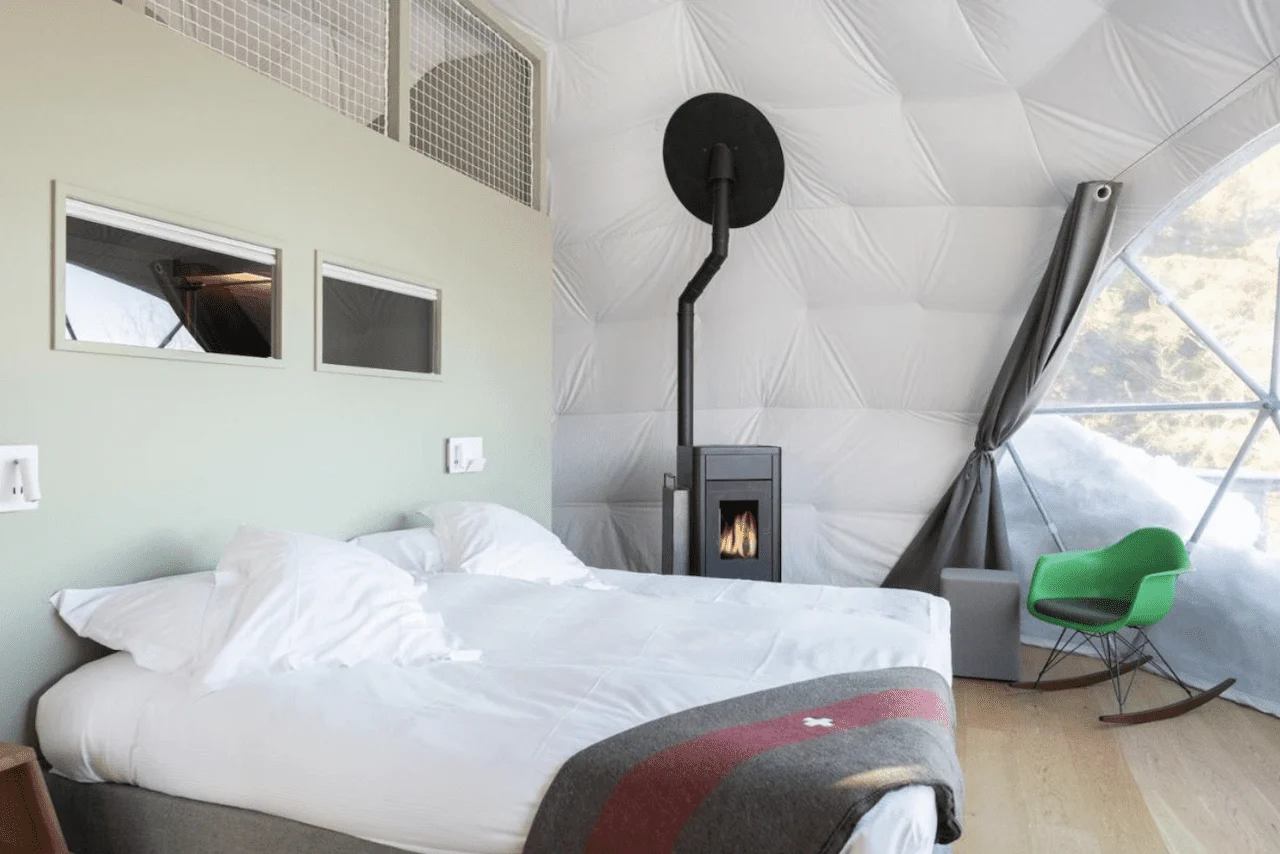 10) Grand Hotel Kronenhof
Repeated winner of Tripadvisor's "Best of the Best" award, the Grand Hotel Kronenhof is one of the world's finest hotel experiences and possibly the most luxurious place to stay in the entirety of Switzerland.
Located close to the UNESCO-listed Pontresina railway (the steepest narrow-gauge railway in the world), the hotel boasts not only world-class facilities but some of the most beautiful views in Switzerland.
Grand Hotel Kronenhof's award-winning restaurant is so well regarded that it regularly attracts patrons who are not guests of the hotel. From Swiss favorites such as Raclette to Mediterranean and French dishes, the restaurant caters to every palate.
After hitting the nearby ski slopes in Engadine, guests may wish to take a dip in the hotel's extravagant spa facilities. From saunas, stone grotto steam baths, a floating bath and even a children's pool to keep the kids entertained, you are guaranteed to come away rejuvenated and invigorated after a hard day on the trails.
Although not the most unusual place to stay in Switzerland, the Grand Hotel Kronenhof is nevertheless one of the most unique Swiss hotels by virtue of the awards it has won and its very high pedigree.
Book Today -> Grand Hotel Kronenhof
Location -> St Moritz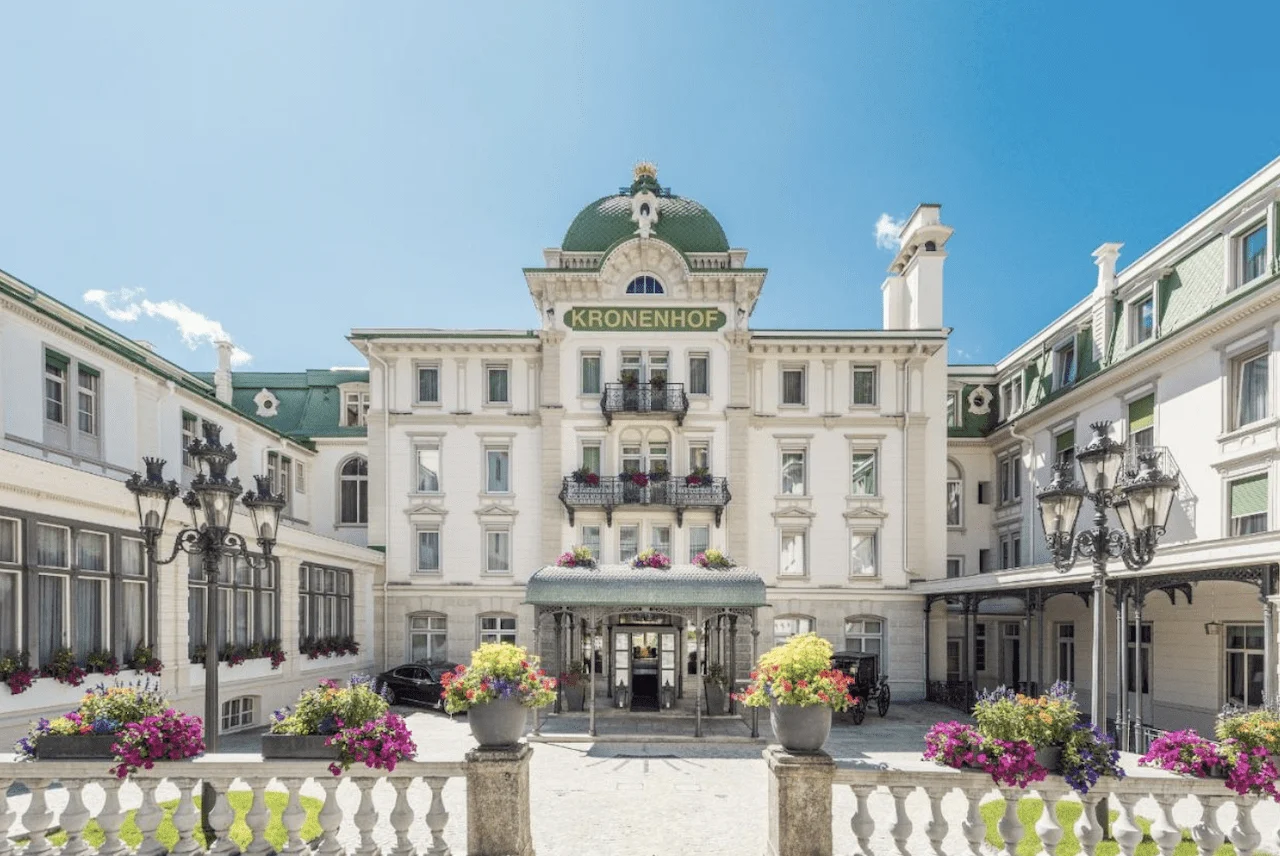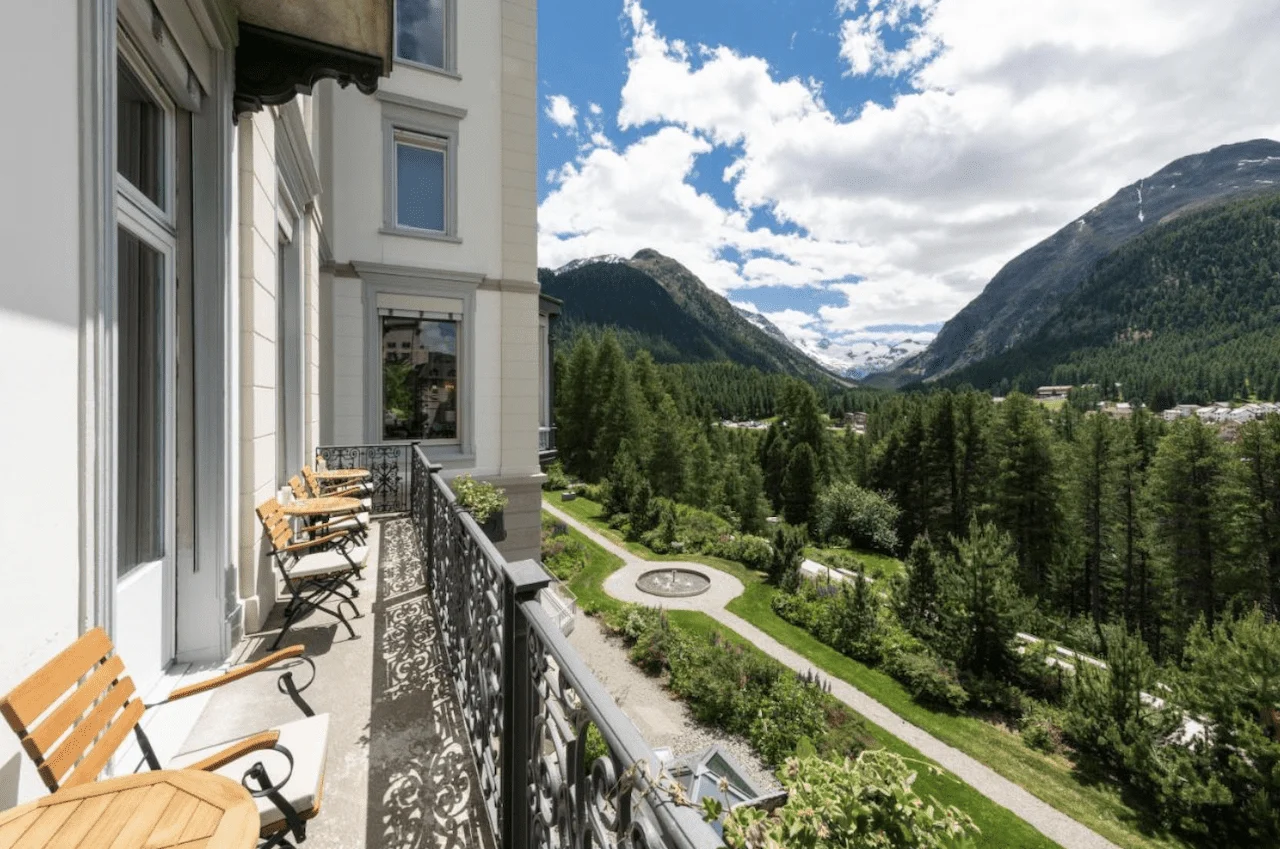 11) Bergwerksilo Herznach
Switzerland certainly doesn't lack for unique hotel experiences – we've already seen converted military bunkers, stilted pavilions and even converted wine barrels – but Bergwerksilo Herznach may take the cake for the most creative hotel renovation in the country.
An abandoned mining silo that has been converted into one of the most unique Swiss hotels you're likely to come across, Bergwerksilo Herznach towers above the surrounding Swiss countryside.
It has been decorated in charming rustic decor that makes guests forget what the imposing exterior looks like.
The surrounding countryside is peaceful, making for a departure from your usual Alpine hotels, and the nearby ponds are almost Zen in their peacefulness. Be sure to wake up early for a traditional home-cooked Swiss breakfast prepared by the owners, who converted Bergwerksilo Herznach themselves.
Book Today -> Bergwerksilo Herznach
Location -> Herznach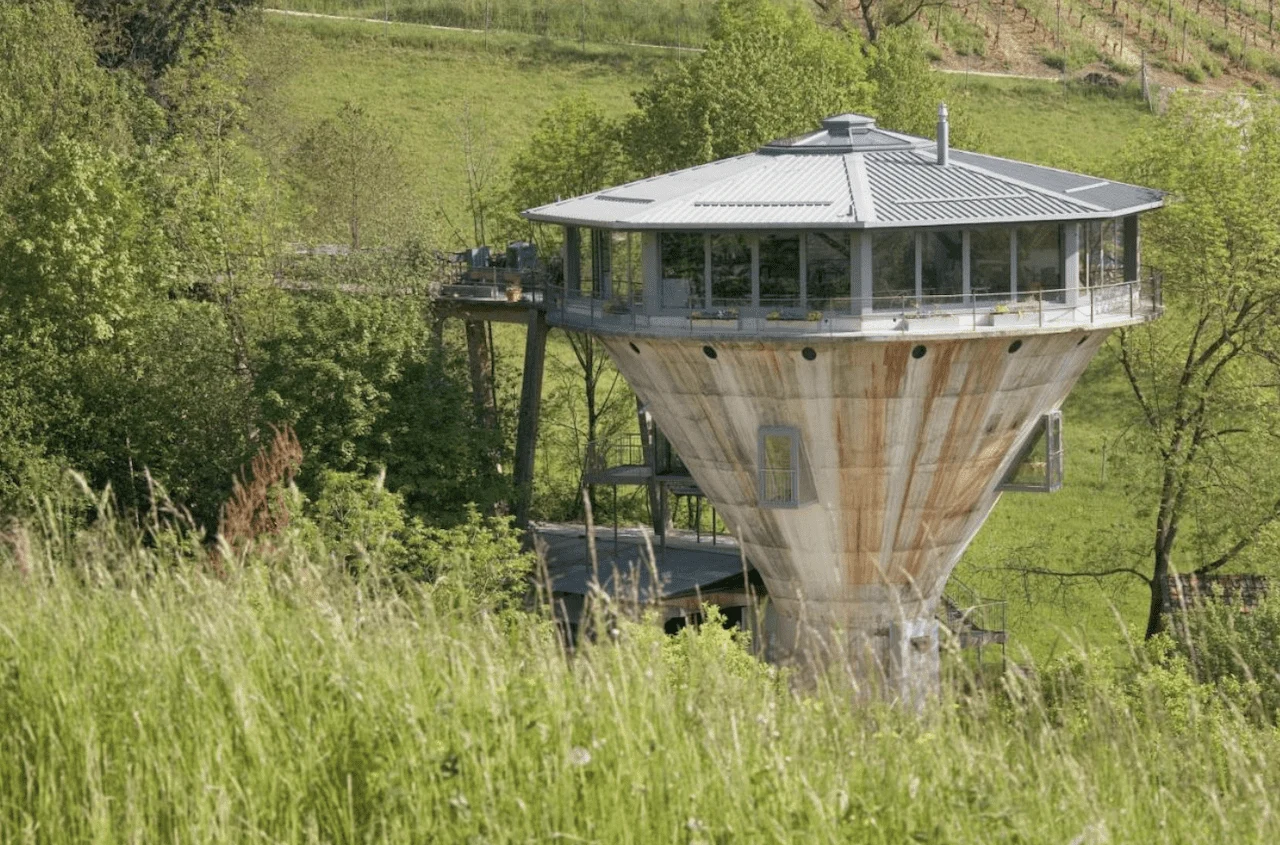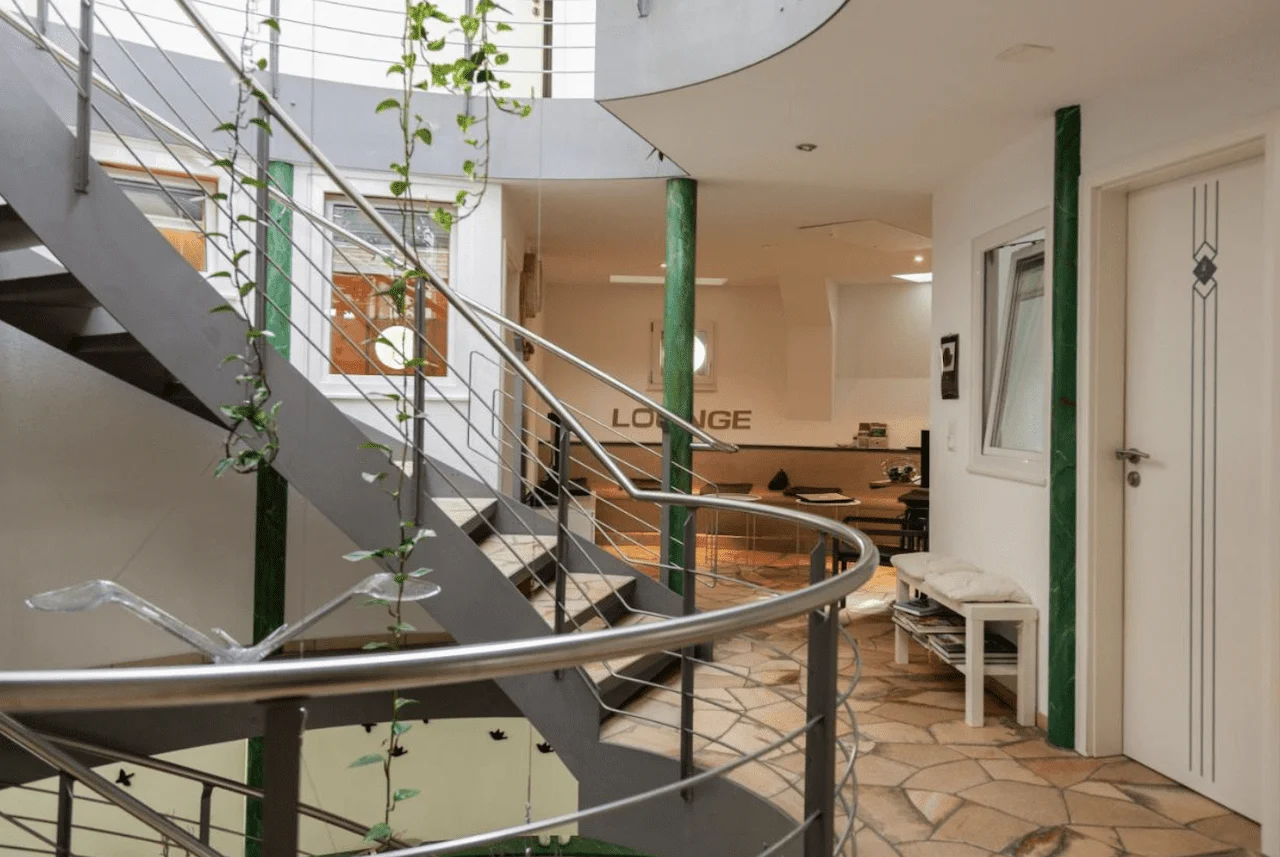 12) Morosani Fiftyone
The future is here and it's fully automated, with no need to interact with another human being at all.
Or so the singular Morosani Fiftyone would have it, a singular experience touted as a 'room-only hotel' that sells itself as a 'mix between luxury, fun and modernity'.
There is no reception in Morosani Fiftyone, simply a machine that looks like an ATM, and it is here that you will check in and receive your keycard.
Need any extras? Simply order them from the machine (or your room) and the sister hotel across the road will take care of it. This lack of human labor means, of course, that your room is cheaper than it otherwise might be. There are also no hidden costs like mini-bars or housekeeping. Just you and your room.
Modernity and automation doesn't mean all niceties go out of the window, however. Those requiring a human touch will find it at the aforementioned sister hotel, and each room is south-facing with a large balcony that affords panoramic views of the nearby mountains.
Morosani Fiftyone is without a doubt one of the most unique hotels in Switzerland, and well worth spending a night in if you find yourself in the city of Davos.
Book Today -> Morosani Fiftyone
Location -> Davos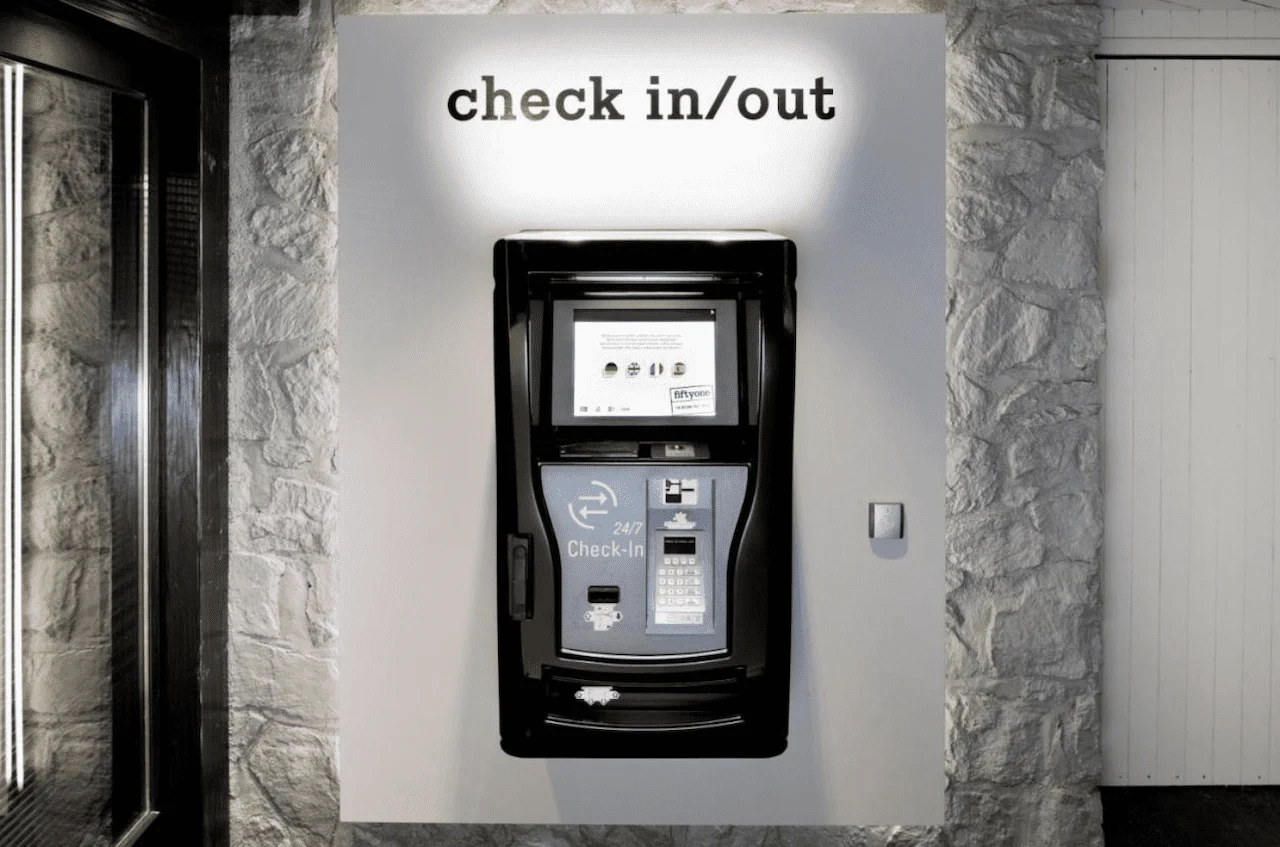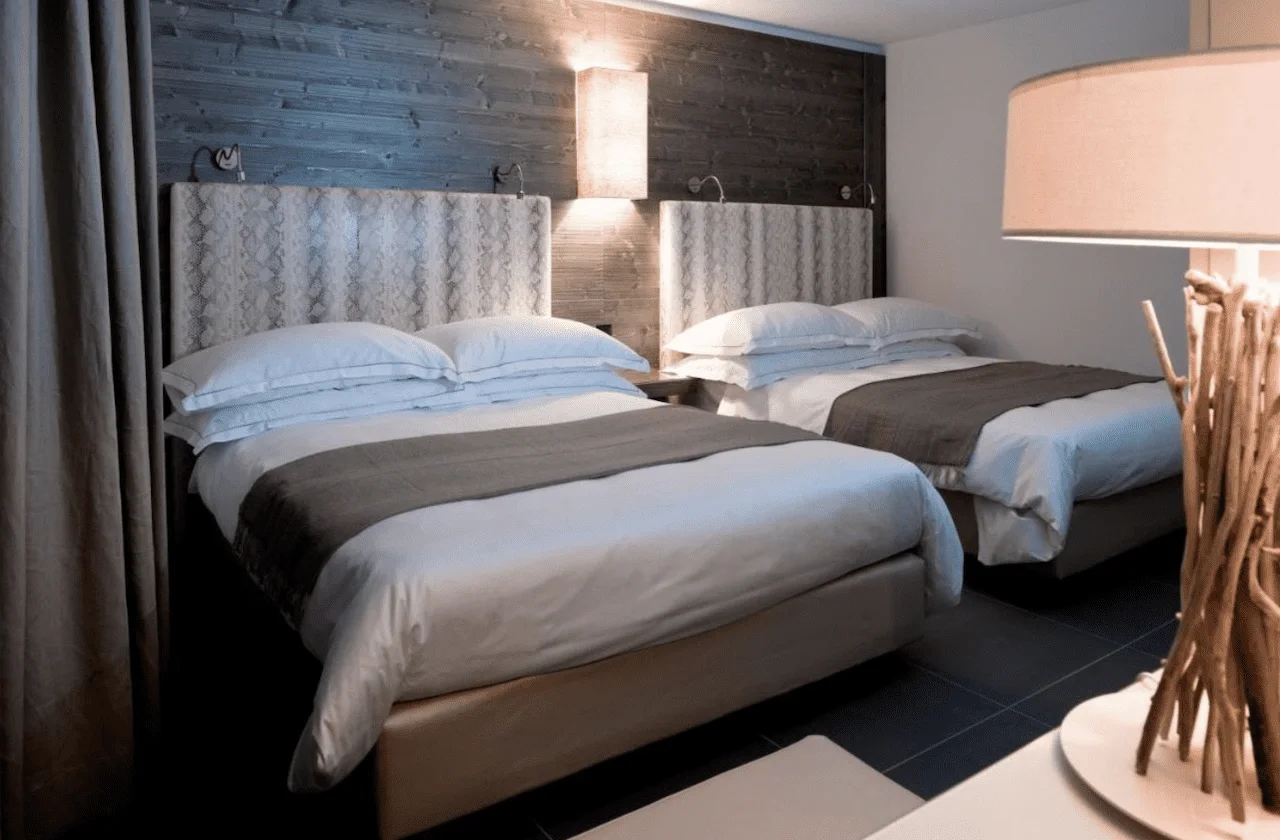 13) Barabas Luzern
Just when you think Switzerland cannot possibly offer one more offbeat hotel, along comes Barabas Luzern.
A former prison renovated and put into business as a unique Swiss hotel experience, Barabas Luzern Prison is named for a former inmate who decorated his cell with renderings of all the things from the outside that he missed.
The hotel rooms were, of course, once cells, and this is reflected in their bunk beds and minimalist furnishings. The former canteen is the hotel's restaurant (what else?) and offers cheap and cheerful fare for guests to sample. Truly one of the most unique hotels in Switzerland.
Book Today -> Barabas Luzern
Location -> Lucerne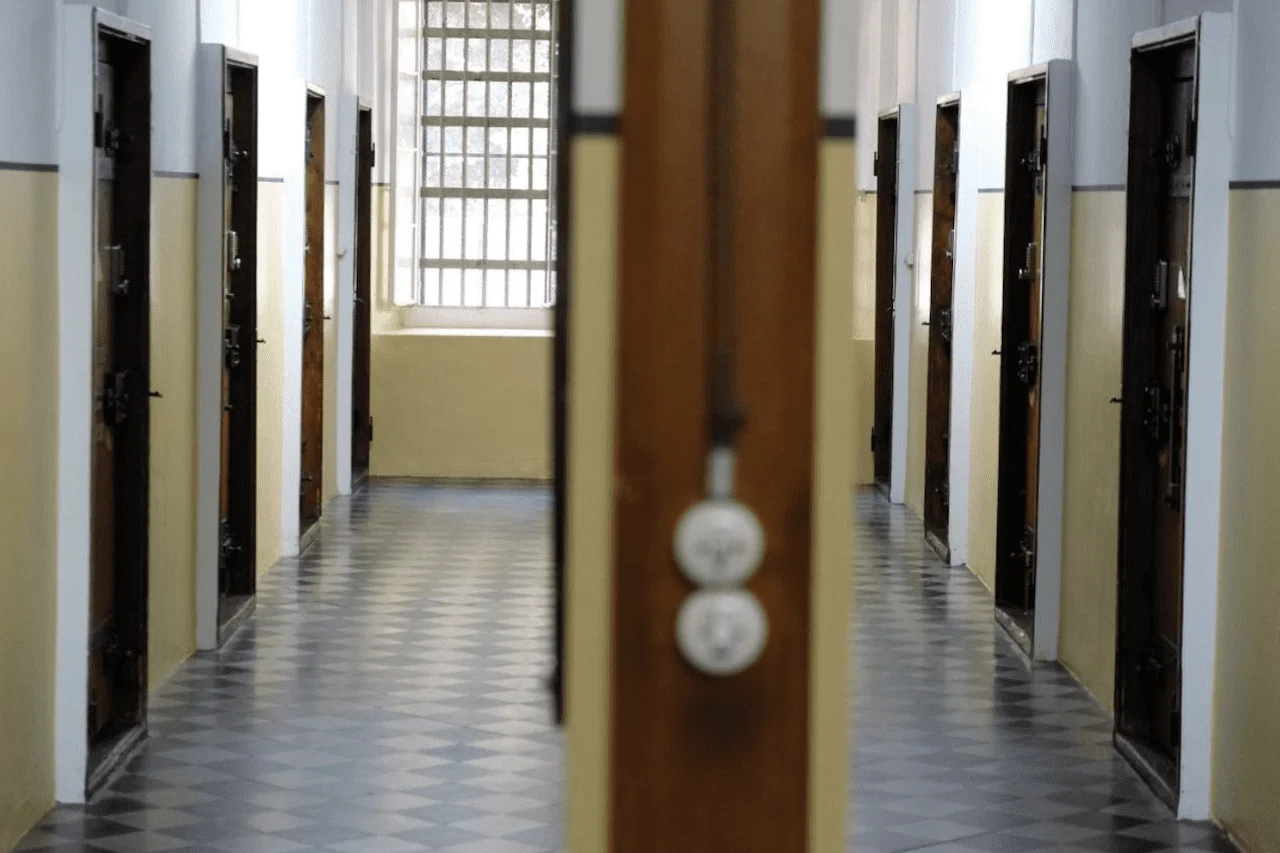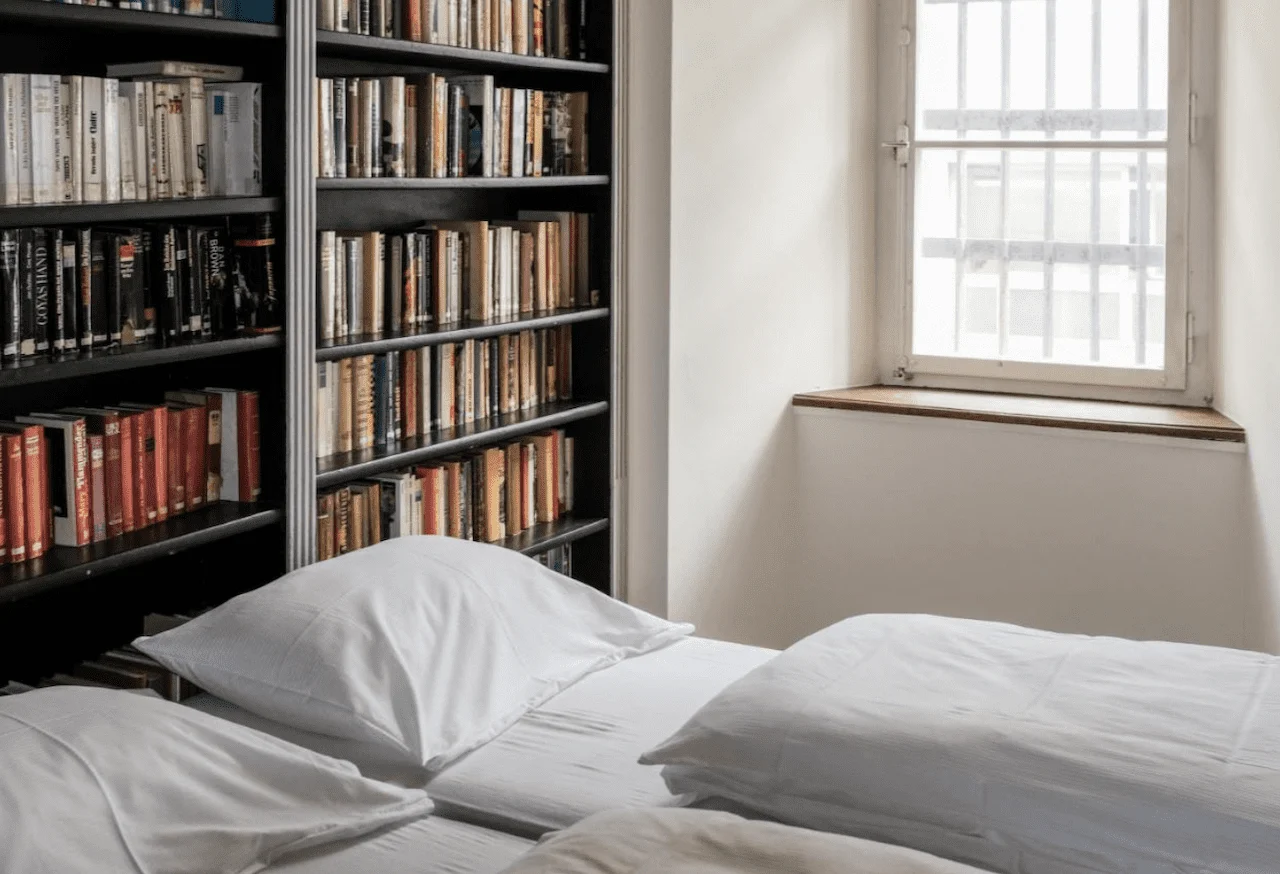 14) B2 Boutique Hotel and Spa
B2 Boutique Hotel and Spa answers the question that many people have long been asking: what if you turned a brewery into a library hotel and added a rooftop swimming pool?
The result is a stunning and singular experience, one that bookworms will cherish.
Leaf through the 33,000 volumes contained in the hotel's library while sipping on wine and sampling cheese platters, or else enjoy the majestic views of the Zurich skyline from the heated rooftop swimming pool.
Located at the top of a quiet hill, you can enjoy the hustle and bustle of Zurich from afar, while being secure in the knowledge that you're only a 10-minute walk from the train station.
Book Today -> B2 Boutique Hotel and Spa
Location -> Zurich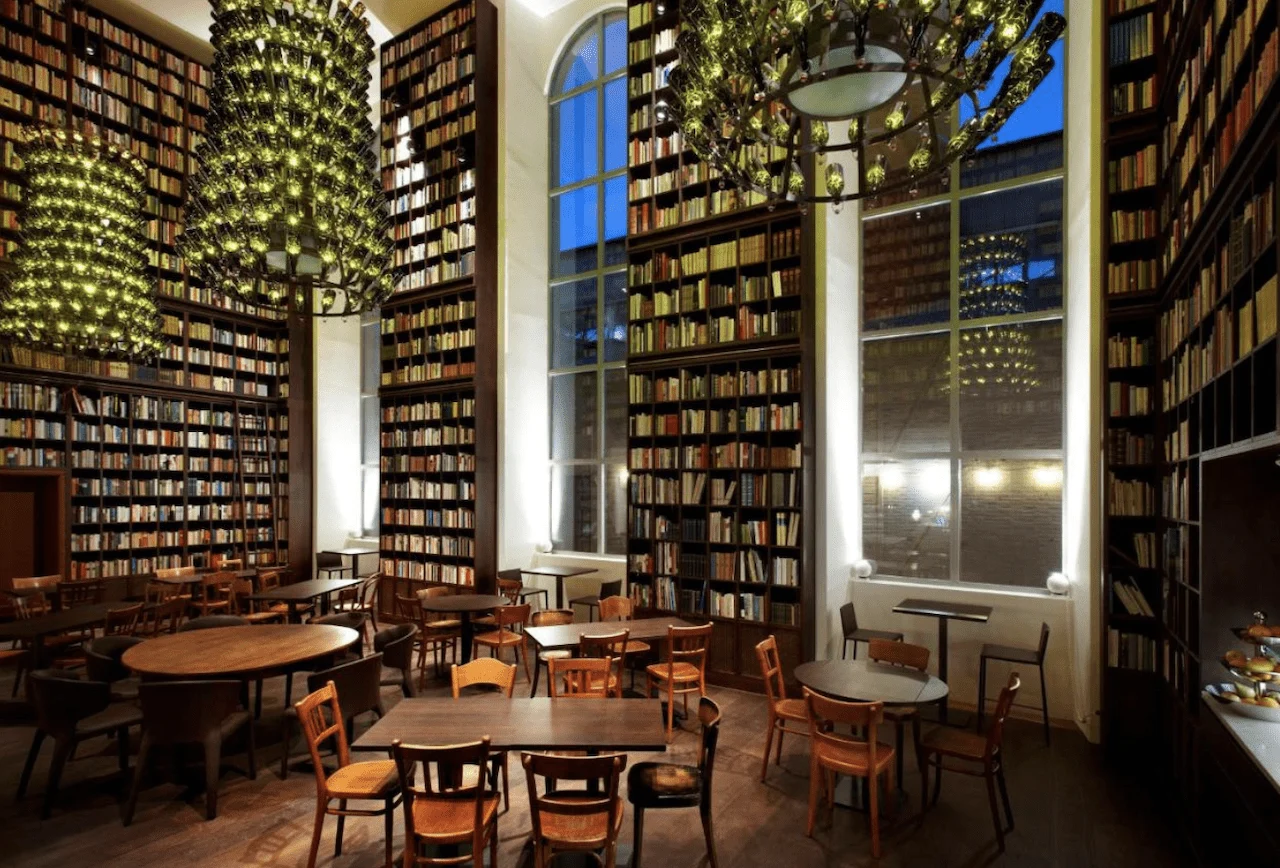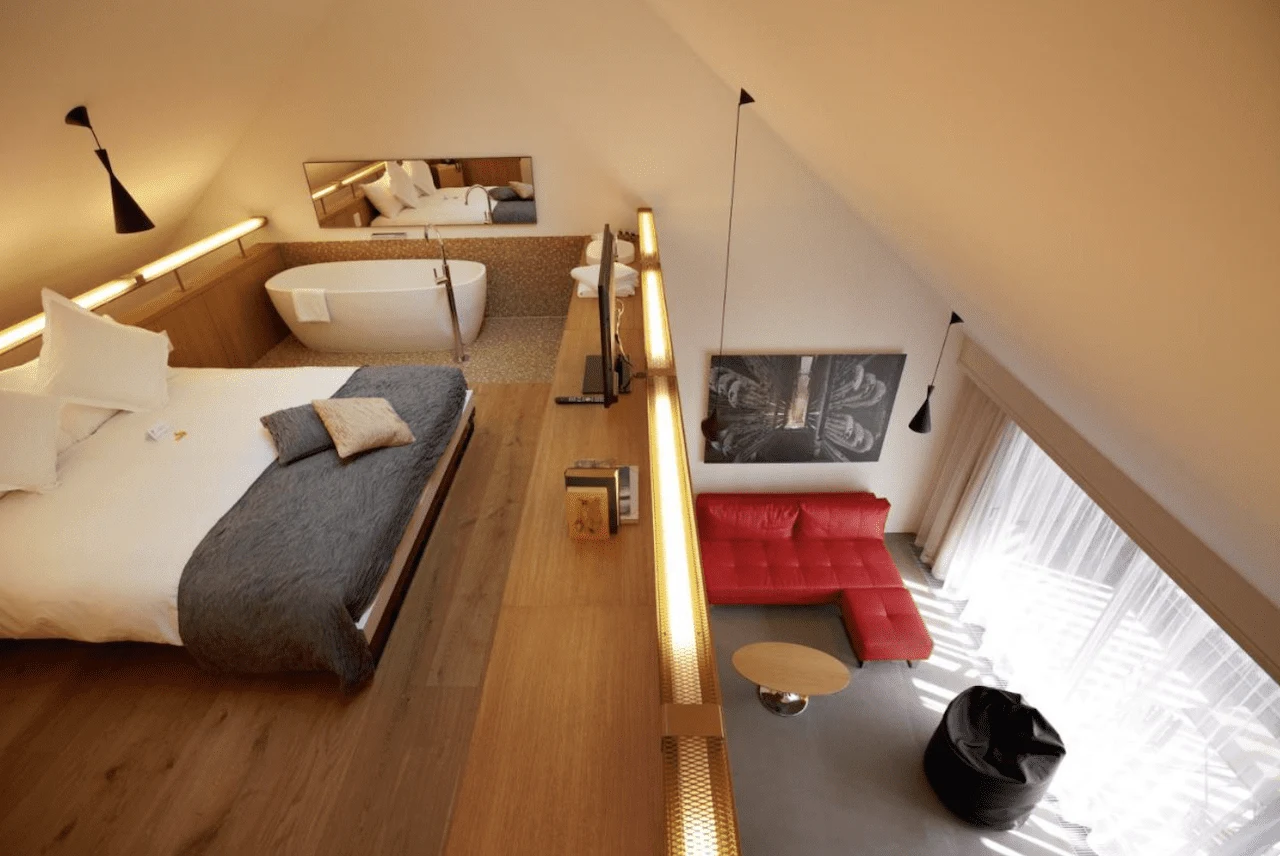 15) Hotel Pilatus Kulm
Another sky-high hotel perched high amidst the peaks of the Alps, Hotel Pilatus Kulm sits atop a particular massif (Mount Pilatus). It is nicknamed 'mountain of dragons' for a medieval eyewitness account of a 'bright dragon with flapping wings' making its home there. Another local legend has it that Pontius Pilate, Christ's condemner, is buried there.
Whether or not these are true, there is no mistaking the grandeur of Hotel Pilatus Kulm – one of the coolest hotels in Switzerland. Serviced by both a cable car and the world's steepest cogwheel railway (both are worth trying), Pilatus Kulm offers awe-inspiring views of Lake Lucerne and a multitude of activities that will keep young and old alike entertained.
Hotel Pilatus Kulm's surroundings offer fantastic opportunities for cooking and barbecues (fire pits dot the summits and clearings around the hotel), and meat and other food are readily available for purchase near all of these spots.
Book Today -> Hotel Pilatus Kulm
Location -> Mount Pilatus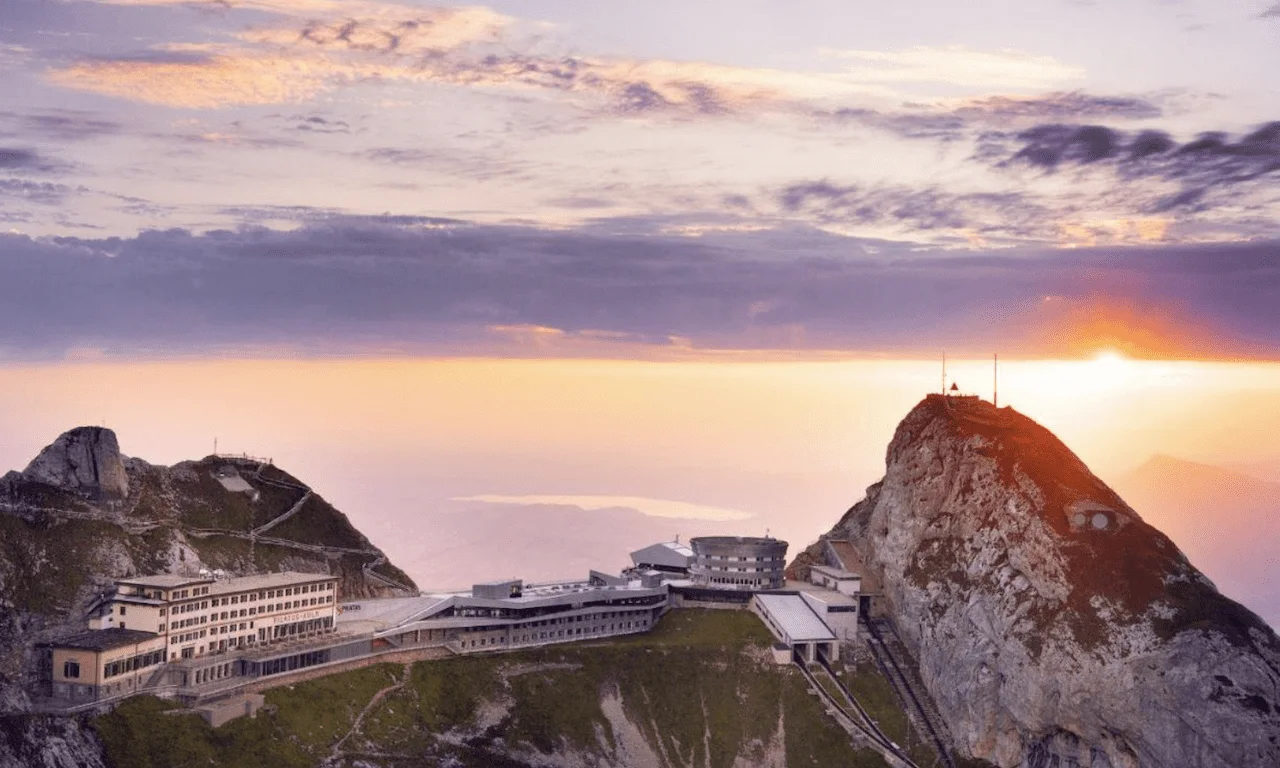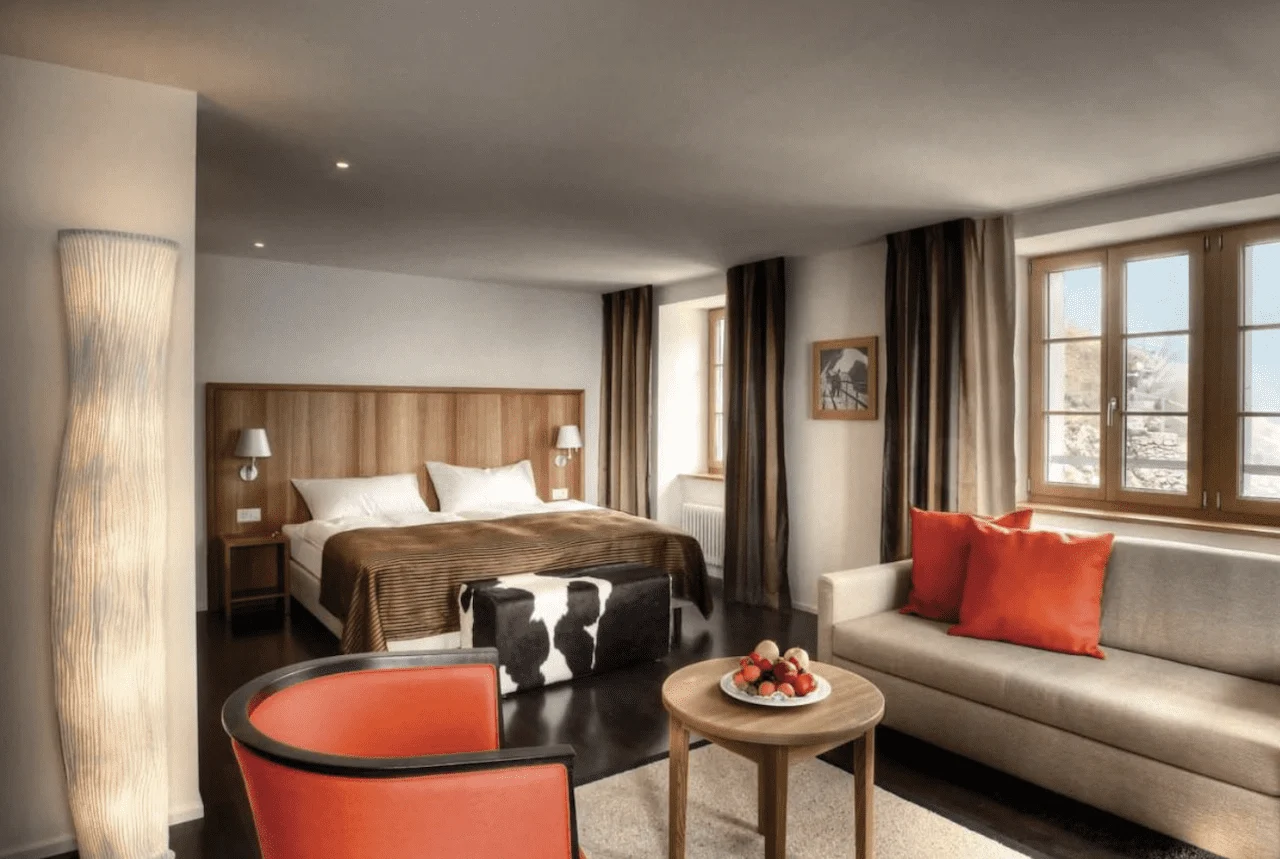 Unique Hotels in Switzerland Map
These unique Switzerland hotels are located all throughout the country. Below you can find an interactive map to get a better sense of where each and every hotel on this list is located.
Whether staying in a wine barrel or in a former prison, nobody could accuse Switzerland for a lack of variety in the hotel experience.
Although impossible to list every single cool hotel in Switzerland, this list certainly captures some of the most unusual ones you will come across in the country.
If you would like to learn more about Switzerland, feel free to check out the other Switzerland itineraries and guides up on site (like this 5 day Switzerland itinerary).
Have fun out there and safe travels!