Throughout the village of Zermatt, you will find many hotels with views of the Matterhorn. But finding a hotel that not only has a good view of the Matterhorn, but also offers excellent service and amenities is another matter altogether, and one that requires careful consideration.
Fortunately, I put together this guide to help out when it comes to choosing the very best hotels in Zermatt with a view of Matterhorn. Read on to find the top picks in the region.
* Affiliate Disclosure: This post may contain affiliate links, which means I may receive a commission if you make a purchase through the links provided, at no additional cost to you. Thanks for supporting the work I put into TripTins!
Hotels with Matterhorn Views Overview
Zermatt is a scenic car free valley town located at the base of some of the most beautiful mountains in the Alps. No mountain is more scenic though than The Matterhorn. Standing at 4,478 meters (14,692 feet), this mountain is not only the tallest of the nearby peaks but is also the most memorable.
With its pyramid like shape, the Matterhorn is the absolute perfect backdrop to any photo. While taking photos of the mountain is one way to enjoy it, why not also wake up to it right outside your window each morning in Zermatt.
There are many hotels throughout the valley that offer views of the Matterhorn. This list of hotels will talk through some of the best options to choose from during your trip.
To start, below is a list of the hotels I will be talking about throughout this guide. By the end of reading through, you will be well on your way to enjoying a hotel in Zermatt with a Matterhorn view.
1) Hotel Metropol & Spa
2) Matterhorn FOCUS Design Hotel
3) The Omnia
4) Alpenhotel Fleurs de Zermatt
5) Christiana Mountain Ski Resort
6) Riffelalp Ski Resort 2222
7) Mont Cervin Palace
8) Petit Chalet Schonegg
9) Grand Hotel Zermatterhof
10) Riffelhaus 1853
11) Hotel Capricorn
12) Relais & Chateaux Schonegg
13) Cervo Mountain Resort
14) 3100 Kulmhotel Gornergrat
15) BaseCamp Apartments
16) Chalet a la Casa
→ If you enjoy this list of hotels, be sure to check out some other top hotels in Switzerland with a view
Zermatt Hotel Notes
• While each one of these hotels offers views of the Matterhorn, not every single room in the hotels do. If you are keen on staying at one of these hotels, be sure to specifically book/request a room with a Matterhorn view.
• I have also included booking links throughout this guide to get you all set with your trip. Hotels in Zermatt sell out in the peak winter and summer months (especially those with views of the Matterhorn). Be sure to book ahead to guarantee your room with a view.
→ Stay in Zermatt as part of a longer 10 Day Switzerland Itinerary or 2 Week Switzerland Itinerary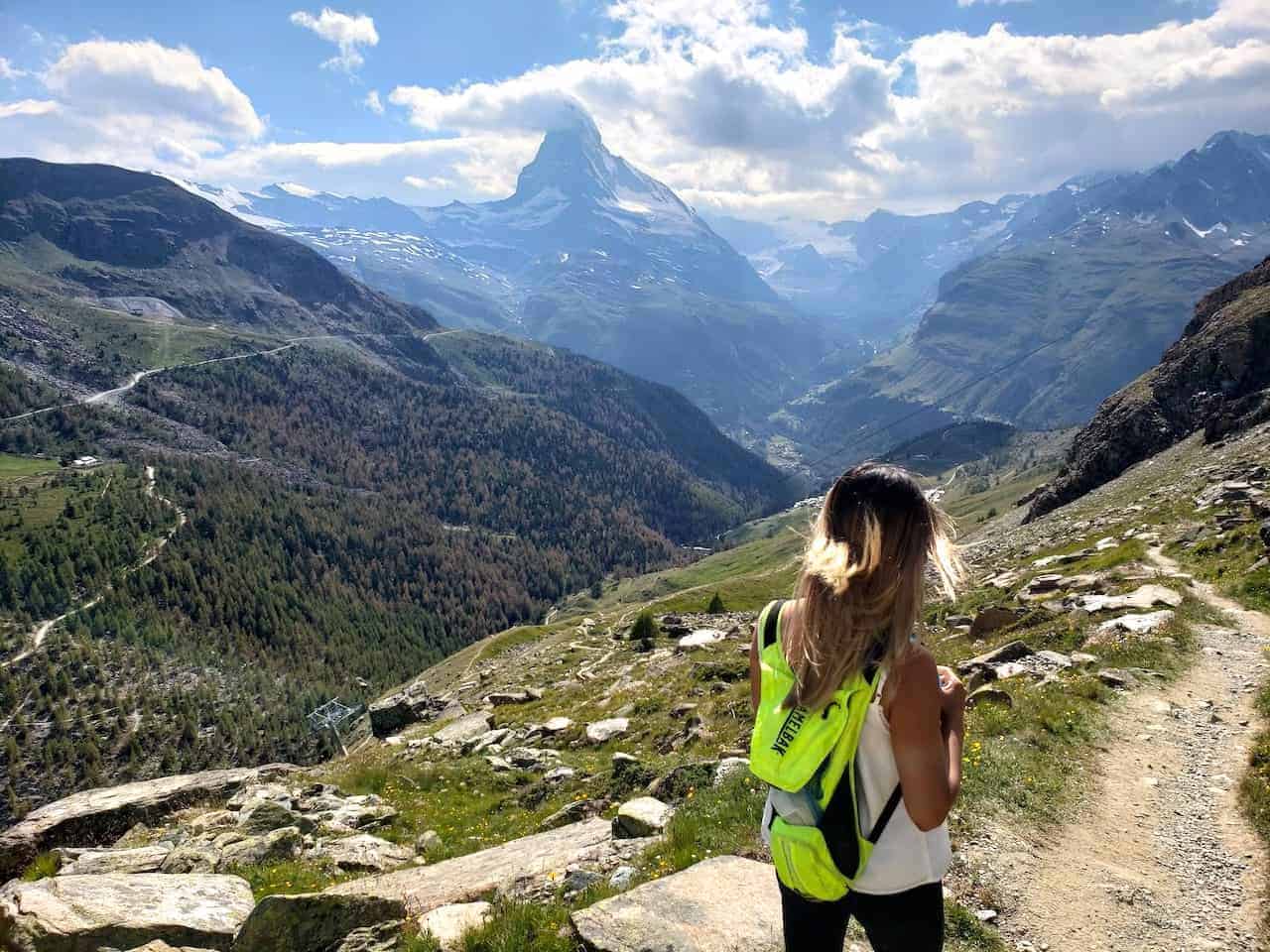 1) Hotel Metropol & Spa Zermatt
A hotel/spa combo with a laidback atmosphere, the Hotel Metropol & Spa is simple and affordable for those watching their budget. This family-owned hotel has a number of basic rooms that all feature views of the iconic Matterhorn.
Those looking for the absolute best view should consider the south-facing Superior Double Room, though if you'd like a balcony with a view then check out the Junior Suite. Even the pool, indoor though it is, has a fantastic view of the iconic peak.
The hotel restaurant (also, naturally, with a view of the Matterhorn) is a buffet, meaning you can eat to your heart's content. It also has an organic corner for those guests who are particularly health-conscious.
Book Today -> Hotel Metropol & Spa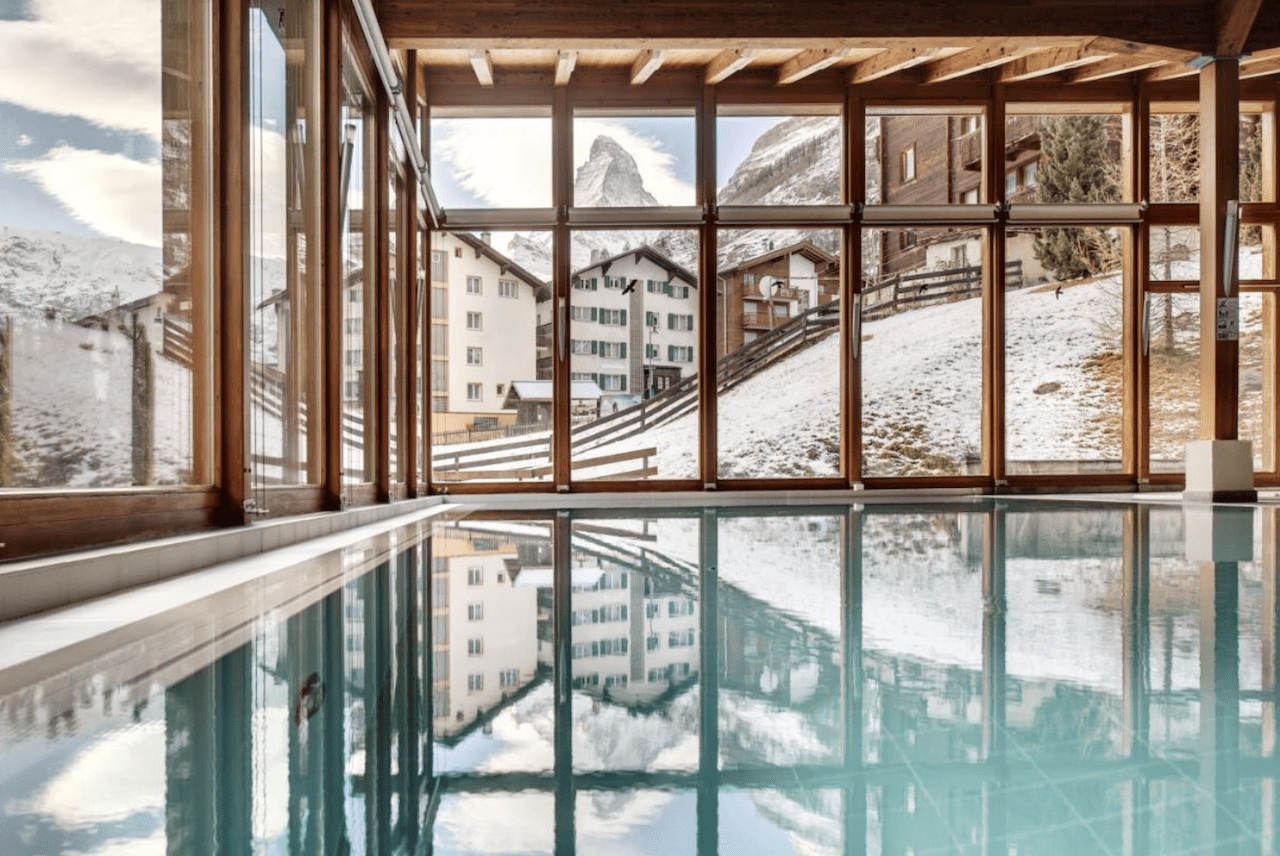 2) Matterhorn FOCUS Design Hotel
Zermatt is famously combustion-engine free, making for the purest alpine air around and a crisp mountain ambience. The only thing you'll hear is nature and the sound of your fellow travelers having the time of their lives (and the water flowing from the nearby Gorner Gorge).
The Matterhorn FOCUS Design Hotel makes the most of this pristine mountaintop atmosphere in style. Though not all rooms can boast of a view of the Matterhorn, most of them do – and it's simply a matter of specifying the fact that you'd like one when you book.
The hotel's upscale spa will leave guests feeling pampered, with indoor and outdoor pools and a saltwater bath for your exfoliation needs.
The hotel is also within walking distance of the town center, as well as ski lifts taking you directly up to the Zermatt ski resort. If you're a skilled enough skier, in fact, you can simply ski back down to the back door of the hotel.
Book Today -> Matterhorn FOCUS Design Hotel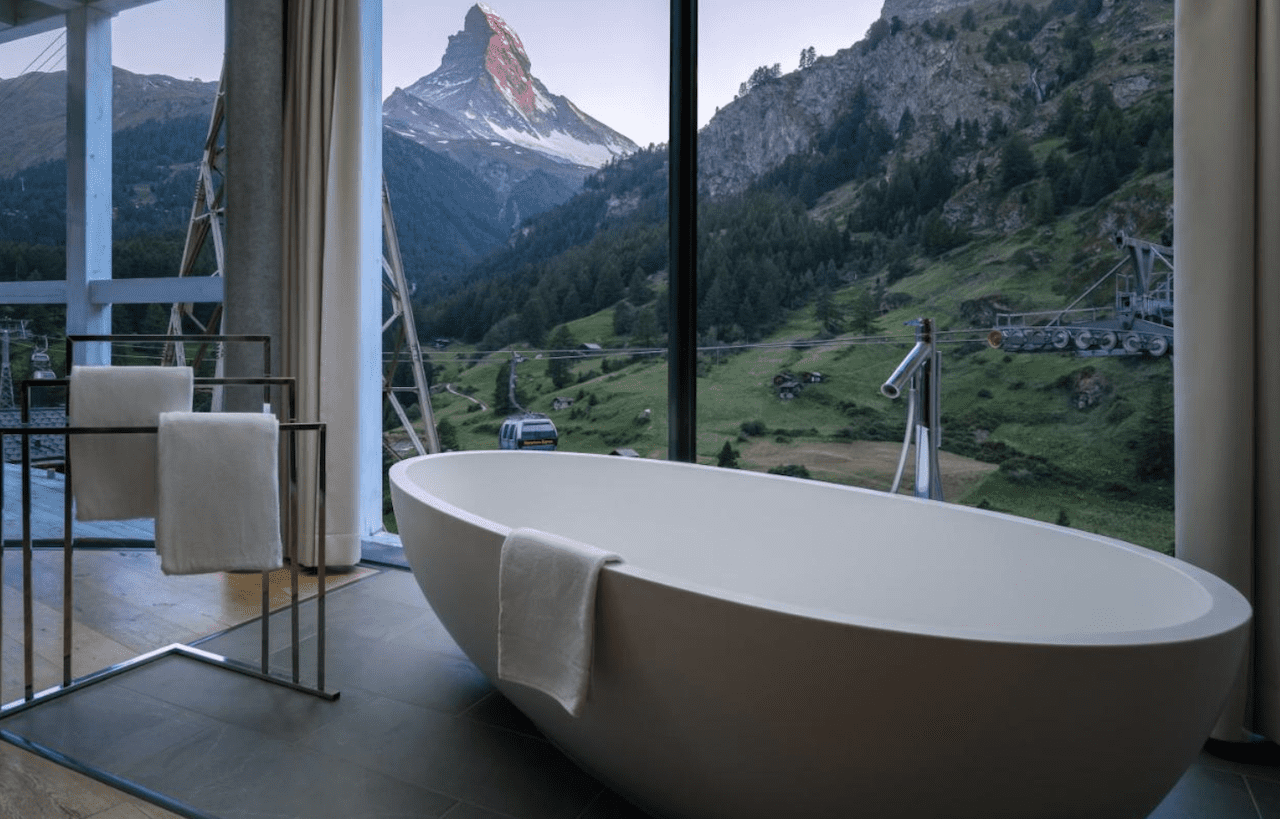 3) The Omnia
A luxurious 5-star hotel looking down over central Zermatt, The Omnia sports opulent rooms and striking views of the Matterhorn from almost every one of them. Its spa and gourmet restaurant never fail to disappoint either.
A lift from the village below leads straight into the lobby, making a trip to the Omnia a magical alpine experience before you've even checked in. The lobby and rooms are tastefully furnished and decorated in an elegant yet understated way, never detracting from the star of the show that is the Matterhorn.
Zermatt has several spa hotels, so the Omnia has some tough competition – yet still, possibly, comes out on top. With a dizzying array of pools, saunas, hammams and relaxation rooms, the Omnia goes above and beyond.
The spa has a Roman-style caldarium (hot-plunge bath), petal steam room and a fantastic outdoor whirlpool with one of the best views in town.
Book Today -> The Omnia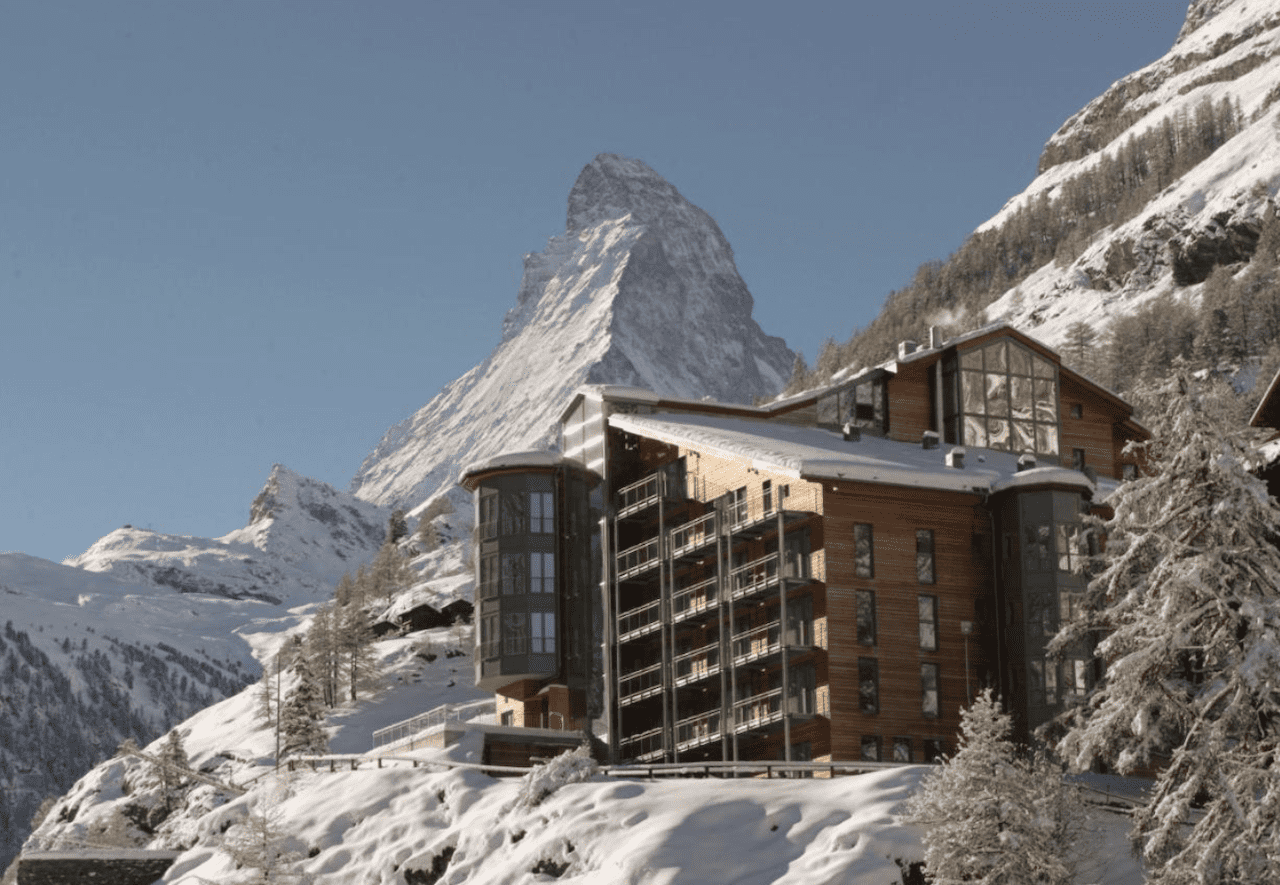 4) Alpenhotel Fleurs de Zermatt
The Alpenhotel Fleurs de Zermatt only opened its doors in 2016, but what it lacks in pedigree it makes up for in style. Its rooms are minimalist yet striking, and all south-facing rooms have a balcony from which to enjoy the tranquil mountain view.
Not all rooms in the Alpenhotel Fleurs de Zermatt offer views of the Matterhorn, sadly, so it's worth checking before committing to a stay there.
However, the convenience of its location cannot be disputed; it's a five-minute walk from the hotel to both the train and funicular stations, making getting in and out a small consideration.
The hotel's restaurant offers a great buffet breakfast overflowing with food made from local produce, and free dessert is offered in the afternoon for guests with a sweet-tooth.
Book Today -> Alpenhotel Fleurs de Zermatt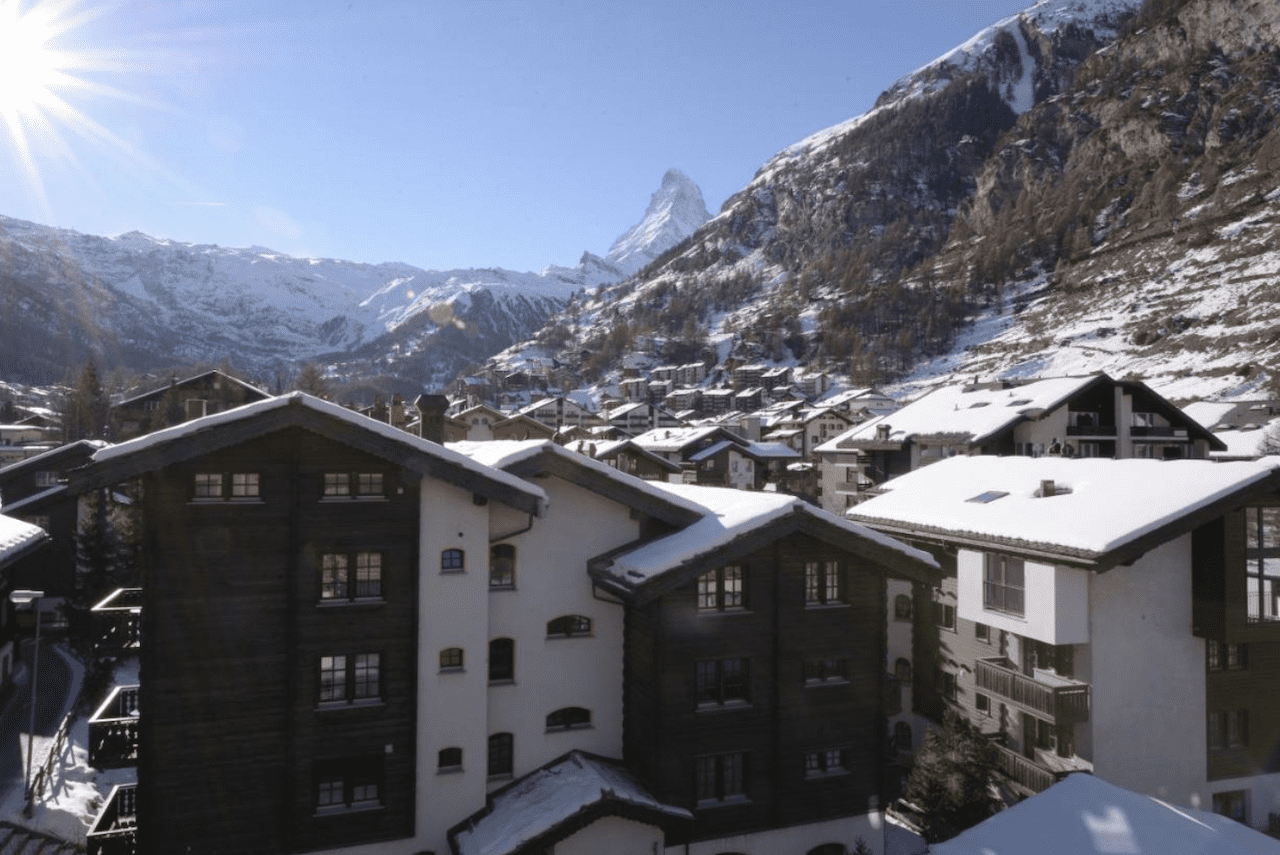 5) The Christiana Mountain Ski Resort
The Christiana Mountain Ski Resort sits right next to the underground ski funicular in Zermatt. This means it offers what might be the best-positioned hotel in the town for those who want to get to the piste as quickly as possible.
A good deal of the rooms at the Christiana offer sweeping views of the Matterhorn. As is almost standard in Zermatt, the spa facilities are extensive and luxurious. There is a Finnish sauna, bio sauna, steam bath, and ice cave. There is also a 25-meter swimming pool for those who like a bit of cardio with their morning swim.
There is a gourmet breakfast buffet with a wide variety of options, and dinner guests can enjoy a four-course meal in the evening.
The Christiana's excellent location is not limited to fast piste access; it also offers a swift shuttle service to Zermatt's train station.
Book Today -> Christiana Mountain Ski Resort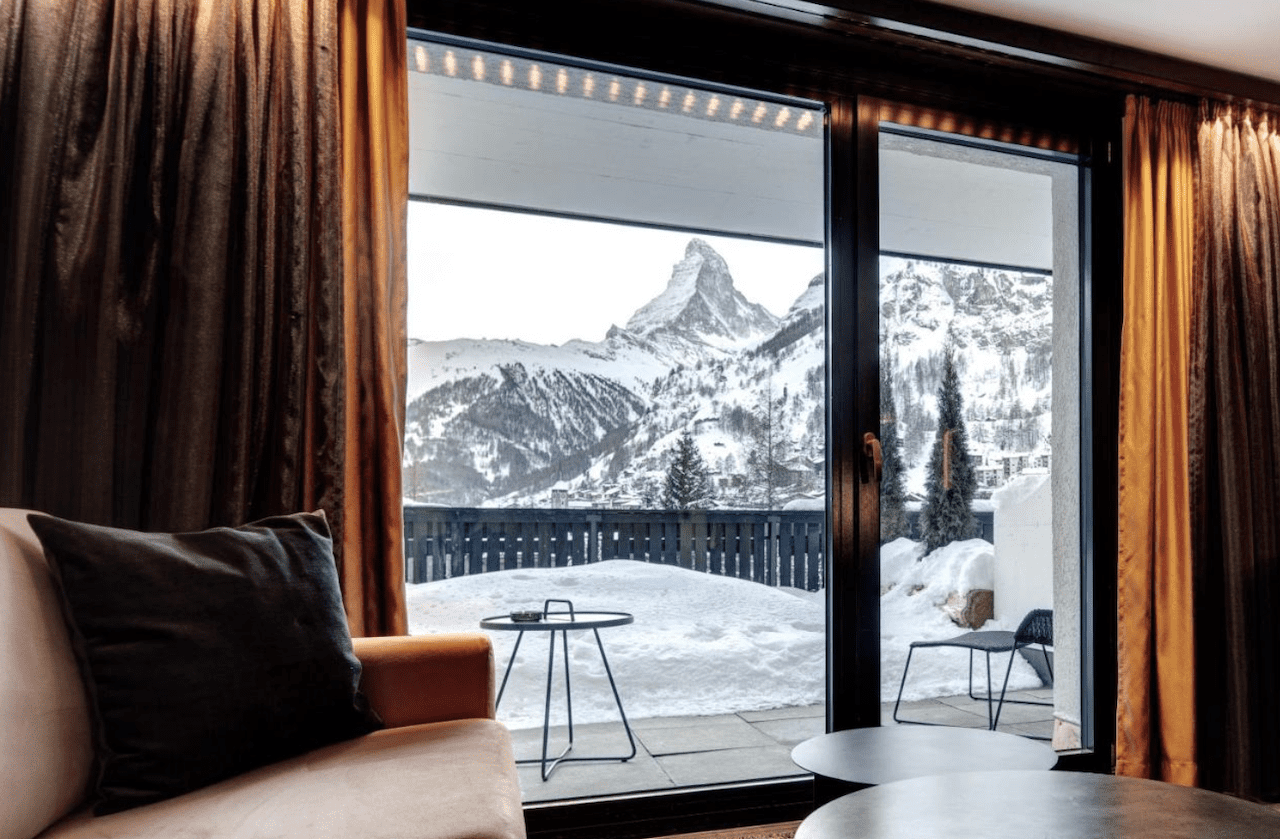 6) Riffelalp Ski Resort 2222
Located 2222 meters above sea level (hence the name), the Riffelalp Ski Resort 2222 can only be reached by train. It prides itself on its 'ski in, ski out' location that allows skiers to end their day right at the door of the resort.
The Riffelalp is not only one of the best luxury hotels in Zermatt, it is also generally considered to be one of the best 5-star hotels in the whole of Switzerland – no mean feat given the abundance of them.
Its rooms and suites have full-length windows that offer unobstructed views of the mountains, and its bathrooms are expansive and comfortable.
Riffelalp's spa is, at 2222 meters, the highest in Europe. Heated to perfection, you can look out over the gorgeous mountain views from its steamy waters, and it features what might be the finest view of the Matterhorn to be found anywhere.
Book Today -> Riffelalp Ski Resort 2222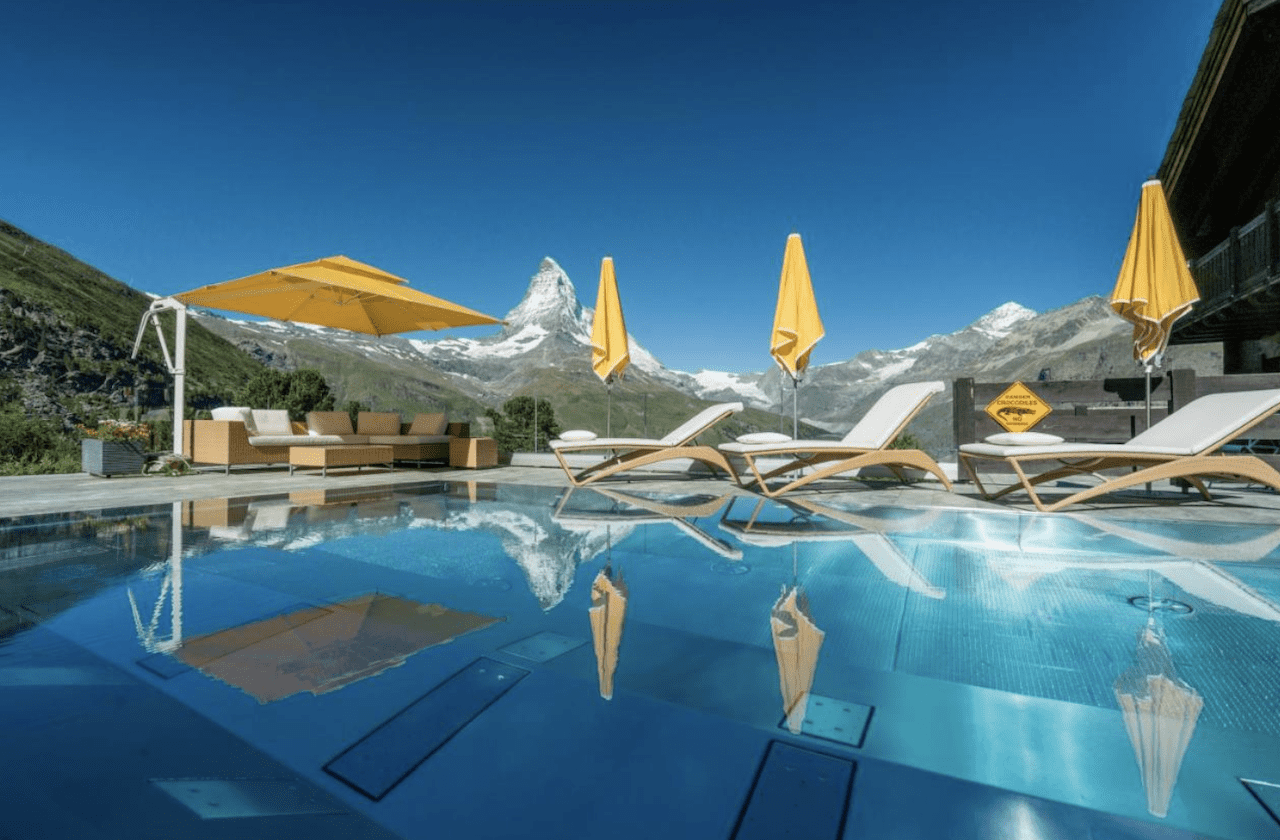 7) Mont Cervin Palace
Mont Cervin Palace offers up a charming slice of old-world charisma with an exterior fit for a Christmas card. It even has a horse-drawn carriage to bring you to/from the train station.
This iconic Zermatt hotel opened in 1851 and offers a refreshingly traditional experience amid some of the sleeker, ultra-modern hotels dotted around the Swiss village.
Most (but not quite all) rooms face south with views of the Matterhorn; as always, book ahead in order to ensure that your room will have a view of the iconic mountain. It's also possible to get rooms with open fires or hot tubs, but again this is not universal, so check ahead.
The hotel's restaurant continues its theme of Belle Époque chic with a smart-casual dress code and meat/fish prepared on its open grill. If the weather's nice, it's possible to take your dinner on the balcony and enjoy the hustle and bustle of Zermatt's Bahnhofstrasse below.
Book Today -> Mont Cervin Palace
8) Petit Chalet Schönegg
Despite its location in downtown Zermatt, the Petit Chalet Schonegg nevertheless offers direct views of the Matterhorn. Those interested in the history of the famous mountain can visit the Matterhorn Museum a mere 60 yards away.
Petit Chalet Schönegg is operated in partnership with sister hotel 'Chalet Hotel Schönegg', and the two have joint access to the spa facilities of the latter.
The hotel is excellently placed for guests to visit Zermatt's charming downtown, where they can stroll through the streets and shop in the quaint boutiques and stores to be found there. Those wishing to take a ride on an old-fashioned cog railway will find the nearest stop a mere 5 minutes from Petit Chalet Schönegg.
Book Today -> Petit Chalet Schonegg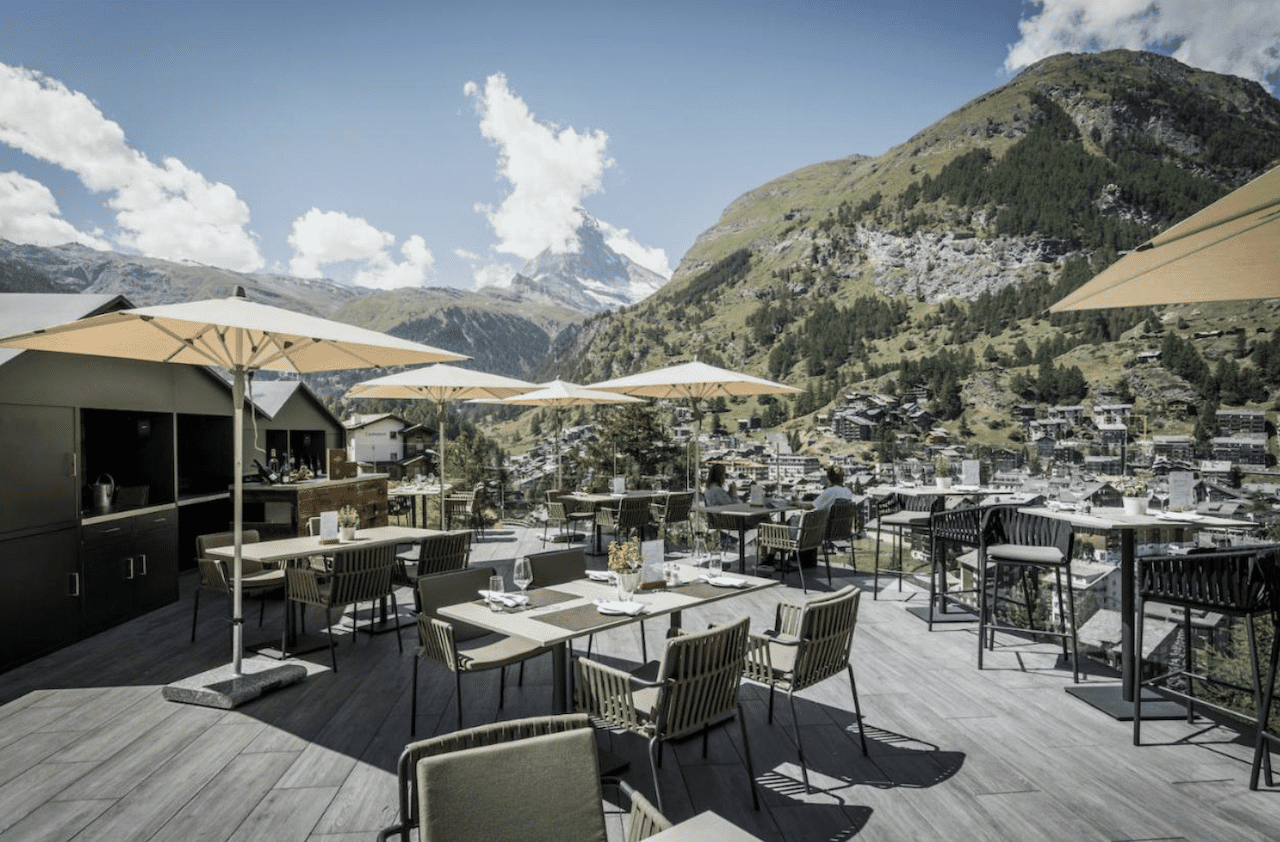 9) Grand Hotel Zermatterhof
This 1879 gem offers unparalleled luxury along with fantastic views of Matterhorn and a spa that is – even by Zermatt standards – extremely well regarded.
Similarly to the less flashy Mont Cervin, the Grand Hotel Zermatterhof offers station pickups in horse-drawn carriages. Those less inclined to traditional modes of conveyance may instead be brought to the hotel via electric car.
The Zermattherhof's spa facilities are rightly lauded by its guests. With a heated indoor pool (flanked by heated deck chairs), fully equipped gym, ice grotto, steam bath and couples spa, there's something for everyone in the sprawling facility. There are also facial and massage treatments available to guests.
Of course, a Zermatt hotel is measured by the quality of its Matterhorn views, and the Grand Hotel Zermatterhof does not disappoint in this regard either, with most rooms and suites offering majestic views.
Book Today -> Grand Hotel Zermatterhof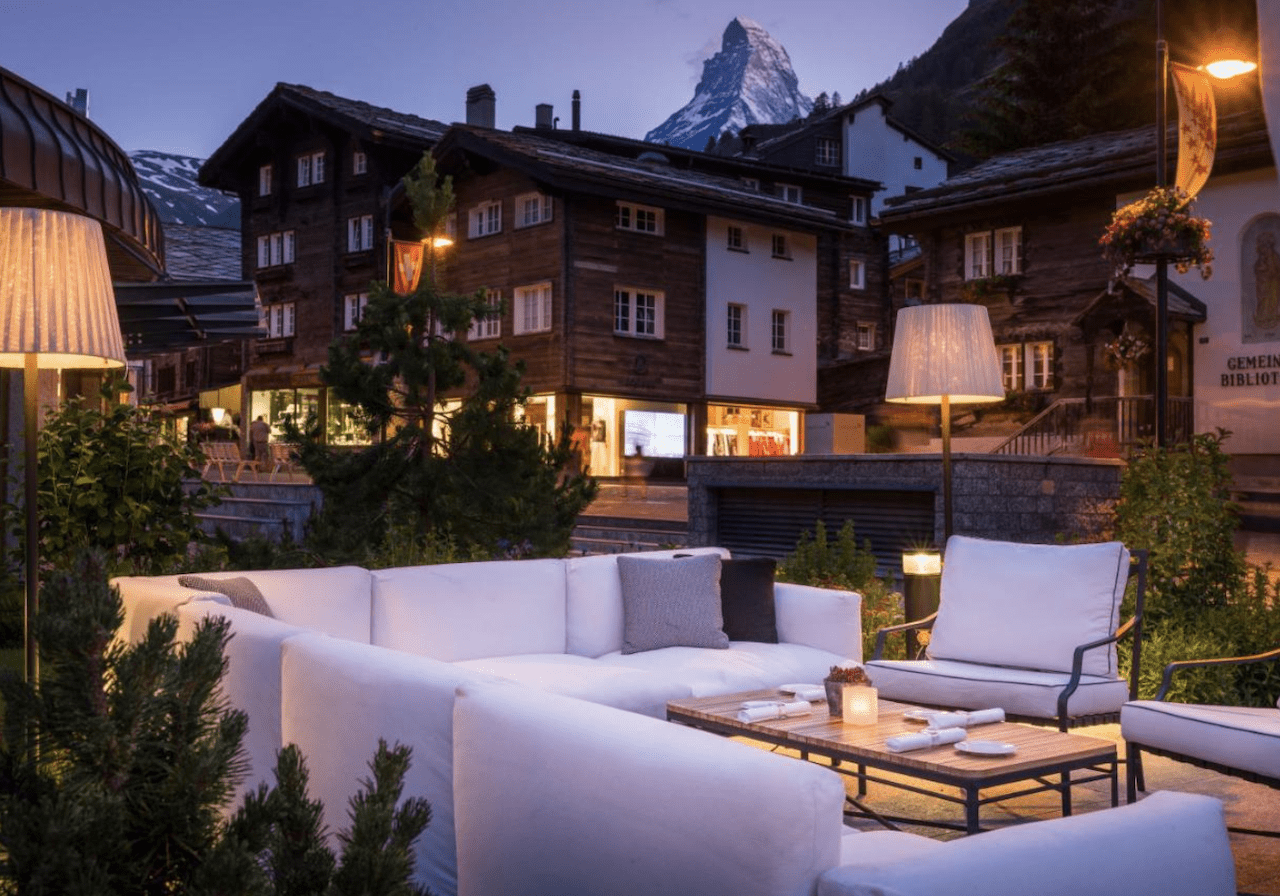 10) Riffelhaus 1853
Not to be confused with its namesake (which sits at 2222 meters), Riffelhaus 1853 is named not for its height above sea level, but its opening year. It age does not prevent it from being a fully equipped experience in modernity, however.
It was refurbished in 2014 and offers no end of modern conveniences to complement its traditional Swiss chalet ambience.
Like its counterpart, Riffelhaus is great for skiing, and offers ski-in ski-out experiences whereby you won't even have to take your skis off to get right up to the hotel. It's also fantastic for summer hikers, who'll find much to love in the rolling hills surrounding the hotel.
Many of the hotel's rooms offer great views of the Matterhorn, but not all. It's therefore worth checking, as always, that you are able to book a room that offers fantastic views of the mighty mountain.
Book Today -> Riffelhaus 1853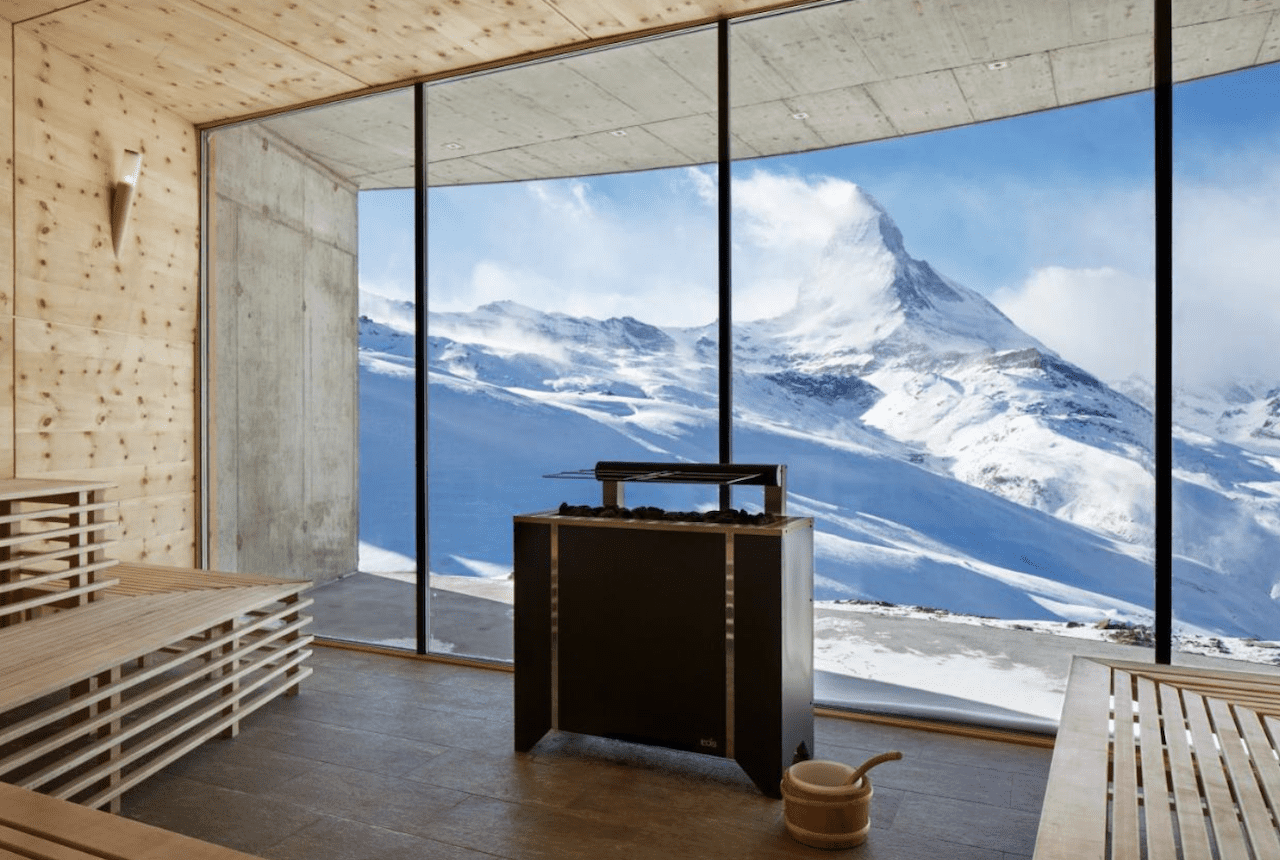 11) Hotel Capricorn
Understated, homely and tranquil, Hotel Capricorn is something of a hidden gem overshadowed by ostentatious big brothers like the Zermatterhof or the FOCUS. Nevertheless, it has a lot of down-home charm.
The hotel makes up for its lack of glitz with rustic, unassuming charm. The façade of the building bristles with colorful flowers, and the rooms are clean and comfortable. The suites lack the grandeur of its counterparts in bigger hotels, but they have a cleaning alpine crispness to them (and great views of the Matterhorn).
The hotel is located far away enough from the bustle of Zermatt center that it's peaceful and quiet, but close enough that you can walk into the village in ten minutes or so.
Its restaurant is emblematic of the cheerful functionality of the hotel as a whole, offering simple, hearty breakfasts and free coffee all day.
Book Today -> Hotel Capricorn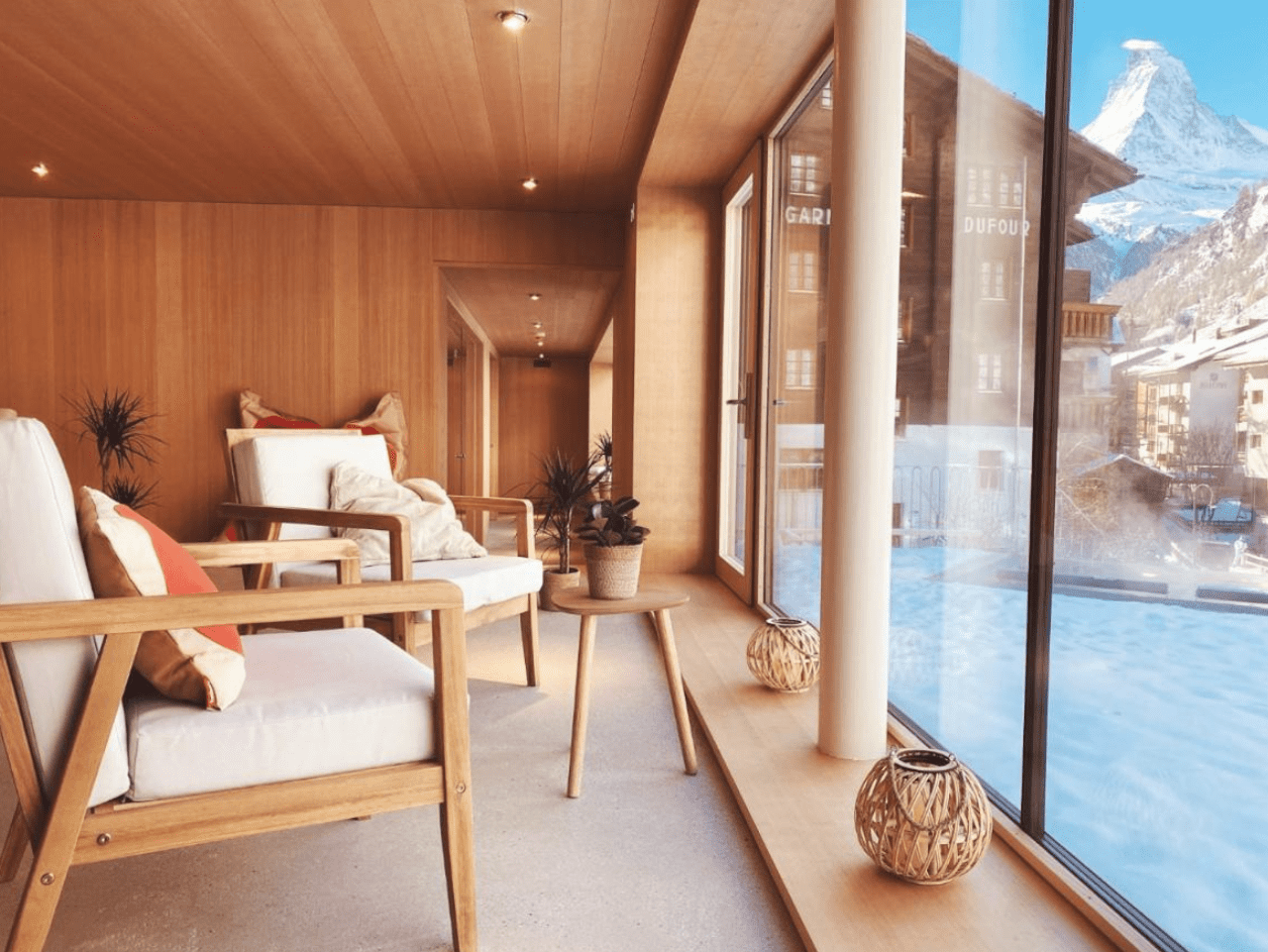 12) Relais & Chateaux-Schönegg
The Relais & Chateaux Schonegg is another family-run diamond in the rough. It overlooks Zermatt and has balconies that afford guests unparalleled views of the Matterhorn.
For those unable to secure rooms with views of the mountain, the hotel's restaurant boasts a sun terrace that offers an unimpeded perspective over the alpine vista.
In addition to its breath-taking location, the restaurant offers a wide array of tasty and filling local specialties. Home-made preserves and locally-baked breads are served for your gastric enjoyment.
The hotel sports onsite storage for all your ski gear, and the funicular up to the piste is a mere five minutes away. Getting back is as simple as skiing down the mountain.
Book Today -> Relais & Chateaux Schonegg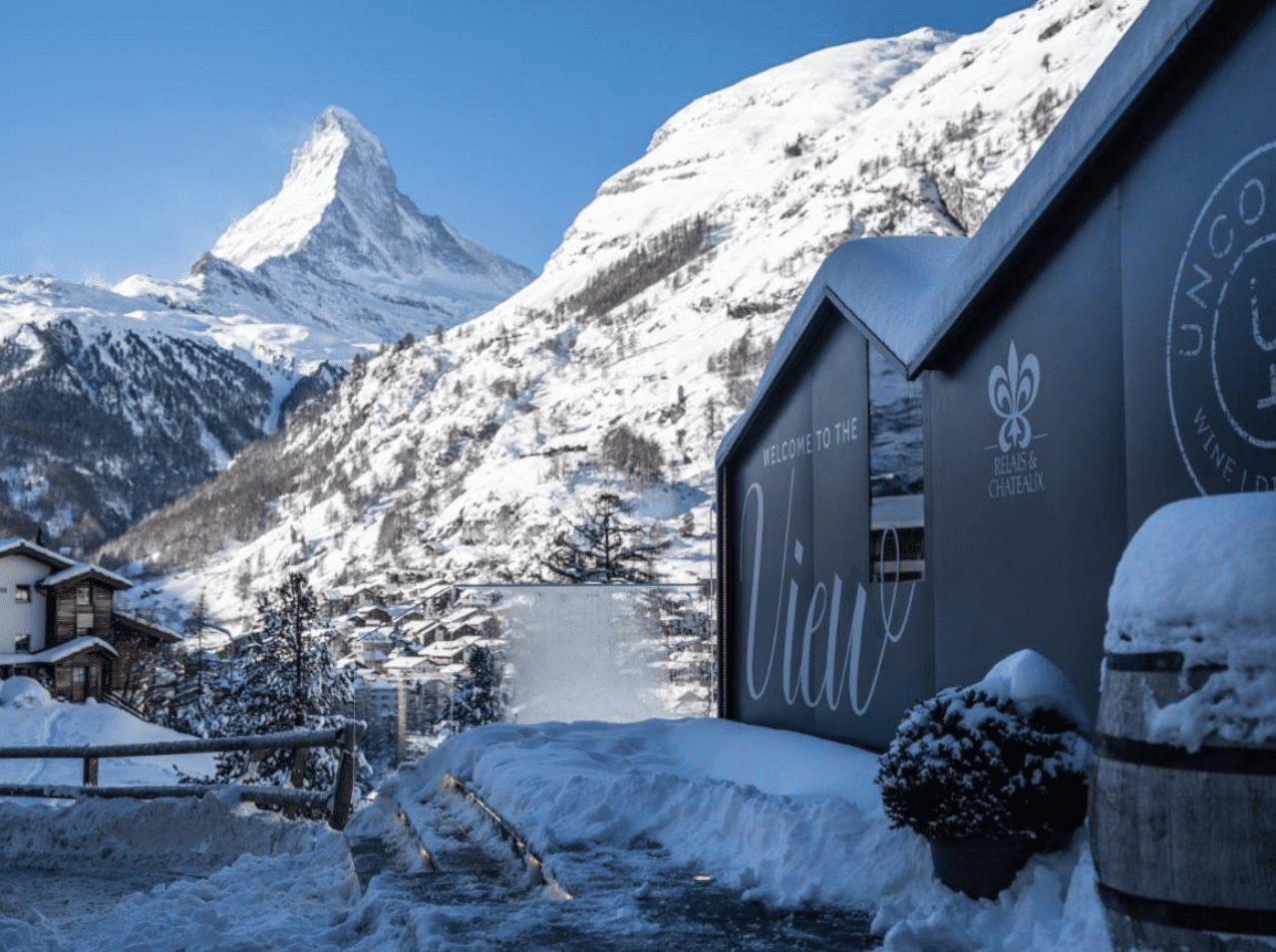 13) Cervo Mountain Resort
Affectionately nicknamed the 'gateway to the mountains', this isolated hotel is tucked away from the bustle of Zermatt and the other ski resorts in the area. Guests can get back to nature in this isolated mountain gem, and views of the Matterhorn can be enjoyed from almost every room in the hotel.
Cervo Mountain Resort is cozy and intimate, comprising only 7 chalets. This makes it rather exclusive, too, so be sure to book ahead.
The chalets each come equipped with a private wellness center with sauna, hot tub and open fire, making a trip to Cervo a true deluxe experience for affluent holidaymakers.
If you're in the mood to socialize, the hotel's communal spa offers yoga and meditation classes. These make expert use of the serene mountain environment to help guests wash their troubles away.
Book Today -> Cervo Mountain Resort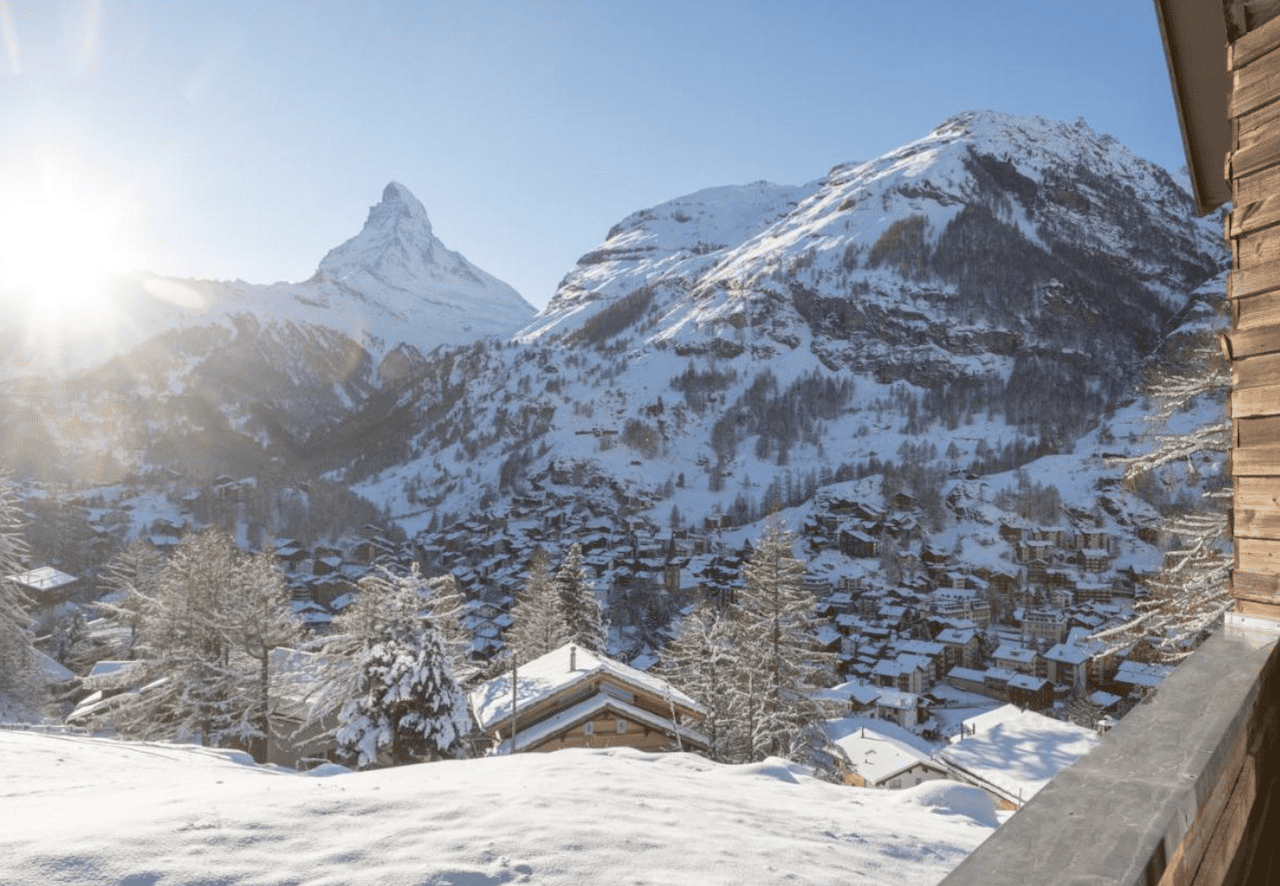 14) 3100 Kulmhotel Gornergrat
The highest hotel in the Swiss Alps, the 3100 Kulmhotel Gornergrat is about as far from civilization as you can get and offers views that are, quite simply, unmatched.
Though technically listed as 'Zermatt', the Kulmhotel is surrounded by nothing but pristine nature. There's something for everyone, whether it's summer or winter.
Almost all rooms offer some of the finest views you're likely to find in Switzerland – even those that do not look directly onto the Matterhorn. Ski enthusiasts will find much to love, with easy piste access and slopes that lead directly back to the hotel when done for the day.
→ Check out some of the other most unique hotels in Switzerland for your trip
The hotel even offers packed lunches for guests who plan on spending the day on the slopes. This means that they don't have to interrupt the action to find a restaurant or return to the hotel.
In fact, due to the remoteness of the hotel, it features more amenities than most. The clear sky above affords stargazers wonderful views of the firmament, and the hotel accommodates this with its own planetarium. The hotel even has its own shopping center on-site.
Book Today -> 3100 Kulmhotel Gornergrat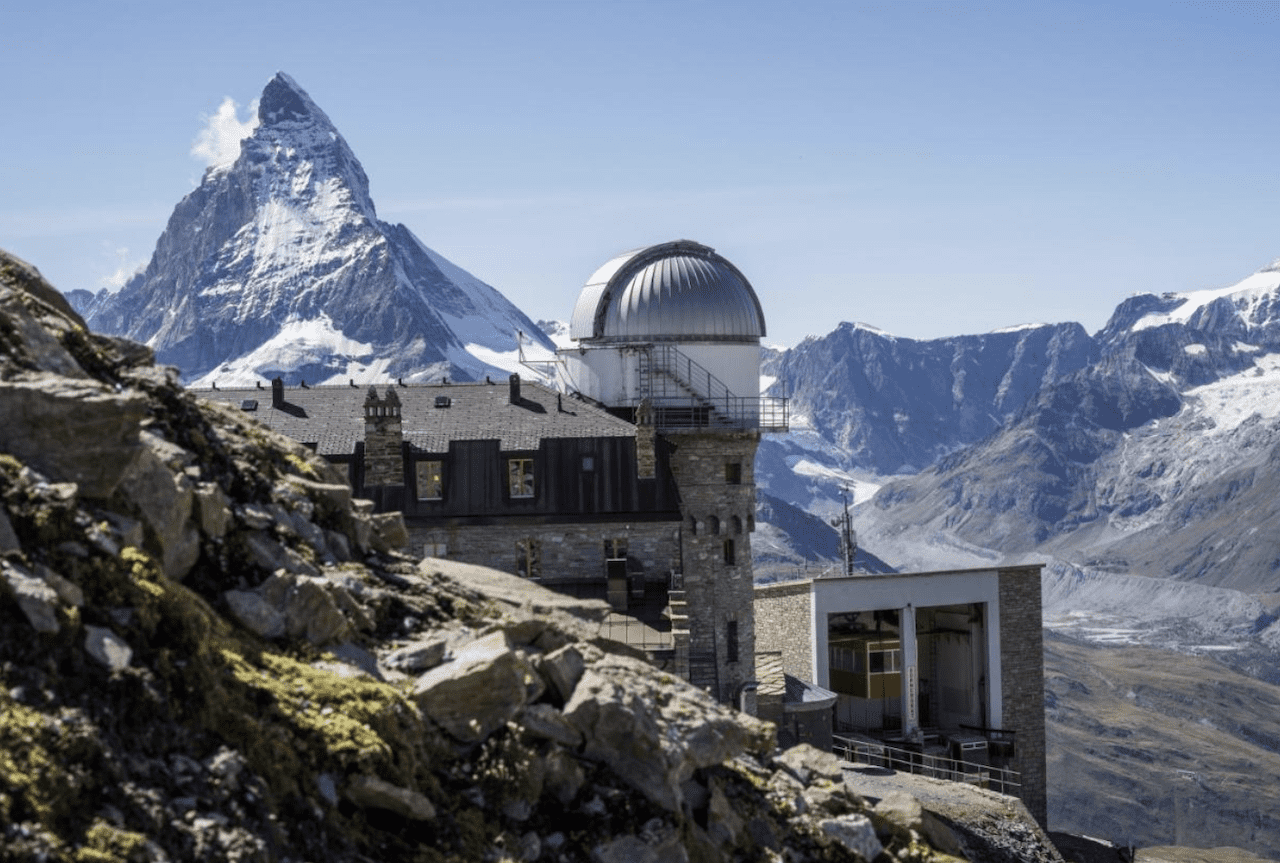 15) BaseCamp Apartments
A little different to most of the hotels in Zermatt, BaseCamp Apartments offers cozy and intimate guest apartments. Most have spacious balconies looking out onto the Matterhorn.
The apartments are located a convenient ten minutes from the center of the village. The cog railway is so close that you'll be high in the mountains within the hour, should you so desire.
BaseCamp Apartments is a great staging point for summer trips into the surrounding countryside. Nearby Leisee is, in particular, an attractive destination in the warmer months. Here, holidaymakers can go swimming, enjoy the local hiking trails or even crack open a cold beer while enjoying a BBQ.
→ The Five Lakes Trail in Zermatt is one of the top hikes in the area
Back at the apartments, those hankering for a more personal touch can order freshly baked bread rolls direct to their door. They are perfect to accompany your morning coffee while you sit out on the balcony and admire the majesty of the Matterhorn.
Book Today -> BaseCamp Apartments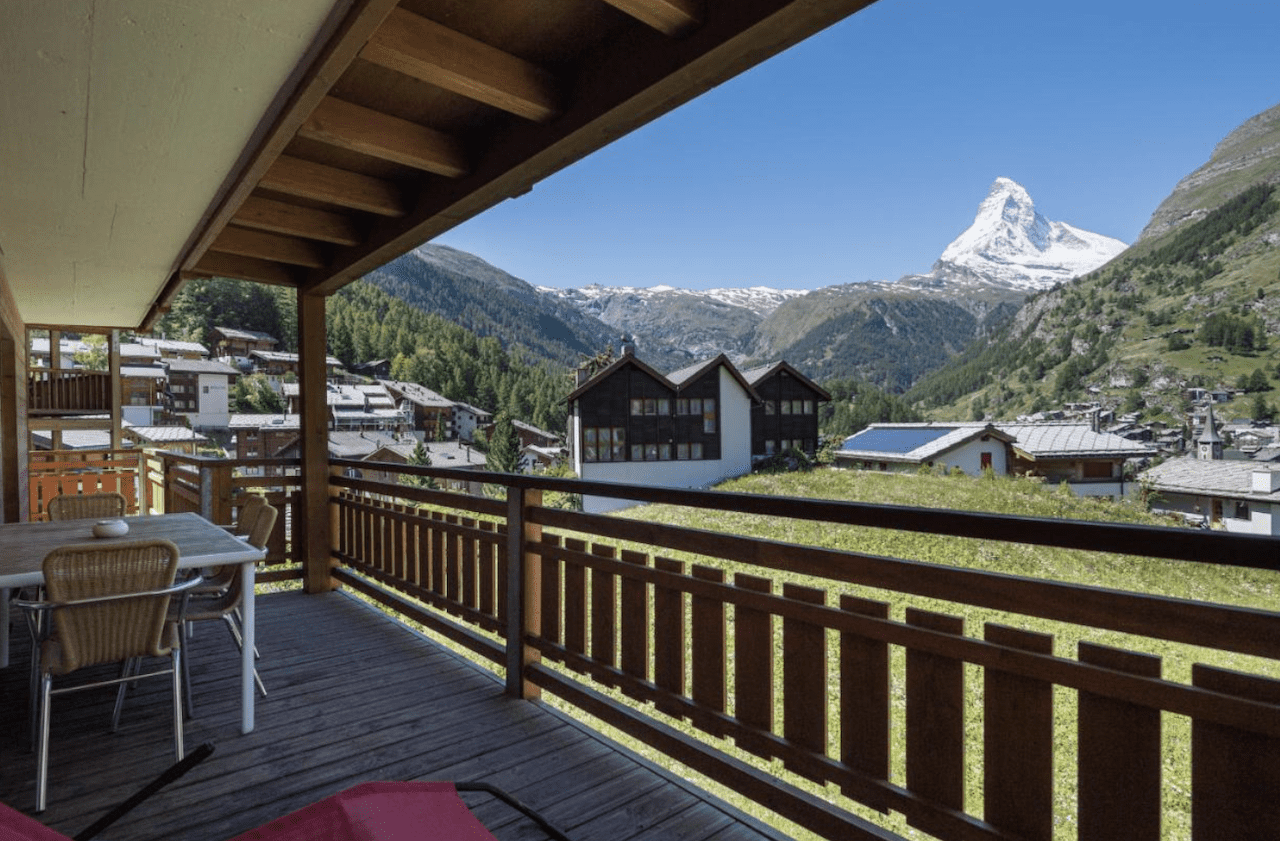 16) Chalet a la Casa
Chalet a la Casa is a charming fusion of the traditional Swiss chalet with spacious modern interiors, making it perfect for couples and families alike. Huge living rooms and fully equipped kitchens are complemented by heated terraces that afford magnificent views out onto the Matterhorn.
Chalet a la Casa's wellness center is as well-equipped as any other in Zermatt, and ensures that guests will be properly taken care of after a hard day's hiking or skiing. The outdoor Jacuzzi is perfect for summer or winter, with its heated waters keeping bathers cozy while they soak up the alpine ambience.
Book Today -> Chalet a la Casa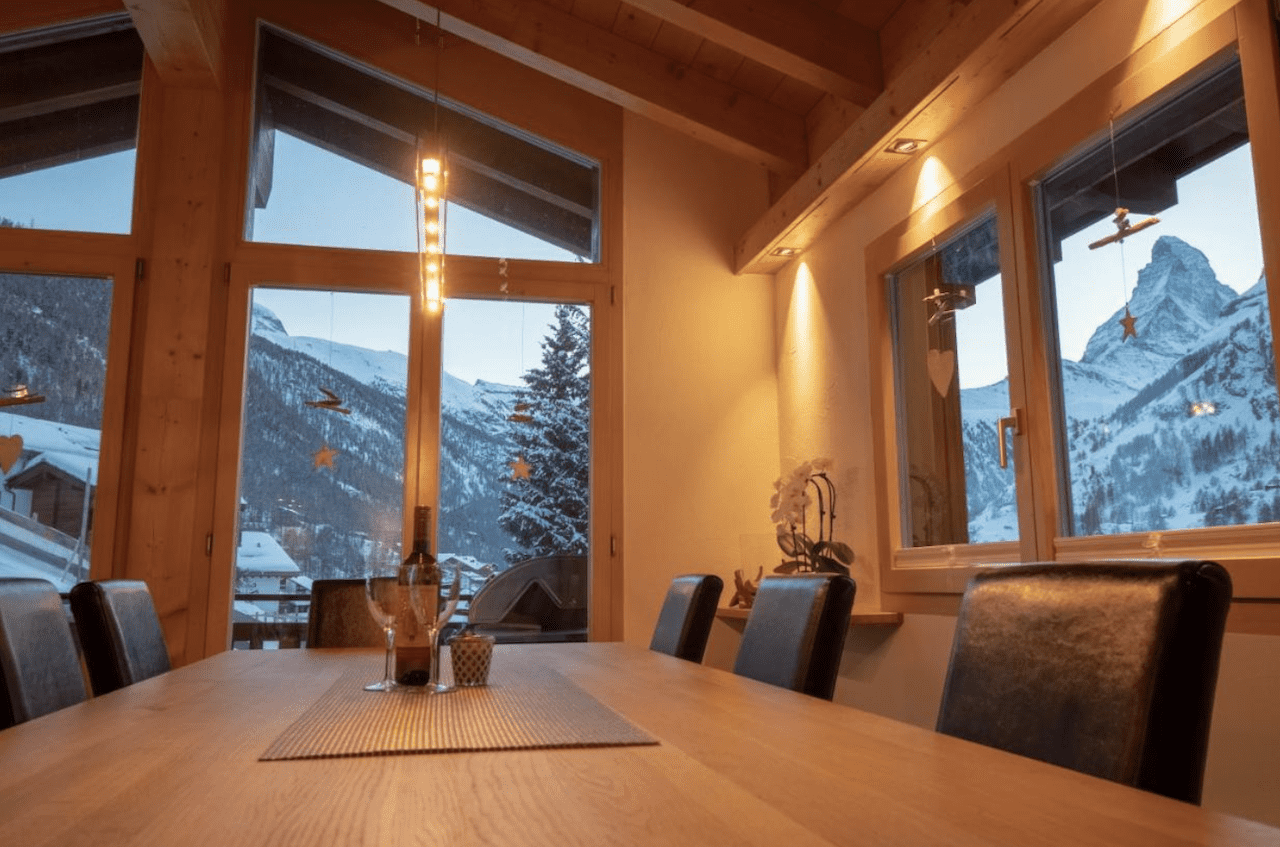 Matterhorn Hotel Views Map
To finish up this guide of the best hotels in Zermatt with Matterhorn views, you can check out the map below that shows where each one of these hotels are located.
This should give you a better idea where the hotels are situated in relation to the Zermatt city center.
That about wrap up a guide to some of the best hotels in Zermatt with views of the Matterhorn. If you have any questions or comments, feel free to add them in below.
Also, don't forget to check out some of the other Switzerland itineraries and guides up on the site (like the best hotels in Switzerland with infinity pools).
Have fun out there and safe travels!