There are many options when it comes to high-end hotels in Switzerland, from fairytale castles to staying in an igloo. But you're in real luck if looking for hotels in Switzerland with infinity pools. Where else can you enjoy unimpeded Alps views while soaking in gently heated water, if not in an infinity pool?
While there are many luxury hotels with infinity pools in Switzerland, this guide will go over 15 of the best options to choose from for your trip.
* Affiliate Disclosure: This post may contain affiliate links, which means I may receive a commission if you make a purchase through the links provided, at no additional cost to you. Thanks for supporting the work I put into TripTins!
List of Hotels in Switzerland with Infinity Pools
Let's get this started with laying out a list of 15 top hotels in Switzerland with infinity pools. These hotels are located all throughout the country, so there is surely something that will work for you during your trip.
If you are looking to build out an itinerary, be sure to check out this 10 day Switzerland itinerary to get your started.
Below are the hotels I will be talking through in the remainder of this guide. In addition I have included the general location of where each one of them are located.
1) Hotel Villa Honegg | Burgenstock
2) The Cambrian | Adelboden
3) The Dolder Grand | Zurich
4) Panorama Resort & Spa | Feusisberg
5) B2 Boutique Hotel Zurich | Zurich
6) Villa Sassa Hotel | Lugano
7) Beatus Wellness & Spa-Hotel | Merligen
8) Belvedere Strandhotel | Spiez
9) B&B Corseaux Beach | Corseaux
10) Hotel Eden Roc | Ascona
11) Hotel Riviera | Lugano
12) Riffelalp Resort | Zermatt
13) Grand Hotel Kronenhof | St Moritz
14) Burgenstock Hotel & Alpine Spa | Burgenstock
15) Kempinski Palace Engelberg | Engelberg
→ If you enjoy this list of hotels, be sure to check out some other top hotels in Switzerland with a view and hotels in Switzerland for a honeymoon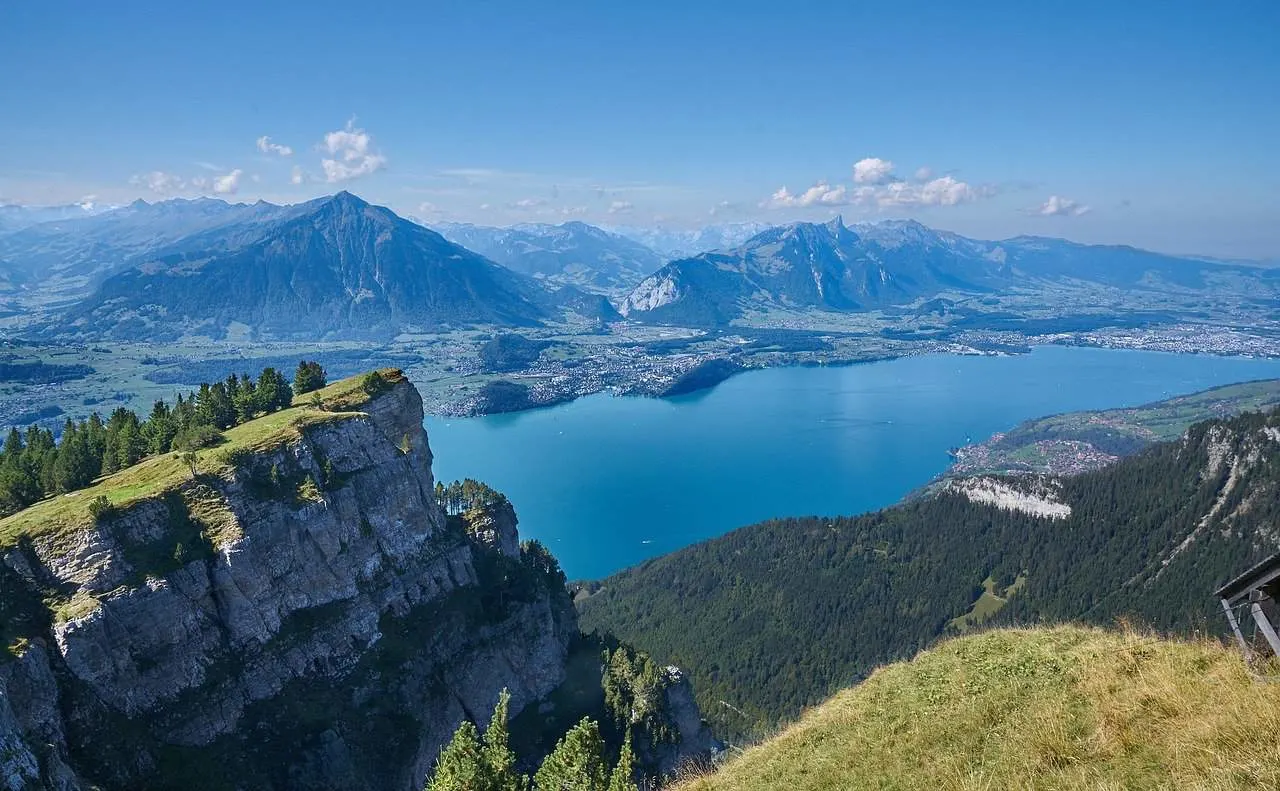 Switzerland Infinity Pool Hotels Map
Just so you can get a better idea of where each of the Swiss infinity pool hotels are located, here is a map that shows each one pinpointed down.
Depending on your overall route, you may be able to add one or more of these hotels onto your itinerary. As I talk through each one of these hotels, you will find links to book each and every one of these.
Hotel Villa Honegg
Hotel Villa Honegg is a high-end hotel at around 1,000 meters above sea level on Mount Bürgenstock. Built in the early 1900s, the villa is a true luxury experience overlooking the famous Lake Lucerne.
In addition to its infinity pool (which we'll get to), the villa sports no small number of modern conveniences. It was fully renovated in 2011, and all rooms are fully air conditioned – keeping you comfortable whatever the time of year.
Hotel Villa Honegg has an extensive wellness center with sauna and steam room, and a private cinema. You can make use of the hotel's free electric bikes to check out the stunning views all around Mount Bürgenstock, and there are a good number of spectacular hiking trails.
The hotel's centerpiece is, of course, its majestic infinity pool. Enjoy the best views of Lake Lucerne in the area and soak up the heat in the pool's 34-degree water!
• Book Today → Hotel Villa Honegg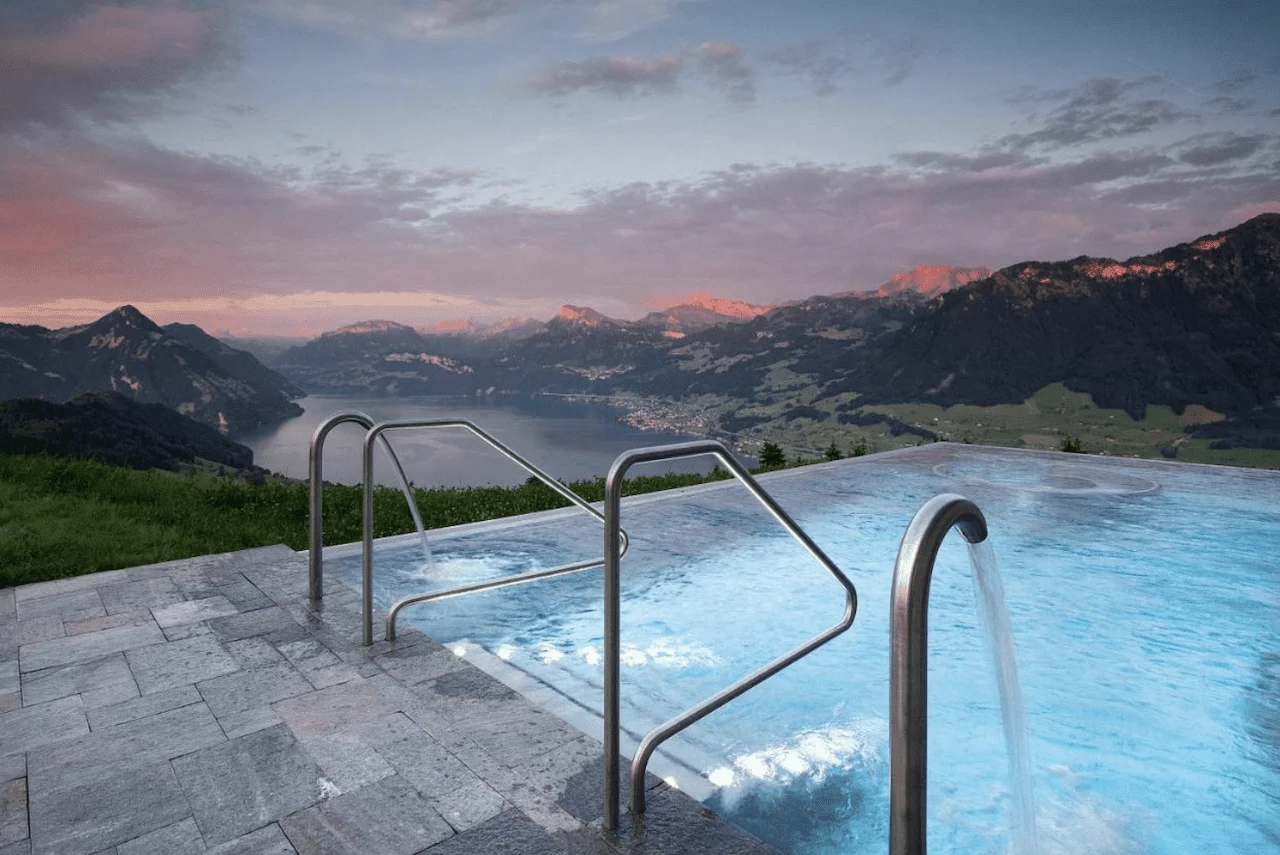 The Cambrian
Welsh-owned luxury hotel The Cambrian is found in the idyllic Swiss village of Adelboden. It's renowned for its panoramic views of the surrounding peaks – even when not making use of its fantastic infinity pool.
The Cambrian is cozy and intimate, with a relaxing lounge-bar area featuring an open fire. If you're not in the mood to venture outdoors and go in the infinity pool, they have a tranquil indoor pool to make use of. Adjoining the indoor pool is a Finnish sauna, hot tub and treatment rooms, making for a truly relaxing stay.
The infinity pool at The Cambrian is rightly renowned as one of the finest infinity pools in Switzerland. Just one look at it is enough to convince any viewer of its beauty, and it attracts visitors from all over the globe.
• Book Today → The Cambrian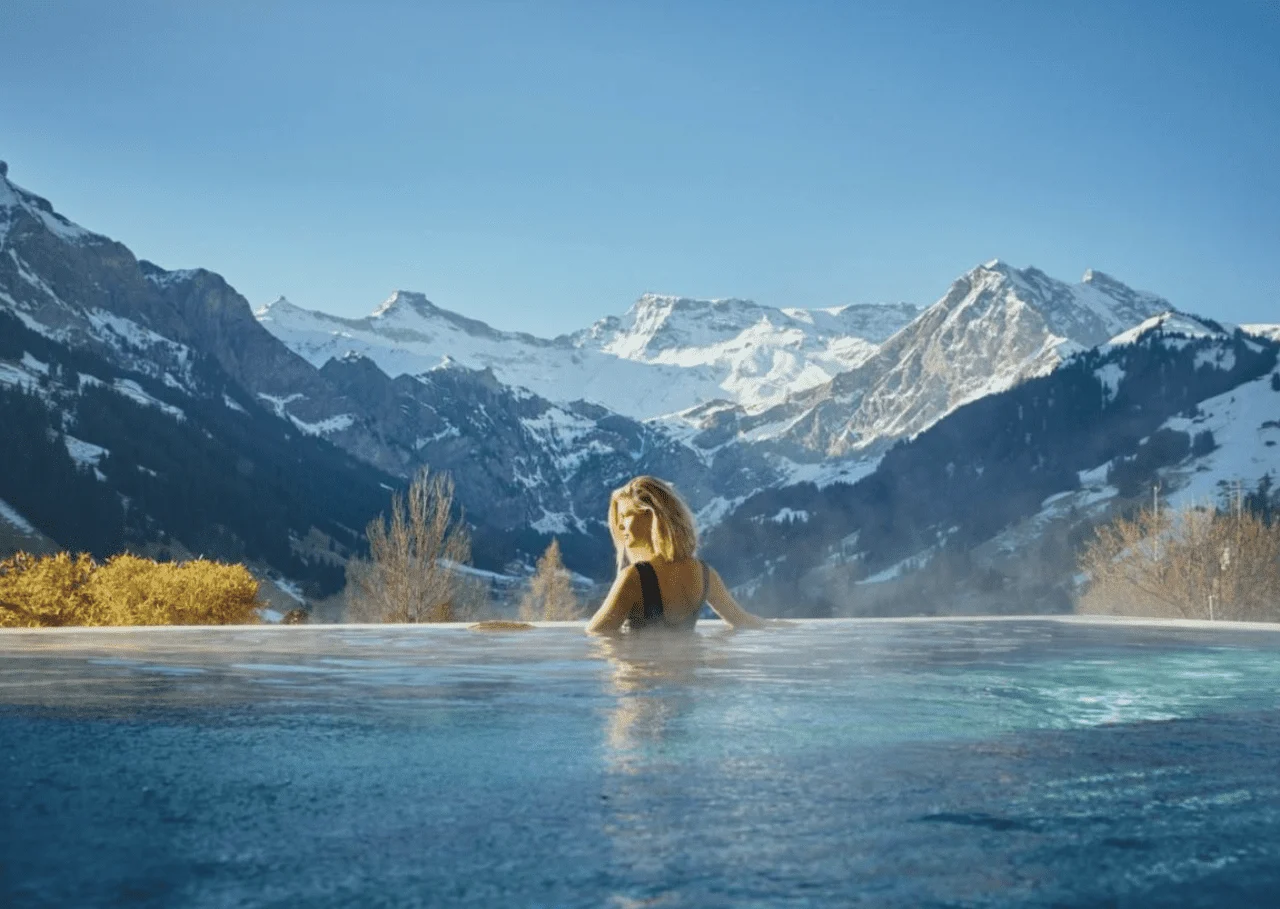 The Dolder Grand
The Dolder is a beautiful, secluded hotel tucked away in woodland outside Zurich. Despite its rural tranquility, it is deceptively close to the city – less than half an hour by car. It originally opened in 1899 and has boasted some renowned guests in its time, including Sophia Lauren and Winston Churchill.
The Dolder Grand oozes elegance and chic, from crystal chandeliers to soaring ceilings. The artwork adorning its walls is peerless, and the hotel counts Andy Warhol and Salvador Dali pieces among its collection.
The Dolder sports a spa, full 18-hole golf course, tennis courts, and an ice rink for those visiting in the winter months. Its gym is second-to-none, with free classes offered every morning. For those who'd rather explore the surrounding woodland, there are plenty of scenic hiking trails.
The Dolder Grand infinity pool offers wonderful views of Zurich in the distance and offers a relaxing, tranquil swim in its heated waters.
• Book Today → The Dolder Grand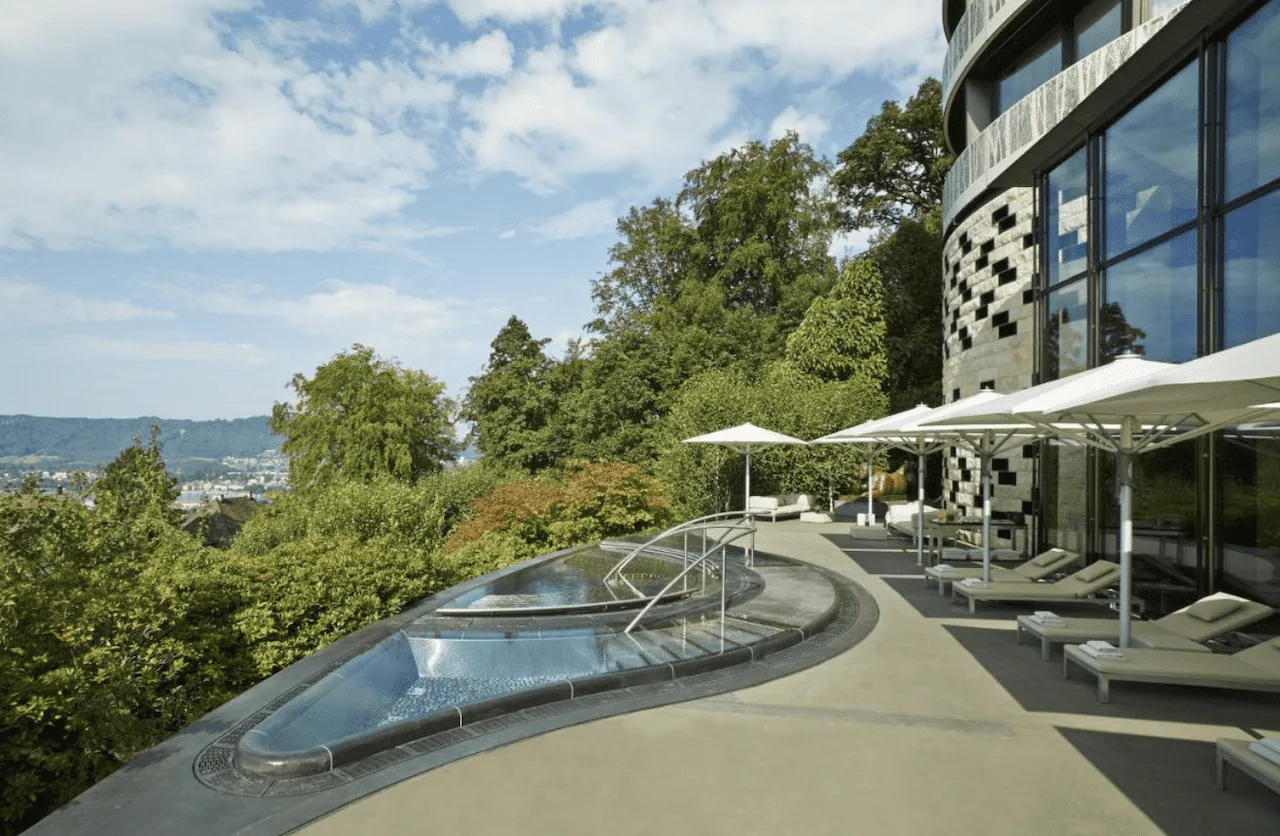 Panorama Resort & Spa
Panorama Resort & Spa is another hotel located not too far from Zurich – and another that sports one of the best infinity pools in Switzerland. It's also famous (as its name might imply) for its sprawling sauna and its perfect location atop Mount Feusisberg.
The 2,000-square-meter spa, named the Akari Spa, has an attached fitness center, and guests are pampered with massages and beauty treatments upon request. Complimentary yoga classes are also offered.
The Panorama Resort is perfectly located, with wonderful views of Lake Zurich and easy access to the nearby Alpamare water park. Guests wishing to take a day trip into Zurich can make use of the convenient shuttle system to be downtown within 30 minutes.
But it's once again to the infinity pool that we turn to – this stunning heated pool offers the best view of Lake Zurich in the area, and must be experienced firsthand to truly appreciate it.
• Book Today → Panorama Resort & Spa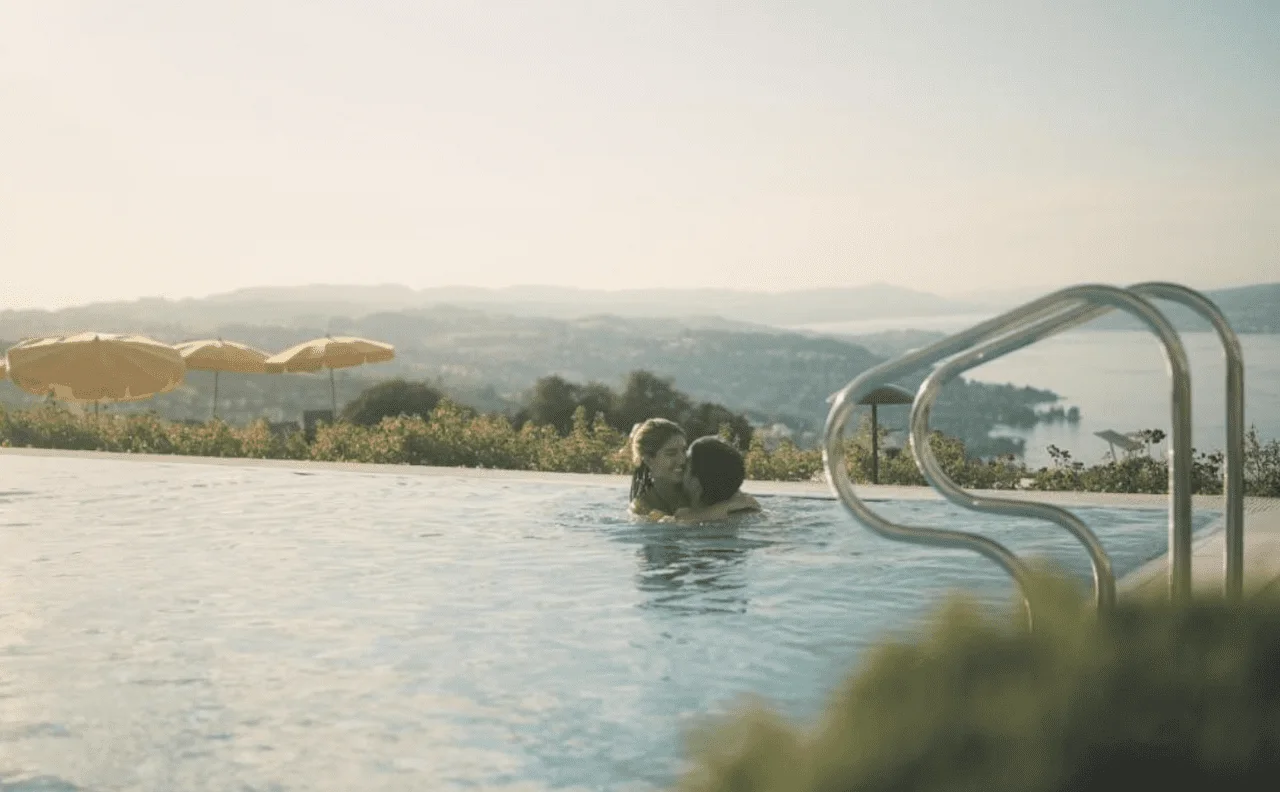 B2 Boutique Hotel Zurich
Boutique Hotel Zurich is a great place to stay if you find yourself in this bustling Swiss city. It's famous not only as a great hotel in Switzerland with an infinity pool, but also for its wonderful spa and its sprawling private library.
Boutique Hotel Zurich is located in a renovated brewery, which makes for a unique layout and architecture not commonly found in hotels. Its library has over 33,000 books, and any bibliophiles in your party will have a hard time pulling themselves away.
The hotel's unique heritage is reflected in its gym (treadmills hidden among brewery equipment) and its thermal spa is the perfect place to relax on a winter's day. The rooftop infinity pool is the real draw, though. Relax in the steamy waters and whirlpools while watching over the Zurich skyline.
• Book Today → Boutique Hotel Zurich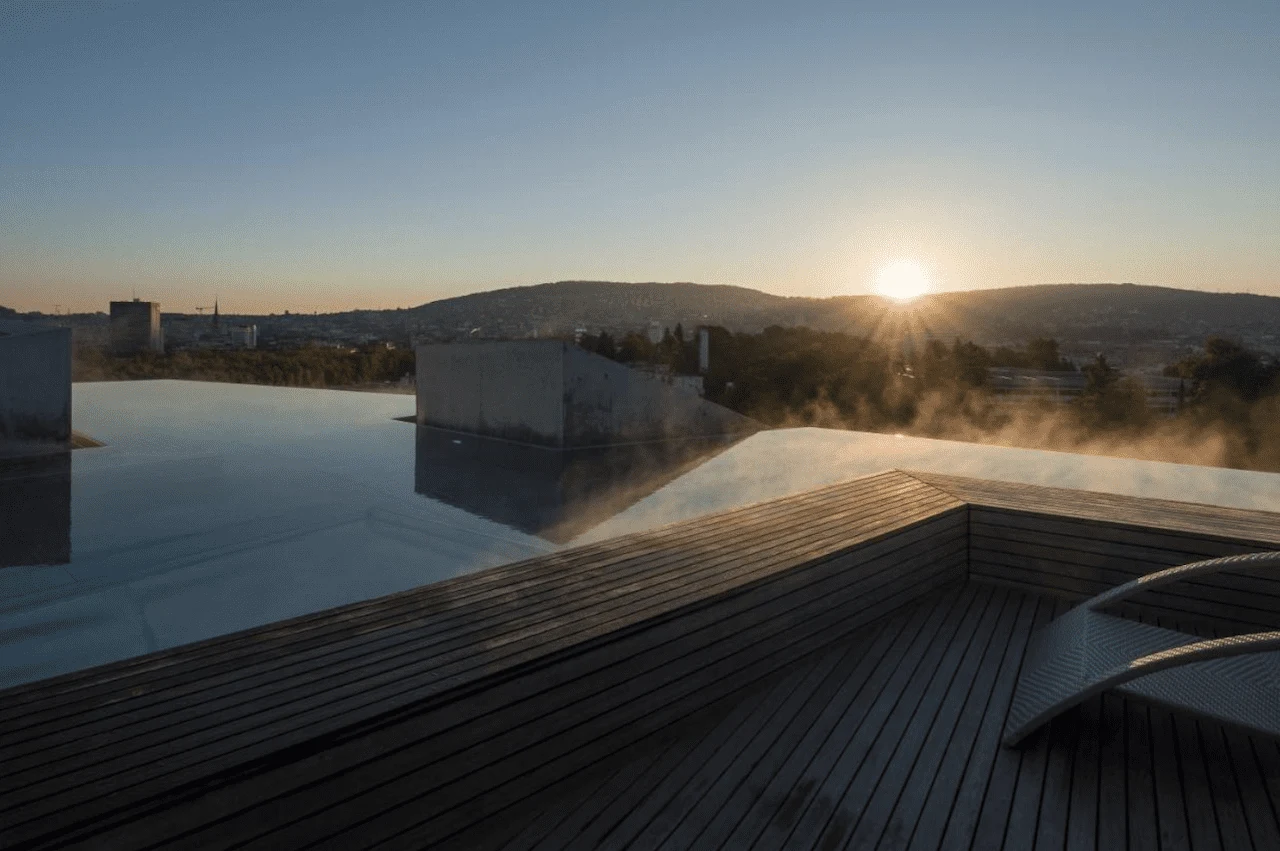 Villa Sassa Hotel
Villa Sassa Hotel is a renowned wellness hotel that boasts world-class spa and fitness facilities. It overlooks the picturesque town of Lugano in southern Switzerland, close to the Italian border.
The hotel grounds are situated in a sprawling park, making for views both from your hotel balcony and if taking a stroll. If the views don't make the hotel, the 3,000-meters-squared spa facility does, with hot tubs, saunas and Turkish baths.
The hotel's fantastic Ai Giardini di Sassa restaurant fuses the best of Swiss cuisine with that of neighboring Italy. Soak in the sights of Lugano from its sweeping balcony as you dine on the best food the city has to offer.
Villa Sassa's infinity pool overlooks the postcard-pretty town below, and the stunning lake region of the Italian border and its hills. You'd be hard pushed to find more beautiful views than those from this Swiss infinity pool.
• Book Today → Villa Sassa Hotel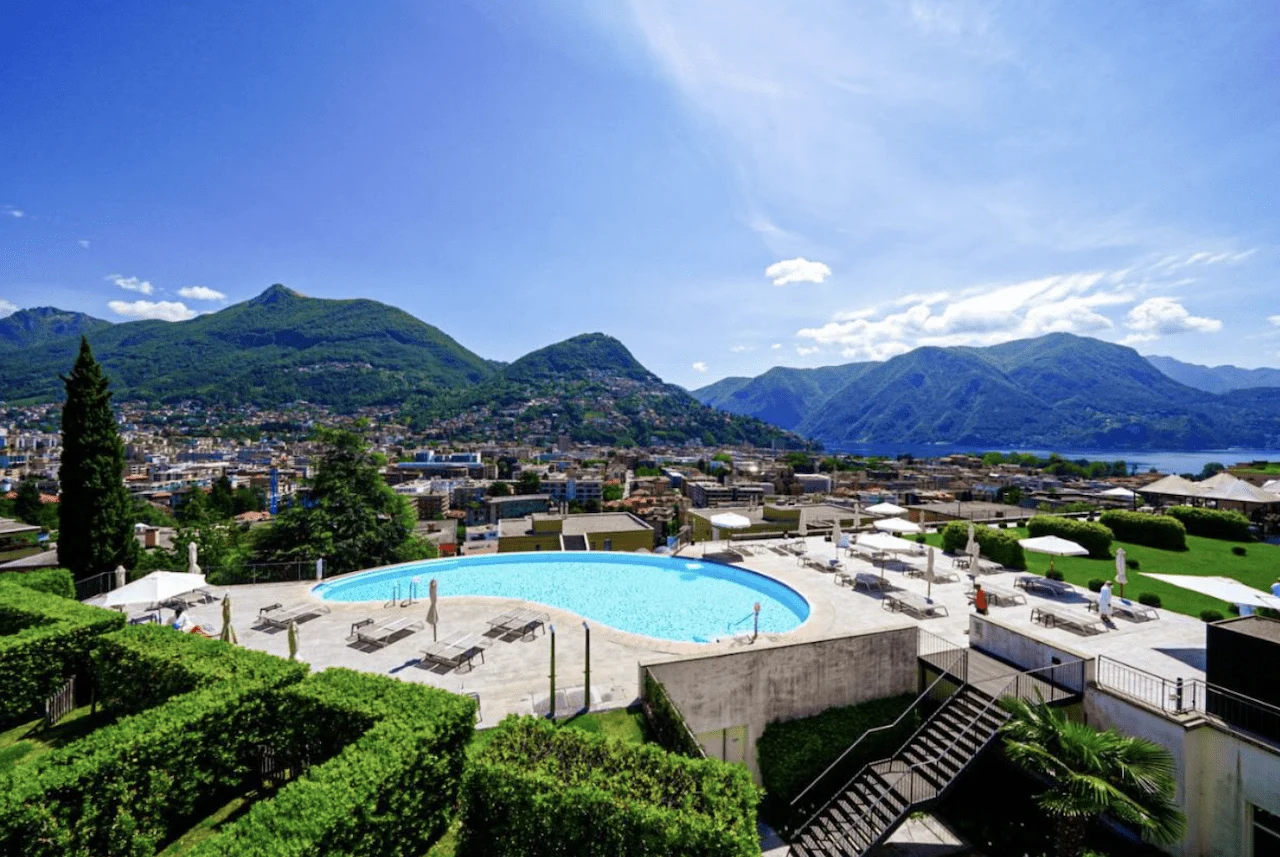 Beatus Wellness & Spa-Hotel
Sitting on the shores of Lake Thun, Beatus Wellness & Spa Hotel features a unique lake-approach check-in that sets the tone straight away. It's a great location for couples and, if you're willing to shell out a little more, you can grab a room with panoramic views of the lake and mountains.
The food served in the hotel's restaurant is typical of areas of Switzerland close to the Italian border. Enjoy Alpine-Mediterranean cuisine in the onsite restaurant while overlooking the beautiful Lake Thun and the wooded slopes of the Niederhorn.
All of the hotel's rooms are south-facing, and the most luxurious suites have private winter gardens with whirlpool baths. But it is, again, the infinity pool that is the true standout of the hotel.
Aside from its majestic views of Lake Thun and Niederhorn, the pool is comprised of saltwater. This makes for a relaxing swim that helps to exfoliate your skin and detoxify your body.
• Book Today → Beatus Wellness & Spa Hotel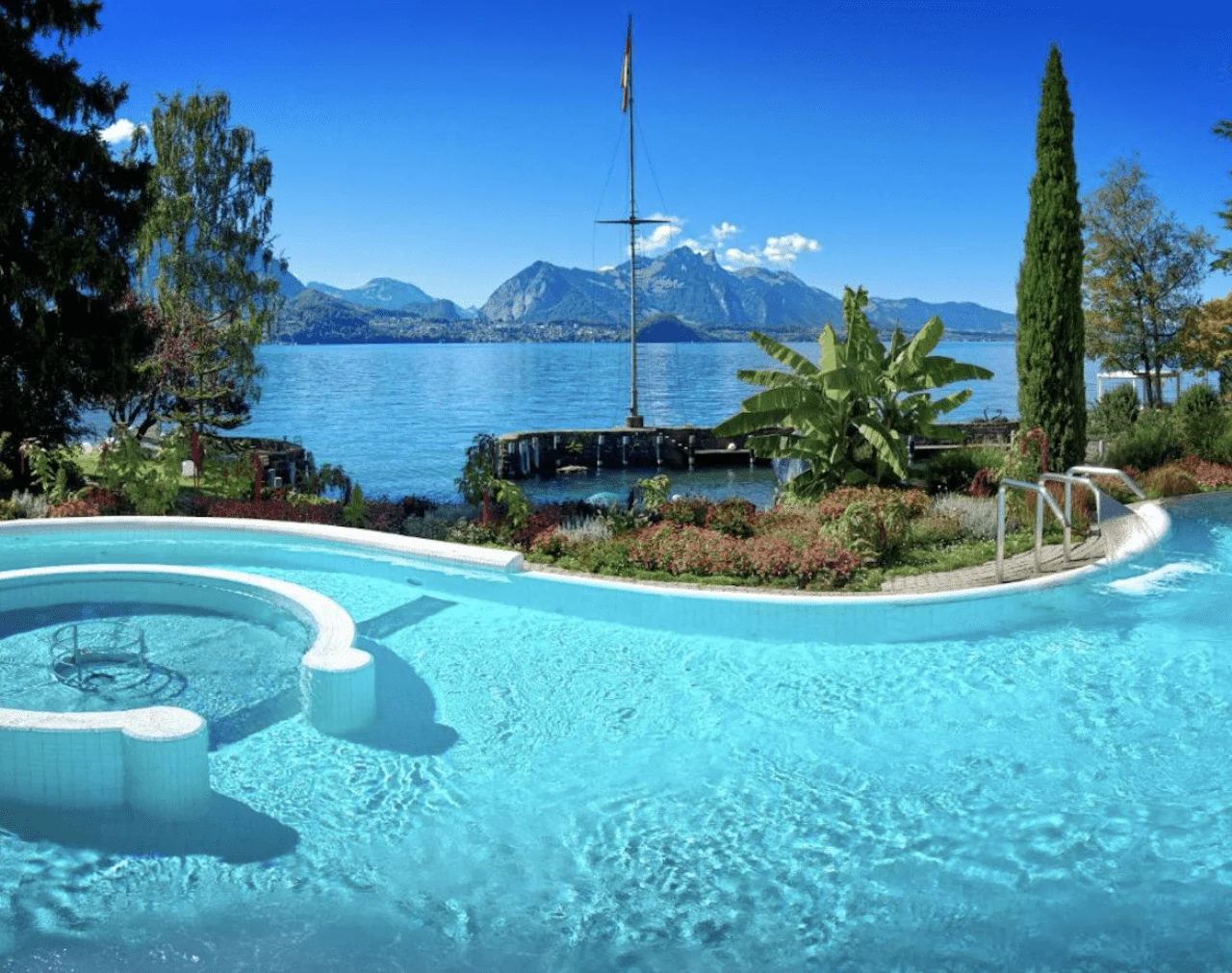 Belvedere Strandhotel & Restaurant
This 4-star hotel also sits on the shores of Lake Thun, and is one of Switzerland's best hotels with an infinity pool. A mere 30 minutes from the Swiss capital of Bern, day-trippers can easily take a shuttle bus into the city and enjoy its sights and sounds.
Belvedere Strandhotel hotel has, in addition to its infinity pool, a private lakeside beach where guests can stretch out and enjoy the unparalleled views. If you'd rather not trek down to the beach, the hotel's modest infinity pool offers views of nearby Spiez and great views of the lake from the southern shore.
The hotel was renovated in 2012, and its rooms are decorated in a unique and memorable Grecian style. All of the rooms are spacious, and many boast both bathtubs and showers.
• Book Today → Belvedere Strandhotel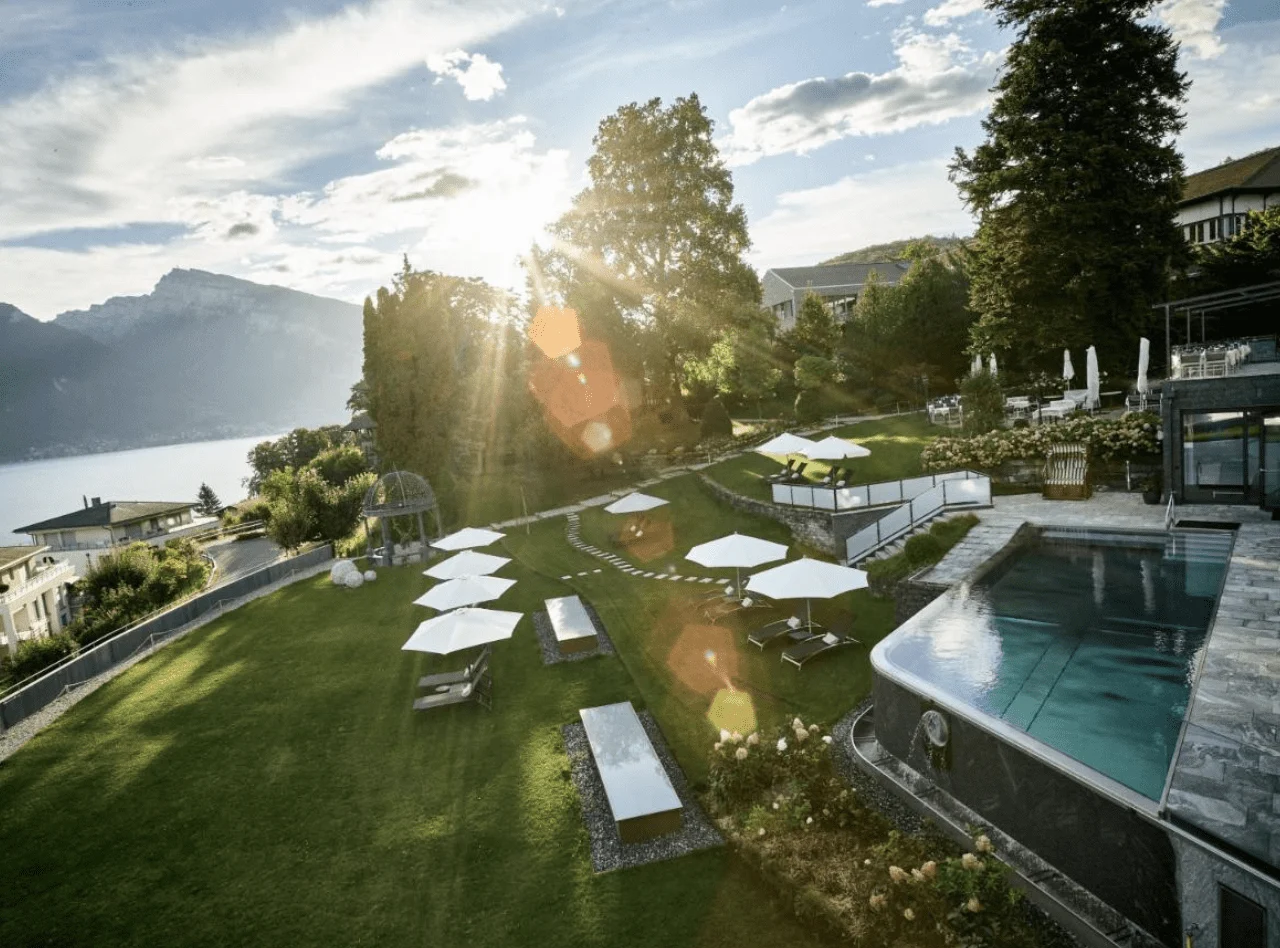 B&B Corseaux Beach
The scenic B&B Corseuax Beach is located near the vineyards of Lavaux, and has great views of the nearby lakes and mountains.
Its cleverly designed infinity pool seems to merge with Lake Geneva, giving bathers the unique impression that they're submerged in the waters of the great lake.
As a bed and breakfast, Corseaux Beach is not really a hotel, but nevertheless sports the amenities and top-notch service of one. The sprawling detached house has four rooms and an adjoining private apartment, making it an ideal family getaway.
Guided tours of the nearby vineyards make for a great trip, or guests can simply make the most of Lake Geneva with a boating trip or hiking along the shores.
• Book Today → B&B Corseuax Beach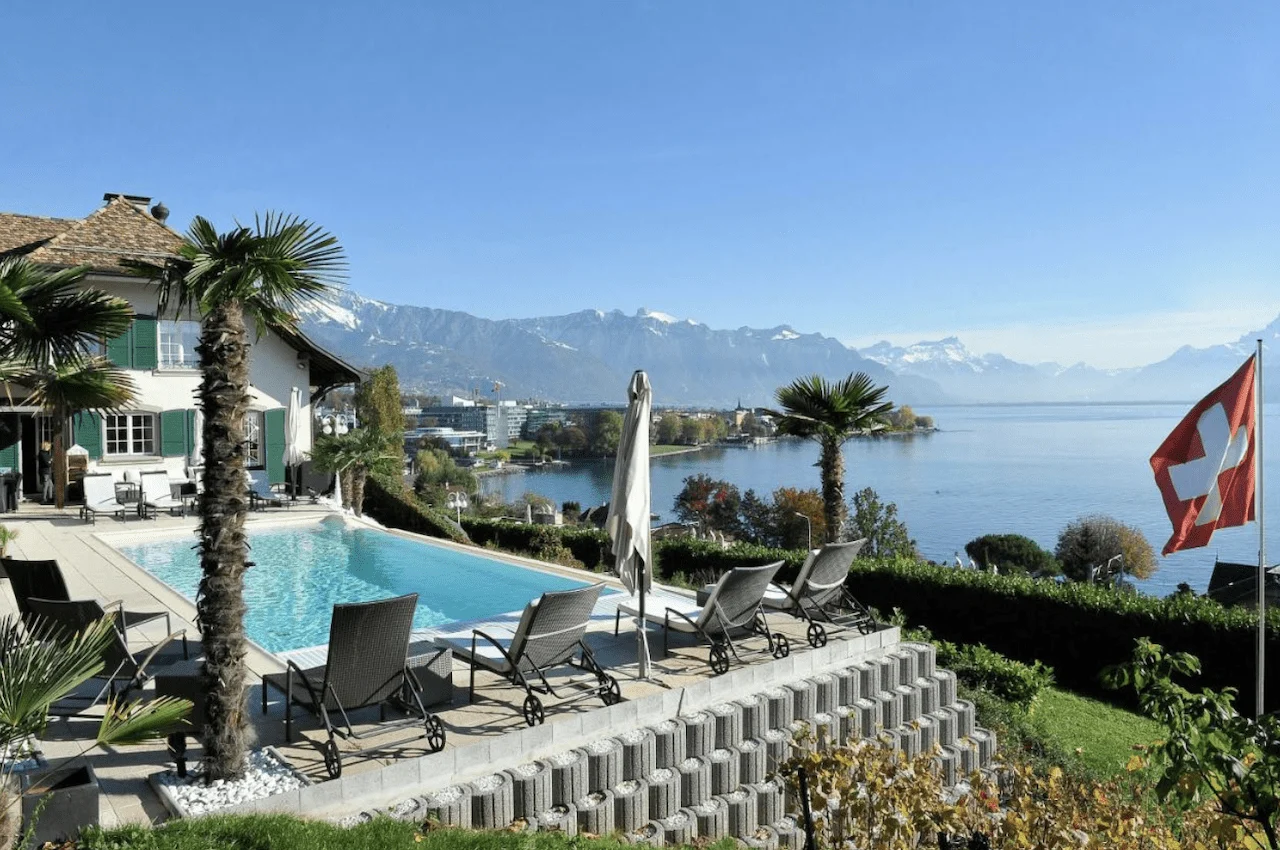 Hotel Eden Roc
World-class resort Hotel Eden Roc is one of the highest-quality hotels in Switzerland with an infinity pool. The hotel sits on the shore of Lake Maggione and features spacious modern rooms. most of which have great views of the lake.
Eden Roc boasts four amazing restaurants, with eclectic menus that draw from French, Swiss and Mediterranean cuisine. No two meals are alike when you stay at the Eden Roc.
The hotel has three pools, and even has its own private beach. The indoor pools are perfect for the chilly winter months, while if you're prepared to venture outside, the scenic infinity pool offers great views of Lake Maggiore.
Guests will find much to enjoy in the quaint town of Ascona not far from Hotel Eden Roc. During the winter months there's a festive Christmas market, and during the summer visitors can take in the quaint cobbled streets and historic churches.
• Book Today → Hotel Eden Roc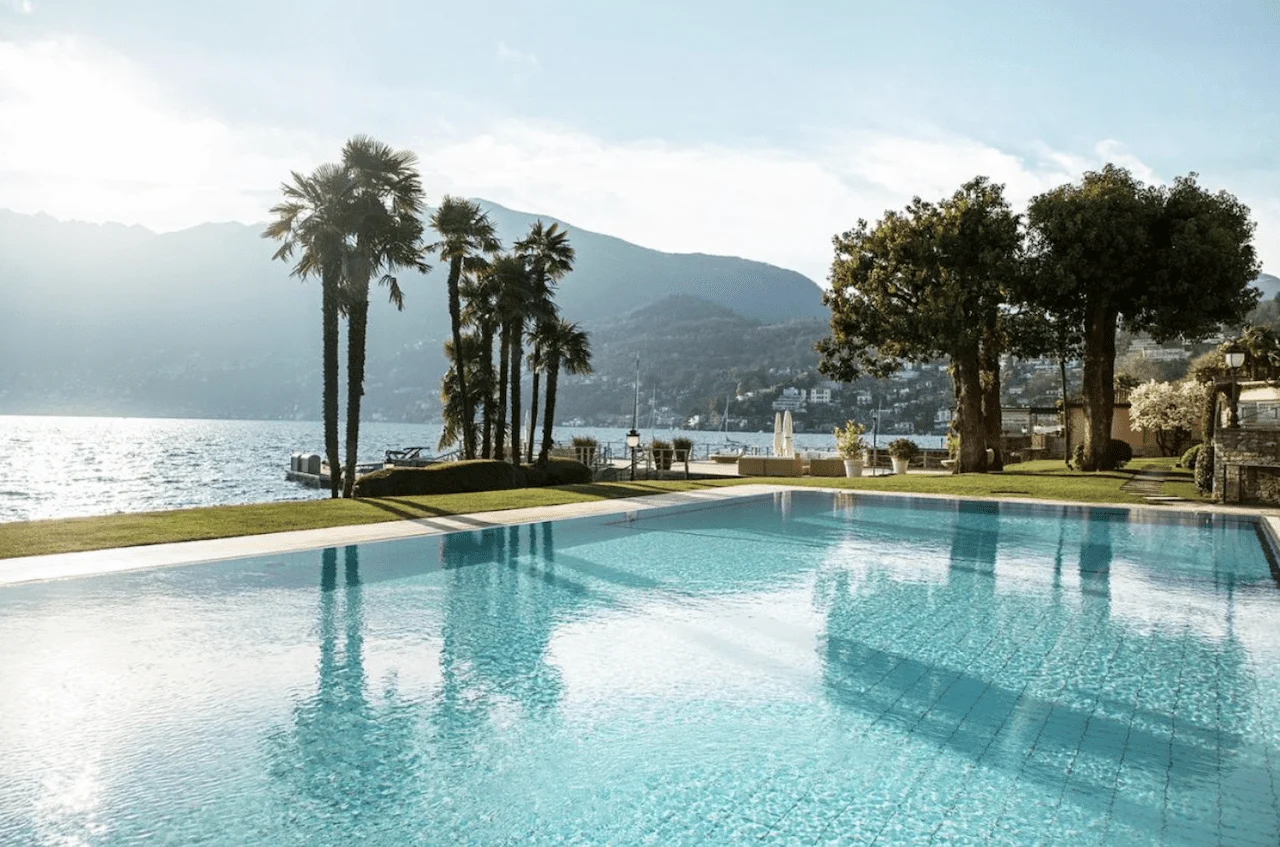 Hotel Riviera
Sitting on the shore of Lake Lugano, Hotel Rivera is noted for its locally sourced fresh food (all fish dishes are made with fish caught in the lake) and spectacular views. Guests can make the most of the lake by taking pedal boats directly out onto the water, or simply enjoy the scenery from the numerous terraces in the hotel.
Switzerland's largest open-air miniature museum, the Swissminiatur, is found nearby and makes for a fantastic day trip. Children and adults alike will be enthralled with the 1:25-scale models of buildings, trains, cable cars, funiculars and mountains that comprise the park. It is a must-see if you're staying at the Hotel Riviera.
As is standard for Swiss lakeside hotels, the infinity pool overlooks the lake in such a way that it seems to merge with it. Whether summer or winter, guests will find a lot to love in this scenic infinity pool.
• Book Today → Hotel Riviera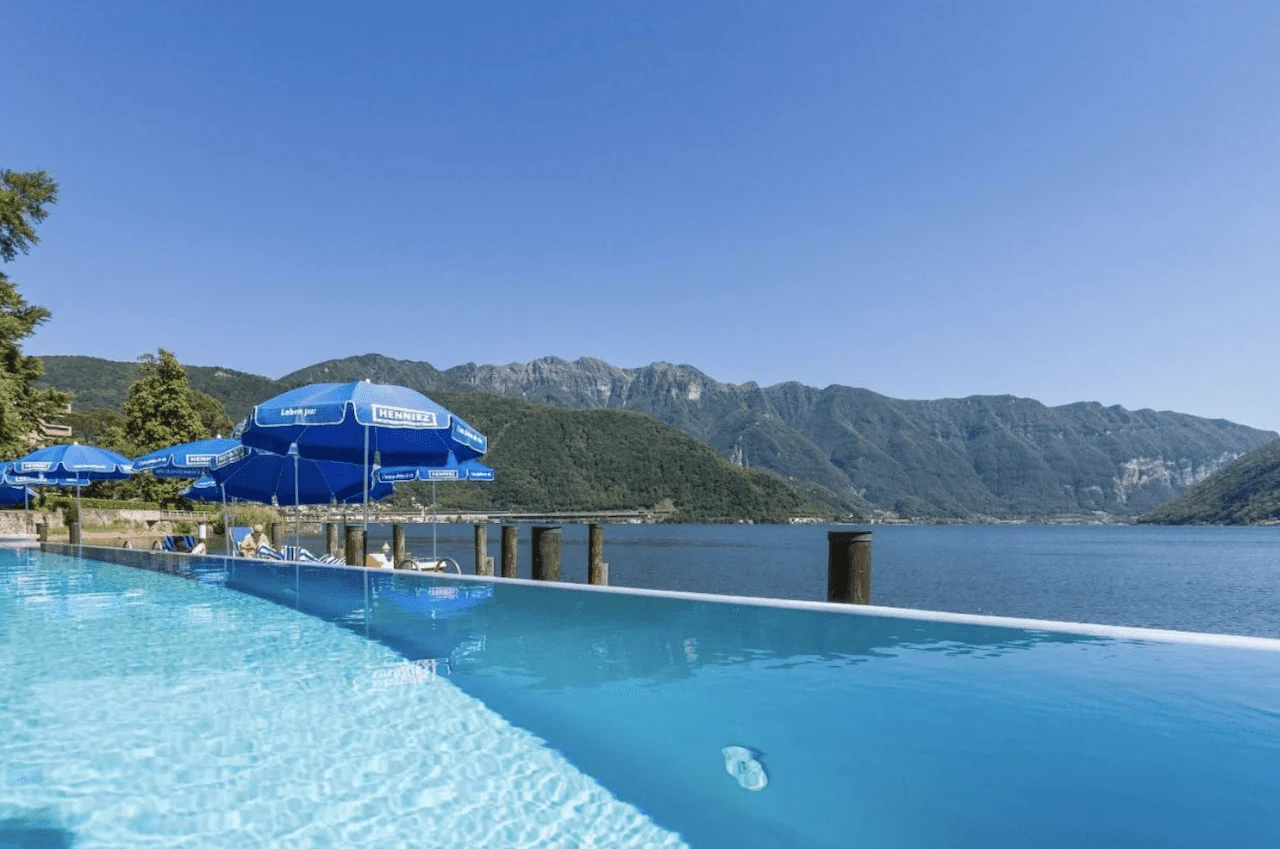 Riffelalp Resort
Riffelalp Resort is a Swiss hotel sits at 2,222 meters above sea level, making its infinity pool the highest in Europe. The resort is the quintessential Swiss Alpine experience, with excellent ski slopes just a stone's throw from the hotel.
The nearby Matterhorn looms large, and even if you're not a skiing enthusiast there are plenty of other activities to take advantage of. Nearby scenic hiking trails afford great views of the Alps in general and the Matterhorn in particular.
The Riffelalp Resort is luxurious but downplays this with a rustic chalet-style feel. Paintings of animals and wooden sculpts of bears predominate, making you feel like you're in a real Alpine lodge.
But it's the infinity pool that really stuns, sitting directly opposite the Matterhorn and making bathers feel as if they really are at the top of the world.
• Book Today → Riffelalp Resort
→ Be sure to check out some of the other hotels in Zermatt with views of the The Matterhorn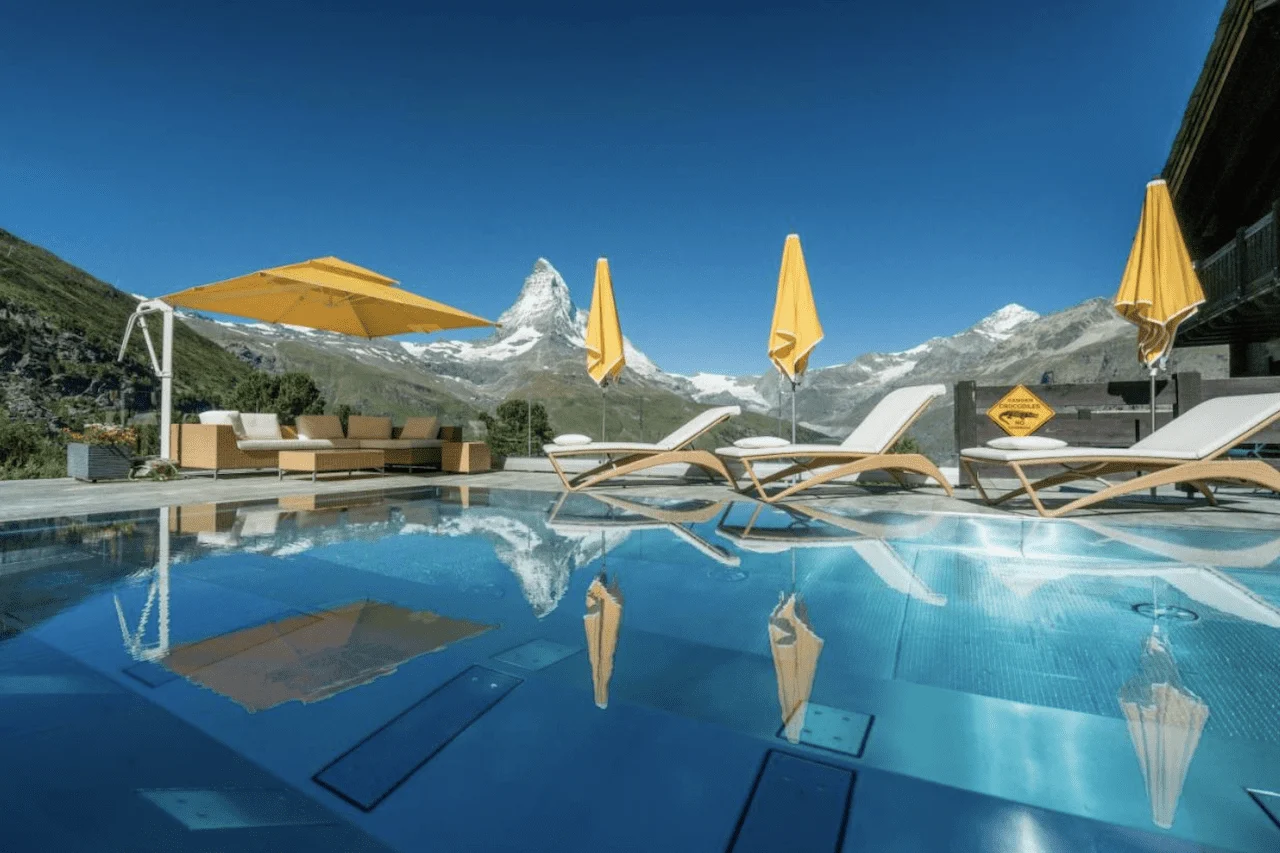 Grand Hotel Kronenhof
The world-famous Grand Hotel Kronenhof has repeatedly won TripAdvisor's 'Best of the Best' award, and it's not hard to see why.
The hotel has world-class spa facilities, and its exclusive restaurant enforces a strict dress code to preserve its elegance and classy ambiance. And when considering hotels in Switzerland with an infinity pool, the Kronenhof should be at the top of your list.
The spa amenities are truly exceptional. In addition to the usual, there is a bio sauna, steam grotto and saltwater grotto for your exfoliation needs.
The infinity pool at Grand Hotel Kronenhof is somewhat unusual as it's indoor, but this doesn't stop it from offering fantastic views of the surroundings with ceiling-to-floor windows.
Outdoors enthusiasts will also have plenty of options, from a multitude of local hiking trails with easy access to the mountains.
• Book Today → Grand Hotel Kronenhof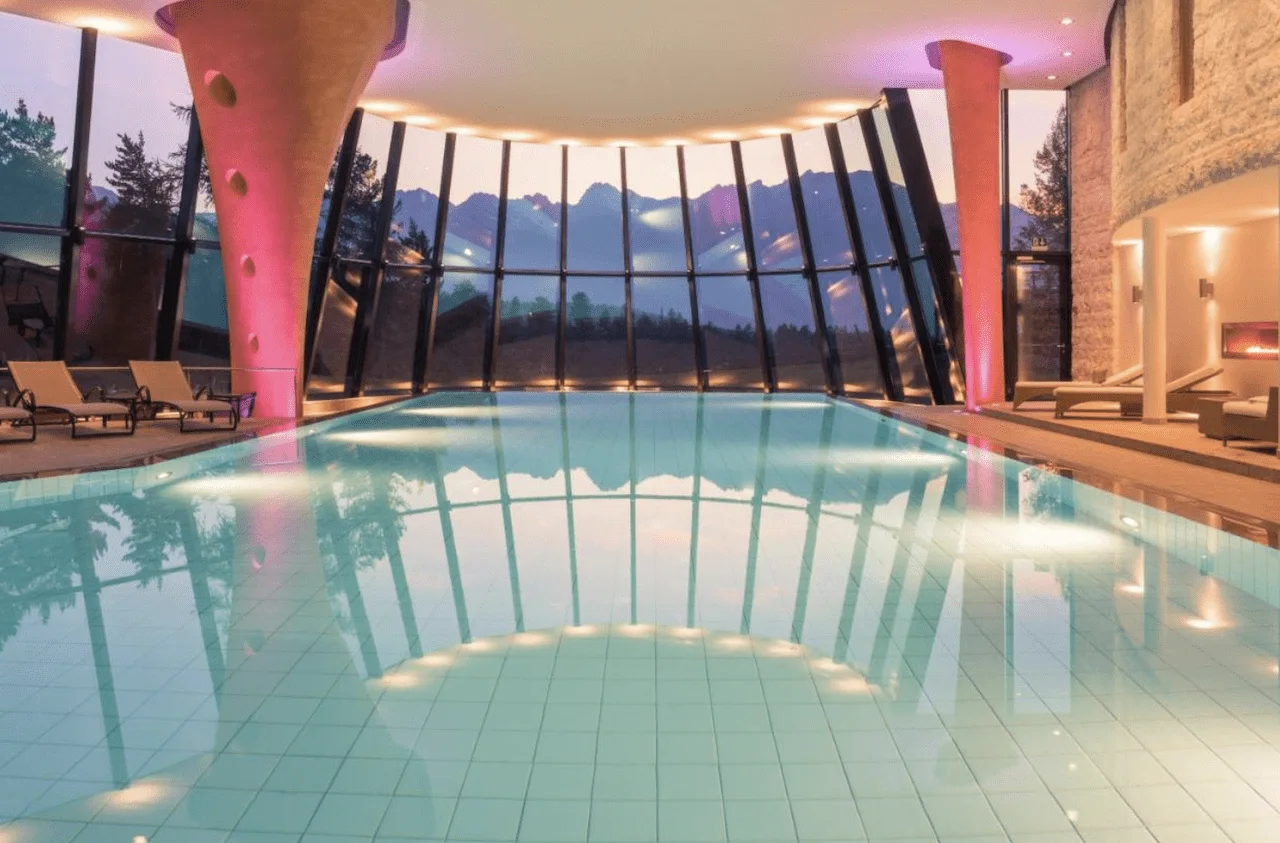 Burgenstock Hotel & Alpine Spa
The Burgenstock Hotel sits 1,500 feet above Lake Lucerne, offering guests fantastic views of the lake and surrounding peaks. It has multiple restaurants onsite, each with a terrace so that you can enjoy the view with your meal.
Those looking for the best experience can get a room with a lakeside view, enabling them to wake up to the sight of the majestic Lake Lucerne sprawling below. There is also a golf course on the grounds, which allows golfing enthusiasts to play against a stunning Alpine backdrop.
The hotel's infinity pool features some of the finest views of Lake Lucerne that you'll find.
It's a fantastic place to relax at night, when the gentle underwater lighting comes on. You can sit at the lip of the pool and take in the gorgeous Swiss Alps views.
• Book Today → Burgenstock Hotel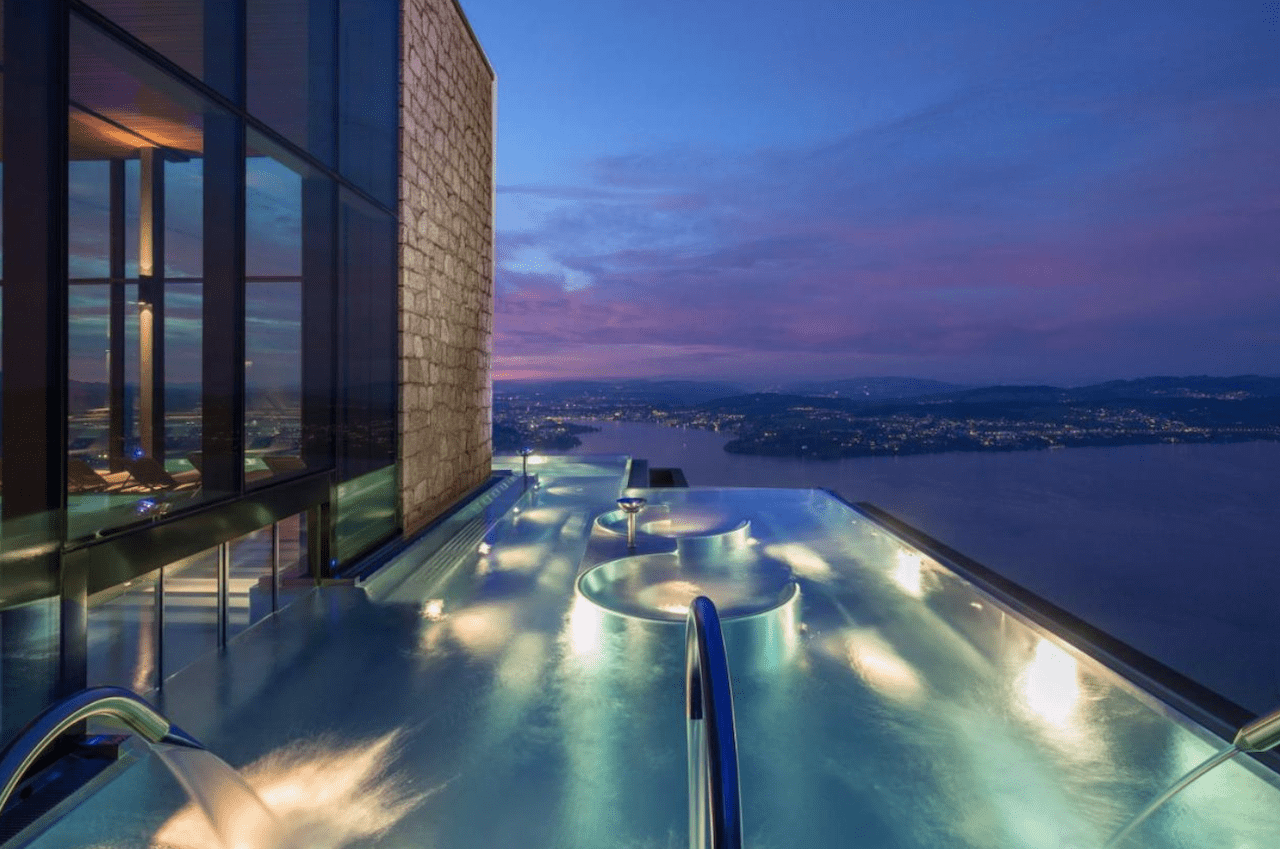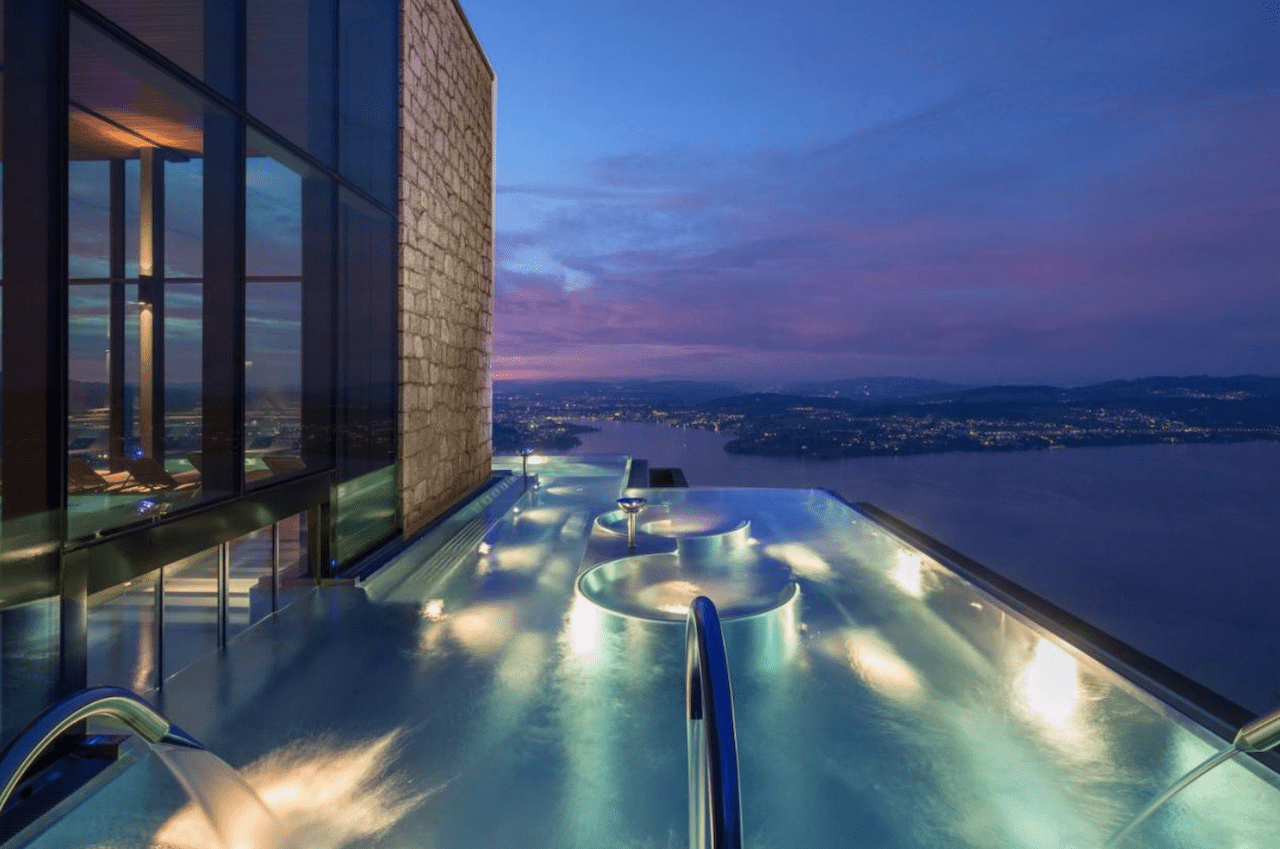 Kempinski Palace Engelberg
Kempinski Palace Engelberg is the city's only 5-star hotel, and it deserves every one of those stars. Merging old-school architecture with modern sensibilities, the hotel has every amenity you can think of tucked away in its charming old-world walls.
The hotel has fantastic wellness facilities and its sauna complex is second-to-none, featuring a bio sauna and hot tubs for those cold winter months. There is also a relaxation room and steam baths.
A cable car up to nearby Mount Titlis is less than a mile from the palace, making it easy for avid skiers or hikers to hit the trails at their convenience. The sleepy town of Engelberg, over which the palace looms, makes for some great photogenic moments – particularly at winter, when it lies under a blanket of snow.
The Kempinski Palace infinity pool is found on the top floor, and affords wonderful views of the Alpine peaks all around (and Mount Titlis in particular).
Although indoors, this doesn't stand in the way of taking in the mountain view as you take a dip in the heated water.
• Book Today → Kempinski Palace Engelberg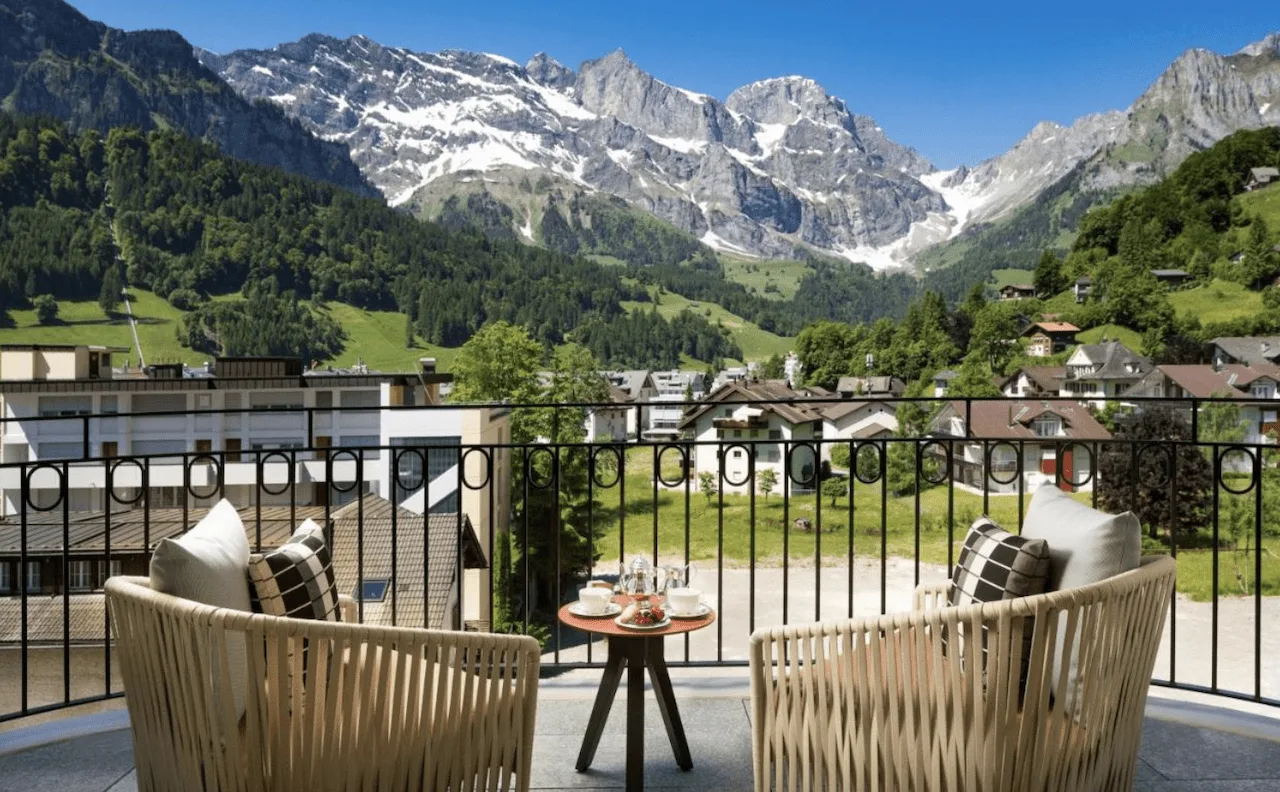 From mountain-top panoramas to the more intimate coziness of indoor infinity pools, it's easy to see that there's no shortage of hotels in Switzerland with infinity pools.
Next time you take a trip to Switzerlans, be sure to spend a little time picking out a hotel that will allow you to make the very best of the country's fantastic mountain and lakeside scenery. And what better way to take in that scenery than from the heated depths of an infinity pool?
Also, don't forget to check out the other Switzerland itineraries and guides up on the site (like this 5 Day Switzerland Itinerary). There are several more hotel lists such as:
Have fun out there and safe travels!