While there are many different types of hotels that can be found throughout the country, it does not get much better than some Switzerland spa hotels.
From soothing pools and saunas to relaxing massages and treatments, there are a whole array of offerings throughout the best spa hotels in Switzerland.
This list will go over the 13 of the top spas to choose from when picking a hotel that is best for you.
* Affiliate Disclosure: This post may contain affiliate links, which means I may receive a commission if you make a purchase through the links provided, at no additional cost to you. Thanks for supporting the work I put into TripTins!
Switzerland Spa Hotels List
Throughout this overview, I will go into more detail about the 13 spa hotels in Switzerland listed below.
Each of these hotels is located in a different area of the country (which is written out in parentheses). This means no matter where you are trying to go, a spa hotel on this list wont be too far away.
You can check out the map shown at the end of this overview that pinpoints where each of these spa hotels are located within Switzerland.
Top Choice: If you don't have a location in mind already for your trip, you can't go wrong with the Grand Hotel Villa Castagnola overlooking Lake Lugano.
Booking Note: these are some of the most in demand hotels in the country. If you are interested in staying at one (or more) during your trip, be sure to book sooner rather than later. I have included booking links throughout to make the process easier.
Also note that treatments & spa offerings can change over time. Feel free to check out the hotel links when going about your final booking.
1) Alpina Gstaad
Tucked away near the picturesque village of Gstaad, the Alpina Gstaad couples modern design with a great art collection.
The spa facilities – named "Six Senses" – are second to none. As you might guess from the name, the services on offer are designed to take care of all of the senses. The renowned beauty clinician Dr. Burgener performs facials on site, and there are a wealth of relaxing massages available.
The Alpina also makes sure to soothe the soul, with spiritual cleansing sessions on hand. Asian wellness is prioritized in the Six Senses, too. This ensures a holistic approach to both physical and mental wellness that will have you fully rejuvenated.
For those simply looking to hit the weights, the Alpina has both indoor and outdoor gyms. Cool off afterward at the spa's juice, snacks and tea bar. There's also the option to take a dip in the hotel's picturesque pool.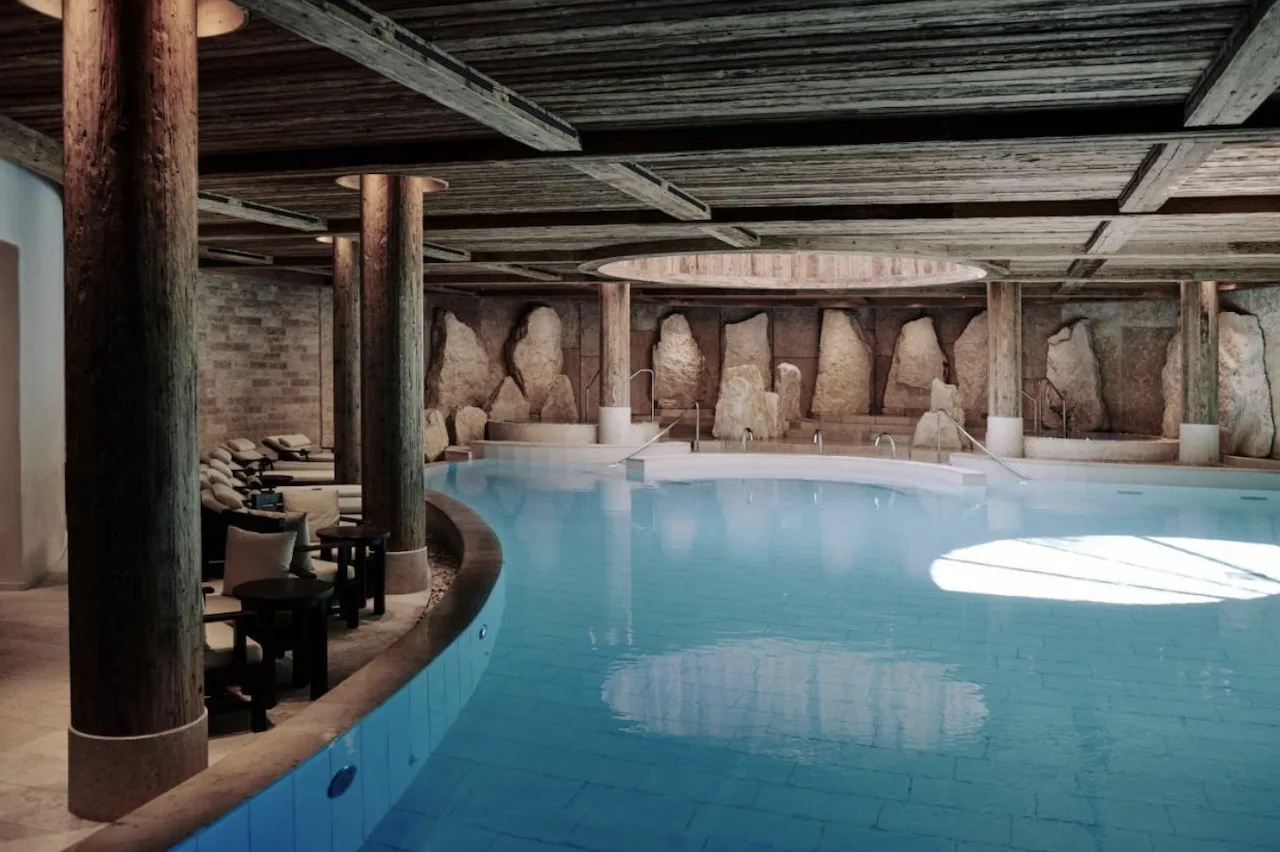 2) La Reserve Geneve
The La Reserve Geneve luxury hotel might sport the most expansive spa in the city. The Nescens Spa is located downstairs, and is staffed by the friendliest and most attentive staff around.
The range of treatments on option, too, is extensive. Guests can enjoy cutting-edge anti-aging facial treatments such as descaling, resurfacing, and moisturizing sessions.
The Nescens doesn't limit itself to facial anti-aging treatments, however. A number of the treatments available focus on the body. These include their signature body massage and the better-aging resurfacing/firmness massages.
The spa even has medical services onsite. Guests may book a consultation with an expert doctor, who will offer osteopathy or nutritional advice.
And speaking of nutrition, the spa's restaurant – the Café Lauren – is the perfect place to unwind. All fats are banned, and only olive oil is used. Even refined sugar is banned, and only raw sugar is allowed in the café. You couldn't be more assured of a healthy meal when visiting Geneva.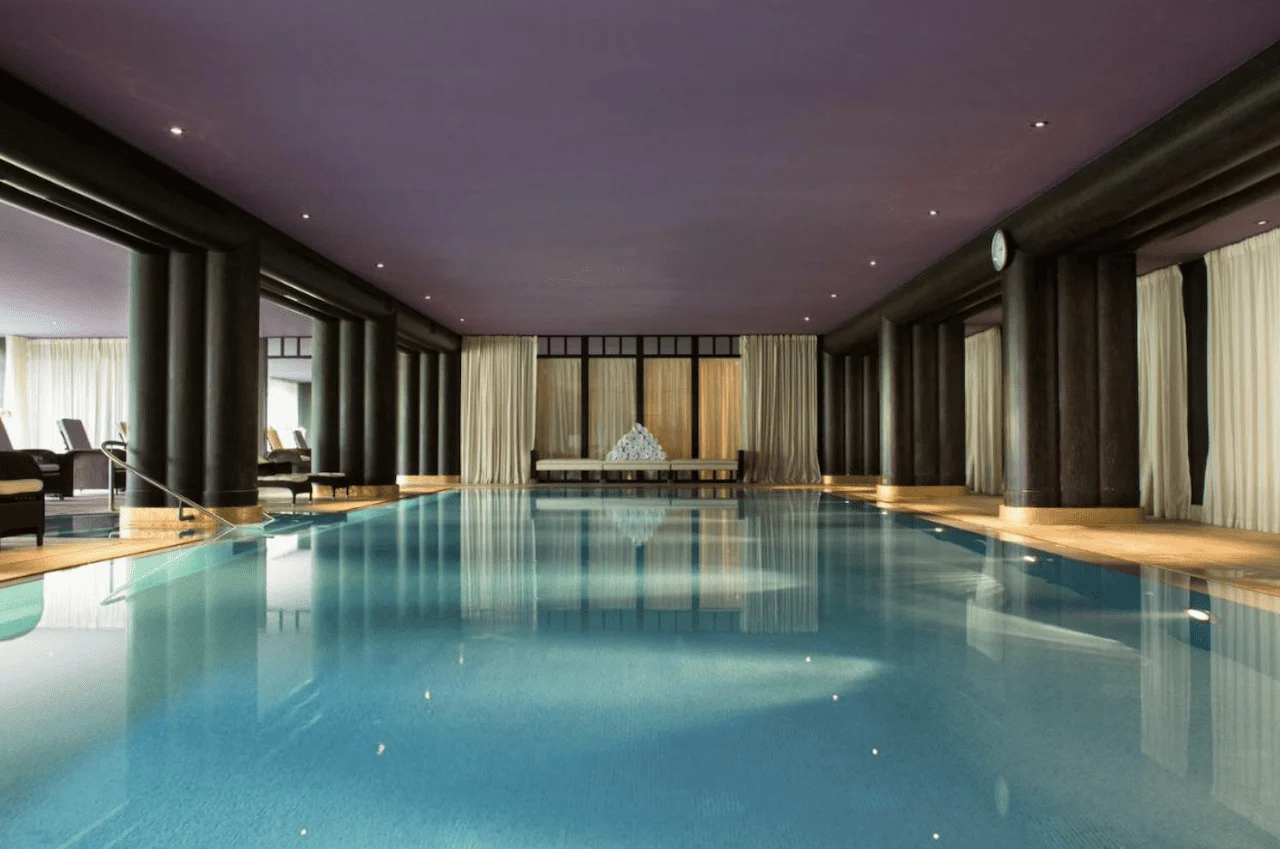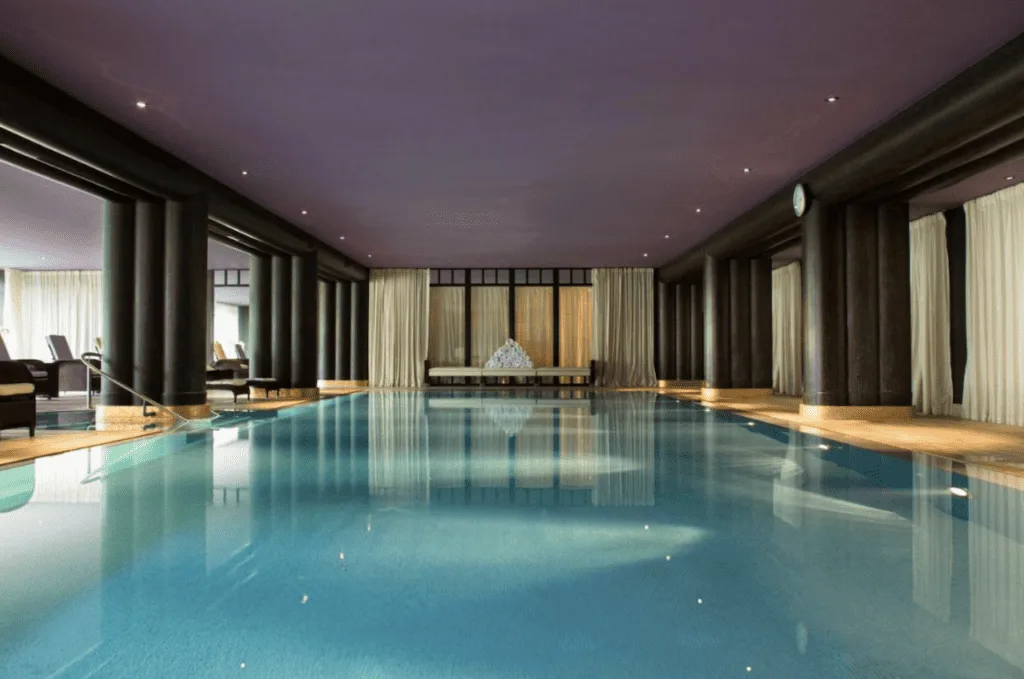 3) 7132 Hotel Vals
The high-end Swiss 7132 Hotel Vals is truly unique. No two suites are the same, with several architects collaborating to create something completely singular.
The onsite spa, the 7132 Therme, is equally special. The spa is so renowned that it often attracts outsiders visiting for the day. Hotel guests, however, can use it outside of its regular operating hours. Given how good the spa is, you'll almost certainly want to do this.
The spa complex was built with 60,000 slabs of locally mined quartzite. It's almost invisible from the outside due to its seamless meld with the Vals countryside.
The many pools inside the complex are illuminated with soft light. They run the gamut from alpine grotto, steam bath, thermal bath, and several gently heated pools.
But the most impressive aspect of the spa isn't the design or the materials – it's the water. Sourced from the nearby Valser Spring, the waters have been renowned for centuries for their healing powers. A dip in any of the spa pools, will leave you feeling like a new person.
7132 is also one of the bet hotels in Switzerland with a view!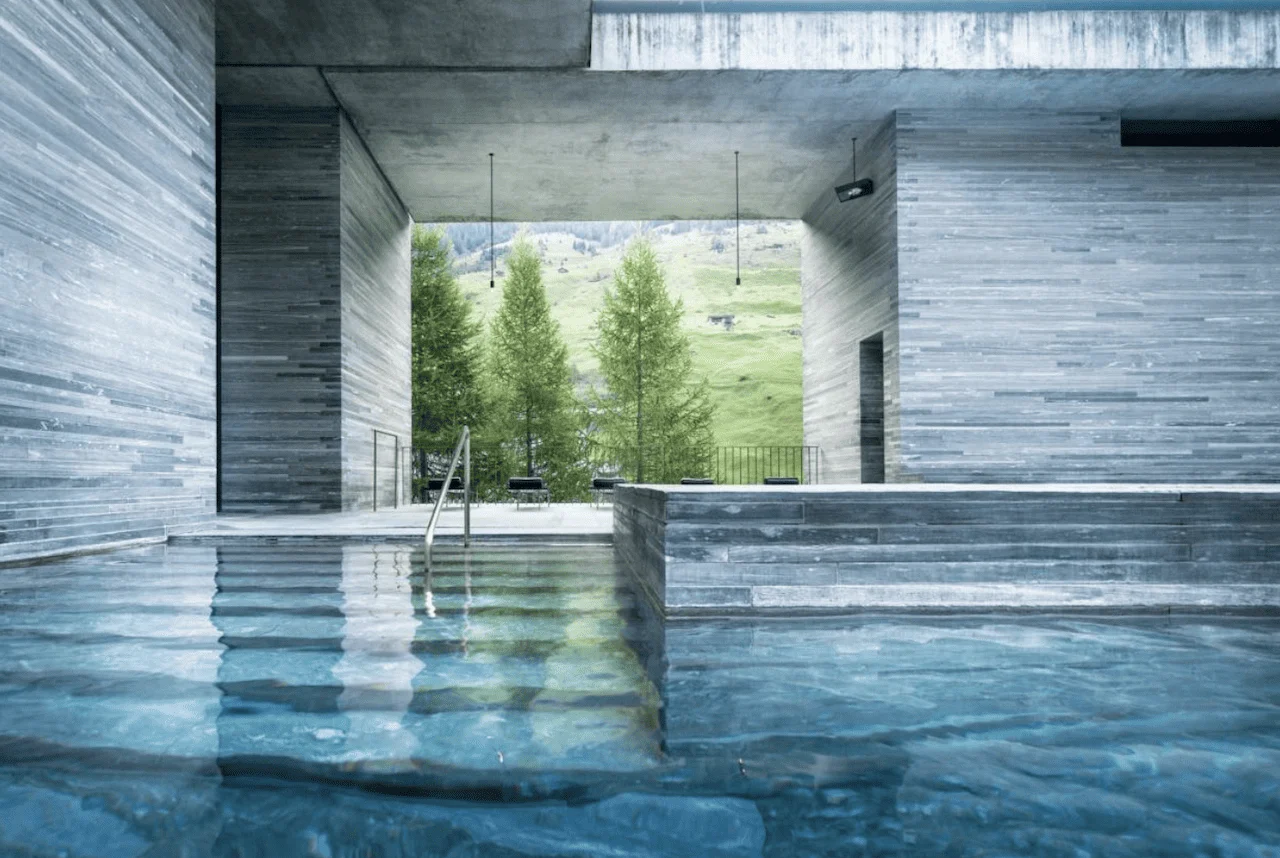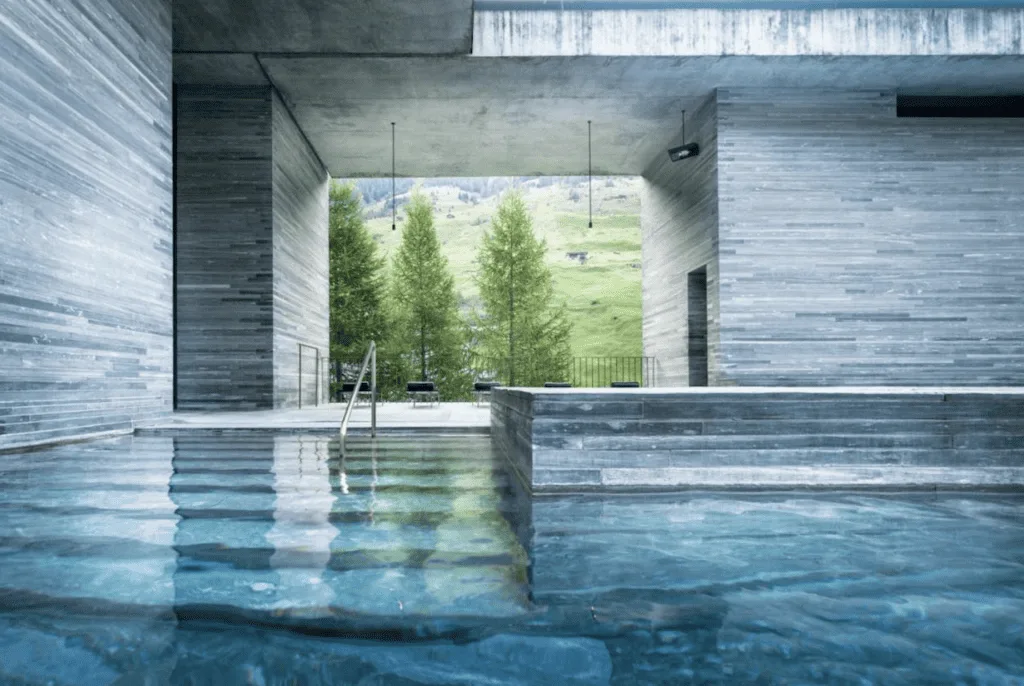 4) Dolder Grand
This Zurich hotel resort is a landmark nestled in the hills above the famed Swiss city. It's world famous, and has attracted guests like Roger Moore and Winston Churchill.
The hotel is notable in of itself, but it's the spa where the Dolder Grand really shines. The award-winning spa covers a sprawling 4000 meters square.
The tranquil complex is centered around a 25-meter indoor pool and outdoor pool (one of the best infinity pool hotels in Switzerland). The well-furnished gym has a comprehensive program of free morning classes – perfect for getting the day going.
Dolder Spa also has saunas, a snow room, relaxation areas, and a gorgeous lakeside viewing area.
If you're looking to get your hair done, the resident En Vogue hairdresser will take care of you. There are also a number of massage and anti-aging-treatment options to choose from.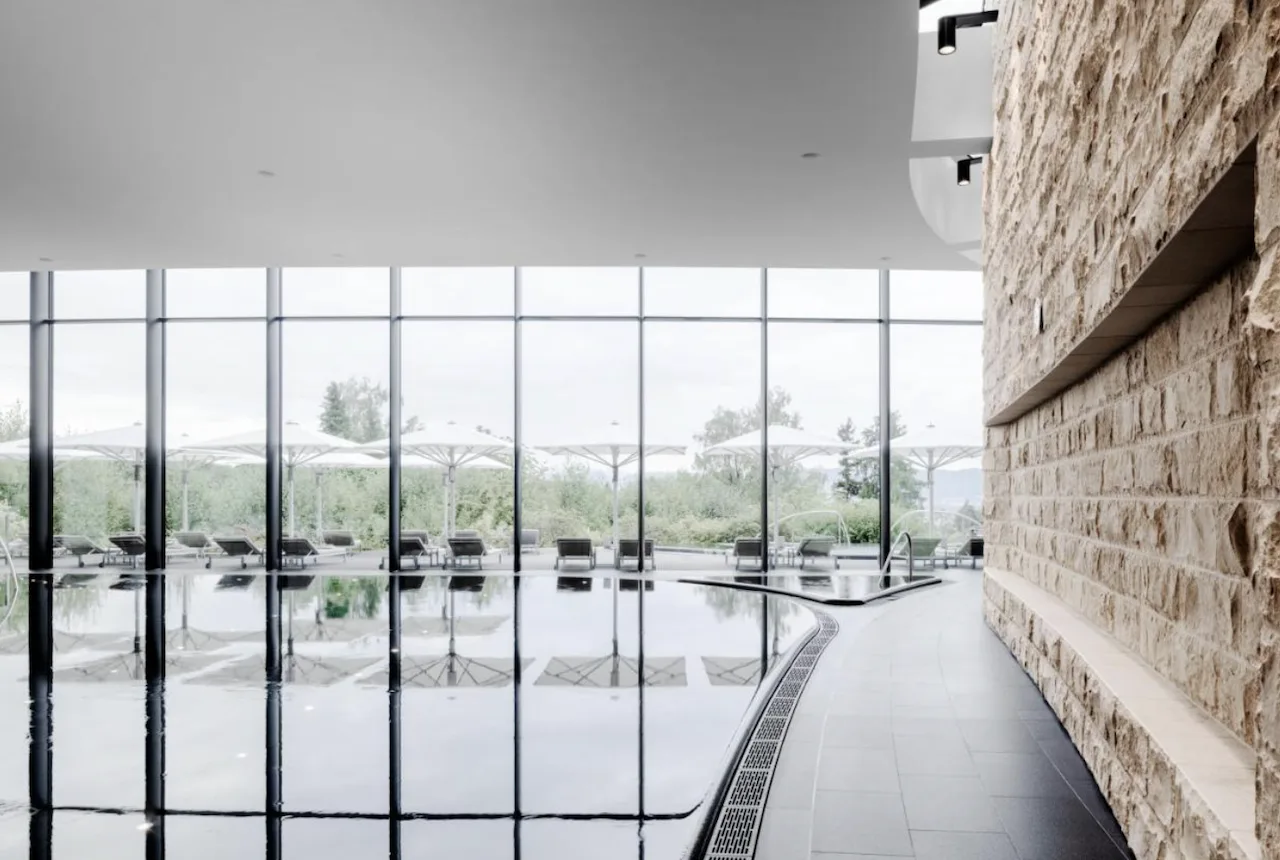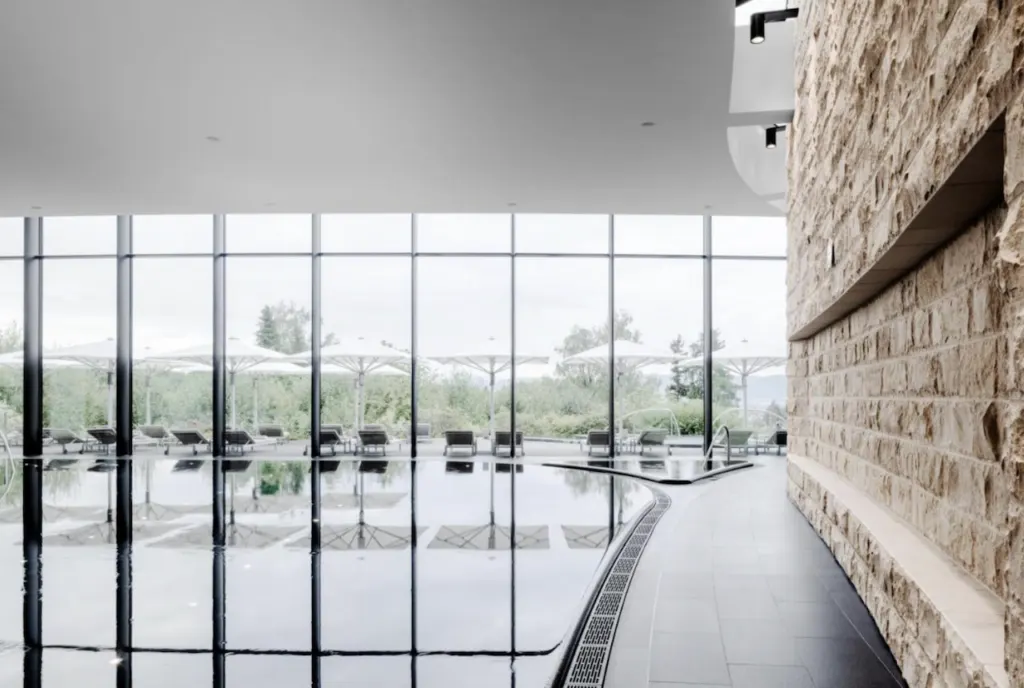 5) Burgenstock Resort Waldhotel & Spa
The carbon-neutral Burgenstock Resort Waldhotel & Spa is a marvel of eco-friendly engineering. It also offers a world-class spa experience.
The Alpine spa makes for the ultimate relaxing mountain retreat. It's sketched out with a warm palette of earthen hues, with views of the mountains throughout. Complimentary snacks (healthy, of course) and water infused with grapefruit can be found almost anywhere in the spa complex.
The spa has an extensive menu of wellness treatments. These include herbal paths, body peels, Swiss Line Oxygen Rescue Facials, and massages. Relax afterward in the salt bath, or enjoy a book in one of the jelly-mattress nap pods.
For the ultimate relaxing mountainside retreat, the Bürgenstock simply cannot be beaten (not to mention it's proximity to Lucerne!).
Book the Burgenstock Resort Waldhotel Today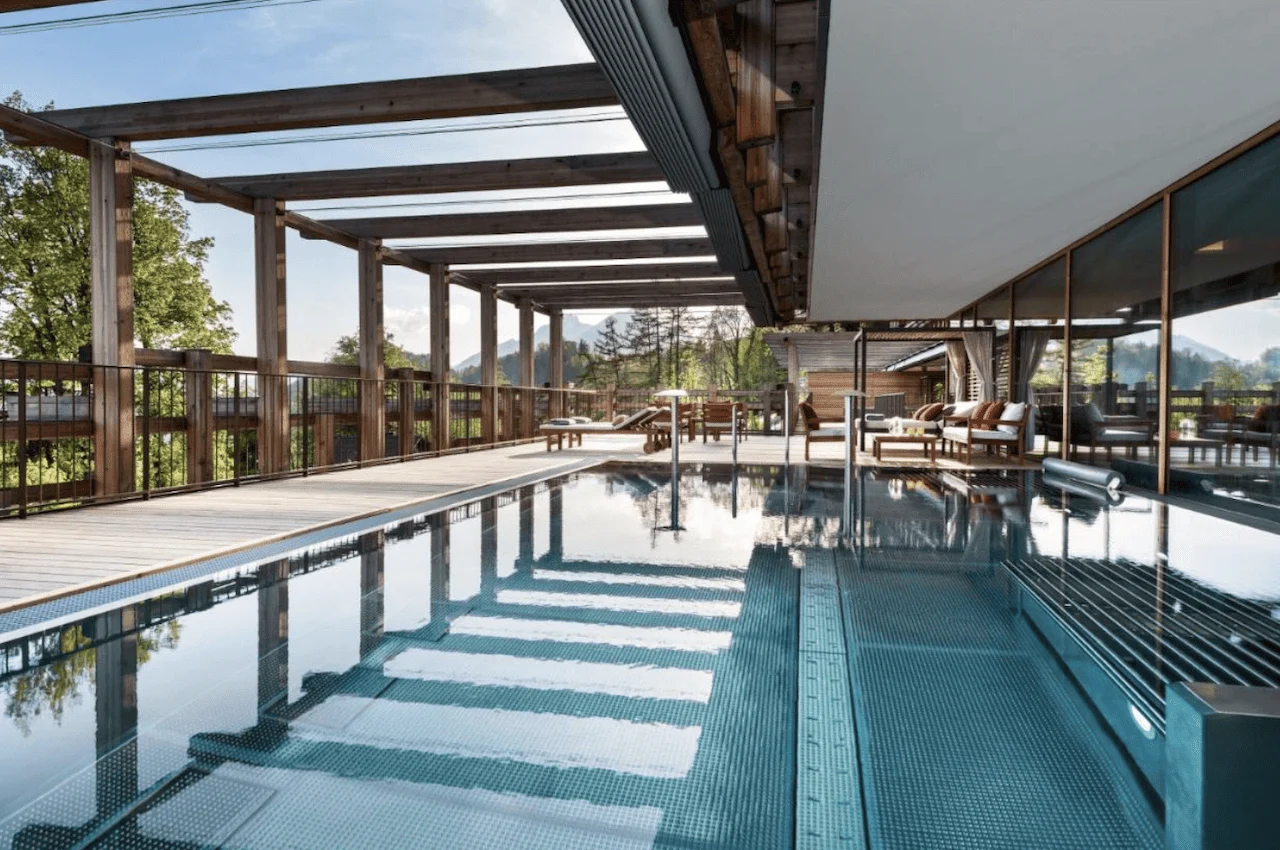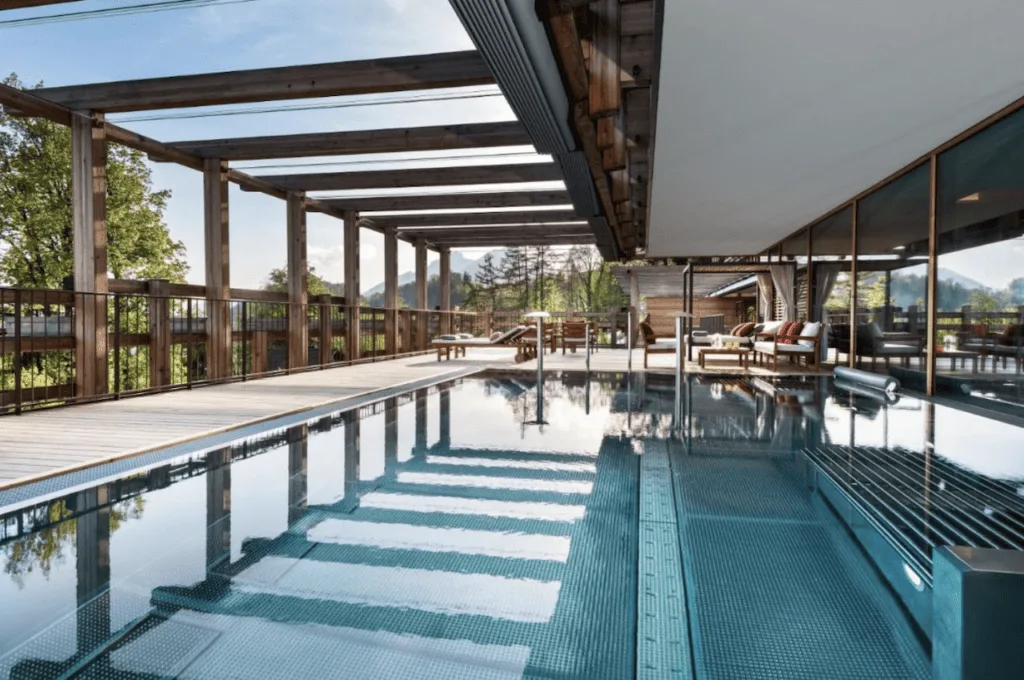 6) BEATUS Wellness & Spa
The owners of the BEATUS Wellness & Spa market it as a place to "rest and recharge your batteries". With its serene lake approach and huge spa facility, it's hard to dispute such a claim.
The spa has a mind-boggling 1001 different treatments available on its spa menu. This means that whatever ails you, the spa's world-class staff will be able to take care of it.
BEATUS are big believers in the power of thermotherapy. Accordingly, they have a number of saunas and steam rooms, as well as ice fountains and cold-plunge pools.
The beauty treatments, additionally, are extensive. Several varieties of facial are on the spa's menu, as well as manicures and pedicures. Peat and primrose oil packs, meanwhile, will leave your whole body feeling rested and relaxed.
Book the BEATUS Wellness & Spa Today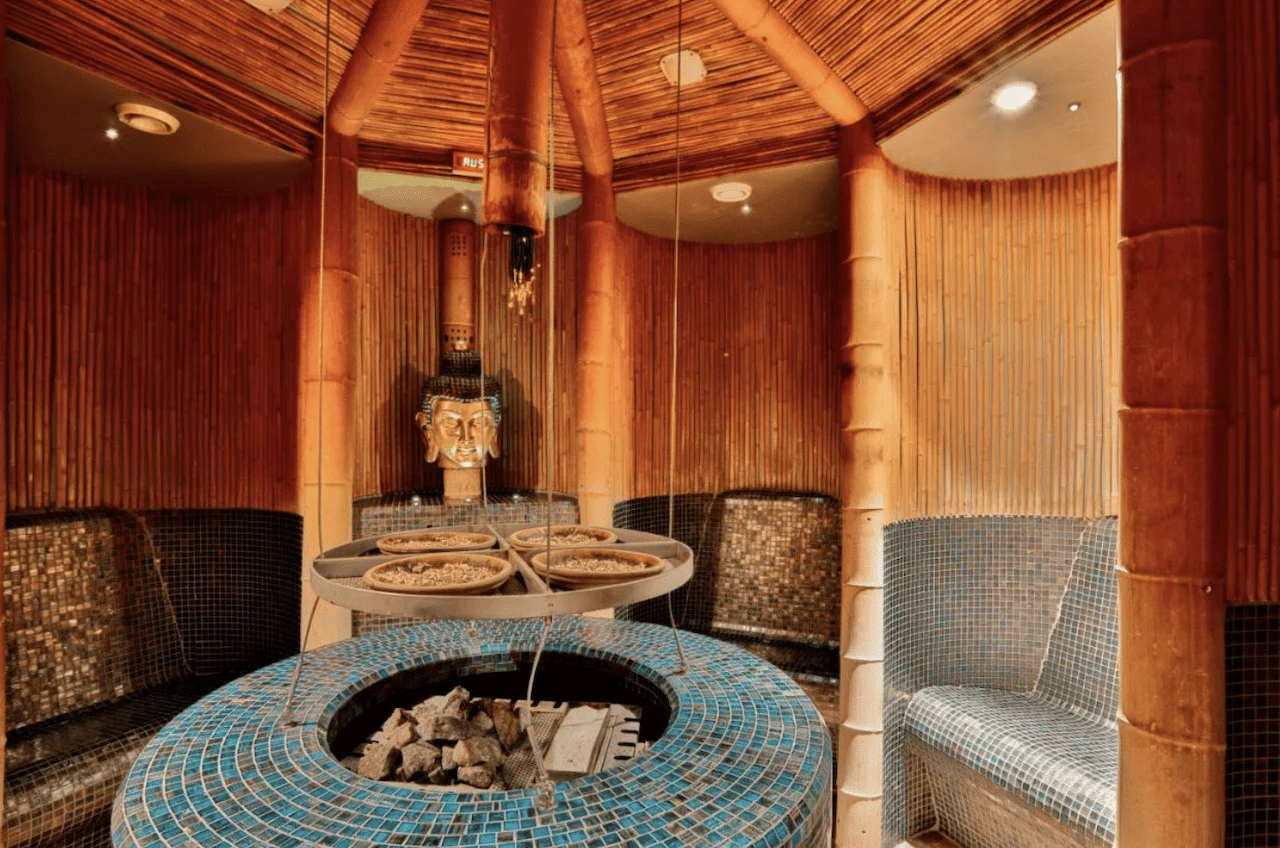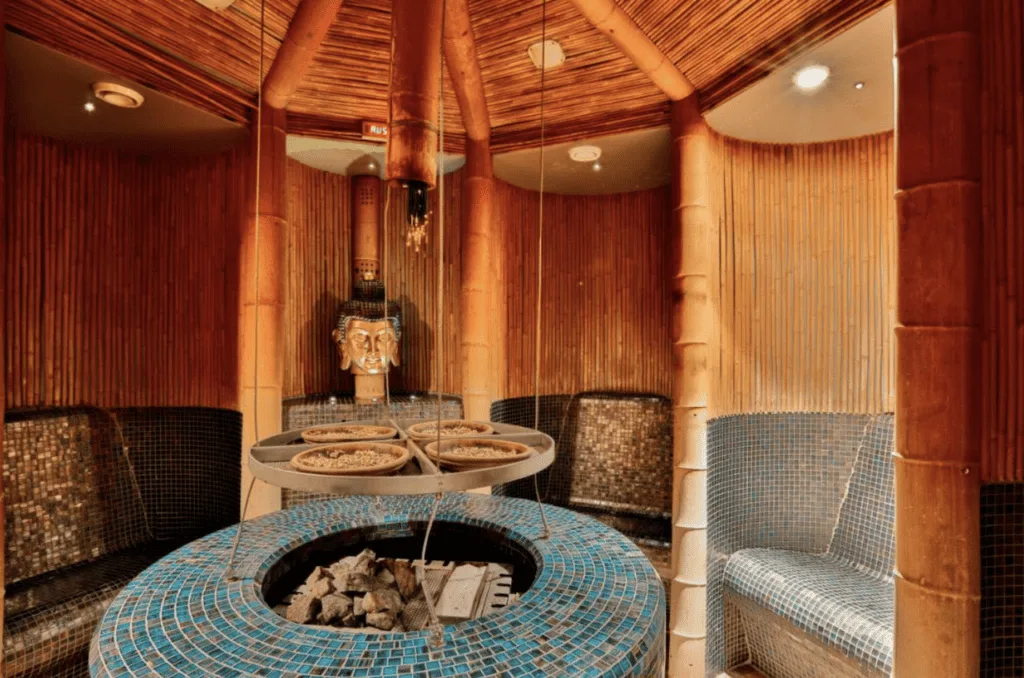 7) Mont Cervin Palace
The Mont Cervin Palace couldn't be located in a more serene place. It's found at the foot of a glacier, with rolling meadows all around. In addition, it enjoys splendid views of the Matterhorn.
Mont Cervin has a Nescens Spa that's at once indulgent and tranquil. It boasts an indoor pool, children's pool, and outdoor pool. The latter has – in addition to the two whirlpools – those amazing Matterhorn views.
The spa's sauna facilities are equally extensive. There is a Finnish sauna with aromatic infusions, a chromotherapeutic biosauna, steam baths, and hot/cold footbaths. All of the saunas are meticulously fine-tuned to ensure maximum wellness benefits.
In addition, guests may experience a range of massage treatments, from anti-aging to de-stressing and sports massages.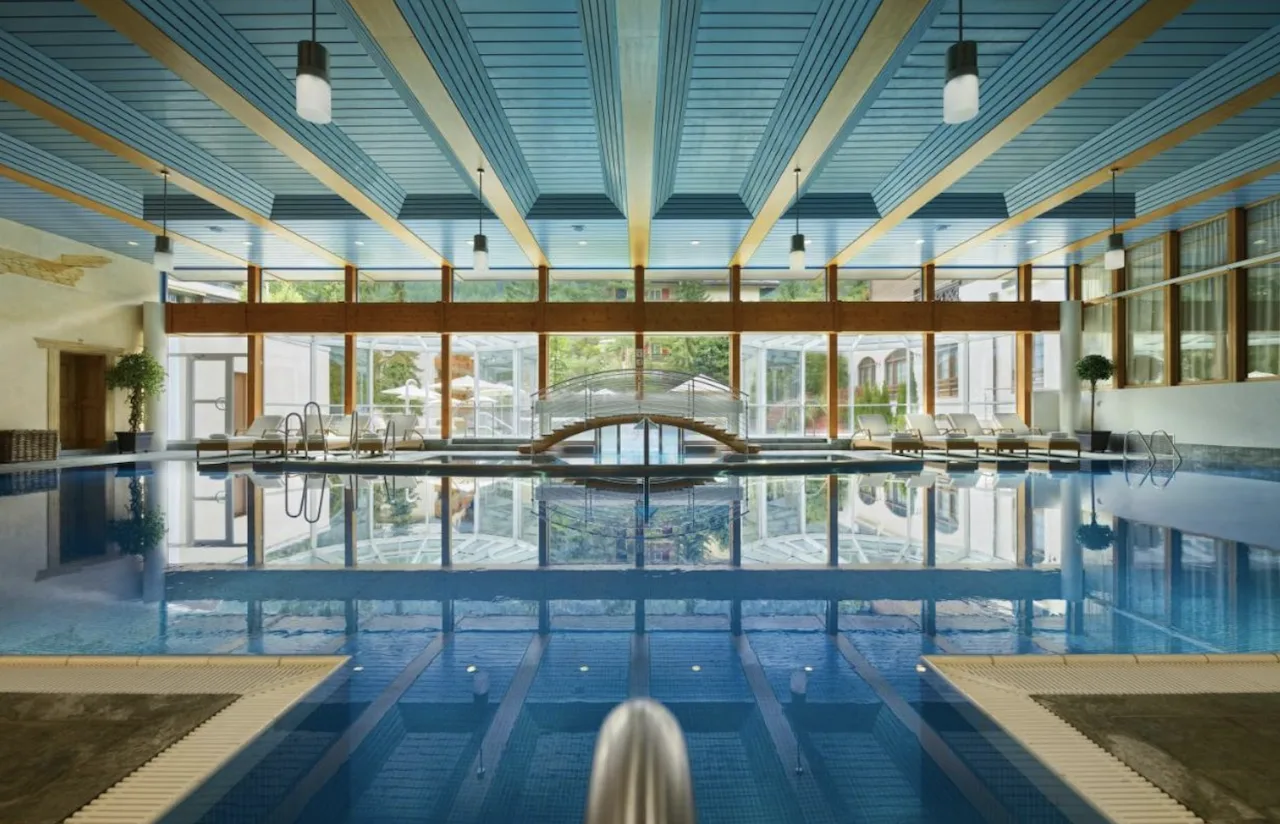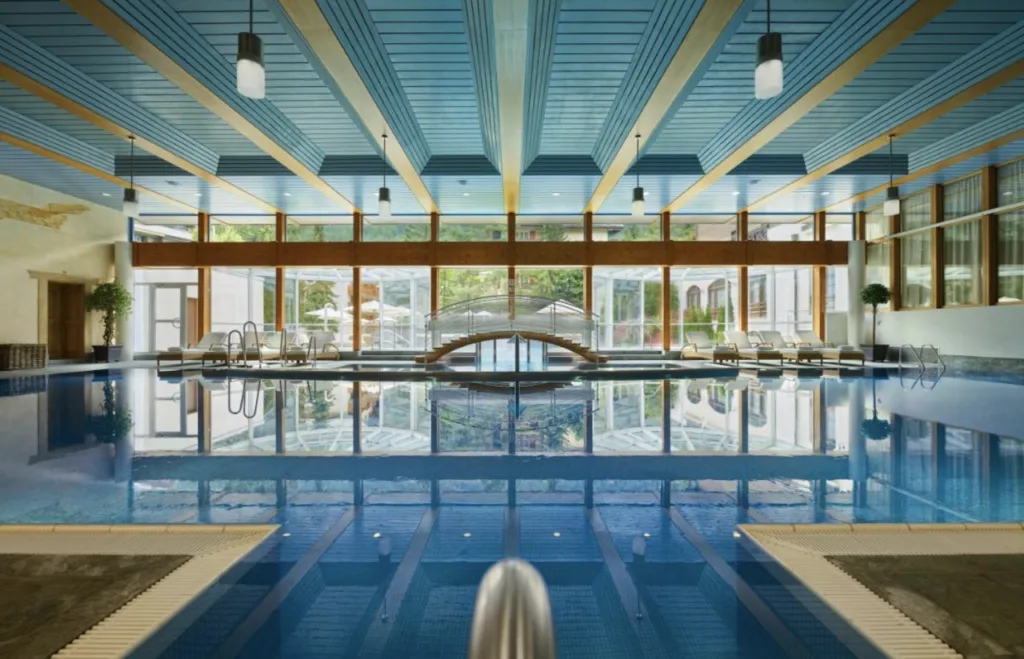 8) Grand Hotel Des Bains Kempinski
The Grand Hotel Des Bains Kempinski luxury hotel is housed in a mid-19th-century Belle Epoque building. It exudes style and luxury throughout, and is a perfect destination for all.
The alpine spa at the Grand Hotel is dubbed by the owners as the "ultimate" in relaxation. The facility has a large selection of treatments available on its menu.
These include Swiss cellular skincare programs, vertical solariums, and even cryotherapy life cubes. They are complemented by beauty treatments such as pigment lightening, anti-pollution facials, and cellular eye contour regeneration.
In addition, the spa features a hydrotherapeutic Kneipp Stream and an indoor heated pool. Those looking to build a little muscle will not be disappointed, meanwhile, with the spa's fully-equipped gym.
Book Grand Hotel Des Bains Kempinski Today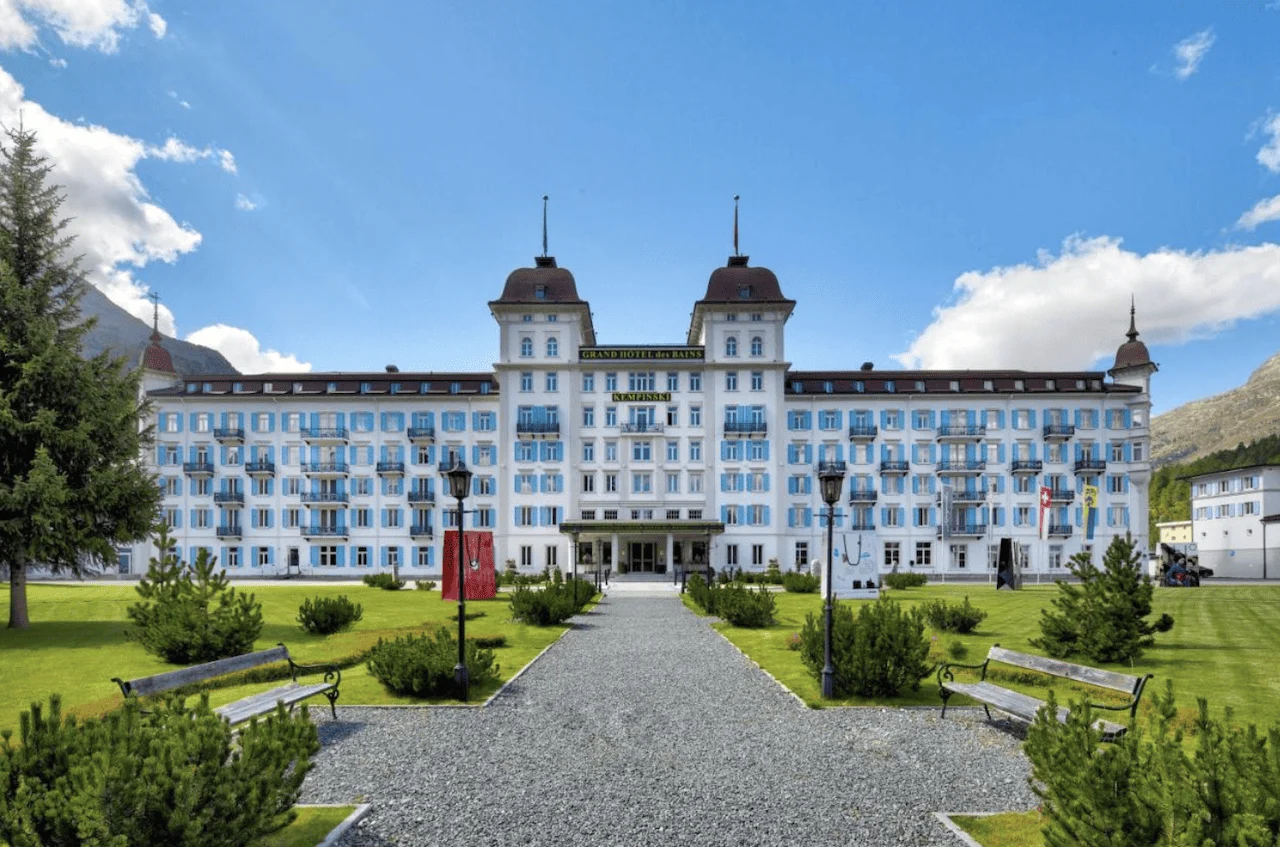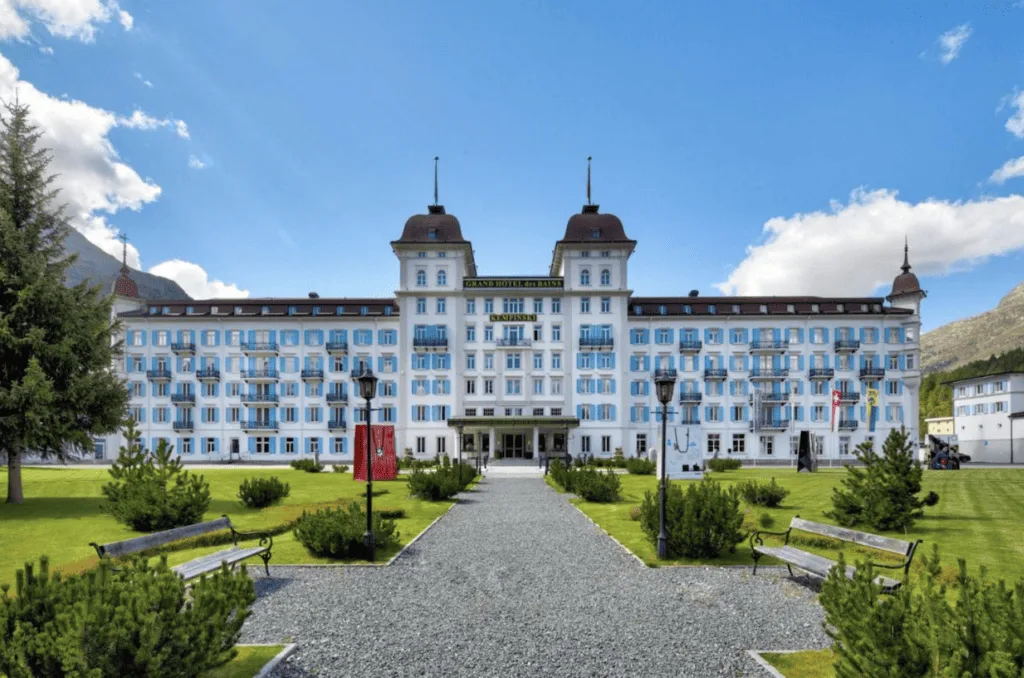 9) Arosa Kulm Hotel & Alpin Spa
The Arosa Kulm & Alpin Spa seasonal hotel opened its doors in 1882, and boasts stunning views of the Swiss countryside. What's more, it's one of the finest Swiss hotels with a spa that you'll find.
The Alpin Spa's overarching philosophy is heavily informed by traditional European healing. This means that the spa's team adopts a holistic understanding of wellness. Treatments and wellness facilities are paired seamlessly with the beautiful backdrop. The Arosa also attributes a lot of the effectiveness of their spa to the "meditative effect of the mountains".
A range of therapeutic and holistic massages are on offer at the Arosa Kulm.
In addition to the traditional massages, you can expect to find lymphatic drainage and headache treatment therapies. Oxygen inhalation therapy is also available to revitalize guests in an all-natural way.
Book Arosa Kulm Hotel & Spa Today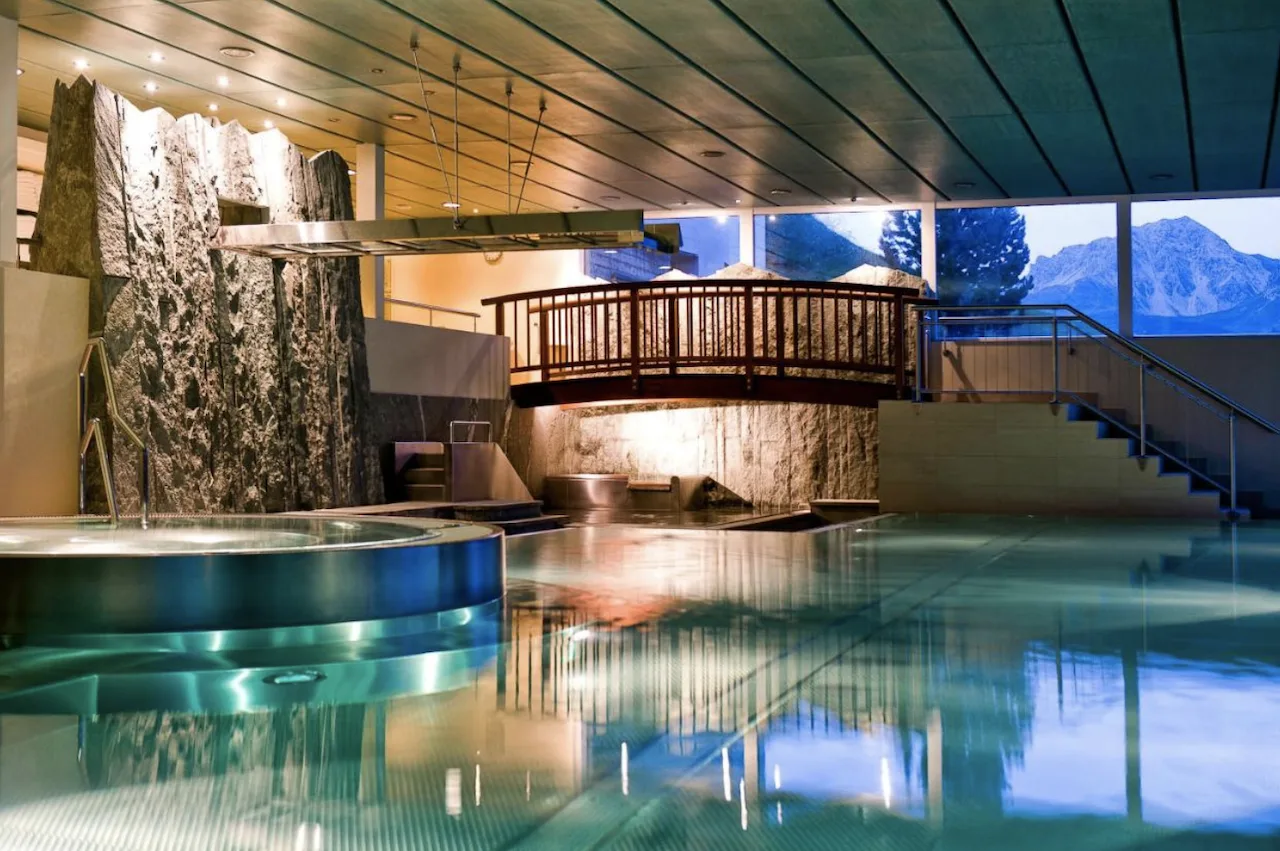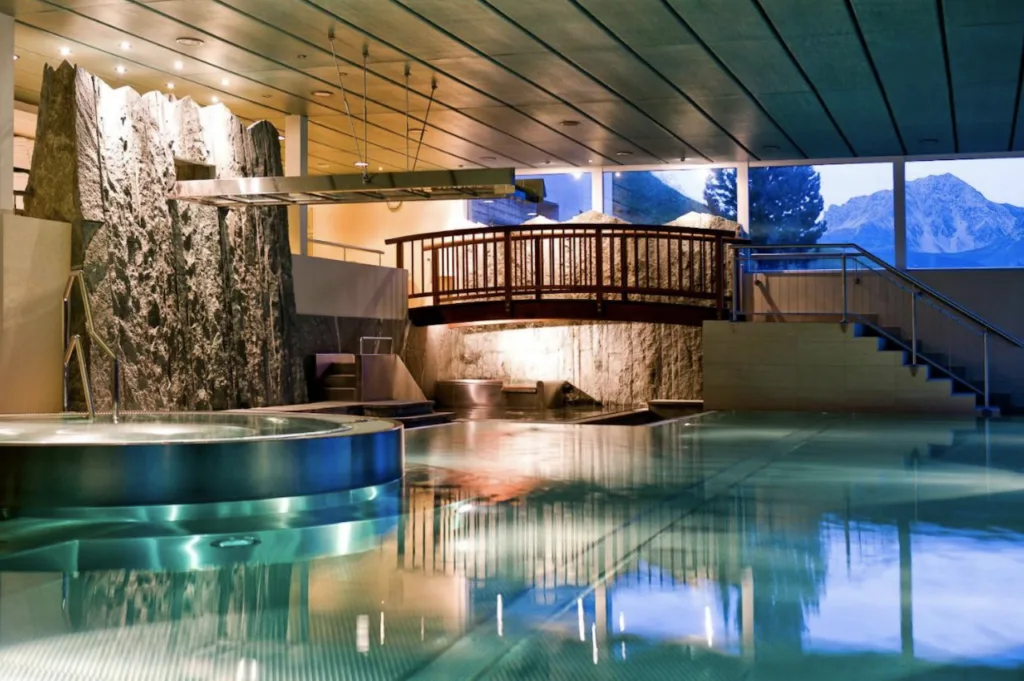 10) Grand Resort Bad Ragaz
The undisputed masters of the Swiss spa experience are the team at the Grand Resort Bad Ragaz. The Helena Spa, located onsite, is world-famous for its restorative waters.
The healing properties of the local thermal water were discovered in the 13th century. Since then, it has been the go-to destination for those looking for a little aquatic rejuvenation.
The water – known locally as "blue gold" – has been pumped directly onto the hotel grounds since 1840. It's in the 6000-meter spa that you can enjoy it in many forms.
The spa has a number of pools, whirlpools, waterfalls, and relaxation therapies. You can even sip a glass of blue gold with your dinner.
The hotel is also renowned for its onsite medical center. Here, those needing longer periods of convalescence can rest in the hands of the world-class medical team.
Book Grand Resort Bad Ragaz Today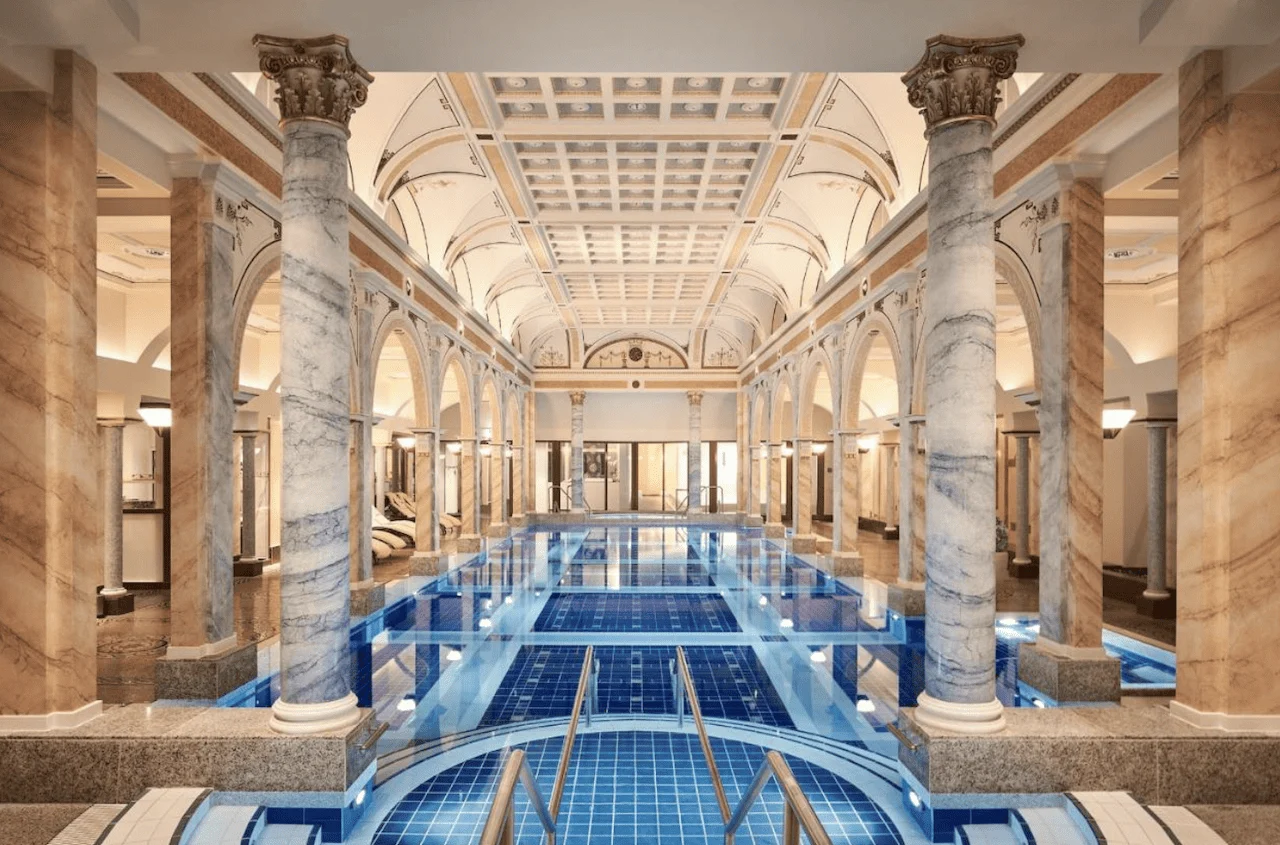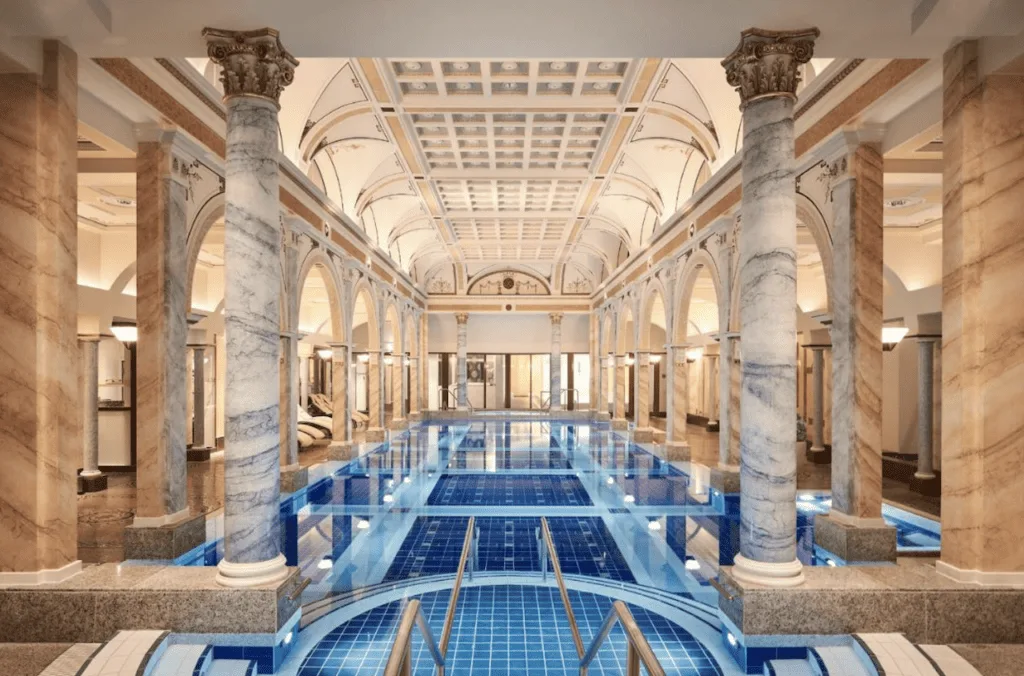 11) Grand Hotel Villa Castagnola
This 5-star Grand Hotel Villa Castagnola overlooks the stunning Lake Lugano. It also has one of the best Swiss hotel spas to be found in the country.
The spa facilities found at the Castagnola are extensive. It has a heated indoor pool, a private lakeside terrace, and its own clay tennis court. You'll also find a calidarium (a hot plunge bath), steam baths, regular sauna, and bio-sauna.
Looking to be pampered with a high-end beauty treatment? The onsite Clarins Beauty Corner will take care of your every need. With six facials, seven body treatments, and almost 20 different kinds of massage, you'll surely find what you're looking for.
Book Grand Hotel Villa Castagnola Today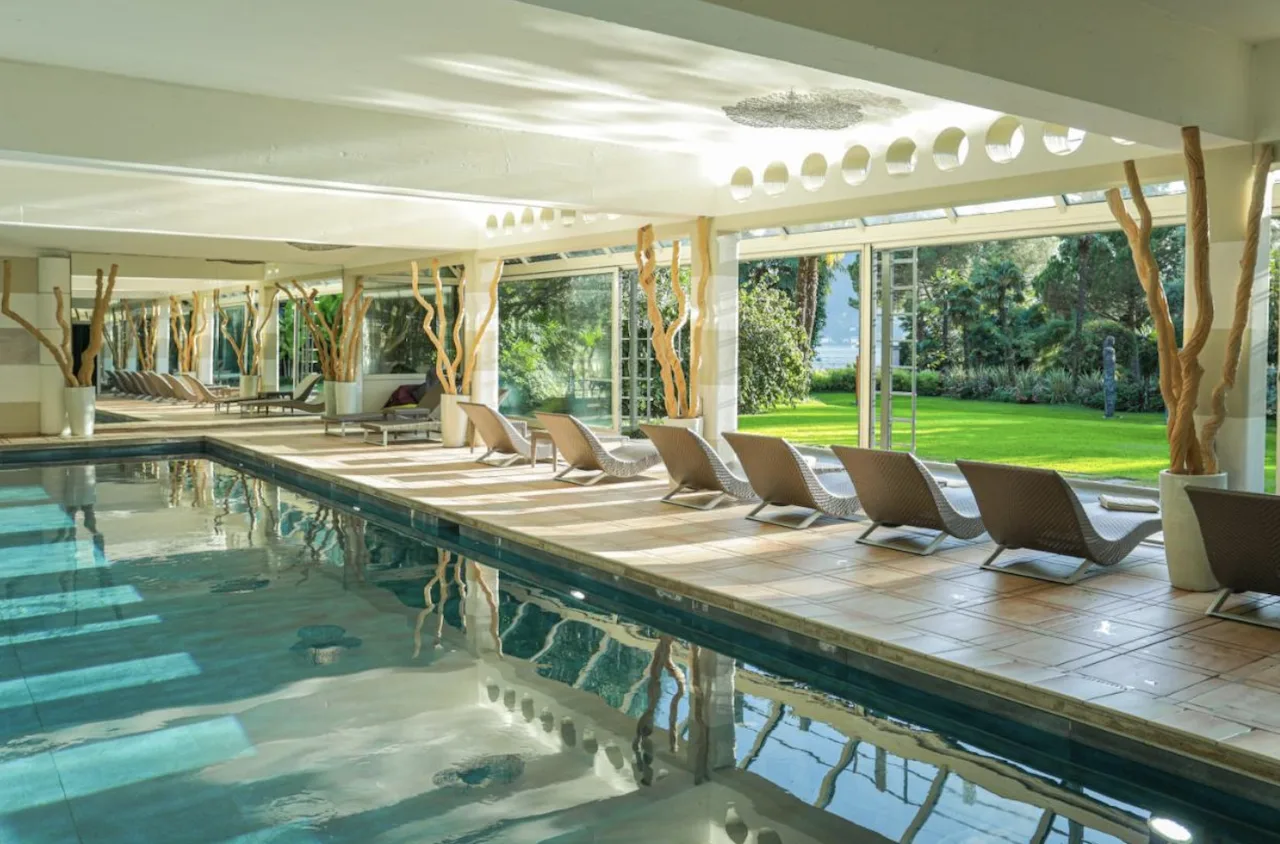 12) Chalet RoyAlp Hotel & Spa
Chalet RoyAlp Hotel & Spa is a member of the Leading Hotels of the World. This tells you everything you need to know about the caliber of service on offer. In addition, its wonderful wellness facilities ensure that it's one of the best Swiss hotels with a spa you'll find.
The 1200-meter spa has been designed with a holistic approach in mind. In doing so, it aims to cater to both the physical and mental well-being of guests.
There are actually two spa facilities onsite: the 'Spa by Royalp', which is open to everyone, and the private spa.
In the former, you can enjoy a number of facilities. With a hammam, Jacuzzi, sauna, multi-sensory showers and an outdoor terrace, there's bound to be something to occupy your time. If you're itching for a workout, the fully-equipped fitness center has you covered.
The private spa, meanwhile, is perfect for an intimate getaway. It has a two-person Jacuzzi, ice fountain, and fireplace.
Book Chalet RoyAlp Hotel & Spa Today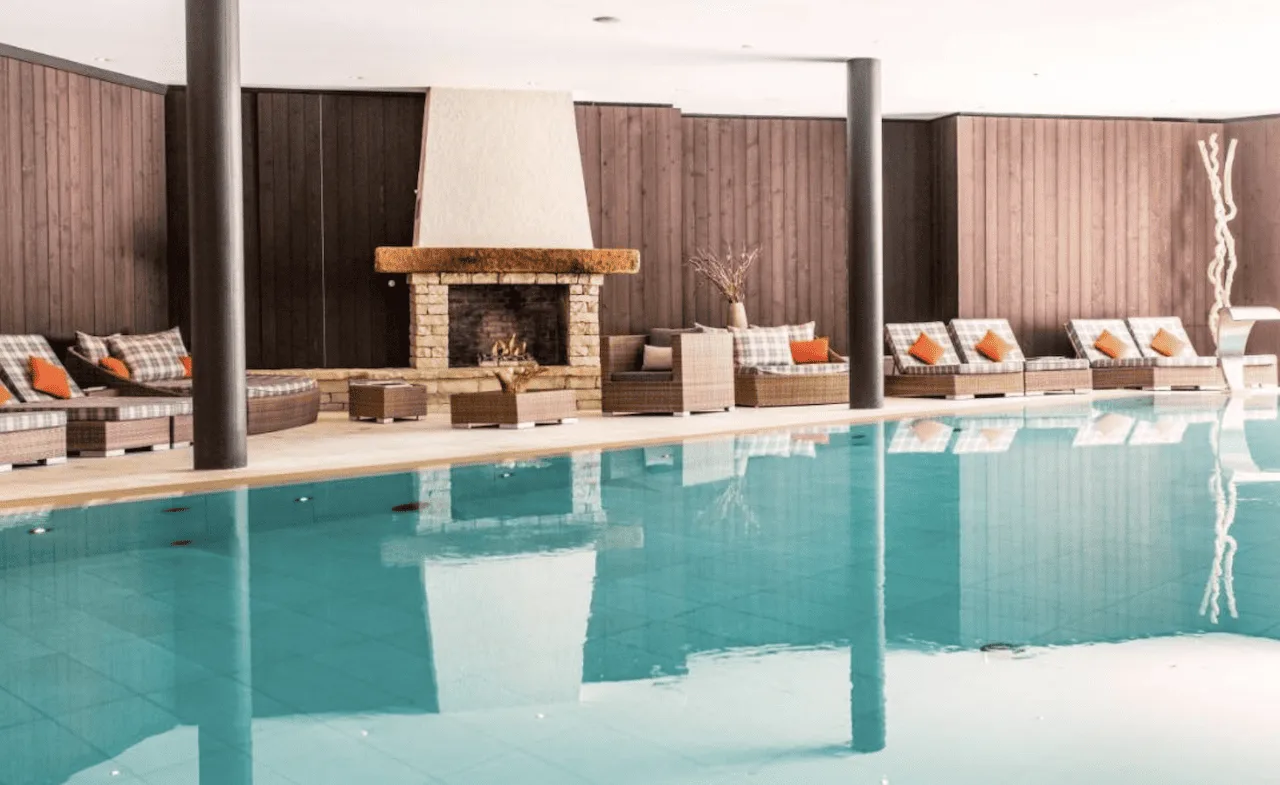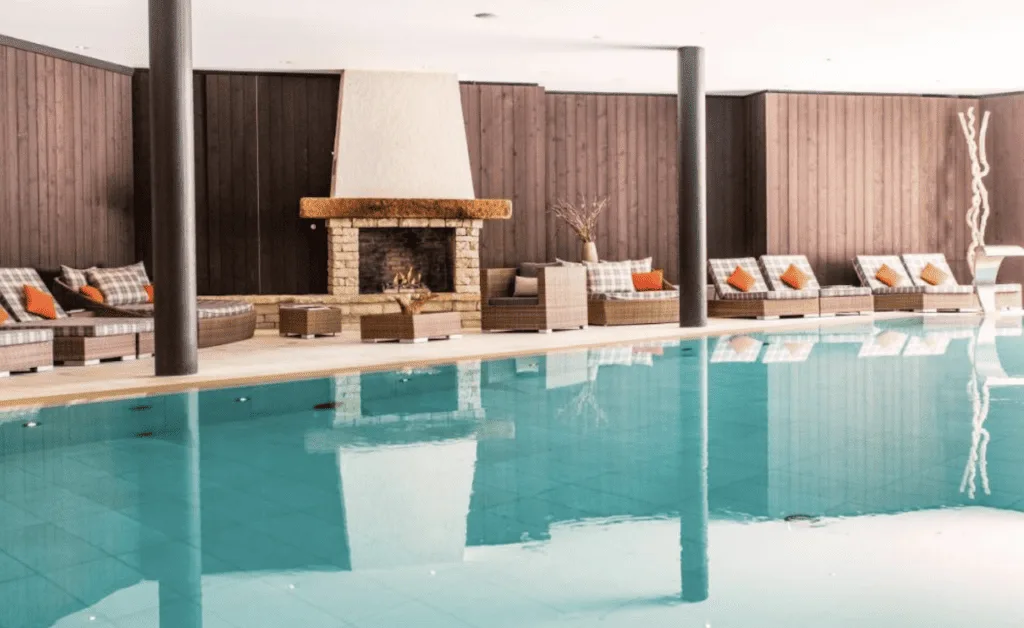 13) Lenkerhof Gourmet Spa Resort
Lenkerhof Gourmet Spa Resort wears its credentials as the youngest 5-star hotel in Switzerland proudly. It's marketed as a "holistic wellness and leisure" hotel, and has the spa facilities to back that claim up.
The 7sources beauty and spa is deliberately named. The nearby River Simme originates in seven different wells, which give the spa its name.
In keeping with this theme, the spa offers seven different kinds of sauna experiences. These include a biosauna, Finnish infusion sauna, salt grotto, scented steam bath, and a number of others.
No spa facility is complete without a pool or two, of course. On this front, the Lenkerhof also delivers.
There is an outdoor pool with heated Lenk spring water and amazing mountain views. If you're more interested in a vigorous swimming session, the indoor pool is perfectly suited. It's separated into swimming lanes for just this purpose.
Book Lenkerhof Gourmet Spa Resort Today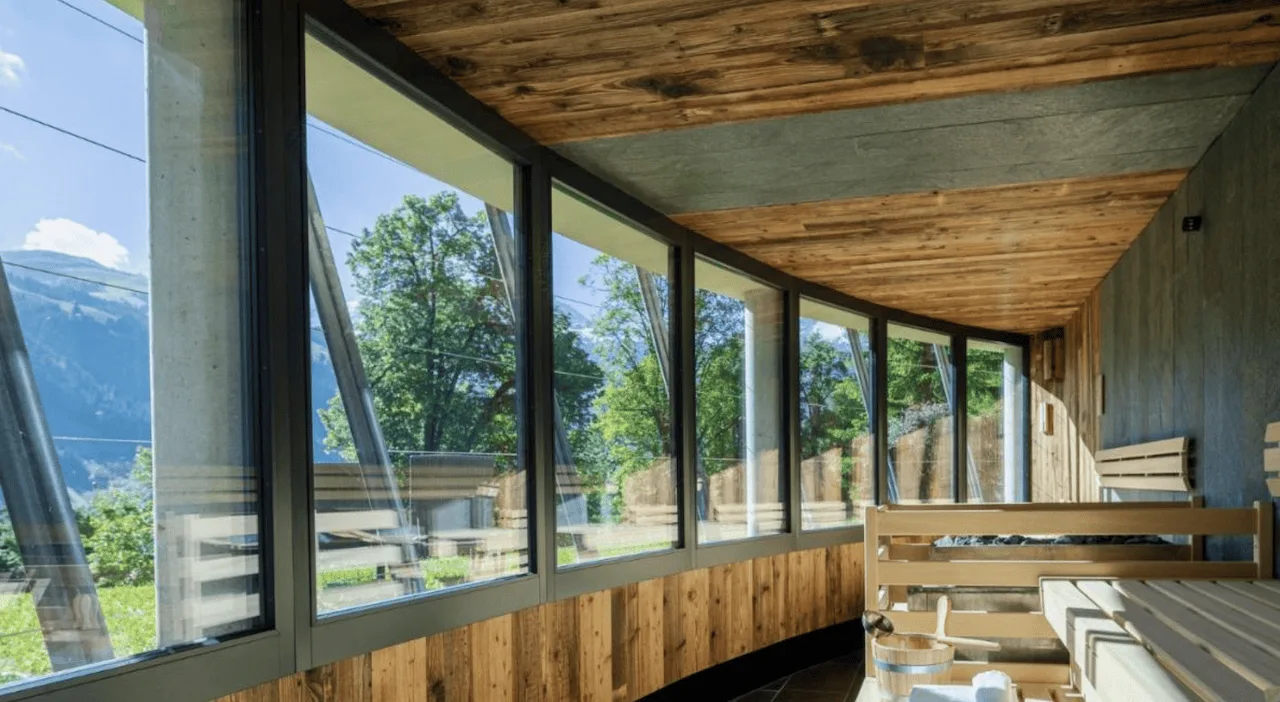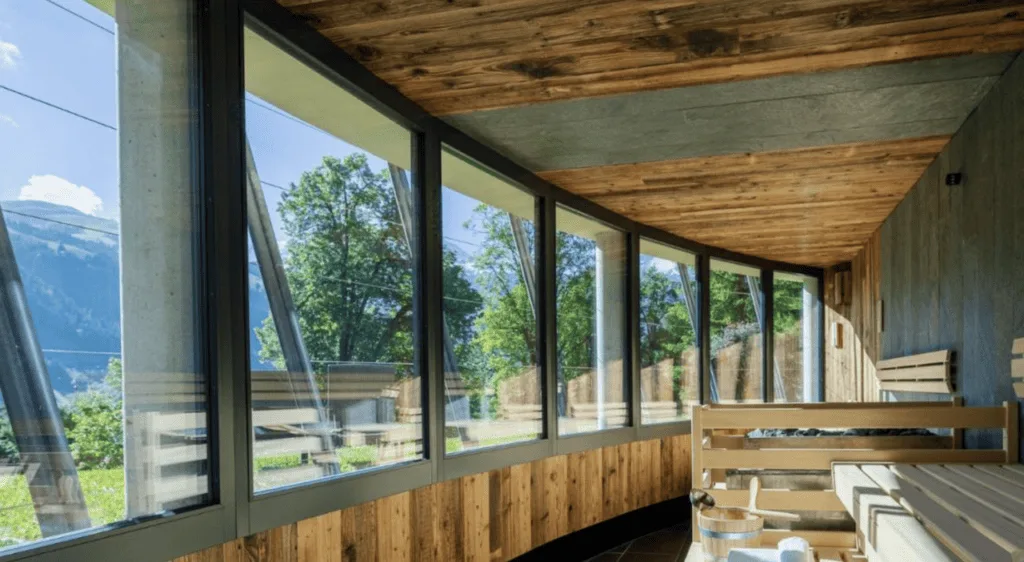 Spa Hotels in Switzerland Map
To finish up, below is a map of the spa hotels in Switzerland that are included in this overview. Feel free to pick one for your trip, or mix & match a route as you go.
Hope you enjoyed reading about the best Switzerland spa hotels.
Also, don't forget to check out the other Switzerland itineraries and guides up on the site. There are several more hotel lists such as:
Have fun out there and safe travels!