The city of Geneva, Switzerland is full of beautiful architecture, views, history and its one of a kind lake. If you are planning a trip to Switzerland it is very possible that you will be coming through Geneva at one point or another.
This guide will give you a good idea of different types of activities and things to do while spending 1 day in Geneva. Even if it is just for a day, there is plenty to explore. So, read on for an overview of Geneva, Switzerland and 7 things to do while visiting.
* Affiliate Disclosure: This post may contain affiliate links, which means I may receive a commission if you make a purchase through the links provided, at no additional cost to you. Thanks for supporting the work I put into TripTins!
1) Getting To Geneva
Geneva is one of the main hubs (along with Zurich) when entering or exiting the country. It is definitely possible that you will be starting or ending your trip to Switzerland in Geneva depending on your itinerary.
There are two main ways to get to Geneva – either flying into the airport (GVA) or getting a train into the main station (Geneve Cornavin).
Both options are closely situated to the city and only require a quick taxi, Uber or bus to get to the city center. The airport only has one main terminal which makes it simple and easy for travelers.
The train station has hundreds of arrivals each day from all over Switzerland and nearby countries, and is also clearly marked throughout.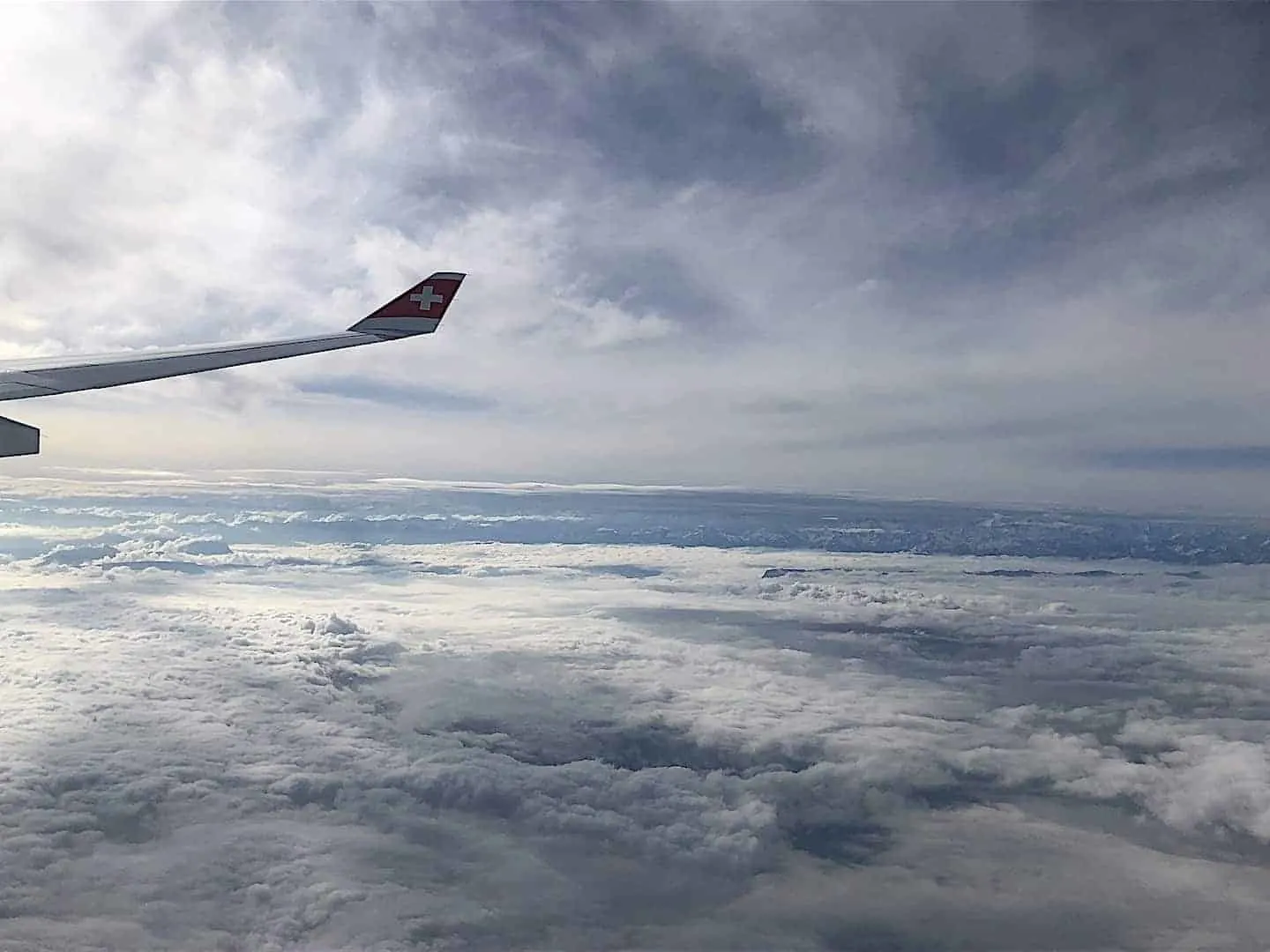 2) Getting Around Geneva
Once you arrive in Geneva, you will need to figure out how to get around from place to place.
For the most part Geneva is a very walkable city and it is quite nice walking through the old town and all along the lake area.
However, there may also be times where you end up farther away from your hotel or need to get to the train station for example. For those situations you can rely on busses, trams and Ubers.
By far the most cost-effective option to get from point A to point B will be by bus or tram. They are prevalent all throughout the city and are as timely as can be (they have their own lanes on the road along with taxis which cut down on any potential traffic issues).
By using Google Maps you should have a pretty good idea where and when the busses and trams run.
There are a few different tickets you can purchase for busses and trams but for simplicity purposes you will most likely only need one of these tickets:
A 60 minute ticket valid in Geneva – 3 CHF
A full day card valid in Geneva – 10 CHF
You can purchase these at ticket machines located at each stop (note that not every stop has machines but most do). Credit cards and Swiss Franc are accepted.
There is also the option for a FREE Geneva Transport Card. It allows for free transport around the city during your stay!
If you have a Travel Pass then no worries at all about purchasing tickets since all transport is included in your pass.
» For more info about travel passes check out the Switzerland Train Travel Guide
If busses and trams are not for you, then Uber is probably your next best option – cheaper than taxis, however they might take a bit longer since they do not have their own lane like taxis do.
Swiss Travel Pass: Are you planning on traveling frequently throughout Switzerland during your trip? Consider purchasing a Swiss Travel Pass to save some money!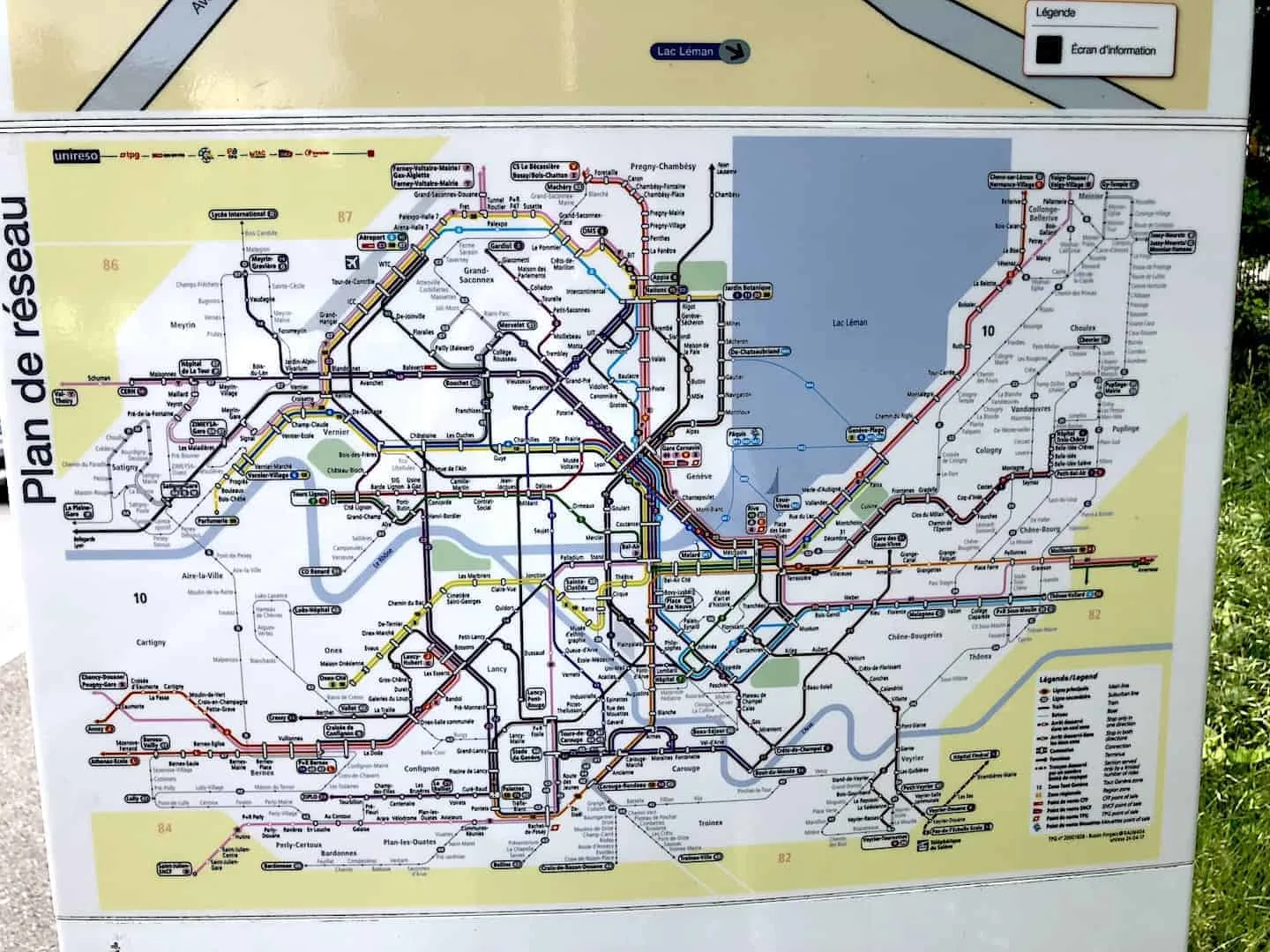 3) 1 Day in Geneva Attractions & Map
Now it is time to get into the attractions themselves. I mapped out a self guided tour that you can do on your own while in Geneva. These 7 things to do include:
Walk the Old Town
Treille Promenade Bench
City Center
Jet d'Eau
Lake Geneva / Optional Boat Tour
United Nations
Broken Chair
Here is a map of the attractions, starting in the Old Town and making your way all the way to the Broken Chair area. Of course you can do the route anyway you choose depending on what is easiest logistically.
A) Walk the Old Town
The Old Town of Geneva is a great way to start your day – just walking and wandering the winding streets full of shops, cafes, squares and great architecture will be quite the experience.
On the map above I pinned a few spots in green to show you the general vicinity of the Old Town.
I would say it is less so seeing certain attractions in the Old Town, but rather just roaming the streets and taking in the surroundings is an attraction within itself.
There are plenty of great spots to check out at every turn and you are sure to enjoy your time hitting the streets.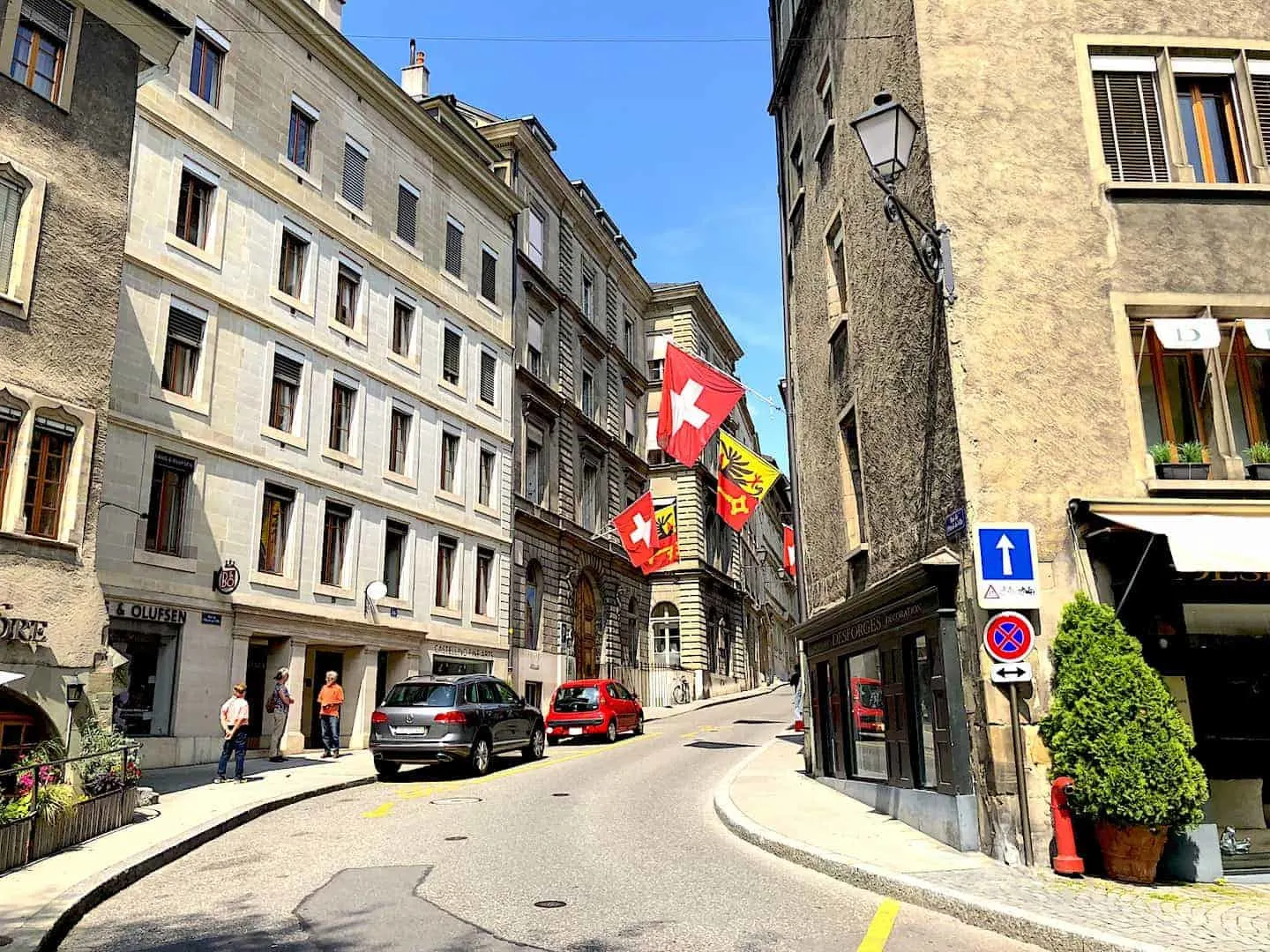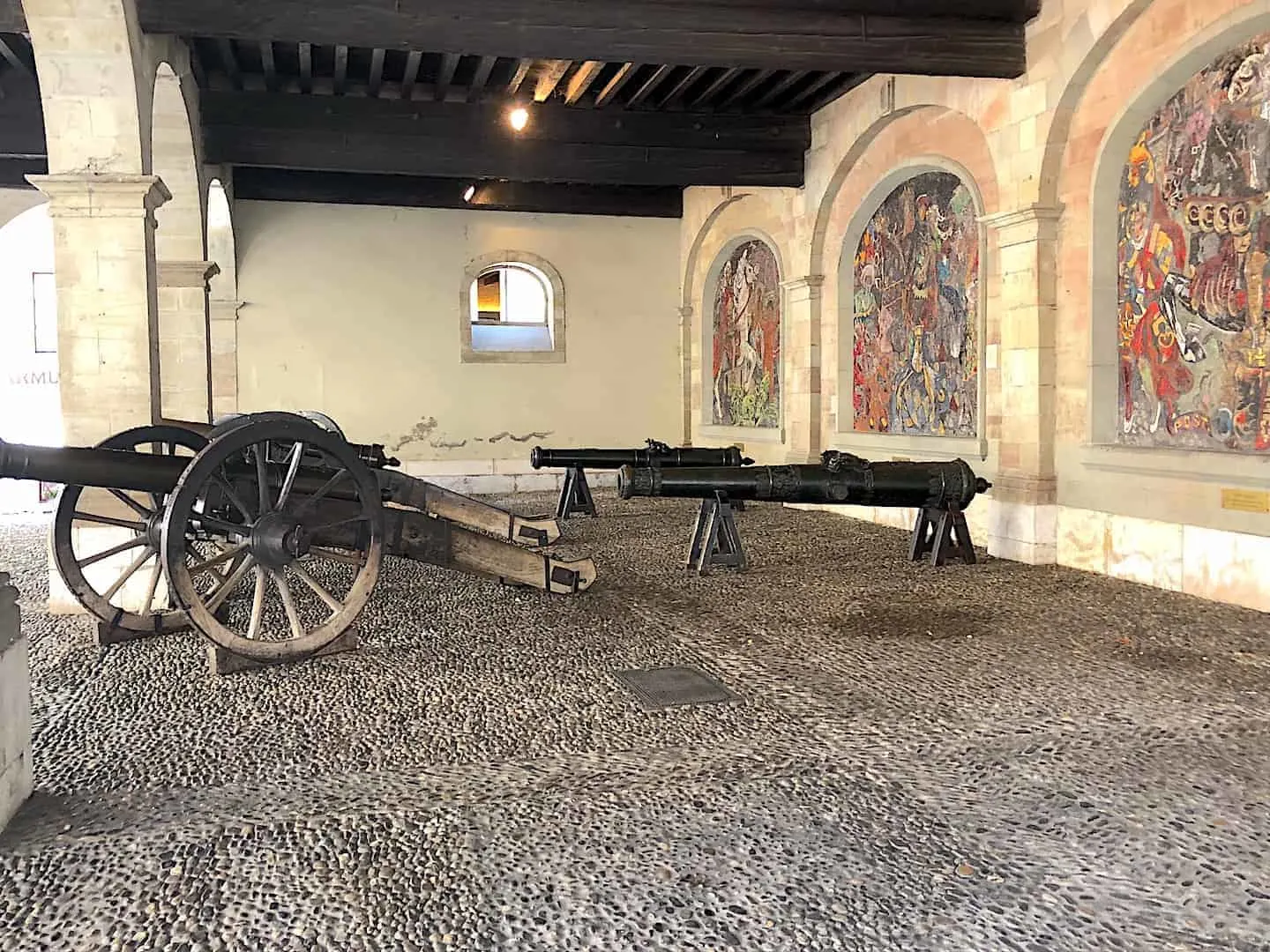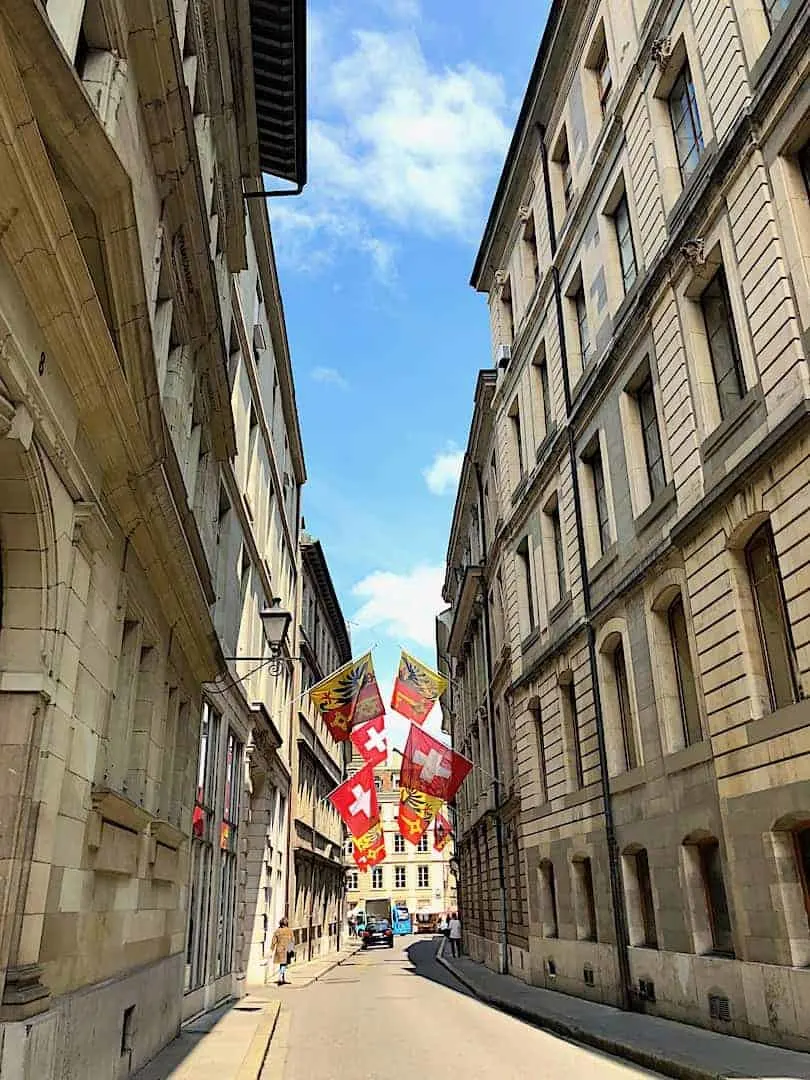 B) Treille Promenade & Bench
One area though in the Old Town that is definitely worth a visit is the Treille Promenade. It is known to have the worlds longest wooden bench that stretches from one side of the promenade to the other. It comes in a 413 feet!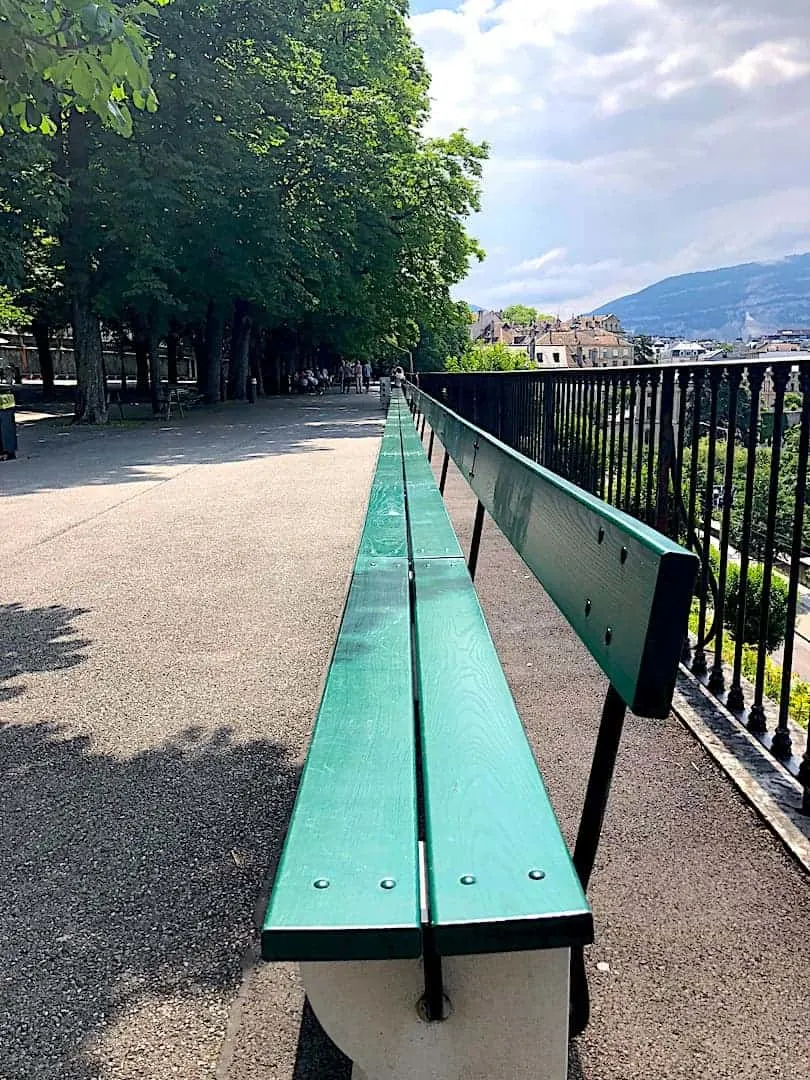 Not only will you get to see the bench but you will also get to see a partial view of the city below. There aren't too many viewpoints to see the city but this is definitely a good one to check out.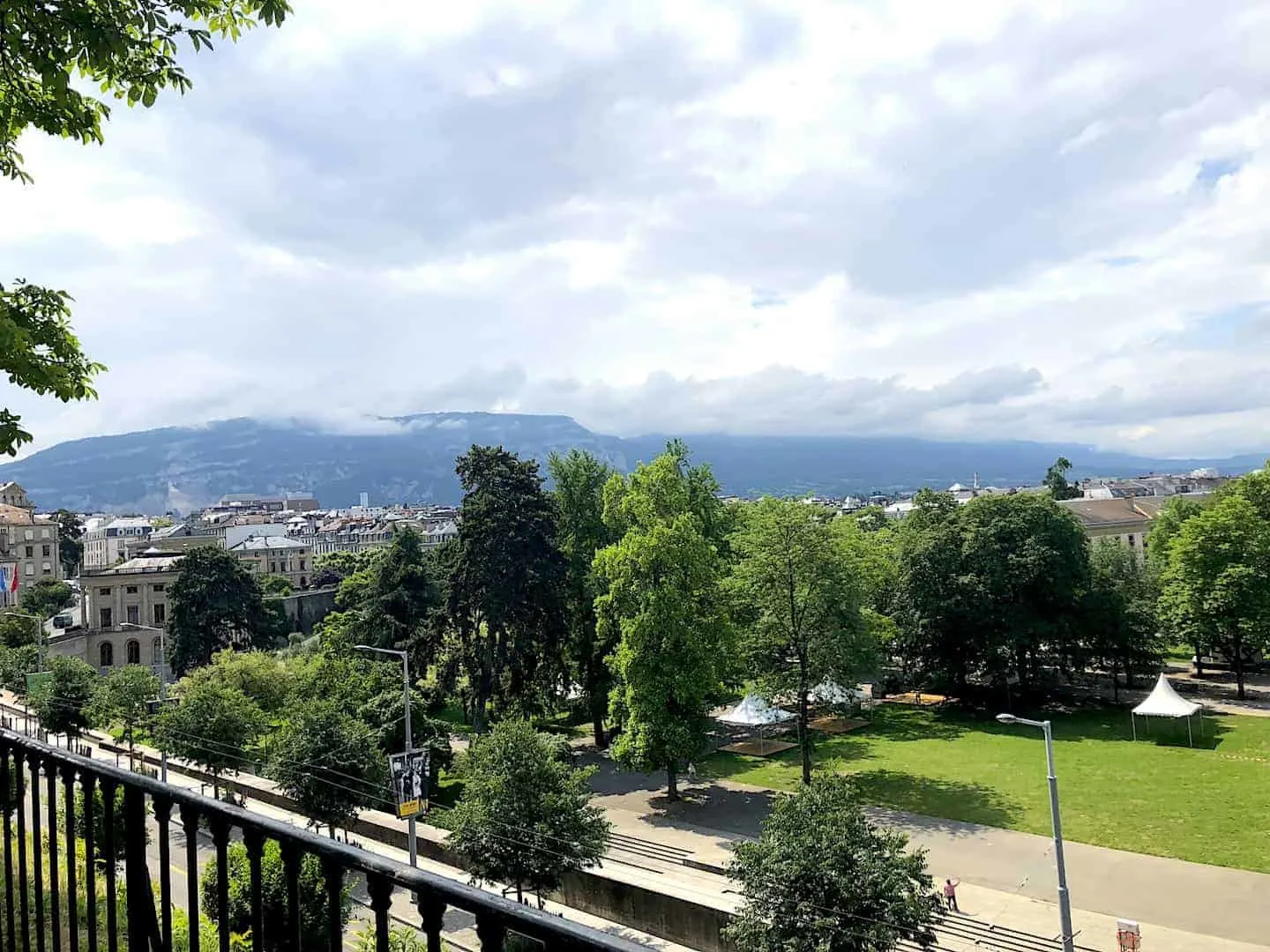 C) City Center
Once you are done roaming the Old Town, you can make your way closer to the riverfront where the main city center is located.
Here you will find high end shopping, restaurants, office buildings, hotels and everything you can think of.
The day I was walking around it was by far the most populated area of the city and a lot was going on all around. Again not necessarily seeing specific sites but rather just taking your time to explore the area.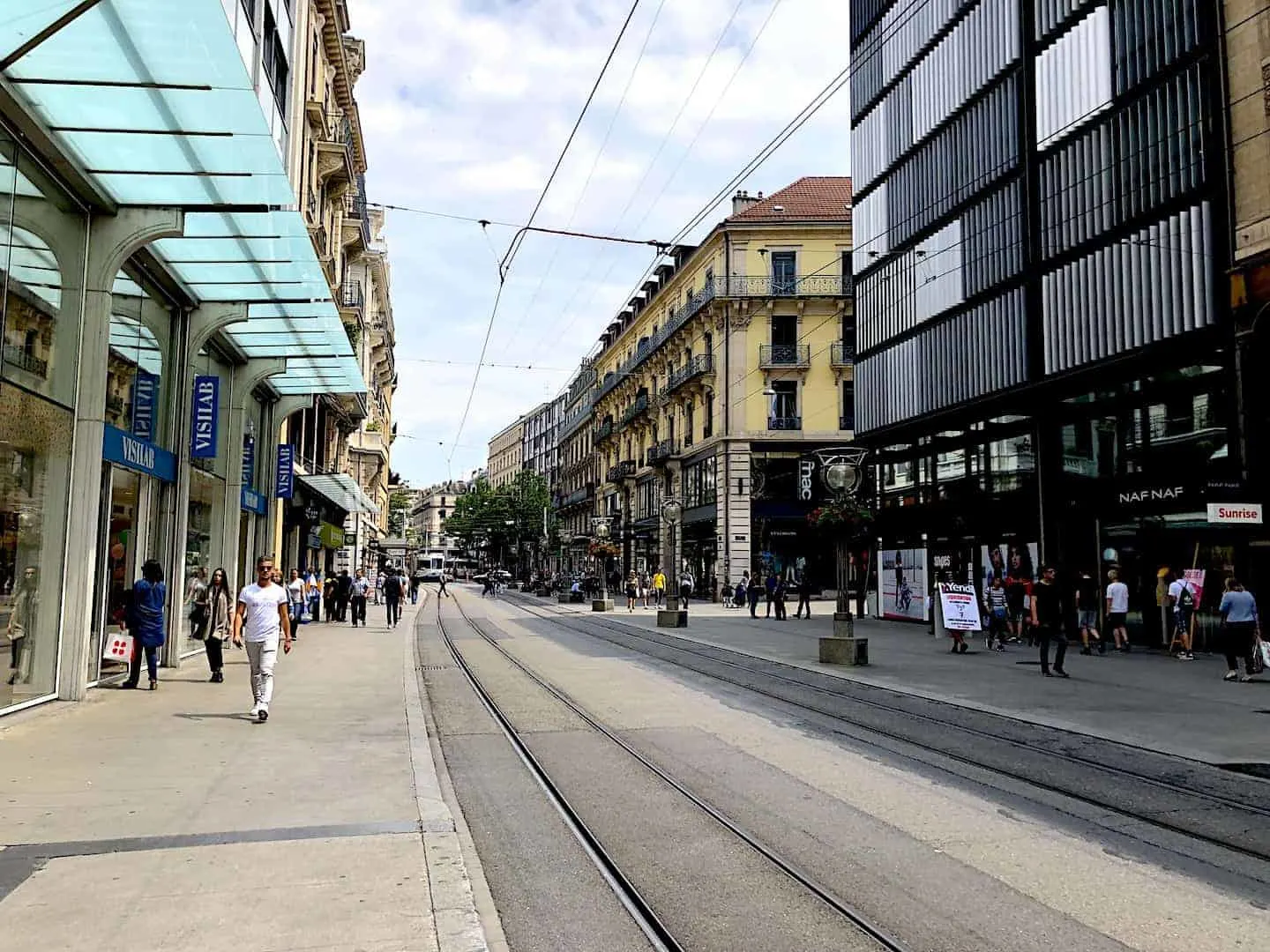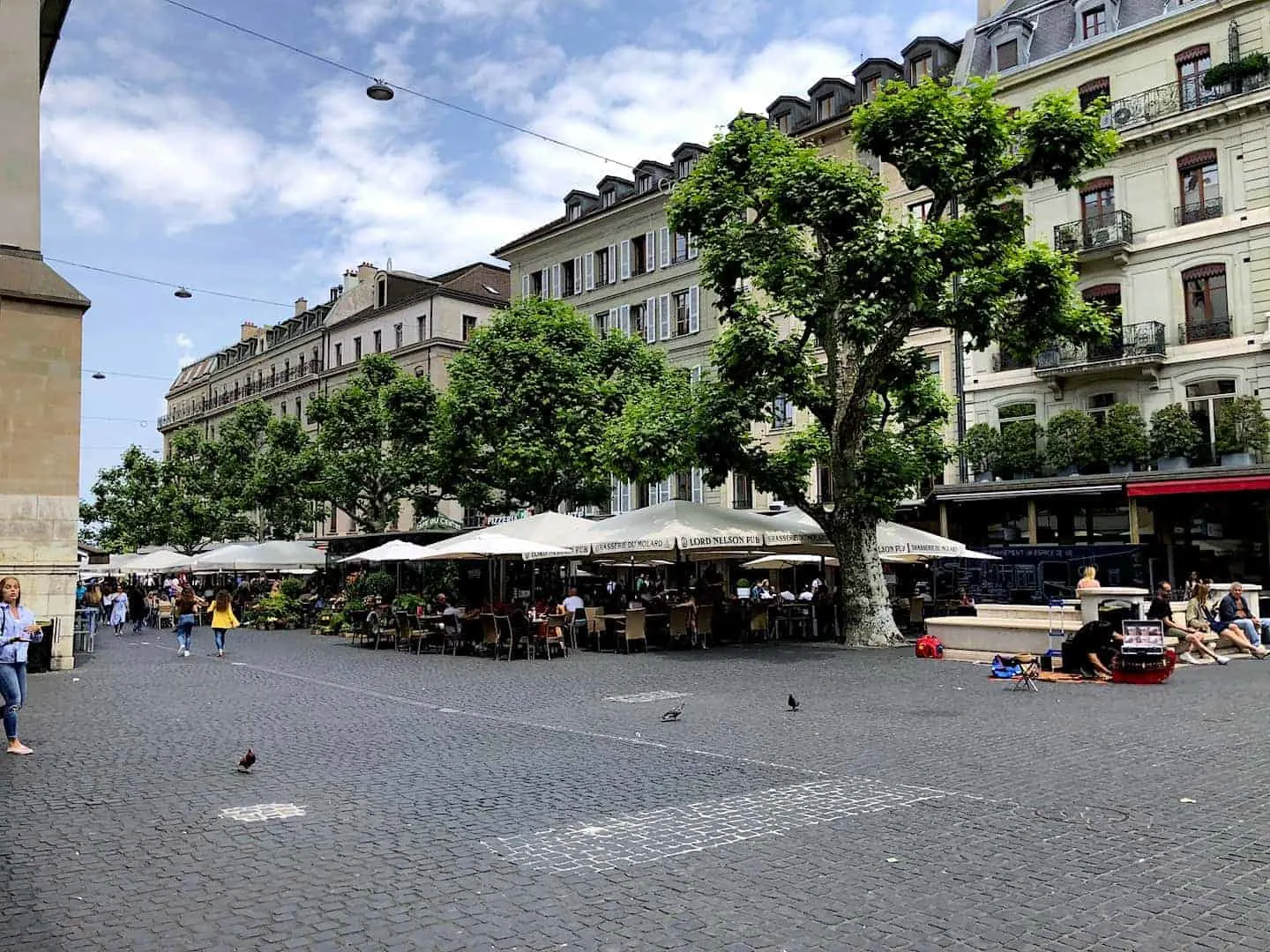 D) Jet d'Eau
Since you are already on the eastern side of the lake you can make your way towards the waterfront and right up onto the Jet d'Eau. It can be seen from all parts of the city (even from an airplane as you fly in!), and it is what Geneva is best known for (besides for chocolate, watches and banking).
A very cool thing to do is to go literally right up to the Jet d'Eau to see it as close as possible. It can get a bit misty around the area, especially if there is wind so be careful! Take some fun pics and videos and then continue on your way.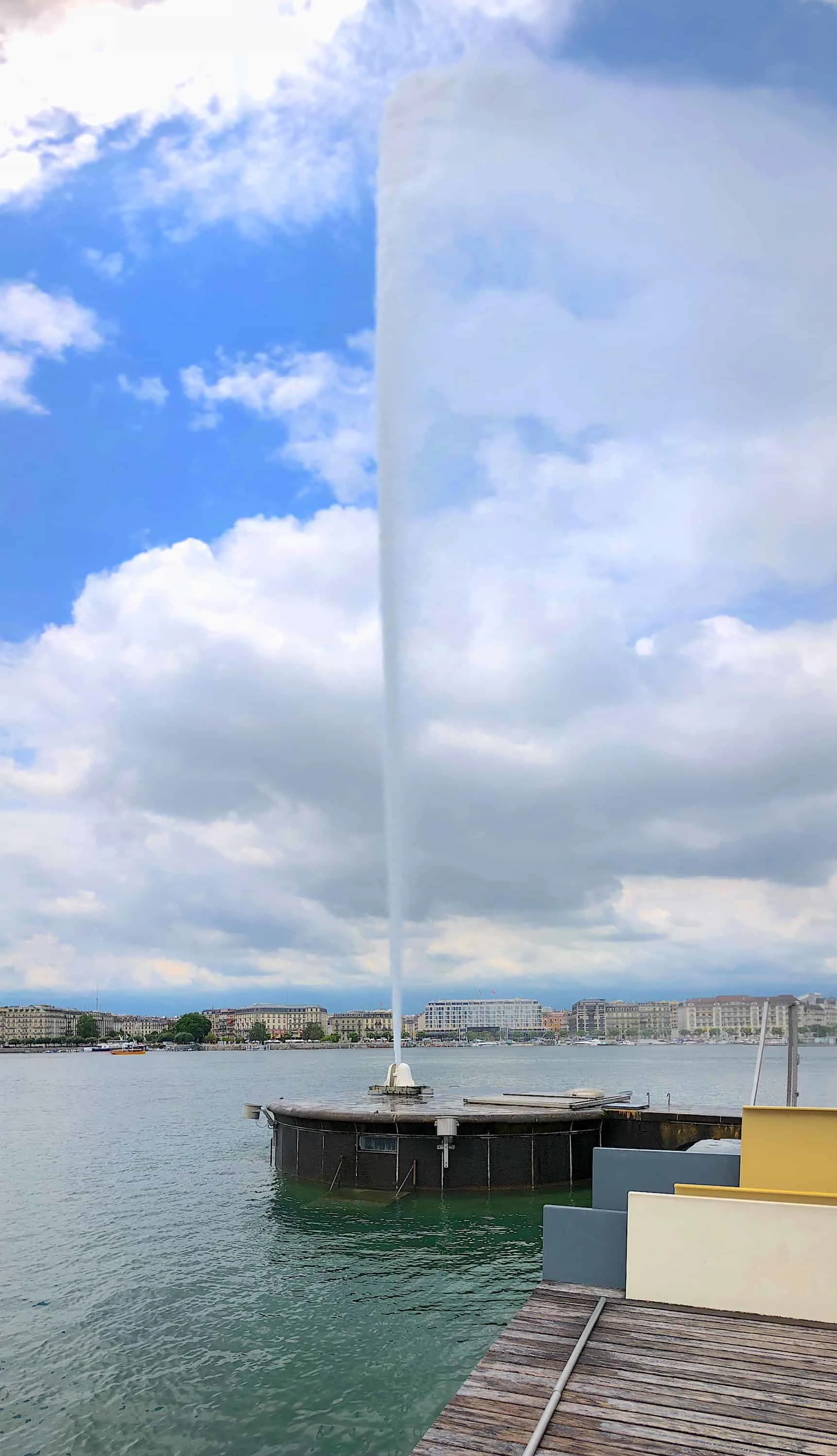 E) Lake Geneva / Optional Boat Tour
You can now cross the bridge to the opposite side of the lake and start to walk north along the lakefront. You will have a great view of the Jet d'Eau and the city center which you just came from. As you walk along the lake you will come across boat tour stalls (like in the picture below).
For about 15 CHF you can take a 50 minute boat tour of the lake which will include seeing some of the beautiful lakeside villas and chateaus.
If you have the time it is a great way to see the lake and surrounding area from a different perspective.
Boat Tour Booking: Feel free to book a Lake Geneva Boat Tour ahead of time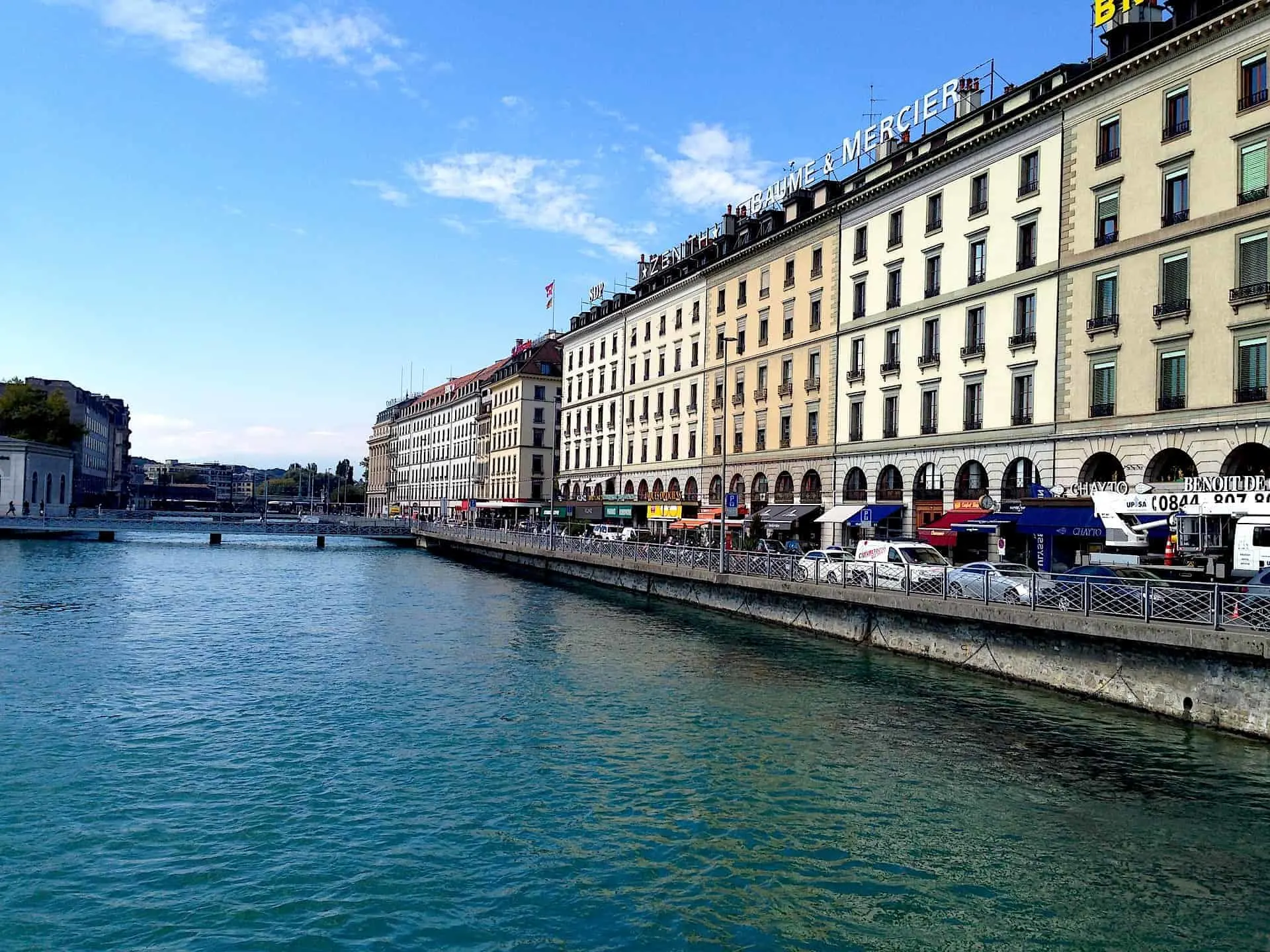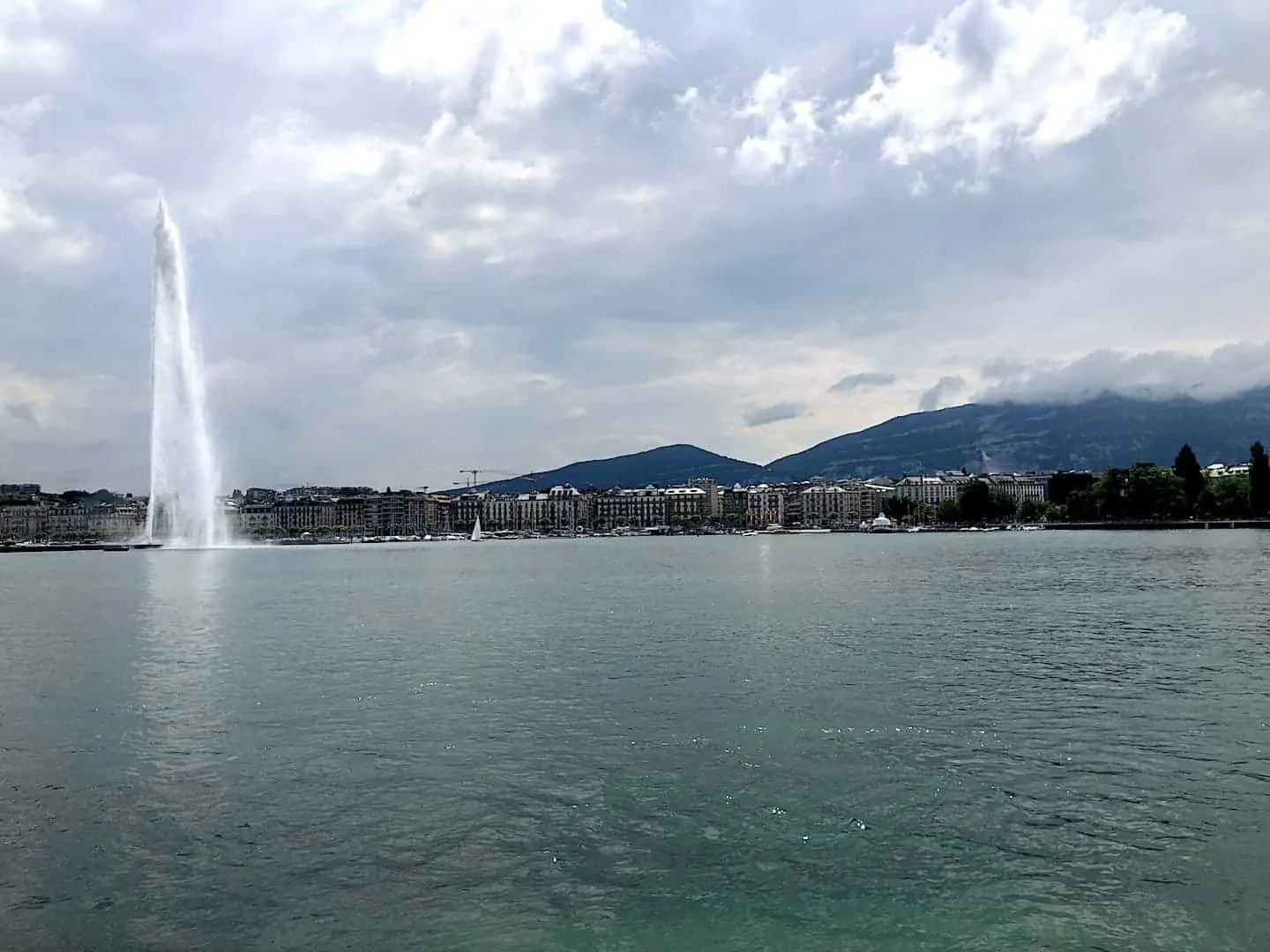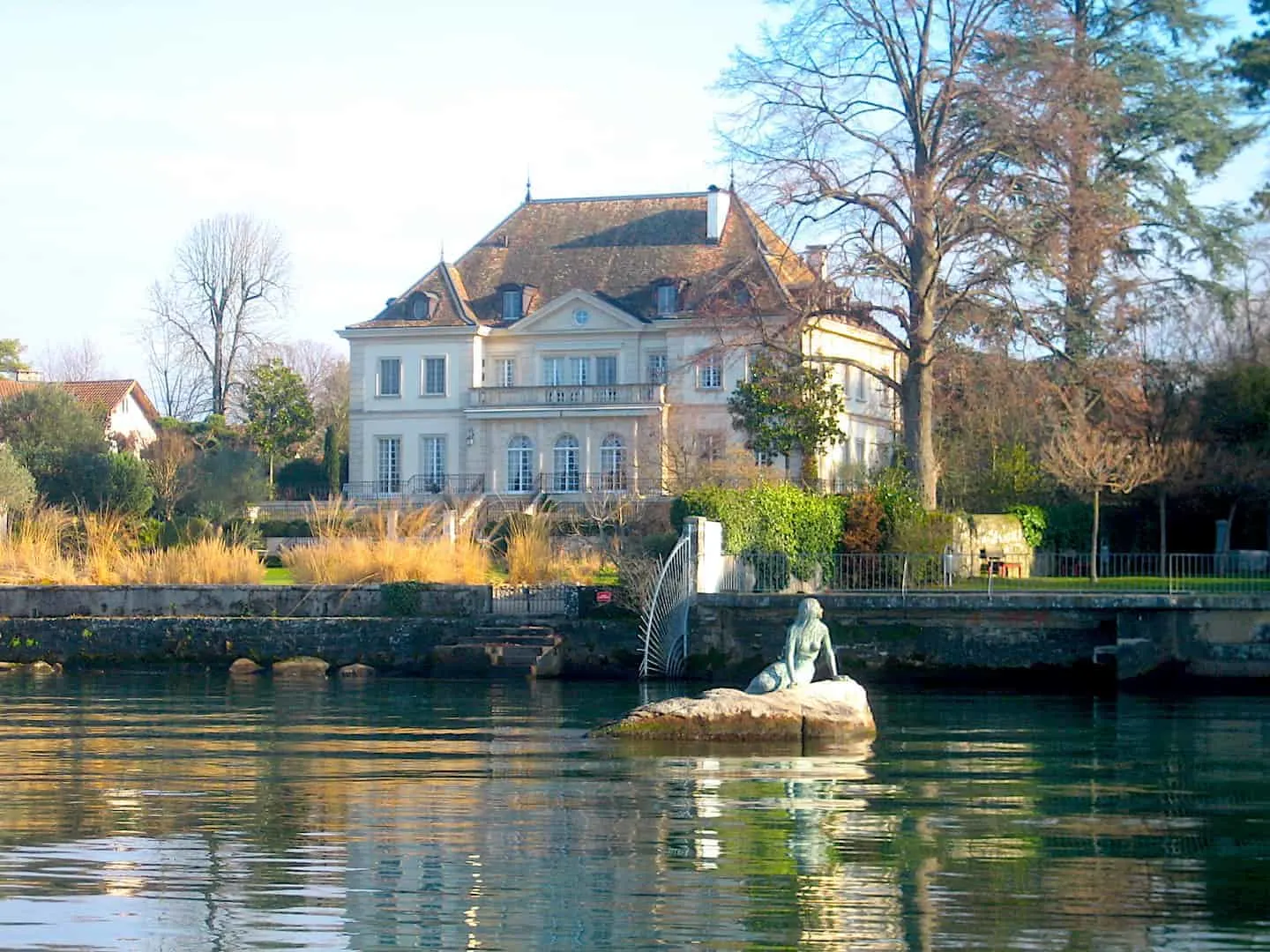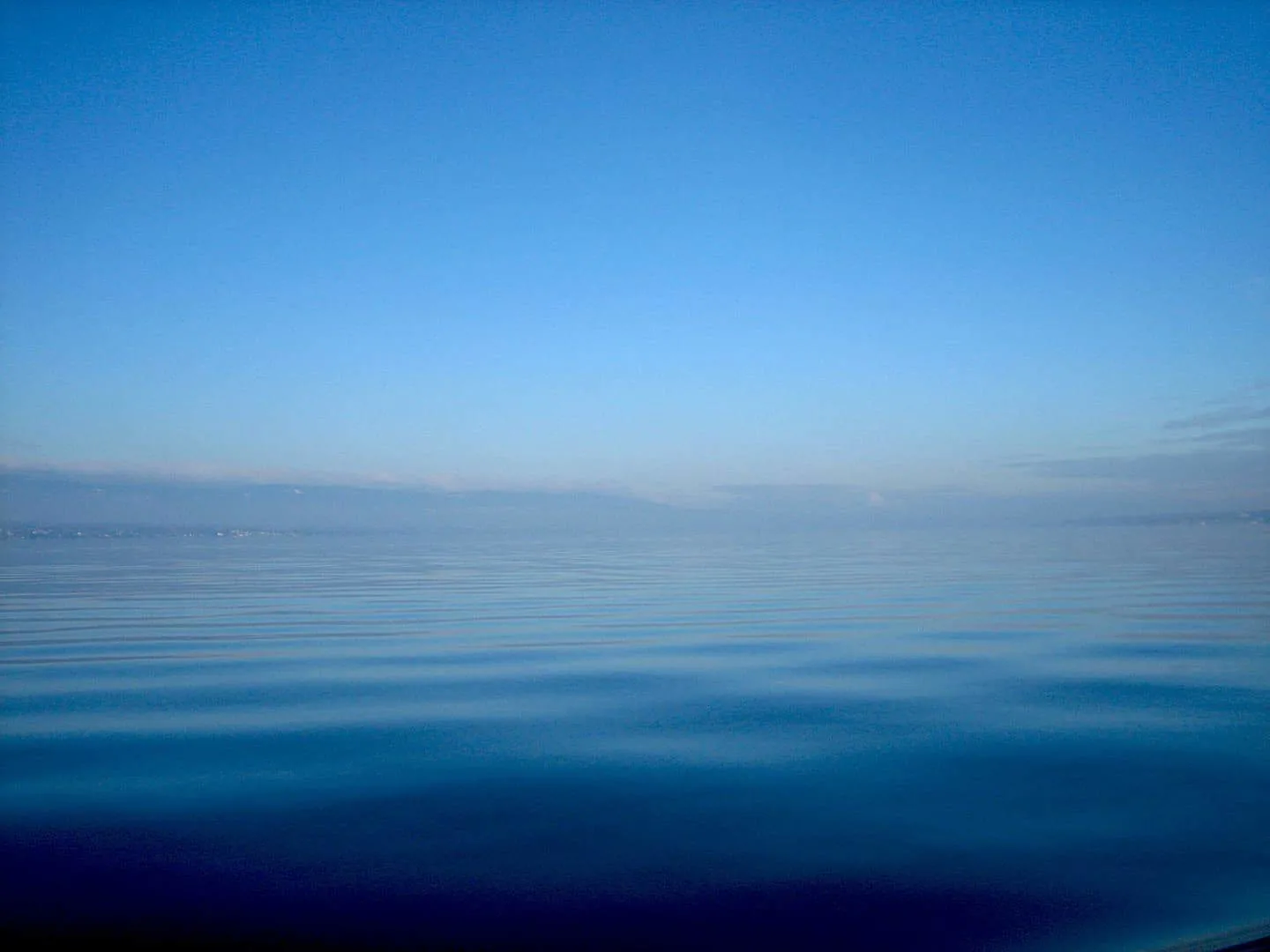 F) United Nations
After a boat tour or just walking alongside the lake you can continue all the way up to the UN.
Now this is a little bit of a walk (nearly 3KM) so if you are not up for walking the whole thing you can hop on a bus (plenty of options such as the 8 line) or take an Uber.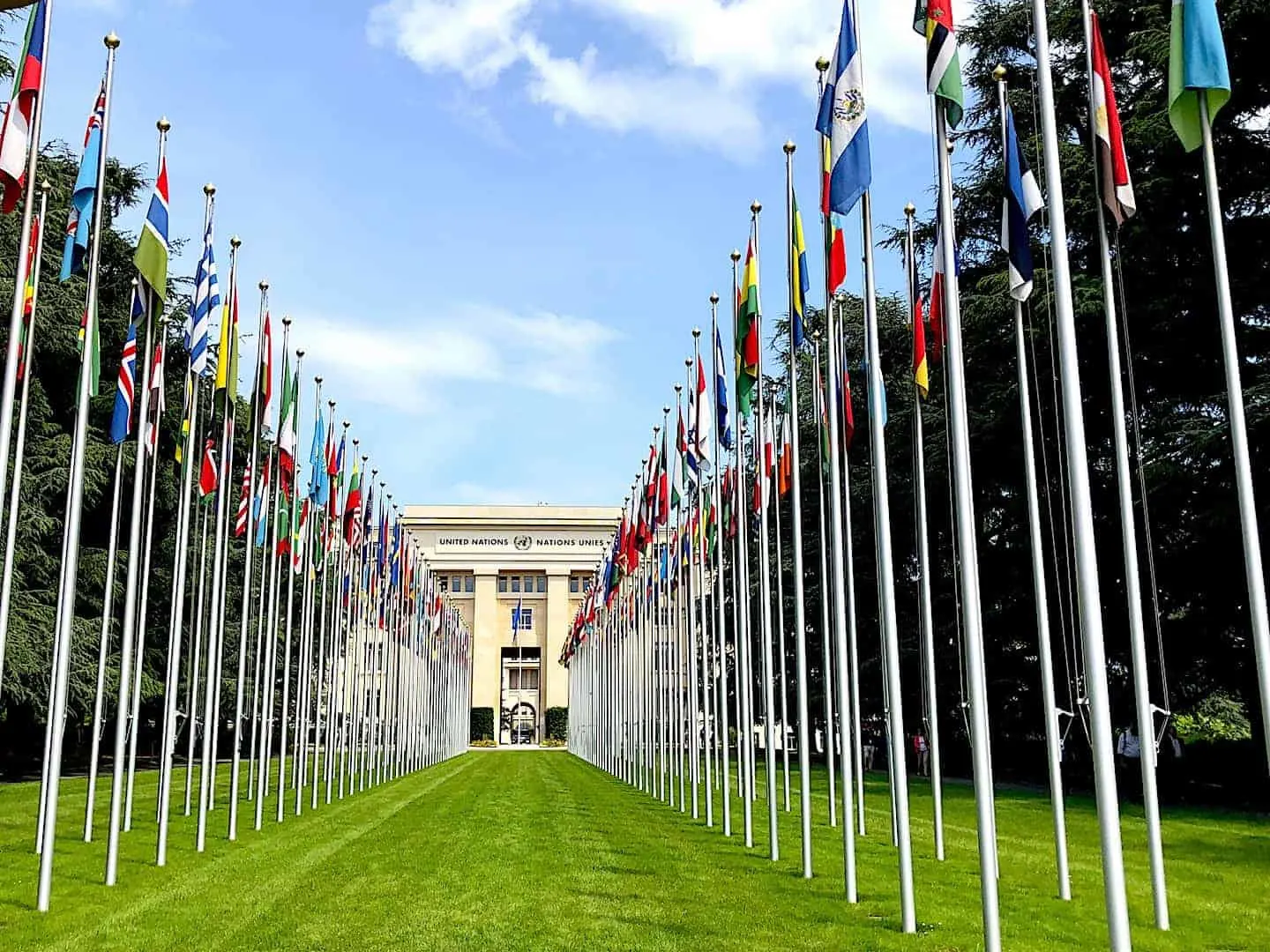 Once at the UN you can decide to just take a look from the outside or go in for an actual tour. Individual tours are the only way to actually see the inside and it is only open Monday to Friday.
There is an online booking system to book these tours. Be sure to book them well in advance to guarantee your spot! There are morning & afternoon tours available that last an hour and cost 16 CHF.
G) Broken Chair
Lastly on your Geneva day tour you can stroll right across from the UN to see the famous broken chair.
It signifies the Ottawa treaty – "to remember the plight of landmine victims and encourage states to commit themselves to the prohibition of cluster munitions". It is nearly 40 feet high and it is also a great spot to take a photo of the UN across the way.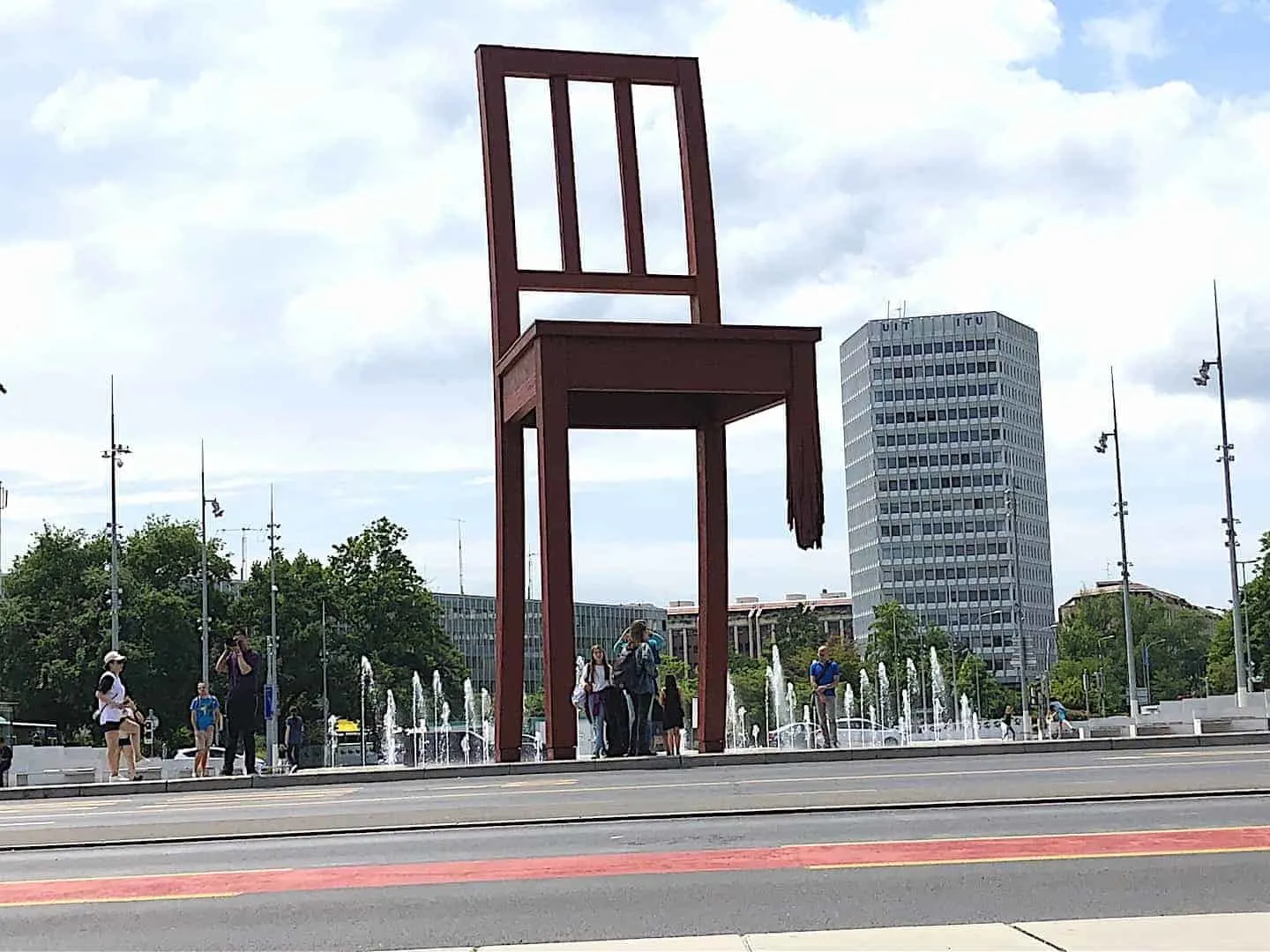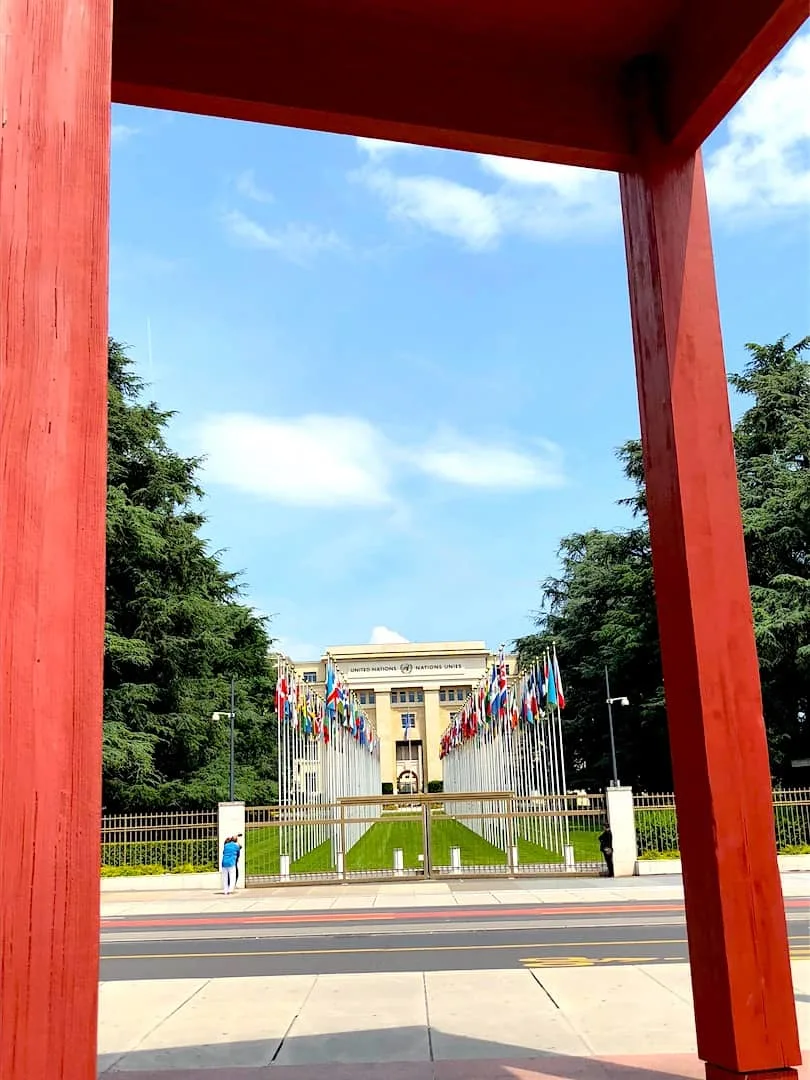 After a day of exploring Geneva and checking off all the things to do, you can hop on a bus or Uber back to your hotel to relax before heading out for a nice Swiss dinner.
Depending on how much time you have in Geneva you can do everything mentioned above in one day (would be even a longer day if you decided to do both the UN and Boat Tour).
If you have a couple days in the city then even better – just split the activities accordingly so you will have a bit more time to explore each one. Whatever you decide you are sure to have a great time in Geneva, Switzerland.
4) Where to Stay in Geneva
You cannot really go wrong with where you stay in Geneva. As long as you in walking distance to the lake you should be in good hands.
The main two areas though would be near the lakefront on the western side of the lake (same side as the train station and airport) or just across the bridge(s) on the east side of the lake near the Old Town. As you get farther away from the lakefront, you will find some cheaper alternatives if you are on a budget.
For the best views (but most expensive price) a hotel overlooking the lake and the Jet d'Eau would be your best bet. It is a truly spectacular view to wake up to the lake and its waterfront every morning. Take a look at Booking.com below for some of the best value hotel options in Geneva:
5) Weather in Geneva
When it comes to weather, Geneva has a pretty standard pattern. In the winter time the temperature will hover around the 40 degrees point on average and in the summer temperatures can get into the 80's and above.
Whatever part of year you choose though you really cannot go wrong. The city is just as beautiful to walk through at any time – it just depends on your preference and what other cities and activities you plan on doing the remainder of your trip.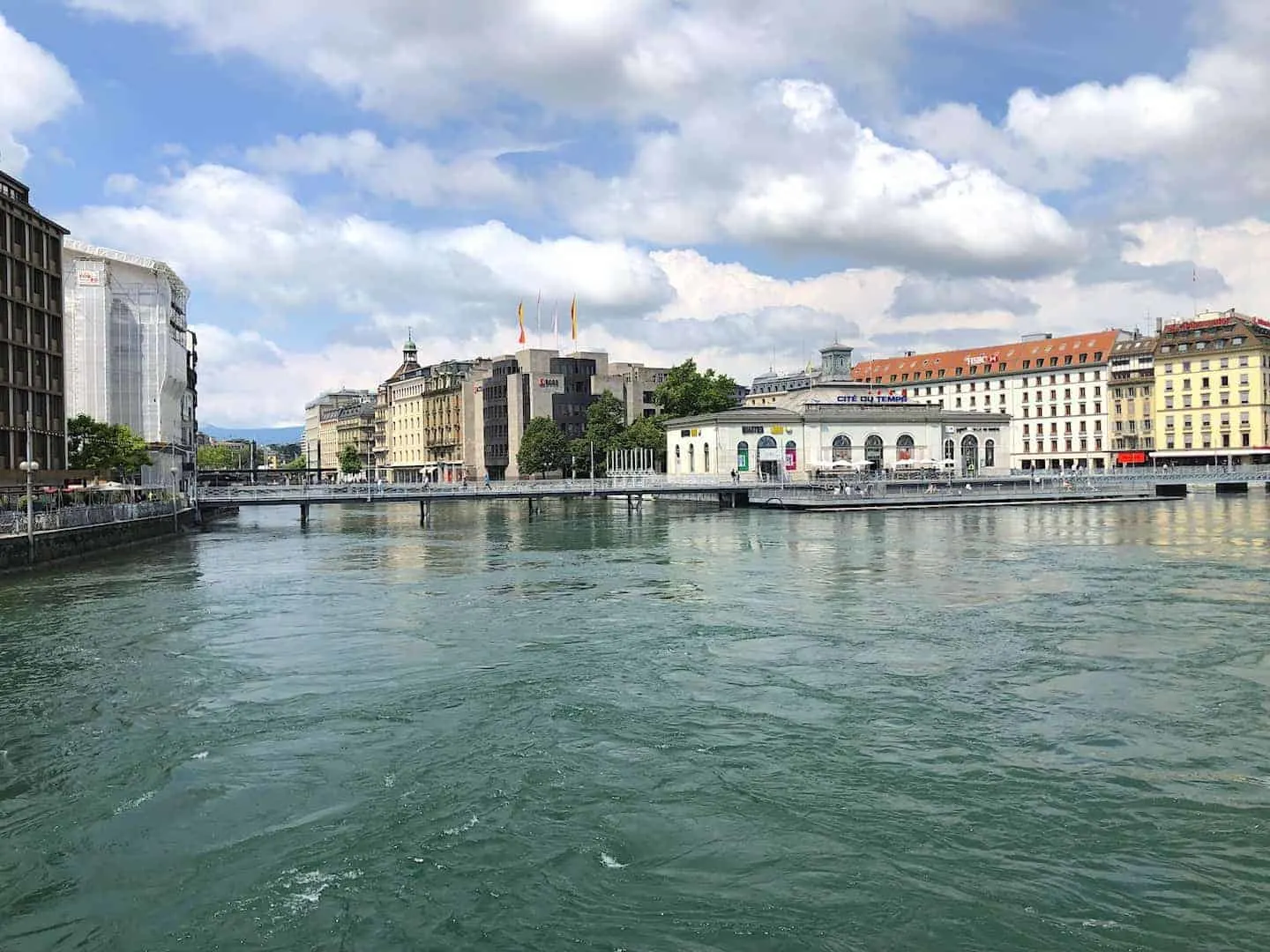 I would say a great time to visit Geneva would be in the spring and early fall when temperatures are not too hot or too cold and you can enjoy walking around the city all day.
For a more detailed overview, you can also check out the all encompassing guide to Switzerland weather.
That about does it for a guide to 1 day in Geneva going over 7 top things to do in the area. Be sure to check out all the other Switzerland itineraries and guides to get you ready for your trip! If you have any comments or questions feel free to write them in below.