The 5 Lakes Hike also known as the 5 Seenweg Hike, is one of the most popular trails that Zermatt has to offer. During this 10 kilometer hike you will not only get to experience 5 unique lakes, but you will also get views of the snowcapped mountains, incredible greenery, and the one and only Matterhorn.
This is the perfect hike for anyone visiting the region, whether you are an experienced hiker or just a beginner. It should take around 3-4 hours to complete this circular routes and that will depend on fitness level and stopping for pictures all along the way.
When it comes to all around day hikes in Switzerland, it doesn't get much better than the Five Lakes of Zermatt.
This guide will walk you through all of that and more to get you prepared for the 5 Lakes. So, get ready for what is sure to be a highlight of your time in Switzerland.
* Affiliate Disclosure: This post may contain affiliate links, which means I may receive a commission if you make a purchase through the links provided, at no additional cost to you. Thanks for supporting the work I put into TripTins!
1) Five Lakes Hike Zermatt Details
Before jumping into the actual hike, I wanted to lay out some important information that might be helpful for you to understand before you head out onto the trail.
The following sections will then go into more detail regarding some of the most important things to know for the hike.
From logistics to weather to the route itself, I hope this guide can help answer any questions you may have when preparing for your trip.
Starting Point: Blauherd (Sunnegga if Blauherd lift is closed)
Ending Point: Sunnegga
Lakes: Stellisee, Grindjisee, Grunsee, Moosjisee, Leisee
Distance: 9.8 km / 6.1 miles
Elevation Gain / Loss: +165 meter / +541 feet gain | -454 meter / -1,490 feet loss
Duration: 3-5 hours (depends on ability & stopping time)
Terrain Type: Path, Dirt Road, Nature Trail
Difficulty Level: Easy
The Five Lakes hike of Zermatt is a perfect trail for anyone who is visiting the area. It is suitable for people of all ages and offers some of the best views you can ask for in the region. Whether it is lakes, mountains, or greenery, you will find it all and more while hiking the trail.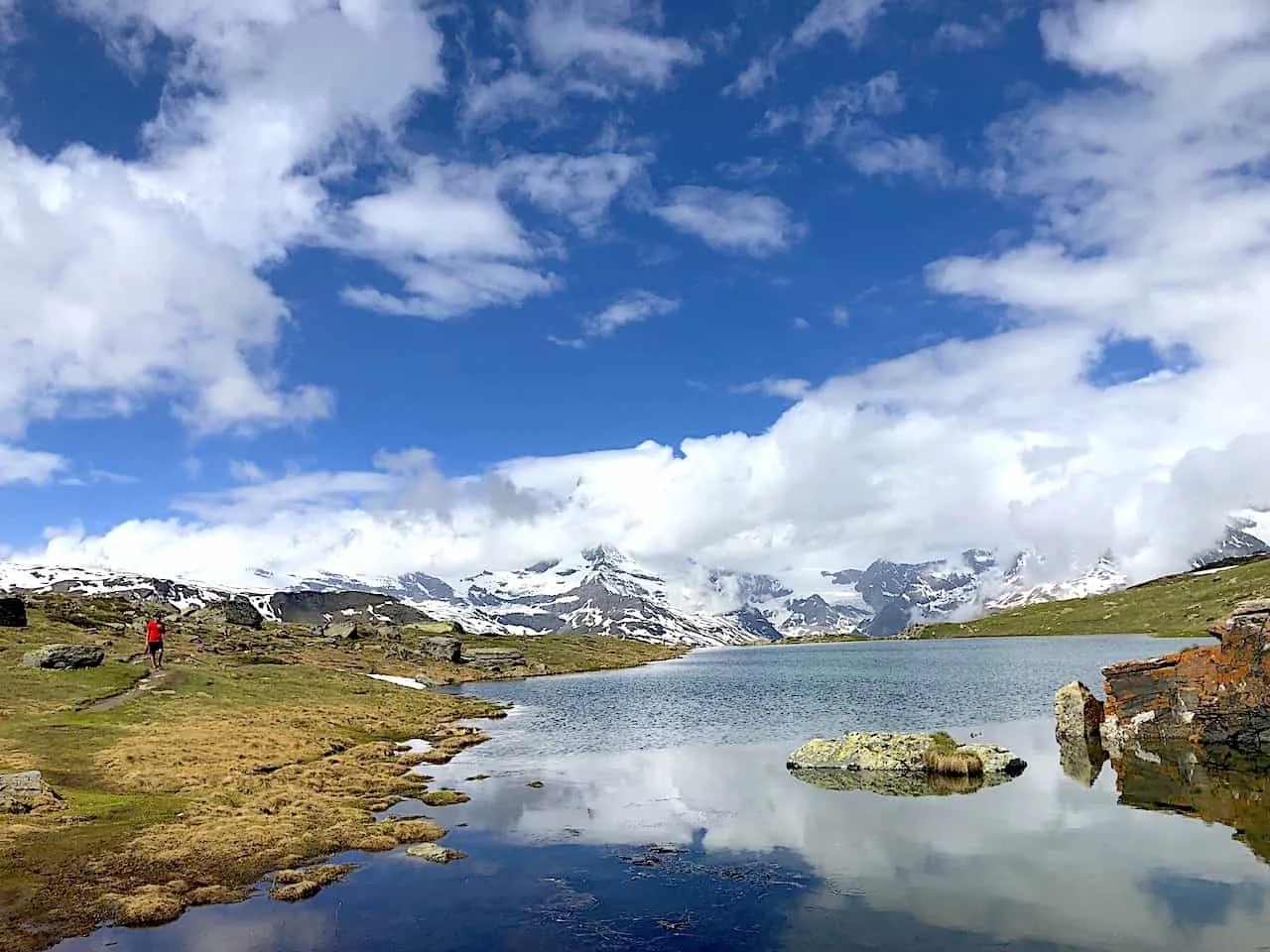 Hiking Resources & Checklist

Before heading out for the trails, be sure to read up on some of the hiking resources up on the site. These are here to better prepare you for all types of outdoor adventure.
2) When To Hike The 5 Lakes Trail
Since the hike itself is at pretty high elevation (starting at 2,600 meters), it is covered with snow throughout the winter and some of spring as well.
Once the snow is all cleared on the trail, it will "officially" be open for hiking. However, this may not happen until somewhere around the May time period.
To be certain send over an email to the Zermatt tourism office who will be happy to let you know if the trail is open / when it is scheduled to be open.
Once it is clear of snow, it will stay that way through the rest of spring, summer and most of fall until conditions become unsafe again as snow begins to arrive.
Another thing to consider when deciding when to actually take part of the hike is what the weather will be like on that particular day.
Since the main draw of the hike is to see the views and scenery (and Matterhorn!), you will want to go on a day where you can experience just that.
For this you should first look at meteoblue.com for the most reliable weather forecasts and second check the Zermatt webcams before you head up.
I recommend you take a look at the weather in Switzerland guide that goes into more detail about both those tips.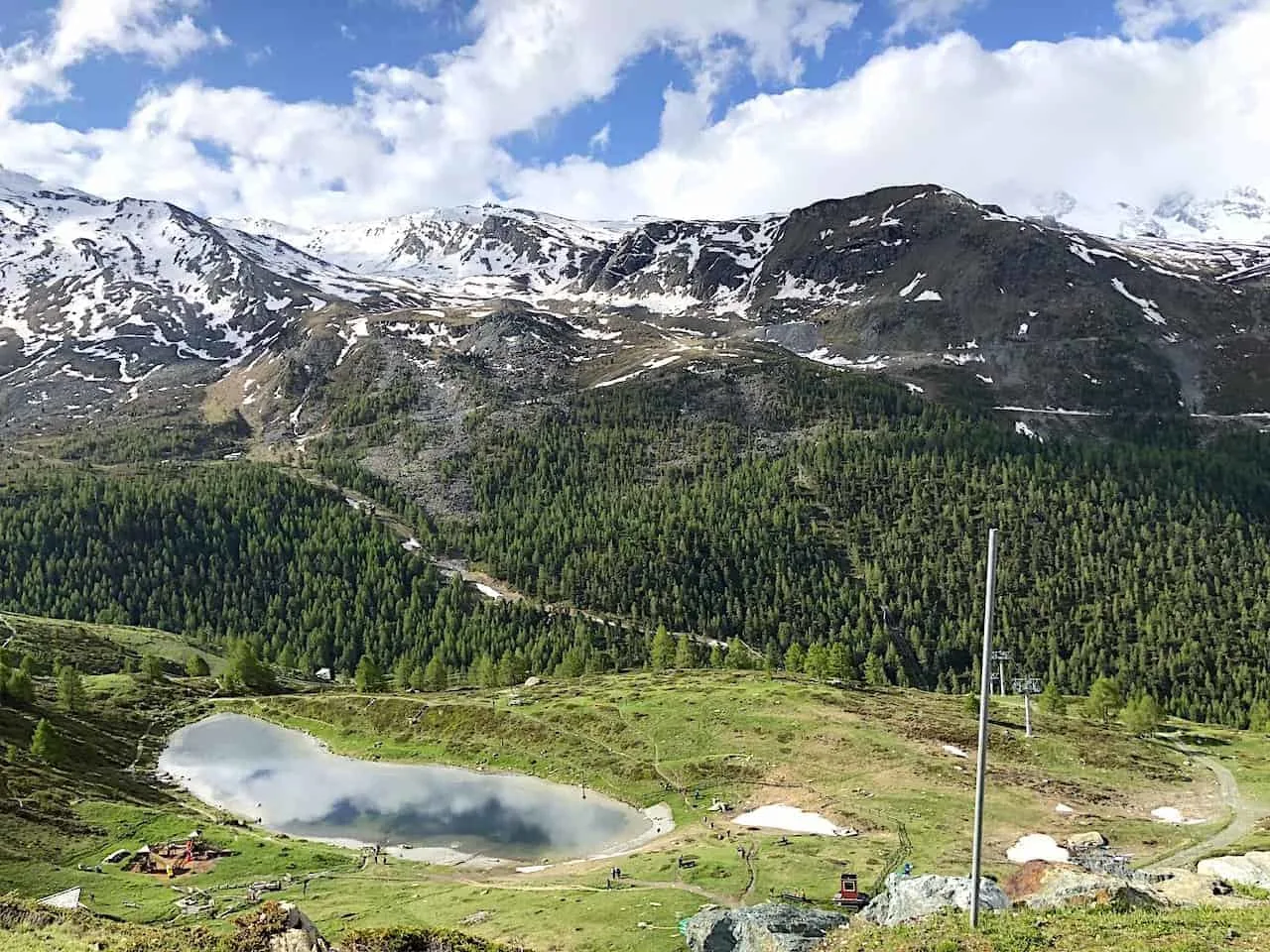 Even if the weather is not perfect with blues skies and no chance of rain or clouds, that should not stop you from taking part of the hike (unless you have more clear days to choose from). When I visited the 5 lakes, there was a mix of sun, rain and clouds throughout the day.
At some points I had nice blue skies and views of the Matterhorn and at other times, it got very cloudy and began to drizzle. The weather is not perfect in the mountains and it can change at any minute.
---
Whenever heading off on longer day hikes, I always recommend being adequately prepared when it comes to the type of gear to bring along.
Check out the below packing list to get you ready for this hike and other hikes in Switzerland.
Hiking Packing List

In general when it comes to hiking, there are a few main aspects to consider. These includes clothing layers, hiking shoes, hydration & fuel, electronics, and other essentials.

Below in a breakdown of some of the top items, but be sure to check out the Hiking Packing List for a more comprehensive view.

Clothing Layers

Layering is going to be a top consideration when hiking. You will want to be prepared for all sorts of weather so you can be comfortable in different situations. Some items may include:

→ Hiking Shorts
→ Hiking Pants
→ Short Sleeve Shirt
→ Long Sleeve Shirt / Sun Hoodie
→ Mid Layer Fleece
→ Puff Jacket (not always needed)
→ Packable Rain Jacket (Columbia Watertight II)

Note that your layers should be made of moisture wicking material as they are breathable and quick drying.

Footwear

Having appropriate footwear will also be very important. You will want to have shoes with the necessary grip and support to keep you safe on the trail.

→ Hiking Shoes (Keen Targhee)
→ Hiking Socks (Darn Tough)

Other Essentials

Whether it is hiking gear, electronics, or just some miscellaneous items, here are some other essentials to bring along on hikes.

→ Hiking Backpack (Osprey Talon 22) & Rain Cover (Joy Walker Cover)
→ Hiking Poles (Black Diamond Trekking Poles)
→ Water Bottle (CamelBak Chute or Katadyn Filter Bottle)
→ Portable Charger (Anker PowerCore 5000mAh)
→ Action Camera (GoPro Hero)
→ Energy Bars & Snacks
→ Hat & Sunglasses
→ Sunscreen & Bug Spray
---
3) The 5 Lakes Track Starting Point
While the 5 Lakes Trail is located in Zermatt, it does not start within the city itself (although you could do that and add several additional hours to your hike).
Instead, you will want to make your way to the official starting point of the hike at Blauherd.
Getting to Blauherd is simple enough from the Zermatt city center. First you will want to take an underground funicular from Zermatt to Sunnegga. This funicular is just a few minutes walk from town and is pinpointed on the map below.
Once you get off at Sunnegga you will then hop on the quick lift from Sunnegga to Blauherd. After getting off the chairlift, it will be time to officially start your hike on the 5 Lakes Trail.
Important Note: There are times where one or both of those transportation options might be closed. Please check the latest timetable on the Zermatt website (scroll down and click the "Mountain lifts schedule", and then download the appropriate timetable just a bit down on the page).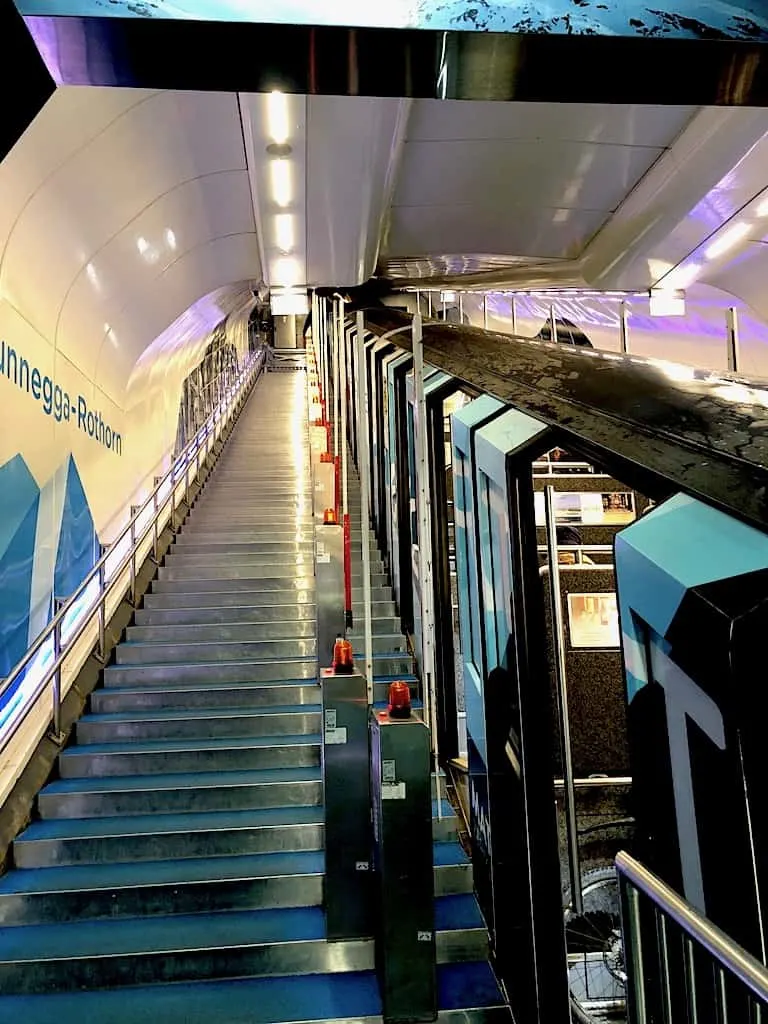 » If the Zermatt to Sunnegga funicular is closed, then taking part of the hike might be quite difficult as you then would need to hike from Zermatt town all the way up to Blauherd.
That portion within itself will take around 3 hours. Odds are during the times of year when the Sunnegga funicular is closed, the 5 Lakes Trail may not be in the best of hiking conditions.
» If the Sunnegga funicular is open but the Blauherd chairlift is closed, all you would need to do is hike from Sunnegga to Blauherd – an additional 45 minutes or so uphill.
I would highly recommend taking part of the trail even is the Blauherd lift is closed as the additional hiking time is not so significant.
The map below shows all the main points as you make your way up to Blauherd (as well as the hike from Sunnegga to Blauherd if the lift is closed).
4) How Much It Costs
While hiking the 5 Lakes Trail is absolutely free to take part, you will still need to pay for those funicular and lift tickets to get you to the starting point. The only way that your costs would be zero, is if you opt for the hike up and down from Zermatt.
Below are the two options that you will come across when purchasing tickets depending on whether the Blauherd lift is open:
Combo Ticket: Zermatt – Blauherd; Sunnegga – Zermatt:
39 CHF (19.50 CHF with Half Fare Card or Swiss Travel Pass)
If Blauherd lift is closed: Zermatt to Sunnegga round trip:
24 CHF (12 CHF with Half Fare Card or Swiss Travel Pass)
» For more information about travel passes check out the Train Travel in Switzerland Guide.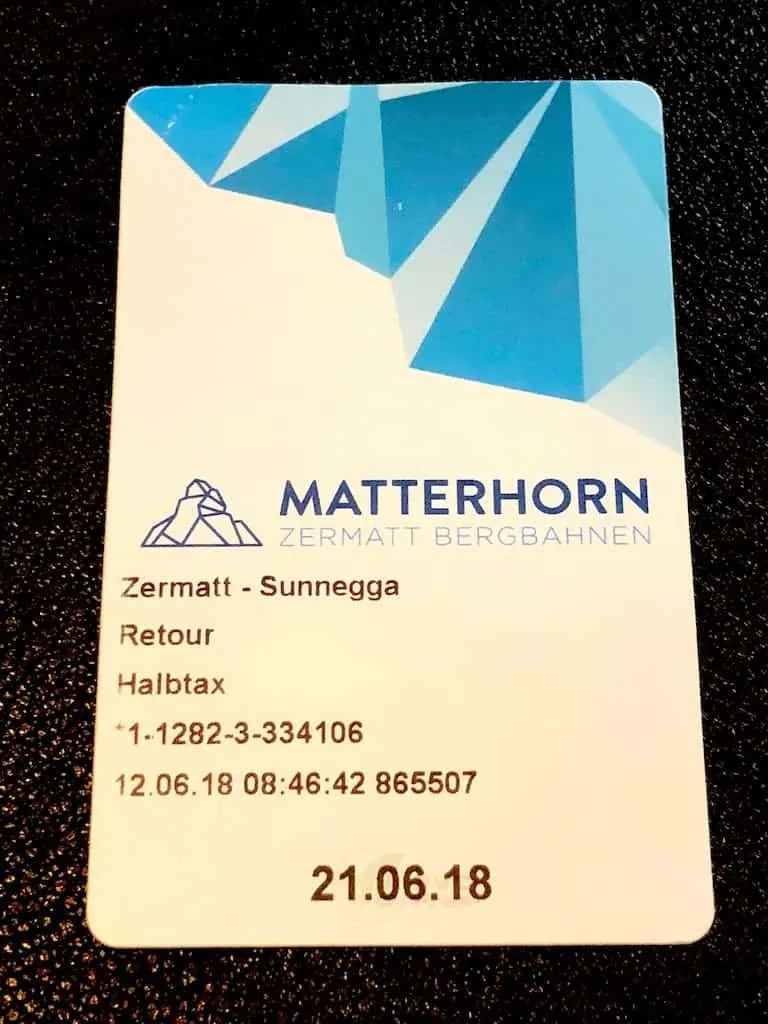 5) The Five Lakes Hike Map
The 5 Lakes Hike trail will take you throughout the beautiful mountain range surrounding Zermatt. Below you will find the route and zig zagging trail that you can expect to follow along the way:
Starting Point:

Blauherd

Lake #1:

Stellisee

Lake #2:

Grindjisee

Lake #3:

Grunsee

Lake #4:

Moosjisee

Lake #5:

Leisee

Ending Point:

Sunnegga
6) The 5 Lakes Trail
Once you have officially made it to Blauherd (either by lift or hike from Sunnegga) it is time to start the 5 Lakes Hike route. Throughout the hike you will see yellow signs pointing you in the right direction.
Since there are a lot of hiking trails around the area it is important to make sure to follow the 5 Lakes sign directions as some trails will take you to other parts of this mountain region.
Another thing I found helpful was to have Google Maps or the Maps.me app out to show you where you are relative to the full hike and the various lakes.
The hike itself is a combo between gravel road and actual trail (probably around a 50/50 split if I had to guess). So while being on a gravel road does not feel as scenic, just look around you at all the incredible mountains and greenery.
A) Blauherd to Stellisee
To start the hike you will depart from Blauherd and make your way to Stellisee, which I would say was the nicest of the 5 lakes.
Here you will get to see incredible views of the Alps with the Matterhorn standing tall right in the middle. It is also one of the larger lakes on the hike, so you can take some time walking the trail around it and getting views from all angles.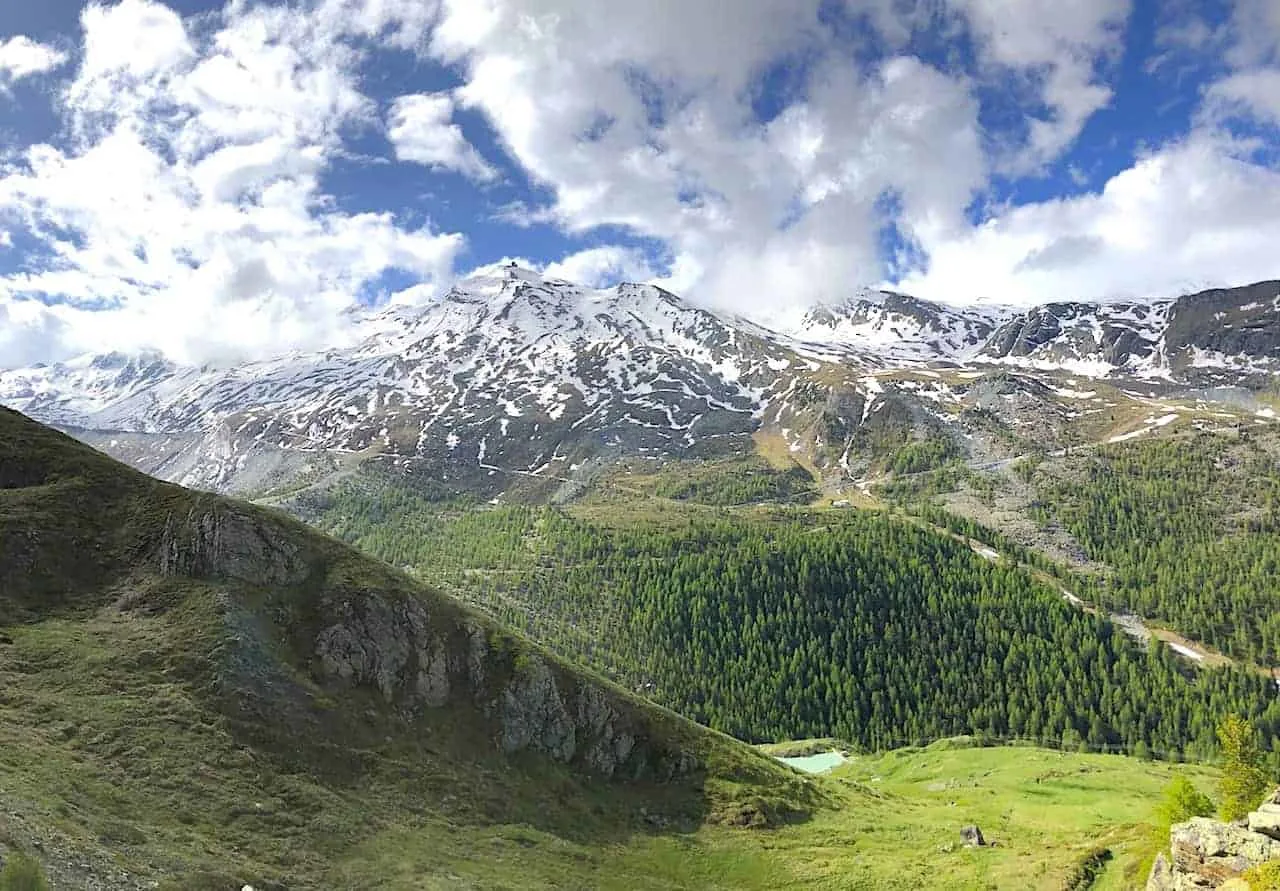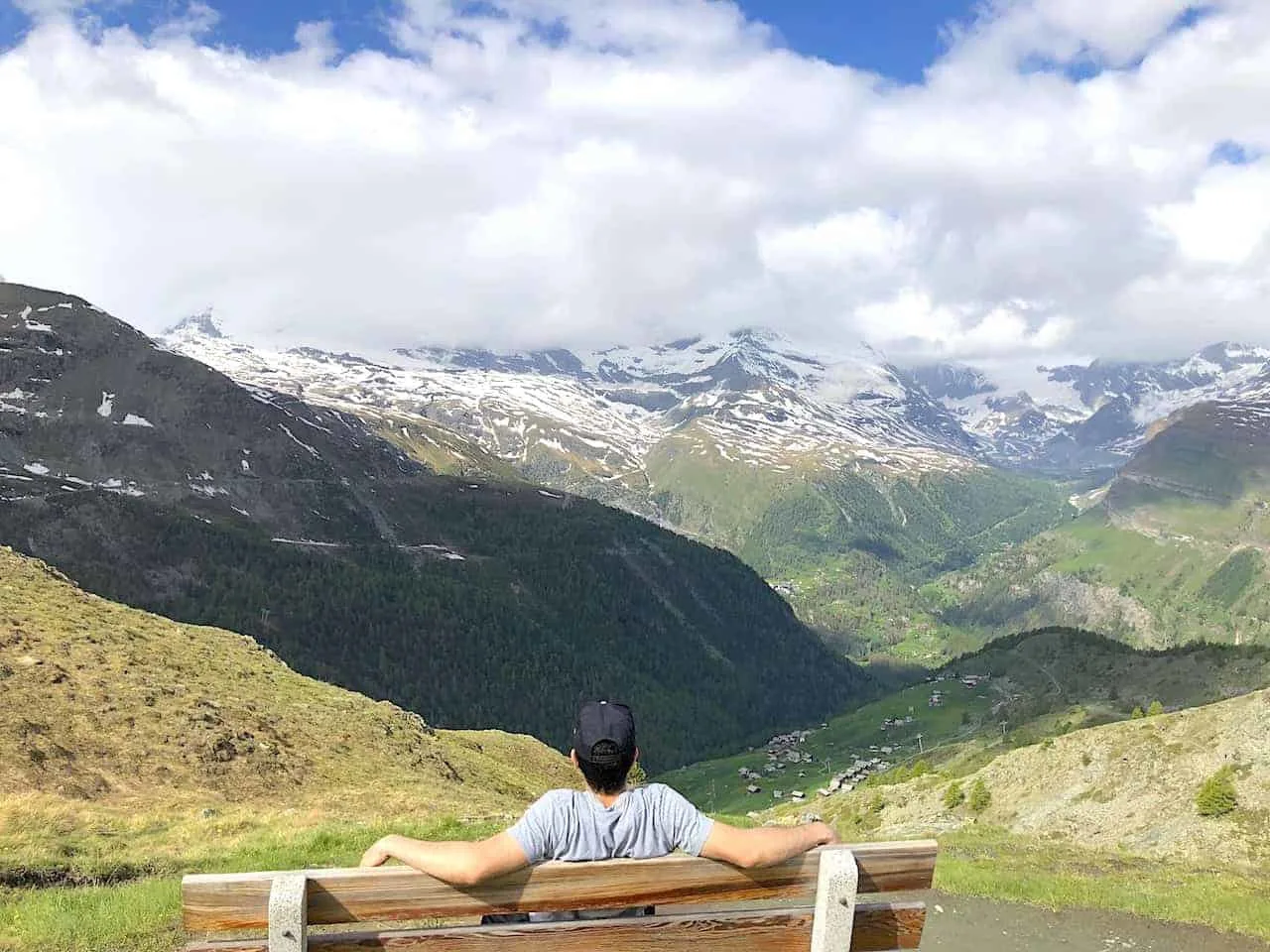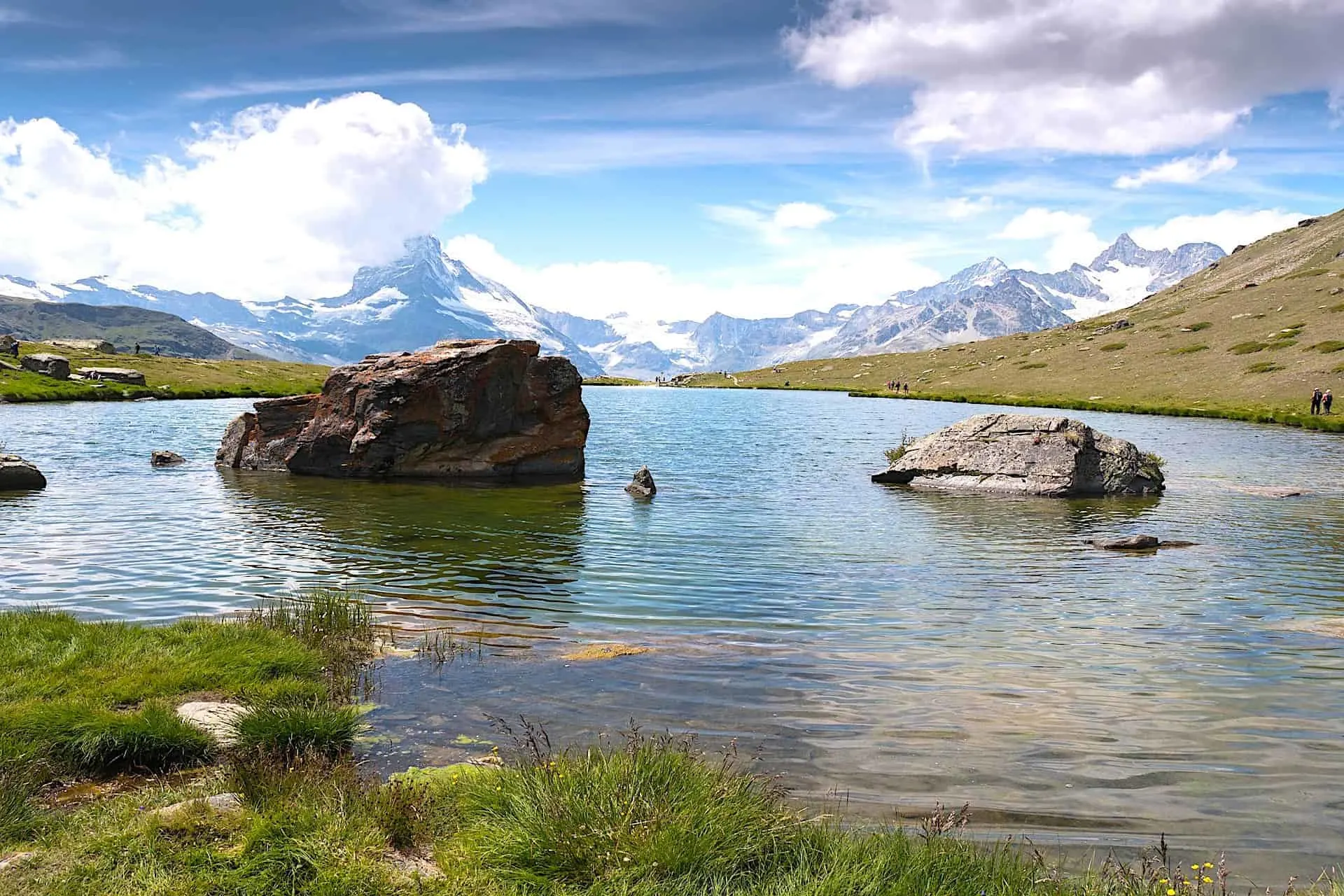 B) Stellisee to Grindjisee
You will then continue on to Grindjisee. As you walk along the trail you will see numerous small waterfalls coming off the side of the mountain as well as herds of sheep hanging out near the trail.
After a short time after you will arrive at Grindjisee, which feels more so like a big pond than a lake.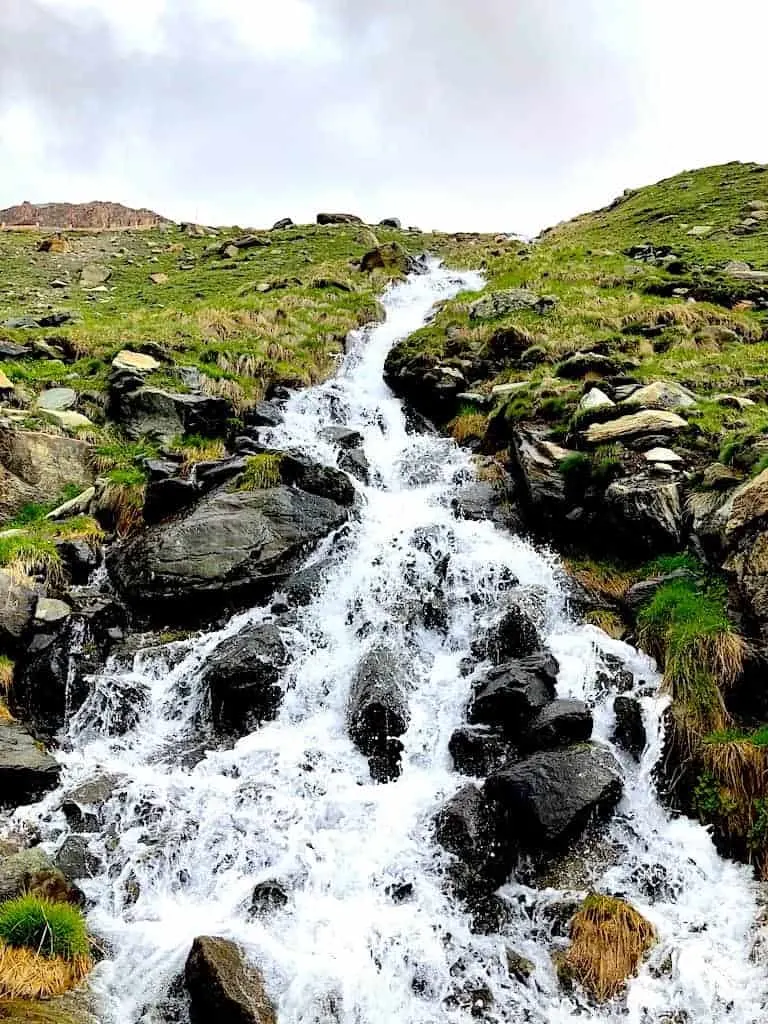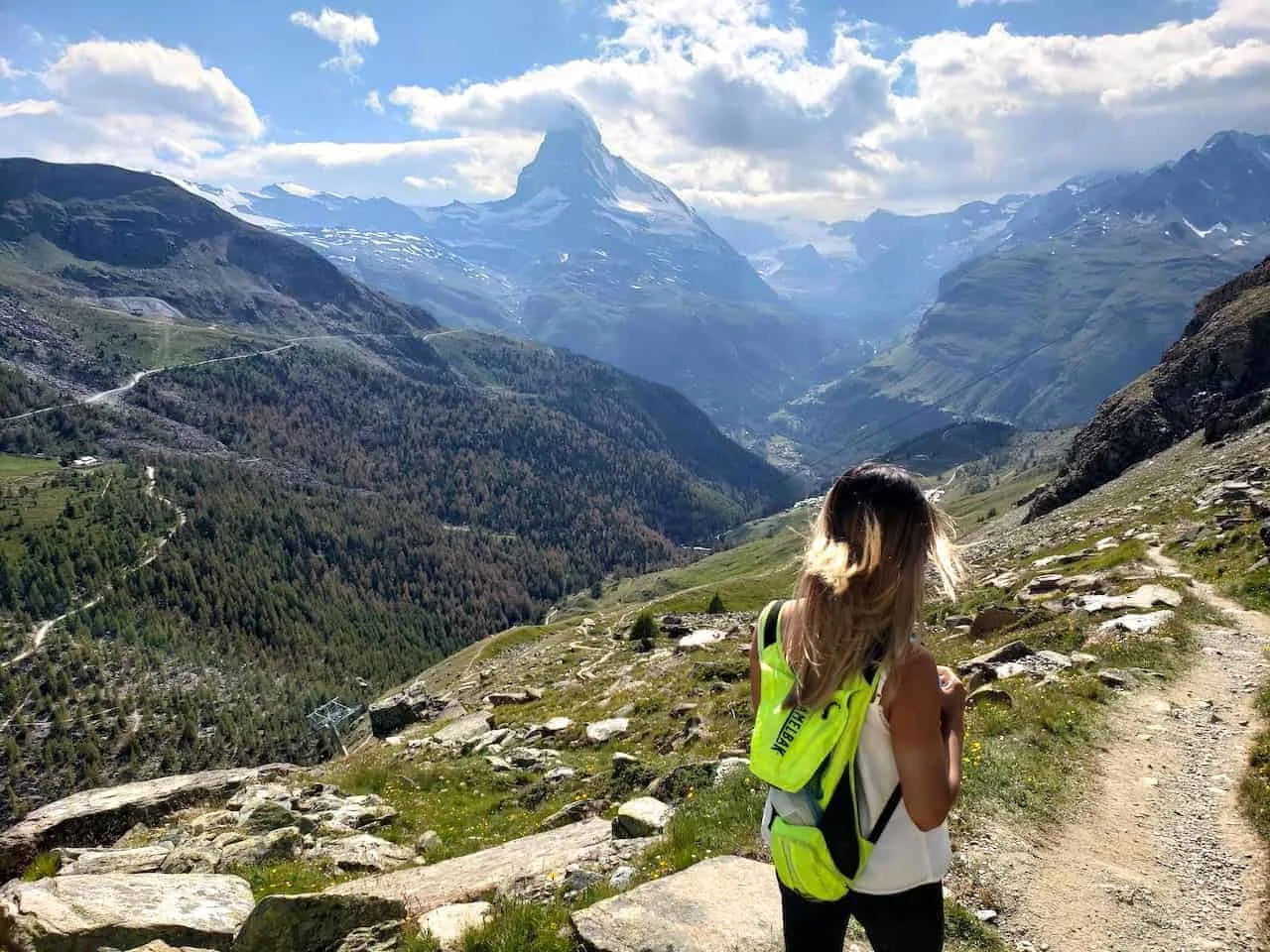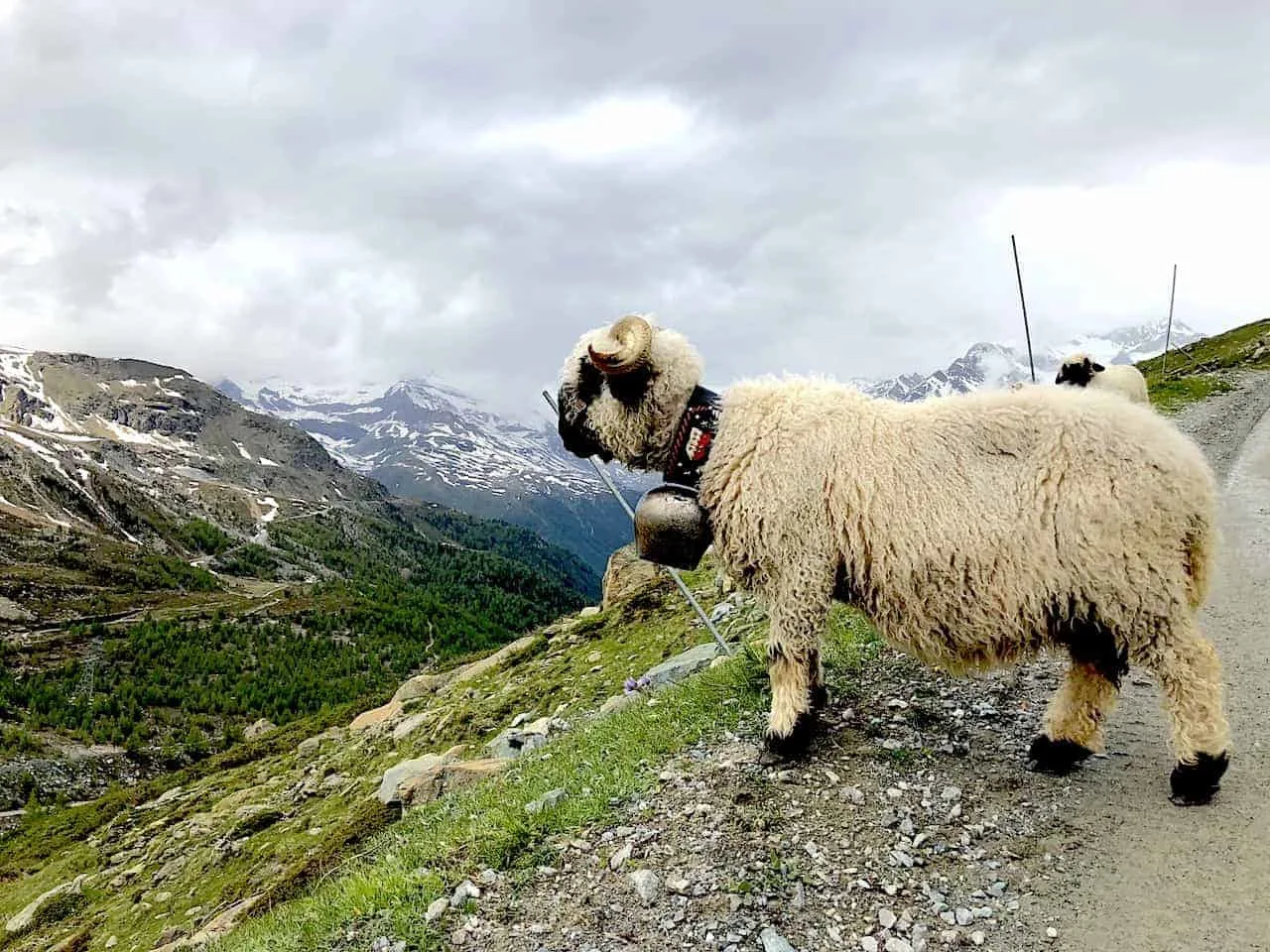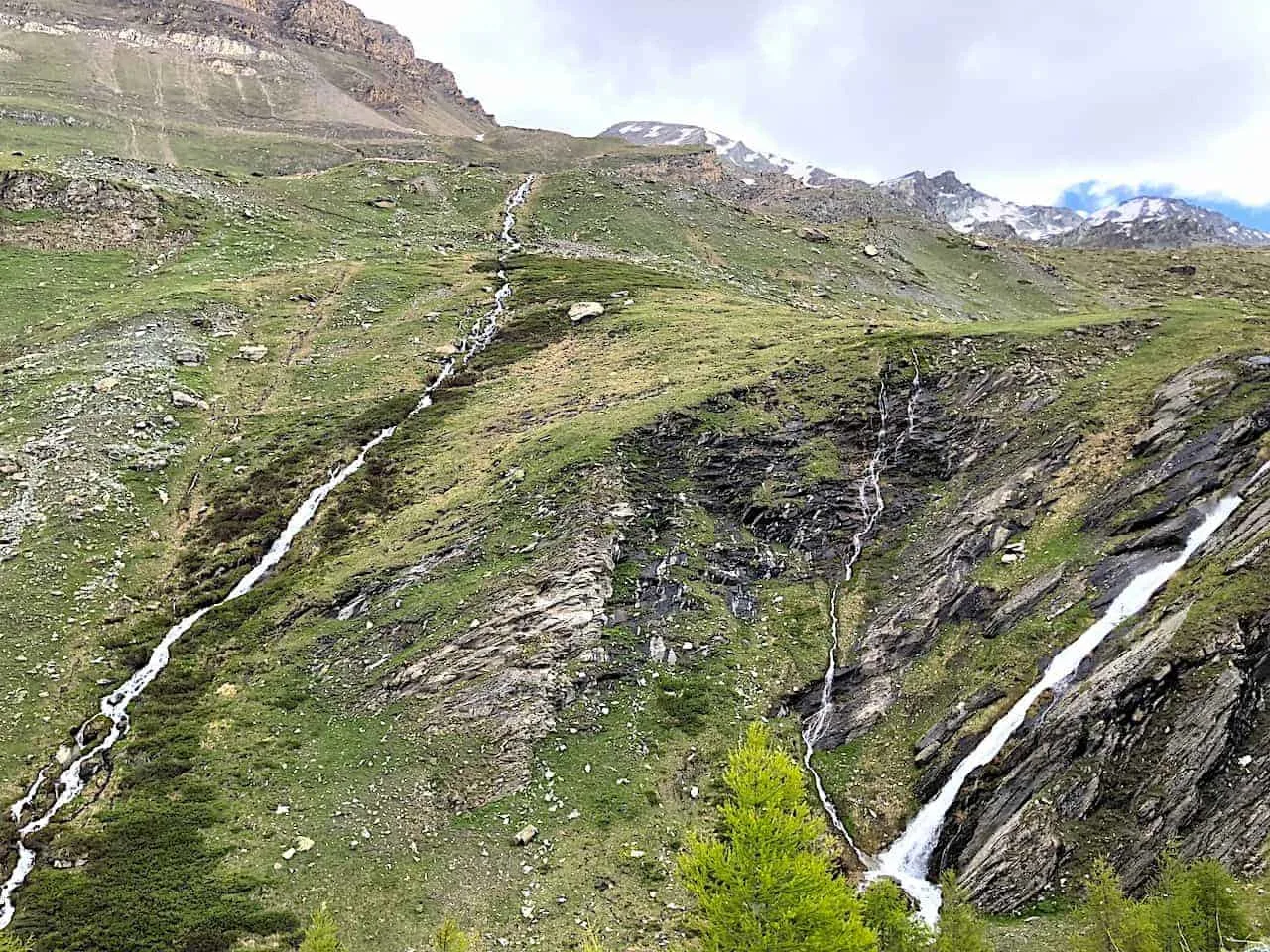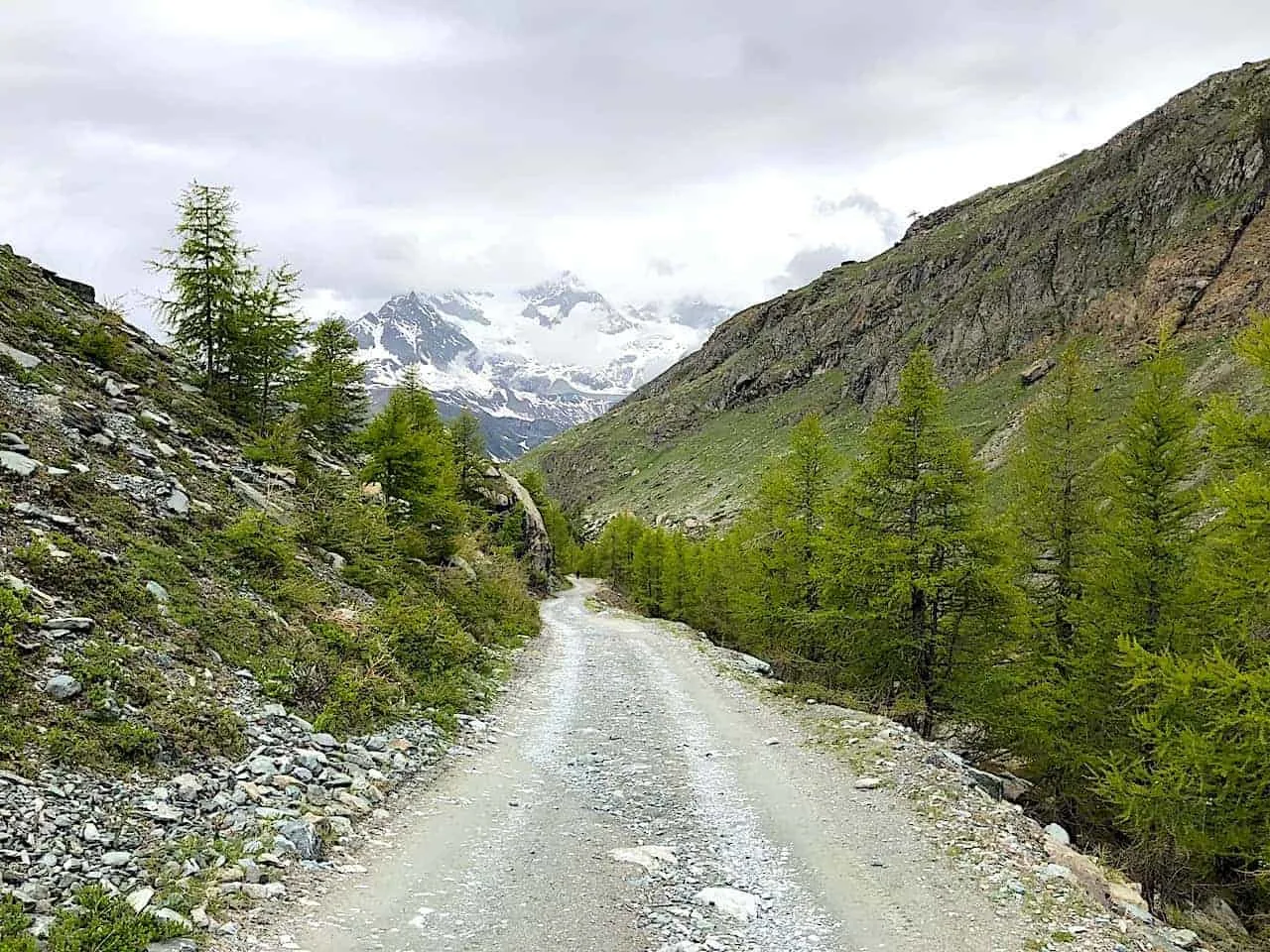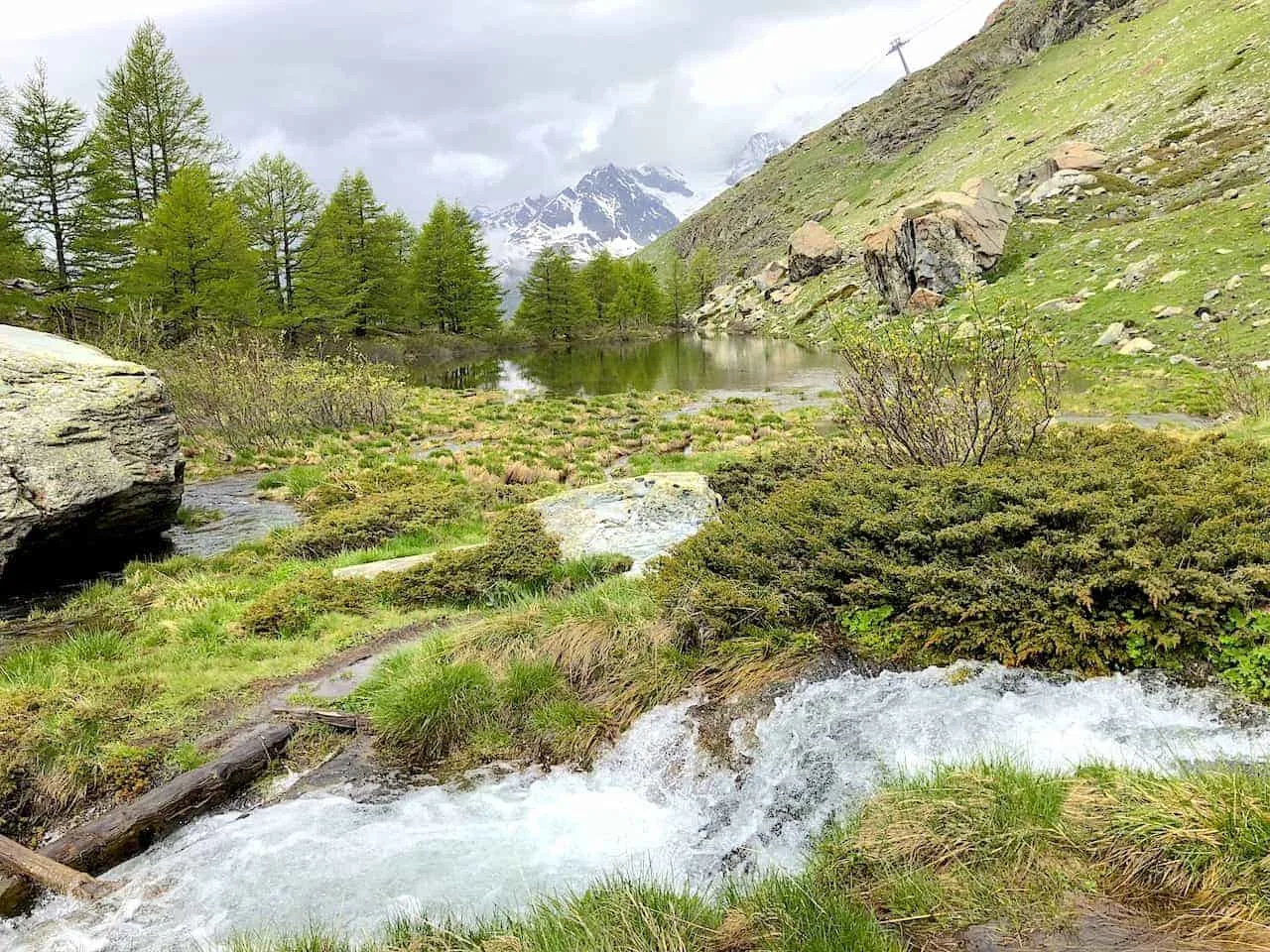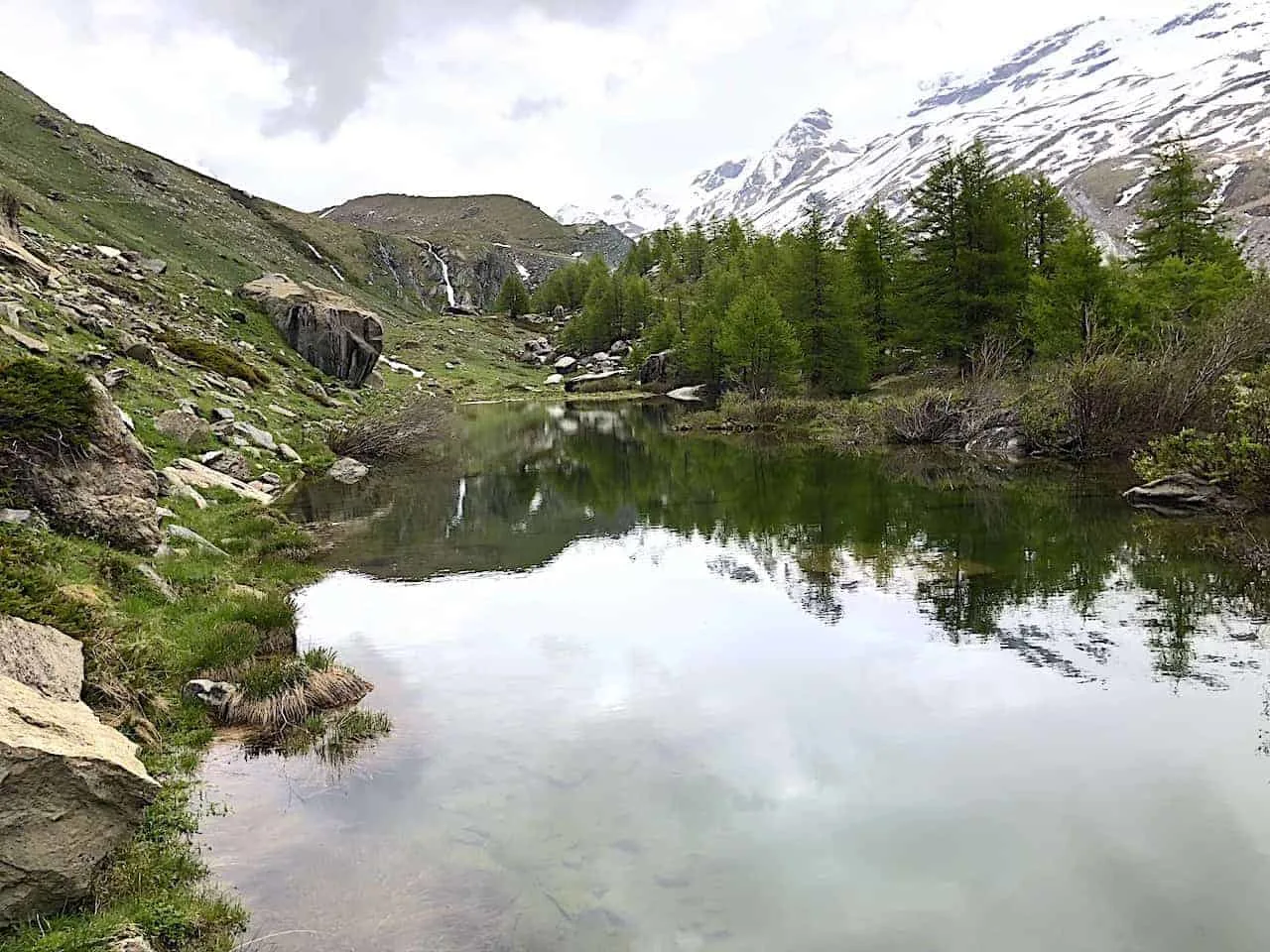 C) Grindjisee to Grunsee
As you continue on the gravel road and up to your third lake of the day, you will soon arrive at Grunsee.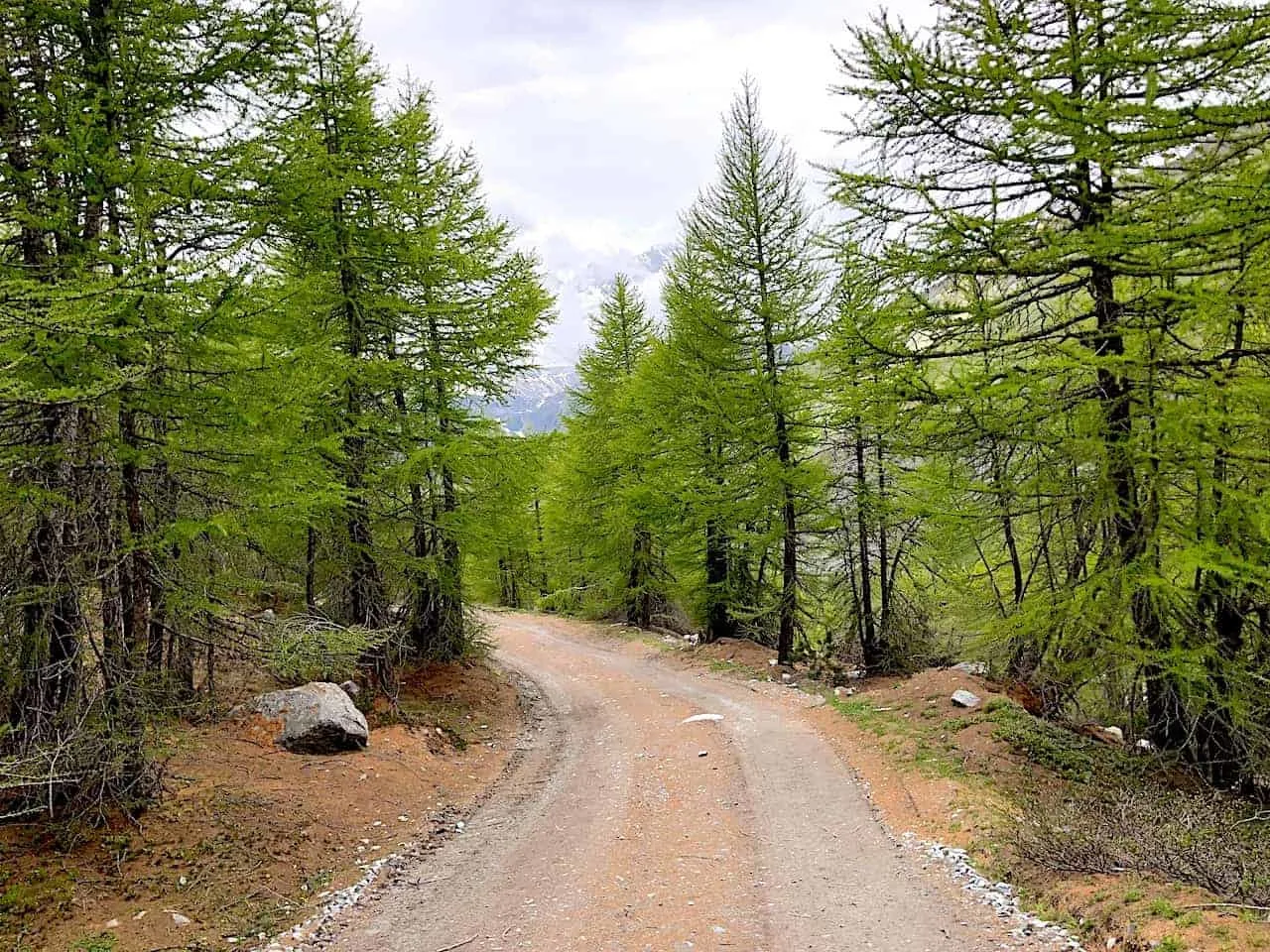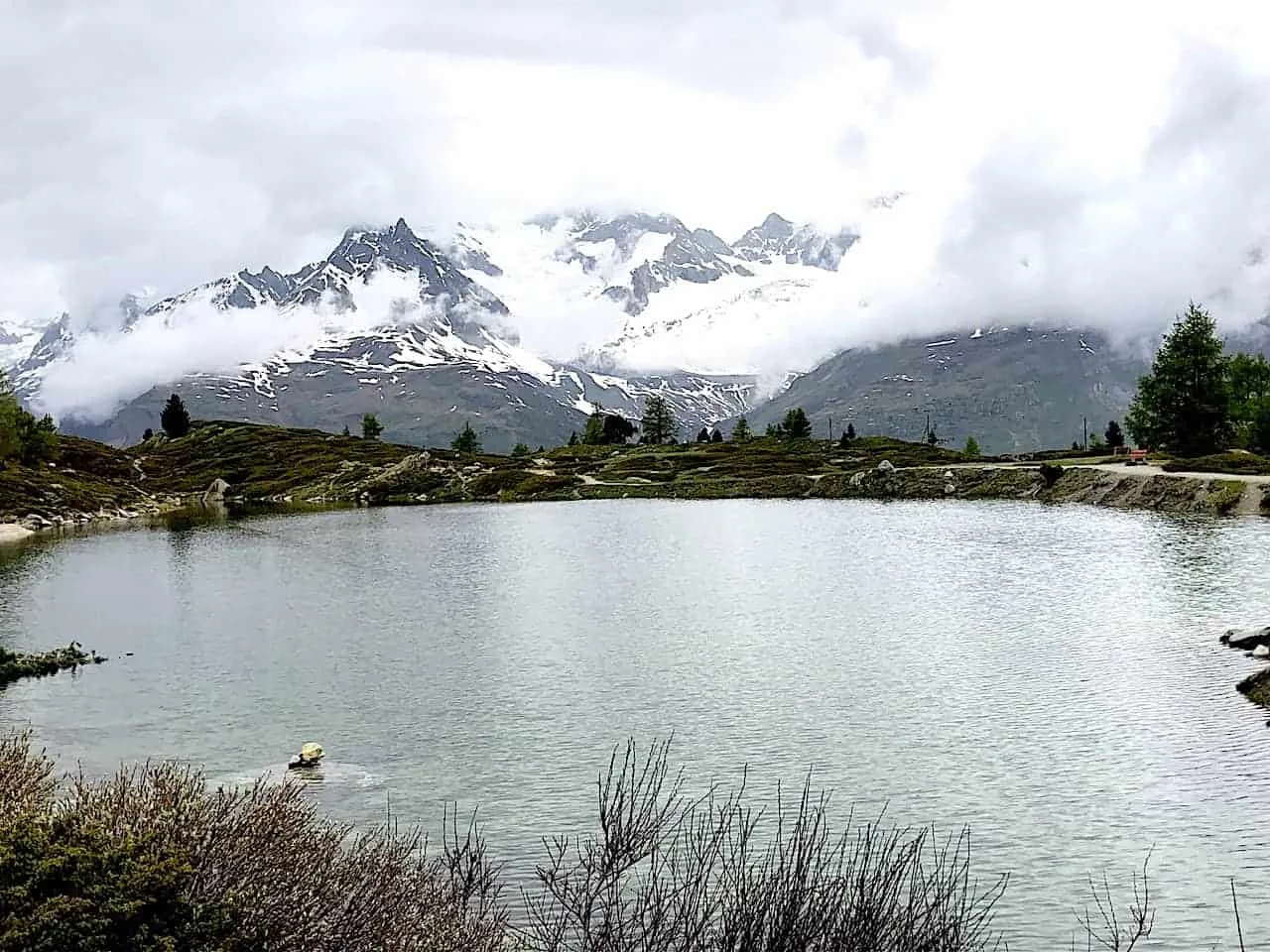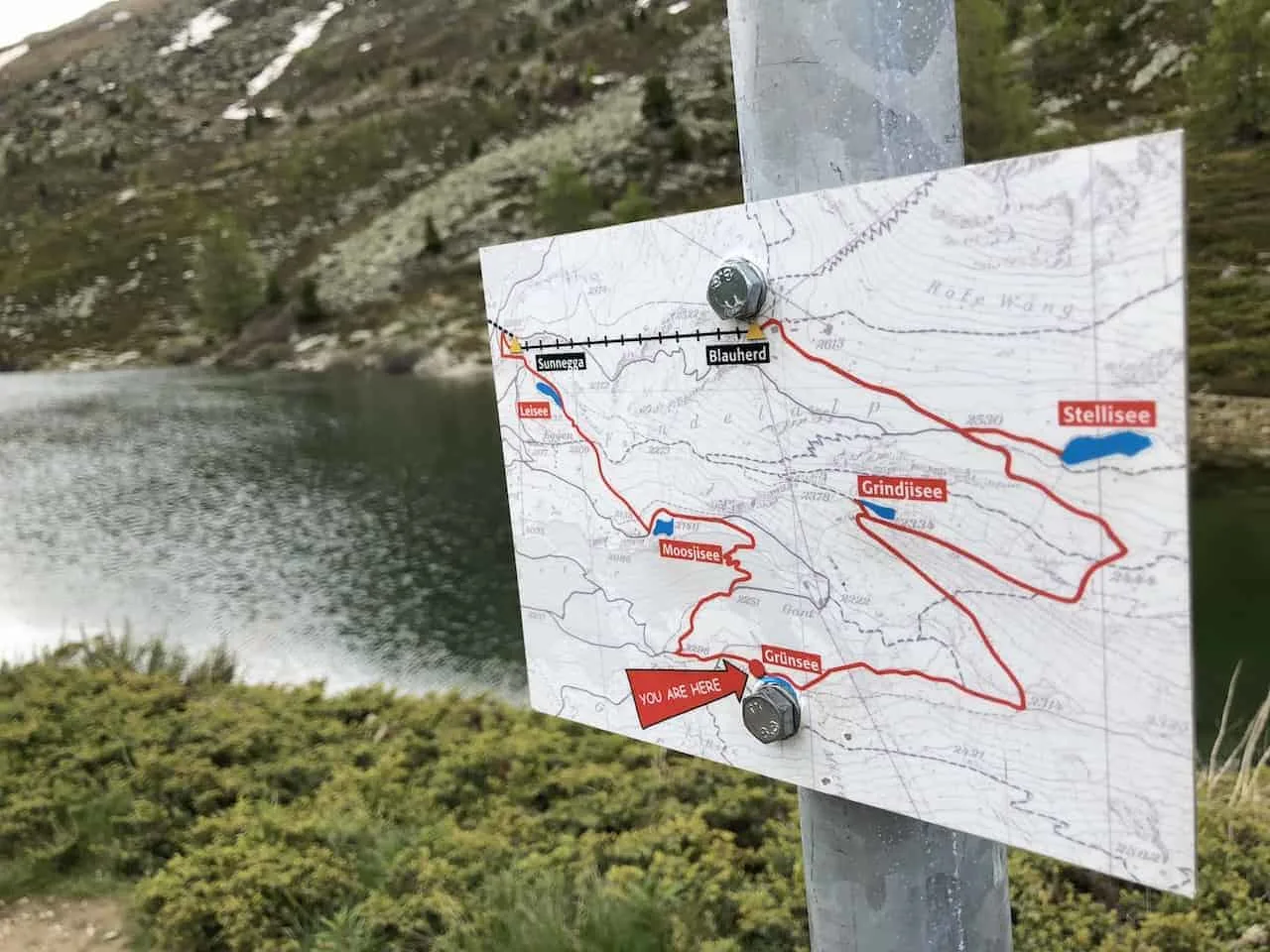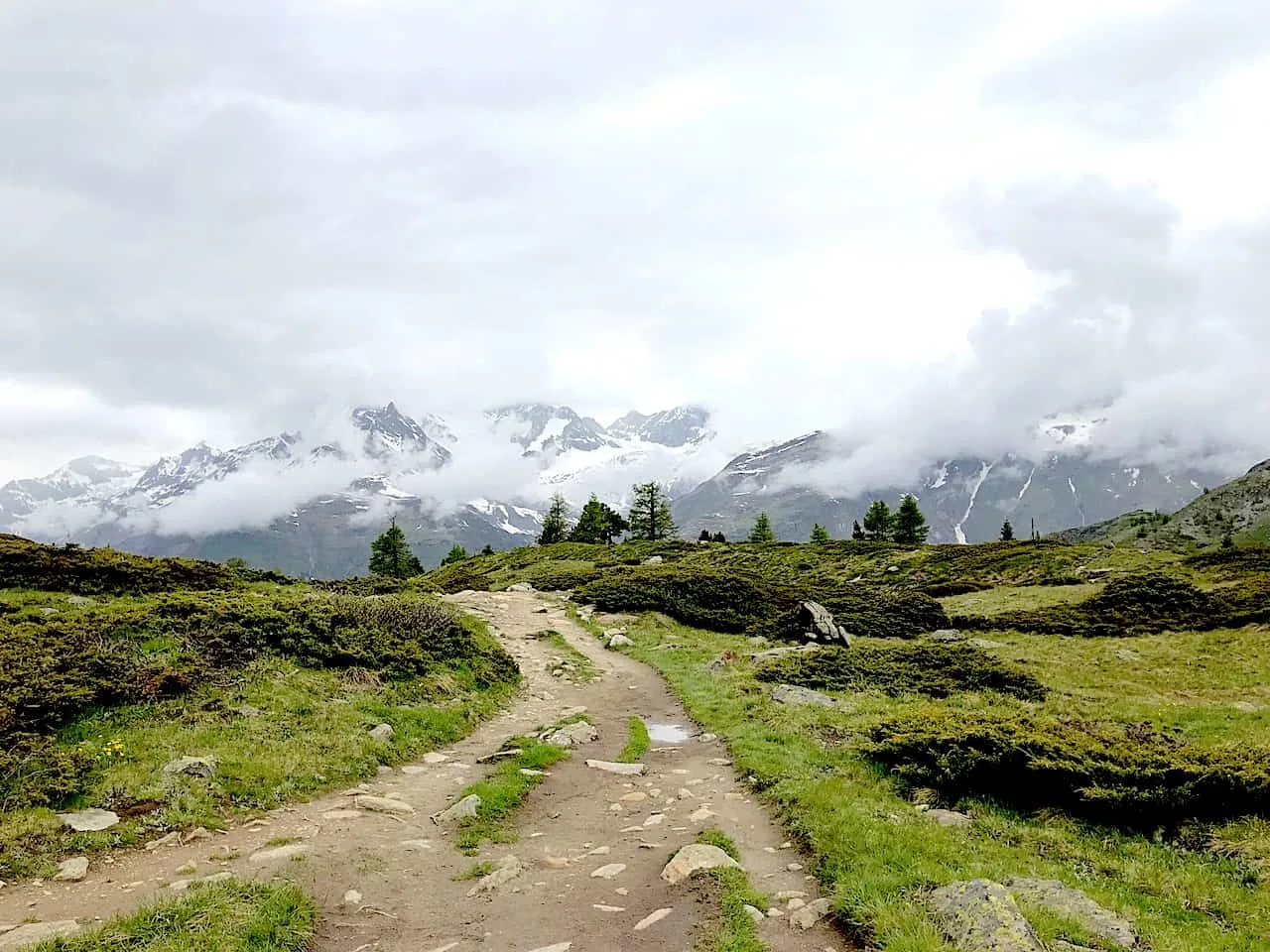 D) Grunsee to Mossjisee
From Grunsee to Moosjisee you will head down a switchback trail (at the time I was on the hike, there was not great signage to get on the switchback, which is when a navigation app comes in handy).
Moosjisee is more like a reservoir than a lake but it does have an incredible green color.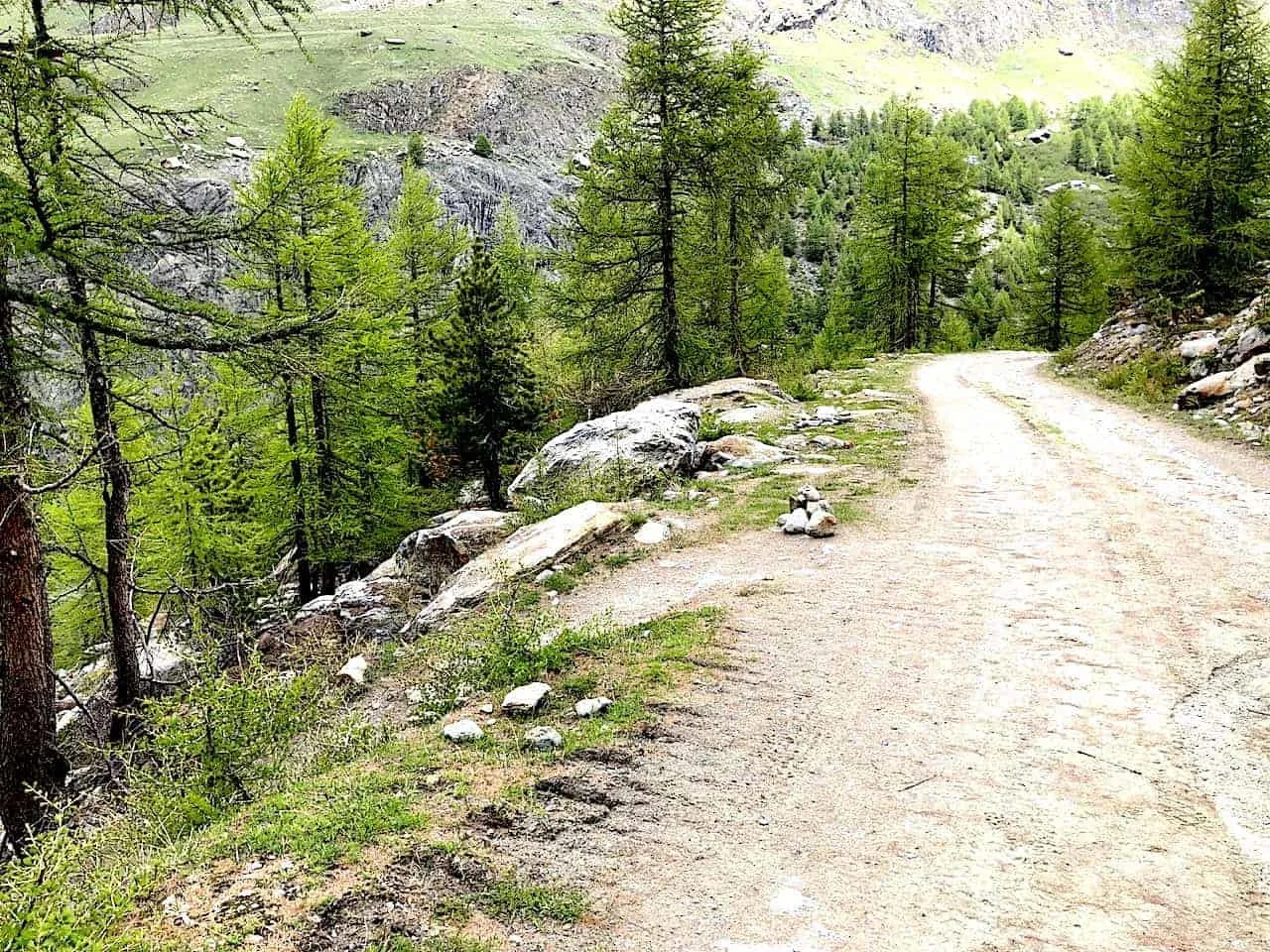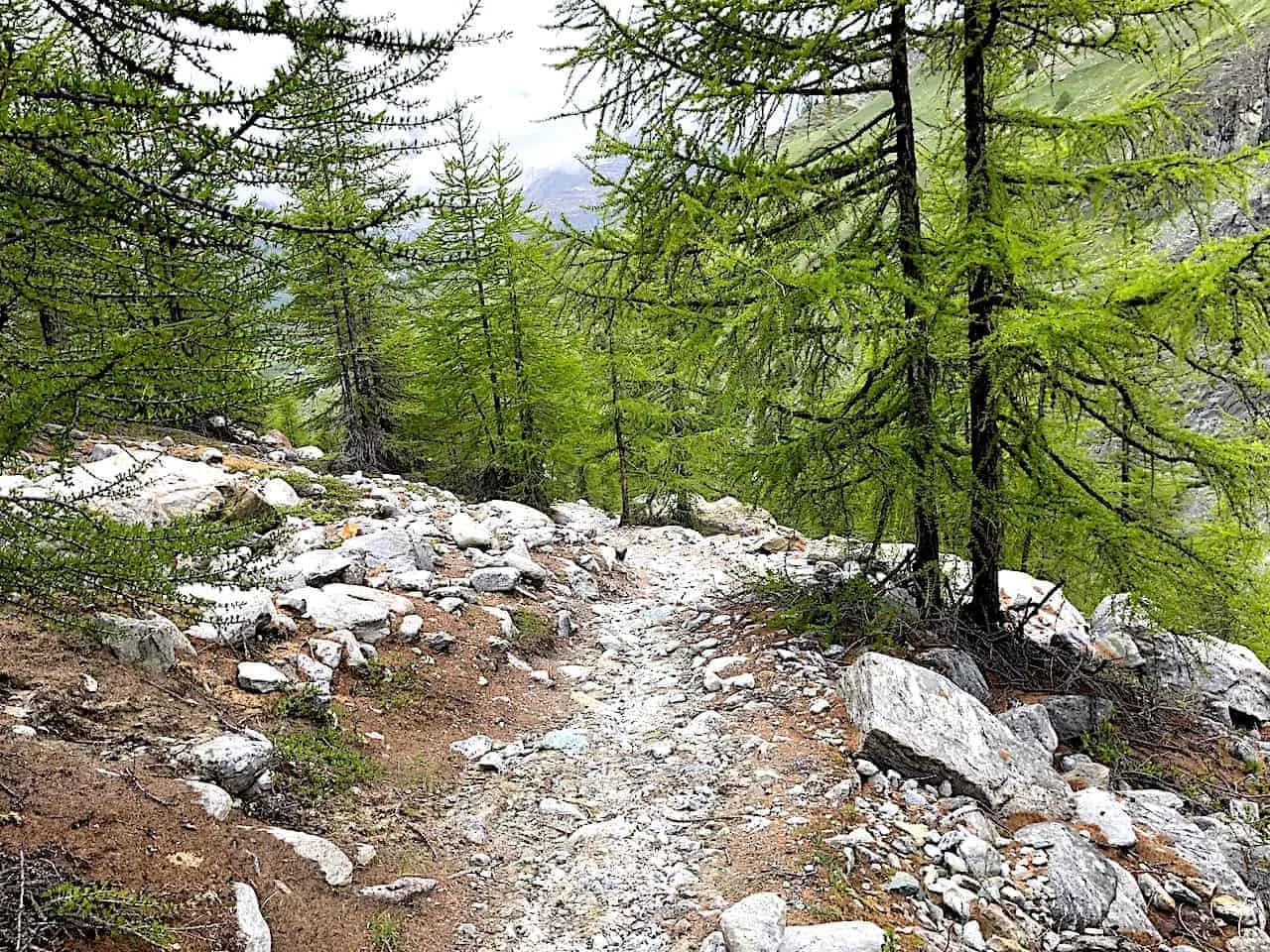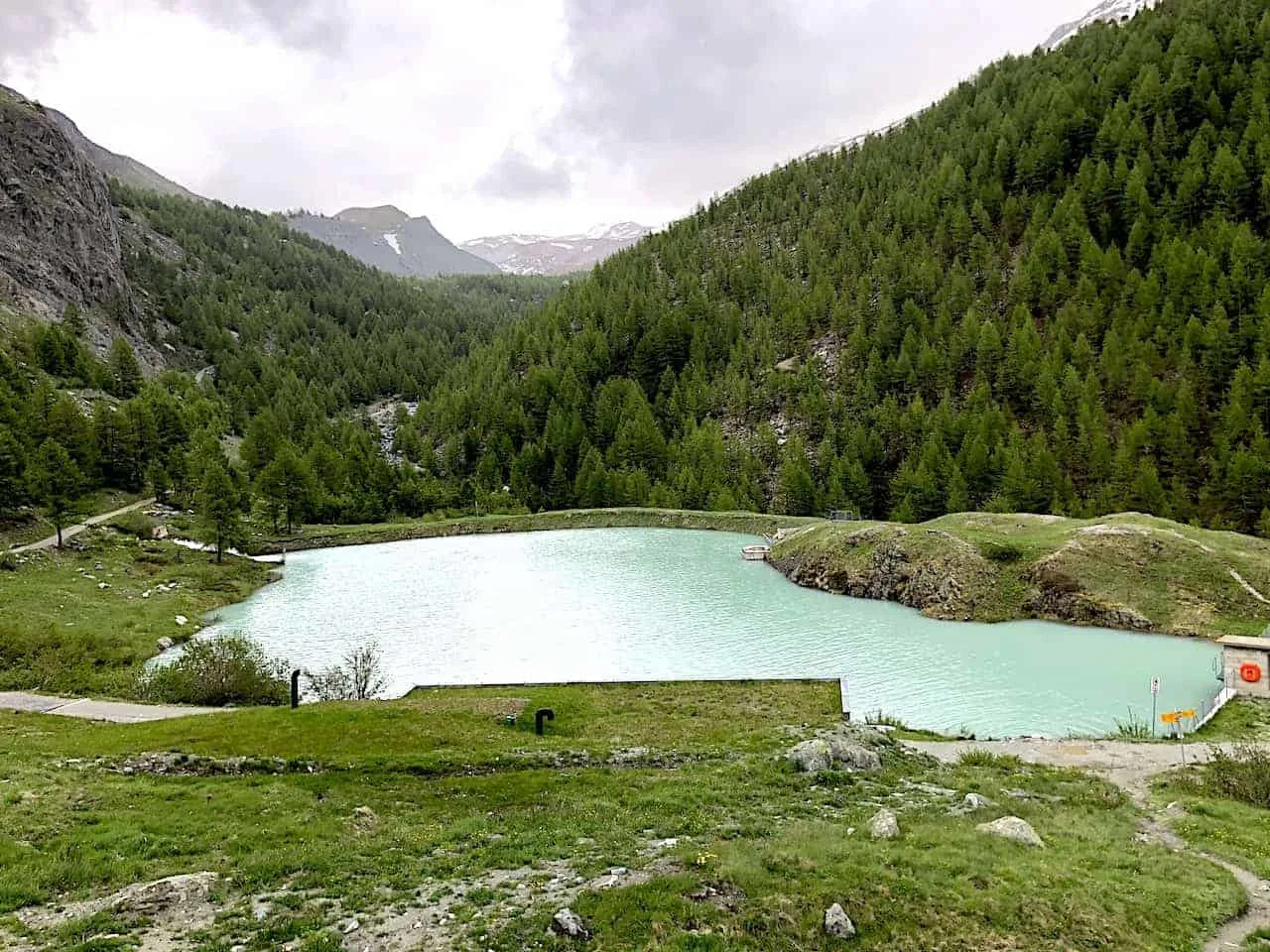 E) Moosjisee to Leisee
Once complete with Moosjisee, make your way to the last of the lakes – Leisee.
Here you will probably come across a lot more people and children as there is a playground and small beach for people to enter the water.
It is also just a short walk to Sunnegga so people who do not want to participate in the whole hike can still make their way to just Leisee.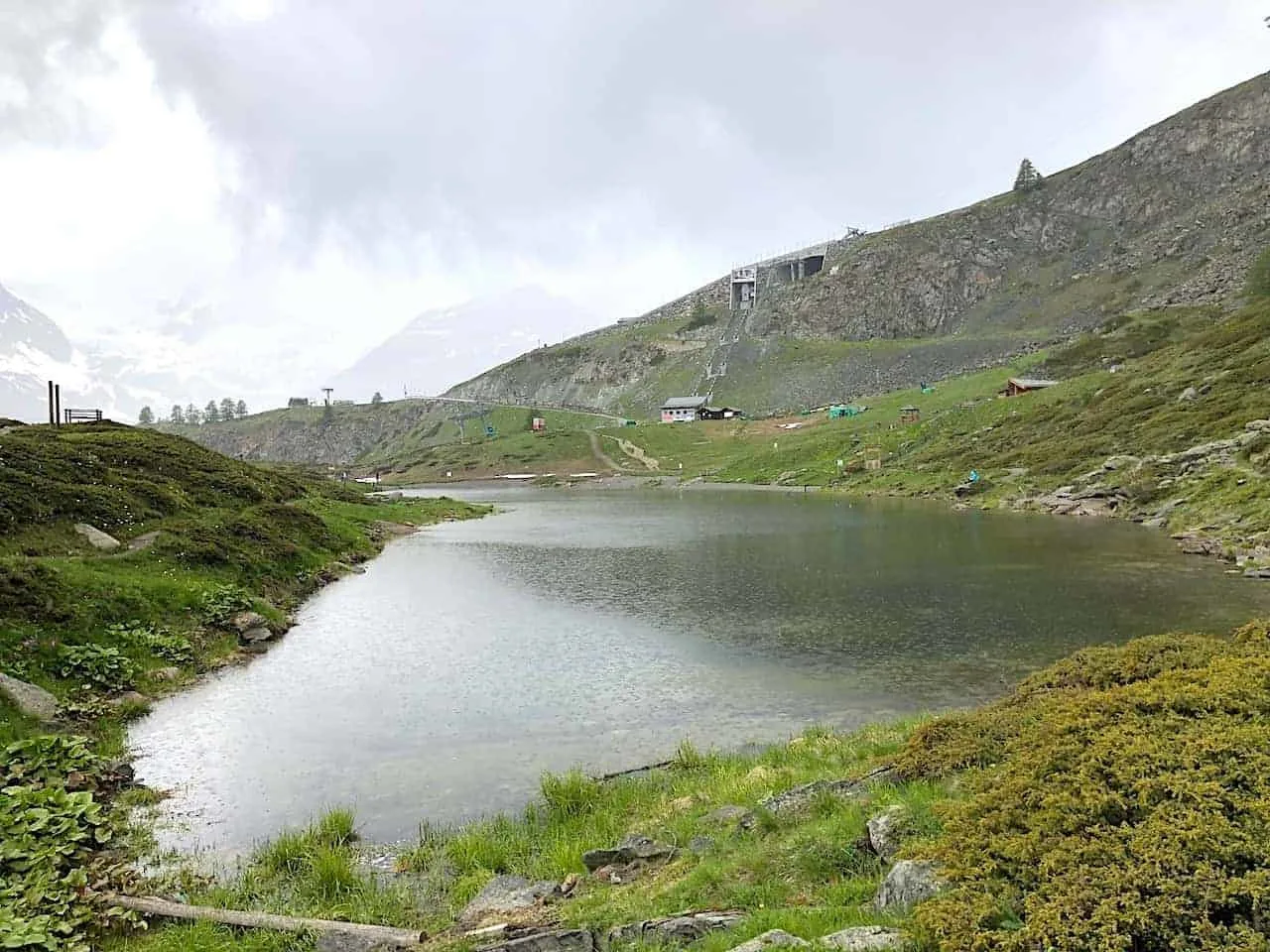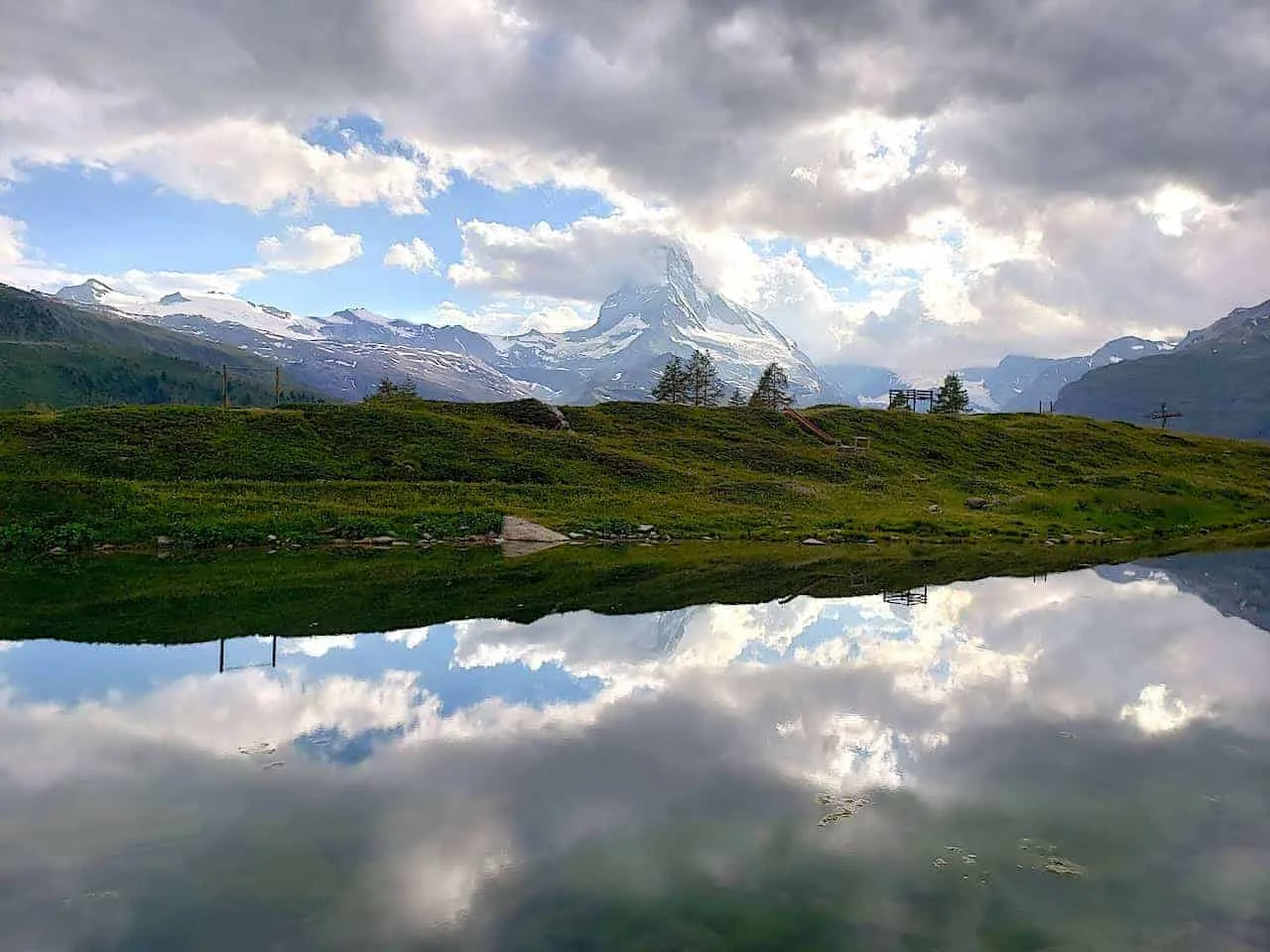 After a day of exploring the Zermatt mountainside it is time to head back down into town. You can make your way back on the funicular from Sunnegga to Zermatt to end your day hiking the 5 lakes trail.
One last thing to note: depending on time of year there may be some small restaurants open along the route – one by Grunsee and another at Sunnegga. So if you want to stop for a meal before heading down that is something you may be able to do as well.
7) Where to Stay in Zermatt
Zermatt is a pretty small village and you can get from one side to another in less than 20 minutes. There are a couple areas to choose from when deciding where to stay.
Either right in the main village itself, or you can cross the bridge and stay on the other side of the river, where you will be able to take in some great views of the Matterhorn and visit the Gorner Gorge.
Below are some highly rated options to choose from:
Zermatt is also home to the most unique hotels in Switzerland & the best hotels in Switzerland with infinity pools.
If you have any questions or comments about the Five Lakes Hike of Zermatt feel free to write them in below.
Check out some of the other Switzerland guides and itineraries I have up on the site for more helpful info. Safe travels out there!