The Swiss village of Grindelwald, located in the Jungfrau region, has been a tourist attraction since as far back as the 18th century.
Grindelwald makes for the ideal base of operations from which to explore the iconic mountains, lakes, and valleys all around.
Naturally, there is no shortage of hotels in such a renowned destination. The trick, then, is to find the best hotel for your requirements.
Whether you prioritize proximity to the train station or high-end luxury hotels, there's something in Grindelwald for you.
Let's take a look at some picks for the 10 best hotels in Grindelwald.
* Affiliate Disclosure: This post may contain affiliate links, which means I may receive a commission if you make a purchase through the links provided, at no additional cost to you. Thanks for supporting the work I put into TripTins!
1) Grindelwald Hotel Overview
Throughout the following sections, I will be going through 10 of the top hotel options in the area.
However, if you just wanted to get a better understanding of some of the fan favorites on the list, see below for the winners:
Feel free to read on and learn more about those hotels & more to better help you make the best decision for your trip!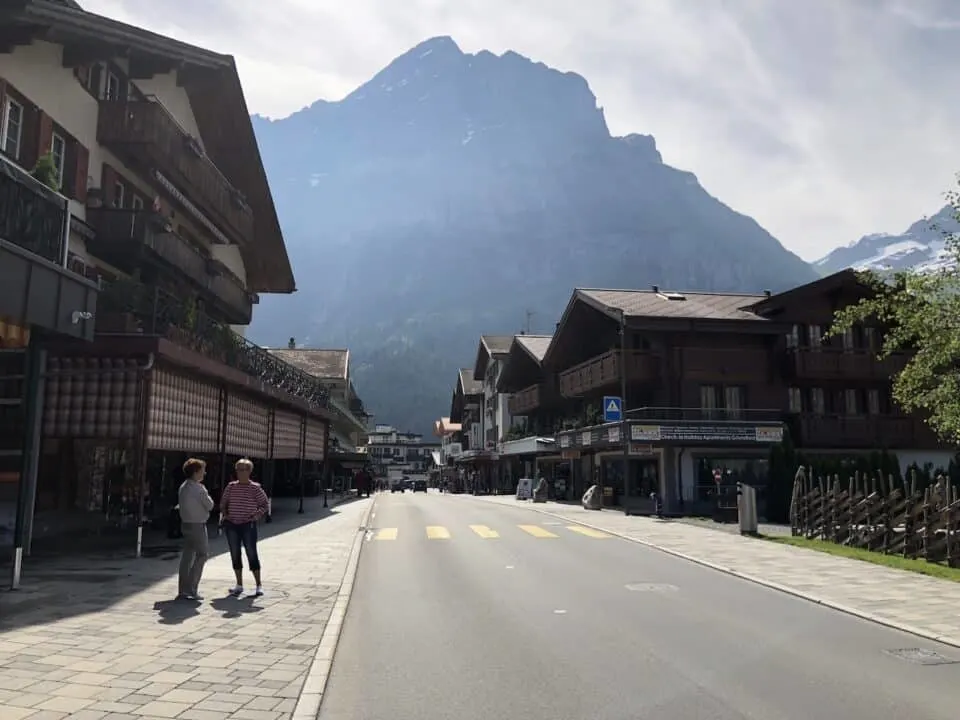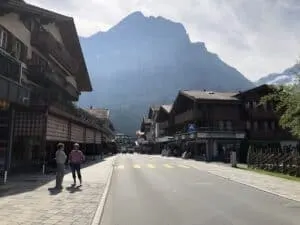 Hotel Belvedere
Looking for the best overall hotel in Grindelwald? Hotel Belvedere is ranked as one of the top hotels in town and is the perfect choice for a stay.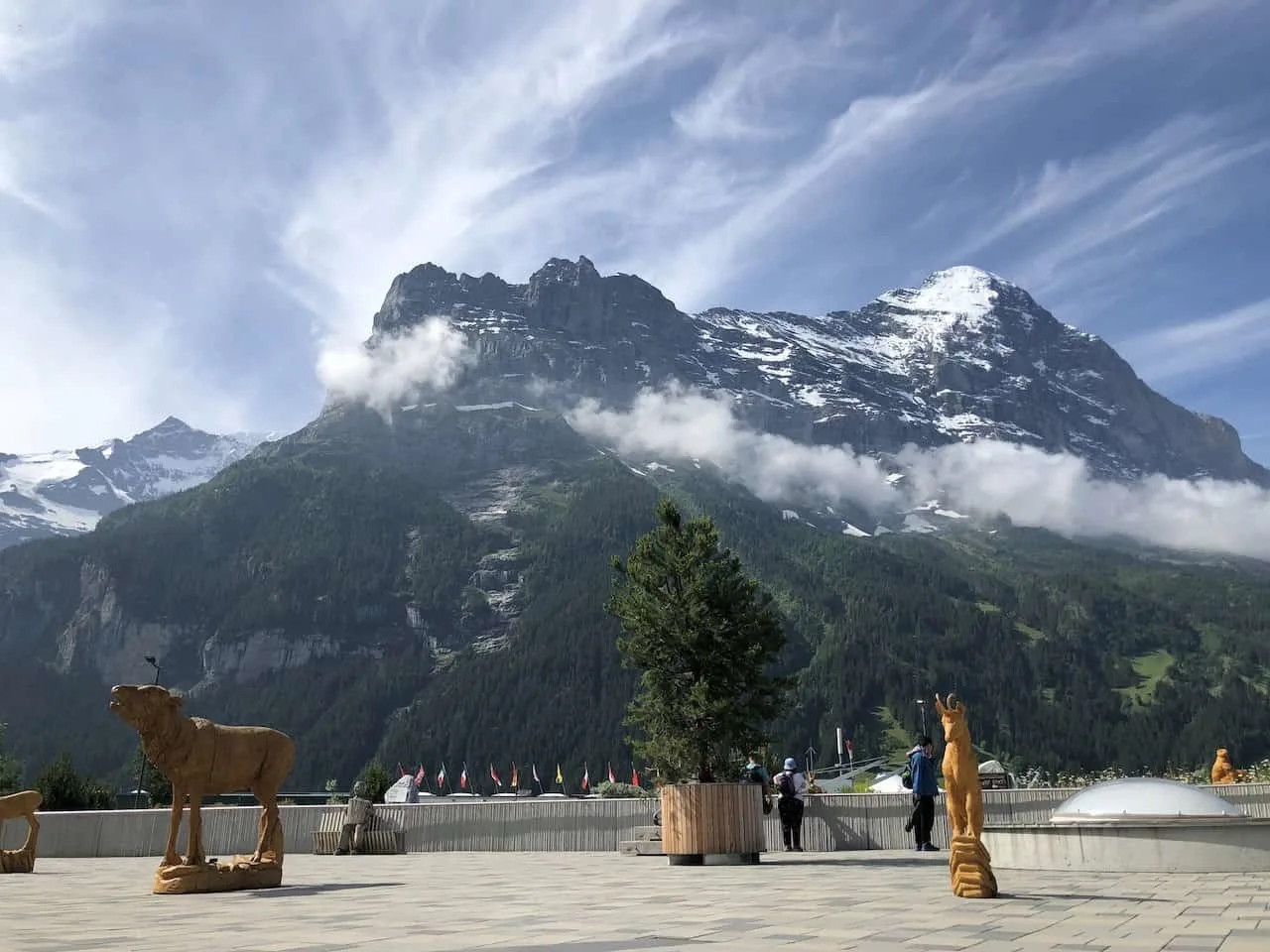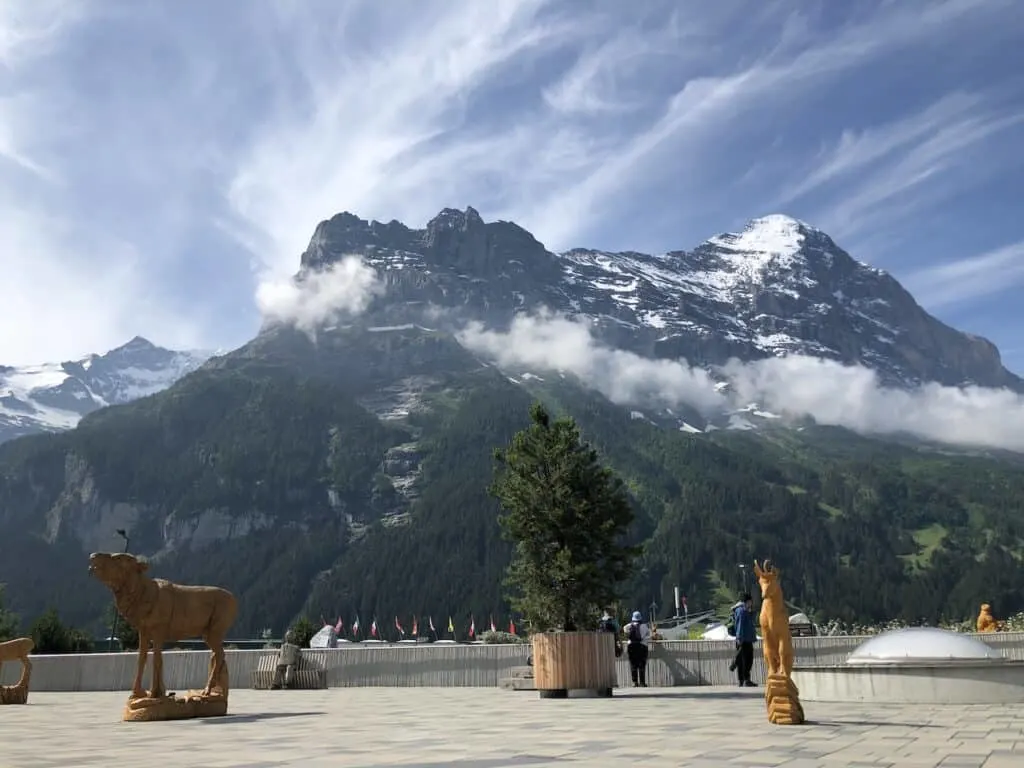 2) The Top 10 Grindelwald Hotels
From mountain views and swimming pools to restaurants and top quality service, the below Grindelwald hotels will have a little bit of everything for you to enjoy during a stay.
Sunstar Hotel
Comfort and stylishness both rank high on the list of priorities for the Sunstar Hotel.
This four-star Grindelwald hotel offers unobstructed views of the Wetterhorn and the north face of the Eiger, and has convenient access to the nearby cable cars.
The large, modern rooms at the Sunstar are well appointed. They are furnished entirely in light wood, and many rooms offer panoramic views of the mountains.
You'll also find no small number of conveniences within the room: hairdryers, flat-screen TVs, mini-bar, radio, a coffee machine and balcony are all standard in Sunstar family rooms.
The hotel also offers a fantastic breakfast buffet, and all guests are free to make use of the wellness facilities.
Within those facilities you'll find a sizeable swimming pool, steam bath, sauna, and Roman-Irish-themed fitness center.
If you're in the mood for dining in the hotel itself, its onsite, à la carte restaurant, Adlerstube, is perfect.
The restaurant offers locally-sourced seasonal food alongside an expansive wine list. In addition, it boasts beautiful panoramas of Eiger's north face.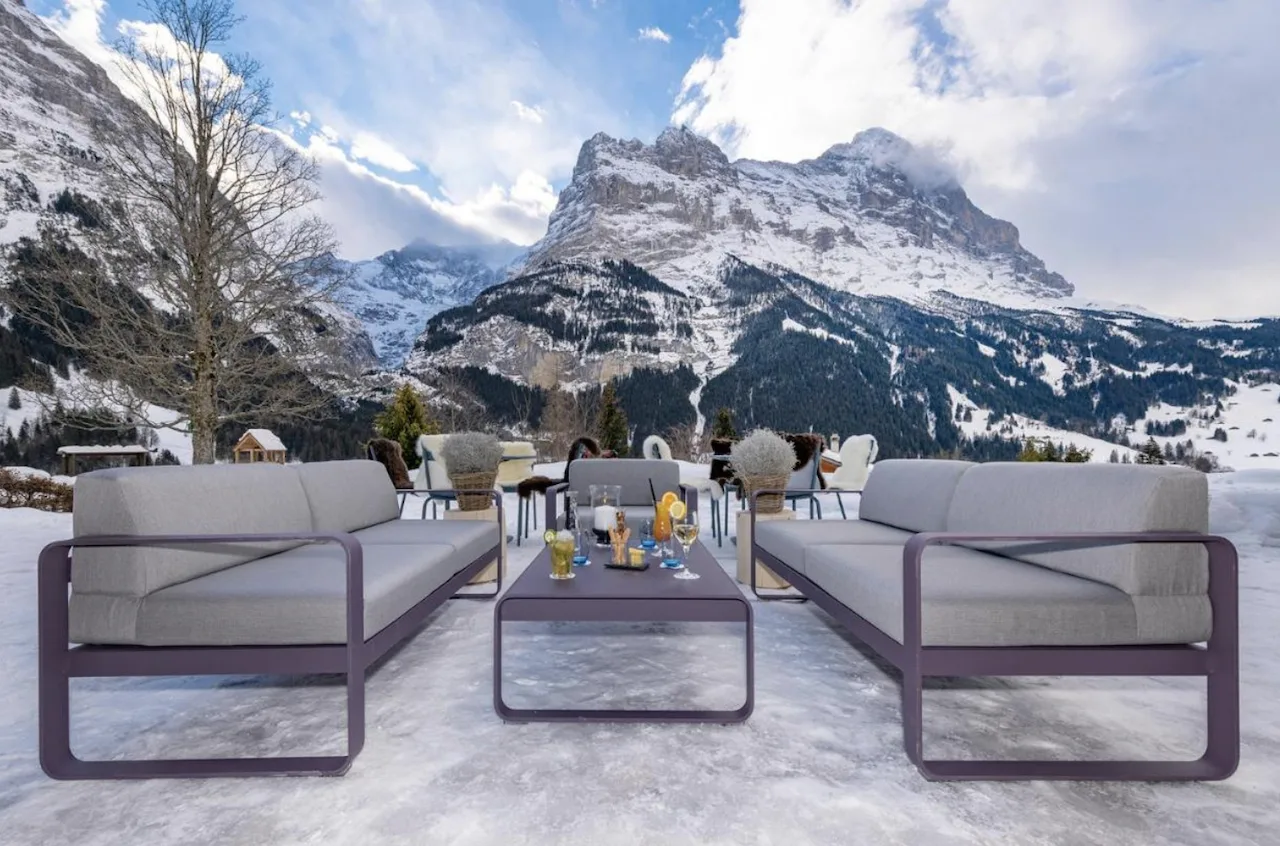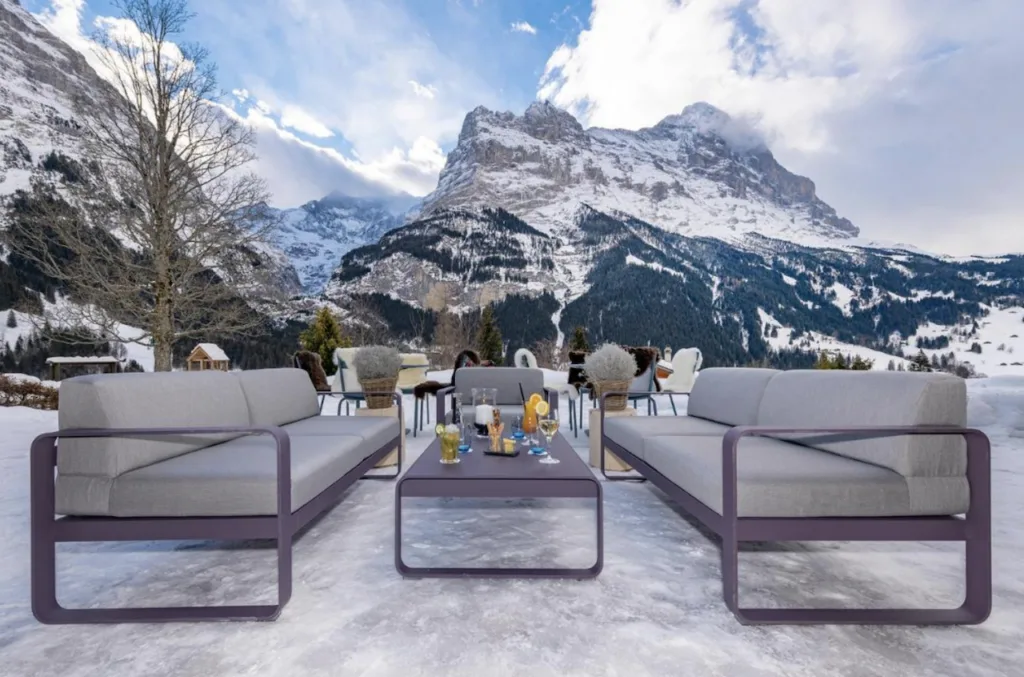 Hotel Bernerhof
The charming and budget-friendly Hotel Bernerhof is well situated in central Grindelwald. The train station, for instance, is a few minutes' walk away.
Hotel Bernerhof is perfect for casual vacationers and thrill-seekers alike. In addition to its proximity to the train station, the hotel offers skiers quick access to the ski buses.
Guests are also afforded unlimited entry to the nearby Grindelwald fitness center, as well as the village's ice rink.
This hotel in Grindelwald makes for a fantastic summer base of operations, too.
The nearby meadows and hills make for wonderful hiking, and Bernerhof's central location makes it ideal as the starting point for any such excursions.
The rooms at the Bernerhof, while not as luxurious as some of those found at other hotels, are clean and comfortable.
Each comes equipped with a private bathroom, minibar and cable TV. If you'd like a little more luxury, you can opt for an upgraded room with a balcony.
Despite being more of a budget option, the Bernerhof still offers guests a lavish breakfast buffet. Your morning meal is best enjoyed on the hotel's sun terrace, where you can drink in the views along with your morning coffee.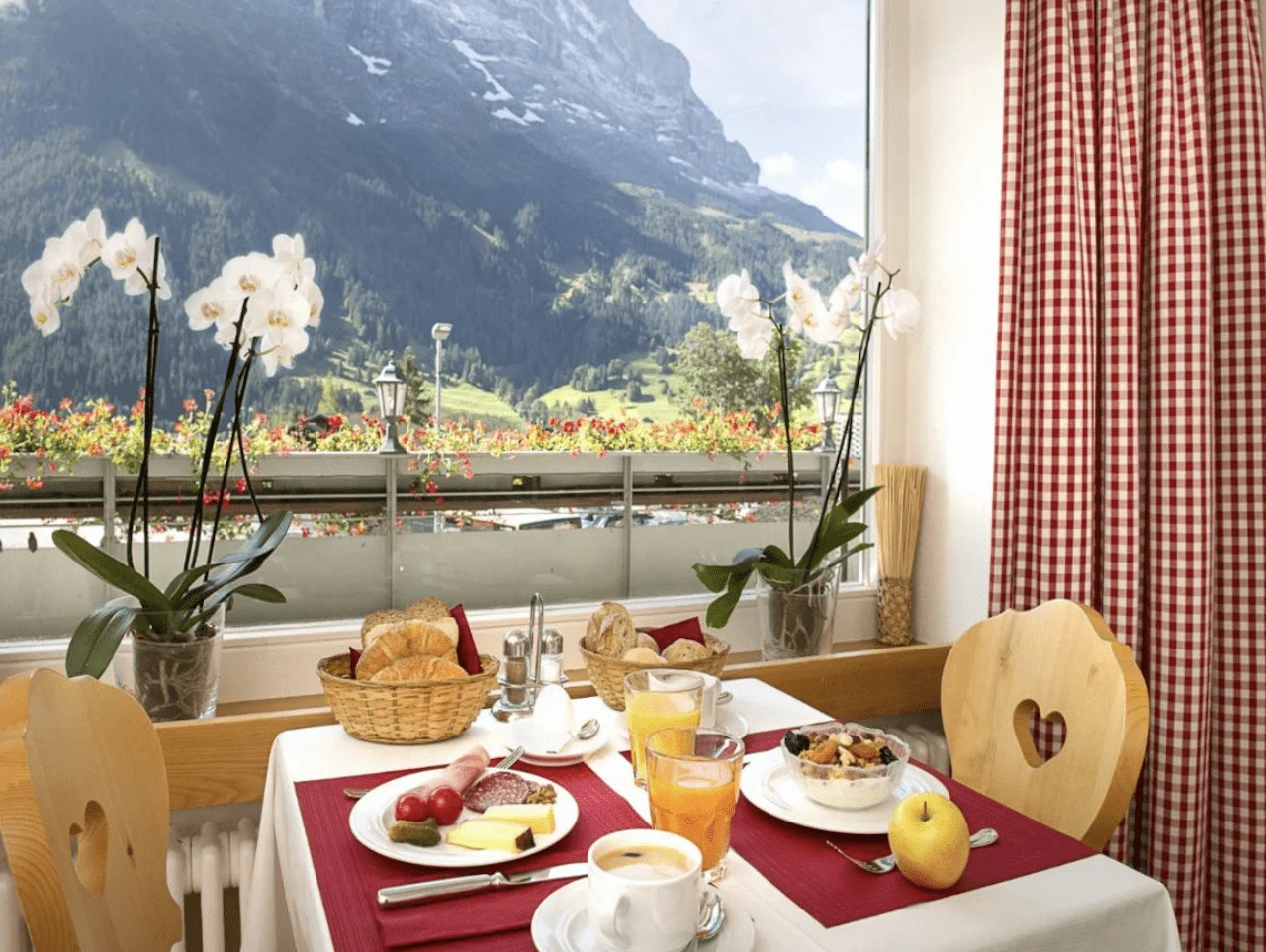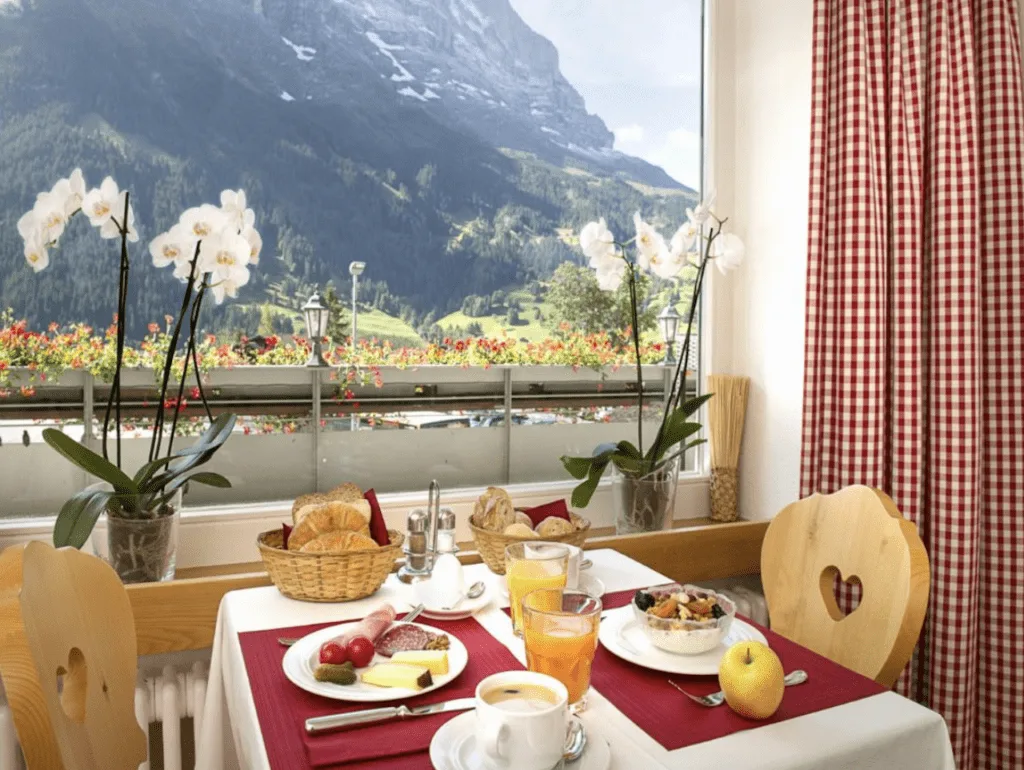 Boutique Hotel Glacier
The four-star Boutique Hotel Glacier is on the intimate size, with a mere 28 rooms on its grounds. The hotel underwent a complete renovation that was completed in 2018, and opened with a whole new look.
The hotel is named for the glacier that once reached all the way to where it now stands.
The glacier may have receded, but its namesake hotel is still going strong. The hotel stays true to its heritage, with many of its rooms looking out onto the icy north face of the Eiger.
The Hotel Glacier's onsite restaurant is renowned to the point that it's won 15 Gault-Millau points.
With food that's sourced locally and prepared by experienced Swiss chefs, you can be assured of the fact that you're enjoying some of the finest dining in Grindelwald.
The restaurant also offers a fantastic breakfast buffet that perfectly sets guests up for the day to come.
Those wishing to relax after a long day on the trails will find much to love in Hotel Glacier's wellness center.
Featuring a spa, a sauna and a North-African-style hammam, it's the perfect way to warm up in the evening. There's also a heated open-air whirlpool that commands stunning views of the Eiger.
Book Boutique Hotel Glacier Today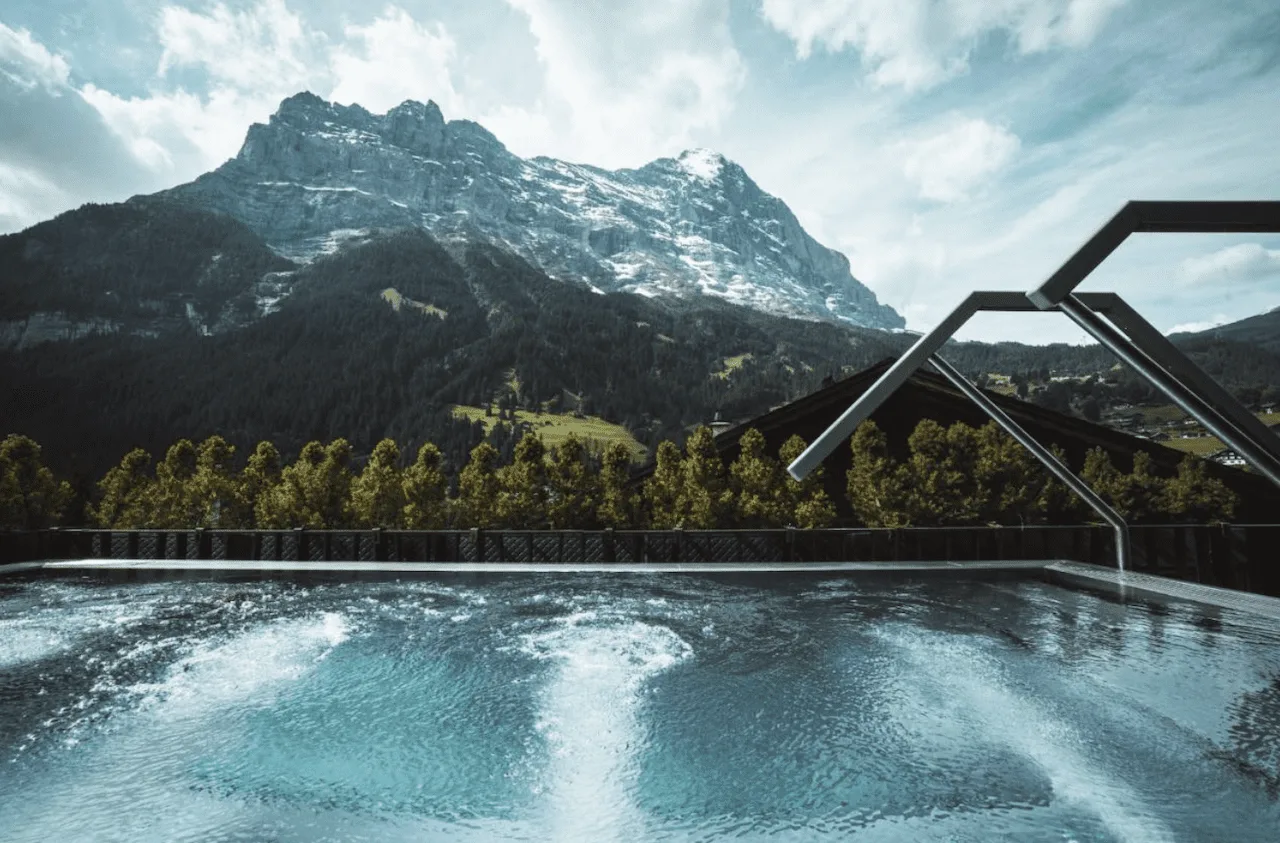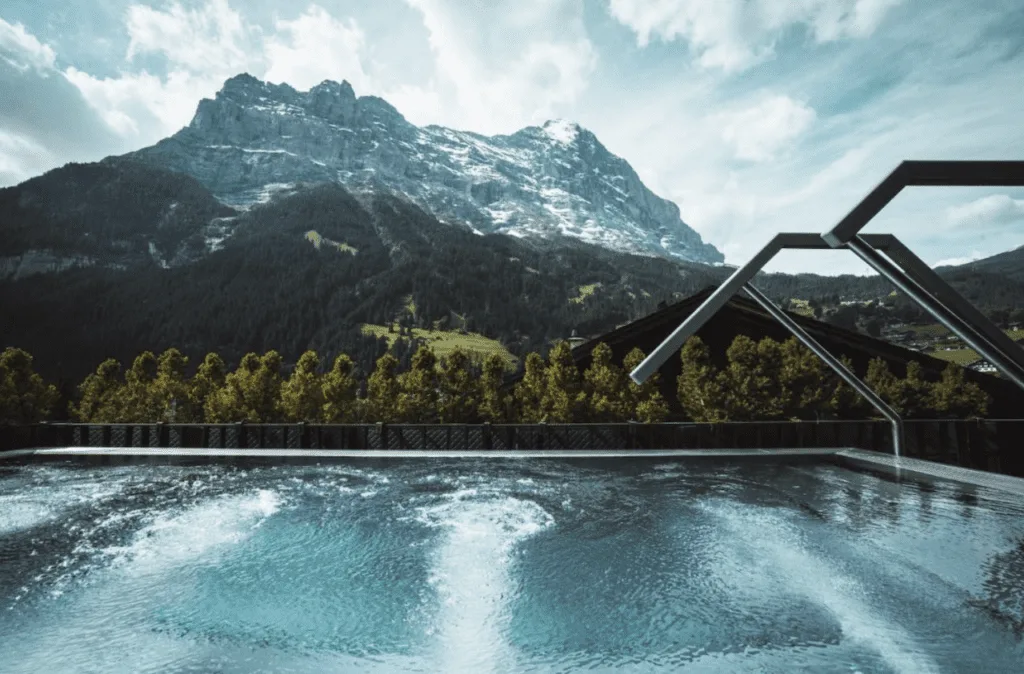 Alpinhotel Bort
This hotel in Grindelwald, accessible by gondola lift, is noted for its spectacular views of the Eiger and the Grindelwald glaciers.
The Alpinhotel Bort is limited to a mere ten rooms, making it an intimate property where the staff are able to focus on the every need of the guests.
The Alpinhotel's spacious rooms are perfect for larger groups of travelers. The 'Superior Alpine Rooms' boast enough beds for six people, and their large windows offer elevated views of the nearby Eiger and Wetterhorn.
Alpinhotel Bort also has an onsite restaurant, allowing guests to dine 1600 meters above sea level.
Their eclectic menu offers everything from local specialties such as fruit bread and 'bort' plates to classic comfort foods like burgers and ice cream. This is complemented nicely by the array of cold beers both bottled and on draft, and a large selection of wine.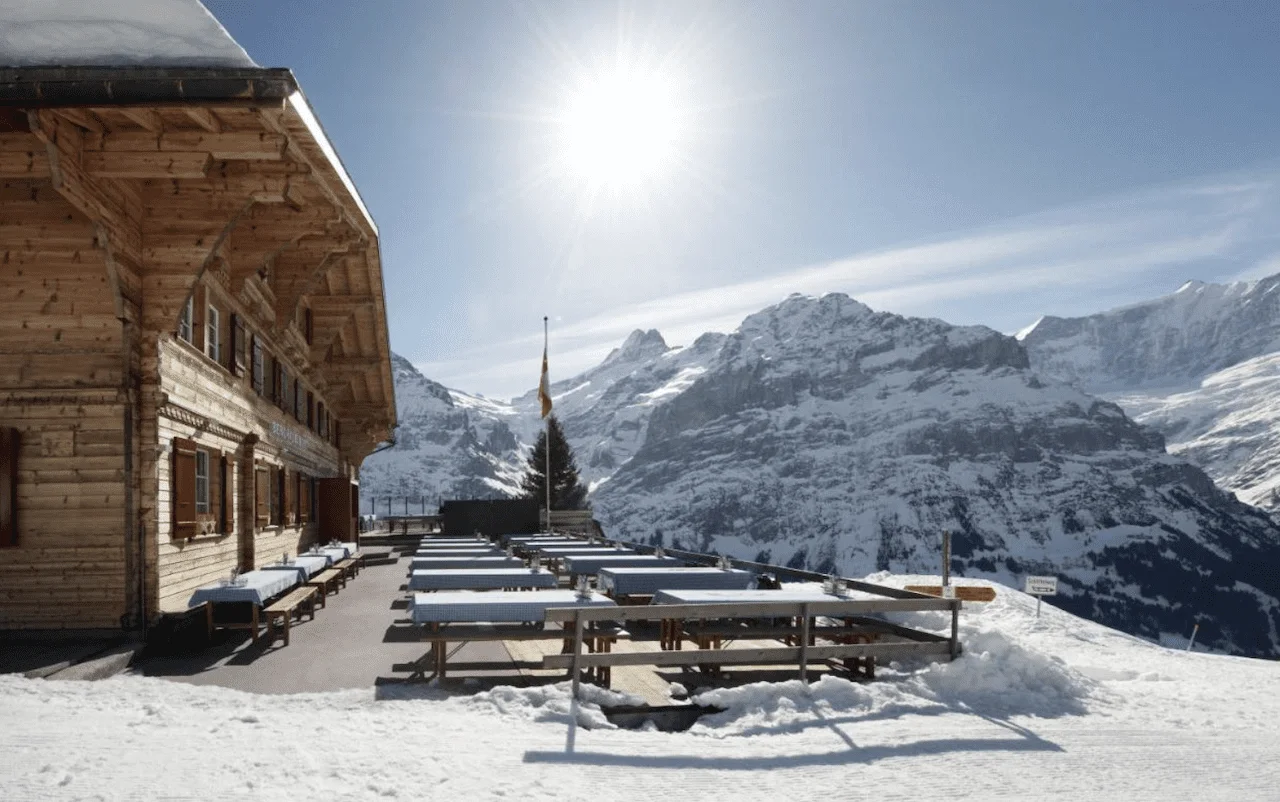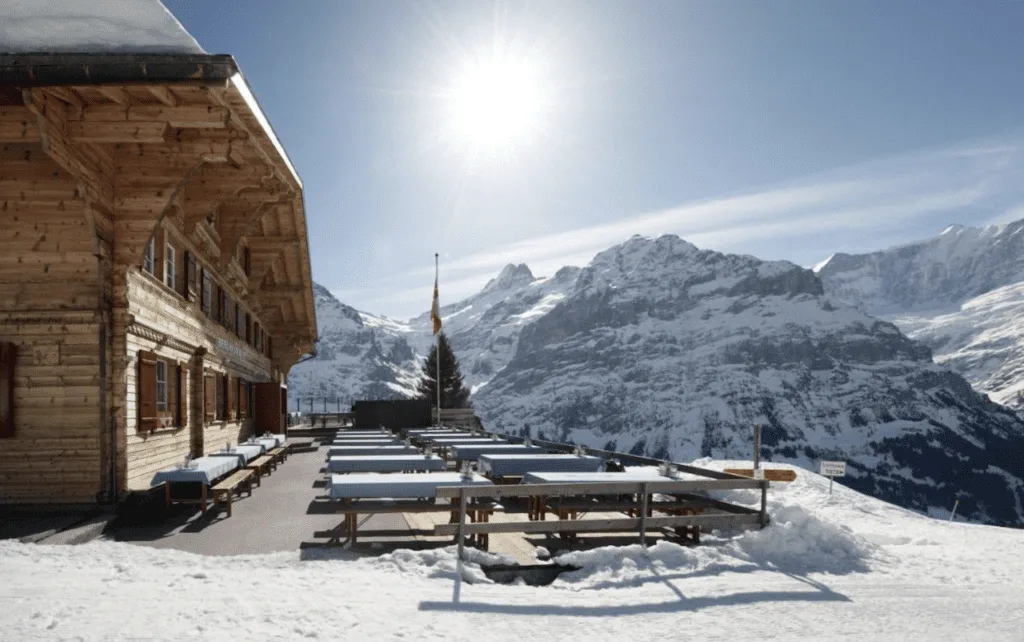 Hotel Spinne
The Hotel Spinne – German for "spider" – is named for an ice field found on the north face of the Eiger.
Due to the permafrost conditions there, the ice field resembles a spider. The hotel takes its name from this unique geological phenomenon.
This hotel in Grindelwald is 4-star and has 43 rooms in total. Most of the rooms have a terrace or balcony where guests can enjoy the stunning alpine view.
Upon request, guests can reserve one of the hotel's "Eiger" suites, from which they'll be able to take in the site of the titular mountain.
The Spinne offers the ultimate in rest & recovery. Its comprehensive wellness center features an outdoor infinity pool, saunas, multi-sensory shower and whirlpool. There are also on-site masseurs and hair stylists for guests who require such amenities.
You will also find an excellent onsite restaurant at the hotel. In the morning it serves a lavish buffet breakfast, and is transformed in the evening into the 'Mercato'. The evening menu is predominated by Italian cuisine, with a few local specialties thrown in too.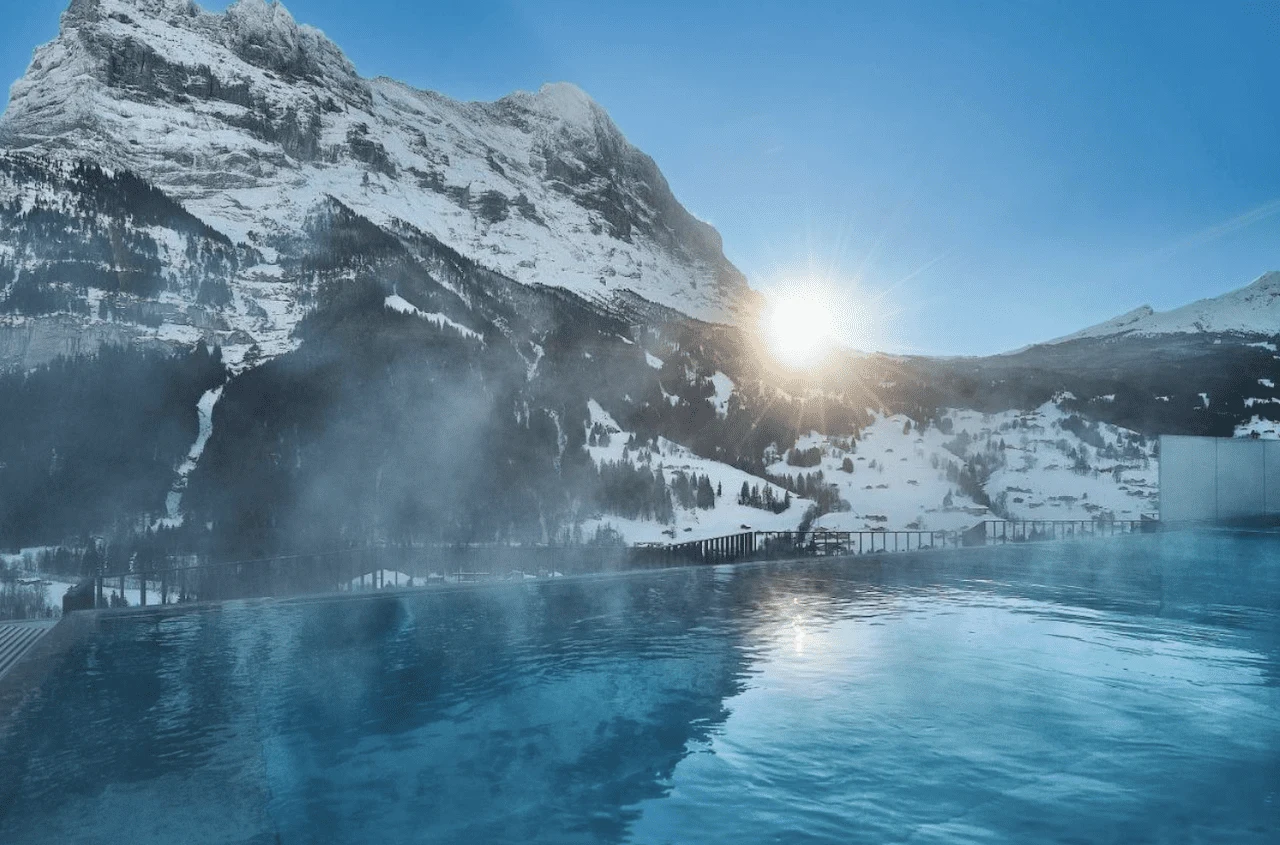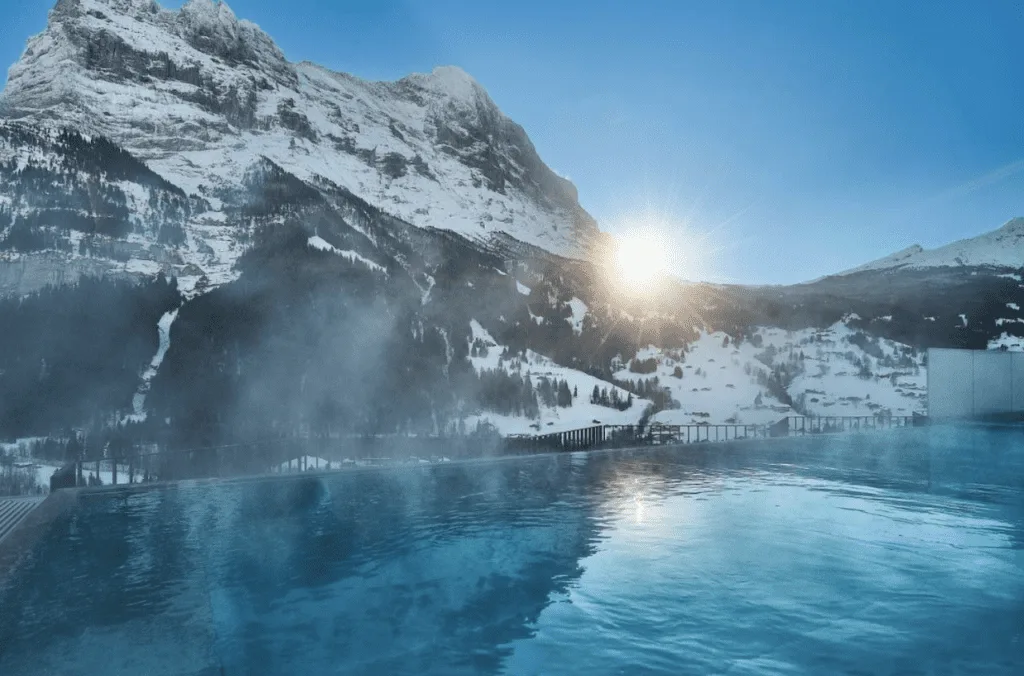 Aspen Alpine Lifestyle Hotel
The Aspen Alpine Lifestyle hotel is the ultimate in Swiss-style living while in Grindelwald.
The rooms available are excellent for those who want to make the most of the spectacular alpine vista, with many featuring open galleries on two sides. If you have a taste for the finer things in life, the penthouse suite offers dual balconies and a skylight.
The hotel's restaurant, the Alpstube, combines a cozy candlelit ambiance with the finest of local delicacies. With ingredients carefully selected and prepared by the restaurant's dedicated team of chefs, the Alpstube has something to cater to all tastes.
The hotel also has its own bar, which stocks a selection of IPAs and draft beers, as well as many varieties of wine.
There is a fully equipped wellness center with a great many options. From foot whirlpools to saunas and several varieties of invigorating baths, you'll come away from the wellness center feeling rested and relaxed.
Book Aspen Alpine Lifestyle Hotel Today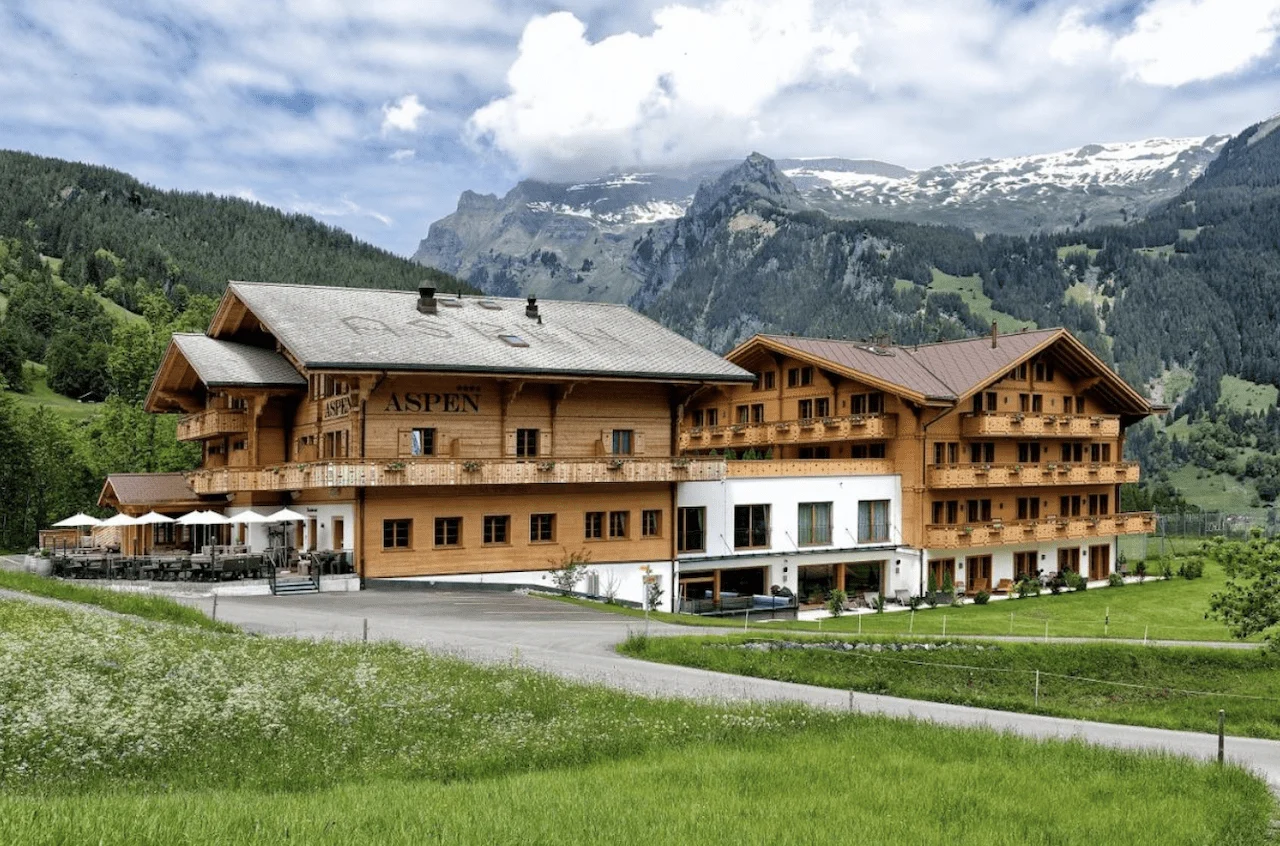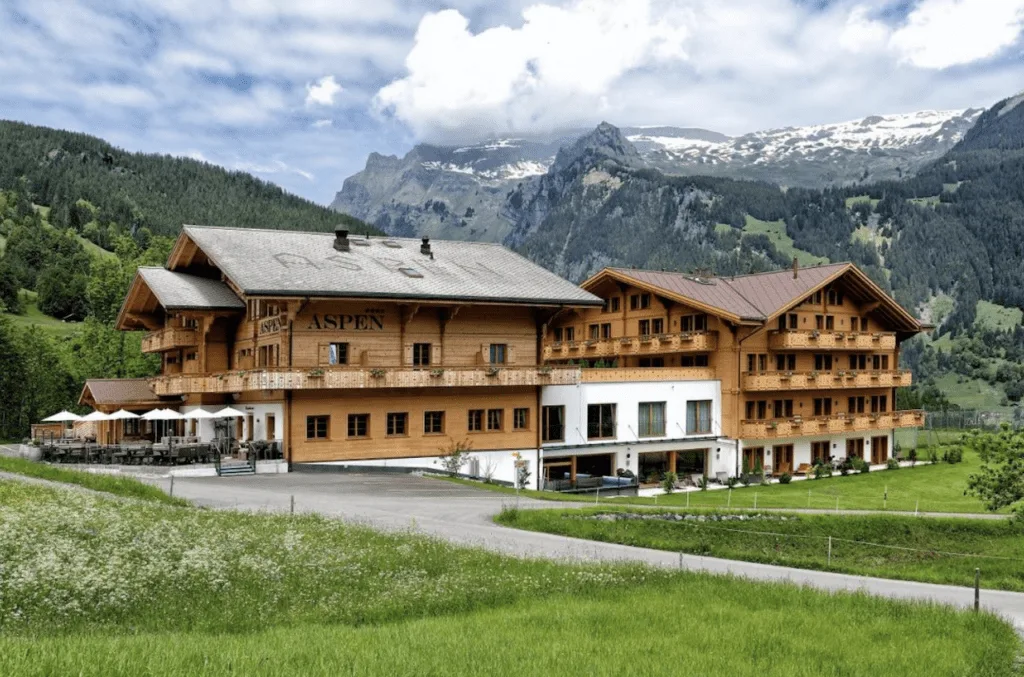 Hotel Belvedere Grindelwald
The Hotel Belvedere Grindelwald may be a four-star Grindelwald hotel, but almost everything about their service and rooms is 5-star.
The hotel sports amazing views of the Alps from almost all rooms. In addition, its delicious cuisine and sprawling wellness facilities make for a vacation you won't soon forget.
The top-notch cuisine will delight the taste buds of anyone in your family. The Belvedere's breakfast buffet is one of the highest quality in any hotel in Grindelwald.
All ingredients are locally sourced, and it features many of the finest local specialties. In the evening, guests can enjoy everything that is offered by "Swiss forests, rivers and meadows" in the prestigious onsite restaurant, 1910 (named for the year of its founding).
The rooms are exceptionally comfortable. All come with air conditioning – a rarity in the Bernese Oberland – and are tastefully furnished with spacious, plush beds.
The hotel even offers a selection of different kinds of pillows, ensuring that everyone in your party can get a good night's rest.
Book Hotel Belvedere Grindelwald Today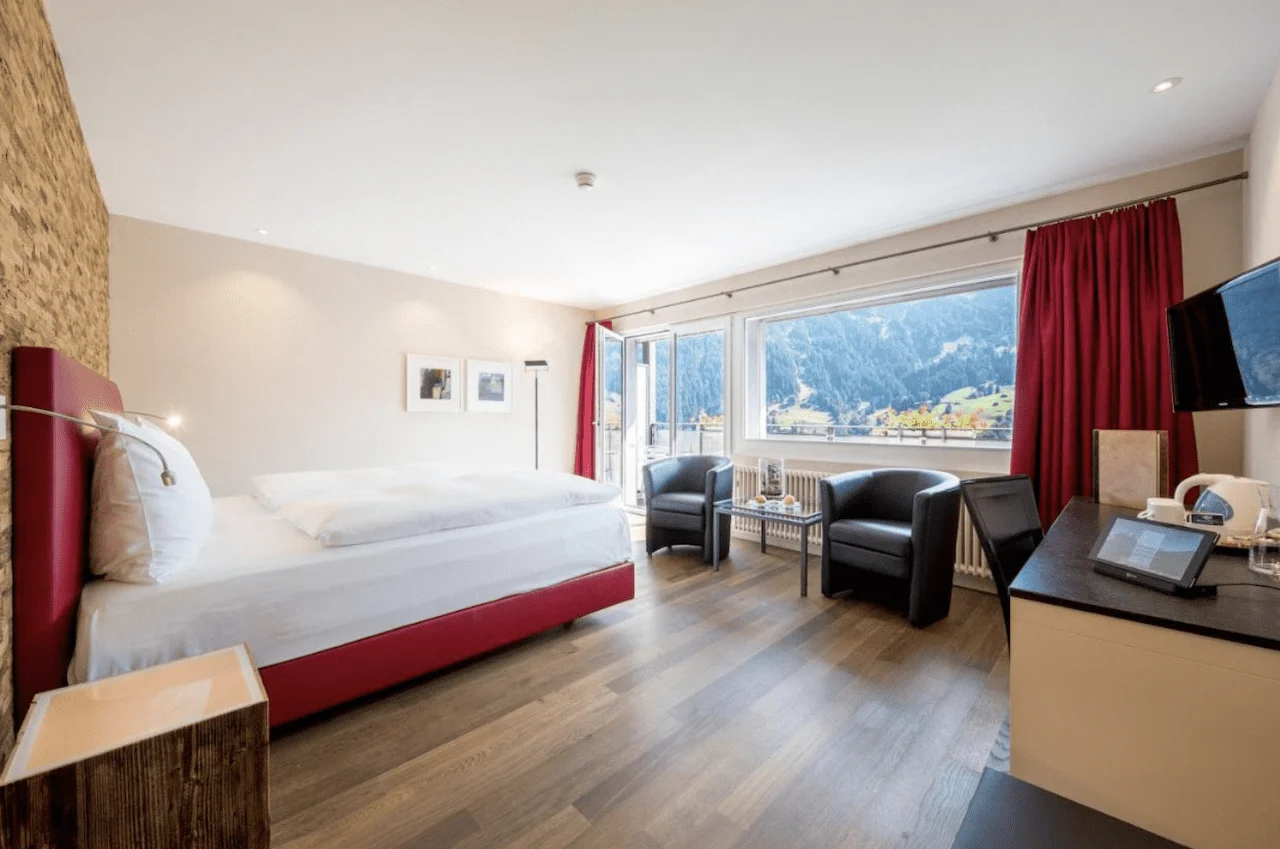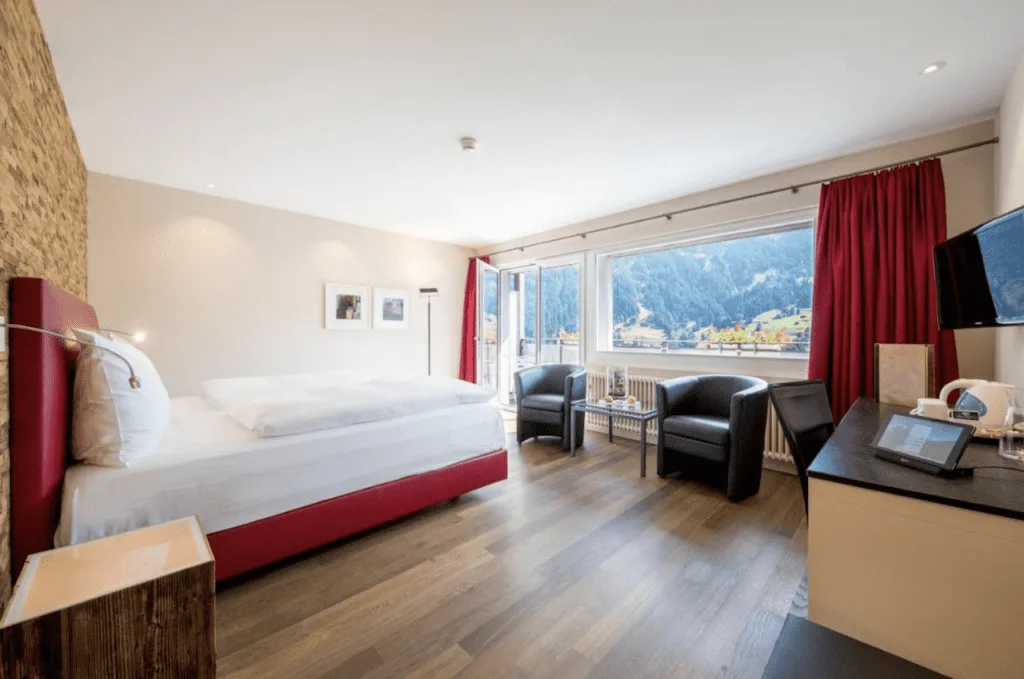 Romantik Hotel Schweizerhof
Located in idyllic seclusion – yet still close enough to the amenities of downtown Grindelwald – the Romantik Hotel Schweizerhof is a 19th century gem.
This Grindelwald luxury hotel sports amazing views of the Eiger massif from most of its rooms. Many kinds of rooms are offered, from cozy singles, double rooms, and junior suites. Most rooms have balconies, allowing you to really take in the majesty of the Eiger.
The Romantik Hotel Schweizerhof offers culinary breadth like no other Grindelwald hotel. There are a total of four restaurants onsite, each offering guests a very different gastronomic experience to the others.
The all-purpose Alperterassen Restaurant is ideal for both breakfasts and dinners, with the latter offering a rich salad buffet in addition to speedily prepared meals.
The Restaurant Schmitte, where meals are made with ingredients supplied entirely by local farmers, offers a three-course dinner that's not to be forgotten.
Meanwhile the Gäststübli offers light lunches and traditional Swiss dinners. Finally, those looking for fondue should head to the intimate Fondue-Stübli.
Book Romantik Hotel Schweizerhof Today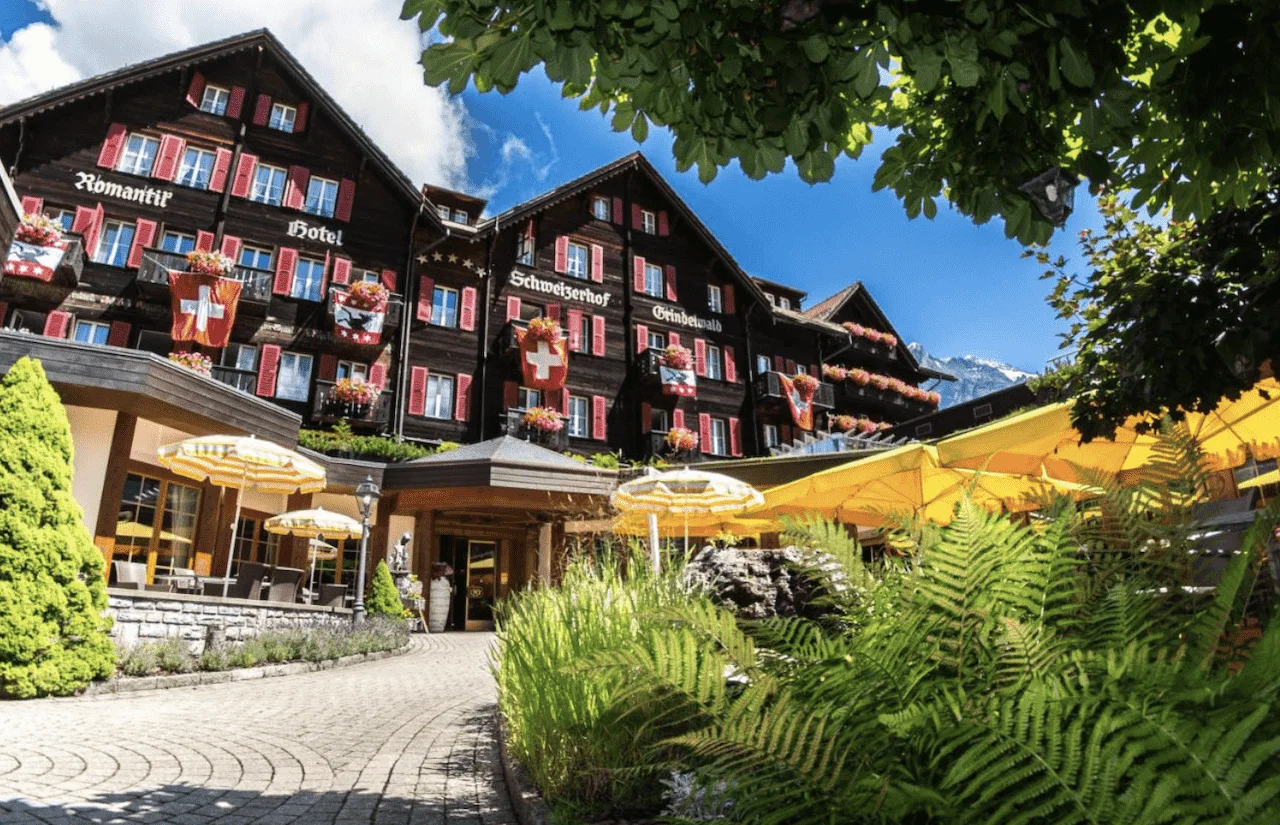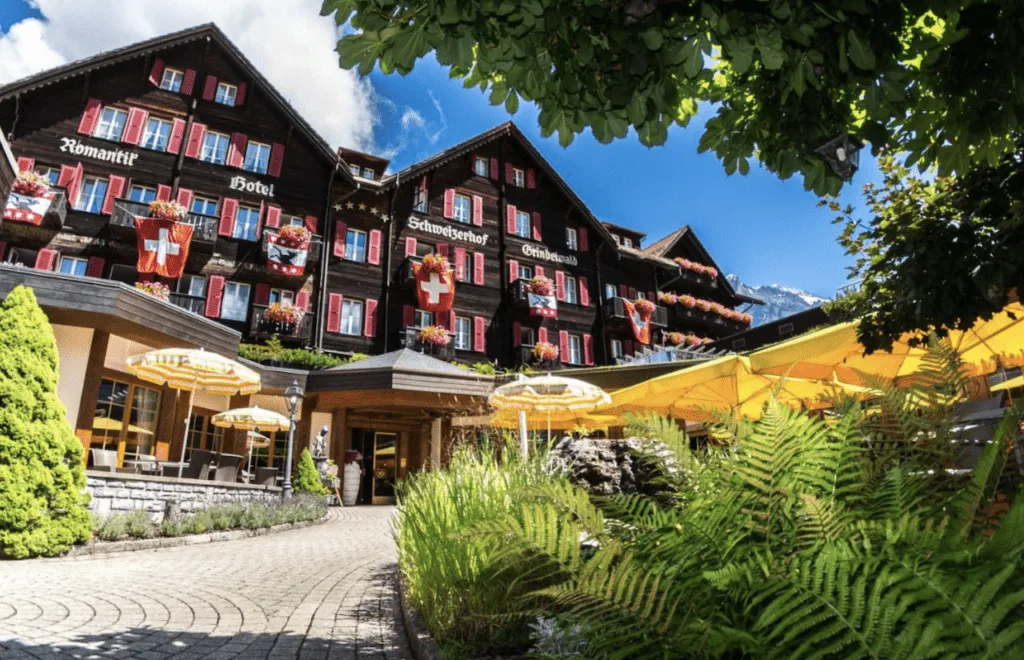 Hotel Gletschergarten
The Hotel Gletschergarten occupies a great spot in Grindelwald, directly opposite the beautiful village church. It's been in operation since 1899 and is a family-run venture.
This makes for top-notch, personable service that means your every need is met while staying at this Grindelwald hotel.
In addition to its complement of standard hotel rooms, the Gletschergarten offers holiday apartments that combine high-quality living space with the hotel's legendary customer service.
All of the hotel rooms have private bathrooms and are furnished in the alpine style, making them minimalist yet cozy. In addition, they all have balconies that allow you to drink in the view of the Jungfrau.
Gletschergarten's holiday apartments are the ideal choice for families. Fully equipped with private bathrooms, bathtubs/showers and multiple bedrooms, it's a great option for those with young children in tow.
Book Hotel Gletschergarten Today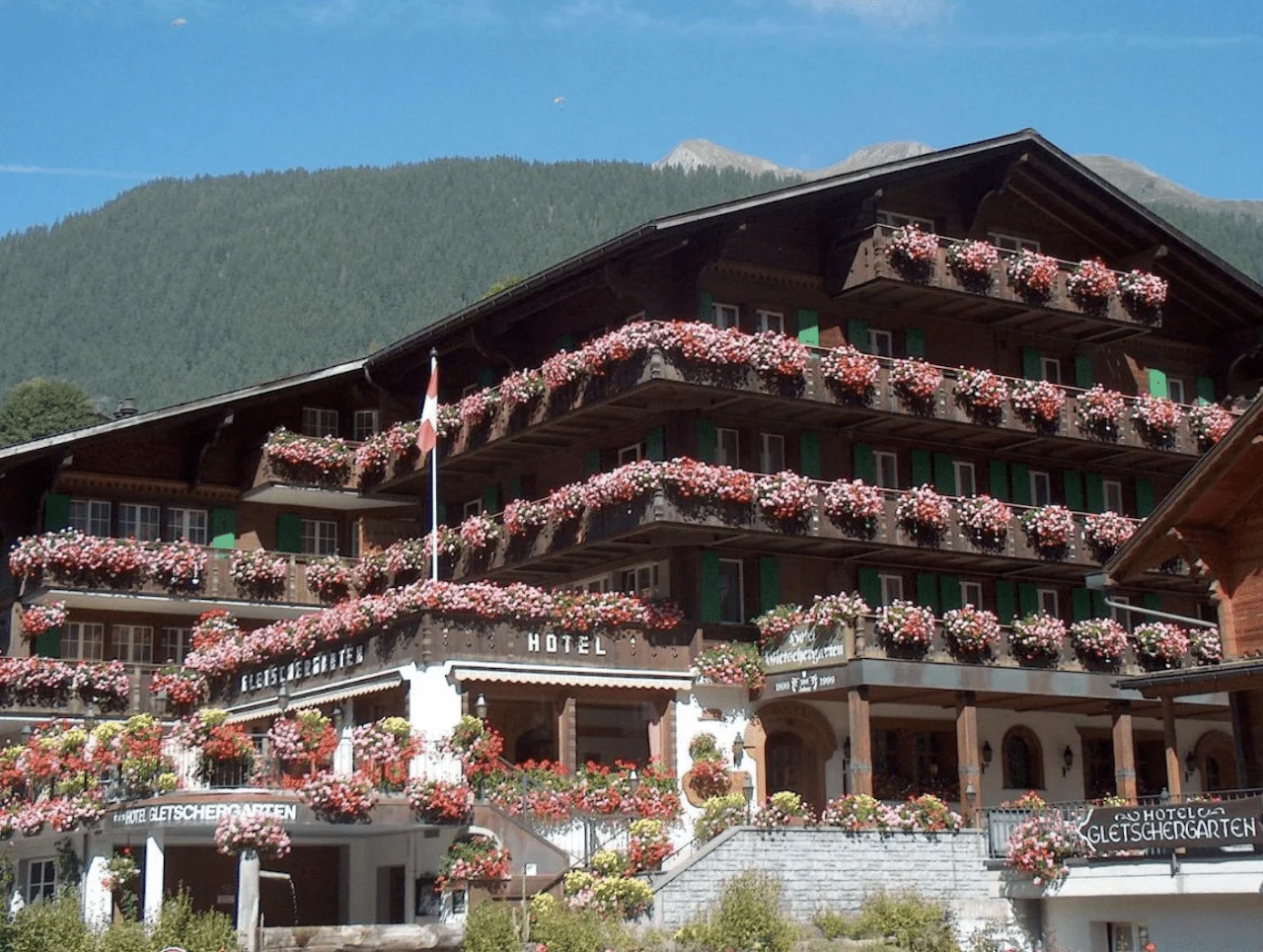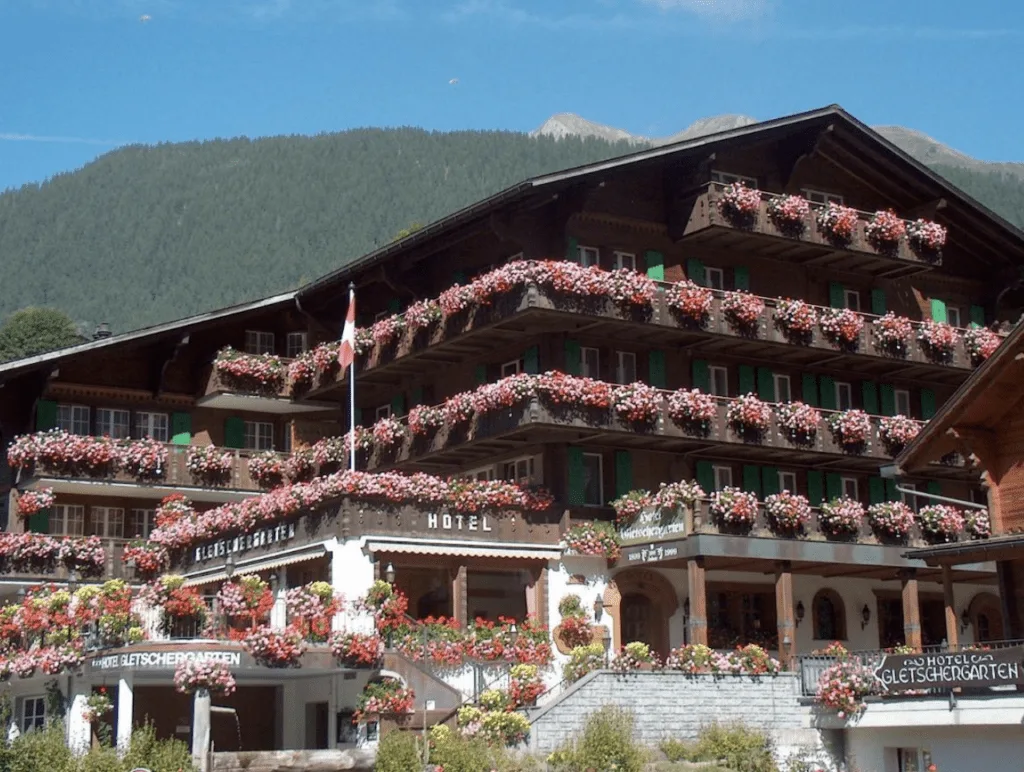 Hotel Kreuz & Post
The Hotel Kreuz & Post is perfectly situated in the heart of the action in downtown Grindelwald. It's in close proximity to the train and bus stations, gondolas, and lifts, making it ideal for getting where you need to go quickly.
As another family-run Grindelwald hotel, you can also be assured of exceptional service. The hotel features an astonishing 4 onsite restaurants, offering everything from Swiss favorites like raclette to international dishes.
The hotel has a total of 42 rooms. These include luxurious double rooms and suites featuring panoramic views of the nearby mountains. For single travelers, the hotel also has single rooms.
Due to its location in central Grindelwald, the hotel is well placed for people who want to explore the picturesque Swiss village. It's also great for the more adventurous types who'd like to head into the mountains.
From summer activities such as hiking and golfing, to wintry alpine adventures on the impressive ski slopes of the Jungfrau region, there's something for everyone.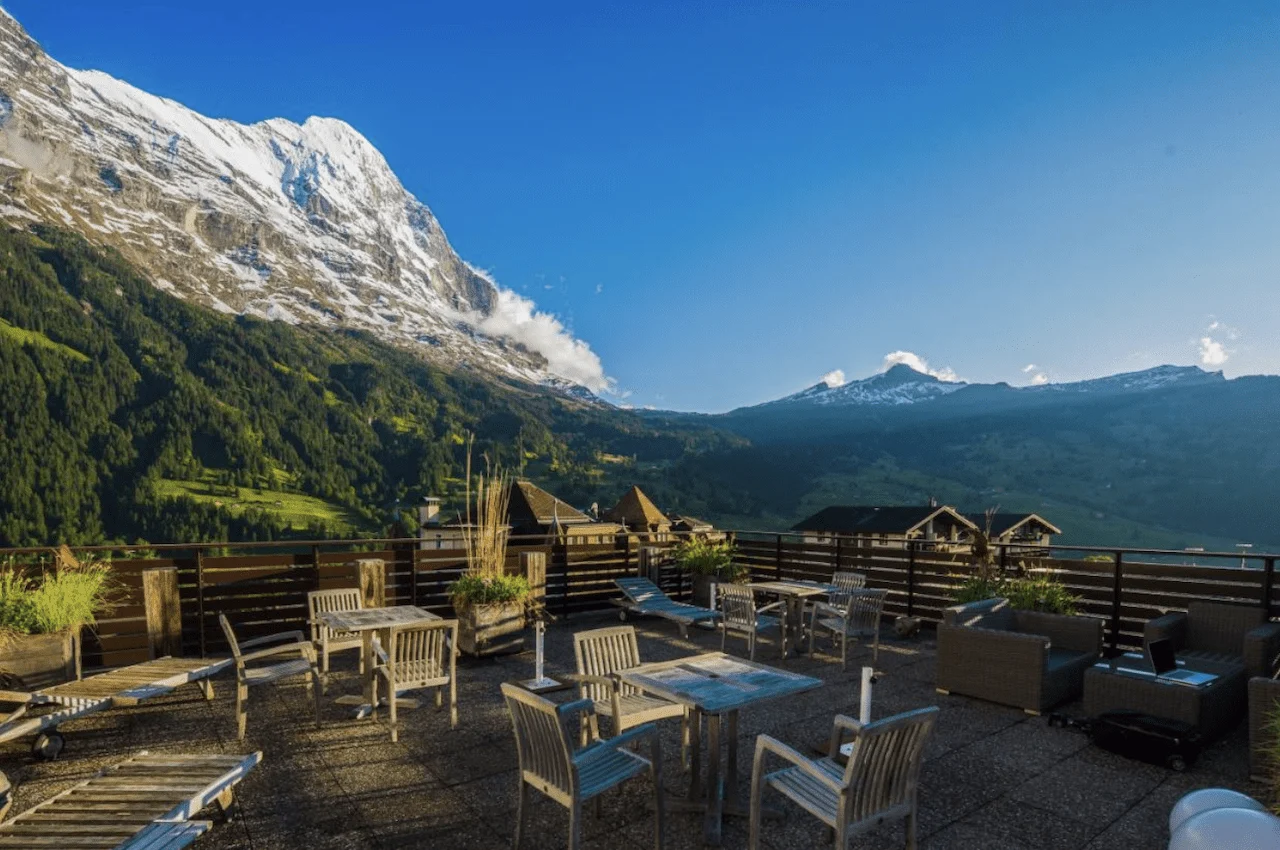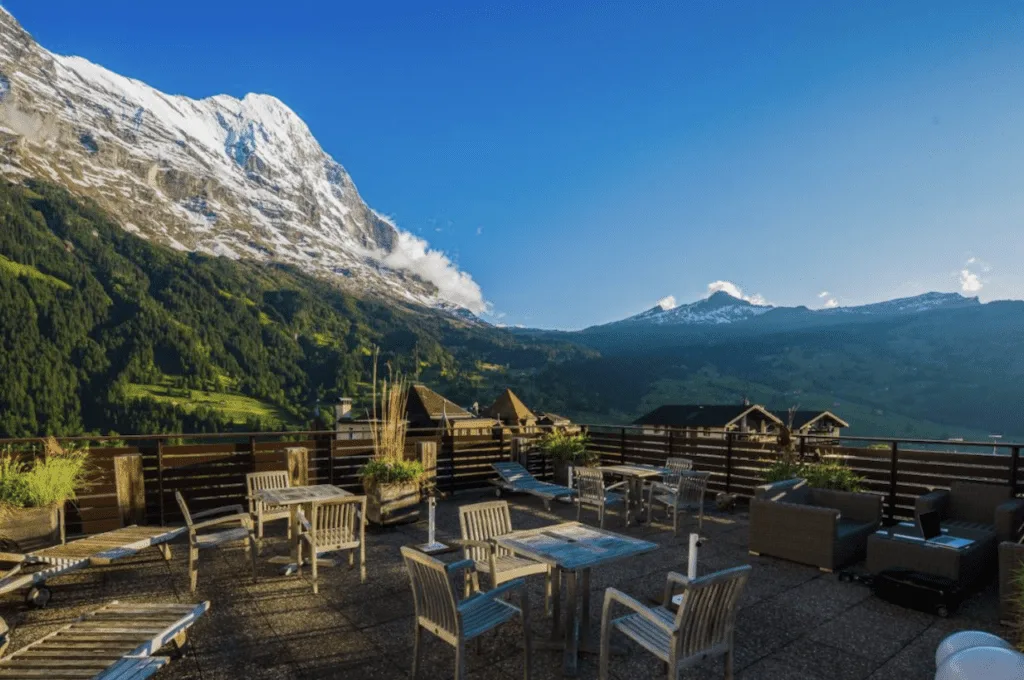 3) Where to Stay in Grindelwald Map
To better visualize where all these Grindelwald hotels are located, I have included the map below to help out.
Most of these hotels are located directly in town, while a few others on the outskirts.
Switzerland Itineraries
4) Why Choose Grindelwald?
When it comes to the Jungfrau Region of Switzerland, there are several different areas to consider.
These include place like Wengen, Lauterbrunnen, Murren, Interlaken, and of course Grindelwald.
Now, you may be wondering why choose Grindelwald in the first place? Well, there are plenty of reasons for why you should consider Grindelwald as your home base.
Transport
For one, getting to Grindelwald is one of the easiest options to consider. If you have a car, you can drive right into town. If coming by train, it is a quick 30 minute train ride from Interlaken.
Once you are in Grindelwald, you are also well connected to the rest of the Jungfrau.
You can leverage the Swiss train network to get you to the opposite valley of Lauterbrunnen. If you want to head into the mountains, the First cable car will take you directly from town. And you can also hop on the V Bahn cable car to Mannlichen or Eigergletscher.
Hotel Options
When it comes to the towns of the Jungfrau, none will have more accommodation options than Grindelwald (expect Interlaken, which is outside the mountain area).
Having more options means you will have a wider variety to choose from. Whether that is shared hostel rooms or 5 star star hotels, Grindelwald has it all.
That also means you can expect some more affordable options compared to the other towns. So, if you are on more of a budget, then Grindelwald is a great option to consider.
Hiking
When it comes to hiking options, there are so many possibilities right outside your doorstep (or just a quick cable car / train ride away).
From town you can head up the First cable car and check out Bachalpsee Lake (and so many more hiking trails). You can also take the Pfingstegg cable car and hike to the Baregg Hut.
If you take the V Bahn, you can easily take part of the famous Mannlichen to Kleine Scheidegg trail or the Royal Walk. In addition, the Eiger Trail is not too far away either.
At the end of the day, you will have no trouble picking and choosing Swiss hiking trails that work for you (even if that means heading to the Lauterbrunnen Valley).
Don't forget that Grindelwald is also a winter destination, when those hiking trails turn into ski trails!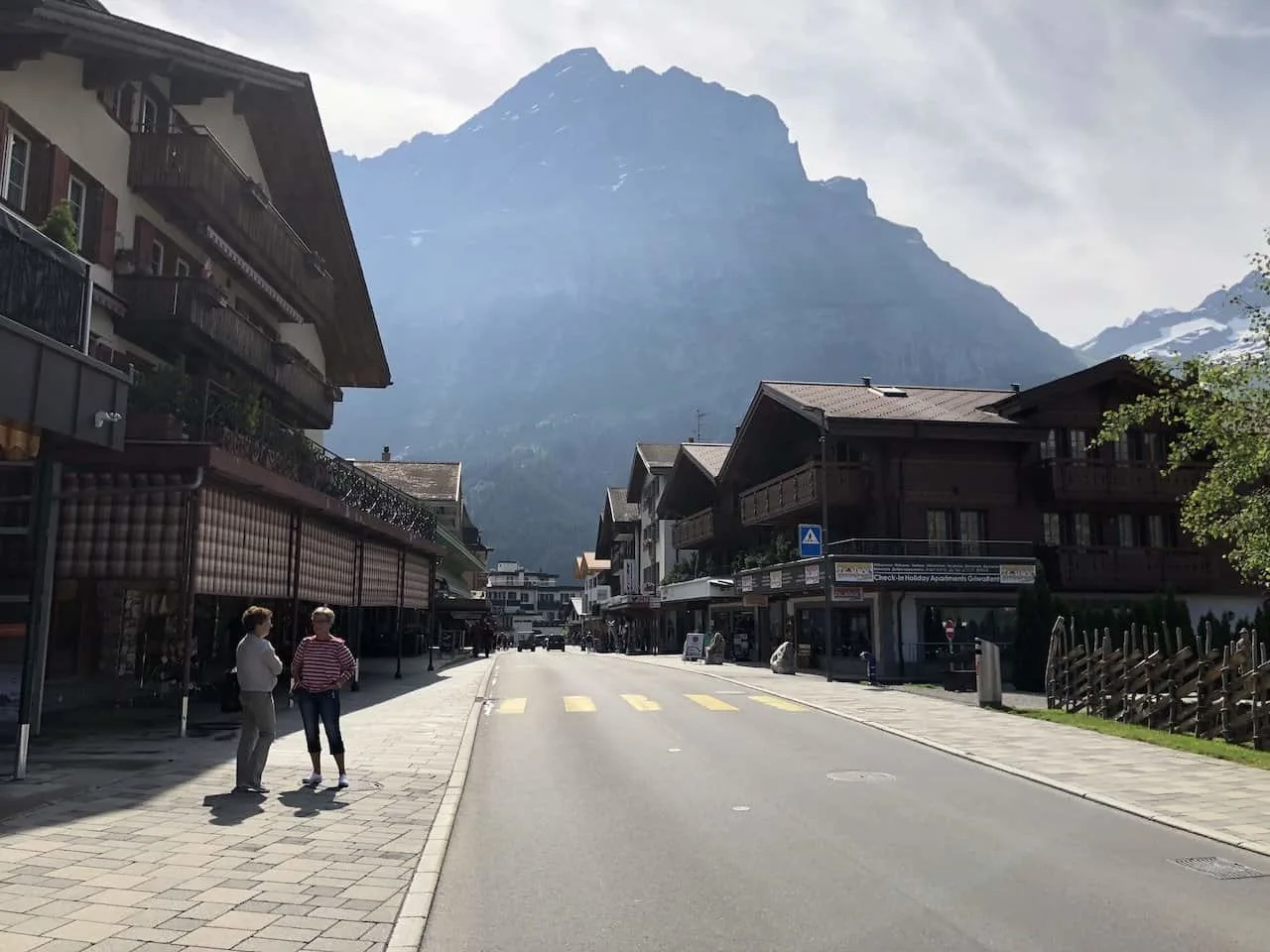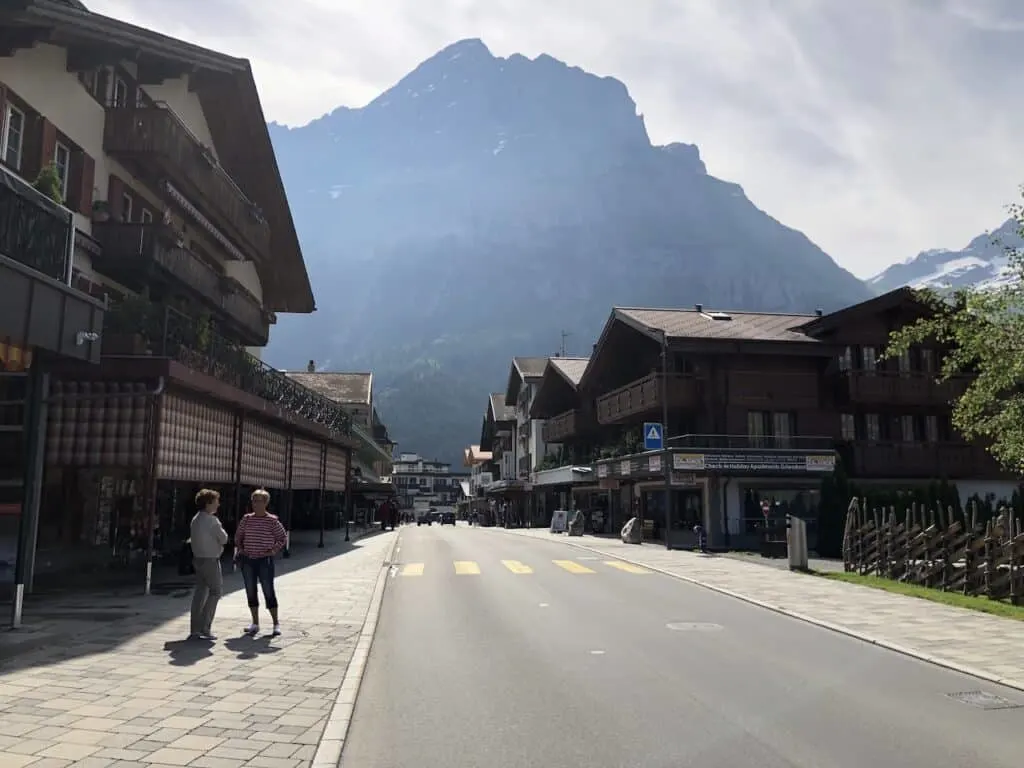 Learn More About the Jungfrau
Be sure to check out the guide to where to stay in the Jungfrau, as well as some top hotel options in other nearby spots: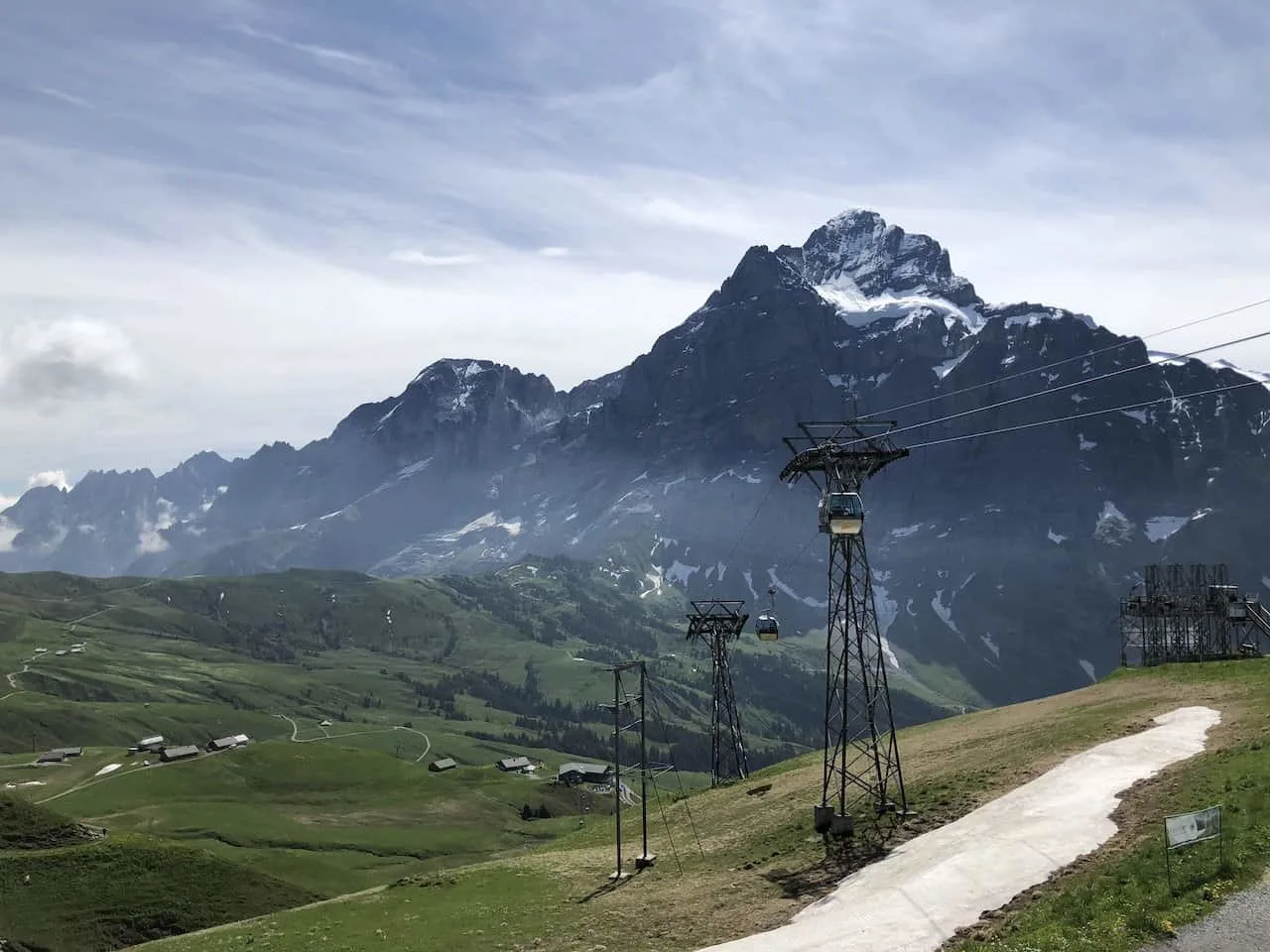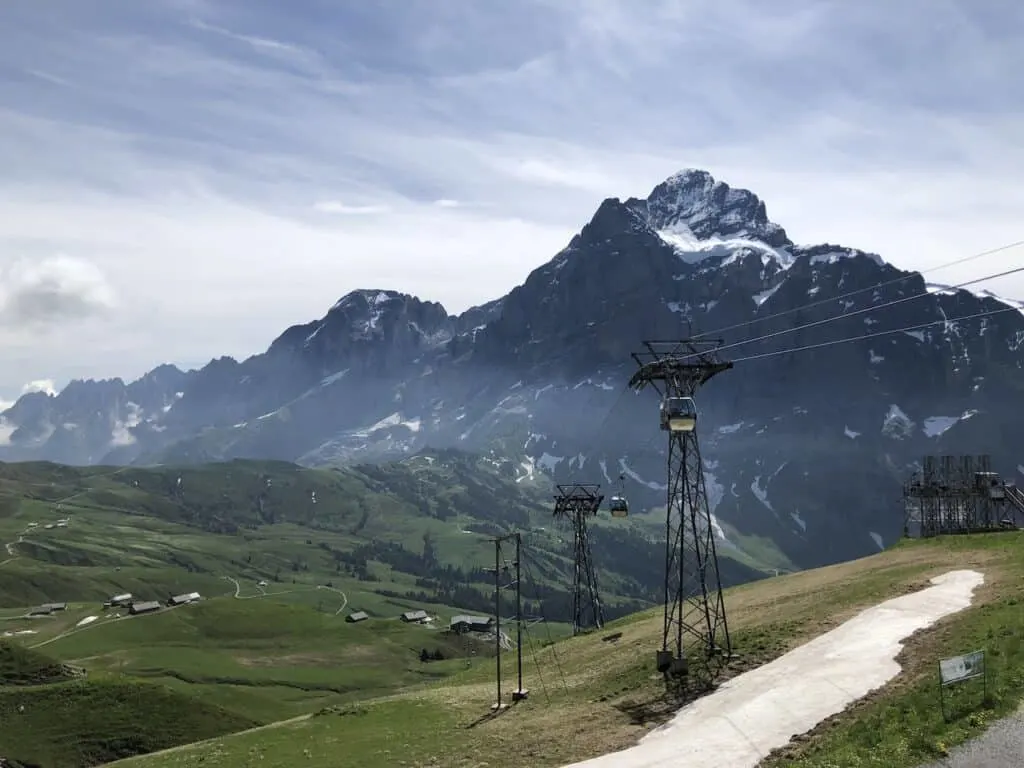 Whatever your requirements of a Grindelwald hotel, I hope that you are covered with this list.
From luxury Grindelwald hotels to B&Bs and everything in between, this Swiss village has a surprising amount of variety given its size.
So whether you're trekking to the Jungfrau for skiing or you simply want to take in Switzerland's scenic high-altitude meadows, you're sure to be left satisfied with the hotels in Grindelwald.
If you have any questions or comments, be sure to add them in below. Also, don't forget to check out some other Switzerland itineraries and guides up on the site.
Have fun out there and safe travels!