While there are several towns to consider staying in during a trip to the Jungfrau Region, Lauterbrunnen is one of the top options to choose from.
The town is based in the heart of the Lauterbrunnen Valley, with easy access to all of the surrounding mountains & valley towns.
So, whether you just want to explore the valley itself, or also explore the rest of the Jungfrau, be sure to check out these top Lauterbrunnen hotels for your trip.
* Affiliate Disclosure: This post may contain affiliate links, which means I may receive a commission if you make a purchase through the links provided, at no additional cost to you. Thanks for supporting the work I put into TripTins!
Looking to make a quick choice when it comes to the best hotels in Lauterbrunnen? Hotel Silberhorn takes the top overall pick when it comes to accommodation in town.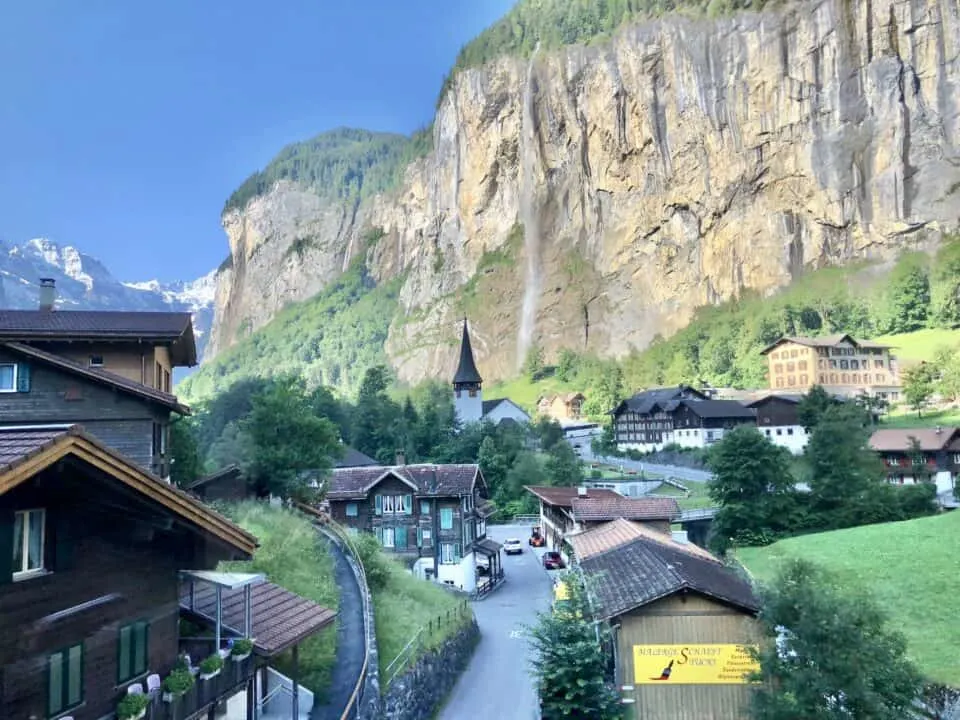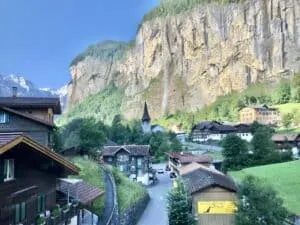 Hotel Silberhorn
Looking for the best overall hotel in Lauterbrunnen? Hotel Silberhorn is ranked as one of the top hotels in town & is the perfect choice for a stay.
Lauterbrunnen Hotels Map
The map below lays out the 11 Lauterbrunnen hotels that I will be talking through. This should give you a better idea of where they are located in proximity to one another and the town center.
Top Hotel Picks: If you are looking to make a quick decision on a Lauterbrunnen hotel, you just cannot go wrong with the top 3 hotels listed out:

1) Hotel Silberhorn
2) Hotel Oberland
3) Hotel Staubbach
1) Hotel Silberhorn
The Hotel Silberhorn is a massively popular choice for tourists visiting Lauterbrunnen. The hotel offers unimpeded views of the breath-taking alpine scenery and the majestic Staubbach Falls.
Those who wish to enjoy the amenities of the hotel will not be disappointed. In addition to a buffet breakfast that's brimming with local Swiss specialties, the hotel offers seasonal four-course dinners and an all-you-can-eat salad bar.
Free parking and Wi-Fi are also standard at Hotel Silberhorn, ensuring that you won't struggle for a spot nor be disconnected from the outside world during your stay.
The hotel has recently added a new type of room, which they have named the 'Holz 100' rooms. The hotel guarantees complete relaxation in these rooms, fashioned from natural and untreated spruce wood.
It's also one of the best Lauterbrunnen hotels near the train station and the Grütschalp cable car station. All in all, it's a solid choice whenever considering a stay in the area.
Book Today -> Hotel Silberhorn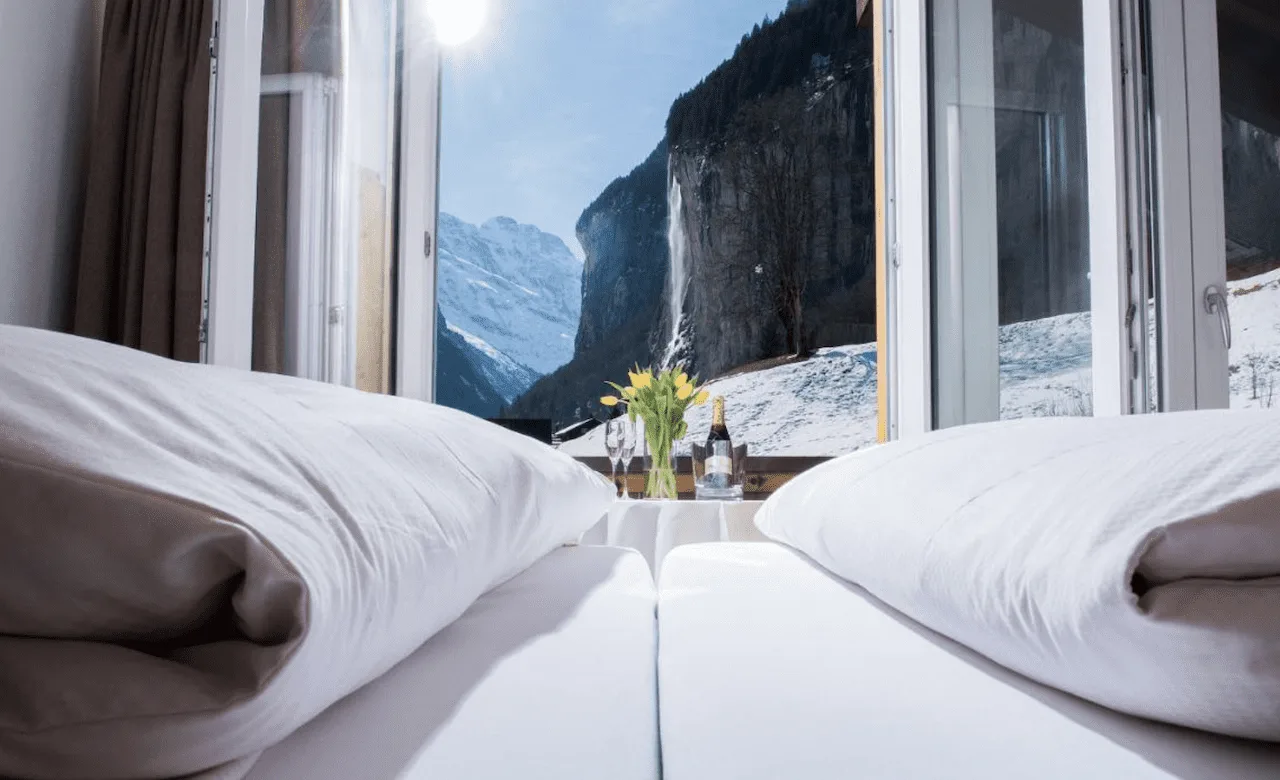 2) Hotel Oberland
The charming Hotel Oberland is one of Lauterbrunnen's best and, similarly to the Silberhorn, offers fantastic views.
Many of the rooms feature majestic views of the mountains and Staubbach Falls. The rooms' balconies are also the perfect place to take in the sweeping views while enjoying your morning coffee.
One of the best things about this family-run hotel is the responsive and helpful customer service, who are immediately on hand to help out with any queries their guests might have.
The provided breakfast is simple but hearty, and the perfect way to start your Lauterbrunnen Valley day. Those who develop a taste for the home-cooked meals will find a lot to love with the hotel's beloved fondue dinners, too.
On top of this, Hotel Oberland is excellently placed. Both the train station and cable car are minutes away, making for easy trips onto the trails or out of town at the conclusion of your visit.
If you're looking for something a little simpler and more down to earth than many of the Lauterbrunnen luxury hotels, you can't go wrong with Hotel Oberland.
Book Today -> Hotel Oberland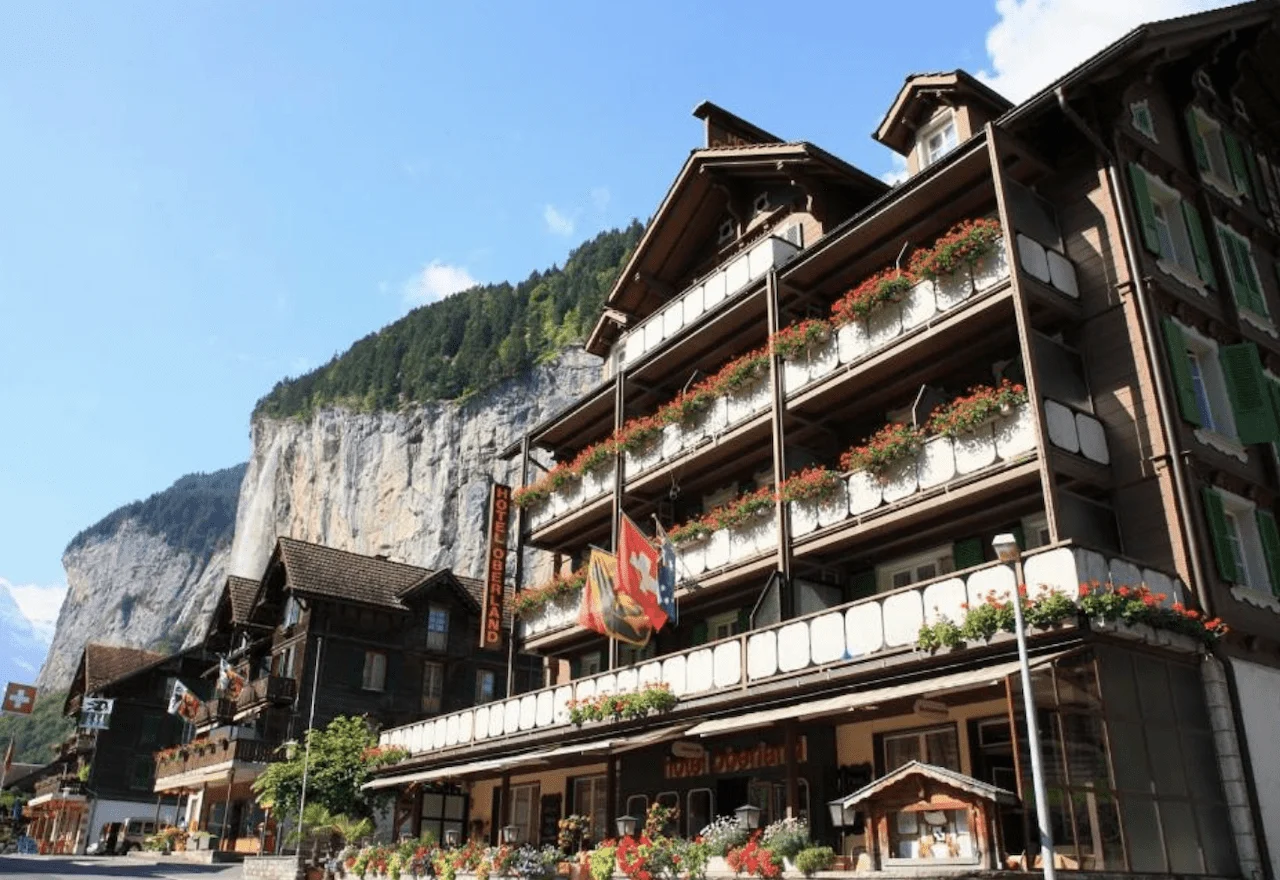 3) Hotel Staubbach
One of Lauterbrunnen's oldest hotels, the Hotel Staubbach was built towards the end of the 19th century and retains much of its historic charm.
It's also run by a Swiss-American family, which means that the owners have an insight or two into making sure transatlantic guests are satisfied with their time at the Staubbach.
Hotel Staubbach is aptly named – it offers amazing views of the eponymous waterfall and the surrounding mountains from many of its rooms. It is also perfectly placed for those who'd like to venture further, with easy access to many hiking trails.
The hotel does offer a simple traditional Swiss breakfast, but it does not have a dedicated kitchen. That said, there are numerous dining options within easy walking distance. Guests are spoiled for choice with such cuisine as Italian, Swiss and Chinese all being options.
Book Today -> Hotel Staubbach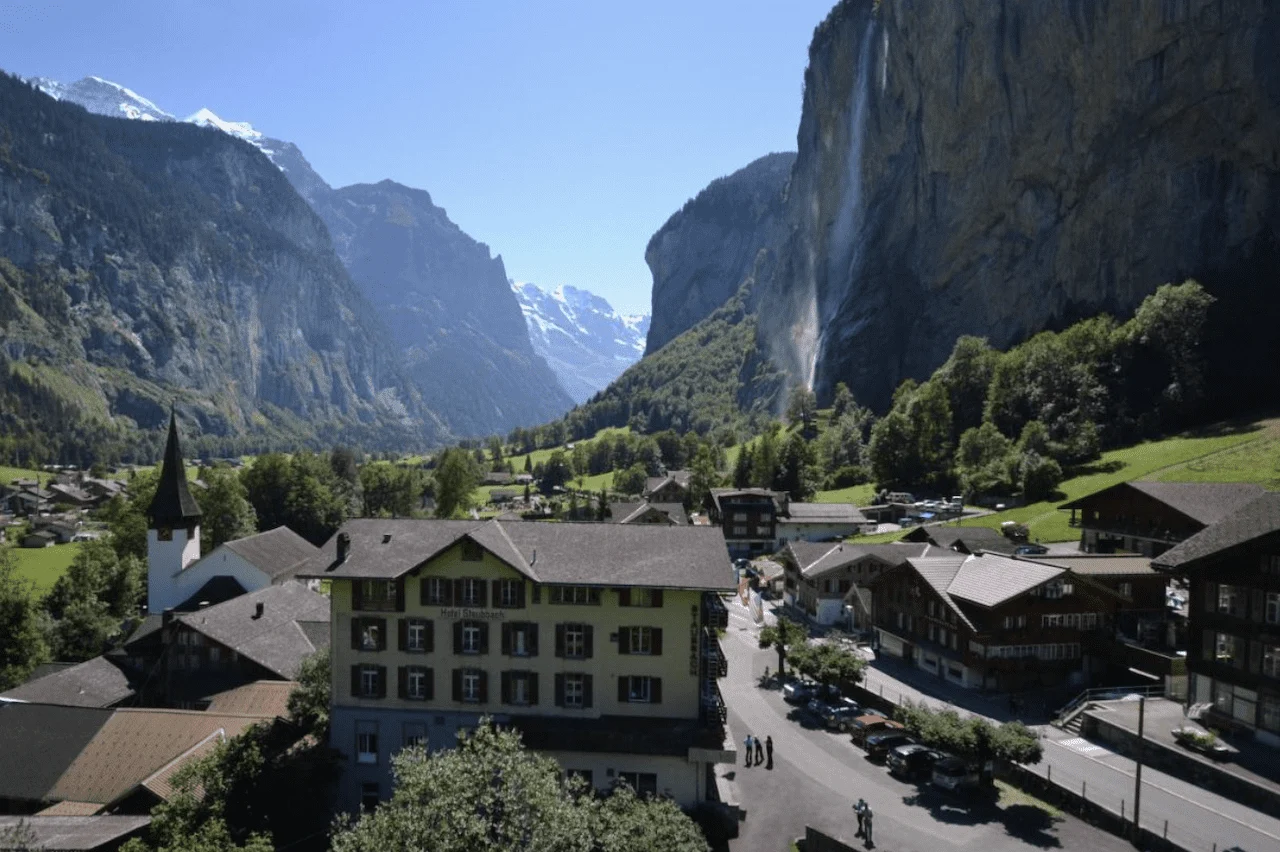 4) Hotel Hornerpub
The Hotel Hornerpub has a unique claim to fame within Lauterbrunnen – not only is it one of the best budget options in the area, but it's also the only pub to be found in the village.
Established in 1996, Hotel Hornerpub is renowned for its cozy atmosphere and expansive array of beers and wines.
Relax with a beer and enjoy a game of darts indoors, or head out onto the terrace and enjoy the sight of adjacent Staubbach Waterfall. The hotel also offers hearty pub fare, with pastas and soups made directly onsite.
Hotel Hornerpub is a great choice for those wishing to dance the night away, too. The bar is open until 2:30am for darts, dancing, and table football. They even have a jukebox, allowing guests to choose their own soundtrack for their Lauterbrunnen adventure.
The hotel offers simple but comfortable rooms, some of which look out directly onto Staubbach. All rooms have sinks and mirrors, as well as towels. The hotel can also provide basic toiletries, should you leave your washbag at home.
Book Today -> Hotel Hornerpub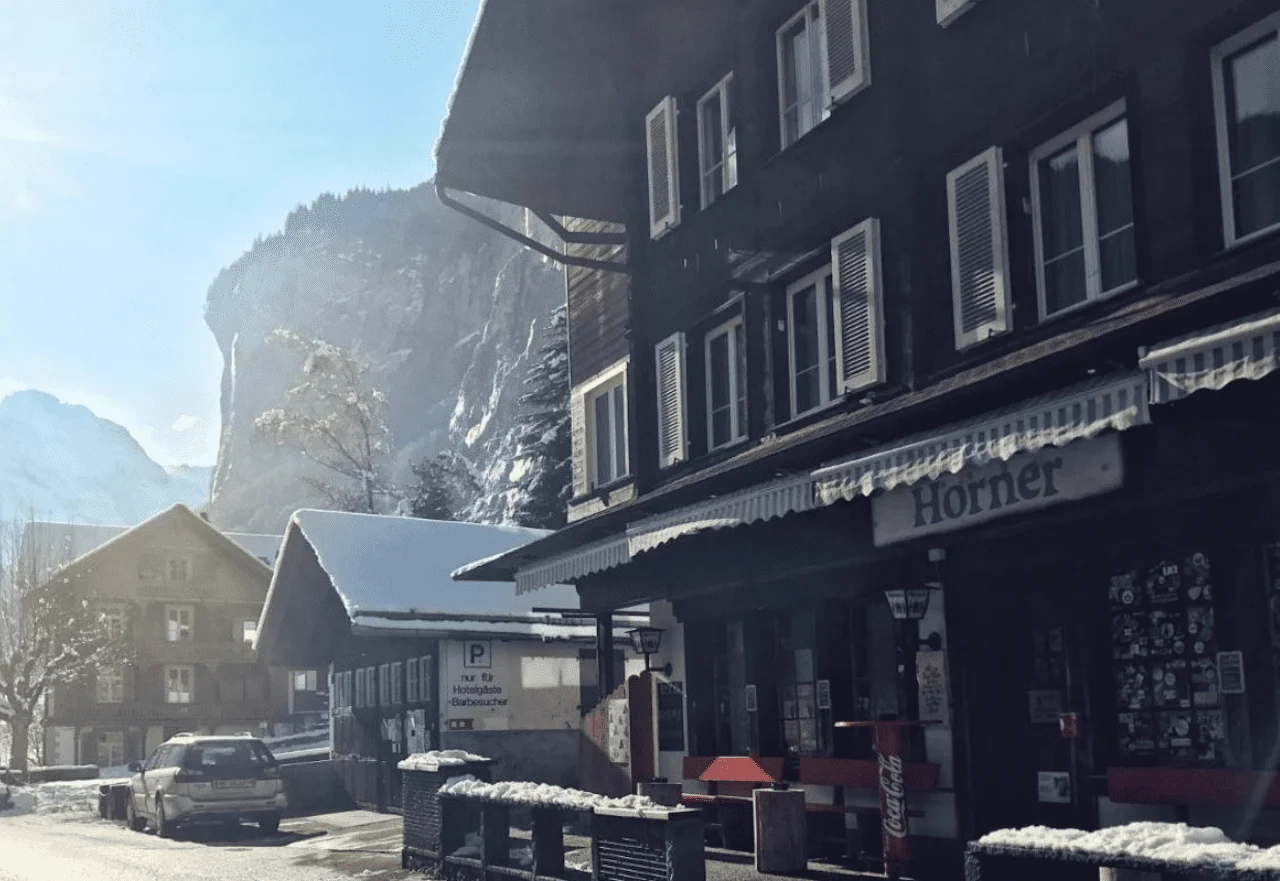 5) Hotel Steinbock
Located close to the Lauterbrunnen Valley entrance, Hotel Steinbock is a great staging point for exploration of the region. It's a Lauterbrunnen hotel near the train station, too, making it perfect for those who wish to explore further afield with public transport.
Its convenient location aside, Hotel Steinbock is a great budget choice. The rooms are simple, clean and affordable. Travelers who are particularly budget-conscious can opt for a shared bathroom (rather than private) to drive costs down even further.
Despite its relatively low cost, the hotel's restaurant is second to none. It operates the year round and offers a host of comfort food, including traditional Swiss cuisine and a range of delicious pizzas. But it's in the fall and winter that it really comes into its own. During these seasons, Hotel Steinbock offers locally sourced game dishes.
Book Today -> Hotel Steinbock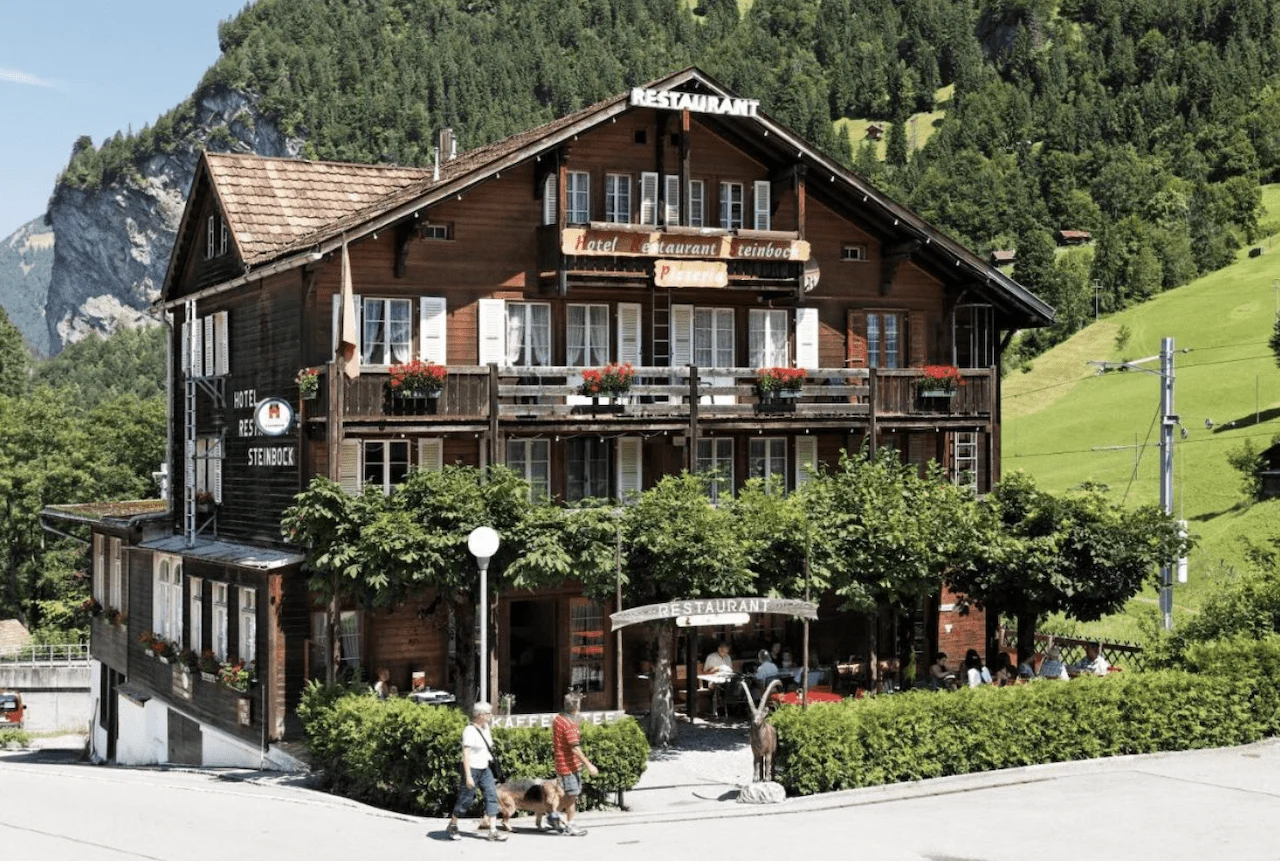 6) Chalet Elza
Combining homespun charm with a luxury chalet experience, the Chalet Elza is one of the best of the Lauterbrunnen luxury hotels.
Part of the attraction of Chalet Elza is its relatively secluded and tranquil location north of Lauterbrunnen in a peaceful forested area. Experience a relaxing countryside atmosphere while still being relatively close to the town amenities (the train station is less than a kilometer away).
True to its standing as a luxury chalet experience, each unit boasts a terrace, a fully equipped kitchen, complimentary WiFi, flat-screen TVs, and private bathrooms with showers, bathtubs and bathrobes. Certain chalets also have balconies and/or patios to make the most of the stunning views.
Book Today -> Chalet Elza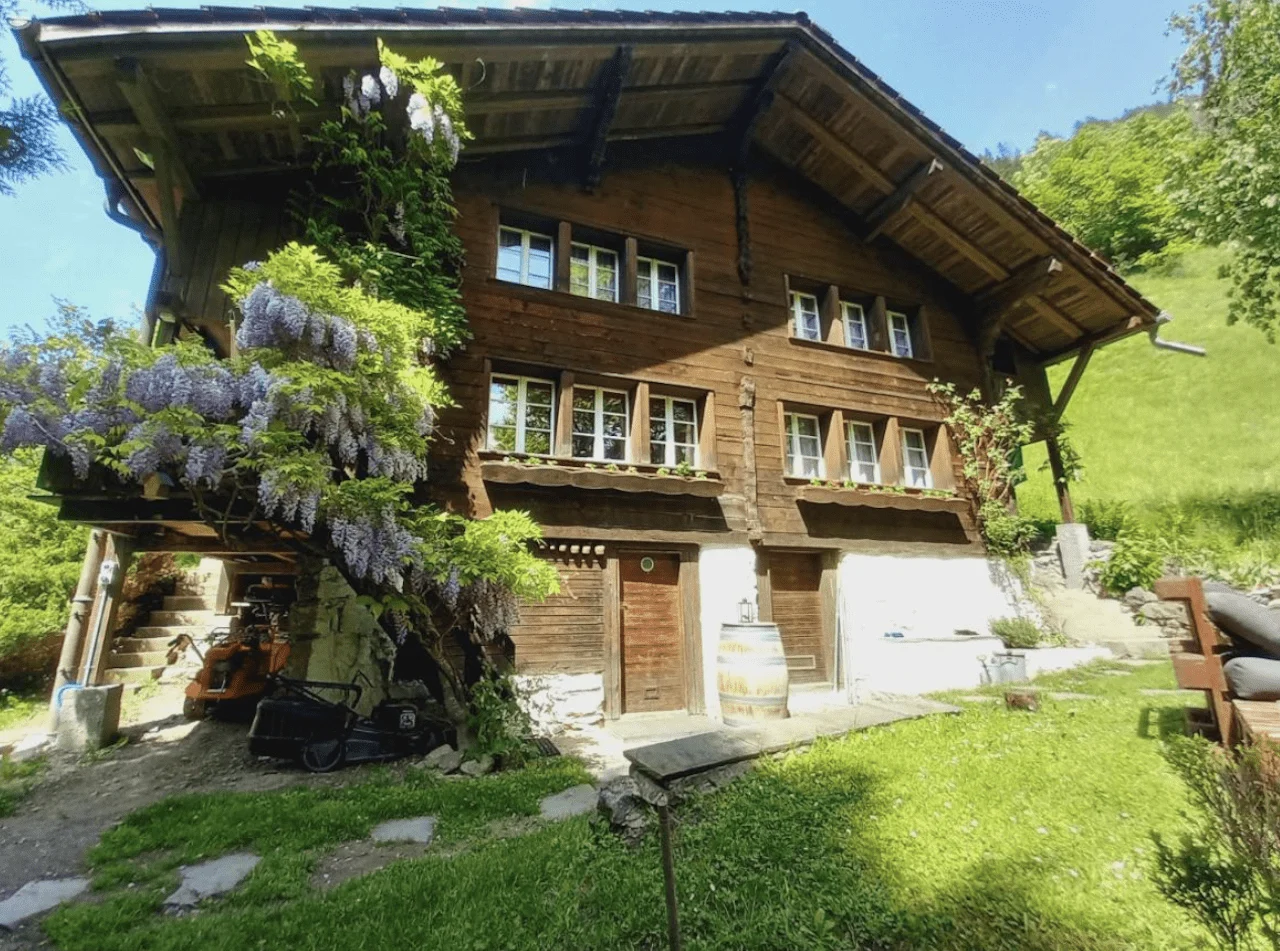 7) Family Frame Apartment
The Family Frame Apartment is one of the most luxurious experiences you can have when staying in Lauterbrunnen. It's located directly opposite the Staubbach Waterfall, and just far enough out of the village that the only sound is that of birdsong and the rushing waterfall itself.
This apartment is better for larger families or groups rather than a couple, as it has three bedrooms and is a very large property. The bedrooms are complemented by a large open plan kitchen/living room/dining area on the ground floor, making for a great family atmosphere as you plan your next excursion in the area.
There's plenty to keep the kids entertained after a day's hiking or skiing, too. As a functioning apartment, there are lots of books, comics and DVDs to occupy their time in the evening.
Free WiFi also makes it easy for them to connect their tablets or other devices. There's even a gaming console onsite, ensuring that there's more than enough to keep both you and younger family members entertained for the duration of your stay.
Book Today -> Family Frame Apartment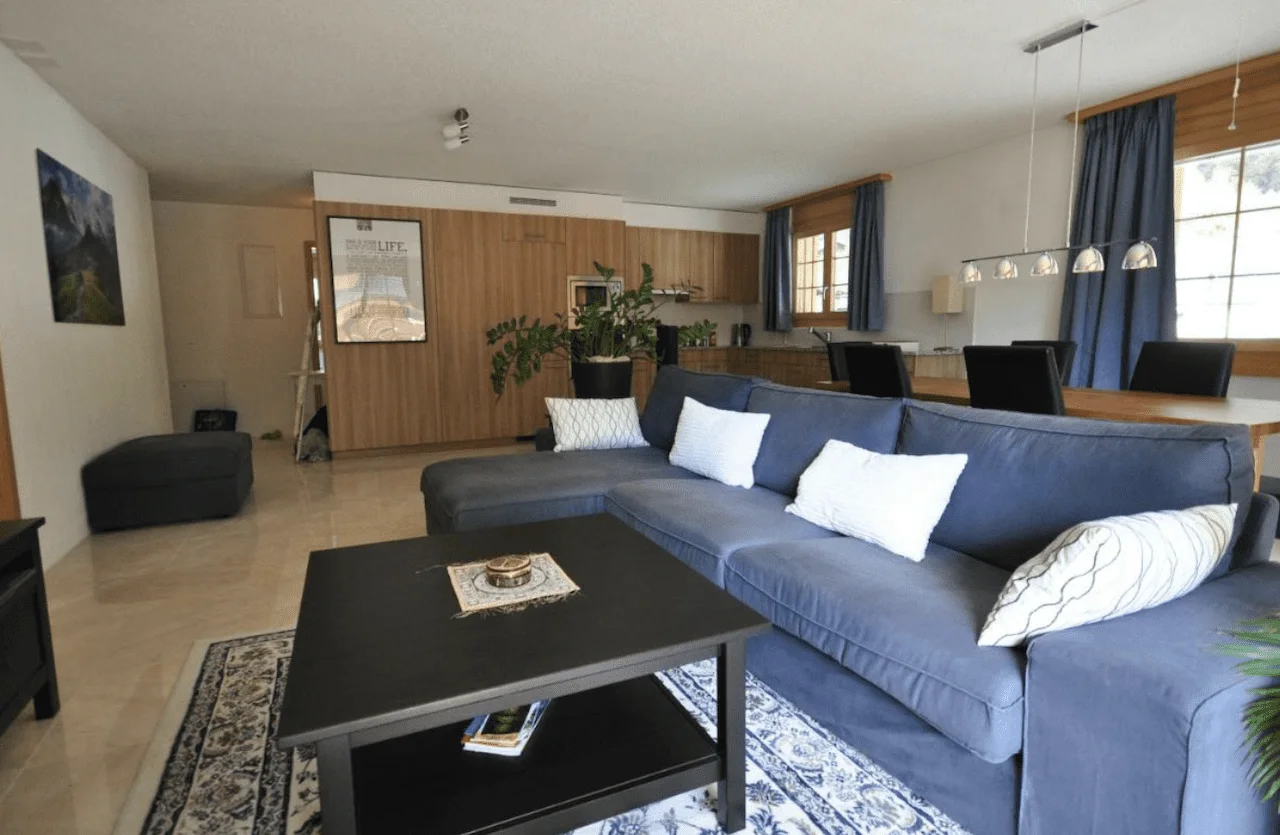 8) Apartment Breithorn
Another great apartment option in Lauterbrunnen is the Apartment Breithorn. It has free private WiFi and parking, and offers easy access to all of Lauterbrunnen's points of interest.
The apartment is perfect for winter stays, as the whole apartment features under-floor heating. It also has a fully equipped kitchen with a fridge and oven, making it easy to prepare home-cooked meals.
If you're in the mood for a little alfresco dining or morning coffee, the apartment's terrace offers stunning views of the surrounding mountains and nearby Staubbach Waterfall.
Apartment Breithorn makes for a fantastic option for those who'd prefer a little more privacy than a hotel. If you're traveling through the area, it's well worth considering.
Book Today -> Apartment Breithorn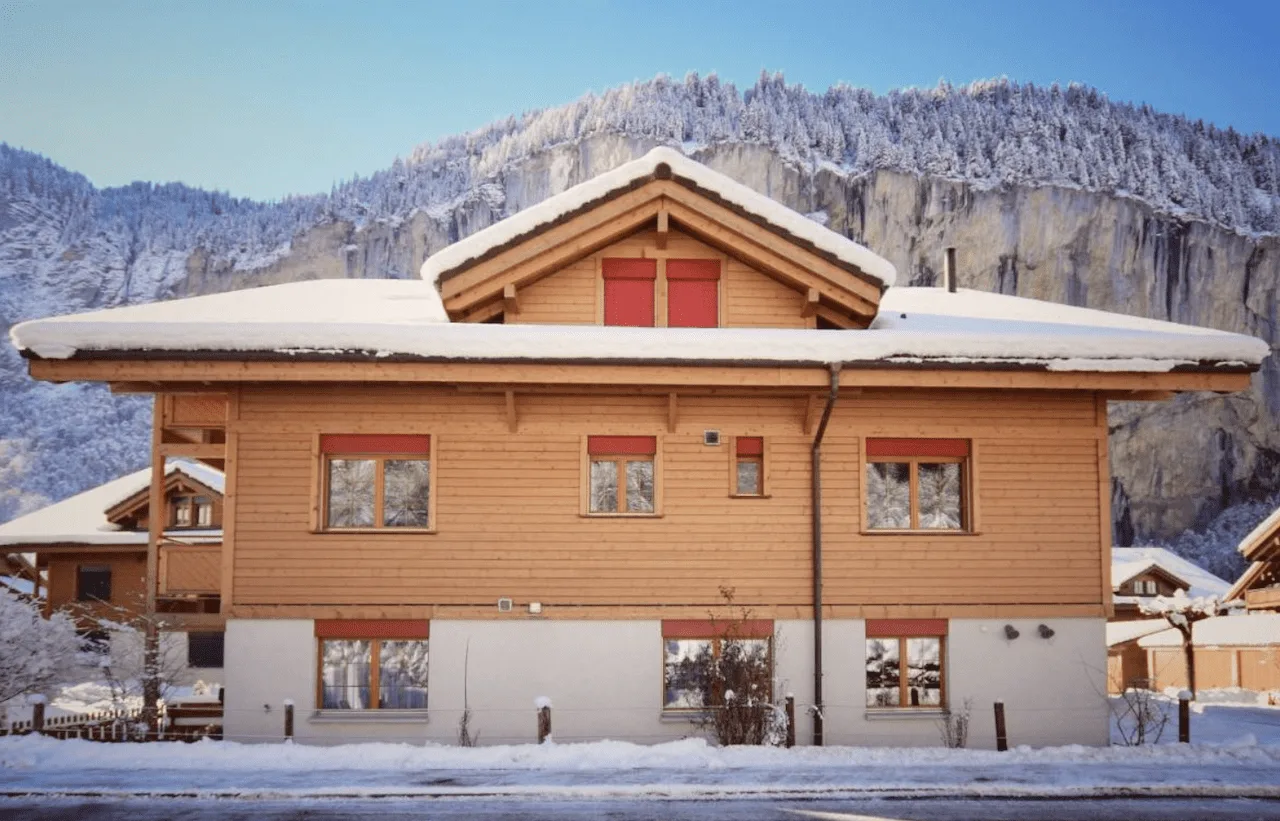 9) Camping Jungfrau
If you are looking for a more affordable option in the area, Camping Jungfrau is a great choice for travelers. It's actually a holiday park rather than a hotel per se. Guests can also stay in shared dorm rooms and have access to communal bathrooms and shower facilities.
Camping Jungfrau facilitates many outdoor activities for those who'd like to be out and about during their stay. Guests can take advantage of bicycle rental, nearby skiing opportunities, a tennis court, mini-golf, and ping-pong tables. Additionally, there are many scenic hiking trails nearby.
Book Today -> Camping Jungfrau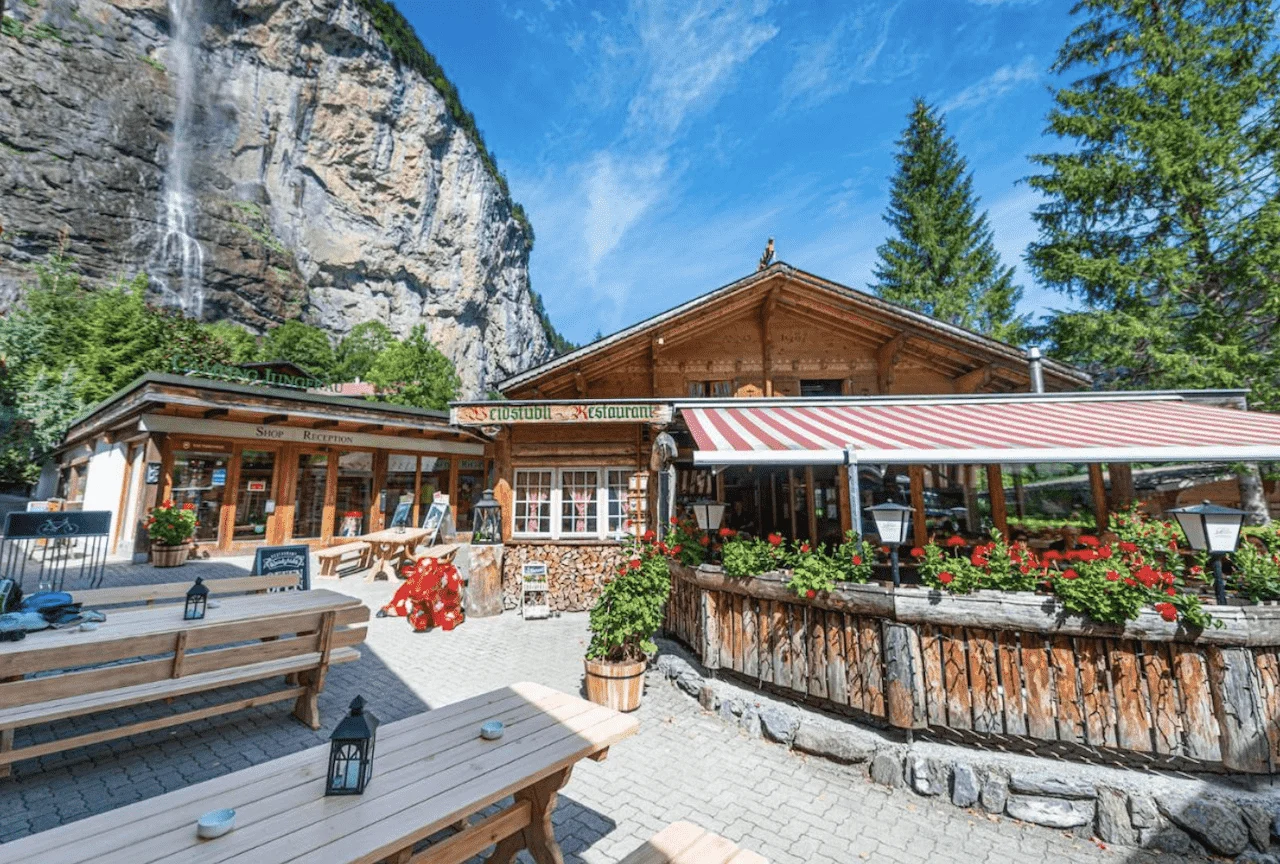 10) Valley Hostel
Valley Hostel is one of the best backpacker options in the area. This family-run Lauterbrunnen B&B has been in operation since 1997, and has a total of 92 beds and 26 rooms.
The hostel complex sits in the shadow of Staubbach Waterfall. This makes it ideally located for those who wish to hike up to the iconic natural wonder. In fact, given that Lauterbrunnen is nicknamed the "Valley of 72 Waterfalls", guests will find that there's plenty more to explore nearby Valley Hostel.
Because of its status as a hostel, Valley Hostel lacks some of the more luxurious aspects of other Lauterbrunnen hotels. Nevertheless, it has plenty to offer, particularly for younger backpackers traveling in large groups.
The hostel makes for an excellent base of operations for those wishing to explore the Jungfrau area, for instance. There are also plenty of amazing outdoor activities available nearby, such as paragliding and rock climbing.
Book Today -> Valley Hostel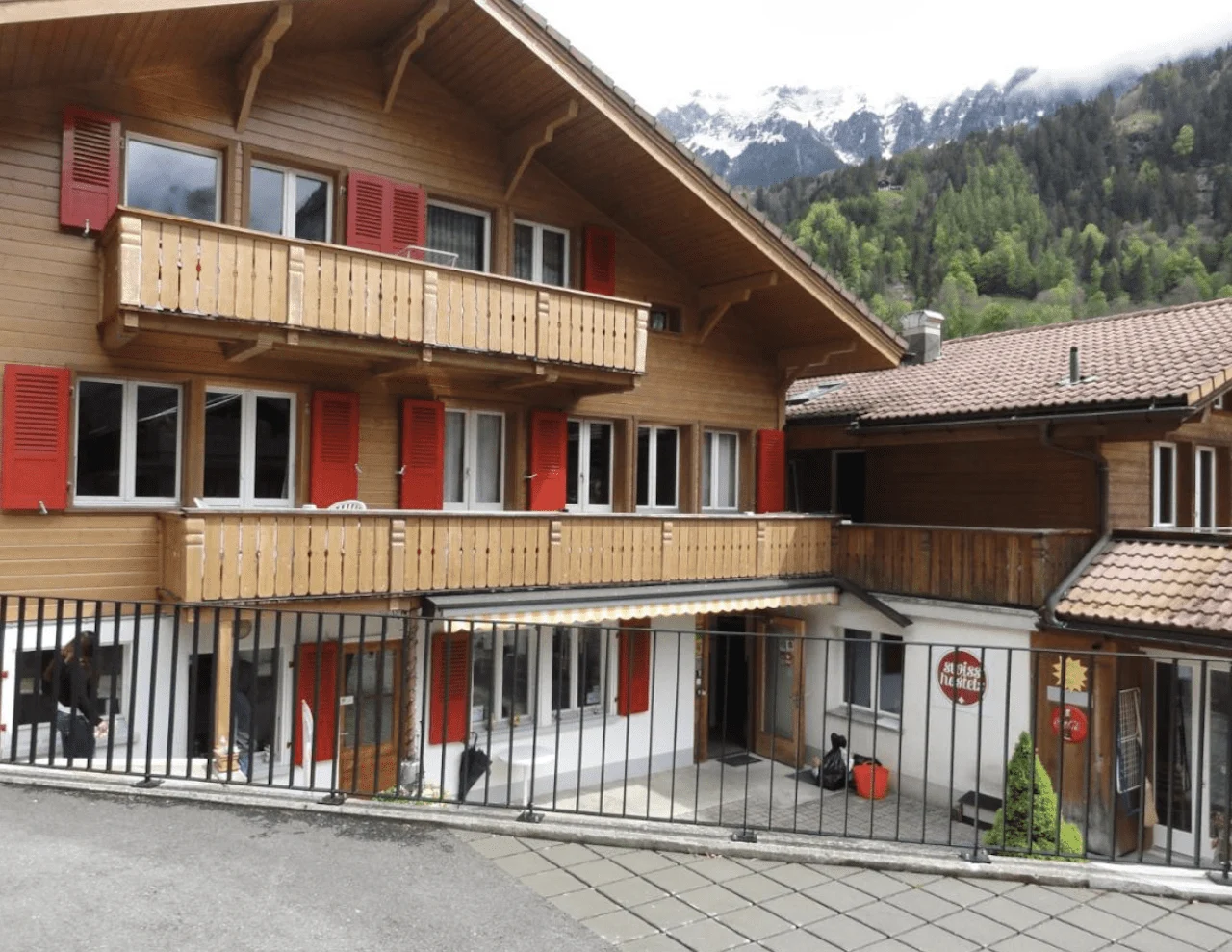 11) Alpine Base Hostel
Another budget hostel option, the Alpine Base Hostel is perfectly situated between the Luterbach Stream and the Lutschine River. It's perhaps the best choice in Lauterbrunnen for adventure-seeking travelers.
Daredevils will find much to love in the surrounding cliffs and valleys, from BASE jumping, kayaking, rock-climbing, hiking, and many other outdoor activities.
In addition to the lure of the outdoors surrounding Alpine Base Hostel, there's plenty to do onsite, too. The hostel has its own private cinema movie screen for those who want to chill out and take in a movie.
They also have such amenities as foosball, pool tables, ping-pong, a gym, and even a nightclub for the late night partiers in your group.
Book Today -> Alpine Base Hostel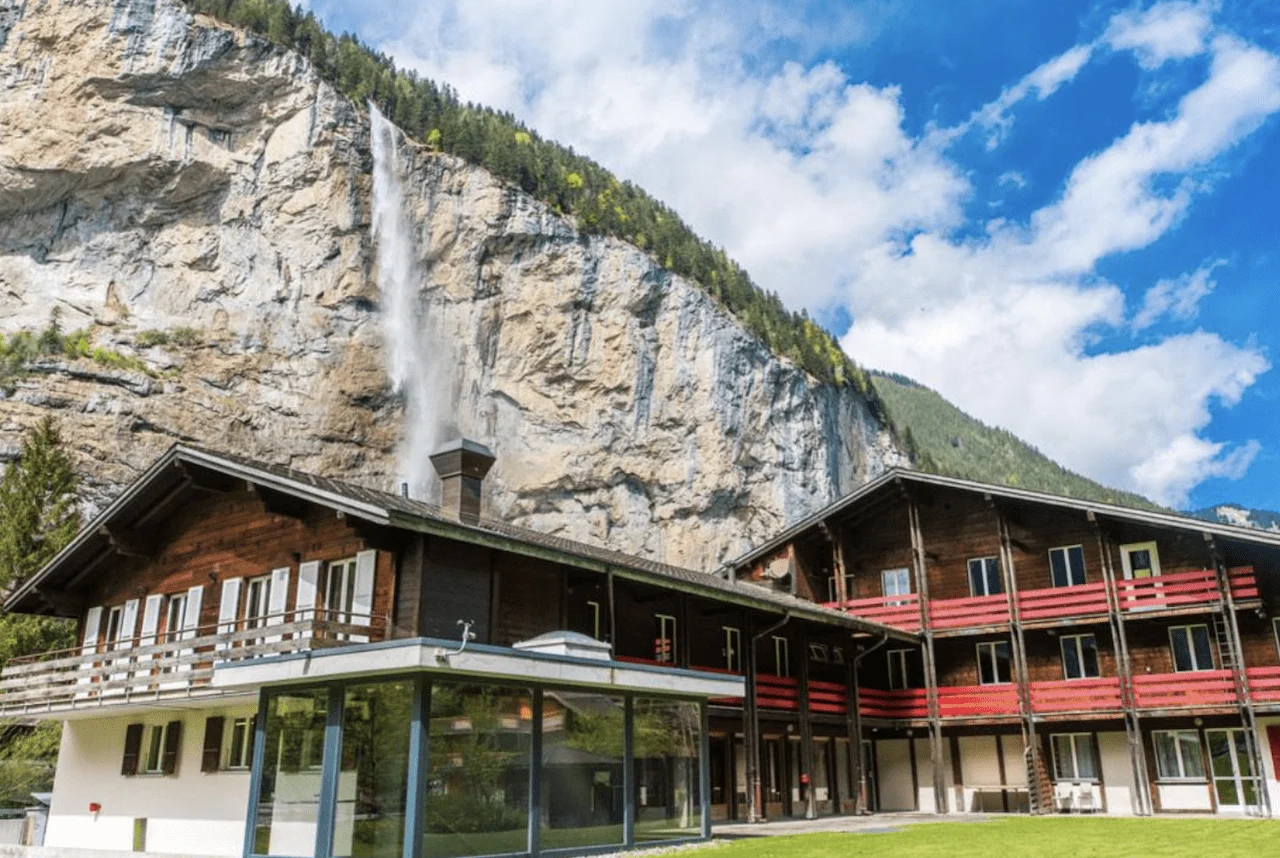 Why Lauterbrunnen?
One of the biggest questions people ask when visiting the Jungfrau Region, is where to stay.
There are many option to consider like Wengen, Murren, Grindelwald, Interlaken, and of course Lauterbrunnen.
Each one of these towns has its pros and cons when it comes to providing a home base for visitors. Due to this, it can be difficult to decide which one to choose.
For Lauterbrunnen, there are several reasons on why you should consider staying there for your trip. Below are just a few of those reasons.
Is Lauterbrunnen A Good Base?
In general, Lauterbrunnen is one of the best bases when it comes to exploring the rest of the Jungfrau. Due to its location and ease of connection, Lauterbrunnen makes for a great option.
Whether you want to visit Murren, Wengen, or Grindelwald, Lauterbrunnen offers transportation services that can get you directly to these places with ease.
Murren will just require a quick bus ride, followed by a cable car (or cable car followed by a mountain rail). Wengen is just a short train ride away up the mountainside. And Grindelwald will require an easy train ride with a connection.
Of course, you will also have easy access to the Lauterbrunnen Valley itself. Getting to wake up the Valley of 72 Waterfalls will be quite a special experience to take part of.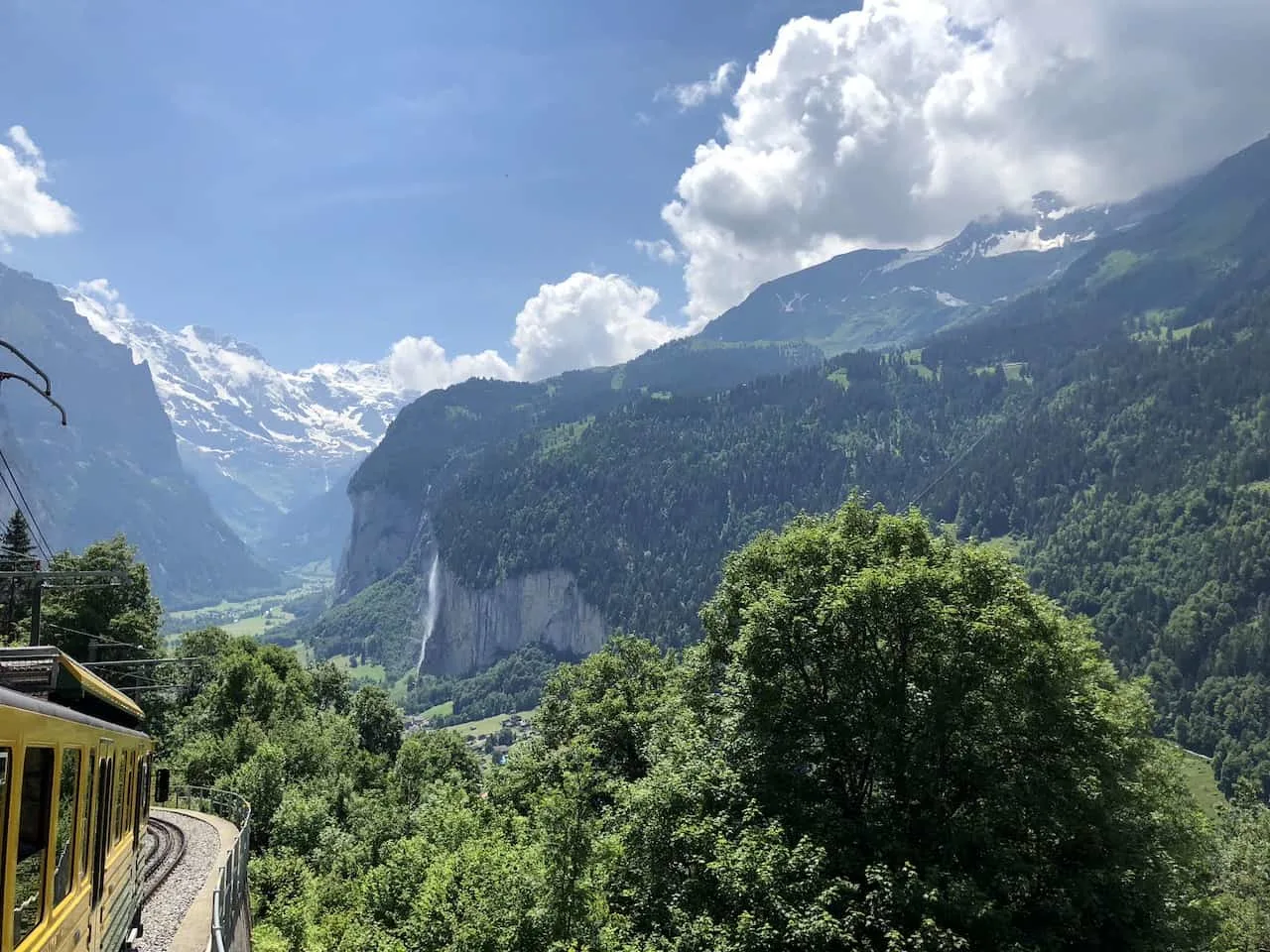 Is Lauterbrunnen Worth Visiting?
Lauterbrunnen is certainly worth visiting on its own (whether you decide to stay there or not). So, that will be another upside to picking a Lauterbrunnen hotel.
The town is based towards the entrance of the Lauterbrunnen Valley. Throughout the valley you will have waterfalls tumbling down on either side, making it a surreal panorama to enjoy.
On top of that, you can also hike through the valley, along the river with the Jungfrau mountains out in the distance. When it comes to hiking in the region, this is one of my favorites.
Other highlights to consider include the famous Staubbach Falls, Trummelbach Falls, the nearby Schilthorn, the town itself, and (as mentioned) easy access to the rest of the Jungfrau.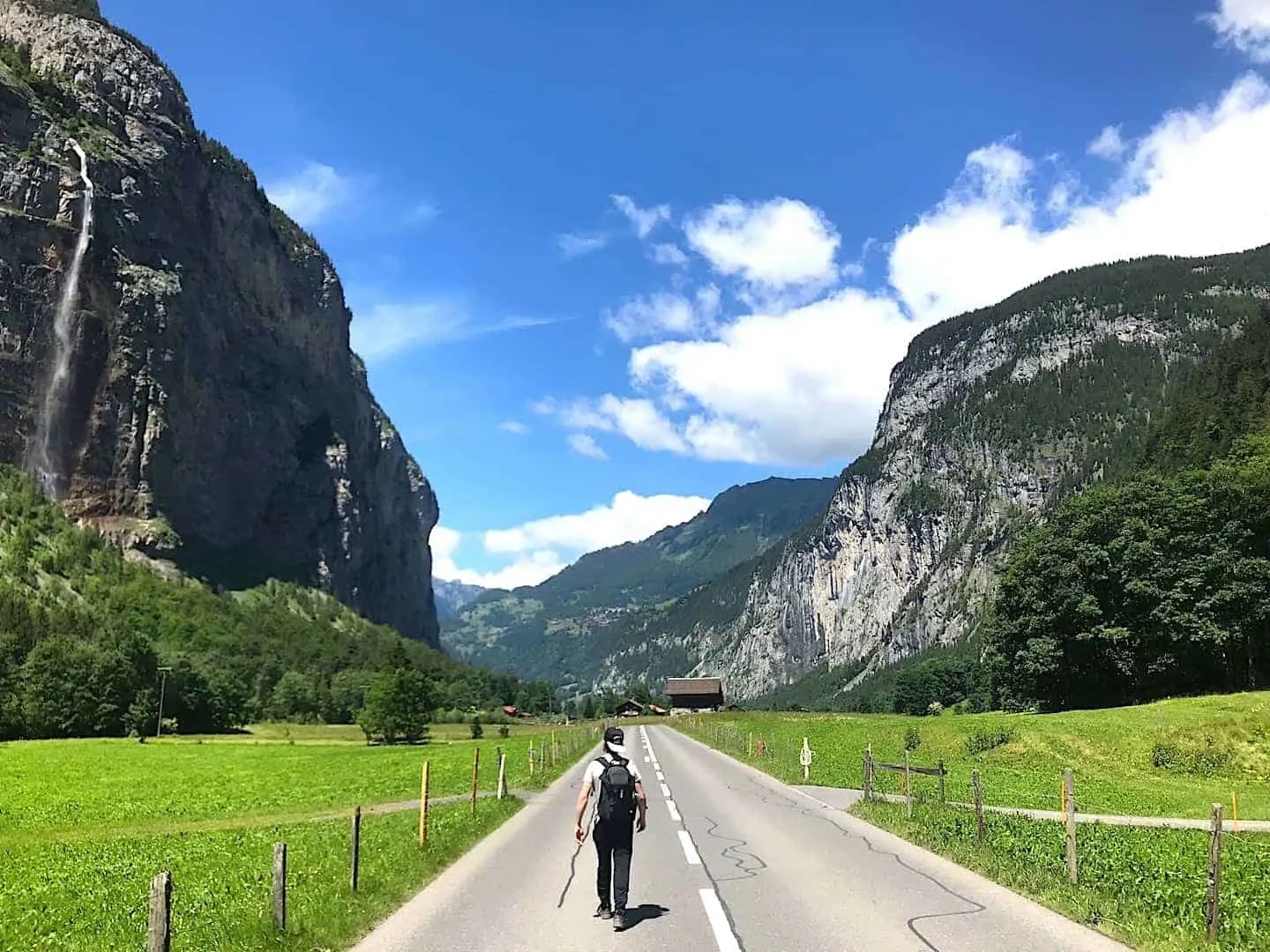 Lauterbrunnen Hotels Affordability
The final reason that I will mention is that Lauterbrunnen does offer more affordable hotel options altogether. While you may not have the variety compared to Interlaken, you will find more affordable choice when compared to places like Wengen and Murren.
Whether you are looking for a private room, camping option, or shared hostel, Lauterbrunnen will have an option for you.
Considering the location, things to do, and affordability, Lauterbrunnen really does make sense for many travelers.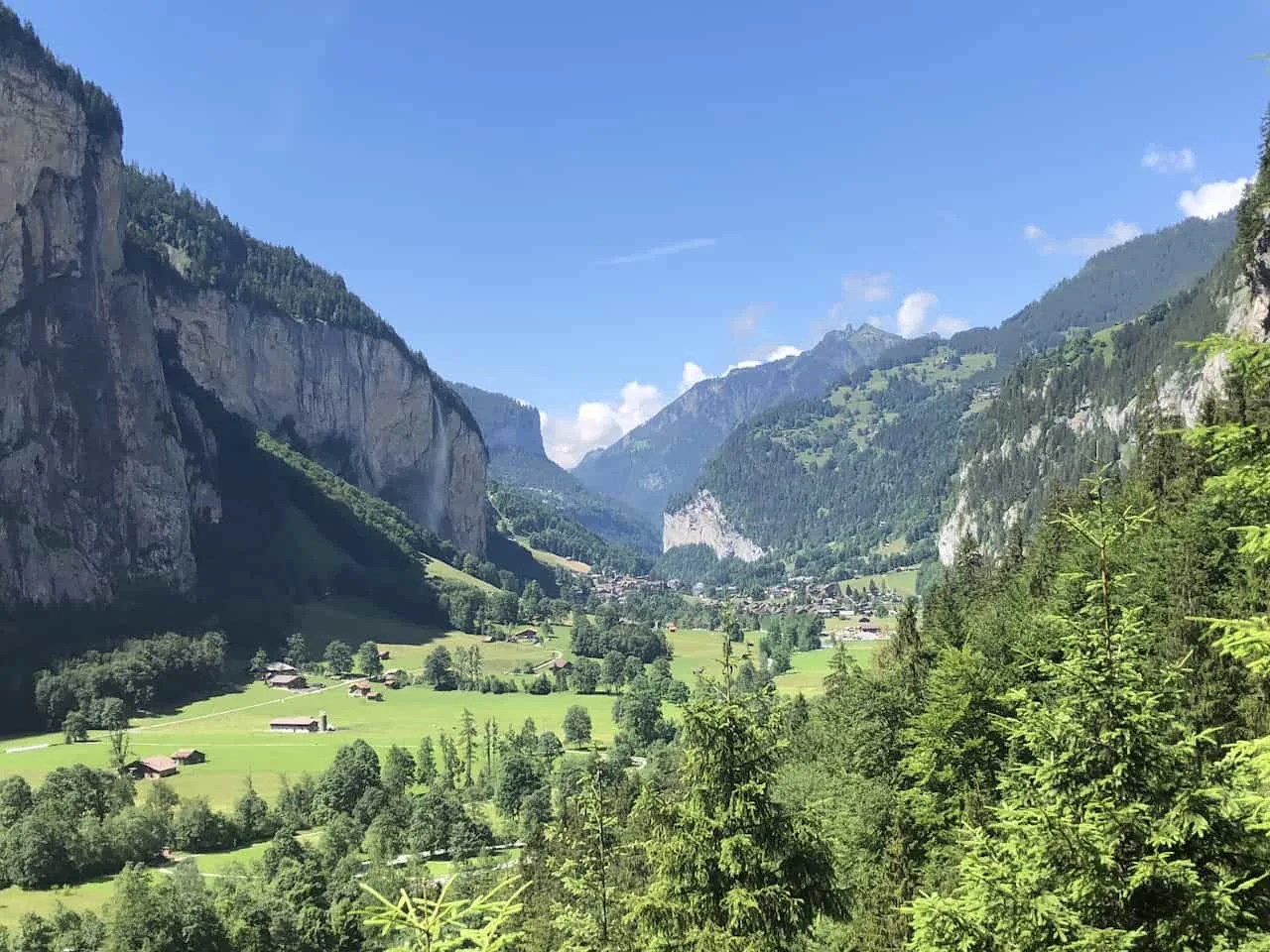 Though by no means an exhaustive list of all of the hotels available in the Lauterbrunnen area, I hope that these hotels have shed some light on the best options available.
Whether or not you're looking for a Lauterbrunnen luxury hotel or a more homespun B&B vacation, you are sure to find something that works for you.
If you have any questions or comments, feel free to add them in below. Also, don't forget to check out some other Switzerland itineraries and guides up on the site (such as this 10 Day Switzerland Itinerary).
Have fun out there and safe travels!