Situated at the eastern end of Lac Leman (aka Lake Geneva) lies the beautiful town of Montreux. An easy day trip option from Geneva, Lausanne, or Bern among others, Montreux should be put on any itinerary to Switzerland.
This guide will take you through some of the top things to do in Montreux and go over an experience at Chateau de Chillon – from logistics to activities and more!
* Affiliate Disclosure: This post may contain affiliate links, which means I may receive a commission if you make a purchase through the links provided, at no additional cost to you. Thanks for supporting the work I put into TripTins!
1) Introduction to Montreux
Montreux – a summer hot spot filled with a picturesque town, water activities and the option to just relax and enjoy the view.
With clear waters right off the shore and the scenic snow capped Alps across the way, it really does not get much better than this.
To give you some perspective, the city of Geneva is on the western end of the lake, where the Rhone river begins towards France. All the way on the other side, at the very end of the lake lays the town of Montreux, Switzerland. A
Geneva to Montreux day trip is a popular way to experience the lakeside town for yourself or if you want to spend some more time there, then an overnight is for you.
It is a perfect place to add to any Switzerland itinerary and I am sure you will enjoy the town and its surroundings. Exploring the town, walking the lakeside promenade and wandering Chateau de Chillon will be a day you will soon not forget.
So with all that said, let's get into some info to get you on your way.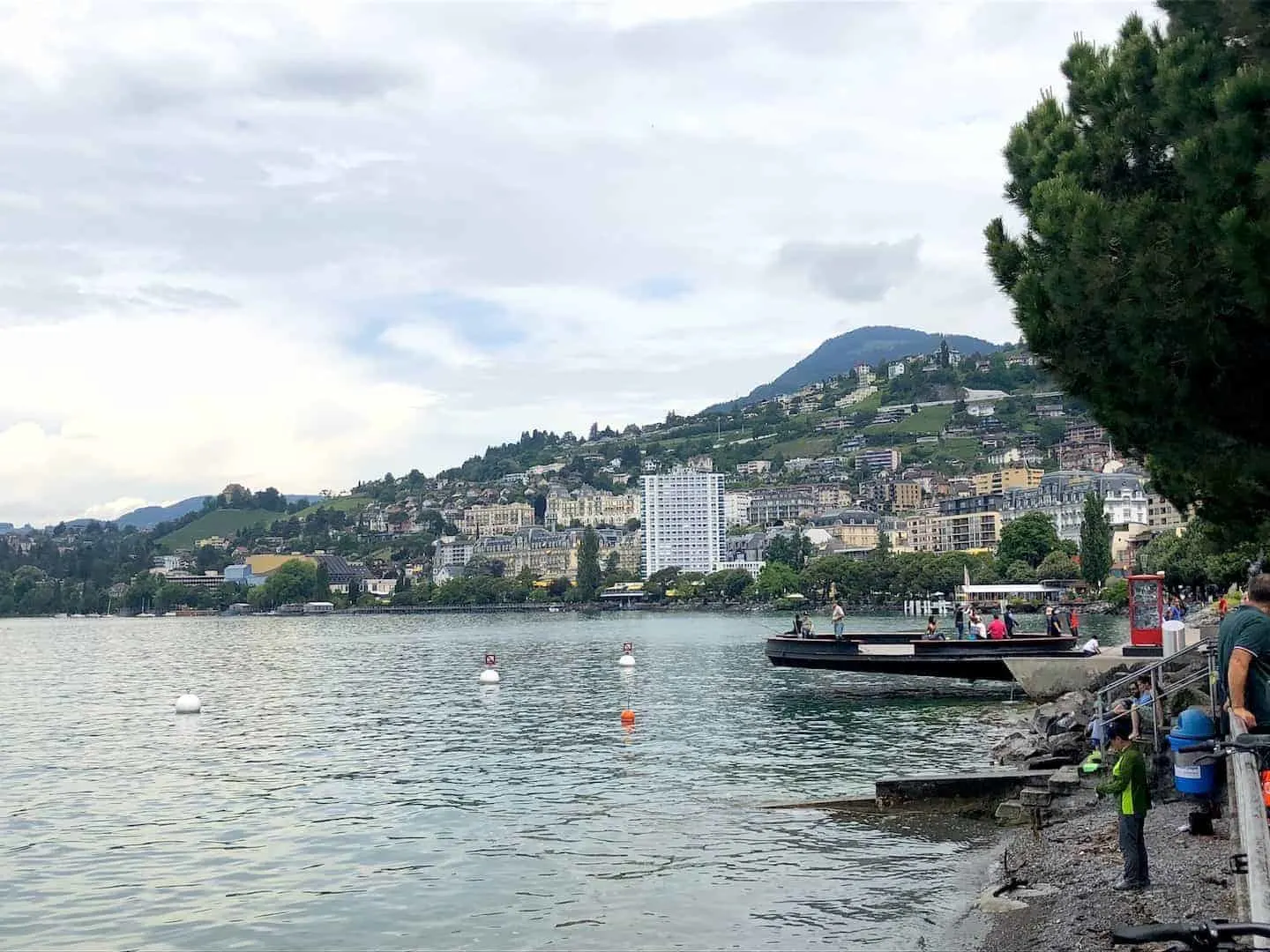 2) How to Get to Montreux
Like most of Switzerland, everything easily accessible by train and that should be your top choice to get to Montreux.
From Geneva it is only an hour away, Lausanne 30 minutes, and if you are coming from Bern to the northeast you can get there in less than 2 hours.
The train ride in itself will be quite the ride as you make your way along the lake overlooking the vineyards and mountains surrounding you.
If you have a Swiss Travel Pass then the ride will be free! You can check out the guide I put together for Switzerland train travel that can walk you through those travel pass options.
If you do not have the travel pass then a round trip ticket from Geneva will cost you around $60 USD (if you have the half fare card it will cost you $30 USD).
On the other hand, if you are looking to join a guided or private tour for the Geneva to Montreux day trip, the driving time will be similar to the train.
This Swiss Riviera Tour will take you to the Lavaux Vineyards, the town of Vevey, and of course Montreux itself.
Swiss Travel Pass: Are you planning on traveling frequently throughout Switzerland during your trip? Consider purchasing a Swiss Travel Pass to save some money!
3) Things To Do in Montreux
Montreux will not be like some of the other more major cities in Switzerland like Geneva, Bern, Basel or Zurich. Rather it is a pretty small lakeside town that has a very relaxing feel to it. So rather than say "things to do", I would say most of the time would be more so walking around and enjoying your surroundings.
You eventually will be able to see the most famous attraction in Montreux – Chateau de Chillon but beyond that in the city itself, just relax and enjoy the day.
If you do have some more time though, I have also highlighted a couple more activities that you can take part of during a day around Montreux. The first is heading up to the Rochers de Naye viewpoint and the second is exploring the vineyards of Vevey. I will go into more detail on it all below:
Walk the Town
Lakeside Promenade
Chateau de Chillon
A) Walk the Town
Once you get off the train, you can start to walk south through the town or lakeside promenade. This area is where most of the action will be taking place. There will be shops, restaurants, and beautiful hotels all around.
Just by sitting down at a lakeside eatery or plaza, you will get to experience some of the best views of the Switzerland countryside landscape.
Here you will also come by the statue of Freddie Mercury (singer for the rock band Queen), who had lived in and recorded songs around the area.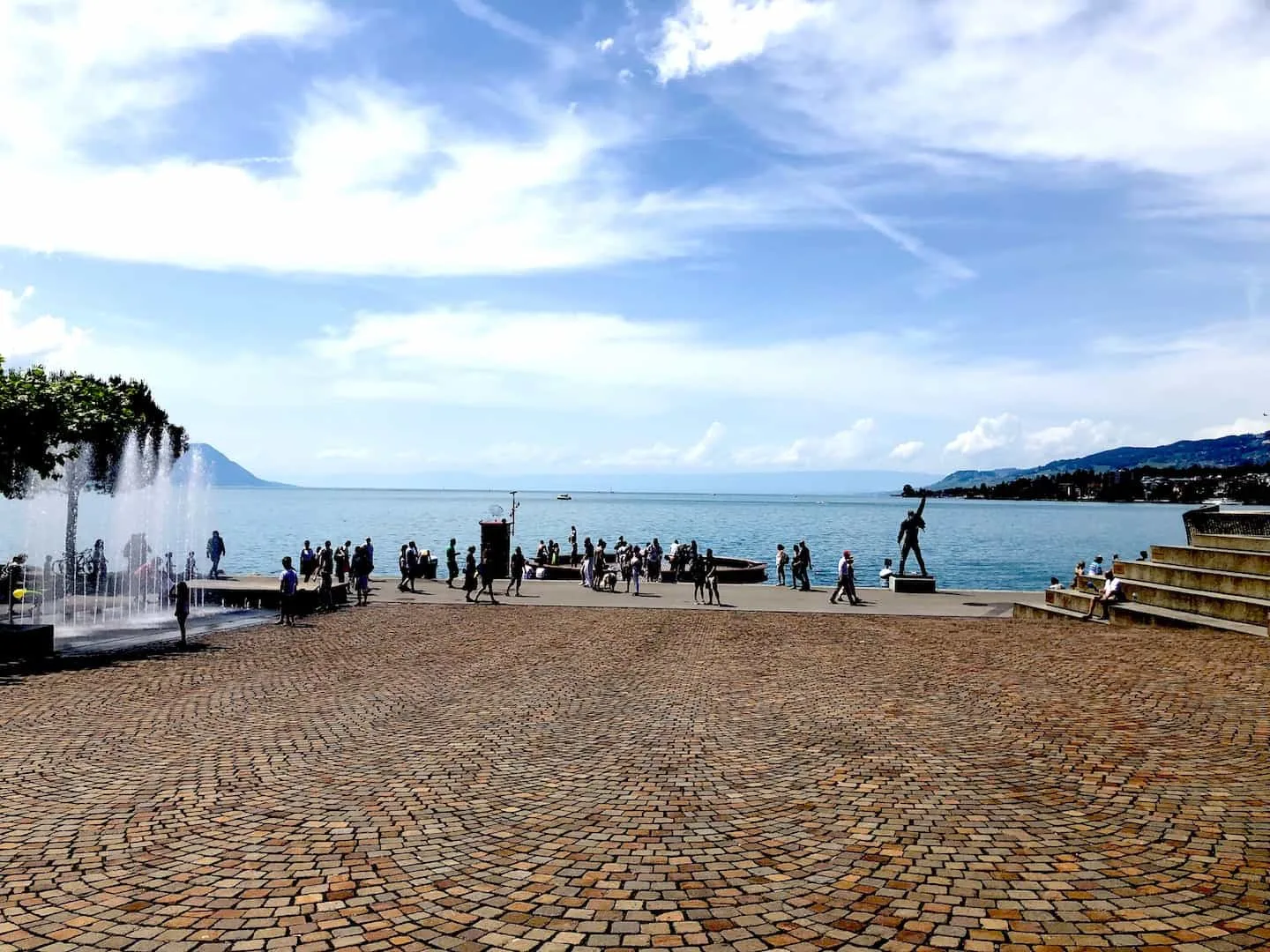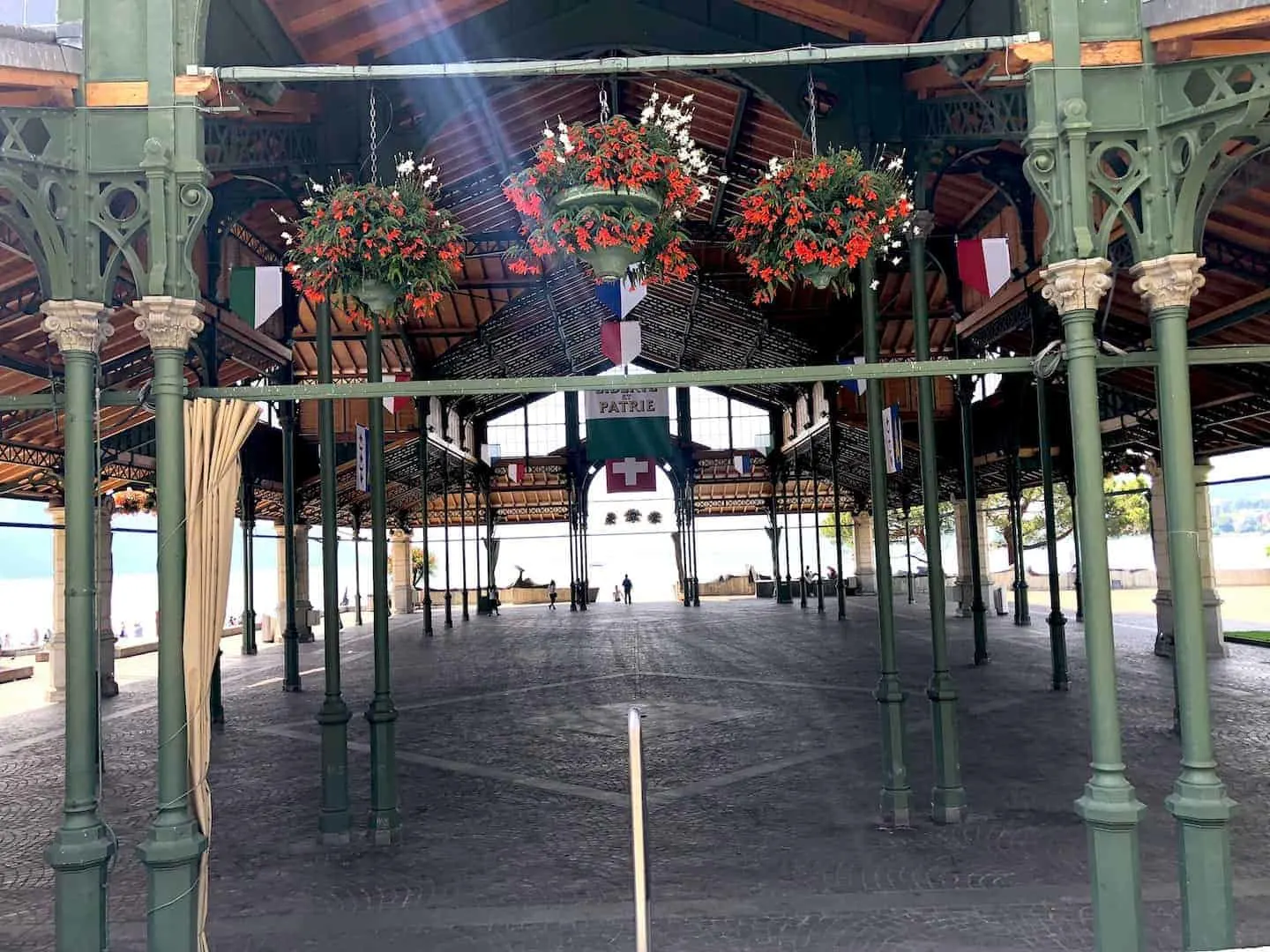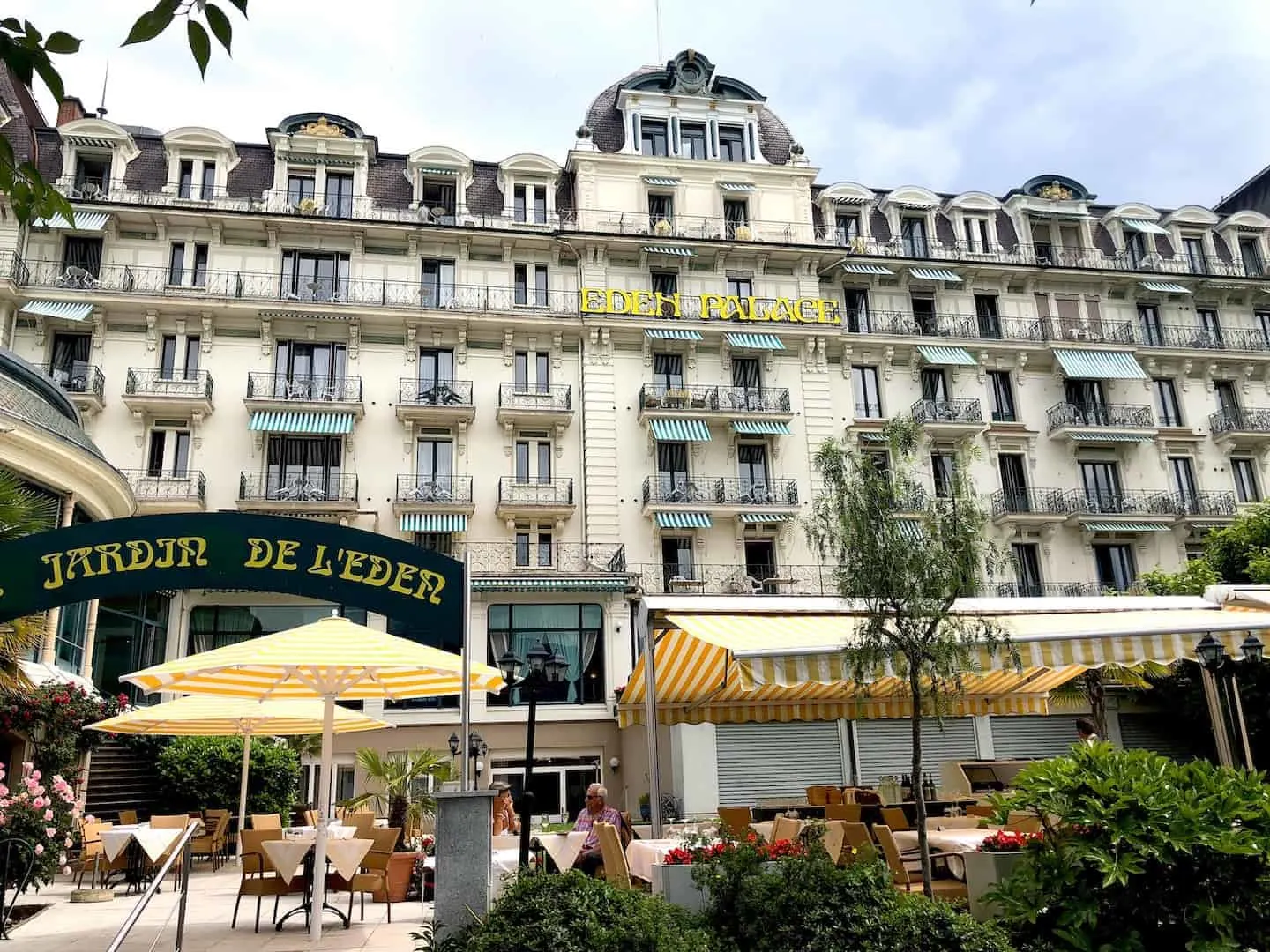 B) The Lakeside Promenade
After a bit of time walking the town center, start / continue your way towards the end of the lake. Along the way you are sure to pass by some beautiful houses and hotels to your left and the gorgeous lake to your right.
The water is clear as can be and at some points you will have the chance to hop in for a swim or rent a boat to explore some more.
In the distance you will continue to see the snow peaked alps which make this ~40 minute walk one of the nicest there is. Soon you will start to see the Chateau de Chillon approaching. Continue the walk until you reach it and then head inside for an incredible experience.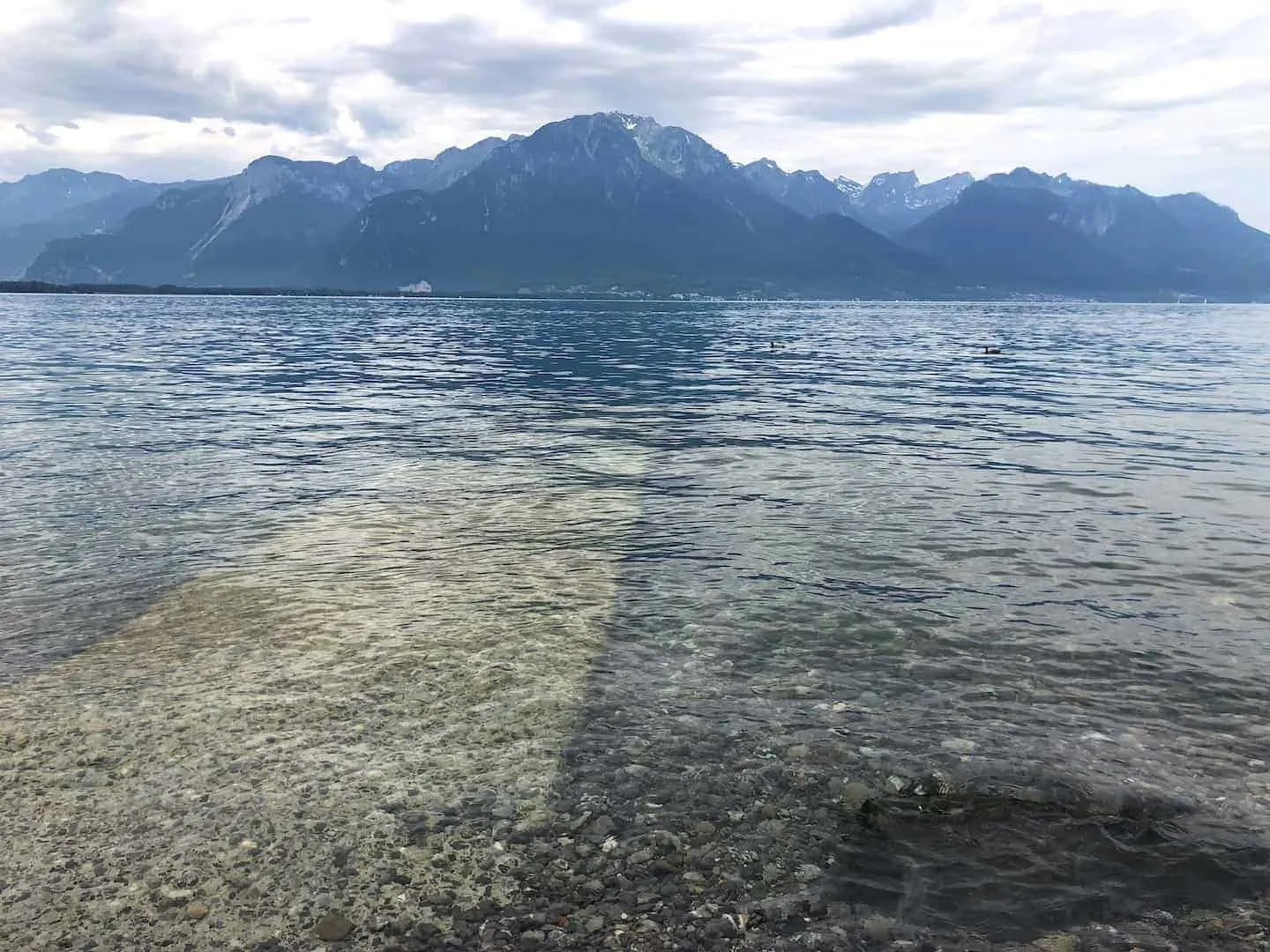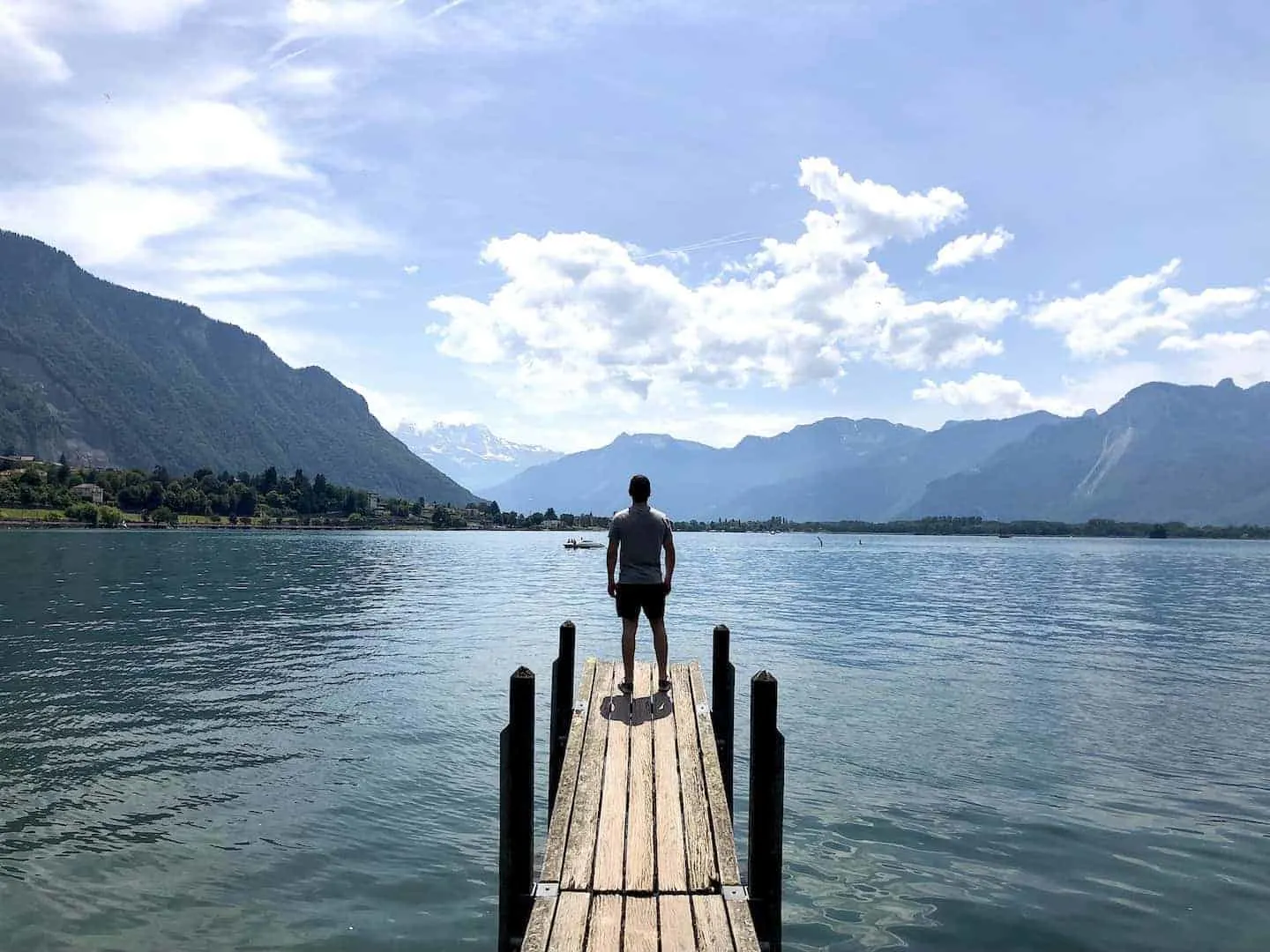 C) Chateau de Chillon
Summer Hours: 9:00AM – 7:00PM (varies by time of year – check latest schedule)
Cost: 13.50 CHF (free with travel pass); +6 CHF for audio guide
One of the highlights of Montreux is heading into Chateau de Chillon – an ~1000 year old medieval castle with 40+ different rooms to explore throughout.
As you enter you will be handed a brochure with numbered descriptions of each of the rooms in the complex. You will begin at #1 (named Entrance) and make your way up, down, left and right until #46.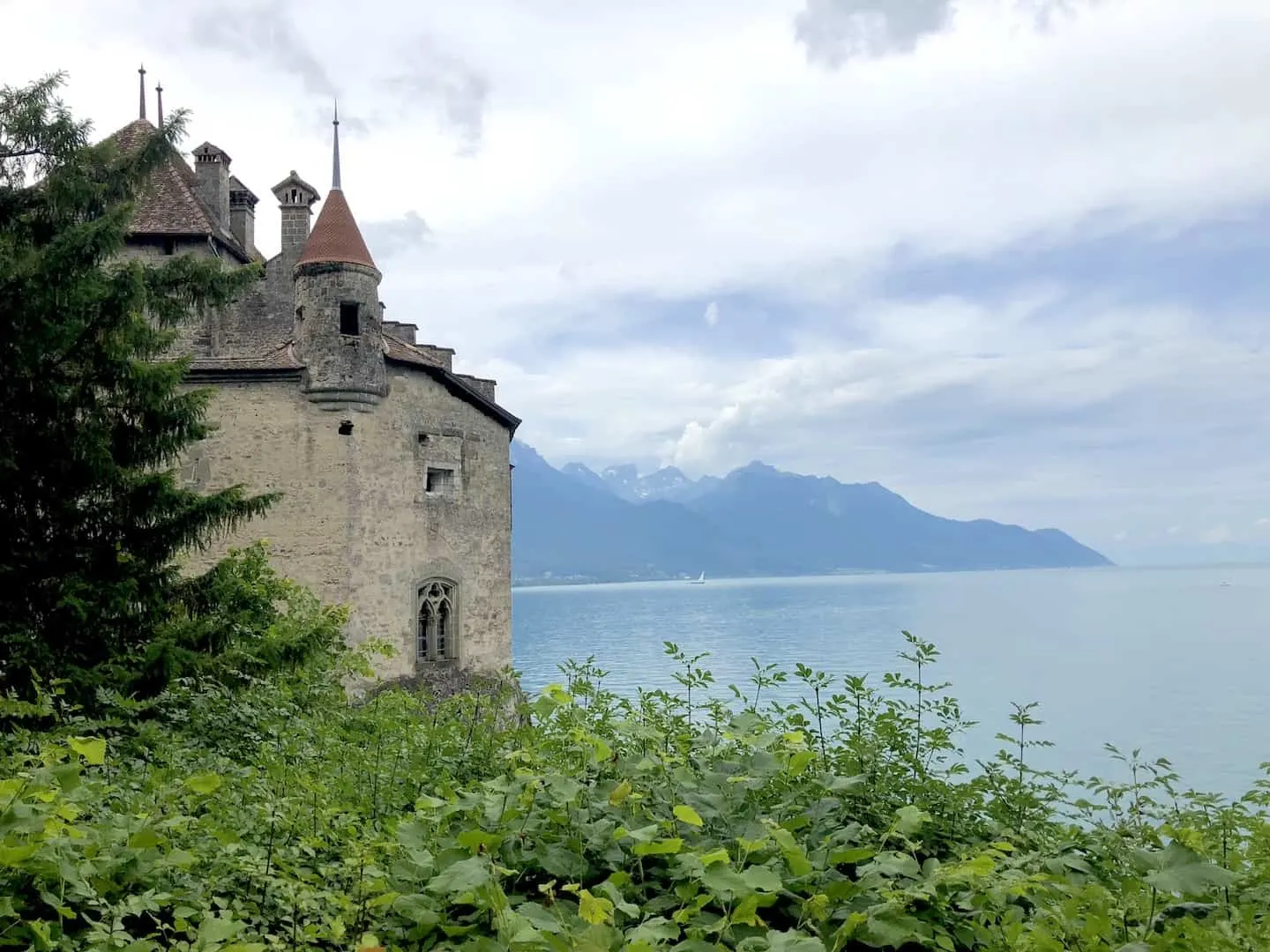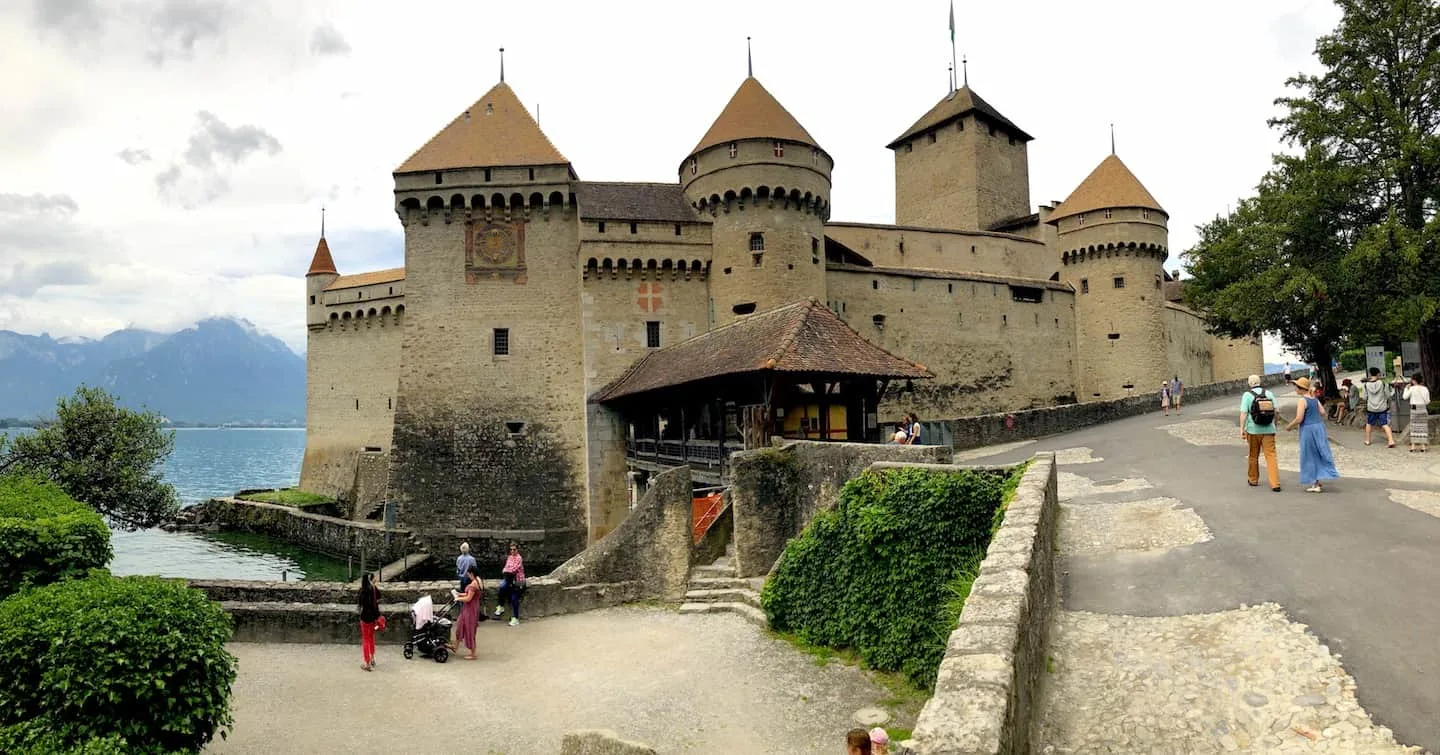 As you continue to walk around you will pass by courtyards, cellars, prisons, crypts, bedrooms, dining rooms, great halls, watchtowers and much more. You will see original artwork and designs throughout as well as some weaponry used in the chateau's history.
Towards the end of your self-guided tour you will end up on the higher points of the castle. Here you will come across some fantastic views of the castle along with the lake in the background. A great way to end your time at Chateau de Chillon.
Once complete you can make your way back to the city center of Montreux by taking the 201 bus or train from Veytaux Chillon station.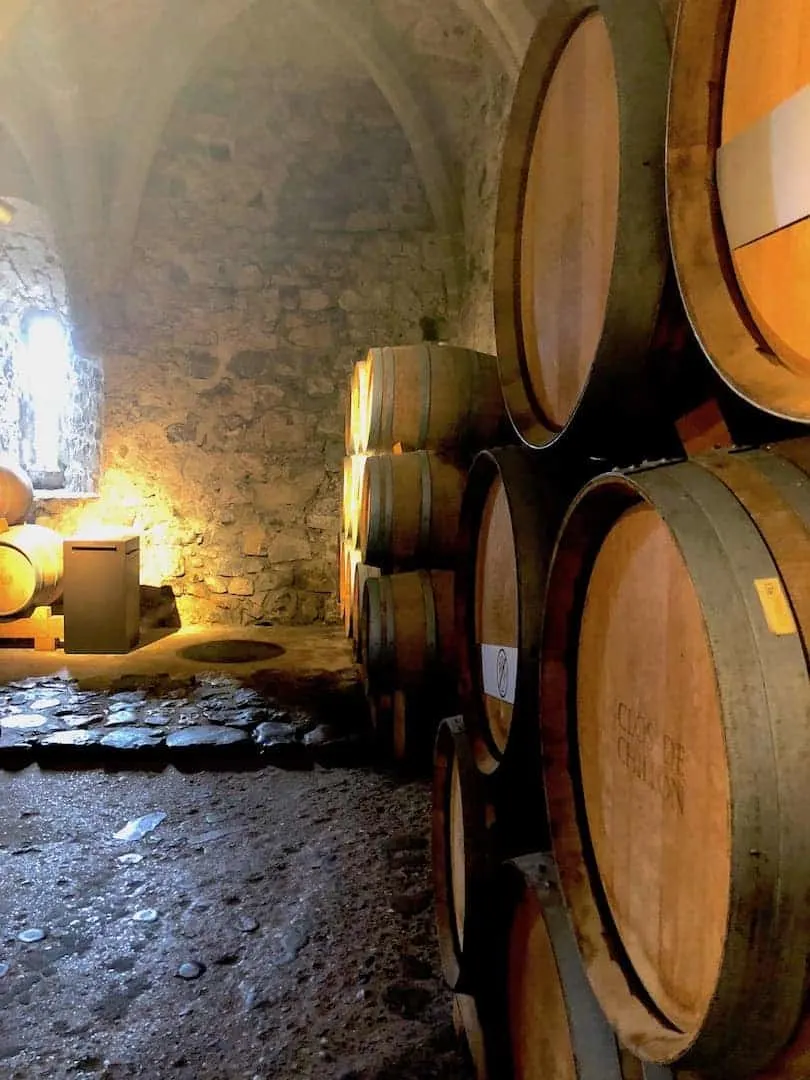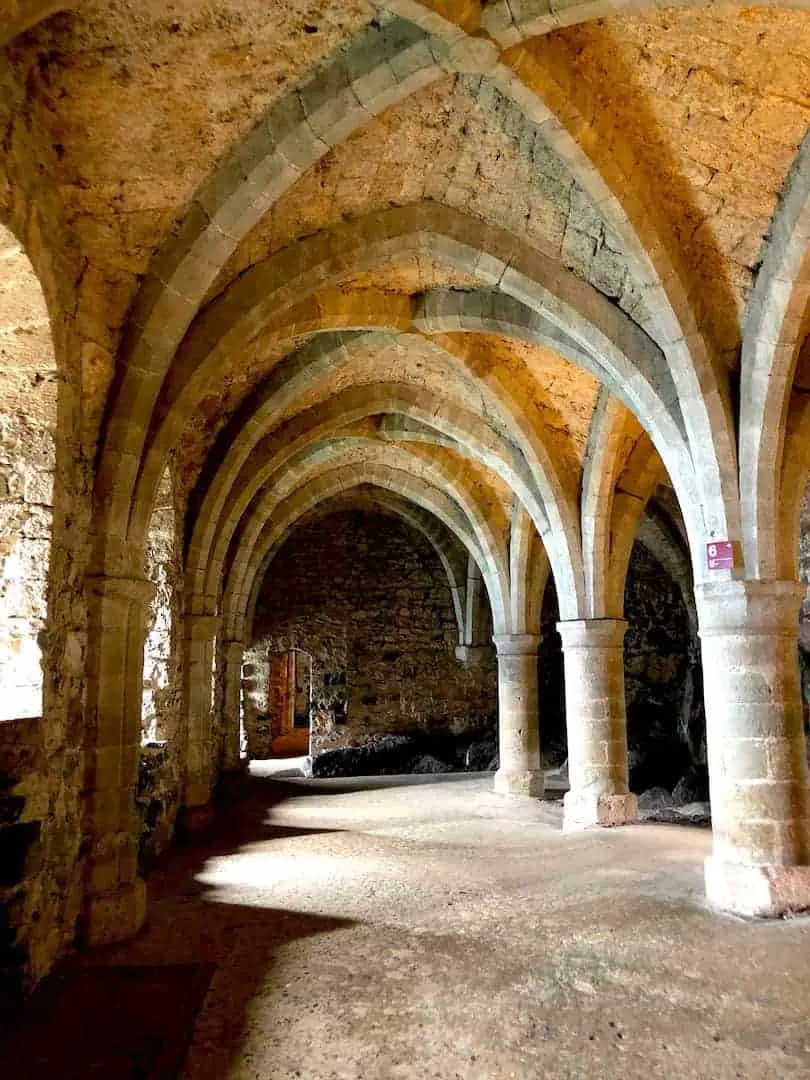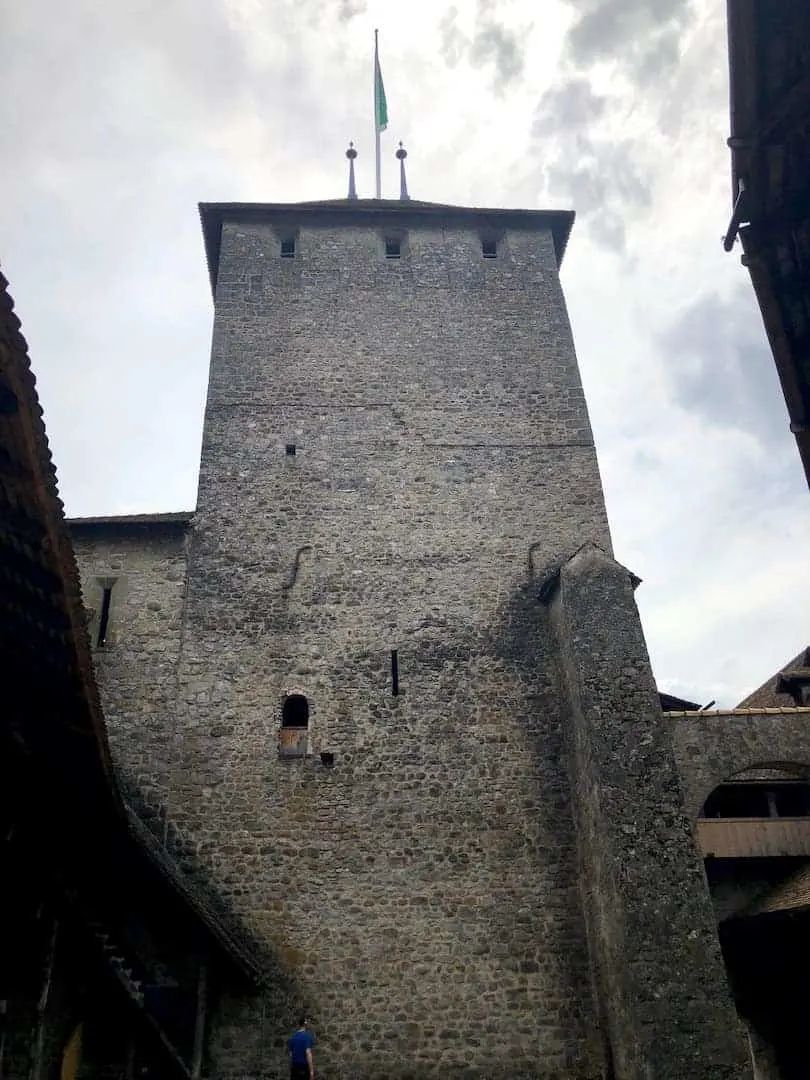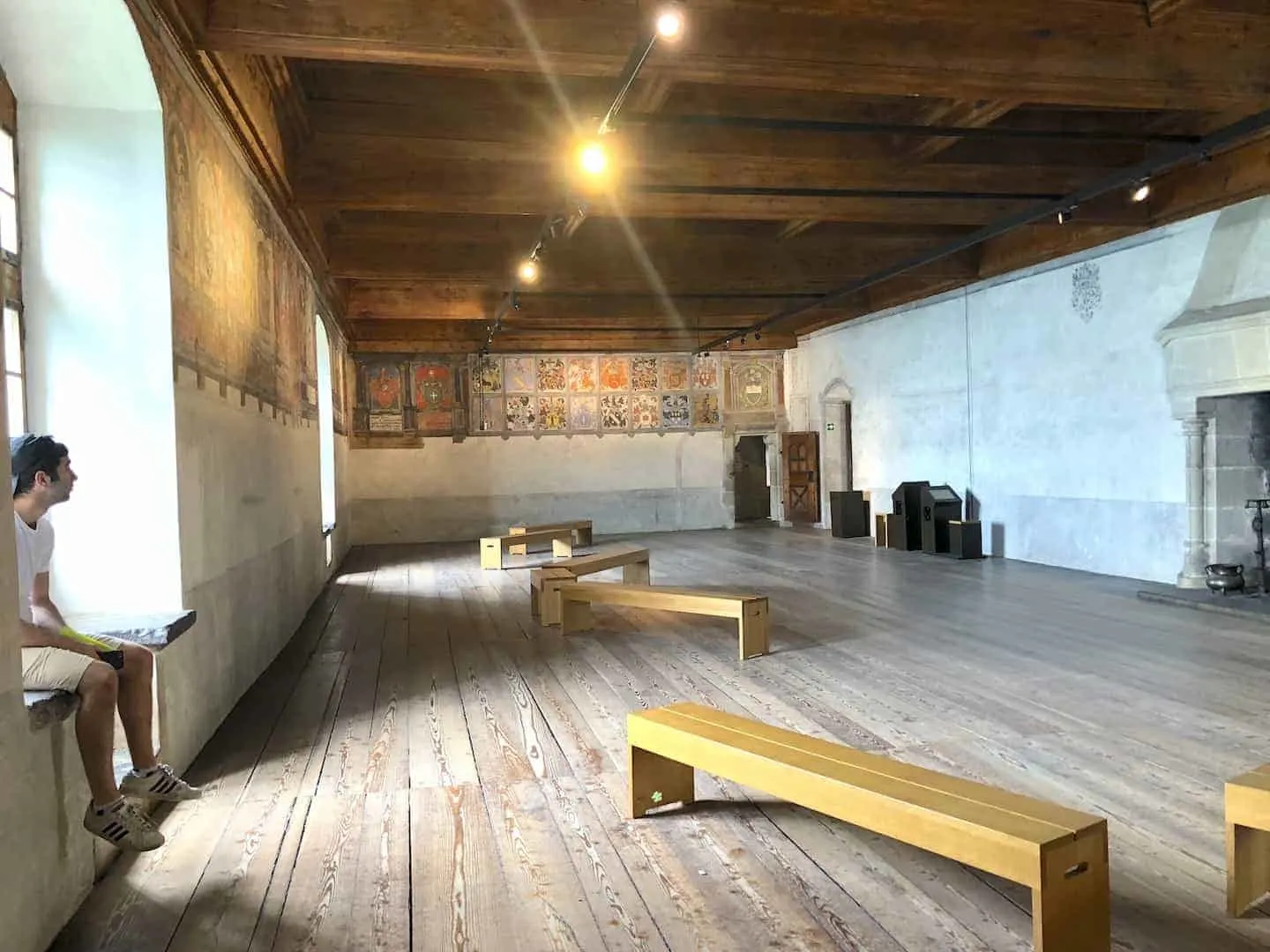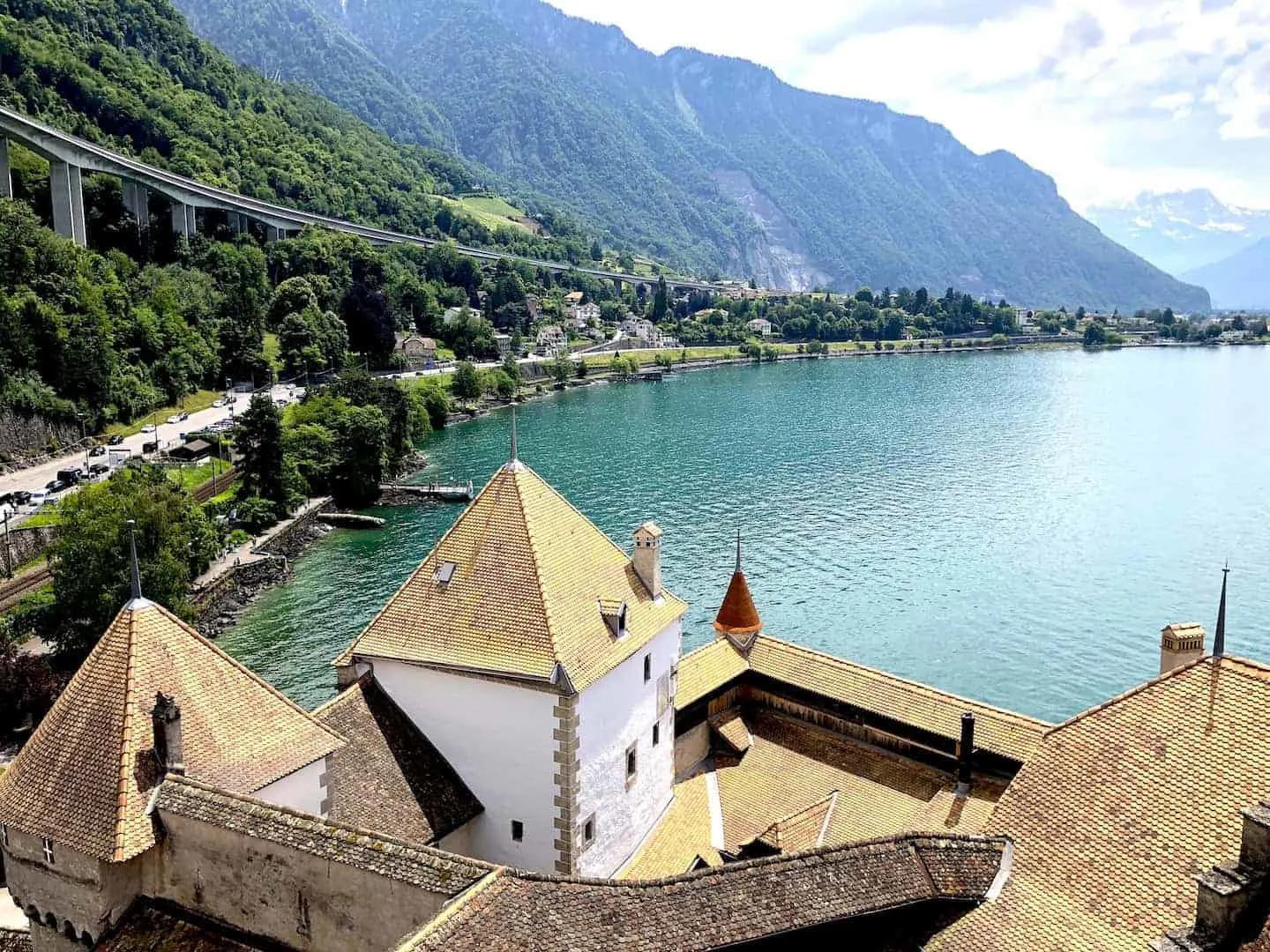 4) Additional Options
If you do not want to head back to Geneva just yet (or wherever else you might be coming from), then here are a couple other options to continue your day:
A) Lavaux Vineyards
Between Lausanne and Montreux you will find miles of terraced vineyards, along with some of the most beautiful views surrounding you.
In these vineyards you can find some great walking paths that will take you from one small town to the next (such as a well-known walk between St. Saphorin and Cully).
You can choose to do so if you would like or you can simply choose to just hang out at one of the vineyards, buy a bottle of wine and enjoy the experience from tables set up throughout the trails. We found a nice vineyard in the town of Lutry and had a great time just relaxing and taking in the view.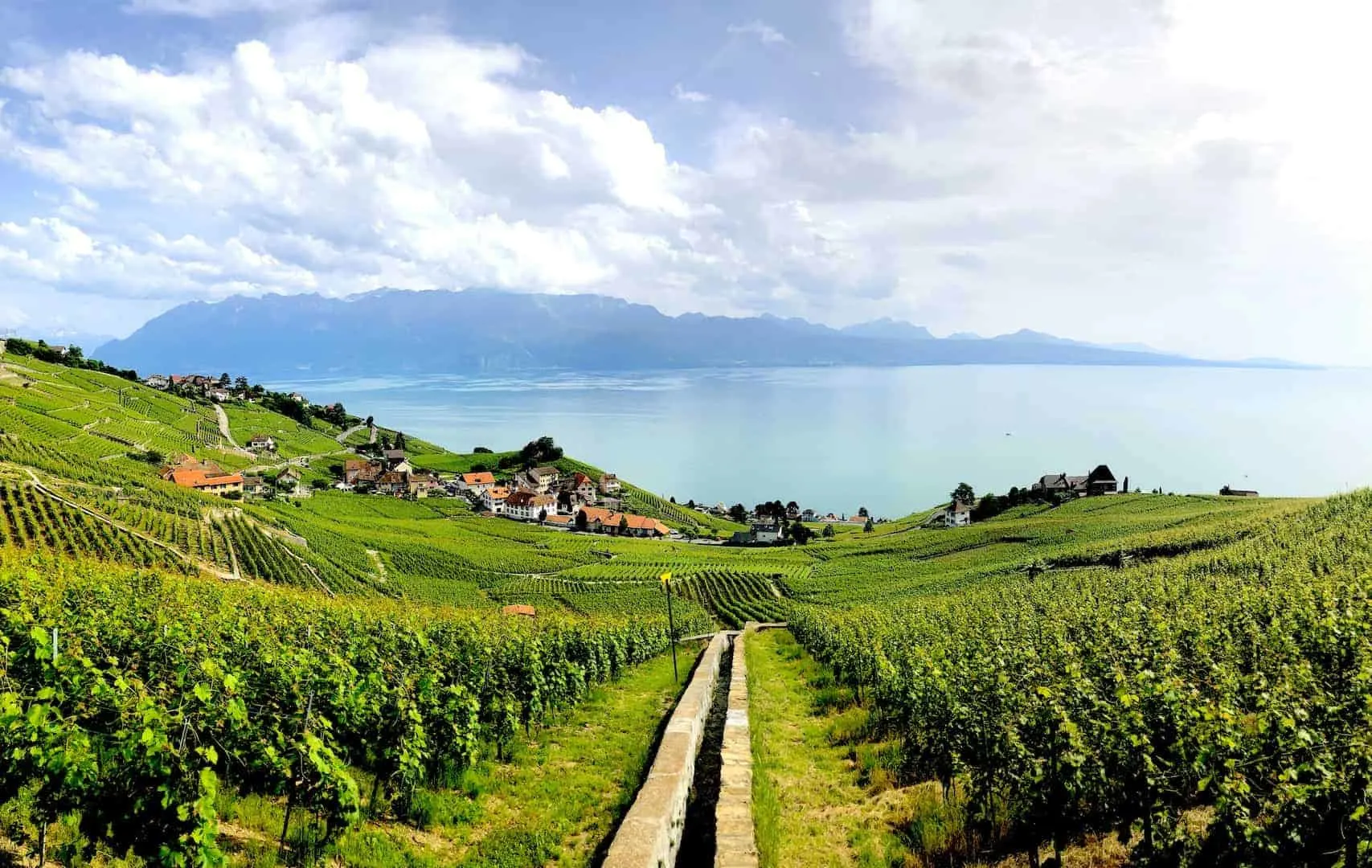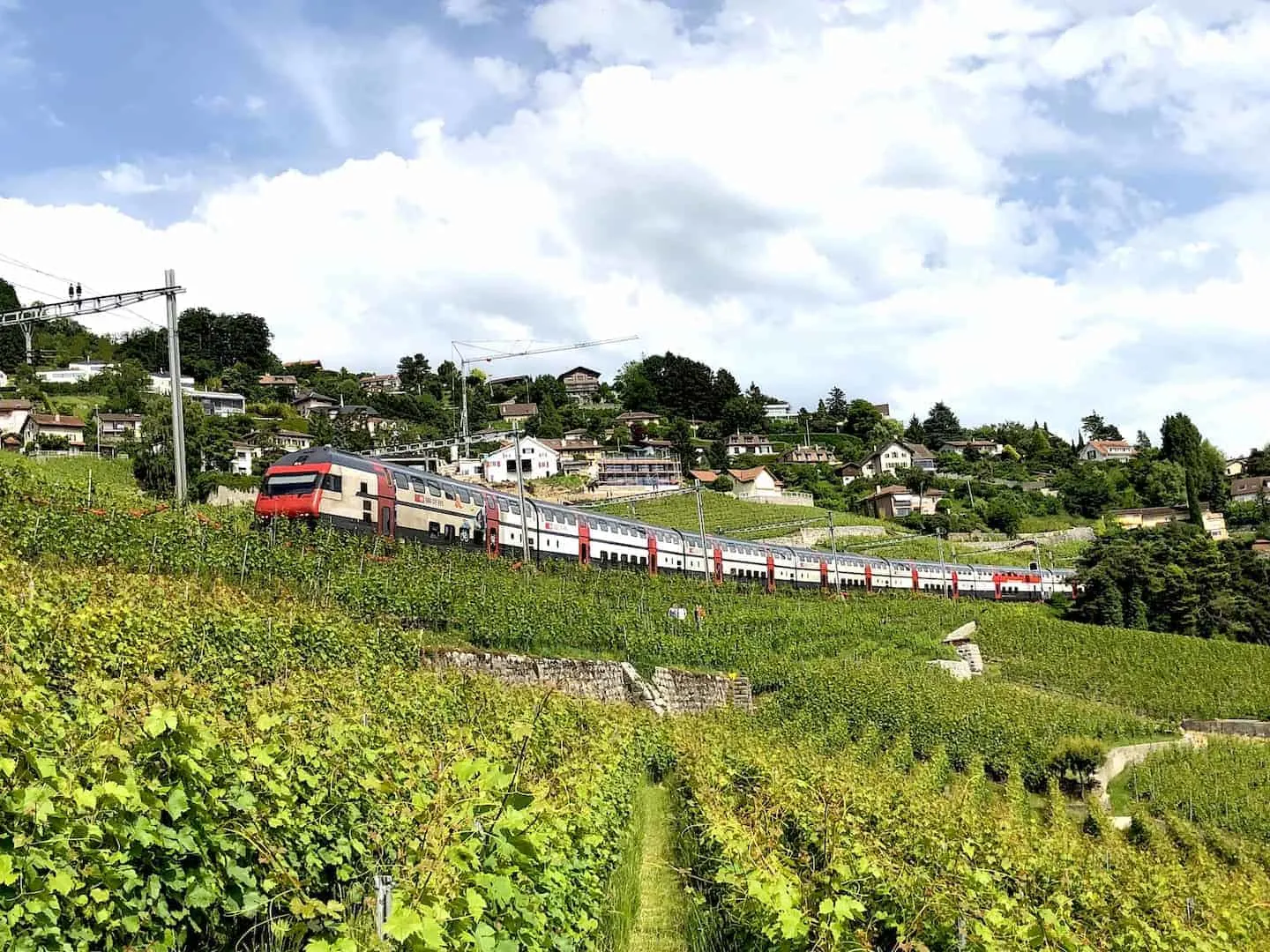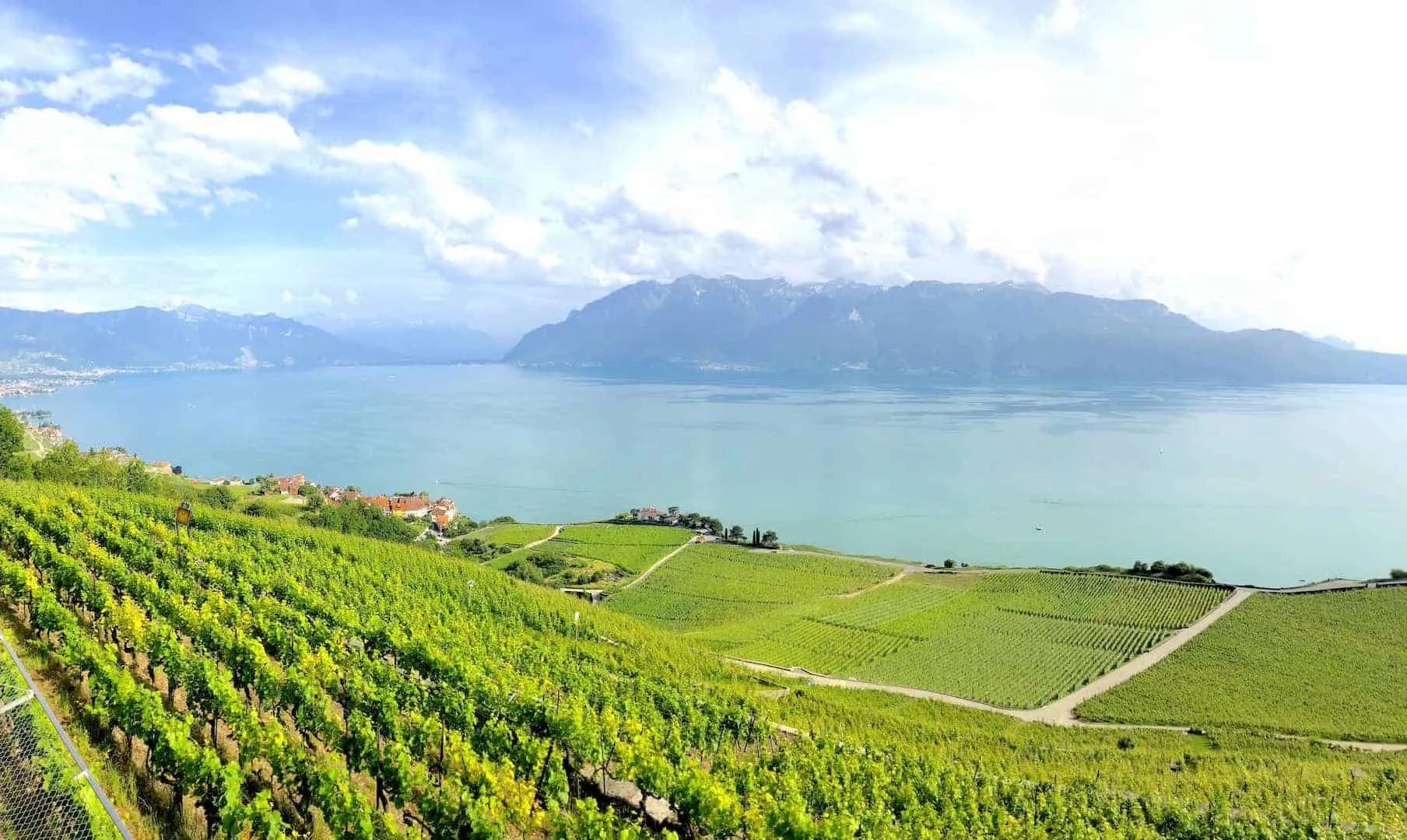 B) Rochers de Naye
Up in the mountains above Montreux, you will find one of the best viewpoints of the entire lake, the Swiss and French Alps, and Geneva all the way in the distance.
To get up to see the view, there is a 45 minute long cog railway that zig zags up the mountain from the Montreux station.
The cost is a bit pricey though – 70 CHF for a round trip ticket (35 CHF with a Half Fare Card; 26.40 CHF with the Travel Pass).
5) When To Go to Montreux
While it can be nice at any time of year to visit the Montreux region, heading there in the spring and summer months are probably best to enjoy the environment.
The promenade is more filled up, you can do water activities and the town feels much more alive. Visiting in the winter and late fall can still be nice but it will not be the same as when the weather warms up.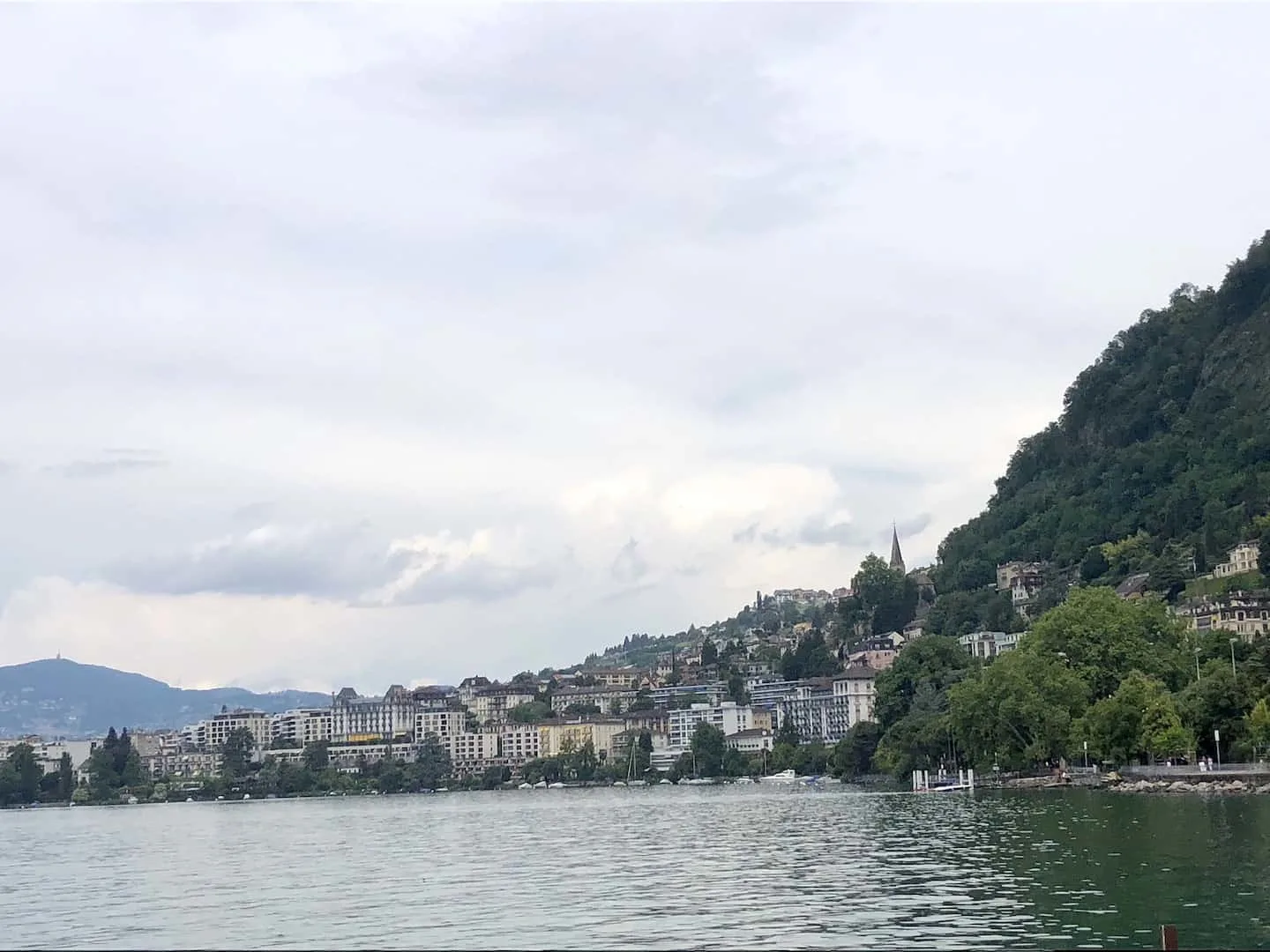 6) Where to Stay in Montreux & Geneva
Below are some highly rated hotel options if coming from Geneva as well as some options for Montreux if you want to spend some additional time there:
That about wraps up some of the best things to do in Montreux and what to expect during a day there. Feel free to check out the other Switzerland itineraries and guides, and comment below with any questions!