When it comes to affordable, easy to use, and comprehensive SEO tools in the market, it is hard to beat what KeySearch offers. Whether it is keyword research, competitive analysis, or rank tracking, KeySearch has it all and much more.
This guide will go through all the various tools that KeySearch offers, so you are able to get a better understanding of all its capabilities. With plenty of real-life examples and screenshots along the way, you should have a much better idea of what KeySearch is all about.
The world of SEO can be intimidating at first but if you are ready to take the next step in your SEO journey, then KeySearch can be a great and affordable way to take your website to the next level.
* Affiliate Disclosure: This post may contain affiliate links, which means I may receive a commission if you make a purchase through the links provided, at no additional cost to you. Thanks for supporting the work I put into TripTins!
1) KeySearch & SEO Introduction
When I first started writing articles for my travel blog, I did not have much of an understanding of how to go about choosing topics. I would simply have an idea in mind, and begin writing about that experience.
As I got more serious about the website, I slowly began to learn more about SEO (Search Engine Optimization), and how important it was for me to understand the ins and outs of it.
After gaining more and more understanding about SEO, I was writing with more of a purpose instead of just writing aimlessly.
Understanding best practices, targeting certain keywords, and applying all my SEO learnings really improved the content and traffic of the site.
For those that are not even familiar with what a "keyword" is in regards to SEO, it is simply the main word or phrase that someone would type into Google.
The idea here is to write articles focusing on a certain keyword and hope to rank on the first page of Google when someone searches for that keyword. The more times you are able to rank of the first page of Google for keywords, the higher your overall website traffic will be.
During that time, I also read up on certain SEO keyword tools that can help find and track keywords. One of the SEO keyword tools that kept coming up in my research was KeySearch. It seemed to be geared towards the everyday blogger or website owner, who didn't need all the bells and whistles of some of the more expensive SEO tools.
With that said though, KeySearch still offers A LOT for its users and for most website owners out there, it does more than enough when it comes to SEO strategy.
The remainder of this guide will dive into the offerings of KeySearch and what to expect when going through the tool.
2) KeySearch SEO Tool Offerings
To start, there are 6 main offerings that KeySearch offers for paid users (with a couple of them that can be broken down even further). Below are the 6 tools that are part of KeySearch:
Keyword Research
This is what I would consider the main tool of interest that KeySearch offers. It is a comprehensive keyword tool that shows all sorts of helpful details when it comes to finding the right keyword. The subsections include:
→ Keyword Research
→ Quick Difficulty
→ My Lists
→ Brainstorm
Explorer
The Explorer section lets you input a URL (whether that be your own or a competitor's) and see a full overview of the website. This includes organic keywords, backlink overview, competitors, and more.
Competitive Analysis
The Competitive Analysis section has several different tools that can show what your competitors websites' look like. Whether it is backlinks, keywords, metrics, or more, this section can be a very valuable resource.
→ Backlink Checker
→ Organic Keywords
→ Competitor Gap
→ URL Metrics
→ Page Analyzer
Youtube Research
While I have not used this section that much, the tool also offers Youtube keyword research opportunities.
→ Youtube Research
→ Youtube Difficulty
→ Youtube List
Rank Tracking
The ability to track keywords and see how they perform over time is a great resource to have for an SEO tool. This can give you a sense to which keywords are performing well, and which ones need improvement.
Content Assistant
Lastly is the Content Assistant, which gives users the ability to type in a keyword and be given a whole overview of what the existing content is for that given keyword. It is a great starting point to leverage once you have chosen a keyword to write about.
Let's now dive a bit deeper into each one of the 6 tools that KeySearch has to offer, along with examples.
3) Keyword Research
This is where I spend most of my time in KeySearch, so I will be giving a thorough breakdown of it.
This tool gives you the ability to enter a keyword into the search bar and be given a "score" that determines the difficulty to rank on the first page of Google for that keyword.
In addition, the tool will also show hundreds of additional short tail and long tail keywords that are related, which may be easier to rank for (or that can be used throughout different sections in an article).
Below is an example for the keyword "Hawaii Beach" (remember a keyword does not just need to be one word; it can be a phrase).
There are a few different sections on this page. On the top left you have the competition bar, search volume, CPC, and PPC, and just below that is the search trends graph.
On the bottom left is section where you can see the SERP analysis (search engine results page) for that keyword. And finally, on the right hand side, you will see a list of 700 keywords (in this case) that are related to the initial "Hawaii Beach" search phrase.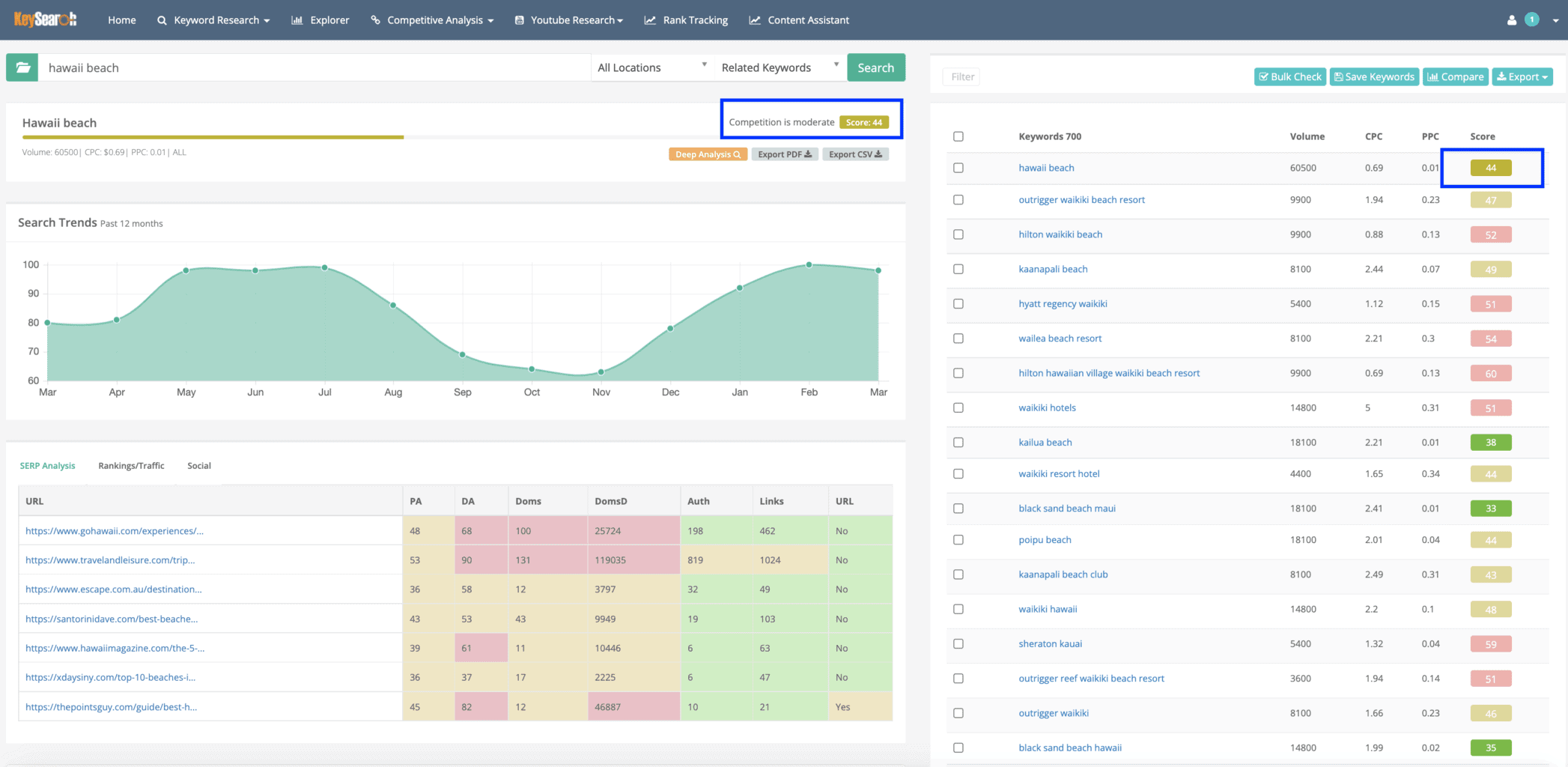 To start though, let's talk about the "scoring system" that KeySearch uses. You can find this score circled twice on the screenshot above (the "44" on the top right and top left).
For each keyword, there will be a numerical score and a shaded color associated with it. The lower the score, the easier it is to rank for that keyword on the first page of Google. The breakdown is as follows:
Light Blue Score: Competition is Very Easy
Light Green Score: Competition is Fairly Easy
Green Score: Competition is Easy Moderate
Yellow Score: Competition is Moderate
Light Red Score: Competition is Fairly Difficult
Red Score: Competition is Very Difficult
Essentially, for each keyword, there is already a set of first page search results. KeySearch looks at those search results, and determines how difficult it will be to outrank them.
This is based on many factors including: page authority, domain authority, number of domains linking to each search result URL, number of domains linking to each search result's overall website, authority links, total number of backlinks, whether the keyword is in the URL, among others.
You can find this breakout on the bottom left hand side of the above screenshot (and shown in more detail below). The more yellow and red, the harder it will be to outrank those spots, while the more green, the easier it will be. Based on this matrix, KeySearch applies a difficulty score for that specific "Hawaii Beach" keyword.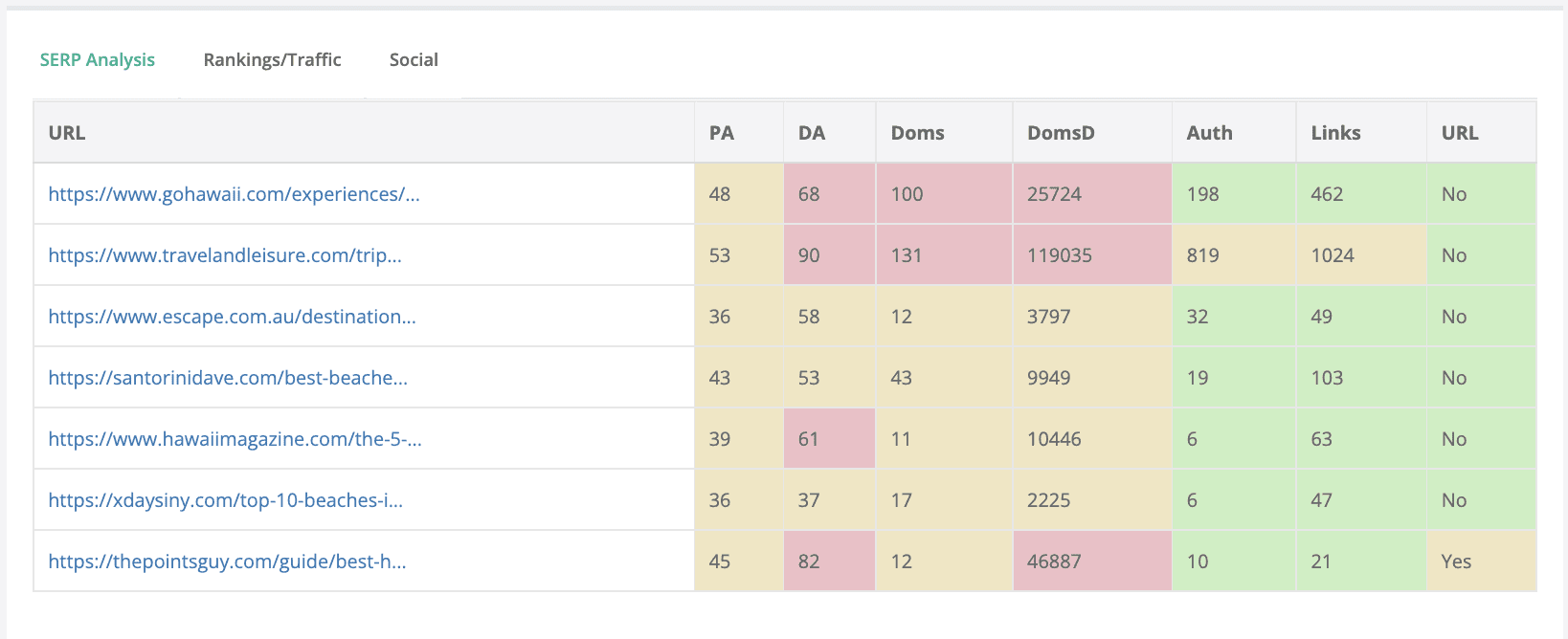 In the case of "Hawaii Beach", the difficulty score is a 44, a relatively difficult term to rank on. Later on in this guide, I will mention how to know what scores you should be targeting for your own site.
If you determine that a 44 is too high of a score and it is just not worth the time and effort to write an articles about "Hawaii Beaches", the tool allows you to find easier related keywords to rank on.
This takes us to the right hand side where you can see there are 700 related keywords that KeySearch has determined. We can use the filter option to put in some guardrails, as seen below (these can be changed to whatever you may see fit).

I am now left with 10 related keywords that are all much easier to rank for (you can see how much more green there is between the two screenshots). While the search volumes may not be as high, there are still some great opportunities here.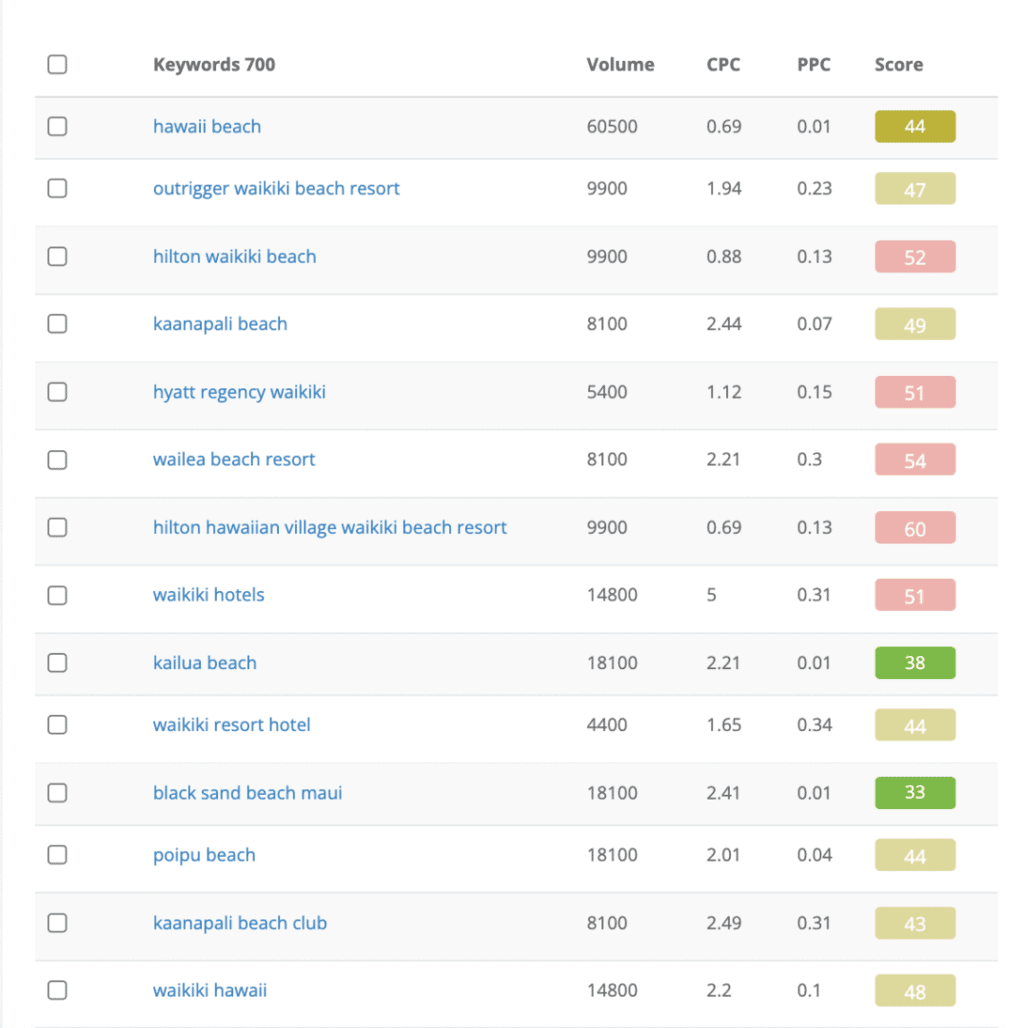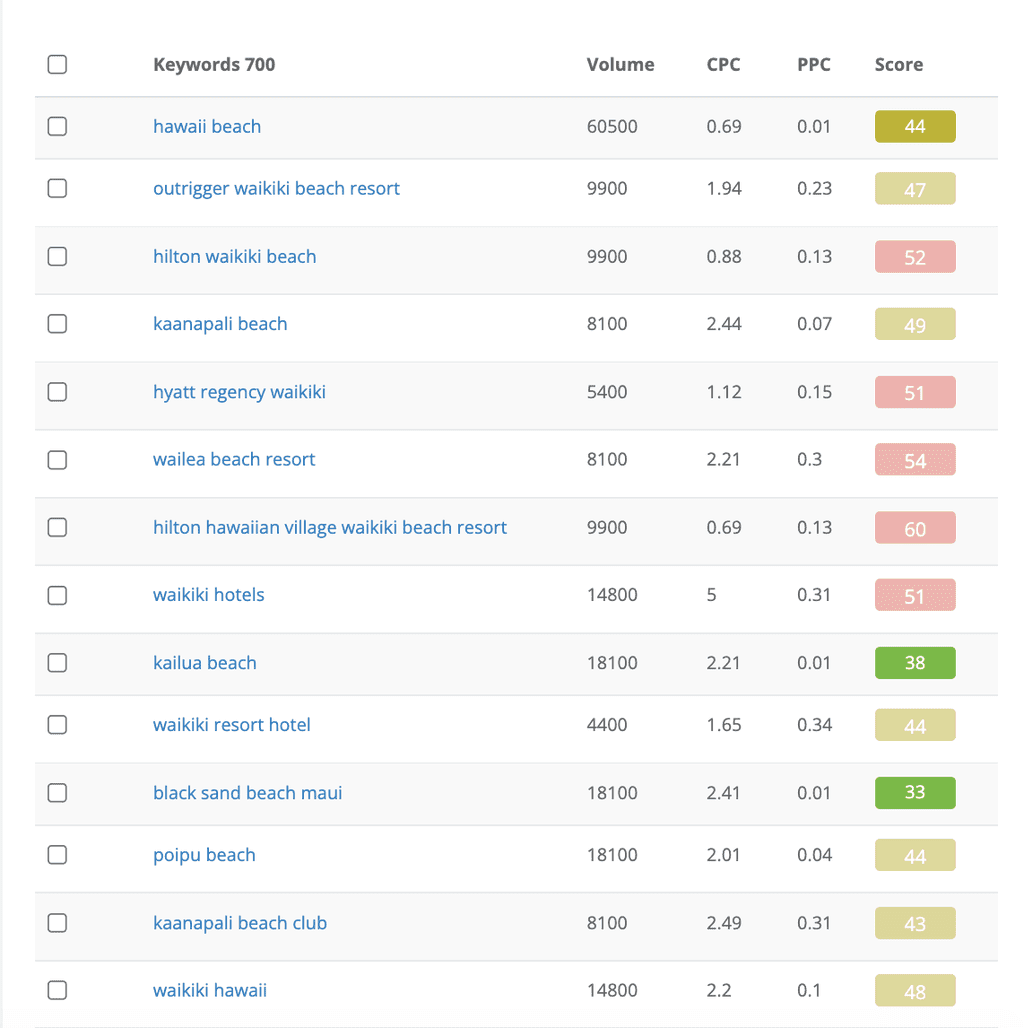 By clicking on "Ironwoods Beach Maui" (score: 22), the SERP analysis on the left hand side refreshes and gives us the below (much more green/yellow than the initial search).
The idea here is that you can now attack longer tail or lower competition keywords, and start ranking for those, before getting to a place down the line when you can finally be competitive enough to rank for "Hawaii Beach".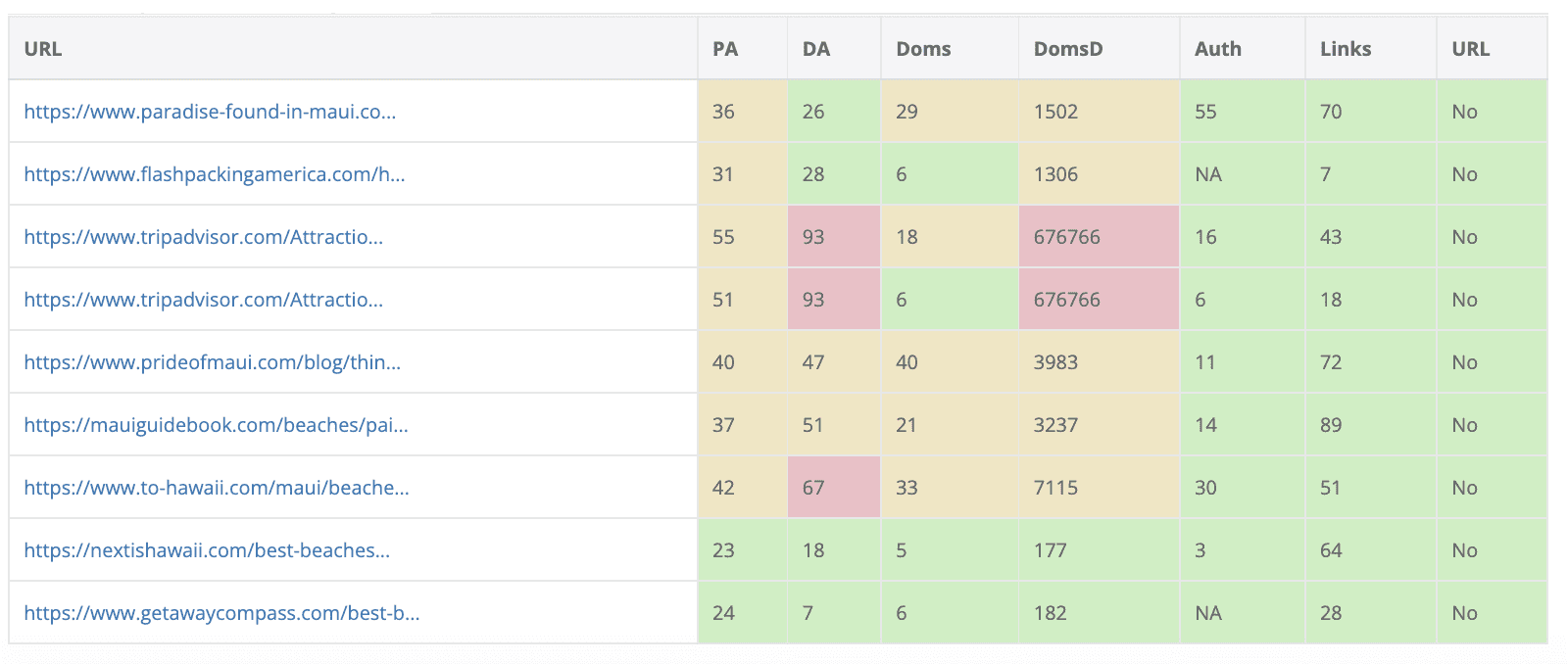 Another great section that is included below the matrix is the Search Engine Keyword Suggestions section. These are what you will find on the bottom of Google search results. Including these in your articles (or even writing individual articles for these) can be great ways to help ranking.

Other Keyword Research Offerings
In addition to the main keyword research section there are a few additional ones to use as well.
Quick Difficulty
This section is essentially a similar view of the previous section, but you can insert multiple keywords at once. You won't have the keyword suggestions listed out here, but rather a summary of the keywords you insert: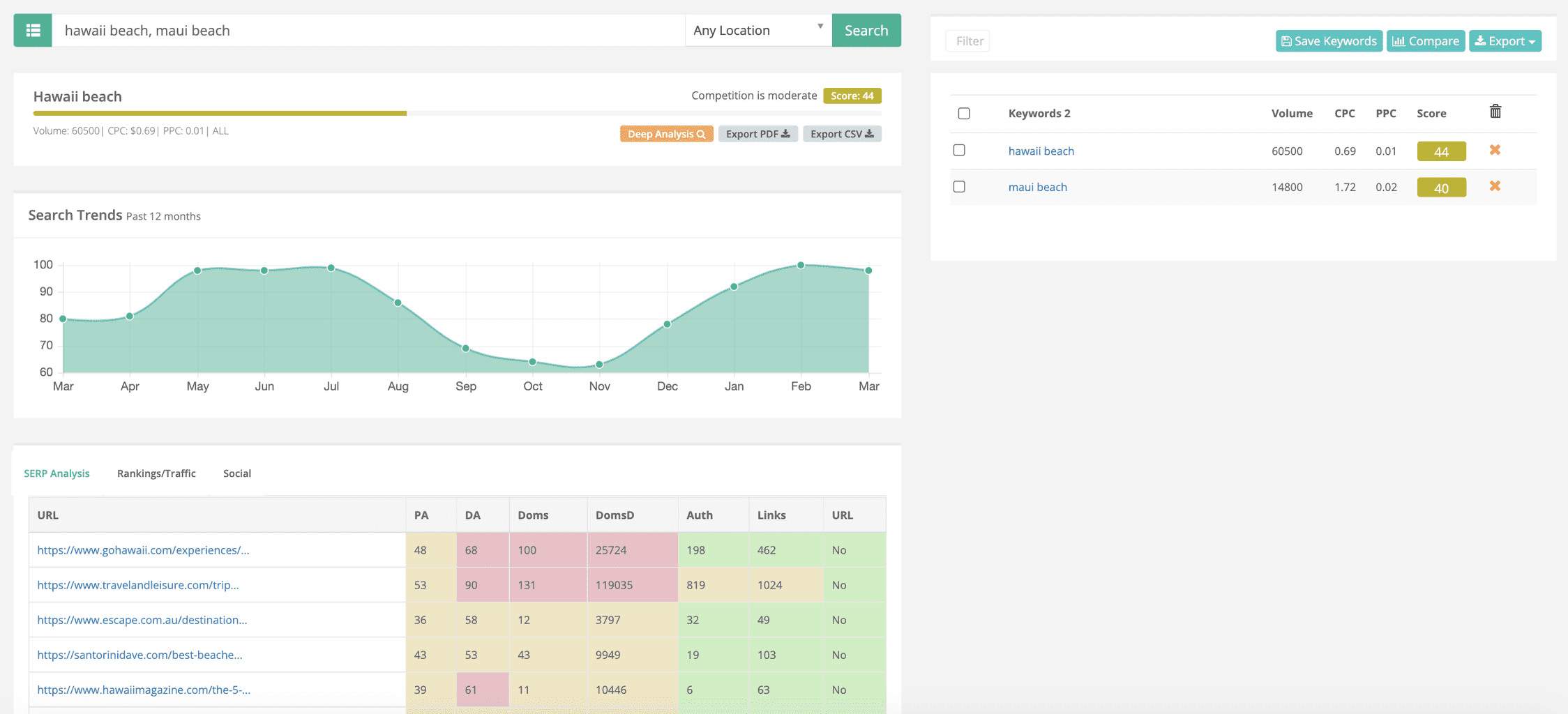 My Lists
Here you are able to see all of your saved keywords from the main keyword research tool. It is a great and easy way to stay organized and understand what keywords you have been looking for.
Adding new keywords is super easy, as there is a "save keyword" option on the keyword research page that will save any keywords for you.
Brainstorm
The brainstorm section allows you to type in a keyword and then see suggestions from the top search engines. So maybe "Hawaii Beach" is too broad but "Hawaii Beach Wedding" is a better opportunity to go after as it is longer tail and it shows up on the list.
This is also a real time trend tracker. So, if you have no keyword in mind, the tool does show you what the latest search trends are. By writing an article about up and coming search terms, you can get ahead of the game when it comes to ranking.

4) Explorer
The next tool I want to go over is the Explorer tool offered. Here you can look at your own website or a competitor's website to see a whole variety of metrics.
Let's take a look here at Travel and Leisure's website, one of the top travel sites that was ranking pretty high for the Hawaii Beach search term.
As you may imagine, this is a going to look pretty different depending on what site you put into the search. In this case, the metrics will look real good due to how big of a website it is.
The first thing you may notice is the "Score to Target" of 59. In our example from before, "Hawaii Beach" was scored at 44, meaning Travel and Leisure would be in a great position to get onto the first page of rankings since its score to target is a 59.
Other metrics you can dig into on the page include backlinks, referring domains, organic keywords (with positions, volume, traffic), backlink overview, top competitors, ranking distribution, among a few other sections.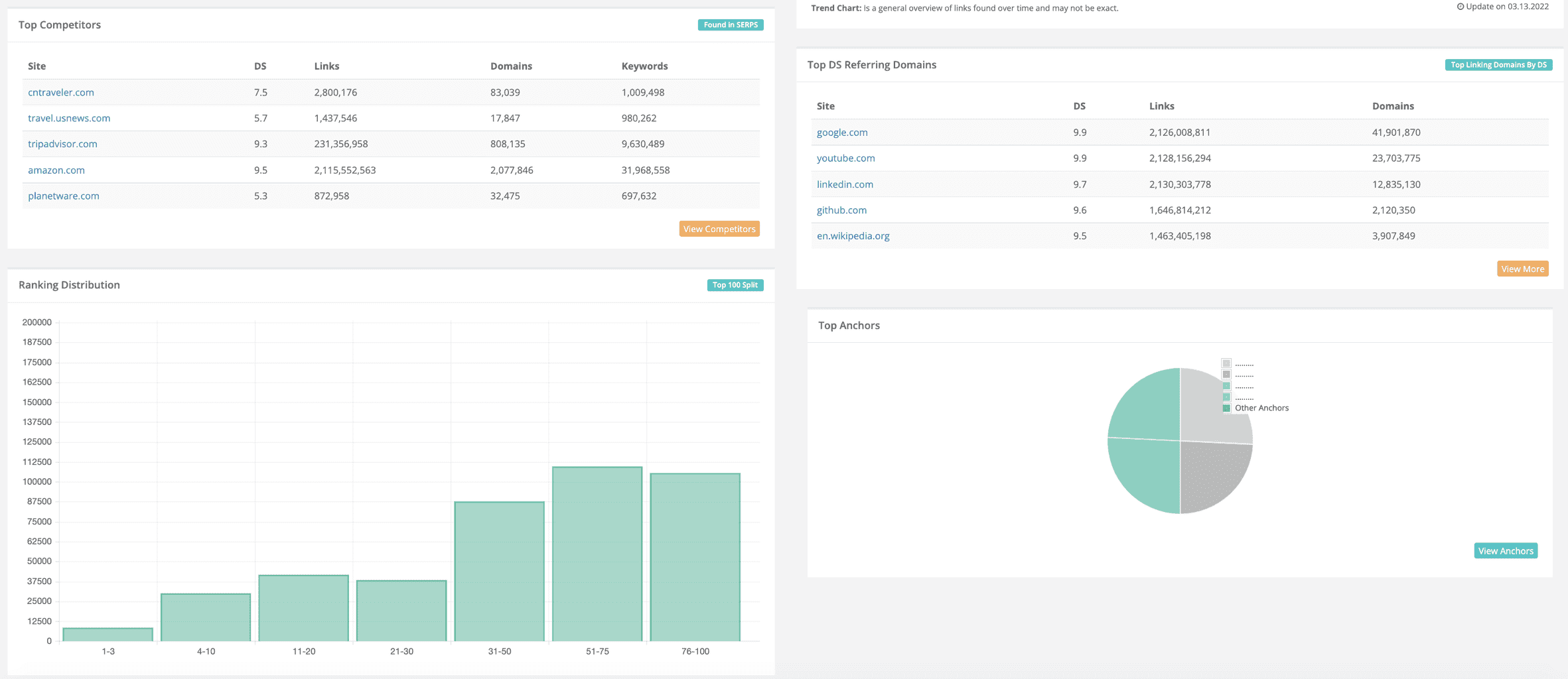 5) Competitive Analysis
Under the competitive analysis section there are several tools to check out, where you can see how your own site compares to other sites:
Backlink Checker – gives an overview of the anchor text, domain strength, and follow/nofollow for each backlink. This can be done at the domain level or at the specific URL level.
Organic Keywords – here you can take a look at all the organic keywords a domain or specific URL ranks for. Take a look at the output for Travel & Leisure in the below screenshot. You can sort and export the data as need be, which can be super helpful in understanding potential keywords.
Competitor Gap – this tool gives you the chance to put in your website and a competitor's website. It will show all the keywords that one website ranks for but doesn't rank on the other. It is essentially a way to go after top keywords from a competitor.
URL Metrics – here you can put multiple URLs in and just see high level metrics for each site.
Page Analyzer – and finally, the page analyzer gives you the chance to put a certain URL in to see where improvements can be made.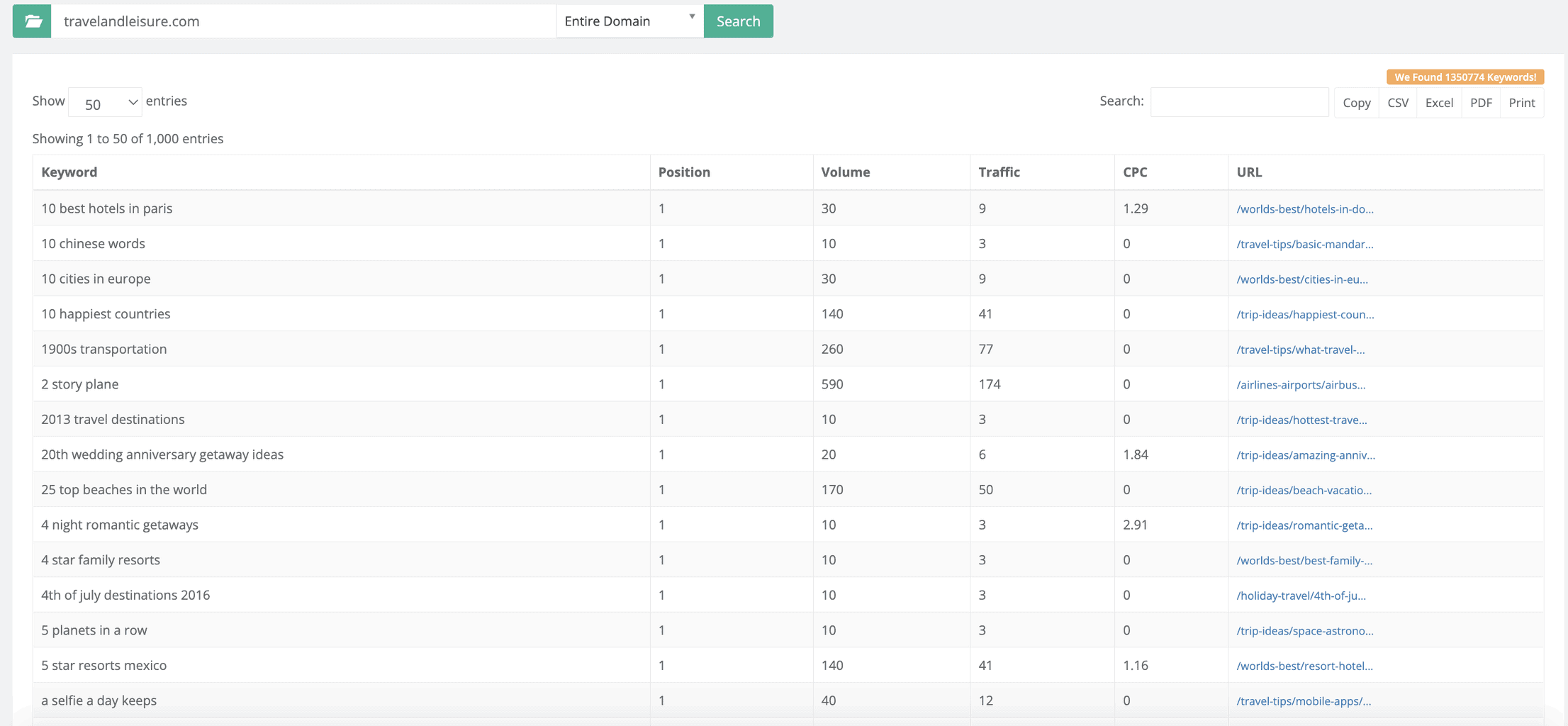 6) Youtube Research
As mentioned, I have not really used the Youtube research section much in the past but it can be quite helpful for those that do use the platform.
It works in a very similar way compared to the original keyword research tool. There is a particular score given for keywords, along with additional keyword opportunities to go after. Here is what "Hawaii Beach" looks like for the Youtube tool: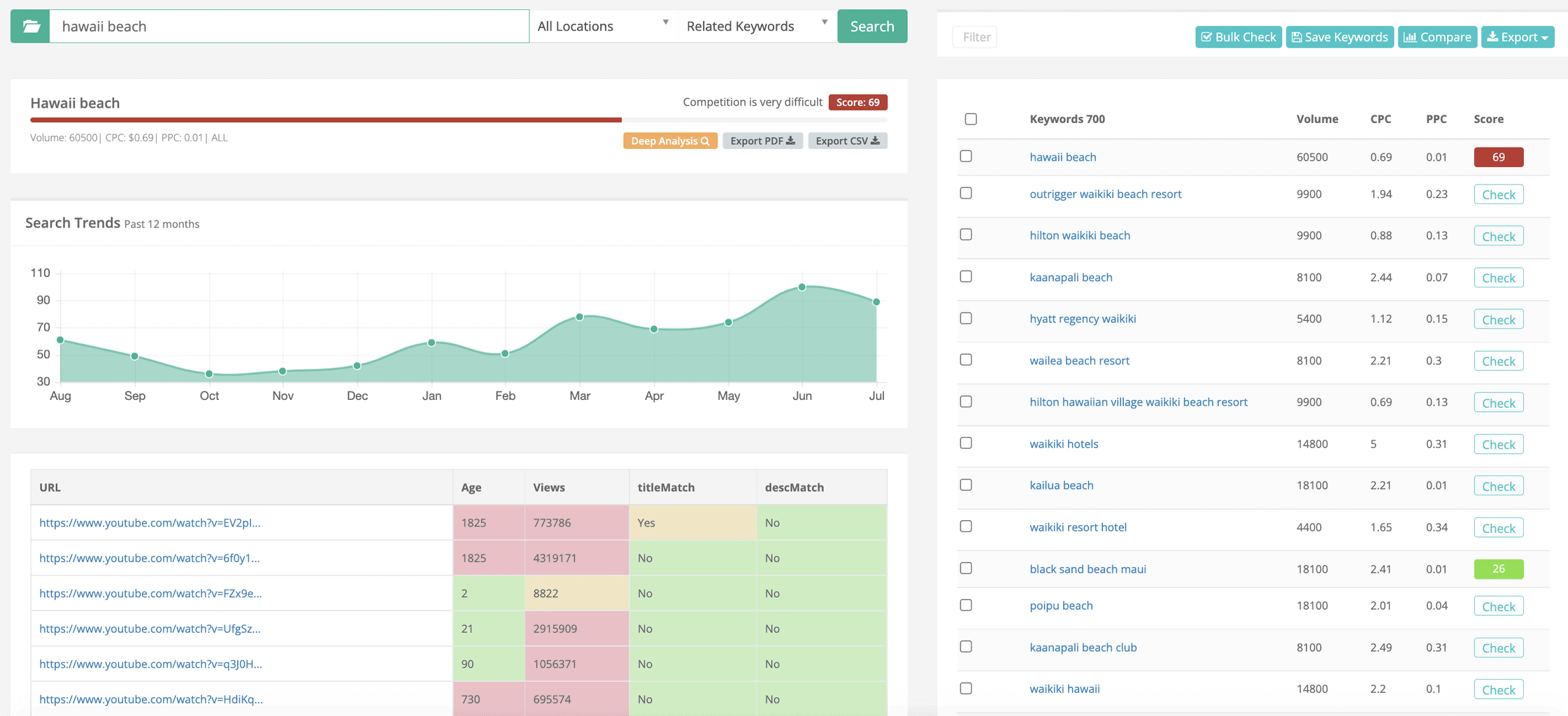 7) Rank Tracking
Rank tracking is a super beneficial tool to understand how certain keywords are performing over time.
By leveraging the other KeySearch tools coupled with Google Analytics, you should get a pretty good idea of what some of your best performing keywords are.
You can add up to 50 here (or 150 with the Pro version) and track the ranking change over time.
This can give you an idea if you are trending up or down on your top keywords, and act accordingly based on the trends.
If certain high volume keywords are trending downwards, then you may need to revisit your content and update it / build more supporting content around it. Checking out search results and seeing which articles are surpassing yours can also be a way to improve your own content.
8) Content Assistant
The last tool that KeySearch offers is the content assistant. Simply type in a keyword here and you will be given a ton of helpful data to start building your own content.
For example, it tells you average word count for first page results, recommended "must words" to use in your content, a list of questions that people search into Google related to the keyword, among a few other helpful sections.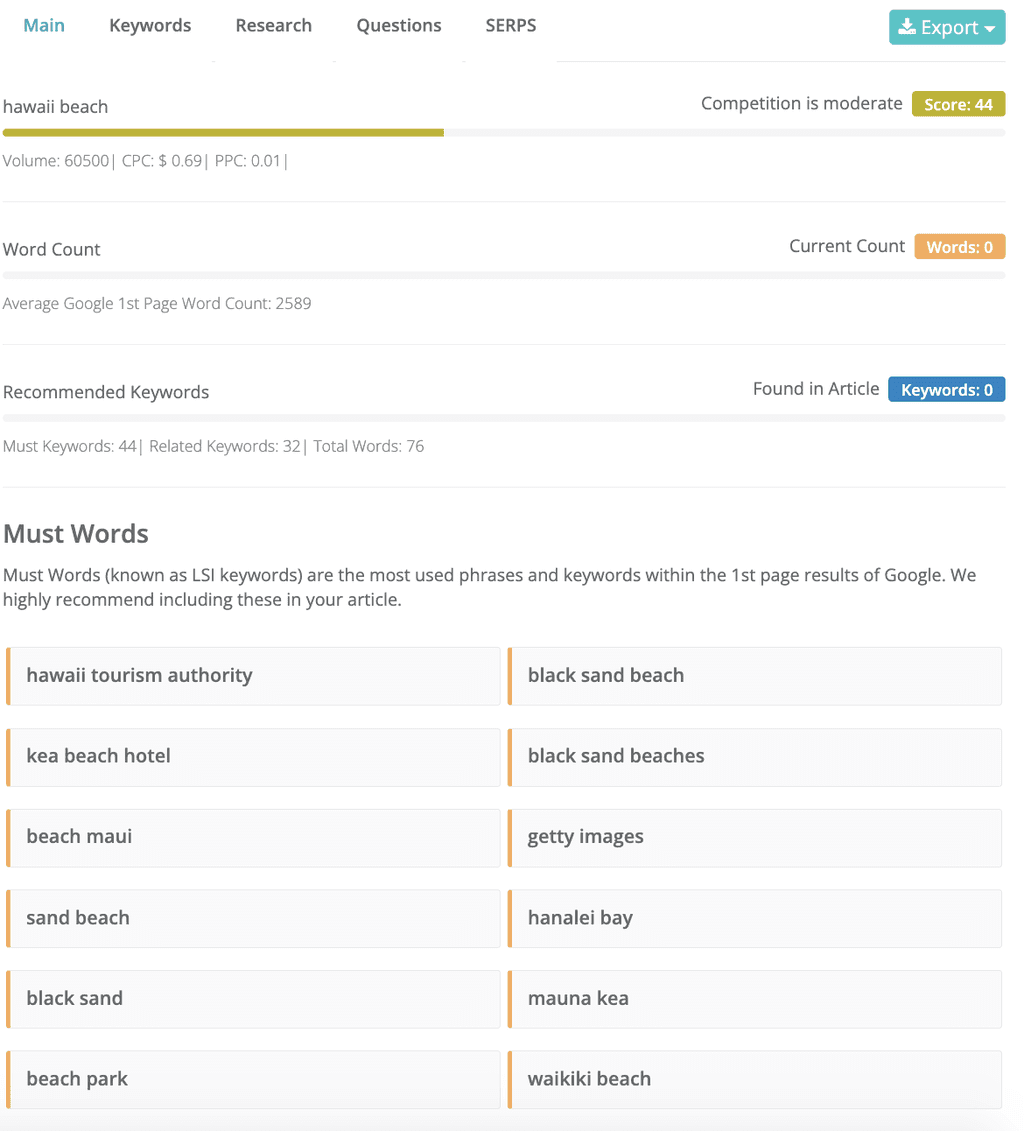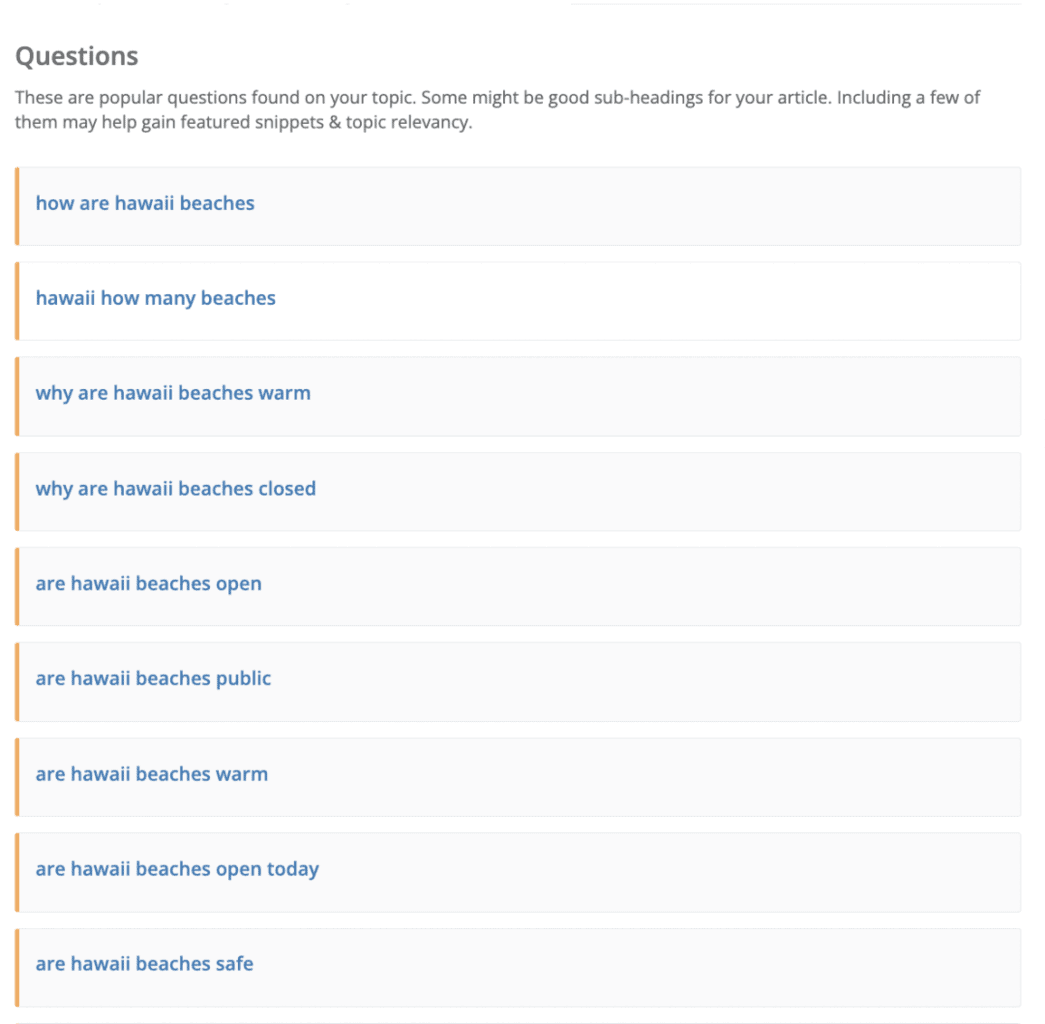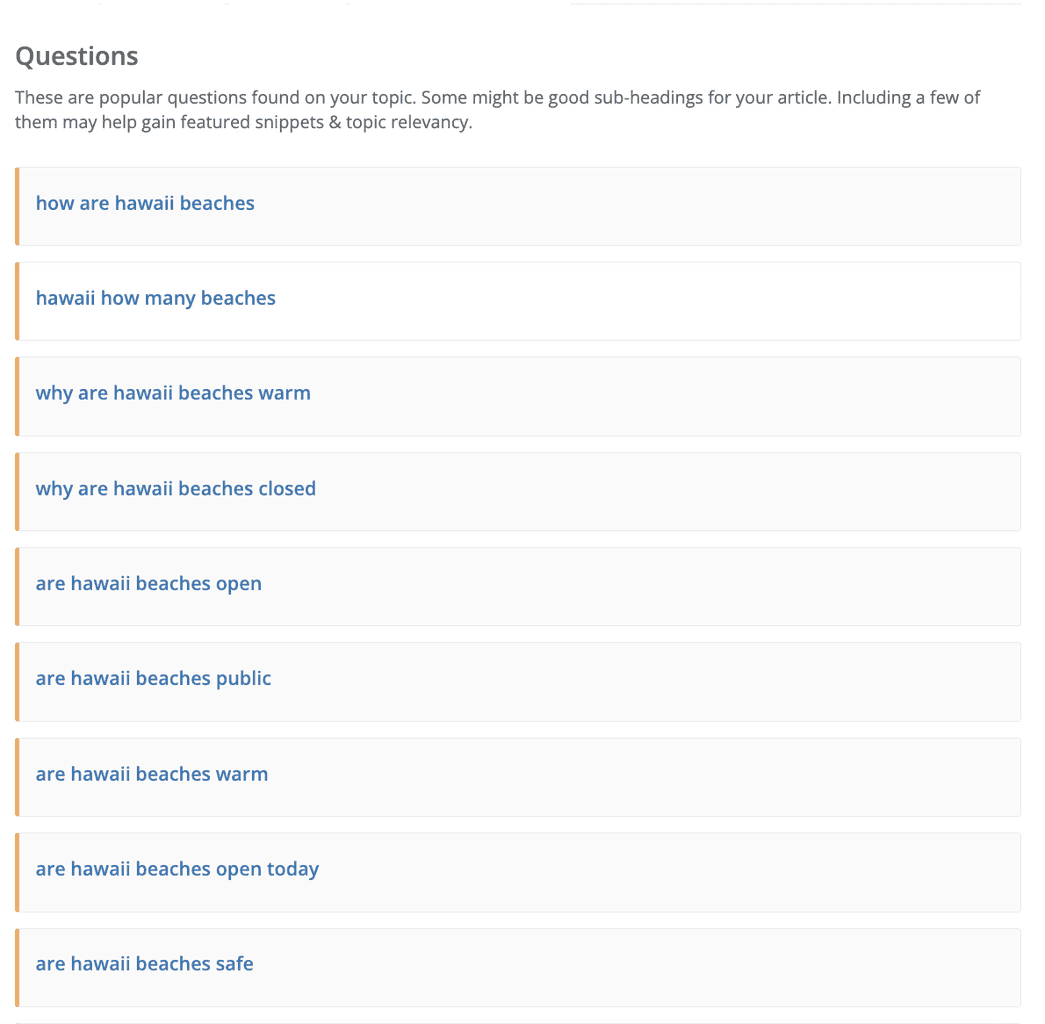 9) How Much Does KeySearch Cost
When it comes to SEO tools, pricing is usually the one thing that scares many website owners away. At the end of the day it is hard to pay $100+ per month on an SEO tool that may not pay itself off.
That is where KeySearch really excels as it is one of the most affordable tools on the market.
The Starter package comes in at just $17 per month (or $169 annually if paid up front), and the Pro package comes in at $34 per month (or $279 annually if paid up front).
The main two differences between the Starter and Pro are:
Daily Searches & Analysis: Starter (200), Pro (500)
Rank Tracker Keywords: Starter (50), Pro (150)
Note: there is a one month free trial option where you can do 5 daily searches and have access to a few other features.
Below are the rest of the offerings that you should expect to get with the packages.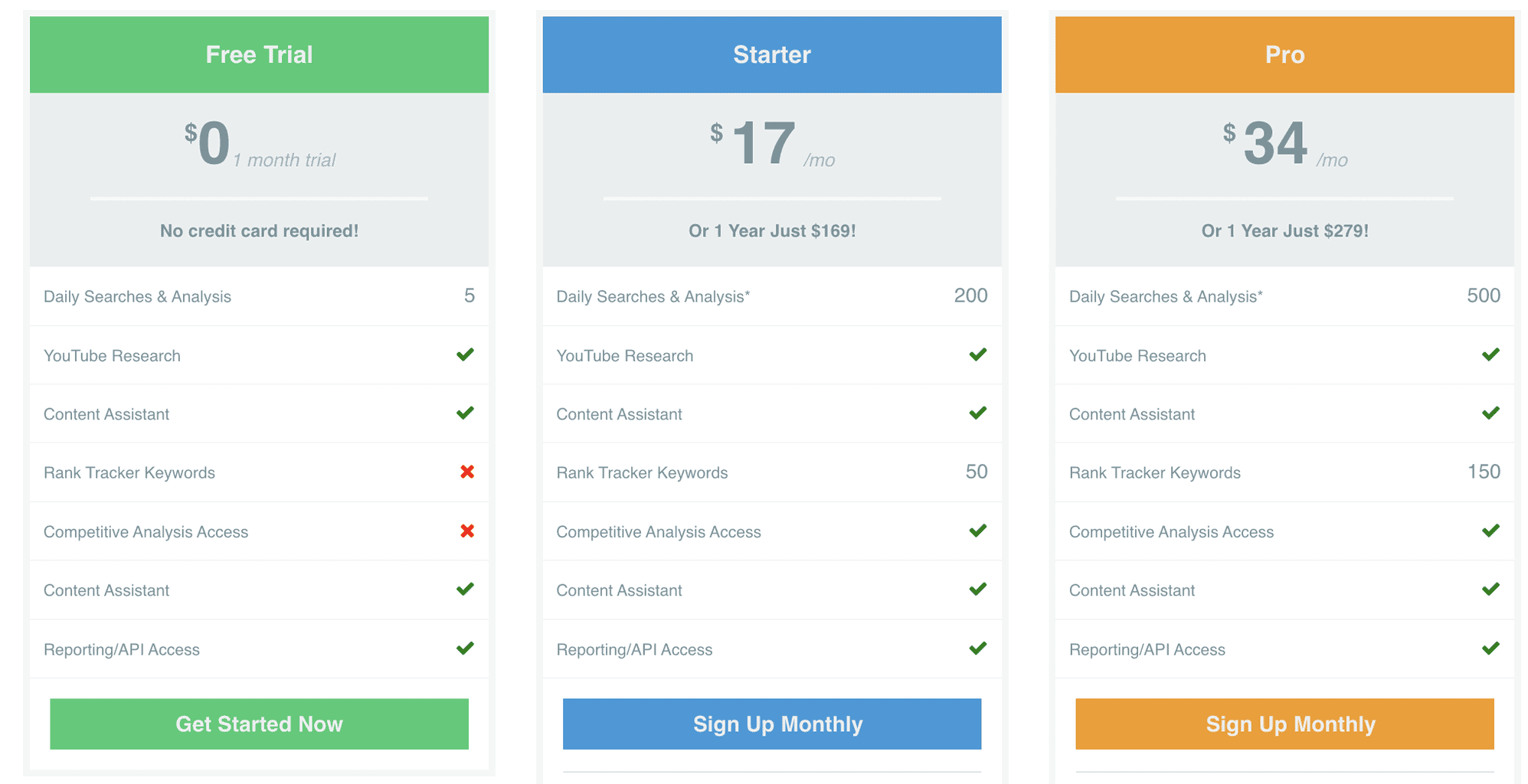 10) How Does KeySearch Work
To learn more about KeySearch, I would recommend taking a look at some of the helpful tutorials and blog posts that the company themselves put together.
These dive deeper into individual topics and can give readers a better understanding of the tool and SEO in general.
At the end of the day, KeySearch is a fantastic option for those that want a ton of helpful SEO tools at an affordable price. By using the tool properly, in addition to your Google Search Console/Google Analytics, you should be able to find keywords and write content that will show up on the first page of Google.
That about does it for a KeySearch review. If you have any other questions or comments about this SEO tool, feel free to add them in below.
Also, don't forget to check out some of the other blog resources such as how to start a travel blog, and Mediavine requirements.