Whether you are brand new to blogging or have been blogging for years, getting accepted to Mediavine is goal to set your sights on.
Mediavine is a full-service ad management partner and getting into their network will help monetize your blog and hopefully get you on your way to enjoying your passion full time.
While Mediavine is an ad management partner, they really are so much more than that. Whether it is organizing Facebook groups, building out themes, or providing a wealth of information on how to best build your website, Mediavine does it all and more.
This guide will go over what the Mediavine requirements are, talk through their offerings, and provide you tips to get accepted into Mediavine.
* Affiliate Disclosure: This post may contain affiliate links, which means I may receive a commission if you make a purchase through the links provided, at no additional cost to you. Thanks for supporting the work I put into TripTins!
1) What Does Mediavine Do?
When I initially started this website, I was just doing it for the fun of it. I didn't realize at first that I could actually make money off of running a travel blog.
As I continued to do some research into monetizing the site I came across ideas like brand partnerships, affiliate income, and advertisement revenue.
I thought that advertisement revenue could be an easy place to start so I looked at some well known travel blogs and saw that many of their advertisements had a little symbol on the bottom corner (see below).

I did a bit of digging here and realized that so many of these top bloggers (whether it is travel, food, DIY, fashion, etc), were using this company called Mediavine as their ad management partner.
In their words, Mediavine's role is "Representing your ad inventory to make the most money, while offering you the support, technology and resources to optimize your content (and with it, your ad inventory)."
However, at the time I had nowhere near the amount of necessary sessions to get accepted into Mediavine (more on that soon!). But after a couple years of grinding away, writing content and optimizing the site, I finally was accepted into Mediavine.
So, all the ads you see on this site as well as thousands of other Mediavine sites are controlled by the Mediavine team. Optimizing ads, working with top tier advertisement partners, and providing an easy to use dashboard & settings profile, Mediavine sets up website owners for success.
But it is not just about getting ads onto your website, it is how they do it. Site speed, quality partners, data driven dashboards, video players, communities, and dynamic ad placements are just a few of the ways Mediavine stands out from the rest of the field. Couple that with their top tier customer support, and it is hard to beat.
» Read More: How I started a travel blog and the steps I went through to optimize it for success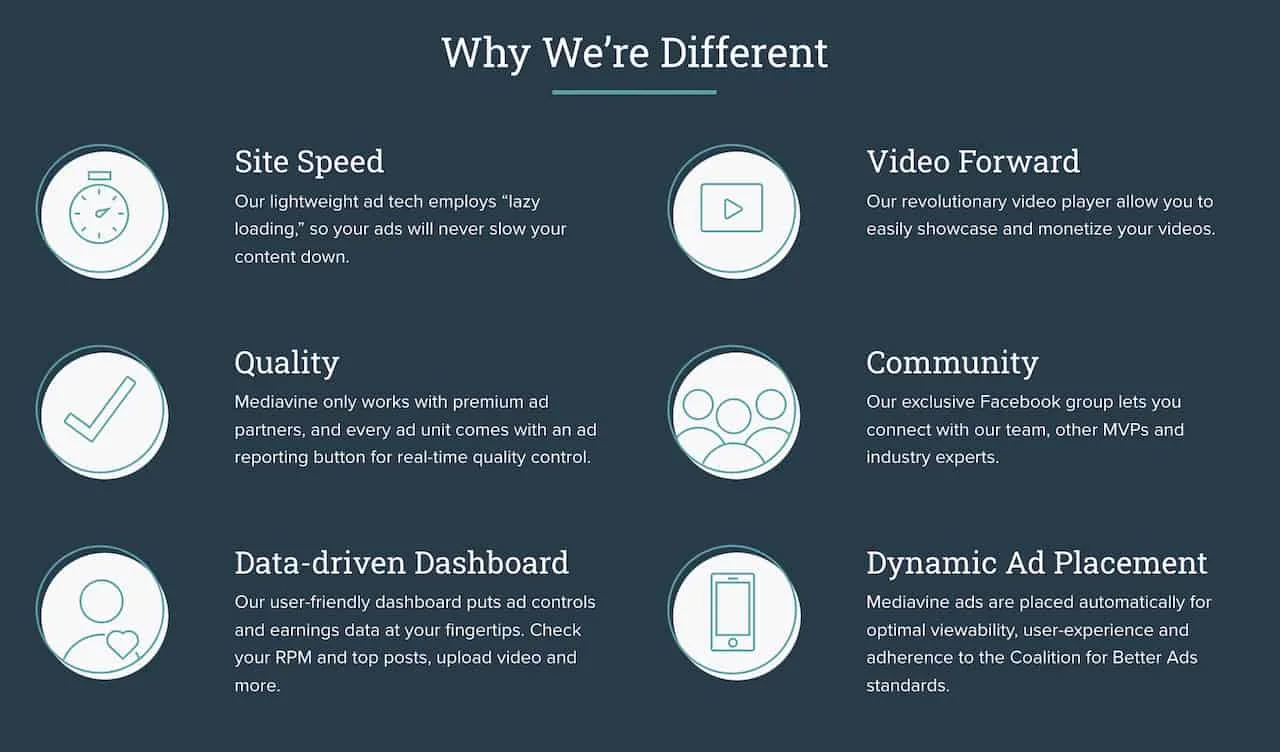 2) Mediavine Tech Offerings
But like I said at first, it is not only an ad management partner. They really offer so much more for its publishers and for those aspiring to be accepted as a publisher. Some of these include:
Trellis
The Trellis WordPress theme framework is the perfect foundation when starting a blog or deciding on a new theme for an existing site.
One of the biggest concerns when it comes to a theme framework is how they perform from a speed and Core Web Vitals (a set of metrics set forth by Google that focus on user experience) point of view. Since these are factors when it comes to ranking and SEO optimization, it is important to set up your site for success.
Trellis is built for speed and Core Web Vitals. Whether its ads, images, or many other types of optimization that happen on the backend, Trellis' goal is to make sure their sites perform at their highest level.

Grow Social
I am sure you have seen many websites with social sharing buttons on various posts. These social shares usually require a plugin on WordPress to make them appear.
Mediavine has built their own social sharing plugin called Grow that takes care of it all for your site and seamlessly works in conjunction with Trellis.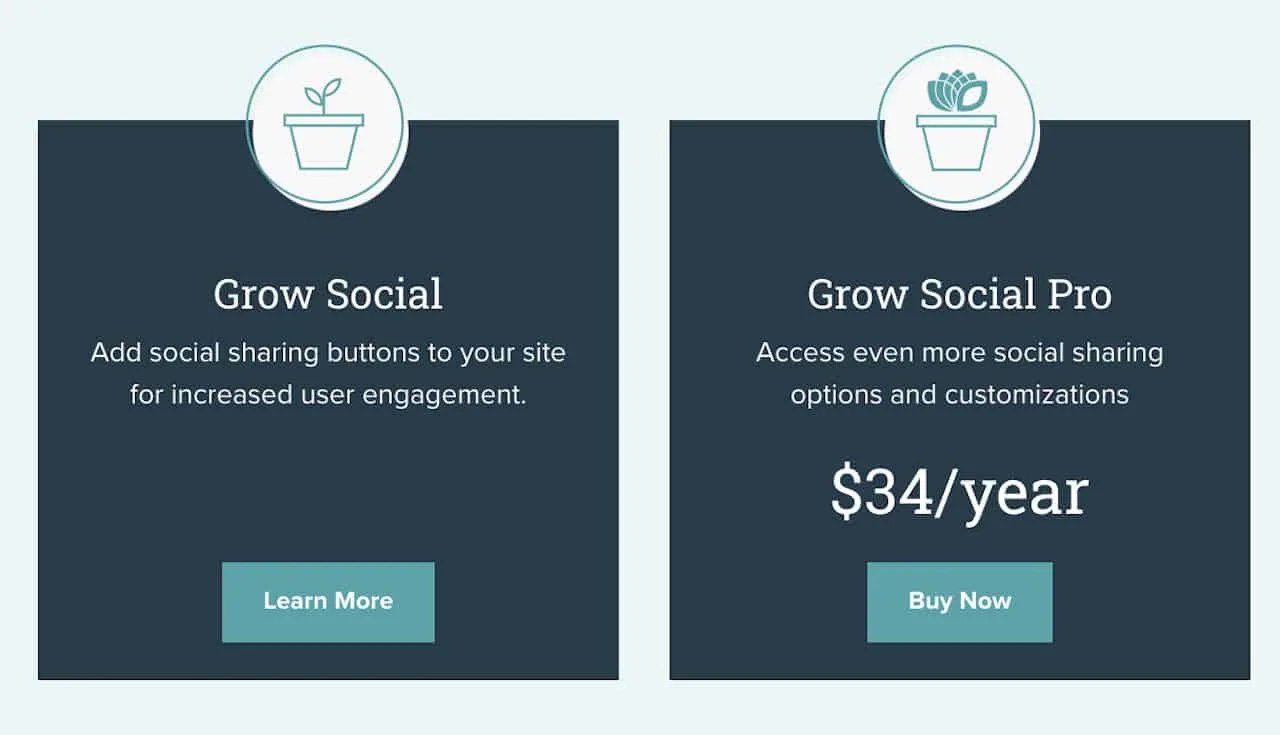 Create
While I have not used Create just yet, this is another optimized plugin that focuses on recipes, lists, and instructions that allow users to use various types of Google schema.
This is just another way to show that one of Mediavine's goal is to create the best experience for both the website owner and the website visitor. Setting your site up for success from the start will go a long way to getting accepted into Mediavine and growing your site.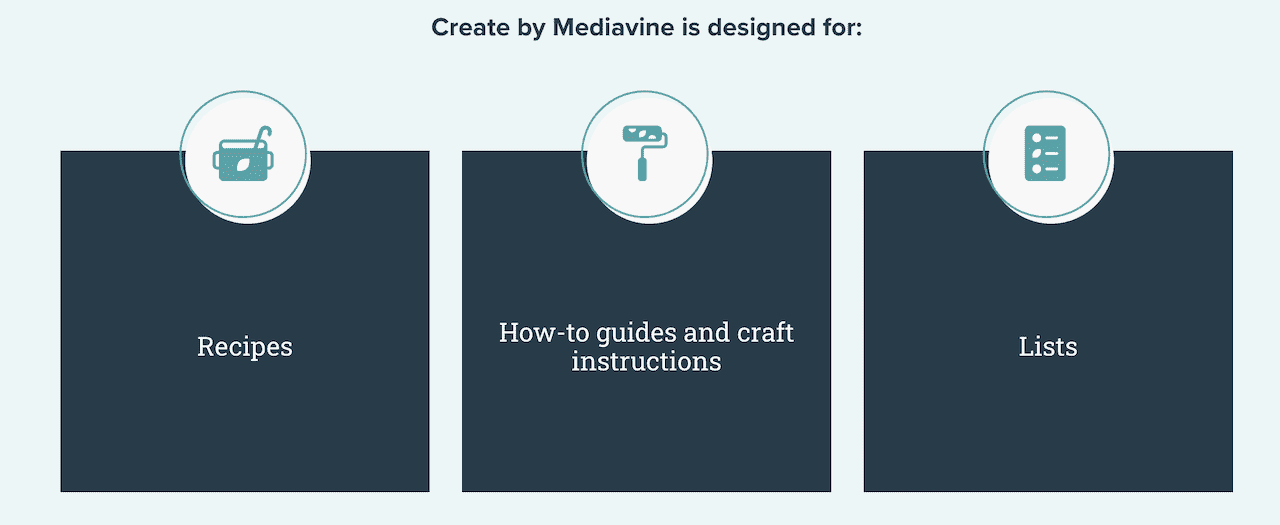 Grow
Lastly, Mediavine has also been working on its own user engagement suite called Grow (not to be confused with Grow Social).
The goal of Grow is "enhancing websites with better user experiences by encouraging audiences to engage and log in. By logging in, readers consent to receive personalized, higher-performing ads through the collection of first-party data."
It is essentially a way to collect first party data and ultimately earn more money from advertisers.
For now the suite is only available to Mediavine publishers but it will be rolled out in the future to everyone. I would encourage you to read this helpful Grow article that goes into more detail about it.
3) Mediavine Resources
On top of their tech offerings, Mediavine also has many other resources out there. Some of these include:
Mediavine Facebook Group
The Mediavine Facebook group is only for those that have been accepted into Mediavine. When it comes to useful resources, this is one of the best I can ask for.
The group is full of like-minded people who ask questions, give advice, and update the community regarding the latest best practices.
Every day you can learn something new in the group and it is the perfect place to ask for help from others.

SEO Like A CEO
If you have not focused yet on SEO, my advice would be to start as soon as possible. And there is no better way to get going than to read through the SEO Like A CEO archive.
It is a free list of 30+ articles and videos that walks you through the best SEO practices out there. Even if you do have some SEO experience, getting to hear from some of the experts out there clearly explain various topics can be very a helpful resource.
The list of all the SEO Like A CEO articles can be found here.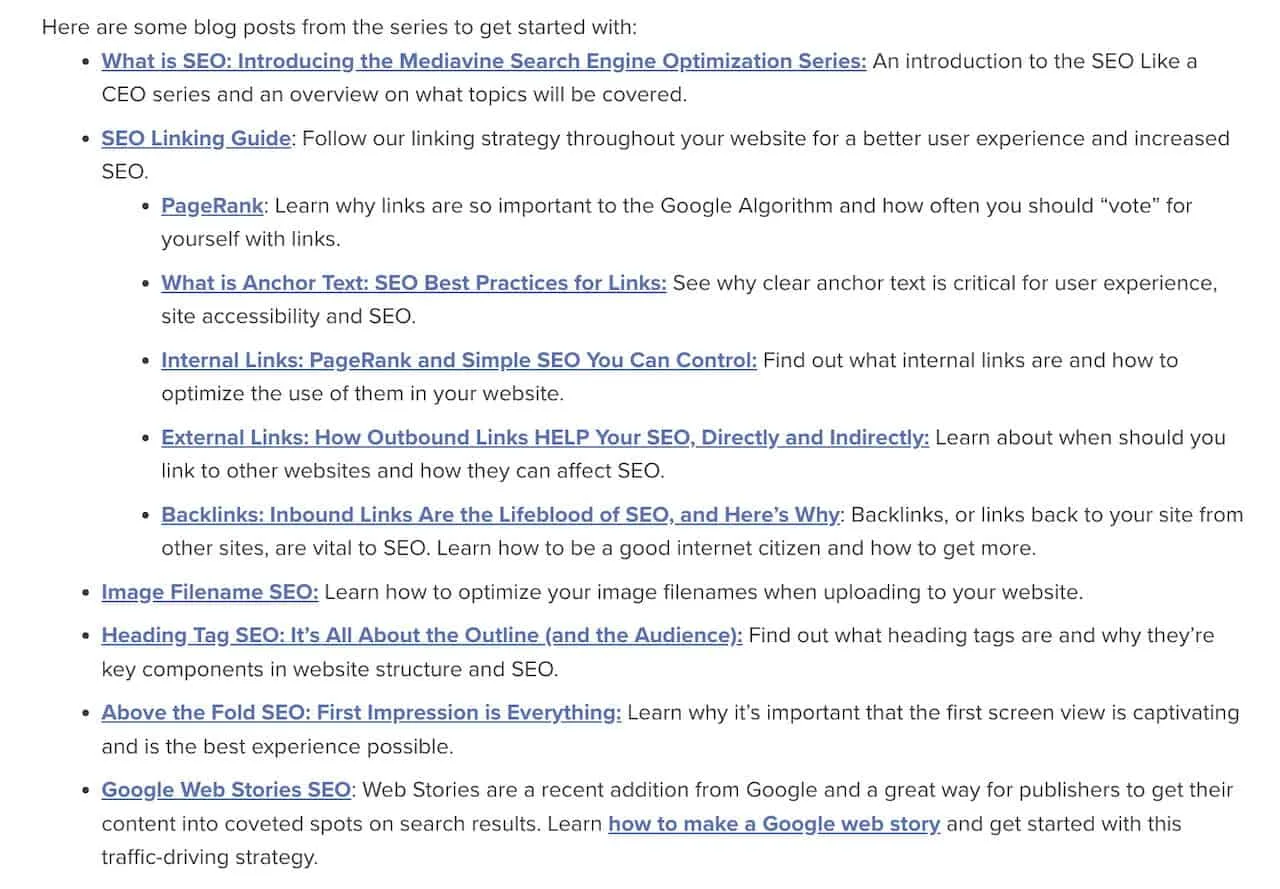 Podcasts
There are a couple podcasts I would recommend taking a look at that Mediavine has helped put together.
The first is called Mediavine On Air and goes through a whole variety of topics regarding building a website and brand. Whether it is SEO, social, affiliate marketing, the list goes on.
The second is called Theory of Content which is mostly just focused on SEO, keyword research, and best practices when it comes to all aspects of getting ranked on Google. They haven't released a new episodes in a while but listening through the 70+ episodes is a good start.
There is certainly more out there that Mediavine offers but this should give you a better sense that they are not just an ad management partner.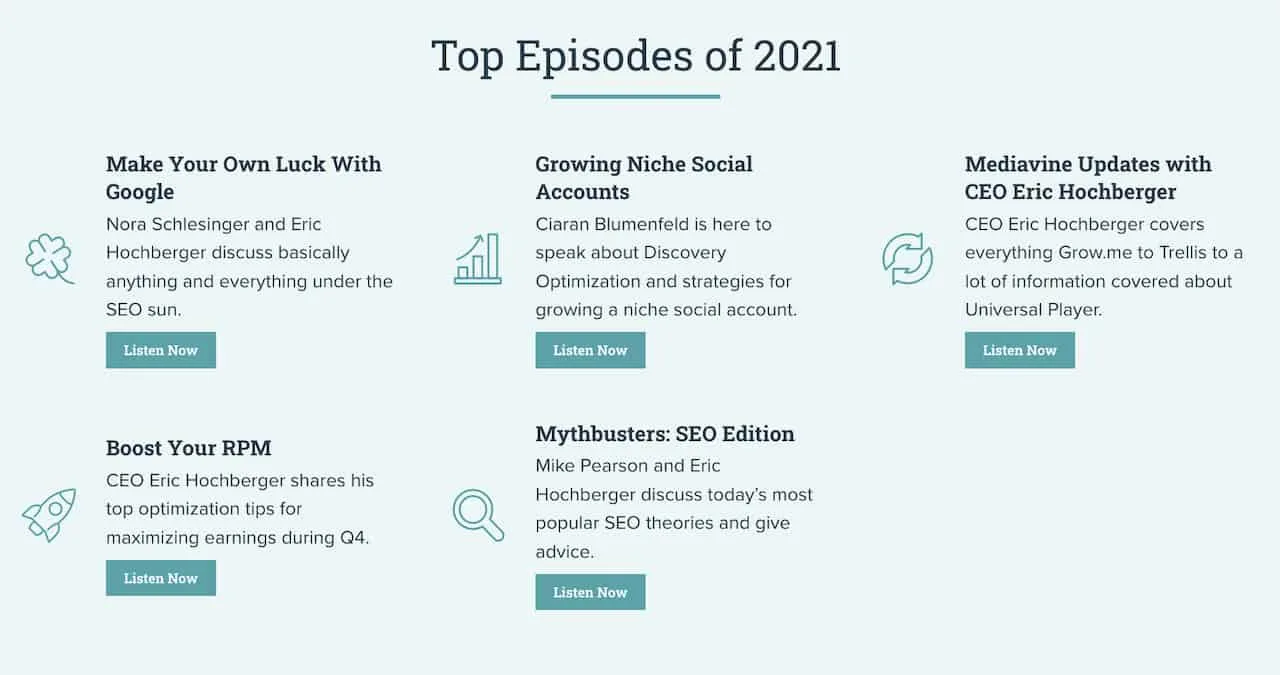 4) Mediavine Requirements
So, by now you may have a better idea of what Mediavine does – both from an ad management perspective and all of its other offerings. But to get accepted into Mediavine takes some work.
Mediavine has 4 main requirements for those websites applying to join.
Just because a website passes these 4 does not necessarily mean every single one will get accepted though. Below are the latest Mediavine requirements along with some helpful tips and things to know about the process: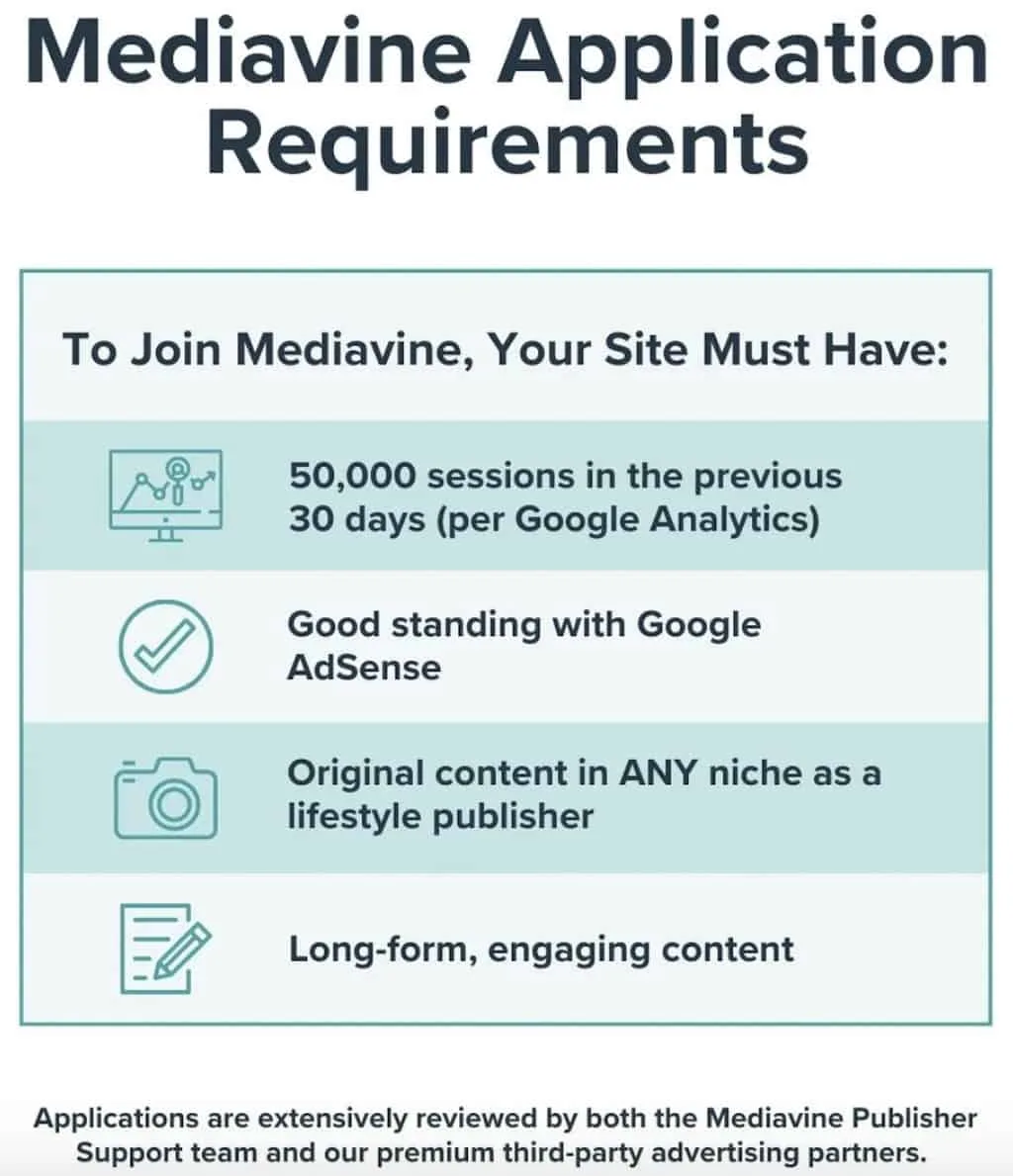 50,000 sessions in the previous 30 days (per Google Analytics)
To get accepted into Mediavine, you must have 50,000 sessions in the last 30 days. When I first joined, this requirement was 25,000 sessions. Over the course of the last couple years, they increased the requirement.
It is very important to note here that these are 50,000 sessions. Sessions are not users or pageviews.
Google's definition of a session is: "A session is a group of user interactions with your website that take place within a given time frame. For example, a single session can contain multiple page views, events, social interactions, and e-commerce transactions…A session ends either after 30 minutes of inactivity or at midnight."
So, for example, one user may come to your site, and land on page A. The user clicks on another link on your site and gets to page B. Later on in the day, the user returns to your site and comes back to page B before leaving the site. Altogether this would account for: 1 User, 2 Sessions, 3 Pageviews.
Good Standing with Google Adsense
A pretty simple requirement here but your site just needs to be in good standing with Google Adsense. That essentially means you must not have performed any black hat tactics with Google Adsense in the past on your site.
Original content in ANY niche as a lifestyle publisher
The great thing about being a publisher on Mediavine is that you can really have a website in ANY sort of niche. The list never ends here but anything from travel and tech to food and finance, and everything in between. There are exceptions which I will take about in the following section.
However, the key in this requirement is that the content produced must be original content. You can't just take content that is already out there and copy and paste it on your site. The content needs to come from you!
This also means you cannot just have a site full of roundup posts for example. Mediavine puts a lot of focus on their publishers having quality original content on their site.
Long-form Engaging Content
The last Mediavine requirement is that the content on the site must be long form engaging content. Writing 100 blog posts with 100 words each just isn't going to do it (most likely), even if you have 50K+ sessions.
This is because Mediavine is looking for sites where advertisements can have their highest value. Having longer form content means readers will be on the page for longer. And in result of that, there will be more ad impressions shown to the reader.
More ads equal more money both for you and for Mediavine!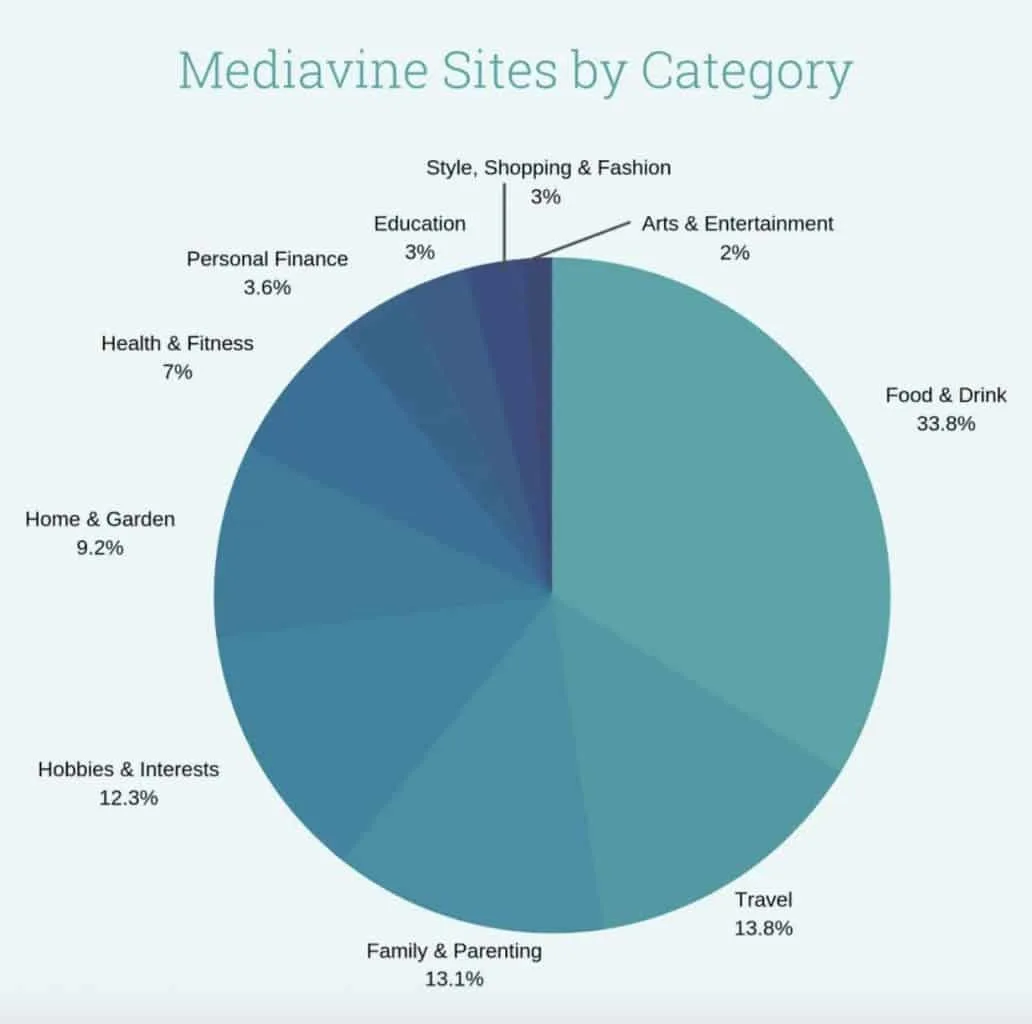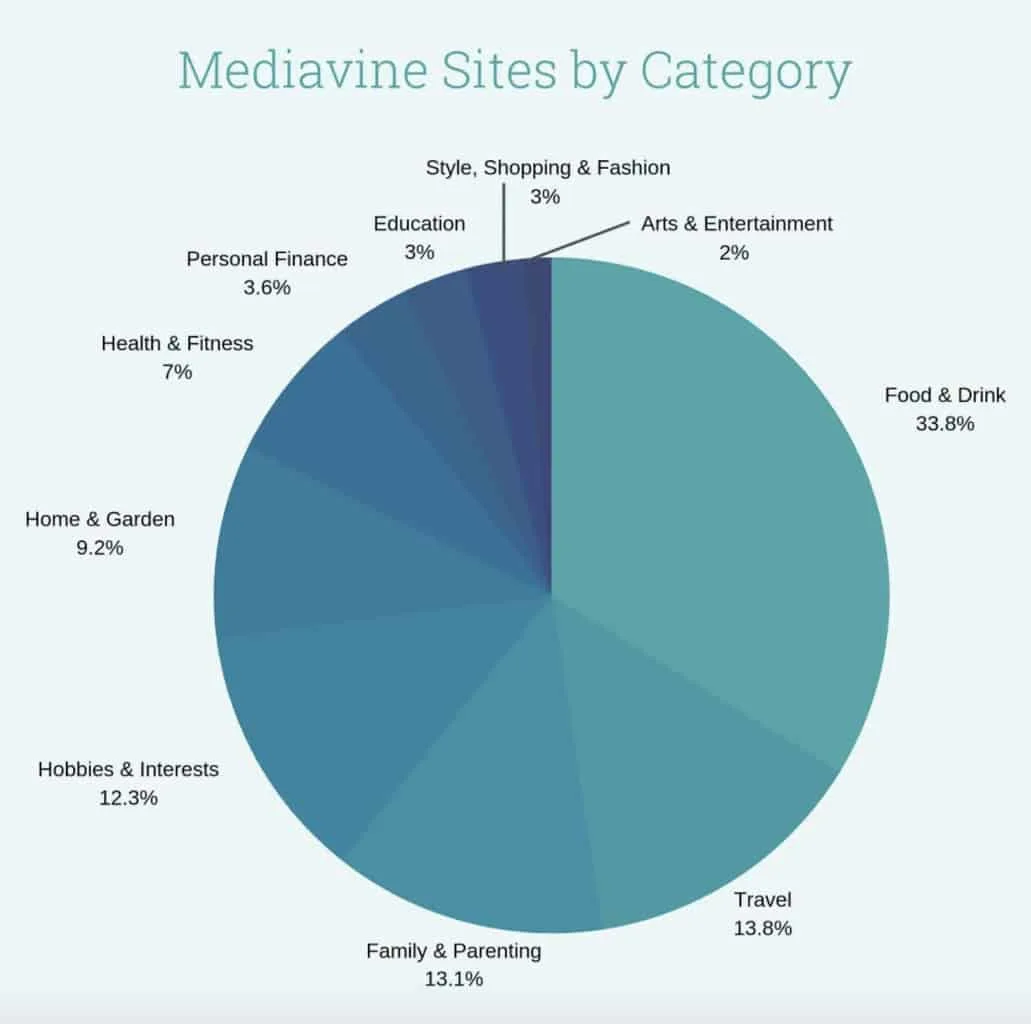 5) Reasons for Rejection
Now, while many sites apply to Mediavine that pass those four requirements, that doesn't mean they all get accepted. Below are just some of the reasons why a site may be rejected. By avoiding these pitfalls, you will have a better chance of getting accepted.
Site Design Optimized for Ads
Mediavine's (and your) goal is to add advertisements onto your site. But if your site is not set up correctly for ads, that may be a deterrent for Mediavine to accept you. Be sure that your site can have these four main ad placements:
→ Sidebar
→ Sidebar Adhesion
→ Bottom Page Adhesion
→ In Content
Location of Traffic
While 50,000 sessions is a great accomplishment no matter where your readers are located, you need to understand that a session in Asia is less valuable than a session in the US.
Mediavine works with advertisers obviously. These advertisers want to target people who they best believe will purchase their products. So, an advertiser for example would be willing to spend more money on a US based impression vs an Asia based impression, if their products are geared towards the US market.
Having the majority of traffic from countries like the US, CA, UK, and AU is something that Mediavine can be looking for.
Fake Traffic
Sometimes a session you see on your Google Analytics dashboard is not necessarily a session from a real person. Bots are all over the web, and for one reason or another may be sending traffic to your site.
Mediavine asks for your Google Analytics during the process and they are able to see where traffic is coming from. If they believe a healthy subset of the traffic is fake traffic, then that will most likely get you rejected.
Type of Content
Unfortunately, while Mediavine does say "Any" niche, that is not necessarily always true for their ad partners.
If you write about content that Mediavine's advertisers are not comfortable associating with, then you will struggle with getting accepted into the program.
While there is not a specific list of topics out there, you may be able to reach out to them to get an idea if your niche isn't well known.
Frequency of Content
Don't just assume that you can write 100 articles at once, wait until they rank, reach 50,000 sessions, apply, and then get accepted.
Mediavine wants to see that you are constantly putting out fresh new content regularly.
You must show that the website is a continuous ongoing piece of work, where you are always adding new articles and freshening up the site.
Too Much Concentration
The last reason for rejection I will list out here is the risk that too much of your traffic is coming from just a few posts. If one post goes viral and all of a sudden you hit that 50,000 session mark, there is a lot of risk there.
Having a site with many articles ranking well and bringing in traffic is a good way to show that diversification with Mediavine and their partners.
6) Applying to Mediavine
Have you passed the main requirements and are ready to apply to Mediavine? Well, the process is pretty simple altogether.
Head on over the Mediavine website and click the Apply button on the top of the page.
From there you will be sent to a Google Sheet to fill out the following questions:
• Your Name
• Your Email
• Your Site URL
• Your Site Name
• Have you ever applied to Mediavine for this site before?
• Are you applying for ad management on an existing Mediavine-approved site that you've purchased?
• According to Google Analytics, how many sessions have you had the last 30 days?
• I have had at least 50K sessions in the last 30 days. (Yes/No)
• Do you currently own a site running Mediavine ads?
• If the answer to the above question is yes, what's the URL of the site already running Mediavine ads?
• Are you currently under contract for exclusive ad representation?
• What CMS (blog platform) are you running?
• How did you hear about us?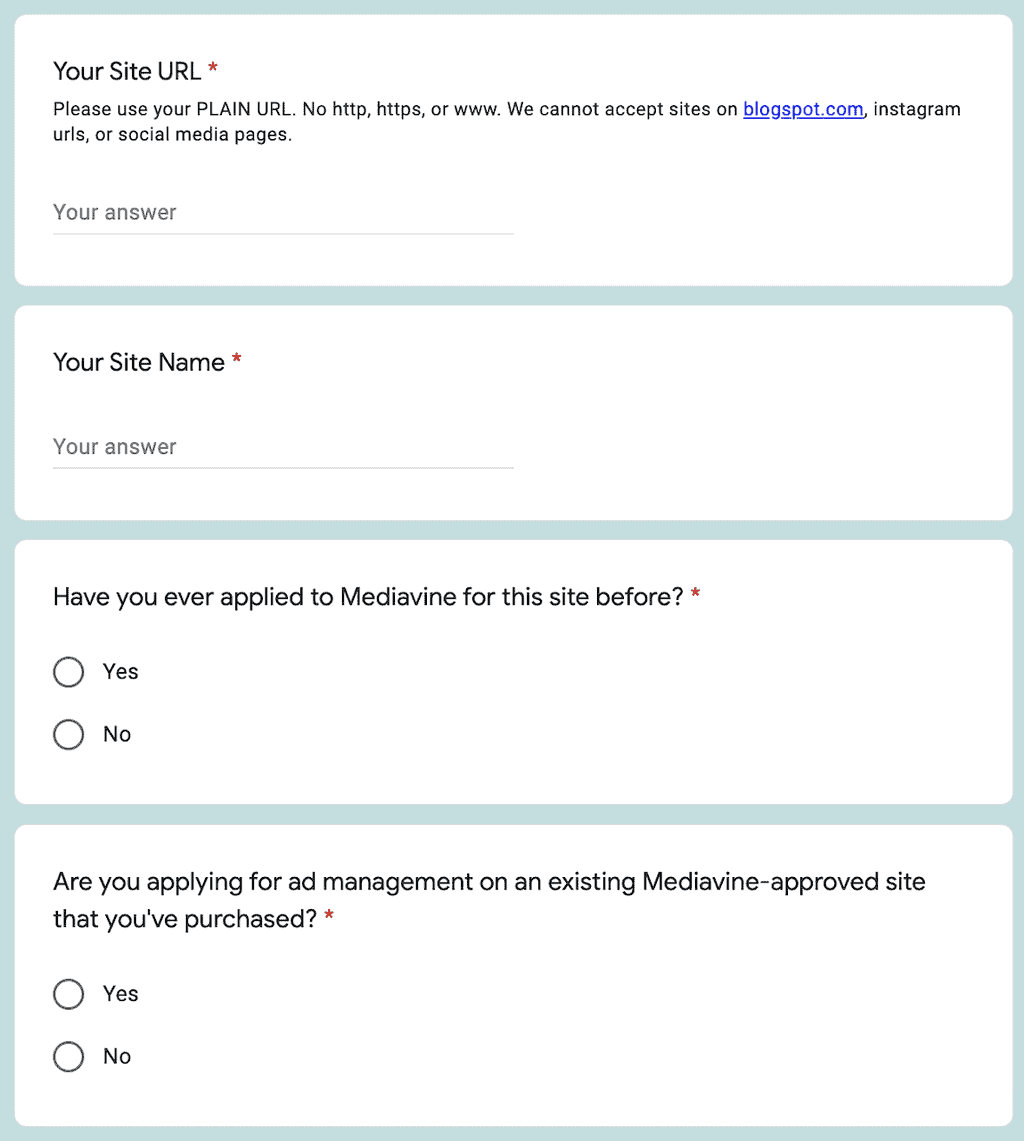 While the process may have changed slightly after I applied, below is the process that I went through after clicking the submit button.
After I submitted the application I received an email asking to verify the Google Analytics by downloading a report from the dashboard, and sending it to Mediavine for review.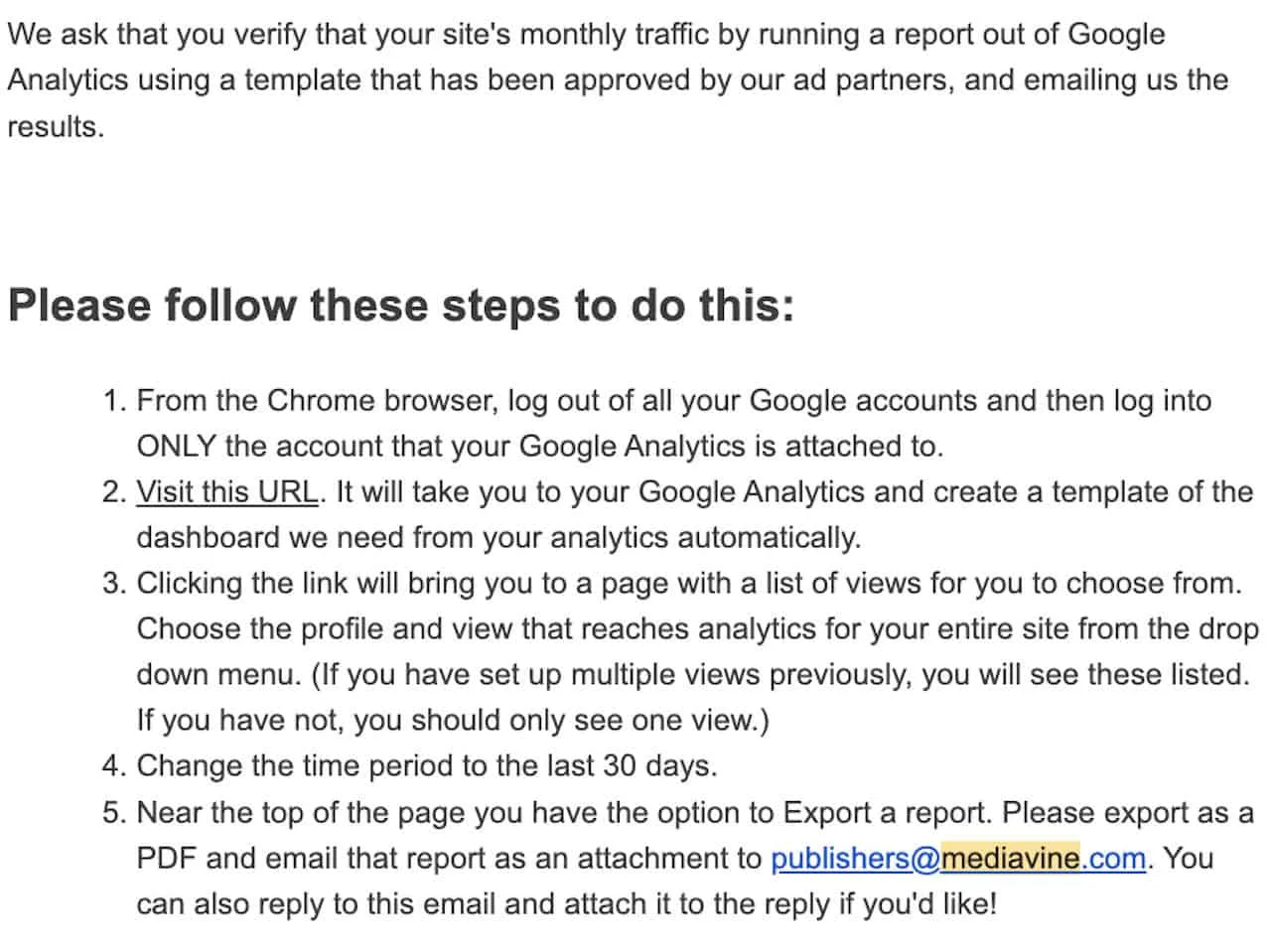 I then received a confirmation email from Mediavine letting me know that they have received the application and the Google Analytics PDF.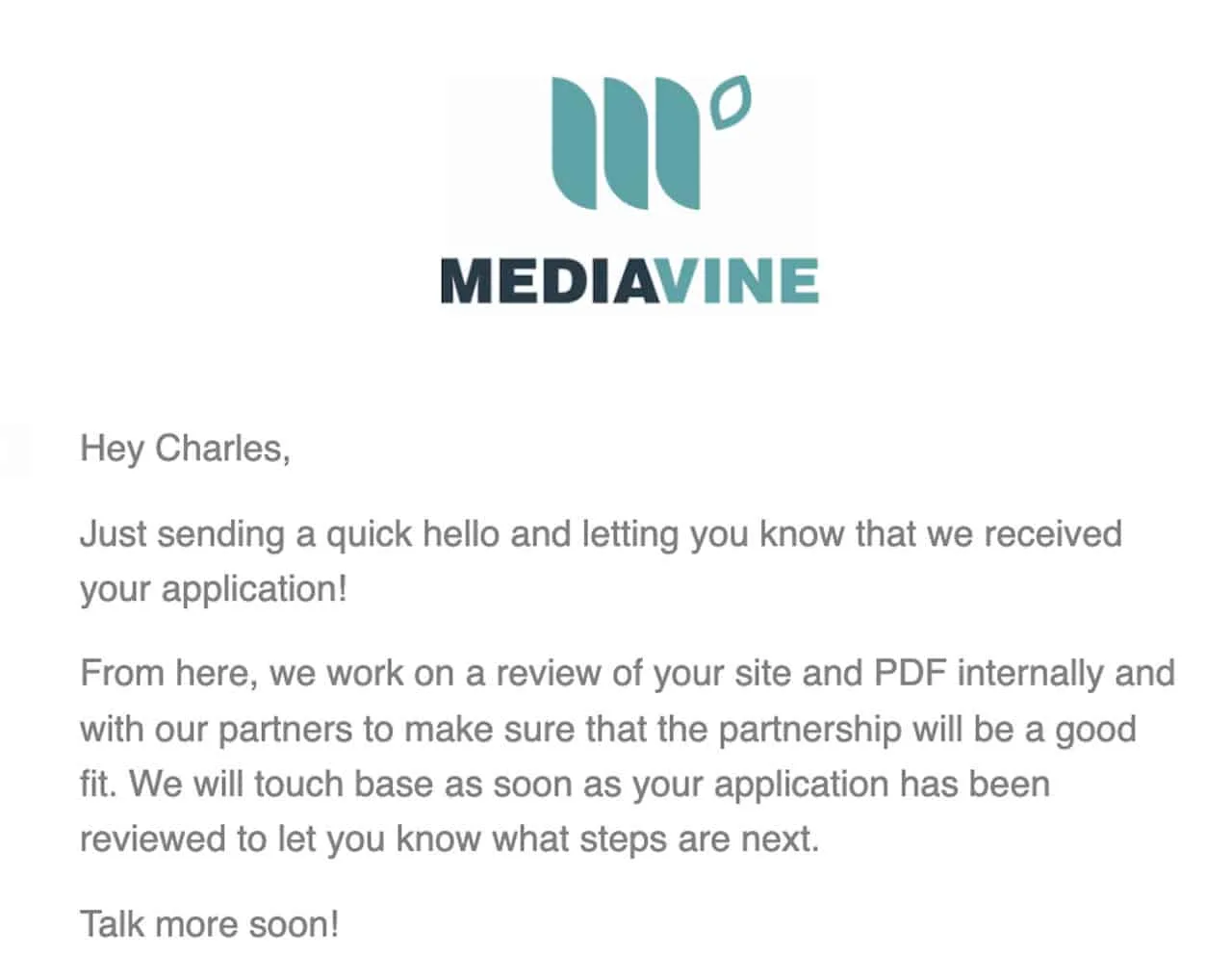 From there it was just a waiting game. I sent one follow up a couple weeks later and they let me know that the application was still under review due to high volumes. But just around 4 weeks after that initial application I received the acceptance email: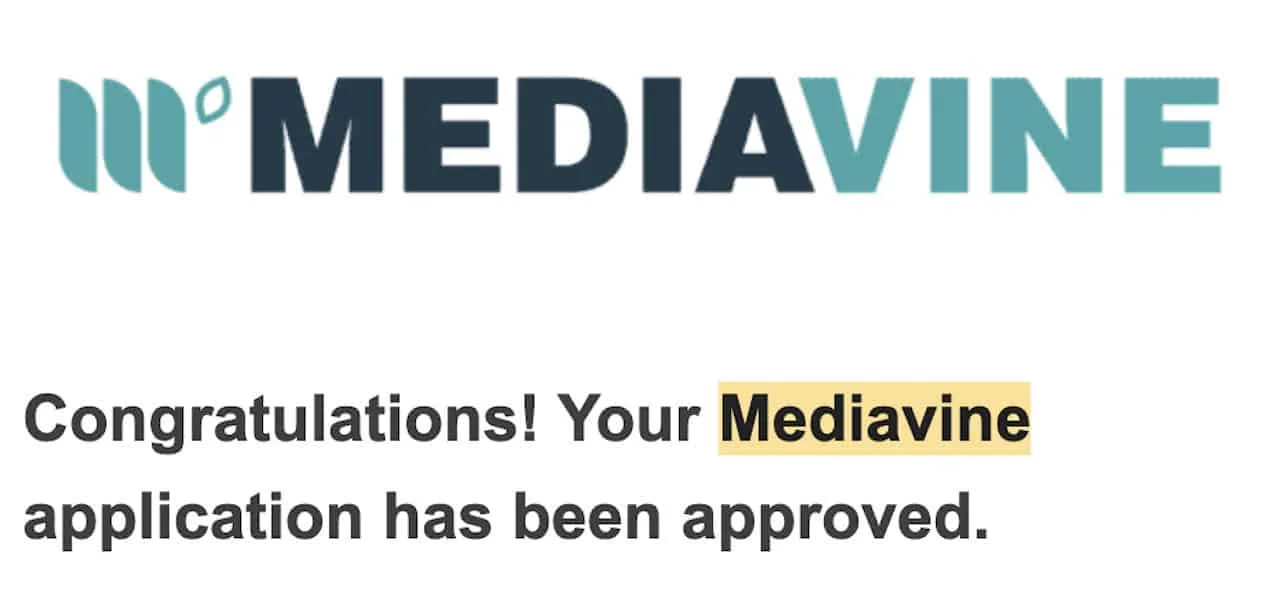 After I got accepted, I had to sign a contract through DocuSign and then approve Mediavine to access my ad inventory.
At the time there was also a checklist of items to go through to make sure the site was optimized for ads (unfortunately, it doesn't look like that link is still live for me).
At that time they were kind enough to also call out a couple minor issues with the sidebar and in content ad placements. Some folks from their tech team walked me through the process on fixing it, and from there I was good to go with Mediavine ads!
7) How Much Does Mediavine Pay?
I will start off here by saying there is not one answer across the board for how much Mediavine pays publishers.
There are lots of factors at play including what niche you are in, how your content is optimized, and even time of year.
The main metric that gets repeated over and over in the advertisement space is RPM – revenue per mille. In simple Mediavine terms, it is the revenue generated for every one thousand sessions.
It is important to note that Mediavine uses sessions as part of the measurement but in other places you may see pageviews instead.
→ The Mediavine calculation is, Earnings / Sessions * 1000
In order for a site to generate more money you will want to increase the RPM. There are many ways to increase RPM and Mediavine clearly explains various steps to take to get you there (check out their RPM challenge!). Just some ways to increase RPM include:
» Longer form content
» More images
» Larger Text
» Increased line height
» Breaking up paragraphs
All of the above will results in more ads being served on your posts without over doing it for readers. More ad impressions = higher RPM = more money in your pocket.
I can tell you for this travel site, the RPMs are anywhere between $25 in the low season and can get up over $50 in Q4. But depending on your niche, advertisers may be willing to pay lower or higher to serve ads on your site.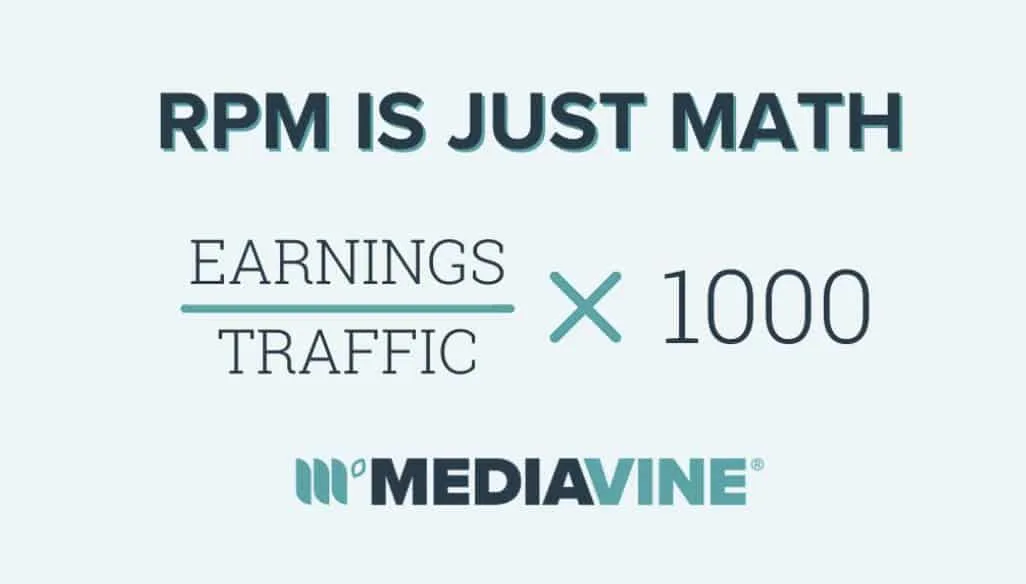 8) Alternative to Mediavine
If you are already running a website and don't have 50,000 sessions yet, there are other ad partners out there.
Joining another ad partner can start bringing in the cash flow for the time being as you work your way up to getting accepted into Mediavine. Some of these alternatives include:
→ Monumetric: there are four different offerings that Monumetric has depending on the number of page views. These four buckets include:
• Propel Program: 10K+ Pageviews / month
• Ascend Program: 80K+ Pageviews / month
• Stratos Program: 500K+ Pageviews / month
• Apollo Program: 10M+ Pageviews / month
→ Ezoic: in the past Ezoic has a 10K monthly pageview requirement. However, that has since been removed and anybody can sign up regardless of traffic as long as they pass some other basic requirements. For those with under 10K, the set up process will focus much more on education and how to grow your site.
→ Google Adsense: there is no minimum number of pageviews to sign up with Google Adsense. However, they are known to have some of the lower RPM's in the industry.
→ SHEMEDIA: to apply to SHEMEDIA, a website must meet the 20K pageview threshold per month in addition to some other standard requirements.
→ Adthrive: this is the one partner here that actually has a higher requirement than Mediavine. To apply to Adthrive you must have 100K pageviews per month with the majority of traffic coming from the US, CA, UK, AU, and NZ.
Note that all the above requirements are in pageviews, not sessions (which Mediavine uses). I can't speak for all sites, since each one is different, but I average around 1.3 pageviews per session to give you a high level idea of the relationship between the two.
9) Final Thoughts
From the moment I applied to Mediavine, I have had nothing but great experiences with them. Some of the top reasons I recommend them include:
→ Their support team is truly top tier and anytime I have a question, they are quick to respond and help out. Not only that, but there have been times where they have reached out to me and given me tips on how to increase my earnings.
→ The community of Mediavine is like nothing else. Having access to 6,000+ other publishers in the Facebook group to ask questions and read through other people's advice is so helpful to have. There is always someone out there who may have experienced the same issues that you are having and can help out.
→ Mediavine is all about setting up your site to succeed and they produce the content to make sure you are able to. Articles, podcasts, Q&A sessions – they are consistently up to date with the latest best practices and make sure their publishers are aware of them too.
→ The Mediavine dashboard is something that is easy to use, easy to navigate, and easy to understand. Whether it is RPMs by ad placement, location, or page, you can really dig into the details to see where improvement can be made.
→ Having an ad partner that also creates its own theme framework and plugins that are meant to integrate seamlessly with ads is something that not many others can stand up against. It just shows their willingness and ability to put out great products for their publishers and non publishers alike.
I hope that by understanding the requirements and getting a better sense of what Mediavine is looking for can get you going in the right direction with your site.
If you are interested in learning more about getting a site up and running, I would recommend checking out the other travel blog resources I put together.
Feel free to add any questions or comments below. Happy to help answer anything I can. Good luck!