When planning a trip to Cambodia, you might think of the temples of Angkor Wat or the capital of Phnom Penh or the beaches of Sihanoukville. But the city of Battambang is one worthy of a visit as well.
There are plenty of things to do in Battambang, Cambodia and it is located just 3 hours east of Siem Reap. If you have some extra time on your trip and would like to explore more of what this country has to offer then Battambang is a great option to add here.
I would say anywhere from 1-2 days (as a stopover between Siem Reap and Phnom Penh), is a good amount of time to explore the city.
* Affiliate Disclosure: This post may contain affiliate links, which means I may receive a commission if you make a purchase through the links provided, at no additional cost to you. Thanks for supporting the work I put into TripTins!
1) Introduction to Battambang
Even as Cambodia's second largest city, Battambang is probably one of the more overlooked places when planning a trip out to the country. That does not mean though that you should leave it off your itinerary too!
There are plenty of things to do in Battambang that should keep you occupied for a couple of days in the Cambodian countryside. The city gives off a laid back vibe with less tourists and commotion surrounding you.
So if you have the time and want to experience it for yourself, keep on reading for the top 5 things to do in Battambang, Cambodia.
2) Getting To Battambang
If you are coming from another city within Cambodia such as a Siem Reap or Phnom Penh, you can easily hop on a minibus/bus that will take you right into Battambang.
No need to worry about booking anything much in advance. Your hotel can help get you on a bus a day or two beforehand.
The route from Siem Reap will be around 3 hours long while Phnom Penh around 6 hours.
These times can vary depending on conditions and what type of vehicle you are in.
3) Getting Around Battambang
Battambang is the perfect city to explore on your own. Renting scooters or bicycles is one of the more popular ways to get around and is quite inexpensive to do so.
I should note if renting a scooter that you should be comfortable riding beforehand as it can be dangerous to be driving in a foreign country with no experience.
Throughout Cambodia and Southeast Asia you will find plenty of people with bandaged up arms and legs from falling off their motorbikes.
If exploring on your own is not for you, no worries at all. Your next best bet will be hiring a tuk tuk for the day.
Like many other cities around the country, you can get a tuk tuk to take you around for several hours from site to site and charge a low flat rate.
If this is something that you are interested in, just make sure to agree on a price beforehand. I should note (as you will learn more in the next section), the attractions are not directly in the city itself. Rather a 10 to 30+ minute ride outside the city into the countryside.
You can of course spend time wandering the streets of the city itself but if you want to explore this list of things to do in Battambang you will need some type of vehicle to take you around.
4) Map of Battambang Things To Do
This guide goes over the following five things to do in Battambang:
Bamboo Train – Phare Ponleu Selpak – Bat Caves – Killing Caves – Wat Banan
As you can see the only attraction listed that is close by in the city itself would be Phare Ponleu Selpak, which is the local circus. The rest of the attractions require some driving time.
5) Top 5 Things To Do in Battambang Cambodia
A) Bamboo Train
Hop in a tuk tuk or scooter/bicycle to take you to your first attraction of the day – the Bamboo Train. Your tuk tuk driver will wait for you until you are finished up or you can leave your scooter/bicycle at the starting point.
Once you arrive at the beginning of the train tracks you will be given a driver (about $5) that will drive you along the train tracks to a village and back.
You will literally be sitting on a piece of bamboo layered on top of a pair of wheels. The train actually goes pretty fast as you go through the countryside (as you can see in the video below).
At the end of the track is a small village where you will probably be (uncomfortably) forced to buy something – food/drinks/souvenirs etc. After about 15 minutes or so you will then hop back onto the train and head back to the starting point.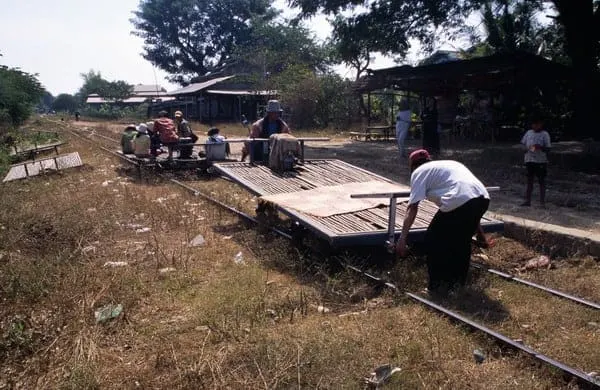 B) Phare Ponleu Selpak
Show Hours: Usually 7:00PM – 8:30PM Cost: $14
Hopefully for you, there will be a performance at Phare Ponleu Selpak (the local circus). Check the schedule to plan ahead. Usually there is a show every other day or so.
The circus here is quite interesting – there are a variety of performances, everything from fire jump ropes to acrobatics performed by children and young adults.
The mission of the school is that it "seeks to provide education, access to the arts, vocational training, and professional pathways to the children and young adults of our community." Having a night out at the Battambang circus is sure to stand out as one of the more entertaining parts of your trip.
C) Bat Cave
Bats Emerge: Around 5-6PM depending on time of year Cost: $1
One thing that you can add onto your trip are the bat caves – here everyday around 5-6PM you will see thousands of thousands of bats flying out of this cave.
The caves are located on the mountain of Phnom Sampeau. As you make your way up the mountain you will get to see the views of valley below.
Your tuk tuk driver will drop you off by the entrance where you will buy your ticket to enter. You can then either walk your way up to the cave or hop on a moto/pickup for about $3.
Once the first bats start flying out there will be a steady stream of them for nearly 45 minutes! It really is quite the experience to witness.
As you might imagine this would only be worth visiting to actually see the bats flying out of the cave. So if you want to see that, then make sure your day is timed accordingly to get to the caves in time.
D) Killing Cave
Cost: $1
Situated about half way up the mountain to the Bat Cave, the Killing Caves are where thousands of people were killed and thrown to their death during the Khmer Rouge regime.
This now serves as a type of memorial to remember all the lives lost during that time.
If you are headed to Phnom Penh during your time in Cambodia, you will be sure to learn even more about this horrific time period in the country's history.
E) Wat (Phnom) Banan
Next up is Wat Banan – a complex of ruins set on top of a mountain. Once you arrive at the base, get ready to do some stair climbing. About 350 stairs later you will make it to the top where you will be able to enjoy the temple.
Similar to Angkor Wat architecturally, but much smaller in size, Wat Banan features ancient temple ruins. It is made up of five towers that all full of different types of carvings. You will also get to enjoy the fantastic views of the surrounding countryside.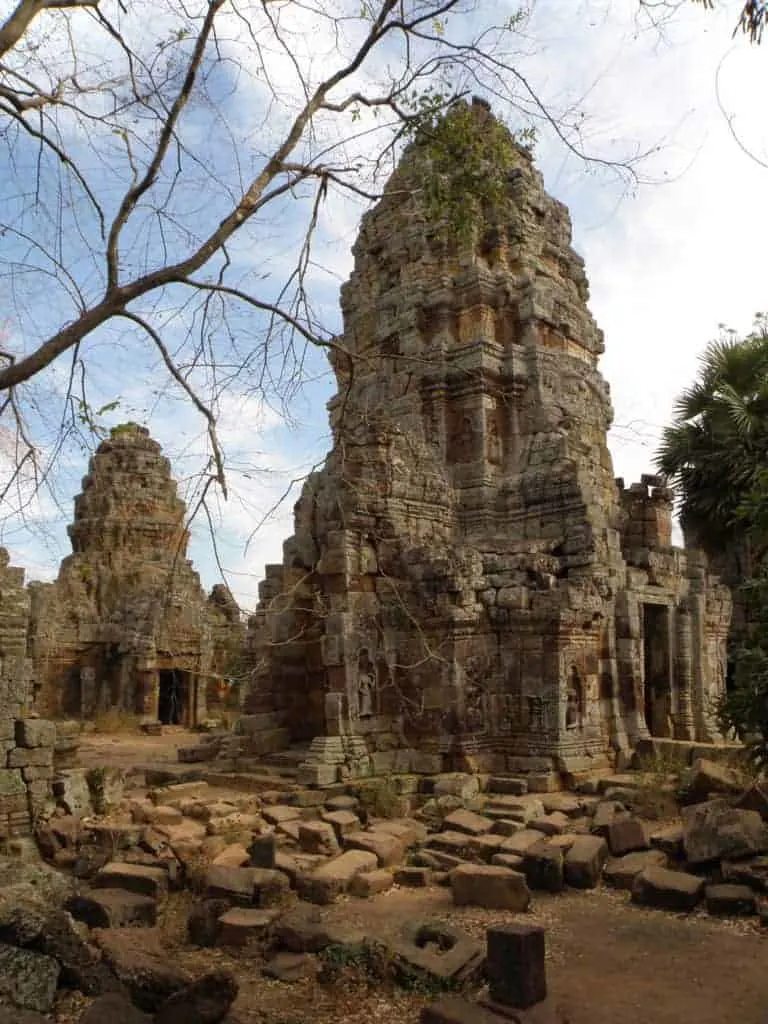 If you want a local expert to take you all around the sites I recommend taking a look at some highly rated tour options that can take you all around the city of Battambang
6) Battambang Accommodation Options
Battambang is filled with plenty of affordable boutique hotel options. Here are just a few top rated and valued hotels around the area.
Battambang Resort (a little outside of the city)
That about wraps up your guide to some of the top things to do in Battambang Cambodia.
Take a look at our other Cambodia itineraries and guides to help out with any other trip planning. If you have any questions about Battambang feel free to comment below!