Chichen Itza – one of the Seven Wonders of the World and one of the most incredible feats of architecture on earth. No trip to the Yucatan peninsula is complete without a stop at this world wonder to explore all that it has to offer.
This article will be your go to comprehensive guide for all you need to know to take part of a day around the ruins. It will go over everything from how to get to Chichen Itza from Cancun to important facts about the site to Chichen Itza private tours options.
Whatever questions you may have I am hoping this guide can take care of it all and more!
* Affiliate Disclosure: This post may contain affiliate links, which means I may receive a commission if you make a purchase through the links provided, at no additional cost to you. Thanks for supporting the work I put into TripTins!
1) History of Chichen Itza
Before jumping into everything you need to know about a visit to Chichen Itza, I just wanted to go over some helpful info about the history of the site and its significance in the Mayan Empire.
» Chichen Itza is not just the beautiful pyramid you see in all the pictures. It is actually an entire city with numerous structures and temples built all throughout.
The Temple of Kukulkan or El Castillo is the name of the famous pyramid front and center that most people are familiar with.
» The name Chichen Itza is thought to be translated to "the mouth at the well of Itza" (Itza meaning high class rulers or water magicians).
» The city began to be built in the 400AD – 500AD time period and around the year 600AD, it soon become one of the most important cities in the region.
It was a center for trade and was full of mathematicians, engineers, architects, and astronomers (not surprising given the intense detail behind the structures built in the city).
» It was not until about the 1200's that the city began to collapse and the Mayans began to move away from it. Around the year 1540 the Spanish took over Chichen Itza, although most locals were already gone by then.
» Throughout the 1800's and into the 1900's the site was brought to life, first by exploration and then by restoration. Some of these early explorers included John Lloyd Stephens, Frederick Catherwood and Edward Thompson.
The site is still being studied to this day, and there have even been some new discoveries given the advancement in technology.
2) Important Facts To Know
Since Chichen Itza is a World Wonder, you can imagine there are A LOT of people who want to experience a visit there. Below are some important facts to know about Chichen Itza to better prep you up for your trip.
» The complex is open every day from 8:00AM – 4:30PM. The best time to go to avoid the crowds are right at opening time or a couple hours before closing (to avoid those tour groups).
Believe me it does get very crowded at mid day and it is also the hottest time to visit.
» Price to enter Chichen Itza is 481 pesos / $25 USD (406 pesos for the state ticket and 75 pesos for the federal ticket). This can ONLY be paid in Mexican Pesos and there is an ATM nearby if you are low on cash.
» If you want to get more of a private feel around Chichen Itza you can also opt for an after hours ticket. The cost is ~200 pesos / $10 USD (in addition to the regular ticket if you go earlier as well) and it gives you access to Chichen Itza from 5:00PM – 6:30PM.
» Every night at Chichen Itza you can also view the famous light and sound show by the main Kukulkan pyramid. Buy tickets in advance here (510 pesos / $27 USD).
The gates open at 7:00PM or 8:00PM depending on time of year. You can then tour the area for about 45 minutes using a special audio guide and the show then starts about an hour later for a 20 minute performance (when purchasing tickets you can see what time the entrance opens).
» If you opt to stay at one of the hotels on the Chichen Itza complex (i.e. Mayaland Hotel or Hacienda Chichen) you can organize a private tour before the complex opens (6:00AM) and it will be like having the entire place to yourself. These tours can costs around $100+ per person.
» There are no tripods allowed in the complex (same goes for drones). If you were planning a professional photo shoot that will not be possible unless you get permission ahead of time. They also charge a small additional fee if you come in with a video camera or GoPro.
» Do not forget to bring sunscreen, a hat, sunglasses, and water – it can get very hot out there with little shade in the main areas of the complex
» Be prepared for hundreds of vendors lining the pathways of Chichen Itza. They are selling anything and everything you can think of when it comes to a tourist attraction.
While prices are pretty cheap to begin with, there is always room to negotiate a bit. Note that some vendors will have authentic hand made goods while others will be selling made in China items – so be aware if you want to purchase the real thing.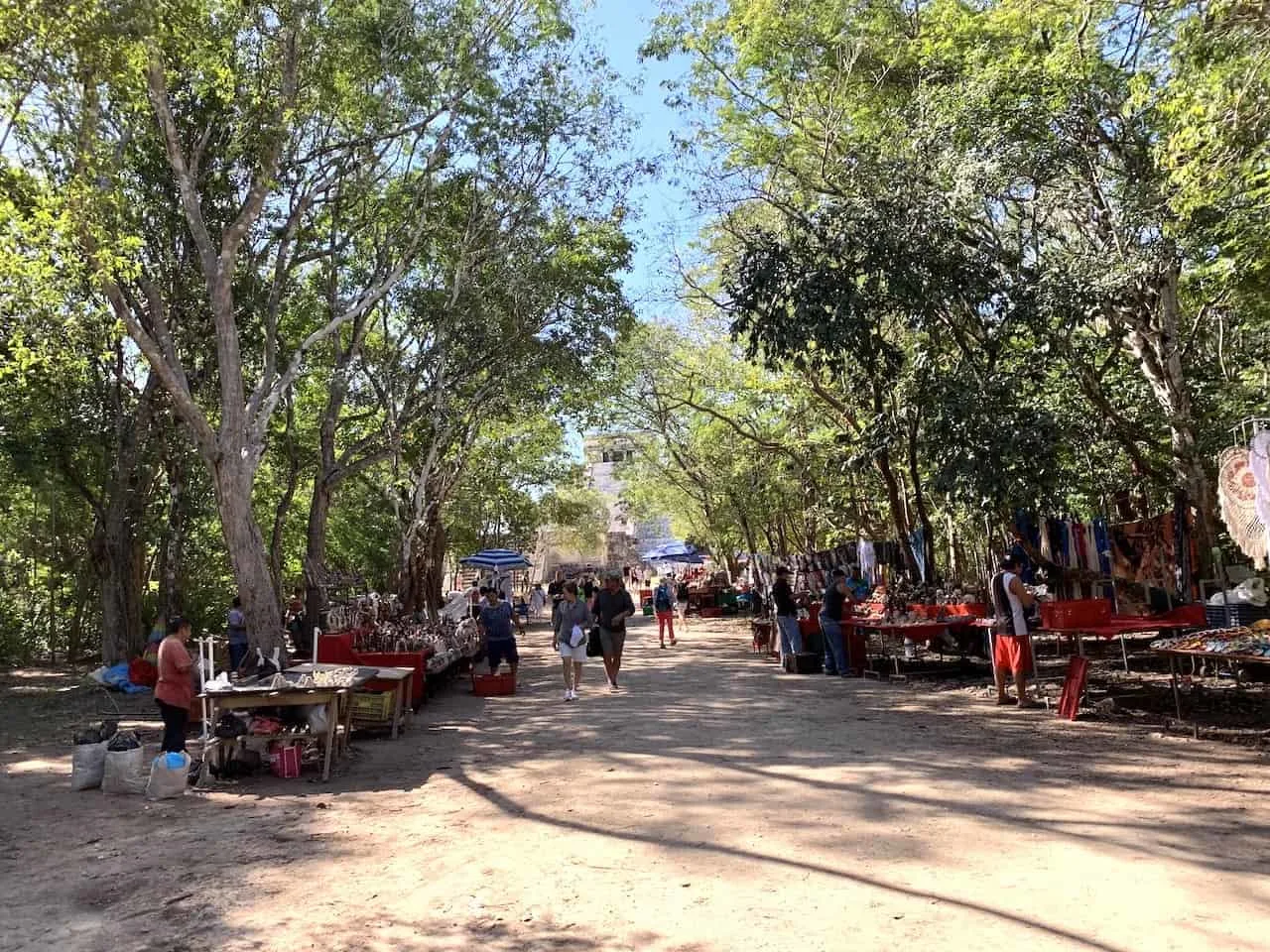 » TIME ZONE IMPORTANT NOTE: A pretty important last note here – the Quintana Roo timezone (aka Cancun, Tulum, Playa del Carmen) does not change its clocks for daylight savings. This was done to increase the amount of sunlight hours during the winter time. As a result, during the winter months (November to March) when it is 8AM in Cancun, it is 7AM at Chichen Itza. During the rest of the year, the two time zones will match – Chichen Itza's timezone will leap up an hour in March and it will be the same time as Quintana Roo until the winter comes by again.

What does this mean for you? Well for example, if you are visiting Mexico in January and want to visit Chichen Itza at opening (8:00AM), you would only need to leave Cancun at 7:00AM (not 6:00AM). The two hour drive will get you to Chichen Itza at 8:00AM local but 9:00AM Cancun time. So it will save you an hour of sleep there. On the way back you will lose that hour and jump ahead one hour as you make your way back to Quintana Roo.
3) How to Get to Chichen Itza from Cancun
There are three main ways to go about visiting Chichen Itza. You can choose to rent and car and get there on your own, you can use public transportation, or you can hire a group or private guide.
Below I will go into further detail about each one of these options with some pros and cons along the way.
Rent A Car
The first option here would be to rent a car and make your way to Chichen Itza on your own time. You could be coming from Cancun, Tulum, Playa del Carmen, Valladolid, etc and head to Chichen Itza as part of a day trip or a stop along the way of a longer route.
I won't cover the ins and outs of renting a car around the Yucatan Peninsula but this post will highlight all you need to know.
By renting your own car you will be on your own schedule and you can head to Chichen Itza right at opening or later in the day in order to avoid the crowds and not worry about relying on a tour/public transport schedule.
You can do what you want, when you want and add stops along the way such as exploring cenotes (although a private guide can get you there too).
So if you are all for freedom and don't mind driving on your own in Mexico, then this option could be for you. Note that parking costs 80 pesos / $4 USD at the site.
Public Transport
The second choice here would be to leverage public transportation to get to Chichen Itza. You can do so a day trip from any of the aforementioned towns.
There is a company called Ado Bus that has public busses in the AM that will get you to Chichen Itza with return routes later on in the afternoon. The advantage of taking the bus is that it is cheap ($5-$15 each way) and you will not need to worry about driving/renting a car.
However do note that the busses will be arriving at peak hours for visitors which means a much more crowded site.
With choices #1 and #2, you can opt to hire a tour guide at the entrance of the site. If not, no worries as you can just roam the complex on your own as well.
Group Tour
The third option would be to take a group tour to the ruins. There are many companies that you will comes across that will offer such a tour for around $50-$75.
The downside to these tours is that you will spend the first hour of the day picking up people all throughout Cancun (or Tulum, Playa, etc), and then arrive at Chichen Itza at the peak and hottest hours of the day.
These group tours can also have a fair share of people joining along which can take away from the experience and make it difficult to ask questions to your guide. For the price though – transport and guide, it is a pretty good deal all things considered.
On the other hand, some companies offer group tours that are a bit different than the mainstream ones. You can opt for a small group tour where the max number of people is limited to say 10 people or so.
You can also find tours such as the early bird option which leaves Cancun early AM and gets there right at opening. These options will be a bit more expensive, but could be a better experience altogether.
Chichen Itza Private Tours
The last option and the one I went with during my time in the Yucatan was a private tour from start to end. By far the most expensive option (~$150+ per person) but at the same time the most rewarding in my eyes.
I came across a company called Mayan Expeditions, a local, reliable and highly rated company in the Cancun area (there are sure to be similar ones in other cities as well).
For a 10+ hour day, you will get both a driver and a guide for your private group. This was fantastic as during the 2 hour ride to Chichen Itza, Pepe our guide, was educating us all about the history of Chichen Itza, answering all of our questions, and telling us interesting facts about the area.
Since I wanted to get there before the big group tours arrived, Pepe was able to pick us up from our hotel right at 7AM, which meant we would arrive directly at 8AM opening (due to the time change in the winter).
Once we arrived at Chichen Itza, we walked ALL around the complex, learning about each structure of the area, taking plenty of pictures, and continuously going back and forth asking questions.
For a site like Chichen Itza, it was incredible having someone like Pepe teach us about each and every detail of how the place was built.
After about 4+ hours touring the complex (and once all those tour groups began to arrive), we hopped back into the van and headed to Valladolid for lunch.
We got dropped off at a fantastic restaurant (recommended by Pepe but if you have done your own research, they can bring you there as well) and spent an hour enjoying a local Mexican meal.
It was then time to head to a cenote to wind down and hang out in the water. We ended up at a great one called San Lorenzo Oxman, which is part of a hacienda that has a pool and restaurant. The cenote itself was incredible to swim in and also had a rope swing to get yourself into the water.
Note with some of (not all) the group tours, they may also add a cenote to the itinerary – most likely Ik Kill, which is just a few minutes away from Chichen Itza.
Once we were all done with Chichen Itza, Valladolid, and the San Lorenzo Cenote, it was back to Cancun to end one unbelievable day in the Yucatan. If you want to contact Pepe directly he can be reached at pepelopezjr(at)mayanexpeditions(dot)com.
4) The Chichen Itza Complex
As mentioned Chichen Itza is not just the great pyramid that lays in the center of the complex. While the Temple of Kukulkan / El Castillo is the center piece of Chichen Itza, there are actually 18 places pinned down on the map that you can visit all throughout the complex.
As you enter you will first buy the tickets from the booth and you can use the restrooms / buy some drinks & snacks prior to heading in. You will then make your way through the turnstiles and into the complex itself.
Before you know it you will start approaching the center of Chichen Itza and see the vast area that it covers.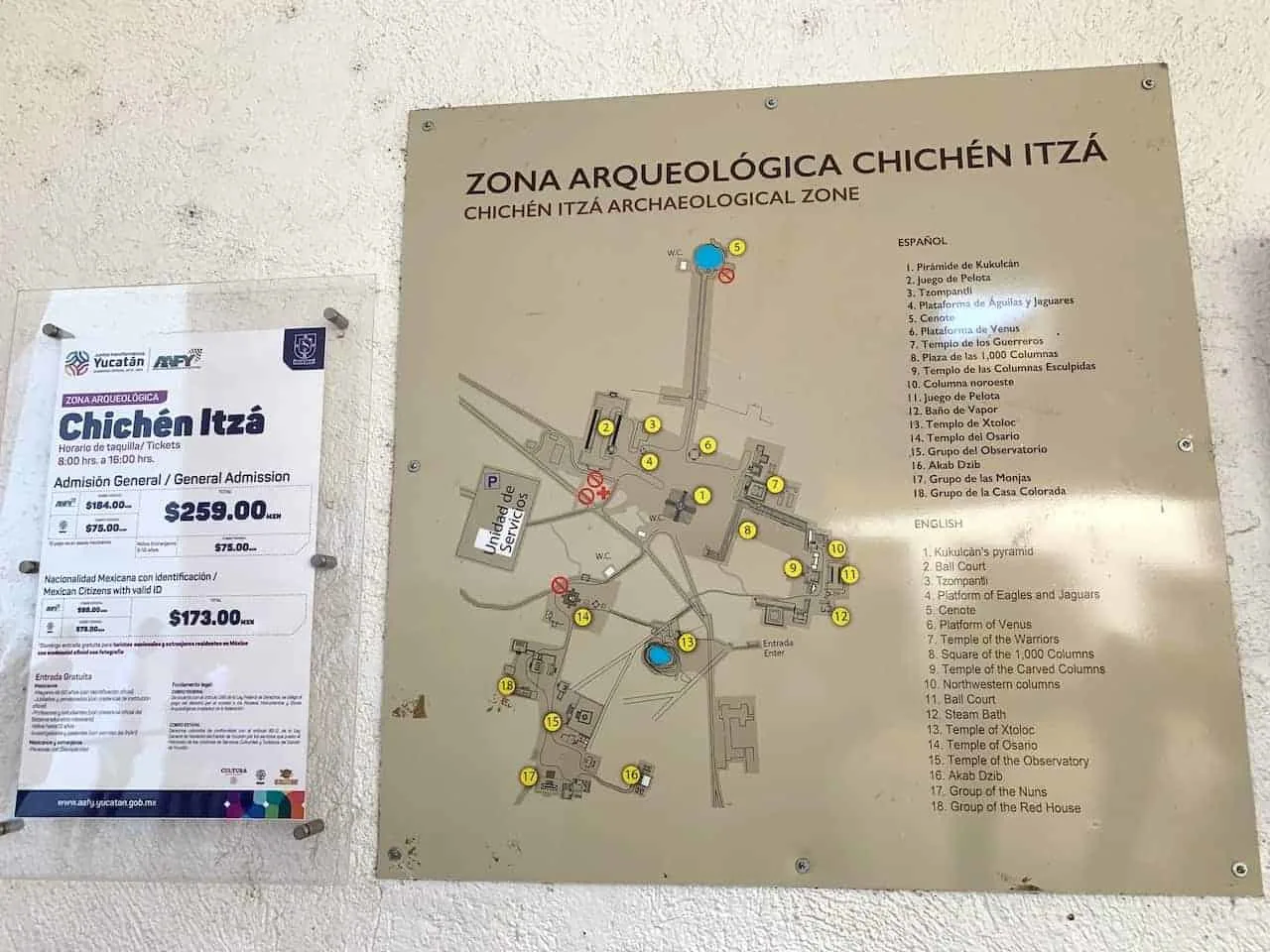 A) The Temple of Kukulkan
The Temple of Kukulkan is truly massive in size and if you have a tour guide with you, you will learn all about the history of how it was built and the intense detail that went into its construction.
Literally every part of the pyramid has a meaning – from the number of levels, to the indentations of stone, to the angle the sun hits it – the Mayans were a step above the engineering game.
The Temple of Kukulkan is actually one pyramid built on top of a second pyramid and unlike the pyramids in Egypt, this one is not built with blocks.
Instead, it was more so built with piles of stones until the outer walls were put into place on top of them. As you circle the pyramid you will see that only two sides were fully restored (with stones found around the area).
On the other two sides you can actually see what it looked like when it was discovered. These are the inner layers of stone piles that were put in as a base to the pyramid as a whole.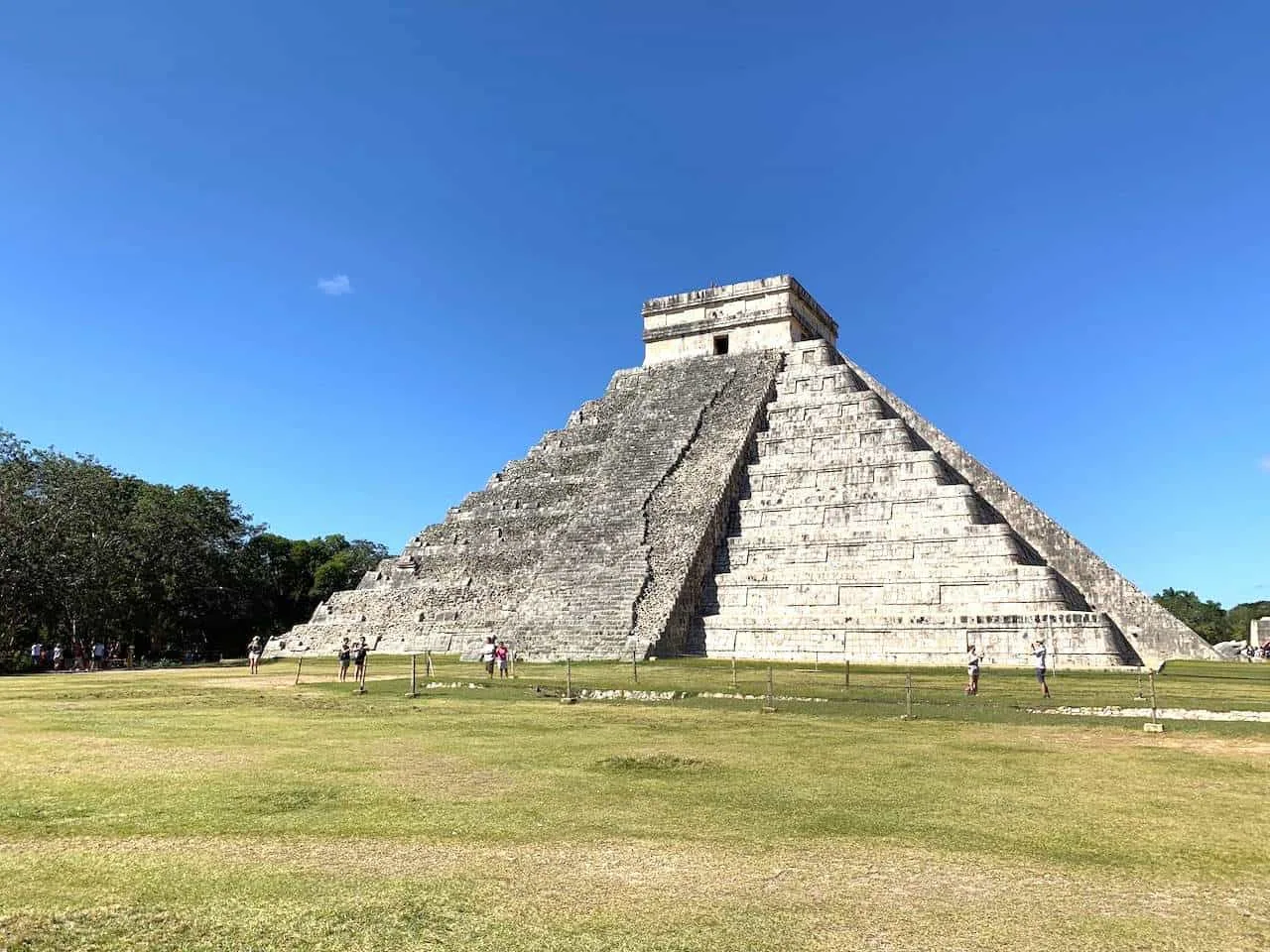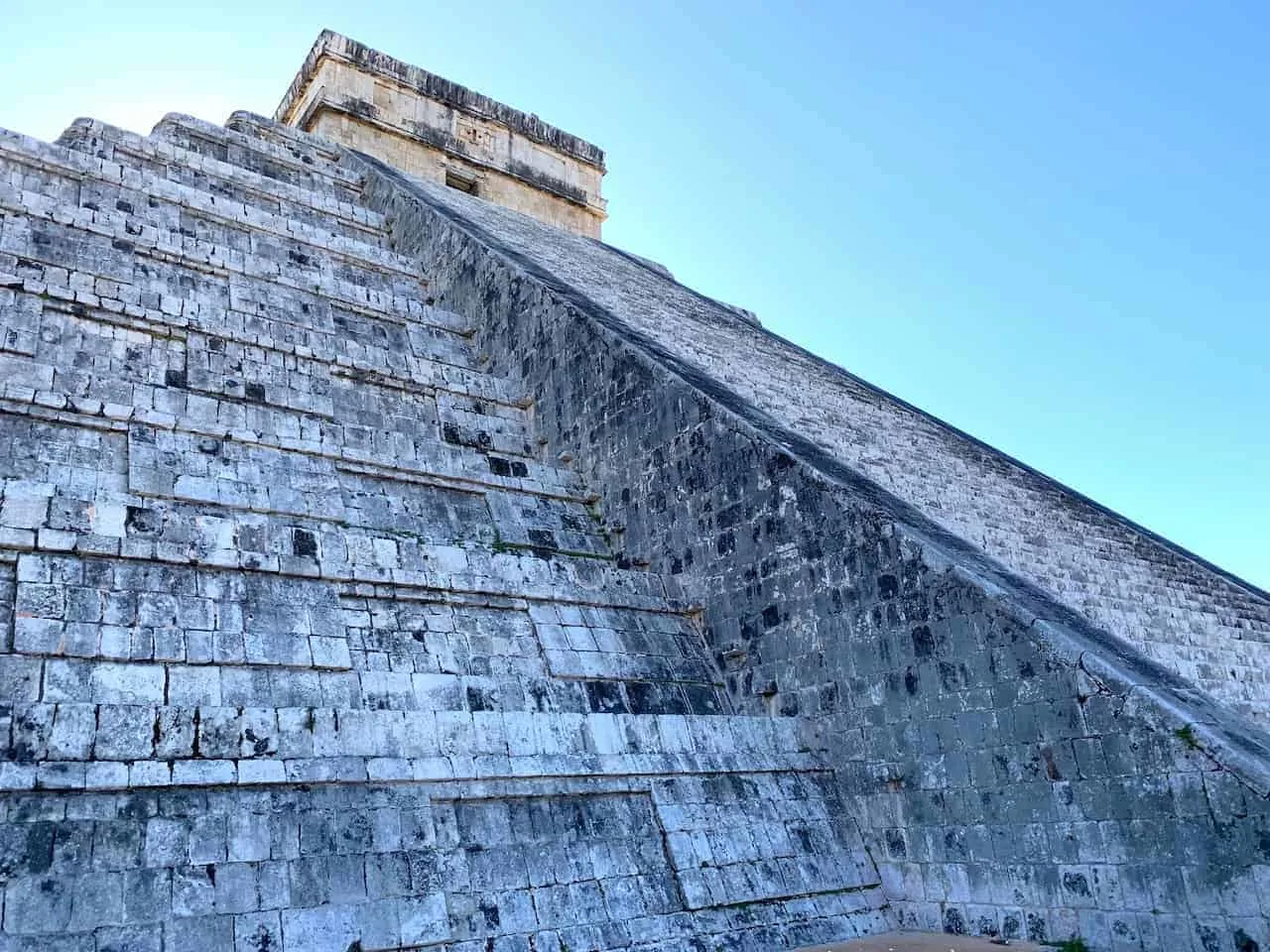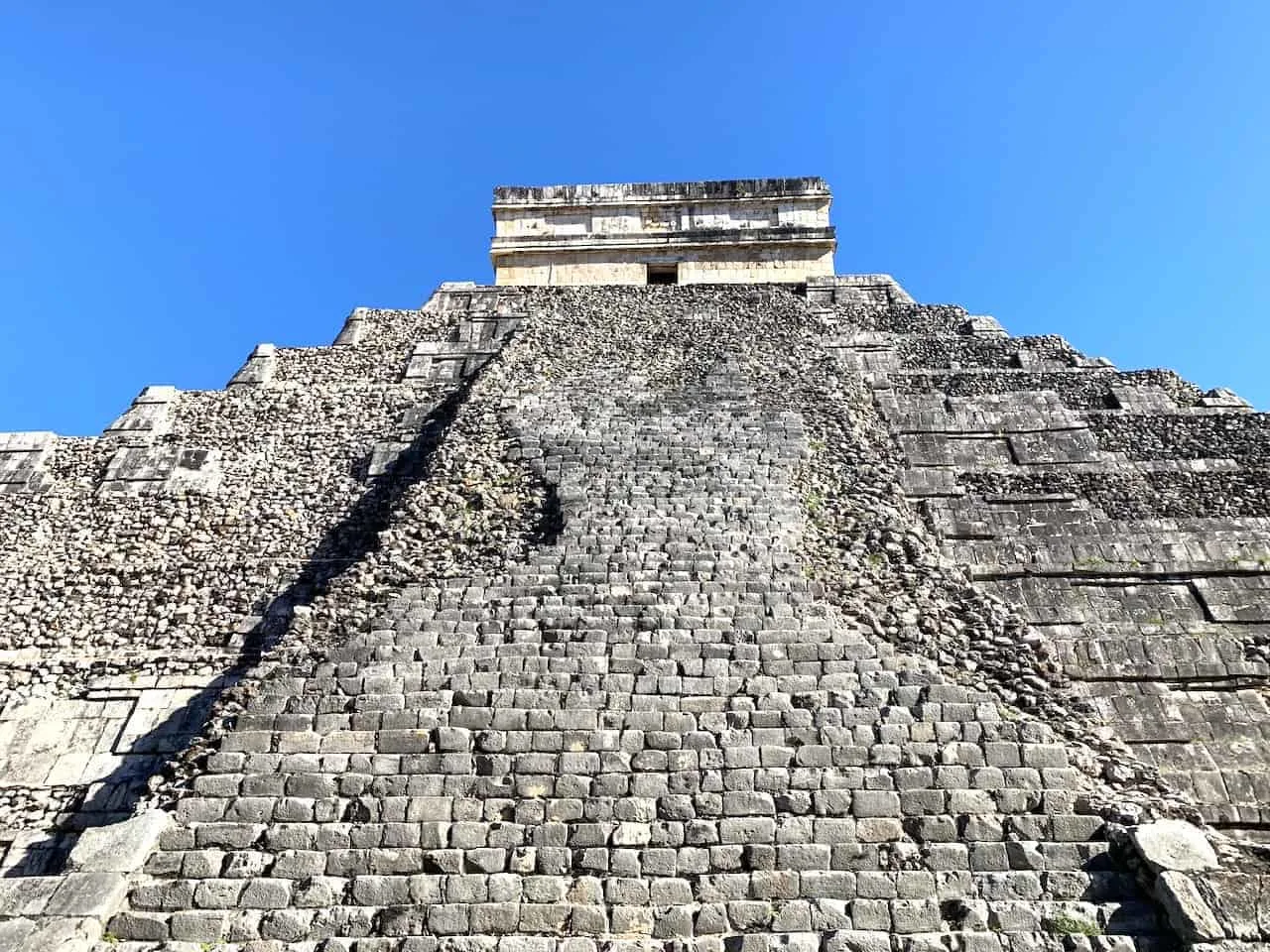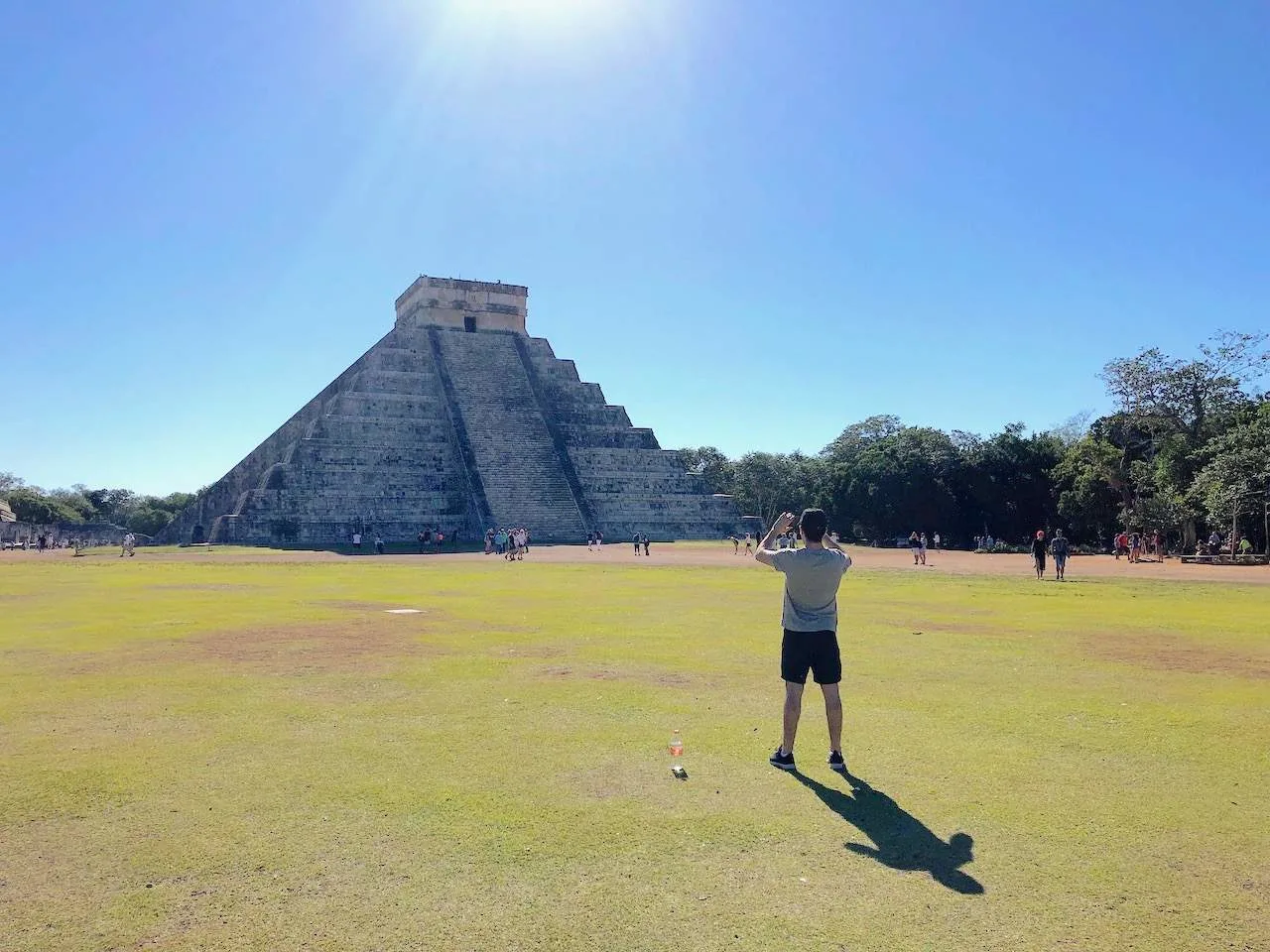 B) The Great Ball Court
After spending enough time around El Castillo itself, it is time to walk around the rest of the complex to take a look at what else the area has to offer. Your next stop should be the famous Great Ball Court.
Now this was not your typical game. The game was played with two teams of players on the field and 1 captain up on the ledge. The goal of the game was for the players to get the ball to their captain and have the captain bounce the ball into the circular hole up above.
Here is the catch though – players were not allowed to use their hands or feet – that means they had to use elbows, thighs, shoulders, chest, etc to get the ball to their captain and into the hole. Since the difficulty of this game was so intense, once a team scored, the game was over.
That did not leave too much time to celebrate though as the captain of the winning (not losing) team was killed and sacrificed. Quite a game is was!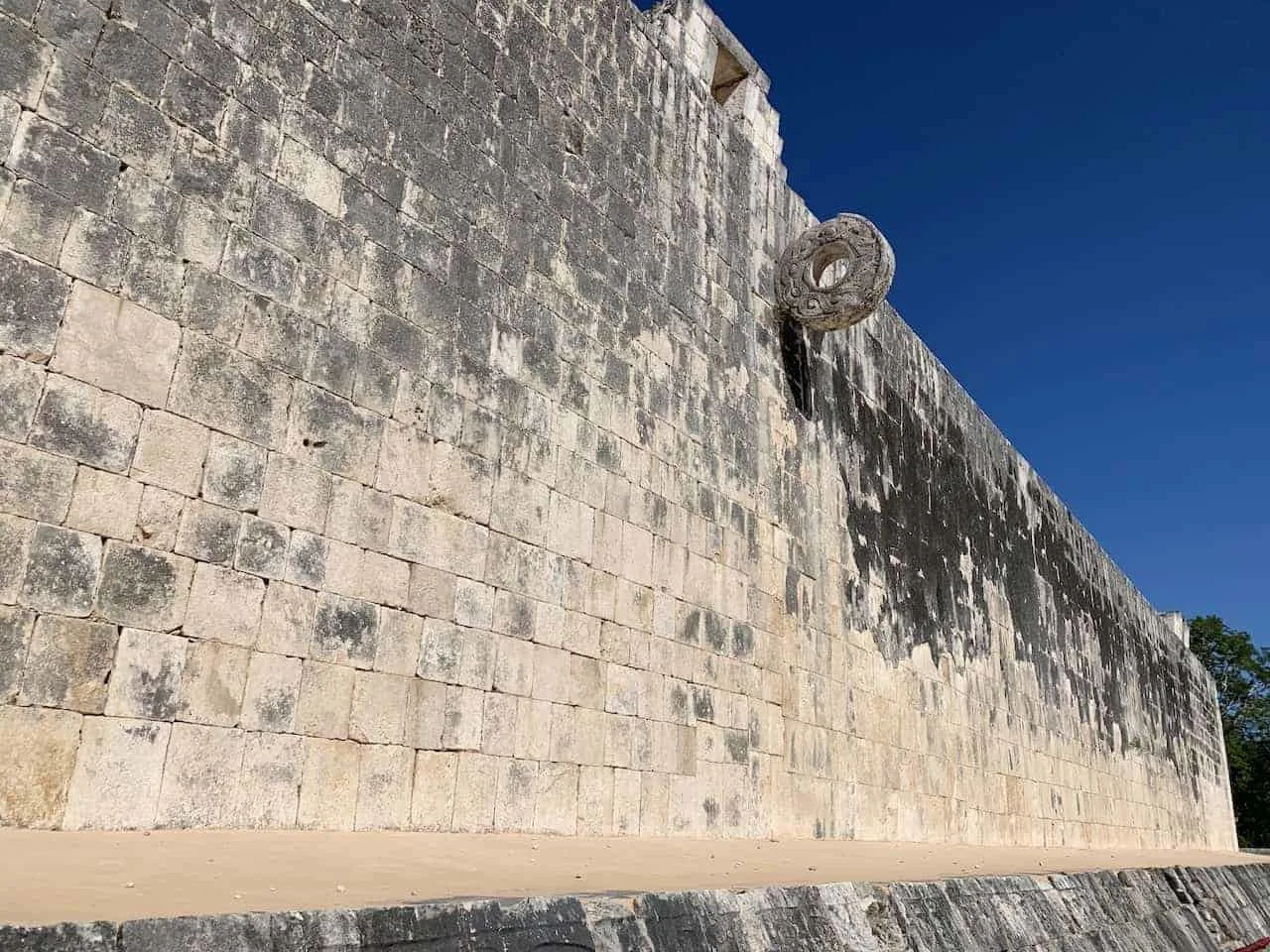 C) Sacred Cenote
Once your time at the ball court is over, head over to the Sacred Cenote. Here is where more sacrifices happened as people plunged 90+ feet into the water down below.
Unlike many other cenotes around the Yucatan, this one does not have that nice clear color. That is because the underwater water system has been blocked off after so many years.
It is still a remarkable place to see though and take in. One interesting fact here was that Edward Thompson actually used some heavy machinery back in the early 1900's to dig the bottom of the cenote.
There he found skulls, bones, jewelry etc, which helped experts better understand what happened back in the Mayan era.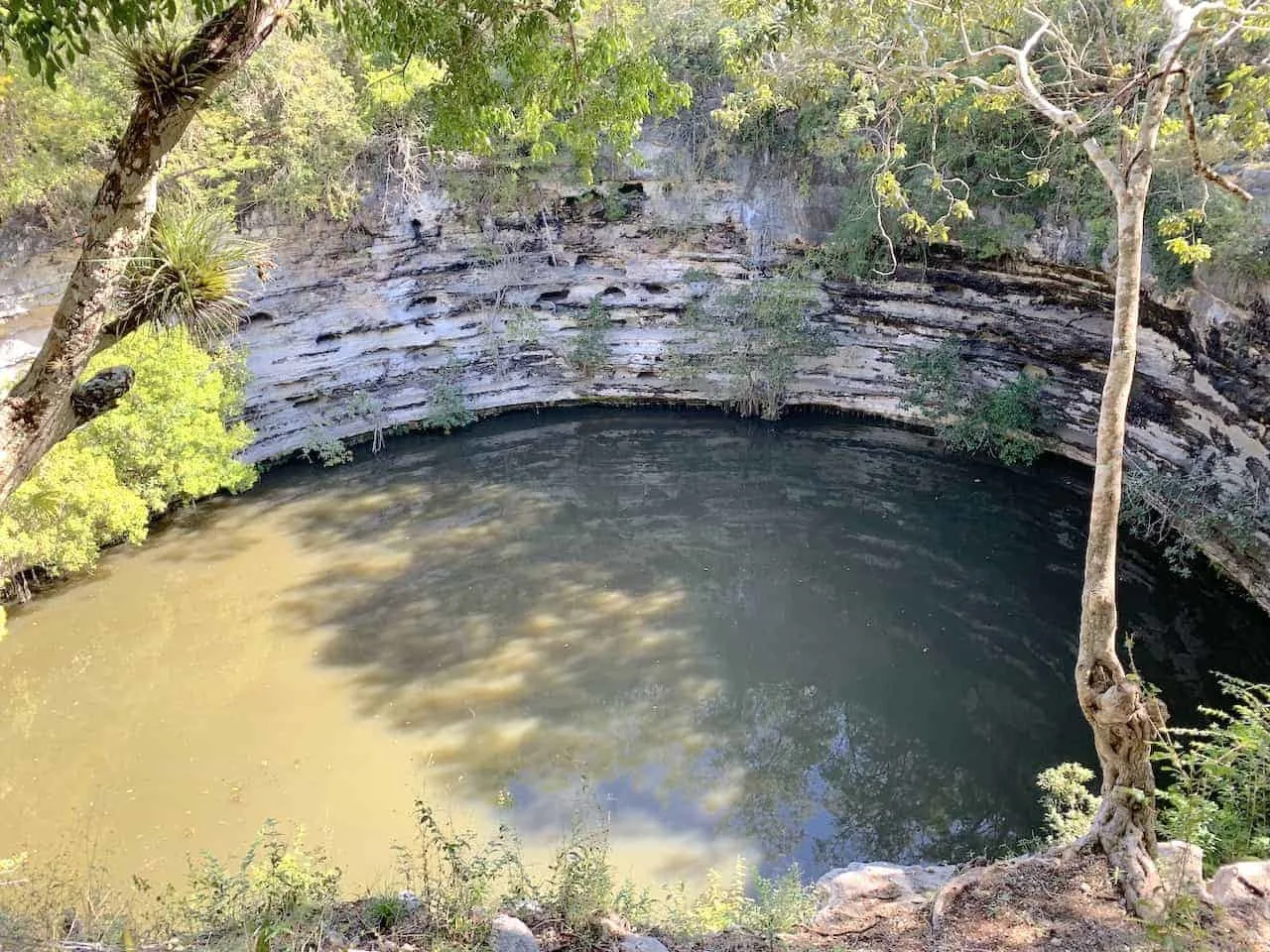 D) Temple of the Warriors & Square of the 1,000 Columns
Make your way back to the main field area to the Temple of the Warriors and Square of the 1,000 Columns. The temple was one of the largest of the complex and the columns were thought to be the home of a marketplace for locals.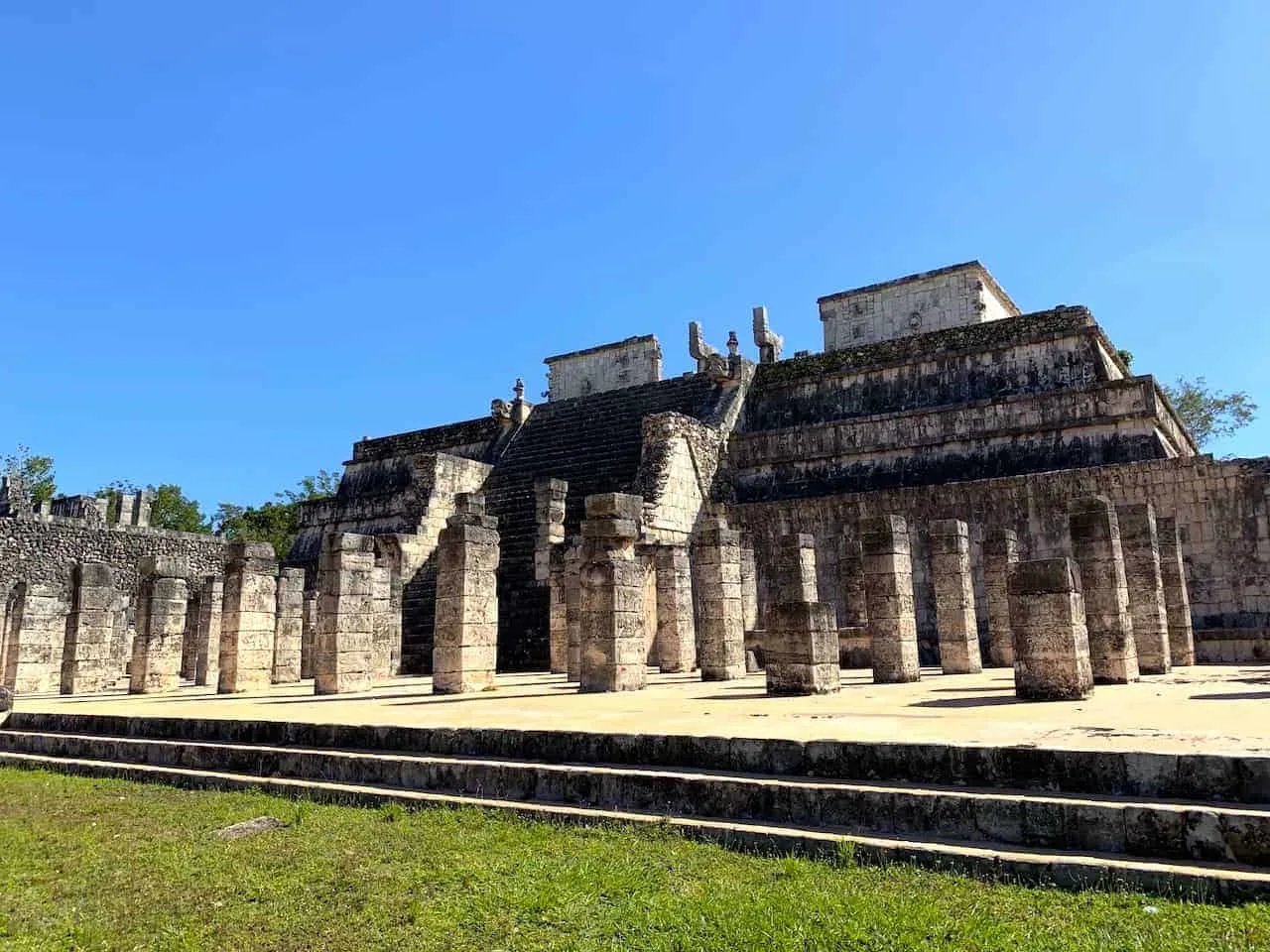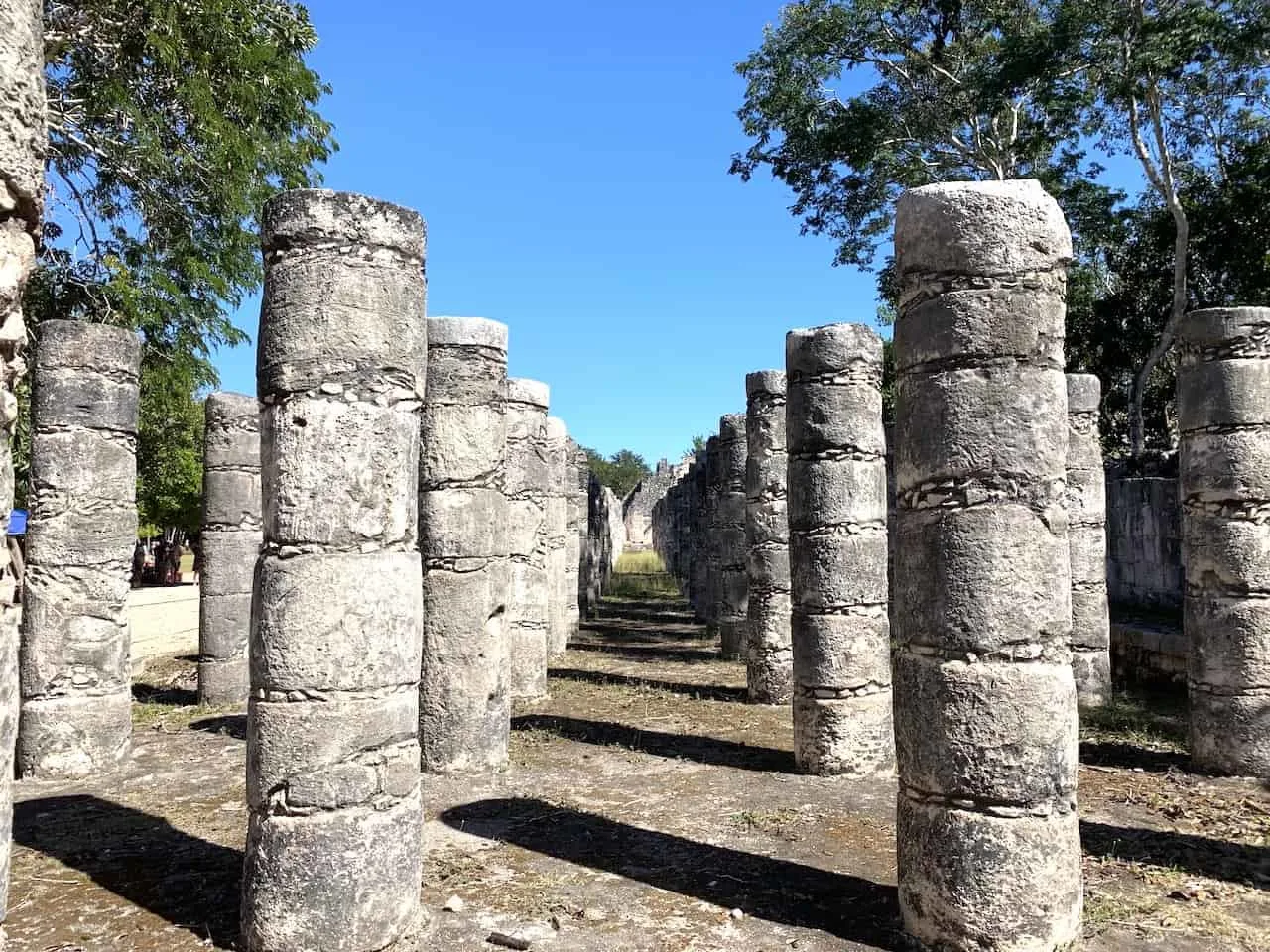 E) El Caracol – The Observatory
Finally it is time to head to the famous Observatory. Here was the area of study for many of the mathematicians, engineers, and astronomers in Chichen Itza.
As you might imagine it took quite the expertise to understand the astronomy and architecture back then without any technology. This is where those people studied for years on end to become experts in their fields.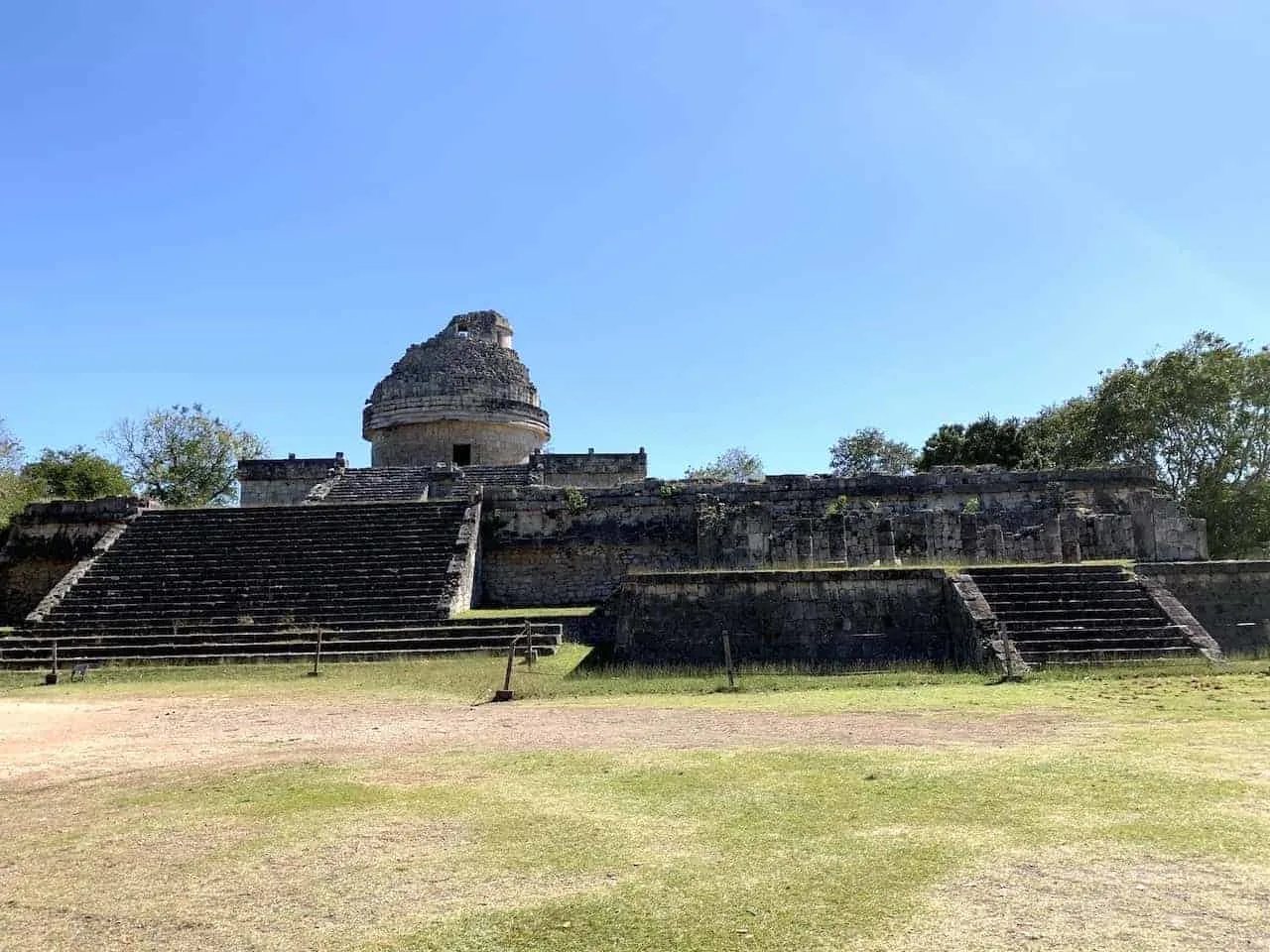 F) Other Structures & Temples
Those are just some of the main sites of the Chichen Itza complex.
Along the way however, you will pass by other structures such as the Tomb of the High Priest, Platform of Venus, and the Red House Chichanchob, among many others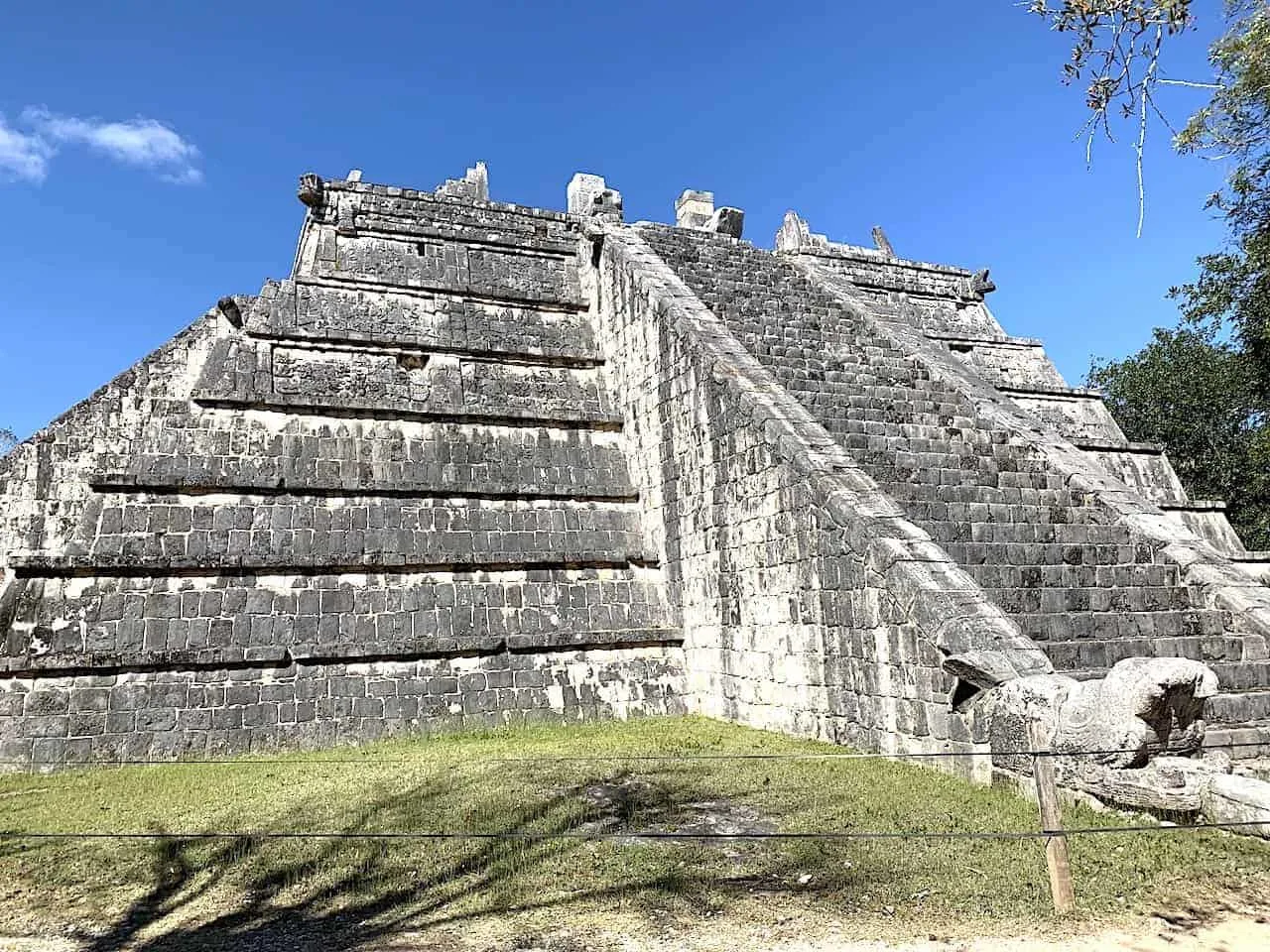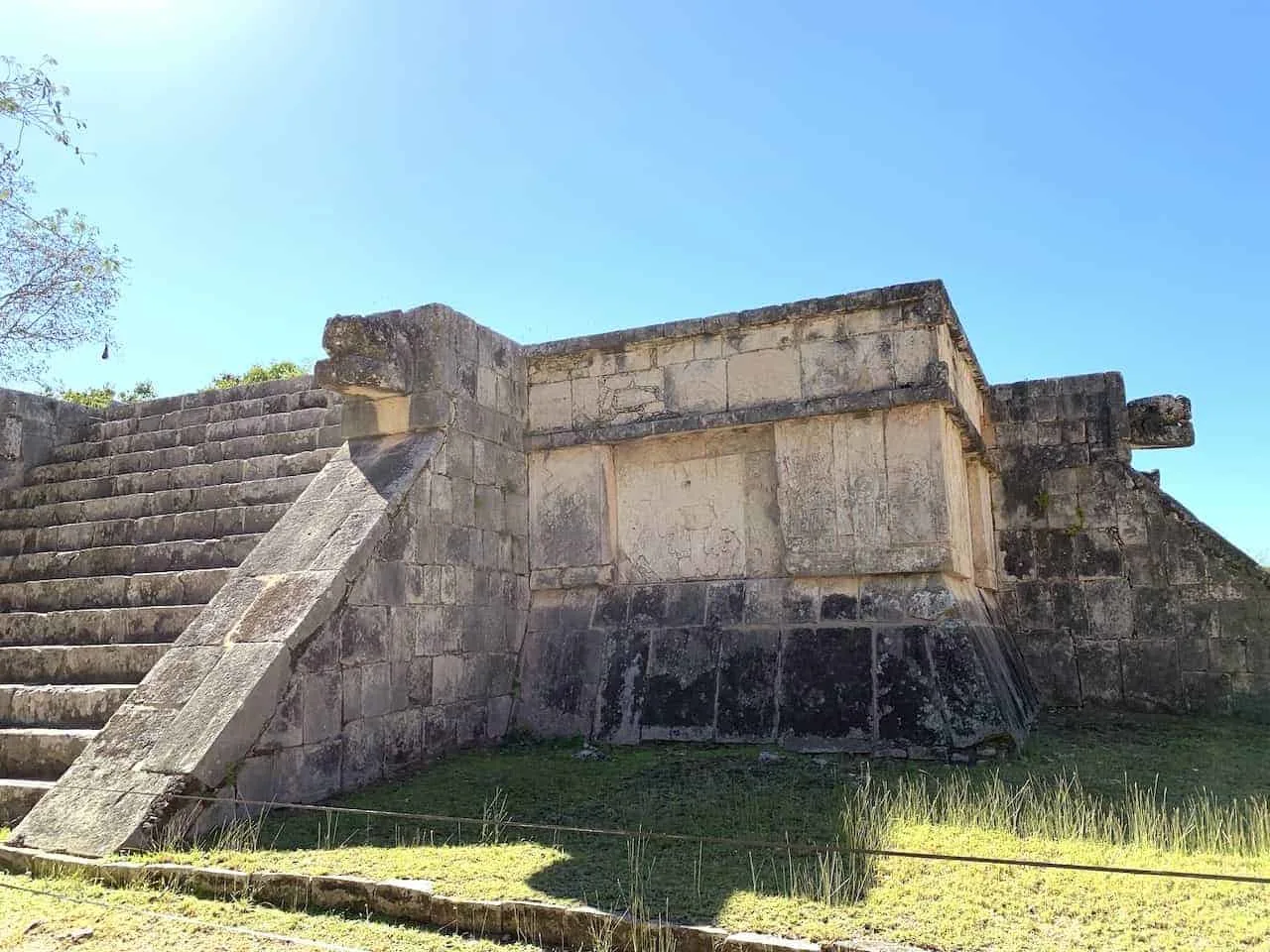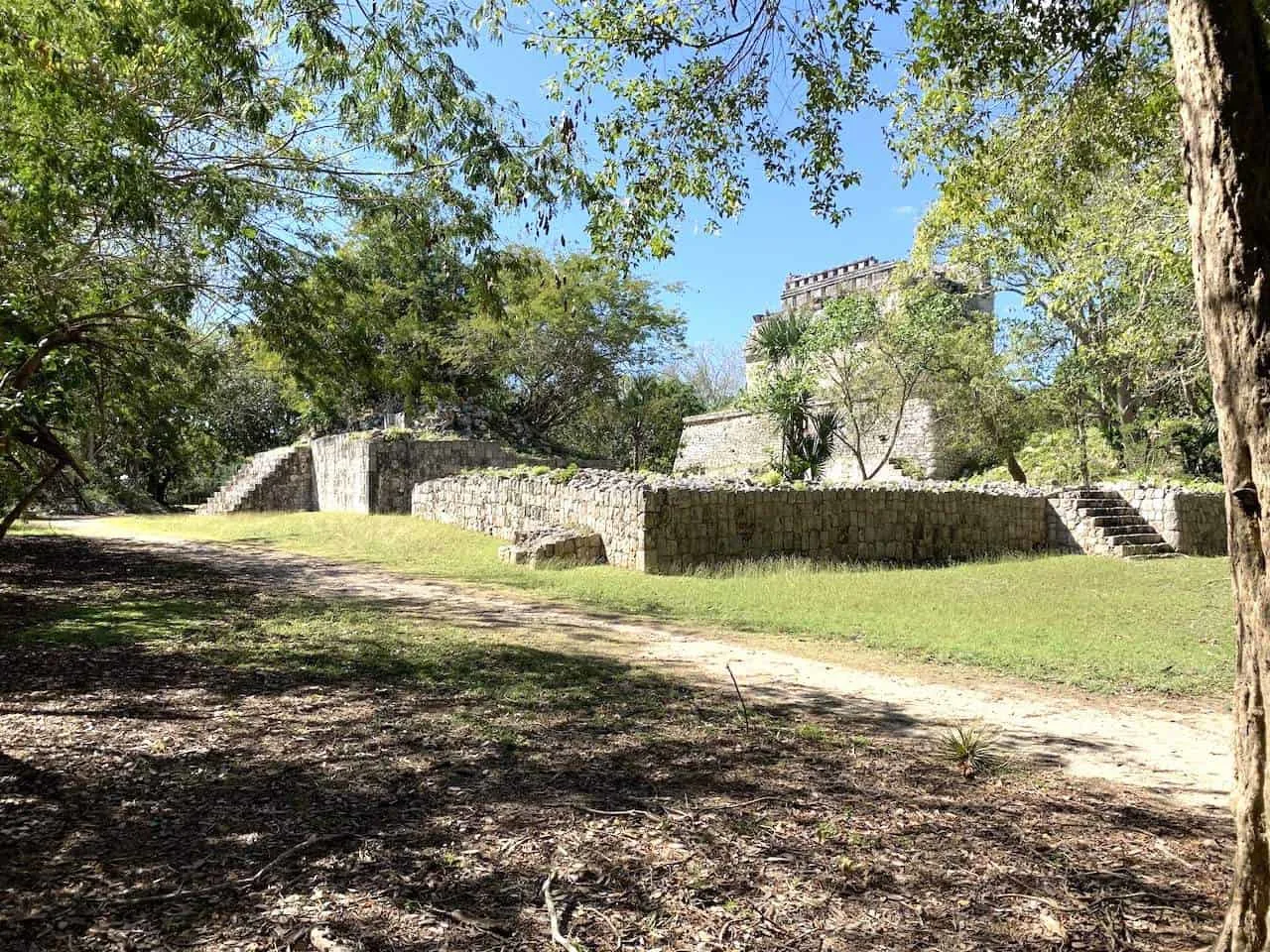 Once you have had enough time roaming around, make your way back to the entrance and end a successful day exploring Chichen Itza.
From there it is either heading out to lunch, a cenote, and/or back to your hotel. However you decide to go about your day, you are sure to enjoy what Chichen Itza has to offer.
5) Where to Stay
You can be visiting Chichen Itza from a variety of places. Below are some top hotel options in the various cities.
I have also listed down a couple spots that are basically in the Chichen Itza complex (by staying at the site you can take advantage of the early morning and/or evening options to explore Chichen Itza mentioned earlier).
Cancun
Playa del Carmen
Tulum
1. Mezzanine Colibri Boutique Hotel
Chichen Itza Options
That about does it for a comprehensive guide to Chichen Itza! Everything from how to get to Chichen Itza from Cancun to Chichen Itza private tours options.
If you have any questions or comments feel free to add them in below. Have fun out there and safe travels!