During a visit to Uluru-Kata Tjuta National Park, some of the must do activities include sunrises and sunsets over the magnificent rock formations of the region.
Seeing the first and last rays of light brighten up these rocks is a beautiful experience to take part of.
This guide will go into detail on how to enjoy both a Kata Tjuta sunrise and a Kata Tjuta sunset and what to expect along the way.
* Affiliate Disclosure: This post may contain affiliate links, which means I may receive a commission if you make a purchase through the links provided, at no additional cost to you. Thanks for supporting the work I put into TripTins!
1) What is Kata Tjuta
Just to clarify, Uluru-Kata Tjuta National Park is home to two separate rock formations that are well worth the visit – first you have the famous rock of Uluru (also known as Ayers Rock), and second you have the 36 domed Olgas of Kata Tjuta.
This guide will just talk about the sunrise and sunset experience overlooking Kata Tjuta.
If you are interested in learning more about the same experiences at Uluru, check out the Uluru Sunrise & Sunset guide up on the site.
As mentioned, Kata Tjuta is not just one single rock like Uluru. Rather it is made up of 36 domed like rock formations called the Olgas, which make up 20 square kilometers in the National Park.
There are 4 main activities that an everyday visitor can enjoy while visiting Kata Tjuta:
1) Kata Tjuta Sunrise
2) Kata Tjuta Sunset
This guide will cover the first two on the list. The Valley of the Winds walk and Walpa Gorge walk are two opportunities to get up close and personal to the Olgas of Kata Tjuta.
The former is a 7.4 km / 4.6 mile long more strenuous loop walk among the rocks of Kata Tjuta, while the latter is an easy 2.6 km / 1.6 mile out and back walk between two of the Olga walls.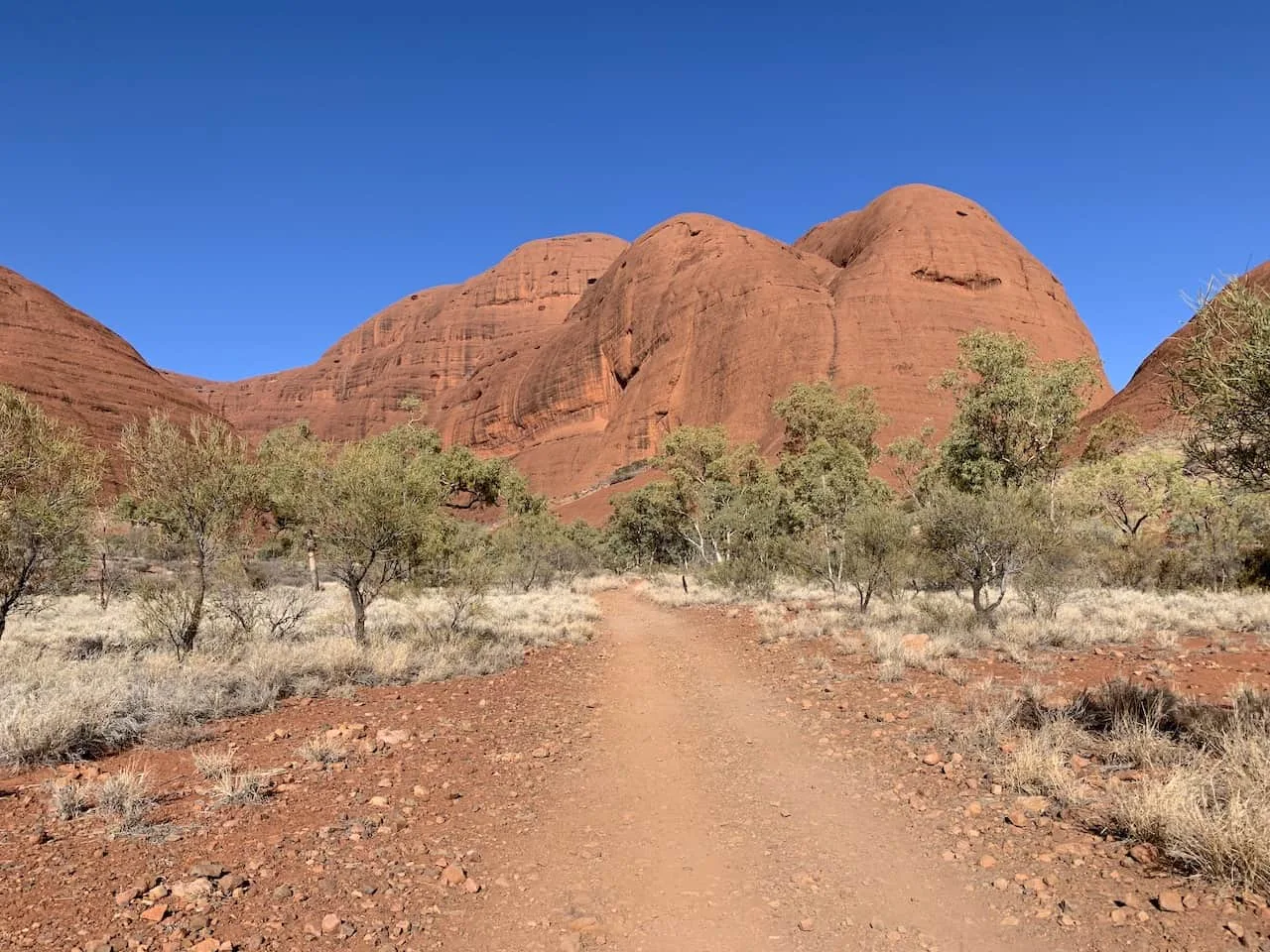 2) Uluru-Kata Tjuta National Park Tickets & Hours
If you want to take part of a Kata Tjuta sunrise or sunset experience, you will need to make your way into Uluru Kata Tjuta National Park. The national park includes both the Uluru/Ayers Rock area as well as the Kata Tjuta area.
I would recommend purchasing tickets ahead of time to Uluru Kata Tjuta National Park. These tickets can then be printed out or added to your Apple Wallet on your phone.
Once you arrive at the national park entrance you can simply scan your paper or phone and be on your way. If you do not purchase ahead of time, you will need to purchase tickets in a separate car line at the entrance.
National Park Ticket Prices
Adult (18+): $38 AUD
Child (0-17): Free
At time of purchase you can choose how many days you would like to spend in the park. The tickets are valid for up to 5 days at no additional cost.
National Park Hours
The Uluru Kata Tjuta National Park hours depend on time of year. It opens early enough to make it to those sunrise points, and closes late enough to enjoy sunset within the park. Below is the latest as of 2022: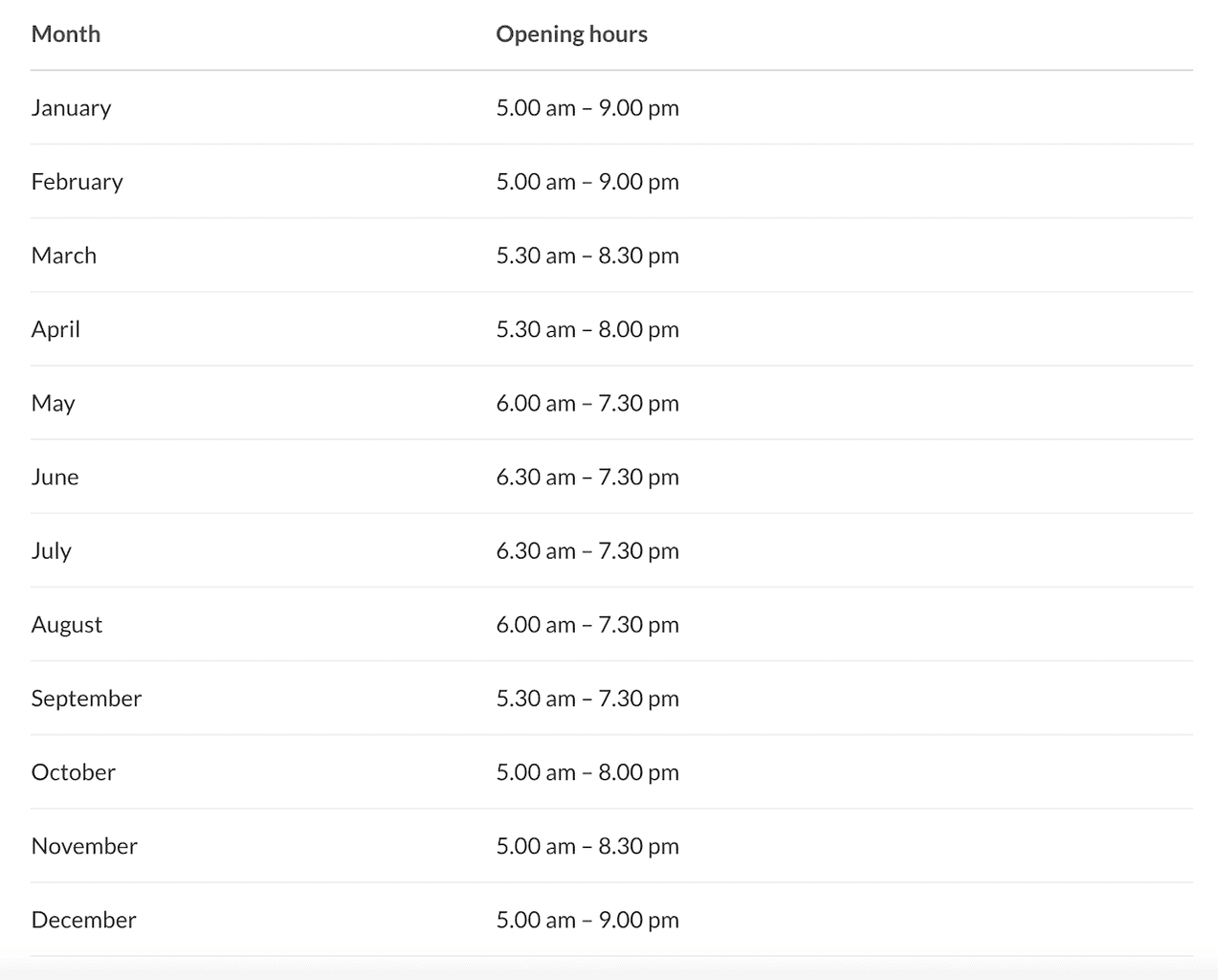 3) Where to Stay
The most realistic place to stay when visiting Kata Tjuta would be the town of Yulara.
The entire town is built around one large loop, where you will find several accommodation options, a small town center with restaurants, shops, and a supermarket, and other things like a gas station, emergency services, etc.
Below are a few of the places you can choose from:
Looking for a budget option? The Outback Pioneer Lodge has some shared room options.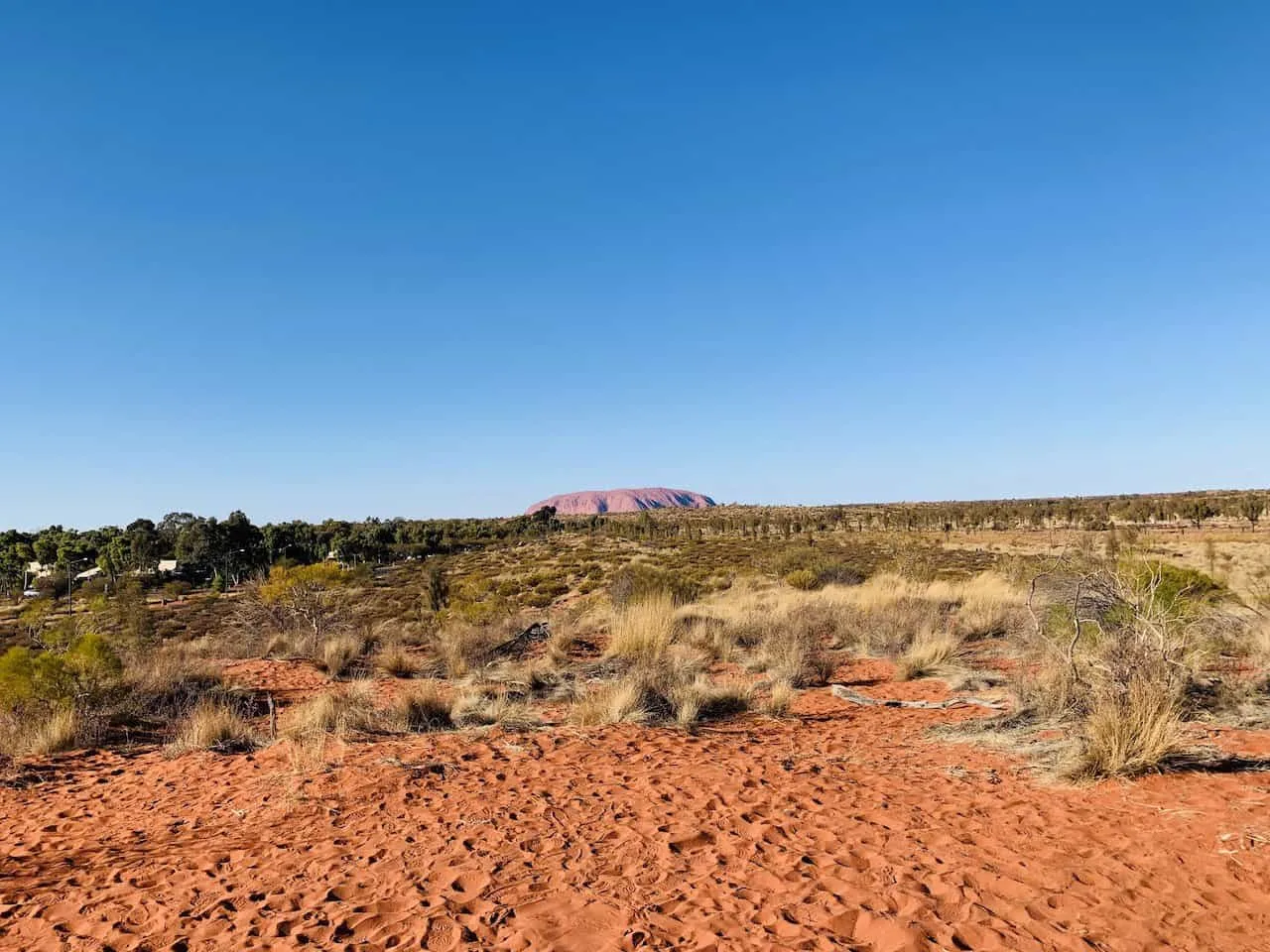 4) Kata Tjuta Map
Below is a Google Maps view pointing out the 4 locations of the various experiences mentioned above. It is important to note that the sunrise spot and the sunset spot are not at the same location.
At the sunrise spot you will have the angle of seeing the first day light hitting Kata Tjuta, while at the sunset spot you will have the angle of seeing the last day light hitting Kata Tjuta.
→ If renting a car around the area, feel free to check out Rentalcars.com, which will have various options to browse through. You can filter by car type, price, and more to find the perfect car for your trip.
5) Kata Tjuta Sunrise Spot
The official Kata Tjuta sunrise spot is located 45 minutes from the town of Yulara.
Since it is a bit farther away and the national park opening hours can be a bit tight in the morning, be sure to get to the national park entrance gates even before they open. This way you can best avoid waiting on the car line that tends to get quite long at opening.
On Google Maps you will see a couple names for the sunrise spot. The parking lot is named "Kata Tjuta Viewing Area Carpark" and the spot itself is named "Kata-Tjuta Dunes Viewing Area". Both are right next to each other but just be sure to head here and not the sunset spot.
Once you have parked your car in lot, you will need to follow the 5 minute path towards the viewing platform.
Since it will still be dark outside you may need your phone's flashlight to help just a bit. There is only one path here so it should not be difficult at all to figure out.
As you reach the platform, you will then want to decide where to stand to enjoy the sunrise over Kata Tjuta.
What I really love about the viewing platform here is that you get views of both Kata Tjuta and of Uluru. While Uluru is much further away in the distance, you can still capture some beautiful photos here.

If you are looking for the "best" spot on the platform (especially for those photographers out there), I would recommend standing in the front corner. Below is an aerial view of the platform to give you an idea.
By standing here you will get unobstructed views of both Kata Tjuta on one side and Uluru on the other side, without anyone standing in your way.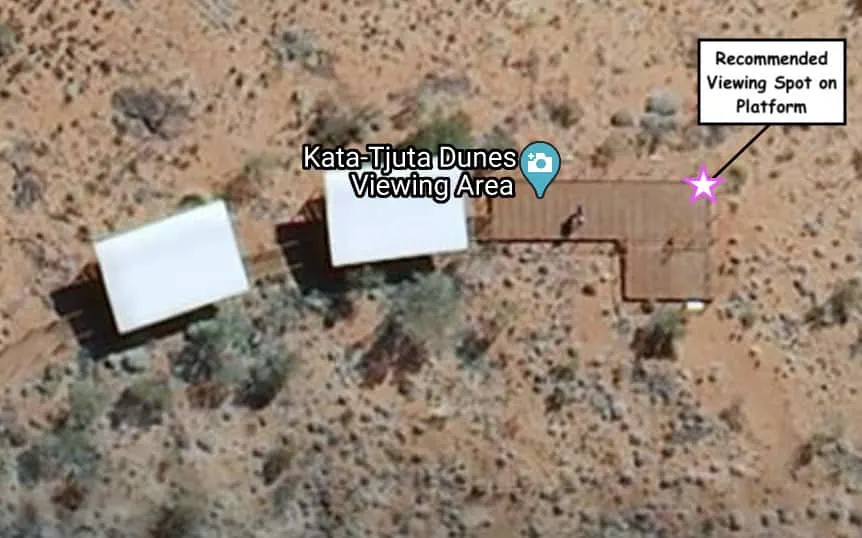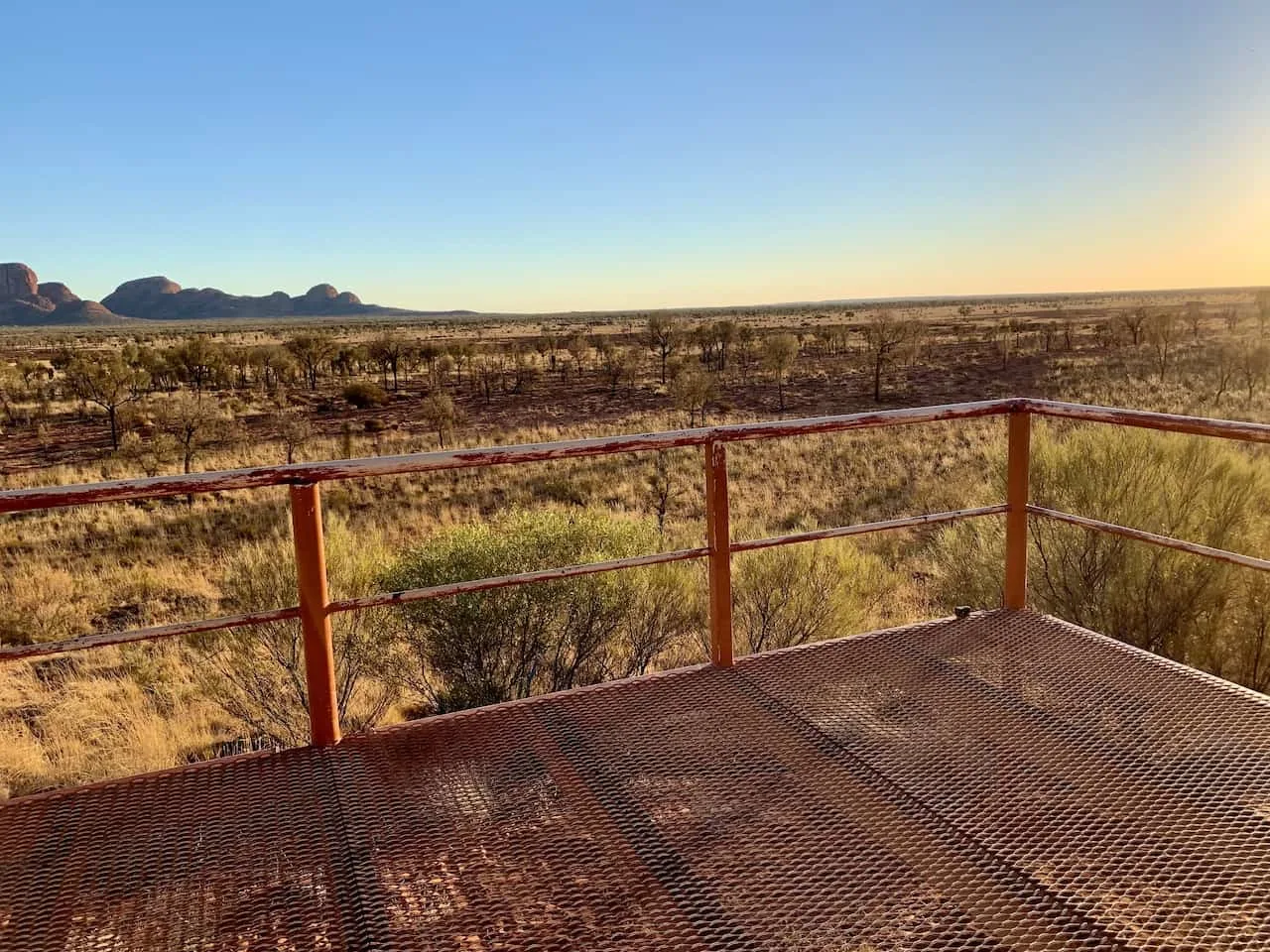 Before the sun even rises you will begin to see the orange and red glow out in the distance behind Uluru. As it gets closer and closer to sunrise time, the sky will continue to brighten up even more with different shades of color.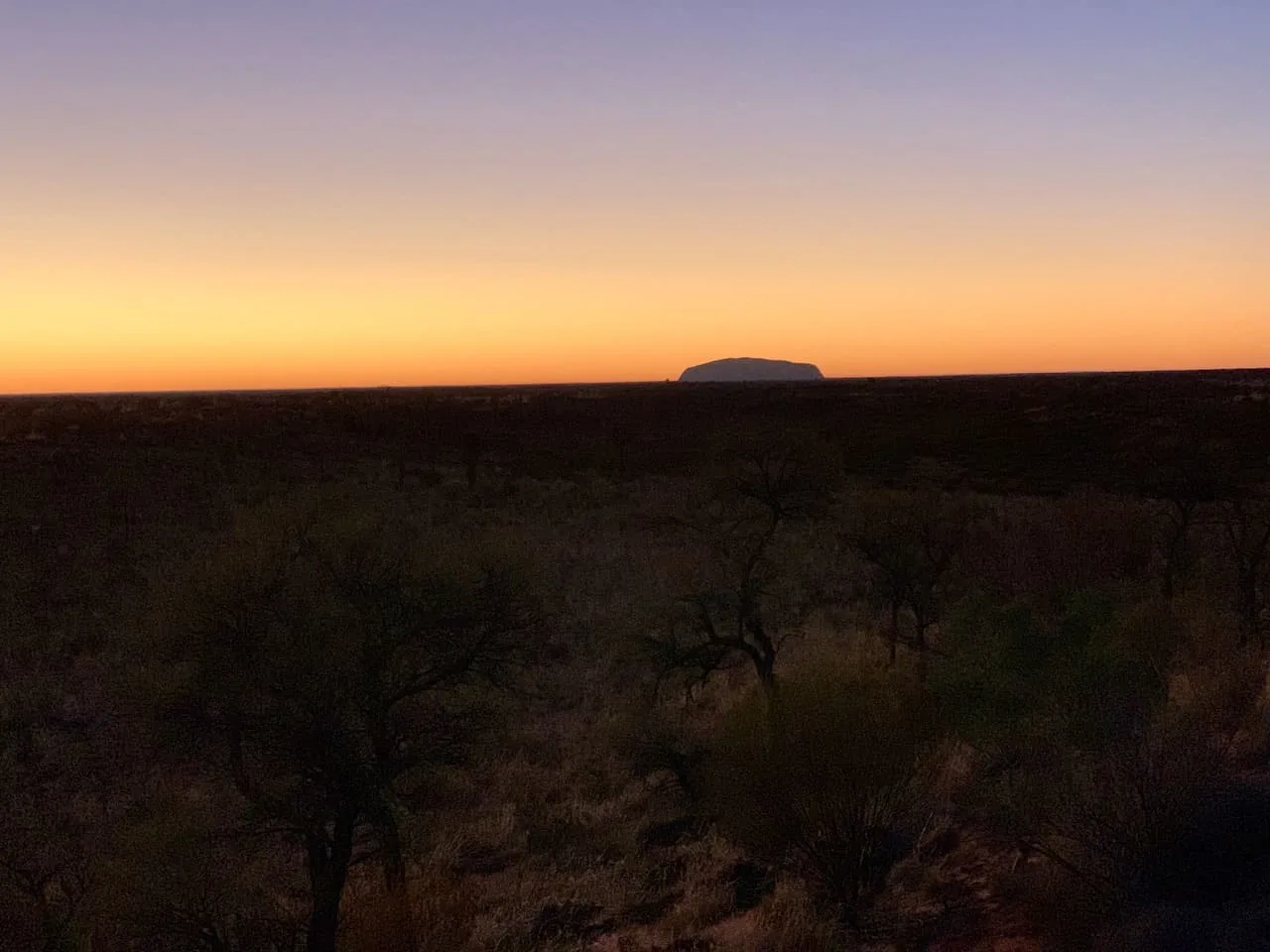 Soon enough, you will get to see the sun slowly peaking up above the skyline. From here, you will get to see the various Olga rock formations start to brighten up as they are hit with rays of light.
Since the Olgas are all different shapes and sizes, some of the them with brighten up more than others as the sun continues to rise. Feel free to stay for as long as you wish to enjoy the view.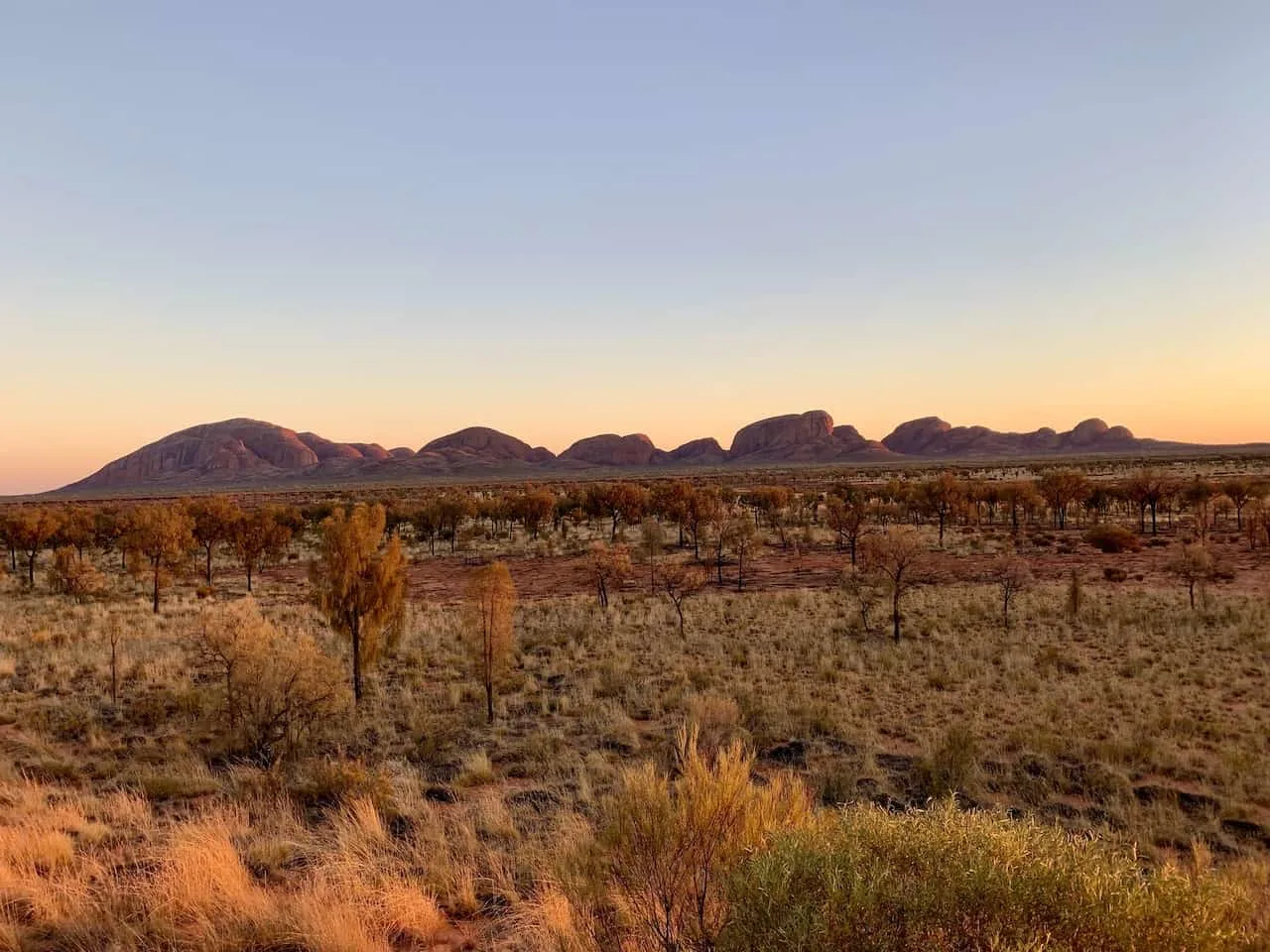 6) Kata Tjuta Sunset Spot
The Kata Tjuta sunset spot is a bit different of an experience vs. the sunrise spot. Instead of having a viewing platform overlooking a large portion of the Olgas, the sunset spot is located on ground level.
From here you will be just a few hundred yards away from the western face of 4-5 of the Kata Tjuta Olgas.
The sunset spot on Google Maps is marked as "Kata Tjuta Sunset View Area". From the parking lot, there is essentially a small walking strip that has two sets of benches.
There aren't too many benches here – looks like 4 benches in the first spot and 6 in the second spot. Even if the benches are taken there are plenty of standing spots to go around.
I set up just beyond the first set of benches, where there were fewer trees/bushes blocking the view. Below is an aerial screenshot of the viewing area to give you a bit better idea here.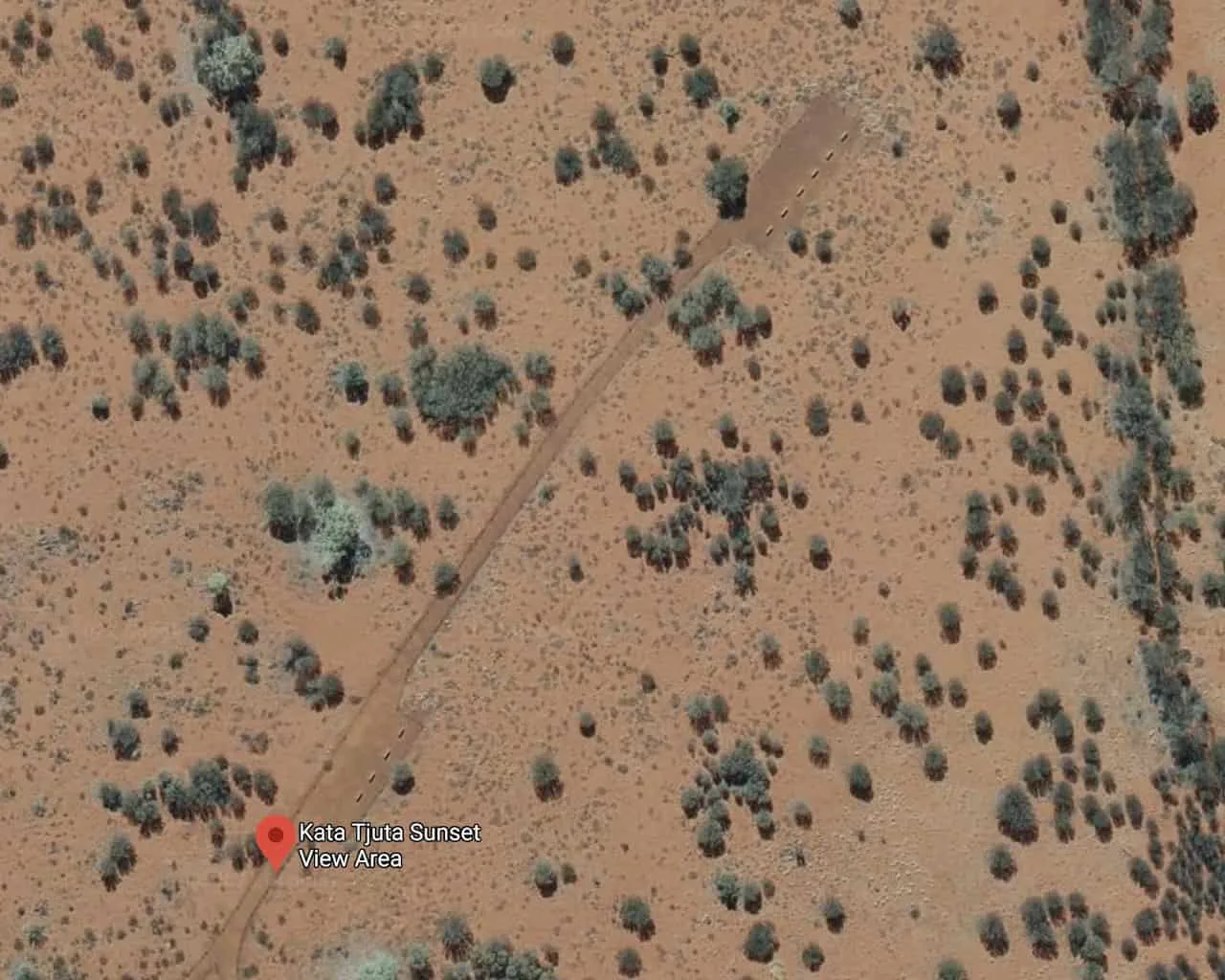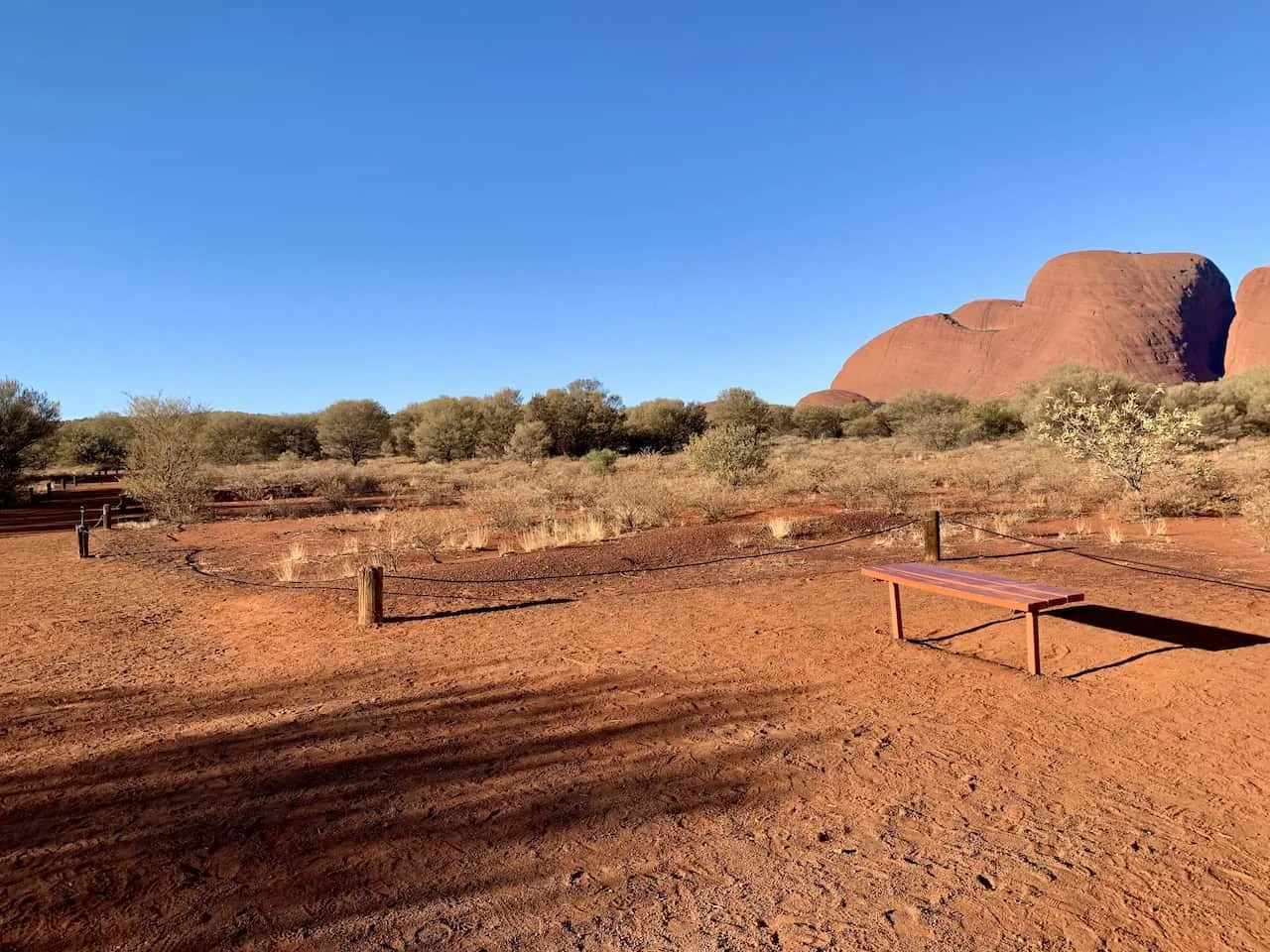 As sunset time begins to approach you will slowly see the Olgas out in front of you turning brighter in color.
Just a few minutes before the official sunset time, the rocks will be at their brightest, with a deep red color. You get a very similar experience at Uluru as well.
As the sun then begins to dip below the horizon, the color will go away with it. However, keep an eye out for the pink hue that will light up the skyline soon after. Seeing the various colors of the Outback sky was a true highlight of my trip out there.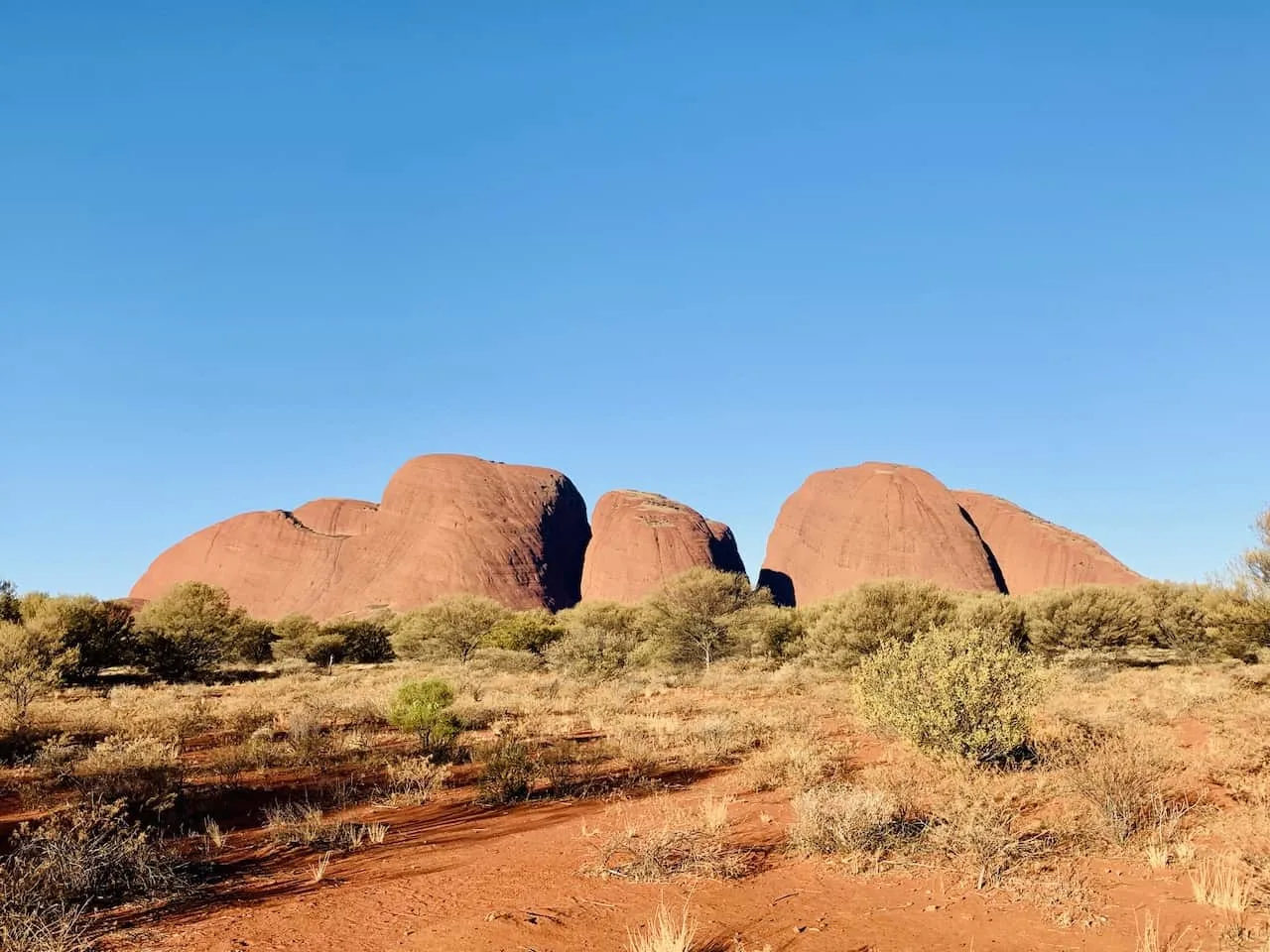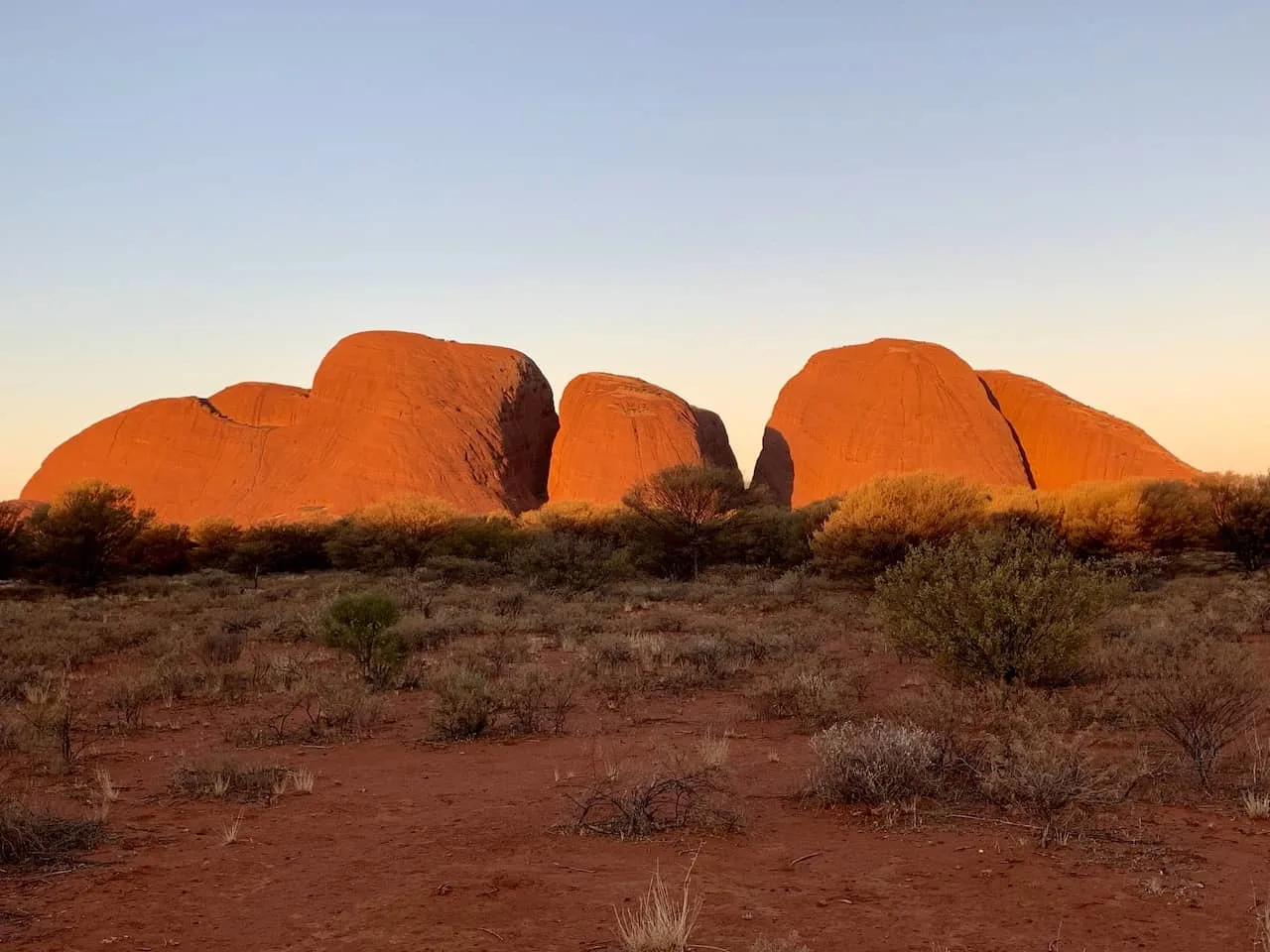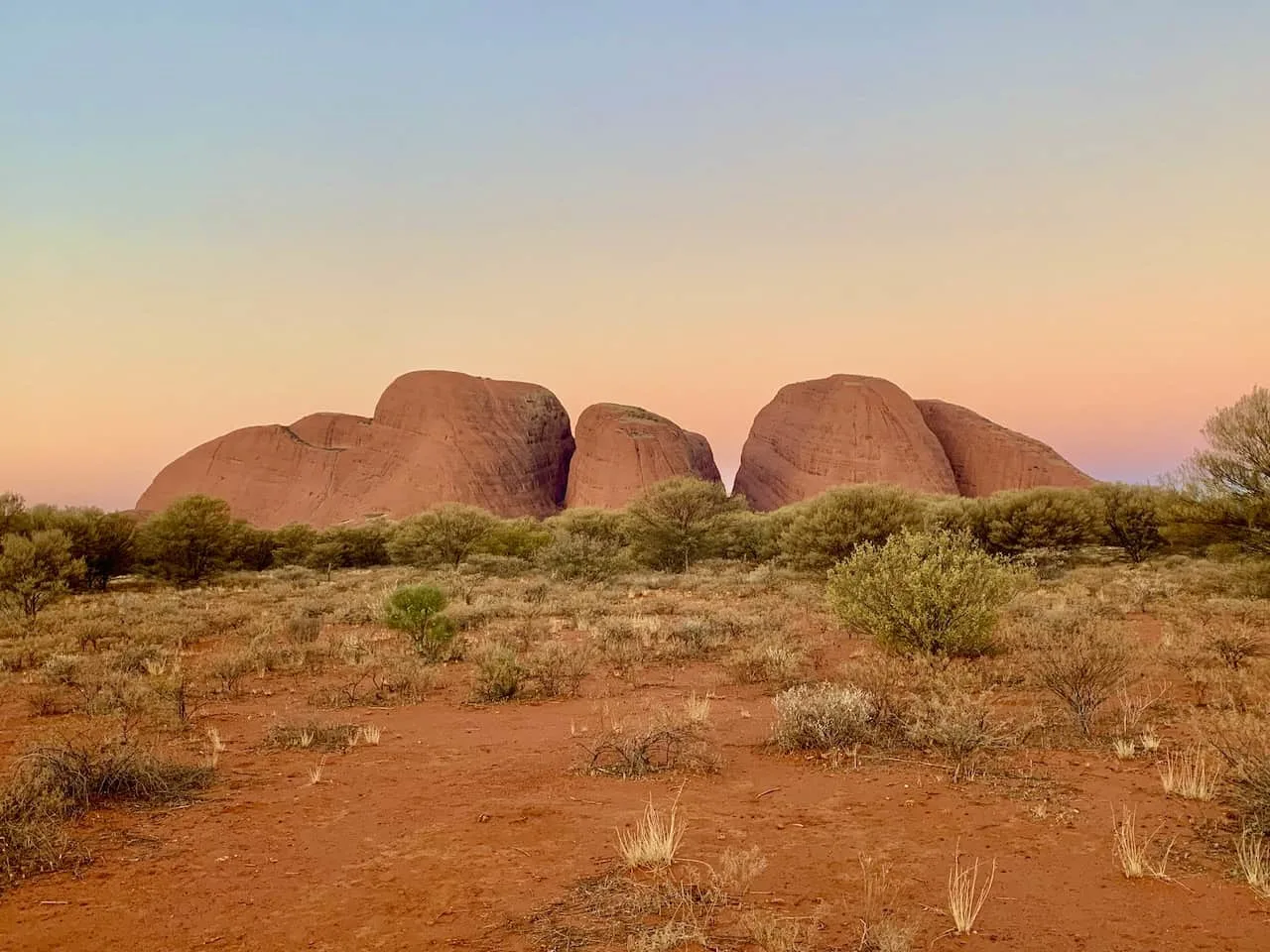 Don't stick around for too long, as you will need to make the 45 minute drive back out of the national park and to Yulara. Remember, the national park has set hours, so you cannot just enter and exit at any time you please.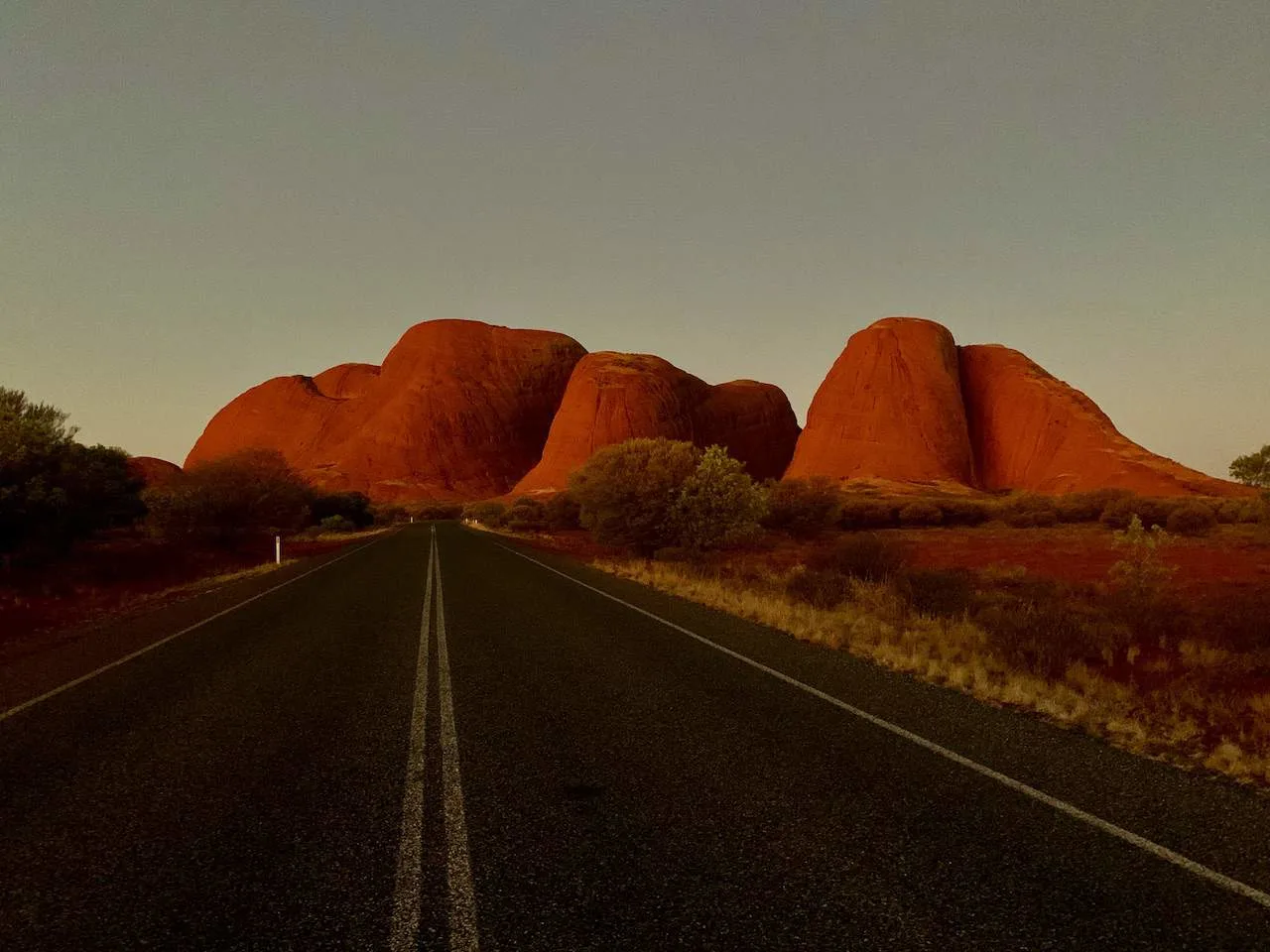 7) Sunrise & Sunset Time Lapse Videos
Below is a video of the Kata Tjuta sunrise and Kata Tjuta sunset to give you an idea of what to expect during a trip to the region.
That about wraps up a guide to enjoying a Kata Tjuta sunrise and sunset. If you have any questions or comments, feel free to add them in below.
Also, don't forget to check out the other Australia itineraries and guides up on the site like this 3 Week Australia itinerary. Have fun out there and safe travels!