So, are you lucky enough to have 3 weeks in Australia exploring the ins and outs of what this country has to offer?
Well, if you are looking for a detailed itinerary that will take you to several different parts of the country, then you have come to the right place.
Over the course of 3 weeks, this Australia itinerary will take you to 6 different locations around the country. You will get a good variety of city, beach, water, rainforest, and desert during your 21 days of exploring.
Read on to learn more about how to plan the the perfect 3 weeks in Australia for your next trip!
* Affiliate Disclosure: This post may contain affiliate links, which means I may receive a commission if you make a purchase through the links provided, at no additional cost to you. Thanks for supporting the work I put into TripTins!
A Detailed Australia Itinerary 3 Weeks
Before jumping into the itinerary itself I wanted to mention some important things to note about this itinerary in particular:
» Assume days 1 and 21 are full days. That means arriving sometime the night before or early on day 1 and then departing later on day 21 or on the morning of day 22. If coming from farther away that means you should expect around 24 days or so including travel.
» Australia is a large country with so much to do in all different corners of it. That means over a course of 3 weeks it would just be impossible to visit it all.
This itinerary in particular will take you to:
Sydney (4 days)
The Whitsundays (3 days)
Cairns / Great Barrier Reef (3 days)
Port Douglas (2 days)
Daintree Rainforest (2 days)
The Outback (6 days)
+ a day for travel at the end
» Since I visited in the late fall / early winter period, I wanted to focus more on where the weather would be best.
That meant spending more time up north in Queensland and the Northern Territory. Places like Tasmania and Melbourne are well worth the visit but I just chose to save those for another time.
If heading to Australia and want to add those or other cities in, then you can most definitely do so. You would then however need to pick and choose what to leave out from the itinerary I put together.
» In terms of when this itinerary could be best, I would say somewhere from April to November give or take.
The main reason why the Australian summer would not be ideal for this trip is because the Outback can be dangerously hot (100+ F / 40+ C), and Queensland (Great Barrier Reef, Whitsundays, etc) can see a lot of rain. You can still go in the summer but just be aware of what the weather may entail.
» Be prepared to hop on some airplanes throughout the trip. You will need to book 4 internal flights for your trip:
• Sydney to Whitsundays
• Whitsundays to Cairns (or Bus)
• Cairns to Yulara
• Alice Springs to Sydney (or wherever it may be easiest to depart from like Perth or Melbourne).
» You will also want to rent a car twice during your trip – once in Cairns to visit Port Douglas and the Daintree, and once in the Outback to visit several sites along the way. I will talk about those two instances later on.
→ Feel free to check out Rentalcars.com, which will have various options to browse through. You can filter by car type, price, and more to find the perfect car for your trip.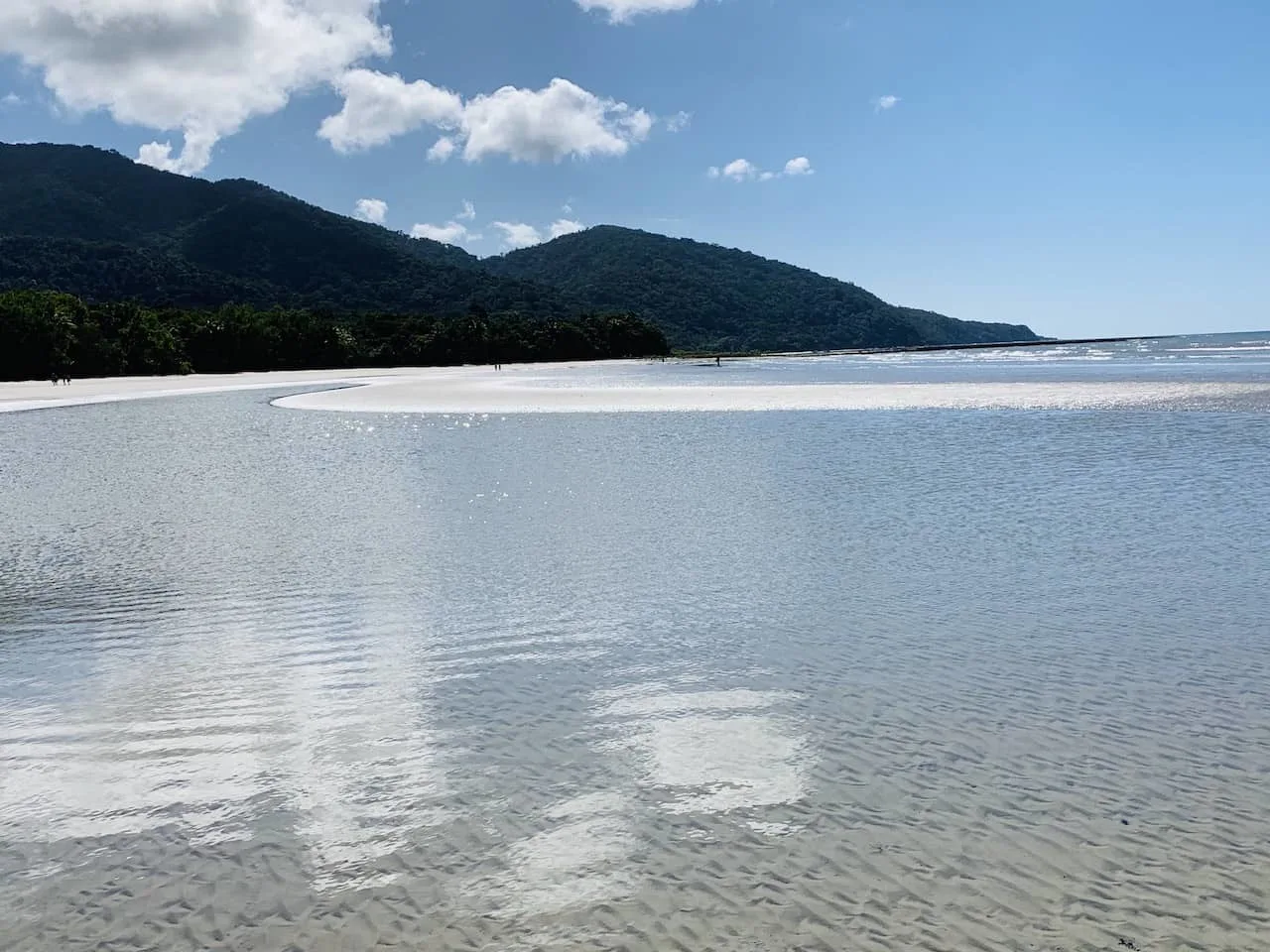 3 Weeks in Australia Map View
Since this is a longer itinerary, I did not want to pin point each and every attraction on the map. Instead I laid out the cities that the itinerary goes through so you have a better sense of where you will be visiting in the country.
The trip starts out down south in Sydney before moving up the coast to Queensland (Whitsundays, Cairns, Port Douglas, Daintree), and ending in the Northern Territory (Yulara, Kings Canyon, Alice Springs).
Australia Itinerary 3 Weeks By Day
Now that you have some good background of what this itinerary entails, below you will find a day by day guide on how exactly to go about your trip.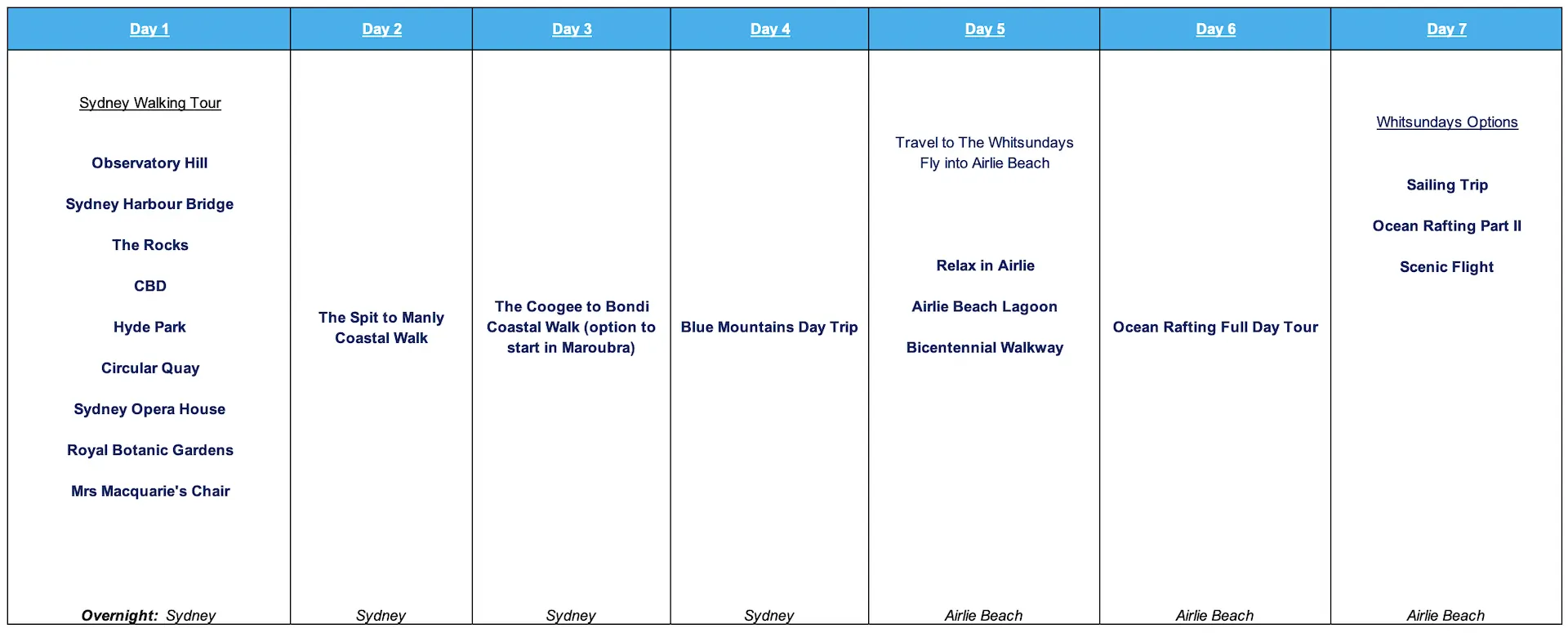 Day 1 – Sydney
Your first 3 days in Australia will focus in on its most popular city – Sydney. The city is packed with things to do and spending three days enjoying it all is a great way to start off your trip.
» You can read in more detail exactly how to go about your time there in the 3 Day Sydney Itinerary up on the site but below will give you a pretty good overview.
On Day 1 you can start off with a self guided walking tour of downtown Sydney. Some of the highlights along the way include:
Observatory Hill
Sydney Harbour Bridge
The Rocks
The CBD
Hyde Park
Circular Quay
Sydney Opera House
Royal Botanic Gardens
Mrs Macquarie's Chair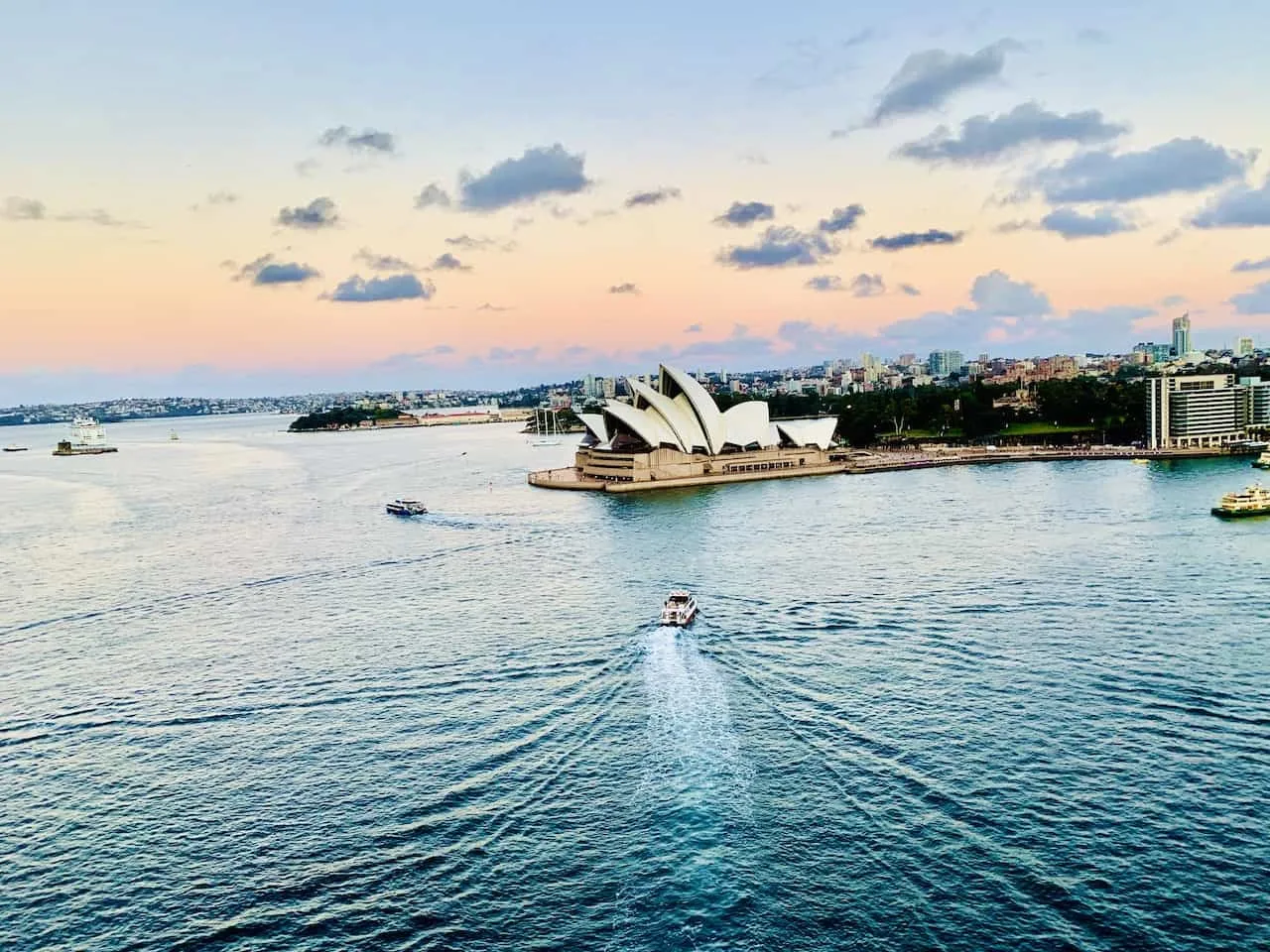 Where to Stay in Sydney
Day 2 – Sydney
On day 2 in Sydney it is time to head off on one of two coastal walks that I would recommend taking part of during your time in the city.
The Spit to Manly Walk is full of beaches, bays, and viewpoints all along a 10KM stretch of trail north of the city.
If you are looking to get some swimming in along with some beach time, while still getting some exercise then this walk is for you.
You can start the walk in Spit or in Manly but I highly recommend doing so from Spit. To get there, you will simply hop on a bus (or taxi/Uber), and head towards the Spit Bridge. Get off at the stop prior to crossing the bridge and start the walk from there.
Once you complete the walk and arrive in Manly, all you need to do to get back to downtown Sydney is to take the ferry to Circular Quay that runs multiple times per hour.
» To learn much more about this day including logistics, trail info, and more, head on over to the Spit Bridge to Manly Walk Guide I put together.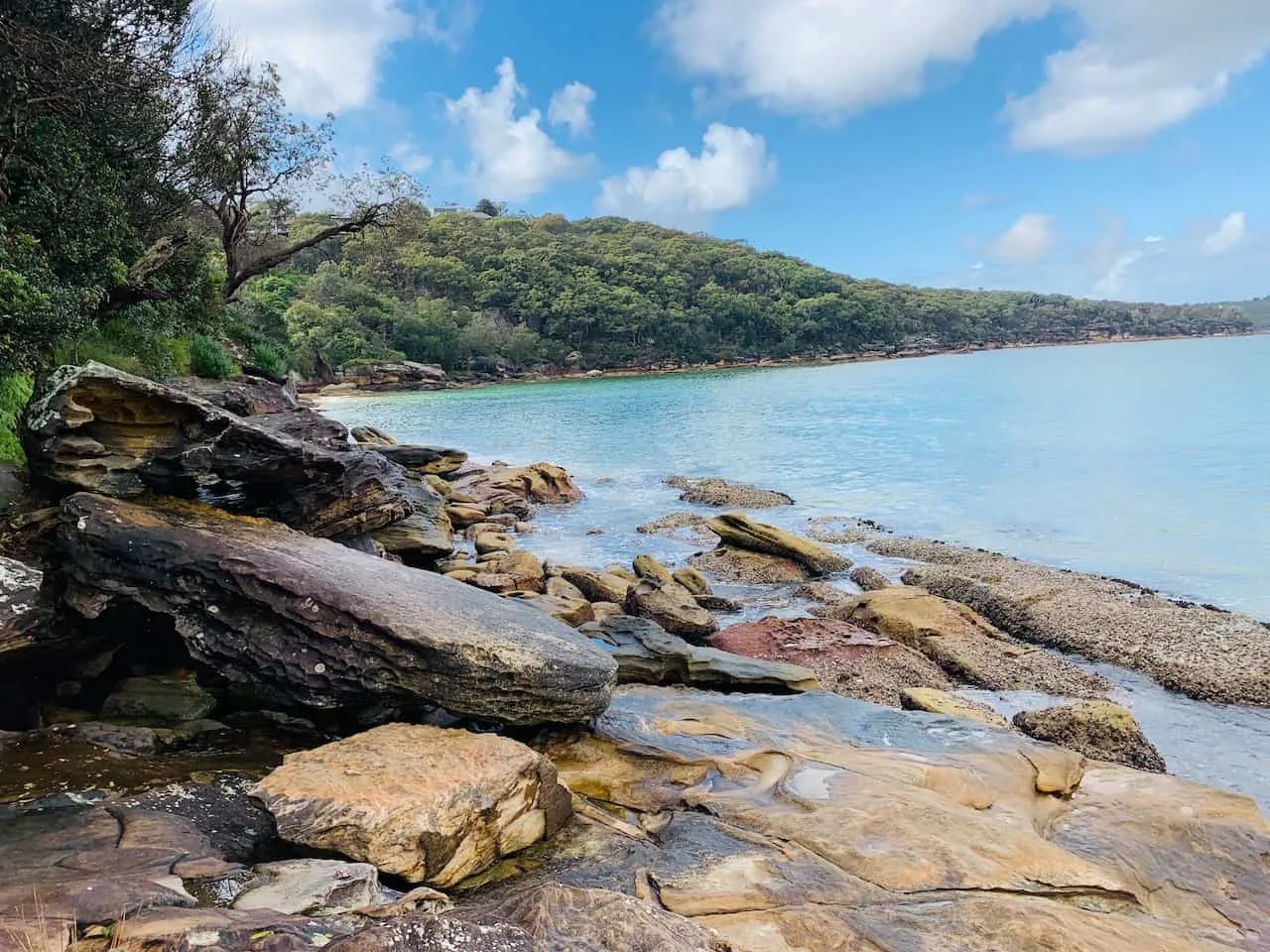 Day 3 – Sydney
On your last day in the city you can take part of the most famous Sydney coastal walk – the Coogee to Bondi Coastal Walk.
All along the way you will come across expansive views, beautiful water views, beaches, natural pools and more. Believe me this is one you will not want to miss out on.
» The Coogee to Bondi Coastal Walk Guide includes all you need to know to hit the trail yourself.
Looking to extend the walk? Start out in Maroubra and head up to Coogee from there. The Maroubra to Coogee Walk Guide will help you out there.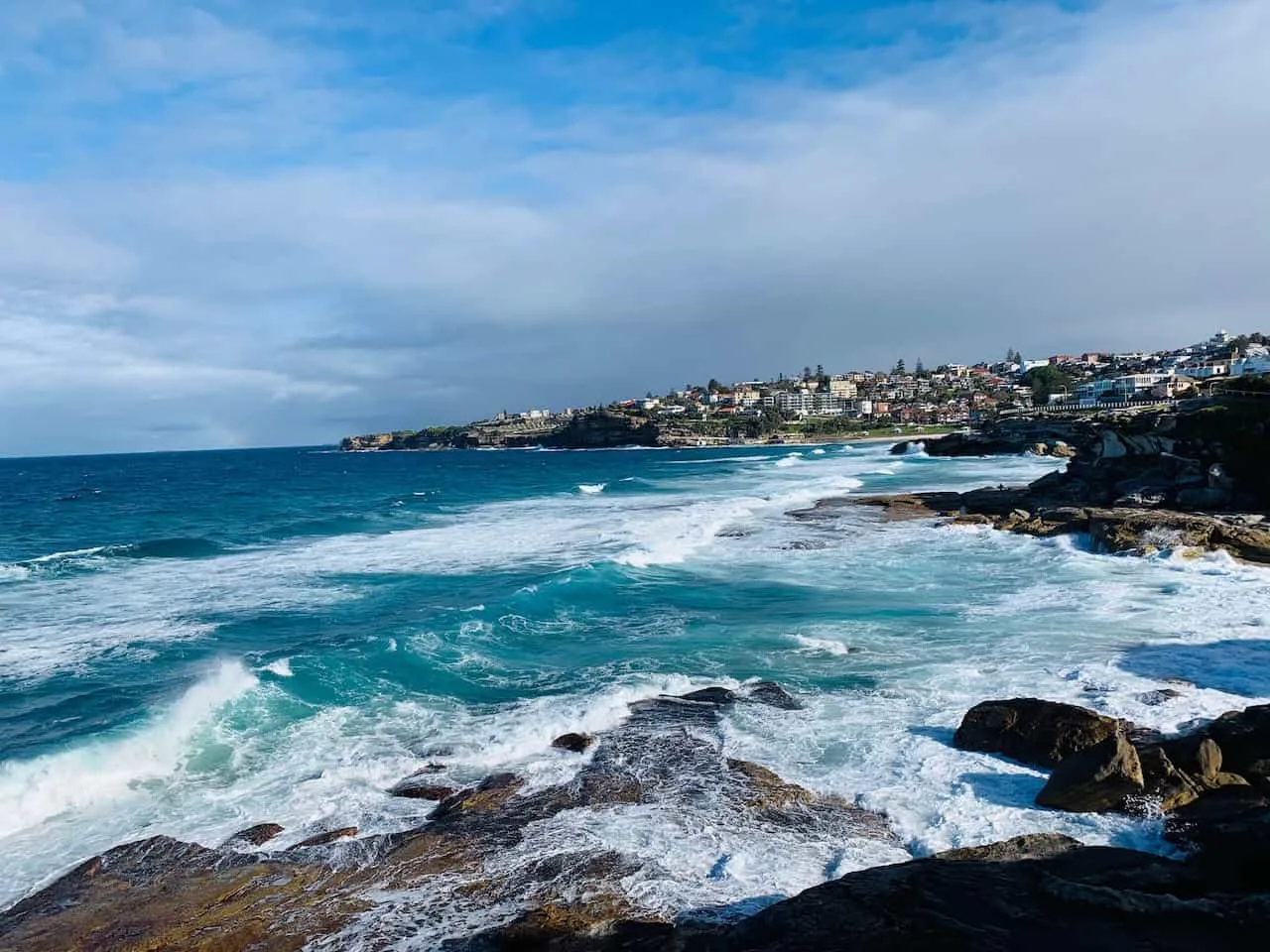 Day 4 – Blue Mountains Day Trip
While the last 3 days have been focused in on the city itself. On day 4 you will have the chance to head outside of the city to the Blue Mountains.
Of course you can also switch this day with one of the previous 3 if you would like to as well. All you need to do to get there is to hop on a 2 hour train that leaves directly from Sydney.
The Blue Mountains are packed with incredible viewpoints and hikes all throughout the region. I set out on a beautiful day hike that took me from Katoomba to Leura as I passed by Echo Point and the Three Sisters along the way.
» If you would like to learn more about this hike feel free to take a look in the Blue Mountains Day Hike Guide.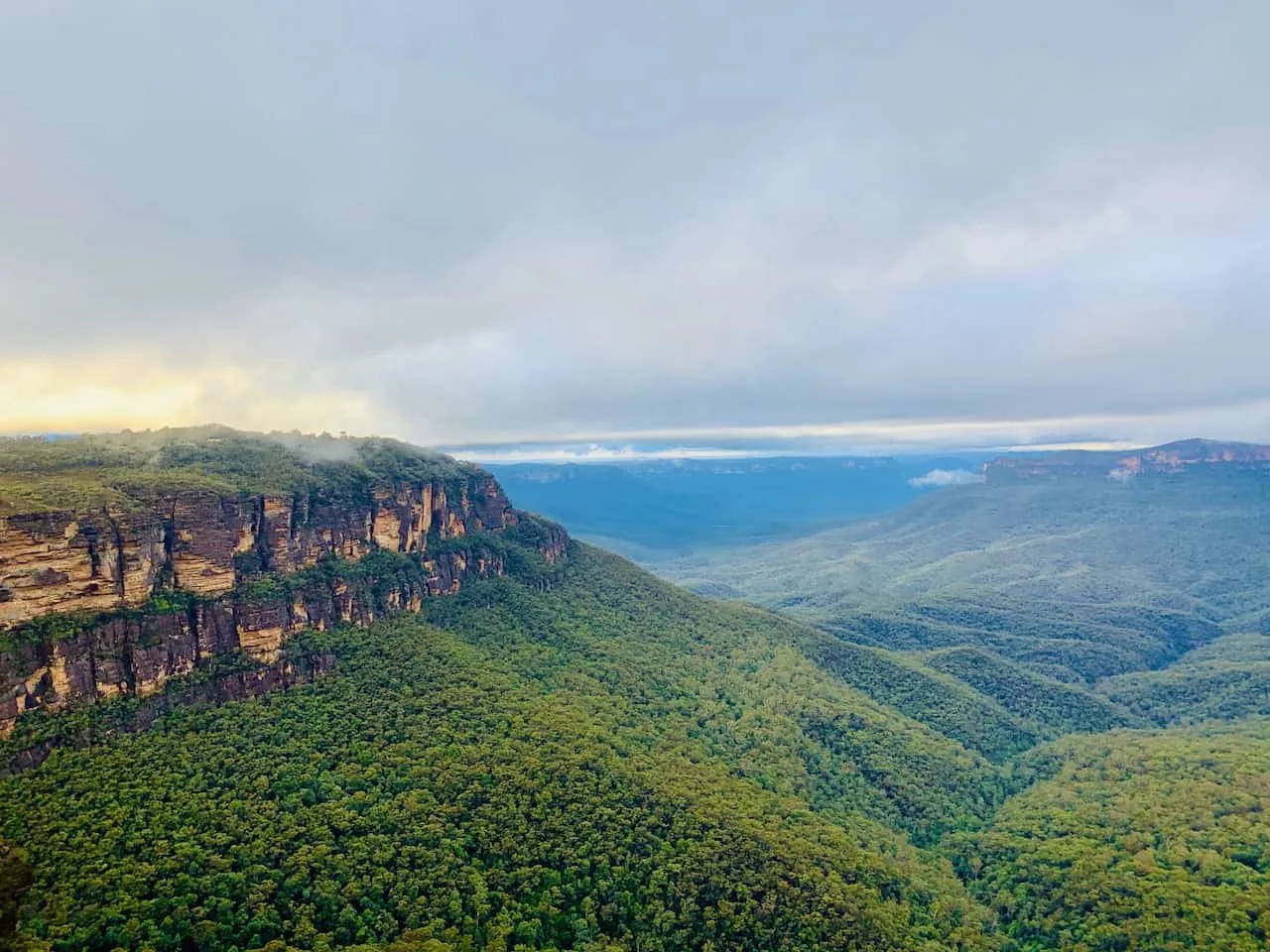 Day 5 – Travel to The Whitsundays
It is now time to head out of Sydney and towards Queensland, with the first stop being the Whitsundays. The Whitsundays are comprised of 74 beautiful islands all right off the coast of the country.
You will also find the famous Whitehaven Beach, Hill Inlet Viewpoint, and plenty of aquatic life not too far away.
To get to the Whitsundays, you will want to base yourself in Airlie Beach (mainland) or Hamilton Island (island just a 1 hour ride away).
The more popular option for travelers is to base out of Airlie as that is where most tours head out from into the waters. You will also find plenty more accommodation options at different budget levels, restaurants, bars and more.
If you are looking for more of a relaxed beach type of vacation, then Hamilton Island is for you. It is the more upscale option and for those that just want a bit more of a honeymoon type feel.
Since this itinerary will talk more about some of the tours that will get you out on the Whitsundays, I will recommend staying in Airlie Beach and taking your trips from there.
Simply fly into Prosperine Airport (PPP) and take the coach bus from there directly into Airlie.
Once you get into Airlie Beach, you can spend some time just settling in, walking the town, hanging out by the lagoon, or even taking in the Bicentennial Walkway to Cannonvale.
Where to Stay in Airlie Beach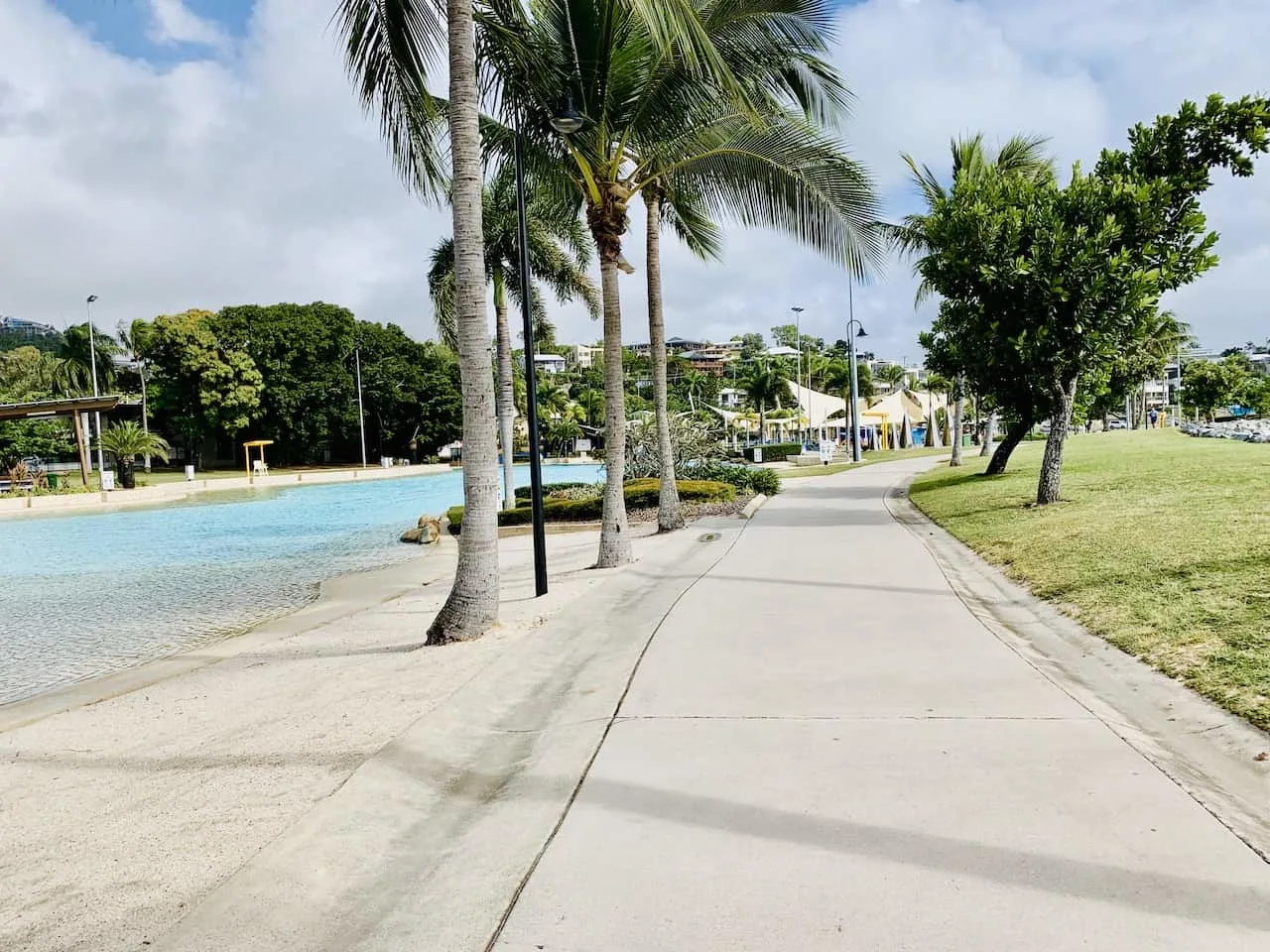 Day 6 – Ocean Rafting Tour
Now it is time to get out on the water! One of, if not the best tour operator in Airlie Beach is Ocean Rafting.
They run several different tours out into the Whitsundays, with two of the more popular options being the Northern Exposure and Southern Lights Tour.
These tours use these massive inflatable rescue type boats that seamlessly glide through the waters. They are also one of the only companies allowed to ride their boats right in front of the swirling sands.
Northern Exposure Stops: Hill Inlet Swirling Sands View, Northern End of Whitehaven Beach, Two Snorkeling Spots
Southern Lights Stops: Hill Inlet Swirling Sands View, Northern & Southern End of Whitehaven Beach, One Snorkeling Spot
More snorkel time, Northern Exposure. More beach time, Southern Lights.
» Learn more in the Ocean Rafting Northern Exposure Guide and feel free to book your Northern Exposure and Southern Lights tour ahead of time to secure your spot.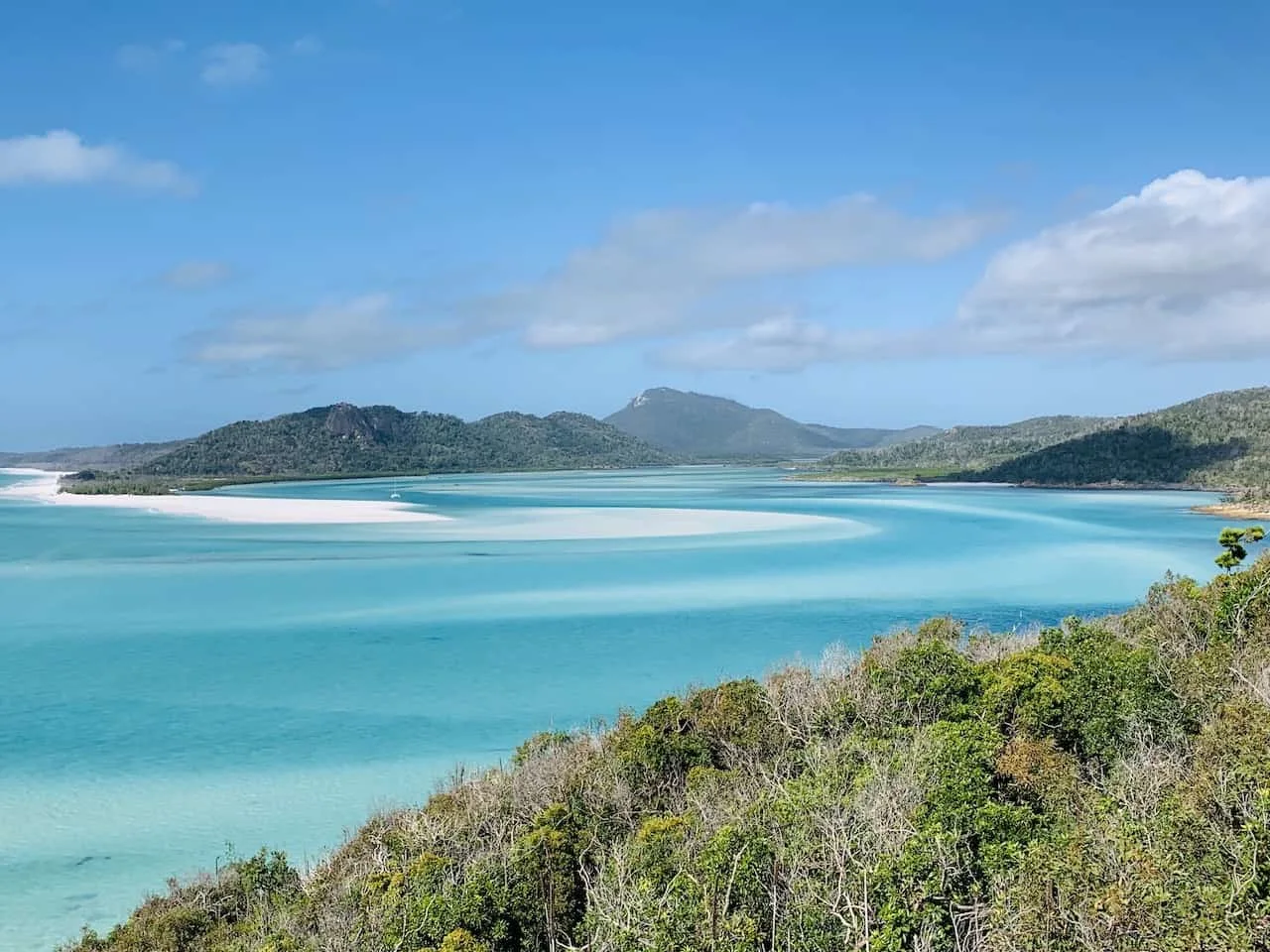 Day 7 – Whitsundays Options
On your second day in the Whitsundays, you can choose from a few different options depending on preference.
Sailing Trip: Head on a one day sailing trip with a company like Derwent Hunter. It will be a more relaxing day on a sail boat as you visit some of the Whitsunday Islands, relax on beaches, and enjoy some snorkeling time.
Ocean Rafting offers a "Chill and Thrill" combo that combines the Derwent Hunter with one of the Northern Exposure or Southern Lights tours.
Ocean Rafting Part II: Do you want to experience the thrill of an Ocean Rafting boat once again? Why not head on both the Northern Exposure AND Southern Lights tour.
You will get the best of both worlds and get to visit some of the Whitsundays most beautiful spots a second time.
Scenic Flight: If you are looking to see the Great Barrier Reef and Whitsunday Islands from above then a scenic flight is for you.
A small propeller plane will take you above the waters as you see the Hill Inlet Swirling Sands and Whitehaven Beach from above, before flying over open water towards the Great Barrier Reef.
Seeing the crystal clear waters and reefs from the sky is a real one of a kind experience.
You can combo a scenic flight with a Northern Exposure or Southern Lights experience with Ocean Rafting's "Fly and Raft" combo. Either doing both on the same day or splitting it into two days to spread things out.
» Learn more in the Great Barrier Reef Scenic Flight guide up on the site
Overnight Sailing: One more option I will mention is instead of doing these day trips from Airlie Beach, you can also opt for a 2 day / 1 night sailing trip into the Whitsundays.
By doing so you will get to visit more of what the islands have to offer and you will be able to actually sleep out on the water.
There are a ton of options offered and you can browse through them on the Sailing Whitsundays website for more info. If you want to head out on a 3 day / 2 night option, that could be possible as well by just removing a day somewhere else on the itinerary.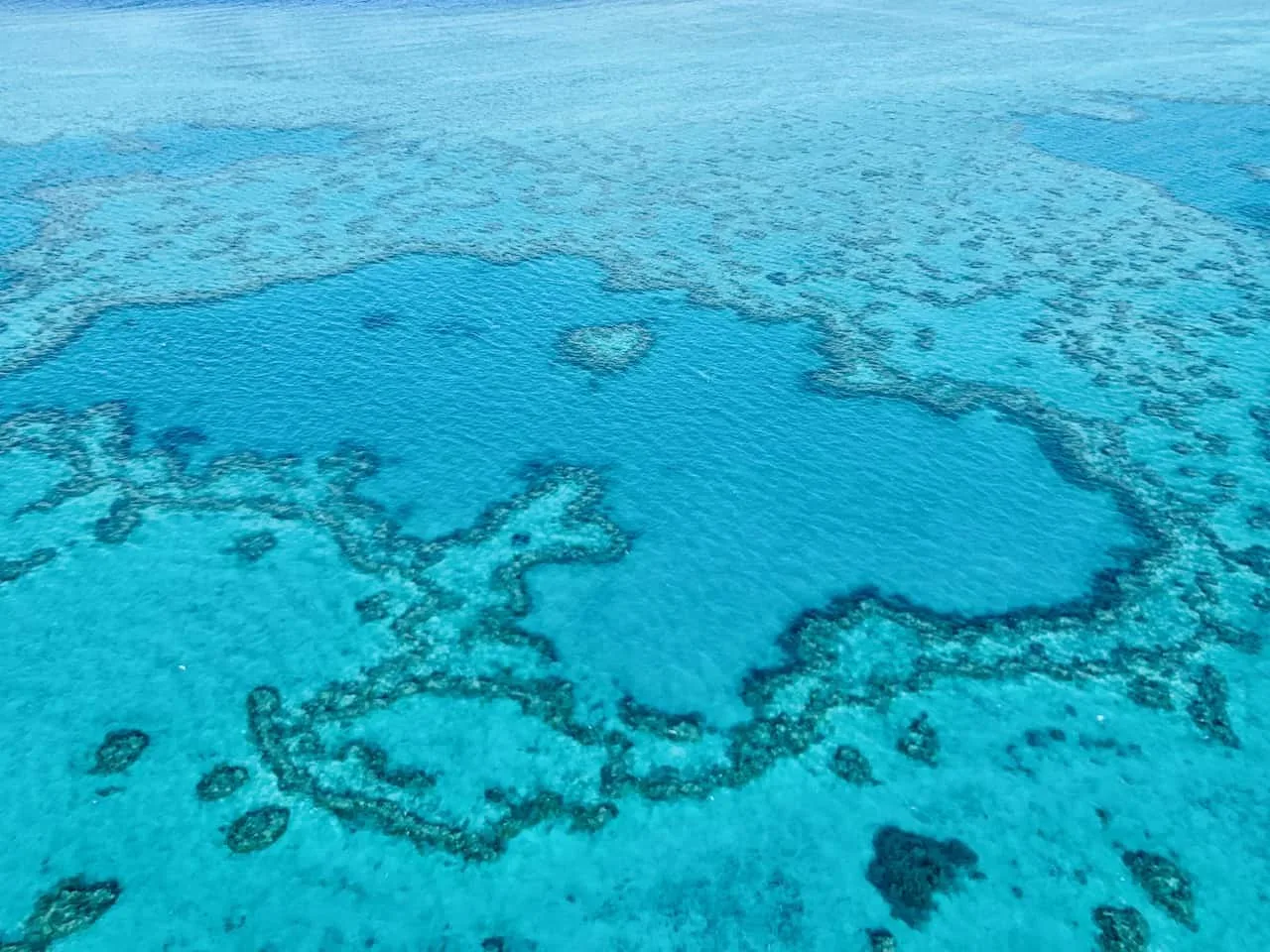 Day 8 – Travel to Cairns
Now that you have had enough time enjoying the Whitsundays, it is time to continue north towards Cairns.
Unfortunately, there are no direct flights from Prosperine to Cairns so that would leave you with three other options:
1) Boat over to Hamilton Island and fly out to Cairns from there
2) Fly out from Prosperine but with a stop along the way (most likely Brisbane)
3) Take the Greyhound Bus from Airlie Beach to Cairns. There are options to leave in the morning, which would make it a full day trip or you can opt for an overnight bus as well on the night of day 7. The ride should take around 8-9 hours.
Once you arrive in Cairns, get settled, explore the town a bit and get ready for your next couple days out on the Great Barrier Reef.
Where to Stay in Cairns (night 8, 10, 14)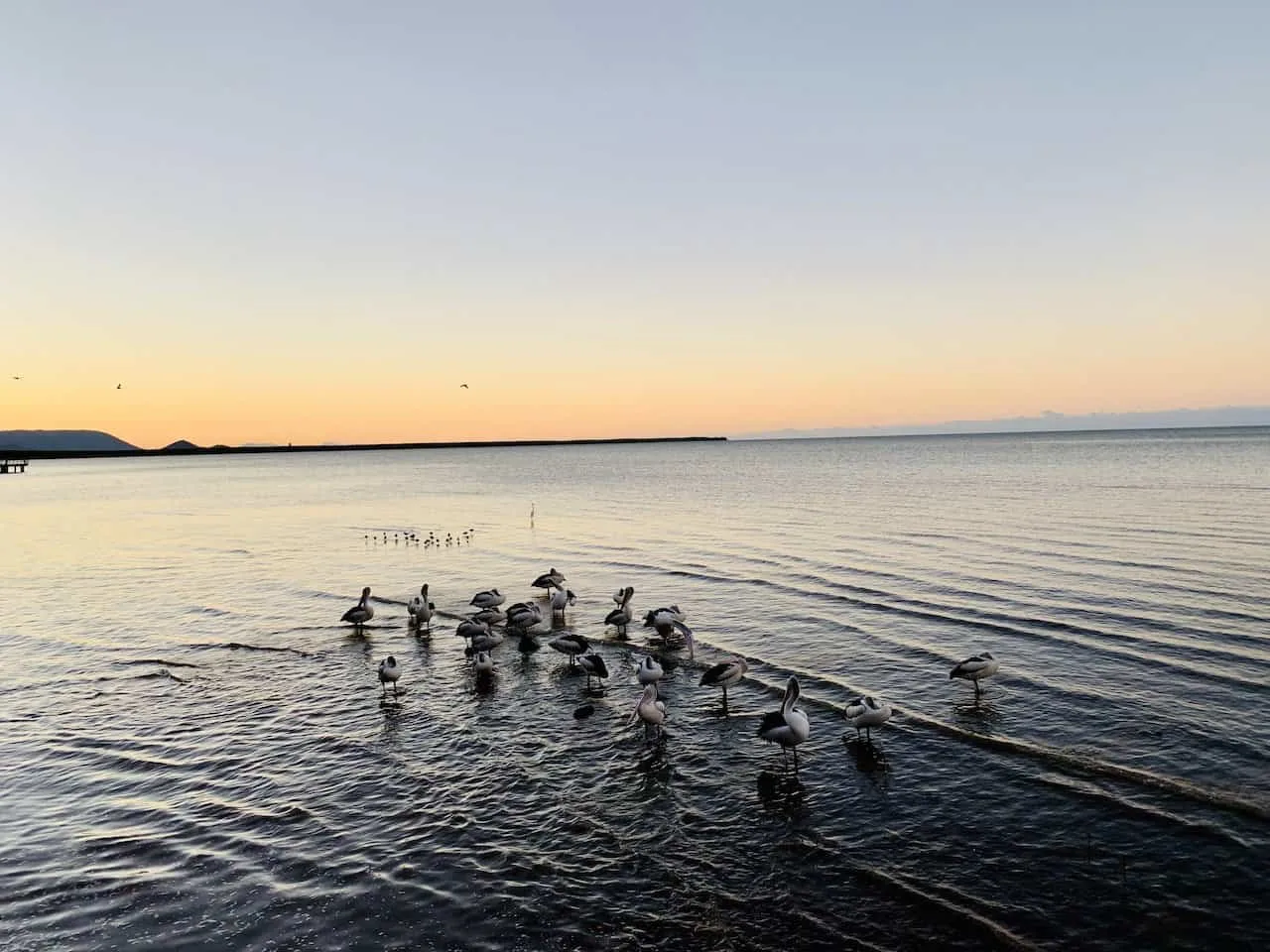 Day 9 & 10 – Great Barrier Reef
The next two days during your 3 weeks in Australia will take you out onto the Great Barrier Reef for a liveaboard experience.
If you are not familiar with a liveaboard, it is essentially boat that you live on as you explore all that the waters have to offer.
During your time on the liveaboard, the boat will move from reef to reef as you get to experience more diversity of the Great Barrier Reef overall.
Instead of just a day trip, where you will just dive or snorkel in one spot, a liveaboard will give you a chance to see more marine life in more places out on the water.
You will also get to experience things such as a night dive and sunrise dive/snorkel, where marine life is much different than during the day.
If you are an experienced scuba diver, a beginner to diving, or just a snorkeler, a liveaboard experience can be for you.
Over the course of two days you will get into the water around 7-8 times in several different locations along the reef and each time is sure to amaze you.
» To learn more about everything you need to know check out the guide to a Great Barrier Reef Liveaboard Experience.
You will arrive back from your liveaboard sometime later on day 10 in Cairns, where you will stay the night.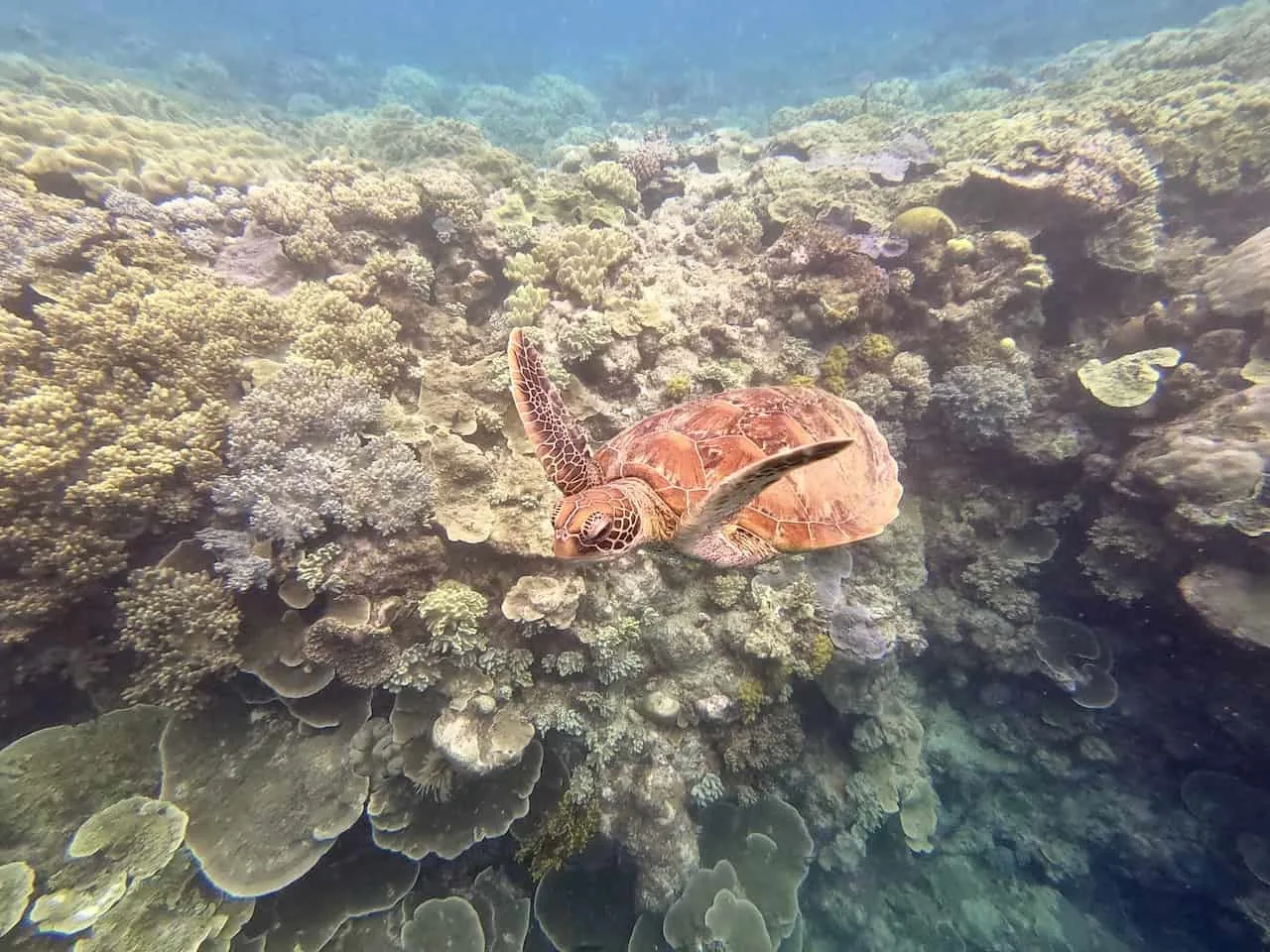 Day 11 & 12 – Port Douglas
After several days of being out on the water doing various activities, it is time to give yourself a bit of a break by just relaxing by the beach.
Make your way just an hour north to the town of Port Douglas.
Unlike Cairns, where you will not find much of a beachfront, Port Douglas offers the famous 4 Mile Beach. A massive stretch of sand that makes its way all the way down the coast.
Since a taxi will be quite expensive to get you from Cairns to Port Douglas, I would say you are probably better off just renting a car from Cairns on the morning of day 11 and driving to Port Douglas yourself. You will have the car until day 15, when you fly to Yulara from Cairns Airport.
Beyond enjoying some beach time, you can spend some time relaxing in town and can also take the pathway on the northern end of Four Mile Beach around the peninsula.
From there you will get some great views of the beach and surrounding waters.
Where to Stay in Port Douglas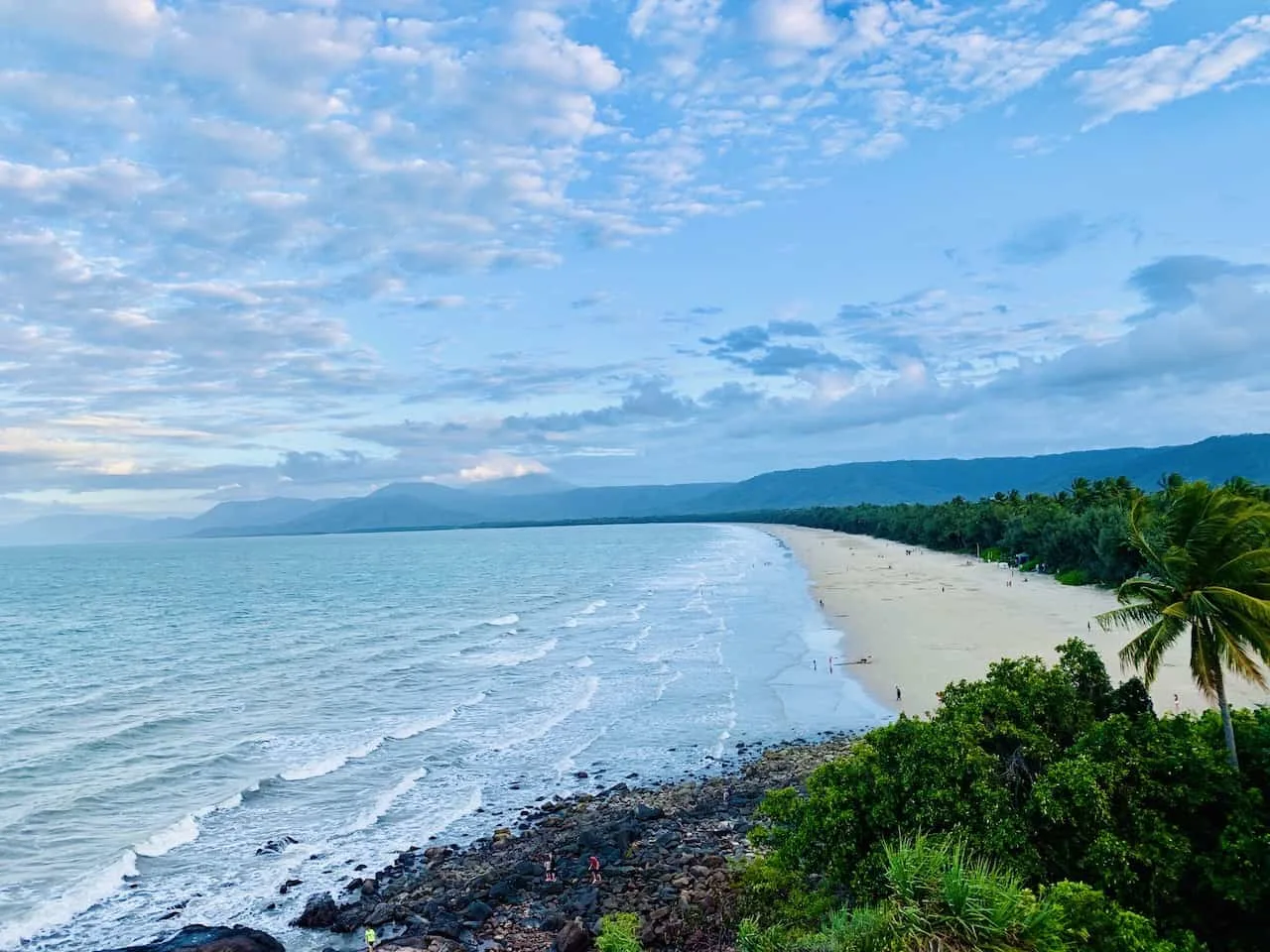 Day 13 & 14 – Daintree Rainforest
Now that your beach time is done in Port Douglas, let's move on to the oldest rainforest in the world – The Daintree.
Located just north of Port Douglas you will find an absolutely massive rainforest, with a variety of plant and animal life, right up alongside the water.
The next two days of your 3 weeks in Australia will take your to several spots along the way into the Daintree.
I put together a compete Daintree Rainforest Guide that goes into many of the attractions and activities that you will find throughout the rainforest.
Feel free to take a look at that if you would like to pick and choose which activities you are most interested in.
Below I list out a potential itinerary for your 2 days that would give you a pretty good overview of the Daintree.
Daintree Day 1
Mossman Gorge – Start out at Mossman Gorge, a quick 20 minute ride from Port Douglas. There you will find a few different walks to take part of, alongside the beautiful Mossman River. The trails are packed with a variety of plant and tree life throughout.
Cross the Daintree River – To get to most of the Daintree attractions, you will need to cross the Daintree River. There is a car ferry that continuously goes back and forth that will get you there.
Alexandra Lookout – Not too far from the river crossing you will find the Alexandra Lookout point. It is a great short stop to enjoy as you can see all the way to Port Douglas and its surroundings.
Dubuji Boardwalk & Myall Beach – One of my favorite stops in the Daintree was the Dubuji Boardwalk. This 45 minute trail will take you throughout various rainforest landscapes and ultimately to the beautiful Myall Beach. You can enjoy some time on the beach before heading back to your car and moving on. Check out some other top Daintree Rainforest walks too!
Cape Tribulation – A trip to the Daintree is not complete without a stop at Cape Tribulation. I would recommend heading there around sunset, when you can take in some beautiful views of the beach and its surrounding forest. Also be sure to head to the nearby Kulki Lookout to see Cape Tribulation from above.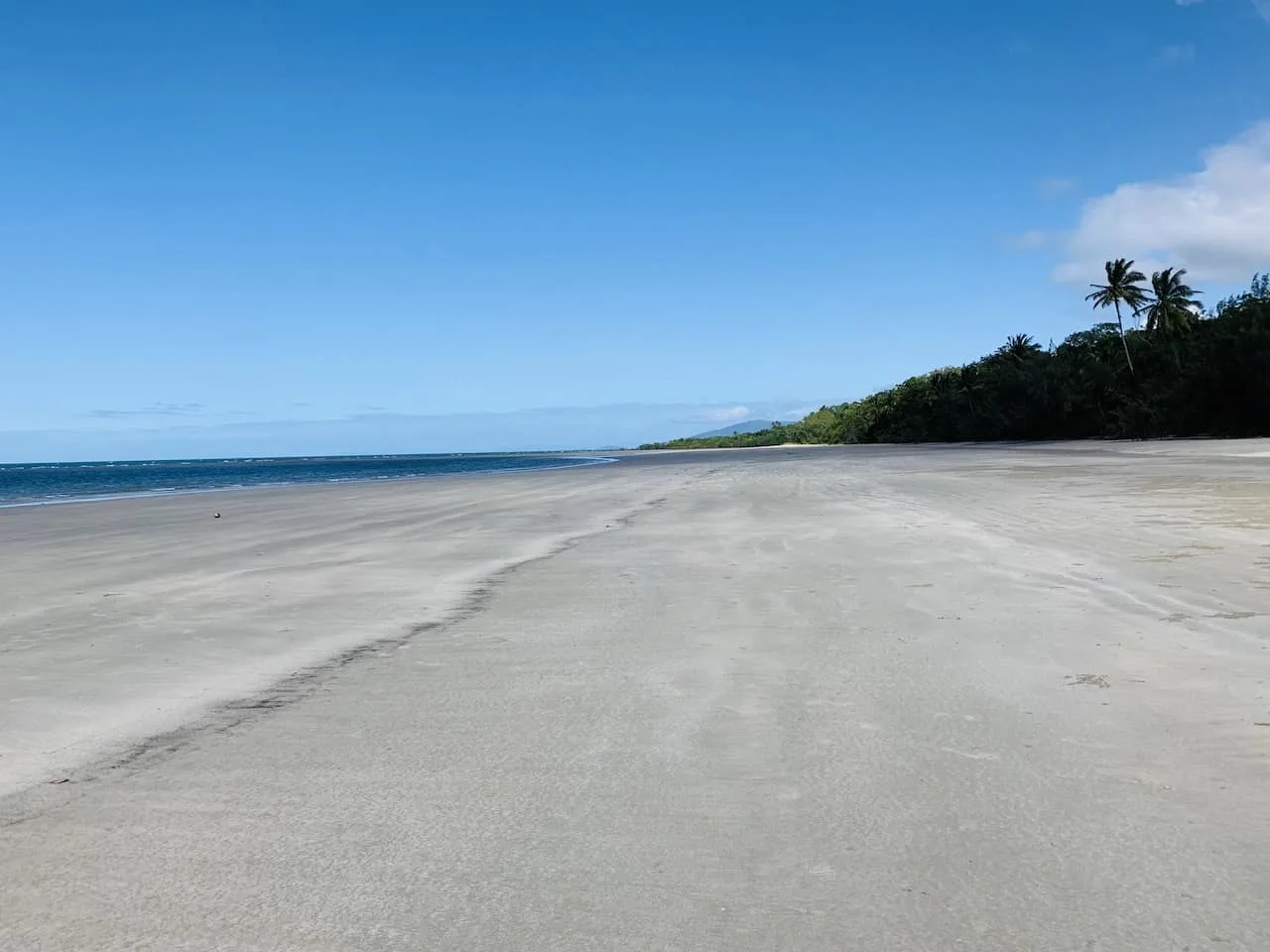 Daintree Day 2
Emmagen Creek and/or Mason's Cafe Swimming Hole – Since swimming off the beach is not too safe due to salt water crocodiles and stingers, you can opt to head to a swimming hole instead.
Cow Bay or Thornton Beach – You can then enjoy another Daintree beach and choose to visit either Cow Bay or Thornton – both great options for some relaxing time.
Daintree River Cruise – After some beach time, you can cross back over the Daintree River and hop on a Daintree River Cruise. All along the river banks you are sure to see some crocodiles and other wildlife. Spending some time animal spotting is a great way to end your time in the Daintree.
Other Daintree options include: the Daintree Discovery Centre, Jindalba Boardwalk, Marjdda Boardwalk, an Ocean Safari Snorkeling Experience, and a hike up Mount Sorrow.
After exiting the Daintree, head on over for one last night in Cairns before a flight the next day to the Outback.
Where to Stay in The Daintree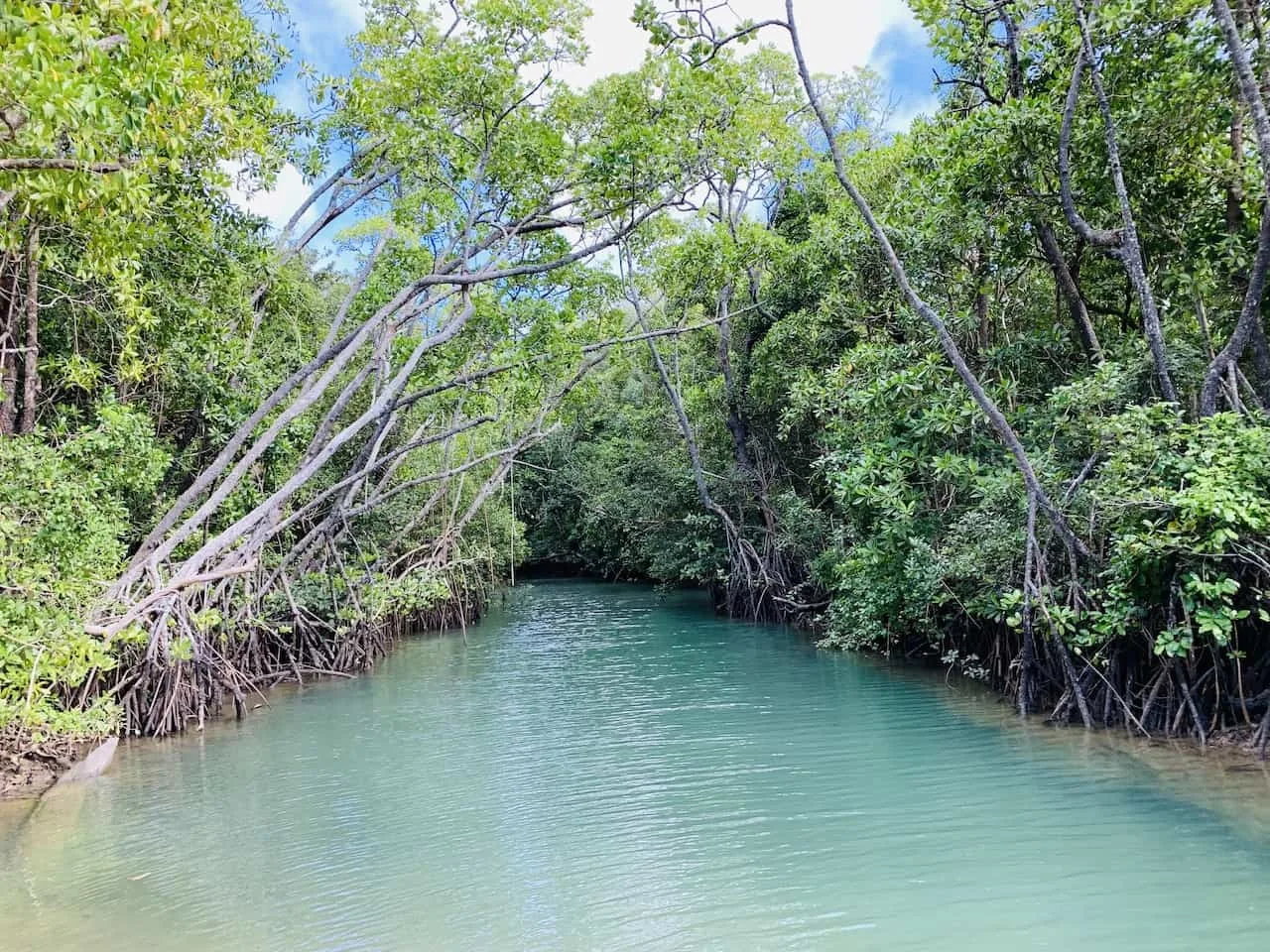 Day 15 – Travel to Yulara
After enjoying Queensland, it is time to head out to the Northern Territory to take part of a road trip to end your time in Australia. You can drop off your rental car at the airport, and then fly out to Yulara from there.
» Read the 7 Day Red Centre Way Itinerary for more detail about this part of your 3 Weeks in Australia
Once at Yulara Airport, hop on the free coach bus that will drop you off at your hotel in Yulara town. After getting settled in, you can head on over to the town center to pick up your rental car.
Since day 16 will be your full day at Uluru, you can take some time to just relax in Yulara for the day before heading off to the Uluru Sunset Spot later on in the afternoon.
Seeing that red glow on the rock as the sun slowly sets was one of the best moments in the Outback for me.
» Learn more in the Uluru Sunset & Sunrise Guide up on the site
Note: you need to purchase tickets to the Uluru – Kata Tjuta National Park to visit Uluru, Kata Tjuta, and the various sunrise/sunset spots. Tickets can be valid up to 5 days at no additional cost.
Renting a Car
When renting a car in Yulara you should do so through Tourism Central Australia. With them you will most likely have unlimited kilometers and free one way car rentals.
Your rental should begin in Yulara town on day 15 and end in Alice Springs on day 21.
> Be sure to check out the Uluru Car Rental Guide I have on the site to learn more!
Where to Stay in Yulara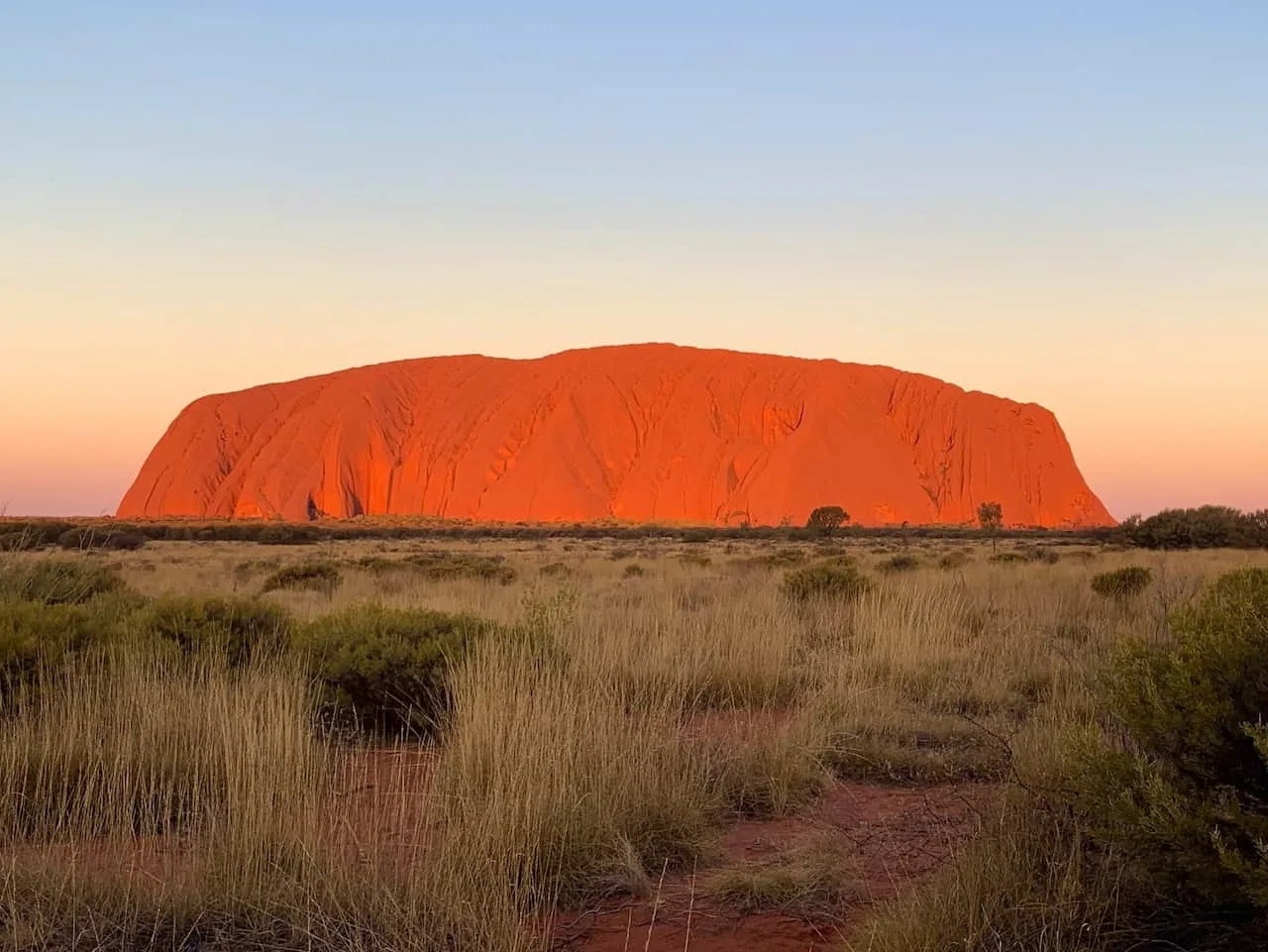 Day 16 – Uluru
A visit to Uluru is not complete without a beautiful sunrise. Wake up bright and early to enjoy a sunrise over Uluru from the official Sunrise Viewing Area.
After enjoying a sunrise, make your way to the base of Uluru itself. From the Ayers Rock Carpark, you can begin your 10KM / 6 Mile walk around Uluru.
During the walk you will get to enjoy the rock from right up close and from farther away as you take it in from a variety of angles.
It is a pretty flat and easy walk to enjoy, and is suitable for people of all fitness levels. There is also the option to just do a portion of the walk in either direction if you are not up for the entire loop.
» To learn more about the trail, take a look at the Uluru Base Walk Guide up on the site.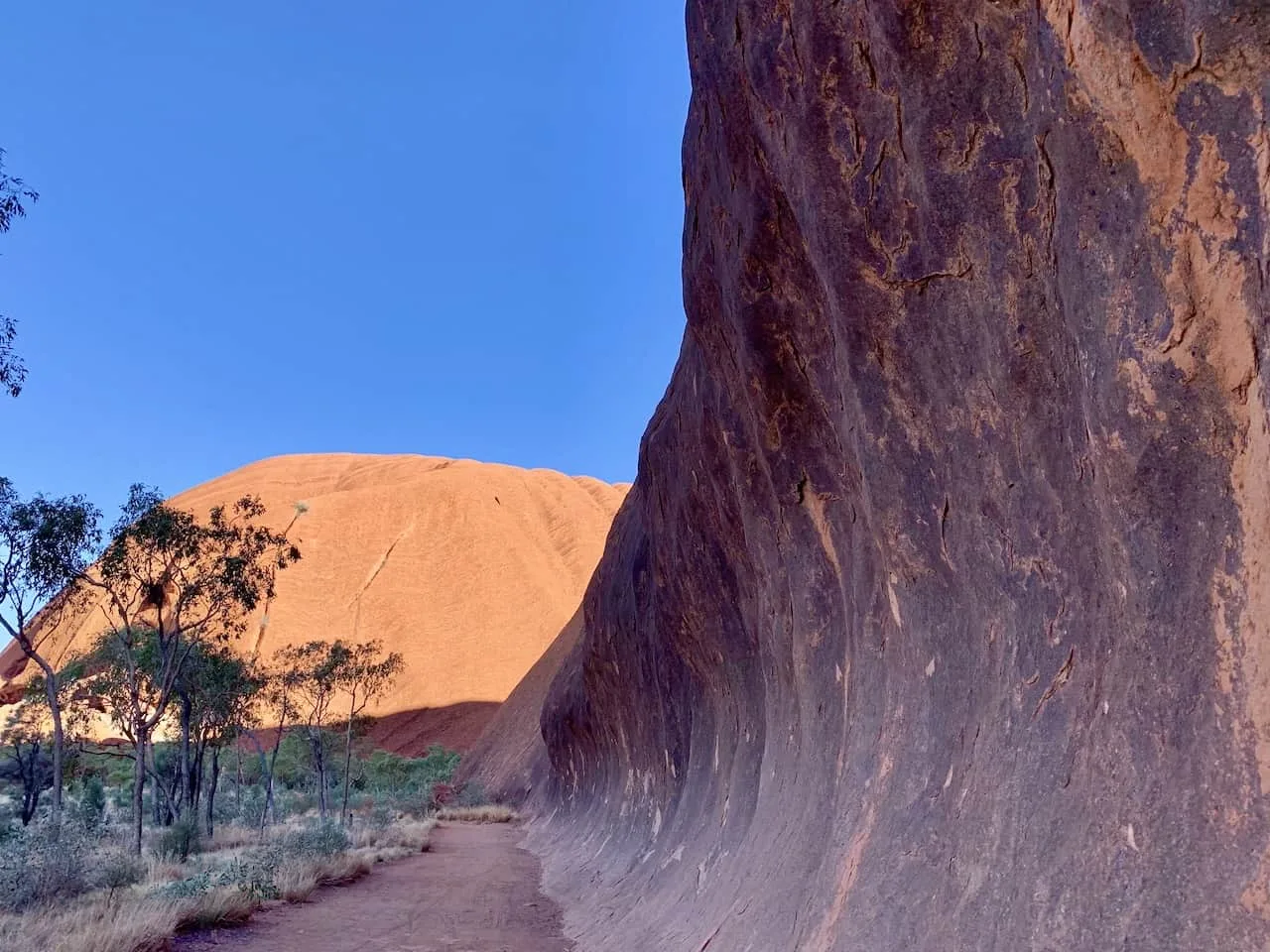 Day 17 – Kata Tjuta
Your second day exploring the Outback will focus in on Kata Tjuta, the second rock formation in the National Park. Kata Tjuta is made up of 36 domes spread throughout the area, each one with a different shape and size.
You can start the day again with a sunrise, this time at the Kata Tjuta Sunrise Area.
I got to say, if comparing the two sunrises, I prefer the one here to Uluru. Seeing Kata Tjuta from up close and Uluru out in the distance was a great view to take in.
» Learn more in the guide about a Kata Tjuta Sunrise
After a sunrise you can drive towards the Kata Tjuta Valley of the Winds parking lot. At 7.4KM / 4.6 Miles, the Valley of the Winds Walk is another spectacular hike that will take you all throughout the Olgas.
This one is definitely more strenuous than the Uluru Base Walk, but it is well worth the effort. The views you will get throughout the trail are hard to beat.
» Learn more about the trail in the Valley of the Winds Walk Guide
After enjoying the Valley of the Winds Walk, you can make the short drive to the Walpa Gorge parking lot and take part of a much easier and shorter trail that takes you right in between two massive Olga walls.
And if you are up for a full day out by Kata Tjuta, you can end your time here with a sunset at the Kata Tjuta Sunset Area before heading back to Yulara for the night.
All in all, it will be a fun filled and packed day enjoying all that the Kata Tjuta area has to offer.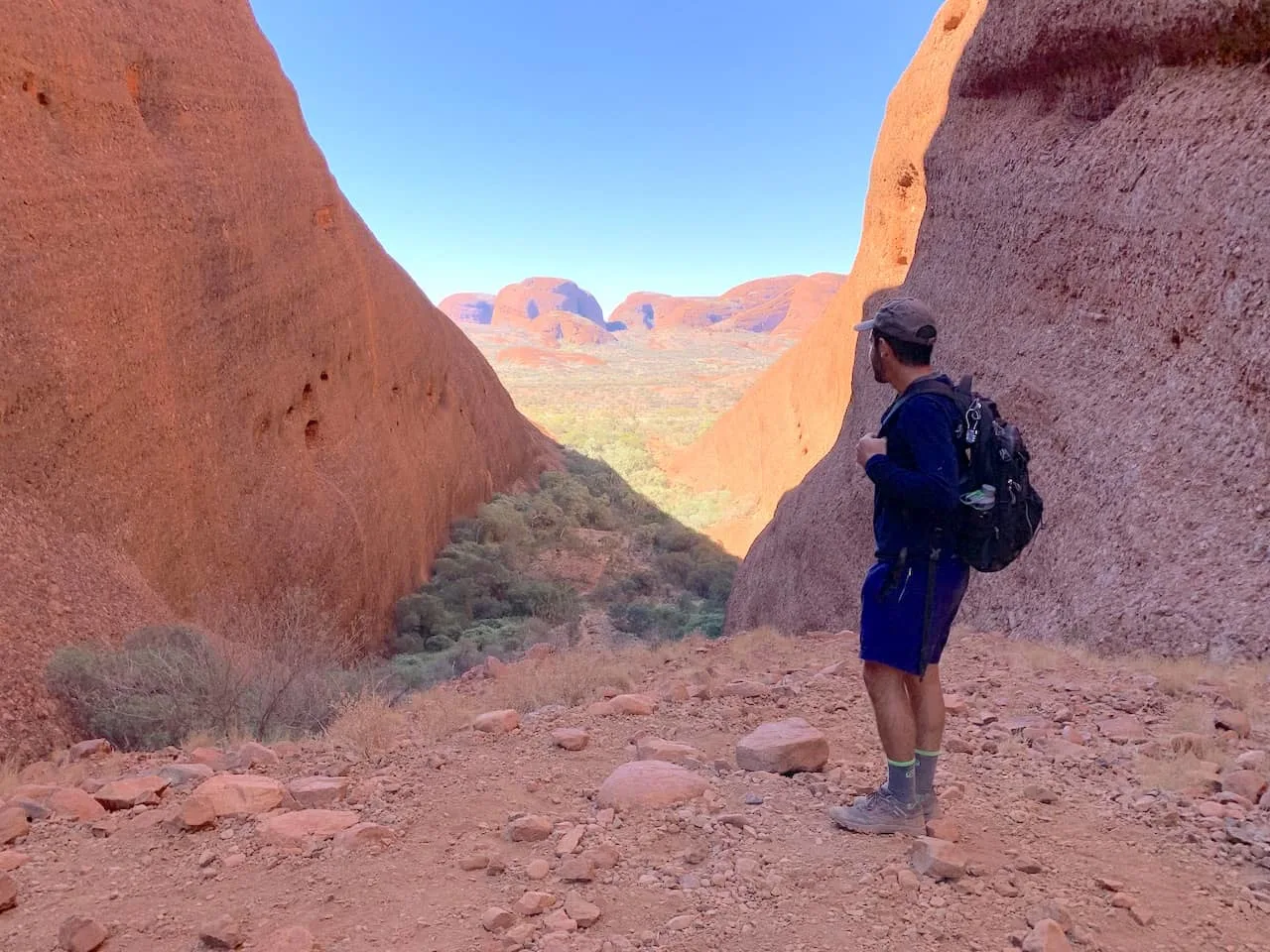 Day 18 – Kings Canyon
It is now time to head out of Yulara and begin the drive to Kings Canyon. Kings Canyon is about a 3-4 hour drive away from Yulara and is home to one of the Outback's most beautiful natural landscapes.
Try and get an earlier start to the day as you will also be taking part of the Kings Canyon Rim Walk today as well.
The Rim Walk takes you up and around Kings Canyon, as you take in some vast views from above and enjoy some really unique aspects of this natural wonder.
The hike should take you around 4 hours to complete, and you can then make your way to Kings Canyon Resort at day's end (basically the only accommodation option in the area).
Enjoy a nice sunset at the Resort, have a nice meal, and get ready for a big day driving back to Alice Springs the following day.
» Learn more in the Kings Canyon Rim Walk Guide and be sure to book your accommodation at Kings Canyon Resort ahead of time.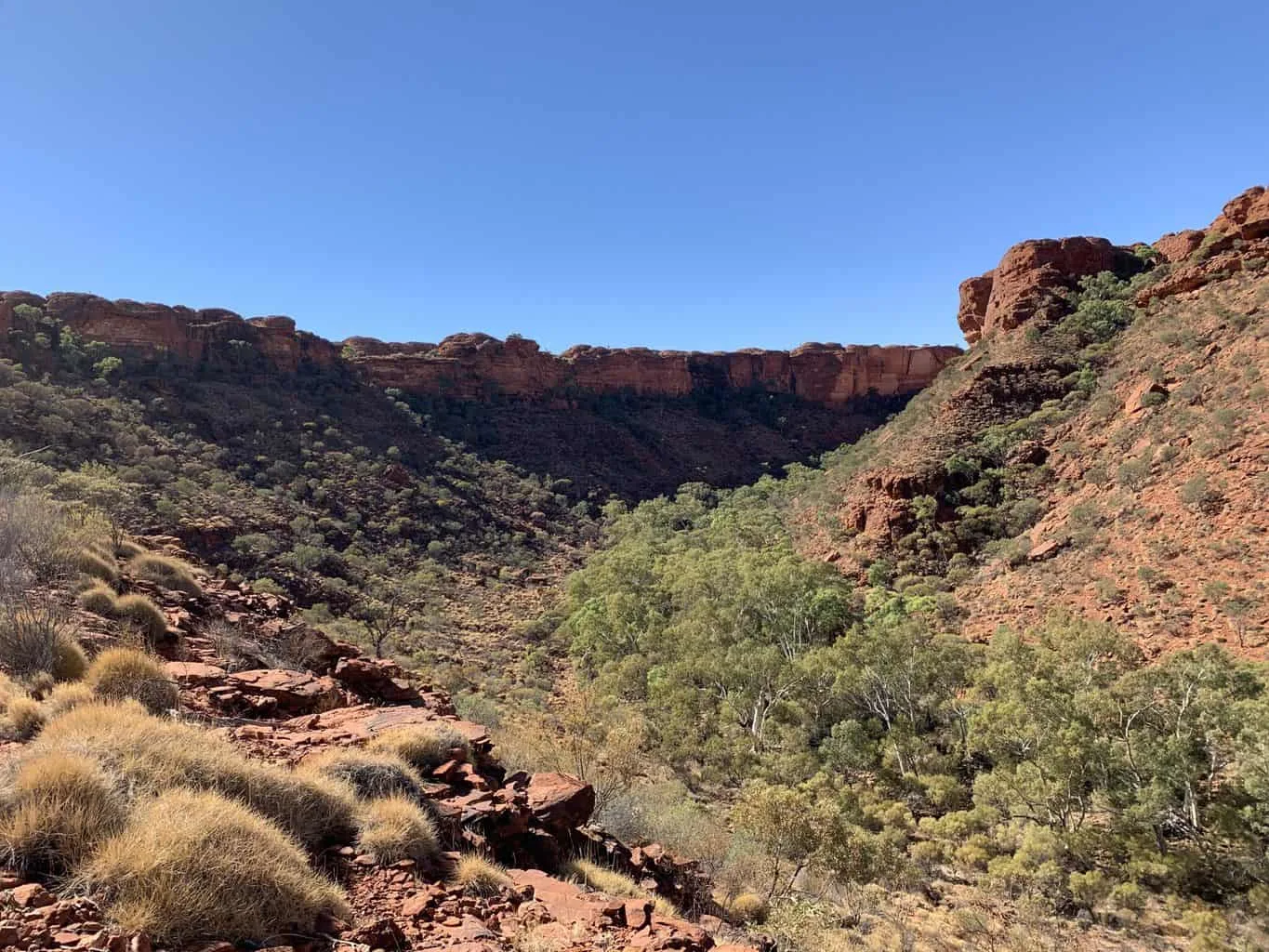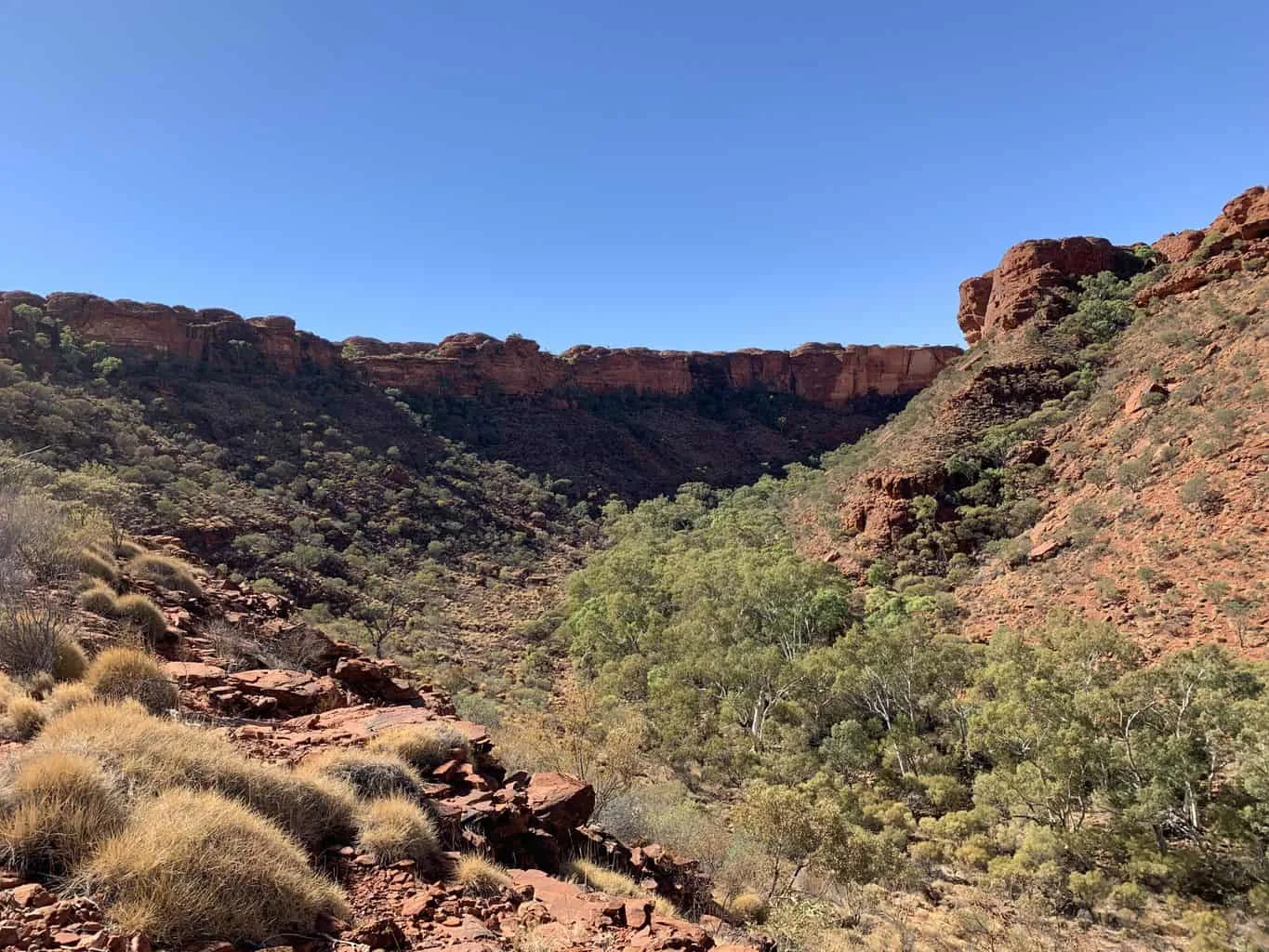 Day 19 – Drive to Alice Springs / Kangaroo Sanctuary
After a day and night at Kings Canyon, you can head to the last stop on your 3 week Australia itinerary – Alice Springs. This drive will take around 5 hours to complete as you complete your Outback road trip.
Since this is will mostly be a travel day driving the Outback, expect to arrive in Alice Springs sometime in the afternoon.
I would recommend leaving enough time to arrive in Alice Springs to take part of the Kangaroo Sanctuary Tour.
The Kangaroo Sanctuary is operated by Chris Barns, aka Kangaroo Dundee, and during a visit you will learn all about the great things he is doing to protect the kangaroos.
There will be plenty of chances to see some of the kangaroos out there and hang out with some baby ones as well.
The tour departs around 4PM – 5PM depending on time of year on Tuesday, Wednesday, Thursday, and Friday. Take a look at their website for more info and to make your booking.
Where to Stay in Alice Springs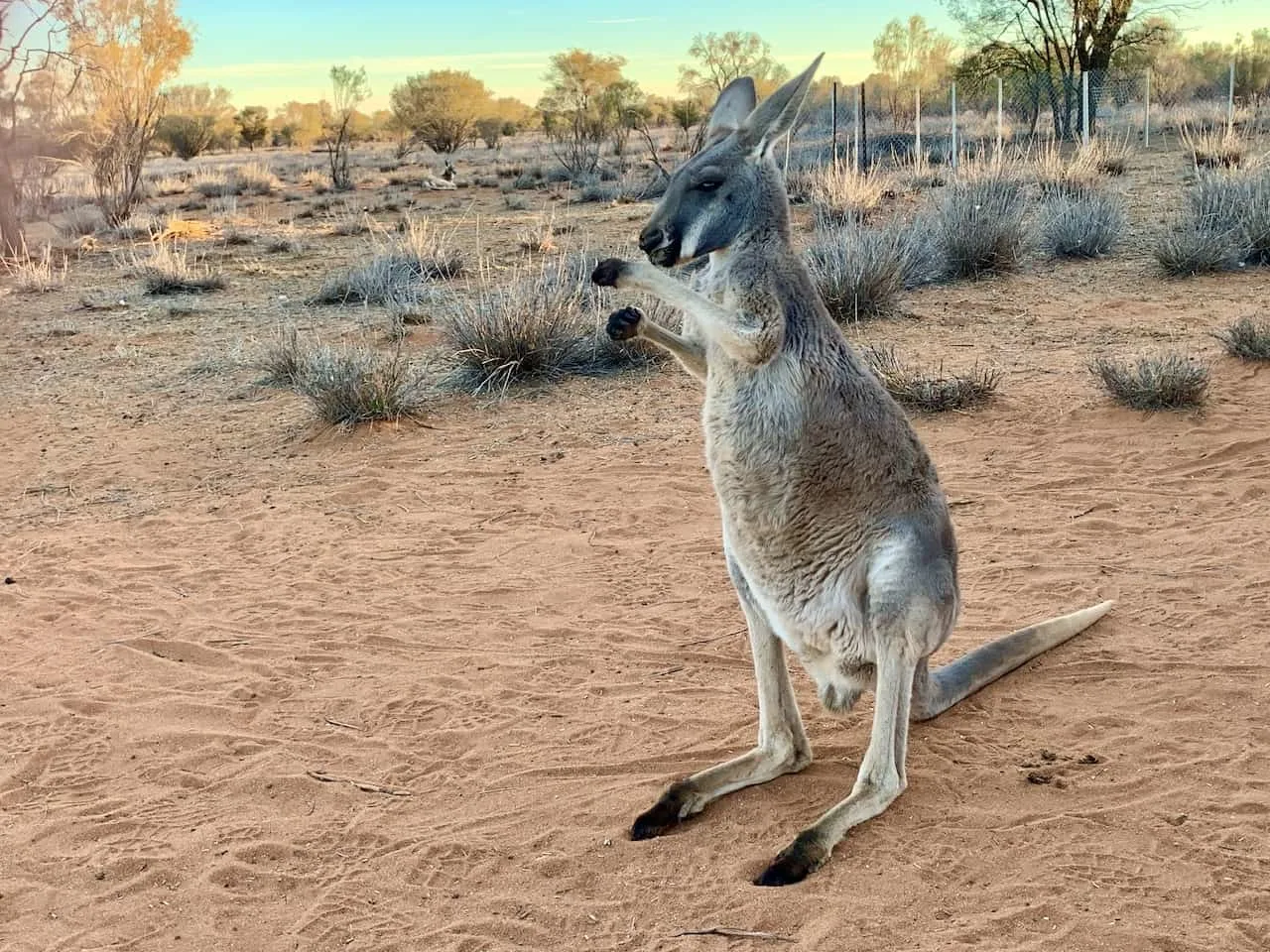 Day 20 – West MacDonnell Ranges
Your last full day of this 3 week Australia itinerary will take you on a day trip to the West MacDonnell Ranges.
There are a ton of stops along the way that you can make your to, and you can decide to stop at any and all of the below.
Some of the stops can be as short as just a quick walk to see the natural attraction while others you can spend multiple hours walking various trails.
I have listed out some of those additional options for you.
1) Simpsons Gap
Short Walk to Gap
Cassia Hill Walk (45 minutes)
2) Standley Chasm
Short Walk to Chasm
View of Chasm/Landscape from Above (45 minutes)
3) Ellery Creek Big Hole
Short Walk to Watering Hole
4) Serpentine Gorge
Short Walk to Gorge
View of Gorge/Landscape from Above (30 minutes)
» Learn more in Serpentine Gorge Guide
5) Ochre Pits
Short Walk to Pits
6) Ormiston Gorge
Short Walk to Gorge or
Full 1 Hour Loop to Gorge + Viewpoints
» Learn more in the Ormiston Gorge Guide
7) Glen Helen Gorge
Short Walk to Gorge
» Take a look at the West MacDonnell Ranges Itinerary Day Trip for more about this day
Once you are finished up for the day at Glen Helen, make the drive back to Alice Springs for your last night in Australia.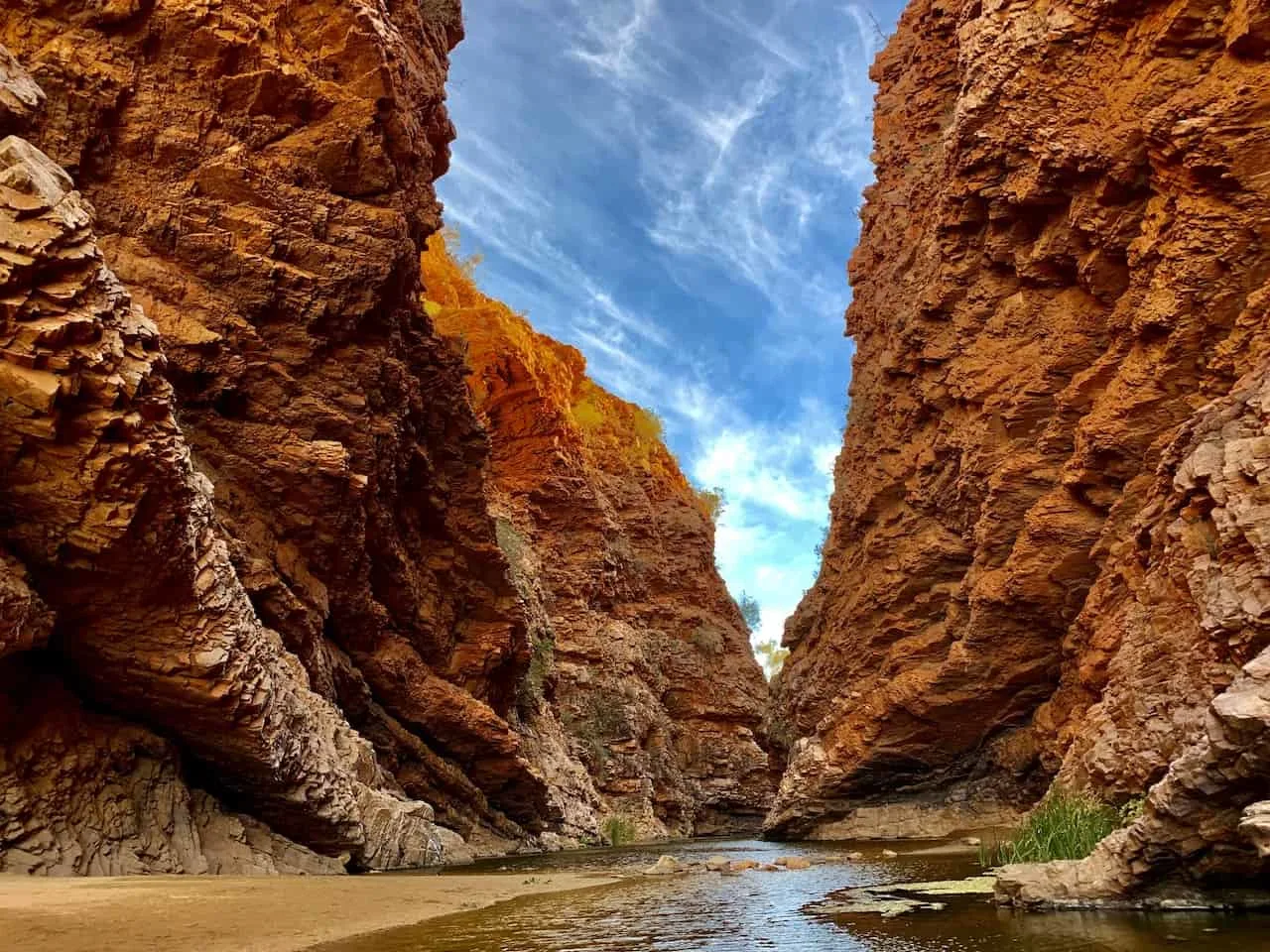 Day 21 – Depart Alice Springs & Australia
After 3 weeks of exploring Australia it is time to start heading out of the country. Since there are no international flights from Alice Springs, you will need to fly back to Sydney on day 21 to catch your flight out of the country.
Alternatively, you can look if it is more convenient / cheaper to fly out of other cities in the country that have direct flights from Alice Springs – Melbourne, Adelaide, Darwin, Brisbane, etc.
Maybe you will get lucky and get those aerial views over Uluru to end an amazing 3 weeks in Australia!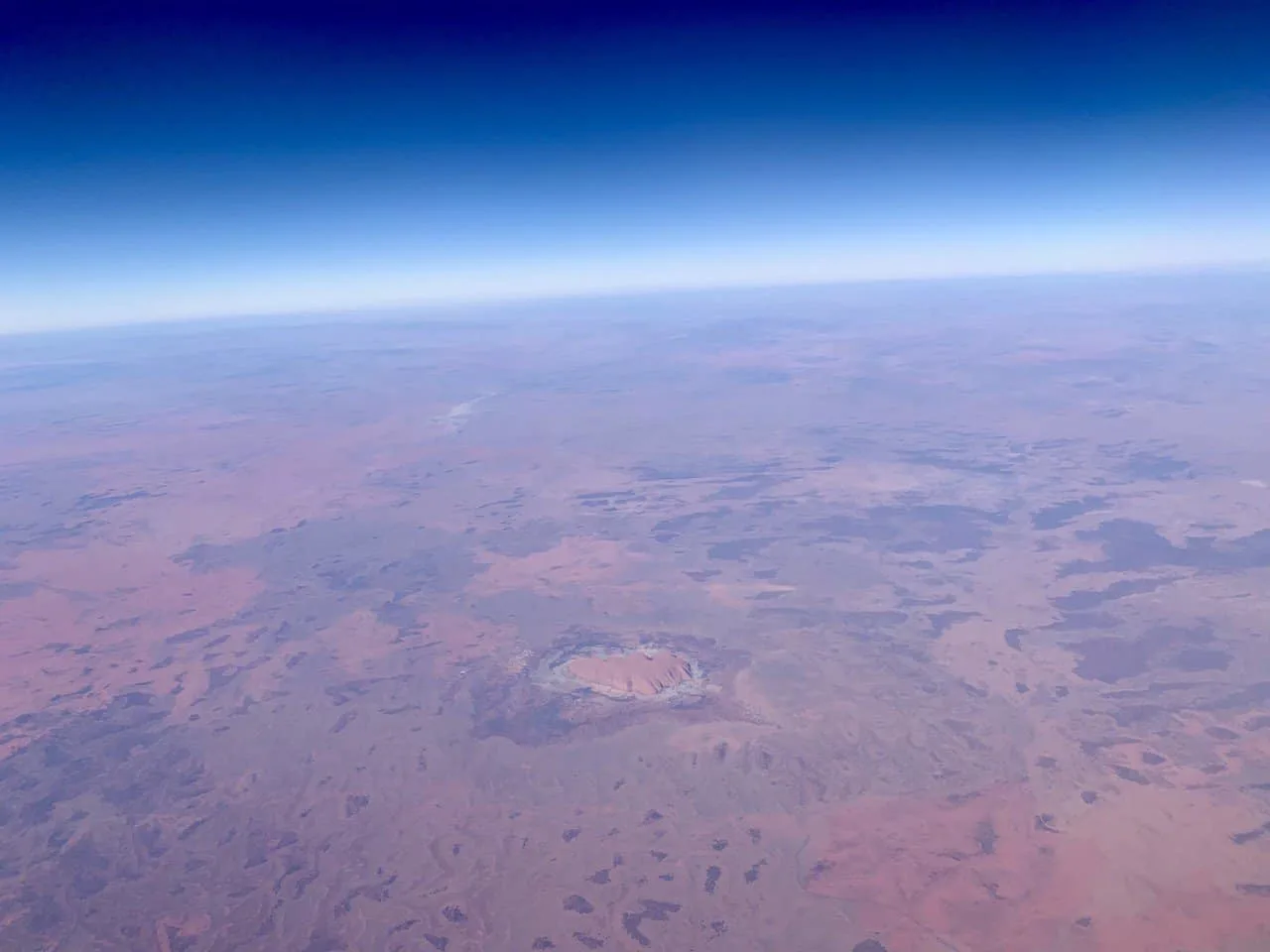 If you have made it all the way to the end of this 3 Week Australia Itinerary, I hope you have a better sense of how to put together this once in a lifetime type of trip.
I know there is a lot of information above, so if you have any questions or comments about a particular day or activity feel free to write them in below.
Also be sure to take a look at the other Australia itineraries and guides up on the site.
Have fun out there and safe travels!