Are you heading to Uluru but having trouble finding a suitable and affordable car rental? Well, I had the same problem when planning my trip to the Outback.
I kept on coming across expensive options with limited kilometers and one-way car rental fees, making the car rental very costly.
I wanted to put together this guide to walk you through how to book the best Uluru car hire for your time in the region and help answer any of your questions along the way.
* Affiliate Disclosure: This post may contain affiliate links, which means I may receive a commission if you make a purchase through the links provided, at no additional cost to you. Thanks for supporting the work I put into TripTins!
2022 Update: Currently Voyages is no longer taking car rental reservations, however Tourism Central Australia does offer similar deals. Read on for more helpful info on how to save money while booking a car around Uluru!
Important note before diving into the guide:
You will find this guide to be most useful if you are planning an Outback road trip from Yulara to Alice Springs or vice versa. Limited kilometers and one-way car rental fees won't be as much of an issue if just exploring one region.
If spending your time in one place, just head on over to Rentalcars.com and see how prices compare.
1) Driving in Uluru Background
If you are planning a trip to the Uluru-Kata Tjuta National Park alongside potential other spots like Kings Canyon and the West MacDonnell Ranges, then having your own car is your best bet.
There is a ton to do on a daily basis out there, and if you do not have your own car then you are stuck traveling according to bus schedules or group tours.
By having your own car, you will have the chance to go to as many sunsets or sunrises as you would like, take a midday break back in your hotel, and make your way to any and all attractions that you are interested in visiting.
Having that flexibility on a daily basis is well worth it and you probably will even be saving money by having your own Uluru car rental.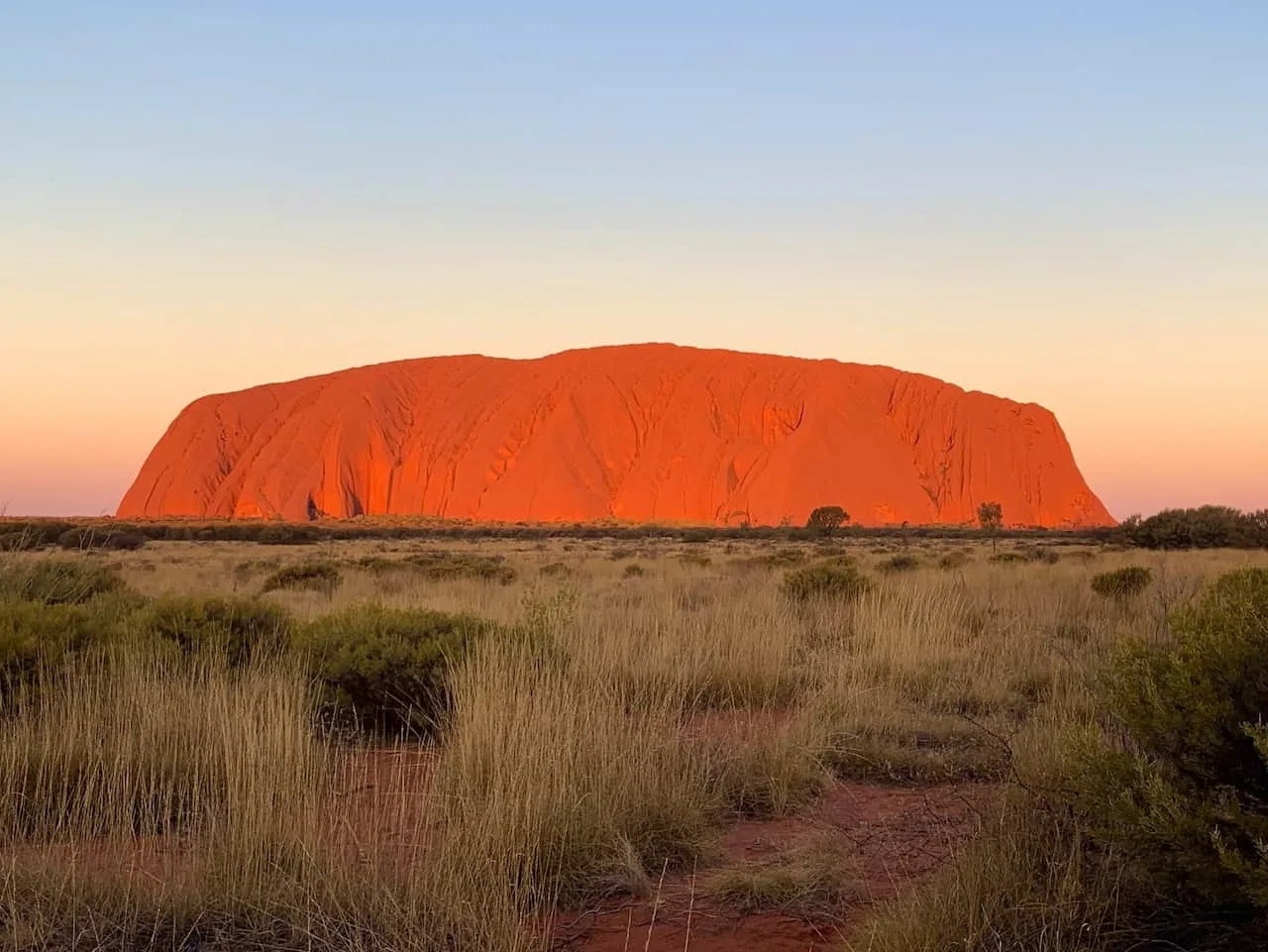 2) An Uluru Car Hire Road Trip
I wanted to lay out a potential itinerary for your time in the region so you can get a better idea on why having your own car is a great decision.
Altogether it would be a 6 day car hire (pick up day 1, drop off day 7).
» Read the 7 Day Red Centre Way Itinerary for more detail!
Day 1 – Arrive at Yulara/Ayers Rock Airport and transfer by free bus to Yulara (the main town next to Uluru-Kata Tjuta National Park). Pick up rental car in town (or at airport depending on options). Enjoy an Uluru Sunset!
Day 2 – Enjoy an Uluru Sunrise and then take part of the Uluru Base Walk
Day 3 – Head to Kata Tjuta for the Valley of the Winds Walk and take in a sunrise and/or sunset before/after your time walking Kata Tjuta
Day 4 – Leave Yulara and drive to Kings Canyon. Complete the Kings Canyon Rim Walk
Day 5 – Drive to Alice Springs and head to the Kangaroo Sanctuary for a sunset tour
Day 6 – Take part of a West MacDonnell Ranges day trip visiting several attractions along the way. Return to Alice Springs at day's end
Day 7 – Return car rental in Alice Springs Airport and depart to your next destination
As mentioned before though, there are two potential issues when renting a car that may make a car rental way more expensive than necessary – limited kilometers and one way rental fees. Below I will touch on each of these issues a bit more…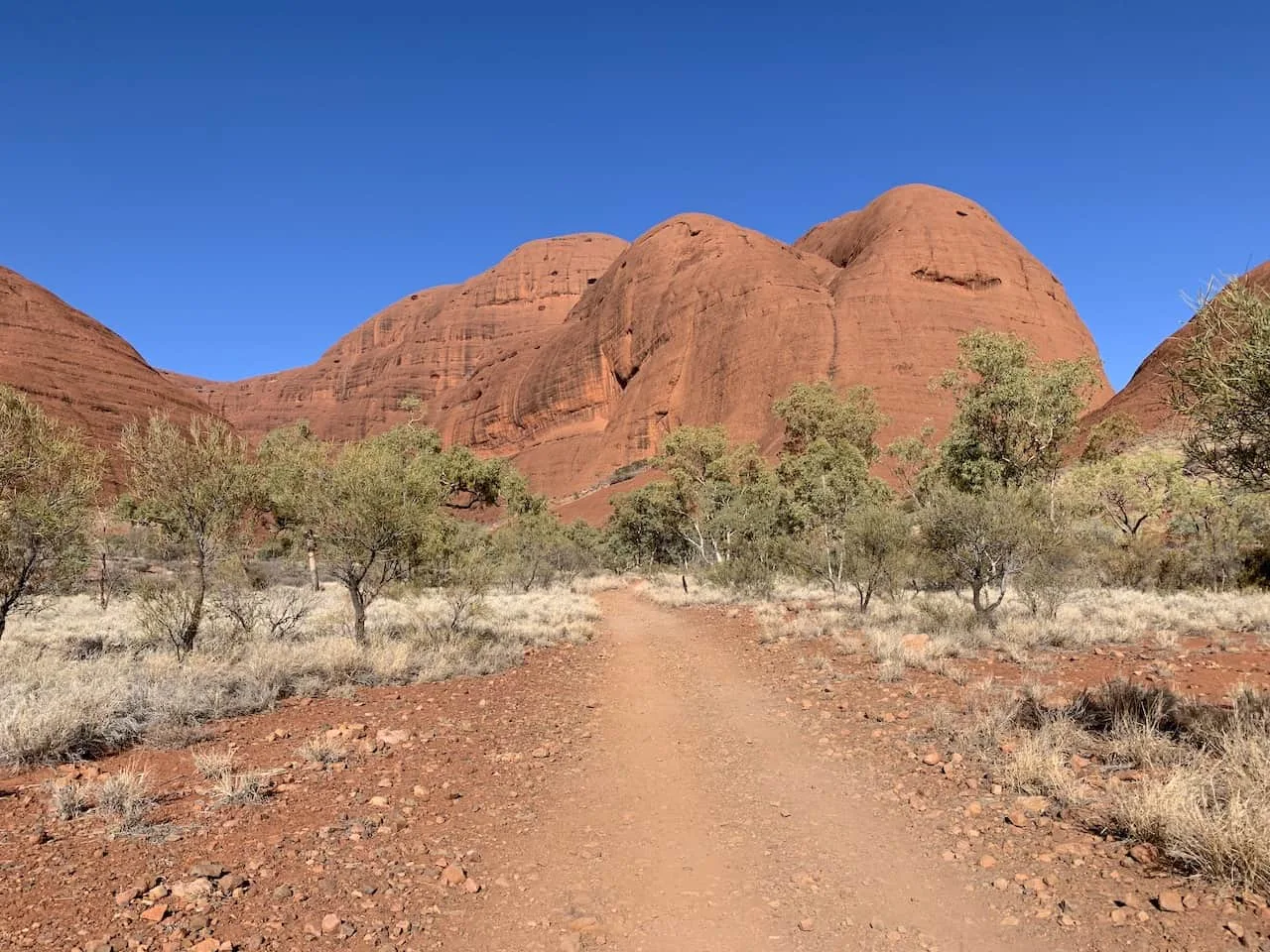 3) Issue #1: Car Hire Uluru Limited Kilometers
The first main issue I wanted to touch on are limited kilometers for most car rentals in the region.
If you are browsing car rental websites, you will find many of your options only allow a certain amount of kilometers per day (100 KM or so).
Every kilometer over your total allowance will cost $0.17 – $0.21 USD ($0.25 – $0.30 AUD).
Since some of the distances on an Outback road trip can be so much greater than that (300KM from Yulara to Kings Canyon & 500KM from Kings Canyon to Alice Springs), you will soon realize that those additional kilometers will add up very quickly.
High level (given the itinerary above) you are looking at around 1,200+ KM of driving over 6 days. If you are only allowed 600KM (100KM per day), then you will need to pay for the additional 600KM.
At $0.20 USD, that means the overages will be at least $120 USD ($0.20 * 600 = $120; and potentially more depending on exact mileage).
You will probably be able to find some unlimited kilometer options out there too but that may come at a higher car rental cost altogether. So, either way you look at it, the car rental will be quite expensive.


4) Issue #2: Yulara – Alice Springs One Way Car Rental Fees
The second main issue you may come across if doing an itinerary similar to the one above (starting in Yulara or Alice Springs and finishing up in the other), are one-way car rental fees.
Car rental companies charge these since they may need to return the car to its original location at the end of the car rental period.
These fees can be expensive and completely ruin a car rental budget. Below is a screenshot with a $137.68 USD fee for the one way rental!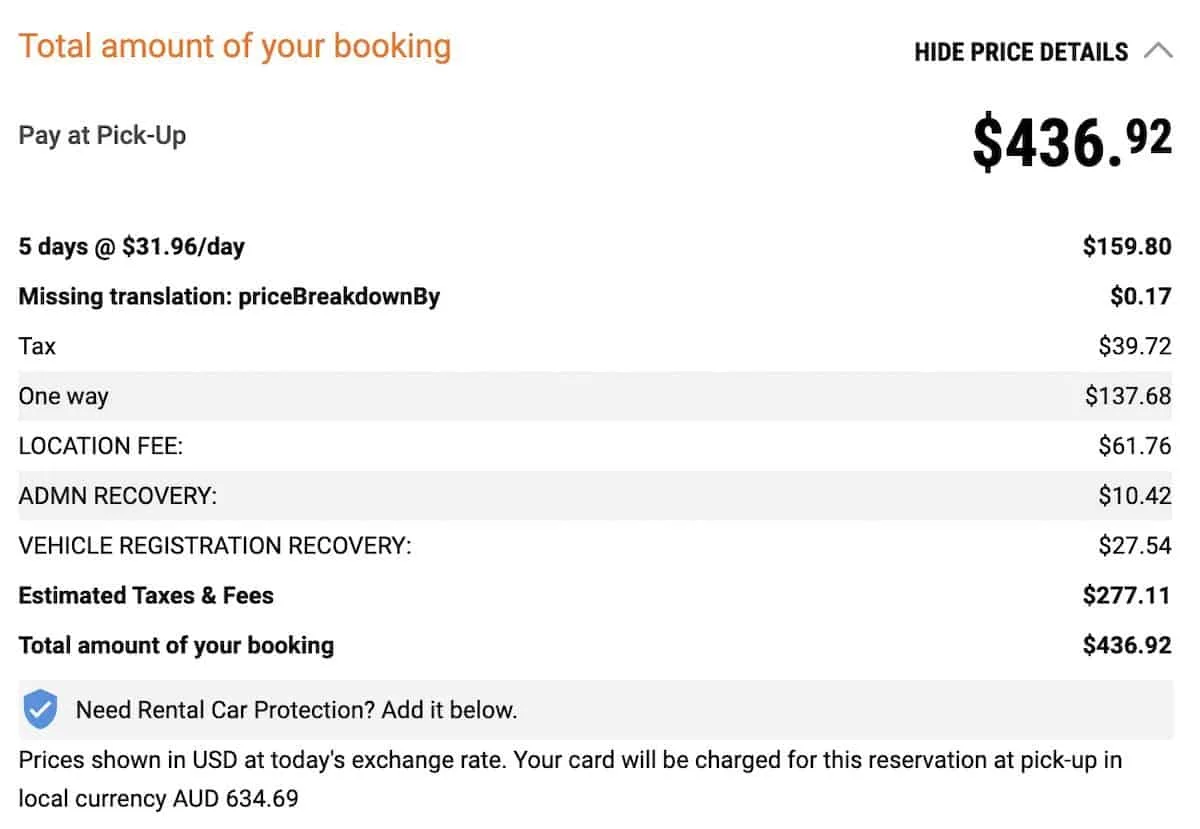 So, how do we solve both of these issues…
5) Ayers Rock Resort Voyages Car Rental
The town of Yulara is basically run by the Voyages Ayers Rock Resort. From accommodation to dining to tour options, Ayers Rock Resort has you covered.
Since they are the main player in the region, they also have access to some great deals when it comes to car rentals.
If you book through Voyages, you will have access to these great deals with the three main car rental companies in the region – Hertz, Avis and Thrifty.
Not only will the prices be very competitive but also ALL car rentals will include unlimited kilometers. No need to worry about making all of those calculations!
Also, depending on car rental length, you can also be eligible for free one way rentals. No $100+ one way drop fees!
Here are the minimum number of car rental days by provider to avoid the fees: Avis (3 days minimum), Hertz (1 day within Northern Territory), Thrifty (4 days minimum).
2022 UPDATE: While Voyages no longer offers car rentals at the moment, Tourism Central Australia offers the same type of deals through the Alice Springs Visitor Information Centre. Feel free to contact Tourism Central Australia to book your car today.
→ If neither of those work for you, feel free to check out Rentalcars.com, which will have various options to browse through. You can filter by car type, price, and more to find the perfect car for your trip.
By going through Rentalcars.com though, there is a higher chance you won't get those lower prices for one way rentals / unlimited kilometers.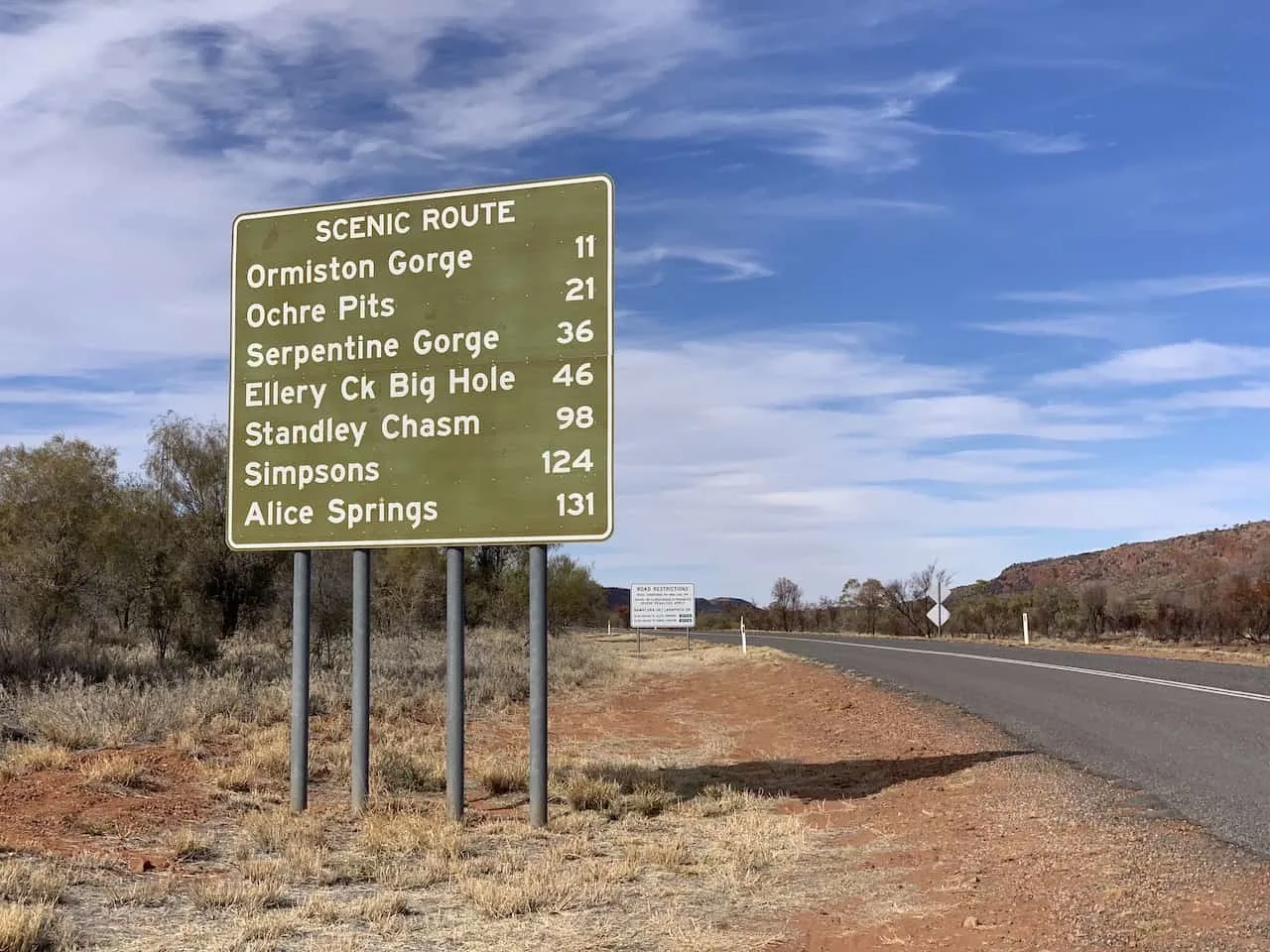 6) Car Hire Uluru Prices
Now that you understand how to get those costs down, I wanted to lay out your different options by company.
Please note that all of the below is past information booking through Voyages.
Unfortunately, Tourism Central Australia does not have a similar detailed price list available. However, I was told that prices are in the same ballpark so you can still use the below as a reference.
Important Notes:
> If you pickup from airports there is an airport surcharge as you can see in the price lists below. Instead pick up from downtown Ayers Rock/Yulara or Alice Springs. One exception though: Thrifty offers the same price for Ayers Rock/Yulara downtown and airport pickups at a pretty reasonable rate.
> Note that only HERTZ AND THRIFTY offer the option for Yulara/Ayers Rock downtown pickups.
> All prices in the lists below are in AUD
A) Hertz Prices
The first screenshot is for downtown pickups for Ayers Rock and Alice Springs and the second screenshot is for airport pickups. As you can see the airport pickups will come at a higher rate.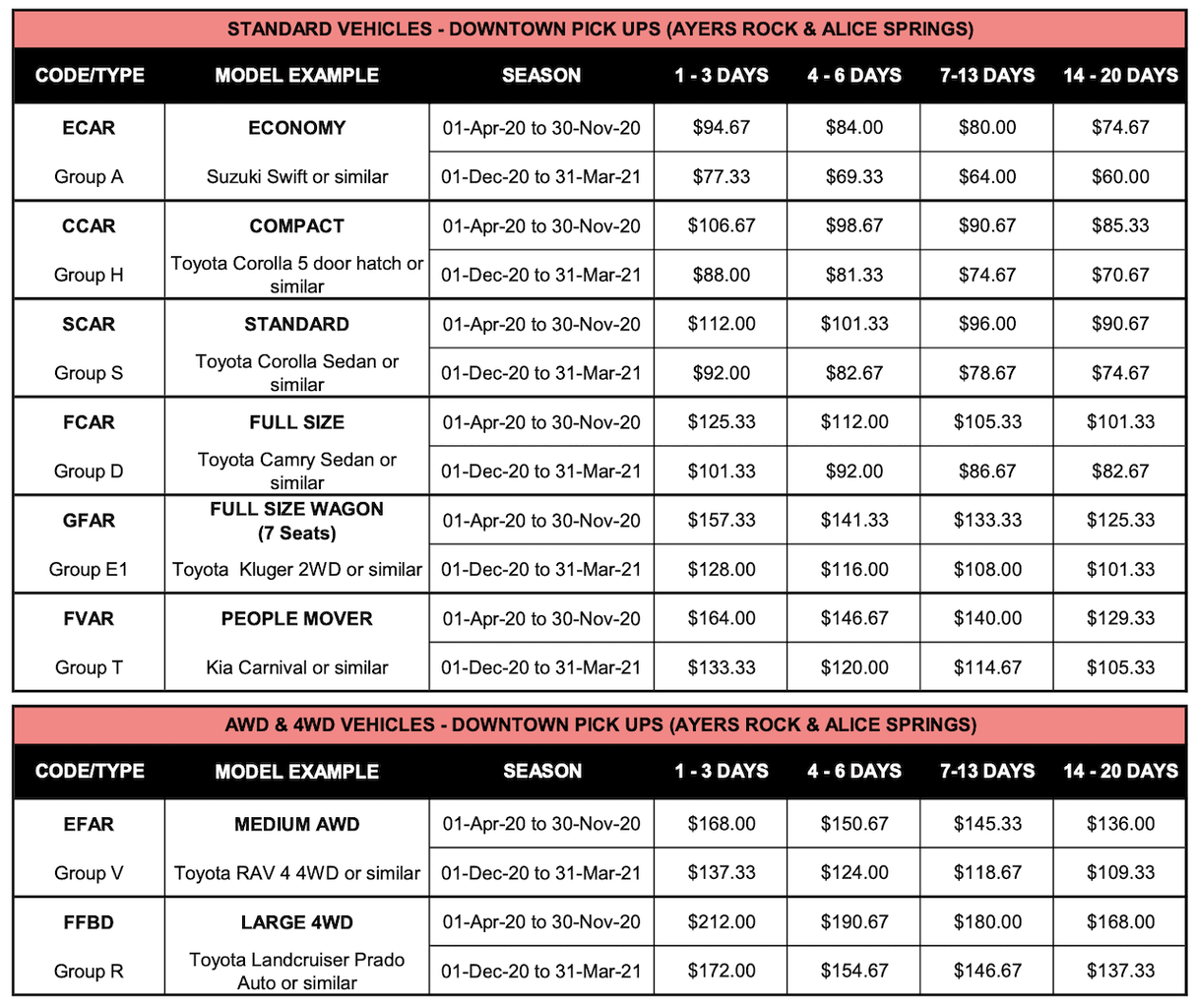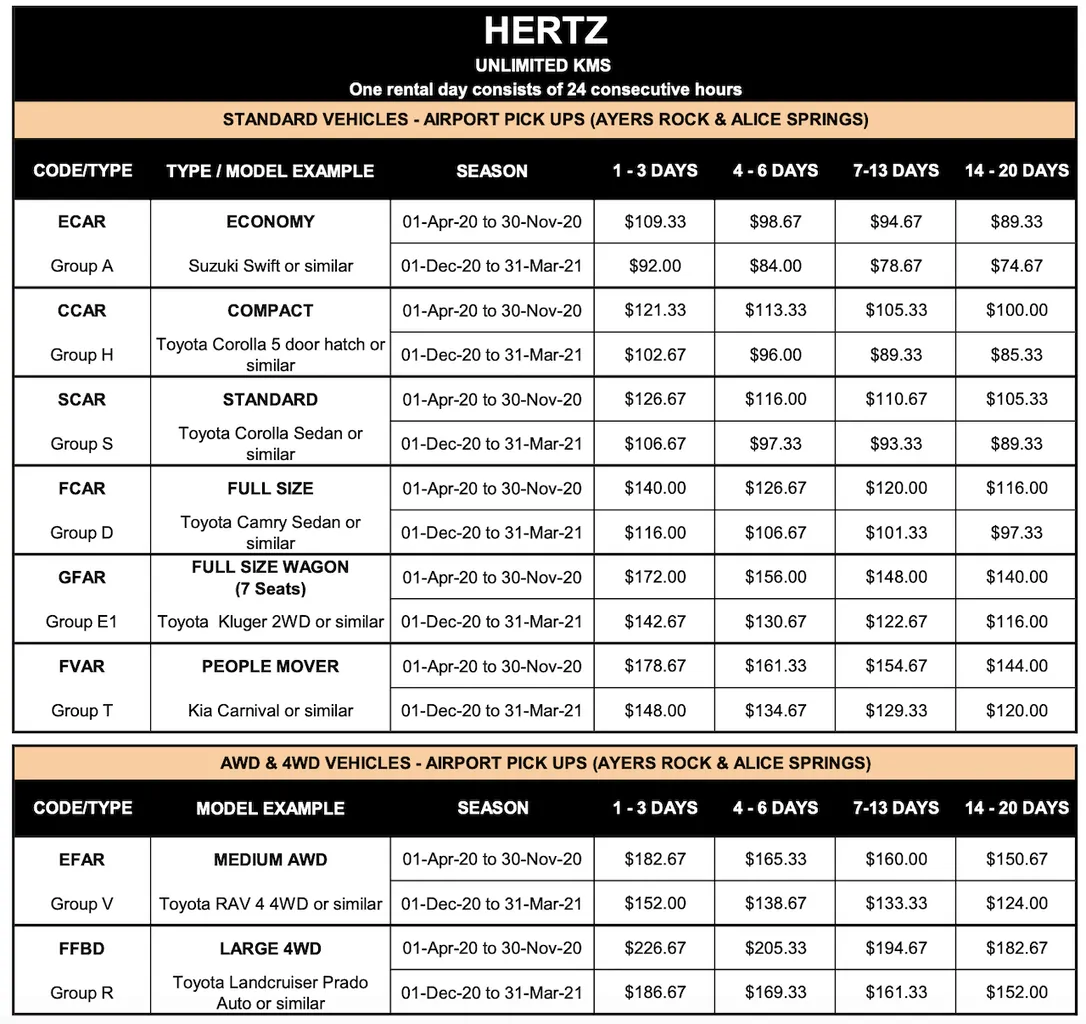 B) Avis Prices
The first screenshot is for downtown pickups in Alice Springs only. There are no downtown pickups for Ayers Rock/Yulara. The second screenshot shows prices for airport pickups.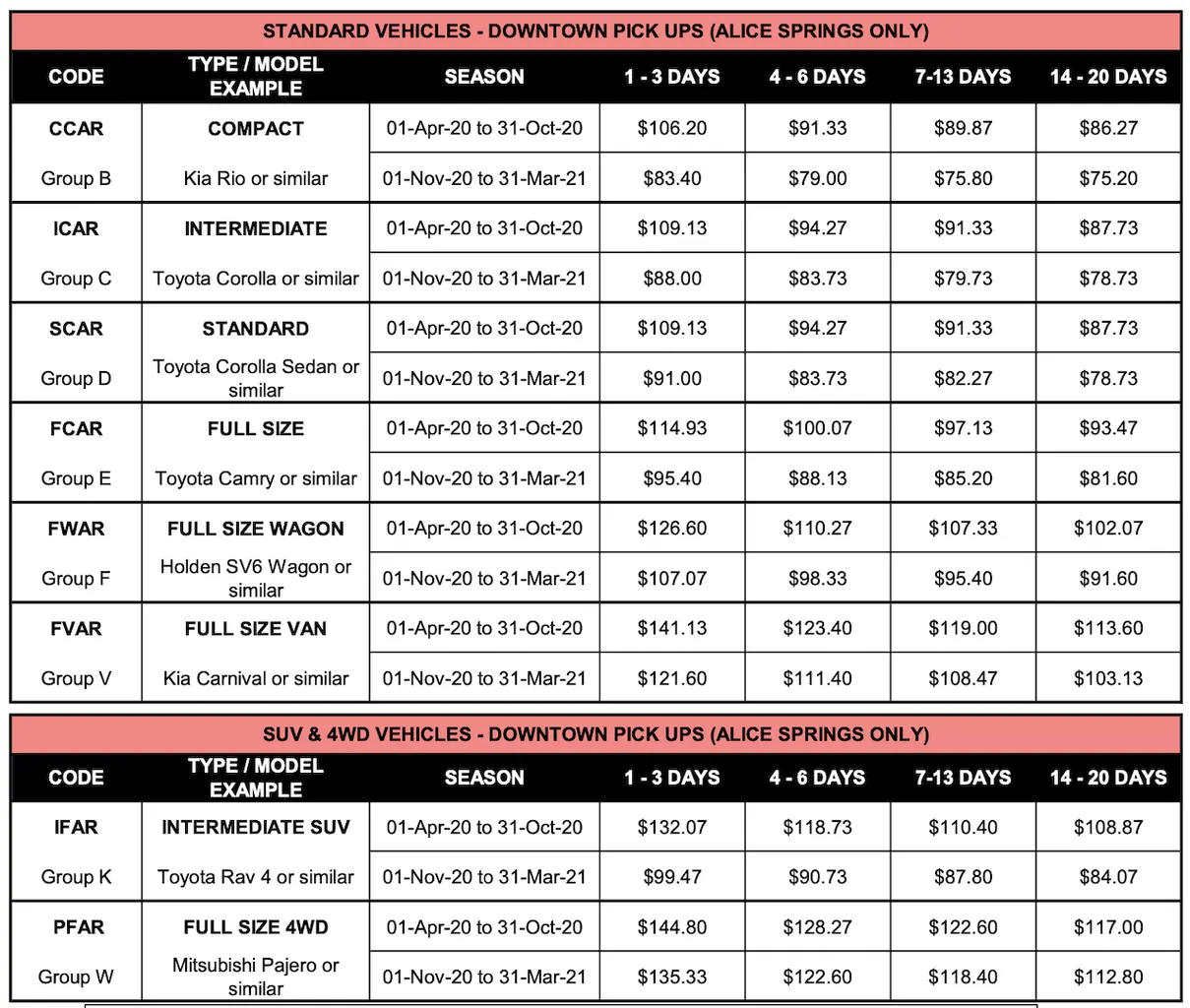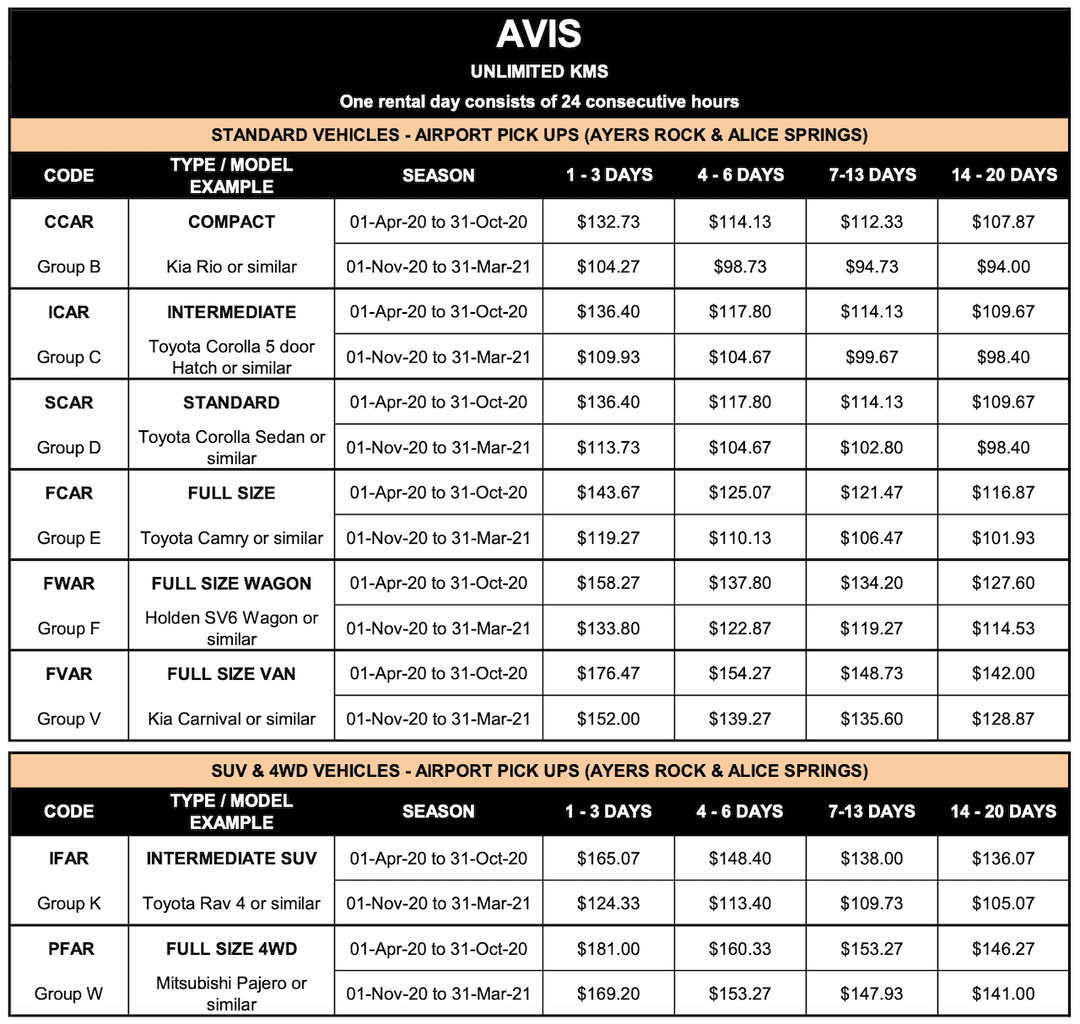 C) Thrifty Prices
The first screenshot is for downtown Alice Springs pickups. The second screenshot is for airport pickups AND Ayers Rock/Yulara town pickups.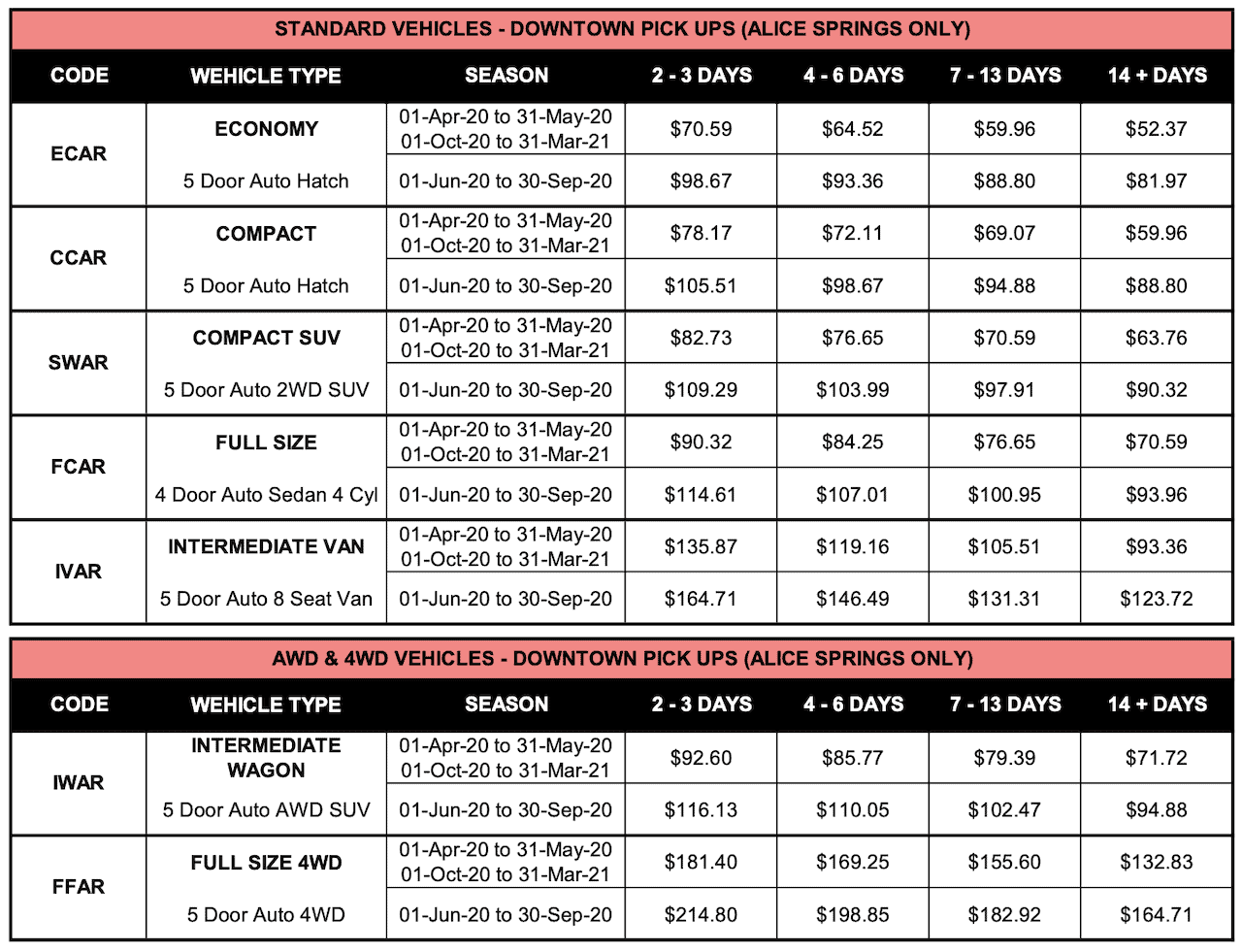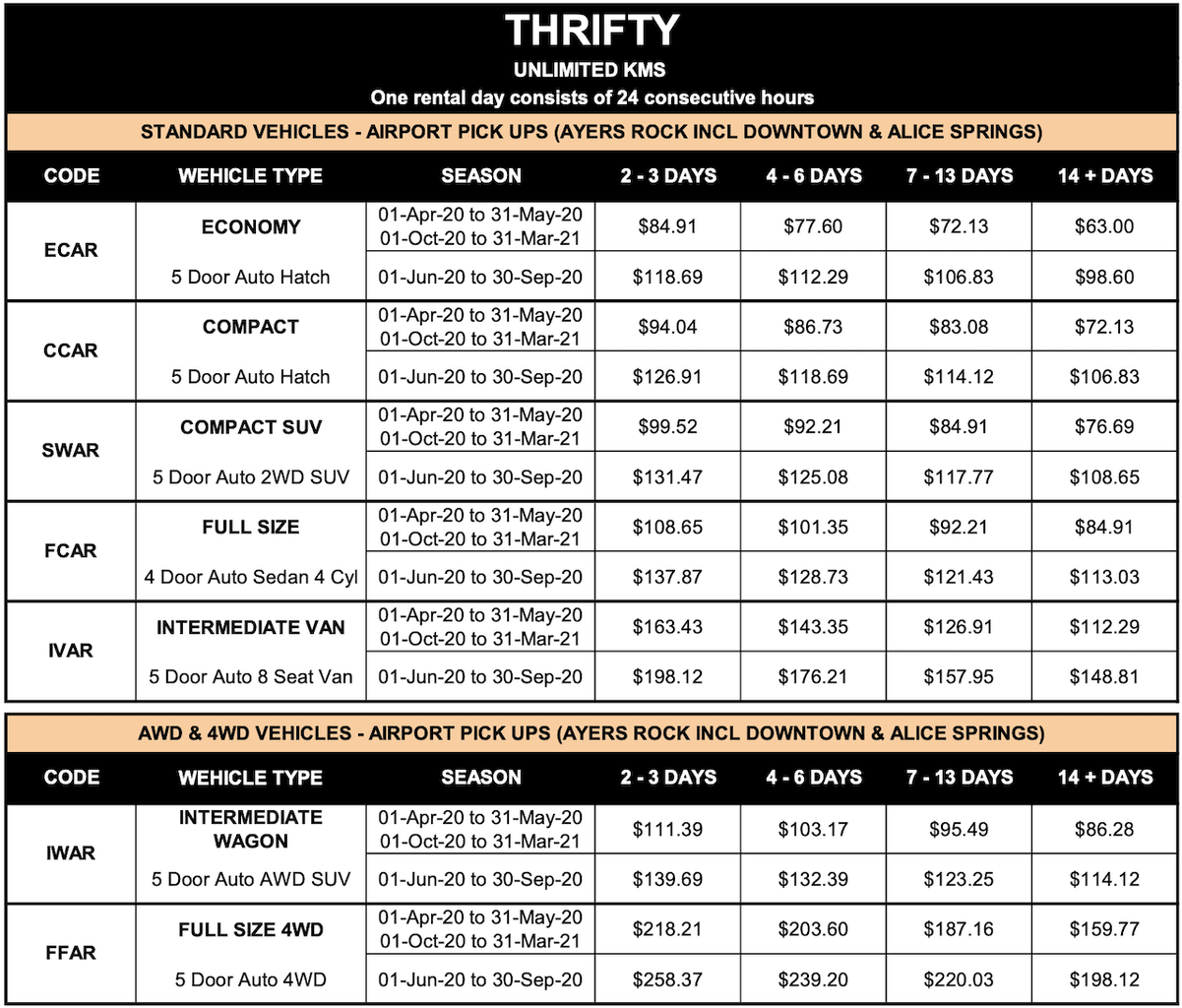 7) Uluru Car Hire Cost Comparison
Now that you have a better idea about the car rental cost issues and how to save some money, I wanted to layout a cost comparison between renting a Hertz car rental through Kayak and booking through Voyages/Tourism Central Australia just to give you one example.
Below is cost comparison for a 6 day car rental between Hertz through Kayak and Hertz through Voyages/Tourism Central Australia for a Toyota Corolla.
Note that you can get EVEN CHEAPER car options through Voyages/Tourism Central Australia, however Kayak only had the Corolla to compare.
Hertz through Kayak (USD): $497.92 (includes one way rental fee) + $120 (additional KM estimate) = $617.92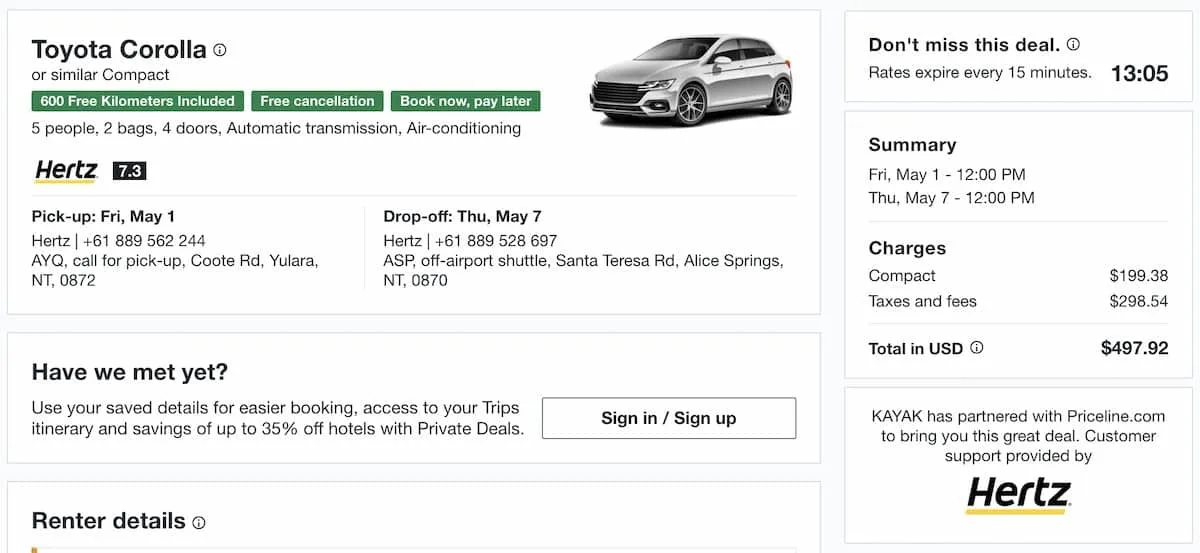 Hertz through Voyages/Tourism Central Australia: $607.98 AUD ($101.33 * 6) =$400 USD
So just off this one example you can save $200+ USD. And like I mentioned before, you can get even cheaper rates if you opt for a smaller car.

8) Voyages Booking
Once you have a good understanding of your dates and car rental choice, it is time to make your reservation. Unfortunately, Voyages does not have an online booking option so you will need to email them with your preference.
If your car option is available, they will send you a reference number and total price along with the below form to fill out with your car details and credit card information. Once you send that back to them, you should be all good to go for your Uluru car hire.
Note that Tourism Central Australia has a similar process. Simply contact them through info@discoverca.com.au and they should respond within 1-2 business days asking for additional information regarding your booking.
9) Where to Stay in Yulara
As mentioned, the main place to stay when visiting Uluru would be the town of Yulara.
The entire town is built around one large loop, where you will find several accommodation options, a small town center with restaurants, shops, and a supermarket, and other things like a gas station, emergency services, etc.
Below are a few of the places you can choose from:
Looking for a budget option? The Outback Pioneer Lodge has some shared room options.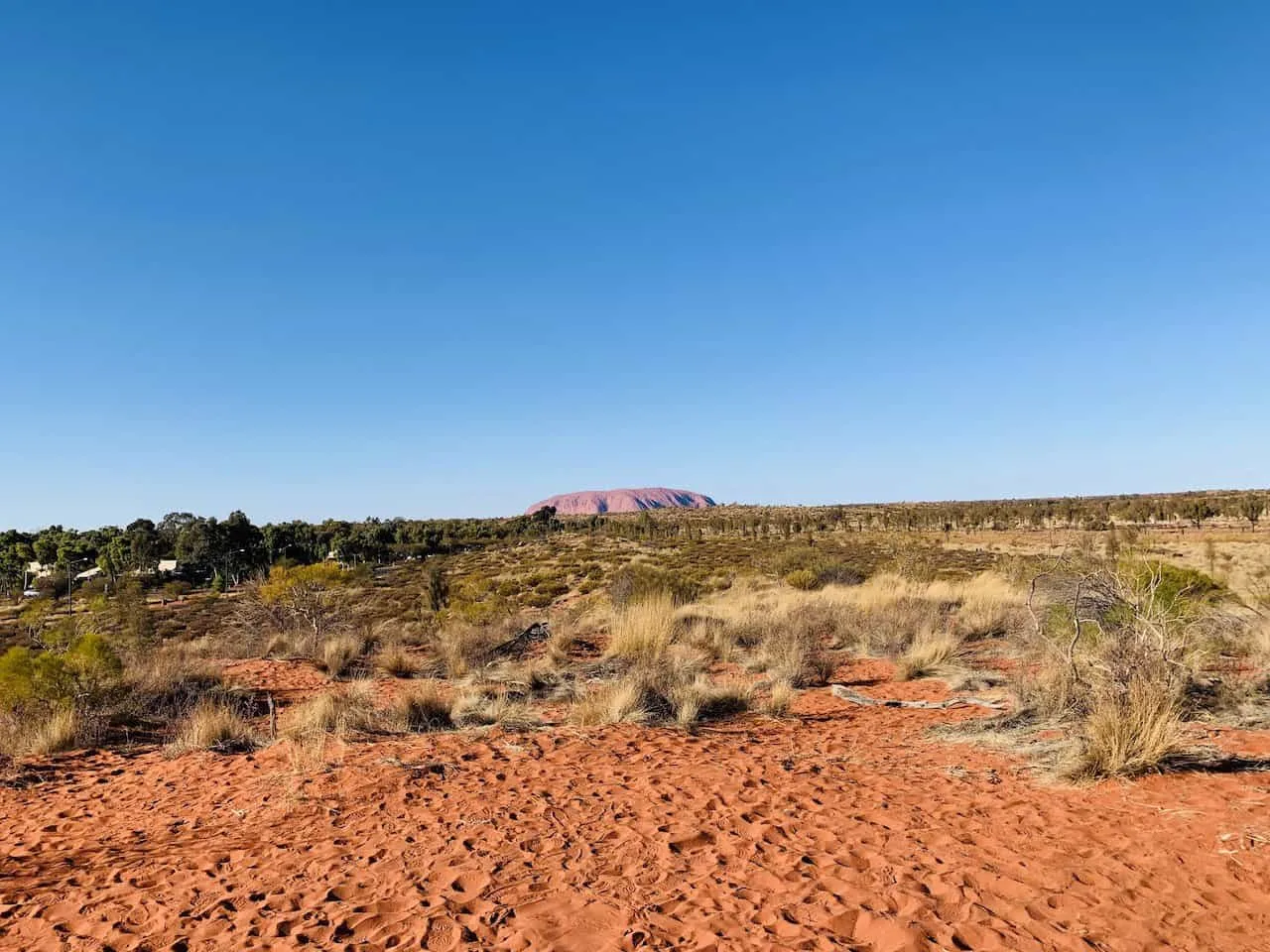 I hope this guide has helped you out a bit with understanding your options to book a more affordable car rental when visiting the Outback.
As mentioned earlier, this will be more useful for those that are looking for unlimited kilometers and one way rentals but it still may be good for those that are just headed to one place.
If you have any questions or comments, feel free to write them in below and take a look at the other Australia itineraries and guides to better help you plan your trip.
Have fun out there and safe travels!