Spending some time exploring the Outback of Australia? Well, you must add a trip to the West MacDonnell Ranges to the list!
This stretch of highway is PACKED with several different attractions, hikes, and viewpoints along the way.
Check out this itinerary, which will walk you through everything you need to know about it all, and how to go about your time exploring the West MacDonnell Ranges.
* Affiliate Disclosure: This post may contain affiliate links, which means I may receive a commission if you make a purchase through the links provided, at no additional cost to you. Thanks for supporting the work I put into TripTins!
1) West MacDonnell Ranges Attractions
The West MacDonnell Ranges / Tjoritja National Park is full of natural attractions, beautiful hikes, and scenic drives.
Below I have listed out below the 7 main attractions that are well worth your visit.
Depending on your interest level, you can set out to do a single day route that includes all of them, or you can pick and choose certain ones that interest you most.
Splitting these up into two days is another option if you would like to take things a bit more slowly.
Some of these places will simply offer a short path from the parking lot to view the natural attraction. On the other hand, some of these places may offer more extensive hiking trails or viewpoint opportunities to take in.
Later on, I will go more into detail about each one and point out where you have a chance to take part of additional activities during your time there.
1. Simpsons Gap
2. Standley Chasm
3. Ellery Creek Big Hole
4. Serpentine Gorge
5. Ochre Pits
6. Ormiston Gorge
7. Glen Helen Gorge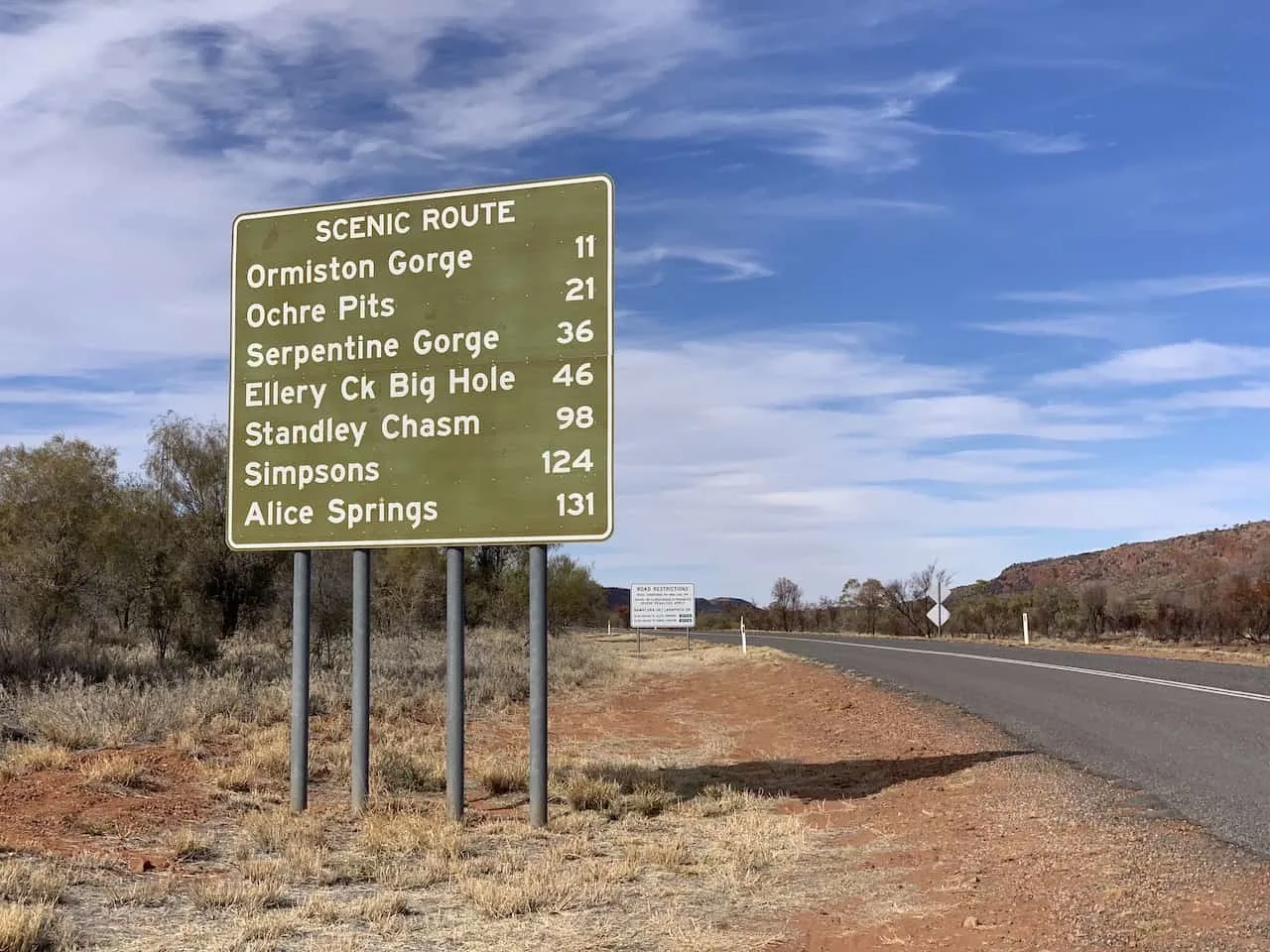 2) West MacDonnell Ranges Map
The nearest major town to the West MacDonnell Ranges is Alice Springs. Because of this many people opt to base themselves there and do a trip to the ranges for a day.
The Ranges are located right along Highway 6 (Larapinta Drive) and Highway 2 (Namatjira Drive) when traveling west of Alice Springs.
Each one of the attractions in West MacDonnell can be found just off of either of these 2 roads, no more than a 10 minute drive further into the Ranges themselves.
Below you can see a map with all the attractions pin pointed down. I will go more in detail about each one throughout this itinerary.
3) How to Get to the Ranges
There are a couple main ways to go about a trip to the West MacDonnell Ranges – you can either do so as a day trip from Alice Springs or you can add in the Ranges as part of a longer road trip along the Red Centre Way.
Day Trip Option
If you do so as a day trip from Alice Springs, it is simple enough to follow.
Just head out from Alice Springs early on in the day, make your way west to any and all of the attractions and head back to Alice Springs at day's end.
You will obviously need a car here if doing so on your own. The next section will go into a bit more detail on how to go about a car rental in the region.
Road Trip Option
Another potential option here is to add in the West MacDonnell Ranges as you make your way between Kings Canyon and Alice Springs (or vice versa).
A potential road trip could start in Yulara as you explore Uluru and Kata Tjuta, head up to Kings Canyon, and then continue on the Mereenie Loop to Glen Helen, where you can stay overnight. The next day you can continue east to Alice Springs, as you make the stops along the way.
» Read the 7 Day Red Centre Way Itinerary for more detail
Important Notes:
1) YOU CAN ONLY DO THIS ROAD TRIP OPTION IF YOU HAVE PERMISSION FROM YOUR CAR RENTAL COMPANY TO DRIVE THE MEREENIE LOOP. THE ROAD IS UNSEALED AND NOT ALL CARS ARE ALLOWED TO DRIVE ON IT.
2) The times on Google Maps are not correct for the portion between Kings Canyon and Glen Helen – expect it to take 3-4 hours for the route.
3) If you cannot drive the Mereenie Loop, you are better off heading from Kings Canyon to Alice Springs and doing a day trip from there.
Below is a screenshot of a map that shows the route from Kings Canyon to Alice Springs via the Mereenie Loop (if not heading on the Loop, you will basically need to backtrack counter clockwise and head up to Alice Springs along Route 87 / Stuart Highway):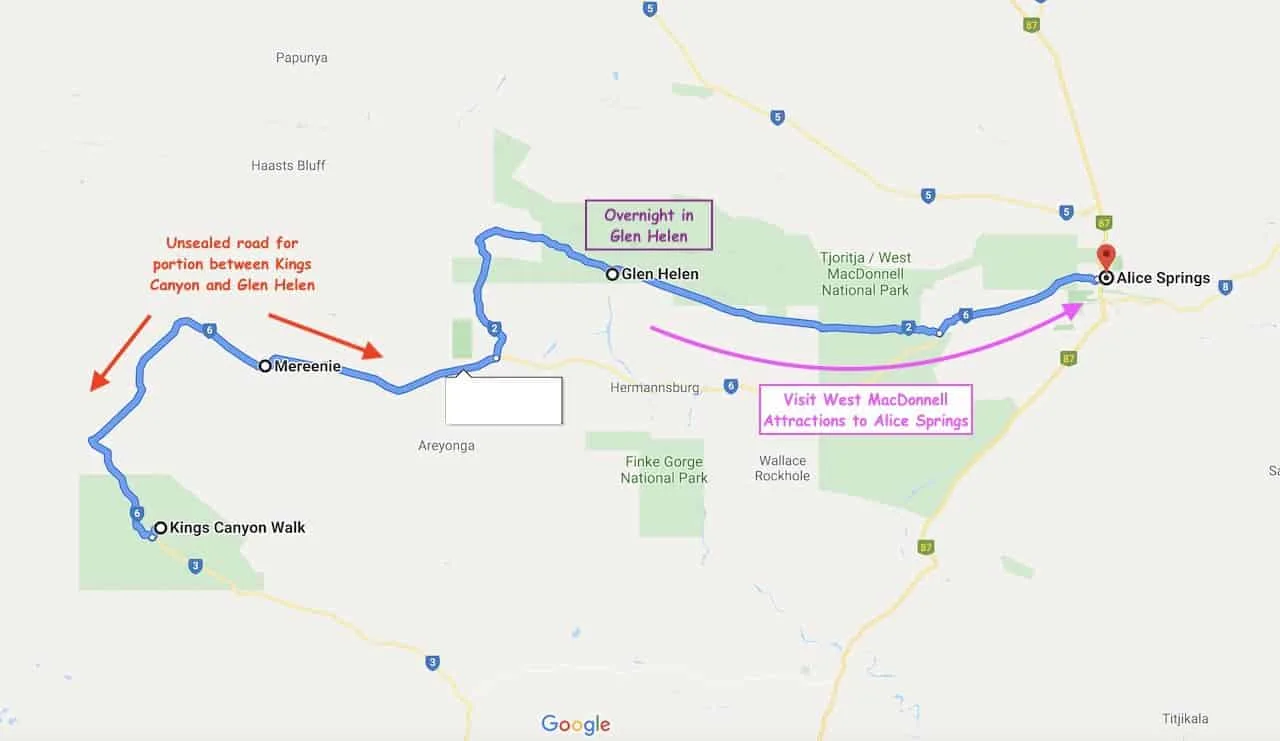 Tour Option
Your other option here is to simply do a day trip with a reputable tour company from Alice Springs if you do not have your own car.
Note though that with a tour you will not be able to see all the places you want to visit / take part of some of the side hikes and viewpoints. I would only really recommend a tour if you do not have access to your own car.
The Ranges are WELL WORTH a visit either way. Below you can find some highly rated options to choose from when exploring the area:
4) Renting a Car in The Outback
If either doing a day trip from Alice Springs or heading on the Mereenie Loop you will want to rent a car to get you all along the West MacDonnell Ranges.
Odds are you will also want to visit Uluru and possibly Kings Canyon so having your own car is your best bet to do what you want, when you want.
If you simply head to some car rental company websites, you will come across some pretty expensive options.
However, if you rent directly with Tourism Central Australia you not only will get some better prices but they will also include unlimited kilometers and possibly free one way rentals.
> Be sure to check out the Uluru Car Rental Guide I have on the site to learn more!
When I visited I was able to pick up my car in Yulara and visit Uluru Kata Tjuta National Park. From there I drove to Kings Canyon, and then onto Alice Springs.
I completed my West MacDonnell Ranges day trip, and finally returned the car at the Alice Springs Airport.
→ If the car rental guide isn't for you, feel free to check out Rentalcars.com, which will have various options to browse through. You can filter by car type, price, and more to find the perfect car for your trip.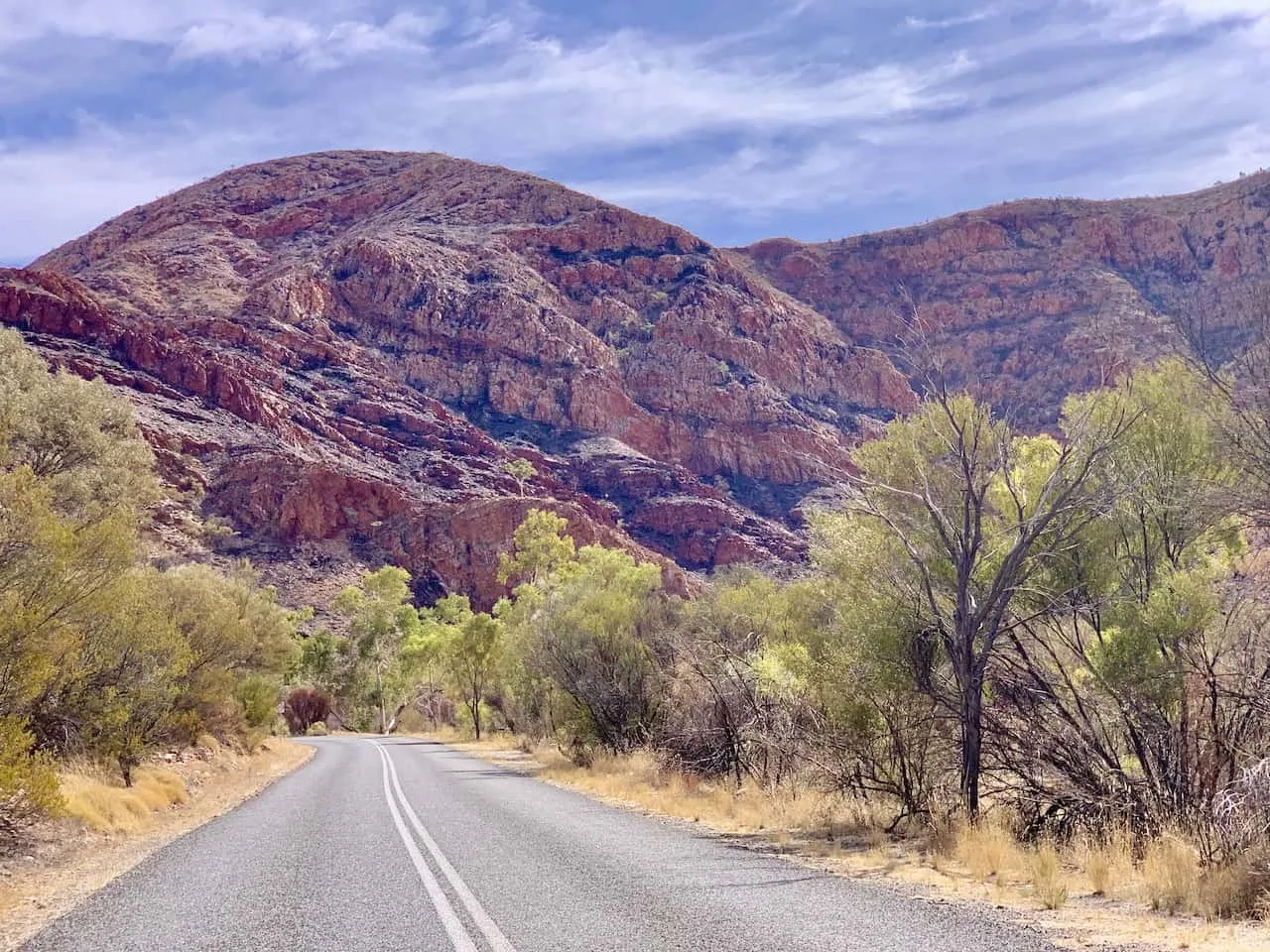 5) West MacDonnell Ranges Route
Below is an itinerary that takes you from Alice Springs to Glen Helen and then back to Alice Springs at day's end. It will be a packed and fun filled day so be sure to start early to fit everything you want into the day.
If headed the other way, simply start off at Glen Helen and make your way east to Alice Springs from there:
1. Depart Alice Springs
2. Simpsons Gap-> Visit Gap & Cassia Hill Walk Option
3. Standley Chasm-> Visit Chasm & Viewpoint Options
4. Ellery Creek Big Hole-> Visit Watering Hole
5. Serpentine Gorge-> Visit Gorge & Climb to Viewpoint Option
6. Ochre Pits-> Visit Pits
7. Ormiston Gorge-> Visit Gorge & Ghost Gum Hike Option
8. Glen Helen Gorge-> Visit Gorge
9. Drive back to Alice Springs
» Instead of doing everything in order, you may find it a bit easier to save some places for the way back instead of driving straight from Glen Helen to Alice Springs. Either way works!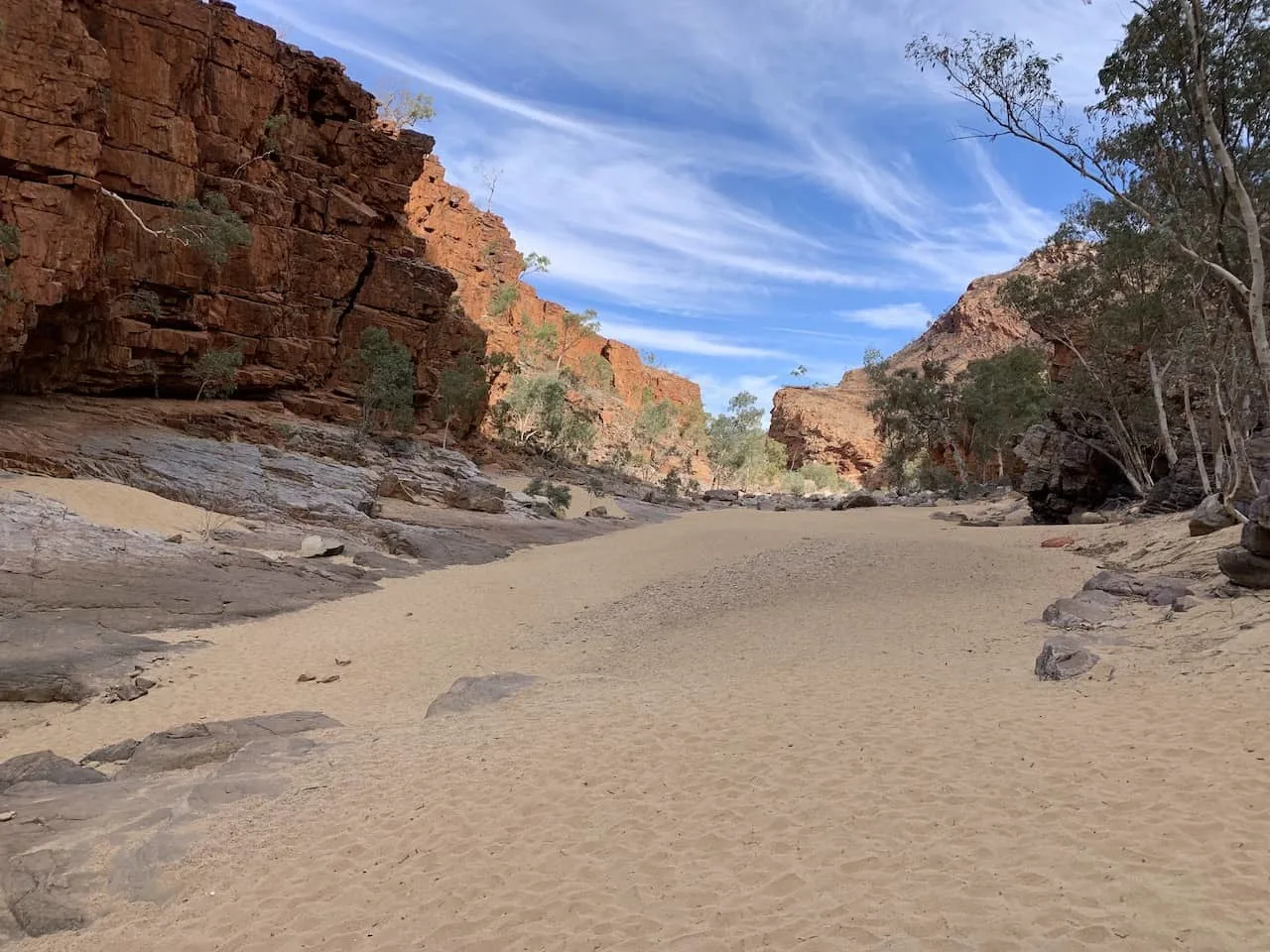 6) West MacDonnell Ranges Day Trip
Instead of just listing the attractions out, I wanted to give some more detail about each place I mentioned above and talk about what to expect along the way.
In each of the next few sections, you will be able to better understand what each attraction entails.
The first stop though will be Simpsons Gap, just a 20 minute drive from Alice Springs.
A) Simpsons Gap
At Simpsons Gap you not only can take in this massive rock formation gap, but you can also take part of the Cassia Hill Walk loop that gives you a great overview over the area.
You can start out at the Simpsons Gap parking lot first, and from there is it just a quick 10 minute walk to reach the formation.
As you are approaching from the car park, you will begin to see Simpsons Gap out in the distance and then you will soon get closer and closer to it.
Simpsons Gap Walk
Once you arrive at Simpsons Gap you will be able to look at the massive walls on either side of you as well as a pool of water right in the middle of it.
Spend some time just enjoying the scenery before heading back to the parking lot.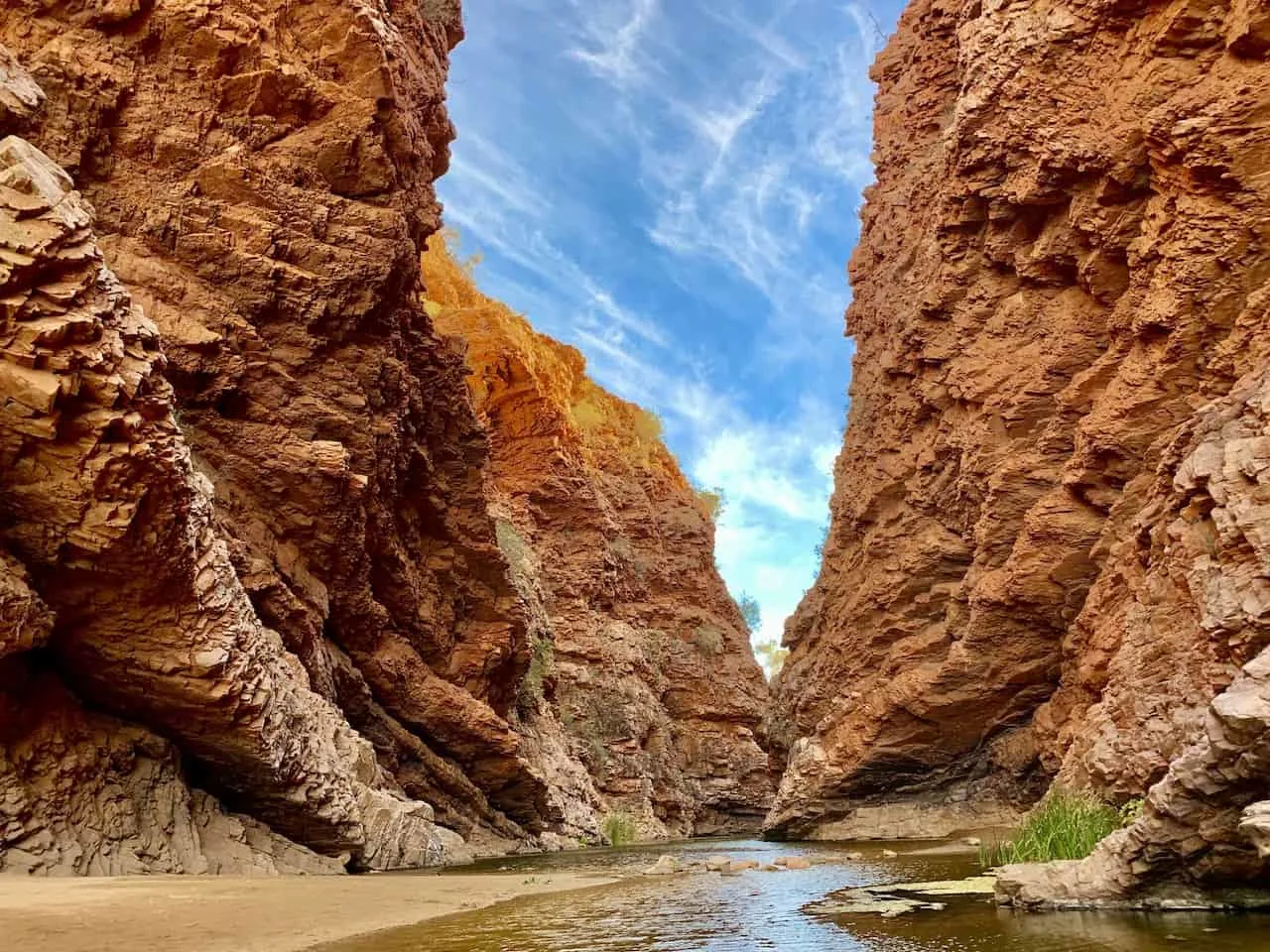 Cassia Hill Walk
An additional option here is to hike the Cassia Hill Walk, a 45 minute / 1.8KM loop around and up a hill overlooking Simpsons Gap and the surrounding landscape.
To get to the starting point you will want to drive your car, and head back towards the main road. On the left hand side you will see another carpark pointing you to Cassia Hill (you will have passed this on the way in).
The path is pretty easy to follow and the terrain not too difficult to maneuver. You will reach a point towards the beginning of the track where you can decide to go clockwise or counter clockwise.
I would probably recommend going clockwise as the views going up are a bit more expansive.
Soon enough you will reach the top of Cassia Hill, where you will see Simpsons Gap out in the distance and the rest of West MacDonnell landscape all around you.
It is then time to head back down to the parking lot and onwards to the next stop.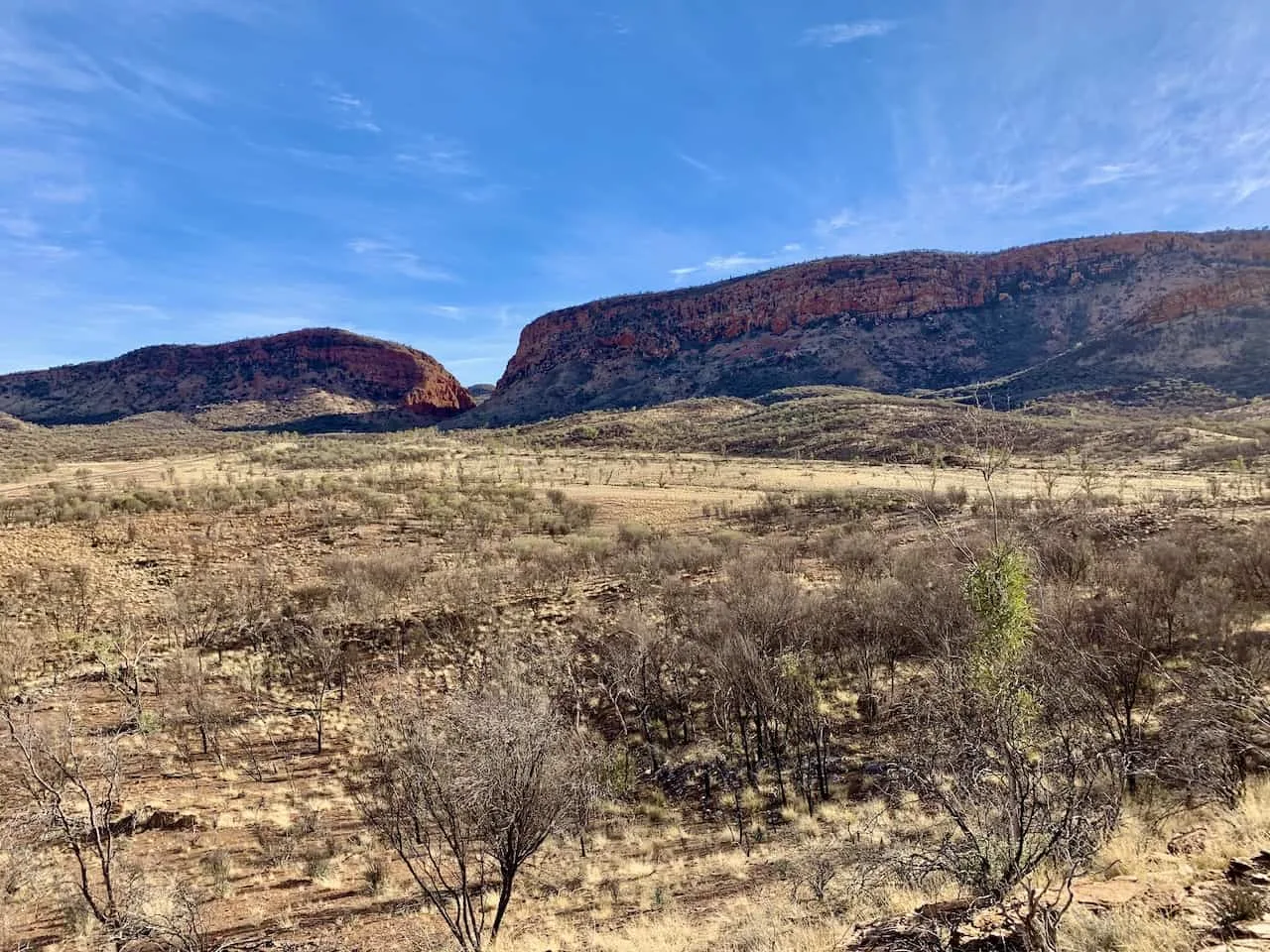 B) Standley Chasm
Next up is Standley Chasm, also known locally as Angkerle Atwatye. Since this is on private land, it is the only place on the list that actually requires an entrance fee – $12 AUD.
Once you park your car and get your tickets you can decide to do any/all of three main options.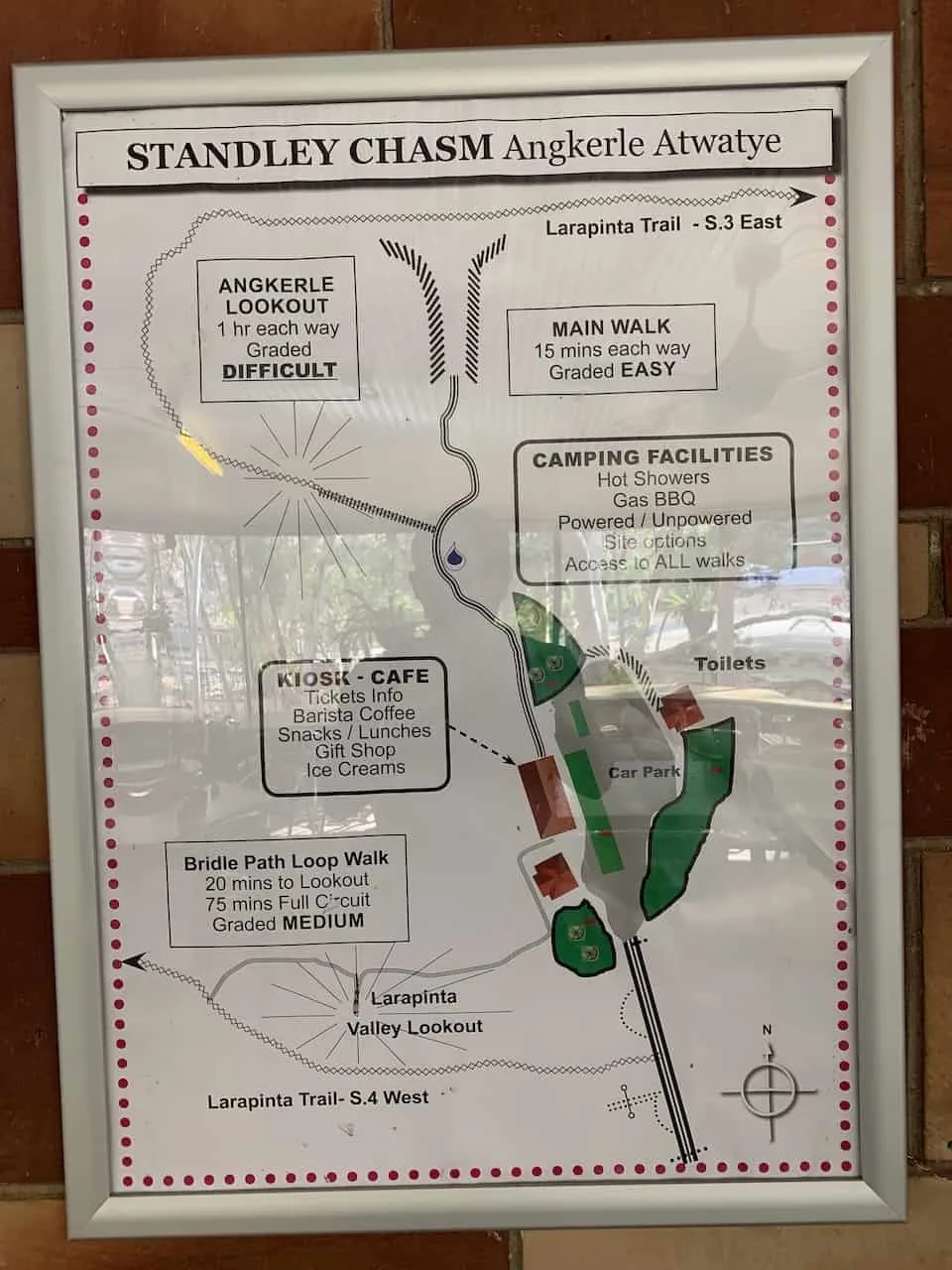 Standley Chasm Walk
A short and simple 15 minute walk will take you to Standley Chasm itself. Unlike Simpsons Gap, which had water in between the walls, Standley Chasm is a much narrower dry gap between the two walls but still just incredible to take in.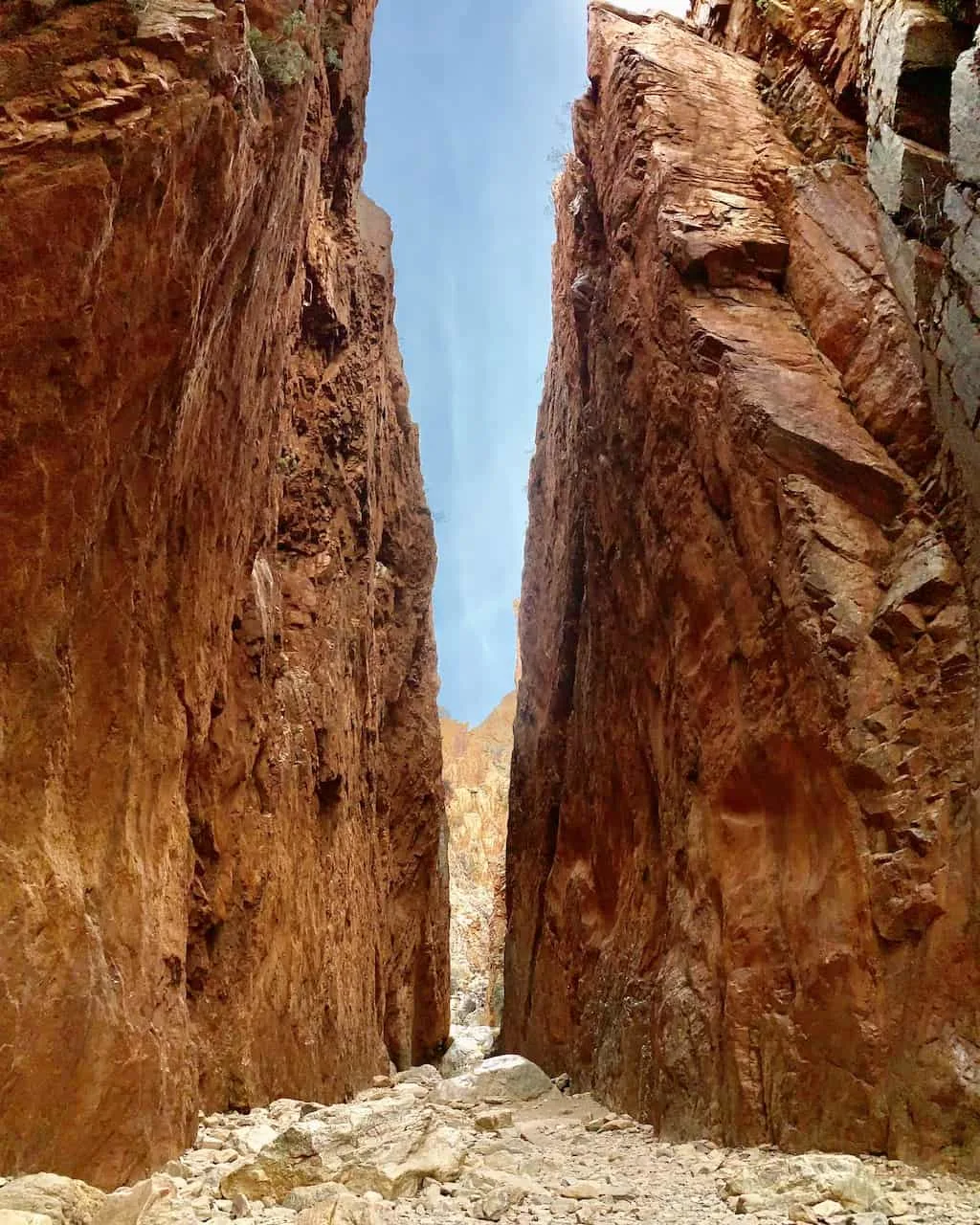 Angkerle Lookout
One of my favorite viewpoints of the day was the Angkerle Lookout, which is part of the much longer Larapinta Trail.
On the way between the ticket office and Standley Chasm you will see a sign pointing you up this rocky pathway onto the Larapinta Trail.
This section is much more technical and on a pretty steep incline. The sign posted at the visitors center says 1 hour each way but that is very much so an exaggeration in my opinion.
I would say it is more so 1 hour round trip and probably even a bit shorter than that.
So if you are up for a fantastic viewpoint and want to get some more technical hiking in, then head on up to the lookout.
You will get to see both Standley Chasm from above and another panorama shot of the surrounding West MacDonnell Ranges.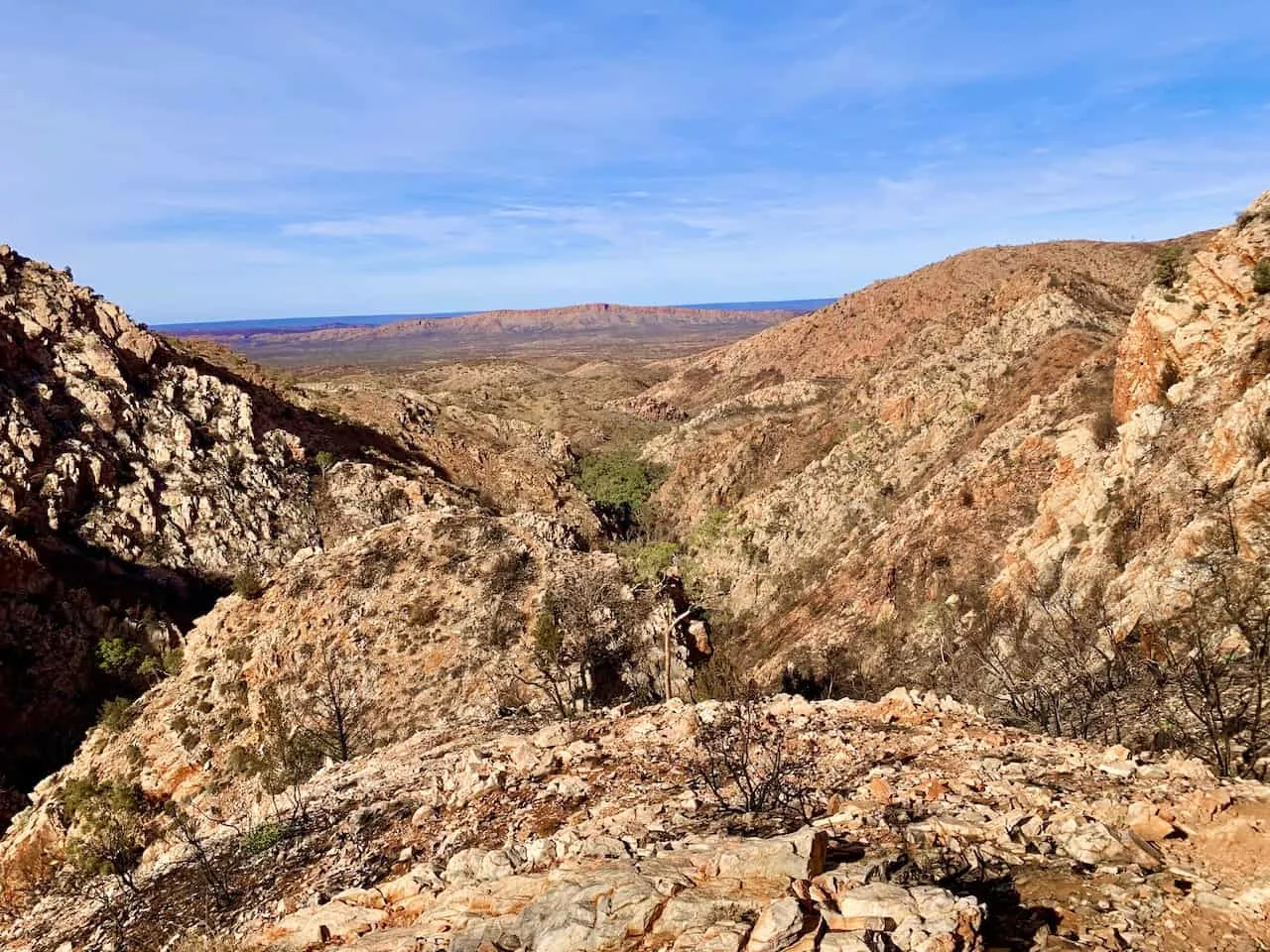 Larapinta Valley Lookout
If you don't want the difficulty of the Angkerle Lookout, you can opt to do the Larapinta Lookout instead (or in addition!). From the visitors center it is either a 30 minute out and back track, or a 60 minute loop.
Once you reach the lookout point you can decide which option is best for you. While the views won't be as expansive vs. Angkerle, it is a great option to get a bit higher up and see the beautiful landscape out in the distance.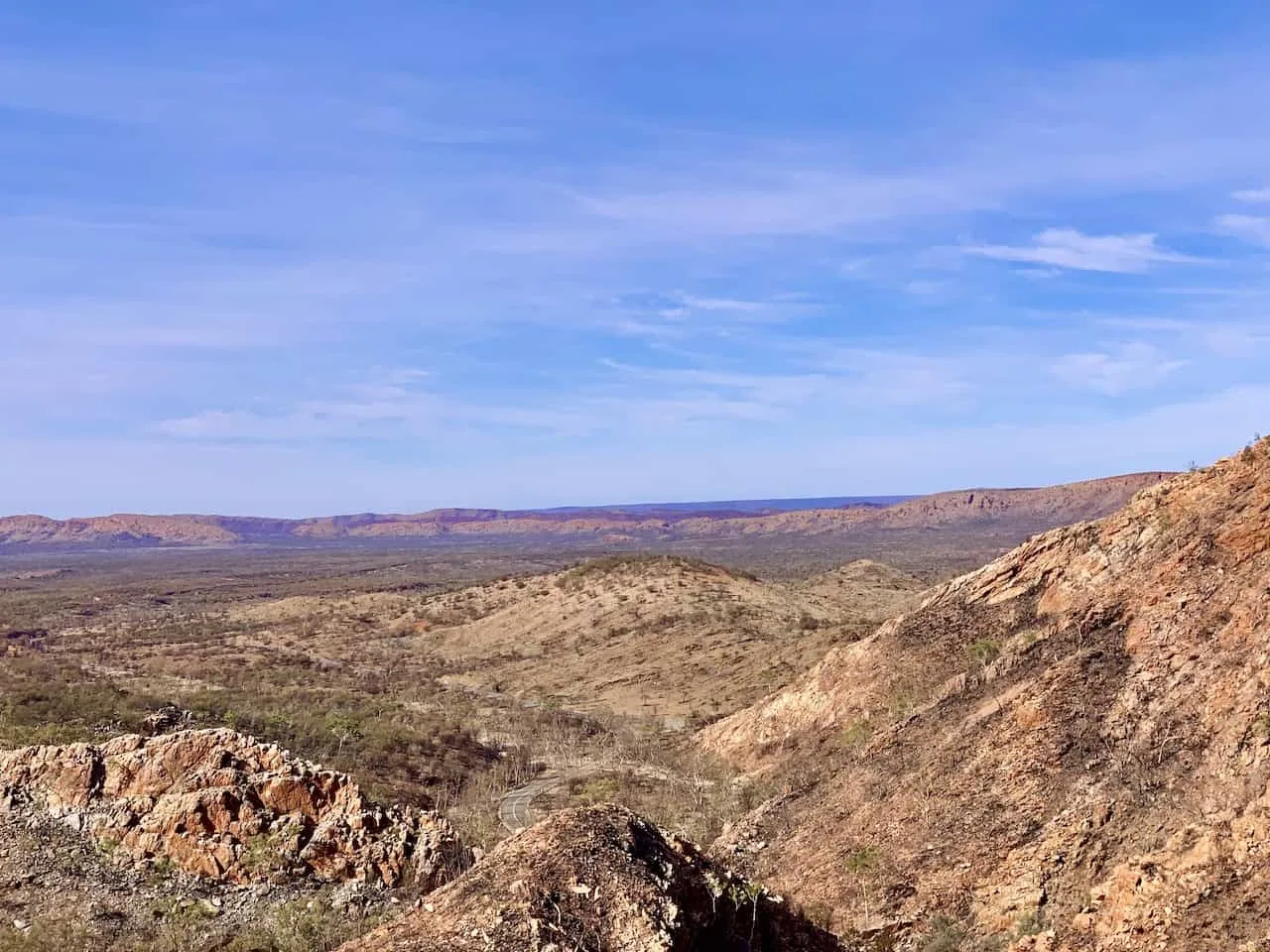 C) Ellery Creek Big Hole
Note: Last 2KM towards Ellery Creek is unsealed. Should not be an issue for 2WD given no recent major rainfall.
After enjoying Standley Chasm, it is time to head to the Ellery Creek Big Hole. This is home to one of the largest watering holes in the West MacDonnell Ranges making it an important spot for the local wildlife.
Ellery Creek Big Hole Walk
After parking your car in the lot, it is just a simple 5 minute walk to Ellery Creek. Unlike some of the other spots in the area, you can actually jump in and swim here if you would like to cool down and relax.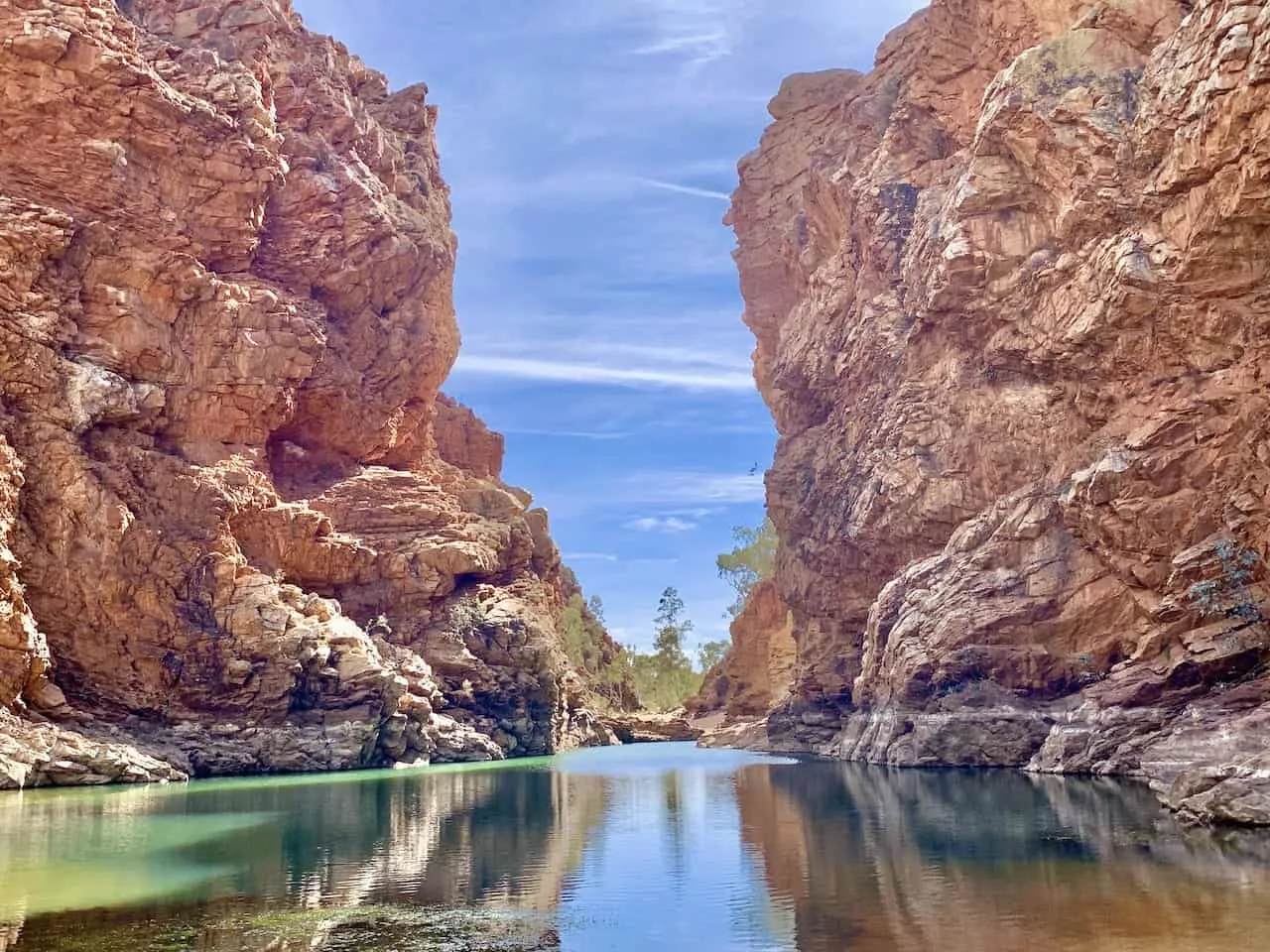 Dolomites Walk
And if you are up for some longer hiking, there is the Dolomites Walk that you can enjoy. It is a 1.5 hour / 3KM loop that will bring you all along the various geological formations.
I opted not to head out on this one due to time constraints but it does seem like a great hike to take part of.
D) Serpentine Gorge
Note: Last 3 KM of road towards Serpentine Gorge is unsealed. This should not be an issue for 2WD given no recent major rainfall.
Serpentine Gorge Walk
Up next is the Serpentine Gorge, another massive gap between two canyon walls. From the parking lot you will have a 15 minute / 1.1 KM walk right up to the gorge itself.
Compared to some of the other gorges/gaps/chasms on the day, it will probably not seem as impressive but it is still a great site to see.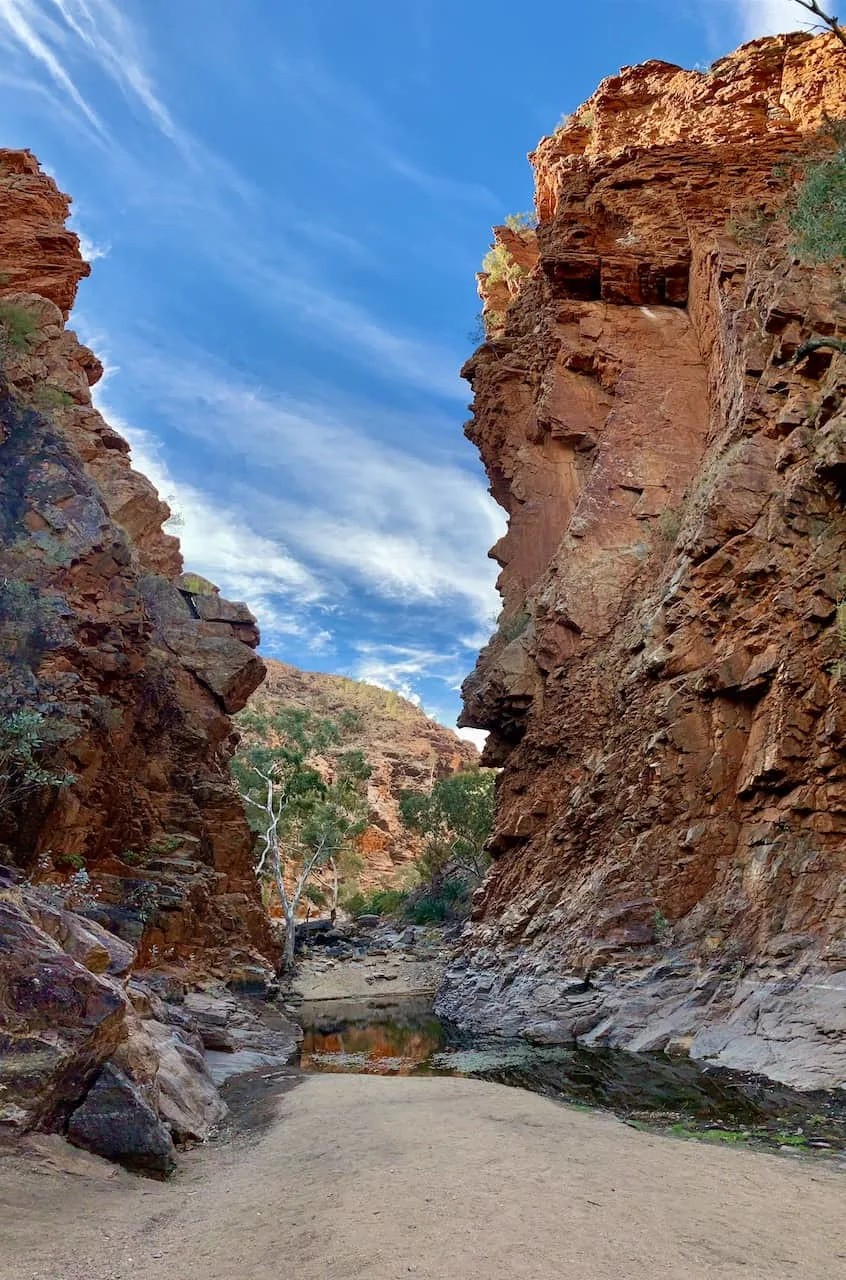 Serpentine Gorge Lookout
My favorite part of visiting Serpentine Gorge was heading up to the lookout point above the gorge itself.
As you are making your way back on the path towards the parking lot you will see a sign pointing you to the "Lookout". Head up this rocky pathway that should take you another 15-20 minutes or so.
Once on top you will be able to view the gorge from above as well as the vast West MacDonnell landscape out in the distance.
You can then head down from the viewpoint and back towards the parking lot to finish up your time at Serpentine.
» Learn more in the guide up on the site all about the Serpentine Gorge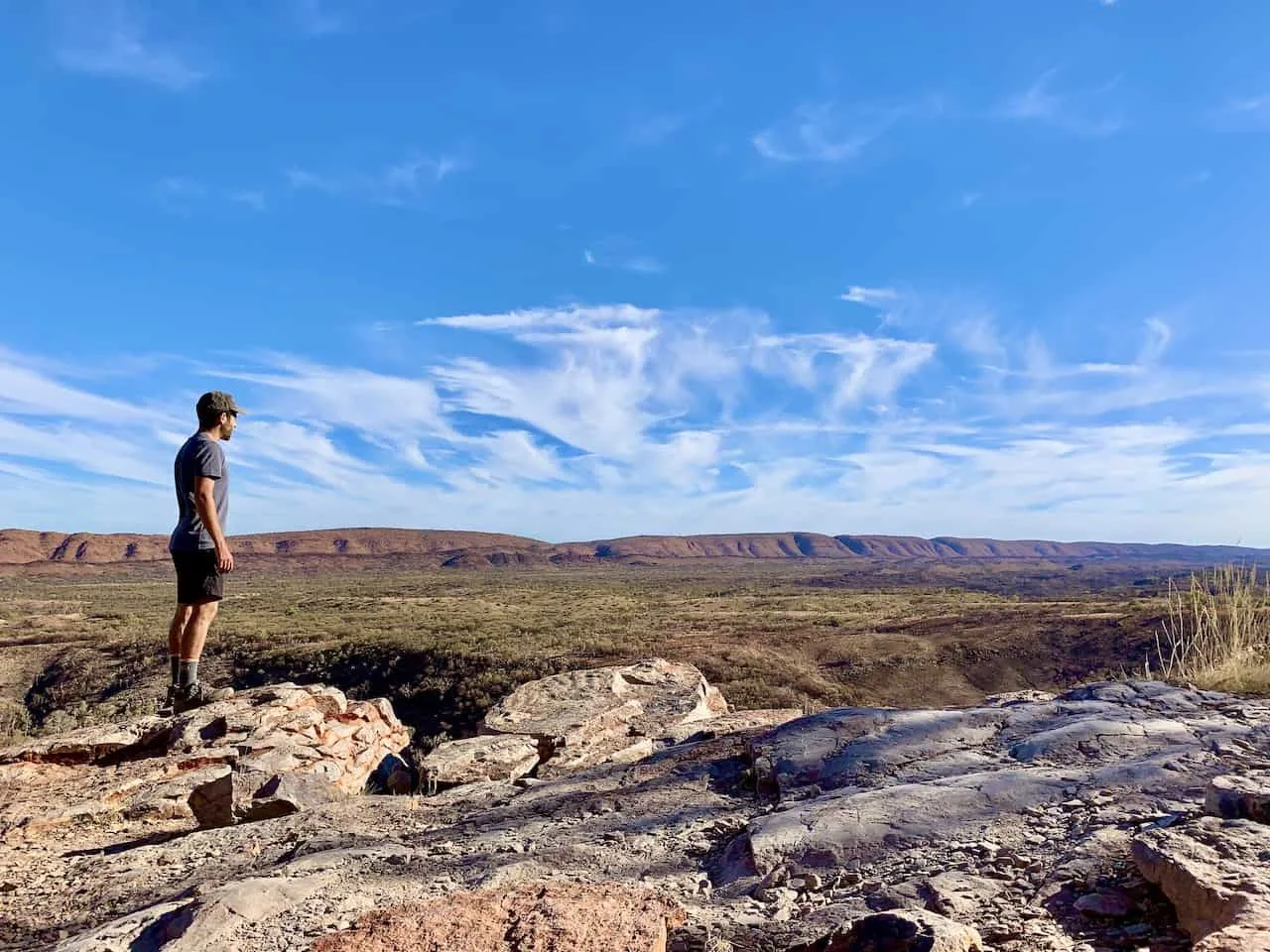 E) Ochre Pits
Ochre Pits Walk
Out of all the attractions of the day, the Ochre Pits will definitely feel the most different out of them all. Here you will find the ochre walls filled with the colorful swirls all throughout.
The ochre from these walls have been used in ceremonial traditions for thousands of years by aboriginal people.
As you make your way on the 5 minute walk from the parking lot to the Ochre Pits, you will come across a few different viewpoints until you reach up right against the walls themselves.
Just take some time to enjoy the natural beauty of it all.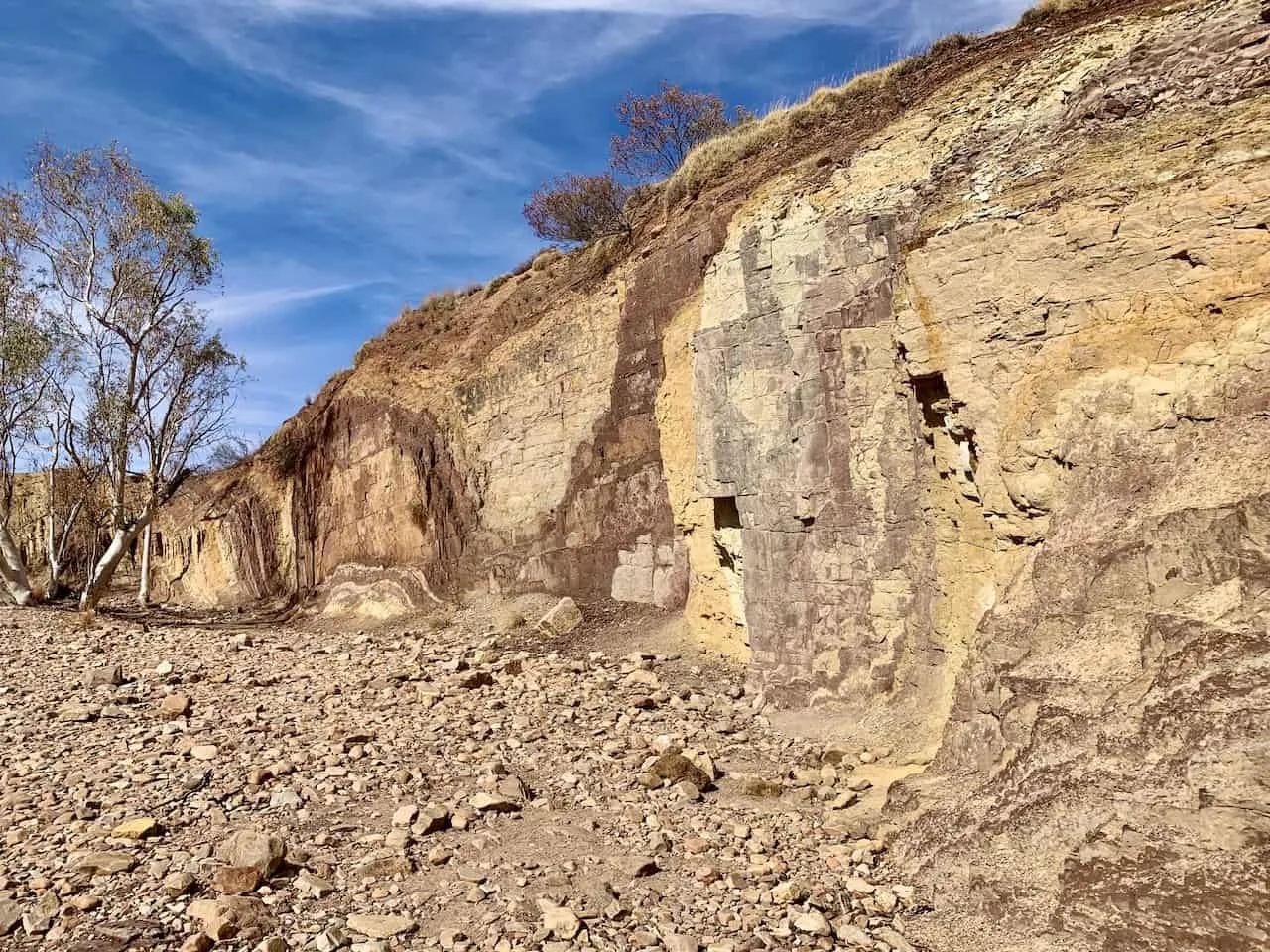 Aranda Walk
Unless planning multiple days in the Ranges, it will be difficult to add the Aranda Walk to your day.
Just past the Ochre Pits you can continue on a 3 hour / 8 KM hike that takes you to the Inarlanga Pass, a beautiful remote gorge.
F) Ormiston Gorge
The Ormiston Gorge, another beautiful watering hole is up next on the day.
Here you will have the chance to choose from a few different options based on your own preference – a simple walk to the gorge, the longer Ghost Gum Walk, or the multi hour Pound Walk.
» Learn more about all the different options in the Ormiston Gorge Guide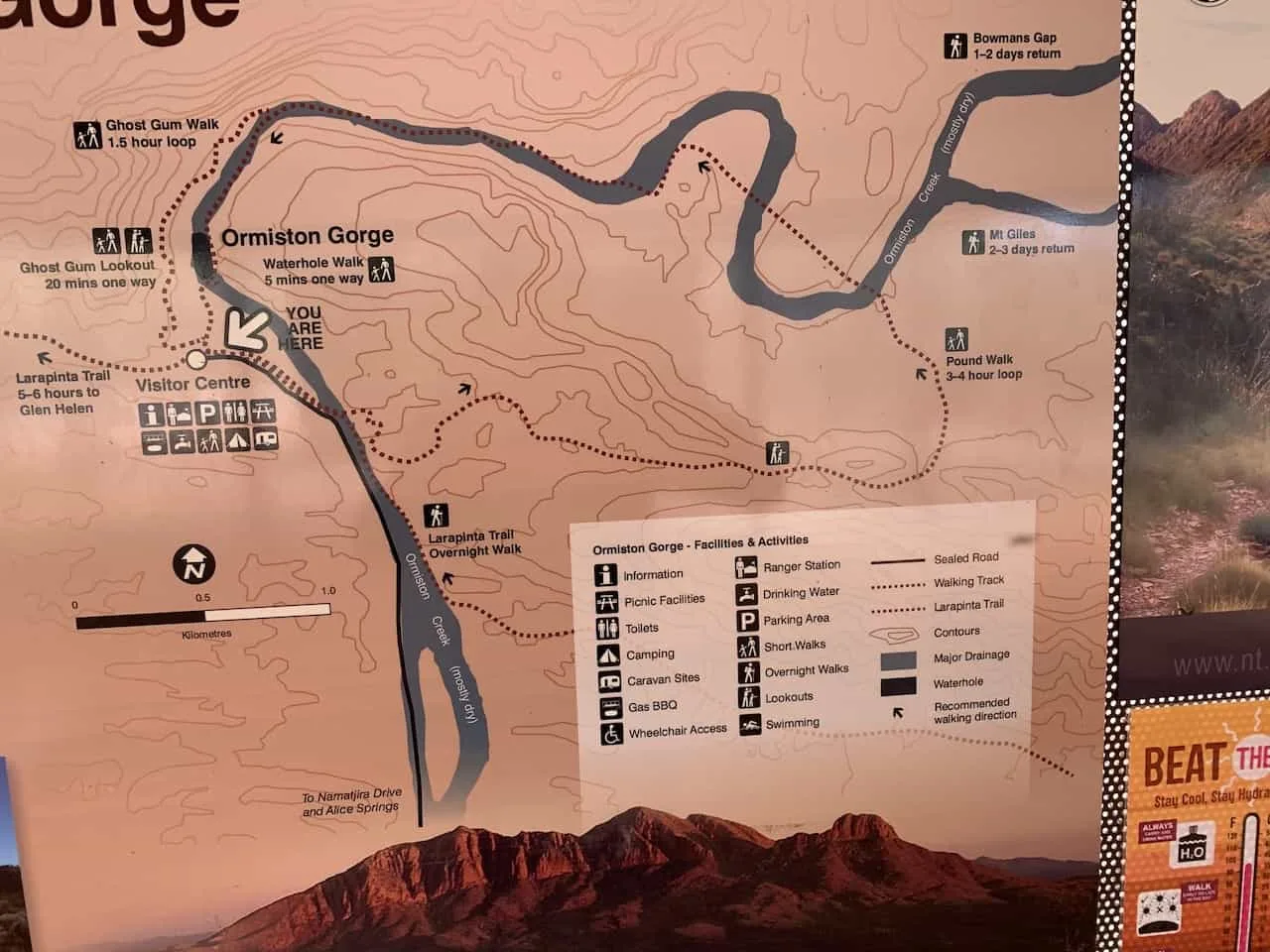 Ormiston Gorge Walk
The first option is to simply head out on the 5 minute walk from the parking lot right up to Ormiston Gorge itself.
It is a nice simple walk that will bring you to the watering hole with some great views from down below.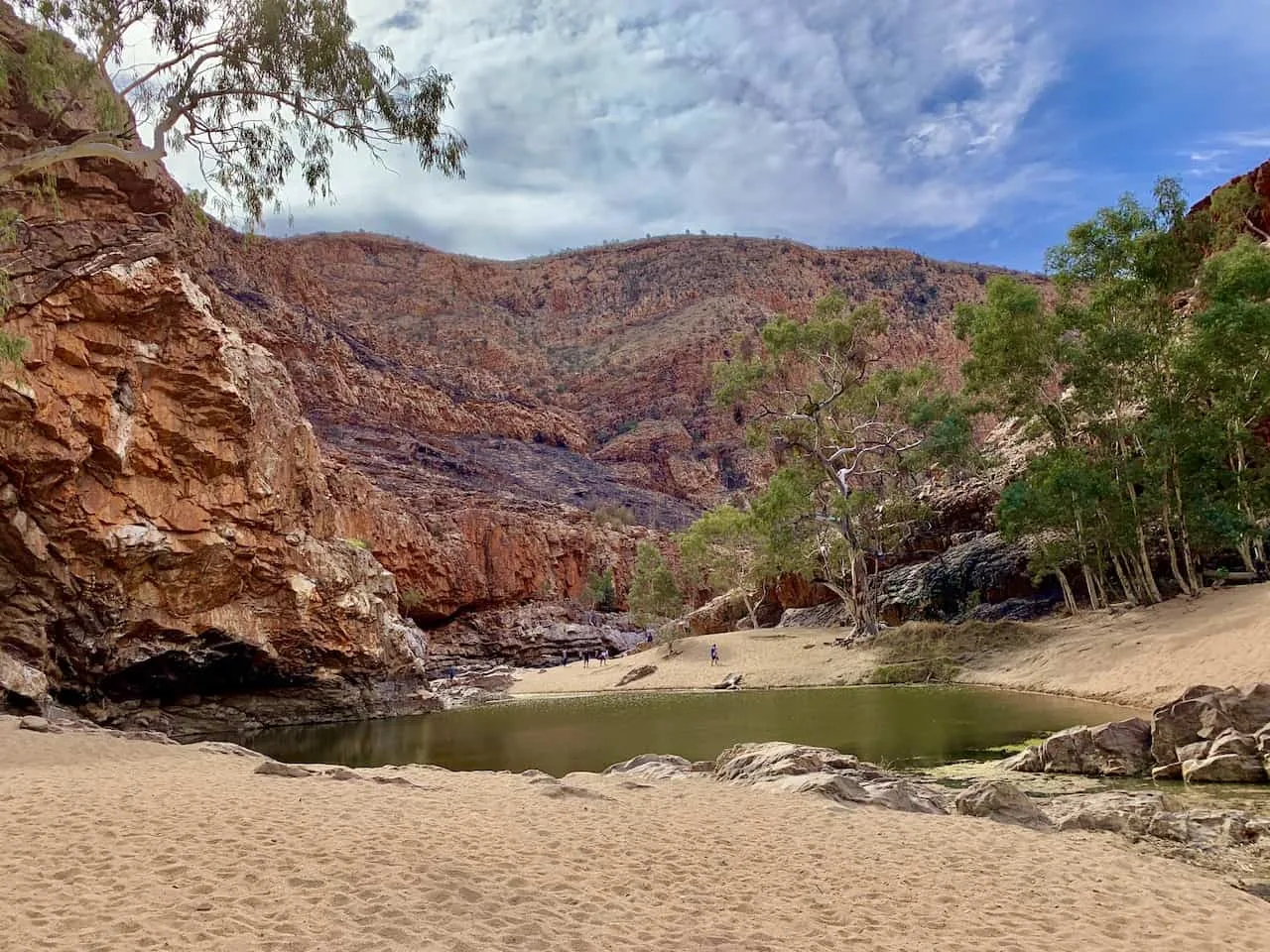 Ghost Gum Walk
Instead of heading right for the watering hole, I would highly recommend taking part of the Ghost Gum Walk.
This walk will take you from the visitor center up towards the Ghost Gum Lookout, where you will be able to enjoy a great viewpoint from up above.
You will come across a fair share of stairs here but it shouldn't take longer than 20 minutes to the viewpoint.
After enjoying the lookout, you can continue the walk along the top of the gorge, before heading down into the gorge itself.
You will then circle around and head through the sandy and rocky path towards Ormiston Gorge, where you can sit back and relax after a nice hike.
If you opt for the whole loop, it should take around 1-1.5 hours.
Pound Walk
Lastly you can opt for the 3-4 hour Pound Walk. This counter clockwise trail will take you even further along the Ormiston Creek before looping back around and meeting up with the Ghost Gum Walk in the valley.
I have heard great things about this walk, but again just didn't have the time for such a long hike given all the other places I wanted to visit during the day.
G) Glen Helen Gorge
Last up on the day is the Glen Helen Gorge.
Out of all the gorges you may have come across during the day, this one is the widest of them all as you get to take in some views of the beautiful watering hole, with the gorge walls hovering up above.
The walk from the parking lot is a quick 5-10 minutes and here you will also have the chance to grab some food and fill up your tank if you need to do so.
If heading on the Outback road trip I outlined earlier, the Glen Helen Lodge is where you will want to stay. Since it is the only major accommodation option it can fill up quickly. Be sure to book your spot ahead of time to secure your booking.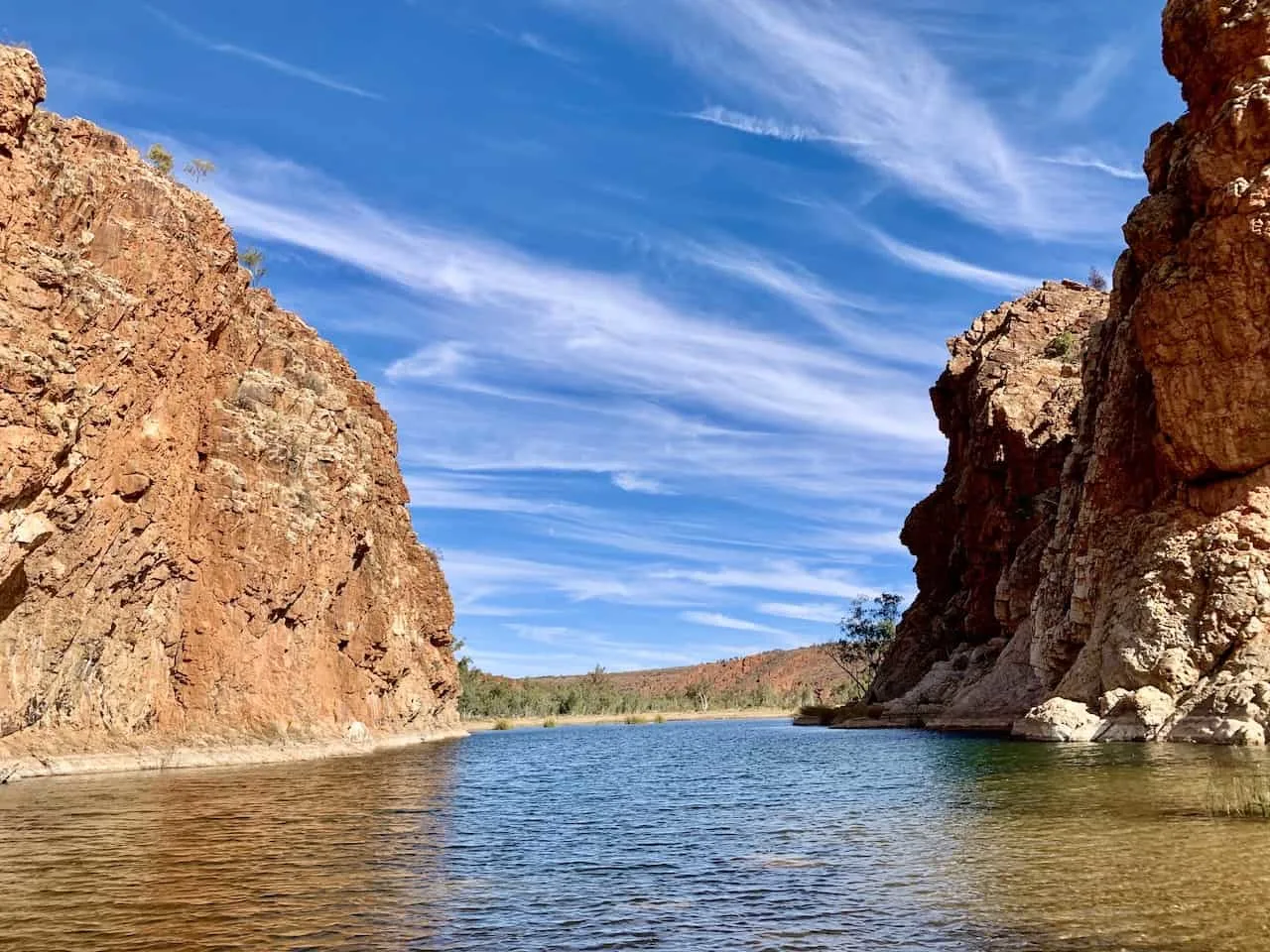 After enjoying some or all of the 7 West MacDonnell Ranges attractions for the day, it is time to head back to Alice Springs for the night.
The drive out to Alice Springs from Glen Helen should take about 90 minutes straight along the highway and you will be back in no time.
7) Where to Stay in Alice Springs
Before/after heading out to the West MacDonnell Ranges you will want to stay the night in Alice Springs. Below are some great options to choose from when deciding on accommodation: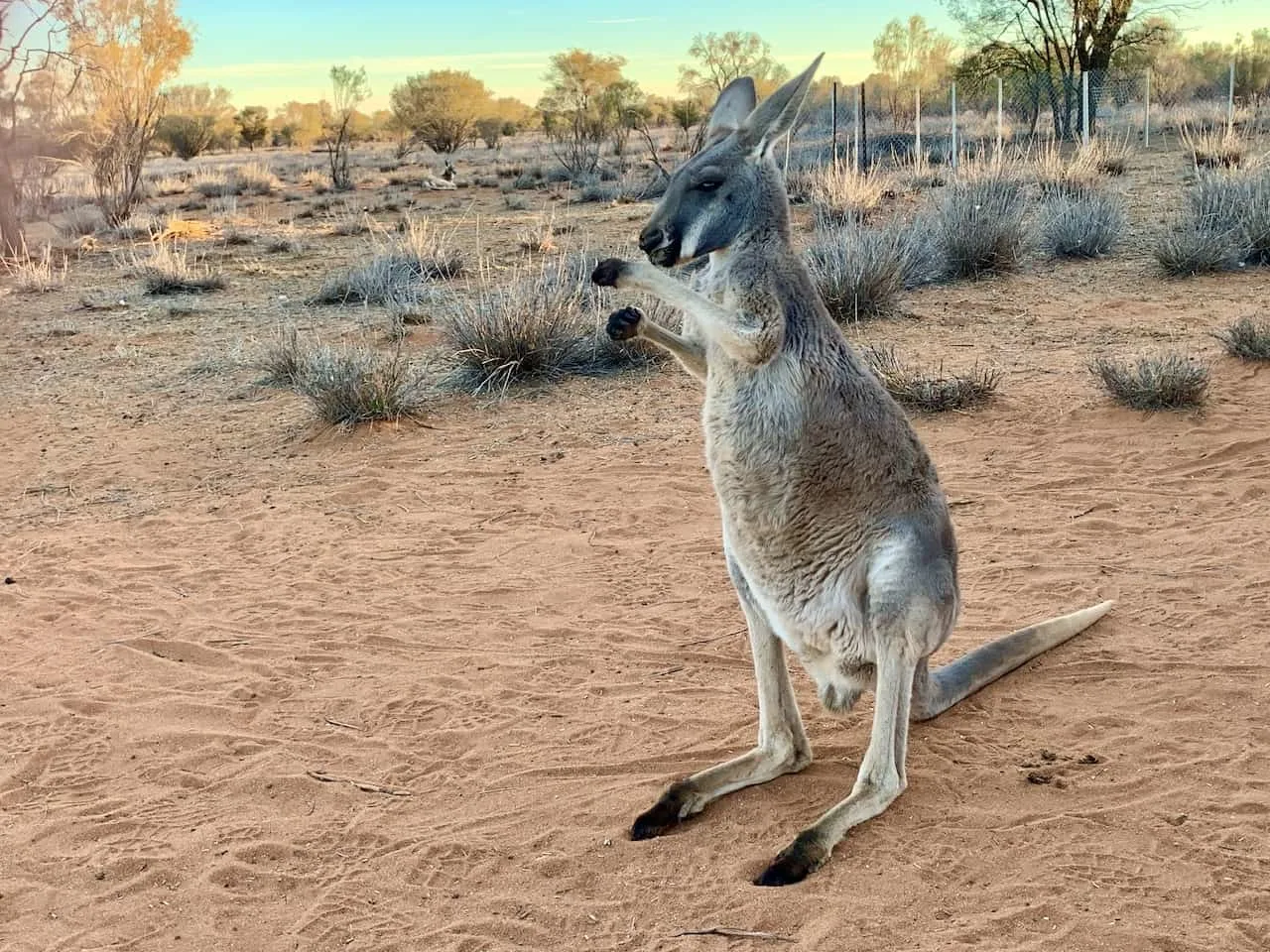 Well then, that about wraps up a pretty detailed itinerary and guide to the West MacDonnell Ranges. If you have any questions or comments feel free to write them in below.
Also be sure to check out some other Australia itineraries and guides up on the site! Some highlights include:
Have fun out there and safe travels!