Planning a trip to the Outback of Australia and Uluru Kata Tjuta National Park? Well, one of the must do's in my book is the Uluru Base Walk.
This 10 KM / 6 Mile walk around Uluru will give you another perspective of what this massive rock is all about.
Seeing the rock from different angles – whether it be right up close to it or from a bit farther away, is definitely going to be a highlight during your time in Australia.
* Affiliate Disclosure: This post may contain affiliate links, which means I may receive a commission if you make a purchase through the links provided, at no additional cost to you. Thanks for supporting the work I put into TripTins!
1) Uluru Base Walk Info
The walk around Uluru (also known as Ayer's Rock), is one of the top things to do in the area.
While many people opt to just experience a portion of the walk, I would highly recommend making the full loop around to enjoy the entirety of Uluru.
Below are some of the main facts about the walk so you have a better idea of what to expect.
Starting & Ending Point: Ayers Rock Carpark (Mala Carpark)
Length: 10.6KM / 6.6 Miles
Time: 3-4 Hours
Elevation Gain: Flat
Track Type: Packed Dirt
Route Type: Loop
Difficulty: Easy
Overall the Uluru Base Walk is a very simple path to follow along and enjoy. During the walk you are also sure to pass by several different landmarks, which I will go into more later on in the guide.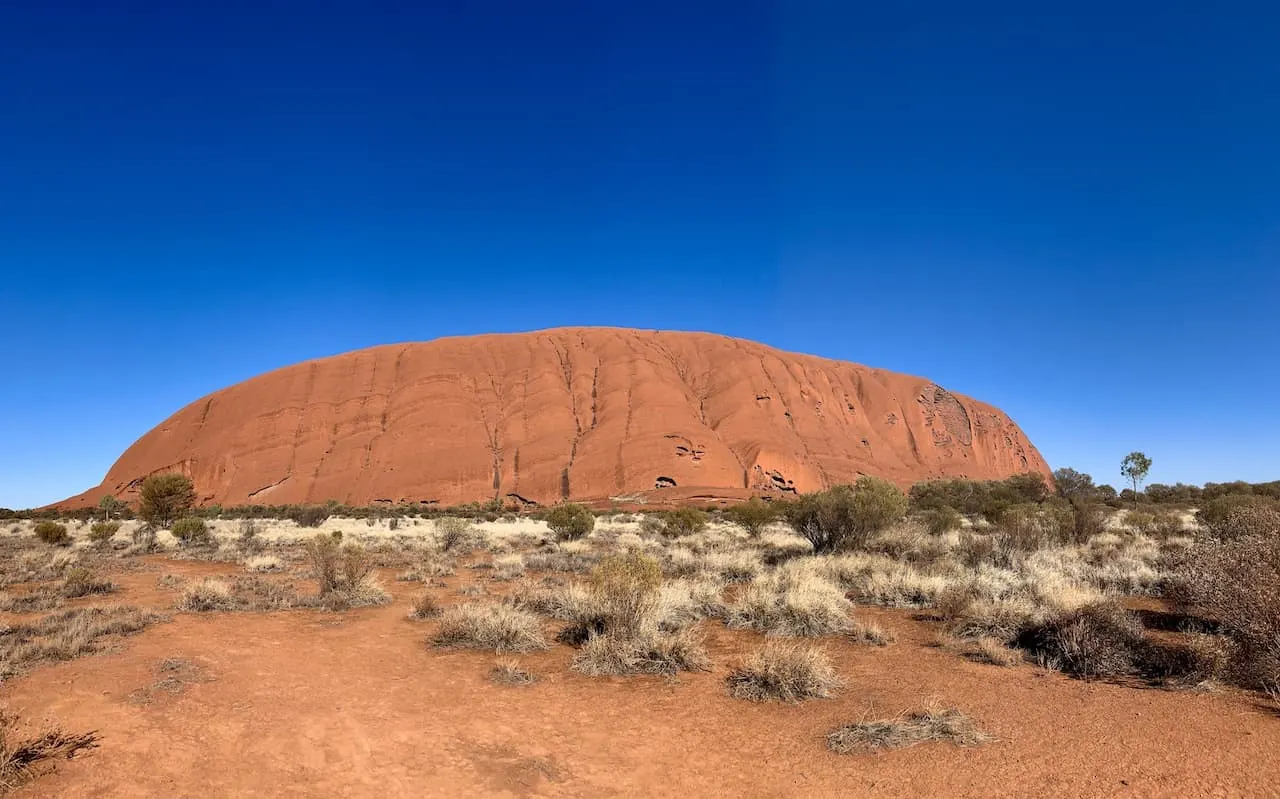 2) Uluru Kata Tjuta National Park Tickets & Hours
If you want to take part of the Uluru Base Walk, you will need to make your way into Uluru Kata Tjuta National Park. The national park includes both the Uluru/Ayers Rock area as well as the Kata Tjuta area.
If looking to head to any of the official sunrise and sunset spots, that would require entrance into the national park as well.
I would recommend purchasing tickets ahead of time to Uluru Kata Tjuta National Park. These tickets can then be printed out or added to your Apple Wallet on your phone.
Once you arrive at the national park entrance you can simply scan your paper or phone and be on your way. If you do not purchase ahead of time, you will need to purchase tickets in a separate car line at the entrance.
National Park Ticket Prices
Adult (18+): $38 AUD
Child (0-17): Free
At time of purchase you can choose how many days you would like to spend in the park. The tickets are valid for up to 5 days at no additional cost.
National Park Hours
The Uluru Kata Tjuta National Park hours depend on time of year. It opens early enough to make it to those sunrise points, and closes late enough to enjoy sunset within the park. Below is the latest as of 2023: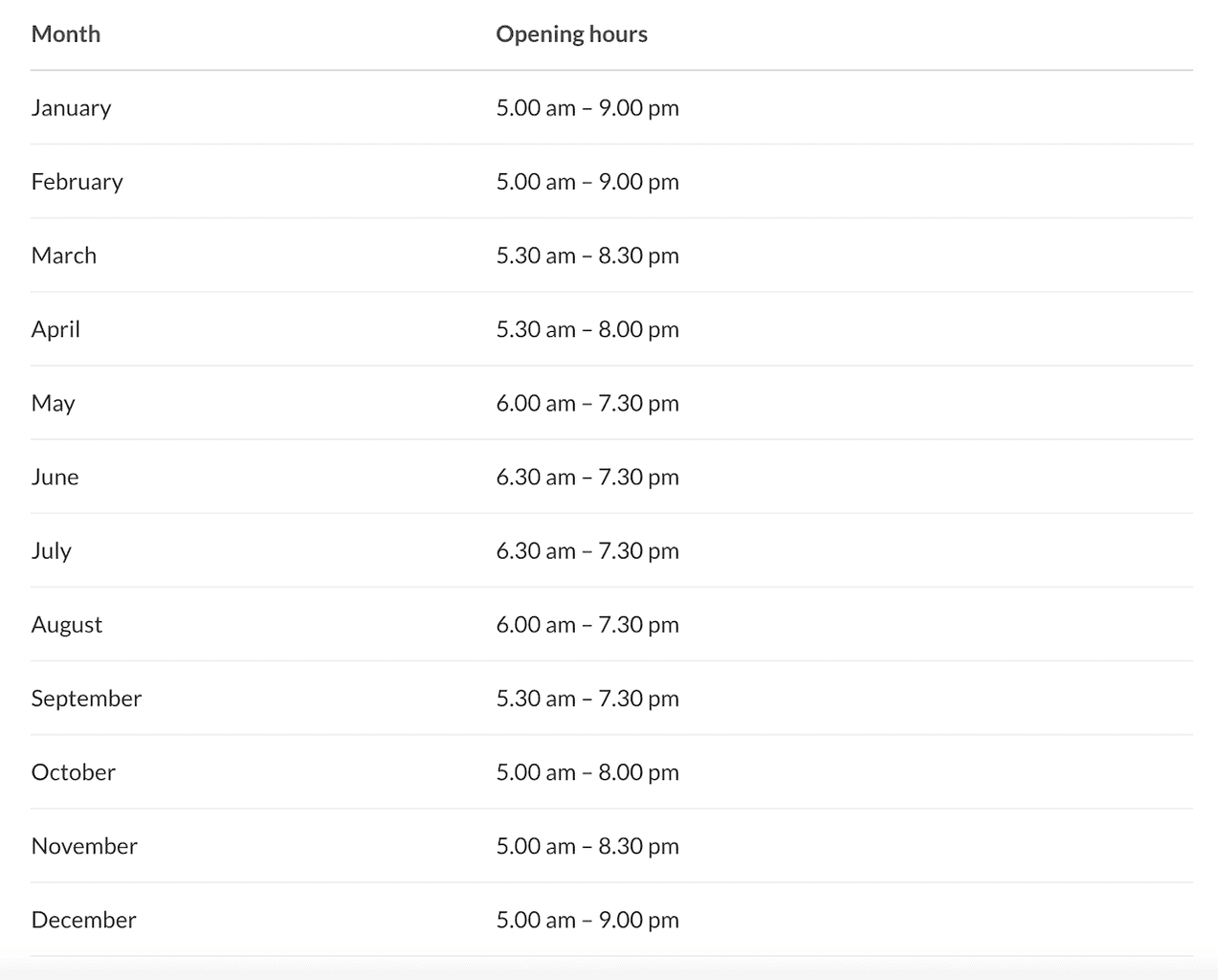 3) How to Get to Uluru
To give you a quick overview of the area:
Uluru / Ayers Rock is the name of the massive ancient rock formation
Uluru Kata Tjuta National Park is the name of the national park where Uluru/Ayers Rock is located
Yulara is the name of the closest town to the National Park (10 minute drive to the park entrance)
Ayers Rock Airport is the closest airport to Yulara (10 minute drive into town)
Alice Springs Airport is the second closest airport to Yulara (5 hours away)
So, in order to take part of the Uluru Base Walk, you will want to base yourself in the town of Yulara.
From there you can make your way into the Uluru Kata Tjuta National Park and to the Ayers Rock Carpark, where you can begin your walk around Uluru.
To get to Yulara though you have a few main options:
Fly into Ayers Rock Airport, take the free shuttle bus to Yulara, and rent a car from Yulara
Fly into Ayers Rock Airport, take the free shuttle bus to Yulara, and take a bus into the National Park
Fly into Alice Springs Airport and road trip to Yulara by renting your own car (you can add on things like the West Macdonnell Ranges and Kings Canyon along the way).
Join a multi day tour from Alice Springs or Yulara that can take you to many of the main sites over the course of a few days.
I am sure there are some other options out there but I just wanted to lay out a few of the main ones.
⇒ Thinking about renting your own car? Head on over to the Tourism Central Australia website, to secure your car rental. It may include unlimited mileage and free one way transfers for Alice Springs depending on car rental length. Be sure to check out the Uluru Car Rental Guide I have on the site to learn more!
⇒ If the car rental guide doesn't work for you, feel free to check out Rentalcars.com, which will have various options to browse through. You can filter by car type, price, and more to find the perfect car for your trip.
⇒ To learn about the internal bus service you can check out the Uluru Hop On Hop Off website for more.
⇒ And if you want to just sit back and enjoy a tour, I would recommend browsing through a few highly rated ones and secure your spot.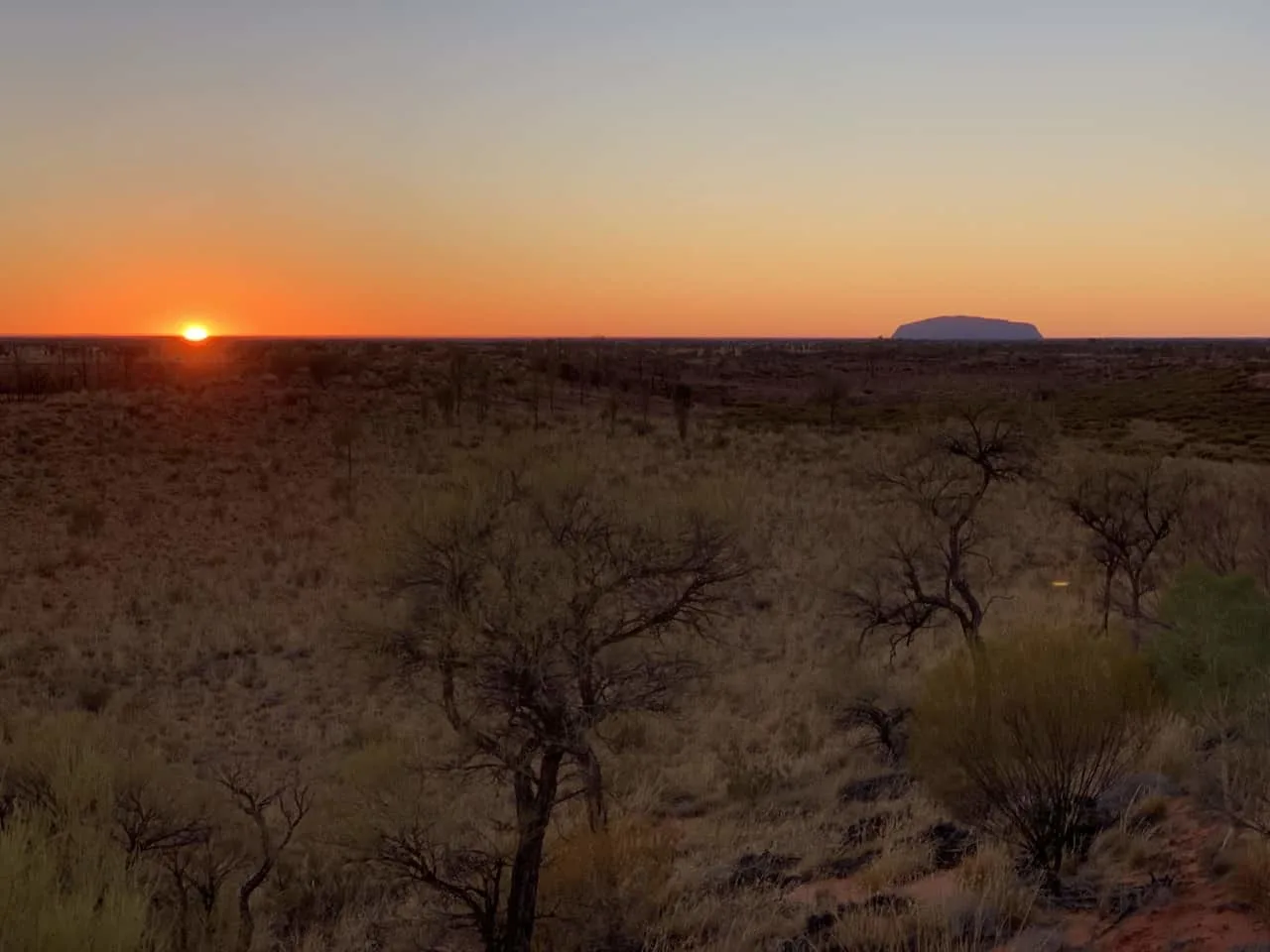 4) Where to Stay Near Uluru
The most realistic place to stay when taking part of the Uluru Base Walk would be the town of Yulara.
The entire town is built around one large loop, where you will find several accommodation options, a small town center with restaurants, shops, and a supermarket, and other things like a gas station, emergency services, etc.
Below are a few of the places you can choose from:
Looking for a budget option? The Outback Pioneer Lodge has some shared room options.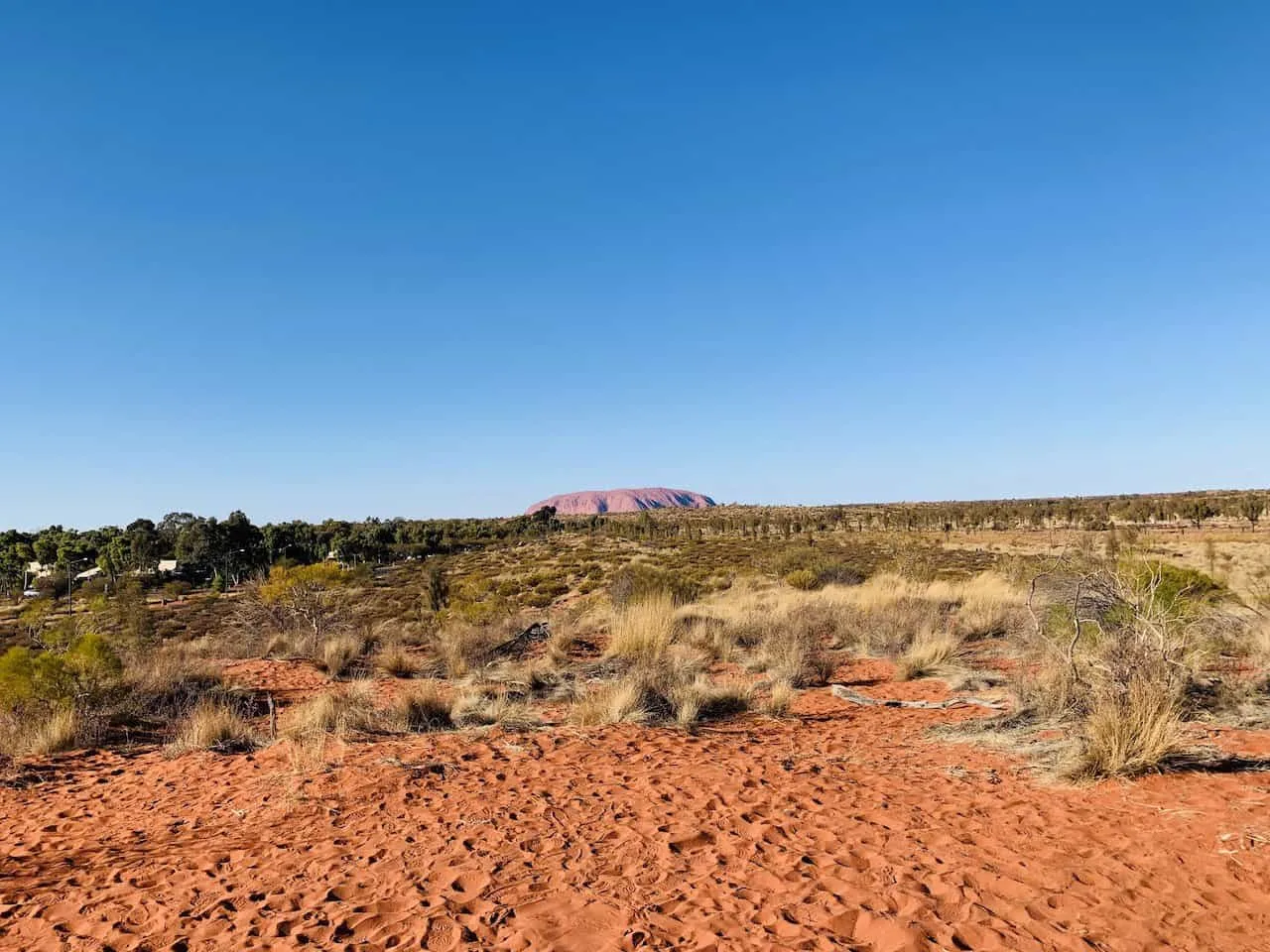 5) Best Time to Visit Uluru
The Outback can get HOT in the summer. Like 100F+ / 40C+ hot.
If you want to experience Uluru in much more comfortable and drier conditions, I would highly recommend heading there outside of those summer months.
The day time temperatures are much more tolerable and you shouldn't be sweating consistently. At night though it can get quite cold (along with the early morning sunrises), so do prepared with another layer of clothing when heading there.
One thing you should be aware of during their winter is the number of flies that would be around.
These flies are everywhere and can get extremely annoying during your time in the area. Just be prepared for them and check out the next section for what to bring to help avoid them.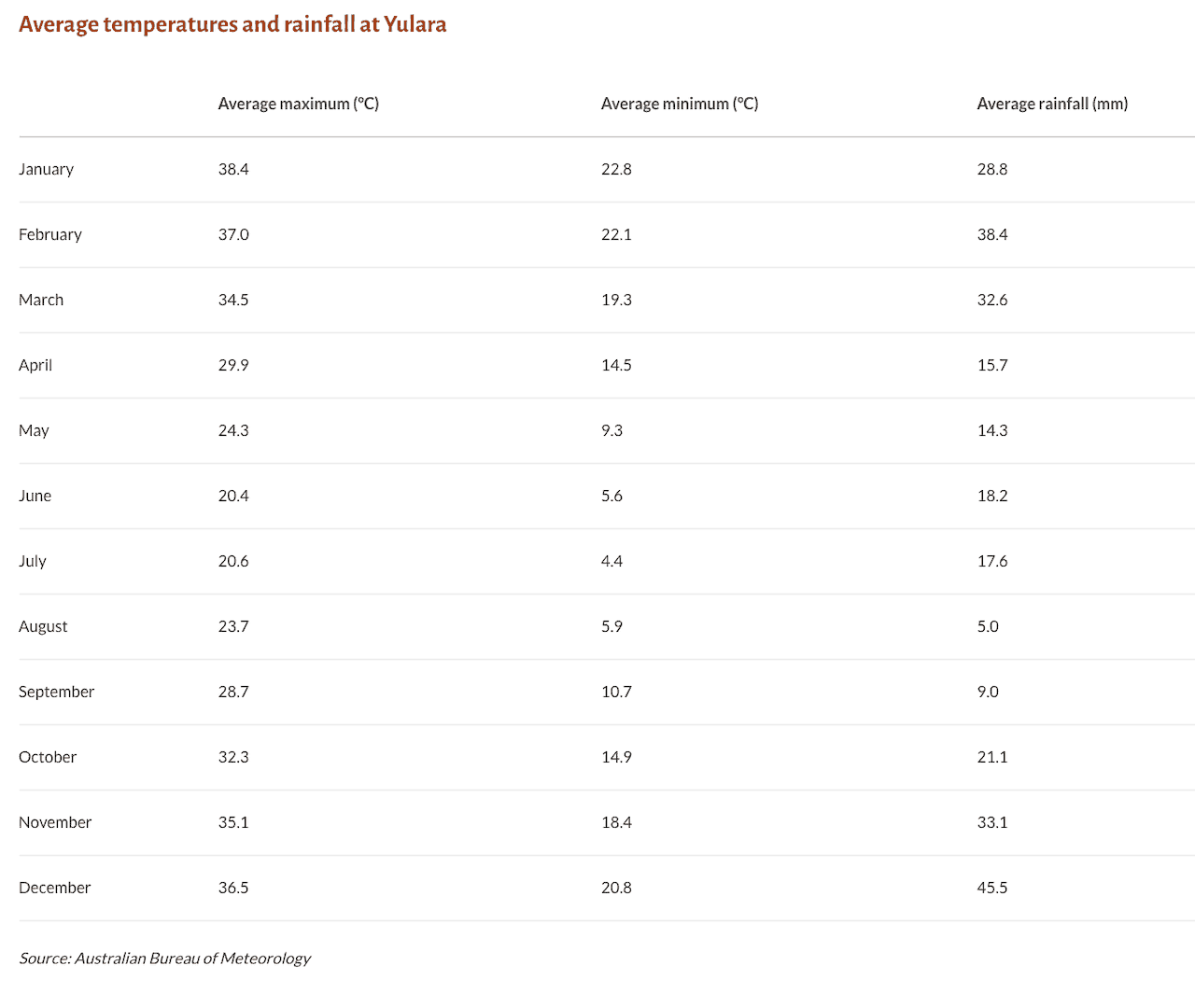 6) What to Bring on the Uluru Base Walk
Whenever heading off on longer day hikes, I always recommend being adequately prepared when it comes to the type of gear to bring along.
Check out the below packing list to get you ready for this hike and other hikes in Australia.
While you wont need each and every item on the list for your Uluru Base Walk, you can leverage it for your time in the Outback.
On top of the items below, you should 100% purchase a fly net that goes over your head or fly net hat.
Hiking Packing List

In general when it comes to hiking, there are a few main aspects to consider. These includes clothing layers, hiking shoes, hydration & fuel, electronics, and other essentials.

Below in a breakdown of some of the top items, but be sure to check out the Hiking Packing List for a more comprehensive view.

Clothing Layers

Layering is going to be a top consideration when hiking. You will want to be prepared for all sorts of weather so you can be comfortable in different situations. Some items may include:

→ Hiking Shorts
→ Hiking Pants
→ Short Sleeve Shirt
→ Long Sleeve Shirt / Sun Hoodie
→ Mid Layer Fleece
→ Puff Jacket (not always needed)
→ Packable Rain Jacket (Columbia Watertight II)

Note that your layers should be made of moisture wicking material as they are breathable and quick drying.

Footwear

Having appropriate footwear will also be very important. You will want to have shoes with the necessary grip and support to keep you safe on the trail.

→ Hiking Shoes (Keen Targhee)
→ Hiking Socks (Darn Tough)

Other Essentials

Whether it is hiking gear, electronics, or just some miscellaneous items, here are some other essentials to bring along on hikes.

→ Hiking Backpack (Osprey Talon 22) & Rain Cover (Joy Walker Cover)
→ Hiking Poles (Black Diamond Trekking Poles)
→ Water Bottle (CamelBak Chute or Katadyn Filter Bottle)
→ Portable Charger (Anker PowerCore 5000mAh)
→ Action Camera (GoPro Hero)
→ Energy Bars & Snacks
→ Hat & Sunglasses
→ Sunscreen & Bug Spray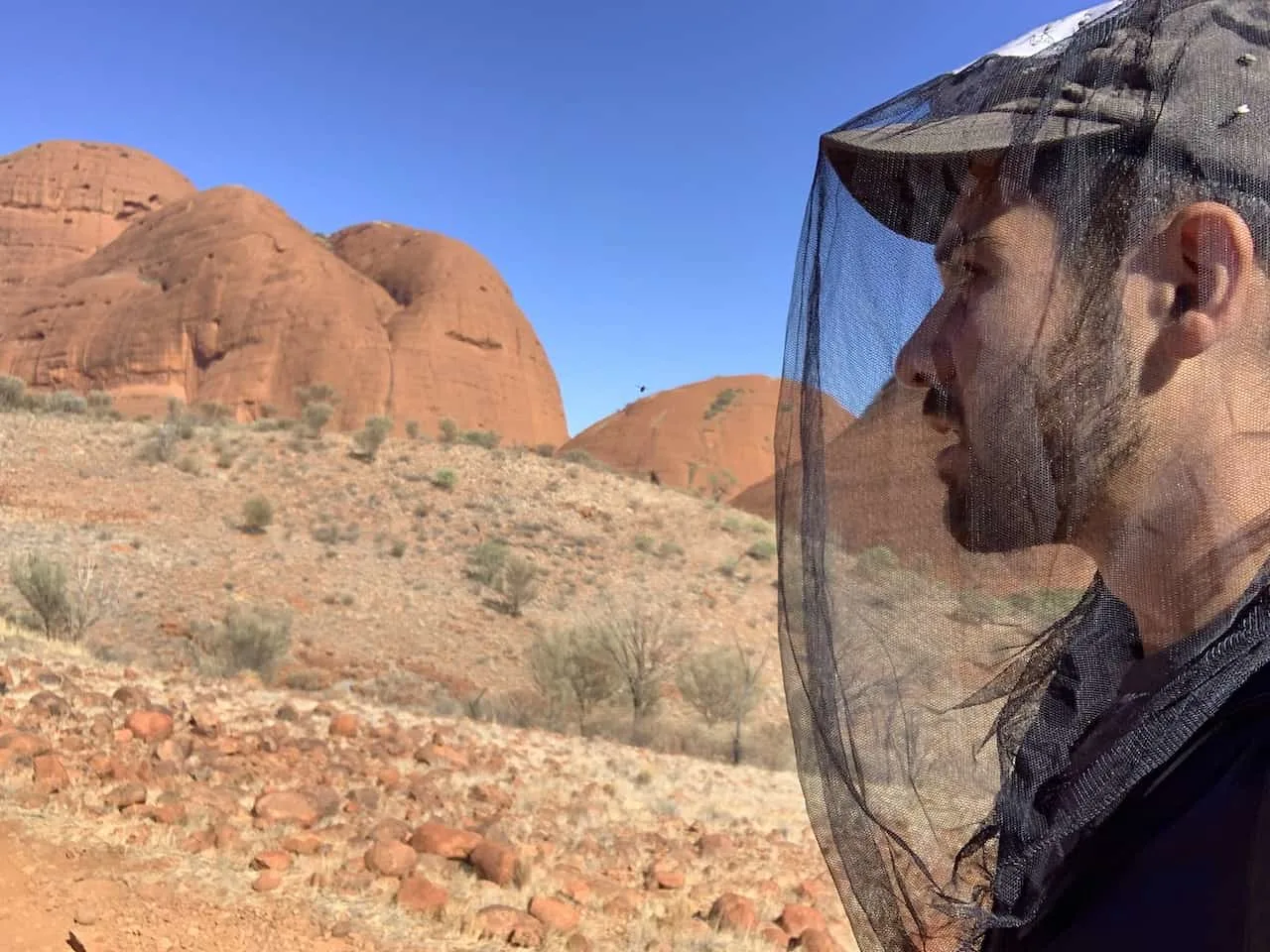 7) Uluru Base Walk Map
Below is a helpful walk of the Uluru Base Walk to better orient yourself with the area. As you can see the overall Uluru Base Walk is actually comprised of several different walks as well.
For those that do not want to head out on the whole loop, there is the opportunity to just take part on certain sections.
So if you complete the walk around Uluru, you are essentially completing the Mala Walk, Kuniya Walk, and Lungkata Walk as well.
The only walk left out of the loop would be the Liru Walk that can be completed towards the cultural centre.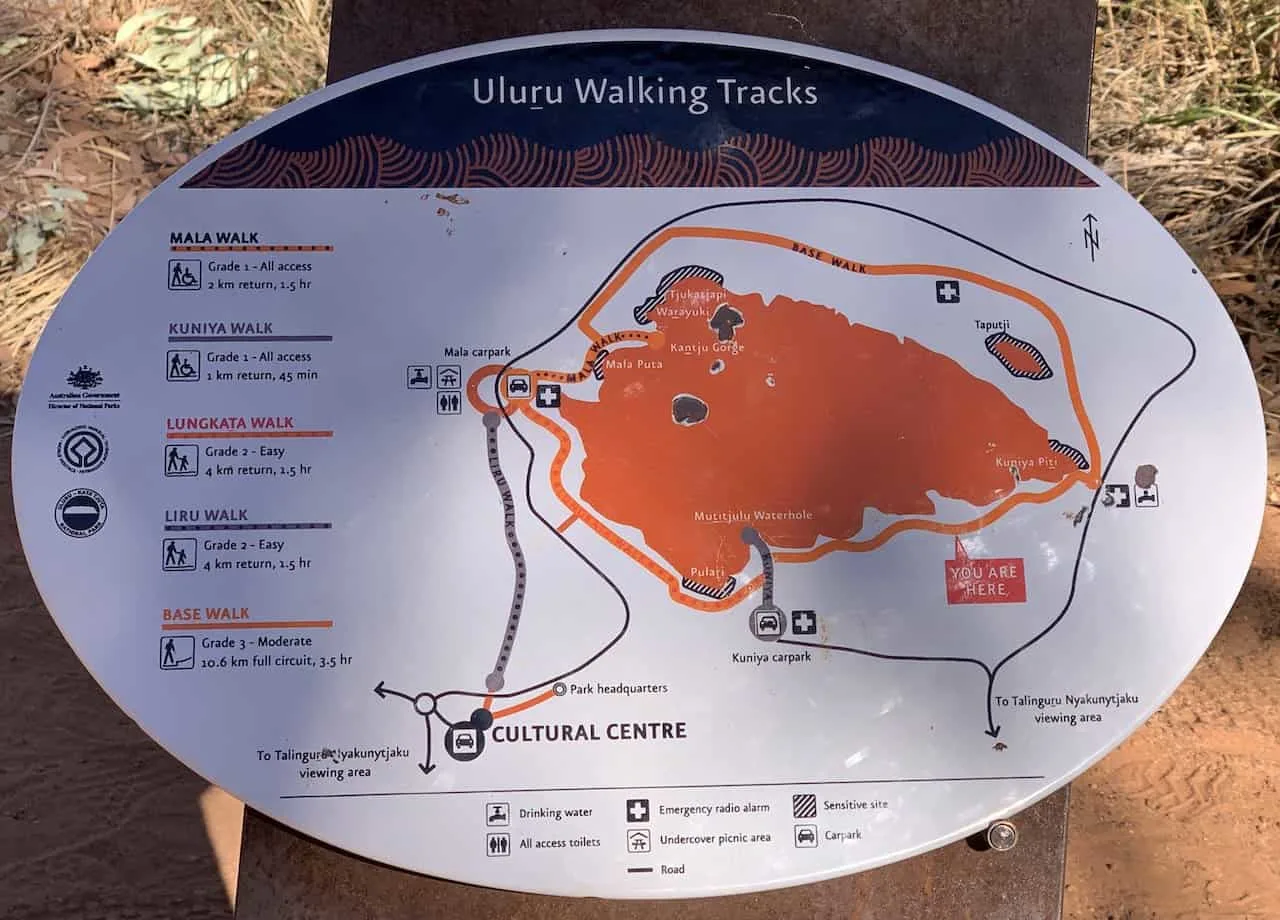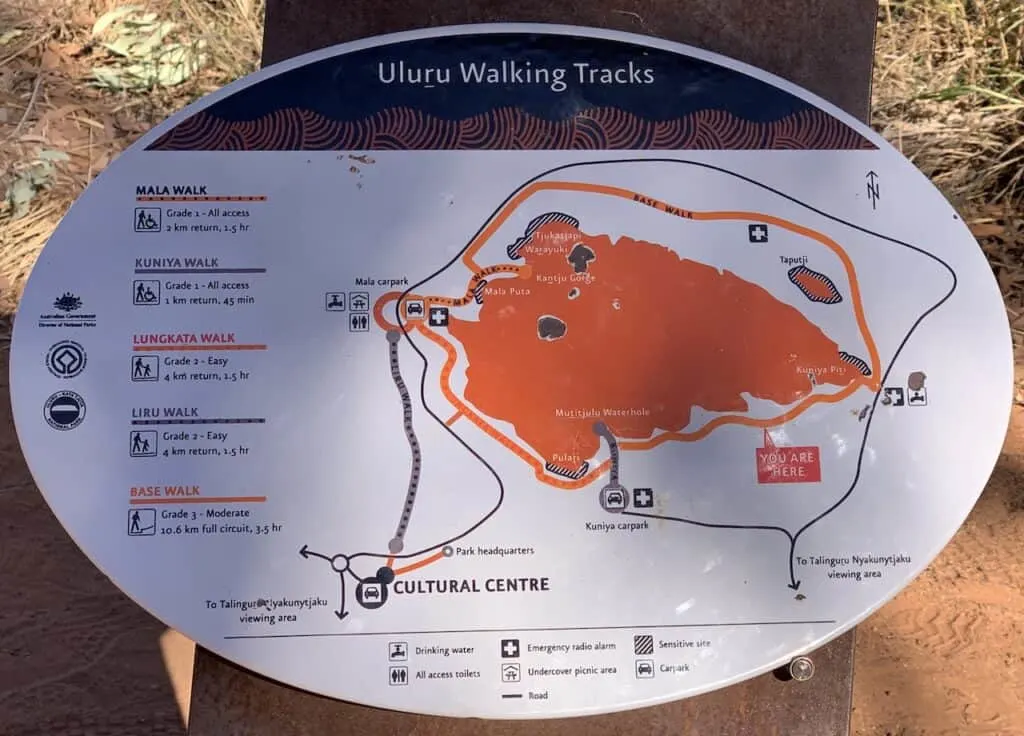 8) The Uluru Base Walk
Once you reach the Ayers Rock / Mala Carpark, you will see the main walking path going in both directions. I headed out in the clockwise direction, however it can also be done counter clockwise as well.
Please note during the walk, there will be spots that say no photography due to those particular areas being sensitive aboriginal sites.
The first section of the trail around Uluru is called the Mala Walk, which many people decide to just do on its own instead of walking around the entire thing.
During the Mala Walk you will pass by a few landmarks like the Kulpi Nyiinkaku teaching cave and the Kantju Gorge.
Along the way though you will be able to see the incredible variety of what this rock offers. It is not simply just one big large round rock. There are so many intricacies that you can enjoy by getting right up close to it.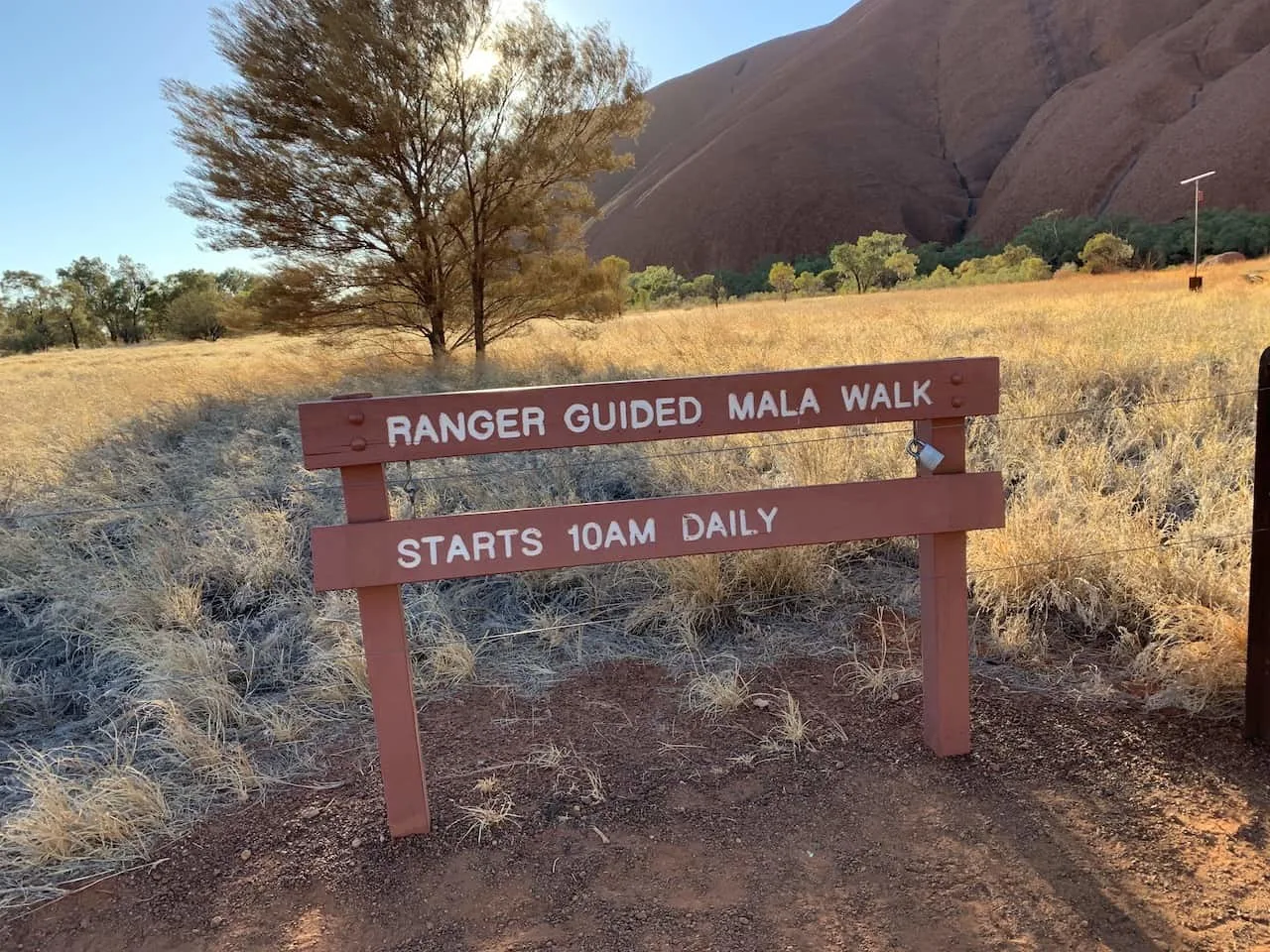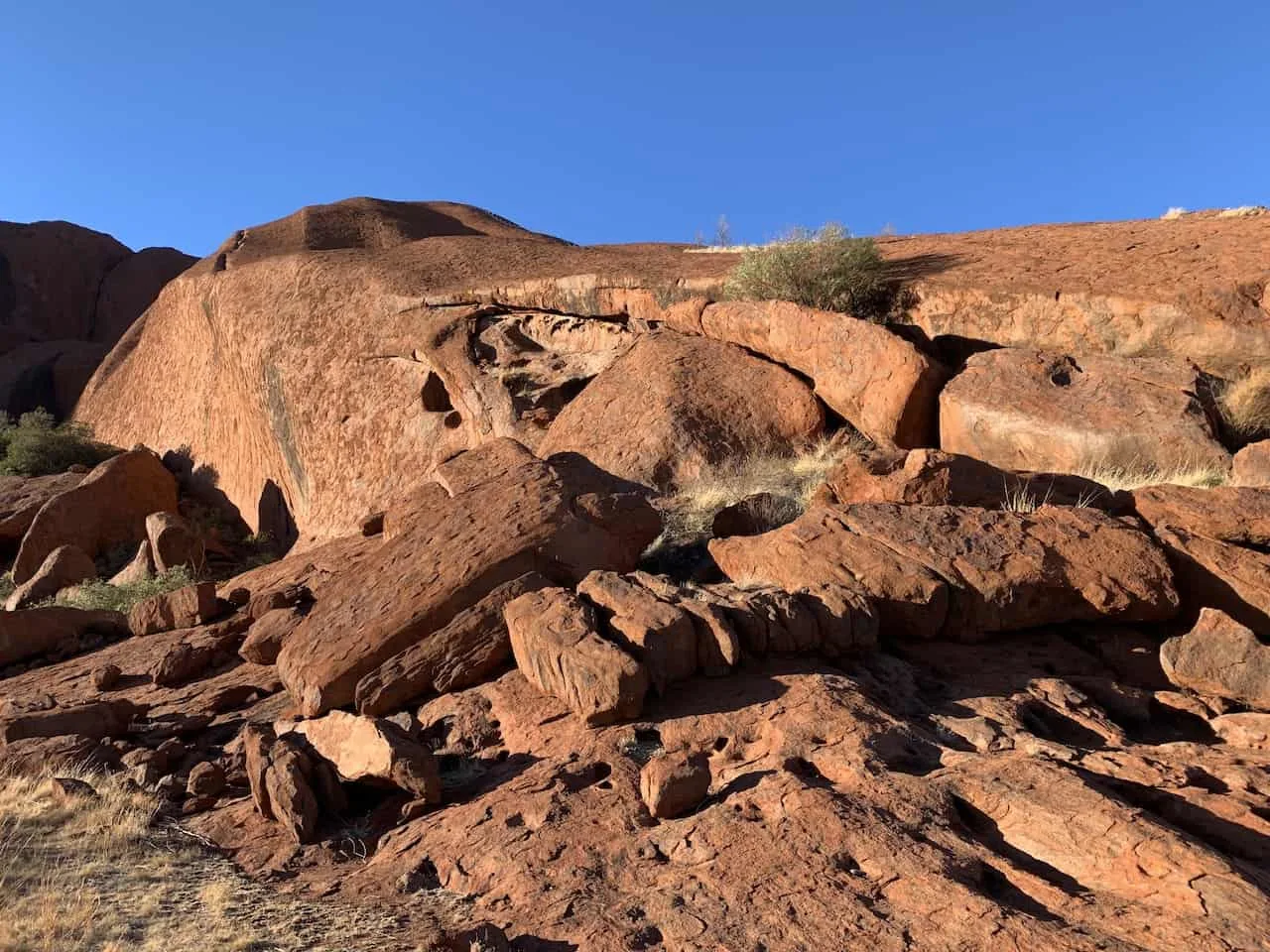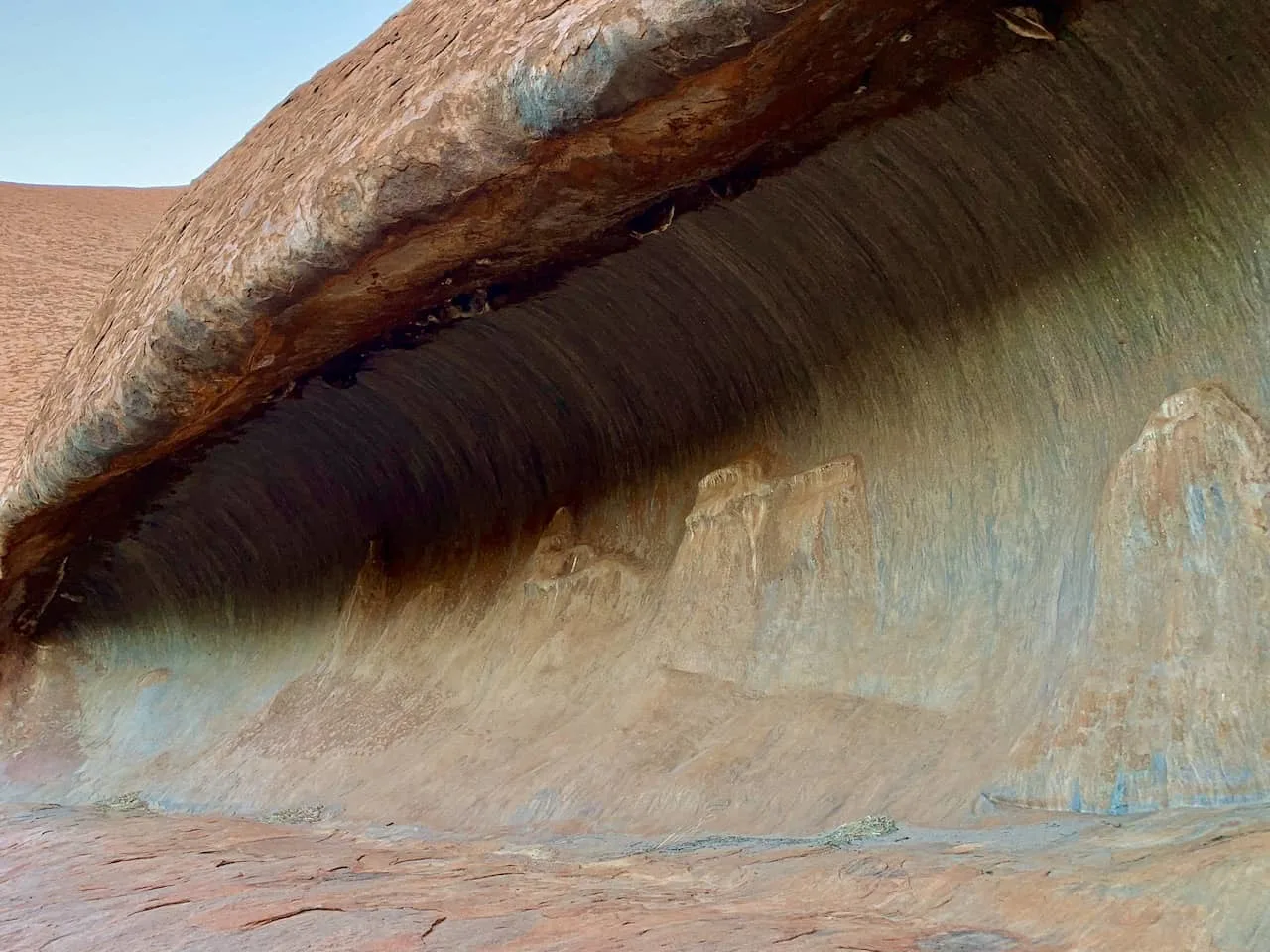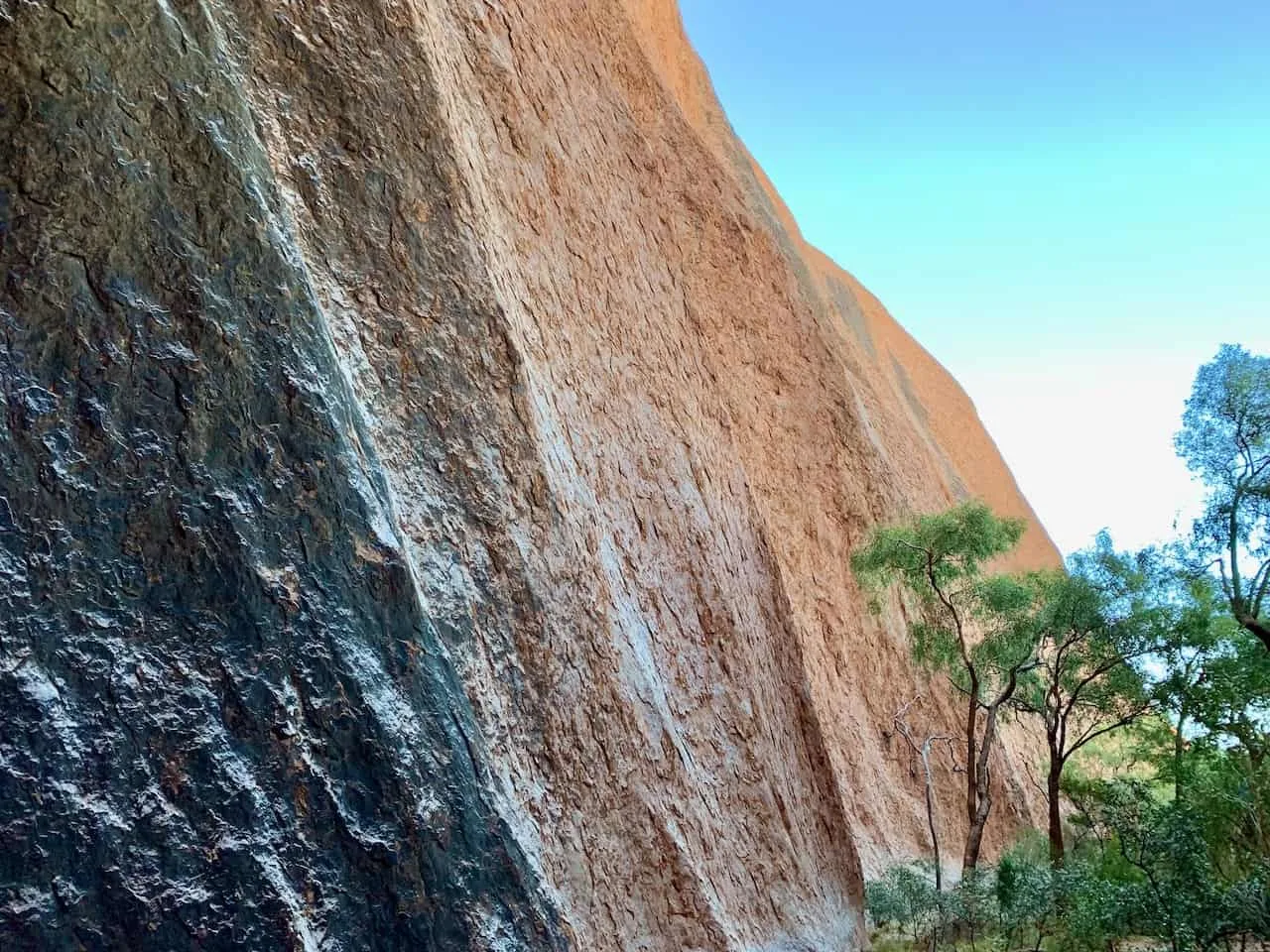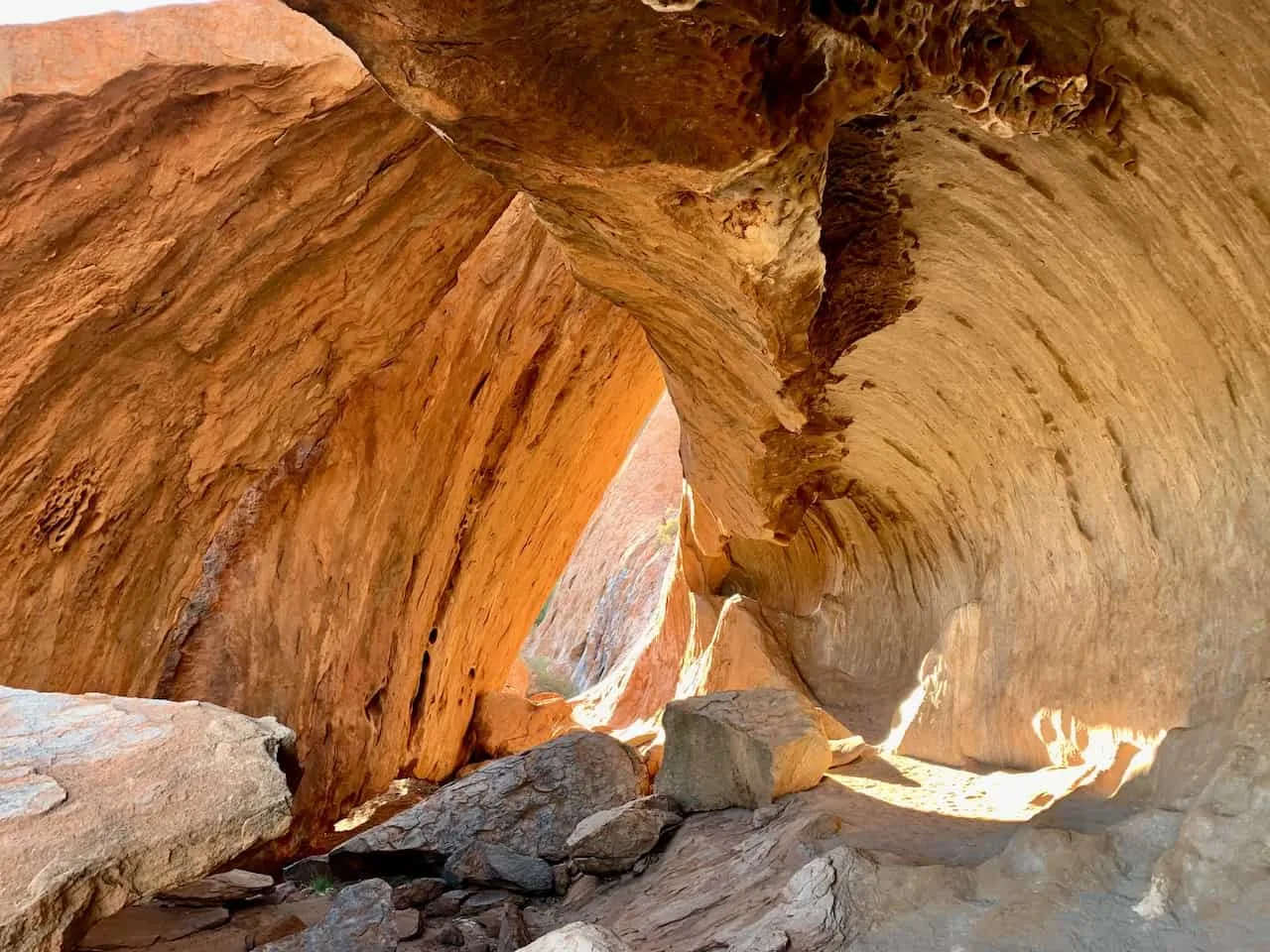 After continuing the walk past the Kantju Gorge you will pass by a sensitive site as you turn the corner and continue on the path a bit further away from the rock itself.
You will be on a nice red dirt path for a while as you can take in the sheer size of Ayers Rock from a distance.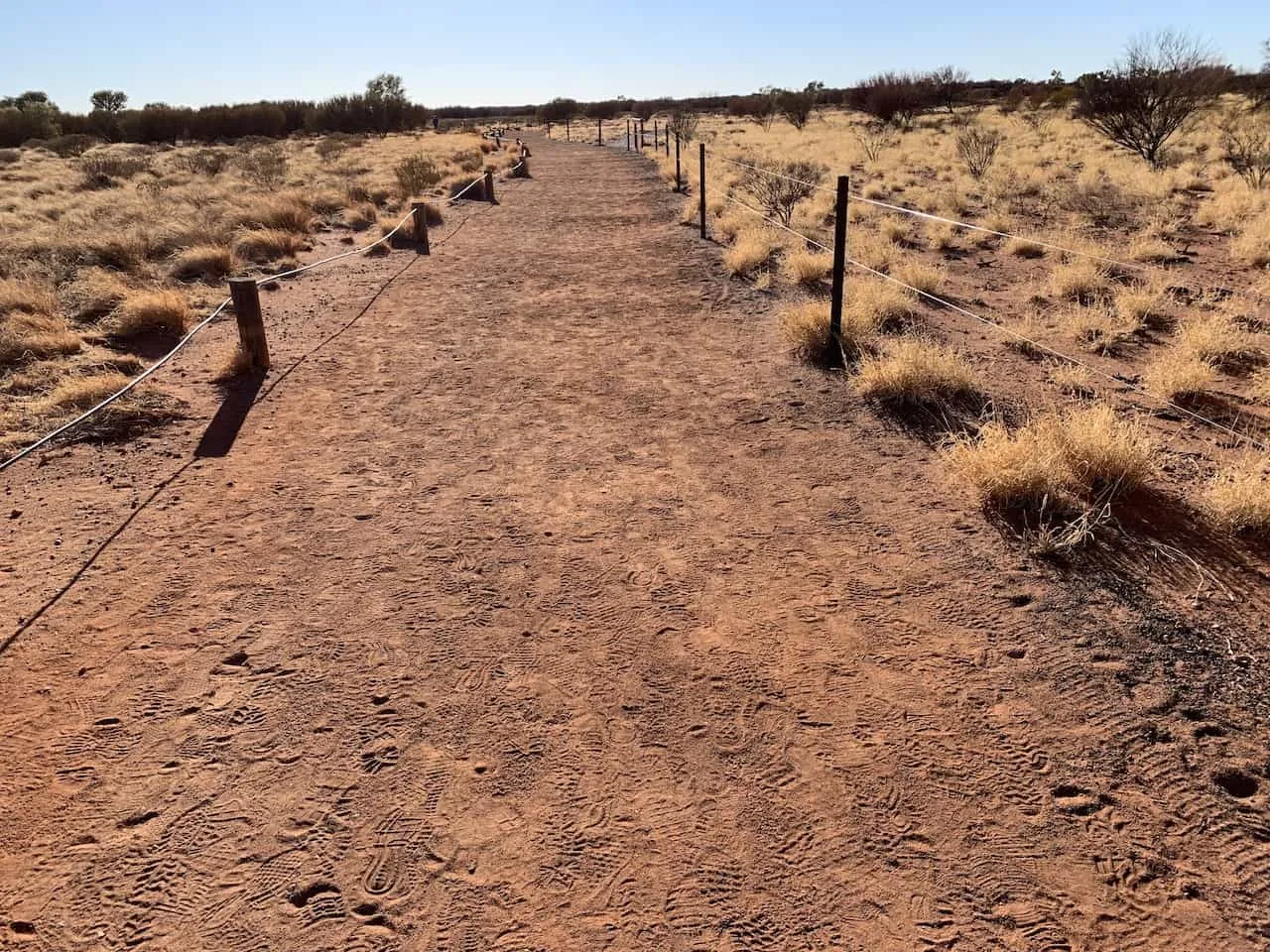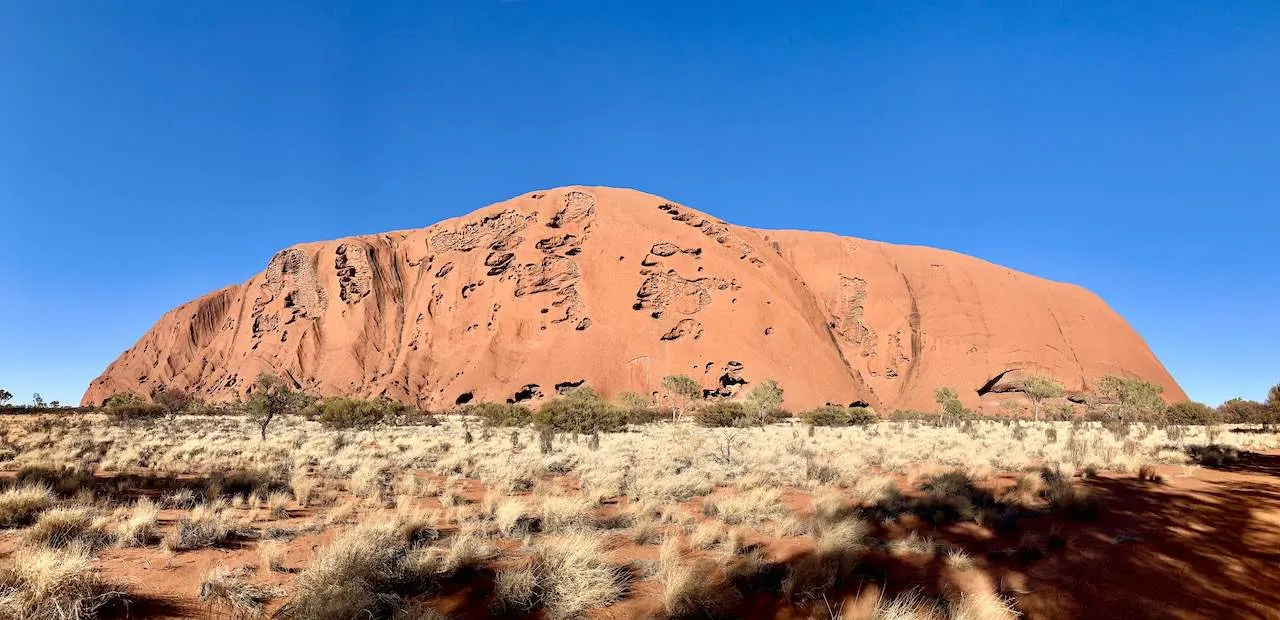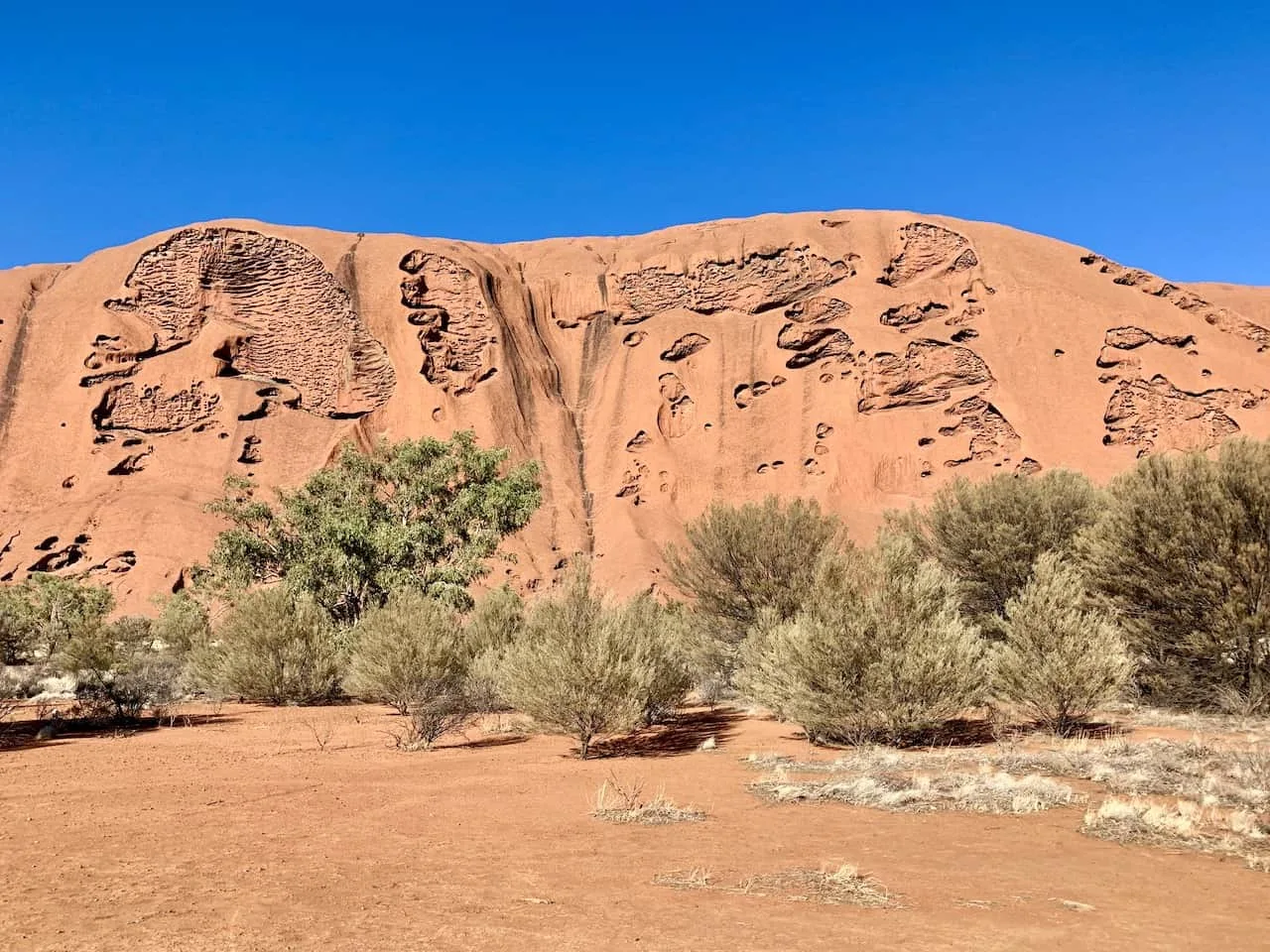 You will then make the turn around Uluru to the south side of the rock as you begin to get a bit closer to it. There will be several more incredible rock formations that come into view all along this section of the walk around Uluru.
The next landmark will be the Mutitjulu Waterhole just before the last turn back to the parking lot.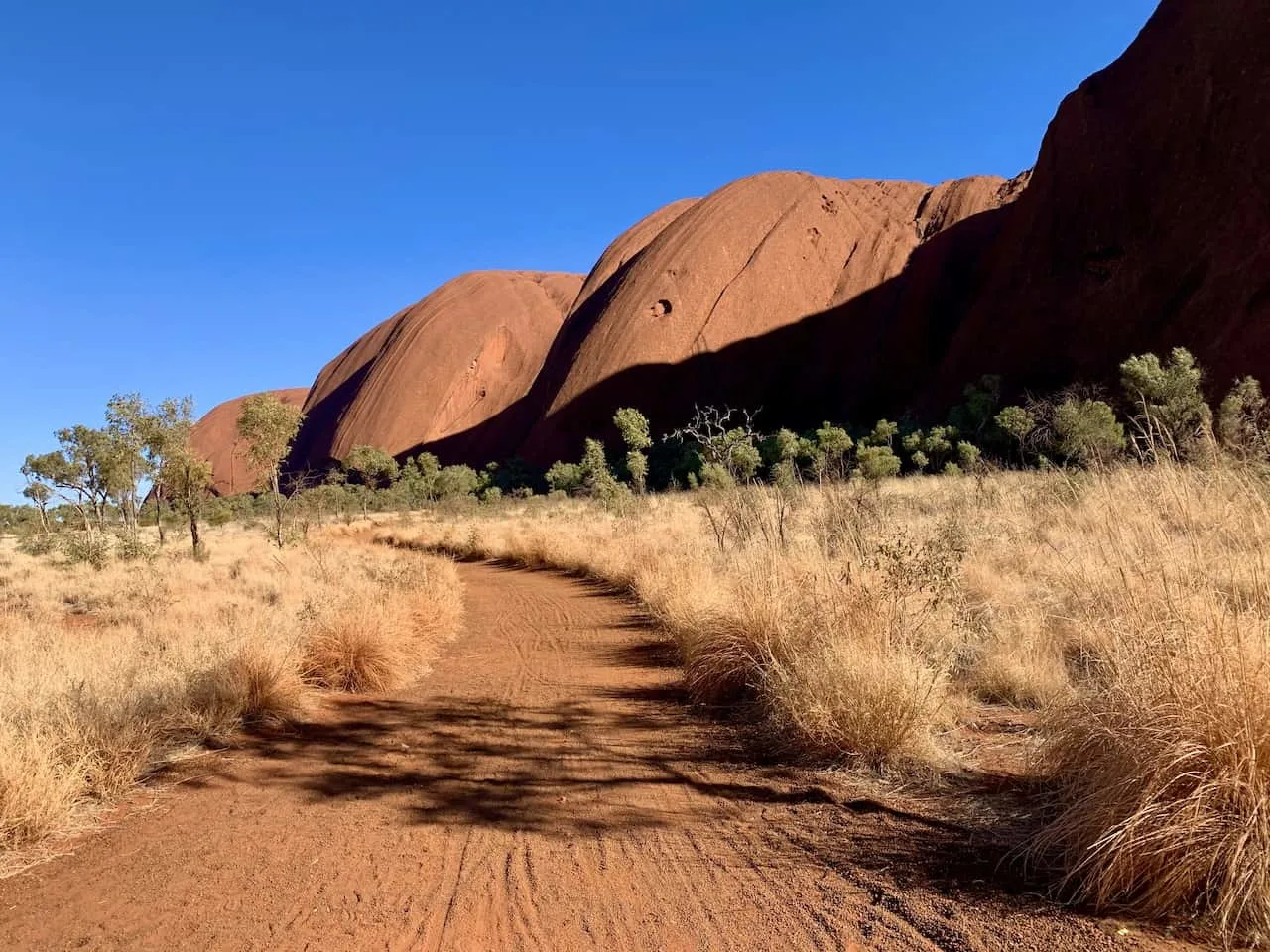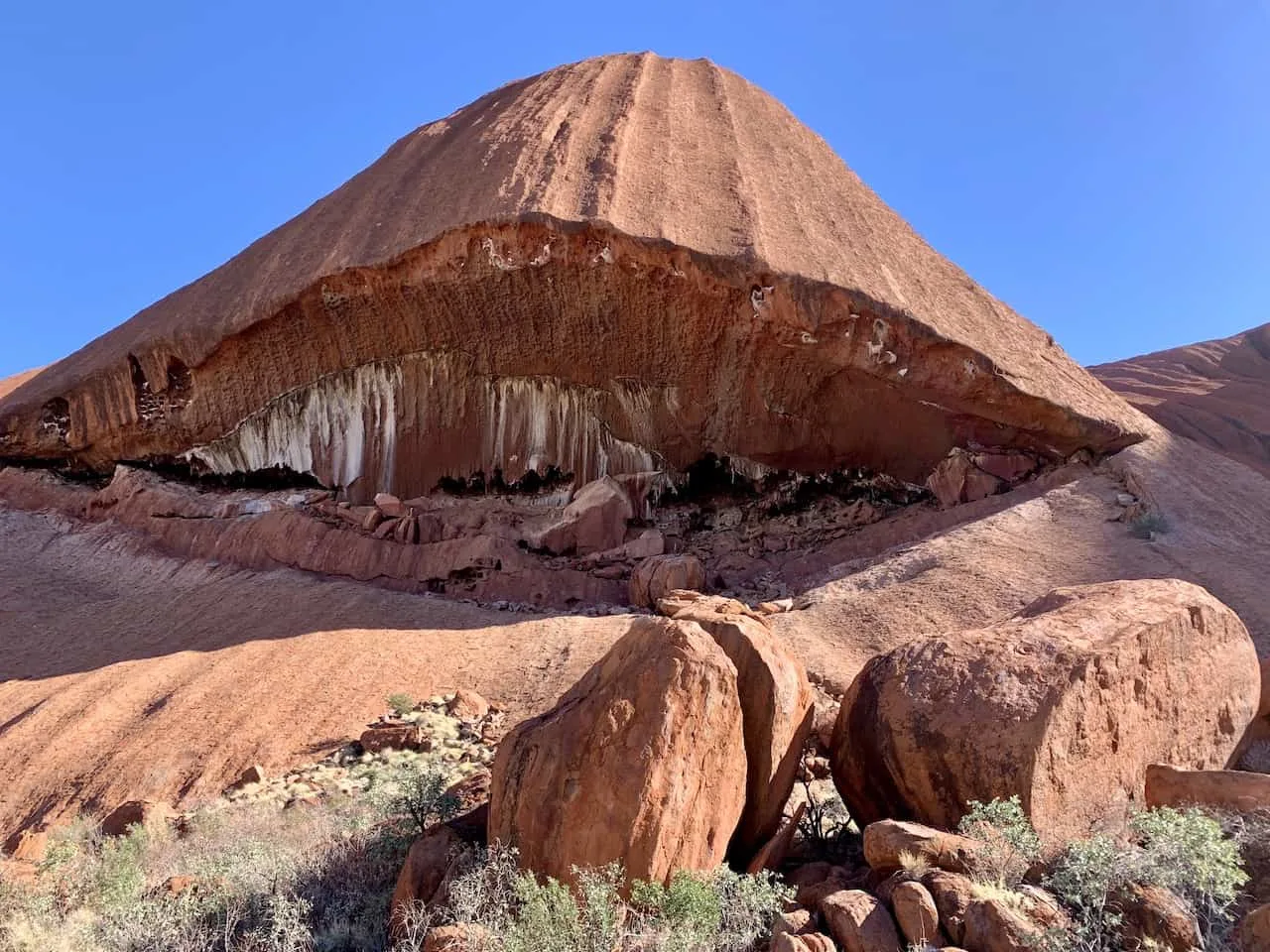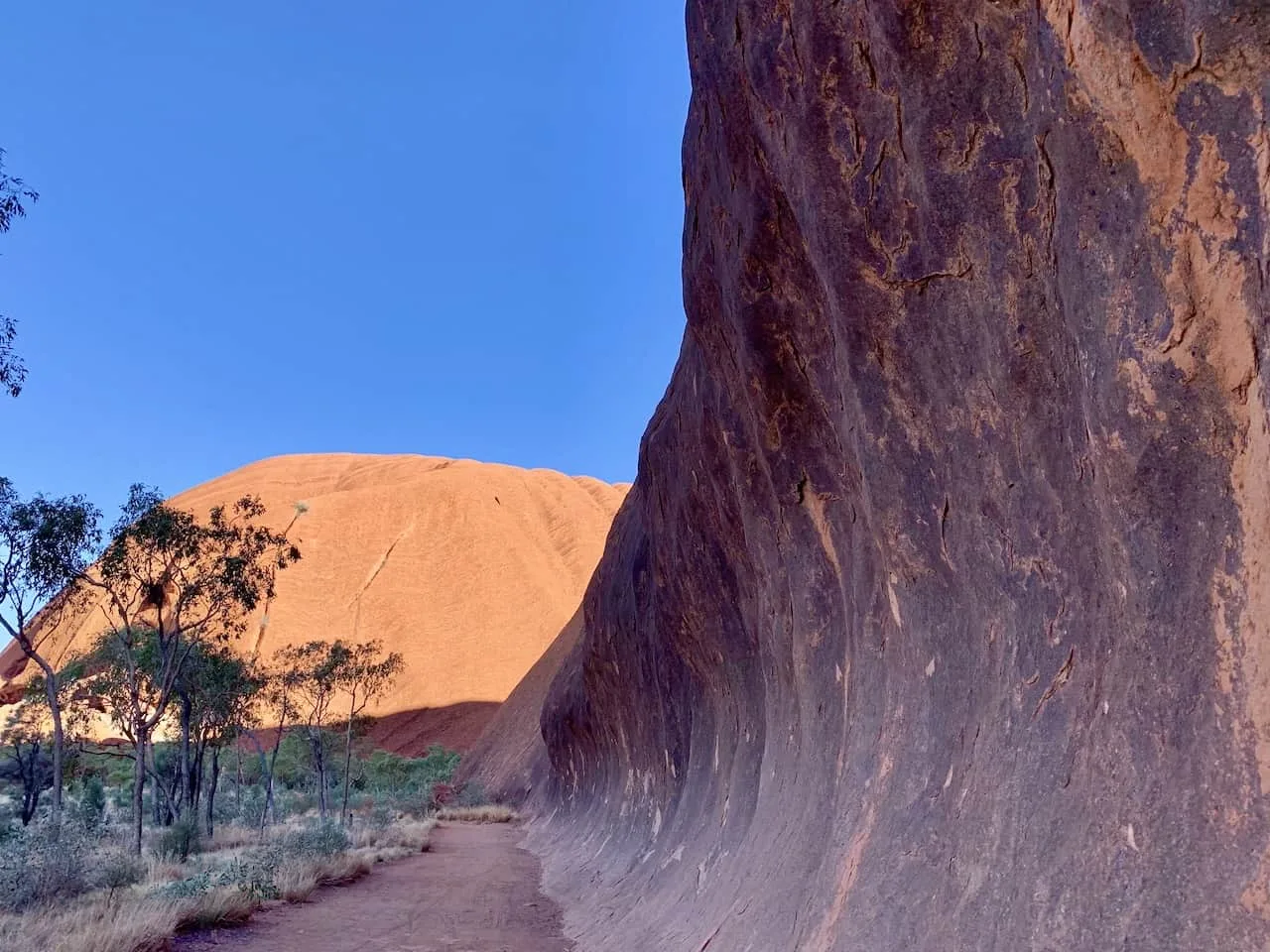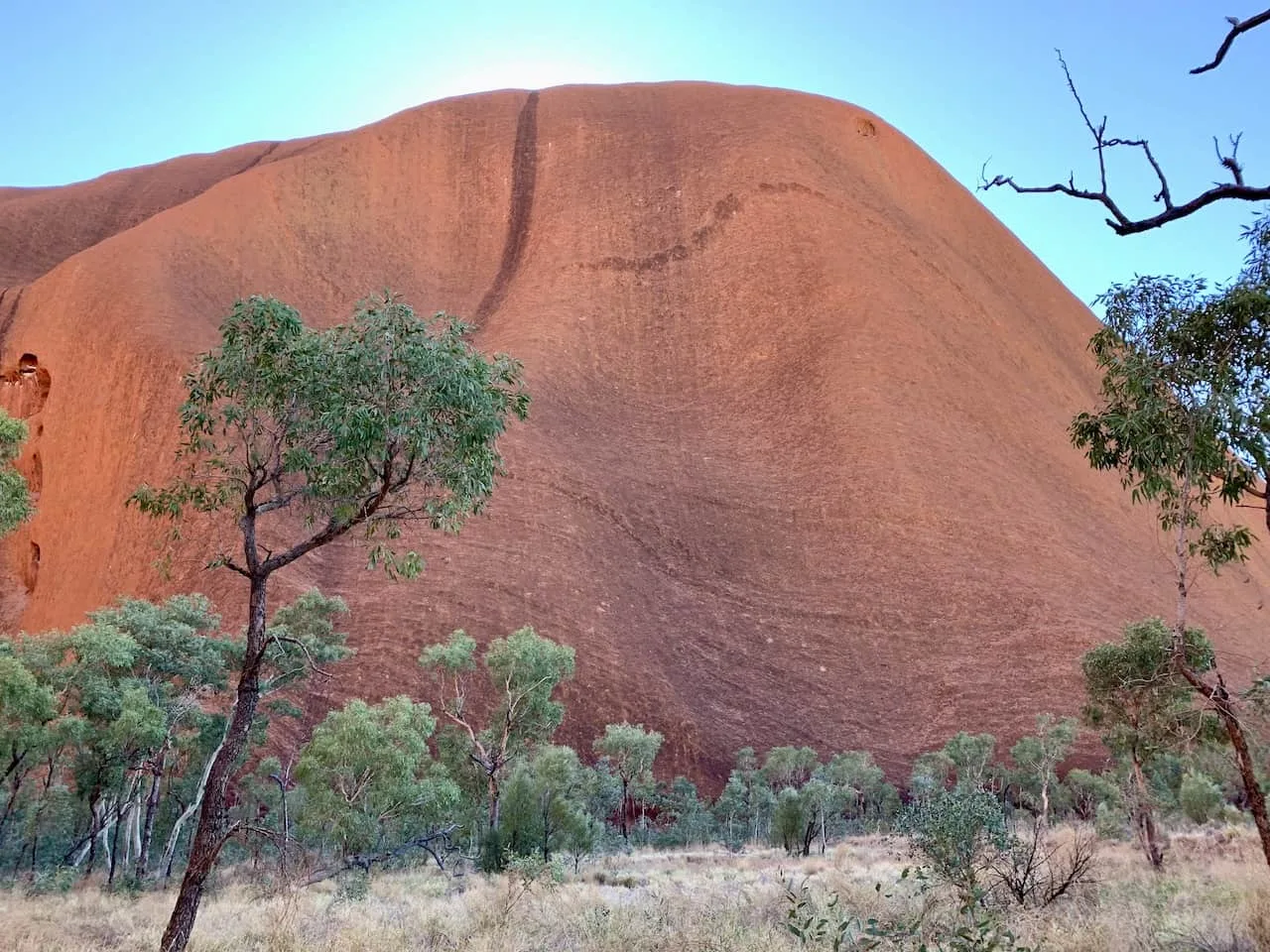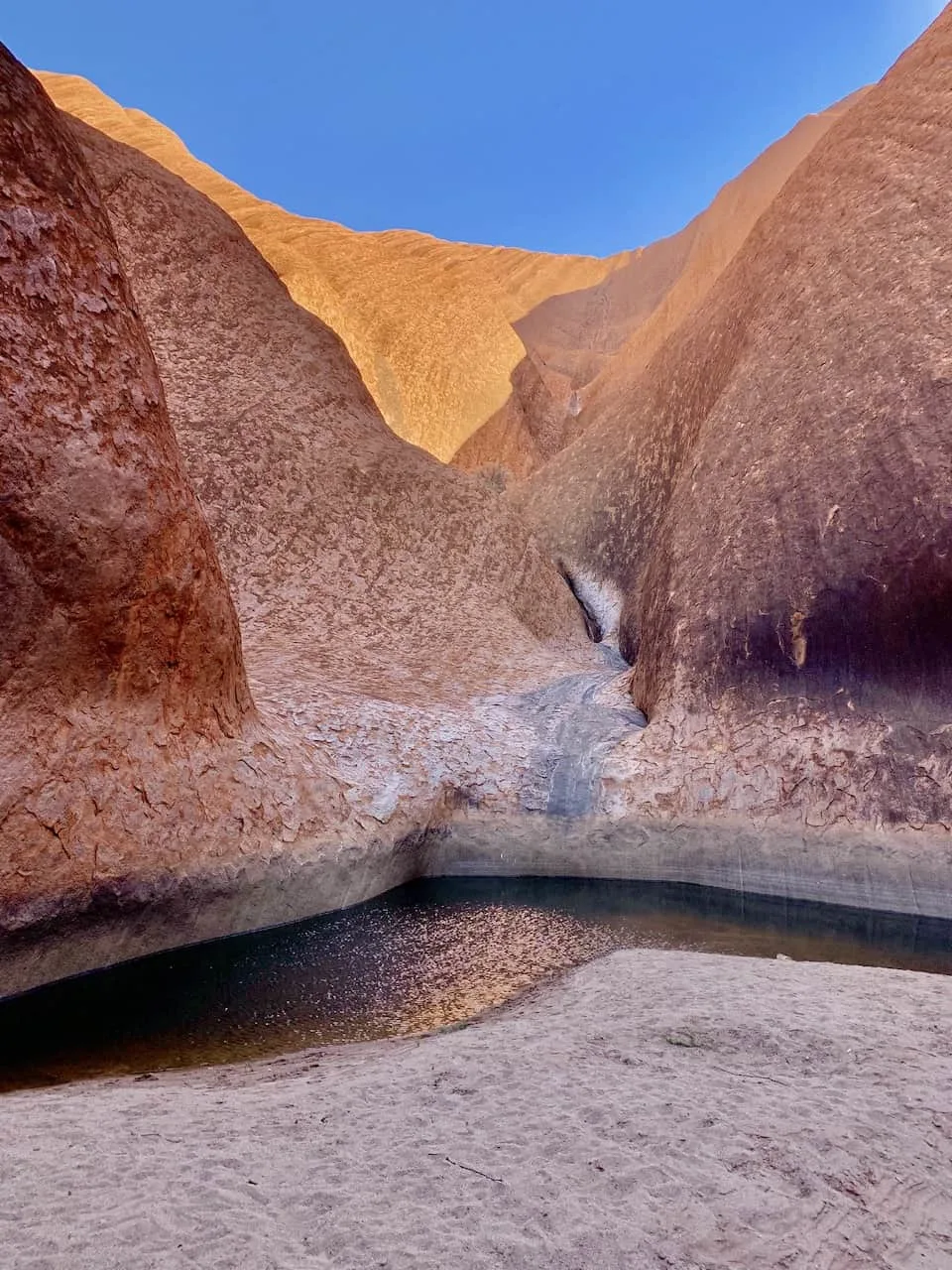 Continue on enjoying the various rock landscapes that the Uluru Base Walk has to offer as you follow the path to the starting point.
Once you are finished with your time walking around Uluru, you can head back to your hotel in Yulara to relax for a bit or you can head straight to the sunset viewing area.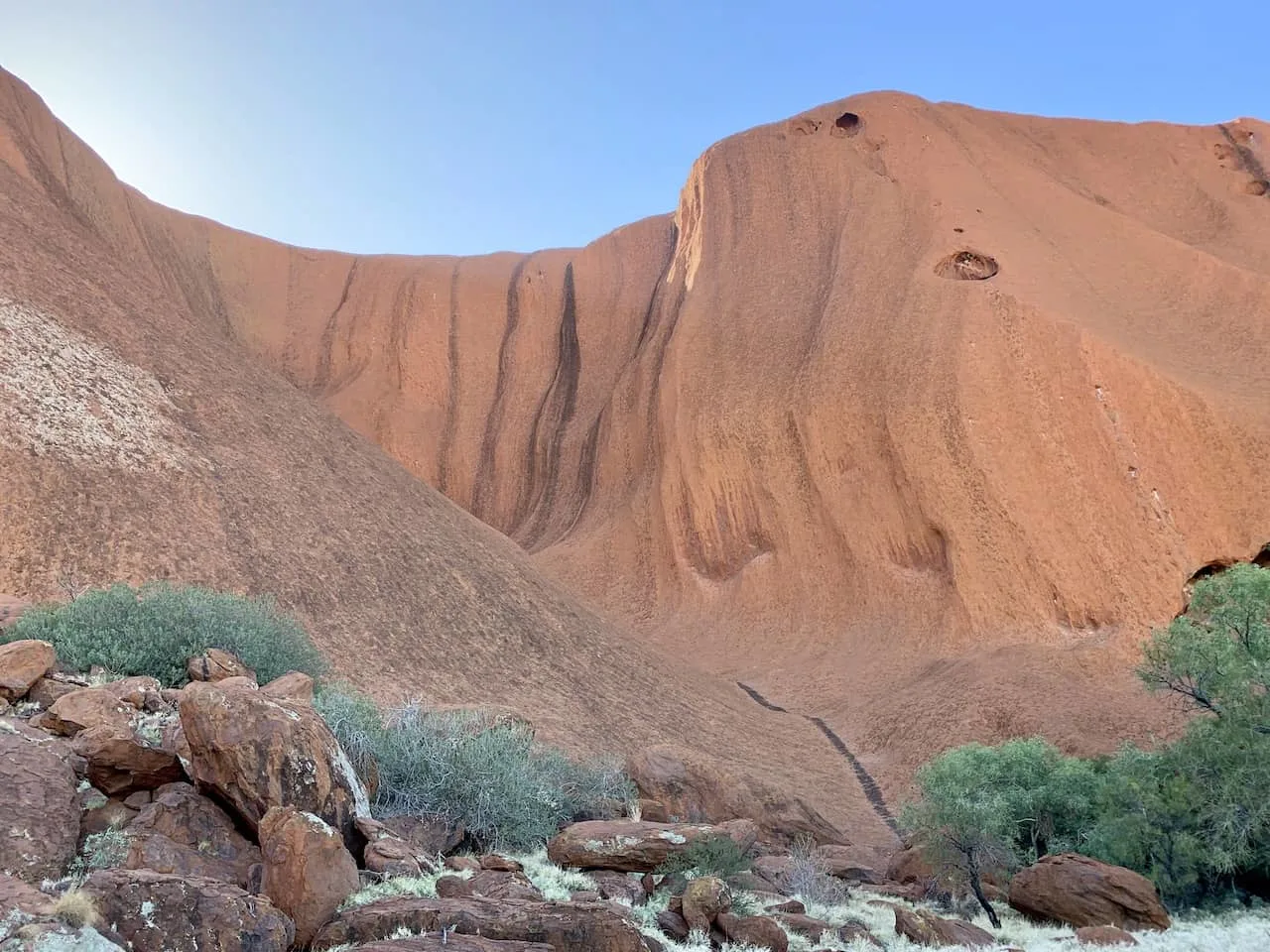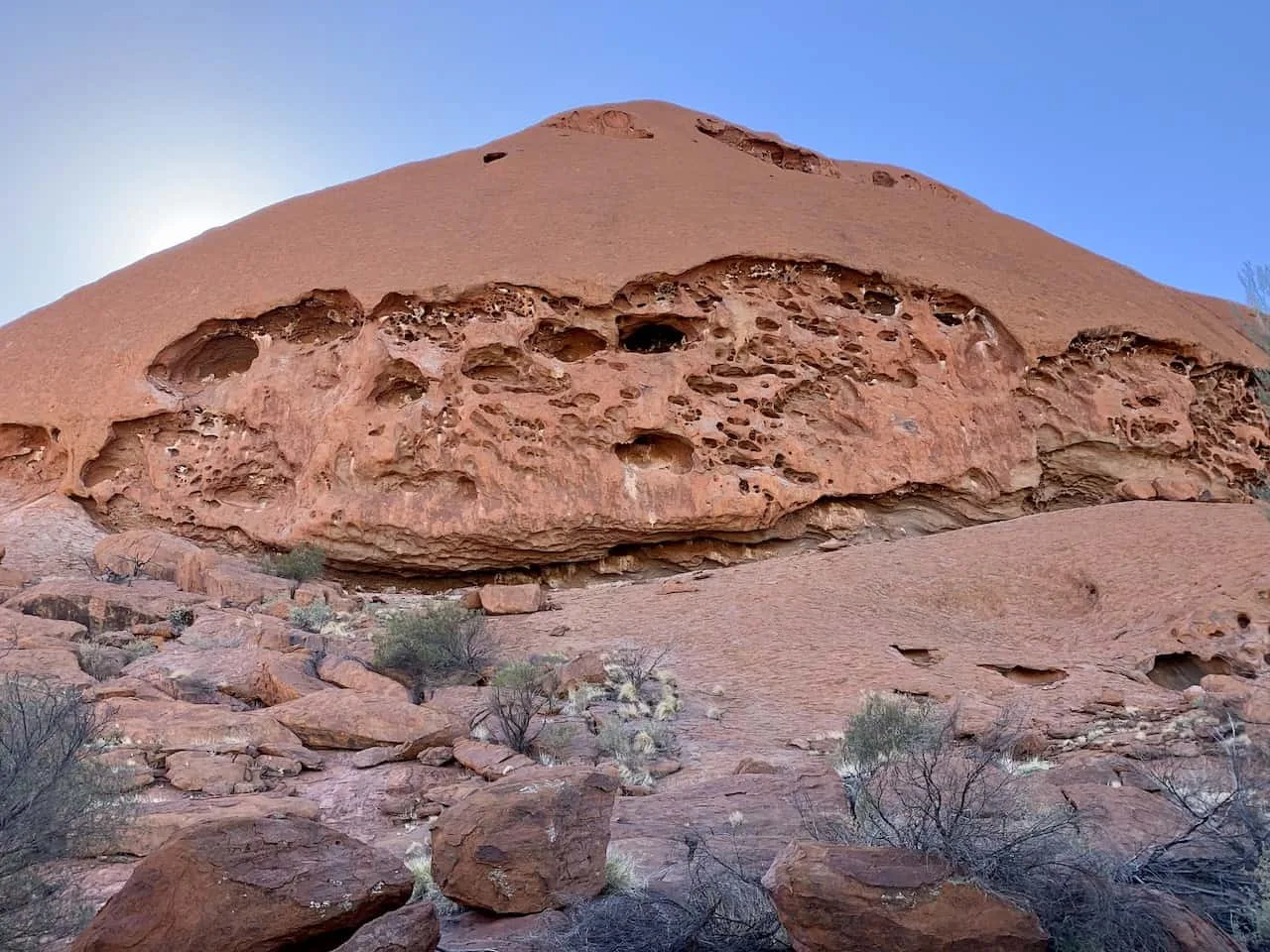 That about does it for a complete guide to the Uluru Base Walk. If you have any questions or comments feel free to add them in below.
Also be sure to check out some of the other Australia itineraries and guides up on the site including a guide to Uluru Sunrise & Sunset, the Kata Tjuta Valley of the Winds Walk and the Kings Canyon Rim Walk.
» Read the 7 Day Red Centre Way Itinerary for more detail about a road trip
Have fun out there and safe travels!