One of the most beautiful natural landscapes of the Northern Territory has to be Kings Canyon. Located between Yulara and Alice Springs, this canyon is home to the famous Kings Canyon Rim Walk.
During this trail you will be able to take in some vast views of the surrounding landscape and enjoy one of the best hikes that the Outback has to offer.
* Affiliate Disclosure: This post may contain affiliate links, which means I may receive a commission if you make a purchase through the links provided, at no additional cost to you. Thanks for supporting the work I put into TripTins!
1) Kings Canyon Rim Walk Facts
To start, I just wanted to lay out some helpful facts about the Kings Canyon Rim Walk. Throughout the remainder of this guide, you should find all the relevant information to take part of the hike for yourself.
Trail Name: Kings Canyon Rim Walk
Starting / Ending Point: Kings Canyon Carpark
Length: 6.0 KM / 3.7 Miles
Duration: 3-4 Hours
Elevation Gain: 500 Stairs
Terrain: Sandstone Rock
Trail Type: Loop
Difficulty: Medium
The Kings Canyon Rim Walk takes you all along the canyon walls on a rocky terrain. To get to the rim of the canyon though, you will need to climb 500 stairs to reach the top.
Once up there, you will begin to take in those vast views and enjoy what Kings Canyon has to offer.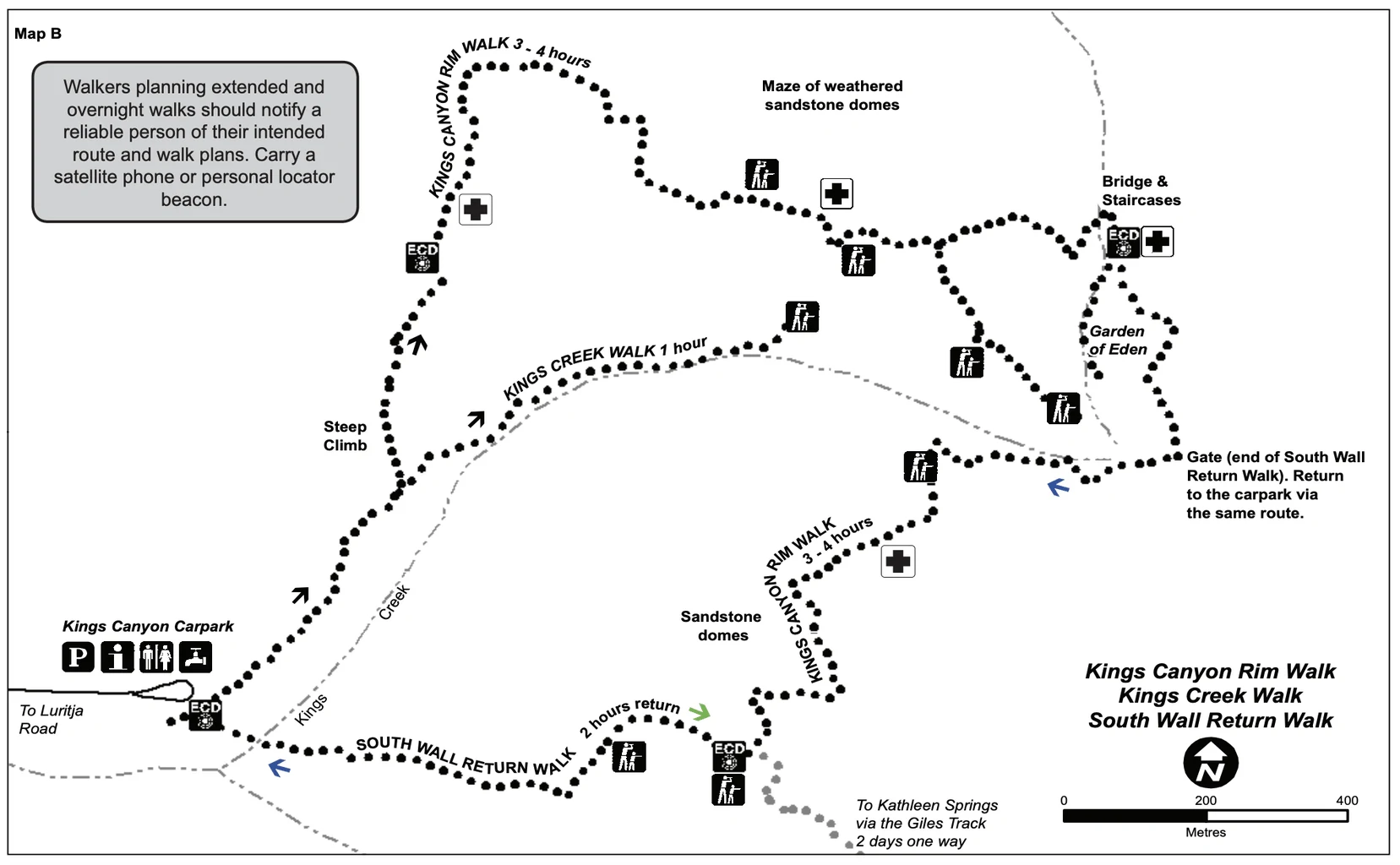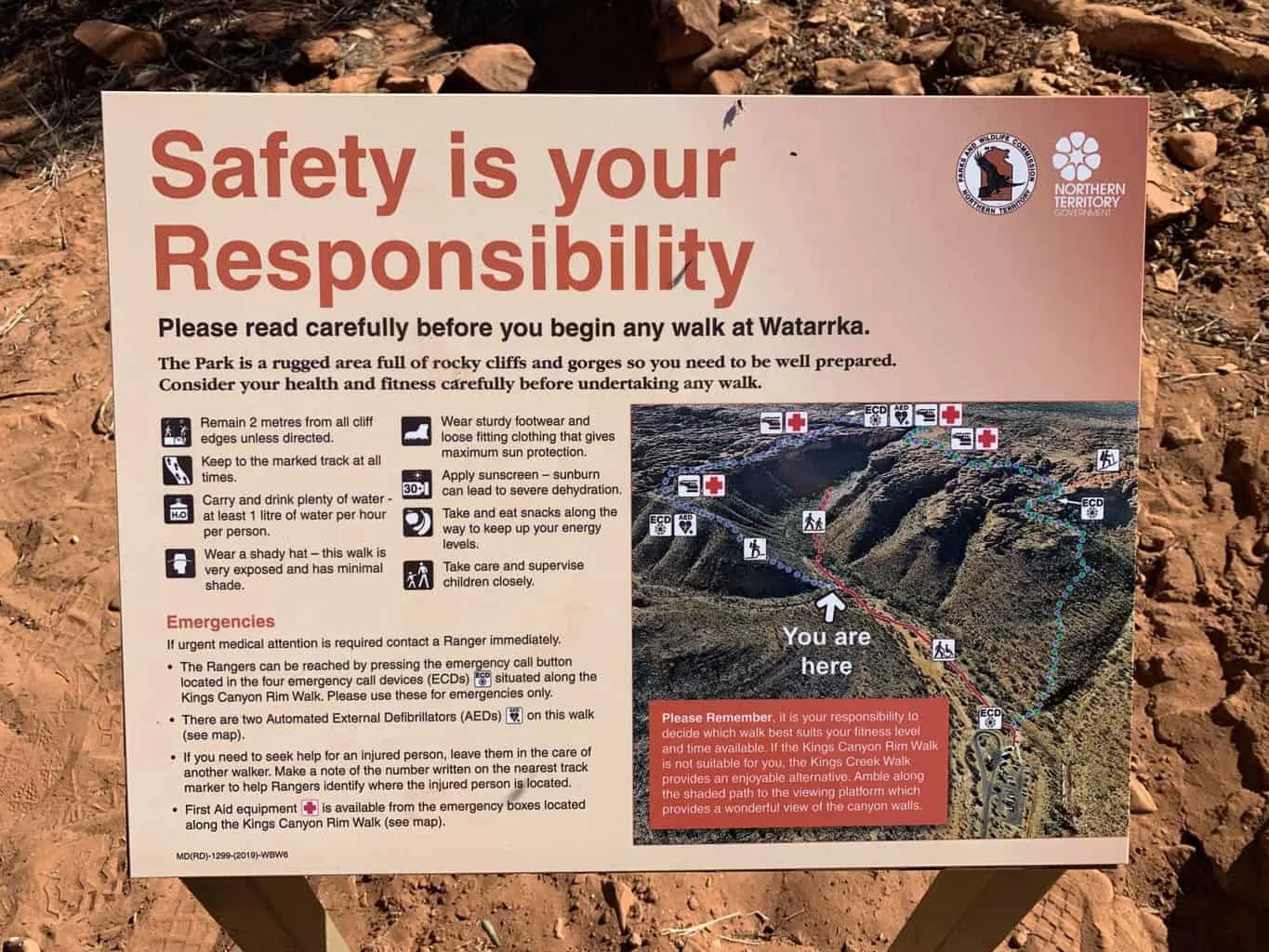 Additional Trail Note:
If you are not up for the 500 stairs ascent and 6KM trail, you can instead opt for the 1 hour return Kings Creek Hike. The trail is nearly flat and takes you between two of the canyon walls to a great lookout point.
Alternatively you can opt for the South Wall Return Walk, a 2 hour there and back walk to the top of the South Wall of the canyon.
» Take part of the Kings Canyon Rim Walk as part of your longer Red Centre Way itinerary!
2) How to Get to Kings Canyon
Kings Canyon is one of those places that just isn't too ideal to visit logistically since it is so far from the nearest major cities.
It is however, located right between two of the most popular places in the Outback – Yulara (300 KM / 3.5 Hours) and Alice Springs (475 KM / 5 Hours).
There are two main ways to visit Kings Canyon depending on time and preference:
1) Self Drive
When I visited the Outback, I decided to rent my own car for my time there and drive to all the attractions around the area.
I flew into Yulara, picked up the rental car in town, spent a few days exploring the region and then headed to Kings Canyon after.
Once all done with my day and night in Kings Canyon I headed on over to Alice Springs and the West MacDonnell Ranges to finish up my trip.
Looking for a one way car rental at competitive prices?
Check out the Tourism Central Australia website to secure your car rental. It may include unlimited mileage and free one way transfers for Alice Springs / Yulara depending on car rental length.
→ Be sure to check out the Uluru Car Rental Guide I have on the site to learn more!
→ If the car rental guide doesn't work for you, feel free to check out Rentalcars.com, which will have various options to browse through. You can filter by car type, price, and more to find the perfect car for your trip.
Logistics Notes:
There are two roads between Kings Canyon and Alice Springs – the sealed Stuart Lasseter Highway and the unsealed Mereenie Loop Road (half an hour longer – 5.5 Hours).
Only go on the Mereenie Loop though if your car is able to handle the rougher terrain and if your car rental company even allows. You must also purchase a permit ahead of time to have permission for the road.
One of the main reasons to head on the Mereenie Loop is because you can more easily add in the West Macdonnell Ranges before heading to Alice Springs.
Simply stay at Glen Halen between Kings Canyon and Alice Springs to complete your Outback road trip.
No worries though if you go straight to Alice Springs on the sealed Stuart Lasseter Highway. That is what I ended up doing and simply added in the West Macdonnell Ranges as a day trip with a bit more driving time overall.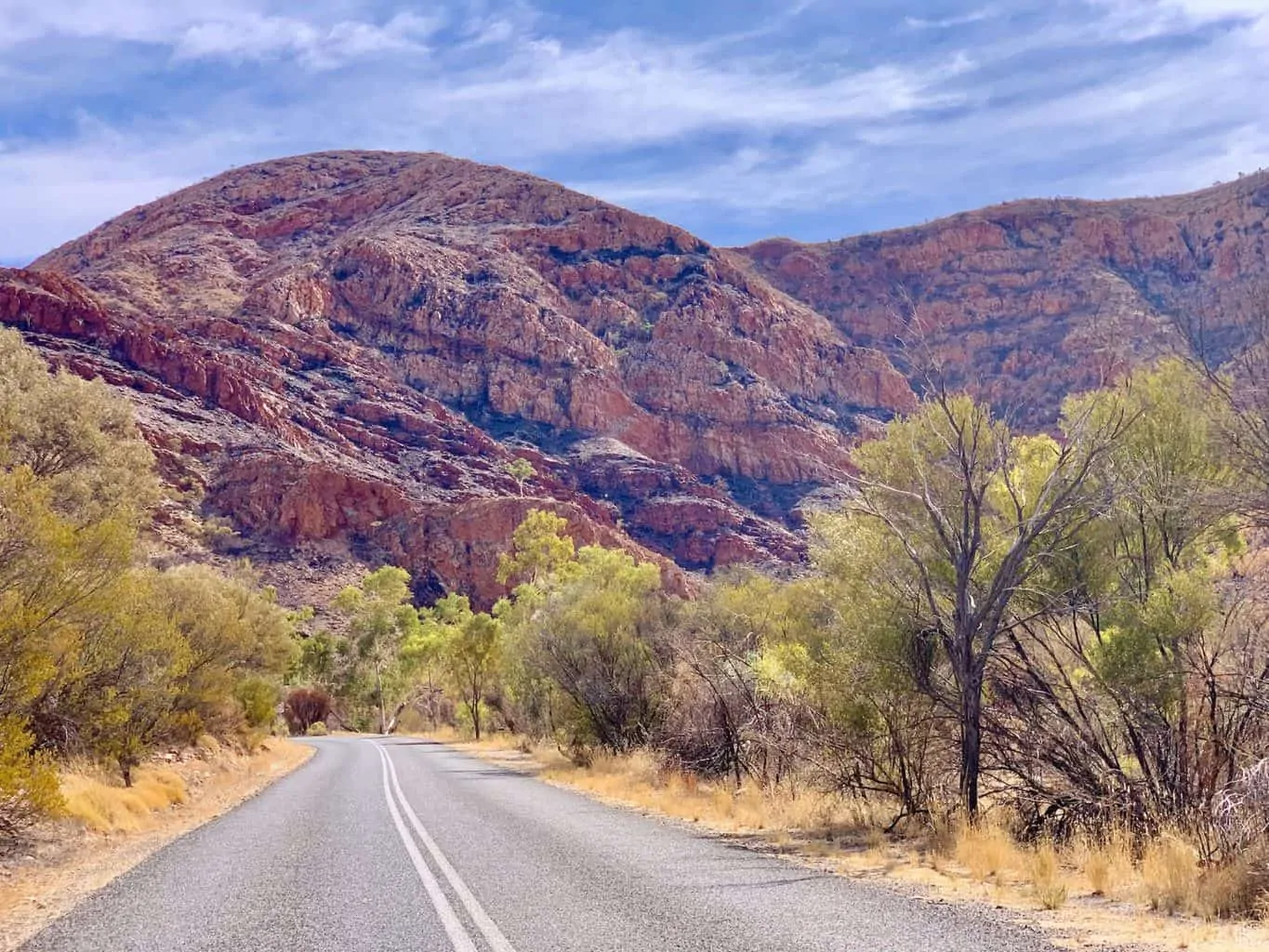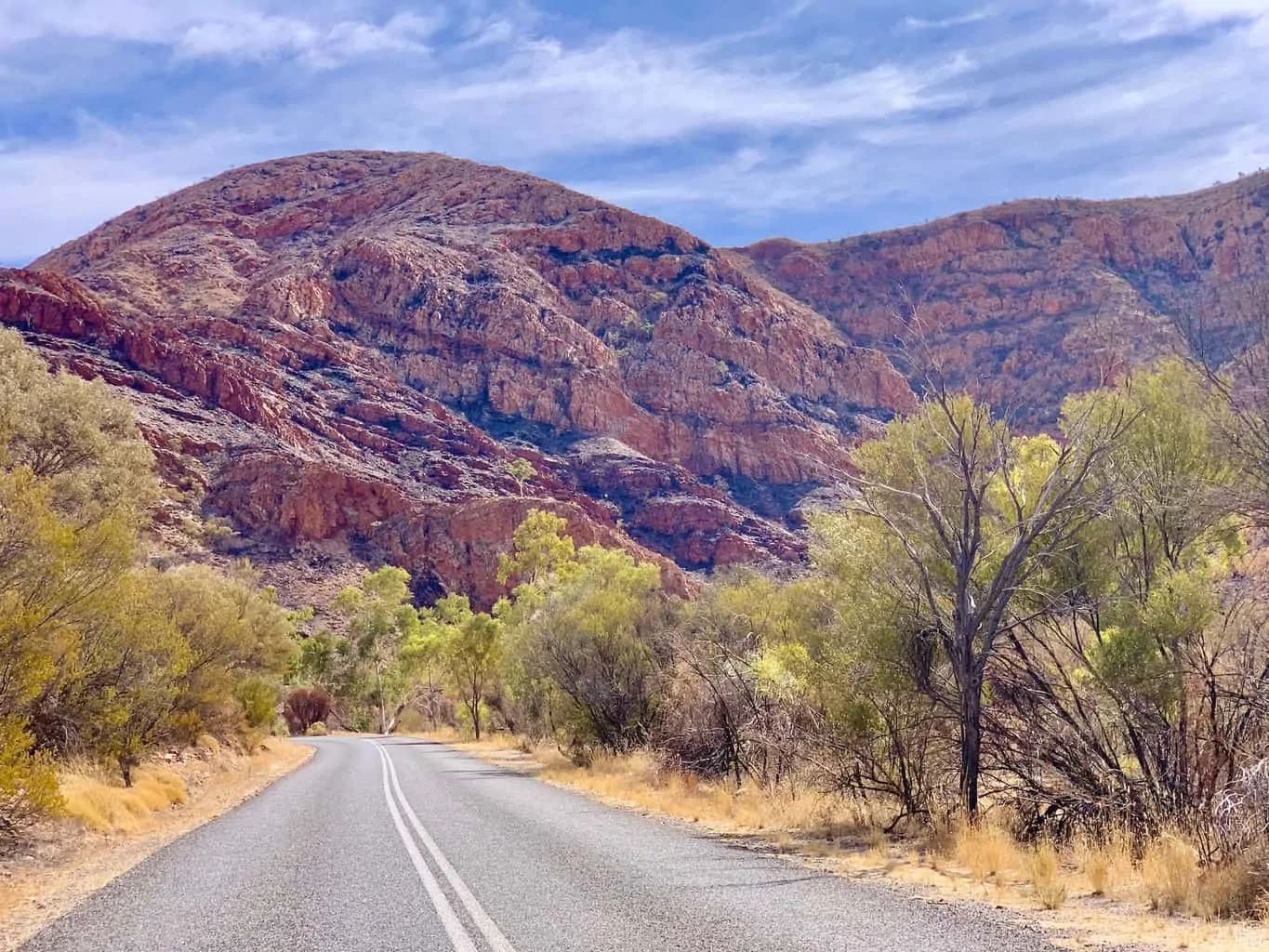 2) Organized Tour
The second main option to go with is an organized tour from Alice Springs or Yulara. If interested, take a look at this full day Kings Canyon tour, which is one of the top options to choose from.
Bonus Option: Do you want to visit Kings Canyon but don't want to deal with the long drive to get there?
Another option here is to take a helicopter tour from Yulara to Kings Canyon and then back at day's end. While it is a bit pricey, you will save some time and get to take in the view from above.
3) Kings Canyon Resort
Beyond the Kings Canyon Rim Walk and Kings Creek Walk, there are not too many other attractions near the area, leaving it pretty isolated altogether.
Because of this there is only two accommodation options to choose from – Kings Canyon Resort and Kings Creek Station (about 20 minutes further away).
At Kings Canyon Resort you will find everything from a camping ground to private rooms so there should be an option for everyone.
Since it is the main option though, it can sell out during high season so I would advise to look into getting your booking down sooner rather than later.
The resort pretty much has everything you would need when it comes to staying a night or two.
On the extended property there are several restaurants, a swimming pool, gas station, convenience store, laundry facilities, and sunset viewing area.
» Make sure to book your stay at Kings Canyon ahead of time to secure your spot! You can also take a look at what Kings Creek Station has to offer.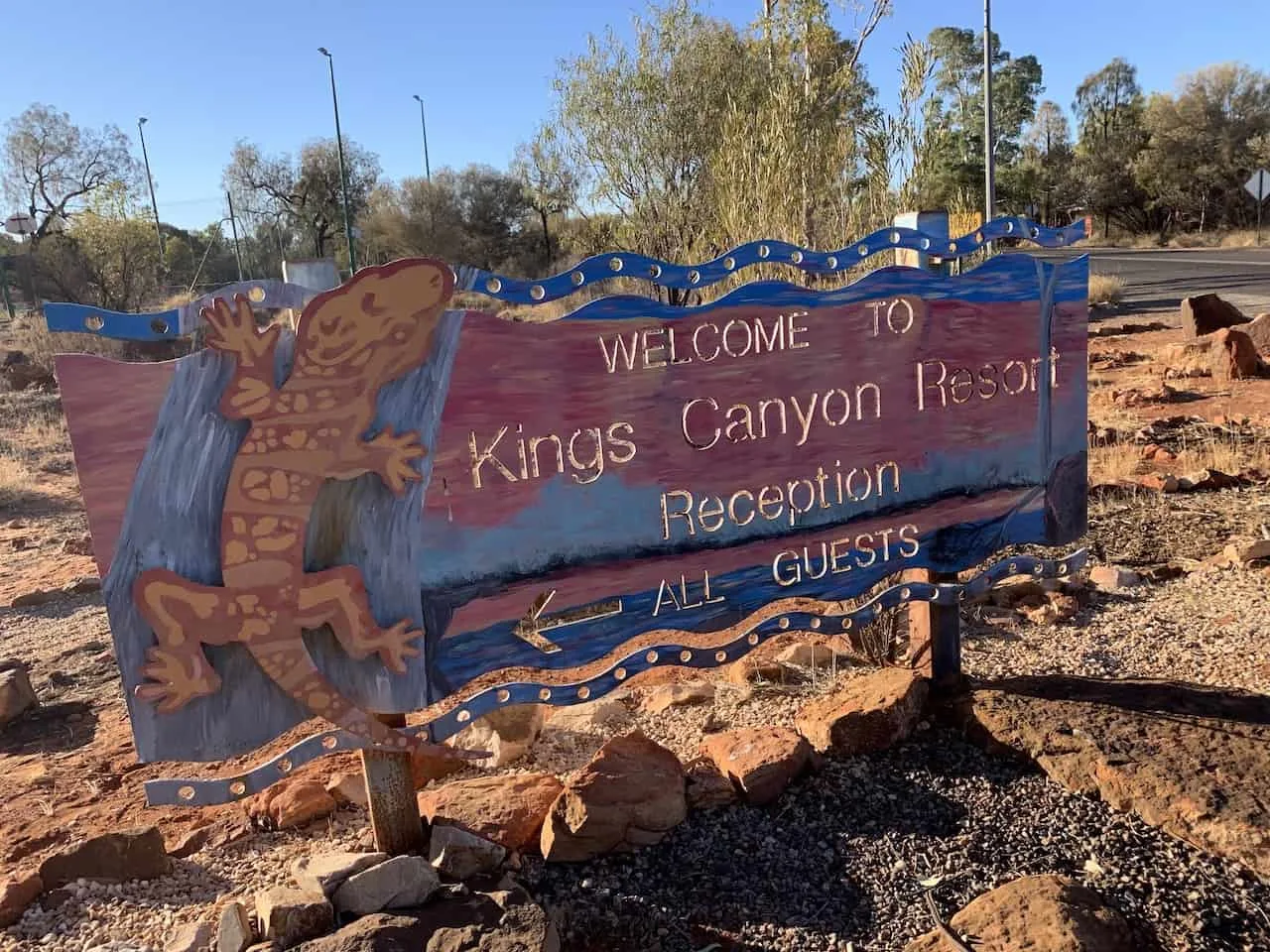 4) When to Visit Kings Canyon
The Outback can get HOT in the summer. Like 100F+ / 40C+ hot.
If you want to experience Kings Canyon in much more comfortable and drier conditions, I would highly recommend heading there outside of those summer months.
The day time temperatures are much more tolerable and you shouldn't be sweating consistently. At night though it can get quite cold (along with the early morning sunrises), so do prepared with another layer of clothing when heading there.
Below are the average temperatures for Yulara, which should not differ too much from Kings Canyon.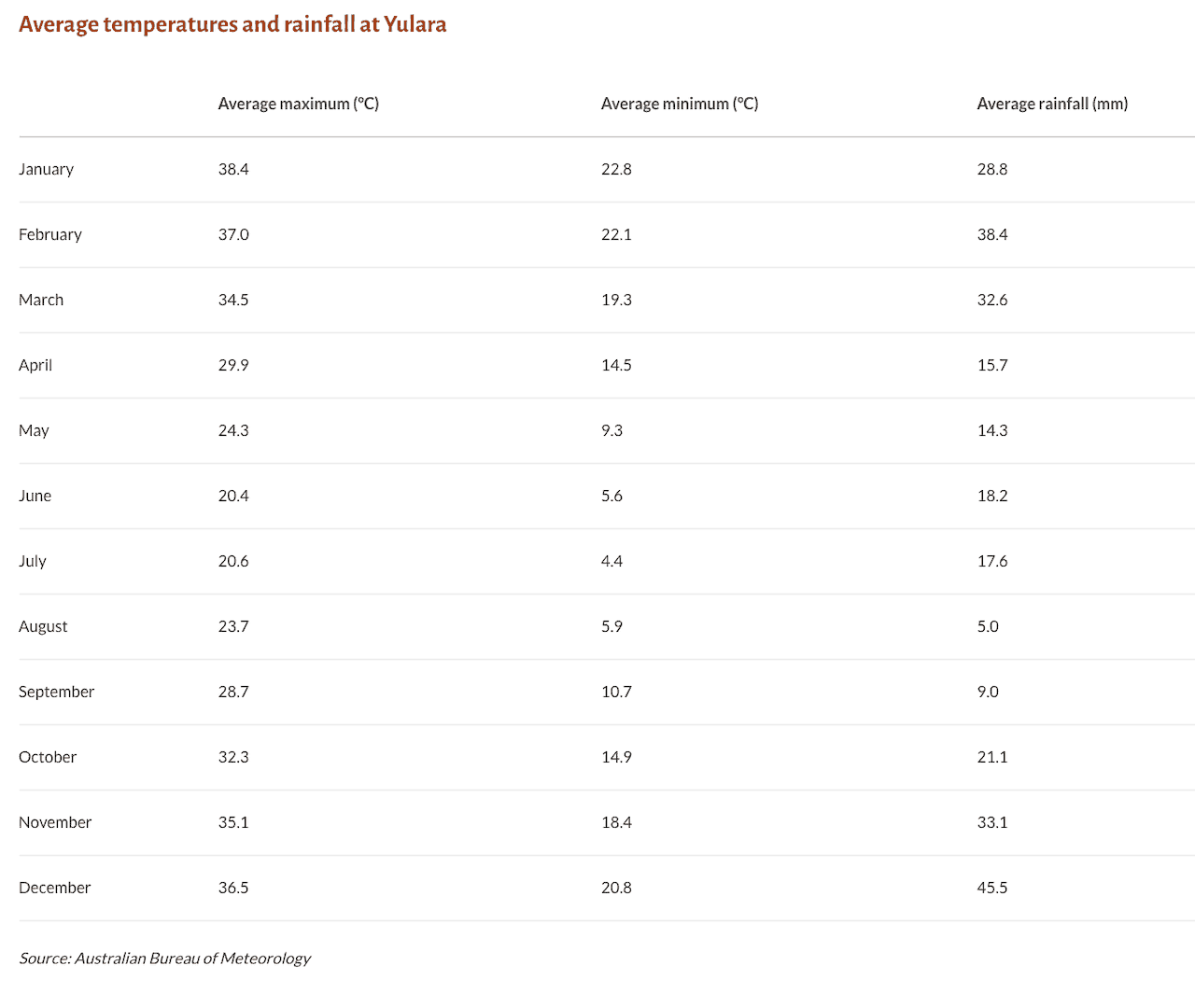 5) What to Bring on the Walk
Whenever heading off on longer day hikes, I always recommend being adequately prepared when it comes to the type of gear to bring along.
Check out the below packing list to get you ready for this hike and other hikes in Australia.
While you wont need each and every item on the list for your Kings Canyon Rim Walk, you can leverage it for your time in the Outback.
On top of the items below, you should 100% purchase a fly net that goes over your head or fly net hat.
Hiking Packing List

In general when it comes to hiking, there are a few main aspects to consider. These includes clothing layers, hiking shoes, hydration & fuel, electronics, and other essentials.

Below in a breakdown of some of the top items, but be sure to check out the Hiking Packing List for a more comprehensive view.

Clothing Layers

Layering is going to be a top consideration when hiking. You will want to be prepared for all sorts of weather so you can be comfortable in different situations. Some items may include:

→ Hiking Shorts
→ Hiking Pants
→ Short Sleeve Shirt
→ Long Sleeve Shirt / Sun Hoodie
→ Mid Layer Fleece
→ Puff Jacket (not always needed)
→ Packable Rain Jacket (Columbia Watertight II)

Note that your layers should be made of moisture wicking material as they are breathable and quick drying.

Footwear

Having appropriate footwear will also be very important. You will want to have shoes with the necessary grip and support to keep you safe on the trail.

→ Hiking Shoes (Keen Targhee)
→ Hiking Socks (Darn Tough)

Other Essentials

Whether it is hiking gear, electronics, or just some miscellaneous items, here are some other essentials to bring along on hikes.

→ Hiking Backpack (Osprey Talon 22) & Rain Cover (Joy Walker Cover)
→ Hiking Poles (Black Diamond Trekking Poles)
→ Water Bottle (CamelBak Chute or Katadyn Filter Bottle)
→ Portable Charger (Anker PowerCore 5000mAh)
→ Action Camera (GoPro Hero)
→ Energy Bars & Snacks
→ Hat & Sunglasses
→ Sunscreen & Bug Spray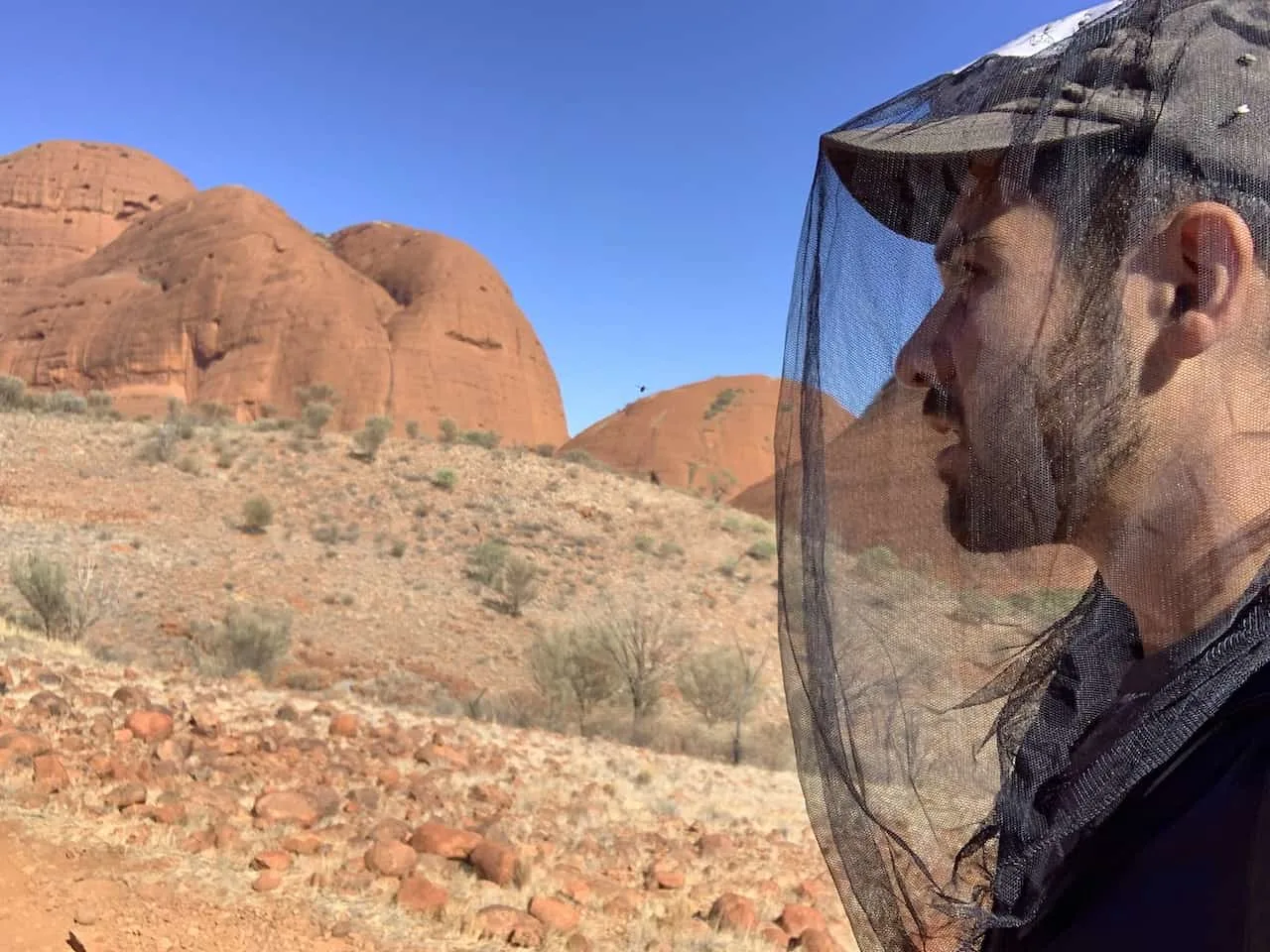 6) Kings Canyon Rim Walk
The Kings Canyon Rim Walk begins at the Kings Canyon parking lot and can only be fully completed in the clockwise direction.
As mentioned before, if you do not want to complete the entire loop, you can also opt for the out and back South Wall Return Walk (counter clockwise), or just the simple Kings Creek Walk.
Right from the start the path will be pretty flat and straightforward as you make your way to the intersection of the Rim Walk and the Creek Walk.
You can choose to do the Creek Walk, which should not add more than 30-45 minutes to the total time.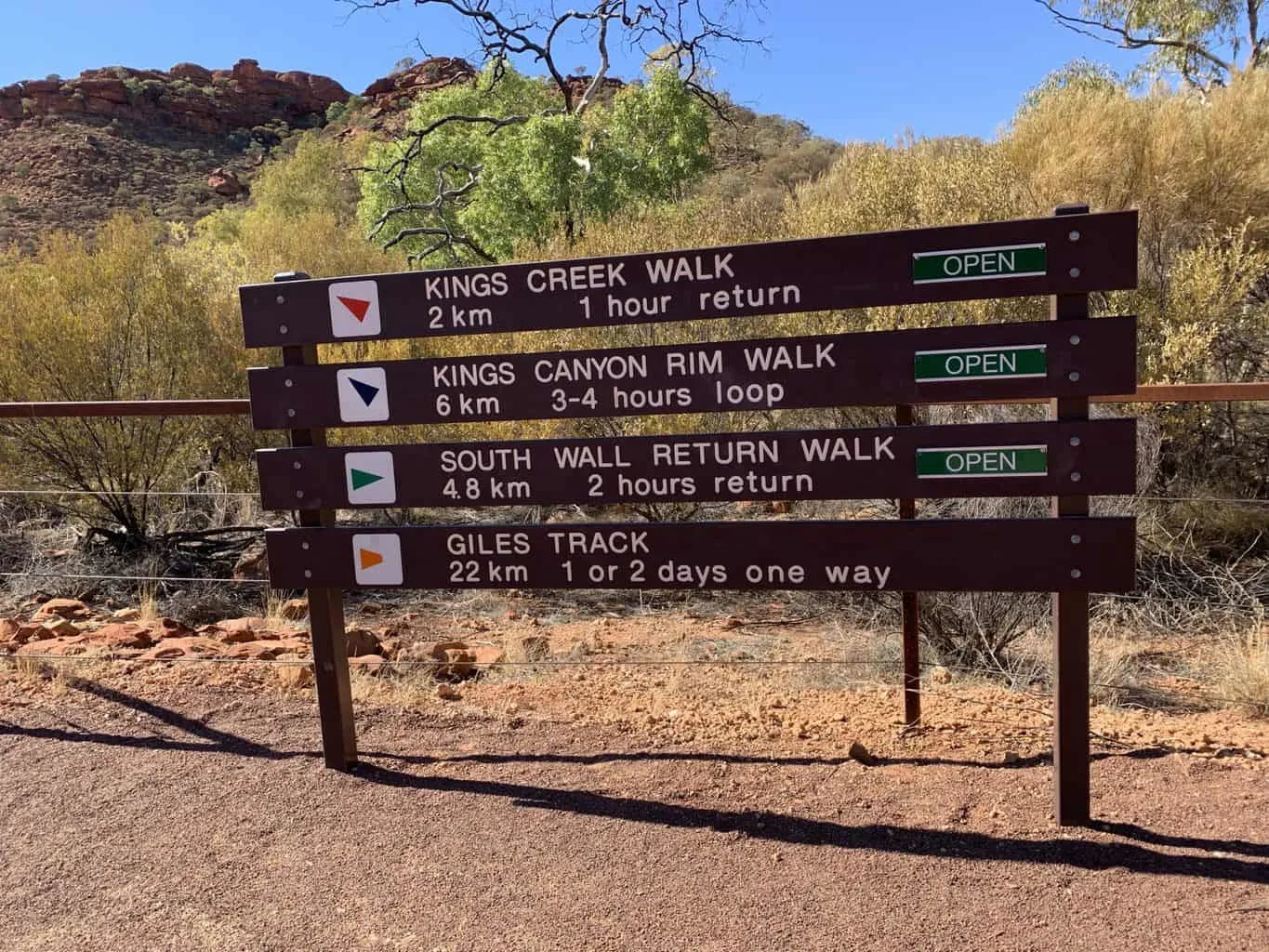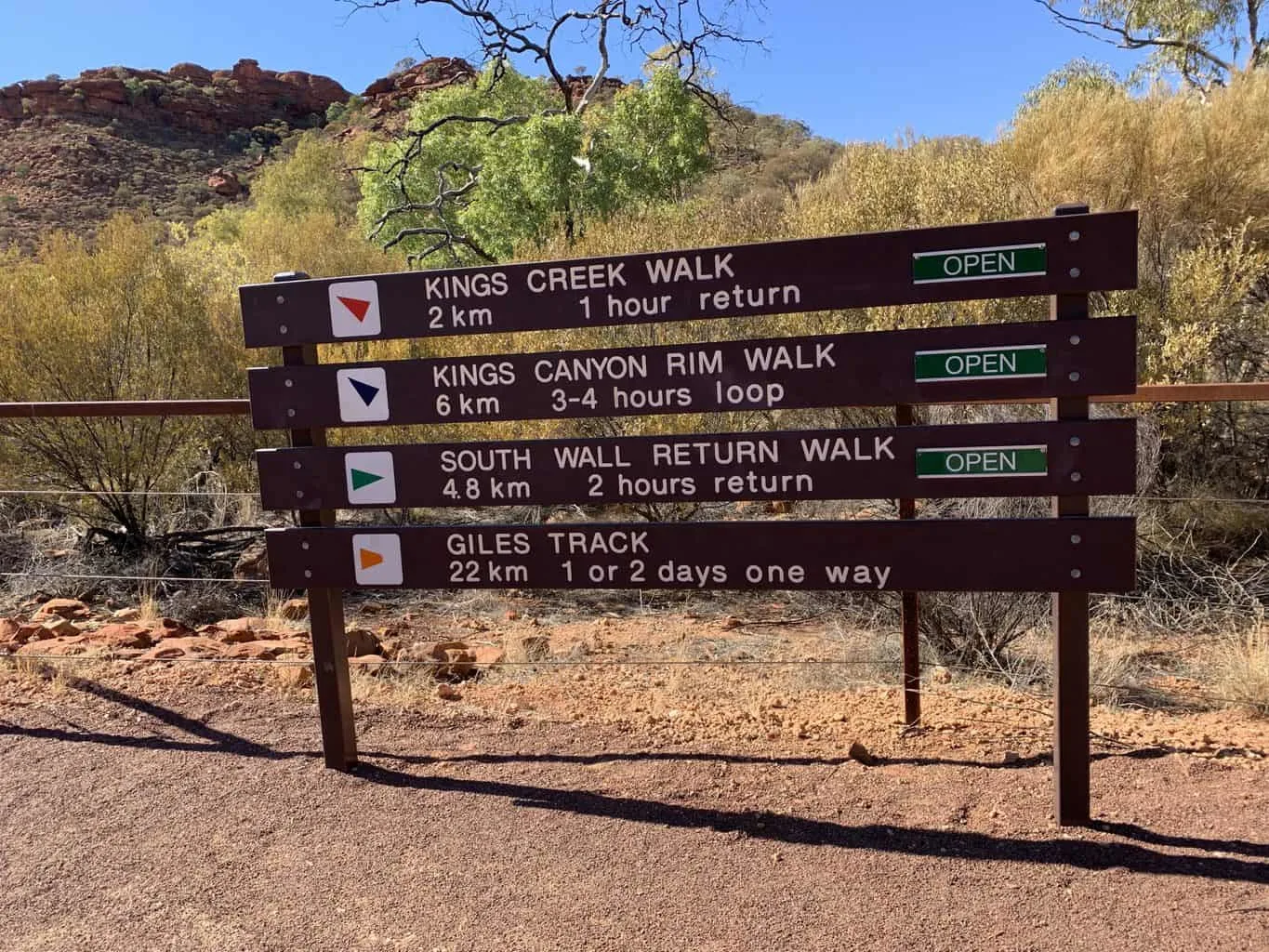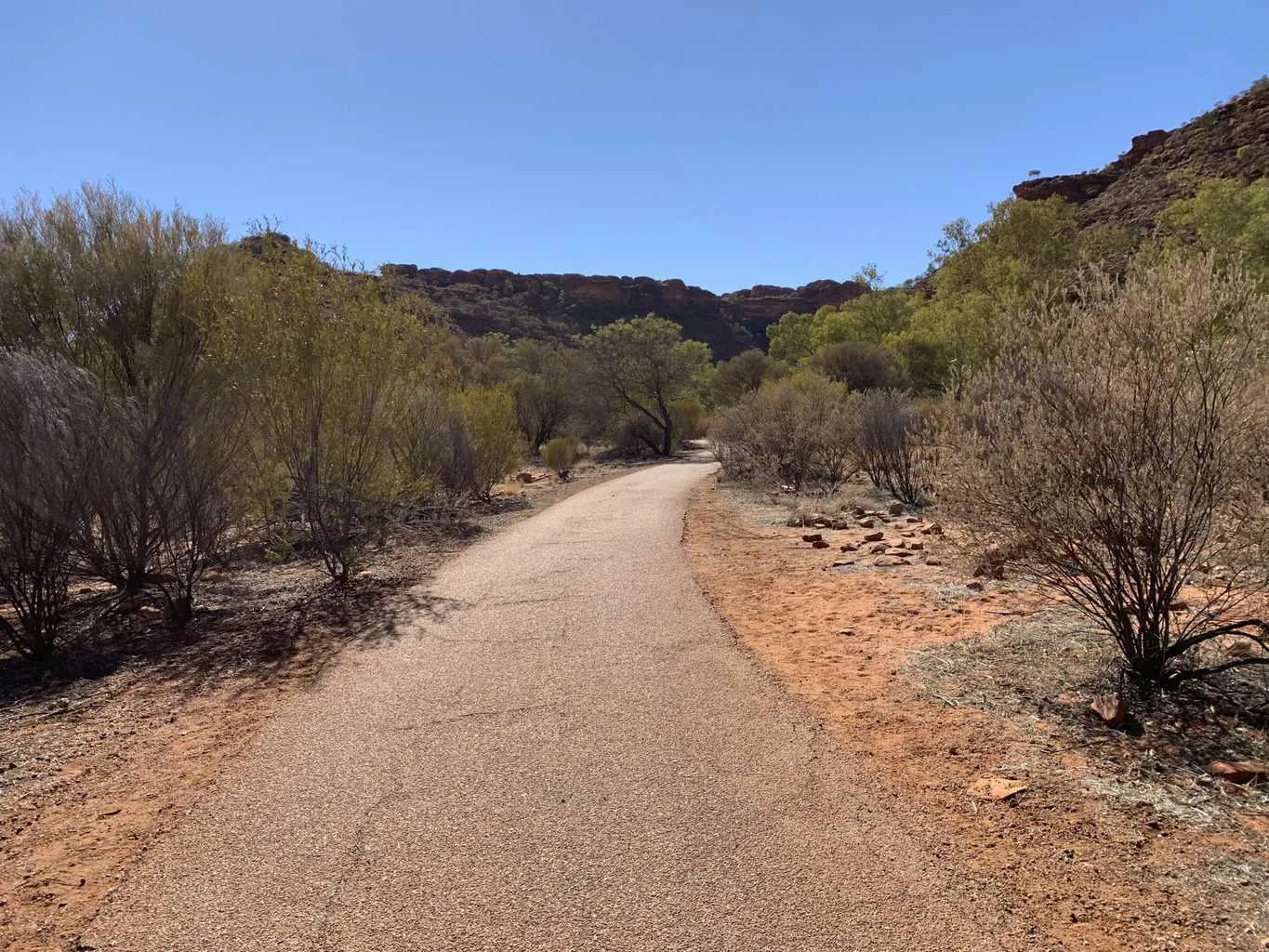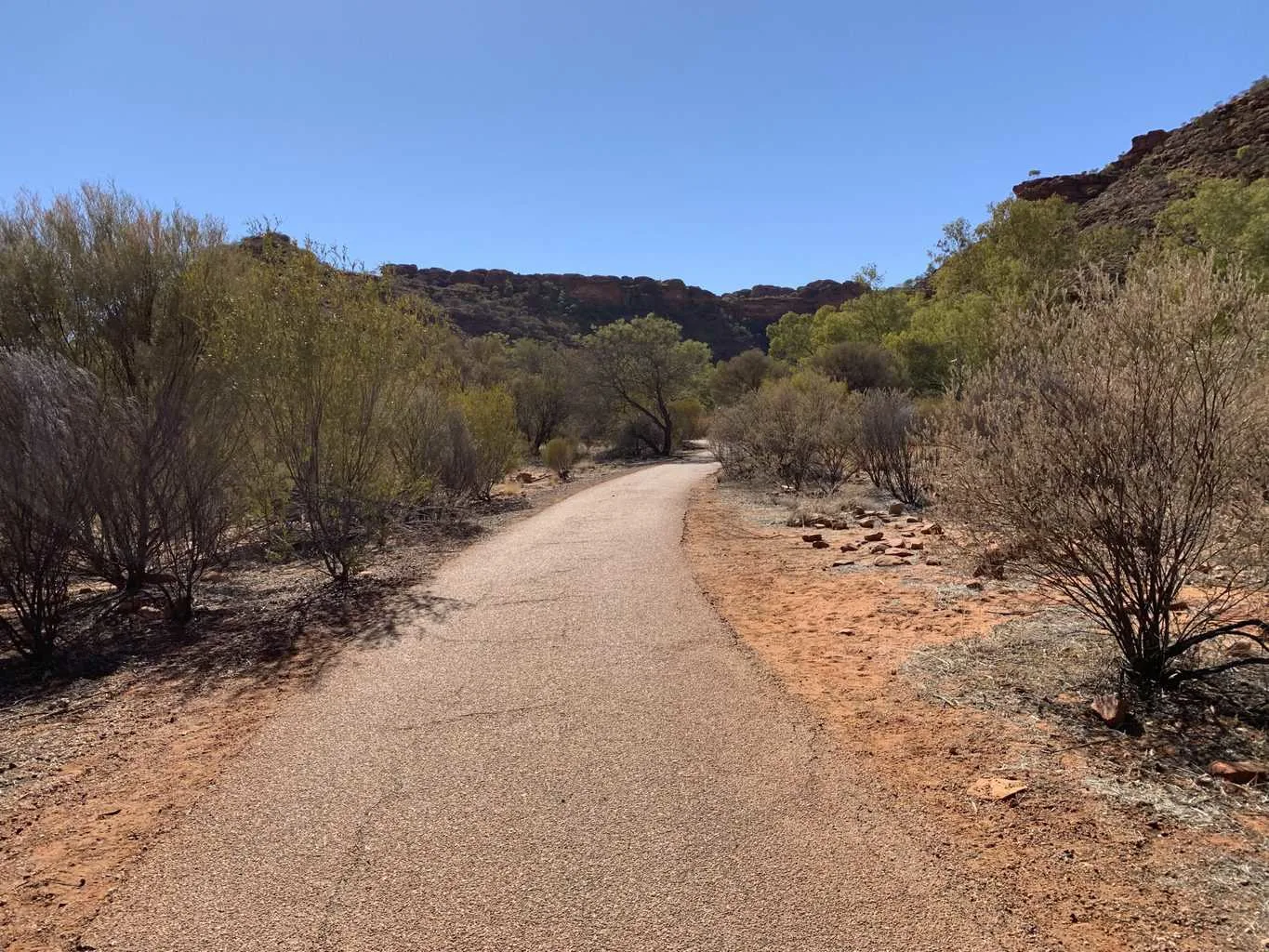 A) Kings Creek Walk
In case you do want to add in the Kings Creek Walk, I wanted to show some pictures below of what to expect.
Since it is on the bottom of the canyon, the trail is mostly flat, however there are some more rocky uneven sections as well.
It is a pleasant walk through the two canyon walls as you approach the viewing platform at the end of the walk.
During my visit, the platform was just being finished so it was not quite open yet. I did manage to get a few pictures though from a bit further away.
After enjoying the easy Creek Walk, turn back around and head towards the intersection, where you will then turn to the Kings Canyon Rim Walk.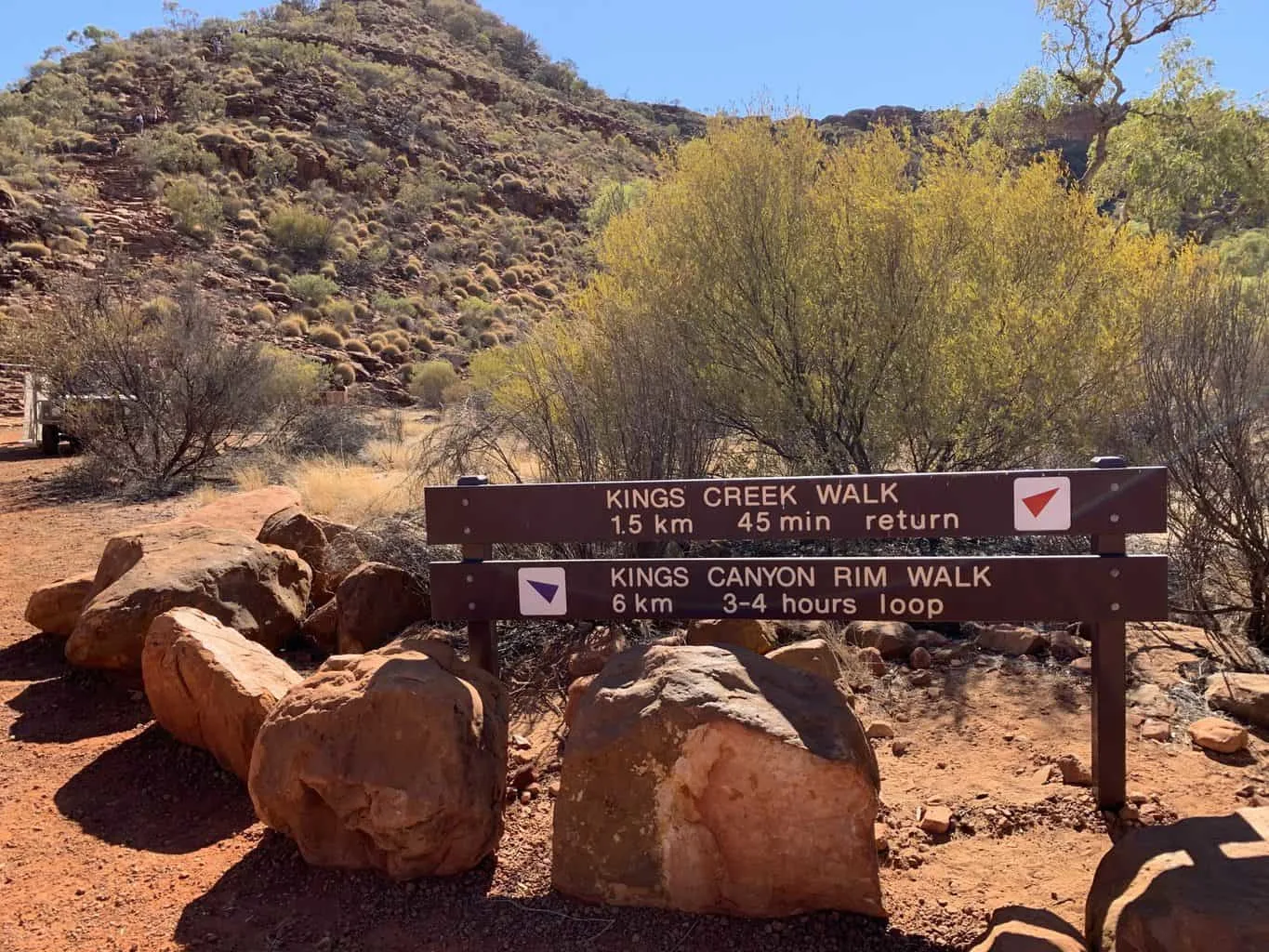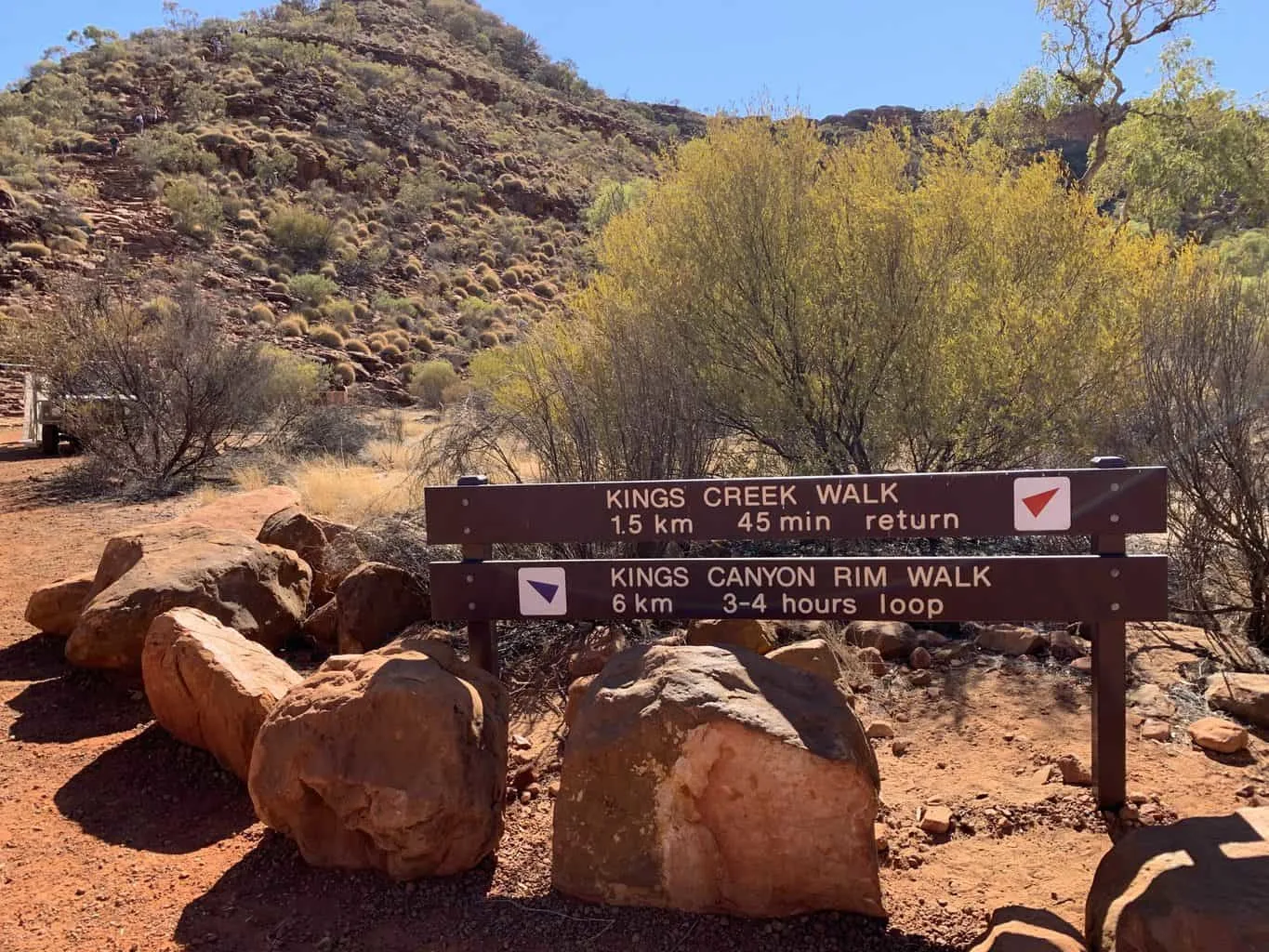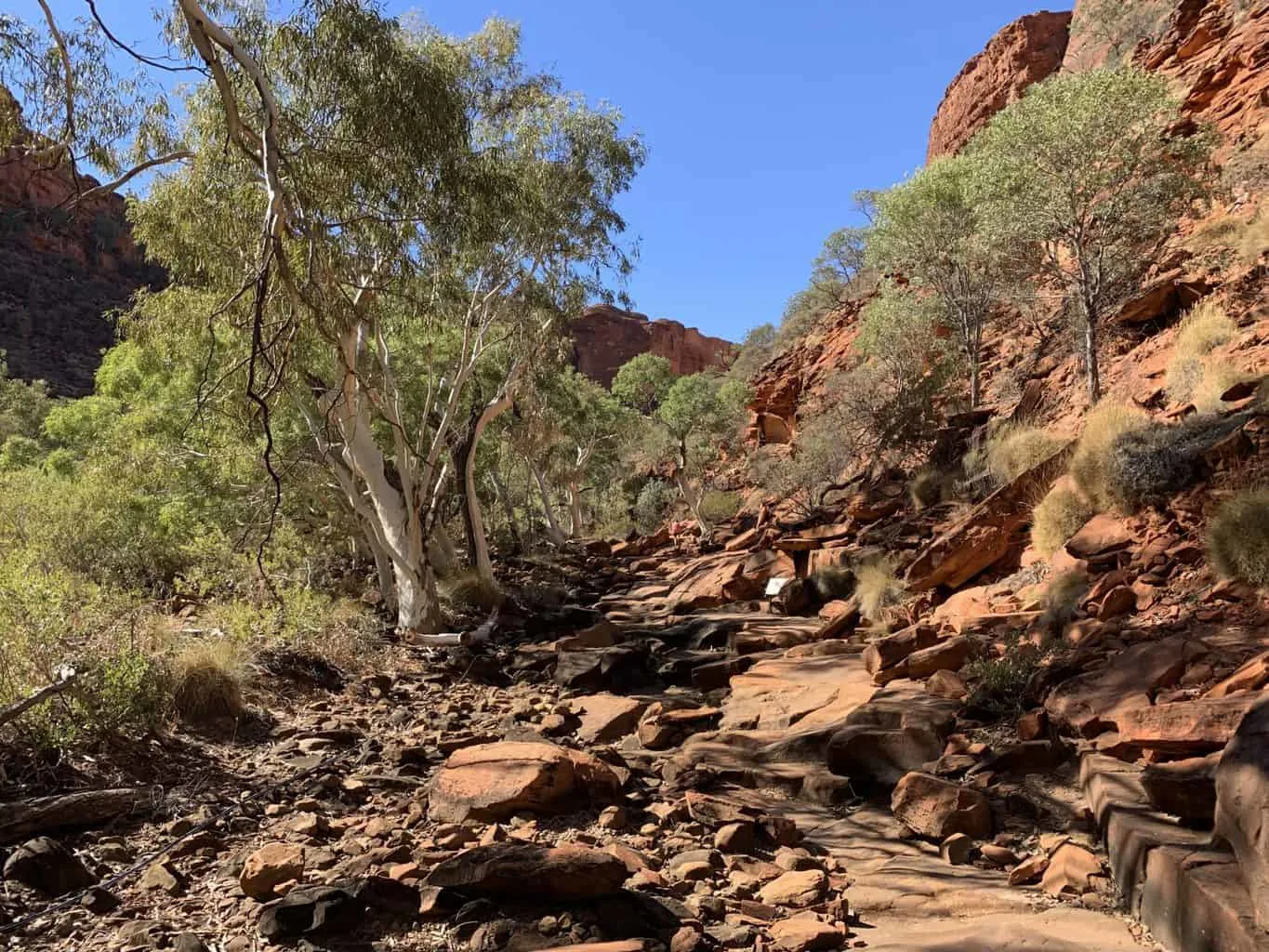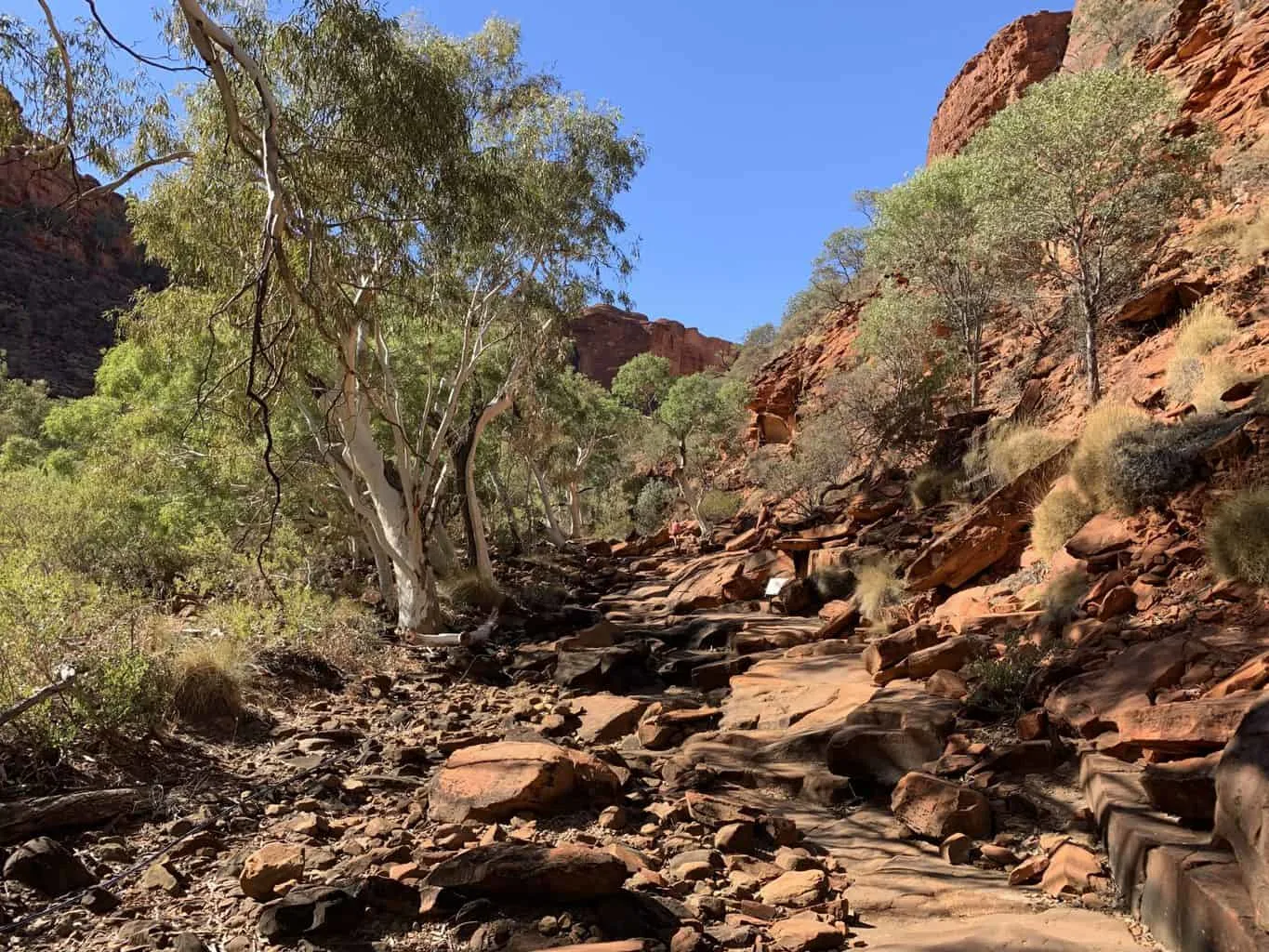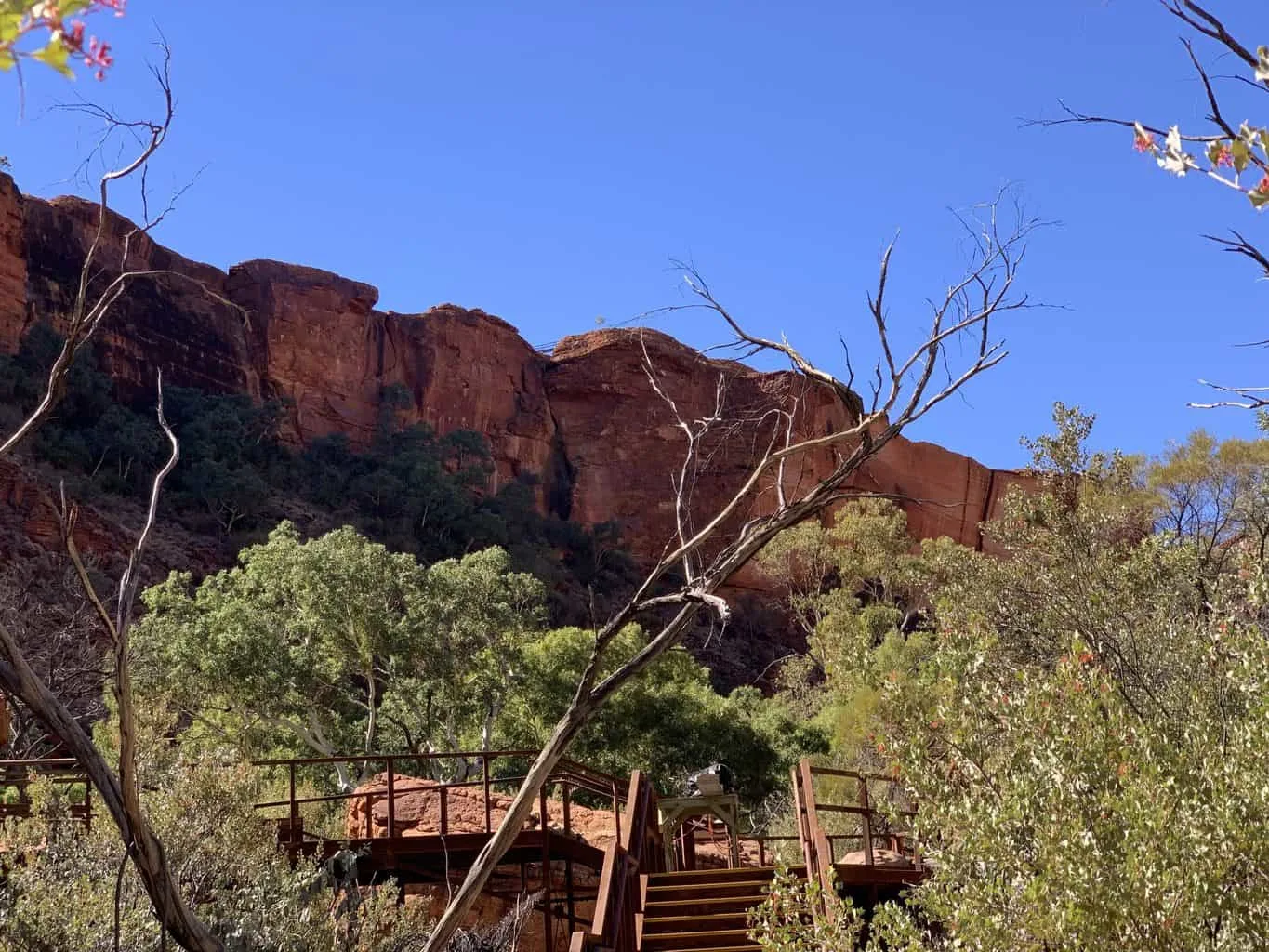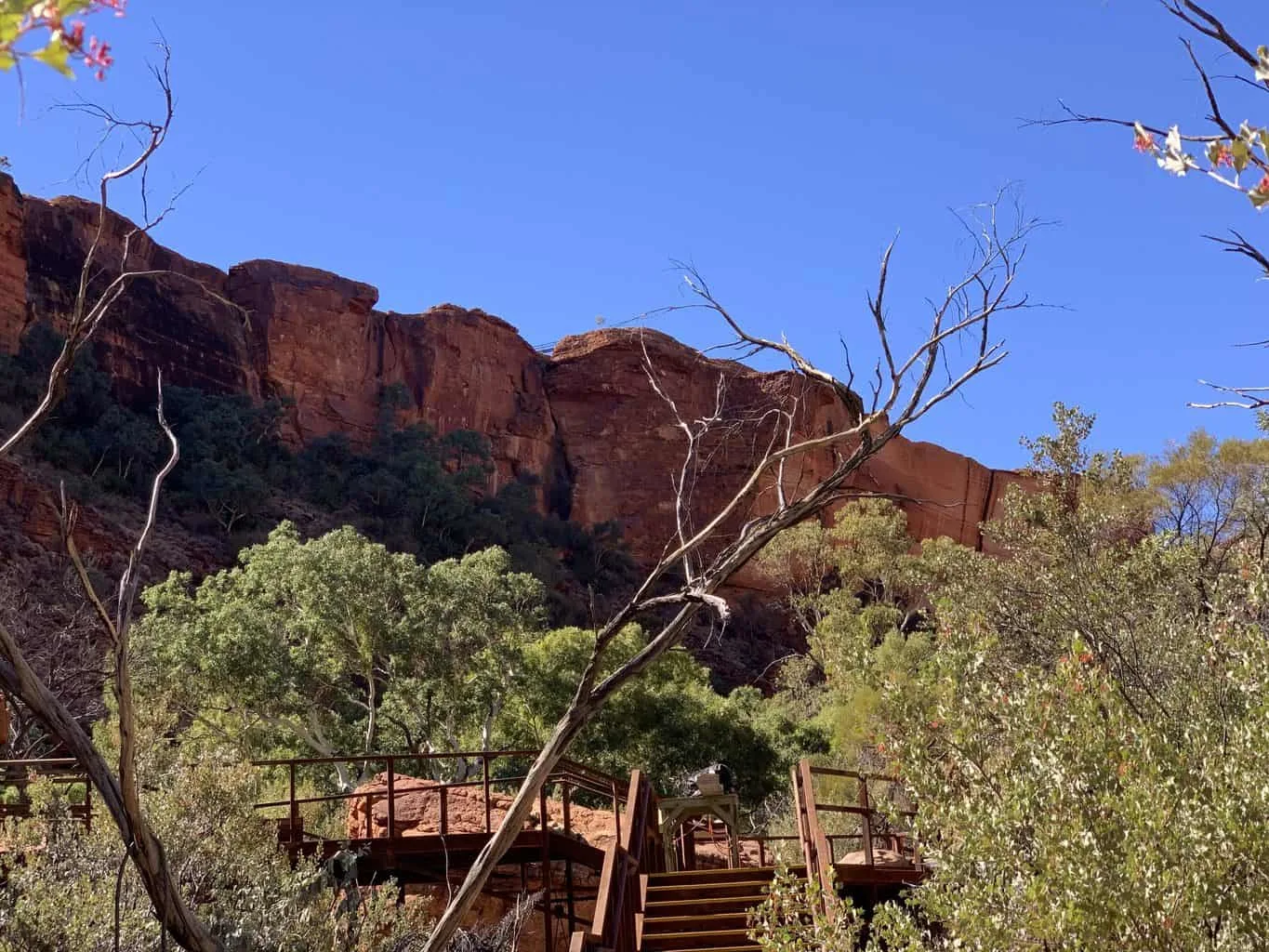 B) Heading On Up
Right after the intersection is where you will see the large staircase to get you up on top of Kings Canyon.
This is without a doubt the toughest part of the Rim Walk so just be sure to take things slowly and not rush through this section.
Taking some rests from time to time is a good way to break up the ascent and you will be able to turn around and begin to get some more vast views of the landscape surrounding Kings Canyon.
After reaching the top of the staircase, the path will begin to flatten out more and more, and you will be able to take in some incredible vantage points of Kings Canyon.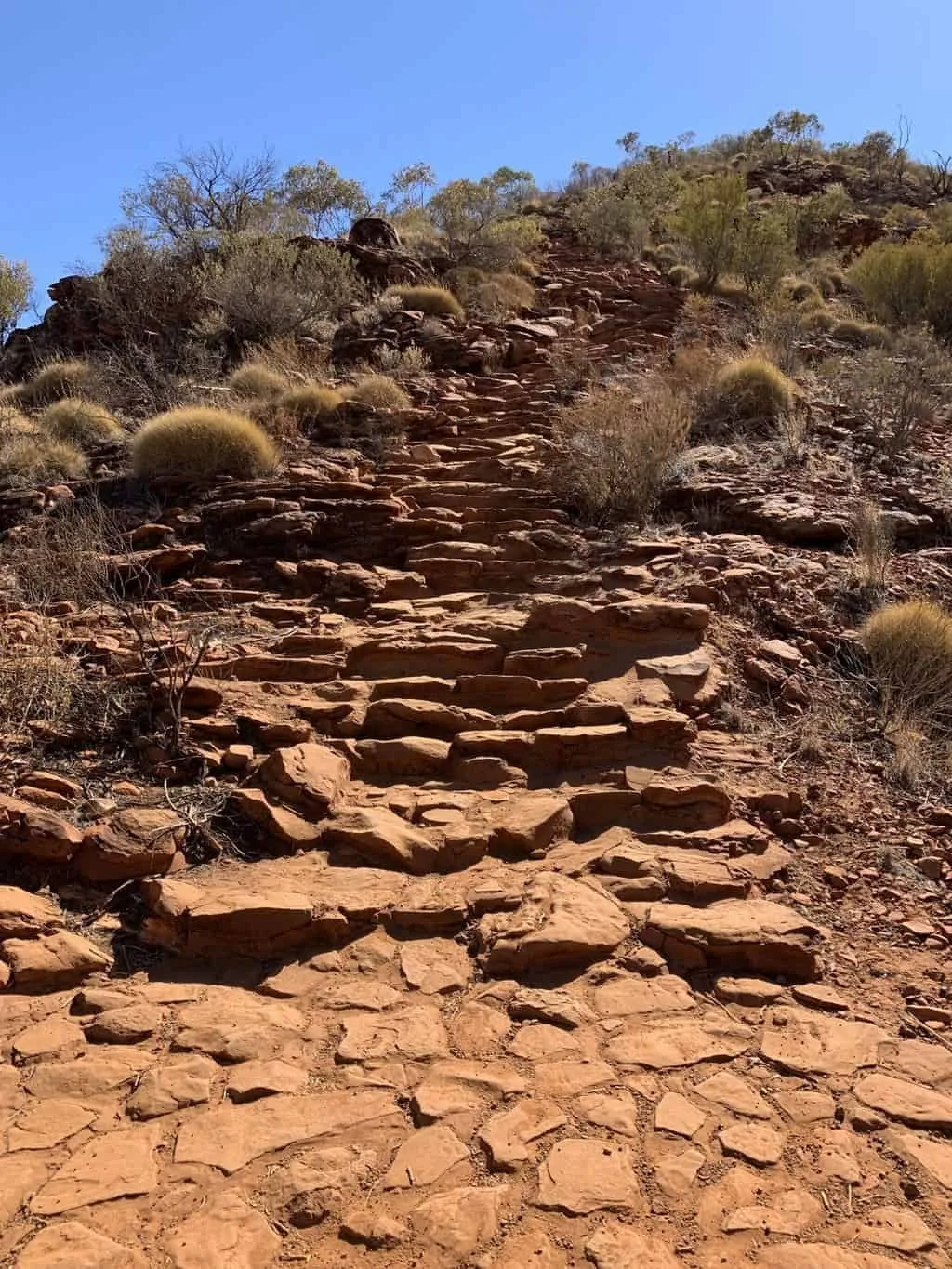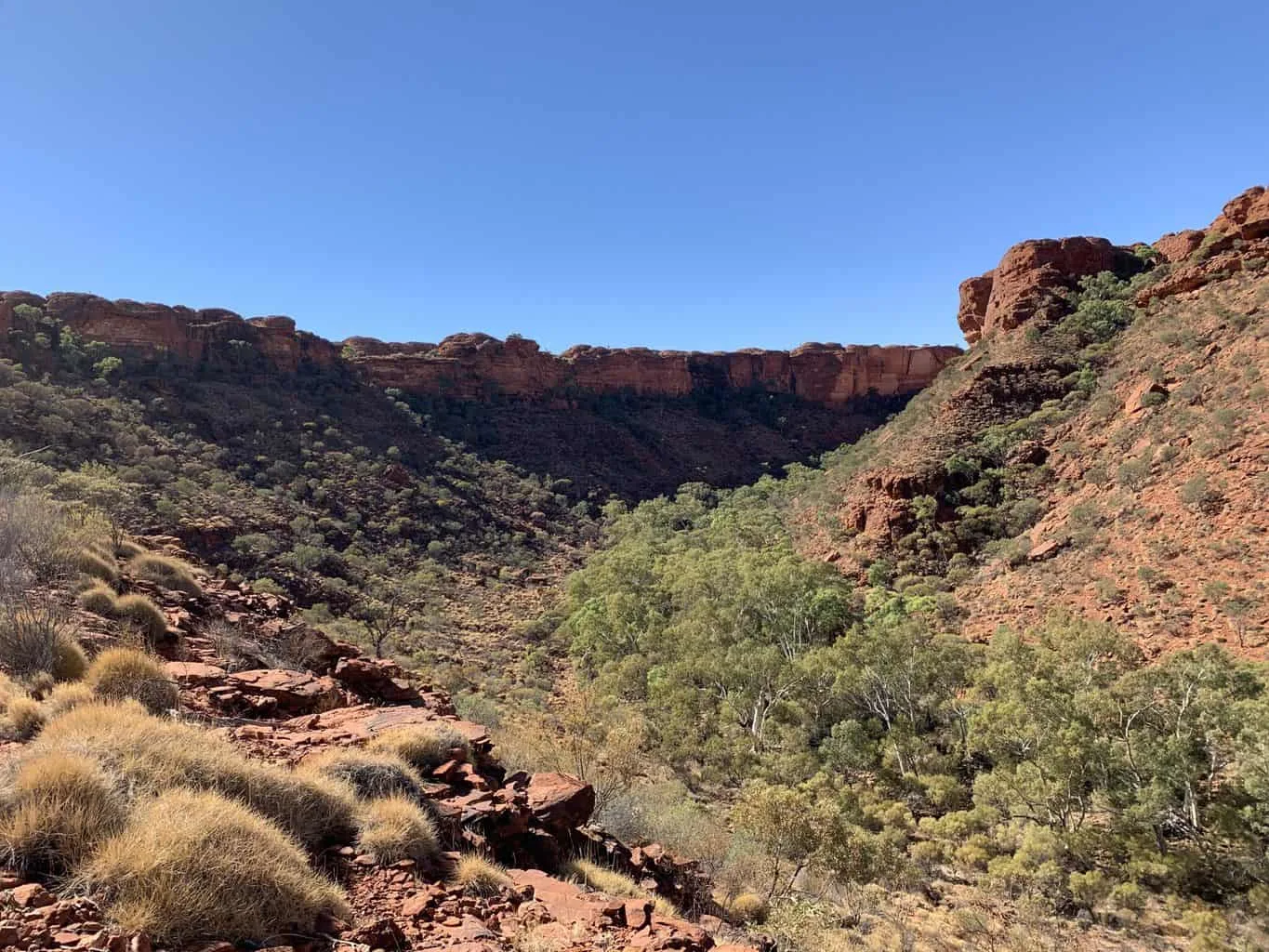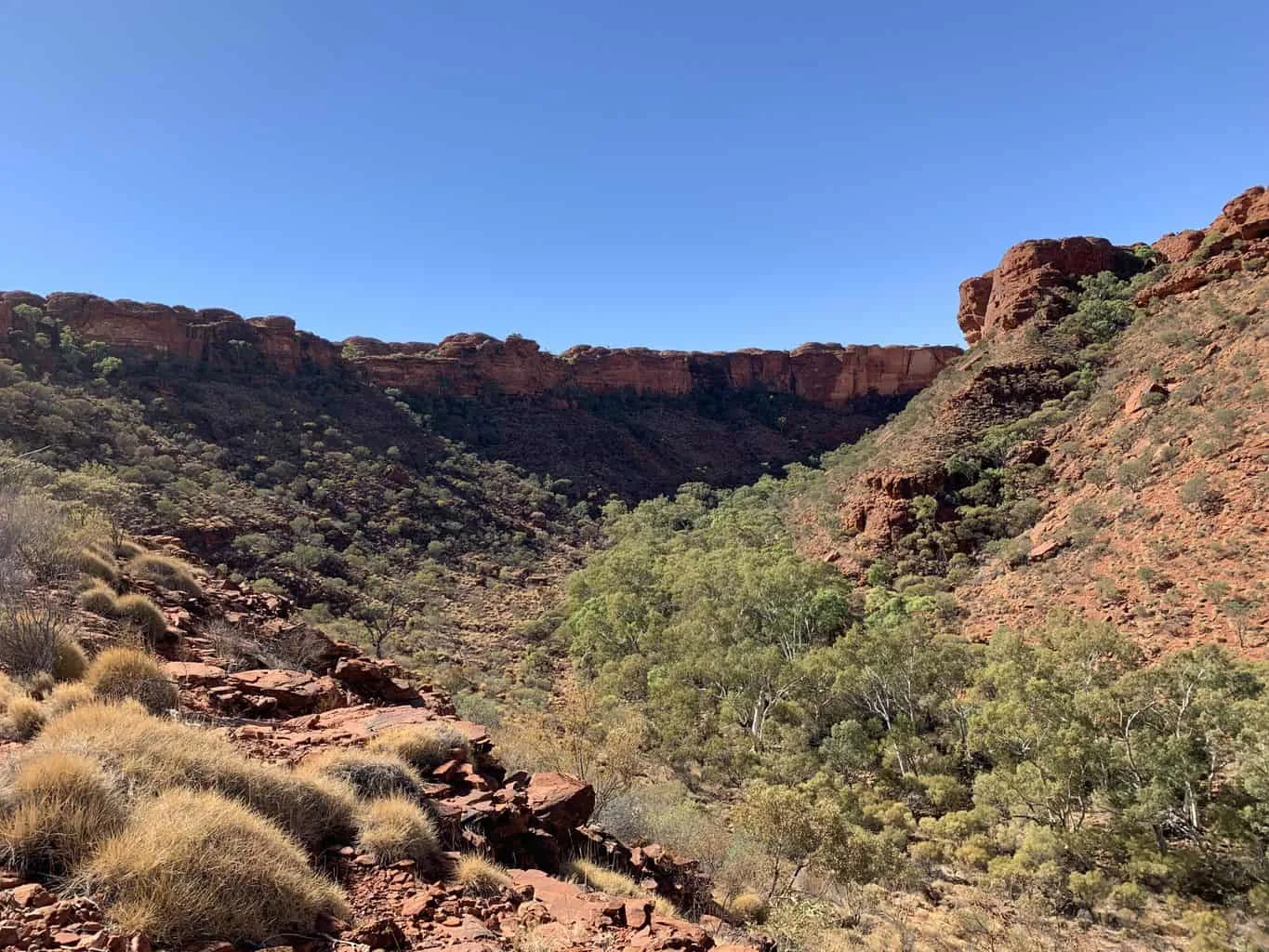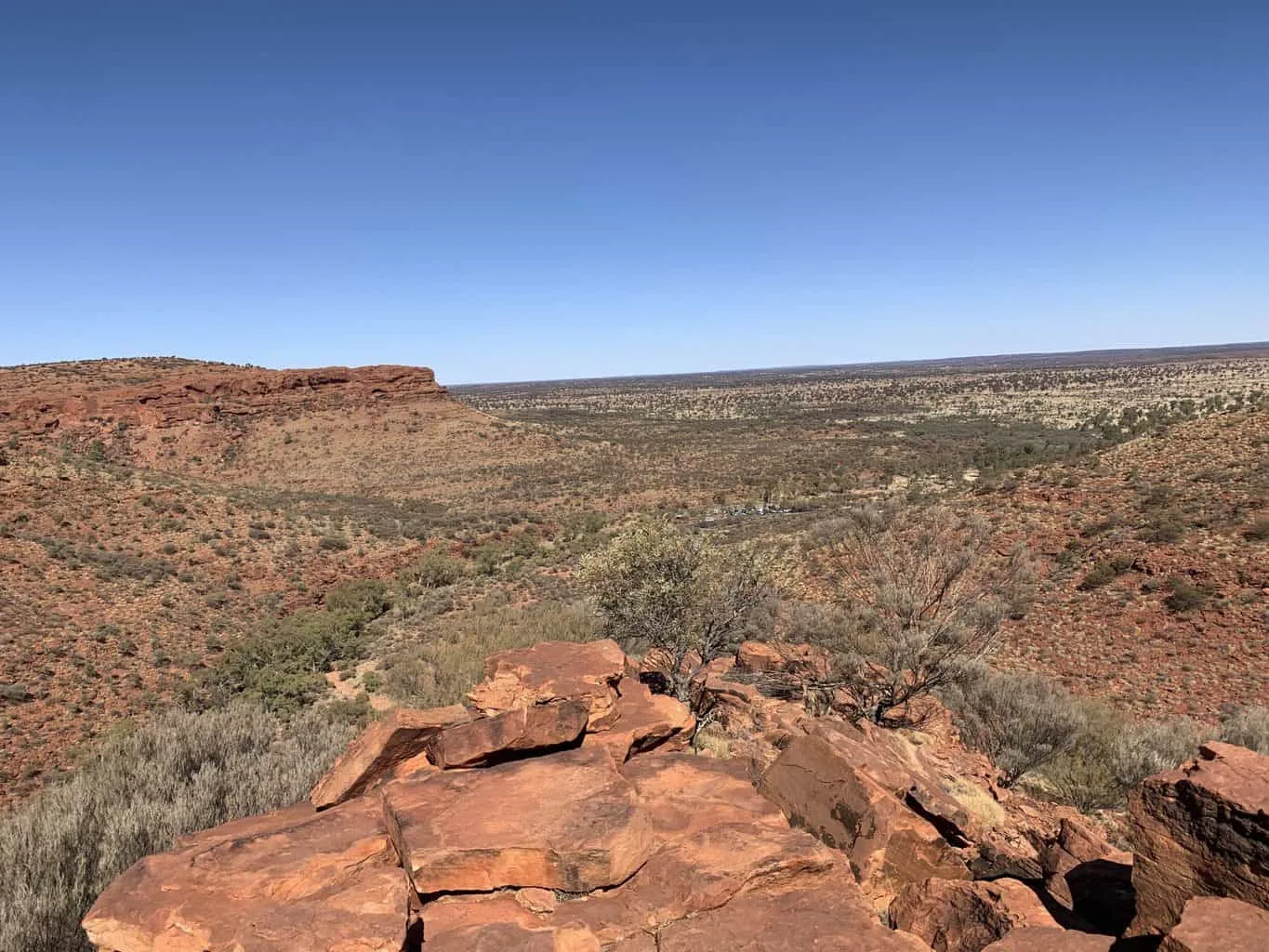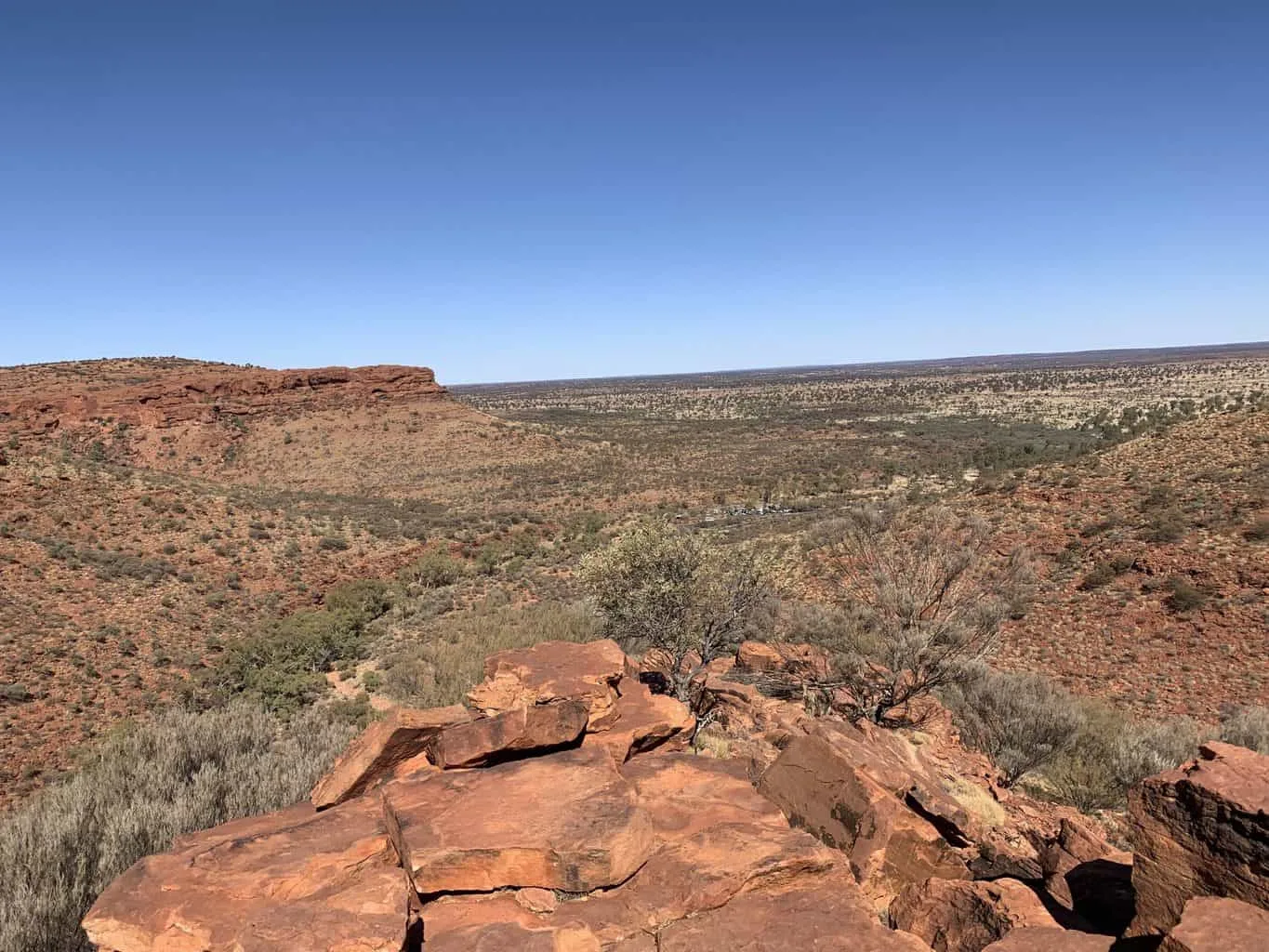 C) Walking the Rim and Lost City
The top of the Kings Canyon Rim is an incredible place to explore. You will want to follow the marked path along the Rim as you pass by some beautiful rock formations in every which direction.
There will be some inclines and declines throughout (nothing as bad though as that initial ascent) so do watch your step as you are making your way through.
Along the top of the Rim Walk you will pass through the famous Priscella's Crack as you make your way up and over to the other side.
Throughout this portion be on the lookout for the sandstone rock formations (the Lost City) and a few lookout points closer to the rim's edge.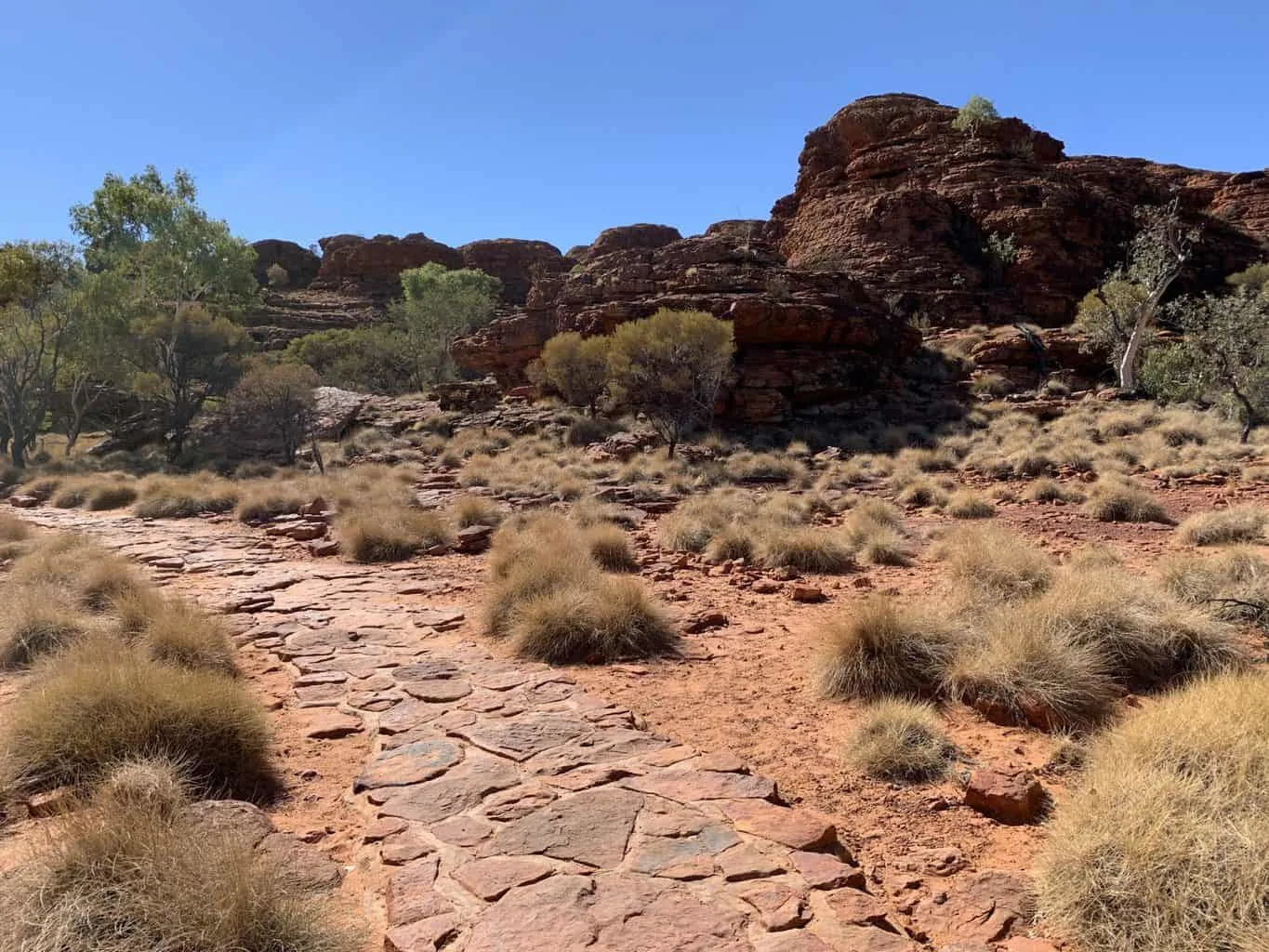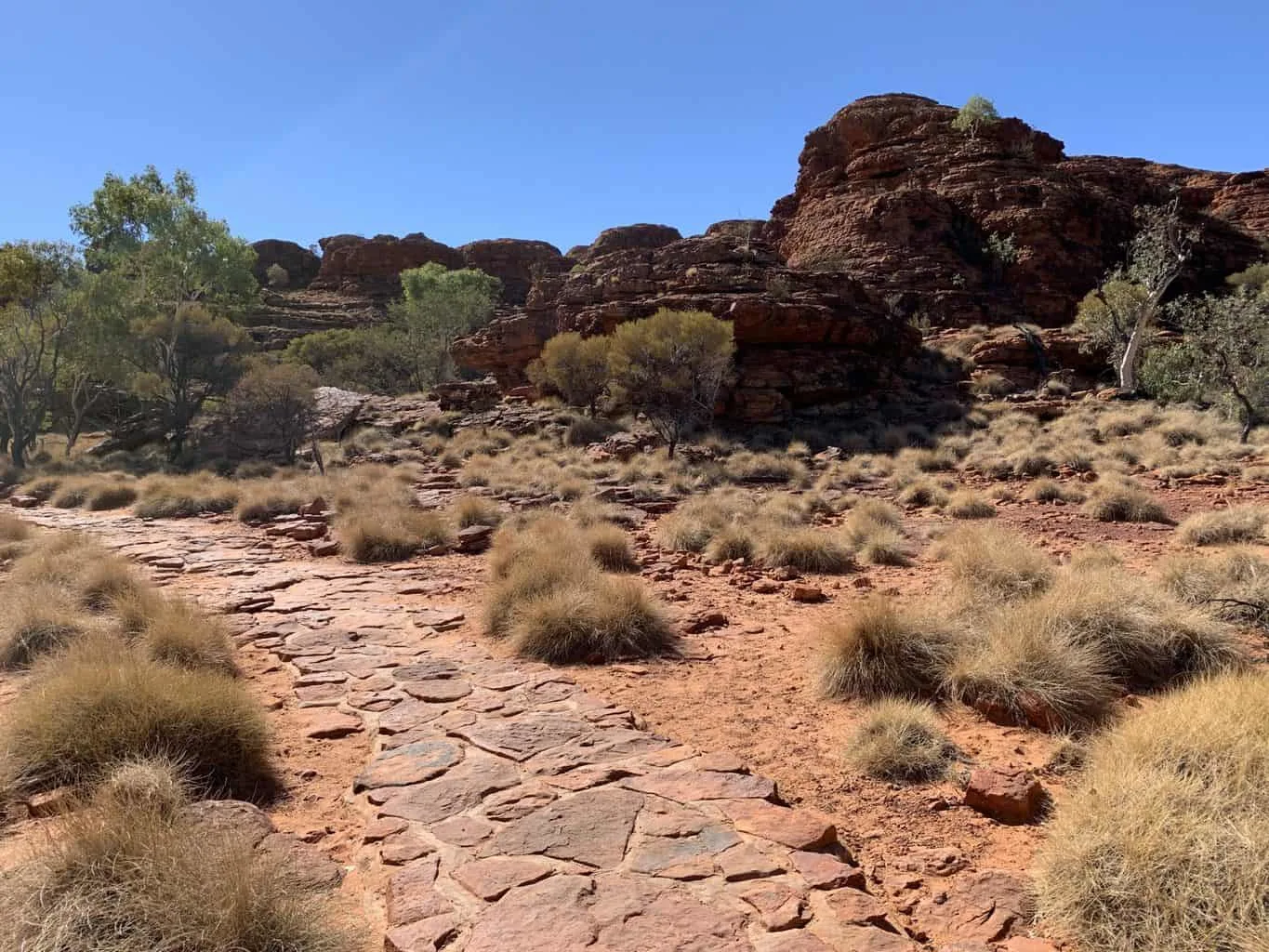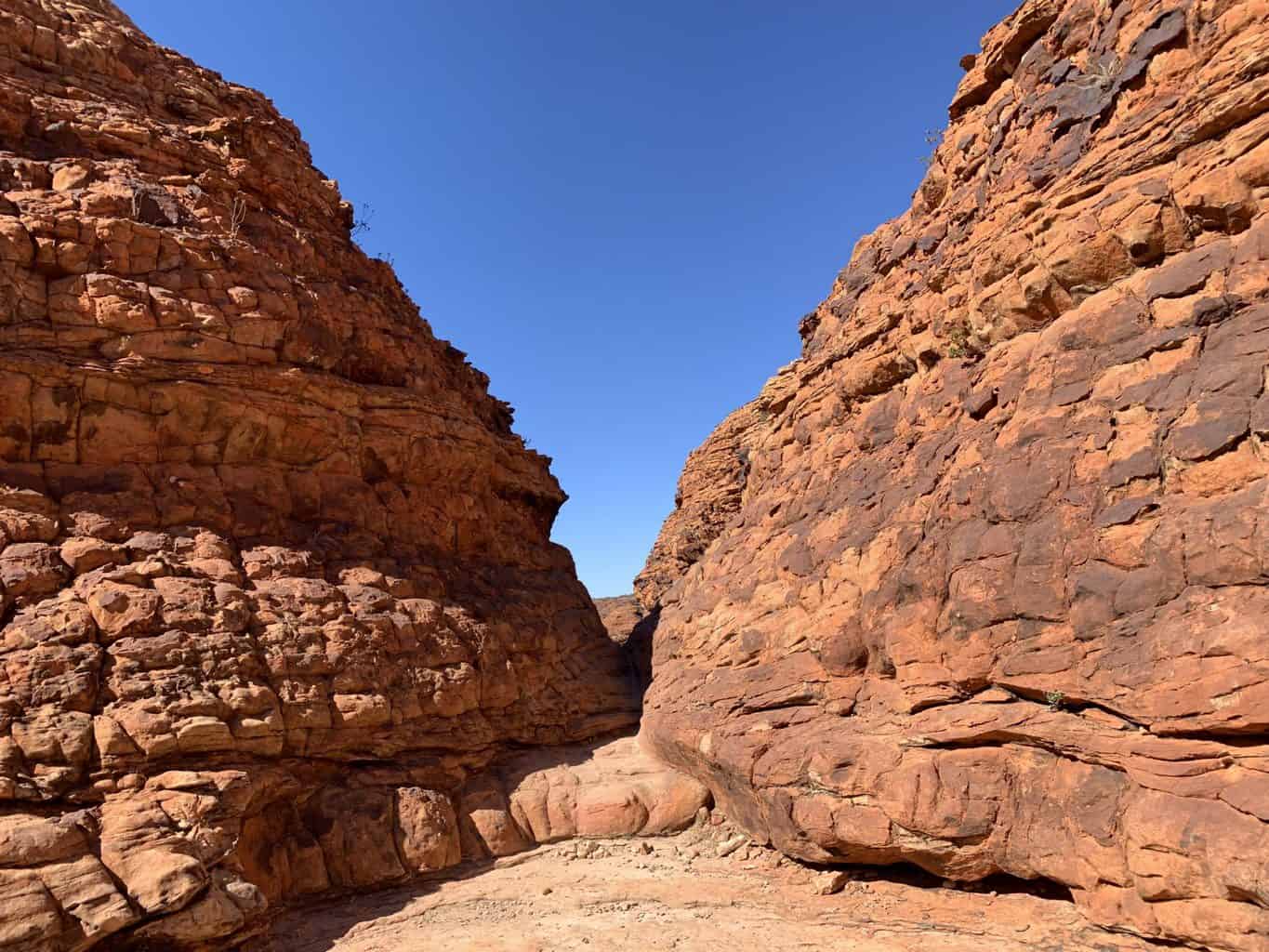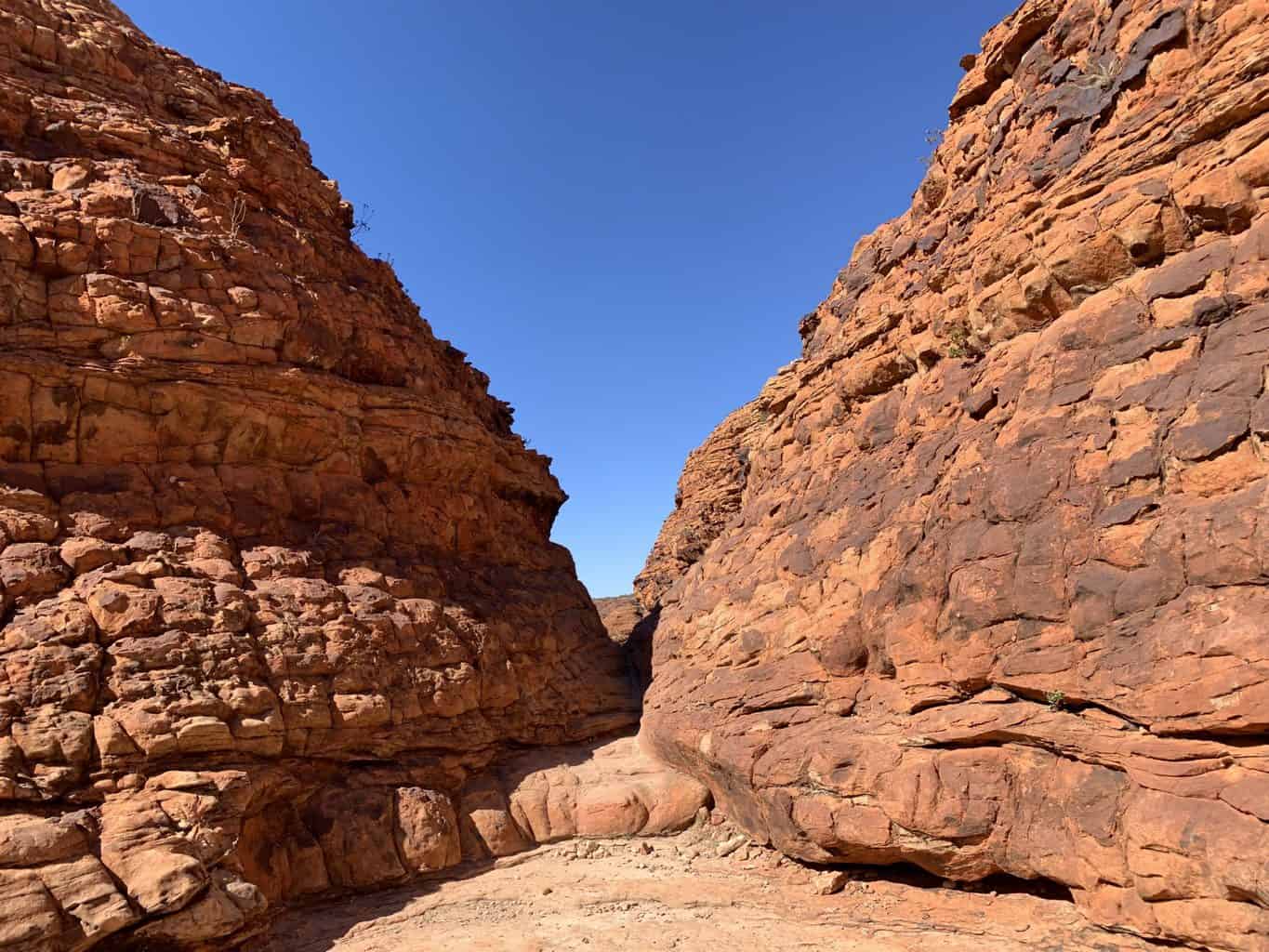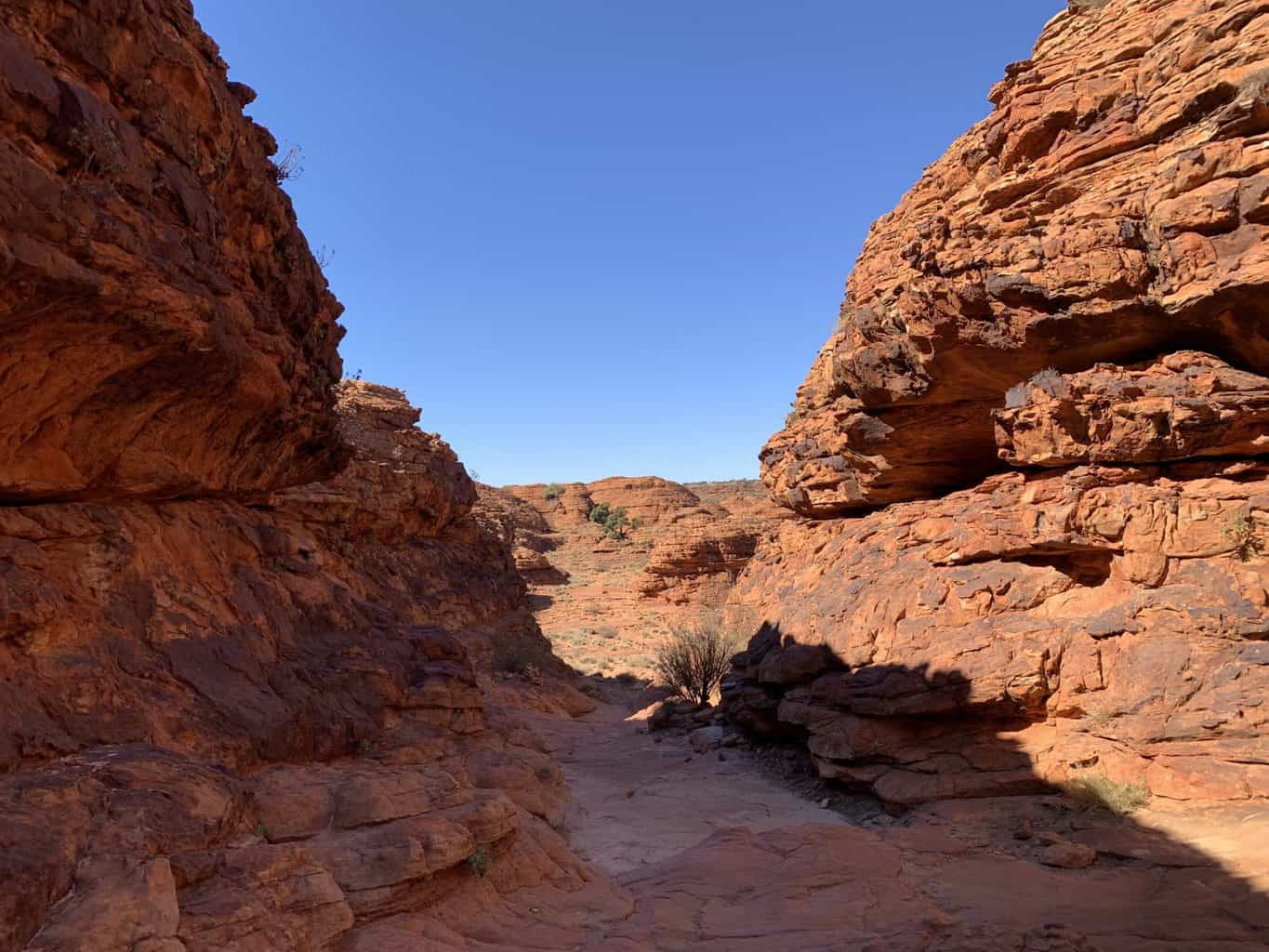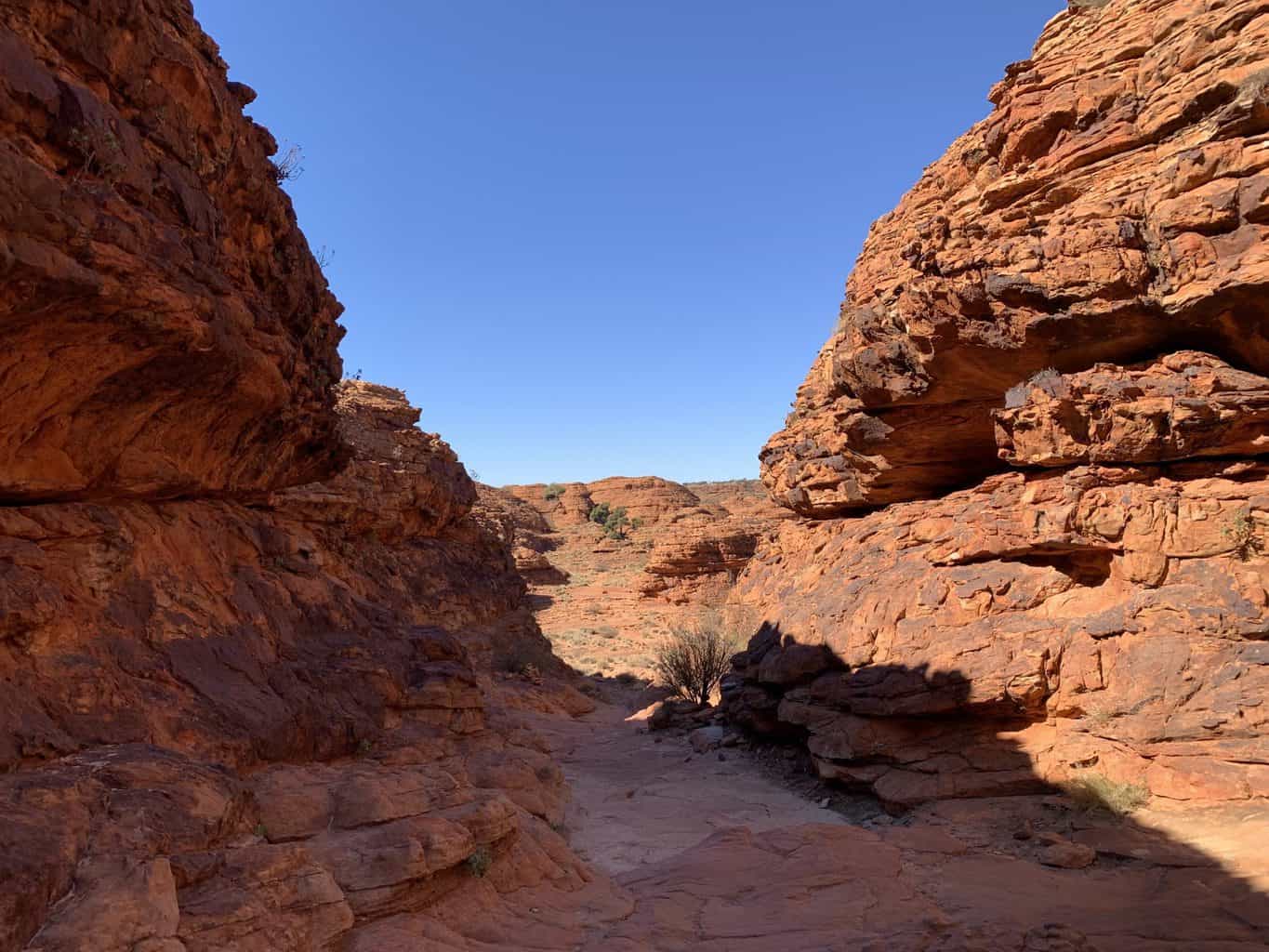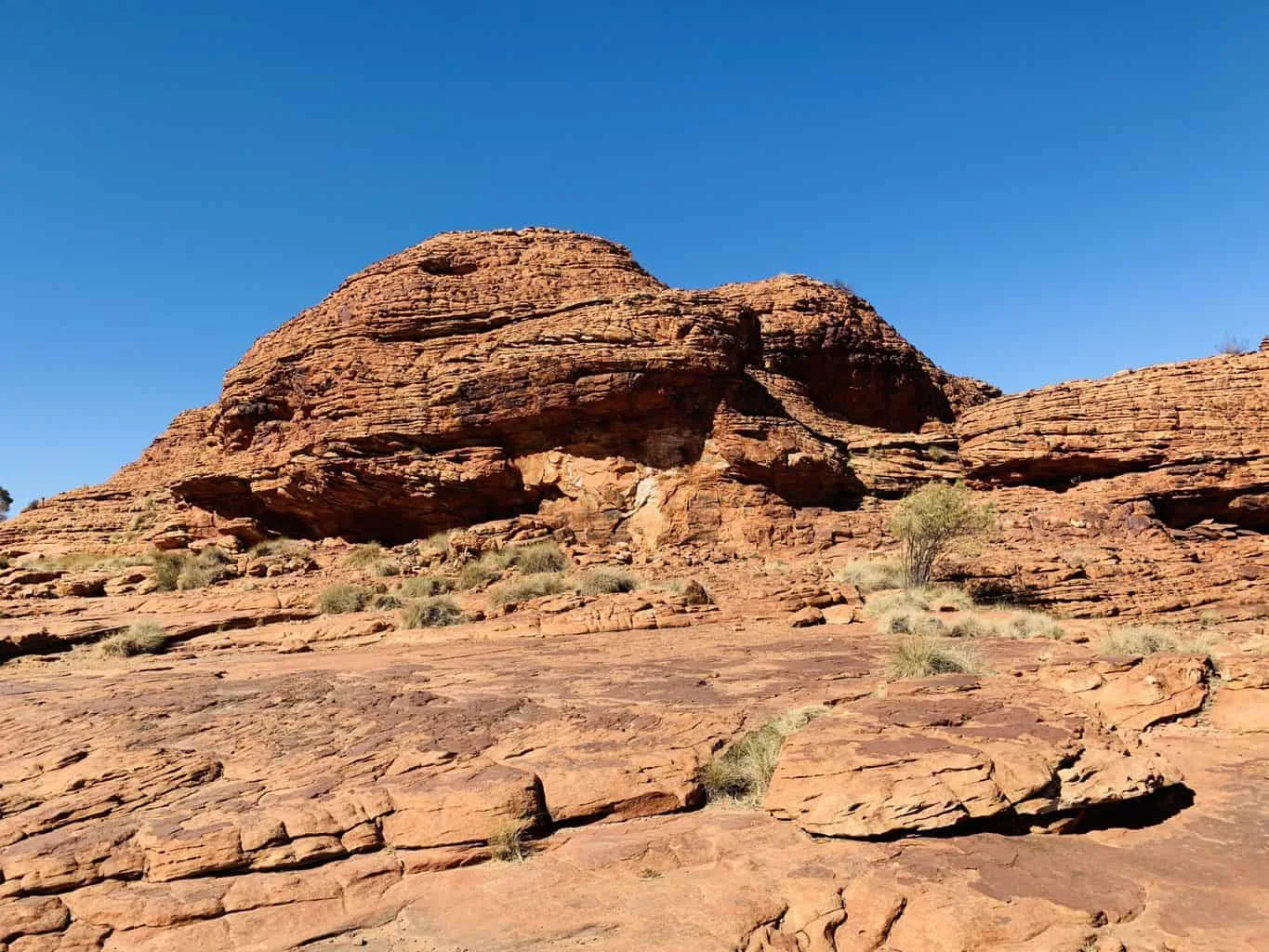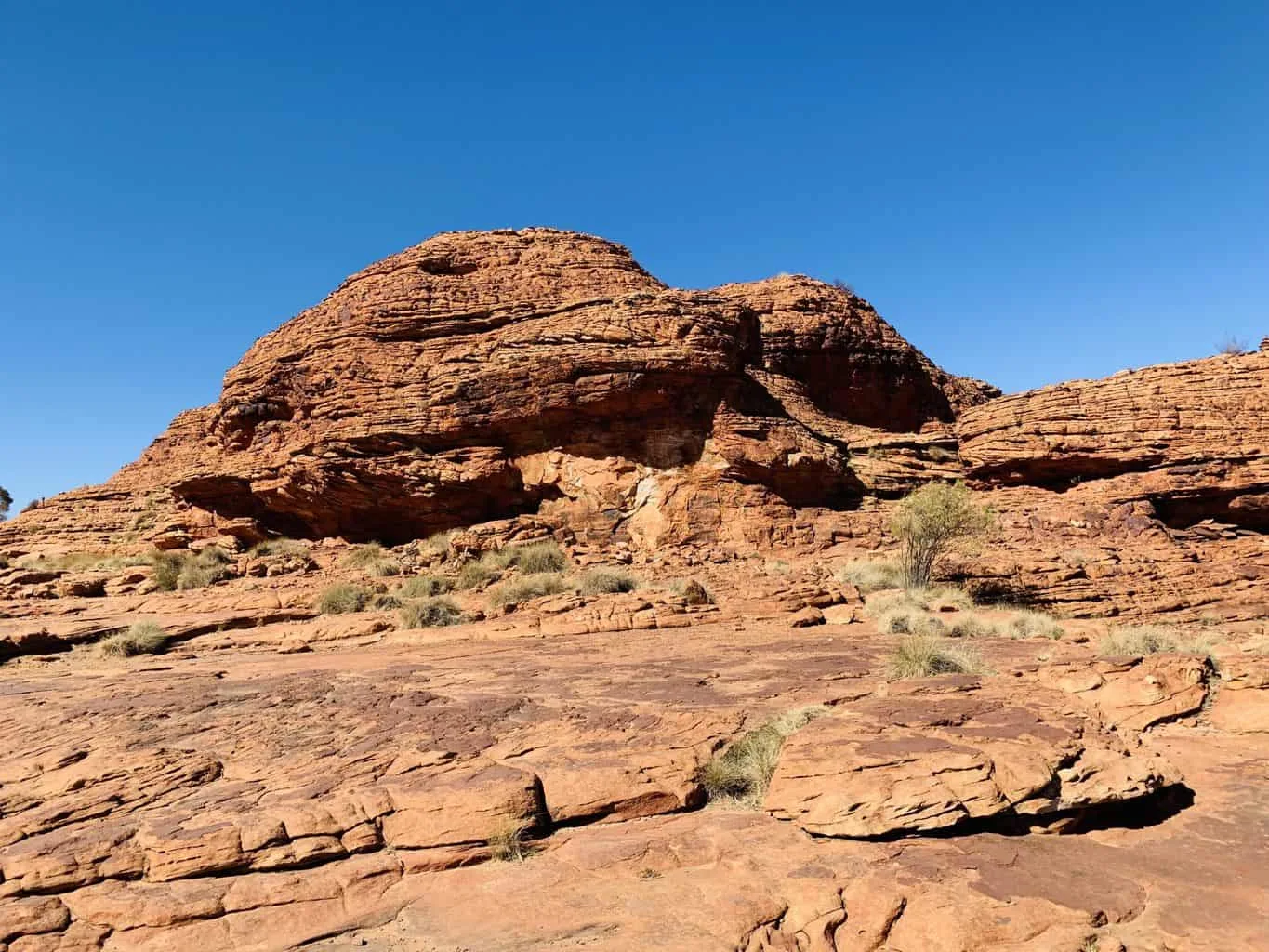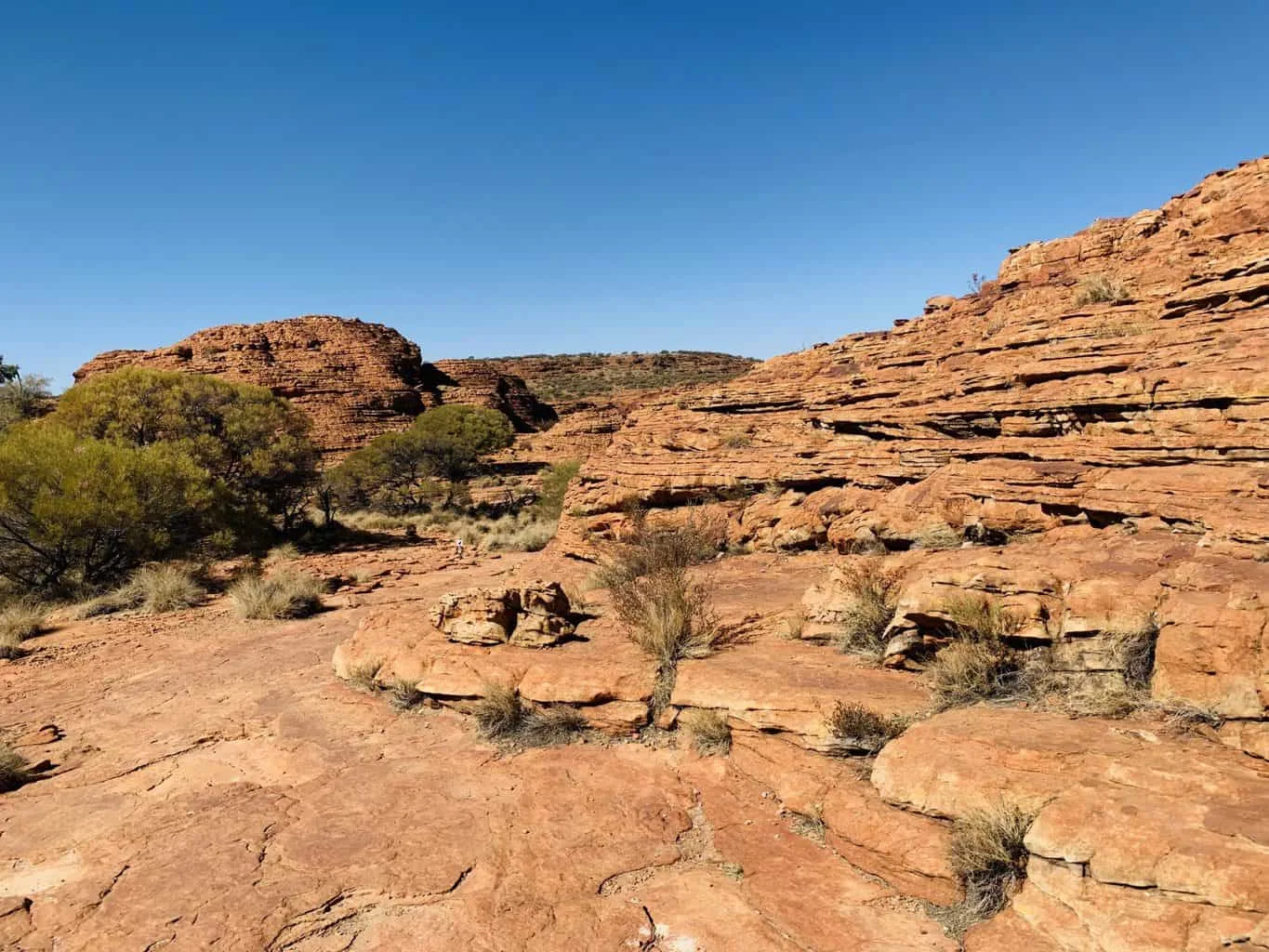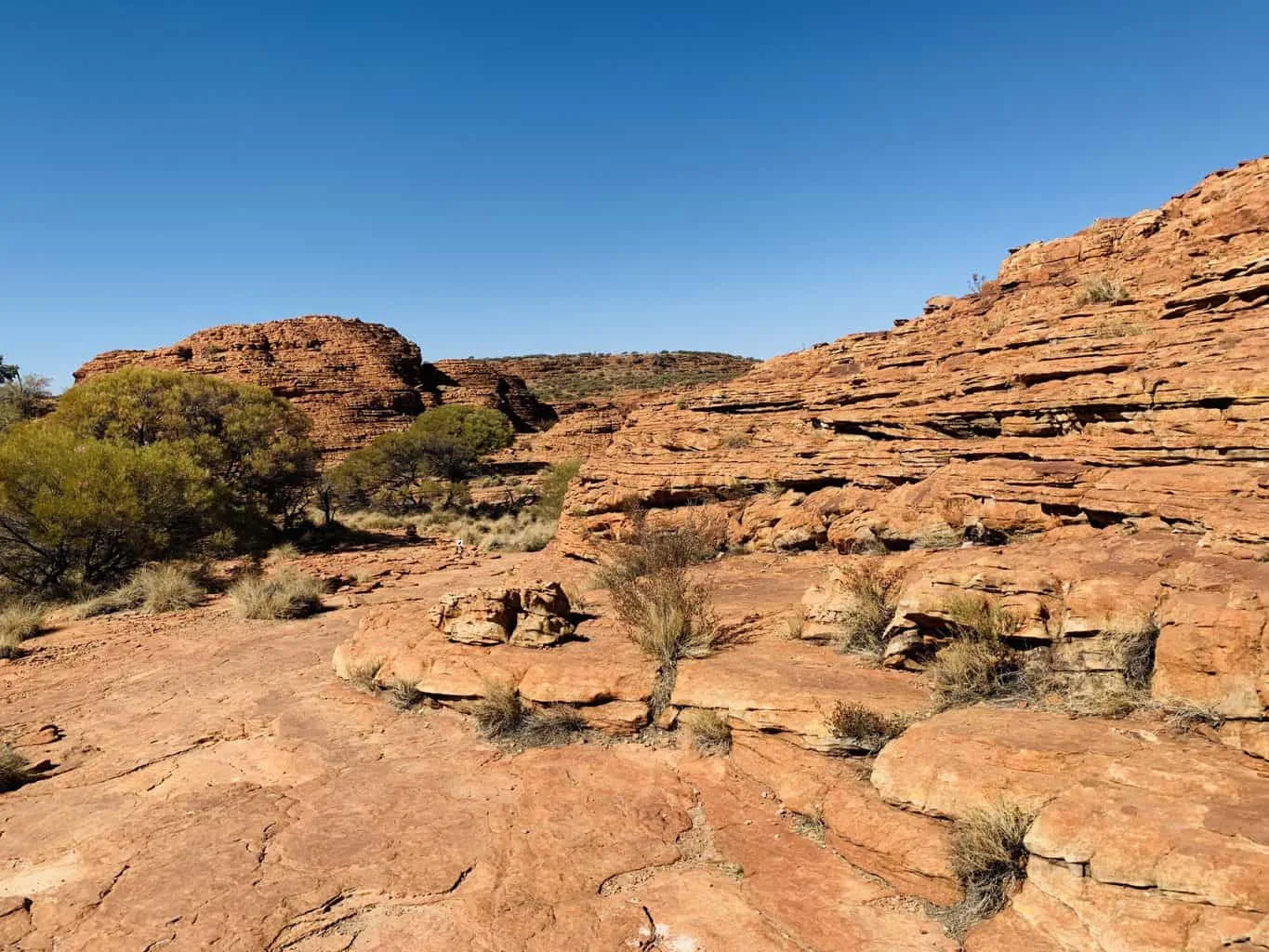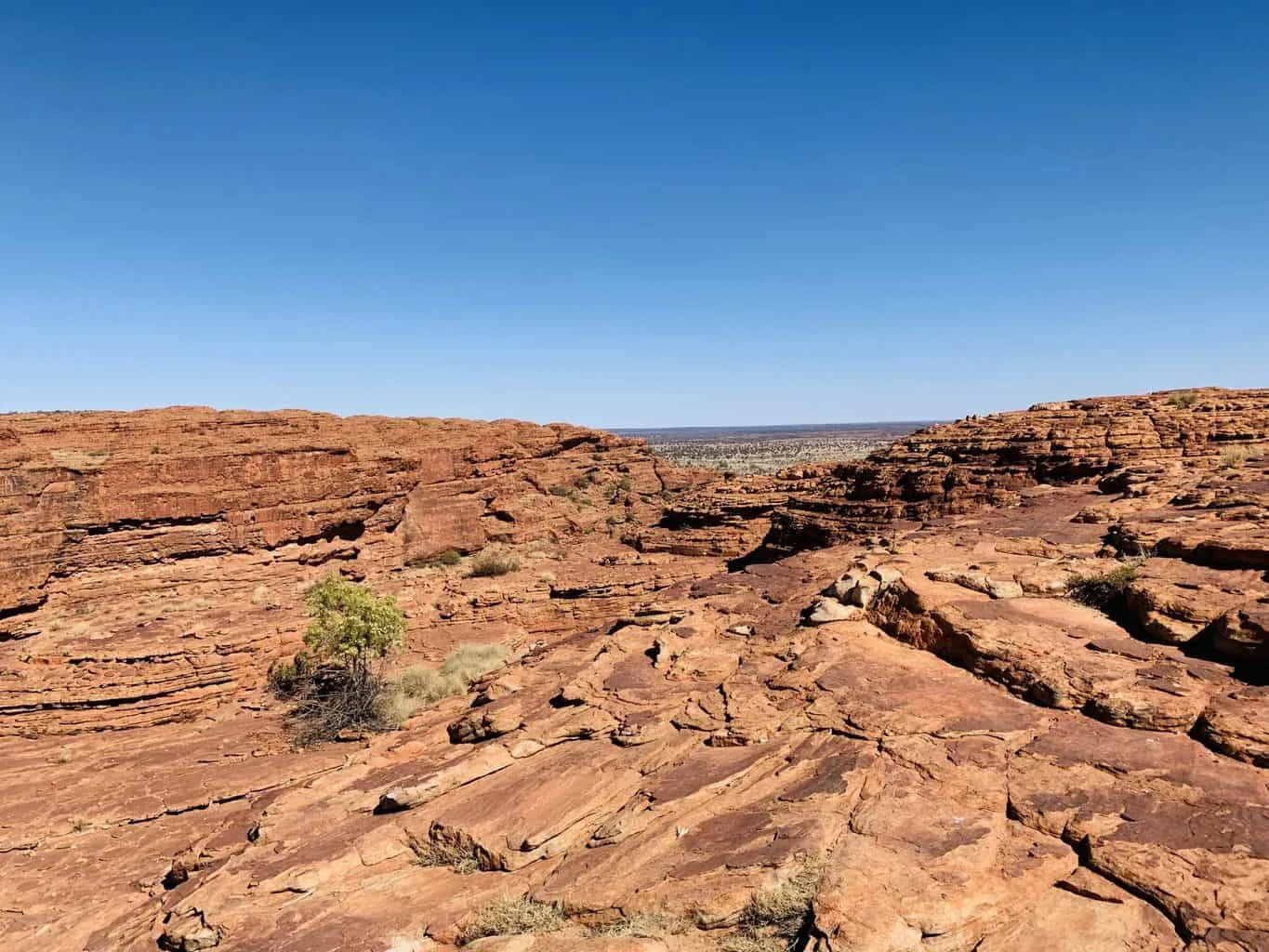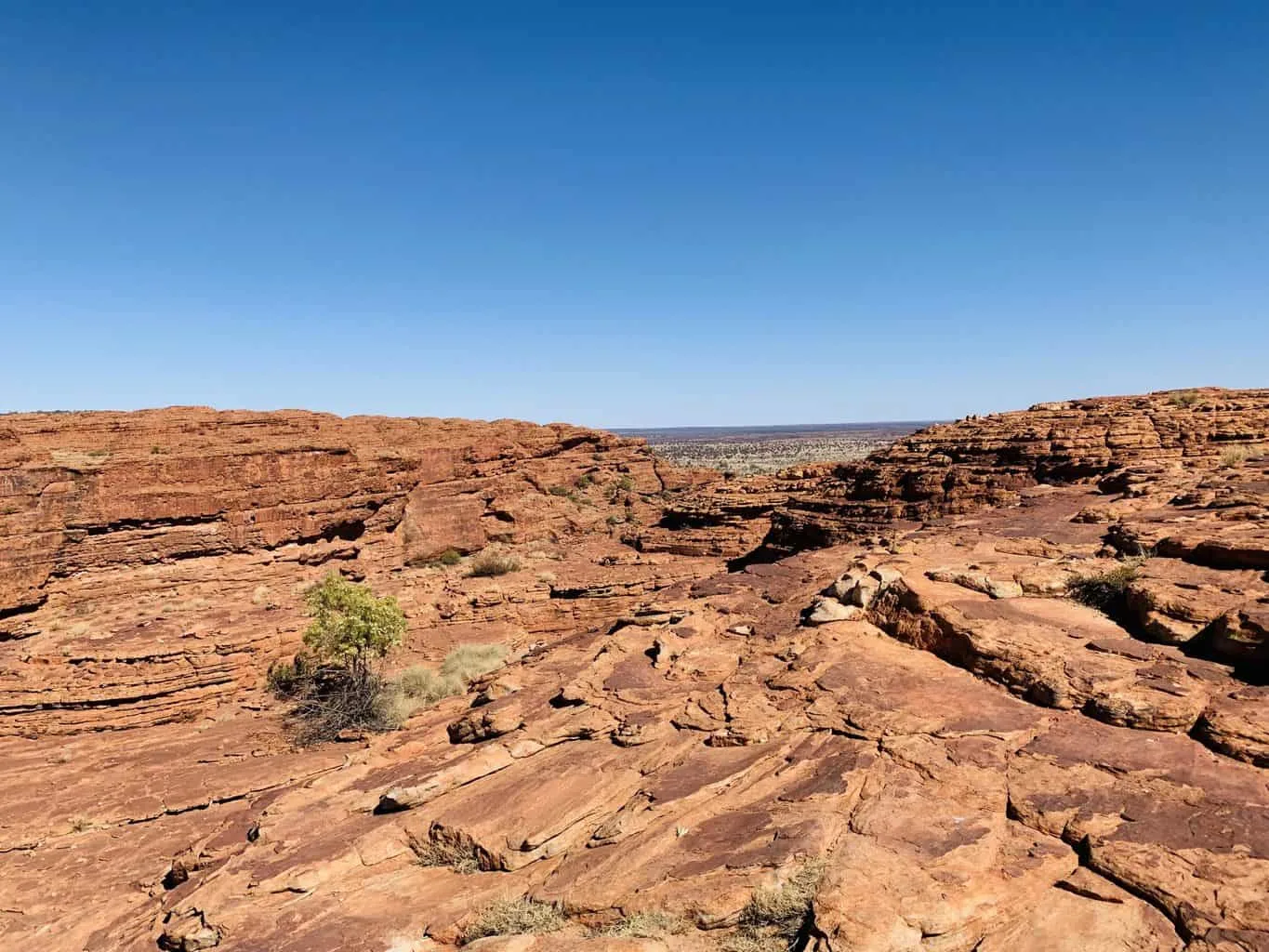 D) Cotterills Lookout
At some point you will reach a turnoff point directing you to the Cotterills Lookout.
This 600M return track offers some of the best views of Kings Canyon so I would highly recommend heading on over to the lookout to see the views for yourself.
Similar to other spots on the trail, you can get quite close to the edge of the canyon so be very careful as you make your way around and keep a safe distance.
The Cotterills Lookout point will give you up close and personal views of two massive walls of Kings Canyon as you take some time to enjoy the scenery.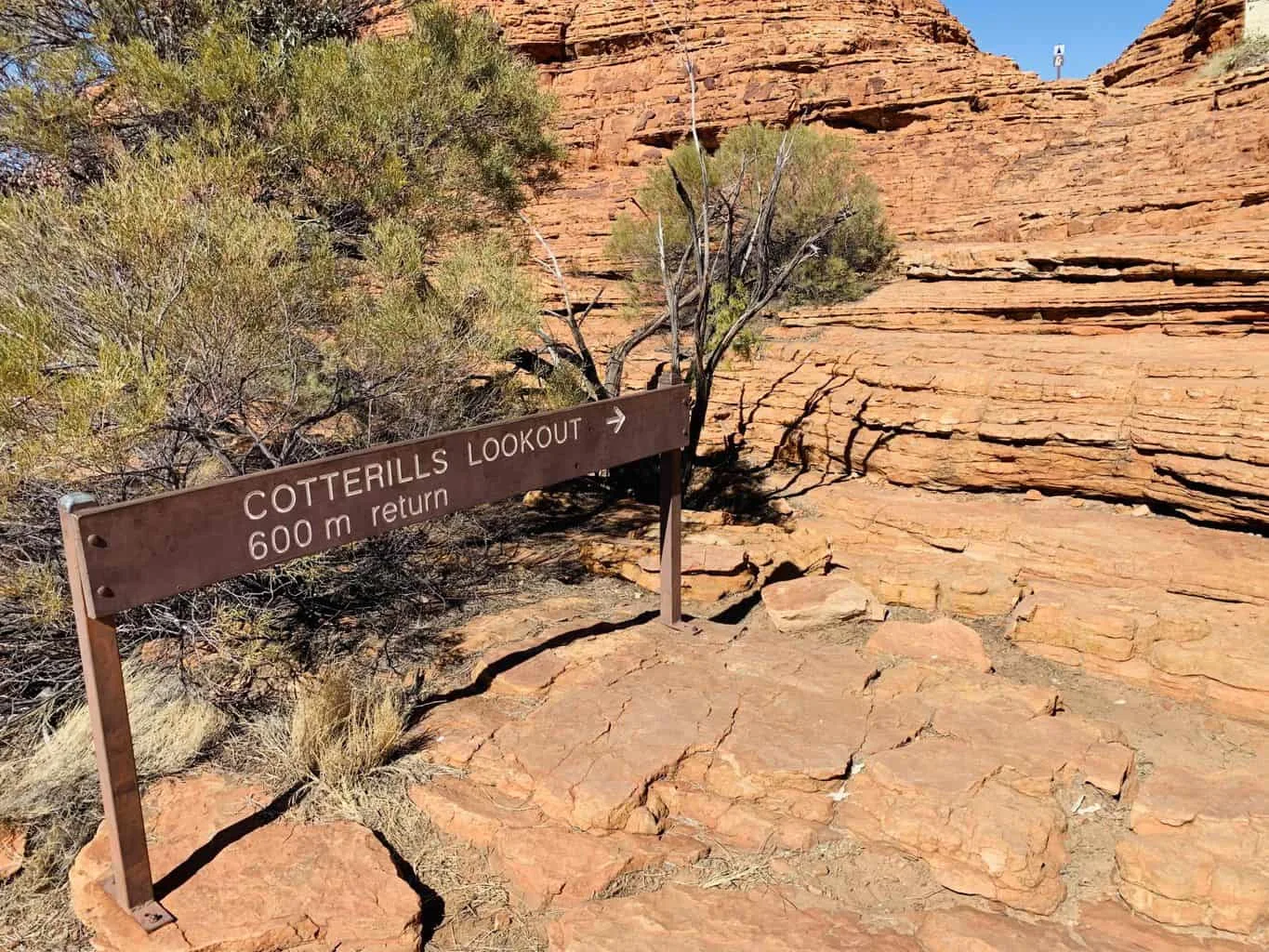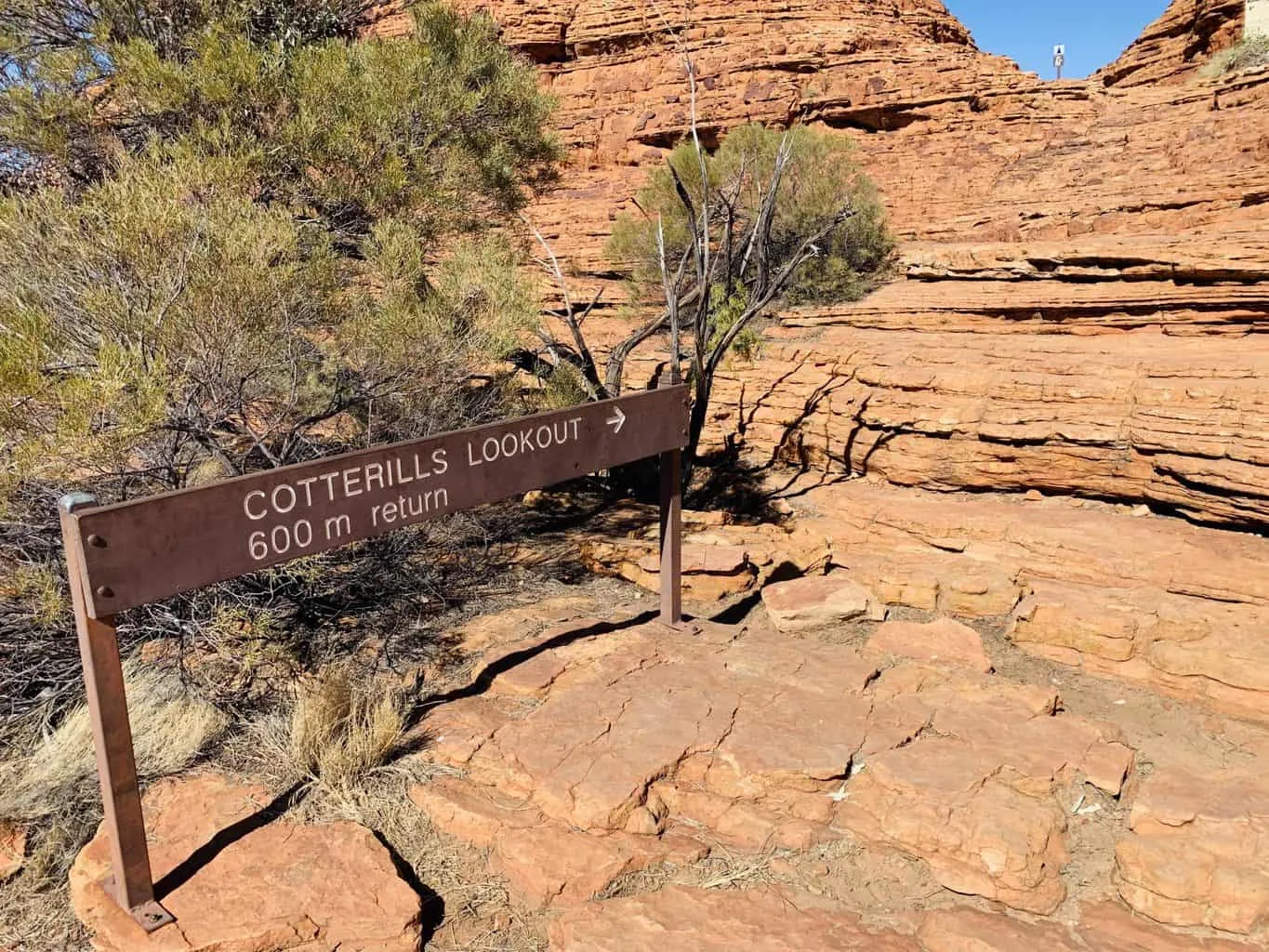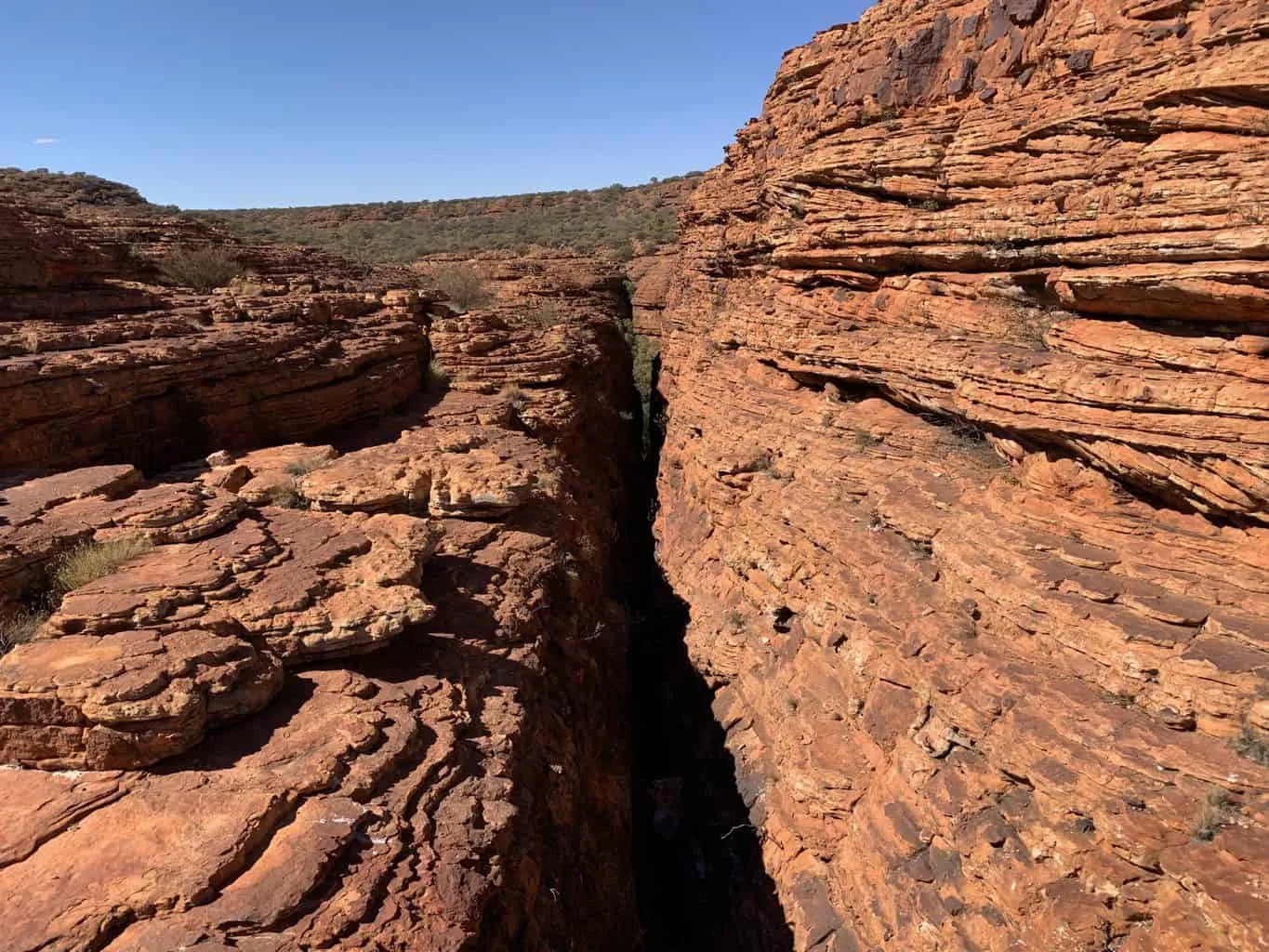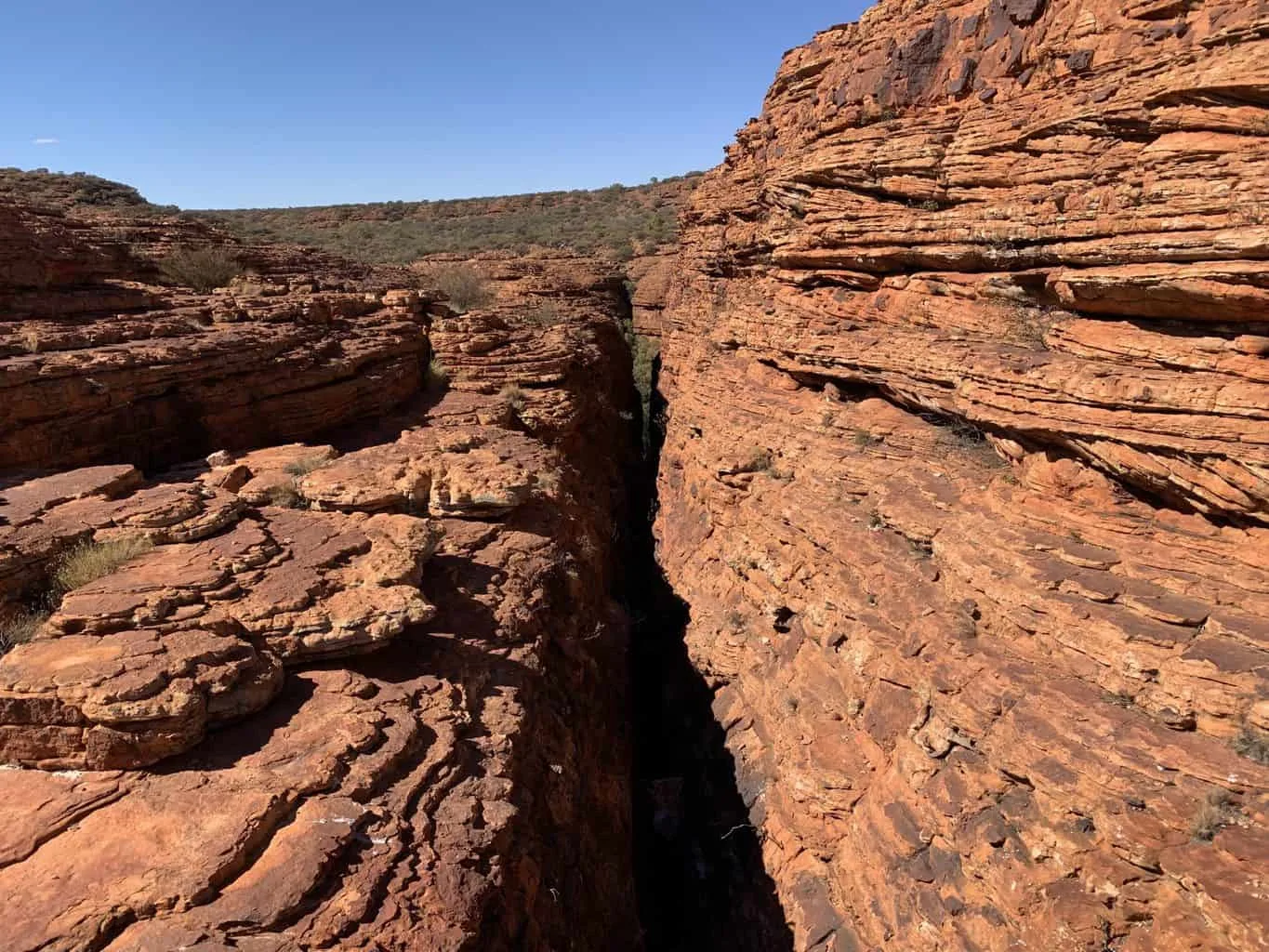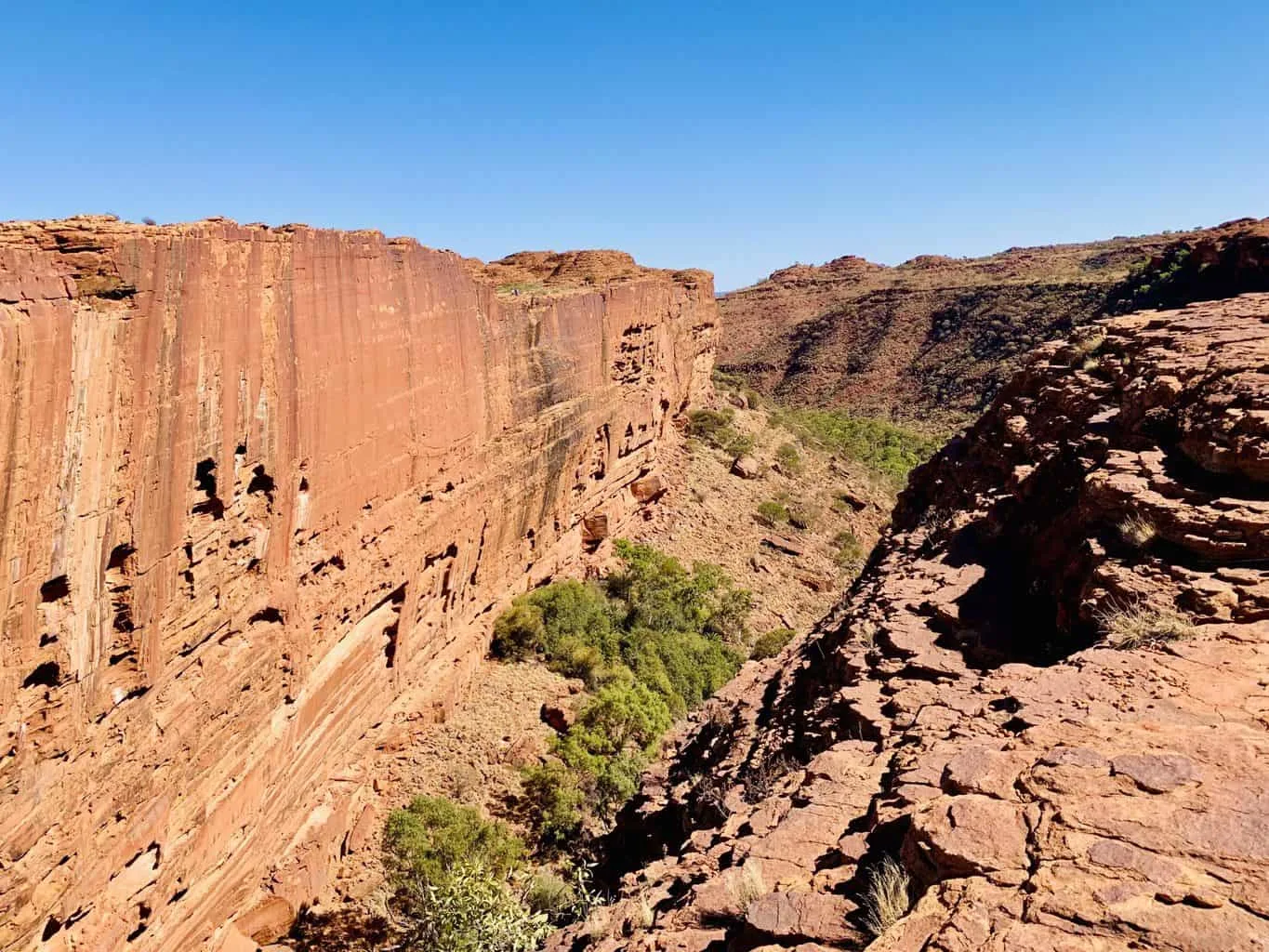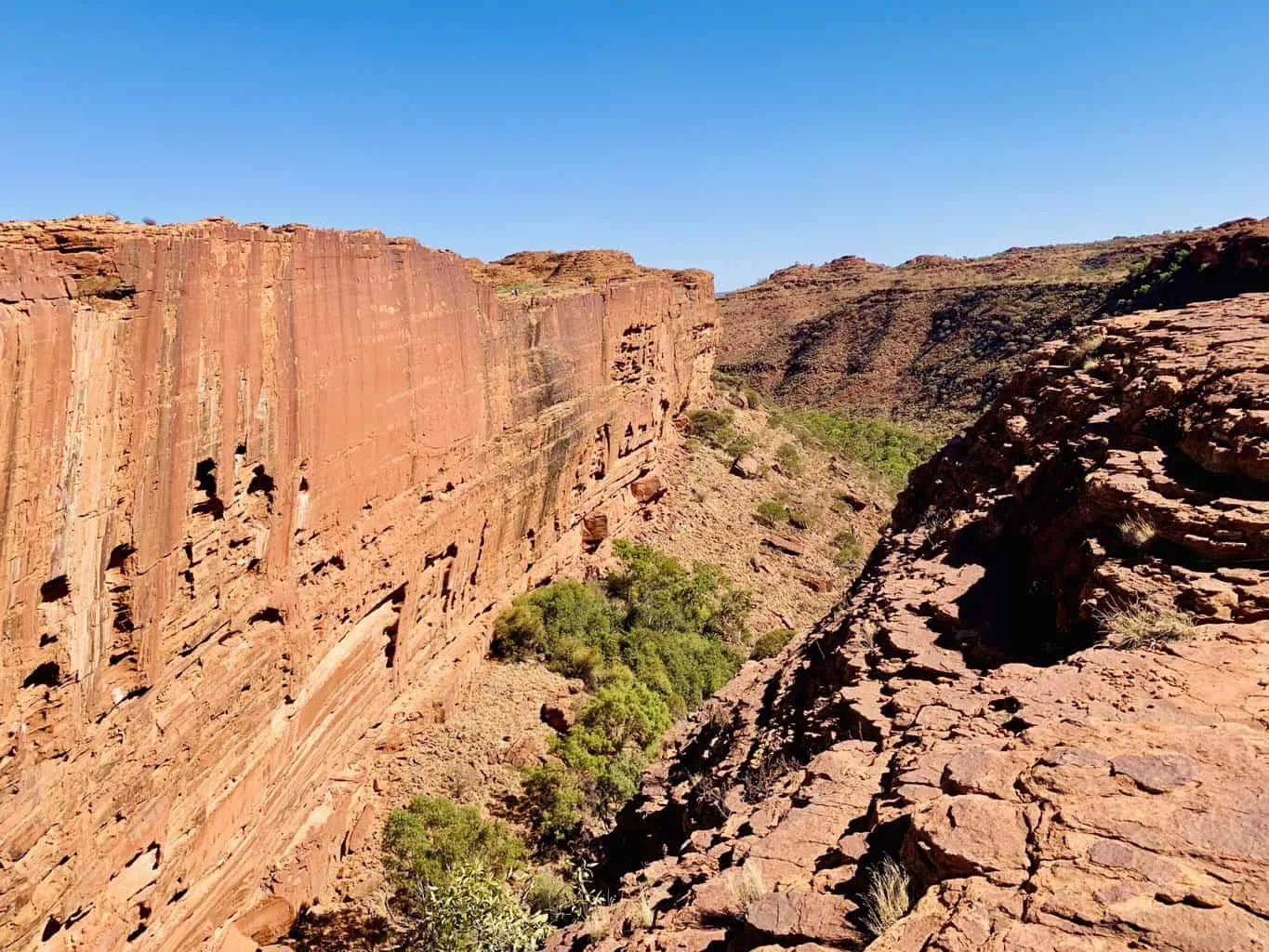 E) Garden of Eden
After returning back on the path from the Cotterills Lookout, continue walking the Rim Walk until you reach the staircases that will take you a bit further down the canyon.
Once off the stairs you will have the option to head on the 600M / 20 minute return walk to the Garden of Eden.
The Garden of Eden is a sacred place to the Traditional Owners of Watarrka and it is not meant as a place for swimming.
Once down the path and at the Garden of Eden, you can enjoy the serenity of the water surrounded by the vast Kings Canyon all around you.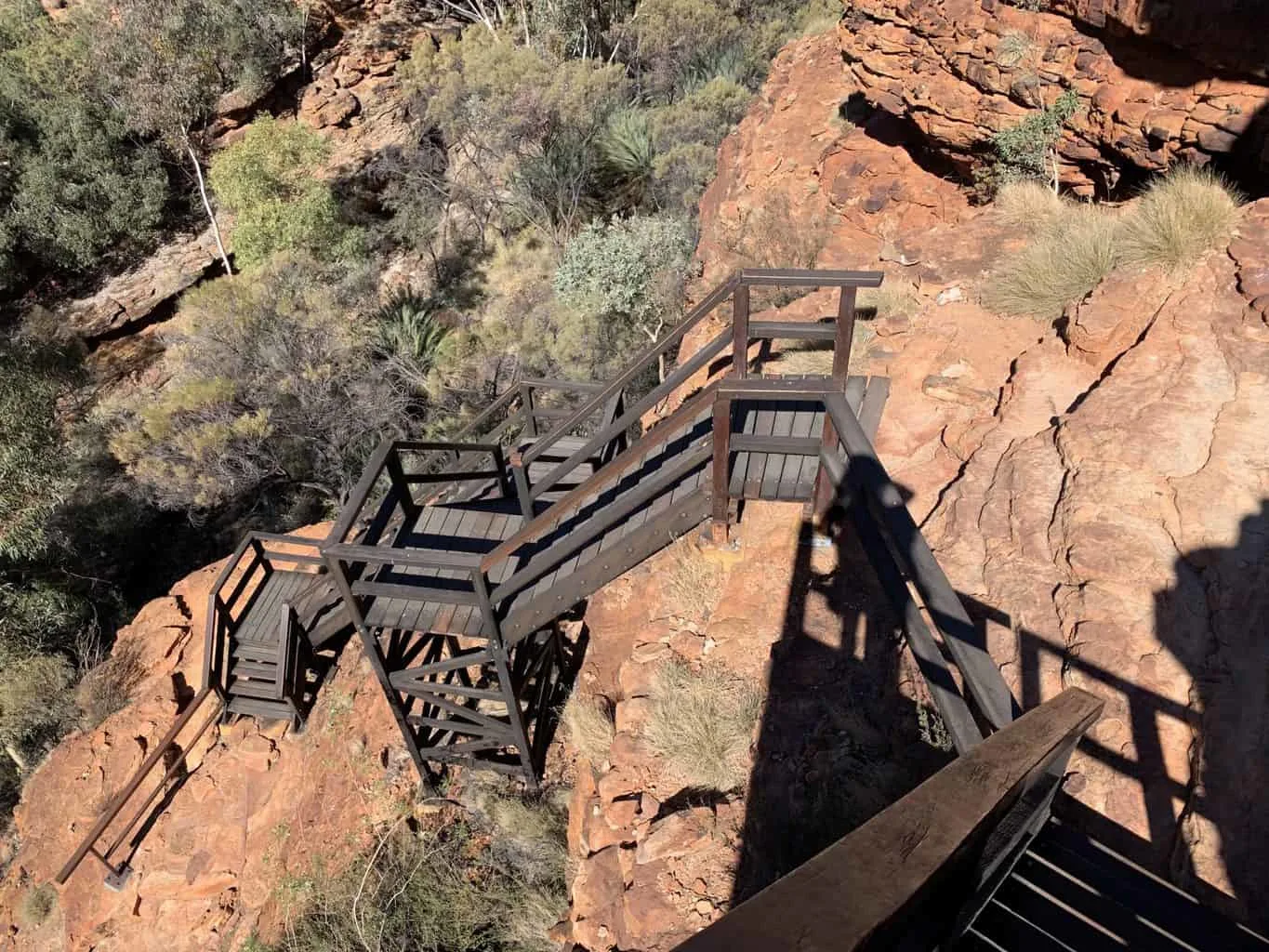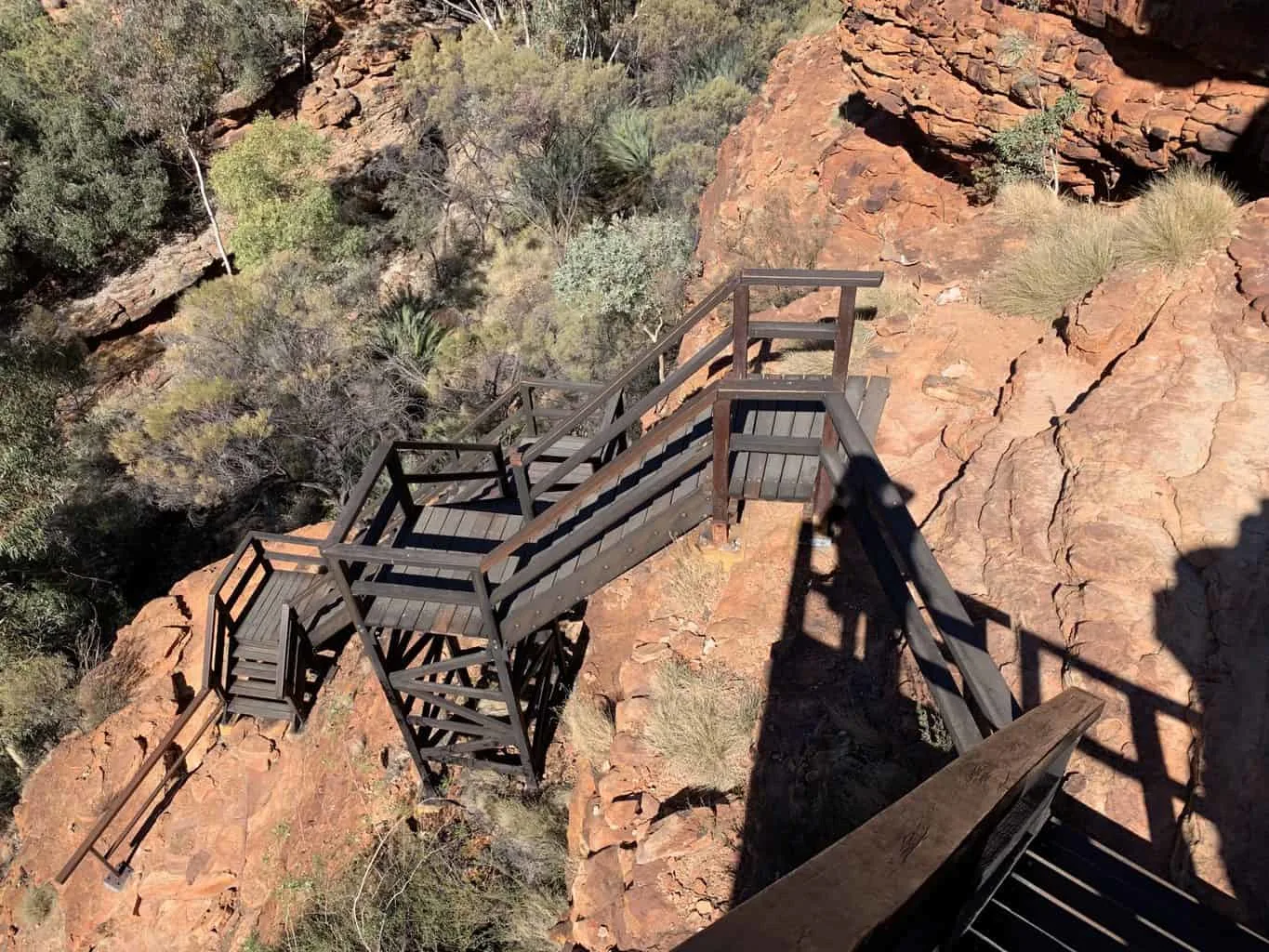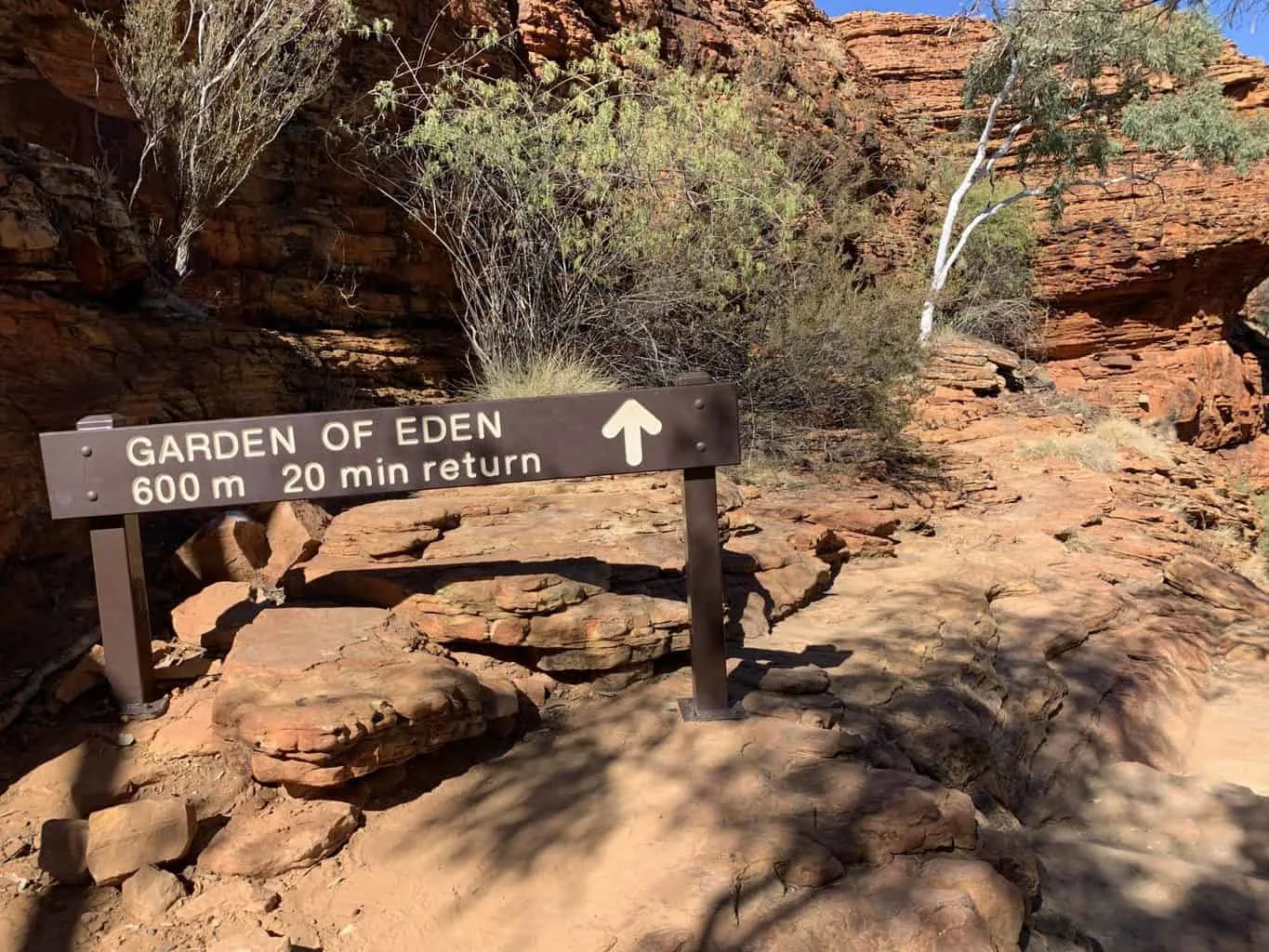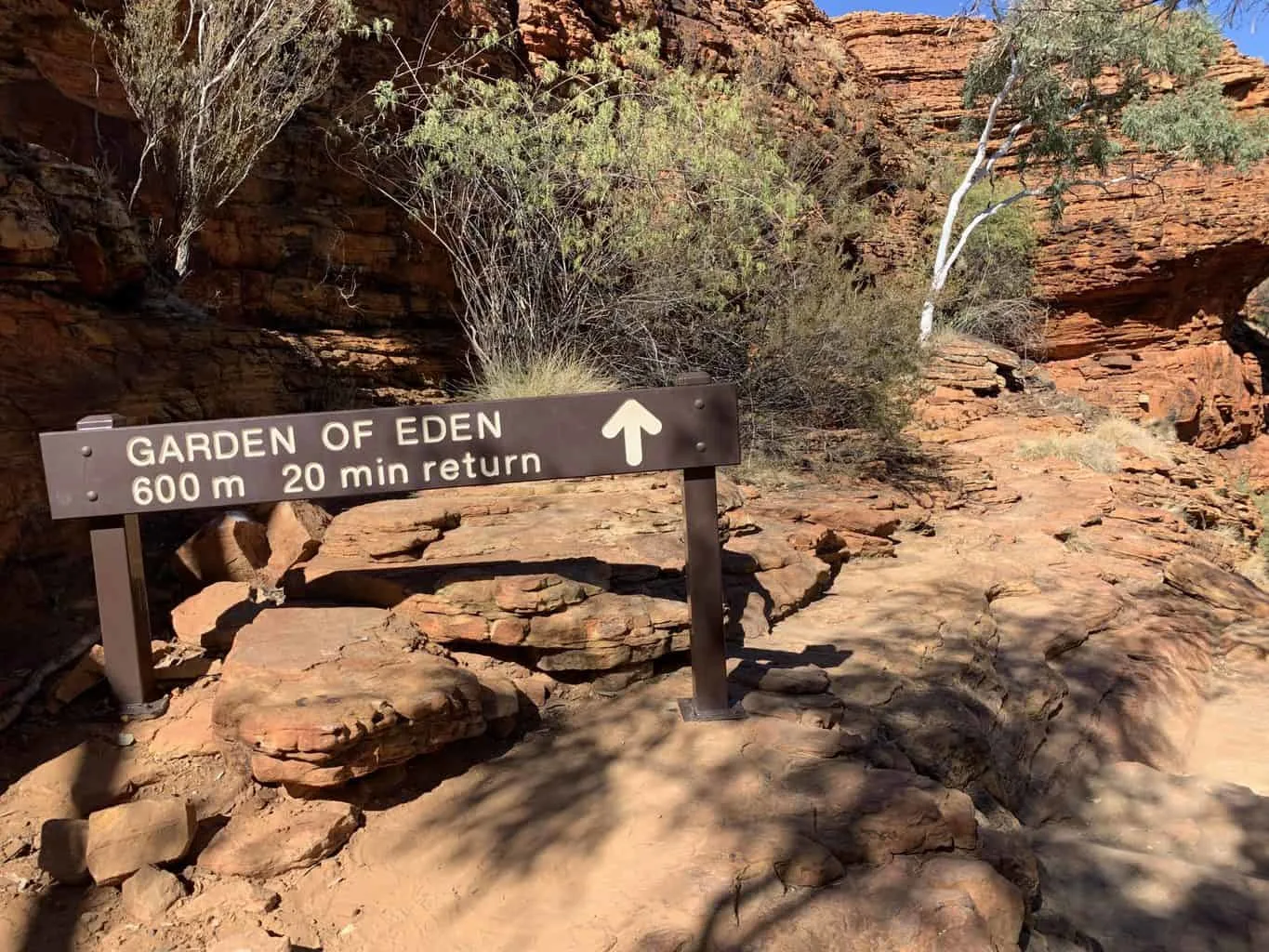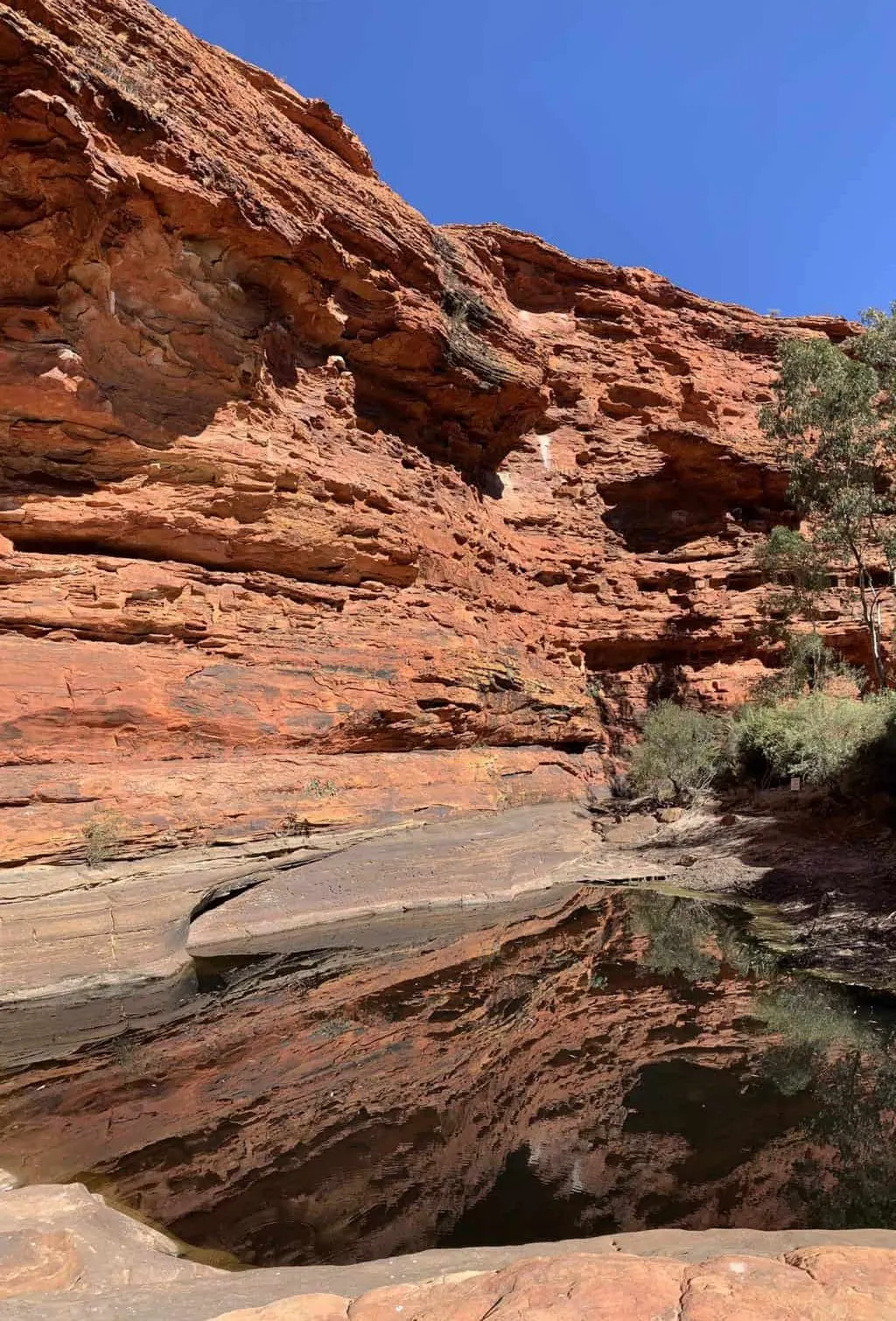 F) Finishing the Rim Walk
Once back from the Garden of Eden and on the main path again, you will begin to loop around Kings Canyon as you take part of the last portion of trail.
Soon you will reach a gate to go through in order to finish off the loop. This is the one way gate for those that decide to head on the South Wall Return Walk.
Just continue on through as you now get to take in some new perspectives of the canyon.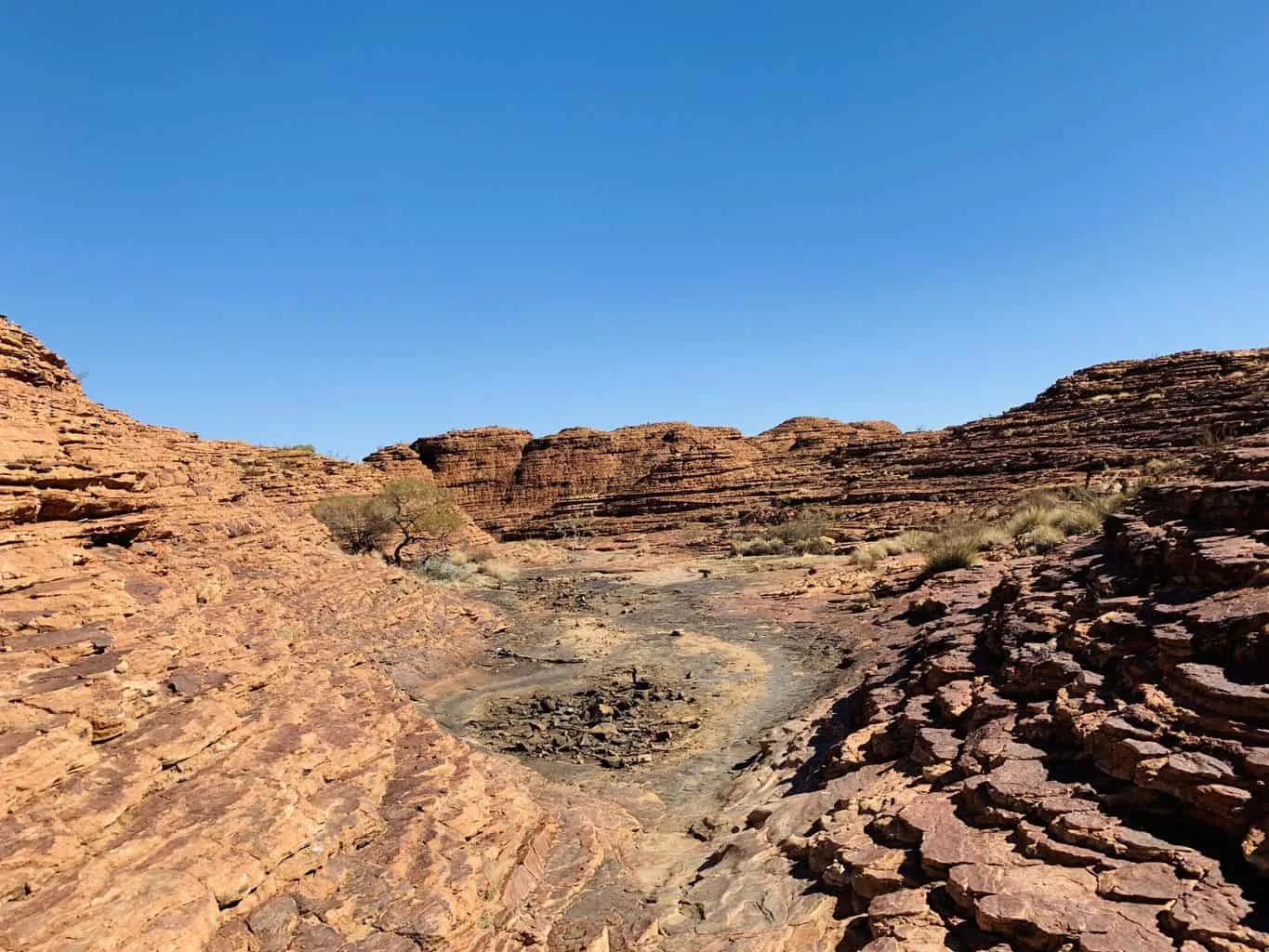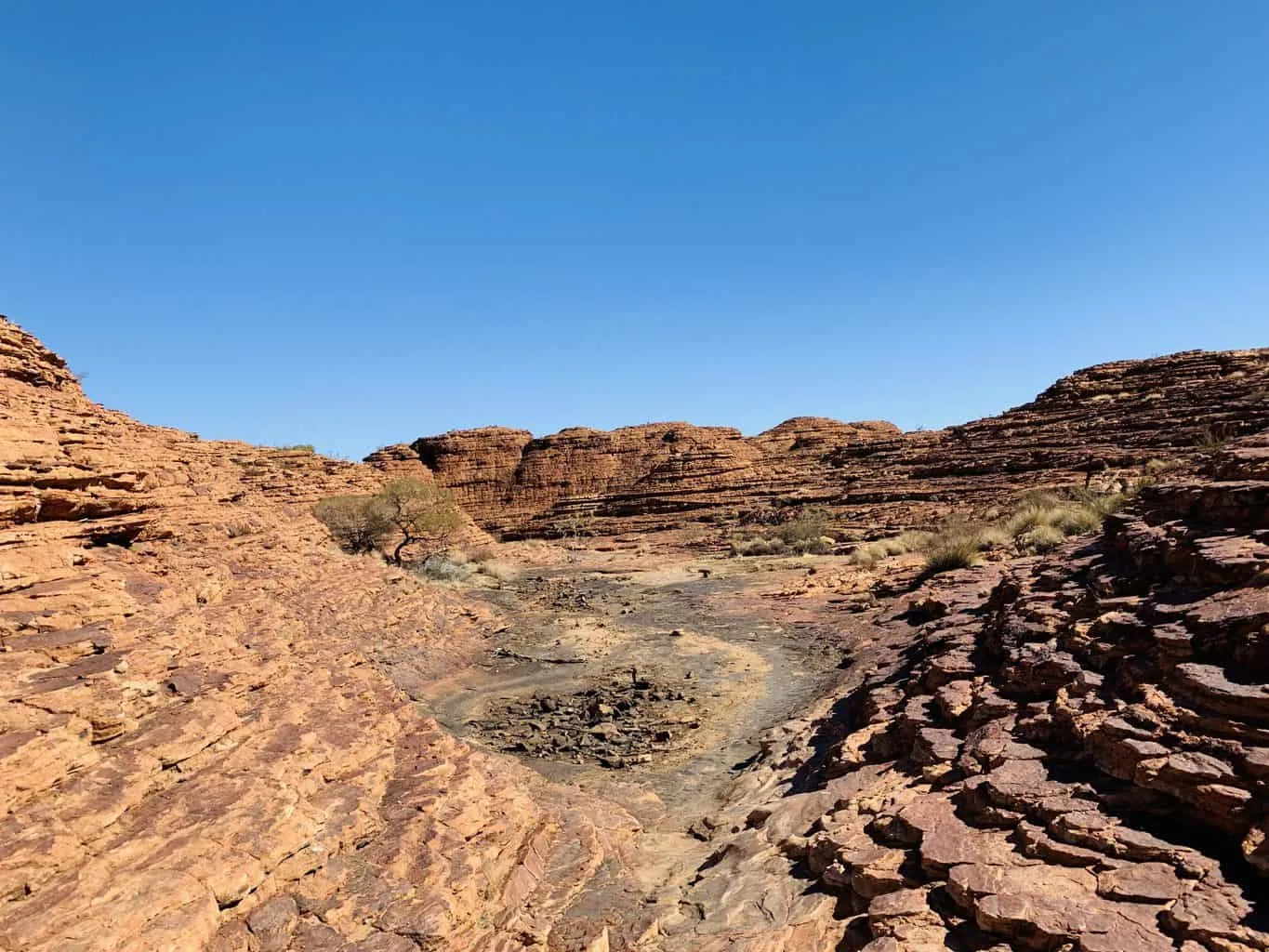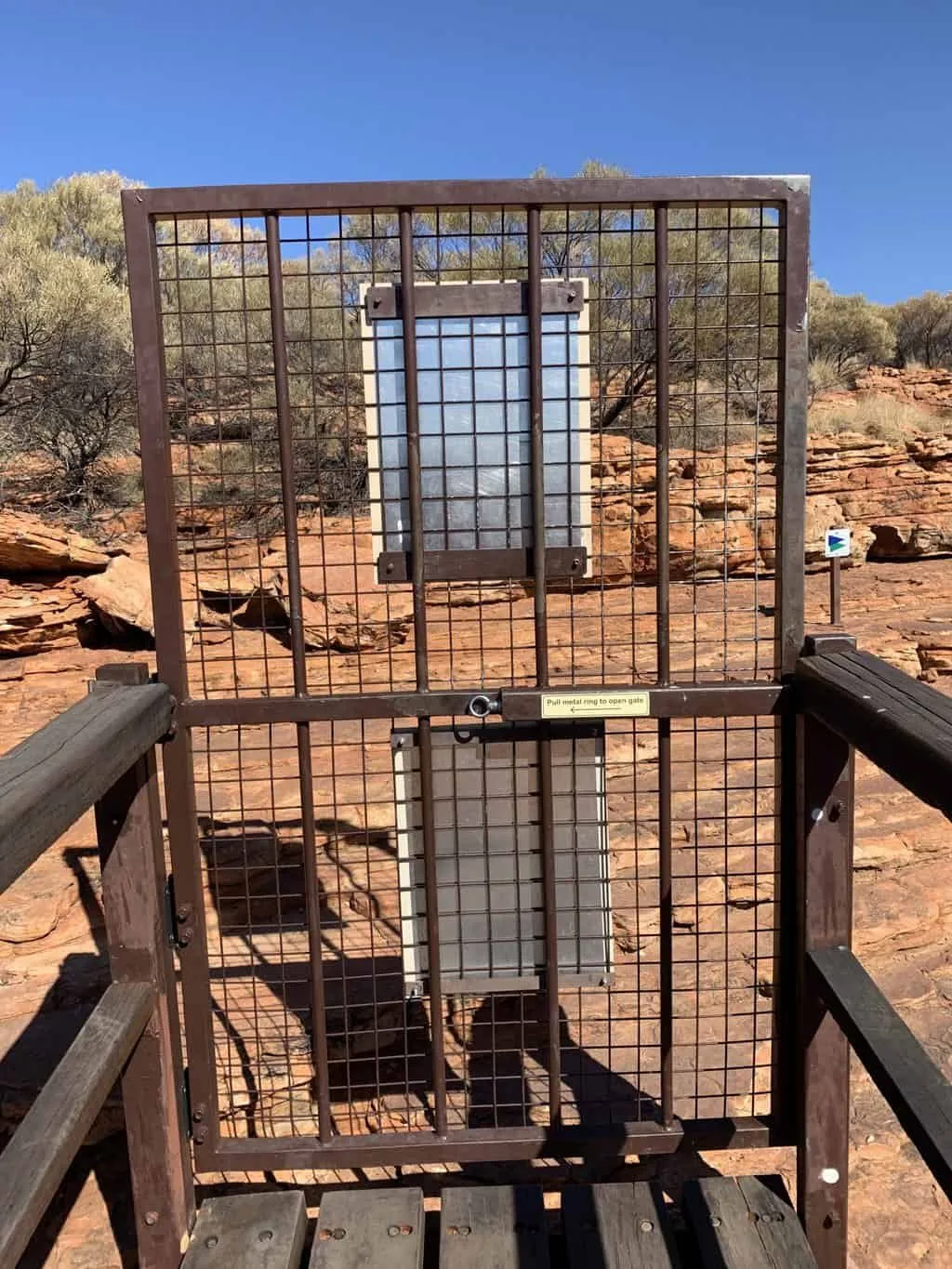 From this side of the canyon you will be able to see Cotterills Lookout out across the way as well as the Garden of Eden down below. Once again be careful when getting close to the canyon edge.
There are no guardrails so proceed with caution. The views down below into the canyon are pretty exhilarating.
The landscape of this last portion of trail is just beautiful with plenty of canyon views alongside these unique rock formations in every which direction.
The Rim Walk will then begin its descent back towards the parking lot. Just follow those arrows and you will get back down in no time.
Once back at the parking lot, hop back into your car and back to Kings Canyon Resort or your next destination.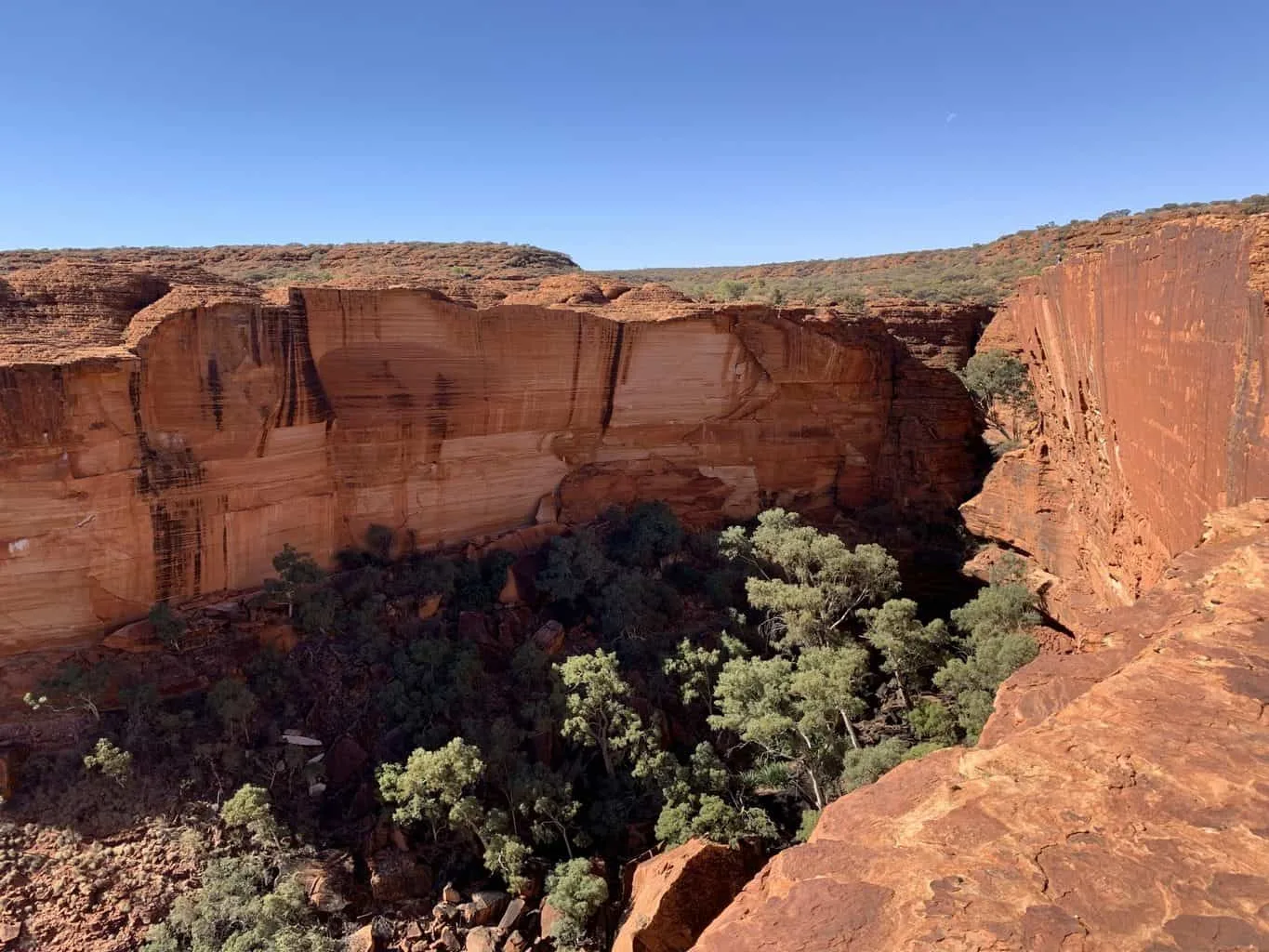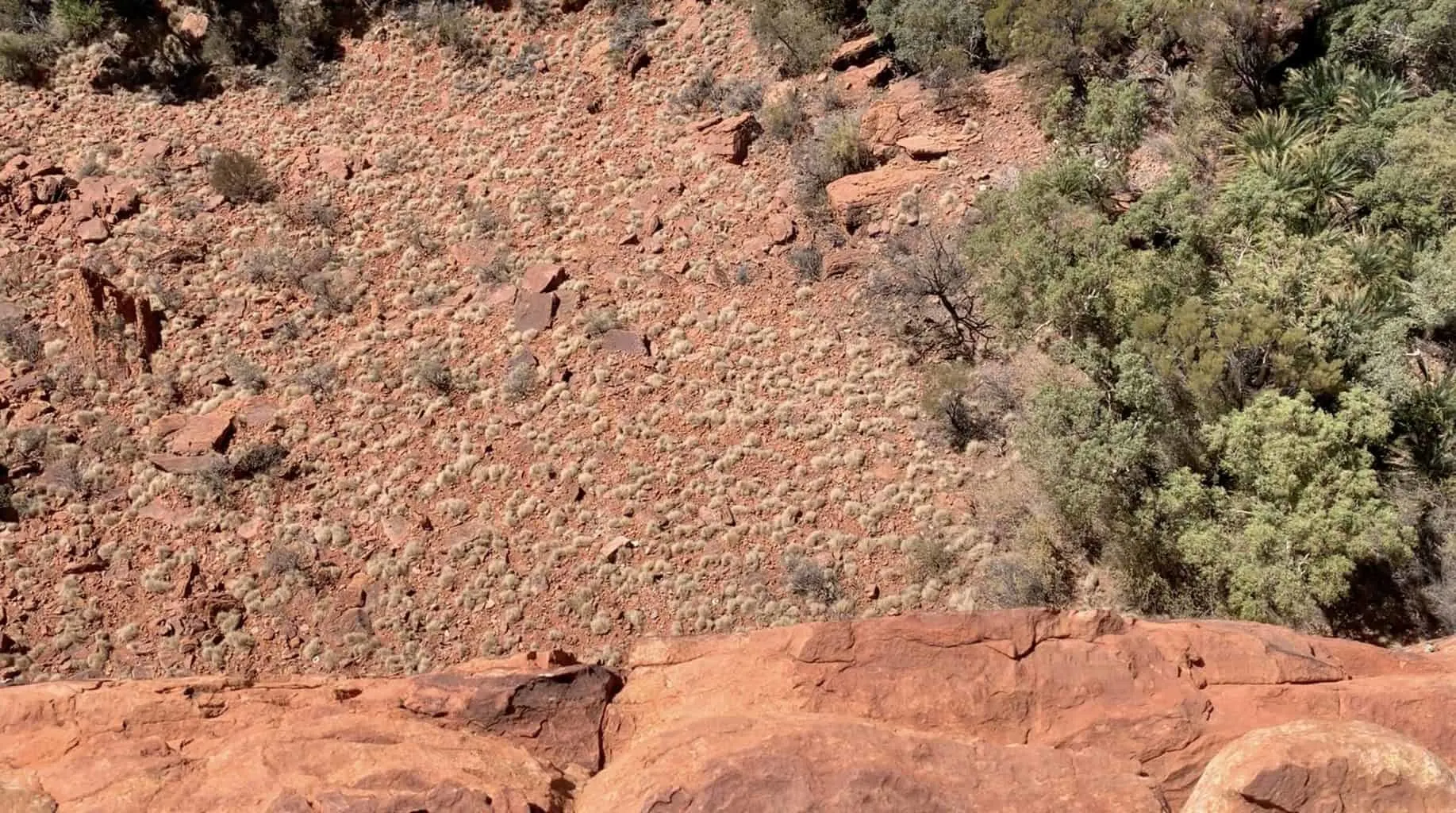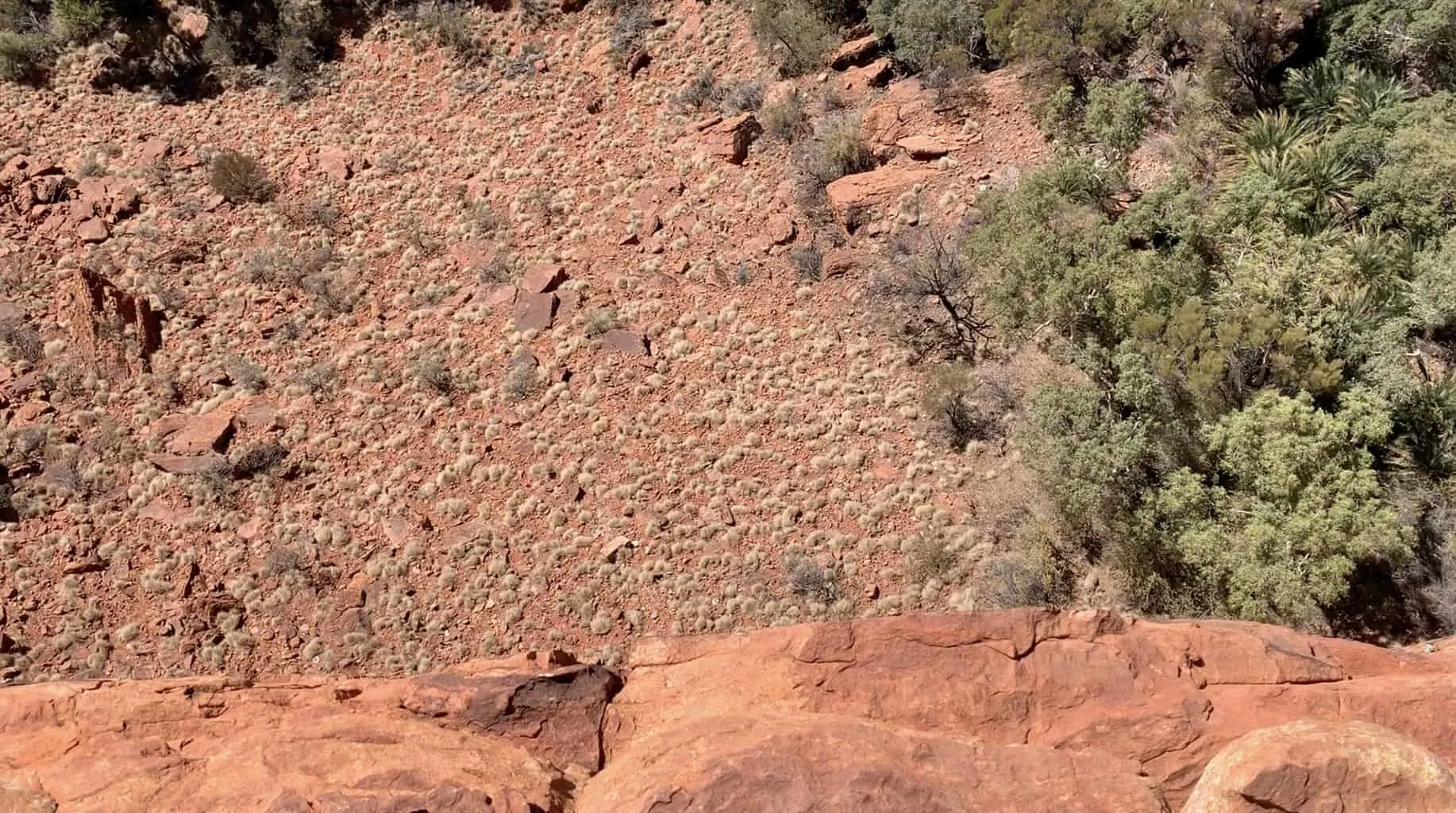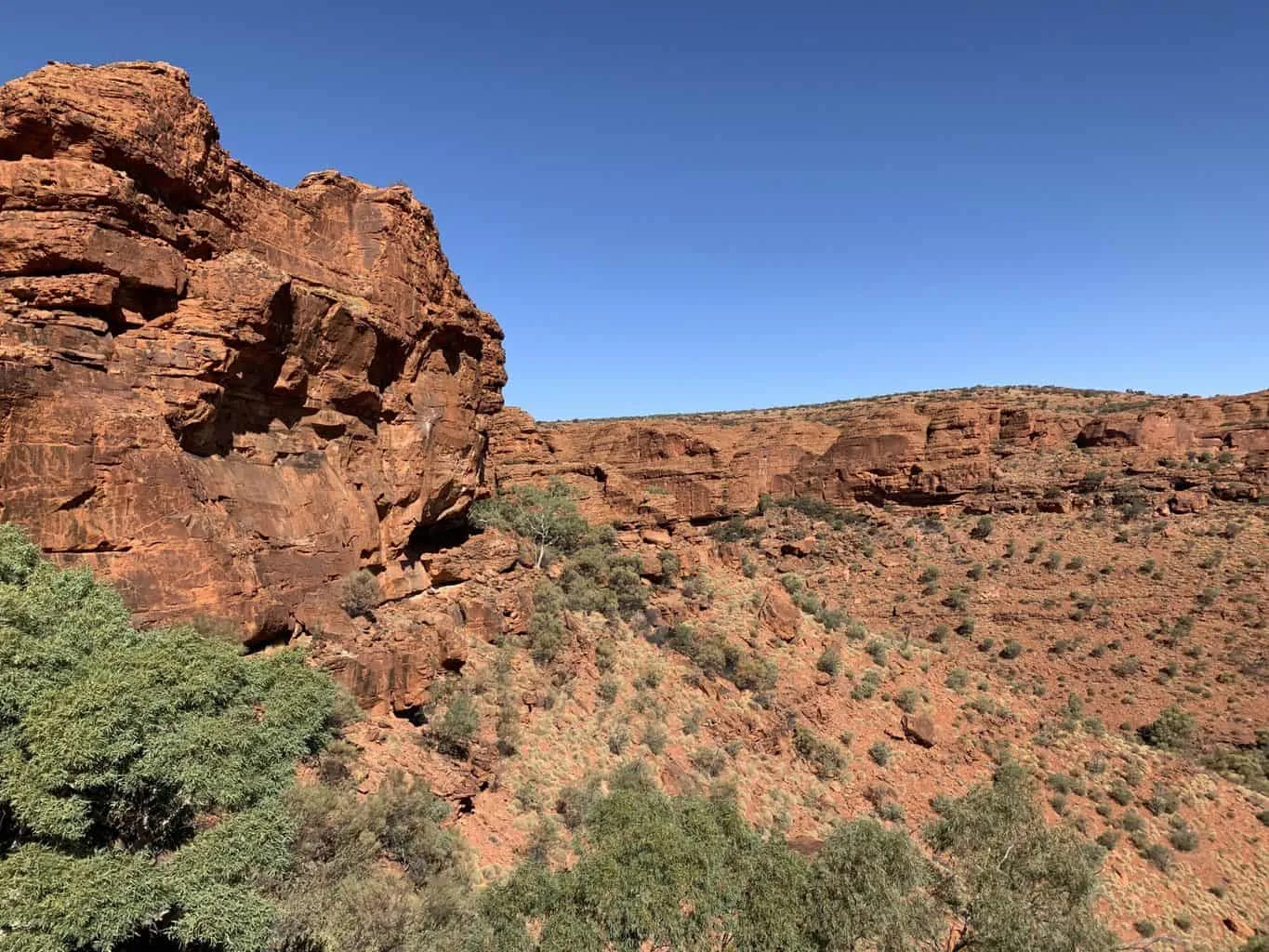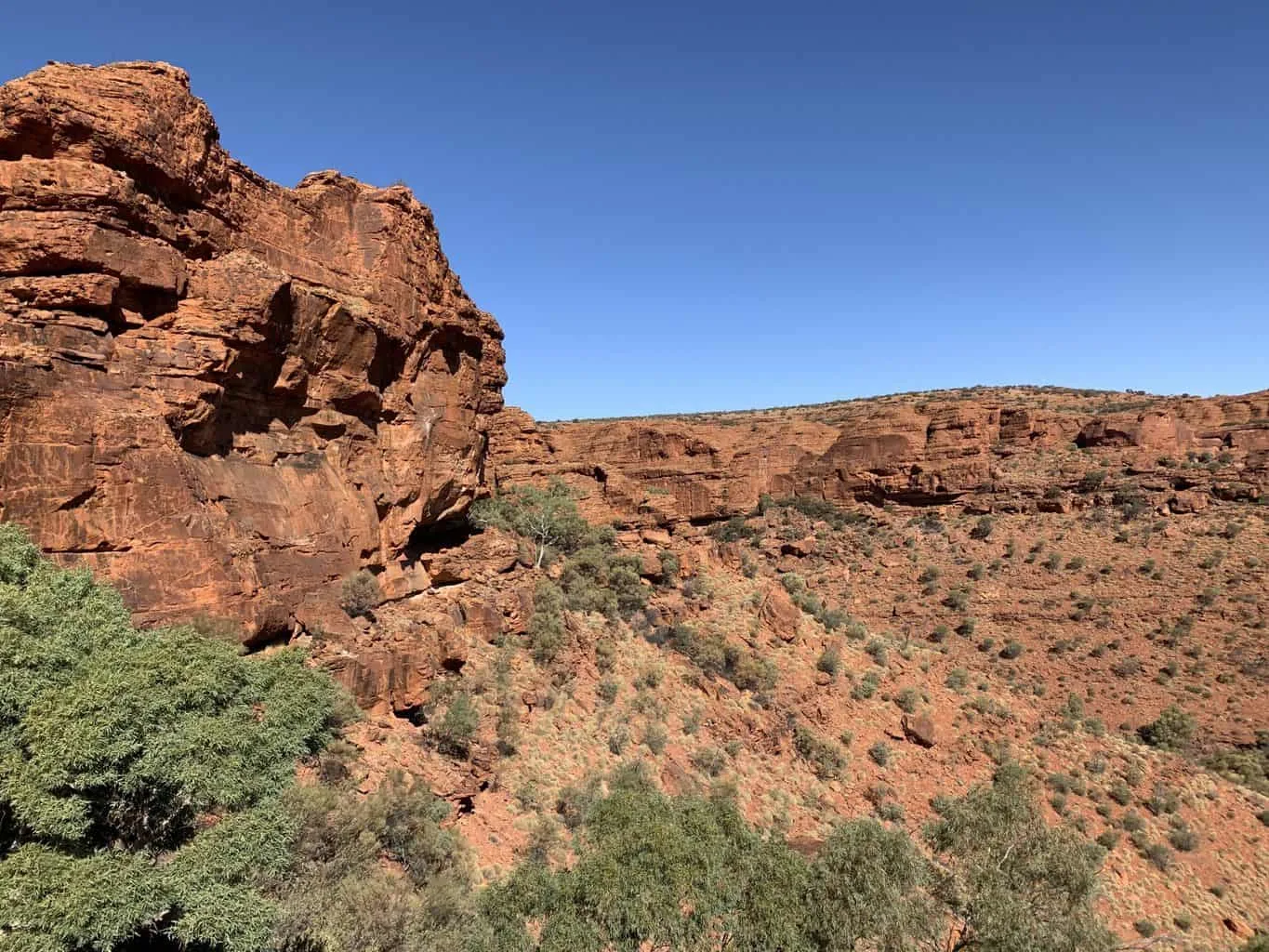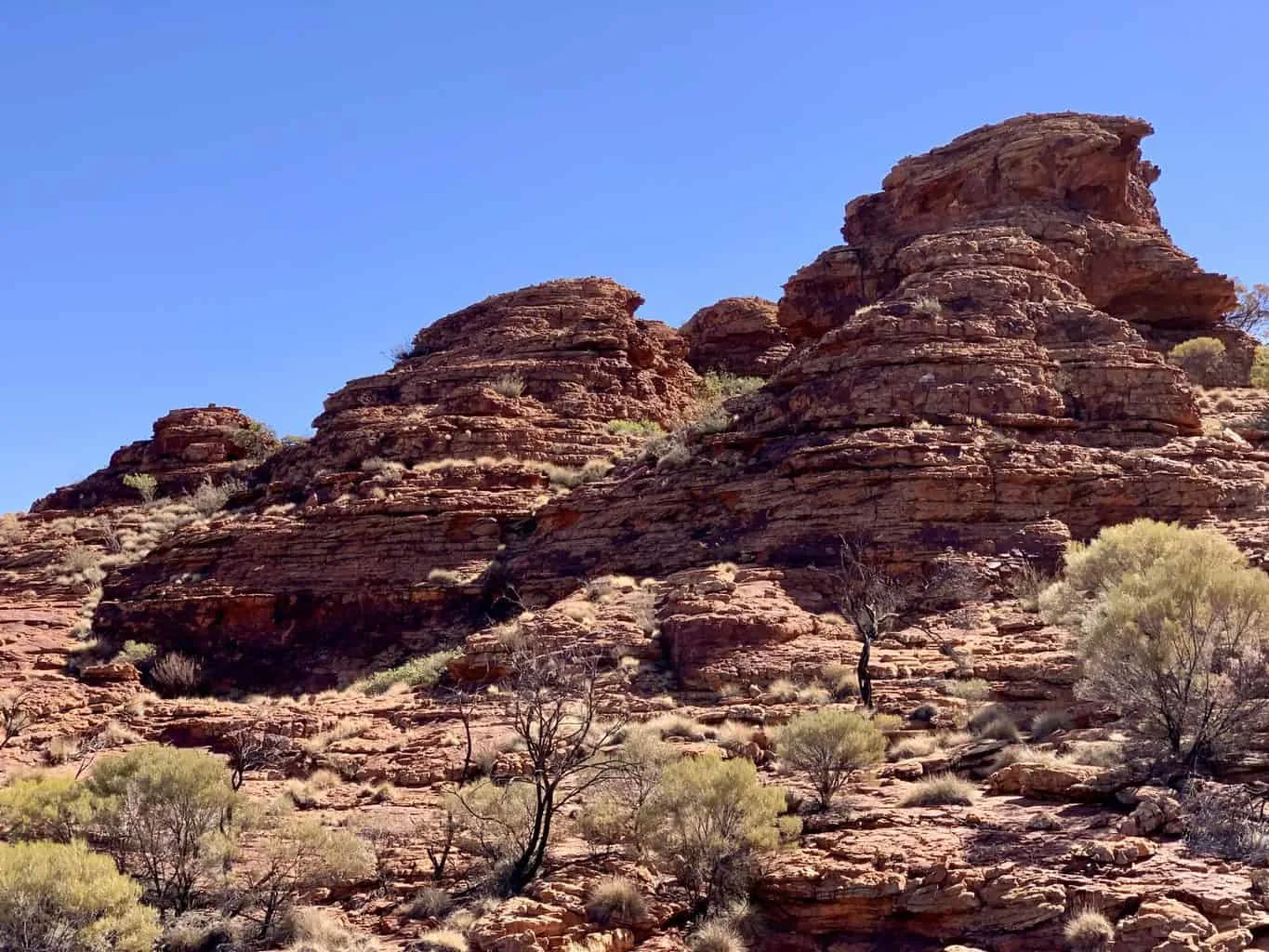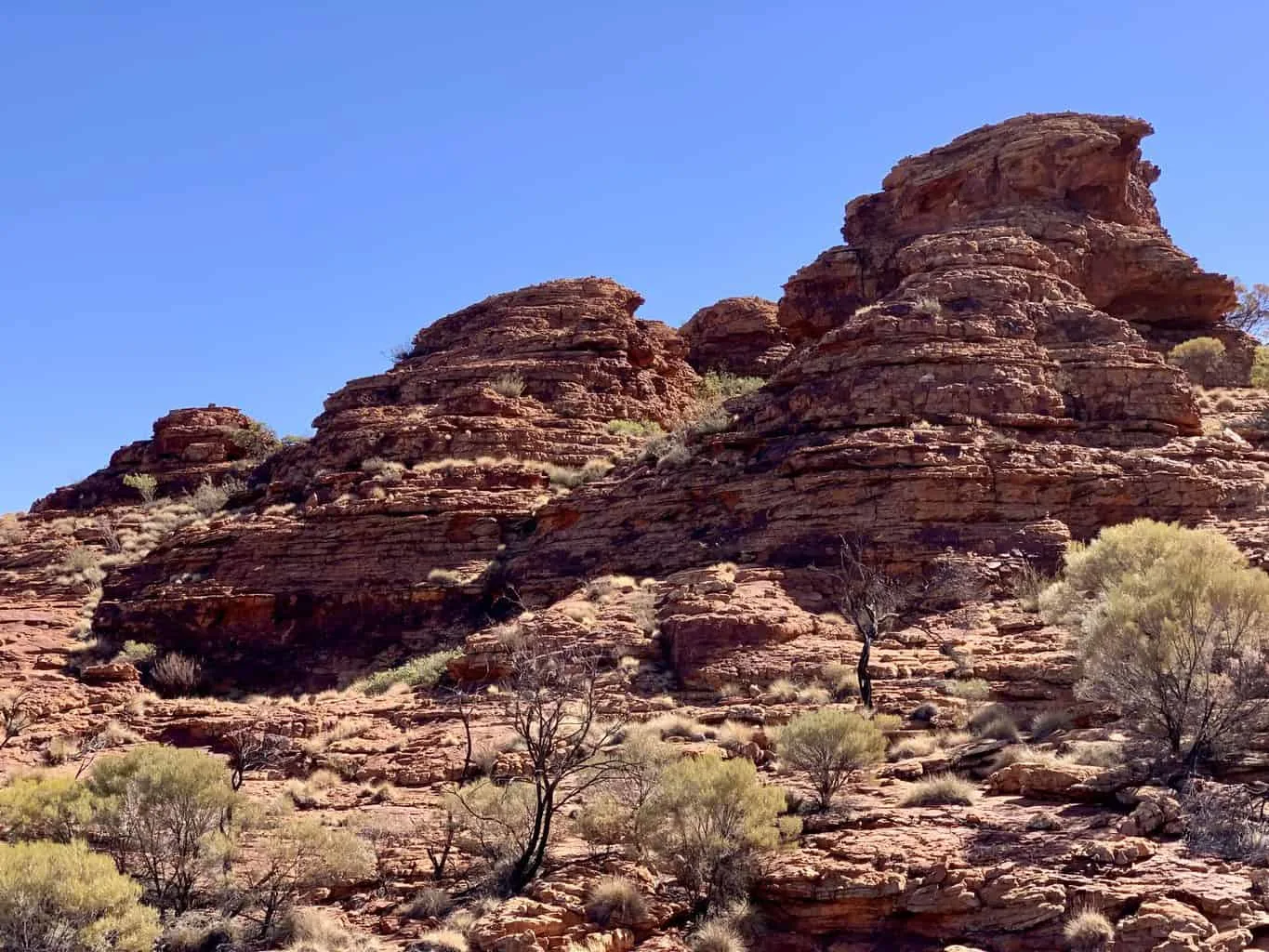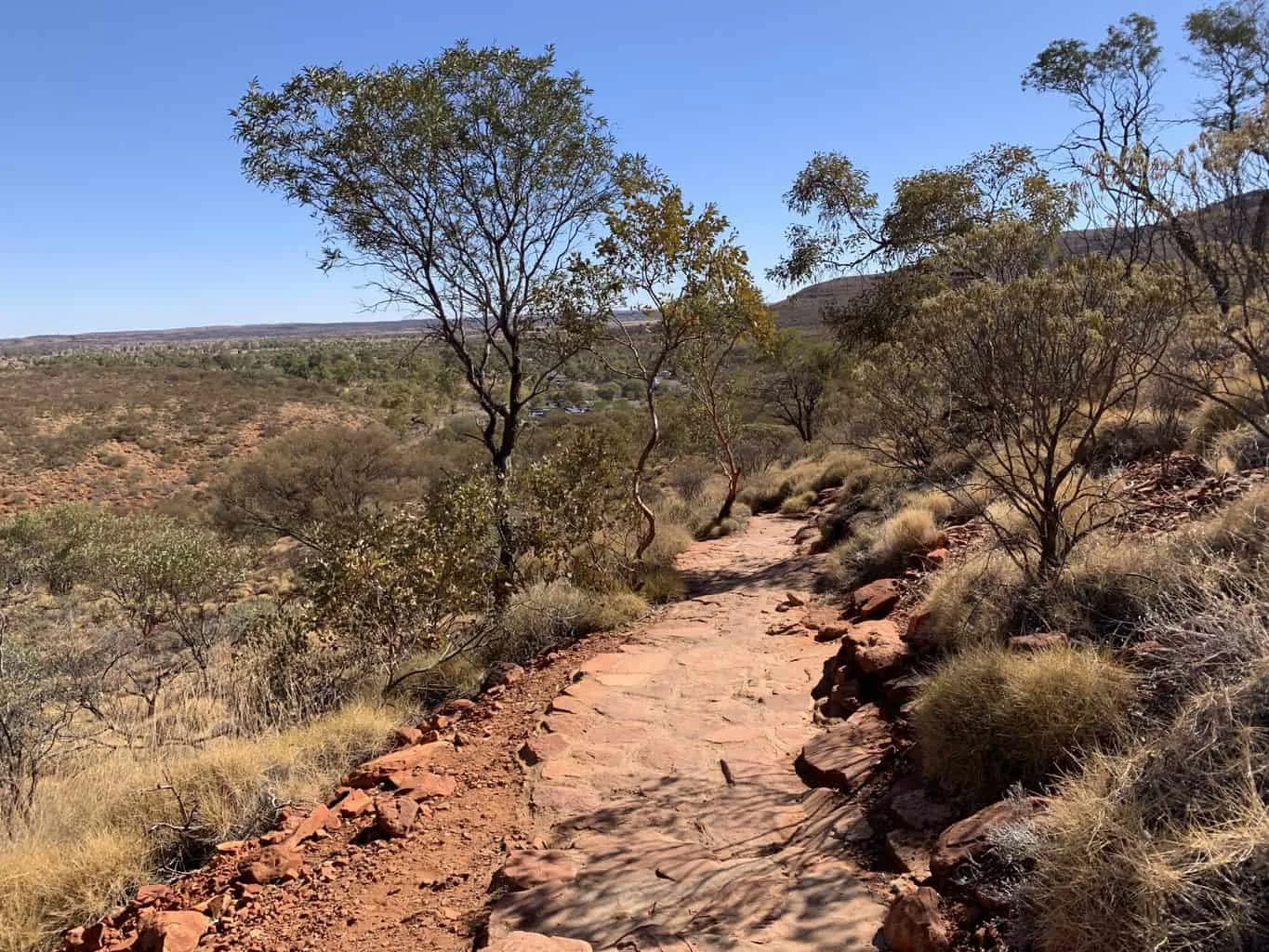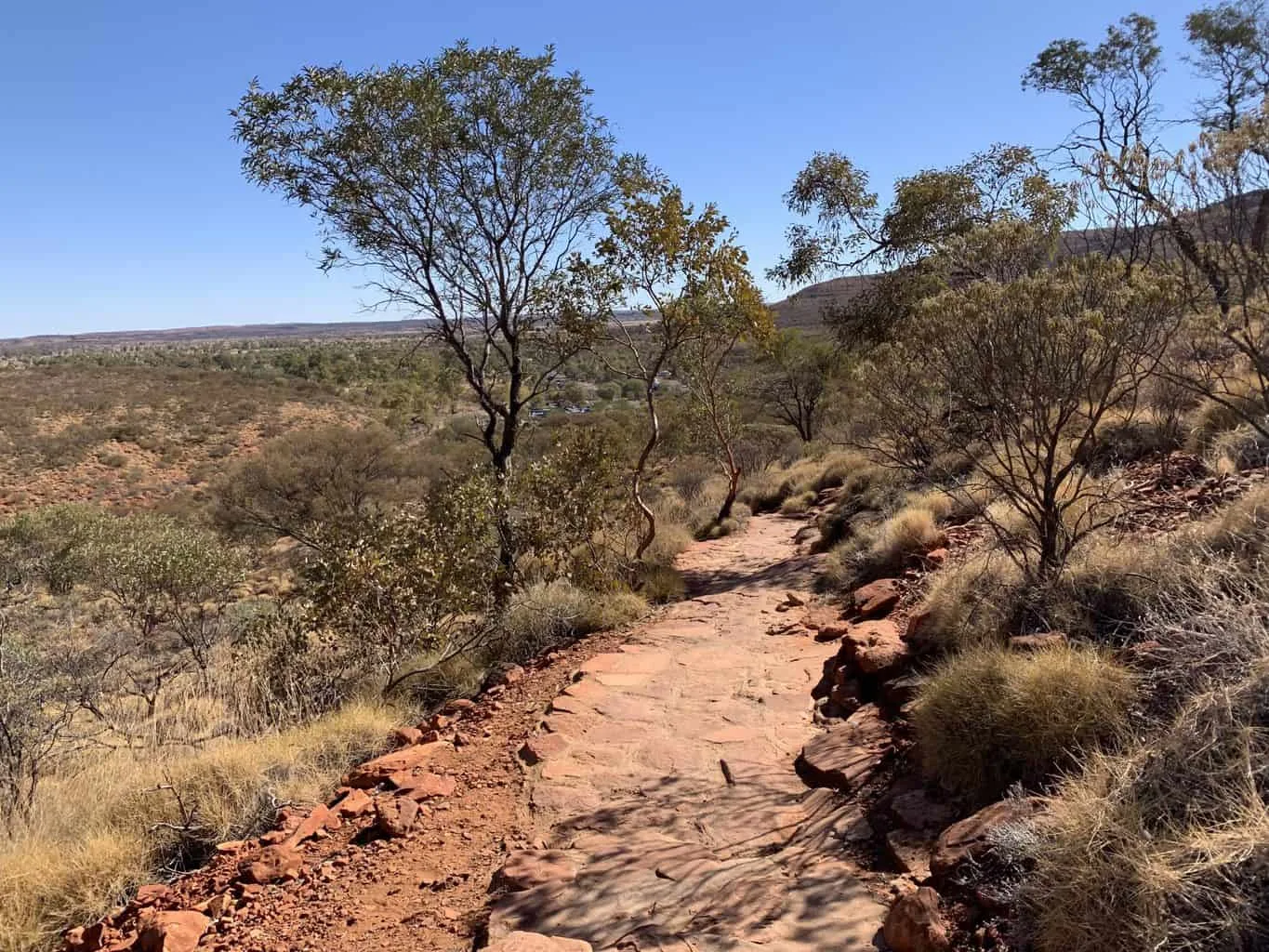 Now that you are all set for Kings Canyon it is time to make your way there for yourself.
You can read up on many more Australia itineraries and guides to prep you for your trip like this 3 Week Australia itinerary.
Heading to or coming from Uluru? Don't forget to take a look at the Uluru Base Walk and Kata Tjuta Valley of the Winds Walk.
Feel free to ask any questions below and have fun out there!