When I was planning my trip to Australia, there was one place that really caught my attention – The Daintree Rainforest.
Instead of doing just a quick day trip into the rainforest, I wanted to truly experience everything that the rainforest had to offer.
This guide will go over the top things to do in the Daintree Rainforest, and will go over everything you need to know about the area and how to go about planning your itinerary.
* Affiliate Disclosure: This post may contain affiliate links, which means I may receive a commission if you make a purchase through the links provided, at no additional cost to you. Thanks for supporting the work I put into TripTins!
1) What is the Daintree Rainforest
At over 180 million years old, the Daintree Rainforest is known to be the oldest rainforest in the world (even older than the Amazon!). It makes up 1,200 square kilometers in the northeastern part of Queensland.
You will find everything and anything in the rainforest – from dense jungles and mountain ranges to flowing rivers and waterfalls, the Daintree is packed with it all.
You are also sure to find an abundance of wildlife throughout. There are thousands of different species all around, from birds to reptiles to insects. Spending a couple days exploring the rainforest is a great add on to any Australia itinerary.
One of the most special aspects of the Daintree is that right next to it is another natural world wonder – The Great Barrier Reef.
There are several spots along the coast where you can see where the "Rainforest Meets the Reef", and enjoy two incredible natural landscapes right next to other.
This comprehensive guide will talk about many of those spots throughout.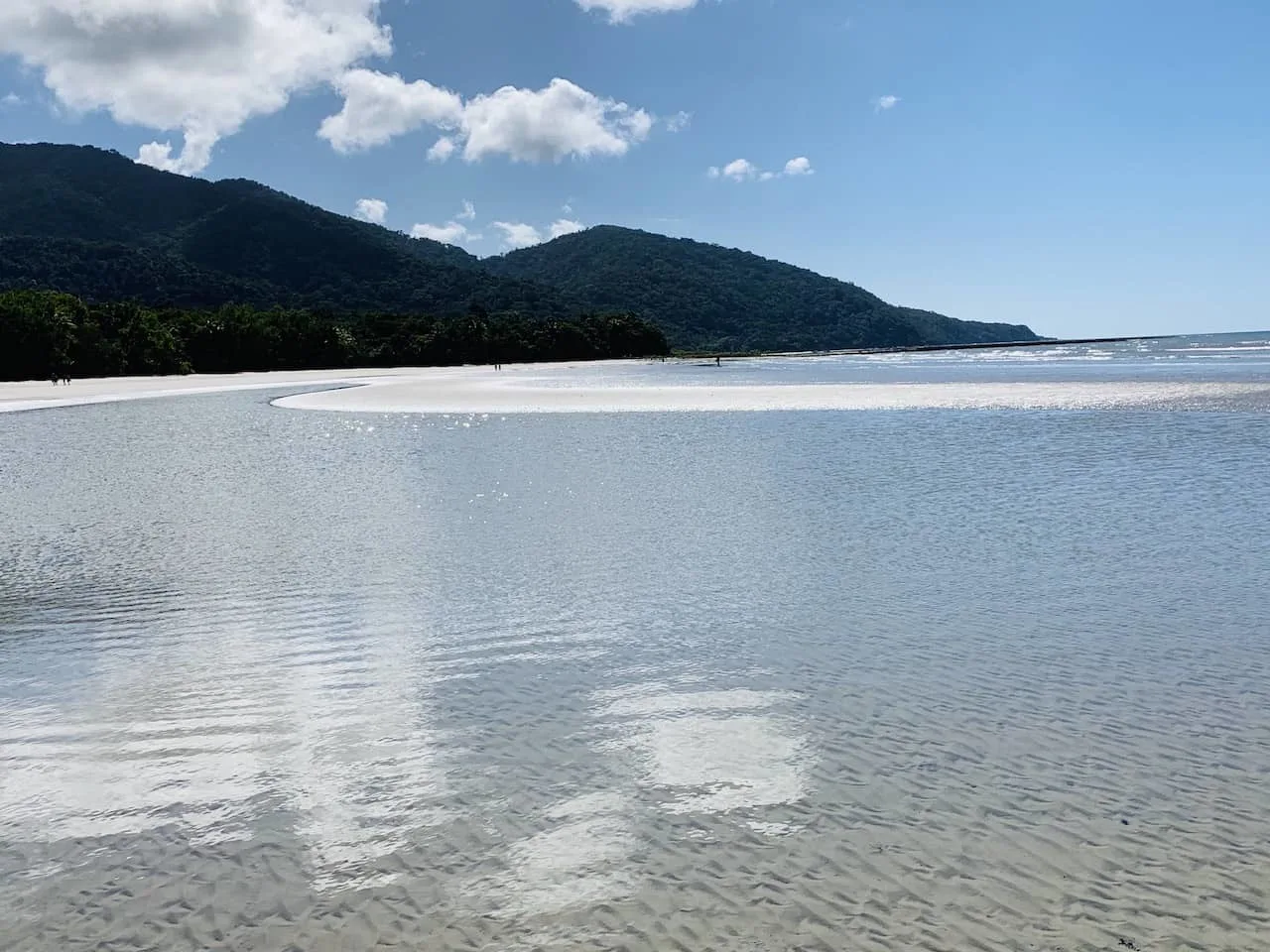 2) Daintree Rainforest Tips
Before talking more about everything that the rainforest offers its visitors, I wanted to point out some helpful tips for the Daintree in general.
1) There is barely any cell service in the Daintree Rainforest. To help get you from place to place, I recommend downloading offline maps to your phone before you go (either on Google Maps or through an app like maps.me).
2) To get to most Daintree attractions, you will need to cross the Daintree River. The car ferry goes back and forth constantly but do expect a wait time during peak hours. The round trip cost is $39 AUD and runs from 5AM – 12AM. More on this soon.
3) There are limited stores in the Daintree north of the river. If you are coming in for a few days, I recommend bringing/buying anything you would want from Cairns/Port Douglas. One of the grocery stores for essentials inside the Daintree would be the Friendly Grocer Convenience Store.
4) Beyond the Daintree River there are very limited gas options. In case you are running low on gas you can head to the Daintree Rainforest Village. I would however recommend to fill up your tank before you head out.
5) While the waters will seem inviting, you should not swim for a couple of reasons. During rainy season, the stingers (jellyfish) are out in full force and that certainly won't be pleasant if you encounter any. Secondly, the waters are known to have some salt water crocodiles lurking, so do be careful.
6) The cassowary is the one animal you will hear about most in the Daintree. It looks like some sort of prehistoric dinosaur bird with its colorful head, and is known to be dangerous if you get too close. So if you do see one, be sure to step back and keep your distance.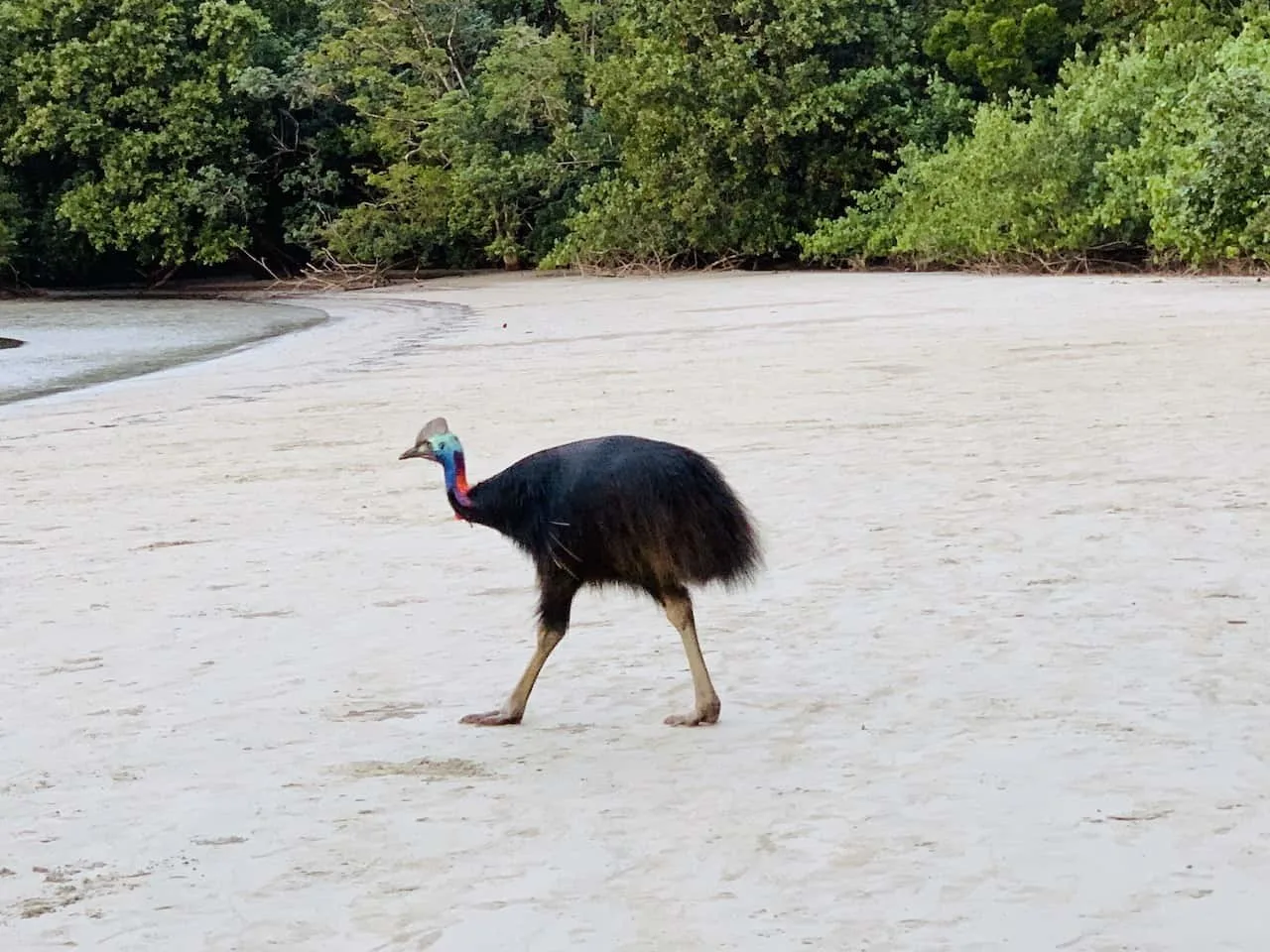 3) How to Get to the Daintree
Since I wanted to make this guide more of a do it yourself option, the best way to go about a Daintree Rainforest Tour is to hire your own car.
I ended up staying in both Cairns and Port Douglas prior to my time in the Daintree and both towns would have car rental options available.
With your own car you will be able to head on into the Daintree on your own and pick and choose exactly which places and activities suit you best.
You will be able to start as early as you would like and end your days past sunset (more on that later).
If you are more than one person, it can also be a super economical way to go about your time there as car rental prices are not too pricey (I got mine for $35 AUD / $25 USD per day).
Once you have your own car and are ready to go from Cairns or Port Douglas, it is time to make your way up north.
Nearly all the attractions mentioned in this guide (besides for the Mossman Gorge & some Daintree River tours) are located across the Daintree River, which I will go into a bit more detail on in the next section.
→ If renting a car in the Daintree Rainforest, feel free to check out Rentalcars.com, which will have various options to browse through. You can filter by car type, price, and more to find the perfect car for your trip.
Now, if you are just not comfortable driving a car (remember Australians drive on the left hand side of the road), your next best option would to join a group or private tour.
You can browse through some highly rated options to choose from but remember that they will not be as flexible as having your own two wheels.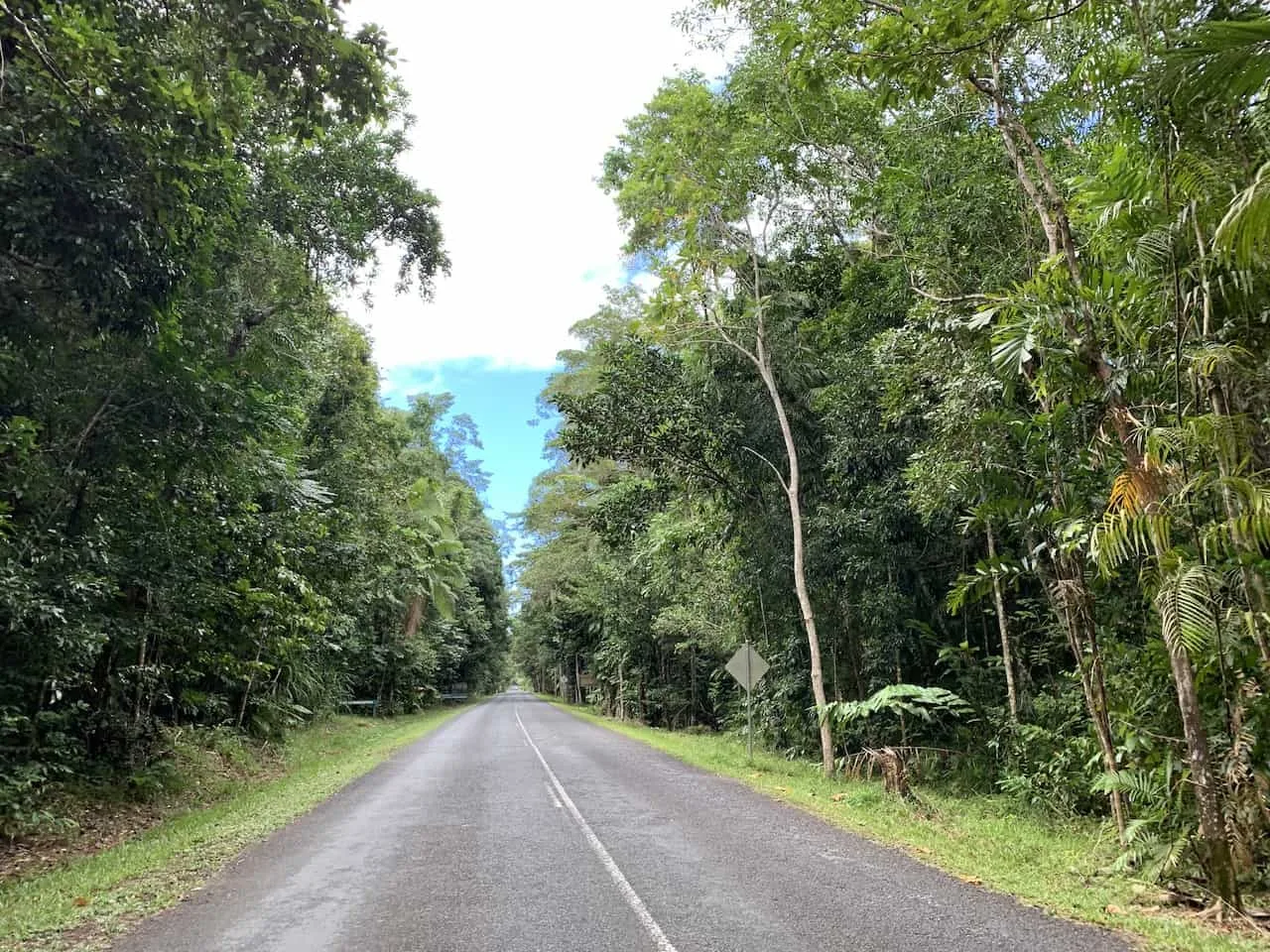 4) Daintree River Crossing
To get to nearly all Daintree attractions, you must make your way to the north side of the Daintree River. Every day from 5AM to 12AM, there is a car ferry that continuously goes back and forth bringing cars to either side.
The car ferry can fit around 30 vehicles on it and costs $45 AUD for the round trip ticket (don't lose that receipt!), and takes just 5 minutes each way.
One thing to mention is that there can be a long line of cars during those peak times of day (mid morning northbound / late afternoon southbound).
So, if you are heading across during those times you should expect to wait a couple rounds before going across.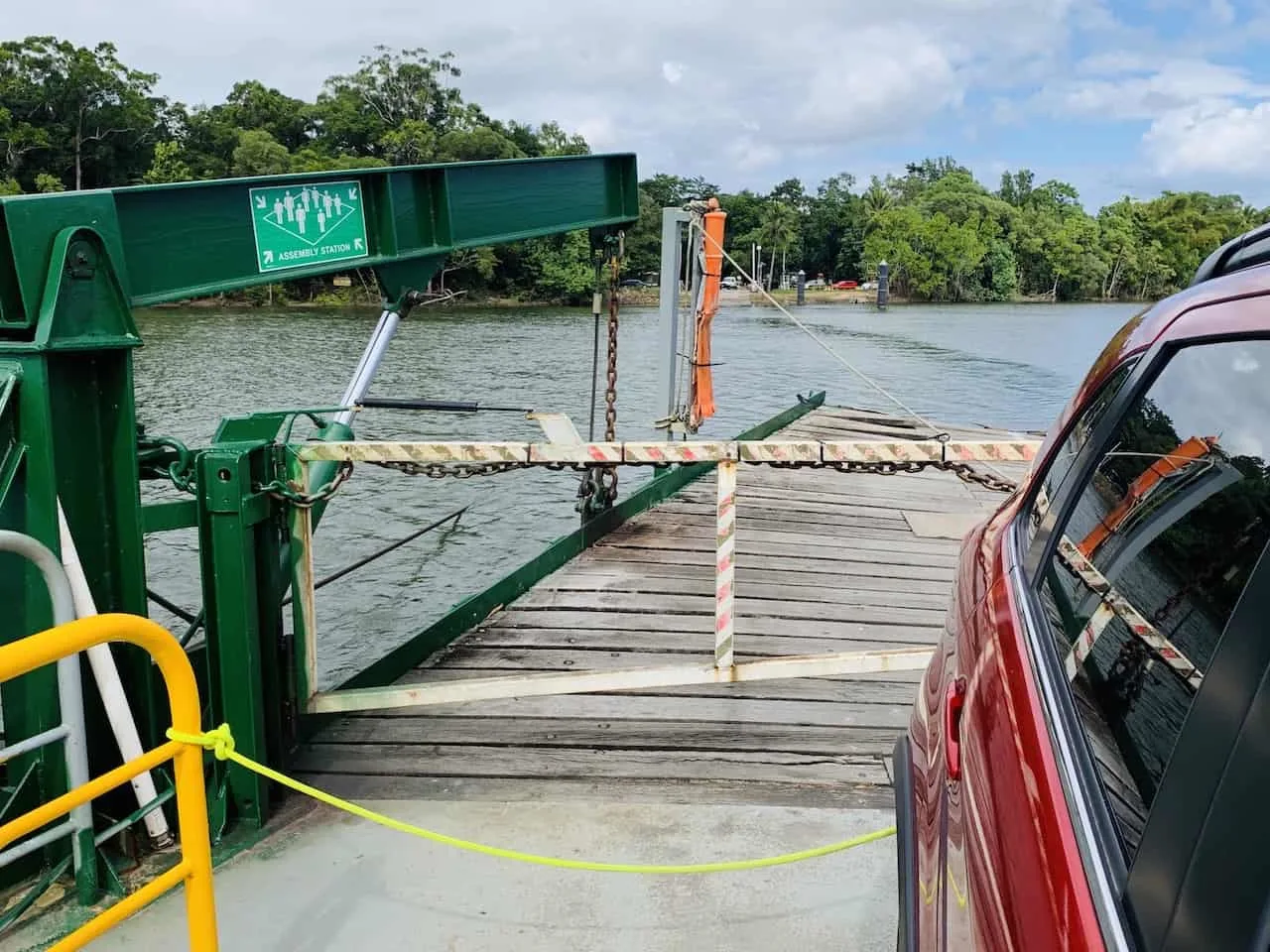 5) Where to Stay in the Daintree
To really get a full Daintree Rainforest experience I highly recommend staying within the Daintree itself for one or two nights.
There is much more to to see and do in the Daintree that goes beyond a day trip, and it is quite the experience sleeping among the wildlife and waking up to nature.
Below are some of the best options when it comes to choosing an accommodation option:
1. Daintree Ecolodge
2. Daintree Village Hideaway
3. Daintree Peaks Eco Stays
4. Daintree Manor B&B
5. Cape Trib Beach House
Looking for a budget option, check out Safari Lodge
» Check out some of the other top Daintree Accommodation options to choose from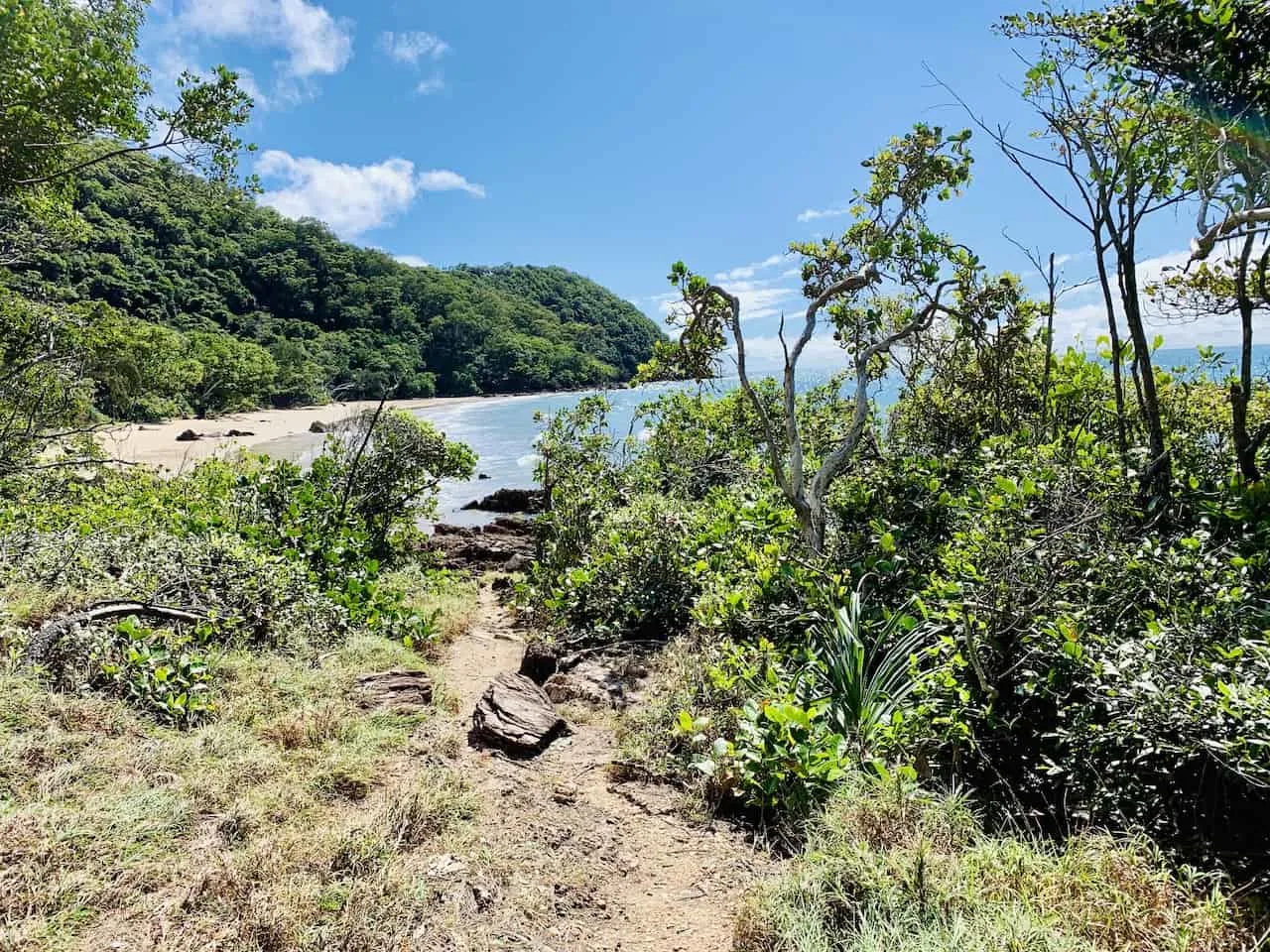 6) Where to Eat in the Daintree
Along the main Cape Tribulation Road is where you will find most of your dining options in the Daintree. I have listed out below some of the most popular spots that you can choose from when it comes to dining out:
• Julaymba Restaurant & Bar
• Whet Restaurant
• Turtle Rock Cafe
• Masons Cafe
• PK's Jungle Village
• Tides Bar and Restaurant
• CJ's Bar & Grill
» And don't forget to get some dessert and the famous Daintree Ice Cream Company!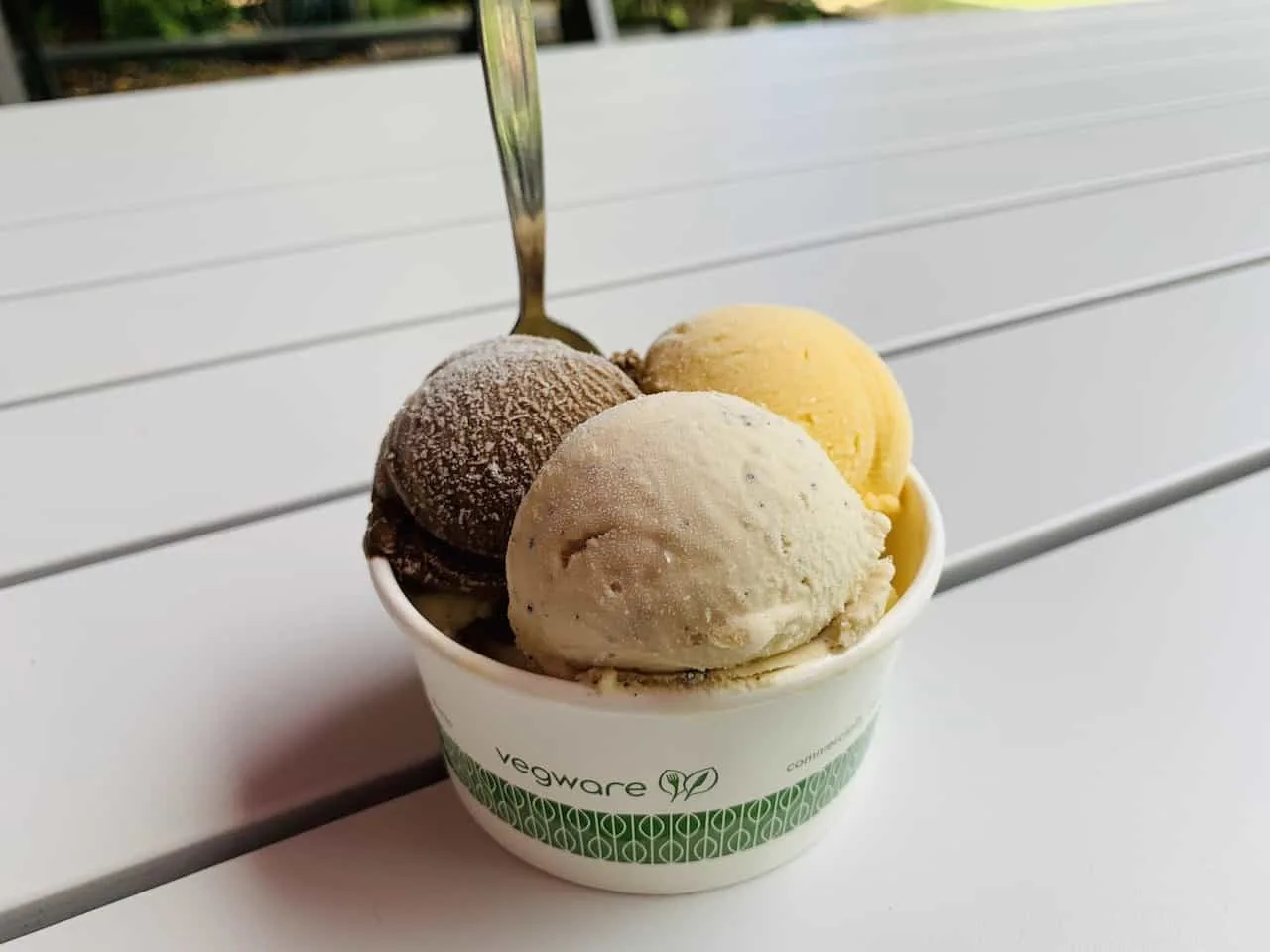 7) Daintree Rainforest Things To Do
From rainforest walks and beaches to swimming holes and mountain hikes, the Daintree Rainforest is full of it all.
In the next few sections I will break down the different types of activities that you can take part of during your time in the area. These will include:
Daintree Rainforest Walks
1) Dubuji Boardwalk
2) Jindalba Boardwalk
3) Marjdda Boardwalk
Daintree Experiences
1) Mossman Gorge
2) Daintree Discovery Centre
3) Daintree River Cruise
4) Ocean Safari
Swimming Holes
1) Emmagen Creek
2) Mason's Café
Daintree Beaches
1) Cow Bay
2) Myall Beach
3) Thornton Beach
4) Cape Tribulation
Mountain Hikes
1) Mount Sorrow Ridge Walk
Lookouts
1) Kulki Lookout
2) Mount Alexandra Lookout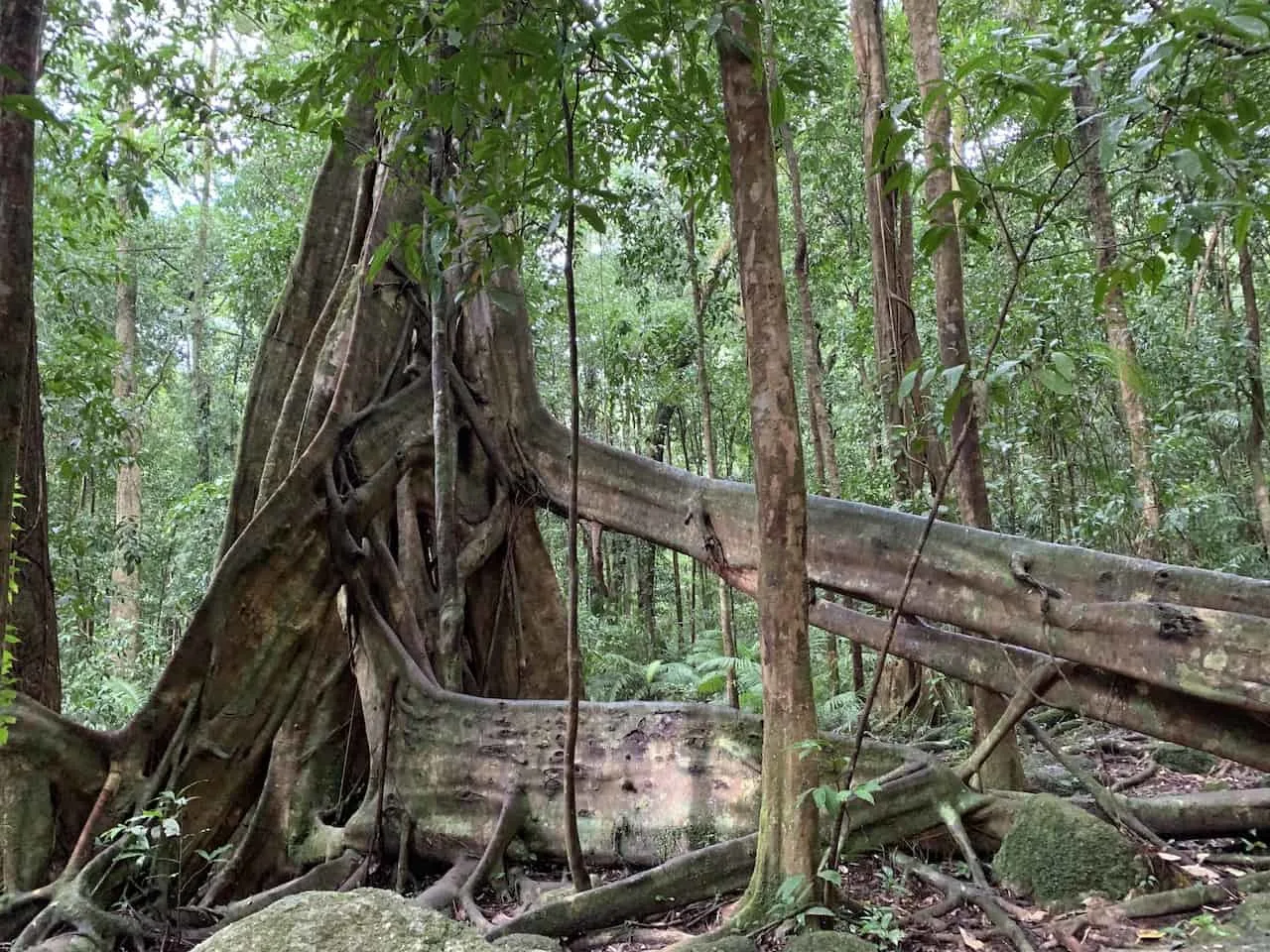 8) Daintree Rainforest Walks
While the Daintree is a massive place, there are just a handful of official boardwalk rainforest walks that you can take part of during your time in the area.
A) Dubuji Boardwalk
The Dubuji Boardwalk is a fantastic 45 minute, 1.3 KM loop through the Daintree with several types of landscapes to enjoy including rainforest, swamp, and mangroves.
What makes Dubuji even that much better though is that you can pit stop right on Myall Beach before finishing up the trail.
» The Dubuji Boardwalk Guide I put together will go more in depth about what to expect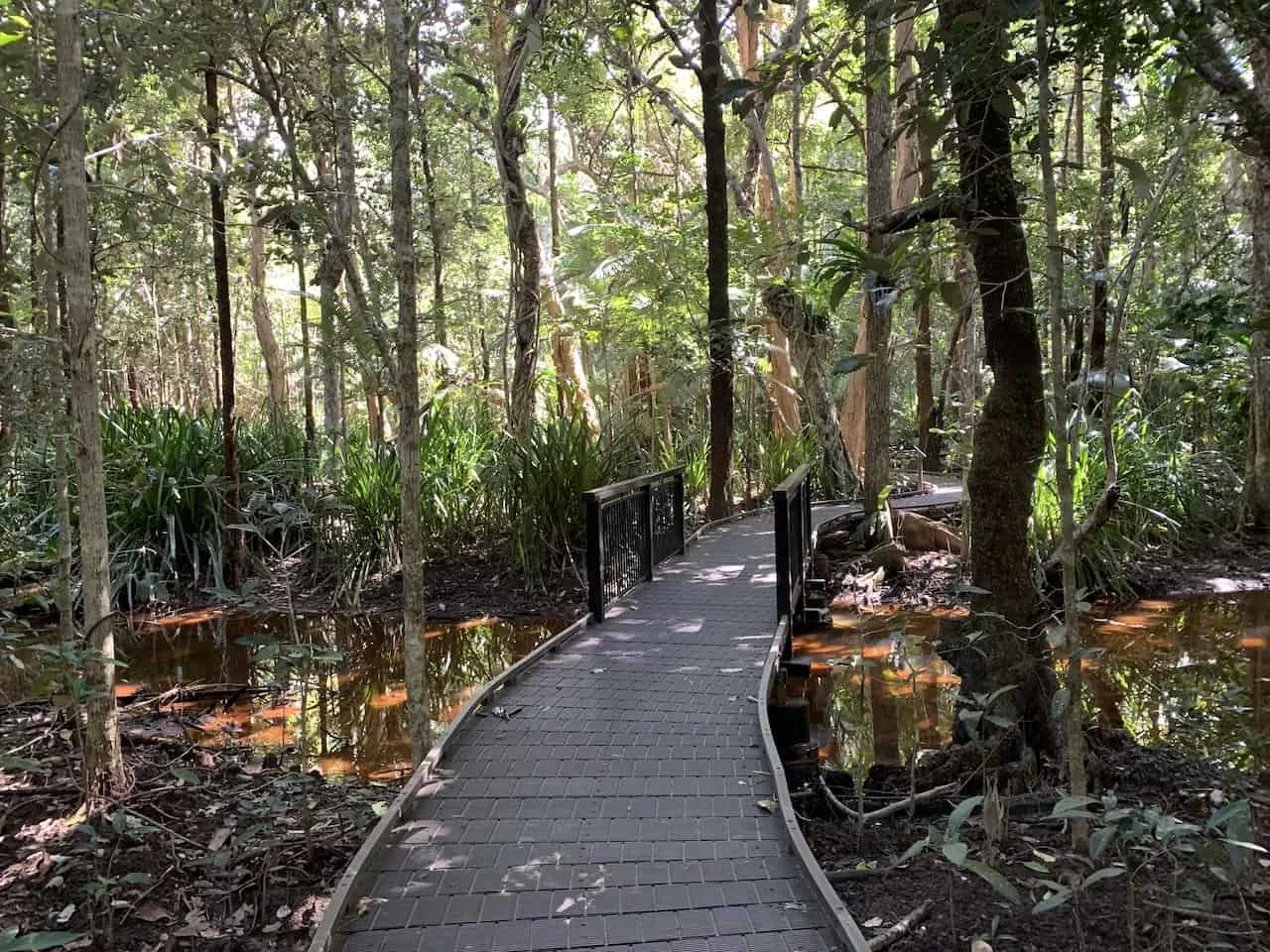 B) Jindalba Boardwalk
Located right nearby the Daintree Discovery Centre is the Jindalba Boardwalk. It can be explored on a shorter 0.7 KM boardwalk walk or longer 2.7 KM rainforest track alongside the huge amount of natural surroundings.
From massive trees to a variety of wildlife, you will be able to experience it all.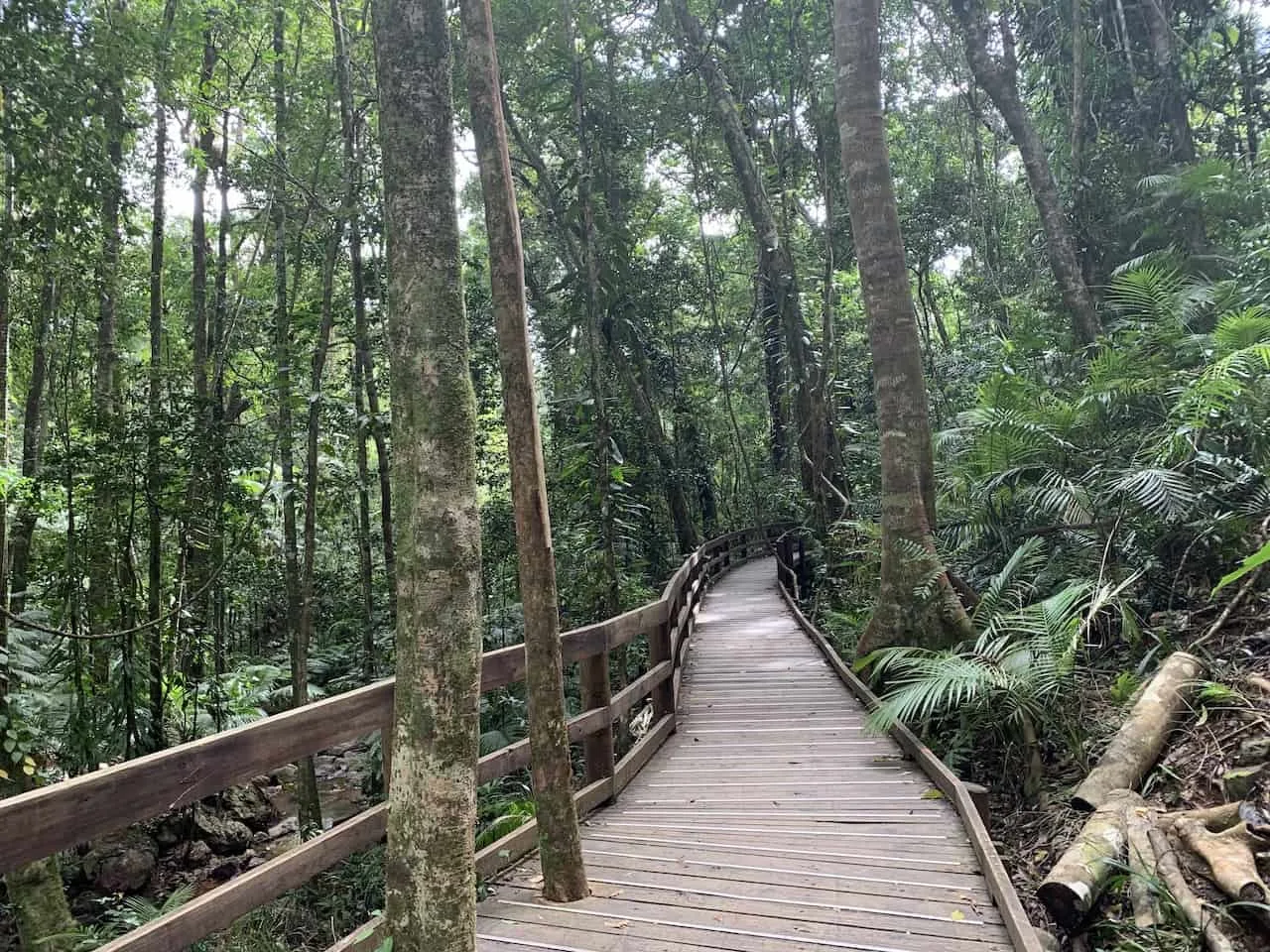 C) Marjdda Boardwalk
Finally there is the 1.1 KM Marjdda boardwalk, located just in between the two. Similarly, you will be able to enjoy the vast variety of plants, wildlife, trees, and more as you make the loop around the boardwalk.
During the walk you are sure to pass by the rainforest and mangroves landscape before heading back to the parking area.
Now, you do not need to take part of each one, but adding 1-2 of them onto your Daintree itinerary is a great way to get a better sense of what the rainforest is all about.
9) Daintree Experiences
The next four attractions are unique experiences that would be a great add on to any Daintree Rainforest Tour.
A) Mossman Gorge
First up is the Mossman Gorge. The gorge is one of the most visited places in the Daintree due to the fact that it lays on the south side of the Daintree River. That means you would not need to take the car ferry across to visit it.
It also happens to be home to a beautiful blue colored river and a few hiking trails. Once you arrive at the Mossman Gorge visitor centre, you will hop on the quick bus that will take you to Mossman Gorge itself.
Once there you can make the loop on the boardwalk to the viewing point and back on the River Circuit Track or you can also decide to add on the longer Rainforest Circuit Track to get further into the forest.
The Mossman Gorge also offers the chance to jump in the water here and enjoy a refreshing swim.
» The Mossman Gorge Guide I put together will go more in depth about what to expect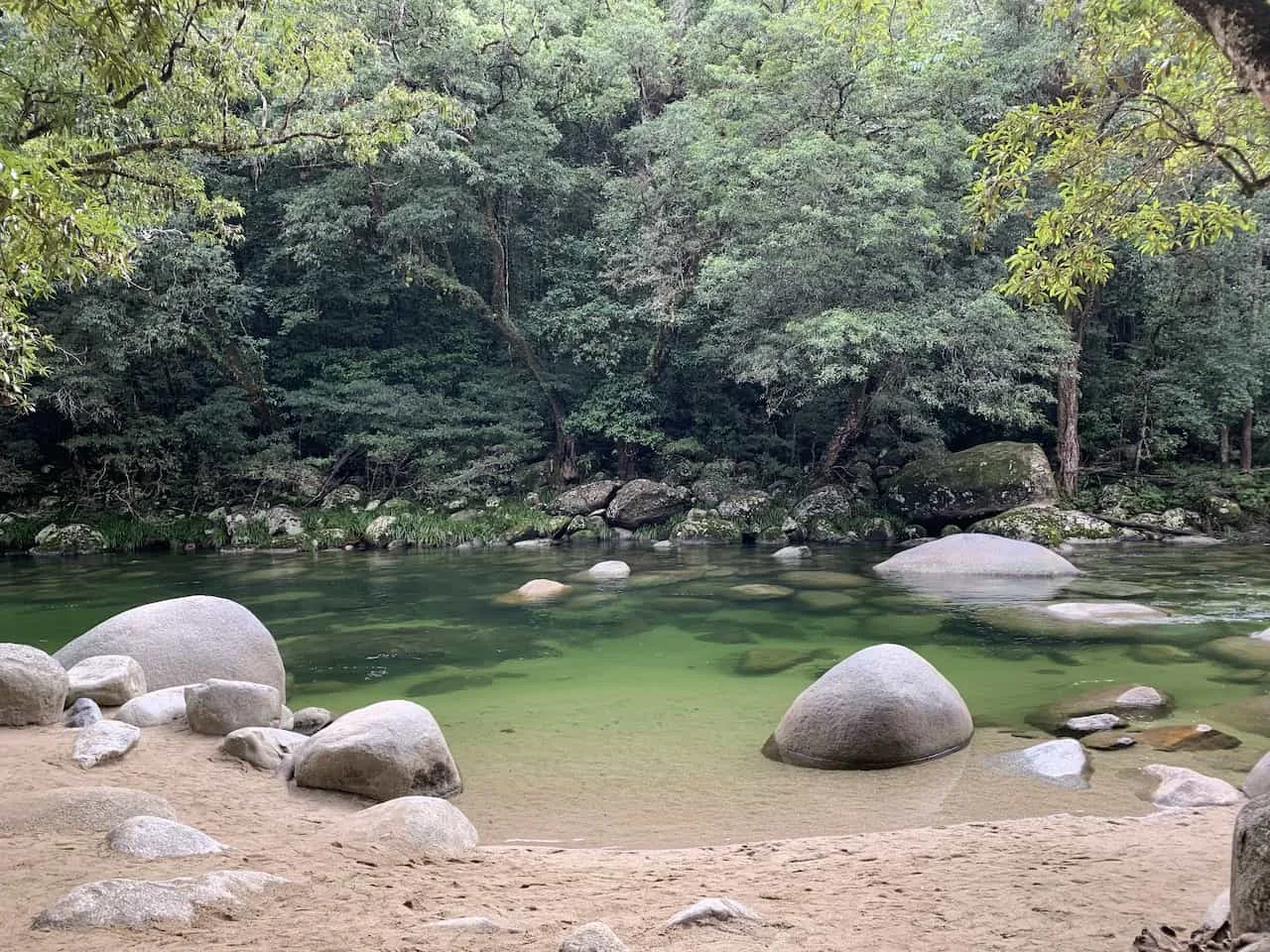 B) Daintree Discovery Centre
Another very popular add on to a Daintree Rainforest tour is the Daintree Discovery Centre.
Out of all the places in the Daintree, this one is probably the most helpful when it comes to learning what the Daintree is all about.
Not only are there several walking tracks around the area, you will also find an aerial walkway, a 23 meter high canopy and a super helpful interpretive centre to learn more about the rainforest.
Along the whole journey inside you will be given an audio guide and accompanying guide book that will give you all the information you need and more about the Daintree.
» The Daintree Discovery Centre Guide I put together will go more in depth about what to expect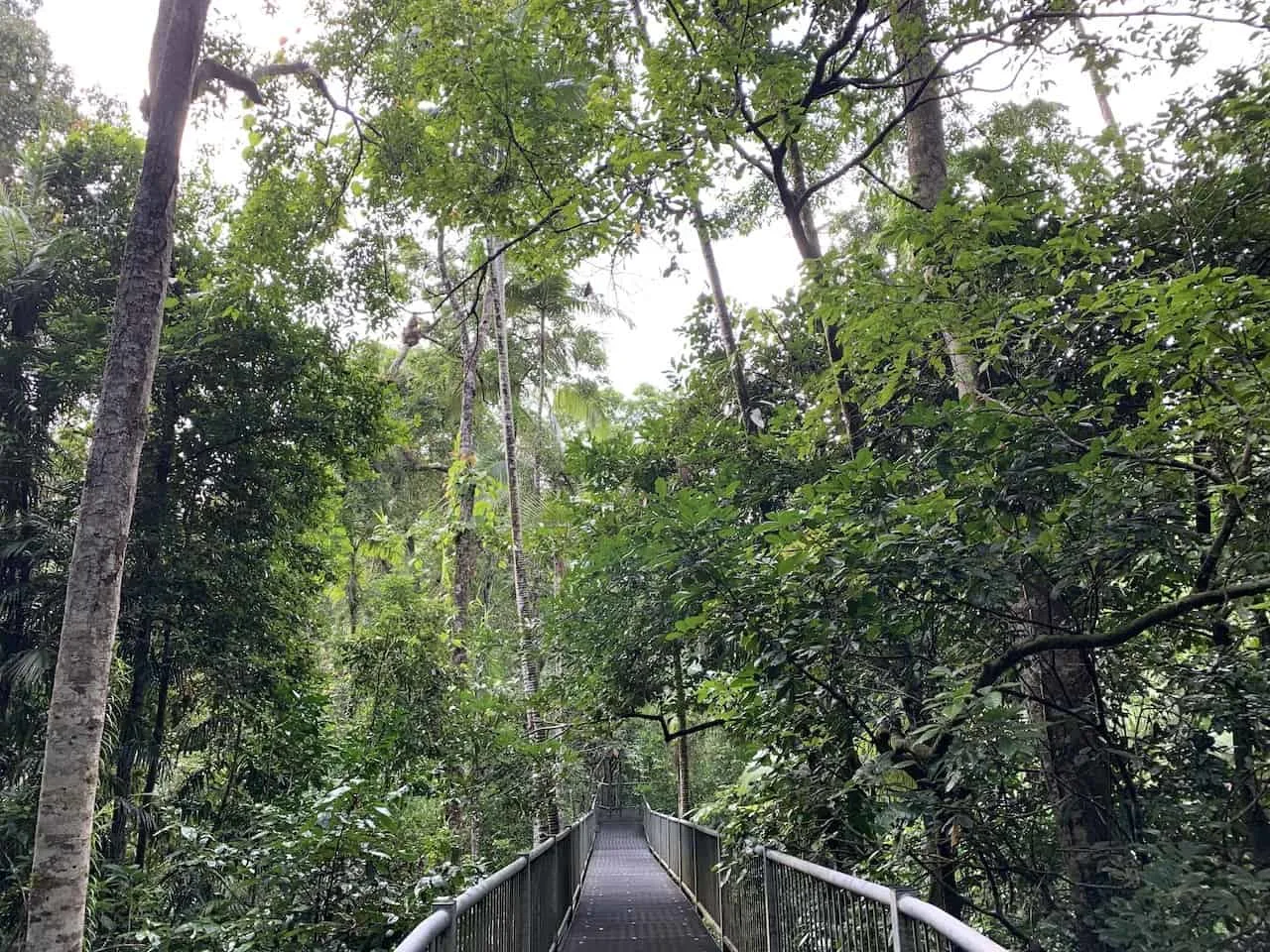 C) Daintree River Cruise
Lastly, is the Daintree River Cruise. This is the perfect way to get up close and personal to some of the wildlife in the area.
Many of the cruises depart on the south side of the Daintree River (nearby the river crossing) while others may have pick up points further inside in the rainforest.
The main highlight though on a Daintree River Cruise is the chance to see those crocodiles lurking the shores. For about 45-60 minutes you will go up and down the river spotting those crocs and other animals of the Daintree.
⇒ You can book your Daintree River Cruise experience ahead of time with a highly rated tour company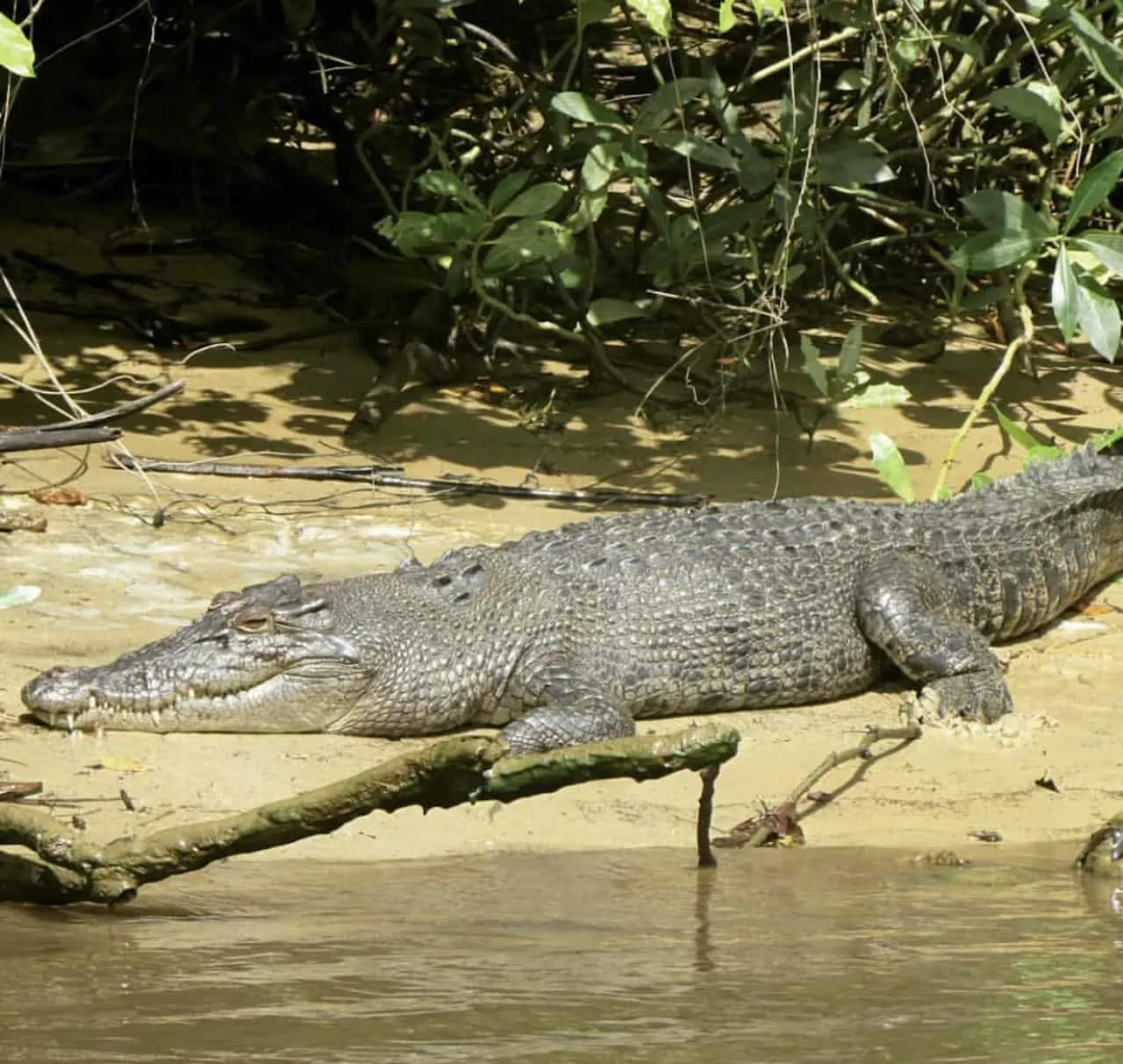 D) Ocean Safari
One of the only experiences that offers the chance to get out on the Great Barrier Reef in the Daintree is to take part of the Ocean Safari boat ride.
You will jet on off to the reef and head out to some incredible snorkeling spots to get up close and personal with some of the underwater life of the reef.
I did not take part of this Ocean Safari boat ride but did do the same type of experience with Ocean Rafting (their sister company) in the Whitsundays. I would highly recommend this trip!
⇒ Be sure to book your Ocean Safari Tour ahead of time because they do sell out!!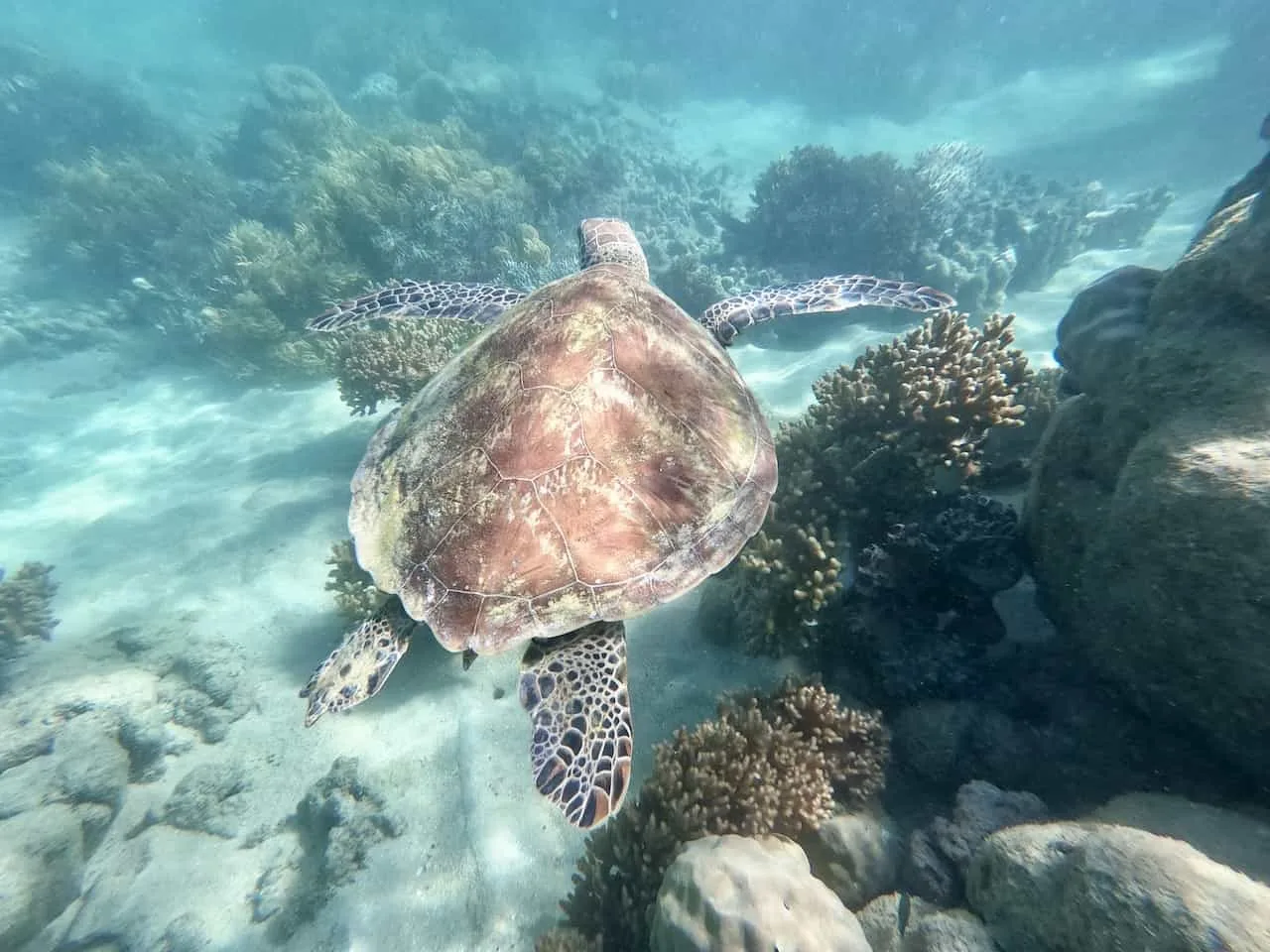 10) Swimming Holes
While the ocean will seem inviting, unfortunately it is not the safest place to swim. As mentioned earlier, this is because of the saltwater crocodiles and stingers.
Instead you can head to some swimming holes not too far away (you can also swim at Mossman Gorge!).
A) Emmagen Creek
The furthest that a non 4WD drive can make it in the Daintree is to Emmagen Creek (although the last bit of road is unpaved).
Once parked on the side of the road, continue along the 10 minute path that will bring you to a great swimming hole to enjoy.
If you are up for it, give the rope swing a try and launch yourself into the water.
B) Mason's Café
There is a great café in the Daintree that also offers access to its swimming hole.
For a moderate $1 AUD you can walk your way around the café and on the path towards the water. Here you can enjoy a swim and cool down.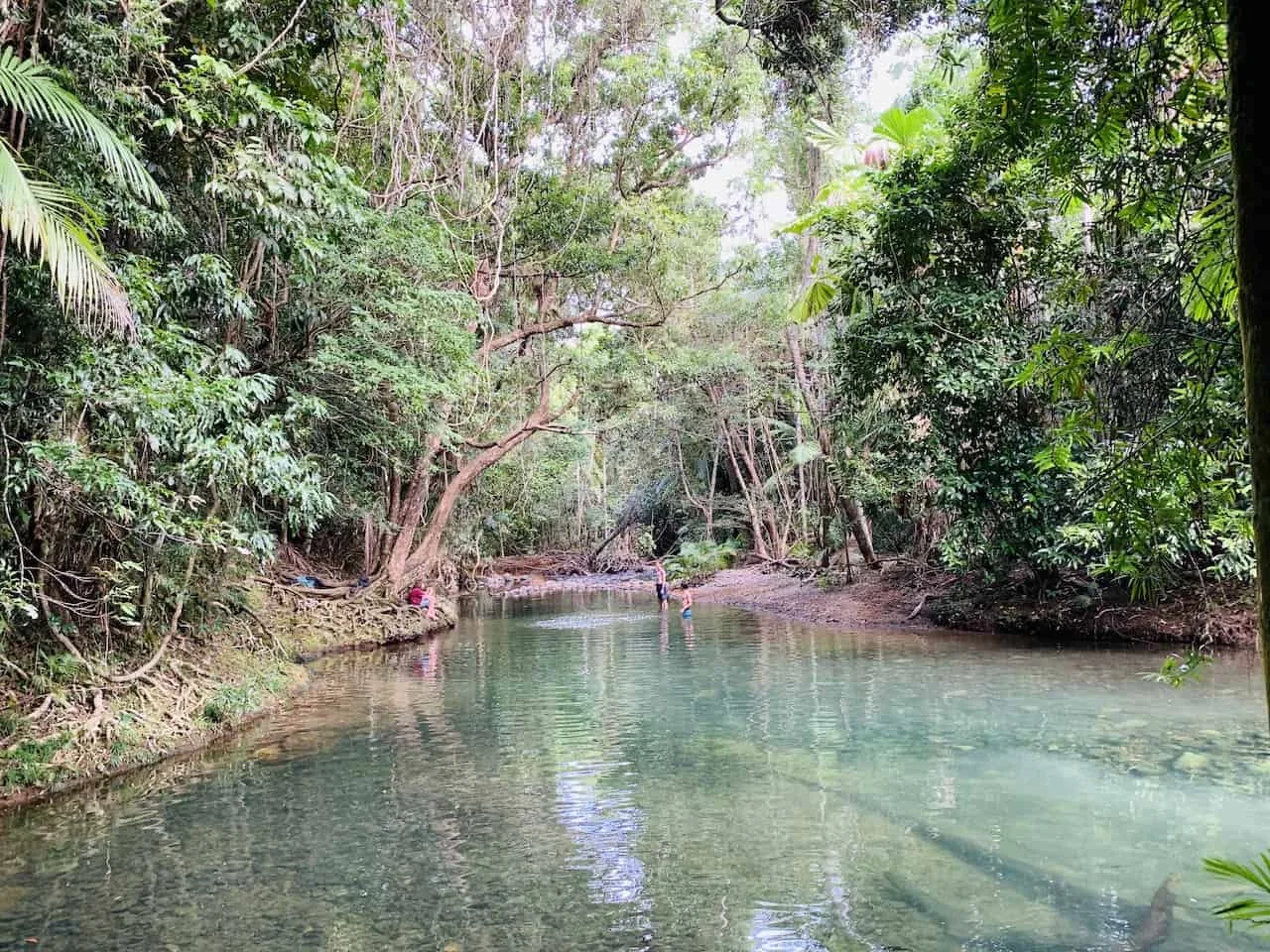 11) Daintree Beaches
One thing I really enjoyed during my time in the Daintree was the opportunity to explore the rainforest in the morning and then hit the beach in the afternoon.
There are several beaches all along the coast but I wanted to point out some of the main ones in the area.
As mentioned before, here is your chance to witness where two natural world wonders collide, a very rare site to see in the world.
→ Learn more in the Daintree Beaches guide up on the site that will walk through 10 of them!
A) Cow Bay
Cow Bay is one of the best beaches in the area with plenty of space to find your own spot and enjoy some time on the sand.
You will also find a variety of beachside swings alongside a small Daintree tributary.
I also did a bit of exploring here and began to walk north alongside the rocks to some hidden beaches around the corner. So if you are looking for your own private beach you can give it a try yourself!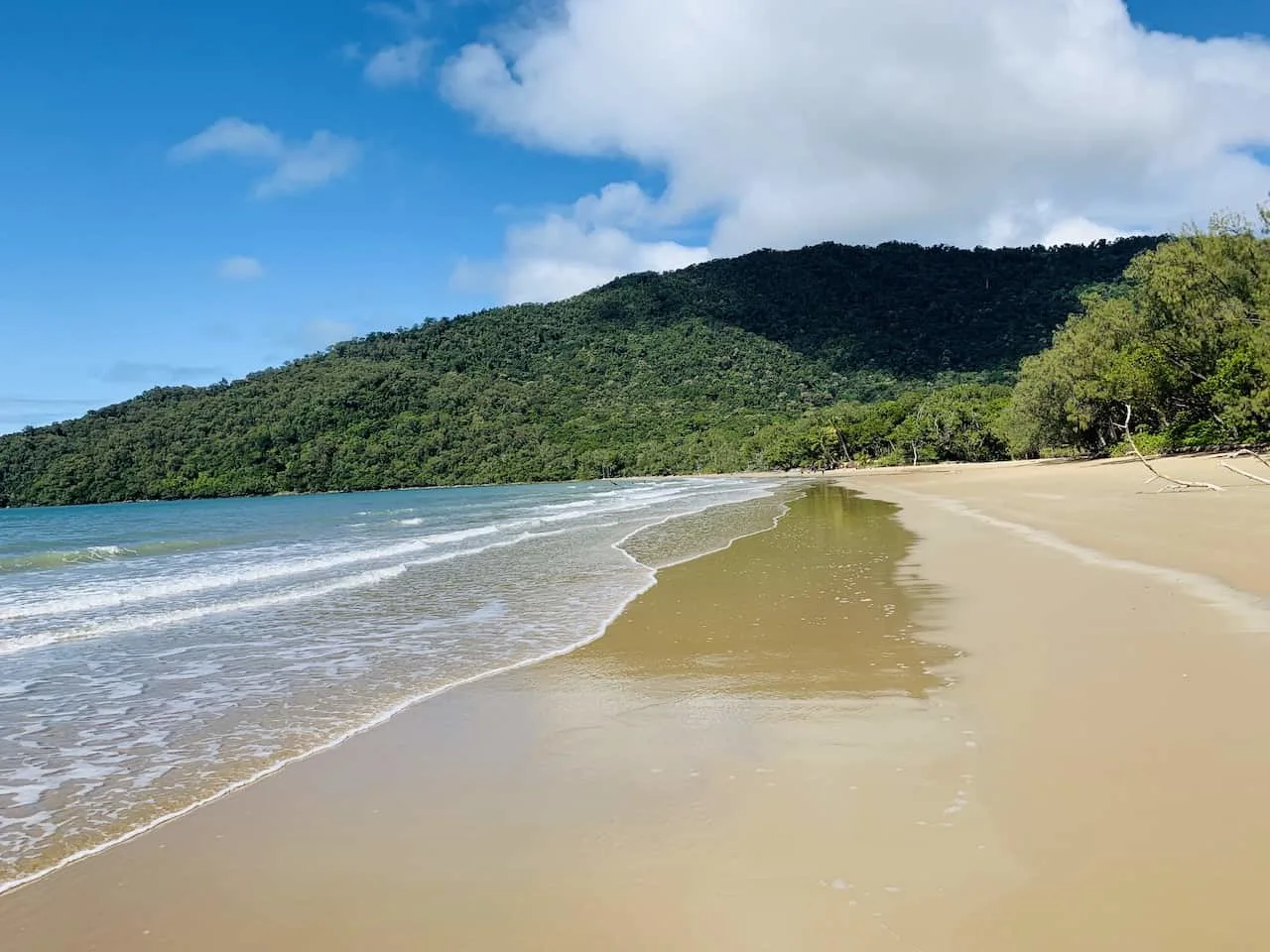 B) Myall Beach
If you head on the Dubuji Boardwalk, then you will be able to make a pit stop on Myall Beach along the way.
Even if you do not head on the boardwalk itself, there is a short path that will connect directly to the beach from the parking lot.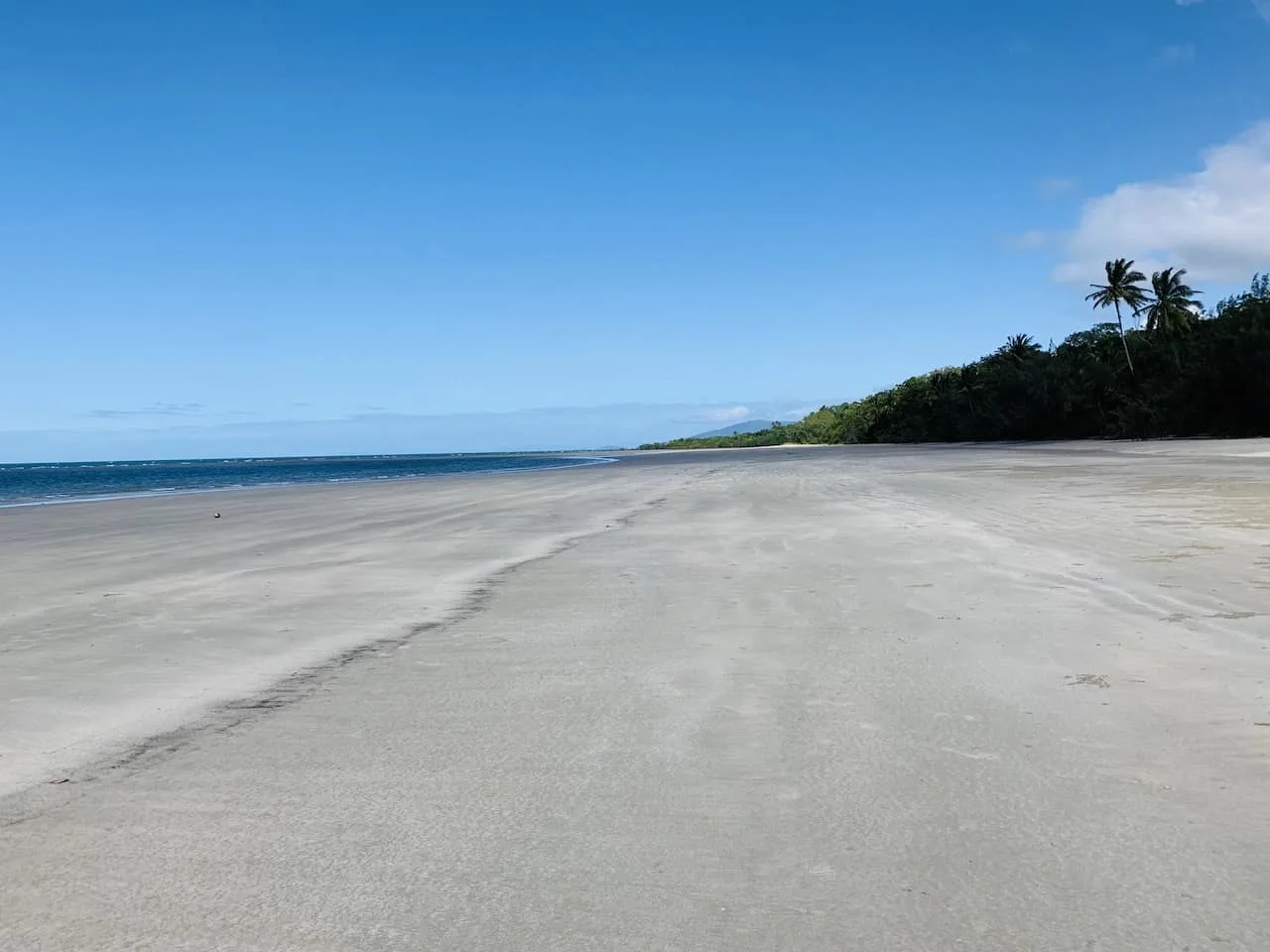 C) Thornton Beach
Another potential beach option is Thornton Beach. Here you will find one of the only beachside restaurants (CJ's) and it is a great place to enjoy some lunch after a morning of discovering the Daintree.
Right off the beach you will also find Struck Island, one of the only islands you will find off the coast here.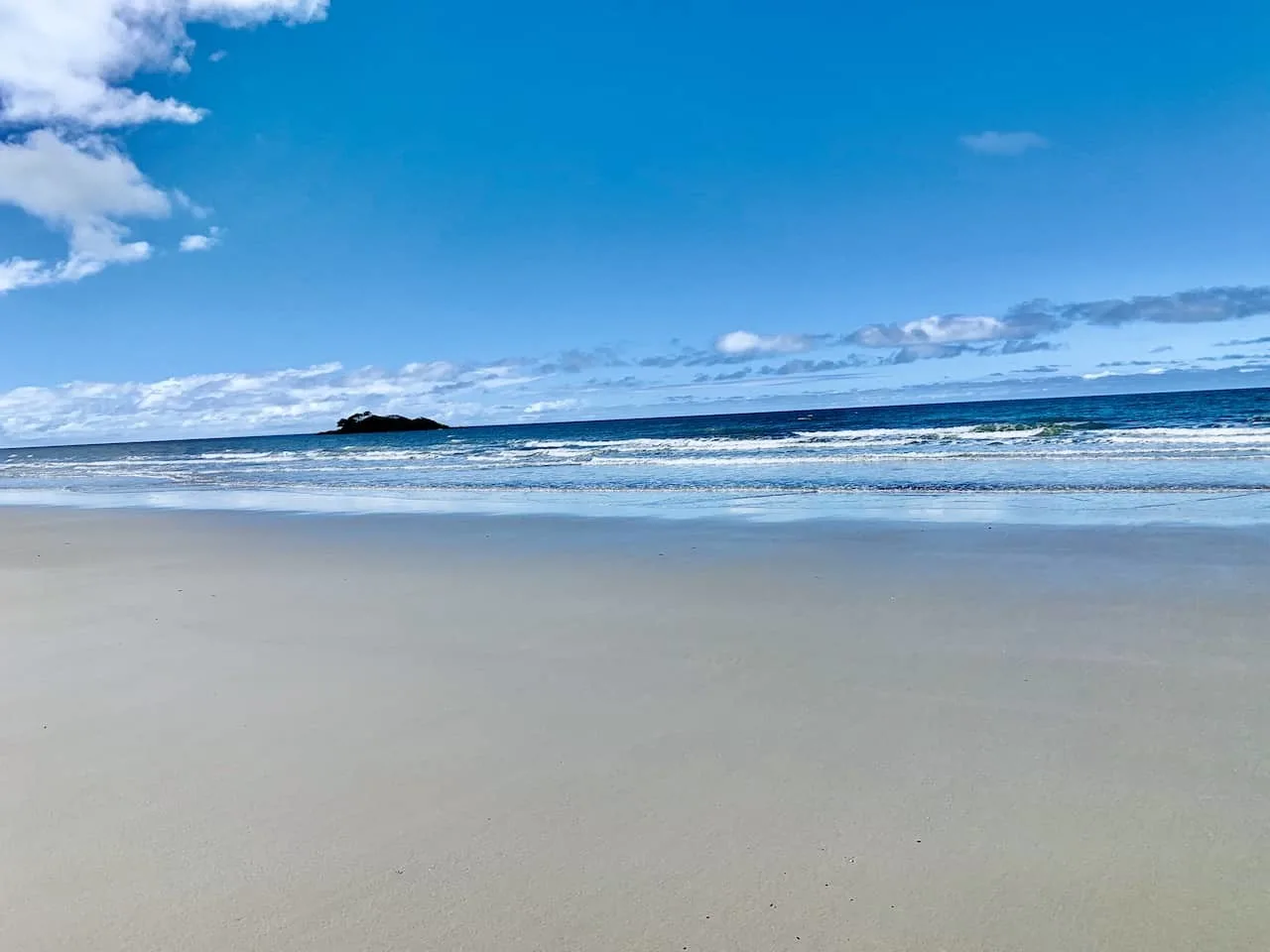 D) Cape Tribulation
The most famous of all beaches in the Daintree Rainforest is that of Cape Tribulation. It is one of the most picturesque places in the Daintree to experience and you should definitely make your way there for sunset and sunrise if you have it in you.
While the days will be crowded with all the day trippers, heading there earlier in the morning or later in the afternoon will be a very relaxing experience.
During my time on the beach waiting for sunset, a cassowary was making its way all along the beach as we all looked on (but we kept our distance!).
12) Mount Sorrow Ridge Walk
If you are looking to get high above the Daintree Rainforest and want to take in some views from above, your best option is the Mount Sorrow Ridge Walk.
This 4-6 hour round trip trail will take you to a viewpoint that looks over the Daintree and the Great Barrier Reef out in the distance. Make sure you are prepared for the trail before you head out!
» The Mount Sorrow Hiking Guide I put together will go more in depth about what to expect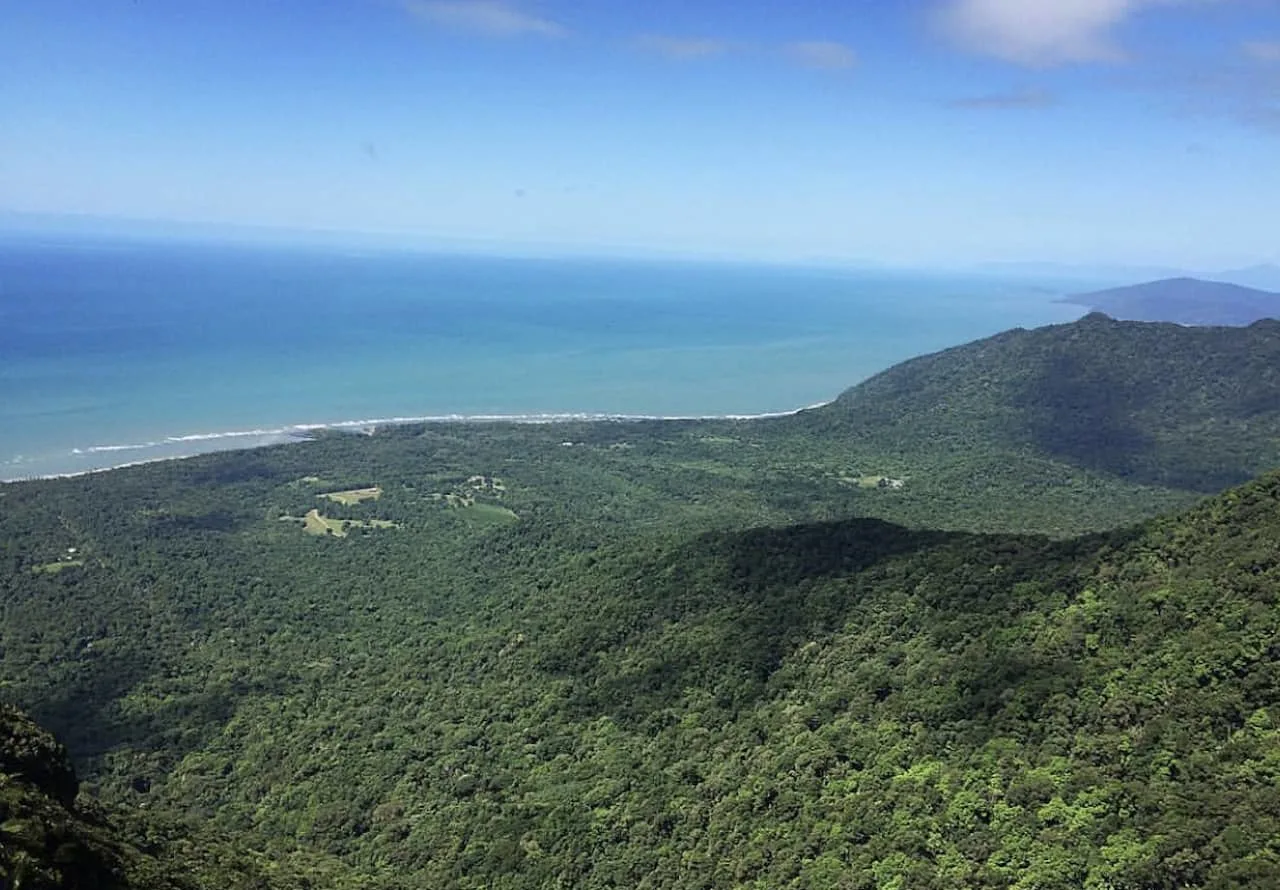 13) Daintree Lookouts
There are a couple lookout points in the Daintree where you can take in some of the surrounding water, beaches and more!
A) Kulki Lookout
Located right next to Cape Tribulation Beach is the Kulki Lookout. After parking your car in the lot you will see signs pointing you up to the right to this viewpoint.
It is only a few minutes walk until you reach the platform with views over Cape Tribulation.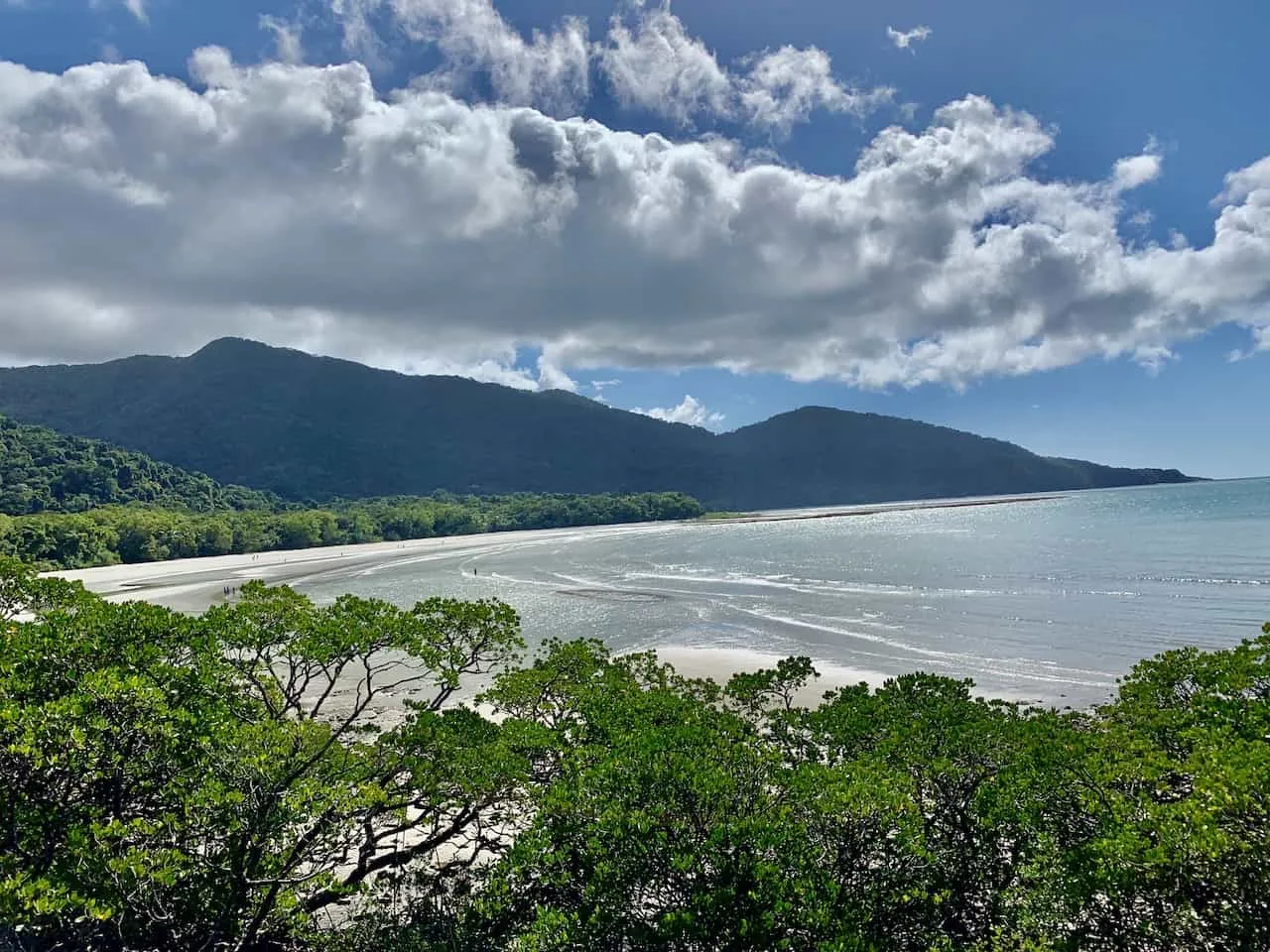 B) Mount Alexandra Lookout
One of the first stops you will come by in the Daintree Rainforest is the Mount Alexandra Lookout.
At the lookout spot you will be able to see all the way to Port Douglas with several other points of interest out in the distance.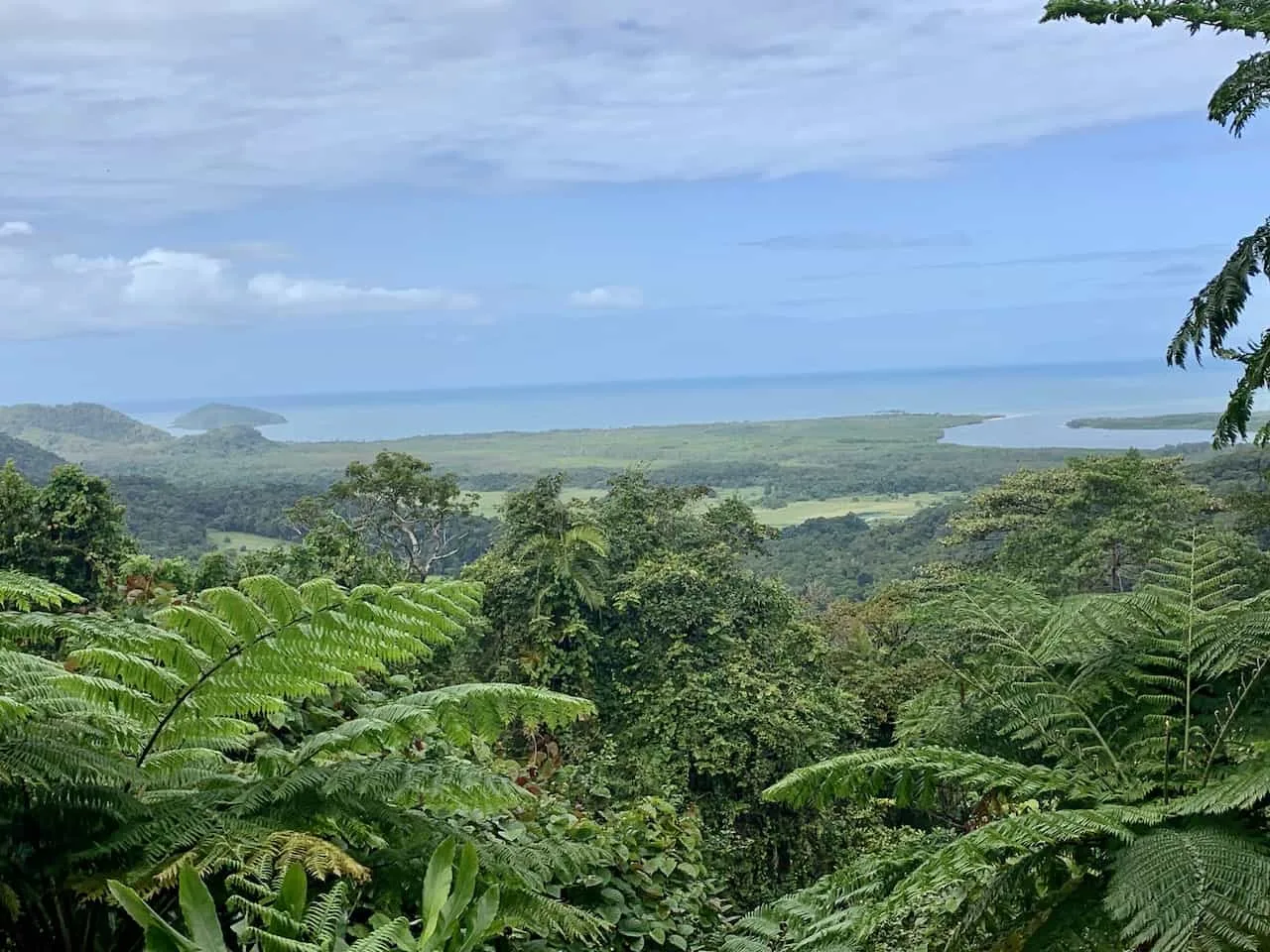 14) Daintree Rainforest Map
Below is a map that highlights each of the places mentioned in this guide. You will find all the attractions, activities, restaurants, hotels and other Daintree destinations pin pointed for your reference.
15) A Daintree Rainforest Itinerary
Now that you have a better sense of nearly everything one could do in the Daintree, I thought it may be helpful to put together what a Daintree Rainforest itinerary could look like.
I will assume a 2 day / 1 night trip starting early on day 1. Depending on how long you would like to stay at each place you may need to cut a thing or two out.
Day 1
1) Leave Cairns or Port Douglas Early AM
2) Mossman Gorge
3) Cross Daintree River
4) Alexandra Lookout
5a) Daintree Discovery Centre and/or
5b) Dubuji Boardwalk / Myall Beach
6) Cape Tribulation Sunset & Kulki Lookout
Day 2
1) Emmagen Creek and/or Mason's Cafe Swimming Hole
2) Cow Bay or Thornton Beach
3) Cross Daintree River
4) Daintree River Cruise (on your way back)
5) Back to Port Douglas / Cairns
» If you would like to head up to Mount Sorrow, you can do so on day 2 instead of the places mentioned, or you can add an additional day in between to hike up the trail.
I think that about wraps up a complete guide to a do it yourself Daintree Rainforest tour.
If you have any questions about anything mentioned above feel free to write them in the comments. Don't forget to check out the other Australia itineraries and guides up on the site.
Have fun out there and safe travels!
Flying into Sydney? Check out the 3 day Sydney itinerary and Blue Mountains Day Trip.
Going to the Whitsundays or Cairns? Take a look at the Ocean Rafting Northern Exposure Tour and Great Barrier Reef Liveaboard Experience.