The Daintree Rainforest is packed with wildlife and nature no matter where you go. One of the best ways to experience it all is to head off on a walk through the rainforest.
There are several official walks to take part of but one of the fan favorites is definitely the Dubuji Boardwalk.
Not only will you get to enjoy the serenity of the rainforest but you also will be able to get right up onto Myall Beach to enjoy some time on the sand.
* Affiliate Disclosure: This post may contain affiliate links, which means I may receive a commission if you make a purchase through the links provided, at no additional cost to you. Thanks for supporting the work I put into TripTins!
1) Dubuji Boardwalk Facts
Below are some helpful facts about the Dubuji Boardwalk so you have a better idea of what to expect along the way.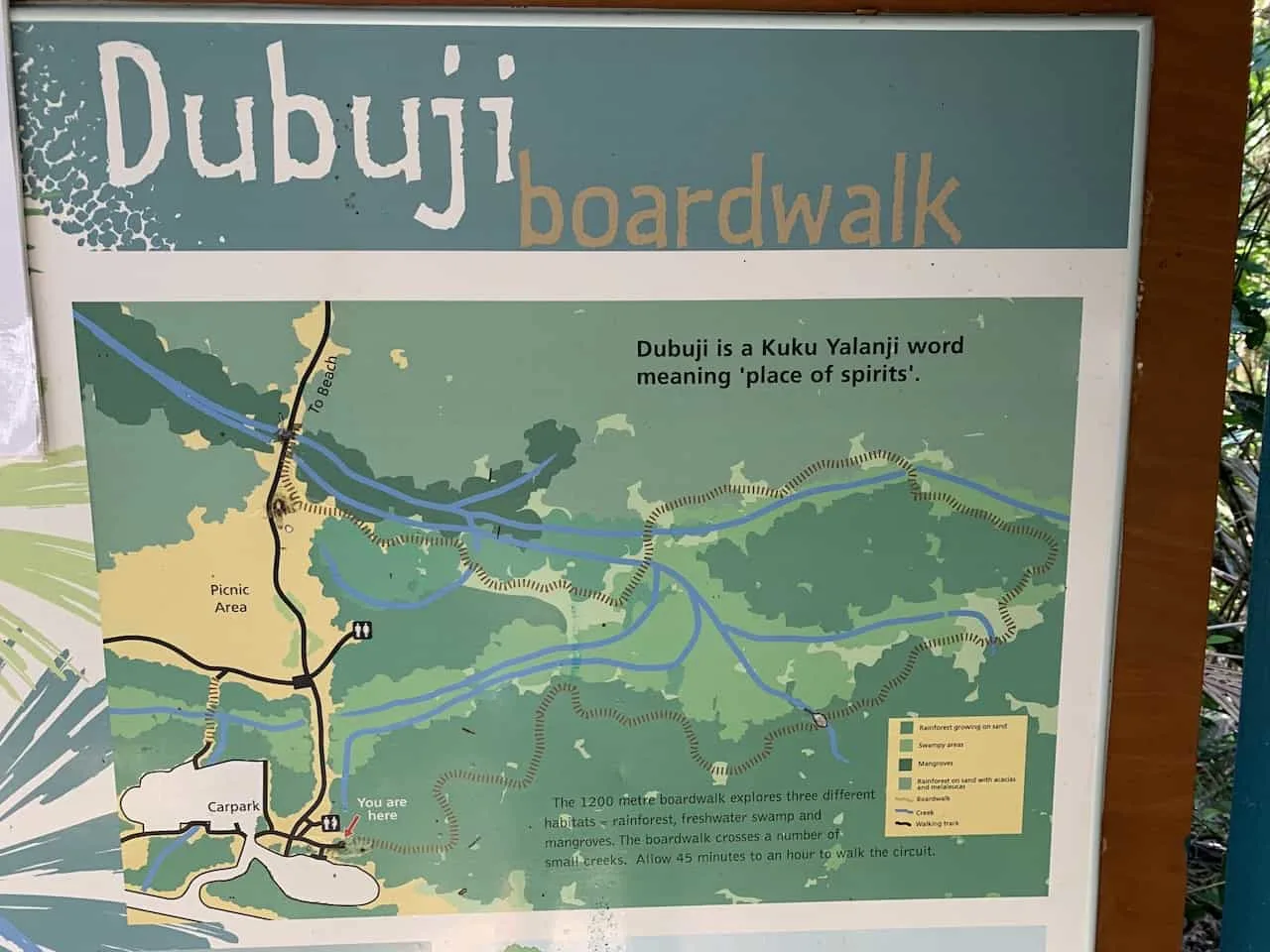 2) Daintree Rainforest Tips
Before going further into the Dubuji Boardwalk, I wanted to point out some helpful tips for the Daintree in general.
1) There is barely any cell service in the Daintree Rainforest. To help get you from place to place, I recommend downloading offline maps to your phone (either on Google Maps or through an app like maps.me).
2) To get to most Daintree attractions, you will need to cross the Daintree River. The car ferry goes back and forth constantly but do expect a wait time during peak hours. The round trip cost is $30 AUD and runs from 5AM – 12AM.
3) If you do not have a car yourself, the best way to experience the Daintree is with a guide. You can choose from some highly rated group tour or private tour options that can take you around the Daintree.
Some group tours may include the Dubuji Boardwalk while others may not. If you definitely want to take part, you can opt for the private tour.
4) There are limited stores in the Daintree. If you are coming in for a few days, I recommend bringing/buying anything you would want from Cairns/Port Douglas. You will find some restaurant selections though if looking to eat out for lunch and dinner.
5) The cassowary is the one animal you will hear about most in the Daintree. It looks like some sort of prehistoric dinosaur bird with its colorful head, and is known to be dangerous if you get too close. So if you do see one, be sure to step back and keep your distance.
6) While the waters will seem inviting, you should not swim for a couple of reasons. During rainy season, the stingers (jellyfish) are out in full force and that certainly won't be pleasant if you encounter any. Secondly, the waters are known to have some salt water crocodiles lurking, so do be careful.
---
Whenever heading off on longer day hikes, I always recommend being adequately prepared when it comes to the type of gear to bring along.
Check out the below packing list to get you ready for this hike and other hikes in Australia.
While you won't need to prepare too much for a walk like the Dubuji Boardwalk, on some of the longer hikes around the country, the packing list can come in very handy.
Hiking Packing List

In general when it comes to hiking, there are a few main aspects to consider. These includes clothing layers, hiking shoes, hydration & fuel, electronics, and other essentials.

Below in a breakdown of some of the top items, but be sure to check out the Hiking Packing List for a more comprehensive view.

Clothing Layers

Layering is going to be a top consideration when hiking. You will want to be prepared for all sorts of weather so you can be comfortable in different situations. Some items may include:

→ Hiking Shorts
→ Hiking Pants
→ Short Sleeve Shirt
→ Long Sleeve Shirt / Sun Hoodie
→ Mid Layer Fleece
→ Puff Jacket (not always needed)
→ Packable Rain Jacket (Columbia Watertight II)

Note that your layers should be made of moisture wicking material as they are breathable and quick drying.

Footwear

Having appropriate footwear will also be very important. You will want to have shoes with the necessary grip and support to keep you safe on the trail.

→ Hiking Shoes (Keen Targhee)
→ Hiking Socks (Darn Tough)

Other Essentials

Whether it is hiking gear, electronics, or just some miscellaneous items, here are some other essentials to bring along on hikes.

→ Hiking Backpack (Osprey Talon 22) & Rain Cover (Joy Walker Cover)
→ Hiking Poles (Black Diamond Trekking Poles)
→ Water Bottle (CamelBak Chute or Katadyn Filter Bottle)
→ Portable Charger (Anker PowerCore 5000mAh)
→ Action Camera (GoPro Hero)
→ Energy Bars & Snacks
→ Hat & Sunglasses
→ Sunscreen & Bug Spray
---
3) Dubuji Boardwalk Parking
When going through the Daintree, there really is just one main road to go down – Cape Tribulation Road.
Simply type in "Dubuji Boardwalk" into Google Maps and you should be taken right to a parking lot (right hand side of the road if coming from the South).
On Google Maps it is located at 3867 Cape Tribulation Road, right across the street from the Camelot Close turnoff.
The parking is free and near the parking lot you will also find a picnic area and restrooms.
Once all parked, just simply follow the signs for the Dubuji Boardwalk.
→ If renting a car in the Daintree Rainforest, feel free to check out Rentalcars.com, which will have various options to browse through. You can filter by car type, price, and more to find the perfect car for your trip.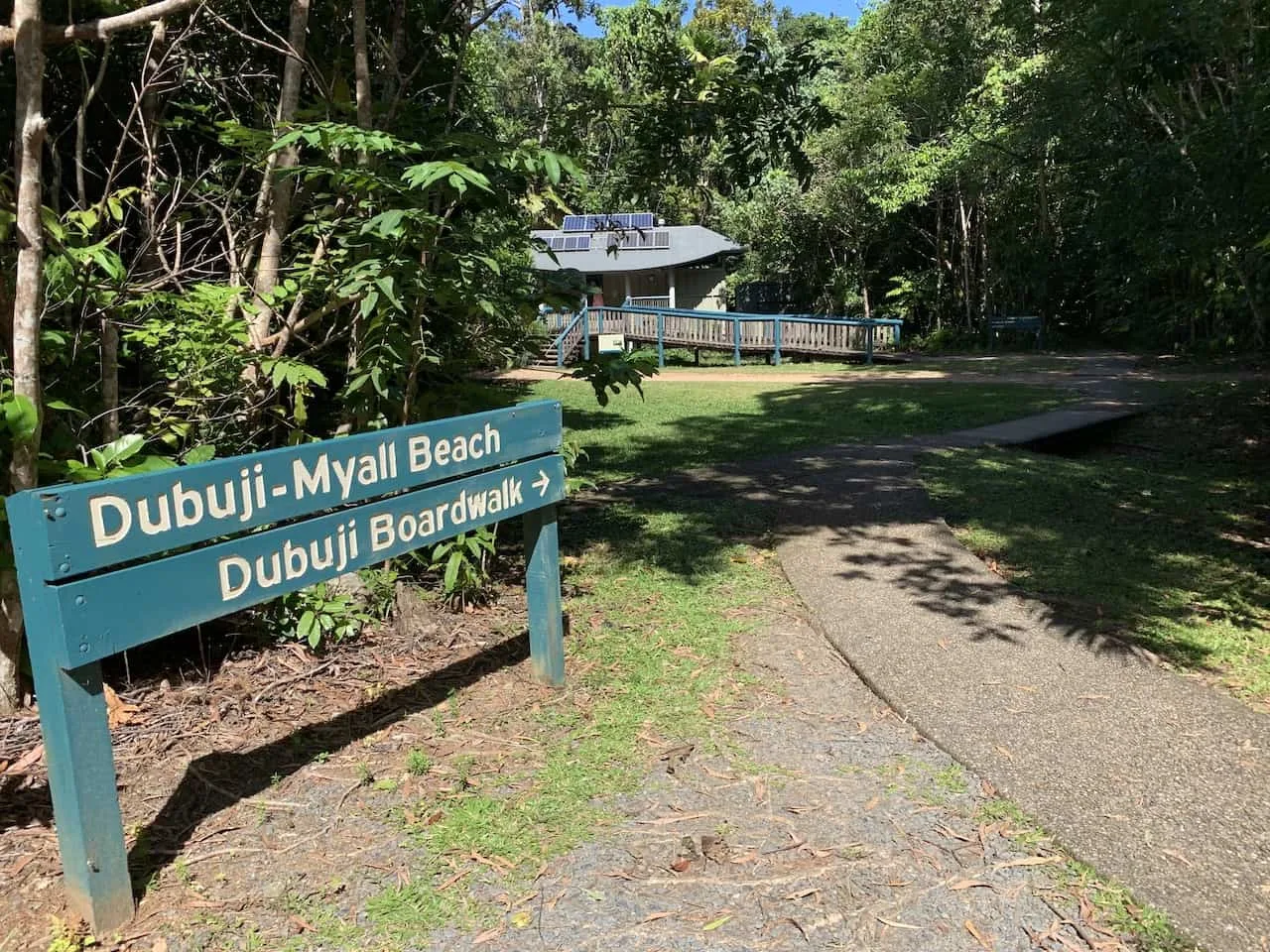 4) Dubuji Boardwalk Map
Below is a map that was posted along the boardwalk with some additional notes added. As you can see on the sign, there are two different route options to choose from – a shorter and longer one, which I have highlighted.
There is also the option to skip the boardwalk altogether and just head on off on the beach access track to Myall Beach.
Since the walk is not too long to begin with, I would recommend taking part of the larger loop, stopping off at the beach, and then taking the beach access track back to the parking lot.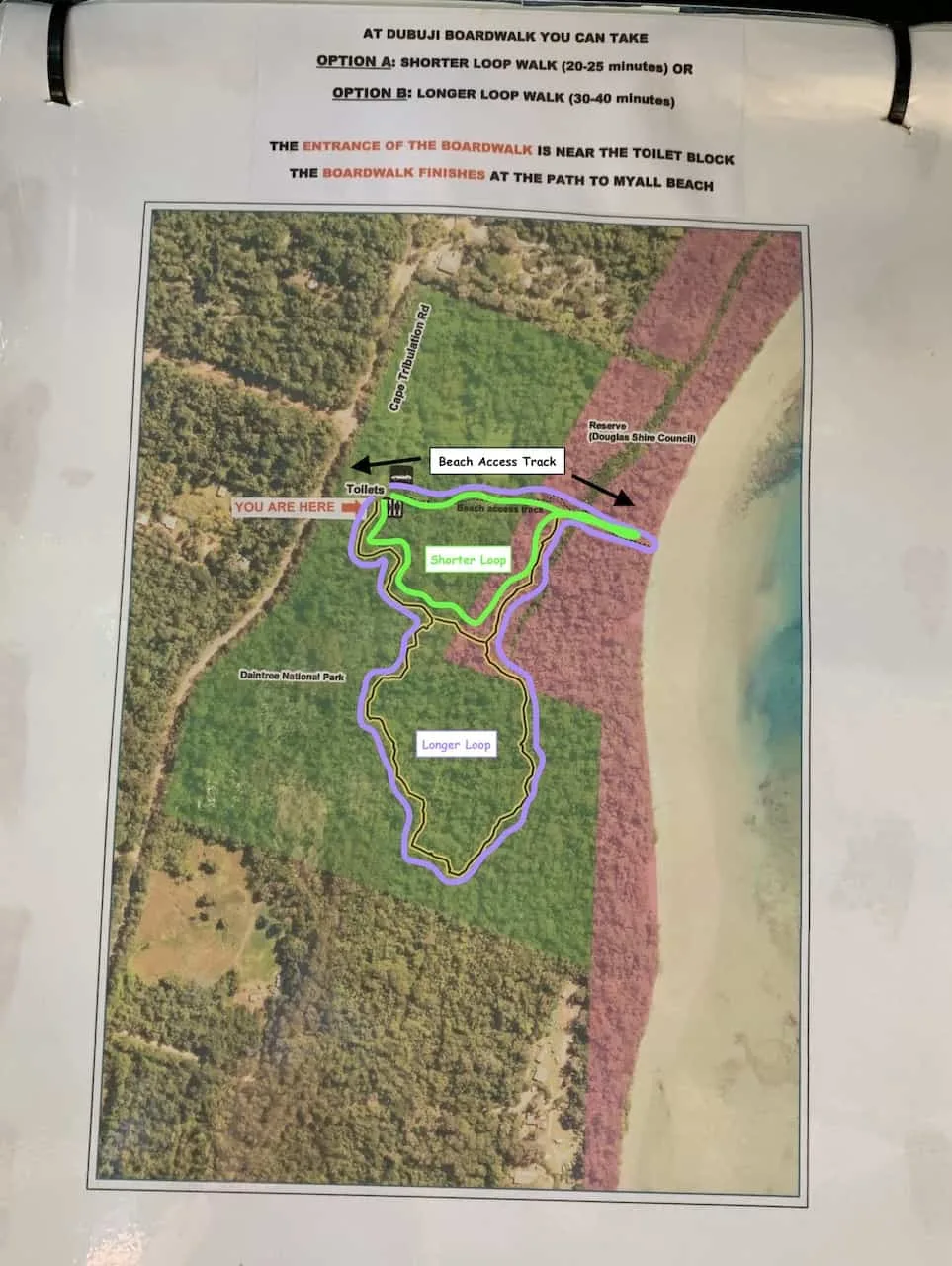 5) Dubuji Boardwalk Loop
Since this is a boardwalk walk, it is a pretty simple route to follow. You will start on the right hand side of the parking lot and make your way on a 1,200 meter boardwalk loop that will take you deeper into the rainforest.
Along the way you are sure to pass by small streams, plenty of birds and other wildlife, and a rainforest full of different types of trees.
While I did not see the infamous cassowary during my time on the boardwalk I talked to a few people that had (so do watch out for them!).
It is a great walk for those that want to have the peacefulness of the Daintree surrounding them and be immersed in the nature offered in the area.
During the walk you will actually pass by three different types of habitats – rainforest, freshwater swamp, and mangroves, so the landscape around will change up a bit.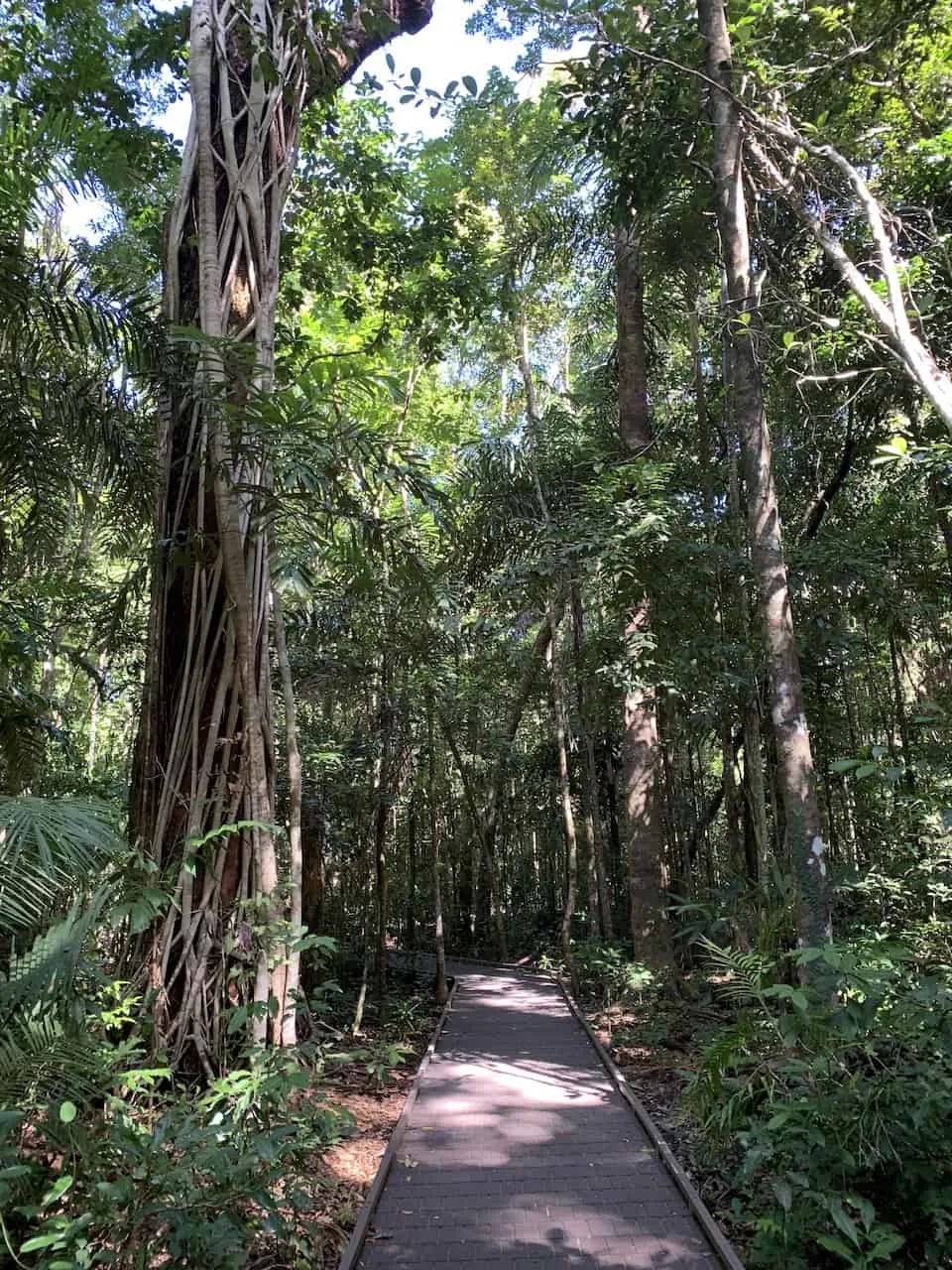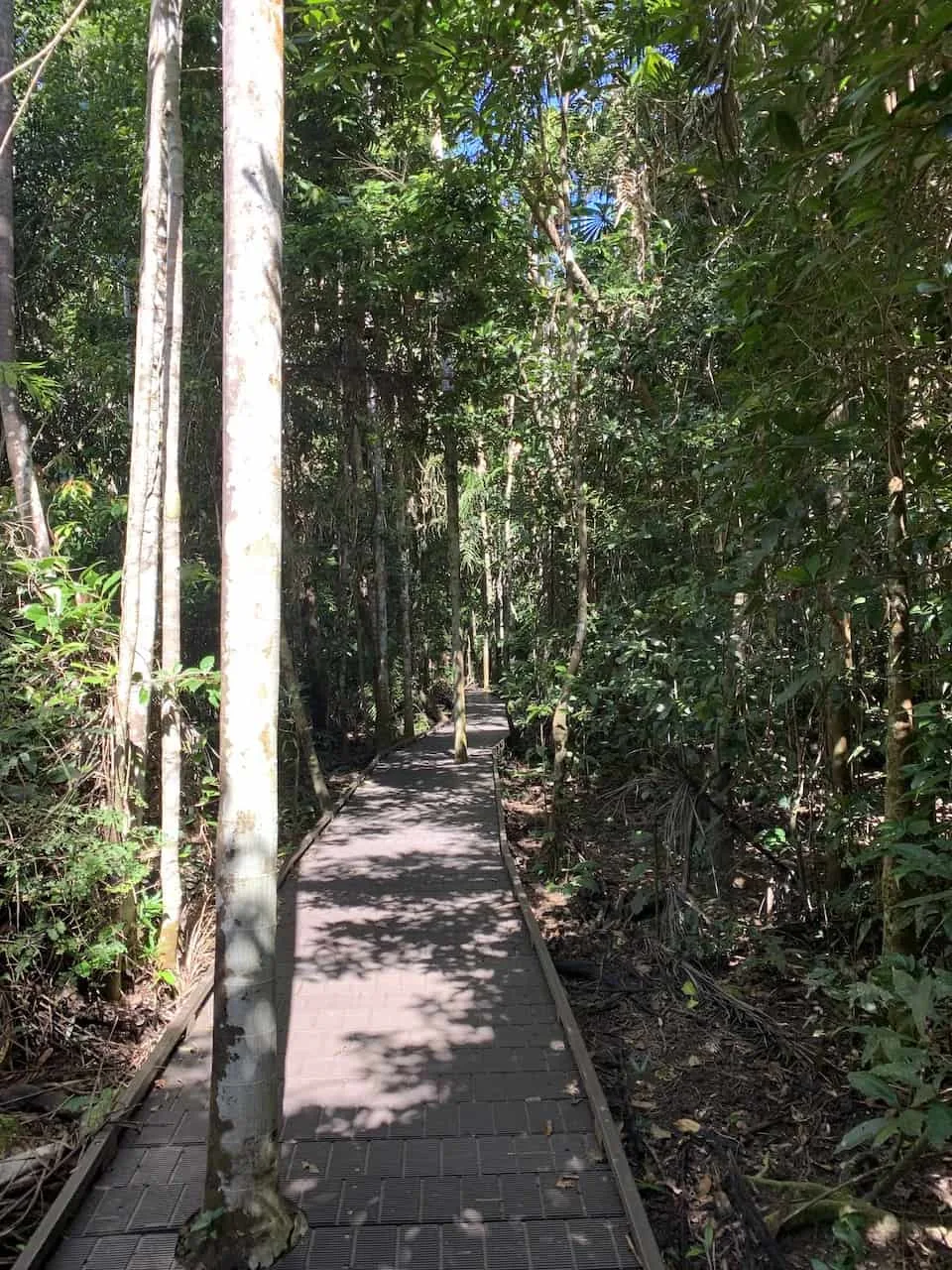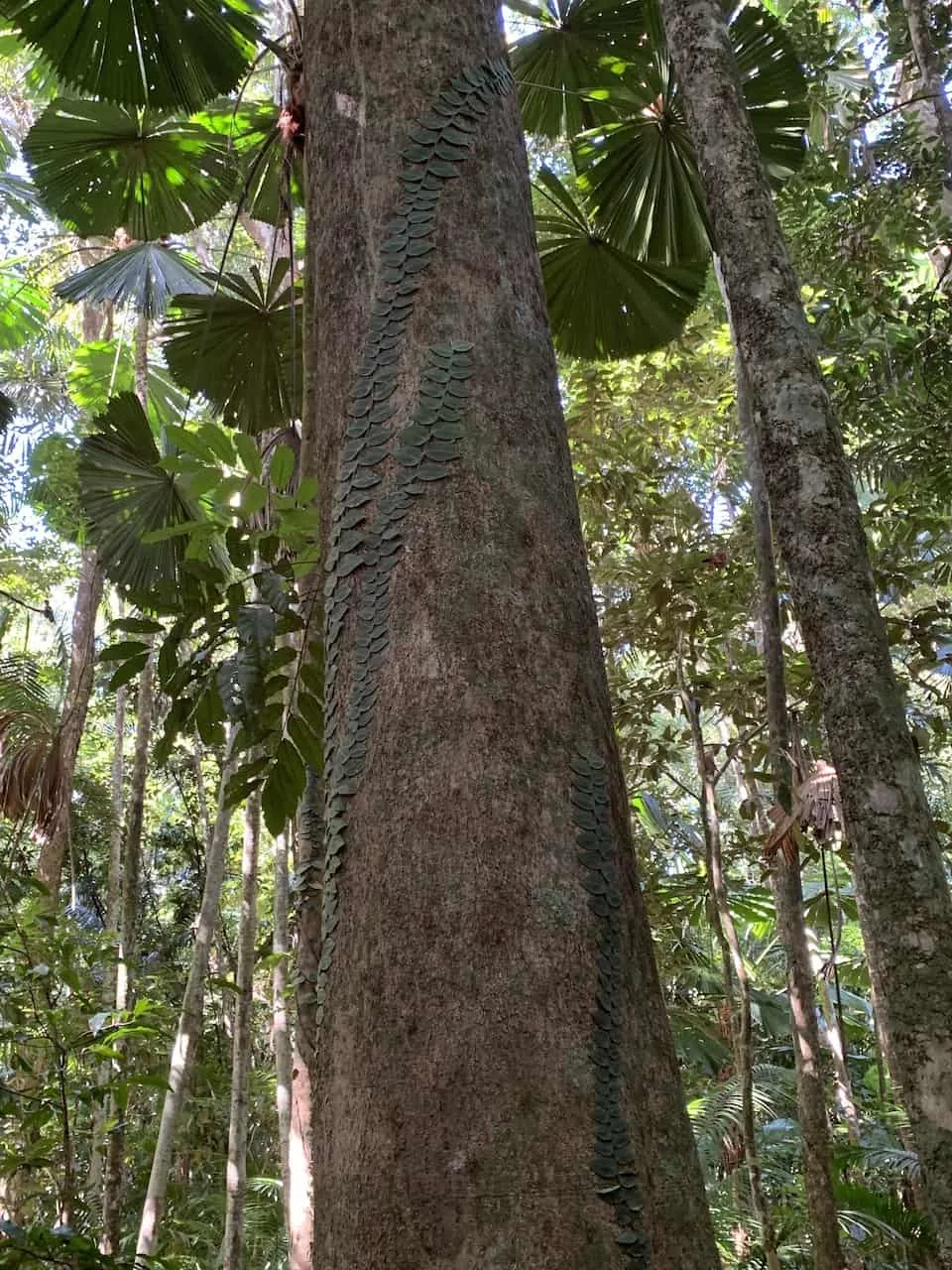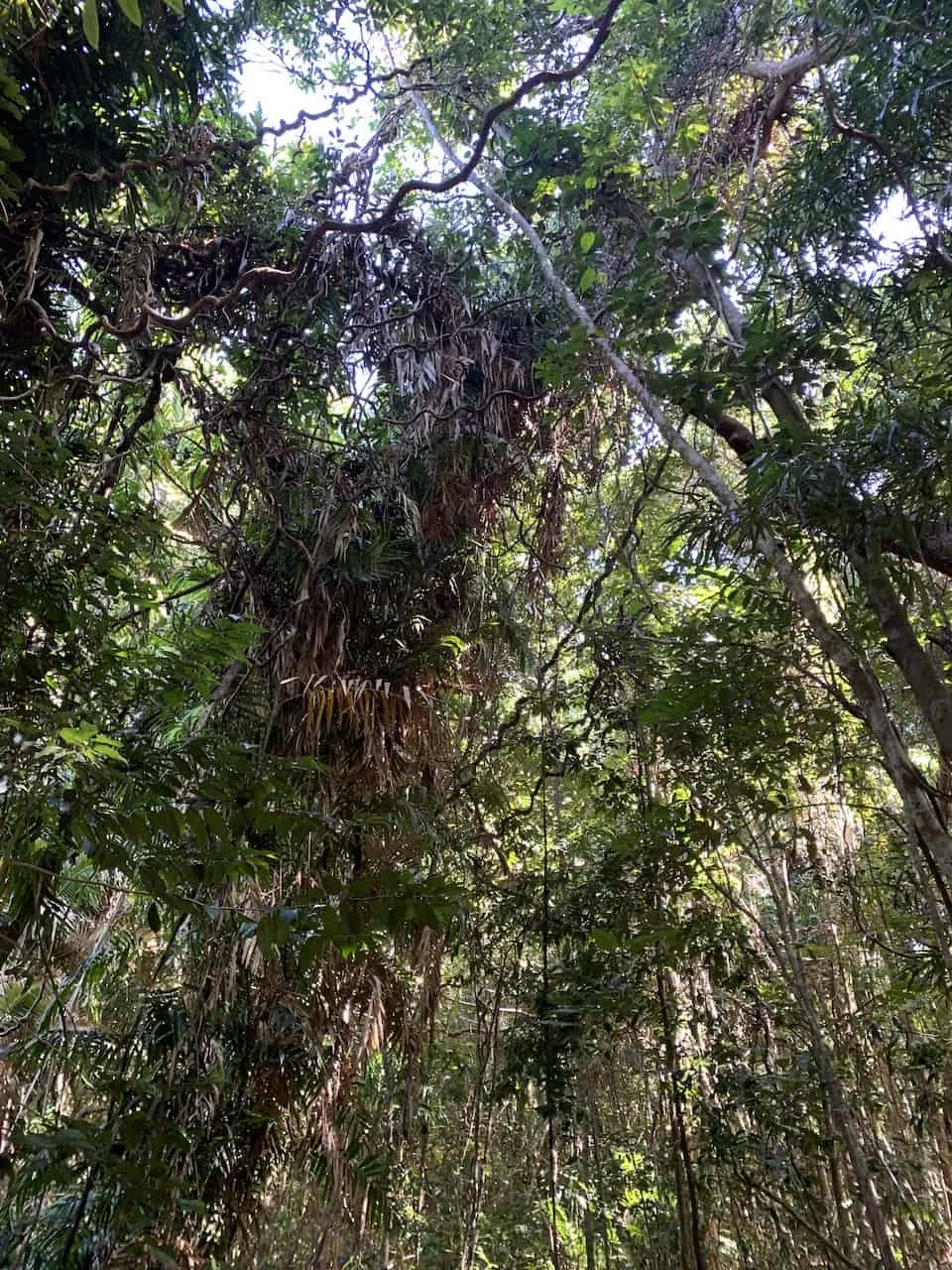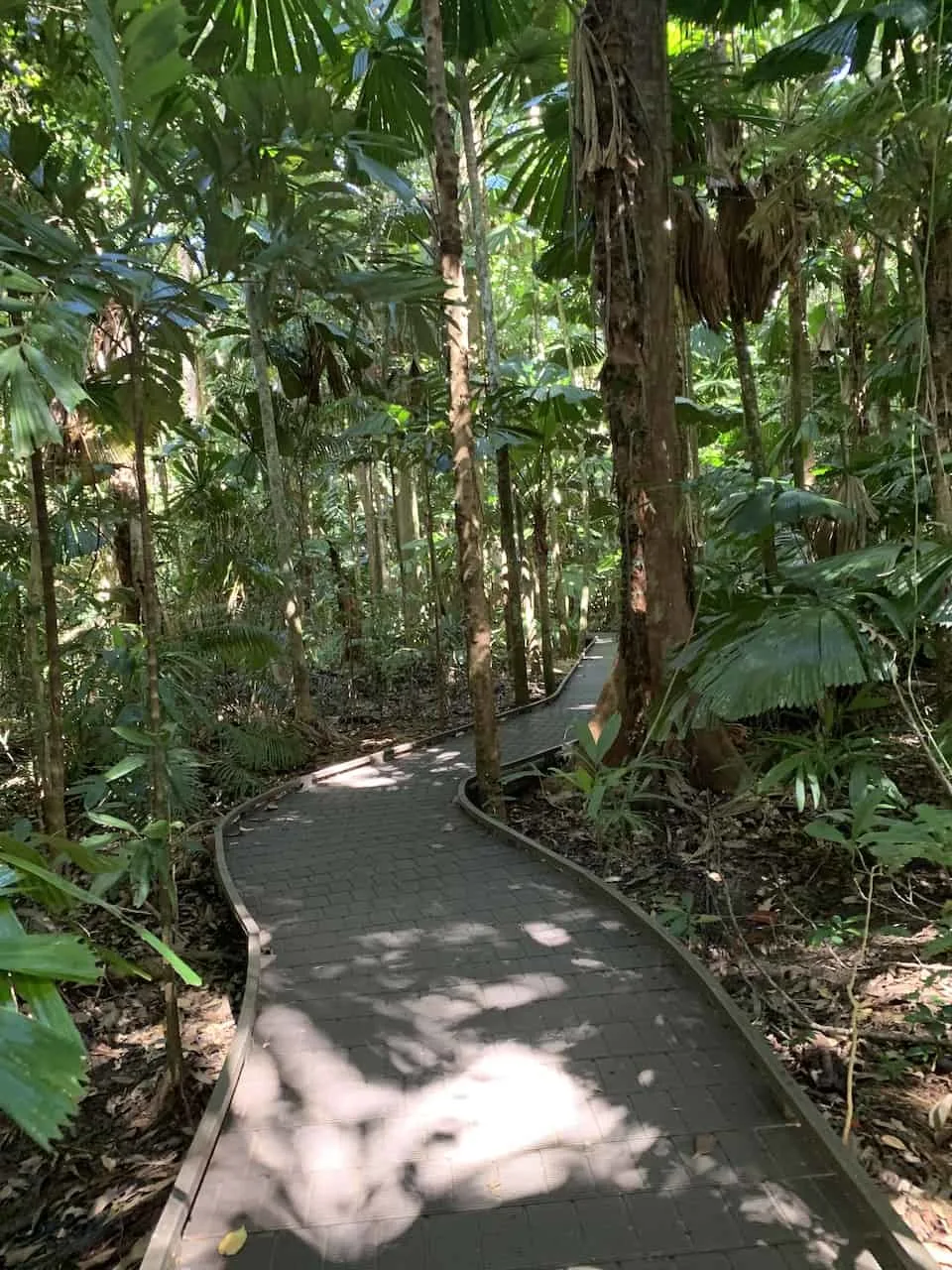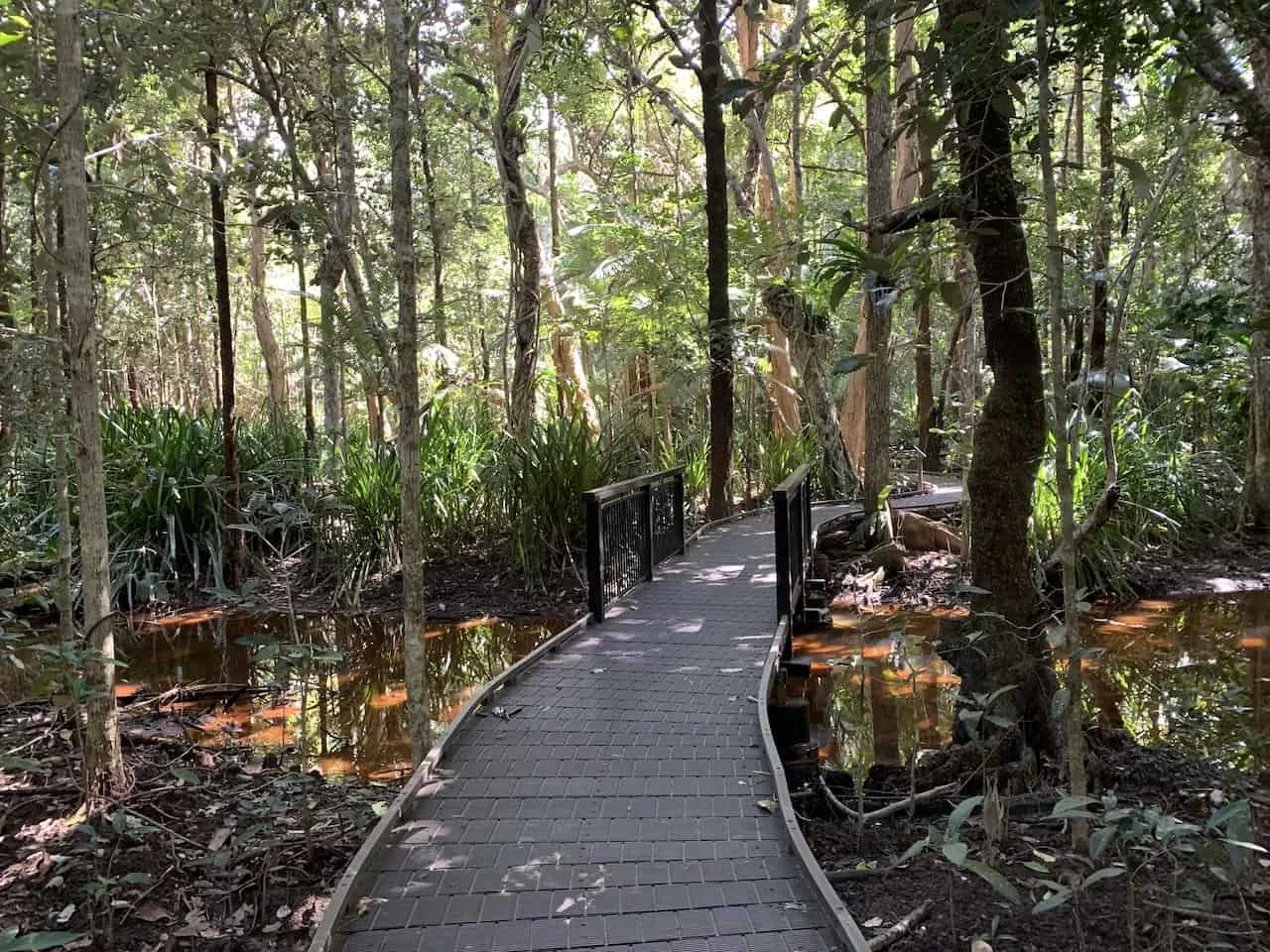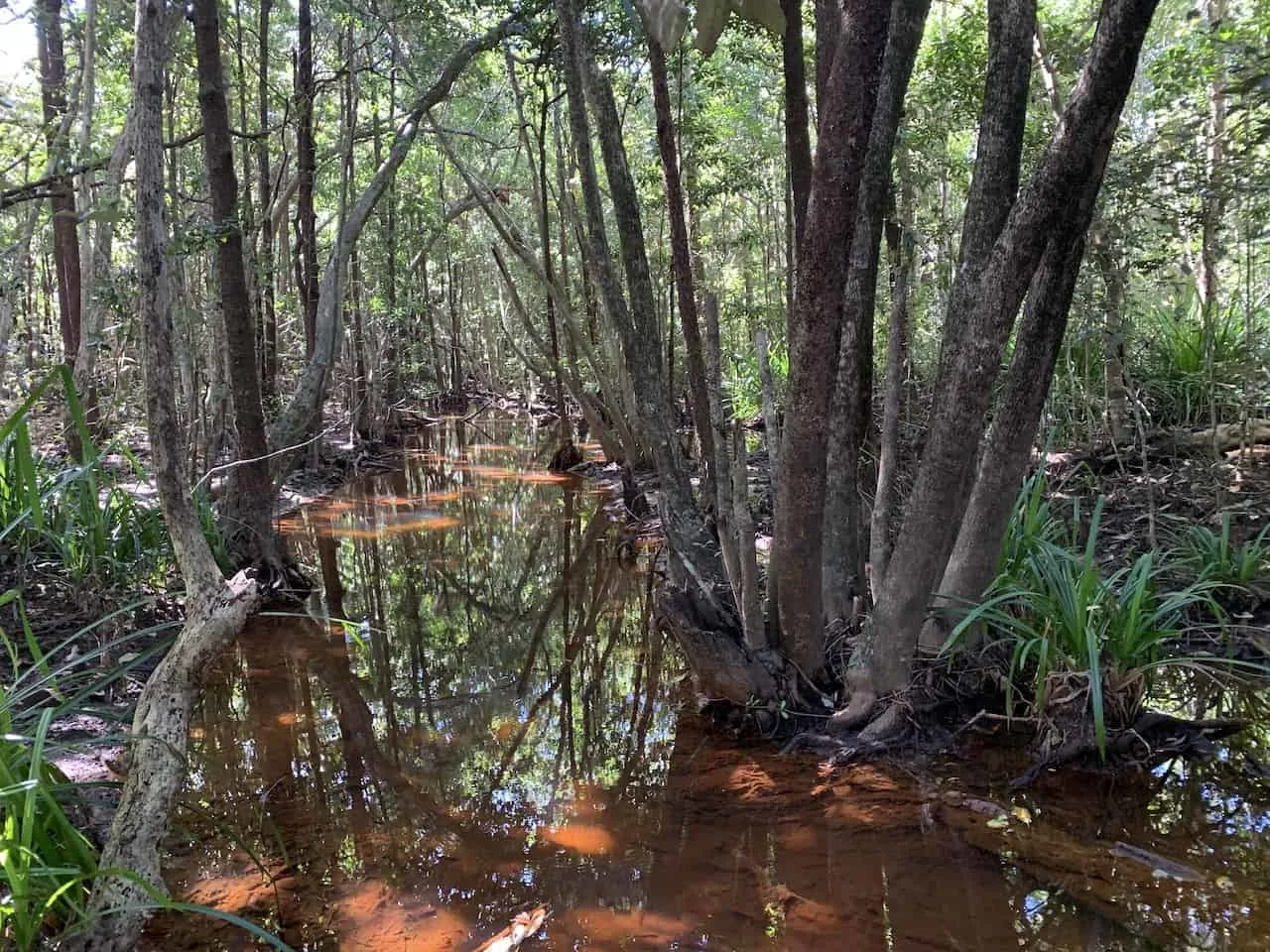 Along the way there will be some helpful information signs that will give you a bit more in depth explanation of the rainforest or a particular tree around the area.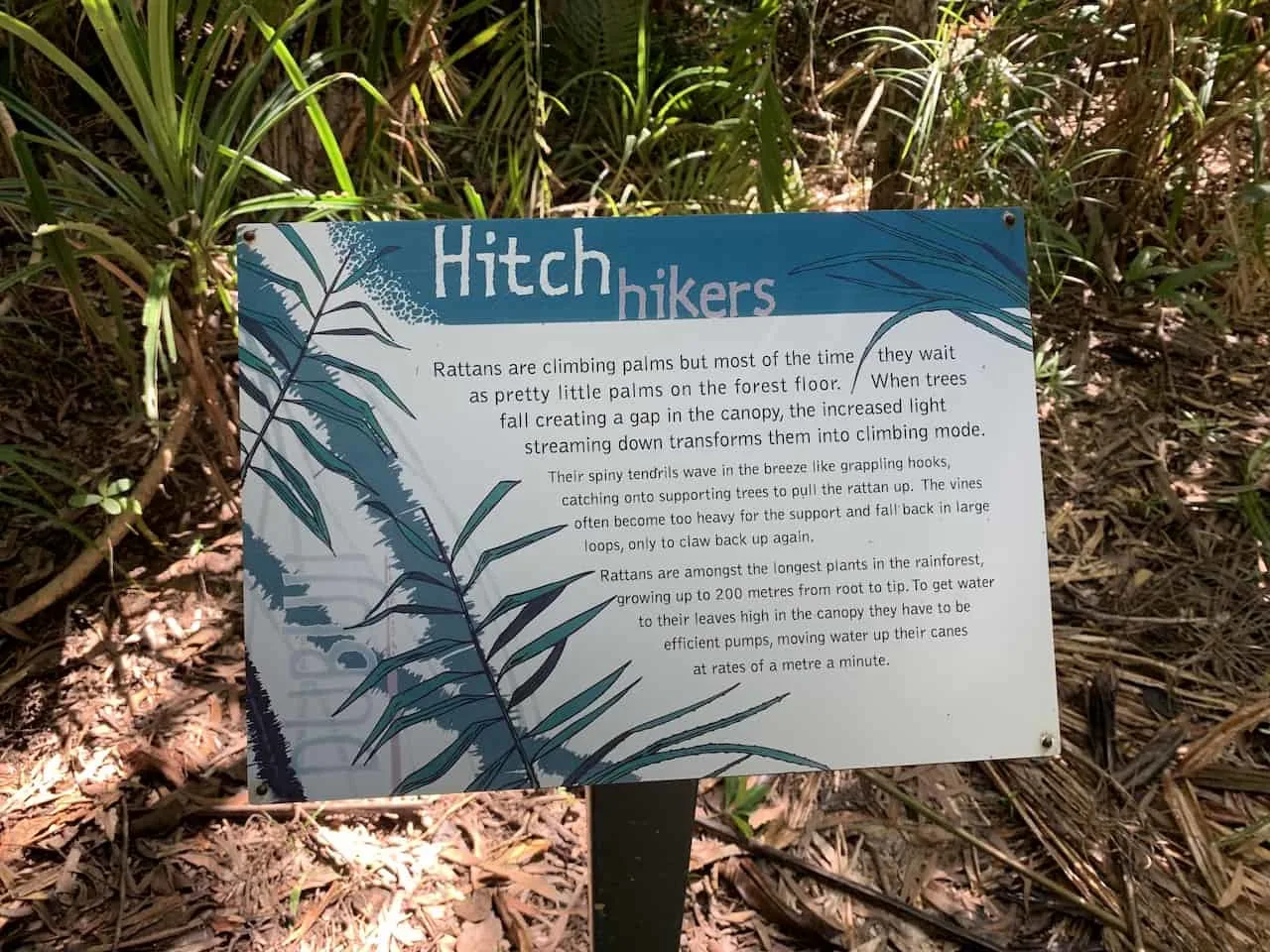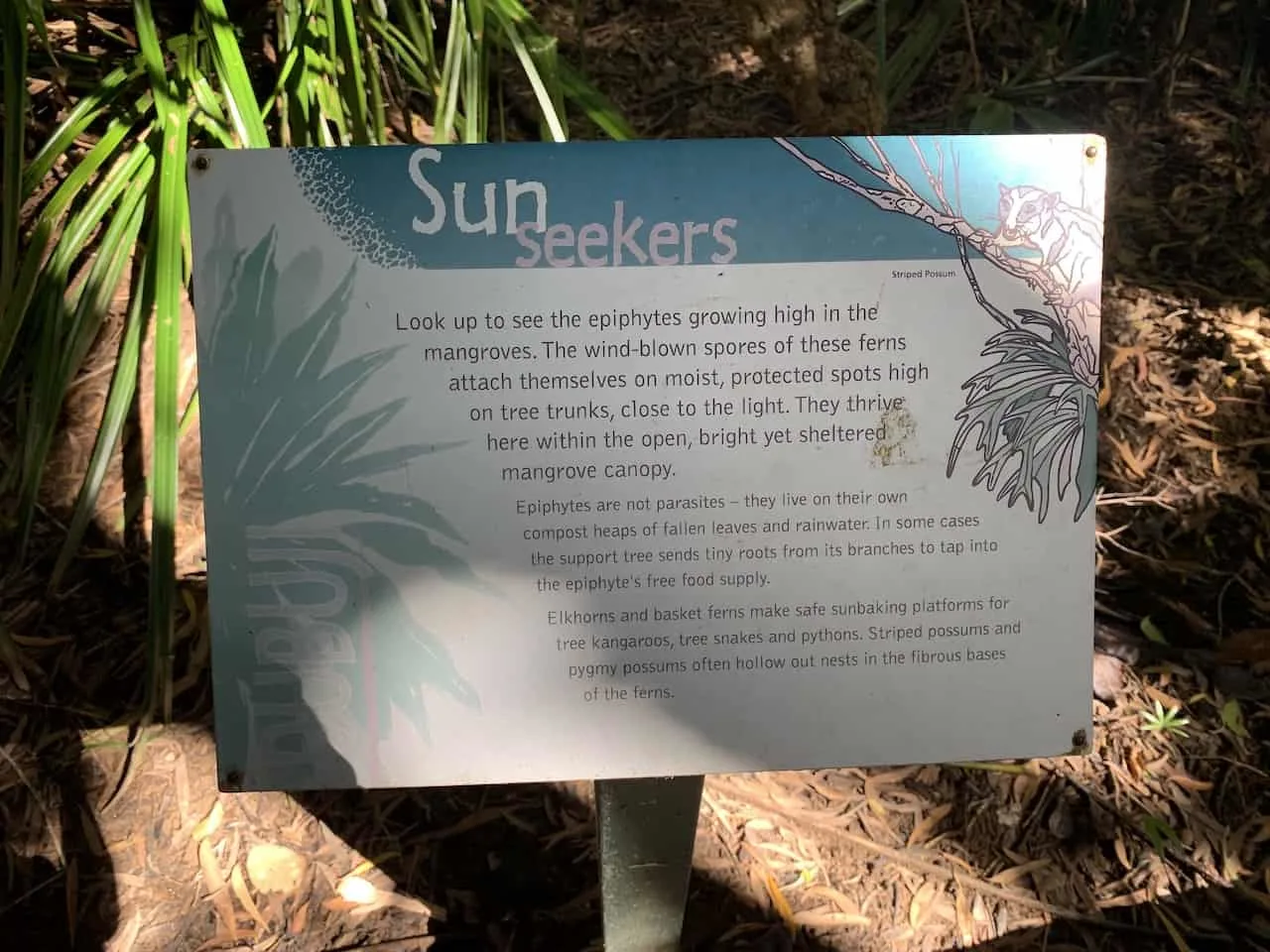 As you further begin to complete the loop, there will be an intersection and to your left will be a route that will bring you back to the parking lot.
But if you want to head to the beach (which I recommend you do), continue straight until you hit the beach access track.
Once on the beach access track it is just a couple minutes until you are right on Myall Beach and you can enjoy some time out on the sand.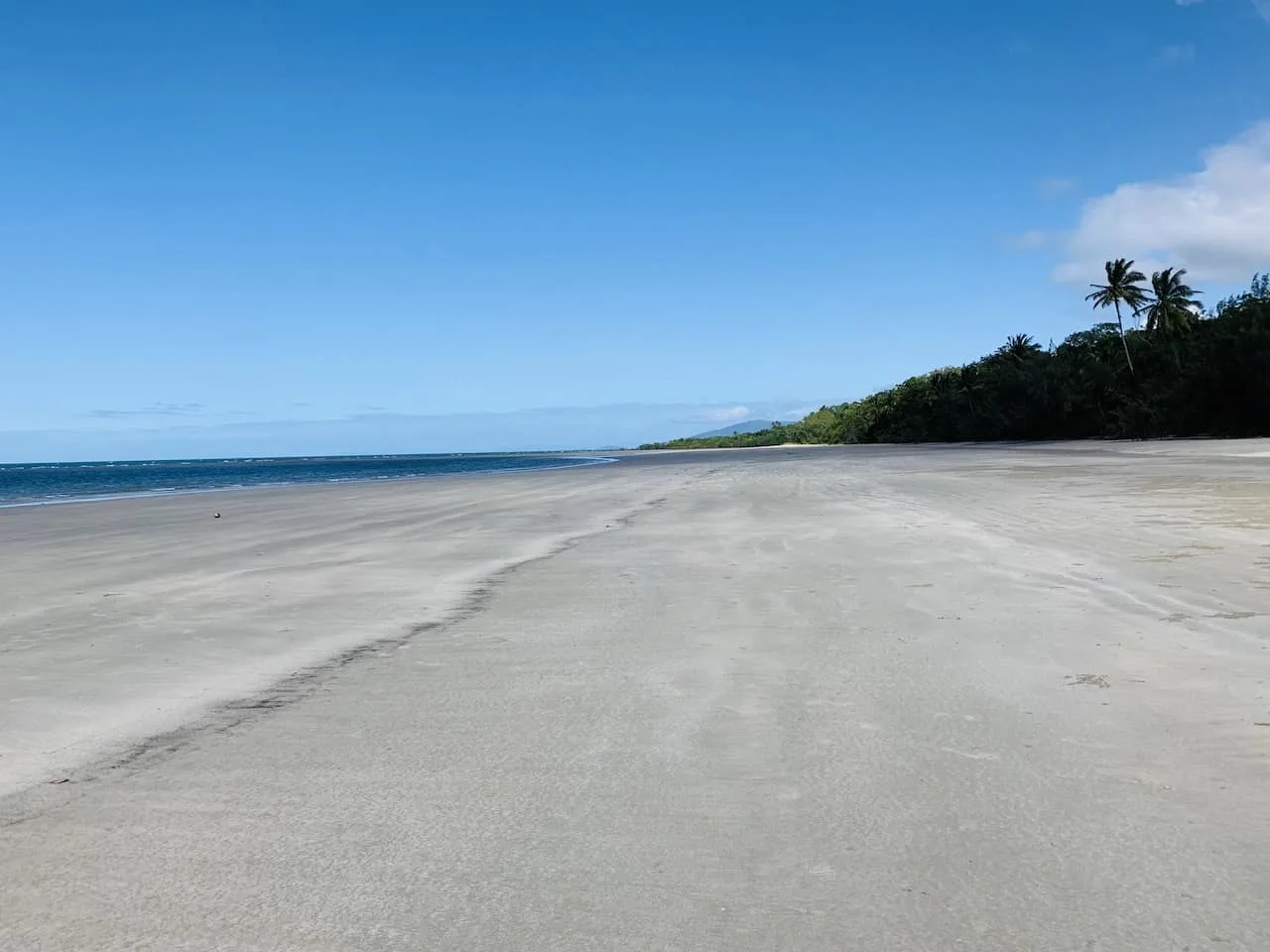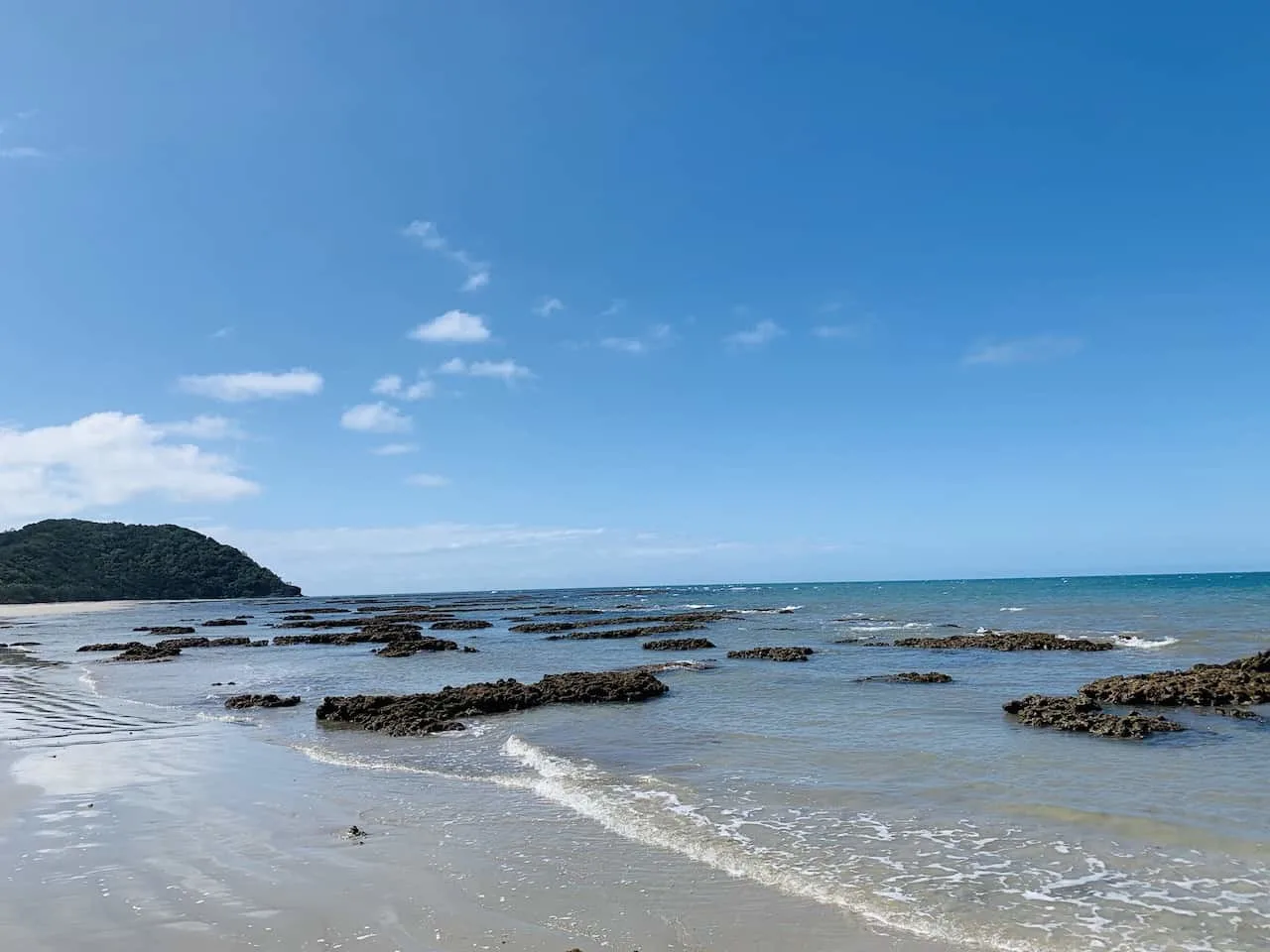 After enjoying some time on Myall Beach, you can head back to the beach access track and just take it right back to the parking lot, where you can end your time on the Dubuji Boardwalk.
6) Other Daintree Attractions
In addition to your time at Dubuji Boardwalk, you can continue onto some other Daintree attractions. There is plenty to do around the area if you have a couple days to spare:
1) Daintree Discovery Centre – Learn more about the Daintree with plenty of helpful information along a few different rainforest walks. Take a look at the Complete Guide to the Daintree Discovery Centre.
2) Other Daintree Walks – Jindalba and Marjdda – Similar to the Dubuji boardwalk, there are two additional walks that you can take part of throughout the Daintree and get a bit closer to the wildlife of the area
3) Mason Café and Emmagen Creek Swimming Holes – Since you cannot really swim in the water off the coast (due to stingers and fresh water crocodiles), make your way to a couple swimming holes, where you can cool off in the water.
4) Daintree Beaches – Cow Bay, Myall Beach, Thorton Beach – Looking for some beach time? Well, there are plenty of beaches all along the coast.
5) Cape Tribulation – The most famous of beaches in the Daintree is Cape Tribulation. It is a great spot to relax and enjoy some beach time, and you can head up to the Kulki Lookout to get some views in from above.
6) Mt Sorrow – The toughest hike in the area is the one up to Mt Sorrow. A 4-6 round trip hike takes you to one of the highest points in the area overlooking much of the rainforest and the coast. Learn more about the hike in the Mount Sorrow Ridge Trail Guide
7) Daintree River Cruise – Head out on the water and take a boat down the Daintree River. You are sure to see plenty of crocs and other wildlife throughout your time on the river.
8) Mossman Gorge – At the beginning of the rainforest is the Mossman Gorge, a beautiful setting where you can walk along the boardwalk and rainforest trail. Learn more about the gorge in the Mossman Gorge Walk Guide up on the site.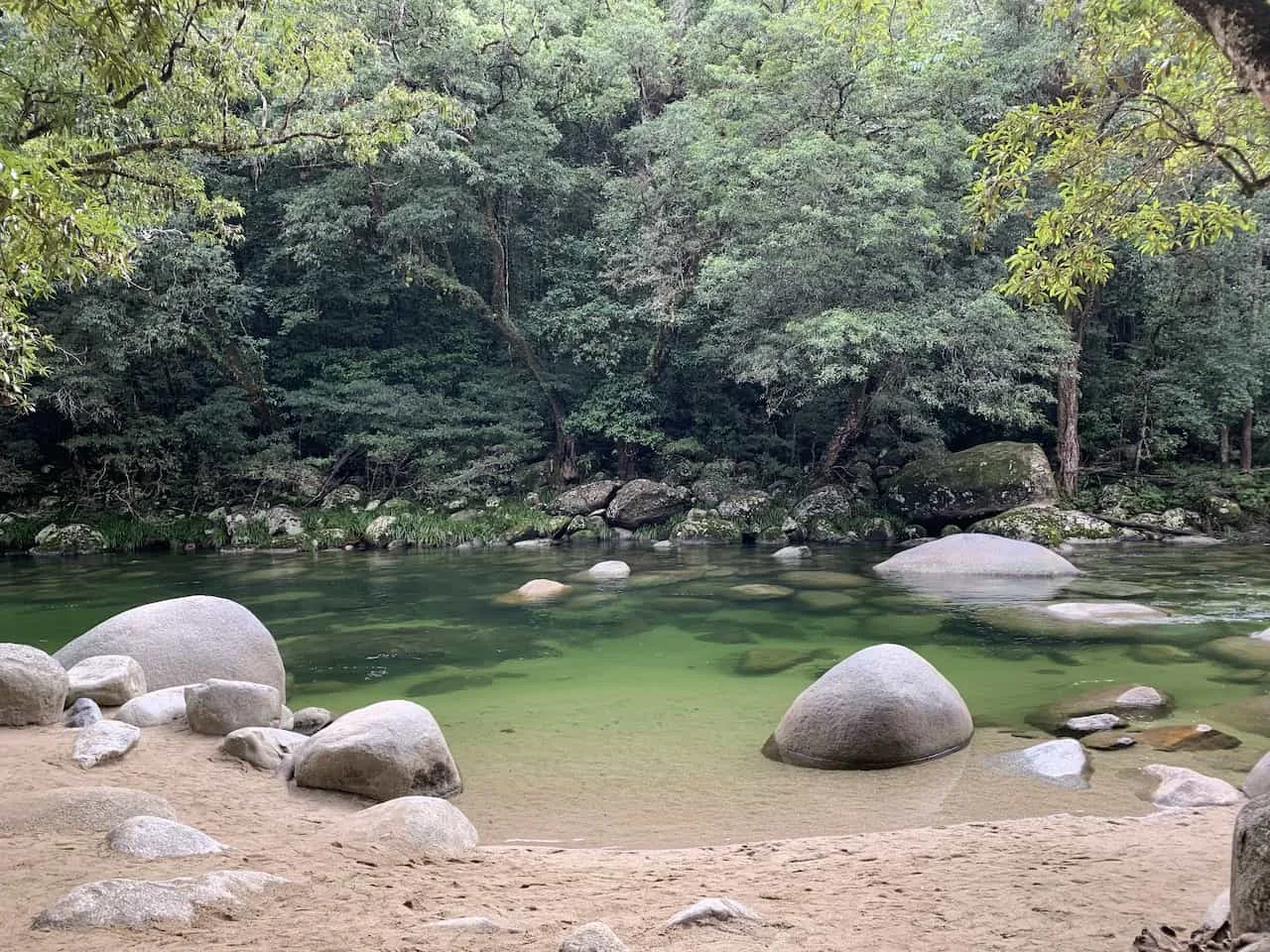 Headed to Cairns? Take a look at the Great Barrier Reef Liveaboard Experience. Heading to the Whitsundays? Take a look at the Ocean Rafting Northern Exposure Tour.
Also be sure to check out the 3 Day Sydney Itinerary and Blue Mountains Hike Day Trip.
7) Where to Stay in the Daintree
If you decide to head into the Daintree and stay for a night or two, below are some potential highly rated options to choose from.
Looking for a budget option, check out Safari Lodge
» Check out some of the other top Daintree Hotels options to choose from during a stay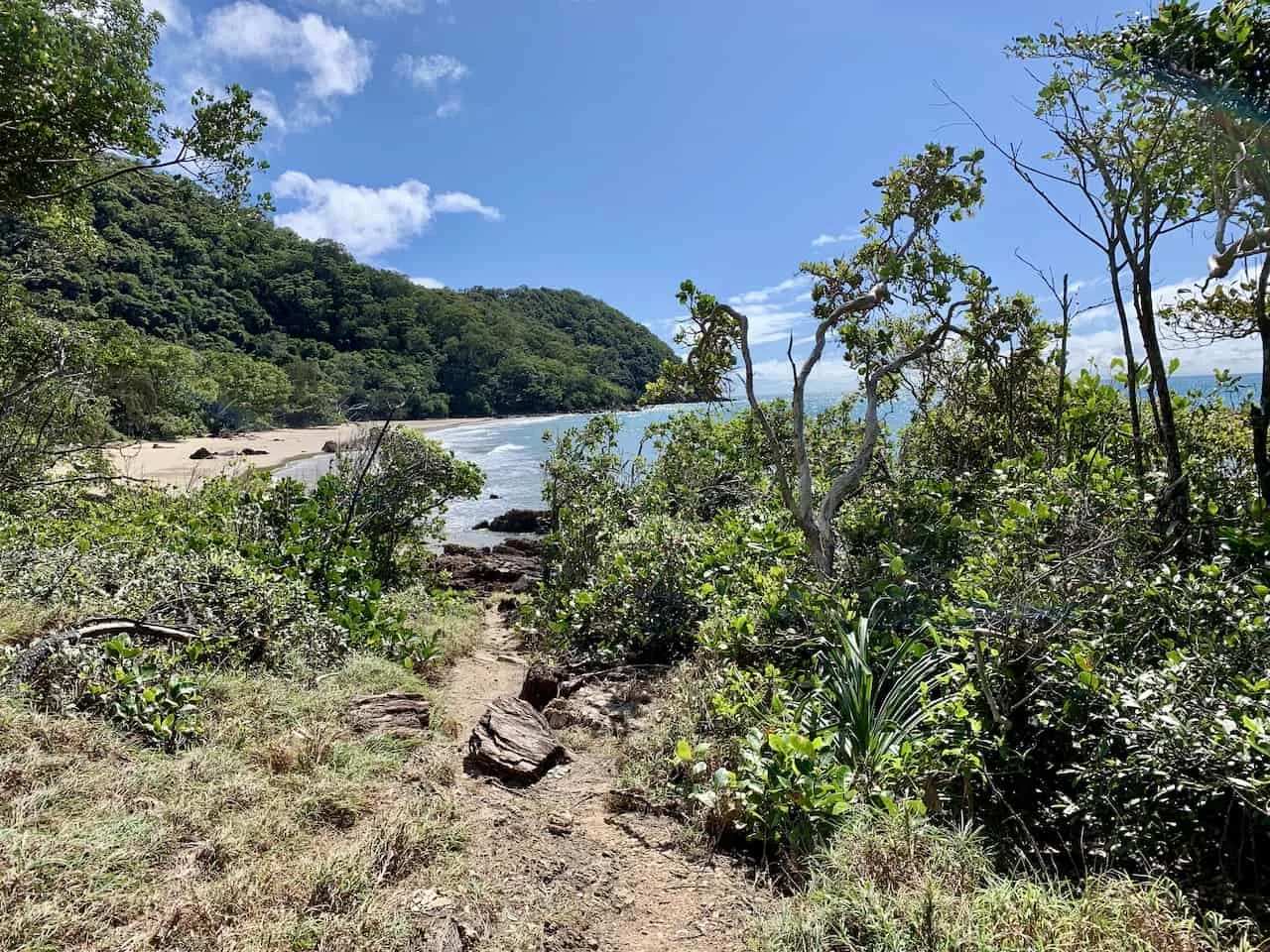 8) Where to Stay in Cairns & Port Douglas
If you are taking the day trip in from Cairns or Port Douglas, here are some accommodation recommendations for each.
Cairns
Port Douglas
That about does it for a guide to the Dubuji Boardwalk of the Daintree Rainforest.
Don't forget to check out the other Australia itineraries and guides up on the site and feel free to ask any questions below. Have fun out there and safe travels!