When visiting the West MacDonnell Ranges, one of the tops spots to check out is Ormiston Gorge.
Not only will you find this beautiful gorge and swimming hole, but you also will find a handful of different walks to take part of that will offer some even more stunning scenery to enjoy.
This guide will give you an overview of Ormiston Gorge along with some of the different hiking options that you can join in on.
* Affiliate Disclosure: This post may contain affiliate links, which means I may receive a commission if you make a purchase through the links provided, at no additional cost to you. Thanks for supporting the work I put into TripTins!
1) What is the Ormiston Gorge
The Ormiston Gorge is one of many attractions that make up the West MacDonnell Ranges / Tjoritja National Park. While there are other gorges and watering holes along the route, Ormiston offers a ton for its visitors.
You will be able to take in views of the towering cliffs on either side of the gorge, go for a swim in the year long watering hole, and even head off on some longer walks within the vicinity.
Below are a few helpful things to know about Ormiston:
Hours: The gorge is always open, however during periods of heavy rain the road up to the gorge may be closed
Facilities: Food/Drink Kiosk (open March – November), Toilets, Camping Area (fees apply)
Price: Free
From a geology standpoint, when looking at the massive colorful walls out in the distance, you may notice two layers of quartzite.
Over 300 million years ago, the top layer of quartzite was nearly 2KM (1.3 Miles) north of Ormiston. Over time though, the rock was pushed southwards and now sits on top of the original slab of quartzite.
Below you can see a visual of how Ormiston was formed along with a bit more geology background.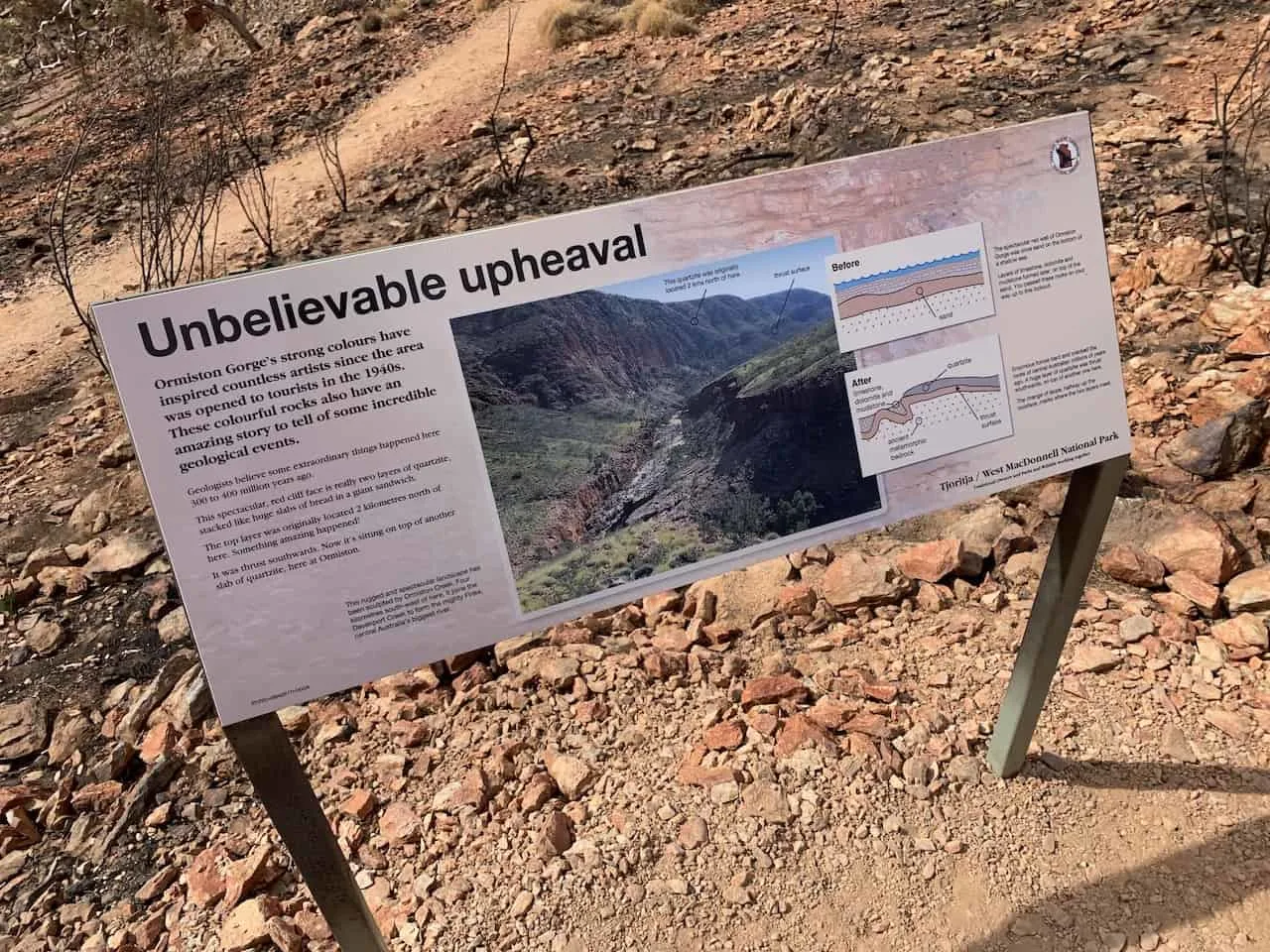 2) Where is the Ormiston Gorge
The Ormiston Gorge is located within the West MacDonnell Ranges. You can find the parking lot to the gorge just off of State Route 2, 135 KM / 84 Miles westwards of Alice Springs.
Below is a map that shows the easy route to take from Alice Springs to Ormiston Gorge.
To get to the Ormiston, you have a couple main options to choose from. You can either make your way there by rental car or you can join in on a day tour of the West MacDonnell Ranges.
Rental Car
Having your own car is not only a great way to explore Ormiston Gorge and the West MacDonnell Ranges, but is also a great option for those that want to do somewhat of a road trip between Alice Springs and Uluru.
You will be on your schedule, take part of the activities and attractions that you want to do, and will not need to worry about any others.
» The Red Centre Way Uluru Itinerary goes over a potential Outback route for you to take part of
» The Uluru Car Hire Guide talks more about how to go about renting a car in the Outback
→ If renting a car for the West MacDonnell Ranges, feel free to check out Rentalcars.com, which will have various options to browse through. You can filter by car type, price, and more to find the perfect car for your trip.
Tour Option
If you do not want to rent a car, your next best option here is to do a guided tour of the West MacDonnell Ranges. With a tour, you will stop at several attractions in the area.
However, it is not guaranteed that you will be able to take part of longer hiking options at Ormiston or other attractions.
Below is a highly rated West MacDonnell Range tour option to choose from, if a tour is right for you.
West MacDonnell Ranges Day Trip: West MacDonnell Day Trip from Alice Springs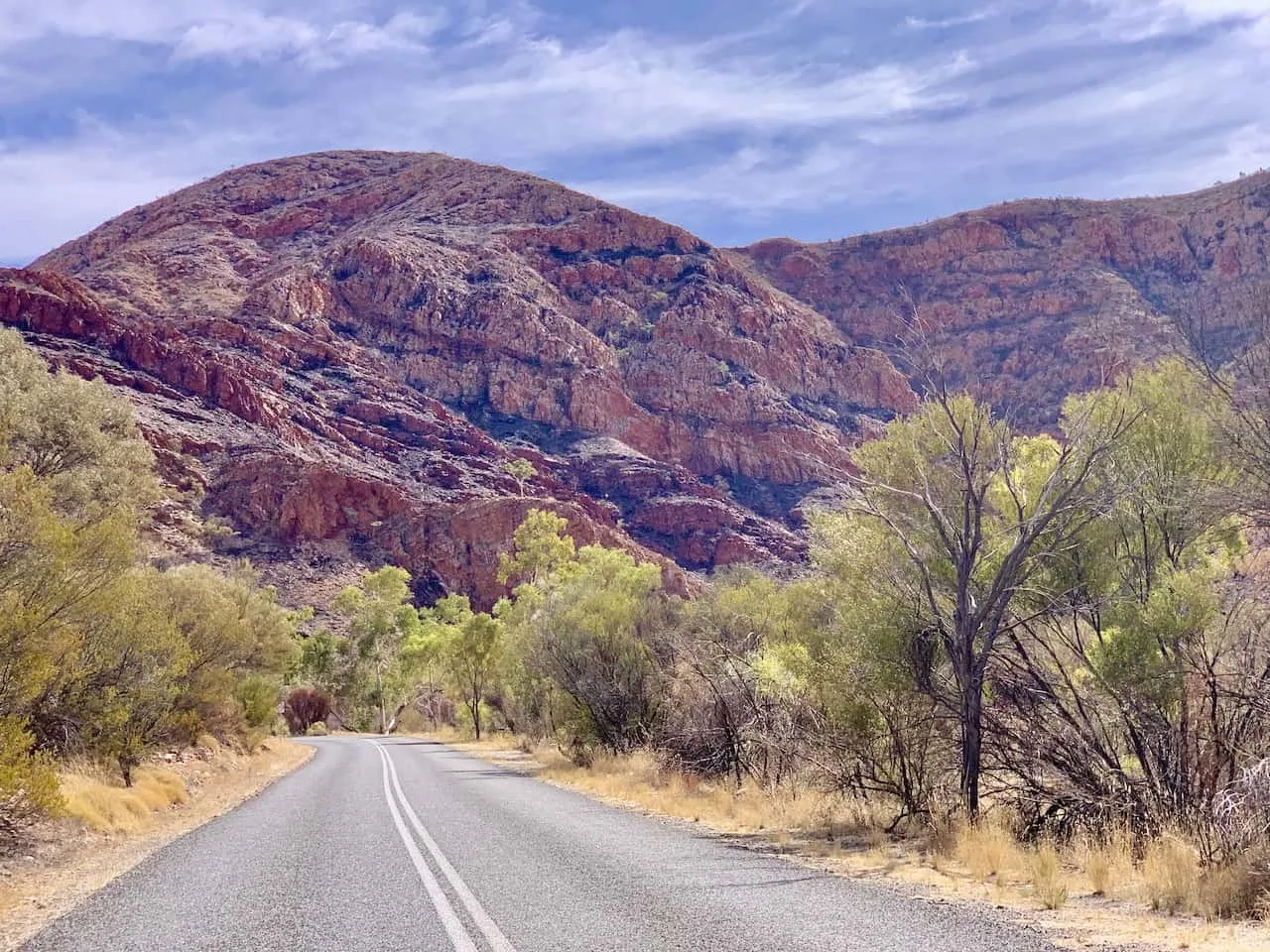 3) Where to Stay Near Ormiston Gorge
When visiting Ormiston Gorge, you really have two main options to choose from – Alice Springs or the Glen Helen Lodge.
Alice Springs will be the more popular option here as that is the closest major town to the West MacDonnell Ranges.
In town you can find a variety of accommodation options along with plenty of restaurant and dining options.
Below are a few top hotels to choose from that come highly rated:
On the other hand you can also spend the night at the Glen Helen Lodge (directly next to the Glen Helen Gorge), and just a 10 minute drive from Ormiston Gorge.
You may be inclined to stay at the lodge if coming from / going to Kings Canyon via the Mereenie Loop or if you just want to spend a night in the middle of the Outback.
Learn more about this potential road trip scenario in the Red Centre Way Itinerary linked above!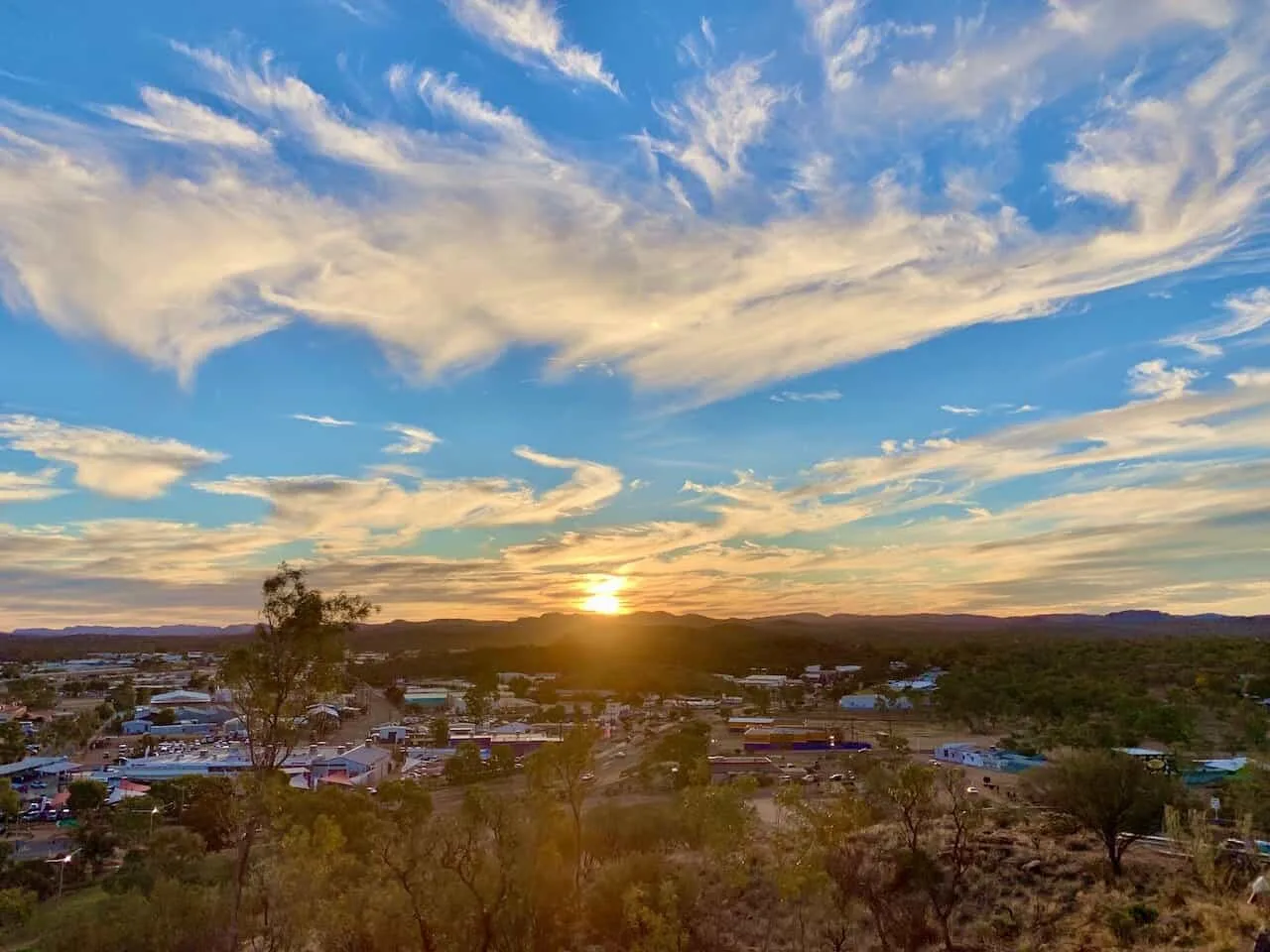 4) Ormiston Gorge Hikes & Options
When you arrive at the Ormiston Gorge visitor center, you can decide on which trail you would like to head out on for the day.
You will also want to base that decision on the rest of your schedule for the day and what other attractions you may want to visit.
Hiking Note: the times mentioned for the hikes are those listed on the main signboard. I did find them to be a bit conservative, so if you are a fit and experienced hiker, I would be comfortable shaving off some time from what is listed.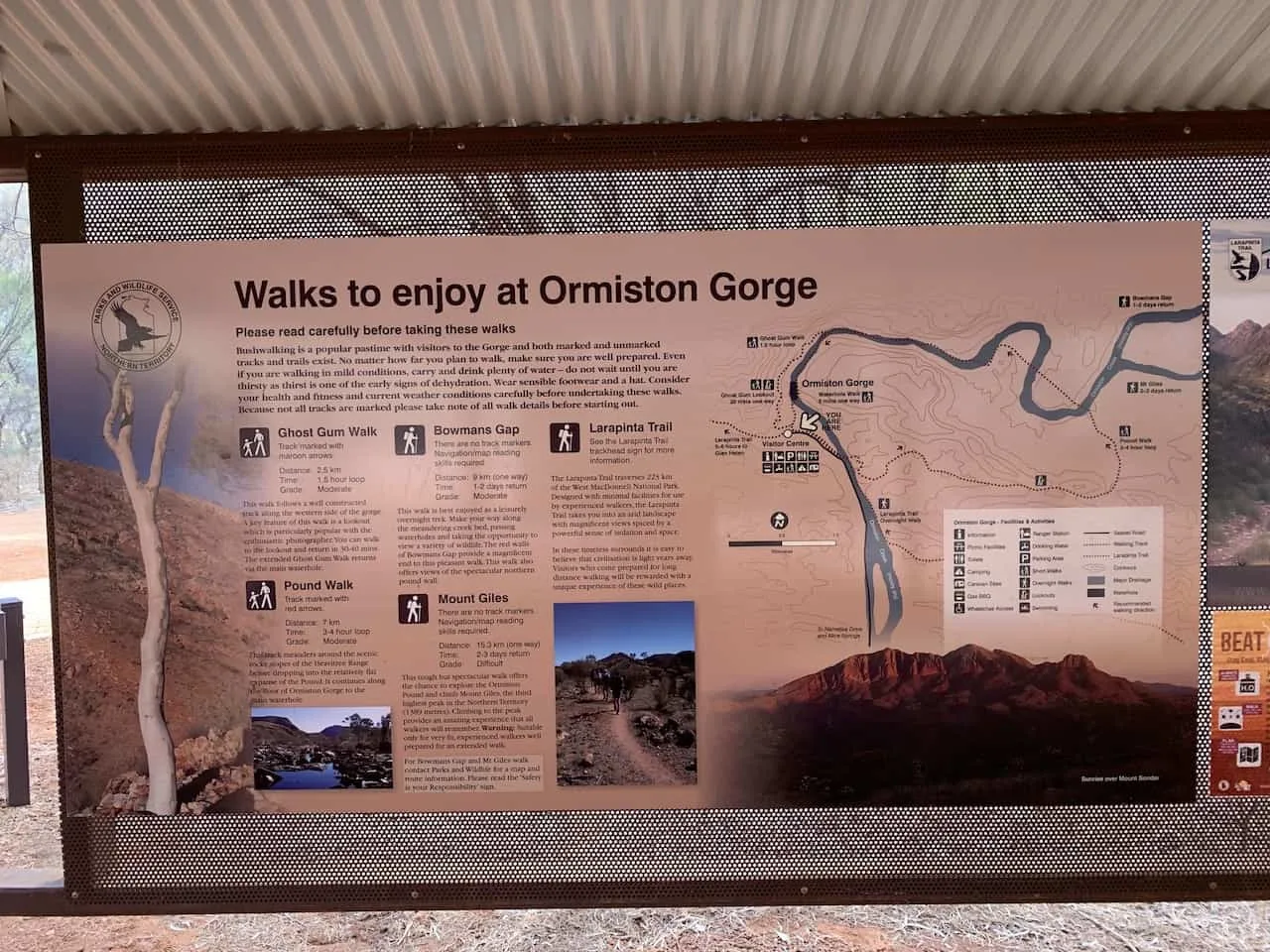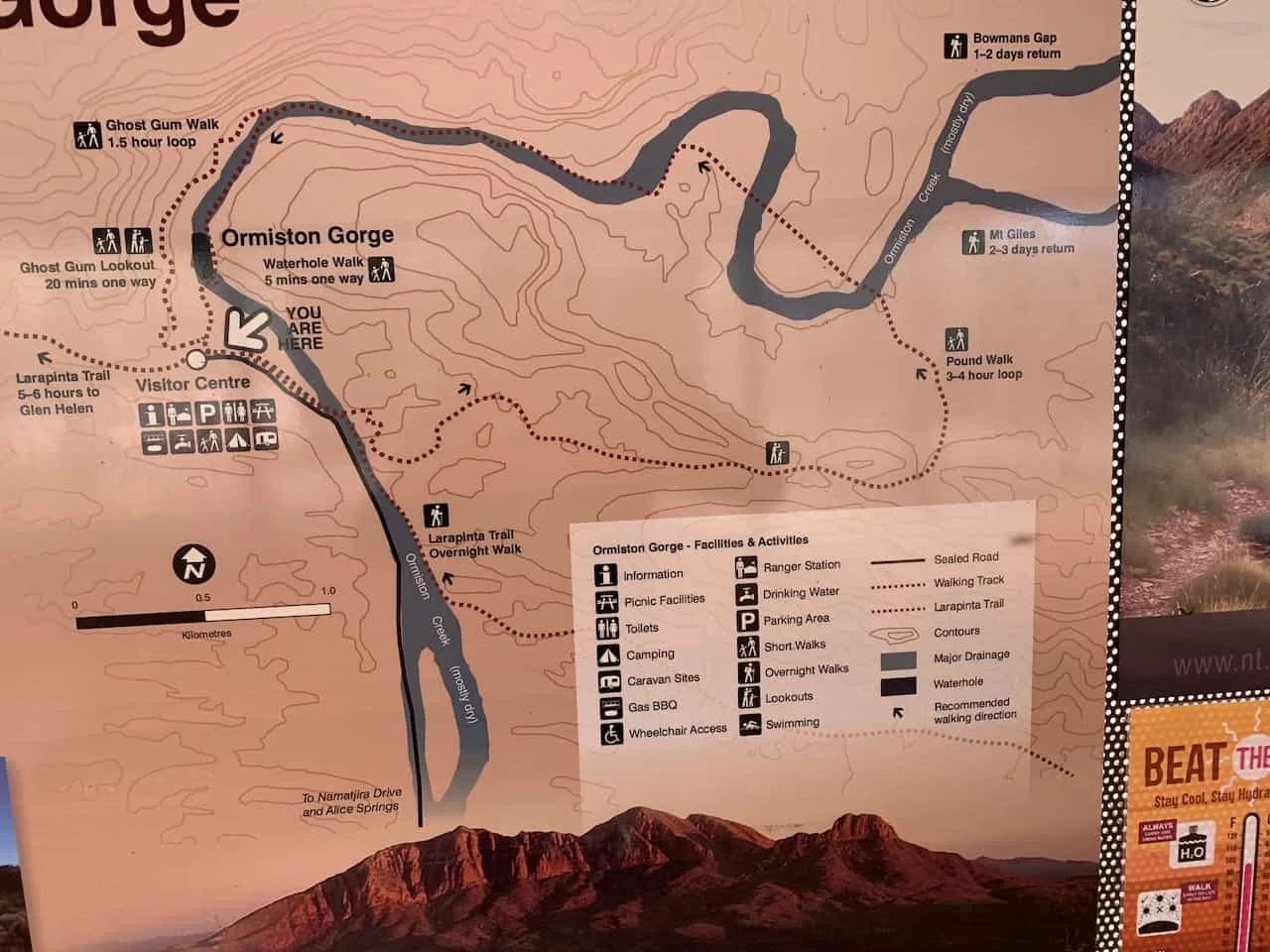 A) Ormiston Gorge (5 minutes)
The simplest of options here is to just visit the gorge itself and not take part of any longer hikes around the area.
Getting to the gorge is super simple from the parking area, as it is just a 5 minute walk to the gorge and watering hole.
Once there, you can enjoy the beautiful rock formation, reflective water, and surrounding scenery.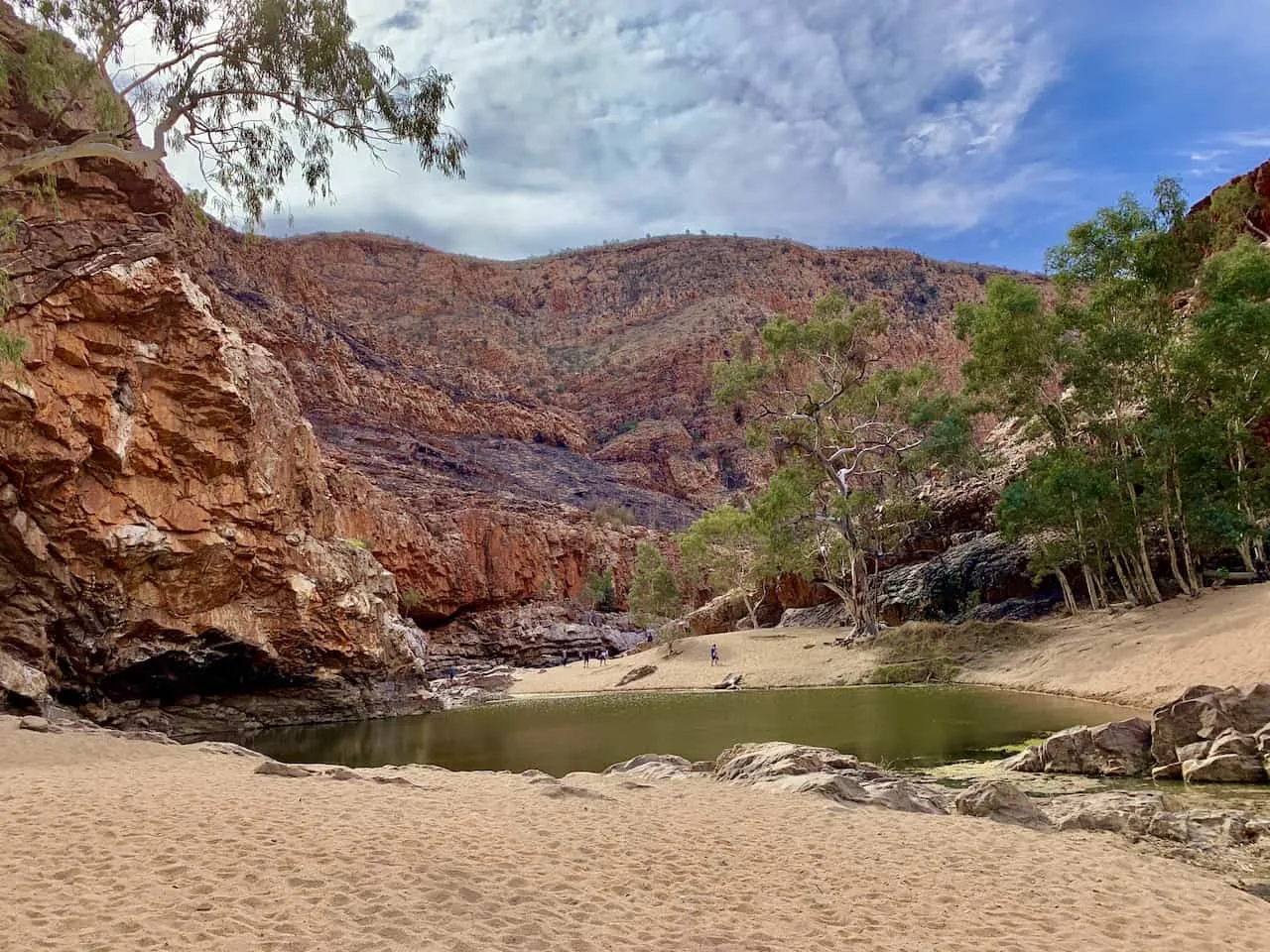 B) Ghost Gum Lookout (40 minutes round trip)
The next option is to head to the Ghost Gum Lookout point, a 20 minute walk from the parking lot.
The Ghost Gum Lookout is part of the longer Ghost Gum trail (1.5 hours), but if you do not want to take part of the whole thing, then the lookout is a great option for you too.
While the lookout point is not too far away from the parking lot, this will be an uphill climb over several staircases. So, if you are someone who is not comfortable climbing many stairs, I would not take part.
However, if you don't mind the climb, then definitely think about heading to the lookout spot. From above you will be able to see the wide gorge down below along with other surrounding rock formations.
Once complete at the lookout point, turn back around and head down the stairs to the starting point. Once there, you can make the 5 minute walk to the gorge itself.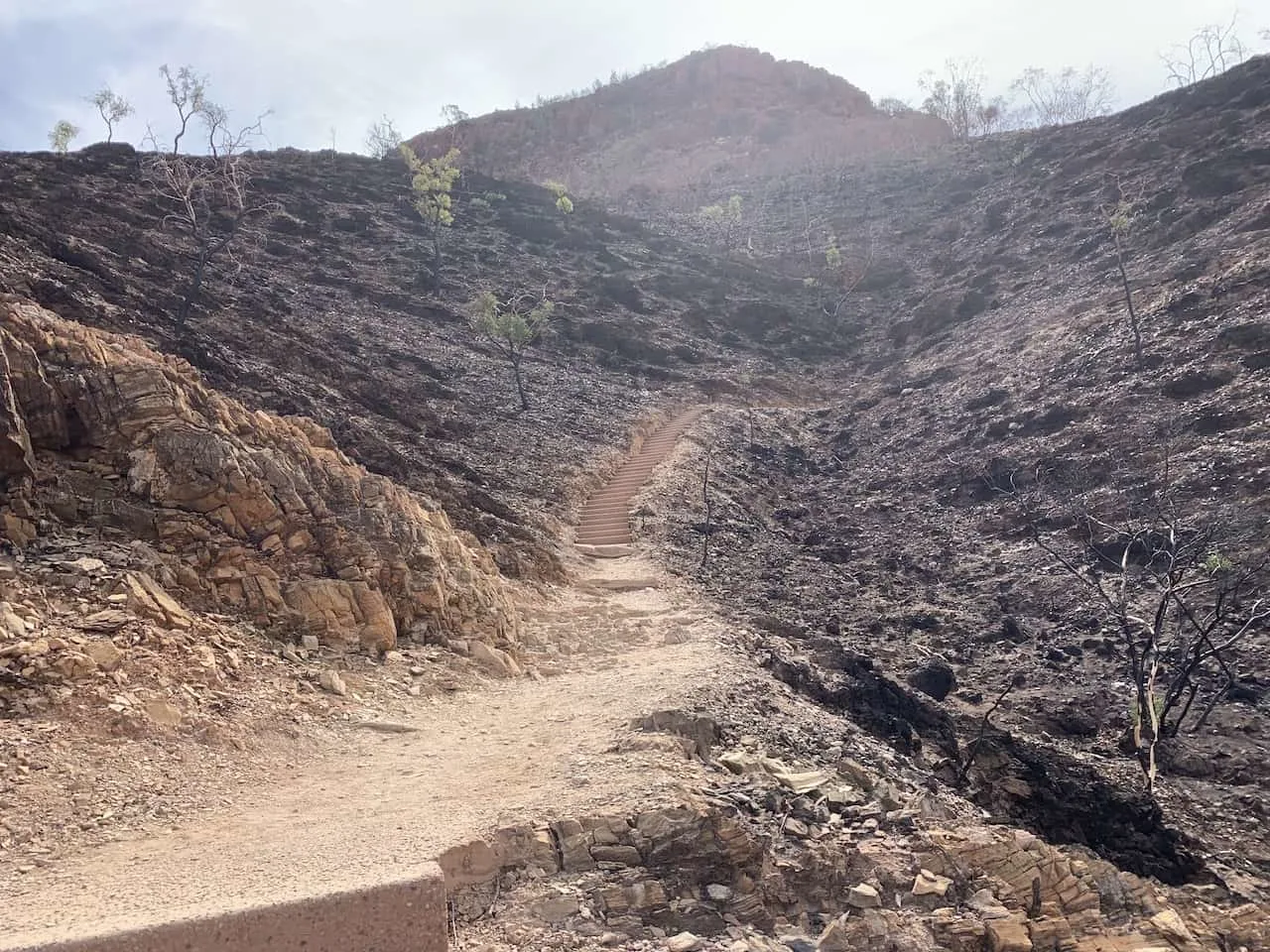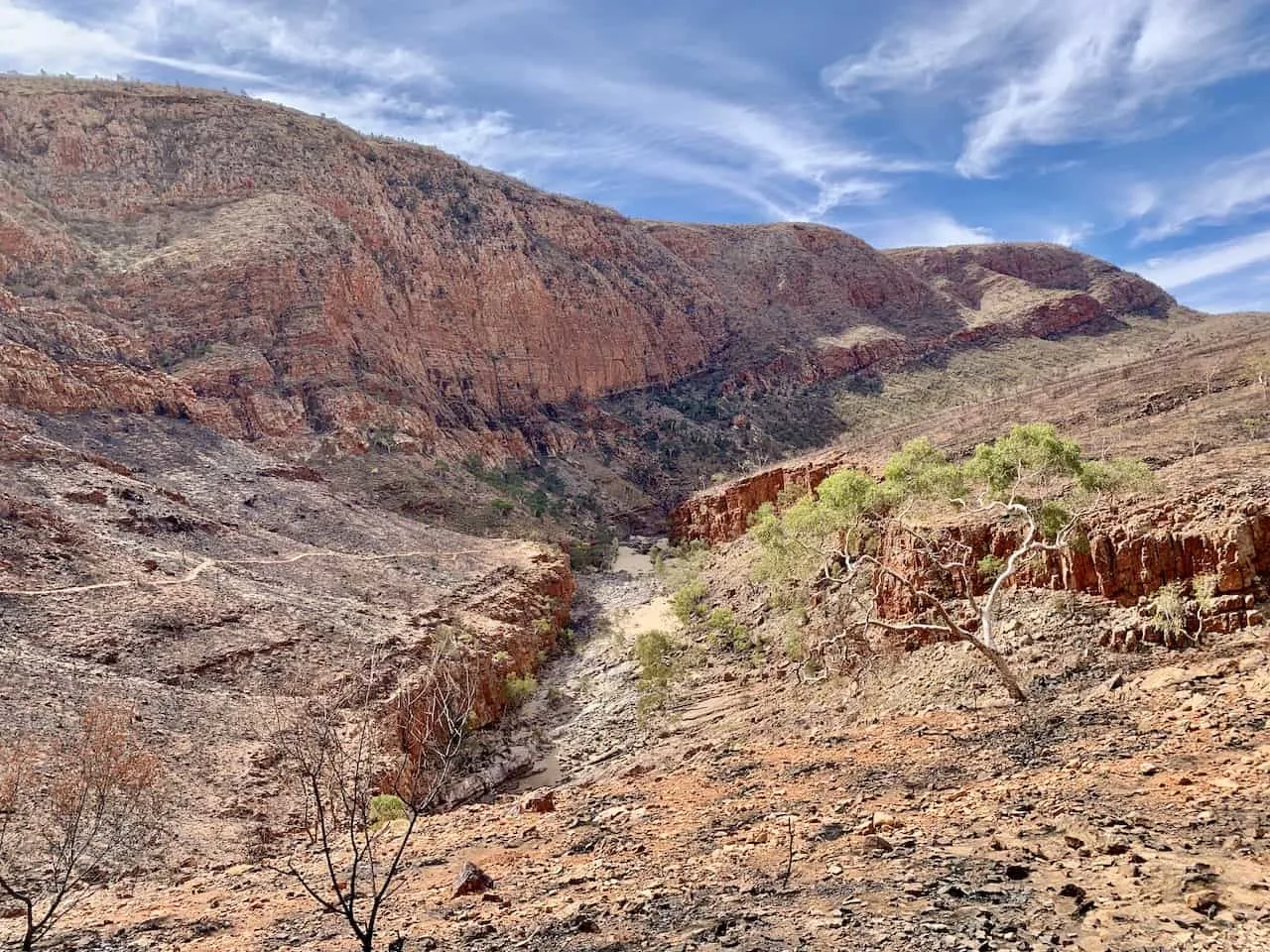 C) Ghost Gum Walk (1.5 hour loop)
If you are looking for a bit longer of a hiking option around Ormiston Gorge, I can highly recommend the full Ghost Gum Walk loop.
This 2.5KM trail first takes you up to the Ghost Gum Lookout, before descending further down the valley and eventually looping into the gorge itself.
Once in the gorge, you will walk along the sandy and rocky bottom, where you will eventually meet up with the Ormiston Gorge pool.
After enjoying the walk and the pool, you can make the quick walk back to the parking lot.
This a great option for those that want to get a nice hike in, and also want to fit in several other attractions in during their day.
The uniqueness of the walk with the beautiful scenery throughout the duration of the hike makes it a must do in my book!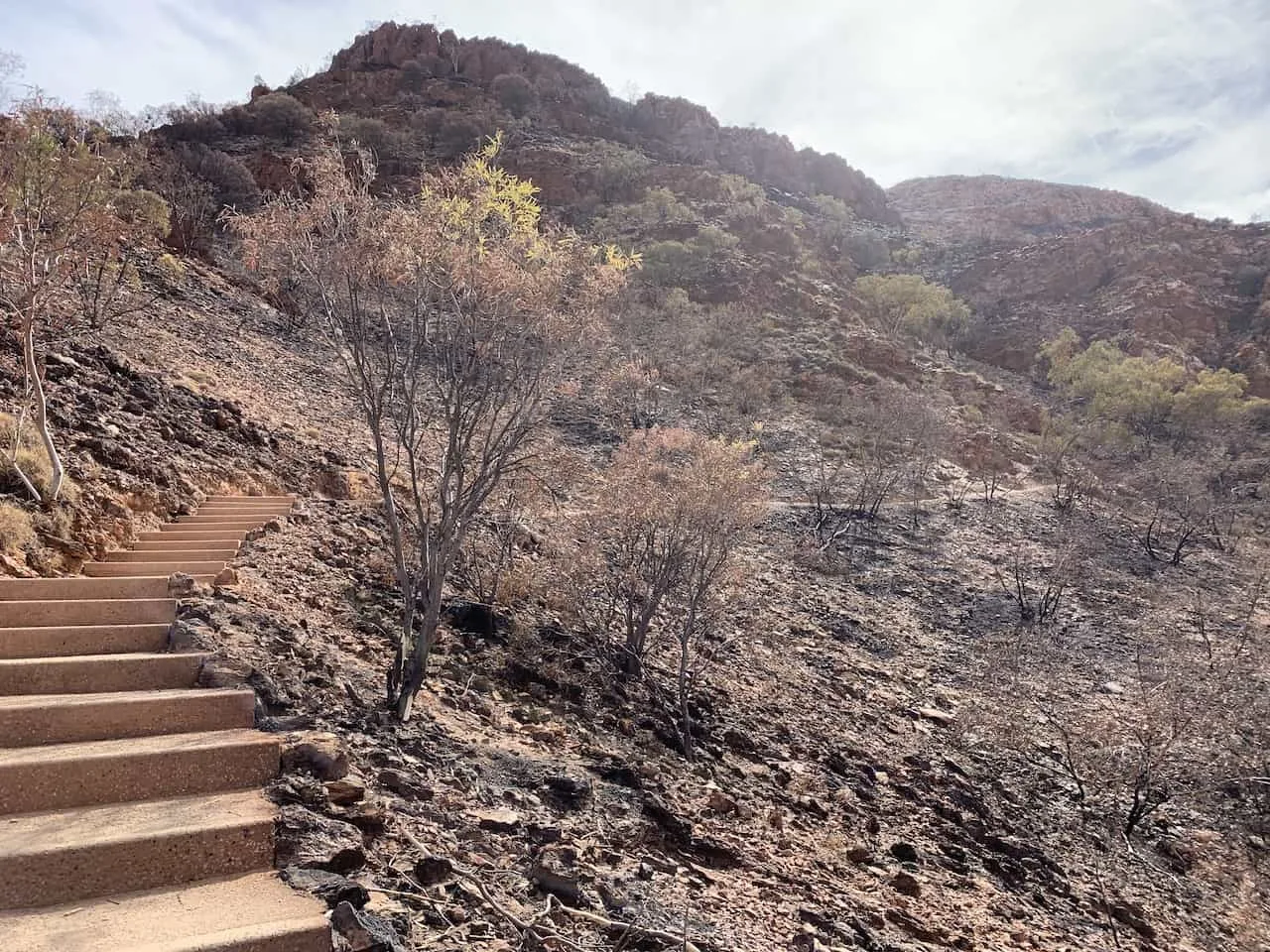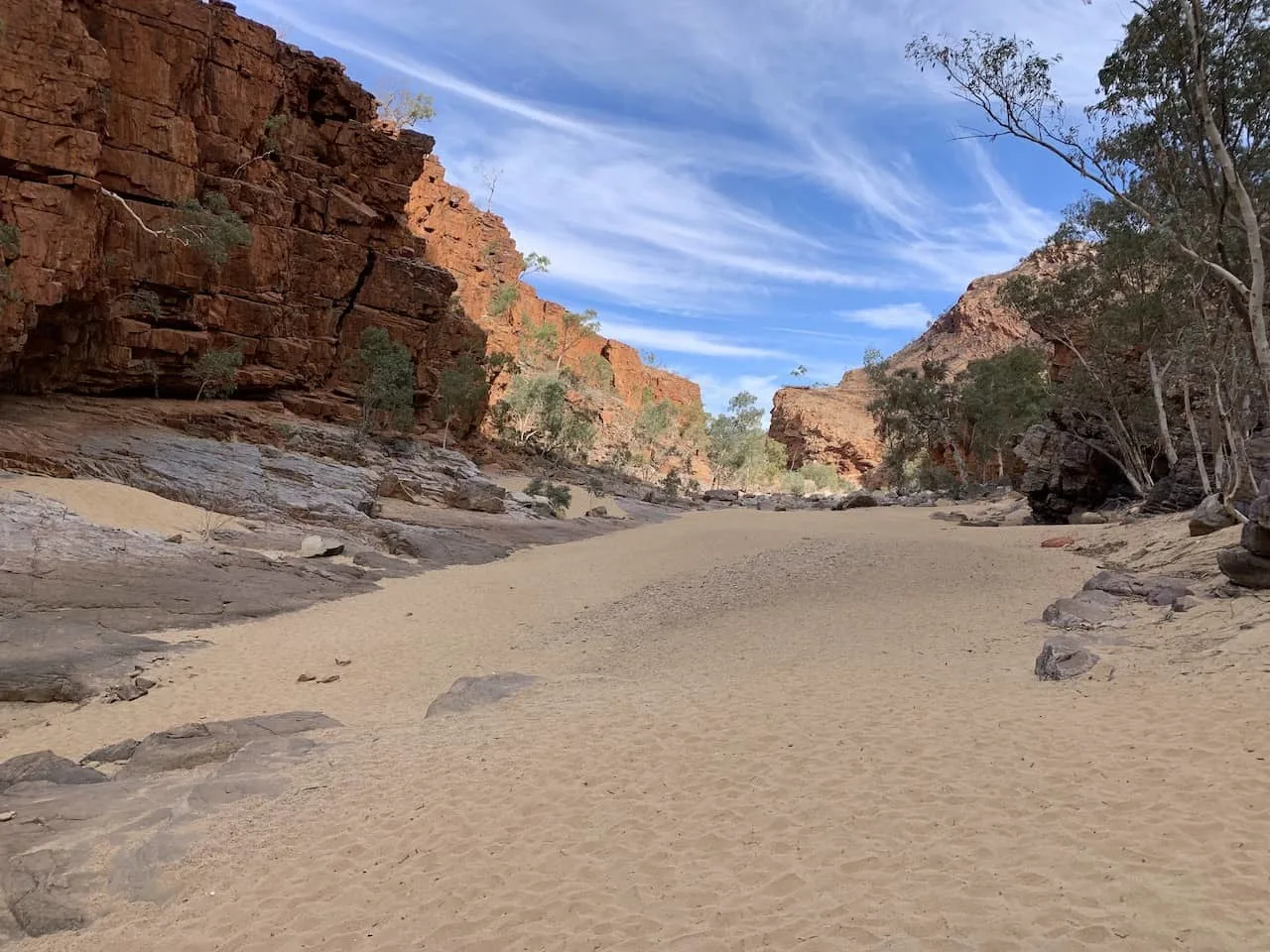 D) Pound Walk (3-4 hour loop)
For those with a bit more time on their hands, the longer day hike option at Ormiston is the Pound Walk.
Now, I did not take part of the walk myself (although the Ghost Gum Walk and Pound Walk do share the gorge section), but from all I have heard, it is an incredible hike to take part of.
For me, I wanted to visit several other West MacDonnell Ranges attractions during my one day there. Because of this, spending 3-4 hours on a hike was not an option for me.
However, if you have more time in the area or don't mind visiting just a couple attractions during your one day there, then the Pound Walk can be a great option for you.
Note that the Pound Walk can only be done counter clockwise starting at the visitors center, then looping around the area, and ending back through the gorge itself to the pool.
E) Multi Day Hikes
On top of the hikes listed above, there are also multi day options as well that begin at Ormiston:
Bowmans Gap: 18KM return track that can be completed over 1-2 days.
Mount Giles: 30KM return track that can be completed over 2-3 days.
Also to note – the famous 223KM Laripinta Trail makes its way through Ormiston Gorge
With whichever option you choose, you are sure to have an enjoyable time visiting one of the top highlights of the West MacDonnell Ranges.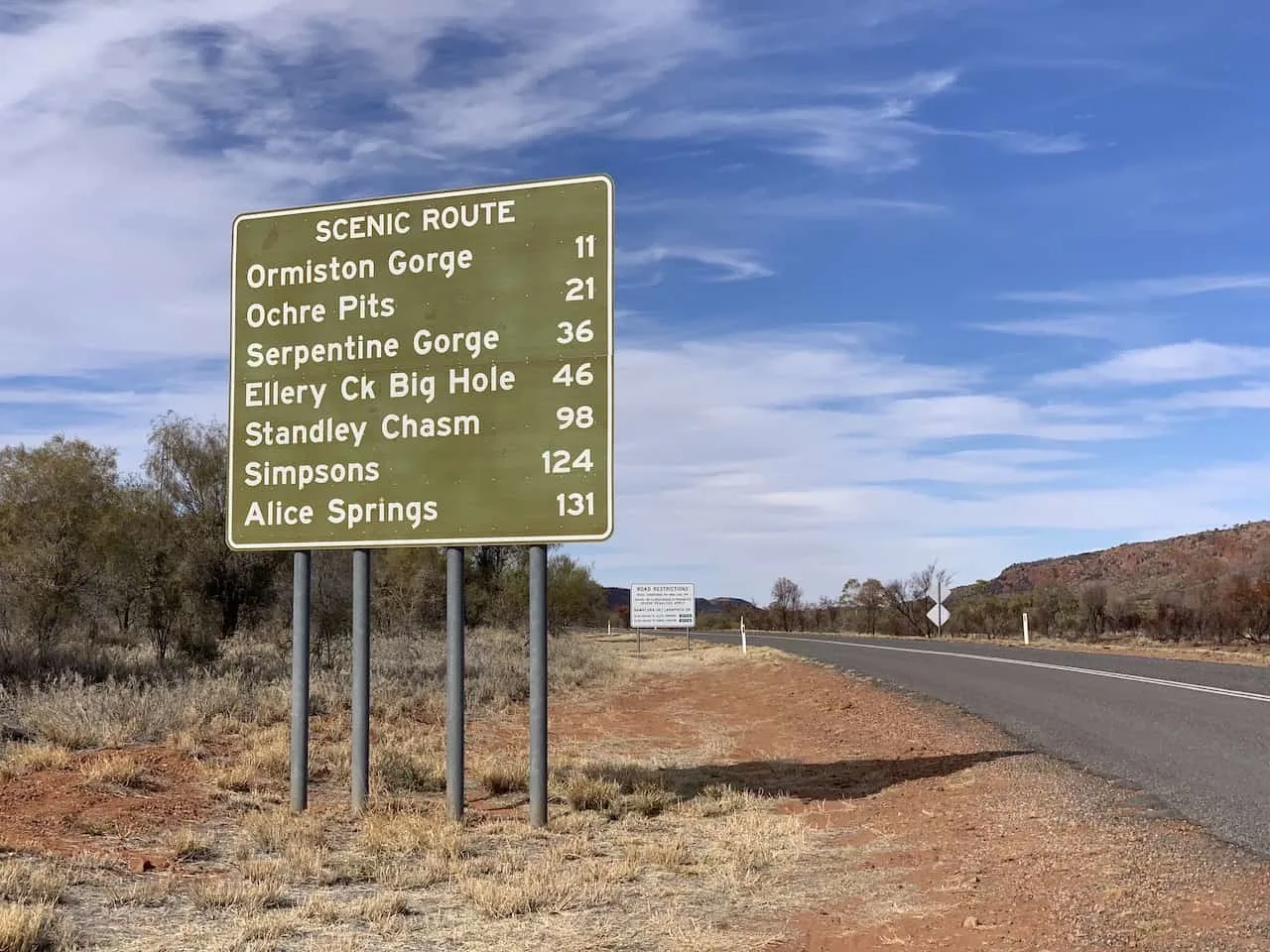 Be sure to check out some of the other Australia itineraries and guides up on the site for some more helpful trip planning info.
Also feel free to post any questions or comments below. Have fun out there and safe travels!