While walking the Old Town and enjoying the waters of the Adriatic are some ways to see Dubrovnik, why not take in the view from above.
Perched over the city of Dubrovnik is Mount Srd, which makes for the perfect place to get an bird's eye view of the surrounding landscape.
There are a few ways to go about a visit to Mount Srd. You can choose from taking a cable car, grabbing a taxi, or hiking your way to the top. This guide will go through all the helpful information you will need to know to visit Mount Srd on your own.
* Affiliate Disclosure: This post may contain affiliate links, which means I may receive a commission if you make a purchase through the links provided, at no additional cost to you. Thanks for supporting the work I put into TripTins!
1) Where is Mount Srd
Mount Srd is located just behind the Old Town of Dubrovnik. It sits at 412 meters / 1,352 feet in elevation, and is part of the wider Dinaric Alps.
On top of the mountain you will find an old structure called Fort Imperial. The fort was built in the early 1800's by the French to help with its defense during the Napoleonic Wars.
It was continued to be used as a defensive fortress over the years by the Austrians and then as recently as 1991 by the Croatians during the Croatian War of Independence.
Today, the area is frequented by tourists as it has become a popular spot to enjoy the view of Dubrovnik from above.
In addition to the fort itself, you will find several viewing platform areas, a restaurant, and even a museum to learn more about the history.
As mentioned, there are a few ways to go about a visit to the top of Mount Srd. In the next few sections, I will speak more about each of these options.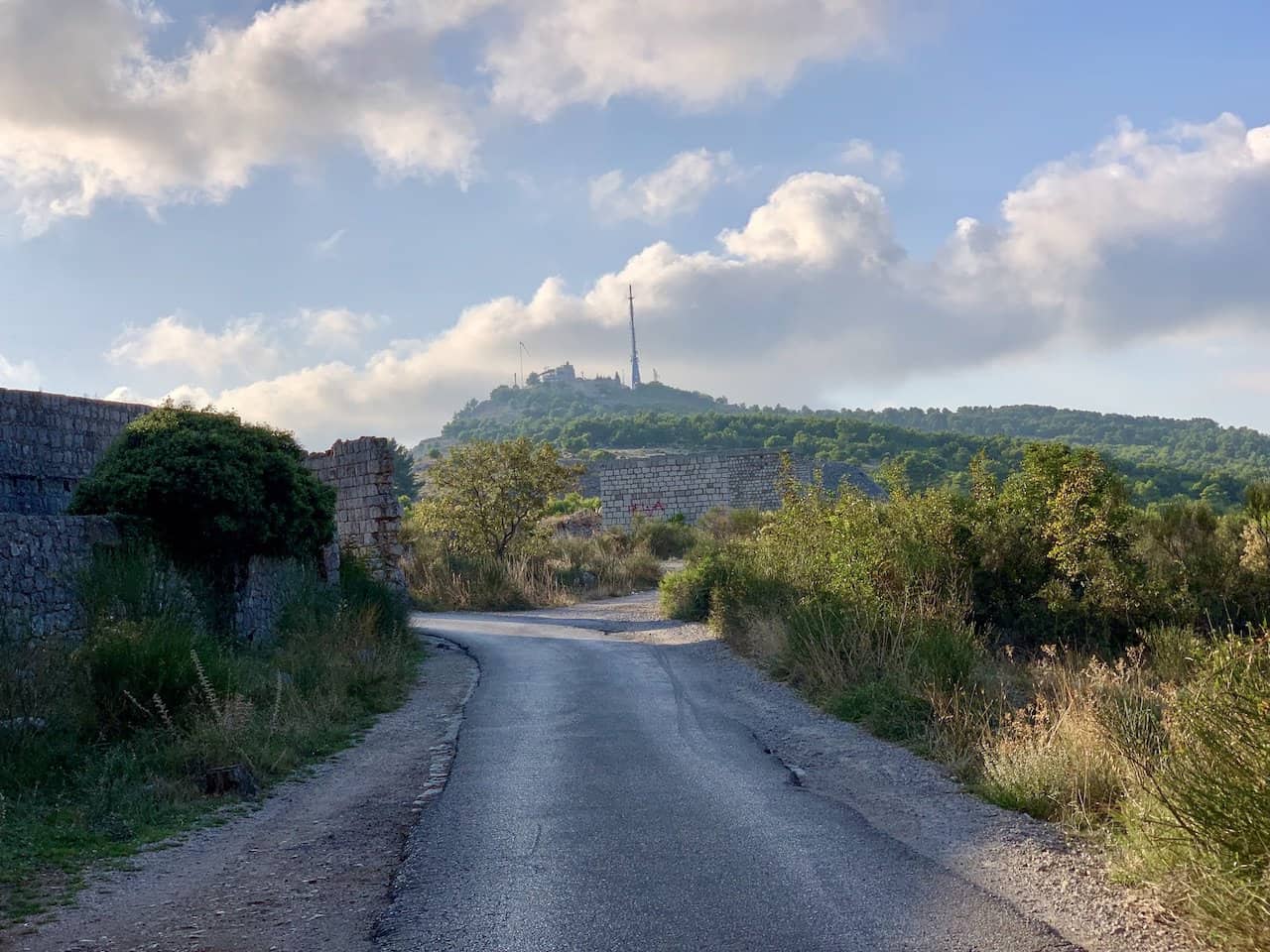 2) Mount Srd Hike
I will start off with the hike up Mount Srd as that is how I went about my visit. While the hike is free of charge, you will need to work a bit harder for those views!
There are two main trails that can get you up to the top from the Dubrovnik Old Town.
The main route is a switchback trail that zigzags its way up the mountain.
The second route is a bit lesser known but it is a slow incline from the south.
Below you can find an interactive Google Maps, showing the two trails leaving from just outside of the main Pile Gate.
It is difficult to say which trail will actually be longer or shorter because that will all depend on where you are coming from.
From the Pile Gate though expect the switchback trail to be around 3.5km, while the southern route to be 3.9km.
Overall, you are looking at pretty similar walking times altogether.
Be prepared though for some elevation gain. For both routes expect around 400 meters / 1,300 feet of gain along the way. That means bring some comfortable walking shoes and plenty of hydration.
I ended up taking the southern trail up to the top as the route itself was a bit more open and I enjoyed taking in the angle of the Old Town down below.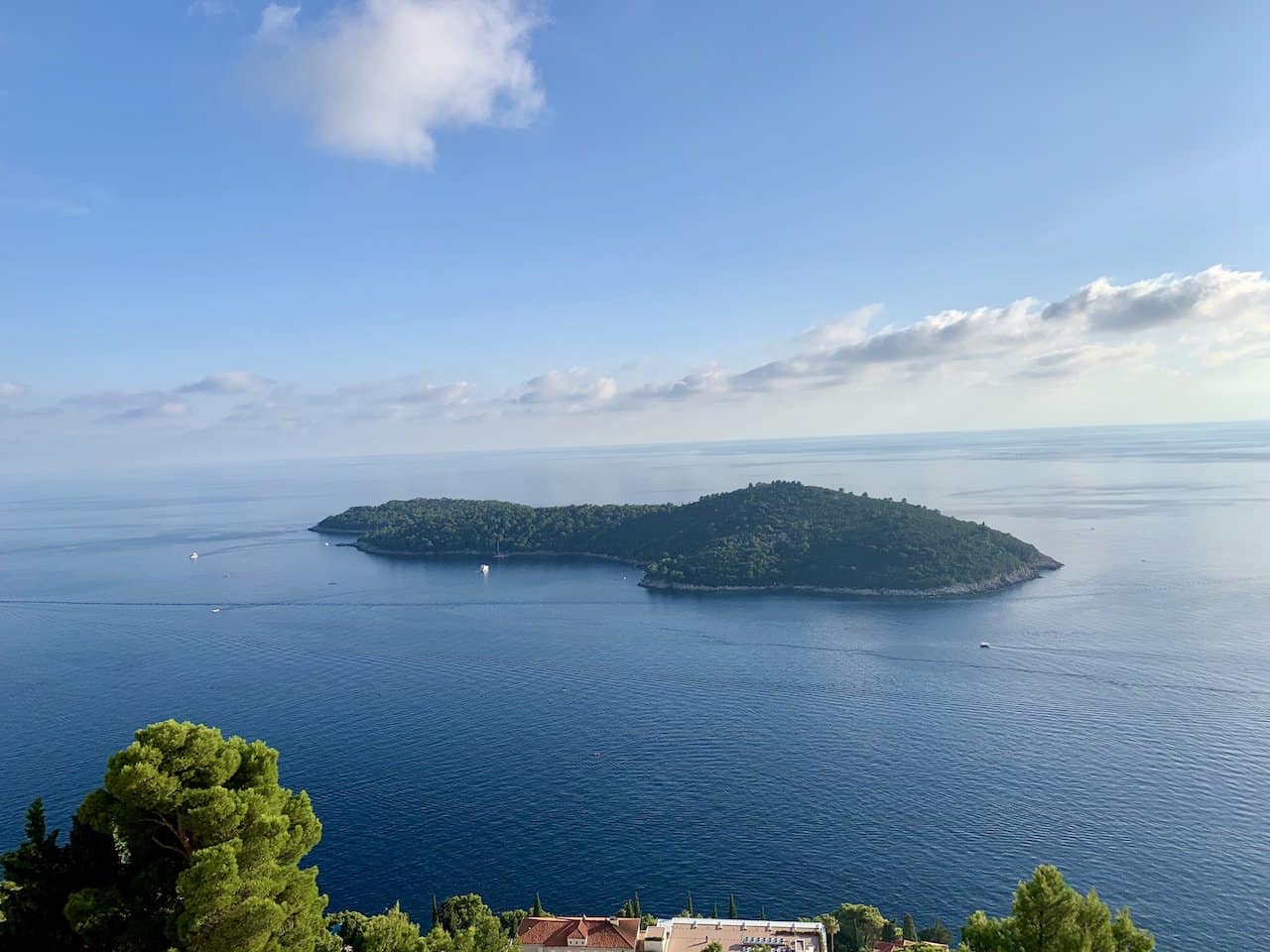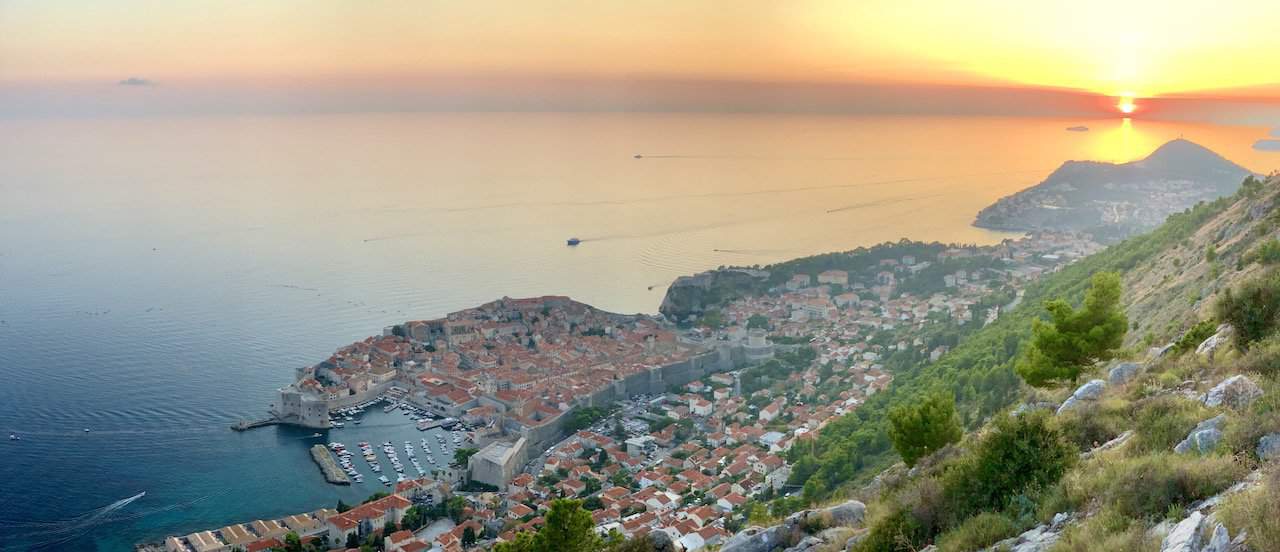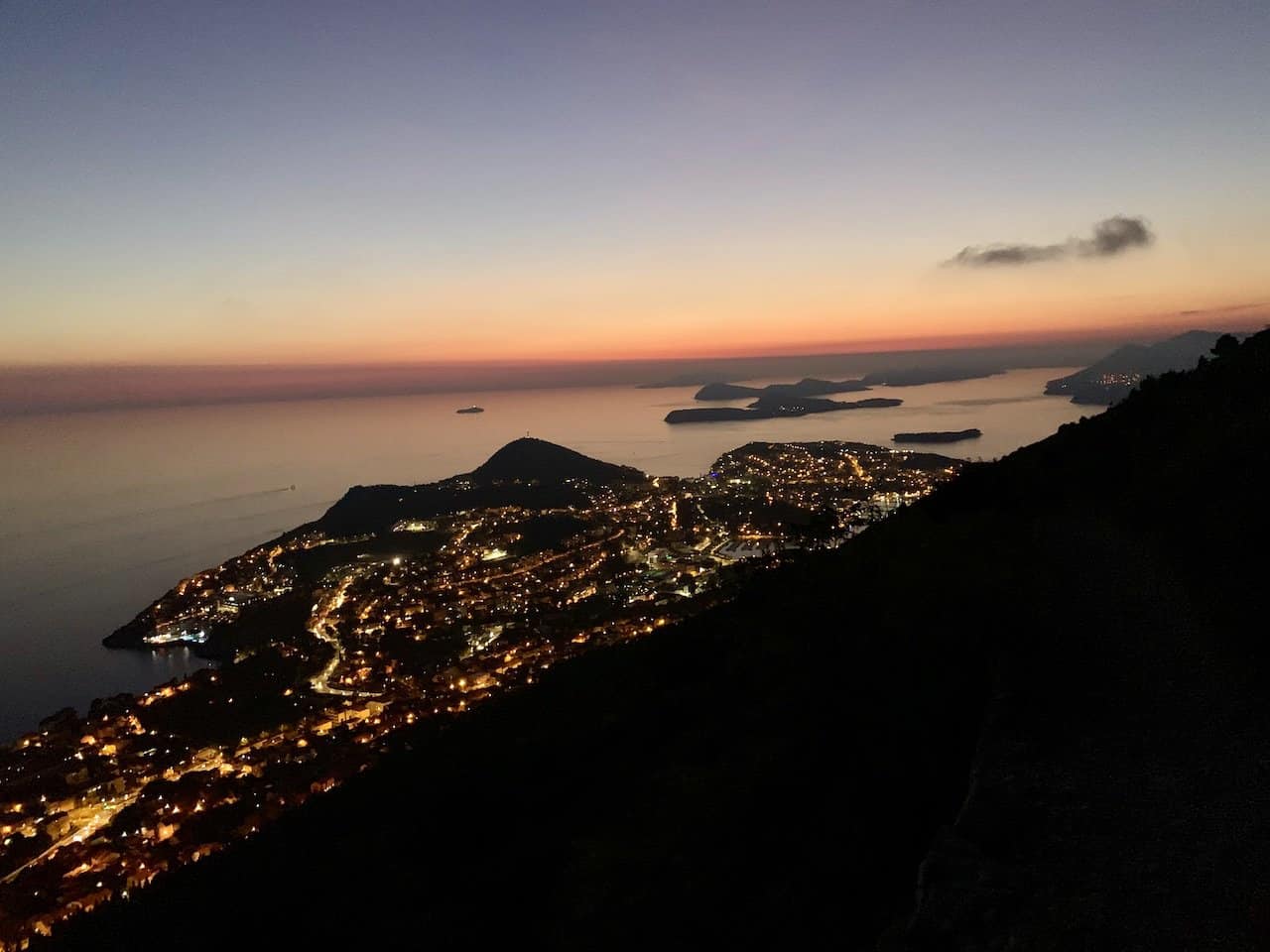 Mount Srd Hike Starting Point Tip:
While the two starting points are located right on the main Jadranska Cesta road, be sure to avoid walking on the road itself.
Depending on where you are coming from your navigation app may just try and find the shortest route.
If you are just putting "Mount Srd" into Google Maps as a walking route, the directions may take you on the road itself to the starting point of the hike.
Instead of walking on the road, try and follow the routes shown in the map above.
Both of the routes shown simply cross over the road, instead of walking on it for any sort of extended period of time. This will be safer as you don't want to walking on a main road here.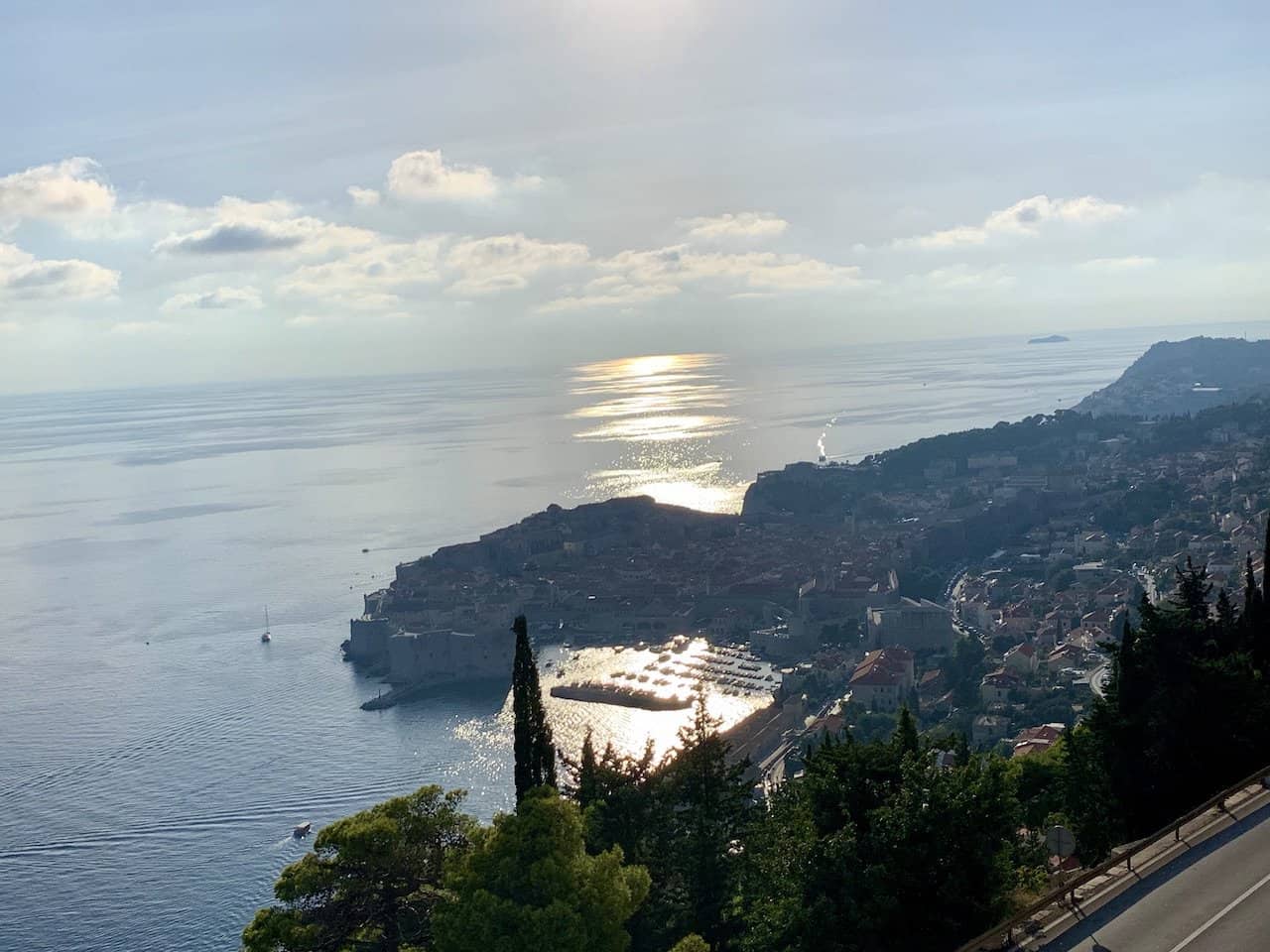 3) Mount Srd Cable Car
The more common way to go about a trip up to Mount Srd is by utilizing the Dubrovnik Cable Car.
The cable car station is located just outside the Old Town walls and gives visitors the chance to head to the top in less than 5 minutes.
I have also pinpointed the cable car station on the map above if you would like to get a better idea where it is. During my hike up the southern route, I ended up passing right by the Dubrovnik cable car.
While hiking up Mount Srd is free, the cable car is not. Below are the latest prices as of 2022:

It is also important to note the opening and closing hours of the cable car.
It does not operate outside of the main tourist months, and is only open from April to October.
Below you can find the latest hours as well.
Note that the last departure from the lower station is 30 minutes before closing time. The cable car also constantly leaves throughout the day once there are enough passengers on board.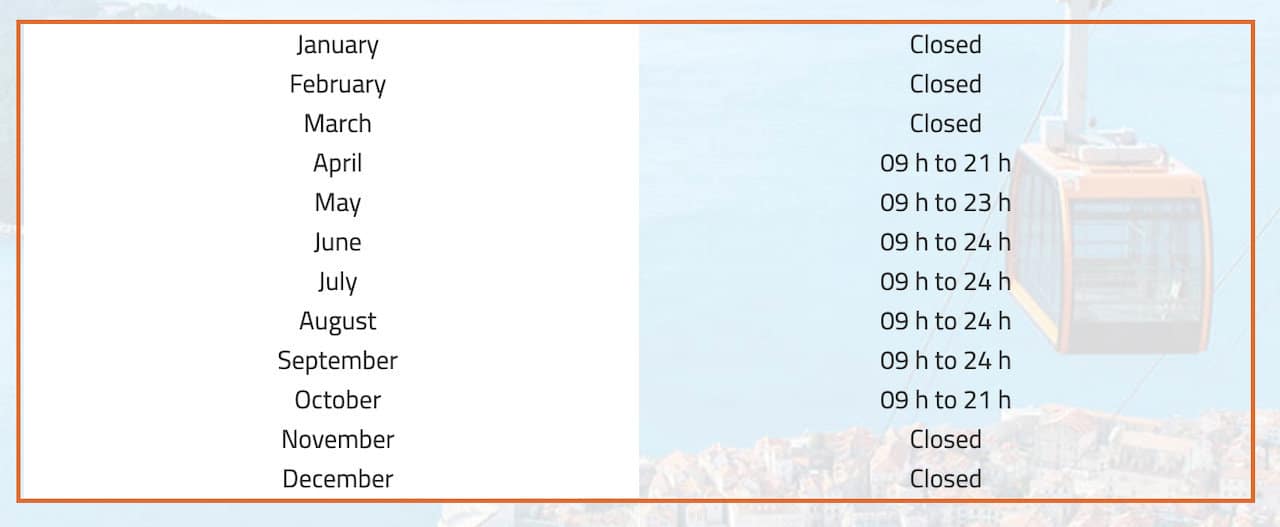 4) Taxi Up Mount Srd
If hiking or taking a cable car doesn't sound good to you, then you can also opt for a quick taxi ride up the summit too.
The road up Mount Srd runs parallel to a portion of the hiking trail too. So, if you are taking that southern route, you may see some taxis driving on up.
The drive from the Pile Gate should only take about 10-15 minutes.
Although it is a quick drive, the cost can be around $30 USD. Depending on how many people you are that can end up being cheaper than the cable car.
If you do end up taking a taxi up, you can also opt to hike or take the cable car down. That is also the case if you hike or cable car up – you can always decide to mix and match the ways you go up and down Mount Srd.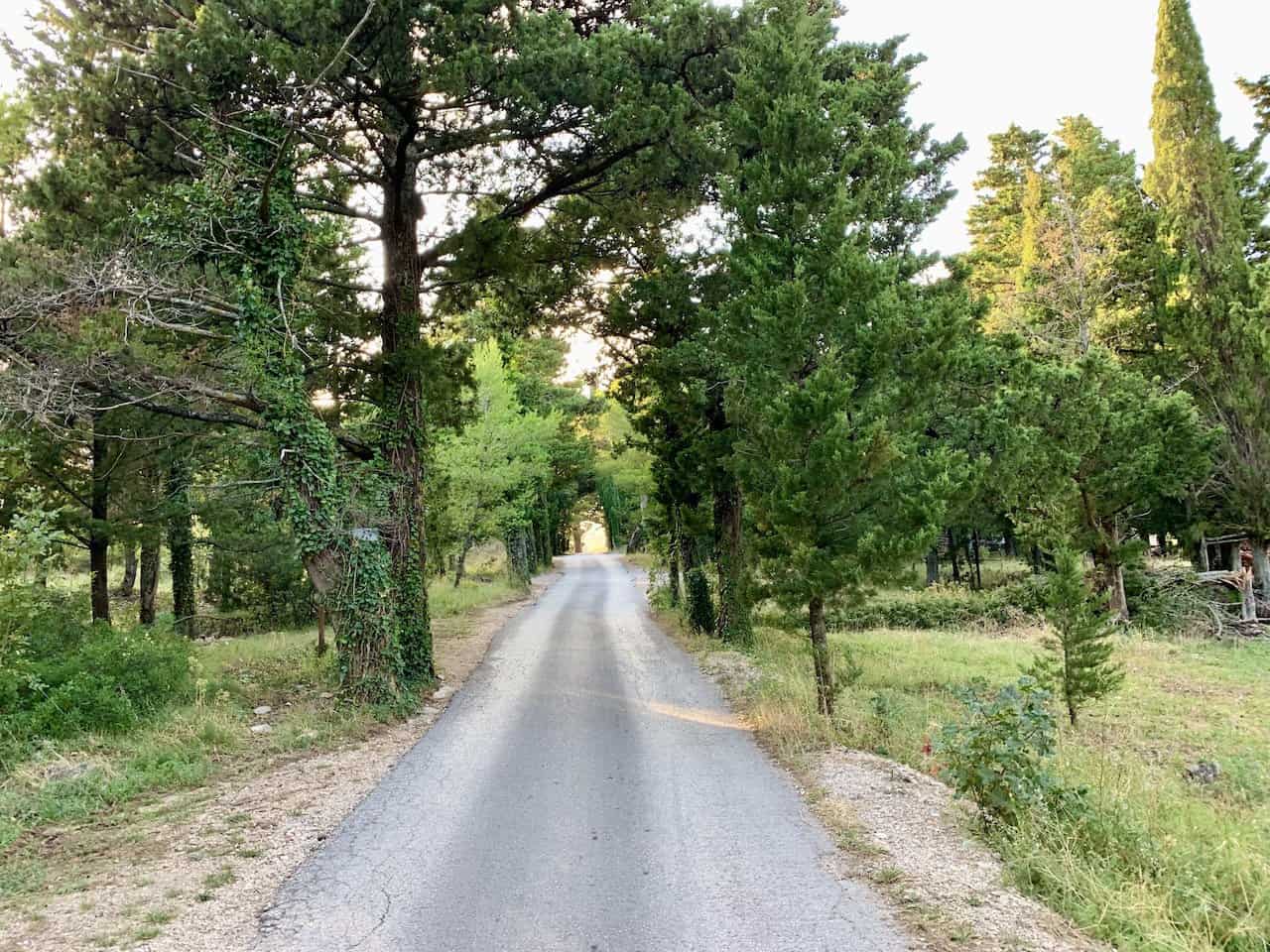 5) Mt Srd Tour Options
The last option I will speak about is taking part of a tour up Mt Srd.
Whether it is a group tour or private tour, you will have the chance to experience Mt Srd with some helpful information along the way. Some tours even combo Mount Srd with other activities and attractions as part of a day.
If this sounds like something you rather do (and therefore not worry about any sort of logistics), then check out some of the options below:
→ Dubrovnik Shore Excursion: Explore Dubrovnik by Cable Car
→ Dubrovnik Super Saver: Mt Srd Cable Car Ride, Old Town & City Walls Tour
→ E-Tuk Tuk Sunset Tour to Mount Srd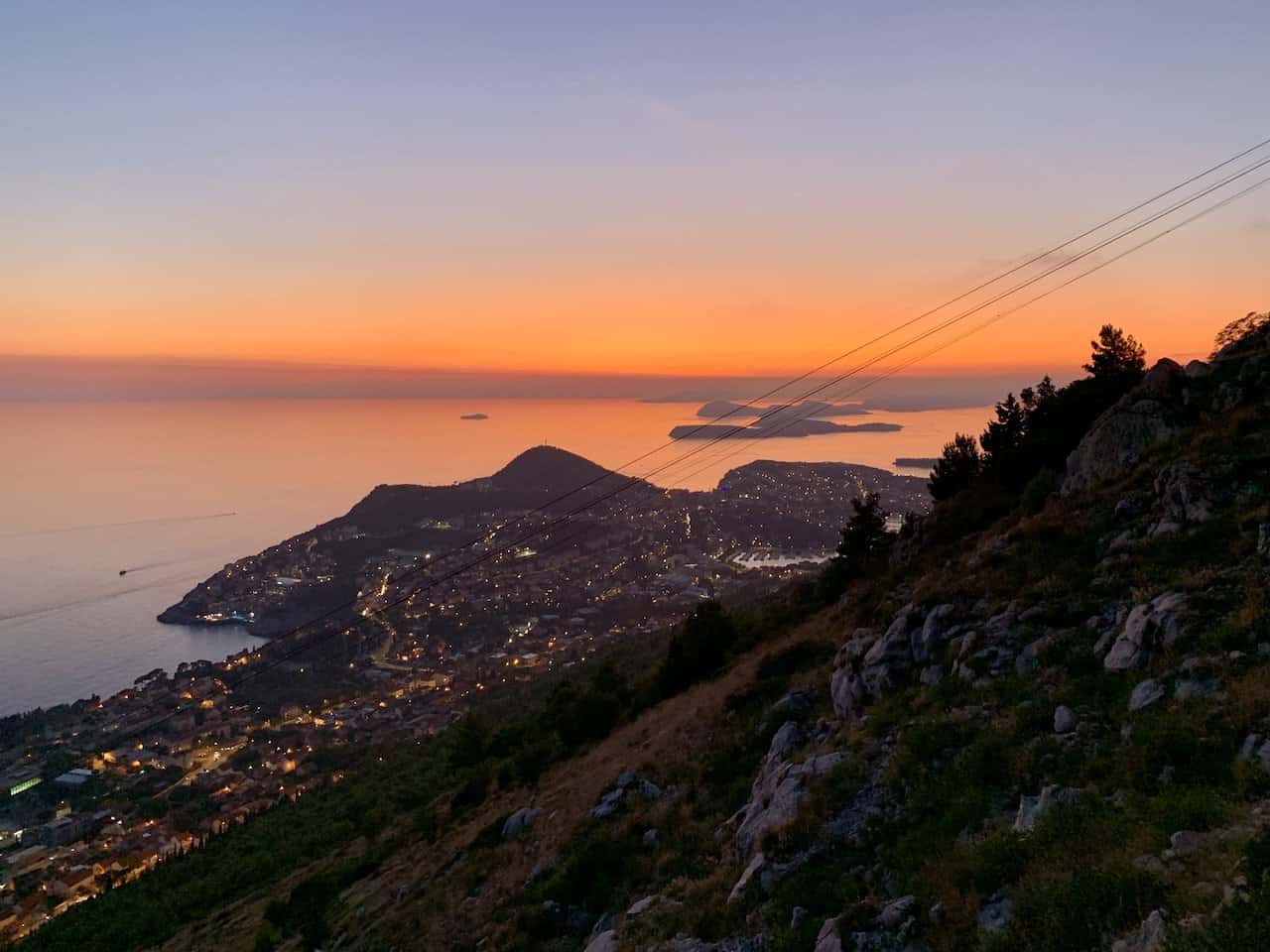 6) Mount Srd Sunset
In my opinion, the best time to head up Mount Srd is for sunset.
Seeing the sun set over the Old Town of Dubrovnik with the Adriatic Sea out in the distance is a perfect way to end the day.
This will also be quite a popular time to visit so be sure to arrive early and grab a spot that works for you. While the main viewing areas can get crowded, there are additional spots to enjoy a sunset just south of the cable car area.
I put together a Mount Srd Sunset guide that does go into some more detail about some quieter spots along the hillside.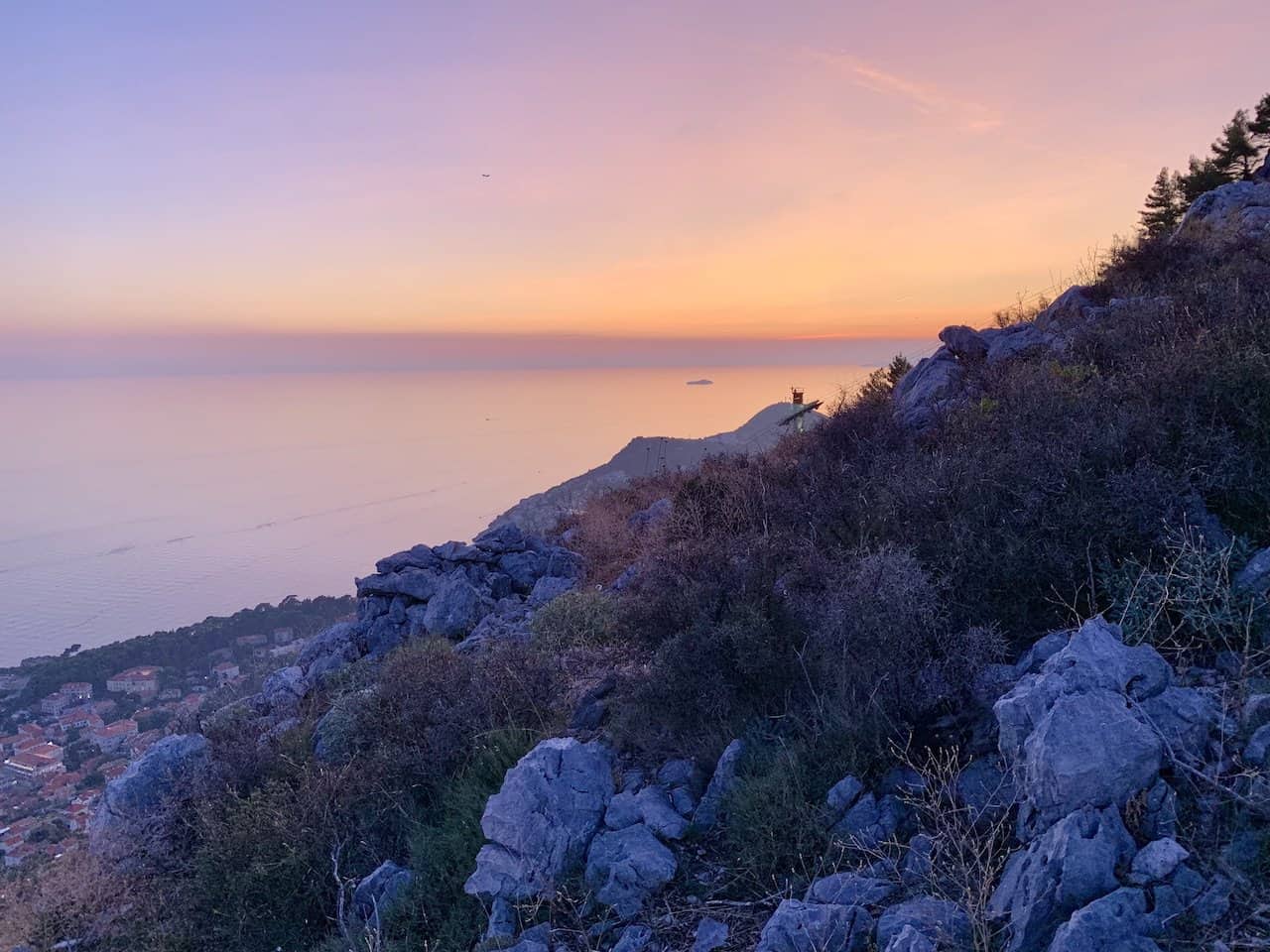 7) Mount Srd Restaurant
If you would like to make even more of an experience out of it, why not check out the Panorama Restaurant & Bar. When it comes to meals with a view in Dubrovnik, it won't get much better than this.
Since this is an in-demand spot to have a meal, be sure to make a reservation in advance just in case.
One helpful tip I came across is that you should ask for a table in the first couple of rows. This will give you a better chance to have the best views at the restaurant.
There are plenty of options when it comes to their menu. You will find an extensive drinks list in addition to food such as fish dishes, meat & chicken, soups, and more.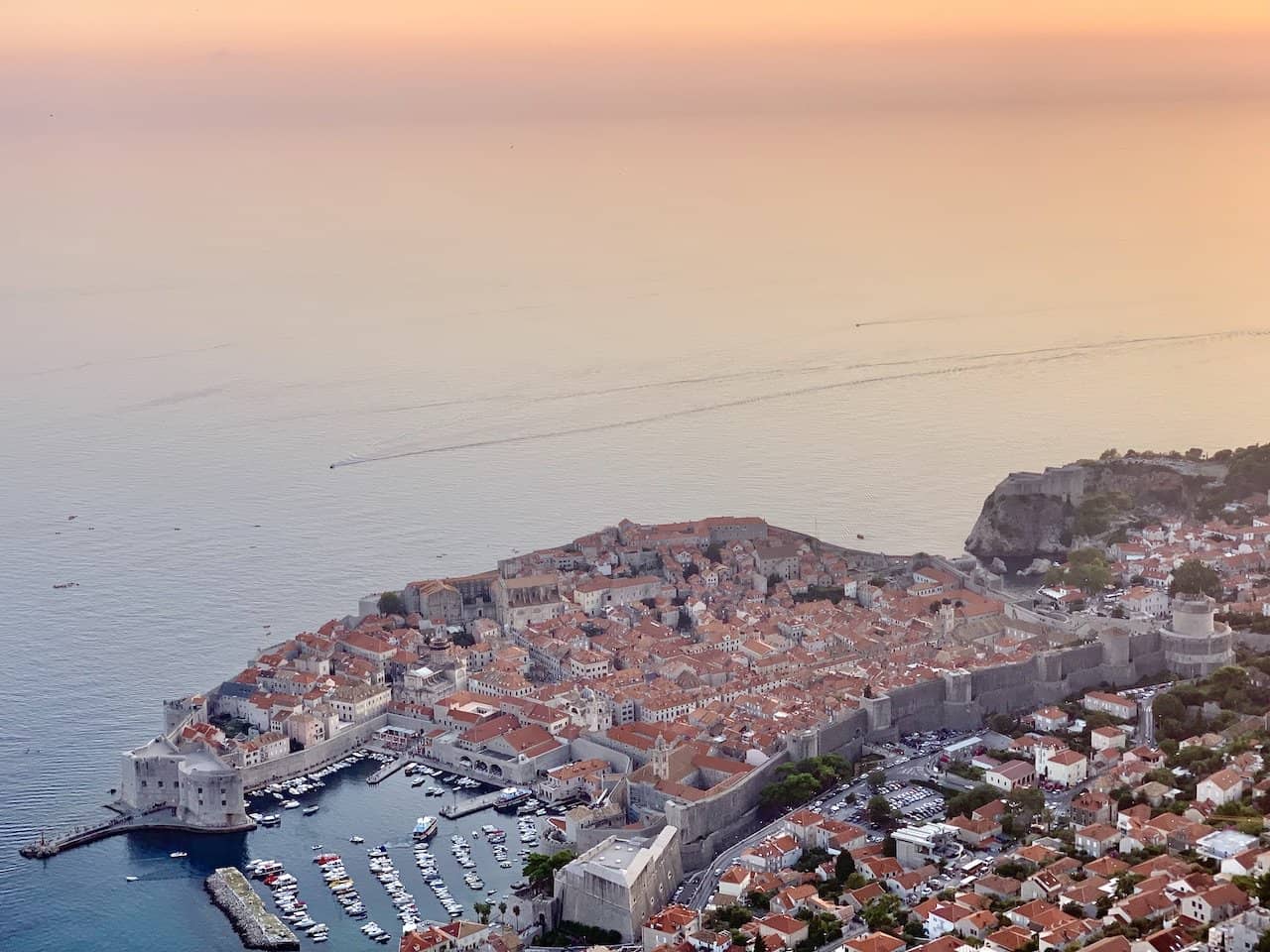 8) Where to Stay in Dubrovnik
When visiting the city of Dubrovnik, you have the option to stay within the Old Town walls or outside of them.
I found it a great experience to stay within the walls, as I got to walk around at night and early morning without the crowds. In addition, I did not need to worry about transport to and from the Old Town each time I wanted to visit.
With that said though, options are more limited and can be more expensive within the walls. Below are a few options outside of the Old Town as well as inside the Old Town depending on your preference:
Old Town
Outside of Old Town
↔ If you are renting a car in Croatia, be sure to check out Rentalcars.com, which will have a variety of rental options to choose from for your trip.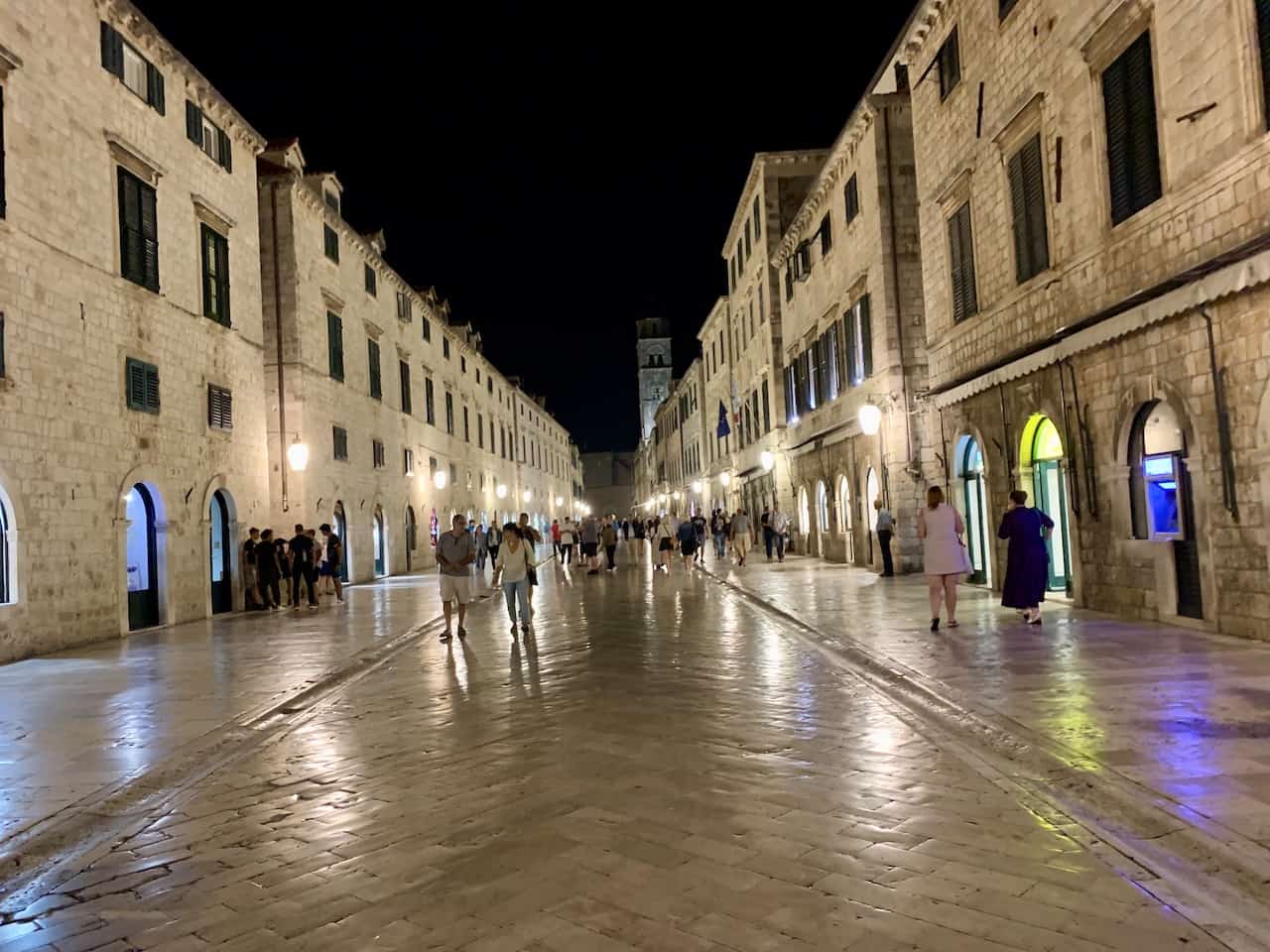 That about wraps up a guide to visiting Mount Srd in Dubrovnik. If you have any questions or comments about the experience, feel free to add them in below.
Also, don't forget to check out the other Croatia itineraries and guides up on the site like this 2 Week Croatia Itinerary.
Have fun out there and safe travels!