A visit to Dubrovnik is not complete without experiencing a Dubrovnik sunset. With the sun setting over the historic walled city, visitors are able to take in one of the best views in the country.
While there are several places to take in a sunset in Dubrovnik, there is no better place than Mt Srd. With that said though, not all sunset spots on top of Mt Srd are the same.
This guide will go into detail on how to take part of the most scenic and peaceful Dubrovnik sunset. Not only will you be able to enjoy a beautiful sunset, but you also will be able to avoid the crowds too.
* Affiliate Disclosure: This post may contain affiliate links, which means I may receive a commission if you make a purchase through the links provided, at no additional cost to you. Thanks for supporting the work I put into TripTins!
1) Dubrovnik Sunset Time
Before talking about the Dubrovnik sunset spot, it is important to note the actuals times that the sun sets. This of course will all depend on time of year.
Below you can find the "average" sunset times by month in Dubrovnik (beginning – end of month).
January: 4:25PM – 5:00PM
February: 5:00PM – 5:35PM
March: 5:35PM – 7:10PM (daylight savings)
April: 7:10PM – 7:45PM
May: 7:45PM – 8:15PM
June: 8:15PM – 8:30PM
July: 8:30PM – 8:10PM
August: 8:10PM – 7:20PM
September: 7:20PM – 6:30PM
October: 6:30PM – 4:40PM (daylight savings)
November: 4:40PM – 4:15PM
December: 4:15PM – 4:25PM
As you decide which night you will take in a sunset, you will want to plan your day accordingly.
Usually the best colors start somewhere around 30 minutes prior to sunset and continue past the actual sunset time.
Be sure to leave yourself enough time when putting together your day.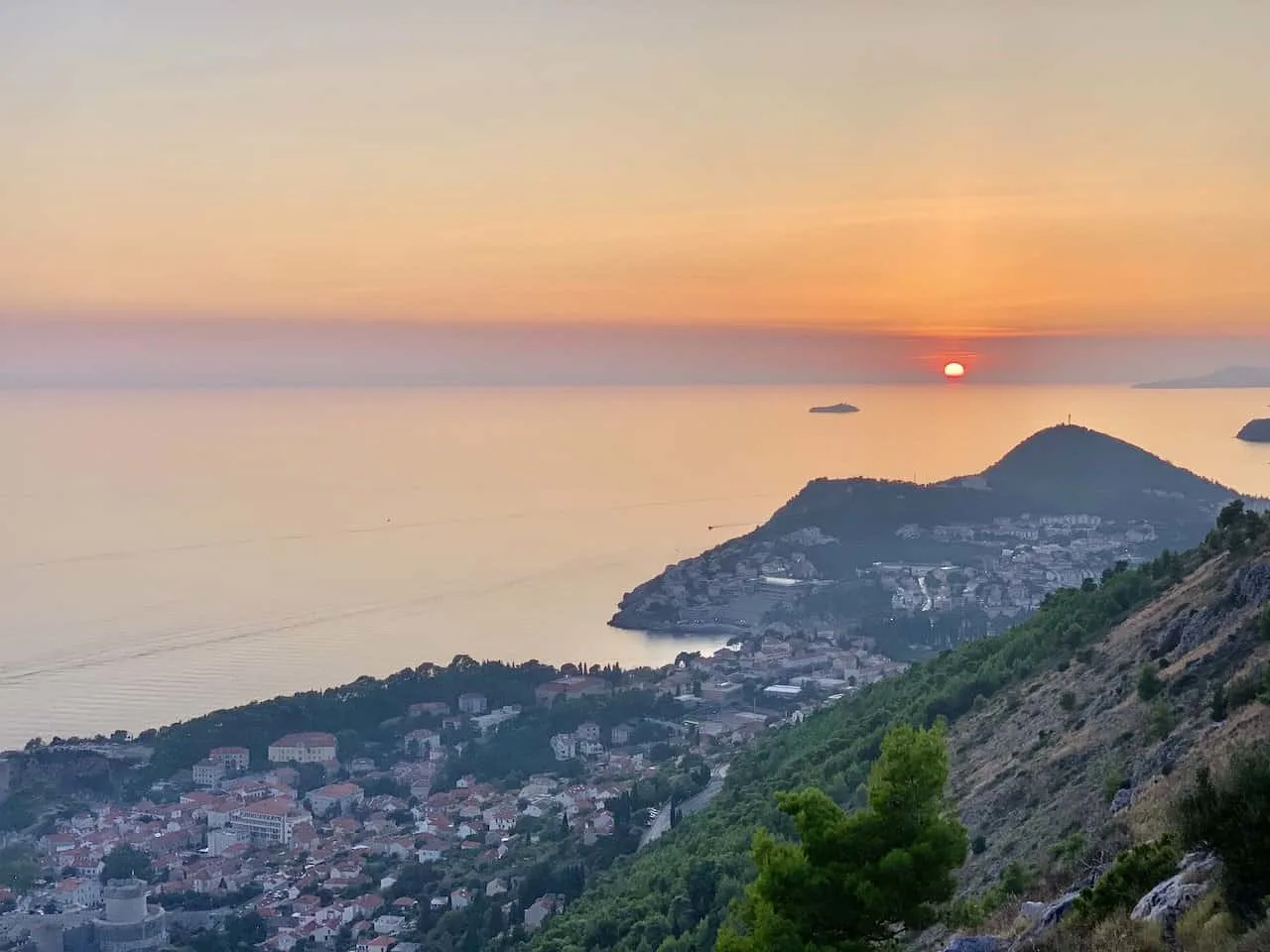 2) Choosing an Evening
While Dubrovnik has plenty of sunny, good weather days to go around, there are going to be days when the weather won't cooperate.
If you are in Dubrovnik for more than just one night, I would recommend choosing the clearest weather day to head up for sunset.
This will give you the best chance of actually seeing the sun setting behind the old city and Adriatic Sea. Even if it is a bit cloudy, I wouldn't worry too much as you still have the chance to see the sky and clouds change color as the sun sets.
At the end of the day, you just don't want to make your way up for sunset during rainy or heavy cloud cover type weather.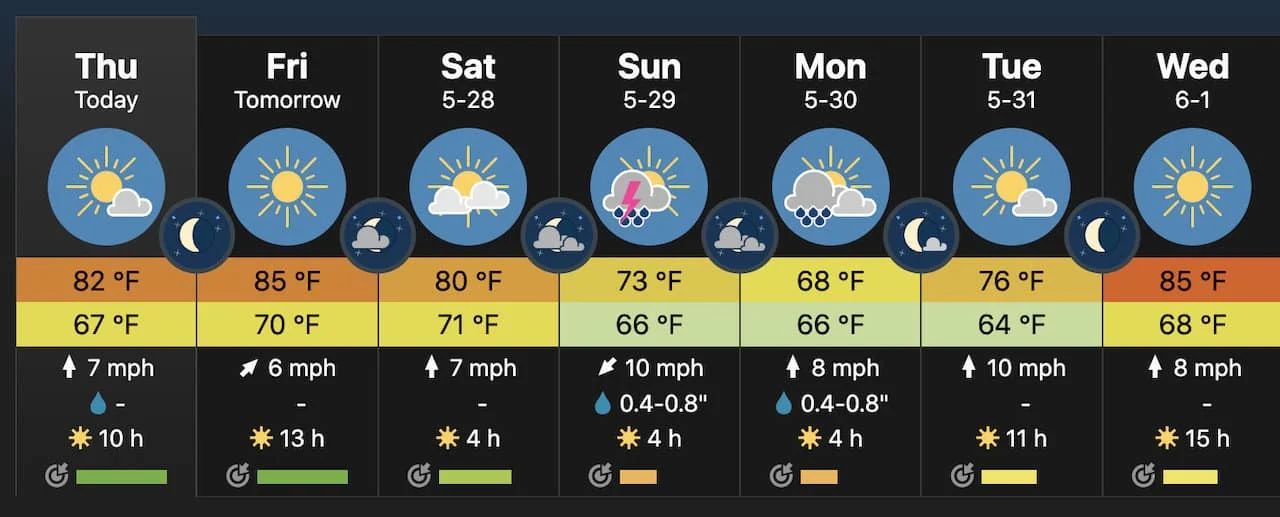 3) Best Dubrovnik Sunset Spot
A Dubrovnik sunset can be taken in from a handful of places. You can decide to watch it from atop the Old Town walls, a restaurant overlooking the sea, or even on a boat/kayaking tour.
However, I found the best Dubrovnik sunset spot to be on top of Mount Srd. Mt Srd is a popular place to take in a sunset, since you can take a cable car right to the top.
Here you will find several outdoor viewing areas, as well as a restaurant to take in the view from.
With that said though, this may also be the most crowded of locations. You may not be able to fully enjoy your time with hundreds of other people all around you.
That is where additional spots along the Mt Srd hillside come into play.
Instead of viewing a sunset from right up top the cable car, you will find several quieter spots a few minutes away just south of the main area.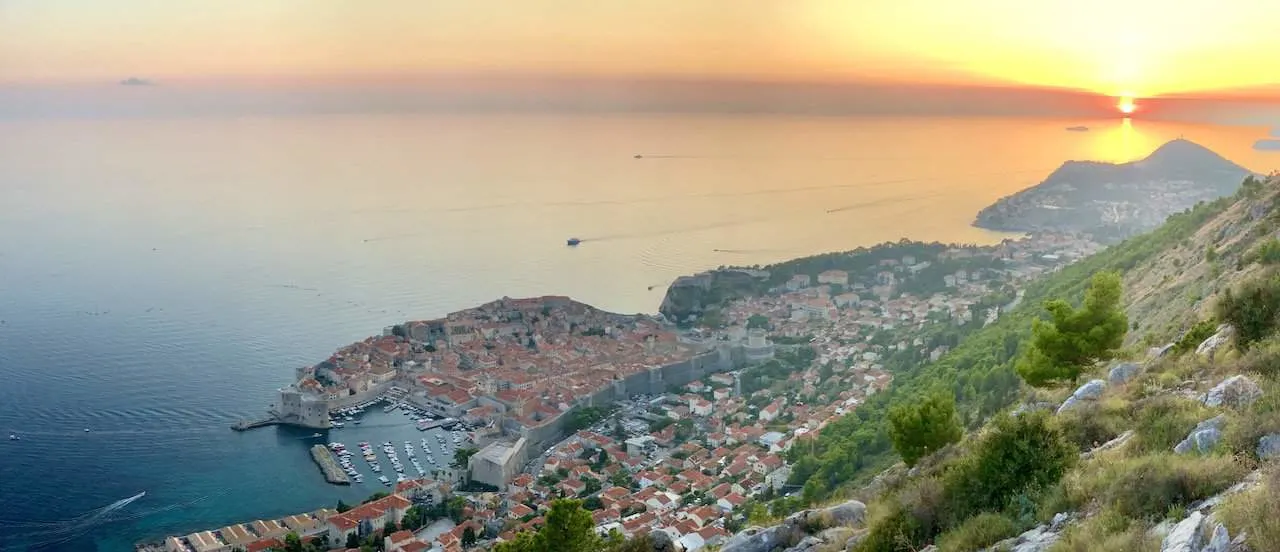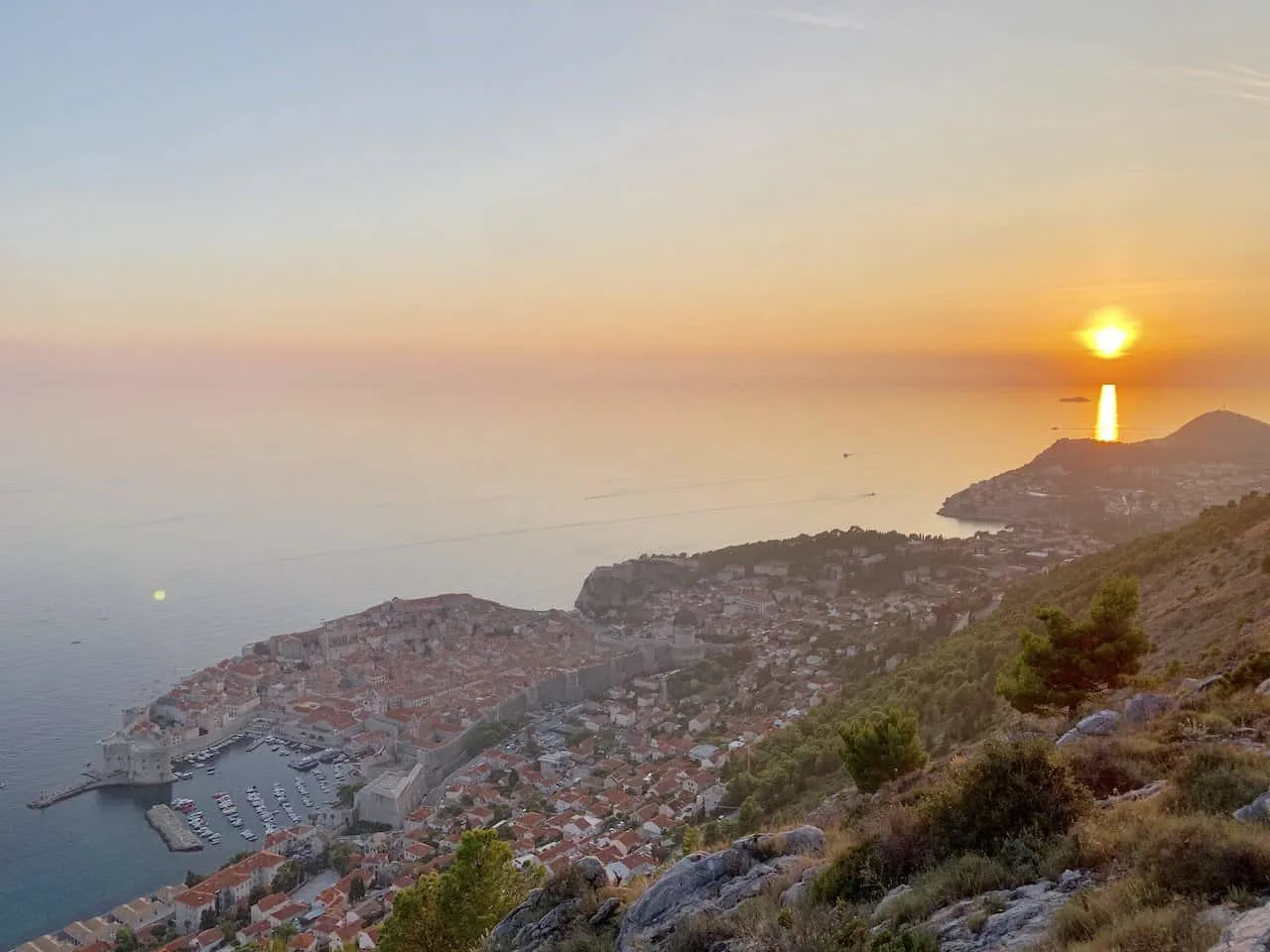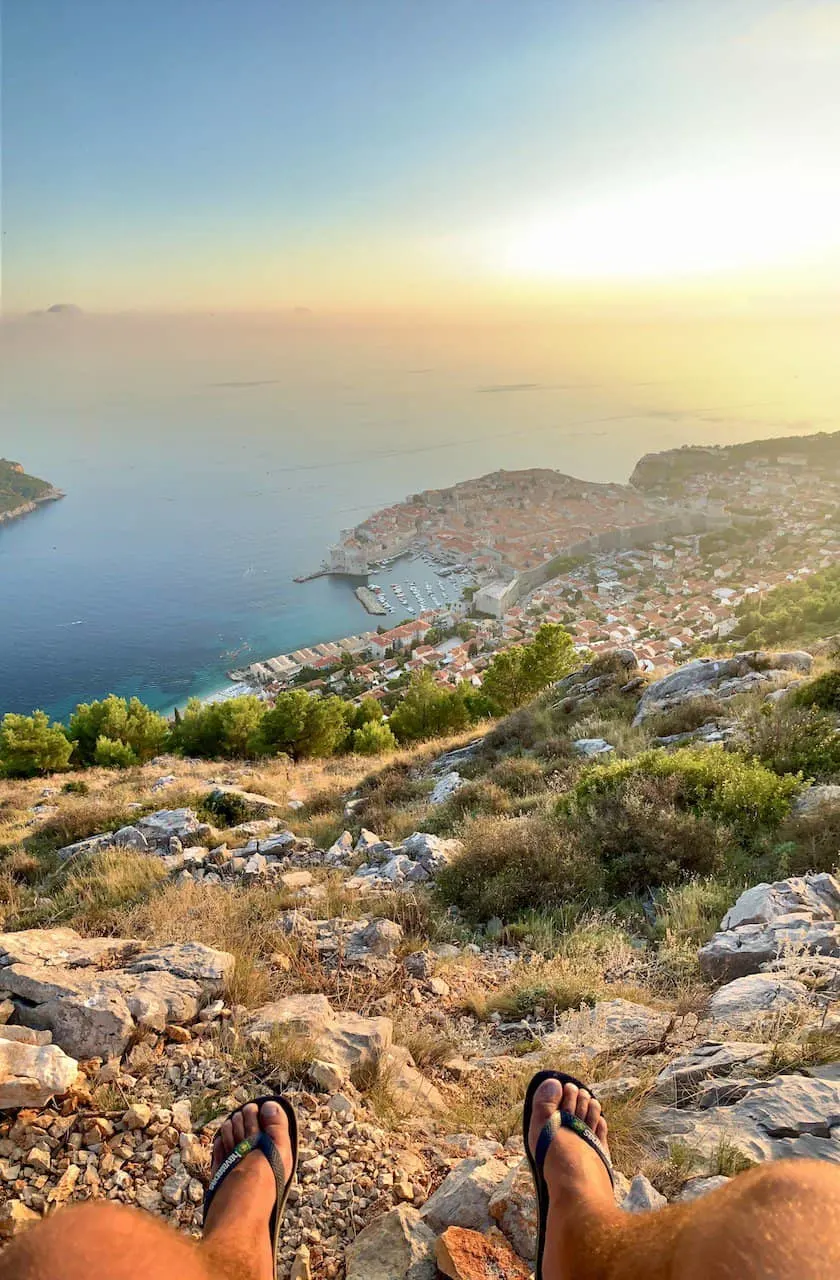 I ended up around these GPS coordinates: 42°38'47.1″N 18°07'05.1″E.
However, all along the pathway here, you will be able to find that spots that work for you. There were just a handful of other people in the vicinity while I was figuring out where to place myself.
Not only will there be fewer crowds here, but you also have a better chance to find something to take a seat on – whether it be a rock or small structure (which may be harder if on one of the viewing platforms).
What I really liked about this location is that I was able to get both the sunset and the Dubrovnik Old Town in one view. From atop the cable car, that angle does not really exist.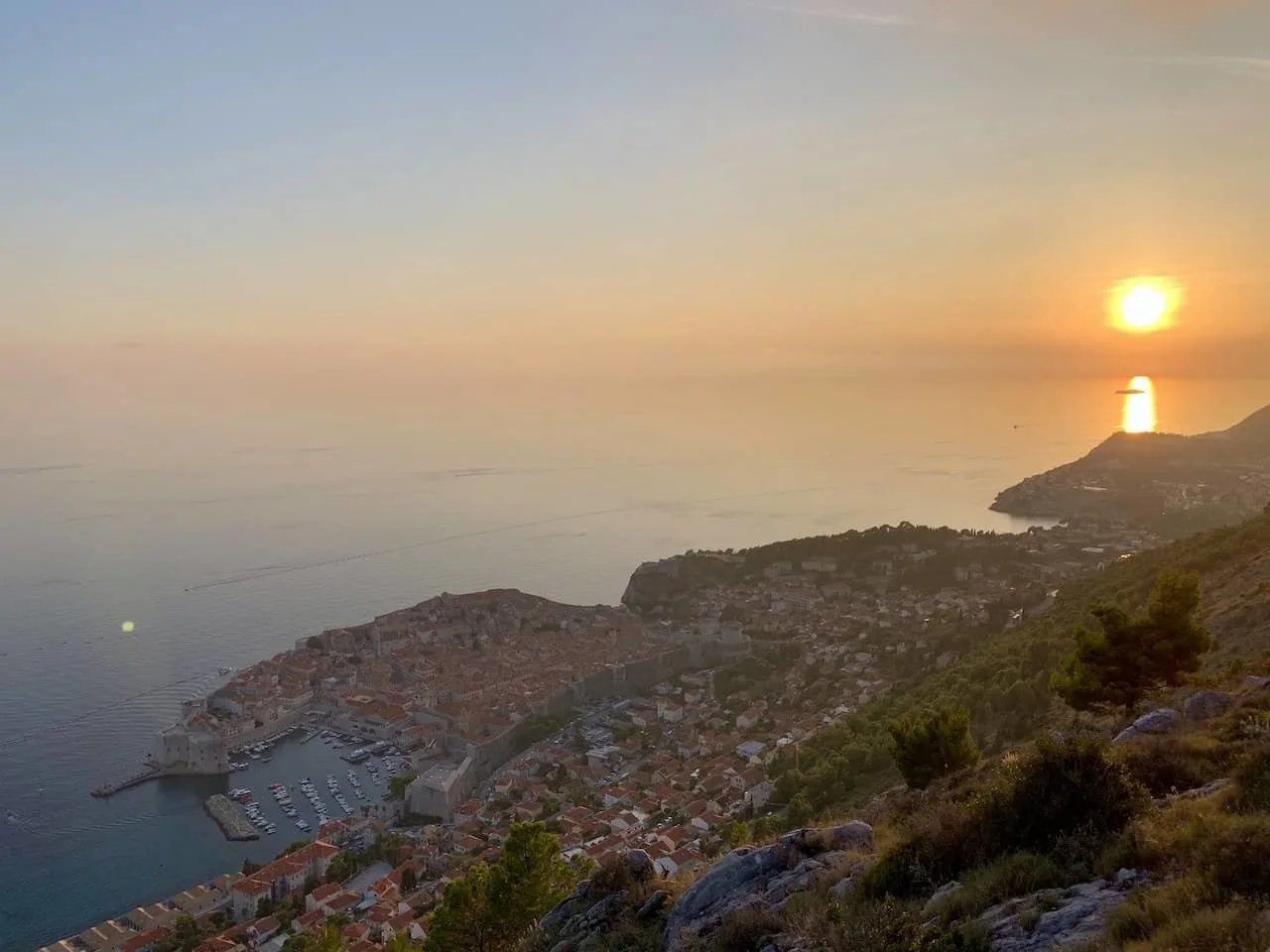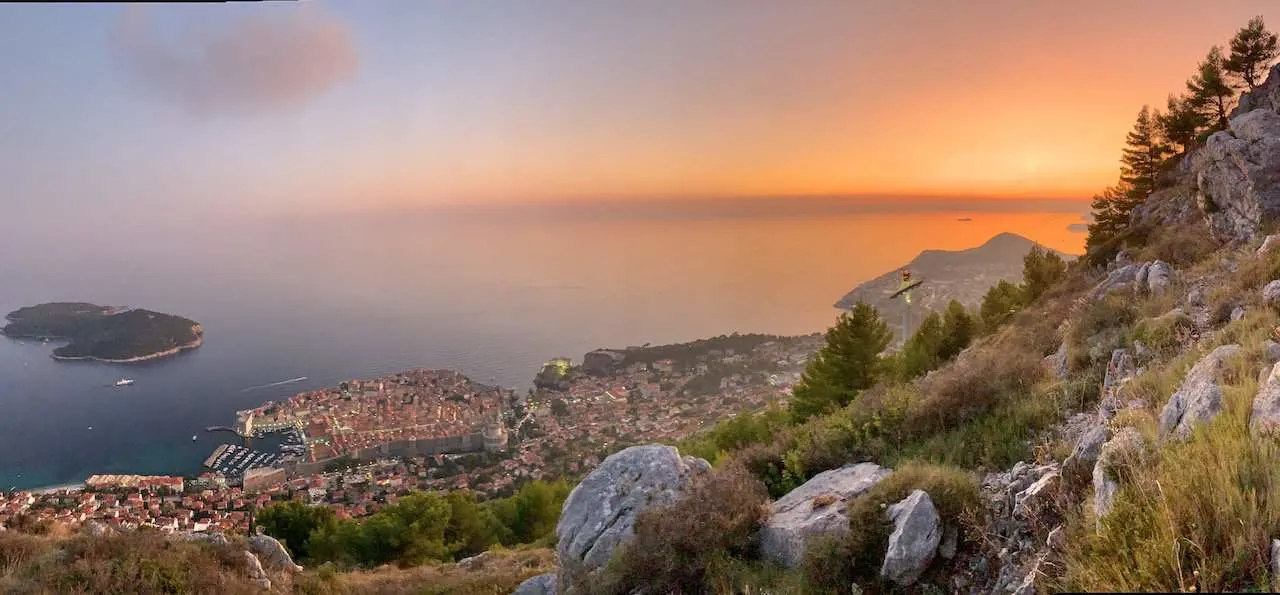 On the map below, I have pinpointed nearly the exact location where most of the photos in this guide are taken from (starred location near Point B).
In addition you will see the cable car and hiking routes laid out (more on those soon).
4) Sunset Location
With that said though, it is important to note the actual location of sunset during your visit. Each day the sun sets in a slightly different location.
Depending on where you decide to situate yourself, you may or may not be able to actually see the final sunset over the horizon.
These photos are from mid-September, and you can see that the sun is setting almost off frame from where I was sitting. If you visit in June or July, there is chance you won't be able to see the sun set from the location I was sitting at.
Rather you may need to head to one of the main viewing platforms near the cable car that will give you a better angle.
I know it may be a bit difficult to tell, but below shows the June – September sunset locations (red line).
As it gets later in the year, the sun begins to set a bit further south, and therefore more in view from the various sunset spots on Mt Srd.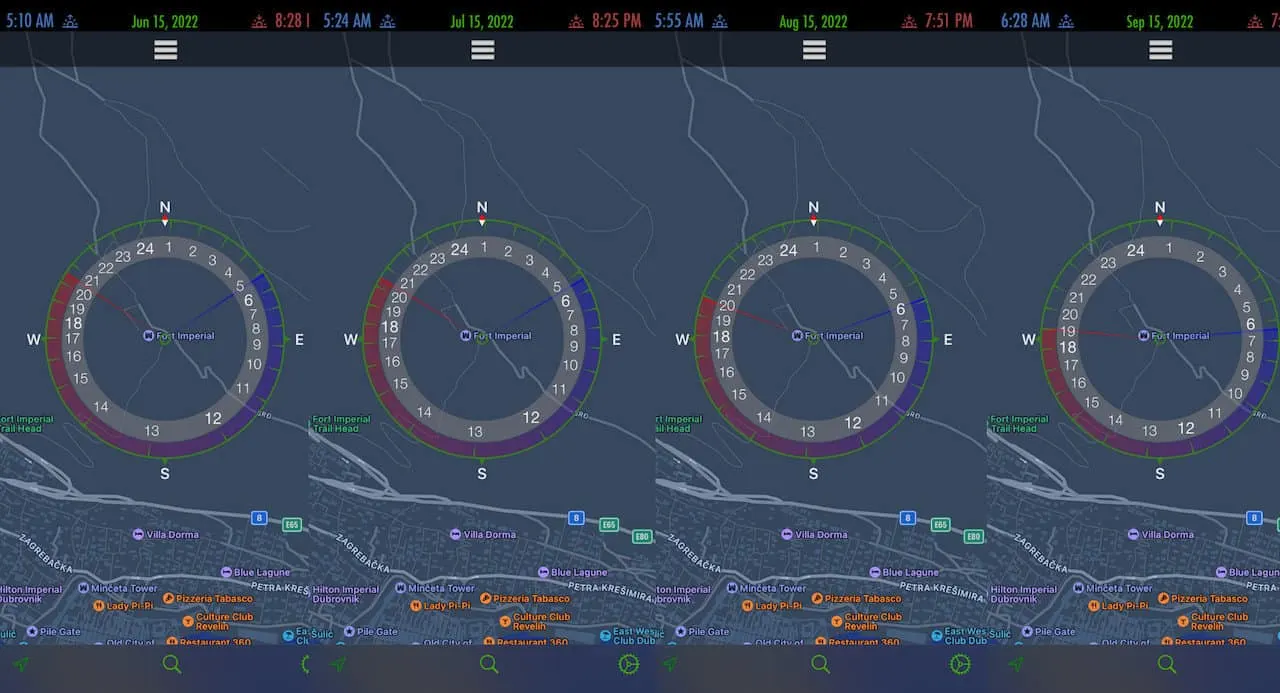 5) Getting to Mt Srd
Whether or not you take in a sunset from the viewing platforms or closer to where I enjoyed it, you will need to make your way to the top of Mt Srd.
There are a few main ways to go about it – cable car, hike, or taxi.
Cable Car
The most popular of options here is to take a cable car to the top of Mt Srd. The cable car station is just outside the walled city and is a quick 4 minute ride up to the top.
While it is the most popular option, it can also be the most expensive, so be sure to plan accordingly.
Cable Car Price: 200 kn (round trip) / 110 kn (one way)
Opening Hours: Open April to October from 9:00AM – Midnight (closing time varies by month)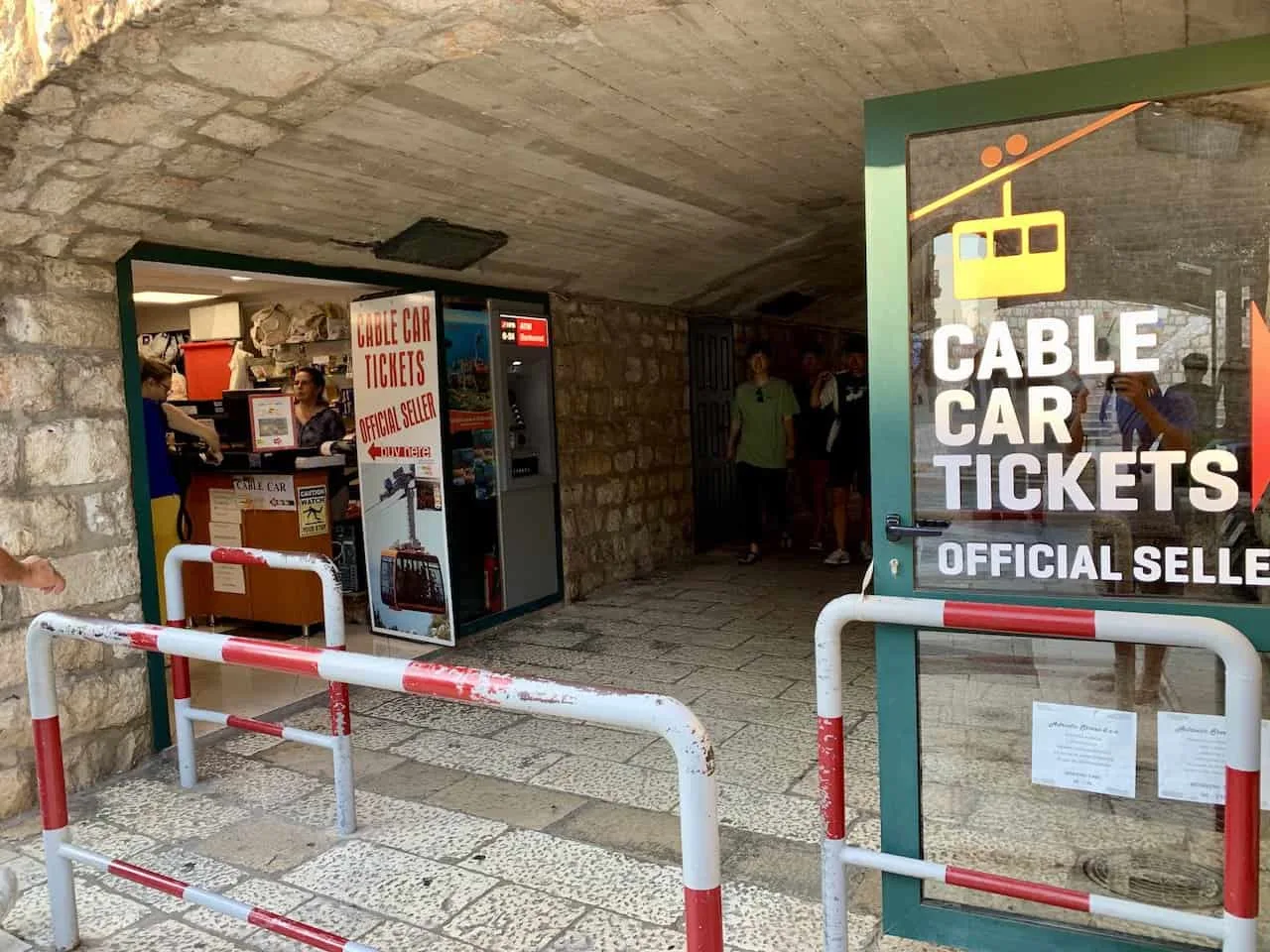 Taxi
The drive up to Mt Srd from the Old Town should take around 10-15 minutes. The cost for a cab ride should be around $25-$30 one way.
Depending on how many people you are, it may be worth it vs. the cable car (unless you are keen on taking the cable car of course). I saw many taxis heading up past the hiking trail on my way up by foot.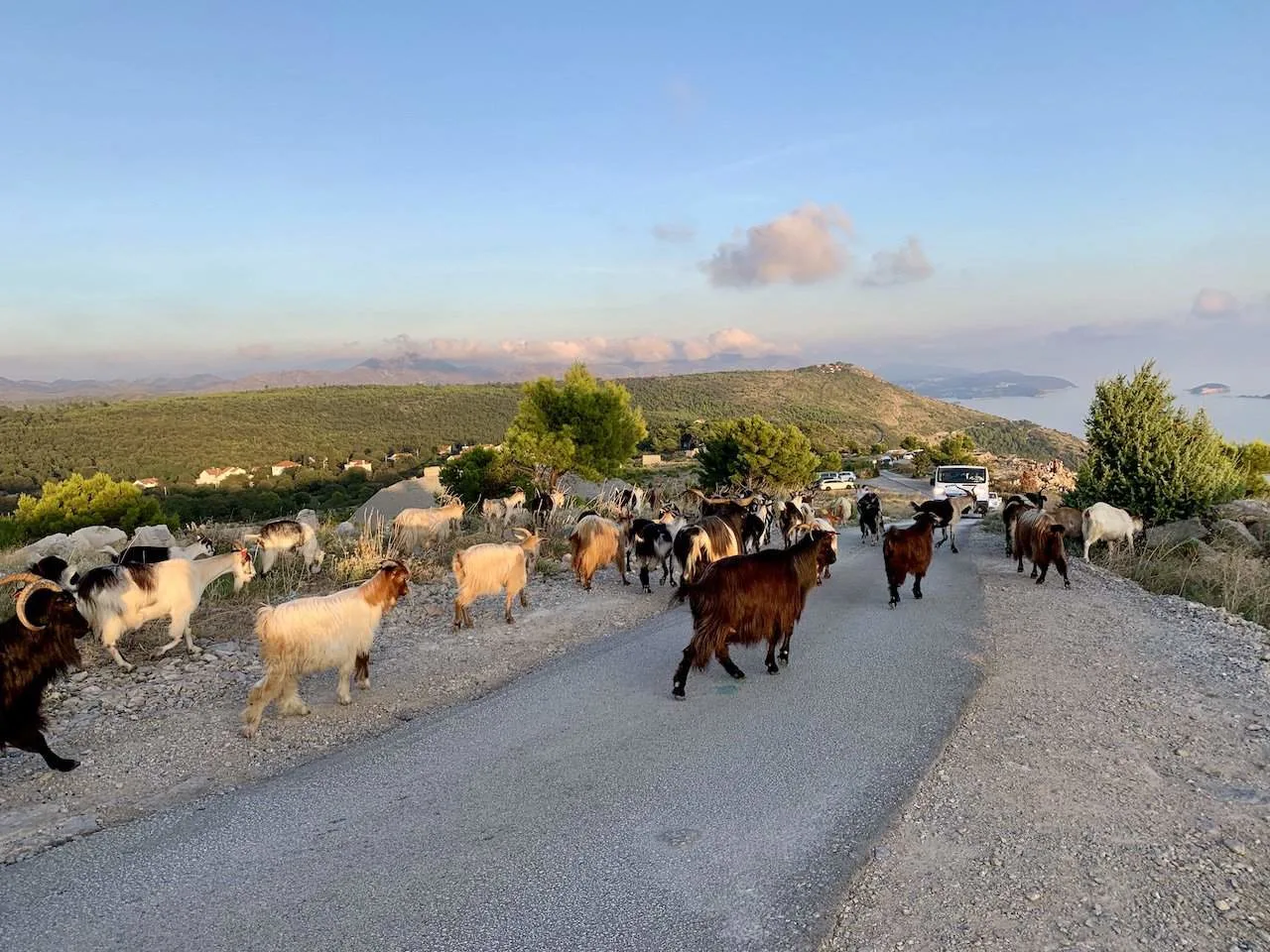 Hike
If you want to save some money and get some fitness in, then you can opt for the hike up Mount Srd.
There are two main hiking trails that lead to the top. The main trail is a zig zagging switchback hike, and the second is more of a straight but steady incline to the summit.
The map shows these two trails and the route out of Dubrovnik and up Mt Srd. If leaving from just outside the old town walls, the switchback trail is 3.6 km and the straighter trail is 3.3 km.
During my time I ended up hiking up the straight trail as it did give some overall better views throughout of the Dubrovnik city and the surrounding landscape.
Feel free to also combo a couple of the above. You can decide to hike or taxi up one way and then take the cable car back down after dark.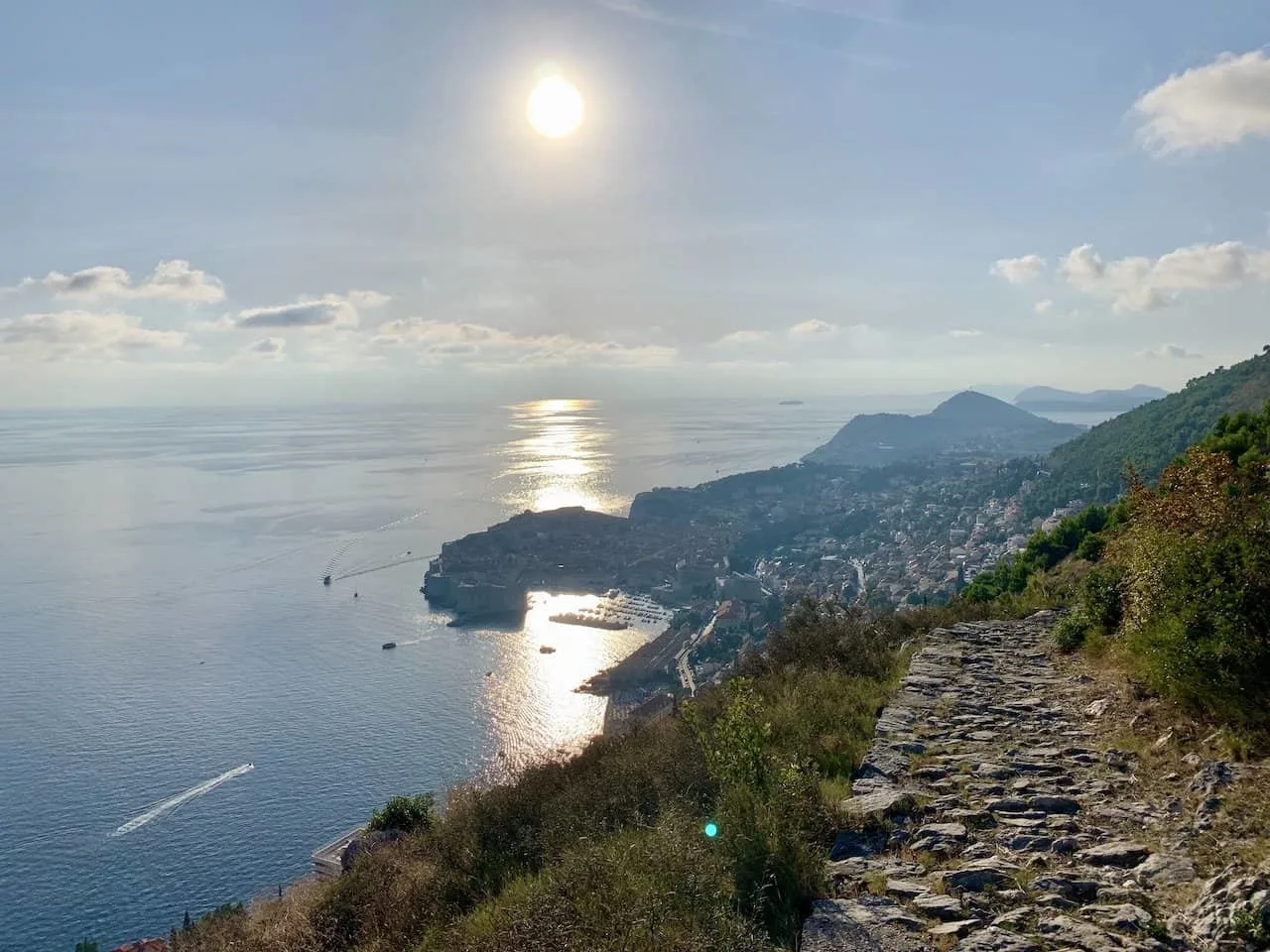 6) Other Dubrovnik Sunset Options
While I would highly recommend heading up Mount Srd for sunset, there are additional places to take one in from.
If you have multiple nights in the city, then you should have the chance to check out more spots. Some sunset spots include:
Walking the Walls: the Old Town of Dubrovnik is surrounded by an encompassing walled structure. For a fee, you can head up onto the walls themselves and walk around the Old Town. Since you will be elevated, it will give you a great view of the Old Town with the sunset further out in the distance.
The city walls close just prior to sunset, so you should be able to enjoy a stroll as the sun is setting.
Sunset Kayaking: a popular activity is to take some kayaks out on the water and explore some of the Adriatic. In addition to just a regular kayaking experience, you can also opt for a sunset tour.
There are several operators out there but check out this Dubrovnik sunset kayaking tour that is highly recommended.
Sunset Cruise: if you want to be out on the water but don't want to make a workout out of it, why not take a sunset cruise.
These cruises set sail from the harbor and then make their way all around Dubrovnik and its surrounding waters. Enjoying sunset from a boat is sure to be a great time.
Take a look at this Dubrovnik Sunset Cruise if interested.
Buza Bar: if you want to enjoy sunset while taking in some dinner and drinks, check out Buza Bar. The bar is located on the water's edge and makes for a great spot to hang out during the day too.
You can take a dip in the water, do some cliff jumping and spend some time relaxing. During sunset the bar certainly gets a bit busier.
I should note though, that depending on time of year, the sunset may actually be blocked by the Old Town walls (similarly how I described it earlier).
While you may not be able to see the final sunset, you should still be able to enjoy the changing colors of the horizon.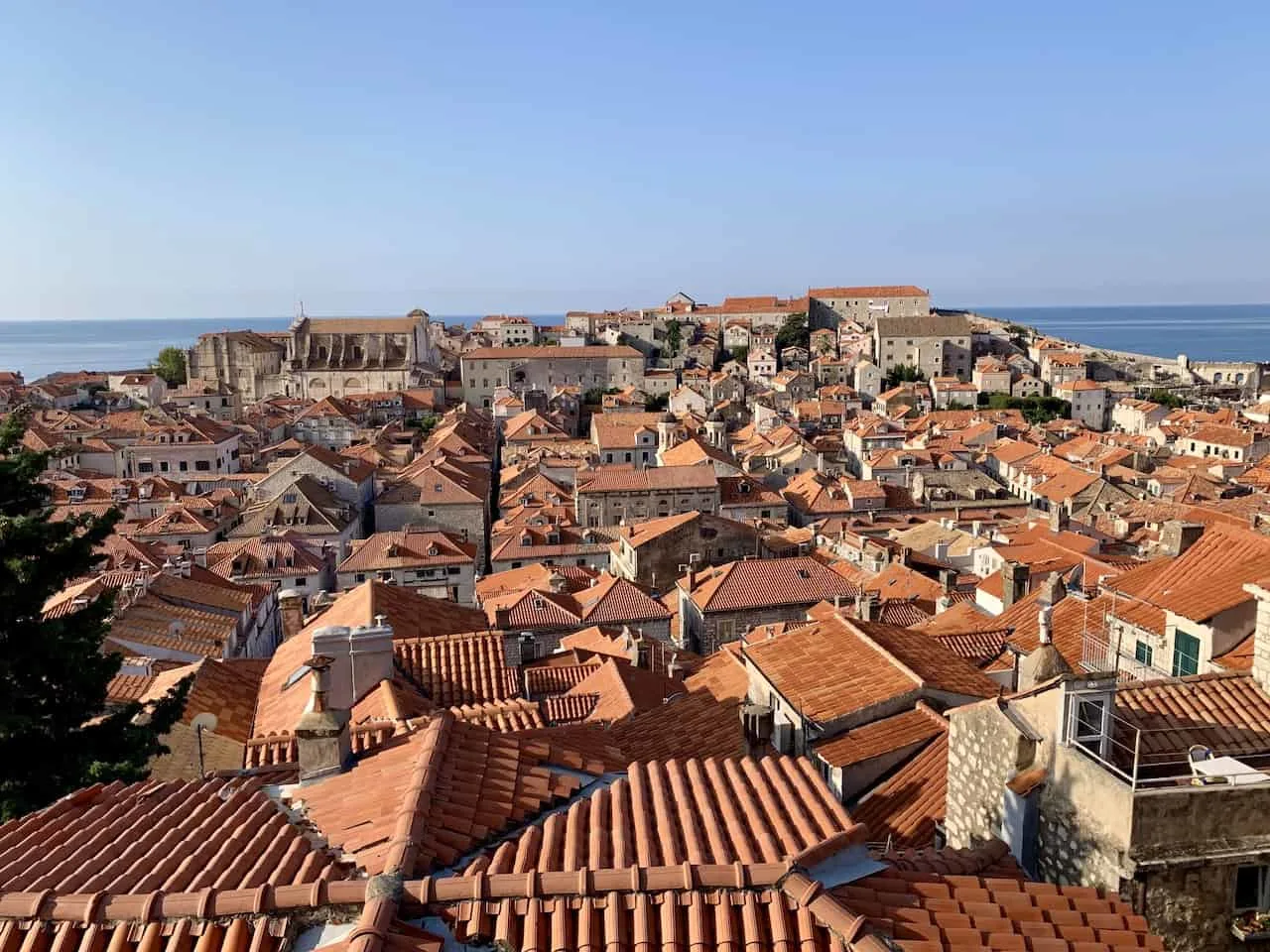 7) Where to Stay in Dubrovnik
When visiting the city of Dubrovnik, you have the option to stay within the Old Town walls or outside of them.
I found it a great experience to stay within the walls, as I got to walk around at night and early morning without the crowds. In addition, I did not need to worry about transport to and from the Old Town each time I wanted to visit.
With that said though, options are more limited and can be more expensive within the walls. Below are a few options outside of the Old Town as well as inside the Old Town depending on your preference:
Old Town
Outside of Old Town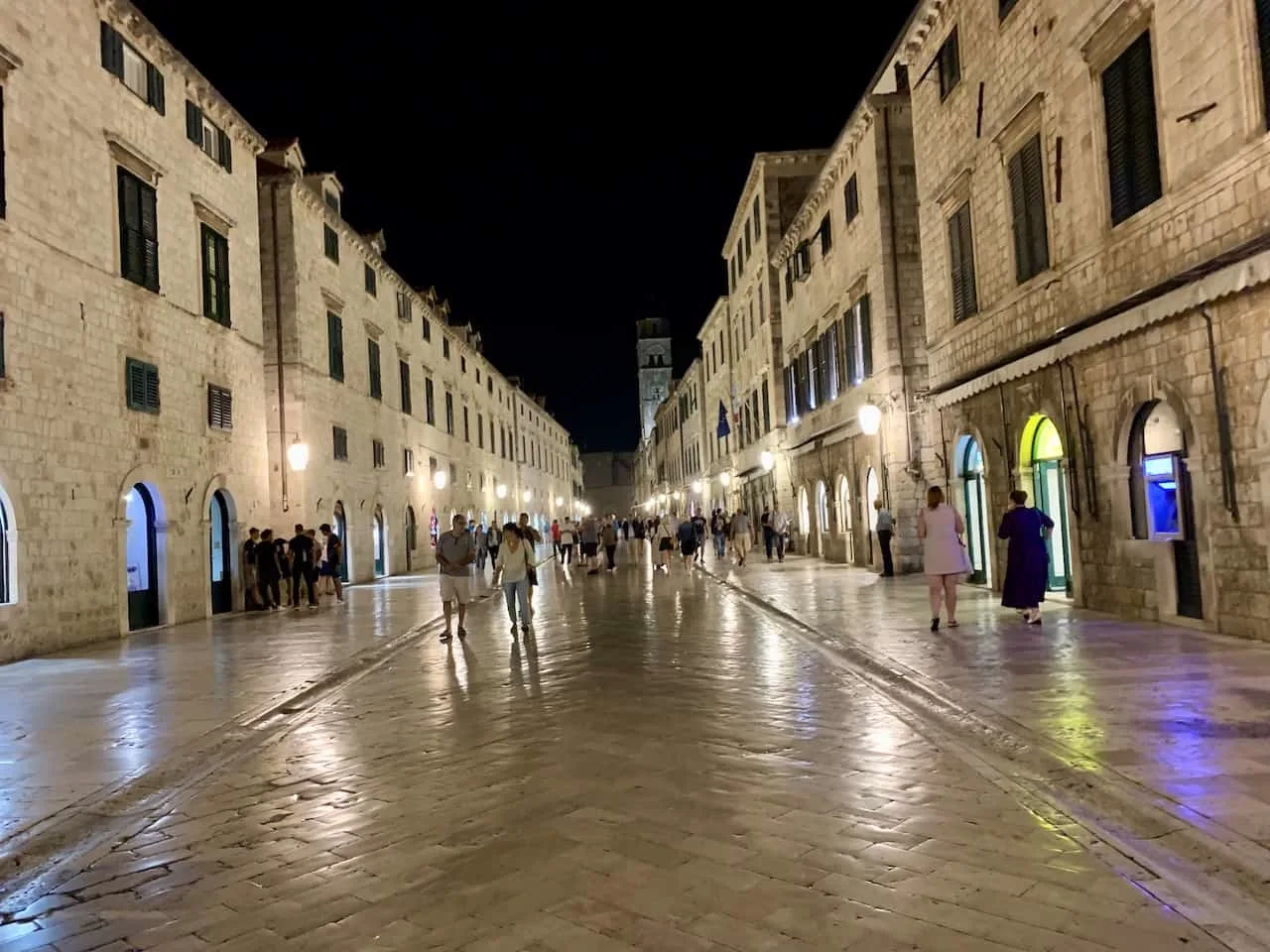 I hope you are able to enjoy a sunset on Mount Srd during a visit to Dubrovnik. If you have any questions about a Dubrovnik sunset experience feel free to write them in below.
Also, don't forget to check out some other Croatia itineraries and guides up on the site, like this Croatia Itinerary and Mljet National Park guide.
Have fun out there and safe travels!