If you are planning a trip to Hvar, then visiting the island's beautiful beaches must be part of your itinerary.
During my time exploring Hvar, I spent several days beach and island hopping as I got to experience some the crystal clear waters of the Adriatic Sea.
This guide will go into some detail about my time at the lesser known Malo Zarace Beach. Although not as popular as some of the others around Hvar, it is one of the most relaxing and pristine ones you can ask for.
* Affiliate Disclosure: This post may contain affiliate links, which means I may receive a commission if you make a purchase through the links provided, at no additional cost to you. Thanks for supporting the work I put into TripTins!
1) Where is Malo Zarace Beach
Malo Zarace Beach is located on the southern end of the island around 9KM / 5.5 miles east from Hvar Town center.
Since it is a bit further away from town, it is also a bit less frequented vs. a beach like Pokonji Dol (check out the link to learn more about this beach as well!).
When visiting the beach, you can actually choose from two options here.
As you are making your way down from the street level to the sea level, you can either head to the right hand side to Malo Zarace or to the left hand side of Velo Zarace.
While I did not visit Velo Zarace, you can find some apartment rentals here as well as a Beach Garden restaurant in case you wanted to have a meal nearby.
Below is a Google Maps aerial view to give you an idea where each of these beaches are located in relation to one another.
2) How to Get to Malo Zarace
There are a few ways to go about a day outside the city center as you visit one or more of these further out beaches – taxi, scooter, or bicycle.
This will all depend on your budget and how you want to see the island of Hvar, but either way you should have no trouble figuring out a way to get there.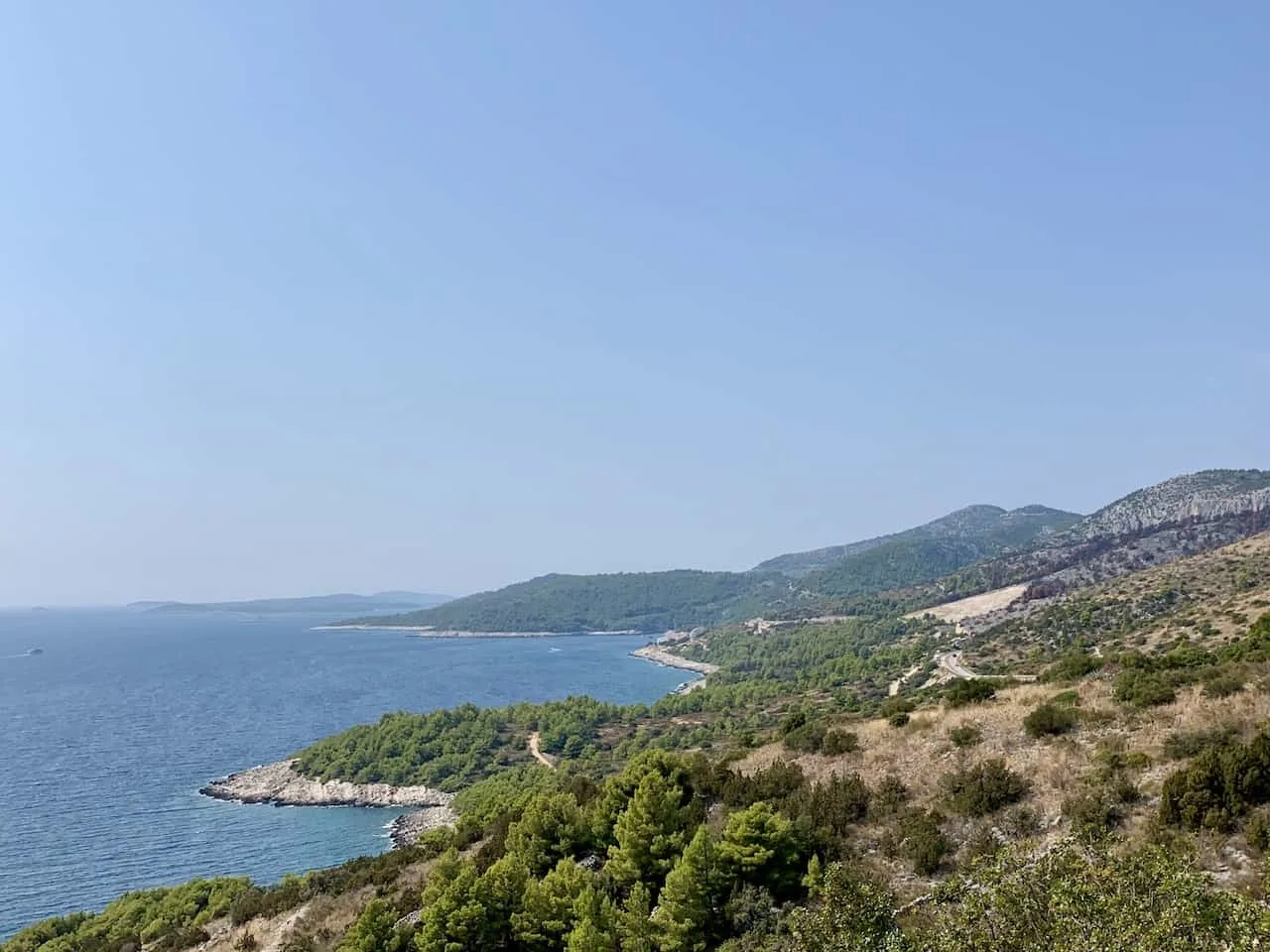 Taxi
Heading to Malo Zarace by taxi is probably the easiest of options as you will not need to worry about directions or renting a scooter or bicycle.
A one way taxi ride I would estimate to be around 150-200 Kuna ($24 – $30 USD). If you do take a taxi, be sure to get their number so you can give them a call to take you back. I am sure a local could help you out as well by calling a taxi if need be.
Scooter
The second option here is to rent a scooter from Hvar Town. Right near the Hvar bus station area, you will send many kiosks set up that will help you out renting a scooter for a day or longer as you explore the island.
Scooter rentals for a day can cost around $40 – $50 USD, but the longer the rental, the cheaper the daily rate will be.
Bicycle
Similar to renting a scooter, renting a bicycle is another option to choose from. This is what I ended up doing as it only cost around $10 USD for a daily rental and I was not comfortable driving a scooter around at the time.
The tough part about riding a bicycle around the roads of Hvar, is that there can be a few uphill sections to get yourself up and over.
Overall though I feel like this is a great option to choose from as you get to see the island at your own pace for a reasonable cost.
Below is a map that shows the route between Hvar Town and Malo Zarace Beach. Along the way you can stop at other beaches and small villages to make a full day out of it.
3) Where to Stay in Hvar
Before diving into the Malo Zarace Beach, I did want to mention some of my top recommendations for places to stay in Hvar.
To make it simple and easy, below are 3 recommendations for various price points depending on your budget.
You seriously can't go wrong with them and are sure to enjoy your visit there one way or another.
Hvar Mid Range Option | BOOK TODAY -> Pharos Hvar Hotel
Hvar Luxury Option | BOOK TODAY -> Amfora Hvar Grand Beach Resort
Hvar Budget Option | BOOK TODAY -> Barko Apartment and Rooms
-> If you don't have the time you can also visit the island as part of a day trip to Hvar from Split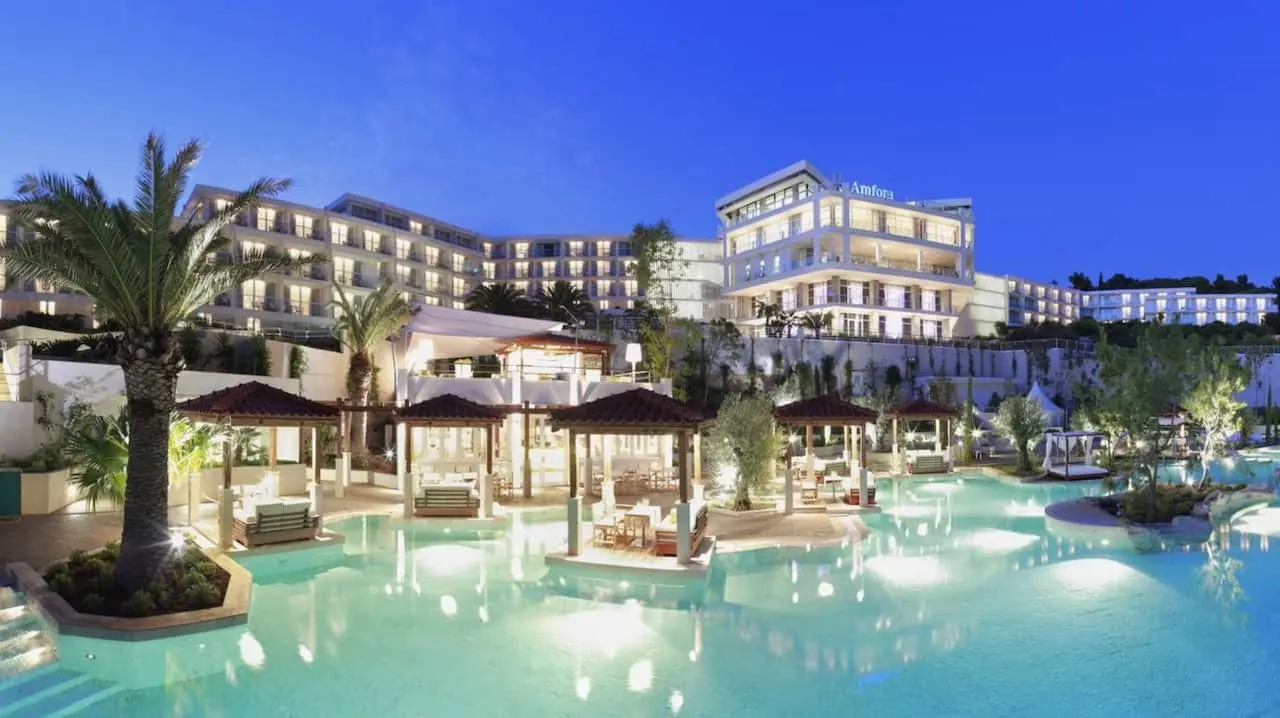 4) A Day at Malo Zarace Beach of Hvar
After arriving at Malo Zarace Beach, either by taxi, scooter or bicycle, it is time to enjoy some time by the water.
There are two places to choose from when deciding where to set up your spot for the day. You can either grab a spot on the beach itself or you can head up on the rocky peninsula on the south side of the beach.
The beach is quite small but that is also what makes it so relaxing. It won't be packed with so many people like other beaches around Hvar.
When I was at Malo Zarace there were around 10 people laying on the rocky beaches, in the water, or on some of the larger rocks down below.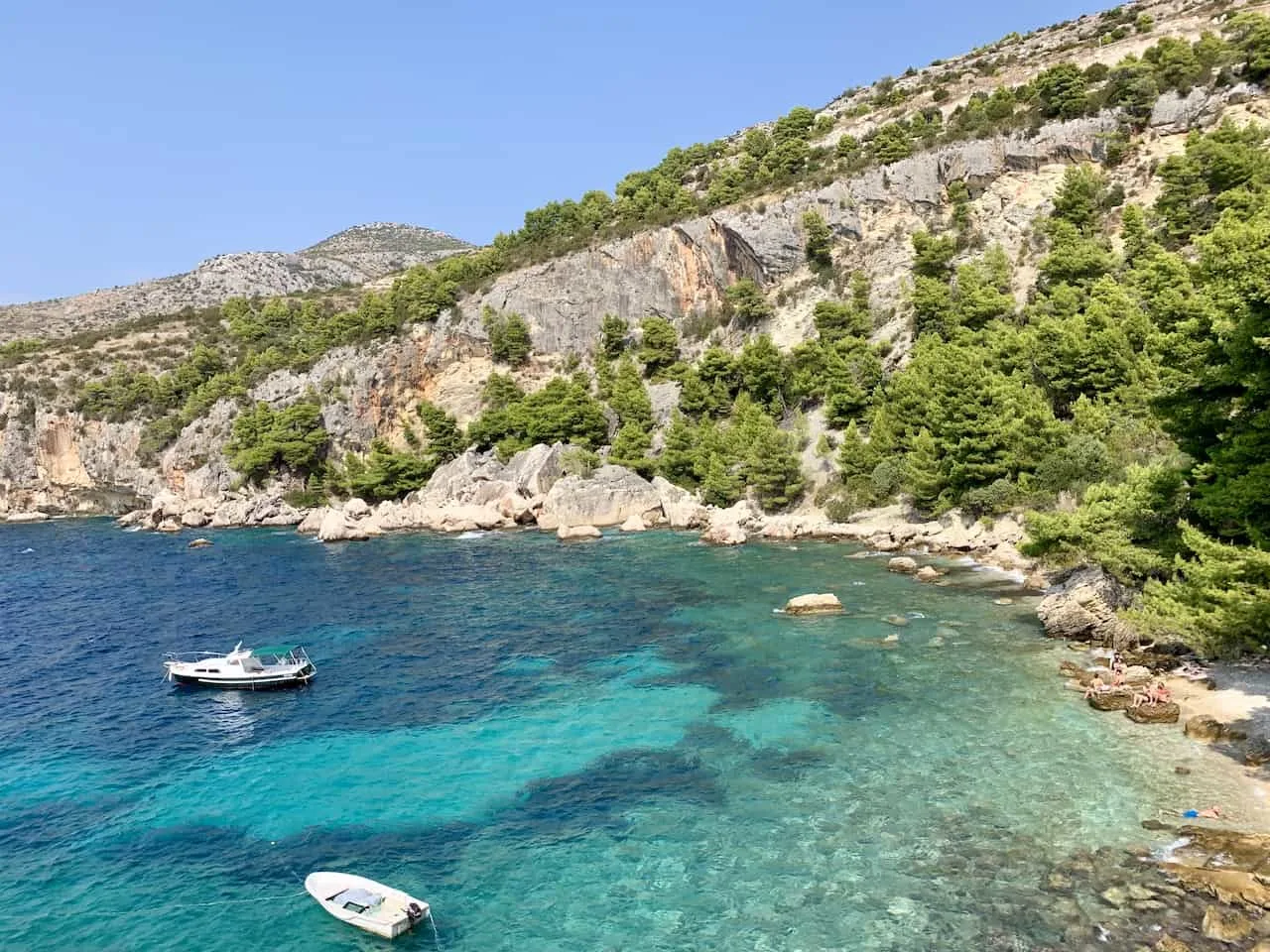 I headed up top to the peninsula to enjoy the crystal-clear water views from above, and spend some time in the sun.
From the top of the peninsula, there is also a staircase that will take you right down to the water level. You will need to jump in from there but it is nothing to worry about.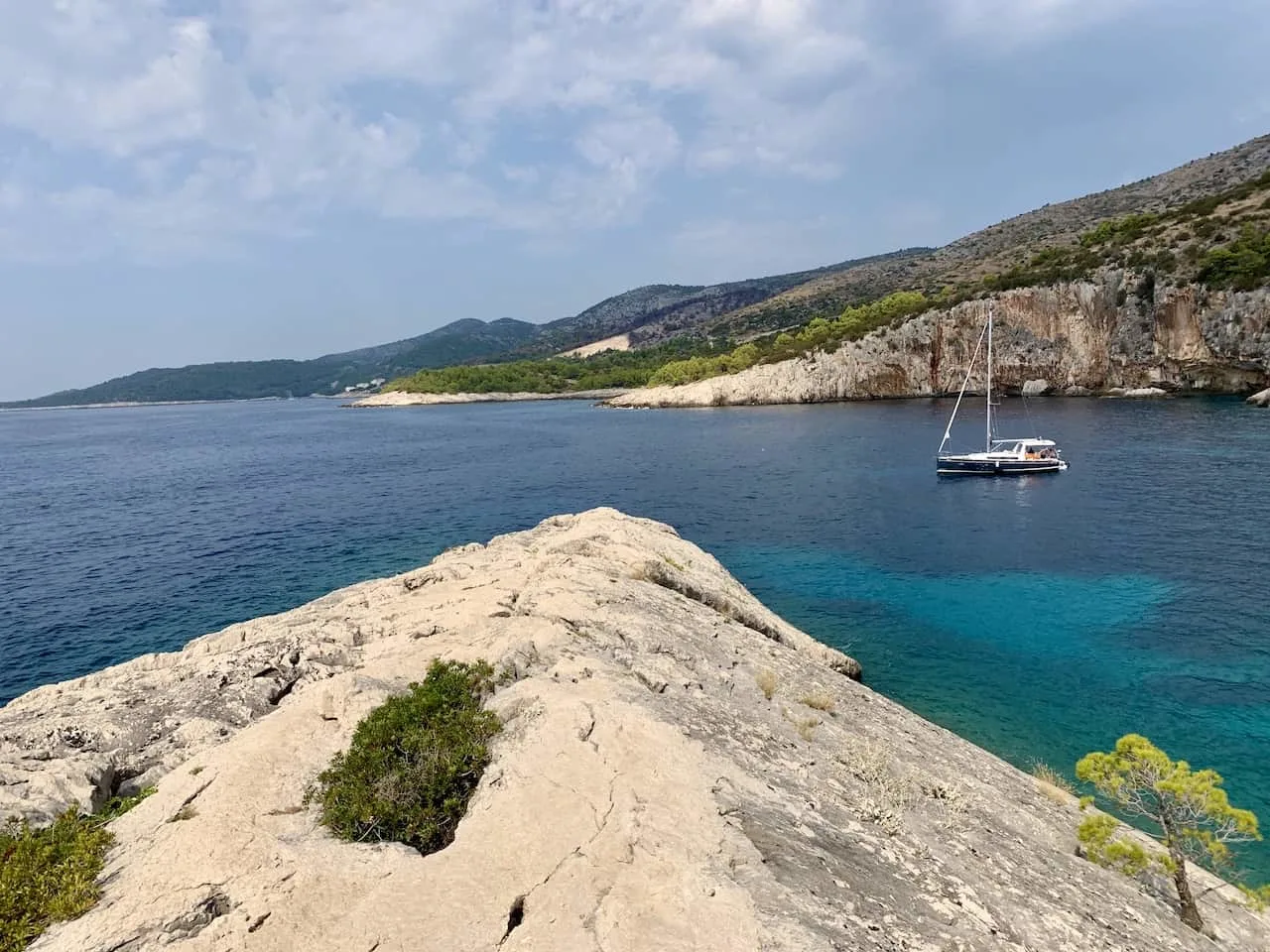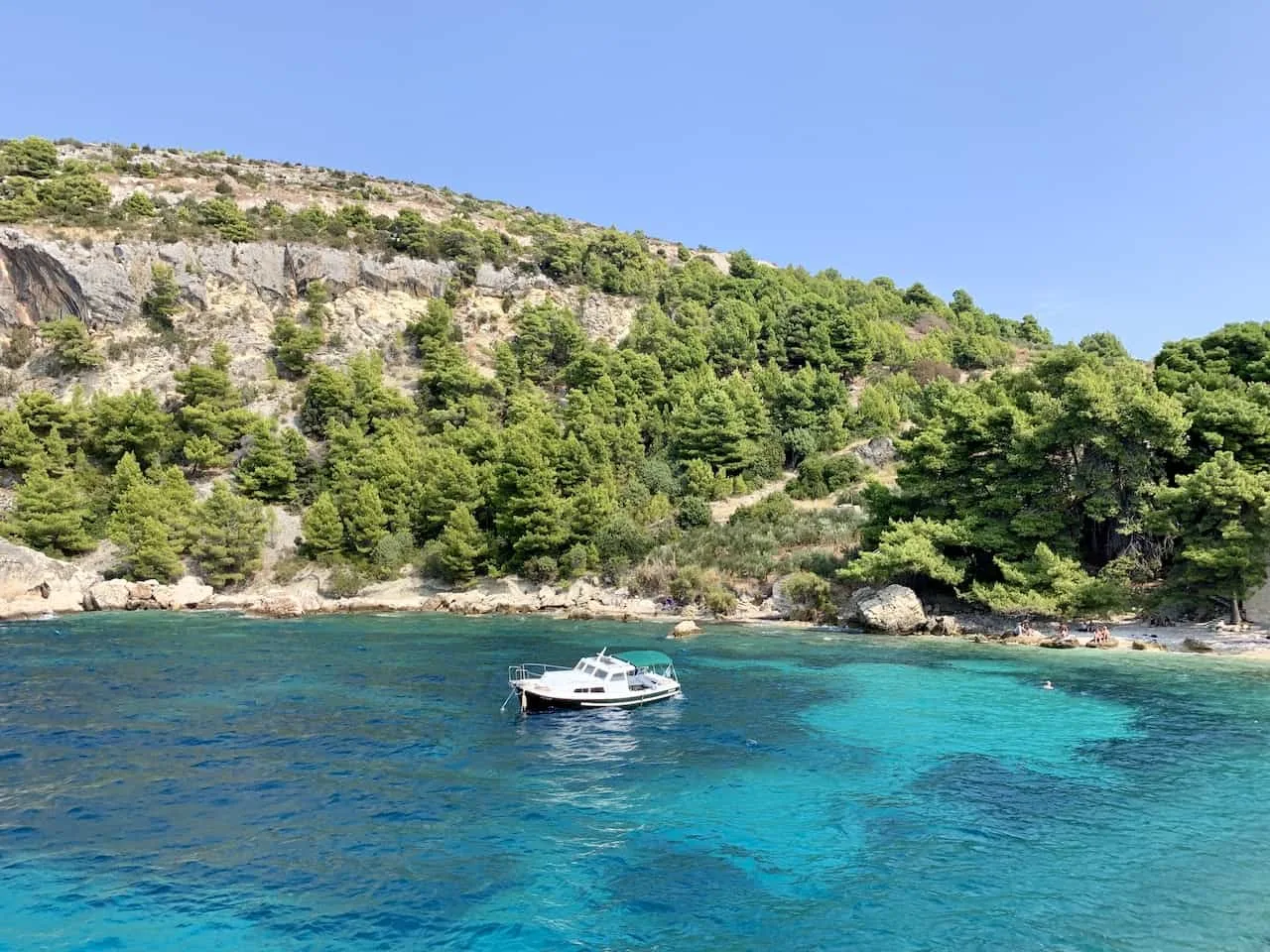 The image below can give you a good sense of the view from the road, where you can see the beach area down on the left, with the rocky peninsula up above straight ahead.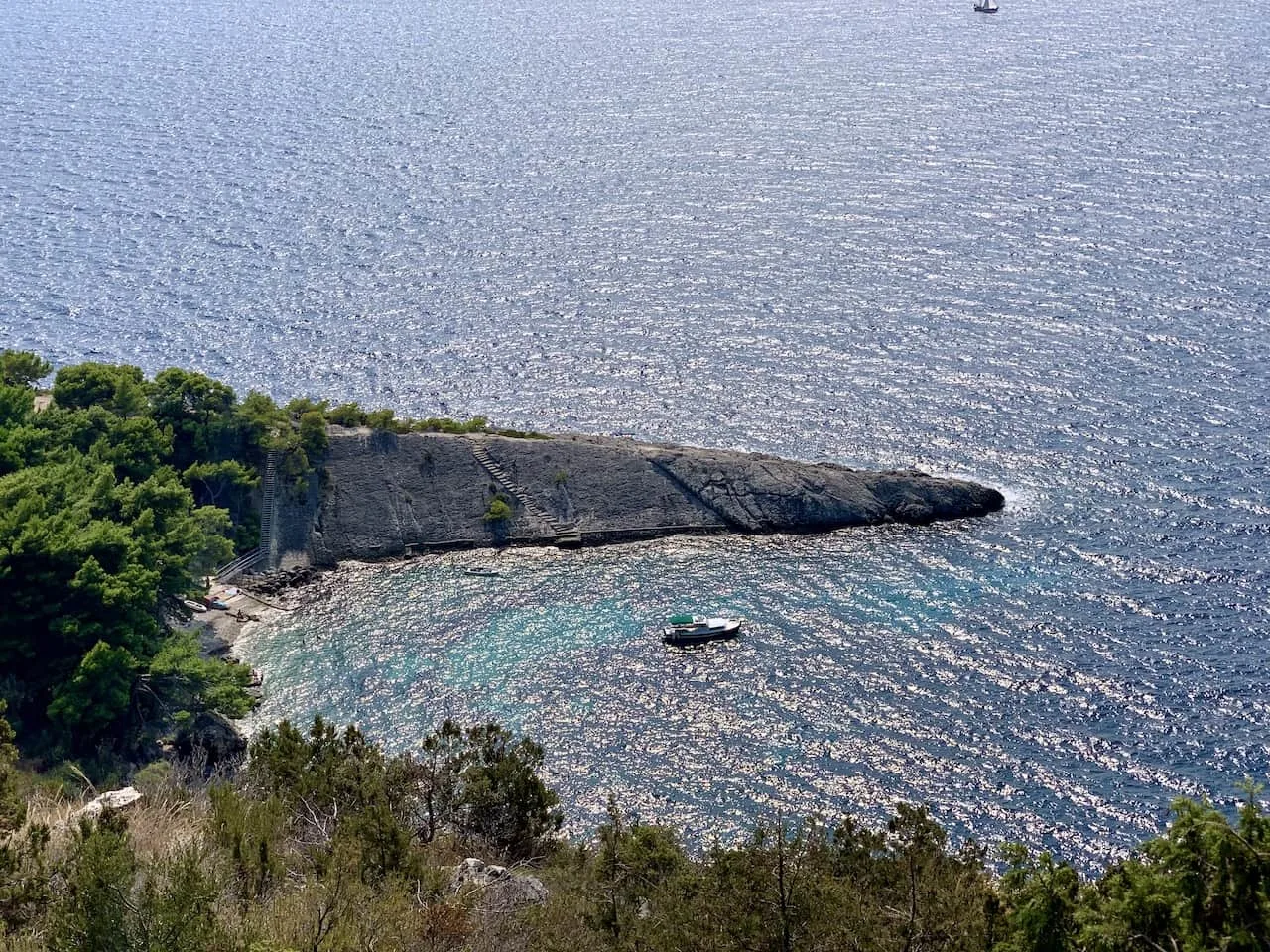 The water itself is very relaxing to swim in as you have some perfectly clear spots in the water as well as some spots with seaweed on the bottom. If hanging by the beach, you can't go wrong by just laying down in the shallow water enjoying the sun.
You may have a small boat or two from time to time come into the area as they too enjoy some of the views and swimming opportunities that the beach offers.
At the end of the day, Malo Zarace is a perfect beach to spend an afternoon on the island of Hvar.
It is nothing too fancy and doesn't bring the crowds, so if you want some relaxation time, this can be the perfect choice for you.
→ You can also combo a trip out to Malo Zarace with a stop at Dubovica Beach
If you are looking to enjoy a day out at sea, I would recommend checking out this Pakleni Islands guide that will walk you through how to go about a day on the water.
Feel free to ask any questions or leave any comments below. Also, be sure to check out the remaining Croatia itineraries and guides up on the site.
Have fun out there and safe travels!