The island of Hvar is one of the most popular destinations to visit during a trip to Croatia.
While the island itself has plenty of attractions to choose from, one of the must do activities is to grab a Hvar boat rental and explore the Pakleni Islands.
This guide will talk about how to go about renting a boat in Hvar and what to expect during your day out at sea.
* Affiliate Disclosure: This post may contain affiliate links, which means I may receive a commission if you make a purchase through the links provided, at no additional cost to you. Thanks for supporting the work I put into TripTins!
1) Pakleni Islands Introduction
The Pakleni Islands, also known as the Paklinski Islands, are a group of 16 islands located just off the coast of Hvar. Altogether the group of islands make up 10 kilometers / 6.2 miles in the Adriatic Sea and you can easily explore several of them in a day.
While most of the islands are uninhabited, there are some small settlements sprawled out on a few of them.
Sveti Klement is the largest of islands, where you will find plenty of beaches, bays, and restaurants to enjoy. Marinkovac is a smaller island in the group but is home to one of the most famous clubs – Carpe Diem.
There are several ways to go about a day trip to the islands. A couple of these options include taking a round trip water taxi to one of the main islands or joining a group tour.
However, my recommendation here would be to get yourself a Hvar boat rental for the day and head out on your own.
By renting a boat for your group, you will be able to enjoy the area at your pace and see various spots spread around the Pakleni Islands.
This guide will dig a bit more into this option and how to get a boat rental for yourself.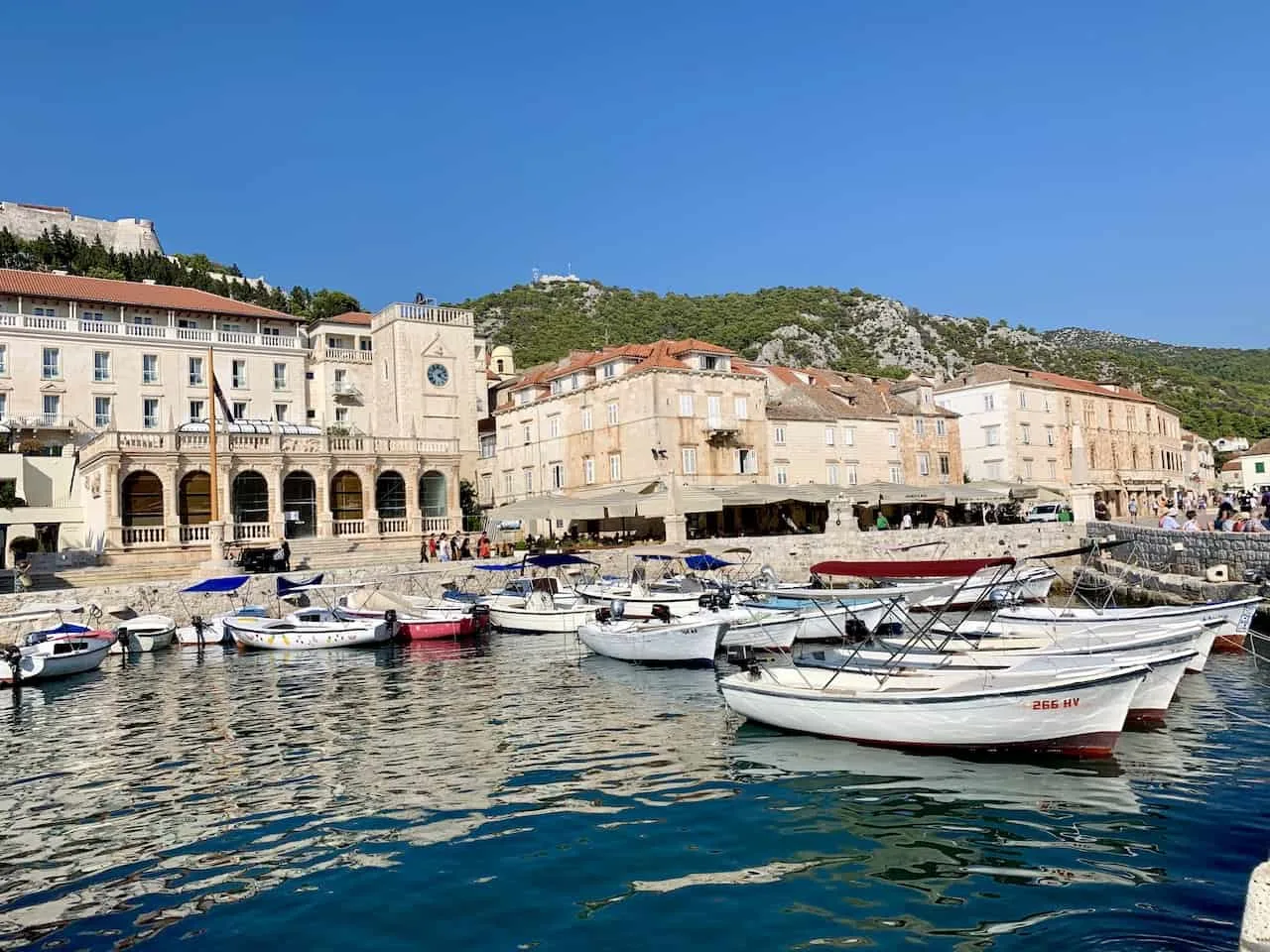 2) Pakleni Islands Map
I thought it may be useful to show you an aerial view of the islands so you can better orient yourself to the Paklenis. Below is a map with the various island names.
You can also see the Hvar Town pinpointed down and understand how close it is to the Pakleni Island chain.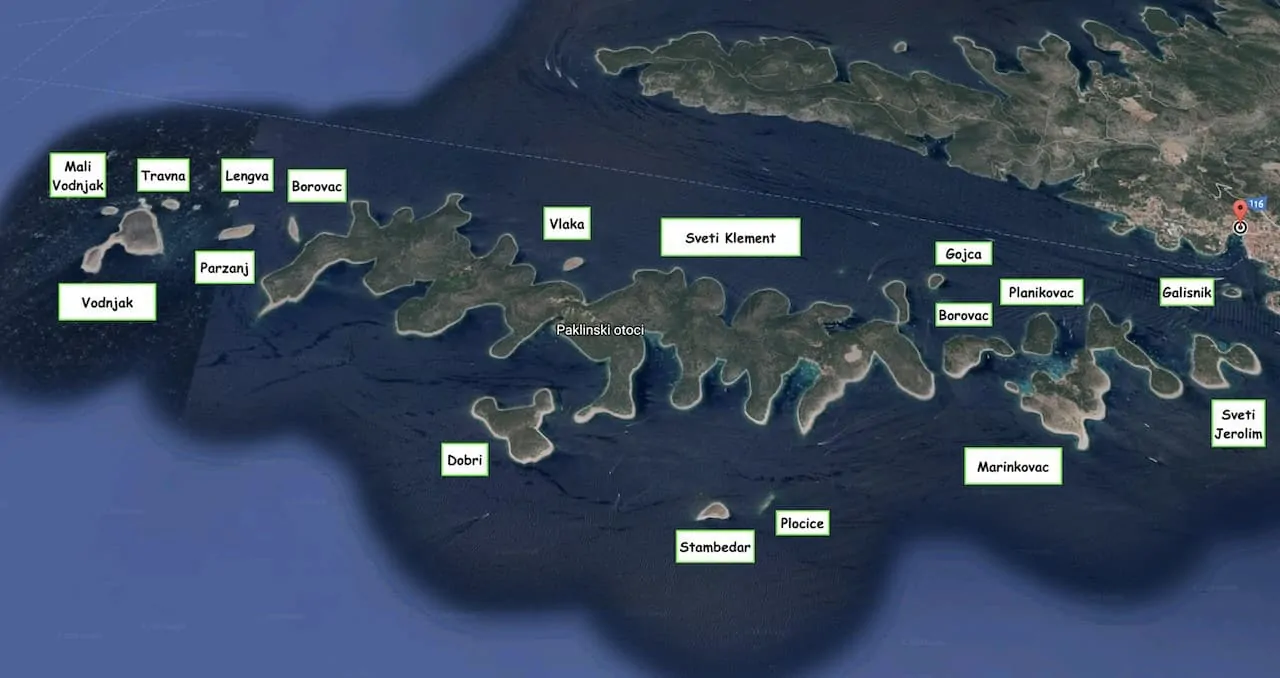 3) Where to Stay in Hvar
Before diving into a Hvar boat rental, I did want to mention some of my top recommendations for places to stay in Hvar.
To make it simple and easy, below are 3 recommendations mentioned for various price points depending on your budget. You seriously can't go wrong with them and are sure to enjoy your visit there one way or another.
Hvar Mid Range Option | BOOK TODAY -> Pharos Hvar Hotel
Hvar Luxury Option | BOOK TODAY -> Amfora Hvar Grand Beach Resort
Hvar Budget Option | BOOK TODAY -> Barko Apartment and Rooms
-> If you don't have the time you can also visit the island as part of a day trip to Hvar from Split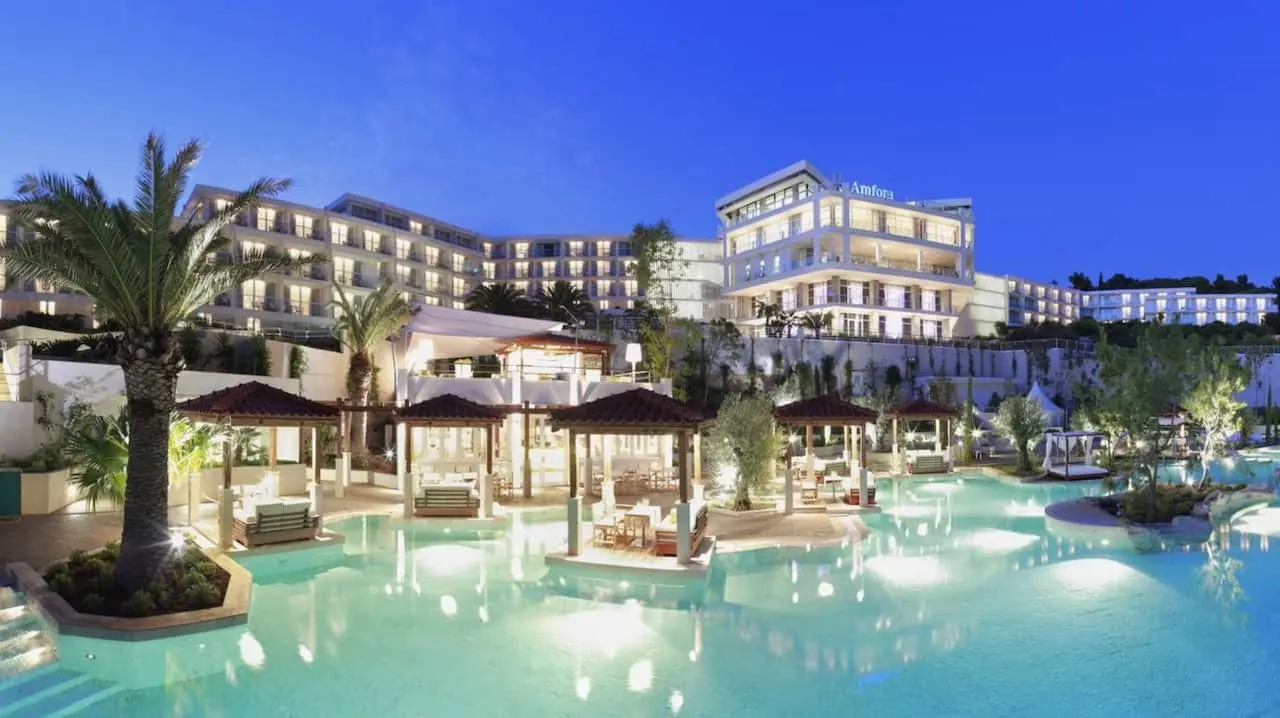 4) Hvar Boat Rental
Renting a boat in Hvar is actually a pretty simple process to go about. Right around the port area you will come across plenty of vendors trying to rent out boats for the day. Now the most popular boats they are renting are by no means anything fancy.
These are actually just small 5 HP motor boats that can hold around 6 or so people. You don't need a boat license or anything like that – you simply just need to know (or learn quickly) how to use the motor.
On the other hand you can opt for larger and more powerful boats, but the cost for those will obviously be higher. If looking for an easy day out at sea, there shouldn't be any sort of issue with the smaller boat choice.
If you have not experienced driving a boat like this before, no worries. The folks renting the boats out will take you around the marina a couple times until you get the hang of it (see photo below).
If you are still worried about taking one out on your own, there are also options to hire a driver for the day for an additional cost.
The cost for a full day boat rental will be just 400 kn ($60 USD).
Split between just 4 people, that comes out to around $15 a person – a much cheaper alternative to the group tours or even the taxi ride to one of the main islands (can run around $10 USD round trip).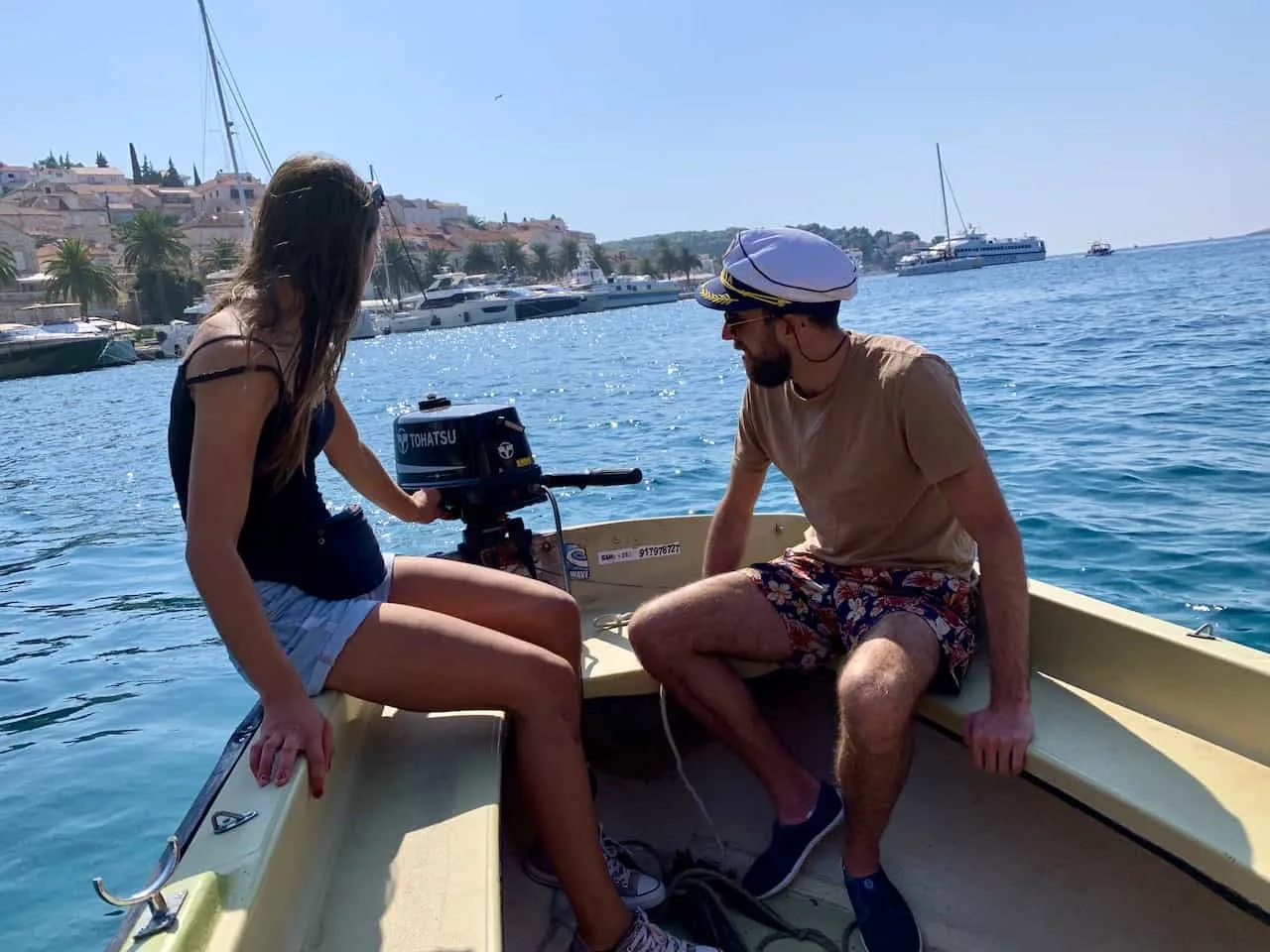 5) Pakleni Boat Rental Tips
I did want to point out a few good things to know and prepare for as you enjoy a day out at sea:
» The marina can be busy with various boats of all sizes making their way through the area. But once you are out of the marina, things should open up much more and you should have little to no boat traffic around you.
» Instead of trying to memorize the map above, I would simply use Google Maps (or another navigation app) while heading out to various spots. Even if you don't have service, you should still be able to see your location on the map and where you are headed.
» Definitely bring along food and drinks for the day as you will be spending a lot of time out on the water.
Even if you plan on heading to one of the Pakleni Island restaurants for lunch, it is always good to be stocked up on food and drinks.
» While you can bring alcohol on the Hvar boats, the person driving the boat should never be under the influence so please act responsibly.
» Note that the price for the rental includes insurance for the boat but not for the propeller or anchor.
Since you do not have insurance for the anchor, always be careful where you decide to drop it during your stops around the island. There can be a lot of rocks that the anchor can get caught too so before dropping it down, just eye out a nice flat and sandy spot.
» If you want to check out the underwater life, bring some goggles or snorkeling mask. There are plenty of fish that hang out in the area so it is definitely a fun activity to do while out at sea.
→ The island of Korcula also offers boat rentals. Check out the Korcula boat hire guide to learn more about an experience.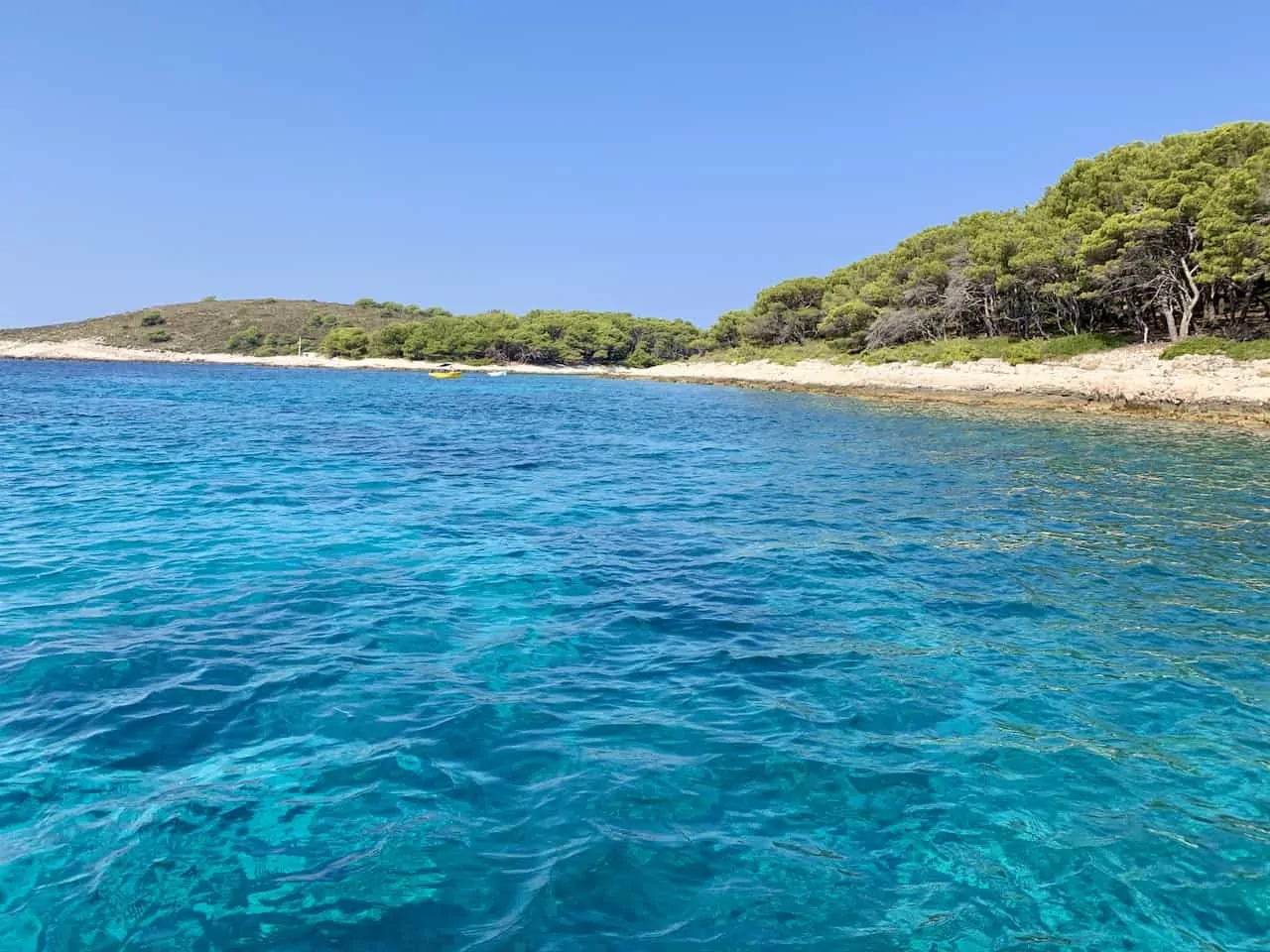 6) A Pakleni Islands Day Trip
Now that you have some background info about the Hvar boat rental process, let's jump into what a day out in the Adriatic Sea will look like.
As you can imagine there are just countless beaches and bays to anchor down in throughout your day trip.
Since there was no need to rush and hop from place to place, I ended up stopping at 3 places throughout the day for a couple hours each.
I will also list out some spots we did not stop at but come highly recommended from other travelers.
Below is a map pinpointing the main islands and attractions to visit while boating around the islands:
Google Maps Tip – if you are just interested in enjoying the clearest and most pristine water in the area, set your navigation app to aerial view.
You should be able to get a bird's eye view of where the best water off the coast is located – see screenshot below!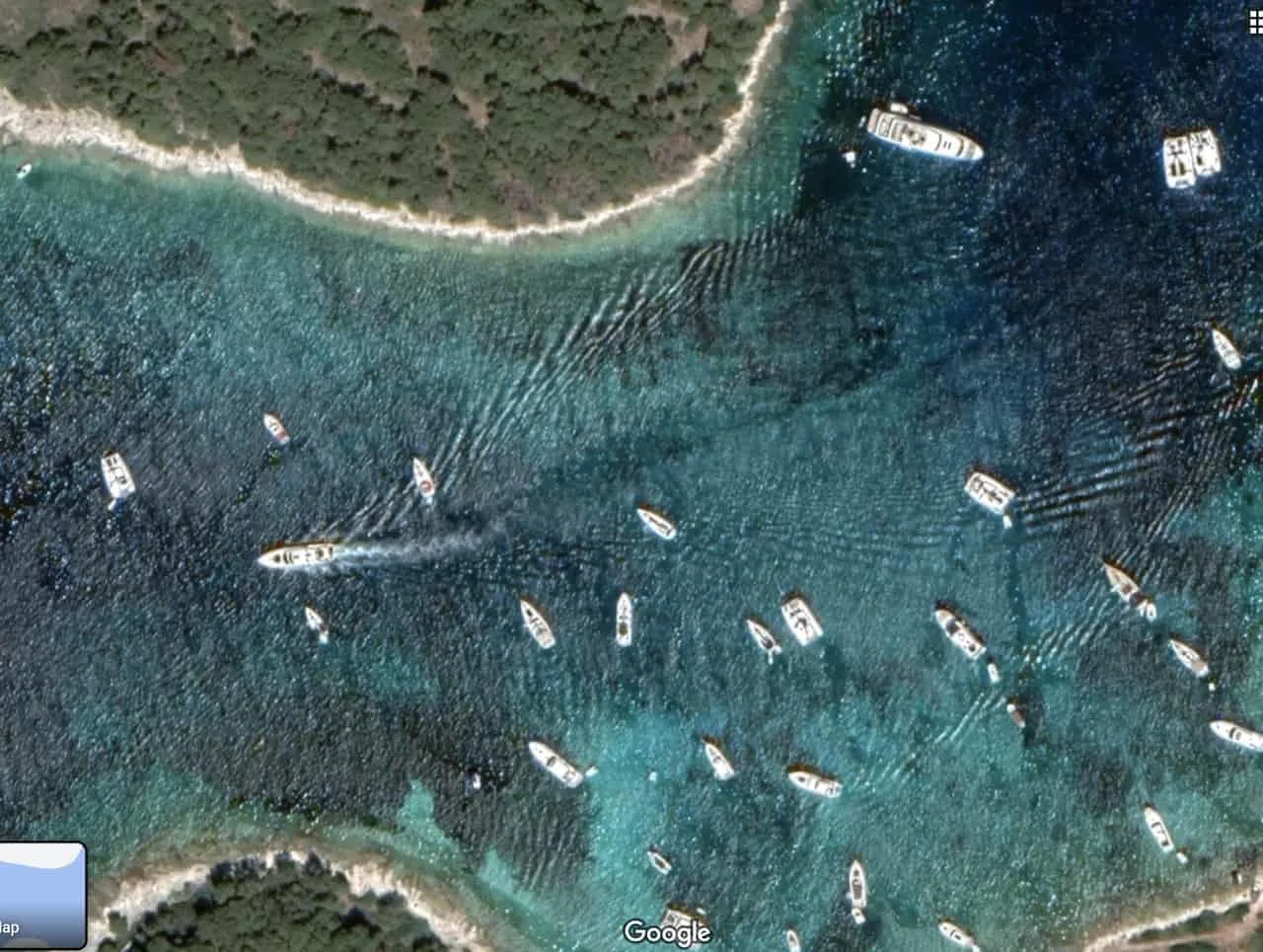 A) Planikovac Island
After departing the harbor area, we headed straight for the Pakleni Islands further out in the distance. The first stop of the day was the water right off of Planikovac island.
On the southern end of the island (between Planikovac and Marinkovac), we anchored the boat in the crystal clear water and hopped right into the sea.
You can spend some time in the water, snorkel or swim, and just enjoy the serene surroundings.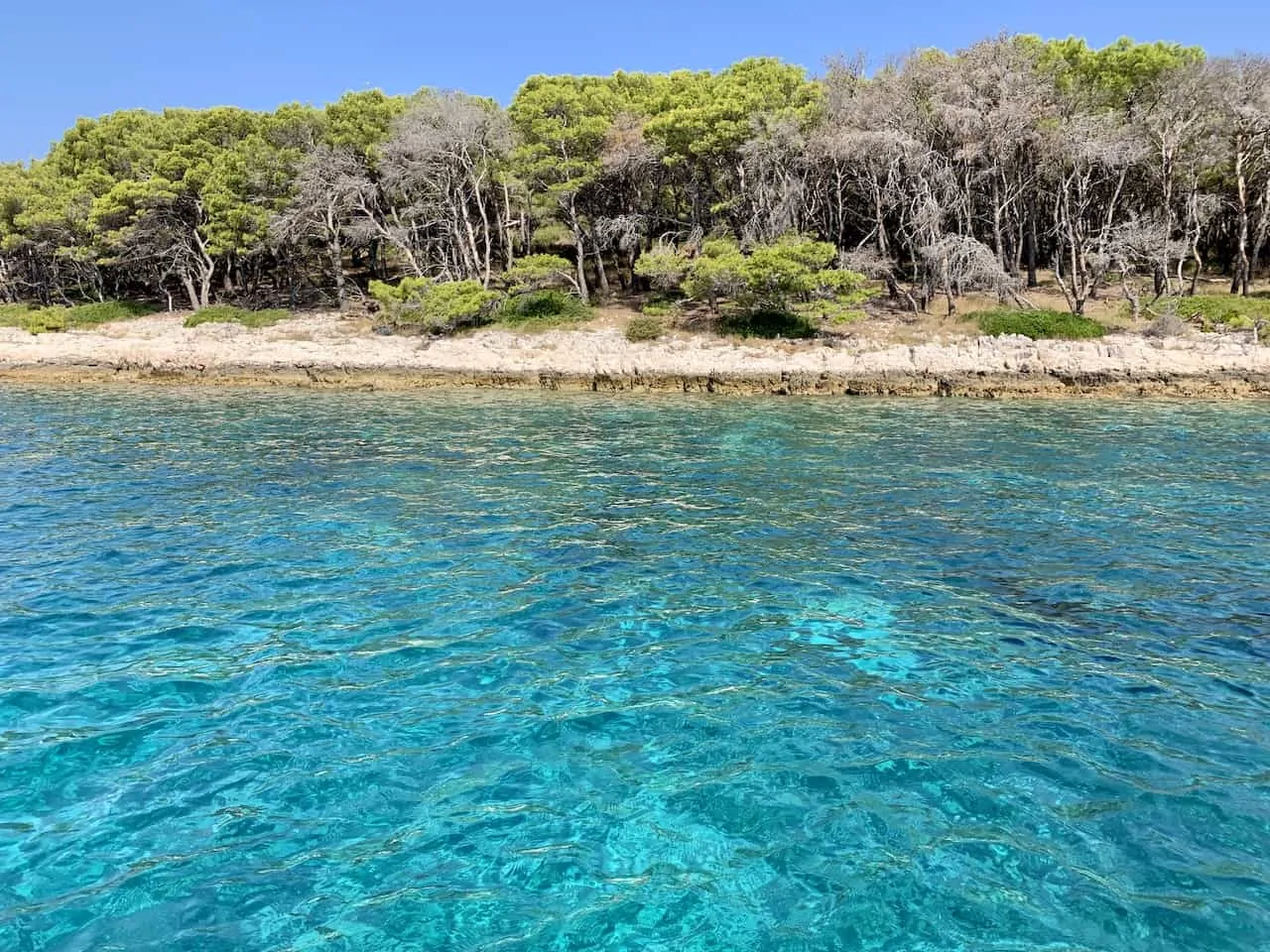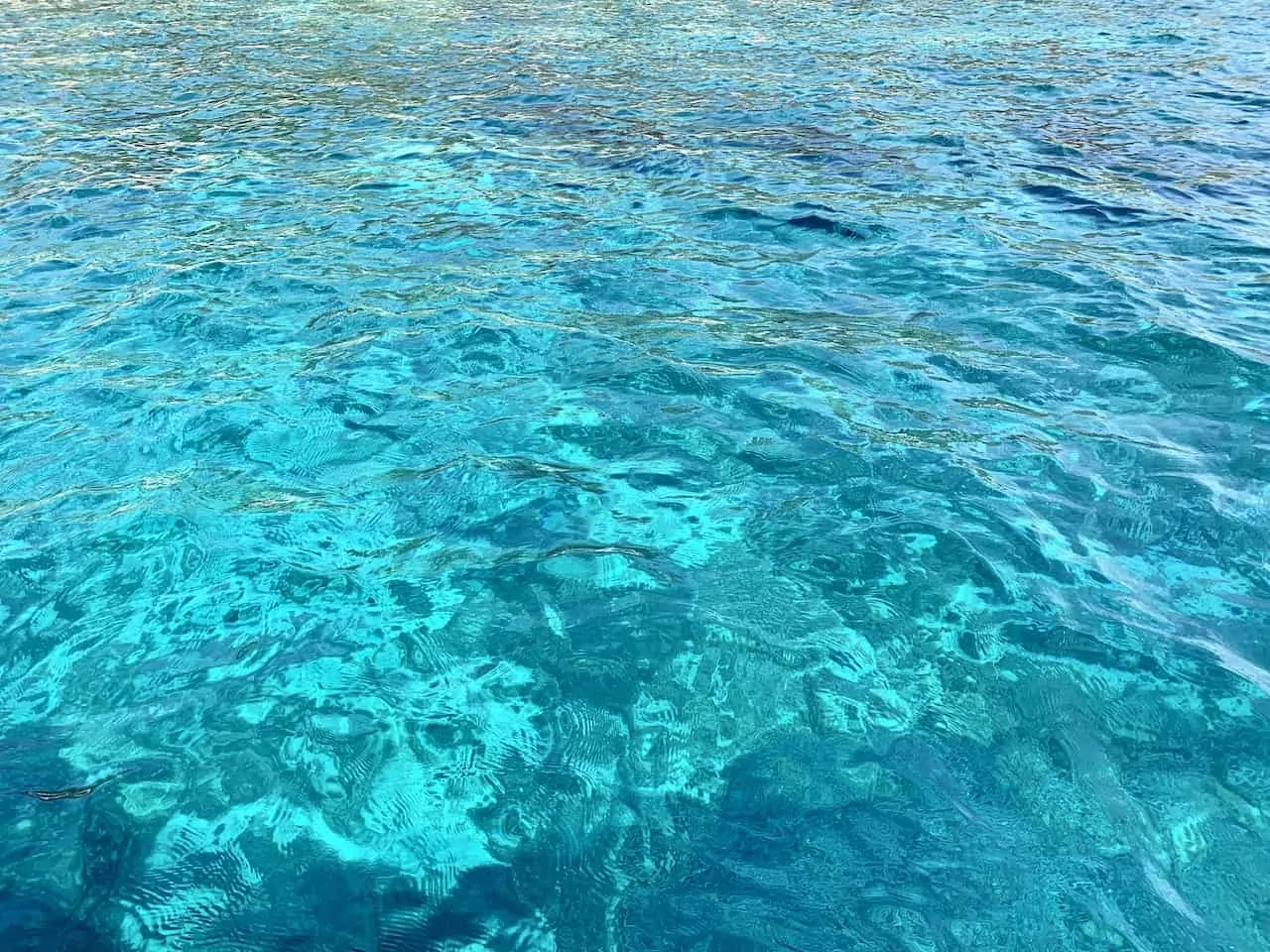 B) Mlini Beach / Marinkovac
Right across the way from Planikovac is Marinkovac. The main beach here is home to a few restaurants if you would like to grab some food (Mamato Bar, Tri Grede, Antonio Patak) or you can just enjoy the view from the water.
If you continue right around the corner from the main beach you will find the more secluded Mlini Beach.
The water around Mlini Beach is as clear as it gets and is a perfect spot to add to your day trip exploring the Pakleni Islands.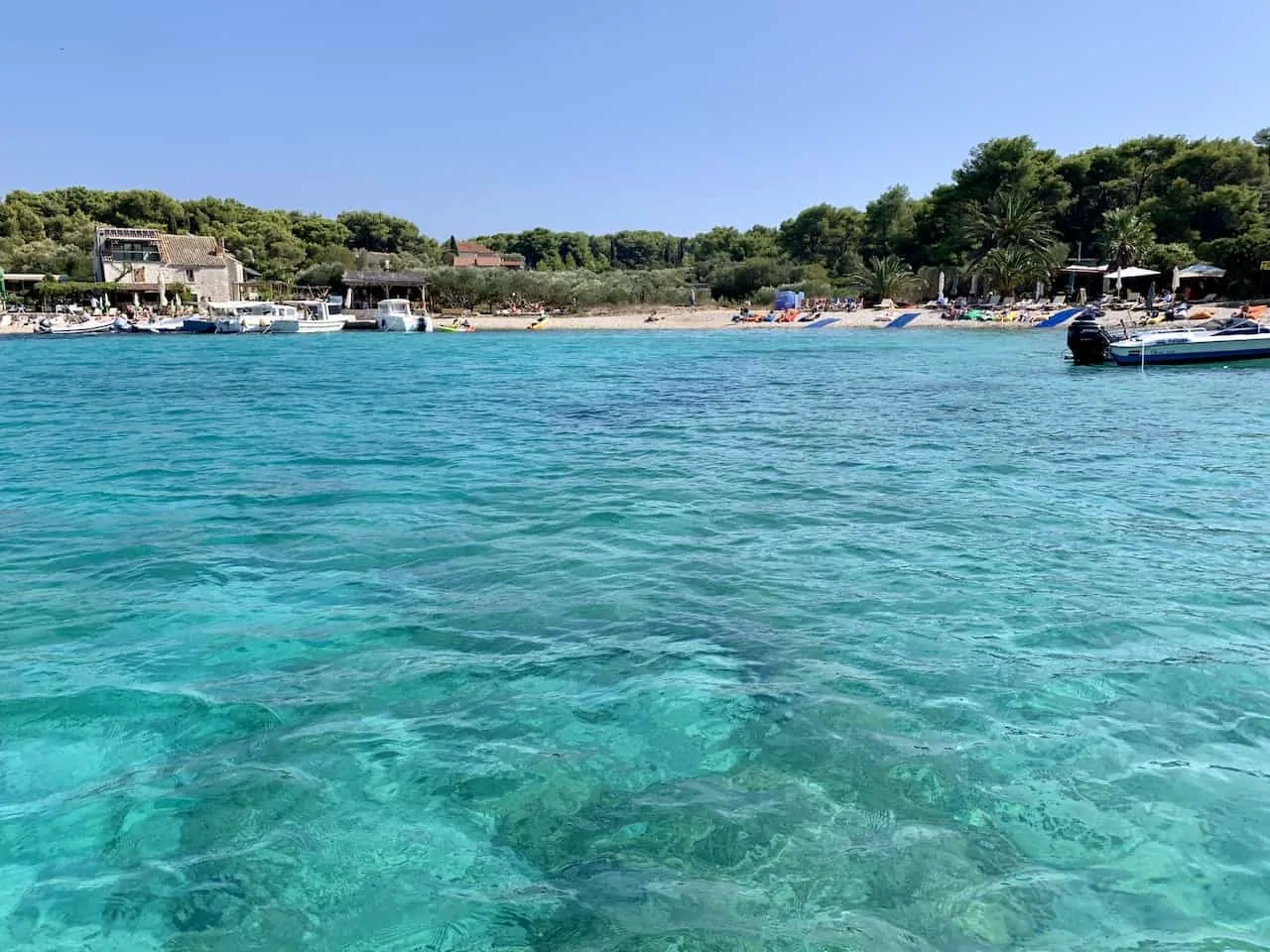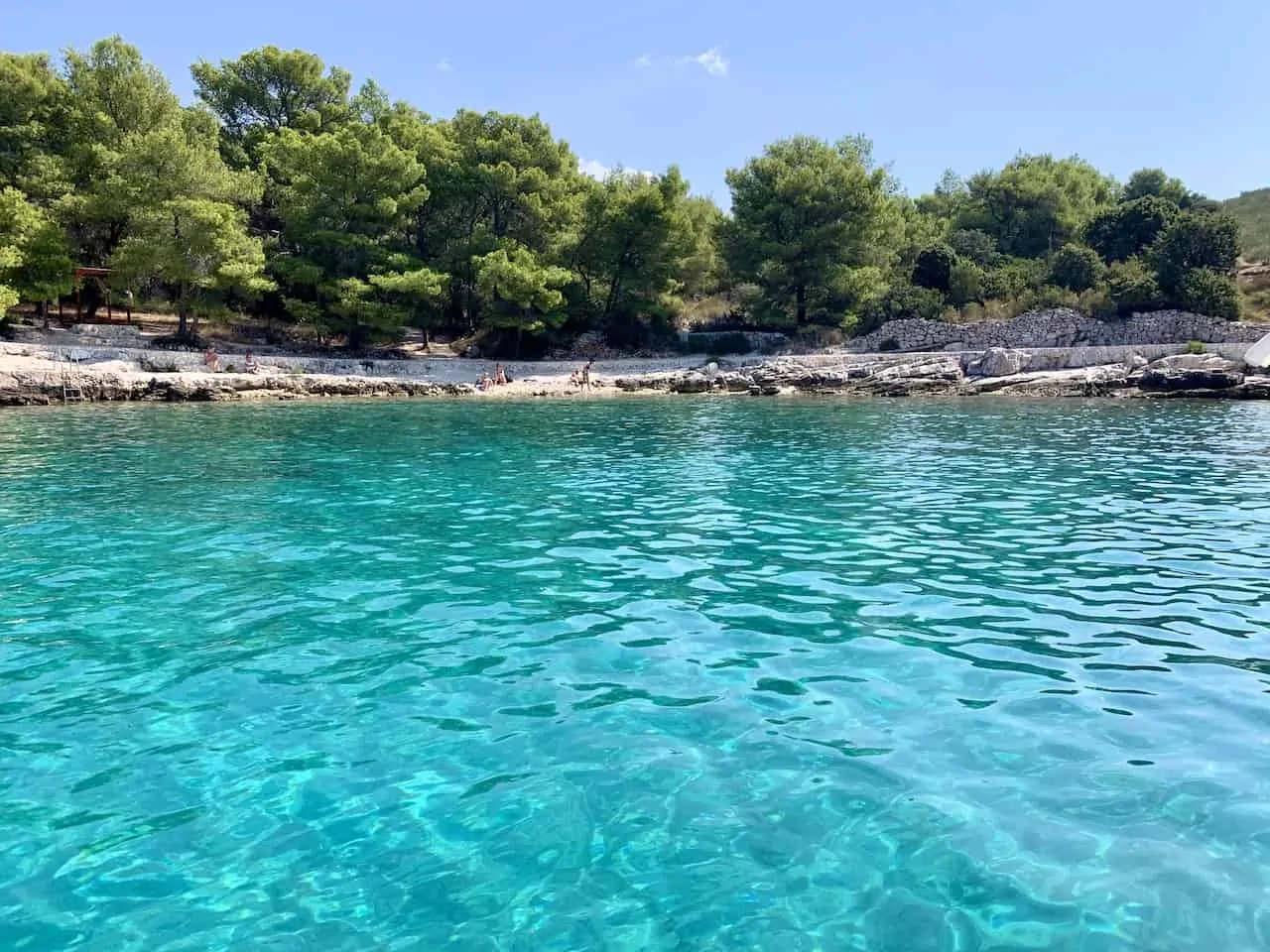 C) Sveti Klement
After enjoying some time around Planikovac and Marinkovac it is time to grab that anchor and continue towards the largest of islands in the Paklenis – Sveti Klement.
On the southern end of Sveti Klement you can find a whole bunch of beautiful bays – some of which are quieter than others.
The most popular place here is Vinogradišće, which is one of the first bays you will come across.
Not only will you have some more crystal clear water to enjoy here but there are also several restaurants right along the beach (Toto's, Bacchus Palmižana, Zori).
This is also a spot where you are sure to come across many other boats of all sizes setting up shop and spending time in the water.
It is pretty easy to make friends here if you are interested in meeting some other travelers.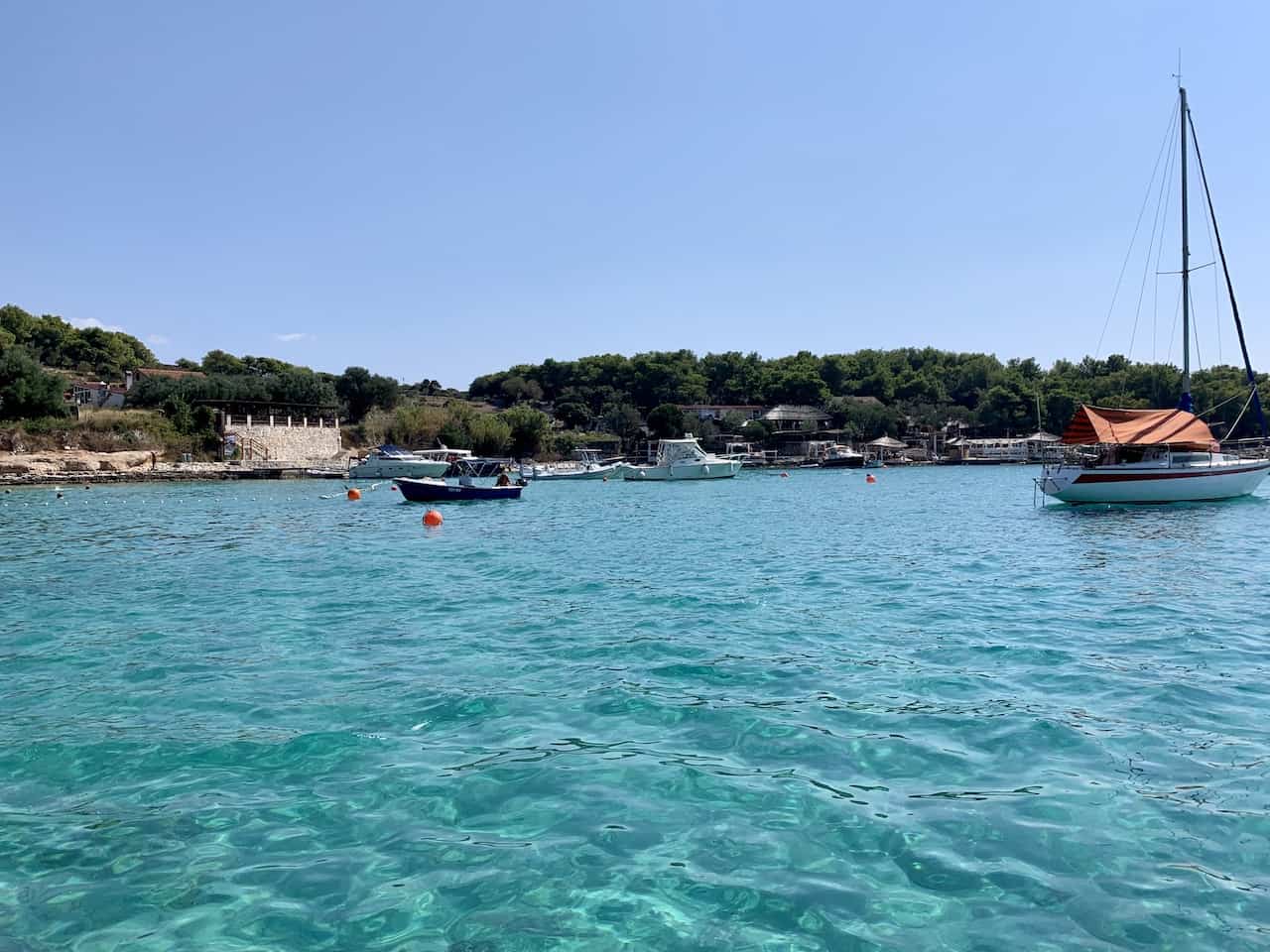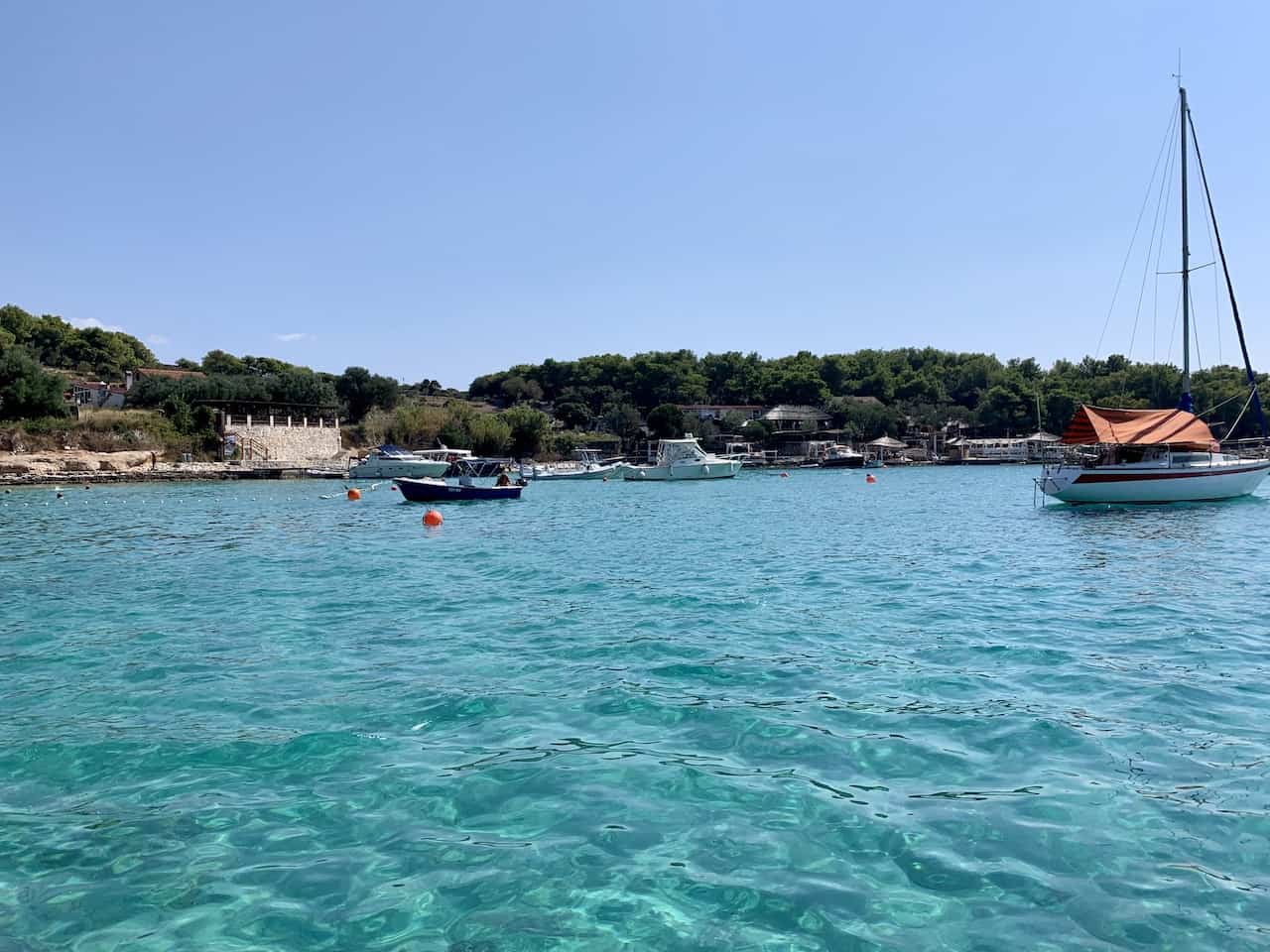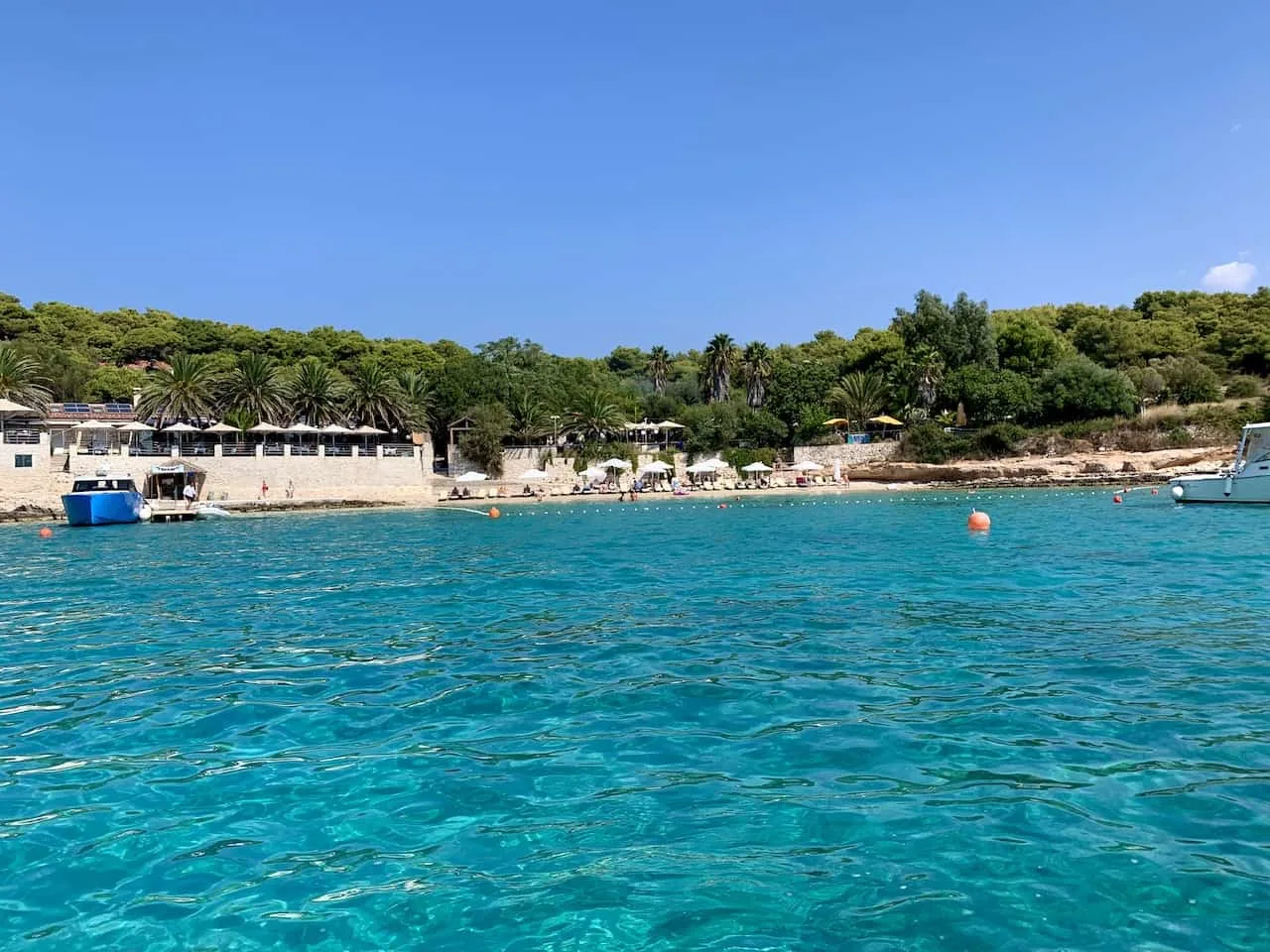 On the other hand, if you are looking for a bit quieter spot around Sveti Klement I would recommend to heading to one of the next two bays past Vinogradišće.
The first bay has two small beaches to choose from – Store Stone Beach and Stari Stani Bay.
It is a bit narrower here but it shouldn't be as crowded. The bay after that – I pinpointed it on the map but could not see a name here – is also an option for a quieter but just as beautiful location to enjoy on Sveti Klement.
Once the day of island hopping the Paklenis is complete, you can make your way back to Hvar harbor, where you will return your boat and end a successful day out at sea.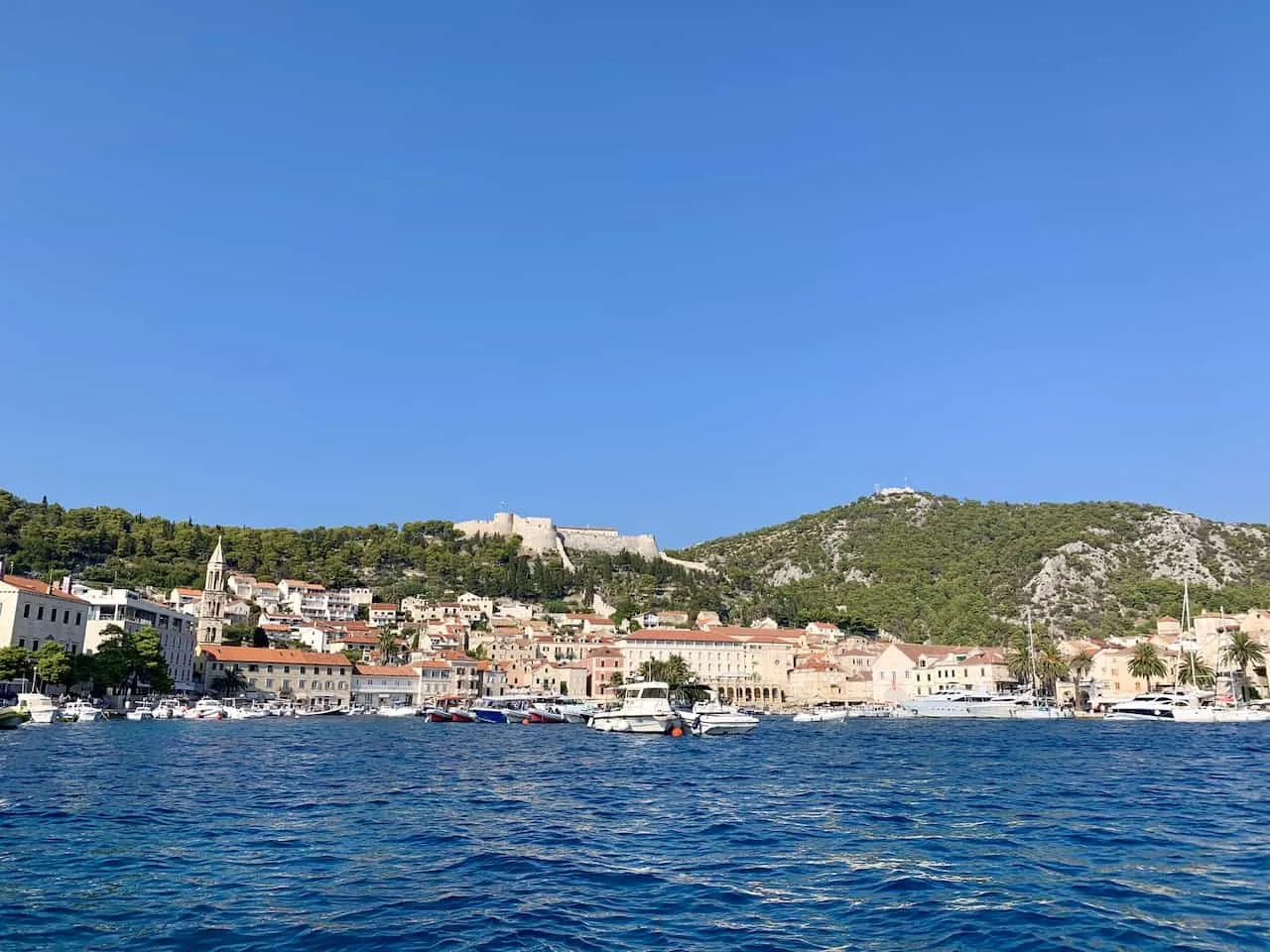 If you are up for it one night, you can head back to Marinkovac island, where you will find the famous Carpe Diem Beach club.
Several times a week, there are ferries going back and forth to the beach for a crazy night of dancing and drinking.
You can also head to Carpe Diem on the way back to Hvar on your day trip (maybe try to catch the beginning of sunset before it starts to get too dark).
That about wraps up a Pakleni Islands guide and how to go about a Hvar boat rental. If you have any questions or comments about the day, feel free to add them in below.
Also, be sure to check out the other Croatia itineraries and guides up on the site, that include Hvar beaches such as Pokonji Dol, Dubovica, and Malo Zarace. Have fun out there and safe travels!