Croatia's coastline is full of beautiful islands lining the Adriatic Sea. One of my favorites that I had the chance to visit is Korcula. Not only can you explore the island itself, but you also can explore the waters surrounding Korcula by boat.
This guide will talk through how to go about a Korcula boat rental hire during your time on the island.
By hiring a boat, you will have the chance to enjoy the crystal-clear waters of the surrounding Adriatic Sea and visit some smaller islands nearby.
* Affiliate Disclosure: This post may contain affiliate links, which means I may receive a commission if you make a purchase through the links provided, at no additional cost to you. Thanks for supporting the work I put into TripTins!
1) How to Rent A Boat in Korcula
When I first got to Korcula, I had a pretty open schedule. I knew I wants to explore the Korcula Old Town and spend some time by the beaches.
However, I soon learned that renting a boat is a great way to spend a day and see some of the most beautiful parts of the surrounding Adriatic Sea.
Renting a boat could not be easier to do in Korcula. You simply can make your way down to the harbor area, where you should see some small booths offering boat rentals for the day.
The cost for a full day boat rental (without a driver) will be just 400 kn ($60 USD). Split between just 4 people, that comes out to around $15 a person – a much cheaper alternative to the group tours.
Whether you are with friends or family, or meeting people on the island, renting a boat is a fun and affordable way to see Korcula.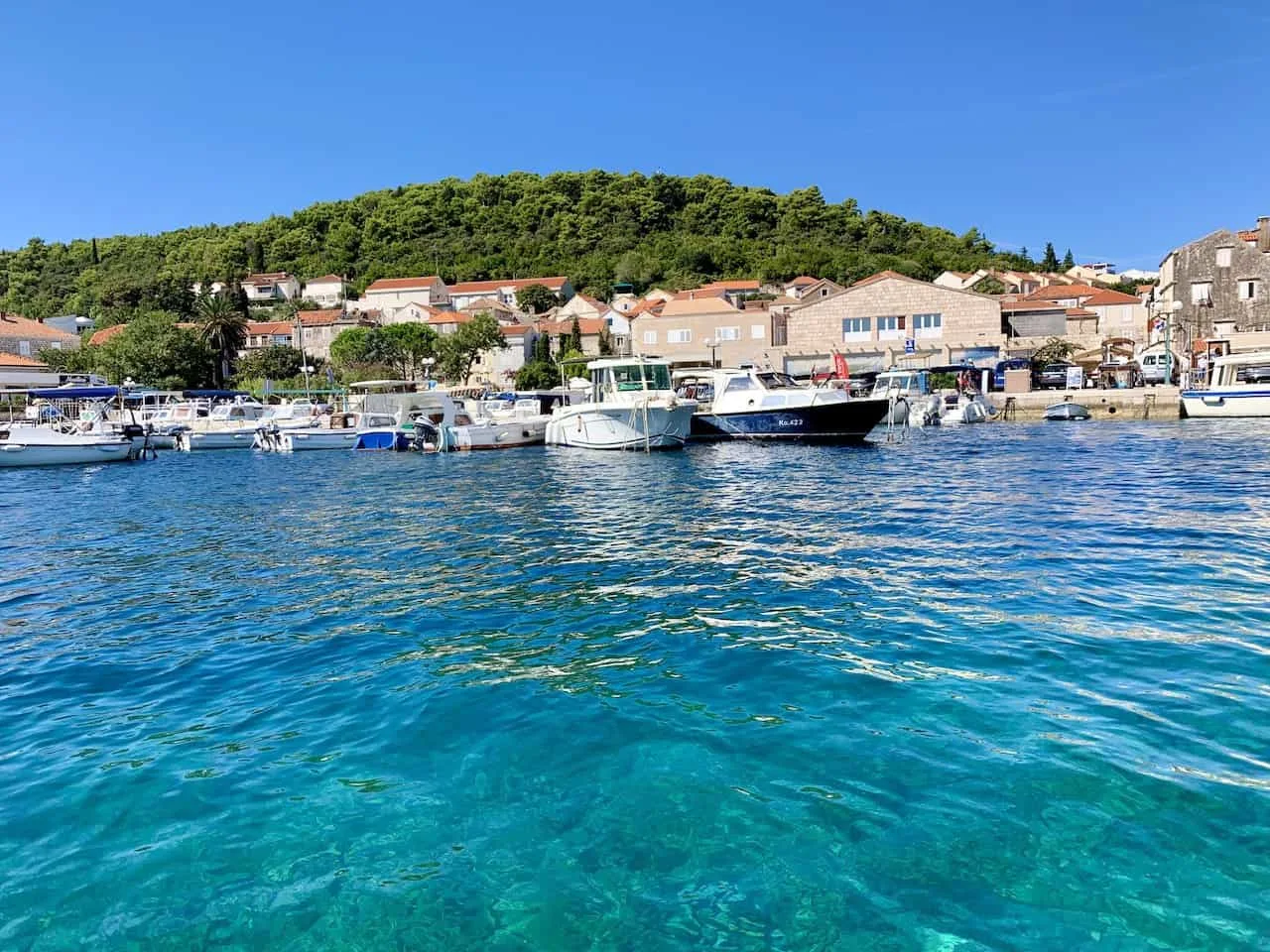 There are two ways to go about a boat rental. You can either take one out on your own, or you can hire a boat driver/captain to come along with you.
If taking one out on your own you will obviously need to learn how to drive it. Don't worry though as these boats are nothing too fancy and are very simple to operate. These are actually just small 5 HP motor boats that can hold around 6 or so people.
You don't need a boat license or anything like that – you simply just need to know (or learn quickly) how to use the motor.
In addition to driving the boat, you will need to navigate your way around the sea. This is not as difficult as it may seem either.
Navigation apps like Google Maps can be an easy way to see what is around you, and get you from one destination to the next.
The folks who are renting out the boats to you will also give you a list of top highlights of what to visit. You can simply take a look at your app and see where each island / place of interest is, and drive yourself there.
During this guide I will go through a list of the top spots with names of islands and an overall itinerary. So, by the end of reading through, you should have no problem getting yourself around.
On the other hand, you can also hire a boat with a driver. This will of course come with an extra cost but it may take a bit of stress out of your day if no one is comfortable driving a boat on their own.
2) Korcula Boat Hire Tips
I did want to point out a few good things to know and prepare for as you enjoy a day out at sea:
» Bring along food and drinks for the day as you will be spending a lot of time out on the water. Even if you plan on heading to a restaurant for lunch (most likely would be at Vela Stupa), it is always good to be stocked up on food and drinks.
» While you can bring alcohol on the Korcula boats, the person driving the boat should never be under the influence so please act responsibly.
» If you want to check out the underwater life, bring some goggles or snorkeling mask. There are plenty of fish that hang out in the area so it is definitely a fun activity to do while out at sea.
» Instead of trying to memorize the map below, I would simply use Google Maps (or another navigation app) while heading out to various spots.
Even if you don't have service, you should still be able to see your location on the map and where you are headed.
» This itinerary will give you a little bit of everything – swimming spots, beaches, restaurant/bar, and an island to explore.
Feel free to move things around accordingly if you are not interested in everything mentioned in this guide.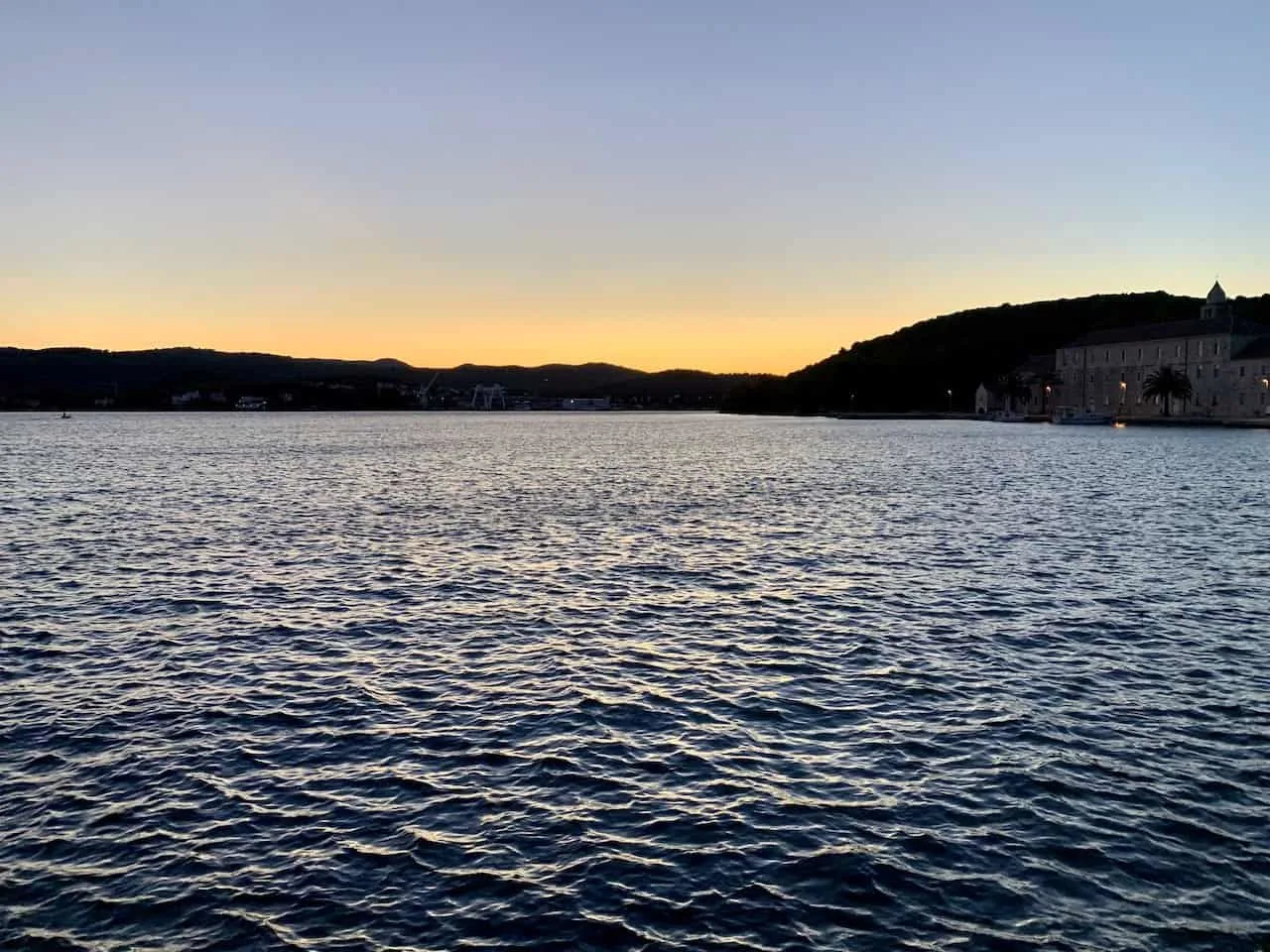 3) Where to Stay in Korcula
Before continuing on, I did want to point out some of the top places to stay in Korcula.
Since the main area around Korcula Town is not that big, some of the top rated places can sell out in the high season. All the hotel options listed are in the Old Town or just within a 10 minute walk of it.
I would recommend booking your accommodation once you know your dates of when you will be on the island. Below are a few of the top rated and reviewed options you can choose from:
→ Aminess Korcula Heritage Hotel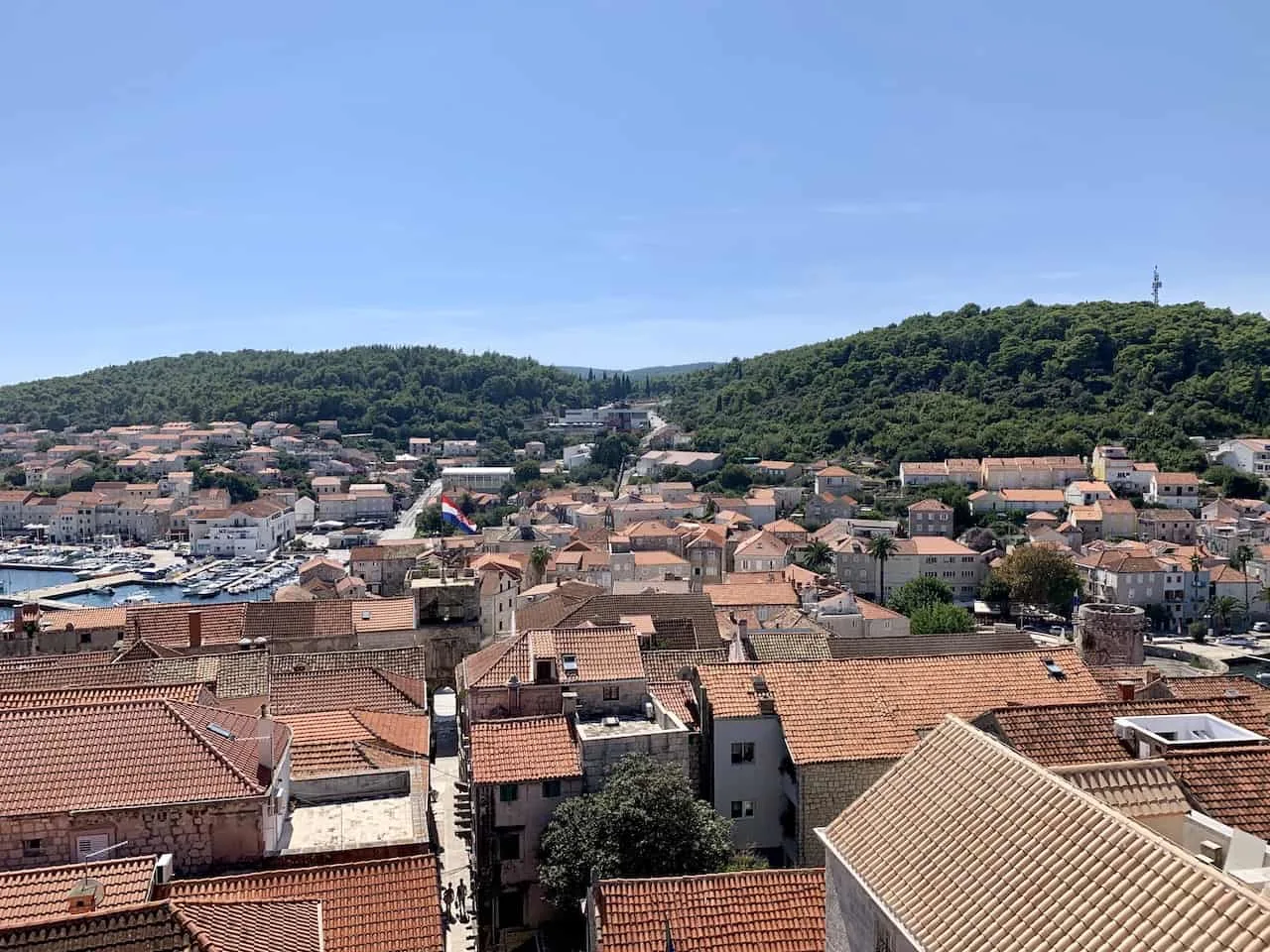 4) Korcula Boat Rental Map
In the next section I will talk through a full day itinerary that you can use as you go about your time renting a boat in Korcula.
As you go through the stops, you can take a look at the following map that will show where each place is located.
Not only can you use this map for planning purposes and to understand what is out there, but you also can use it as you are out at sea. The route goes as follows:
Depart Korcula Harbor
Stop #1: Otocic Mala Stupa
Stop #2: Vela Stupa
Stop #3: Otok Sutvara
Stop #4: Otok Gubavac
Stop #5: Plaza Lumbarda
Stop #6: Otok Badija
Arrive Korcula Harbor
You can see on the map the satellite views of the islands and route. While we received some tips from the boat rental folks, we also decided to head to areas where we saw the clearest waters.
5) Korcula Boat Hire Day Trip
When going about renting a boat in Korcula, I would recommend starting early on in the day. That way you can make the most of your time in the water and not be rushed one way or another.
Once you have made it to the harbor and are all aboard your boat, it is time to start exploring the Adriatic Sea around Korcula.
Stop #1: Otocic Mala Stupa
The first stop of the day is a small island called Otocic Mala Stupa, which is directly east of the harbor. The boat drive should take around 25-30 minutes as you begin to enjoy your time out at sea.
At Otocic Mala Stupa, you simply can throw your anchor just off of the coast and start swimming in the Adriatic. In addition to just swimming in the water here, you should also come across a large rock jutting out of the water.
If you are up for it, you can climb up to the top and jump down into the water (be careful though as the surface can be rough).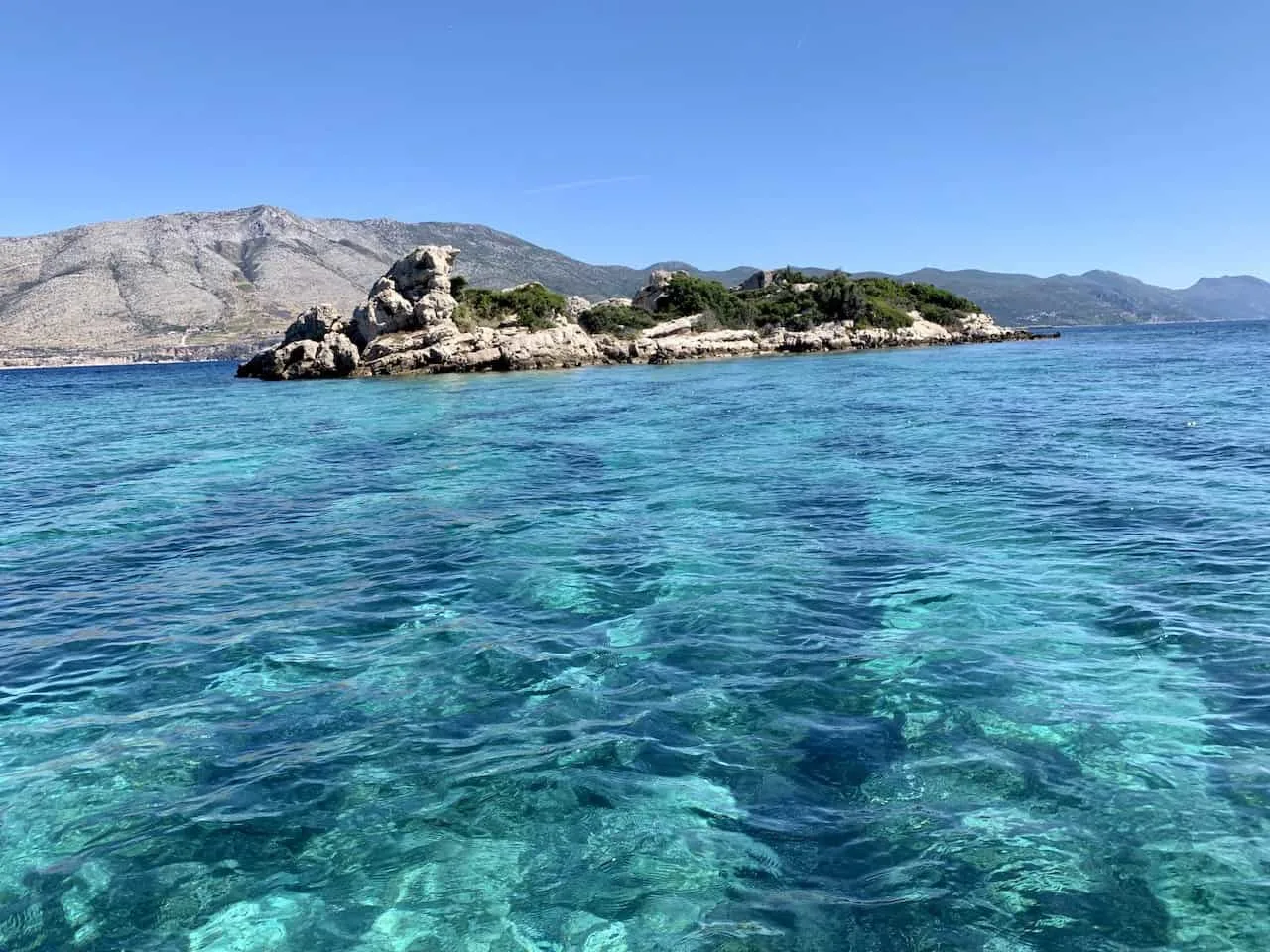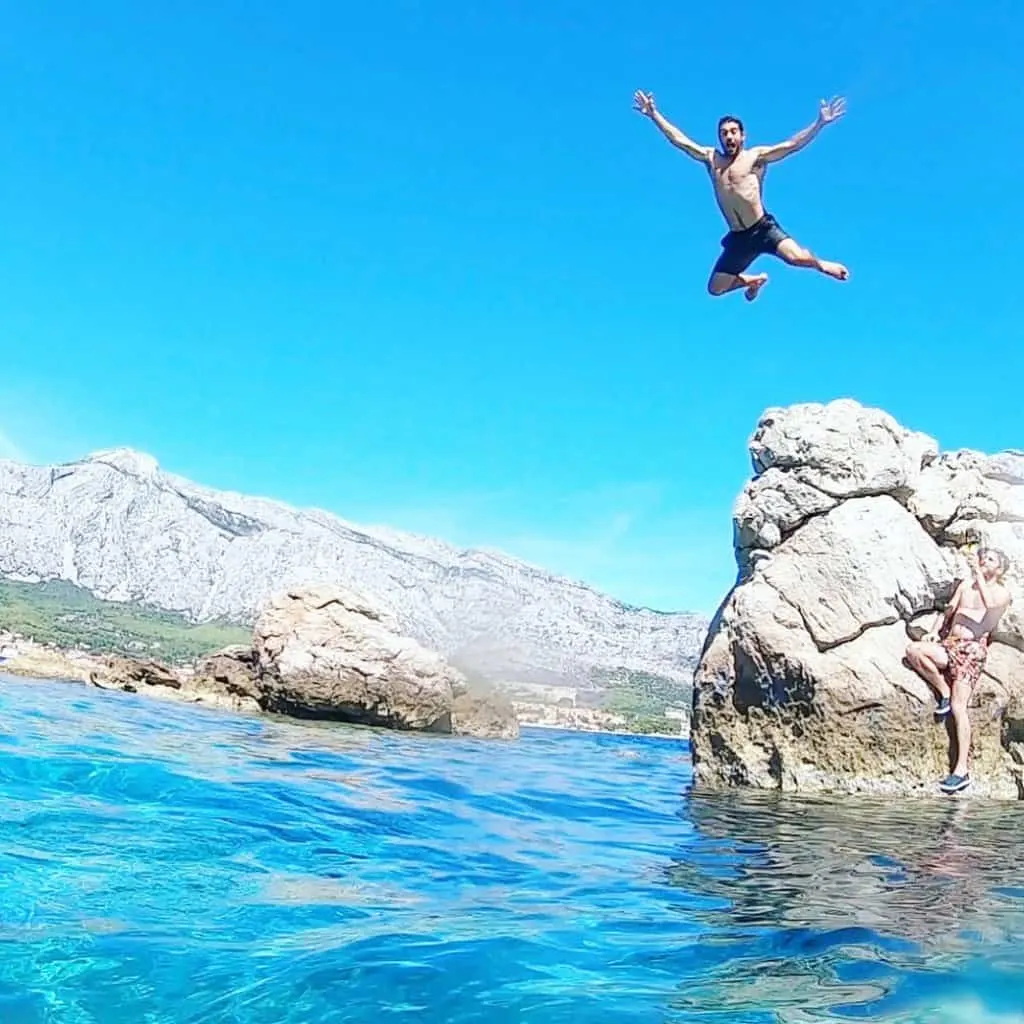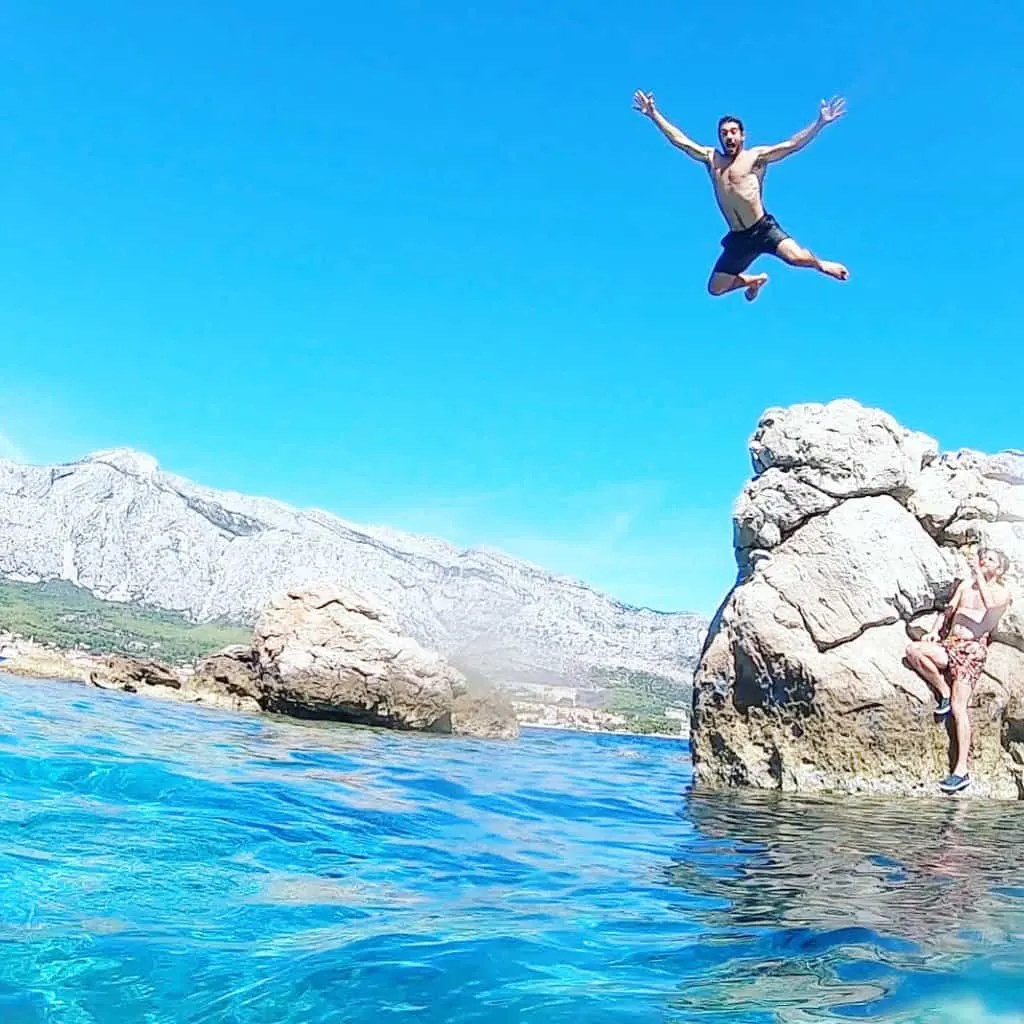 Stop #2: Vela Stupa
Right across the way from Otocic Mala Stupa, is Vela Stupa. Here you will find Moro Beach Stupe, home to a restaurant and bar.
If you wanted to stop by for some food and drinks or just spend some time on the small beach, you can do that here.
Right on the beach you will also find a swing set right in the sea that can serve as a unique photo op.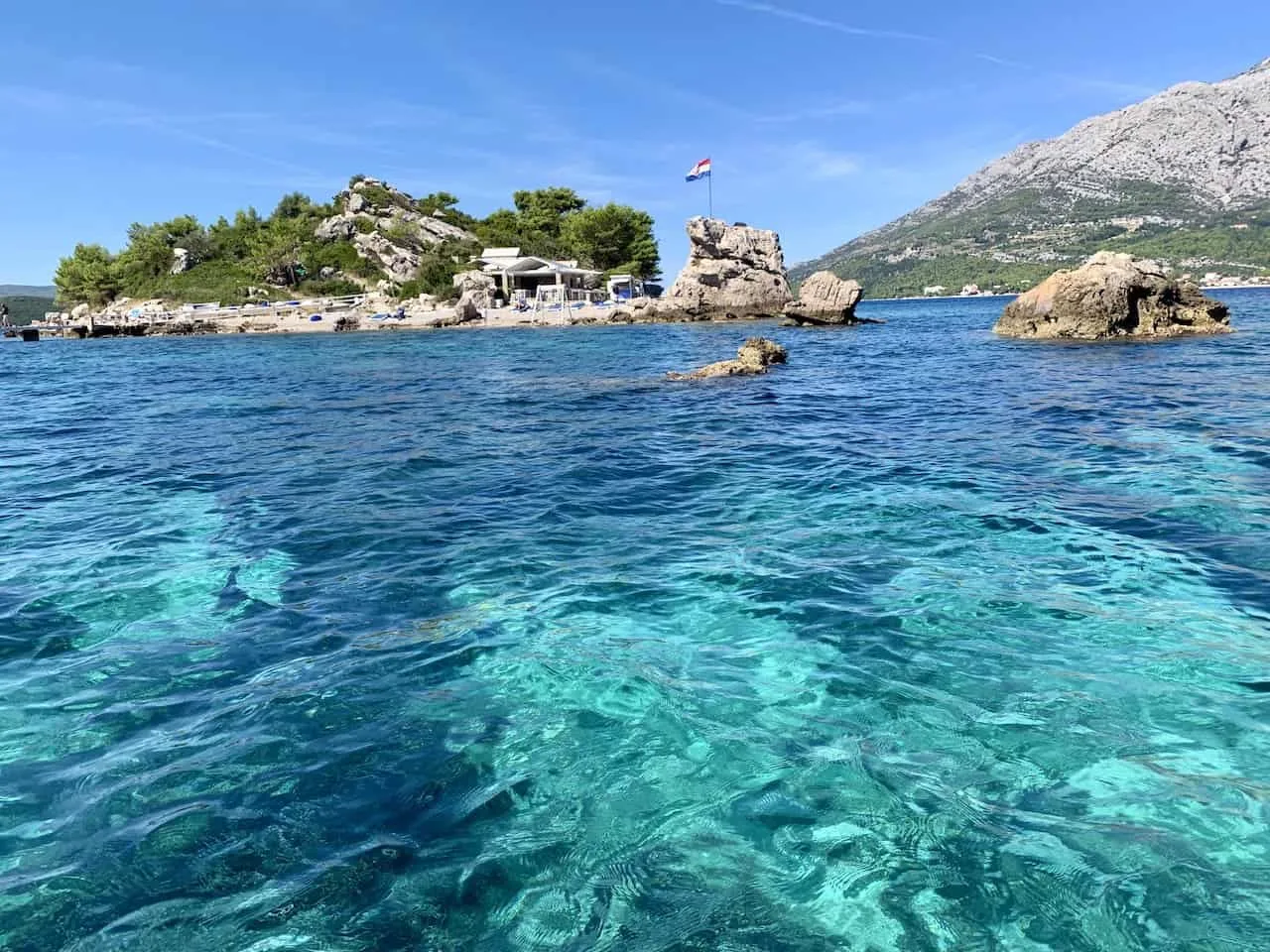 Stop #3: Otok Sutvara
From Vela Stupa, the boat tour continues southbound as you head towards Otok Sutvara. This 20 minute ride will have you surrounded by the clear waters of the sea and various islands in each direction.
Be on the lookout for dolphins along this route (and in general). We were able to spot a few slowly swimming through the waters during this portion of sea.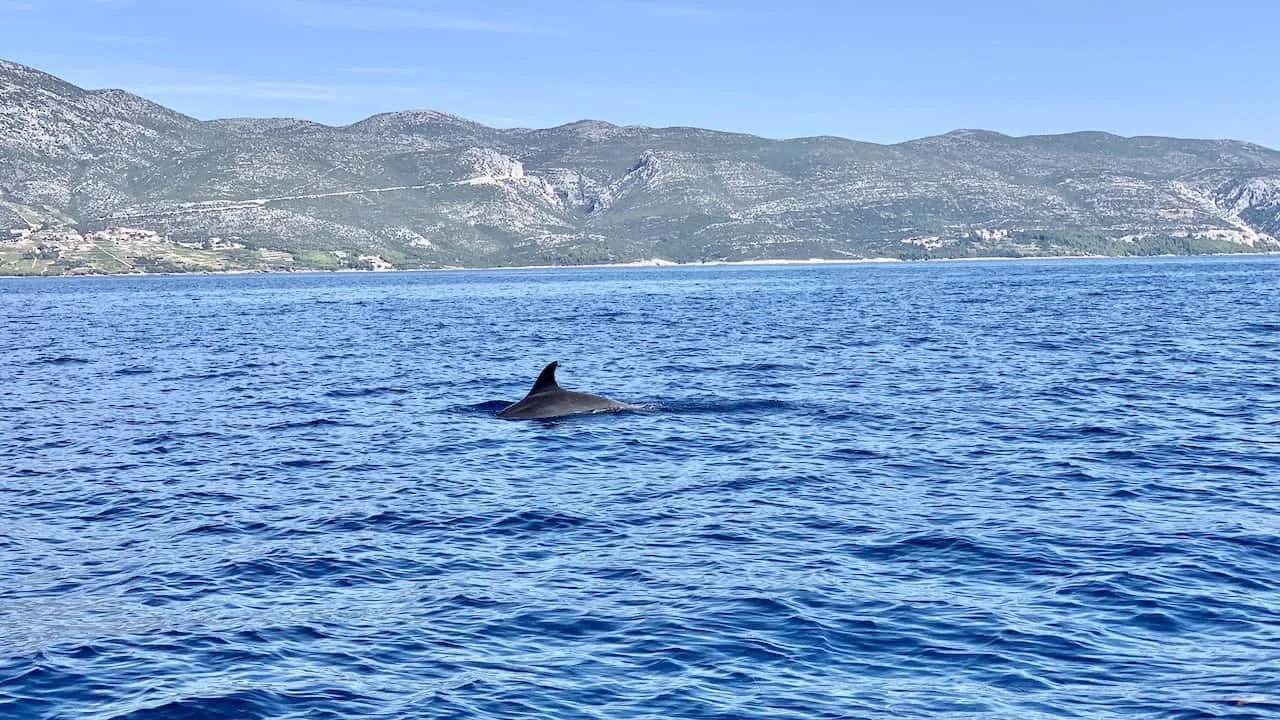 Once you have arrived at Otok Sutvara, throw that anchor and swim in the waters around the island.
We ended up anchoring on the western shore of the island as that area did seem to have the clearest waters.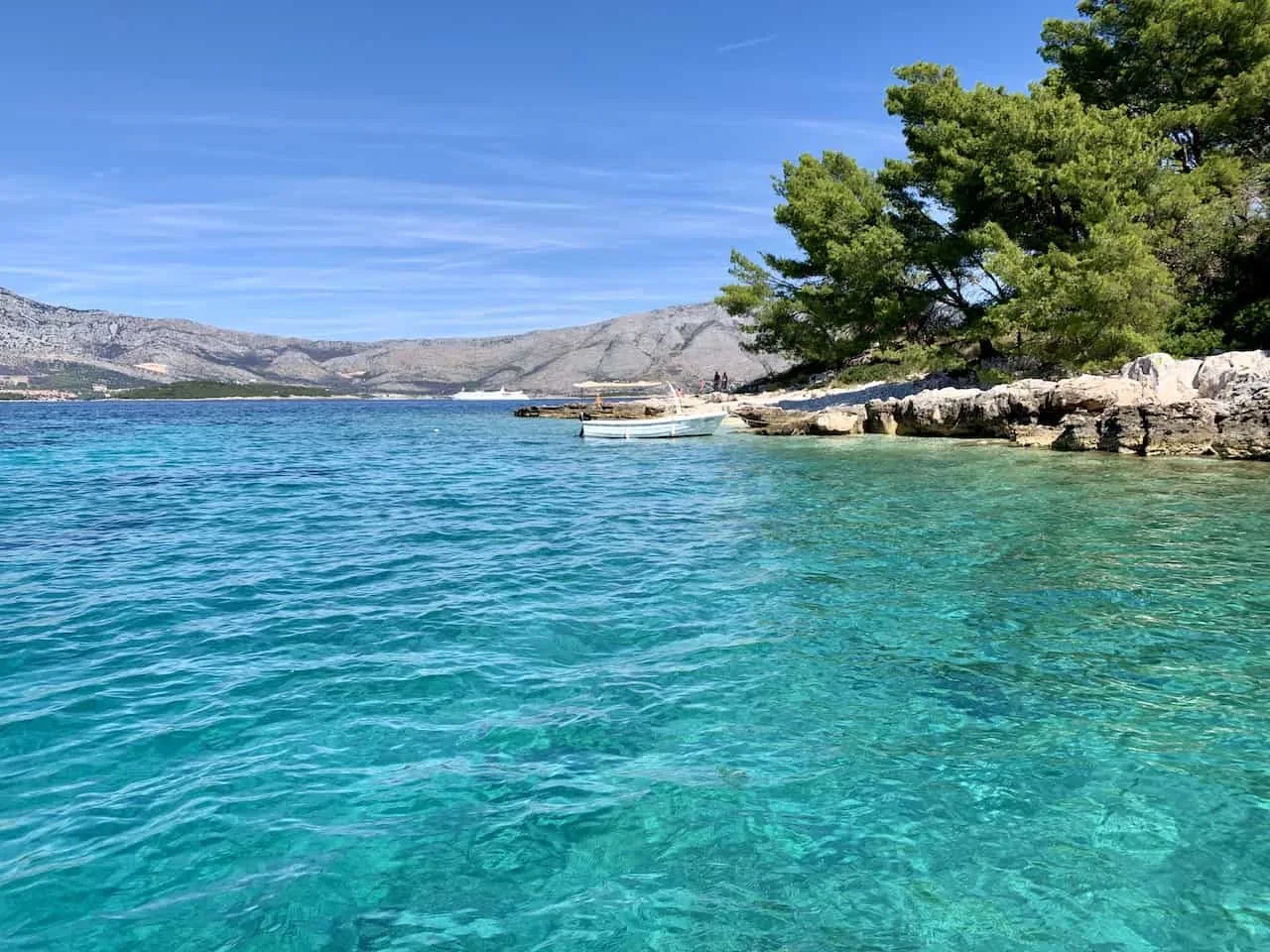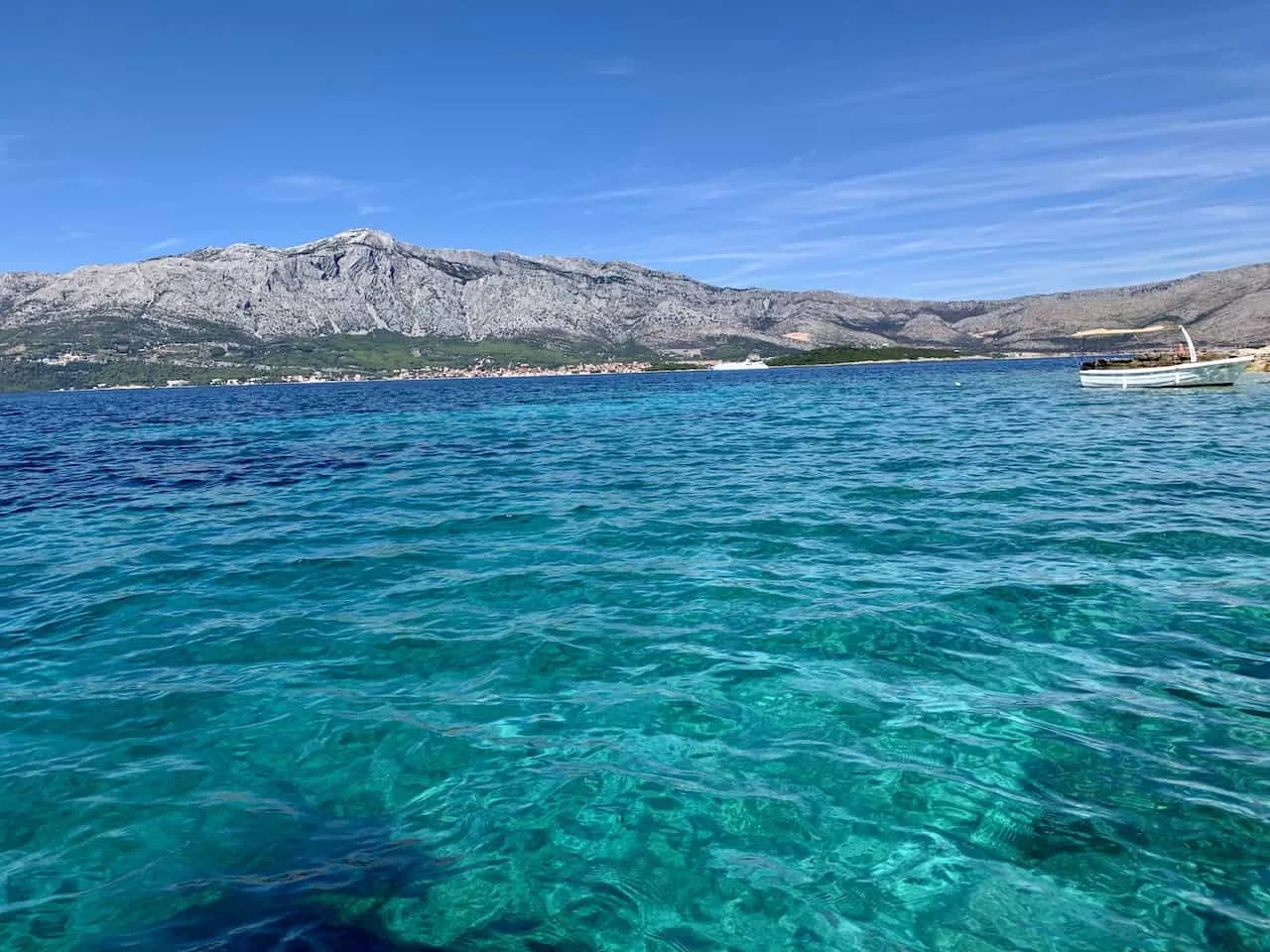 Stop #4: Otok Gubavac
Just south of Otok Sutvara is Otok Gubavac. It should just be a 5-10 minute ride to reach the island, where you can also anchor down on the western side of it.
Similarly, to the previous island, this is just going to be more of a swimming spot as you enjoy the stunningly clear waters.
If you have some of that snorkel gear, feel free to bring it out and explore the underwater life of the Adriatic.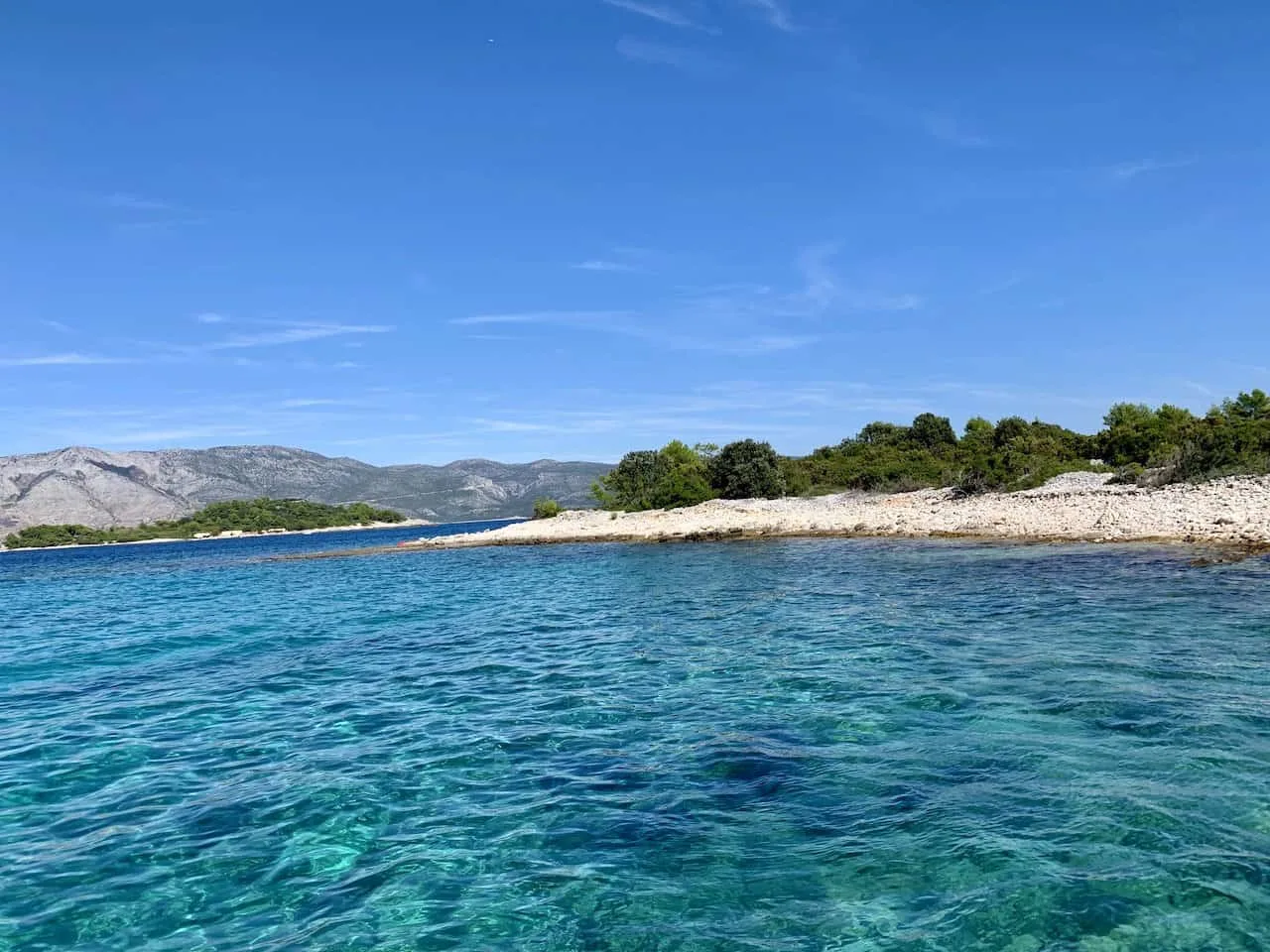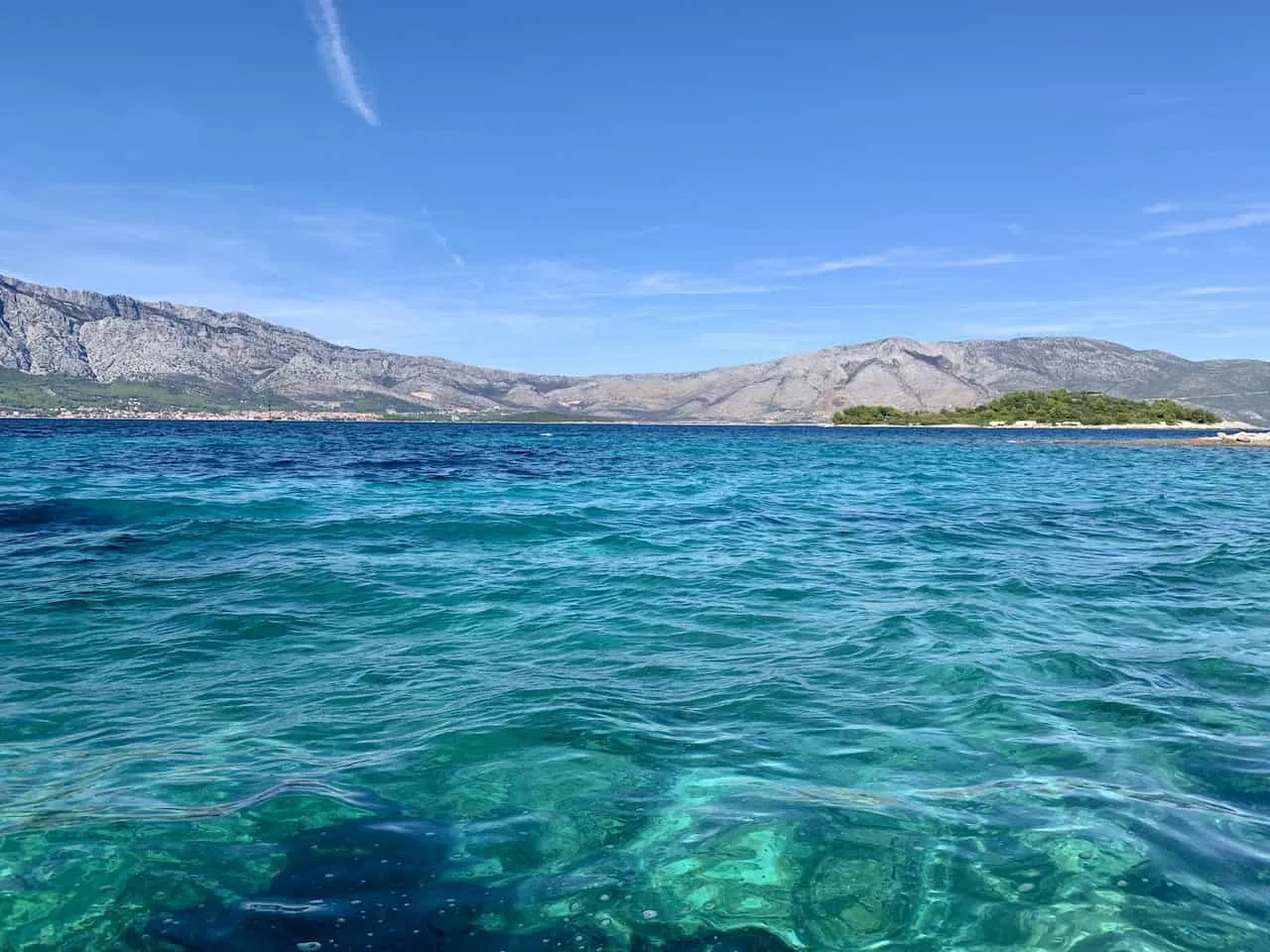 Stop #5: Plaza Lumbarda
The route continues southbound as you reach the outskirts of Plaza Lumbarda – one of the most popular beaches of Korcula.
Now, you won't be able to drive the boat directly to the beach but you can anchor down just on the other side of the safety ropes.
This area is essentially the very eastern point of Korcula island. While you will be able to enjoy some water time here, you will also get some great views of the Korcula coastline and its architecture.
In addition, be on the lookout in the distance of the famous Lumbarda vineyards. If you have another day on the island I would highly recommend a trip out to this region to do some vineyard exploring.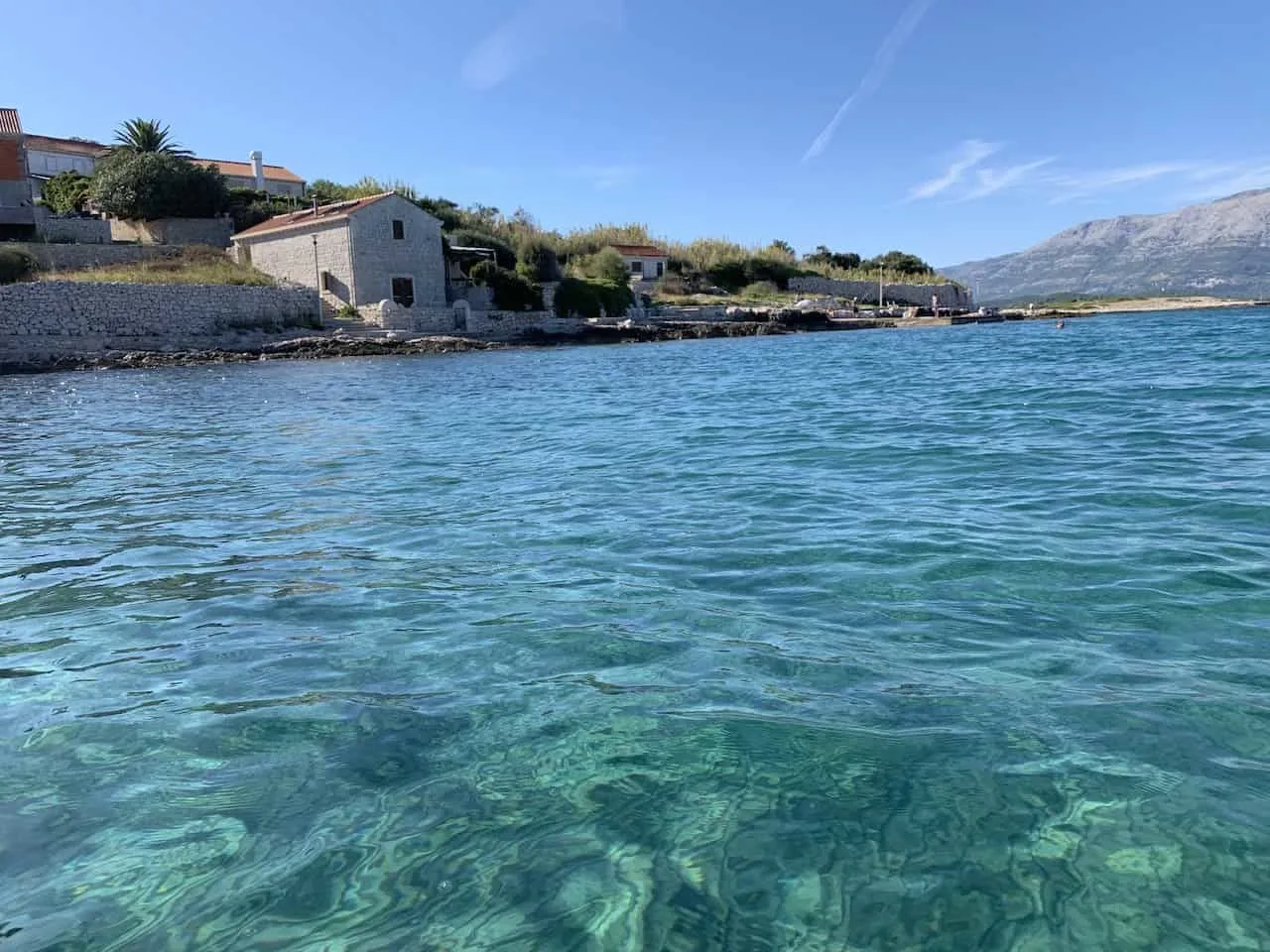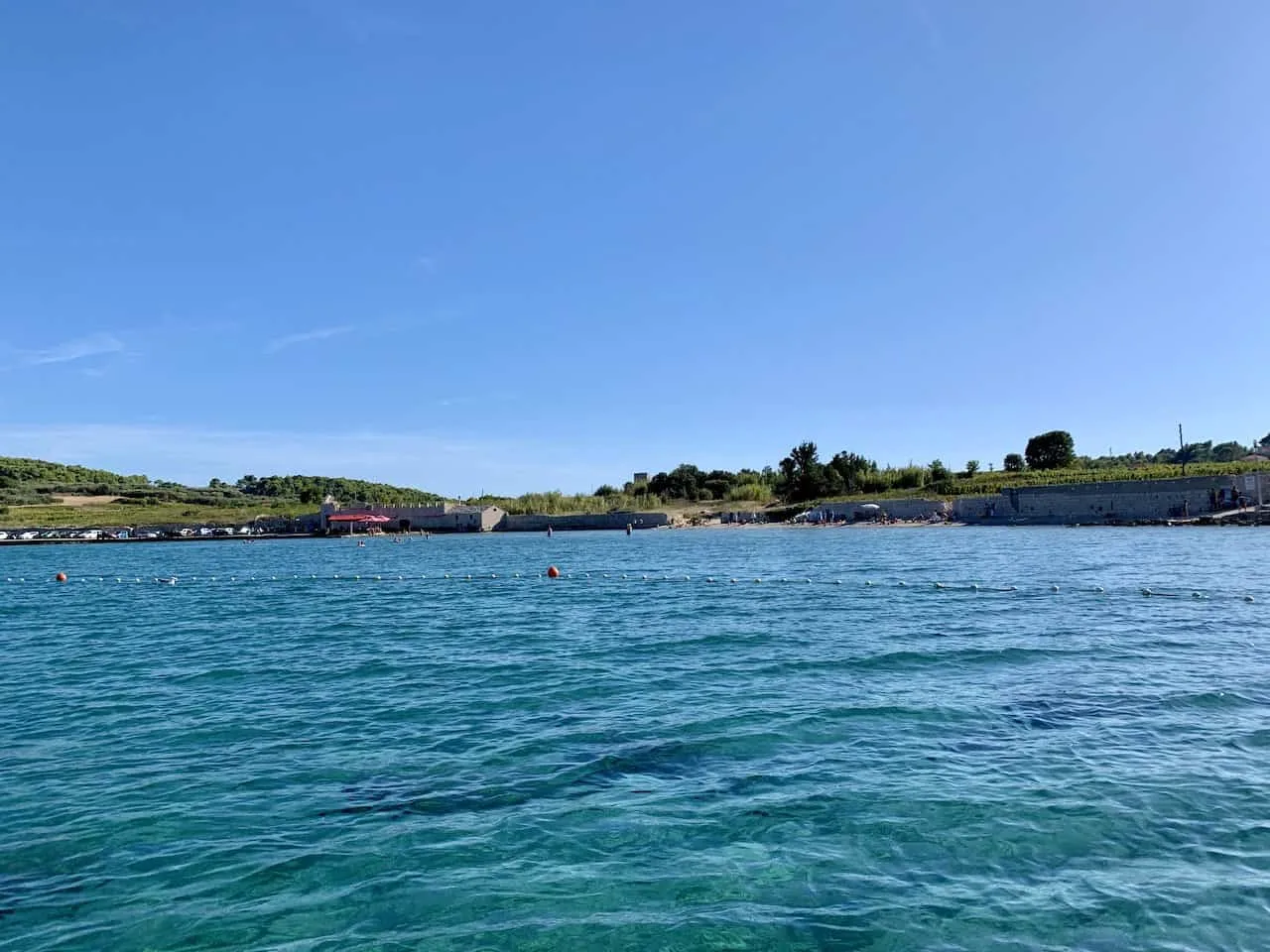 Stop #6: Otok Badija
Last but not least on a Korcula boat trip is the island of Otok Badija. This is going to be the longest drive of the day as you make your way back up north for ~45 minutes to this unique island.
You will see on the map, I pinpointed two places – the island itself as well as the area of water between Otok Badija and Otocic Planjak.
We first enjoyed some time in the water after the long boat ride before tying up the boat at the dock.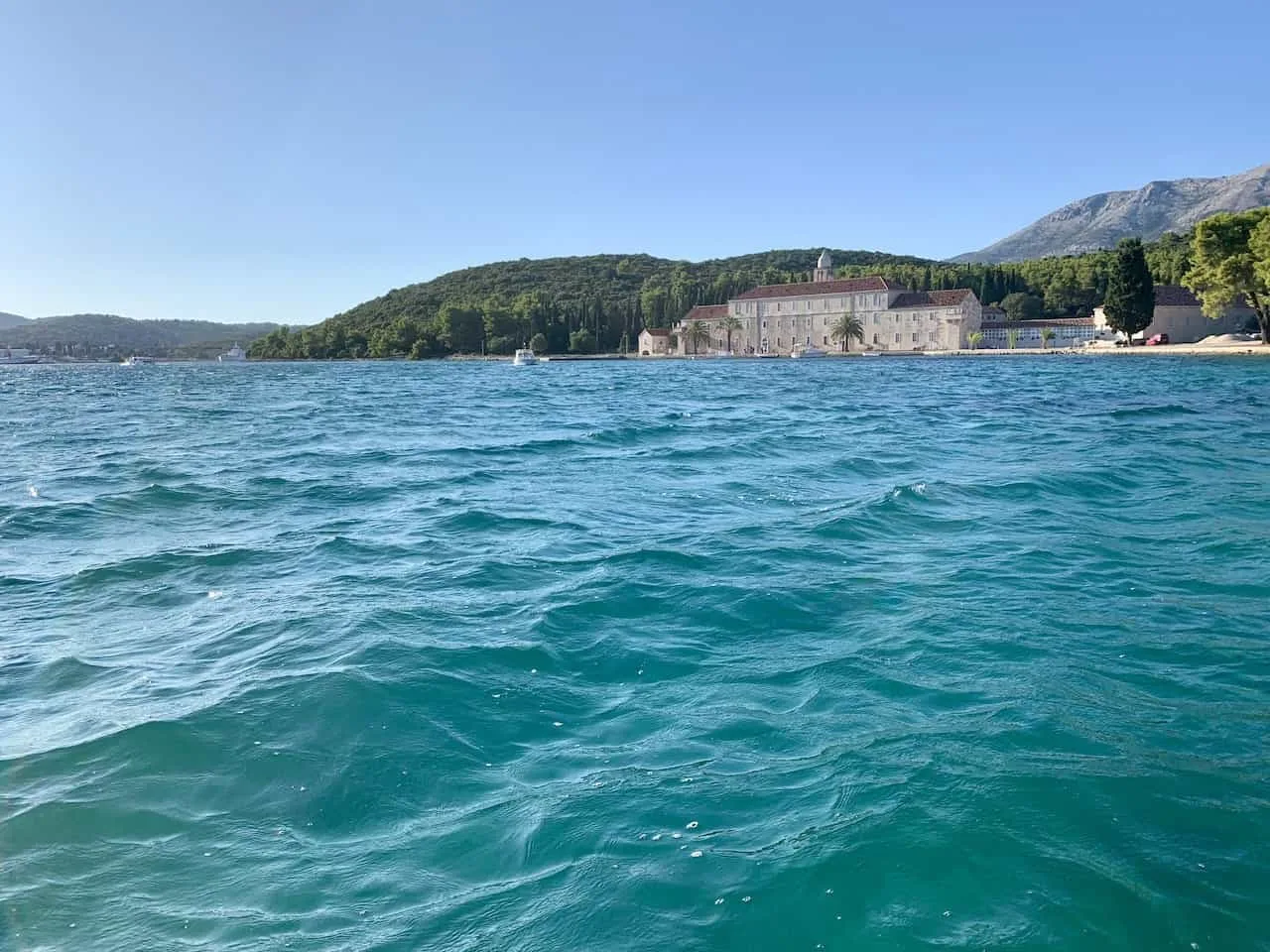 Otok Badija is going to be a bit different of a stop. On this island you are going to find a Franciscan Monastery that was built in the 14th century.
You can spend time walking around the various architecture of the island and taking in this beautiful structure.
Not only will you find the monastery on the island, but you also will find plenty of fallow deer that were first brought to the island in 1958. Their population has slowly grown and you are sure to see them all throughout.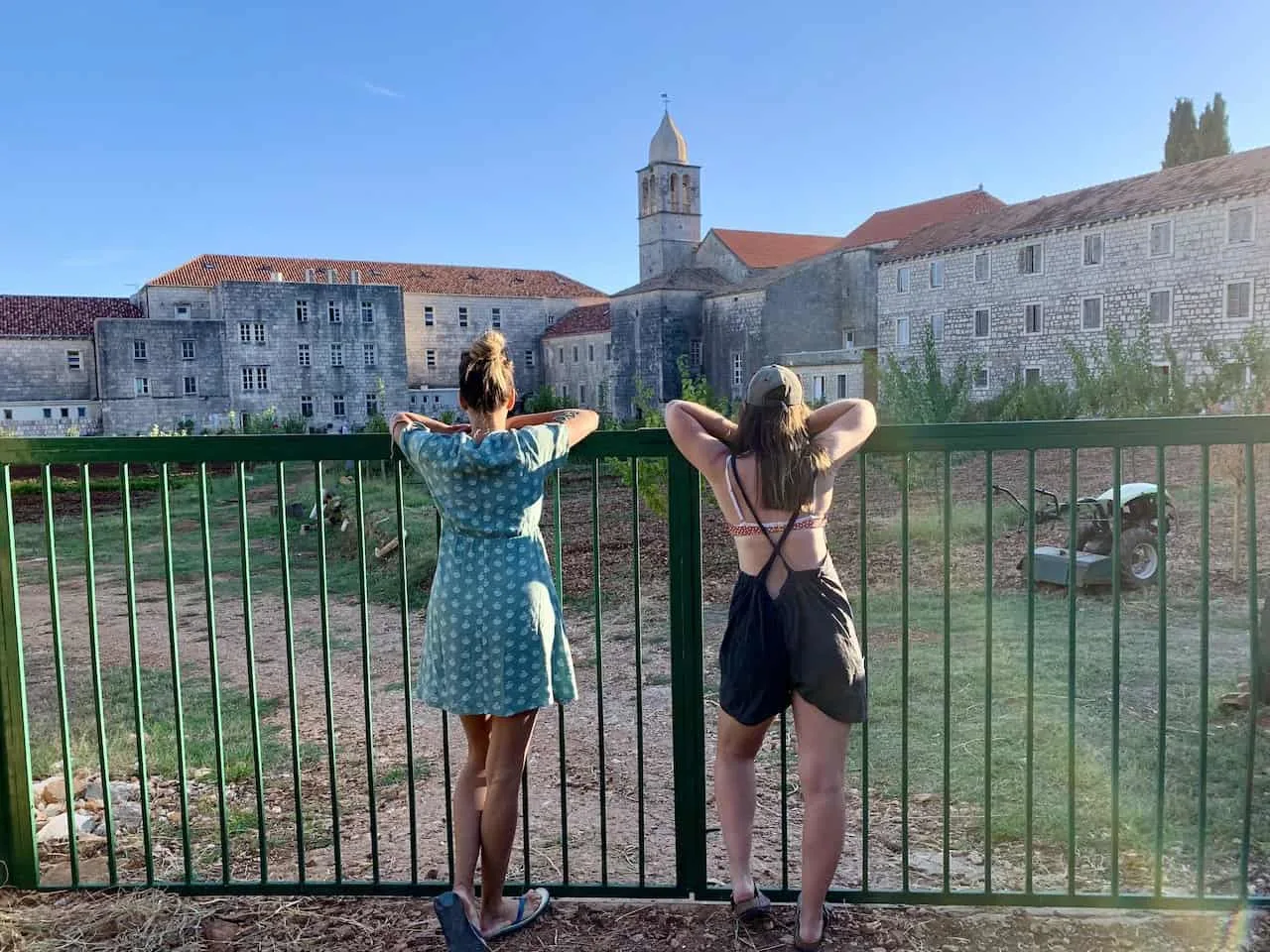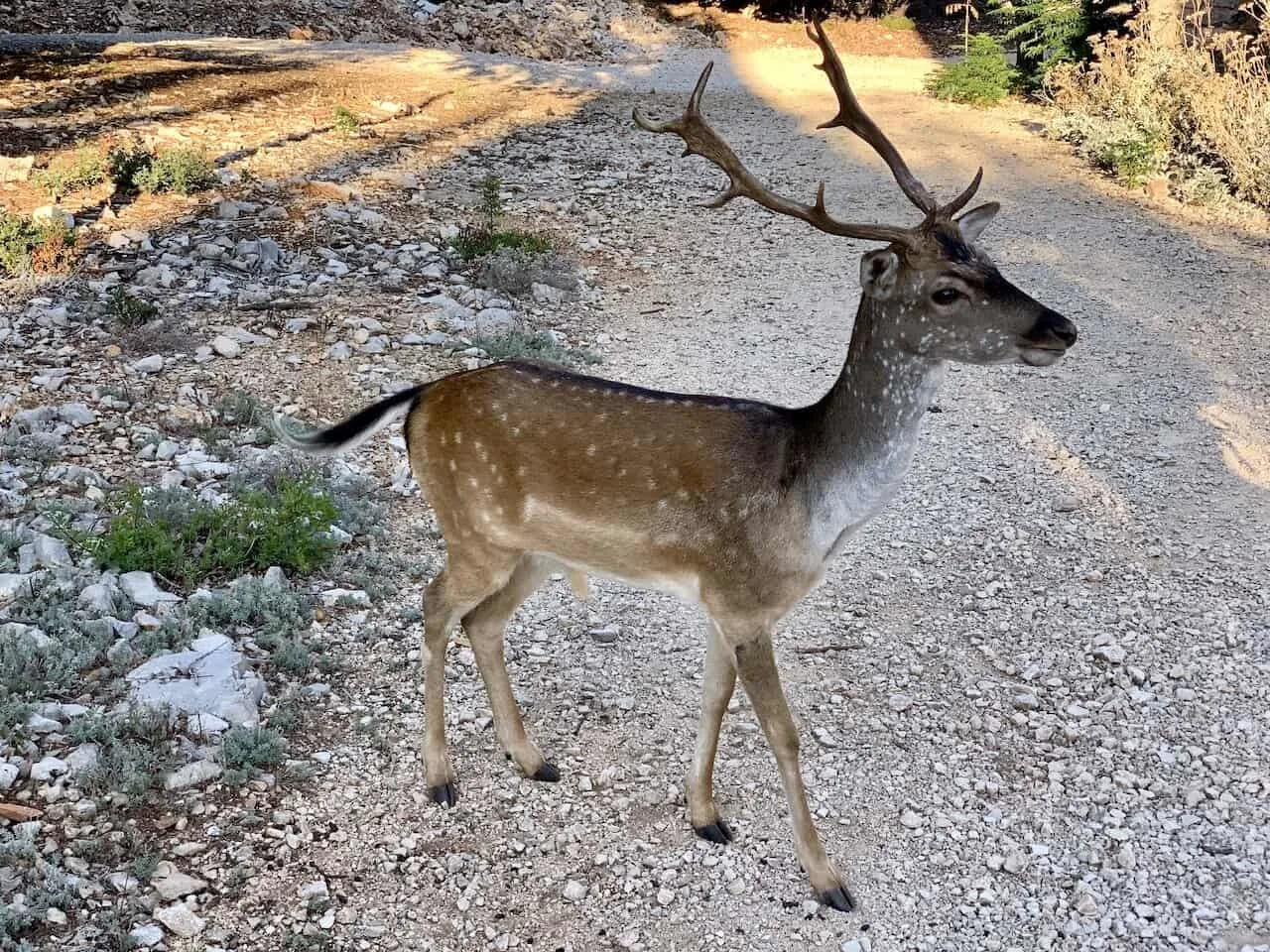 Back to Korcula Harbor
Once your time is all done at Otok Badija, it is time to return back to Korcula Harbor.
It is a quick boat ride back as you follow the coastline between Otok Badija and Korcula island and wrap back into the harbor area.
The person who initially rented the boat out to you should give you directions on exactly where to bring the boat back.
But expect to head back right around where you picked it up from. Once back in Korcula, grab some dinner and spend some time resting up for your next day exploring Croatia.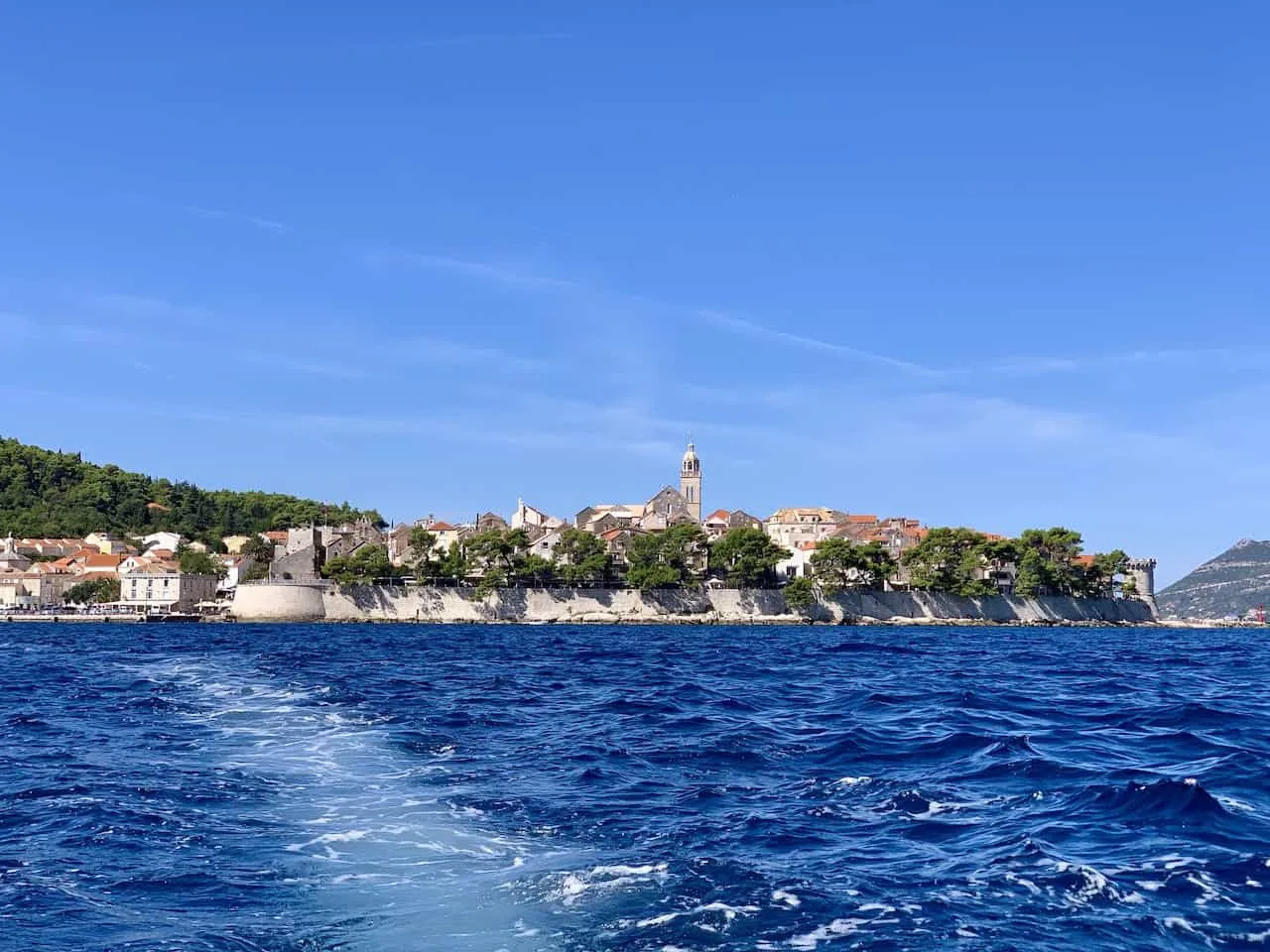 I hope this Korcula boat hire guide has helped you better plan your trip to the island. If you have any questions or comments, feel free to add them in below.
Also, be sure to check out the other Croatia itineraries and guides up on the site like this Croatia Itinerary and this Pakleni Islands guide. Have fun out there and safe travels!