This overview will talk about some of the best things to do in Korcula, Croatia. Whether you are looking for beaches, activities, town highlights, or plenty more, read on to learn all about it.
When putting together a trip to Croatia it can be hard deciding which coastal towns & islands to visit. There are just so many beautiful options to choose from.
Korcula, however, ended up being one of my favorite additions to my Croatia itinerary. This small island gives visitors a great balance between old town, beaches, water activities, and overall relaxation.
Check out some of the best things to do in Korcula during your trip to this one of a kind island.
* Affiliate Disclosure: This post may contain affiliate links, which means I may receive a commission if you make a purchase through the links provided, at no additional cost to you. Thanks for supporting the work I put into TripTins!
1) All About Korcula
Before getting into the top things to do in Korcula, I want to give you a better idea of what Korcula is all about.
Where is Korcula
Korcula is an island located in the Adriatic Sea, about halfway between Dubrovnik and Split.
You can decide to visit Korcula by ferry from either one of these mainland towns, or come in from a nearby island. Hvar, Brac, and Mljet, all offer ferry connections to Korcula, making it an easy addition to your itinerary.
Towns of Korcula
While Korcula comes in at around 47 km / 29 miles length, and 8 km / 5 miles in width, most people who visit the island focus on the eastern side.
On the eastern side of Korcula, you will find the iconic Korcula Old Town and the famous Lumbarda wine region & beaches.
Although those are the more popular places to visit, there are still many other small towns located around the island. A few of these include Vela Luka, Blato, Smokvica, Cara, Pupnat, Racisce, and Zrnovo.
Some of these are just within a 10-minute bus ride from the Korcula Old Town, while others are located all the way on the other side of the island (1+ hours away).
This overview will focus mostly on the eastern side of the island in the Korcula Old Town / Lumbarda region.
If you are spending a longer period of time in Korcula, then definitely consider checking out some of these other spots as well.
Korcula Island vs Korcula Town
Going off of that last point, it is important to make the distinction between the island of Korcula and the town of Korcula.
The main historic town on the eastern end of the island is often just described as Korcula. Of course, you may not just be going to the old town, but rather exploring the rest of the what Korcula island has to offer.
How to Pronounce Korcula
This is going to be more important than you think! The "c" in the name is pronounced as "chu".
So, as you are saying the word, think to yourself "Kor"-"Chu"-"La".
Many people make this mistake, so try not to be one of them.
Getting Around Korcula
One of the main questions when it comes to Korcula is how does one get around the island. To answer that, it will all depend on where you end up going.
If you are just visiting the eastern side of the island around Korcula Old Town and Lumbarda, then you can simply stick with walking around, the local bus, water taxis, or even bicycling.
Now, if you are heading further west to the central and western side of the island, you will need to leverage the public busses a bit more. These are pretty reliable and connect all the main towns in Korcula.
Renting a car or scooter is another option if you would like to see the island at your own pace. But this is certainly not necessary given the bus reliability.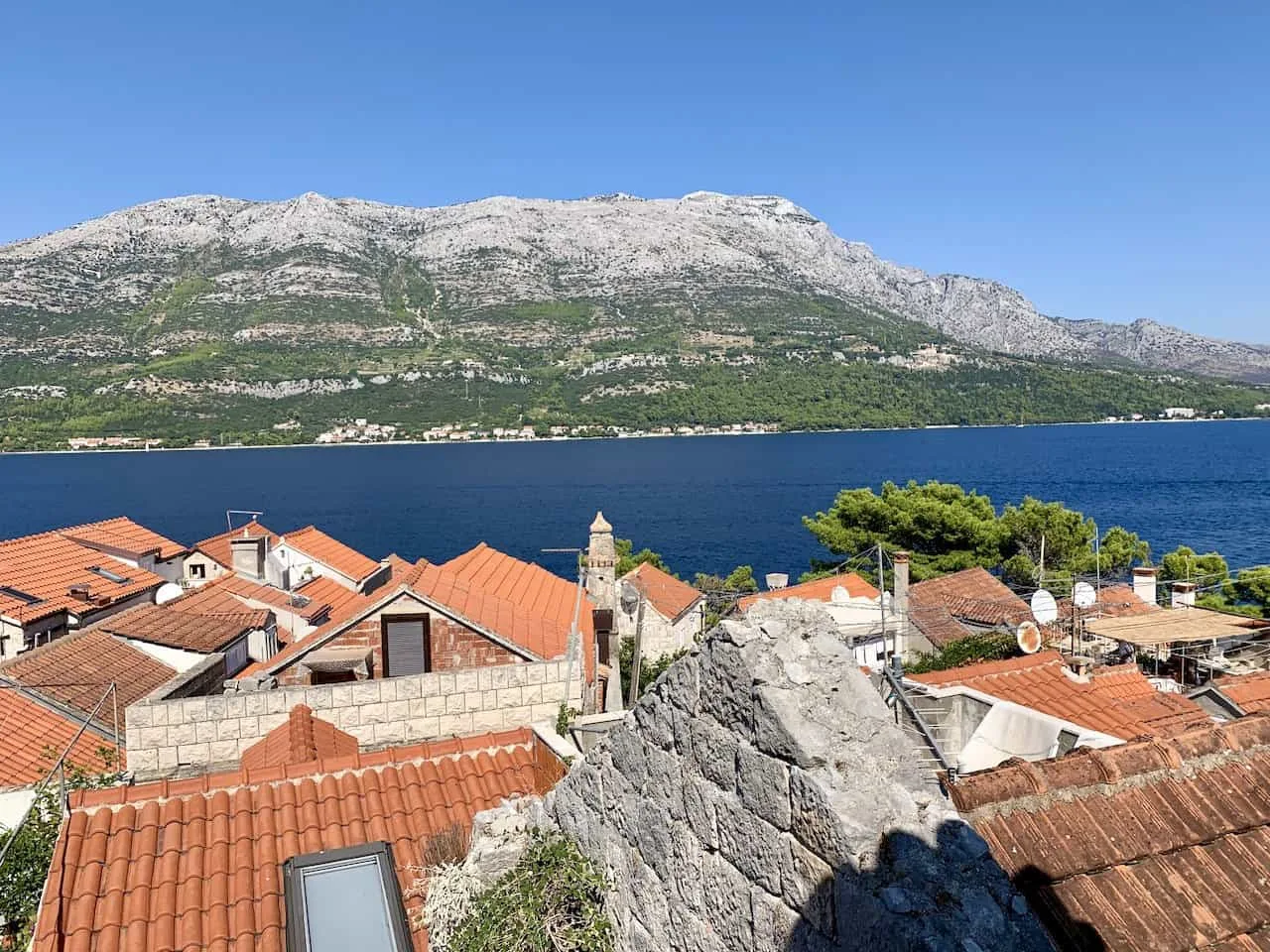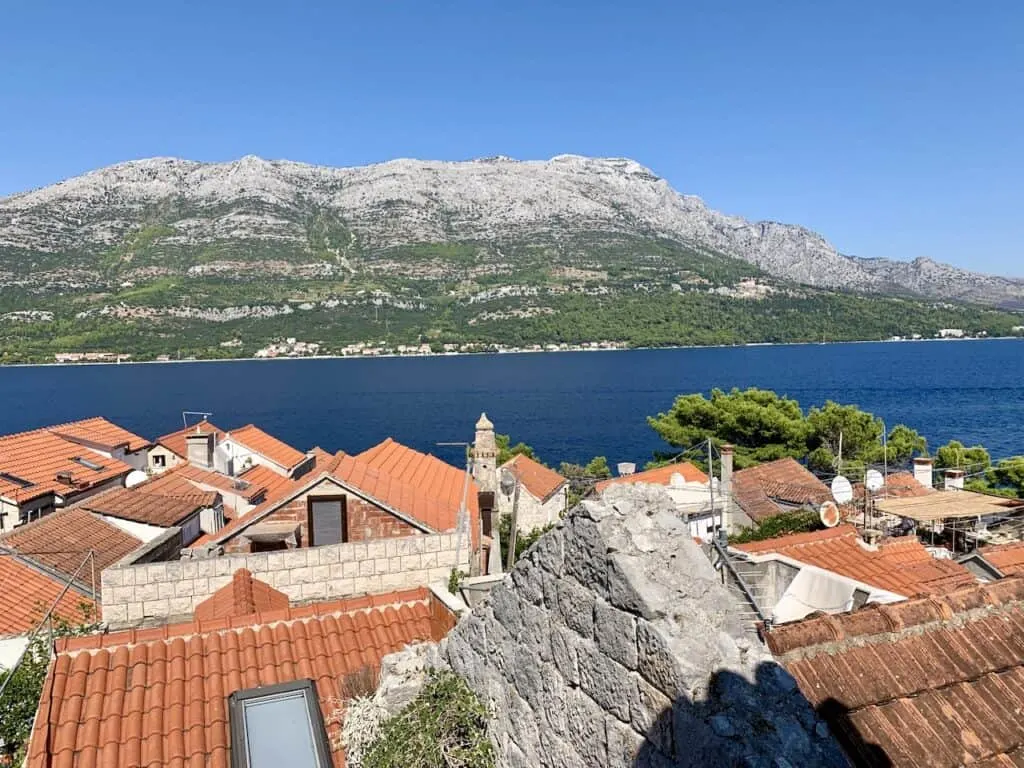 2) Where to Stay in Korcula
Before continuing on, I did want to point out some of the top places to stay in Korcula.
Since the main area around Korcula Town is not that big, some of the top rated places can sell out in the high season. All the hotel options listed are in the Old Town or just within a 10 minute walk of it.
I would recommend booking your accommodation once you know your dates of when you will be on the island. Below are a few of the top rated and reviewed options you can choose from: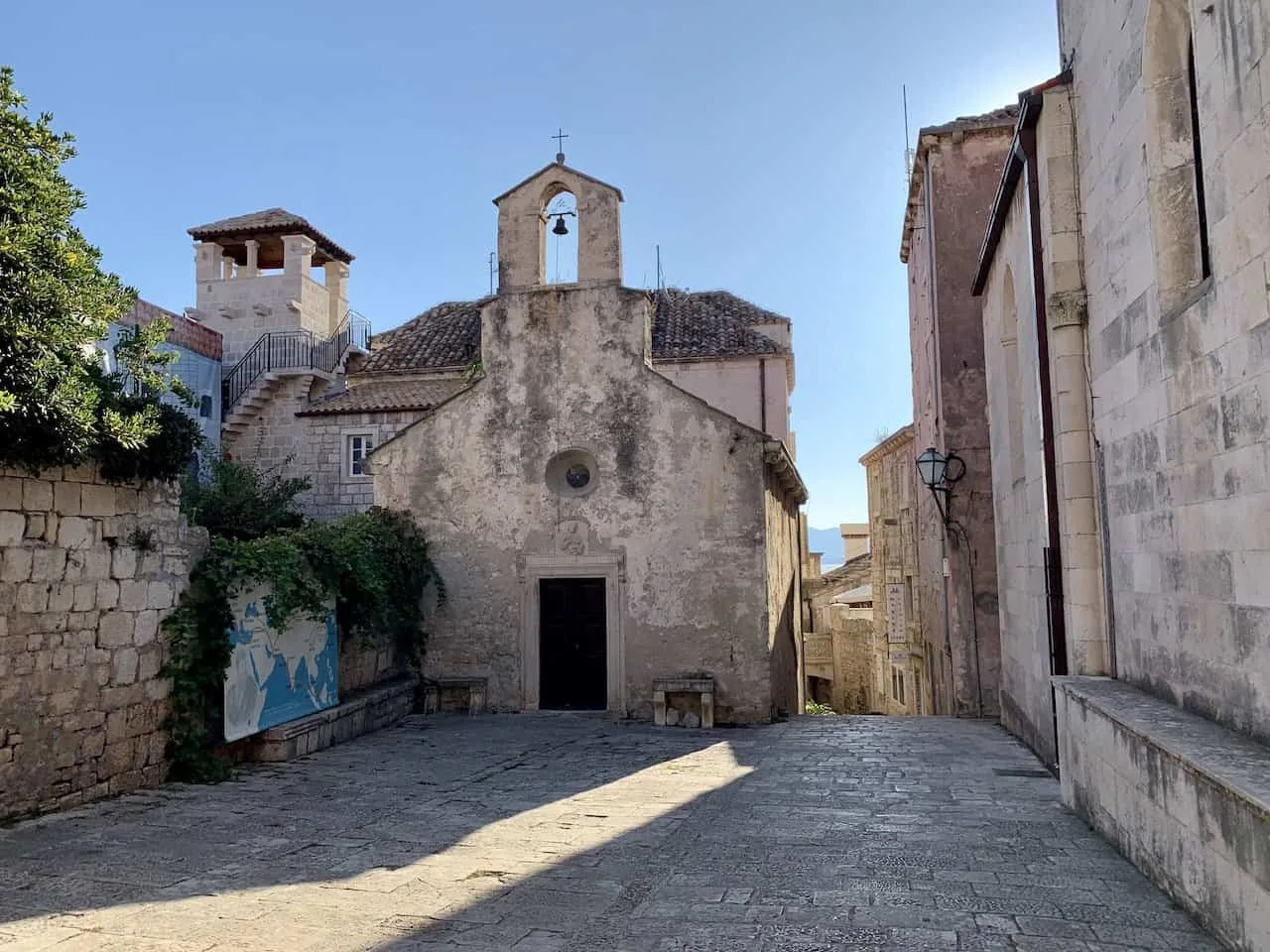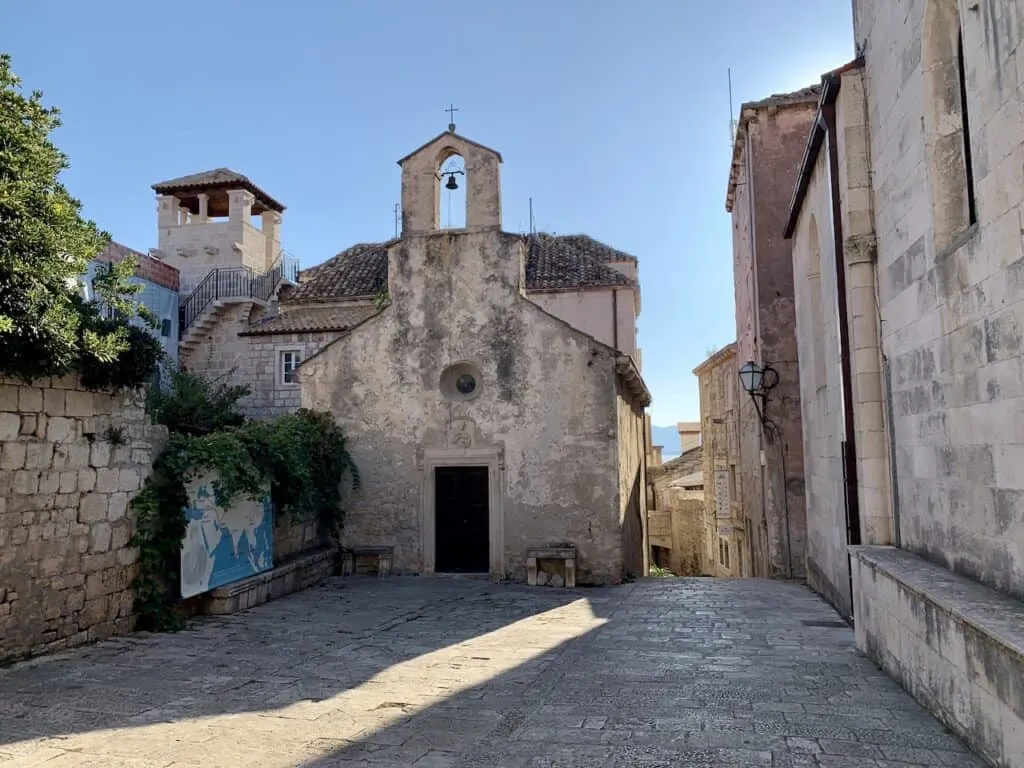 3) Things To Do in Korcula
Let's now get into some of the best things to do in Korcula during a visit. Depending on your interest levels and your time on the island, will dictate which of these highlights are best for you.
Remember, this is a relaxing and scenic place to visit. Don't try to rush through it all! Pick and choose the things that you will get to fully enjoy the most.
Walk Around Korcula Old Town
The small historic walled town of Korcula is a must visit. More likely than not, you will be either be staying within the Old Town or within walking distance to it.
It will not take you too long to explore the ins and outs of the stone streets. The entirety of town measures around 210 meters / 700 feet in length and 150 meters / 500 feet in width, making it a place that you can really get to know.
That is one reason I loved staying in Korcula for a few days. By the end of it, I felt like I had fully taken advantage of all that it had to offer.
Throughout the Old Town you will find narrow streets, small plazas, some scenic staircases, and plenty of little shops & restaurants.
Now, due to its popularity, both with overnight visitors and day trippers, it can get crowded in those peak summer months.
I saw that happening my first day in town, so I decided to take an 8:00AM walk the following morning to better enjoy it. During my hour walk around town, it felt like I had the whole place to myself.
If you have it in you, I would recommend doing the same.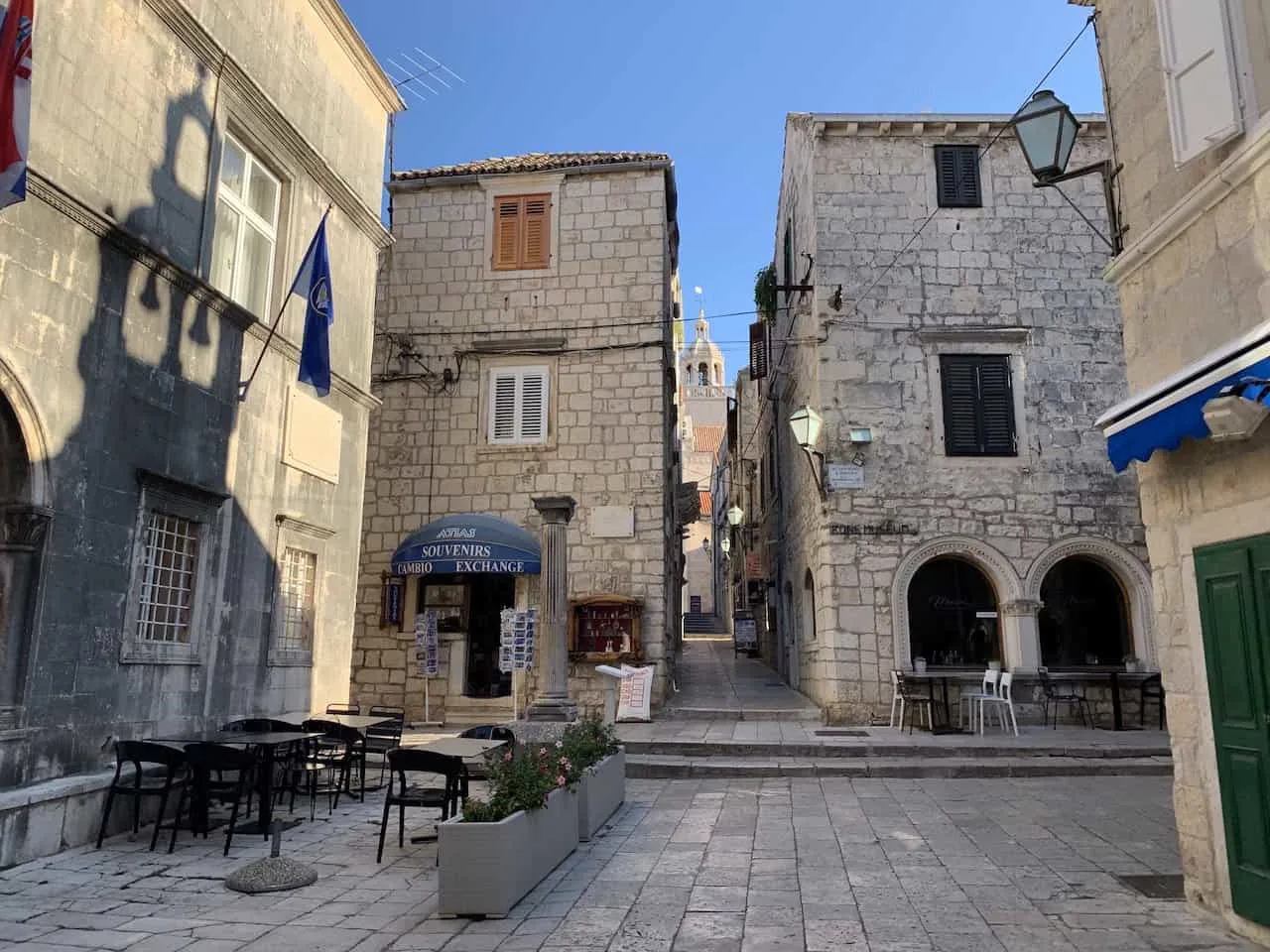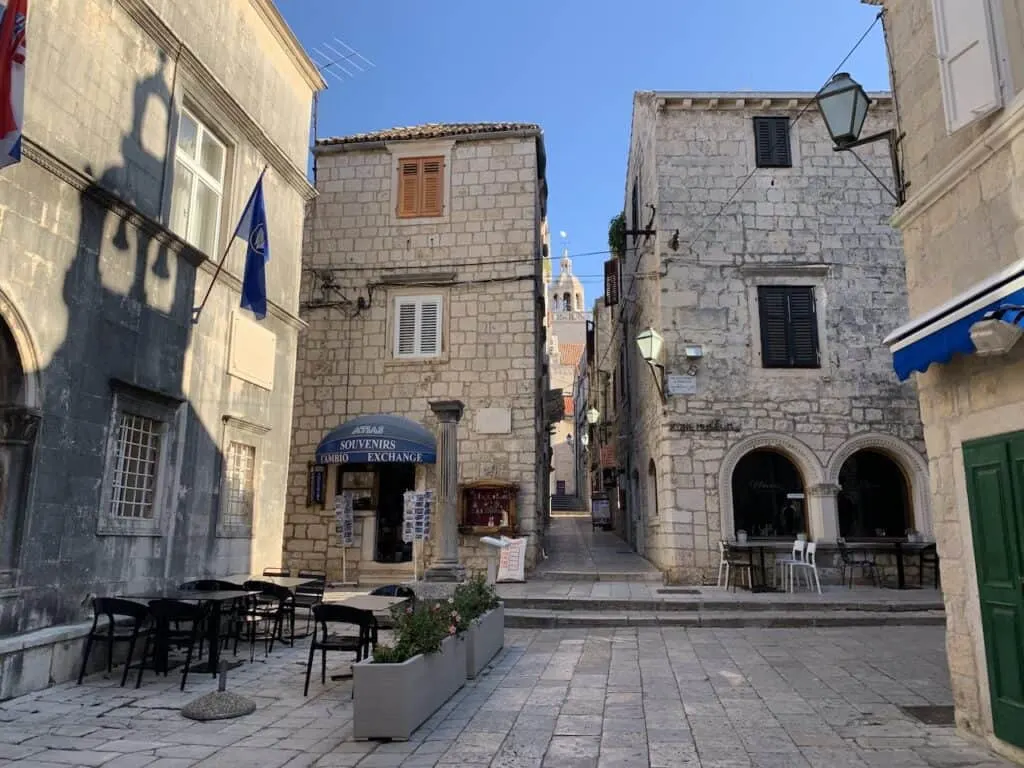 Follow the Old Town Perimeter
While the Old Town itself is pleasant to walk through, so is the perimeter of it outside the main walls.
It is easy to find several points where the streets of the Old Town connect with the outside. Along these streets you will find restaurants and bars with views of the water.
Whether you want to just enjoy the landscape out in front of you or sit and have a meal, there will be options out there for you.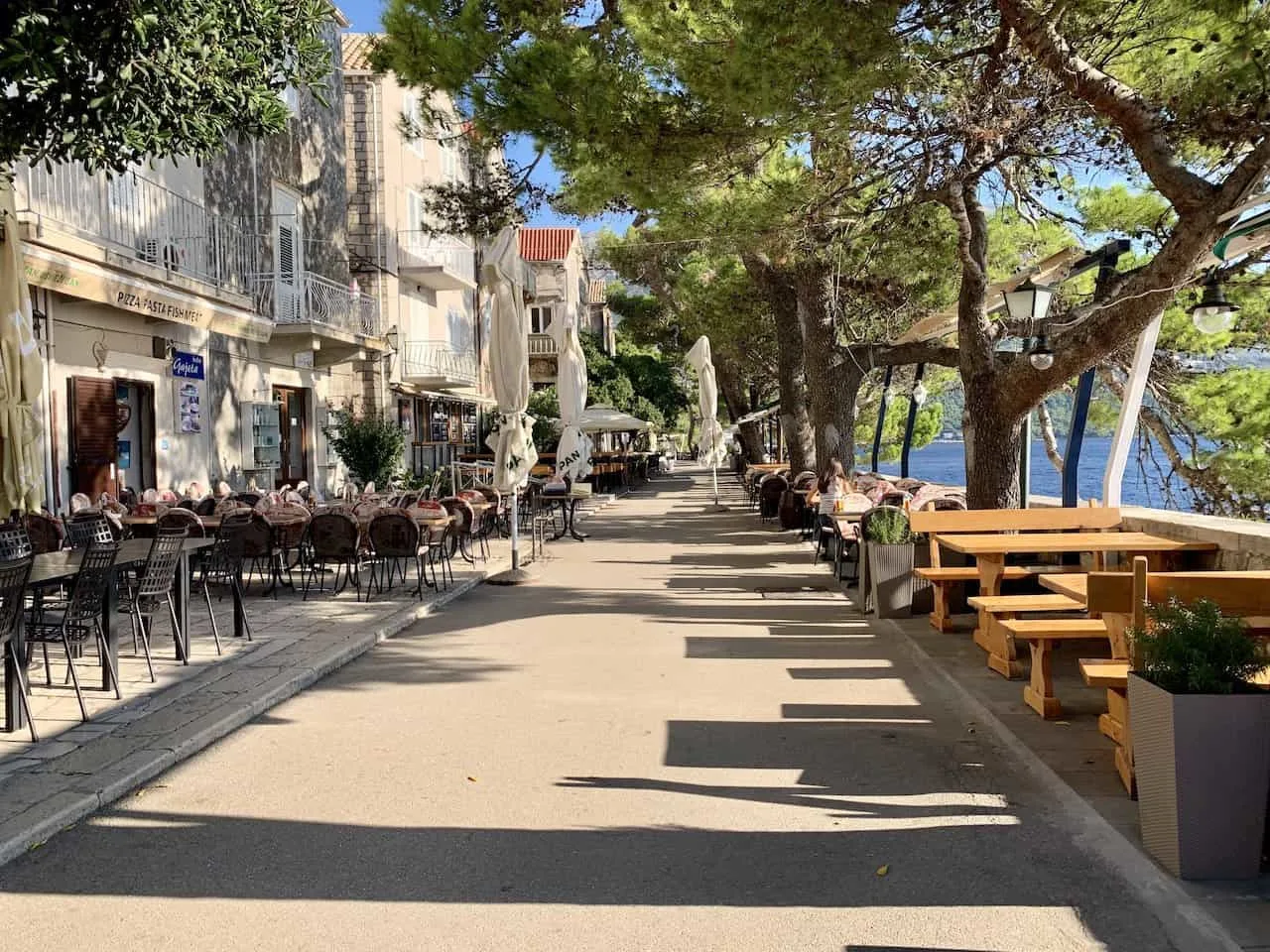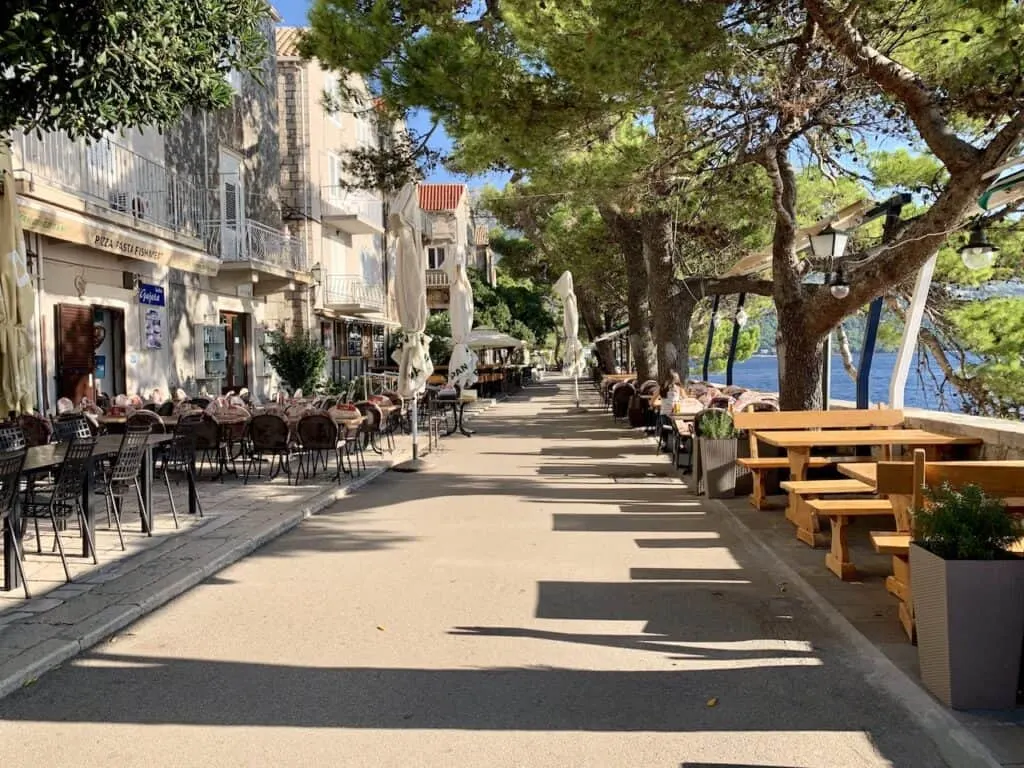 Korcula Town Gate
While walking in and around the Old Town is undoubtedly going to be a highlight, there are some actual attractions to see along the way too.
So, as you are planning your walk, be sure to add some of these to the route!
First up is the main Korcula Town Gate. The gate can be found on the southern end of town, and is the entrance point for many that are visiting Korcula.
You will see this also named as Land Gate, with its history dating back to the 13th century. Just above the entranceway is a sculpture of a lion, that evokes its previous Venetian history. Under the sculpture is a plaque that honors the king of Croatia as it returned to the country in the 20th century.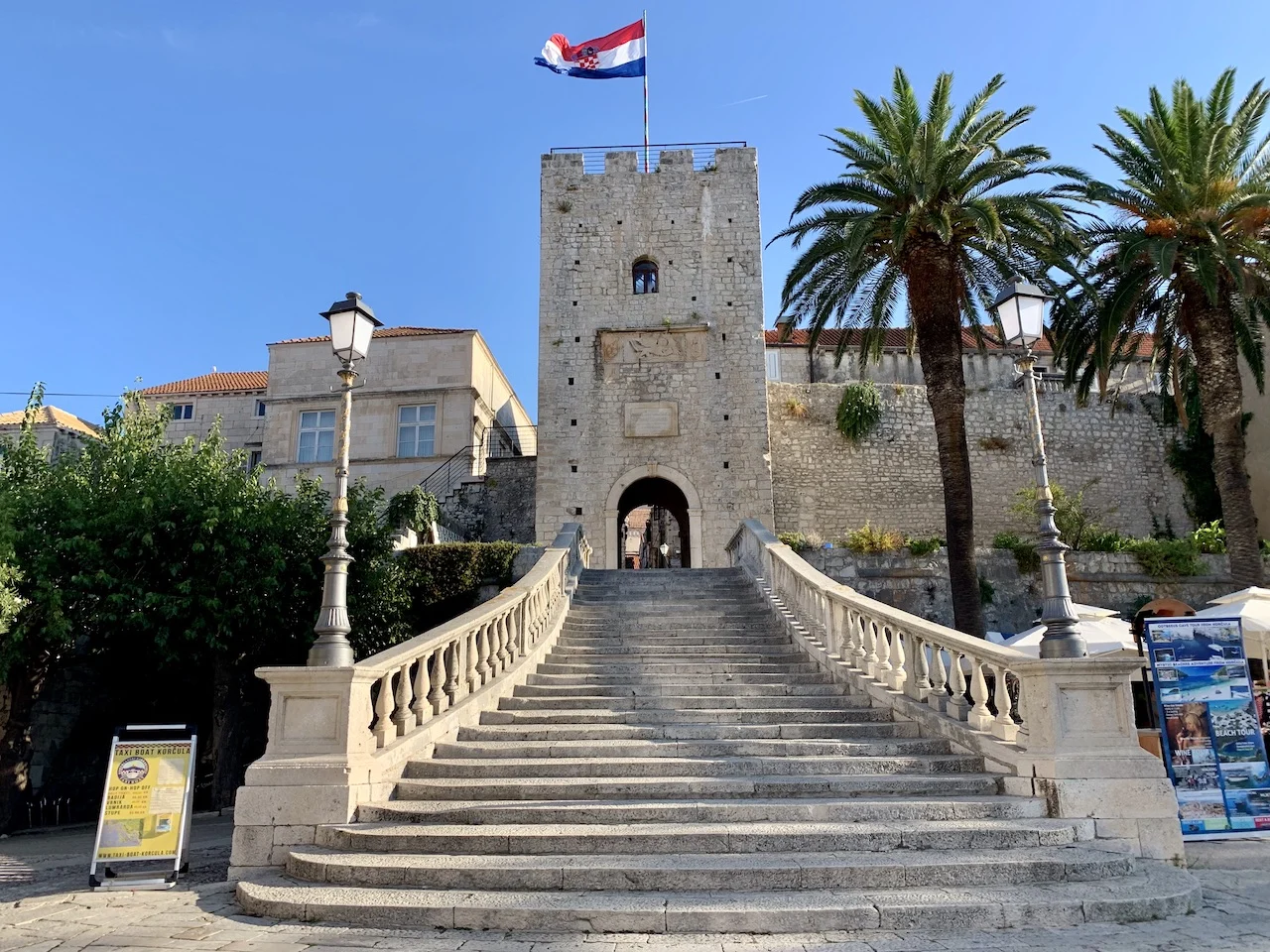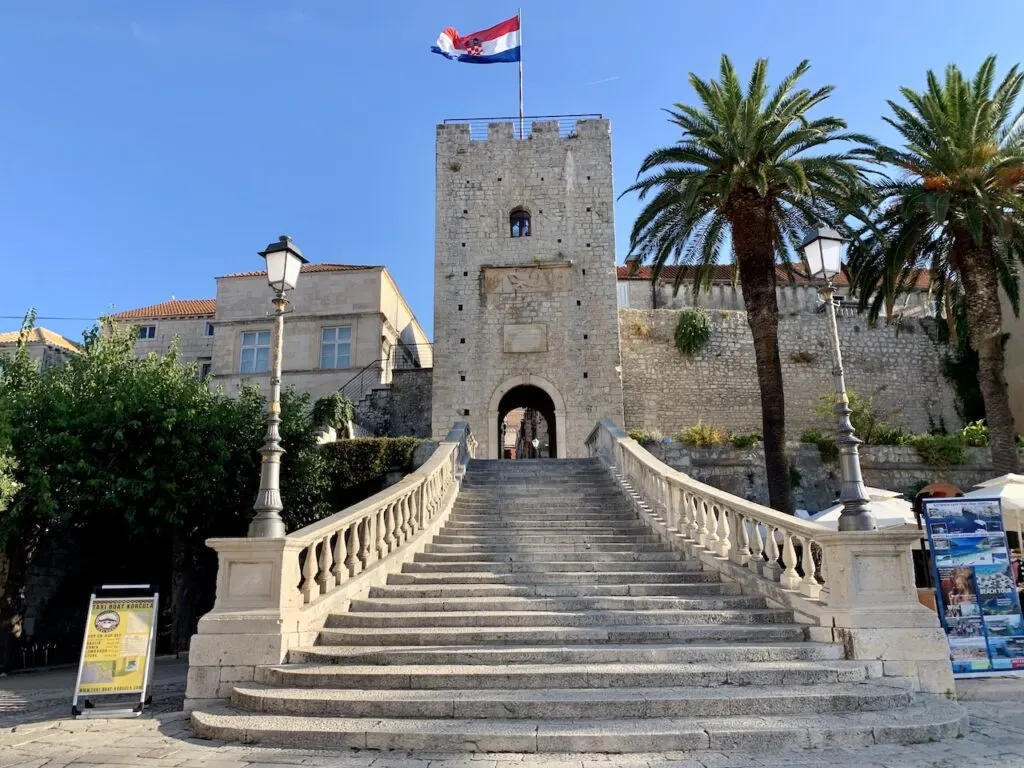 Old Town Towers
In addition to the Old Town walls, there are still 7 remaining towers (out of 12 originally) that are located along the wall.
You can take some time to check out a few of them from the outside as you are making your way around the town.
These towers include:
Revelin Tower (the main gate tower)
Large Governors Tower (main tower on southwest corner)
Small Governors Tower (secondary tower on southwest corner)
Sea Gate Tower (art gallery)
Kanavelic Tower (restaurant)
Zakerjan Tower (cocktail bar)
All Saints Tower (live music)
Note that you may also see alternate local names for each one of these towers.
Some of these towers can be just viewed from afar while others have been converted in restaurants, bars, and galleries. Korcula really does give its visitors some unique things to do during a visit!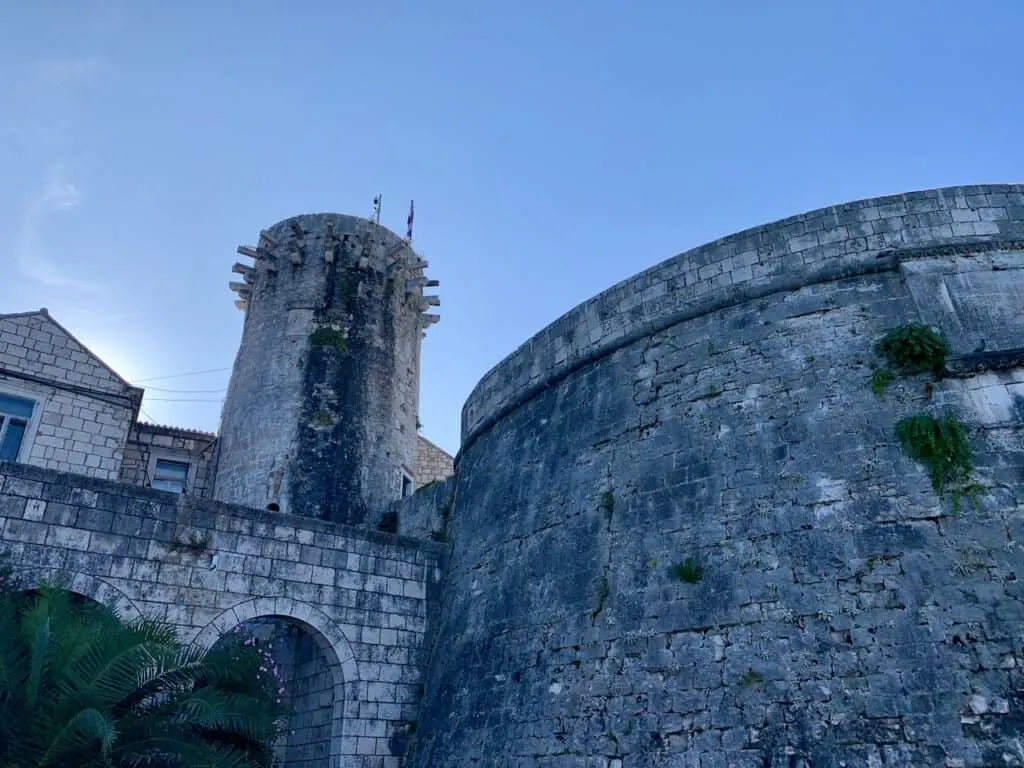 St Marks Cathedral
Anytime you are dealing with historic towns like Korcula, you usually will find a church and bell tower. Korcula is no exception with the St Mark's Cathedral.
The cathedral was built back in the 15th century (replacing an older church that was built a couple hundred years earlier). Today it stands as the most important structure in the Korcula Old Town (and most popular).
During a visit to the St Marks Cathedral, you can first head into it and see the old historic architecture that it entails. There is then a separate entrance that will take you to the top of the bell tower.
A narrow spiral staircase takes you up high above the rest of the Old Town. Once up top, you will be directly beneath the bells as you take in surrounding views of the Adriatic Sea, Korcula Town, and plenty more surrounding landscape.
When it comes to views within the Old Town, this is going to be the top place out there. As long as you are up for a bit of a winding stair climb (& descent), be sure to add the St Marks Cathedral to the list.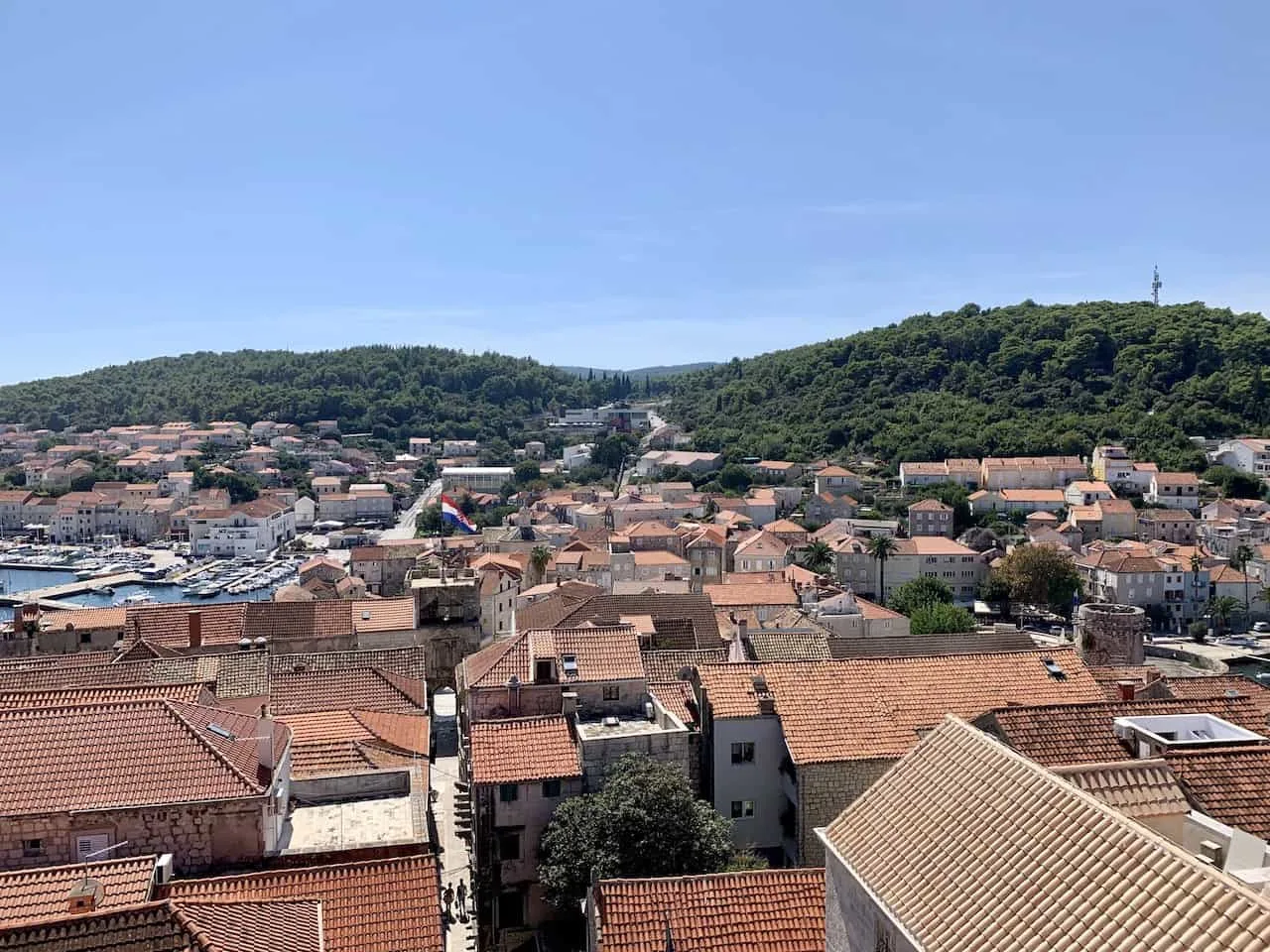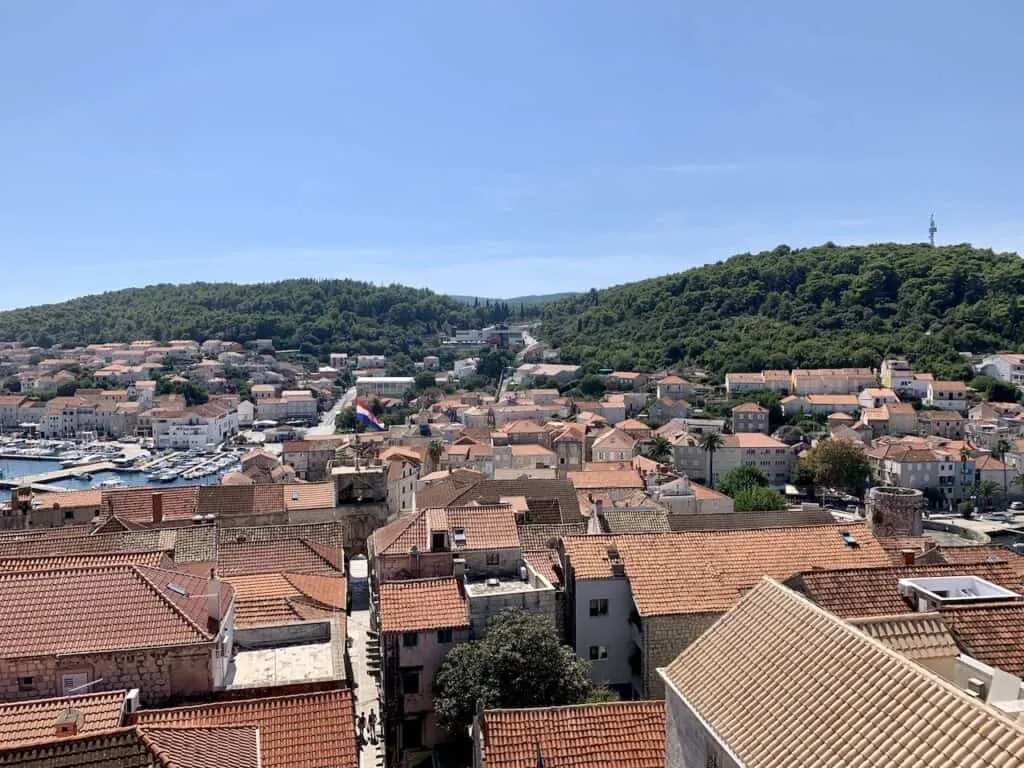 Marco Polo House
One of the more disputed historical sites to visit in Korcula is the Marco Polo House. Some say that this was the house that Marco Polo was born in, but many others disagree and say he was born in Venice.
Nonetheless though, a visit to the Marco Polo House is still worth the visit, if not just for the views.
Marco Polo is one of the most well known explorers and travelers. He is known for his 4+ year journey from Venice to China as he explored many places on the way and back.
The house itself is just a few rooms, where you can read more about his historical background and see some sculptures and paintings.
But like I just mentioned, the views are certainly a highlight as well. Getting to see the bell tower, church, rooftops, and waters of Korcula was worth it to me.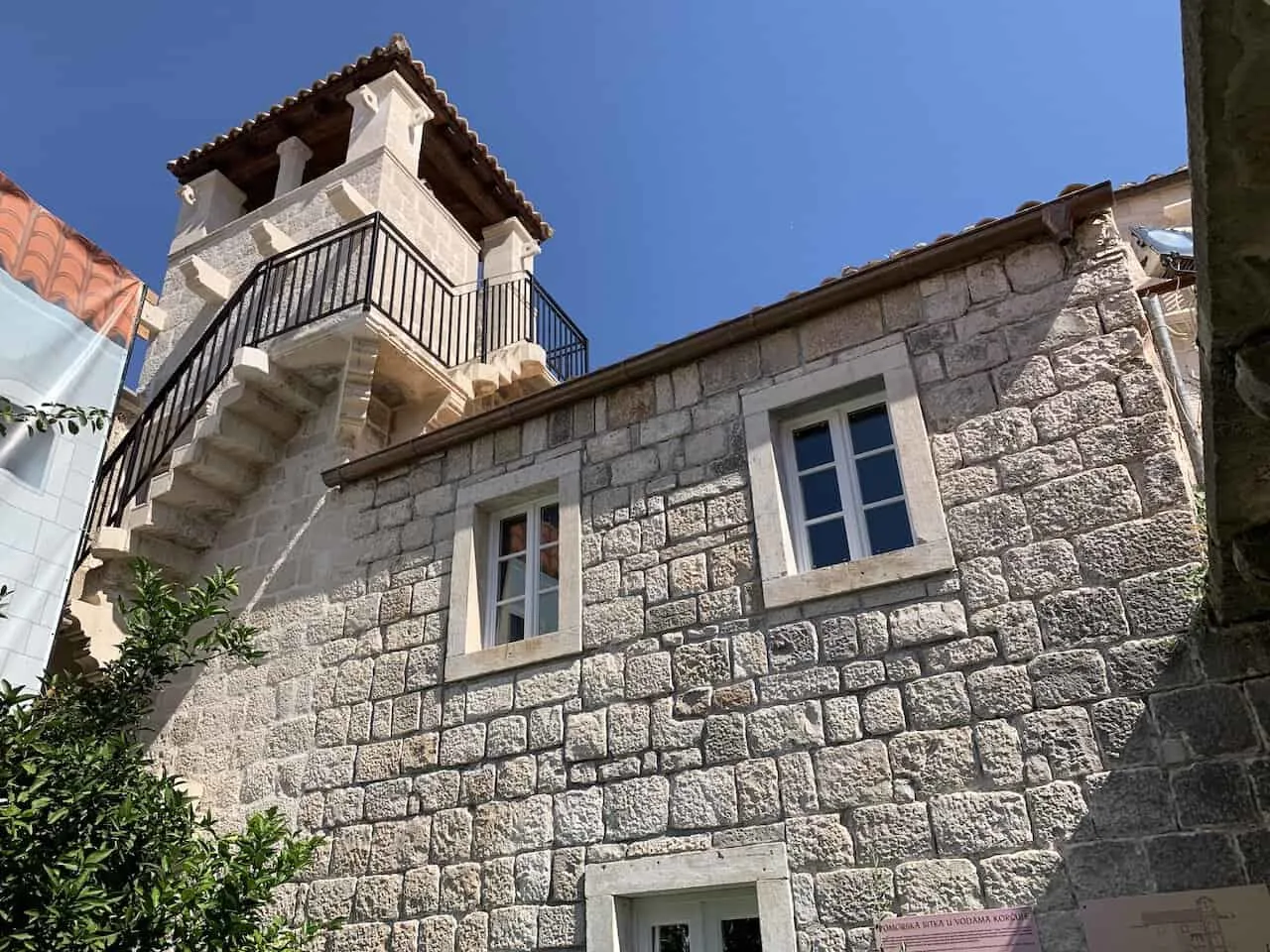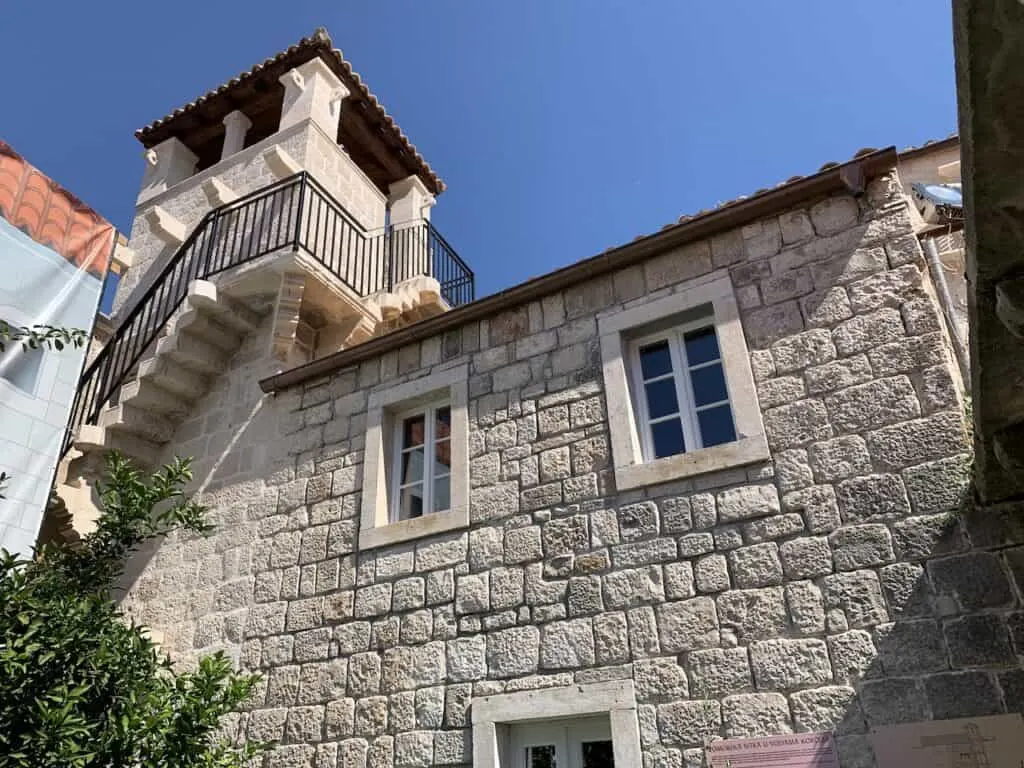 Korcula Town Museum
If Marco Polo's House is not for you, maybe the Korcula Town Museum is. The museum itself is within a building called Gabrielis Palace, that was constructed in the 15th century.
This is a place where you can learn all about the history of Korcula and how it came to be.
Within the museum you will find five different floors packed with historical artifacts, paintings, and helpful info to learn more about how Korcula transformed over time from its origins until present today.
Learn More: You can read more about the museum and Marco Polo house through the official Korcula website
Sveti Nikola
Just outside of the Old Town center, on the southwest corner, you will come across a palm tree lined promenade.
The Sveti Nikola walkway is a great little place to hang around as you get to see the city walls from afar. You can even continue a bit further westbound to get a completely different vantage point of Korcula.
This is also a popular spot for people to simply jump into the water and go for a swim. So, if you are trying to cool down at any point, Sveti Nikola has plenty of options.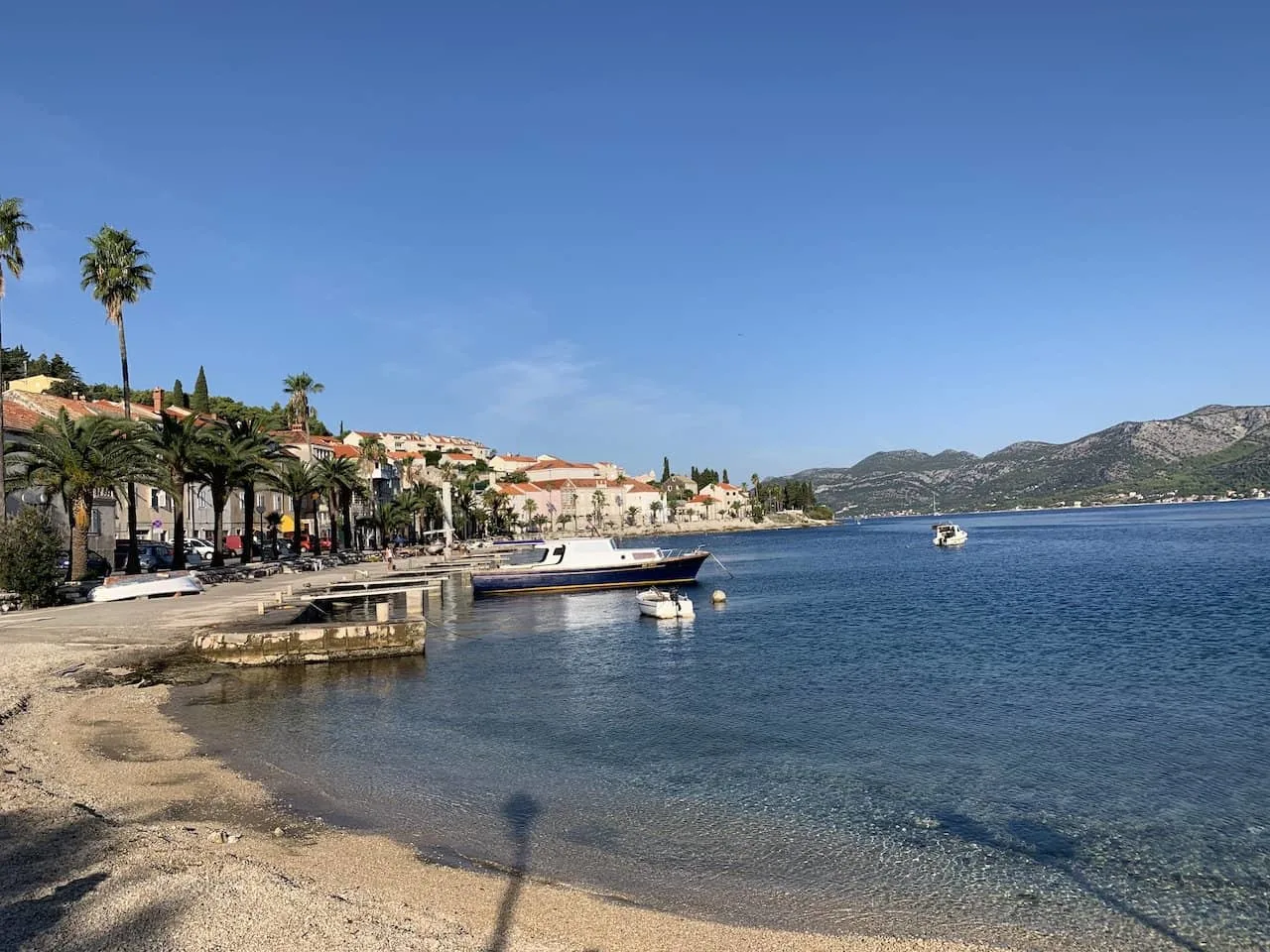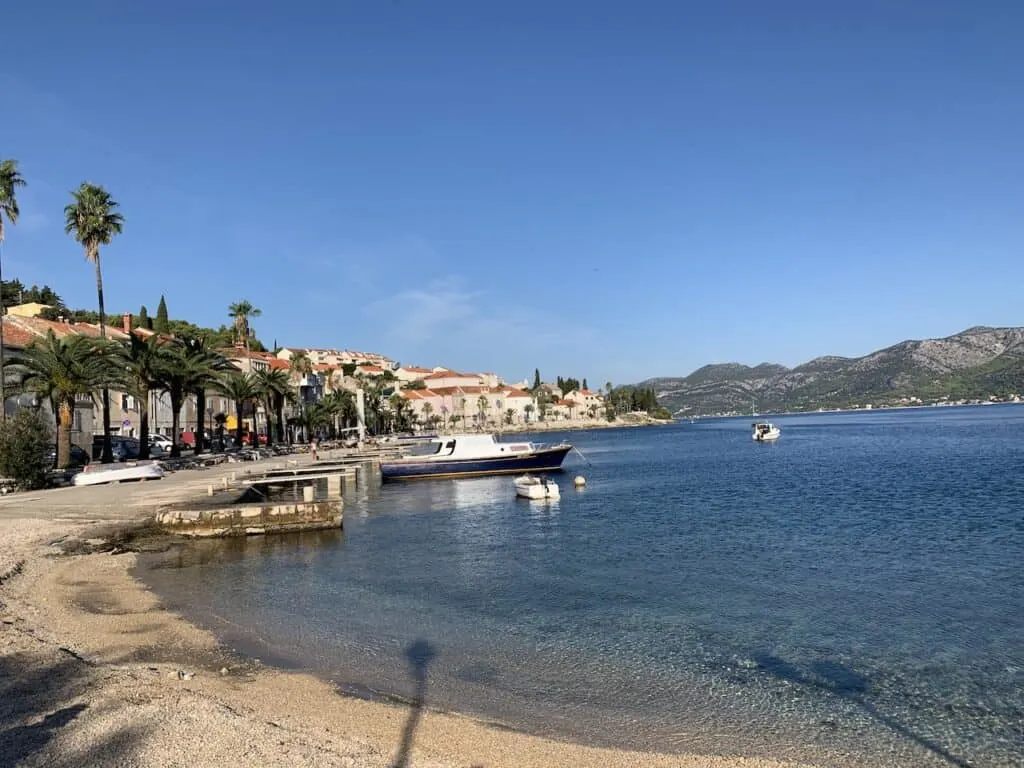 Korcula Town Viewpoint
I am sure you can tell by now that there are many opportunities to get in a view from around the Old Town center. However, there is another more elevated viewing opportunity located up behind the town.
Above the town there is a road called Novi Put (also can be named UL. 45). Getting up there just requires a short 15 minute hiking trail from nearby the main city gate and Sveti Nikola.
At the end of this overview I have included a map that pinpoints the exact spot where you can find the view. While there are some surrounding trees, it still makes for a great panorama of the Old Town.
You will also find a perfectly placed bench here to sit back & enjoy the view from.
Further up along the hiking trail is an old fort called Forteca Svetog Vlaha, if you are up for some more exploration.
Bonus Viewpoint
As I was coming back from Lumbarda (more on that soon), I came across a shopping center area. This shopping center is located right on top of the hill before the road winds down to the Old Town.
There ended up being a great little viewpoint here of the Korcula Old Town, with the mountains hovering out back.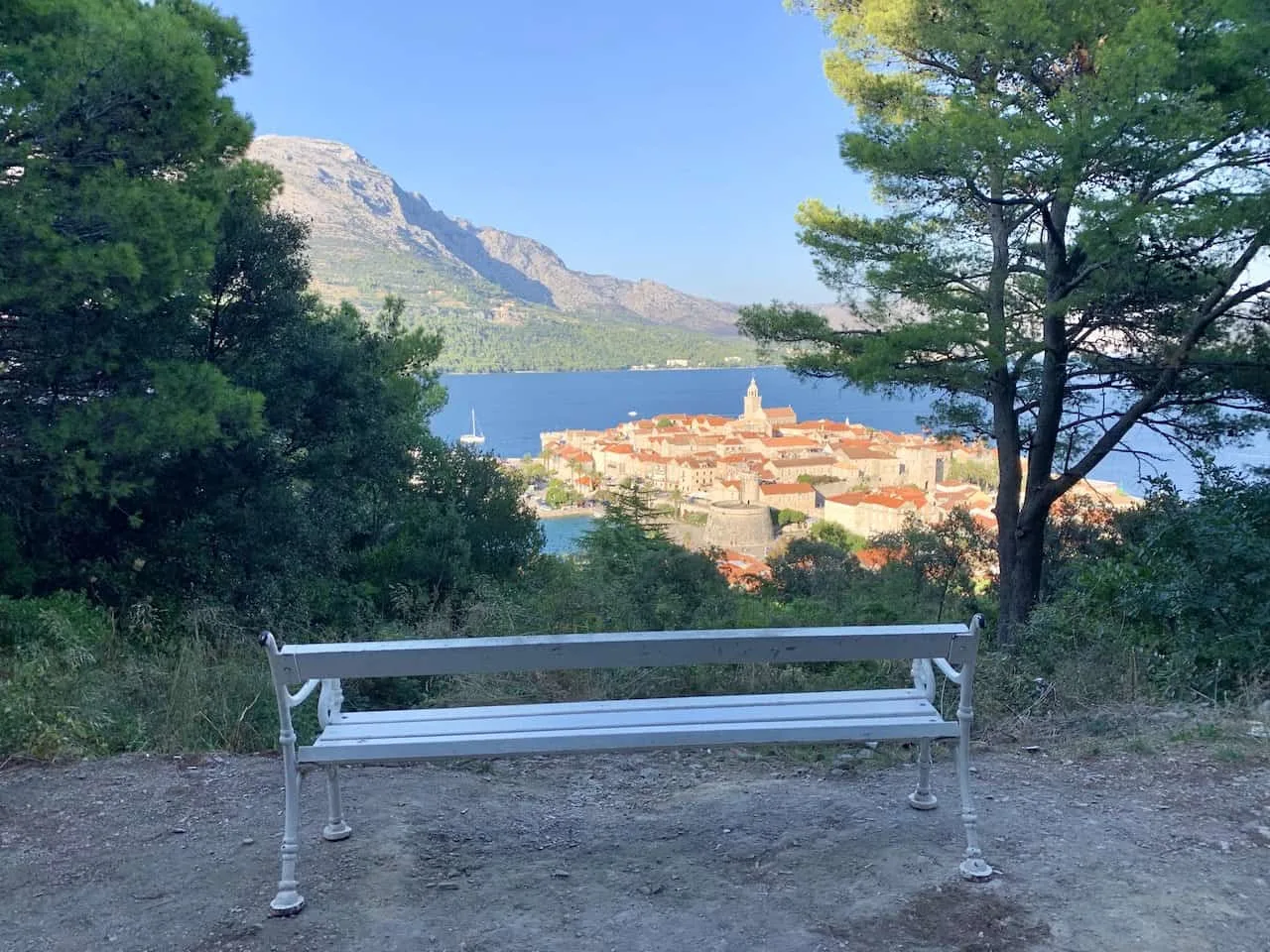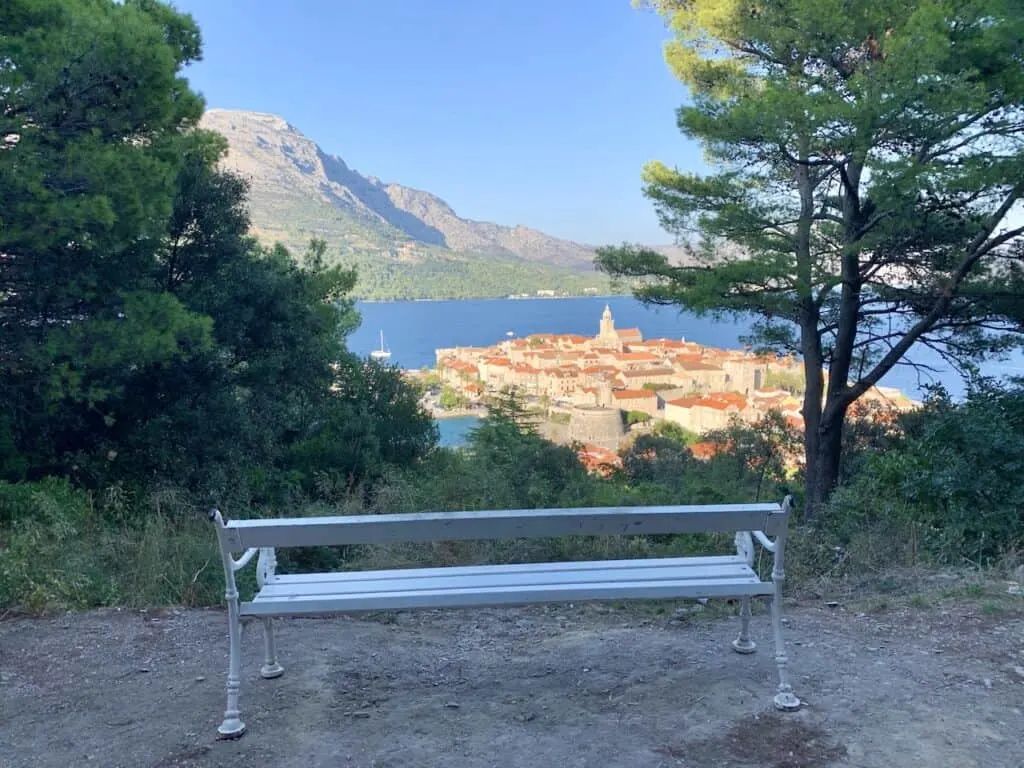 Massimo Cocktail Bar
Korcula is full of unique attractions to visit. One of those is the Massimo Cocktail Bar. As I mentioned before, some of the old towers have been transformed into places to visit.
The cocktail bar is located on top of the Zakerjan Tower on the northern part of town.
To get up to the tower, you must climb a short ladder, where you will then be welcomed to beautiful views of the surrounding sea.
Sit back, relax, and have a drink as you take in a Korcula sunset.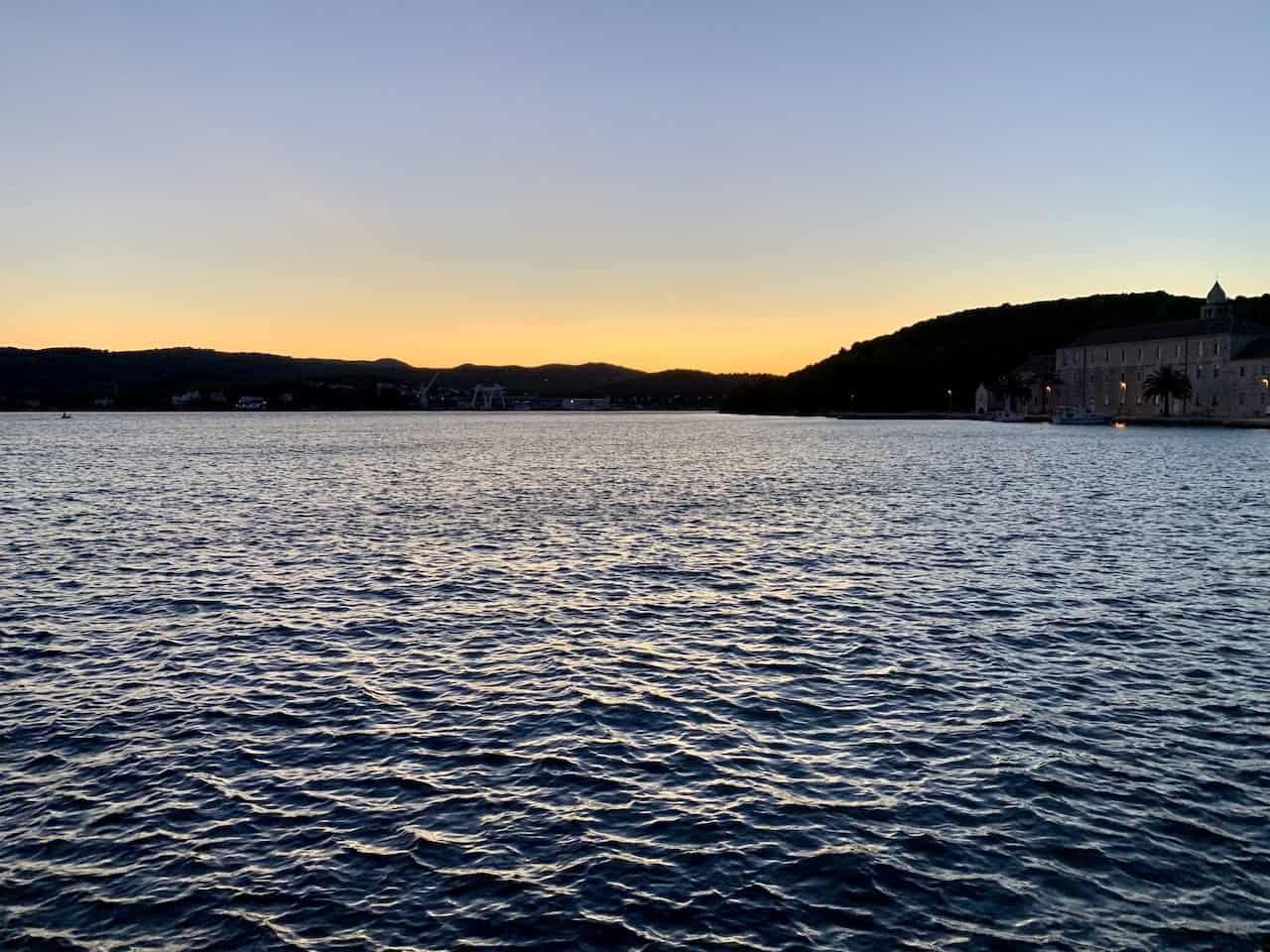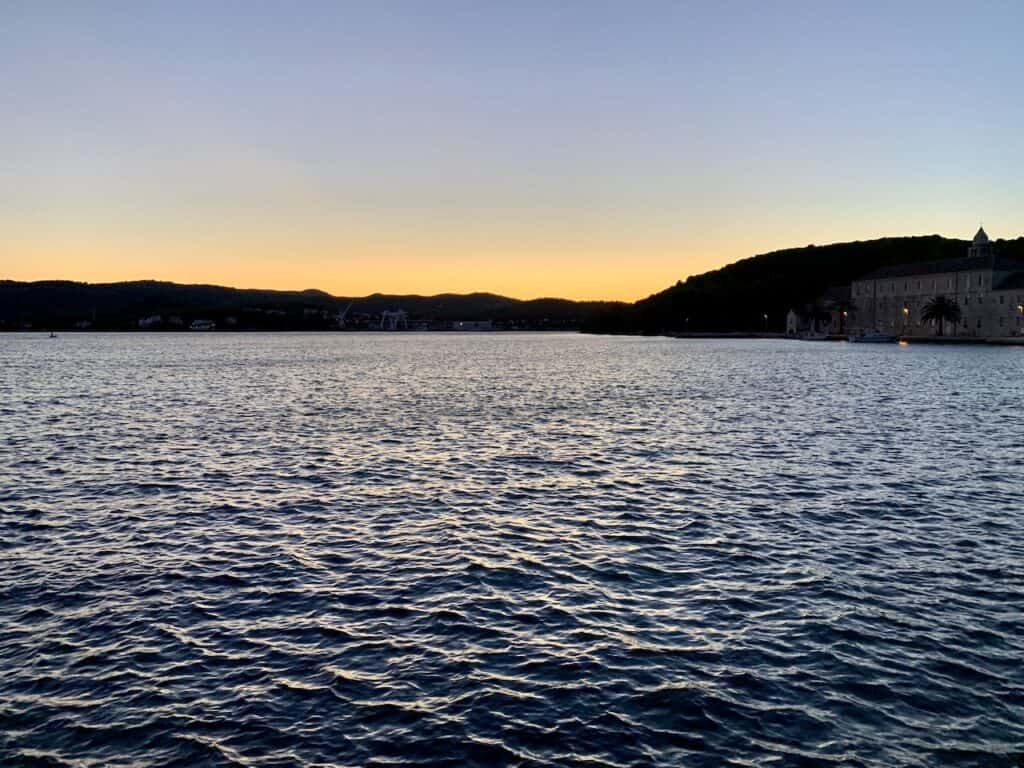 Moreska Sword Dance
Now the bars are not the only unique aspects of Korcula. If you are looking for a historic Korcula tradition, look no further than the Moreska Sword Dance.
Moreska is a mixture between dance and battle that originated in the 12th century throughout the Mediterranean region. It found its way to Korcula in the 16th century and has been a staple on the island ever since.
The sword dance happens every Monday and Thursday during the high peak summer season at the open air Ljetno Kino cinema (tickets required).
Korcula Town Beaches
For those that want to stay close by the Old Town center but still get some time in the water, this list of beaches is for you.
While there are certainly better beaches out there on Korcula, it is hard to beat just walking outside your hotel and heading right into the water.
It is also important to note here that you shouldn't expect big white sand beaches. Instead expect some pebble & rocky filled beaches as well as simply entry points into the water off of the promenade.
Some of the main beaches include:
Zakerjan Beach (north side of town)
Luka Korculanska Beach (southwest corner of town)
Ispod Duvana Beach (further along Sveti Nikola)
Banje Beach (10 minute walk east of town)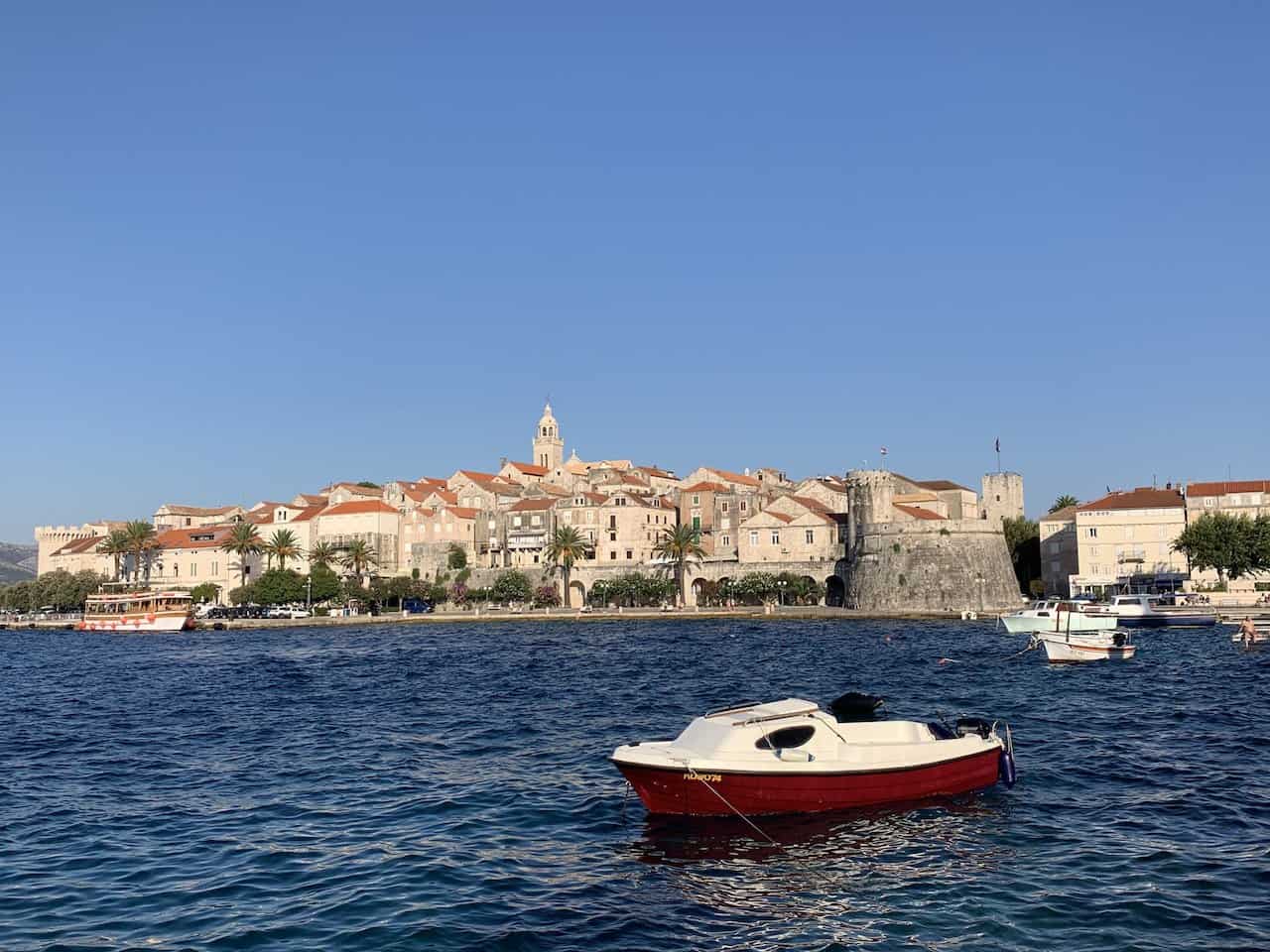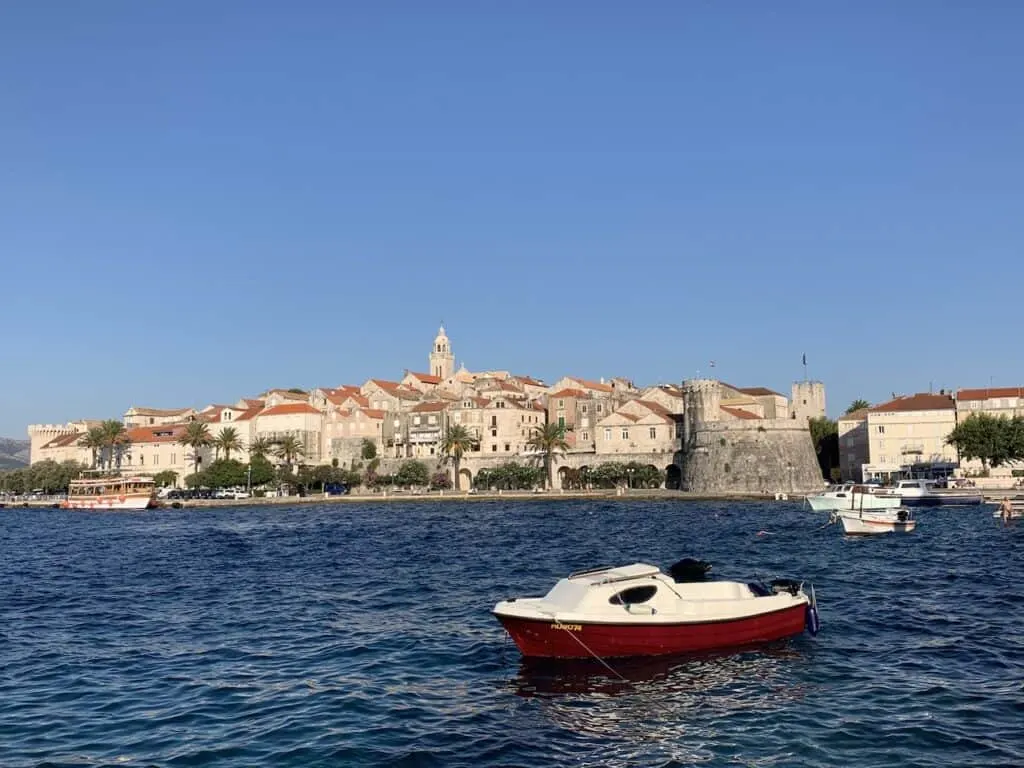 Rent a Boat
Everything already mentioned in this overview is focused on the Korcula Old Town.
Now it is time to get further away from the town center and take in some more exploration around the eastern side of the island.
Perhaps my favorite activity I took part of during my time on the island was renting a small boat with a group of friends. We took the boat out in the nearby waters and visited several small islands along the way.
Getting to experience the beautiful crystal-clear waters, made this is a special experience to take part of.
Renting a boat is quite simple – just head to the marina area on the eastern side of town and you should find a few boat rental stands. The boats are easy enough to drive yourself if you have the skillset, or you can opt for a driver to take you around.
Some of the main highlights we stopped at along the way included:
Otocic Mala Stupa
Vela Stupa
Otok Sutvara
Otok Gubavac
Plaza Lumbarda
Otok Badija
Note: you can also take water taxis to some of these spots and get picked up later in the day.
Learn More: Check out the Korcula Boat Rental overview for everything you need to know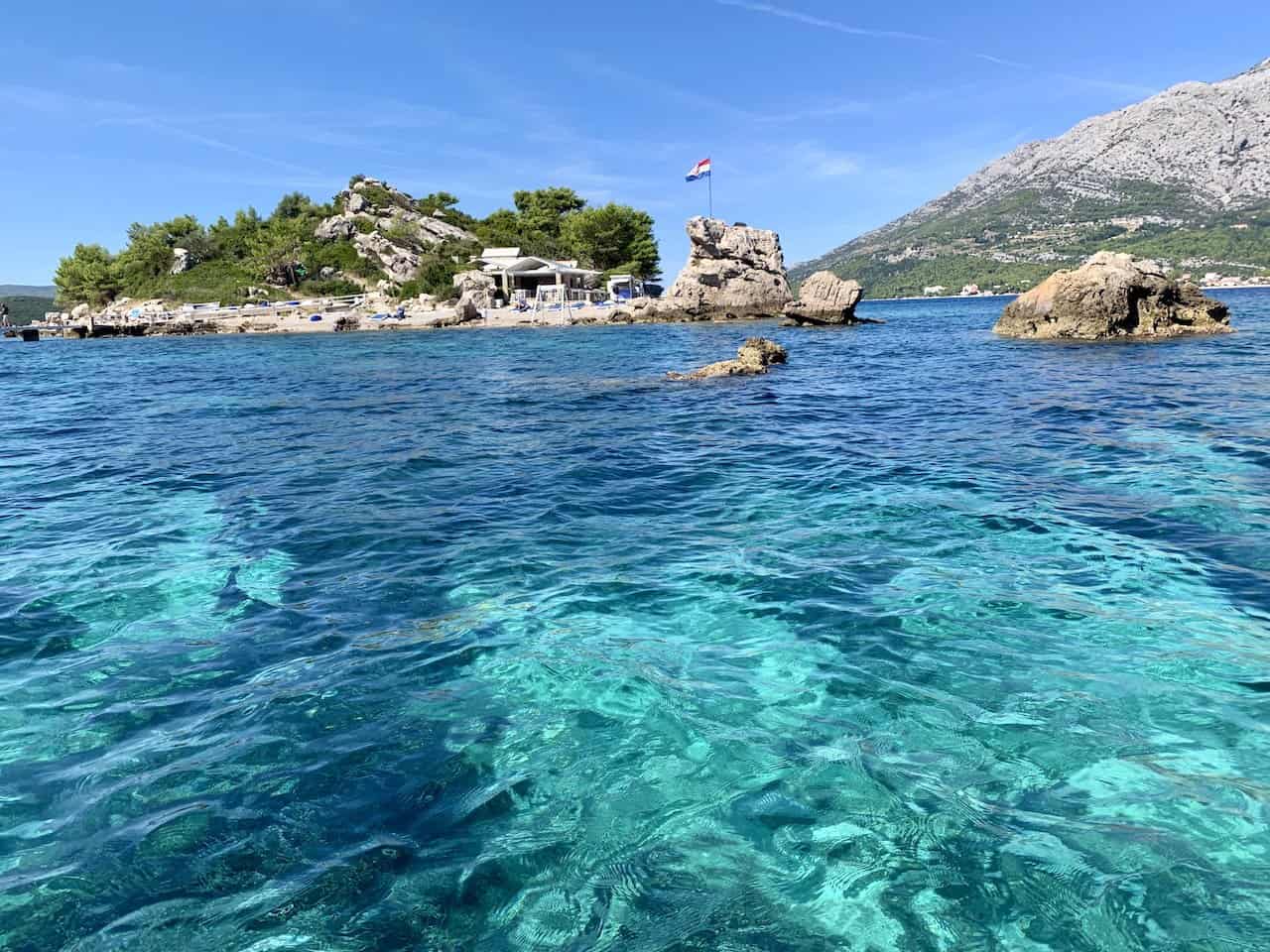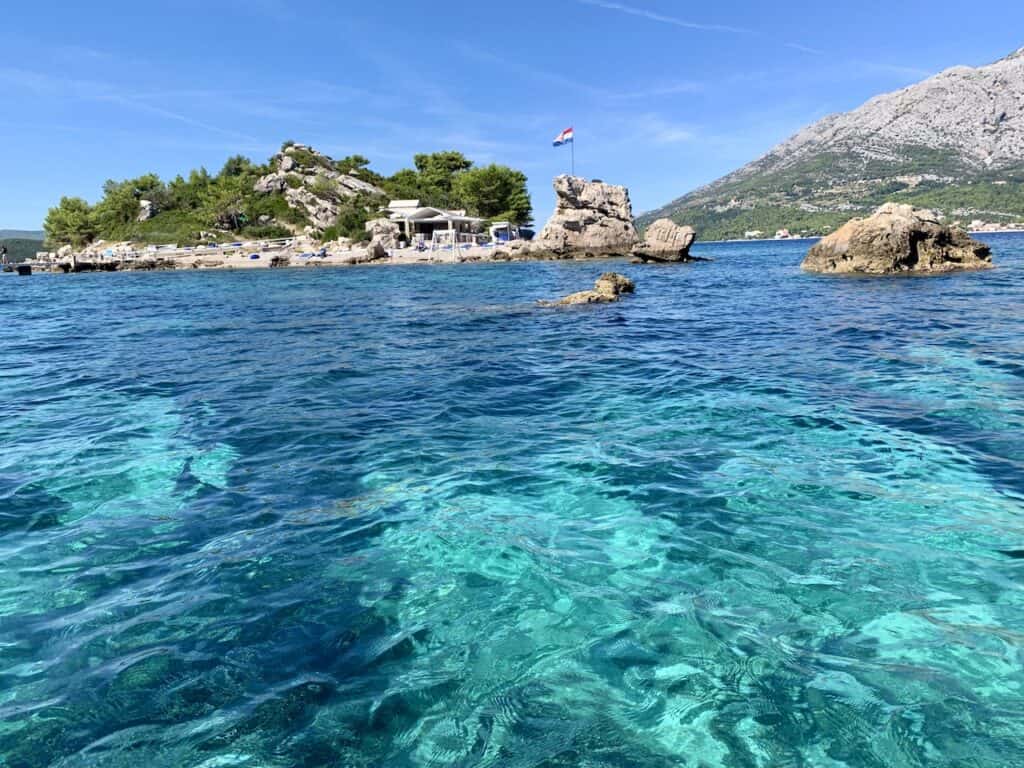 Lumbarda
If you want to get yourself away from the Old Town center for a day, then Lumbarda is the place to be.
Located just 15 minutes by car or water taxi, 30 minutes by bus, or ~45 minutes by bicycle, you can reach the small town of Lumbarda.
This scenic seaside town is just an overall relaxing place. Whether you just want to walk the promenade, hop in the water, or enjoy a meal/drink nearby, Lumbarda will have options for you.
But most people don't only visit Lumbarda for its town. Rather for its wine (and beaches).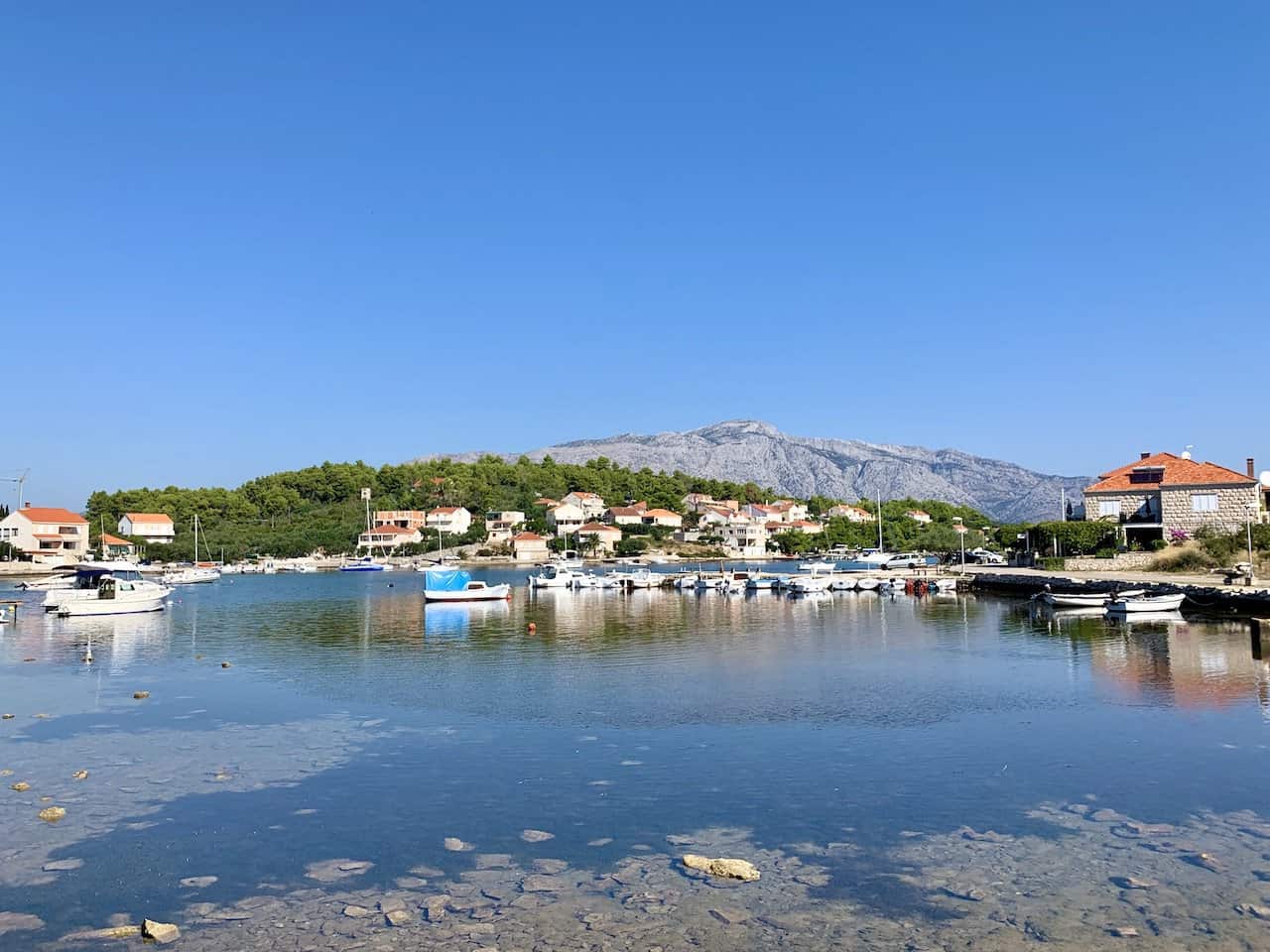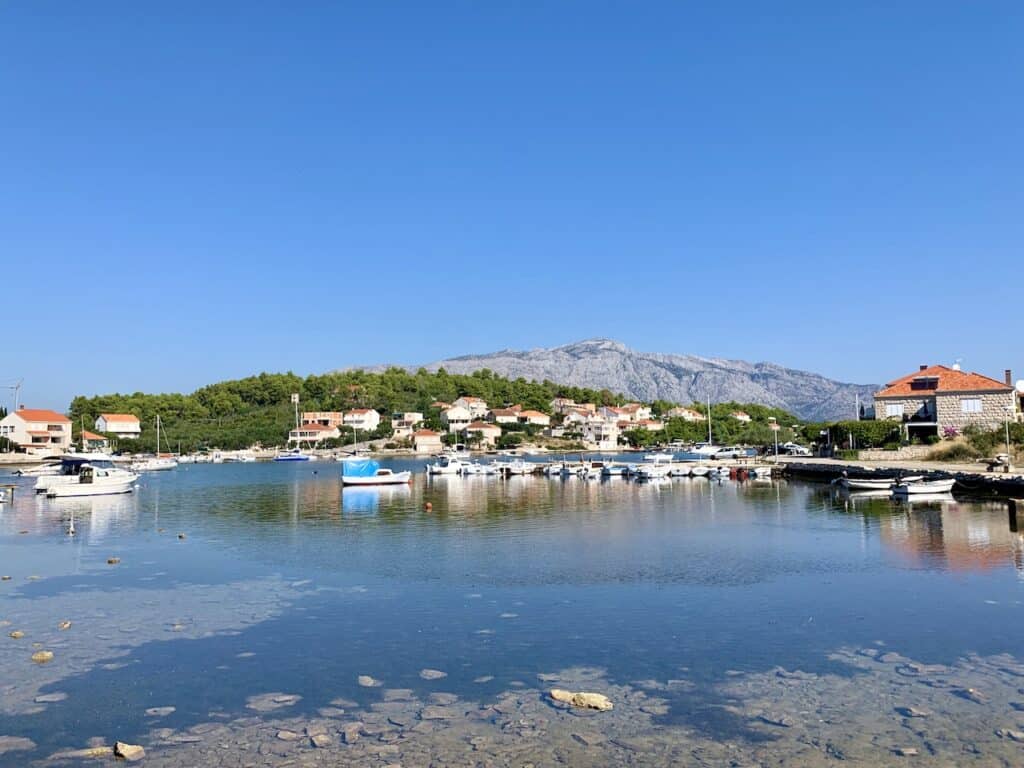 Lumbarda Grk Vineyards
As you make your way around the surrounding areas, you will soon see the vast number of grapevines that call Korcula home.
These vines are mostly filled with Grk grapes, that are really only found in Lumbarda, Korcula.
While you can simply enjoy the rows of grapes from the road, another option would be to actually visit these vineyards.
There are many to choose from around the area, with several offering wine tastings, tours, and meal options.
A few of the more highly rated Grk vineyards include:
Vitis Winery
Popic Winery
Lovric Winery
Cipre Winery
Sabulum Winery
Many of these are family run wineries that are all right nearby one another. You can decide to head there by foot, or grab a bicycle from town (if you didn't already bicycle over from Korcula Old Town).
Once all done with the wine portion of the day, continue a bit more further along to the beaches!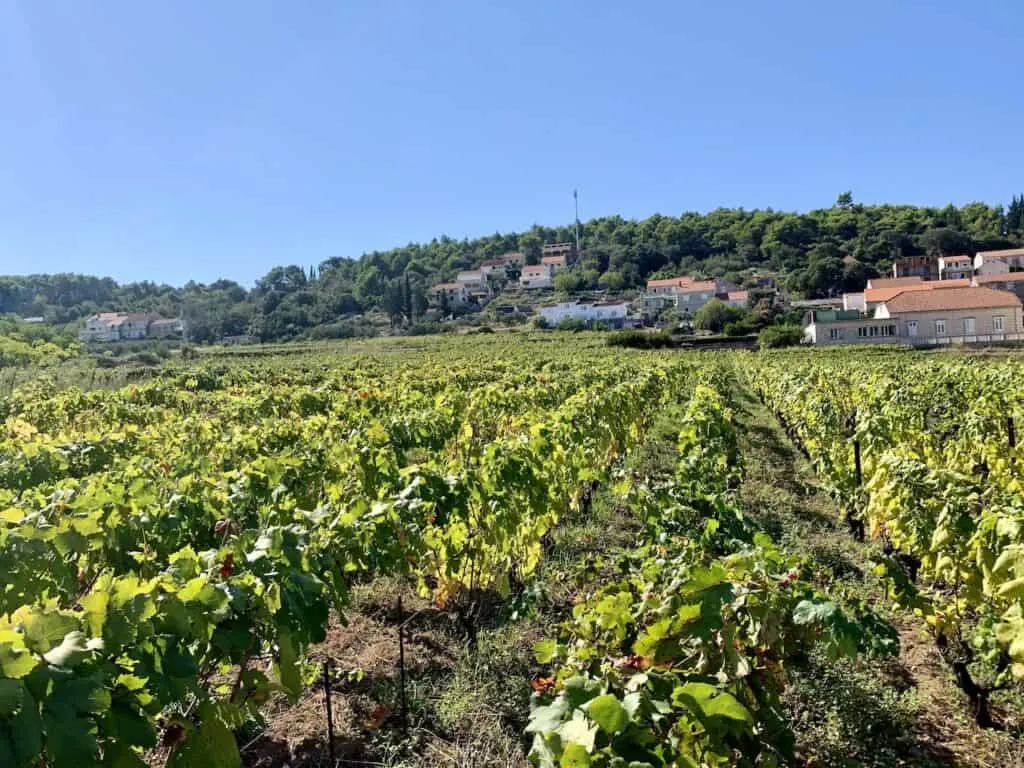 Lumbarda Beaches
While there are some beach areas right round the town center of Lumbarda, the more popular options are located further east.
Just 15 minutes by foot from the town is the main Lumbarda Beach on the northern shore (also called Bilin Zal). From here you will get those crystal clear water views with the Croatian islands and mountains out in the distance.
If you simply walk directly across the island for a few minutes you will reach the southern beach of Vela Przina. Here you will find a larger beachy area to swim in, along with a seaside restaurant.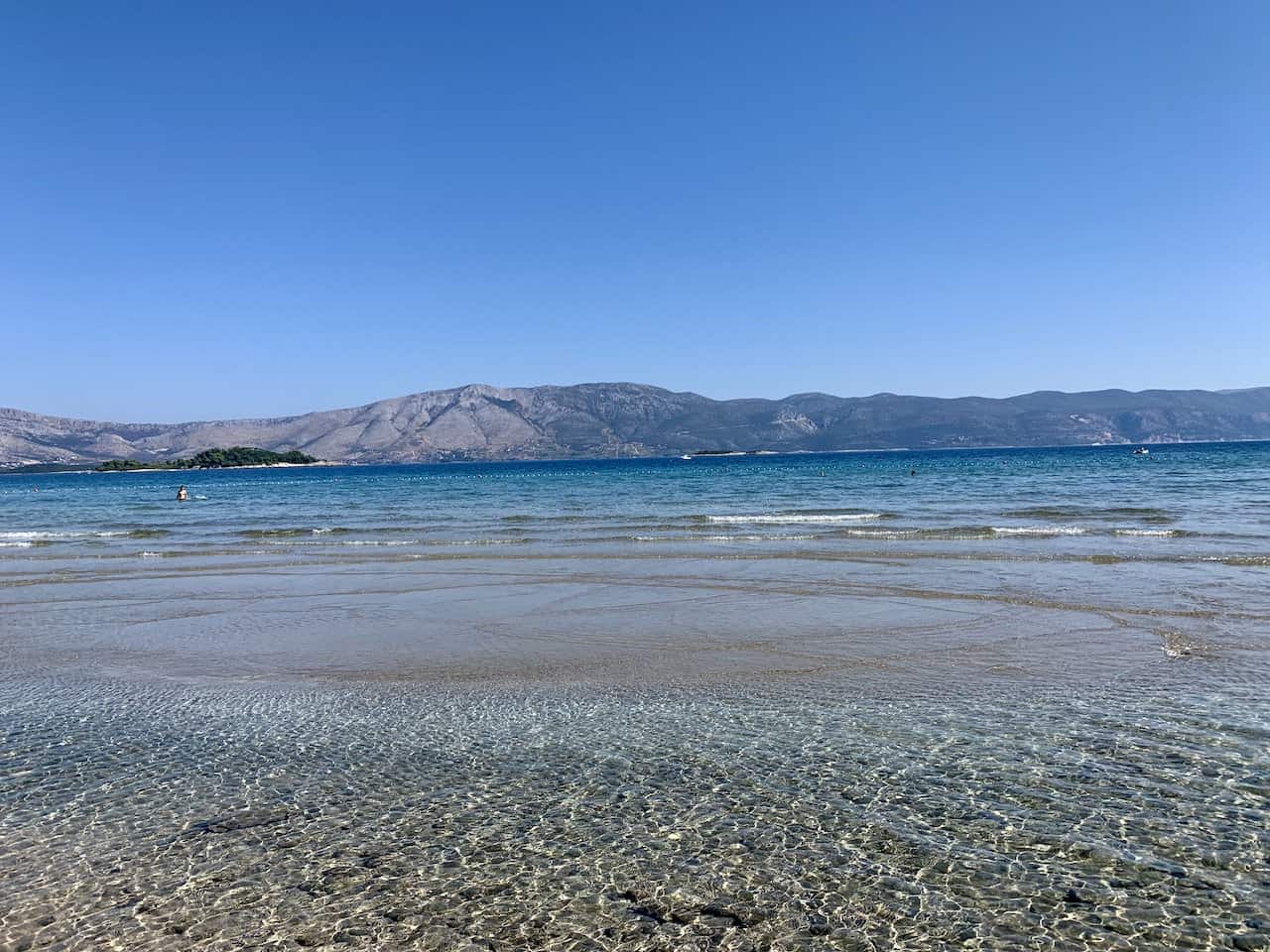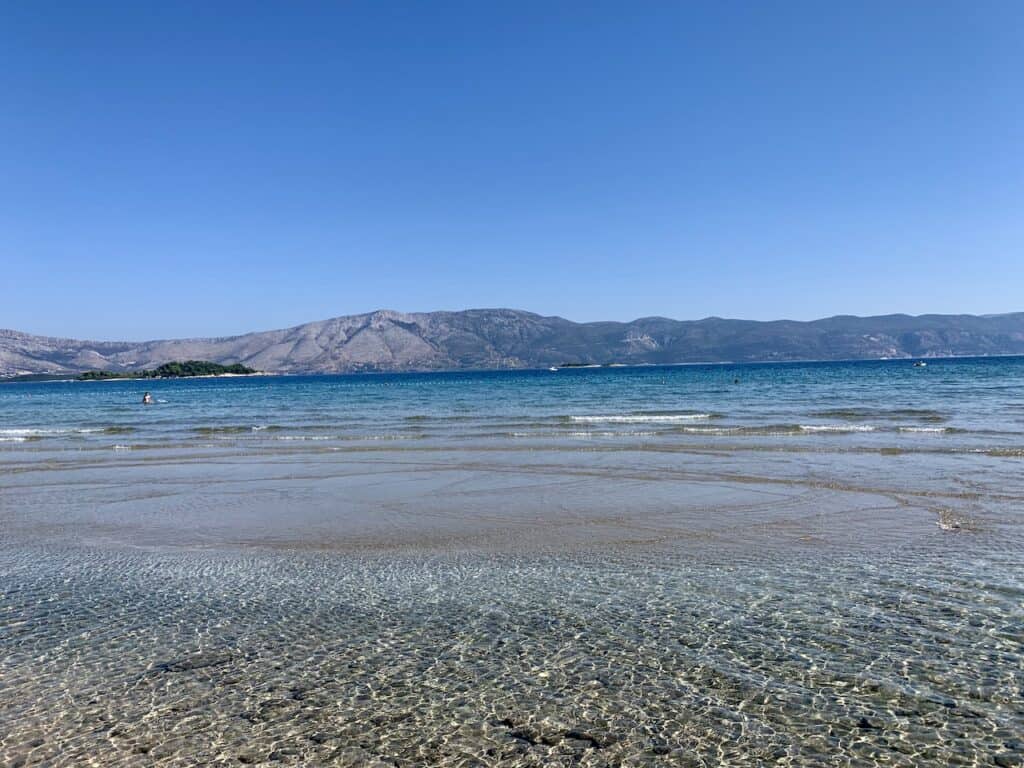 Cycling Korcula
To finish off this part of the list of things to do in Korcula, I did want to mention the idea of cycling your way around.
While you certainly wont need a bicycle for the Old Town center, renting a bicycle can be a great way to explore the eastern side of the island around Lumbarda.
I spent an entire day doing so, as I rented a bicycle from just outside the Old Town gate, and then heading to Lumbarda Town, the Grk vineyards, and the Lumbarda beaches.
Most of the cycling here is pretty easy, with the only real difficult part being getting up the first hill outside of town.
But overall, renting a bicycle and exploring at your own pace is a perfect way to spend the day seeing what Korcula is all about.
Note: you can also visit other nearby towns & beaches by bicycle too if you are up for it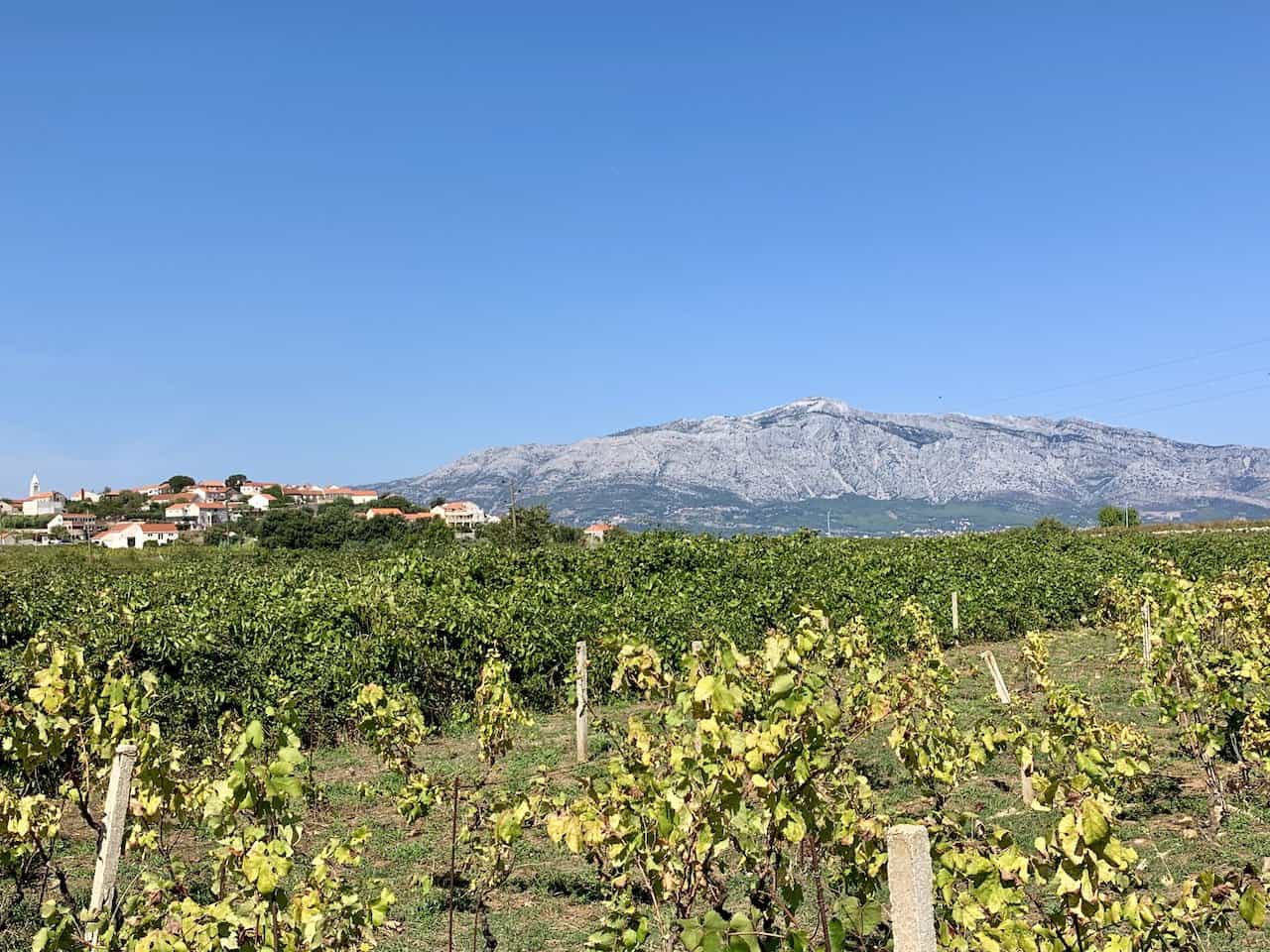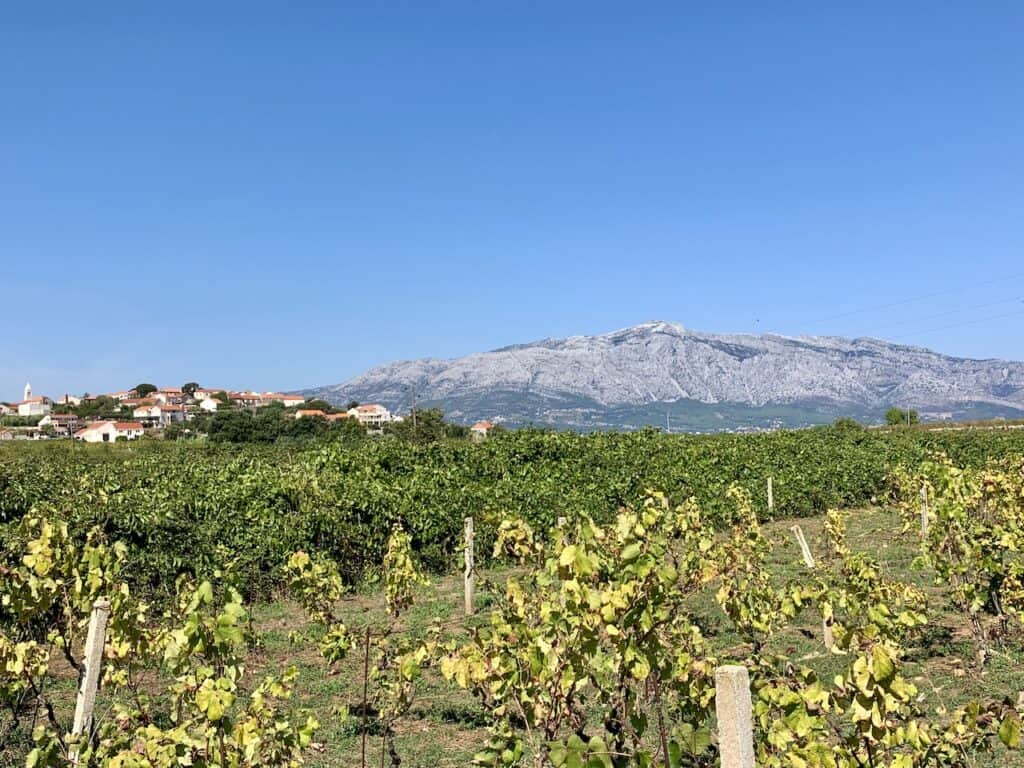 4) Korcula Tours
For those that want to take part of some Korcula tour options, there are some great recommendations out there (many of which spend time out on the water).
Hop On Hop Off Boat
You can purchase a hop on hop off boat ticket that allows you to visit several different places along the waters of Korcula. Badija Island, Vrnik Island, and Stupe & Moro Beaches are all included with this ticket.
Book Today: Korcula Island Hop-on Hop-off Tour Daily Ticket
Korcula Walking Tour
During this 1.5 hour walking tour, you will be guided around town as you learn more about its history and get to ask questions along the way. It is the perfect option for those that want to gain a better understanding about what Korcula is all about.
Book Today: Culture and History Walking Tour
Kayaking & History Tour
Departing from Lumbarda is a half day kayaking tour that will take you out on the water and also to some nearby islands. The islands of Vrnik and Badija will be visited as you enjoy the crystal clear waters during the ride.
Book Today: Half-Day Kayaking and History Tour
Sunset Kayak Tour
Last up is another kayak tour from Lumbarda, but this time it is a sunset tour option. You will also get to visit some of the islands prior to sunset, before having some Grk wine & seeing the sunset to end the day.
Book Today: Sunset Kayak Tour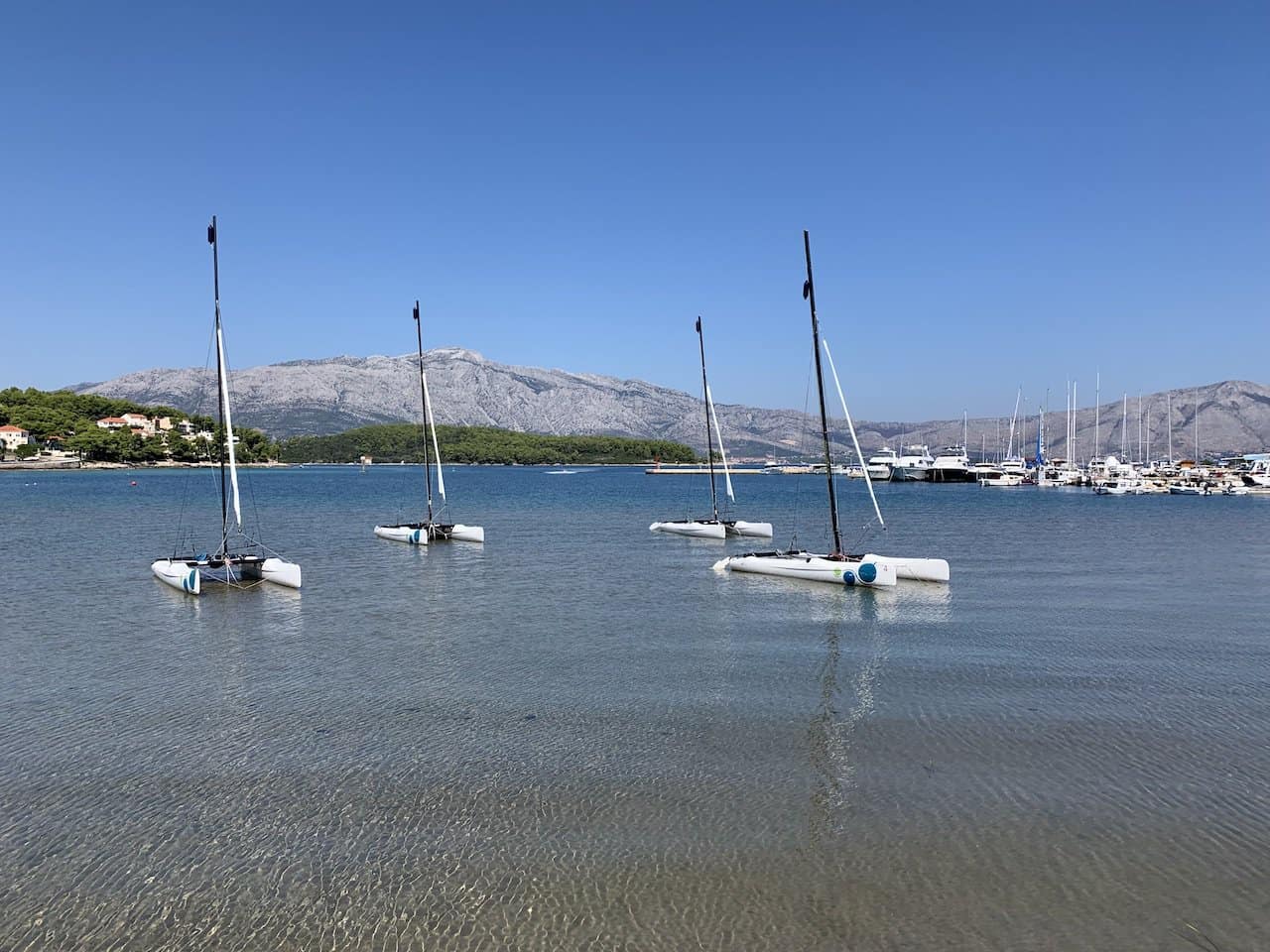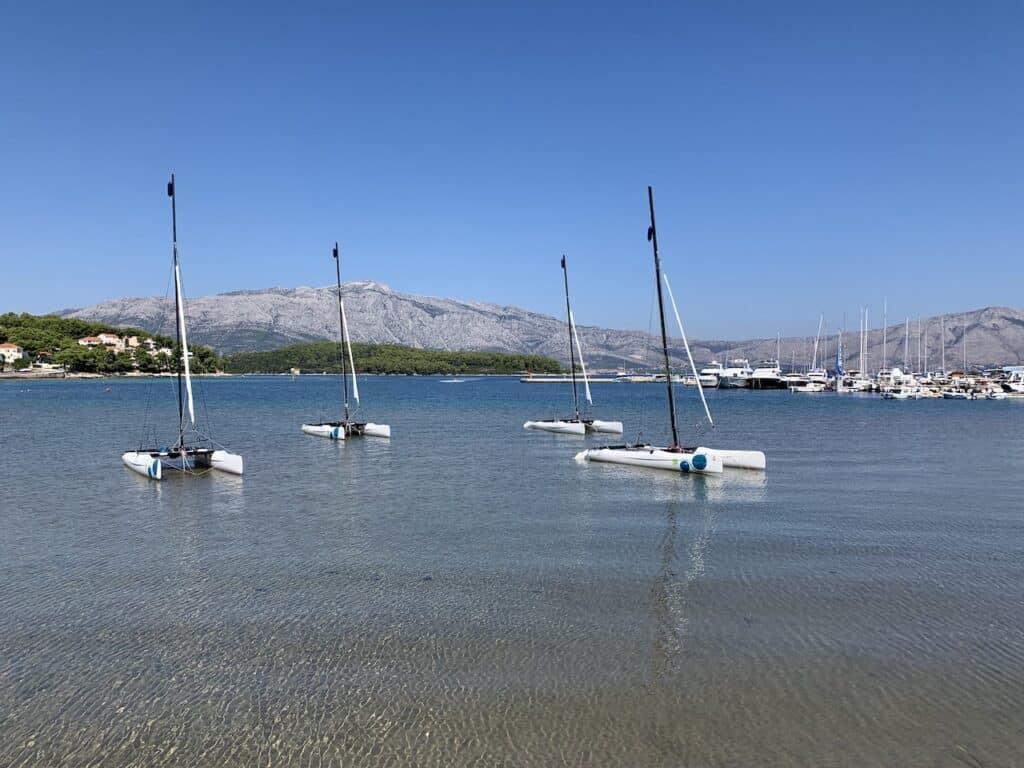 5) Korcula Map
To get a better sense where everything mentioned on this list is located, check out the map below that lays it all out.
6) How to Get to Korcula
Since Korcula is an island and does not have an airport, the only way to get there will be by ferry.
You can find ferry connections from many of the nearby islands and coastal cities. Just some of these include:
To see a complete list along with ferry schedules, check out Croatiaferries.
One important thing to note is that there are multiple ferry ports on the island. For those that are heading to Korcula Old Town, be sure to look at schedules for the Korcula Town port.
Ferries will change by day and by season, so before you head out, check out those schedules to understand the logistics.
From the ferry terminal at Korcula Town, you should be able to walk over to your hotel given you are staying in the nearby vicinity.
Do You Need a Car in Korcula
Once you are in Korcula, you more than likely can stick to just walking, busses, water taxis, and bicycles when need be.
I do not think that cars are necessary in Korcula unless you plan to do a ton of exploration around the entirety of the island.
Everything I went through in this overview can definitely be done without a car.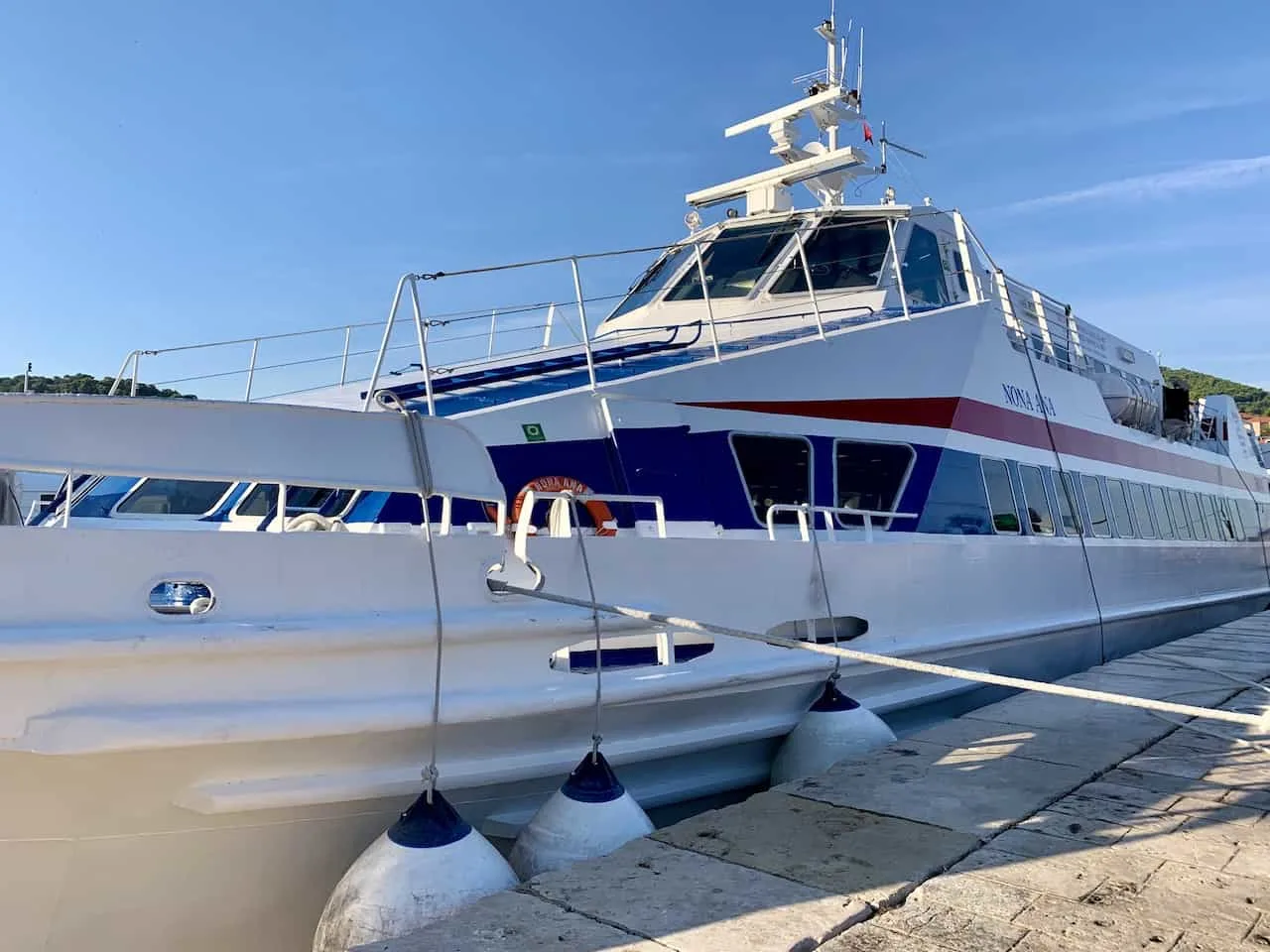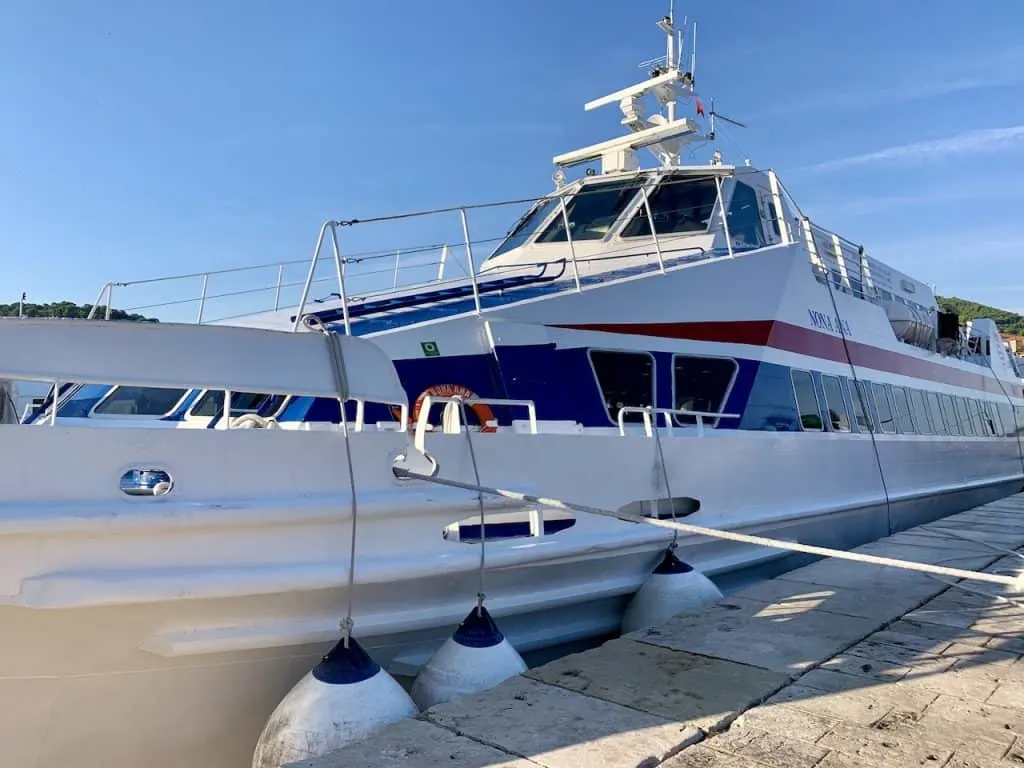 7) How Many Days Do You Need in Korcula
Given your trip to Croatia will be covering several different spots throughout the country during a certain timeframe, I would recommend spending between 2 – 3 days in Korcula.
This will give you enough time to see Korcula at a comfortable pace without the need to rush too much from one place to the next.
You can spend some time around the Old Town, head out to Lumbarda, and spend time out on the water all within that 2-3 day time period.
However, if you are looking to explore further around the island, you may want to consider adding additional days for those places. It will all depend on how many different spots you are trying to visit beyond the eastern side of the island
8) Korcula Itinerary
To give a high level overview of what a 2-3 day Korcula itinerary will entail, check out the below layout. This is very similar to how I spent my 3 days on the island.
Day 1
Explore Old Town
St Marks Church
Korcula Town Museum
Promenade Stroll
Korcula Viewpoint Hike
Sunset at Massimo
Day 2
Boat Rental or Water Taxi to explore the nearby waters & islands
Day 3
Bus/Bicycle/Water Taxi to Lumbarda
Grk Vineyards
Lumbarda Beaches
Croatia Itinerary: Feel free to check out this Croatia Itinerary I put together that includes more places around the country
9) Is Korcula Worth Visiting
To wrap up this overview, I must say that Korcula is certainly worth visiting for those that want a more laid-back Croatian island vibe.
You won't find the hectic nightlife or loud city streets here. While the Old Town can get busy during the day given its size, the early mornings and evenings will offer relaxing experiences.
Coupled with the fact that you can easily explore the nearby islands, head to some beaches, and spend time at the vineyards, Korcula is a great overall island to add to your itinerary.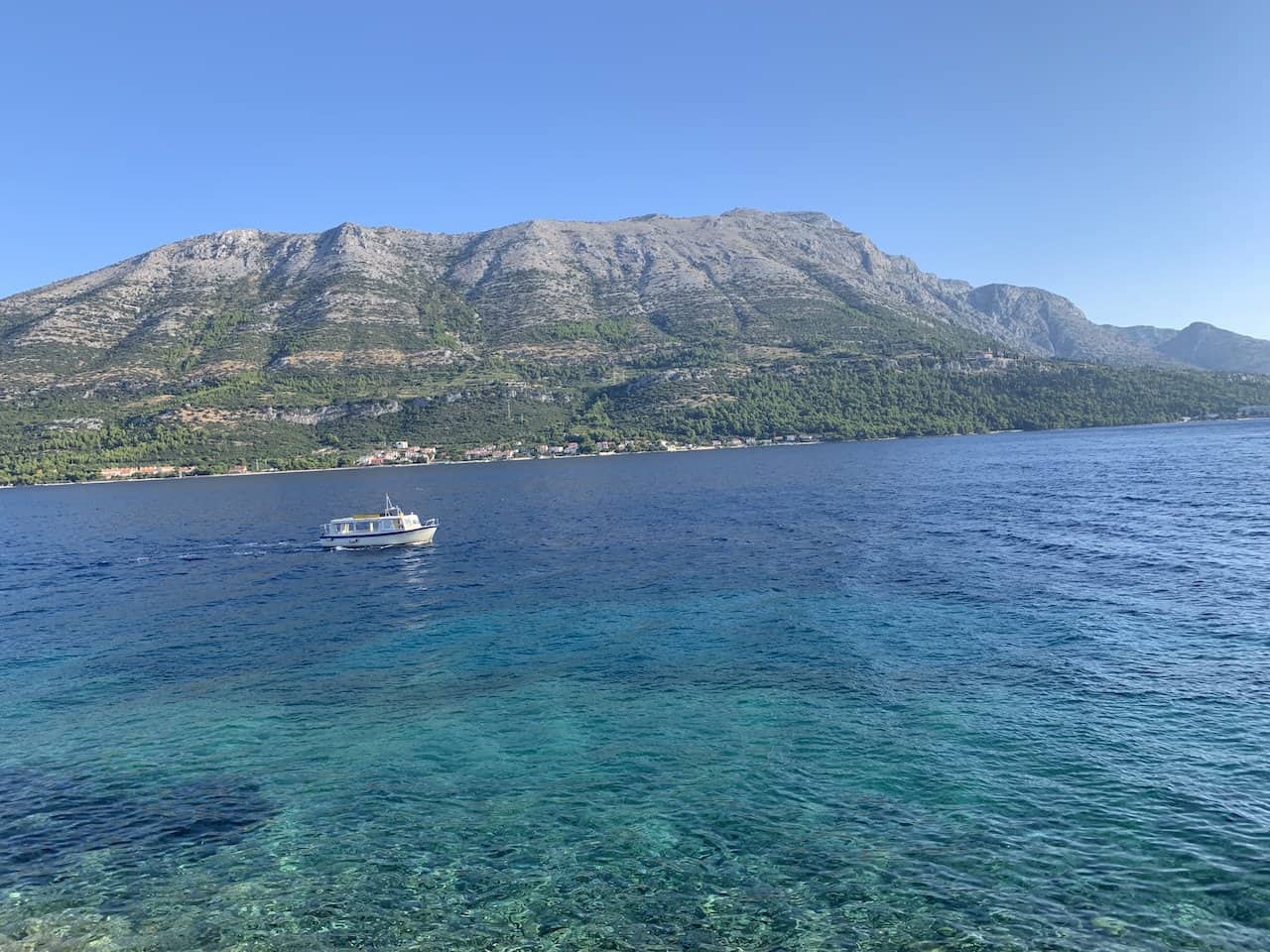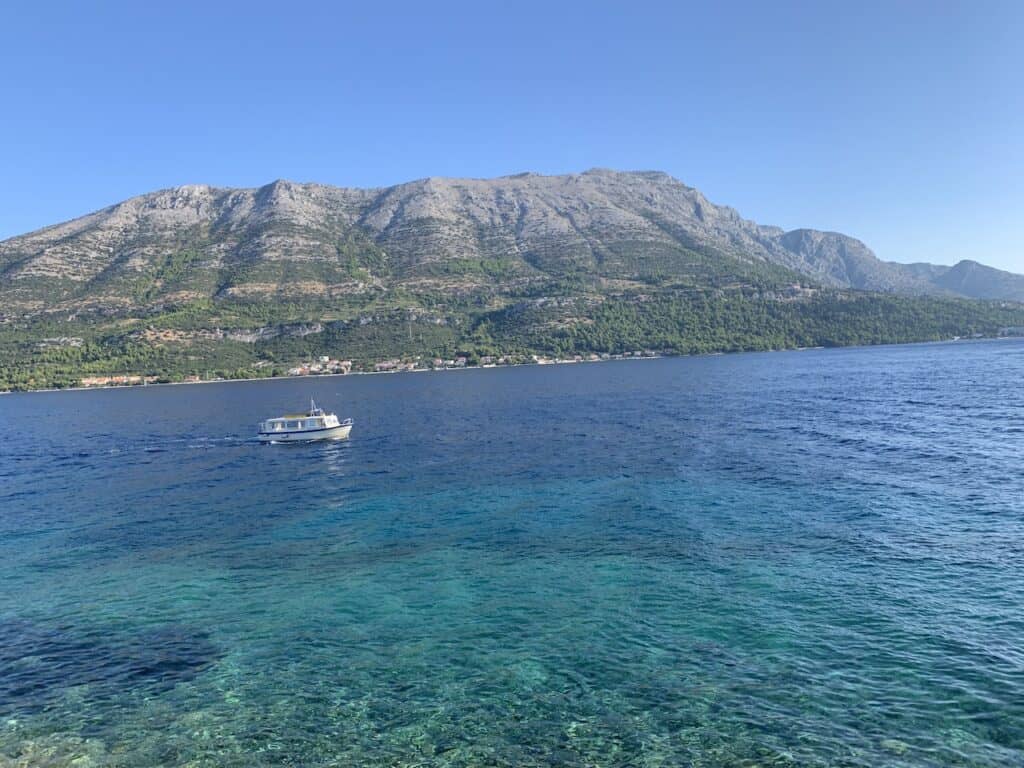 Hope you enjoyed reading about the best things to do in Korcula. If you have any questions or comments, be sure to add them in below.
Also, don't forget to check out the other Croatia itineraries and guides up on the site.
Have fun out there and safe travels!