During a visit to Croatia you very well could make your way through the coastal town of Split. It is a place packed with beautiful ancient attractions alongside an old town, a scenic promenade and stunning viewpoint spots.
This guide will go over how to go about a one day in Split itinerary as well as some of the top things to do and places to see during a visit.
* Affiliate Disclosure: This post may contain affiliate links, which means I may receive a commission if you make a purchase through the links provided, at no additional cost to you. Thanks for supporting the work I put into TripTins!
1) How to Get into Split
The town of Split is very well connected with the rest of the country (and abroad), as it has an airport, bus station, and ferry terminal.
So, no matter where you may be coming from, spending one day in Split could be a great addition to your overall trip.
If you do not have your own rental car to make your way around, then the following three options should have you covered.
Airport: The Split Airport (SPU) is located just about 30 minutes from town center. You can fly into the airport from places all over Europe including Italy, France, England, Germany, among several others.
You can also fly in from Zagreb if you are heading to the north of country beforehand. From the airport you can hop in a taxi that will get you to downtown Split.
Bus: Croatia is very well connected by local coach busses, and you should have no problem getting from city to city throughout your time in the country.
Whether it be Dubrovnik, Krka, Zadar, Plitvice or even Zagreb, the local busses have you covered. Check out Croatia bus website for the latest schedules and prices.
Ferry: The last main option here is to arrive in Split by ferry from some of the islands located off the coast of Croatia.
While you wont find direct ferries for each and every island, you should be able to find routes from Hvar, Korcula, Brac, Vis, among several others.
Take a look at the Croatia ferries website for more info about the different routes, schedules, and prices.
↔ If you are renting a car in Croatia, be sure to check out Rentalcars.com, which will have a variety of rental options to choose from for your trip.
2) Where to Stay in Split
Since nearly all the attractions and things to do are located centrally in the downtown "Old Town" area, that is where I would recommend you stay during a visit.
This will give you the ability to just head out your hotel door and be right in the center of the action.
You will be close to all the attractions, the top dining options, and the riverfront promenade. This will also take away any hassle of worrying about taxis as everything will be in walking distance.
You can find a whole variety of hotel options around the city – everything from high luxury to cheap hostels. Below are some of my top recommendations by price point.
Mid-Range: Plaza Marchi Old Town | Central Square Heritage Hotel | Art Hotel
Luxury: Piazza Heritage Hotel | Cornaro Hotel | Hotel Luxe
Budget: Palace Augubio | Jupiter Luxury Hotel | Hotel Globo
Be sure to also check out Krka National Park during your time in Split!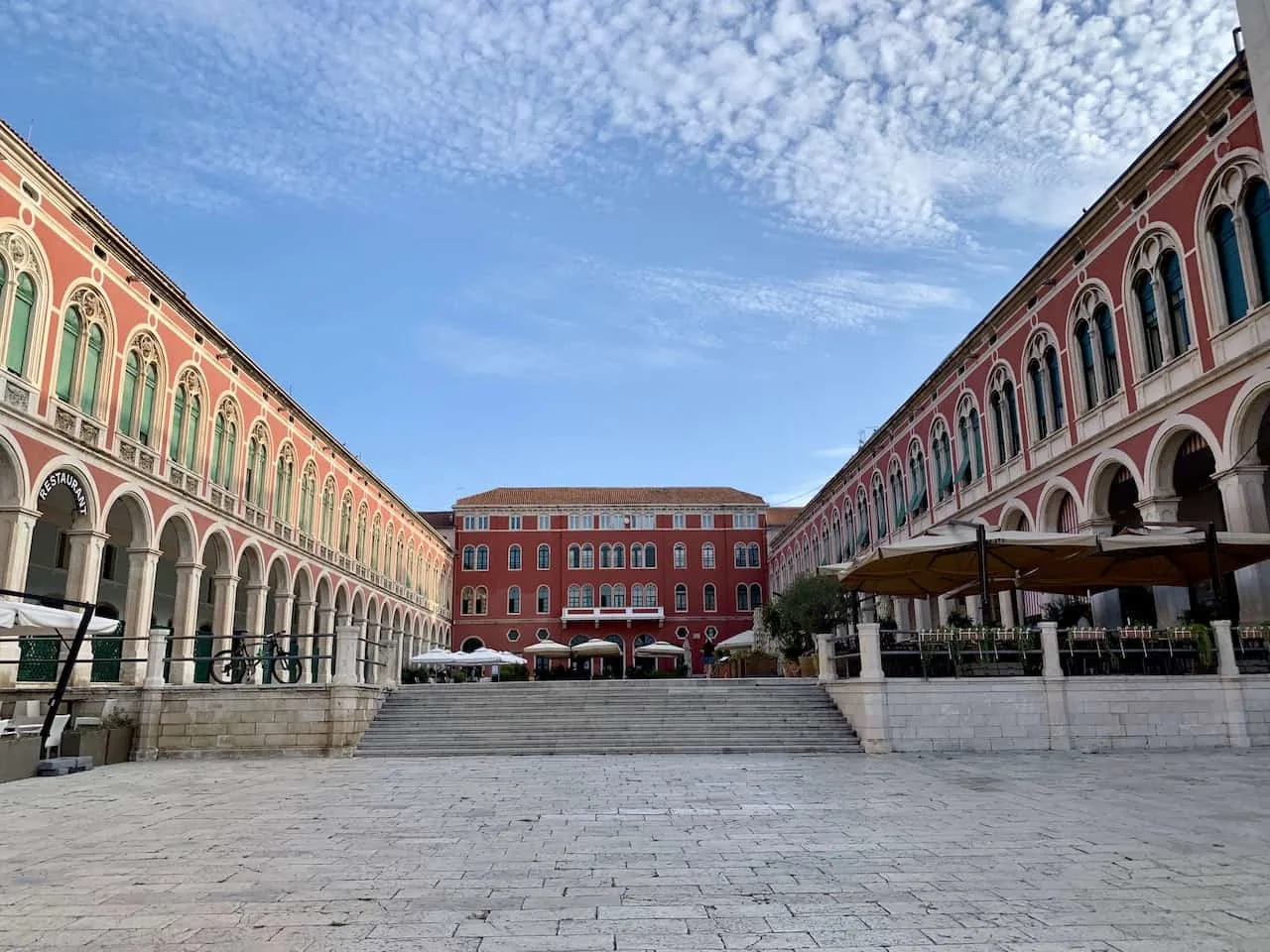 3) Split Map and Attractions
Here is a list of the 12 different attractions and things to do during your one day in Split. The remainder of this guide will dive into each one of these.
1) Diocletian's Palace
2) Saint Domnius Bell Tower
3) Saint Domnius Cathedral
4) Cathedral Crypt
5) Cathedral Treasury
6) Temple of Jupiter Baptistery
7) The Peristyle
8) Vestibul Terrace
9) 4 Gates
10) Riva Promenade
11) Old Town
12) Marjan Hill
» Do you want to explore more of the country? Enjoy this day in Split as part of your longer Croatia Road Trip
4) One Day in Split
Now that you have some solid background about the city, let's dive into how to spend one day in Split, Croatia.
Below I will list out in more detail the 12 attractions mentioned, along with some helpful info and images along the way.
Diocletian's Palace
About half of the space that makes up downtown Split, is covered by Diocletian's Palace. The palace is not one particular building, rather it is a massive complex filled with various Roman ruins.
On each side of this fortress you will find four gates to enter the official Diocletian's Palace area. Within the complex you will find various ancient structures, a cathedral, bell tower, museums, and more.
Most of the things to do and see in Split are concentrated within Diocletian's Palace and the below 8 attractions are some of the best places to visit during your one day in Split.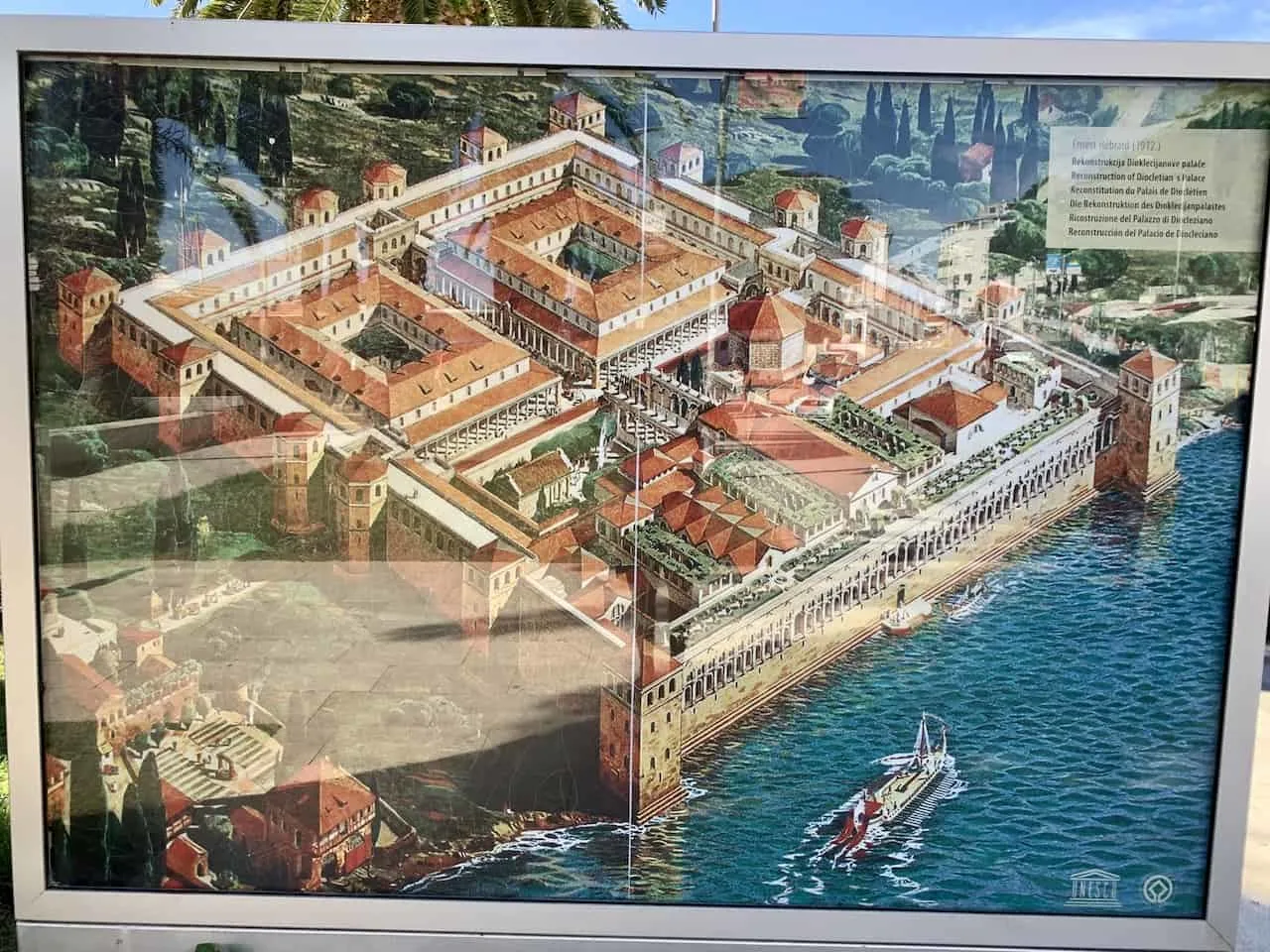 Saint Domnius Bell Tower
The first place I would recommend visiting within Diocletian's Palace is the Saint Domnius Bell Tower. For a small fee you can head up the narrow staircase to the top of the tower, where you can get 360-degree views of the city.
Down below will be the Old Town of Split and Diocletian's Palace, with the Adriatic Sea out in front of you. Further out in the distance will be Marjan Hill, another beautiful viewpoint spot, which you can visit later on in the day.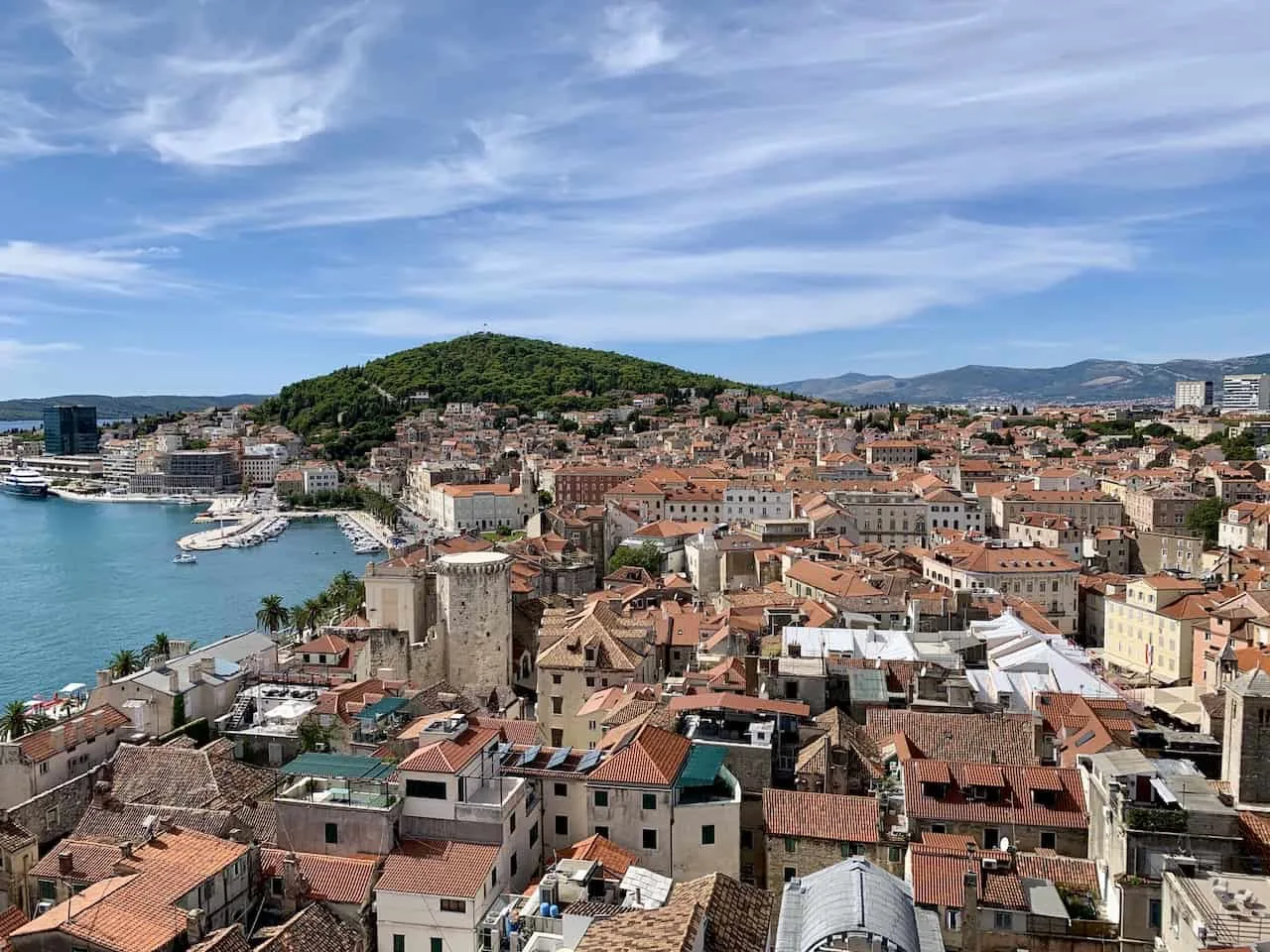 Saint Domnius Cathedral
After finishing up with the Bell Tower, you can head right up to the Saint Domnius Cathedral.
Here you have a couple ticket options to choose from – Blue Ticket (25 KN / $4 USD) includes Cathedral, Crypt and Temple of Jupiter, or Red Ticket (40 KN / $6 USD), which also includes access to the Treasury.
» The Cathedral, Crypt and Treasury are all part of the same structure, while the Temple Of Jupiter is just around the corner.
You can first enter the beautiful cathedral, where you will be welcomed to a beautiful intricate dome shaped structure.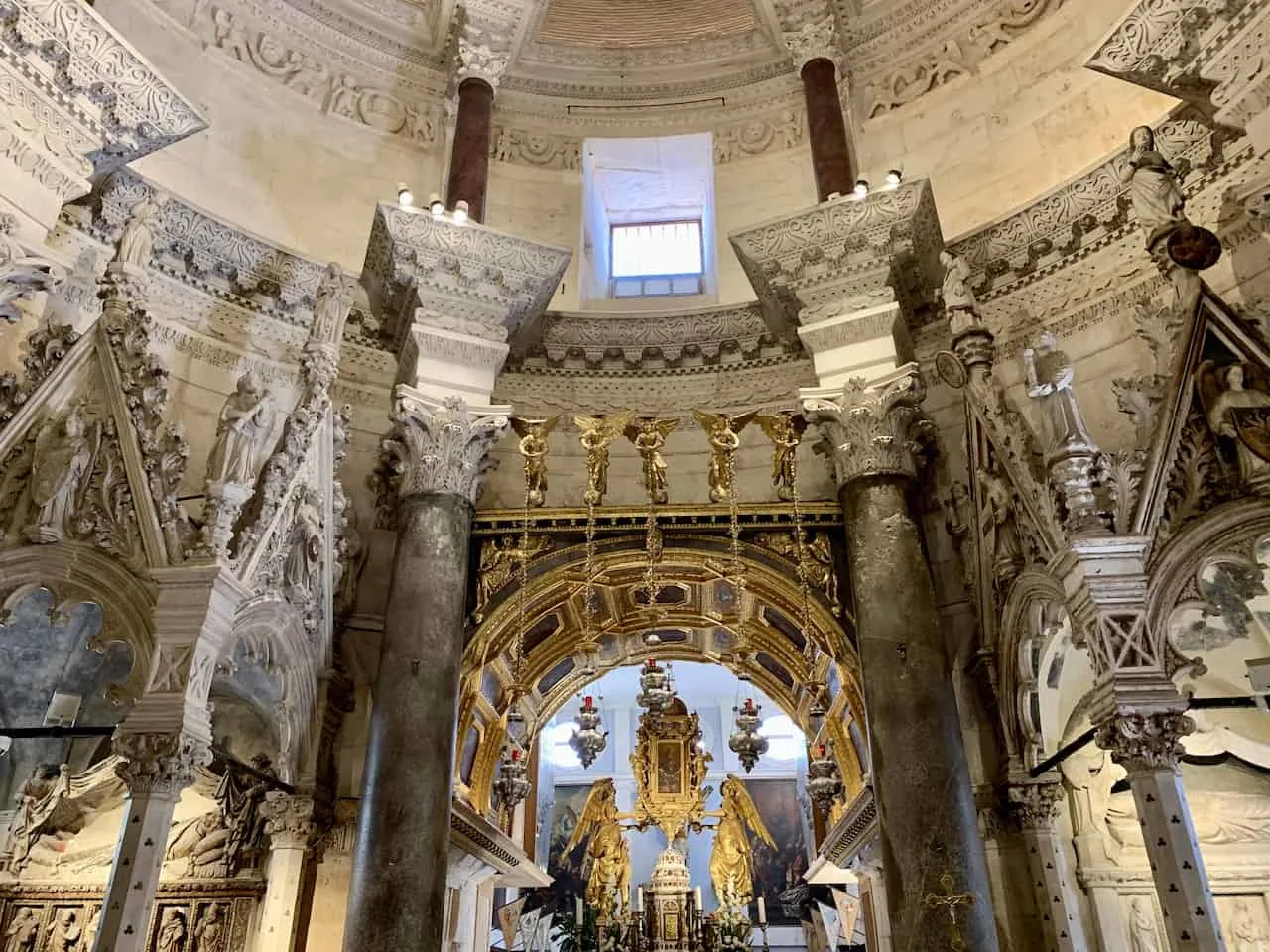 Cathedral Crypt
You can then head follow signs to the crypt, which lays underground underneath the cathedral.
Through some small passageways you will be welcomed to dome shaped labyrinth that takes the shape of the cathedral up above.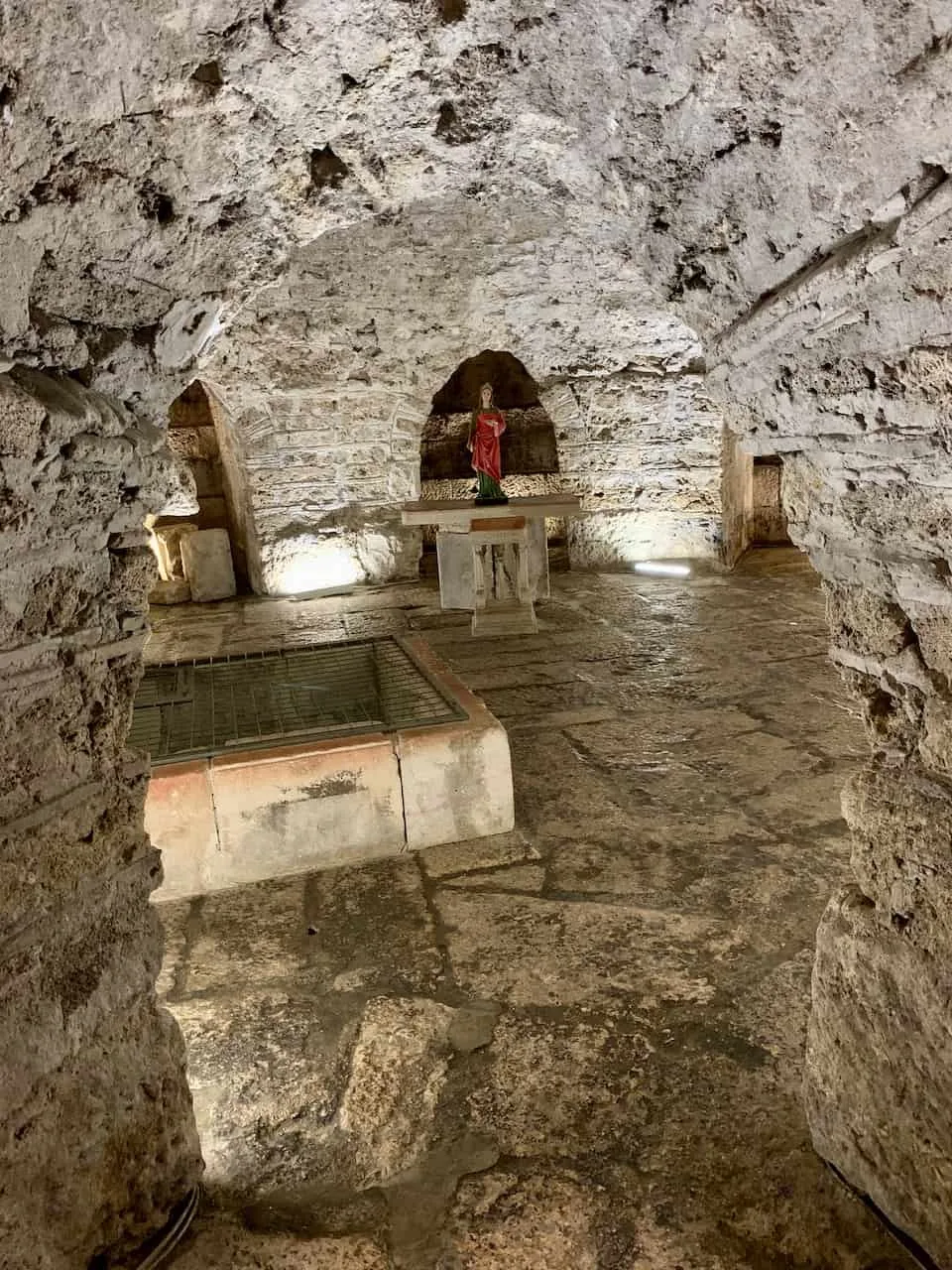 Cathedral Treasury
If you purchased the red ticket, you will also have access to the Treasury. You are not allowed to take photos within the treasury, but you can expect to see a whole array of artifacts, garments, and historic relics.
Temple of Jupiter Baptistery
After finishing up with the Cathedral area, it is time to walk around the corner to the Temple of Jupiter Baptistery, which will be included in your ticket.
The temple was originally built around the year 300 dedicated to the Roman god of Jupiter. It was later converted to a baptistery in the 7th century.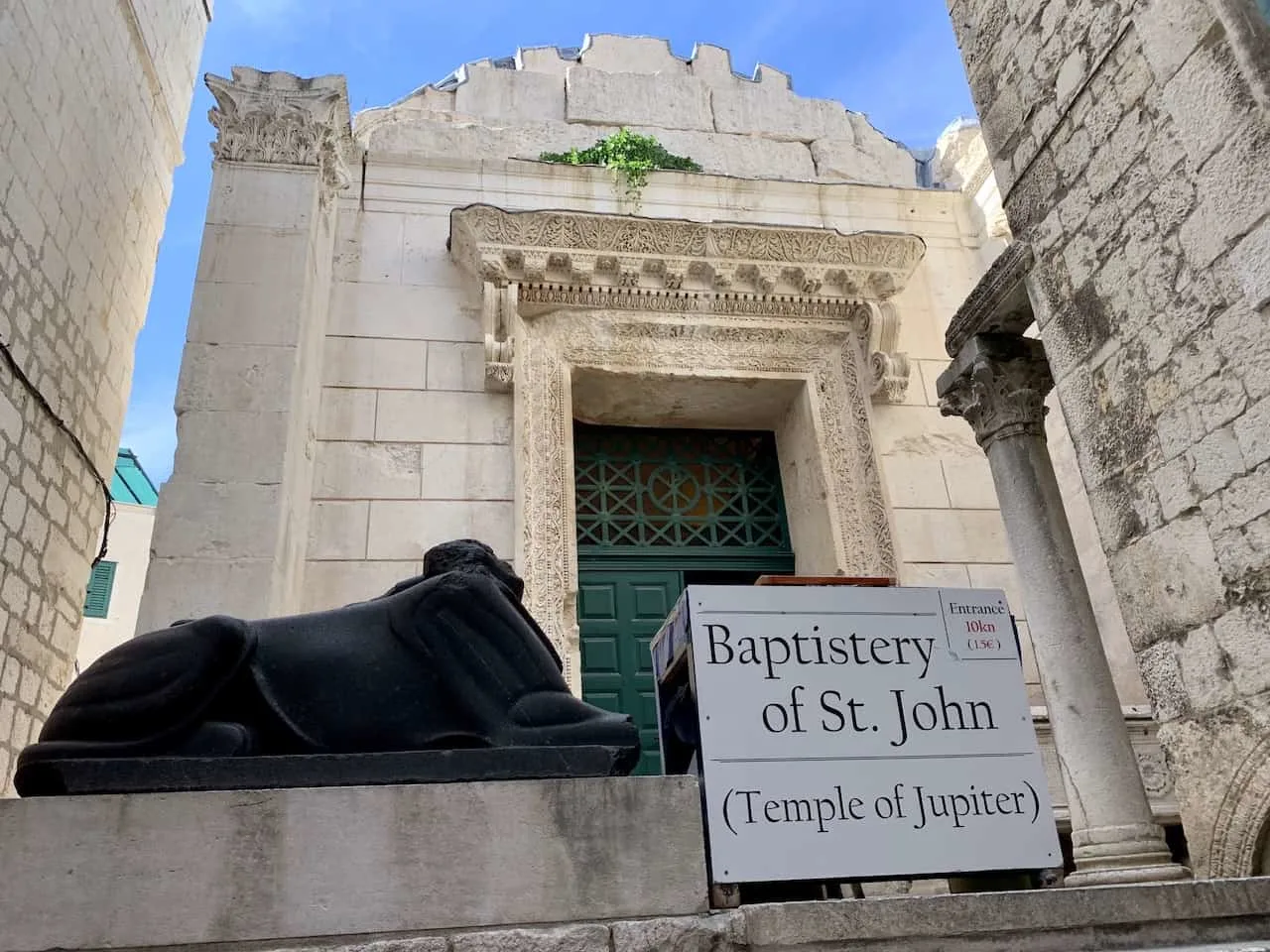 The Peristyle
The main square of Diocletian's Palace is called the Peristyle and it is located right next to all the above mentioned attractions. You will probably be walking through it multiple times during your visit.
Surrounding the Peristyle will be a whole array of columns, arches and ancient architecture to take in and enjoy.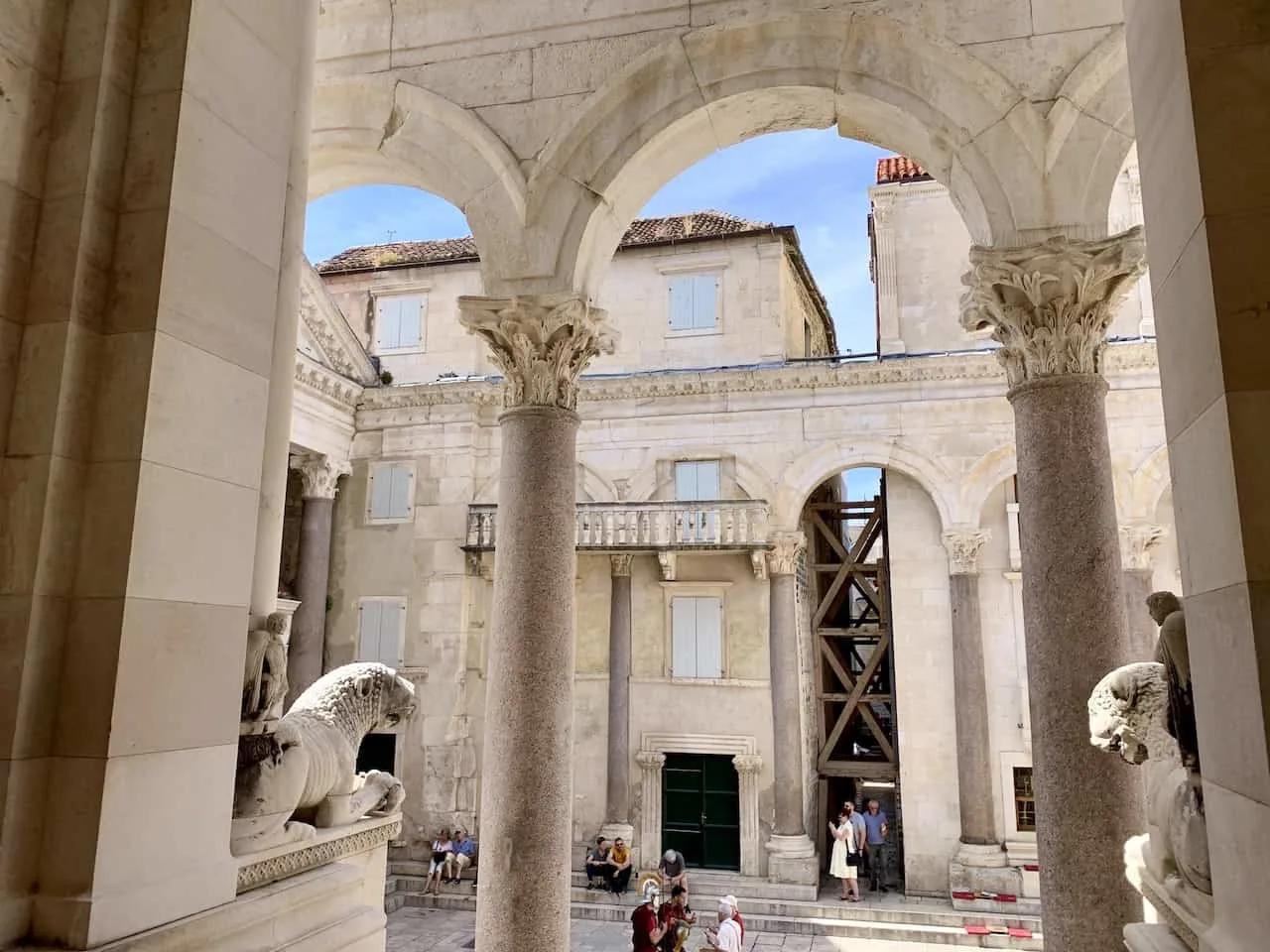 Vestibul Terrace
One place that I did not read about prior to my visit to Split was the Vestibul Terrace. As you are walking around the Cathedral / Bell Tower/ Baptistery area, you are sure to pass this massive open dome structure.
This is called the Vestibul Terrace and you can actually make your way to the top of the terrace for a small fee to get another great view in from above.
From the top you will enjoy views of the Bell Tower and Cathedral right in front of you and then the rest of the Old Town surrounding you.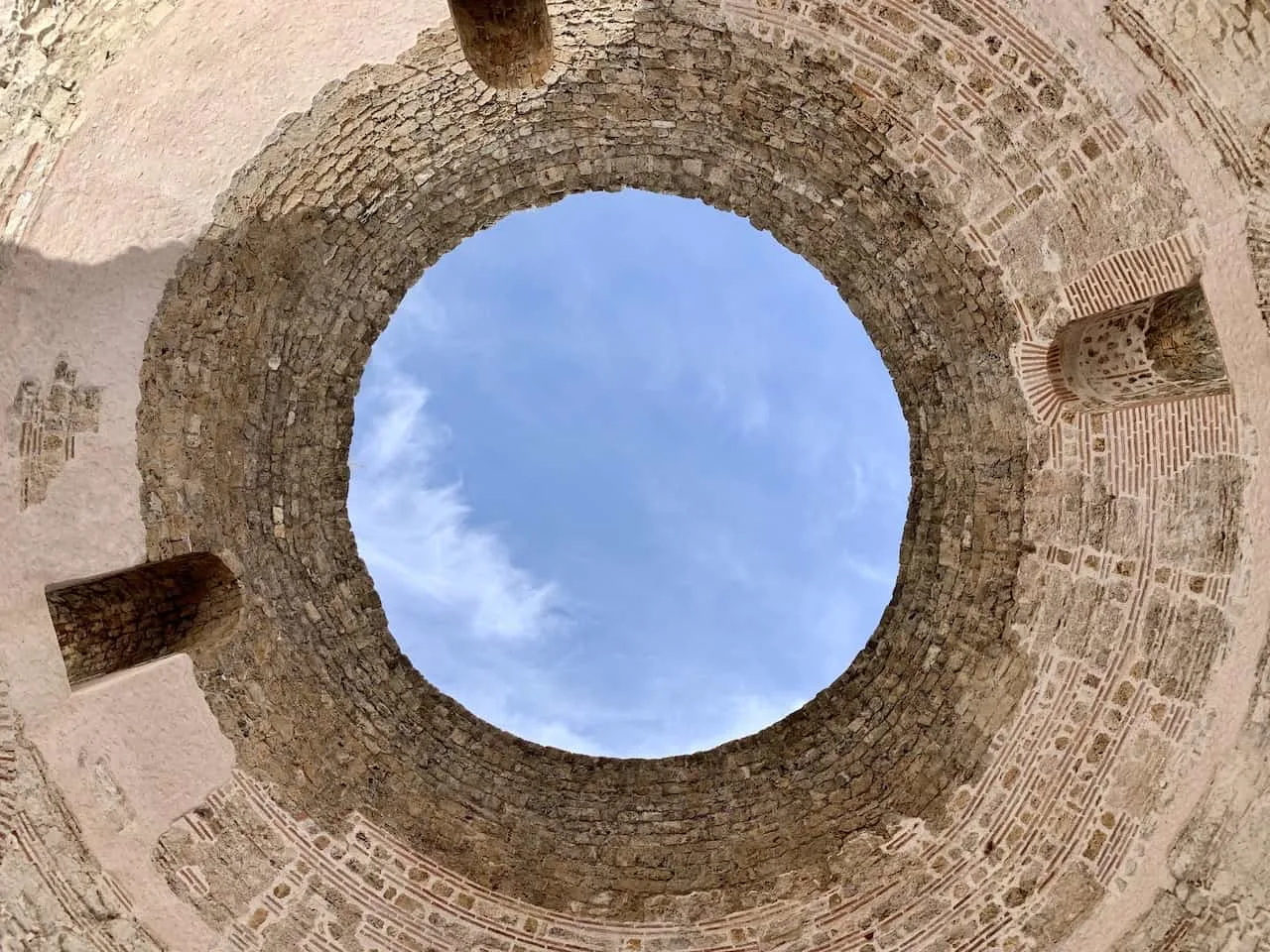 4 Gates of Split
As you are exiting and entering the Diocletian's Palace area, you are sure to make your way through one of the four main gates located on the north, south, east, and west side of the complex.
The palace area never closes so you will be free to walk in and out of it through the gates at any time of day.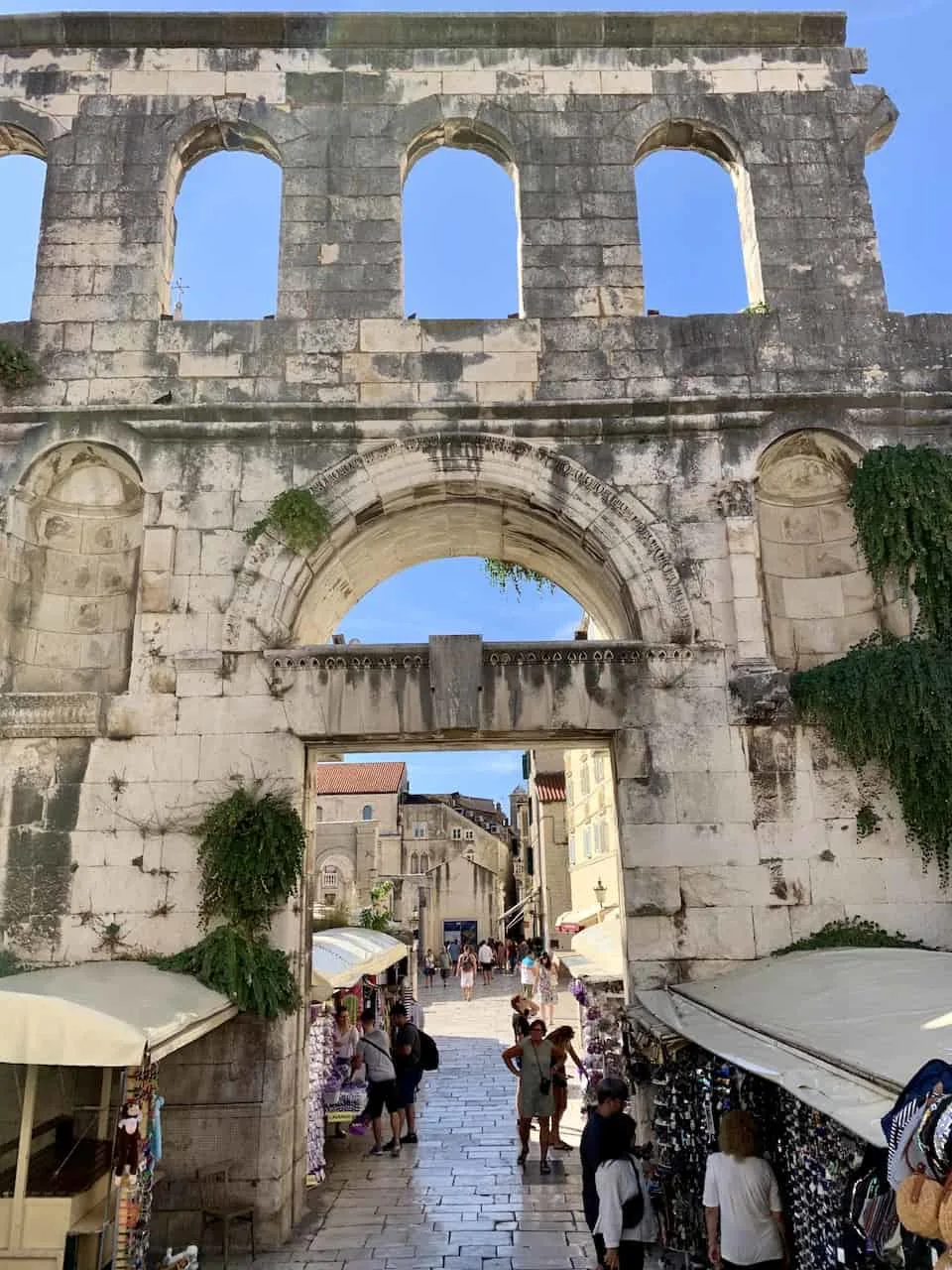 Riva Promenade
At one point or another you are sure to make your way to the seaside Riva Promenade.
The promenade is packed with restaurants, bars, stalls, and more as you walk along the water and enjoy all that Split has to offer.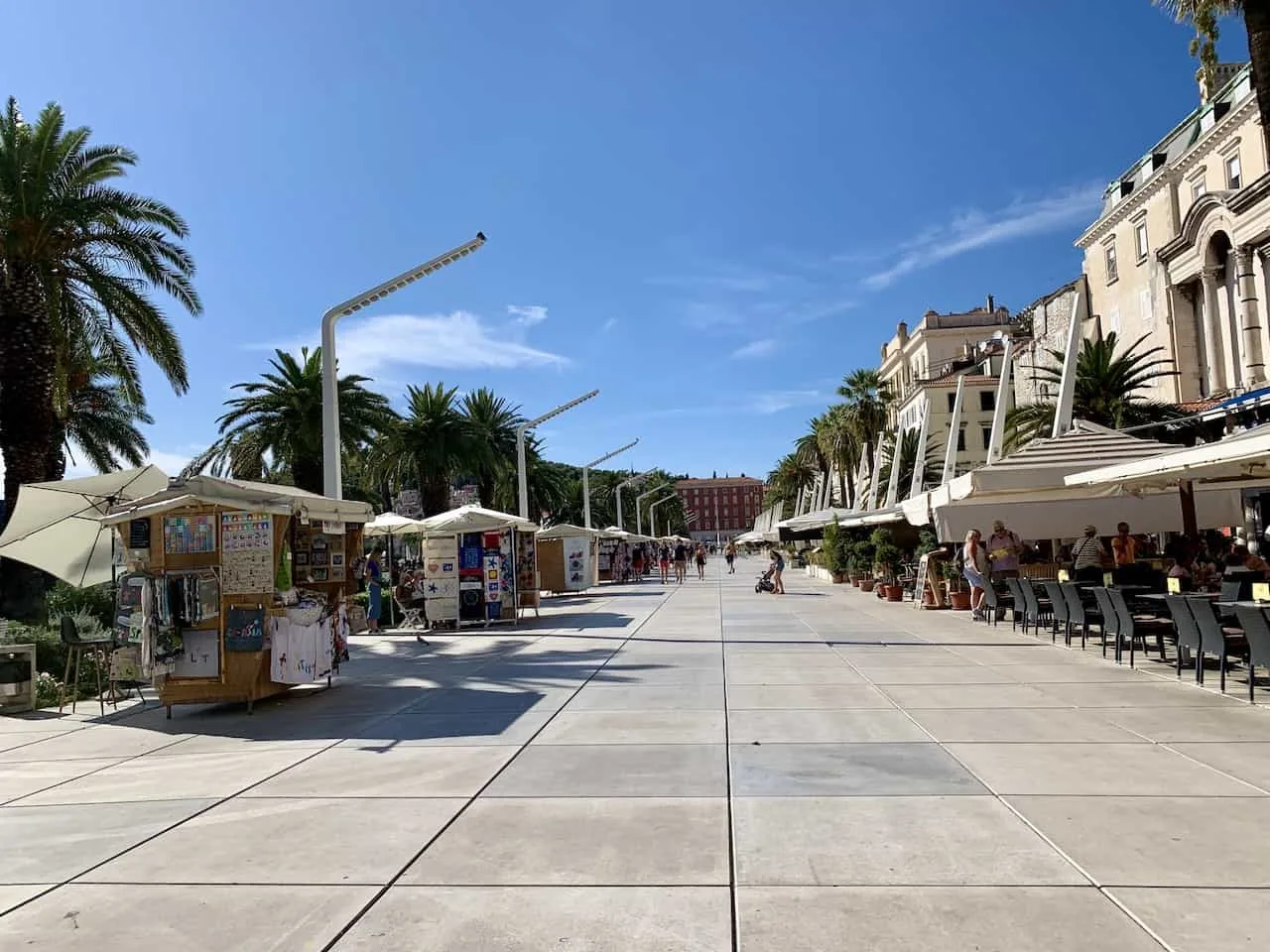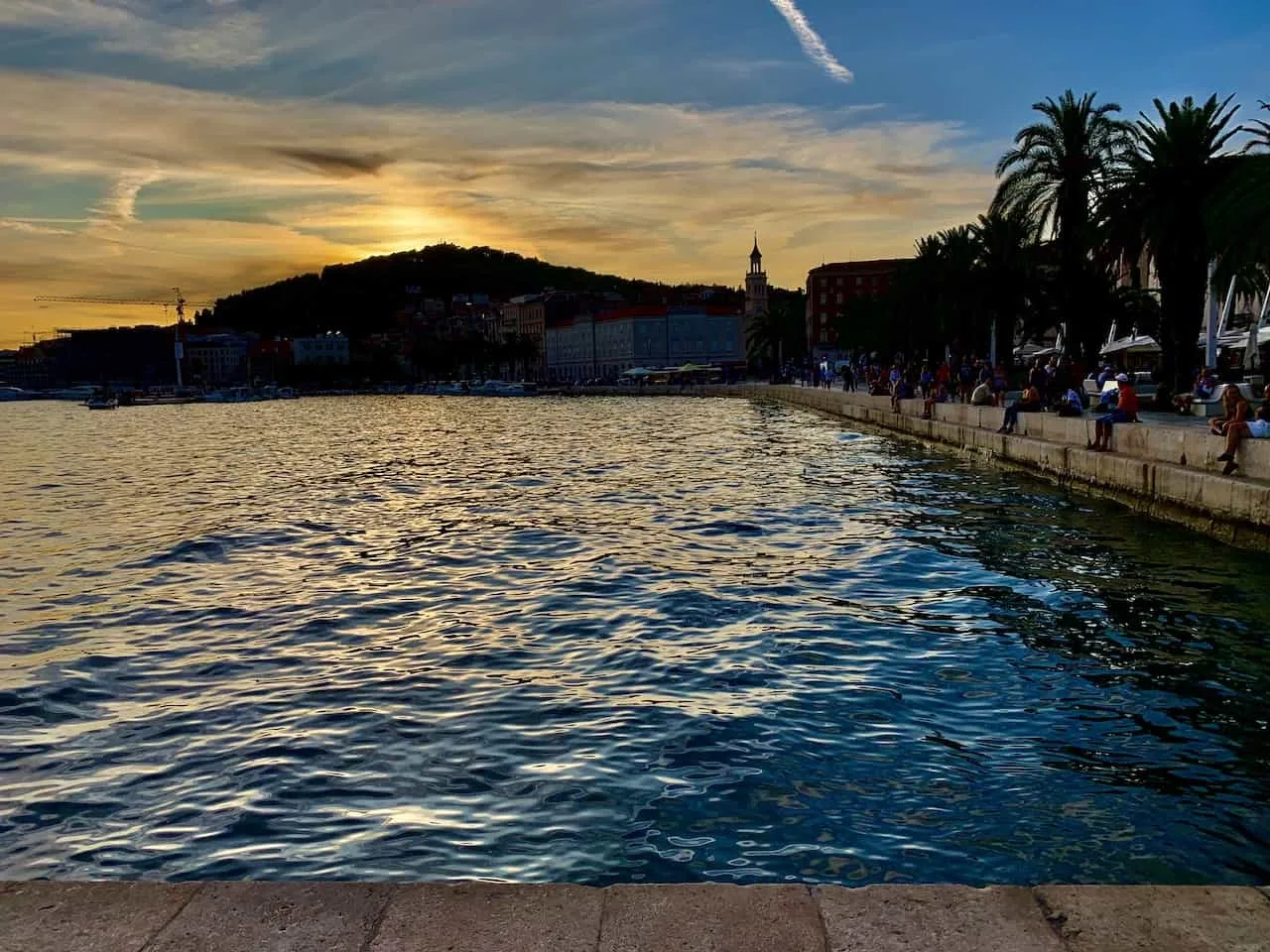 Old Town
Beyond just Diocletian's Palace, the main Split area also includes the Old Town. Here you will find many hotels, restaurants, plazas, and walking streets.
Odds are you will be staying in or right near the Old Town, so you will have it all and more right outside your doorstep.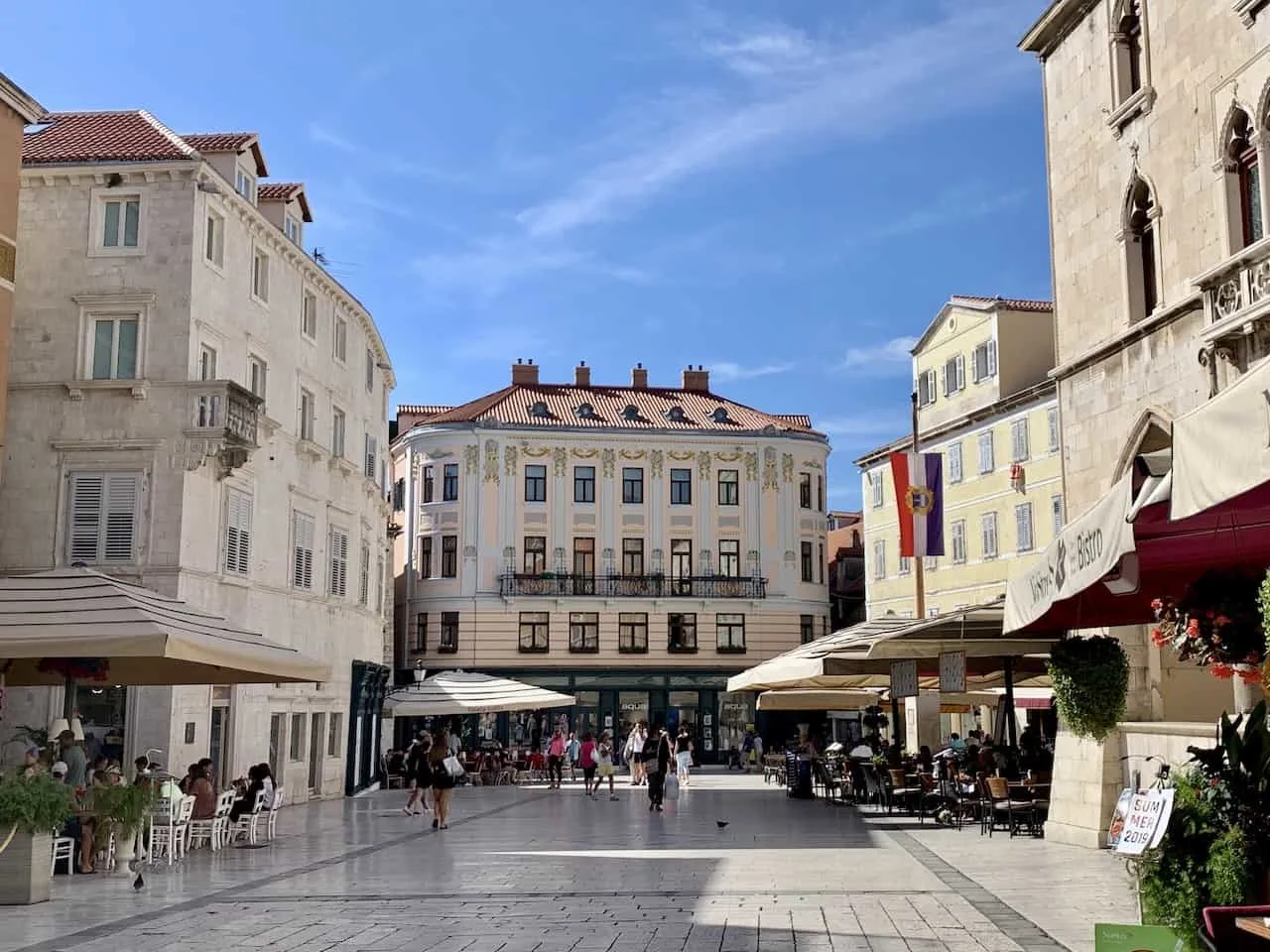 Marjan Hill
Last but not least is the Marjan Hill viewpoint area overlooking Split. At the northside of Split you will see a large greenery covered with a flag pole at its summit.
If you make the climb up to the top, you will be able to take in some of the best views of the city from above. Although it will take up some time (45 minutes or so each way from downtown), it is well worth the view.
» Learn more about the walk up in the Marjan Hill Viewpoint guide that I put together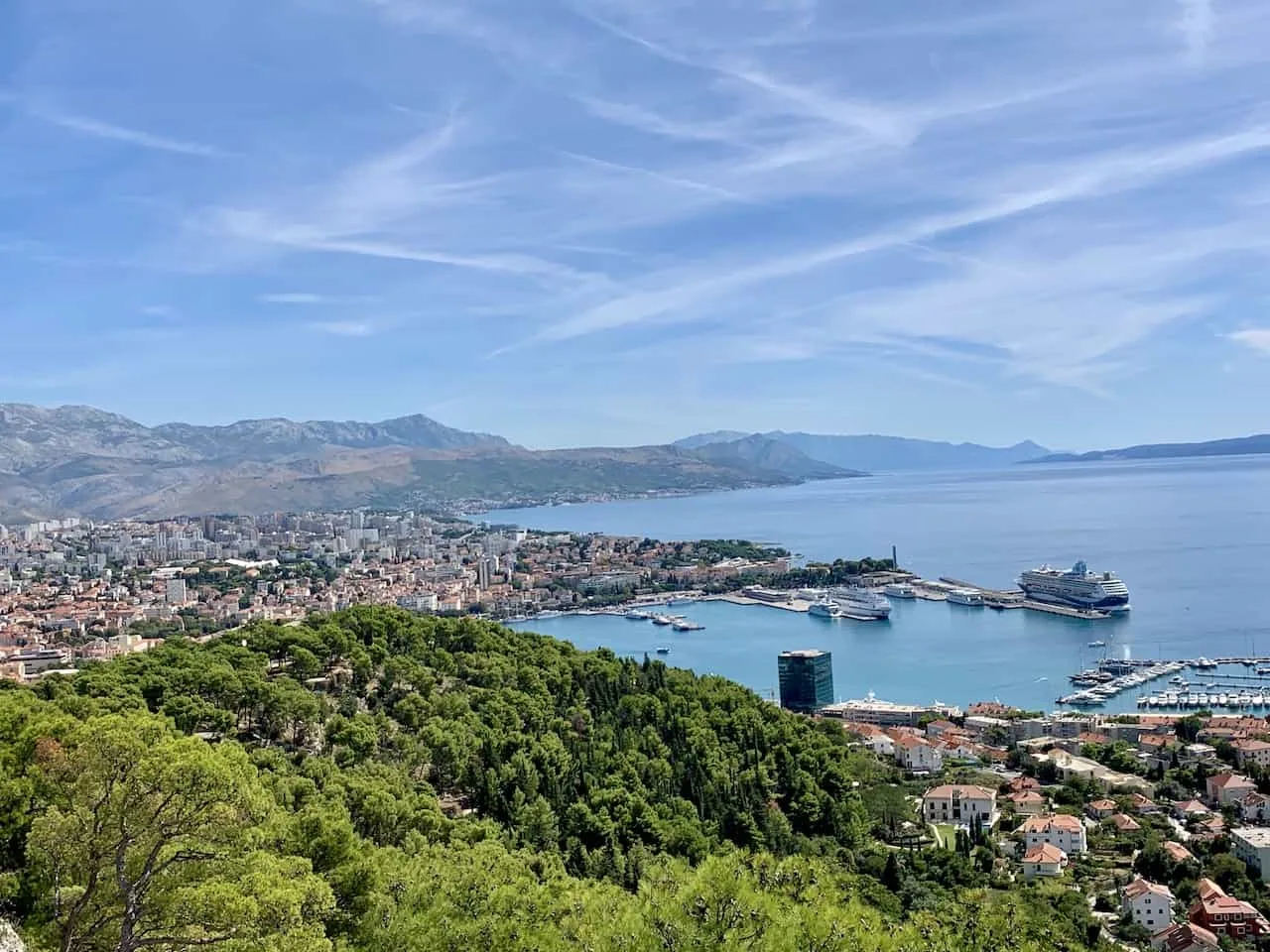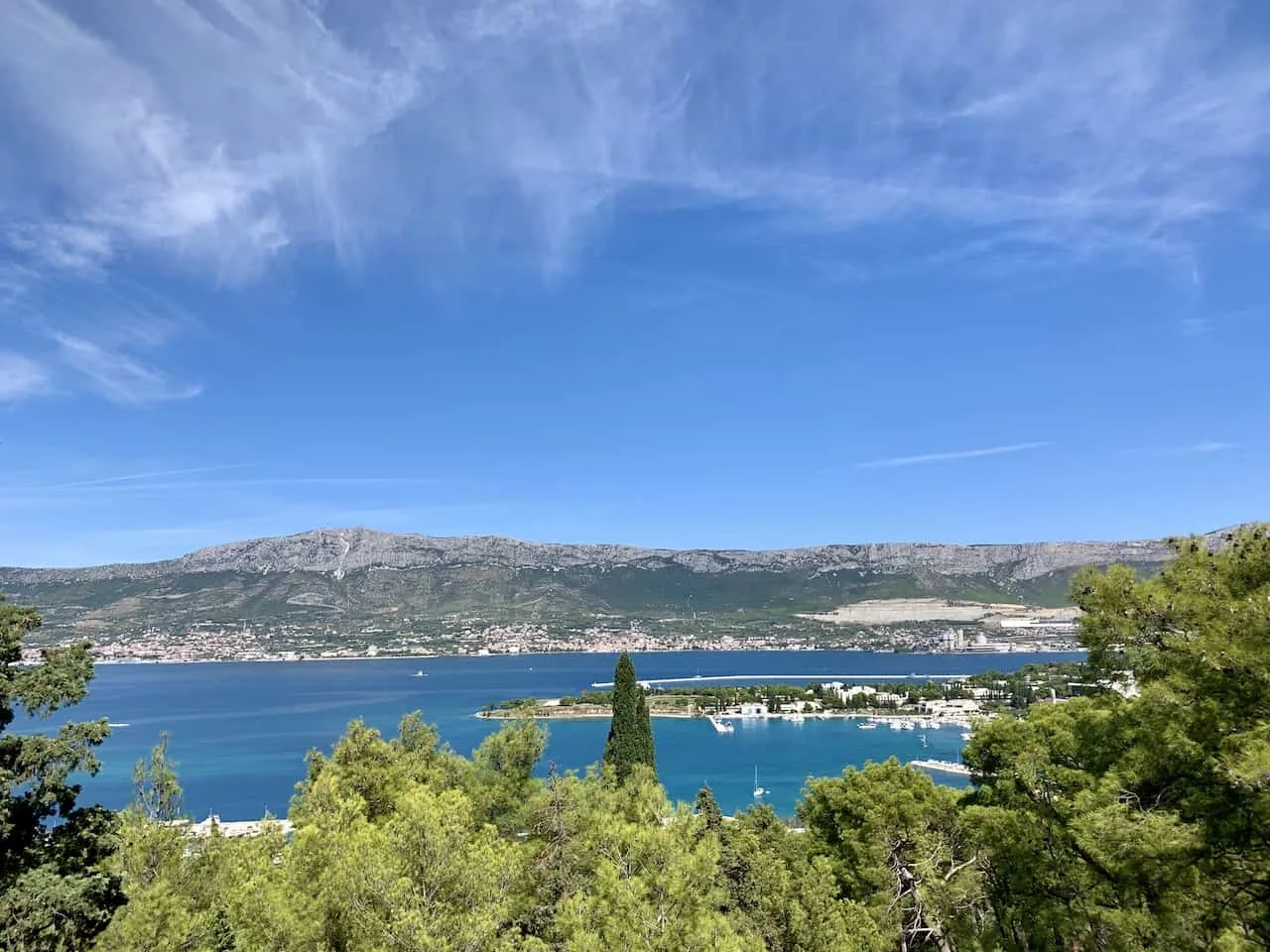 That about does it for all the different attractions and activities to take part of during your one day in Split. If you have any questions or comments, feel free to add them in below.
Also, don't forget to check out the other Croatia itineraries and guides up on the site. Have fun out there and safe travels.