A visit to Croatia isn't complete without checking out one or more of the beautiful islands off of the mainland.
One of those islands is Hvar, which can be visited as a day trip or by staying overnight on the island itself.
While visiting the island for a few days is ideal, not everyone can fit it into an itinerary.
That is where a day trip to Hvar from Split comes into play. Read on to learn more about a day trip to Hvar and how to go about it during your time in Croatia.
* Affiliate Disclosure: This post may contain affiliate links, which means I may receive a commission if you make a purchase through the links provided, at no additional cost to you. Thanks for supporting the work I put into TripTins!
1) How to Get to Hvar from Split
First things first, you will need to figure out how to get to Hvar from Split.
There are a few different ways to go about your day depending on your preferences and budget.
These include a self-guided day by ferry, joining a tour, or taking a private boat over to Hvar.
Split to Hvar Ferry
The most popular way to go about a Split to Hvar day trip is to simply utilize the ferry service. These ferries go back and forth between Split and Hvar all day (as well as other nearby islands).
You can easily take one of the first ferries out to Hvar, spend a full day exploring the island, and then hop back on a ferry to Split at day's end.
Ferry Terminals
The Split Ferry Terminal is about a 10 minute walk south of the famous Riva Promenade. Depending on where you are staying in Split, you can either walk there or hop in a quick cab ride.
On Hvar, there will be three main ferry terminals to choose from when booking your trip. There is Hvar Town, Stari Grad, and Jelsa.
For this day trip, I would recommend taking a ferry to Hvar Town.
While Stari Grad & Jelsa do have their fair share of things to do, many of the top highlights (and the main center) will be around Hvar Town.
Ferry Schedule
Since the route between Split and Hvar is one of the most popular ones to take, you will find an extensive ferry schedule.
Now, these schedules do change based on the month of the year. During the winter for example, they only run a couple times a day. In the summer, they can run up to three times an hour!
Be sure to take a look at Croatiaferries.com where you can see the schedules by month.
You will find several companies running this ferry route including: Jadrolinija, Kapetan Luka, and TP Line.
In general, during the peak summer season, the first ferry from Split to Hvar leaves around 7:30AM and the last ferries leave Hvar around 9:00PM.
This means that you can really get that full Hvar day trip without feeling too rushed during your time on the island.
How Long is the Ferry from Split to Hvar
While each ferry company is slightly different, you will find the average ferry duration between Split and Hvar to be 50 minutes to 75 minutes.
Overall, it is a quick & easy trip to make, and the ferry should fly by in no time.
Ferry Cost
Similarly, to ferry times, the cost of ferry tickets will depend on time of year, time of day and the ferry company.
On average though, expect a one-way ticket to cost around $10 – $20 USD (round trip around $20 – $40).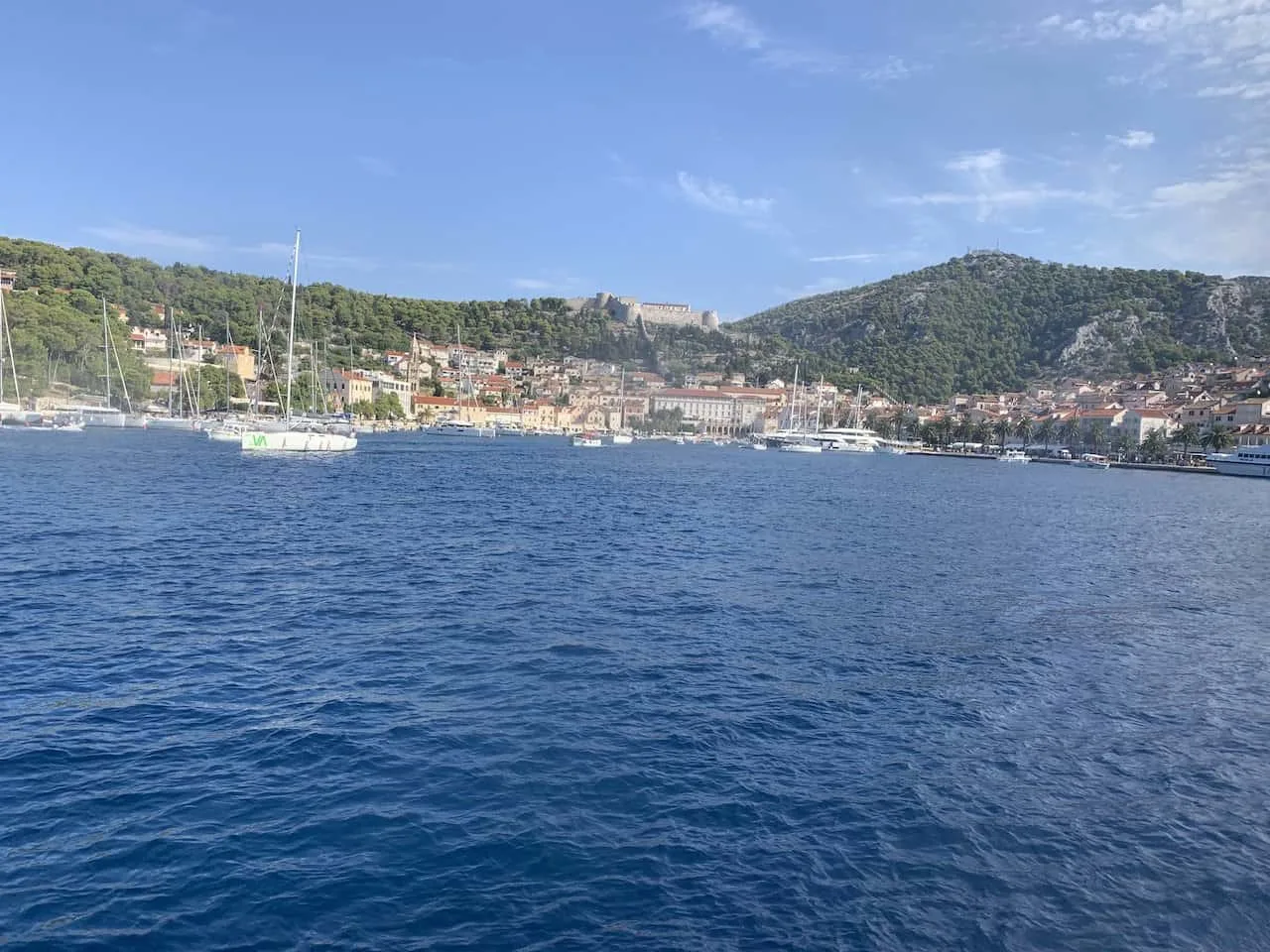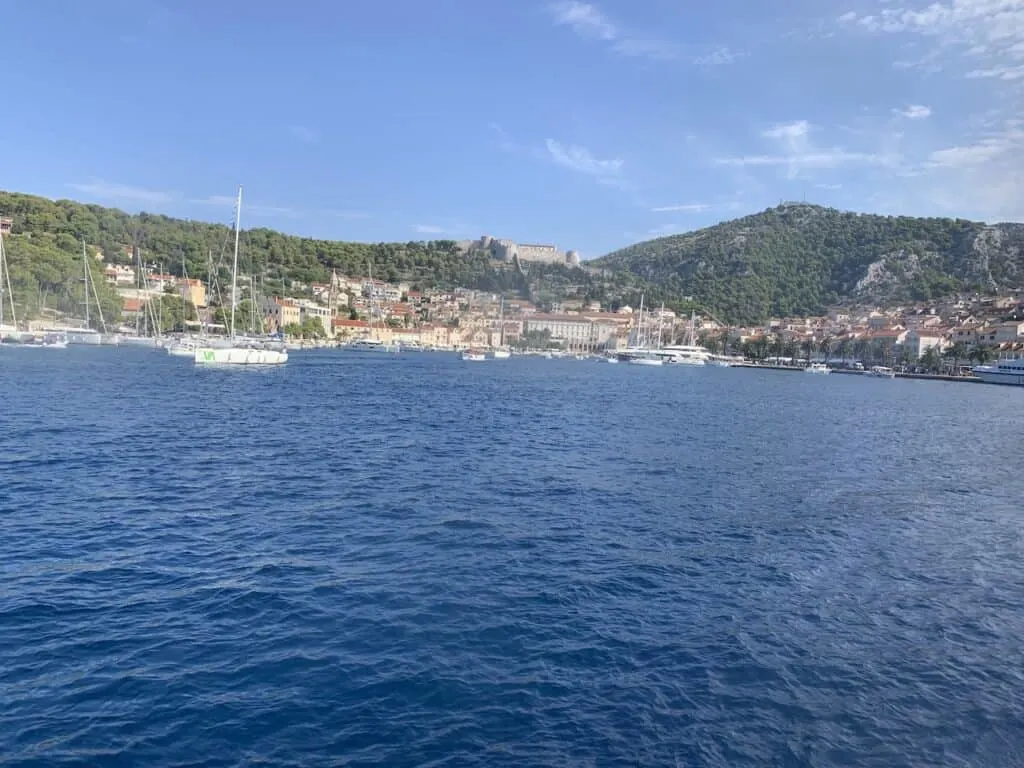 Tour
The second way to go about a day trip is to join a tour that will take care of all of the logistics for you.
Booking a tour will depend on what type of traveler you are.
If you are someone who rather have more freedom of picking & choosing activities, and being on your own schedule, then a tour wouldn't be for you.
However, if you don't want to worry about ferries, getting yourself around Hvar, and figuring out the top places to go, then a tour could be a great option.
There are also tour options that not only go to Hvar as part of a day trip. Rather they go from Split to several other nearby islands.
This is great for those that are short on time but that want to explore as much as possible.
Below are some fantastic, highly rated tours to choose from for your Split to Hvar day trip:
Private Transfer
The last main option to choose from is a private transfer by boat between the two islands.
This will of course come at a heftier price tag, but it will come with the most flexibility. You can pick & choose your start/end times as you explore on your own schedule.
This can simply be done as a transfer back & forth between the islands, or you can sign up for a full day private tour.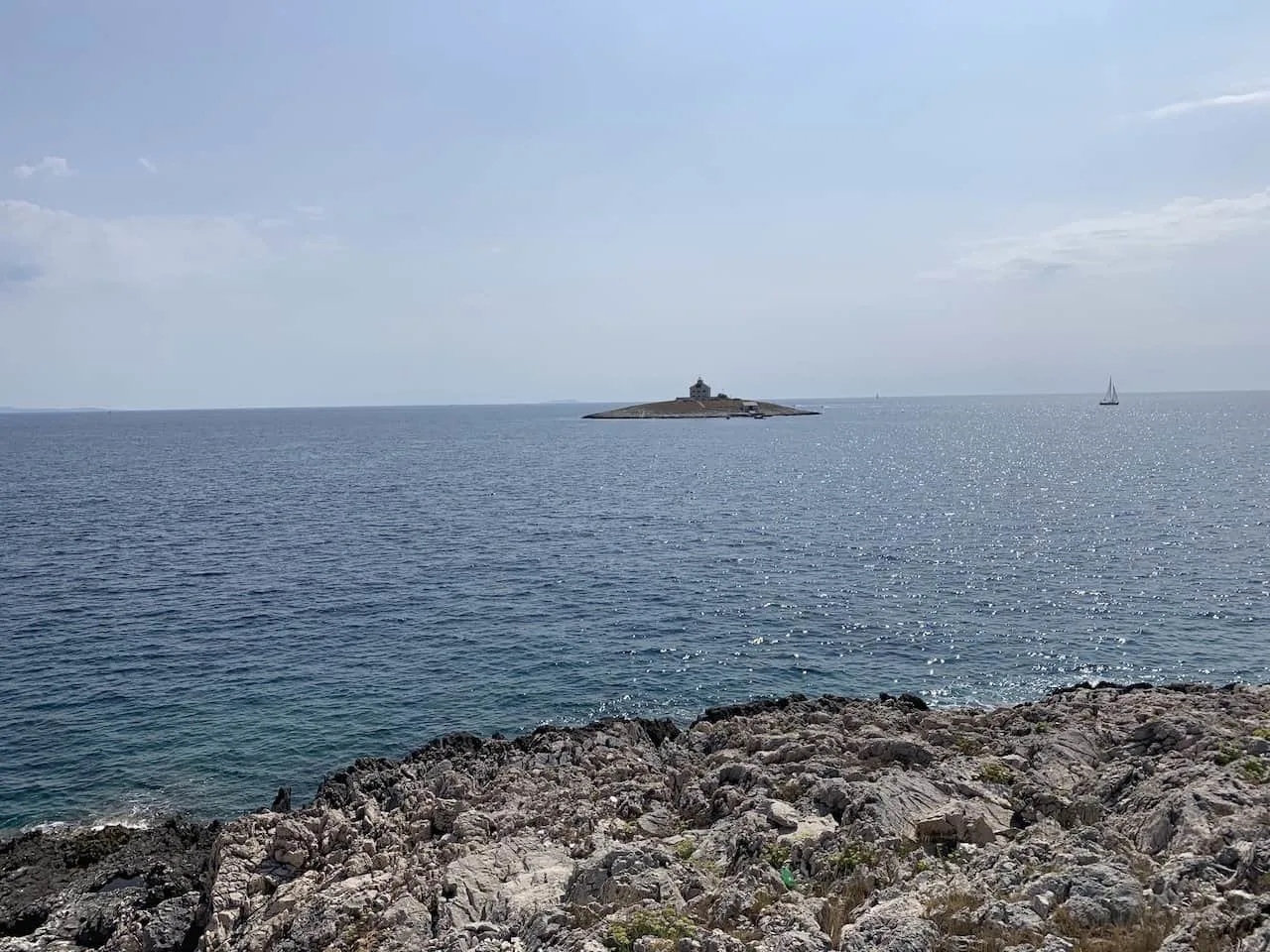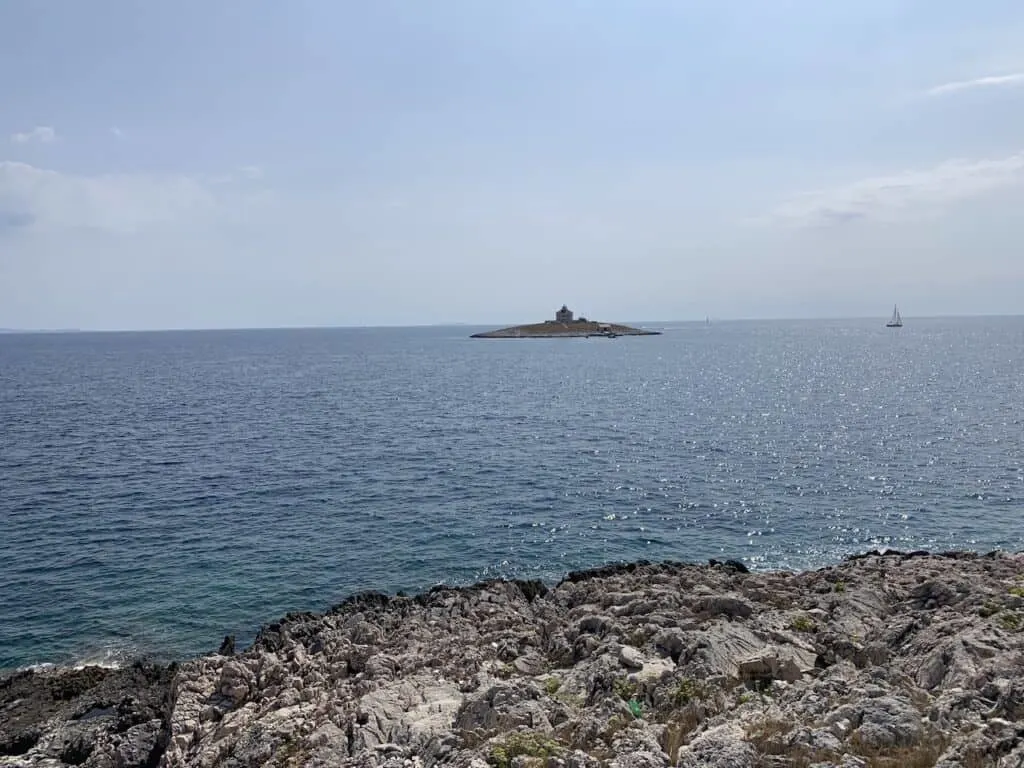 2) Hvar Day Trip Itinerary
For those that opt to go about a day trip on their own, you will find so many different choices of things to do on the island.
I will list out some of the top spots to add to a Hvar day trip itinerary, in addition to giving some alternative options later on as well.
With this Split to Hvar itinerary, I am assuming you will take an early ferry out in the morning, and come back post sunset (if you choose to).
Below is what a day trip to Hvar can entail:
9:00AM: Hop on a ferry at the Split Ferry Terminal
9:00AM – 10:00AM: Ferry Ride & Arrive in Hvar Town
10:00AM – 11:00AM: Explore Hvar Town
11:00AM – 12:30PM: Walk Up & Explore Tvrdava Fortress
12:30PM – 2:00PM: Walk Back to Town & Lunch
2:00PM – 2:30PM: Stroll Along Seaside to Pokonji Dol
2:30PM – 6:00PM: Beach Time at Pokonji Dol & Back to Hvar Town
6:00PM – 8:00PM: Dinner & Hula Hula Sunset
8:00PM – 9:00PM: Ferry Back to Split
10:00PM: Arrive in Split
A couple things to note for the day trip itinerary:
1) It is up to you if you want to have dinner & enjoy a sunset in Hvar. If you are content with your overall day, feel free to head back to Split after some beach time.
2) Be very aware of the ferry schedule as you are planning your day trip (and purchase tickets ahead of time). Ferries do not run so late throughout the year, rather just during peak season.
-> You can add a Hvar day trip to a longer Croatia itinerary that takes you to several different places around the country (like Plitvice National Park).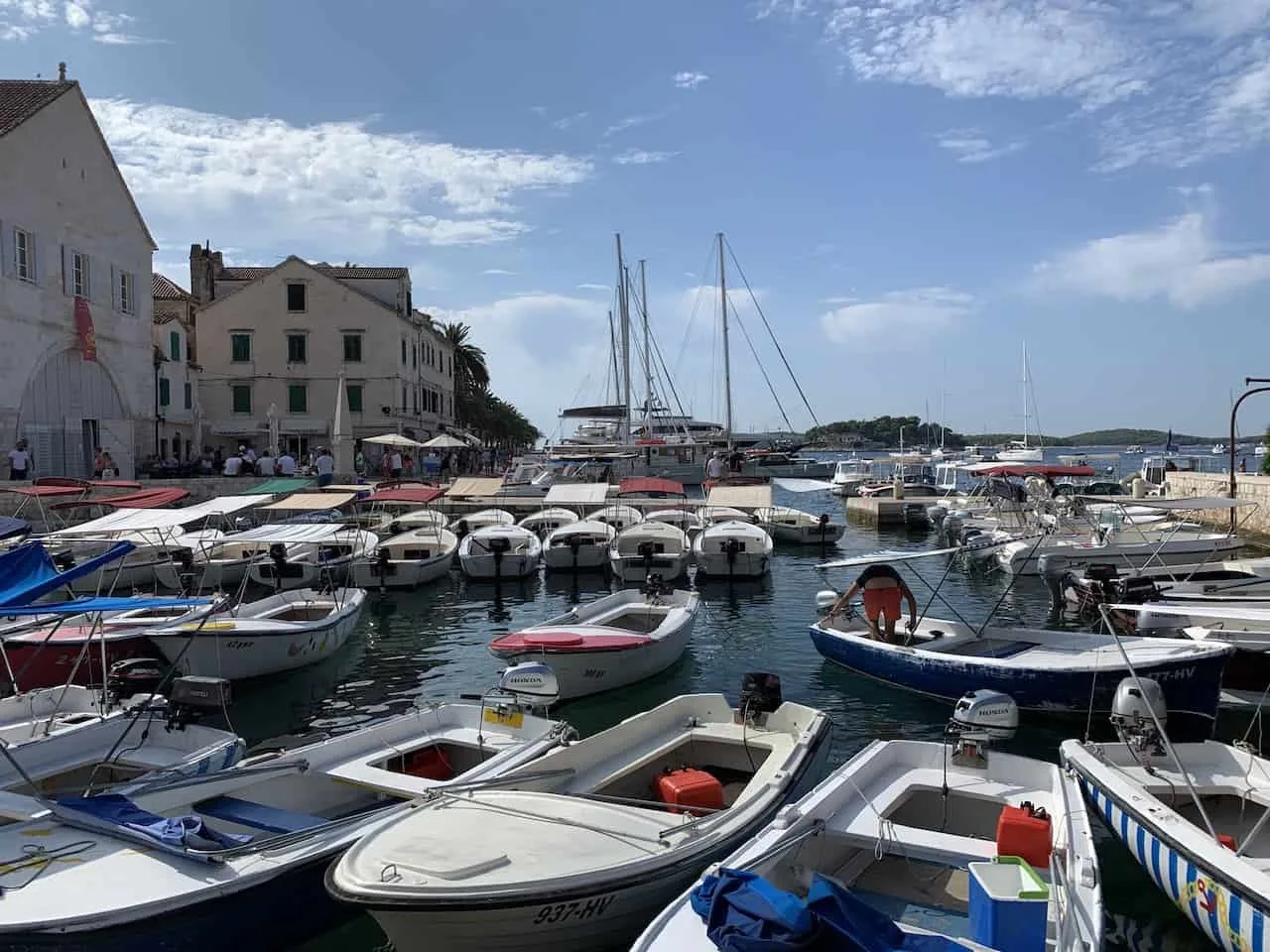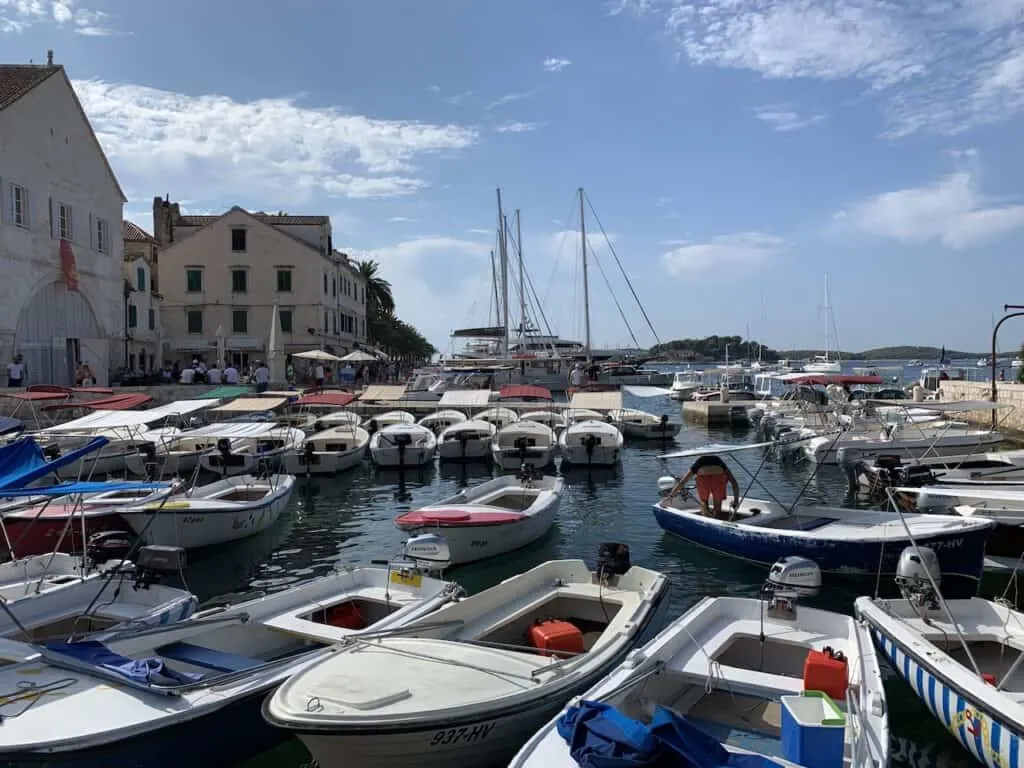 3) What is There to do in Hvar for the Day
To get into a bit more detail about the itinerary laid out above, let's now talk about each place mentioned.
Hvar Town
Right when you reach the ferry port in Hvar Town, you will be welcomed to one of the most picturesque town centers in Croatia.
Hvar's history goes back thousands of years, and you can immediately begin to see that history when you arrive.
The cobble stone streets, original architecture, and stone buildings will be surrounding you in all directions.
St Stephens Square
One of the main highlights that you will come across right when you arrive is St Stephens Square – the largest square in the Dalmatia region.
This is home to several restaurants and cafes lining its walls, in addition to a nice open space to walk around and enjoy.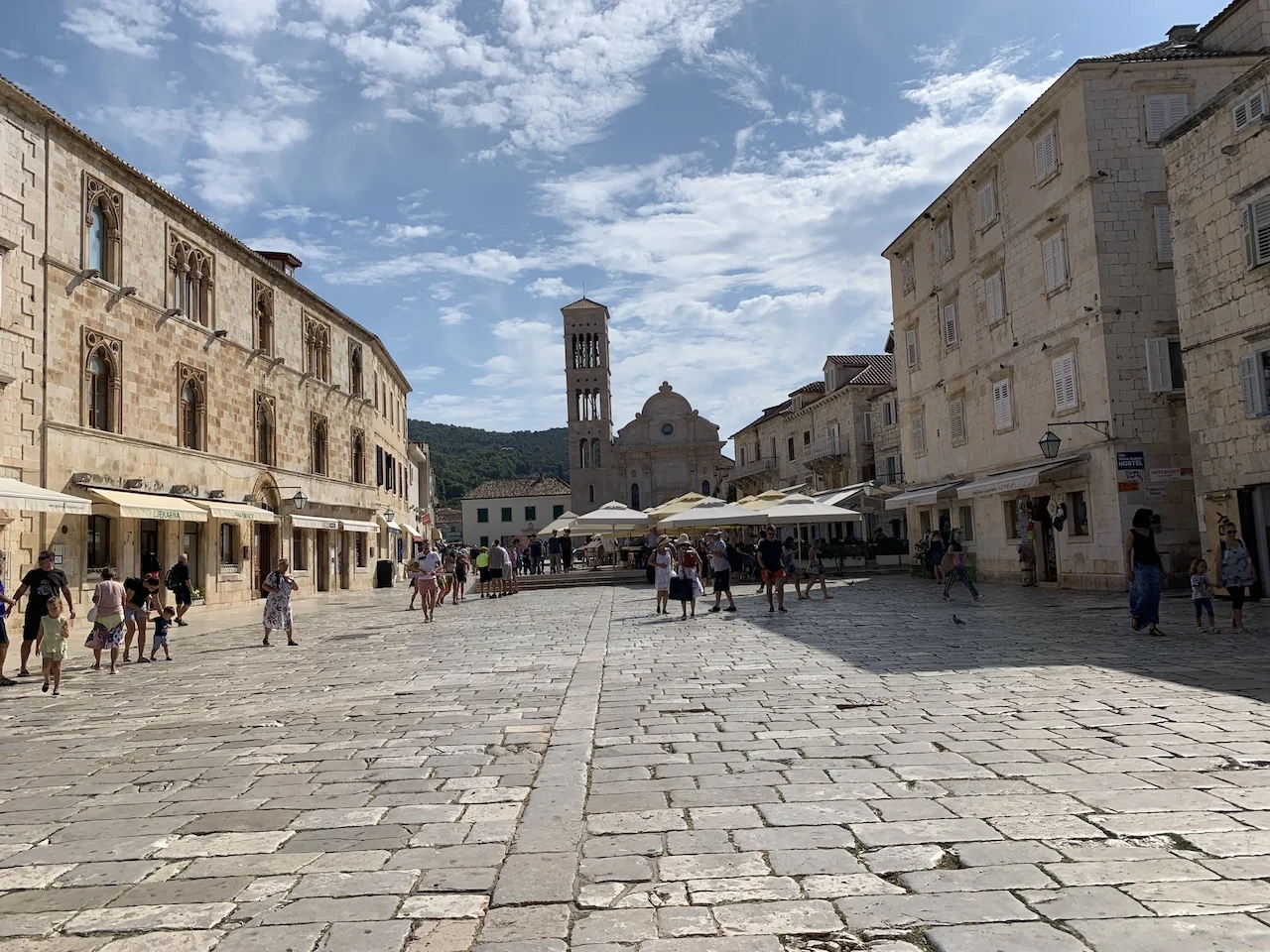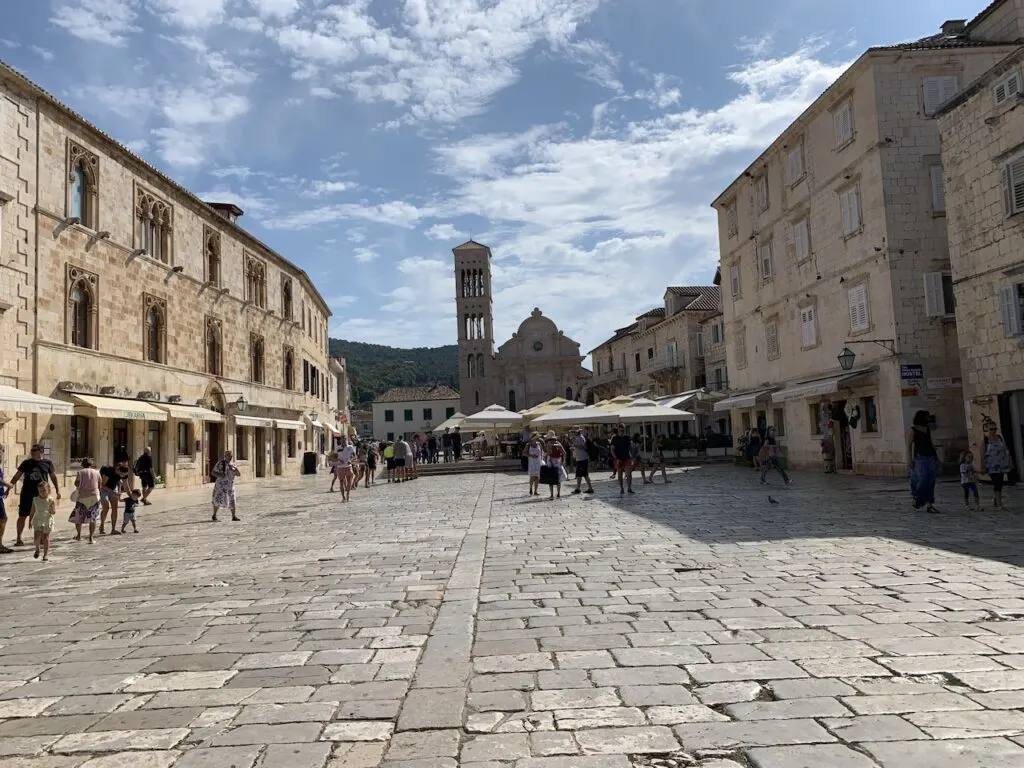 Hvar Cathedral
The Hvar Cathedral, also known as St Stephens Cathedral, can be found at the end of the square itself.
From a historical perspective, the very original church that stood in that spot was built in the 6th century. Over the years, additional construction has taken place.
It was then later on in the 16th century, when the present day St Stephens Cathedral was built.
The square and cathedral are names after St. Stephen, who was the pope and patron saint of Hvar.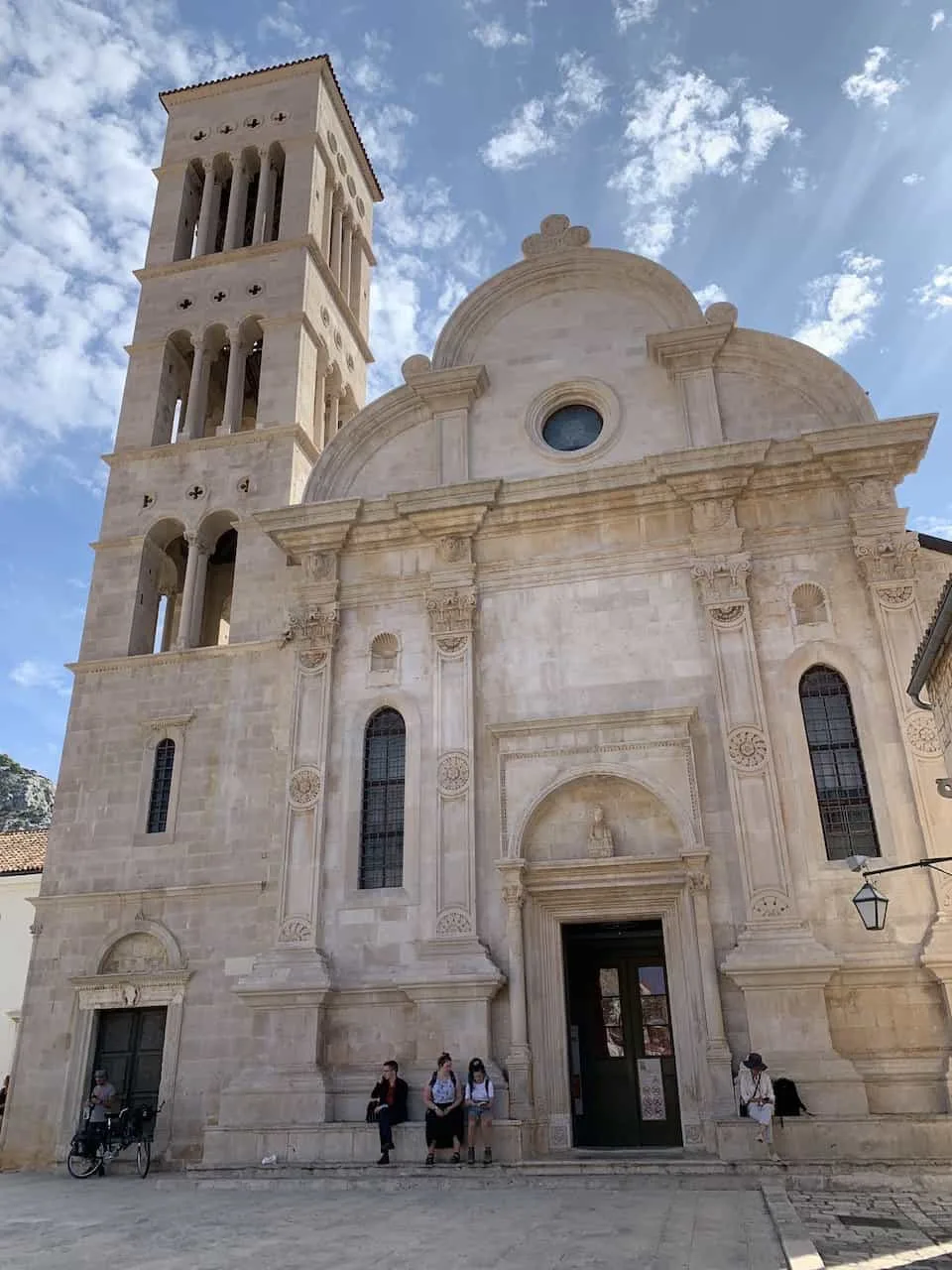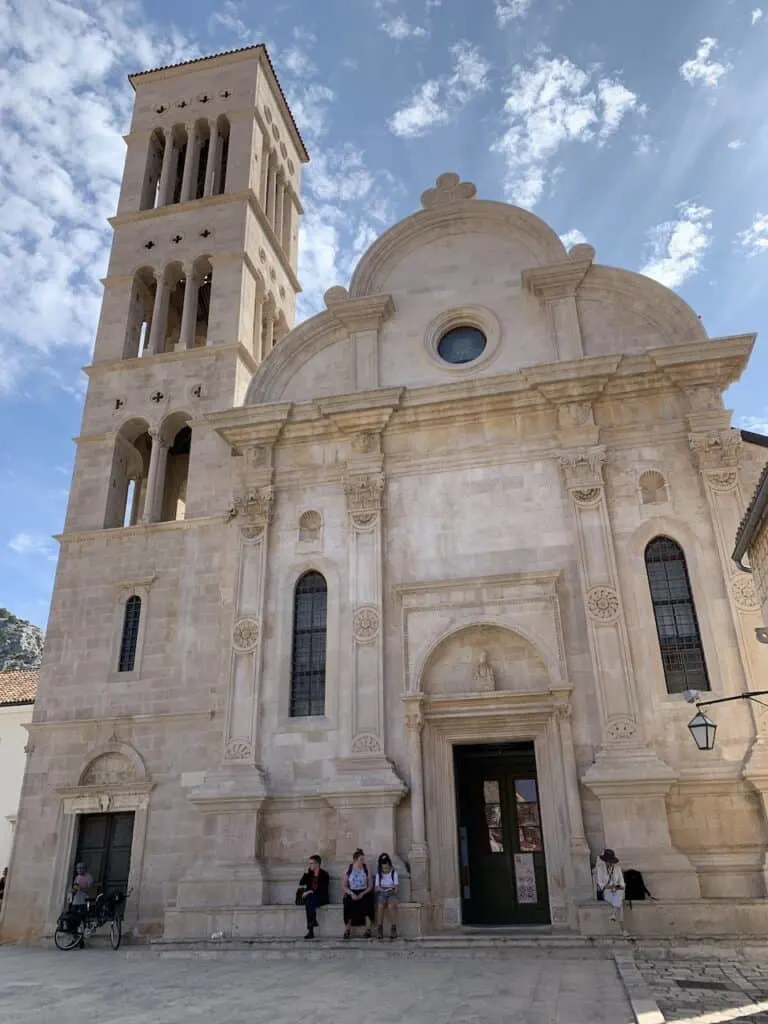 Hvar Arsenal
Also located on St Stephens Square is the Hvar Arsenal building.
The original building comprised of an arsenal, but later on also included a boatyard and theater.
Over the years, the building has been restored to give visitors a better sense of what the interior comprised of.
If you want to get a unique view of Hvar Town from above, head up the exterior staircase that opens up into a balcony. Here you can enjoy some views of the bustling square down below.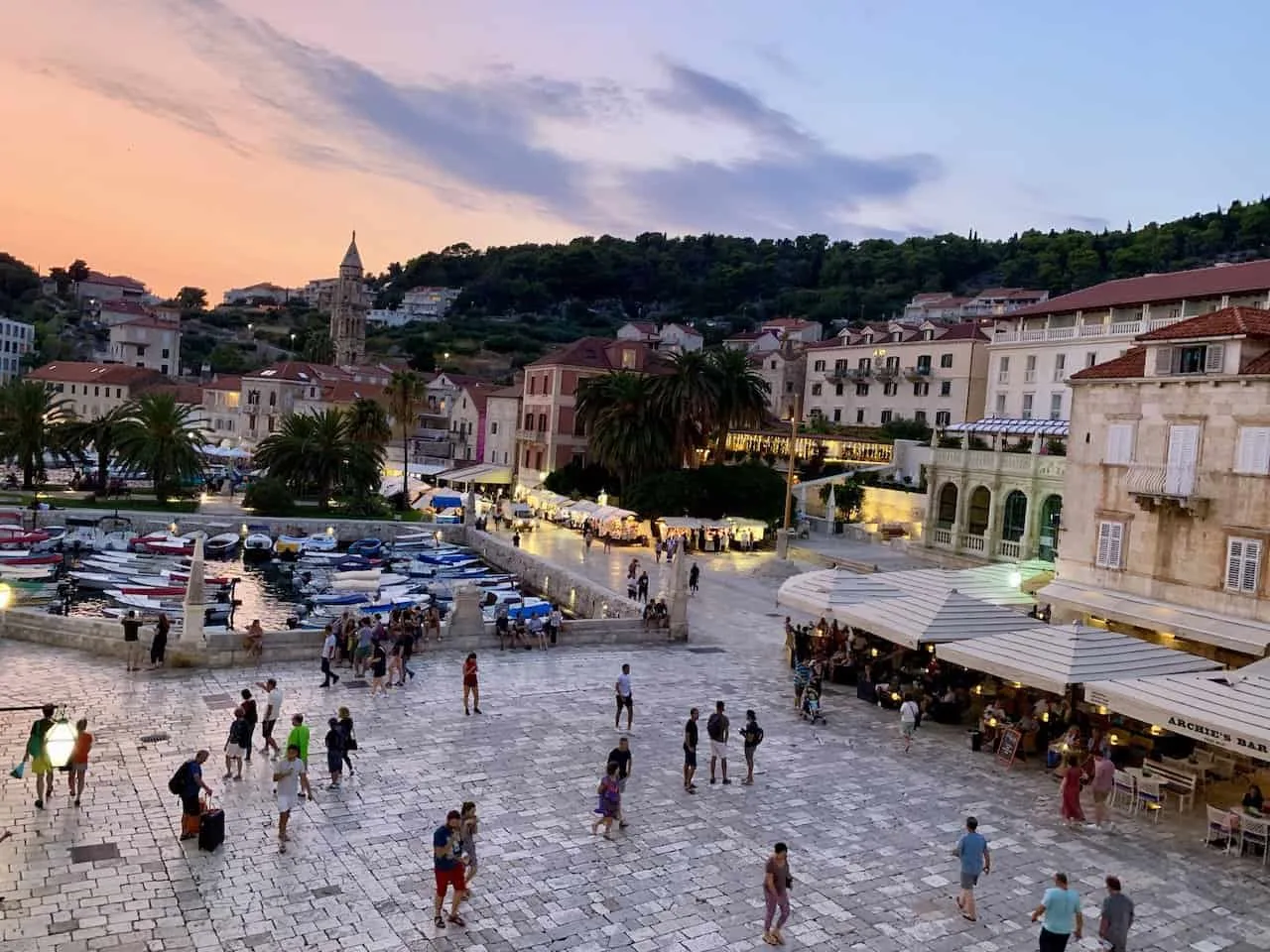 Franciscan Monastery
Another highlight to visit during your time in Hvar is the Franciscan Monastery.
Now, the monastery is not located right within the Hvar town center. However, it is located on the way between the town center and Pokonji Dol beach.
So, you can easily add it onto the route as you make that walk later on in the day after visiting the Tvrdava Fortress (more on that next).
You can enjoy the exterior architecture of the monastery or even head inside to take in some historic museum exhibits.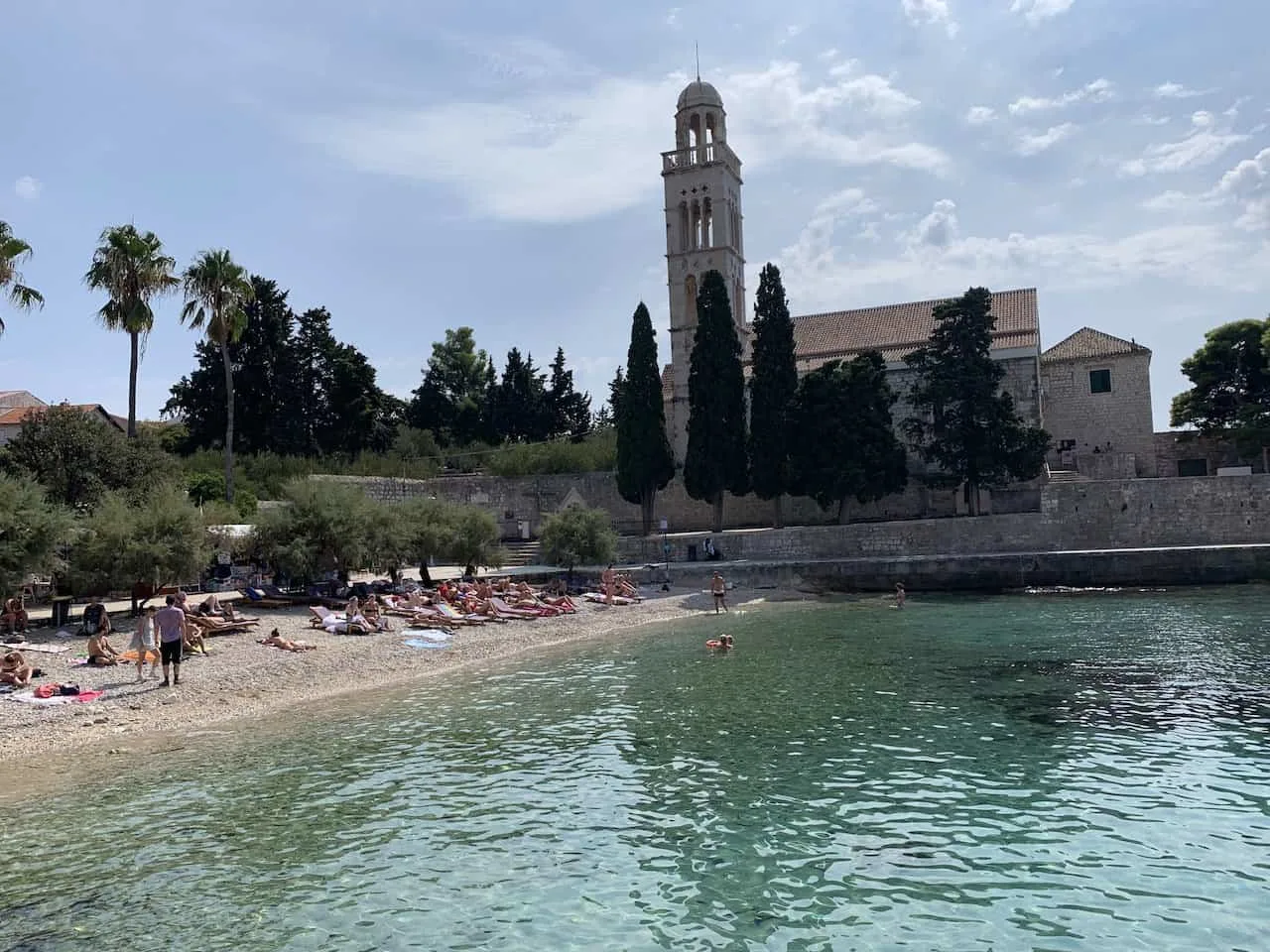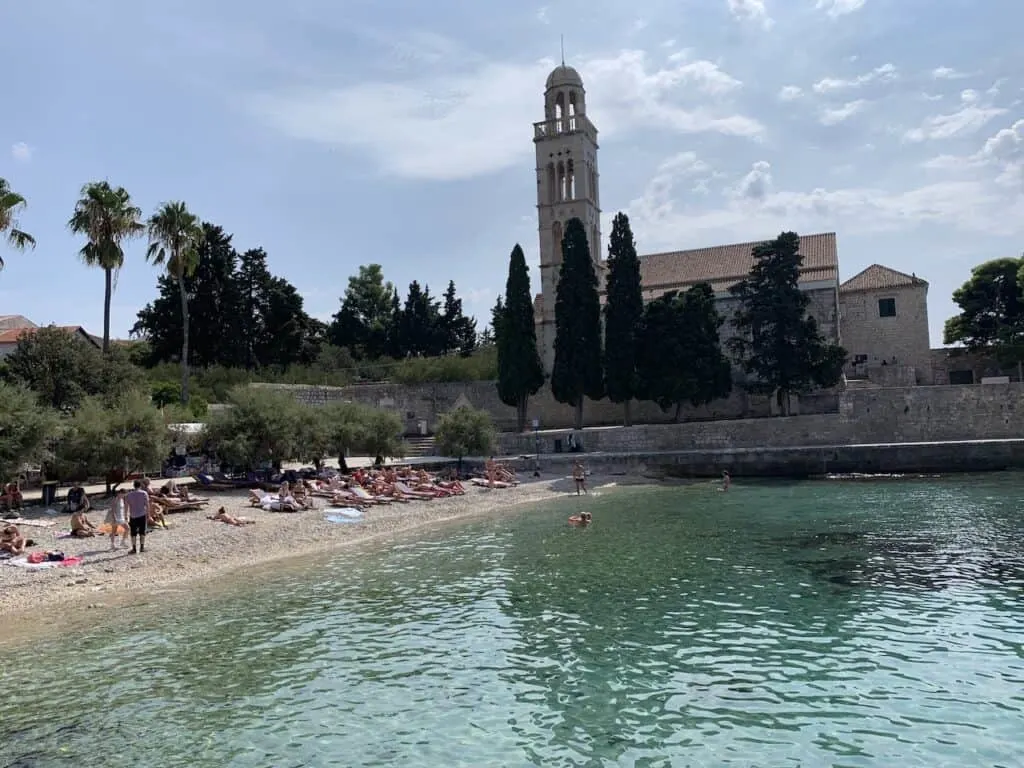 Tvrdava Fortress
After exploring Hvar Town for a bit, you can then make your way up to the Tvrdava Fortress.
From up top, you are going to enjoy the best view of Hvar that you can ask for.
Getting up there though will require a bit of a workout. It is about a 20-30 minute walk with 80 meters / 260 feet of elevation gain (or you can opt for the taxi!).
You will want to follow the back alleys and staircases upwards until you reach the base of the fortress.
Like the rest of Hvar, this site is full of history starting back all the way in 500 BC. Originally an Illyrian settlement, later a Byzantine citadel, and then a Venetian fortress, Tvrdava has been through it all.
For a small ~$5 fee, you will be able to explore the ins and outs of the Tvrdava Fortress.
You will come across plenty of viewpoints on the outside, with ancient artifacts on the inside.
It is a very unique place to wander around for some time, before making your way back down to sea level.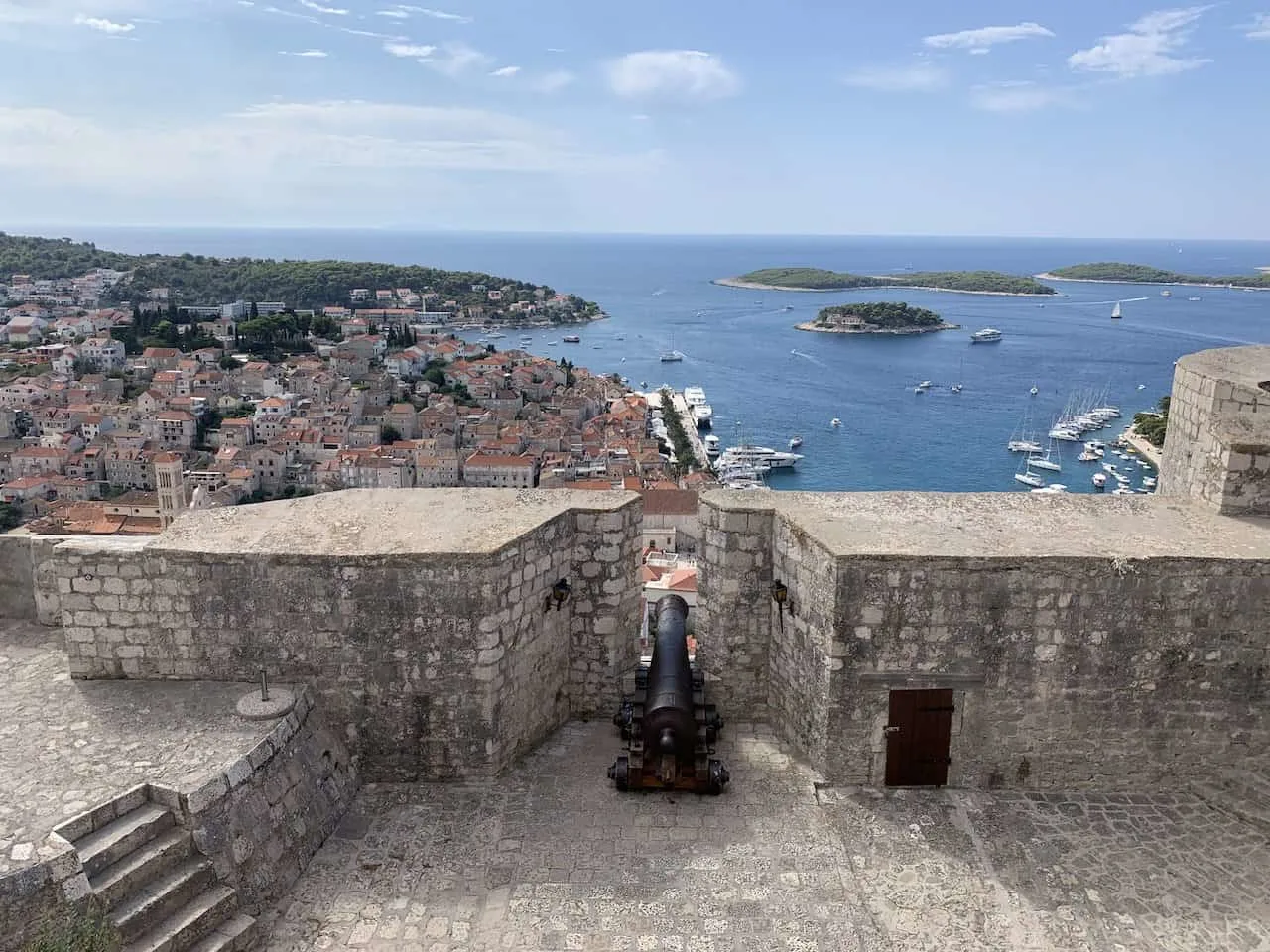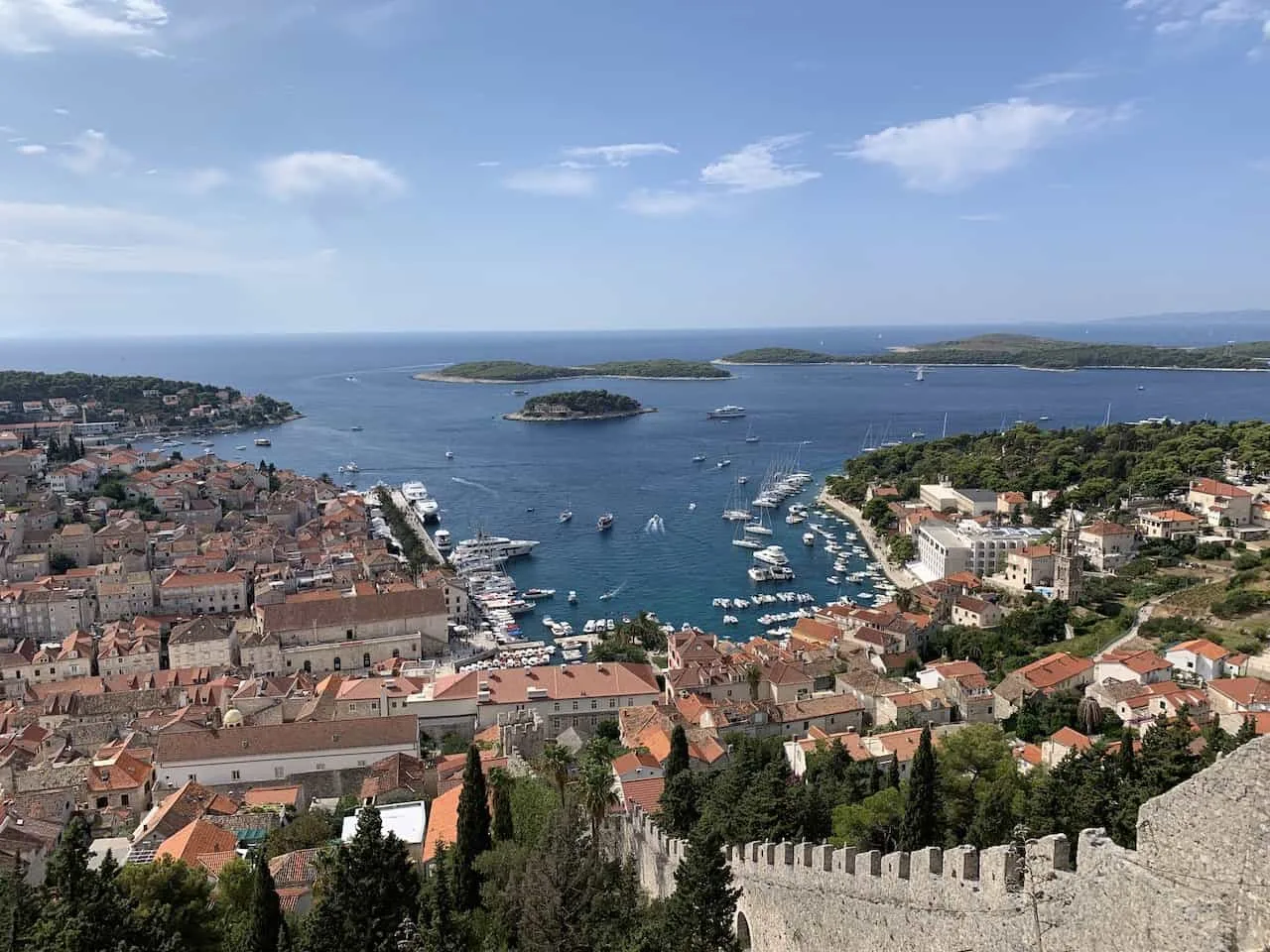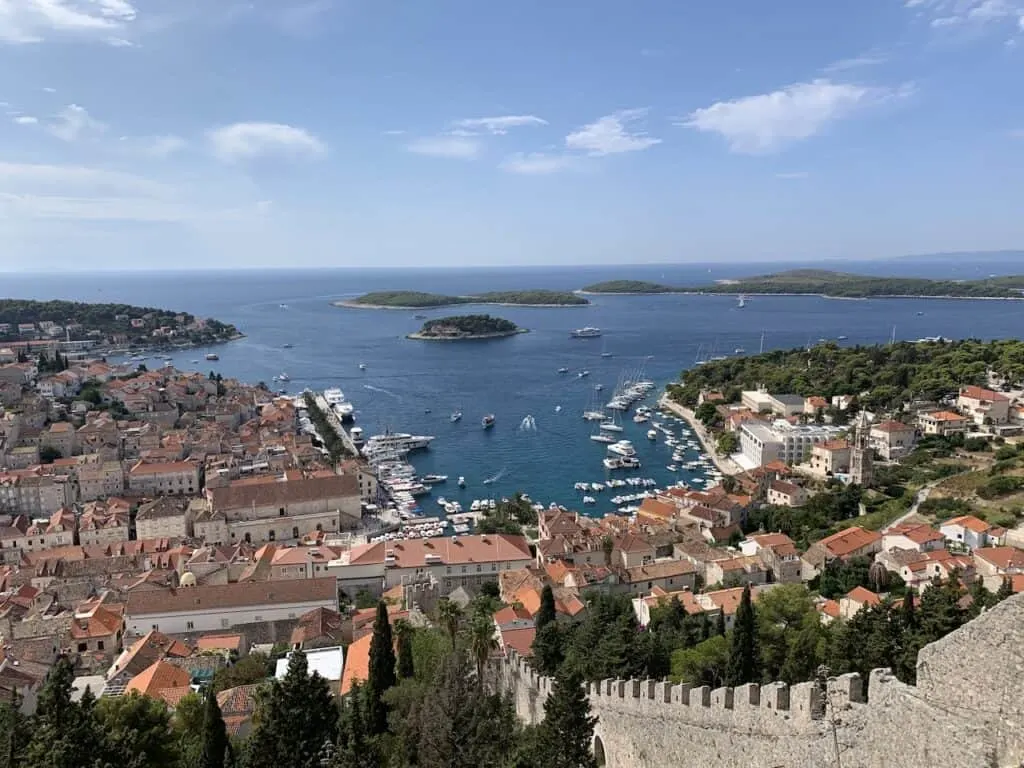 Pokonji Dol
There are many beaches to visit around Hvar Island. With a day trip though, you will want to stick to those that are closer to the town center.
One of the main beaches to consider is Pokonji Dol. The beach is about 30 minutes by foot from the center of town & it makes for a perfect walk.
While you can take a taxi there, I would recommend the walk as you get to really enjoy the coastline and smaller beaches along the way.
As mentioned, you will also come across the Franciscan Monastery during the walk out, so feel free to make a stop there as well.
Once at the beach, you can find a spot to settle down. From there, feel free to spend the rest of the afternoon just enjoying the warm waters of the Adriatic Sea.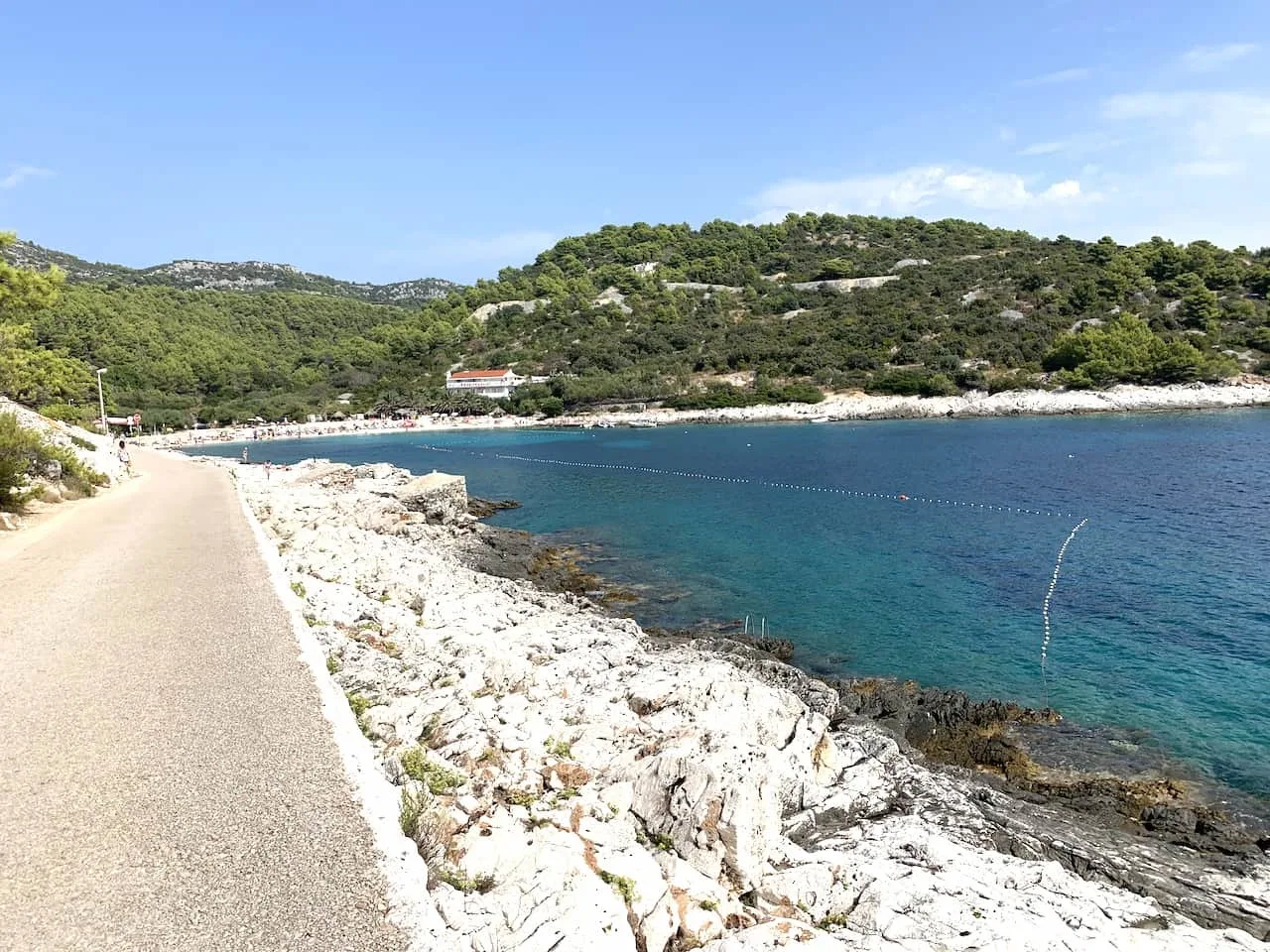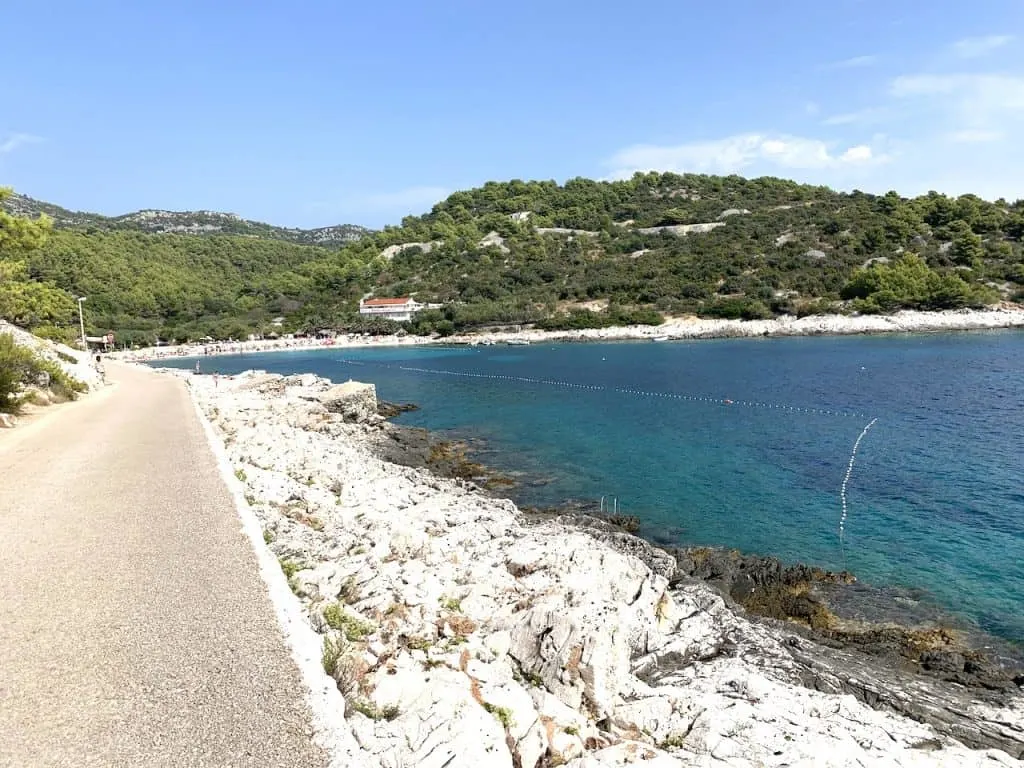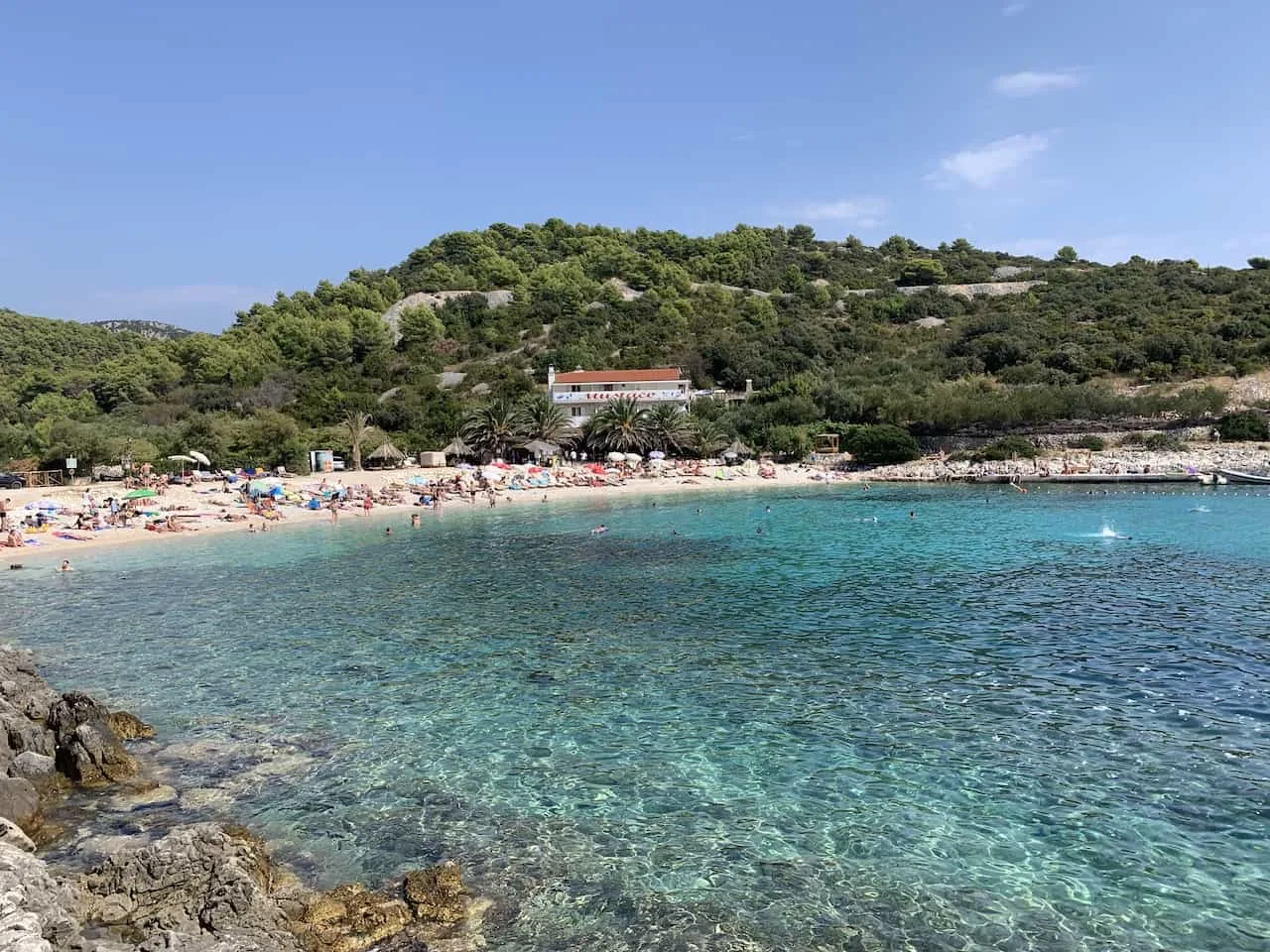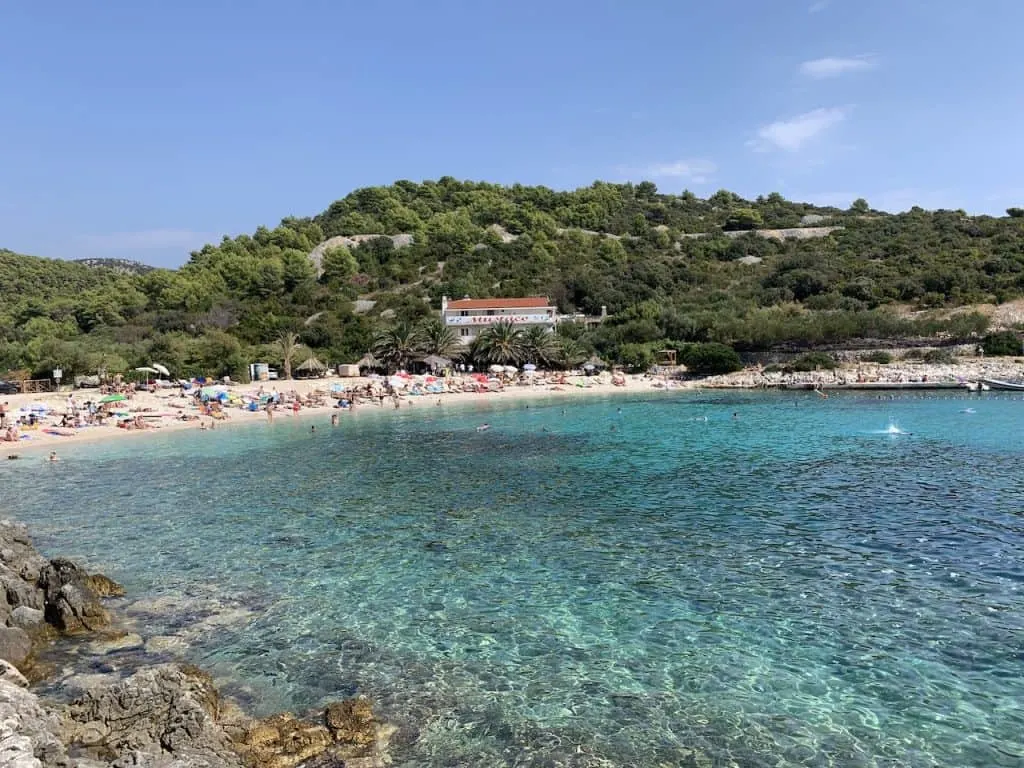 Hula Hula Bar
If you are up for a nightcap in town as part of your Split to Hvar day trip, then be sure to catch a sunset from the Hula Hula bar.
Hula Hula is about a 15 minute along the coastline (in the opposite direction of walking to Pokonji Dol). From the bar, you should be able to enjoy some good music as the sky lights up as the sun sets.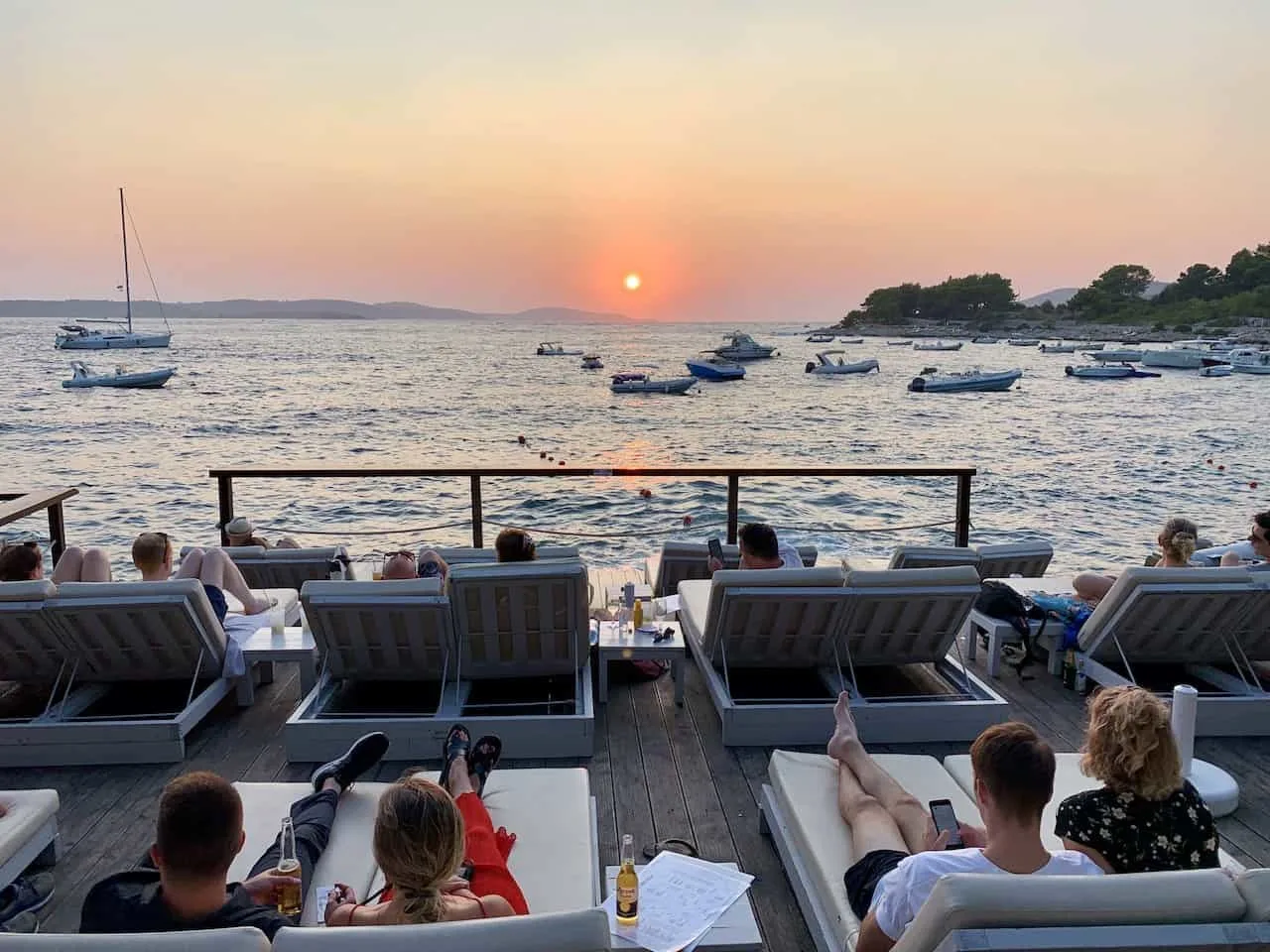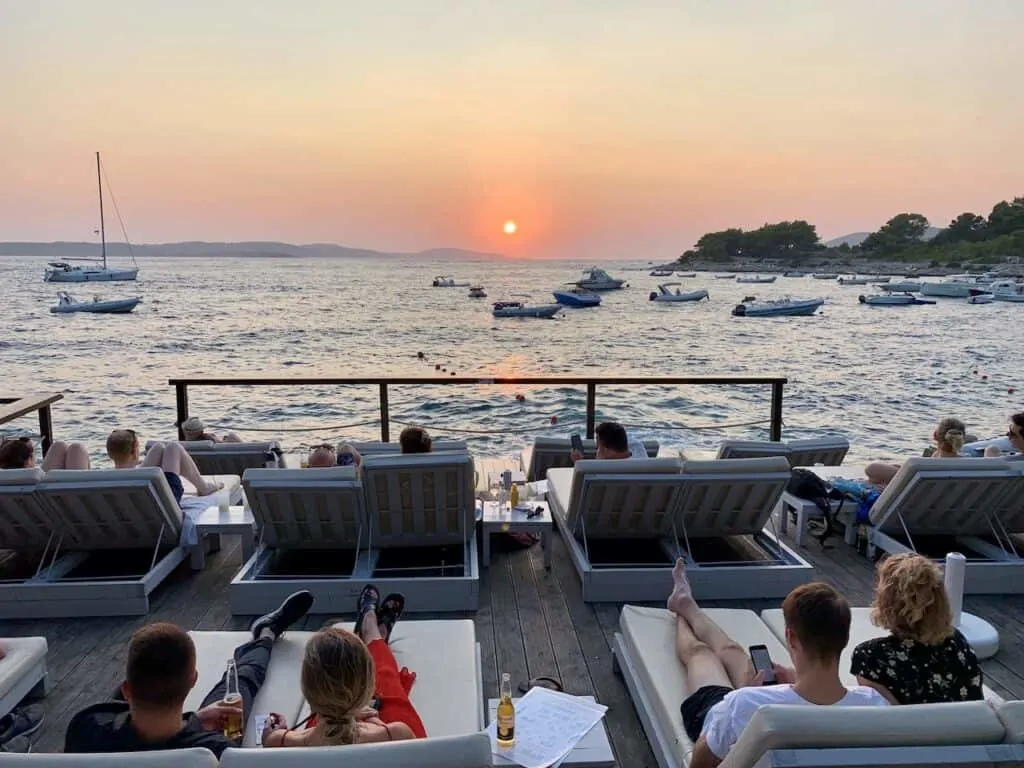 4) Alternative Hvar from Split Day Trip Options
You can't go wrong with the above points of interests during a Hvar day trip from Split.
However, if you would like to switch things up a bit and explore beyond the main town center area, there are options for you.
Here are two alternatives for your Hvar day trip:
Pakleni Islands
Just off of Hvar you will find the Pakleni Islands, which are a set of 14 islands.
All around these islands you will find crystal clear waters, beaches, and restaurants/bars to visit.
Taking a boat out on the water is a perfect way to go about a trip around the area. Instead of spending your time on land, you can spend your time out at sea!
While there are tours that leave from both Hvar and Split that explore the islands, you can also easily do it on your own.
After getting off of the ferry, make your way around the harbor area, where you will find boat rental companies.
These boats can be rented for the day and are very simple to use (if you are comfortable doing so on your own).
From there you can go about jetting off to several islands around the area. A potential self-guided tour can include:
Planikovac Island
Mlini Beach
Sveti Klement
Once you have had enough time in the water, you can head back to Hvar, spend some time walking around town, and then make your way to Split.
Learn More | Pakleni Islands Boat Trip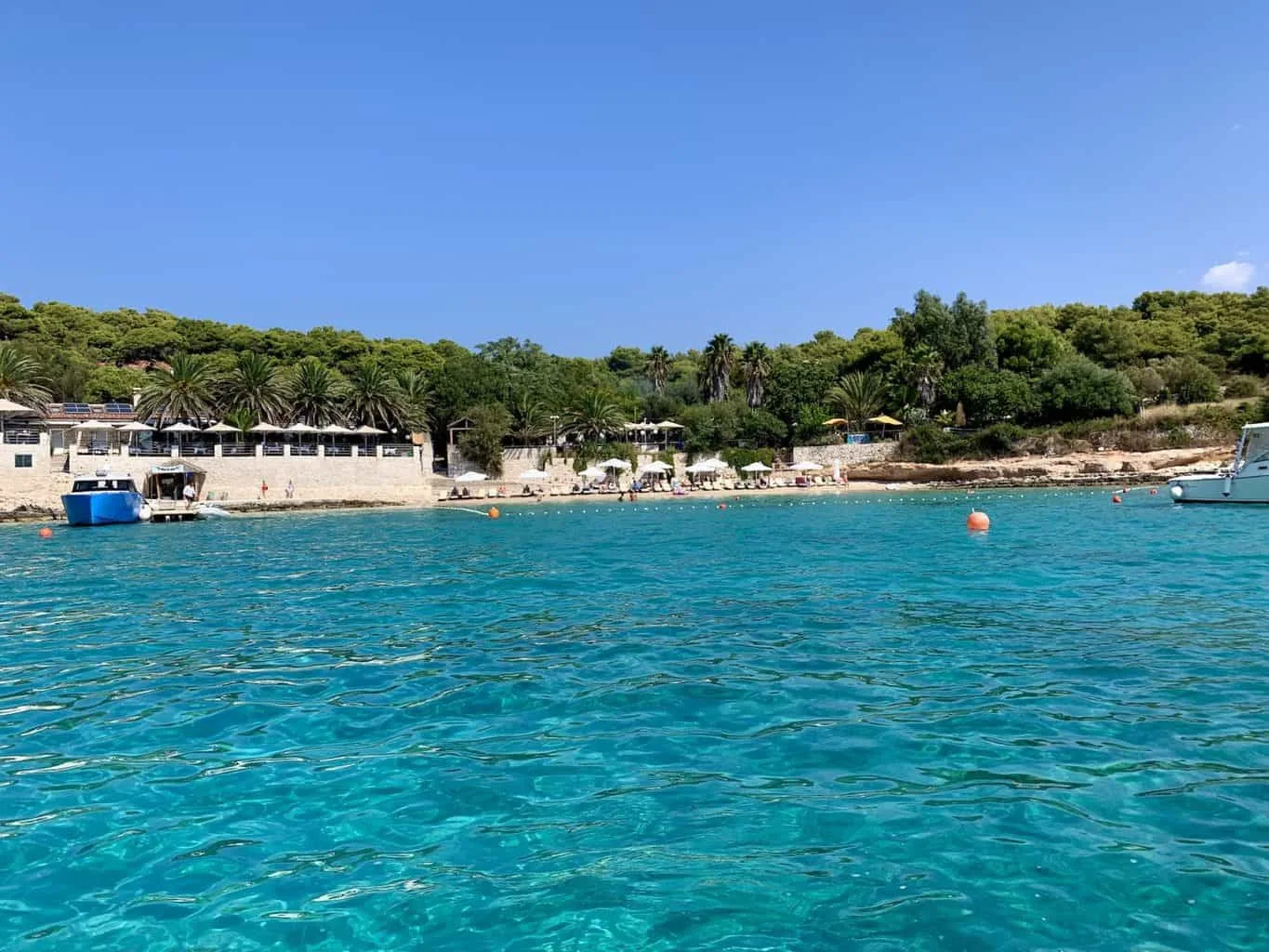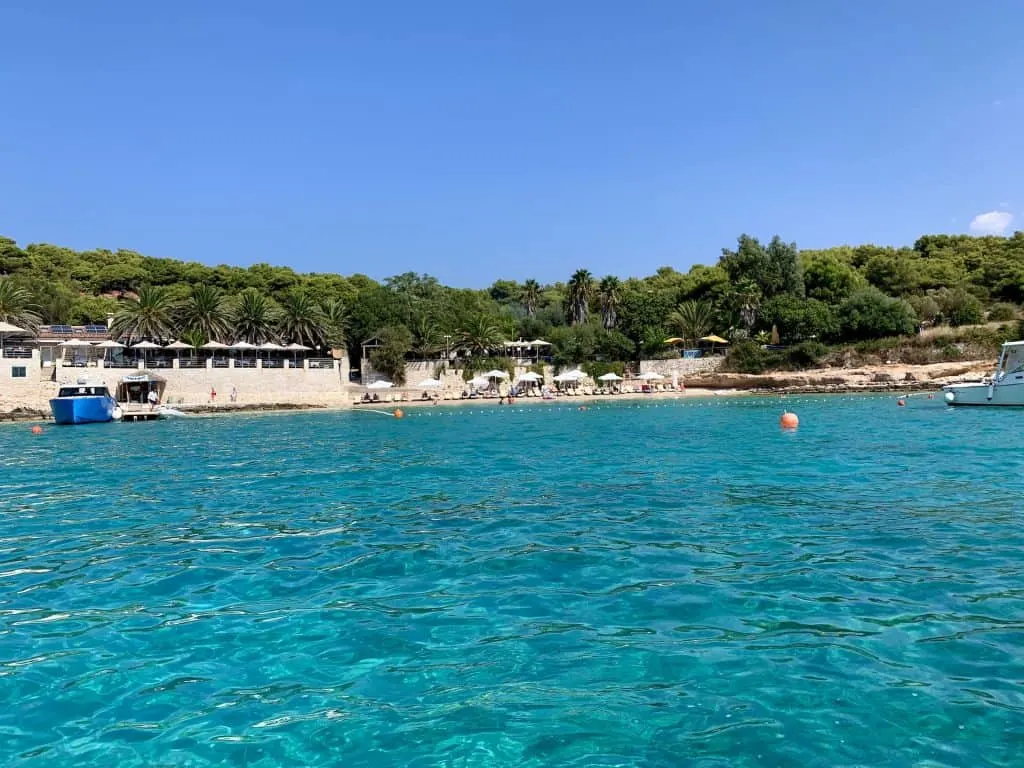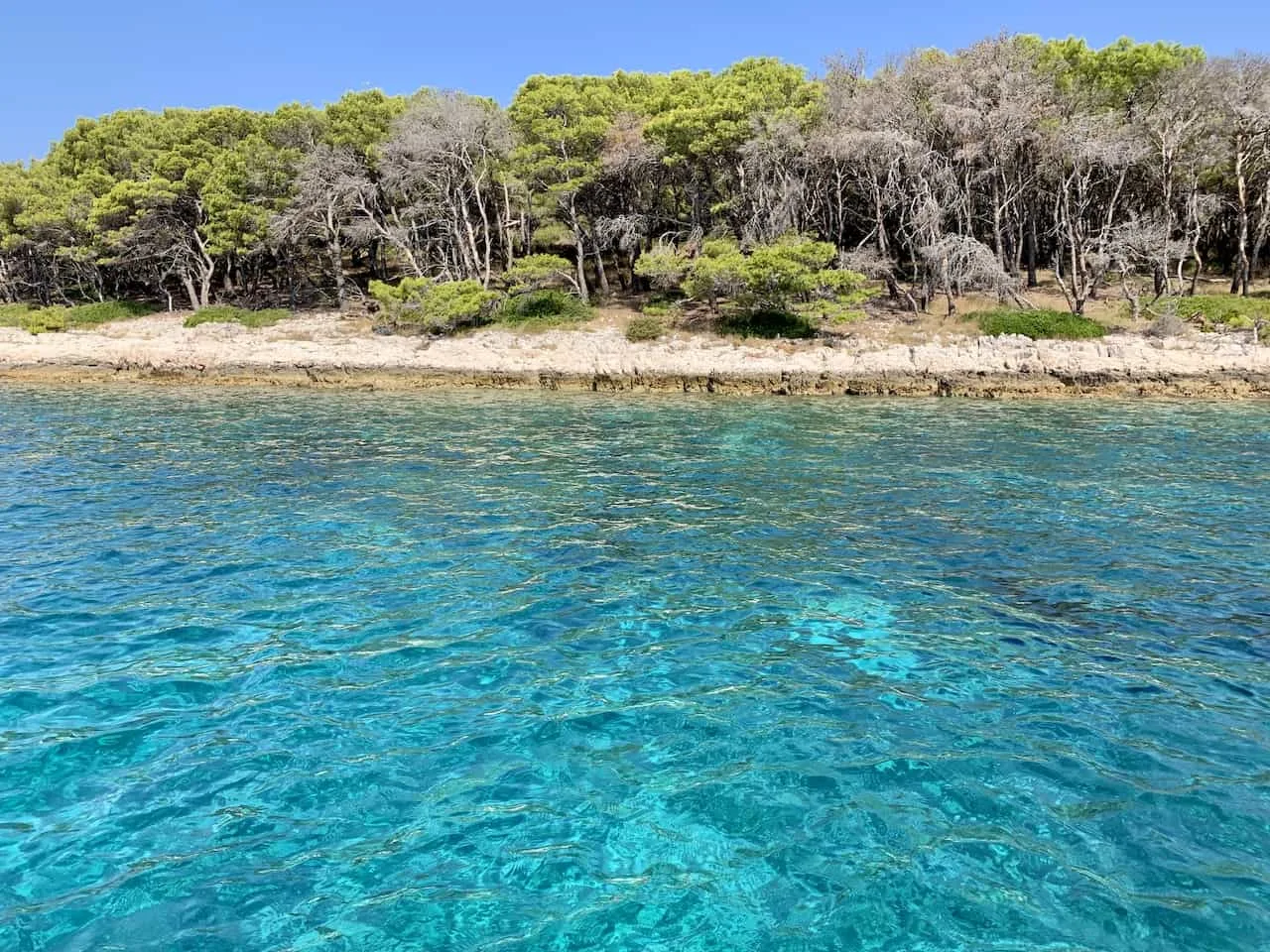 Hvar Beach Day
A second alternative for a Split to Hvar day trip is to take part of a Hvar beach day.
Instead of focusing on some of the sites of Hvar, you can simply make your way to one or more of the island's beaches.
While Pokonji Dol can be on your list, be sure to also take a look at Malo Zarace and Dubovica Beach.
These other two beaches are not within walking distance from the town center so you will either need to take a taxi, scooter, or bicycle along the coast.
Getting to venture further out of Hvar Town, and see more of the beautiful Hvar coastline will be a relaxing experience to take part of.
As always, once back in town at day's end, you can still spend some time around the main square area before hopping back over to Split.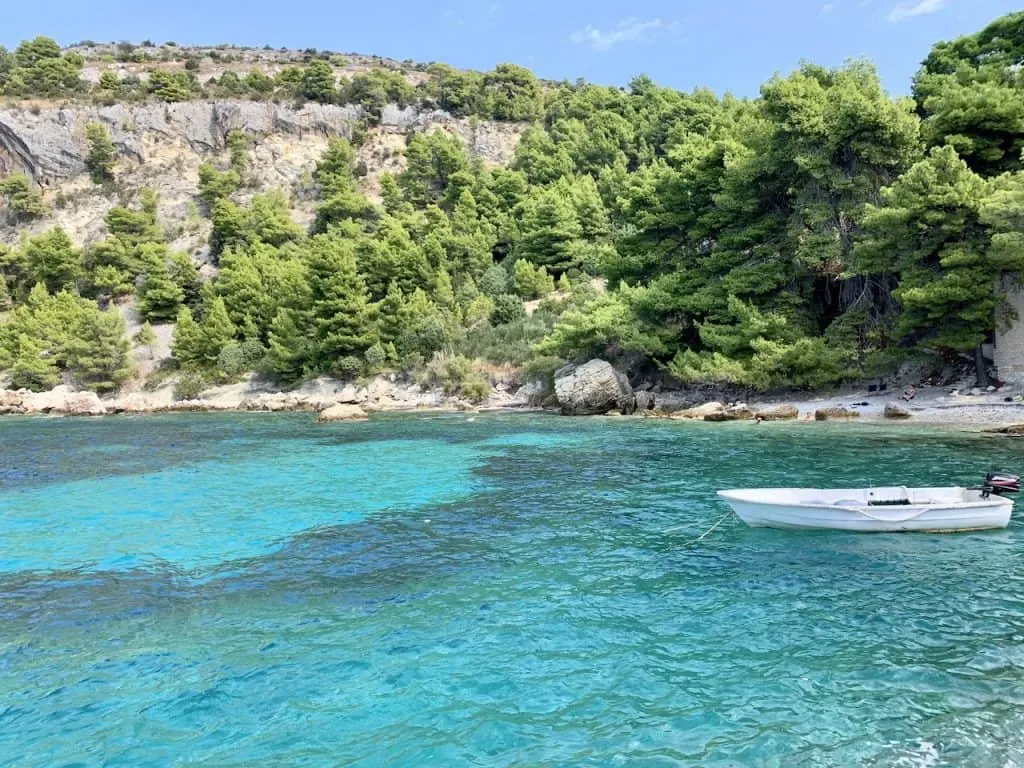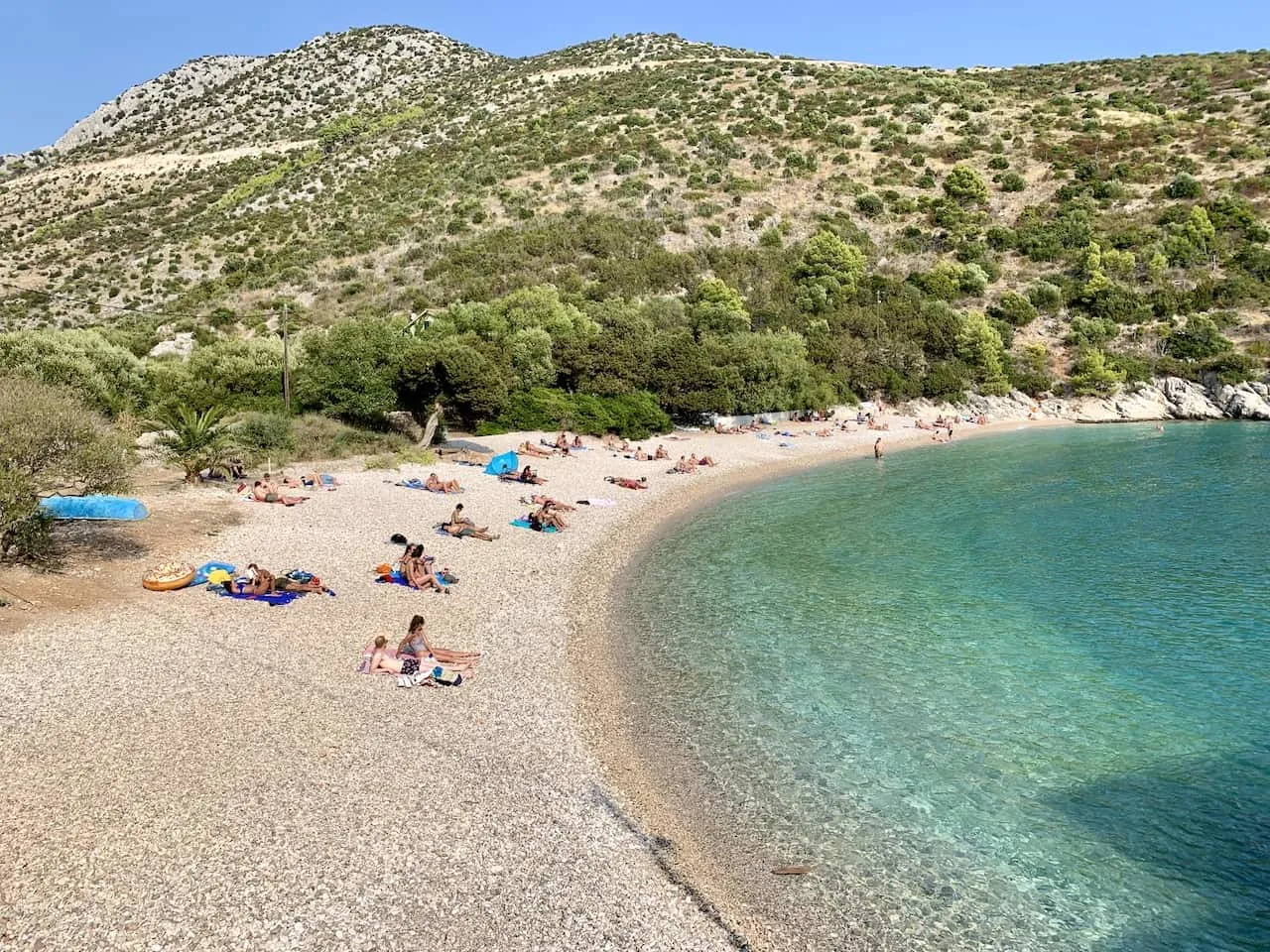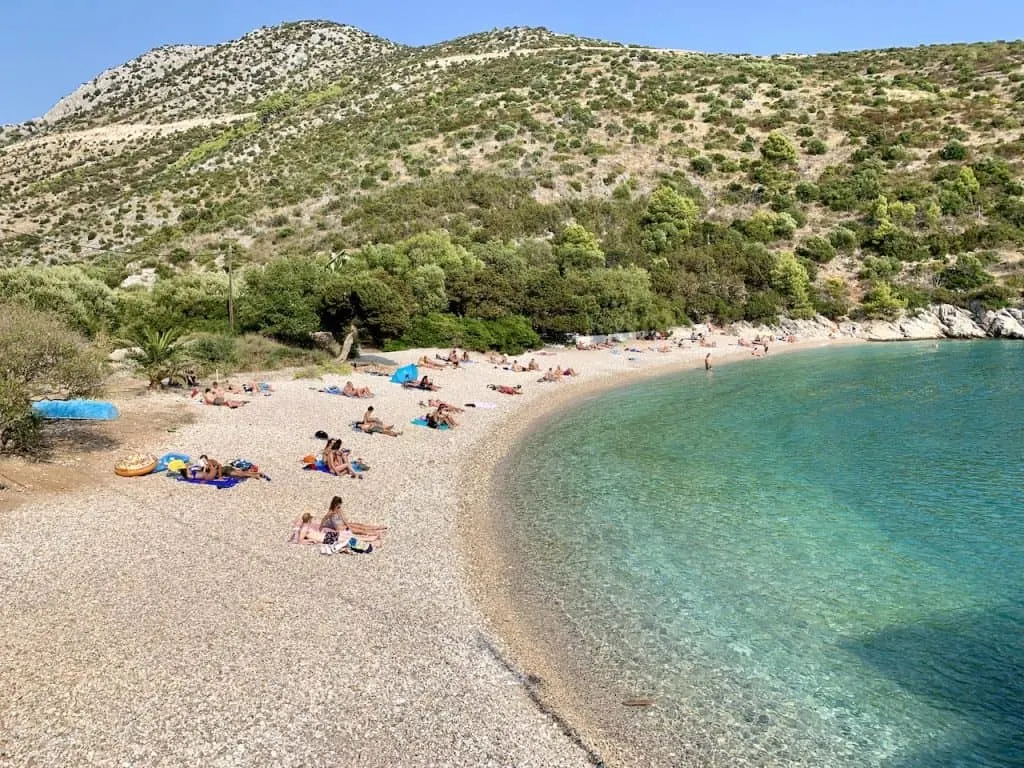 5) Is a Day Trip to Hvar Worth It
So, you may still be asking yourself is a day trip to Hvar worth it. For me, that answer is certainly a yes.
Hvar is one of the most visited Croatian islands for a reason – whether that be for historical purposes or for its beaches & waters.
While a day trip will just give you a glimpse of what Hvar is all about, you will get a lot out of a day on & around the island.
Coming over from Split is really a super easy and convenient day trip to take part of. So, if you are short on time and can't stay on the island itself, then definitely opt for the day trip to Hvar from Split.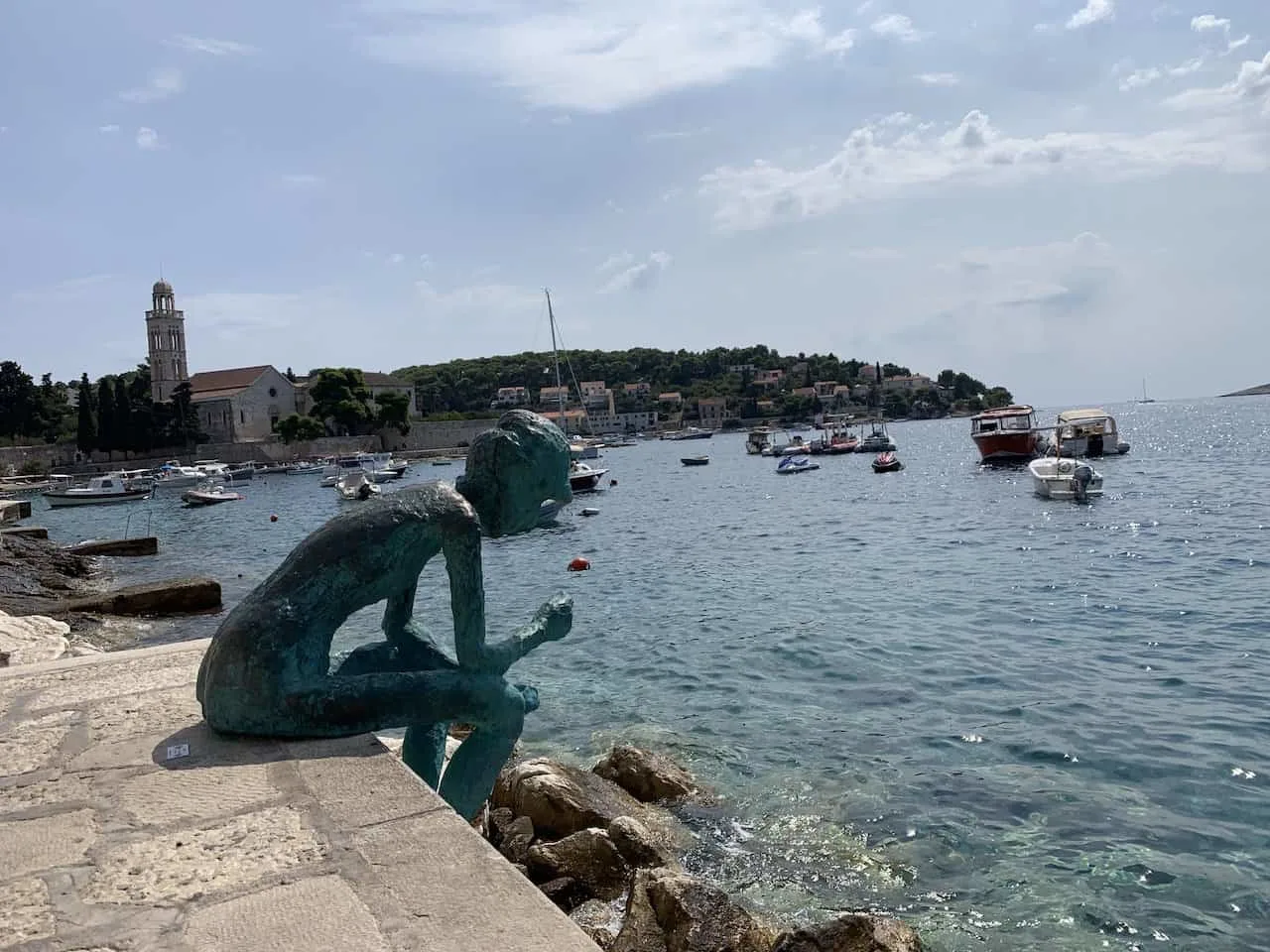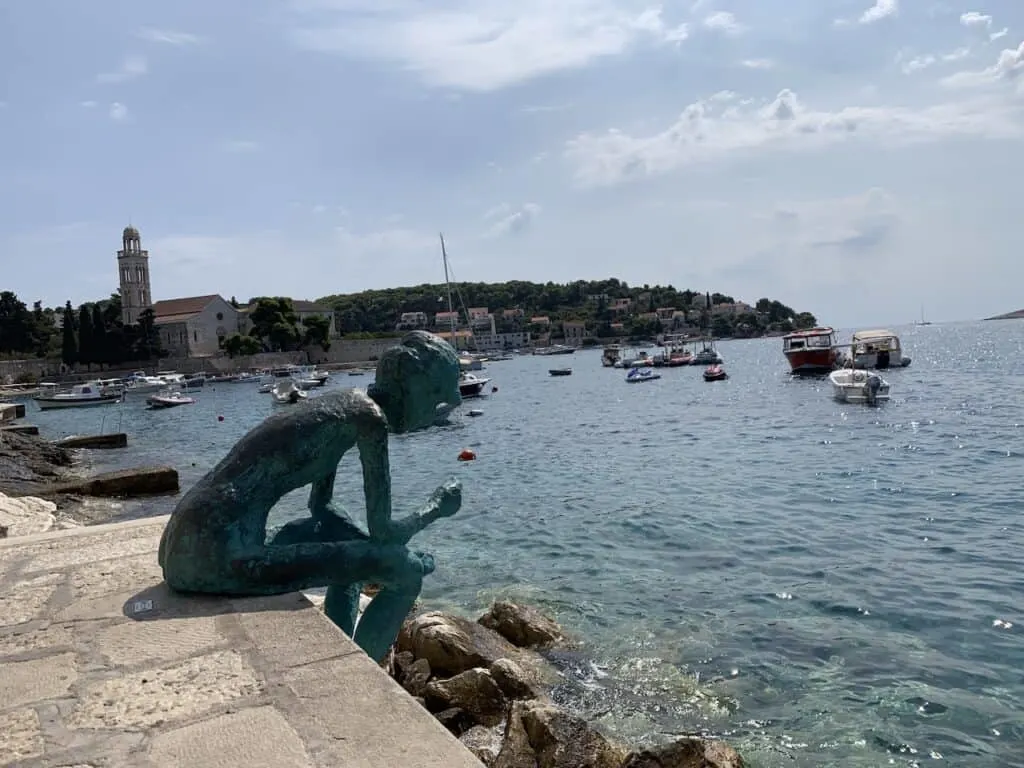 6) Where to Stay Split
Since nearly all the attractions and things to do in Split are located centrally in the downtown "Old Town" area, that is where I would recommend you stay during a visit.
This will give you the ability to just head out your hotel door and be right in the center of the action.
You will be close to all the attractions, the top dining options, and the riverfront promenade. This will also take away any hassle of worrying about taxis as everything will be in walking distance.
You can find a whole variety of hotel options around the city – everything from high luxury to cheap hostels. Below are some of my top recommendations by price point.
Mid-Range: Plaza Marchi Old Town | Central Square Heritage Hotel | Art Hotel
Luxury: Piazza Heritage Hotel | Cornaro Hotel | Hotel Luxe
Budget: Palace Augubio | Jupiter Luxury Hotel | Hotel Globo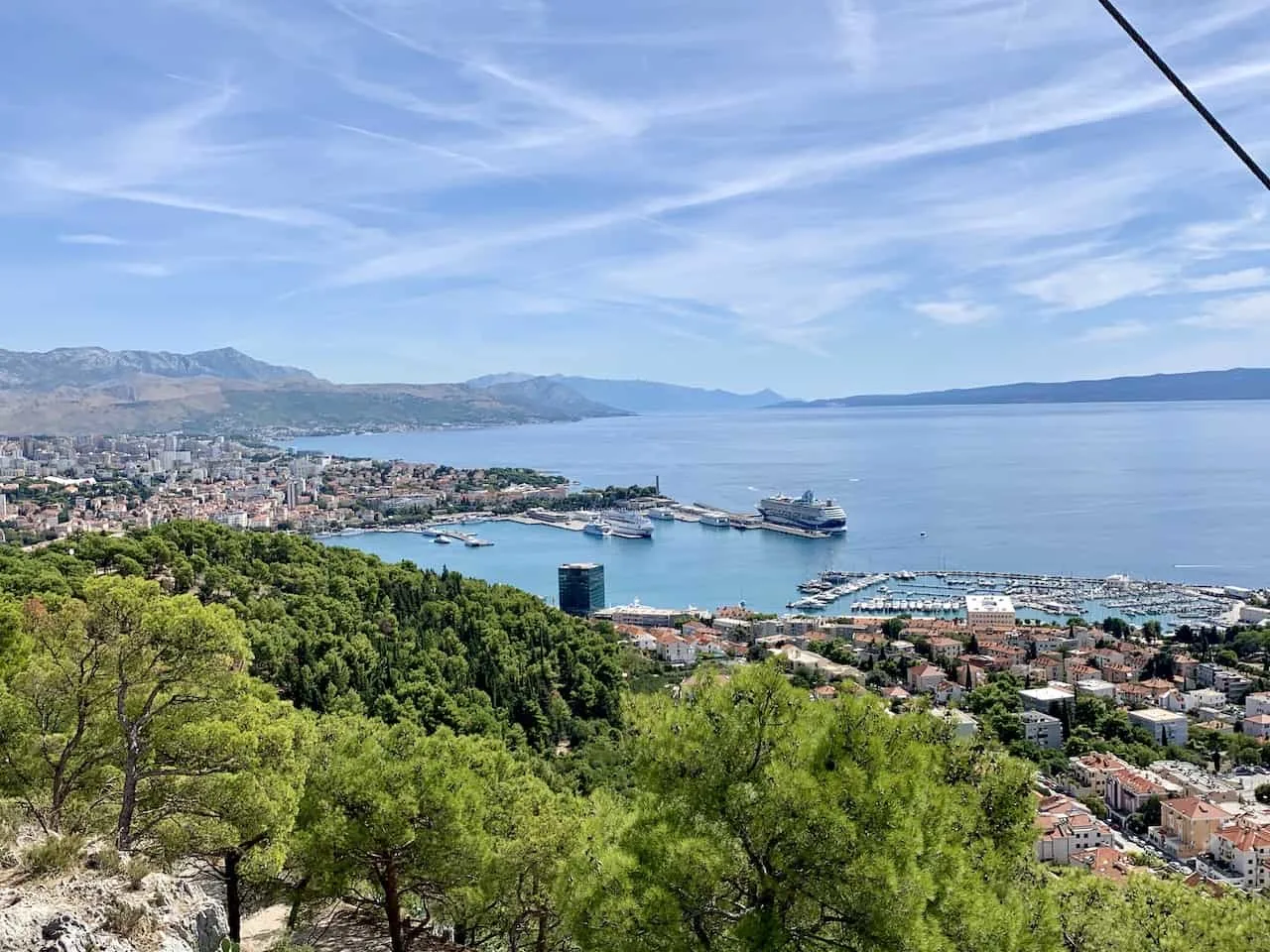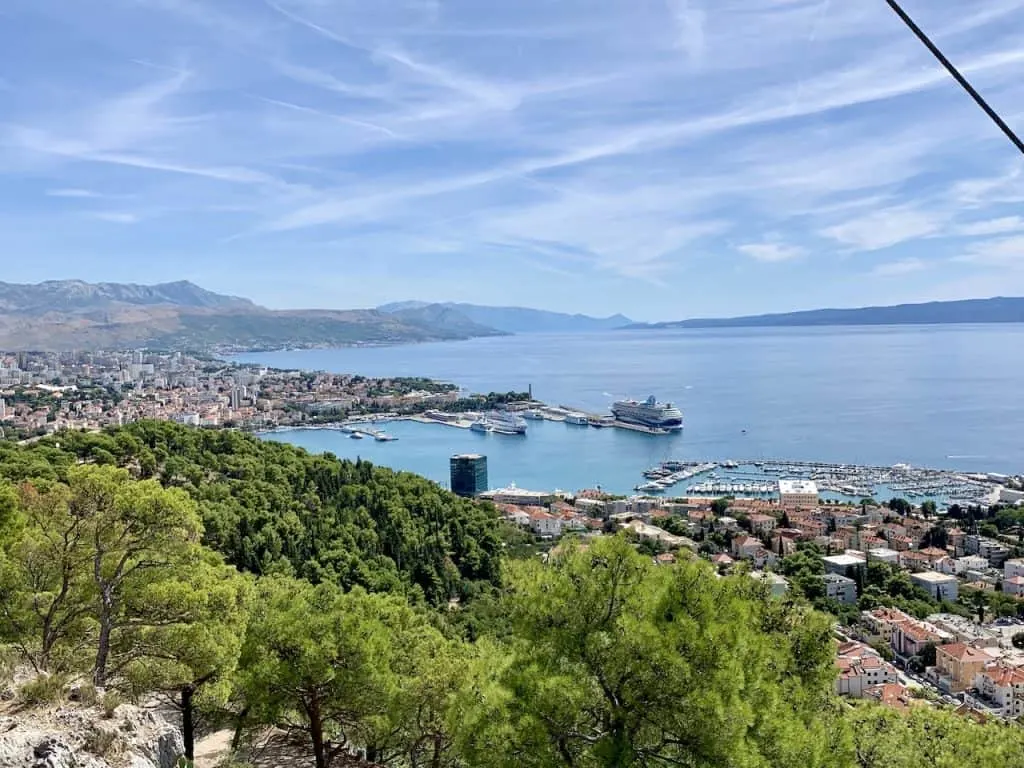 7) What to Bring
Since you will be out and about for the entire day, you will want to come prepared with the necessary packing list.
In general, you can expect a lot of walking and swimming, along with some strong sun. So with that said, be sure to bring along the following items:
Comfortable Walking Shoes / Closed Toe Sandals
Bathing Suit
Sunglasses
Sunscreen
Hat
Power Bank
Water Bottle
Small Day Backpack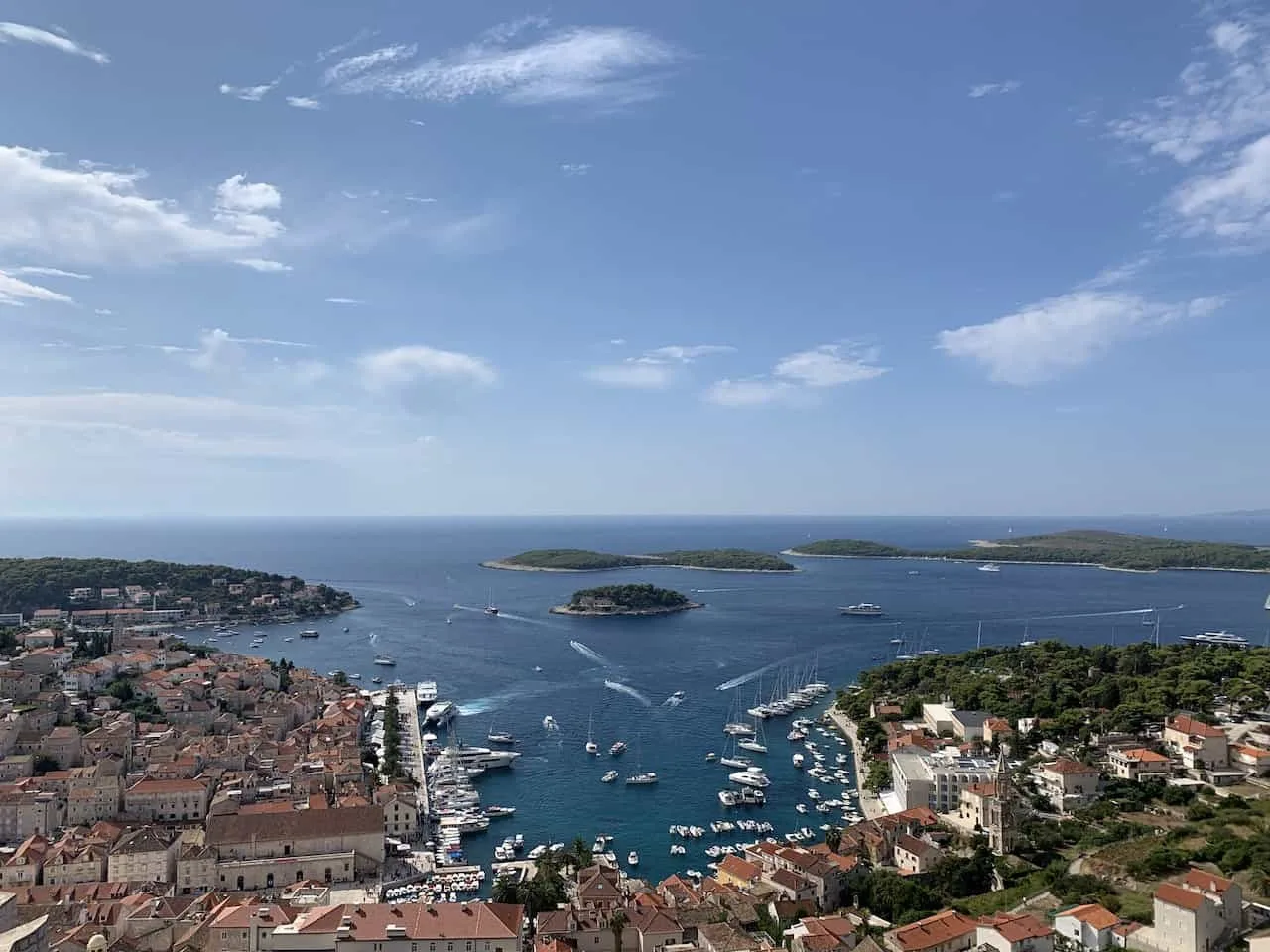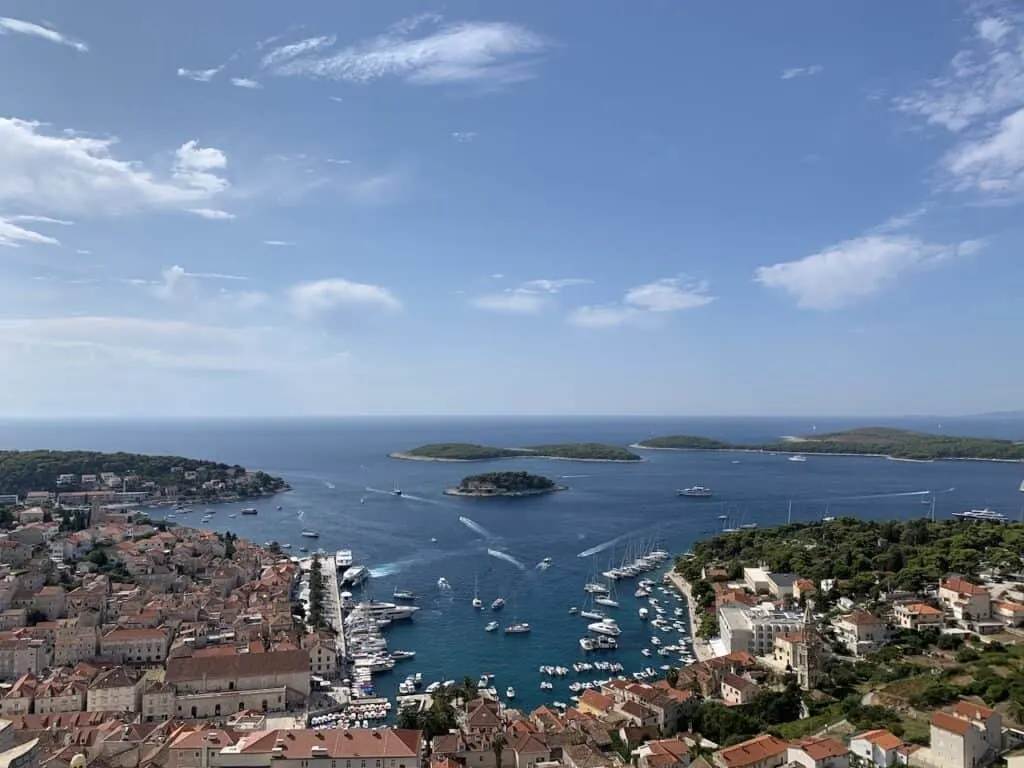 I hope this has helped you put together a Hvar day trip from Split. If you do have any questions, feel free to add them in below.
Also, don't forget to check out the other Croatia itineraries and guides up on the site.
Have fun out there and safe travels!