When visiting the island of Hvar, one of the main things I am sure you will want to do is visit some of the various beaches around the coast.
One of the fan favorites here is called Pokonji Dol Beach, located just outside Hvar Town.
This guide will walk you through how to visit the beach and what to expect along the way.
* Affiliate Disclosure: This post may contain affiliate links, which means I may receive a commission if you make a purchase through the links provided, at no additional cost to you. Thanks for supporting the work I put into TripTins!
1) How to Get to Pokonji Dol Beach
There are a few ways to go about your visit to Pokonji Dol Beach depending on your interests.
Since the beach is not too far away from the Hvar Town center, you can opt for a walk or bike there.
Renting a scooter or taking a cab are your other options if you aren't trying to do too much physical activity.
Walk – my recommendation here would definitely be to walk from town to the beach along the coast. This way you will get to take in some beautiful views of the Adriatic Sea as you pass by smaller bays and beaches along the way and ultimately end up at Pokonji Dol.
If you input Pokonji Dol Beach into Google Maps, you may find that the quicker route is to head behind town and then down a path to the beach from the backside. However, if you do so you will then miss out on the coastal walk.
Instead just follow the road (route pictured below) that takes you on the outer road to the beach. The whole walk is 2.7 km / and should take a bit more than 30 minutes.
Please note that the roads here do not really have walking lanes, and the roads can also be very narrow at some points. Just be careful as you are making the walk and be aware of the cars coming in both directions.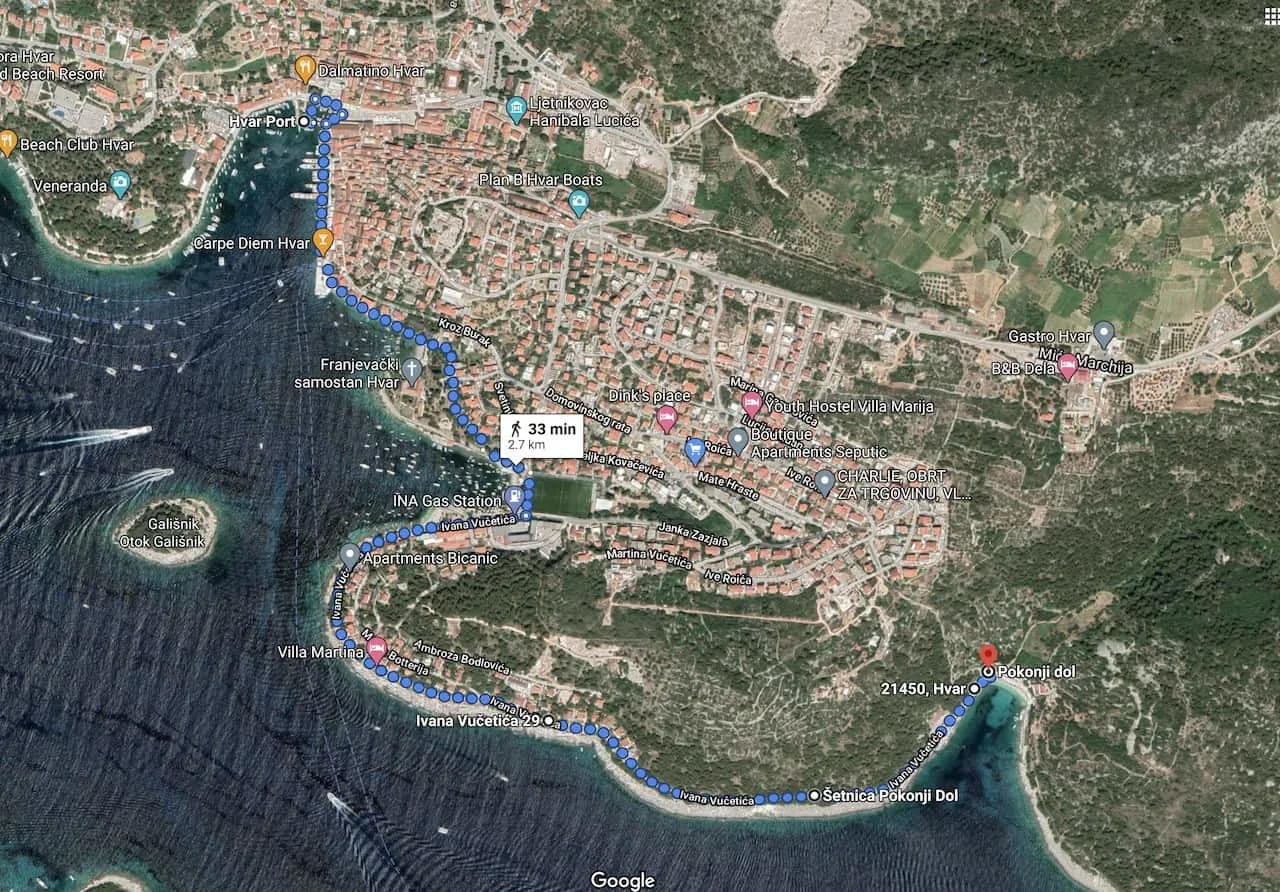 Bicycle – your second option here is to head to the beach by bicycle ($10 – $15 USD per day). The route to the beach is going to be mostly flat so it should not be too difficult to make the bike ride there.
Right on the outskirts of town center you should come across multiple bike rental places that can rent you a bike for your time on the island.
Again though, just be wary of the narrow roads here as you are biking along towards the beach.
Scooter Rental – similarly to renting a bicycle, you can also rent a scooter at one of these small shops ($40 – $50 USD per day).
These will of course be more expensive to rent but will take the physical activity out of getting to the beach itself.
It is a great option to explore the island a bit and it gives you the chance to pull over and enjoy some of the coastal views along the way.
Taxi – lastly, you can also just take a quick taxi ride to the beach, which should take less than 10 minutes. A taxi should cost around 100 Kuna ($15 USD).
If you do so, just be sure to grab the taxi drivers phone number in case you have trouble finding a cab back to town. Of course, you can also decide to walk back if you are just trying to go by foot one way.
Below are a few of the pictures I took as I left town and began walking the coast. Truly some beautiful views to enjoy on the island of Hvar.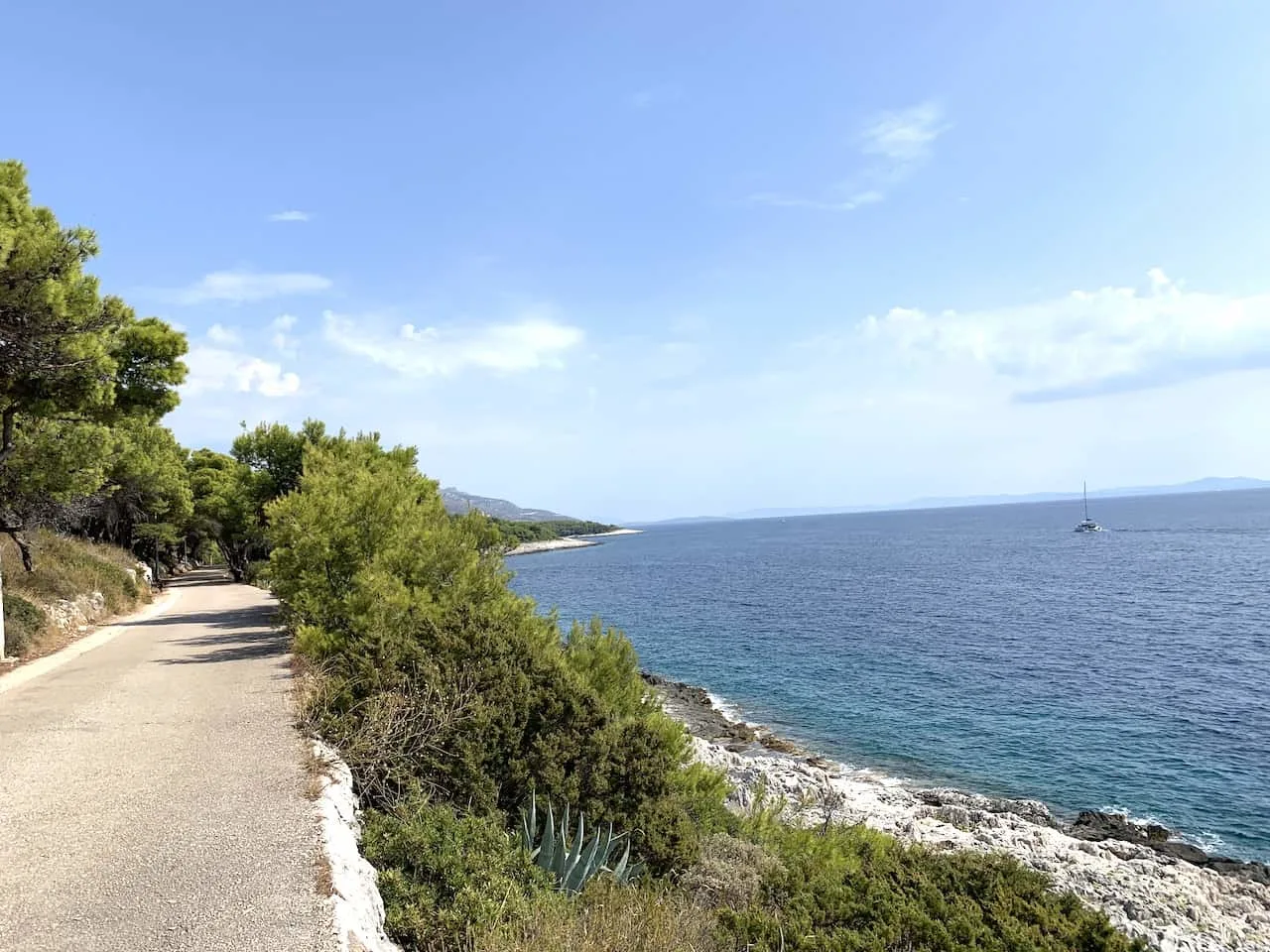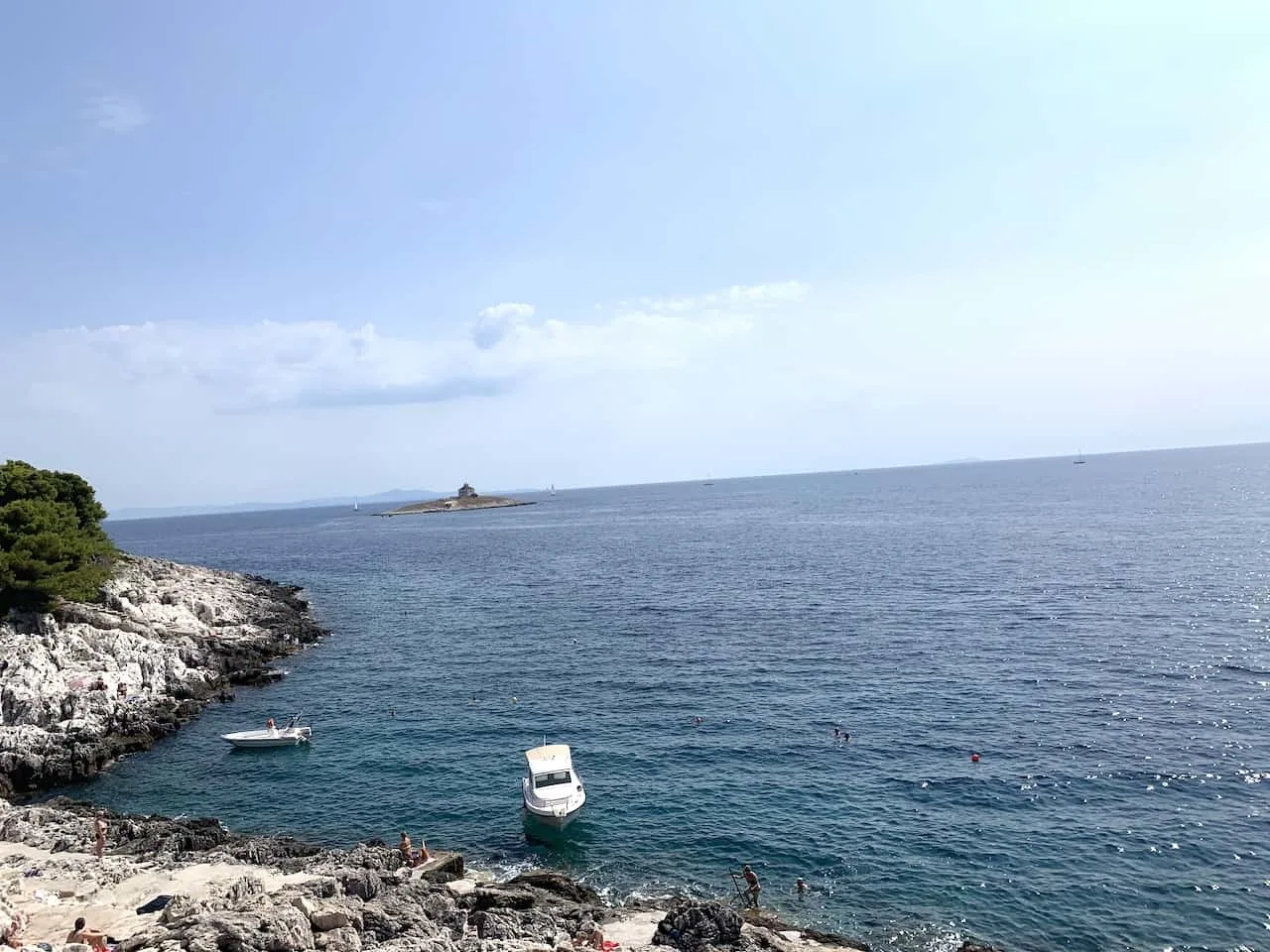 2) Where to Stay in Hvar
Before diving into the Pokonji Dol Beach, I did want to mention some of my top recommendations for places to stay in Hvar.
To make it simple and easy, below are 3 recommendations for various price points depending on your budget.
You seriously can't go wrong with them and are sure to enjoy your visit there one way or another.
Hvar Mid Range Option | BOOK TODAY -> Pharos Hvar Hotel
Hvar Luxury Option | BOOK TODAY -> Amfora Hvar Grand Beach Resort
Hvar Budget Option | BOOK TODAY -> Barko Apartment and Rooms
-> If you don't have the time you can also visit the island as part of a day trip to Hvar from Split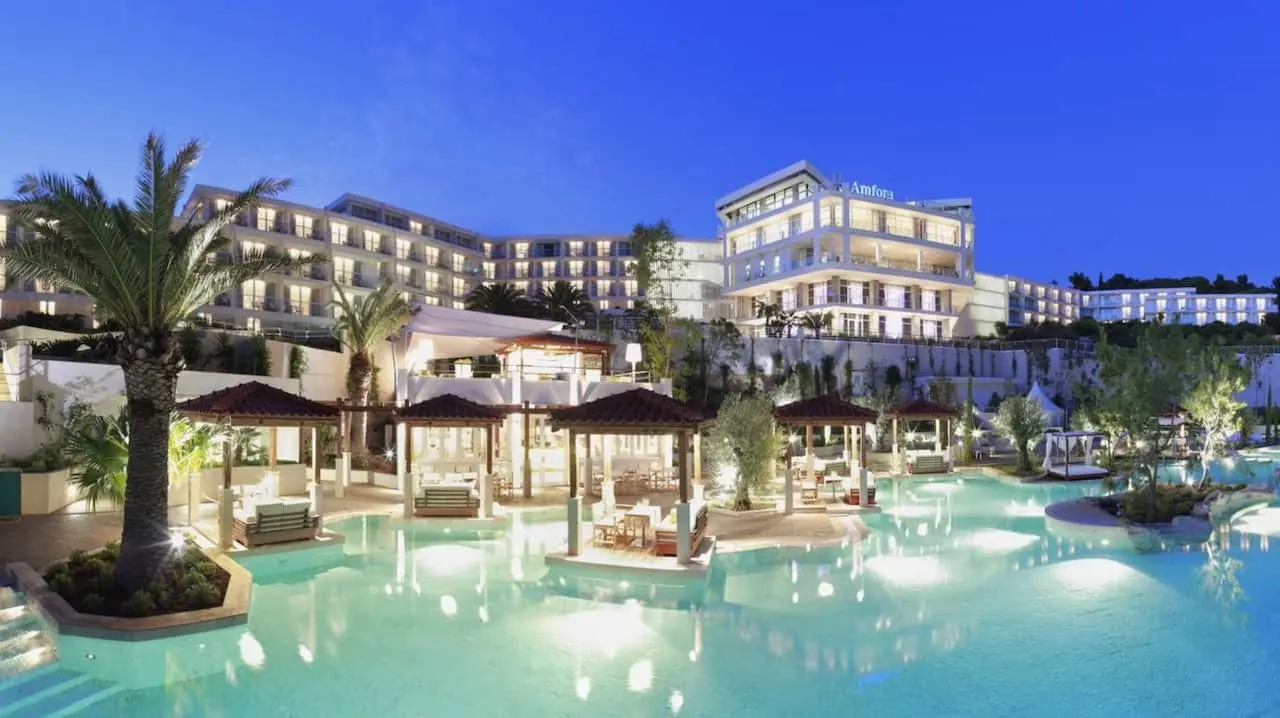 3) Pokonji Dol Beach Map
Below is an interactive Google Maps view of where Pokonji Dol Beach is located on Hvar.
I have pinpointed some of the key spots around beach including the parking lot, alternate walking path from Hvar Town, and the two restaurant options.
→ Check out other beaches on Hvar including Dubovica Beach & Malo Zarace Beach
4) Pokonji Dol Beach
Once you reach the beach, whether it is by foot, bicycle, scooter or taxi, it is time to enjoy some time in the water.
Since this is one of the closest main beaches to the town center, you can expect it to be one of the more crowded ones as well.
You can either decide to rent an umbrella and chair for the day or just lay down your towel. The cost for two chairs and an umbrella is around 200 Kuna ($30 USD).
Note that the beach here is not your soft sand type of beach. Instead be prepared for more of a pebble type beach with small rocks covering the waterfront.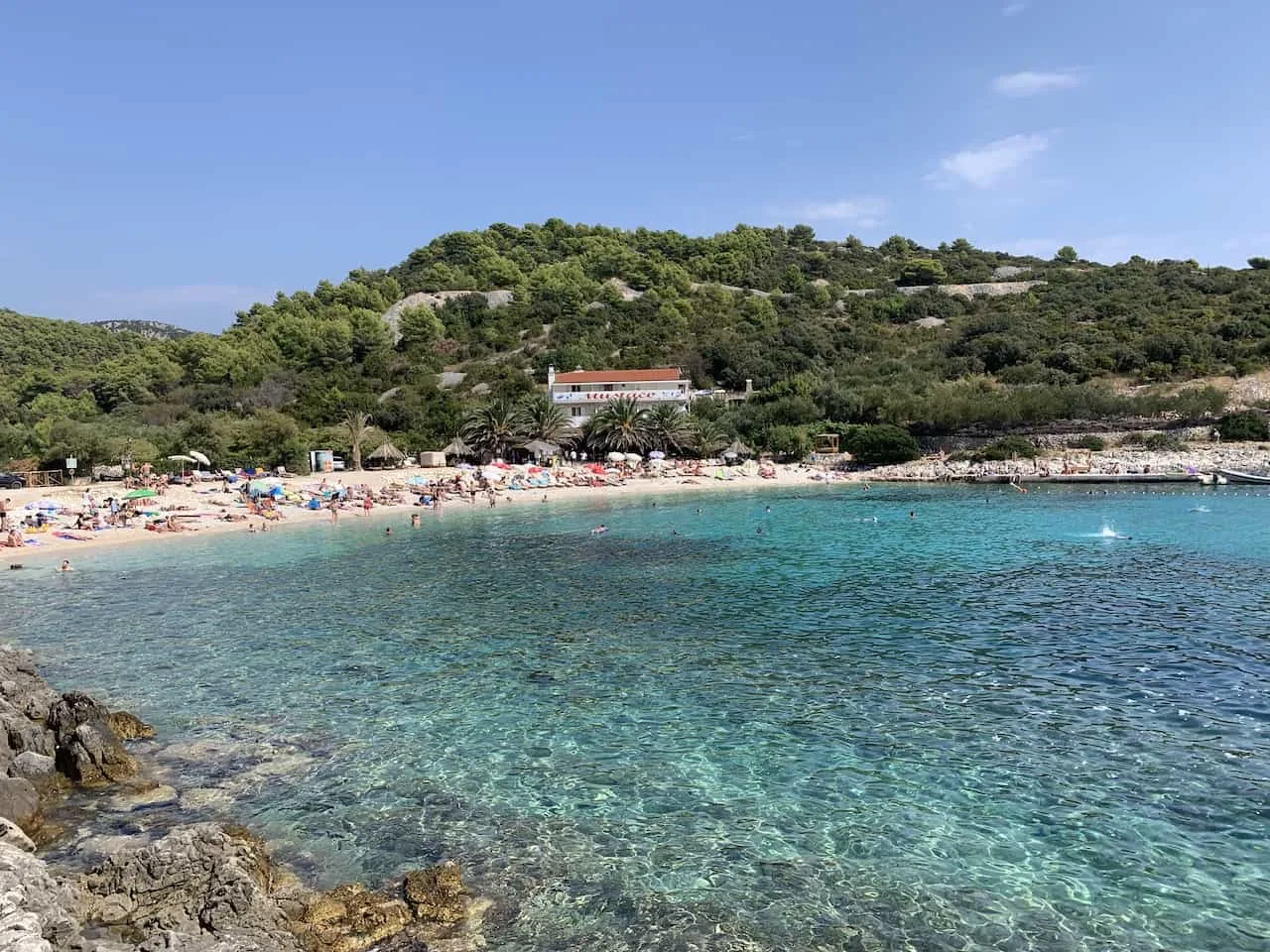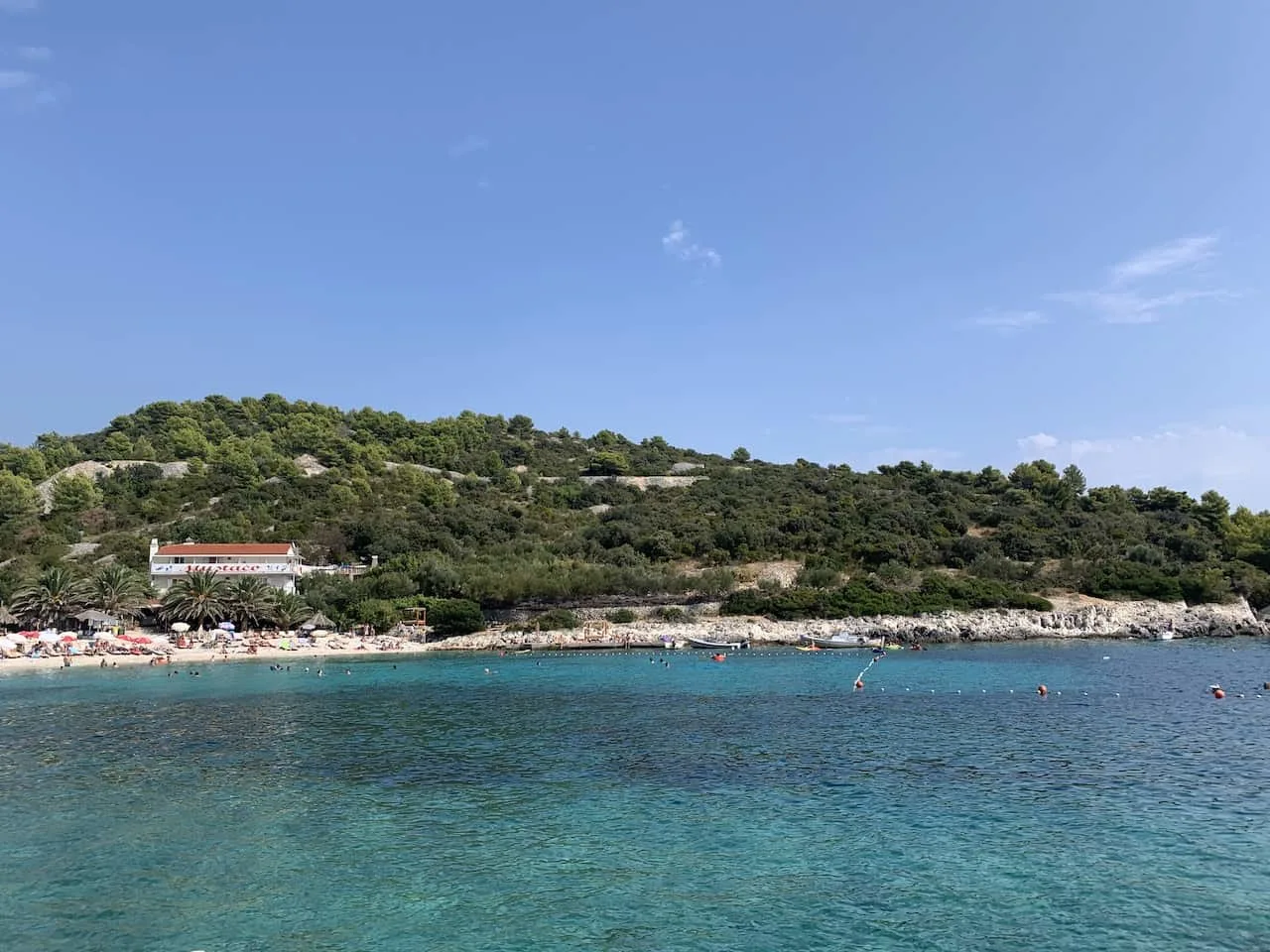 The water however is stunningly clear and I would highly recommend heading into the sea to enjoy it for yourself.
As you can see in the pictures, the swimming area is roped off as well for safety reasons. The area is quite large though so you should have plenty of room away from others.
Another thing I would like to point out is that you don't need to head to the beach itself to enjoy the water. As you are approaching the beach (around the parking lot area) you will see plenty of people just hanging out on the rocks.
If you would like, you could simply lay down a towel here and head into the water from the rock area. There are small pool type ladders to get you into and out of the water.
5) Pokonji Dol Beach Restaurants
Just right off the beach you will find two larger structures. The first building is a restaurant simply called Pokonji Dol.
It is a perfect spot to sit down and have some food and/or drinks during a visit to the beach.
You will find a variety of homemade seafood options as well as some great cocktails. A great place to enjoy a lunch while taking in a beautiful view.
The second building on the beach is the Mustaco, which is both a bar/restaurant and has an apartment rental. Similarly, you will find a seafood type menu with views overlooking the water.
While I did not eat there myself, the prices are pretty reasonable for some beachside food and more affordable than what you will find in town.
I was not able to find a booking platform for the apartment but maybe if you do some deeper internet digging you will have better luck!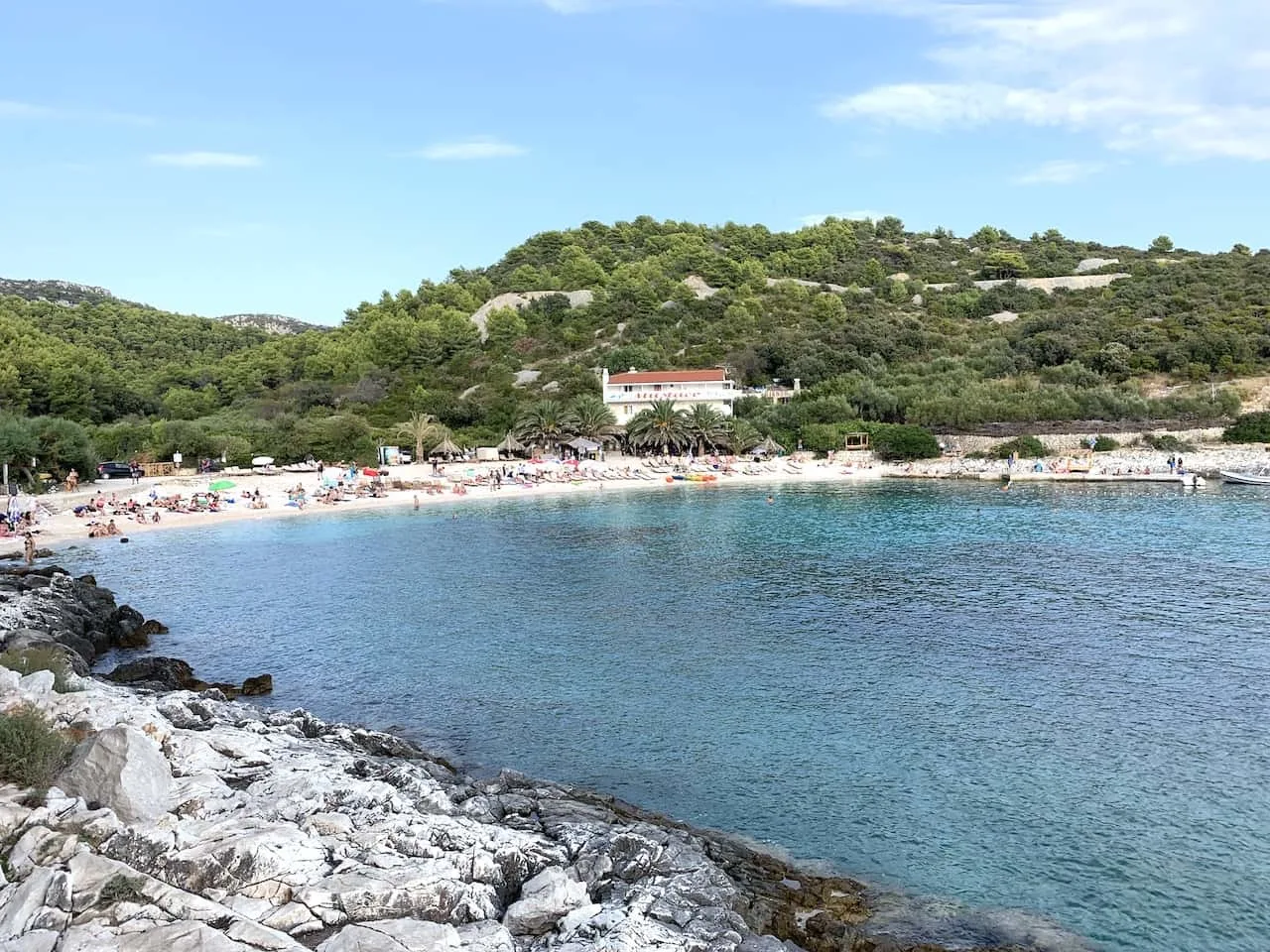 I hope this guide has helped you out with planning your trip to Pokonji Dol Beach. If you are looking to head further into the Adriatic, I would recommend you read to the Pakleni Islands guide up on the site.
Feel free to leave any questions or comment below and be sure to check out the other Croatia itineraries and guides. Have fun out there and safe travels!