Heading to Peru anytime soon? Well this guide will take you through 6 helpful Peru travel tips to better help you plan your trip. You are sure to have a trip of a lifetime and I am hoping these tips can help make that happen. Feel free to comment below with any additional questions and have fun in Peru!
* Affiliate Disclosure: This post may contain affiliate links, which means I may receive a commission if you make a purchase through the links provided, at no additional cost to you. Thanks for supporting the work I put into TripTins!
Peru Travel Tip #1: When to Visit & Weather
​As you think of when you want to visit Peru, you will have to take into account what the weather will be like during your trip. You can break up the year into two main seasons for the most part – the wet and the dry. This can change a bit, however depending on what area of the country you will be in.
From around November to March the country experiences a higher level of rainfall. While the average temperature is warmer during these months since Peru is near the equator, there is a higher chance that your days can be impacted by the poor weather.
Also to note during the rainy season you will also find that the Inca Trail will be closed for a portion of it due to the dangerous conditions.
The dry season on the other hand runs from April to October and is definitely the most popular time to visit. You will find clearer days with a bit cooler weather during this time. See below for rainfall and temperature stats courtesy of holiday-weather.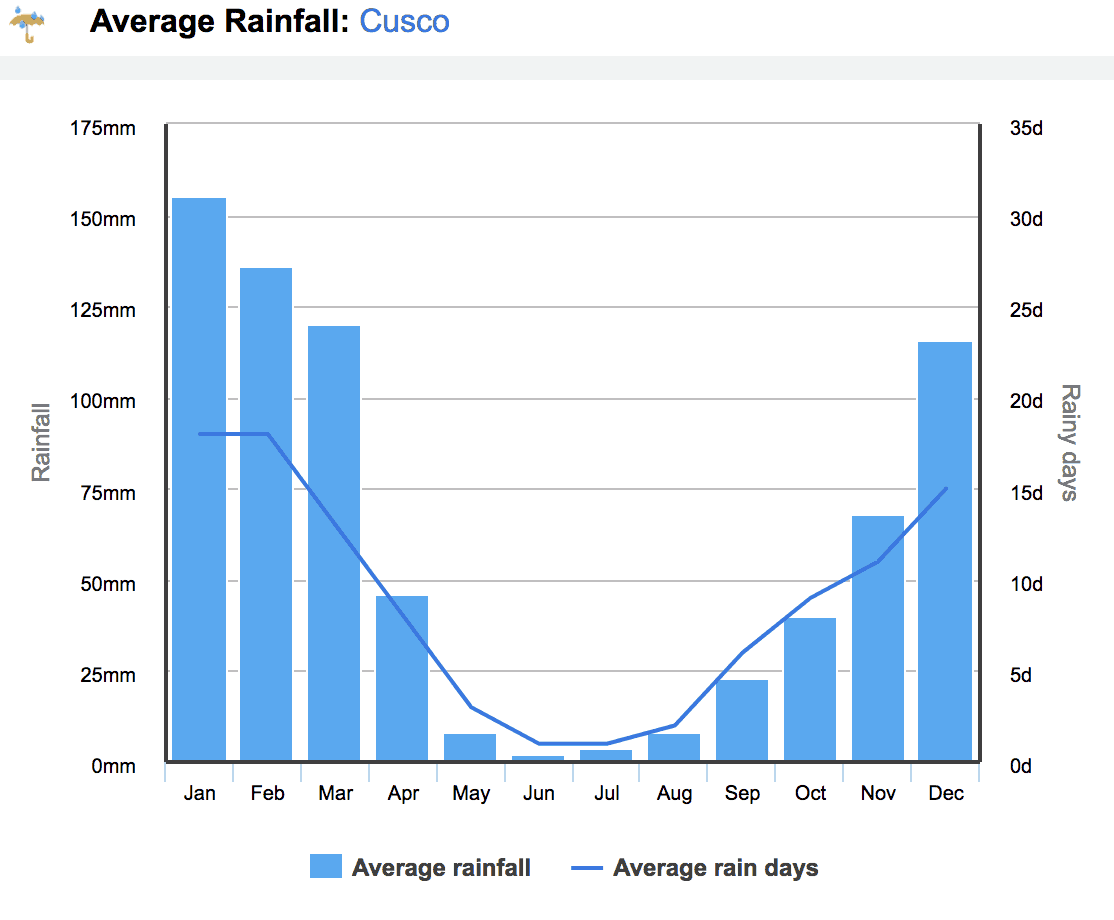 Peru Travel Tip #2: Getting Around
​Flights: For your longer journeys such as Lima – Cusco or Cusco – Puno for example you will most likely be looking at some short flights. Take a look at LATAM Airlines, Star Peru or TACA Airlines for best options.
​Trains: Getting from Cusco to Machu Picchu and vice versa, your best bet is to take PeruRail. There are a few departure times to choose from each day as well as different class types. Make sure to book these in advance once you know your dates as they will sell out!
Taxis & Ubers: ​There will be portions of your trip where you will have to take taxis or Ubers to visit attractions. In the Sacred Valley for example you will need to drive each attraction.
You can do so easily by hiring a taxi for the day who can bring you along to all the different places and wait for you as you go explore. Another option is hiring a private guide as well who can do the same but also give you more insight into each place.
Shared Taxi / Colectivo: If you want to save some money, you can also take a colectivo or shared taxi within cities or even between longer routes. These colectivos run more so on set routes and you can hop in one as they make their way through a city.
​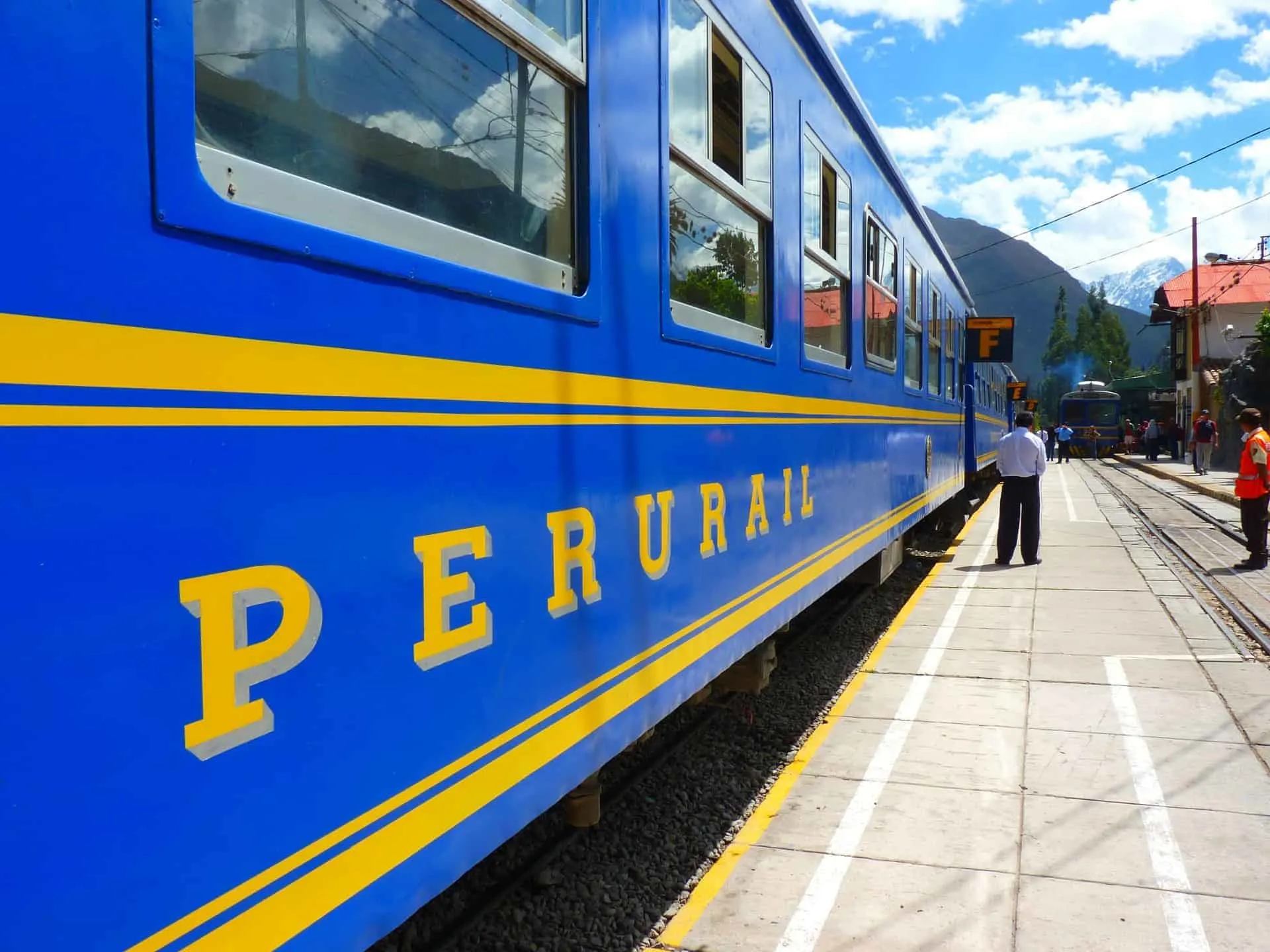 Peru Travel Tip #3: Booking Machu Picchu
As of July 2017 there have been some important changes to the rules at Machu Picchu, many of which are captured in the guide below. It seems that not all these rules are heavily enforced as they begin to go into effect but they will be getting stricter as time goes on.
​1. You must purchase tickets to Machu Picchu in advance through the government website or an authorized ticket provider. The tickets will sell out especially in high season so do buy your tickets in advance.
If you opt for a prearranged tour of Machu Picchu, many of them will take care of tickets, transportation, lodging, tour guide etc. So just make sure you have an idea of what is and what is not included in your package.
There are a few different ticket options you can purchase:
​(a) Morning Session 6:00AM – 12:00PM ($47 / 152 PEN)
(b) Afternoon Session 12:00PM-5:30PM ($47 / 152 PEN)
(c) Machu Picchu + Machu Picchu Mountain Hike ($62 / 200 PEN) – Hike entrance 7-8AM or 9-10AM
(d) Machu Picchu + Huayna Picchu Mountain Hike ($62 / 200 PEN) – Hike entrance 7-8AM or 10-11AM
2. All visitors must be accompanied by a licensed guide. That means no more exploring on your own (one exception – see bullet #4). Due to this rule, you can either book a guide ahead of time or you can show up and book one in Aguas Calientes / near the entrance of the site.
​3. As mentioned earlier entrance times are now split into two categories: a 6:00AM – 12:00PM time slot and 12:00PM – 5:30PM time slot. You are only allowed to stay at the site during the given time of your ticket.
So if you are planning on taking a train that does not get in until later on, you would have to choose the afternoon time slot. If you arrive the night before then you can choose whichever one you prefer.
​4. If you bought a ticket for two days, you can enter the second day without a guide given that you show your day 1 and day 2 tickets when entering. This could be best if you do a guided tour on the first day and then want some time to explore on your own or hike to the Sun Gate, for example on the second day.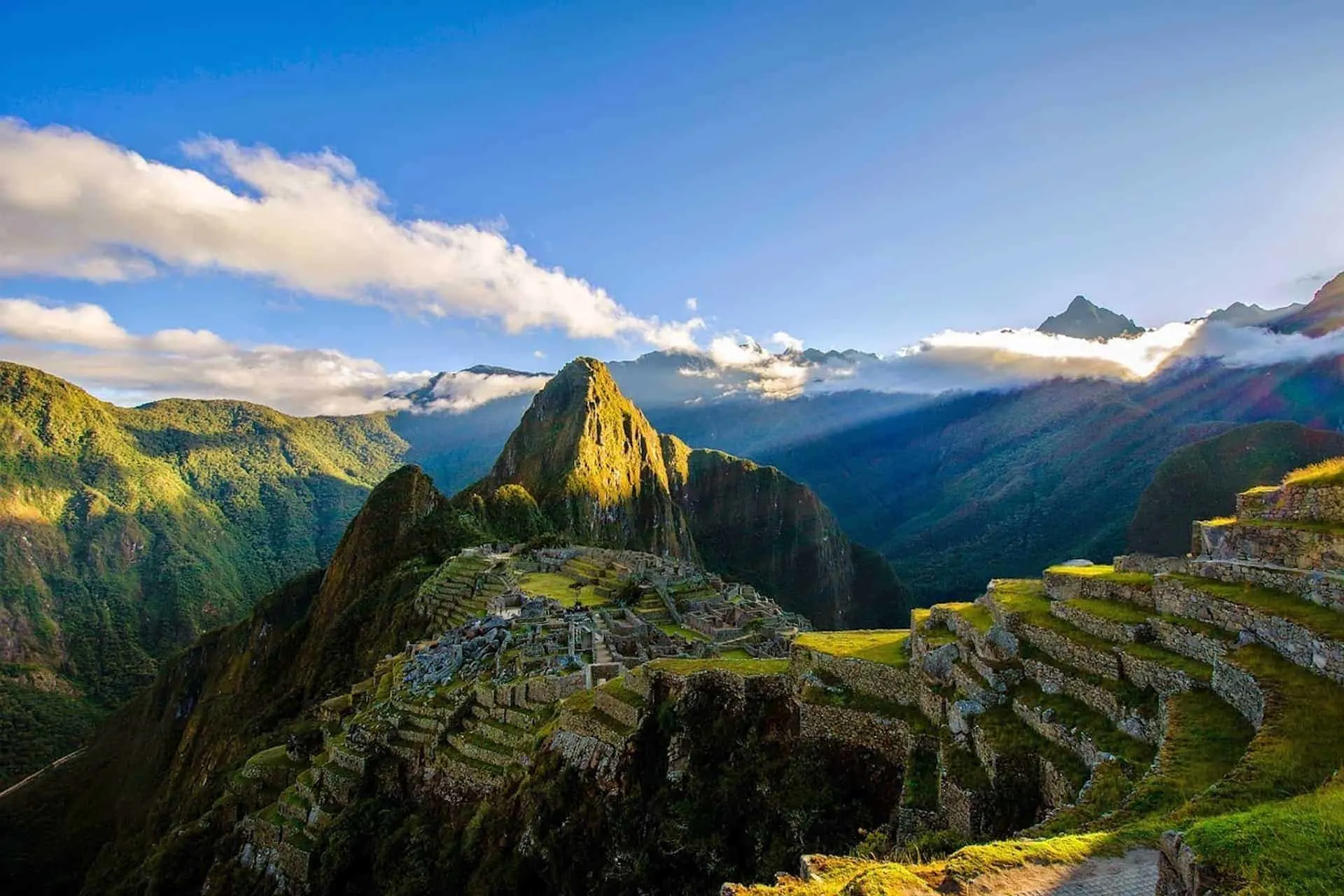 ​
Peru Travel Tip #4: Staying Healthy
​A few tips regarding taking care of your health while on your trip:
​Tap water: Do not drink it! – even when brushing your teeth. Always drink bottled water while in the country. Also be careful if you are being served ice cubes or ordering any type of salad/fruit – ask whether purified water is being used.
​Vaccinations: Stay up to date with the latest advisories of which vaccinations you will need in Peru. Some areas might require them (such as the Amazon) and some may not so just make sure you are in the know before you head out.
​Altitude: Odds are the elevation in Peru will be much higher than you are used to. The elevation in Cusco is around 11,000 feet while Lake Titicaca is around 12,500.
There are a couple ways to make sure you don't get altitude sickness on your trip – you can start taking altitude sickness pills beforehand and you should drink plenty of water to stay hydrated. Some Inca Trail guides also require you to arrive a few days early in Cusco in order to get used to the elevation.
Peru Travel Tip #5: Bring All Types of Clothing
No matter when you are going to Peru, you will have to come prepared with different types of clothing. Due to the various elevation changes throughout the country, it can get quite cold at night while being warm during the day.
Therefore you should pack both shorts and t-shirts along with long pants and sweatshirts. If you are headed into the Amazon you will definitely want to bring some long sleeved shirts and pants to better protect you from all sorts of insects.
And since you will probably be on your feet a bunch be sure to bring some comfortable walking/hiking shoes as well.
Peru Travel Tip #6: Always Have Some Cash
​The local currency in Peru is the Peruvian Sol. Throughout your trip you will want to make sure you have some Sol on you.
From markets to taxis to using public restrooms, you will have to pay in cash. Do not worry though, credit cards should be accepted at many hotels, restaurants, bars, etc.