You can't visit Iceland without exploring its ice, right? Well thankfully you can do just that as part of a Skaftafell Glacier Hike in the southeastern part of the country.
Spend anywhere from just an hour to an entire day hiking, climbing and exploring all that the massive Vatnajokull Glacier has to offer and tick that item off your bucket list.
This guide will take you through everything you need to know from the booking process to your time on the ice as part of this incredible experience.
* Affiliate Disclosure: This post may contain affiliate links, which means I may receive a commission if you make a purchase through the links provided, at no additional cost to you. Thanks for supporting the work I put into TripTins!
1) Introduction to a Skaftafell Glacier Hike
Before jumping into logistics and the hike itself, I just wanted to point out a few things in general:
» Skaftafell National Park is actually part of the larger Vatnajokull National Park. So, if you come across both of these names, just note you are really looking at the same place
» The hike itself is done on the Falljökull or Svinafellsjokull glacier, which is part of the much larger Vatnajokull glacier (hence the national park name)
» You can make your booking straight through Glacier Guides or Icelandic Mountain Guides (the main companies operating right in the park). You might come across some other third party companies but these will be a couple of your main go to options
» The tour does depend on weather conditions on the glacier (rain, wind, etc.). It is a possibility that a tour gets cancelled the day of because the wind is just too strong for the experience to be safe. If this is the case you will get a full refund and be able to hike some non-glacier trails in Skaftafell instead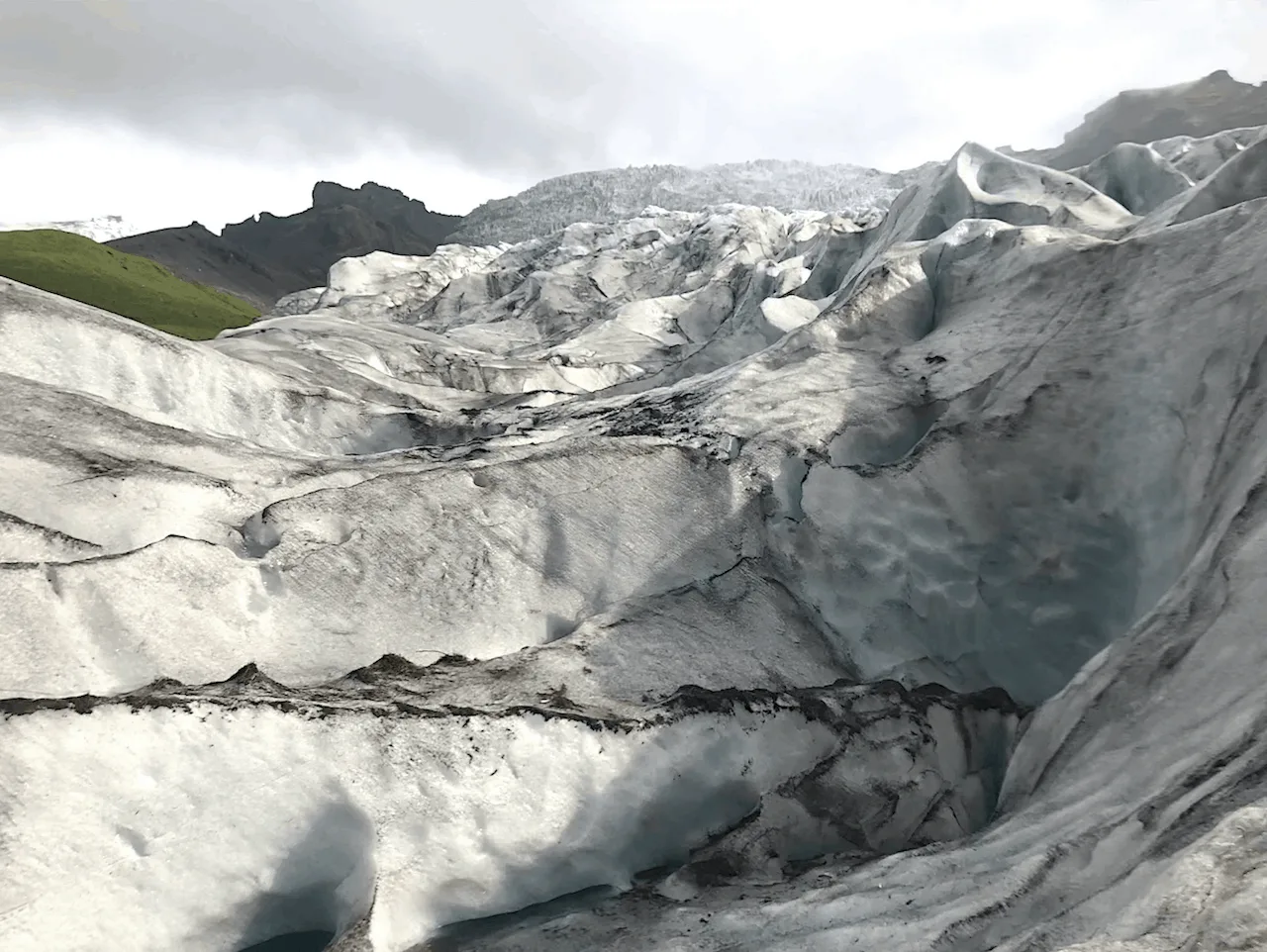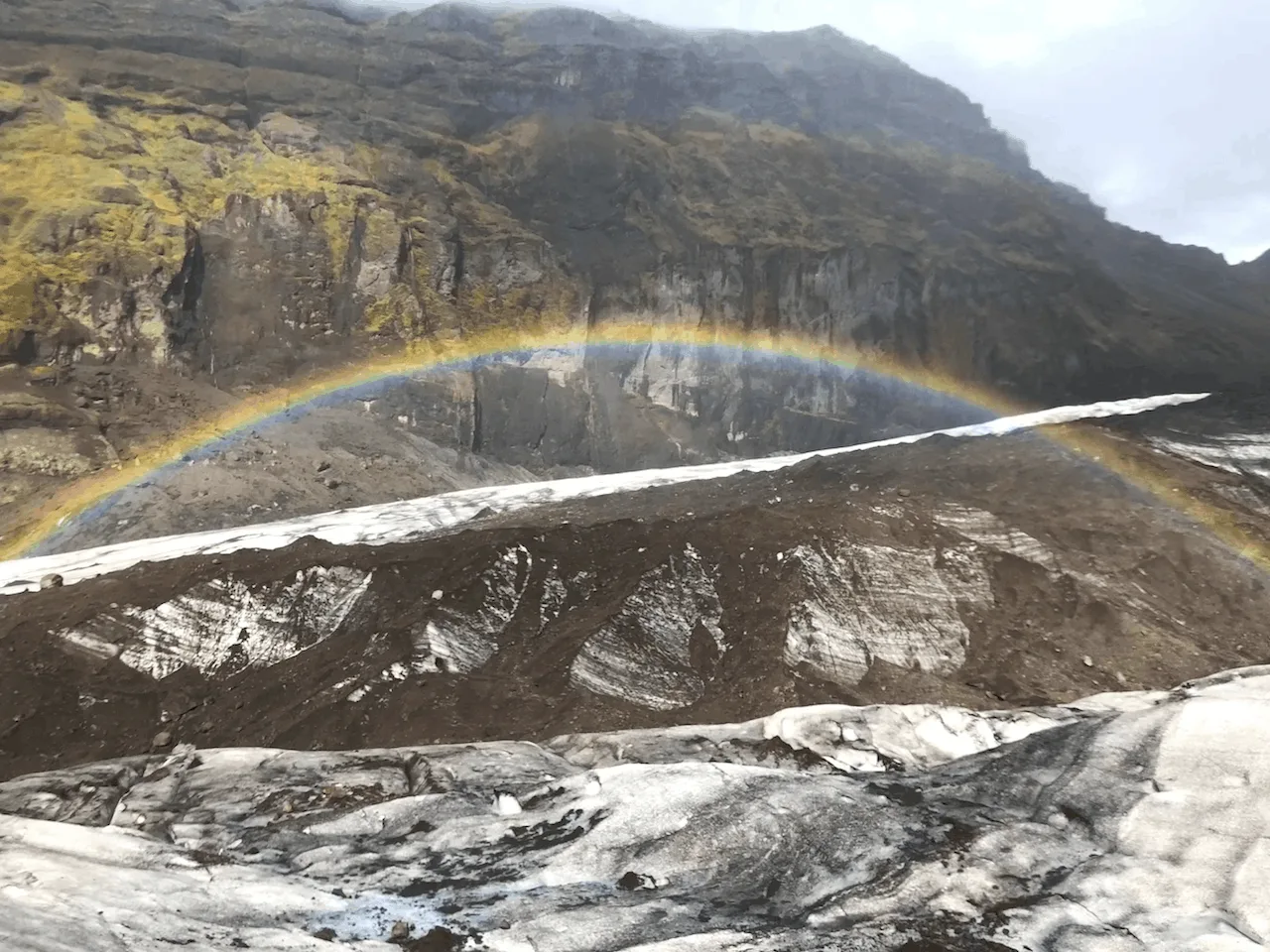 2) Booking/Options
As just mentioned, you can make your bookings straight from Glacier Guides or Icelandic Mountain Guides – two of the main operators of the Skaftafell Glacier hike.
Note: prices may vary by time of year so please head to the websites for latest pricing. Time on ice is approximate based on information on their respective websites.
The first two options for each are going to be very similar experiences (Glacier Wonders vs. Blue Ice Experience; Glacier Explorer vs. Glacier Adventure)
Glacier Guides Options:
A) Glacier Wonders
3.5 hours; ~1 hour on the Ice
$70 USD per person
B) Glacier Explorer
5.5 hours; ~3.5 hours on the ice
$120 USD per person
Icelandic Mountain Guides Options
A) Blue Ice Experience
3.5 hours; 2 hours on the ice
$90 USD per person
B) Glacier Adventure
4.5 hours; ~3 hour on the ice
$140 USD per person
C) Glacier Walk and Ice Climbing
4.5 hours; ~3 hour on the ice
$165 USD per person
D) Full Day Glacier Adventure
7 hours; ~6 hour on the ice
$200 USD per person
For the price you will receive a professional guide, crampons, helmet and ice axe. The price does not include hiking shoes.
If you do not have adequate ones already, you can rent a pair for ~$8 USD (you also can rent waterproof pants & jacket for $8 USD each as well).
The main difference between all these options is just time on the ice and how much of the glacier you will experience.
The shortest options (A) are a great introductory to the glacier and you will have time to walk and explore the glacier for 1-2 hours.
With the next options (B), you will have the opportunity to go further along the glacier as you experience more landscapes that the area has to offer.
Icelandic Mountain Guides also offers a unique ice climbing experience (C), where for some of your time on the glacier you will axe your way up a sheet of ice and rappel back down.
They also offer a full day option (D) if you are looking for something along those lines.
At the end of the day it really is just personal preference for how long you want to stay out on the ice for and how much of the Skaftafell glacier you would like to explore.
Note: there are also some other ice caving and climbing options to take part of depending on time of year. Take a look at the respective sites for more options.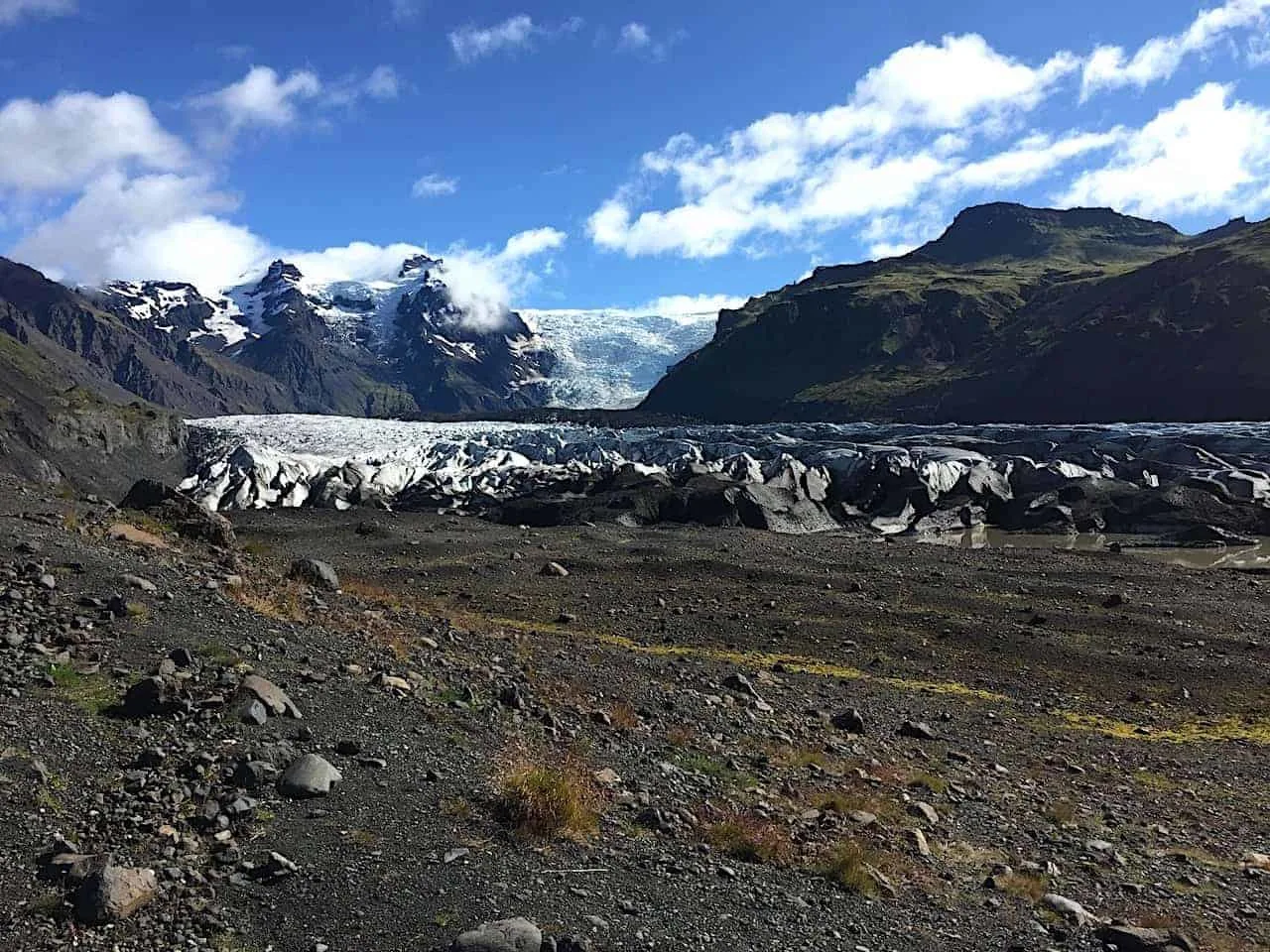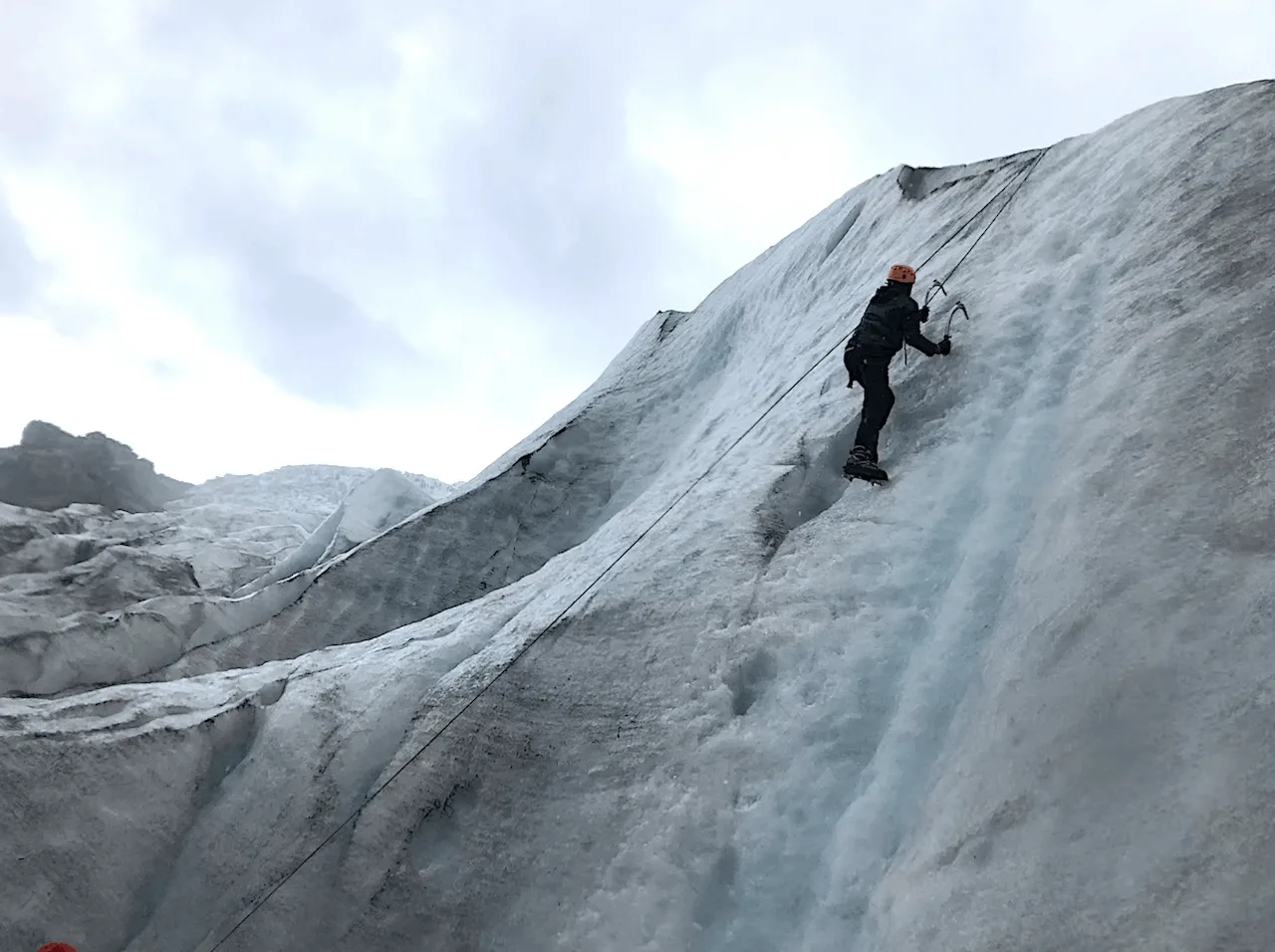 3) Skaftafell Glacier Location
To make it to the glacier hike, you first will need to make your way to Skaftafell National Park. Now Skaftafell is not just about glacier hiking.
The park is full of regular hiking trails of various difficulties. If you have some additional time around the area I highly recommend exploring the national park a bit and take part of some of those great trails.
I have a Skaftafell Hiking Guide if you want to learn more.
Getting back to the glacier hike side of things – once you arrive at the parking lot of Skaftafell, you will see the Glacier Guides and Icelandic Mountain Guides huts, where you can sign in and get all ready for your journey.
Once you are all set, you will then board a bus to the actual starting point of the glacier hike. Below on the map you will see both the parking lot and glaciers pinned down (it is just a quick 10 minute bus ride between the two).
When it comes to renting a car in Iceland, I would highly recommend checking out Rentalcars.com for potential options.
By going through Rentalcars.com, you will have the chance to compare car prices among a variety of rental companies, and choose the best option for you.
4) What to Bring
Well, you are heading onto a glacier so you better pack some warm outfits! Depending on when you are visiting (winter vs summer) will indicate how heavy or light your outfits need to be.
Either way though I would plan on bringing layers with you. That way you can always add on or remove clothing during your time on the ice based on temperature (remember it can be sunny one minute and rainy/windy the next).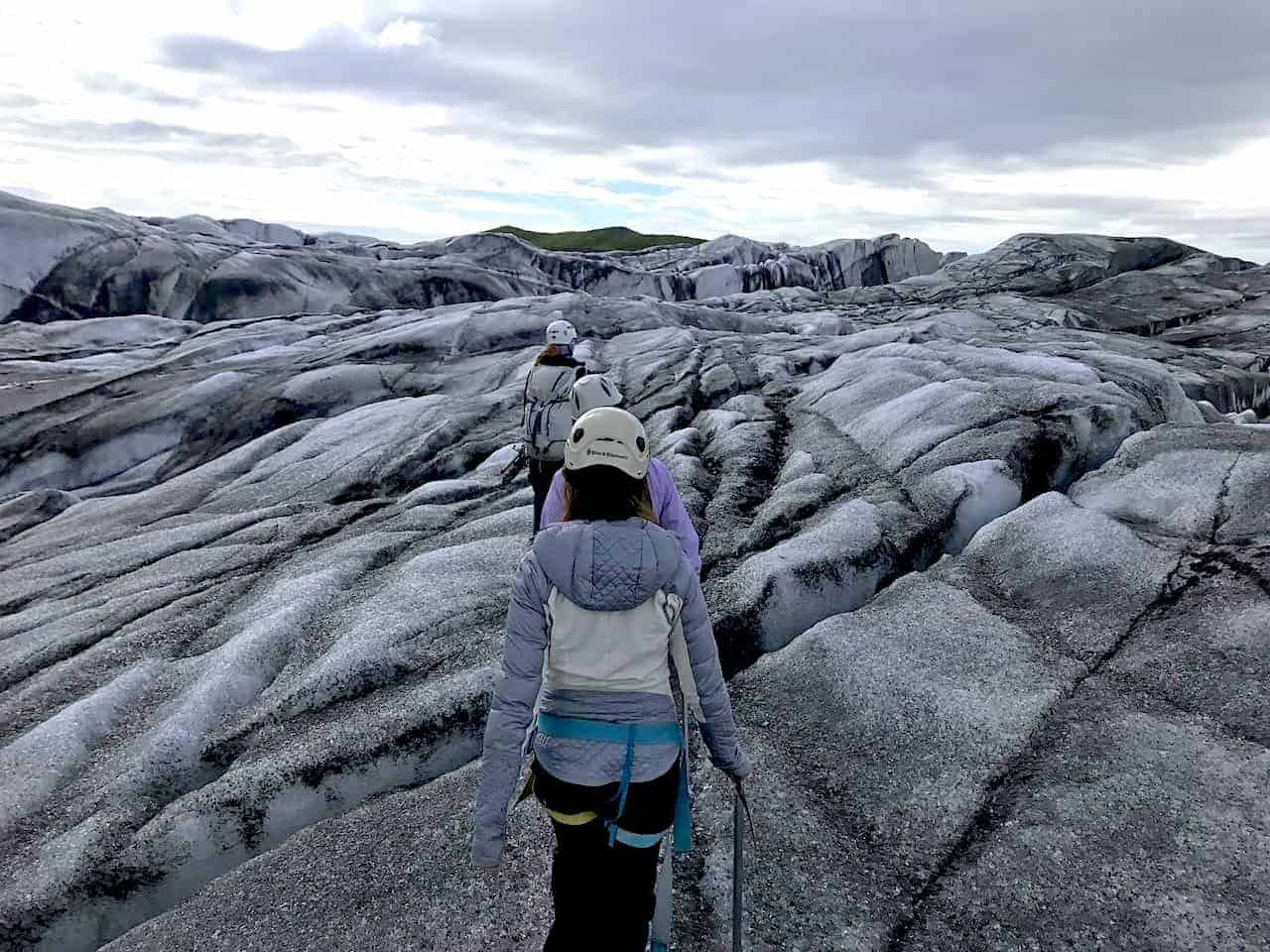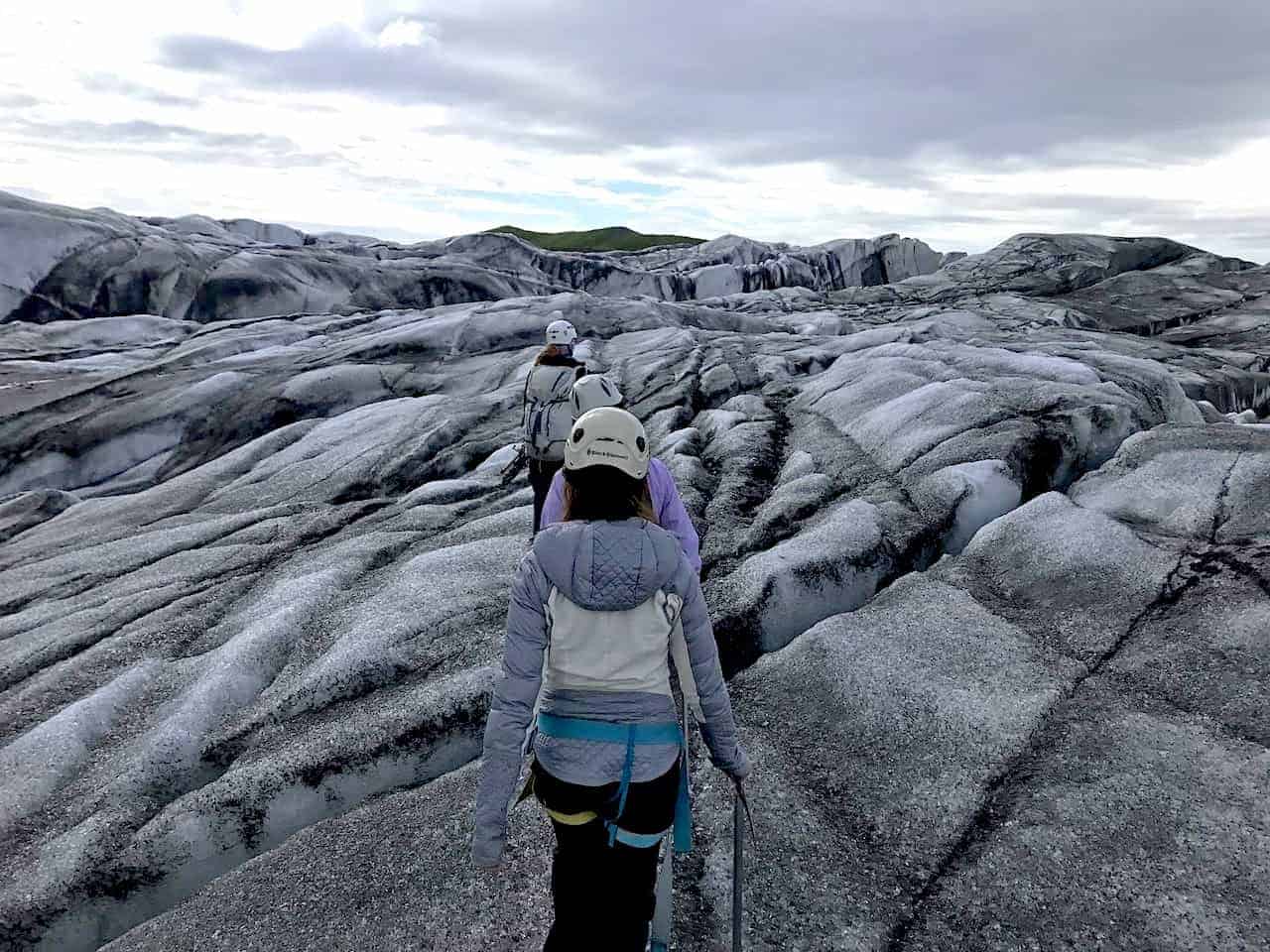 Hiking boots are mandatory for getting onto the glacier since you will need crampons to go along with them.
As mentioned, no worries though if you do not have a solid pair as you will be able to rent from the office before you head up (you can also rent waterproof jacket/pants if it seems like it will be a wet day).
Besides for that you should also think about having a warm hat and gloves. Bringing along water and snacks is always a good idea too, especially if you are taking part of the longer hiking options.
---
Hiking Packing List

In general when it comes to hiking, there are a few main aspects to consider. These includes clothing layers, hiking shoes, hydration & fuel, electronics, and other essentials.

Below in a breakdown of some of the top items, but be sure to check out the Hiking Packing List for a more comprehensive view.

Clothing Layers

Layering is going to be a top consideration when hiking. You will want to be prepared for all sorts of weather so you can be comfortable in different situations. Some items may include:

→ Hiking Shorts
→ Hiking Pants
→ Short Sleeve Shirt
→ Long Sleeve Shirt / Sun Hoodie
→ Mid Layer Fleece
→ Puff Jacket (not always needed)
→ Packable Rain Jacket (Columbia Watertight II)

Note that your layers should be made of moisture wicking material as they are breathable and quick drying.

Footwear

Having appropriate footwear will also be very important. You will want to have shoes with the necessary grip and support to keep you safe on the trail.

→ Hiking Shoes (Keen Targhee)
→ Hiking Socks (Darn Tough)

Other Essentials

Whether it is hiking gear, electronics, or just some miscellaneous items, here are some other essentials to bring along on hikes.

→ Hiking Backpack (Osprey Talon 22) & Rain Cover (Joy Walker Cover)
→ Hiking Poles (Black Diamond Trekking Poles)
→ Water Bottle (CamelBak Chute or Katadyn Filter Bottle)
→ Portable Charger (Anker PowerCore 5000mAh)
→ Action Camera (GoPro Hero)
→ Energy Bars & Snacks
→ Hat & Sunglasses
→ Sunscreen & Bug Spray
---
5) What to Expect
All right then. Lets talk a little bit about the experience on ice. After checking in at the Skaftafell office, you will board a quick bus ride to the starting point of the glacier hike.
Once there you will be split into smaller groups and be assigned a guide for the day. After a brief safety demonstration, you should be on your way!
Your guide will begin the trek onto the ice, where you can get those crampons working and explore all different areas of the glacier. Now, you will not only take part of a Skaftafell glacier hike, but you will also learn all about the glaciers of Iceland and how they have changed over the years.
As you make your way around the ice, you are sure to pass by crevasses to hop over, plenty of beautiful picture opportunities to take in, and you will even be able to drink some glacier water straight from the source.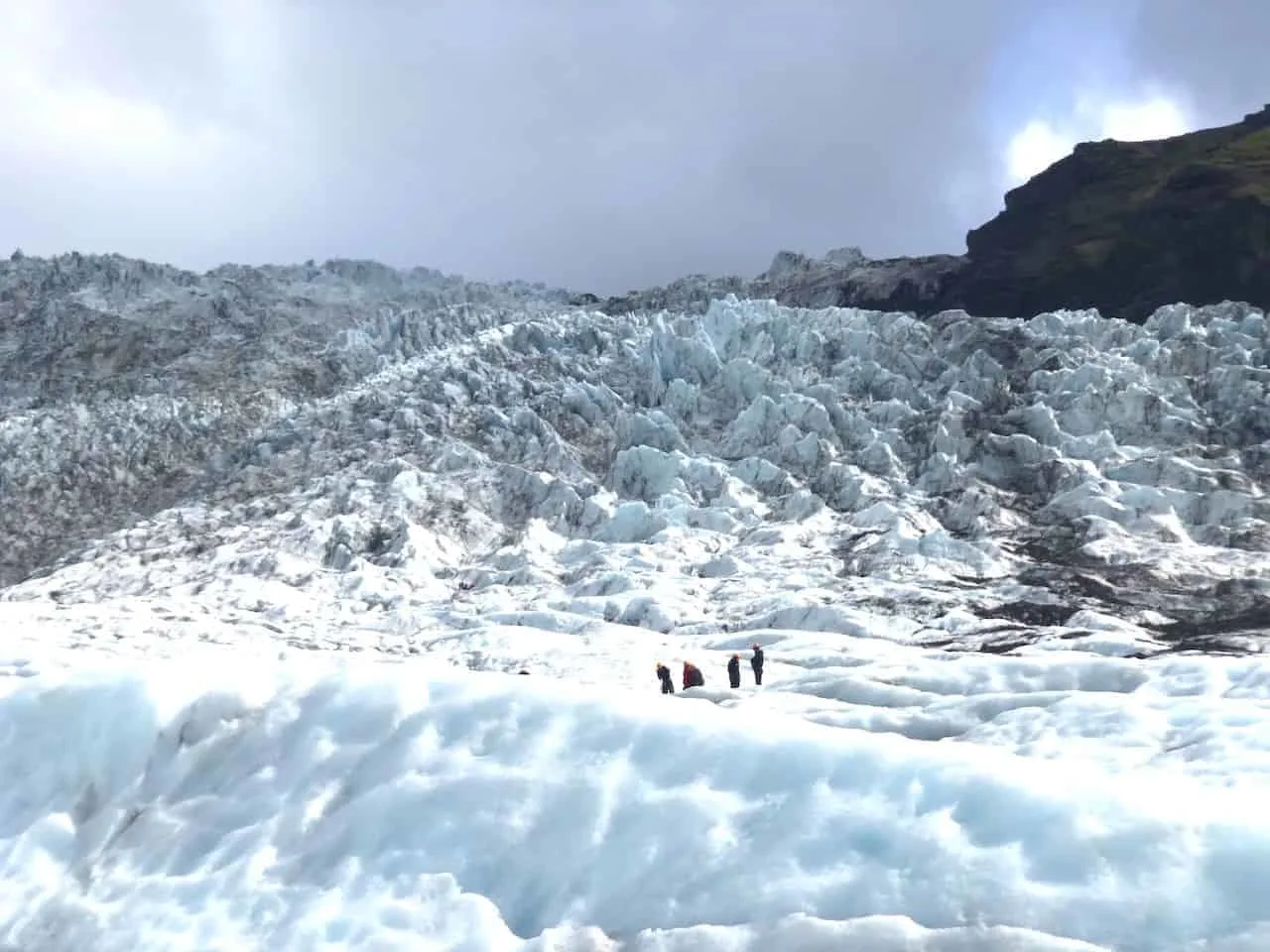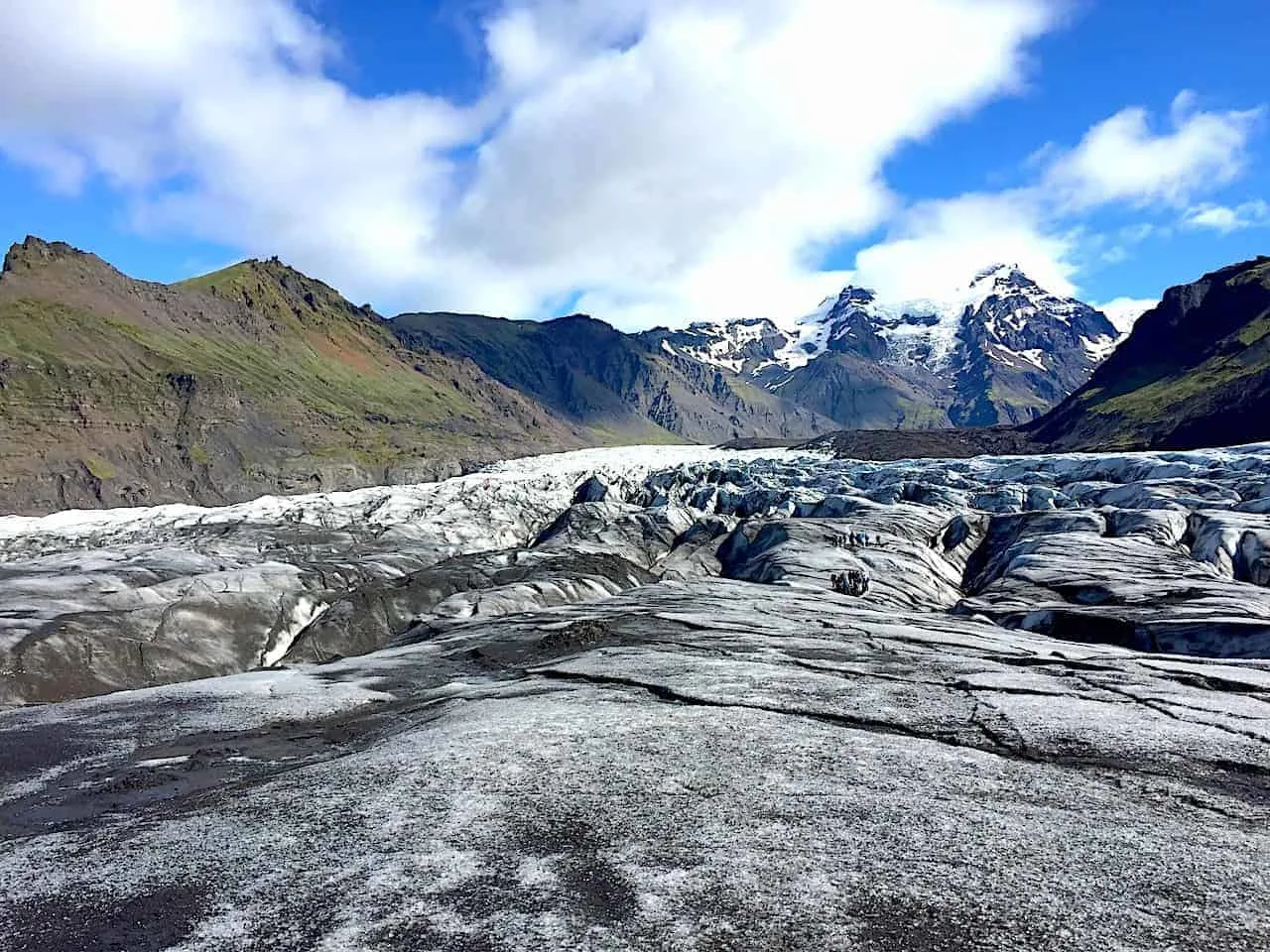 Depending on if you are on the shorter or longer tour will dictate how much time you will have to explore the ins and outs of the glacier.
The longer tour takes you further up the glacier, where you will get to see various new landscapes around the area.
Remember, these glaciers are massive and you will just be at the very tip of them. Experiencing a walk on the glacier itself will be a pretty incredible experience to take in.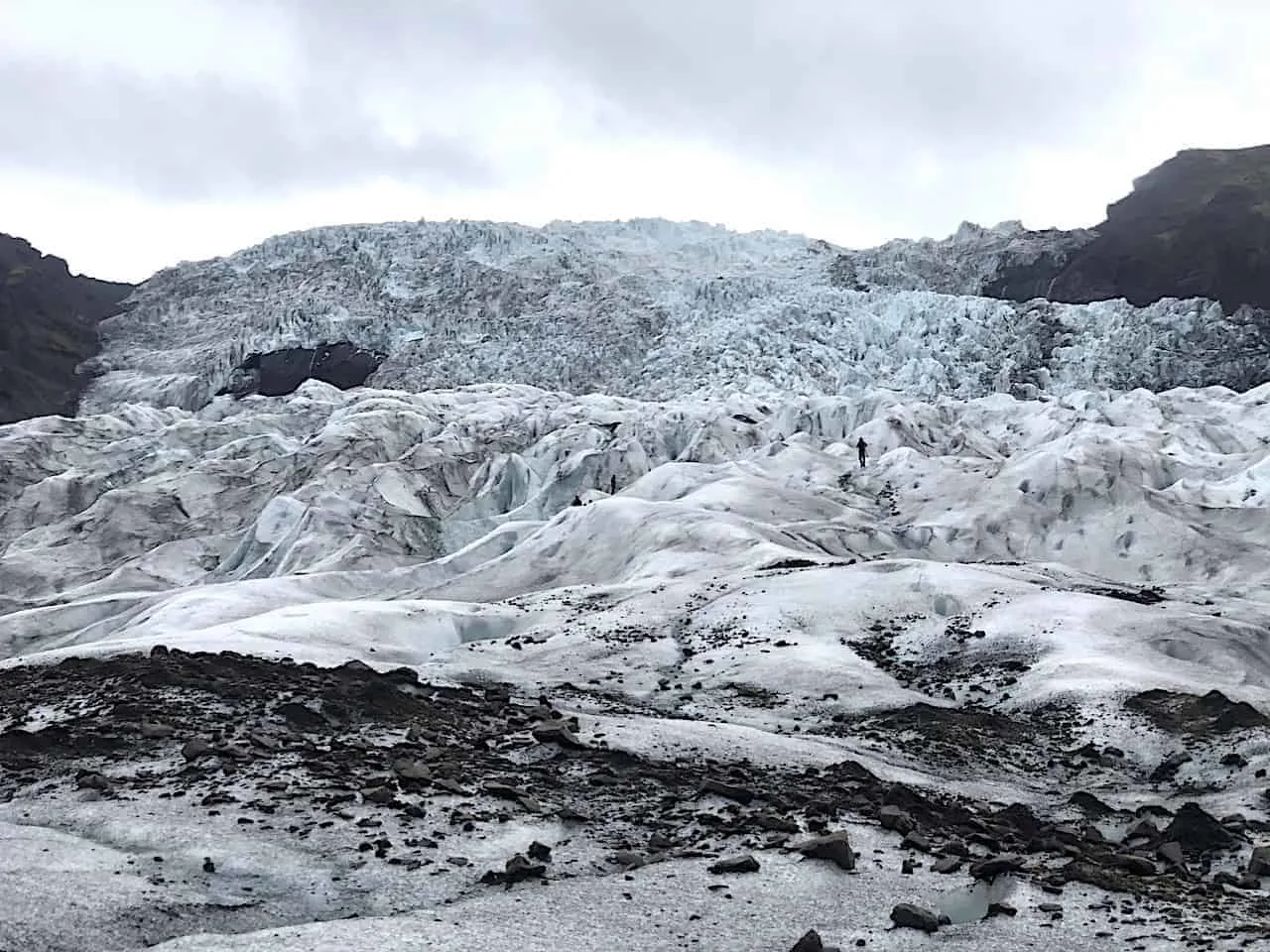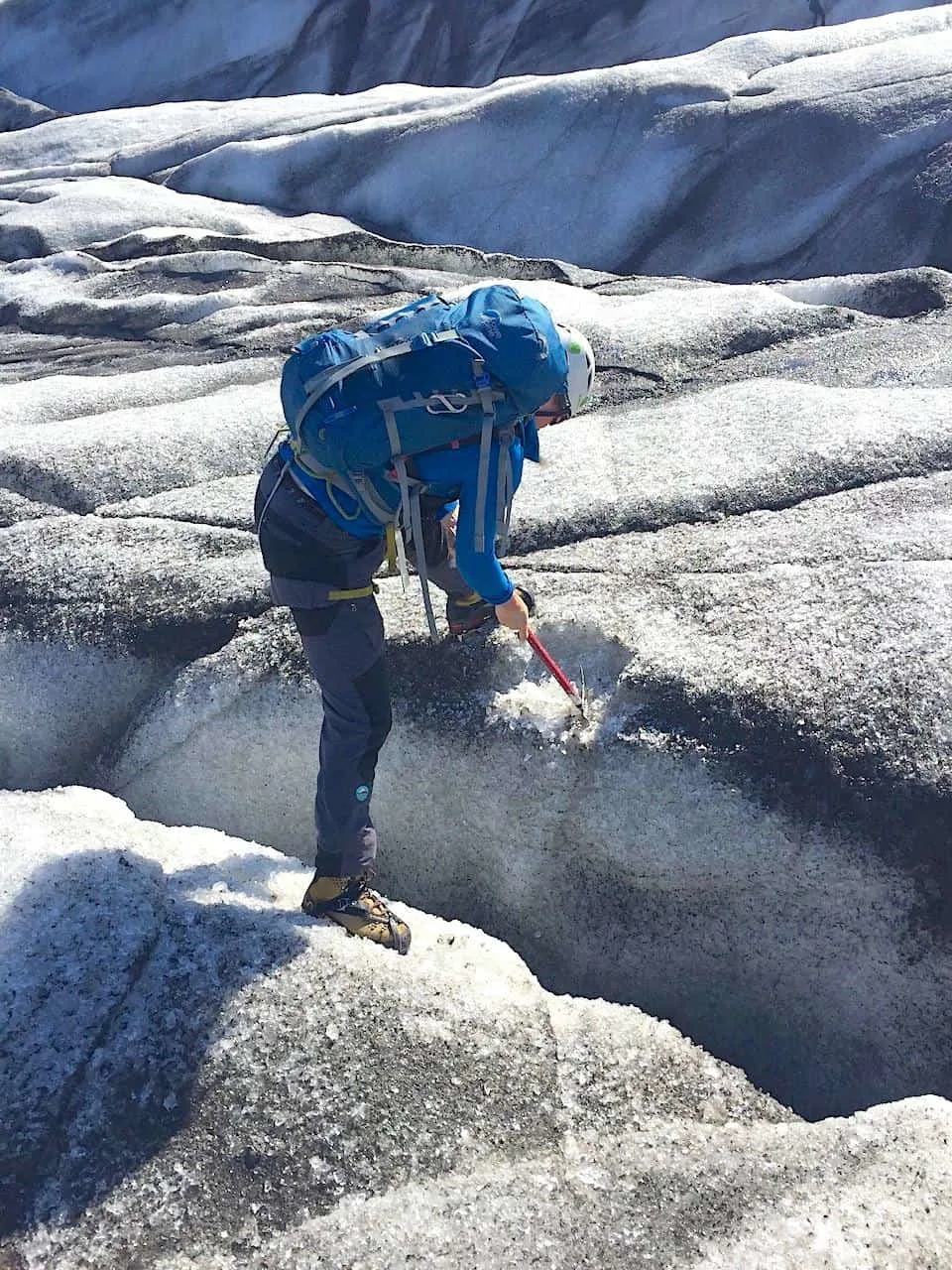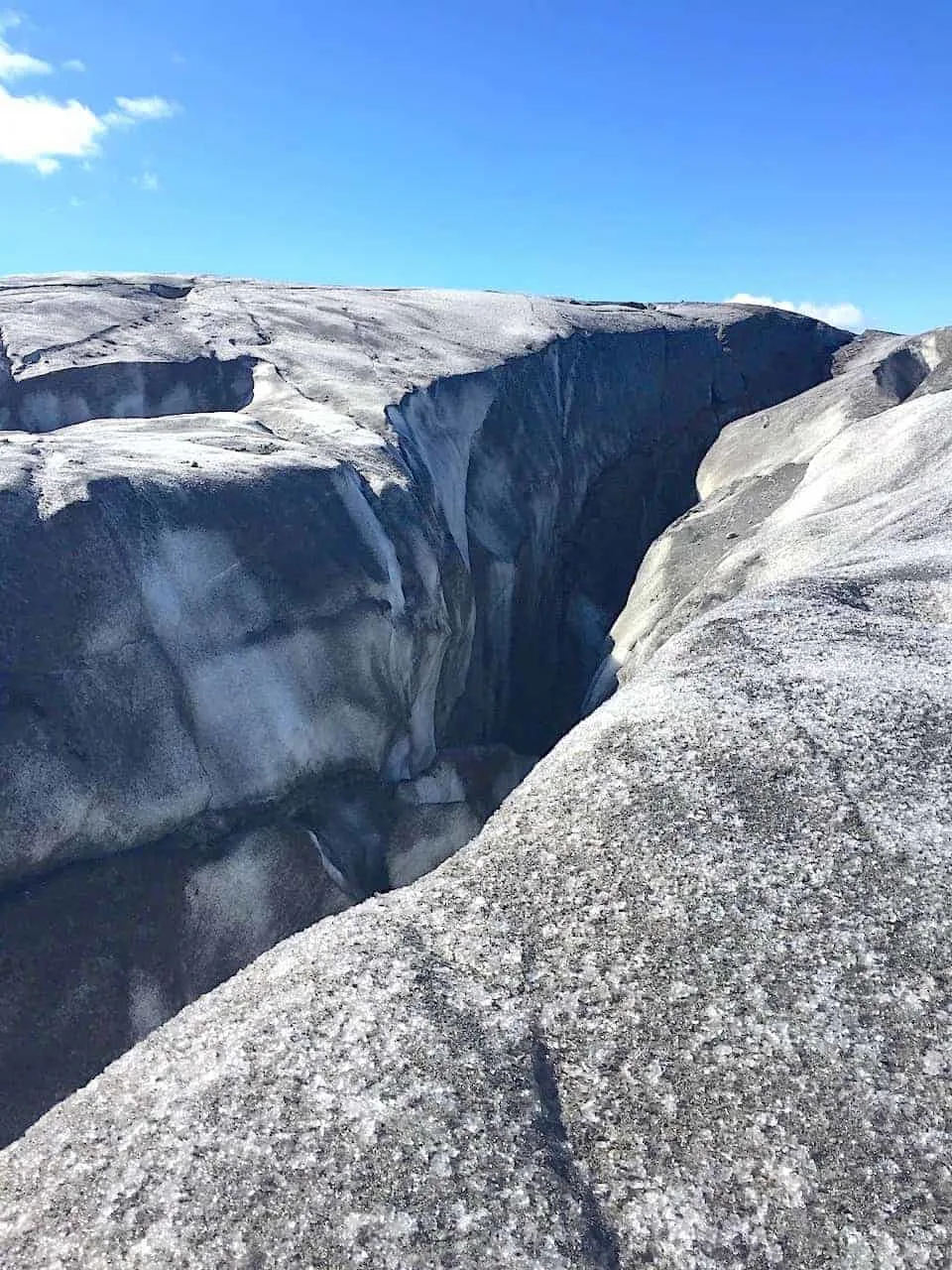 Once you are all done on your Skaftafell glacier hike, you will head back onto the bus and back to the starting point near the Skaftafell Visitor Center.
Once you have returned the equipment and are all set you can grab some lunch at the nearby dining hall or at some food trucks that may be parked outside.
Depending on your timing and itinerary you can then make your way to the nearby Jokulsarlon Glacier Lagoon to take part of another incredible Icelandic experience.
6) Where to Stay Near Skaftafell
If you are going to Skaftafell National Park odds are you will be heading there from nearby rather than a day trip from Reykjavik.
If you are planning on going all along the Rind Road or just exploring the Southern Coast, there are a few towns nearby that could work for you.
Closest Option: Hotel Skaftafell
Kirkjubæjarklaustur: (~1 hour away): Hotel Laki or Hotel Geirland
I hope that all helped you out as you prepare for your Skaftafell glacier hike at Vatnajokull National Park. I
f you want to learn more about some Iceland highlights check out the Iceland itineraries and guides I have up on the site. Feel free to write in any questions/comments below and safe travels out there!