Iceland is known to be one of the most unique countries in the world. Whether you are looking for volcanoes, glaciers, black sand beaches, canyons, waterfalls, hot springs, the northern lights, or many more amazing experiences, Iceland really does have it all.
But it is not just the landscape that is unique in the country. There are also many unique and cool places to stay throughout Iceland.
While there are certainly your more standard hotels and guesthouses all around the Ring Road, you will also find cottages, domes, pods, and many more different types of places to stay.
This guide will go through 25 unique Iceland hotels that are cool and fun accommodation options to help you better plan your hotel choices during a visit.
* Affiliate Disclosure: This post may contain affiliate links, which means I may receive a commission if you make a purchase through the links provided, at no additional cost to you. Thanks for supporting the work I put into TripTins!
Planning a Trip to Iceland
When planning a trip to Iceland, you can go about an itinerary in a many different ways. Everything from circling the Ring Road to just basing yourself in Reykjavik and taking day trips from there.
This guide though, will have unique places to stay all throughout the country, and you could easily use this to help book travel along the entirety of the Ring Road.
Since I will be mentioning hotels all around the country, I did want to lay out what a Ring Road itinerary can look like. You don't need to follow this to the tee, but it will give you an idea of how to go about a trip:
Day 1: The Golden Circle
Overnight: Selfoss
Day 2: Southern Cost
Overnight: Kirkjubæjarklaustur
Day 3: Skaftafell & Jokulsarlon
Overnight: Hofn
Day 4: Eastern Fjords
Overnight: Egilsstadir
Day 5: Lake Myvatn
Overnight: Akureyri
Day 6: Husavik
Overnight: Akureyri
Day 7: Kirkjufell
Overnight: Snaefellsnes
Day 8: Glymur
Overnight: Reykjavik
Day 9: Reykjavik
Overnight: Reykjavik
Day 10: Reykjavik & Depart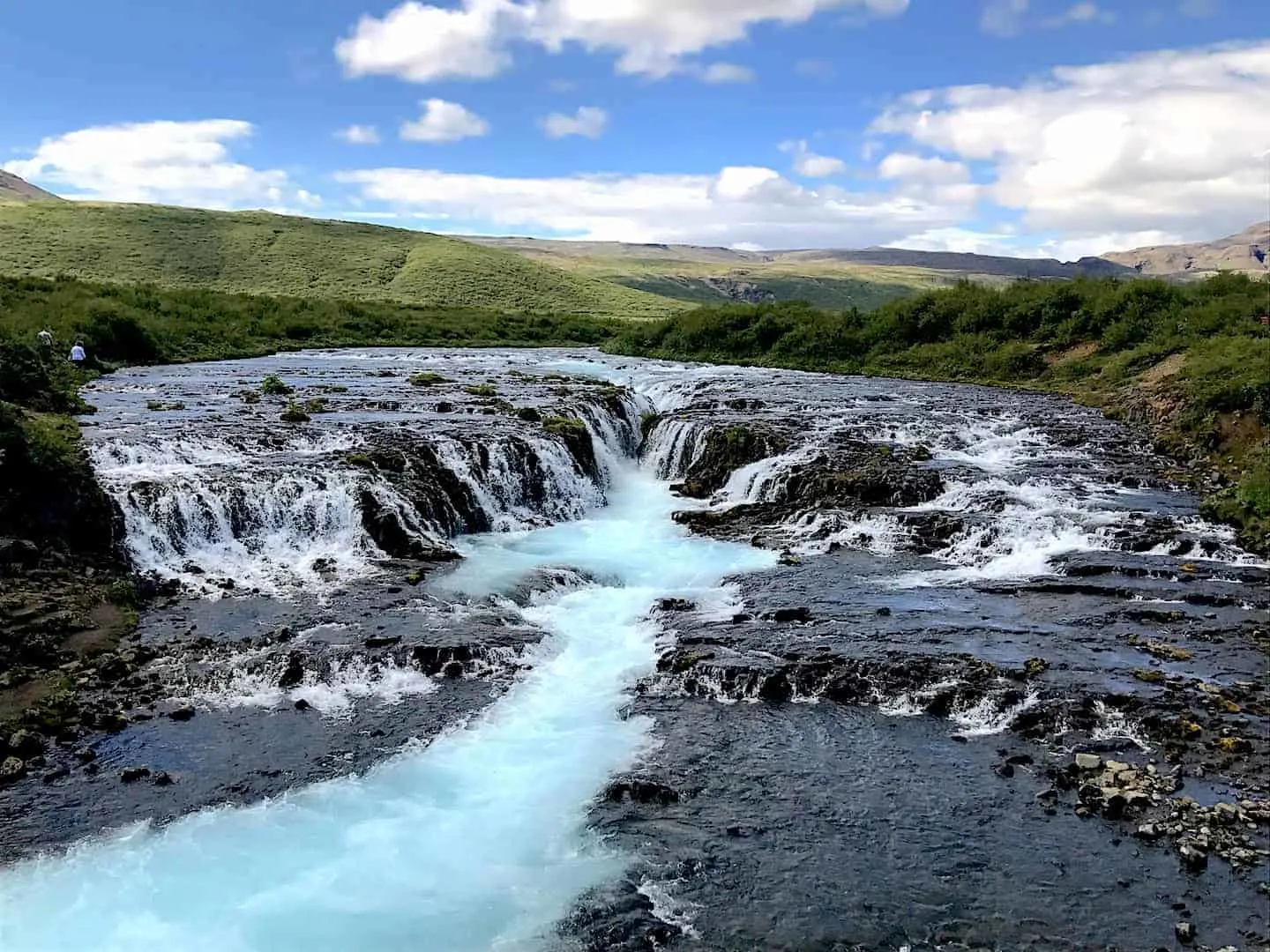 Unique Iceland Hotels Map
As you can see from the above itinerary, there are many towns around the country that you can stay in if traveling outside of Reykjavik.
In this guide I will mention hotels that are in those towns and also hotels that are in the general vicinity of the towns. You can decide for yourself how you want to travel. There is no right way to go about it!
Note: Half of the hotels mentioned in the guide are located within the general vicinity of Reykjavik as that is certainly the most popular of spots where people base themselves.
If basing yourself in Reykjavik note that you don't need to stay directly in the city center. There are plenty of cool places to stay outside of the city and closer to some of the top sites and attractions (which I will mention throughout).
Here is a list and a map of the 25 hotels I will go through in the remainder of the guide. I will break these up by location, so you can get a better grasp of various options that are in the same vicinity.
Unique Hotels Around Reykjavik
Let's first start out with those hotels in the closest vicinity to the city center of Reykjavik (color coded red on the map above).
The Retreat at Blue Lagoon
The Blue Lagoon is a fan favorite when it comes to places to visit in Iceland. But what if you had the chance to stay at the Blue Lagoon and be able to open up your door right into the lagoon.
That is what the Retreat at Blue Lagoon offers and it is truly a one of a kind hotel in Iceland to stay at.
» Book your stay at The Retreat at Blue Lagoon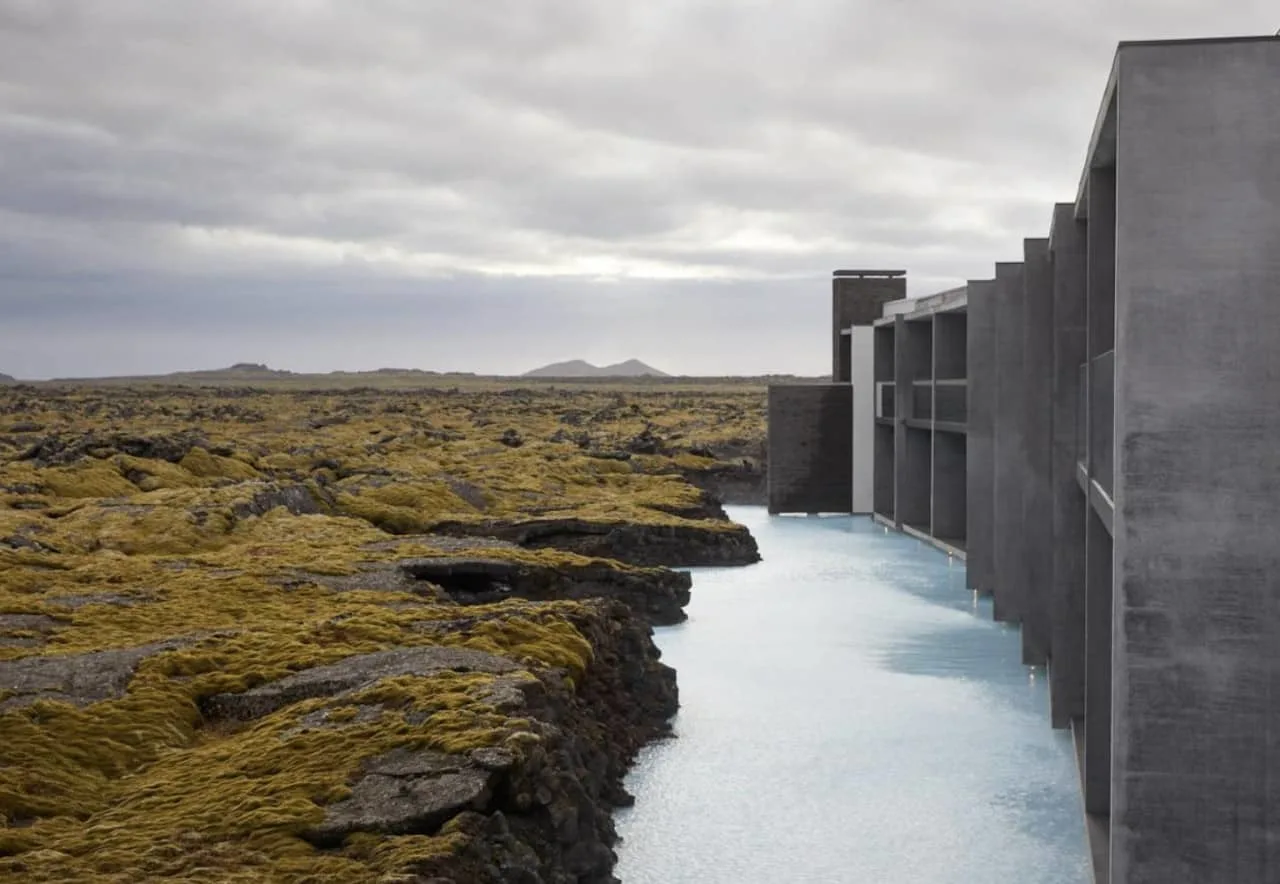 Hotel Viking
South of the city center in the town of Hafnarfjordur, is the Hotel Viking. Just take a look at this place from the outside.
A Viking inspired rustic cool designed hotel that overlooks the harbor is sure to be a unique experience to enjoy.
» Book your stay at Hotel Viking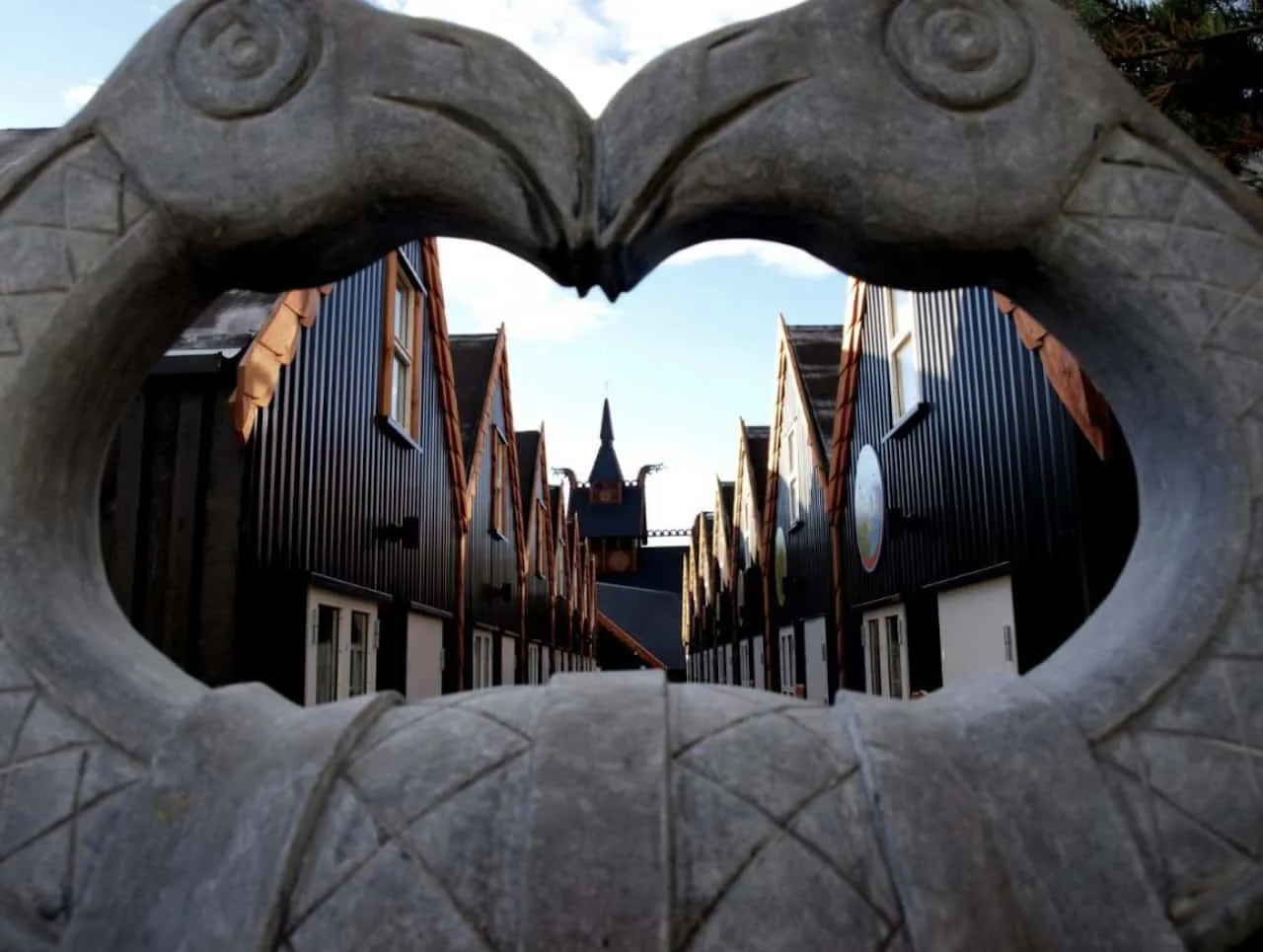 Hlid Fisherman's Village
Just south of Reykjavik is the Alftanes peninsula and at the very end of it you will find the Hlid Fisherman's Village.
This cool guesthouse offers cottage style rooms with some of them even having grass covering their roofs. It has the solitude and it has the views for a great stay during your trip.
» Book your stay at Hlid Fisherman's Village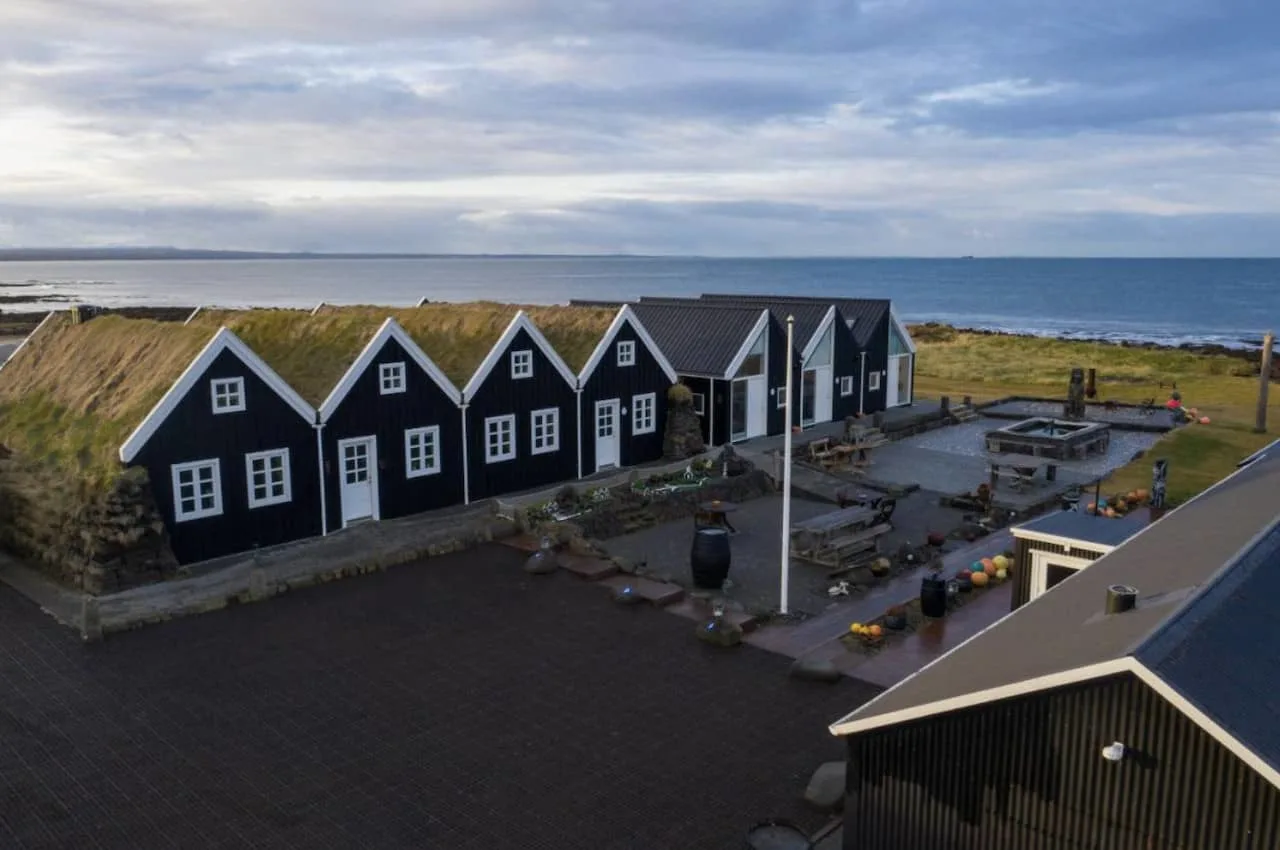 Reykjavik Domes
Just as the name implies, the Reykjavik Domes are indeed freestanding luxury domes just outside the city center.
And don't worry the domes are well heated with heaters and fireplaces. And don't forget to head outside for a dip in the hot tub to enjoy the surrounding nature.
» Book your stay at Reykjavik Domes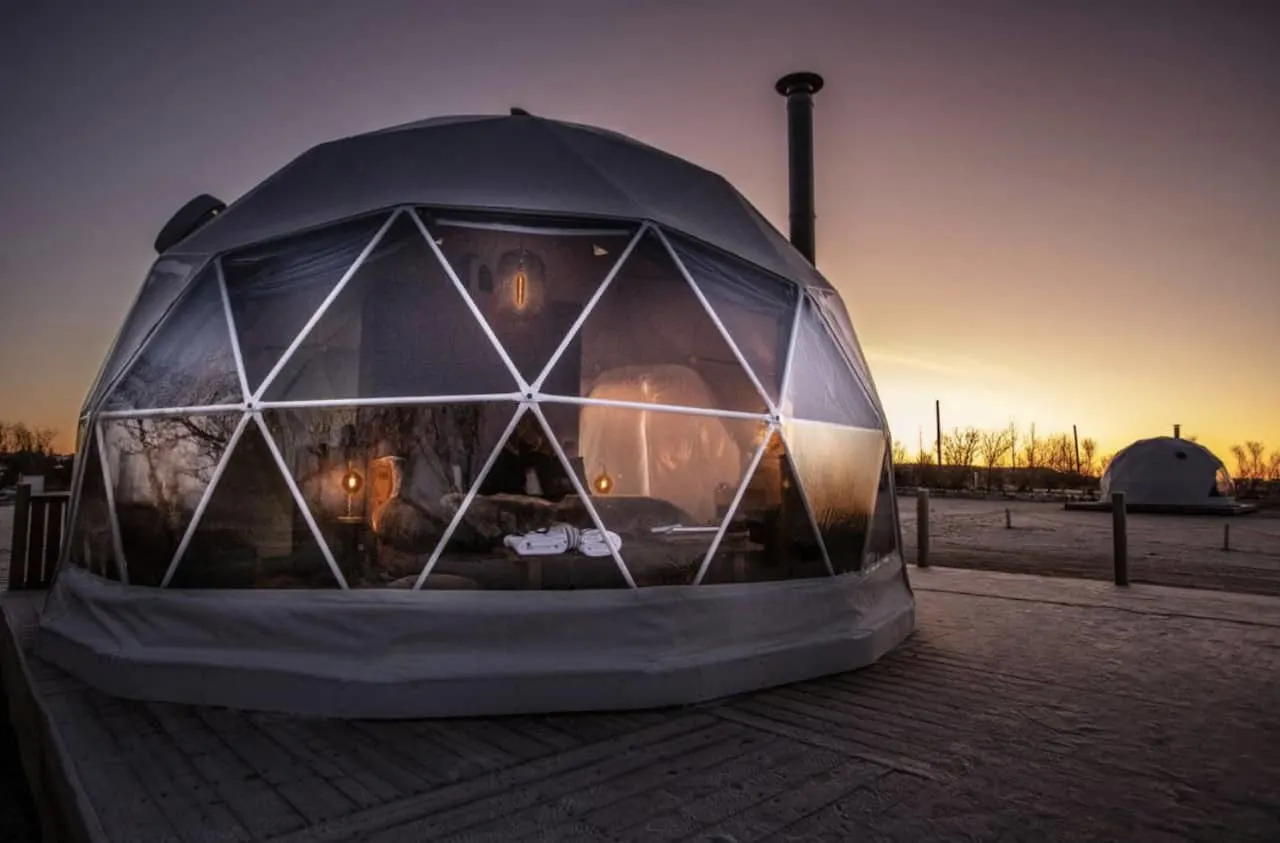 101 Hotel
The one hotel on this list that is actually in the city center of Reykjavik is the 101 Hotel. It is a modern boutique hotel with a contemporary design.
With its large windows and sleek design, it definitely stands out a bit from the crowd.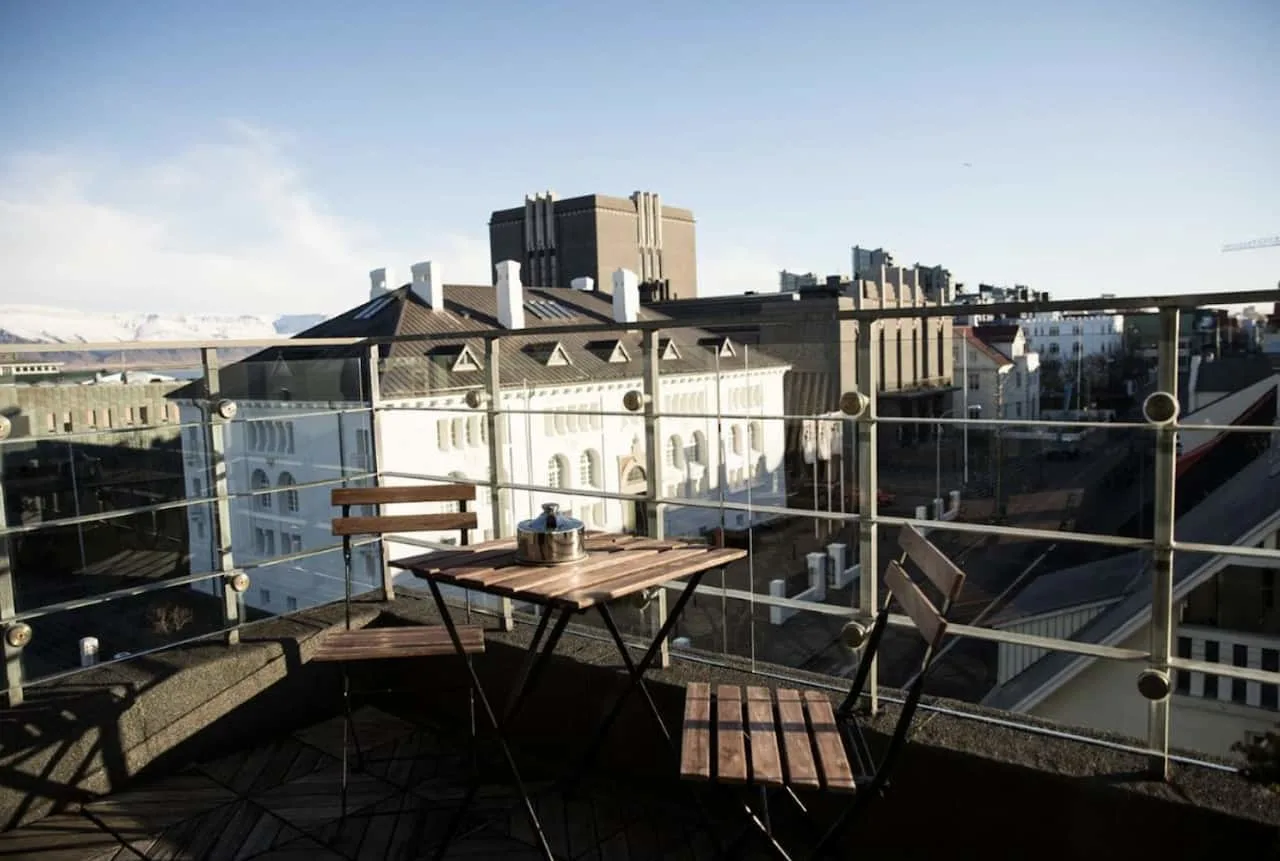 Golden Circle Unique Hotels
Outside of Reykjavik is one of the more famous driving routes in the country – The Golden Circle. Here you will find several different sites to visit along the way including Thingvellir National Park, Geysir, Gulfoss Waterfall, Kerid Crater, among others.
There are many hotels along the route and just beside it that can make for some great places to stay during a trip.
Ion Adventure Hotel
Just outside of Thingvellir National Park you will find the Ion Adventure Hotel. This is a hotel you have to see to believe.
The hotel is situated on Mount Hengill and from the bar and restaurant you will get some of the best views you can ask for.
In addition to its very unique design, there is an outdoor pool to enjoy after a long day of sightseeing nearby.
» Book your stay at Ion Adventure Hotel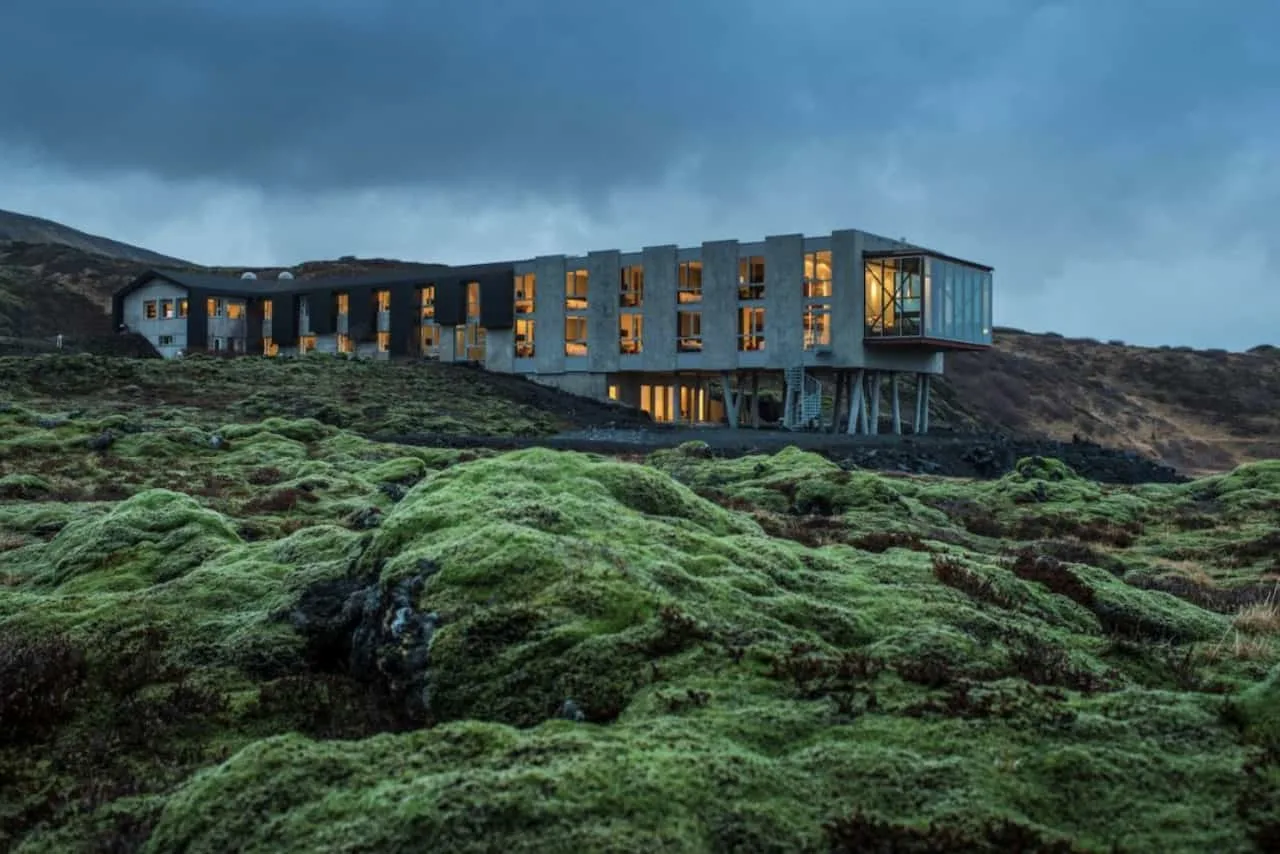 Frost & Fire Boutique Hotel
The town of Hveragedi is known for its hot springs and the nearby Reykjadalur Hot Springs hike. And what way to better take advantage of the area than staying right in town.
The Frost & Fire Boutique Hotel has just an unbelievable location just on the outskirts of the river.
From the hotel you can see the sulphur gasses rising up from underground and you can even enjoy those views from the two hot tubs.
» Book your stay at Frost & Fire Boutique Hotel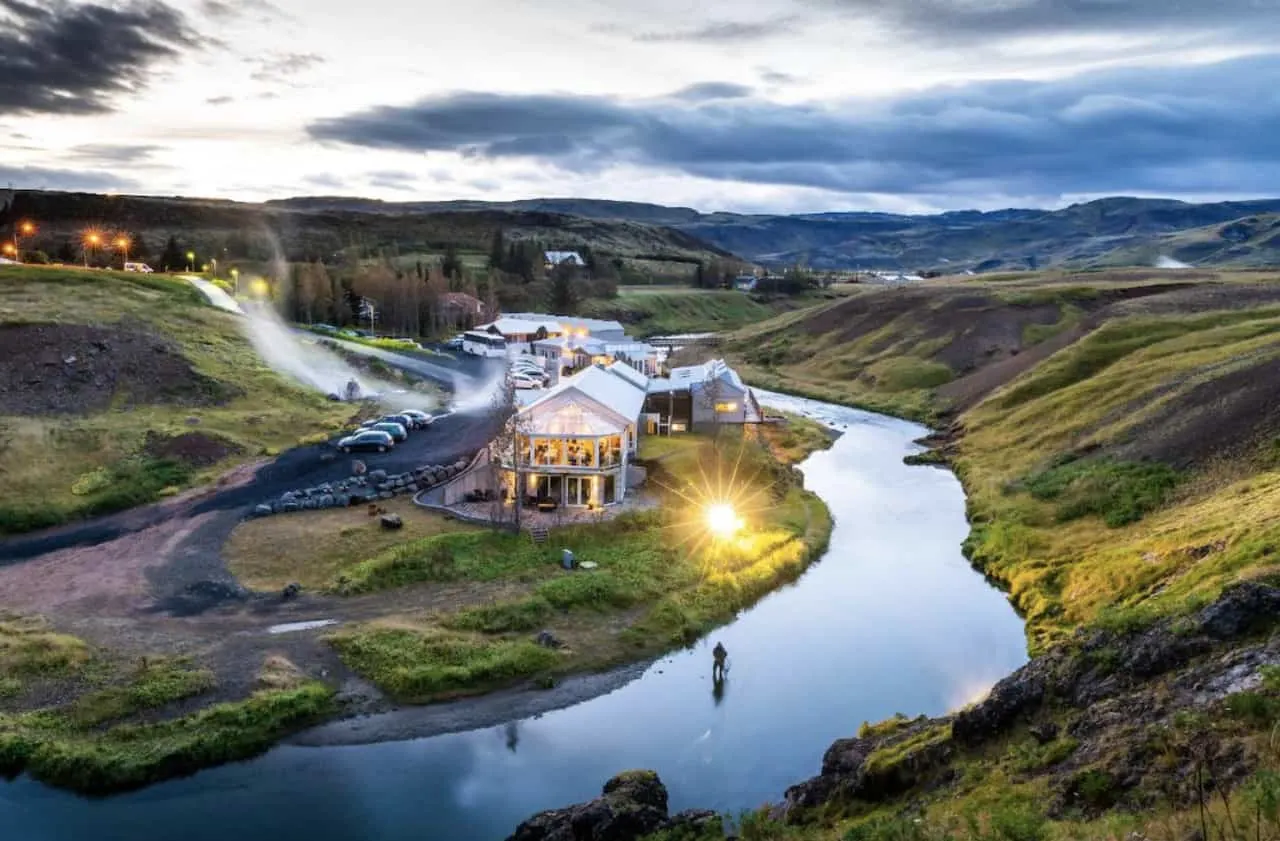 Camp Boutique
The town of Gaulverjabaer is located on the water just south of the Golden Circle alongside the southern coast of the country. As the name implies, this is a tented setup, making it a quite unique place to stay in Iceland.
These are not your normal camping tents though. These are legitimate massive tents with a full heated setup. You can definitely consider this a nice off the beaten path glamping experience to have in Iceland.
» Book your stay at Camp Boutique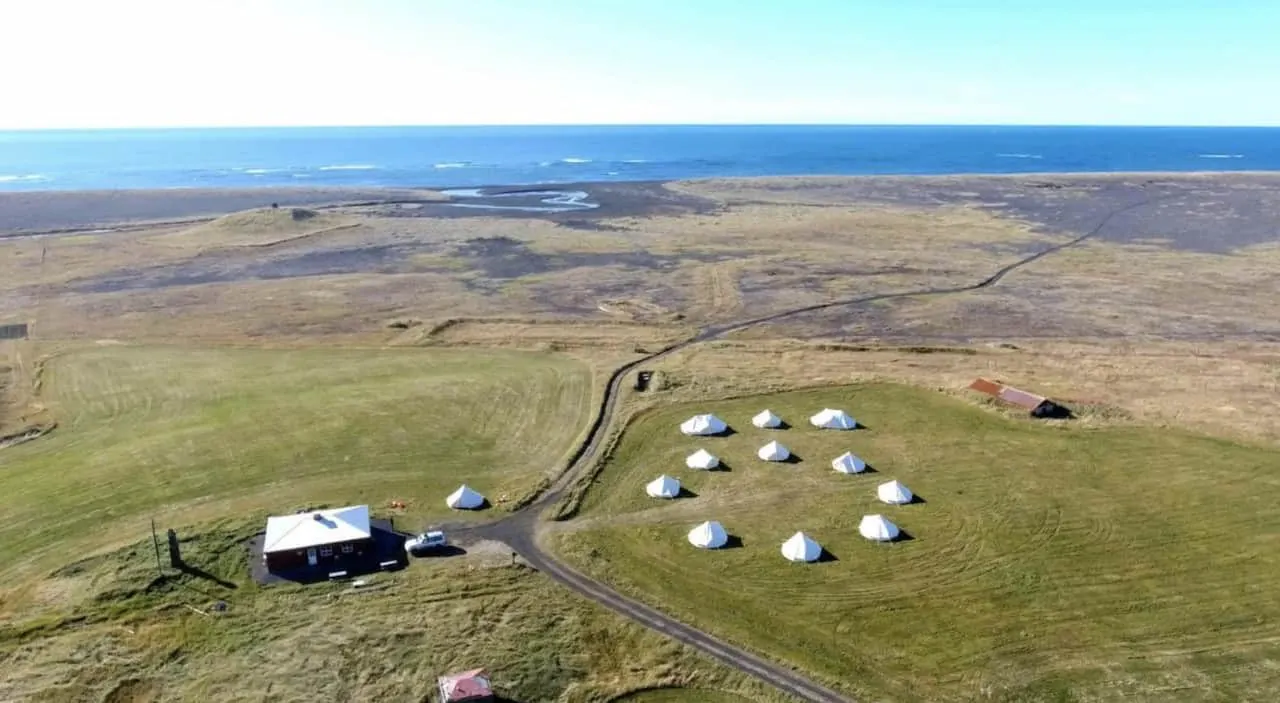 360 Hotel & Thermal Baths
Just outside the town of Selfoss you will find the 360 Hotel & Spa. This is truly a luxurious place to stay during your trip. I don't think there is another hotel in Iceland that can offer what the 360 Hotel offers.
At the hotel you can find an indoor pool, outdoor pool, cold water pool, and a sauna. There is also a hot tub that is fed by water 300 meters below the surface.
So, if you are looking for a spa experience, look no further than the 360 Hotel & Thermal Baths.
» Book your stay at 360 Hotel & Thermal Baths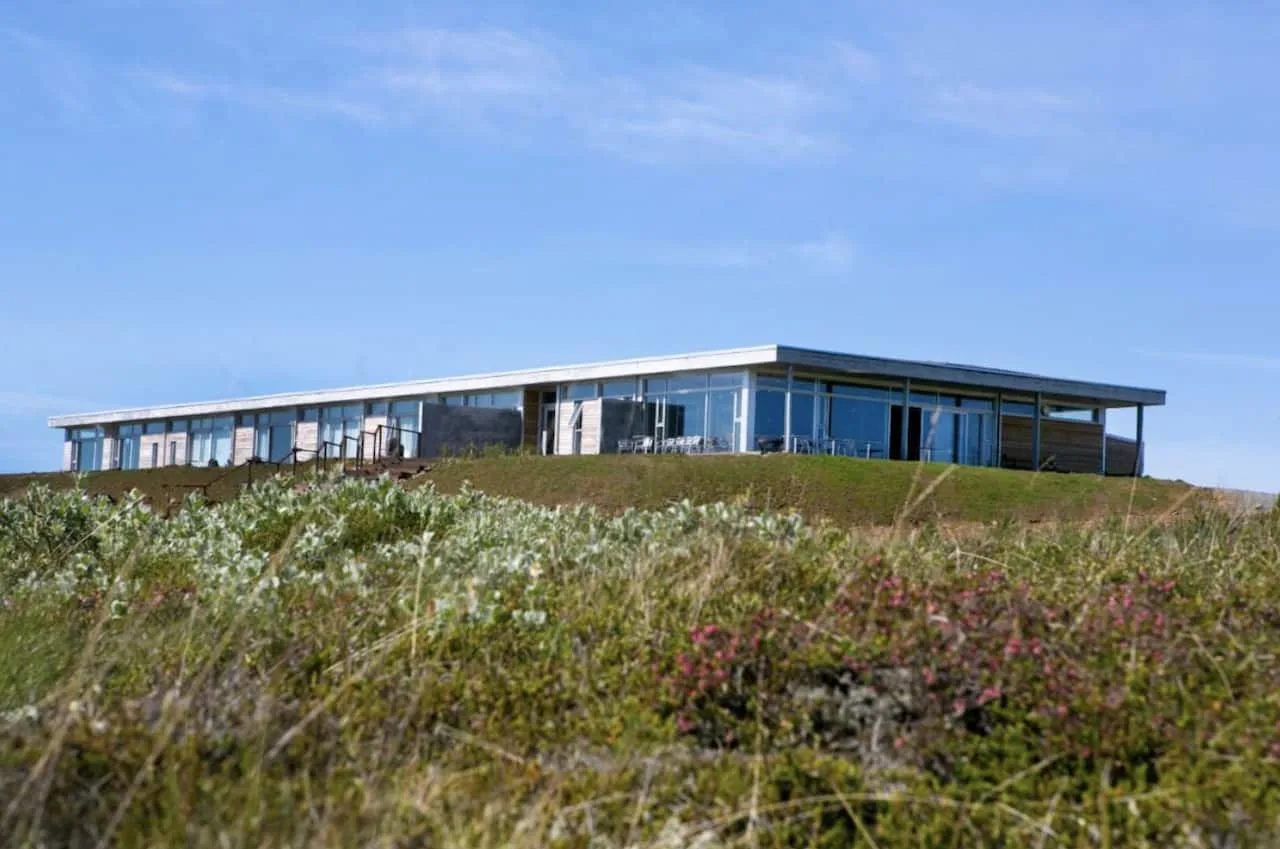 5 Million Star Bubble Hotel Iceland
The 5 Million Star Bubble Hotel is certainly located a bit far off the main Ring Road route, but it does offer quite the unique experience.
These are literally glass bubbles located in the heart of Iceland with stunning landscapes all around. This is the perfect place to stay at if you would like to go to sleep staring up at the Northern Lights from your bed.
While they have several regular bubbles, there is also a chance to stay in a bubble that is hanging up in the trees. I mean, it does not get more cool and unique than this.
Hotel Ranga
Further east, you will find Hotel Ranga, another fantastic option to stay at during a trip. At the hotel there is an actual stargazing observatory on site!
In addition, the hotel offers wake up calls for when the Northern Lights appear and in turn, shuts off all lights to enjoy the aurora from the hotel. The hot tub, the views, and the surrounding landscape just adds on to the experience.
» Book your stay at Hotel Ranga
Cool Kirkjubaejarklaustur Hotels
Further along the southern coast of Iceland you will come across one of the most uniquely named places in the country – Kirkjubaejarklaustur.
This is a great area to base yourself in during a trip around the Ring Road or if you just want to spend a couple nights away from Reykjavik visiting places like Skogafoss.
Below are a couple great fun places to stay at nearby and feel free to take a look at some other South Iceland hotels.
Magma Hotel
When it comes to unique hotels in Iceland, the Magma Hotel is up there on the list. Located on the water's edge is a group of several individual grass roofed cabins.
With it is the sleek architectural design, large glass windows, and outdoor balconies, the hotel is a great option to stay at in southern Iceland.
» Book your stay at Magma Hotel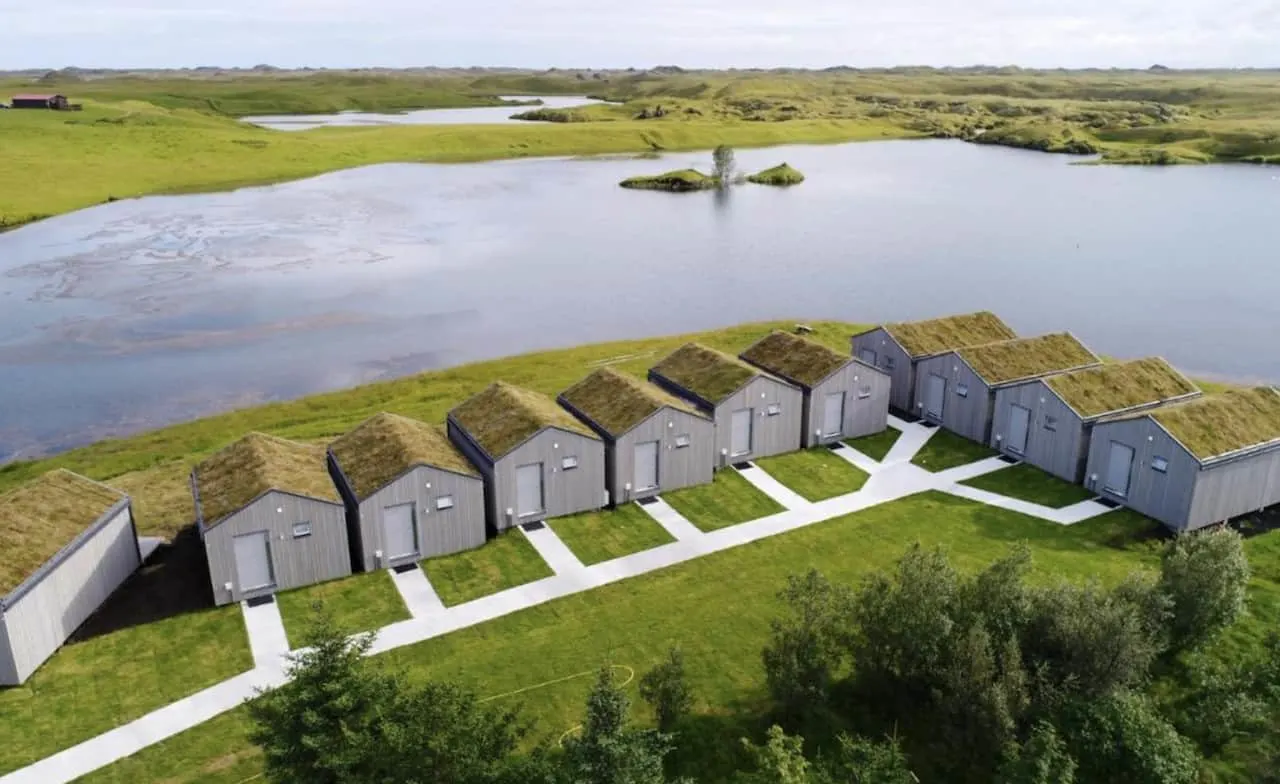 Horgsland Cottages
Just a bit further east along the Ring Road you will come across the Horgsland Cottages. As the name implies, instead of a standard hotel, you will be welcomed to large oversized cabins sprawled along the property.
Within each multi floored cottage, you will find a kitchen, bathroom, and terrace to enjoy as you are surrounded by the Icelandic landscape.
» Book your stay at Horgsland Cottages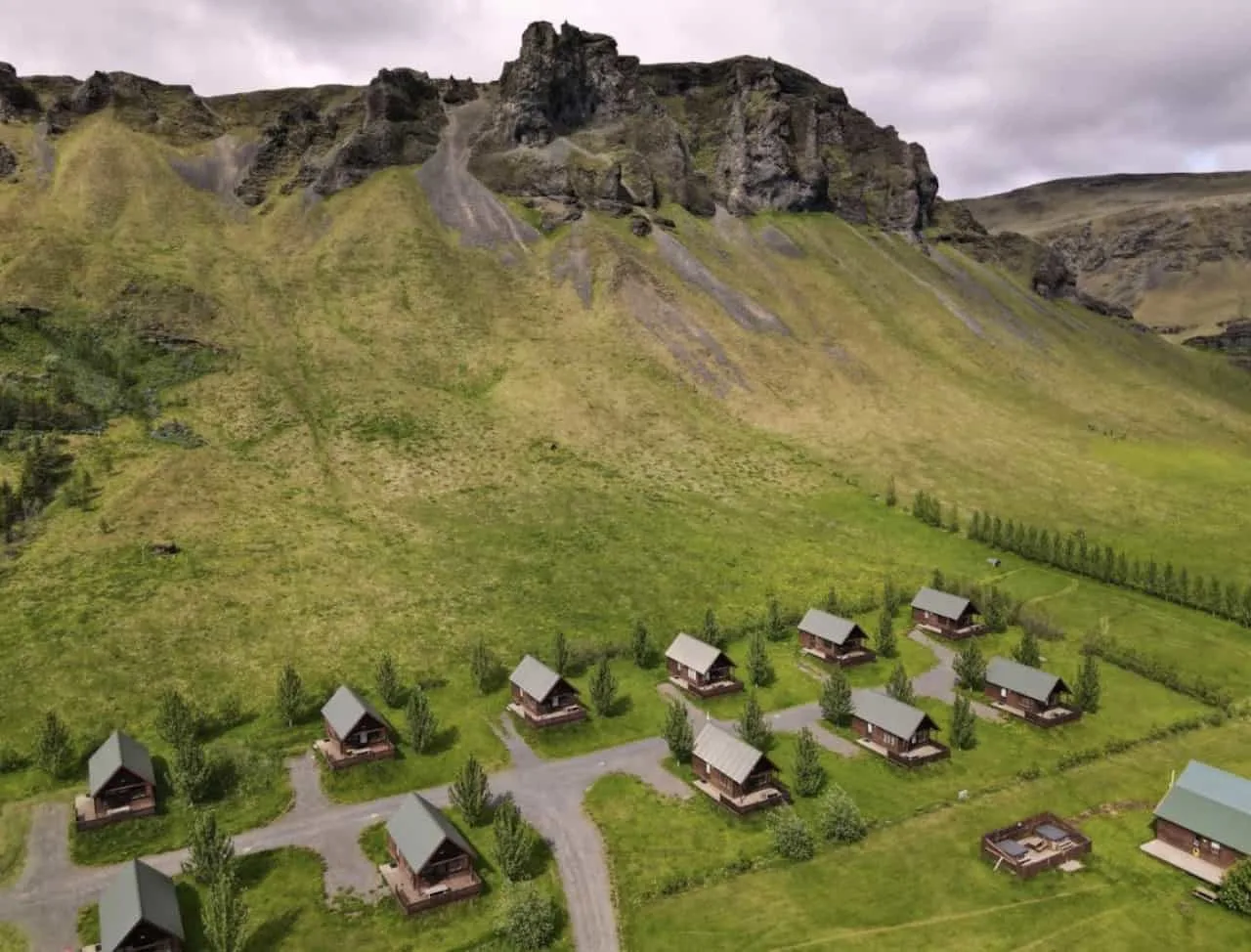 Amazing Hotels on the Eastern Coast
Let's now move onto the eastern coast of the country, where I have pinpointed three unique hotels in three different towns along the coast.
You will most likely be visiting the eastern coast if taking part of a full Ring Road trip.
Fosshotel Vatnajokull
The Fosshotel Vatnajokull is located just outside the town of Hofn, on the southeast corner of the country. This beautiful property has mountain and glacier views that can be enjoyed from the outdoor patios or right from some of the room's private decks.
All that you will find around the property is peace and quiet, and hopefully some Northern Lights!
» Book your stay at Fosshotel Vatnajokull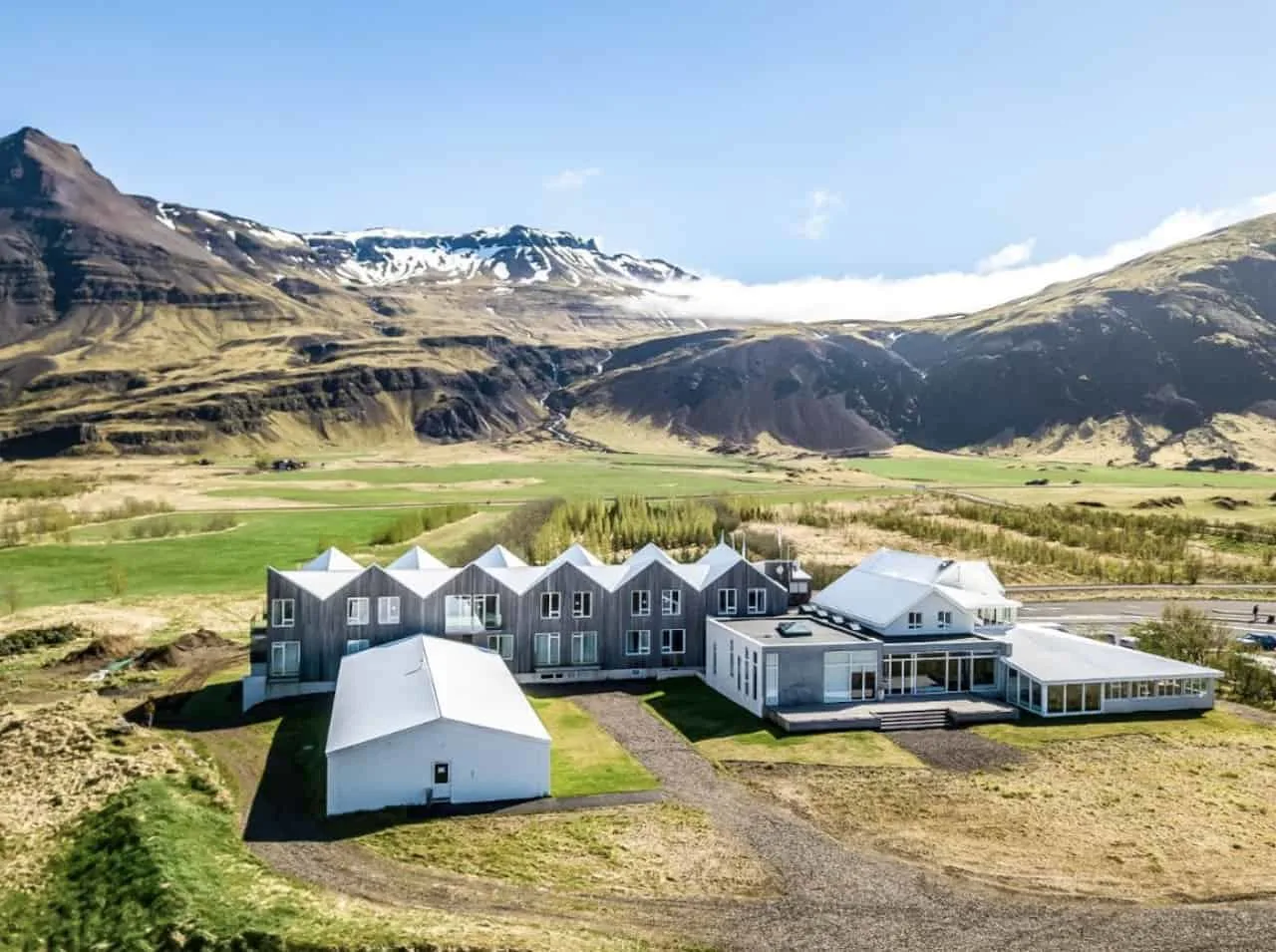 Framtid Camping Lodging Barrels
The town of Djupivogur is a small village located on the Bulandsnes peninsula. Here you will find yet another cool hotel to stay at – the Framtid Camping Lodging Barrels.
I mean what can I say more – just look at the photo below. These are literally wooden barrels that have been turned into hotel rooms. The barrels are pretty basic accommodation but where it comes to a unique experience, it is tough to beat.
» Book your stay at Framtid Camping Lodging Barrels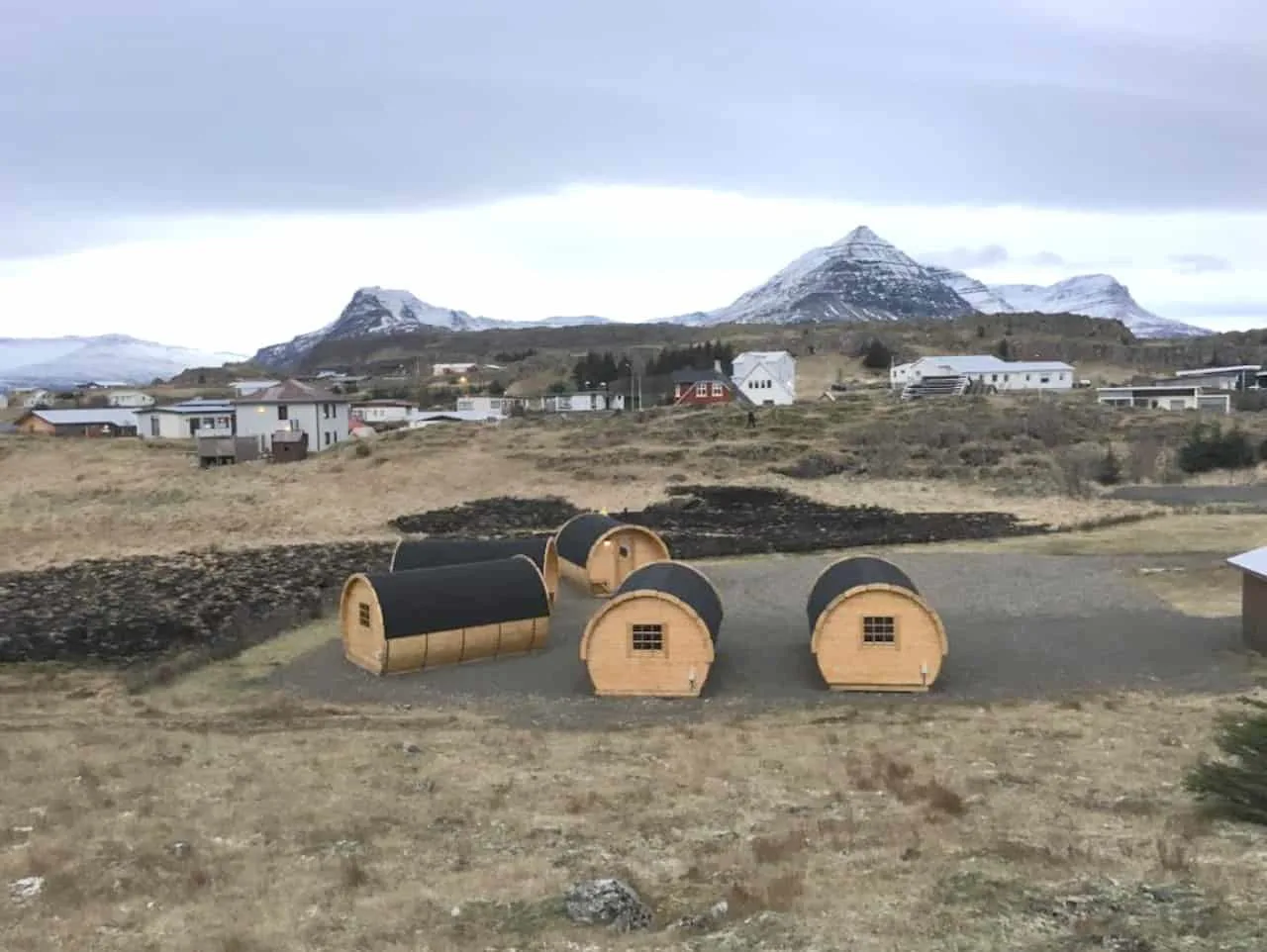 Ormurinn Cottages
Heading further north along the eastern coast is the town of Egilsstadir, where you can find the Ormurinn Cottages.
And what a cool spot this is. These triangular shaped cottages have large patios with views of the Lake Lagarfljot down below. The open layout offers a bed, couch, dining area, and small kitchen as you get to enjoy the surrounding nature of the eastern coast.
» Book your stay at Ormurinn Cottages
Cool Spots in Northern Iceland
Heading west from Egilsstadir, you will be driving along the northern coast of the country. The main town here (and one of the biggest in the country) is Akureyri.
However, there are certainly other spots along the way that you can stay at as well.
Laxa Hotel
One of these other spots is on the outskirts of Lake Myvatn, a true highlight on a trip to Iceland. The area around Lake Myvatn offers so many attractions and sites to visit during your time there.
The Laxa Hotel is located just on the outskirts of Lake Myvatn and is perfect place to base yourself for a night. The hotel has this modern modular design with large windows to enjoy the landscape from your rooms.
» Book your stay at Laxa Hotel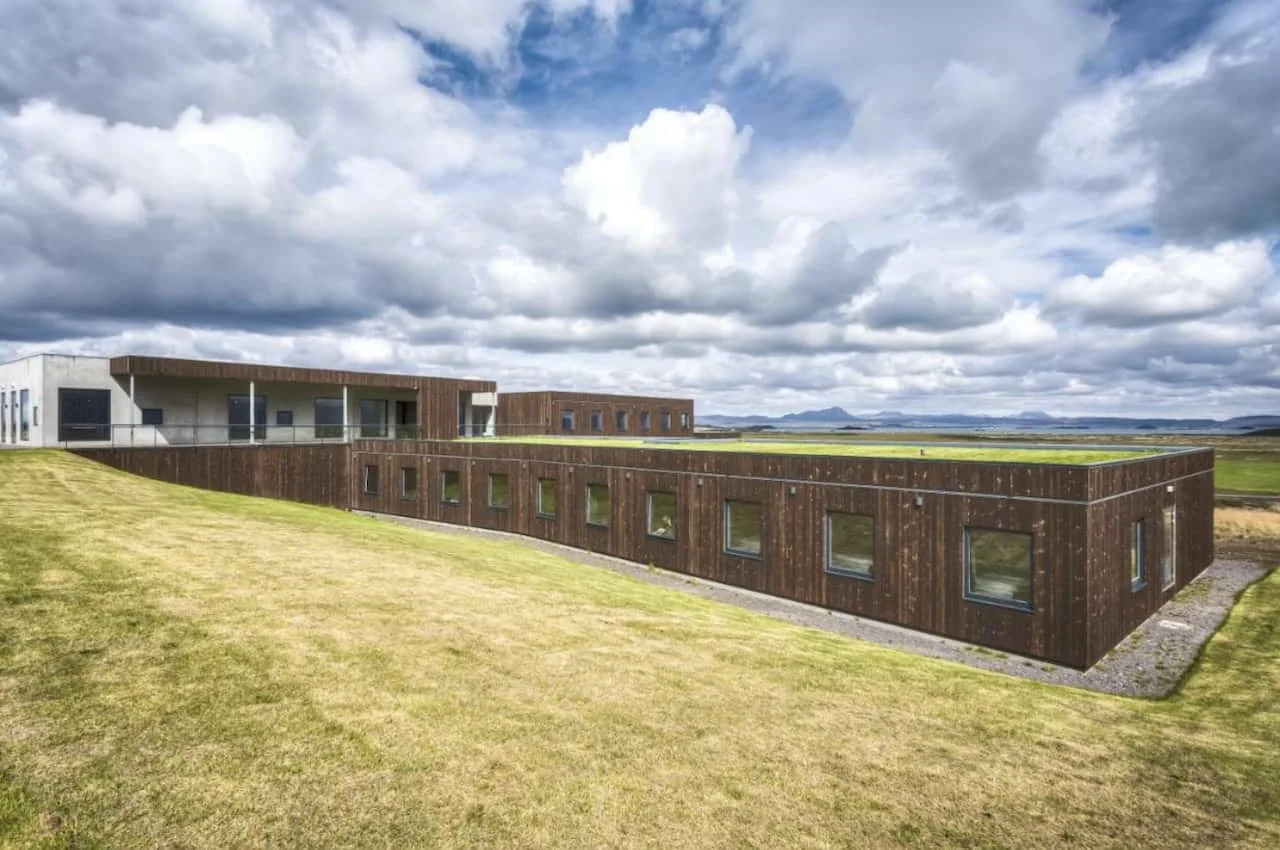 Fljotsbakki Farm Hotel
Right nearby the Godafoss waterfall lays the Fljotsbakki Farm Hotel. Here you have the unique chance to sleep on an actual Icelandic farm. Don't worry though, the rooms are actually quite comfortable and modern.
» Book your stay at Fljotsbakki Farm Hotel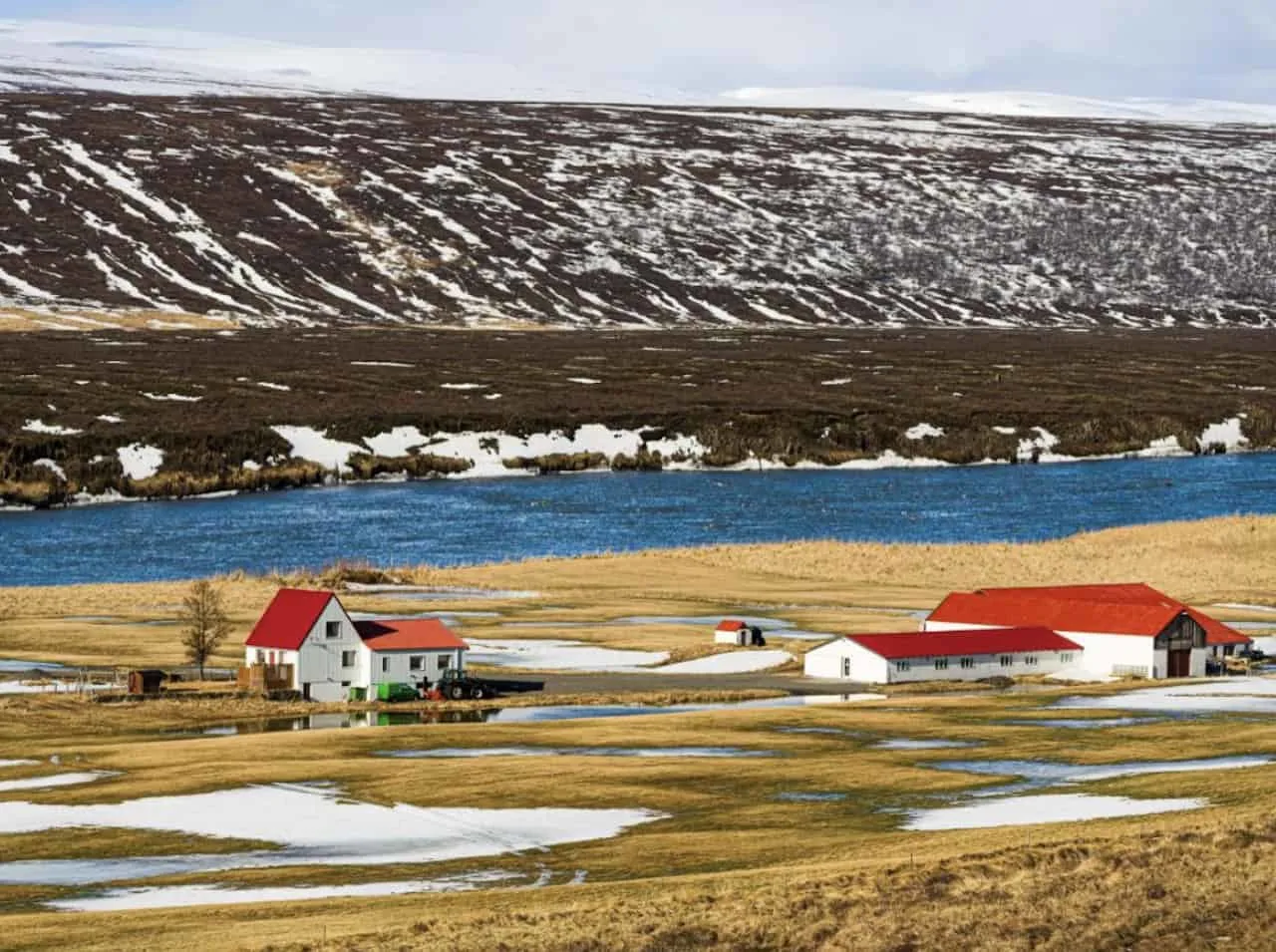 Hafnarstraeti Hostel
Within the city center of Akureyri is the Hafnarstraeti Hostel. If you haven't heard of sleeping capsule pods, well now is your chance to experience one.
Instead of dorm rooms with an open layout bunk bed setup, these rooms have pods that make your bed have a more private feel to it. The pods come in two sizes – single and double, in case you want to share a pod with someone.
» Book your stay at Hafnarstraeti Hostel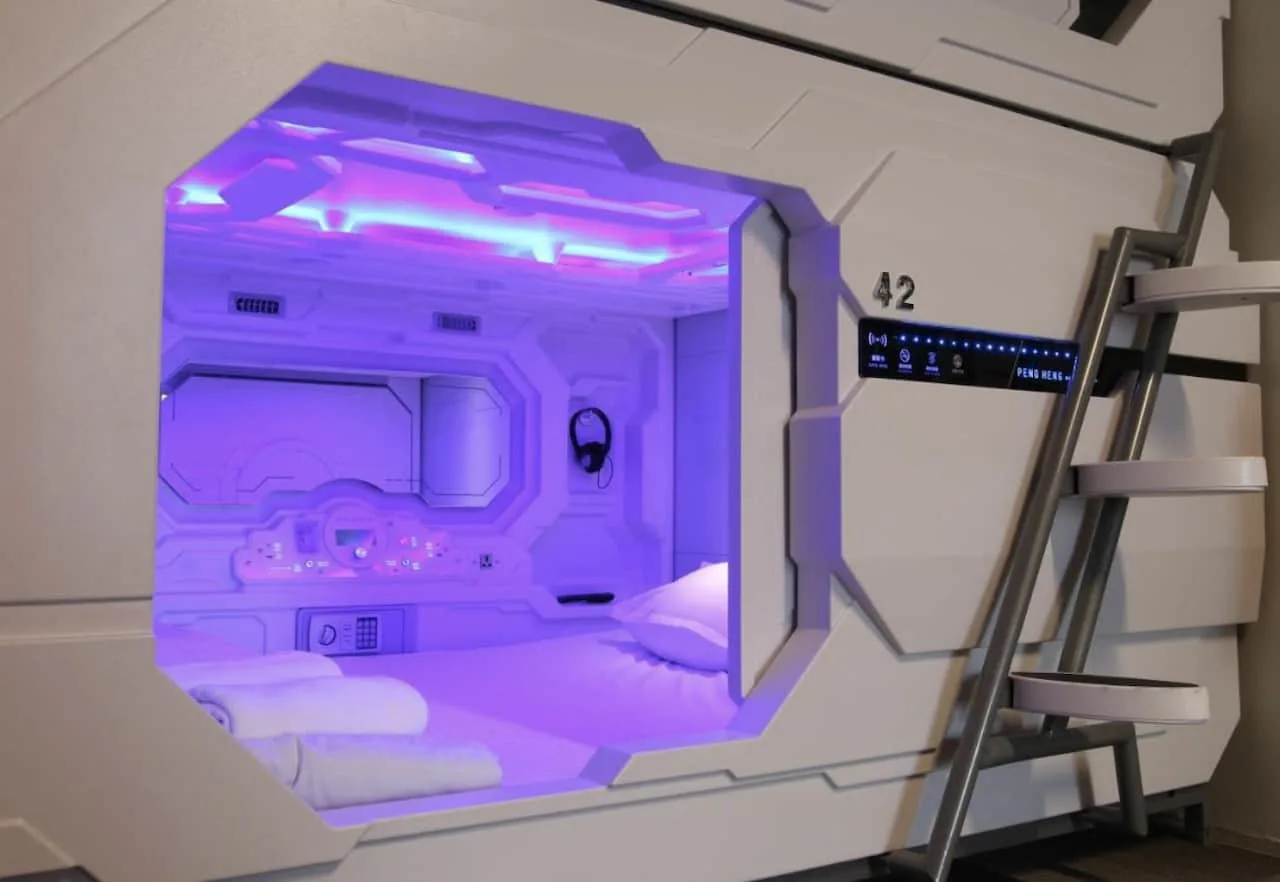 Western Iceland Unique Hotels
Let's now make our way to the western end of the country, where there are some more unique places to stay at including some on the Snaefellsnes Peninsula.
Arnarstapi Cottages
Another unique hotel in Iceland, another cottage set up. The cottages at Arnarstapi Cottages on the Snaefellsnes peninsula do have quite the sleek slanted roof design.
And don't worry, although these are singular cottages, there is a common restaurant are to enjoy some more open space. It is the perfect spot to stay if exploring the peninsula.
» Book your stay at Arnarstapi Cottages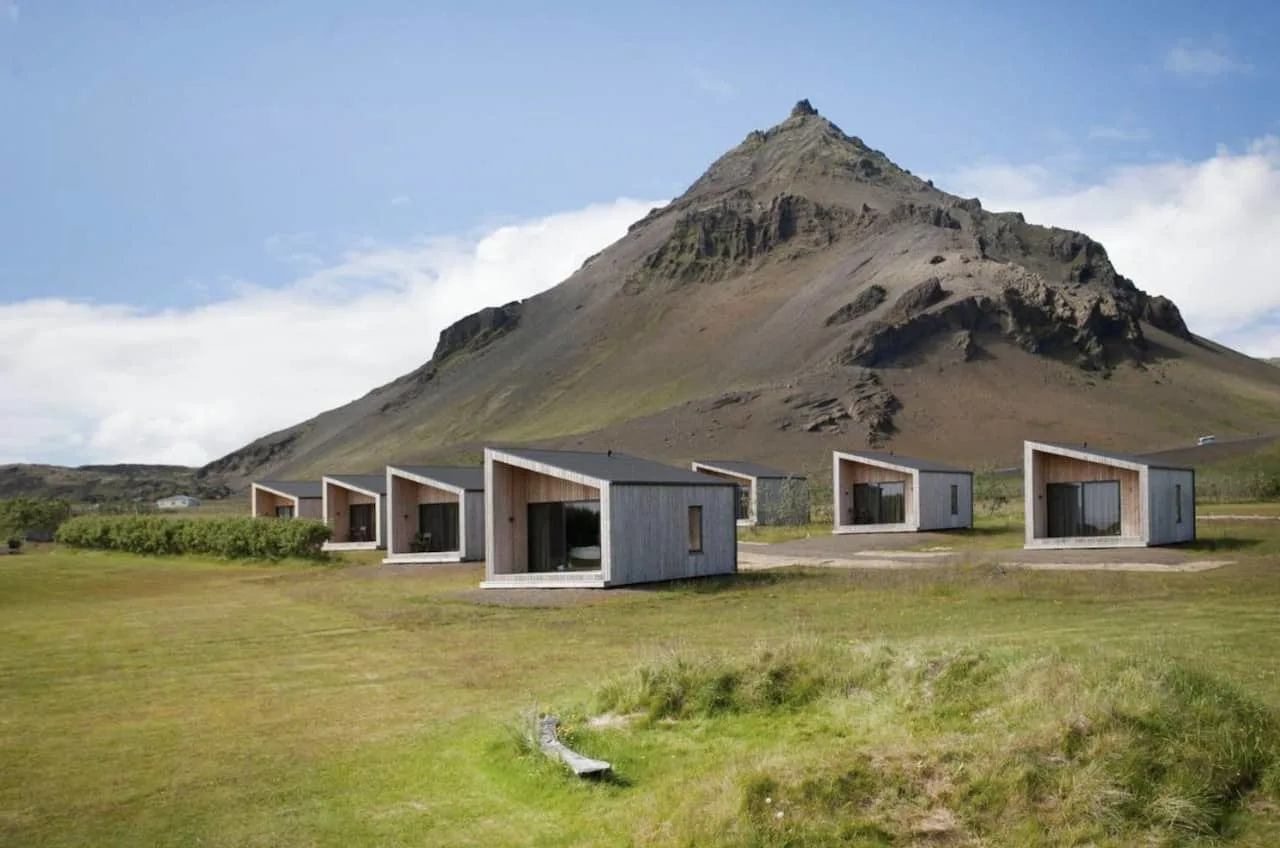 Hotel Budir
Also, on the peninsula is Hotel Budir, a remote but luxurious hotel to stay at. Whether it is the view from the rooms – glaciers, sea, mountains, and lava fields all in view, the gourmet restaurant, or the nearby activities, Hotel Budir offers it all.
» Book your stay at Hotel Budir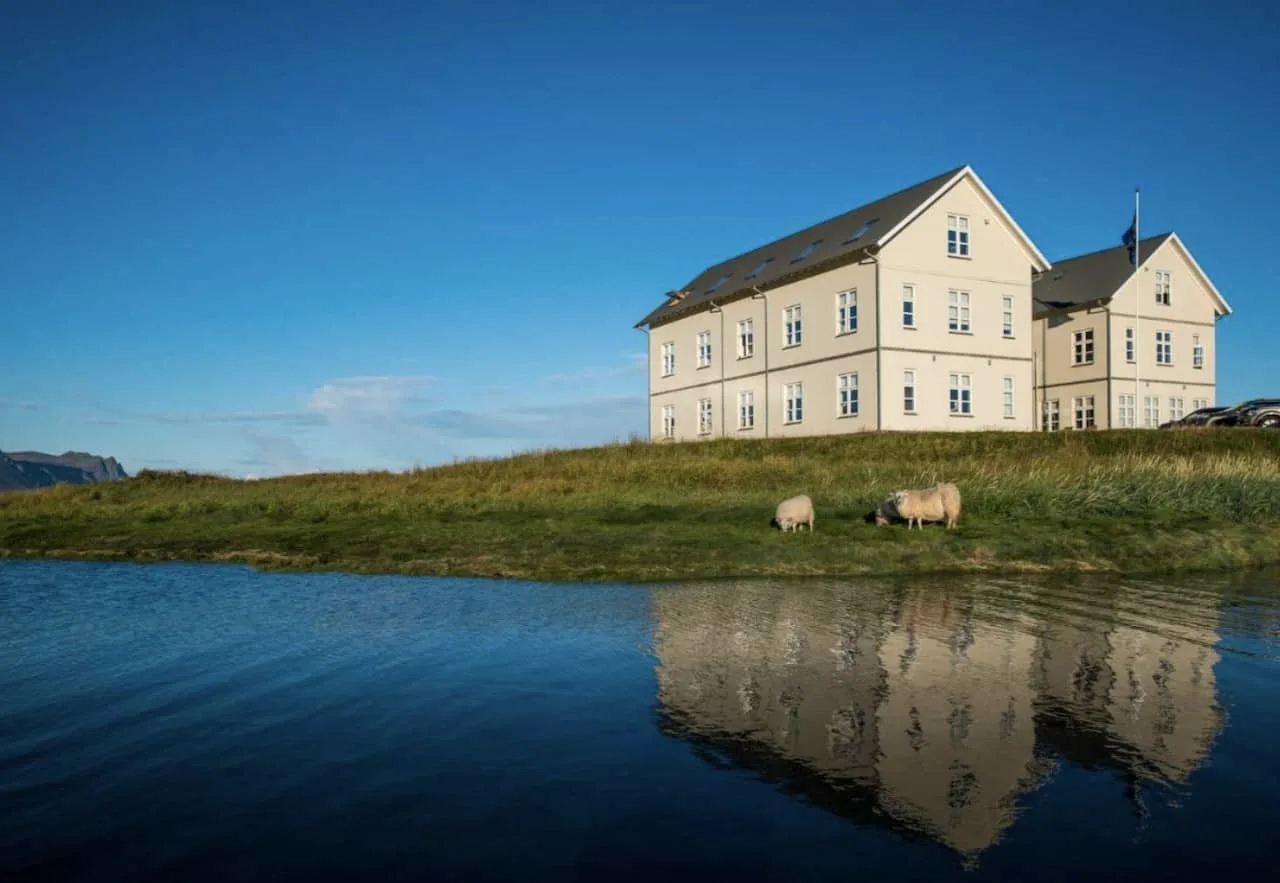 Hotel Husafell
Moving further inland on the west coast is Hotel Husafell. What makes the hotel so unique, is mostly its location.
Further away from most other accommodation, this hotel also offers a golf course, which can't be said of basically any other hotel in the country.
So, if you are looking to enjoy the landscape but also want to get some rounds in, then Hotel Husafell could be for you.
» Book your stay at Hotel Husafell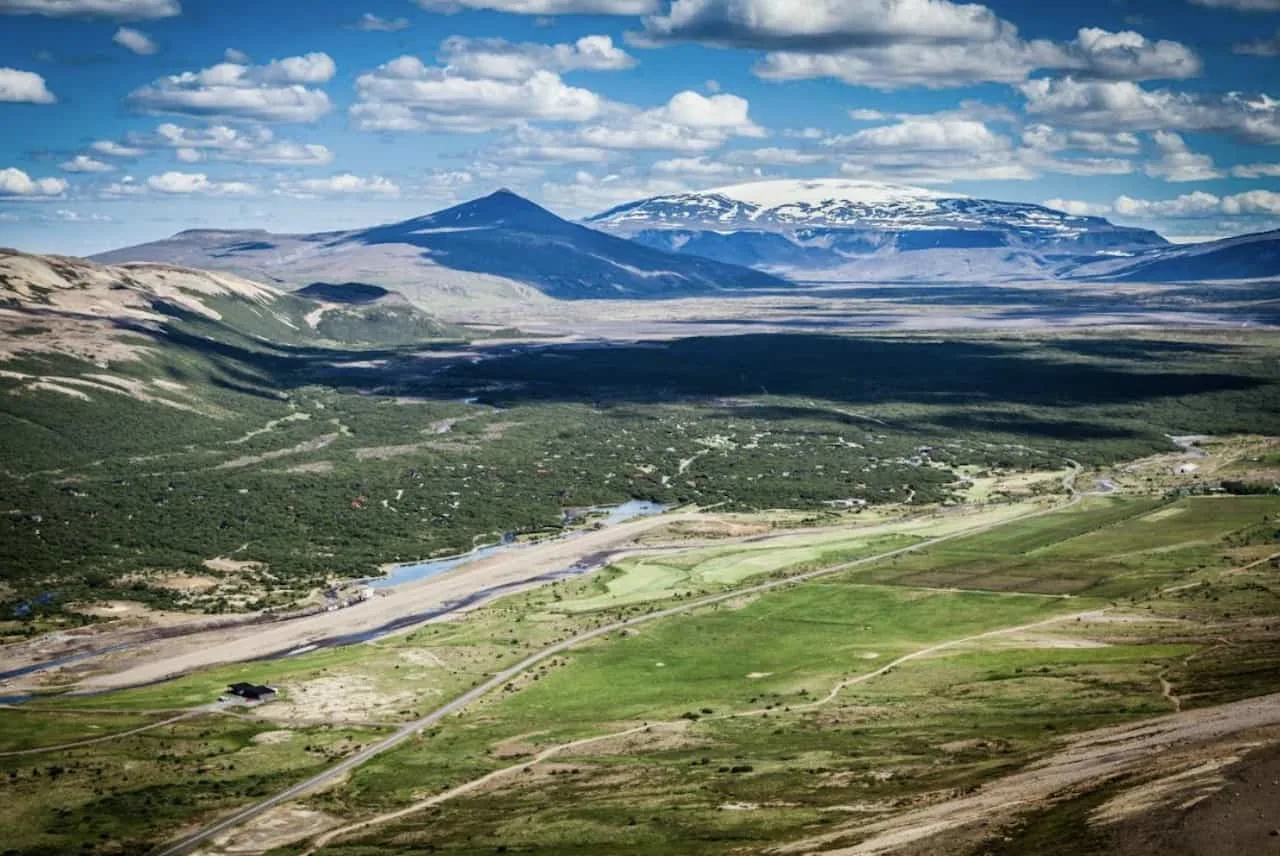 Fossatun Camping Pods
Getting closer south to Reykjavik now along the west coast is the Fossatun Camping Pods. While there have been some uniquely shaped cabins and pods on this list, the oval shaped pods at Fossatun are quite the sight to take in.
While the pods are pretty basic in nature, there are shared facilities such as bathrooms, showers, kitchens, and outdoor hot tubs to enjoy.
» Book your stay at Fossatun Camping Pods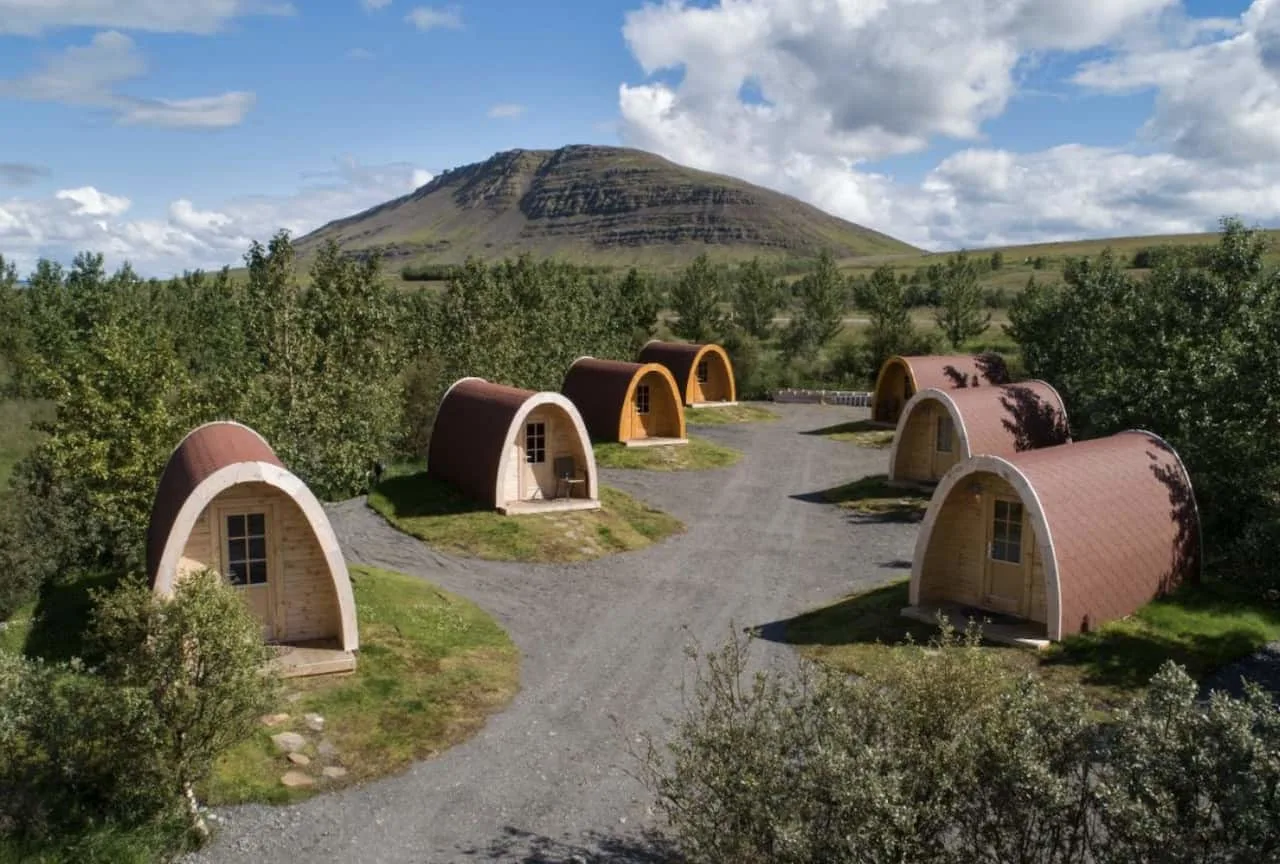 Staying on Vestmannaeyjar
What is more unique than staying on an island off of the mainland. Just off the southern coast of the country is Vestmannaeyjar.
Getting to the island of course requires a ferry, and once there you get to experience what few others do during a trip to Iceland.
Puffin Nest Capsule Hostel
While there are several places to stay on the island, the Puffin Nest Capsule Hostel is yet another pod dorm room similar to the one in Akureyri.
The location is great, right nearby town and the ferry terminal, making it a very convenient place to stay while exploring the island.
» Book your stay at Puffin Nest Capsule Hostel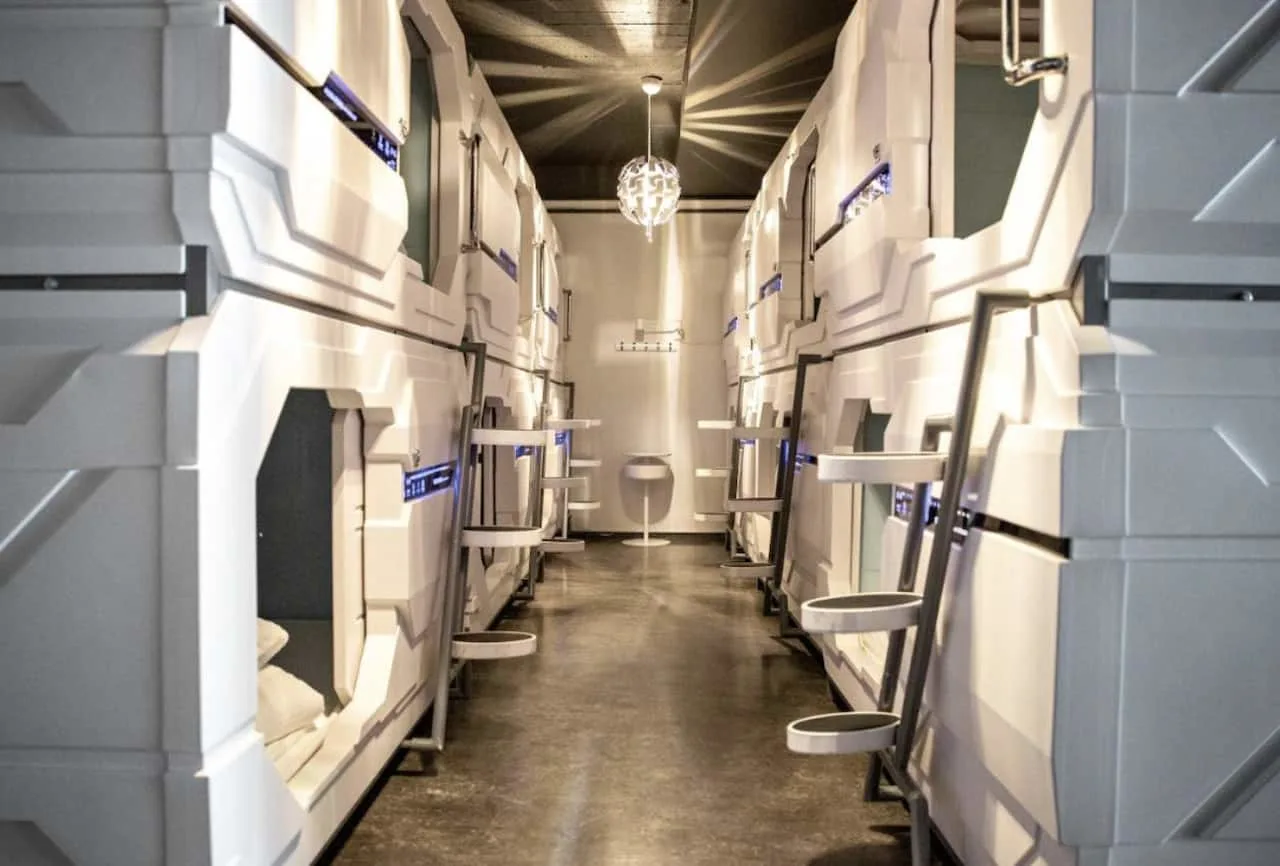 Glamping & Camping
While Vestmannaeyjar is unique and off the grid in its own right. You can get an even cooler experience by staying at the Glamping & Camping hotel.
Here you will find barrel shaped cabins that have that warm and cozy feel to them. They are located directly in the middle of some of the most beautiful landscape on the island too, which you will be able to enjoy outside your doorstep.
» Book your stay at Glamping & Camping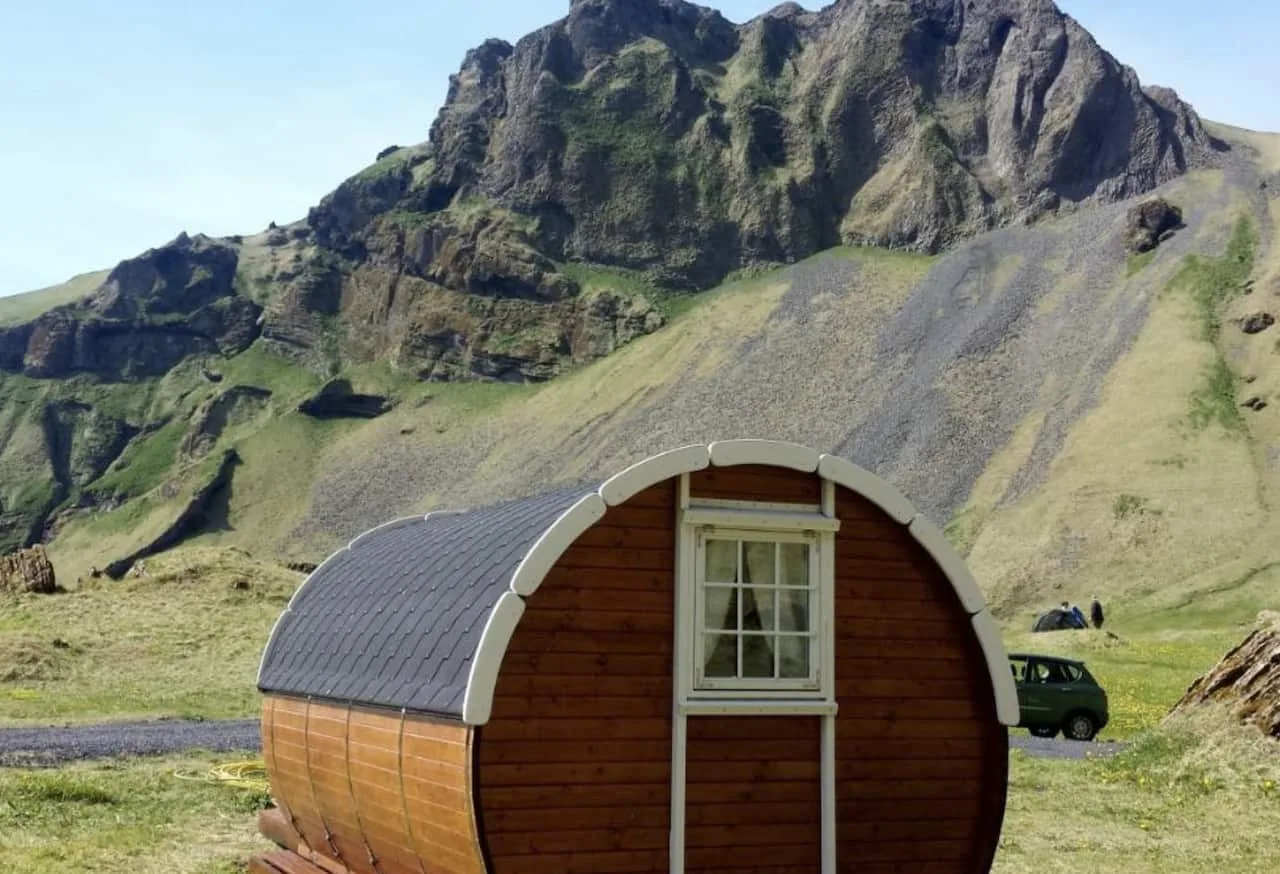 There you have it! A collection of the 25 most unique hotels all over Iceland. So, whether you are planning a quick stay in the capital or are heading all around the Ring Road, there will be an option for you.
If you want to see even more hotels in Iceland, feel free to check out the guide about where to stay in Iceland to learn more.
Also be sure to check out the other Iceland itineraries and guides up on the site like this one week in Iceland itinerary.
Have fun out there and safe travels!