Are you traveling to Iceland and you want to know what are the best hotels along the Ring Road? Well, you have come to the right place because this guide will go through where to stay in Iceland during your trip to the country.
Whether you are looking for hotels in the capital of Reykjavik or small towns like Egilsstadir, I will go through several different locations throughout the Ring Road.
For each location, I will give a short list of the top places to stay along with links to book your hotel stays.
Hope you are ready for what is sure to be one incredible journey across Iceland!
* Affiliate Disclosure: This post may contain affiliate links, which means I may receive a commission if you make a purchase through the links provided, at no additional cost to you. Thanks for supporting the work I put into TripTins!
1) An Iceland Rind Road Itinerary
Before just jumping into places to stay, you first may want to have an itinerary in place to know which cities and towns you will be basing yourself in throughout the journey.
If you don't have an itinerary just yet, well no worries because I already have a 10-day Iceland Ring Road itinerary all written up.
I would recommend checking out the itinerary to give you a detailed view of what a trip around the country will entail.
Below though is a high-level view of the itinerary along with the overnight locations for each day. I have also included the "mid range" hotel option for those that want to make some quick & easy decisions.
Day 1
Day 2
Highlight: Southern Coast
Overnight: Kirkjubæjarklaustur
Hotel Option: Hotel Laki
Day 3
Day 4
Day 5
Day 6
Highlight: Husavik
Overnight: Akureyri
Hotel Option: See above
Day 7
Highlight: Kirkjufell
Overnight: Snaefellsnes
Hotel Option: Bikers Paradise
Day 8
Day 9
Overnight: Reykjavik
Highlight: Reykjavik
Overnight: Reykjavik
Hotel Option: see above
Day 10: Reykjavik & Depart
So, as you can see from the above, during a 10-day trip along the Ring Road of Iceland, you will be moving around a bit.
Altogether you will be staying in 7 different locations throughout a 10 day itinerary. Only twice will you spend multiple nights in one place (Akureyri and Reykjavik).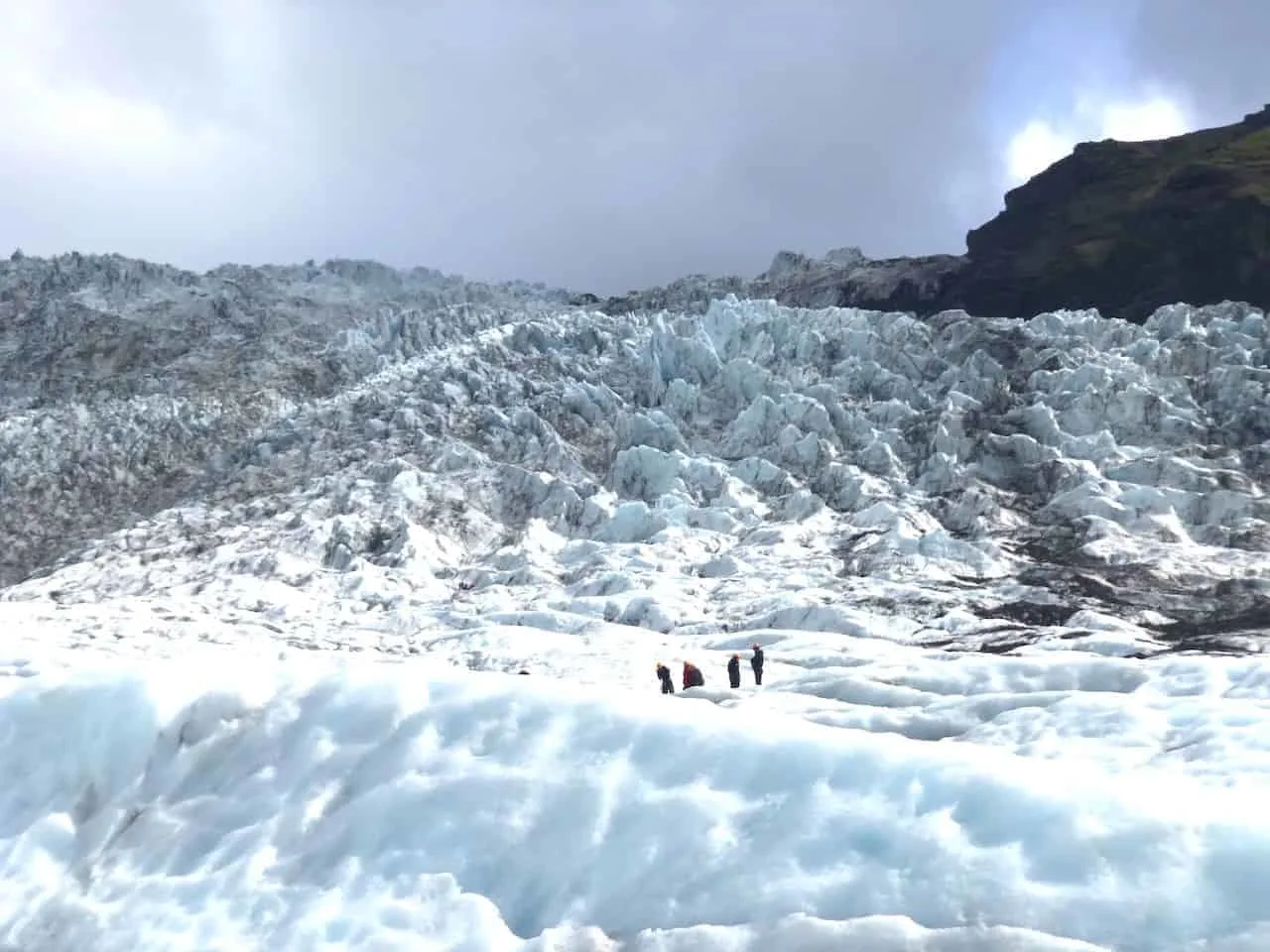 2) Iceland Rind Road Map
Below is a map of the above itinerary along with the route itself between these cities and towns. In addition, I have added in every hotel/guesthouse that is mentioned on this list.
It will not pin point each attraction to visit but it should give you a good sense of the route in general.
3) Where to Stay in Iceland
Now that you have a bit better idea of what an Iceland Ring Road itinerary can look like, let's dive into each overnight location along with some highly rated hotel options to choose from.
While there are certainly other itineraries and towns to choose from, I do feel like the one outlined here is a fantastic place to start.
» I would recommend booking your hotels as soon as you know your dates and your final itinerary. For these smaller towns around the country, accommodations can be limited especially during peak season. I have included booking links for each of the hotels below so you can easily book your preferred accommodation choice.
» For each town/city, I have included three options – luxury, mid-range and budget to give you an option at each level (note luxury does not always mean "luxury", rather it may just be the more expensive options out there).
» I should also point out that there will be several instances where hotels/guesthouses may not be not located within the town itself, but rather on the outskirts. It is fairly common to see this across the country.
Selfoss – Night 1
After landing in Reykjavik late the day before or early on day 1, you will begin to explore what is called the Golden Circle. All along the circle you will find a variety of unique attractions like Thingvellir National Park, Gullfoss Waterfall, Geysir, and the Kerid Crater.
Just a 15 minute drive south from the crater is the town of Selfoss.
Beyond Reykjavik, Selfoss is the largest of towns in the southwest portion of the country. It sits right on the banks of the Olfusa River and is located right on Route 1 (the main highway of the country).
The center of town sits a bit closer to the river and here you will find several restaurants, stores, and bars.
When it comes to hotels, there are several that are around this area. However, many of the top options sit outside of the town center further down Route 1 (10-15 minute drive).
Below are Selfoss hotel recommendations based on budget:
Luxury: 360 Hotel & Thermal Baths
The 360 Hotel & Thermal Baths is located outside of Selfoss city center. Here you will find a stunning property with views of the Icelandic southern coast. There is an onsite restaurant and as the name says, there is a spa to relax at as well.
Mid-Range: Hotel South Coast
Hotel South Coast is located directly in the town center. So, if you are looking to stay in downtown Selfoss, this is a fantastic option for you. It has everything you would want in a hotel including a breakfast buffet, spa, sauna, and well equipped rooms.
Budget: Guesthouse Bitra B&B
Guesthouse Bitra B&B is also located outside of the town center, not too far from the 360 Hotel. For a budget option it is quite highly rated and is a nice little guesthouse off of the main road. It is a family run property with some very friendly owners.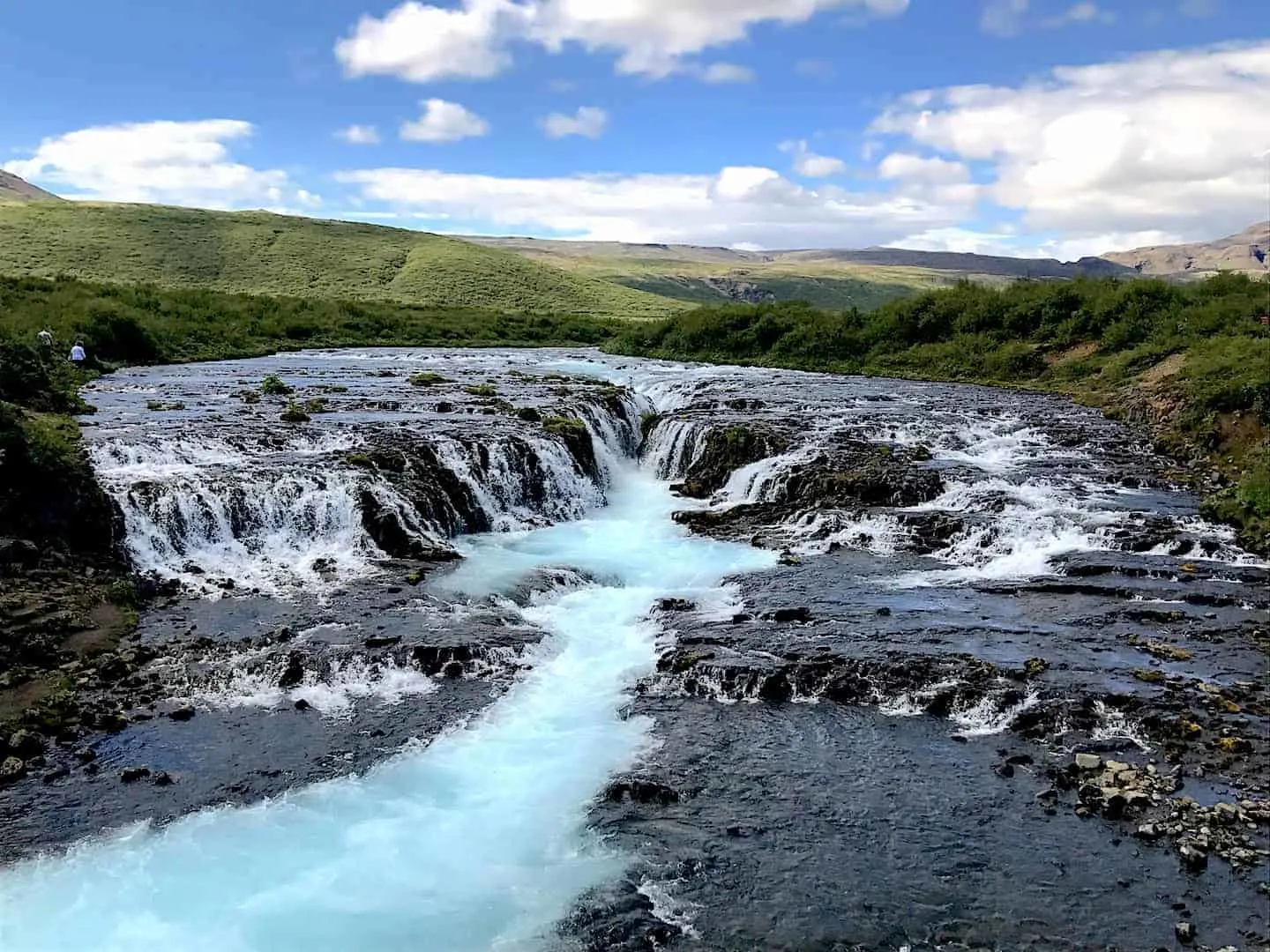 Night 2: Kirkjubæjarklaustur
Day 2 will be full of exploration along the southern coast of Iceland. Waterfalls, hikes, canyons, black sand beaches, and plenty more will keep you busy.
As you continue further east, you will pass by the town of Vik before reaching Kirkjubæjarklaustur, also known as just Klauster.
You won't find much around the town but there will be a supermarket, gas station, and some restaurants along the area.
While there are hotel options in the town itself, there are also places further east and west of the center. Below are the three recommendations:
Luxury: Magma Hotel
The Magma Hotel setup is quite special. The rooms here are individual cabins overlooking lakes, lava fields, and glaciers. It is located just outside of the town center and is the perfect place to call home for a night.
Mid-Range: Hotel Laki
Just a bit further down the road from the Magma Hotel is Hotel Laki, another fan favorite. This family run hillside hotel has its own onsite restaurant and also offers guests some fantastic views of the countryside.
Budget: Hvoll Hostel
For the budget option we have the Hvoll Hostel, which is located 20 minutes further east from Kirkjubæjarklaustur. Expect to have mostly shared bathrooms here with tighter rooms of bunk beds. The family run guesthouse is super helpful and friendly, which will make your time there that much more enjoyable.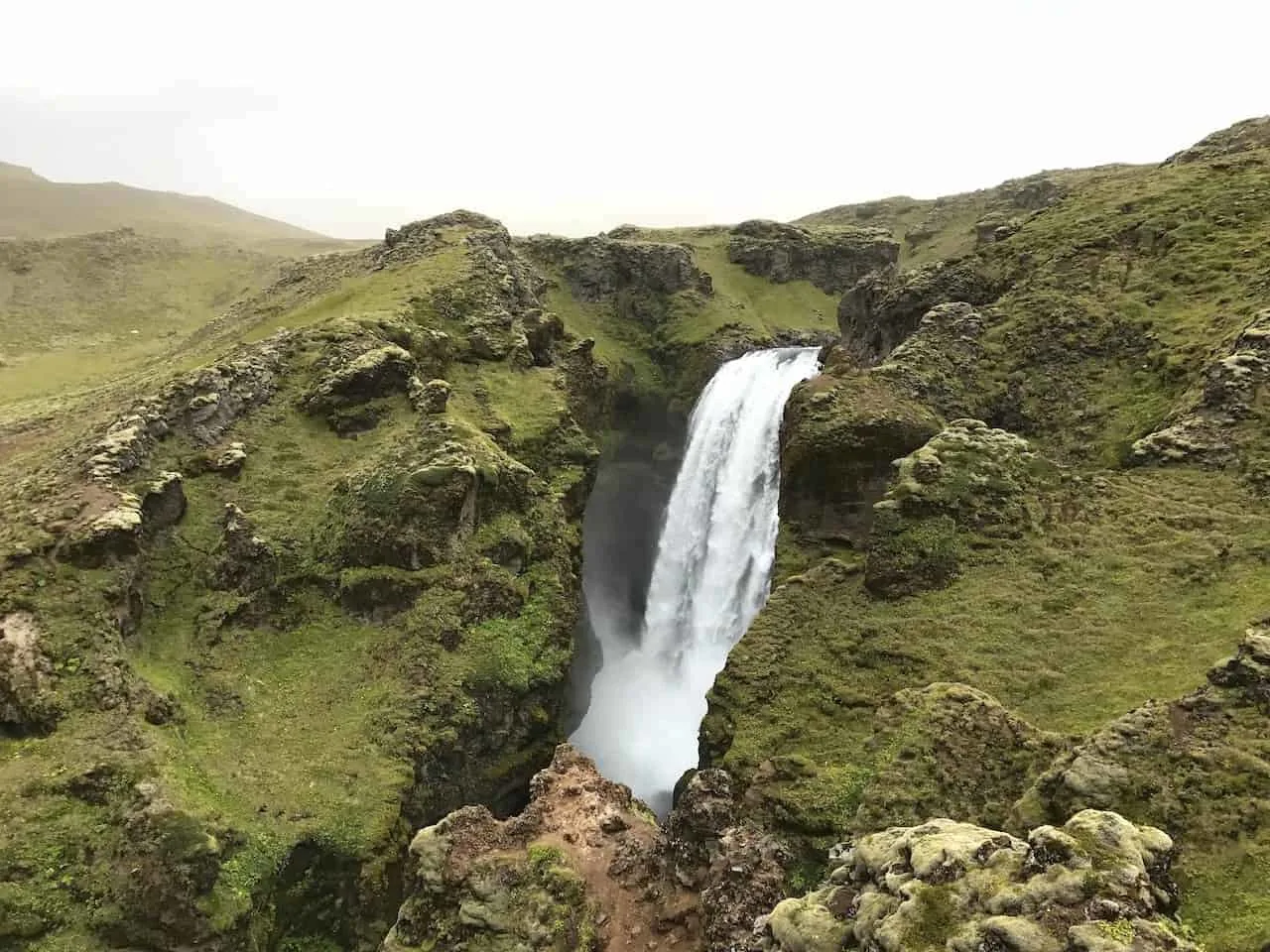 Night 3: Hofn
After a day of exploring Skaftafell National Park and touring around Jokulsarlon Glacier Lagoon, the road trip continues around towards the eastern edge of the country.
Hofn is on the edge of a small peninsula, where you will stay for night 3.
Several of the highly rated places to stay are located outside of the town center including all three of the recommendations below.
Luxury: Hotel Jokull
Hotel Jokull is located just outside the town center and offers some great views of the surrounding countryside and glaciers. There is an onsite restaurant and bar and the rooms offer plenty of room to enjoy the night.
Mid-Range: Fosshotel Vatnajokull
Just prior to reaching Hotel Jokull, you will pass by Fosshotel Vatnajokull. The location is truly remarkable here as you take in views of Europe's largest glacier from the hotel. There is a nice patio to relax on to take in the mountain views after a long day of activities.
Budget: Guesthouse Nypugardar
Farthest from the town of Hofn is this guesthouse that sits not too far from the water's edge. The location is a bit secluded but it does come with some peace and quiet off the main path.
» The South Iceland Hotels guide goes into more detail about places to stay in the southern portion of the country
Night 4: Egilsstadir
Day 4 will be full of stunning views as you make your way along the eastern fjords of Iceland. After a full day of driving and exploring you will end up in eastern Iceland's largest town, Egilsstadir.
Since it is the largest town in the area, you will find everything you need to stock up on before continuing on along your journey. In addition, there are several hotels and guesthouses to choose from.
Luxury: Ormurinn Cottages
Just across the lake from the main town center you will find the Ormurinn Cottages. Here you will find these lovely individual cottages spread across the property. The cottages line the lake with great views all around.
Mid-Range: Icelandair Hotel Herad
Located right in town is the Icelandair Hotel Herad. It is a more modern hotel with comfortable accommodations and a great staff that takes care of the property and its guests.
You will find an onsite restaurant but can also head out by foot to explore the town's restaurants and bars.
Budget: Lyngas Guesthouse
The Lyngas Guesthouse is a great option for those budget travelers out there. You will find basic rooms with shared bathrooms and shared kitchen as well. The perfect option for a quick stay in Egilsstadir.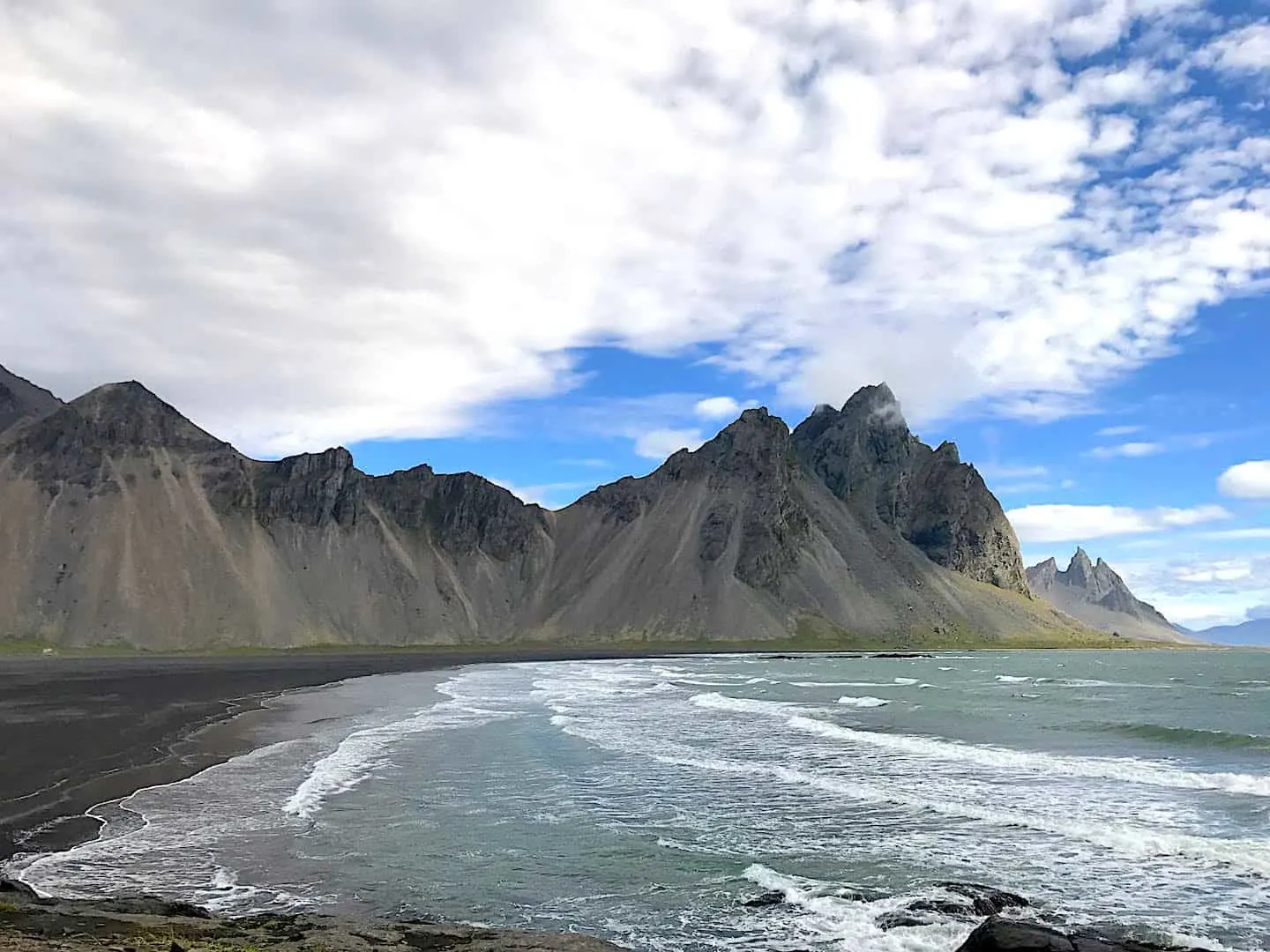 Night 5 & 6: Akureyri
Finally, you will be spending more than one night in a single place. Akureyri is one of the largest cities in Iceland and is a great place to settle down for a couple nights as you explore all around.
Day 5 will be full of exploring waterfalls and the nearby Lake Myvatn while on day 6 you can head to nearby Husavik for some whale watching.
Since Akureyri is a bigger city by Iceland standards, there will be many accommodation options along with many restaurant choices and things to enjoy within the city itself.
All three recommendations below are located within the city center, making it nice and easy for you to enjoy the town during a two night stay.
Luxury: Icelandair Hotel Akureyri
While the hotel may have a more corporate feel to it, the space has everything you would want for a stay. The rooms are large and comfortable, there is a great outdoor patio, and you will have views overlooking the city. The onsite restaurant is also a great option for breakfasts and dinners.
Mid- Range: Hotel Nordurland
A nice, standard hotel located in the city center is Hotel Nordurland. The property features a bar, lounge area, and has free breakfast included with most stays.
Budget: Hafnarstraeti Hostel
A much different of an experience will be the capsule sleeping pods of Hafnarstraeti Hostel. That is right – instead of normal rooms, these are shared rooms with capsules to sleep in. Think of it as an improved dorm room with less noise from your neighbors.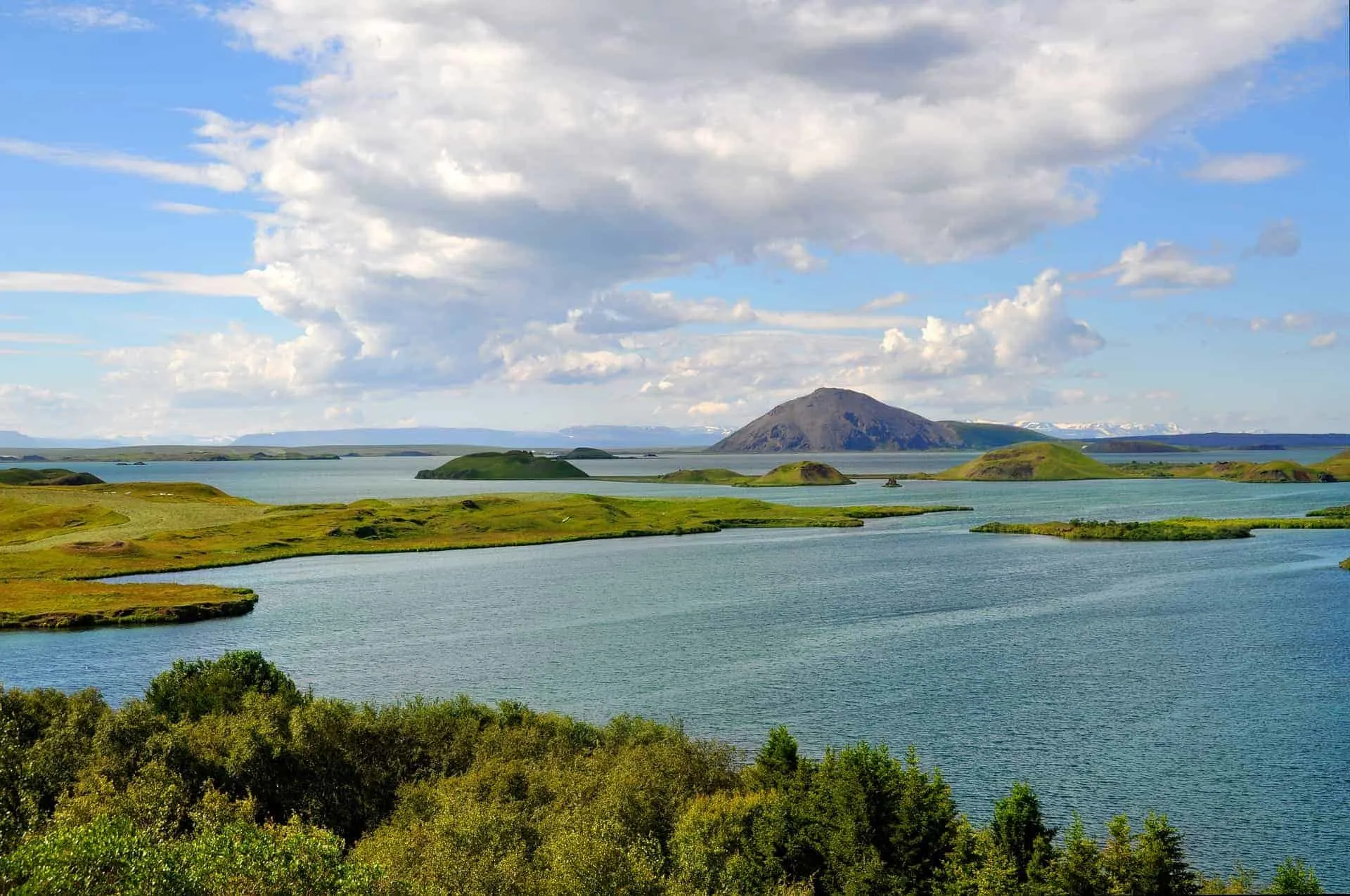 Night 7: Snaefellsnes
After a long drive west with some stops along the way, you will arrive at the Snaefellsnes Peninsula. The peninsula itself is pretty large so you will find accommodation options spread throughout.
The main attraction here is Kirkjufell, which you are sure to visit at some point during your time on the peninsula. Below are a few top-rated options to choose from for night 7.
Luxury: Arnarstapi Cottages
Located near the southwestern part of the peninsula in the village of Arnarstapi you will find the Arnarstapi Cottages. These 13 cottages line the property and is a truly unique type of accommodation to spend the night in.
Mid- Range: Bikers Paradise
On the northwest side of the peninsula you will find Bikers Paradise in the village of Olafsvik. Located right near the ocean, this family run guesthouse is the perfect clean, cozy and friendly option to choose from when visiting Snaefellsnes.
Budget: Grund í Grundarfirdi
Located just right around the corner from Kirkjufell you will find Grund í Grundarfirdi. Not only are you right near Kirkjufell, but you also will have some beautiful views of the surrounding landscapes just outside your window. The common kitchen is another great feature for those that want to cook their own food too.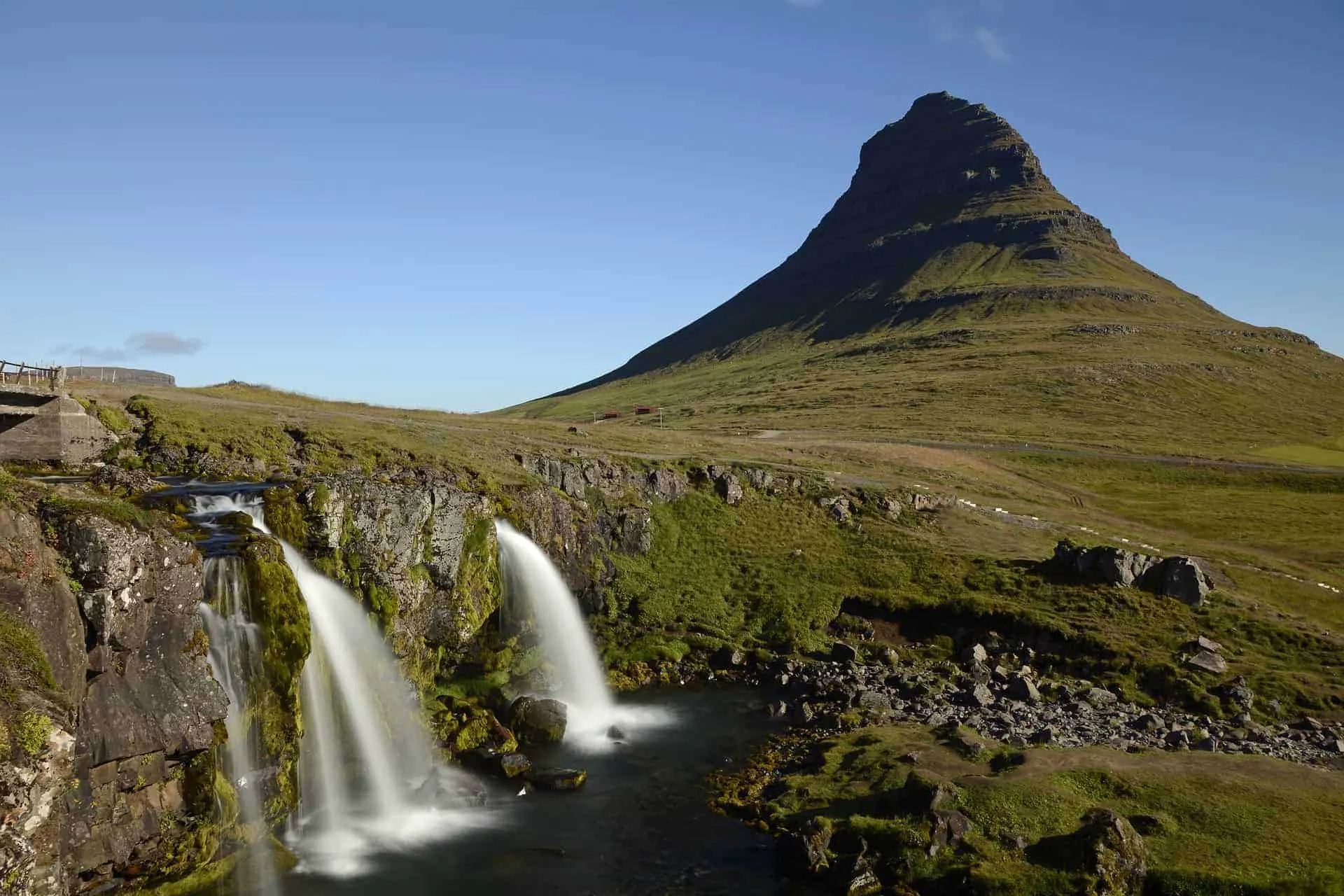 Night 8 & 9: Reykjavik
After driving down from the Snaefellsnes Peninsula and hiking to the Glymur waterfall along the way, it is time to end the trip in the capital city of Reykjavik.
Here you will find plenty of accommodation options all throughout the city to choose from. Below are some of the top choices, which are all within walking distance of the city center.
Luxury: Reykjavik Konsulat Hotel
On the higher end of the pricing spectrum is the Reykjavik Konsulat Hotel, Curio Collection by Hilton.
Located in the heart of the city, the hotel will have everything you will need for your stay in the capital. Whether it's the in house restaurant and bar, fitness center and spa, or its helpful staff, the Reykjavik Konsulat Hotel has it all.
Mid-Range:
Instead of putting down just one mid-range option here, I thought it may be better to list out several different choices that are within the same price range.
Each of them is located within the city center and would make for a great choice when visiting Reykjavik.
Budget: Center Hotels Plaza
Lastly we have the Center Hotels Plaza, a more affordable option for visitors. The hotel is a great base for those exploring the capital and beyond. It is perfectly located with the city and even offers breakfast for its guests.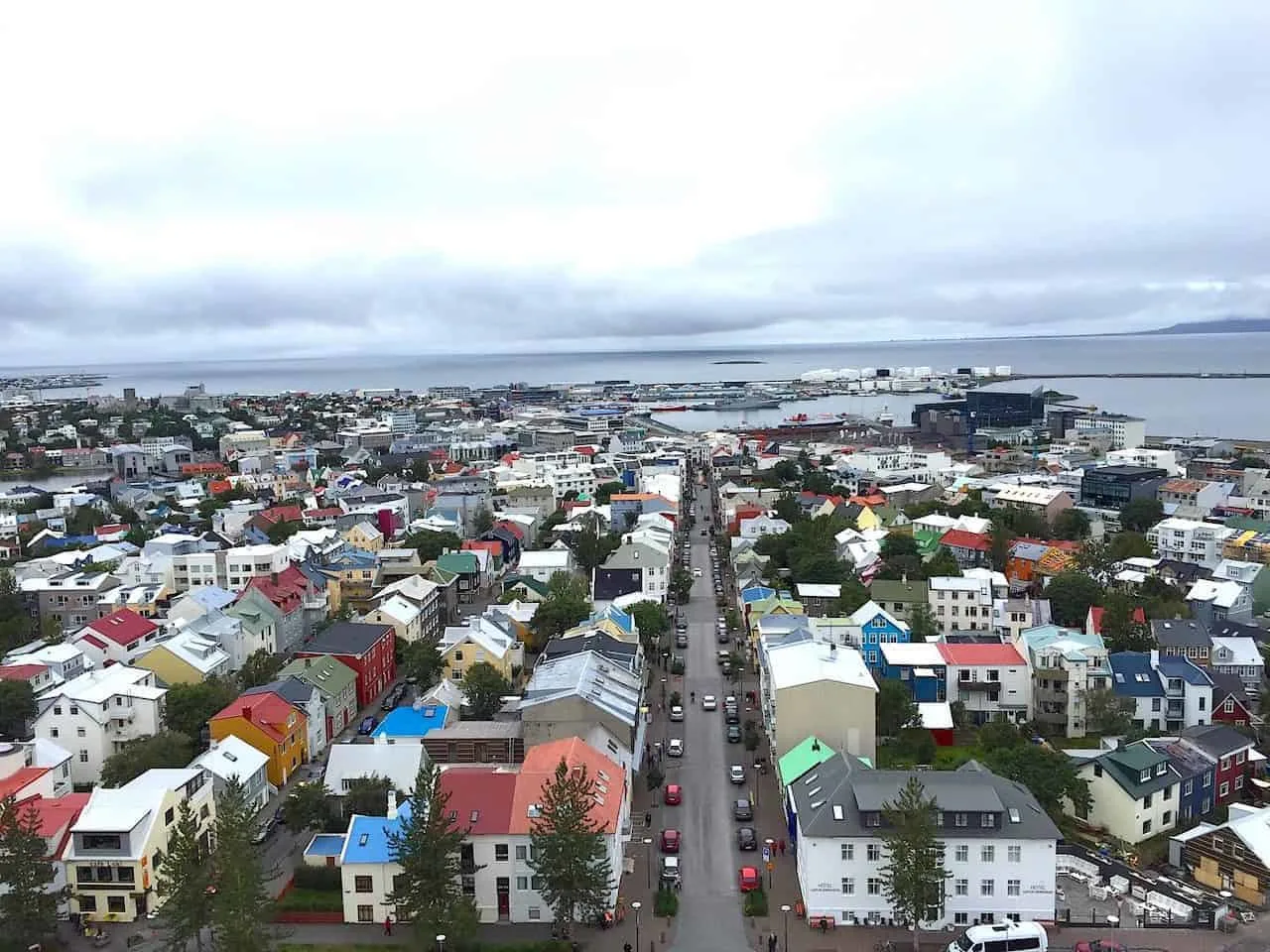 Now that you have a better idea of where to stay in Iceland, it is time to book those hotels and get yourself ready for a trip of a lifetime.
If you have any questions or comments, be sure to add them in below. Also don't forget to check out the other Iceland itineraries and guides up on the site.
Have fun out there and safe travels!