The Golden Circle is one of the most well traveled routes in all of Iceland. It is home to some incredible sights, each with its own beauty to offer.
Hiking, tectonic plates, geysers, waterfalls, craters – you name it, the Golden Circle has it.
Due to the proximity to Reykjavik, it can be the perfect and easy day trip for those who have just a few days in Iceland.
* Affiliate Disclosure: This post may contain affiliate links, which means I may receive a commission if you make a purchase through the links provided, at no additional cost to you. Thanks for supporting the work I put into TripTins!
1) Golden Circle Summary
If in Iceland for a day or for a month, odds are you will make your way around the famous Golden Circle route.
Starting in Reykjavik, the round trip should take approximately 7-8 hours: 3.5 hours of driving time + however long you decide to stay at each of the attractions listed below.
Some highlights will include hiking along tectonic plates, seeing an 100 foot geyser shoot out the ground, and potentially getting up close and personal to a bright blue waterfall and river.
Due to the proximity of the Golden Circle attractions to Reykjavik, it is one of the more popular routes in the country.
Even with that said, do not expect there to be thousands of people at each one of these spots. Just note it could be a bit more crowded than other places further away from the capital city.
2) How to Get Around the Golden Circle
Now that you are in Iceland, you will have to decide how you are getting around the country. There are two main ways to see the Golden Circle – self drive or group/private tour.
Rental Car
If you are planning on being in Iceland for more than a couple days and/or want to explore more places outside of Reykavik, odds are you will want to rent your own car.
By renting a car you will have more freedom to choose when and where to go, and you will be on your own schedule.
When it comes to renting a car in Iceland, I would highly recommend checking out Rentalcars.com for potential options.
By going through Rentalcars.com, you will have the chance to compare car prices among a variety of rental companies, and choose the best option for you.
You can take a look at the Iceland Helpful Tips article I have up that speaks a bit more about car rentals. Once you have your car, you can simply put in the attractions into the GPS or Google Maps, and start your way around the circle.
Even if you are only in Iceland for a day or two, you could also rent a car to explore. Taxis on their own are pretty expensive to and from the airport so by renting a car, you will not only save on taxis but you will be able to go wherever you want at any time.
Private / Group Tour
The second option here is to do a private or group tour around the Golden Circle. This option is usually best for those who do not feel comfortable with renting a car or want some more insight into certain places they are visiting.
Thankfully Iceland has plenty of different tour operators that can take you along the Golden Circle route and teach you a bit about the history of each place in the process.
Take a look at Viator for some of the highly rated day trip tour options that can take care of everything for you along the way.
Note that one of the attractions listed below (Bruarfoss) is usually not included in group tours – you might be able to ask to add it in to a private tour though.
3) When To Go Around
The weather in Iceland is much different in the winter time vs summer time.
During the winter months you could get as little as four hours of day light while in the summer you can get close to 24 hours! With that said though, you can really go around the Golden Circle at any time of year.
It is just important to note that during those short winter days you will not have as much daylight to see everything for a longer period of time. Be sure to prep and dress accordingly so you can get the most out of your time there.
For more info about Iceland weather check out the helpful tips article mentioned above. Below is a screenshot from Nordic Visitor Iceland showing the sunrise and sunset times throughout the year.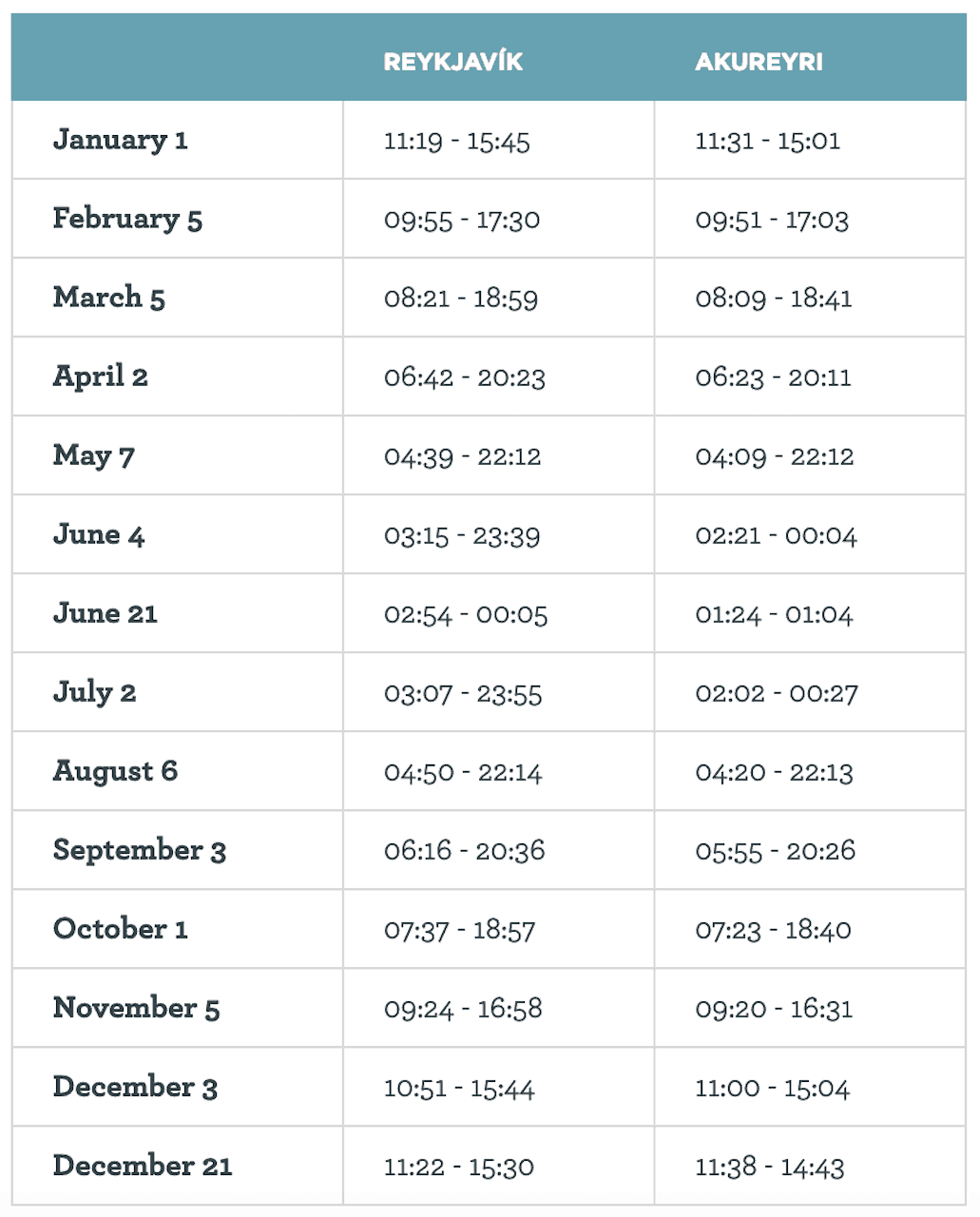 4) Golden Circle Iceland Itinerary and Map
As mentioned the guide will go over five sites on the Golden Circle, going clockwise, and starting and ending in Reykjavik. Here are the places I will speak about each marked on the map indicated by a letter:
Stop #1: Thingvellir National Park (B)
Stop #2: Bruarfoss (C)
Stop #3: Geysir (D)
Stop #4: Gullfoss (E)
Stop #5: Kerid Crater (F)
Below is a map of the Golden Circle with the starting and ending points in Reykjavik (marked A and G).
The driving time for the day is not too bad at all coming in around 3.5 hours with plenty of stops in between. At some sites you might just stay 30 minutes or so while others for a few hours.
Two quick things to note:
1. ​If you happened to get a very early start and still have some fuel left in the tank you can also add in the Reykjadalur Hot Springs Hike between the Kerid Crater and Reykjavik.
2. If you are not going back to Reykjavik at the end of the day and are continuing onwards along the Ring Road, you can stopover in Selfoss (nearby the Kerid Crater) to end your day.
5) The Golden Circle
Now lets dive into the attractions themselves…
A) Thingvellir National Park
At Thingvellir you will have plenty of options to choose from. You can do just one or try to fit in a couple depending on how early you started off the day…
The first option is to just roam around the visitor center area, walk along the tectonic plate, head down the path to Oxarafoss, and check out the church and other highlights along the way.
There are a bunch of nearby marked trails that you follow in the park. As you make yourself through the park you are sure to pass the tectonic plate along with crystal clear water down below.You could easily spend a couple hours just enjoying the park and surrounding areas.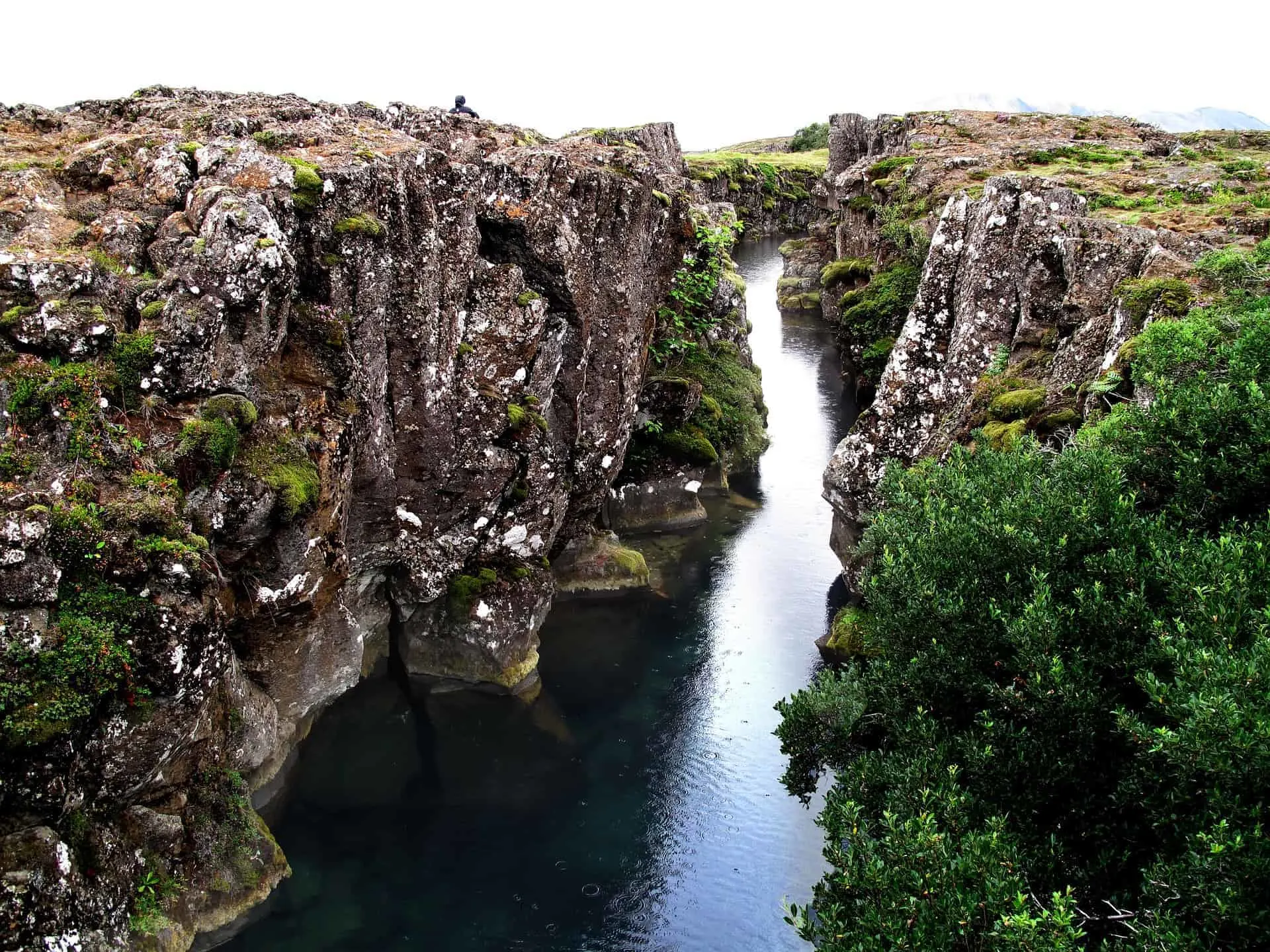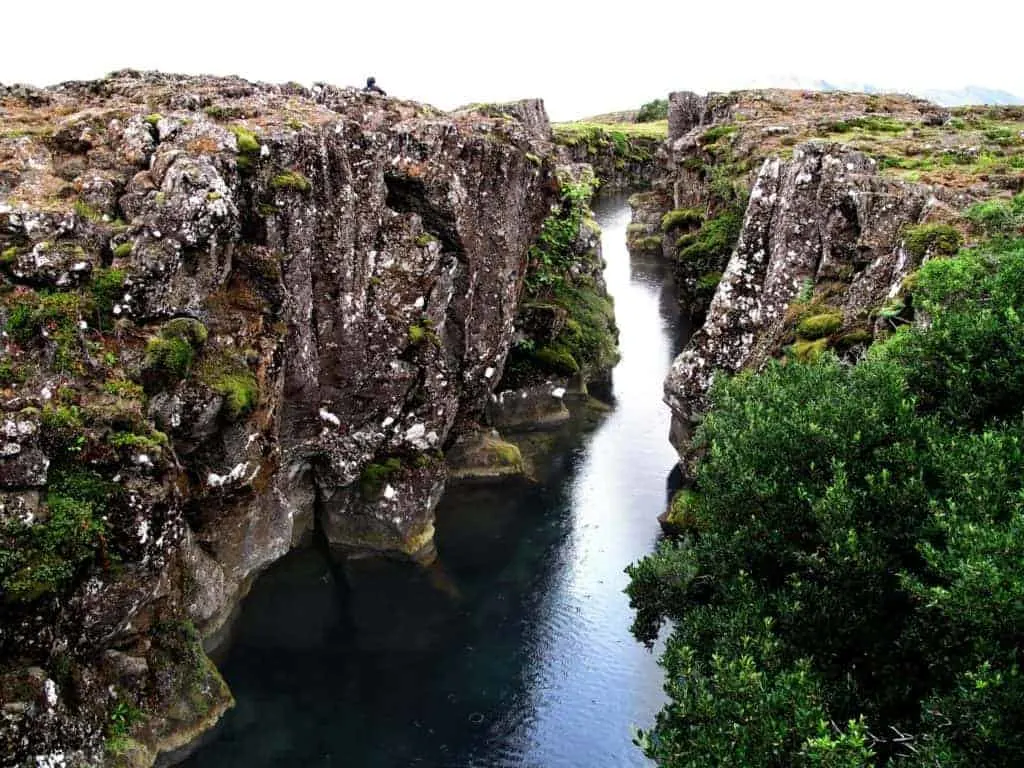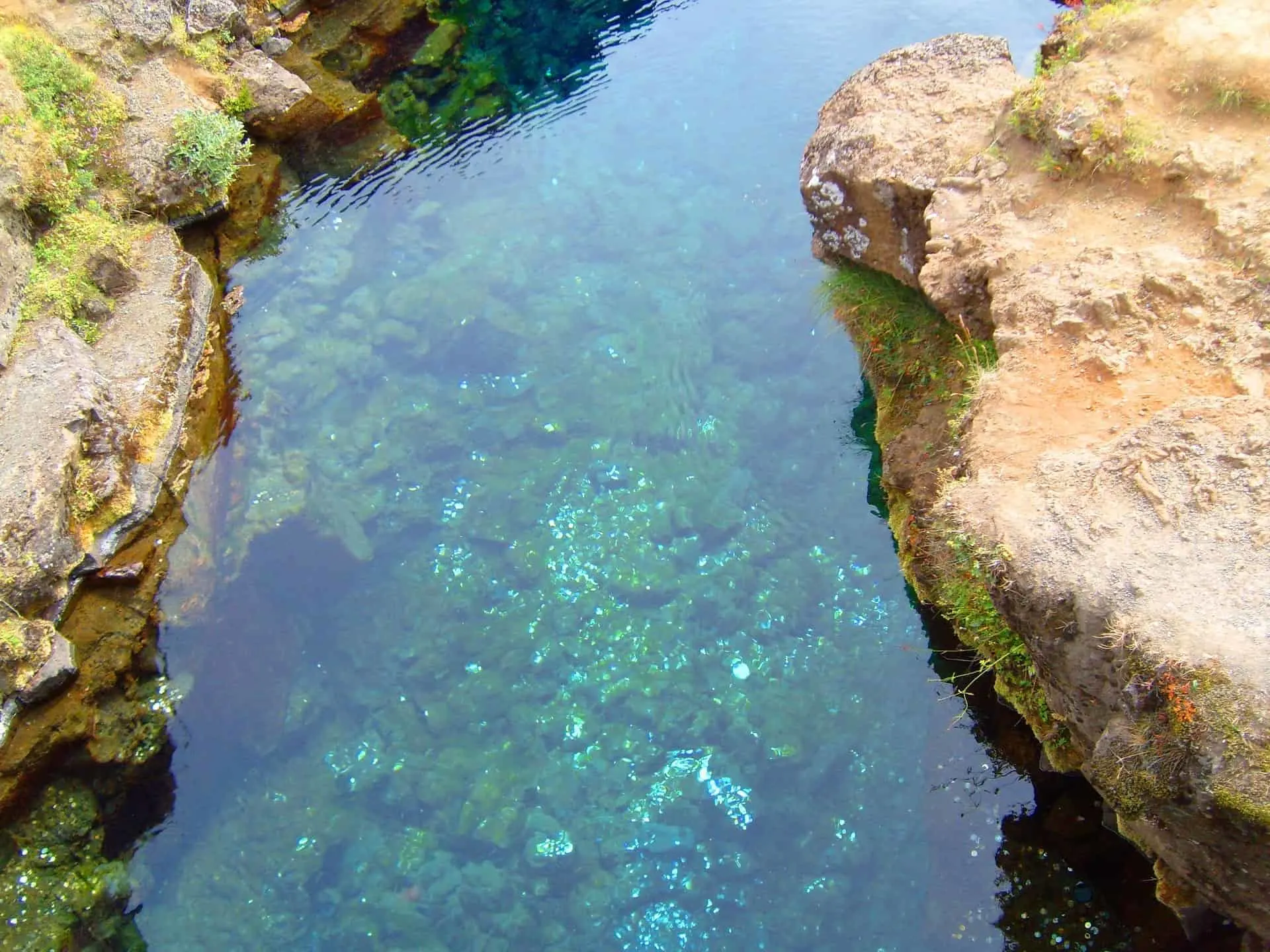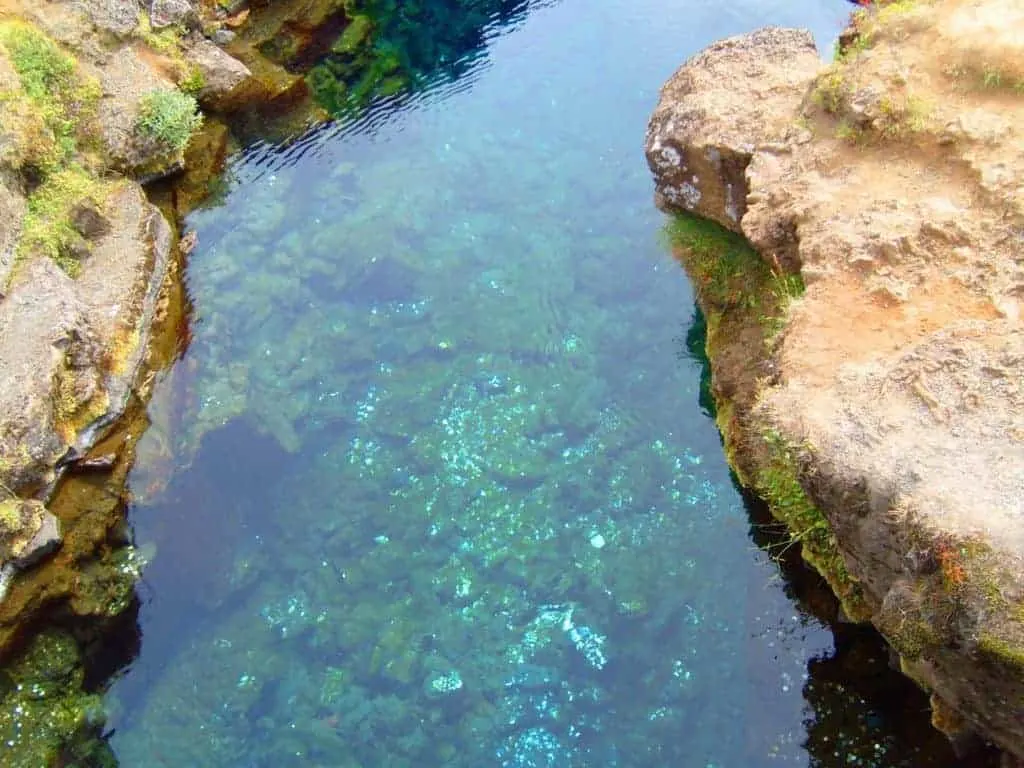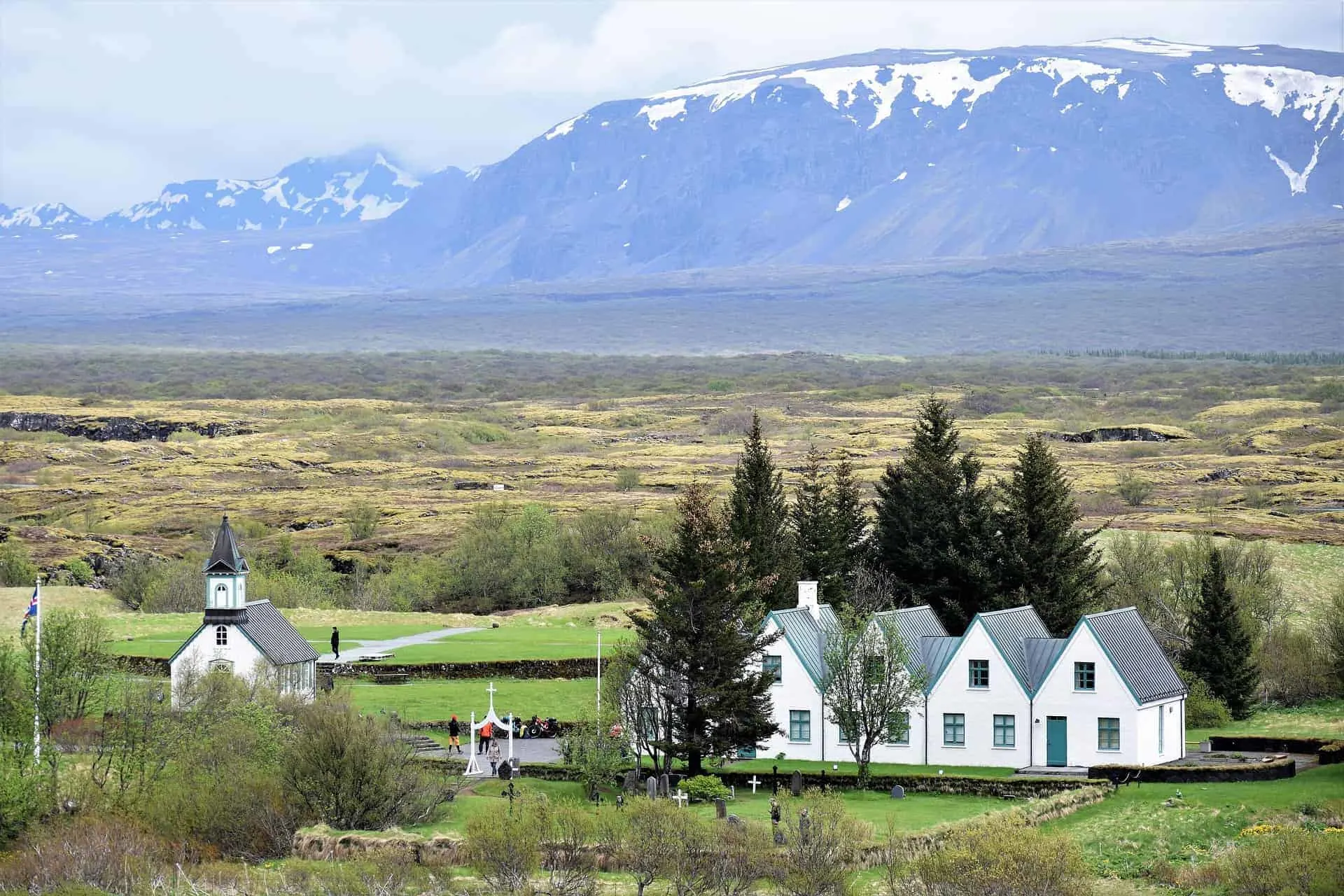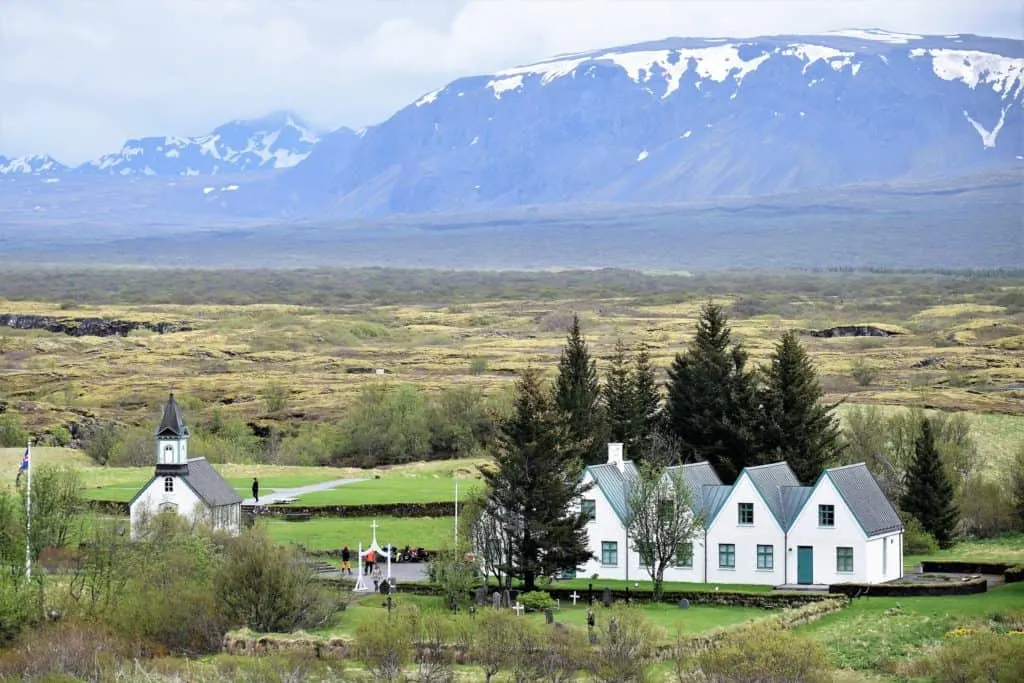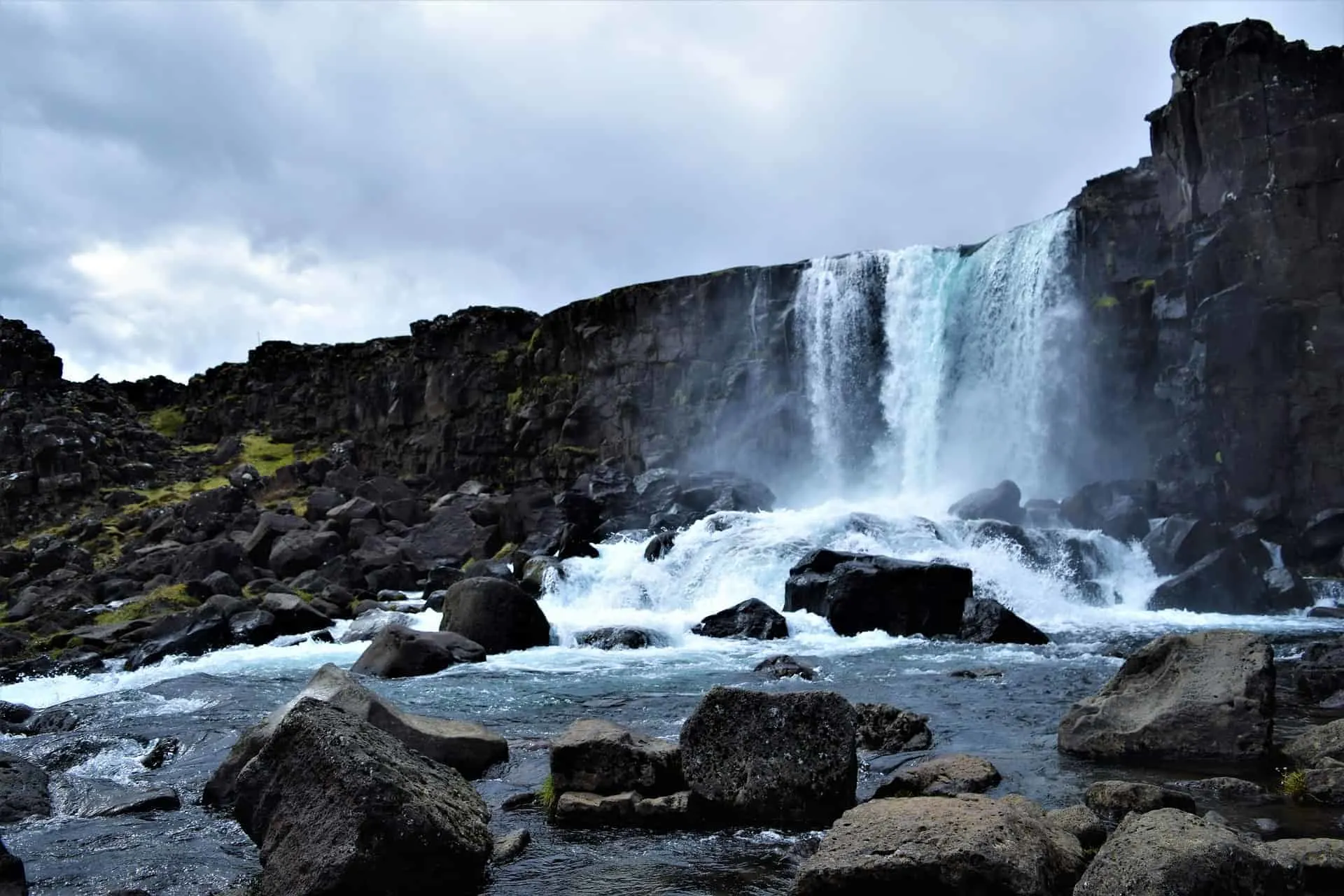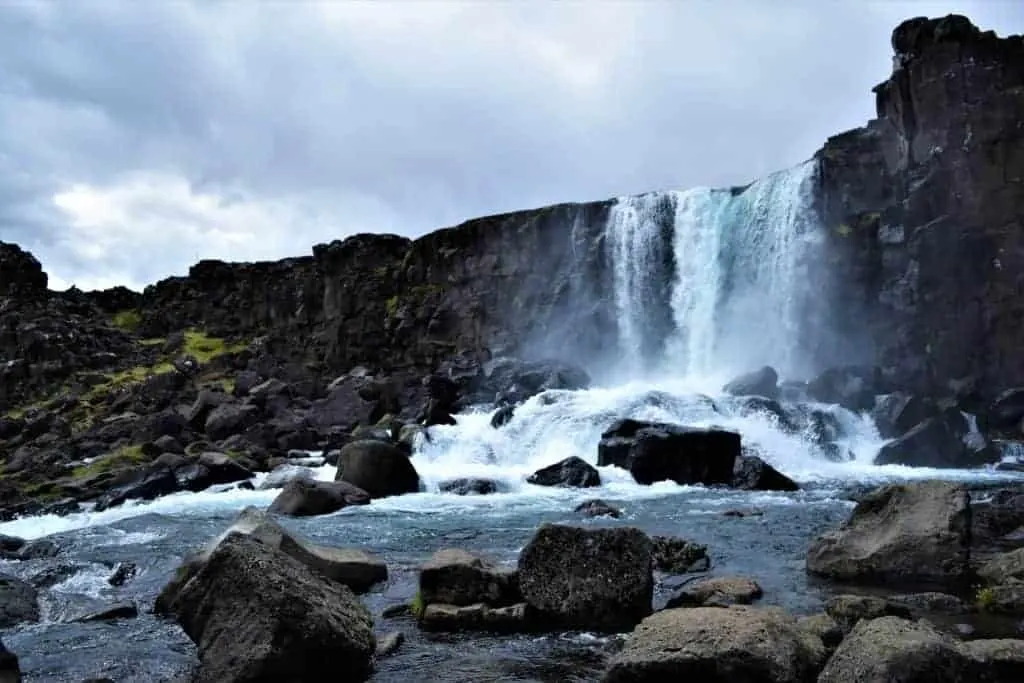 A second option is snorkeling or diving between the continental tectonic plates – a very unique opportunity and one that not everyone can say they have done.
You will have to book this in advance if you decide on doing so. It will probably take around 3 or so hours and you can also spend some time walking around the park once your time between the continental plates is complete.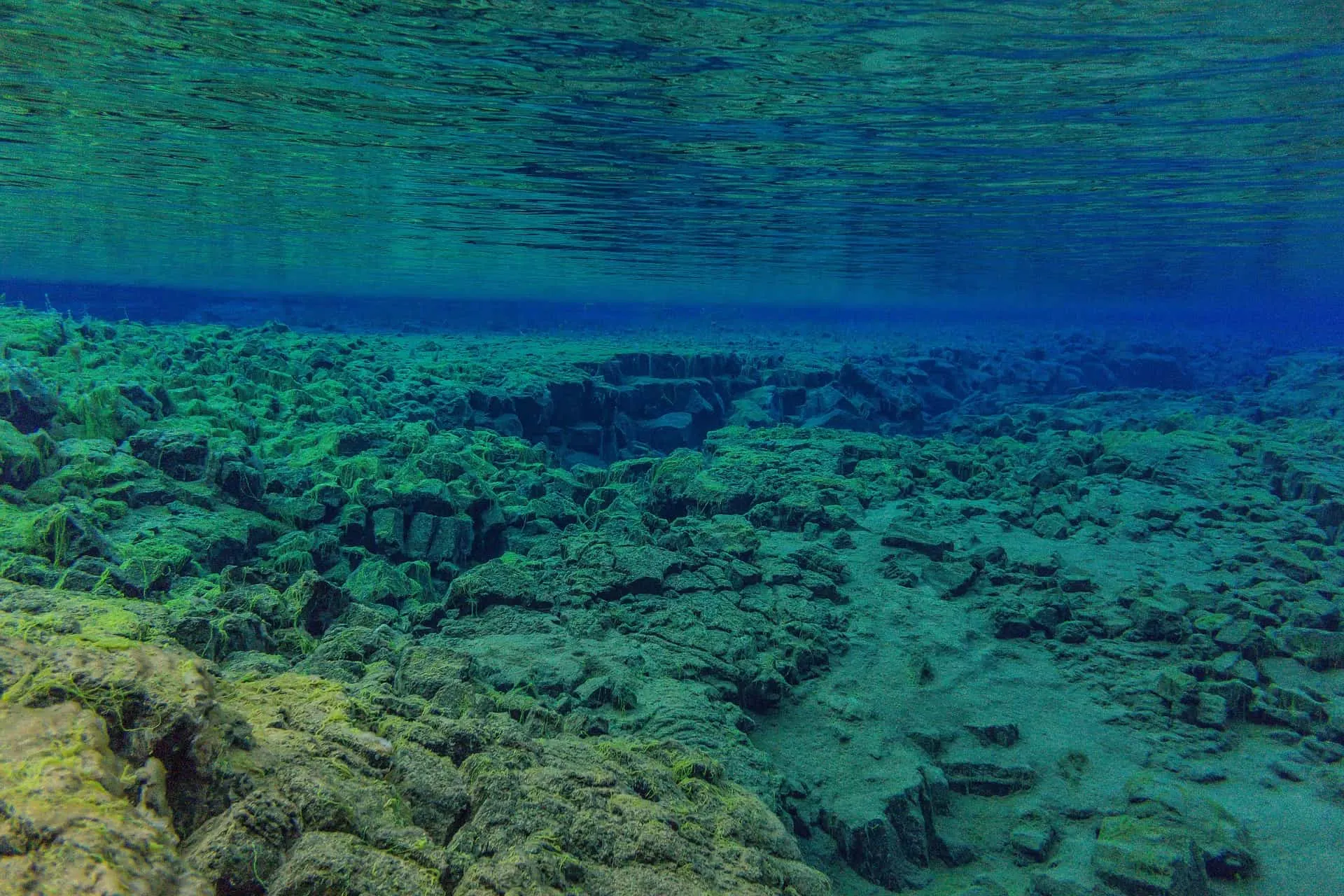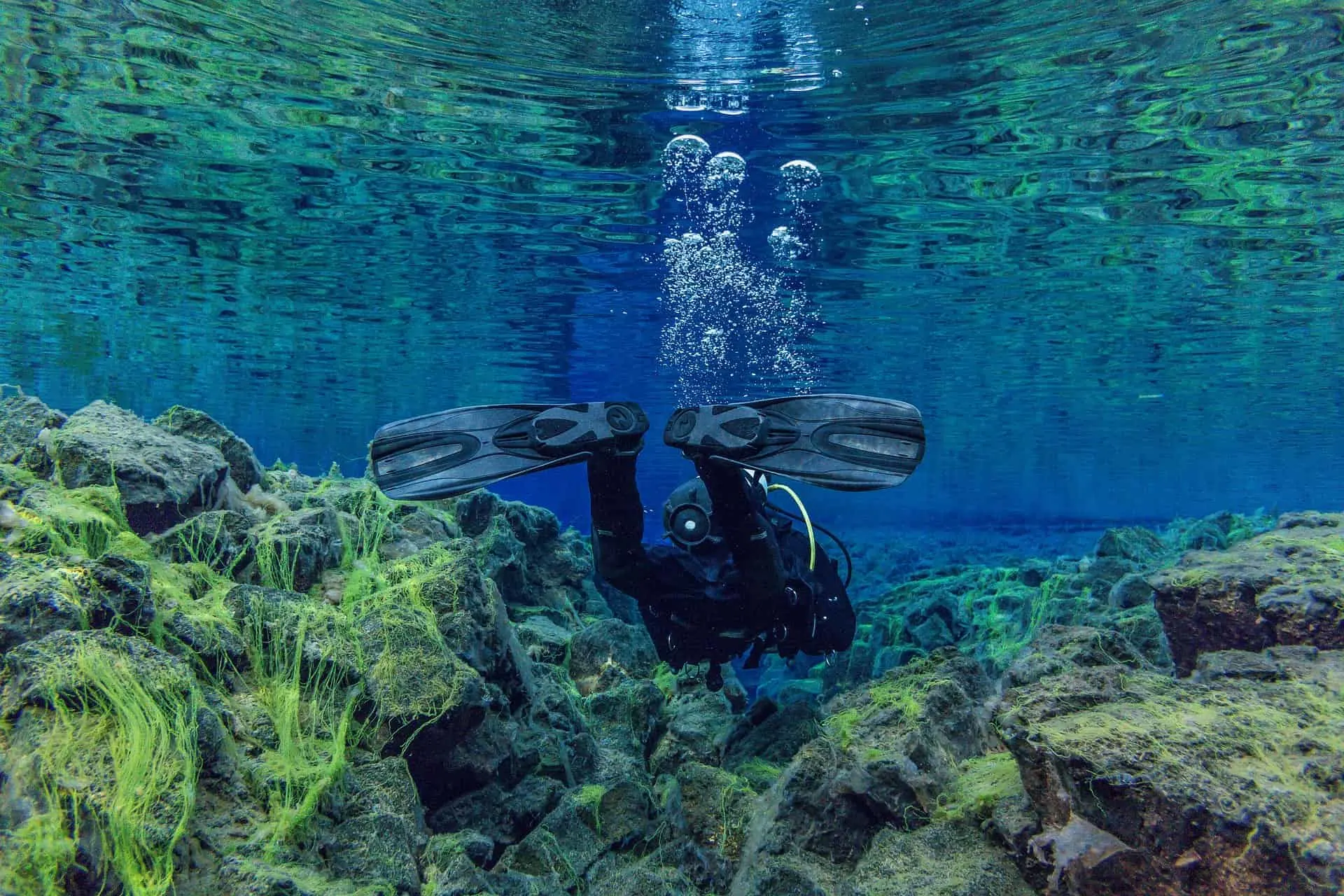 A third option would be to do a longer hike around the park. There is a 10km hike option that can take you further into the park on a relatively flat path overlooking the tectonic plate in the background.
It will take you through the park's greenery, passing by abandoned farmhouses, plenty of sheep and the main lake of Thingvellir.
Below is an attempt of drawing out the map of the hike starting by the Silfra Diving site on the left hand side. You can make your way north before finding the trail heading clockwise back to the starting point.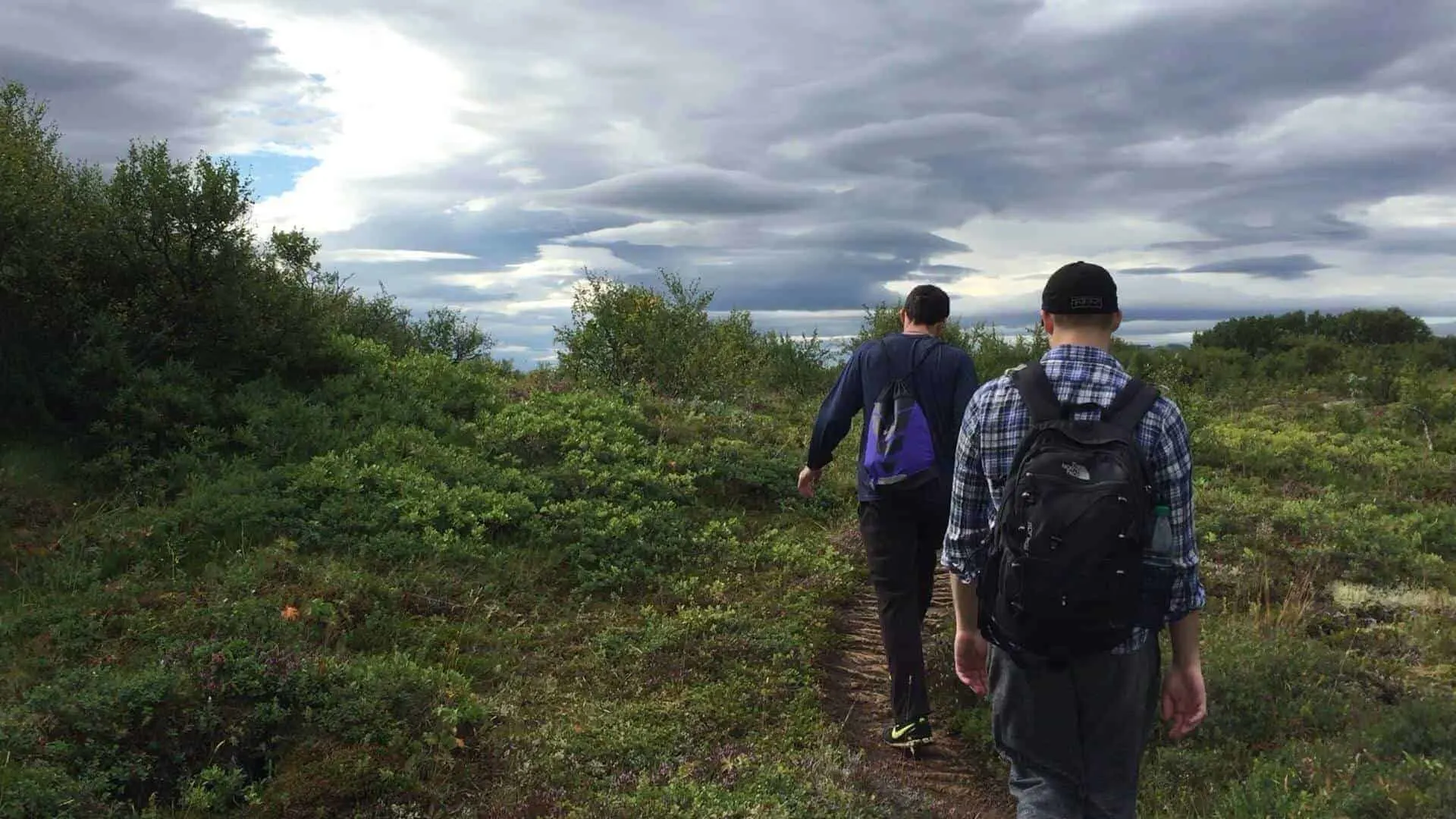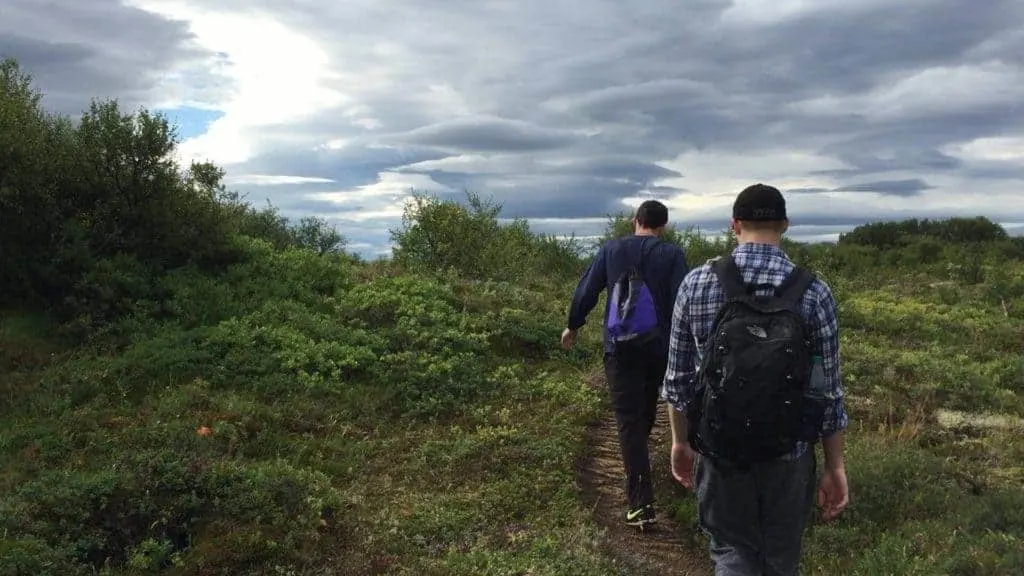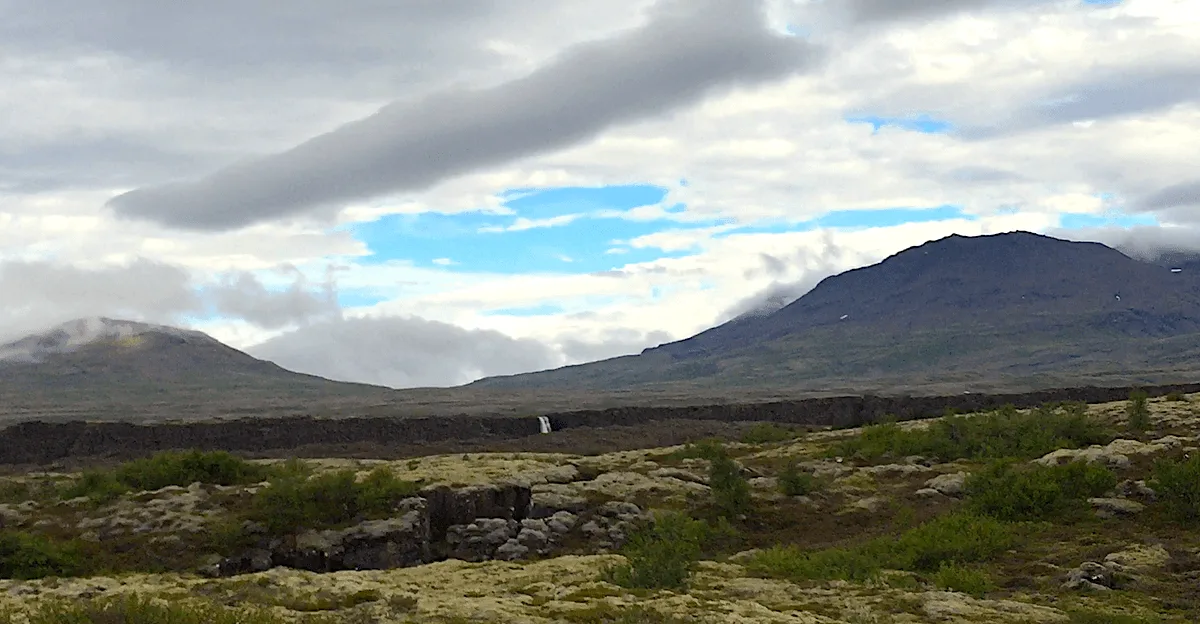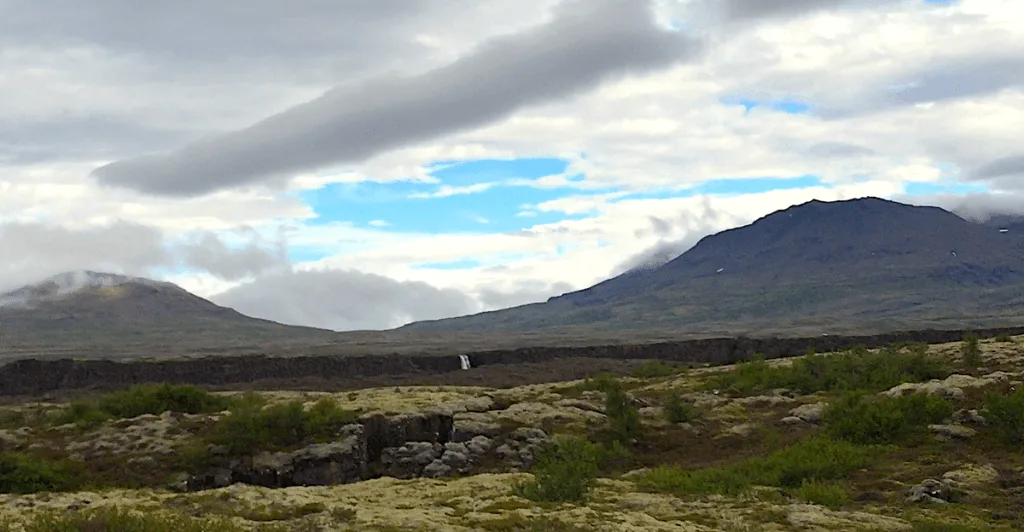 B) Bruarfoss
*Optional due to closure of access point*
The next stop on your Golden Circle Iceland itinerary is not found on most itineraries that you will come across during your research. But that should not stop you from visiting one of the best waterfalls you will come across during your trip.
Recently, the easy access point to Bruarfoss has been closed down – the only way to get there is to hike approximately one hour each way from the main road.
If you are up for the hike, simply just type it "Bruarfoss Waterfall Official Parking". Once parked, continue up river until you see the majestic blue water that Bruarfoss has to offer.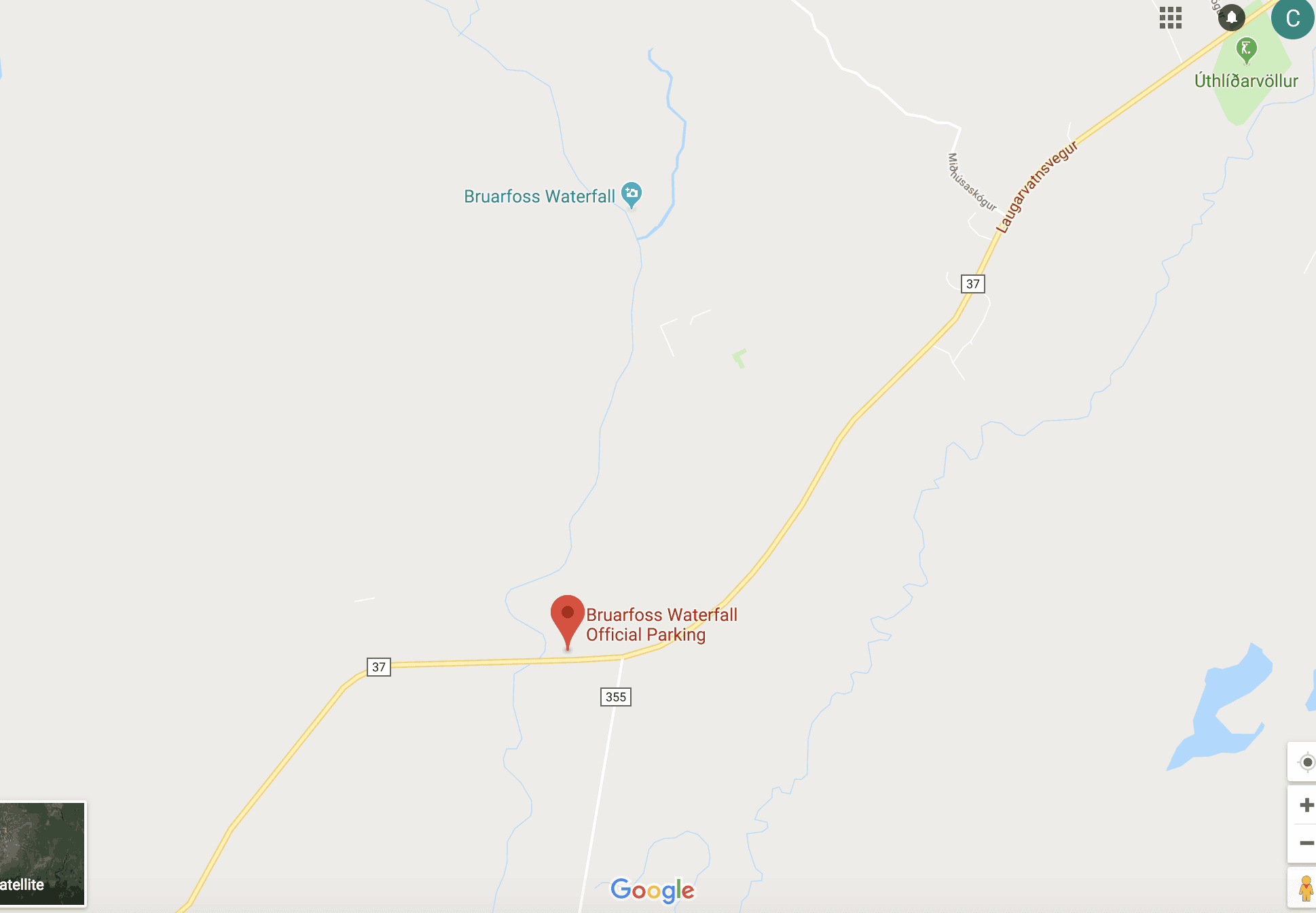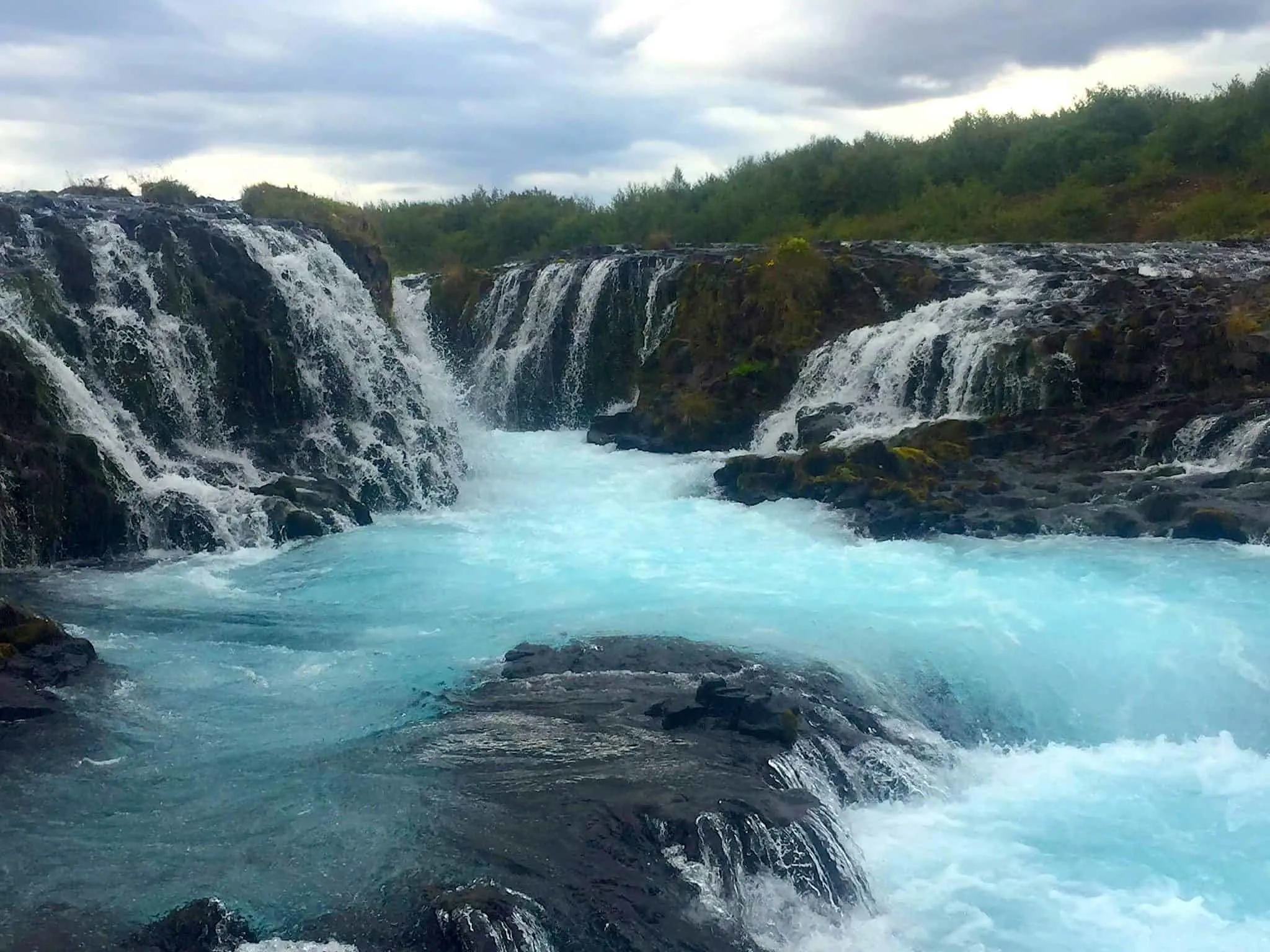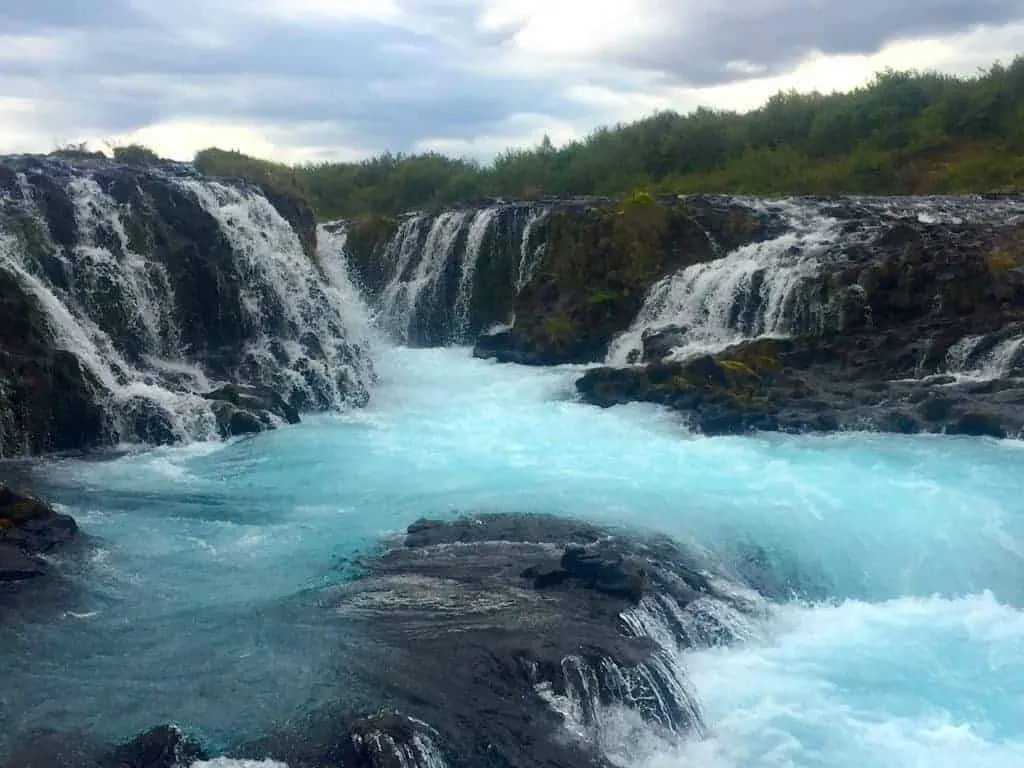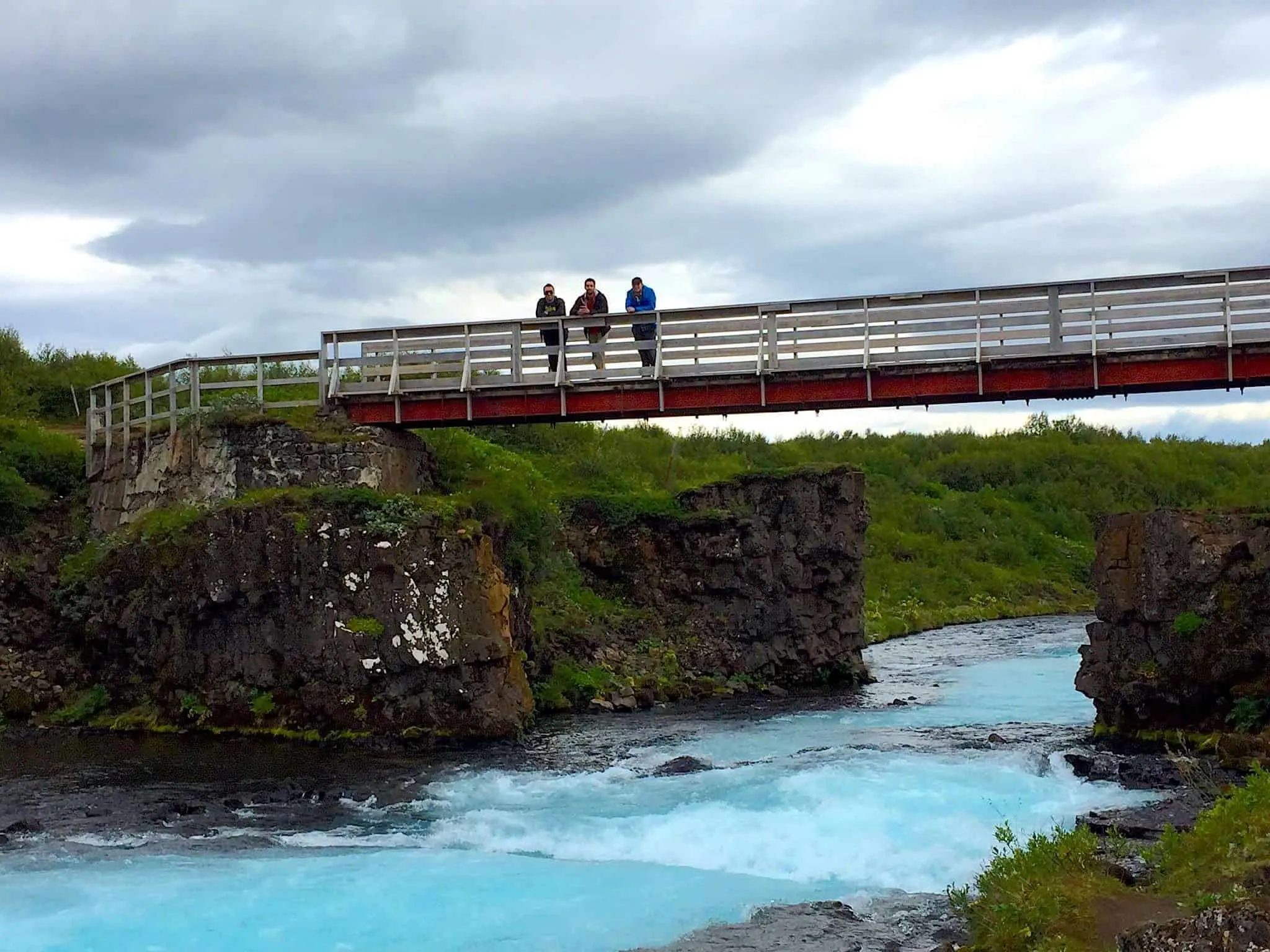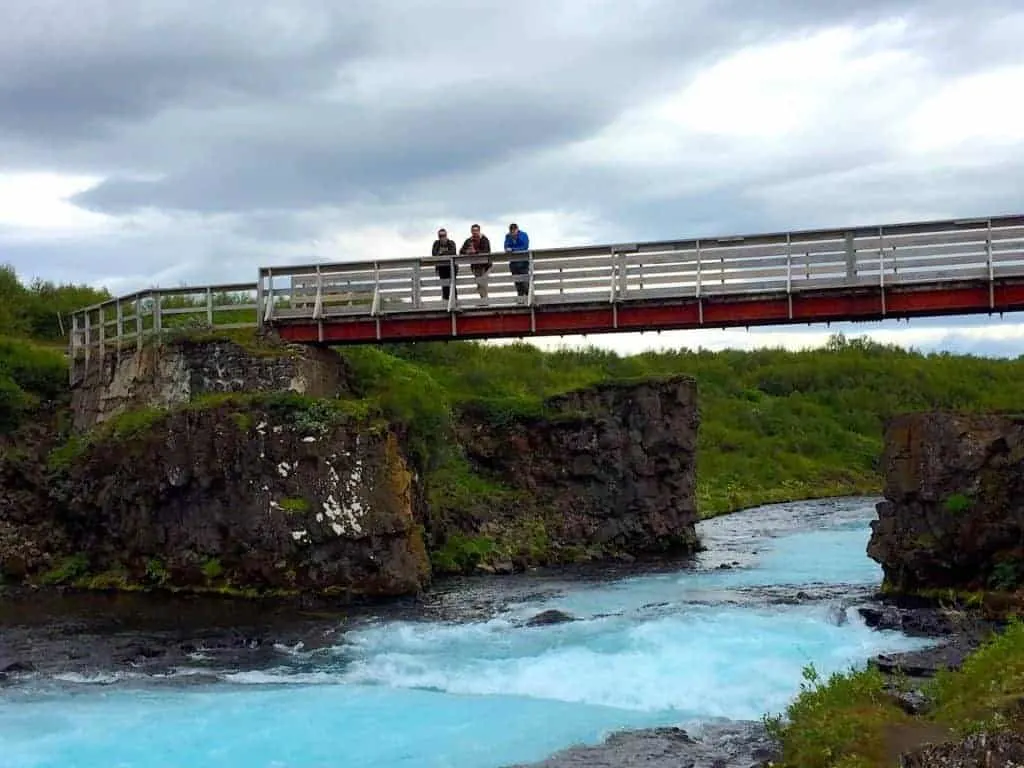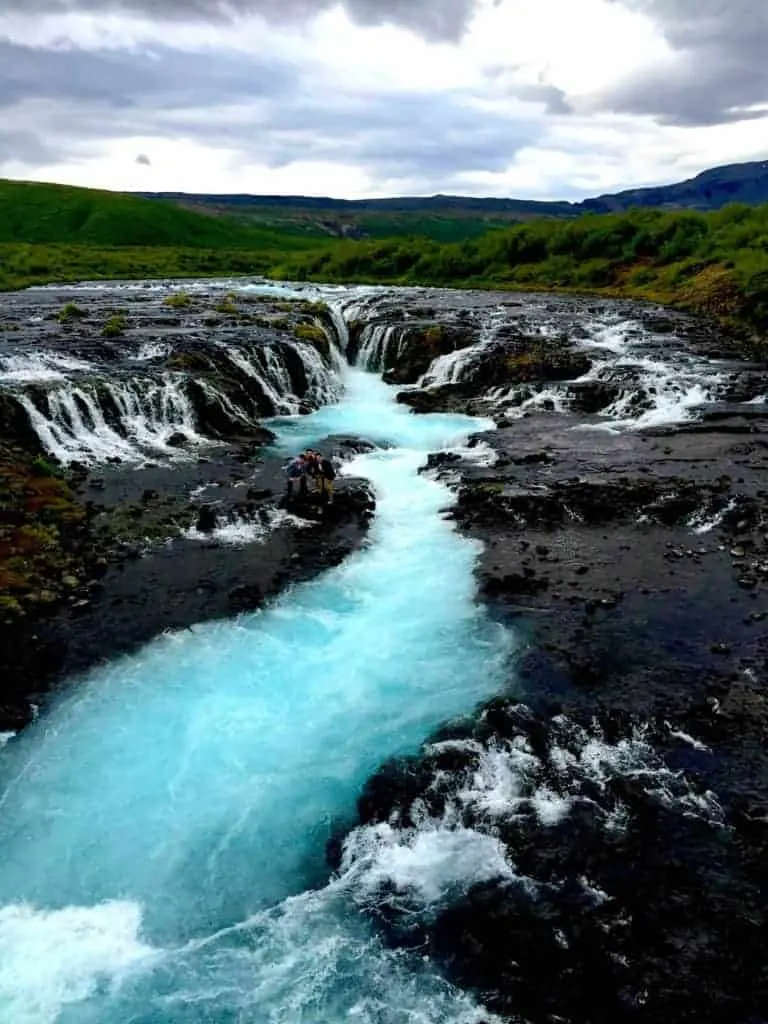 C) Geysir
After finishing up with Bruarfoss, head on over to Geysir. If you haven't been to any type of geyser before, Geysir is a pretty great first experience. This is a site of geothermal fields where there are several hot springs, mud pits and geysers around the area.
The main attraction though is Strokkur. Every 10 minutes or so, the water gets sucked all the way into the ground and then suddenly shoots up nearly 100 feet into the air.
You can stay around for just one spout or stay around for several until you get the perfect shot and slow motion video.
Spend the rest of the time exploring the area on foot and seeing the rest of what Geysir has to offer. There is also a great visitors center here for lunch, drinks, and souvenirs.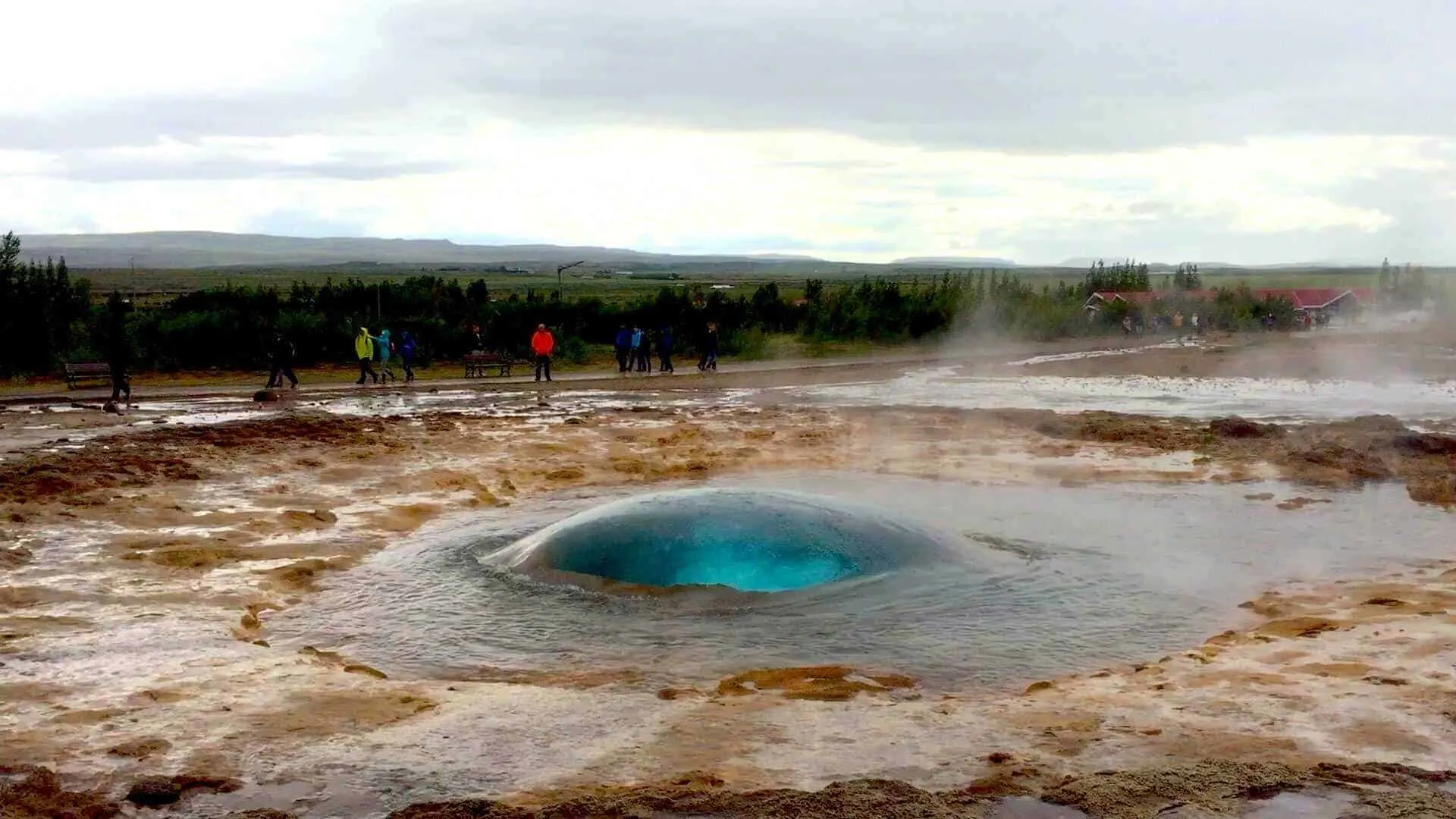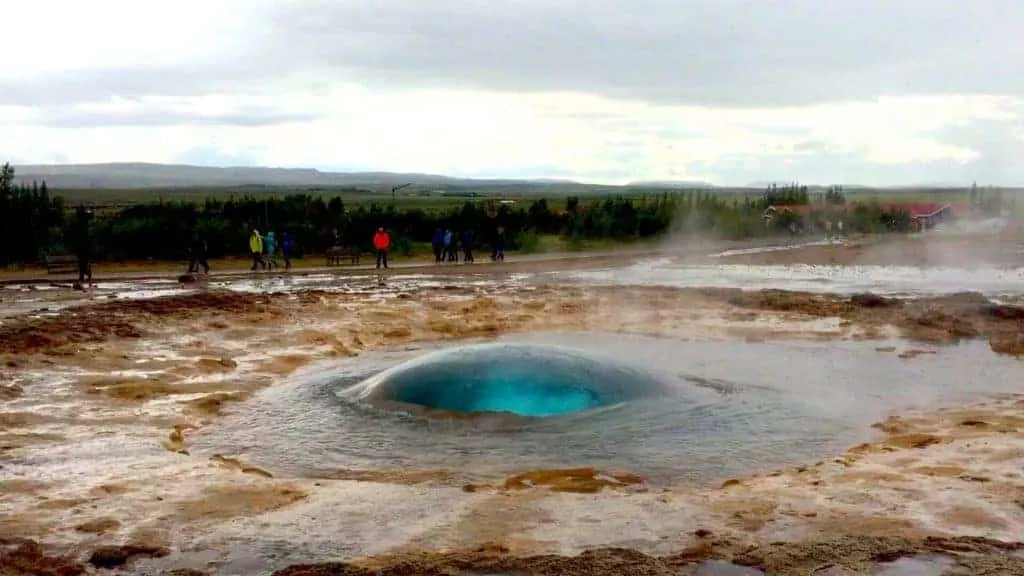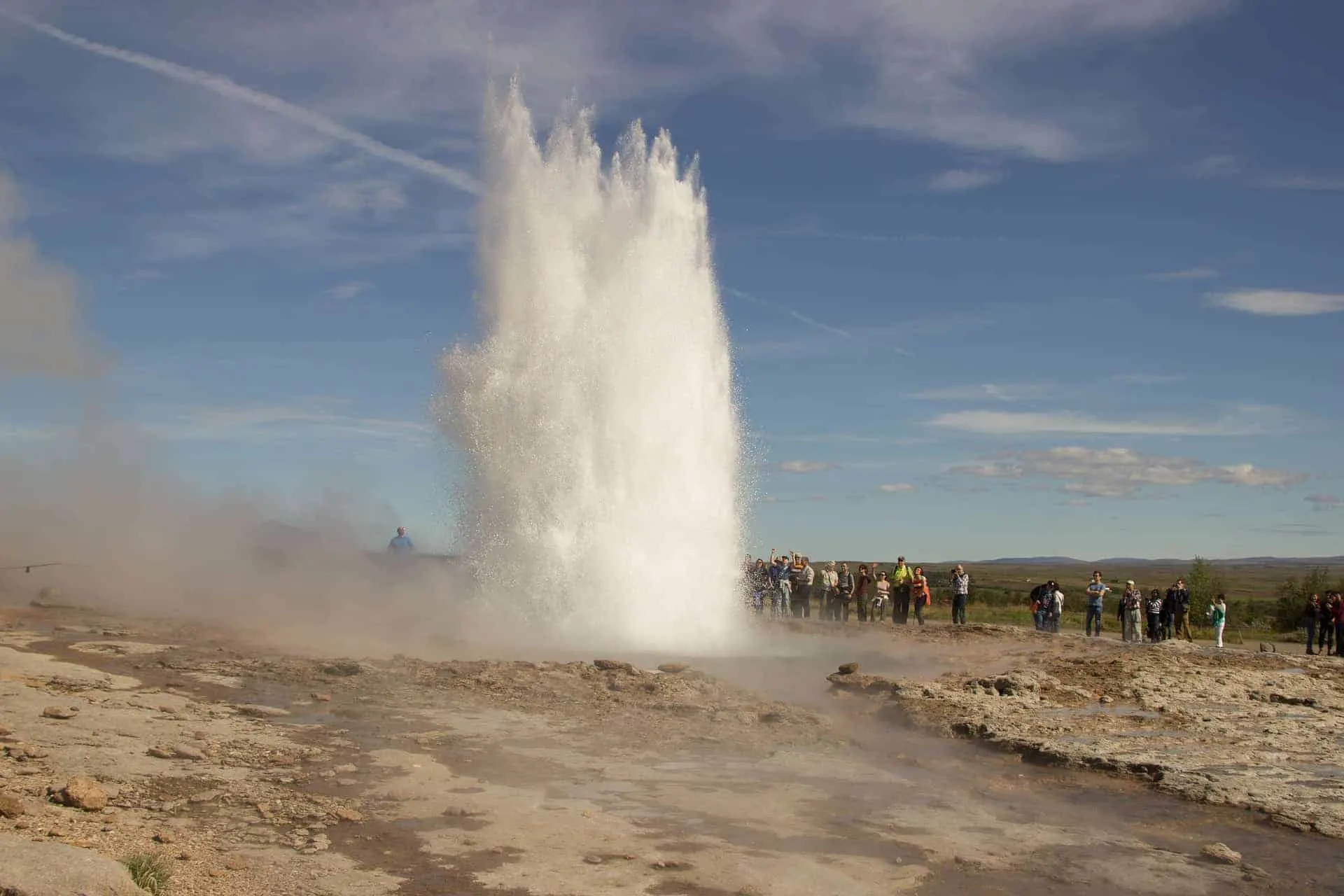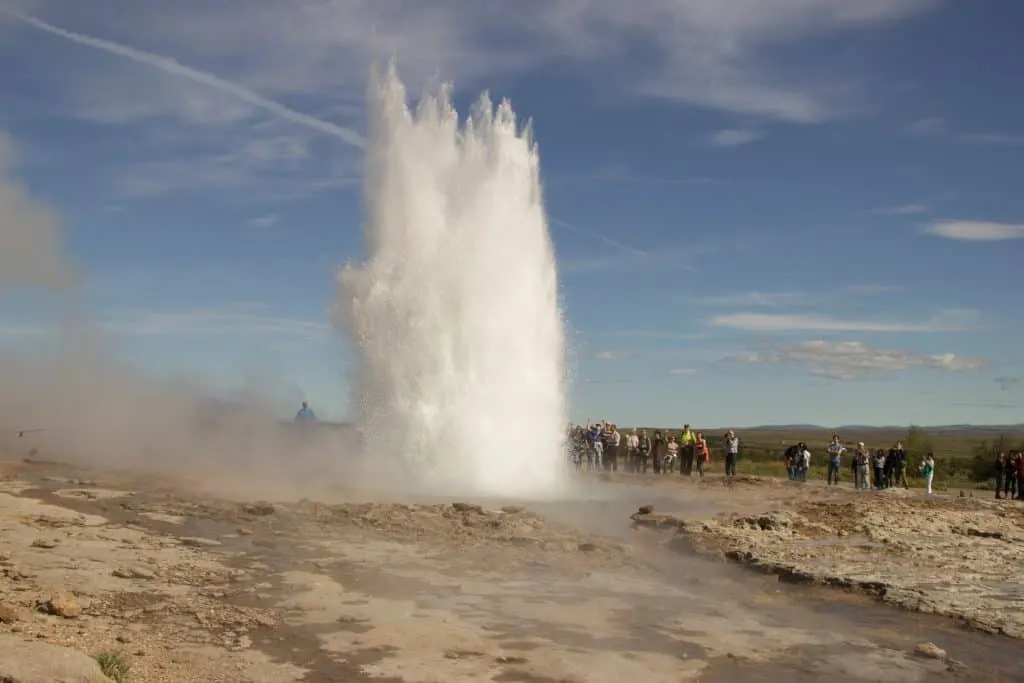 D) Gullfoss
The next stop on the Golden Circle route is one of the largest, most powerful waterfalls you will see on your trip – Gullfoss.
This is a bit different then the other fosses you will come by during your time in Iceland. It is a massive waterfall and one where you can get a nice viewpoint up and close to it down below, or from up above as well.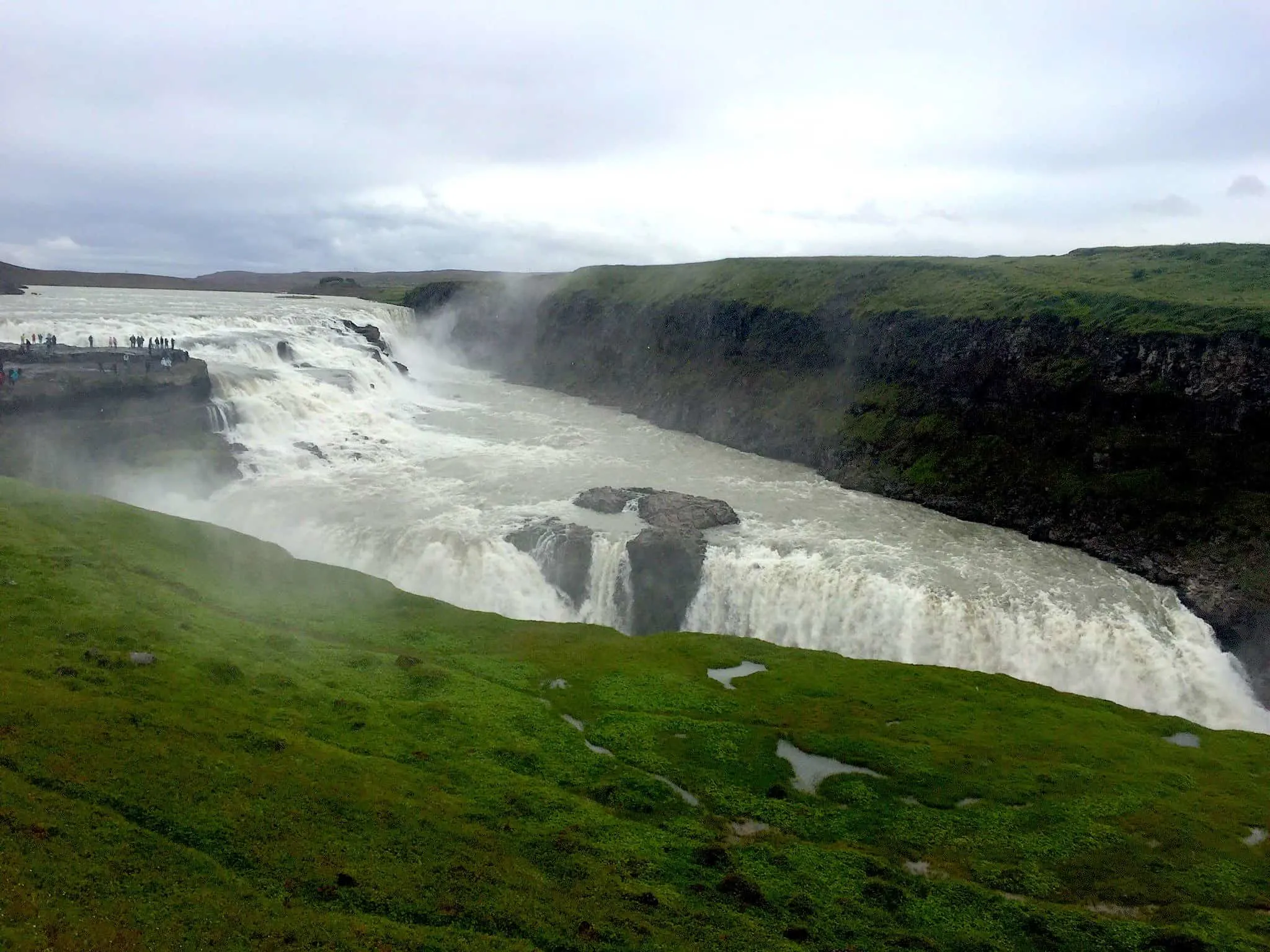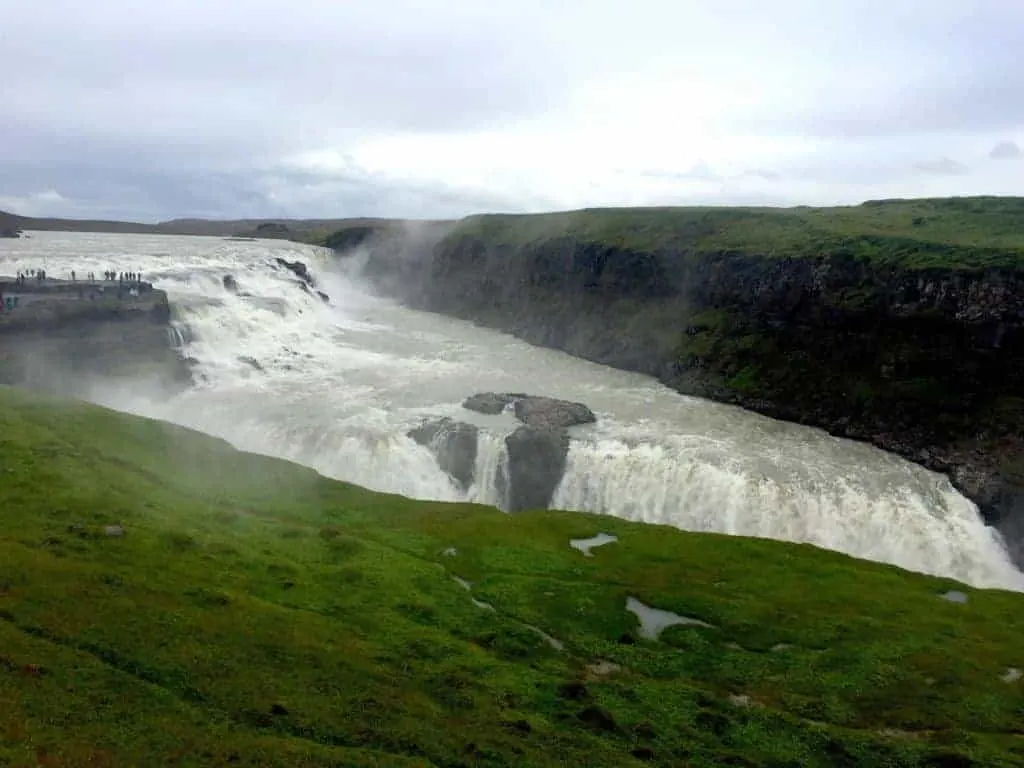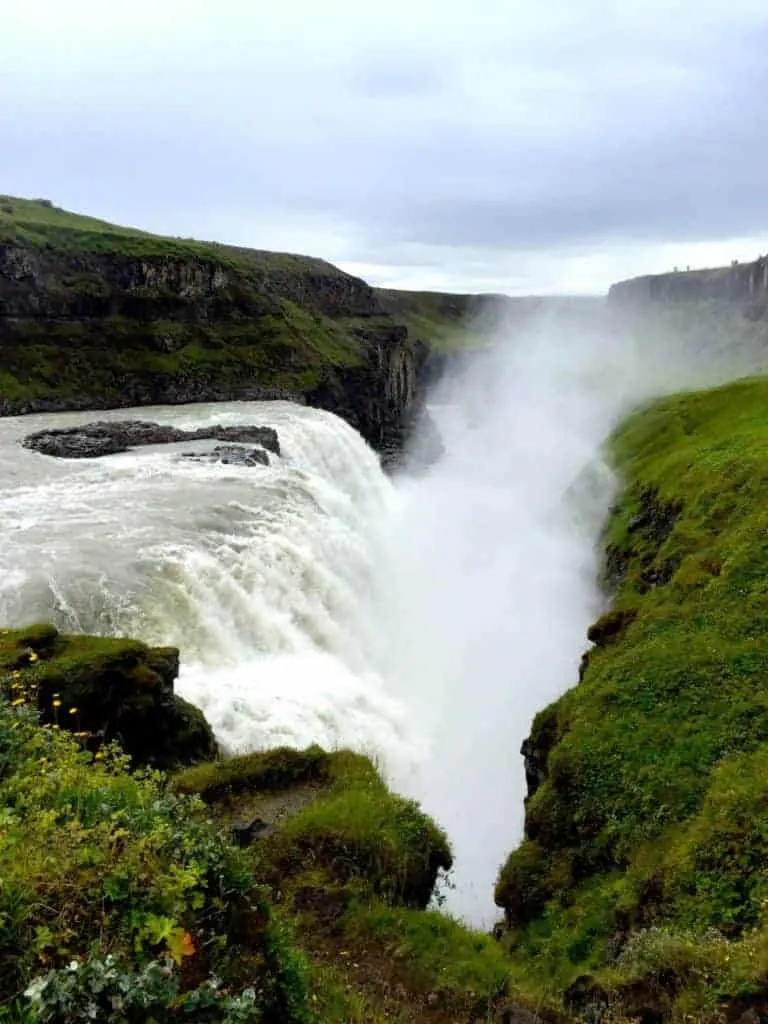 E) Kerid Crater
Last but not least, the final stop on the Golden Circle route is Kerid Crater. A massive red rock crater with a lake in the middle of it. Note that you will have to pay to get into the site per person (about $3 each).
On top of the crater is a great view point and you can walk the path along the top ridge and/or walk the path on the bottom close to the lake. It is a nice place to end the long Golden Circle route before heading back to Reykjavik or onto your next city.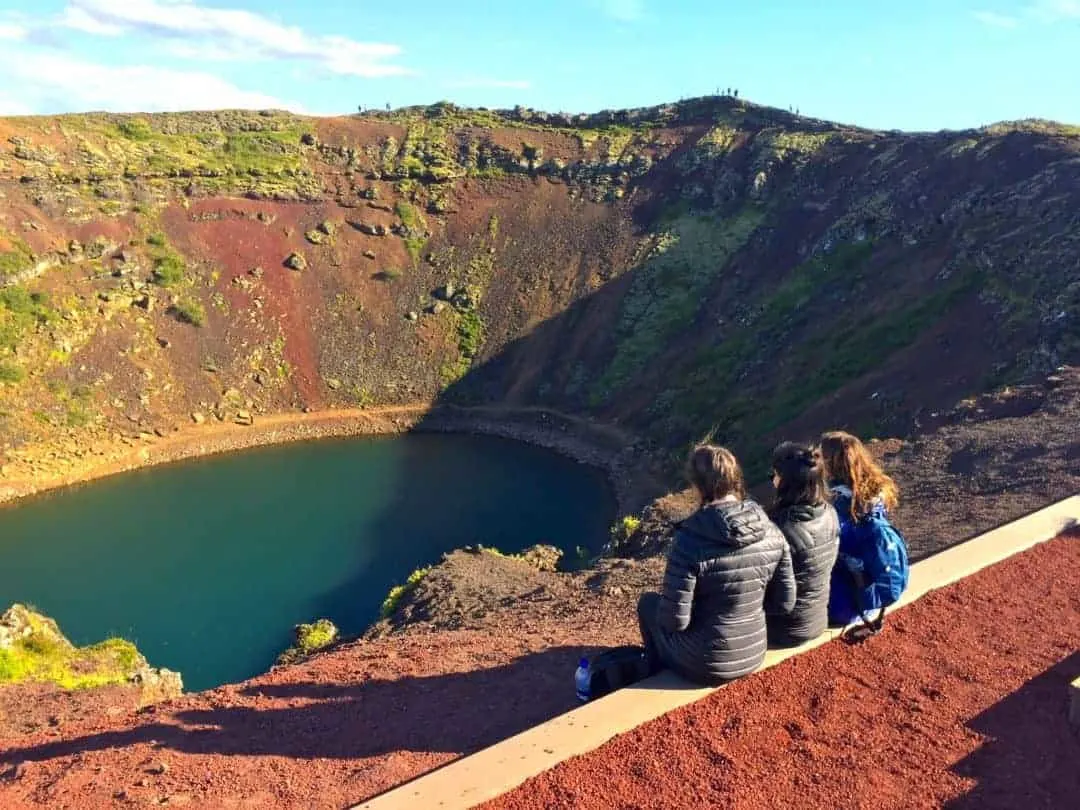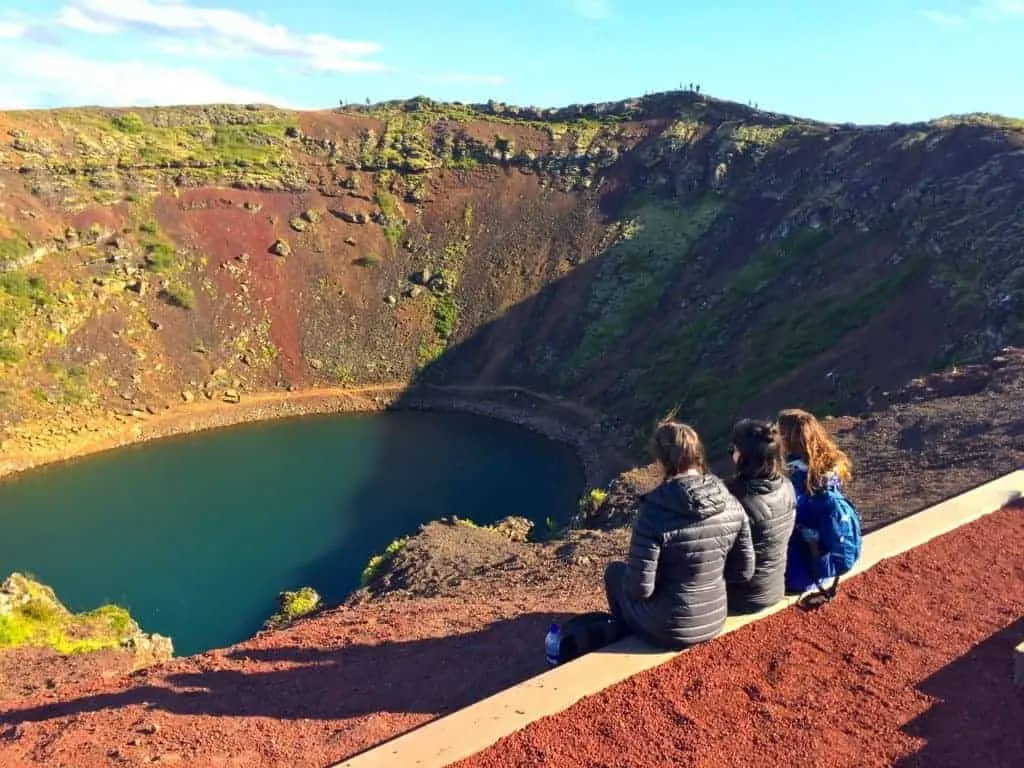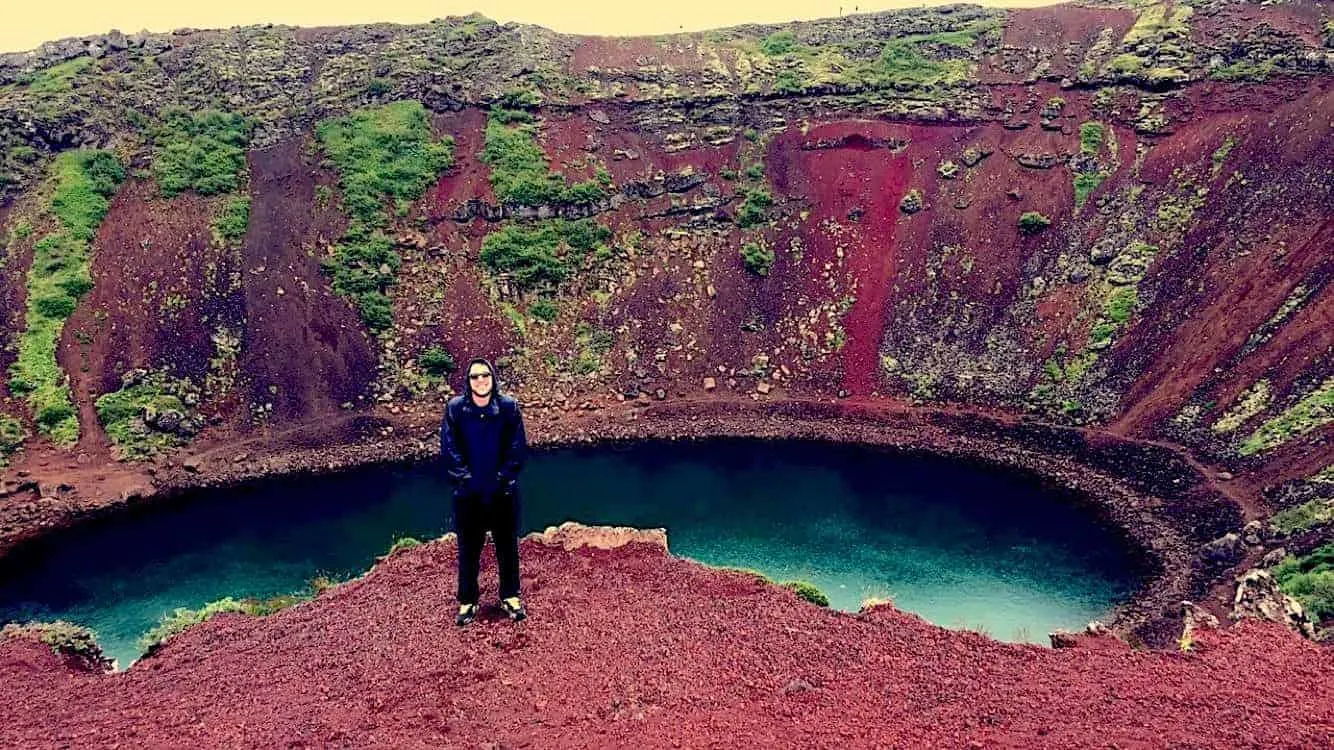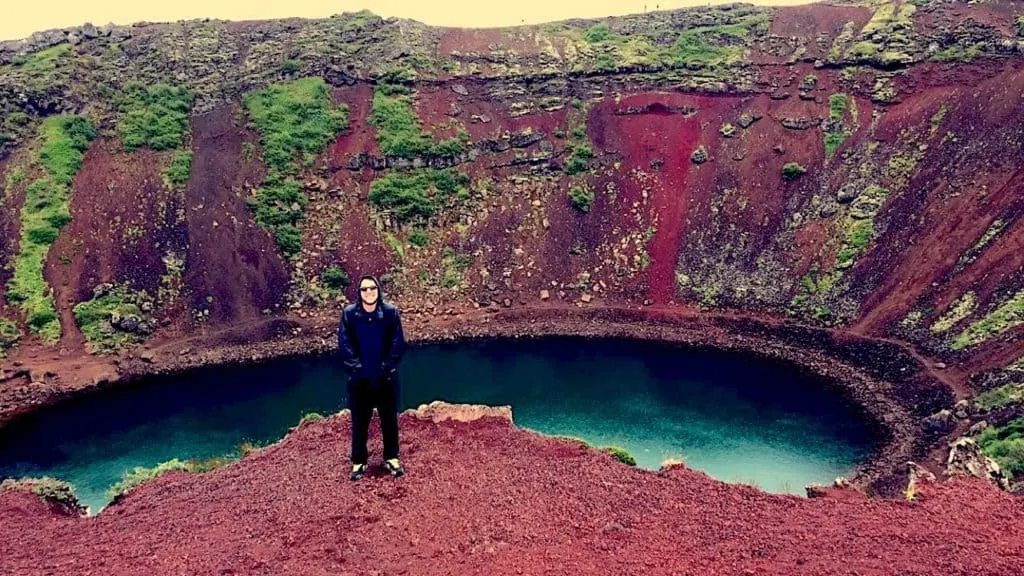 6) Where to Stay
As mentioned, the Golden Circle makes for a great day trip from Reykjavik. You can also easily add this onto your Rind Road itinerary if you are thinking about heading around the entire country as well.
You can check out Booking.com for some great spots around Reykjavik by using the search box below.
Top Accommodation Options
Also noted above, if you are not going back to Reykjavik you can check out some accommodation options in Selfoss instead.
Hope you enjoy your time around the Golden Circle. Take a look at our other Iceland itineraries and guides to help out with any other trip planning. Feel free to comment below with any questions!