Lake Myvatn is not merely just a lake in northeastern Iceland. It is home to some of the country's most unique and picturesque natural attractions. You might even find that this landscape is familiar in a way as many scenes from HBO's Game of Thrones were filmed here.
You will find plenty of things to do around the Lake Myvatn geothermal area and will be able to spend several hours exploring the highlights.
There are countless natural hot springs, volcanic craters, geothermal activity and lava fields to choose from. Read on to learn all about 8 of these incredible sites!
* Affiliate Disclosure: This post may contain affiliate links, which means I may receive a commission if you make a purchase through the links provided, at no additional cost to you. Thanks for supporting the work I put into TripTins!
1) Introduction to Lake Myvatn
If heading to Lake Myvatn, you are most likely doing so as part of a Ring Road itinerary around the whole country of Iceland.
While some people might just stop by for an hour to explore the lake and continue onwards to Akureyri, there are just so many things to do and see near the area.
Not only that but all of these attractions are unique and you will be amazed by the landscape and geothermal activity as you make your way all around.
While you certainly do not need to stop at each and every every spot on the list, there will be no shortage of things to do around the Lake Myvatn geothermal area.
2) Map of Lake Myvatn
Here is a list and map of the 8 things to do that you should be sure to check out during your visit around the area:
1) Skutustadir Pseudo Craters
2) Hofdi Peninsula
3) Dimmuborgir Lava Fields
4) Grjotagja Cave
5) Myvatn Nature Baths
6) Hverir Geothermal Field
7) Viti Crater
8) Leirhnjukur
When it comes to renting a car in Iceland, I would highly recommend checking out Rentalcars.com for potential options.
By going through Rentalcars.com, you will have the chance to compare car prices among a variety of rental companies, and choose the best option for you.
As you can see from the map above all 8 of the attractions are very close by from one another.
Once you are done with one spot you can drive a few minutes to the next. If something is not of interest to you, no worries either as the next option is just around the corner.
3) Lake Myvatn Geothermal Area Things To Do
Now that you have an idea where things are around the area, lets jump into the attractions themselves. I will start off at the southern most part of the lake, at the Skutustadir Pseudo Craters, and make the way up north towards Leirhnjukur and the Viti Crater.
At some point you also will be able to grab some food at a restaurant towards the northern end of the lake.
Now lets get into the attractions…
A) Skutustadir Pseudo Craters​
At the south end of the lake there is a smaller enclosed pond that is surrounding by these different sized craters coming up from the ground.
You can follow a path around this pond to get a great view of these craters and get right up close and personal with them.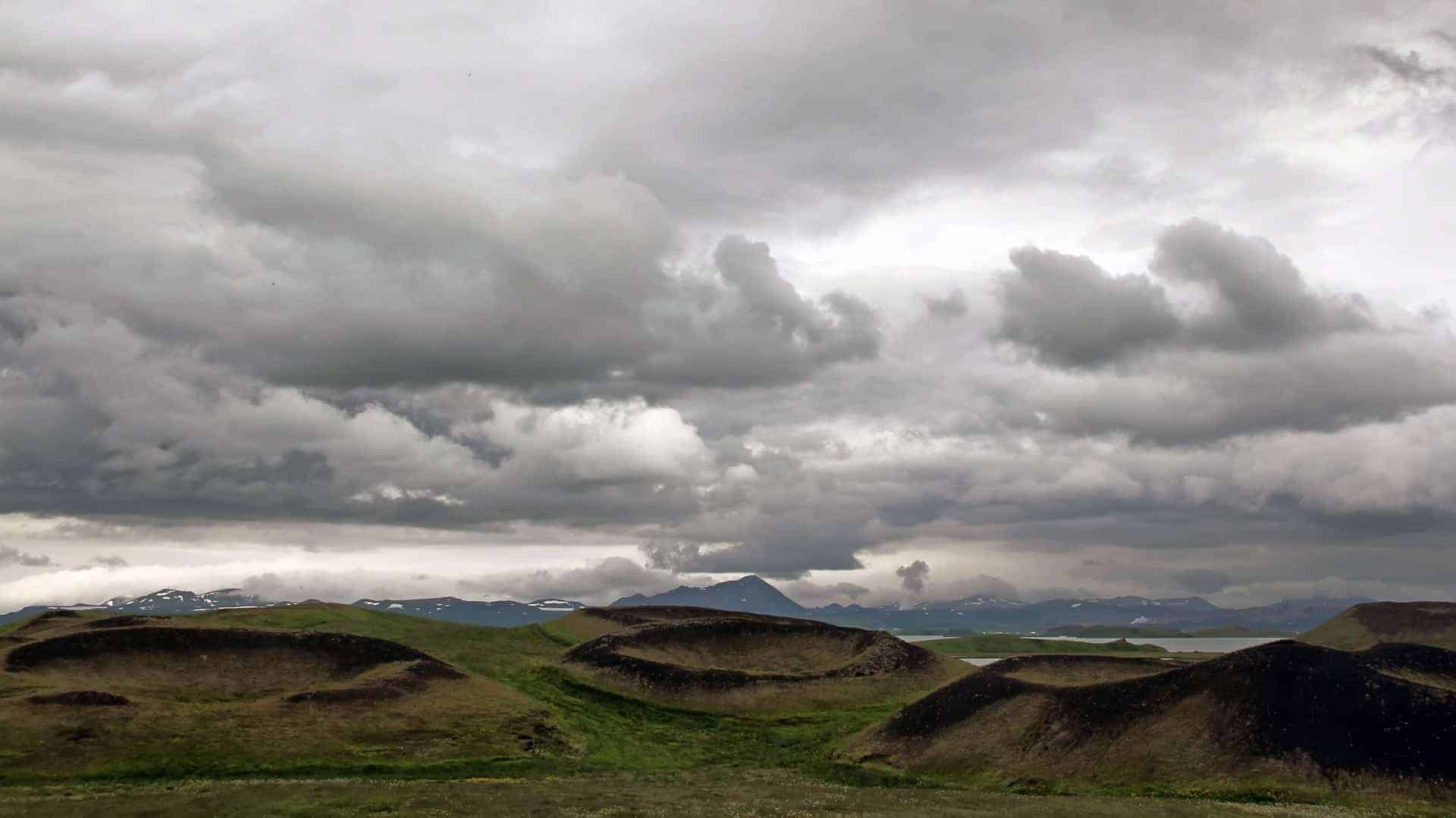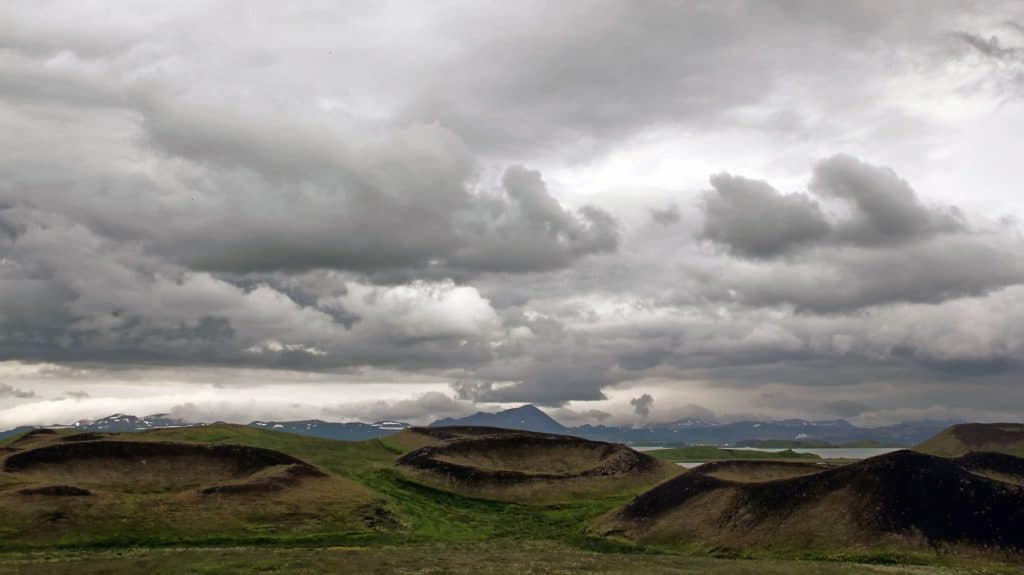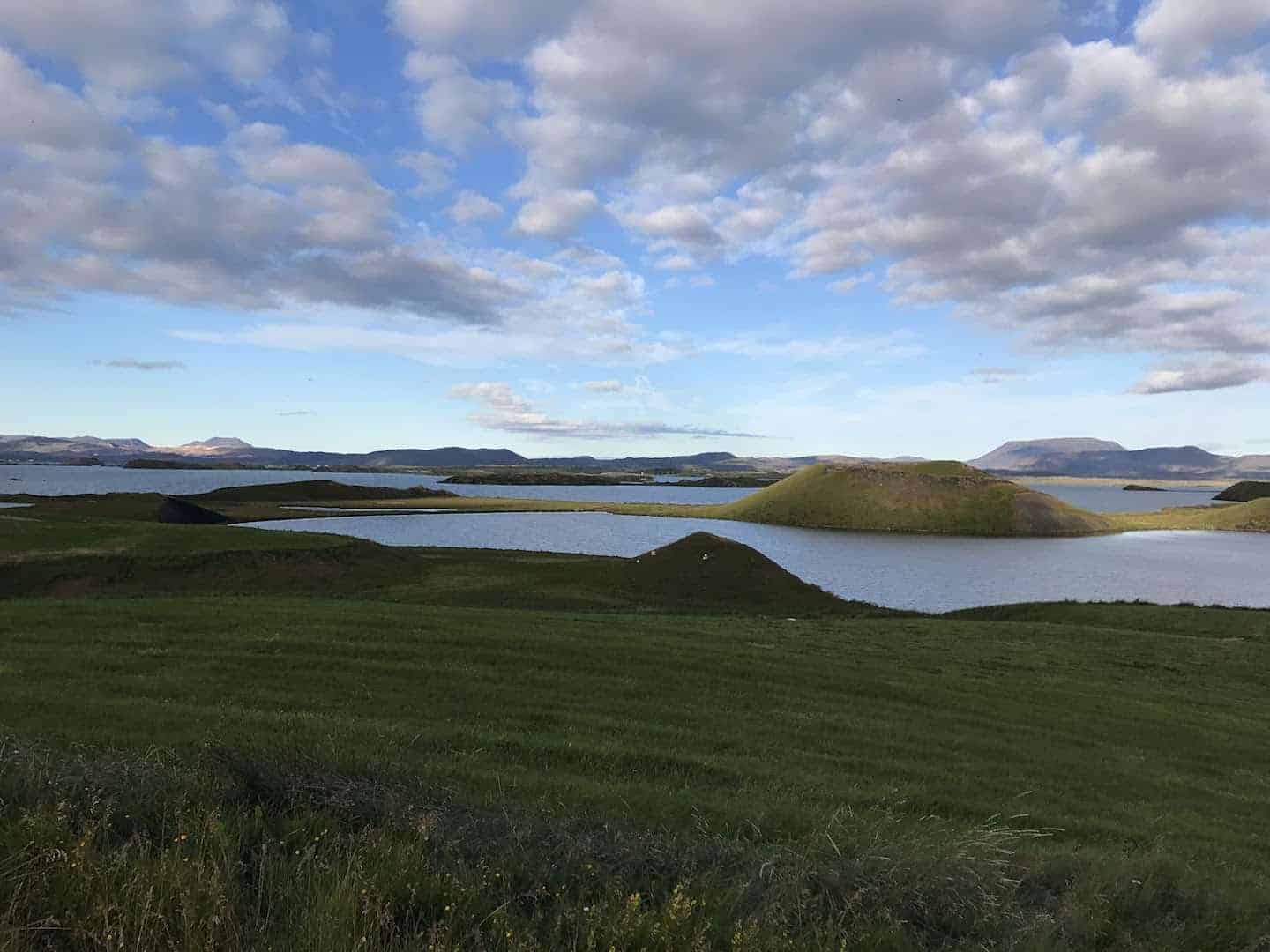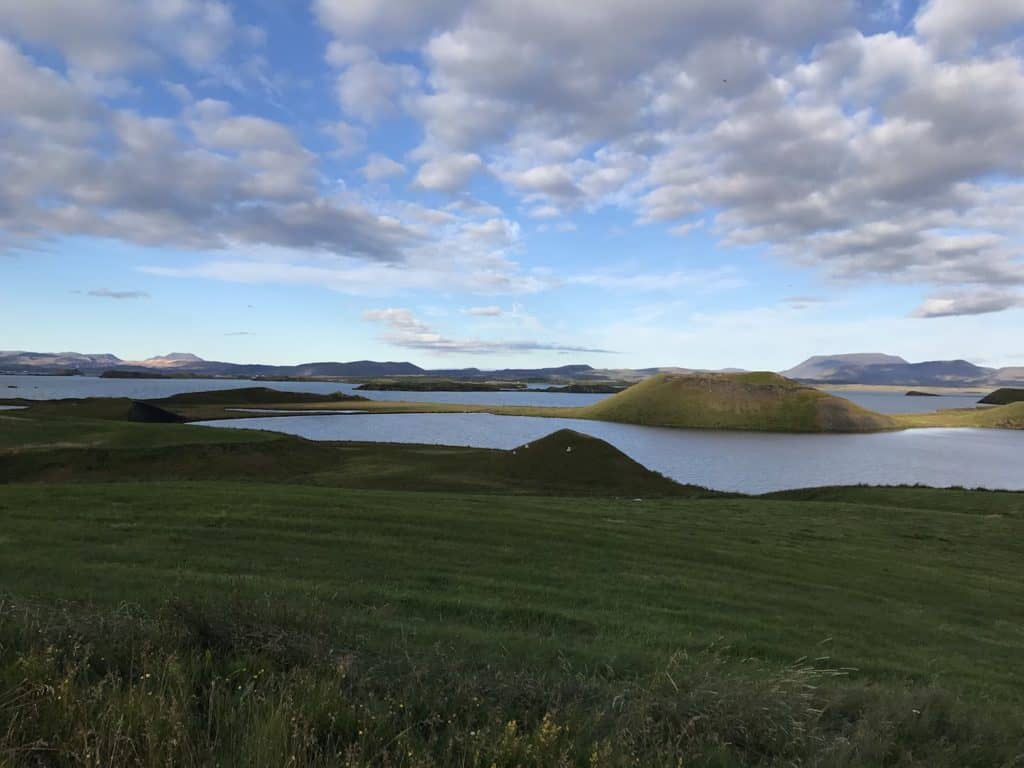 B) Hofdi Peninsula​
Just a few minutes to the north of the craters lies the Hofdi Peninsula. Not only is this a great view point of the area, you will also see the formation of many lava pillars coming out from the bottom of the lake.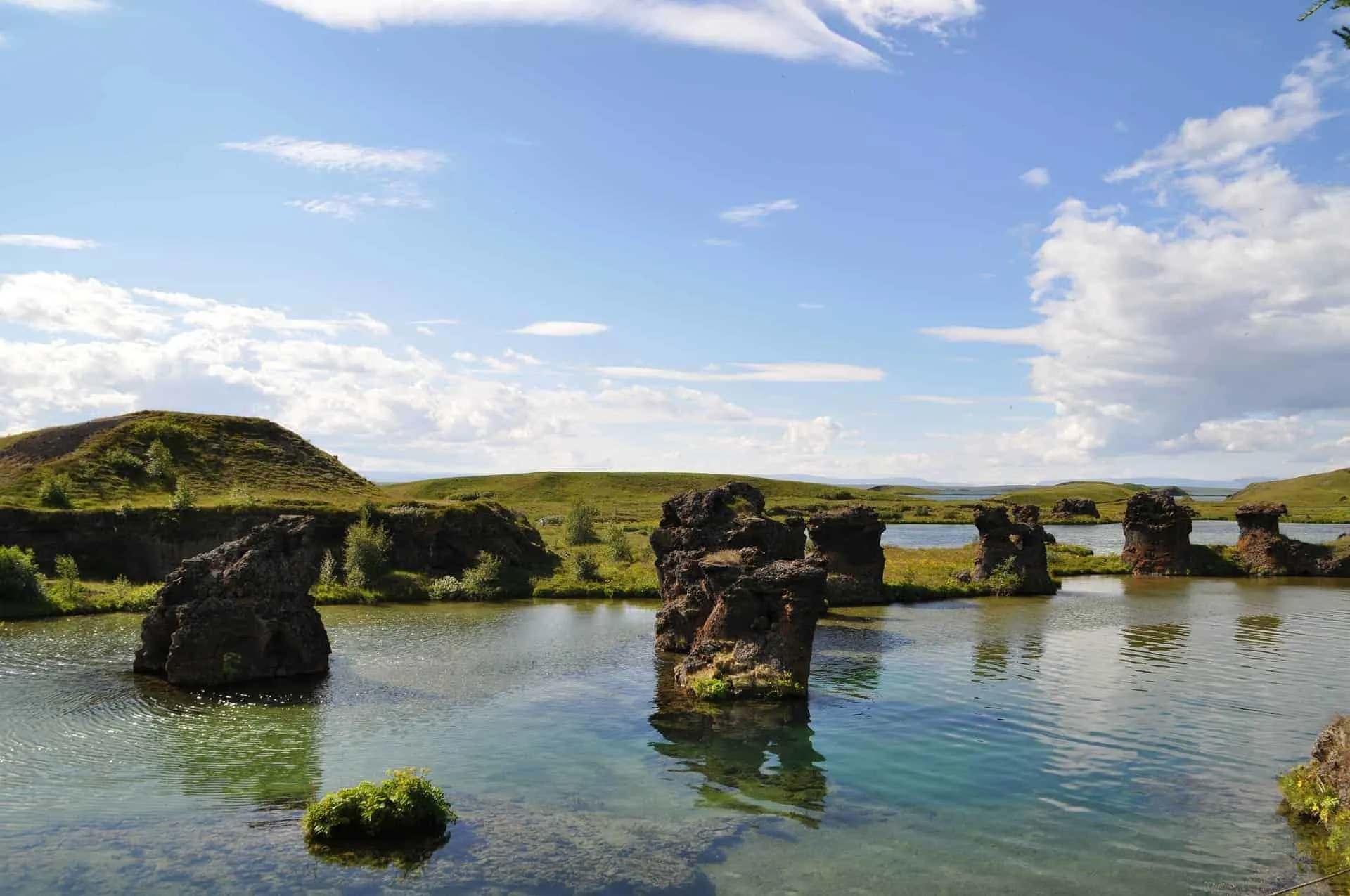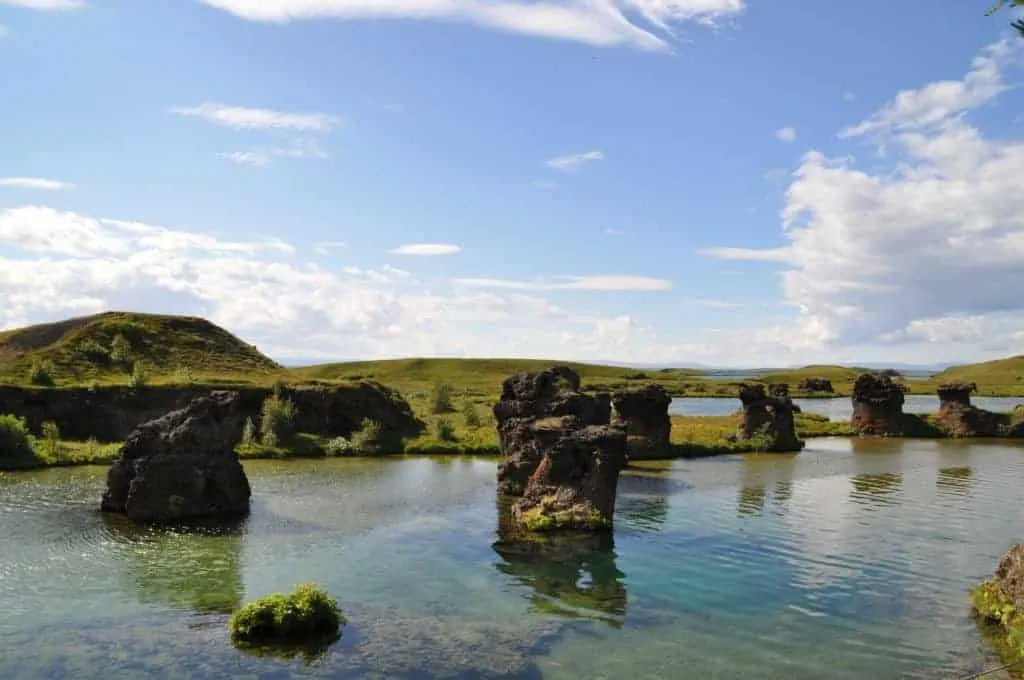 C) Dimmuborgir Lava Fields​
The lava fields of the Lake Myvatn area are not to be missed. You can take a nice stroll through the fields as the lava cliffs and pillars surround you in every direction.
There are a bunch of different paths to choose from lasting from just ten minutes all the way up to an hour. So depending on timing you should have plenty of options.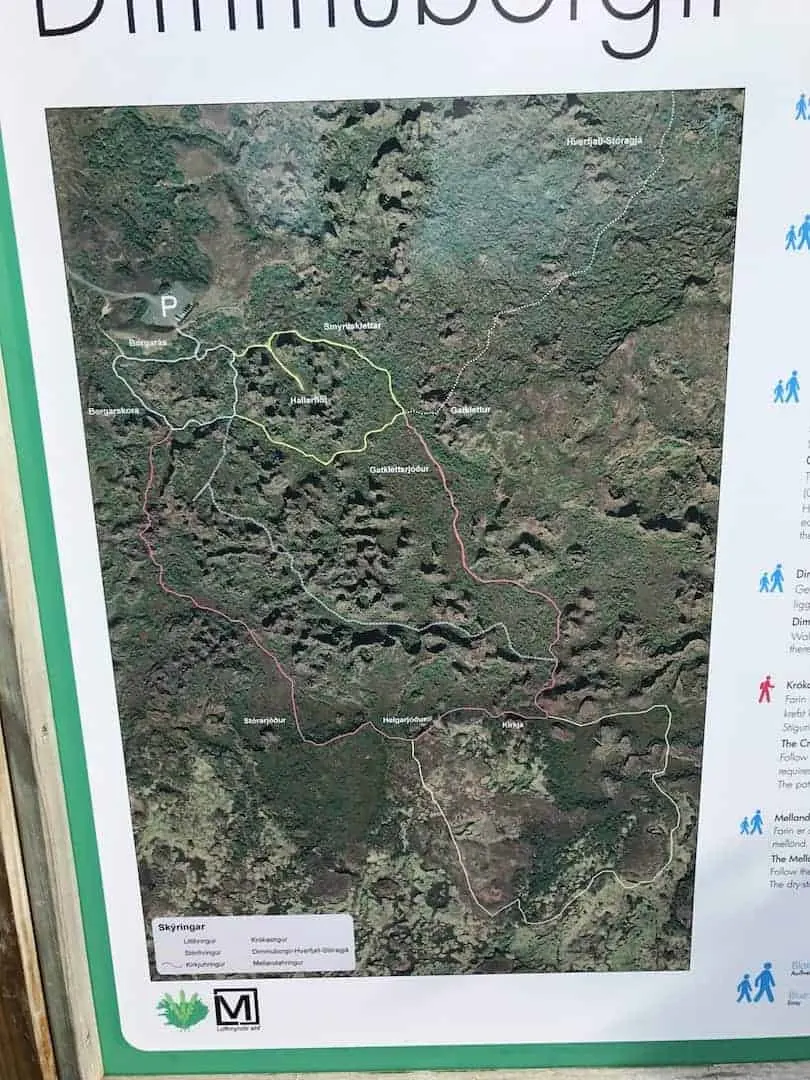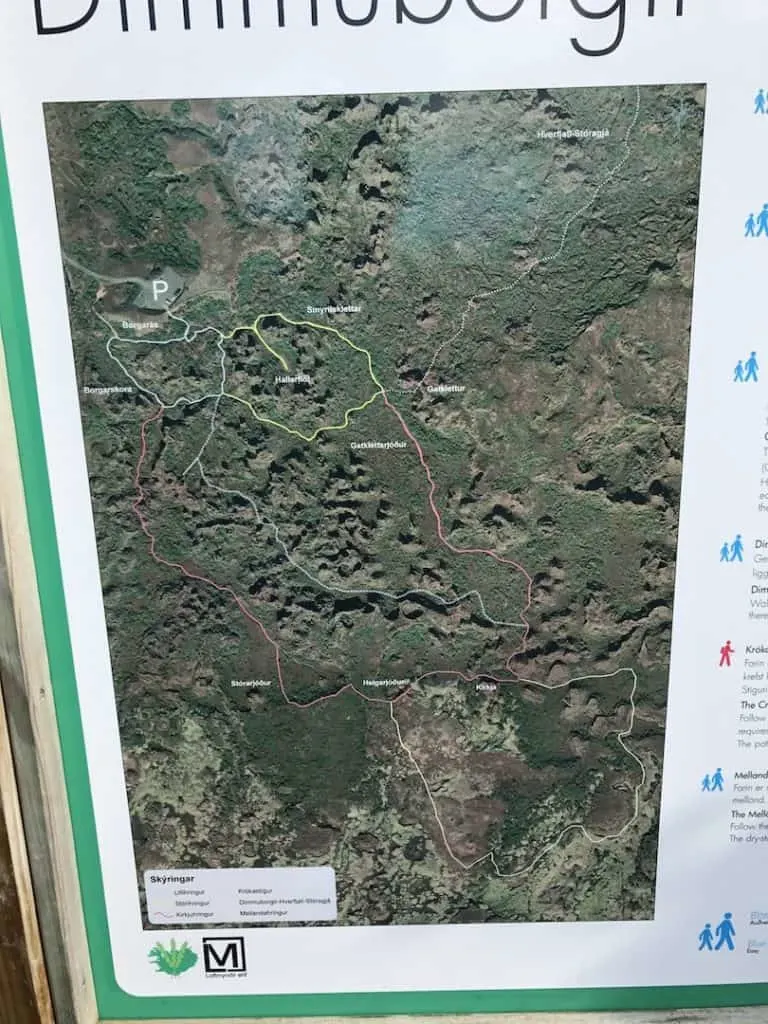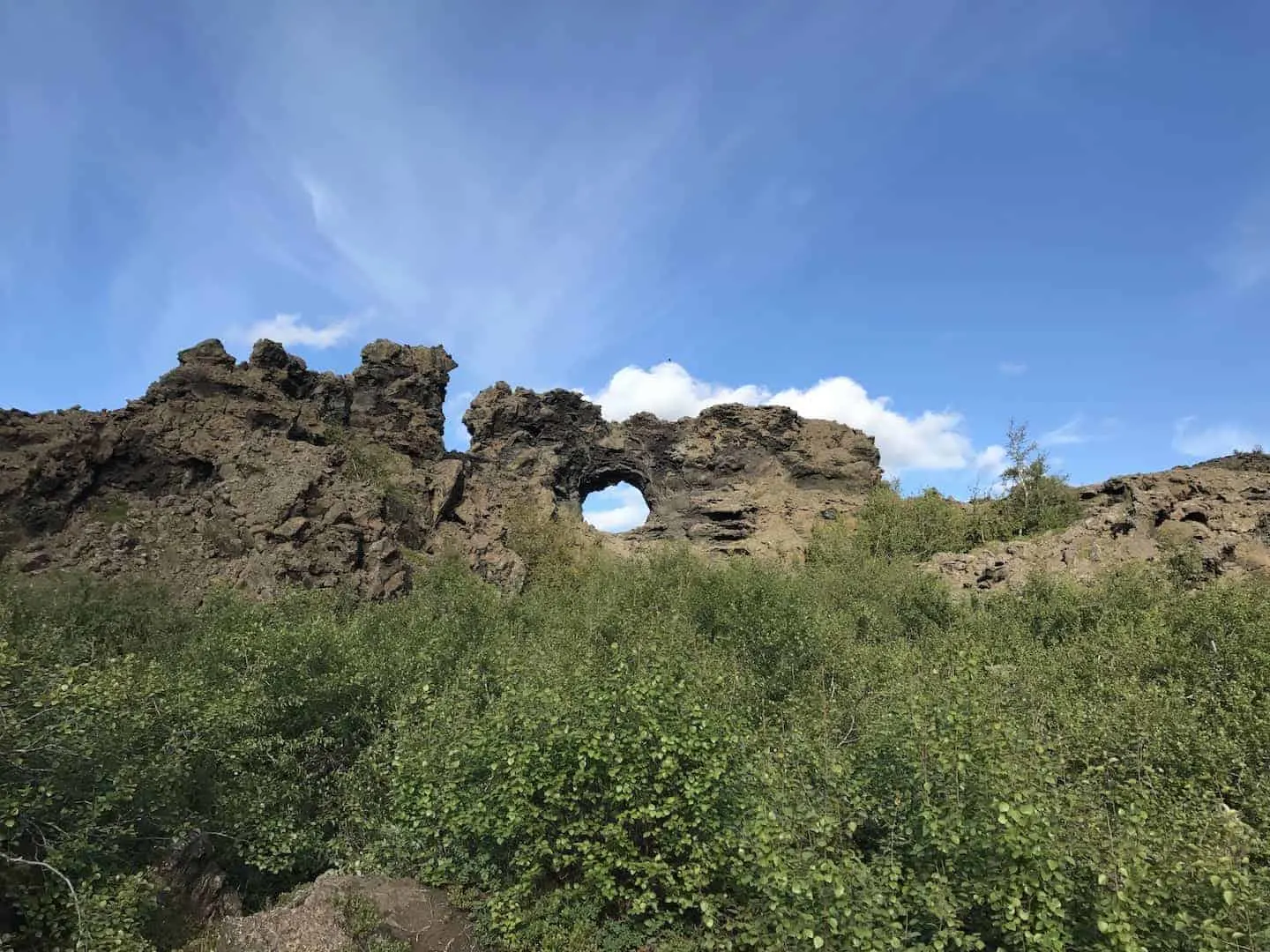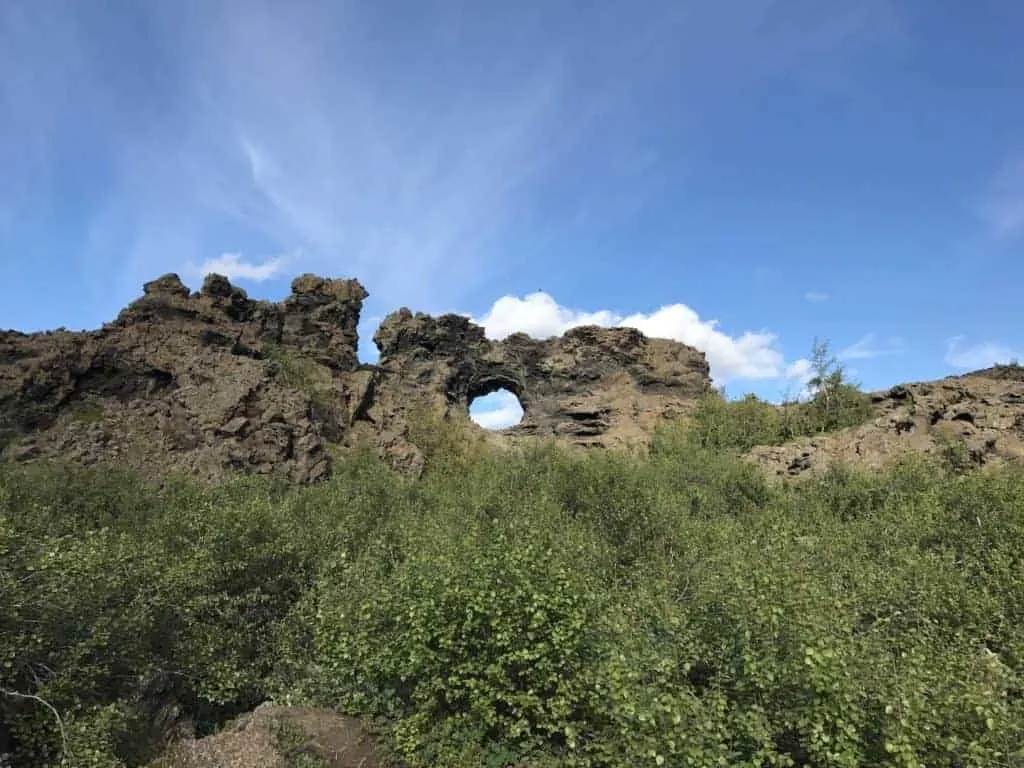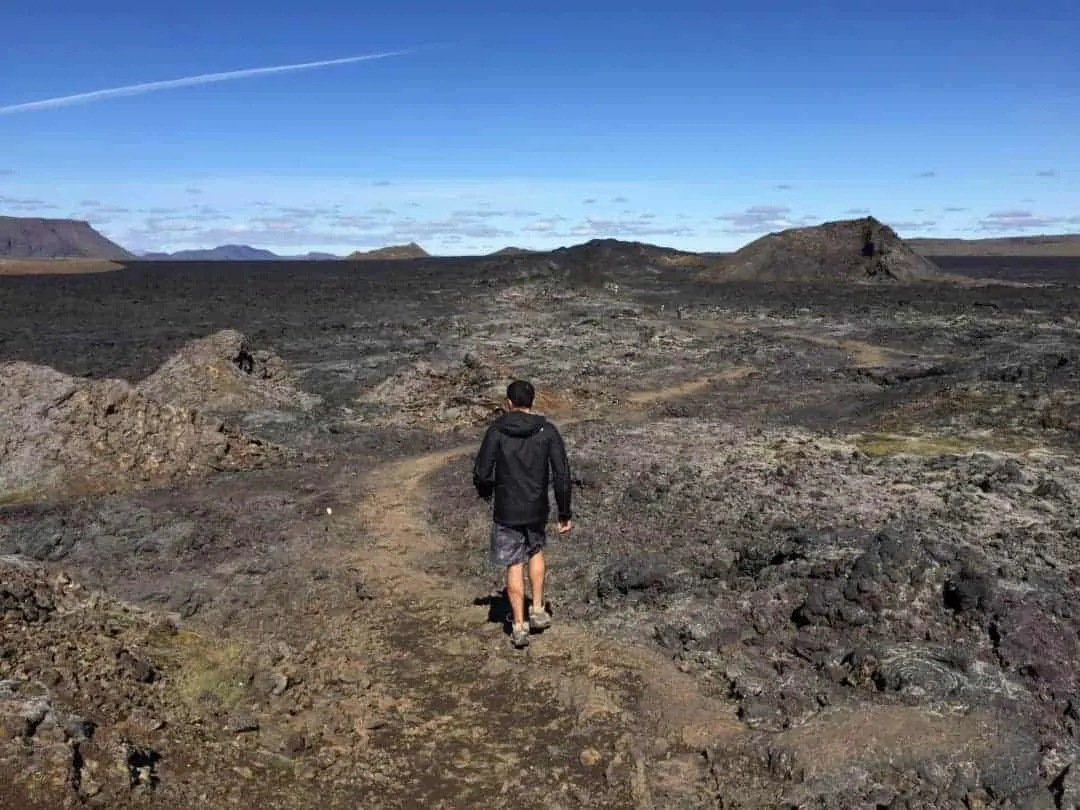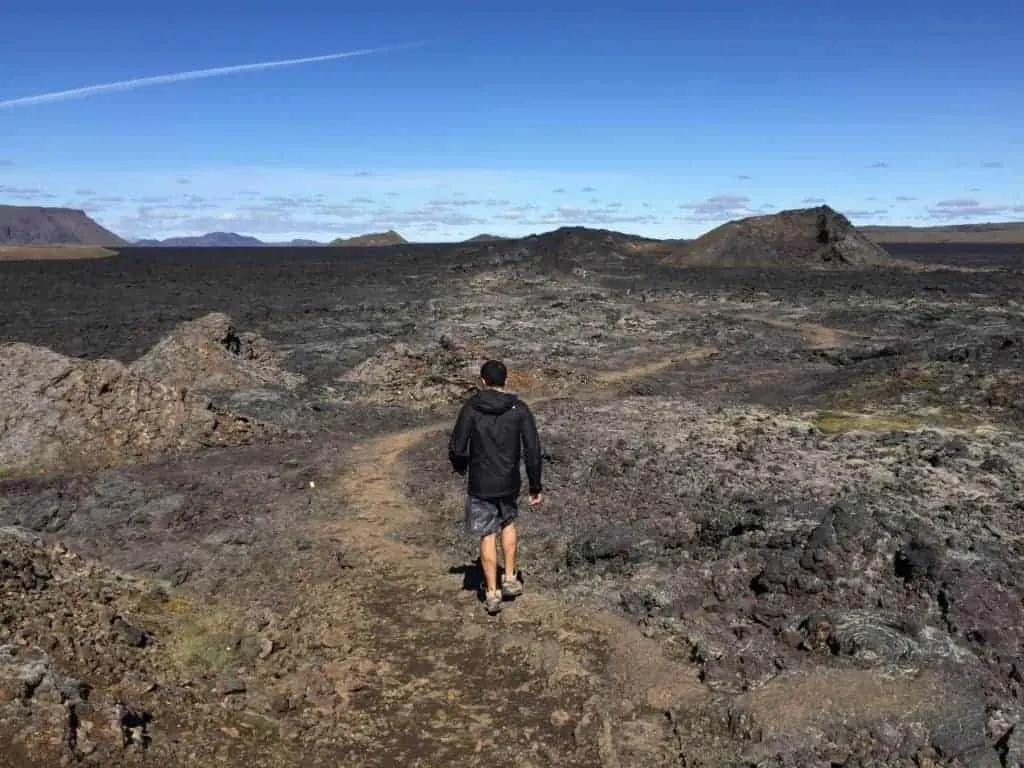 D) Grjotagja Cave​
Home to a geothermal hot spring pond, this cave can warm you up after some time outdoors. It is however too hot to actually go into. You might have better luck just dipping your feet in to get a taste for it.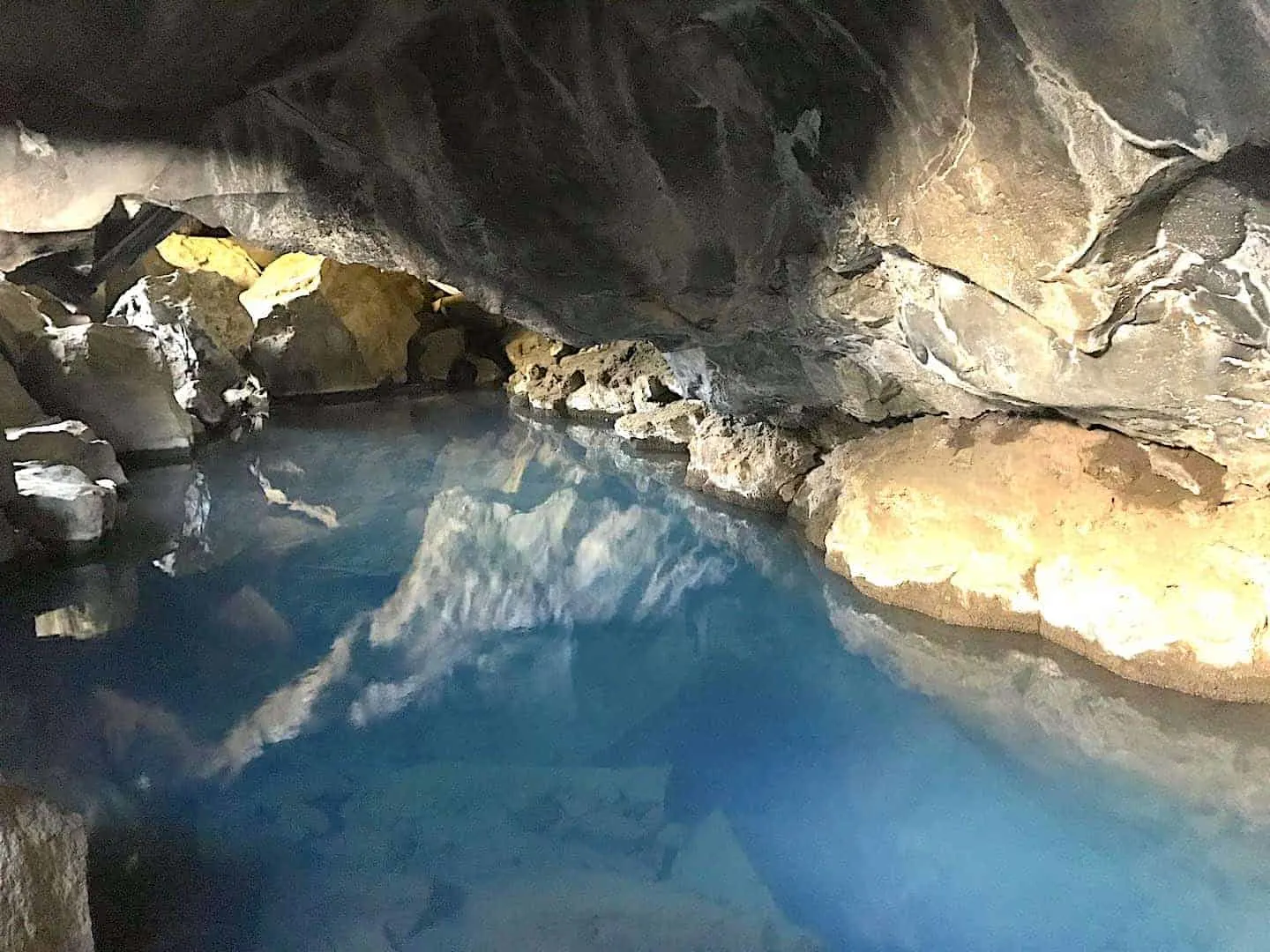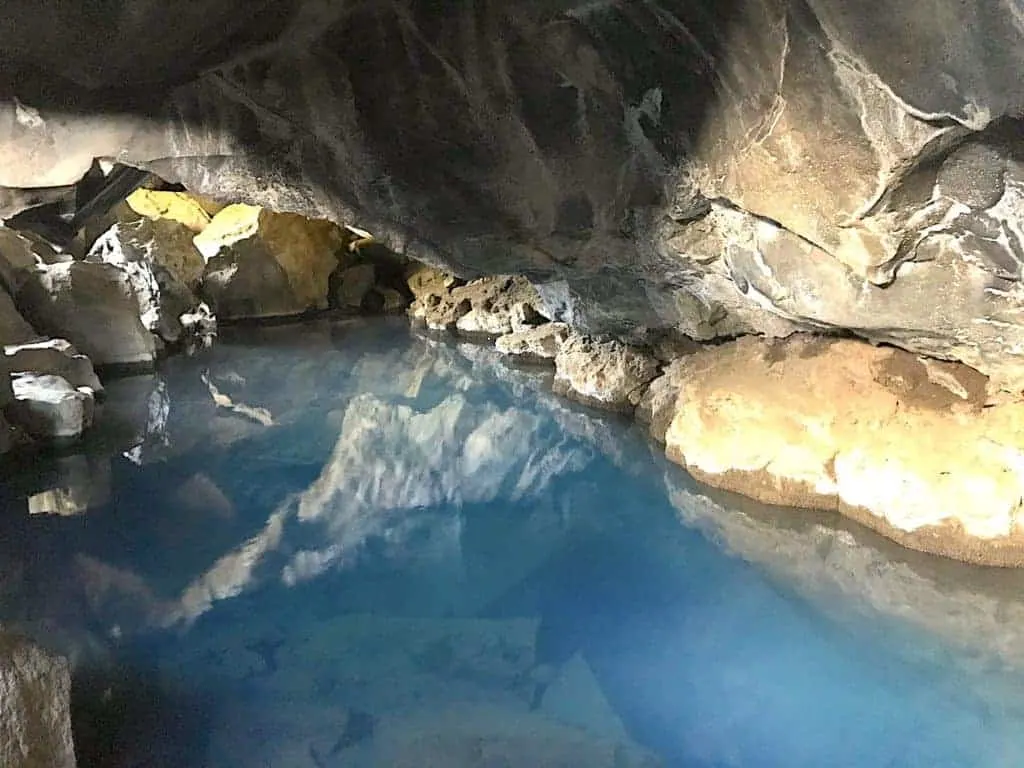 E) Myvatn Nature Baths​
If you don't plan on heading to the Blue Lagoon at some point during your trip or if you really enjoy warming up in hot baths in Iceland then the Myvatn Nature Baths are just for you.
They are smaller in size compared to the Blue Lagoon, but just as relaxing and way less crowded. You will be able to dip yourself into a large outdoor pool to warm up and relax in. This is a great way to split up the day around the Myvatn area.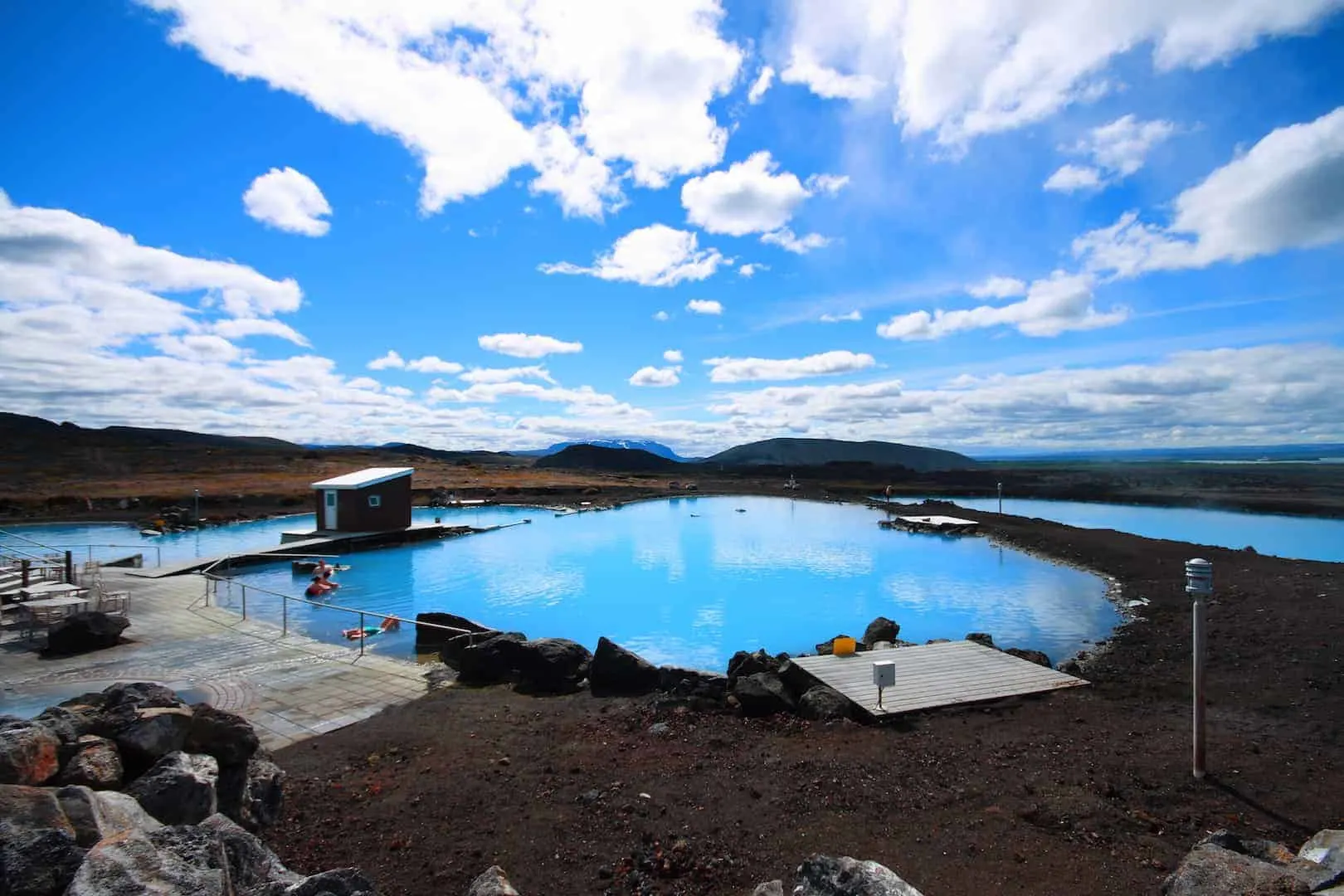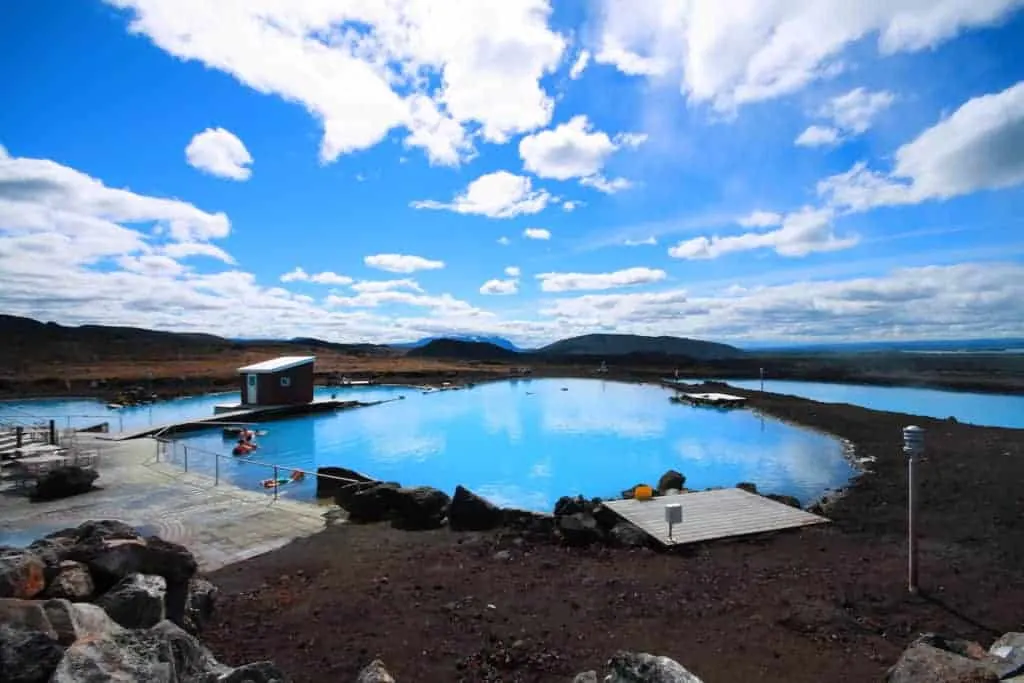 F) Hverir Geothermal Fields​
These geothermal fields are filled with boiling mud pits, fumes of smoke, and strong smells of sulfur. Spend some time walking around the area taking in this uniquely looking and smelling attraction.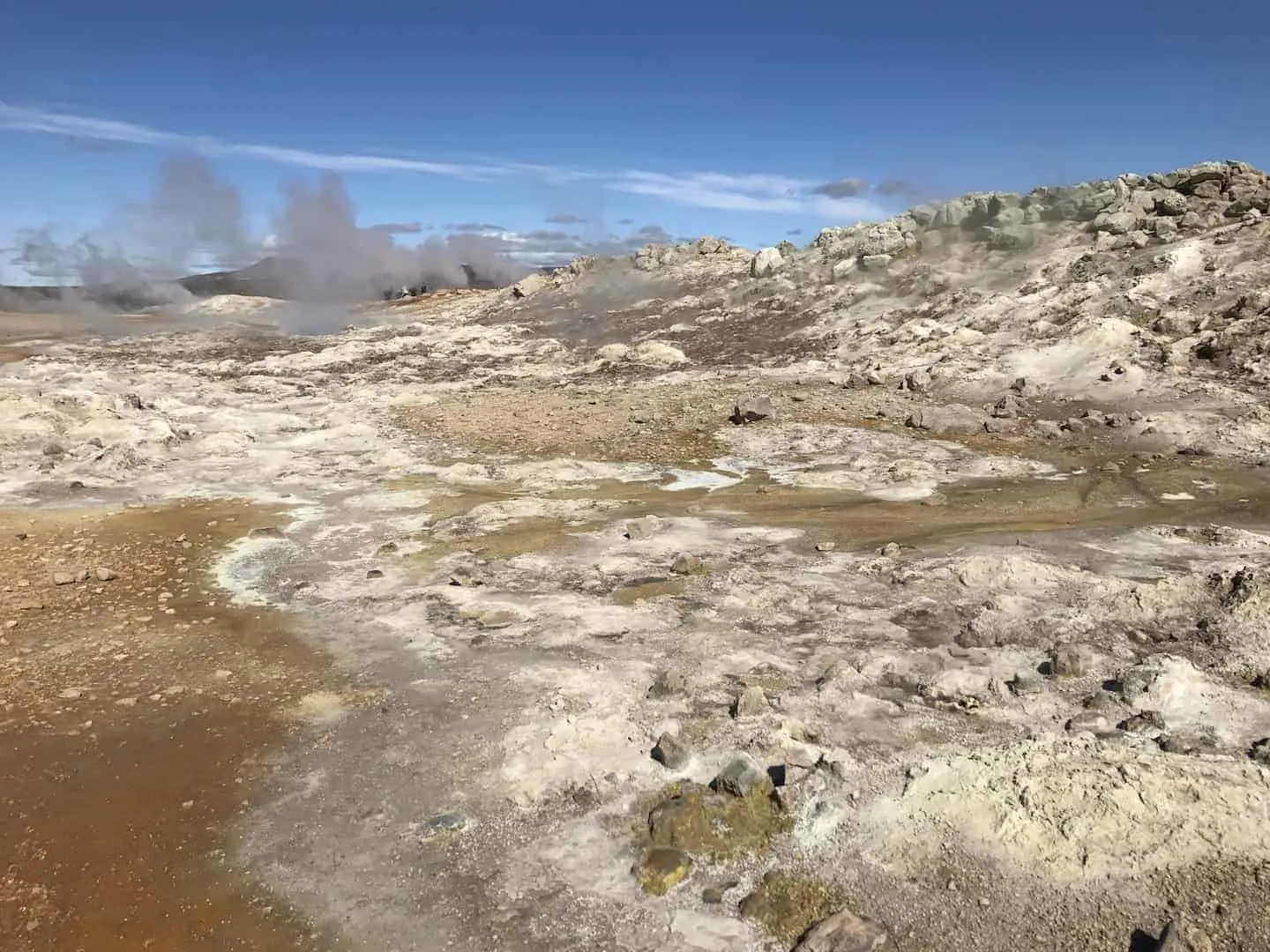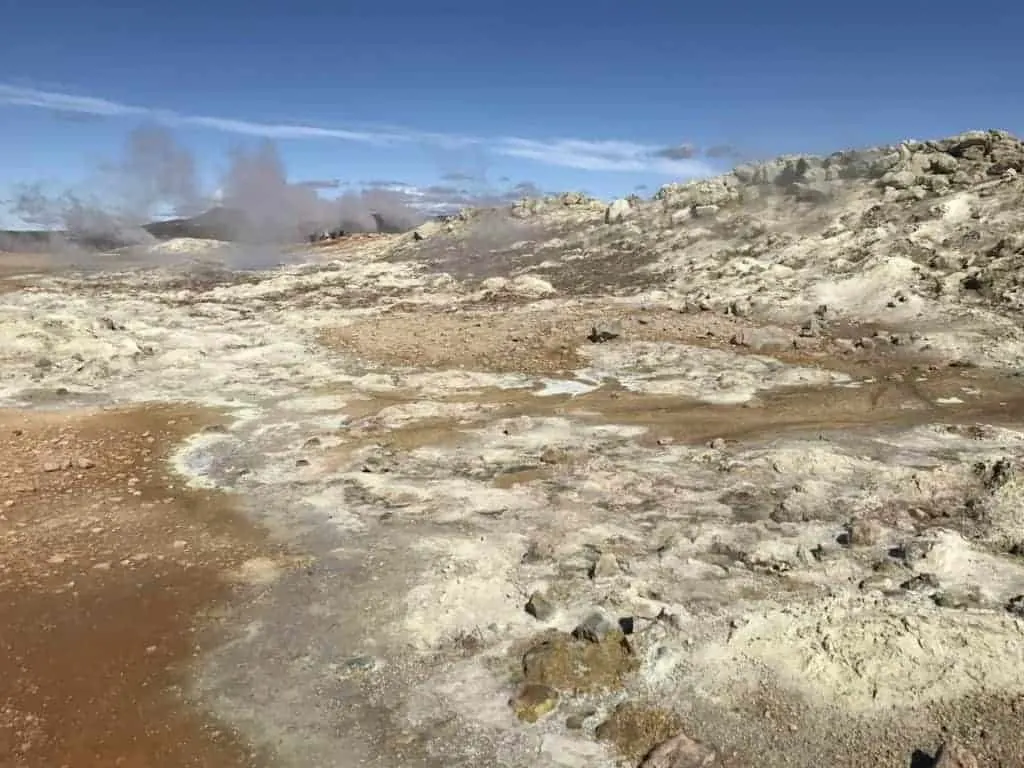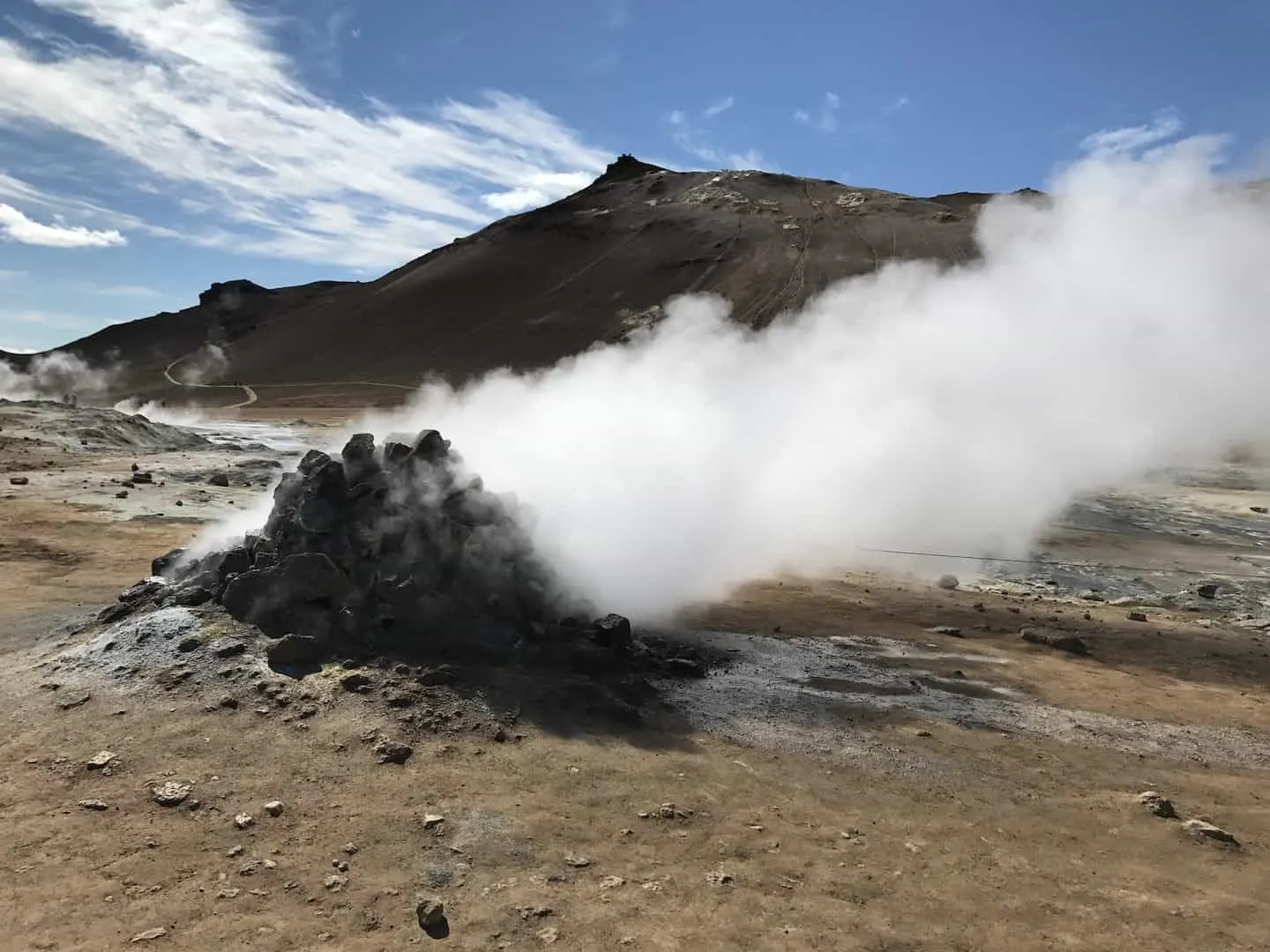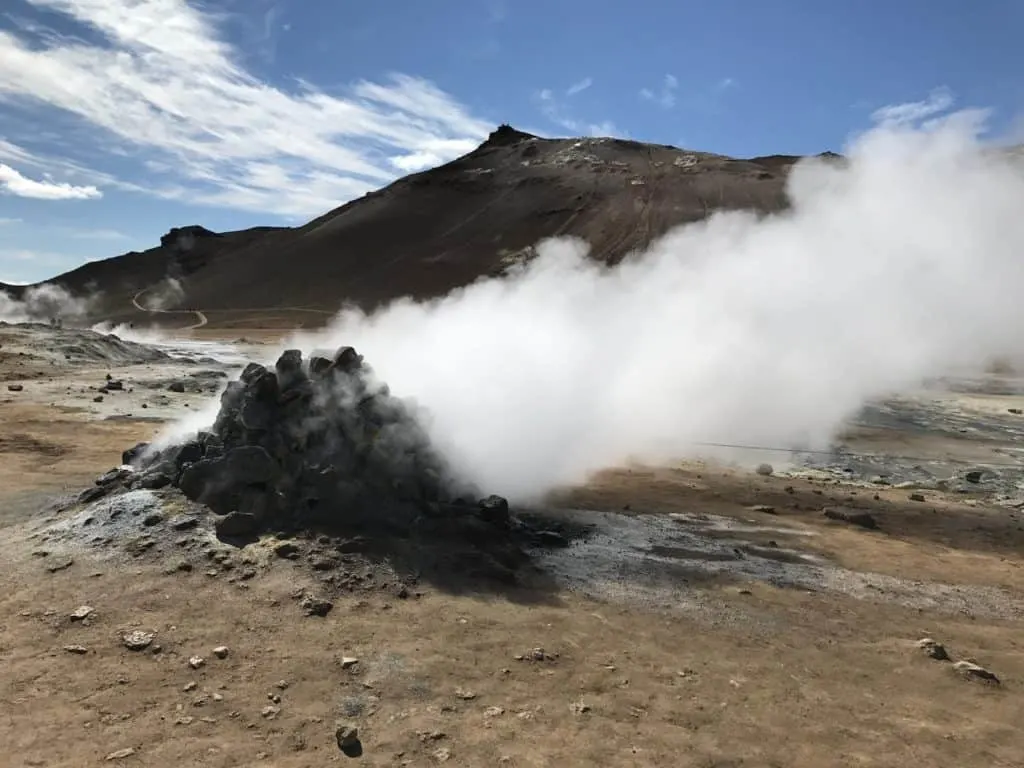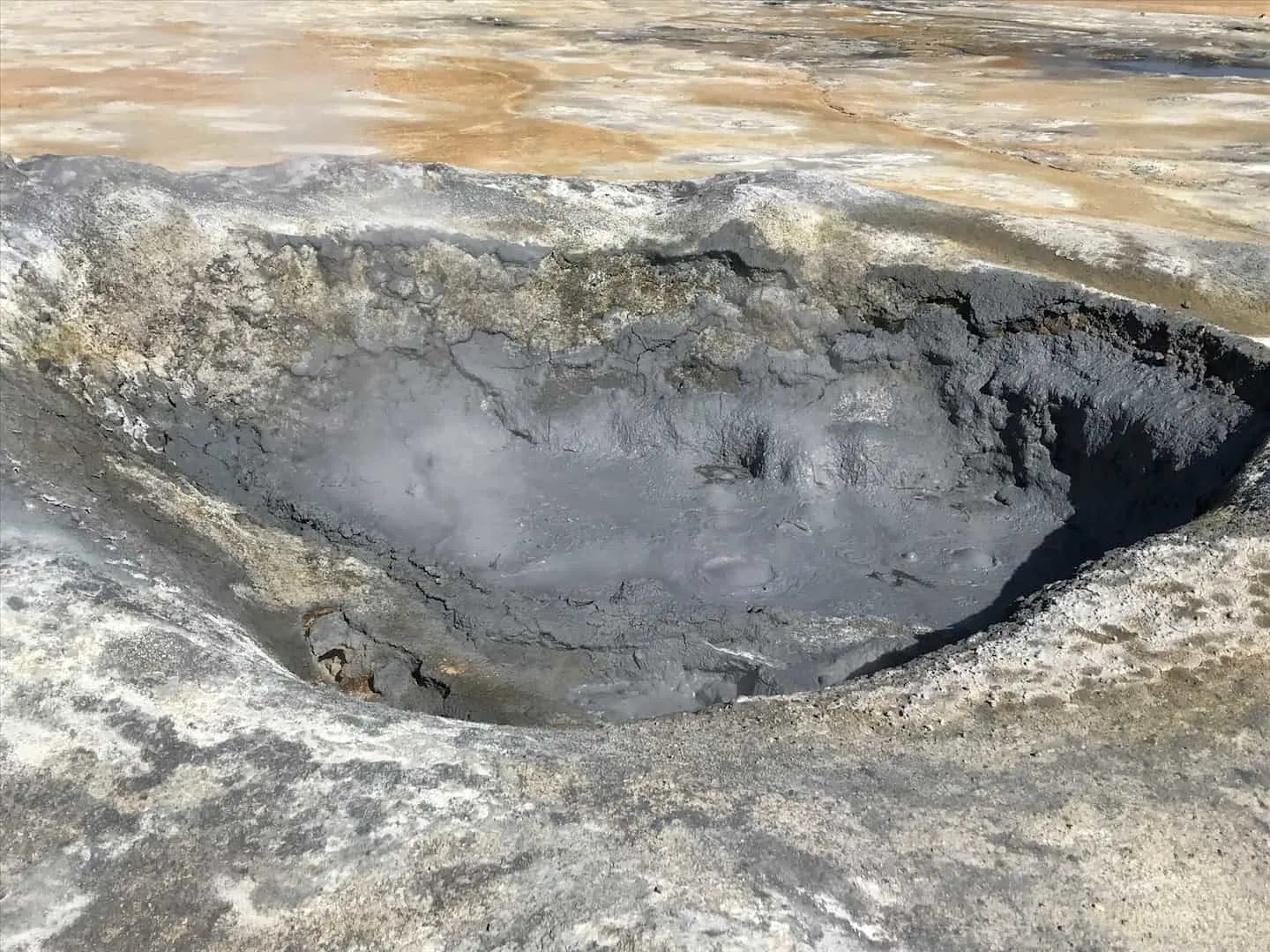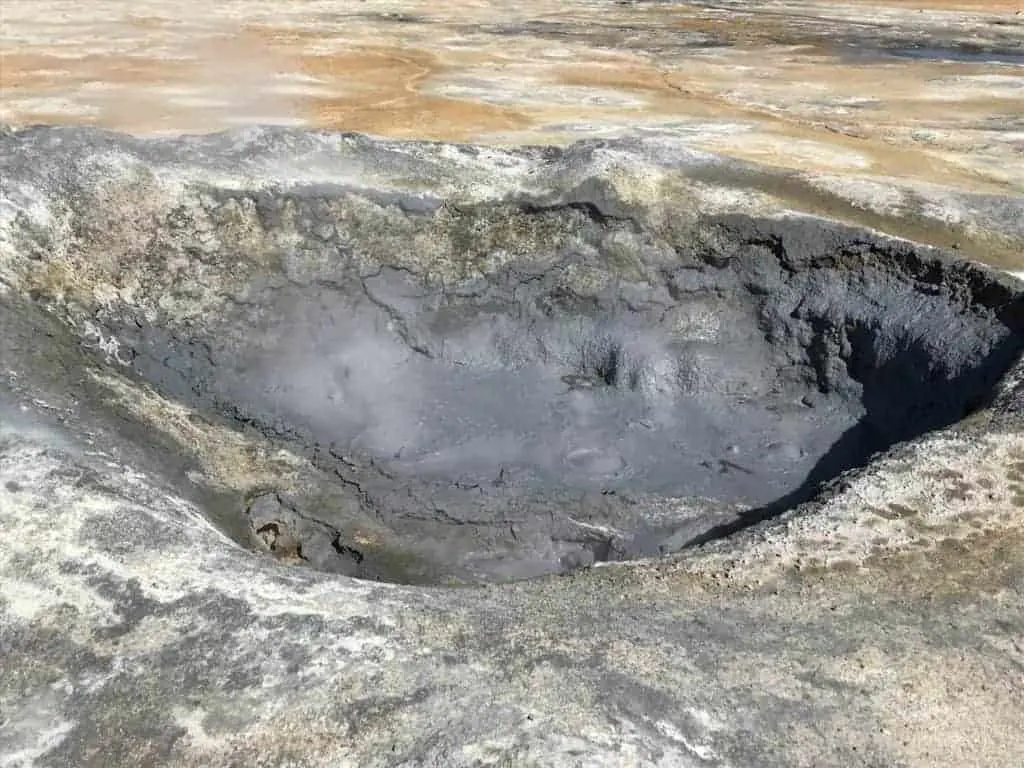 G) Viti Crater
Here lays a massive water filled crater, where you can take a nice hour long hike around the outer edge if you choose to do so. There is an easy trail to follow and it gives you spectacular views all around.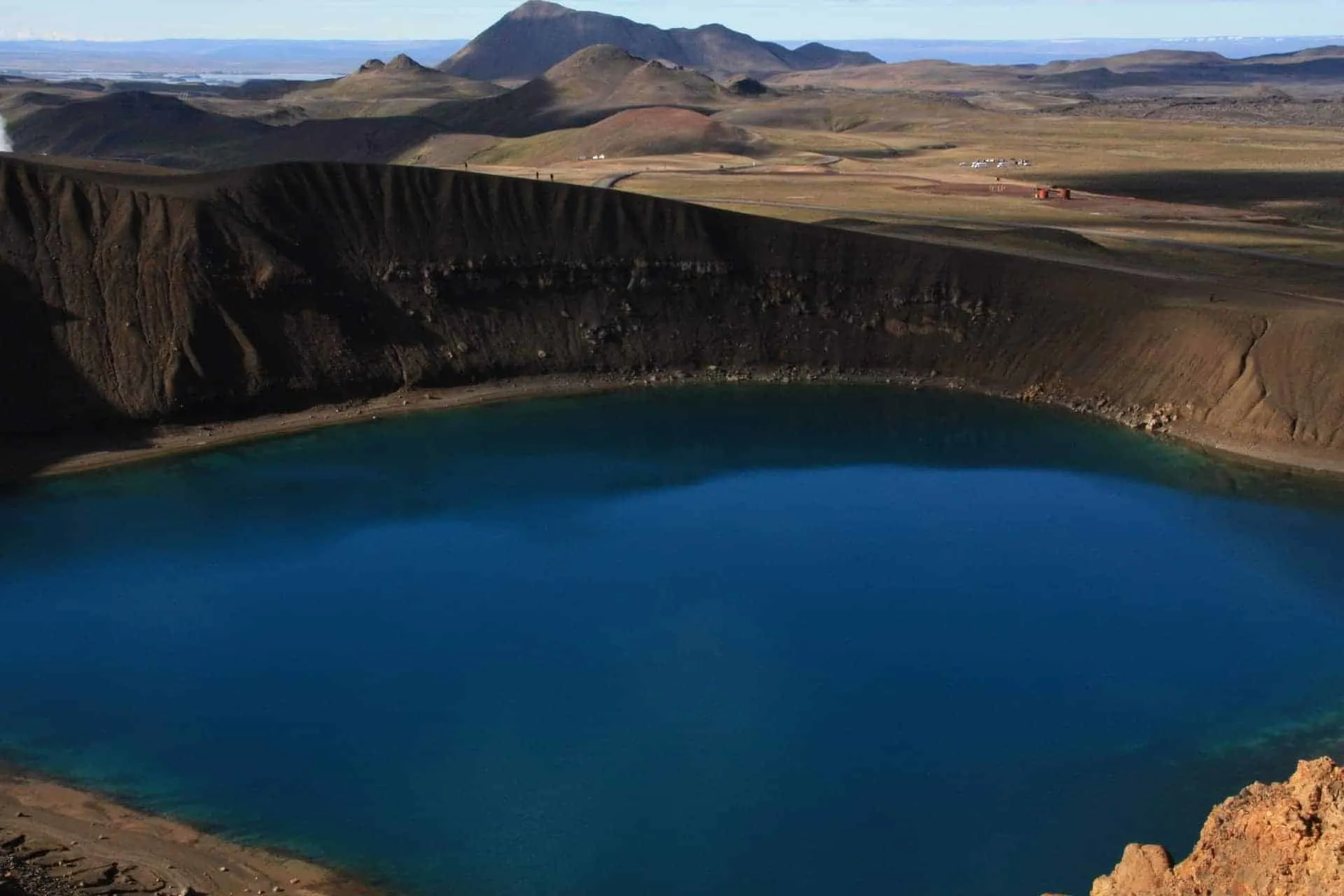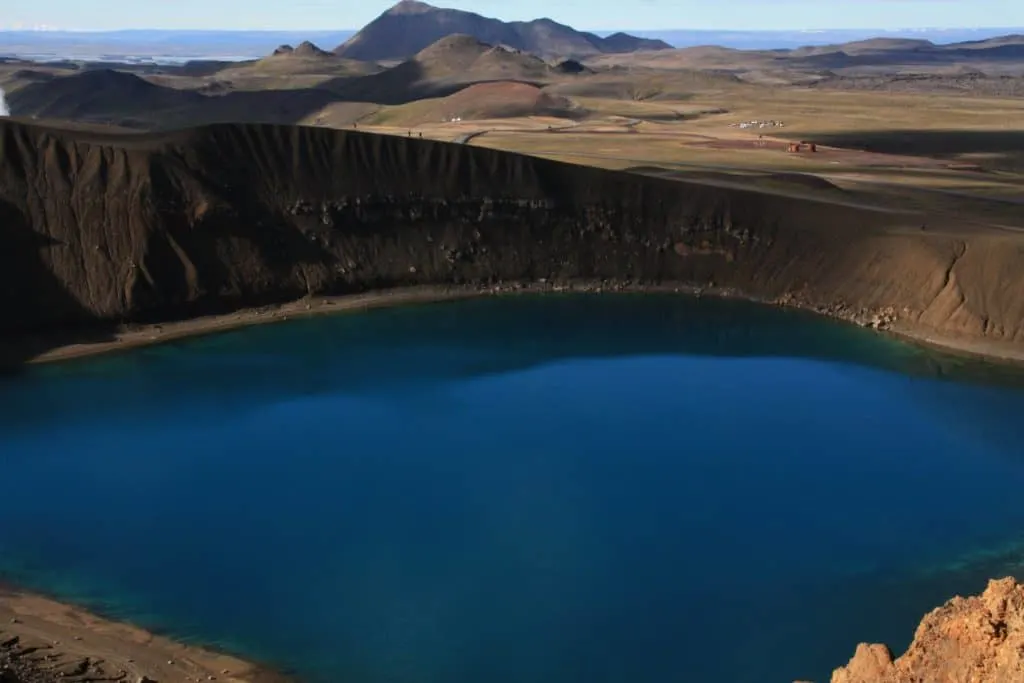 H) Leirhnjukur
Another example that shows the geothermal activity that Iceland has to offer. You can follow the trail to the bright colored pools, lava rocks, and the fuming gas coming from underneath the ground.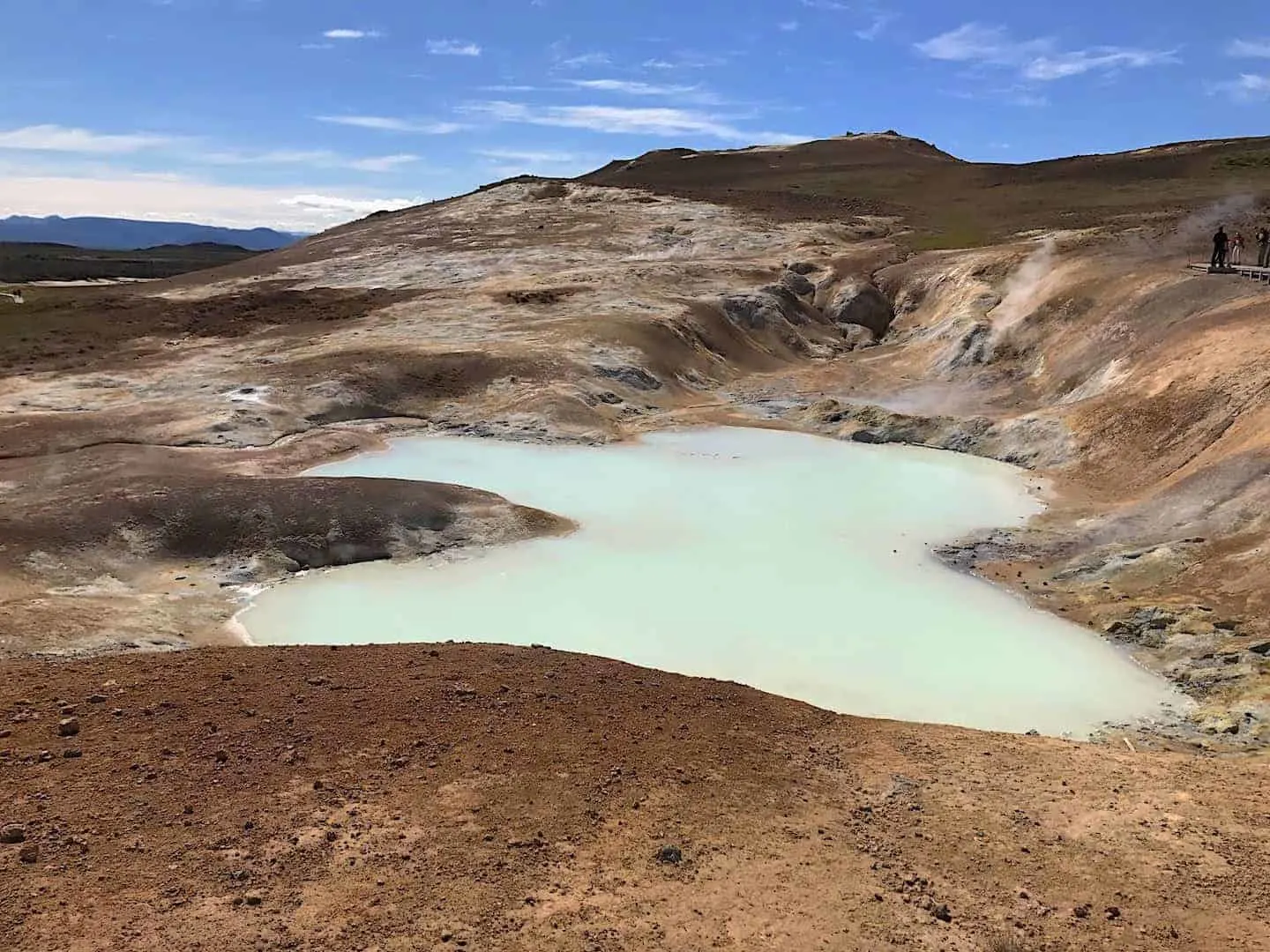 4) Where to Stay Around Myvatn
After making your way all around the Lake Myvatn geothermal area and seeing all of these incredible attractions, you will want a nice and relaxing place to stay the night.
If going counter clockwise along the Ring Road, you will probably end up in Akureyri. You can take a look at this article about some of the best places to stay in Iceland or take a look at some of the recommended options below.
Top Guesthouse: Skjaldarvik Guesthouse
Top Hotel: Icelandair Hotel
Top Hostel: Akureyri Backpackers
That all about takes care of what to do around the Lake Myvatn geothermal area.
Take a look at our other Iceland itineraries and guides to help out with any other trip planning. Hope you enjoy your time around Lake Myvatn. Feel free to comment below with any questions!